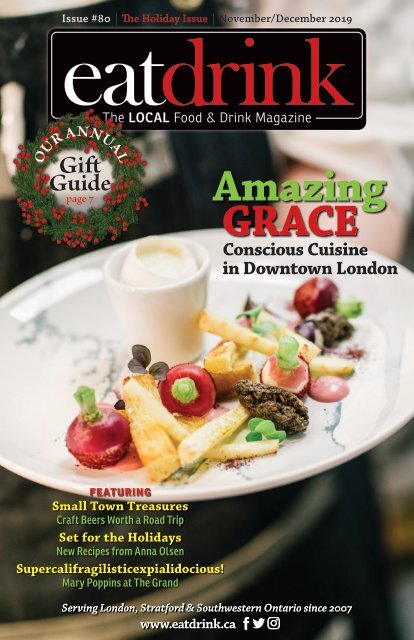 Eatdrink #80 November/December 2019 - The Holiday Issue
The LOCAL food and drink magazine serving London, Stratford & Southwestern Ontario since 2007
The LOCAL food and drink magazine serving London, Stratford & Southwestern Ontario since 2007
SHOW MORE
SHOW LESS
Do you know the secret to free website traffic?
Use this trick to increase the number of new potential customers.
Issue #80 | The Holiday Issue | November/December 2019

eatdrink

The LOCAL Food & Drink Magazine

Gift

OUR ANNUAL

Guide

page 7

Amazing

GRACE

Conscious Cuisine

in Downtown London

FEATURING

Small Town Treasures

Craft Beers Worth a Road Trip

Set for the Holidays

New Recipes from Anna Olsen

Supercalifragilisticexpialidocious!

Mary Poppins at The Grand

Serving London, Stratford & Southwestern Ontario since 2007

www.eatdrink.ca
---
THE CHRISTMAS TRAIL

NOVEMBER 1 - DECEMBER 20

Capture þe spirit of giving and þe joy of checking

off þat list. We've made it easy to kick off your

holiday shopping wiþ The Christmas Trail – six

gifts for just $30 plus HST.

visitstratford.ca

You can purchase your trail at Stratford Tourism,

47 Downie Street; in St. Marys at Village Craft and

Candle; in Shakespeare at The British Touch.
---
eatdrink

The LOCAL Food & Drink Magazine

eatdrinkmagazine

@eatdrinkmag

eatdrinkmag

eatdrink.ca

Think Global. Read Local.

Publisher

Chris McDonell – chris@eatdrink.ca

Managing Editor Cecilia Buy – cbuy@eatdrink.ca

Food Editor Bryan Lavery – bryan@eatdrink.ca

Copy Editor Kym Wolfe

Social Media Editor Bryan Lavery – bryan@eatdrink.ca

Advertising Sales Chris McDonell – chris@eatdrink.ca

Bryan Lavery – bryan@eatdrink.ca

Stacey McDonald – stacey@eatdrink.ca

Terry-Lynn "TL" Sim – TL@eatdrink.ca

Finances

Ann Cormier – finance@eatdrink.ca

Graphics

Chris McDonell, Cecilia Buy

Writers

Jane Antoniak, Darin Cook,

Mark Kearney, Gary Killops,

Bryan Lavery, George Macke,

Tracy Turlin

Photographers Steve Grimes, Alieska Robles

Telephone & Fax 519-434-8349

Mailing Address 525 Huron Street, London ON N5Y 4J6

Website

City Media, Cecilia Buy

Social Media Mind Your Own Business

Printing

Sportswood Printing

OUR COVER

London's new restaurant

Grace opened earlier this

year in Downtown London.

Read Bryan Lavery's

inspiring story on page 16.

© 2019 Eatdrink Inc. and the writers.

All rights reserved.

Reproduction or duplication of any material published in Eatdrink

or on Eatdrink.ca is strictly prohibited without the written permission

of the Publisher. Eatdrink has a printed circulation of 20,000

issues published six times annually in each of two markets, for a total

of 240,000 copies in print. The views or opinions expressed in the

information, content and/or advertisements published in Eatdrink

or online are solely those of the author(s) and do not necessarily

represent those of the Publisher. The Publisher welcomes submissions

but accepts no responsibility for unsolicited material.

Serving up

Great

partnerships

commercial | digital | wide format | design

Let us help with your next project...

519.866.5558 | ben@sportswood.on.ca

www.sportswood.on.ca
---
Contents

Issue #80 | November/December 2019

The Holiday Issue

Publisher's Notes

Eatdrink and Be Very Merry

Holiday Issue Highlights

By CHRIS McDONELL

6

Culinary Retail

Our Annual Holiday Gift Guide

Ideas from the Experts

Compiled by The Editors

7

Restaurants

Amazing Grace

Conscious Canadian Cuisine

By BRYAN LAVERY

16

Gift

Guide

OUR ANNUAL

7

53

The BUZZ

Culinary Community Notes

New and Notable

41

Theatre

Supercalifragilistic!

Mary Poppins at the Grand Theatre

By JANE ANTONIAK

53

Books

A Gourmet Life

Save Me the Plums

By Ruth Reichl

Review by DARIN COOK

56

Road Trips

A Southwest Ontario Journey

Our Local Flavour Guide Expansion

By CHRIS McDONELL

22

Beer

Small Town Treasures

12 Small Craft Breweries

Worth a Road Trip

By GEORGE MACKE

34

16

56

Recipes

Set for the Holidays

with Anna Olsen

by Anna Olson

Review & Recipe Selections

by TRACY TURLIN

58

The Lighter Side

A Child's Christmas

By MARK KEARNEY

62

Wine

VQA Wines

Embracing the Destination

By GARY KILLOPS

38

38

58
---
eatdrink: The Local Food & Drink Magazine

November/December 2019 | 5

Book Now for Our

Christmas Day

Buffet!

Seatings at 11am, 2pm & 5pm

JOIN US

For Our Famous All-You-Can-Eat

Dickens Lunch Buffet

November 25 to December 20

Monday to Friday 11:30am to 2pm

Call for reservations

519-430-6414

And ask about our RESERVE A BIRD

Take Out Turkey Dinner for up to 20 People!

/Blakes2ndFloor

¦
---
6 | November/December 2019

Publisher's Notes

eatdrink.ca |@eatdrinkmag

Eatdrink and Be Very Merry

Holiday Issue Highlights

By CHRIS McDONELL

I

well remember a more youthful and

innocent excitement about the holiday

season, thumbing through the Sears

Christmas catalogue for inspiration and

details on the latest toys and games. When

did the emphasis change from "getting" to

"giving"? No doubt that was a process that

unfolded over time, but that brought its own

joys and excited feelings of anticipation.

Instead of a list with just my name on it,

the task was to figure out the best idea for

Mom, Dad, and six siblings. It was a good

day indeed when each was taken care of

and stroked off the list. Even better was

the moment of placing them, carefully

gift-wrapped (maybe in a box to

disguise any hint of the contents),

under the family Christmas tree.

There is a similar feeling putting

out the Eatdrink Holiday Issue.

We've been thinking about this

for awhile. This is an important

event on our calendar, and that

really needs no explanation.

Our advertisers are keen to get their message

out, and readers are keen to hear it. For many

businesses, this is the most critical time

of year for revenue generation. For many

consumers, there is a presumption that they

will be spending more than usual. While that

is undoubtedly a stress for some, we hope that

expectation comes with an understanding

that this can be — should be — a lifeaffirming

activity that enhances warm

feelings of family and community. We want

to be making wise choices, mixed with letting

loose with silly fun or indulgences that bring

extra joy to life. Being a bridge between our

advertisers and our readers is the rationale for

the business side of our magazine's existence.

Doing that with integrity, creativity, and

gratitude is what makes this work satisfying.

I always enjoy assembling our annual

gift guide. What an eclectic collection of

ideas! There is literally something there for

everyone, but dare I say that what I love most

about this is the spur this gives me to be

creative in my gift giving? Thank you to all of

our contributors.

London's new restaurant Grace opened

earlier this year amidst extensive construction

in Downtown London. Executive Chef Angela

Murphy and her talented team have handled

this with ... you know ... grace. In fact,

they're overcoming more than roadwork

barriers and inconveniences that won't be

fully over for another few weeks. Read

Bryan Lavery's story about how there is

much more than meets the eye going

on at Grace, but what is visible is

equally inspiring.

We've been almost overwhelmed

with the positive reaction we got

when we opened up Eatdrink's

annual Local Flavour Culinary

Guide to most of Southwest

Ontario. I've provided a sneak

peek into what that's going to

be, and the journey this has been, as we look

forward to the birth of our new publication

in a few short weeks. We're looking forward

to distributing what will be more like a book

than a magazine.

Choosing to go another route than "holiday

suggestions," our beer and wine writers address

an approach to imbibing choices more than

specifics (although the latter are there too). In

short: Buy local. Make VQA wines and local

craft beers part of your seasonal celebrations!

You'll find plenty of other holiday ideas

in the rest of the magazine, including an

expanded BUZZ column full of exciting news

and opportunities. We hope that everyone will

connect with the holiday spirit we're feeling

here, and finish 2019 enjoying life's blessings.

Peace,
---
eatdrink: The Local Food & Drink Magazine

Culinary Retail

November/December 2019 | 7

Gift

Guide

OUR ANNUAL

It really IS

better to

give than

to receive

—when you find

the perfect gift that

is warmly received,

and you haven't felt

caught up in shopping mall

madness. To help you achieve this end, we've

polled a fine range of independent retailers —

the real shopping experts — for suggestions

for the special people in your life. Whether

you're looking for a big present for someone

close to your heart, or a small gift for a

hostess or your friend at work, here are some

new as well as tried-and-true suggestions

from the experts. Happy Shopping!

Established in 1895, Bradshaws remains one of

Canada's great stores. The emphasis is on pieces

that are design-driven "lifetime" purchases and

unique and innovative products. Such as this

Modern Sprout Ritual Live Well Gift Set.

Grow, steep and sip.

This set encourages

you to take a moment

s

for yourself everyday. Chamomile is the

perfect herbal pairing for this all-in-one

ceramic tea steeper and mug. The Chamomile

Bamboo Grow Kit comes with a complete

passive hydroponic system, plus non-GMO

chamomile seeds. The ceramic mug has a

nested tea leaf strainer that is easily removed

for a perfectly timed brew. The lid acts as a

cover to keep tea warm during brewing and

doubles as a coaster for the strainer.

$66.95 Bradshaws • 129 Ontario St, Stratford •

www.bradshawscanada.com • 519-271-6283

The new CREW Winery & Gallery is now

officially open 7 days a week, with a tasting

bar, a new menu, and retail space that

offers perfect gifts for the wine lovers on

your list. Enjoy your favourite vintage and

keep it at the perfect temperature for hours

on end with the sleek and stylish Bevi

Insulated Wine Tumbler. Made of plastic

and high-grade stainless steel, in a variety

of attractive colours, this double-walled and

vacuum-sealed, shatterproof tumbler keeps

any beverage cold for up to 9 hours, and hot

drinks warm for up to 3 hours. $24.95 CREW

Winery • 108 Essex County Road 50, Harrow ON •

www.fb.com/crewinery • 519-738-9800
---
eatdrink.ca |@eatdrinkmag

Nov 2

Nov 3

Nov 16

Nov 17

Nov 21

Nov 27

November/December Events & Highlights

Harry Potter Trivia Night (v2.0) Adult Edition

Harry Potter Trivia Night – Family Friendly Edition

The Art of Cup Tossing: Reading the Tea Leaves

(Level One Novice Course)

The Art of Cup Tossing: Reading the Tea Leaves

(Level Two Adavnced Course)

Songwriter Showcase & Stove-Top Chai (3rd Thursday)

Writing Workshop Series – with award-winning author

Valerie Mills-Milde

Nov 28–Dec 12 Healing Angels of the Energy Field Meditation

Course (3 Thursday evenings)

Dec 4

Dec 15

Writing Workshop Series – with award-winning author

Valerie Mills-Milde

Christmas Afternoon Tea Service

268 Piccadilly Street (at Wellington)

519-601-TEAS (8327) • tealoungelondon.com

WED & THURS 11am-6pm • FRI & SAT 11am-9pm • SUN noon–5pm

Award Winning

Artisan Cheese

Watson's Chelsea Bazaar is a long-standing

Stratford favourite, with two floors displaying

an eclectic range of goods from around the

world. You'll find a fine selection of Dunoon's

Information and Knowledge Mugs that

will educate and astound you with unusual

facts and figures. With numerous themes,

there is something for most fields of interest

and trivia enthusiasts everywhere. Fine bone

china, made in England. From $31 – $37 each.

Watson's Chelsea Bazaar • 84 Ontario Street,

Stratford • watsonsofstratford.com • 519-273-1790

Gift Baskets to meet

any need and price range

Come Experience Our World!

Visit our cheese shop and sample our unique

handmade cheeses.

See and learn about how cheese is made.

Enjoy the scenery on our 3-generation family farm.

Group tours are available by reservation.

Monday–Saturday 9-5

Christmas Eve 9–2

Closed Christmas

& Boxing Day

445172 Gunn's Hill Rd, Woodstock, ON

519-424-4024

www.gunnshillcheese.ca

From the Meadow handcrafts a wide range of

natural healing products at their "Farmacy"

outside Belmont, including natural cosmetics,

cleansers, toners, soaps and so much more.

A great selection of items are also available

at their booth at The Market at Western

Fair, with special gift packages for the

home, women, men, babies, Valentine's Day,

and the holiday season. The Candy Cane

Christmas Gift Set includes candy cane

soap, peppermint lip balm, and peppermint

body butter. $20. From the Meadow • 3881 Avon

Drive (Hwy 37), Belmont • fromthemeadow.com •

519-269-3961
---
eatdrink: The Local Food & Drink Magazine

This year, The Pristine Olive owner Jamie

Griffiths has created a variety of delicious gift

ideas. The Pristine Olive's Gift Packs can

be fully customized for everyone on your list.

Choose from over 65 flavours of fresh extra

virgin olive oils and balsamic vinegars, in a

variety of sizes. travelling, or just heading

out for dinner, this pack is your perfect

travel companion, or a delicious gift idea for

everyone on your list. $12 – $44 The Pristine

Olive • 884 Adelaide Street North, London •

www.thepristineolive.com • 519-433-4444

An enticing range of pampering bath and

beauty products might be expected at a

lavender

farm shop,

but Steed &

Company

Lavender

also offers a

lovely Home

Essentials

collection —

the Lavender

Pillow Spray

is literally

dreamy!

— and a

number of

delicious

culinary

items, including lavender-enhanced jams,

syrups, honey and tea. Steed & Co. Gift

Collections start at $16.95. Steed & Company

Lavender • 47589 Sparta Line, RR#5 Aylmer • www.

steedandcompany.com • 519-494-5525

Visit our store or shop ONLINE at

www.bradshawscanada.com
---
Buy Less. Choose Well.

Assorted Chef's

Knife Rolls

High quality, Canadian made

leather goods and chef accessories

159 King St. South, Unit 2, St. Marys

or order online

haversackleather.ca

HOLIDAY CHEER

IS HERE!

Your Holiday

FEAST HEADQUARTERS

Holiday Seasonings • Gourmet Foods • Gifts They'll Use!

223 Colborne St., Port Stanley, Open Daily

The Market at Western Fair, London, Sat & Sun

519.782.7800 peppertreespice.com

eatdrink.ca |@eatdrinkmag

Sha Choix is a year-round favourite for unique

gifts and accessories, and a highlight in the

annual Wortley Village Shopping Event — this

year on November 21. (Hint: Extended hours,

one-night specials, 25% off at Sha Choix!)

Expect to find stylish women's apparel,

including shoes,

scarves, hats, and

shawls for the season,

and endless gift ideas,

from handmade

soap to men's

shavings supplies.

A store specialty

is their large everchanging

selection

of accessories and

unique jewellery,

from funky to chic,

like these gorgeous Tibetan rings in a variety

of colours and styles. From $48 – $60. Special

Offer: Bring a copy of this Eatdrink magazine to

receive 15% off! Sha Choix • 158 Wortley Road,

London • www.fb.com/shachoix • 519-204-6336

The civilized and restorative taking of Cream

Tea, a form of British afternoon tea (a light

meal), consists of

tea enjoyed with

a combination of

scones, clotted

cream, and jam.

Show someone you

care with The Village

Teapot's Cream

Tea Gift Basket,

including delicious

tea, a jar of clotted cream, local jam, and fresh

scones. $35.00, cello-wrapped with a ribbon.

The Village Teapot • 13257 Ilderton Rd, Ilderton •

www.thevillageteapot.ca • 519-298-8327

Gerhard Metzger's Christmas-themed

salamis are available at Metzger Meats in

Hensall or at The Village Meat Shop at The

Market at Western

Fair. These festive

salamis are perfect

for gift baskets and

stocking stuffers

for the meat-lovers

on your list. $7.99–

$9.99 Metzger Meat

Products • 180 Brock

Ave, Hensall • www.

metzgermeat.com •

519-262-3130
---
eatdrink: The Local Food & Drink Magazine

"A fun place to shop

for housewares and gifts!"

In the heart of

Wortley Village,

Impressions is

an inspiring and

chic boutique where

fashion motivates creativity, with pieces from

Canada, Europe and the US. You'll find casual

clothing, dresses, outfits, outerwear and

accessories. Special items this season include

the Rhodes Laptop Bag by Louenhide

($119), a cozy alpaca scarf by Pokoloko

($97.99), and a warm and toasty toque by

Furlux (50% cashmere, 50% wool, $110).

Red leather gloves ($49.99) always make a

statement and are perfect with a black, red

or winter white coat. Impressions • 148 Wortley

Road, London • www.fb.com/Impressions-of-

Wortley-Village-127585337648811 • 519-204-1975

Somerset Fine Wines has established a

strong reputation for "winemaking at its

finest," offering

a wide variety of

quality wine at an

affordable price.

Gift certificates for

wine-making are

available. They also

have an extensive

range of gifts for

wine lovers, from

festive holiday

decorations,

accessories and

glasses, such as

these Trudeau

Oxygen Wine

Glasses. The

elegant embossing oxygenates as you pour

or swirl your favourite wine, releasing its full

aroma and taste. Starting at $19.99.

Somerset Fine Wines • 150 Exeter Road, London •

www.somersetfinewines.com • 519-652-3998

"Winterberry" Pottery

Encapsulating the true essence of

December and festive gathering tableware.

WATSON'S

CHELSEA BAZAAR

84 Ontario St. Stratford

watsonsofstratford.com

519-273-1790

Awaken Your Tastebuds!

Choose from over 50 of the freshest and

finest extra virgin olive oils and aged

balsamic vinegars ...

Great Gift Ideas

Gift Certificates

21 York Street, Stratford

519-508-1757

oliveyourfavourites.com
---
12 | November/December 2019

eatdrink.ca |@eatdrinkmag

Pepper Tree Spice Co. is well known for their huge selection of more than

300 organic fine spices & artisan blends including a large selection of

specialty gourmet foods, kitchenware, cookware and more. This season,

you'll find amazing gift ideas for every budget, including this 4-piece

Natural Living Gold Tone Cheese Knife Gift

Set, $26.95. Buy separately or pair with in-store

local artisan cheeses and gourmet goodies to

create the ultimate gift basket. Pepper Tree Spice

Co. • Port Stanley, 223A Colborne St. (Daily); London

Western Fair Market, 900 King St. (Weekends) • www.

peppertreespice.com • 519-782-7800

Owner Kate St Laurent and her hospitable

Bake Shop Studio crew deliver everything one

expects in a boutique bakery. They specialize

in beautiful, made-from-scratch cakes

and pastries, including wedding, birthday,

bridal and shower cakes. The shop is just

hard enough to find that a visit feels like

discovering a secret treasure trove. Located

Destination for the food lover

Featuring specialty foods,

kitchenwares, tablewares,

cooking classes and gift baskets.

115 King St., London Ontario

jillstable.ca 519-645-1335

Open Sundays Until Christmas

in Wortley Village, upstairs above the former

Village Harvest Bakery, walk-ins will find an

enticing array of cookies, cupcakes and French

macarons. Perfect for holiday festivities or

just a special treat, this Bake Shop Studio

Cookie Box includes 16 gluten-free mini

cookies, that will be gift wrapped with a

bow. $30. Bake Shop Studio • 145 Wortley Road,

London • bakeshopstudio.com • 519-319-6167

Your sustainable studio who cares

hair • colour • barber • skin • spa • makeup • 4 everyone

140 Ann Street, Suite 106, London

519 709 4247

www.studioHartistgroup.com

@studioHartistgroup
---
eatdrink: The Local Food & Drink Magazine

The Tea Lounge has

established a loyal

following as a relaxing

place for a beverage

and a nutritious bite,

as well as for its classes

exploring various aspects of "tea culture."

Now available are three new Performance

Tea Therapeutic CBD + Adaptogen Teas.

Each serving contains 20mg of high quality,

full spectrum, hemp CBD for excellent

anti-inflammatory and nervous system

support. CBD + Adaptogen formulations are

designed to support performance recovery,

mobility & movement and sleep. They also

have three formulations of Green Tea +

Adaptogens that are excellent to support

peak performance during the day.

The Tea Lounge • 268 Piccadilly Street, London •

tealoungelondon.com • 519-601-TEAS (8327)

Heather Wenman, a National Ambassador

for L'Oréal Professionnel Canada, is CEO of

Studio H Artist Group — "London's sustainable

salon, barber & spa who cares" — leading

a talented team that's proudly conscientious

of the environment

while helping their

clients look and be

their best. Studio H

uses ammonia-free

and non-perfumed

colour and styling

products and is now

offering 20% off the

L'Oréal Naturality

line LA SOURCE

Essentielle for sustainable

gifting this holiday season. The Shampoo +

Conditioner Gift Pack is now $58 (regular

$74). Varying formulas are available, with

80–100% natural, high-quality ingredients.

The eco-designed shampoo bottles are refillable

in the salon, with an additional 20% off

each refill for reducing plastics. Studio H Artist

Group • 140 Ann Street, Suite 106, London •

studioHartistgroup.com • 519-709-4247

Natural Healing Products

handcrafted with locally grown, pure,

simple, wholesome ingredients

We've assembled a large variety of

Gift Packages & Holiday Singles

at both of our great locations!

519-269-3961

fromthemeadow.com

The Farmacy

3881 Avon Drive (Hwy 37), Belmont

MON–FRI 10–4, SAT 10–2

OPEN HOUSE!

DEC. 5, 3–8

DEC. 7, 10–4

The Market at Western Fair District

SAT 8–3, SUN 10–2

growers & creators of fine lavender products

DISCOVER.

INDULGE.

ESCAPE.

519-494-5525

47589 Sparta Line, Sparta

Wed–Sat 10-5; Sun 12–4

Mother's Day to Dec. 20

steedandcompany.com

Join us for our

Christmas

Open House

November

16 & 17
---
14 | November/December 2019

eatdrink.ca |@eatdrinkmag

Jill's Table offers a wide variety of specialty food items, kitchen gadgets,

cookware, bakeware and fabulous cooking classes. As part of her store's

20th year of operation, owner Jill Wilcox has created a unique holiday

idea. The Jill's Table Anniversary Food Box is "a gift box for food

lovers!" Each box offers a unique assortment of products from around

the world, some that aren't always available in the store. Jill has sourced

items from their country of origin, often working with small, familyowned

companies. The initial box will be available for pick-up

in the store until December 24. You can also subscribe to Jill's

Food Subscription Series which includes three boxes. Pick up

your first box by Christmas Eve. The other two boxes will be delivered

in March and June 2020 directly to your home (Delivery is included

Haversack

Leather Goods

proprietor

Natalie

Crittenden

does a great

deal of custom

work but also

makes a wide

variety of

extraordinary

products available

for purchase,

including motorcycle

accessories, leather

purses, bags, wallets

and more. Married

to a chef, she has

designed and created inspired products for anyone

who loves to cook. Haversack Knife Rolls come

in many colours and materials including canvas

or waxed canvas, as well as luxurious and sturdy

leathers. This is a great way to safely transport

precious tools to the cottage, boat, vacation rental

or a professional kitchen. Haversack goods are

made in Canada and built to last. Prices start at $99.

Haversack Leather Goods • 159 King Street South, St.

Marys • www.haversackleather.ca

In the Heart of Wortley Village

and currently

only available

within London

city limits.

Quantities are

limited. First Box is $89.99. Subscription

for 3 boxes is $299.99. Jill's Table • 115 King

Street, London • jillstable.ca • 519-645-1335

Toast the holiday season with Cowbell

Brewing Co.'s Almanac 2019 Imperial

Stout. Almanac is luscious and delicious,

showing off notes of roasted malt,

espresso, chocolate, molasses and a hint

of fudge and

dark fruit

complexity,

making it

the perfect

complement

to any holiday

gathering.

Get 10%

off purchases

online using

the discount code EatDrink10.(code

valid until December 31, 2019). Cowbell

Brewing Co. • 40035 Blyth Rd, Blyth •

cowbellbrewing.com • 1-844-523-4724

Sha

Choix

GIFTS & ACCESSORIES

Handmade Jewellery

Glam items

Shoes, bags and clutches

Unique Gifts

Luxe Free Cappuccino Service

158 Wortley Road, London

519.204.6336

shachoix.com

facebook.com/shachoix

Holiday

Shopping

Event!

Nov. 21
---
eatdrink: The Local Food & Drink Magazine

Anderson Craft Ales is

offering an incredibly

soft crew neck sweater

that became an instant

favourite around the

brewery. The blackon-black

logo across

the front of the high

neck, cotton blend

sweater is subtle but

neatly identifies the

wearer as an Anderson

supporter. Package

this with a special

bottle or six pack for

the craft beer fan on your list. Sweater $35

Anderson Craft Ales • 1030 Elias Street, London •

andersoncraftales.ca • 548-888-ALES (2537)

A gift certificate from a unique store or a

fabulous local restaurant can be a reflection

of your good taste and the interests of the

recipient. They

are available from

most businesses, in

denominations that

fit your budget.

$100 Value

Boutique Bakery

Buttercream Cakes,

Cookies and

French Macarons

gluten free and

vegan options

Wedding

Consultations

by Appointment

145 Wortley Road, London

Upstairs— above the former Village Harvest Bakery

bakeshopstudio.com
---
16 | November/December 2019

eatdrink.ca |@eatdrinkmag

Restaurants

Amazing Grace

Conscious Canadian Cuisine at Grace in Downtown London

By BRYAN LAVERY | Photos by ALIESKA ROBLES

It's rare that a restaurant of this calibre

comes along. It makes us rethink

food and restaurant policies in fresh

and meaningful ways. Those who

have patronized downtown London's Grace

Restaurant will have insight into the

obstacles of building a restaurant in

a former fast food location in the

middle of a construction zone. Grace

is a cosmopolitan urban experience,

an ambitious undertaking, and a

dedicated affirmation of co-owner/

executive chef Angela Murphy's

expectation of the transformational

effects of the new flex street known as Dundas

Place. This revitalized streetscape is expected to

encourage urban renewal and pedestrian traffic,

and to provide enhanced economic and social

opportunities and residential intensification.

The promise of increased foot traffic, alfresco

dining and a setting that showcases the

heritage and character of the downtown are

among the reasons that the team at Grace

gravitated to the Dundas Place concept.

Named for Grace Murphy, Angela's

grandmother, the 72-seat restaurant

prioritizes quality, seasonality,

locally-procured ingredients,

industry fairness, community

engagement, and social

responsibility. Ingredients are used

consciously and allow the flexibility to

change menu items or rotate dishes. At

last count, there were 65 different suppliers.

The assurance at Grace is that the food

and drink are crafted with artistry and

uncompromising dedication to excellence and

intention. The offering is billed as "Conscious
---
eatdrink: The Local Food & Drink Magazine

A minimalist dining room (opposite page) helps maintain

a focus on the food at Grace. Relax in the lounge (above),

or at the bar in front of the open kitchen. Comfortable

banquettes (below) add warmth and help define the space.

Merry Makers Fair

Sunday, November 10, 11am–4pm

Christmas Merry Makers Fair

Sunday, December 15, 11am–4pm

100% handmade events held in the heart of

the Forest City. The Merry Makers Fair mission

is simple: to inspire and encourage

up-and-coming small, 100% handmade

businesses and connect

them with conscious consumers in

London. You'll find some of the

best handmade shopping around,

from Art, Home Decor, Jewelry,

Clothing, and Bath & Beauty

products. Join us upstairs on

the Mezzanine. Admission is

free. Find everything you need to complete

your Christmas list while supporting local at

the same time!

Whimsical Christmas Craft Show

Saturday, November 23rd, 9am–5pm

NEW to the Market this year! Join us

upstairs on the Mezzanine. There

will be plenty of things to

see and purchase for the

holiday season! Crafts, food and

so much more!

Photo courtesy of Bryan Lavery

Enjoy half an hour Monday–Friday and 2 Hours

FREE parking on Saturday and Sunday, upon validation.

For more event info visit coventmarket.com

or our Facebook page

Canadian Cuisine," draws on tradition, and

is infused with regional influences and local

flavours. Intention is a mandate at Grace,

requiring focus, action and good energy to

manifest. Even the minimalist backdrop

co-created by Design House intentionally

allows for the drama of the plating of the

dishes to be a primary focus.

Market Hours

Monday to Saturday

Mezzanine & Restaurant Hours Differ
---
18 | November/December 2019

At Grace, Executive Chef/C0-Owner Angela Murphy offers

"Conscious Canadian Cuisine" — drawing on tradition

infused with regional influences and local flavours.

Murphy's vision with sous chefs Cody

Tanner-Slater and Kyle Newman is aspirational

and modern with multi-cultural riffs and

influences that are uniquely Canadian.

We have sampled many of the dishes and

eatdrink.ca |@eatdrinkmag

especially loved the devilled Aylmer shrimp

with smoked tomato, sweet potato, cured

egg yolk, mustard greens and poppy seeds.

Impeccable melt-in-your-mouth fresh Lake

Erie pickerel was a seasonal special served with

Hasselback potatoes, French beans, and dill

and caper beurre blanc. Other favourites were

the House Ricotta with toasted chilies, stone

fruit, pistachios, sweet olive oil and toast.

Pastry chef Roger Porcellato has a

passion for baking artisanal bread and

crafting pastries. There is a dedicated focus

on creating all things in-house. Roger has

worked at the former Church Restaurant in

Stratford, the former Berlin in Kitchener,

and Newfoundland's Fogo Island Inn. An

uncompromising perfectionist, Porcellato

collaborates with Murphy on an evolving

robust bread and pastry program. Like the

rest of the culinary team, his subtleties

and strengths reveal the qualities of the

ingredients used in the restaurant.

Lauren Fitzgerald has curated a charismatic,

spirit-forward seasonal craft cocktail and beer

program. Sommelier/partner Pete Annson

has instituted an interesting and eclectic wine

Photo courtesy of Grace Restaurant

WIN A LEXUS FOR A WEEKEND!

Plus get your own car cleaned and detailed!

eatdrink &

Presented by

Enter by going to eatdrink.ca/contests

Contest ends December 27, 2019. Complete details online.

Congratulations Barbara Frampton,

winner of our September/October Draw!
---
eatdrink: The Local Food & Drink Magazine

November/December 2019 | 19

Sous Chef Cody Slater

selection that emphasizes the importance of

small production vineyards.

Murphy pursued academics out of high

school and has a double major degree in

Humanities and English Literature. She

attended Stratford Chefs School, graduating

in 2011. At the Windermere Café, Murphy

Executive Chef Angela Murphy

was mentored by Kristian Crossen (formerly

of Braise and Langdon Hall, and now Food

and Beverage Manager/Executive Chef for

Great Hall Catering at Western). Murphy

succeeded Crossen and took over the reins at

Windermere Manor's new Restaurant Ninety

One, where she nurtured direct relationships

In print.

Online.

SINCE

2007

Pick up your free copy wherever

discerning readers are found, or

conveniently read the whole

issue on your computer, tablet

or smartphone.

eatdrink

THE LOCAL FOOD & DRINK MAGAZINE

Get Connected!

eatdrinkmag

eatdrink.ca
---
20 | November/December 2019

eatdrink.ca |@eatdrinkmag

with farmers and suppliers before conceptualizing Grace.

The staffing model challenges the traditional roles of the

front and back-of-house, with the cooks often serving and

engaging with tables. It is an open kitchen in the most real

sense, approachable and transparent. Murphy knows that

it is fiscally responsible to make an investment in training

workers properly about the various positions within the

restaurant. "We recognized in the beginning that we were

going to have a high labour cost. We pay our employees a

living wage. We are trying to make the best of the fact that

the capitalist systems — paying workers less than a living

wage — in the restaurant business are broken. We want the

staff fully invested in the restaurant, so we have adopted a

co-op model with no upper management salaries."

This type of innovation is so unusual and forwardthinking

that it made headlines when the owners of Emma's

Country Kitchen on St. Clair Avenue West in Toronto

proclaimed they would add a non-compulsory three percent

surcharge on guest checks so full-time workers could have

health benefits. Some patrons complained, other patrons

and colleagues in the industry commended the move. There

is a debate in the restaurant community about whether

a surcharge is too contentious and whether it is the most

sensible way to underwrite enhanced working conditions for

restaurant employees. Some restaurants introducing health

benefits for workers are sidestepping the surcharge and

choosing instead to raise prices.

Changing the patriarchal kitchen hierarchy and the

dismantling of oppressive constructs are topics Murphy and

I have discussed on several occasions. Historically there has

been wage inequality and institutionalized segregation by

gender and race in the restaurant business. There remains

a profound connection between sexism and homophobia in

the restaurant kitchen culture. Everyone is entitled to equal

protection in the workplace. "The traditional hospitality

industry is unfriendly to women, especially in the back of

the house. We have known this for years — the long hours,

the macho aggression, the harassment present in many

kitchens. The point is that it's not just women that suffer from

these issues. Men don't thrive in this environment, either.

I have worked with men that have had problems balancing

work and life because of the late nights, the stress, and the

physical labour," says Murphy wistfully. "Many men have been

harassed, felt bullied and intimidated in a toxic atmosphere

which allows only a narrow range of personalities to succeed.

In the ideal kitchen, and I like to think we model our kitchen

after that ideal, everyone feels supported, listened to and

respected. I would even go so far as to say, utterly rebellious to

the traditional chef mentality, that restaurants should be more

accommodating to the personal lives of their staff. The kitchen

Top: Soft boiled egg, brioche toast soldiers, duxelles, beet mayo, radishes,

beer powder & celery root.

Middle: Lake Erie pickerel, wild rice, black lentils & red cabbage consomme.

Bottom: Maitake mushroom, Swiss chard rondelles, walnut & pickled

celery.
---
eatdrink: The Local Food & Drink Magazine

Spirit-forward, seasonal craft

cocktails by Lauren Fitzgerald

is not a cult, and

you shouldn't

have to forsake

your family, your

friends and your

relationships to

be successful.

Ultimately,

the kitchen is

a meritocracy

regardless of

gender. That's

the best part.

Even if you are at

a disadvantage

to start because

you are a woman,

or because you

can't afford the

fanciest tools, or

because you don't

speak English, or

you have a mental illness, if you can cook, you

get respect. If your plates look good, you get

respect. If you clean up after yourself and help

your team when they need you, if you work

hard, it can't go unnoticed, and you will earn

your place."

If you're looking for a modern dining and

drinking experience, Grace is the ideal venue

for a multi-course tasting menu with wine

pairings. Relax at the bar in front of the open

kitchen or in the lounge with a signature

cocktail or choose from the carefully curated

beer and wine list. Grace offers late-night

snacks and drinks after your downtown

concert or trip to the theatre.

Grace Restaurant

215 Dundas Street, London (at Clarence)

226-667-4822

gracelondon.ca

dinner: wednesday–saturday from 5 pm

sunday: 6–8 pm

lunch: thursday–friday 11:30 am–2 pm

brunch: sunday 11:30 am–2 pm

BRYAN LAVERY, Eatdrink Food Editor and Writer at

Large, brings years of professional experience in the

restaurant and hospitality business as a chef, restaurateur

and partner in the culinary experience and consulting

business, Lavery Culinary Group. Always on the lookout

for stories Eatdrink should be telling, he helps shape the

magazine both under his byline and behind the scenes.

at The Market at Western Fair

on Weekends!

ALIESKA ROBLES is a London photographer and

producer of Forest City Cookbook. alieskarobles.com
---
22 | November/December 2019

SPONSORED BY

Road Trips

eatdrink.ca |@eatdrinkmag

A Southwest Ontario Journey

Our Local Flavour Guide Expansion

By CHRIS McDONELL

CHATHAM-KENT • ELGIN • HALDIMAND • HURON • LONDON • MIDDLESEX • NORFOLK

OXFORD • PERTH • SARNIA-LAMBTON • STRATFORD • WINDSOR-ESSEX

Local Flavour

SOUTHWEST ONTARIO

CULINARY GUIDE

Restaurants • Specialty Shops & Services • Farmers' Markets

Craft Beer & Local Wine • Agri-Tourism Attractions

eatdrink

The LOCAL Food & Drink Magazine

localflavour.ca

EXPANDED

EDITION

VOLUME 8

Unlike most of the storiees readers are

accustomed to seeing in this space, the

following is not a journey that anyone can

truly replcate. This is the story about how

our soon-to-be-released Local Flavour guide came to

be. I have sprinkled ads and photos from many of

the businesses represented in the guide throughout

this narrative. If it is not fully obvious, I will state

explicitly that we

are very excited

about this project.

This is an Eatdrink

story at the

moment, but the

guide is the story of

hundreds of hardworking

creative

people, in scores

of businesses that

make Southwest

Ontario a vital

and exciting place

to live in. We're

thankful for the opportunity this has created to work with

such an illustrious group.

Change is never easy, nor without risk. After publishing

London's Local Flavour perennially for the better part of a

decade, the Eatdrink

Craft Farmacy, London

team decided to

explore an expansion

of that popular

culinary guide into

a broader territory.

There had been plenty

of positive feedback

from participants

in this annual

undertaking, who

each shared a stake in

putting a high quality

guide together. Tens

of thousands of hard

copies were eagerly

Garlic's of London, London

The Boombox Bakeshop, London
---
eatdrink: The Local Food & Drink Magazine

November/December 2019 | 23

There's always room for refinement. It's this belief that set the next iteration of

the RX into motion. With a striking exterior refresh, standard LSS+ 2.0,

cutting-edge technologies including touchscreen display with Apple CarPlay

and Android Auto, the new 2020 Lexus RX is the pinnacle of function and form.

2020 Lexus RX Models

Starting at $58,871.90*

Taxes and licensing extra.

Apple CarPlay is a trademark of Apple Inc. All rights reserved. Android Auto is a trademark of Google LLC. Use of this trademark is subject to Google Permissions.
---
eatdrink.ca |@eatdrinkmag

FINE FOOD FOR FINE PEOPLE

BOOK YOUR HOLIDAY PARTY

PRIVATE DINING ROOM AVAILABLE

picked up by interested consumers — a mix of

tourists and locals — faster than ever in 2019,

and thousands more are reading Local Flavour

online. This joint effort was a success in every

measurable way, and effectively showcased

the culinary assets of the city of London.

It struck us here at Eatdrink, however, that

London could benefit even more by being part

of a guide that would draw more attention

GIFT CERTIFICATES

AVAILABLE

The Village Teapot, Ilderton

G R A C E R E S T A U R A N T

farm-to-table fine dining downtown

throughout Southwest Ontario. Discussions

ensued, and the responses from London

establishments were extremely positive.

"a gastronomical landmark for over 23 years"

Booking

NOW for the

Holiday Season

& New Year's

Eve!

Bistro & Catering

Chef-driven Farm-to-Table Cuisine

Dietary Needs Accommodated

Ample Free Lunch Parking Mon–Fri

Available for Private Dinner Parties Mon–Sat

Gift Certificates Available

46 Blackfriars Street, London | 519-667-4930

blackfriarsbistro.com

Defining the Territory

We understood that a broader guide would

serve the interests of a public with a

passionate hunger and thirst for quality local

food and drink. Back in 2011, we'd published

an award-winning culinary guide sponsored by

the Ontario Ministry of Tourism for the thennewly-created

Regional Tourism Organization

One (RTO1),

soon named the

Southwestern

Ontario Tourism

Corporation

(SWOTC). We

analyzed that

region's diverse

strengths,

and identified

those that

were offering a

genuinely local

experience.

The geographic

parameters

were somewhat

disappointing

to us because of

Eatdrink's strong

The Windjammer Inn,

Port Stanley
---
eatdrink: The Local Food & Drink Magazine

Sixthirtynine, Woodstock

Gift Certificates

Available

roots in Perth County (Stratford especially)

and Huron County, but those counties

were incorporated by the province into

neighbouring RTO4.

In more recent years, through publishing

Eatdrink, and in particular running our

popular "Road Trip" features, we've come to

know firsthand the current strengths of this

area. Our beer and wine columnists maintain

Heeman's, Thorndale

Booking Now

for the

Holiday Season

& New Year's Eve

481 Richmond Street

519-432-4092

garlicsoflondon.com

NEW

WINTER

MENU

a regional focus and we've been so excited to

see the creative explosion of craft breweries

(there was only one local craft brewery when

we launched Eatdrink in 2007) and the growth

in number and quality in our local wineries.

Add to that new cideries and distilleries,

and the almost universal embracing of local

products by our better restaurants. The list of

potential and worthy candidates for a regional

guide is truly enormous.

The parameters of "local" that have been

defined for our guide stretches from Windsor

through Chatham-Kent and Elgin County

to Woodstock, up to Stratford and over to

Goderich in Huron County. Would we find

enough interested participants needed to

make this work? We got our answer in very

short order: a resounding YES!

FLIGHTS & BITES

HALF PRICE Sharing Plates & Oysters

Tuesday–Friday from 3:30–5:30pm

SUNDAY INDUSTRY NIGHTS

20% OFF!

NOW BOOKING PARTIES & NEW YEARS

TUES–SAT Lunch & Dinner 11:30am to Close

SUNDAY Brunch 11am & Dinner

449 Wharncliffe Road South

519.914.2699
---
Book your Office Holiday Parties Now!

Lunch Hours Available for Private Events

eatdrink.ca |@eatdrinkmag

Locally Sourced Ingredients

Authentic Italian Cuisine

Local Craft Beers

Regional & Organic Wines from Italy

Take Out & Gift Certificates Available

Tuesday–Thursday 4pm–8pm

Friday & Saturday 11:30am–10pm

Sunday Brunch 11am–2pm, Dinner 3pm–7pm

Reservations Recommended

2135 Dorchester Road, Dorchester

519-268-0001

fatolive.ca

Freshly home-made in the heart of the community

The

Village

Teapot

Ask about Catering &

Private Event Bookings

for the Holidays!

Edison's Café Bar, Stratford

New Partners

The small but mighty Eatdrink team fanned

out and had many exciting meetings with old

acquaintances and new. Participants signed on

but our momentum really accelerated when we

got a solid boost

from SWOTC, who

saw an opportunity

to promote their

region's extensive

culinary resources

and multiply their

own efforts by

supporting our

project. (If you are

unfamiliar with

SWOTC, especially

as a tourismrelated

business,

I encourage you

to visit swotc.ca

post haste! The

Anna Mae's Bakery &

good folks there

Restaurant, Millbank

offer tremendous

marketing and research support.) Through our

SWOTC connection, we solidified enhanced

support from the local tourism offices as well as

the Ontario Tourism Information Centres, who

Breakfast

Brunch

Lunch

Cream Teas

Wed–Fri 10:30–3:30

Sat & Sun 10–2

Gift Certificates Available

13257 Ilderton Road, Ilderton ON

thevillageteapot.ca

519-298-TEAS (8327)

The Red Rabbit, Stratford
---
eatdrink: The Local Food & Drink Magazine

will be helping promote the guide through

their physical locations and online. This made

it even easier for new businesses to see the

benefits of participating.

The gratifying response led to our fist

unforeseen problem: So many new profiles

to assemble that we couldn't meet the initial

deadline we had established. As far as problems

go, this is one of the better ones to have, but

the pressure to deliver a guide that merited a

wait is intense. Needless to say, we have been

busy, as we far exceeded our most optimistic

targets for a first volume of this scope.

Rhéo Thompson Candies, Stratford

Your Trusted Holiday Caterer

Catering for Special Events,

Company & Family Christmas

Parties, Schools & Sports Teams

We deliver. Full Service Available.

Fresh Homemade Pasta &

Sauces, Meatballs, Lasagnas

and so much more!

580 Adelaide St N, London

519-672-7827

MON–FRI 9:30am–7pm

SATURDAY 9:30am–5pm

SUNDAY 11am–5pm

Homemade

Italian Food

EVERYONE

Will Love!

Gift

Certificates

Full menu available at marshallspastacatering.ca
---
28 | November/December 2019

eatdrink.ca |@eatdrinkmag

We also faced a more physical challenge. Can we actually fit

everyone interested into one publication? Yes we can, but we had

to change the binding to a "perfect bound" style — readers will

love this — to accommodate twice the page count. The handy size

is retained, but this guide will have far more heft. More important,

in the end, we will not only have a bigger guide, but a better guide.

I soon realized that we are creating a more diversified publication,

built on the strengths of our previous guides, but a more accurate

The Tin Fiddler & River Run Brew Co.,

Sarnia

reflection of the culinary

industry as a whole. That is

satisfying on so many levels.

Storm Stayed Brewing Co.,

London

Great Expectations

Our amazing restaurants

continue to get their due

in this guide, and we're

able to highlight so many

of them here. Our biggest

frustration with Eatdrink

is the constraints on the

number of stories we can tell

in any one issue, which is not an issue here. Our greatest

strength with Eatdrink is the quality of our writers. Even

our BUZZ column, which could have been handled as a

laundry list of events, is engagingly assembled. While

a culinary guide is most definitely not a magazine, we

have developed a format that marries the practical
---
eatdrink: The Local Food & Drink Magazine

functionality of a strong guide with good

writing, in a way that invites exploration.

Each profile is a small but powerful snapshot

of a local independent business that will

reward your interest with a unique and

positive experience. We were selective in who

was invited into this guide.

I am particularly pleased with how we have

grown our Craft

Blue Elephant Craft Brew House,

Simcoe

Beer section

of the guide. A

dozen of our

region's best

brewers are

represented,

from small

family-run

operations such

as Shakespeare

Brewing Co. in

the small hamlet

of Shakespeare,

or Storm Stayed

Brewing Co.

in London, to

the stunningly

beautiful

where art is

Hey, Cupcake! a piece of cake

The ORIGINAL

LONDON CAKERY &

GOURMET CUPCAKE

BAKERY

ASK US Custom Bakery • Walk-In Orders Available

ABOUT OUR

"RANDOM

ACTS OF

SWEETNESS!"

CAMPAIGN

www.heycupcake.ca

1305 Riverbend Road, Suite 110

519-433-CAKE (2253)

STORE HOURS: Mon–Fri 11–7

Saturday 10–5 • Sunday 11–4

Benmiller Inn & Spa

gather with great friends and divine dining

www.benmiller.ca | 519-524-2191 | 1-800-265-1711

81175 Benmiller Line, Goderich, N7A 3Y1
---
30 | November/December 2019

eatdrink.ca |@eatdrinkmag

Cowbell Brewing Co. operation in Blyth and Toboggan Brewing Co.,

smack-dab in Downtown London.

The Lake Erie North Shore wine region is also well showcased

with four of their best, and Alton Farms Estate Winery continues to

represent the emerging Huron Shores wine region. Also especially

satisfying to me is the inclusion of two craft distilleries: Wolfhead

Distillery in Amherstburg and Junction 56 Distillery in Stratford.

Add in the Twin Pines Orchards & Cider House in Thedford, and

Munro Honey & Meadery in Alvinston, and the spectrum of

artisanal beverage producers is here in force.

I am also glad that we are including some of our best Agri-

Tourism Attractions, helping to complete the actual farm-to-table

ethos that we

talk about so

much. From

Alton Farms Estate Winery,

berry producers

Plympton-Wyoming

(and more!) such

as Heeman's in

London to the

pickle-makers at

Sunshine Farms in Thamesville, this guide

will truly offer an authentic taste of what

Southwest Ontario has to offer.

Local Flavour: Southwest Ontario Culinary

Guide will be published in late November.

Toboggan Brewing Co., London

Copies will be widely available, and a list

of pickup locations will be posted on the

Book your

Holiday Party &

New Year's Eve

with us!

Gift Certificates Available!

At Revival House, a devotion to preserving the best of Stratford's culinary

and historic past blends with a forward-looking energy to make this

the city's ultimate venue for cuisine, entertainment, and memory-making.
---
eatdrink: The Local Food & Drink Magazine

localflavour.ca website. The entire publication

will also be available to read online, on any

device, in a handy flipbook version that will

include online links to each establishment.

Every profile will also be available as a

separate "story" that can be easily shared on

Facebook or with a Twitter or Instagram link.

We proudly look forward to seeing people

using this guide.

CHRIS McDONELL is Publisher and the founder of

Eatdrink. He can be reached at chris@eatdrink.ca

Shakespeare Brewing Co., Shakespeare

Something

Gift Certificates

Available

for

Everyone!

Book your Holiday Party or Catering with us!

Fresh Local Ingredients

Gluten Free & Vegetarian Options

Great Selection of Craft Beer & Cider

Tuesday–Saturday

Lunch 11:30–2:00 & Dinner 4:45–8:45

159 Queen Street, St. Marys ON

519-914-8811

Follow Us!

BOOK YOUR

HOLIDAY

PARTY

WITH US

With custom menus from both kitchen

and bar, we will work together to create

the perfect atmosphere for anything

from a casual cocktail party to a

formal seated dinner.

30 Ontario Street, Stratford, ON

www.themillstone.ca

themillstoneON

(519)273.5886
---
32 | November/December 2019

eatdrink.ca |@eatdrinkmag
---
eatdrink: The Local Food & Drink Magazine

November/December 2019 | 33
---
34 | November/December 2019

eatdrink.ca |@eatdrinkmag

Beer

Small Town Treasures

12 Small Craft Breweries Worth a Road Trip

BY GEORGE MACKE

Tiny breweries in small towns are

beginning to dot the landscape of

Southwestern Ontario, waiting to

be discovered by craft beer explorers

These are nano and microbreweries, labelled

as such by the small batches or annual output

they produce. Many sell their beer only from

an on-site bottle shop, in labouriously filled

500 mL bottles or 1.8 mL growlers. Some

hire a portable canning line to package beer

Caps Off Brewing Company

168 Curtis Street, St. Thomas. Opened in

2019, Caps Off was a hobby that's become a

business for couple Rick and Fran Dunseith.

The low-key brewery on a downtown side

street gives

a tip of the

hat with the

beer names

— Under the

Brim Cream

Ale, Drop of

a Hat IPA, Straw Hat Saison, and Stove Pipe

Stout. A sampler tray is called a Hat Trick, and

it's an excellent place to start. Caps Off was

at the Truly Local Craft Beer Festival hosted

by London Brewing in September, upping its

local ingredient credibility.

in tallboy cans. Some are farm-based, with a

hops yard literally out back.

They're never mentioned in the same

breath as Steam Whistle, Mill Street, or

Muskoka and unless you live in or near the

rural towns they call home, chances are you

don't know they exist.

This is by no means an exhaustive list, but

here are 12 spots to explore, worth a road trip

of brewski discovery.

Natterjack Brewing Company

25929 Talbot Line, West Lorne. A family

brewery inspired by son Matt Soos, Natterjack

was opened in 2016 by a group of six family

members with rural roots in west Elgin

County. The beer

to take home is

Natterjack Toad, a

Belgian-style blonde.

The brewery has also

brewed interesting

seasonal or one-off

beers such as Easy

Breezy Blueberry

Squeezy, which was featured at Truly Local.

This dark ale incorporated fresh blueberries

grown on two West Elgin farms.

The New Heart of Downtown Sarnia

Gift

Certificates

Available

New

Party Room

for the

Holidays!

The Tin Fiddler Brew Pub

& River Run Brew Co.

146/148 Christina St. N, Sarnia

226-784-2337

TheTinFiddler
---
eatdrink: The Local Food & Drink Magazine

Rusty Wrench Brewing Company

9 Front Street West, Strathroy. A brewery

and pub, Rusty Wrench opened in 2017. Its core

beers

include

Crappy

Tire, a

hefty 7.5% alcohol oatmeal stout with notes

of dark chocolate and coffee. There's also Left

Handed Spanner, a West Coast-style fruity IPA.

Stonepicker Brewing

7143 Forest Road, Plympton-Wyoming. A

farm-based brewery near Forest, Stonepicker

is the creation of two farm couples with

passions for agriculture and

beer. Opened in 2017,

Stonepicker's slogan

"Our beer rocks" fits

nicely. Its beers carry

farmer themes, and

the places to start are

the Crop Tour lager and

the Farmer's Tan blonde

ale, Oops It Fell Out is also a lager

and uses barley malted on site. Among the

seasonals is Pail Ale, an earthy pale ale brewed

with British hops.

Widder Station Brewing

8395 Decker Road, Thedford. A brewery, a

pub, and a golf course.

Pick your passion.

Widder Station's

flagship beer is a lager

crafted for the 19th

hole. Train Wreck is

a light 4.8 per cent

alcohol lager served on

tap. The rest of the board is filled with a wellcurated

selection of craft beers from the likes

November/December 2019 | 35

of Sons of Kent in Chatham, Railway City in

St. Thomas, and Stonepicker.

River Road Brewing and Hops

35449 Bayfield River Road, Bayfield.

A family farm-based brewery, River Road

captures the

hearts of

malty beer

lovers with

Up Your

Kilt, a heavy

Scottish style

ale. It's 6.8 per cent alcohol, making it as strong

as a caber tosser. Intriguing seasonals include

Survey Elixir, an IPA infused with spruce tips.

Stone House Brewery

76048 Parr Line, Varna. Hockey player Ryan

O'Reilly made little Varna famous when he won

the Stanley Cup with the St. Louis Blues last

spring. But before that there was Stone House,

the original craft brewery in Huron County.

Stone House's newest beer is a Bavarian lager.

But it started with and

still highlights a Czechstyle

pilsner brewed

with Saaz hops. There's

a compact space to enjoy

Stone House beers on

site, but it's best to take

some bottles home from

the shop. Stone House

beers are also served at several top eateries in

the region, including Hessenland on Highway

21 near St. Joseph, Bentley's in Stratford and

Smackwater Jack's in Grand Bend.

Half Hours on Earth

151 Main Street, Seaforth. Highly regarded

in the craft beer world, Half Hours on Earth
---
36 | November/December 2019

brews a barrage of farmhouse sour-style beer

recipes in small batches. Among them are some

oak barrel-aged and flavour-infused beers such

as Bees! (a sour with honey) and Attenborough

(a mild entry-level farmhouse). Centigrade, also

oak-aged,

incorporates

black

currants and

dandelion

root. Things

change so often, fans need to frequently check

the Half Hours website to verify availability. Or,

better still, just go with what they've got when

you get there.

Shakespeare Brewing Company

2178 Line 34, Shakespeare. Located a short

drive from Stratford, Shakespeare Brewing is

owned by a husband-and-wife team. Reckless

Rooster,

a pale ale

featuring

Ontariogrown

Shop online ingredients,

eatdrink.ca |@eatdrinkmag

is the star attraction and there's no kidding

with Grumpy Goat, the brewer's bitter take on

an India Pale Ale. It's a milk stout that catches

the eye as the weather turns cold. Classy Cow

is full-bodied, smooth and finishes sweet.

Bitte Schön Brauhaus

68 Huron Street, New Hamburg. The

name means "You're Welcome" in German.

Located in a renovated historic building,

Bitte Schön brews gluten-free beers. Huron

Street Hefeweisen is sold in cans at the LCBO.

There are free

tours Saturday

afternoons

and you can

bring in food

from nearby

restaurants

to eat while

enjoying a beer inside the brewery. Owned

by the same folks who run Descendants Beer

& Beverage Co. in Kitchener, Bitte Schön has

a special item for sale on the menu — the

brewery itself.

'til the COWBELLs come home!

Receive 10% off ALL BEER PURCHASES online at store.cowbellbrewing.com

with the promo code "EatDrink10"

— Discount code is valid until December 31, 2019 —

40035 BLYTH RD., BLYTH, ON N0M 1H0 1-844-523-4724 WWW.COWBELLBREWING.COM
---
eatdrink: The Local Food & Drink Magazine

Ramblin' Road Brewery Farm

2970 Swimming Pool Road, La Salette.

Peanuts with your beer? Ramblin' Road traces

its entrepreneurial food, family farming,

and beverage lineage

to Picard Peanuts.

An early player in

farm-based brewing,

Ramblin' Road has

the perfect gift for

the craft beer fan on

your Christmas list

— a "Quick Six" pack

"grown" on the farm

and featuring Pure

Bred Red and Ramblin'

Road's lager family, and its IPA. Piquing

interest is Dakota Pearl Ale made with the

same potatoes used to make Ramblin' Road's

kettle chips. The pairing seems obvious.

Dundas & Sons Brewing Company

400 Adelaide Street North, London. Rob

Dundas, the big bearded owner of Old East

Village's tiniest brewery will make you feel

at home. Dundas &

Sons, which famously

uses hops grown on

the owner's porch,

brews beer styles

you'd expect, such

as an American pale

ale, and some you

might not, such as

a honey elderberry

saison. The board changes frequently and

the selection is supplemented by kegs from

other brewers..

GEORGE MACKE is a craft beer fan living in London.
---
38 | November/December 2019

eatdrink.ca |@eatdrinkmag

Wine

VQA Wines

Embracing the Destinations

by GARY KILLOPS

Winemaking in Ontario has been

going on for well over 200 years

but the wines did not always

have a good reputation.

Ontario wines were made from native vitis

labrusca grapes like catawba and concord

which became the backbone of Ontario wine

in those early days. Concord grapes are now

better known for being used in

jellies, jams and grape juice.

About 35 years ago a few

Niagara vineyard owners planted

European vitis vinifera vines and

began changing the reputation

of Ontario wine. Vinifera such

as chardonnay, riesling, cabernet

franc, merlot and pinot noir

began to replace the "grapey"

tasting wines made from

labrusca grapes.

As the quality of Ontario

wines began to improve a group of Ontario

wineries created the Vintners Quality Alliance

(vqa) to set out geographic appellations and

introduce strict production standards. This

system is similar to the regulatory systems

in France (aoc/aop), Spain (do), and Italy

(doc/dop).

The vqa logo on a bottle of Ontario indicates

several things, but most importantly that

100% of the grapes used to make the wine were

grown in Ontario. This past October a new and

updated Ontario vqa logo was

introduced.

The Wine Marketing

Association of Ontario

(wmao), in partnership with

Ontario's Wine Appellation

Authority (vqao), revealed the

modernized and striking "New

and Next" Ontario vqa logo,

the emblem used by Ontario

vqa wineries as a mark of

origin, quality and authenticity.

The vqa logo guarantees that

only Ontario-grown grapes go into every

bottle of Ontario vqa wine.

"We are thrilled about the new vqa
---
eatdrink: The Local Food & Drink Magazine

logo as it embraces Ontario's wine growing

region, climate and status as an exciting New

World wine destination. It evokes a feeling

of boldness and creativity, showcasing how

Ontario winemakers have forged their own

style. VQA Wines of Ontario are truly on the

cutting edge of cool," said Sylvia Augaitis,

Executive Director of the Wine Marketing

Association of Ontario. "Ontario's time to

shine is now and this new contemporary

vqa logo communicates confidence, building

on how Ontario vqa wines continue to

win international respect and acclaim. The

modernized vqa logo helps convey that story

to consumers." The new logo should soon start

to appear on bottles of Ontario wine.

The wine and grape sector contributes $515

million to Ontario's gdp and supports more

than 9,000 direct jobs. Grape production

from almost 500 Ontario growers is used to

make vqa wines, which had $374 million in

sales in 2018–19.

For this issue I have selected wines from

each of the three wine appellations of Ontario:

Niagara Peninsula, Lake Erie North Shore, and

Prince Edward County.

Winemaking at Its Finest

Merlot. Sauvignon Blanc. Carmenere.

Gewurztraminer. Malbec. Moscato.

Tempranillo. White Zinfandel. Grenache.

Semillon. Nebbiolo. Viognier.

Shiraz. Chardonnay. Pinot Noir.

Just to name a few ...

We have your flavour.

Come make it.

Alton Farms

EST A TE WINERY

HO HO HO

Merlot

POUR

THE

WINE TASTINGS, EVENTS,

TOURS, OUTDOOR PATIO,

WOOD-FIRED PIZZA OVEN

SARNIA

LAKE

HURON

7

21

Grand

Bend

Forest

Aberarder Line

21

402

London

77 km

5547 Aberarder Line, Plympton-Wyoming

519-899-2479 • altonfarmsestatewinery.com

SOMETHING

BIG IS HERE!

The new CREW Winery & Gallery is officially open! The tasting bar is

open 7 days a week, and a new galley menu launches mid-November.

Taste local wines, see original art, and take in our vineyard views.

Premium quality handcrafted wine

at an affordable price

150 Exeter Road, London 519-652-3998

somersetfinewines.com

OPEN TUES–FRI 10am–7pm & SAT 9am–4pm

Colchester Ridge Estate Winery

108 Essex County Road 50, Harrow ON

519-738-9800

@crewinery
---
40 | November/December 2019

Niagara Peninsula

Flat Rock Pink Twisted Rosé 2018

vintages #39974, $17.95

A blend of pinot noir, riesling and

gewürztraminer. Slightly off dry.

Juicy raspberry, red cherry and

strawberry fruits, white flowers,

spice and supported by intense

acidity to make this a deliciously

sippable rosé. Pair with a walnut

raspberry or tossed salad and

raspberry vinaigrette.

Reif Estate Meritage 2015

vintages #149005, $39.95

Using "Meritage" on

a bottle of Ontario

wine is a protected

VQA reserved term. Only VQA

approved wines can use this term.

Other protected terms include

Icewine, Late Harvest Wine, and

Estate Bottled.

A blend of 60% cabernet

sauvignon, 30% merlot and

10% cab franc, aged in French,

Hungarian and American oak

for 24 months. This is a big, full

bodied red wine. Ripe red fruit,

blackberry, and cedar. This is a

wine that is best served several

hours after decanting. Pair with

roast lamb and grilled vegetables.

Prince Edward County

eatdrink.ca |@eatdrinkmag

Exultet Royal Road Recipe Pinot

Noir 2017

vintages #10755, $44.95

Located in Ontario's northernmost

wine region, which has a shorter

growing season, limiting the type

of grapes that can be harvested.

Pinot noir and chardonnay

do well here and are excellent

reflections of cool climate wines.

"Royal Road Recipe" is named

after the road Exultet winery

is located on. This is an earthy

pinot noir. Dried leaves, forest

floor and turned soil and fresh

herbs. Red cherry

fruit. Medium body,

lively acidity, a style that craves

food! Pair with salmon, roasted

chicken or beef bourguignon.

Hillier Creek Gamay Noir 2017

vintages #372839, $16.95

Gamay has long been flying

under the radar here in

Ontario, and is another grape

that excels in cooler climates.

Hillier Creek's gamay is fresh,

lively finish with mouthwatering

cherry and strawberry

notes. Light bodied and off dry

with 33 g/L. Pair with meat and

cheese charcuterie plates.

Lake Erie North Shore

Cooper's Hawk Reserve

Cabernet/Merlot 2015

lcbo #328013, $18.95

A blend of cabernet sauvignon and

merlot grapes from vineyards

located in Canada's most

southern wine growing region.

The warm 2015 summer

provided the roadmap to full

grape ripeness. Plum and red

fruits, fine structure, tannins

and acidity. Pair with tagliatelle

pasta with Bolognese sauce.

Cooper's Hawk Cabernet Franc

2017

lcbo #585950, $19.95

Without question cab franc is

a grape that produces some of

Ontario's finest red wines. This

one delivers. Ruby colour, red

and black fruits, light spice notes,

with a silky lingering finish. Pair

with roasted pork, burgers or

meatballs in tomato sauce.

GARY KILLOPS is a CAPS Certified

Sommelier who loves to talk, taste, and

write about wine. He shares his tasting

notes on EssexWineReview.com
---
eatdrink: The Local Food & Drink Magazine

November/December 2019 | 41

The BUZZ

Culinary Community Notes

New and Notable

London

We are excited at Eatdrink to present an expanded

Volume 8 of the Local Flavour Culinary Guide

(available in late November). The guide is now a

regional publication covering Southwest Ontario

from Windsor to Woodstock, up to Stratford and

over to Goderich. You can find it at many of the

locations that carry Eatdrink, as well as at Tourism

Information Centres throughout Ontario. As usual,

this complimentary guide is also available online.

As with all of our publications, it can be easily

read on your cellphone, tablet or desktop. We are

confident readers will be more pleased than ever

with this more extensive guide. localflavour.ca

Great things continue to unfold in London's Old

East Village. A sense of inclusive community

is pervasive and has made the OEV a prime

destination for entrepreneurial innovation. Just

off the beaten path and in and around the walkable

Dundas Street corridor, the area is a hotspot for

culinary incubation and indie startups, is a magnet

for arts and culture, and has a thriving music

scene. Visitors are always looking for authentic

experiences when they travel, to connect with

their surroundings and live like the locals. Here

are just a few of the dynamic culinary businesses

in OEV: The Root Cellar Organic Café, 10 Eighteen

Café, Backroads Coffeehouse & Cakery, Willie's

Café + Catering (at the Food Incubator), Momo's

at the Market (and at the Food Incubator), Unique

Food Attitudes, Vietnam Restaurant, Spring

(YouYiCum) Chinese Restaurant, Wisdom Teashop

and Japanese Creperie, and Tony's Pizza (a familyrun

Italian restaurant since 1961). There are other

fine food retailers such as The Hungary Butcher,

So Inviting Chinese Bakery (homemade Chinese

dumplings) and Artisan Bakery. There are craft

brewers Anderson Ales, London Brewing Co-op,

Powerhouse Brewery, Dundas & Son's and the new

distillery Union Ten.

The Market at Western Fair District is a vibrant hub

in the heart of Old East Village bringing together

community, food artisans and startups. Two floors

and over 100 vendors make up The Market. The

Market operates on Saturday and Sundays and

features fine retailers such as The Village Meat

Shoppe, Loco Fields, The Butcher's Wife, On the

Move Organics, Monforte Cheese, Petojo Food

& Catering (Indonesian cuisine), Harvest Pantry

(ferments, preserves, salts and tools) and Downie

Street Bakehouse. Food truck operators Bifana

Boys and Goodah Gastrotruck have popular booths

at The Market. themarketwfd.com

Executive Chef Katherine Jones and Chef Ryan

Wishak and their team at Growing Chefs!

continue to work hard to challenge the perceived

limitations of children and youth in the kitchen.

Upcoming fall classes include Chef Maryam Yaro

featuring the Food of Nigeria on November 27.

growingchefsontario.ca

Now Booking

Christmas

Parties!

Monday–Thursday: 11:30am–9pm

Friday: 11:30am–10pm

Saturday: 4pm–10pm

Sunday: 4pm–8pm

Gift

Certificates

Available

Reservations: 519-601-7799

1140 Southdale Road West, London

www.bocconcinilondon.ca

Free Parking
---
100% Local — from Our Farmers to Your Table

Hormone & Drug-Free

Ontario Beef, Pork, Bison, Lamb & Chicken

THE VILLAGE

MEAT SHOP

LOCAL - NATURAL - QUALITY

Now Accepting

Special Orders

for the Holidays!

WE ARE YOUR LONDON OUTLET FOR

• Metzger Meat Products • Lena's Lamb

• Blanbrook Bison Farm • Little Sisters Chicken

• Glengyle Farm Organics

The Market at Western Fair District: SAT 8–3; SUN 10–2

226-376-4120 • www.thevillagemeatshop.ca

eatdrink.ca |@eatdrinkmag

Christmas Tea at Eldon House, Saturday, December

7, 12:00, 1:30, and 3:00 p.m. seatings. Get in the

holiday spirit with live entertainment, tea and an

abundant menu of savouries and sweets before

touring Eldon House, which will be decorated for

Victorian Christmas. To register, visit eldonhouse.

ca/events or call 519-661-5169.

Have you been to Annies Chocolates? This familyowned

and operated business uses custom blends

of Dutch chocolate. Annies also makes sugar-free

chocolates, fudge, nuts, and offers London Ice

Cream and gift baskets. 1700 Hyde Park Road

(relocated from the Arva location) and 22425

Jefferies Road in Kilworth annieschocolates.com

One of our favourite food trailers is the organic

Mexican-inspired Ivanopoblano in the parking lot

of Lyn-Dys Health Food at 1016 Oxford St. E. Ivan

Santana-Barnes has been serving some of London's

best Latin-inspired food for the last four years and

is relocating to the new Ivanopoblano Restaurant at

390 Wharncliffe Road this fall. ivanopoblano.com/

Each cookie, cupcake and custom cake is an original

work of art at Hey, Cupcake! The family-run

bakery, owned by Krista and Heath Trollope, caters

to a clientele with a whimsical and clever sense of

LOVE,

LOVE IT!

SO MANY

SHOPS.

THEMARKETWFD.COM

HALINA A.

GOOGLE REVIEW
---
eatdrink: The Local Food & Drink Magazine

taste and style and an appreciation of quality. Using

only the freshest and finest ingredients, every order

is baked from scratch and created with "a whole

lotta lovin." They're relocating to a solar-powered

shop in the new sustainable West 5 business and

residential development. Ask about their ongoing

campaign "Random Acts of Sweetness!" 1305

Riverbend Road, Suite 110, at Oxford Street West.

519-433-CAKE (2253), heycupcake.ca

For over 25 years, Garlic's of London has been

a popular dining destination. Open seven days a

week, they welcome you to join them for an intimate

gathering, leisurely Sunday Brunch, business

meeting or special celebration. Garlic's exemplifies

the transcendent synergy between authentic, chefdriven

culinary craftsmanship and meticulously

procured ingredients imbued with contemporary

twists on time-honoured traditions. Head Chef

Alex Martin has a thoughtful, respectful edge.

Food is made from scratch with inspiration from

local products, and elevated by freshly-harvested

seasonal ingredients. 481 Richmond Street, 519-

432-4092, garlicsoflondon.com

Congratulations to Publican Mark Serré of The

Morrissey House, who is celebrating a decade

in business. 361 Dundas St, 519-204-9220,

themorrisseyhouse.wordpress.com

Congratulations to Nutritionist Julie Kortekaas and

Chef Shayna Patterson of Rebel Remedy, who are

celebrating the third anniversary of the business.

Please support them during the construction of

Dundas Place. 242 Dundas Street, 519-709-2782,

rebelremedy.com

Willie's Café continues to grow and thrive in the

London Food Incubator at 630 Dundas Street.

Ian Kennard has expanded the seating with more

tables, comfy chairs and a new cozy dining area.

There is inexpensive municipal parking off Queens

Ave., and customers are welcome to use the

entrance accessible from the parking lot. Willie's

also provides catering services with a focus on

office/corporate lunches. 630 Dundas Street, 519-

433-9027, williescafeandcatering.com

Located at King and Talbot Streets, Origins Co.,

with a Grab & Go smoothie bar, is close to Covent

Garden Market and Budweiser Gardens. They offer

smoothies and smoothie bowls to ensure that

healthy ingredients fit into your busy lifestyle.

Ingredients are ethically harvested, non-GMO, and

organic where possible. They offer teas, espresso

and Bulletproof coffee. Open Monday–Saturday

8am–3pm, closed Sunday. 105 King Street, 519-601-

5855, originsco.com

From our farm to your table ...

Award winning hand crafted

alpine style cheese

Monday to Friday 9am–5pm

Saturday 9am–4pm

Stonetown Artisan Cheese

5021 Perth Line 8

St. Marys ON

Fresh Cheese Curds

Cheese Tastings

Gift Baskets &

Gift Boxes

Cheese Trays

Fondue & Raclette

519-229-6856

info@stonetowncheese.com

www.stonetowncheese.com

Join us for Londonlicious!

hand crafted sandwiches

weekend brunch

homestyle lunch & dinner

craft beer, wine & cocktails

731 Wellington Street

between Oxford & Piccadilly

519-860-9424

wichiswich.ca
---
Traditional, Real Food.

Real Good!

Try our world famous Goulash Soup, Cabbage Rolls,

Schnitzel, Chicken Paprikash, a Combination Platter, or

many other mouthwatering Hungarian dishes.

Gift

Certificates

Available

519-652-9696

aranka.ca

aranka.csarda arankacsarda

7447 Longwoods Road, London

Our beautiful country setting is on Longwoods, the continuation of

Wharncliffe Road, just outside Lambeth

LUNCH Wed to Fri 11:30–2:30

DINNER from 5pm daily

432 Richmond Street

at Carling • London

ALWAYS

a 3-course prix fixe

menu option

www.davidsbistro.ca

eatdrink.ca |@eatdrinkmag

The landmark Budapest Restaurant has been

operating since 1956, and its current owners Eduard

Nagy and Anita Tasonyi are 20-year veterans

of the establishment. Protégés of the legendary

restaurateur Marika Hayek, they continue to delight

clients by offering authentic Hungarian specialties in

this classic old-world setting. Confident, expansive

cooking keeps traditional Hungarian flavours

front and centre. Think classic offerings flavoured

predominantly by woodsy, smoky Hungarian paprika

— dishes that are precisely prepared and expertly

flavoured. Located downtown in the hotel district, the

restaurant is a short walk from the Delta Armouries,

DoubleTree by Hilton and RBC Place London.

Banquet room available. 348 Dundas Street, 519-439-

3431, budapestrestaurant.net

Richmond Row's Bombay Bistro is a restaurant and

a cultural hub offering "a culinary tour de force of

India's cuisine," as well as pick-up tiffin service and

meal plans. They take authentic flavours from their

home country and push them beyond expectations

in their own unique and intimate way. 346 Richmond

St., 519-601-8850, bombaybistro.ca

Locomotive Espresso, a locally-owned espresso

bar, is growing the five-year-old business, with the

addition of a location this coming Februrary at 350

Ridout Street South (at Chester St.) in the Old South

neighbourhood. Locomotive Espresso South will

be brewing espresso-based beverages using Mod Bar/

La Marzocco equipment, an under-counter system

with above counter taps. The modular formation

will create an open bar look, and the design offers

excellent interaction and engagement with customers.

"Old South is a creative and passionate

community where we can expand our brand and

employment opportunities while offering a sense

of a community place with exceptional products,"

said owner Jill Wright. Staying super local and

a business incubator has been a priority for

Locomotive Espresso. They were one of the first

retailers to offer such local brands as Booch, Nuts

for Cheese, Bliss Bars, The New New Age, and Helm

Baked. They support other established businesses

like Willie's Café, North Moore Catering, The

Artisan Bakery, The Tea Haus and Momo's At The

Market. locomotiveespresso.com

Alchemy Bake Shoppe creates fun and interesting

pastries influenced by nostalgic treats and current

baking trends. With a production facility in London,

Alchemy offers breakfast pastries, cookies and

squares, cakes and a variety of savoury baking

including quiche and pies. Find them Saturdays

at the Covent Garden Farmers' Market and on

Sundays at Stratford's Slow Food Market (10
---
eatdrink: The Local Food & Drink Magazine

Downie St. indoor location). Follow them —

instagram.com/alchemybakeshoppe — or on

Facebook for events or to place an order directly.

Jess Jazey-Spoelstra and Chef Andrew Wolwowicz's

stylish Craft Farmacy will celebrate a second

anniversary in December and continue to "dispense

deliciousness." The owners are committed to

sourcing and celebrating local Ontario food. The

Feast ON-certified restaurant's ever-changing

menus focus on craft beer, craft cocktails, a large

selection of fresh oysters, and inspired rustic farmto-table

food. Be sure to check out the Sunday

Brunch prix fixe menu. 449 Wharncliffe Rd, just

north of Baseline, 519-914-2699, craftfarmacy.ca

Reverie, the acclaimed and unique 12-seat tasting

menu restaurant, continues to receive accolades. Chef

features a modernist Canadian-focused five-course

menu every night from Thursday to Sunday. Owners

Jerrah Revilles and Chef Brian Sua-an recently

celebrated Reverie's second anniversary. They offer

an intimate, immersive, innovative experience with a

combination of exciting platings and vibrant flavours.

Wine pairings are optional but highly recommended.

Reservations required. 208 Piccadilly Street just west

of Richmond, 519-914-6595, reverierestaurant.ca

The Western Fair Association (WFA) has

announced its future business strategy, which

will bring hundreds of jobs, economic prosperity,

innovation and growth to London and region. The

new initiative, designated The Grove at Western

Fair District (The Grove), will help to develop

the next generation of Canadian agri-business

entrepreneurs in London, Ontario. By repurposing

buildings on the WFA site, The Grove will help

new and existing agri-businesses to incubate,

accelerate, educate and connect. The Grove will

continue the legacy of the WFA's deep agricultural

roots while keeping innovative for future growth.

www.TheGroveWFD.com

The Middlesex London Food Policy Council

(MLFPC) will make its new home at The Grove. The

MLFPC is the organization tasked with identifying

challenges and proposing innovative solutions

to develop a healthy, sustainable, resilient and

equitable local food system. mlfpc.ca

The first major tenant of The Grove is LiveFit,

a provider of prepared meals that are delivered

directly to consumers. livefitfood.ca

It's sustainable, and it's traceable right back to the

farmers that grew it. London Brewing is proud to

be the first Craft Malt Certified brewery in Canada.

"This is really important to us but it's as important

to local farmers that we can raise the profile of

what they are doing," explains Aaron Lawrence,

Make HAPPINESS

a part of your day.

Featuring

Creative Menus

from Chefs

Erryn Shephard

&

Ben Sandwith

Seasonal Hours

Reservations Recommended

Always Available

for Caterings!

Book NOW for your

Christmas Lunch or Dinner Party

& Reserve for New Year's Eve!

519.238.6224

42 Ontario St. S., Grand Bend

www.finearestaurant.com
---
SUNDAY BRUNCH

11am−2pm

Heather's

Incomparable Journeys

Travel the slow roads to charming tidy towns, music-filled pubs,

ancient tombs & castles. Enjoy leisurely walks, gourmet food &

welcoming country hotels. You won't find another itinerary like it.

Absorb the history, culture & countryside as we explore major cities

& Tatras Mountains in Poland, the capitals of Baltic States,

and St. Petersburg, Imperial Capital of Russia.

Explore the splendour of Lake Como, Undiscovered Umbria, Amazing

Amalfi Coast, Hilltowns of Calabria, and Florence & Rome.

For any and all of your travel needs

Heather Wilkinson

Regional Office: 31 Nottinghill Gate, Suite 203, Oakville

TICO#50013851

Open 7 Days a Week

Mon/Tues 11:30-10, Wed/Thurs 11:30-11, Fri/Sat 11:30-12, Sun 11-10

eatdrink.ca |@eatdrinkmag

head brewer and a founding worker-owner of the

worker-owned and operated brewery. "The beer

we are brewing really is an agricultural product

and it's the necessary trend of craft beer to use

local ingredients if it is to be a truly local beer.

londonbrewing.ca

The Bun offers authentic Sichuan-style Chinese

street food, rejecting improvised Canadian-Chinese

food dishes. The menu is straightforward , you

order at the counter, and waiters deliver food to

the long communal tables. Start by trying the

pulled pork sandwich or Sichuan-style wontons

with special chili house sauce. There is a delicious

sour and spicy Sichuan shredded potato dish and

blistered tiger skin peppers (the name comes from

the color of the peppers after they've been seared in

a hot wok, which resembles a tiger's coat). There is

a variety of good noodle dishes. 196 Dundas Street,

519-567-5741.

Rain & Sunny Chinese Noodles, a Hunan-inspired

noodle house has opened at 186 King St., northeast

of Five Fortune House, in the premises of the

former King's Diner.

Some of the most consistent dim sum is to be found

at London Chinese Restaurant, located in the strip

mall at Oxford and Wonderland. It is served all

day. Wing's Kitchen at Highbury near Cheapside

also serves some of the best dim sum in the city.

We recommend you go there from Thursday to

Sunday for the finest experience. Golden Dragon in

Byron is known for the best crisp, dark-golden skin

Peking duck. Ordering the barbeque duck or Peking

duck in advance is always recommended. The

upscale Congee House is a favourite, reliably good

and known for its Cantonese dishes and congee.

Five Fortune Culture House located downtown at

Richmond and King is well known for its Yunnanstyle

home cooking with Sichuan and Guizhou

influences.

Thursday nights are now a Jazz Night at Michael's

On The Thames, with a different jazz ensemble

featured each week. Join Michael's for a glass of

wine, appetizers or dinner BUT be sure to join them

for the jazz on Thursdays! 1 York St, London, 519-

672-0111, michaelsonthethames.com

Wich is Wich has relocated to Wellington St., south

of Oxford (once Willie's Café), serving the same

great food (global flavours, exotic ingredients,

and textural contrasts). Still, they're not just

serving gourmet sandwiches. Chef Josh Sawyer

calls it "homestyle," and they're taking comfort

food to a whole new level. Locally-sourced

whenever possible, meals are crafted from hearty
---
eatdrink: The Local Food & Drink Magazine

artisan bread, slow-roasted meats, garden-fresh

vegetables, gourmet spreads and sauces. Wich

is Wich's weekend brunch (served both days),

lunch, and dinner menus (Tuesday–Saturday)

can be paired with great wines, local beers and

cocktails. They also offer catering, grab-and-go. 731

Wellington St., 519-860-9424, wichiswich.ca

Stratford

Nosh Mondays at The Red Rabbit are a way of

celebrating each season, allowing each chef to let

their talent and creativity shine. It is also a culinary

adventure. Join them Mondays from November to

April. Make your reservations early. 64 Wellington

Street, Stratford, 519-305-6464, redrabbitresto.com

We continue to hear great things about the new

Braai House, which recently opened above

Stratford's iconic Keystone Alley. The menu,

created by executive chef and owner Anthony

Jordaan, highlights the amazing flavours that come

off a South African-style braai, a wood-fired BBQ/

grill. 34 Brunswick St, Stratford, 519-271-5647,

braaihouse.ca

Find the unexpected and latest trends in home

décor, culinary must-haves and gift giving in

Stratford. Explore the Stratford Christmas Trail to

capture the spirit of giving and the joy of checking

items off the list. You'll discover unique and

individual gift ideas when you stroll the festive

streets. It is easy to kick off your holiday shopping

with six gifts for just $30(+HST) and a choice of 25

stops. Purchase your pass at Stratford Tourism,

Village Craft and Candle in St. Marys, or The British

Touch in Shakespeare — before December 20.

Visit the highly anticipated Christmas Open

Houses at Rheo Thompson Candies (November 3),

Bradshaws (November 8) and Wills & Prior "Deck

the Halls" event (November 9) to discover the first

of the holiday trends, flavours and gifts. Enjoy the

holiday splendour at The Parlour Christmas Open

House and artisan creations at Treasures (both

November 24). The Milky Whey Fine Cheese Shop

marks ten years in Stratford with tastings (Dec. 5).

Sip wine and shop at the Start the Holidays Art

Show and Sale, at Factory163 where the building's

heritage character complements the artisanal

creativity (Dec. 7–8).

Stratford Chefs School invites you to an array of

culinary classes for the home cook. Learn to make

an amazing home charcuterie board (November 18),

cooking with cannabis (November 25), and much

more. Stratford Chefs School Dinners, prepared by

students, take place Tuesday through Saturday at

the new Stratford Chefs School Kitchens. Student-

Now Accepting

Holiday Party

Bookings!

Gift

Certificates

Available

Chef/Owner Mark Graham's

fresh, creative, locallysourced

menus extend

to full-service catering

to Strathroy, London &

area. Call for a quote!

The heart of

Downtown

Strathroy

Voted #1 Best Burger

in Strathroy

2018 Spirit Awards

Winner

Historic Post Office & Customs Building

71 Frank St, Strathroy • 519-205-1500

www.clocktower-inn.com
---
eatdrink.ca |@eatdrinkmag

BISTRO • CONFERENCE • SUITES • SPA

519-565-2576

LakeHouseofBayfield.com

Lovingly Crafted with Skill & Heart

Owners Tabitha & Dave

New York Style Bagels! Apple & Blueberry Fritters!

Open Until

Christmas Eve

For Holiday

Orders

Natural Ingredients

from Local Vendors

Baked with Butter

from Scratch In House

900 Oxford Street East at Gammage

519-601-1651

created menus as well as international inspirations

are paired with wine and can be reserved online.

stratfordchef.com

Junction 56 Distillery's spirited tours introduce

you to the making of craft spirits, and provide and

opportunity to taste and ask questions of the crafters

while stocking the holiday bar. (Saturdays at 11 am)

45 Cambria St., 519-305-5535, junction56.ca

The Milky Whey Fine Cheese shop presents

"Creating the Perfect Holiday Charcuterie Board

Workshop", including refreshments (Nov 14 & 27)

and Pairing Quebec cheese and Cider (Nov. 16).

Take a special friend to Afternoon Tea with Santa

(Dec. 8) at The Bruce. Prepare for the season with

Gingerbread House Decorating (Nov. 30 and Dec.

6), a Holiday Baking class (Dec. 14) and Cookie

Decorating (Dec. 22), all perfect for sharing the

children's wish lists. thebruce.ca

A Very Victorian Christmas returns to Market

Square (November 24), for a festive and vibrant

outdoor market in the heart of Stratford's heritage

downtown that includes art, music, Santa, and

children's crafts. Don't miss the magical carousel.

Mini markets will be featured on Saturdays

November 30, December 7 and 14, complete with a

visit from Santa.

Breakfast with Santa at The Parlour (December 8).

Here's a family favourite adding to the excitement

and fun of the holidays and kids under ten eat free.

Santa's Parade of Lights, Sunday, November

24 — one of Southern Ontario's best Santa Claus

parades. Leaving Lakeside Drive and making its way

through uptown Stratford, bringing Santa to City

Hall. There are prizes for the best illuminated and

best decorated floats, free hot chocolate, hotdogs

and donuts at City Hall, music and carol singing,

the lighting of the City Hall Christmas Tree, and

decorations by Santa.

Home for the Holidays Hanukkah Party with the

Stratford Chefs School, December 15. A holiday

party that highlights the Jewish Festival of Lights,

Hanukkah. Celebrate your family's long-held

traditions, or simply join the fun and learn more

about this festival. Everyone is welcome. Hanukkah

Sameach! $20/person (children 12 and under free).

Congratulations to Madelyn's Diner, which recently

celebrated 34 years in business. Madelyn's Diner

would not be the business it is today without

Madelyn, whose daughter reminds us "was a pioneer

in Stratford, as a female business owner, providing

good food, sourced-locally, long before that was a

movement." Madelyn's mission statement reads:"It's
---
eatdrink: The Local Food & Drink Magazine

November/December 2019 | 49

not about making money … It's about feeding the

world, with good food, good service and good fun."

377 Huron Street, 519-273-5296, madelynsdiner.ca

The Mill Stone Restaurant & Bar features Chef

Jeremy Hayton's seasonally-inspired lunch,

dinner and late-night menus using many locally

procured ingredients. Lao pop-up snack bar is now

the last Saturday of every month. Serving up Laos

cuisine and regionally-inspired cocktails until the

wee hours. Followed up with Sunday Laos snack

features on the regular lunch menu. 30 Ontario St.,

519-273-5886, themillstone.ca

Revival House has seen some notable changes. It

now offers an exciting new menu crafted by new

Chef Andrew Tutt. With the colder weather, they're

also re-opening The Belfry, the perfect spot for cozy

winter meals and drinks.

A number of amazing musical acts will soon

grace the Revival House stage: Nashville-based

Canadian multi-instrumentalist and singersongwriter

Linda McRae celebrates the release of

her new record, Going To the Well, on November

14. London, Ontario vocalist Megan Schroder

brings her classic country Patsy Cline tribute

on November 15. Award-winning vocalist and

songwriter Michael Bell presents an all-star band

with The Bowie Lives, a sensational Bowie tribute,

on November 16.

On Sunday, December 15, from 3–5 pm, Revival

House hosts the Annual Rhéo Thompson Candies'

Scotch and Chocolate Pairing. Individually

wonderful, brilliant when paired. Special guest

certified whisky sommelier Steve Rae creates

a whisky journey through Scotland, touching

the different regions and flavour profiles. Rhéo

Thompson Candies' chocolatier Christine Chessell

has selected a variety of chocolates to compliment

the scotches. Enjoy this excellent combination of

flavours for $60 per person (chocolate-only tickets

are available for $25): rheothompson.com

"Reasonably priced, fresh, well-executed

Ethiopian cuisine ..." — Bryan Lavery, Eatdrink

Book Your

Holiday

Parties Now!

Gift

Certificates

Available

More than just a Coffee Shop!

Customized Gift Baskets

Baking Orders

(Keto & Gluten-free options)

Gift Certificates

Gift Baskets

The annual Bradshaw's Holiday High Tea at

Revival House is offering two seatings November

24, featuring three stunning seasonal loose-leaf teas

from Sloane Fine Tea. Enjoy a special selection of

holiday treats created just for this event by Revival

House, and beautiful classical holiday-themed music

by the talented musicians of the Stratford Symphony

Orchestra. It's a perfect way to celebrate the holidays

with friends and relatives! bradshaws.ca

Approaching the 200th anniversary of Beethoven's

death, the Stratford Symphony Orchestra presents

• FAMILY FRIENDLY

• Vegetarian &

Vegan Options

• Takeout

• Catering

ADDIS ABABA Restaurant

Tuesday–Sunday 11am–10pm by reservation

Closed Monday

465 Dundas Street 519 433-4222

www.tgsaddisababarestaurant.com

PAT

OPEN

Catering

&

Private Event

Space

Christmas Baking

Pour Over Coffee Bar Open 7 Days a Week

creambeanerycafe.com

New 2nd Location!

22469 Adelaide Rd, Mt Brydges

226-490-0301

825 Southdale Rd W, London

519-652-1607
---
Book

Your Holiday

& Christmas

Parties!

Gift Certificates Available

Your love of all things Italian begins at

Gift Cards

Available

Book Now for Your Holiday Party!

519-652-7659 • HWY 401 & 4 • pastosgrill.com

eatdrink.ca |@eatdrinkmag

Legend and Legacy with Sarah Pratt performing

Violin Concerto in D (November 23).

Share the tradition of the Messiah performed with

orchestra and presented by Stratford Concert

Choir, St. Joseph›s Church (December 7). Special

guests The Blyth Festival Singers.

Enjoy the intimacy of a Christmas Sing-Along

(December 13), presented by Stratford Symphony

Orchestra at the Falstaff Family Centre.

Around the Region

St. Marys Winterlights Display is on between

November 15 and January 5. Hop aboard horsedrawn

carriages to ride through the park and

admire beautiful festive light displays. The display

opens following the Santa Claus Parade and will be

lit nightly for all to enjoy.

Love chocolate? Indulge in exquisite chocolate from

Woodstock's Habitual Chocolate — a bean-tobar

chocolate company. Cocoa beans are bought

from small family farms all over the world, and

flavourful dark chocolates are handcrafted in

the store. Choose from an assortment of culinary

chocolate, dark chocolates and custom chocolates

crafted for special occasions. Soy-free, nut-free,

gluten and vegan options are also available.

389 Dundas Street, Woodstock, 519-535-1341,

habitualchocolate.com

Congratulations to Dave and Michelle Schonberger

of Tree to Table by Ottercreek Woodworks who

recently won Best Culinary Experience in Ontario.

Within their first year of operation they also won

2018 Ontario's Southwest Innovative Experience

of the Year. ottercreekwoodworks.myshopify.com/

products/from-tree-to-table-workshop

Christmas Movie Trivia at Upper Thames Brewing

Co. Test your knowledge of holiday classics while

sipping on craft beer at the brewery on November

27. upperthamesbrewing.ca

Sollgood Holiday Social Market: Hit up downtown

Ingersoll for a unique, curated artisan market of

local goods, handmade products and tasty treats.

sollgoodsocialmarket.com

Brewed Exploration at Upper Thames Brewing Co.:

Step behind the bar to learn about brewing from

grain to glass and even bottle your own beer on

December 7th. upperthamesbrewing.ca

A Taste of Norwich Township: A food and drink

event featuring the best of Norwich Township on

November 31st. Call 519-476-6172 for tickets.
---
eatdrink: The Local Food & Drink Magazine

Enjoy an Old Fashion Christmas at Snyders Family

Farm. Don't miss out on the holiday farm fun at

Snyders, including s'mores, fresh-cut trees, bakery

treats, a Christmas hayride, meet n' greet with

Santa and more open weekends November 23–

December 15th. snydersfamilyfarm.com

Celebrate New Year's Eve with The Beatles at The

Elm Hurst Inn, with a Beatles tribute band and a

delicious, festive buffet. ElmHurstInn.com

Oxford County chocolatier Cindy Walker is a

small-town shop owner, a certified tea sommelier,

and "The Queen of Ganache." As owner and head

chocolatier of Ingersoll's Chocolatea, Cindy crafts

hand-cut chocolates with unique, creative flavours

and sources a handpicked selection of teas. In her

upcoming Truffle Camp workshops (November 16,

December 7 & 18), participants take on the role of

chocolatier and step behind the counter to craft

a dozen of their own delicious, multi-flavoured

truffles alongside Cindy. 38 King Street East,

Ingersoll, 519-495-6020, chocolatea.ca

The grand opening of the 55,000-square-foot

Eataly Toronto, the first in Canada, is set to open in

the Manulife Centre on November 13. The food hall

November/December 2019 | 51

and culinary emporium comprises three floors,

and is introducing over 1,000 Italian products new

to Canada while showcasing Italy's 20 regions.

Pasta-makers, pizza-makers using specialty-made

ovens, a Macelleria (butcher shop), a seafood

restaurant and an Enoteca where one can have

an aperitivo are among the offerings. If that isn't

enough, there is a bakery, formaggi (cheese) and

salumi counter with 400-plus varieties of Italian

and local cheese, a gelato lab, a chocolate and

pasticceria (pastry counter), an on-site brewery, a

marketplace and a culinary classroom. An all-day

Grand Café serving all types of Italian-style coffees

and alcoholic beverages.

We want your BUZZ!

Do you have culinary news or upcoming events

that you'd like us to share?

Every issue, Eatdrink reaches more than

50,000 readers across Southwestern Ontario

in print, and thousands more online.

Get in touch with us at editor@eatdrink.ca

Submission deadline for the next issue: December 5

Far Out ...

but we like it that way!

Come for the planes and fall in love with the food!

Book Your Unique Holiday Party NOW!

Enjoy the airport

runway view!

Gift

Certificates

for all of your

gift giving

needs

Blair Blvd

London

International

Airport

Crumlin Rd

Oxford St

MON & TUES: Lunch 11–3

WED, THURS & FRI: Lunch 11–5; Dinner 5–9

Weekends: Breakfast 9–12, Lunch 12–3, Dinner 5–9

519-455-9005

katanakafe.ca

2530 Blair Blvd, London

Diamond Flight Centre
---
eatdrink.ca |@eatdrinkmag

a

movement

for

restaurants

who believe

local food

matters.

®

A Feast On® Certification means

you're fighting the good food fight.

You're supporting our farmers

and putting local food first.

To get certified, visit:

ONTARIOCULINARY.COM

@ONTARIOCULINARY #FEASTON
---
eatdrink: The Local Food & Drink Magazine

November/December 2019 | 53

Theatre

Supercalifragilisticexpialidocious!

Mary Poppins is at The Grand for the Holidays

By JANE ANTONIAK

Imagine a five-year-old boy taken by his

grandmother to see his first live theatre

performance. It's a musical extravaganza

at The Grand Theatre about the life of

Barnum — of circus fame. The child sits in

awe. His life in theatre has begun.

Imagine a four-year-old girl taken by her

mother to see her first live theatre performance

in 2019. It's a musical extravaganza at The

Grand Theatre with her uncle as Bert, in Mary

Poppins this holiday season.

Her uncle was that five-year old boy. Mark

Uhre's theatre career comes full circle November

26 to December 29 when he steps onto the

stage to perform for the next generation of

theatregoers, including his niece.

"It's a great feeling to return to the place

where everything started. Growing up I always

loved coming

downtown during

the holidays,"

says Uhre in an

interview with

Eatdrink. "Mary

Poppins will be

my niece's first

show so we are all

excited and pretty

emotional, as it is a

special story from

our own childhood,"

he adds.

Uhre's first role was at the Grand in 1992. He

was 12 years old when he played in A Christmas

Carol, which starred the legendary Canadian

actor William Hutt. While studying at Beal

Secondary School in London in 1998, Uhre

starred as Tony in a High School Production of

West Side Story. "That was it. I started focusing

on theatre and music as a career, rather than

visual art. The Grand has been a huge part of

my development as an artist."

And what a career! Uhre made it to

Broadway as Enjolras in Les Misérables in

2016. He says he has been very fortunate to

play major stages here in Canada, including

Stratford and Shaw, as well as in the U.K.

"When Broadway came along it was an

amazing surprise and was a really special time.

It also put a great deal into perspective for

Mark Uhre stars as Bert

in Mary Poppins, at The

Grand Theatre. He's also

an artist; here he stands

in front of one of his

paintings (hanging in

Revel Cafe in Stratford).
---
54 | November/December 2019

eatdrink.ca |@eatdrinkmag

Disney anD C a m e r o n

m a C kintosh's

MARY POPPINS

The practically perfect musical

November 26 to December 29

Spriet Stage

SE A SON

SPONSOR

TIT LE

SPONSOR

grandtheatre.com box office 519.672.8800
---
WORLD PREMIERE

The Crooner

Show

Give the Gift of Live Theatre

by LINK

Productions

May 19 to May 23

Our House

by Murray Furrow

July 1 to July 18

2020 Summer Theatre Season

A

LegAL

ALien

by Chris Gibbs

May 26 to May 30

Hurry

Hard

by Kristen Da Silva

July 22 to August 15

Gift Certificates &

2020 Season

Subscriptions

Available

Jonas and Barry

in the Home

by Norm Foster

Starring Norm Foster

& David Nairn

June 3 to June 27

Perils of

Persephone

By Dan Needles

August 19 to

September 12

PortStanleyFestivalTheatre

Reserve Tickets 519-782-4353 www.psft.ca

me artistically. Great artistic growth and

experience can happen anywhere. My time

on Broadway is equally matched artistically

by every theatre I have worked in. They

have all been equal in providing artistic

growth," says Uhre.

Aside from acting, he is also an

illustrator and a painter. He shared with

us a photo of one of his paintings that

hangs in Revel Coffee House in Stratford.

Uhre says the words in the painting spell

out "Use your Imagination" something he

says we all need to do more of, no matter

what age.

So, it's apt that Uhre returns home to

London for the holidays and Mary Poppins,

a story he and his family love. He says, of

all the great stages he's been honoured to

play upon, that if he had to choose one

favourite it would be the Grand. "It really

is where it all started for me as a little kid.

So, to return to London and create theatre

with fellow artists on the stage where I

saw my first professional show at five and

then performed as a little kid is a pretty

amazing thing."

Regional Theatre Holiday Round-up

A Christmas Carol

Theatre Sarnia, November 22–30

a really Retro CROONER Christmas

Created by Rick Kish

Port Stanley Festival Theatre, December 14,

2 p.m. and 8 p.m.

Huron Country Playhouse II, November 30,

2:00 p.m. and 7:30 p.m.

Wonderful World of Christmas: Comeback

Huron Country Playhouse, Saturday, December

14, 2:00 p.m. and 7:30 p.m.

A Huron County Christmas Carol

Adapted by Gil Garratt, songs by John Powers

Blyth Festival Theatre, November 28–December 22

A Country Supper is offered at the Blyth Legion on

November 29, November 30, December 6, and

December 13, hosted by a local church or Blyth

Legion Ladies' Auxiliary.

JANE ANTONIAK is a regular contributor to Eatdrink. She

is also Manager, Communications & Media Relations, at King's

University College in London.
---
56 | November/December 2019

eatdrink.ca |@eatdrinkmag

Books

A Gourmet Life

Save Me the Plums: My Gourmet Memoir

by Ruth Reichl

Review by DARIN COOK

Iwas working on the frontlines in a

bookstore when in 2009 Gourmet

magazine had its last stand. I had

been searching for the latest issue,

for a customer, when the staff member who

stocked the magazines informed me that

Gourmet was defunct — one month here,

the next month not. I was surprised that an

established magazine with staunch readership

could fold simply because the internet had

become a major player as a publishing option.

A decade after that demise Ruth Reichl, the

editor at the time, has published Save Me the

Plums: My Gourmet Memoir (Random House,

2019). It recounts her rise to fame in the

magazine world, even as Gourmet was on the

brink of its fall.

There are perhaps only a handful of

people who have had more of an impact

on culinary writing than Reichl; the upper

ranks managing high-end magazines under

the Condé Nast umbrella were well aware of

her literary reputation when they offered

her the editor-in-chief position at the

prestigious epicurean magazine. Reichl had

adored Gourmet as a

child and credits her

love of food, in part,

to early editions she

had thumbed through

in used-book stores in

her youth. When she

became a writer she

desperately wanted to be

a contributor. Although

she never did — it

became too prissy and

stodgy for her — she

somehow found herself

being asked to take

charge of it at a time

when it was

in need of

revitalization.

Reichl would

be coming

off her sixyear

stint

as The New

York Times

restaurant

critic,

and she

justifies

the change in

profession by recognizing the time

it would give her to have dinner with her

husband and so — time she had lost eating

at restaurants alone all those years. Adding

the perks of a clothing allowance and an office

with a private bathroom made it a hard offer

to pass up.

Save Me the Plums provides glimpses into

her personal life, like those more-frequent,

home-cooked meals that her son delighted

in, but it mainly focuses on her professional

relationships with

publishers, editors,

artists, writers,

photographers, test

kitchen cooks, and

marketers, while at the

helm of Gourmet. The

history of what went

on during her tenure is

directly linked to how

the corporate bigwigs

moved staff around

or let them go in a

flurry, forcing Reichl to

Author Ruth Reichl
---
eatdrink: The Local Food & Drink Magazine

November/December 2019 | 57

FRESH gift ideas yule love

Select from over 70 flavours of oils and balsamics.

Sample the freshest oils from across the globe, paired with savoury

white & dark balsamic vinegars from Modena, Italy.

Personally bottled to suit your individual taste.

Stocking

Stuffers

Corporate

Gifts

Sample

Packs

Custom

Gift Baskets

Gift

Cards

The

Pristine

live

Est. 2012

884 Adelaide Street N.

884 Adelaide Street N. | London | 519-433-4444

www.thepristineolive.ca

manage HR issues that were not her forte.

Readers of the book will not be surprised

by the story's unfortunate conclusion, so

Reichl presumably focuses on her colleagues

(whether she liked working with them or

not) to pay homage to their handiwork

in regenerating an iconic magazine for a

time. Even though she was dealing with the

business of magazine editing more than

tasting dishes or writing about them, there

are still the requisite delicious descriptions

she is known for from her previous books:

taste testing a chocolate cake in the Gourmet

test kitchen; sharing the Spicy Chinese Noodle

recipe she makes for her son; describing bread

from a neighbourhood bakery by writing it

was "like tasting history, like savoring the

first loaf of bread ever baked." It is a Reichl

memoir, after all, and she always comes back

to the food.

I enjoy memoirs that are narrower in

scope, not sprawling narratives from cradle

to grave. Reichl's career as a writer has many

layers and Save Me the Plums covers a decade

of her life when Gourmet became one more

notch in her literary belt. Her contributions to

Gourmet were transformational: she embraced

the changes surfacing in the restaurant

scene, tackled the rise of celebrity chefs by

putting them on the cover in rock star poses

(photographed by Matthew Rolston who did

Rolling Stone covers), and commissioned

cutting-edge articles from authors like David

Foster Wallace. Amid these successes, what

is most heartbreaking about her story is how

Condé Nast shut Gourmet down when the high

times of the print magazine world crumbled

under the pressure of the internet. Reichl

had to live through it and she reveals how the

extraction of something that had touched her

personal life and shaped her career so much

was devastating. For Reichl, "A world without

Gourmet was unimaginable." She could not

move forward by publishing more issues,

but only be inspired by her collection of back

issues, in the same way they had stirred her as

a child.

DARIN COOK is a Chatham-based freelance writer

who keeps himself well-read and well-fed by visiting the

bookstores and restaurants of London.
---
58 | November/December 2019

eatdrink.ca |@eatdrinkmag

Recipes

Set for the Holidays

Recipes to Bring Comfort andJoy

by Anna Olson

Review and Recipe Selections by TRACY TURLIN

Set for the Holidays with Anna Olson:

Recipes to Bring Comfort and Joy:

From Starters to Sweets, for the Festive

Season and Almost Every Day (2018;

Appetite by Random House) is a soothing

trip through a beautiful world of confident

entertaining, elegant décor, and food that's

almost too pretty to eat.

Anna Olson is an award winning pastry

chef, author, and television personality. Born

in Atlanta, Georgia, she spent her childhood

in Toronto and now calls the Niagara region

her home. She's become the sunny face of

Canadian baking through her online and TV

presence and her collection of cookbooks.

Chef Olson's ideas of entertaining at the

holidays can be summed up by the word

"sparkle" and she tells us that "you can't have

sparkle if you have stress."

Most of the dishes in Set for the Holidays

are decidedly festive, but they'd work as well

for any other celebration. There's a Lemon

Meringue Yule Log recipe that's going to

become Lemon Meringue Tracy's Birthday

Cake for at least a few years.

Given Olson's fame as a pastry chef, it's no

surprise that half of this book

is devoted to the sweet side of

the holidays. That still leaves

half a book of savoury dishes

that somehow manage to look

as delicate and delicious as the

sweets. There are multi-option

menus for both Thanksgiving

and Christmas, as well as

sophisticated New Year's Eve

nibbles, and brunch for the

whole family.

Vegan and vegetarian

options are clearly marked

but my favourite icon was

the "particularly gift-able"

symbol that marks recipes

that are perfect

for creating

homemade

kitchen

gifts. There's

nothing like

wowing

your guests

with a great

meal, then

sending

them

home

with a jar

of the magical ingredient.

I also appreciated the chapter on leftovers.

Olson gives us recipes for comforting one-pot

meals to transform your holiday leftovers and

warm you through the rest of the cold season.

I have nearly given up on serving turkey,

making the easier choice of chicken or ham

for my holiday feasts. I changed my mind

when I saw Marinated Boneless Turkey

Breast Roast with Panchetta Gravy. If that

title alone wasn't enough to sway me, the

author suggests a gluten-free option that

substitutes Caramelized

Onion Cream for the gravy.

You need to follow two other

(easy) recipes to get this

exact sauce, but I will tell you

that it combines two cups

of caramelized onions, one

cup of whipping cream, and

one ounce of brandy. Holiday

decadence in the most

elegant way.

Since turkey dinner isn't

complete without dressing,

there are Sausage Dressing

Squares. Basically these are

Anna Olson
---
eatdrink: The Local Food & Drink Magazine

November/December 2019 | 59

Thanksgiving dinner in a finger food. With or

without the bacon they are a perfect appetizer,

or a dangerously addictive television snack.

An Anna Olson book review wouldn't be

complete without a pastry and the Kouign

Amann might be the best pastry I had never

heard of. Olson describes it as resembling "a

croissant that is a little more like puff pastry,

with a caramelized sugar crust and soft sweet

interior." It fits all my preconceived notions

of French pastry: it's fussy, requires a lot of

patience and is best eaten fresh from the oven.

I will probably drive my family crazy trying to

master this dish.

Set for the Holidays makes you feel like you

can have all this sparkle without any stress.

That's something to celebrate all year long.

TRACY TURLIN is a freelance writer and dog groomer

in London. Reach her at tracyturlin@gmail.com

Excerpted from Set for the Holidays with Anna Olson by

Anna Olson. Copyright © 2019 Anna Olson. Photography

by Janis Nicolay. Published by Appetite by Random

House®, a division of Penguin Random House Canada

Limited. Reproduced by arrangement with the Publisher.

All rights reserved.

Marinated Boneless Turkey Breast Roast

with pancetta gravy

Serves 6 to 8 (with enough for leftovers)

Prep: 20 minutes, plus marinating

Cook: 105 minutes.

This marinated turkey recipe, which I call my

turketta, strays from the traditional whole

turkey (page 93). It's a nice option

if you have a small kitchen or if

your family insists on turkey for

Thanksgiving and Christmas, but you'd

rather not serve the same menu twice.

Porchetta is a boneless herb-rubbed

pork loin that is roasted until the skin

crisps up. Here I use similar flavours

but with turkey. For a fully gluten-free

option, substitute Caramelized Onion

Cream (page 120) for the gravy.

MAKE AHEAD

You should start marinating the turkey at least

3 hours (up to a maximum of 24 hours) before it

is to go in the oven. Any cooked leftovers (hello,

turkey sandwich!) will keep, well wrapped, for

up to 4 days in the fridge and up to 3 months in

the freezer. Thaw in the fridge before using.

TURKEY

¼ cup (60 mL) extra virgin olive oil

1 medium onion, peeled and chopped

3 cloves garlic, chopped

Finely grated zest of 1 lemon

8 large fresh sage leaves

2 Tbsp (30 mL) fresh thyme leaves

2 tsp salt, plus extra for the turkey

1 tsp chili flakes

½ tsp black pepper, plus extra for the

turkey

2 turkey breasts, each about 2¼ lb/1

kg

3 Tbsp (45 g) butter

GRAVY

1 cup (125 g) uncooked diced pancetta

3 Tbsp (45 g) combined pancetta fat and butter

¼ cup (35 g) all-purpose flour

2 cups (500 mL) low-sodium or no-salt-added

chicken or turkey stock
---
60 | November/December 2019

1 It's best to prepare the marinade right before using it.

Purée the oil, onion, garlic, lemon zest, sage, thyme,

salt, chili flakes and pepper in a food processor or

blender until evenly combined.

2 Remove and discard any bones from the turkey breasts.

Place the turkey, skin side down, in a casserole dish or

other pan. Set aside ¼ cup (60 mL) of the marinade for

the sauce and pour the rest over the turkey. Cover the

dish with plastic wrap and let the turkey marinate in

the fridge for at least 3 hours, or up to a maximum of

24 hours.

3 Preheat the oven to 400°F (200°C). Using butcher's

twine, tie the turkey breasts together, skin sides facing

out, leaving as much of the marinade between them as

possible. Pat the outside of the breasts with paper towels

and transfer to a roasting pan. Rub the turkey skin with

butter and season lightly with salt and pepper.

4 Roast the turkey, uncovered, for 20 minutes. Reduce

the oven temperature to 350°F (180°C) and roast for 60

to 70 minutes more, basting the turkey with the juices

often, until the centre of each breast registers 170°F

(77°C) on a meat thermometer. Transfer the turkey to a

cutting board, cover with aluminum foil and let it rest

while you prepare the gravy.

eatdrink.ca |@eatdrinkmag

5 For the gravy, use the roasting pan if it has toasted

bits that aren't burnt, otherwise heat a clean medium

saucepan over medium heat. Add the pancetta and

cook until crisp, stirring occasionally, about 5 minutes.

Spoon the cooked pancetta onto a plate and drain the

fat into a measuring cup.

6 Measure 3 Tbsp (45 mL) of the fat back into the pan,

supplementing with butter if needed. Add the flour,

and stir with a wooden spoon over medium heat until

the roux becomes the colour of peanut butter, about 7

minutes.

7 Add the reserved ¼ cup (60 mL) of marinade, stirring

well, and then whisk in 1 cup (250 mL) of the stock,

waiting until it begins to bubble before whisking in the

remaining 1 cup (250 mL). Bring the gravy to a simmer,

add the cooked pancetta and season to taste with salt

and pepper.

8 To serve, untie the turkey, cut into ½-inch (1 cm) slices

and serve with the gravy.

HELPFUL HINT

Traditional porchetta seasoning also includes rosemary

and fennel, but I find these flavours can be overwhelming

and not always family-friendly, which is why I don't use

them in this turketta.

Kouign Amann

Makes 12 Pastries

Prep: 30 Minutes

Cook: 35 Minutes

I fell in love with these pastries a few

years back on a visit to Montreal, a

city that is pastry heaven! This layered,

buttery sweet pastry was created in

Brittany, a region of France famous

for its butter (kouign amann means

"cake butter" in Breton). Imagine a

croissant that is a little more like puff

pastry, with a caramelized sugar crust

and a soft sweet interior . . . Now get

ready to bake! Like many classic French

pastries, kouign amann take patience

and adherence to timing—they're the

boss, not you, but you get to take all of

the credit when friends and family rave

about them.

MAKE AHEAD

I don't recommend baking these ahead of time,

since they are best enjoyed the day they are baked.

They are tastiest once cool, when the caramelized

sugar on the surface has had time to set and

become crunchy. Timing is key when rolling,

folding and letting your kouign amann rise. If you

do want to make these ahead of time to freeze and

bake later, make the dough, do the first 2 folds
---
eatdrink: The Local Food & Drink Magazine

and then freeze, well wrapped, for up to 3 months. Thaw the

dough overnight in the fridge before continuing with the folds

that use sugar. (If you were to freeze the assembled kouign

amann, the sugar would liquefy once thawed and you would

end up with sticky pastries that are difficult to handle.)

DOUGH

2 ½ cups (375 g) all-purpose flour

2 Tbsp (25 g) granulated sugar

1 pkg (2¼ tsp/8 g) instant dry yeast

1 tsp fine sea salt

1 cup (250 mL) cool water

2 Tbsp (30 mL) vegetable oil

BUTTER AND ASSEMBLY

1 cup (225 g) unsalted butter, at room

temperature

½ cup (100 g) granulated sugar, divided

1 For the dough, combine the flour, sugar, yeast and salt

in a large mixing bowl, if mixing by hand, or in a stand

mixer fitted with the hook attachment. Add the water

and oil and stir together on low speed until combined.

Increase the speed 1 level and mix until the dough

feels smooth and elastic, about 4 minutes. (If mixing

by hand, stir the dough with a wooden spoon until it

becomes too difficult, and then turn it out onto a work

surface once combined and knead until elastic, about

6 minutes. The dough should come off the bottom and

sides of the bowl but will be relatively soft.)

2 Place the dough in an ungreased bowl, cover the bowl

with plastic wrap and let rise for 1 hour, until doubled

in size. Punch the dough down, shape it into a 10-inch

(25 cm) square (dust your hands with flour to prevent

sticking), wrap in plastic and chill for at least 1 hour, or

up to 8 hours.

3 For the butter, beat the butter and 2 Tbsp (25 g) of

the sugar together. Line the bottom and sides of a 9 ×

5-inch (2 L) loaf pan with plastic wrap and press the

butter into the bottom in an even layer. Wrap well and

chill for at least 1 hour.

4 If preparing the dough and butter more than 1 hour

ahead, pull both out from the fridge 30 minutes before

rolling. Turn the dough out onto a lightly floured

surface. Place the rectangle of butter on top of the

dough and fold the dough over so the sheet of butter is

hidden. Press out any air pockets and pinch the dough,

just a little, to enclose the butter.

5 Roll out the dough to a rectangle 12 × 18 inches (30 × 45

cm), just under ½ inch (1 cm) thick. Bring the short sides

together so that they meet in the centre and then fold the

dough in half like a book. Rotate the dough 90 degrees

and repeat, this time folding the dough into thirds. Wrap

the dough in plastic wrap and chill for 1 hour.

6 Lightly dust a work surface with ¼ cup (50 g) of the

sugar and roll out the dough to a rectangle 12 × 18

inches (30 × 45 cm), just under ½ inch (1 cm) thick.

Sprinkle the top of the dough with the remaining 2

Tbsp (25 g) of sugar and fold it in thirds.

7 Rotate the dough 90 degrees and repeat the rolling and

folding (but not adding more sugar at this point). Wrap

Fresh-Baked Christmas Cookies & Treats!

Share our baked seasonal goodies with

your friends & loved ones this Christmas!

~ Homemade Mennonite Meals & Baking ~

20 + Varieties of

Featured

on: Featuring over 17 varieties of homemade pies

& many other homemade goodies including

breads, tarts, muffins, cookies & cheesecakes.

All items baked fresh daily, to eat in or take out.

Gluten free baking now available!

Enjoy the scenic drive to Millbank, we would love to serve you!

WWW.ANNAMAES.CA | 519.595.4407 | 4060 Line 72 Millbank

and chill the dough for exactly 20 minutes (any longer,

the sugar will dissolve).

8 Grease a 12-cup muffin pan and set aside. Unwrap the

dough and roll it (no additional flour or sugar will be

needed) into a rectangle 16 × 12 inches (40 × 30 cm) and

just over ¼ inch (0.5 cm) thick.

9 Trim away any rough edges and cut the dough into

twelve 4-inch (10 cm) squares.

10 Bring the corners of each square into the centre, pinch

them together and press down gently. Press each

pastry into a muffin cup and cover the pan with a tea

towel, letting the dough rise for 1 hour.

11 Preheat the oven to 350°F (180°C). Place the muffin pan

on a parchment-lined baking tray and bake for 30 to

35 minutes, until the kouign amann are a rich golden

brown. Carefully turn them out of the pan (they will be

sticky and hot) onto a wire rack to cool completely.

HELPFUL HINTS

When you are rolling and folding the kouign amann in

sugar for the final time, you need to work quickly — the

more you handle the dough, the more it will warm up and

then liquefy the sugar. Once you get the pastries into the

pan, the pressure is off.

There are times when investing in top-quality butter

really counts, and this is one of them (shortbread cookies

are another). Most butter in Canada has a fat content of

80%, but premium butter has 82% (check the label). That

extra 2% makes a big difference in a pastry where butter is

important for flavour and texture.

,

Christmas Goodies!
---
62 | November/December 2019

The Lighter Side

A Child's Christmas

By MARK KEARNEY

eatdrink.ca |@eatdrinkmag

The art of being good at Christmas,

as I came to understand it as a child,

included helping Mom with the

upcoming feast.

It was always turkey, and it called for

dressing. (Some others called it "stuffing"

but it was "dressing" in our house.) My sister

and I would sit in the kitchen, a loaf or two of

bread and a large bowl facing us, and tear the

future dressing into small bits,

occasionally popping a stray piece

or two into our mouths. At that

point it was just bread, but we

knew come Christmas that with

the addition of onion, pepper and

perhaps other herbs with which

we had no familiarity, it would

taste tantalizing when scooped

from inside the roasted bird.

A few days later on Christmas

afternoon, with the turkey

ensconced in the oven, we would

spill onto our street in the village

eager to share stories of our lovely loot,

which now lay opened and scattered under

the exhausted tree. Chatting with friends, we

would get a taste of how everyone's Christmas

had been so far, and how eagerly we were all

looking forward to the evening feast.

After one more inspection of our presents

before dinner, we gathered at the table. Bring

out the roasted turkey, the mashed potatoes,

the peas, the corn, the dressing, tomato juice,

wine for the adults, and the gravy — most

of all the glorious gravy. What is better as a

child than pouring the brown elixir that is

gravy onto the white meat, the dark meat, the

potatoes — oh, yes, smother the potatoes with

it — and watching it flow river-like through the

vegetables into a pool on the only tiny spot on

my plate that isn't heaped with food?

We didn't just eat the Christmas bird, we

attacked it as if it were the last we would ever

have. I'd tuck away my second helping before

my stomach had even acknowledged the first.

Yes, there would be sighs and groans later as

our bloated bellies rebelled, but it was always

worth it. For dessert there was no traditional

flaming pudding in our household, but instead

… birthday cake. December 25 was the date

of my brother's birthday, so out came the

candled cake, always chocolate, and he'd make

a wish. (No doubt he craved any other day for

his birthday so that his gifts could be spread

out longer than 24 hours.)

The clock's hands have moved relentlessly

forward since those early years,

and each Christmas blends into

the next and the next. Some gifts

more memorable than others,

some feasts better than previous

ones. Christmas Eve's midnight

mass has long been replaced

by other rituals — traditional

tourtière for dinner and glasses

of wine followed by screenings

of A Christmas Carol or It's A

Wonderful Life.

On those perfect occasions

with the drape of winter

darkness descended and the snow drowsily

dropping outside the window, I'm taken

back to those decades-ago days. Dry voices

from the past, as if carried in by a gentle

gust, whisper in my weary ears their tales

of Christmases past. Half-heartedly fighting

sleep, I recall snatches of long-ago village

gossip, a half-sung carol wafting over the

churchyard, delightful screams from a nearby

hill as children hurtle downward on the

toboggan ride of their lives, or the barely

stifled laughter of a rosy-cheeked boyhood

chum nestled beside me in a snow fort

plotting our next brave move.

And now, wrapped in the warm embrace

of midnight and memories of bygone times,

I slip softly to sleep, the promise of another

Christmas meal mere hours away.

MARK KEARNEY has been a journalist for more than

35 years and has been published in nearly 80 publications

in North America. He teaches writing and journalism at

Western University.
---
CHATHAM-KENT • ELGIN • HALDIMAND • HURON • LONDON • MIDDLESEX • NORFOLK

OXFORD • PERTH • SARNIA-LAMBTON • STRATFORD • WINDSOR-ESSEX

Local Flavour

SOUTHWEST ONTARIO

CULINARY GUIDE

Restaurants • Specialty Shops & Services • Farmers' Markets

Craft Beer & Local Wine • Agri-Tourism Attractions

eatdrink

The LOCAL Food & Drink Magazine

EXPANDED

EDITION

VOLUME 8

COMING SOON!

In print. Online. Everywhere.

localflavour.ca
---
CHRISTMAS LOADING...

AT THE COVENT GARDEN MARKET

COVENT GARDEN

•EST 1845•

MARKET

YOUR OUTDOOR FARMERS MARKET

WITH ONLY LOCAL PRODUCERS ON

UNTIL DECEMBER 21ST, EVERY

SATURDAY FROM 8AM TO 1PM.

130 KING STREET, LONDON | COVENTMARKET.COM

MARKET HOURS

Monday to Friday: 8am - 7pm

Saturday : 8am - 6pm

Sunday : 11am - 4pm

WE HAVE FREE UNDERGROUND PARKING!

2 hours free Saturday and Sunday and ½ hour

free Mon-Fri. With validation. No purchase

required. During marketing hours.