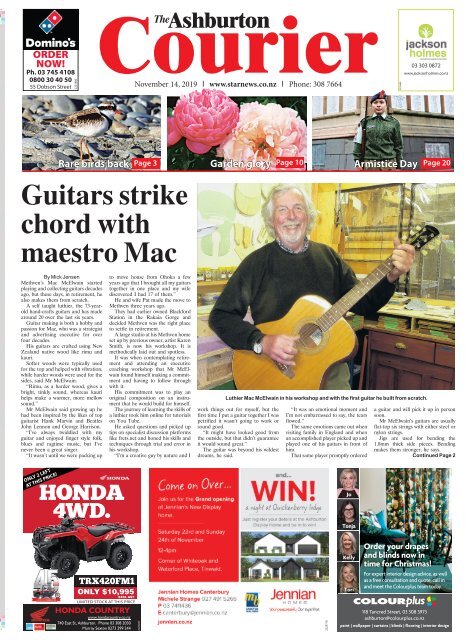 Ashburton Courier: November 14, 2019
You also want an ePaper? Increase the reach of your titles
YUMPU automatically turns print PDFs into web optimized ePapers that Google loves.
ORDER

NOW!

Ph. 03 7454108

0800 30 40 50

55 Dobson Street

2221886

November 14, 2019 l www.starnews.co.nz l Phone:308 7664

2223680

03 303 0872

www.jacksonholmes.co.nz

Rare birds back

Garden glory

ArmisticeDay

Page 3 Page 10 Page 20

Guitars strike

chord with

maestro Mac

By Mick Jensen

Methven's Mac McElwain started

playing and collecting guitars decades

ago, but these days, in retirement, he

also makes them from scratch.

Aself taught luthier, the 73­yearold

hand­crafts guitars and has made

around 20over the last six years.

Guitar making isboth ahobby and

passion for Mac, who was astrategist

and advertising executive for over

four decades.

His guitars are crafted using New

Zealand native wood like rimu and

kauri.

Softer woods were typically used

for the top and helped with vibration,

while harder woods were used for the

sides, said Mr McElwain.

''Rimu, as aharder wood, gives a

bright, tinkly sound, whereas kauri

helps make awarmer, more mellow

sound.''

Mr McElwain said growing up he

had been inspired by the likes of top

guitarist Hank Marvin and Beatles

John Lennon and George Harrison.

''I've always twiddled with my

guitar and enjoyed finger style folk,

blues and ragtime music, but I've

never been agreat singer.

''It wasn't until we were packing up

ONLY2LEFT

AT THIS PRICE!

to move house from Ohoka a few

years ago that Ibrought all my guitars

together in one place and my wife

discovered Ihad 17 of them.''

He and wife Pat made the move to

Methven three years ago.

They had earlier owned Blackford

Station in the Rakaia Gorge and

decided Methven was the right place

to settle inretirement.

Alarge studio at his Methven home

set up by previous owner, artist Karen

Smith, is now his workshop. It is

methodically laid out and spotless.

It was when contemplating retirement

and attending an executive

coaching workshop that Mr McElwain

foundhimself making acommitment

and having to follow through

with it.

His commitment was to play an

original composition on an instrument

that he would build for himself.

The journey of learning the skills of

aluthier took him online for tutorials

on You Tube.

He asked questions and picked up

tips on specialist discussion platforms

like frets.net and honed his skills and

techniques through trial and error in

his workshop.

''I'm acreative guy by nature and I

Luthier Mac McElwain in his workshop and with the first guitar he built from scratch.

work things out for myself, but the

first time Iput aguitar together Iwas

petrified itwasn't going to work or

sound good.

''It might have looked good from

the outside, but that didn't guarantee

it would sound great.''

The guitar was beyond his wildest

dreams, he said.

''It was an emotional moment and

I'm not embarrassed to say, the tears

flowed.''

The sameemotions came out when

visiting family in England and when

an accomplished player picked up and

played one of his guitars infront of

him.

That sameplayer promptlyordered

Jo

aguitar and will pick itupinperson

soon.

Mr McElwain's guitars are usually

flat­top six strings with either steel or

nylon strings.

Jigs are used for bending the

1.8mm thick side pieces. Bending

makes them stronger, he says.

Continued Page 2

Tonja

ONLY $10,995

EXCL GST

LIMITEDSTOCK AT THIS PRICE

HONDA COUNTRY

www.hondacountry.co.nz

740 East St, Ashburton. Phone 03 308 2030

Murray Sexton 0273 299 244

2226047

2225718

Kelly

Tori

Orderyour drapes

and blindsnow in

time forChristmas!

Forexpert interiordesignadvice,aswell

as afreeconsultation andquote,call in

and meet the Colourplusteamtoday.

118 Tancred Street, 03 308 3973

ashburton@colourplus.co.nz

paint |wallpaper |curtains |blinds |flooring |interior design

*
---
Page 2, Ashburton's The Courier, Thursday 14 November 2019

BUSINESS OWNERS

Build customers,

sales and profits

with us ...

Over 16,065

copies delivered to

EVERYhome,farm,

RD and lifestyle

blocks in

MidCanterbury

news

John Keast

Managing Editor

027 628 7679

john.keast@ashburtoncourier.co.nz

Reporters

Mick Jensen

mick.jensen@ashburtoncourier.co.nz

Toni Williams

toni.williams@alliedpress.co.nz

advertising

Jann Thompson

Sales Manager

308 7664

027 587 6351

jann.thompson@ashburtoncourier.co.nz

Roselle Fuaso

Sales Account Manager

308 7664

021 197 8297

roselle@ashburtoncourier.co.nz

Karen Gane

Sales Account Manager

308 7664

021 510 804

karen.gane@ashburtoncourier.co.nz

get in touch

Editorial

john.keast@ashburtoncourier.co.nz

Advertising

info@ashburtoncourier.co.nz

Production

murray.thompson@ashburtoncourier.co.nz

Accounts

accounts@alliedpress.co.nz

Distribution/Deliveries

leonie.marsden@ashburtoncourier.co.nz

Office

office@ashburtoncourier.co.nz

03 308 7664

199 Burnett Street,Ashburton

www.ashburtoncourier.co.nz

2207985

Venetian Blinds

Roller blinds

Burnett Street,Ashburton l Phone (03) 308 5269 l www.redmonds.co.nz

Local news at www.starnews.co.nz

Pupil Victoria seeking answers

Victoria Hutana from

Mount Hutt College will

be among 40 talented

senior secondary school

students tasked with finding

answerstochallenging

science questions at a

gathering in Wellington

next month.

CalledPoweringPotential,

the science and technology

focus will see

students work together in

teams of five over three

days.

Organised by Royal

Society Te Aparangi in

partnership with Ministry

of Business, Innovation &

Employment and Freemasons

New Zealand,

Powering Potential will

bring promising science

students together to work

alongside a scientist or

Maestro Mac turns his hand to making guitars

From Page 1

Amould is used to hold

the top, back and sides in

place while gluing them

together, with backs typically

2.5mm thick.

The guitar­making

process also includes fitting

kerfing strips, tail

piece inlays and guitar

necks.

specialist who will act as

their mentor.

The students will

research, investigate and

collaborate to provide

recommendations on

Guitar necks are made

from flat bits of timber

like kauri and rimu and

cut into two and then

counter poised with the

grain so that they can't

bend.

The truss rod, which

increases or decreases

tensions on the neck, is

then embedded in the

questions posed by the

mentor. Findings will be

revealed on the final day

at aspecial presentation,

Science mentors are

confirmed from NIWA,

neck.

A bridge is glued on

and holes drilled for the

strings.

When the guitar components

are finished in

the raw, including the

fret board, they are

treated and 12 to 15 coats

of lacquer applied before

final high gloss polishing.

Lincoln University, University

of Auckland,

Environmental Science

Research, Sleep Wake

Centre, Infometrics and

include Curious Minds

ambassadors from Otago

and Taranaki.

Victoria said she had

submitted an in­depth

application and video to

Powering Potential and

was both ''shocked and

excited'' to hear she had

been selected.

''I am excited to meet

the 40 students attending

the course and thrilled to

be able to experience the

forum.''

Her application

focused on her science

strengths and how they

have contributed to

science inschool through

Toiletries for Hospice Mid Canty

''The entire process for

me is very much about

being hands­on.

''And at 73 Istill have

sensitive hands to steer

me,' he said.

Mr McElwain uses

hand tools like planes

and spokeshaves and

prefers to sand by hand

because he has more

various forums.

The Year 12 student

said her favourite area of

science was chemistry

because ofits fun practicals

and the interesting

theory behind it.

''I would like to attend

either Otago University

or Auckland University

for further study in the

sciencearea, although I'm

still unsure exactly what I

would like tobelater.''

Fourteen studentswere

selected from the South

Island for Powering

Potential and Victoria

Hutana was one of just

four students selected

from the Canterbury

region.

Photo: Mount Hutt

College's Victoria

Hutana.

Ashburton County

Lions members Marie

McAnulty, left, and

Jackie Ryan, right,

hand over abig stash

of toiletries to Hospice

Mid Canterbury

volunteer services

manager Christine

Wilson as part of an

initiative completed for

World Services Day.

The toiletries will be

distributed by hospice

to clients over the

coming weeks and

include shampoos,

face creams, soaps and

other useful items.

control.

His finished, one­off

guitars come with abooklet

that catalogue the

entire guitar making process,

and cost around

$3000 plus GST.

Fittingly, the guitars

have the brand name of

Blackford after his former

home.

T's&C's apply

2226368
---
Local news at www.starnews.co.nz Ashburton's The Courier, Thursday 14 November 2019, Page 3

Hearing set for major development

An application by River

Crossing Limited to

demolish existing buildings

andtolevel asiteat5­

7 Cass Street and 36­50

South Street to construct

two commercial buildings,

one alarge format retail

store ofaround 5175m2,

whichisbelieved to be for

KMart, willbeconsidered

at a resource hearing in

Ashburton next week.

The application

includes the provision of

up to 305 parking spaces,

provision for two vehicle

crossings orentranceways

on Cass Street, a new

vehicle crossing/entranceway

onSouth Street and

the ability to use the

existingvehicle crossingto

Countdown Ashburton

South.

The application

involves anumberofnoncomplying

activities.

Large format retailing

is not permitted in Business

D zones under the

Operative Ashburton District

Plan.

There is also noncompliance

with some

landscaping and tree

requirements, queueing

space, and the setback of

buildings from landzoned

Open Space A.

Thereare three submissions

opposing the consent

and another from

Countdown Ashburton

South owner Woolworths

offering conditional support,

subject to agreement

on arange ofmatters.

Paul and Kate Winter,

Paul and Rebekah Smith

andMattWinterand Kellie

Wilson oppose the

resource consent application,

saying itwill fragment

the town centre.

Similar sentiments

Rare birds are back in the river, and caution urged

Conservationists are

reminding the community

that braided river

birds are nesting in the

local river system and are

susceptible to disturbance

from people, dogs

and vehicles.

Thousands of rare

black billed gulls are

nesting near the Ashburton

River mouth and also

at the State Highway

One bridge.

It is not just black

billed gulls that call the

Ashburton River home

at this of the year, but

also other less obvious

native birds like endangered

terns and dotterels.

The most easily seen

are the black fronted

tern, said Edith Smith

from Ashburton Forest

&Bird.

The birds are found

only in New Zealand and

rely on the braided rivers

for nesting.

They lived on shingle

islands and in small

colonies, with nests

spaced away from one

another, Mrs Smith said.

''They hawk insects

over the streams and

feed on small fish.

''They become agitated

when disturbed and

dive bomb intruders and

they are known to abandon

their nests and eggs

when unsettled.''

The banded dotterel

was another endemic

species that bred only in

New Zealand on our

braided rivers.

They were known for

their broken wing display

when their nest were

threaten, said Mrs Smith.

A self introduced

come from ClarkMcLeod

on behalf of CBD

retailers.

Mike Farrell supports

the application being

granted, but wants alterations

tothe traffic management

because of

potential congestion

issues.

Among the hearing

documentation is a

economic report from

Property Economics commissioned

by Ashburton

District Council.

The high­level

economic peer review

report, titled Ashburton

Kmart Economic Impact

Assessment, assesses the

methodology, analyses

information and assumptions

and looks at the

resulting determined

effects of the development.

The peer review report

native black fronted dotterel

had made itself at

home in the Ashburton

river too and had abright

orange bill with ablack

tip and had ablack mask

across its eyes making it

an attractive bird.

Braided river birds'

nests are made of twigs in

asmall basin in the shingle

and are not in obvious

colonies and are difficult

to see when driving.

It is an offence under

the Wildlife Act to disturb

the native birds.

Signs are up in various

locations along the Ashburton

River to remind

people of bird activity and

to keep dogs on alead.

Photo: Black fronted

dotterel. (Photo Don Geddes)

concludes by saying: ''It is

Property Economics concern

that the state of the

current Ashburton town

centre would suggest that a

significant diversion such as

that identified would lead to

significant

economic

impacts on the town

centre.''

The resource consent

hearing isset for 10am on

November 19 in thecouncil

chamber.

Murder

charge

The 19­year­old woman

accused of murdering a

young father in Ashburton

has been granted

interim name suppression.

Peter Hemi was killed

in Ashburton on Friday.

The 23­year­old man

was found with fatal

injuries at aproperty on

McDonald Street late on

Friday night.

The woman charged

with his murder

appeared before Justice

Tony Couch on Tuesday

in the High Court at

Christchurch.

Her bail application

would be heard at the

High Court on December

6.

MASSIVE BED CLEARANCE

Queen

beds

from

$

697

up

to

60% OFF

to

2DAYSONLY

Thursday14th, Saturday16th

(Closed Friday, CanterburyAnniversary)

HUGE SAVINGS

HUGE SELECTION

IMMEDIATE

DELIVERY

Scott

2223583
---
Page 4, Ashburton's The Courier, Thursday 14 November 2019

Local news at www.starnews.co.nz

Telling atown's tales; that's the story

There is nothing that

tells the story of atown

better than astory.

In Geraldine, there

are many.

The Geraldine Lioness

Club has erected

big signs telling the

story of various buildings/items

in and

around Geraldine and,

with sponsorship, they

Last Christmas

Reviewed by Rowena Hart

bookings ph 307 1230

www.regentcinema.co.nz

Courier comment

have been erected.

This is about atown

helping itself, and

Geraldine has areputation

for that.

In many instances,

the residents of atown

will not know much of

its history, and that is

Visitors killed

Two Australian women

were killed in aheadon

collision between

their rental car and a

freight truck at Bankside,

north of Rakaia,

at the weekend.

They were Fox

McCrossin, 58 and her

wife, Joan McCrossin,

56, of Victoria, Australia.

It is understood the

women's car veered

into the path of the

truck.

The truck's driver

was not injured, despite

the vehicle skidding

through a fence on a

grass verge, and tipping

on to its side on railway

tracks.

A car travelling

behind the women was

also caught up in the

crash.An investigation

continues.

Here wehave two very cute actors together.

Emilia Clark who charmed us in "Me BeforeYou"

and others will know from "Game Of Thrones"

and Henry Golding, the heartthrob from "Crazy

Rich Asians". Ithink he may become the new

dreamyColin Firth

Emma Thompson and her husband wrote the

script and produced the movie and actedinitas

well.

Iguess we all expect this movie will be the next

"LoveActually", amovie thatwewatcheach year

around Christmas.

It is not as quirky or raunchy but maybe that's a

good thing, awider audience can go see it and

not be shocked. It's anice little movie with a

heart.

Emilia Clark plays 26 year old Kate, recovering

from aheart transplant and working as an Elf in

aChristmas Shop.Her lifeisamess.This is when

Tom (Henry Golding) comes into her life and

gradually everything changes.

The rest is not predictable at all even although

it is afairytale ending in the best possible way!

2227805

certainly the case for

visitors.

Now, visitors to

Geraldine ­ and there

are many ­can wander

around the town, enjoy

all it has tooffer, and

be fascinated by snippets

of history, writ

large on the sides of

buildings and in other

key areas.

All towns have

stories to tell, yet many

do not.

They should.

Some of Ashburton's

treasured historic

buildings have been

adorned with blue

plaques by Historic

Places Mid Canterbury,

and they catch the eye;

Geraldine's signs go a

step further, setting

out, for example, a

building's history in

THIS WEEK'SSPECIALS

detail.

There was talk in

Ashburton more than a

decade ago of aseries

of signs detailing

Ashburton's famous

sons and daughters (a

la Timaru's famous

Bob Fitzsimmons) but

Signs of earlier times ­

Geraldine history told

History is writ large on

Geraldine's streets and

corners.

Large signs have been

erected by the Geraldine

Lioness Club on McKechnie's

Cottage in Wilson

Street, on afire bell in a

reserve at the north end

of town, on astone plinth

near anew picnic area,

and on the Mundells

Building.

The signs outline the

history of the sites/buildings,

and give visitors ­

and residents ­aninsight

into the history of the

town.

McKechnie's Cottage,

for instance, was built in

1873 by Hugh Morrison.

It is one of Geraldine's

oldest buildings, and

built using lath and plaster.

A small outhouse is

still in the back yard ­

though aflush toilet was

put in in the 1960s.

From 1896 to 1902 the

house was John Boughton's

tailor's shop ­now it

is an art gallery adjoining

the Cottage Pantry drygoods

and gift shop.

It was bought by Douglas

McKechnie in 1941.

He lived in it for 47 years.

The rear of the shop was

his office.

Mr McKechnie was a

journalist who worked

for the Timaru Herald

and The Press.

In 1939 he was elected

mayor and held office for

10 years.

The building has a

Category B historic

building listing.

Geraldine has two historic

fire bells.

The one in the reserve

was at the original fire

station, then moved to

the corner of Pine and

Jollie streets in 1921.

Those streets were

realigned in 2005 and the

bell was moved to its

present site to preserve

it.

In 1889, after several

fires in the district, it was

decided Geraldine

needed an alarm.

Abrigade was formed

and 15 men nominated as

members.

An engine room and

station were built opposite

the present station

and a horse­drawn

16­man manual pump

and hand­towed hose

reel bought.

They are now at the

Geraldine Vintage Car

and Machinery Museum.

The fire bells, weighing

150lbs each, cost 13

pounds four shillings.

The second bell is in its

original position on the

corner of Talbot and Maslin

streets.

In 1893, the station bell

was rung so vigorously that

after three rings the rope

broke and someone had to

climb the structure to ring

the bell with the clapper.

Photo: The fire bell just

north of the Geraldine

CBD, and McKechnie's

Cottage in Wilson Street,

Geraldine.

to date the only sign we

have seen is that marking

the spot ofAshburton's

first accommodation

house near the

Ashburton River.

With the CBD about

to be upgraded, it could

be a project for the

future. There are plenty

of stories totell.

­John Keast

Column

Seven

We admire the effort

that went into the health

and safety check for a

simple blessing of the

site of work to replace

the wastewater pipe that

runs under the Ashburton

River. Vehicles?

Check. Fire extinguishers/

first aid kits?

Check. Cones? Check.

All visitors accounted

for? Check.

❑❑❑

We reckon we might

have to tap the children

of Woodbury School,

near Geraldine, for

money­making tips. First

they came up with a

fancy Geraldine tea

towel, then (with community

support) worked

up part of their playground

to grow spuds

and, having grown and

sold them, created a

snazzy bike track. Now

they have come up with a

dashing reusable bag

ideal for shoppers.

❑❑❑

Pleasing to see the

work that has gone into

restoring the fountain

near the Ashburton Library.

It looks atreat.

❑❑❑

The loss of a colleague's

phone

reminded us of a farm

worker who has

ploughed plenty into the

ground. In one instance,

he had friends walking

over the field and ringing

the number. If the phone

rang, no­one heard it. It

will turn up one day and

be regarded as some

relic from the past.

Gordons Pink

Gin&Soda 4%

250ml Cans 12pk

$

23 99

Long White

4.8% 320ml Bots/Cans 10pk

$

24 99

$

23 99 $

23 99

$

28 99

TuiVodkaOR

TuiBourbon

7% 250ml Cans 18pk

Woodstock Black 4YO

7% 330ml Cans 10pk

$

24 99

Steinlager Pure Ultra

Asahi Super Dry

330ml Bots 12s

OR Peroni NastroAzzurro

330ml Bots 12s

Mt Difficulty

Graham Norton-

Roaring Meg-Sauv,

Pepperjack

Sauv,Rose,Shiraz

Pgris,Riesling

Range

$

13 99

$

16 99

$

18 99

Seagers

1L

$

32 99

Stil

1L

$

33 99

Stoneleigh

Whites &Reds

$

12 99

ASHBURTON

MSA

266 Havelock Street,Ashburton

Telephone 308 7149

www.ashburtonclub.co.nz

HOURS

Monday

Tuesday-Saturday

Sunday

10:00am -8:00pm

10:00am -9:30pm

10:00am -6:00pm

SPECIALS AVAILABLE

from November 14

to November 21

2226098
---
Local news at www.starnews.co.nz Ashburton's The Courier, Thursday 14 November 2019, Page 5

All set for Shakespeare comedy

By Mick Jensen

Fifteen talented young

actors fromthe Big

Little TheatreCompany

(BLTC) will perform

Shakespeare as its never

been seenbefore when

they taketothe stageat

the Event Centrenext

week.

The venuewillbe

recreatedtoofferan

tasteofthe famous

GlobeTheatre and the

sparkling comedy

Twelfth Night willbe

presentedby

accomplished actors,

who arebig fansofThe

Bard.

Twelfth Night tells

the story of a

shipwrecked pairof

twinswho fall in love

with all thewrong

Lights are tested on stage on the fast emerging set for Twelfth Night.

peopleand have all the

wrong peoplefall in

love with them.

It is afarceof

Disco raises $400 for St John

Eighties music, big hair

and fluoro fashion during

an 80s­themed disco

helped members of the

Ashburton Cadet Unit

raise $400 for St John

Ashburton.

The R18 disco, at the

Ashburton RSA last

month, was open to the

public and saw a strong

attendance of family and

friends of those in the

unit.

Ashburton Cadet Unit

major Cezarne Rodgers

said the event, held with

the support of the RSA

and Ashburton New

World, proved very popular,

despite most of the

cadets not being born in

the 80s, orold enough to

attend.

St John Ashburton was

chosen as a recipient

because it was such a

valued organisation in the

community helping

people.

St John had not only

helped the cadet unit, at

least once, in time of

need, but also provided

first aid training and

opened their doors to

Ashburton station visits.

St John Ashburton area

executive officer Elaine

Vallender, who gratefully

accepted the money on

behalf of St John, said the

mistakenidentityand

how love canmakeusall

money would be put

towards ambulance

resources to help in the

community.

Photo: (From left) Ashburton

Cadet Unit major

Cezarne Rodgers, St John

Ashburton executive

officer Elaine Vallender,

cadet corporal Lily Wills

and cadet staff sergeant

Varley McLean during

the handover ofmoney.

fools.

Three performances

on November 22, 23 and

24 willfeaturean

elaborateand wellthought

outset design.

Setbuilder Phil Webb

hasdirected ateam of

sixover thelastthree

months and

construction includes a

main revolving stage,

dockside, ship's mast

andsails, boat,jailand

cart.

Mr Webbsaidthe

revolving stagefeatured

garden, home and

palace scenery, the

latterusingan

improvised shipwreck

foraffect.

Therevolving stage

allowed quick and

seamless scene changes.

Thethreeday pack­in

of theset would be

followedbypainting

and tweaking.

Actorswould be able

to enter thestage from

all directions, including

fromunderneath it,Mr

Webbsaid.

Fourrowsofseats

havebeen removed

fromthe front of the

auditorium and will

providestandingroom

for up to 40.

Called the

groundling, or pit, in

medieval times,the area

was typically usedby

poorertheatregoers

and oftenprovided its

own dramasfor seated

audiences.

BLTCdirector Jackie

Heffernansaid her

young actors had

travelled to theother

Workshops booked

but some spaces still

Popular workshops

are already booked

out, but there are still

places on some courses

at the 2020 Methven

Summer School.

The popular summer

school runs from

January 5­10 and most

of the workshops on

offer are based at

Mount Hutt College.

In the Arty Farty

category, upholstery

workshops with

Brendan Patrick have

already booked out, as

are soap making, candle

making, landscape

painting with

Bronwyn Shimmin

(pictured) and photography

with Methven

snapper Bill Irwin.

There are still

options to try Oamaru

stone carving, distressed

furniture making,

pastel painting,

art journaling and

paverpol sculpturing.

In the Eat Bake

Drink category, there

are still places on

courses addressing

intermediate cake

decorating, Paddock

to Plate with butcher

Paddy Kennedy and

chocolate making.

Cheese making and

artisan baking are

already booked out.

Intermediate golf is

also booked up, but

ukulele and chook

house building workshops

still have places

available.

Evening events at

the 2020 Methven

Summer School offer

beer tastings and nib­

side of theworld earlier

this yeartotrain and

immerse themselves in

allaspects of

Shakespearean theatre.

Afterreceivingthat

''world classtraining'',

theactors werevery

keen to performina

recreatedGlobe setting

fortheir own

communityand in their

home theatre.

Afestivecelebration

of all that hasbeen

achieved overthe past

10 yearsbyBLTC

awaitedaudiences,as

well as apresentation of

''Shakespeare's most

sparkling comedy'', Mrs

Heffernansaid.

Full of unique twists,

in the shape of music,

danceand staging, the

production is adelight.

bles with Punky Brewsters,

acraft beer outlet

from Christchurch,

whisky tasting with

Michael Fraser Milne

and waxed lunch wrap

making with Kate

Lambarth.

The summer school

is an opportunity to

learn something new

or to give the gift of

something pleasurable

and exciting to a

friend or family member,

says summer

school chairperson

Sandy Redmond.

Eight courses were

fully booked, a number

had just a few

places left and two

courses, the bees wax

wrap and Build Your

Own Chook House,

had been subsidised

by the committee.

Early bird pricing

closes on November

30.

More information

at methvensummerschool.co.nz.

Your LocalVoice

I'm available to meet with

constituents onMondays and

Fridays, and anyday that Parliament

isn't sitting. Contact my office in

Timaru or Ashburton tomake an

appointment to meet orspeak with

me. Ialso hold constituency clinics in

other towns across the region.

Andrew Falloon

MP for Rangitata

Timaru Office Ashburton Office

139Stafford Street, 81 Harrison Street,

Timaru

Ashburton

03 6831386

03 3087510

andrewfalloonforrangitata

rangitatamp@parliament. .govt.nz

Authorised byAndrew Falloon MP,

139 Stafford St, Timaru.

2225698
---
Page 6, Ashburton's The Courier, Thursday 14 November 2019

Jump jam champions

Mt Somers Springburn School's jump jam team Below Zero, back row, Bede Giera, Jess Heaven,

Gabriella Brown, Ruby Giera, Bronte Brown, Maddy Roy, Sam Chapman, front row, Niko Holgate, Bree

Greer, Blaise France and Milan Jade-Holland.

Ajump jam team from Mt Somers Springburn School

called Below Zero has been crowned national

champions.

The team of 11 is made up of students from Years

5­8 and won the South Island regional final earlier this

month with avery high score.

Over the weekend the team found out that their

score of 96.5/100 was enough to earn them the national

title in the Years 7/8 advanced performers category,

beating the score of the winners from the North Island

regional final.

2226121

Craft, recycling tour on

TimeBank programme

Mid Canterbury TimeBank has

Christmas craft making and atour

of the Ashburton Resource

Recovery Park on its activity

programmeover the next couple of

weeks.

Judy Skevingtonwill shareher

manyyears of crafting experience

at aChristmas­themed workshop at

Ashburton ArtGallery on

November 20 from 5pmuntil 7pm.

Shewill demonstrate howto

makeChristmas tree decorations,

either as agift or for your owntree.

Basic hand sewingskills are

requiredand those taking partare

asked to bring their own sewing

pins, needles and small scissors.

LPG Refills &Deliveries

• Domestic • Commercial • Industrial

LPG Deliveries from the

Rangitata to the Rakaia –

From the

foothills

to the sea.

The high energy, cowboy western themed routine

was performed to the Steps hit '5, 6, 7, 8!'.

It is the second year running the team has won the

South Island event, an event where it also gained

distinction awards for costuming, creativity and

technical execution, the only team in its division to do

so.

It caps off agreat year for Below Zero, which also

won the Jump Jam All Stars competition in Christchurch

in June and placed third at a Jump Jam

extravaganza in Timaru the same month.

The workshop coststwo time

creditsfor TimeBank membersor

$23 for non­members.

On November 30 TimeBankers

and the wider communityare

invited to explore the resource

recovery park withLesley Ottey

from EcoEducate.

Thefree event will explainwhere

all waste andrecyclinggoes and

how to do things better.

Ahealth andsafety briefing will

be held prior to thetourat10am

and attendance is acondition of the

tour.

Registration canbemadeby

searching for Ashburtonon

eventbrite.co.nz.

ARTHUR

CATES

LIMITED

LPG Refills at:

26 McNALLYSTREET,

RIVERSIDE INDUSTRIAL

PARK,ASHBURTON

TEL 308 5397

www.arthurcates.co.nz

MUSIC:

Free admission

*Courtesy Coach forAshburtonboundary:

T&C's Apply

TWILIGHT

IN THE VINES

SATURDAY23NOV 2019 : 4PM -8:30PM

CharRees Vineyard, Ashburton'sonlyvineyard

StateHighway1,1km south of Tinwald

FOOD:

Local news at www.starnews.co.nz

Grigg selected for

Selwyn electorate

Nicola Grigg, brought up

on asheep and beef farm

at Mt Somers, has been

selected as the National

Party's candidate for Selwyn,

which includes part

of Mid Canterbury.

She is a former press

secretary to Simon

Bridges and to Sir Bill

English.

She left the Beehive to

return to Canterbury and

made no secret of her

ambition to become an

MP.

Selwyn MP Amy

Adams is retiring from

politics at the 2020 election

after four terms in

Parliament.

The seat has had the

highest majority of any

party in the past two

elections, with Adams'

majority 19,639.

Grigg, 39, works for

New Zealand Trade and

Enterprise in Canterbury

helping mainly

Canterbury­based agricultural

exporters.

In astatement, she said

the peopleofSelwyn knew

the value of hard work and

expected their Government

to spend tax dollars

wisely.

Nicola Grigg, right, with departing Selwyn MP

Amy Adams.

Florist focuses on emotion of love

Ashburton florist Samantha Trott

chose the emotion of''Love'' for a

bespoke floral installation she has

created to help promote New Zealand

Flowers Week (November

11­17).

The creation is called 'The Proposal'

and features asemi­circle of

flowers roundanottoman that has an

engagement ring on it.

A woman slips into a bath to

admire her new ring.

The floral back drop and colours

were selected to represent the feeling

of love.

Samantha Trott was one of five

florists chosen to promote the theme

for this year's event of The Power Of

Flowers.She operates her floristshop

Samantha Rose Flowers onBurnett

Street, Ashburton.

Enjoywine? We'd love to shareanafternoonwith youinour Vineyard

completewith livemusic and alfrescodining. Be suretocome along with

your favouritewinedrinkingfriends!

2218608
---
Local news at www.starnews.co.nz Ashburton's The Courier, Thursday 14 November 2019, Page 7

$

19each

98

$

2each

98

Southern Lights

Vintage

Multi-coloured

LED String

Globes

Great waytoadd

colourand vibrance

this Christmas.

Batteries notincluded.

EXCLUSIVE

Nouveau

LED Solar Stake

Light White

CandystripedLED lights

to light up your entrance

waythisChristmas.

305470

336494

$

6each

h

EXCLUSIVE

Nouveau

LED String

Lights

4.9m Warm White

Stylish and soft lighting

effects in warmwhite.

325915

$

3each

98

Southern Lights

LED Medium

Xmas Tree Lights

20cm high. Multicoloured.

$

12 98

Southern

Lights

Solar Cherry

Bulb String

Lights

100 LED

multi-coloured

lights.

336503

$

49 98

Southern

Lights

Inflatable

Santa With

Candy

Cane

1.2m high.

336495

$

15

EXCLUSIVE

Cole &Bright

AssortedLED

Lit Houses

LED battery

poweredlights

inside houses.

Batteries

not included.

98

each

$

34

EXCLUSIVE

Cole &Bright

20 LED Battery

Poinsettia Ball

260mm, warm

white.

On/off function.

Suitable indoor or

outdoor decoration.

267734

98

each

336489

15

98

14

$ 98 $

98

NEWPRODUCT

Cole &Bright

Christmas Metal

Solar Santaa

No wiring required.

Lowrunning costs.

Recharges itself.

Night time sensor.

335955

EXCLUSIVE

Nouveau

Big Icicle Lights

Blue &White

10.35m length.

Long lifeLED lights.

5m lead cable.

Safefor indoor and

outdoor use.

203880

each

336281

$

6

EXCLUSIVE

Nouveau

98

each

10 Reindeer Lights

Reindeer made of felt. Long lifeLED lights.

Suitable forindoor use.

Requires 3xAAbatteries (not included).

290431

$

49

EXCLUSIVE

Nouveau

NEWPRODUCT

SouthernLights

Pohutukawa

LED Wreath

85cm Outdoor Metal Tree

Light 120Multi Coloured

305483

24 98 70

$ $

30cm. Battery

operated.

Hanging string

included.

336492

98

each

Equally at home on your deck,inyour

conservatory, or in the garden, this tree

light is suretobeahit with everyone

who see it.

each

EXCLUSIVE

Nouveau

Fibre Optic Treee

H: 180cm

Multi Coloured

Long lifeLED lights.

Lead cable 1.8m.

Metal stand.

290435

$

12

99

each

Solar LED Bud Light 100 LED

Multi Colour

203515

each

EXCLUSIVE

Southern Lights

Light up your house with these multicoloured low

voltage string light sets.8function controller.

Mitre10MEGA ASHBURTON

West Street, Ashburton

PHONE 03 308 5119

OPENING HOURS

Monday-Friday7am till 6pm

Saturday8am -6pm

Sunday&Public Holidays 8am -5pm

Offers expireThursday 21st November 2019.

Terms &conditions apply.While stocks last.
---
Page 8, Ashburton's The Courier, Thursday 14 November 2019

Local news at www.starnews.co.nz

Welcome to our Dentistry on Parkside

November 2019 newsletter

Finance Options

Arun and Alar are

looking forward to

welcoming their new

baby to their family in

early December. With

the arrival of their

new baby Arun will be

taking some time off in

December. During this

time Payman Hamadani

will be with us as alocum

for Arun's patients.

We wish Arun and his

family all the best for

their new arrival.

Arun

At the completion of

Michael's study at the

St Johns Theological

College in Auckland,

Michael and Mary

Jo Holdaway will be

returning full time to

Ashburton. Michael

is looking forward to

returning and will be

available to see patients

three days aweek on

his return to Dentistry

on Parkside in late

November.

Michael

At Dentistry on Parkside we

have tried to make available a

variety of payment options.

If you need to pay off your

dentistry in instalments, dental

payment plans are available

for eligible customers subject

to lending criteria. Please feel

free to speak to us to discuss

whether you are eligible and

to find out what plan we can

offer you.

We have interest free payment

options available with Zip or Q

MasterCard®

We welcome

Payman

Hamadani

back to the

practice as

alocum in

November and

December.

To book an

appointment

call the practice

or book online.

Payman

Where has the year gone!

Iremember working as aLocum at

Dentistry on Parkside towards the

end of 2018 and here we are again

with another year almost coming to

an end. Ihave now completed my

second year of Clinical Doctorate

studies at Otago University in the

discipline of Endodontics.

It has been agreat year and we

welcomed the arrival of our son,

Rayan, in February which also

coincided with the start of my

academic year.

Ican safely say that Ihave now

mastered the art of changing

diapers and bath time routines and

not to mention learnt athing or two

at University. Parenthood has been

amazing, and we are so lucky to

have Rayan in our lives.

Inow look forward to working

as aLocum for abrief period

over November and December

and Ialways enjoy returning to

Ashburton. Ihave missed my

colleagues and patients and it will

be good to see you all again.

We also accept Ruralco,

Farmers Finance Cards and all

credit cards.

If you would like todiscuss

our payment/finance options

please visit our website

for further information, or

contact either Catherine

(Finance Manager) or Bernie

(Practice Co-ordinator),

contact details below.

•catherine@parksidenz.co.nz

•bernie@parksidenz.co.nz

Or phone on (03) 308-7472

Visit our website

www.dentistryonparkside.co.nz

Keeping Ashburton smiling – Joanne Lee Oral Health Therapist

As an oral health therapist

focusing on early

prevention and treatment

of oral diseases, my work

occasionally takes me beyond

the dental practice.

Being aboard member for

HYPE Youth Health Centre

has given me the exciting

opportunity of promoting

good oral health among

young people in Mid

Canterbury. From July to

August 2019, Iteamed up with

Sheree Kershaw, the lovely

coordinator from HYPE, to

deliver aseries of classes

at Ashburton College for all

Year 9students. The aim of

our project was to educate

students on oral health issues

and encourage them to enrol

with adentist.

While children at primary

and intermediate schools

receive free dental care from

Community Dental Services,

teenagers entering Year 9

have to first enrol with their

family dentist. Unfortunately,

Ministry of Health data

reported only half of the

students at Ashburton College

have signed upwith adental

practice, and from that

number, only half are actually

utilising the service. Infact, it

seems like many teenagers

are not aware of this free

health care service at all!

Therefore, our classes

discussed why oral health

is important, signs and

symptoms of tooth decay and

gum disease, how to identify

and prevent bad breath, and

the effects of sugar, drugs

and alcohol on teeth. All

students had agoat brushing

and flossing on tooth models,

and afew brave ones from

each class volunteered to

have their teeth painted with

plaque-disclosing gel, which

showed plaque-filled areas on

their teeth that were missed

when brushing or flossing.

The highlight was definitely

the way everyone's faces lit

up at the sight of free Colgate

products sponsored by HYPE.

Despite being an integral part

of health, having ahealthy

mouth is something that can

be easily side-lined. If left

unchecked in ayoung person,

dental issues can cause

irreversible damage, their

appearance, self-confidence,

and their ability to speak,

chew and digest food will

all be negatively affected.

Adolescents who are having

orthodontic treatment still

need to have regular dental

check-ups. Dental care can

also take abig financial toll

on ayoung adult fresh out of

school.

Ibelieve our little outreach

programme has benefited

many young people at

Ashburton College, aswe

noticed asharp increase

in enrolments among Year

9students at Dentistry on

Joanne

Parkside during and after the

project.

It is rewarding to know many

have come away from this

with lifelong skills that they

can carry into adulthood,

and that young people feel

empowered in investing in a

healthy smile.

Phone: 03 308 7472

Visit: 80 Park Street, Ashburton

Book: dentistryonparkside.co.nz

Facebook: fb.com/DOPAshburton

Hours:

Mon, Tues, Thurs 8am -7pm

Wed &Fri 8am -5pm

Sat 8.30am -1pm

2225861
---
Toddler get­togethers a

boon for young and old

TELLUS

what you think!

Regular toddler gatherings

at aged care facility

Radius Millstream are

proving a winner for

young and old.

Babies and other preschoolers

attend fortnightly

themed play sessions

in the resident's

lounge.

Residents can either

watch or join in with

activities that include

music and parachute sessions,

teddy bear picnics

and a recent halloween

themed gathering.

Future sessions will

use playdough, bubbles

and water to focus on

sensory activities.

Mid Canterbury Plunket

community support

co­ordinator Sue­ann

Carr, who helps run the

sessions with Radius

Millstream, said the

inter­generational get

togethers were positive

for everyone involved.

''Not everyone has

grandparents nearby,

and not all grandparents

have grandchildren, so it

brings vastly differing age

groups together.''

Play visits ran from

10.30am until 11.30am,

were held on the first and

third Fridays of each

month and were not

restricted to Plunket

babies.

A fun, festive visit is

lined up on December 20.

Photo: Enjoying some

play fun at Radius Millstream

are, back, Tama

Pirika, 4, with brother

Shane, five months, front,

Malia Symonds, eight

months, Ben Petersen and

Cole Parish, both 10

months.

College choir heads north

with stops along the way

Ashburton College's

Phoenix Rising choir

departs in early December

for Kaikoura and the

start of its Top of the

South tour.

On the way the choir

will sing at a school in

New South Brighton and

will then be based in

Nelson district for much

of the six­day trip.

Performances are

lined up in Nelson's cathedral

and at the Jack

Inglis Friendship Hospital.

The choir has also

been invited to sing with

the Nelson Male Choir as

part of their annual concert

in the Nelson School

of Music.

In between there will

be the chance for some

impromptu street singing

and a couple of flash

mobs in sunny Nelson.

Choir members and

supporters have been

fundraising for anumber

Tinwald Domain awinner

of months and have been

well supported by Ashburton

Lions, Pakeke

Lions and the MSA

Men's Choir.

This will be the fourth

Top of the South that has

been ''orchestrated'' by

choir musical director

Angie Cresswell.

Her first tour saw 18

students head off in two

mini vans and this year

there will be 43 singing

members, three college

staff members and long

time accompanist, ex

The Tinwald Domain has

been named among New

Zealand's best parks and

outdoor spaces.

Thedomainisone of 29

Green Flag Awardwinning

parks and open

spaces in New Zealand

named for the 2019/20

year.

The Green Flag Award

is an international programme

that recognises

and rewards parks and

green spaces that provide

high quality and

innovative recreational

experiences for communities.

Theawardsetsabenchmark

standard for recreational

outdoor spaces

worldwide.

No other South Island

Phoenix Rising member

Olivia Pike, who has been

on every tour to date.

Ashburton councillor

Leen Braam, amember of

the MSA Men's Choir, will

take a short break from

council duties and is the

coach driver on the trip.

The return trip will

include a dip in the hot

pools at Hanmer Springs.

Photo: Phoenix Rising

choir members with musical

director Angie Cresswell.

park or space was among

the 29locations named.

The GreenFlag Award is

seen asawayfor localparks

to enhancepublic attraction

and engagement, maximise

fundingand revenue opportunities

and give communities

asense ofcivic pride.

More information on the

Green Flag website

(greenflagaward.org.uk).

Fill in our online

survey and be in to

WIN a$50 Four

SquareGift Card!

CARD$50

GIFT

ONE GIFT

CARD TO BE

WON PER

STORE

Head to FourSquare.co.nz/survey

Please refer to the Terms and Conditions and Privacy Policy at the

URL above for more details. One voucher to be won per store.

www.foursquare.co.nz

facebook.com/FourSquareNZ

Specials available South Island only from Monday 4th November until Sunday 10th

November 2019 or while stocks last. Wine and beer available at stores with an off

licence. Wine and beer purchases restricted to persons aged 18 years old and over.
---
Page 10, Ashburton's The Courier, Thursday 14 November 2019

Local news at www.starnews.co.nz

ENGAGEMENT

GLENDINING - MARSHALL:

Kerry and Jeff along with

Leallen and John are

delighted to announce

the long anticipated

engagement of Abbey

and Luke.

WEDDING ANNIVERSARY

Congratulations 50th

Wedding Anniversary

John and Wilma

Breukelaar -Borkent

12th November 1969 to

12 November 2019

Haveahappyday.

Melissa, Michelle,Amanda

and families.

Also both business

anniversary.

Holdan Painters 1959-2019

nowretired.

DEATHS

HEMI, Peter Tawhiwhiorangi:

Tragically in Ashburtonon

Friday, November 8, 2019,

aged 23 years.

Much loved father of

Ratu, Libby, and Darrin.

Very much loved son

of TeAtatu, and dearly

loved brother of Aaron.

Cherished grandson of

Evan and the late Jane,

and loved brother in law

of Shianne, and Cecelia.

Dearly loved Moko of

Les and Janet, and the

extended Whanau.

Will be sadly missed by his

Aunties, Uncles, cousins,

and friends.

Messages to: Hemi

Whanau, c/- PO Box 6035,

Ashburton7742.

A service to celebrate

Peter's life was held at

the Hakatere Marae, State

Highway One, Ashburton

on Wednesday, November

13, at 11.00am.

0800 2MEMORY

027 637 1229

Family Notices

DEATHS

MINGAY, Joan Margaret:

On November 10, 2019.

Peacefully at Princes

Court Lifecare, Ashburton

surrounded by her family.

Aged 89 years.

Loved wife of Tony and

mother of Graham,

Dawn and Gail. A loved

grandmother and great

grandmother.Messages to

the Mingay family 2/350,

Burnett Street, Ashburton

7700. Aspecial thank you

to thestaffatPrinces Court

and Dr Wootton for their

careofJoan over the years.

A private cremation has

been held.

Paterson's

Ashburton

FDANZ

03 307 7433

OVERTON, Vie Cowan:

On November 9, 2019

Peacefully at Princes Court

Lifecare, Ashburton. In her

89th year. Dearly beloved

wifeofthe late Ian Overton

and friend of the late

Robert Peat. Daughter

of the late Mini and Jim

McConnell, (formerly of

Drummond). Messages to

Neil Paterson, Lochiel RD1,

Winton 9781. Amemorial

service for Vie will beheld

at our Chapel,cnr East and

Cox Streets, Ashburton on

Saturday November 16,

commencing at 11.00am

followed by a graveside

committal at the Old

Winton Cemetery on

Saturday November 23,

2019 at 11.00am.

Paterson's

Ashburton

FDANZ

03 3077433

WYNNE, Peter Stephen:

(Winn): Sadly passed away

on November 6, 2019 aged

65. Father to Ben, Amy, and

Nicola, brother to Susan,

and Robyn, Grandad to

Flo, Hunter, Jade, and

Chloe. Thank you to the

Rosebank team,Ashburton

and all who were involved

in his care. A private

cremation was held and a

gathering for his burial of

ashes will be confirmed at

alaterdate.

Paterson's

Ashburton

FDANZ

03 307 7433

Supporting the community

96 Tancred Street,Ashburton. Phone 307 8317

ACKNOWLEDGEMENT

BROWN, Alan William

Alfred: Adeline, Garry,

Nicky, Wayne, Janice,

Wendy, Dougal and

families thank everyone

for the expressions of

sympathy and amazing

support extended to us

allfor Alan.

Thank you for the phone

calls, cards, flowers,

baking, visits and

personal support shown

to us all.

To Rev Henry, thank you

for your visits with Alan

and for conducting the

funeral service with such

compassion. To Lesley

thank you, the music was

lovely. To the St David's

team who prepared the

church and worked in the

kitchen, your efforts on

the day ofthe funeral are

appreciated.

Aspecial thanks to Barry

and Polly and the team at

Paterson's, your support

and guidance was

without fault.

Finally thank you to all

who came to celebrate

Alan's life and the kind

donations to St Johns.

Please accept this

as our personal

acknowledgement for all

your help and support.

"A quiet man leaves

treasured memories."

Birth notices listed by

parents will continue

to be free in the Family

Notices column.

The initial death notice

lodged by a funeral

director will be listed

without charge. There

will be asmall charge

of $15 for subsequent

notices related to the

same death, up to a

maximum of 35 words

and on aper-line basis

after that.

The same low

charges apply to

other family notices,

such as engagements,

acknowledgments, in

memoriam notices and

anniversaries.

LREA2008

MCRE

David's pretty garden

open as afundraiser

By Mick Jensen

David Ford is inviting

the community to take a

walk around his impressive

Tinwald garden and

any donations will be

passed tothe Mid Canterbury

Cancer Society.

The 87­year­old lovingly

tends his garden,

which is named Jeanette's

Memorial Garden

after his late wife, who

died three years ago.

Beautiful peonies are

prominent in the wraparound

garden and come

in a variety of vibrant

colours.

There are also azaleas,

camellias, three roses

and rhododendrons.

The garden includes a

puya, blue poppies, yellow

and pink magnolias,

awisteria arch and many

other shrubs and small

trees.

The lawns are cut

regularly by Mr Ford's

neighbour, but he weeds,

watersand trimsthe sizeable

plot himself.

''When my wife was

around, gardening was

always ajoint effort. We

both did whatever

needed doing, but Iwas

always the one for the

lawns.''

Mr Ford said the

couple had moved to

Ashburton from Southbridge

10 years ago

because the town ''had

all the services and was a

good place toretire to''.

They had downsized

SAMANTHA

ROSE

FLOWERS

FLOWERS +WEDDINGS +GIFTWARE

SAME DAY DELIVERY IN ASHBURTON

WWW.SAMANTHAROSEFLOWERS.CO.NZ

03 307 4020

Family owned,

locally owned

David Ford under awisteria arch in his Tinwald garden.

from abig house and one

acre garden and over

time had transformed

their Tinwald garden

into ''just the way they

liked it''.

''We brought lots of

cuttings and plants with

us and bedded them in

here.

''While I really enjoy

the tree peonies, Jeanette

was always afan of

alpines and all flowers

really.''

22 MooreStreet,

Ashburton

0800 263 6679

2196490

2200590

Mr Ford said the

absolute best time for

colour in the garden had

just passed,but there was

still plenty to see and

enjoy in his garden.

The tidy plot also

includes vege growing

areas, agreenhouse, potting

and work sheds and

acompost area.

Some of Mr Ford's

friends and acquaintances

have been through

the garden already this

season and a garden

group from South Canterbury

is expected soon.

There is aguest book,

secure donation box and

agarden photo album for

visitors.

The public is welcome

to knock on Mr Ford's

door at 8 Rowan Place

over the coming weeks

and,ifheishome,hewill

direct them around the

memorial garden that he

is rightly proud of.

Council appoints

two to board

Ashburton District

Council has appointed

Graham Russell and

Chris Gourley to the

board of Experience Mid

Canterbury (EMC)

Applications were

sought for two vacancies

on the board and

candidates were shortlisted

and interviewed by

council and EMC, which

is a council­controlled

organisation that works

to promote the region to

both domestic and international

tourism markets.

Mr Russell is the managing

partner of Pinpoint

Solutions,

a

Christchurch­based professional

services team,

and serves on the boards of

various organisations

including the Christchurch

Club, Christchurch Boys

High School Old Boys

Association (president),

Bowls Christchurch and as

trustee of the Te Kura

Trust.

Additionally, he has

experience consulting with

Waikato, Auckland, Hurunui

and Lakes District

councils on tourism and

public sector matters.

Mr Gourley has abackground

in the banking

industry and heads up his

own consulting company.

Complete

Local Care

Since 1982
---
Local news at www.starnews.co.nz Ashburton's The Courier, Thursday 14 November 2019, Page 11

Paintings capture nature

Ashburton painter Debbie

Lambert captures

nature in the raw in a

new exhibition just

opened at Ashburton

Art Gallery.

Called Nature

Revealed, the landscape

artists reveals 11 large oil

on canvas works, including

natural beauty at

Staveley, Rangitata,

Glenorchy and the West

Coast.

There are also oil

paintings featuring

Mesopotamia and Stony

Bay, in the Coromandel.

Mrs Lambert said

water featured in all of

her exhibition works.

She had painted scenery

from locations ''that

touched her heart''.

All works were new

and had been completed

in her studio.

It is the first solo

exhibition in the new

gallery for the artist, who

has been painting for

more than 30 years, and

also enjoys painting

watercolours.

Mrs Lambert and four

fellow artists have successfully

applied to hold

an exhibition in Parliament's

Bowen House

gallery next year.

The April exhibition

will have the general

theme of Uniquely New

Zealand.

Photo: Artist Debbie

Lambert with her work

titled Lake Kaniere

River.

Toasties snapped up at promotion

Iona Couper, of Ashburton,

and 18 months old

Hadley were among

those to snap up afree

toastie at Ashburton

New World last week.

It was part of the

nationwide Wattie's

Great Kiwi Toastie

Roadie promotion,

travelling to 24 destinations

around the country.

It started on October

14.

The team of 'chefs'

gave away freshly made

Wattie's Spaghetti or

Baked Beans toastie's

considered ''a quintessential

part of Kiwi

life''

They were also filling

their tip jars for KidsCan

Charitable Trust, which

Warning to watch for scammers

Canterbury Police are warningpeople to be on the

lookout forscammers trying to swindle people

posting about lost property or petsonsocial media.

Recentlyanumber of Facebook users posting

about lost property have been contacted by

someoneasking for money in return for

information orhelp.People appealing for

information about lostpets have also been

targeted.

Thescammer, whohas no apparent connection

withthe stolen property,asks peopletopay money

in abank account.

Police don't wanttosee anyone fallingvictim to

thisscam.

''Weurge anyone who receivessuspicious

at the end of the tour will

be matched by Wattie's

with the donation going

towards providing hot

meals to Kiwi kids in

need.

contactafter advertising lost or stolenpropertyto

stayvigilant, and reportiton105.

''Neverpay moneyorgive personal details to

someone you don't knowortrust.''

Informationonother scamsthat arecurrently

operating can be found on the Consumer

ProtectionNZwebsite:

www.consumerprotection.govt.nz/general­help/

scamwatch

Consumer ProtectionNZ, along with Netsafe,

also provideshelpful adviceand information about

keepingsafeonline.

Anyonewho believesthey areavictim of ascam,

in person, overthe phone or online,should

immediately report to their bank, andtoPolice.

Ceremony for industry

training graduates held

IndustryTraining Graduates have had

their achievements celebrated during a

graduation ceremony hosted by the

AshburtonDistrict Council.

The ceremony, held at the Ashburton

Trust EventCentre, recognised the new

graduates'positive contributions toward

local organisations.

Becoming an IndustryTraining

Graduate involves studying while working,

either to improve existing work skills or to

gain new skills. Ashburton mayor Neil

Brown said ''we are very proud to

recognise the outstanding achievements of

our local Industry Training Graduatesand

would like to congratulate them on their

dedication to improvingtheir skills.''

The Industry Training work/study

scheme is made available throughthe New

Zealand Industry Training Organisation,

the Mayor's Task Force for Jobs Initiative

and the Ashburton District Council.

The study topics available are suited to

those in many workplaces, from

construction to agribusinessmanagement,

hairdressing, water reticulation, wool

harvesting, horticulture and more.

The following graduates were

recognised:

Anderson, Melissa ­New Zealand

CertificateinCleaning (Level 2) (Health

CareFacilitiesEndorsement); Benjo

Caranay,Richard ­New Zealand

CertificateinUtilities Maintenancewith

strand in Water (L4) v2 and New Zealand

CertificateinUtilities Maintenancewith

strand in Wastewater and Stormwater (L4)

v2; Bishop, Leigh ­New Zealand

CertificateinBusiness (Introduction to

Team Leadership)(Level3); Boon, Liam

­New Zealand Certificate in Heavy

Automotive Engineering with strand in

Road Transport (Levels3and 4); Brown,

Joseph ­National Certificate in Motor

Industry(AutomotiveElectrical&

Mechanical Engineering) Light Vehicle

(Levels 3and 4); Brown, Aaron ­New

Zealand Certificate in Civil Works with

strand in Road Construction (L4)v2(LV);

Caine, Felipe ­New Zealand Certificate in

Health and Wellbeing (Orderly Services)

(Level 3); Chisnall,Leanne ­New Zealand

Certificate in Catering Services(Level 3);

Couper,Andrew ­New Zealand

Certificate in Heavy Automotive

Engineering with strand in Road

Is your Will

up-to-date?

Build your Will online

www.argylewelsh.co.nz

BARRISTERS, SOLICITORS & NOTARY PUBLIC

Transport (Levels 3and 4); Durham,

Jonathan ­National Diploma in

Wastewater Treatment (L5); Earl, Jennifer

­New Zealand Certificate in Health and

Wellbeing (Level 2); Early, Reuben ­

National Certificate in Motor Industry

(Automotive Heavy Engineering)

Agricultural Equipment (Levels 3and 4);

Fonternel, Madeleine­New Zealand

Certificate in Health andWellbeing

(Health Assistance)(Level 3); Jhand,

Gurbhej ­New ZealandCertificatein

Utilities Maintenancewith strand in

Wastewaterand Stormwater (L4) v2 and

New ZealandCertificate in Utilities

Maintenance with strand in Water (L4) v2;

Leis, Vivienne ­New Zealand Certificate

in CateringServices(Level 3);

Masiqaliqali, Filimone ­New Zealand

Certificate in UtilitiesMaintenance with

strand in Water (L4) v2 and New Zealand

Certificate in UtilitiesMaintenance with

strand in Wastewater and Stormwater (L4)

v2; McKenzie, Amber ­New Zealand

Certificate in Cleaning (Level 2) (Health

Care Facilities Endorsement);

McLaughlin, Nicola ­New Zealand

Certificate in Catering Services (Level3);

Molina Barrera, Fernanda ­New Zealand

CertificateinBusiness (First Line

Management)(Level4); Muggeridge,

Kelly­Lee ­New Zealand Certificatein

Retail (Level 3); Patea, Bernard ­New

Zealand Certificate in Utilities

Maintenance with strand in Wastewater

and Stormwater(L4) v2 and New Zealand

Certificate in UtilitiesMaintenance with

strand in Water (L4) v2; Paterson, Kerry ­

New ZealandCertificate in Distribution

(Level 3); Rodgers, Samuel ­National

Certificate in MotorIndustry (Automotive

Parts and Accessories Merchandising);

Tabener,Steven­New ZealandCertificate

in Distribution(Level 3); Tarko, Susitina ­

New ZealandCertificate in Cleaning

(Level 2) (Health Care Facilities

Endorsement); Thomson, Merryn ­New

Zealand Certificate in Health and

Wellbeing (Orderly Services) (Level 3);

Tua, Wiremu­New Zealand Certificate in

Utilities Maintenance; Ventriglia da Silva,

Jorge ­New Zealand Certificate in Alpine

Resort Operations(L3) v1; Wilson,Linda

­New Zealand Certificate in Catering

Services (Level 3); Xun Rapsey, Yujuan­

New ZealandCertificate in Health and

Wellbeing (Advanced Support) (Level 4).

Grants made

Ashburton council made

$1,440,193 in

discretionary grants and

contributions in the

2018/19 year.

The big­ticket

contributions included

$384,998 to tourism body

Experience Mid

Canterbury, $383,000 to

Ashburton Art Gallery,

$173,000 to Ashburton

Safer Community

Council, $146,500 to the

Ashburton Performing

Arts Theatre Trust

(Events Centre), and

$15,000 to

Neighbourhood Support.

The Canterbury West

Coast Sports Trust got

$52,174 and $15,000 went

to the Methven

Community Pool.

www.auricelectrical.co.nz

• Domestic electrical services

• New house wiring

• House rewiring &maintenance

SUPPLIERS AND INSTALLERS OF LEADING BRANDS

• TV &Datawiring

• Solar installation

• HeatPumps

Call todayfor an obligation free quote

0800 287 423

2174603
---
Page 12, Ashburton's The Courier, Thursday 14 November 2019

Local news at www.starnews.co.nz

Ashburton College

Individual Excellence in aSupportive Learning Environment

News

Issue 38

14 November 2019

Message From ThePrincipal

Senior Students'NCEA Exams

With our senior studentshaving finished classes for

the year, and now underway with their NCEA exam

schedule,AshburtonCollegeisunusually quiet.

While we still have 500 plus students in Years 9and

10 it does feel unusual to have so few students on

campus.

Senior Graduation and Prize-givings

My thankstoall thosewho attended our Year 11 and 12 Prize-givings and

Year 13 Graduation Awards Ceremony. These are always fantastic events

and it is particularly rewarding for staff of these senior students as we

reflect on theamountofgrowth and steps thatmanyofour young people

have taken. It is the combination of staff input,and wisdom and support

from parents and caregivers,that hascreatedthese awardwinners.

LiveStreaming

For the first time this year we had alive stream of the Year 11 event

projecting into H10 (the large music room). This enabled all attendees to

view the event, which is asolution to our increasing overflow atCollege

Prize-givings, given our Auditorium seats amaximum of 340. Due tothe

increasing popularity ofthese events wewill also live stream our Year 9

and 10 prize-givings into the music rooms to enable more whānau and

supporters to see the events.

Education Brief–PropertyRedevelopment

At the momentweare in the process of finalising our AshburtonCollege

Education Brief. Thisisthe documentthatthe architectfirm will use whilst

composing the Master Plan forour new build. The Education Brief forms

ablueprint for the future ofteaching and learning at Ashburton College.

It includes an overview of the types of teaching likely to occur and also

outlines things thatare importanttousthatwewish to retain in our new

build. Examples of this include the importanceofour four Houses,having

achessboard inthe centre of the school (wherever that may be) and our

commitment toabi-cultural partnership. This Education Brief is due for

completion this month and the Master Plan by July 2020. Thetotal build

will be alengthy process. Currently the project isdue for completion by

December 2025.

WhareCarvings

Thecarvings on our wharehavebeentaken down, restored and weatherproofed.

Whenthey aredue to be re-erected in pride of place, therewill

be an appropriate ceremony. The College's thanks goes to Damian Peeti

forhis fantastic careand restoration of our taonga.

CanterburyAnniversary Weekend

This weekend,and theFridayholiday,isalwaysappreciated. Theweather

is normally fantastic and it is avery welcome break for staff given Term

Four is hectic with senior prize-givings, followed by the final junior

assessments,reportwriting, end-of-year events and junior prize-givings.

Ross Preece

Principal

Information

Study Nights forExam Students –

College Library, 7:00pm-9:00pm

Teaching staff are offering a significant

number of study nights to supportstudents

with NCEA Exam preparation.

We encourage students to take advantage

of this help, and the opportunity for some

compulsory study time where teachers will be

availabletoassist.

Alist of attendingteachers/subjects is available

in the Library.

Remaining StudyNights are–

Monday 18 November

Tuesday19November

Wednesday20November

Coming Events

Thursday21November

Monday25November

November

07- 03 Dec NCEA Exams

15 CanterburyAnniversaryDay Holiday

18 Year 9(for2020) Scholarship exam

Aoraki SecondarySchools'Junior Girls'Cricket

19 SISS Lawn Bowls Festival,Timaru

21 Aoraki Junior SecondarySchools'Tennis,Timaru

22 New Entrants'morning (8:30am-12:00pm)

PostponementDay,AorakiJunior Tennis

25 Aoraki SecondarySchools'Junior Boys'Cricket,Timaru

27 Hakatere Festival,AshburtonTrust EventCentre

SLSU Swim Team -Special Olympics Swimming,Timaru

BOTMeeting,Menorlue,6:00pm

28 Year 10 Dancetrip, Tinwald School

29 Year 9CommunityServices Day

Information

Concertfor Andrévan Rooyen

This event, to raise further funds for André's life-extending cancer

treatment, has a stellar line-up of performers ready to treat the

audiencetoagreat evening'sentertainment.

Performances

from Ashburton

College current

and past students

to entertain you!

AshburtonCollege NetballClub

Submissions of Interest –Coachand Manager Positions

Applications arenow open forsubmissionsofinterest

in positions of Coaches and Managers forall

College teams forthe 2020netball season.

Thereisavery supportiveand well-resourced

Club and Committee to supportour volunteers.

Forfurther details pleasecontact:

PresidentVickiMcArthur, on 0274 913 946;

or email your submissiontoClub Secretary

angescammell@hotmail.com.

Submissionsofinterest close tomorrow,15 November 2019.

2019 End-of-Year Final Days,Prize-Givings,Events

Parents, caregivers,family/whanau,friends and interested community

members aremost welcomeatall prize-givings.

December

08 Leavers'GraduationDinner, Hotel Ashburton, arriveat6:30pm,

seatedat7:00pm.

12 Year 10 Prize-Giving, 1:30pm, College Auditorium,and FinalDay

13 Year 9Prize-Giving,11:00am,College Auditorium,and Final Day

Events

StudentExecutive Acknowledgements

and Donations

At aYear 13 Assembly held onWednesday 16October, Student Executive

members presented cheques to recipients of recent fundraising projects,

and acknowledged sponsors of the Shared Morning tea. The focus for the

Student Executivewas to raise funding to supportMid Canterburystudents

and families.

$1057 DonatedtoYMCA

A'presentation'cheque for $1057 was presented toStacey Barnett, Youth

Development Facilitator for the YMCA. This amount was raised by the

Student Executive from its successful Quizco fundraising evening held on

13 September.

Stacey said thatthe YMCA wasverygrateful to receivesuch funding,which

would help supportcontinued deliveryofthe ResiliencyToolkit within Mid

Canterburyschools.

(Pictured right): Stacey

talking with the

Year 13 year group,

while (left to right):

Student Executive

members William Wallis,

Maisie Looij,Harriet Stock,KateMcIlroy,Shane Crawfordlookon, with Head

of Senior School ClaireBubb (at back).

Additionally, Stacey advised that they are finding the use of the Resiliency

Toolkit within schools is helping students to improve their ability to

recognise when well-being is low, to help others, keep themselves and

friends safe, and having the knowledge to know where togowhen help

is needed.

The YMCA islooking forward tocontinuing to work within Ashburton

College and Mid Canterbury schools, saying they are seeing positive

changes through the years. They arealso working towardsaroll-out of the

'New Matesand Dates' programme forYear 9-13 students,which focuses on

prevention of sexual and dating violence.

$1034 DonatedtoRonald McDonald House

A second 'presentation' cheque was made to Ashburton McDonald's

Restaurant owner Dave Whalley, who is Deputy Chairperson of the Ronald

McDonaldHouse BoardofTrustees.

The donated amount was raised from an International Food and Style Day

combined with aMufti Day, held on 12 September.

Dave thanked the Executive members and students for their impressive

community-minded generosity and willingness to 'do extra' in the

community. He spoke to Ronald McDonald House, which is dear to many

families in Ashburtonwho have stayedinthe House in Christchurch.

(Pictured right):

Dave Whalleyspeaking,

while (lefttoright) Student

Executive members

Julie Mushonga,

Jacklynn Afu, Fred Belford,

Carl Cayanan, Mollie Gibson,

William Wallis,Amy Pearson

(background,obscured),

listen in.

Ronald McDonald's Vision is to provide access to a family-focused

environment and support services for all family/whānau with a child

needing health care.

Dave referred to the over 1200 families who have benefitted from the

accommodation at the time of great family stress. Hesaid that all families

stay for seven nights, and quoted one family who was there for close to a

year.

The funding would be put to good use to support the facility's operations,

with Dave notingthe purchase of 6,500 litres of milk alone forayear.

Shared Morning TeaInitiative

Startedbythe 2018 StudentExecutivemembersthis initiativehas continued

this year,providing food and companyfor students,duringinterval.

This operation occurs every interval, managed by the Student Executive

on aroster basis. With the senior students now onexam leave, the Junior

School Council takes on theresponsibilityfor the balanceofthe year.

Grateful Appreciation

Grateful appreciation is given to

the firms who supplyfood forthis

venture, throughout the whole

year.Their community-focused

supportisverymuch valued.

Ahugethank yougoes to Speights

RestaurantAshburton and Nosh

Café who donate food onceaweek;

NewWorld Ashburton who donate

abig boxoffruit weekly to last for

the whole week;and to Harvey's

Bakehouse fortheir twice-weekly

food donations.

(Pictured right): Jessica Norriefrom

Harvey'sBakehouse accepting the

acknowledgement, and asmall gift,

from the College.
---
Local news at www.starnews.co.nz Ashburton's The Courier, Thursday 14 November 2019, Page 13

Ashburton College

Individual Excellence in aSupportive Learning Environment

News

Issue 38

14 November 2019

Events

AshburtonCollege ArtExhibition – 'This Is Us'

It was finally here, said Milly Brown, Head of Arts Faculty –'the night some

of us had struggled towards. Thepaintings had been hung and rehung,the

people had been invited, and the refreshments and nibbles were waiting'

on Monday 04November from 4:00pm-6:00pm, with afollow-up viewing

available on Tuesday05November.

Nervous student artists had their

work up on boards for anyone

and everyone to see (with a

sample of these pictured right and

belowright).

Milly added that, 'for those of

us lucky enough to see the

development, challenge and

inspired moments of the art

students all year,pride wasatthe

forefront ofour mind. Pride in the perseverance and skill development of

the artstudents at AshColl'.

(Pictured above): Art student Abby Rushton showing the impressively

decoratedukuleles.

The art exhibition was aculmination of hard work, creativity and learning,

and the pleasure insharing that journey with parents, caregivers, staff and

the communitymade it all the moreajoyful process.

Milly acknowledged with thanks all those who helped to have the evening

'up and running', saying the Art Department and students cannot wait to

topthis exhibition next year.

Congratulations

2019 WinterSportsand Cultural Performance

Awards and Principal's Commendations

Further to the Colours and Blues Award Assembly held on Thursday

25 October, and reported on in the newsletter published on 31 October,

additional recognitions were made at House Assemblies on Wednesday

30 October. Eighty of these presentations were Performance Awards

over twenty five categories; and forty six Principal's Commendations

over tencategories.

PerformanceAwards

Performance Awards recognise ahigh standard ofachievement in

sports and cultural activities, consistent with the conditions and

qualifyingstandards set forAshburtonCollege.

Recipients were -

Badminton

TiffanyAgacer,Ila Cabalse,Sam Rakthong.

Basketball

Cat Anderson, Pasi Hala, Ella Pearson, Riley Sa,

Kalen Tait.

Cross Country

Aidan Elvines, Flynn Mackenzie, Ella Pearson,

Jessie Pitney,Ted Yee.

Cycling

Maddi Lowry.

Dance

Ken Bulagnir,CarlCayanan.

Debating

TiaMcCallum, Gemma Taylor,Lauren Taylor.

Drama

Carl Cayanan, Jade Kruger, Bridget McArthur,

Brooke Miller,Liam Pram, Hemi Te Paki.

E-sport

Jack Chen, Dredgewell Madla, HenryWallis.

Equestrian

SarahMattson, RubyThomas.

Football

Jane Cribb, Chloe Johnson, Ryan Robinson,

DomWilson-Knight, Zac Woolf.

Golf

Wilson Hii.

Gymnastics

Marlese Schoonderbeek.

Hockey

Cole Beeman, Jed Cameron, Montana Cannan,

Ryan Geeson, Hannah O'Reilly, Grace Quinn,

Jonty Small,Maddy Wilson.

Kapa Haka

RoiMakutu.

Music

Matt De Ocampo, Amy Pearson, Sean Scott,

Eli Sinclair,Zac Woolf.

Netball

EmmaStagg,FaithScott.

PasifikaPerforming Arts Shrina Afu, EianaApiti-Vaevae,MelinaFakataha,

Misty Mafiti, Lindalaurosa Clay Masina,

Sayime Metautini, Christine Tomokino.

Public Speaking Irish Bernarte,Melina Fakataha,

BarbaraNabeka, Hope Saofai.

Road Race

Toby Woolf,Ted Yee.

Rugby

BJ Fakataha, Steph Geeson, Megan Hurley,

Josh Jones,Emma Rollinson.

Skiing

MyaJohnston,Jack Savage.

SmallboreRifleShooting Brontson Cudmore, SarahDuToit, Jack Jones.

Squash

Angus Jemmett.

Technical Theatre Cameron Radford, Wilson Hii.

Trampoline

MiaJessep,Jack Templeton.

Congratulations

(Pictured left, lefttoright):

Chloe Johnson at the Green House

Assembly,receiving her awardfor

Football; Clair Bedward(StaffHouse

Leader); Josh Jones (StudentHouse Co-

Captain); and DeputyPrincipal

RonCresswell.

(Pictured below, lefttoright): At the Blue

House Assembly –DeputyPrincipal

Jono Hay, StudentHouse Captain Liam

Pram; Staff Head of House

Stacey Monk and Laurraine Aperocho

coming up to receiveher awardfor

LibraryCommunityService.

Principal's Commendations

Principal's Commendation Awards give acknowledgement and

appreciation foroutstanding contribution to College lifeand personal

achievement.

Recipients were –

Student Librarians: Ethan Annear, Miar Diab, Ines Forster Lobato

de Faria, Emily King, Hayley Luxton, Romina Malabuyoc, Harrison McKee,

Lezlie Reusora, Eliane Vinculado, Leanne Walsh, Shasha Watagedara

Bahuge,Altha Zamora.

Community Service Library Volunteers: Laurraine Aperocho,

Zif Bulagulan, Caitlyn Barwell, Fred Belford, Irish Bernarte, Kaveesha Clark,

Maisie Looij, Romina Malabuyoc, Bridget McArthur, Yvangeline Radan,

Lezlie Reusora, Kimberly Sagun, Hope Saofai, Olivia Stockdill,Altha Zamora.

First Aid: Drew Porter.

Umpiring: Jed Cameron, Willow Diedricks, Zoe Diedricks, Olivia Lill,

Hannah O'Reilly,TCTrusler-Clark.

AshburtonCollege Hockey Coach: Liam Pram.

Ashburton College Netball Coaches: Taylah Burrowes, Jemma Donnelly,

SarahDuToit, Julie Mushonga, Jasmin Strawbridge,Nahteshiya Watene.

AshburtonCollege Netball Management: Hayley Tallentire.

AshburtonCollege Canteen:

Ronan Kenny, Logan Moore.

Contribution to School Sport–Girl: TC Trusler-Clark.

Contribution to School Sport–Boy: Jacob Gray.

Celebrations of Success

On theevening of Thursday31October it wasthe College's pleasureto

honour student commitment, achievement and success at the Year 13

Graduation Ceremony, held at the AshburtonTrust EventCentre.

In next week's newsletter we will outline student successes from the

Year 11 Prize-Giving, held on the evening of Tuesday 05November, also in

the College Auditorium.

At all of these occasions we recognise the amazing talents amongst our

student body, the commitment ofthese students to developing their skills

and capabilities,and the supportgiven to students by families and staff.

Year 13 Graduation Ceremony

As adults,weare in aweofwhatmanyofour students achieveand the levels

of talentexhibited,and this year wasnoexception. Theaudience, staff and

students were treated toawonderful evening of entertainment, speeches

and celebration.

Superbmusical contributions were made by the AshburtonCollege Blues

Band (Processional, Recessional and Performance of'Fly Me To The Sun');

Barbara Nabeka who led the singing of the National Anthem so ably; and

Middle Road Band's twoperformances ('Fireand Smoke' and 'Neon Lights').

(Pictured above, lefttoright): Middle Road Band –Liam Pram, Jade Kruger,

Toby Woolf and Louie Pabualan.

Head Girl and Head Boy Mollie Gibson and William Wallis spoke of the

2019 year.

Mollie suggested if students coming through don't know whatthey want to

do yet, don't worryand enjoytheir subjects,saying thatdecisions on futures

don't happen overnight.

She noted, for Year 13 students,

this was their last time in College

uniforms but also acknowledged

it was'sad to go'and that, although

it was normal to be nervous of the

next steps, they were resilient and

would approach their futures with

excitementalso.

Congratulations were given tothe

night's awardees as well as ahuge

thank you to parents and staff

behind students, helping them to

get where they are now. She said

awards would not be possible without thatsupportand assistance.

Mollie thanked all for making school 'more fun than it should be', the

studentleaders who had become friends,and noted it to be areal privilege

and honour to have worked with senior staff leaders.

Mollie thanked all forbeing partofanexcitingyear.

William talked about school being

able to be appreciated for the rest

of their lives; whether heading to

university, apprenticeships, travel

or work. Heencouraged students

to follow their passions, enjoy the

journey, and referenced the game

of six squares playedatYear 9level,

and which he chose to ask to join

in with.

By having the motivation to

'own' his own square herealised

the benefits of having agoal to

strive for, citing boredom as an

individual's worst enemy. In six square the ball bounces randomly, like life

–reminding of deadlines, activities, reasons and opportunities to interact

with others,and much else.

William encouraged students not to be afraid to ask to join in, whether it's

six squares or another activity, saying it will lead to other things.

He cited the year as having unforgettable experiences,encouraged students

not to be afraid to ask,and he hoped thatthey would meet as good ateam

as he had.

Guest Speaker -Shaun Clark

It wasour pleasuretointroduce

former AshburtonCollege

studentand Ashburton

returnee Shaun Clark, Principal

Physiotherapist and Practice

DirectorofPhysioSteps

Ashburton, to speak at this

evening.

Noting it wasjust over tenyears

sincehehad attended his own

Year 13 Graduation Ceremony,

Shaun had some valuable

thoughts to shareonmaking one's wayinlife, post-secondaryschool.

Students would have leftthe evening knowing they were capable of'making

their own luck'and, whether feeling confident ornot, they should throw

themselves in the deep end when achance isoffered. Shaun emphasised

the satisfaction gained from being challenged and recommended students

believe inthemselves and don't hold back. Advice was'not to wait until

everything is perfect,just give it ago' but, equally,put in the time and effort

to perform well.

Shaun also shared some of his experiences after completing training at

Otago University, and the opportunities he took which led to working with

athletes at the Glasgow Commonwealth Games in 2014, and the World

Rugby Sevens Tournament, while living and working on the Gold Coast.

These amazing experiences came about by saying 'yes'toopportunities,as

did involvementwith athletes in other sports.

Shaun's words were very well-received and certainly contained some

thoughts for all in the audience

to take forward and use, showing

realistic self-confidence, and

being willing to take a chance

on being taken outside of one's

comfortzone.

(Pictured right): Board

Chairperson JeremySavage

addresses the audience.

Continued next page.
---
Page 14, Ashburton's The Courier, Thursday 14 November 2019

Local news at www.starnews.co.nz

Ashburton College

Individual Excellence in aSupportive Learning Environment

News

Issue 38

14 November 2019

Awards

Awards presented indicated commitment, hard work, focus and

contributions on behalf of each student;and supportfromfamiliesand

staff. All recipients arecommended forall thattheyhaveachieved.

It is also with very grateful appreciation that the College recognises

communitysupportofmanyofthese awards.

Special Congratulations aregiven to –

DUX of AshburtonCollege 2019

BenHolland

and thereforerecipientofthe

RotaryClub of AshburtonScholarship Award

and the Ashburton High School Centennial Trust Plaque

In gaining Dux, Ben attained the

following Awards –

• Mathematics with Calculus

(Hogg Memorial Prizeand Robb Cup)

• Physics(John HeffordMemorial Prize)

• Statisticsand Modelling

(John Stewart Memorial Prize)

• Accounting (Gabites Ltd Prize)

• Economics

• Level 3ExcellenceAward

• Application and Effort

Andwas also presented the -

• 1st XI Soccer Trophy for outstanding

contribution to College soccer

Proxime Accessit (Runner–Up to the Dux)

Emma Stagg

Andrecipient of the Rotary Club of Ashburton Scholarship Award

Emma's pathwaytothis achievement

came via –

• Geography

(Arnott Awardand Jane Taylor Cup)

• OtagoUniversity-

New FrontiersEntranceScholarship

• Level 3ExcellenceAward

• Application and Effort

Andwas alsopresented the –

• Top All-round Female Sportsperson

(Cochrane Cup)

• Butterick Memorial Trophyfor

scholarship in English and Sporting

Endeavour

• AshburtonTrust TertiaryStudy

Scholarship

RakiruaTrophyfor the TopAll-Round Achievement

by aMāori studentinYear 13

Jade Peters

Jade also received -

• Level 3Award

• Application and Effort

andthe –

• AshburtonMasonicLodge

Centennial Scholarship

CommunityContributed Awards

On behalf of our studentrecipients,AshburtonCollege acknowledges,

with gratitude, the community-minded support which enables the

annual provision of the following generous scholarships.

AshburtonA&PAssociation Scholarship -BrittanyFowler

John GriggScholarship

-BrittanyFowler

John Bell memorial Scholarship -BrittanyFowler

Robert Bell MemorialScholarship - Lupepe Saofai

John Lane Scholarship

- Kelly-Anne Bentley

Rosalie Begg Memorial Scholarship -Meg McIntyre

Turner Memorial Prize for Citizenship -Emily Armstrong

-Shane Crawford

TTRyder Prize for Application, Cheerful Effortand Building Significantly

on her Learning

-Lupepe Saofai

CHAndrews Prize for Initiativeand Enterprise

-Grace Adams

-CarlCayanan

Butterick Memorial Trophy for Scholarship in English and Sporting

Endeavour

-Emma Stagg

AshburtonClub and MSAScholarship -GraceAdams

AshburtonMasonic Lodge Centennial Scholarship

-Jade Peters

EA Networks Scholarship for aStudent Studying to Enter the Electrical

Industry

-CarlCayanan

-Leanne Walsh

AshburtonTrust Tertiary StudyScholarships

Grace Adams, Shane Crawford, Mitchell Farr, Mollie Gibson, Kate McIlroy,

Tegan McIntyre,Emma Stagg,Harriet Stock,WilliamWallis,Leanne Walsh.

NBS AshburtonCollege Alumni Scholarship - Aidan Elvines

Lions of Ashburton County Award for Citizenship and Community

Involvement

-FredBelford

ROMcDowell Awardfor Pride in their School andCommunity

-Harriet Stock

Lions Club of AshburtonSenior Serviceand Leadership Award

- Josh Jones

ROMcDowell CrystalTrophyfor Character andLeadership

(presented by the Ashburton High School

Centennial Trust) -Mollie Gibson (pictured right)

Rotary Club of Ashburtonand Fooks Memorial

Awardfor ProminenceinScholarship,

Leadership andExtra-CurricularActivities

-William Wallis.

Year 12 Prize-Giving

Again, as partofthis eveningheld on Monday04November,the audience,

staff and students were entertained by arange of musical genres and

high-quality performances from members of the Ashburton College

Empoly8 Band–Joseph Collins,Christina Francis,CalaisHill,Spencer Ifopo,

Barbara Nabeka, Scott Thomson, Ocean Waitokia – (Processional and

Recessional); Christina Francis and Joseph Collins leadingthe singing of the

National Anthem; Joseph Collins performing his original composition 'This

is my Life';Christina Francis singing 'Sandcastles' and Ocean Waitokia singing

'I Told YouSo'.

Guest Speaker was Dr JaredCorbett. Jareddescribes himself as aproud

alumnus of Ashburton College and the UniversityofOtago.

Jared (pictured right)

completed his medical

training and registration

through the University

of Otago Wellington

campus, with placements

at Wellington, Hutt and

Wairarapa Hospitals,

beforemoving to

Auckland having made

the bravedecision to

pursue musicfull-time.

As amember of both the

New Zealand Secondary

Students'and New

ZealandYouth Choirs,

Jared wasable to hone his passion forchoral singing,which led him to

directthe Wellington Youth Choir alongsidehis studies.

Jared is now working towards aGraduate Diploma inConducting through

the University ofAuckland, and is directing the premier choirs at both

SaintKentigern'sand St. Cuthbert'sColleges in Auckland.Healso performs

regularly with TheUniversityofAuckland and Voices New Zealand Chamber

Choirs, and works asalocum junior doctor during spare weekends and

Universityholidays.

In outlininghis pathwaysinceleaving Collegeand describing a'double life'

of medicine and music, Jared's presentation wasn't at all directivebut it did

engender some thought options which students might want toconsider

when evaluating their post-secondaryschooldirections.

Always passionate about music, Jared, when leaving College, weighed up

between the 'sensible'option of an established career, and the seemingly

less secure option of following his love of music.Hedid notehewished he

had taken Biology in Year 13, premedical studies! Whilst not deterring any

students from considering afuture career in medicine he did outline the

challenging realities, hours, pay and conditions of young doctors'working

days.

Enjoyedwashis insistencethat, despiteinvolvement with Auckland Choirs,

he 'went' toAuckland but should not be classified as'living' inAuckland,

with all due respecttoour northerncityinhabitants!

Most importantly,the audienceheardabout the value of beinghappywith

acareer choice, understanding if that option is not fulfilling and 'not you'

then it is alright tomake achange. People don't have to 'be stuck'inone

job forever, or they can followmorethan one path simultaneously and keep

options open. For Jared, music formed part ofhis study life and, now, by

having completed his medical degree before making acareer change he

still has the opportunityto combine bothbybeing able to undertake locum

work during weekends and school student holiday times –described as

being in his 'spare' time!

KeyAwardsatthis evening were -

ANZ Bank AcademicAchievementAward

forthe TopStudentinYear 12

PennyStilgoe

In attaining the Year 12

TopScholarAward,

Pennygainedthe

following awards -

• Accounting –jointaward

• Biology (AshburtonDistrict

Council Prize)

• Chemistry(Ashburton

DistrictCouncil Prize)

• Level 2ExcellenceAward

• Application and Effort

Andadditionally-

• Citizenship Awardfor mentoring students in reading

RarakiroaAward

forthe TopYear 12 Māori Student

Lucy Moore

Lucy also gainedthe

following awards –

• Art Painting (Ashburton

DistrictCouncil Prize)

• Designand Visual

Communication –jointaward

• Level 2ExcellenceAward

• Application and Effort

Meet our Head Students Elect for 2020

Student leadership aspirations are strong amongst the current Year 12

group, with twenty two students (eight girls and fourteen boys) putting

theirnames forwardfor consideration as Head Students.

The appointment process is rigorous, as outlined by the Principal; involving

self-nomination, voting by staff and students for the initial short-listing;

speeches, further voting by staff and students, and interviews by the

College's Principal Ross Preece, Head of Senior School Claire Bubb and

Trevor CroyofAdvanceAshburton.

Announced on the nightwere–

(pictured below, lefttoright)

Maria Costas (DeputyHead Girl), PoppyKilworth (Head Girl)

HenryChapman (Head Boy), and Kyle Cabangun (DeputyHead Boy).

The Ashburton College Head student team for 2020 feels highly

honoured and privileged to have received this opportunity.

Theysaidthattheir wish is to inspire andachieve their over-arching goals

of:

• continuing to build apositiveimage forAshburtonCollege

• connecting closely with the current studentbody

• leaving along-lasting impactonthe College and wider community.

They concluded by saying 'weare really looking forwardto2020'.

BoardofTrustees StudentRepresentative

Additional to Student Leadership roles, students also put themselves

forwardfor the position of StudentRepresentativetothe BoardofTrustees.

Theprocess forthis follows legislativeprocedures.

Following nominee speeches, College students voted electronically, atthe

same timeasfor the Head Students,onThursdayand Friday24and

25 October,for this

one-year position.

This year,four

students were

nominees forthe

role,which is a

very pleasing level

of interest shown

in this responsible

position.

Thesuccessful

candidate

this year was

WillowDiedricks
---
Local news at www.starnews.co.nz Ashburton's The Courier, Thursday 14 November 2019, Page 15

Plenty of challenges in 'top farm'

Rakaia farm owners

Enda and Sarah Hawe, of

Emerald Pastures Ltd,

with Jason Palmer and

Andrew Livingston, have

taken out the title in the

Ruralco Meridian Top

Farm Competition.

The event, hosted by

Ruralco, saw teams of

four complete challenges

such as the memory

game ''perfect pairs'',

geography puzzles with

anagrams, word finds, an

egg drop (where teams

designed and built a

structure with limited

resources to successfully

catch an egg), an accuracy

sling and a sports

relay.

It was held at the

Ashburton A&P Showgrounds

on Saturday.

As part of their prize

the team has donated

$1000 to Canterbury

West Coast Air Rescue.

Mr Hawe said it was

always awesome to participate

but it was even

more special to come

away with awin.

''Thank you to Ruralco

and Meridian Energy for

putting on such an awesome

day. We are especially

pleased to be able to

donate the prize money

to Canterbury West

Coast Air Rescue who

provide a much­needed

Athletes eye Dunedin

Athletes from near and

far are taking advantage

ofthe Otago Community

Trust New Zealand

Masters Games

early bird prices.

The reduced early

bird entry fee is available

for all participants

until December 3,

before standard pricing

takes over until January

13.

Masters Games

events co­ordinator

Maria Apii said competitors

from around

New Zealand and overseas

had already signed

up for the games, which

start on February 1.

Overseas competitors

would come from countries

such asAustralia,

India, the United

States, Sri Lanka and

the United Kingdom.

''Entries are going

really strong,'' Mrs Apii

said.

There was amisconception

accommodation

in Dunedin was

all booked out, but

there were still plenty

of options available,she

said.

She encouraged

people to contact the

Dunedin i­SITE Visitor

Information Centre,

which was set up to

handle all the accommodation

during the

games andhad accessto

the city's halls of residence.

However, some

people were opting to

bring their caravans and

campervans, including

games ambassador

Warren Lees.

''There's plenty of

options for people,''

Mrs Apii said.

''Dunedin is busy but

it's not full by any

means and wecan cater

for the thousands who

will come into town.''

There had already

been plenty of interest

Gardeners warned to be careful

Cantabrians are being

urged to protect themselves

against Legionnaires this

spring

As the days get longer

and warmer, people are

more inclined to head outdoors

and get stuck into

their gardens, so it's the

time of year when the nasty

disease also starts to make

its presence felt.

There have already been

12 cases of Legionnaires

confirmed since June this

year, and, with 48 hospitalisations

in Canterbury last

year, officials are urging

service for our community,''

he said.

The winners won

prizes which included

$1,000 for aCanterburybased

charity, a $50

in individual and team

sports, including the new

event corn hole, she said.

''People are quite

intrigued because it's a

little bit different.''

Fun events such as Top

Team, the Great Gatsbythemed

Twilight 400 and

Wine Options were also

popular because people

did not have topractise

or have experience to

take part.

If people wanted to

compete in ateam event

but did not have ateam,

organisers could find

them one.

To enter, go online to

www.nzmg.com.

gardeners to take care with

potting mix and compost.

The disease, a form of

pneumonia, is caused by the

Legionella bacteria that lived

in moist organic material.

Ruralco and $50 Meridian

Energy voucher for

each player.

Second place went to a

children's team featuring

Niamh Hawe, Kayleigh

Hawe, Isobel Wall and

Riley Wall, who fought

hard to complete all the

activities and received a

goodie bag and vouchers.

Third place was taken

by Jules Kupfer, Jess Pitt,

Harry Whitwell and Warren

Harris, who each won

agoody bag.

The family day was an

initiative by Ruralco and

Meridian, modelled off

the 70s and 80s TV competition

Top Town,

which required teamwork,

physical and mental

skills, planning and a

bit of luck to take out the

overall prize.

The event was free to

enter, however one of the

team members needed to

be aRuralco cardholder.

Photo (supplied):

WINNING EFFOR­

T...(from left) Glenn

McWhinnie (Meridian)

with Top Farm winning

team members Enda

Hawe, Jason Palmer,

Sarah Hawe, Tracey

Gordon (Ruralco) and

team member Andrew

Livingston following the

Top Farm Competition

in Ashburton.

White Ribbon events to

push ending violence

Events are being held

locally this month to

raise awareness around

the increasing issue of

domestic violence.

The national White

Ribbon campaign aims to

end violence towards

women by encouraging

men to lead by example

and to talk to other men.

A number of maledominated

local businesses

will receive morning

tea packs soon to

encourage conversations

and to spread positive

messages in the workplace.

A touring group of

motorcyclists supporting

White Ribbon will stop

off in Ashburton on

November 22 and will

visit St Joseph's School to

spread anti­bullying messages.

A police escort will

bring the bikers into

town and take them out

again.

On the same day, there

will be the annual White

Ribbon quiz at Hotel

Ashburton and teams of

between four and six are

needed for the 6.30pm

event.

The White Ribbon Family

Fun Day will be held

near the paddling pool

area of the Ashburton

Domain on November 23

and will feature traditional

style games, afree barbecue,

lollybar, bouncy castles,

giveaways and the

opportunity to sign the

White Ribbon pledge.

Email to anna@saferashburton.org.nz

Ihelp dairy farmers

drastically reduce

their powerp

bills.

My 3-step processsaves farmersan

averageof$1000 amonth.

Dairy sheds use around 28%moreelectricity than they should,

according to EECA (Energy Efficiency and Conservation Authority)

By reducing the consumption and costs of your power we add

much needed profits to your bottom line.

For more information on how I can help you call me

direct on 0800 332 100

0800 332 100 | www.energyefficient.co.nz | info@energyefficient.co.nz

SENIOR RUGBYCOACHINGSTAFF

TheSouthern RugbyClub of MidCanterburyis

seeking expressions of interest to filltheir senior team

coaching positions forthe 2020 season.

This season,the SouthernStags were jointwinners of the

LuisettiSeeds Combined Competition,howeverdue to new

business commitments thecurrent coachingstaff have

sadly decided to stand down.

Southernisagreat countryrun clubwith huge supportfrom

ourloyal community. This year we celebrated 25 years of the

successfulmerger of Hinds and Mayfield rugbyclubs.

Expressions of interest to Club President,Phil Cushnie at

southernrfc@gmail.com or phone0274 399 555.

2227000
---
Page 16, Ashburton's The Courier, Thursday 14 November 2019

Local news at www.starnews.co.nz

New Display Home -1Waterford Place

GRAND OPENING WEEKEND -23&24NOVEMBER 2019

12pm -4pm

Jennian Homes show home opening

2223604

Jennian Homes; for planning and building your dream home

Jennian Homes are

officially celebrating the

grand opening of their

new show home in Ashburton

next weekend.

The three bedroom,

two bathroom property,

sits on acorner section at

1Waterford Place, in the

heart of the new Oaklea

subdivision in Tinwald.

The grand opening on

"Congratulations to

Jennian Homes on

completion of their new

displayhome"

"TotallyDependable"

Laser Electrical Geraldine wasproud to be a

preferred supplier for this project.

17 Peel Street,Geraldine

03 693 9399 l Temuka: 03 615 6622

geraldine@laserelectrical.co.nz

0800 LASER 4U www.laserelectrical.co.nz

Artist's impression of the new Jennian Homes Ashburton show home.

Saturday, November 23

and Sunday, November

24, will run from 12noon

to 4pm.

After the grand opening

the house will be

2223761

open at the weekends for

viewing, or by appointment.

Jennian Homes Canterbury

franchise owners

Dwayne and Sue

Prendergast, and Paul

and Bubs Jenkins, are

keen to showcase their

finished product with its

range of design options.

People can walk through

the property, draw

inspiration from its

features, and talk to the

new home consultant

Michele Strange about

what the Jennian Homes

team offer when it comes

to planning and building

adream home.

Dwayne says the property

is an architecturally

designed home built to

showcase what Jennian

Homes can do for their

clients; whether it's

working from one of the

50­plus Jennian Homes

standard design plans, or

creating apersonal plan

to best meet the clients

desires.

The property offers an

open­plan living space

with two sets of external

doors leading to decking

areas alongside a landscaped

garden. It has

been sited, and designed,

with the sun in mind and

is ideal for indoor/outdoor

living.

The kitchen, complete

with walk­in pantry, soft

close drawers and builtin

wine rack storage, has

a durable easily maintained

Tristone acrylic

bench­top, the latest

smart product on the

market. It can be made in

any colour and molded to

fit any size or shape

bench space.

The home also has

many special aspects

including feature walls,

textured tile and an eyecatching

entranceway

with stylish red door and

bauble foyer chandelier.

The master bedroom

has a walk­in wardrobe

and afull architecturally

designed en­suite bathroom

with feature tiled

wall.

And the other bedrooms

are both doublesized

spaces with large

built in wardrobes.

There isalso adouble

garage, which includes a

laundryarea, withinternal

access to the house, and a

small design centre to

help you choose your

building products.

''Jennian Homes is a

proven brand throughout

Canterbury, which has

been inthe region along

time,'' Dwayne says.

''We have agreat project

management team,

led by respected project

manager Kate Moses,

workingwith local tradies,

and canarrange thewhole

process from designing a

home or working to plan

to fit­out.''

Jennian Homes also

haveagreatteamworking

behind the scenes and

with a design centre in

Christchurch people can

checkout the latest design

in products to complete

any home.

They have 30 builds

currently on the go within

Canterbury (Kaikoura to

Waimate), and the Jennian

Homes efficiency will

see those projects built

on­time and at budget.

''We can work tosuit

any budget. We can

accommodate first home

buyers tothose looking at

$1million plus properties

in arange ofstyles.''

''It's agreat team, givinggreatresultswithquality,

honesty and communication

our top priorities

with our hands­on

approach,'' Dwayne says.

Come on over...

Visit our New Display home

Corner ofWhiteoak and Waterford Place, Tinwald

Locally Owned &Operated

Display Home hours:

Wednesday and Thursday 12-3pm

Saturday and Sunday 12-3pm

Or by appointment

Call Michele on027 491 5266 or 03 7411 436

Michele Strange

M 027 491 5266

E michele.strange@jennian.co.nz

jennian.co.nz

Facebook.com/JennianHomesCanterbury
---
Local news at www.starnews.co.nz Ashburton's The Courier, Thursday 14 November 2019, Page 17

New Display Home -1Waterford Place

GRAND OPENING WEEKEND -23&24NOVEMBER 2019

12pm -4pm

2223604

Jennian team packed with experience

The Jennian Homes team includes

franchise owners Dwayne and Sue

Prendergast, and Paul and Bubs Jenkins

(pictured) who have years of experience

in building homes for people.

Within their team is new home

consultant Michele Strange who will be on

site at the new Ashburton show home

every weekend to help you throughthe

stages of planning, designing and building

your dream home.

Whether it is usingone of the more than

50­plus standard Jennian Home plans, or

coming up with yourown specialdesign,

the team havethe expertise to help.

Call in and see them during the grand

opening of the new showhome at 1

Waterford Place, in the heart of thenew

Oaklea subdivisioninTinwald,

Ashburton, or give theteam acall to set

up atime to suit.

The grand opening on Saturday,

November 23 and Sunday, November24,

will run from 12noon to 4pm.

Congratulations to Jennian Homes

Forall your scaffolding and edge protection requirements. Locallyowned and operated.

SUPPLIERS OF INSULATED GARAGE DOORS

100% LOCALLY OWNED AND OPERATED

Phone 021 440 364

Office 03 307 6126 /admin@elitescaffolding.net.nz

We offer:

•HFrames

• Tube &Clip Scaffolds

•Aluminium Scaffold Towers • Propping

•FullEdge Protection

2021514

Preferred suppliertoJennian Homes

2225310

47 SOUTH STREET, ASHBURTON PH 03 308 5560 OR MOB.0274 336 050

We areproud to be apreferredsupplier for their homes

2223412
---
Page 18, Ashburton's The Courier, Thursday 14 November 2019

Local news at www.starnews.co.nz

New Display Home -1Waterford Place

GRAND OPENING WEEKEND -23&24NOVEMBER 2019

12pm -4pm

2223604

Turning your dreams into reality

SKIP-2-IT

TILING

For quality installing call

Linton Muir

027 222 5432

For agreat range of tiles,

call in and see the team

Ph: 308 0266

68 Cass Street, Ashburton

Proudlysupporting

Jennian Homes

Forideas and adviceabout our

exceptional windows and doors talk

to Shearmac Aluminium on

0800 509509.

shearmac.co.nz

Jennian Homes, the one

to choose

Your new home should

reflect who you are, so

when you build with Jennian

Homes, your Jennian

Homes new home

consultant will work with

you to ensure you get the

home you always wanted;

taking care of the building

side of things and

letting you do the exciting

part like choosing colours,

textures and fittings.

By combining your

personality and our

expertise we can build

you ahome that is perfectly

suited to you and

your family's changing

needs.

Your personality, our

building expertise

On time, on budget,

with our support every

2222695

step of the way.

We use the best products

and top people to

build your Jennian home

and we're New Zealand's

most awarded franchise

builders.

Your new home is a

reflection of you and

we'll work with you to get

your dream home.

The process is simple

Talk to us about building

the house of your

dreams.

Gather your thoughts

with advice suggestions

and tips on options for

your house.

We will help you navigate

through the process;

choose a house design

that's right for you,

whether it's adding your

personality to one of our

many great plans or

designing a masterpiece

from scratch.

Based on your design,

the team will put together

an estimate and you can

really see your dream

start to take shape.

Once you are happy

with the design a final

quote is prepared so you

know up front how much

your home is going to

cost before construction

begins.

Afive percent deposit

and staged payment contract

is then signed.

The Jennian Homes

team then checks permits

and other requirements

are in place before building

work gets under way.

Once everything is in

place your Jennian

Homes team will keep

you informed with every

exciting stage with regular

contact, site visits and

updates.

Construction completed,

final payment

made and you have the

keys to your brand new

home.

Architecturally designed features can be built into your design, such as an eye-catching entranceway

using astylish red door and bauble foyer chandelier.

The kitchen has adurable easily maintained Tristone acrylic bench-top, the latest smart product on

the market. It can be made in any colour and molded to fit any size or shape bench space.

Global outlook,

local reach

TRENDS KITCHENS source

exclusivekitchen and joinery solutions

from around the world, so you don't

have to.WelistTriStone benchtops,

AGTdoors and panels and Lazio sinks

as game-changers inthe industry.

Trends is proud toannounce the

release of four newTriStone colours

to its benchtop range. From design to

manufacture and installation, Trends

provides an individual, holistic service

to allclients.

Experience the difference –

contact us today.

03 343 5242

trendskitchens.co.nz

Anook just off the living room, makes an ideal home office, or study space.
---
Local news at www.starnews.co.nz Ashburton's The Courier, Thursday 14 November 2019, Page 19

New Display Home -1Waterford Place

GRAND OPENING WEEKEND -23&24NOVEMBER 2019

12pm -4pm

2223604

New home builders information sessions

Building anew home isanexciting adventure.

Jennian Homes has been building the

homes New Zealanders want for over 35

years.

Come and learn from the experts about

the hidden costs of building yourhome. You

will learn about how to avoid surprises by

designing ahome, customised for you, to

work within your true budget.

Our regular building informationsessions

arm you with lots of great information to

help you on your journey to building your

own home.

We'll cover important topics like:

­ Establishing your (true) construction

budget and how to avoid hidden cost

­The impact of designing your home, in

an environmentally friendlyway, to save you

money

­ Planning the home you've always

wanted

­Residential construction industry knowledge

and advice

The next Canterbury ­ New Home

Builders' Info session is at Jennian Homes,

212 Main South Road, Sockburn Christchurch,

on Wednesday, December 4, from

6pm to 7pm.

Reservations can be made at Jennian­

Homes.co.nz

Aproven track record

The quality and workmanship

done by Jennian

Homes was recognised

this year when Jennian

Homes Canterbury took

out aGold Reserve, Local

Category Winner and

Local Gold awards in the

Registered Master

Builders 2019 House of

the Year competition.

The sunny Timaru

home which won the

award, was designed for

maximum enjoyment of

the outdoors and for

those who love to entertain

friends or simply rest

and recharge.

The contemporary family

house features asmart

207sqm layout that makes

great use of space. Four

bedrooms provide every

member of the family with

theirown private getaway.

The master boasts its own

walk­in robe, ensuite and

deck access.

A multi­functional living

space brings together

kitchen, dining and family

rooms. Aseparate lounge

offers extra space and

flexibility.

The extensive outdoor

living area providesplenty

of potential for entertaining

­just add abarbecue

and cricket set for endless

summer fun.

Aspacious walk­inpantry,

generous garage and

separate laundry are real

modern family musthaves.

Fittings and finishes,

including feature wallpaper,

add character and

a good dose of glamour

throughout.

All of this is beautifully

packaged in a combination

of weatherboard and

plaster cladding to provide

excellent street

smarts in line with the

savvy design.

Jennian Homes Canterbury

homes have also

earned other prizes in the

competition including:

Bronze Award in the

Volume/Group Housing

New Home up to

$450,000 (Christchurch

home), Silver Award New

Home up to $450,000

(Christchurch home), Silver

Award PlaceMakers

New Home $450,000 ­

$600,000 (Christchurch

home).

And in 2018 won the

Gold Award Resene New

Home up to $450,000

(Christchurch home),

2018 Gold Award GIB

Show Home (Christchurch

home) and 2018

Gold Award The family

stone (Rangiora home).

The Ashburton show home has many special aspects including feature

walls and textured tiles.

2223998

Sparkle 'n' Shine

Cleaning Services

Domestic and Commercial Cleaners

•Walls •Windows

•Ceilings • Carpets etc.

Phone 302 3048 or

0274 915 313

Congratulations Jennian Homes

Paul Summerfield Plumbing Ltd

Certifying Plumber Heating Engineer

GasFitter Butynol Applicator

Drainlayer

Proud supplier for JennianHomes

Mobile 0274 346 815 Office (03) 308 2109

Email admin@summerfieldpluming.co.nz

125 Hollands Road,RD1,Ashburton7771

www.summerfieldplumbing.co.nz

2222749

CJ's

Concrete Pumping Ltd

Proud to be apreferred

supplier to

Jennian Homes

Canterbury

No job toobig

or toosmall

76 Bremners Road,Ashburton.

0279 331 872

2222752
---
Page 20, Ashburton's The Courier, Thursday 14 November 2019

Local news at www.starnews.co.nz

Aday to remember the sacrifice

Around 40 people

gathered for the

Armistice Day service at

the Ashburton Cenotaph

on Monday to remember

the fallen of past wars,

among them veterans

and returned service

personal.

The service, which

marks the signing of the

treaty in 1918 that saw

the end of World War I,

was held in bitterly cold,

wet conditions and

started as the Ashburton

town clock struck 11am.

It was led by

Ashburton RSA

president Merv Brenton,

with fellow speakers

Ashburton deputy mayor

Liz McMillan and

Salvation Army captain

John Stone supported by

cornet player Jim

Lischner (Last Post and

Ode of the Revelry) and

the Ashburton Cadet

Unit.

Mr Brenton

apologised for the

weather but noted ''this is

nothing to what was

experienced all those

years ago''.

''101 years ago today

the guns fell silent and

war ended in what for

most, was atime of huge

relief, atime to celebrate

the knowledge that loved

ones would be returning

home.

''Today we need to

reflect on the effects of

wars, how it affects so

many lives, their families

and the knowledge that

success in war always

delivers casualties and

hidden costs ­many left

with physical scars, many

with hidden mental scars.

''Today it is the human

lives sacrificed and those

Atime to reflect: Peter and Gwenda Ireland at the service.

suffering from the

traumas of war that we

need to remember.''

Mr Brenton said greed

was behind most war

events and modern

technology brought it

into our homes in more

vivid detail than ever

before.

''We can't live in the

past, that's gone, but we

can learn from their past

and their mistakes, the

effects and the need to

protect what we believe is

rightfully ours. We can

do it in adiplomatic, nonconfrontational

manner,

by getting on with

neighbours by treating

people and property with

respect, what we have

now came and continues

to come at ahuge cost,

something we don't want

to go through again and

again, and something

that appears on the

surface to be forgotten by

many.

''To all the men and

women who went to war a

century ago, those that

have been involved in

recent conflicts, those

that stayed and keep our

great country safe for us,

and defending our place

in paradise,

thank you so much. We

will never forget.''

Check out the video

at

ashburtoncourier.co.nz

Ashburton RSA president Merv Brenton

Cadets, and Jim Lischner on the cornet.

AVOID ALLERGENS

SWEET DREAMS

20%

OFF

EARN 32

REWARD POINTS

60s NOW

$31 90

was $39.90

FREE

GIFT

WORTH $19.50

HOT DEAL

60s NOW

$29 90

was $32.90

Get afree

Good Health

Magnesium

Sleep Cream

90g when

you buy

Magnesium

Sleep

Support 60s.

HealthZone Limited, Hamilton.

Good Health, Auckland.

Offer ends 30 th November 2019 or while stocks last. Always read the label and take as directed.

If symptoms persist, see your healthcare professional. TAPS PP4789

ASHBURTON

The Arcade

(03) 308 1815

h2k11@xtra.co.nz

www.Health2OOO.co.nz

Follow Health2OOOGroup on:

2226387
---
Local news at www.starnews.co.nz Ashburton's The Courier, Thursday 14 November 2019, Page 21

Children show their athletic style

Hundreds of pupils,

aged from Year 3to

Year 8, took to the

oval in the Ashburton

Domain last week to

compete in track and

field events at the

annual County Sports.

Top, Mayfield

School Year 6pupil

Jethro Dove, 10, shows

good form during the

Year 6boys shot put.

Dove was also

competing in the

discus event.

Far right, Mt

Somers Springburn

School senior pupil

Bede Giera clears the

high jump during the

Year 8boys high jump

event at the County

Sports on the

Ashburton Domain

oval.

Right, Year 7boys

set afast pace for the

long distance event of

1200m (three laps of

the oval track) at the

County Sports.

Bottom, Methven

children compete.

The weather was hot

and dry for the big day

in the field.

Mid/South CanterburyContinuous Spouting

The Original

Spouting Specialists

TM

Askabout our large capacityspouting for

commercial and farmbuildings

Serving

Mid/South

Canterbury

for over

26 years

TM

TM

Residential –fascia, gutter and downpipes

Snowprotection our specialty

TM

Your new spouting proudly installed by

Craig or Josh

2150161

John Tull ...providing outstanding service,

afterinstallation care and pricing requirements!

Phone him on 021 288 8290

Email: john@canterburycontinuous.co.nz

www.continuous.co.nz Freephone 0800 50 1993

2181105
---
Page 22, Ashburton's The Courier, Thursday 14 November 2019

Local news at www.starnews.co.nz

Quality and service to smile about

WHO AM I?

My name is Rafik Hanna and I

own Life Dental.

Life Dental is adenture clinic that

seeks to make patients smile by

giving them dentures that look great

and function well.

''We simply like helping people

enjoy life through the best way we

know how by making them

dentures.''

I have been told that I make

patients also smile from cracking the

occasional joke, but in my experience,

the jokes have often been a

miss, not ahit, but Istill try.

WHY CHOOSE US?

Dentures are aprosthetic, and like

all prosthetics, there can be particular

challenges with wearing them.

Why choose us?

Because my colleague Salah

Ragab and Iwork relentlessly to limit

or even eliminate those challenges.

Quality is our goal, drive and motto.

We simply like helping people

enjoy life through the best way we

know how by making them dentures.

I have been a clinical dental

technologist for 12 years in Timaru,

and Ihave enjoyed treating patients

from Christchurch all the way to

Oamaru.

People who come see us are

patients, not customers.

It's our moral and ethical obligation

to do everything possible to

help them.

It's sad when we hear that some

patients have been dealing with

denture trouble for along time, to

the point of even not wearing them.

Some patients get put off seeing

another clinician because they had a

bad experience in the past.

We have some good news.

NOT ALL dentures are made the

same, due to the fact different people

make them.

We can help you, and we want to

help you.

HOW TO CONTACT US

We are very casual in our clinic.

You can just walk in and have a

chat or give us acall.

If you like to see what our cases

look like, jump on our website at

www.lifedental.co.nz.

SHOW ME SOME DEALS

We are introducing a 5%

SuperGold Card discount and an

extra 5% discount for outer district

areas (Oamaru, Waimate, Tekapo,

Twizel, Ashburton), to recognise the

extra costs involved in travelling to

Timaru for appointments.

We can also offer up to 18 months

interest­free flexible payment

options with QCard, and up to a

year's free aftercare.

THAT'S NOT ALL WE DO

As well as making full and partial

dentures, we make sports mouthguards

that stick in your mouth and

are durable, and bite splints to

protect your teeth from grinding.

We can also brighten up those

pearls through teeth whitening.

Precision work...Life Dental owner Rafik Hanna at work in the Woollcombe St premises. PHOTO:

SUPPLIED

❛We simply like helping people enjoy life through the best way we know how, by

making them dentures❜

Denture Problems?

Come and see usat Life Dental!

"Quality is our Goal, Drive, and Motto"

BEFORE

BEFORE

AFTER

AFTER

•Free Consultation

•1year free

aftercare with

new dentures

Mr Rafik Hanna

Clinical Dental Technologist

PGDipDT, BDentTech

(Otago)

5% Discount Gold Card •5%Discount Outer District (Oamaru, Waimate, Tekapo, Twizel, Ashburton)

8Woollcombe Street,Timaru

P: 03 6883504 W: lifedental.co.nz

2220347
---
Local news at www.starnews.co.nz Ashburton's The Courier, Thursday 14 November 2019, Page 23

Woodbury on awinner

Woodbury School has

done it again.

The group that created

the Geraldine tea towel

and apron to be marketed

to the passing tourist

trade and then grew

potatoes in the school

paddock to fund abike

track on the same piece

of ground, has now

created the Geraldine reusable

bag, made from

sustainably sourced

hemp.

Woodbury School

Support Group chair

Jane Rob said that the

group had been looking

to extend its range of

Geraldine­branded products

for some time and

with the removal of single

use plastics bags from

the retail industry, it

made sense to look to

that area for their next

venture.

Mrs Robb said sustainability

has been a hot

topic this year at the

school with the children

investigating what it

means and how to act

sustainably.

"The senior children

had guest speakers visit

to talk about sustainability

and did projects. All

the parents fielded many

questions on the topic as

our kids learned more

and it became our

inspiration to choose a

product that would make

us, and the children,

proud and fit with the

aim to be good environmental

citizens."

Mrs Robb says they

sourced the bags from

NZbagit who produce

stylish and compact bags

from 100% sustainable

hemp, a renewable

resource and free from

toxic dyes and additives.

The bags can be machine

washed and are durable.

The bags will be

emblazoned with the

highly popular Geraldine

place name design that

graces both the Geraldine

tea towel and apron.

It will be on sale around

town at selected retailers

for $15, making it aperfect

gift for Christmas or

addition to the handbag,

car glove box and so on.

Stockists around

Geraldine include the Cottage

Pantry and Gallery,

The Kitchen Cupboard

and Forget Me Not (formerly

Just One Wish).

Photo: Jane Robb

models the reuseable bag.

Geraldine is going batty ­

it's time for the festival

Geraldine is going batty

this weekend.

''Geraldine's gone

batty'' is the theme for

the 31st Geraldine Festival,

known, until this

year, as the Geraldine

Arts and Plants Festival.

Thousands of visitors

are expected for art

exhibitions, open gardens,

street markets,

stalls and displays ­and

the theme supports the

work the Department of

Conservation and local

groups do in protecting

the critically­endangered

Long Tailed Bats, which

live in and around

Geraldine.

Music entertainment

on Saturday is Battle of

the Sounds in which

Ruby James (Christchurch),

Samsons Finest

(Timaru), Jonathan

Hubert (Geraldine),

Orepa Wells (Palmerston),

Grace Shaw

(Geraldine), Jacks Point

(Ashburton), Millennium

(Geraldine), Cassie

Kirkcaldie (Temuka),

Grape Soda (Dunedin),

Aria Cressy/Garden

Party (Pleasant Point),

Dylan and Jasper

(Geraldine), Brett

Ducher (Geraldine), Elle

and Kylie Fraser

(Geraldine) and Angelfish

(Christchurch) vie for

$9000 in cash, including

$5000 for the winner.

You can vote for your

favourite.

On Friday and Saturday

there will be nearly

380 stalls from which to

shop.

This year, the Alpine

Energy art and photography

exhibition at the

Geraldine Academy will

run longer ­ from the

opening of the festival

tonight (November 14)

till November 24.

Nineteen gardens are

open for viewing (maps

and viewing times are

available), there is a

Geraldine hanging basket

competition, a display of

classic cars, Morris

dancers, dark comedy

(The Dark Afreakins) at

the Lodge Theatre, an

ecumenical church service

at St Mary's, and quilt

display opposite the

Geraldine Kindergarten.

Photo: Ascene from last

year's event.
---
Page 24, Ashburton's The Courier, Thursday 14 November 2019

Local news at www.ashburtoncourier.co.nz Ashburton's The Courier, Thursday 14 November 2019, Page 25

GOLD, OLD COINS, WAR MEDALS,

OLD BANKNOTES AND VINTAGE WATCHES

DO YOU HAVE ANY OF THE ABOVE?

IF SO, THINK HARD ABOUT...

The near record New Zealand gold price

• Are the items doing any good just lying about in cupboards and drawers?

• Will the kids or grandchildren really want or appreciate them?

• Will the burglars get them?

• Can the museum handle any more than they already have in storage?

• Will they be destroyed in an earthquake orother disaster?

• Have you the expertise tosell them yourself on the internet?

• Wehave that expertise and can get them into collectors hands quickly.

• Isthe money better in your pocket?

• Giving the items away? Consider selling them tomeand giving the money instead.

YOU KNOW THE ANSWERS –WEWANT TO BUY –SOCASH IN NOW!

Anthony Grant from John Bertrand (Collectables) Ltd. will be visiting Ashburtonand Geraldine

next week on abuying trip forthe company.See the page opposite forafull list of venues. He is

very keen to purchase awide range of collectables, especially thefollowingitems:

•Old Coins

•Old Banknotes

•War Medals

•Old Gold

•Vintage Watches •Military Badges

•Maori &Pacific Artefacts

•Pre 1950s Postcards (collections and accumulations)

SEE THE PAGE OPPOSITE FOR EXAMPLES OF THE ITEMS WE WANT TO

BUY, SAMPLE BUYING PRICES, AND THE VENUES WE WILL BE BUYING AT

FIVE GOOD REASONS TO DEAL WITH ME

• Upfront with customers

• Professional attention

• Confidential one on one service

• Immediate payment, no waiting

• Nocommission orhidden fees

WHY DEAL WITH AMATEURS WHEN YOU

CAN DEAL WITH APROFESSIONAL

John Bertrand (Collectables) Ltd

T: 04 232 9832

E: info@bertrand.co.nz

PO Box 323, Wellington 6140

Members of the Australasian

Numismatic Dealers Association

and the New Zealand Numismatic

Dealers Association

Mr Anthony W. Grant

Fellow ofthe Royal Numismatic Society of New Zealand Inc.

Author of the John Bertrand New Zealand

Coin &Banknote Catalogue.

Director,John Bertrand (Collectables)Ltd.

OUR BUYERS ARE IN ASHBURTON

&GERALDINE THIS WEEK

WAR MEDALS

New Zealand (Maori) Wars (Virtutis Honor) –paying from $300

Boer War (South Africa) toNZMR –paying from $200

WWI Trio to NZEF –paying from $150

WWI Pair to NZEF –paying from $70

WWI Single Medals to NZEF –paying $30 each

WWI Memorial Plaque to NZ'er –paying from $80 ($150 with named medals)

*Please note WWI medals toBritish Units are bought at lower prices.*

WWII SINGLE MEDALS AND STARS

1939-45 Star –paying $15

Africa Star –paying $25

Italy Star –paying $25

Pacific Star –paying $50

Burma Star –paying $25

Atlantic Star –paying $50

France &Germany Star –paying $30

Air Crew Europe Star –paying $150

New Zealand War Service Medal –paying $50

British War Medal –paying $10

Defence Medal –paying $20

Military Medal (MM) (for Bravery in the Field)

WWI Single named to aNZ'er –minimum $700

(in anamed group –from $1,000)

WWII Single named to aNZ'er –minimum $1,000

(in agroup with paperwork –from $1,500)

Distinguished Conduct Medal (DCM)

WWI Single named to aNZ'er –minimum $1,000

(in anamed group –from $1,500)

WWII Single named to aNZ'er minimum $1,500

(in agroup with paperwork –from $2,000)

Military Cross (MC)

Singles –paying from $500

(In agroup to aNZ'er with paperwork –paying from $1,000)

Distinguished Flying Cross (DFC)

Singles –paying from $1,000

(WWII to aNZ'er with paperwork –minimum $1,500)

*Please note all prices are for un-damaged and complete

full sized medals, with un-altered original naming*

OTHER WORLD MEDALS NEEDED INCLUDING BRITISH,

AUSTRALIAN AND ALL FOREIGN COUNTRIES. MILITARY BADGES

ALL COUNTRIES, ALL ERAS, ALL NEEDED—ANY QUANTITY

VINTAGE POCKET &WRIST WATCHES

Collectable Brands Gents Wrist and Pocket Watches –Rolex, Omega, IWC,

Patek Philippe, Breitling, Tudor, Jaeger Le Coultre.

All wanted, in any condition, going or not.

Gold &Silver Pocket Watches

Chiming or Moon Phase Pocket Watches

Novelty Pocket Watches

MOST OTHER NON-COLLECTABLE BRAND MECHANICAL

WATCHES ACCEPTED, BUT FOR PARTS VALUE ONLY

(no quartz or battery operated watches, please)

PRE 1950's PICTURE POSTCARDS

WHOLE COLLECTIONS, IN ALBUMS OR ACCUMULATIONS WANTED

STAMPS AND POSTAL HISTORY

OLD GOLD

CASH IN NOW

Unwanted Jewellery, Gold Racing &Trophy Cups,

Broken Rings, Gold Chains, Gold Watch Cases,

Alluvial (river) Gold, Dental Gold, Gold Coins, etc.

Also Scrap Silver (but no EPNS please).

ANY QUANTITY -ANY CONDITION

COINS

ESPECIALLY WANTED

New Zealand silver coins upto1946

Australian silver coins up to 1963

English silver coins up to 1946

We will pay (for the above silver coins) atleast:

$2.50 for ahalfcrown, $2 for aflorin (two shillings), $1.00 for ashilling,

50 cents for asixpence, 25cents for athreepence

Higher prices paid for larger quantities

New Zealand coins from 1947 onwards also purchased

but only at 50% of face value

(No pennies or halfpennies, please)

ANY CONDITION –ANY QUANTITY

New Zealand 1935 "Waitangi" Crown –paying from $4,000

New Zealand 1949 Crown –paying from $10

New Zealand 1953 Crown –paying from $3

New Zealand 1940 "Centennial" Halfcrown –paying from $8

New Zealand 1935 threepence –paying from $80

Gold Sovereigns –paying from $380

Gold Half Sovereigns –paying from $190

(but note: prices are for un-damaged and un-cleaned coins)

WORLD COIN ACCUMULATIONS –ANY ERA, ANY QUANTITY.

WHOLE COLLECTIONS, ESTATES AND ACCUMULATIONS OUR

SPECIALITY.

1to10,000 items

BANKNOTES

New Zealand Individual "Trading Banks" – Notes dated 1932 or before:

Ten Shillings – minimum $300

One Pound – minimum $300

Five Pounds – minimum $800

Ten Pounds – minimum $2,000

Twenty Pounds – minimum $4,000

Fifty Pounds – minimum $10,000

One Hundred Pounds – minimum $15,000

New Zealand "Reserve Bank" – Notes dated 1st August 1934 (1933):

Ten Shillings – minimum $60

One Pound – minimum $50

Five Pounds – minimum $120

Fifty Pounds – minimum $2,000

New Zealand "Reserve Bank" – Notes undated:

Ten Shillings – paying from $4

One Pound – paying from $4

Five Pounds – paying from $15

Ten Pounds – paying from $40

Fifty Pounds – paying from $800

*Please be awarethatallpricesareforun-damaged noteswithout tears, holes

or rust spots. Damaged notes will be purchased at adiscount*

ALL WORLD BANKNOTES WANTED

COLLECTIONS AND ACCUMULATIONS

WE ALSO NEED:

•New Zealand and World Medals, Medallions and Badges –including Agricultural, Horticultural, Exhibitions, Royal Humane Society, Jubilees, School,

Military, Exploration, Scientific, Political, Public Service •Police and Fire Brigade Medals •Polar Medals •Military Badges •Gold Fob Medals to WWI

Returning Soldiers •Tokens •Old Fountain Pens •Old Postcards •Old Postal Notes and Money Orders •Maori &Pacific Artefacts •Vintage Film Cameras

JOHN BERTRAND (COLLECTABLES) LTD

OUR BUYERS ARE IN ASHBURTON &GERALDINE THIS WEEK

ASHBURTON Wed 20 Nov St Stephen's Church Hall, 64 Park Street 9amto3pm

GERALDINE Sat 23 Nov St John Ambulance Rooms, 124 Talbot Street 2pmto4pm

John Bertrand (Collectables) Ltd

T: 04 232 9832 •E:info@bertrand.co.nz

PO Box 323, Wellington 6140

Members of the Australasian

Numismatic Dealers Association

and the New Zealand

Numismatic Dealers Association

Please note: Suitable ID is required if you wish to sell any items. No appointment necessary
---
Page 26, Ashburton's The Courier, Thursday 14 November 2019

Local news at www.starnews.co.nz

Gorge bridge has astory to tell

The cold, clear waters of

the glacier­fed Rakaia

River flow through

impressive high terraces

and under the Rakaia

Gorge bridge before

heading across the

Canterbury Plains and

ultimately into the

Pacific Ocean.

At this time of the

year, the snow capped

peaks to the west provide

an impressive white

backdrop.

Many vantage points,

at both river and bridge

level, offer impressive

views of the power of the

river, its changing colour

and its majestic setting.

Amemorial plaque

above the river at the

Rakaia Gorge bridge

tells visitors that in the

days of the early settlers,

John Bryan transported

passengers, stock and

freight over the river on a

punt.

He and his wife also

ran an accommodation

house nearby.

The original iron

bridge at the gorge was

built in 1885 and a

wooden bridge, erected

over the southern

channel in 1884, was

replaced in 1945 by a

concrete structure.

Last year around $1.2

million was spent on deck

replacement on the

main, single lane iron

bridge, referred to as the

No.1 bridge.

As well as replacing

the deck, the work

included refurbishing

handrails and

strengthened structural

elements and took

around four months to

complete.

Photos: The

refurbished Rakaia

Gorge No.1 bridge from

the river level; aview of

the bridge from the river;

amemorial plaque tells

visitors about the early

pioneer days at the river.
---
Local news at www.starnews.co.nz Ashburton's The Courier, Thursday 14 November 2019, Page 27

Taking care of

the environment

Here in New Zealand

we're rightly proud of

our natural environment.

It may not feel like it

sometimes, but that feeling

flows through to our

politics and our politicians.

Every party in our

Parliament recognises

the need to mitigate the

effect that people have

on our environment,

including the challenge

of climate change.

Although it's accepted

that New Zealand's contribution

to global emissions

is small –ataround

0.2 per cent – it's also

true, due to the amount

of food we produce for

the rest of the world, our

emissions are higher per

person than most countries.

That small footprint

means we can't simply go

it alone and expect to

change the world's climate,

it's aglobal issue that

requires a global

response.

In 2016 the Paris

Agreement was signed,

with 187 nations now

being party to it.

It sets out emissions

limits which we in New

Zealand, and other countries

around the world,

MP Andrew Falloon comments

are required to commit

to.

It was signed by a

National Government,

making clear that as

much as possible, climate

change policy should be

bipartisan, to give our

farmers, businesses and

families certainty over

what future regulation

and legislation will look

like.

That's been achieved

in part last week, with the

passage of the Zero Carbon

Bill.

It's the culmination of

two years of work by

Parliamentarians of all

political stripes. Climate

Change Minister James

Shaw has accepted that

challenge of bipartisanship

and agreed to an

independent climate

change commission making

recommendations to

Government on reducing

emissions.

It's for that reason we

last week voted for the

final stage of the legislation.

We don't, however,

agree to the entire

framework that the commission

will operate

within, and we've committed

to making seven

changes should we earn

the right to form Government

next year.

The changes we have

proposed, and drafted to

be enacted in our first 100

days, ensure that the commission

can consider the

actions other nations are

making to combat climate

change.

The changes would

allow the commission to

set the target for methane

emissions based on the

best available technology

and research, ensuring

that we don't bind ourselves

to targets that can

only be met by widespread

culling.

And importantly, they

include the stated aim of

the Paris Agreement –that

greenhouse gas reduction

be done in away that does

not threaten food production

or grow global

poverty.

They're sensible

changes which will ensure

a lasting response to the

challenge of climate

change, but importantly,

without putting in perilthe

lives of those most at risk.

Grant Hood Contracting

wins civil award ­again

Grant Hood Contracting

has won the Civil

Contractors New Zealand

2019 Canterbury

Contractor of the Year

Most Progressive Company

Award.

It is the second time

the Ashburton­based

company has taken out

the title; the last time in

2017, and reinforced it

could compete on the

national stage against

bigger tier­one companies.

Owner Grant Hood is

very proud of his team's

efforts during the year,

and especially proud of

the earthworks project

completed at Millbrook

Resort, in Queenstown.

''It was some of the

best work done,'' he

said.

The project was at

Dalgliesh Farm in the

Millbrook Resort,

Queenstown, involved

reshaping farmland into

46 lifestyle blocks, with a

nine­hole golf course

and 30,000cubic metre

irrigation pond. It was

completed in eight

months working in a

pristine, tourism district

where the team of 30

were monitored constantly

on any settlement

issues.

Mr Hood said there

were no penalties, which

could have resulted in

significant fines.

The contracting company

has had anumber

of other projects on the

go around the South

Island in the past 12

months, including wet

work for the Marlborough

District Council

(future­proofing

Caseys Creek, which

runs alongside Old Renwick

Road by clearing,

enlarging and protecting

the waterway) and a

technical landfill

development for Grey

District Council (at

McLeans Pit).

But it was the

Queenstown project

which won them 2019

Canterbury Contractor

of the Year Award in the

Fulton Hogan­

Phastiphalt ­Category C

Contracts ($1.5m ­$5m)

Award and the two

council projects, which

were entered in the Category

B ($500,000 ­

$1.5m) awards, which

contributed to their

overall win as most progressive

company.

Grant Hood Contracting

Ltd's Michael

Chivers said to win the

Category Ccontractor of

the year award twice,

especially under stricter

environmental regulations,

was agreat achievement.

''It shows the high

calibre of the work (being

done), and how much we

have grown.''

Photo (supplied):

Grant Hood Contracting

Ltd's Grant Hood,

Michael Chivers, Carolyn

Bond­Hood and James

Greene collect awards

from the Civil Contractors

New Zealand award

ceremony in Christchurch.

Art in garden setting

Budding young Jub Jub

artists took to the outdoors

this week to gain

some inspiration from

mother nature.

The artists, all aged

under 13 and members of

the Ashburton Art Gallery

Jub Jub programme,

roamed Trott's Garden

on Racecourse Road,

early on Sunday afternoon

to find subjects of

appeal to sketch, with a

view to creating an art

piece in paint.

Iona Rogers, 8, was

among the group, who

along with their parents,

were venturing around

the grounds.

She has been attending

the regular art sessions,

held every second

Sunday at the Art Gallery,

for the past three

years.

Iona initially did not

think she was going to be

very inspired by agarden

as she likes to draw

animals.

But she soon found

plants, statues and bird

life which appealed and,

in ashort time, her blank

A4 sheet of paper was

covered with sketches of

images from around the

garden.

She even collected a

white dove feather to

take home as atreasure.

Her sketches and

those of others, along

with photographs taken

by Jub Jub public programmes

co­ordinator

Simone Barnsdale, were

then used as prompts for

their painting work back

at the art gallery that

same afternoon.

The finished pieces

will be displayed in the

garden during the Trott's

Garden open day event on

November 24. It runs from

11am to 4pm.

Photo: Jub Jub artist

Iona Rogers, 8, looks for

eye catching subjects to

draw during a Jub Jub

session at Trott's Garden.

Photo Toni Williams.

Tea, music, stalls and gardens

There will be tempting

Devonshire teas, stalls,

music and impressive

gardens to enjoy when

Trott's Garden hosts an

open day on November

24.

Running from 11am

until 4pm, the day will

showcase the magnificent

gardens at the

venue and encourages

the public to picnic and

wander at their leisure.

Entry is free and any

donations given will go

directly towards the

upkeep of the mainly

volunteer run, community

asset.

Last month the Trott's

Garden Charitable Trust

announced that the gardens

would be open for

free to the public from

now until Christmas to

enable more people to

enjoy their splendour.

Trotts Garden Charitable Trust invites youtocome

andspend some time in the beautiful surrounds

of Trott's Garden.

Bring apicnic,orwander the gardens at your

leisureand enjoythe livemusic,

devonshireteas, stalls and more.

Entryisfree.

(Cancellations on )

Cash maybeneeded forstall/activitypurchases.

Donations would be greatly appreciatedbut not necessary.

Anydonations will go directly toward the upkeep of the gardens.

Trott's Garden: 371 Racecourse Road,Ashburton

2226433
---
Page 28, Ashburton's The Courier, Thursday 14 November 2019

Local news at www.starnews.co.nz

Mazda3 is one very fine vehicle

By Ross Kiddie

It's too early to be talking

about the 2019 New

Zealand Motoring

Writers' Guild Car of the

Year award, the

nominations have only

just been released and

judging won't be

complete until

December.

However, I'm pleased

to say the new Mazda3 is

on the list of finalists. I

say this because the latest

generation model has

made quite an impact on

me, it is one very fine

vehicle.

Effectively, I've driven

three models back­toback,

two hatches and a

sedan, and each stands

out as being competent,

quality built, efficient

and purposeful, what's

more it's such adarn nice

2227920

L-R: Matt,Deb,JJ, Diane,Duncan

PANELCRAFT

COLLISION REPAIR CENTRE

UBEND IT.....WE MEND IT

car to drive and to be in.

I've mentioned many

times in these columns

how I'm very much a

sedan buyer and

although I've owned

hatches and liftbacks

over the years, I'm always

drawn to the traditional

concept.

This evaluation

surrounds the Mazda3

2227900

104 South Street,Ashburton

info@panelcraftltd.co.nz

sedan, and it would be

the car for me if Ihad

funds to buy new in

today's market. Iwould

settle for the entry level

GSX at $36,595, but the

evaluation car –a

Limited at $48,795 –isa

model which borders on

the luxury car class for

just afraction of the cost.

As opposed to the

Take the heat out of driving

Check your car and be

safe; it's the way to go

for summer driving

Everyone wants to

enjoy the summer, so

the one thing you don't

want is avehicle that

breaks down, or worse

2179027

GSX with its 2­litre

engine, the GTX and

Limited both get a

2.5­litre four­cylinder

engine. Each has its

merits, and both deliver

outstanding

performance. The 2.5 is

rated at 139kW and

252Nm, although the

outputs are reached a

little tall in the rev band

at 6000rpm and

4000rpm respectively,

the management

protocols are structured

so that effective torque is

spread broadly.

Drive is carried to the

front wheels through a

traditional six­speed

automatic transmission.

In limited form the driver

has the use of paddle

shifters should he or she

want to get involved in

the gearchange process.

Safe summer motoring

still, suffers a

mechanical failure that

might put you, your

passengers or even

other road users at risk.

While modern cars

are usually

exceptionally reliable,

they won't stay that way

on their own. As with

any piece of equipment

or machinery, maintain

and care for your

vehicle and it will

generally return the

favour. And, like any

mechanical device, it's

most likely to fail when

it's highly stressed. The

Motor Trade

Association (MTA)

says there are lots of

things owners can do to

reduce the chances of

being let down by your

car this summer.

Shifts are smooth and

satisfactorily quick, the

engine has no trouble

filling the gaps between

gears but with six cogs

the ratios are quite close,

so there are no surprises

there.

The gearing is also

structured so that the

engine isn't loaded at

highway speed, at 100km/

hitisturning over at just

1900rpm, quite relaxed

and sipping fuel at the

instantaneous rate of

5.5­litres per 100km

(51mpg). That

contributes to the

efficient 7.6l/100km

(37mpg) dash panel

average during my time

with the evaluation car.

Mazda claims a

combined cycle average

of 6.5l/100km (44mpg),

which correlates well

Vehicle failure or

problems often come

when avehicle is under

stress. In summer that

usually revolves around

heat ­either as aresult

of high ambient

temperatures, aheavily

loaded vehicle or stopstart

driving when

stuck in aqueue. Not

surprisingly, summer

with my figures.

In terms of figures, the

new 3also has agood

turn of speed, it's no

rocket, but with an 8.8sec

time to make 100km/h

from astandstill, it easily

keeps pace with traffic

and disgraces cars with a

far higher pedigree. Alot

of that can be attributed

to its relative lightweight,

at 1388kg, it's not

burdened, and is a

tribute to the Mazda

engineers who, early in

the company's

manufacturing process,

realised how important it

is to build cars

minimising weight in all

components.

That also has a

beneficial effect on

handling. The Mazda3 is

tight and composed when

presented with quick

often sees some

motorists caught up in

all three at the same

time.

If there is aminor

problem with your

vehicle, there's amuch

higher probability that

it will develop into

something more major

when the temperature

rises.

:: ROBBIE :: KYLE :: WILLIAM

Your safety is our concern!

Don't wait for your WOF to expire ifyou think

there issomething wrong with your car!

•WOF •Servicing •Tyres •Suspension •Steering •Brakes

• Exhaust specialists •Batteries •Mechanical repairs

Cnr Cass and South Streets, Ashburton

P 03 308 9984 F 03 308 9910

M 0274 999 565

E undercars@robbies.co.nz

OPEN SATURDAYS FOR WOF, 8.00am to 12 noon

2226659

corners. Itook the test car

on ashort hilly burst and

enjoyed its directional

accuracy and stability.

Saying that, the new model

doesn't have the benefit of

four­wheel independent

suspension, there are

struts up front, but the rear

is atorsion beam­type

linking the two rear

wheels. Nevertheless, I'm

yet to find areason why I

don't like it.

Price –Mazda3 Limited

sedan, $48,795

Dimensions –Length,

4460mm; width, 1795mm;

height, 1440mm

Configuration –Fourcylinder,

front­wheeldrive,

2488cc, 139kW,

252Nm, six­speed

automatic.

Performance –0­100km/

h, 8.8sec

Fuel usage –6.5l/100km

Acar engine usually

operates at around

950C, depending on the

make and model of

course. When that same

vehicle is loaded with

people and camping

gear, is caught in along

line of stop­start traffic,

and is crawling its way

up asteep hill in 30C

plus heat ­ifproblems

are going to occur, it

will often be at atime

like this.

So, when you head out

for your few days away

this summer, make sure

that your vehicle is fully

prepared for those

warmer temperatures.

Some simple steps can

help save you time,

money and headaches

during your trip:

­Consider apre­trip

inspection by an MTA

technician; repairs can

be more costly on the

road. Ask them to check

things like the air

conditioning, cooling

system, drive belts, hoses

and clamps, brakes,

along with the

fundamentals like fluids,

oil and water.

­High temperatures

can be hard on your

battery ­get it checked

to ensure it will last the

distance.

­Check the condition

and air pressure in all

tyres, including the

spare, to make sure they

are roadworthy.

Remember, heat is a

tyre's biggest enemy.

­Replace ragged

wiper blades, and make

sure the wash reservoir

tank is full and you've

added proper cleaning

agents ­not dishwashing

liquid.
---
Local news at www.starnews.co.nz Ashburton's The Courier, Thursday 14 November 2019, Page 29

CAR OFTHE WEEK

Was $45,990

$41,990

Was $27,990

$25,990

2012 Holden Colorado LT 4x44

2.8L Diesel Automatic, Cruise Control, TowBar,

CD Player, Bluetooth and Air Conditioning.

Was $8,990

$7,990

2008 Honda Fit

1.3L Automatic. 46,300kms. CDPlayer, Air

Conditioning, Tinted Windows, 5star fuel rating.

$25,990

2015 Mitsubishi Triton GLXR

2.4L Diesel Manual. CD Player, Reverse

Camera. TowBar and Bluetooth.

Was $9,990

$8,990 2008 Volkswagon Golf

2L Automatic. Leather Seats, Front Seats Heated,

Cruise Control and Isofix.

2017 Holden Trailblazer LTZ

2.8L Diesel Automatic. Leather Interior, 7seats,

3tonne tow rating, Tow Bar, Sat Nav and

Smart Phone Connectivity. Perfect Family Vehicle

Financefrom 9.95%

T's, C'sand lending criteria apply

Was $29,990990

$27,990 2012 Holden Colorado LT4x4

4

2.8L Diesel Manual. Tonneau Cover, CD

Player, Bluetooth and Sports Bar.

$13,990

2006 Nissan Pathfinder Ti 4x4

4L Automatic. Leather Interior, 7seater, Tow

Bar, Tinted Windows, Heated Front Seats.

NEW ARRIVALS

2004 Subaru Forester X20 AWD ........................ $3,990

2004 Holden Commodore SV6Ute ................$11,990

Richard

027 889 3870

Shane

027 669 5656

$38,990

2017 Holden Colorado LTZ 4x4

4

2.8L Diesel Automatic. Reverse Camera and

Sensors, Sat Nav, Remote Start and TowBar.

Was W $17,990

$16,990

2012 2 Holden Commodore SV6

3.6L Automatic. Auto Headlights, Bluetooth, CD

Player, Central Locking and Cruise Control.

WARRANT OF

FITNESS

CHECK

+

EXPRESS

SERVICE

ONLY

$

199INCGST

T&C's apply. Bookings essential.

0%P.A.

FIXED

Finance

ON SELECTED LDV VEHICLES

PAY

1/3 1/3

1/3+ORC

NOW IN 2020 IN 2021

T&C's apply.Offeravailableuntil 15 December 2019. Based on a1/3 deposit plus the ORCpaidupfront. Then 1/3 in 12 months and the final 1/3 at

24 months.24month term at 0% interest, with 10.35 PPSR fee, $100 UDC doc fee, $250 Dealer doc feeincluded.

Cannot be used in conjunction with anyother special offer.

ASHBURTON: Main South Road, Tinwald \ 03307 9028 \ Facebook: SmallboneAshburton

Mon -Fri: 8am -5pm \Sat: 9am -12noon

smallbone.co.nz
---
Local news at www.starnews.co.nz Ashburton's The Courier, Thursday 14 November 2019, Page 31

Supporting the community

96 Tancred Street,Ashburton.

Phone 307 8317

LREA2008

MCRE

OH BABY!

Let

Mid Canterbury

knowabout your

newarrival...

...inthe Courier's monthly

Baby Page completely free of charge.

Simply post or email aphotoofthe new

arrival along with the birth details to:

PO Box12Ashburton. Email:

office@ashburtoncourier.co.nz.

Photos forDecember12to

be received by 12 noon

Tuesday

December 10

RAUKETE: Olivia, John, Lucas

andMilaare so happyto

welcome their weebaby boy,

Johnson LennoxTiarepoi to

their family.Weloveyou so

much Johnson xxx

The Cakelady

Ashburton

If you can

dream it,

Ican bake it!

Tharina Nel: 027 502 7606

thecakelady9@gmail.com

2226818

Side-sleeping in latepregnancybest forbabygrowth

Pregnantwomenhave another reason to sleep on their side in the

final weeks -new evidenceisit'sbest forthe baby'sgrowth.

AUniversity ofAuckland-led study has found that women who go

to sleep on their back over the last one to four weeks have ababy

that is, on average, 144g lighter than women who settle on their

sides -equivalenttothe effectofsmoking 10 cigarettes daily.

No need to panic,though, if yougotosleep on your side but wake

up on your back,researchers say.

"This is common -just settle back to sleep on your most comfortable

side. Also, our advice isthe same whether you're going to bed at

nightorlying down foradaytime nap,''sayssenior author Professor

Lesley McCowan, Head of the University'sDepartmentofObstetrics

and Gynaecology

When it comes to newborns, being too light ismore perilous than

AshburtonMontessoriPreschool

Stepping Stones @Braebrook is locally

owned and we pride ourselves on

being family focused,flexible and fun!

Trust, love and security are fostered

through meaningful moments with

teachers. We nurture capability in

children and view them as partners in

their learning and care–taking the time

to ensure interactions are respectful

and unhurried as we build relationships

with our learners. Our dedicated team

of Kaiako teach from the heart and

value trusting relationships with the

children and their families.

Calm, open spaces encourage natural development -achance

for pēpē to explore and discover, intheir own time. Heuristic

resources and experiences are woven throughout our spaces

allowing children to freely explore their senses and discover a

range of materials though their play.

being too heavy. Babies who are small for their gestational age

(SGA), defined as having abirthweight inthe lowest 10 percent of

babies born, aremorelikely to be stillbornorhave health problems

beforeand following birth.

Thelikely reason is thatlying on the back in late pregnancyreduces

blood supply to the placenta and babydue to amajor vessel in the

mother's abdomen (the inferior vena cava) being compressed by

the sizeofthe large pregnantwomb.

Of the 1760 pregnantwomenwho were interviewed from 28 weeks'

gestation or later, 57 (3.2 percent) reported that they usually went

to sleep on their back during the previous one to four weeks.These

women were three times more likely to have aSGA baby, and the

babies were on average 144g lighter, with a10percent decrease in

birthweightpercentile.

Regular excursions within the

community are a valued learning

experience as are visits from our

music teacher, family and friends

reading stories and local school

groups sharing their learning with us.

We areopen 7:30 am -6pm and have

flexible sessions to suit your families

needs. Wehave excellent ratios and

believe in always providing high

quality care and education for all

children from 3months –6years old.

We have limited spaces currently

available in our Under Two learning setting with more spaces

coming available soon. As always, weencourage you toget in

touch early to talk to us about spacefor your child.

Follow usonFacebook and take alook atour Website for

more information –www.steppingstones.net.nz or contact us

3072088.

If youare looking forafriendly,

family focusedPreschool foryour

childplease get in touch

Enquiretodaytodiscuss

available spaces foryour

child from 0-6years.

2226821

We are taking enrolments

from 4months to 6years.

For further information

phone 308 0380 or call in to see us at

174-176 Chalmers Avenue, Ashburton

kim@steppingstones.net.nz

www.steppingstones.net.nz

Play is work

and work is fun

Where Children Learn

ENROL NOW -2YEAR OLDS WELCOME

Contact: Kindergarten

Association Manager

Ph: 308 3779

Email: association@ashkindy.co.nz

www.ashburtonkindergarten.org.nz

PHONE 03 307 2088

022 061 4672

Magnolia Drive, Netherby

Follow

us on

2226808

2226814
---
Page 32, Ashburton's The Courier, Thursday 14 November 2019

Local news at www.starnews.co.nz

MID CANTERBURY'S

HYDRAULIC SPECIALISTS

LOCALLYOWNED

AND OPERATED

Chertsey site to host

arable field day event

PARTSYOU CAN TRUST WITH

ASERVICE TO KEEP YOUGOING

QUALITYON-CALL SERVICE AVAILABLE

•Sales,installation and serviceofall

hydraulic components

•Inhouse repairs of cylinders,pumps

and hydraulic motors

•I.M.M hose and fittingsavailable

SPOOL VALVES FROM WALVOIL

Ashburton'sleading supplier of Walvoil

hydraulic products andcomponents.

•Wirerope

•Synthetic slings

•High tensile bowshackles

and chain

•Lifting equipment

Call Justin Bennett 027 530 1272

or 027 530 1275

Shop 24/7 03 308 9778

104 MooreStreet,Ashburton

justin@martinbennett.co.nz

2227502

Attendees listen to aspeaker during the Foundation for Arable Research CROPS 2018 field day

at Chertsey last year.

SPREAD YOUR MUCK AND

FILL YOUR RUTS

Spread your muck

Using manureasafertiliser,itwill add organic matter to the soil which

mayimprove soilstructure, aeration,soil moisture-holding capacity

and waterinfiltration

Fixyour pivot ruts

WelshyContracting canfill your ruts quickly andeasily. We candig out

shingle from your ownsiteand screen it ready forrut fillingorwecan

cartshingle in forthe job

Delivered to over 16,065 homes everyweek

2226689

Foundation for Arable Research is hosting their

ARIA event at their arable research site, on State

Highway 1, Chertsey on Wednesday, December 4,

2019.

The ARIA event is FAR's major South Island field

event and draws hundreds of people from around the

country to hear speakers talk about FAR trial work

being carried out on the research site..

The event runs from 10am to 4pm.

Presentations on the day will cover many issues

which are critical to cropping and its related primary

industries.

And among those to talk are international speaker

Carol Mallory­Smith, who is a professor of weed

science at Oregon State University.

Her main research interests include herbicide

resistance, weed management in agronomic crops,

and weed biology, and these are the topics she will

touch on in her talk at ARIA.

Also speaking is Scott Hardwick (Ag REsearch),

Brad Howlett (Plant and Food Research), Soonie

Chng (Plant and Food Research) as well as FAR staff

Jo Drummond, Matilda Gunnarsson, Phil Rolston,

Richard Chynoweth, Abie Horrocks and Diana

Mathers.

Topics to be covered include; the influence of

cultivar on cereal diseases, Ramularia update, cover

crops for weed management, stem rust ­ can we

predict it?, options for improving glyphosate efficacy

and drone flies and pollination.

Lunch will be provided and there will be chance to

relax and chat with presenters, growers and industry

attendees at the end of the day.

Check out far.org.nz/events for more information.

Farm biosecurity discussed

at Wakanui farm meeting

It's just amatter of time, if not mere weeks, before

there will be a nationwide regulation push for

stricter on­farm biosecurity and one way for farm

operations tobetter protect themselves is to start

with aplan.

It was the topic for discussion at the recent

Foundation for Arable Research meeting, attended

by around35people, on the property of Maxine and

Eric Watson, at Wakanui, near Ashburton.

FAR's environment research manager Abie

Horrocks saidthere were at least four risk areas for

concern when it came tofarm biosecurity; visitors

to the property who all have the potential tobring

biosecurity risks such as weed seeds, pathogensand

pests on farm; machinery on and off the property

also able to carry the same biosecurity risks;

animals being transported onand off farm; and

seed and plant material.

Biosecurity was identified as being more and

more important but it meant giving it some

thought, putting it in aplan and into action, she

said.

She wentover thearable biosecurity riskregister

developed byFAR staff for farm owners touse.

It gets farm owners to think about their current

biosecurity practice, including on farm signage and

protocols such as confining vehicles movements to

farm tracks where practicable, asking for verification

of plant healthcertificatesfor imported seed

lines, providing adequate clean down facilities for

visitors to use to maintain good practice and

ensuring those visitors have protocols inplace to

identify or track vehicle movements (from farm to

farm), especially useful incase of incursion.

There isalso provision toinclude how to deal

with any possible incursions andto talk about those

biosecurity issues such as herbicide resistance or

contractor experiences with neighbours.

She said good biosecurity practice was about

identifying risks and managing those risks.

''It's one of those things that makes absolute,

positive sense,'' said FAR communication manager

Anna Heslop.

Thebiosecurityrisk register template is available

for any one to access via the FAR website at

www.far.org.nz
---
Local news at www.starnews.co.nz Ashburton's The Courier, Thursday 14 November 2019, Page 33

Club news

Rakaia Lions

The Lions Club of

Rakaia held their annual

fireworks night on Saturday

2nd November at the

Rakaia Domain.

People began to arrive

around 5.30pm setting up

vantage points around

the domain.

The weather was great

and as the evening went

on there was a good

crowd. How many Iam

not sure, too many to

count.

While everyone waited

for darkness to arrive

The Toy Library kept the

small ones entertained

with three bouncy castles.

The bigger ones were

entertained with live

music from Kopy Kats.

While the Rakaia

School made sure the

kids would be ready when

it got dark with the selling

of glow sticks.

There was food aplenty

from the Lions Food

caravan, coffee from the

coffee man and icecream

from Mr Kool.

The Rakaia Fire Brigade

ignited the bon fire

just before dark and soon

after that we were treated

with a great display of

fireworks.

Thanks to Fireworks

Professionals Ltd.

The night concluded

with a couple of tunes

from the Kopy Kats and

then everyone disappeared

into the darkness.

The Lions Club of

Rakaia would like to

thank everyone who

attended and hope you

had agreat night.

Neighbourhood Support

Mid Canterbury

The Annual General

Meeting of the Ashburton

District Neighbourhood

Support Inc was

held recently, with many

people attending. The

chairperson gave her

report and said it had

been achallenging year.

The Gets Ready Computer

system to Mid Canterbury

was promoted on

the radio and in the

newspaper. As at October

2019 there were 4941

households registered on

Gets Ready. Gets Ready

is recognised by Civil

Defence ­itreceived an

innovation award from

the Director of Civil

Defence Emergency

Management in 2016. It

is a purpose­built web

Anne Parnham JP, Registrar, Ian Moore JP, President. See, Ashburton

Justices of the Peace Association below. (Photo: Noel Lowe)

system where residents

can securely record their

contact details and any

special needs, resources

and skills they want to

share, to help their local

community look after

each other in an emergency.

It is a tool the

council may use to share

emergency warnings.

These may include wind,

snow, fire warnings,

water quality warnings

and fire rules and other

messages with members.

They arrive as email and

/ortexts. This is asystem

that has been built with

Neighbourhood Support

and Civil Defence groups

in mind.

The co­ordinator, Christine

Richards advised it

had been a busy twelve

months with agrowth in

the number of new

groups and with the

increasing numbers of

people registering online

to Ashburton Gets

Ready. Thanks were

extended to the street

contacts for the work

they do in welcoming

newcomers to their

respective groups. The

board has decided to

change the names to

Neighbourhood Support

Mid Canterbury and Gets

Ready Mid Canterbury.

Veronica Rabbitt was

re­elected as Chairperson,

as Ivan Blain is

retiring from the Board

he was presented with a

certificate in appreciation.

The guest speaker was

Senior Sergeant Leigh

Jenkins, he advised that

three new recruits are

coming to the Ashburton

Police Station. He was

thanked for his address

and afternoon tea was

served.

Ashburton Justices of

the Peace Association

AGM

A large gathering of

Justices and Visitors

attended the 69th Annual

General meeting held in

the Seniors Centre on

Tuesday 5th of November.

Senior Sgt Leigh Jenkins

Officer in charge of

the Ashburton Police

Station was the guest

speaker at the meeting.

He had apositive view of

the work Police do in

Ashburton and gave the

meeting some interesting

crime facts of our district.

Sgt Leigh said he would

like to see better cooperation

between the

Court, Police, and Justice

Issuing Officers to cut

down the time it takes to

get search warrants.

Officers elected for the

year include, Patron

Kevin Geddes JP, President

Ian Moore JP

Senior VP Max Cawte JP,

Junior VP Alistair Morrison

JP, Anne Parnham

JP as Registrar and Murray

Bassett JP as treasurer.

Delivering his annual

report for 2019, President

Ian reported on the Federation

Annual Conference

in Blenhiem and the

Southern Regional Conference

in Gore where he

represented the Ashburton

Association. He said

our Association was

equal or better than alot

of other Associations in

New Zealand when it

came to training done by

Justices and the work we

do in our Community.

The Royal Federation

of JPs Associations vicepresident

Terry Byrne

thanked President Ian for

his full report and congratulated

the Justices of

Ashburton for the voluntary

work they do for the

Community. The Southern

Royal Federation of

JPs representative Lindsey

Dow thanked President

Ian for his leadership

and offered some

training tips for JPs.

Membership is 60

active Justices and 10 JP

Retired, We had 5New

Justices appointed during

the year and one Justice

waiting to be Sworn In.

There are at present 6

Justice nominees in the

pipeline. One Justice has

been appointed as an

Issuing Officer during the

year. Congratulations to

Sandra Leak JP.

JP Signing Centre

work is still increasing. A

300% increase from May/

June 2012 to May/June

2019 figures. The average

documents per client are

also increasing. Our

Council has just setup to

run two 2hour sessions

on Tuesdays and Fridays

in the lunch hours at

Community House starting

December 3rd. The

figures for the last twelve

months to end of October

are Documents 3568

Clients 908 and Hours

288

Ian RMoore JP, President

Ashburton Writers'

Group

President Julie

Fechney welcomed members

to the November

meeting of the Ashburton

Writers' Group.

Stacey read aquotation –

"The role of awriter is

not to say what we all

want to say but what we

are unable to say"

By Anais Nin

Rae read the chapter

for the progressive story

that she had written,

Stacey is to write the next

chapter.

The Christmas lunch

was discussed, to be on

Tuesday 3December.

Stacey gave areport of

the recent Wham Bam

event in Christchurch

that she had organised.

$650 had been raised for

CanInspire.

The Assignment for

the meeting was "How

Did We Even/Ever".

Members wrote of

divorce papers, what to

be, elusive gold, small

town, spoken words and

eggs. This caused some

lively discussion on the

best way to print one of

the stories which was a

true adventure story.

Should it be in the first

Stay fit &earn $$$

at the same time

Spend a couple of hours

every Thursday delivering the

Ashburton Courier and Realty in

the Tinwald (Buckleys Terrace/

Melcombe Street) area.

Enjoy the fresh air, stay fit and

reap the health benefits!

Phone Leonie todayon308 7664

to get startedoremail

leonie.marsden@ashburtoncourier.co.nz

2172542

person or third person

was aquestion that was

discussed as well.

The February assignment

is "Shadow for the

Day".

Visitors are welcome,

contact Rae on 3088927.

Mid Canterbury Rural

Women

Rural Women NZ

summit meeting and

AGM will be held Friday

22nd and Saturday 23rd

November in Wellington.

Five Mid Canterbury

Rural Women are attending.

Policy workshops

include: Education: How

are our Rural Schools.

Health: Rural Women

and family wellbeing.

Environment: Water,

Land and Air.

Friday evening our

Premier Partnership NZI

Rural Women New Zealand

Business Awards

Dinner will showcase the

entrepreneur and

innovatived winners from

the 7Categories, Emerging

Business, Love of the

Land, Creative Arts,

Rural Health and Wellbeing

Excellence, Innovation,

Rural Champion

and Bountiful Table. At

the conclusion the

Supreme Winner will be

announced.

Rakaia Gorge's,

Amanda King is category

winner of the Emergency

Business. A business

starting out on its journey

and achieving exceptional

Results.

Amanda's Business

''By the Horn'' operates

from home, she transforms

her photography

passion of animals, landscapes

and seascapes into

print form and on to

canvas Her online customers

are worldwide.

Amanda's contact is

bythehorns.co.nz

Congratulations to

Winchmore member

Margaret Kelk on receiving

her Branch Life

Membership. Margaret

has held President and

Treasurer positions and

contributed a tremendous

amount to Rural

Women within Winchmore

and Mid Canterbury

over many years.

Our November Provincial

Meeting is being held

at the Lake House Restaurant

9.30am Wednesday

13th November.

Kerry Smith is speaking

on her Associated Country

Women of the World

(ACWW) work undertaken

recently in London.

Marion Dent, Provincial

President Mid Canterbury

Rural Women.

BUSINESS OWNERS

Build customers,sales and profits,

with us ...

Print, Online and

Mobile 24/7

Advertise with us today! ContactJann Thompson 03 308 7664 jann.thompson@ashburtoncourier.co.nz

16,065 copies delivered every Thursday

Staveley

Mount Somers

Alford Forest

Valetta

Mayfield

77

Ruapuna

Arundel

Orari Bridge

Geraldine

77 1

Ealing

Ashburton

Forks

Moranan Maronan

Hinds

Lowcliffe

Methven

Winchmore

1

Willowby

Lauriston

Ashburton

1

Wakanui

Chertsey

Rakaia
---
Page 34, Ashburton's The Courier, Thursday 14 November 2019

Local news at www.starnews.co.nz

HOME &GARDEN

Sow beans, plant hardier tomatoes

Vegetables

French andbutter

beans can be sownin

the open. Place seeds

singly, about 15cm

apart and 5cmdeep.

Runnerbeansfor

growinguptrellisesor

on framescan be sown

now in asunnyspot.

Although generally

grown as annuals,

runner beanscan be cut

backtoground level in

autumn andwillcome

awayagainthe

followingspring.

Smallercucumber

varieties(lemon, true

Lemon) can be sown in

richsoil but, in cooler

areas, these and other

cucurbits, including

zucchini (courgettes),

are better grown from

plants boughtfroma

garden centre.

Main­cropbeetroot

can be sown, to mature

in autumn and stand

overwinter.Sow

beetroot seedabout

1cm deep.

Asparagus canbe

harvestednow and

spearscan be taken

overthe next month.

Resisttaking any shoots

in thefirstseason, so

the rootsystemcan

develop. Givean

application of general

fertiliser, at the rateof

100gper sqm, before

harvesting starts,then

liquid manureregularly

for the rest of the

growing season.

Sweet corncan still

be sown. Choosea

faster­maturing variety,

and sow in groupsofsix

Carrots can still be sown for succession crops.

STOP BIRDS

leaves, hail and vermin from blocking

and damaging your spouting

Qualitymaterials: BHP Colorbond steel mesh

with unique patented louvrewill even keep

out pine needles.Will not rust or sag with age

or load.10year warranty,range of colours

Proven in Australia &New Zealand

over the last 15 years.

FOR SAFE, PUREDRINKING WATER

FROM YOUR ROOF.

NOWAVAILABLE: STAINLESSSTEEL MICROMESH

Call Rohan anytime Mon-Sat for

ano-obligation assesssment&quote

0800 486532 03 982 8850

www.gumleaf.co.nz

2226827

to eight plants, 15cm

apartineachdirection,

to helpfertilisation.

Theplants needshelter

from coldwinds and

plenty of compost, lime

andpotash.Apply 45g

persqm before

planting.

Celeryplants canbe

transferred to the

gardennow.Space

them 30cm apartin

trenches dug 30cmdeep

andfilledwithwellmanured

soil.

Peas, lettuce, carrots,

spring onions, radish

andturnipscan still be

sown for succession

crops.

Wintergreens ­

Savoy cabbage,

broccoli,Brussels

sprouts, kale and

cauliflowershould be

sownnow.

Flowers

Half­hardy plants will

tolerate some chillbut

are likely to be killed by

latefrosts. This group

includes marigolds,

zinnias, salpiglossisand

bedding dahlias.

For better flowers,it

is worthadding wellrottedcompost

anda

light dressing of bone

dusttothe ground

where they are to grow.

Workintothe top

20cmofsoilbefore

planting.

Phlox plants should

now be amassof

shoots. Alittle blood

and bone workedin

aroundthe plants will

ensure agooddisplay

in late summer.

Tulips and narcissi

shouldbeleft as long

Runner beans for growing up trellises or on frames can be sown now in

asunny spot.

as possiblebefore

lifting, cleaning,then

replanting or storing.

Foliage must not be

removeduntil it has

turned yellow.

Dahliasmay still be

planted andold clumps

of tubers liftedand

broken up for

replanting. Stake when

planting to avoid

damagingthe roots

later.

Greenflyisa

common problem on

roses. Spraywithsoap

solution,whichwillnot

harm bees, or witha

commercialproduct.

Fruit

Hardiertomatoes

can be planted

outdoors this month,

but the plants will need

shelterfromstrong

westerly and southerly

winds.Set stakes in

position before putting

in theplants so the

roots will not be

damaged.

Free

Quote

Is your laundryfunctional?

We can designanewlaundrythat

youwillwant to spend time in!

2179008 2115291

The Renovation Experts

2116084

606 East Street,Ashburton. P: 307 7131 l www.kitchenexpress.co.nz

Open9am to 5pm Monday-Friday; 9.30am-12.30pm Saturday

2227573
---
Local news at www.starnews.co.nz Ashburton's The Courier, Thursday 14 November 2019, Page 35

HOME &GARDEN

South Island buildings among winners

A South Island based architect and

many South Island buildings featured

in the New Zealand Architecture

Awards ataceremony in Queenstown

at the weekend, among them Turanga,

in Christchurch,and ahall, in Leeston.

The Lakeside Soldiers Memorial

Hall in Leeston, designed by Architecture

Workshop, and the central Christchurch

library Turanga, from Architectus

and Schmidt Hammer Lassen

Architects, won Public Architecture

awards.

And Wanaka­based architect, Anne

Salmond, was named one of three

distinguished fellow of the New Zealand

Institute of Architecture.

The Lindis Lodge, a small luxury

lodge in the Ahuriri Valley designedby

Architecture Workshop, was the winner

in the hospitality category at the

institute's annual national awards ceremony.

The five­bedroom luxury lodge with

its sweeping roof, which also featured

in New Zealand's exhibition, ''Future

Islands'', at the 2016 Venice Architecture

Biennale, was described by judges

as "an adventurous and deeply considered

response to the challenges of

designing an isolated building in an

awe­inspiring landscape".

Arrowtown House, designed by

RTA Studio for artist clients in Arrowtown,

was awarded one of two top

prizes in the housing category.

Judges noted it was abold composition

that used the traditional building

and industrial materials of Central

Otago in aproject that was ''as much an

exercise in the creation of asite as the

design of a home, and it is an

extraordinary experience to contemplate

the house in its setting''.

In the small project category, the

Bivvy House in Queenstown, designed

by Vaughn Mcquarrie, and Kowhai

House in Dunedin, designed byRafe

Maclean Architects, won the two top

awards.

Kowhai House, built above the

Leith, was a timely exercise in sufficiency

and the optimisation of

resources and opportunity, the judges

said.

''Designed as an efficient thermal

cocoon, the house also serves as atree

house, connected through its clever

positioning and carefully framed views,

with the wider view and more immediate

surrounds, especially the kowhai

tree for which it is named. The house,

which was designed for the architect's

own family, is an intriguing exercise in

self­experimentation ­ a little box of

inbuilt happiness.''

The Bivvy House, inagated community

in Queenstown, was a"clever

and engaging'' piece of architecture

that provided a surprising range of

spatial experiences, they noted.

At the event Distinguished Fellow

awards, of which there are only 10 at

any one time, were bestowed on

architects Anne Salmond, of Wanaka,

and Graeme Scott and John Sutherland,

both of Auckland.

The awards jury, led by Auckland

architect Malcolm Walker and including

architects Jeff Fearon (Auckland),

Melanda Slemint (Christchurch) and

Penny Fuller (Sydney), said Salmond

had been atrail blazer for women in

architecture for more than 30 years,

leading asuccessful practice producing

high­quality architecture from abase in

asmall provincial centre.

She had championed important concerns

such as sustainable design,

prefabricated construction and the

study of post­occupancy building performance.

Award winners

The 2019 New Zealand Institute of

Architects Awards' winners are.­

Commercial Architecture

20 Customhouse Quay, Central

Wellington, Studio of Pacific Architecture;

12 Madden, Wynyard Quarter,

Auckland, Warren and Mahoney

Architects.

Education

Nga Wai Hono, AUT School of

Engineering, Computer and Mathematical

Sciences (ECMS) Building,

Central Auckland, Jasmax.

Enduring Architecture

Athfield Home and Office, Khandallah,

Wellington, Athfield Architects.

Heritage

Rose Historic Chapel, Central

Christchurch, Dave Pearson Architects;

Nelson House Alteration, Nelson,

Sharon Jansen ­Architect.

Hospitality

Lindis Lodge, Ahuriri Valley, Waitaki,

Architecture Workshop.

Housing

Pinwheel House, Medlands, Great

Barrier Island, architecture +; Arrowtown

House, Arrowtown, Otago, RTA

Studio.

Housing ­Alterationsand Additions

Menzies POP!, Sumner, Christchurch,

Architects' Creative.

Housing ­Multi Unit

Wynyard Central East 2, Wynyard

Quarter, Auckland, Architectus; Chen

Anselmi Units, Sydenham, Christchurch,

Bull O'Sullivan Architecture.

Interior Architecture

B:Hive, Smales Farm, Takapuna,

Auckland, BVN and Jasmax in association.

Planning &Urban Design

Kumutoto Pavilion, Wellington,

Isthmus Group; Ellen Melville Centre

and Freyberg Place, CentralAuckland,

Stevens Lawson Architects, Isthmus

Group and John Reynolds in association.

Public Architecture

Lakeside Soldiers Memorial Hall,

Leeston, Canterbury, Architecture

Workshop; Turanga, Christchurch

Central, Architectus and Schmidt

Hammer Lassen Architects.

Small Project Architecture

Kowhai House, Dunedin, Rafe

Maclean Architects; Bivvy House,

Closeburn, Queenstown, Vaughn

McQuarrie Architects.

Presidents Awards

Peter Fehl, Director, Property

Services, UniversityofAuckland; Tony

Watkins, Auckland, architect, builder,

teacher, writer, environmentalist,

urbanist, advocate and agitator; Engineering

New Zealand.

Distinguished Fellows

Graeme Scott, Auckland, ASC

Architects; John Sutherland,Auckland,

Jasmax; Anne Salmond, Wanaka, Salmond

Architecture.
---
Page 36, Ashburton's The Courier, Thursday 14 November 2019

Local news at www.starnews.co.nz

Rural&Lifestyle

Rural

Directory

CONTRACTORS GENERAL

ACL -Ashburton Contracting

Ltd Ph: 308 4039

SHEARING CONTRACTORS

Proshear Limited

Ph: 302 7541

To advertise in this space

please call 308 7664

199 Burnett Street, Ashburton

RURAL DIARY

Thu

•

Brought to you by your

local insurance brokers

Friday, November 15

• The NZ Agricultural Show

Monday, November 18

• Temuka

Tuesday, November 19

• Canterbury Park All

Stock

Thursday, November 21

• Temuka Store Cattle

Saturday, November 23

• South Canterbury A&P

Monday, November 25

• Temuka

Tuesday, November 26

• Canterbury Park All

Stock excl. Store Cattle

Thursday, November 28

• Temuka Store Cattle

Delivered to over 16,065 homes everyweek

Phone 308 7664 l office@ashburtoncourier.co.nz

199 Burnett Street,Ashburton

2180558

2228011

Bank sees big impact

in freshwater proposal

Rabobank New Zealand

believes proposed freshwater

reforms will have

significant implications

for New Zealand food

and agribusiness sectors,

with a likely impact on

production costs, operational

complexity and

future land­use development

opportunities.

In its submission to

the Ministry for the

Environment, Rabobank

says the proposals, as

they stand, were

unnecessarily harsh and

would have adetrimental

impact on the rural

sector, already facing

pressures from regulatory

change.

New Zealand chief

executive officer Todd

Charteris said the bank

supported the Government'sgoal

of improving

the quality of New

Zealand's freshwater

and reducing pollution

❛At the same time, our farmers and

growers have made significant

strides forward in improving the

management of freshwater on their

properties ­and this is often played

down or overlooked in some

quarters.❜

entering waterways from

cities and farms.

''We also support the

relevant Ministers'

stated goals of ensuring

the pace ofchange manageable

and that appropriate

transitional support

is in place.

However, for the

reasons outlined in our

submission, we are not

confident the proposed

freshwater reforms, in

their current form, will

achieve those stated

goals in afair and balanced

way.''

Rabobank says New

Zealand food and

agribusinesses had

proven themselves to be

resilient, innovative and

adaptable.

''They are among the

most successful and

efficient food producers

in the world, they are

fast adaptors of new

technology, they operate

without subsidies and

are along distance from

their main markets.''

''At the same time,

our farmers and

growers have made significant

strides forward

in improving the management

of freshwater

on their properties ­

and this is often played

down or overlooked in

some quarters.''

In its submission,

Rabobank says the proposals

most relevant to

farmers and growers

include the introduction

of more stringent nutrient

bottom line requirements,

new national

practice standards and

interim controls on land

use intensification.

He said the overall

assessment was that

impact of proposed

freshwater reforms on

the New Zealand farming

community will be

significant.

''These impacts will

DairyNZ seeking feedback

DairyNZ are hosting

nationwide ''offload,

reload, refresh'' meetings

to get the view of

dairy farmers on what

their organisation's

future focus should be.

There are 32 meetings

planned; the Ashburton

meeting will be

held at The Lake

House, at Lake Hood,

on November 18, from

7pm ­8:30pm.

DairyNZ chief executive

Dr Tim Mackle said

2019 was an exceptionally

busy year for dairy

farmers.

''It's been achallenging

time for those working

in dairy­with Mycoplasma

bovis continuing

to require careful management,

and consultation

on significant proposals

on freshwater

and climate change and

emissions, as well as onfarm

adaptation needed

to meet changing

environmental requirements.

''Both farmers and

DairyNZ can feel proud

about how we have

worked together to put

forward practical

options to the government

­such as aframework

for farm­level

emission reductions ­

and to continue to

develop and implement

science­based solutions

which work on farm and

lead to better productivity

and environmental

outcomes.''

The meetings were a

chance for farmers to

hear of results from

dairy levy investments,

share views on what

DairyNZ should focus

on in coming years and

enjoy a chat with

DairyNZ Board members

and staff over refreshments.

In May 2020, dairy

farmers will vote on the

level of the dairy sector

levy, which funds

research on resilient

and environmentally

sustainable farm systems,

Tb eradication,

genetic and pasture

research and a wide

range of training.

It also funds research

vary considerably from

farm to farm, depending

on location and farming

system. For some, meeting

these new requirements

will represent a major

challenge and come at

considerable cost.''

The proposals were

described as complex and

demanding, with the consultation

timeframe

extremely tight during a

busy time in the farming

calendar.

''In addition, these proposalsmust

be seen alongside

the cumulative

impact ofother regulatory

proposals currentlyaffecting

the food and agribusiness

sector.''

They also underplayed

the progressmany farmers

and growers had already

made improving freshwater

management on

their properties and with

their environmental sustainability

practices.

and support to buildgreat

workplaces on farm, educate

the public and

schools on the value of

dairy.

''DairyNZ plays a

really important role in

both advocating for dairy

farmers on policy issues,

leading a research programme

which identifies

solutions to the challenges

dairy farmers need to

meet in the future and

supporting farmers with

practical advice, training

and resources,'' Dr Mackle

said.

Maxiroll

THAT'S HOW WE ROLL

#1 Selling roller in the UK

•60mm CRMO4v-steel shafts with

rubber suspended bearings

•Hydraulic cracker board with

parallelogram eliminates lumping

in fields.

•Hydraulic weight distribution

system provides 100% even

compaction ofsoil.

•Comes in working widths from

5.3m-12.3m

Ultimate seedbed prep

The high capacity Rollomaximum isaprecise seed

bed cultivator with built-in front and rear rollers. The

combination ofrollers and cultivator tines regularly

achieves aseed bed in asingle pass with the change to

and from transport isdone hydraulically from astationary

position roller.

Comes in working widths from 6.2m –12.4m.

CALL US

ABOUT

DEMO

MODELS

Rollomaximum

Call Alastair Robertson | 027 435 2642

AMBERLEY |LEESTON |ASHBURTON |TIMARU |OAMARU

www.cochranes.co.nz
---
Local news at www.starnews.co.nz Ashburton's The Courier, Thursday 14 November 2019, Page 37

We're for

LOCAL

SPORT

From Kaikoura,

to Christchurch,

to Ashburton,

we have it

covered

2148717
---
Page 38, Ashburton's The Courier, Thursday 14 November 2019

Local news at www.starnews.co.nz

Ashburton College 2019 Year 11 prizegiving

General Awards

Shrina Afu, Level 1

Merit Award, Application

and Effort; Zedrick

Agreda, Level 1

Award; Jet Aguila,Level

1Award; Ethan Annear,

Level 1 Merit Award,

Application and Effort;

Ron Arona, Level 1

Award; Christopher

Bernarte, Level 1

Award; Ashleigh Binnie,

Level 1 Merit Award,

Application and Effort;

Victoria Binnie, Level 1

Merit Award, Application

and Effort; Olivia

Bishop, Level 1Award,

Application and Effort;

Tegan Boath, Level 1

Award; Parker

Bradford, Level 1Merit

Award, Application and

Effort; McKenzie

Bridger, Level 1Award;

Madison Brown, Level 1

Merit Award; Jacob

Bruce, Level 1 Award,

Application and Effort;

Max Burgerhout, Level1

Award; Taylah Burrowes,

Level 1 Merit

Award, Application and

Effort; Jayden Butler,

Level 1 Award, Application

and Effort; Ila

Cabalse, Level 1Award,

Application and Effort;

Nadine Cabanatan,

Level 1 Award, Application

and Effort; Stacie

Cameron, Level 1

Award, Application and

Effort; Georgie Cartney,

Level 1 Merit Award,

Application and Effort;

Sierra Chambers, Level

1 Merit Award; Jack

Cochrane, Level 1

Award; Samuel Corbett,

Level 1 Award; Matty

Cornish­Madden, Level

1 Award; Ryan Cox,

Level 1Award; Laurissa

Crawley, Level 1Award;

Coty Cuadrado, Level 1

Merit Award, Application

and Effort; John

Vic De Jesus, Level 1

Award; Miar Diab, Level

1 Excellence Award,

Application and Effort;

Isaac Diamond, Level 1

Award; Emma­Paige

Dickson, Level 1 Merit

Award, Application and

Effort; Annabel Dolan,

Level 1 Award; Todd

Dolan, Level 1 Award;

Blair Donaldson, Level 1

Award; Malachi Drye,

Level 1 Merit Award;

Alex Eddington, Level 1

Award; Mahina

Edwards, Level 1Merit

Award, Application and

Effort; Buddhika Ekanayake,

Level 1 Award;

John Miles Esponja,

Level 1 Award, Application

and Effort; Blake

Farr, Level 1 Merit

Award, Application and

Effort; Frank Foaga,

Level 1Award; Gabriel

Forster Lobato de Faria,

Level 1 Award, Application

and Effort; Ines

Forster Lobato de Faria,

Level 1 Excellence

Award, Application and

Effort; Richmiracle

Fuluasou, Level 1

Award; Charlie Galbraith,

Level 1 Award;

Shalie Gare, Level 1

Award; Steph Geeson,

Level 1 Award; Jack

Gibbons, Level 1Award;

Matt Giles, Level 1

Award; George Goodes,

Level 1 Merit Award,

Application and Effort;

Skye Gulleford, Level 1

Award; Chloe Guthrie,

Level 1 Award, Application

and Effort; Kaliopasi

Hala, Level 1

Award, Application and

Effort; Sinifoni Hala,

Level 1Award; Brooke

Halliday, Level 1Merit

Award; Megan Harrison,

Level 1 Merit

Award, Application and

Effort; Aleesha

Haslemore­Smith, Level

1Award; Brooklyn Hauraki,

Level 1 Award,

Application and Effort;

Matthew Hopkins, Level

1 Award, Application

and Effort; Shikayla

Hutchinson, Level 1

Merit Award, Application

and Effort; Ian

Jerao, Level 1 Award;

Samantha Jerao, Level 1

Award, Application and

Effort; Emma Johnson,

Level 1 Merit Award,

Application and Effort;

Jorja Johnston, Level 1

Award; Jayden Karika,

Level 1 Award; Lynx

Keen, Level 1 Award,

Application and Effort;

Zoe Kenny, Level 1

Merit Award, Application

and Effort; Emily

King, Level 1 Award,

Application and Effort;

Hannah Kuipers, Level1

Excellence Award,

Application and Effort;

Sophie Lawrence, Level

1 Award, Application

and Effort; Kalani Lawson,

Level 1 Award;

Hayley Lefeber, Level 1

Award, Application and

Effort; Michael Lin­

Nguyen, Level 1 Merit

Award, Application and

Effort; Victoria Lovett,

Level 1 Award; Hayley

Luxton, Level 1 Excellence

Award, Application

and Effort; Connor

Mackenzie, Level 1

Award, Application and

Effort; Flynn Mackenzie,

Level 1Award; John

Magyaya, Level 1Merit

Award, Application and

Effort; Tasha Mann,

Level 1 Award; Jayden

Marshall, Level 1

Award, Application and

Effort; Nazarene

Masina, Level 1Award,

Application and Effort;

Harrison McKee, Level

1 Merit Award, Application

and Effort; Sarah

McKerrow, Level 1

Merit Award, Application

and Effort;

Harmyn McLean, Level

1 Award; Sayime

Metuatini, Level 1

Award, Application and

Effort; Ben Middleton,

Level 1 Merit Award,

Application and Effort;

India Morgan, Level 1

Merit Award; Kyle Muncal,

Level 1 Award;

Michael Munro, Level 1

Merit Award, Application

and Effort; Isaac

Murray, Level 1Award,

Application and Effort;

Gabby Naylor, Level 1

Award, Application and

Effort; Damian Neal,

Level 1 Award; Dennis

Nguyen, Level 1Award,

Application and Effort;

Naki Nonu, Level 1

Award; Fergus O'Neill,

Level 1 Award, Application

and Effort; Renee

Otene­Penniall, Level 1

Award; Mickayla

Panting­Bye, Level 1

Award; RjPasion, Level

1 Merit Award, Application

and Effort;

George Penjueli, Level1

Award; Emma Petrie,

Level 1 Merit Award,

Application and Effort;

Natalie Phimester, Level

1 Award; Emily Polmear,

Level 1 Award;

Mahina Pongia, Level 1

Merit Award, Application

and Effort; Anthony

Pore, Level 1

Award; Isaac Prisk,

Level 1 Award, Application

and Effort; John

Radan, Level 1 Award,

Application and Effort;

Cameron Radford, Ashburton

College Technical

Crew Prize for Service

and Contribution to

Technical Support in the

College Auditorium;

Katelyn Rattray, Level 1

Award; Alex Rielly,

Level 1 Award; Tyler

Rose, Level 1 Award;

Mikayla Roulston, Level

1 Award, Application

and Effort; Brie

Rudolph, Level 1Merit

Award, Application and

Effort; Abby Rushton,

Level 1 Award, Application

and Effort; Libby

Ryan, Level 1 Award,

Application and Effort;

David Satui, Level 1

Award; Emma Scammell,

Level 1 Merit

Award, Application and

Effort; Kurt Scott, Level

1 Award; Ben Simons,

Level 1 Award; Matt

Smith, Level 1 Merit

Award, Application and

Effort; Samuel Smith,

Level 1 Award; Aaron

Staite, Level 1 Award;

Nathan Steer, Level 1

Award, Application and

Effort; Angus Stewart,

Level 1 Award; Jacob

Stewart, Level 1Award;

Jack Stewart­Webster,

Level 1 Award; Cloe

Stowell, Level 1 Merit

Award, Application and

Effort; Jasmin Strawbridge,

Level 1 Award;

Application and Effort;

Jacob Swan, Level 1

Merit Award, Application

and Effort; Harrison

Tacbaya, Level 1

Award, Application and

Effort; Xahleiquin Taikiturua,

Level 1Award;

Rueben Taylor, Level 1

Award; Ethan Titheridge,

Level 1 Award;

Toetu Touli, Level 1

Award, Application and

Effort; Harry Trumper,

Level 1 Merit Award,

Application and Effort;

Lucus Tuck, Level 1

Award; Nicholas Tuck,

Level 1 Award; Tyler

Tuirirangi, Level 1

Award; Isileli Ula, Level

1 Award, Application

and Effort; Laurence

Van Zeyl­Hemara,

Level 1Award; Charlie

Veamatahau, Level 1

Award; Eliane

Vinculado, Level 1

Merit Award, Application

and Effort; Ged

Wall, Level 1 Merit

Award, Application and

Effort; Caleb Ward,

Level 1 Award, Application

and Effort; Shasha

Watagedara, Level 1

Merit Award, Application

and Effort;

Nahteshiya Watene,

Level 1 Award, Application

and Effort; Jessi

Watson, Level 1Award,

Application and Effort;

Todd White, Level 1

Award, Application and

Effort; Maddie Whyte,

Level 1 Merit Award;

Abbey Williams, Level 1

Award, Application and

Effort; Emily Wilson,

Level 1 Award, Application

and Effort; Jadah

Wilson, Level 1 Merit

Award; Maddy Wilson,

Level 1 Merit Award,

Application and Effort;

Georgia Winchester,

Level 1 Award, Application

and Effort;

Whautere Witihera,

Level 1 Award; Abbey

Wood, Level 1 Award,

Application and Effort;

Sophie Woods, Level 1

Award; Waiana Woods,

Level 1Award.

Academic and Special

Awards

Katelin Adcock,

Japanese (Ton's Thai

Award), Level 1 Merit

Award, Application and

Effort; Cat Anderson,

Drama, Level 1 Merit

Award, Application and

Effort; Brooke Bennett,

Accounting (Brophy

Knight Limited Prize),

Level 1 Excellence

Award, Application and

Effort; Brad Blundell,

Technology ­ Hard

Materials Metal (D R

Gordon Cup), Level 1

Award; Himanshu

Chand, Sport and Exercise

Performance, Level

1 Award, Application

and Effort; Alex Chapman,

Materials Technology

­Building, Level 1

Award, Application and

Effort; Johnny Davis,

Foundation Studies,

Tikanga Maori, Level 1

Award, Application and

Effort; Josh Dunlea,

Agriculture (Five Star

Beef Prize and Young

Farmers Trophy) ­joint

award, Level 1 Merit

Award; Easterlin Faamausili,

Winner of the

Year 11 Speech Competition,

Level 1Excellence

Award, Application

and Effort; Mark

Gabriel, Top Student in

English asanAdditional

Language, Level 1

Award; Wilson Hii,

Glover Trophy for best

aggregate golf score,

Stewards Cup for the

male showing the most

Grit and Determination

Bank offers top­end kit for Ashburton cricketers

ANZ is offering to kit

out Ashburton cricket

players with gear and

the chance to take part

in a Blackcaps game

this season.

As part oftheir continuing

support to

community cricket in

Ashburton and across

New Zealand, this year

it is offering individual

cricket players, teams

and schools the chance

to win top­quality gear

to help them take their

game to the next level.

ANZ head of sponsorship

Sue McGregor

said ANZ's 10­year

commitment supporting

grassroots cricket

came from understanding

the value of team

sport in helping

develop the next generation

of New Zealanders.

''We have been told

one of the most

important things we

can offer young players

is access to top quality

cricket gear, so we're

continuing to offer that

this year,'' Ms

McGregor says.

''We've seen the

impact of Saturday

morning team sport

and the positive life

lessons it provides.

We're continuing to

support Kiwi cricketers

and providing quality

gear to young players

as we believe it's astep

towards helping them

achieve their sporting

dreams.

''We also give

players the opportunity

to meet their sporting

heroes, the Blackcaps

and Whiteferns teams,

who inspire us with

their on­field values

and love for the sport.

By introducing the

younger generation to

these top athletes, we

hope they understand

there is no limit to

what they can

achieve.''

Any cricket players,

clubs, and teams of

children, aged between

seven and 13 years,

across New Zealand

can apply for an ANZ

cricket grant at

ANZcricketworld.co.nz.

While online young

cricket fans can also

apply to be the ANZ

Coin Toss Kid for all

Blackcaps and

Whiteferns matches

played in New Zealand

this season.

The winners will join

the captains of both

competing teams on

the pitch before the

match and help decide

who bats and bowls.

Photo: ANZ

ambassador and

Blackcaps bowler

Trent Boult greets

children while at

Puketaha School, near

Hamilton, last year.

in Sport, Level 1Award,

Application and Effort;

Sam Holland, Top

Scholar in Science

(Gordon Binsted Cup,

and Ashburton District

Council Prize), Technology

­ Digital Information

(Rosalie Begg

Memorial Award and

Heartland Ricoh Prize),

Level 1 Excellence

Award, Application and

Effort; Megan Hurley,

Firestone Fairplay Trophy,

Level 1 Award,

Application and Effort;

Angus Jemmett, Noel

Hosking Memorial Cup

for Cricket, Level 1

Award; Rhiannon Jones,

Agriculture (Five Star

Beef Prize and Young

Farmers Trophy) ­joint

award, Level 1 Merit

Award, Application and

Effort; Tyler Leonard,

Boys Tennis Champion

(Boys Tennis Trophy),

Level 1 Award, Application

and Effort; Ellie

Lawn, Music, Level 1

Merit Award, Application

and Effort; Olivia

Lill, Economics, Level 1

Excellence Award,

Application and Effort;

Connor Lyttle, Technology

­ Digital Information

Practical, Level 1

Award, Application and

Effort; Rangaikore

Makutu, Girls Rugby

Trophy for Most

Improved Back, Level 1

Award, Application and

Effort; Otto Mareko,

English Language

Studies, Level 1Award,

Application and Effort;

Tia McCallum, Rakiroa

Trophy for the top

performing Year 11

Maori Student, Second

Place in the Year 11

Speech Competition ­

joint award, Level 1

Excellence Award,

Application and Effort;

Georgia Moke­Harvey,

Health, Level 1 Excellence

Award, Application

and Effort;

Tamaki Nishioka, Top

Scholar in Mathematics

(Ashburton District

Council Prize), Level 1

Excellence Award,

Application and Effort;

Hannah O'Reilly, Food

and Nutrition (Mark and

Shane Prendergast

Memorial Prize), Materials

Technology ­ Fabrics,

Level 1Excellence

Award, Application and

Effort; Yash Patel, Hospitality,

Level 1 Award,

Application and Effort;

Thomas Patterson, Physical

Education ­ joint

award, Level 1 Merit

Award, Application and

Effort; Drew Porter, Top

Scholar in English (Ashburton

District Council

Prize and Stapleton Cup),

Level1Excellence Award,

Application and Effort;

Victoria Pupuke, Te Reo

Maori ­joint award, Level

1Award, Application and

Effort; Sam Rakthong,

Art Projects, Level 1

Award, Application and

Effort; Annya Rawlings,

History (Judith Prosser

Cup)­jointaward, Level 1

Excellence Award, Application

and Effort; Samuel

Reilly­Sigel, Geography,

Level 1 Merit Award,

Application and Effort;

Marlese Schoonderbeek,

Art Portfolio, German

(German Embassy Prize),

Graphics (Herbert Watts

Cup), Level 1Excellence

Award, Application and

Effort; Milli Sullivan,

Dance, Level 1 Merit

Award, Application and

Effort; Gemma Taylor,

History (Judith Prosser

Cup) ­joint award, Physical

Education ­ joint

award, Mihi Pai Award for

receiving the most Mihi

Pai acknowledgements in

Year 11, Level 1 Excellence

Award, Application

and Effort; Lauren Taylor,

Second Place in the

Year 11Speech Competition

­joint award, Level 1

Excellence Award, Application

and Effort; Charlotte

Thomas, Achievement

in Level 1 Social

Studies Online, Level 1

Award; Penina Vaaelua,

Music Practical, Level 1

Award, Application and

Effort; Dante Vannini,

Technology ­Hard Materials

Wood (Lynns Trophy),

Level 1 Merit

Award, Application and

Effort; Sophie Watson,

Primary Industries ITO

Cup and Prize for Top

Student in the Primary

Industries Academy,

Level 1 Merit Award,

Application and Effort;

Te Rira Wikohika, Te

Reo Maori ­joint award,

Level1Award; Ashburton

High School Centennial

Trust Top Scholar Award

for Year 11 Drew Porter;

Thistle Masonic Lodge

Prize for Citizenship,

Gemma Taylor.
---
Local news at www.starnews.co.nz Ashburton's The Courier, Thursday 14 November 2019, Page 39

Mount Hutt College 2019 prizegiving

Senior Prizegiving

ThePrincipal's

Award for Head Girl­

Caitlin Smith

ThePrincipal's

Award for Head Boy ­

Mitchell Barron

Year 11 Merit Awards

Alex Barnaby,Merit

in Physical Education;

Lachie Esler, Merit in

Mathematics; Zuleka

Khan,Merit in

Geography;Sora

Konishi, Meritin

English for Speakersof

OtherLanguages; Alex

Roderick, Merit in

Physical Education;

Doogie Taylor,Merit in

Mathematics; Cade

Whittaker,Meritin

Mathematics; Sophie

Adkins, Merit in

Mathematicsand

Science; Lance

Pangilinan, Merit in

English for Speakersof

OtherLanguages, Food

Nutrition and Health,

Physical Education

Year 11 Excellence

Awards

SamCuttle,

Excellence in

Mechanical

Technology; Jessica

Eaton, Excellence in

Primary Industry

Acadamy;Anthony

Kearvell, Excellence in

Technology(BCATS);

William Middleton,

Excellence in History;

PennyNell,Excellence

in English; Ben

Papworth, Excellencein

Science; CharlieBrown,

Excellence in

Technology(BCATS),

MeritinPhysical

Education; Gus Casey­

Solly, Excellence in

Physical Education,

Merit in Economics;

Alyssa McGinity,

Excellence in Food

Nutrition and Health,

MeritinPhysical

Education; Bree

Middleton, Excellence

inPhysical Education,

MeritinFood Nutrition

and Health;Megan

Rutter, Excellence in

Physical Education,

MeritinHistory; Angus

Spittal,Excellence in

Mathematics, Meritin

Science; Kitty

Bloomfield, Excellence

in Food Nutrition and

Health, MeritinEnglish

and PhysicalEducation;

Timothy Taylor,

Excellence in Science,

MeritinDigital

Technology and

Mathematics; Adam

Shears,Excellence in

Mathematics, Meritin

Economics,English,

History and Science;

Franchezca Juanico,

Excellence in Digital

Technology and English

for Speakers of Other

Languages;Caitlin

Roberts, Excellence in

Agriculture and Art,

MeritinEnglish;

Georgia Williams­

Freeman,Excellence in

Design and Visual

Communications and

English; Jessica Smith,

Excellence in English

and History,Merit in

Agriculture and

Science;Jakob Ree,

Excellence in English

and Mathematics, Merit

in Music, Science and

L2 Classical Studies

(Distance Learning)

and the TalbotFamily

Cup for effort in

classroom music; Eddie

Millichamp, Excellence

inAgriculture,

Mathematics and

Mechanical Technology

alongwith the

Ashburton Grainand

Seed Association

Award;Jacob Ermio,

Excellence in Art,

Designand

Communication,

English and Science,

Merit in Mathematics;

Jessica Hydes,

Excellence in Food

Nutritionand Health,

Mathematics,Physical

Education andScience,

Merit in English;

Sammie Mackle,

Excellence in Design

and Visual

Communication,

Economics, English and

Science;Chloe Keijzer,

Excellence in Art,

Designand

Communication,

English and Music,

Merit in Mathematics

and Science

The Mt HuttSki Area

Prizefor Top Academic

AchievementinYear 11

JessicaBarron,

Excellence in Design

and Visual

Communication,

Economics, English,

Mathematics and

Science

Year 12 MeritAwards

GeorgeButterick,

Merit in Economics;

WillCopland,Meritin

FoodNutrition and

Health;Justin Garcia,

Merit in English for

Speakers of Other

Languages; Sian

Gerard,Meritin

PhysicalEducation;

HazelDePaz, Merit in

Art; VictoriaHutana,

Merit in History; Logan

Stockdill, Merit in Real

World Skills; Cameron

Holmes,Merit in

Economics and English;

AnninaBirt,Merit in

Chemistry,

Mathematics and

PhysicalEducation.

Year 12 Excellence

Awards

CaitlinBlackwell,

Excellence in Real

World Skills; Monique

Johnson, Excellencein

PhysicalEducation;

CassiusKulsen,

Excellence in

Technology; Kimberly

Mallari, Excellence in

Design and Visual

Communication; Ben

Nordqvist, Excellence in

Technology, Merit in

Mathematics; Yash

Soni, Excellencein

English for Speakers

and Other Languages,

Merit in Technology;

GraceBleach,

Excellence in

Agriculture,Meritin

Chemistry,English and

Physics alongwiththe

Ashburton Seed and

GrainAssociation

Award; Ella Braidwood,

Excellence in History,

Merit in Classical

Studies (Distance

Learning), Geography

and Mathematics;

James Jessep,

Excellence in English,

MeritinBiology,

Economics and

Mathematics; Lauren

Pluck,Excellence in

FoodNutritionand

Health and Physical

Education;Elise

Heffernan, Excellence

in Design and Visual

Communicationand

English,Merit in

Biology; Nina Atkinson,

ExcellenceinEnglish

and History,Meritin

Biology, Geographyand

Mathematics;Chloe

Small, Excellence in

Agriculture, Chemistry

and Mathematics, Merit

in Physics; Charlotte

Blundell,Excellencein

Chemistry, Englishand

Music, Merit in Biology,

Mathematics and

Physics;LilyGoodwin,

Excellence in Art,

Biology,English and

Geography; Neil

Alombro, Excellencein

Digital Technology,

English,Mathematics

and Physics, Merit in

Accounting (Distance

Learning), Chemistry

and Economics

(Distance Learning)

Ashburton Council

Prize with the ANZ

BankCup for Top

Academic Achievement

for Year 12

Hannah Stratton,

Excellencein

Chemistry, Design and

Visual Communication,

English,Mathematics

and Physics

r13MeritAwards

Max Cotter,Merit in

History and the

AmandaVaughan

Trophyfor diligencein

Digital Technology;

Thomas Henderson,

Merit in Physical

Education; Aliyah

Hyslop, Merit inArt;

Robert McDonald,

Merit in Physical

Education; Caitlin

Smith,Merit in English

and Statistics; Isabelle

Talbot,Meritin

Agriculture and

Geography; Victoria

Williams­Freeman,

Merit in Music and

Tourism

Year 13 Excellence

Awards

IsobelBarker,

ExcellenceinTourism;

Davina Johnston,

ExcellenceinHistory;

Ben Lightfoot,

ExcellenceinTourism;

Tessa Nathan,

ExcellenceinPhysical

Education; Rosemary

Taggart, Excellence in

Statistics; Amelia

Taylor,Excellencein

FoodNutritionand

Health;Samantha

Fitzgerald, Excellence

in Art, MeritinBiology;

Simon Harford,

Excellence in Music,

Merit in English

AcademicPrizes

Agriculture ­The

South Pacific Seeds

(NZ) LtdPrize&The

Ashburton Grainand

SeedAssociation Award

­Rosemary Taggart

Agriculture ­The

South Pacific Seeds

(NZ) Ltd Awardfor

InterestinAgriculture.

(Awardedtothe student

whoirrespective of

scholastic abilityor

academic attainment

through qualities of

diligence, tenacity of

purpose andenthusiasm

for rural life gives

evidence of being most

likely to become a

successfulfarmer)

­Isabelle Talbot

Agriculture ­Primary

Industries Prize for the

TopStudentinYear11

in Primary Industries

Academy

­Nicholas Ewart

Art ­The Peter

BeavenArchitect

Memorial Prize

­SamanthaFitzgerald

Biology­The

MethvenMedical

CentrePrize

­Rosemary Taggart

Chemistry ­The

Humm Engineering

Prize and the Holdaway

Family Cup

­HarrisonHydes

­Designand Visual

Communication ­The

Photolife Ltd Prize

­Lily Goodwin

DigitalTechnology ­

TheMethven Seed

Cleaning Prize and the

McLaughlin Cupfor

Computer Skills

­Amelia Taylor

Economics ­The

Croys Ltd Prize

­Barron Mitchell

English ­The

Snowfed Prize

­DavinaJohnston

Food,Nutrition and

Health ­The Aqua

Japanese Restaurant

Prize and the EdnaLow

Trophyfor Home

Economics with recipe

book from the Mid

Canterbury Federation

of Women'sInstitutes

­DavinaJohnston

Gateway ­The

TertiaryCommission

Prize for Excellence in

the Gateway

Programme

­TessaNathan

Gateway ­The Dixon

Machinery Ltd Prize­

ForDedication, and

Service.

­Will Copland

Geography ­The

Methven TravelPrize

withthe 1BD2 Trophy

and book award

­Caitlin Smith

History ­The

Methven BranchRSA

Prize for History with

the Irene Dalton

Memorial Trophy

­William Hogg

Mathematicswith

Calculus ­The Methven

AutoservicesLtd Prize

­RosemaryTaggart

Mathematics with

Statistics ­The Snowfed

BuildersPrize

­Amelia Taylor

Music ­The Wrights

Drycleaners Prize with

theRita Mangin Trophy

for General Excellence

in Music

­Simon Harford

OutdoorEducation­

TheCurrieFamily

Trophyfor contribution,

perseverance and

achievement in Outdoor

Education

­LouisBryson­Boe

Physical Education­

The Methven Panel&

Paint Prize with the

Collins Cup

­Caitlin Titheridge

Physics­TheR&R

Spreading Ltd Prize

­Samantha Fitzgerald

Technology (Fabric)­

The BradfordsBuilders

Prize and Fabric

Technology Trophy

­ChloeSmall

Technology (Hard

Materials)­TheShaun

LightfootPainting and

DecoratingPrize

­Ben Nordqvist

Tourism ­The

Methven TravelLtd

Prize

­Davina Johnston

Vocational Pathways

­The Shearmac

Aluminium &Joinery

Prize for astudent who

through their diligence,

enthusiasmand

development of

workplace skillsiswell

prepared for

employment

­Justine Caranay

Extra Curricular

Awards

Basketball­The PTA

Shield

­Emma­Lake Hill

­CricketThe BD

Trophy for Contribution

to SchoolCricket

­Will Copland

­Football ­The Most

Positive Contribution /

Sportsmanship Trophy

­DarcyTaylor

­Football­The

OpukeTrophy for Girls'

Football

­Megan Rutter

Music ­Christine

McArtney Cup for Most

Improved Itinerant

Student

­Max Cotter

Netball­Methven

Club Trophyfor Best

All RounderANetball

­RosemaryTaggart­

LaurenPluck

Netball­Most

Improved Player in the

ANetball Team

­Alyssa McGinity

Rugby ­Edmund

Body Trophy for

Sportsmanship in

SeniorRugby

­MitchellBarron

Rugby ­Ballantrae

Cup for Contribution to

Girls'Rugby

­Isabelle Talbot

­Rugby (Girls) ­The

Methven Rugby Club

Trophyfor Most

Improved Player

­Grace Bleach

Skiing­Nicol Duff

Memorial Trophy ­

Most Meritorious

­EllieBoekholt

­Snowsports­The

Boekholt FamilyCup

for Most Promising

Student in Snowsports

­Reilly Duff

­Swimming ­

National Age Group

Representative

­Bree Middleton

­Mountain Biking ­

The Big Al'sTrophy

­Caitlin Titheridge

Tennis ­Girls' Senior

Champion

­RosemaryTaggart

Written and Spoken

Communication­The

Diana Limbrick Family

Cup for Excellence

­Caitlin Smith

Vocal Music­The

Rhys Smith Trophy

­Charlotte Blundell

Music­The Mid

CanterburyChoir

Scholarshipand The

Holmes Family Cup for

Most Improved NCEA

MusicStudent

­Victoria Williams­

Freeman

Boyd Keepa­Big

BuddyAwardand

Trophy

­EmmaLake Hill

Major Extra

Curricular Awards

Arts ­The Shirley

Body Trophy ­This

awardisfor the senior

student who best

exemplifies

commitmentand high

participation in the

Arts,and whose

contributiontothe

Visual Artsofthe

school has been

outstanding:

­Samantha Fitzgerald

­Victoria Williams­

Freeman

Brian Blackwell

Sports All Rounder

Trophy ­for the senior

student withall round

achievement,

contribution and

participation in school

sport thisyear:

­Caitlin Titheridge

Cochrane Trophyfor

Highest Achievement ­

Outstanding

achievementtothe

highest level in asport

for the year:

­Brea Roderick

New Zealand Honours

­ awarded to

students who have

achieved a 1st, 2nd or

3rd placing inanational

sporting event.

ReillyDuff

Ellie Boekholt

Chloe Keijzer

BreeMiddleton

BreaRoderick

CaitlinTitheridge

2019 HouseTrophy

BLUEHouse

Major Awards

TheMatt Wallace

Memorial Award­Best

AllRound Year11Boy

Jacob Ermio

TheMatt Wallace

Memorial Award­Best

AllRound Year11Girl

Jessica Smith

TheKen Lowe

Memorial Prize withthe

Limbrick Memorial Cup

for Diligence and

InvolvementinSchool

Activities

­Max Cotter

Mark and Nicky

RobinsonFamily

Awards for Positive

Contribution toSchool

Life throughouttheir

School Career

­Thomas Henderson

­Amelia Taylor

Rotary Clubof

AshburtonAwards to

students with high

achievement and

significantcontribution

to schoolactivitiesover

their school careerat

Mount Hutt College

­EllieBoekholt

­SimonHarford

TheArgyle

Schoolwear &

BallantynesCup­ For

Innovation and

Excellence

VictoriaWilliams­

Freeman

EA Networks

AcademicScholarship

­Harrison Hydes

TheMidlandsMusic

Scholarship

­Charlotte Blundell

ZontaCommunity

Service Award

­Caitlin Smith

The MethvenLions

ClubTertiary Prize (toa

school leaverwith

academic success and

contribution to school

life)

­Isabelle Talbot

Methven Masonic

Lodge Good Citizenship

Awards

­Samantha Fitzgerald

­RobertMcDonald

The Prime Minister's

VocationalExcellence

Award

­Tessa Nathan

BoardofTrustees'

Award for BestAll­

Round Boy

­Mitchell Barron

BoardofTrustees'

Award for BestAll­

Round Girl­Caitlin

Smith

ProximeAccessitThe

ROMcDowell Crystal

Globeand The

Ashburton High School

and Rotary Club of

Ashburton Prizes

Davina Johnston

2019 Dux Rotary Club

of Ashburton and Philip

WareingLtd Cup

RosemaryTaggart

We have received prize

donationsfrom:

Argyle Schoolwear

Limited, AquaJapanese

Restaurant, Arabica

Licensed Cafe,

Ashburton Grain&Seed

Association, Ashburton

District Council,

AshburtonReturned

Services, Ashburton High

School Centennial Trust,

ASB Bank,Ashburton

RSA ­Methven Branch,

HowieBarnes, BNZ,

Bradford Group,

BunningsWarehouse,

Bruce Dickson, Cafe 131,

Canterbury Vets Limited,

Croys Ltd, Currie Family,

Dixon Machinery &

Diesel Tech, FlowPool+

Studio, Heartland Ricoh,

Humm EngineeringLtd,

JacksonHolmes

Contracting Ltd, Johnson

GluyasTractors, Ken

LoweMemorial, Kinellar

FarmTrust,Mid

CanterburyChoir,

MethvenAutoservices

Ltd, Methven Lions,

Methven Masonic Lodge,

Methven Medical Ltd,

Methven Seed Cleaning,

Methven Masonic Lodge

No51, Methven Travel,

Mid Canterbury

FederationofWomen's

Ins,MtHutt Ski Area,

MHC P.T.A, MHCBoard

of Trustees,MHC

Gateway, Ministry of

Education,Methven

Panel &Paint Ltd,

Photolife,R&R

SpreadingMethven Ltd,

Rotary Club of

AshburtonCharitable

Trust, Snowfed, Snowfed

Builders, SouthPacific

Seeds, Shearmac

Aluminium&Joinery

Ltd,ShaunLightfoot

Painting andDecorating,

TheDubliner, Wrights

Drycleaners,ZontaClub

of Ashburton
---
Page 40, Ashburton's The Courier, Thursday 14 November 2019

Local news at www.starnews.co.nz

SATURDAY 16TH NOVEMBER

23 Kitchener Street,Ashburton 10:30-11:00am 2 1 1 AHB22576

26 Allens Road, Ashburton 11:15-11:45am 4 2 2 AHB22565

101 Elizabeth Avenue, Rakaia 11:30-12:00pm 3 1 1 AHB22520

6Graham Street,Ashburton 12:45-1:15pm 3 1 2 AHB22577

View our listings online at: rwashashburton.co.nz

2Trent Place, Lake Hood

What and opportunity!

-3bedrooms, master with ensuite &Walk in Robe

-Spacious open plan living with great indoor outdoorflow

-Good sized double garage

EXCLUDES: Blinds, curtains, drapes

ForSale

$529,500

View

by appointment

Kim Miller

027 236 8627

rwashburton.co.nz/AHB22585

Mid Canterbury Real Estate Limited LICENSED (REAA 2008)

101 ElizabethAvenue, Rakaia

-This property is not for the faint hearted.

-Will definitely requirework and plenty of it.

-Roll up your sleeves.

-Bringyour tools and anyhelpersyou can muster.

-All interest is welcomed

rwashburton.co.nz/AHB22584

Mid Canterbury Real Estate Limited LICENSED (REAA2008)

ForSale

By Negotiation

View

Saturday11:30 -12:00pm

3 1 0

Mike Grant ncre

021 272 0202

6Graham Street, Ashburton

If you're looking fora4bedroom home plus aseparate

sleepout with en-suite and situated on a family sized

955m2 section but have alimited budget, then this

property may have your name written on it.

rwashburton.co.nz/AHB22577

Mid Canterbury Real Estate Limited LICENSED (REAA 2008)

ForSale

$289,000

View

Saturday12:45 -1:15pm

3 1 2

Armand vander Eik

021 597 527

22 Buchanan Place, Ashburton

3 1 2

131 Grove Street, Tinwald

4 1 2

This secure and well-located home has 3generous-sized

bedrooms, large lounge, zoned underfloor heating ,2heat

pumps plus fibre optic cabling. Conservatory (with double

glazing) overlooks one of the two private gardens. There's

aconvenient covered connectionwith the double garage.

rwashburton.co.nz/AHB22549

Mid Canterbury Real Estate Limited LICENSED (REAA 2008)

ForSale

$465,000

View

by appointment

Mark Totty

021 664 113

Spacious, lightfilled living areas, four bedrooms, plus alarge

hobby room attached to the double garage. This lovely

home has acompliant log burner, plus heat pump.

Plenty of off street parking onthe 877m2 rear section that

is secure for children and pets.

rwashburton.co.nz/AHB22583

Mid Canterbury Real Estate Limited LICENSED (REAA 2008)

SetDateofSale

closing 21 Nov2019, at

4:00pm(unless sold prior)

View

by appointment

BruceMcPherson

027 438 4250

Denise McPherson

027 242 7677

3Charlesworth Drive, Ashburton

4 2 2

37 Davis Crescent, Ashburton

3 1 1

-4double bedrooms with good storage

-Master with walk in robe and ensuite

-Entertainers open plan kitchen, separate living

-Well heated -Ferva log fire, Hitachi heat pump and

Weiss heat transfer system

rwashburton.co.nz/AHB22484

Mid Canterbury Real Estate Limited LICENSED (REAA 2008)

ForSale

$652,000

View

by appointment

Kim Miller

027 236 8627

-3Bedrooms

-Modern Kitchen with open plan living areas

-Outdoor deck with swimming pool

-Large section with off street parking

-Single Garage with workshop space orstorage

rwashburton.co.nz/AHB22596

Mid CanterburyReal Estate Limited LICENSED (REAA 2008)

ForSale

Offers over$295,000

View

by appointment

Dulcie Ellis

027 629 3260

Jill Quaid

Manager

027 437 6755

Mark Totty

Sales Consultant

027 454 4745

Kim Miller

Sales Consultant

027 236 8627

ChrissyMilne

Sales Consultant

027 290 6606

Margaret Feiss

Sales Consultant

021 751 009

ShirleyFitzgerald

Sales Consultant

027 220 1528

Denise McPherson

Sales Consultant

027 242 7677

Cheryl Fowler

Sales Consultant

027 461 2614

Armand vander Eik

Sales Consultant

021 597 527

Lynne Bridge

Sales Consultant

027 410 6216

Mike Grant ncre

Sales Consultant

021 272 0202

Dulcie Ellis

Sales Consultant

027 629 3260

BruceMcPherson

Sales Consultant

027 438 4250

Justin Waddell

Sales Consultant

027 437 1111

Jarrod Ross

Sales Consultant

027 259 4644

RogerBurdett

Sales Consultant

021 224 4214

96 TancredStreet, Ashburton 03 307 8317 Main Road,Tinwald 03 307 8317

rwashburton.co.nz

36 McMillan Street,Methven 03 303 3032
---
Local news at www.starnews.co.nz Ashburton's The Courier, Thursday 14 November 2019, Page 41

open homes

or viewany of our homes in 3D from the comfortofyourhome!

www.realestatenewzealand.net.nz/360-virtual-reality-tours/

Trevor Hurley Real Estate Ltd LREA 2008 -MREINZ

1RapleyStreet

(E651)

•Perfect first home or

investment.

•New carpet,compliant

log fire, insulatedtop and

bottom.

•Some double glazed

aluminium windows.

•Wellfenced section and

off street parking beside

garage.

•Inspection is amust.

NEWLISTING

From 10% Deposit $315pw (Conditions apply)

Offers Over $289,000

OpenSat 16 November,

1.00 -1.30pm

3 1 1

14 CountryPlace (W671)

Superbly positioned in the very desirable location of CountryPlace is this spacious family residencethatoffers

outstandingquality, spaceand comfort.

*Fourlarge bedrooms all with walk in wardrobes -master ensuitewith tiled showerand under tile heating.

*Separateformal lounge/media room adjoining the hub of the home.

*Well-proportioned kitchen /living /dining zone enjoys ahigh stud to amplify the natural warmth and light.

*Entertaining spaces areplentiful with the double sliding doors on both sides of the spacious living room that

encourage year-round indoor-outdoor flow, one with astunning rural outlook.

*Separatestudy with built in furnitureand walk in storage rooms throughout the hallway.

*The high spec family bathroom enjoys abeautifully appointedSpa bath and separateshoweralso with under

tile heating.

Allthis set on awell landscaped 1100sqm section with beautiful plantings and fully irrigated..

PriceByNegotiation

Open Sunday 17 November, 2.00 -2.30am

NEWLISTING

From 20% Deposit $410pw (Conditions apply)

3 1 1

4 2 3

103 Belt Road (W669)

• Alovely three bedroom,

colonial style home set

amongst established grounds

•Open plan living with the

opportunitytomodernise

and make your markhere

•Prime location close to

schools,parks and Allenton

Shopping centre.

•Dontmiss your opportunity

to view this property!

$378,000

OpenSat 16 November,

11.00 -11.30am

99 WillsStreet (W678)

•Whatafind this little gem is!

•Superbly positioned forthe sunand outdoorliving.

•Spaciouslounge,livingand kitchentoenjoy.

•Three bedroomswithdouble wardrobes.

•Singlecar garaging pluslarge shedat the rear of this stunning cottage garden.

•Only ashort stroll to our beautiful Domainalongwith close proximitytothe supermarket andshops.

•Roomto add your ownflair and enhanceto suit your owntaste.

$325,000

Open Saturday16November, 10.00 -10.30am

3 1 1

4-42Aitken Street (E656)

•Sunnyend unit within the

avenues

•This twobedroom unit has

potential to add value.

•Potential forastuteinvestors

to consider.

•Lock up garage,small garden

Offers Over $169,000

OpenSaturday16November,

12.00 -12.30pm

43 Princes Street (E658)

•1012m2section with the potential to develop as yousee fit.

•Renovated from inside out,top to bottom, and in between.

•New kitchen, new bathroom -2toilets,new carpet new paint. Warm and insulated.

•Covered outdoor entertaining area over looking easily maintained gardens.

•Estimatedrentalreturn$340-$350per week.

•Whatmorecouldyou want, bringmeanofferasthis beautiful home has to be sold.

•Set Sale closing 10am, 22 November 2019 (USP)

Offes Over $325,000

Open Sunday 17 November,1.00 -1.30pm

RAKAIA

From 20% Deposit $178pw (Conditions apply)

3 1 1 From 10% Deposit $325pw (Conditions apply)

2 1 1

Proud supporters of the HeartFoundation of NewZealand! We donate from everypropertysold!

2 1 1

100 Elizabeth Ave, Rakaia

(R064)

• Delightful twobedroom

cottage with asunny

conservatory&asmall

covered deck

•Nestled on a1/4 acre of

established gardens

•Large single garage,hobby

room and glass house

•Open plan kitchen, living &

dining areas.

$298,000

OpenSat 16 November,

11.00 -11.30am

Trevor Hurley

0275 435 799

Tracey Henderson

027 405 8064

Manu Otene

022 308 6885

Linda Cuthbertson

0274087965

Stephen Watson

027 433 9695

Julie Srhoy

021 354 885

Deborah Roberts

0210752180
---
Page 42, Ashburton's The Courier, Thursday 14 November 2019

Local news at www.starnews.co.nz

trusted

trades &services

2019 GUIDE

FREE LEGAL HELP

Help in person by appointment

Thursday9.15am -1.45pm

Ph 0508 CANLAW

(0508 226 529) to makean

appointment.

Helpbyphone Infoline

03 371 3819 or 0508 226 529

215 Tancred Street,Ashburton

2115411

2115406

FROM

ONLY

$ GST

250PLUS

P 03 308 7298

E mark@dpi.co.nz

dpi embroidme ashburton

AMTax Solutions Ltd.

accounting •for small business

• Annual Accounts

• Tax Returns

• GST Returns

• CertifiedXeroAdvisor

Andrea Matthews

027 415 9880

2141391

Lubes WOF

Allmechanical repairs

TRIANGLE

GARAGE LTD

Victoria Street,

TheTriangle,Ashburton

Phone:(03) 308 6772

2200008

You

Forall your flooring needs

•Supplier and installer of

carpet and tiles

•Re-stretch &repair

•Carpet cleaning

2226670

Phone Mike Gill

027 491 4210

JukeBox Hire

Weddings,21st,

PrivateFunctions

Sound Systems &Lighting Hire

Phone DJ Dave

03 308 5106

027 251 0015

www.soundmanagement.co.nz

2186259

Need storage?

we CAN STORE it!

Convenient, affordable

self storage solution

Phone 307 0213

•185 AlfordForest Road •behind

2115432

FOR ALL YOUR

ADVERTISING

REQUIREMENTS,

GIVE

Jann, Roselle or

Karenacall on

3087664

PROFESSIONAL

PORTRAIT AND

COMMERCIAL

PHOTOGRAPHER

Interior and Exterior Painting

Interior Plastering

Wallpapering

PICTURE FRAMING

GALLERY&STUDIONOW OPEN

179WEST STREET

027310 6521

emmily@emmilyharmer.co.nz

www.emmilyharmer.co.nz

2115433

Hardwareand Software Issues

Data Transfers Virus Removal Backup Creation

ContactGlenn 021062 2756

(Computer Tech at ACAfor 16 years)

2208233

RESIDENTIAL &

COMMERCIAL SPECIALISTS

Phone Quentin and Phil on

027282 8908 or 027282 89099

2139052

4WDDiesel &ElectricScissorlifts

Rough terrain and electric lifts available

On site collection or deliveryavailable

403 Nowat6Range West Street St,Riverside

PO Box 60, Ashburton 7740

Phone: 03 308 8155

Mobile: 0273 529 909

Email:sales@nee.kiwi.nz

GREAT

RATES

PC Repairs, Set-up andTutoring

Icome to youday or evening!

•PCRepairs/Sales •Networks/Servers

•Firewalls/Security •Spyware Clean-up •Training

20 YearsExperience Microso Cerfied Professional

NETWORKS FIREWALLS AND PCS LTD

Robin Johnstone 67 Aitken Street, Ashburton

P: 03 308 1440 C: 027 768 4058

robinbj@xtra.co.nz

2115423

NewPCs

and Laptops

forsale

2181086

TOTALLAWNCARE SERVICES

Lawnmowing and

Lawn Maintenance

Hedges

Garden tidy

David Sewell

Phone 027 4171732 l evenings 3078355

2211636

2224051

•Possum merino •Everast •New season'scolours

606 East Street,Ashburton. Phone 308 6243

2224074

ALL THINGS CANVAS &PVC

*Awnings/Shadesails/Drop blinds *Autoseatcovers &repairs

*Hay &bin covers *PVC covers &repairs

*Ute tonneau covers *Furnitureupholsteryrepairs

*Commercial

PHONE TRAVIS HOWDEN 027 922 4544

Gary Flack

PAINTER & DECORATOR

Services include but not limited to:

• Water blasting •Mould and moss treatment

• Minor repairs •Spouting cleaning •Airless spraying

We service and repair all makes and models

of sewing machines and overlockers

Your local Bernina

service team

~Commercial and Residential ~

Phone 03 307 4200 l 027 936 2452

NOOBLIGATION, FREE QUOTES

John Robbie Rachel

OPEN 7DAYS9.30am -4.30pm

Main South Road, Tinwald Ashburton | Phone 307 6277

www.anniesquilts.co.nz

2163842

2115388

2206183
---
Local news at www.starnews.co.nz Ashburton's The Courier, Thursday 14 November 2019, Page 43

trusted

trades &services

2019 GUIDE

NOWEXCLUSIVE MID CANTERBURYSUPPLIERS OF

PARTSAND ACCESSORIES

19 J.B. Cullen Drive, Ashburton •Phone 307 8353

info@mainlandcoachwork.co.nz •www.mainlandcoachwork.co.nz

2136774

We offer the following:

• Gutter and DownpipeCleaning • Weed Spraying

• Moss,Mouldand Lichen Spraying • Spider Proofing

• Gorse and BroomSpraying • FenceLine Spraying

• Chimney/Flue Cleaning $75 • Heat Pump Service$90

MENTION THIS AD WHEN BOOKING FOR A10% DISCOUNT

ON GUTTER AND DOWNPIPE CLEANING

Call Allan on 027 209 5026 an let us know howwecan help

2115385

heartlandprint.co.nz

2195560

Forall your tyre requirements,

see the localexperts

•Wheel alignments

•Wheel balancing

197 Wills Street,Ashburton l www.neumannstyres.co.nz

Phone 03 308 6737 (24 hrs –after hours call out applies)

2115435

Professionalqualitycleaning

withapersonaltouch

• Commercial cleans

• Farmhouse cleans

• Carpet cleaning

• Builders cleans

• Windows

• Small gardeningand maintenancejobs

• Wetravelwithin1hourofAshburton

• 5% discount if paymentmade on dayofclean

Phone Jan-MareeorRichard Parker

308 2405 or 027 341 7038 l www.happy-hoovers.co.nz

2181565

Ashburton, Rolleston &Christchurch

•Paving •Irrigation •Lawns

•Planting •Fences

•Pergolas • Waterfeatures

•Outdoor fires

•Raised planters

•Decks •Stonework

•Brick &blockwork

•Artificial grass and more...

Email –Aaron@theoutdoorspace.co.nz

Phone0800688 365 /021 542 402

www.theoutdoorspace.co.nz

2152985

"we clean to a

standard,

not aprice"

UNDER NEWAshburton

OWNERSHIP

Same exceptional CleaningServices

level of service

&quality cleaning

• regular full house cleans

• one off spring cleans

• farm houses

• builders cleans

•

100% LOCAL

03 307 2656

www.ashburtoncleaning.co.nz

VISIT OUR STORE AND GET A

TREATFOR YOUR PET

Always in stock:

• Birdaccessories,food &treats

• Rabbitand guinea pig food,bedding &treats

• Cat accessories,collars &treats

• Dog collars,leads,toys, accessories &treats

• Aquarianaccessories&food

• Dog crates &cat crates

• Raw,fresh &frozenpet food

• All sorts of dried products

EVERYDAY

SPECIAL

Dog

Rolls

2for

$

12

(3kgeach)

"Come andsee our friendlystaffin-store today"

Phone (03) 307 8996

027 312 5756 l 99 Archibald Street,Tinwald

2115389

2224085

Pruning ·Trimming ·Weeding

FREE

QUOTES!

Does your garden need monthly

maintenancetokeep it tidy and looking

good through the seasons?

Or perhaps just need aone off tidy or

pruning completed? We can help!

All garden wasteremoved

NEAT GARDENS

ContactCAROLYN Phone: 027 2675403 or 3082333

Email: cccolt@xtra.co.nz

WILSONS

WINDSCREENS

ashburtoncranes2015@gmail.com

WE WELCOME ZEK

FROM WINSTONES

TO JOIN OUR TEAM

We areyourone stop glass shop for

AUTO and HOUSE

REPAIR or REPLACE 152 Wills Street,

"Your placeorours"

2214033

2194760

Ashburton

Ph.308 8485

2115428

Solar power whenyou need it most

We are experts at installingsolar

power systems for motorhomes.

• SOLAR PANELS • BATTERIES • DC MANAGEMENT

• CAMERAS • TV SATELLITE • PUMPS • REFRIGERATION

AA Solar

&SUN POWER PLUS

South Island

4McGregorLane Ashburton

03 3074777-027 4423103

ashsolarpower@xtra.co.nz

aasolarsouthisland.co.nz

DiamondPainters and

Decorators Ltd

Qualityinteriorand exterior

painting and decorating

• Wall papering • Airless spraying

• Water blasting • Residential and small commercial

• Roof painting • Freenoobligation quotes

Gutterguardinstallation and gutter cleaning

Phone Duncan 027 370 2453 l Jeanette 027 318 5055

email: diamondpaintersdecorators@gmail.com

2175612

2224063

2136754

Get Listed ..... Get Sold

Get 3D Marketing ....It's FREE!

308 6173
---
Page 44, Ashburton's The Courier, Thursday 14 November 2019

College has 14 finalists

at Aoraki sports awards

Ashburton College had

14 finalists at the recent

2019 Aoraki Sports

Awards, with eight

awarded New Zealand

honours.

Sophie Adams

(basketball), Brittany

Fowler (equestrian) Kyle

Cabangun (martial arts),

Taylah Burrowes (martial

arts) Shania

Harrison­Lee (smallbore

rifle shooting) won their

Service to recall loved ones

New signs for Timaru

New steel signs will go

up to welcome people

to the Timaru district.

They will go on State

Highway 8 Pleasant

Point­Cave, State Highway

79 Geraldine­

Fairlie, State Highway

One at Rangitata Island

Road, State Highway

One at Pareora, and on

the Geraldine­Arundel

Road.

Timaru council land

transport manager

Andrew Dixon said the

signs better reflected

the district through

scale, materials and

artwork.

The signs were

designed by artist Debbie

Templeton­Page

with designer Matt

Searles, and fabricated

by Linear Design and

Aservice for people to

remember loved ones

who have died this past

year will be held in the

chapel at Ashburton

Hospital next week.

The annual Light Up

A Life service, organised

by the hospital palliative

care team and

the Ashburton cancer

support group, will be

lead by celebrant Carol

Gunn.

The service will allow

people time toremember

and light their own

candle in memory of

categories.

Other honours went to

smallbore rifle shooters

Charlotte McKenzie,

Emma Smith and Jacob

Kilworth.

The finalists also

included local basketball

coach Mark Douglas and

netball coach Kaye Kennedy.

Photo: Pictured at the

recent Aoraki Sports

Awards are, back, Brittany

Fowler, Charlotte

McKenzie, Jacob Kilworth,

Jacob Gray, Sophie

Adams, Kyle Cabangun,

front, Harriet Stock,

Shania Harrison­Lee,

Hayley Tallentire, Emma

Smith and Taylah Burrowes.

Absent: Emma­

Louise Stagg, Aidan

Elvines, Anthony Van

Asperen, Mark Douglas

and Kaye Kennedy. (Photo

supplied)

BJ Scarlett.

''The majority of the

signs are made of weathering

steel, which will

gain an attractive patina

of rustover time to gaina

natural look that reflects

the maritime, industrial

and rural aspects of the

district. The name panel

is in stainless steel, which

will remain clear,'' Mr

Dixon said.

their loved one.

It will be followed by

afternoon tea in the hospital

cafeteria.

The Light Up A Life

service is in the Ashburton

Hospital chapel on

Tuesday, November 19at

2pm.

ENTERTAINMENT

FRUIT &PRODUCE

POTATOES: Nadine; 5kg

bags $5, 10kg bags $7.50.

Nadine seed potatoes

$2.50 per kilo. 81 Elizabeth

Street, phone 027 531

9103 or 03 308 3195.

FIREWOOD

SAVE $120 on next winters

firewood. 6cubic metres of

Old Man Pine $475. Limited

supply at this price. Free

delivery to most of Mid

Canterbury. Phone 027 297

7563.

WANTED TO BUY

METAL, heavy etc. Free

light-grade metal in-yard

dumping 9am-5pm weekdays

&9.30-11.30am Saturdays.

Ashburton Scrap

Metal Recyclers, 117 Alford

Forest Road (behind

Placemakers). Phone 03

308 8033 or 027 249 6625.

SECOND hand goods,

wanted to buy. Records,

books, any goods considered.

Phone Rodney on 03

324 2999 and leave message.

WANTING to buy in reasonable

condition, basketball

hoop and backboard, free

standing. Phone 027 282

5245.

GARAGE SALES

GARAGE sale 21 Thomson

Street, Tinwald, Ashburton.

All sorts -all must go, as

moving.

GARAGE sale Grove Street,

Saturday 16 November,

9am - 2pm. Furniture,

lounge suite, bedding,

crockery, gardening, toys,

double dog kennel. Cash

only.

SELL

ALLENTON Pharmacy for all

your Christmas stocking

stuffers. Pop in and see us

today.

AT the Bag Shop we've got a

huge range of handbags

suitable for Christmas gifts,

prices start at $30.00.

BEAUTIFUL shoes for all

occasions in a variety of

colours and styles. Visit us

in store at Stepping Out,

194 East Street, Ashburton.

BIKES! Layby now for Christmas.

New kids bikes

arrived. Check out now in

store. Great for gifts.

Wheelhaus, 211 Burnett

Street. Phone 307 6443.

BRACELETS, bangles, earrings,

pendants, necklaces,

watches, rings. Selection

includes Kagi and Olivia

Burton collections. Fabulous

gift ideas at Time For

Diamonds, Tancred Street.

CHECK out the amazing

range of Christmas gift

ideas at Health 2000 in The

Arcade. Something for the

whole family. Burnett

Street, Ashburton. Phone

308 1815.

JEWELLERY for that special

person? Check out the

extensive selection of gift

ideas from Ashburton's

only manufacturing jeweller.

Unique Jewellery, 163

Tancred Street, Ashburton.

Phone 307 6663.

LPG REFILLS

9kg cylinders

$27.50

Askabout our

deliveryservice

Anysizecylinder filled

17 Grey St,Ashburton

Phone 307 2707

2180822

MY Boutique shop and warehouse

clearance specials.

Discounts on all garments.

Ladies and menswear. Triangle

Shopping Centre.

Hours 10am -4pm.

OUTDOOR furniture; glass

top table and six chairs with

cushions $100.00. Phone

308 4184.

PAPER Plus Christmas Shop

open 7days until Christmas

eve. A wonderland of

Christmas inspirations.

Check it out upstairs, 212

East Street. Phone 308

8308.

PETZONE stock a great

selection of fish supplies

including goldfish, tropical

fish, tanks, weed, accessories

and food. Now at 167

Tancred Street, phone 307

8660.

SELL

DRUMMOND & Etheridge ROBILLIARDS Jewellers -

have ahuge range of John Fresh, exciting new season

Deere toys and merchandise,

something for everyone!

releases.

featuring

NZ

Boh

designs

Runga,

Pop into our store at

832 East Street for some

Karen Walker and Stolen

Girlfriends.

great Christmas gift ideas.

SHOES, wallets, bags,

EAST Street Pharmacy -

scarves and more. New

Check out our great range

handbags in-store this

of Christmas stock. New

week. Gift vouchers available.

Style Footwear, 177

stock arriving daily.

FOR loved ones passed -

Don't forget to order your

silk flower arrangements in

Burnett Street, Ashburton.

Phone 308 7620. Ruralco

suppliers.

time for Christmas at

Flowers & Balloons. SIMS' Bakery for Christmas

www.flowersandballoons.co.nz cakes, mince tarts, trifle

Phone 03 308 8945.

sponge, shortbread,

truffles, meringues, lemon

GOLFING gifts? Check out meringue pie &mud cake.

our range of golf merchandise

including balls, tees, order. Phone 308 5774.

Christmas cake made to

range finders, gloves,

shoes, clothing and SOMERSET Grocer available

for your Christmas

vouchers. Sega Golf, Ashburton

Golf Club.

functions. Gift items,

HARVEY'S Bakehouse for hampers and a lot more

all your Christmas baking. available in store.

Delicious traditional mince Somerset House, 161 Burnett

Street. Phone 307

tarts, Christmas cakes and

croissants. Don't miss out, 5899.

order now! Creek Road,

phone 308 3398.

THE Mower Shop offers a

range of outdoor power

HUNTING & Fishing have equipment including

great gifts for all the family. mowers, chainsaws, line

Camping/tramping gear, trimmers, blowers and

mens, womens, kids clothing,

accessories, books Street, Riverside. Phone

much more. 26 Robinson

and vouchers. West Street, 307 8553.

Ashburton. Phone 308

5117.

WIN Local news at www.starnews.co.nz

ENTERTAINMENT

SPINNING wheel and two

bags of wool $70.00.

Please phone 021 138

4849 or 03 308 9219.

TREADMILL near new $500,

Abking $30, stepper $10,

birdcage suit lorikeet $70.

Phone 027 864 7013.

TOOLS for your bloke this

Christmas? Pop in and

check out the huge selection

of gift ideas now at The

Toolshed, 34 Robinson

Street.

TOTS To Teens have a

fantastic selection of clothing,

footwear, toys,

babywear & more. Great

Christmas gift ideas including

gift vouchers for boys

and girls. The Arcade, Ashburton.

Phone 307 7340.

LPG

REFILLS

Small LPG cylinders

Off Street Parking

Available

Arthur Cates Ltd

26 McNally Street

Ph 308 5397

Riverside Industrial Estate

acakefor your

special person with

Main South Rd, Tinwald. Phone 308 5774

Birthdays this week

Ashleigh Bell,15th November

Tracey Thomas,15th November

EbonyAskerud,17th November,aged 7

Wayne Rodgers,19th November

Judy Weir,19th November,aged 70

Congratulations to last weeks winner!

Siow Men Siang

If youhave aspecial friend who youwouldlike like to see

win acake,put their name in the BirthdayBooks at Sims

Bakery, Tinwald or Ashburton'sThe Courier,199 Burnett St.

N.B: Names forbirthdays next week

must be with us by 10.00am TUESDAY

ONLYONE ENTRYWILL BE SUBMITTED

INTOTHE DRAW PER NOMINEE

2223676

AshburtonTrust Events Centre •15th April 2020

Book at Ticketdirect
---
2223759

BUSINESS OWNERS

Build customers,sales and

profits,with us ...

Over 16,065 copies delivered everyThursday

PRINT, ONLINE AND MOBILE 24/7

CROSSWORD

QUICK PUZZLE NO. 8543

ACROSS

6. Unconscious (10)

8. Band (4)

9. Tumult (4)

10. Lift (5)

11. Pull (4)

12. Grew (9)

16. Pasta (9)

20. Advantage (4)

22. Country (5)

23. Hue (4)

24. Coin (4)

25. Appointment (10)

DOWN

1. Flag(6)

2. Worry (7)

3. Ailment (6)

4. Compel (6)

5. Trivial (5)

7. Backbone (5)

13. Spring (3)

14. Fidgety (7)

15. Side(5)

17. Flexible (6)

18. Wine (6)

19. Language (6)

21. Frighten (5)

CRYPTIC PUZZLE NO. 8543

ACROSS

6. Return from hell? (5,2,3). 8. Long, or have an aspiration,

to take one round (4). 9. The girl is nuts about one

(4). 10. Ihad called out "Sorry!" (5). 11. Kind of way in

which you find gold (4). 12. The entertainer got through

the one before (9). 16. Mean to get rid, somehow, ofthe

bird (9). 20. She gets in my hair,man! (4). 22. Trytoget

information about one and that'sdisturbing (5). 23. "Scat!"

gets them running (4). 24. There will be afresh vacancy

when he retires (4). 25. Tooold, it'sclear,toperform the

op (4,3,3).

DOWN

1. Run to catch ahorse myself (6). 2. Deflect from giving

the execution order(4,3). 3. The better half has appropriated

our car (6). 4. Aim to pour out asip again (6). 5.

Catches the complainant boarding the vessel (5). 7. Support

from the land (5). 13. Ruin the major part of the month

(3). 14. Yearn, you know,tocatch in the room (7). 15. To

cap it all, the coin is obsolete (5). 17. Got up when asiren

went off(6). 18. Understanding you'll do your best to get

blendedtea in(6). 19. Makes out one is friendly with (4,2).

21. Any rejection coming throughdoes peeve one (5).

SUDOKU

MEDIUM

ENTERTAINMENT

Solution to previous Sudoku

Howto

solve

Sudoku!

Fill the grid

so thatevery

rowand every

3x3 square

containsthe

digitals 1to9

Solution to previous crossword

ContactJann Thompson 03 308 7664 jann.thompson@ashburtoncourier.co.nz

TheSouth Afreakins

Sun 17th November 6.30pm

Helene and Gordon are stuck in arut in South

Africa but immigrate to New Zealand, the result

is hilarious and heart-breaking as they discover

it's hard work to find ahome. This is adark

comedy, come, watch, enjoy then pay what you

think the show was worth.

Open Hat

Night

Twelfth Night – BigLittle TheatreCompanyInc

November 22nd and 23rd 7pm and 24th 2pm

Did not make it to the Pop-Up Globe this

year? –fear not! Fresh from the other side

of the world we bring our gift to you in the

shape of the charming comedy that is "Twelfth

Night". Come be shipwrecked with us in an

enchanted, song and dance filled land of Celtic

charm.

Adults $27* /Seated child $18* /

Groundling (Standing) $10*

No.5195

3 5 1

4 7

1 7 2 5 3

6 8 9

9 4 7 2

3 5 4

1 5 2 4 3

3 6

2 9 7

3 2 7 1 5 8 4 6 9

8 4 6 7 9 2 5 1 3

1 9 5 4 6 3 2 8 7

6 8 3 2 4 7 9 5 1

7 1 2 5 3 9 8 4 6

9 5 4 6 8 1 7 3 2

2 7 8 3 1 4 6 9 5

4 6 1 9 7 5 3 2 8

5 3 9 8 2 6 1 7 4

QUICK PUZZLE NO. 8542 -SOLUTIONS

Across -1,Rough crossing. 8, Friar. 9, Chervil. 10, Eleven.

11, Reside. 12, Faith. 14, Utter. 18, Listen. 20, Aflame.

23, Leopard. 24, Eland. 25, Mediterranean.

Down -1,Rafter. 2,Unite. 3, Harvest. 4, Rich. 5, Sieve.

6, Invoice. 7, Galley. 13, Abscond. 15, Taffeta. 16, Slalom.

17, Tendon. 19, Exact. 21, Abate. 22, Oder.

CRYPTIC PUZZLE NO. 8542 -SOLUTIONS

Across -1,Rejection slip. 8, Spa-in. 9, Opening. 10, Instep.

11,Assume. 12, T-Ruth. 14, Da-re-d. 18, Best-O-W.

20, Ali-C-I-a. 23, St-or-age. 24, Go-red. 25, Dressed to

kill.

Down -1,Rust-I-C. 2, Jean's. 3, C-ont-ent. 4, I-Ron. 5,

Nee-D-s. 6, L-E-isure. 7, Pi-gle-t. 13, Re-store. 15, Allegro.

16, Ab-as-ed. 17, S-and-al. 19, O-p-als. 21, Corgi

(anag.). 22, Reed (rev.).

BOOK

NOW

For more information

www.ateventcentre.co.nz

TheMerryLittle Christmas Market

Sun 1st December 11.30am until 4pm

With an array of stalls join us for our yearly

Christmas Market, with stalls showcased

throughout the building you need to mark this

date in your calendar. We do have alimited

amount of stalls left so if you wish to be part of

this event email casey@ateventcentre.co.nz

EntryisaGold Coin Donation

Cabarnet

Fri 6th &Sat 7th December 7:30pm

Full Bodied. Well Rounded and that is just the

lads. Afun filled night to raise funds for Variety

Theatre Ashburton featuring the talented Tainui

Kuru, Chris Woods, Heath Walters, Tony Kelly,

Daniel Wilson and Luke Glendining perform

songs from the Bee Gees, Coldplay, Queen

and many, many more.

Theatre Seating $30*

03 307 2010 211A Wills Street, Ashburton 7700 admin@ateventcentre.co.nz *Service fees apply

16,065 COPIES EVERYWEEK

2207848

2172834

The Atarmies

SaturdayNovember 16th, 7.30pm –11.30 pm

The Atarmies featuring Andy Page

TheAtarmies areafour piececovers band from Chch who have played

together forthirteen years.

Playing an eclectic and wide rangeofgenres and featuring hits from

TomPetty,The Rolling Stones,Green Day, BobSegar,NeilYoung andThe

Who, to name but afew.Come along foragreat nightofentertainment.

AshburtonClub &MSA

266Havelock2

St,Ashburton.

Phone308P

7149

www.ashburtonclub.co.nzw

1968744

SITUATIONS VACANT

Areyou interested in joining our innovative

Family WorksteamatPresbyterian Support?

DEVON Tavern, it's your

local! Book your Chistmas

functions with us now. Garden

Bar &Function Room

available. 116 Victoria

Street, Ashburton. Phone

03 308 7129.

Registered Child and Family Psychologist

(Parttime20 or by negotiable Full time32hrs per week)

We have an exciting new role for aPsychologist (or Intern) inour Ashburton

Family Works Team, based at the Trevor Wilson Centre. The role will deliver

community and home-based support tofamilies and children facing complex

challenges. The focus is to provide positive strategies and practical support

and for parents, children and youth who will benefit from indepth assessment

and strength based intervention to improve their well-being and contribute to

long term positive outcomes. This work will often require collaborative and/

or partnered responses either within our Family Works team or with external

agenciesinorder to facilitate goodoutcomes withour clients.

We wish to appoint acaring and compassionate team member who holds

arelevant professional qualification and registration; or is working towards.

However, students in their final year of study inChild and Family Psychology

would be considered; initially on afixed term contract, which may then be

extended.

MANA AKE KAIMAHI Child &Family Worker

(Full time 40 hrs perweek–Fixed term until June 2021)

Presbyterian Support is seeking an enthusiastic, energetic and motivated

Kaimahi to join oursupportivemultidisciplinaryFamily Worksteamat theTrevor

Wilson Centre.TheManaAke –Stronger forTomorrowinitiativeaimstoworkwith

and throughschoolcommunitiestosupport families and whānauwith children

from year's five totwelve, who are experiencing ongoing challenges that are

impacting on their resilience and wellbeing.This role will require collaborative

and/or partnered responses either from within the wider Mana Aketeam or with

otherlocalagencies; including our ownFamily Worksteam.

Ideally your application will evidencetraining and professional developmentin

the areas of supporting parenting, child development and/or mental wellness

and resilience. Youwill need adrivers licence.

Job descriptions and application forms are available by phoning reception

on 03 2616907, or e-mail Suz Hutchinson, Services Manager susanh@

psusi.org.nz; confidential enquiries welcome. Toapply you must fill out an

application form. These documents are also available from our website at

www.familyworksuppersouth.org.nz

Applications close on the 18th November 2019, at5pm. Your application

form, coverletter andCV mustbeemailed to susanh@psusi.org.nz

Here's agreat opportunitytojoin

the progressiveteam at Advance

Ashburtonand to help makea

differencetoour community.

We arelooking foraconfidentand proactiveperson thatcan

offer administration supporttoour Grants and Communications

Committees and to our ExecutiveOfficer.

Hours are15-20 per week with flexible days/times

and avaried workload.

If youhaveexcellentcommunication, organisational and time

managementskills,havestrong attention to detail,are ateam player,

and have good computer skills,then we arelooking foryou.

If this sounds like you, please email your cv with covering letter to

info@advanceashburton.org.nz or post to

AdvanceAshburtonCommunityFoundation,

POBox 310, Ashburton7740, Attn: Sandi Wood.

Applications close 29th November 2019.

Formoreinformation on the Foundation please visit

www.advanceashburton.org.nz

or search AdvanceAshburtononFacebook

2227601

080916

PETS

MODEL dogs required

November 18-29 for

grooming training with

master groomer. Please

contact Karen on 027 220

4094 or email

karen.king@jimsdogwash.co.nz

HIRE

SCISSORLIFTS for hire.

4WD and slab lifts available

for daily or weekly hire.

Pickup or delivery. Phone

North End Engineering 308

8155 for abooking.

WHAT better place for a

public notice than Ashburton's

The Courier! Simply

clip the form for a run-on

advert like this or telephone

us on 308 7664 if you

require adisplay advertisement.

2226954

2227529
---
Page 46, Ashburton's The Courier, Thursday 14 November 2019

SITUATIONS VACANT

HealthcareAssistant

•Make adifferencetothe livesofthe people of Ashburton

•Full-time (parttime would be considered)

This is agreat opportunity for apeople-person to thrive inapatient

facingrole.

Eastfield Health is aGeneral Practicethatisshifting into anew purpose

designed facilityinthe centre of Ashburton. Anewly createdrole,the

Healthcare Assistant will be essential to the smooth running of the

practicebyassistingour nurses and doctors in theirday-to-dayclinical

tasks.

We want to hear from people who have excellent interpersonal

skills. Youwill be agood listener and take the time to understand

our patients. You will have excellent organisational skills and enjoy

working in afast-pacedenvironment.

Teamwork is essential as the HealthcareAssistantwill need to convey

importantinformation to colleagues.

Applicants maybefromahealth background,but this is not essential

–this would be agreat opportunity to enter the rewarding field of

primaryhealth.

ForaPosition Description PleasephoneoremailTonyDann:

022 0232955

tony.dann@eastfieldhealth.co.nz

To apply please forwardyour CV and coverletter statingwhy you

believe youwould enjoybeing aHealthcareAssistantat Eastfield

Health, toTony Dann at the above email address. Applications

close on November 26th.

DELIVERYPEOPLE

wanted

to deliver the AshburtonCourier and Realty

everyThursdaydelivering the Ashburton

Courier and Realtyinthe Tinwald (Buckleys

Terrace/Melcombe Street) area.

Phone Leonie on

308 7664 or email

leonie.marsden@ashburtoncourier.co.nz

2227154

2172548

MEETINGS

MT SOMERS RFC

AGM

Wednesday20th

November 2019

in the Clubrooms

@7pm

Anyinquiries and

apologies to CStanley

027 497 5868

All welcome.

2225685

MidCanterbury

Trotting Owners'

Association

AGM

To be held in the

TeaKiosk,

AshburtonRaceway

at 7.30pm on

Wednesday,

November 20, 2019

Agenda:

•President'sReport

•Financial Report

•Presentation of Awards

•General Business

•GuestSpeaker

Members and

supporters welcome.

G. Henderson

2227957

WAKANUI HALL SOCIETY

AGM

At WakanuiHall

25th November

7.30pm

Allwelcome

Southern

RugbyClub

AGM

Wednesday

20 November 2019

Hinds Clubrooms

starting at 7:30pm

Allwelcome

Anyenquiries to

Phil Cushnie

027 439 9555

2228482

AWA-AWARATA

RESERVE SOCIETY(Inc)

AGM2019

Thursday28Nov,11am

at the

Rhododendron Reserve

McLennans Bush Rd,

Mt Hu

(meengheld wetorfine)

Please bring your

picnic lunch

Jane Helmore

(Hon. Secretary)

Grey PowerAshburton

Christmas Party

Monday, 18th November

2pm

at the Seniors Centre

Financial members

welcome.

Please bring along a

non perishable item

forthe food bank.

2212732

2220638

2227547

MAYFIELD Scout Group

Annual General Meeting,

Wednesday 20th November

2019 at 7.30pm, Mayfield

Scout Den. We need

your support. Families and

community all welcome.

HOME SERVICES

ROOF COATINGS: All roof

types, specializing in

Decramastic and Long Run

Iron, Coloursteel etc, steep

roofs not a problem. —

Spraymaster 027-433-7780.

PHOTOGRAPHS

FOR SALE

FOR LEASE

RENT ME!

Ideal as an extra

bedroomoroffice.

Fully insulatedand

double glazed forwarmth.

Threeconvenientsizes:

Standard3.6m x2.4m,

Large 4.2m x2.4m

Xtra-large 4.8m x2.4m.

Visit our displaycabin

418WestStreet or call fora

free brochure.

www.justcabins.co.nz

2186028

Have youhad your photo

taken by our reporters?

Order aPhotoToday!

¼Page*

$5

*approx 6x4

A5

$7.50

A4

$15

Ph: 308 7664

199 Burnett St, Ashburton

0800 58 78 22

TRADE &SERVICES

2172890

SECURE waterproof storage

available. Capacity from

8m 3 to 65m 3 . Prices from

$25 per week. Inspection

invited. Ashburton Safe

Storage 03 308 3086.

STORAGE available, Ashburton.

Self storage, variety

of sizes. Phone Rainbow

Storage 03 307 0401.

STORAGE: Secure self storage

units available long or

short term at Ashburton

Storage Facilities. Contact

us on 0274 36 26 36 or

www.ashburtonstoragefacilities.co.nz

ALTERATIONS, mending

and trouser hemming, curtain

alterations and curtain

making. Call Michelle on

027 352 7248.

BUILDING and property

solutions. For your complete

alteration or renovation.

We project manage

the whole process. Home

and small commercial.

Qualified tradesmen.

Phone Kiwi Building &

Maintenance Ltd. Gary 308

4798, 027 207 1478 or

Cawte 027 418 7955.

CARPET cleaning -Powerful

equipment & fast drying.

Upholstery, mats and rugs.

Experienced owner/operator.

Phone John Cameron

at Supersucker, 027 435

1042 or 308 1677.

CARR'S Chimney Cleaning,

servicing Ashburton and

surrounding districts, $60

per chimney. Phone

Rodney on 03 324 2999

and leave amessage.

CHARLIE'S Blind Cleaning

Service -same day service

and repairs. Charlie can

supply new blinds and

tracks, will hang drapes.

Phone 03 307 1936 or 020

4169 0342.

InsuranceWork

Local news at www.starnews.co.nz

Specialising in

PANEL BEATING

SPRAY PAINTING&

of

Cars,Trucks,Buses,HorseFloats&Motorhomes,

Caravans,Trailers,Farm Machinery, Jet Boats,

LightEngineering and Aluminium Welding

17 Range Street (Industrial Estate)

Ashburton

Phone 307 0378 l 0274 274 007

Email: busandtruckbodywork@xtra.co.nz

FORALL YOUR

•LawnMowing

•Pruning

•Garden Maintenance

•Gutter Cleaning

•Rubbish Removal

Call us TODAY

foraFREE quote

2223657

Ph 08004546 546

(0800 4jimjim)

COMPUTER problems? For

prompt reliable computer

servicing and laser engraving

contact Kelvin, KJB

Systems Ltd, 4 Ascot

Place, Ashburton. Phone

308 8989. SuperGold discount

card accepted.

TRADE &SERVICES

COMPUTER repairs, sales,

training, setup -wireless -

networks, spyware cleanup.

On-site day or evening.

LOW FEES. Call Robin

Johnstone, Networks

Firewalls & PC's Ltd, 308

1440 or 027 768 4058.

CONCRETE pavers direct to

you - Best prices, many

sizes, textures and colours

- Paveco, 13 Robinson

Street, Industrial Estate.

CONCRETE Services -

Driveways, paths, patios,

mowing edging. Decorative

Concrete specialist 30

years servicing Canterbury.

Free quotes. No job too big

or small. Phone Paul 021

152 1966.

DENTURES; Dr Peter

Rumping repairs existing

dentures and also provides

new dentures. Phone 027

220 9997.

★★★

ELECTRICIAN: Alterations,

additions, sheds, garages, extra

plugs, lights etc; small and

medium jobs aspecialty; experienced

qualified professional;

reasonable rates. — Call Simon

021-576-044.

ENGRAVERS - Local Ashburton

business for all your

engraving and new trophy

requirements. Fast, friendly

and professional service.

Call/text Trudy at 311

Engravers, 022 600 7144,

Facebook.

FLY control and spider

proofing. For all domestic

and industrial pest control

needs phone AJ Kerr at

Ashburton Pest Control on

03 308 8147 or 027 432

5447.

FURNITURE removals -For

all your household removal

needs call Nudges Furniture

Removals, phone 027

224 0609.

LEGAL work -Phone Peter

Ragg (Ashburton Law) for

house sales, purchases

and refinances. Will call at

home evenings for wills,

enduring powers of

attorney. Phone 308 0327.

HYDRAULICS; Martin

Bennett -Onsite hydraulic

hose repair service 24/7.

Stockists of Aero Quip

hoses &fittings, Commercial

hydraulics, Dynacool,

Spool valves etc., MP Filtri,

Walvoil. Call Justin on 308

9778.

LIFESTYLE farmers need

your sheep shorn for the

summer? Pets and small

mobs. Prompt service.

Phone Jarrod 027 259

4644.

2224011

INTERIOR

PLASTERING

New or existing,

level 4finish, full skim

plaster or repairs

The Finishing Company

03 307 8870 2131559

PAINTER for all your painting

needs. No job too small,

inside or outside. Professional

friendly service.

Phone Pete 03 308 1672 or

027 200 1619.

PAINTING wallpapering,

plastering - No job too

small. Interior, exterior.

Professional, prompt, competitive

service. Phone

Tony Sivier at Paint It Ashburton

on 021 878 794 or

307 7289.

PLUMBER: Repair or

replace. Taps, shower

mixers, hot water cylinders,

basins, tubs, toilets, vanity

units, leaking pipes. Call

Pete Young, experienced

plumber 027 280 0889 /

307 7582.

PLUMBING, drainlaying,

blocked drains. Phone

Lindsay at Doaky's Plumbing

on 027 555 5575 or 308

1248 (Master Plumbers &

Drainlayers).

ROOF Painting - Spring

special - Free quote -

Phone Chris on 0800 677

246 - Registered Master

Painters.

SEWING alterations - anything

considered, reasonable

rates. Smoke and pet

free home. Retired wedding

seamstress. Phone Judith

308 3084, Allenton.

SPIDER and fly treatment.

Weed spraying and lawn

treatment. Plus insects.

Call Allan from AA Performance

Services on 027 209

5026. I'll take care of them.

ROOF COATINGS All roof

types, specialising in

Decramastic and Long Run

Iron, Coloursteel etc, steep

roofs not aproblem. Member

Master Painters &

Roofing Association NZ

Spraymaster 0274337780

SUN Control Window Tinting:

Privacy, UV, glare, heat

control for homes -offices -

and cars. Phone Craig

Rogers 307 6347, member

of Master Tinters NZ.

TILING - For all your tiling

requirements including kitchen

splash backs, flooring

etc. (full water proofing),

call Kevin on 027 496 8314.

TINT-A-WINDOW, fade, UV

block, glare, heat control,

safety, security, privacy,

frosting films, solar protective

window films. Free

quotes, 20 years local service.

Phone 0800 368 468

now, Bill Breukelaar,

www.tintawindow.co.nz

WINDSCREENS and house

glass. Qualified flat glass

glazier now in-house. Anything

glass, give us acall.

Your place or ours. Wilson

Windscreens, 152 Wills

Street, Ashburton. Phone

03 308 8485.

TV Reception Specialists for

all your digital freeview

installations and repairs,

TV wall mounting, Smart

TV set-up, home theatre

installation. Call John at

Ashburton TV &Audio Ltd

03 308 7332 or 027 277

1062.
---
Local news at www.starnews.co.nz Ashburton's The Courier, Thursday 14 November 2019, Page 47

HEALTH &BEAUTY

URGENT CARE CLINIC

WEEKEND DUTYDOCTORS

IN THE EVENT OF AN EMERGENCYPHONE 111

Forall othermedical assistanceoutside of normal

hours pleasephoneyourgeneralpracticeteam, 24/7,

to speak withahealth professional whowill giveyou

free healthadvice on whattodoorwheretogoifyou

need urgentcare.

If youdon't have aregulargeneral practice, call any

GP team 24/7 forfreetelephone health advice.

All non-residents and visa holders please bring your

passporttoyour surgeryappointment.

New Zealanders'tobring some form of ID.

TheAshburtonDutyPracticefor

CanterburyAnniversay, Friday15th November is

AshburtonHealth First,308 Havelock Street.

Consultations will be by appointmentonly.

To make an appointmentplease phone 308 1956.

Saturday16th November is MooreStreetMedical

Centre,MooreStreet.

Consultations will be by appointmentonly.

To make an appointmentplease phone 308 3066.

Sunday17th November is ThreeRivers Health,

7-11 Allens Road.

Consultations will be by appointmentonly.

To make an appointmentplease phone 308 9139.

Methven and Rakaia: Formedical attention on the

weekend and public holidays please telephone

MethvenMedical Centre on 03 302 8105

or Rakaia Medical Centre on 03 303 5002.

PHARMACIES

Wises Pharmacy, CountdownComplex,

East Street will be open on

Saturdaymorning from 9.00am until 1.00pm

Sundaymorning from 10.00am until1.00pm

and from 5.00pm until 7.00pm evenings.

At Geraldine: TheGeraldine Pharmacywill be open

normal trading hours during the week and on Saturday

morning from 9.30am to 12.30pm.

Closed Public Holidays

Forfree24hour Telephone Health Advice

Phone the healthline on 0800 611 116

Broughttoyouby

CountdownComplex,EastStreet,Ashburton

Phone: 03 308 6733 Fax: 03 308 6755

FLOAT away at Soul Pods.

Give the gift of relaxation to

yourself and to your loved

one this Christmas. Gift

vouchers available. Phone

021 128 1095.

EDUCATIONAL

PERSONAL

ARE YOU 50-PLUS and

looking for alifestyle change?

—Privatearrangements.co.nz

Forkliftand Dangerous GoodsCourses

NZTA Approved CourseProvider,MITO&Competenz Assessor

Classes 2&4,endorsements F&DG

ForkliftF&OSH, Saturdays and other days as requested

Dangerous Goods Course,½day Mondaymornings

CommunityHouse or your worksite

Forfurther information

Phone Christine027 245 2563

DRIVETECH LTD

"TRAININGTOMORROW'S DRIVERS TODAY"

FORKLIFT ENDORSEMENT

(F &OSH)

•FORKLIFT (ATTACHMENTS) U/STD

•FORKLIFT MOUNTED SAFETY

PLATFORM U/STD

NEED ALICENCE?

Heavy Traffic Classes 2, 3, 4&5

LICENCE ENDORSEMENTS

For Wheels, Tracks &Rollers,Dangerous Goods,

Vehicle Recovery & Passenger Training

FREEPHONE0508237 483

or 03 348 8481, 027 510 0684

info@drivetech.co.nz |www.drivetech.co.nz

2217880

2204413

Sue Cahill

Call in atalk to the people who know

...

SUE'S PICK

O F T H E W E E K

Blacklows TradeZone Ashburton your locally

owned &operated family business for 66 years

Full range of engineering supplies and accessories forall your repairs

&maintenance. Kerrick hot &cold waterblasters &industrial vacuum cleaners.

Esseti welders &accessories. Stockists and distributors of Trailer Equipment.

ASHBURTON

South Street, Ashburton PHONE (03) 308-3147

Email office@blacklows.co.nz FREEPHONE 0800 452 522

RAFFLE RESULTS

MID Canterbury Women's

Institute results of A&P

Show raffle. 1st: Mrs Wilson;

2nd: Lois Eaton; 3rd: L

McBain; 4th: Nancy

Christey; 5th: K Sunckel;

6th: Kirsta Pagel; 7th:

Joyce Giller. All prize winners

notified.

AUTOMOTIVE SERVICES

PANELBEATING and spray

painting of cars, trucks,

buses, horse floats &

motorhomes, caravans,

trailers, farm machinery, jet

boats. Light engineering

and aluminium welding.

Bus &Truck Bodyworks, 17

Range Street, Ashburton.

Phone 307 0378.

TRAVEL

WHITE Herons, December

6-8; enjoy scenic South

Westland, D.B.B. Hari Hari

Hotel, visit Okarito, Franz

Josef. Call now for details.

John & Kathleen Lawler,

Rakaia 03 302 7328.

2209052

HospiceMid Canterbury

Dealing

with alife

limiting

illness?

MID CANTERBURY

Realty

HONDAPOWERED

WATERBLASTER

2700psi. 11.3 litre.

6.5HpHonda engine.

BAR2565C-H

$1550+GST

Allservices

arefree

We can help with:

•Sitting and companionship

•Counselling and bereavement

support

•Biographywriting

•Massage,reikiand reflexology

Phone 307 8387 or 027 227 8387

email manager@hospicemc.nz www.hospicemc.nz

CARS WANTED

CARS

CARS

WANTED!

WANTED!

PUBLIC NOTICE

DEADOR

ALIVE!

getcashnow!

getcash now!

Damaged, Mechanical, Deregistered,

Crashed, NoWOF – NO PROBLEM

Minimum of $100for most cars,

$500 formost vans, utes, trucks,4WDs*

*Conditionsapply.

Call 0800 225508 or text 027540 9813

Look out for

your copy

every week!

2172784

Lightup

alife

Service

You, your family and

friends arewarmly

invited to remember

your lovedonesata

memorial service

in the

Ashburton

Hospital Chapel

2pmTuesday

19 November

Afternoon teawill be

servedinthe

HospitalCafeteria

at the conclusion

of the service.

AshburtonHospital

PalliativeCareTeam

and the Cancer Society

2228627

ASHBURTON Society of

Arts - Spring into Xmas

Exhibition, Short Street

Studio. Guest: Vicki

Knudsen. Sat, Sun. 11am -

4pm, Mon, Wed. when sign

out. Enquiries 308 4533,

027 313 5178.

DINING - Got a special

occasion coming up? Let

the Hotel Ashburton take

care of you. Phone 03 307

8887 and talk to our experienced

team.

.

Ph 3084432

Thur 14th

Kindly sponsored by

10.00 Last Christmas

10.00 Ford Vs Ferrari

11.50 Ride Like aGirl

12.40 Ocean to Sky

1.40 Charlies Angels

2.30 Judy

3.30

4.30

5.40

6.10

8.00

8.20

TerminatorDarkFate

Ride Like aGirl

Doctor Sleep

Last Christmas

Ford Vs Ferrari

Charlies Angels

Fri15th, Sat16th

&Sun 17th

10.00 Ocean to Sky

11.00 Ride Like aGirl

11.55 Judy

12.45 Ford Vs Ferrari

2.00 Charlies Angels

3.20 TerminatorDarkFate

3.50 Jojo Rabbit

5.40 Doctor Sleep

5.50 Last Christmas

7.50 Ford Vs Ferrari

8.20 Charlies Angels

M

M

PG

GMM

R13

PG

R16

M

M

M

10.00 Abominable

10.00 Maleficent2

G

PG

11.45 Dora and the Lost City of Gold PG

12.00 Ocean to Sky G

1.35 Ride Like aGirl PG

1.50 TerminatorDarkFate R13

3.30

4.10

5.30

6.10

8.00

8.15

Charlies Angels

Jojo Rabbit

Doctor Sleep

Last Christmas

Ford Vs Ferrari

Charlies Angels

M

M

R16

M

M

M

Mon18th, Tues 19th

&Wed 20th

NO COMPS

Charlies Angels,

Doctor Sleep,

Ford Vs Ferrari

MOUNT POTTS

LODGE CAFE,

BAR AND

RESTAURANT

Ready foranew home

2x11month old black semi friendly

barncats. Fixedand vaccinated

Food donations kindlyaccepted.

Please note: We will not accept

animals dropped at door.

Please phone 308 4432

Tues -Sat 9:30 -noon or 027 332 9286

AshburtonBorough School

OSCAR PROGRAMME

Bookings areopen forthe next

School HolidayProgramme

19 &20December 2019 &

6to31January2020

Forthe plan and bookings go to:

https://ashborough.aimyplus.com

G

PG

MMM

R13

M

R16

M

M

M

Give the weekend a warm

welcome and dine on the

finest the season has to offer

in the heart of Ashburton

lakes, ashort journey from

Lake Clearwater. Breakfast,

Lunch and Dinner is

served from 8.00-20.00.

Ph 03-303-9060

SPACE available for next

weeks Courier -bequick!

Talk to us about your advertising

requirements. Phone

308 7664 or call into our

office at 199 Burnett Street,

Ashburton.

MID-CANTERBURY 2226985

80216

2225002
---
Page 48, Ashburton's The Courier, Thursday 14 November 2019

Local news at www.starnews.co.nz

USED VEHICLES

Finance

2006 NISSAN BLUEBIRD 2007 TOYOTA AURIS

2000 cc, ABS, roomy,

only 12,000kms,

auto, large family car

1800cc, red, 2air bags,

ABS, 56,000km, GPS (NZ),

reversing camera

2011 HYUNDAI i45

6speed,10air

bags,2000cc

$12,000 $9,995

Quality vehicles at affordable prices

Warranties AA Appraised

Finance

BiggestYard

Best Selection TradeIns

2010 NISSAN NOTE

Twin air bags,

ABS, 1500cc, easy

access,auto,

31,345kms

2011 KIA CERATO

NZ new,ABS, 4air bags,