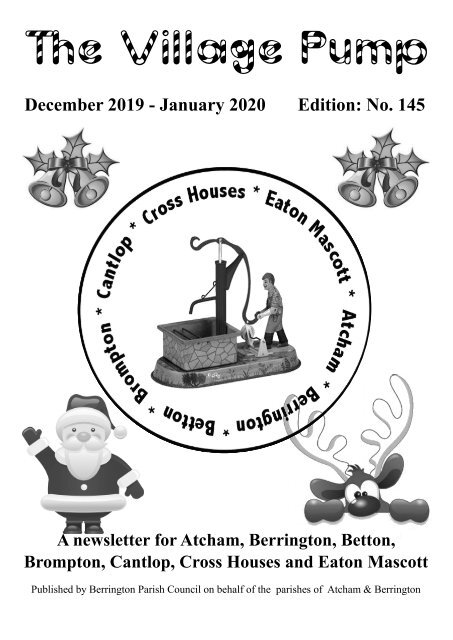 Berrington Village Pump Edition 145 Dec 2019 - Jan 2020
Village Magazine for Atcham, Berrington, Betton, Brompton, Cantlop, Cross Houses and Eaton Mascott
Village Magazine for Atcham, Berrington, Betton, Brompton, Cantlop, Cross Houses and Eaton Mascott

SHOW MORE
SHOW LESS
You also want an ePaper? Increase the reach of your titles
YUMPU automatically turns print PDFs into web optimized ePapers that Google loves.
The Village Pump

December 2019 - January 2020

Edition: No. 145

A newsletter for Atcham, Berrington, Betton,

Brompton, Cantlop, Cross Houses and Eaton Mascott

Published by Berrington Parish Council on behalf of the parishes of Atcham & Berrington
---
PARISH COUNCIL INFORMATION

Berrington Parish Council

Berrington Parish Council meets at 7pm on the 1st Thursday of every month (except

August and sometimes December) at the Chapel Community Centre.

Berrington Parish Council consists of nine elected or co-opted Parish Councillors:

Claire Wild (Chair); Richard Purslow (Vice-Chair); Claire Bonsey; Eric Brayne; Julia Brayne; Geoff

Jones; Sue Mason; Lezley Picton and Sue Shedden. More detailed information can be found on

our website www.berringtonpc.org.uk Why not come along to one of our meetings. Guests are

always welcome. If there is a local issue that concerns you then feel free to ask one of the

Councillors for help in representing you in this matter.

Berrington Parish Council Website www.berringtonparishcouncil.org.uk

Berrington Parish Clerk

Mrs Lorna Pardoe,

Home, Back Lane, Longnor, Nr Shrewsbury SY5 7PP

Tel: 07379 213308 mail: berringtonpc@gmail.com

Atcham Parish Council

Atcham Parish Council meet bi-monthly (Jan, Mar, May, July, Sep & Nov) on a Wednesday

evening at the Malthouse, Atcham at 7.30pm.

Atcham Parish Council consists of seven elected or co-opted Parish Councillors: Colin Wildblood

(Chairman), Colin Morris (Vice-Chairman), Jayne Caswell, Alastair Home-Roberts, Sue Shedden

and Rob Trow. Parish Councillors can be contacted as follows:

Jayne Caswell - jmjcaswell@gmail.com

Colin Morris - colinmorris113@googlemail.com

Colin Wildblood - c.j.wildblood@btinternet.com

Alastair Home-Roberts - home.farming@btconnect.com

Sue Shedden - sueshedden52@gmail.com

Atcham Parish Council Website www.atchamparishcouncil.org.uk

IMPORTANT

Atcham Parish Clerk

Mrs Lorna Pardoe,

Home, Back Lane, Longnor, Nr Shrewsbury SY5 7PP

Tel: 07379 213308 email: atchampc@gmail.com

Deadline for the FEBRUARY - MARCH 2020 issue is

Friday 17th January 2020

2
---
News from your Shropshire Councillor

Claire Wild

MyShropshire

MyShropshire is a new online account that gives you quick and easy access to a range of

online services offered by Shropshire Council.

This account is tied into Shropshire Council's CRM (Customer Relationship Management) system, which

allows you to keep track of all the things you've reported to them, and makes it easier for you to interact

with an ever-increasing range of services - whenever or wherever you wish to use them. Shropshire Council

are adding new functions and content to this regularly to make MyShropshire even better, so check back and

let me know what you think!

What can I do on MyShropshire?

Currently, you can access the following services:

Make a comment, compliment or complaint * Report a pothole * Report a streetlight or illuminated sign

issue * Report a spillage * Report an issue with a barrier or bollard * Report an issue with a manhole cover or

drainage grid * Report an issue with road markings * Report an issue with a sign

Report an issue with kerbs or studs (cats eyes) * Report flooding * Report an issue with traffic lights * Report

an issue with an electronic sign * Report an issue with a bridge, cattle grid or retaining wall * Salting and

snow clearance. As time goes by more services will be added.

Why have an online account?

The MyShropshire account will give you access to a wide range of services at any time of the day. This gives

you the freedom to report, request or pay for something when you have free time, rather than having to find

the time to ring or visit the Council during normal working hours.

It's important to note that an online transaction also costs much less than a phone call or visit in person, with

costs in the pence rather than pounds. The money saved can then be used for other services the Council

offers, such as adult social care or Children's Services. Every time you use MyShropshire you are helping the

Council continue to provide quality services for the residents of Shropshire.

Thank You's

Thanks to everyone who make our communities vibrant and caring. For those who pick up litter, arrange

parties, run youth clubs, deliver Village Pumps and much, much, more a massive thank you to you all.

Best wishes for the festive season and all good wishes for the New Year,

Claire

t:: 01743 255 884 m: 07582 002 100 E-mail: claire.wild@shropshire.gov.uk

POLICE CONTACT INFORMATION

Our Local Police Team: Tel: 0300 333 3000 ext. 69008. There is also a team e-mail address:

shrewsburyre.snt@westmercia.pnn.police.uk

Website: www.westmerciapolice.uk Facebook/Twitter @ShrewsburyCops

You can always contact Crime Stoppers on 0800 555 111 if you wish to remain anonymous.

3
---
The people that put your care ahead of everything else, always.

SLR Care is the company that

puts care ahead of everything

else. We are always looking for

new ways to help our clients. It

is this that sets us apart from

any other care company. We

constantly strive to make a

difference to everyone who

uses our services.

We are unique in that we constantly aim to

ensure 95% of all calls are made by the same

three carers, ensuring continuity and the

chance to build trust confidence and

routine.

We would love to talk to you about your

requirements and how we could deliver

them for you. Please feel free to call at

any time to chat through what we could

do for you.

We understand the difficulties

associated with maintaining

independence and ensuring your

safety and happiness.

We will do all we can to make sure

every day is a special day for you, even

if it is just to leave you smiling.

Contact Us:

Confluence Cottage

Atcham,

Shrewsbury

SY5 6QJ

Tel: 01743 626116

Email: office@slrcare.co.uk

www.slrcare.co.uk

4
---
CLUB DATES - WEDNESDAYS

@ Cross Houses

4th & 18th Dec &

8th & 22nd Jan

Our youth club caters for young people aged 9 - 14. Every

other Wednesday evening, 6.30pm - 8.00pm at the Chapel

Community Centre, The Chestnuts, Cross Houses SY5 6JH.

The Youth Club is open to young people from all the

surrounding parishes and is run by a fully trained Youth

Worker from Shropshire Youth Association along with (fully

checked and trained) volunteers. The cost per child, per week is £1. This money will go towards

paying for the cost of trips that will be run throughout the year. Please note parent/guardian

permission will be required.

YOUTH CLUB CHRISTMAS PARTY

Our Youth Club Christmas Party will be held on

Wednesday 18th December at the usual time. Please

note this party is for Youth Club Members only as there

is a community Christmas Party for the children on

Saturday 14th December.

For more information regarding the Youth Club please contact

Richard Parkes on 01743 730005 or by email richard@sya.org.uk

Shropshire Youth Association is a Safer Recruitment Organisation

THE BELL PUBLIC HOUSE CROSS HOUSES

PENSIONERS LUNCHEON CLUB

WEDNESDAYS 11th DEC & 8th JAN

Please telephone 01743 761264 to book your place and

select your meal choice.

5
---
Please call now to

• Windows Cleaned

• Gutters Emptied and Cleaned

• Fascia Cleaning

• Lawns Mowed

• General Maintenance and Repairs

book in or for a free quote.

Handyman Home Services

t: 07800 537789 (Condover) e: andybithell@yahoo.co.uk

www.handymanhomeservices.co.uk

Window Cleaning Rates from:

Small House / Bungalow £7.50

Medium House/Bungalow £10.00

Large House / Bungalow £12.50

Why not try?

Severndale Nurseries

For a good selection of

*Quality bedding plants* *Pot Plants*

*Perennials* *Shrubs*

Personal Service

Weekdays 9am - 6pm

Sundays 10am - 5pm

Cross Houses 761212

If Peter Piper can pick a peck

of pickled peppers,

then you can

pick up a poo.

Please!

Netley Boarding Kennels

& Cattery

Thank

you

New fully heated and insulated kennels now open

Full inspection and bookings

Phone Den or Barb on 01743 718264 / 07803 240207

Collection and delivery service available

Enquire for discounts

Opening Times

Monday to Friday 9am-10am and 4pm-5pm

Sat & Sun 9am-10am only

CROSS HOUSES

COMMUNITY CENTRE

The Chestnuts, Cross Houses SY5 6JH

Tuesdays, 9.30am

Contact Vicky on:

07758 987345

Come and join us, a very warm

welcome awaits

6
---
FOR THE LOVE OF ANIMALS

Dog walking and

pet services

Tel: 07805 727 697

References available upon request

DJ'S Building Services

. Extensions . Brickwork

. Plastering . Kitchen Fitting

. Carpentry . Bathroom Suites

. Electrical Professional & Reliable

For a FREE QUOTE CALL

Dave on 01743 709 362

07828 148 593

ATCHAM

FLOWER

CLUB

The Malthouse, Atcham, Shrewsbury, SY5 6QE

Wednesday 11th

December, 7.30pm

Lorena Dyer (Coventry)

"A Christmas Wish"

Wednesday 15th January,

7.30pm

Jackie Jones (Welshpool)

"Victoriana"

New Members and Guests very welcome. For further information please contact Mrs Lewis on 01743 860342

Atcham & Cross Houses

Mobile Library

Will be in

CROSS HOUSES

Every other Friday morning by the phone box

10.15am - 10.40am

6th & 20th December,

3rd, 17th & 31st January

Will be in

ATCHAM

Every other Friday afternoon by "The Glebe"

1.30pm - 1.55pm

6th & 20th December,

3rd, 17th & 31st January

Copies of the agendas and full minutes for both Atcham and Berrington Parish

Councils can be found on the Parish Council Websites:

www.atchamparishcouncil.org.uk OR www.berringtonparishcouncil.org.uk

Planning Applications can be found by visiting the links below:

https://www.atchamparishcouncil.org.uk/community/atcham-parish-council-15085/planning-tracker/

http://www.berringtonparishcouncil.org.uk/community/berrington-parish-council-12525/planningtracker/

7
---
SHROPSHIRE FAMILY HISTORY SOCIETY

Tuesday 17th December 2019, 7.15pm

Guest Speaker

Ray Farlow

"Shropshire

Events and

Celebrations"

Tuesday 21st January 2020, 7.15pm

There will be a short

A.G.M. before a talk by

Advolly Richmond

"The March of

Archery"

An amusing look at

archery as an elite

pastime 1780-1900

Chapel Community Centre, Cross Houses, Shrewsbury SY5 6JH

Why not visit our website www.sfhs.org.uk

8
---
TWO COURSE

SPECIAL

12 - 3pm MON - SAT

£6.95

CROSS HOUSES

To book a table or for more information please call 01743 761264

P PPP P P P P CHOOSE FROM P P P P P P P

5oz GAMMON, EGG & CHIPS (GF)

WHOLETAIL BREADED SCAMPI,

CHIPS & GARDEN PEAS

CHILLI CON CARNE WITH RICE OR

CHIPS (GF)

SAUSAGES, FREE RANGE EGG,

CHIPS & PEAS

SWEET & SOUR VEGETABLES (V)

(GF) With rice or chips

BREADED PLAICE

Served with chips and peas

MIXED VEGETABLE CURRY (V) (GF)

With rice or chips

CHICKEN & VEGETABLE CURRY

(GF) Served with rice or chips

SWEET AND SOUR CHICKEN (GF)

Served with rice or chips

BRAISED BEEF & MUSHROOMS

With rice or mashed potato

1/4 LB ABERDEEN ANGUS CHEESE

BURGER

Served with chips

MINI BATTERED COD & CHIPS

ALL DAY BRUNCH

Sausage, bacon, egg, chips and baked

beans

FOLLOWED BY ANY SWEET FROM THE "TODAY" BOARD

The Bell Inn, an 18th century traditional country Inn, 4 miles south of Shrewsbury

town centre on the A458 Bridgnorth road. Offering local, seasonal freshly prepared

food, Bed & Breakfast - all ensuite rooms & of course a very warm welcome.

9
---
10
---
EARLSDALE GARDEN SERVICES

Professional Reliable Local Service

Tree Work / Hedge Work

* Lopping * Pruning * Tall Trees Reduced / Felled * Hedges shaped and reduced

Garden Work

Fencing erected/repaired * Slabbing * Paving/Paths * Shed Bases * Patios *

Patio Cleaning * Gravelling * Turfing * Stone Walls * Garden Walls * Garden

Clearance / Make over * Registered Waste Carrier * Decking * Storm Damage

Repairs

All Work Fully Insured

Shropshire, Mid Wales and surrounding areas covered

• Advertise in Yell / Thompson Local * References

For a free quotation Tel: 01743 792924

or 07702 373856 / 07772 294633

Hardwood

LOGS

TWO LOAD SIZES AVAILABLE

*NO DELIVERY CHARGE*

Lengths cut to suit your needs

m: 07860 419025

t: 01694 731621 (after 7pm)

11
---
COUND & DISTRICT

CRAFTERS

Meetings are held on

the first Monday of

each month at

Cound Guildhall

10am - 12 noon. £5

per session, different crafts each

meeting.

Everyone is most welcome - new

ideas can be incorporated and tried

so please come along and join us.

Please contact Sue on 01743 761355

or email sueshedden52@gmail.com

for more information.

Cross Houses

Knit and Natter

Nutter's

We are a small group of very friendly ladies who

meet on the third Monday of the month, 10am -

12 noon at the Community Room, Noel Hill Road

for a chat and to make items for charity events

which we run twice a year for local causes -

everyone is welcome and you don't have to

worry about ability - we are all different and

learn from each other whilst having a laugh.

We welcome new members, please come along

and join us.

For more information please contact Sue on

01743 761355 / 07773 161635 or email

sueshedden52@gmail.com

Massive THANK YOU to all

those who supported our Early

Christmas Fayre

on 2nd

November. We

raised over £600

for Dementia UK.

12
---
CHURCH SERVICES and NEWS from ST.EATA'S, ATCHAM

Sunday 1st December - Advent Sunday. Service 11 a.m.

Sunday 8th December - Christingle Service [Service of Light]

at 11.15 a.m.

Sunday 22nd December - Carol Service at 11 a.m.

Tuesday 24th December - Christmas Eve Service 9 p.m.

Wednesday 25th December - Christmas Day - Service 11 a.m.

Everyone very welcome at all of these services. The Church

will be decorated for Christmas on Saturday 21st December

from 9.30 a.m. onwards. Any help or donations of flowers

would be welcome. Also help to put up the tree. Thank you.

New Bishop of Shrewsbury - Bishop Sarah will be visiting St.Eata's on Sunday 12th January.

Hymns & Pimms evening held recently was a great success. Thanks to all those who chose their favourite

hymns and all who provided refreshments.

Annual Bridge Drive - Sunday 6th October raised over £900 towards the upkeep of our historic

Church. Thanks to everyone involved.

Songs of Praise - under discussion for the future - for the staff and volunteers from Attingham.

A Pets Service - possible 4th October 2020 - the feast of St.Francis.

Remembrance Sunday - November 10th. a traditional Service was held in Church with a short Service held

immediately afterwards in the Churchyard to remember the Airmen buried there.

Sad news - the funeral of Cyril Williams was held on Thursday 7th November. Cyril and his family had been

residents in the Parish and his children attended Atcham School. Rest eternal grant unto him, O Lord and let

light perpetual shine upon him. Our deepest sympathy to his family.

Erica and Chris Jervis - we say "goodbye" to a couple who have served the Church for many years both as

Secretary to the P.C.C.[Erica] and both as Members of the P.C.C. They will be moving to Worcestershire to be

near their family. We wish them happiness in their new home and we will miss you.

THANK YOU'S

A BIG thank you to all the people who deliver our Village Pump

throughout the year., without them you wouldn't get your bimonthly

news letter delivered to your door. So next time you

see someone delivering The Pump, please say a quick thank you.

If you feel you could help your community by delivering the

Pump in your area please contact Lezley Picton on 01743

761619. The more volunteer deliverers we have the smaller the

area to deliver. We look forward to hearing from you.

13
---
THE CHAPEL COMMUNITY CENTRE, CROSS HOUSES

Day/Session

Monday to Thursday

Members of the

Parish

Outside of

the Parish

Rate Payable

Morning £35 £45

Afternoon £35 £45

Evening £35 £45

Friday to Sunday

Morning £35 £45

Afternoon £35 £45

Evening £50 £75

please call Sue Mason on 01743 761423 or 07964 120 998

To make a booking

ROOM HIRE RATES

2019

A refundable deposit

equal to the rate of hire

or £50

whichever is lower, is to

be paid at the time of

booking.

If paying the deposit by

cheque, it must be valid

for at least one month

after the date booked.

The deposit will be

returned to you

providing the room/

venue is left as per our

terms and conditions.

Chapel Community Centre

Children's

Christmas Party

Fun and games, nibbles and

pop, hopefully we can

persuade Santa to stop by! All

children must be

accompanied by an adult.

See you there!

SATURDAY 14TH DECEMBER, 5PM

14
---
The

Station

Cattery

Berrington

Prop. Brenda Graham

Heated Chalets with outside

covered runs overlooking fields .

Personal attention at all times.

Inspection very welcome

01743 761513

Do you need a Helping Hand?

DOMESTIC SERVICES - LOCAL TO YOUR AREA

Cleaning, Shopping, Ironing,

Gardening, Dog Walking etc

Think Tank

Formerly Period Houses in Miniature

Military Model Kits,

Scenics & Tools

Gaugemaster Lighting

Metcalfe Card Kits, Dapol Kits

Deluxe Materials, Javis Scenics

Adhesives & Raw Materials

Humbrol & Hataka Paint

Amera Plastic Mouldings

Wood & Styrene Mouldings

14 Parade Shopping Centre

St Mary's Place, Shrewsbury SY1 1DL

01743 360298

NEIGHBOURHOOD

WATCH SCHEME

Excellent references

Contact: Sandra

(Cross Houses)

Tel no. 07377 629596

SPEED WATCH

VOLUNTEERS NEEDED

Cross Houses operates a Community Speedwatch

but due to retirement and ill health they are now

short of volunteers. If you and have a few hours to

spare every now and again and would like to help

please contact Sue on 01743 761355 or email

sueshedden52@gmail.com for more information.

Following on from conversations on

the Cross Houses Community Facebook

Page a refreshed Neighbourhood

Watch Scheme is up and running.

A meeting will be arranged in the near

future but in the meantime if you want

more information please contact

Geoff on 07368 275422.

15
---
,

Dear Friends,

Are we really in December? Where has 2019 gone? Well, we have arrived at that Month where

not only are we preparing for Christmas but also an election, on my Birthday of all days!

I have a Christmas Card that I have kept in my Carol Book for about 20 years and wish to share

with you as Christmas approaches, that seems very appropriate in the present climate.

The Christmas Card reads:

When the song of the angels is stilled+

When the star is gone+

When the Kings and Princes are home+

When the Shepherds are back with their flocks+

The work of Christmas begins:

To find the lost+

To heal the broken+

To feed the hungry+

To release the prisoner+

To rebuild the nations+

To bring peace among people+

To make music in the heart+

Song of the Angels by Howard Thurman

Wishing you a Happy Christmas and every blessing for 2020.

Matthew Stafford (Revd)

RECTOR OF THE WENLOCK GROUP OF PARISHES

16
---
CHURCH SERVICES IN THE PARISH

OF BERRINGTON WITH BETTON STRANGE

DECEMBER

Sunday 15th December 2.30pm

Carol Service

St Margaret's, Betton Strange

Tuesday 17th December, 7pm

Carol Service

All Saints, Berrington

CHRISTMAS EVE SERVICES in the area

5.30pm, Much Wenlock (Crib / Nativity)

7.15pm, Sheinton Eucharist followed by carols

8pm, Kenley, Candlelit Eucharist

11.30pm, Much Wenlock, Midnight Mass

11.30pm, Harley, Welcoming Christmas

CHRISTMAS DAY SERVICE

11am, All Saints Berrington

JANUARY

There are no services at Betton or Berrington in January. Details of services in the area can be

found by visiting www.wenlockchurches.co.uk

,

Tuesday 17th December, 7pm

Please join us for, what is likely to be,

our last carol service at Berrington. If

you would like to take part by reading a

poem or a story, singing or playing for

the service please contact

Tracy Weaver on 01743 761795.

COME AND JOIN US at

Christ Church C of E

Primary School,

Cressage.

Sunday 1st December

2019 at 4pm

Sunday 19th January 2020 at 4pm

Join us for fun, food, Bible story and crafts.

Messy Church is an All-Age event where

anybody is welcome to attend.

However, children must be accompanied by a

responsible adult at all times.

For further information, please contact Jude

Walker jude_wlkr@yahoo.co.uk or 01952

510145

17
---
18
---
19
---
20
---
Samurai Sudoko (Hard)

The standard sudoku rules apply to each 9 x 9 grid. Place digits from 1 to 9 in each empty cell. Every row,

every column, and every 3 x 3 box should contain one of each digit. The puzzles on Samurai Sudoku have one

unique solution which can be found with pure logic, no guessing required.

2 5 3 8 1

1 6 5 4 5 1 9

3 4 9 2 8

4 2 9 4 7 5

9 6 2 9 7

1 6 7 5 2 9

9 4 5 4 1 8 3 2

4 1 8 9 4 5 2 6

8 5 2 3 6 5 7 4

5 2

1 3 5

3 8 6

7 2 6 1 7 9 6 1 2

1 3 4 9

6 9 2 3 6 1 4 2 5 3

5 1 9

8 7 4 8 1 7

5 3 7 8 4 4

9 7 1 3 8

7 6 9 3 4

6 5 9 1 2 7

21
---
A "CHRISTMAS" QUIZ

1. What's the name of the period leading up to

Christmas?

2. How many Wise Men brought gifts to Jesus?

3. How does Good King Wenceslas like his pizzas?

4. Who brings presents to Children in Holland on the

5th/6th December?

5. How many letters are there in the angelic alphabet?

6. In what town was Jesus born?

7. How many presents were given in total in the 12 Days of Christmas?

8. In what decade was the first Christmas Card sent in the UK?

9. Who started the custom of Wassalling?

10. What colour is The Grinch?

11. How many of Rudolph's eight companions names start with a "D"?

12. In what year was "A Christmas Carol" published? Answers on page 29

BERRINGTON CHURCH

Flowers & Cleaning Rota

Flowers

December Freda Donnelly

Cleaning

Cheryl King

January Stella Hall Jean Law

Berrington Church Lottery Winners

1st £15, 2nd Prize £10, 3rd Prize £5

October

1st A Weaver, 2nd M Davis, 3rd P Whittle

November

1st J Law, 2nd L Rowlands, 3rd J Davis

22
---
* Lawn mowing

* Hedge cutting

* Pruning

* Weeding

* Planting

* Brushcutting / strimming

Tel: 01743 761418

Mobile: 07580536112

Email: clive.s.gardiner@gmail.com

C. S. Gardiner

Garden services

Chimney Sweep

Certified Chimney Sweeper £40

Services we provide:

Wood Burners

Open Fires

Multi Fuel Appliances

CCTV Inspections

Free Smoke Tests

Nest Removal

Shropshire and West

Midlands Area

Tel: 07805 643 422

23
---
Much Wenlock & Cressage Medical Practice

DEC 2019

Access to Medical Services over the Christmas/New Year Period

Over the Christmas period the Practice will be closed as follows:

Wednesday 25 December : Practice Closed

Thursday 26 December: Practice Closed

Cressage will close at 12.30 pm on Christmas Eve; Much Wenlock will be open until 6.00 pm

with 111 taking calls from 6.00 pm Tuesday 24 December until 8.30 am Friday 27 December.

Both surgeries will be open as usual on Friday 27 December, Monday 30 December, Tuesday

31 December.

Wednesday 1 January: Practice Closed.

The 111 service will be available to provide medical advice over the Christmas and New Year

period.

DO YOU LOOK AFTER SOMEONE WHO IS

ILL, FRAIL, DISABLED OR MENTALLY ILL?

We are interested in identifying carers, especially those people who may be caring without

help or support. We know that carers are often "hidden" looking after a family member or

helping a friend or neighbour with day-to-day tasks and may not see themselves as a carer.

Caring for someone is an important and valuable role in the community, which is often a 24

hour job that can be very demanding and isolating for the carer. Carers should receive

appropriate support by way of access to accurate information on a range of topics such as

entitlement to benefits and respite care and not least, a listening ear when things get too

much.

As a Carer, you are also entitled to have your needs assessed by Social Services. A

Carer's Assessment is a chance to talk about your needs as a carer and the possible ways

help could be given. It also looks at the needs of the person you care for. There is no charge

for an assessment.

If you are a carer, please ask at Reception for a

'CARERS IDENTIFICATION AND REFERRAL FORM'

LOST PROPERTY We have a number of personal items that have been left by patients at both sites which

have accumulated over the years. We will be disposing of these items if they are not collected by the end

of December 2019. Please speak to a member of reception if you think you may have left any personal belongings

following a visit to the Practice. From January 2020 we will dispose of any left items if they remain

uncollected after 3 months.

24
---
DO WE MAKE OURSELVES CLEAR?

DO YOU OR A PERSON YOU CARE FOR HAVE A DISABILITY, IMPAIRMENT OR SENSORY

LOSS?

WOULD LIKE TO RECEIVE INFORMATION IN A WAY THAT CAN BE EASILY UNDERSTOOD

OR IN A DIFFERENT FORMAT?

GET YOUR FLU VACCINATION

If you are eligible for the Flu Vaccination contact the

Practice to book your flu vaccination appointment.

Whilst having the vaccine doesn't prevent ordinary

colds it helps prevent flu!

WHEN THE PRACTICE IS CLOSED AND YOU NEED NON URGENT GENERAL ADVICE

If you need advice about your symptoms you can obtain assistance from your local

pharmacy who are also able to provide advice and treatment for cold sores, headache,

heartburn, nasal congestion, temperature, head Lice, sore throat etc.

Do you Love Reading?

Be part of a bigger story and join our Shared Reading Group.

Shared Reading Groups are a place to relax, make new friends and share stories.

Just drop in and enjoy listening to a great story or poem – no pressure to talk or read.

Saturday 14 December 2019

From 10.30 am to 12 Noon

At: Cressage Medical Practice

(refreshments will be provided)

Come along to our next Shared Reading Group on:

Places are free and everyone is welcome

but there are limited places so do book

ahead by emailing muchwenlockmp@nhs.net

or call 01952

726011 and speak to Melanie Jones.

The Practice would like to take this opportunity to thank the Patients' Voice and the Compassionate

Communities Group (CoCo) for their support over the past year. Many thanks to the group co-ordinators

and volunteers for all their hard work.

And finally we would like to wish all our patients a very happy Christmas and healthy New Year

25
---
Missed Rubbish or Recycling

Collections

If your recycling, rubbish or garden waste is not collected as expected you must report your

missed collection to Shropshire Council within two working days by calling 0345 678 9007.

Before you report a missed collection please wait until 5pm (because the collection crews

may still be out working). Also check:

• that your containers were out on the right day.

• that your containers were out by 7am

• that your containers were out in the correct place

• that your lid was closed and no extra waste was next to your

bin

• that the correct waste was in the containers

Shropshire Council will investigate the incident and if your

collection has genuinely been missed they will come back and

collect it within two working days.

BERRINGTON VILLAGE HALL

The Village Hall in Berrington is

available for hire (at very

competitive rates). Prices available

on application. To make a booking

or an enquiry.

Please contact Penny Walker on

01743 761522

26
---
THE PUMP - ADVERTISING RATES

Advertising rates are:

Full Page: £25 per edition or £110 per annum

1/2 Page (Landscape): £12.50 per edition or £55 per annum

1/4 Page (Portrait): £10 per edition or £45 per annum

1/4 Page (Landscape): £10 per edition or £45 per annum

1/8 Page (Landscape): £7.50 per edition or £30 per annum

The Village Pump is a bi-monthly publication of 700 copies. Advertisements need to be paid for in

advance. If you would like to place an advert in the Village Pump then please contact the Editor:

Lezley Picton, Newmans Hall, Eaton Mascott, Shrewsbury SY5 6HE

e: lezley.bpc@gmail.com t: 01743 761619

Cheques should be made payable to Berrington Parish Council and sent to Berrington Parish Clerk,

Home, Back Lane, Longnor, Nr Shrewsbury SY5 7PP. Alternatively you can pay by Bank Transfer.

The Village Pump is delivered on a bi-monthly basis to houses throughout the Parishes of Berrington and

Atcham. If you feel you could help your community by delivering the Pump in your area please contact

Lezley Picton on 01743 761619. The more volunteer deliverers we have the smaller the area to deliver.

We look forward to hearing from you.

ADVERTISEMENT DISCLAIMER

Please note ACCEPTANCE OF ADVERTISEMENTS DOES NOT IMPLY ENDORSEMENT. THE EDITOR

RESERVES THE RIGHT TO EDIT ARTICLES IF SPACE IS LIMITED.

SUDOKO (Hard)

4 1

4 1 2 5

8 9

3 8

1 2 7 8

2 6 3

8 2

3 2 7 6

9 1

Fill in all the squares in the grid so that each row, column and

each of the 3 x 3 squares contains all the digits from 1-9.

SUDOKU X

9 4

4 2

6 5 7 3

5 3 4

1 8 2 3

1 4

6

4

2 7 8

Complete the grid so that every row, column, diagonal and 3x3

box contains every digit from 1 - 9 inclusive.

27
---
CRESSAGE Gardening Club

FORTHCOMING EVENTS

December 12 – Christmas Meal at The Huntsman, Little Wenlock, meet there 7.00pm for 7.30pm

dinner. Members and Guests. For more information contact Annette Ambrose

wasessa999@googlemail.com.

January 16 2020 – AGM 7.30p.m. Cressage Village Hall

Di Perry from David Austin Roses at Albrighton was our guest speaker in October and took as her

subject 'The History and Cultivation of English Roses'. Almost 60 years ago

David Austin introduced his first commercial rose 'Constance Spy' to the nation. To date over 200+

varieties of the English Rose have been created by David Austin and his dedicated team and sold all

over the world. David Austin Snr sadly died late last year at the age of 92 leaving behind a son, also

David, to continue his life's work.

Di Perry visual presentation covered the many different types of roses that David Austin Roses sell

throughout the world ranging from the small patio roses, through the hybrid teas, to the standard roses

many of us plant in our gardens these days, onto climbers and ramblers. She readily answered

members' questions such as 'what type of rose to plant in different situations', 'why is my climbing

rose now turning up its toes' and 'how to keep my roses going during the colder winter months or

summer drought'?

A thoroughly friendly, informative and interesting speaker Di Perry will surely be making a return visit

to CGC in the future!

Cressage Gardening Club normally meets on the 3 rd Thursday monthly (August and December excepted)

at 7.30 p.m. in Cressage Village Hall. Membership £10 p.a. and new members always welcome.

Please Contact: Sally Lucas-Garner (Chairperson) on 01694 771271 for more information.

POTENTIAL ADVERTISERS

If you think the Village Pump is only a magazine that circulates to 700+ readers over two parishes,

think again….. This magazine also appears online at

www.berringtonparishcouncil.org.uk & www.atchamparishcouncil.org.uk

Buy local, use local services and tradesman and support the local economy

Trees, Hedges & Woodlands

• Tree Surgery, Small or Large Trees, felling, pruning or planting

• Hedge Management - trimming & shaping - large or small

• Traditional hedge-laying

• Woodland Management - Coppicing, felling, planting

• Orchard Management

£5m Public Liability and £10 Employee Liability

Tel: 01743 891231 Mobile: 07974 300328 Email: info@wood-matters.co.uk

28
---
Cross

Houses

Book Club

Do you enjoy reading and would like to discuss your

ideas and thoughts with like minded people - then

please come and join our small, free, friendly and

local book club.

We meet at 7.15pm on the third Thursday of the

month at the Community Room, Noel Hill Road -

please come along and join us.

Everyone is welcome, for more information

please call Sue on 01743 761355

2019/20 Reading List

December 19th 2019

"The Man I Think I Know" - Mike Gayle

"The Mother's Bond" - Denise Welch

January 16th 2020

"When will there be Good News?" - Kate Atkinson

February 20th 2020

"And when did you last see your father"

- Blake Morrison

The Four Stages of Life

1. You believe in Santa

2. You don't believe in Santa

3. You dress as Santa

4. You look like Santa

Answers to Christmas Quiz

1. Advent, 2. More than one, the bible

doesn't actually say how many. 3. Deep

and crisp and even. 4. St Nicholas. 5.

25; "no el" 6. Bethlehem 7. 364

8. 1840s, specifically 1863 9. The Anglo-

Saxons, it means "good health 10.

Green 11. Three - Dasher, Dancer and

Donner 12. 1843

TAI CHI CLASSES:

5.30—6.30pm Mondays

A gentle form of Chinese movement

exercise promoting the flow of Chi (vital

energy) through the body

KUNDALINI YOGA CLASSES

6.45- 8pm Mondays Liberating

workout for body mind & spirit Aids

flexibility, expands lung capacity, builds

strength Develops inner Peace

GONG BATH RELAXATION

1 st Monday of month 8-9pm

VENUE:

Chapel Community Centre, The Chestnuts

Cross Houses Shrewsbury SY5 6JH

Try a Tai Chi or Yoga class £8 each or

£40 for 6 classes

Contact:

Tom 07974810254

tomshanti909@outlook.com

Facebook: Shropshireyoga

Web: www.sacredsound.guru

29
---
30
---
Crown Podiatry Ltd

NEW chiropody/podiatry service now open in CRESSAGE

Modern, newly furbished clinic providing full range of services including:

• nail cutting/nail deformities

• corns/callus and verruca's

• ingrowing toenails

• biomechanical assessments

• customised insoles

• neurovascular assessments

• diabetic foot care

Fully qualified (3 years training) & fully insured

HCPC Registration No: CH33162 (health insurance claims)

Member of The Society Of Chiropodists and Podiatrists

Mr Pius Karena (BSc MChS)

Tel: 01952 510865 Mobile 07790038367

Email: crownpodiatry@gmail.com www.crownpodiatry.co.uk

COST OF FOOD ROCKETING?

Ever thought of

GYO

Growing Your Own?

You could be growing your own fruit and

vegetables at a fraction of the cost in the shops.

Interested in having your own allotment?

Even if you are a beginner, there are plenty of

other allotment holders willing to give advice.

To book your plot at the Cross Houses Allotment

contact Cameron

Moffett on 01743

761443

31
---
Burn's

Gardening Services

ROSS HINES

CHIMNEY SWEEPING

Services Include:

Grass Cutting

(Domestic & Commercial,

Paddocks/Fields)

Hedge Cutting & Reduction

Tree Pruning

(Topping & Lopping)

Garden Clearance

Clean Chimneys are

safe chimneys

Brush and Vacuum – Leakage testing –

Nests removed –Cowls, Bird Guards and

caps supplied and fitted. Open fire, multi

fuel stoves, Aga, domestic and commercial.

Fully Insured with NFU, Certificates given.

For a Fast, Friendly and Clean Service or

just help and advice.

Call: 01939 768319

OR 01743 768319

24 The Wheatlands, Baschurch, Shropshire.

Contact David on:

Mob: 07813 956998

Tel: 01743 343561

N.A.C.S Member:

12/052

32
---
Unit 85, Condover Industrial Estate, Condover, Shrewsbury, Shropshire SY5 7NH

• Dog / Cat Food

• Animal Health (inc. Wormers, Flea

Treatment)

• Coal

• Calor Gas Cylinders

• Fencing Materials

• Equine Supplies - Feed, Bedding,

Supplements

• Garden Machinery Service & Repair

• And much, much, more

FREE LOCAL DELIVERY SERVICE

OPEN TO THE PUBLIC

TEL: 01743 718955 FAX: 01743 718966 EMAIL: acefarmsupplies@aol.com

Mon - Fri 8am - 5.30pm Sat 8am - 12 Noon

33
---
News from Christ Church C.E. Primary School

Learning, Listening, Living

Collaboration – working with other schools and experts is at the heart of village school life in 2019. It means that we

can continue to offer a rich and broad curriculum but in a small setting. These two photos happened over one week in

our school: Year 6s visiting Concord College to use their equipment for a science lesson on electricity (even most large

primary schools don't own their own Van De Graaff Generator!) and Mr Ashford from Shropshire Music Service coming

into school to teach guitar.

We work with Shropshire Music Service which means that children in school are taught by specialist music teacher

both in terms of learning an instrument and for curriculum music lessons. Going regularly to our local secondary

schools, Concord and William Brookes means that our children can use specialist resources and equipment to deepen

their learning. Shrewsbury Town Football Club work with us on Tuesdays and Thursdays meaning that PE coaches

enthuse and inspire our youngsters to be healthy and active and working in the East Shropshire School Sports

Partnership means that we have plenty of fixtures and sporting competitions with other smaller schools.

Collaboration also happens digitally – we enjoy reading blogs and following educational research from other schools.

Oak Class are currently taking part in an experiment as to whether working 'shoe-less' helps children to feel more

relaxed and receptive to learning. Teachers regularly read and share ideas online, meaning we are part of a huge

world-wide research community seeking the best way to enthuse and educate our children. It gives a new meaning to

the saying 'think globally, act locally'!

Acorns: Year R and Year 1 - theme is 'Fairy Tales' taught by Mrs Martin.

Holly: Year 2 and Year 3- theme is 'Whether the Weather!' taught by Mr Kennedy and Mrs Cansdale.

Willow: Year 4 and Year 5 theme is 'Mountains' taught by Mrs Douch.

Oak: Year 6 theme is 'Earthquakes' taught by Mrs Clarke

Acorns work closely with Childrensworld, the on-site nursery ("Outstanding" – Ofsted). They work together on a

Wednesday morning, during 'Stay and Play' and Childrensworld come and use our school hall for dance and join us for

some assemblies and special events. Childrensworld also offer wrap around care for school children 8am-6pm and in

the holidays.

If you would like to know more about the school, or visit for a look around, please phone the School Office on 01952

510383. Don't wait for an Open Day – we are always happy to show people around if you have a younger child, are

moving into the area or considering a school change. We are the catchment area school for Cressage, Cross Houses,

Cound, Coundmoor, Harley and Eaton Constantine but also welcome children attending from other villages. School

Transport is available if you live outside of Cressage.

Tracey Cansdale, Headteacher

Follow us on FaceBook or Twitter for regular news and updates:

@ChristChurchsy5

34
---
D.W. PLASTERING

All Aspects of Plastering

Fully Insured

Friendly, Professional Service

Local Business

No Job too Small

For a free, no obligation quote contact:

Dom Wilding 07531 23 23 12 / domwplastering@gmail.com

Check out our 5* reviews and photos of recent projects at:

www.facebook.com/dwplasteringshrewsbury

W

Est.

1985

Wenlock Fencing & Landscaping

•Fencing

•Landscaping

•Brickwork

•Block Paving

•Slabbing

•Timber Outbuildings

Close Board Panels and Gates made to order

Call Gary Owen on m: 07837 293778 t: 01743 761821 e: garychartwell@hotmail.com

Support your local shop, try…….

THE STORES

CROSS HOUSES

Petrol Station ◆

Convenience Store ◆ Off Licence ◆ Post Office

Post Office Opening Hours:

Mon—Fri 9am—5.30pm

Sat—9am—12 noon

Open Daily 7am—9pm

TEL: 01743 761577

FAX: 01743 761663

35
---
USEFUL TELEPHONE NUMBERS

Cressage Surgery 01952 511166

Samaritans 01743 369696

Crime Stoppers 0800 555 111

Furniture Scheme 01743 246668

Shrewsbury Police Station 0300 333 000

Bromford Housing Association 0330 1234 034

Severnside Housing 01743 285000

01743 360945 (emergencies)

Councillor Claire Wild 01743 255 884 / 07582 002 100

UK National Drugs Helpline 0800 77 66 00

Citizens Advice Bureau (Shrewsbury) 0344 499 1100

Age Concern 01743 233123

Domestic Abuse Helpline 0808 2000 247

Cruse Bereavement Care Helpline 0808 808 1677

Atcham & Berrington Parish Council's - Clerk 07379 213308

Gas Emergency Services 0800 111 999

National Rail Enquiries 03457 48 49 50

Shrewsbury Dial-a-Ride 01743 45350

NHS Direct 111

NHS Direct Text Phone (for deaf/hard of hearing) 18001 111

Shropshire Council 0345 678 9000

Severn Trent (water and sewerage) 0800783 4444

Shropshire Home Point 0300 303 8595

Chapel Community Centre (Bookings) 01743 761423 / 07964 120 998

Village Pump Editor, Lezley Picton 01743 761619

Shropshire Council (Streets, Roads and Transport)

Bins & Recycling (Missed Collections) 0345 678 9007.

Royal Shrewsbury Hospital 01743 261000

Princess Royal Hospital, Telford 01952 641222

MANWEB Emergency 0845 272 7999

RSPCA (cruelty hotline) 0300 1234 999

Floodline 0345 988 1188

Dog Fouling (Reporting) - Longden Road Depot 0345 678 9006

0345 678 9006 (inc out of hours)

Published by Berrington Parish Council, Shropshire. Printed by SJF Design & Print Ltd, Unit 7, Leaton Forest Offices, Leaton Knolls, Shrewsbury, Shropshire SY4 3HX

36