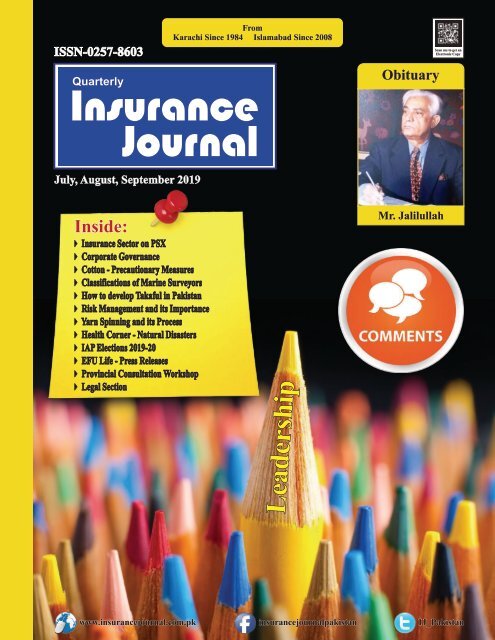 Insurance Journal (3rd Quarter 2019)
You also want an ePaper? Increase the reach of your titles
YUMPU automatically turns print PDFs into web optimized ePapers that Google loves.
ISSN-0257-8603

From

Karachi Since 1984 Islamabad Since 2008

Obituary

Scan me to get an

Electronic Copy

July, August, September 2019

Inside:

4 Insurance Sector on PSX

4 Corporate Governance

4 Cotton - Precautionary Measures

4 Classifications of Marine Surveyors

4 How to develop Takaful in Pakistan

4 Risk Management and its Importance

4 Yarn Spinning and its Process

4 Health Corner - Natural Disasters

4 IAP Elections 2019-20

4 EFU Life - Press Releases

4 Provincial Consultation Workshop

4 Legal Section

Leadership

Leadership

Mr. Jalilullah

www.insurancejournal.com.pk

insurancejournalpakistan

IJ_Pakistan
---
ISSN-0257-8603

July, August, September 2019

No. 140 Vol. 35

No. 44 Vol. 11

Published by:

M. Jamaluddin

No.63, Noor Chamber, Robson Road,

Karachi - Pakistan.

Email: insurancejournalpakistan@yahoo.com

Designed by:

Artixone-ads

Islamabad.

Email: artixoneads@gmail.com

Printed at:

Panjwani Printing Press

1, Abdul Manzil, Muhammad Bin

Qasim Road, Karachi.

Tel: +92-21-32630331

+92-21-32630734

Islamabad Office:

3-A, Street # 64, Sector F-7/3,

Islamabad - Pakistan.

Tel: +92-51-2611111

Insurance Sector on PSX

07

CONTENTS

Comments

Corporate Governance

Cotton - Precautionary Measures (Part-3) 12

Classification of Marine Surveyors

How to develop Takaful in Pakistan

Leadership

IAP Elections 2019-20

Risk Management and its Importance

Yarn Spinning and its Process

Health Corner - Natural Disasters (Part-1)

EFU Life - Press Releases

Provincial Consultation Workshop

08

09

14

17

20

23

26

28

30

32

34

Legal Section

36

Insurance Journal July, August, September 2019

05

Find us at: www.insurancejournal.com.pk — www.facebook.com/insurancejournalpakistan
---
INSURANCE SECTOR ON

PAKISTAN STOCK EXCHANGE

(Quarter: April, May, June 2019)

Compiled By: Khurram Shahzad

Company

Paid up Face Higest Lowest

Capital Value Rate Rate

(Rs. in Million) Rs. Rs. Rs.

Turnover of

Shares

Announcement During the Quarter

Adamjee Insurance Company Limited 3,500 10.00 40.80 32.00 8,385,500 Dividend = 15%

Asia Insurance Company Limited 603 10.00 - - -

Askari General Insurance Company Limited 719 10.00 30.34 19.95 347,500

Askari Life Assurance Company Limited 602 10.00 9.25 7.50 1,422,500

Atlas Insurance Limited 772 10.00 77.25 43.25 226,500

Business & Industrial Insurance Company Limited 86 10.00 - - -

Century Insurance Company Limited 503 10.00 20.25 17.50 32,000

Crescent Star Insurance Limited 1,077 10.00 2.35 1.12 16,133,000

Cyan Limited 586 10.00 26.20 19.28 369,500

East West Insurance Company Limited 610 10.00 - - -

EFU General Insurance Limited 2,000 10.00 109.90 80.00 6,411,900 Dividend = 15%

EFU Life Assurance Limited 1,000 10.00 230.00 190.00 32,200 Dividend = 15%

Habib Insurance Company Limited 619 5.00 11.00 9.01 96,500

IGI Holdings Limited 1,426 10.00 188.30 126.96 522,000 Dividend = 30%

IGI Life Insurance Limited 1,706 10.00 49.80 32.30 113,500 Right issue = 141.71%

Jubilee General Insurance Company Limited 1,804 10.00 55.00 40.00 66,000

Jubilee Life Insurance Company Limited 793 10.00 371.00 223.25 57,650

Pakistan General Insurance Company Limited 464 10.00 4.93 3.02 338,500

Pakistan Reinsurance Company Limited 3,000 10.00 30.00 21.05 4,497,500 Dividend = 20%

PICIC Insurance Limited 350 10.00 1.68 0.81 1,502,000

Premier Insurance Limited 506 10.00 6.04 4.63 44,500

Progressive Insurance Company Limited 85 10.00 - - -

Reliance Insurance Company Limited 561 10.00 6.00 3.75 701,500

Shaheen Insurance Company Limited 600 10.00 5.10 3.11 245,500 Dividend = 2.50%

Silver Star Insurance Company Limited 306 10.00 - - -

Standard Insurance Company Limited 8 10.00 - - -

The United Insurance Company of Pakistan Limited 2,262 10.00 9.80 5.70 915,500

The Universal Insurance Company Limited 500 10.00 5.00 4.00 28,500

TPL Insurance Limited 939 10.00 20.98 18.98 1,109,000

Insurance Journal July, August, September 2019

07

Find us at: www.insurancejournal.com.pk — www.facebook.com/insurancejournalpakistan
---
Comment

Patrick Kelahan is a CX, engineering & insurance professional, working

with Insurers, Attorneys & Owners. He also serves the insurance and

Fintech world as the 'Insurance Elephant'

Having been asked to consider writing an article for the Quarterly Insurance Journal, It seemed prudent to read a few issues to

see the tenor of a long-standing Pakistan insurance industry periodical and how it presents itself to its readers.

My understanding of the journal needed go no further than the 1st quarter, 2019, edition. There in full display was the

publishing version of the Insurance Elephant. Articles by knowledgeable authors, touching on corporate governance, pest

management, fire cause in ginning mills, loss of business income claims, claim management, the principle of WAQF in

Takaful, and bonus discussion of working with Chinese. Many parts taken in detail, but in their entirely comprising the beast

that is the insurance industry. And wonderful, detailed financial statistics of the Pakistani insurance industry-traditional

covers and Takaful.

I've noted in the past that Insurance is not dissimilar to the idea of six blind men describing an elephant solely on touch-each

man 'sees' the elephant from the perspective of his narrow exposure to a very large creature. One sees a rope because he has

grabbed the tail, another a tree because he's grabbed a leg, another a snake due to the feel of the trunk, and so on.

It seems the Journal is a similar situation-many authors 'touching' the initiative from a unique perspective. Not blind, surely,

but not from a vantage of 'seeing' in the entire concept. Of course it would be very daunting to try to grasp the industry from all

angles, and very expensive too.

The insurance business is the same-there are the individual firms describing their unique parts underwriting, pricing,

distribution, administration, claims, agencies, customer acquisition, etc. and designing and/or applying technology-artificial

intelligence (Al), machine learning, IoT, algorithms, data science, actuarial science, behavioral economics, game theory, and

so on. Using technology and new methods to help them see their part of the beast that is insurance innovation.

We get caught up in the thinking that insurance is a discrete concept-because each involved player has his unique approach to

defining how change will be effected (and we can't have multiple terms to describe what the movement is.) in the each is

convinced the efforts being made in their firm are defining the term.

Virtually every week there is a significant conference of insurance enthusiasts, thousands of attendees per month, all

seemingly with an idea of what insurance is, where it's going, and how they will capture innovation lightning in the bottle they

have designed. There are some very smart persons who are seen as champions of the effort, and these persons

publish/travel/post and remind the industry of where it has been and where it's going. They are adept at describing the beast in

terms that most can understand, and in terms that help the holder of the ropy tail to see that there also is a snaky trunk, and that

the two parts are of the same beast.

What is cool about how the insurance is evolving is that a solid recognition is being realized by most (not all) that insurance is

comprised of multiple, important and integral parts, and even if your firm is not working with idea A, it can leverage the

knowledge in developing idea B. We pick at the theories others espouse, nay say, comment, maybe even doubt or criticize, but

at the same time all the knowledge is to the common goal-improving a product for the existing and as yet unidentified

insurance customers.

And without belaboring the theme, we can be reminded that the elephant is not innovation; the elephant is insurance.

Innovation is the trappings with which the elephant is enhanced. And the elephant is the contractual agreement that comprises

insurance, and the elephant's hander must be the customer.

And the Insurance Journal is of similar nature-many parts all comprising the whole of Pakistan's insurance industry. That is a

perspective of eyes who have been outside the country's industry but connected through acquaintances. Let's all describe the

beast well from our unique perspective, with the understanding that in the end the elephant's handler-the customer-must be

why we are touching the beast at all.

Insurance Journal July, August, September 2019

08

Find us at: www.insurancejournal.com.pk — www.facebook.com/insurancejournalpakistan
---
Guest Contribution

Dr. Safdar Ali Butt

Formerly, Professor Emeritus of Finance

and Corporate Governance

Capital University of Science and

Technology, Islamabad

Corporate

Governance

Framework in Pakistan

The Two Perspectives in Corporate

Governance

It is important to understand the

difference in corporate governance

perspective of companies in the West

and those in Pakistan. In the West, or

developed economies, companies are

g e n e r a l l y r u n b y m i n o r i t y

shareholders. The directors that run

the company do not own more than 20

to 30% of the company's paid up

shares. These directors use all the

resources of the company, take all the

decisions about the operations of the

company and investment of its funds,

and often pay themselves huge

remuneration which directly reduces

the profit available for distribution

among shareholders. There have been

several instances in corporate history,

where directors' remuneration and

bonuses have consumed more than

half of the company's operating

profit. Hence, the thrust of corporate

governance in Western countries is on

regulating the conduct of directors to

protect the interest of shareholders.

Despite the enormous executive

powers enjoyed by the directors, they

were not entirely free in all the

aspects; for example:

a. The majority of the shares of their

companies were generally held by

institutional investors who had

greater knowledge and understanding

of corporate affairs. Such institutional

investors were not likely to allow too

much latitude to a non-performing

board of directors.

b. The board remained liable to be

removed by the shareholders, as they

did not hold the majority of the shares.

c. Their decisions (like dividend

proposal, increase in share capital,

major acquisitions, etc.) could be

turned down by shareholders.

d. Their remunerations or perks were

s u b j e c t t o a p p r o v a l b y t h e

shareholders. Since most of the

external shareholders were informed

investors, they were not expected to

approve these amount unless they

were reasonable.

All the earlier literature on corporate

governance in developed countries

w a s d i r e c t e d a t s a v i n g t h e

shareholders from the greed of

directors. The principal focus was on

educating shareholders on ways and

means of keeping a tighter control

over the board. The emphasis on the

rights of other stakeholders, who need

t o b e p r o t e c t e d f r o m s u c h

unrepresentative boards, came much

later.

In case of Pakistan (and many other

developing countries), the situation is

slightly different. Here, most

companies are run by families or

closed groups who own more than

50% of the company's paid up share

capital. This gives them power to

elect a majority of, if not all, the

directors. The elected directors are

either a part of the controlling family

or employees of the controlling

family – in both cases their absolute

loyalty belongs to the controlling

group - not to the company or its other

stakeholders. Again, these directors

are generally not paid such high

salaries or perks as to raise alarm at

annual general meetings. If these

directors are part of the controlling

family, they are given under-hand

benefits for their services. If they are

just paid employees, they are never

considered worthy of being paid

anything more than the market salary.

Here, the remuneration of directors is

not set by directors themselves, but by

the controlling shareholders.

Directors' remuneration has therefore

never been an issue with the investors

in this part of the world.

The Boards in Pakistan are not very

worried about their decisions being

overturned by the shareholders as

external shareholders never have a

sufficient number of votes to do so. In

Pakistan the focus of corporate

governance is on controlling

shareholders (who dominate the

board) to ensure that they do not just

serve their own purpose alone. The

objective here is to device ways and

means to make the controlling groups

pay due attention to the interest of

minority shareholders and other

Insurance Journal July, August, September 2019

09

Find us at: www.insurancejournal.com.pk — www.facebook.com/insurancejournalpakistan
---
Guest Contribution

stakeholders. This difference in

perspective explains the varying

emphasis levels on different aspects

of corporate governance as ordained

by codes issued by the West and the

one issued by Pakistan's Securities

and Exchange Commission.

The Overall Framework

The essential features and stages of

the corporate governance framework

in Pakistan are as follows:

1. The first stage is the Law which

draws the perimeters of proper

conduct by corporate entities

operating in the country. The Law

includes all the various Acts and

Ordinances that are in effect and that

have a relevance to what a company

does in the course of its existence and

operations, e.g. Companies Act,

various industrial Acts, taxes related

Acts, environmental protection laws,

auditing of accounts, etc. In addition,

there are other regulatory bodies like

SBP, Environmental Protection

Authority, PEMRA, OGRA, etc that

issue regulations and codes for

different industries and businesses.

Regulations and Codes issued by

these bodies have virtually the same

force and effect as the Law.

3. The next stage is professional

guidance or codes issued by

professional bodies and associations

in the country. These have lesser

power than the codes issued by

governmental regulators, but are

nonetheless quite important for

companies. Examples are codes

issued by Institute of Chartered

Accountants, Institute of Engineers,

PSX, etc.

4. The fourth stage is company's own

constitution. This essentially

c o m p r i s e s o f t w o p a r t s : t h e

5. The fifth stage is company's Board

of Directors whose responsibility

includes ensuring that the company

complies with all the above three

stages, namely the Law, Codes and

Regulations and Company's own

constitution. In order to fulfill this

responsibility, a Board may device its

internal Codes and Policies. It may

also form committees to look after

specific functions of the company,

e.g. audit committee, HR committee,

investment committee, compliance

committee, etc.

6. The sixth stage is preparation of

specific procedures within the

perimeters prescribed by the Codes

and Policies approved by the Board.

These specific procedures may be

drafted by the Management and

approved by the Board before being

implemented.

labour laws, etc.

2. The next stage is Codes and

Regulations framed by regulators

appointed by the Law to oversee the

conduct of companies in the country.

In Pakistan, the official regulator of

companies is the Securities and

Exchange Commission of Pakistan

(SECP) that has issued a formal Code

of Corporate Governance and several

o t h e r r e g u l a t o r y s t a t e m e n t s

pertaining to listing of companies,

preparation of financial statements,

Memorandum of Association and the

A r t i c l e s o f A s s o c i a t i o n s .

Memorandum defines the company to

the outside world, listing is specific

features like name, area of operations,

objectives, capital, etc. Articles

comprises of rules that the company

adopts for conducting its own affairs

like rights and obligations of various

persons associated with the company,

way of conducting meetings and

elections, steps to be taken in specific

cases like increasing share capital or

approving major decisions, etc.

The Focus of Good Corporate

Governance

If we carefully examine the above

chart, we can infer that the main focus

of ensuring good governance in a

corporate entity is on the Board of

Directors. It is the Board that has the

basic responsibility of ensuring that

the company follows all the laws,

regulations, codes and professional

guidelines issued by the government,

regulators or professional bodies as

well as company's own memorandum

Insurance Journal July, August, September 2019

10

Find us at: www.insurancejournal.com.pk — www.facebook.com/insurancejournalpakistan
---
Guest Contribution

and articles of association. In turn, the

Board itself frames internal codes and

policies and remains responsible for

ensuring that these are effectively

implemented by the Management.

CG Framework for Specific

Corporate Entities

Within the basic perimeters of the

overall corporate governance

framework, as outlined above,

various governmental agencies have

issued specific directives on

governance related issues to be

followed by different types of

companies. Given the importance of a

Board of Directors in the overall

governance structure, it is not

surprising that all corporate

governance related directives from

various regulators are primarily

focused on the composition of board.

These essentially cover the board

size, number of independent

directors, board committees, etc. In

the following paragraphs, we will

outline these directives for different

types of corporate entities.

CG Framework for Banking &

N o n - B a n k i n g F i n a n c i a l

Institutions Including Insurance

Companies

Ÿ

Ÿ

Ÿ

Ÿ

Ÿ

Ÿ

Ÿ

Ÿ

Ÿ

Main instrument for governance is

Prudential Regulations issued by

SBP.

Not less than 7 members of the

board.

Not less than 25% of the board

members should be independent

directors

Not more than 2 executive

directors, including the CEO.

All directors must fulfill the Fit

and Proper Person criteria.

Directors must attend a Directors'

Training Program during the first

year of their directorship.

All key executives must also fulfill

the Fit and Proper Person criteria.

Board is authorized to constitute

specialized committees.

All the members of board

committees should preferably be

Non-executive and independent

directors.

C G F r a m e w o r k f o r L i s t e d

Companies

Ÿ

Ÿ

Ÿ

Ÿ

Ÿ

Ÿ

Ÿ

Ÿ

Ÿ

Ÿ

Ÿ

Ÿ

Ÿ

Ÿ

Main instrument for governance is

Code of Corporate Governance,

2012 issued by SECP. However,

some of the following points may

have origins in other regulatory

instruments.

Not less than 7 members of the

b o a r d , a s p e r S e c 1 5 4 o f

Companies Act 2017.

At least two or one-third of the

board members (whichever is

higher) should be independent

directors.

No more than one-third of the

directors can be executive

directors.

There shall be at least one female

director who may be executive,

non-executive or independent.

All directors and key executives

must fulfill the Fit and Proper

Person criteria.

C o m p a n i e s m u s t h a v e a

mechanism for evaluating the

performance of the Board as a

whole.

Performance of all directors must

be evaluated every year.

A l l d i r e c t o r s m u s t a t t e n d

orientation courses to familiarize

t h e m s e l v e s w i t h t h e i r

responsibilities as a director and

with the operations of their

respective companies.

Directors must also obtain

certification under an approved

Directors Training Program.

Aggregate remuneration paid to

directors must be disclosed in

annual financial statements.

The office of chairman cannot be

held by CEO.

Board is authorized to constitute

specialized committees. So far

only Audit Committee and Human

R e s o u r c e c o m m i t t e e s a r e

mandatory.

All related parties transactions

should be presented to the Audit

Committee of the Board who shall

Ÿ

Ÿ

Ÿ

Ÿ

Ÿ

scrutinize them and make

appropriate recommendations to

the Board, in particular regarding

prices.

A majority of the members of each

b o a r d c o m m i t t e e s h o u l d

preferably be non-executive

directors; and at least one of them

should be an independent director.

N o i n d i v i d u a l c a n h o l d

directorships in more than 5 listed

c o m p a n i e s ( e x c l u d i n g

subsidiaries of such companies) at

any one given time.

Companies are encouraged to

obtain professional indemnity

insurance cover in respect of

independent directors.

External auditors must be

appointed out of approved list of

audit firms that is fully compliant

with Guidelines on Code of Ethics

adopted by Institute of Chartered

Accountants of Pakistan.

External auditor must be rotated

by financial sector companies

after every five years. In case of

other listed companies, the

engagement partner must be

rotated after every five years.

Disclosure Requirements under

Code of Corporate Governance

(CCG)

The Code requires the directors to

publish, among other things, a

Directors' Report every year. The

following disclosures relating to

Corporate Governance need to be

made in company's annual Directors'

Report:

Ÿ

Ÿ

Ÿ

Ÿ

Composition of the Board,

including name of independent

directors, other non-executive

directors, executive directors and

female director(s).

Directors' remuneration policy

and significant features thereof.

Names of the Committees and

their members.

Compliance Statement and

Auditor's Review of such a

statement.

Insurance Journal July, August, September 2019

11

Find us at: www.insurancejournal.com.pk — www.facebook.com/insurancejournalpakistan
---
Guest Contribution

Majid Khan Jadoon

A.C.I.I. (U.K), MD/CEO

M/s. Pakistan Inspection Co. (Pvt.) Ltd.

Cotton

Precautionary Measures

Part-3

Authored in Urdu by the late Mr. Anwar Mubin, Fire Insurance

Surveyor, Lahore and translated in English by Mr. Majid Khan Jadoon.

In our previous Articles of this series,

we had briefly described the

Production, Up-brining and Ginning

of Cotton which is the fundamental

Ra-material of Cotton Industry.

N o w, o n w a r d s , w e s h a l l b e

endeavoring to briefly dwell upon

Cotton Mills. This narrative shall

include various departments of Cotton

Mills; viz: Thread-making, Clothweaving

and Various Stages of the

same processes. Besides, an attempt

shall be made to explain the

functioning of these activities in as

simple a manner as possible for the

under-standing of the Common

Professionals of our fraternity.

It shall be most appropriate, if the

Cotton Trade is nomenclated as the

I n d u s t r y o f e v e r - c h a n g i n g

phenomenon. The basic Raw-material

of this Industry would never change

but Production-shapes shall keep-on

continuously changing.

Thread is manufactured from Cotton

or Artificial Silk and in this process,

thread-making, Weaving, Chemicaltreatments

and then the Stage of

Finishing are fundamentally

important stages and only then Cloths,

in very attractive Shapes, can be

presented in the market for Sale.

The sequence of these stages of

manufacture can be divided into the

following heads: -

1) Thread-making.

2) Cloth-weaving.

3) Chemical-processing of Wovencloths.

A brief sequence of the said Processes

is as follows: -

a) The Blowing and Mixing Process.

b) The Carding Process.

c) The Sampling Process.

d) Ring-spinning Process.

a) The Blowing and Mixing Process:

For communicating purposes, Cotton

is pressed into Bale-forms. However,

in the Process of Blowing & Mixing,

the same Cotton-bales are broken and

cleaning of the Cotton of the same is

carried-out.

The importance of the mixing-up of

Cotton of different grades can never

be ignored from the business viewpoint.

This is because the Grade of the

finest thread would always depend

upon the Special Mixing of Cotton of

different grades.

After Cotton has been opened-up

from the Bales, the same is processed

through Beaters, so that trash and dust

can be retrieved therefrom. The

Machine utilized for these purposes is

called "Hopper & Bale-breaker". But

in case of opening of certain heavier

Cotton Bales, Bale-opening & Cotton

Insurance Journal July, August, September 2019

12

Find us at: www.insurancejournal.com.pk — www.facebook.com/insurancejournalpakistan
---
Guest Contribution

Cleaning Machines too are utilized.

In a standard Mixing Process, Cotton

has to be blown by Air-pressure

through a Steel-Net or a Pipe of Wider

diameter into Hopper & Bale-breaker

Machine. Cotton would always

spread-up in volume after the Cottonbales

have been broken-up and would

give a fresh-look.

Thereafter, the Cotton is subjected to

be flown-out by Air-pressure which

would dis-entangle lumps therein. In

this process, the additional purpose of

knot-opening and removal of

impurities is also inclusive within

blowing of the cotton with Airpressure.

After the disbanding and disbursively

opening the Cotton-bales, the contents

of the same are spread-over the Plinth

which are subsequently subjected to

Magnetic-process through a Magnetic

Separator, where any Steel-particles

a r e e x t r a c t e d t h e r e f r o m .

Consequently, Cotton-fibers of the

Bales would adapt a very Velvetytouch

and Sparkling-look. Thereafter,

the same fine Cotton is moulded into

Sheets of requisite thickness, which

are ultimately rolled-over and the

same rolled-up sheets are commonly

called LAPS.

Methods of Fire-Preventive

Measures adopted in a Blow-room

1) It is most essential that Machineries

and Electrical Installations &

Equipments are regularly Cleaned

after frequent intervals.

2) All the requisite Electric Motors

must be installed at one place only.

As and when the Heat of the Motors is

found over-exceeding which cannot

be controlled, then Screen-safe

Electric Motors must be installed.

Safe-screen Electric Motors are fitted

with an Extra-fan attached with a

Shaft of the Motor which controls the

heat of the Motor by airing the same.

3) All Machineries must be installed at

a distance of at least 20-feet from each

other and Fully-pressed Bales must

NOT be placed in the Hall in great

numbers. However, automatic Fireextinguishing

Equipments must be

installed around in the Hall.

4) The possibility of Fire-eruption by

the Cotton-particles, sticking to the

Electric-wires, cannot be ruled-out

and if any Electric-wire is rendered

un-serviceable, then the entire-length

of the same must be replaced. This is

most essential, because the jointing of

Electric-wires would create the

greatest Risk of Fire-eruption.

5) Many Electric-wires must not be

passed through the same Pipe, whilst

c o n d u c t i n g t h e s a m e d u r i n g

Electrification of the Mills' Various

departments. This is because during

the course of running of the currents

through the Wires, conducted together

within the same single-pipe, the

currents does create Magnetic-power.

Alike created Magnetic-power by the

Electric-currents would develop

resistance in the Un-Interrupted Flow

of Electric-current in another adjacent

Electric-wires which would not only

result in the wastage of Electricity, but

would also result in the heating-up of

the wires which may ultimately cause

the eruption of Fire.

In case, Cotton-fibers and Dust /

Particles are not regularly cleaned off

the Electric-wires and from the

conduit Pipes thereof, the heating of

the wires, because of the consequence

of the afore-mentioned process of

heating-up of the wires, the Risk of

Fire would then be greatly accrued

thereto.

To be continued....!

Insurance Journal July, August, September 2019

13

Find us at: www.insurancejournal.com.pk — www.facebook.com/insurancejournalpakistan
---
Guest Contribution

Classification of

Marine Surveyors

Qayyum Pervez Malik

Insurance Surveyor & Loss Adjuster /

Claims Investigator

Qayyum Pervez Malik & Co. (Pvt) Ltd

Definition of Marine Insurance

Marine Insurance Act 2018 of

Pakistan notified in February 2018,

defines the term marine insurance as

under:

"marine insurance" means a contract

whereby the insurers undertake to

indemnify the insured, in manner and

to the extent (thereby) agreed, against

marine losses, that is to say, the losses

incidental to marine adventure"

Definition of Term "Insurance"

(Sec. xxvii of Insurance Ordinance

2000) "insurance" means the business

of entering into and carrying out

policies or contracts, by whatever

n a m e c a l l e d , w h e r e b y , i n

consideration of a premium received,

a person promises to make payment to

another person contingent upon the

happening of an event, specified in

the contract, on the happening of

which the second-named person

suffers loss, and includes reinsurance

and retrocession:

Provided that a contract of life

insurance shall be deemed to be a

contract of insurance notwithstanding

that it may not comply with the

definition set out in this

clause;

Definition of Surveyor

The Insurance Ordinance 2000

defines "Surveyor" as under:

(lxiii) "surveyor" means a person (by

whatever name called) who examines

the goods, property or any interests

insured under a contract of non-life

insurance to express an independent

opinion as to the cause, extent,

location and amount of any loss

incurred or claimed to be incurred

under that contract;

Marine Surveyor

The World wide classification of

marine surveyor is narrated below for

information.

Starting from Pakistan, the term

marine surveyor is used for an

independent Insurance surveyor/loss

adjuster authorized by the authority

concerned i.e. SECP (Securities &

exchange Commission of Pakistan)

holding a license in class of "Marine

and Aviation class of business". These

surveyors are assigned survey jobs by

the Insurers, Insured, shipping agents,

clearing agents, cargo owners, port

authorities/bailees, transporters,

consignees, consigners etc. No person

other than the surveyor licensed by

the concerned authority for that

particular class of insured business

except Lloyd's survey agent, can

proceed as a surveyor to carryout the

survey for remuneration. The

professional service of a marine

insurance surveyor is utilized at Sea

ports, warehouses, truck stands,

railway stations, dry ports, all other

destinations, consignees and

consigners warehouses, premises, on

roads, on Airports etc. for Sea transit,

Insurance Journal July, August, September 2019

14

Find us at: www.insurancejournal.com.pk — www.facebook.com/insurancejournalpakistan
---
Guest Contribution

Land transit, Rail transit, Air-transit

by ship, vessels, containers, trucks,

rail, Aeroplane etc. These surveyors

provide their professional services for

the following subject matters:

1. Hull surveys,

2. Cargo surveys.

3. Container surveys.

4. Port warehouses surveys,

5. Terminal surveys.

6. Bulk liquid cargo

7. Bulk dry cargo

8. Other dry and liquid cargos.

9. Pre-shipment surveys.

10. Ship surveys after and before

loading.

11. Quantity and quality surveys.

12. Draught survey.

13. Dry and liquid cargo surveys

during transit.

14. Freight survey

15. Oil tankers survey.

These above referred surveyors hold

appropriate qualification and

practical experience in surveying.

With the minimum academic

qualification as Bachelor degree

holder, they are qualified in practical

surveying in the field for minimum 3

years to hold practical/theoretical

knowledge of surveying. With this

prerequisite, they are to appear at

Pakistan Insurance Institute for

examination and then before the

examination board of SECP,

Insurance division where they are

tested whether the candidates are

eligible/capable to hold the survey

license. Possessing appropriate

knowledge of surveying, assessing

the extent of loss, adjusting the extent

of loss, assessing the cause and

circumstances of loss, terms and

conditions of relevant contract of

insurance and the application on

p a r t i c u l a r i n s u r a n c e c l a i m ,

observation of insurance policy

warranties, conditions, clauses and

endorsements, scope of indemnity,

coverage, assessing the value of

salvage, evaluation the subject matter

of insurance, separating the sound

cargo from damage, and suggesting

t h e s t e p s t o m i n i m i z e t h e

loss/damage. Identification of cargo,

fixing the liability of loss, observe the

contract of carriage, comment on the

r e s p o n s i b i l i t i e s o f b a i l e e s ,

transporters and other 3rd parties,

advise the insurers to improve the

underwriting regarding safety of

subject matter etc. While they

proceeds professionally with due

diligence holding appropriate

professional knowledge, equipped

with tactful dealing, smart moves,

proper skill of conversation,

convincing approach with the

combination of experience and

knowledge, the surveyors extend

great benefits to the parties linked

with the trade, in form of peace of

mind, safety, recovery of loss,

minimizing the loss and shifting the

onus, to the parties responsible for

loss.

The Word-Wide classification of

marine surveyors is so vast covering

each and every aspect of marine

business. The classes are mentioned

below with brief scope of function.

These surveyors may be independent

individuals or employed, structured

as associate companies, offering their

professional services based on their

areas of expertise and experience.

Surveyors in this sector tend to have a

marine seafaring background with a

relevant marine qualification such as

a Master mariner or Engineer

certificate of competency, with many

years sea going experience. Others

hold a marine related academic

background such as a naval architect

or an industry related degree, skill and

experience.

Warranty Surveyor

The warranty surveyor acts on behalf

of the insurer and assured to ensure

that the operations are conducted to

recognized codes and standards

within acceptable risk levels must

c o m p l y w i t h n a t i o n a l a n d

international regulations where

appropriate.

P & I Club Surveys

This class of surveyors conduct

protection & indemnity club surveys.

P & I clubs are mutual 3rd party

insurers for ship owners and

charterers. Large number of

surveyors are staff members of these

clubs though most of the surveys are

conducted by independent marine

surveyors. Preferred surveyors as

approved by the clubs, in any

geographical location is held by the

individual claim manager or handler

of the club.

Sale & Purchase Surveys

The process of sale and purchase of

ships continues in marine industry in

accordance with the market demand

a n d s u p p l y n o t o n l y f o r t h e

Insurance Journal July, August, September 2019

15

Find us at: www.insurancejournal.com.pk — www.facebook.com/insurancejournalpakistan
---
Guest Contribution

replacement of ships but for

expansion of the fleet to build up the

capacity and capability.

The specialist surveyors and/or

brokers having vast knowledge of

sale and purchase transactions in term

of valuation, legal requirement of

such sale and purchase.

experts in the market valuation of

ships and the legal requirements of

the sale and purchase contract. In

absence of the appropriate knowledge

of ship operations and conditions etc.

the brokers tend to seek expert

s u r v e y o r s t o f i n a l i z e t h e

sale/purchase proceed.

Break Bulk Surveys

Break bulk cargoes are cargoes that

involve individual items i.e. cases,

cartons, crates, bags, bales, bundles,

drums and barrels. Break bulk

surveys would therefore be associated

with the handling, stowage, storage

and carriage of this type of cargo as

well as the survey of damaged cargo.

Currently this type of goods is mostly

loaded into containers. The loading

and discharging of containers known

as stuffing and unstuffing, is seen as a

surveying task in its own right.

Container Condition Surveys

Physical condition and the suitability

of containers are to be inspected by

such surveyors for the following

reasons:

1. Whether the container fulfill the

pre-requisites of Convention for Safe

Containers (CSC Approval) prior to

stuffing.

2. Whether the physical condition of

container is suitable for particular

cargo and for on/off hire usage

(leasing)

3. Assessment of condition prior/after

stuffing and even after discharging

cargo (stuffing /unstuffing)

Hatch Cover, Hold Condition and

Cleanliness Surveys

The condition, cleanliness and

suitability of hatches, holds of the

ship is of paramount importance for

the shipments of steel, grain, coal and

fertilizer cargo.

The charterer of a ship, the shipper of

the cargo or P&I club etc. usually tend

to verify the condition, cleanliness

and suitability of the hold and hatches

for their acceptance to ensure the

safety of cargo so such type of survey

is conducted.

Structural Damage Surveys

Structural damage to ships usually

comes in the domain of the ship

classification surveyor,

In such cases, preferably the

underwriter, ship owner, charterer,

P&I club or any party who has an

interest in any possible claim would

utilize the expertise to protect their

interest.

To be continued....!

Insurance Journal July, August, September 2019

16

Find us at: www.insurancejournal.com.pk — www.facebook.com/insurancejournalpakistan
---
Guest Contribution

How to develop

Takaful in Pakistan

Atique Ahmed Chishti

Shariah Compliance Officer

IGI General Insurance Limited

(Window Takaful Operations)

There has been immense growth in the

numbers of Window Takaful

Operators since the Securities

Exchange Commission of Pakistan

(SECP) allowed window based

operations in 2015. Currently there

are 22 General and 4 Family Window

Takaful Operators operating in

Pakistan. Besides, some others are in

the pipeline seeking licence from the

SECP to start window operations. The

growing number of Window Takaful

Operators is likely to support the

growth of the Takaful industry in the

country.

Continuous growth and extension of

Takaful require key issues to be

addressed. They are consumer

awareness, product development,

standardization of documents,

retakaful arrangements, per party

single risk limit and contradiction in

Fatwa are the main factors standing in

the way of Takaful growth.

The biggest challenge for the Takaful

industry is to create awareness among

the general public. Takaful being a

new concept is unclear to many

people in Pakistan. A large number of

people, even some professionals

engaged in the insurance industry,

perceive Takaful as being the same as

conventional. This situation requires

new strategies for creating awareness.

Takaful as based on Shariah Principles

c a n b e b e t t e r p r o j e c t e d i n

collaboration with Ulema (religious

scholars) because they have Shariah

knowledge sufficient to furnish proof

of transactions in the light of the

Shariah. Secondly, Ulema are already

rendering services to promote Islamic

teachings through the largest network

of Masjid and Islamic Institutes.

Luckily we have a few renowned

Shariah scholars who are working for

Takaful as Shariah advisors. There are

others scholars whose contribution

has been immense for the growth of

Takaful. They include Mufti Muneebur-Rehman

and Mufti Muhammad

Taqi Usmani who do not need any

introduction as they are well-known

religious personalities in the country.

No one can deny the fact that Ulema

have always played a key role in

society for Islamization whenever

needed. Currently, there are a number

of interest based systems operating in

the country. Everyone knows that

interest in any form is forbidden in

Islam. In the Holy Quran, Allah says:

"He will destroy interest and increase

charity". It is indeed a noble cause to

eliminate interest from society. The

Takaful system as developed on the

basis of Shariah for the welfare of

people is an alternative to interest

based insurance. Now it is our

responsibility to come forward and

prepare the ground for Takaful to take

root in society. The platform of Ulema

is the best to serve the purpose of

Takaful awareness because they

frequently interact with the general

public, particularly on Fridays, they

have an opportunity of educating the

people during their speeches in

Masjids.

Insurance Journal July, August, September 2019

17

Find us at: www.insurancejournal.com.pk — www.facebook.com/insurancejournalpakistan
---
Guest Contribution

Secondly, the Takaful Industry needs

educational and training institutes to

educate and train fresh entrants

required to fill the vacuum of skilled

and qualified staff. Islamic Institutes

run by Ulema can play a meaningful

role to impart education to cater to the

educational needs. So institutes

should be approached to include

Takaful books in their syllabi. In this

way, students equipped with Islamic

Insurance and Shariah knowledge

from these institutes will have, not

only an opportunity to get a

respectable job, but also give a great

boost to the Takaful Industry.

Also, Takaful awareness at national

level is necessary to attract those

people who avoid buying insurance

due to religious reasons. In this

connection seminars and conferences

will be the best ways to create public

awareness. Conferences should be

arranged with the cooperation of

Ulema. Invite Ulema in large numbers

with a view to mobilize them to

participate in Takaful awareness

among the people so that they may

fully benefit from Takaful. Moreover,

s o m e k e y f i g u r e s f r o m t h e

government sector should also be

invited to the seminars for the purpose

of attracting TV Channels to give

coverage of the seminar. The help of

the electronic media may also be

obtained to create further awareness

a m o n g t h e p u b l i c b y g i v i n g

informatory interviews on Takaful.

It is worth noting that as per the

Takaful Rules 2012, a Shariah advisor

is allowed to work for a maximum of

three Window Takaful Operators at a

time in Pakistan. Currently, the total

number of Shariah advisors engaged

in the Takaful Industry is less than

those of the Takaful Operators. This

total number of Shariah advisors

needs to be enhanced because the

higher the number of Shariah

advisors, the greater the projection of

Takaful. If each Shariah advisor is

restricted to work for only one

operator, this amendment would

enable the Takaful industry to induct

more Ulema necessary to accelerate

the cycle of the Takaful industry.

It would not be out of place to mention

here that the permission of SECP to

start window takaful has opened a

new avenue for religious scholars to

move forward to the mainstream of

national development. It is hoped that

Ulema would consider the Takaful

platform as an opportunity to prove

themselves to be important in respect

of Islamization by replacing insurance

with Takaful in the country.

Per party single risk limit assigned by

banks is another issue binding Takaful

Operators to underwrite business

within the limit fixed by the banks.

The objective of allocating a risk limit

is that the bank wants to safeguard the

interests of its borrowers to whom it

advances money.

Banks usually assign a per risk limit

on the basis of assessment of the

operator's performance. They take a

number of aspects into consideration

at the time of scrutiny of operator's

quality. Here it seems appropriate to

mention that the Takaful is a welfare

based service entity. It does not sell

any goods. It issues an agreement

promising that in the event of incident,

it will honour its promise by

compensating the sufferer. As such the

criterion for the assessment of a good

Takaful operator should be its

payment of claims. If the operator is

prompt in the settlement of claims and

the track record is good, then all other

considerations for the Operator's

performance become secondary.

In the presence of retakaful treaty

arrangements there is no need to do

further exercise of fixing the total

exposure limit. Because the treaty is

done after careful assessments carried

out by the international retakaful

experts who have rich experience and

vast knowledge in underwriting of

risk. The treaty provides the capacity

to absorb the risks written for the

protection of clients. Under the

umbrella of treaty the client of the

bank is safe as their interest is fully

covered because when the operator

covers a risk, it retains a small portion

of that risk and the balance is passed

on to its treaty. This is done with a

view to spread the risk so that when a

loss occurs, the operator may pay less

from his/her own resources and the

major portion of loss is recovered

from the treaty. Hence the criteria for

assessment of performance should be

the speedy settlement of claim and

good track record of the Operator

because these are the topmost

performance objectives and without

them the banks cannot safeguard the

interests of their borrowers.

It seems appropriate to mention here

that Islamic banks and Takaful

operators both proclaim that they are

conducting all transactions in

accordance with Shariah. They are

keen to promote Shariah-based

systems in the country. This sign is a

good one but it requires both entities

to render cooperation for each other

otherwise obstacles from any side

would cause slow the journey of

Islamization in the country.

Fatwa, a formal legal opinion, is

usually issued by Mufti (Shariah

scholar) in response to a question on

the matter that is not clear. In Takaful,

Fatwa is the most important factor in

terms of making sure that transactions

being done are whether in line with

Shariah or not. The Takaful industry in

order to grow without doubt in minds,

requires all Shariah advisors engaged

in the Takaful industry to be on the

same page while issuing a Fatwa on

Takaful related transactions otherwise

contradiction in the Fatwa may create

confusion about Takaful.

It has been observed that there are

some cases on which Fatwa issued by

Shariah advisors are different. For

example, some Operators charge

admin surcharge under a Takaful

Policy while a few Operators do not

charge any saying it is against Shariah

compliance. This is evident from the

participant's membership documents

Insurance Journal July, August, September 2019

18

Find us at: www.insurancejournal.com.pk — www.facebook.com/insurancejournalpakistan
---
Guest Contribution

issued by different Operators.

No doubt, there have been differences

among Muslims scholars even on the

same issue but as far as Takaful is

concerned, the situation asks for

Shari'ah advisors to be on the same

page in order to avoid confusion

following contradiction in Fatwa on

Takaful matters. The more the

consensus in Fatwa, the greater the

level of acceptability in Takaful.

There is a dire need to constitute a new

committee consisting of Shariah

advisors engaged in the Takaful

Industry to bring uniformity in

documentations, transactions and

decisions enabling the Takaful

operators to flourish with unity in

society. The Insurance Association of

Pakistan (IAP) is a better platform to

set up the new committee. It is worth

noting that wordings of participant's

m e m b e r s h i p d o c u m e n t s ,

development of new products and

designing policies are technical issues

which need to be performed with the

guide of different committees as

already providing services at IAP

level. In order words, insurance

experts in the existing committees of

IAP would be of great help to the new

committee of Shariah scholars to

resolve all technical issues relating to

Takaful.

It is hoped that the creation of a new

committee will provide Shariah

advisors a platform where they could

not only resolve disputes and

problems being faced by the Takaful

industry but also make decisions

unanimously that were necessary for

Takaful growth. Besides, Shariah

advisors from different schools of

thought on a single platform would

also give a sign of unity which is

i m p o r t a n t n o t o n l y f o r t h e

development of Takaful but would

also create a good atmosphere in

society to flourish peacefully. The last

but not least, if we stand united, we

could make the impossible possible.

Insurance Journal July, August, September 2019

19

Find us at: www.insurancejournal.com.pk — www.facebook.com/insurancejournalpakistan
---
Guest Contribution

Leadership

"Ultimately, leadership is not about

glorious crowning acts. It's about

keeping your team focused on a

goal and motivated to do their best

to achieve it, especially when the

s t a k e s a r e h i g h a n d t h e

consequences really matter. It is

about laying the groundwork for

others success, and then standing

back and letting them shine."

Chris Hadfield

(Canadian Astronaut)

Premise:

Arsalan Pasha

Joint Director

SPI Insurance Co. Ltd

For readers of IJP the general topic

of leadership may sound somehow

irrelevant. It is true that there are

number of forums available for

such issues but our Insurance

Industry is entrenched as deep in

leadership crises as rest of Pakistan

is. This very fact instigated my

thoughts to hit the road.

Being a member of fraternity I can

relate with Insurance Industry and

realities of market. In series of

articles after bringing in lime light

the leadership traits, would embark

o n j o u r n e y t o e x p l o r e a n d

i d e n t i f y i n g t h e L e a d e r s h i p

gaps/traits in general for sales and in

particular for insurance sector.

Leaders are born:

"To suggest that leaders do not enter

the world with extraordinary

endowment is to imply that people

enter the world with equal abilities

with equal talents"

Thomas Carlyle

( 1 7 9 5 - 1 8 8 1 P h i l o s o p h e r &

Mathematician)

There has been a constant debate in

contemporary and oriental history

regarding Are leaders born or

otherwise? This question has

remained pivotal in pursuit of

leadership studies resulting in

diverse views and outcomes.

It is an interesting fact that

achievers are of only two types ones

with leadership quality known as

the team builders, and others are

with Solitary way of achieving, the

ones known as one man army, solo

flight takers. In my personal

opinion when it comes to Leaders

they are born they simply cannot be

made.

Most of the successful individuals

have their own set of principles

which they label as recipe of

success. Management gurus and

motivational speakers lay emphasis

on their own respective magic

mantras, but the fact remains the

Insurance Journal July, August, September 2019

20

Find us at: www.insurancejournal.com.pk — www.facebook.com/insurancejournalpakistan
---
Helping People

Take Control of Their Lives

Misc.

Insurance

Fire

Insurance

Crop &

Livestock

Insurance

Motor

Insurance

Engineering

& Bonds

Insurance

Health

Insurance

Agri Assets

Insurance

Cargo

& Hull

Insurance

Marine

Insurance

Travel

Insurance

Pioneer in Credit Linked Insurance

g

g

g

Fire & Allied Perils

Automobiles

Engineering & Bonds

Cargo and Hull

Miscellaneous Accidents

Crops & Agricultural Assets

After Completion of more than three decades in business, our highly qualified team of

professionals understand the importance of gaining your trust and providing you with

innovative solutions and expert advice. We believe that integrity, honesty and trust is the

basis of any successful company and look forward to continuously improving our

standards and performance in time ahead.

g

g

g

Rated

AAby

PACRA

Successfully Launched

WINDOW TAKAFUL

OPERATIONS

Branches All Over Pakistan
---
IAP Elections 2019-20

MR. MUHAMMAD HUSSAIN HIJRI

Chairman

The Insurance Association of Pakistan

MR. FARRUKH ALEEM

Senior Vice Chairman

The Insurance Association of Pakistan

MR. KAMRAN ARSHAD INAM

Vice Chairman

The Insurance Association of Pakistan

The nominations received for the IAP's Election from Member Companies were notified in the

IAP's Election Circular dated 29th August, 2019, addressed to All Principal Representatives. The

election of the Executive Committee members was held to fill up six (6) seats from non-life

insurance companies.

Ballot was held on 17th September, 2019 in Association's Head office at Karachi and Regional

Office at Lahore for the above mentioned seats. The Commission counted the votes and

determined the persons who have received the largest number of votes and elected to the above

Committee.

As regards election of Office Bearers (i.e. Chairman/ Senior Vice-Chairman/ Vice-Chairman of

the Executive Committee) only one nomination each for the Chairman, Senior Vice-Chairman &

Vice-Chairman, from Mr. Muhammad Hussain Hijri, Mr. Farrukh Aleem and MR. Kamran

Arshad Inam, respectively were received. The aforementioned persons therefore, stand elected

unopposed as the Chairman, Senior Vice-Chairman & Vice-Chairman of the Executive

Committee for the year 2019-20.

The full composition of newly elected/ continuing (*) members of the Executive Committee for the

year 2019-20 is as follows:

Executive Committee 2019-20

1. Mr. Muhammad Hussain Hijri, Chairman

2. Mr. Farrukh Aleem, Senior Vice Chairman

3. Mr. Kamran Arshad Inam, Vice Chairman

4. Mr. Abdul Haye

5. (*) Ms. Huma Waheed

6. (*) Mr. Muhammad Junaid Moti

7. (*) Mr. Muhammad Sohail Fakhar

8. Mr. Nawaid Jamal

9. (*) Mr. Tahir Masaud

10. (*) Mr. Zain Ibrahim

11. Mr. Zeeshan Raza

Century Insurance Co. Ltd

Security General Insurance Co. Ltd

EFU General Insurance Ltd

Alfalah Insurance Co. Ltd

United Insurance Co. of Pak. Ltd

Pakistan Reinsurance Co. Ltd

Jubilee Life Insurance Co. Ltd

Jubilee General Insurance Co. Ltd

IGI General Insurance Limited

EFU Life Assurance Limited

UBL Insurers Limited

Insurance Journal July, August, September 2019

23

Find us at: www.insurancejournal.com.pk — www.facebook.com/insurancejournalpakistan
---
Guest Contribution

role of mentor is to polish the leader

to the extent that they achieve

zenith. The leadership development

is subtle craft of mentors, coach and

or teachers. They unleash the

capabilities of individuals by

process of continuous intrusion in

their thought process.

The leader intuitively is an action

oriented personality ready to take

initiatives. These individuals

audaciously put themselves in

situations which may seem difficult

to others. They don't shy away they

embrace challenge on face of it.

Broadly, nurturing the leadership in

one's personality is carried out by

institutionalizing following traits in

individuals. These traits are either

acquired through teacher or one

learns hard way of 'On Job

Training'.

Empirically the order can be

modified and or remodeled as per

personal preference, for me it is as

henceforth.

Ÿ

Ÿ

Ÿ

Ÿ

Ÿ

Ÿ

Setting Goal

Strategic and critical thinking.

C o m m u n i c a t i o n a n d

deleg35ation of authorities.

Execution.

Integrity the Fulcrum.

Accountability & introspectionretrospection.

Setting Goals:

"If you want to be happy, set a goal

that commands your thoughts,

Liberates your energy and inspires

your hopes."

Andrew Carnegie

( U S S t e e l I n d u s t r i a l i s t &

Philanthropist 1835-1919)

I t i s a p r i m e a n d f o r e m o s t

contemplation process which is

adopted by leaders. This direction

demands clarity in thought process,

with respect to Past, Present and

future.

Setting goal(s) for one self's

warrants a person evaluate what he

is? What does he wants in life,

profession? Above all is he

passionate enough to achieve the set

of goals he is envisaging?

For setting goal one needs to dream ,

higher the dream higher the

achievement, but subsequent baby

steps must be taken continuously.

The clarity in thought augments in

simplifying complex goals into a

plausible narrative.

Every great dream is realized after

great sacrifice, but the goal

statement is always very simple for

instance great American dream,

corruption free country, and Qaid e

Azam (R.A)'s statement of Two

nation theory which was simplified

for the nation as" Pakistan Ka

Matlab Kia……….." .

It is paramount fact that it is the

passion which fuels Leader and it is

the leader who sets the discourse for

future, sans passion one is like a

puppet, a being without soul.

To be continued....!

Insurance Journal July, August, September 2019

25

Find us at: www.insurancejournal.com.pk — www.facebook.com/insurancejournalpakistan
---
Guest Contribution

Risk Management

and its Importance

Nasir Siddique

ACII (UK), CPRM & I (USA), MBA (I & RM)

Team Lead (Underwriting)

IGI Insurance Limited

T h e I m p o r t a n c e o f R i s k

Management to Business Success

Risk management is an important

part of planning for businesses. The

process of risk management is

designed to reduce or eliminate the

risk of certain kinds of events

happening or having an

impact on the business.

D e f i n i t i o n o f R i s k

Management

Risk management is a

process for identifying,

a s s e s s i n g , a n d

prioritizing risks of

different kinds. Once the

risks are identified, the

risk manager will create a

plan to minimize or

eliminate the impact of

negative events. A variety

of strategies is available,

depending on the type of

risk and the type of

business. There are a

n u m b e r o f r i s k

management standards in

the world developed by

many institutes.

Types of Risk

There are many different types of risk

that risk management plans can

mitigate. Common risks include

things like accidents in the workplace

or fires, tornadoes, earthquakes, and

other natural disasters. It can also

include legal risks like fraud, theft.

Risks can also relate to business

practices, uncertainty in financial

markets, failures in projects, credit

risks, or the security and storage of

data and records.

Goals of Risk Management

T h e i d e a b e h i n d u s i n g r i s k

management practices is to protect

businesses from being vulnerable.

Many business risk management

plans may focus on keeping the

company viable and reducing

financial risks. However, risk

management is also designed to

protect the employees, customers,

and general public from negative

events like fires or acts of terrorism

t h a t m a y a f f e c t t h e m . R i s k

management practices

are also about preserving

the physical facilities,

d a t a , r e c o r d s , a n d

p h y s i c a l a s s e t s a

company owns or uses.

Process for Identifying

and Managing Risk

W h i l e a v a r i e t y o f

different strategies can

mitigate or eliminate risk,

t h e p r o c e s s f o r

identifying and managing

the risk is fairly standard

and consists of five basic

steps. First, threats or

risks are identified.

Second, the vulnerability

o f k e y a s s e t s l i k e

i n f o r m a t i o n t o t h e

identified threats is

assessed. Next, the risk

manager must determine the

expected consequences of specific

threats to assets. The last two steps in

the process are to figure out ways to

reduce risks and then prioritize the

risk management procedures based

on their importance.

Insurance Journal July, August, September 2019

26

Find us at: www.insurancejournal.com.pk — www.facebook.com/insurancejournalpakistan
---
Guest Contribution

Strategies for Managing Risk

There are as many different types of

strategies for managing risk as there

are types of risks. These break down

into four main categories. Risk can be

m a n a g e d b y a c c e p t i n g t h e

consequences of a risk and budgeting

for it. Another strategy is to transfer

the risk to another party by insuring

against a particular, like fire or a slipand-fall

accident. Closing down a

particular high-risk area of a business

can avoid risk. Finally, the manager

can reduce the risk's negative effects,

for instance, by installing sprinklers

for fires or instituting a back-up plan

for data.

Having a risk management plan is an

important part of maintaining a

successful and responsible company.

Every company should have one. It

will help to protect people as well as

physical and financial assets.

Then Risk Management Helps In:

R i s k I d e n t i f i c a t i o n - R i s k

management outlines various

categories of risks faced by new

business including operational,

financial, strategic, compliance

related and environmental, political,

safety and health risks.

Risk Management - Clarifies the

importance and events for tackling

the risks that your new business

establishments may face. This

includes the information about the

evaluation of various risks and four

options for managing each risk. This

also helps in outlining some

preventive ideas to decrease the likely

hood of risks immobilizing your

business.

Business recovery planning -

Outlines disaster planning and also

minimizes the impact of the disaster

on your business and this includes

aspects such as data security,

employees, insurance policies and

equipment.

Prevention of crime - This outlines

crimes disturbing small businesses

and derives some simple steps to

tackle it.

Shop Theft - Risk management

discusses theft problems in a business

and the areas to protect, such as

adopting simple safety measures and

by keeping track of the staff and

inventory.

Data Security - This offers a variety

of information, which protects the

businesses and also secures data.

Includes disaster recovery, risk

assessment, backups and policies

regarding data security.

Why is it important to carry out a

Risk Assessment and prepare a

Safety Statement?

The main aim is to make sure that no

one gets hurt or becomes ill.

Accidents and ill health can ruin lives,

and can also affect business if output

is lost, machinery is damaged,

insurance costs increase, or if you

have to go to court. Therefore,

carrying out risk assessments,

preparing and implementing a safety

statement and keeping both up to date

will not in themselves prevent

accidents and ill health but they will

play a crucial part in reducing their

likelihood.

E m p l o y e r s , m a n a g e r s a n d

supervisors should all ensure that

workplace practices reflect the risk

assessments and safety statement.

Behaviors, the way in which

everyone works, must reflect the safe

working practices laid down in these

documents. Supervisory checks and

audits should be carried out to

determine how well the aims set down

are being achieved. Corrective action

should be taken when required.

Additionally, if a workplace is

provided for use by others, the safety

statement must also set out the safe

work practices that are relevant to

them.

Hence, it is important to carry out a

Risk Assessment and prepare a Safety

Statement for:

1. Financial reasons:

There is considerable evidence, borne

o u t b y c o m p a n i e s ' p r a c t i c a l

experiences that effective safety and

health management in the workplace

contributes to business success.

Accidents and ill-health inflict

significant costs, often hidden and

underestimated.

2. Legal reasons:

Carrying out a risk assessment,

preparing a safety statement and

implementing what you have written

down are not only central to any

safety and health management

system, they are required by law.

Health and Safety Authority

inspectors visiting workplaces will

want to know how employers are

managing safety and health. If they

investigate an accident, they will

scrutinize the risk assessment and

safety statement, and the procedures

a n d w o r k p r a c t i c e s i n u s e .

It should be ensured that these stand

up to examination. If the inspector

finds that one of these is inadequate,

he or she can ask the employer to

r e v i s e i t . E m p l o y e r s c a n b e

prosecuted if they do not have a safety

statement.

3. Moral and ethical reasons:

The process of carrying out a risk

assessment, preparing a safety

statement and implementing what

you have written down will help

employers prevent injuries and illhealth

at work. Employers are

ethically bound to do all they can to

ensure that their employees do not

suffer illness, a serious accident or

death.

Insurance Journal July, August, September 2019

27

Find us at: www.insurancejournal.com.pk — www.facebook.com/insurancejournalpakistan
---
Guest Contribution

Yarn Spinning

and its Process

Muhammad Aamir Jamil

Dip CII (UK), Deputy Manager (Underwriting)

Property Division / Ancillary Operations

Security General Insurance Co. Ltd

What is yarn spinning?

Yarn spinning is a process of

converting fiber and filament

material such as cotton, wool,

polyester & nylon into yarn for

making textile products e.g. clothing

etc. In the cross section of yarn there

are usually a multiple number of

Staple fibers or filaments for

unlimited length. The yarn made out

of staple fiber is called Spun yarn.

There are different types of spinning,

the most commonly forms of

spinning are: Ring, Rotor spinning,

Air Jet, Friction etc.

How yarns are produced?

Yarns are produced with different

diameters and different weights per

unit length. Yarn manufacturing

process, processing speeds and

control technology has remained

unchanged for a number of years.

Yarn properties and processing

efficiency are related to the properties

of the cotton fibers processed. Now I

will discuss about cotton spinning

process.

How may classes of Spinning

Process?

There are two classes of spinning

process have been developed by

people, Hand Spinning and Machine

S p i n n i n g . B e f o r e i n d u s t r i a l

revolution occurs, hand spinning

method is widely used by people for

making yarns. After industrial

revolution, many developments have

been done by the industry to ease the

process by apply machine to control

the process effectively.

However, the process of yarn

spinning is much complicated and

required different stages needs to be

done which are giver as under;

1. Blow Room:

The basic objective of this process is

to open the bales and convert into

smaller and lighter floc to clean the

impurities and to transfer this

material into various other machine

of blow room line for further

processing.

This is the starting stage of Spinning

Process. There are three actions

happen in Blow room machine. They

are given as under;

Ÿ

Ÿ

Ÿ

Action of Opposing Spikes

Action of Air Current

Action of Beaters

2. Carding:

This stage is the heart of spinning

process as it determines the final

feature of the yarn. At this stage

carding machine opens the folks of

fiber which provide comfort to

remove excessive impurities on the

fiber surface which were not

eliminated in the previous cleaning

operations. Further, short fiber which

is not suitable for production due to

short length will also be eliminated.

Insurance Journal July, August, September 2019

28

Find us at: www.insurancejournal.com.pk — www.facebook.com/insurancejournalpakistan
---
Guest Contribution

Carding machine performs two

actions, one is called carding action

and other is called stripping action.

3. Combing:

Combing is a process which is

introduced into the spinning of finer

and high-quality yarns from cotton.

At this stage yarn will be straighten

again and arrange in parallel manners

and at the same time short fiber will

also be eliminated from the long fiber

because short fibers are a hindrance to

spinning of finer counts where the

number of fibers in the cross section

of the yarn is less. The short fibers

cause thick and uneven places in the

yarn length and the yarn looks hairy.

Apart from this, very short fibers do

not contribute anything to yarn

strength. Short fibers below a certain

pre-determined length can be easily

separated out by using comber.

4. Drawing:

At this stage drafting and doubling are

carried out to produce good quality

yarn. In market most of the

manufacturer uses the blending

process where two different types of

fibers such as cotton and polyester

will be blended to make a yarn and it

will not only reduce the cost but also

increase the performance.

5. Roving:

The roving process reduces the

weight of the sliver yarn to a suitable

size for spinning into yarn and

inserting enough twist, to produce a

suitable package for the next process

and to reduce the thickness of the

sliver which maintains the integrity of

the draft strands. Bobbins of roving

are placed onto holders that allow the

roving to feed freely into the drafting

roller of the ring-spinning frame.

6. Cone Winding:

This is the final stage in spinning

where yarn in wounded on the cone.

Good winding is the mirror of yarn

spinning mill. Yarn winding can thus

be viewed as simply being a

packaging process, forming a link

between the last few elements of yarn

manufacturing and the first element

of fabric manufacturing process.

Practically winding process alters the

yarn structure. The factors which

affect the yarn structure during

Obituary

winding are bobbin geometry, bobbin

unwinding behavior, and binding

speed. This phenomenon does not

affect the evenness of the yarn but it

affects the properties of the yarn such

as thick and thin places.

Conclusion:

C o n s i d e r a b l e r e s e a r c h a n d

development efforts are being

devoted to affecting the fundamental

new methods of yarn production.

E v e n t h o u g h t h e c u r r e n t

manufacturing processes are highly

developed but a number of new

spinning systems currently under

development may revolutionize yarn

manufacturing and could cause

changes in the relative importance of

fiber properties as they are now

perceived.

Mr. Jalilullah died in Karachi. He was Former Controller of

Insurance in the nineties, well reputed and well known in

the Insurance Industry of Pakistan always willing to help

and provide guidance. He played an important role in

negotiations for the drafting of Insurance Ordinance 2000

to replace Insurance Act 1938.

Insurance Journal July, August, September 2019

29

Find us at: www.insurancejournal.com.pk — www.facebook.com/insurancejournalpakistan
---
Health Corner

Rana Naveed ur Rehman

MBA (HRM), Cert CII (UK)

Assistant Vice President (Health)

East West Insurance Co. Ltd

Natural

Disasters

(Part-1)

In this article, I will explain how to act

during an earthquake and what

measures should be taken to keep

safe.

Earthquake

Earthquakes may strike without

warning, causing deaths and major

damage. Often quakes last for only

seconds, but in that time, they can

destroy buildings, roads and crush

people. Fires resulting from broken

gas pipes can rage for days afterward

and aftershocks are a further danger.

If you live in an earthquake area,

prepare your home as best you can.

Preparing for an Earthquake

Identify Potential Hazards:

Ÿ

Ÿ

away from windows or places

where glass could shatter.

Identify at least one safe outdoor

location that you could escape to if

necessary. Try to find a spot that is

out in the open, well away from

buildings, trees, power lines,

elevated roads and bridges, all of

which are dangerous because they

could fall or collapse.

Make sure that every member of

your family knows what to do in

the event of an earthquake.

Be Ready:

Ÿ

Be alert for small tremors, known

as foreshocks. These indicate that

Ÿ

a larger earthquake is on its way. If

you do feel a foreshock, warn

family members and head for a

safe location at once.

Be prepared to experience a wave

of aftershocks following the main

earthquake. These aftershocks can

also be severe and may cause

additional damage.

During an Earthquake

Take Cover:

Ÿ

If you feel the ground shake, drop

under a heavy desk or table, press

your face against your arm to

protect your eyes, and hold on.

Ÿ

Ÿ

Ÿ

Check structural elements in your

home to ensure that they are sound

and see that heavy furniture is

secure.

Place large, heavy objects on

lower shelves and re-hang heavy

mirrors or pictures that are

currently positioned over seating

or beds.

Store fragile items in low cabinets

that are fitted with latches or locks.

Identify Safe Places:

Ÿ

In every room, identify safe spots

where you could take shelter. Ideal

places are under solid desks, tables

or strong internal doorway wells

Insurance Journal July, August, September 2019

30

Find us at: www.insurancejournal.com.pk — www.facebook.com/insurancejournalpakistan
---
Health Corner

Ÿ

Ÿ

Ÿ

Ÿ

If you cannot reach a table, take

shelter in an internal doorway.

If you cannot move quickly to a

safe place, stay where you are but

keep well away from windows.

If you are in bed, stay there and

protect your head with a pillow.

Stay exactly where you are until

the shaking stops.

Expect Aftershocks:

Ÿ

Ÿ

Ÿ

Put out candles or naked flames in

case of gas leaks. If you smell gas,

turn off the supply at the main.

Each time you feel an aftershock,

take cover and hold on, as before.

Be aware that aftershocks can

collapse structures already

weakened by earthquakes. Inspect

your home for damage after each

aftershock and move everyone out

of the building quickly if you

suspect that it is unsafe.

Stay Safe:

Ÿ If you are outside, do not go back

into your home until it has been

checked for structural safety.

Ÿ If you are inside and your home

seems to be structurally sound,

wait there until you are given the

official all-clear. Then, prepare to

leave. Stay elsewhere until your

home has been checked by a

professional.

Ÿ Check everyone for injuries and

give first-aid treatment as

necessary.

Ÿ If water pipes are damaged, turn

off your supply at the main.

Ÿ If you can smell gas or suspect that

electrical wiring is damaged, turn

off supplies at the main.

Ÿ Keep listening to your radio /

television for official instructions.

If you are outside, lie down as far

away as possible from buildings,

trees, and power lines, or seek shelter

in a doorway. Stay where you are until

the shaking stops. Do not go into any

form of underground shelter, such as a

cellar or tunnel, because it could

collapse. If you are driving, stop your

car carefully and stay in your car until

the shaking stops.

What to do:

Ÿ

Ÿ

Keep away from windows, they

could be shattered.

Take cover wherever you are.

Action in a Disaster Emergency

Ÿ

Ÿ

Stay away from items that might

fall on you, such as tall furniture.

Put out cigarettes in case of gas

leaks.

What not to do:

Ÿ

Ÿ

Ÿ

Ÿ

Use stairs or elevators.

Run into the street, falling bricks

or glass could injure you.

Think that you are safe once the

ground stops shaking, always

expect aftershocks.

Use telephones unless the call is

essential.

The 10 Things You Need to Have in

Your Disaster Emergency Kit

When an emergency arise, try to remain calm and controlled so that you can act

effectively. Before assessing the victim's condition and carrying out the appropriate first

aid, make sure that you are not putting yourself in danger. You will not be able to help

anyone else if you become a victim yourself. If possible, call immediately Rescue 1122

while you deal with the situation.

Insurance Journal July, August, September 2019

31

Find us at: www.insurancejournal.com.pk — www.facebook.com/insurancejournalpakistan
---
EFU Life - Press Releases

EFU Life receives Consumers Choice Award 2019

Karachi: EFU Life Assurance Limited, leading life insurance provider in Pakistan, has

been honored with the prestigious Consumer Choice Award 2019 for 'Best Life Insurance

Company' at the 14th Consumer Choice Award 2018-19. Mr. Mustafa Hussain Oonwala,

National Sales Director, EFU Life received the award on behalf of the Company from Mr.

Khalid Maqbool Siddiqui, Federal Minister for Information Technology and

Telecommunication and Chief Guest of the event.

This is the 11th consecutive year that EFU Life has received the Consumer Choice Award.

The award reflects the company's customer-centric approach, innovative products

catering to the evolving needs of customers and the latest practices it adopts for providing

superior services.

Consumers Association of Pakistan is a non-government, non-profit organization set up

in 2000 to protect and educate consumers. It aims to safeguard the interest of consumers

while ensuring that their needs are given a higher priority.

Insurance Journal July, August, September 2019

32

Find us at: www.insurancejournal.com.pk — www.facebook.com/insurancejournalpakistan
---
EFU Life - Press Releases

EFU Life bags TWO Prestigious Awards

at 'Dragons of Asia'

EFU Life Assurance Limited, the leading life insurance provider in the country, has been

conferred two awards at the 'Dragons of Asia' ceremony that was held in Kuala Lumpur,

Malaysia.

'Dragons of Asia' is a marketing communications industry award programme that recognizes the

result-driven marketing strategies of various countries in the Asia-Pacific region.

The company won in the categories of 'Best Campaigns by Country' and 'Best Use of Media'

for Pakistan's first Life Insurance webseries - Humrahi.

EFU Life won the prestigious Blue Dragon for 'Best Campaign in Pakistan' across all

categories and industries. Whereas for the 'Best Use of Media', in all countries participating EFU

Life was presented with the Gold Dragon.

The web series was successful in changing the perception of insurance in the minds of

millennials, encouraging them to plan for their future.

EFU Life collaborated with media agency, Mediavest Pakistan to successfully execute the

campaign thus humanizing the brand across digital media.

Insurance Journal July, August, September 2019

33

Find us at: www.insurancejournal.com.pk — www.facebook.com/insurancejournalpakistan
---
Provincial Consultation Workshop

Provincial Consultation Workshop on strategy for Implementation

of DRR Plan and Risk Transfer Mechanism in Sindh

Background

Climate Change is one of the harsh realities of the 21st century. It is a global phenomenon, affecting almost all

the regions of the world. Climate change is a key instigator for the increased frequency of hydrometeorological

disasters across the globe. Over the past few decades' the occurrence of natural disasters has

become a recurrent phenomenon globally. According to the world disasters Report published in 2018 overall

3,751 natural hazards have been recorded over the last 10 years 84% of which are weather related hazards

(Floods 40.5%, storms 26.7%, other weather related 16.9%). An estimated 2 billion of people were affected by

these natural hazards (Floods 36.7%, storms 17%, other weather related 41.8%) The estimated cost of

damages as a result of natural hazards in 141 countries was over the last 10 years of costs were around

US$1,658 billion (Storms 41.7%, floods 21.9%, other weather related 9%) (IFRC, 2018). Pakistan is no

exception to the impacts of climate change and the resulting disasters and the case for disasters in Pakistan is

not very different from the global scenario Pakistan's high vulnerability to extreme loss and damages in wake

of natural calamities and climate induced disasters. In 2005, a devastating earthquake shook Pakistan, with

nearly 2.3 billion USD worth of direct losses, 5.2 billion USD in overall economic losses and nearly 73,000

deaths and 80% of entire population in the affected areas was left homeless. (World Bank, 2018) Similarly, in

2010, a super flood hit Pakistan after unprecedented monsoon rains in the country. The flood had a time

probably time period of 1000 years. Loss of human lives, community's assets, complete shutdown of economic

activities in many of the affected areas were some of the impacts of this devastating flood.

Ever since 2005 earthquake and subsequent disasters, the government of Pakistan undertook the initiative of

formulating the National Disaster Management Authority (NDMA) through the national disaster management

act in 2007. The authority and its subsidiary provincial functions (provincial disaster management authorities)

are undertaking measures for disaster management in the country. In addition to efforts raised by government

agencies, developing partners such as world Bank, United Nations and Asian Development Bank, (ADB) and

various INGOs and NGOs are also working in the country for Climate Action and Disaster Risk Reduction.

LEAD Pakistan has long history of working for disaster resilience and climate compatible development in

Pakistan. LEAD has implemented many national and internationally funded projects including projects with

NDMA and provincial PDMAs.

LEAD is active in advocacy and campaigning work for sustained DRR resourcing and has played a pivotal role

in the development of the National Climate Change Policy. LEAD has also supported the formulation of the

National Disaster Risk Management Framework (NDRMF) and is engaged with the National Disaster

Management Authority (NDMA), Provincial Disaster Management Authorities (PDMAs) and District

Disaster Management Authorities (DDMAs) to implement DRR and climate change policies.

Lead Pakistan in partnership with OXFAM international under the project "Building resilient communities in

Pakistan" organized consultation workshop on Risk Transfer Mechanisms in Pakistan taking efforts to support

provincial organizations and district government Badin for improving community resilience and reducing the

risk of disaster. The project is exploring possible solutions for potential Risk Transfer Mechanism in Pakistan.

Insurance Journal July, August, September 2019

34

Find us at: www.insurancejournal.com.pk — www.facebook.com/insurancejournalpakistan
---
Provincial Consultation Workshop

Introduction

At present LEAD Pakistan and OXFAM GB are implementing a project titled "Facilitating Improved Action

for building Resilient Communities in Pakistan" The project is focusing on district Badin , of the Sindh

province and undertaking numerous activities related to community resilience building and disaster risk

reduction.

The "Facilitating Improved Action for Resilience in Badin" project aims to improve the resilience of rural

communities in disaster and hazard prone locations with a focus on gender justice and good governance.

The project is working with communities and other stakeholders to build undertaking, knowledge and skills to

prepare for, adapt to and mitigate climate and disasters risks. The Project aims to achieve its goals through the

achievement of following objectives;

1. Enhancing the climate-resilience of vulnerable livelihoods in drought-prone Badin district, with a focus on

women and people living with a disability.

2. Improving the ability of communities to anticipate, prepare for, and mitigate the risk of disasters and climate

change.

3. Influencing strategies for effective governance for resilience development at the district and provincial level

will be achieved.

Risk Transfer Mechanisms for Building Resilience in Sindh

Risk transfer refers to the process of formally or informally shifting the financial consequences of particular

risks from one party to another, whereby a household, community, enterprise or state authority will obtain

resources from the other party after a disaster occurs, in exchange for ongoing or compensatory social of

financial benefits provided to that other party.

Risk transfer is widely used as a tool for financing resilience to severe climatic, events. There are primarily two

categories of risk transfer i.e. conventional and alternative out of which disaster risk insurance is the most

common technique, whereby against a premium, an insurer refunds a portion of the costs incurred in case of

natural calamity. Micro insurance policies and other such investments in disaster risk reduction have greatly

improved community resilience and preparedness. Compared to post disaster relief and compensation efforts,

risk transfer mechanisms offer greater financial support that allows the affectees to fully recover from all the

incurred losses. Therefore, risk transfer has emerged as a key component of disaster risk management over the

years.

Under this joint project being implemented in Badin, the potential of introducing and implementing

conventional and alternative risk transfer mechanisms is being explored. For this purpose, LEAD Pakistan has

developed a risk transfer product for target communities in Badin after conducting a feasibility and engaging

with relevant stakeholders in Badin and Sindh Province. On 27th June, 2019, LEAD Pakistan is a holding a

consultative session on potential risk transfer in Pakistan and the product that has been developed by LEAD

Pakistan. The consultation will invite a number of stakeholders from the public and private sectors in Sindh

Province, including PDMA.

Insurance Journal July, August, September 2019

35

Find us at: www.insurancejournal.com.pk — www.facebook.com/insurancejournalpakistan
---
Legal Section

2015 C L D 1155

[Lahore]

Before Muhammad Khalid Mehmood Khan and Ibad ur Rehman Lodhi, JJ

Mst. NASEEM BIBI---Appellant

Versus

STATE LIFE INSURANCE CORPORATION OF PAKISTAN

through Chairman and another--- Respondents

Regular First Appeal No.186 of 2008 decided on 17th December, 2014.

(a) Insurance Ordinance (XXXIX

of 2000)---

----Ss. 118 & 124 Appellant/claimant

impugned order of Insurance Tribunal

whereby claim of additional

liquidated damages of appellant was

reject and she was only held entitled

to receive the amount of liquidated

damages already paid to appellant by

the Insurance Corporation---Held,

that an additional amount as

liquidated damages was received by

the appellant from the Insurance

C o r p o r a t i o n b u t t h e r e w a s

dissatisfaction on party of the

appellant as to the quantum of such

amount of liquidated damages, but

neither any period as to the

entitlement of the appellant to receive

such liquidated damages nor any

amount, except one which was

c a l c u l a t e d b y t h e I n s u r a n c e

Corporation and paid to the appellant,

were provided by the appellant---In

absence of any exact calculation to

the contrary, the Insurance Tribunal

was right in depending upon

calculation made by the Insurance

Corporation towards the entitlement

of the appellant in respect of the

amount of the liquidated damages---

A p p e a l w a s d i s m i s s e d , i n

circumstances.

(b) Insurance Ordinance (XXXIX

of 2000)---

---S. 118--- Limitation Act (IX of

1908), Art. 86(a)---Computation of

period of limitation for filing of

claim/application before the

Insurance Tribunal under S.118 of the

Insurance Ordinance,2000---Claims

arising before the constitution of the

Insurance Tribunal under S.118 of the

Insurance Ordinance,2000---Insured

died on 12-10-2001 and application

of claimant under S.118 of the

Insurance Ordinance, 2000; before

Insurance Tribunal was rejected on

the ground that the same was barred

by time--- Held, that period of

limitation of three years provided in

Art. 86(a) of the Schedule to the

Limitation Act, 1908 was to run from

date when the sum insured was

payable after proof of death had been

given or received by the insurer---

Insurance Tribunal came into

existence with effect from 20-6-2006

and before said date; the claimant had

been approaching different forums

like the Ombudsman, the President,

the High Court and immediately after

the constitution of the Insurance

Tribunal, under the Insurance

Ordianance,2000; the claimant within

three months approached the

Insurance Tribunal therefore claimant

could not be held guilty of any delay

in lodging of application under S.118

of the Insurance Ordinance, 2000

despite the fact that the insured had

passed away on 12-10-2001--- High

Court observed that in the present

case, limitation could not be treated to

commence from date of death of the

insured; rather the same would start

from 20-6-2006 when the forum for

lodging of such application under S.

118 of the Insurance Ordinance,2000

was established; and therefore

application of appellant under S. 118

of the Insurance Ordinance,2000 was

not barred by time.

Liaqat Ali Butt for Appellant.

Ali Akbar Qureshi and Ibrar

Ahmad with Safdar Ali Qureshi,

Law Officer, State Life Insurance

Corporation for Respondents.

Date of hearing: 11th September,

2014

JUDGMENT

IBAD-UR-REHMAN LODHI, J.---

This is an appeal arising out of

judgment passed by the learned

Insurance Tribunal Punjab, Lahore,

o n 2 9 - 3 - 2 0 0 8 , w h e r e b y, t h e

application of present appellant-

Mst.Naseem Bibi, was dismissed.

2. The appellant's husband Farrukh

Bashir was associated with the state

Life Insurance Corporation of

Pakistan, who died on 12-10-2001,

where-after a claim under Policy

FSG-00015 (Field Self Subscribed

Group Insurance) was lodged with the

Insurance Corporation, which was

declined on 21-10-2003.

Insurance Journal July, August, September 2019

36

Find us at: www.insurancejournal.com.pk — www.facebook.com/insurancejournalpakistan
---
Legal Section

3. In absence of any Insurance

Tribunal, which in fact, came into an

existence w.e.f. 20-6-2006,the

present appellant; firstly approached

the Ombudsman and complaint of the

appellant was decided by the

Ombudsman in her favour on 8-3-

2 0 0 3 , a n d t h e r e s p o n d e n t -

Corporation was held bound to pay

liquidated damages in addition to

group insurance policy proceeds to

the appellant.

4. From the record, it is evident that on

3 0 - 7 - 2 0 0 3 , a n a m o u n t o f

Rs.11,95,500 was paid by the

Corporation to the appellant towards

insurance policy amount, whereas, an

additional amount of Rs.1,24,278

towards liquidated damages was paid

by the Corporation to the appellant on

19-1-2004, on account of Writ

Petition No.18024 of 2003, which

was filed before this Court, seeking

implementation of the findings of the

learned Ombudsman, and the same

was disposed of on 29-3-2014. A

representation before the worthy

President was also made by the

appellant arising out of the findings of

the Ombudsman, which was,

however, rejected on 1-9-2005, and

again when a Constitutional petition

was pending in this Court, on account

of the constitution of the Insurance

Tribunal on 20-6-2006, the appellant

filed an application under section 118

of the Insurance Ordinance, 2000,

before the Tribunal on 30-9-2006.

5. The application was contested by

the Corporation on merits as also on

the point of limitation.

6. The learned Insurance Tribunal,

vide impugned judgment dated 29-3-

2008, has not only dismissed the

application on merits, but also held

the same as being barred by time in

view of Article 86(a) of the Limitation

Act,1908.

7. On merits we are in agreement with

the findings of the learned Insurance

Tribunal, as admittedly the amount of

Rs.1,24,278 was received by the

appellant in addition to the policy

amount from the Corporation.

Although, there seems to be some

dissatisfaction on the part of the

appellant as to the quantum of amount

of liquidated damages, but neither

any relevant period as to the

entitlement of the appellant to receive

such liquidation damages nor any

other amount, except, which was

calculated by the Corporation and

paid to the appellant, were provided

by the appellant. In absence of any

exact calculation, the learned

Insurance Tribunal was right in

depending upon the calculation made

by the Corporation towards the

entitlement of the appellant in respect

of the amount of liquidated damages.

8. However, on the point of limitation,

we have some reservations as to the

findings of the learned Insurance

Tribunal. In this matter, the

application for obtaining the policy

amount along with all other allied

benefits was filed by the appellant

before the learned Insurance Tribunal

on 30-6-2006.

9. The husband of the appellant, who

was insured with the Insurance

Corporation died on 12-10-2001, and

by keeping these two dates before it,

the learned Insurance Tribunal has, in

a cursory manner, held the application

before it as being barred by time in

view of the provisions of Article 86(a)

of the Limitation Act, 1908. In the

said Article, description of suit is

provided in the following words:-

"On a policy of insurance when the

sum insured is payable after proof of

the death has been given to or

received by the insurers."

And, therefore, it is clear that the

limitation of three years is to be run

from the date either, when the sum

insured is payable after proof of the

death has been given or received by

the insurers.

10. The learned Insurance Tribunal

came into an existence only w.e.f 20-

6-2006 and before that, after the death

of the insured, the appellant had been

approaching the different forums,

like; the Ombudsman, the President,

the High Court, and immediately after

the constitution of the Insurance

Tribunal under the Insurance

Ordinance, 2000, she, within three

months, approached the learned

Insurance Tribunal; therefore, she

cannot be held guilty of any delay in

lodging her claim by means of an

application under section 118 of the

Insurance Ordinance, 2000, despite

the fact that her husband/deceased

insured, passed away on 12-10-2001.

The claim of the appellant, which was

lodged before the learned Insurance

Corporation, was declined by the

Corporation on 21-10-2003, and in

this particular case, the limitation

could not be treated to commence

from the ate of death, rather it would

start form 20-6-2006, when the forum

for lodging such application under

section 118 of the Insurance

Ordiannce,2000,was provided and if

from such point of time, the limitation

is counted, the application moved

before the learned Insurance Tribunal

was not barred by any time, as such,

the findings arrived at by the learned

Insurance Tribunal on Issued No.3,

holding that the application under

section 118 of the Insurance

Ordinance,2000, was barred by time

are reversed and it is held that the

application moved before the learned

Insurance Tribunal was within time.

11. On merits, the appellant was

rightly held as not entitled to claim

any additional amount of liquidated

damages in absence of any exact

claim towards such entitlement put

forth by her before the tribunal.

12. Result is that the appeal merits

dismissal and the same is, therefore,

dismissed.

KMZ/N-1/L

Appeal Dismissed.

Insurance Journal July, August, September 2019

37

Find us at: www.insurancejournal.com.pk — www.facebook.com/insurancejournalpakistan
---
We are specialist in UMRAH services

Exclusive UMRAH Packages:

Five Star

Package

Four Star

Package

Three Star

Package

Economical

Package

Travel & Tours (Pvt) Limited

IRTIQAZ Travel & Tours (Pvt) Limited
---
Importer, Exporter and Wholesale supplier

of Vegetable seeds, Wheat seeds, Paddy seeds

and Field crops