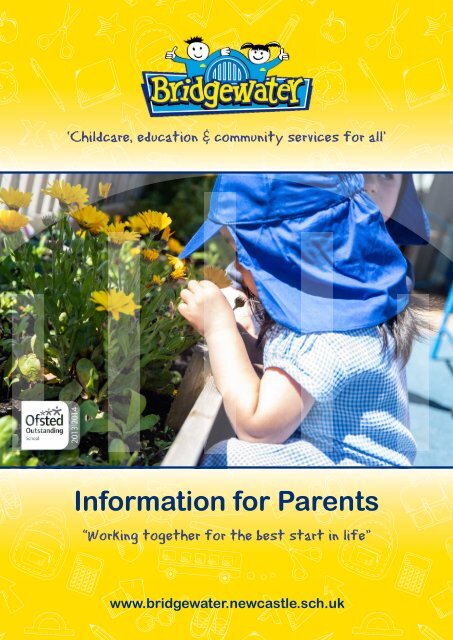 BWS_prospectus_pages_OCT19
You also want an ePaper? Increase the reach of your titles
YUMPU automatically turns print PDFs into web optimized ePapers that Google loves.
'Childcare, education & community services for all'

Information for Parents

"Working together for the best start in life"

www.bridgewater.newcastle.sch.uk
---
Information for Parents

School Address

Bridgewater School, Delaval Road, Newcastle upon Tyne

NE15 6NL

Telephone 0191 274 5290

HeadTeacher Mrs Samantha Robson

Chair of Governors Mr Nitin Shukla

If you need this booklet in a different format or translated

into another language, please contact the HeadTeacher.

Further information can also be found on our website,

www.bridgewater.newcastle.sch.uk

'The grounds provide

large play areas, safety

surfaces for climbing

equipment, trim trails

and well developed

outdoor curriculum

areas including an

allotment, orchard and

wildlife area for our

forest school.

2
---
General Information

Bridgewater is an inner city primary school. The school was

formed when a variety of settings in the local area, including

Delaval Community School, Valley View Nursery School and

Armstrong Road Community Nursery merged in September 2006

to form Bridgewater Centre. Bridgewater caters for children from

birth to 11 and their families.

There are a growing proportion of pupils with English as an

additional language and currently these children speak a range

of languages but mainly Polish, Czech or Slovakian as their

home language. We have a growing number of other languages

too.

Bridgewater has a range of community facilities which consist of

a family learning suite which also houses wrap around provision;

specialist teaching areas such as a music room, art and

technology room, a sensory room and a multimedia suite. These

facilities enable us to deliver a range of activities some of which

are specialised.

Our 4 mini buses support curriculum activities and our Breakfast

Club.

The grounds provide large play areas, safety surfaces for

climbing equipment, trim trails and well developed outdoor

curriculum areas including an allotment, orchard and wildlife area

for our forest school. Play is extremely important for our children

and to demonstrate our commitment we are a registered OPAL

school. You can find out more about this on our website.

The immediate area surrounding the school is almost entirely

residential; homes are rented from Your Homes Newcastle or

from private landlords. This area is part of Newcastle's inner

city re-generation project with 'The Rise' offering private and

affordable houses.

The school is almost full and from September 2018 has been two

form entry from Nursery to Year 6. We also have provision for 50

places in our 0 - 3 setting.

In 2013 the school was inspected by OFSTED and judged

Outstanding in every area.

3
---
Arrangements For School

Admissions

We are happy to admit children into school at any time during

the school year, as long as we have a place for them. We follow

Newcastle Local Authority's agreed admission arrangements.

Nursery children are admitted throughout the first two weeks of

September, to give time for children and Teachers to get to know

each other. Reception children are admitted on the first day of

the September term.

0-3

Parents can purchase a place in our 0-3 childcare at any point in

the year. Children who are 3 years old before the 31st December

and then again before 31st March can access a free 15 hour

place from the beginning of the following term. We also offer

free places to children who are 2 years old and meet the Local

Authority criteria. Please ask to see our separate brochure.

The Nursery Class

Children are admitted to the Nursery in the September following

their third birthday or during the year as vacancies occur.

The Reception Class

Children are admitted to the Reception Class in the September

following their fourth birthday. One Teacher and one full time

Early Years Practitioner staff each Reception Class.

You are welcome to visit the school before your child joins us.

Please contact the school office to make an appointment.

There are coffee mornings and open days for parents in the

Summer Term before their child first comes to school, when

parents can meet each other and their child's Teacher. You are

encouraged to bring your child into the classroom when they first

start school and stay with them at the start of the day until they

are settled.

4
---
Organisation

The organisation of the school may vary according to the number

of children in each year group and the number of staff we have

to teach them. From September 2018 we have had the following

classes: two Nursery, two Reception, two Year 1, two Year 2,

two Year 3, two Year 4, two Year 5 and two Year 6. The children

are always taught according to their individual needs and

National Curriculum requirements. In addition we also have a

class for children with special educational needs - an Additonally

Resourced Provision (ARP). This class is for the assessment of

young children with a range of needs. Children from all over the

city have access to places in this special class.

The ARP has two Teaching Assistants who support the

Teacher, the Nursery and Reception classes have Early Years

Practitioners working alongside the Teachers and there is a

Teaching Assistant in all other classes in the main school.

We also have a full complement of Midday Assistants, a

Receptionist, an Admin & Finance Officer, a School Business

Manager, an Extended Services Manager, a Family Support

Worker and a Wellbeing Officer.

Also involved with the school on a day to day basis, are the

Facilities Manager, Facilities Supervisor, Cleaners, the Cook and

Kitchen Assistants.

The staff at Bridgewater are hardworking, welcoming and

extremely supportive. Great emphasis is placed on working

together as a team. There are regular staff meetings, meetings

to plan work for the different age groups and training days, when

staff learn and improve their skills and knowledge.

If a child has additional needs, we may need to involve other

professionals from the Local Authority or other external

'The staff at Bridgewater are hard

working, welcoming and extremely

supportive.'

5
---
Contact With Parents

We recognise the importance of the partnership between Home

and School and we are aware that the best education for children

is one which involves their families as well.

When your child starts Bridgewater we ask you to sign a home

school agreement, together with your child and their Teacher.

This sets out what we can expect from each other and how we

will work together to give your child the best start possible.

Parental help in school is welcome. Please ask your child's

Teacher if you would like to come in and help with cooking,

craftwork, reading – or anything else! Please let us know if you

have a special skill or interest you would be prepared to share

with us.

Parents have easy access to Teachers at the beginning and

end of each school day. If you want to talk in private or at some

length, please make an appointment with the Teacher for another

time.

The school has three formal parent consultations afternoons

during the year. Parents are invited to attend these to discuss

their child's progress. These parent afternoons take place in

October/November, February/March and July.

If you are worried about some aspect of your child's life at

school, Teachers will be happy to give you time to talk about it.

If, after speaking to the Teacher you are still concerned, please

arrange to see the HeadTeacher. She will see you without an

appointment if she can, but please understand that all members

of staff have other commitments and you may have to make an

appointment at a mutually convenient time.

Our aim is to work with you to provide your children with the best

possible education. Together we can make a real difference to

their future and the future of the community. Thank you for your

support.

6
---
Punctuality And Attendance

School start and finish times vary depending on the year group

your child is in. Specific times and designated pick up points will

be communicated to parents / carers at the start of each new

academic year. Start and finish times can also be found on our

website at https://www.bridgewater.newcastle.sch.uk/our-school/

opening-closing-times/

It is important your child arrives on time for school every day.

Breakfast Club is available from 8am. Please contact the school

office for more details.

The school day finishes at different times on different days for

different year groups. Specific times and designated pick up

points will be communicated to parents / carers at the start of

each new academic year.

Children who are over 8 years old can walk home alone provided

parents have signed a letter giving permission. Letters go out the

first week of a new academic year.

It is important that we know who will collect your child. Please let

us know if someone different is going to pick up your child(ren),

or if there is someone whom you do NOT want to collect your

child(ren). If you need to take a child out of school early, you

must go to the school office to get a release form signed by

the Headteacher. We are not allowed to let children out of

school early by themselves. Please arrange doctor and dentist

appointments out of school hours. If this is not possible then you

must bring the appointment card with you to get your child out of

school early.

If your child is absent or late for any reason, please contact

school and tell us why. If you do not contact school we will ring

you. If we are unable to contact you a member of staff will visit

you at home. Persistent absence may result in legal action.

If you are going to be late collecting your children from school for

any reason, please get in touch. The school telephone number is

0191 274 5290 – please write it down and keep it with you. There

may be a charge for late pick-ups.

7
---
Clothing

In common with many Primary Schools we have a school

uniform.

Boys

Nursery - Year 5 Year 6

Winter and Summer

Black or grey trousers

Yellow polo shirt

Blue sweatshirt

Black shoes or trainers

Summer Alternative

Black or grey shorts

Girls

Winter and Summer

Black or grey trousers

White polo shirt

Nursery - Year 5 Year 6

Winter And Summer

Black or grey skirt, culottes,

pinafore or trousers

Yellow polo shirt

Blue sweatshirt

Black shoes or trainers

Summer Alternative

Blue & white or lemon &

white dress

Dark grey jumper

Black shoes or trainers

Summer Alternative

Black or grey shorts

Winter and Summer

Black or grey skirt, culottes,

pinafore or trousers

White polo shirt

Dark grey jumper or cardigan

Black shoes or trainers

Summer Alternative

Blue & white or lemon & white

dress

In addition waterproof coats and fleeces with the school logo on

can be purchased from the school office.

We want our Uniform Policy to include everyone and have

arranged for a choice of clothing within a limited colour range.

We want the children to feel comfortable and smart and to know

that they are part of our school. We will get the best price we can

for embroidered clothing ordered through the school, but you are

not obliged to buy clothes from us. Local supermarkets sell all of

the items at low prices.

Most of the activities young children

enjoy will be messy at times. We do

provide overalls but it is sensible to

send your child in clothes which are

easy to wash.

It is important that children can

recognise their own clothes and all

clothes should be clearly marked

with your child's name. Your child

should wear clothes, which they

can take off and put on themselves,

especially those which they need to

remove to go to the toilet.

Children are supplied with a school

PE kit which is kept at school in a

named bag. Children in Year 4 and

5 will also need to bring a swimming

costume and towel once a week for

their swimming lesson.

If it is necessary for your child to

borrow clothing or towels from

school, please wash and return

these promptly.

Items of jewellery are worn at the

child's own risk and no responsibility

can be accepted for their

safekeeping. The Governors do not

accept any responsibility for items of

personal property brought to school.

We do not encourage children to

bring toys from home except on

special occasions as they may get

lost, broken or taken. Toy guns and

similar weapons must not be brought

to school.

Please note that we also offer,

subject to availability, previously

owned uniform. Please contact the

school office for more details.

8
---
Behaviour In School

'Our school aims

to encourage the

children to develop

fully intellectually,

emotionally,

spiritually and

morally. We believe

that this is best

achieved in a safe,

happy, caring

environment based

on mutual trust. '

All parents get a copy of our Behaviour Booklet to read with their

children. We hope that you will talk to them about it and what it

means.

Our school aims to encourage the children to develop fully

intellectually, emotionally, spiritually and morally. We believe

that this is best achieved in a safe, happy, caring environment

based on mutual trust. Children have the right to learn in

this atmosphere and should not be disrupted by others' bad

behaviour. Our emphasis is on a positive approach. We actively

encourage and reward good behaviour with praise, applause,

stickers and certificates. There are times, however, when

children do not behave as they should and we have various

sanctions to discourage this.

There is a connection between action and consequence. A small

misdemeanour brings a minor sanction. A great or repeated

misdemeanour brings a more serious sanction. Discipline in

school is firm, but fair and consistent.

We take the view that children MUST NOT hurt each other on

purpose for any reason, even in play. We hope that the children

will learn to give as well as take; to respect the rights of others

and play fair. We try to foster self-control, self-respect and

concern and respect for the needs of others.

As adults we must show the children that we respect each other

regardless of gender, race, class or cultural differences in our

way of life. We are supported in this by our own and Newcastle

City Council's Equality policy and National Legislation.

Child Protection Statement

We recognise our moral and statutory responsibility to safeguard

and promote the welfare of all pupils. We endeavour to provide a

safe and welcoming environment where children are respected

and valued. We are alert to the signs of abuse and neglect and

follow our procedures to ensure that children receive effective

support and protection

If you would like to see a copy of our Safeguarding and Child

Protection Policy please contact the school office.

9
---
Curriculum

Our curriculum model is influenced by research and in particular

the work of Rosenshine, David Leat, Dylan William, Rob Coe

and the Education Endowment Foundation. We have structured

a knowledge rich curriculum which is taught explicitly and then

used in enquiry based learning projects.

Our curriculum is efficient, inspiring and promotes aspiration,

comes with excitement, creativity and provokes inner drive.

Subsequently, children will leave us well prepared for their next

stage in education.

For further information regarding our Curriculum Intent and

Curriculum Drivers, please visit https://www.bridgewater.

newcastle.sch.uk/curriculum/curriculum-statment/ or request

a printed copy from the school office.

Please ask at school if you would like more information about

any aspect of the curriculum. Each year groups' curriculum map

is available on our website or ask for a copy at the office. Each

term your child will bring home a parent pamphlet which explains

what they will be learning that term.

10
---
School Dinners

When your child is settled in school, they may stay during school

dinner times. Dinner times are staggered between 11.30am and

1pm. Your child may stay for a cooked two-course meal, they

may bring a packed lunch or they may go home.

If you think you may be entitled to free school meals please ask

at the school office for a form. Once you have completed the

form return it to the office and they will forward it to the Civic

Centre for processing. From September 2014 all children in

Reception, Year 1 and Year 2 receive a free school meal.

All dinner money for the week must come to school on Mondays

in a named container or envelope. We need to know on a

Monday whether your child will have school dinners or packed

lunches for the rest of the week. Dinner is eaten in the school

hall in separate sittings with the youngest children eating first.

Fruit

We try to encourage our children to eat healthily. Reception and

Key Stage 1 children are entitled to a free piece of fruit every day

under the School Fruit Scheme. Key Stage 2 children are also

provided with a FREE piece of fruit every day, with the cost being

covered by the school. No sweets are allowed in school, except

for something very special, like a birthday. If you do send in a

treat for the children, please make sure that there is enough for

every child in the class.

Milk

Milk is provided FREE to all of our children. A carton of milk is

given daily to each child. The cost is covered by the school.

11
---
Homework

We ask parents to enter into an agreement to hear their children

read at home for 5–10 minutes, two or three times a week.

Parents will be asked to attend a meeting soon after their child

starts school to find out about our Home School Reading Policy

and the methods we use to help children learn to read, as well as

other important information which is written in a parent pamphlet.

Please encourage your children to return their reading books to

school regularly. You will also be asked to supervise and help

with other kinds of homework. Your child's Teacher will arrange

this with you.

Transfer To Secondary

School

In the September after they are eleven, the children transfer to

secondary school. We want to make this as smooth and easy

for them as possible. Visits are arranged so that the children can

meet their new Teachers and find their way around their new

school. Parents can choose whichever secondary school they

want for their children. We often take part in joint projects with

the Academy and other Secondary Schools to make transfer as

positive as possible for the children.

12
---
Assemblies

Assemblies are held every day and are non-denominational.

They may take place in the classroom or school hall. There

is a Key Stage assembly every week and a whole school

assembly every week. They play an important role in developing

a community feeling. They are concerned mainly with the

development of attitudes and relationships and the rights and

responsibilities of being a member of society. We sometimes

have visitors in our assemblies who share important messages.

Once every week, one or two children from every class receive

a Certificate of Achievement at our Achievers Assembly. These

are presented for good work, good behaviour or sustained

effort. Each class presents a Class Assembly once a year.

Parents, carers, brothers, sisters and friends are welcome to

attend all these assemblies. We have an annual attendance

and achievement assembly to celebrate these areas, which

Governors and Parents attend. We also have a leavers assembly

for our Year 6 children.

If parents wish, their children can be excused from religious

education at school. They should write to the HeadTeacher with

this request and with any request for their child to be absent from

school during the day to receive particular religious instruction.

Sex Education

Until the final year here, there are no formal sex education

lessons. Parents are informed of the content of these at the

time. In the early years, Teachers use their discretion to answer

children's questions honestly. If you wish to inspect our policy on

sex education, please speak to the HeadTeacher.

'Once every week, one or two

children from every class receive a

Certificate of Achievement at our

Achievers Assembly.'

13
---
Educational Visits

It is our policy to encourage children to observe and investigate

the local natural and man-made environment. When children are

admitted to school, parents are asked to sign a consent form

which gives permission for members of staff to take their children

off school premises for short visits. We take all reasonable

care of the children on these visits and have as many adults as

required to supervise the children.

If we go further afield, parents will be notified in advance. While

parents must not be charged for activities, which take place

during school hours, we do ask you to contribute towards the

cost. We look for the cheapest and safest way to travel and

parents may make contributions in instalments if they find this

easier. No child is excluded from taking part in any activity

because their parents do not pay, but we get no additional money

to pay for trips and if we do not receive enough contributions to

pay for them, then it is not possible for these activities to take

place.

Some of the trips and visits which your child may have the

opportunity to go on include:

• London (Key Stage 2)

• Beamish

• Local farms

• Castle Keep

• Hadrian's Wall

• Outdoor Activity Centre (Year 3, 4 and 5)

• Lightwater Valley (Year 6)

• Residential (Year 6)

• Plus many, many more!

'It is our policy to

encourage children

to observe and

investigate the local

natural and man-made

environment.'

14
---
Health

While your child is at school the following checks take place:

1. Hearing in Reception

2. Height and weight in Reception

3. Height and weight in Year 6

Children in all year groups will be offered a flu vaccine each

year (https://www.gov.uk/government/publications/fluvaccination-in-schools).

We have access to our own School Nurse so referrals can be

made if parents / carers have a concern. Please contact us for

more details.

The School Nurse no longer comes in to inspect the children for

head lice. If head lice or nits are noticed, then all the children in

the class will get a letter asking parents to check their children's

hair and treat any lice which they find. We will have a private

word with the parents / carers of the child concerned and discuss

treatment options. We will also check when the children return to

school to help stop lice spreading.

If your child is ill you should let the school know as soon as

possible.

We can arrange for your child to take medicine at school if it has

been prescribed to be taken during the school day by a doctor

(with a meal or 4 or more times a day).

We can keep emergency treatment for children with chronic

conditions. This will be documented in a health plan which will be

written in school with you as the carer and a member of staff.

It is essential that you keep us informed of your current address

and telephone number so that we can get in touch with you if

your child becomes ill or has an accident at school. We will also

need the address and telephone number of a friend or relative to

contact if you are not available.

15
---
This booklet has been written to provide you

with information about the school. If you are

unclear about anything or if you want to know

anything more, please just ask your child's

Teacher or come to the school office.

Further information can also be found on our

website, www.bridgewater.newcastle.sch.uk

'In 2013 the school was

inspected by OFSTED

and judged Outstanding in

every area.'

Bridgewater School

Delaval Road

Newcastle upon Tyne

NE15 6NL

Tel: 0191 274 5290

www.bridgewater.newcastle.sch.uk