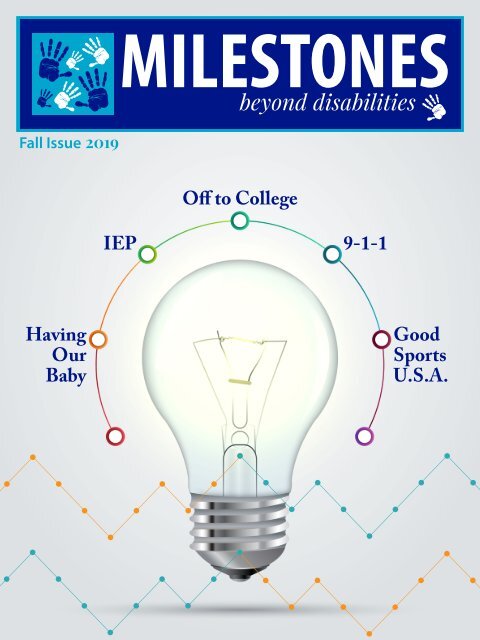 Milestones Magazine Fall Issue
Milestones Magazine was developed to help individuals with disabilities and their families achieve and celebrate events and milestones in their lives.
Milestones Magazine was developed to help individuals with disabilities and their families achieve and celebrate events and milestones in their lives.
SHOW MORE
SHOW LESS
You also want an ePaper? Increase the reach of your titles
YUMPU automatically turns print PDFs into web optimized ePapers that Google loves.
eyond disabilities

Fall Issue 2019

Off to College

IEP

9-1-1

Having

Our

Baby

Good

Sports

U.S.A.
---
nside

Parent of Young Children

03 Let's Take a Walk

05 Toilet Training - Woa Horsie

Preschool / School Age

07 IEP Ins & Outs

10 Good Sports U.S.A.

Teen / Young Adult

11 Gateway to the Work a Day World

13

15

19

22

25

Off to College

Customized Employment: Carving out a Job

The Birth, Care, & Feeding of a Micro-Enterprise

Having our Baby

Guardianship or Power of Attorney: What Gives?

All Ages

14 Man's (and Woman's and Child's) Best Friend

17 9-1-1, What's Your Emergency?

1FALL 2019
---
Publisher

Susie Redfern, is the parent of a special

needs child who recently "aged out"

of the public-school system.

She developed Milestones Magazine

to help individuals with disabilities

and their families achieve and celebrate

events and milestones in their lives.

info@milestonesmagazine.com

MilestonesMagazine.net
---
LET'S

TAKE

a

WALK

For parents, the top

three developmental milestones

in the first years of their

children's lives are

talking, walking, & toileting

independently.

Parents often worry whether their child is "late"

developmentally and may compare their child to a relative's

or friend's child who seemed to walk or talk practically from birth

(at least according to his or her parents). Although much of this

concern may turn out to be unfounded for individual children;

reassurance from doctors and others that a child "will talk/walk

when they are ready" isn't always good enough either. Parents

usually have a good sense of when there could be a real problem.

There are things parents can do to help their child through the

developmental process that leads to walking (and other gross

motor activities). To outline just a few of these, I am pleased to

refer to a blog by Joanne Pygon, PT, MS, PCS of Easterseals

DuPage & Fox Valley, entitled "How Physical Therapy Supports

Children with Down Syndrome". Of course, the tips and

techniques mentioned in this article can also help children

with similar physical or coordination issues, whether or not

they have Downs Syndrome.

3
---
For infants and toddlers, physical therapists concentrate on working with the

parents and child to build a foundation of strength and movement. They may

use special braces for the child's feet so his/her muscles align right. They will

provide parents and caregivers with daily activities to work on with their child.

They may use compression garments such as a SPIO, Benik or an abdominal

binder to help with the child's posture and allow him or her to breathe better.

If the child likes water, they may suggest aquatic therapy.

During the preschool years, therapy will build on what was started in

infancy. Group sessions may be scheduled to develop children's social and

communication skills with peers as well. Physical therapists will check on the

continued need for, and fit of, braces for children who have them. They may

recommend park district programs such as swimming or gymnastics.

During the elementary/high school years, emphasis is on consultation for

kids involved in community-based programs. Physical therapists can help

children learn to ride a bike and/or refer children to "learn to bike" programs

in the community. Rock climbing may be of benefit, and Easterseals (along

with park district and private organizations) offer programs at indoor facilities.

Swimming lessons and group swim times are offered by many park districts

and special recreation associations. For teens, all that may be necessary is

updating home programs to adjust for the effects of growth on a child's

posture. Also, while a teen may no longer need braces; inserts in shoes

can support their foot position and may be beneficial

For the full blog, please Easter Seals DuPage & Fox Valley.

For more information on Easterseals DuPage & Fox Valley Down Syndrome

Services. To get started or learn more, call 630-282-2022.

M

4
---
Woa,

Horsie

Toilet training is a universal developmental

milestone for young children, including my own

children, of course. Here's my personal take:

The workshop provided parents to create make

and take systems to use with their children for

toilet training. Many of the attendees had children

who were well beyond preschool age who still had

My older son was "small for his age" when he was

young. Therefore, toileting was a challenge for him

with adult size toilets. We purchased a toilet seat,

with the flap, that is available at most stores, and fits

over the adult sized seat. My son didn't like using it,

and the very next day came up with his own

solution to the problem. He marched into the

significant toileting challenges. I was highly

motivated for my son not to become one of these

children. My take-a-way from the workshop was the

emphasis the workshop operator, Patti Boheme, put

on the reliance on routine that people with autism

have. That reliance on routine is the primary way

that many people with autism learn.

bathroom, climbed up onto the toilet facing the

back, straddled it, put his hands down in front of

him to anchor himself, and went to the bathroom.

That was the way he used the toilet from that day

until he was tall enough to stand and use the toilet

as most guys do.

Therefore, as soon as the workshop ended, I

started toilet training in earnest with my son. While

I didn't use most of the "bells and whistles" I had

created, I did introduce my son to the toilet and

had him use it several times daily. Although it took

a year and a half for him to independently use the

My younger son was a "different kettle of fish" in

this area (and others) due to his developmental and

bathroom; when he was ready it all happened in

one day (though accidents did happen routinely

for several more years).

cognitive issues. At the time he was a preschooler

(some 20 years ago), we had an opportunity to

attend a 2-day toilet training workshop that Little

Friends was offering at no charge (and they had

me at free!).

Although Little Friends no longer offers extensive

workshops for parents, they still provide assistance

to parents. I am pleased to introduce Patti Boheme

of Little Friends, who offers advice and resources

5
---
for parents to toilet train children who have

it is challenging the longer you wait.

challenges.

Most children will become independent in toilet

"Tips for Toilet Training

training but some may need to be taken to the

bathroom on a schedule but wear underwear. Being

Start doing readiness training as young as 18

time trained is still a higher level of independence.

months. Readiness training means you change

the child in the bathroom, have them sit on the

toilet with the lid down clothes on. Eventually after

they are very comfortable you can have them sit on

the toilet without underwear. Use an adaptive seat

where the hole is smaller if the child is small and

could fall in or get off balance.

It helps to chart what your child eats and when they

go to the bathroom every half hour. The chart will

show a pattern of urinating and bowel movements

so you can set a schedule of when to take them to

the bathroom. Then use powerful rewards for when

they are dry and go to the bathroom in the toilet.

Do not wait too long to start toilet training. Once

the child has a strong habit of going in a pull up or

Above all be consistent and stay positive. If your

child has an accident stay calm and neutral."

diaper it is hard for them to make that switch. The

longer you wait the stronger the habit is to void in

the toilet. Many parents think children are not ready

but waiting past 5 can make it even harder.

For more information Patti Boheme and Mary

Crissman have written a toilet training program that

has a picture story of all the steps of toileting and a

written manual for parents. The Toilet Training Kit

It is never too late to start! We have trained

individuals into their teens and early twenties but

can be purchased from Little Friends Center for

Autism at 630-305-4196. M

6
---
I.E.P. (which stands for stands for Individualized

Education Program) is likely the most used acronym for

parents of the school-aged special needs population,

as it is the gatekeeper to special education services in

the public-school system; nobody can enter without

one. It is the final step in the process of entering the

special education system. With parental consent,

children in possible need of special education services

are first screened, then fully evaluated. Finally, an IEP

is developed if/when it is determined the child is eligible

for special education.

For every student receiving special education services, the I.E.P.,

is rewritten annually, a full re-evaluation is done every three years,

and it is revised on an as-needed basis (usually at parent's

request). This document provides the road map for all the

accommodations provided to the child to help him or her succeed

in all aspects of school life and transition successfully to the next

level of education (elementary to middle to high school). Transition

to adulthood services start at age 14. The IEP determines

whether a student officially graduates from high school at the end

of senior year or stays in the school system through "transition",

which can continue up to the student's 22nd birthday. It also

determines whether a student receives services during

the summer.

Federal law relative to special education always look for children to

be in the "least restrictive environment" possible, and it spells out,

at a minimum:

7
---
What setting the child will be placed in

((e.g. special education school, special

minutes) daily, weekly, or monthly to devote

to occupational therapy.

education (self-contained) classroom, or

regular classroom))

Once all the evaluations have been finished,

a date will be set for an IEP conference. A

What services/staff will be provided for

the child (e.g. special ed. teacher,

instructional aides, occupational, physical,

speech therapists, psychologist, social worker,

transportation)

letter will be sent to the parent specifying the

date of and reason for the conference, and

who has been invited (e.g. parent, teacher,

psychologist, speech therapist). The parent is

asked to confirm the meeting date or request

a date change. The parent has the right to

Where the services will be provided

(e.g. classroom, resource room,

therapist's or counselor's office)

bring others along with her to the meeting, but

is asked to inform the school about how many

he/she is bringing (generally one or two people

only, for space reasons). Usually, a couple of

What accommodations or adaptations

will be made to the curriculum (e.g.,

more time for child to complete assignments,

weeks or so before the meeting, the parent will

receive a proposed IEP to review and come

prepared to discuss during the meeting.

alternative teaching methods, or assistive

technology)

At a typical IEP meeting (at least every

one I have participated in), each invited

The IEP process starts when a parent requests

testing of their child for possible special needs

that impede his/her learning; or when school

staff recommend a child for testing and the

parent agrees. The classroom teacher and

other school staff, as appropriate, will evaluate

the child and write a report. For example, the

participant goes over his or her report with

the parent. The reports typically specify goals

to be reached and how progress toward

those goals is to be measured. At the end

of the conference, the parent has the

opportunity to agree with the goals as written

or request changes.

occupational therapist will evaluate the child's

fine motor skills (e.g. use of his/her hands for

writing, drawing, etc.), recommend activities

to address the child's difficulties in that area,

and suggest the amount of time (number of

Most parents are involved with their children's

education and want them to be as successful

and happy as possible. Children with special

needs add another wrinkle to the educational

8
---
process, and disagreements, ranging from

minor to nearly needing to call out the National

Guard, are common. School systems generally

have procedures for parents and staff to follow

when disputes happen or parents don't feel

that aspects spelled out in the IEP aren't

being implemented properly (in other words,

can help remind parents about their legal

rights no matter where their children ultimately

end up, whether it's the public school system,

private school, or home-schooling (and homeschooled

children can remain officially enrolled

in a public school to receive therapy services

and participate in extra-curricular activities).

not meeting their child's needs). In some

cases, outside experts, in particular "IEP

advocates", are brought in by the parents.

Finally, it's important to remember that the

overwhelming majority of parents and school

personnel want children (including those with

IEP advocates are paid or unpaid advisers/

consultants. They can accompany parents

to IEP meetings, review IEP documents,

and guide parents through the dispute

special needs) to succeed and be happy; and

will work (sometimes even together), to the

best of their collective abilities, to help make

that happen.

resolution process. They can help parents

"simmer down", pick their battles, and fight

those battles effectively and hopefully, with no

collateral damage to their children (or school

personnel, for that matter).

Acknowledgements: Thanks to contributor

Stacie Green, who read the article and offered

her comments. Stacie Green has been at both

ends of the IEP process, as a parent and as a

volunteer IEP advocate. Her email address is

They are there for the parents when there are

staciegrn72@gmail.com and she can be found

disagreements with a school district on where

and how their children are educated so they

on Facebook.

M

can best meet their potential and thrive. They

9
---
Good

While team sports aren't everyone's "cup of tea",

they do appeal to a large number of people,

especially families with preschool-school aged

children. Park districts, special recreation

association and well-known (or not so well known)

private organizations provide programs for many

sports, including (but not limited to) baseball,

Sports

U.S.A.

football, soccer, tennis, and hockey.

Generally, for parents, when considering a program,

the first thing to determine is whether the child is

interested in the particular sport in question or at

least willing to give it a try. Then factor in whether a

specific program has the right support, atmosphere,

etc. for your specific child. Even within the same

family, it is not usually "one size fits all".

Special recreation associations and some other

community-based sports programs are exclusively

An extra wrinkle comes into play (apology if this

is a mixed metaphor) when there is a child with

challenges in the family; be they visual or

hearing, physical and/or coordination, language

and/or speech, or cognitive and/or sensory. Those

families often are looking to choose between a

"regular" program that offers supports and

accommodations and a program exclusively for

for children with challenges or have teams or clinics/

classes for them. It would be a mistake, however, for

parents to automatically assume that a specialized

program is right for your child. I have personally

enrolled my son in a couple of special recreation

programs in the past that turned out to be "over his

head" and of little interest/benefit to him. Parents still

need to do their homework about this.

children with their child's specific challenges.

To wind this up: while I generally avoid advocacy

Park districts generally offer supports and

accommodations. Major sports organizations do as

well (though I can't, of course, guarantee that). What

may be offered in one location or metro area may not

exist elsewhere. There are also local or "mom and

pop" sports programs that may include children

positions; I will make an exception now. I boldly come

out in favor of respect, support, and civility towards

all players, spectators, coaches, and umpires/referees.

Many of the latter two are volunteers and/or not much

older than the players themselves. I believe that

winning (as in the team that scores the most points)

with challenges.

is not everything; it isn't even the only thing!

M

10
---
GATEWAY to the WORK a DAY WORLD

My older son's first job was at a seasonal pop-up toy

store at a local mall. The store was called "All Wound Up"

(which we privately and not so jokingly referred to as

"All Screwed Up"). His second job was a summer position

as help desk at a computer lab at a local college. His next

gigs were at fast food joints. He eventually ended up

going for a Master's Degree, and landed a career-track

civilian job at the National Security Agency (NSA) in the

whose mission is to provide job training for people with

disabilities. He has a weekly shift there and I am his

volunteer job coach. Each family pays a monthly fee, of

which roughly half comes back to the worker as minimum

wage for about 10 hours of work per month. State

government assistance to him to help obtain and keep

a job is unavailable, as a vocational evaluation has

deemed him "not work ready".

Baltimore/Washington D.C. area.

For many teens and college age adults, their first job is a

My younger son's trajectory was quite different. He has

autism and some cognitive impairment. While in school,

he had a handful of training opportunities, mostly

involving recycling at his school and other district schools

to which he was transported. The vocational coordinator's

assessment of his abilities was that he can succeed at

a volunteer job with maximum support. His only real

milestone; providing them an income, independence, and

a starting taste of adult life. For many people, there are

sometimes obstacles to getting and/or keeping that job

(or subsequent jobs). However, as my son's experiences

show, for people with challenges, those difficulties are

often compounded, resulting in an unemployment rate

that can approach 80% (or higher).

work experience is as "team member" at a greenhouse

11
---
For tips on the job search process for people with

disabilities, I am pleased to introduce Giana Ferrari Ayers

of Ferrari Resource Group.

"Figuring out

what is the

"Figuring out what is the right job for someone with

a disability (or even without one, for that matter) involves

a variety of considerations. Personal interests,

environmental preferences, academic achievement,

aptitudes, temperament, strengths, and limitations all

factor into the decision-making process. It is also

important to consider any reasonable accommodations

right job

for someone

that will be required to perform the job. Examples i

nclude job coaching, modifications to the physical work

environment, and regularly scheduled breaks.

Once possible job areas or types have been identified,

the next step is to locate and apply for jobs. These can

be found through online search engines, job boards, job

with a disability

clubs, job fairs, and networking. I always encourage

my clients to explore their own network of friends,

family, neighbors, teachers, and other connections

to identify new opportunities. Contacting local

INVOLVES

a variety of

businesses (on the phone or in person) can also be a

great way to find jobs that may not be advertised.

Applying and interviewing for a job can be an

overwhelming process. To stay organized, it is helpful

to create a file on the computer to house contact

information, a summary of past employment or volunteer

considerations."

experience, and reference information. This file can be

accessed for each application which will save time and

frustration. Whenever possible, seek out the assistance

of a vocational rehabilitation counselor to provide

structure and guidance. They can also assist with

interview techniques, disability disclosure (if applicable),

and communicate any accommodations required."

M

Giana Ferrari Ayers

Ferrari Resource Group, Inc.

28379 Davis Parkway Unit 801 (Clarus Center)

Warrenville, IL 60555

giana@ferrariresourcegroup.com

630-393-0499 (Fax)

gianaferrari.com

12
---
GOING TO COLLEGE

Going off to college is a milestone for many

high school students, who may start their college prep

as early as their freshman year of high school. They get

on the "college prep" track for their coursework, take

honors or advanced placement (AP) classes, do

extra-curricular activities, and so on, at least in part

to develop a "resume" that will look good to colleges

of their choice.

The college prep process can be similar for students with

learning challenges, but they will typically need supports;

not just for succeeding with their high school classes,

but also in preparing for and succeeding in college.

While supports are typically available during the high

school years, particularly for students receiving special

education services, those supports and services are not

typically "baked into the cake" at the college level.

That being said, all is not lost. Students can audit

classes of interest (no-credit option) and some colleges

and universities have formal programs set up that

provide supports, but treat these students the same as

any other college student. There are also organizations

and businesses that work with students and their

families to meet the challenges involved in preparing

for and succeeding in college.

One such organization is JJB Educational Consulting,

Inc., which serves students with learning differences.

They provide assistance to students with learning

differences and their families. They help high school

students select classes, extra-curricular activities, and

summer options that meet their interests. They discuss

learning support options and assess independent

living skills. They assist in all aspects of the college

testing, application, and selection process. They have

presentations for students and families at local libraries

and other locations.

M

Jordan Burstein

JJB Educational

Consultants Inc.

1441 Hemlock Knoll Terrace

Northbrook, IL 60062

847-940-8090

JJB-edconsultants.com

collegesupports.com

jordan@jjb-edconsultants.com

13
---
Man's

&

Woman's

&

Child's

Best

Friend

For most families, a dog is just a pet, who provides companionship, learns

tricks that the family teaches him or her, and gets taken for walks daily. It's

a different slant, however, for individuals with disabilities. For them, a dog

is a trained caregiver that performs needed tasks and/or provides them the

independence to achieve desired milestones in their lives.

A number of organizations, mostly not-for-profit, exist throughout the

United States to train these dogs and provide them to families. One such

group is Canine Companions for Independence, which has a Greater

Chicagoland chapter.

Canine Companions is a 501(c)(3) non-profit organization that provides

highly trained assistance dogs and ongoing support to ensure quality

partnerships. They train dogs to help adults with physical disabilities by

performing daily tasks, alert the deaf and hard of hearing to important

sounds, enhance independence for children and adults with physical,

cognitive and developmental disabilities, and work with professionals

in a visitation, education or healthcare setting.

Canine Companions for Independence can be visited at their website.

The Greater Chicagoland Chapter is a local volunteer group dedicated

to fund raising, spreading awareness and supporting local volunteer puppy

raisers. The chapter can be visited at their Facebook page and emailed.

M

14
---
Customized employment: carving out a job

Among the terms and acronyms bandied about around

families who have children with disabilities, customized

employment comes to or near the top of the list for some

families as the child becomes a teenager and young adult.

It can be an approach to finding or creating employment

that focuses on folks with disabilities who have difficulties

"A Carve Out is an employment

opportunity; working in the community,

in a position that was created with the

Job Seeker's strengths in mind.

and challenges beyond the usual scope of the traditional

vocational rehabilitation system. Some of these people may

have a skill or talent, such as counting cards in Las Vegas (and

thus saving their brother's business) that brings in enough

income that they are considered gainfully employed. Folks in

this category tend to have talent in the creative or performing

arts, or perhaps a focused interest in something that can be

developed into a profitable business.

The customized employment process focuses, first, on

So, who creates these jobs? I do - as a Case Manager/Career

Counselor helping adults with varying disabilities obtain and

maintain employment. I believe information is power; the

intent is to share my approach to creating sustainable and

successful Carve Out job opportunities, with you the reader.

Let's get started!

When would a Job Seeker benefit from a Carve Out?

Here are a few instances:

discovering the challenged individual's likes, dislikes, skills,

interests, and so on. Based on where this process leads,

self-employment options may be explored, either along with

or instead of community employment. Businesses that might

When an individual's maximum work hours per week are less

than 10 hours (based on recommendations of their health

provider to maintain physical and/or emotional stability).

employ the person can be identified and the counselor, in

effect, scouts them. He or she will talk to the owner or

manager, employees, read job descriptions, and so on, to

determine if the business' operations can be streamlined in

When individuals need long term on-site support (on the job

support/Job Coaching, due to disability and level of support

needed to maintain successful employment).

some ways and a job "carved out" for the individual with a

disability. Basically, the goal is a "win-win" situation for

the business and the individual with a disability.

Successful customized employment outcomes don't just

come out of thin air or through wishful thinking (much as

When an individual whose work skills and strengths are

specific to one area or task (this Job Seeker would likely be

most successful with an accommodating employer, who can

Carve Out a position, performing a single or minimum

number of tasks).

I'd like to believe otherwise). They depend on the individuals

with disabilities themselves, their families, friends, vocational

skills counselors/professionals, non-profit organizations, and

companies that specialize in the field.

One such professional is Jody Verble, who works as a career

If it has been determined that an individual would be most

successful in a Carve Out position, the first step towards

this goal is to address the Job Seeker's Stability: Medical,

Psychiatric, Residential and Transportation (for more details,

refer to the 4 Areas of Stability).

counselor helping adults with various disabilities to maintain

community employment. She will elaborate on customized

employment and how individuals, families, advocates, and

caregivers can participate in the process.

Why is this important?

If the Job Seeker is actively suffering from psychiatric and/or

medical condition(s), is 'in between residences' or does

15
---
Job Seekers

not have a reliable way to get to/from work (i.e., is lacking

Interest

stability in one of the 4 Areas); short- or long-term success

of employment (even a Carve Out position) will likely be

negatively affected.

Job Seekers

Likes

The next step is to identify appropriate job matches. I use

a questionnaire, taking a person-centered approach, to

engage the individual and gain feedback on their goals,

interests and needs. Feedback is key. The initially reported

Job Seekers

Dislikes

needs, interests, goals often change throughout the job

search process. Therefore, I request feedback weekly

and adjust the job search focus as needed.

Job Seekers

Skills

As the Case Manager, I always consider the following

information, when seeking a Carve Out on behalf of the

Job Seeker: a job that meets their interests, strengths,

work hours, transportation needs, work environment, work

restrictions reported, and all other needs/preferences reported.

I work with the individual's strengths and work around

potential barriers. By anticipating the Job Seeker's individual

barriers to employment, and reduce/eliminate those barriers

with a plan, employment goals can be realized with more

success and less frustration. This is where Preparation

Meets Opportunity.

How do I go about finding a Carve Out job?

I have found that privately owned companies, not national/

chain companies (for example), are excellent places to seek

A Carve Out position is beyond a reasonable

accommodation(s); it's a request of an employer to create a

position that otherwise did not exist. Once the Carve Out is

secured, on the job support/Job Coaching may be of benefit

to the New Employee: learning their new job task(s) and

company policies, developing natural supports, communicating

with co-workers and management, and the numerous

other details associated with starting a new job - all in an effort

to support the goal of successful community employment.

Carve Out opportunities. With privately owned companies the

owners and/or decision makers are more accessible to discuss

their company's needs, which then allows me to speak with

the decision maker about possible Carve Out opportunities

and the value the Job Seeker/candidate would bring to the

team if he or she is given the chance.

Why not national/chain companies?

My experience has been that 'chains' are duplicated systems,

The result:

Carve Outs create employment opportunity for those

individuals who require more support. Coupled with an

appropriate job match, working in the community also:

promotes independence, builds self-confidence, boosts

self-esteem, not to mention - the increased pride and dignity

that results from a hard day's work and the purchasing power

of the paycheck that follows - priceless."

often with corporately driven budgets that support those

(duplicated and proven) systems, which limits that company's

local location's management from making Carve Out

opportunity decisions. Example: during a recent conversation

with a Store Manager, of a national chain retail location,

I asked if she had 'stock only' job opportunities - as the Sales

Editor's Note: The process of customized employment works

differently for each individual because each person brings

their individual strengths, interests, and abilities to the process.

Therefore, this article, by necessity, is rather general. For more

specific advice, please contact Jody directly.

Associate job description for her location included 'cross

training' and register work. The response received

included the Store Manager's frustration that all hires are

required to perform register duties, due to the companies

Contributor Jody Verble, a suburban Chicago resident,

maintains a blog, Disability Peer Advocates, which offers

tips to job seekers. She can be reached by email.

M

limited monthly payroll budget.

16
---
What's Your

Emergency?

Children (and adults) with developmental disabilities are

not a different species from the rest of us. They act up or

act out for the same reasons that we all do. Their

behaviors often fall into the good (or at least tolerable),

annoying, or potentially expensive (hello, clogged toilet!)

categories, but don't make them a true danger to

themselves or others.

That is not always the case, however. Circumstances at

home or school may deteriorate and suddenly an

individual is acting out in ways or to a degree that is

unprecedented for him or her. That individual now

poses a threat to his/her safety and the safety of anyone

in range. So, what's a parent to do? Calling the police

is a frequent response.

As police officers are likely to come into contact with individuals

in crisis, whether in public or through a

domestic disturbance call to 9-1-1, police departments

throughout the United States are responding to these

situations. Their priority is to keep everyone involved in

a particular situation safe, including responders, the

individual, his/her family, and members of the public.

In Aurora IL, where I live, the police department has

instituted a community policing program called "Crisis

Intervention Team". The information included here about

it comes from a handout I obtained from police officer

Douglas Rashkow at a recent resource fair hosted by

the Indian Prairie District 204 Special Needs PTA.

"The Aurora Crisis Intervention Team (CIT) program

consists of officers specially trained to respond to those

in crisis or with mental health emergencies, including

17
---
people having suicidal or homicidal

ideation, psychosis, or in a mental health,

developmental disability, or brain disease

(dementia) related emergency), to help them

safely through the crisis and direct them to

appropriate resources. The CIT program also

is called upon for domestic disturbance or

quasi-criminal related issues or crisis.

Our CIT partner with local service providers

and definitive care systems, State, Federal,

local and privately funded, to make the best

referrals and deferrals for continuing care. Our

CIT respond during crisis, but also meet with

families who have, or are expected to have

crisis, to avoid critical incidents, and after

crisis to ensure continuing safety and build

relationships.

The Crisis Intervention Team Program also

works hand in hand with the Elder Service

More Information or Enroll in S.N.A.P.P.:

Aurora Police Department

1200 E. Indian Trail, Aurora IL 60506

630-256-5000

You will complete a S.N.A.P.P. Release Form

Officer Program, focusing on senior safety

issues and the Special Needs Aurora Police

Program (S.N.A.P.P.), for wrap around services

for those with disabilities including, but not

limited to, mental illness, dementia, or

developmental disabilities".

M

18
---
The

Entrepreneurship (as in owning/operating a

business) is a milestone/goal to which some

aspire, and one to which some people with

disabilities regard as preferable. Its potential

Birth

for income coming from something you like

to do and are good at without having to be

hired and fit into an established workplace

can be attractive.

Care

As the parent of a child with a disability, this

option, suggested for my son from school

district transition personnel, basically

amounts to "go forth and micro-enterprise".

Feeding

Though I know it's probably grammatically

(though perhaps not politically) incorrect to

use micro-enterprise as a verb, this may not

be such bad advice, especially for the more

and

entrepreneurially minded among us.

However, the advice did not come with

any practical suggestions for starting a

Maintenance

micro-enterprise and making it into a

of

a

profitable, enjoyable, and fulfilling venture

for all involved. So, like the Little Red Hen,

I will do that myself (but don't expect a loaf

of bread at the end of this article!).

The conception and birth of a micro-enterprise

can start with four one-word questions:

who, what, where, and how (not necessarily

in that order).

Micro-enterprise

19
---
What?

What do I plan to do or make, produce,

distribute, and sell?

Some people base a business on a talent or skill for

which they have an interest, maybe even a passion,

such as painting. Others design or invent a product

that solves a problem affecting them or a family member;

such as an easy-fastening mechanism for people who

have arthritis. Still others base a business on a service

that businesses and individuals need: lawns have to be

cut, papers shredded, attics cleaned, and so on. And

some people and businesses don't have the time, ability,

or desire to do these things themselves, so they're willing

to "outsource" them (which is where you come in).

Who?

To whom do you plan to sell your product/service.

Some, by their very nature, are local, so potential

customers or clients are folks in your neck of the woods.

Lawns cannot be exported to China. Others, with the help

of computers and the internet, can be regional, national,

or even global in scope.

Where?

Where will the product be displayed or sold?

Artistic work typically shows up at art galleries, "flea

market" type events and websites such as Etsy. Writers

can blog. Clothing products can be sold at retail stores

(usually distributed through a wholesaler).

How?

How will the product be displayed or sold?

This question is similar to the where question, and

can often produce the same answer.

20
---
As you may have realized by now, answers to

these 4 questions often overlap, and collectively can

provide the underpinnings of a business plan. A

business plan, whether informal or professionally

done, helps you focus on the essentials of your

business. It is required if you will approach a

traditional loan source, such as a bank, for financing.

And it may be necessary for types of creative

financing, such as venture capital, whether from

an established fund or through crowd-funding.

The following resources are both based in the

Chicago area. Life's Plan Inc. Pooled Trust Services

can help with financing for individuals who meet their

criteria. Perk Center Café can serve as an example

or inspiration for folks looking to start their own

micro-enterprise.

Life's Plan Inc. Pooled Trust Services - website

Life's Plan Inc. Pooled Trust Services periodically

offers Micro-industry grants of up to $2,000 for adults

with disabilities or mental illness who meet Social

Security's disability eligibility criteria under the

Supplemental Security Income. This is a one-time

award for individuals or partnerships (less than 4

people). Details about proposal requirements can be

found at Life's Plan's website and questions/inquiries

can be emailed to Scott Nixon.

Local (Chicago Area) Micro-Enterprise

The Perk Center Cafe is a not-for-profit business

enterprise created through Great Potentials, Inc.

and by four parents and one sibling of an

individual with intellectual/developmental disabilities.

It is a collaboration with the Glenview Park District,

who donates the space for the Cafe. The Perk Center

Cafe's goals are four-fold: to provide employment,

volunteer, and vocational training opportunities to

individuals with developmental disabilities; to offer

good quality food to customers; to build positive

relationships in the community; and to serve as

model to others who might wish to create

businesses for the purpose of employment of

people with disabilities. Feel free to visit the website.

Contact Gail Metrick by email. M

21
---
Having our Baby!

The road to parenthood, symbolically speaking, defies basic

arithmetic as the only time one plus one equals three. It is considered

one of the major milestones of any given person's adult life. While not

all people choose to have children; and some have medical issues that

make having a biological child risky or impossible; most everyone

intent on having and/or raising a child finds a way to do so. And,

generally speaking, that process moves forward for individuals and

couples without interference from outsiders, other than those involved

in the process of adoption.

That is not always the case for adults with disabilities. Issues for them

range from having to adapt how they provide care for their child due to

the disability to dealing with child welfare authorities concerned that the

disability affects their fitness as parents. The first issue is easier to find

solutions for; parents can get very creative about this. My mother-in-law

told my husband a story about a woman she knew with no arms who

gave her baby baths using her feet.

22
---
23
---
For a firsthand account of parenting when you have disabilities; I am pleased

to introduce Ashley Taylor and her husband, with some tips from their blog on

caring for a child when you have a disability. Depending on your disability,

some tips may be more applicable to your situation than others. Some of the

advice, such as child-proofing, also applies to families where the parents don't

have a disability.

So, without further ado, I present the following tips, excerpted from Ashley's

article "Disabled parents can prep home and life for their new arrival".

"Replace stairs with a ramp. Navigating stairs while carrying a baby can pose

a risk of tripping. Steps-free entrances and pathways are especially important

for individuals with mobility disability as they make it easy maneuver within

the home to effectively cater to the baby's needs.

Expand your corridors and doorways. Wide doorways offer enough clearance

for people using wheelchairs and walkers to safely get through entrances.

Install non-skid flooring. Skid-resistant flooring is vital for both parents with

disabilities as well as their developing children. As your child learns to crawl

and walk, they will need a safe space to practice on. Consider installing vinyl,

linoleum or heavy-duty plastic mats. If you decide to carpet, ensure that the

carpet is fastened on the floor and it has an even texture.

Child-proof your home. For instance, install smoke detectors, carbon

monoxide detectors, corner guards on the sharp corner guards of the furniture,

install outlet covers and keep away hazardous items out of your child's reach.

Depending on your type of disability, you will need specialized baby care

products and equipment. For instance, if you are a parent with a mobility

disability, the regular baby carrier may not work well for you. If you are using

a wheelchair, you may use a lap baby to hold your infant in front of you.

Similarly, a parent with a hearing disability may need to invest in a babble

band in place of a baby monitor. There are great baby care products for parents

with disabilities. There are also numerous resources both online and offline

that you can leverage for support in your parenting with disability journey.

These include both governmental and non-governmental agencies, websites

and community-based support groups.

While being a parent with disabilities presents unique challenges, with the

right information, resources, planning and preparation, it can be a journey

full of joy and satisfaction. Take time to prepare your home, get baby care

products that are appropriate for your type of disability and identify support

systems and resources. Most importantly, take care of yourself so you can

be able to take care of your child."

Ashley Taylor and her husband both have disabilities. Ashley blogs, which

provides advice and resources for parents with disabilities. She can be reached

through a contact form at the blog or by email.

M

24
---
Guardianship or

Power of Attorney:

What Gives?

There is much confusion and controversy among parents

of young adults with disabilities, particularly those with

intellectual impairments, on how best to protect their physical

and financial well-being; both when the parent(s) are alive and

after they are gone. Some of these parents may also be children

of elderly parents with physical or cognitive issues of their own.

Guardianship

• A judicial decision made when an individual has not

designated a POA.

• It is a request by someone other than the individual it is for.

• Can be of the Person or of the Estate.

• Can be Temporary, Limited or Plenary.

• Is only revocable when an individual can produce proof that

I have experienced those issues personally, and have gone

the route of full guardianship for our son. However, we have

an uncomplicated set of circumstances in which nobody

contested the guardianship and there's no money (assets)

involved. For many families, this matter is anything but

they have regained capacity.

• The Mental Health Directive is included in the Guardianship.

• It is a judicial order.

• Judicial oversight and guidelines for Guardianship.

• Expensive.

"cut and dry".

It is always better to be proactive than reactive. Planning for

I am pleased to introduce the organization "Living Life with

Dignity" and present portions of their article, posted online on

December 7, 2017, to address the difference between Power of

Attorney (POA) and Guardianship, and outline the types, and

pros/cons of each.

your future needs can keep you independent longer and be more

cost effective. If you put a Power of Attorney in place with

someone you trust and you provide them with a detailed account

of what you want (or don't want), you are more likely to be

cared for the way that you want and your money will go further.

"Power of Attorney (POA)

• A proactive decision made by an individual when they

are of sound mind.

• A designation of someone known and trusted to carry

directives.

• Can be for Healthcare or of the Property.

• Two types of POA: one that is effective immediately and

the other that requires proof of capacity.

• A Power of Attorney for healthcare can be revoked at any time.

• A Mental Health Directive is separate from the Power of

Attorney and is needed in cases where the health issue is

behavioral vs. clinical (IE: Bi-polar disorder).

If you don't have a Power of Attorney or a Mental Health

Directive and you become incapacitated then anyone who has

a vested interest in your welfare, whether family or friend, can

petition the court for Guardianship. This gives you less choice

of care givers and puts you at higher risk of not having your

choices honored, potentially jeopardizing your independence

and financial well-being. In many cases, when someone

gets Guardianship, the wishes of the individual cannot be

determined, and the ward is subject to what the guardian feels

is in the individual's best interest. Guardianship proceedings

in themselves can be very costly. A contested Guardianship is

even more costly.

• Is not a judicial order.

• No oversight for a Power of Attorney.

• Cost effective.

When referring to Power of Attorney for the Person or of

the Property vs the different types of Guardianship, you are

basically referring to managing an individual personally and

financially. So, let's look at the differences:

25
---
Difference between Power of Attorney for Healthcare and

Plenary, Limited & Temporary Guardianship

In a POA for Healthcare your designee can make any decision for you without

a court order. Once an individual has been declared by a physician to lack

competency you simply have to present your Power of Attorney paperwork.

However, with a Guardianship you have to follow the court order. Both types of

Guardianship give certain or all power to act on the individual's behalf; however,

anything outside of the court order has to be approved by the court. For instance: if

someone has a stroke, becomes dependent on life support and it is not in the court

order, it is always a best practice to go to court to make the decision whether to end

life or not. This protects the Guardian as well as the Ward. In addition, the Guardian

of the Person has to file an annual report with the court as a status update affirming

continuation of the Guardianship.

Difference between Power of Attorney for Property

and Guardian of the Estate

It is a known fact that our ability to reason becomes compromised as we get older.

In fact, studies suggest in some people it can be as early as 65. Having someone

you trust to manage your financial affairs can prevent you from being exploited,

provided the person you choose is of sound integrity. Sadly, I have seen many cases

where individuals have been exploited by the Power of Attorney. Transparency and

proper accounting are two ways a POA can avoid these issues. I recommend when

choosing the POA for property, to pick someone that is good with their own finances

if you want to ensure the safety of your financial future. See This Job Sucks!

Choosing the right Power of Attorney is imperative.

A Guardian of the Estate has little room to exploit anyone

They have to account for every penny that is spent of your money. The court

requires the Guardian of the Estate to produce a yearly report and to provide the

court with an annual budget. The court will readily pick a family member or close

friend over a Corporate or Public Guardian. It is standard practice for family

members to contribute to the welfare of their loved one, while a Corporate Guardian

or the Public Guardian charge for their services. For this reason, when the court

determines someone is not of sound mind, the court will default for family or a

loved one to be the Guardian if appropriate.

Mental Health Directive

The state of Illinois requires a Mental Health Directive in addition to a Power of

Attorney for Healthcare for treatment of a Mental Health Disorder. I won't go into

the why's or the politics around it, that is fodder for another blog (next month).

Nonetheless, please note that if you are preparing your estate, this should be a

consideration when putting your directives in order, regardless of whether you suffer

from a mental illness or not. See What is a Health Directive for Dementia?

Your Power of Attorney should know where you keep all of your important

documents, and above all, be transparent. This way, if ever anyone wanted to

challenge your POA's intentions or abilities, you have everything documented.

NOTE: POAs for Healthcare can easily be revoked, however, Power of Attorney

for Property cannot.

Guardians are mandated to do all of the things a Power of Attorney does and are

appointed by and accountable to the court. A physician's report as to whether or not

the individual is capable of making their own decisions is a requirement of a petition

for Guardianship but ultimately the court, not the medical professional, makes the

determination and the designation." M

Living Life with Dignity

333 N. Randall Rd., Ste. 106

St. Charles, IL 60174

630-549-0654

www.lifewithdignity.net

info@lifewithdignity.net

26
---
Connections child care

Child Care Connections links families to child

care suited to children with challenges.

Child Care Connections also provides informational

articles (referencing North Carolina University

Extension Service) about adapting child care

Features a registry that both parents and

providers can sign-up for when they are looking

for, or offering, care for children with various

challenges, such as developmental disability,

programs to children with special needs. Once

you sign-up you'll receive the article Adapting

the Child Care Environment for Children with

Special Needs.

autism, hearing impairment, vision impairment,

and more!

Check out our website: milestonesmagazine.net

27