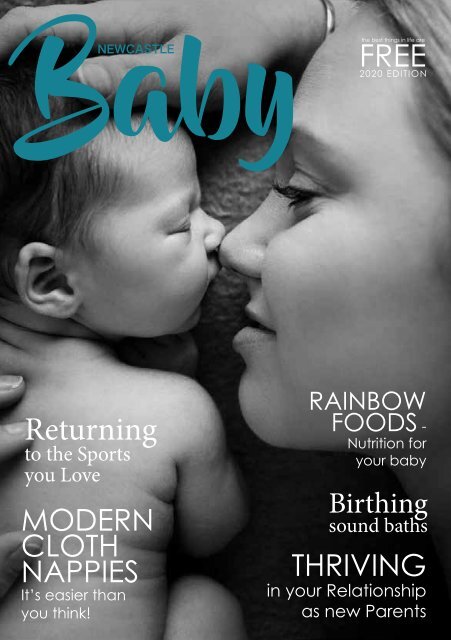 Create successful ePaper yourself
Turn your PDF publications into a flip-book with our unique Google optimized e-Paper software.
NEWCASTLE

FREE

2020 EDITION

BabySpotlight Heading

Article teaser / description goes here

Returning

to the Sports

you Love

MODERN

CLOTH

NAPPIES

It's easier than

you think!

RAINBOW

FOODS -

Nutrition for

your baby

Birthing

sound baths

THRIVING

in your Relationship

as new Parents
---
| 2020

INTERACTIVE

KIDS SCIENCE PROGRAM

Play Explore Build Discover

CURIOUSCUBS.COM.AU

info@curiouscubs.com.au 0401 624 858

Contents

6 Parenthoods Fairy Godmother

9 Thriving in your relationship

10 Lana's Birth Healing Journey

13 Introducing Penny - Perinatal

Psychologist

16 Returning to the sports you love

21 Rockmybaby with Linda

22 Modern Cloth Nappies

24 A fun way to eat real foods

27 What is GymbaROO?

29 Set up your babies health for life

31 Preventing Back Pain

33 Positive Birth Movement

34 Birthing Sound Baths

37 More Than a Mumma

39 The Joys of Community Singing

41 Daniella Ruru – Nurturing Your

Mother Nature

Enquiries

Daniella Ruru

M: 0438 916 561

E: hello@newcastlebaby.com.au

Get social with us

Facebook & Instagram

@newcastlebaby

www.newcastlebaby.com.au

Art Director

Sascha Hutt

Cover Photography

Bella Rouge Photography

www.bellarougephotography.com.au

© Newcastle Baby 2020

All rights reserved, Views expressed by contributors

do not necessarily reflect those of the publisher.

The editorial and advertising content, products

and services in this publication are not an explicit

endorsement by Daniella Ruru or Newcastle Baby

Welcome

Welcome to Newcastle Baby, we are here to

support you! As you find your way, feel the love,

make the connections and create the village that

will support your journey through the early years of

pregnancy and parenting. Within these pages we

share our stories with you. We have learned through

many years of combined experience what it takes

to make this journey smoother, sharing really is

caring - it's a true story - told from our heart to yours.

We are living in an age of information overload

and still it can be so hard to find the answers to our

questions. Yes, Dr Google may give some clues

at 3am, but when the sun comes up you are left

with the challenge of finding a real live person to

support you. A person you can trust and rely on,

who truly cares and has the time and the heart to

hold a safe and nurturing space for you and your

baby.

At Newcastle Baby we are believers! Yes! Love

really does make the world go around! As a

community it's our love and passion for the health

and wellbeing of new and growing families that

brings us together.

We believe with all our hearts that finding the

right support can be the difference between

surviving and thriving. We welcome you to join us

now – to be the change – Newcastle Baby it's your

time to shine and together we can do so much.

Love, Blessings & Appreciation

Daniella

3
---
Doula services

Prenatal Doula services Yoga

Prenatal Yoga

Birthing From Within Mentor/Educator

Birthing From Within Mentor/Educator

Your birth matters.

Your birth matters.

I'm committed to supporting you to navigate the medical

I'm committed to supporting you to navigate the medical

system

system

to

to

make

make

informed

informed

decisions

decisions that

that

respect

respect

your

your

rights

rights

and and honour honour your your instinct.

Clancy.indd 1

lancy.indd 1

Find your confidence

and courage for birth!

w. w. clancyallen.com

m. m. 0411 360 593

e. e. clancyerinallen@gmail.com

H U N T E R

20/10/19 3:23 pm

20/10/19 3:23 pm

B I R T H

E D U C A T I O N

Y O U R B A B Y , Y O U R B O D Y ,

Y O U R J O Y !

'Bump Bus' Pamper Trips * Hypnobirthing * Doula Support

Natalie Meade GradDipC, GradDipPsyc, GradDipEd, Bsc (Hons), CCE, CH. 0406 934 645

H U N T E R

B I R T H

E D U C A T I O N

Y O U R B A B Y , Y O U R B O D Y ,

Y O U R J O Y !

'Bump Bus' Pamper Trips * Hypnobirthing * Doula Support

Natalie Meade GradDipC, GradDipPsyc, GradDipEd, Bsc (Hons), CCE, CH. 0406 934 645
---
| 2020

| 2020

Did you know that new parenthood can

come with a fairy godmother?

Can you imagine sitting on your couch

other women in their families for thousands

many different services and have lots of

motherhood circle as "group therapy for

breastfeeding your new baby while

of years.

information to help you thrive along the way.

those who think they don't need therapy".

someone is cooking you a nourishing meal

So many cultures still practice this amazing

Essentially, the role of a postpartum doula

in your kitchen? They will even clean up,

period of nurturing and nourishment for their

Where to begin?

is really to create a space where she is no

make you a cup of tea and then offer you a

new mums today. However, often in our

By starting your journey with a post-birth

longer needed – she will provide you with

massage or take the baby so you can have

Western society this role has been passed to

planning class where, in a small group, you

nurture and nourishment, so you can do the

a nap. Sounds too good to be true, right?

spouses and romantic partners. While these

will be guided through honest conversations

same for your baby, all while helping you

It's not. This very real person is called a

people do an amazing job of supporting their

about the postpartum period and get

learn the skills you need to thrive in your new

postpartum doula. Their job is primarily to

baby's mamas and being involved with the

a better understanding of the realistic

role as a mother.

nourish you as a mother while you nourish

upbringing of the baby, they regularly have

expectations of life with a newborn. You

Beyond Birth Doula offers Essential Post-

your baby.

to return to work shortly after the birth of their

will learn how you can create a supported

Birth Planning Classes and Motherhood

A postpartum doula is often a mother

baby – leaving mum at home alone to learn

environment for yourself and will leave with

Matters Circles in Newcastle and Port

herself – she has been there before and

the ropes and often adding another pressure

many other tips and tricks to take with you

Stephens. If you are expecting a baby,

knows exactly what new parenthood is like.

to the partner's already full-time workload.

on your journey. Whether you have lots of

do yourself a favour and book in for a

She is someone who can listen to you about

With the prevalence of postnatal mood

support, or no support, come

class before your baby's

your day, help you understand your baby

disorders for both mothers and fathers in

along to a planning class and

arrival. For information on

and give you confidence as you find your

our society becoming shockingly high,

if you can, bring your partner.

upcoming events check the

way as a new mum. Even if motherhood is

the importance of a postpartum doula is

These classes are about making

events tab on Facebook at @

not new to you, this person can help you find

becoming recognised as a necessary role in

a practical plan for both of you,

beyondbirthdoulaaustralia n

your way with a new baby and a toddler at

the health of our communities.

on how to best use the support

your feet.

While the role of a postpartum doula

seems surprisingly new in our society, it is

actually very similar to the support women

all over the world have received from the

A postpartum doula passionately believes

it takes a village to raise a child, and they

are here to help you find your village.

While in home support is the primary role

of the postpartum doula, they provide

you do have, while exploring

alternatives to filling any gaps.

More support is available

as you settle into your life as

a new mum. Many mothers

When I tell people what I do,

often their first response is: "I

wish I knew about you when I

had my babies, I needed you

in my life". Of course, I love

experience a huge identity shift in the

hearing this! But what baffles me is that

first 12 months after giving birth. You may

so many mothers think that they won't

glide into motherhood like it was always

need or don't deserve the services of a

your path, or you may trip, stumble and

postpartum doula – until it is too late. They

fall, struggling to find your way. Either way,

struggle through those early weeks feeling

finding time to reflect on this journey and

like motherhood is a job they should tackle

your own thoughts, feelings and emotions

independently. Motherhood has always

can be a challenge. Mothers circles (which

been something to be shared with other

are different from a typical mothers group)

women and, as a mother of four, I have

are a place where you can join with other

always found it easier and more enjoyable

mums to explore these new feelings and

when surrounded by other mothers.

emotions. One attendee has described the

Jenna Affleck

6

7
---
| 2020

dd 1

We are Clinical Psychologists located in Cooks

Hill, Newcastle. We offer warm and genuine

care, general psychological services, and

psychological counselling for women and their

families in the perinatal period and beyond. We

are dedicated to providing authentic and quality

psychological support and counselling.

We have extensive experience working with

a broad range of issues:

M Fertility issues

M Pregnancy concerns

M Postnatal emotional difficulties

M Miscarriage and loss

M General perinatal concerns

M Relationship issues

M Support for single parents

M Support for same-sex families

www.forestpsychology.com.au

Ph: 0474 251 669

Email: admin@forestpsychology.com.au

Bec Bec is is a a Remedial Massage

therapist and Nurturelife

Pregnancy Massage

Practitioner

She She is is committed to to supporting and and nurturing

women women through their their pregnancy journey.

Massage therapy during during pregnancy has has many many benefits

including

➺ ➺ Mother-baby connection

➺ ➺ Increased Increased relaxation and and reduced reduced anxiety anxiety

➺ ➺ Improved Improved sleep sleep pattern pattern

➺ ➺ Eases Eases back, back, shoulder, shoulder, neck neck pain pain and and all all joint joint and and

muscular muscular conditions conditions common common in in pregnancy pregnancy

➺ ➺ Reduction Reduction in in oedema oedema

➺ ➺ Improved Improved proprioception proprioception to to support support body body changes changes

➺

➺

Stabilises

Stabilises

hormonal

hormonal

changes

changes

and

and

blood

blood

pressure

pressure

Address:

Address:

Level

Level

1/16A

1/16A

Bolton

Bolton

St,

St,

Newcastle

Newcastle

(Above

(Above

the

the

Reserve

Reserve

Wine

Wine

Bar)

Bar)

Phone:

Phone:

0401

0401

027

027

517

517

20/10/19 12:18 pm

www.rebeccaorchardremedialmassage.com.au

What Happens Within Our Relationship

When We Bring a Baby Home?

Tracy Lynch Relationship

Therapist - Thrive Wellness Hub

Newcastle

Bringing a baby home, and the

three years that proceed, can

bring both joy and new

challenges.

Research conducted by The

Gottman Institute shows us that:

n 67% of couples had become

very unhappy with each other during the

first three years of their baby's life. Only 33%

remained content.

n The 33% of Couples that remained

content, what did they have in common?

The research shows us that these 5 Actions

can make a real difference.

Creating a sense of WE-ness

If new parents can feel like they're "in the

trenches together" rather than two passing

ships in the night, if they can share in the

highs and lows of parenthood, they can

bond together rather than feeling separate.

Making time for each other

Carve out time for each other to restore and

maintain emotional intimacy. Stay

interested in each other, as humans, not just

as parents. Continue to be open to

learning new things about each other.

Building friendship through fondness and

admiration

A strong friendship can be preserved

during moments of exhaustion

by expressing fondness and

appreciation. Couples who

report less distress during the

transition to parenthood are

able to stay positive and give

each other the benefit of the

doubt that they can and will get

through. Kind words go a long

way and build into our emotional

"love bank". Take 15 minutes a

day to check in with each other.

Don't do conflict when you are flooded or

overwhelmed.

As conflict inevitably arises, handle

disagreements effectively by using

constructive problem-solving techniques,

especially when you're feeling exhausted

and overwhelmed. Raising issues in a soft

and gentle way without jumping down

your partner's throat allows you to get your

point across and feel heard. Be aware

of being critical, defensive, withdrawn or

contemptuous.

Allow your partner to influence you

Another strategy for keeping conflict at bay

is to allow your partner to feel like they have

valuable stock in the relationship. Taking

advice from them, expressing genuine

interest in what they have to say, and seeing

things from their side makes them feel like

they have a voice.

Couples in trouble statistically take 6 years

to seek help! If you need support and or new

ideas for your relationship move on that now

not later. n

9
---
| 2020

| 2020

Lanas birth healing journey

The planets aligned for me, in the early

stages of my second pregnancy, when I

came in contact with Daniella from Healing

Sessions for Mums. I had a traumatic first birth

2 years prior and only a few weeks into this

pregnancy I was already anticipating the

outcome for my next birth.

I came across a post on the Hunter Birth

Education Centre Facebook page which

was reaching out to women wanting to share

their birth story, to work with Daniella who

was studying to become a Birth Story Listener

with Birthing from Within. My first thought was,

I definitely have a long and detailed birth

story filled with unfortunate and unnecessary

interventions and procedures - I bet she

would be able to use my story. I thought my

story would benefit her and her study, I did

not really think I would benefit much, other

than being able to tell my story (again) but

guilt free and start to finish.

Little did I know that simply telling my

story to someone who was listening, I mean

really genuinely listening, was the first part

of healing I would experience. I was heard,

validated and understood. Something I was

so desperately craving and unknowingly

searching for during the 2 years since my first

birth but had not received. I was now elated

to begin working with Daniella and excited

to find out what the rest of our journey had

to offer.

We "met" via online video calls, which

meant I never had to travel or leave the

comfort of my house, which was amazing in

those first nauseating weeks of pregnancy.

We were face to face but 2 hours in

distance. I opened my mind and my heart

and was ready to experience healing, I was

10

open to anything Daniella wanted to try or

discuss but was also still a little naive to how

great this could be.

Once I'd told my story to Daniella, she

asked me to think about the most significant

moment of my birth story and coached me

through the whole thought process around

opening up that moment. We discussed how

and why it effected me and we followed on

from that with ways I could overcome those

feelings. Another huge step forward for me.

Throughout my pregnancy we had a few

more sessions where we explored how I was

feeling about my impending birth and again

delved into positive and negative emotions,

helping me to compartmentalise fears and

positive or negative anticipation. Daniella

was very intuitive and knew what to ask and

how, which enabled certain thoughts and

words to come out of me that I wouldn't

have otherwise had the ability to discover on

my own.

Another tool we explored together was

Birth Art. By then I was quite content and

accepting of my traumatic birth and felt

like I had the mental clarity to feel positive

towards my second birth. Again, I was

naive about how a Birth Art Session could

benefit me. Daniella asked me to draw

a few simple things, I had no idea what

I was doing but managed to put pen to

paper and again, with her coaching and

guidance something was released which I

didn't know was inside. Things I drew gave

me amazing thoughts and concepts on

ways to feel positive and how I wanted

to bond with my pregnancy without any

negative resentment from my previous birth.

I was then coached into journaling thoughts

This birth Art was the icing on the cake for

my healing and moving forward.

and reasoning behind the basic sketches always wished for. It truly is mind over

which turned feelings into black and white matter, I had let go of all negative feelings

action - I was gaining so much excitement and anticipations which allowed me to

and positive renewal in preparation for my invite the feelings of labour and birth my

second birth. We then worked with clay and baby into a space of Euphoria. Something

again journaled immediately after thoughts which is also worth being "listened

and feelings around what I did. This birth Art to" - I found that positive feelings and

was the icing on the cake for my healing and experiences are just as important to be

moving forward. I was amazed at how these heard and validated, Daniella was excited

simple processes turned wordless feelings and to hear about my outcome and being

emotions into healing and gave my mind the able to tell her my amazing birth story was

ability to give itself a plan and new ways to the final chapter of my pregnancy and

feel connected, positive and excited for this birthing journey. I will be forever grateful

birth.

and wish that every birthing woman could

I wrapped up my time with Daniella feeling have this experience, support and total

thankful and completely empowered. I went empowerment. n

on to have the most perfect birth that I had

Lana Middleby

11
---
| 2020

Forest for the Trees Perinatal Psychology

Tell us a bit about you and

your family

I am the founder of Forest for

the Trees Perinatal Psychology

and I'm also a mother of

two children, aged 5 and 2

years. I founded the business

in May 2018, and before this I

had been working in Sydney

supporting adolescents and

adults, including pregnant

women and parents.

What inspired you to start Forest for the Trees

Perinatal Psychology?

I believe that the beginning of life is where it

all starts in terms of mental wellbeing, and if

we can support parents at this critical time,

the positive impacts will filter through to their

baby. My practice deepened when I had

my first baby and experienced first-hand

how hard parenting is. There were moments

when I experienced the thoughts and

feelings my clients had shared with me - "I'm

not good at this", "I thought this would be

instinctive but it's not", "I don't know who I

am as a parent", "I feel so lonely".

What sort of issues do you help people with?

We provide counselling and psychological

therapy to support women with pregnancy

planning, during pregnancy, in the postnatal

period, and for those generally struggling

with the early years of parenting. We also

provide counselling for grief and loss in

pregnancy. We treat women who present

with diagnosable mental health illnesses, as

well as those who are struggling emotionally

with the adjustment to pregnancy or

parenthood.

Do you think adjusting to being

a parent is difficult?

Whilst every woman's

experience is unique, I work

with many women who tell

me that they are finding it

difficult and I have certainly

experienced this in my

personal life too. I remember

once when my husband

was interstate for work, and I

trawled the internet reading articles about

women regretting having children. Eventually

I concluded that I didn't regret it, but I was

struggling with being torn between feeling

sad about saying goodbye to aspects of my

old life and finding the enjoyment in my new

life as a mum.

What advice do you have for those who are

struggling to adjust to parenthood?

Clients sometimes turn to me and suddenly

ask, "Do you ever actually do exercise?"

or "Do you shout at your kids?" I try to be

honest with people - no, I'm not perfect.

Yes, I shout sometimes and I went through

a sustained period of rarely exercising. I

genuinely feel like it took me the best part

of 3 years to get used to being a parent. I

am a firm believer in the ebb and flow of life

and trying not to be hard on myself. I do try

to embrace healthy habits, because I know

I manage stress better and shout less when

I get more sleep and exercise. I definitely

believe that some degree of ambivalence

about parenthood is normal and is nothing

to be ashamed of. When a baby is born a

mother is born too, and it takes time to work

out who you are. n

Penny Marshall - Forest for the Trees

13
---
VICTOIRE MOULENE

VICTOIRE MOULENE

Photography

Photography

of Capturing Every moment of your

Capturing Every moment of your

Motherhood Journey.

Motherhood Journey.

birth, fresh hours and

Pregnancy, birth, fresh hours and

victoiremoulenebirthphotographer.com

victoiremoulenebirthphotographer.com

victoire.moulene@gmail.com

Newcastle victoire.moulene@gmail.com

& & Surrounds

Newcastle & Surrounds

newborn!

newborn!
---
| 2020

| 2020

Returning to the sports you love

It is important to

remember that not all

pregnancies and births

are the same and every

mama is unique.

There can be a lot of pressure on new mums (Including Diastasis) before returning to sport.

to "bounce back" after childbirth but this This assessment also looks at other functional

is not realistic for most women. Pregnancy movements to see if you are ready to

and birth place strain on the pelvic floor recommence the sport of your choice safely

and abdominals therefore returning to the and if not design a program to help you to

sports we love requires rehabilitation before achieve your goals.

performing higher level activities such as

On a positive note the pregnancy and

running (impact sports) and lifting weights. postpartum period can be an excellent

Returning to sports before re-strengthening opportunity to exercise and connect with

the core can in fact lead to injuries including your body in a new way. I have even seen

pelvic floor dysfunction and Pelvic organ new mums return to their chosen sport even

prolapse (POP).

stronger, achieving better results than before

It is important to remember that not all pregnancy. This is probably due to the

pregnancies and births are the same and increased core strength and pelvic stability,

every mama is unique. There is no one size fits improved body awareness and posture that

all program. Women who have had tearing they have gained in the Fit-4-2 pregnancy

and stitches after a vaginal birth or women and/or postpartum program.

who have had a Caesarean birth will be

required to take things more slowly. Listen to So, what is safe and recommended?

your own body and do not compare yourself 48 hours after delivery see if you can

to others.

connect to your pelvic floor muscles and

I strongly recommend having a

if they respond to a squeeze and lift. Try

postpartum check up with a women's health building up the length of contraction daily

physiotherapist to assess your pelvic floor (be guided by any discomfort). In the first 2-6

and abdominal muscles for any dysfunction weeks postpartum I recommend beginning

16

some gentle core strengthening

exercises. Start with Lying on your

back with knees bent, inhale

into your ribcage to prepare, as

you exhale try to draw your bikini

line away from your clothing

and squeeze and lift the pelvic

floor. Relax your pelvic floor and

abdominals as you inhale. This should be

performed without moving your spine. Try for

10 breaths. Twice a day. Try to remember to

perform this core contraction as you lift your

baby. This is also a great time to get outdoors

with the pram and go for a walk.

Exercises that should generally be avoided

initially postpartum are: sit ups/ crunches,

double leg lifts, planks and burpees.

During the first 6 to 12 weeks the tissues are

healing and remodelling, during this time it

is advisable to avoid impact exercises and

lifting anything heavier than your baby. From

6 weeks to 4 months is a great time to join

a postpartum class. Please remember that

mums n bubs classes should

be a specialised postpartum

rehabilitation class with an

experienced instructor, not

simply a fitness class which

you are allowed to take your

Kirsten Joyner is a

physiotherapist and Pilates

practitioner who has

worked in the field of women's health

and perinatal physiotherapy for the last 16

years. Kirsten is passionate about helping

women strengthen their bodies and minds

to prepare for childbirth.

Postpartum Kirsten loves helping women

return to the sports they love as well as

returning to a healthy, pain-free sex life.

Kirsten is available for consultation Tuesday

baby along to.

Around the 3-6 month mark

you can gradually return to

more intense exercise providing

that you have adequate pelvic

floor strength. This should be a

gradual process. The evidencebased

recommendation is that

returning to running is not advisable prior

to 3 months postpartum or beyond this if

any symptoms of pelvic floor dysfunction

are identified during or after attempting to

run. Signs that the exercise is too intense, or

you are doing too much too soon include:

lower back or pelvic pain, heaviness in the

perineum, leakage of urine, faeces or wind

during or after exercise.

If you notice any of these signs please

reduce the intensity, load and/ or duration

of exercise and seek help to improve the

strength, function and coordination of your

pelvic floor and abdominal muscles. Please

be gentle, patient and kind to yourself.

Remember it took 9 months to create, grow

and birth your baby it may take you at least

9 months to get back to the level of training

you were at before. Learn to love your new

body and the journey back to exercise. The

risk should never outweigh the reward. n

- Saturday at Pilates For Life the Junction

0415 871 043. www.pilatesforlife.com.au

- Fit-4-2 Pregnancy pilates &

Active birth skills

- Post partum rehab pilates

- Pregnancy Physiotherapy

- Postpartum check-ups

- Diastasis recti and Return to sport

programs

- TENS Hire

- Infant massage classes

- Botanical products

17
---
Double Happy

Healthy

MAITLAND WELLNESS

CENTRE

Supporting Women's health and

wellbeing for over 20 years.

Massage

Acupuncture

Herbs

ACUPUNCTURE . HERBS . MASSAGE

Over 13 years experience working with

Newcastle & Hunter women through

all cycles of life.

Meshelle Bell

Dr of Traditional Chinese Medicine

B. App Sc (TCM)

AHPRA Registered

Newcastle . Maitland . Hamilton

Ph: 0432 079 214

doublehappyhealthy

48 Church St

Maitland NSW 2320

0249342233 maitlandwellness.com.au

Pregnancy is an act of creation that requires

many aspects of our own lives to be in

alignment. Just like a planting a garden we

must have the right elements for growth;

the soil must be rich and contain nutrients

to support growth, the seeds we plant must

be strong to withstand nature's elements,

then we must have the sunshine and rain to

nurture and stimulate growth…So it is with

pregnancy…

As women, there are many transitions

that can challenge us. Whether it's the

regularity of our moon cycles, preparation

for pregnancy, fertility, managing the

discomforts, be they physical, emotional

or spiritual, or the magic of birthing and

breastfeeding.

It is a time when a woman is both divinely

strong yet so tender and vulnerable.

My passion for providing support and

empowering women with their own innate,

vital feminine nature has led me to focus my

acupuncture practice on women's health and

in particular reproductive health.

Acupuncture treatment is designed to

regulate and adapt to the ever changing

needs and demands of the body so as to

engender what needs to be strengthened,

and calm and soothe what needs to be

relaxed.

After 16 years of practice I continue to

learn and be inspired by this ever evolving

area of health. Acupuncture is its own

medicine: it has a measurable positive

effect on the body and also assists the

individual to bring their attention to the

present which can improve health

and vitality.

32 Kerr St Charlestown 2290 PH: 0403 140 720 Email: abellicanta@tpg.com.au
---
Rockmybaby ®

Nannies Babysitters Childcare Solutions

Rockmybaby ® with Linda

| 2020

"Linda and her nannies have

always been my first choice for finding

care for my children. We have utilised

the agency for short and long term care

and every nanny that has been sent has

been reliable, engaging and has genuine

enthusiasm for looking after the kids!

I am confident in the pre-employment

checks that are performed and I am very

comfortable in leaving my children in their

care. The service is fast, efficient

and well priced and I would highly

recommend Linda and her nannies/

babysitters to anyone".

Tanya

Specialising in casual babysitting and permanent nanny placements. Maternity nannies

available to support exhausted parents with advice and baby sleep routine guidance.

Ph 0401 803 948

www.rockmybaby.com.au

My husband and I fell in

love with Newcastle after

a day trip from Sydney and

decided then and there

that would we make plans

to move here - that was 16

years ago.

In 2012 and by then, with

two babies in tow, we found

that it was really difficult to

find a person that I could

trust, so that we could have

some much craved for, adult

or couple time together.

The idea of designing a

service which catered to

people in similar circumstances as us, came

into being. Rockmybaby® offered a platform

where services could be priced affordably

for parents with the flexibility to be accessed

at any time of day. We are not an App or a

database - there are more than enough of

those! We are a bespoke child care service

run with heart and dedication to finding

families the BEST outcomes for them and their

little people.

I love my job. I honestly wouldn't want to

be doing anything else. I love supporting our

nannies and nannies in the wider community

– keeping them informed on Professional

Development opportunities, encouraging

them to further their child focused

education, joining and being involved

with our industry's national association, the

Australian Nanny Association.

As someone who has worked closely

with children for decades I know how

diverse families can be. I speak with parents

who don't really know what they need. I

chat with them about their jobs, interests

and family routines and

consider these things when

recommending candidates

for them. I focus on quality

over quantity. People are

busy, I don't want to waste

anyone's time and it is so

important that the 'fit' is

spot-on.

Booking online is

convenient but most

people like to have a

chat with me before they

book to understand what

Rockmybaby® actually do

- the process and screening

etc. People basically feel overwhelmed

in the decision and I love these chats

as parents start from a place of feeling

trepidation to feeling relief that they have

finally found the support and time that they

needed. After reading about the nanny's

experience, having a chat with them directly

and then of course meeting them, they tell

me that they feel completely at ease with

leaving their babies with a Rockmybaby®

nanny once the time comes around.

I feel very privileged in what I do. I love

my support role, building relationships with

families and nannies. Working with parents

and building their confidence to see that

giving themselves a break once in a while

– or on a more regular basis, benefits their

family unit in so many, positive ways. n

Linda Dawson is a wife and mum to two

school aged children who lives in Newcastle.

You can contact her at newcastle@

rockmybaby.com.au or on 02 4009 1771. To

find out more about the services offered, visit

www.rockmybaby.com.au

21
---
| 2020

| 2020

Modern cloth

nappies (MCN's)

it's easier than you

think!

(ANA) and am always looking for ways to

reach out to new and expecting mums.

Recently I have been liaising with local

Councils to develop a wonderful new service

for our community, to help people see the

benefits of MCN's, (Modern Cloth Nappies),

itti bitti is establishing a cloth nappy library,

this library is for the families of Newcastle

If the vision of your little bub wrapped up in a

and the Hunter. The nappy library will allow

natural, enviro friendly nappy brings a smile

people to trial nappies first, to see if they like

to your face then read on.

them and what style of nappy they prefer,

Becoming a parent can be daunting.

taking away the fear of buying something

And if it's not daunting, there are still a lot

first.

of things to consider, most of us just take

the lead from our family and friends. What

Giving back

did they use? What did they do? But times

Cloth nappies will outlast your child and

have changed and what "they" did is often

many people do not know what to do with

not with sustainability in mind. So, if you're

them once they are finished, particularly if

green minded let me give you, mother to

they don't have someone to hand them

mother, friend to friend some information to

down to.

consider.

At itti bitti we have been collecting preloved

nappies that are generously donated

Did you know...

local people and provide something special

offering nappy workshops. Friendly and

back to us and passing them on to charities.

As the parent of a new baby, you will

to the people of Newcastle. Last year we

informative small groups can gain hands

Earlier this year the beautiful children of

change about 5,500 nappies in the two to

opened our doors at our warehouse in

on experience in our interactive sessions.

the Bravehearts Program, an orphanage

three years before your child toilet trains!

Cardiff creating a showroom focusing on our

Everyone tells us how comfortable they feel

in Cambodia, were in desperate need so

Disposables will cost you around $2,000-

beautifully designed cloth nappies and other

asking questions, exchanging ideas, having

we collected as many preloved nappies

$3,000 per child, cloth nappies will cost you

sustainable baby products.

a cuppa and just relaxing for an hour or so.

as we could by putting out a call for help.

around $700 if you use them full time but will

The store has been hugely popular, I think

We are proud to say that we also donated

also do all your children.

this is because people can come in to see

A little bit about me

1,000 brand new itti bitti nappies to assist the

More than 800 MILLION disposable

and feel the nappies while they learn all they

As the owner of itti bitti I love getting to know

orphanage.

nappies end up in landfill each year in

need to know from our experienced team.

all the new mums, families and business

itti bitti provides modern cloth nappy

Australia alone.

This is just the beginning of the ongoing

owners. In our shop and at baby exhibitions

solutions in Australia and worldwide. Our

Did you know that every disposable

support you will receive, as you don't just visit

we get the opportunity to chat and help

award-winning reusable cloth nappies are

nappy and wipe ever produced is still in

itti bitti you become part of our family. You

people discover the ease and benefits of

an effective choice to reduce your baby's

existence today as they take hundreds of

don't need to feel overwhelmed, with social

modern cloth nappies.

environmental footprint. With our signature

years to break down.

media and the internet there is so much

Running a business is not as easy as

ultra-trim fit and luxurious

information out there that you can often

people think! It takes a lot of dedication and

fabrics; itti will change the way

A little bit about us

begin to think it's all too hard, when it really is

many hours to run a business successfully.

you think about cloth nappies!

itti bitti was mostly an online business and

easier than you think.

I am passionate about modern cloth

itti, design inspired by family. n

although we sell Australia wide and into

With the growth of our store and more

nappies - so much so that I became a board

Fiona McIver Owner

over 30 countries I wanted to reach out to

people wanting information we are now

member of the Australian Nappy Association

of itti bitti

22

23
---
| 2020

| 2020

Eating the rainbow, a fun way

to eat real foods.

Food for me is more than just sustenance. It

This way of linking the foods to their

is a way to express my creativity, to gift my

passions gives them intrinsic motivation

love, to share abundance and to enhance

to eat the rainbow. Meaning, they will

health. Creating meals for my family that are

want to do it because they feel rewarded

infused with rich vibrant colours makes me

by it internally. You can be as simple or

feel like I am gifting them vitality and love.

complicated as you need to be for your

Sharing food together creates a bond, and

children's age and development. A 2-year-

when your meal is illuminated in all the hues

old won't understand phytochemicals, but a

As children, they decide their hunger levels.

untouched veggies, but exposure can be

of the rainbow, it can help uplift your spirit

10-year-old might find them fascinating.

If you want them to eat broccoli, don't give

more than just a veggie on a plate. It can

and create exuberance for life.

Using a star chart, can be another way

up just because it has been refused, be

be a picture in a book, holding it at the

As a Mother who is also a Nutritionist

to motivate your children to expand their

patient and persistent. Don't pay attention

supermarket, cutting it up at prep time, and

and Naturopath, I know the importance

palates and try new foods or eat more

to the behaviour you don't want, instead

even singing songs about it! And I'm not

of "getting it right" from the get-go. A

colours.

role model eating you want, and one day

exaggerating when I say it took my daughter

child's microbiome is the community of

Don't overwhelm them with a million new

they will try it, and on that day, praise, praise,

about 50 times before she started enjoying

bacteria that lives in our digestive system

things all at once. You know your child, go

praise!

broccoli, and at 8 years old, there's veggies

that contributes to our immunity, mental

with their pace. But push the boundaries

The "experts" say it takes approximately

I'm still waiting for her tastes to start loving!!

health, and digestion in ways we are only

a bit! After all, as parents, its OUR job to

16 exposures to a food before a child will

To get you kids more invested in meals,

just beginning to grasp. The foods we feed

decide WHAT food they will eat and when.

willingly eat it. That's a fair few meals with

include them in planning, shopping and

our babies and toddlers also feeds the

cooking. They will be more likely to eat it all up!

developing microbiome.

Unlike adults, who will toss all the

We can dramatically influence its

ingredients in a bowl and eat it all

development in the first two years, after that

combined, kids like to see the ingredients

it is pretty much established. The best foods

in neat little piles and have control over the

we can use to guide its development are

order they eat it in. Work with your kids by

colourful plant-based foods. Which is one

serving things on big platters in the centre

of the main reasons why I love encouraging

of the table, or by using segregated plates,

young kids and parents of babies to EAT A

and it will make for happier mealtimes.

RAINBOW.

Eating a wide variety of colourful foods

Have fun eating a rainbow and empower

ensures your kids are getting a variety of

your kids with health knowledge, so they are

nutrients. The more colour you consume

happy to eat a wide variety of healthy foods!

from mother nature, the more vitamins and

Start by linking your kid's habits and

minerals you will be having.

passions with the reason why they should

Making rainbow foods fun and interesting

eat colourful foods. For example, you can

while your children are young, develops

say "This banana will give you more energy

valuable knowledge and appreciation,

to play soccer for the whole game", or "this

supporting their health and wellbeing now

salmon will help your brain remember songs

and into the future. Why just sing a rainbow?

easier."

When you can eat the whole thing up! n

24

25
---
+ Hunter Valley + Lake Macquarie +

Newcastle

Coast

Central

| 2020

What is GymbaROO?

Connection Learning Joy

Come and be

a musical family!

You.Me.Harmony offers music and movement

classes for families with children aged 0-5.

Award-winning curriculum, music to keep,

creativity, connection and lots of fun!

To book your FREE trial,

visit www.youmeharmony.com.au

or please call Tash 0415 984 935

Baby, Toddler &

School Readiness

Classes

Empower yourself to feel cool, calm

and in control when your child needs you most

You will learn about...

injury prevention

illness recognition

baby & child CPR techniques

choking

fever & seizures

head injuries

button batteries

& much more...

0411 496 708

www.mybabybasics.com.au

Free trial class for babies not yet walking

Maitland

0403 390 227

For more information please call us on

Newcastle

0479 088 287

Warners Bay

(02) 4920 8033

GymbaROO is one of the only parent

and child programs in the world that

includes key research-based activities

designed to assist with the development

of babies. Our activities lay the

foundations for later learning by nurturing

the natural stages of neurological

development. Studies have identified a

link between the development of motor

and cognitive skills and future learning.

By helping your baby get the right

early movement experiences you are

supporting their future health, happiness,

development and success.

The specially designed activities at

GymbaROO help your baby reach their

potential in ALL areas. We are talking

academic, physical, emotional and

social. GymbaROO kids tend to develop

improved coordination, concentration,

memory and perception as well as

improved confidence, communication

and socialisation skills.

Our classes keep your babies

stimulated. The activities are engaging,

the equipment is specifically designed

for movement and the weekly classes

are always different. GymbaROO is

also secretly teaching your baby, we

specialise in research-based, neurodevelopmental

learning and team it

with a fun environment. The classes are

designed to increase a child's capability

to learn. 30 years of extensive research

and experience support our class

content, fostering your baby's learning.

We are also here to support your

learning as a parent by sharing

information about the important

developmental stages in your baby's life.

Every week there are new neurological

information handouts and home activity

ideas provided just for you!

We welcome you with a comfortable,

relaxed environment - we are here to

support you in your journey as a parent

and understand that you want to have

fun while you are learning and spending

quality, focused time with your baby.

In our structured classes you still get a

chance to meet with other parents while

you are supported to focus on interacting

with your baby and helping them to learn

through play.

GymbaROO supports your child's early

learning journey to school readiness – the

benefits may include improved levels

of concentration, curiosity, confidence,

communication skills and positive social

behaviours. There's so much to love

about GymbaROO! Babies adore the

activities; the music, the singing and

the colourful equipment. Time with your

baby is so special and it really does go so

fast. It's nice to be able to actively enjoy

your baby, engaging with them and

sharing each cute little milestone with the

other parents. Sure, we sing and play at

home, but it's just not the same. There's

something about being out of the house

that makes these activities so much more

fun for both of you.

Babies at this age are like tiny sponges

eager to soak up the world - with you

next to them every step of the way. This is

exactly what GymbaROO provides – time

together to play, to learn and to develop

the skills they need now and later in life. n

www.gymbaroo.com.au

TM

GymbaROO

27
---
| 2020

10 ways to set up your Babies

health for life

NATURAL FERTILITY

SUPPORT

Give yourself the best possible chance

of a successful pregnancy and birth

Naturopathic

Care for:

pre-natal

pregnancy

post-natal

new mum and bub

Book your FREE 20 min

health assessment TODAY

136 Glebe Rd Merewether

4077 3803

ckhealth.com.au

NATUROPATHY - NUTRITION

SALT ROOM - INFRARED SAUNA

Setting up your child's health

for life when they are a baby

may seem like a big task, but

with these 10 easy steps, you

will make a long-lasting impact

on their immunity, gut health

and mental health.

1 Take time out prior to

conception to get yourselves

into top notch shape! Couples

who invest in their health in the

6 months prior to conception are shaping

their babies genetic expression, which

reduces their risks of diseases long term!

2 Support a stress-free pregnancy with great

nutrition such as lots of brightly coloured fruits

and vegetables, grass-fed meat, wild caught

fish and wholegrains.

3 Plan a natural birth (if possible) or consider

vaginal seeding if you have a caesarean

to establish the baby's microbiome. NOTE:

Seeding should not be done if you are GBS

positive or have gut dysbiosis.

4 Breastfeed. The World Health Organisations

current recommendation is to exclusively

breastfeed for up to 6 months, and then

continue to breastfeed alongside solids until

your baby is 2 years old. They also state if

you cannot breastfeed then try feeding your

expressed milk. Donor milk is the next best

option and as the final option to choose

formula. One of the reasons for

focusing on breast milk as the top

3 feeding options is that breast milk

guides the development of the

microbiome (the flora in the gut).

5 When starting solids, begin with

vegies and slow cooked meats.

Mix up the proteins between

organic red meat, fish, chicken,

turkey and eggs, but have your

child's diet predominately plant

based.

6 Introduce small amounts of

fermented foods and prebiotic

foods such as apple and

artichokes to help feed their gut

bacteria.

7 Cook with wholegrains and

good fats such as olive oil, avocado and oily

fish.

8 Avoid processed foods and refined

carbohydrates. Don't go near processed

baby cereals: use real foods!

9 Include lots of colourful fruits and veggies.

Teach your kids to eat a rainbow.

10 Don't give your baby or infant sugar or

sugary drinks like cordial or juice.

Just focus on breast milk, and when they

are old enough for other drinks, introduce

water.

By following these 10 simple steps, you

will be setting up your baby's microbiome

to be diverse and have the "good"

bacteria flourish. New research shows we

have a 1000-day window to influence the

microbiome, and after that, it's more difficult

to change! So what we do in the months

leading to conception, during pregnancy

and in those first 2 years of life,

really does make a difference to

your child's life long health! Let's do

what we can to positively impact

your babies long-term health,

happiness, and wellbeing. n

By CK Health

29
---
| 2020

Prevent pregnancy back pain

THE SPINE HEALTH EXPERTS SUPPORTING YOUR FAMILY

e Family focused care

e Babies & Children

e Back pain

EXPERIENCED TRUSTED PROFESSIONAL

A 59A Stewart Ave, Hamilton South NSW 2303

P (02) 4965 4391 W familylifechiropractic.com.au

e

e

e

Pregnancy care

Posture issues

Headachesgeing well

Your body is naturally designed to be healthy, to heal and repair. We believe every

indvidual should have the opportinuty to thrive to their fullest potential. We value the

importance of a well aligned spine to support correct growth and development.

The nervous system is the highway of communication between the brain and the body

and can be influenced by the spine. Our passion is to support your spine health, so your

family can get the best start in life.

Full terms and conditions: 1. No expiry on offer. 2. Normal pricing for above services $230.

3. Treatment included if clinically required. 4. Offer available to new clients only.

2 V I S I T S

F OR $ 4 9

Book online or

call us

Pregnancy is an exciting

journey in your life, it also

marks a time of change as the

body prepares to support the

growth and nourishment of your

baby. Hormonal, emotional

and musculoskeletal changes

will be observed over the course of your

pregnancy.

One of the biggest obstacles to a

comfortable pregnancy is back pain. Up to

eighty percent of women will experience

back or pelvic pain. It can be persistent

and will affect movement, quality of life and

sleep. We are passionate about helping

women through their pregnancy and sharing

our expertise to support this exciting time in

your life.

What causes back pain

n Hormones like relaxin and estrogen loosen

ligaments. This can lead to soft tissue injuries

and alignment issues.

n Body weight increases by 15-25%, placing

pressure on the joints an ligaments.

n Enlargement of the uterus and breasts

shifts the body's centre of gravity forwards.

The pelvis tilts forwards, increasing the lower

back curve.

How to minimize back pain

n Sleep on your side with knees bent and

pillow placed between them.

n Choose shoes with good arch support.

Avoid high heels and wedges.

n Squat rather than bending the back.

n Use safe and comfortable exercise.

n Consult a chiropractor trained in the

Webster technique for more specific advice

and care.

Understanding your symptoms

Pain across the back and into the

buttocks area can be persistent and

nagging, even sciatic in nature.

The sacroilliac joints will often be

the cause of these symptoms. These

joints are the dimples you can often

feel and see above your bottom. Alignment

issues are common and can further

affect the sacrum which lies between the

sacroilliac joints.

Several key ligaments support the uterus

during pregnancy. The round ligament can

become tight like a rubber band, causing

sharp sudden jabs of pain in the lower belly.

It's important to have mobility within

your pelvis and low back but not instability.

Instability will lead to pain and poor

alignment. Alignment issues can create

increased tension in the pelvic ligaments

and muscles. Instability and movement at

the symphysis pubis bone at the front of your

pelvis can be excruciatingly painful. The

support of a rigid pelvic belt can be one

management strategy.

Creating Pelvic Symmetry

When there is balance, there is less stress.

The Webster technique is a gentle and noninvasive

chiropractic technique for correcting

imbalances in the mother's pelvic alignment.

As your pregnancy progresses, the pressure

on your pelvis and lower back increases.

In our experience this often re-surfaces old

injuries. With chiropractic care we use gentle

movements to help restore symmetry and

balance. Expert care and advice during

pregnancy is something we passionately

share everyday with expecting mums n

Family Life Chiropractic

31
---
Sally Richards

Lactation Consultant

I am a nurse, midwife, child and family

health nurse and an IBCLC with over

15 years experience working with

families.

I am passionate about partnering with

women to achieve their breastfeeding

goals that is inclusive and realistic for

Mum and their family.

To make things easier I offer home

visiting services for antenatal and

postnatal consultations in the Hunter

and Newcastle regions.

Contact

The Lorn

Surgery on

49332622 for

services and

fees or visit

Sally Richards

Lactation

Consultant.

1 1/11/19 10:42 am

Breastfeeding Support

Service

JESSICA ROBINSON

IBCLC

NEWCASTLE REGION

I DO HOME VISITS FOR

Latching Issues

Nipple pain

Low supply

Poor weight gain

Expressing

Breast surgery

Returning to work

Prenatal Education

Engorgement

Blocked ducts

Feeding devices

Relactation

Mastitis

and More

International Board Certified Lactation Consultant,

Midwife, Registered Nurse

Ph: 0434 011 433

Email: Jessica.RobinsonIBCLC@outlook.com

Positive Birth Movement Newcastle

| 2020

The Positive Birth

high quality, unique and

Movement (PBM) is a

useful workshop/event.

global movement of over

Topics include fertility; birth

three hundred groups

education; postpartum

passionate about women's

healing; breastfeeding;

experiences of birth.

healthy nutrition; parenting

From Milli Hill, 'PBM

and more

International' Founder:

This community

"The movement all began

service is provided with

in 2012 as one small

the intention of offering

meeting in England. What

additional support to the

began as a grassroots

birthing families of our

movement is now a

region. Complimenting

continuously growing

the wonderful and

global organisation. And

essential services of our

we just keep on growing.

valued, Public and Private

We don't hold any one kind of birth up

Health Birth Services and their hard-working

above another.

Midwives and Obstetricians.

We're just concerned with every woman At the space you can browse and borrow

getting the best possible birth experience, from the extensive library of birth and

for her, on that day."

parenting materials.

We are super lucky to have a Newcastle Gain emotional support, group support

group and can be proud that this is the first and in-depth information as you plan

group, in the world, to provide a permanent and prepare for your birth and adjust to

service to their local community. In addition postpartum. To keep our drop-in services free

to the free, worldwide topic meeting (held of charge, funding for the space is raised

monthly), PBM Newcastle also provides from small, suggested donations that are

regular, daily services at Pachamama House, paid by our active supporters and event

21 Gordon Avenue, Hamilton.

participants, people like you!

PBM Newcastle is managed and run by Our support space is comfortable, with

volunteers, with funding through donations cups of tea, comfy lounges and friendly staff.

and is best described as a warm-hearted, Our events are run in the shared buildings'

community, passion project. The volunteer large function rooms.

team are all qualified, experienced, birth

Free, regular monthly meetings connect

professionals and offer their support as a gift pregnant women and supporters together, in

to local women, babies and families.

circle, to share stories, learnings and positivity

Between 10 am and 12 noon, Monday about childbirth. n

to Friday, you can drop in and chat to

Natalie Mead Volunteer

a birth doula or birth counsellor, free of

For more information please visit: www.

charge! Check out the events pages on

posititvebirthmovementnewcastleaustralia.

Facebook, or the website, and attend a

org or find us on Facebook!

33
---
| 2020

| 2020

Birthing Sound Baths

On one of the most important days of your

life, imagine being cocooned in the

Soothing Sounds and Vibrations of Crystal

Singing Bowls as you welcome your

baby into the world.

34

Many people experience some level of

fear or anxiety around giving birth, however

given that you have a choice of many

different options for a relaxing birth, it has

never been easier to create a personal and

private environment where you and your

partner feel confident, relaxed and safe for

this time in your life. If you're looking for a

safe, holistic way to be calmer before and

during the birth of your child, then Birthing

Sound Baths are an incredible option to

consider.

Women choose to use sound baths

before and during the birth of their child

because it has ample ways to help you to

manage any fear, anxiety and stress you

may be feeling in the lead up to the birth of

your baby.

Sound itself has been used for many years

as a way to assist in decreasing anxiety,

calming the nervous system and elevating

consciousness in meditation. When you

combine this with the act of giving birth, the

benefits are immense.

Bringing you into an alpha brain wave

almost immediately, the sound of a crystal

singing bowl helps you to achieve a relaxed,

yet alert state. This is not only important for

the mother-to-be, but also assists the other

Birthing Sound Baths

Honouring the Journey of Birth

Pre-natal Sound Baths

Providing a supportive environment for the

mother and baby.

Playing soothing sounds of Crystal Singing Bowls,

Reverie Harp, Shamanic Drum, Koshi Bells,

Home Births | Birthing Suites

"Welcoming Baby into the World with the

Calming, Soothing, Vibrations of Sound"

SophiaAlcina Soul

Healing Life Energies

PH: 0456 363 037

Facebook: healinglifeenergies

Web: healinglifeenergies.com

Instagram: healinglifeenergies

people in the room to stay relaxed (in what

can be a stressful time for all.) and calm.

The feeling that a sound bath creates, has

been likened to being in a safe haven, or in

a cave.

This gives you the opportunity to really let

go so that your body can do the work that it

innately knows how to do.

Symbolically, the singing bowls used in

these sound baths are seen as feminine, while

the wand is seen as masculine. When these

are connected they create new life in the

form of sound. Further to this, when a focused

sound through 'toning' is created along with

the sound emanating from the bowl, it allows

your jaw to relax. When the jaw relaxes, it has

the effect of also relaxing the cervix. This is of

great benefit, as when your cervix is relaxed

it helps to create a sense of ease within the

intense process of childbirth.

Using sound during childbirth is a natural

way to assist in the release of hormones such

as oxytocin and endorphins that will help you

to ride the waves of the contractions you

will experience, rather than simply enduring

them. By allowing the soothing sounds of

Crystal Singing Bowls and Reverie Harp

to gently reverberate through your body

engaging your inner strength and innate

birthing wisdom.

Sophia, from Healing Life Energies will assist

the labour by playing soothing instruments

during and after contractions without

intruding on the mother's privacy.

Making the holistic, empowered choice

to have a Sound Bath during the birth of

your child is a choice that will allow you to

reduce pain, anxiety and create a serene

environment as new life enters the world. n

Sophia Soul

Birthing Sound Baths Testimonials

"What we got from the bowls during my

labour was so much more than what I

was expecting. As the bowls were being

played, I instinctively started making an

'mmmmmm' humming sound during the

contraction. It felt amazing, my body felt

like it was floating and the pain would

almost disappear. It was by far the best

natural pain relief I had experienced. It

felt as if toning to the bowl had turned

a switch and my body went into full

birthing mode."

Julie, NSW

"I was recommended to Sophia's sound

healing and had a very wonderful

and intense experience. Today, a

day after the healing ceremony I can

even feel more of a strong release of

emotions and I literally feel lighter and

more aligned with my body, mind and

soul. The feelings I experienced during

Sophia's healing were very special.

Sophia has a great energy and a truly

inspiring life story to tell, which brought

her to this path. Thank you for bringing

this experience into my life, you are truly

an angel bringing light & love into this

world. God bless you"

Lyn, NSW

35
---
Pregnancy-specific water exercise

and birth preparation classes

Being fit and active during pregnancy is good for you

and your baby. Swimming and aquanatal exercise

are especially recommended for safe, low-impact

exercise when you're pregnant. Classes are run by

Sue Hall, a qualified midwife with

25 years experience.

Need more music

in your life?

Come to Choir!

A place where you can bring your little one

and breathe, sing, hoot, hum and percuss.

A varied musical palette for all levels.

Tu(n)esdays during school term in

Tighes Hill Newcastle ~ 10.30am

Call Tash for more info 0415 984 935

A.Spire.Choir

Community * On Song

Parent & Baby Aquafit

now available

Book your class online:

embraceaquanatal.com.au

More Than a Mumma

| 2020

The first ever More

that this commitment

Than a Mumma

ultimately benefits

workshop was only

us all.

supposed to be a

Anastasia, originally

one-off event, due

from the UK set down

to popular demand

her roots in Newcastle

and the needs of

NSW after meeting

our community, it

her now husband 14

continues to evolve to

years ago in London.

offer so much more!

They decided to

In mid-2016,

have children 7 years

Anastasia was a

ago and after the

heavily pregnant mum, eagerly searching for birth of their first child soon realised how little

a sense of community and connection. She the mental health of mother's was talked

came up with the idea to organise an event about. That it was truly a secret burden many

where mums could gather to learn about mums carried, only seeking support when

self-worth and self-love. Anastasia searched they were at crisis point.

Newcastle for an experienced, woman's

Now a registered Not for Profit Association,

wellbeing practitioner and invited her to the vision of More Than a Mumma is to

speak. The event was a success with thirtyfive

open a Mumma Hub. A community space

women showing up, experiencing the supporting Mummas to connect when they

connection and support they were needing. are feeling vulnerable, a space where they

The realisation that Anastasia was not alone can be reminded that it's ok to nurture

with her needs and feelings was exciting themselves along the way, in fact, it's vital.

and inspiring. She discovered that there was The vision is to continue offering events and

a huge gap in many mother's lives and she workshops that enable Mummas to identify

was determined to reach out and connect with themselves and their own wellbeing.

them together as often as she could.

With plans for an informal drop in coffee hub,

This eye-opening event, coupled with therapy rooms and crèche.

Anastasias experience of having a mother Getting involved by volunteering your

with significant mental illness, has been a services or attending the current events will

driving force for her over the past three years help this wonderful vision become a reality

and she has successfully engaged hundreds for our community.

of mothers in activities just for them!

If this resonates with you

This is no easy task when the weight of and you are keen to connect

life can get in the way of a Mumma making with More Than a Mumma

a commitment to her own self-care, but please reach out to them

totally worth the effort, knowing that so at www.morethanamumma.

many mums need to learn how to make com.au n

this same commitment to themselves and

By Anastasia Jade

37
---
| 2020

Tuned In and On song -

the joys of community singing

The placenta was

created perfectly to nourish

both mother and baby.

Why waste it?

Placenta Encapsulation

Servicing Newcastle, Lake Macquarie & Mid-North Coast

Professional, safe and certified with Placenta Services Australia

Reported benefits include increased

energy levels, balancing hormones,

mood boosting, increased milk

production and more

Bookings: www.theoxytocincollective.com.au

Email: oxytocincollective@gmail.com

Breathe in - hold it - and exhale. Feet

connected with the floor. Knees loose, pelvis

tucked, shoulders relaxed. The 'la-la-la-la-la'

of a simple scale. The squawk of a baby,

the "snack pease Mum" from a toddler.

Laughter, some nervous faces easing into

smiles, quiet encouragement. The swish of

hands, the tak of claps, then the swell of a

song and happy harmonies. Welcome to

Choir.

A.Spire.Choir formed in the Spring of 2015

when a group of women from the Beanstalk

Organic Co-Op in Mayfield wanted to get

together to sing, during the day, and be

able to bring their kids along. Four years later,

our choir - including parents with babies and

preschoolers - comes together and work

happily with the ebb and flow of occasional

chaos to sing. We meet in the acoustically

splendid space of the Catholic Church in

Tighes Hill and the children play, snooze in

carriers or stand with their grown up as we

hum, hoot, learn some technique and sing

acapella. Our song sheets - ranging from

gospel to the classics to indie folk and pop

arrangements - sometimes have notation,

and we learn and practice parts and then

put it all together.

A quick search of the net will turn up

a plethora of articles with modern day

research to back up something we've been

doing and known about for millennia - that

singing, especially in a group, is really really

good for us. Marvellous things happen to

us when we sing; it lowers stress, boosts

endorphins, engages both sides of the brain,

improves breathing and posture and relaxes

muscle tension. With all this goodness going

on in an adult brain, imagine the neural

zinging and popping that is going on in

your child when they are surrounded by the

sound of voices singing in harmony, by the

feel of rhythmic clapping and stepping, and

what it looks like to be part of a diverse and

supportive group of people doing something

joyful and fun.

And then there are the mental and

emotional benefits to singing in a group

- feelings of well-being and satisfaction

in doing something creative, and the

connection and sense of belonging that

grows out of being part of a community.

Where the distinct absence of a 'talent'

mindset means that anyone who enjoys

music and is willing to take their musical

birthright out of the shower or the car and

give it a go, is welcome! As tricky as it is

sometimes to get out of the house with little

ones, Choir is a great place to connect and

learn. And perhaps to rediscover the song in

your own heart. n

Natasha Rusterholz

A.Spire.Choir meets every Tuesday morning

from 10.30am til Midday during school term

time. Please contact Tash on 0415 984 935 for

more details.

39
---
| 2020

Daniella Ruru -

Nurturing Your Mother Nature

Dearest Newborn Mother

Please know that from the highest peaks of

joy to the lowest pits of despair, you are not

alone, we are all in this together.

When we begin on our

path, bravely and somewhat

blindly, we figure – it will be

anything from a little bit - to

massively overwhelming - but

we tell ourselves "I've done

the work, I've got this!" We

are independent, educated

and worldly, there is so much

love, joy and excitement to

experience.

Sadly, we are often unaware

of our surreal beauty, our

innate power, and our basic

human rights.

This is not a journey to make in isolation,

in silence or in shame. This is a journey to be

directed by your perfectly heartfelt, soulconnected

self. The deepest parts of your

being are to be your guide, you are a well

that runs so deep. When the well feels dry,

empty or blocked, we instinctively know that

there is always a way to the water. We know

that without the flow, as each day passes a

little part of our spirit is withering away. We

know how to survive but do we know how to

thrive?

My mothering journey began 12 years

ago with the birth of my beautiful daughter

Shaylani, like many of us, I had no idea

of the rollercoaster ride of emotions, the

expanded (yet ironically contracted) state

of awareness, being and connection that

would find me unprepared for what was the

most important and powerful transition in my

life. The birth of myself as a mother.

I had excitedly prepared for the birth of

our baby, although as a firsttime

mum – there was so much

more I needed to know! I wish

I knew; I wish I knew; I wish I

knew… the lament of so many

new mums – along with "WHY

didn't anyone TELL ME!?" In my

work supporting mothers these

are the words I have heard the

most.

Take heart dear sisters, we

are born of a time blessed by a

wave of consciousness. We

are being called to reach

out, to connect, to find

our soul sisters, to build our

villages - together we've

got this!

To the awe-inspiring women I've been

blessed to hold space for – Thank you! Your

raw beauty and openhearted sharing are

my greatest teachers, you are forever in my

heart.

If you are curious to learn how we can

work together – I encourage you to get in

touch now.

With Love Blessings and Appreciation

Daniella

Please see next Page for more details

41
---
Join our

Index

Links

village

Get in touch now

Contact Daniella

hello@newcastlebaby.com.au

Nurturing Your Mother Nature

Supporting Your Journey from Preconception to Mothering

Birth Story Listening - Intuitive Life Coaching & Healing

Birth Art Sessions - Birth Art Circles

Online via Zoom

www.daniellaruru.com.au 0438 916 561

Acupuncture 18,19

Baby Classes 26, 27, 36, 39

Baby Wearing 40

Baby First Aid & CPR 26

Birth Story Listening 10, 11, 41, 42

Birth Education 4, 5, 6, 7, 33

Birth Art Circle 41, 42

Breastfeeding Support 32,33

Chiropractor 30, 31

Childcare 20, 21

Community Groups 33, 37, 39

Counselling 8, 9, 12, 13,

Doula 4, 5, 6, 7, 33

Fertility 18,19, 28

Fitness 16, 17, 36

Hypnobirthing 5

Helpline Perinatal Support 12

Lactation Consultants 32

Life Coach 41, 42

Market 44

Massage 6, 8, 18

Nanny service 20, 21

Nappies 22, 23

Naturopath 24,25, 28, 29

Nutrition 24, 25, 28, 29

Physiotherapy 16, 17

Pilates 16, 17

Photographers 14, 15

Psychologist 8, 9, 13

Placenta Encapsulation 38

Sound Healing 34, 35

Toddler Activities 2, 26,27, 36, 39,

Facebook

@AdrianaBellicanta

Acupuncture

@A.Spire.Choir

@bellarouge

photography

@beyondbirth

doulaaustralia

@bodycrafthealth

solutions

@ChereeSheldon

Nutrition

@clancyallendoula

@codykennedyhealth

@CuriousCubs

Newcastle

@daniella_ruru

@doublehappyhealthy

@embraceaquanatal

@familylife

chiropracticnewcastle

@Fit-4-2

@forestforthetreespp

@gymbaroomaitland

@gymbaroonewcastle

@gymbaroowarnersbay

@healinglifeenergies

@hunterbirth

educationcentre

@ittibitti

@Jessica-Robinson-

IBCLC-Newcastle-

Region

@MaitlandWellness

Centre

@MoondaniAustralia

@morethanamumma1

@Mybabybasics

@newcastlebaby

@nurturingyour

mothernature

@PilatesforLife

@PineappleFitness

@PositiveBirth

Movement

NewcastleAustralia

@Rebecca

orchard

remedialmassage

@rockmybabyHCC

@theoxytocincollective

@thrivewellnesshub

@tracylynchcounselling

SallyRichards

LactationConsultant

@v.moulene_

photography

@You.Me.Harmony -

Music Together

Instagram

bellarougephotography

bodycraft.acupuncture

ckhealth3

chereesheldon_nutrition

clancy_allen_doula

curiouscubsnewcastle

daniella_ruru

doublehappyhealthy

embrace_aquanatal

empoweredlactation_

withemma

familylifechironewcastle

fit.4.2physio

forest_psychology

healinglifeenergies

inbody.wisdom

ittibittinapies

mybabybasics

nataliebirth

newcastlebaby

moondani_australia

morethanamumma

pilatesforlife.au

pineapplefitness_

rebeccaorchard_

remedialmassage

re_pairing

rockmybaby_hcc

theoxytocincollective

thrivewellnesshub

v.moulene_

photography

43
---
Index Links

Subject page numbers

Facebook

@

Instagram

@

My Kids Market

Newcastle

My Kids Market is the original and largest

Market for families to buy, sell and recycle

pre-loved baby and kids goods

All the popular baby and kids brands up for grabs with huge

savings. Baby and kids clothing, shoes, toys, books, prams, bikes,

cots, highchairs, rockers and other nursery items

My Kids Market comes to Newcastle

3 times a year. Our first Market for 2020

is on Sunday 23 February, 9am – 12noon

Cash Only - No ATM on Site

Shopper entry $4, Kids Free

Newcastle Basketball Stadium,

Young and Curley Rds,

Broadmeadow

Families can host a stall

book online

www.mykidsmarketnsw.com.au

44