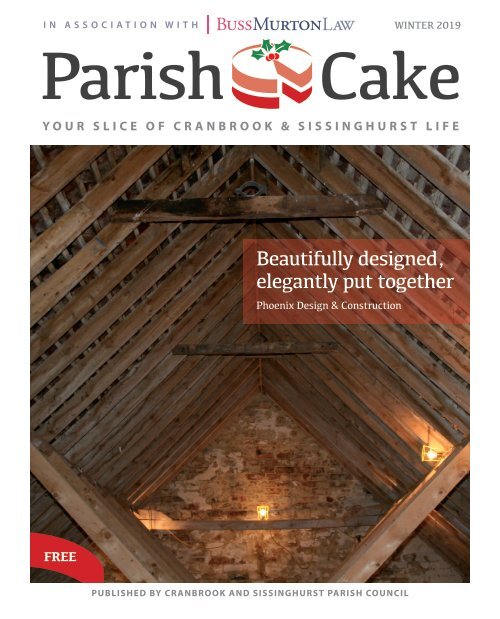 Parish Cake - Winter 2019
Your slice of Cranbrook and Sissinghurst life - published by Cranbrook and Sissinghurst Parish Council
Your slice of Cranbrook and Sissinghurst life - published by Cranbrook and Sissinghurst Parish Council
SHOW MORE
SHOW LESS
You also want an ePaper? Increase the reach of your titles
YUMPU automatically turns print PDFs into web optimized ePapers that Google loves.
IN ASSOCIATION WITH

Parish

WINTER 2019

Cake

YOUR SLICE OF CRANBROOK & SISSINGHURST LIFE

Beautifully designed,

elegantly put together

Phoenix Design & Construction

FREE

PUBLISHED BY CRANBROOK AND SISSINGHURST PARISH COUNCIL
---
Do you need help at home?

Help at

mealtimes

Private Care Service

Help at

bedtimes

Help at

bathtimes

Escort

Services

Domestic

care

Our Private Care Services provides tailored packages of

care that can help people stay in their own home for as

long as possible, rather than going into care home before

it's really needed. We assist those who need due to frailty,

disability or illness to live a independently as possible,

with comfort and dignity, in their own homes.

For a free assessment of your care needs or to

receive your brochure call us on 01580 762244

www.townandcountryhomecare.co.uk
---
Parish Cake

YOUR SLICE OF CRANBROOK & SISSINGHURST LIFE

EDITOR:

Cllr. Brian Clifford

brian@brianclifford.net

FEATURES EDITOR & CHIEF

FEATURE WRITER:

Cllr. Trisha Fermor

trisha@parishcake.co.uk

YOUTH EDITOR:

Zachary Phillpot-Brian

ADVERTISING SALES:

Mignon Brian

07779 185870

mgnnbrian@gmail.com

BUSINESS DEVELOPMENT:

Graham Holmes

graham@parishcake.co.uk

PUBLISHED BY:

Cranbrook and Sissinghurst Parish Council

01580 713112

www.cranbrookandsissinghurstpc.co.uk

PRODUCED BY:

Tally Wade

Coffee Shop Media Ltd

01580 848555

www.coffeeshopmedia.com

PRINTED BY:

Stephens & George, 1 Goat Mill Rd,

Dowlais, Merthyr Tydfil CF48 3TD

FRONT COVER:

Phoenix Design &

Construction is a

local construction

company delivering

a diverse range of projects. With its office

and yard based in the Cranbrook area,

it serves both the parish and further

afield in the South East. Phoenix aims to

streamline the construction process for

customers to help alleviate the stress of

commissioning or running a project and

make it a memorable process for all the

right reasons.

Its extensive network of building

professionals includes fully qualified trade

teams and specialist sub-contractors and

can deliver projects from planning and

design to the finished build or installation.

01580 857718 / www.phoenixdc.co.uk

Whilst every effort is made

to ensure accuracy, the

Cranbrook and Sissinghurst

Parish Council, editor and

authors cannot be held

responsible for published errors. The views or

opinions expressed do not necessarily reflect

views of the Cranbrook and Sissinghurst

Parish Council. Inclusion of any advertising

material does not constitute a guarantee or

endorsement of any products or services or

claims made.

welcome

THERE'S A real richness of

Cranbrook and Sissinghurst

community activity for you

in this edition of Parish

Cake, from a story about

our 'Posties', Apple Fayre

enjoyment, a Mayor of

Cranbrook proposal and

news of the resignation of

our parish council chairman,

Bridget Veitch.

Bridget's contribution on a daily

basis leading the parish council is not

widely known, but it is the fact that many

projects, including the development of

the community centre, have benefited

enormously from Bridget's wise counsel.

Our Local Legend features parish warden

Ivor Hatcher who really is a 'Man of

Cranbrook', and in Sissinghurst not only

has the Bun Penny Club been celebrating its

60th anniversary but the village fete, junior

cricket team and flower show success really

contents

BEAUTIFUL CONVERSIONS,

RESTORATIONS AND NEW BUILDS

Get in touch today to talk to us about your project:

01580 857718 | 07587 272928 | mike@phoenixdc.co.uk | phoenixdc.co.uk

REGULARS

4 Directory & What's On

7 Chairman's View

8 Letters

10 Parish News

18 Club News

21 Events

29 Youth Comment

48 Parish Council Update

FEATURES

14 TWBC Draft Local Plan

– Cllrs. Kim Fletcher and

Nancy Warne comment

ISSUE 11 WINTER 2019

17 It's Christmas! –

Cranbrook Christmas

Market and some

Christmas dinner advice

27 Art in Cranbrook –

spotlight on artists

exhibiting this Christmas

31 Cranbrook Posties –

behind the scenes at

the depot

33 Sissinghurst Slice –

the story behind the

Milkhouse and a new Rev.

37 Health and Wellbeing – a

new GP facility and a

charity fashion show

produces an enviable community

spirit.

It just leaves me to say that

on behalf of the magazine

team – myself, Trisha, Tally,

Mignon, Graham and deputy

clerk Lynn – we wish you

all that you would wish for

yourself at Christmas and for

the New Year.

Cllr. Brian Clifford – Editor

STOP PRESS

Cllr. Kim Fletcher has been appointed as new

chairman of the Parish Council with Cllr. Colin

Gilbert as vice chairman.

39 Canine Comment – 'Santa'

looks forward to Christmas

42 Kitchen & Garden –

new head gardener for

Sissinghurst and the best

fruit cake

44 Water Tips – winter advice

for pipes and staying warm

47 From our Sponsor – advice

from lawyers at Buss

Murton

50 Local Legend – Ivor

Hatcher

Parish Cake • Winter 2019 3
---
f f f f f f f f f f f f f f f f f f f f f f f f f f f f f f f f f f f f f f

what'son

f f f f f f f f f f f f f f f f f f f f f f f f f f f f f f f f f f f f f f

f f f f f f f f f f f f f f f f f f f f f f f f f f f f f f f f f f f f f f

f f f f f f f f f f f f f f f f f f f f f f The f f Parish f f Cake f f guide f f to f events f f f f f f f

f f f f f f f f f f f f f f f f f f f f f f in f Cranbrook f f f f and f f Sissinghurst f f f f f f f f f

f f f f f f f f f f f f f f f f f f f f f f f f f f f f f f f f f f f f f f

REGULAR EVENTS

• Farmers' Market every

fourth Saturday in the

month, 9am -12 noon

• Tempo Singing every

Saturday morning at

Cranbrook School Music

Centre, 10.30-11am

• Messy Church Children

and Parent Group,

second Friday each

month, 3.30-5.30pm

• Mobile Library, The

Street, Sissinghurst,

every Friday Morning in

December, January and

February, 11.40am

• The Children's Centre,

Cranbrook, offers free

sessions for parents and

children throughout

the week. Call 03000

411035 for a timetable

• Compass Community

Choir, Wednesday

evenings 5.30pm, Vestry

Hall, everyone welcome!

• Cranbrook Cemetery

Chapel open every

Wednesday until 3

October

• The Planning and

Preservation Committee

meets in the Council

Office on the 1st and

3rd Tuesday of every

month

• The Policy

and Resources

Development

Committee meets in

the Parish Council office

at 5pm on the Tuesday

preceding the Full

Council meeting

DECEMBER

DAILY

International Garden

Photographer of the Year

Exhibition, Sissinghurst Castle

FRIDAY 2

2.30pm Cranbrook U3A, Vestry

Hall

FRIDAY 6

5pm Cranbrook Christmas Market

and late night shopping, High

Street (with a road closure)

5.30pm Nativity Procession and

tableaux from St. Theodore's

Church to St. Dunstan's with

carols, mince pies and mulled

wine

THURSDAY 12

7.30pm Full Parish Council

Meeting, Council Chamber -

Everyone Welcome

SATURDAY 14

7.30pm Folk Concert, St. Agnes

Fountain, St. Dunstan's Church

SUNDAY 16

6pm Carol Service, St. Dunstan's

Church

TUESDAY 24

4pm Christmas Eve Crib service,

St. Dunstan's Church

WEDNESDAY 25

10am Carols, St. Dunstan's Church

SATURDAY 28

10am Farmers' Market, Vestry Hall

SATURDAY 28–31

2.30pm Treasure Island

Pantomime, Queens Hall Theatre

JANUARY

THURSDAY 9

7.30pm Full Parish Council

Meeting, Council Chamber –

Everyone Welcome

SUNDAY 12

9.30am Special Plough Sunday

Service, St. Dunstan's Church

FRIDAY 17

2.30pm Cranbrook U3A, Vestry Hall

SATURDAY 25

10am Farmers' Market, Vestry Hall

FRIDAY 31

7.30pm Folk Festival, Ninebarrow,

St.Dunstan's Church

FEBRUARY

THURSDAY 13

7.30pm Full Parish Council

Meeting Council Chamber –

Everyone Welcome

SATURDAY 22

10am Farmers' Market, Vestry Hall

MARCH

SATURDAY 14

Men's Breakfast with Guest

Speaker, Hartley Coffee Shop

While every effort is made to ensure

accuracy, dates and times may

change. If you are organising an

event in the parish why not drop

us a line and we might be able to

include you in the listings too –

editorial@parishcake.co.uk

directory

Cranbrook and Sissinghurst

Parish Council

The Old Fire Station

Stone Street, Cranbrook

KENT TN17 3HF

Clerk – Mrs. L. Ham

Deputy Clerk – Mrs. L. Thirkell

01580 713112 / clerk@

cranbrookandsissinghurstpc.

co.uk

BOROUGH & COUNTY

COUNCILS

Tunbridge Wells Borough

Council

01892 526121

www.tunbridgewells.gov.uk

Kent County Council

03000 41 41 41

www.kent.gov.uk

USEFUL NUMBERS

UTILITIES

Electricity: 0800 727282

(24 hrs)

Gas: 0800 111 999

Water: South East Water

(drinking water) 0800

0283399, Southern Water

(waste water) 0800 820999

(24 hrs), Emergency leak 0800

0283399, Floodline 0845

9881188 (24 hrs)

CRIME

Non-Emergency Police: 101

Crime Stoppers: 0800 555111

KCC Community Warden:

Adam Osbourn

07813 695741

PCSO: Lee Jules

07772 226048

Neighbourhood Watch Area

Co-ordinator: 01622 604395

ROOMS & HALLS TO HIRE

St George's Institute,

Sissinghurst: Ursula O'Connor

01580 713938

The Parish Room,

Sissinghurst: Sue Crowe

01580 712567

ts.crowe74@gmail.com

The Vestry Hall, Council

Chamber and Addison VC

Room, Cranbrook:

01580 713112 (10am-12pm

weekdays).

A full list of over 30 venues for

hire in the parish is available

from the parish office

USEFUL CONTACTS

CHURCHES

Congregational Church,

Cranbrook: 01580 388070

St. Dunstan's, Cranbrook:

01580 715861

St. Theodore's RC, Cranbrook:

01580 713364

Strict Baptist Church,

Cranbrook: 01580 713212

Trinity Church, Sissinghurst:

01580 852275

Vine Church, Cranbrook:

01580 712620

SCHOOLS AND PRE

SCHOOLS

Colliers Green CE Primary:

01580 211335

Cranbrook CE Primary:

01580 713249

Cranbrook Children's Centre:

03000 41 10 35

Cranbrook School:

01580 711800

Dulwich Preparatory School:

01580 712179

High Weald Academy:

01580 712754

Rainbow Pre School,

Cranbrook: 01580 715570

Sissinghurst CE Primary:

01580 713895

Woodpeckers Pre School,

Cranbrook: 01580 720195

DOCTORS

Jockey Lane Surgery,

Cranbrook: 01580 713032

Old School Surgery,

Cranbrook: 01580 712476

Orchard End Surgery,

Cranbrook: 01580 713622

DEFIBRILLATORS

Cranbrook Medical Centre,

Cranbrook

Cricket Club, Sissinghurst

Parish Council office

Sissinghurst Castle Garden

St. George's Institute,

Sissinghurst

Tennis Club, Sissinghurst

The George Hotel, Cranbrook

The Milkhouse, Sissinghurst

4 Parish Cake • Winter 2019
---
'Marlborough House is very

welcoming and it feels more

like a family than a school.

George, Current Pupil

'

This has been the best

educational move we have

made for our son, both

academically and for sport.

We have been made

so welcome by staff

and parents.

George's Parents

'

'

Pre-Prep & Prep | Boys & Girls | 3 – 13 years | Day & Flexi-boarding | Family ethos

Enjoying Today Educating for Tomorrow

Flourish in our nurturing and nationally acclaimed Pre-Prep

Grow as an individual, with ISI rated 'excellent' teaching and pastoral care

Be inspired by 50+ subjects, clubs and a Character Education programme

Discover new friends and explore big ideas in small classes

Achieve with our 70% success rate for senior school scholarships

Look forward supported by 150 years of history and traditional values

EVERY DAY IS AN OPEN DAY

Marlborough House School, Hawkhurst, Kent, TN18 4PY | 01580 753 555 | marlboroughhouseschool.co.uk
---
Feel Good

Fly High

dulwichprepcranbrook.org

Financial

Advisers you

can Depend on

Halcyon Wealth are fully qualified financial advisers who

can help you with savings & investments planning, tax

efficient investing, retirement planning, protecting your

loved ones, protecting your property and inheritance

tax planning – with offices in the City of London, Canary

Wharf and Tunbridge Wells.

BOOK YOUR FREE CONSULTATION NOW!

Sit down with one of our highly qualified, professional financial advisers for a no-obligation financial planning review.

01892 671 273 | www.halcyonwealth.co.uk

27 Austin Friars, London EC2N 2QP

22 Mount Ephraim Road, Royal Tunbridge Wells, Kent TN1 1ED

37th Floor, One Canada Square, Canary Wharf, London E14 5AA

6 Parish Cake • Winter 2019
---
comment

Stepping Down After Nine Years

Due to health and family commitments, Bridget Veitch has stepped down as a councillor after

nine years on the parish council and over four as chairman. As told to Trisha Fermor

I HAVE always been community

minded coming from a vicar's

family, as both my father and

grandfather were vicars.

I had no idea of the breadth

and depth of the work and

projects that the parish council

gets involved in so I thought

it would be a small-time

commitment. I was mistaken,

as I became really interested in

everything that was going on.

I have hugely enjoyed the

knowledge I have gained about

Cranbrook and Sissinghurst,

its landscape, its history and

the excellent people I have met

during my years on the parish

council.

The roles of chairman and the

role of the parish council have

evolved and changed over the

nine years, due to the increasing

devolution and responsibilities

of the parish council and the

number of major projects

we are taking on. The most

obvious ones are the community

centre and the Neighbourhood

Development Plan.

I got involved in the future

of the car parks a year after I

joined the council. The then

chairman Peter North

asked me to write a

business plan for us

taking over the car

parks, to sidestep

the plans that

Tunbridge Wells

Borough Council

had for charging

for parking. We took

over responsibility of

the Regal, the Tanyard and

Jockey Lane car parks in August

2013 ensuring parking remained

free at the point of usage.

Ratepayers are now paying

for the maintenance and the

business rates. The Regal and

Tanyard car parks could be given

back to Tunbridge Wells and

parking charges could be applied

if the parish council chooses to

do so in the future.

In 2014 the parish council

took on responsibility for the

community centre project. I

knew the project had a difficult

history but I was asked to take it

on, so I did. Five and a half years

later the end is still uncertain at

the time of writing. It is a bit like

Brexit.

I remain convinced we would

benefit from a focal point for the

community on such a central

location as Wilkes Field in

Cranbrook.

I have been impressed by

the breadth of knowledge and

experience of the members of

the parish council and their

willingness to contribute to the

life of the community.

I don't believe that everyone

really appreciates how much the

parish councillors generously

give of their time and

commitment. I wish to express

my personal sincere and grateful

thanks to them, and to the clerks

who provide so much support.

There are also many other

people who give of their time

to put on events that we all

enjoy, such as the Apple Fair,

Cranbrook in Bloom, the Art

Show, Literature Festival, CODS

and the Sissinghurst Fete, to

name just a few. There are, of

course, also the volunteers that

look after the popular Museum

and Windmill, and the various

sports clubs. These are the

people who make the life of

the community and should be

applauded.

Although my spell on the

parish council has come to

an end I am sure there will be

occasions that arise for me

to participate in community

activities.

I wish the parish council every

success in its current and future

projects and initiatives.

Parish Cake • Winter 2019 7
---
Letters

Perfect Candidate for

MAYOR OF CRANBROOK

When Phil Mummery was

perfectly pronounced

"Lord Mayor of Cranbrook"

at the Apple Fayre this

October, the great crowd

of locals raised a massive

Hurrarh! And three very big

cheers. Let's not waste this

opportunity. Let's make him

Mayor for Cranbrook and

Sissinghurst properly. We

need a Mayor.

I always thought we used

to have our own Mayor, but

it turns out that Cranbrook

has never had one. If

Tenterden can have one,

then why can't we? There

is so much going on in the

town at the moment, what

with 900 new houses and

the shops and pubs regularly

closing. Drug dealing

everywhere! The centre

looks tatty, abandoned cars,

boarded up building sites.

The old Windmill Pub looks

like a horror movie set, to

scare visitors away. The

Providence Chapel falling

to bits. The list goes on

and on. Awful! No wonder

Cranbrook is struggling

to attract tourists, it looks

unwelcoming. Someone

ought to do something about

it, but where do we start and

who do we choose?

I believe that we need

Phil Mummery to be the

first ceremonial Mayor of

Cranbrook. He deserves

the role for all the hard

work he has done for our

superb town over the

many years. We can create

the new position for him

'I BELIEVE

THAT WE

NEED PHIL

MUMMERY TO

BE THE FIRST

CEREMONIAL

MAYOR OF

CRANBROOK'

and he could codify its

responsibilities for those

women and men that will

follow him as future Mayors

of Cranbrook.

Phil is a free-thinking man

of principle; old school, if

you like, who can write the

Mayoral role to suit what we

Cranbrookians need. It could

be ceremonial to start with,

but it could also develop to

become edgy, like the Mayor

of London's role.

What would a Mayor

of Cranbrook do? What I

am suggesting is a person

to rally local residents'

backing, to weaponise the

councilors and help them

to fight our causes in TWBC

, getting us all to keep an

eye on the baddies. Getting

the Police out of their cars

and on the pavements to

be seen by those who need

to see them. Tidying the

place up. Being a tourist

attraction figurehead and

shaming the poorer quality

tourist services in town and

encouraging the good ones.

There are plenty of

wonderful people already

doing good things -

Neighborhood Watch,

Keeping Cranbrook Tidy,

Cranbrook in Bloom and

those helping the infirm -

but a Mayor would join

them all up and

make a real

improvement.

Anybody

agree?

Stuart Cleary

A Building

Must for the

Future

The Cranbrook and Sissinghurst

Neighbourhood Development

(NDP) Steering Group has

adopted the concept of

Passivhaus design. This building

standard ensures buildings are

incredibly well insulated and that

their design maximises access to

sunlight making them light and

warm inside.

The great news is that

Goldsmith Street in Norwich, a

council estate of 105 low-rise

brick terraced houses, has won

this year's Stirling Prize, British

architecture's most prestigious

award. This shows our local

developers (Persimmon, Berkeley

Homes, Jarvis Homes and

Countryside) that it is possible to

build really high quality homes in

terraces, so there is a great sense

of community and low cost rents.

This is what the NDP is

demanding, and we need

local residents to support this

proposal.

Cllr. Kim Fletcher

Please send your letters to

editorial@parishcake.co.uk or by post

to Parish Cake, Cranbrook and Sissinghurst Parish

Council, The Old Fire Station, Stone Street,

Cranbrook, TN17 3HF. Please note, letters may

be published in a shortened form at the

discretion of the editor.

8 Parish Cake • Winter 2019
---
www.bussmurton.co.uk | T: 01580 712 215

Local Charity Grant Made all the Difference

By way of introduction, I'm Ginny. I am 21

years old and studying towards a career at the

Criminal Bar. I have recently graduated from

the University of Birmingham with a 2:1 in

Law with Criminology and have started my Bar

Professional Training Course, which is part of

my studies.

During the summer of my first year, my

family finances took a drastic turn when my

mother remarried meaning my household

income was technically double what it had

previously been. Having grown up receiving

low income support, as I was part of a singleparent

family, I suddenly found myself

receiving £6,000 less money due to the effect

on my student finance and university based

grants.

Following this, I was desperately searching

for external support to ensure that I could

continue my studies at my wonderful

university. The Katherine Elizabeth Wood

Trust (KEWC) was brought to my attention by

my old head of sixth form at Cranbrook School

as a charity to assist local young women and

girls in their educational pursuits.

Having lived in Cranbrook for most of my

life I was delighted to find them - it really

made my love for our community grow

even fonder. It is unfortunately less well

known than the boys charity but is equally

as beneficial and important. Following email

conversations and an informal interview

Note from the editor:

The Katharine Elizabeth

Wood Charity was established

to benefit the poor of the

parish of Cranbrook. The

trustees have a broad

remit to help the aged, sick,

infirm, and those under

the age of 21 years for the

purpose of entering any

calling, profession, trade or

occupation. Over the past few

years the charity has helped

several students with their

education and training costs.

These have been very varied

and included contributions

to the costs of chef's knives

for a trainee chef, travel to

training in Ashford to study

discussion I was awarded funding and the

charity has been helping me for the past

two years. This support has been flexible,

consistent and utterly fantastic.

I will forever be indebted to the generosity

of KEWC, which ensures that girls like me can

reach their goals without financial burdens. I

sincerely hope this piece raises the profile of

its wonderful work so that other young women

can be relieved of any money worries and

achieve all that they're capable of.

Ginny Dear

A Levels and a field trip to

China. It has also supported

older parishioners, including

the purchase of a big button

telephone. The Rev. Ann

Pollington is the chair of the

charity, and all requests for

assistance should be directed

to her at the Vicarage in

Cranbrook.

Financial

Help with

Further

Education

Are you leaving school

and going onto university

or further education and

would benefit from some

financial help?

The Fiennes Stanley

Wykeham Cornwallis

Trust was set up in the

1980s and has helped

many apprentices and

university students

with books, tools and

other materials for their

courses. Whether you

want to study medicine,

law, become a mechanic,

electrician, plumber or

anything else, maybe

some financial help might

come your way.

If you live in

Sissinghurst or attended

Sissinghurst Primary

School for two years and

are under 25 years of

age, you fit the necessary

criteria.

Further details are

available by email

sissinghurstawards@

gmail.com or by telephone

01580 714618. The closing

date for applications is the

29th February 2020.

Mrs Mellor

Parish Cake • Winter 2019 9
---
newsbites

News

and views from

Cranbrook and Sissinghurst

Museum Visit on

Alderney Prompts

New Thriller

COLIN BATEMAN spent most of his

life travelling the world reporting

on everything from the Olympics to

international cricket. But

since retiring he has

found another outlet

for his writing

skills – thrillers.

His latest

offering, Beyond

the Waves, was

inspired by real

events and is set

in the Channel

Islands.

Anti-hero Tom Kidd,

who appeared in Colin's first

novel, is again almost out of money. He

finds himself asking questions about the

disappearance of an art gallery owner

when police show little interest in

looking for her.

Set during the Second World War

when the Nazis occupied the islands in

the English Channel, the idea for the

book came to Colin when he visited a

museum in Alderney.

Colin, 65, lives in Hawkhurst Road,

Cranbrook, with his wife Brenda, a

nurse. His first book, A Terrible Tale,

was published last year and was

dedicated to his grandson Oliver and

the latest offering to another grandson,

Max.

An ideal Christmas present, the £9.95

paperback is available at Arthur's coffee

shop in Stone Street, Cranbrook, or

by emailing Colin at colinjbateman@

hotmail.com. TF

Britain in Bloom Accolades

THE HARD work put in

by keen plant lovers to

keep Cranbrook looking

beautiful all the year round

has been rewarded with

two accolades this year.

The efforts of Cranbrook

in Bloom members, under

the chairmanship of Linda

Page, has been recognised

with a gold in South and

South East in Bloom

and, for the second year

running, a silver gilt in

Britain in Bloom.

Mrs Page praised

the efforts of everyone

involved in creating

and looking after the

town's floral decorations,

CRANBROOK OPERATIC and Dramatic

Society (CODS) is gearing up to celebrate

100 years of theatre. Since the first

production of 'Mikado' in 1920, the

members of CODS have been providing all

forms of amateur theatre to local people.

To begin its anniversary year, the 2019

CODS Christmas pantomime 'Treasure

Island' will run from 28-31 December

with a New Year's Eve party for members

and guests to start an exciting year of

celebrations.

Other events include SING 100, a

community event held on 15 March in

St. Dunstan's Church. All are welcome to

join in, performing or as a member of the

audience, for a charity evening of solos,

duets and songs from the shows with

sing-along choruses

'Arabian Nights' runs from 28-30 May

and 'Kipps - the New Half a Sixpence

Musical' will be on in October. CODS has

adding: "We need to forge

ahead with inspiration,

innovation and

involvement."

She added: "Cranbrook

in Bloom should be

embraced more by

business people and we

are looking at having a big

planter as a focal point.

We need to decorate the

railings at St David's

Bridge and enhance them

with a wow factor." TF

1920-2020 – CODS' Centenary

lucky to get the rights for this exciting

new show after its sell out run in the West

End last year.

CODS is a friendly group and is open to

anyone, whether interested in performing

or working backstage in wardrobe, props,

stage management, set design/building,

lighting, sound or even front of house.

Tickets for all its shows are available from

www.cods.ticketsource.co.uk or from its

box offices in Cranbrook.

www.cranbrookods.org.uk / 01580 388716.

10 Parish Cake • Winter 2019
---
news

MS Society Members Take to the Water

MEMBERS OF the

Tunbridge Wells and

District Branch of the MS

Society were invited for

a super day of sailing by

the Mariners of Bewl, a

sailing club for people with

physical impairments.

Many of the members

have MS themselves and

this can means limitations

with what they are able to

do. But the Mariners have

created a wonderfully safe

and friendly environment,

where people with all

disabilities are able to have

a go at sailing. Especially

now that they have their

new fancy hoist so people

do not even have to worry

about the more tricky part

of getting in and out of the

boats.

Everyone was able to

have a go at sailing on

the beautiful, calm and

tranquil water. Some of

our members had previous

sailing experience, but for

others it was their very

first time being out on the

water! Despite one hairy

moment when Carol, our

transport secretary, feared

she may end up in the

water, everyone has an

amazing time.

The financial

contribution the group

made to enable the

Mariners to purchase

equipment so members

could sail made such a

difference to our day out

on the water, said one

member.

As well as a splendid

time sailing, the Mariners

also set up a barbeque.

This gave everyone the

chance to enjoy a lovely

lunch, chat with others

and make new friends

before heading back out

onto the water for one

final sail.

The day was one which

everyone will remember

for a long time and we

would like to thank the

Mariners for putting

on such a brilliant day,

making us all feel so

welcome, and showing

how having a disability

doesn't have to stop you

from getting out on the

water with your sailing hat

on. Brian Clifford

Teenager Ploughs

a Winning Furrow

CRANBROOK TEENAGER Emily Watson

was over the moon after sweeping the

board at her first ploughing match.

The 14-year-old, driving a 1938

Fordson Standard tractor at the

Romney Marsh Ploughing Match, was

judged to be the best novice and the

best under 25.

No-one was more pleased than her

father Martin Watson, who also enters

ploughing matches. He said: "She

did really well. She didn't think she

was going to win anything! I'm really

proud of her."

Emily, who goes to High Weald

Academy, spends much of her spare

time looking after livestock at the

school farm. TF

CHRIS LAWSON

Friends Need Friends

WITH JUST four people running the Friends of Sissinghurst Church (FoSCh) an urgent call has gone out for more volunteers to get

involved and help generate ideas and events to raise funds.

The Friends have some 60 subscribing members in the village who have provided significant financial help towards maintenance

and building improvements to Trinity Church and the adjoining Parish Rooms.

During the past six years some £14,000 has been donated for various projects including total redecoration of the church, bespoke

oak cupboards, a new kitchen, floor, windows, heating in the Parish Rooms and the creation of the new John Martin wing.

We are fortunate to have a lovely church with superb facilities at the heart of our village. Our focus at FoSCh is to help keep it that

way. The four of us have a very sociable evening meeting about four times a year. Would you like to join us to help with this very

worthwhile project? If so please contact Peter Mellor 01580 715860 or email advice@petermellor.co.uk.

Parish Cake • Winter 2019 11
---
news

cupcakes

l Cranbrook has been added to the list of

towns where Aldi might build a store. The

Parish Council has been in touch with the

German-owned supermarket, which is fast

gaining a big reputation. It said a suitable site

would have to be more than 1.5 acres.

l Cranbrook man Alan Ford wants to know

if anyone would like to help him set up a

photographic club in the town. If the answer

is yes call him on 01580 713256.

l Kent Police have been given more than

£1.1m by the Home Office to boost the work

of the Violence Reduction Unit which was set

up to fight knife crime in the county.

l Parish Council bound volumes from 1894

are now retained by the KCC Archives Centre.

l TWBC councillor Sean Holden has written

to William Benson, chief executive of TWBC,

concerning the lack of progress on the

Cranbrook community centre development.

l Planning for 2020 VE Day

Commemorations in Cranbrook is underway

with a committee planning various events

in May.

l TWBC has now vacated the Information

Centre in Cranbrook and the Parish Council is

deciding how the space can be best used in

the future.

l A High Weald Academy governor will be

speaking at the full Parish Council meeting

in December to which the public is invited to

attend.

l Serious concern about speeding in upper

High Street in Cranbrook is being referred to

the KCC by Cllr. Sean Holden.

l At the AGM of the Tomlin Murton Playing

Field , trustees have agreed that the grounds

should in future be monitored by the Parish

Council Environmental Committee.

l TWBC has decided not to go ahead with

the Caverley Square building project and a

committee has been established to consider

other opportunities.

Sissinghurst Castle

Garden Photo Winner

OVER THE summer, Sissinghurst Castle

Garden invited visitors to compete

for a special award to celebrate the

beauty of this world-renowned garden.

Visitors were asked to use photography

to capture the enduring beauty of the

gardens that were the legacy of Vita

Sackville-West and Harold Nicolson and

the winning photographs will form part

of an exclusive stand-alone exhibition

at Sissinghurst until the 2 January 2020.

The overall winner was Ingrid

Help us to Make

it Happen!

Popplewell, who said: "I spent a

week staying at The Priest's House at

Sissinghurst in July in order to enjoy

the garden in the quiet of dawn and

dusk. I am a passionate gardener

myself.''

The judges said: "Ingrid has

beautifully captured this scene by using

light, reflection and composition to

create balance. The shape of the branch

provides the finishing touch."

Brian Clifford

A START has been made to establish the

Cranbrook Branch of Guide Dogs and

are looking for volunteers who would

like to work with us in securing its future.

The aim is to raise awareness of the work of Guide Dogs and to encourage others

to support the charity. Your time and skills could help us make this new branch a

success in Cranbrook. For further information please contact Kate Hunter on kate.

hunter@guidedogs.org.uk / 07747 018959.

12 Parish Cake • Winter 2019
---
Your Country Lifestyle

Department Store!

Our departments are:

Equine • Small Holder • Pets & Wild Birds

Garden • Gifts and Cards • Fuel

Clothing including:

Joules, Seasalt, White Stuff, Toggi, Jack Wolfskin, Hoggs,

Thought, Jack Murphy, Hunter Outdoor and more...

We have plenty of free parking, and we offer a free local

delivery for orders over £50 (£2.50 charge for under £50)

Open 8.30-5.30 weekdays, 9-5 Satudays and 10-4 Sundays

Swattenden Lane Cranbrook, TN17 3PS

01580 713189 | info@charityfarmcountrystore.co.uk

www.charityfarmcountrystore.co.uk

Lacuna

DESIGN

KITCHENS

INTERIORS

BATHROOMS

WELCOME TO LACUNA DESIGN

WE DO THINGS A BIT DIFFERENTLY

WE AIM TO MAKE THE PROCESS OF PLANNING A NEW SPACE

SOMETHING TO LOOK FORWARD TO. OUR DESIGNERS HELP THEIR

CLIENTS CREATE ENJOYABLE SPACES TO LIVE AND WORK IN, WHILST

RETAINING THE FUN AND EXCITEMENT ALONG THE WAY. WE OPERATE

FROM OUR LOVELY DESIGN HUB IN ROLVENDEN, COMPLETE WITH

PRESENTATION SUITE, AND THROUGH OUR PARTNER SHOWROOMS

ACROSS THE SOUTH EAST. LACUNA CLIENTS THEREFORE HAVE

ACCESS TO A WIDE RANGE OF INSPIRATIONAL STYLES AND MATERIALS.

LACUNA'S EXPERIENCED AND CREATIVE DESIGNERS GUIDE THEIR

CLIENTS THROUGH THE DESIGN AND DECISION MAKING PROCESS. THE

RESULT IS A PROFESSIONALLY PLANNED DESIGN, USING PRODUCTS

THAT BEST SUIT THEIR TASTES AND THE NEEDS OF THE PROJECT.

IF YOU WOULD LIKE A FUSS-FREE APPROACH TO THE DESIGN, SUPPLY

AND INSTALLATION OF A NEW PROJECT, PLEASE GIVE HOWARD OR

CATHERINE A CALL TO FIND OUT HOW.

01580 241325 | lacunadesignhub.com
---
comment

NDP Going Ahead

Cllr. Nancy Warne on why Tunbridge Wells

Borough Council still needs to listen to us

LOCAL PLANNING

Authorities (LPAs),

like Tunbridge Wells

Borough Council (TWBC),

have been asked by the

government to create

a Local Plan for their

borough. The creation of

a plan seeks to create a

vision of what the future

will look like - where

development will go and

policies to guide future

actions.

Key to its thinking is the

delivery of 'sustainable

development' – where the

goals of economic growth,

environmental protection

and the creation of happy

and resilient communities

are not mutually

exclusive. This is easier

said than done!

Making a local plan is

a huge task, which takes

many years as it involves

the gathering of many

layers of evidence from a

range of sources including

population projections,

land availability, market

indicators, and an analysis

and understanding of the

options and impacts of

development.

Government housing

targets and the National

Planning Policy

Framework (NPPF) are the

key driving forces behind

the making of these plans.

LPAs are under immense

pressure to deliver these

targets, at a time when

their ability to do so has

been reduced by austerity

measures which have

dramatically cut their

budgets.

Planning policy

officers from a range of

fields of expertise have

worked hard to produce

all the evidence needed.

Input from a host of

infrastructure providers

and other interest

groups also need to be

considered.

DISAGREEMENT

Crucial to the success

of any Local Plan is

the creation of a vision

which is shared with the

local community. The

Localism Act (2011) has

given local communities

the chance to become

more active in the

participation of guiding

where development goes

through neighbourhood

development plans

(NDPs). This requires

close and consensual

collaboration, and

mutual support between

the LPAs and the local

communities.

This has not been the

case for the Cranbrook

and Sissinghurst NDP as

disagreements have not

been resolved.

COMMUNITY VOICES

MATTER

Many residents

have responded

and objected to the

proposals contained

in TWBC's draft Local

Plan. Cranbrook and

Sissinghurst Parish

Council and its NDP

Steering Group have also

submitted objections.

The steering group

agreed on 28 October

to bring the results of

the NDP's community

engagement to a public

consultation early in

the new year, presenting

reasonable alternatives

to those proposed in the

draft Local Plan. This

will be our vision of

sustainable development

in the parish, written

by the community

and voted on by the

community. When

passed by referendum,

this becomes the

document guiding

development in the

parish.

Please keep an eye

out for this in the new

year as it will be your

chance to have a say on

future developments

in Cranbrook and

Sissinghurst.

"THIS HAS NOT BEEN THE CASE FOR

THE CRANBROOK AND SISSINGHURST

NDP AS DISAGREEMENTS HAVE NOT

BEEN RESOLVED"

Our Views Ignored

by Borough Council

Tunbridge Well's draft local plan

does not reflect our views, or

the work carried out on the

neighbourhood development

plan over the past two years,

writes Cllr. Kim Fletcher

The community of Cranbrook and Sissinghurst has

been galvanised during the past two years with

the neighbourhood development plan (NDP), but

our views do not appear to have been considered.

Tunbridge Wells Borough Council (TWBC) has not

had the courtesy to explain why and this has led

to concerns that the emerging NDP has not been

taken seriously.

The parish council noted several key strategic

points in the borough's local plan for Cranbrook

and Sissinghurst, which go against people's hopes.

Cranbrook (and Hawkhurst) have both

been designated as urban areas, enabling

a disproportionate number of houses to be

built, despite there being no rail links, no

large employment estates and poor existing

infrastructure.

We live in a designated Area of Outstanding

Natural Beauty (AONB) which should have

protection in the National Planning Policy

Framework (NPPF) but these protections have not

been put in place by TWBC to limit the planned

number of houses or their placement.

While the plan is supposedly infrastructureled,

there are plans for new employment land in

Tunbridge Wells but 1,750 houses will be to the

east of Goudhurst - with no sign of a relief road or

improvements on the A21 between Lamberhurst

and Kippings Cross.

There appears no mechanism to force

developers to masterplan areas, such as the Crane

Valley in Cranbrook, to ensure future residents can

walk or cycle and have access to nearby play areas.

The parish council does not support a new area

of a limit to build development (LBD) at Wilsley, as

it increases the opportunity for development close

to the LBD.

The parish council thanks everyone who has

contributed to the NDP and also registered their

comments with TWBC.

14 Parish Cake • Winter 2019
---
Premier Property Maintenance

Painting Houses Inside & Out Since 1983

• Weatherboard a Speciality

• Windows, Fascias, Roof and Gutters Repaired

PAINTWORK THAT LASTS

References Fully Insured

Victor Kellett - 01580 240309

www.CranbrookPropertyMaintenance.co.uk

SPONJEM UK Limited

Capital Allowances Consultants

Helping people in the area save money upon

their commercial buildings such as offices,

shops, restaurants, hotels and holiday let cottages

For Information contact Paul Jempson on

Tel: 0800 954 5081

Mob: 07957 822110

ELECTRICIAN

Do you want a safe, reliable,

Reasonable price Electricain ?

New Consumer unit – Smoke Detectors

Rewires – Extra Sockets – Fault Finding

L.E.D Lighting - New Builds & Extensions

ARE YOUR OUTSIDE LIGHTS WINTER READY ?

Fully insured qualified electrician

I assure you of a quick response

and offer you a 6 year guarantee

Call Nick now on:

01580 279906

Email: nick@njhelectrical.co.uk

www.njhelectricalservices.co.uk

A different kind of funeral director

for a changing world.

At Holly's Funerals we treat all

our customers as individuals.

We'll work closely with you to

help you achieve exactly the kind

of funeral that's right for you.

For more information please feel free

to call us at any time or look online.

From love comes beauty

01580 389184

www.hollysfunerals.co.uk

Hartley Dyke, Cranbrook • Coombe Lane, Tenterden
---
THE MILK HOUSE

WEDNESDAY 4 DECEMBER

Wonderful wreath making with

See Rose Floral Design 7–9.30

SUNDAY 8 DECEMBER

Cracking Christmas crafting with TMH elves 4–6

FRI D AY 1 3 DECEMBE R

A chorus of carols with Trinity Church 7.30 PM

WEDNESDAY 18 DECEMBER

A merry movie marathon of Christmas films 4–10

T HUR S D AY 19 DECEMBER

Christmas concert with Cranbrook Town Band 7.30

FRI D AY 2 0 DECEMBE R

Rock around the Christmas tree with Indigo Sea 8–10

TUESD AY 24 DECEMBE R

CHRI STMAS EVE

Christmas feasting 12–9PM

Go crackers! Christmas tinsel tunes 8PM –

WEDNESD AY 25 DECEMBER

C H R I STMAS D AY

Fa la la la la, see you in the bar!

(BAR OPEN 11AM – 2 PM)

THURS D AY 26 DECEMBE R

B OX ING D AY

Fab-yule-us long lunch 12–6PM

(TMH OPEN 9AM – 10 PM)

TUESD AY 31 DECEMBE R

NEW YEA R'S E V E

Family roast with the most 12 – 4 PM

Firework Fodder: hot dogs & DIY hot choc 4 – 7

Out with a bang! Family fireworks 5 PM

Dinner in the Dining Room 8PM – LATE

Saddle up for The Outriders Band 8PM–LATE

WEDNESD AY 1 J ANU A RY

N E W Y EAR'S D AY

Wrap it up long lunch 12–4PM

(TMH OPEN 9AM – 6 PM)

PM

LATE

THE MILK HOUSE, THE STREET, SISSINGHURST TN17 2JG

WWW.THEMILKHOUSE.CO.UK 01580 720200

PM

PM

PM

PM

PM

PM

Free Range Christmas Turkeys

Our bronze feathered, free range turkeys are

reared on our family farm to the Golden Turkey

Quality Assurance Guarantee

Please see our shop for details and prices,

including our popular turkey box which includes

your Christmas Dinner accompaniments

01580 852691 • 07775 858611

www.hollinrootfarm.com

16 Parish Cake • Winter 2019
---
f f f f f f f f f f f f f f f f f f f f f f f f f f f f f f f f f f f f f f

f

christmas

f f f f f f f f f f f f f f f f f f f f f f f f f f f f f f f f f f f f f

f f f f f f f f f f f f f f f f f f f f f f f f f f f f f f f f f f f f f f

f f f f f f f f f f f f f f f f f f f f f f f f f f f f f f f f f f f f f f

f f f f f f f f f f f f f f f f f f f f f f f f f f f f f f f f f f f f f f

f f f f f f f f f f f f f f f f f f f f f f f f f f f f f f f f f f f f f f

Cranbrook Town

Christmas Market

Based on the success of

our first Christmas Market,

this year the Cranbrook

Christmas Market will be

held on Friday 6 December

from 5-9pm. The High Street

will be closed off to cars from

3pm and there will also be

stalls in part of Stone Street

selling Christmas goods,

food, crafts and much, much

more.

Anna (from fancy dress

shop Fancy Pants) and her

friend Steph will be singing

Christmas songs and a local

choir will be adding to the

fesitivites outside the Vestry

Hall.

The Nativity Procession

will again make its way down

the High Street, starting at

5.30pm from St. Theodore's

Chruch and ending at St.

Dunstan's Church, where the

final Nativity tableaux will

be presented and Away in a

Manger sung. Mulled wine

and mince pies will be served

at St. Dunctan's and late

night shopping will begin!

The regular Saturday

markets have now been

re-located to the left side

of the Co-op car park and

2020 dates will follow soon.

Wendy Waters

PREPARED FOR

Christmas Dinner?

Sarah Calcutt from Lower Ladysden Farm

offers her tips for a stress free festive feast

DO NOT fear, this is not an

exposition on the need for hospital

corners on your presents, nor does

it worship Saints Delia, Nigella,

Mary or Kirsty… There is nothing

worse than the imposed pressure

of cooking lunch for a mother or

two, a picky Aunt and a gaggle of

sticky children.

HOW MUCH WILL THEY

ACTUALLY EAT?

Vegetables – 80g is one portion

(for 'five a day' counting purposes)

so 340g of veg each

Roast potatoes – 225g (three)

each

Stuffing balls – two

Pigs in blankets – two

Turkey – 150g/adult

ORDER LOCAL

Go to a farm shop, they know

where everything comes from.

Order the turkey now, along with

stuffing, pigs in blankets, cheese

and everything for the feast – a

good farm shop will have a list that

covers everything and you can

collect your food for Christmas a

couple of days in advance with no

travelling or hassle!

MAKE IN ADVANCE

The following can all be cooked,

frozen then reheated on the

big day:

• Carrots (with ginger or

marmalade)

• Parsnips (with parmesan or honey)

• Red cabbage (Delia's recipe is

the best)

• Stuffing, bread sauce and

gravy

SPROUTS

Peel and prepare sprouts the night

before and keep them in a bag

in the fridge. For fussy eaters, try

them shredded and cooked in

cheese sauce and bacon so they

don't taste like sprouts…

LOWER LADYSDEN FARM

Fresh produce from the heart of the Weald

Have you

ordered your

free range,

Ladysden bronze

turkey yet?

LEFTOVERS

Oh the best bit! Bubble and

squeak on Boxing Day morning,

sandwiches with a cheeky cold

sausage watching TV on Christmas

night, a turkey and ham pie, curry

(a jar of sauce and an onion is all

that is required) or just cold with

cheese, pickles and a little salad –

joyous.

Happy Christmas, may it be

merry, stress free and lots of fun!

We have everything

you need for

Christmas from a

beautiful tree to all

the ingredients for

the perfect feast

Pop into the shop or visit our website to learn more

Lower Ladysden Farm, Winchet Hill, Goudhurst TN17 1JX

www.lowerladysden.co.uk | 01580 213529

Parish Cake • Winter 2019 17
---
clubnews

A round-up of news from

Cranbrook and Sissinghurst clubs,

groups and associations

More than Meets the Eye

BIG BOYS don't cry, at least

that's what many of us were

told growing up. Times have

changed. The Rugby World

Cup broadcast pictures of

some of the world's "big

boys" crying. There were

both tears of happiness and

of sadness.

Many ancient cultures

are built around spirituality.

In our relatively modern

western mindset it has

frequently been disregarded.

Thankfully emotional,

mental and spiritual health

are beginning to get more of

the attention they deserve.

Great Year for

Junior Cricketers

SISSINGHURST CRICKET Club Junior Section

has enjoyed another excellent summer with

more than 100 youngsters, boys and girls,

from five to 15 years of age having signed

on.

Our junior teams have had an outstanding

season with the Under 9s reaching the Kent

CC Mini Super 8s finals day that was played

at The County Ground, Beckenham, on the

15 September.

The Under 11s hardball team finished

third in the Weald of Kent league. They also

made the cup final on 25 August at Sutton

Valence School losing out to a strong Mote

CC side. The Under 11 Development team

finished top of their league.

The Under 13 team has had an excellent

season winning the Weald of Kent league

and also the cup final against Linton Park

at Sutton Valence. The U13s (pictured)

finished the season unbeaten and Arthur

In September a few

members of The Vine

Church took to the streets

to find out what people in

our community think about

spirituality. Of those polled,

over 60 per cent agreed they

would consider themselves

as "a spiritual person".

What's more, 55 per cent

acknowledged having had "a

paranormal or supernatural

experience" at some time.

Although not statistically

significant, the responses do

suggest that many people

believe there is more to us

than meets the eye, and that

churches are

well placed

to give

spiritual guidance.

Our wellbeing is

comprised of physical,

spiritual, mental and

emotional factors. What can

you do this week to look

after each of those?

To take part in our

brief spiritual experience

questionnaire, scan

the QR code or visit

wwwvinechurch.org.uk/

survey

Chris Goodchild,

Vine Church

Under 13 team: Back row L-R, Henry Elliott, Tom

Dyas, Seb Littlestone, Daniel Hammond, Archie

Rees, Hector Powell, Simon Latham (coach).

Front row L-R, James Steele, Charlie Streeten, Will

Durtnell (captain), Arthur Elliott, Tom Hall.

Elliott (front row, second from right) was

named Junior Player of the Year for 2019 at

the recent club awards' dinner.

For both Senior and Junior information

on playing and coaching (including winter

nets) at Sissinghurst CC please keep an eye

on dates and updates via the club website at

www.sissinghurstcricketclub.org.uk

Bun Penny Club members in 1972 with

Barbara Conway, the Bull Landlady

Celebrating 60

Years of Giving

OVER A glass of ale in the then Bull pub

in Sissinghurst four men decided to set

up a Bun Penny Club to enable villagers

aged over 65 and either single or

widowed to receive a Christmas present.

Thanks to Jack Cavanagh, Percy

Foreman, Jim Hopperton and George

Catsford, 60 years later the club is

thriving, with over 50 members,

providing a Christmas turkey dinner and

a goodie bag for those unable to attend.

Throughout the year the committee

organise fundraising events, including

a village quiz, to enable them to also

provide an annual cream tea.

Committee members are keeping their

fingers crossed that a new Sissinghurst

fete committee will be formed to enable

more funds to be raised at the annual

August Bank Holiday event.

Pat Edwards, chair of the committee,

said: "We are always looking for new

ways of collecting funds so that we

can continue to enhance the lives of

our members who live alone – we'd

be delighted to hear from you, simply

telephone 01580 712118.

She added: "We are a very proud

committee to have maintained what

Jack, Percy, Jim and George established

60 years ago." Brian Clifford

18 Parish Cake • Winter 2019
---
Sarah Stinton

Guided Meditation Therapist

Hypnotherapy to make

positive changes

Sessions can help you to manage stress, anxiety,

low self esteem, chronic pain or trauma. They

can also end phobias or addictive behaviours,

such as smoking or overeating.

To book or ask questions

call me on 07989 497990

Sessions

in my

therapy

room in

Cranbrook

from £30

Straight talking, no bull.

FOR

LASHES

AND NAILS

£5 off

your first

appointment

with this advert

Selling your home is a big decision − don't settle for

less. We're here to provide clear and considered

advice, personalised to you.

Christopher James Property Consultants

3a Stone Street, Cranbrook, Kent, TN17 3HF

t: 01580 714888 w: www.cjpc.co.uk

• Gel nail polish & Extensions

(solid colours, glitters, and nail art)

• Luxury manicure/pedicure

• Lash lift and tint • Eyelash extensions

• Ask about Children's Parties!

• Glitter tattoos, hair braiding and more…

Contact Shushanna on 07981 945007 • See more on Facebook @thebeautyhub18

STUART JEFFERY

MAIDSTONE AND THE WEALD

When it comes to When living it comes with to living comes sight with sight loss

to living

we need each other. we we need need each other. each other.

let's make This the climate election

"A truly local candidate standing up for local people"

• Urgent action to prevent catastrophic climate change

and to protect the environment

• End the ridiculous housing targets that result in

unaffordable houses across our countryside

• A second referendum on the terms of any Brexit deal

plus we will continue to campaign to remain.

Contact:

e. stuart.jeffery@greenparty.org.uk

p. 01622 804480

w. www.stuartjeffery.net

By My Side

Promoted by steven cheeseman on behalf of stuart Jeffery, both C/O 76 hardy street maindstone kent me14 2sj.

Find out more Find at out more at Find out mo

guidedogs.org.uk guidedogs.org.uk guidedogs.o

By By My Side My Side

A charity registered in England and Wales (209617) and Scotland A A charity (SC038979). charity registered in England registered J0191 and Wales 02/19 (209617) in England Scotland (SC038979). and J0191 Wales 02/19 (209617) and Scotland (SC038979). J0191 02/1

20 Parish Cake • Winter 2019
---
eventnews

Some

of the great events

we are rightly proud of!

Sissinghurst

Fete Dog Show

MP Helen Grant returns to Sissinghurst to judge

the annual dog show as a search starts for a new

organising committee, writes Alec Rolfe

PHOTOS BY SIMON GRANT

ON A glorious day Sissinghurst

played host to the long-running

annual dog show at the Bank

Holiday fete. Reputedly running

for more than 100 years the event

attracts pooch lovers from all over

Kent seeking plaudits for their furry

friends.

Welcomed back after a successful

inaugural stint at judging the show

last year was Maidstone and the

Weald MP Helen Grant, a border

terrier owner and general dog

enthusiast.

Classes included best male,

best female, best cross-breed,

best junior handler, best rescue,

prettiest eyes, best oldie and the

dog the judge would most like to

take home. There were winners

from Lamberhurst, Biddenden and

Rolvenden as well as closer to home

in Sissinghurst and Golford. Master

of ceremonies was the eloquent

Brian Clifford who kept proceedings

moving with his characteristically

brisk humour.

Helen said: "The show is a delight

and not just for its hounds – the

surrounding stalls and attractions

in the fete are always varied

and fun too, this year featuring

performances from the excellent

vocalist Victoria Bass. There were

equally varied entrants to the

dog show and the parading and

decision-making was a tough job

for all of us, especially under such

a hot sun.

"In the end we found winners

for all categories and I especially

applaud Ramona Nisbet from

ABOVE: Helen Grant

MP with Ramona and

'Daisy' at Sissinghurst

dog show.

BELOW: Entrants

for the Best Male in

Show, won by Sophie

from Sissinghurst

with her dog Ozzie

(kneeling to Helen's

right)

Golford with Daisy, a 12-week-old

English springer spaniel and winner

of three different classes, including

dog the judge would most like to

take home.

After the competition Ramona

said: '"The dog show is such a

lovely event. Daisy and I had a great

time. It was a very hot afternoon

but all the dogs did so well. We will

be back next year!"

Chair of the fete's organising

committee and local councillor

Andy Fairweather said:

"'It was another hugely

successful fete despite the 32

degree heat which did affect dog

show entry numbers.

"As for next year – we are seeking

some new talent and if a willing

chairman is forthcoming I will

certainly sit on the committee to

assist the transition and hand over.

Some of the current volunteer

committee have been organisers

for over 20 years, myself for 14 and

the last six as chairman. We need

to hand the reigns to a new group

and I hope some younger families

will step up. If anyone is interested

please contact me on 07976 290185

or email fairweather.andy@

googlemail.com'

Parish Cake • Winter 2019 21
---
events

Flowers and Veg Still

Bringing in Entries

PHOTOS BY TRISHA FERMOR

SISSINGHURST Flower Show

Society is proud to have been a

'slice of the village cake' since

1913. Over the years there have

been many changes but we still

hold to the principle of being a

village event which welcomes

everyone.

The society's spring, summer

and autumn shows are very

much part of the annual village

calendar. This year, they were

again well supported by entries

from members and school

children. Many enjoyed teas,

homemade cakes, sideshows and

a raffle during the afternoon.

In July some members came

to a special talk on

flower arranging which

we hope will encourage

more members to enter

the floral arrangement

classes.

The coconut shy was popular

at the primary school's summer

fair and also at the annual fete

with everyone, particularly the

men and boys, eager to show off

their bowling abilities.

This year, as usual we have,

with help from Cranbrook and

Sissinghurst Parish Council,

twice planted up some 17

troughs in the village with

spring flowers and then

with fuchsias, geraniums

and pansies for the summer,

providing colourful displays

throughout the year to brighten

up the Street and Common

Road.

We sent a team again to the

annual Bun Penny Quiz, always

an enjoyable and fun evening.

It does us good to exercise our

brains and we do not mind

where we come in

the results! Mitzi

Newsom, chairman

Show dates

for 2020

28th March,

13 June and 12

September

22 Parish Cake • Winter 2019
---
Supporting

Emotional Eaters

Depression? Overeating?

Use food to soothe?

Compulsive eating?

Sugar addiction?

If you feel you need to talk to someone about your

relationship with food, nutition and diet plans,

I may be able to help.

£3

VOUCHER FOR

ORDERS OF £20

OR MORE

Contact - Miss M Brian, Bsc (hons) Psychology on

07779 185870 or minniespurepudz@gmail.com

Sugar free, low carb, high protein puddings

HAVE YOUR CAKE AND EAT IT TOO! - COMPLETE SINLESS INDULGENCE!

Get in touch for a menu and delivery options:

minniespurepudz@gmail.com / 07779 185870

Parish Cake • Winter 2019 23
---
events

Apple Fair

PHOTOS BY TRISHA FERMOR AND DAVID MEREWETHER

STILT WALKERS, marauding

Vikings and a steel band

made up just some of the

entertainment staged at the

annual Cranbrook Apple Fair in

October.

Celebrating its 13th year,

this popular appley event saw

the High Street packed with

townsfolk and visitors who were

eager to see what the many

stallholders had to offer. The

choices ranged from apple wood

spoons fashioned by parish

councillor Garry Pethurst to

decorative iron work by Robert

Longley. Also on offer were

delicious nibbles in the form

of cakes, vegan snacks, apple

puddings, tarts and pies, as well

as apple drinks galore.

Members of the town's

Compass Choir entertained the

crowds as did a steel band. One

drummer had her little baby –

wearing ear defenders – happily

strapped to her back as she

played away.

Fancy dress was very much

the order of the day and town

stalwart Phil Mummery turned

himself into a Viking for the day

of fun. One of the highlights of

the day was the pram race down

the High Street. TF

24 Parish Cake • Winter 2019
---
events

LETTINGS AND SALES PROPERTY EXPERTS

Local Experts with a Network of London & Regional Offices

FOR YOUR FREE MARKET APPRAISAL PLEASE CALL US

cranbrook@jackson-stops.co.uk

www.jackson-stops.co.uk

Parish Cake • Winter 2019 25
---
Enjoy freshly ground coffee | Breakfast daily from 8:30am - 10:30am

Delicious freshly prepared meals: Mon - Sat 12.00 - 21.30 & Sun 12.00 - 21.00

12 Luxury en-suite guest rooms

FOLLOW US ON

FOR MORE INFORMATION ON WHATS ON AT THE HOTEL

www.thegeorgehotelkent.co.uk | T: 01580 713348

Stone Street, Cranbrook, Kent, TN17 3HE | E: georgehotel@shepherd-neame.co.uk

26 Parish Cake • Winter 2019
---
International Artists

in Cranbrook

feature

PARISH CAKE art correspondent

Annie Watsham introduces

two local artists exhibiting in

Cranbrook this Christmas

Two artists who have sold

their work worldwide will be

exhibiting their work at the

Grierson Galleries Christmas

exhibition at The Hive in

Cranbrook.

Jane Gray from Lamberhurst,

who describes her work as

'organic expressionism', said:

"My paintings evolve constantly

and are essentially about spirit

and energy creating order out of

chaos. They are a celebration of

the magic of life."

Jane's work has been

sold to collectors in

South Africa, China, USA

and other parts of the

world.

Also exhibiting is

artist Karl Terry from

Wittersham who paints

landscapes, city and

seascapes here in the

UK and abroad. Painting came

naturally to Karl and his work

has attracted buyers in the USA,

Israel and the UK. He said: "I

paint outside in all weathers and

my work is a response to what I

see and feel in an ever-changing

landscape."

More

info

Grierson Galleries'

Christmas Exhibition

'Outside Edge' will be at

The Hive, 19 Stone Street, Cranbrook,

Kent TN17 3HF.

Starting on 1 December until 26

January, the Open Art Viewing will be on

Saturday 7 December from 3pm-6pm.

SPOTLIGHT ON…

KARL TERRY

MEMBER OF The Royal Society of

Marine Artists, Karl terry's studio

is at The Old Gaol in Wittersham.

Annie Watsham went to visit…

Karl has been an artist 'forever'

and paints outside (en plein

air) in all weathers. He paints

impressionist landscapes,

cityscapes and seascapes both here

in the UK and abroad. While he's

drawn and painted for most of his life,

he has had no formal training.

He has been fortunate to paint with

many of the UK and USA's finest living

landscape painters and is proud to be

an associate of The Wapping Group of Artists and the Rye Society

of Artists. This camaraderie between painters continues to inspire

and challenge him. He has exhibited in Kent, Sussex and London

galleries and sold work to Israel and the USA.

Karl said: "I paint outside in all weather and this process has

opened my eyes to the beauty that can be found everywhere, even

in the mundane."

British-made gifts, art exhibitions &

creative workshops in Cranbrook

www.happyglorious.co.uk

47b High Street, Cranbrook, Kent TN17 3EE

Parish Cake • Winter 2019 27
---
TO BE KNOWN

TO BE YOU

ENTRANCE ASSESSMENTS

18th January 2020

achieve

OPEN MORNING

1st February 2020

bethanyschool.org.uk

admissions@bethanyschool.org.uk

01580 211273

CURTISDEN GREEN, GOUDHURST, KENT, TN17 1LB

Co-ed day

and boarding

Ask about

scholarships

and bursaries

Many minibus

routes offered

See website

for details

28 Parish Cake • Winter 2019
---
youth

YOUTH

COMMENT

19-year-old Zachary Phillpot-Brian has his say

WE ALL have personal feelings

about most things. From

movies, TV shows, politics,

games - and even people. We

are especially emotive about

certain groups that society

likes to lump together because

of various reasons - the blood

in their veins, the colour of

their skin, their backgrounds

or whom they surround

themselves with.

They are the very same

people who have homes in

Cranbrook, who go to our

schools, walk our streets; put

simply, who live among us.

Very recently, a certain group,

who some in society have

strong feelings about, decided

to hold a large funeral in

Cranbrook - what did many of

us do that day?

We stayed indoors. We

closed shop. Pubs shut for

days. Cranbrook basically went

into lockdown. Why? Because

of preconceived and bold

assumptions about them. Even

the Kent Police were involved

in this preconceived ideology,

advising businesses to close

that day!

Completely lumping

together an entire group and a

funeral service, we made this

group 'strawmen' that day.

Do you think that's right?

Because I don't.

Yes, there are the people

among them who have helped

to create this strawman. But we

tend to look only at the surface

of these particular people

and if one does something

wrong, we decide it's the whole

group. Everyone is lumped

together. This breeds fear

and intolerance and makes

local society scared of them.

Perhaps then, unfortunately,

some of those vilified think to

themselves, "if that's how they

want to view me then I will

give them exactly what they

expect." Or, "I may as well be

hung for a sheep as a lamb. I'll

be blamed anyway…"

Is this because it's in

their nature? No. I think in

some circumstances certain

events occur from anger and

justified anger at that. So, does

justified anger make a person

do something unjustifiable?

Because that is what I see

happening in Cranbrook.

Justified anger creating

unjustifiable actions.

Instead of seeing a person

for who they are by 'group' or

from basic assumptions you've

read in newspapers or online,

look at that person. They are as

their own man or woman, who

live, breathe and think just like

you. Try to understand who

they are, beyond the strawman

logo given to them by the

system. Then decide if you

think they should be treated

differently.

ELBA

ELBA PRIVATE HIRE - PERSONAL CARRIAGE

"We go that extra mile"

Lady & Gentlemen Drivers

Town and Country

Travel in Style

Business and Social Pleasure

Allows you to Drink

Like a Lord

Leave Like a Lady!

To Book Text: 07785 11 20 21 or Call: 01580 441 302

Email: book@elbaprivatehire.com

www.elbaprivatehire.com

Parish Cake • Winter 2019 29
---
CRANBROOK TOWN

Christmas Market

Friday 6th December 5pm-9pm

High Street closed off and stalls in part of Stone Street

Saturday markets have now re-located to the left side of

the Co-op car park. 2020 dates to follow soon!

Wendy Waters Julie Sales Elaine Beck

07786 707476 07917 252585 07803 340682

Christmas

goods, food,

crafts and

much,

much more!

Nativity

Procession

starts 5.30pm,

St. Theodore's

Church, ends at

St. Dunstan's

Christmas

songs and

choir

Late

Night

Shopping and

Christmas

fun!

MOWER PLANT SERVICES LTD.

www.mowerplantservices.co.uk

Sunpatch Farm,

Headcorn Rd,

Smarden, TN27 8PJ

Tel: 01622 890046

Sales • Service • Repairs & Parts

OPENING HOURS

Mon - Fri 8.30am– 5.30pm,

Sat 8.30am – 1pm

30 Parish Cake • Winter 2019
---
feature

Cranbrook Mail

Trisha Fermor takes a look behind the scenes

of the Royal Mail in Cranbrook as it ramps up

for the busy festive season

CHRISTMAS JUST wouldn't be

the same without our posties

bringing us festive cards and

parcels from all over the world

and it was all thanks to Henry

VIII.

In 1516 the king appointed

a Master of the Posts to handle

the movement of regal papers,

a job which went to Brian

Tuke, secretary to the king and

Cardinal Wolsey. The title was

changed to Postmaster General

200 years later and the last

holder was disgraced MP John

Stonehouse in 1969.

In Henry's time the horse was

the preferred method of travel

for posties but nowadays the

40 men and women based at

Cranbrook drive the distinctive

red Royal Mail vans. No-one

rides a bicycle any more, mainly

due to the large amount of mail

each postie has to deliver.

The town's team is managed

by Ashley Peter, 24, who has

been manager for a year, having

previously worked for Royal

Mail in Tonbridge, New Romney

and Lenham.

He said: "Christmas is a really

busy time for us and we still

decorate the sorting office and

have a Christmas tree inside and

outside.

"The posties go out for a drink

on Christmas eve when all the

deliveries are done. While they

are delivering a lot of customers

give presents including little

boxes of chocolates, biscuits,

bottles of wine, crates of beer

and even pheasants or turkeys."

Postie Daniel Hover, who

has worked at Cranbrook for

12 years, once received a whole

cooked gammon.

Ashley's job is to handle the

budget and recruitment and he

said: "We are looking at making

the business bigger and I also

want to recruit more women big

time."

Posties, some of whom are

part-time, handle 120,000

items weekly brought by Royal

Mail lorries from Medway and

Tonbridge. This number rises

hugely nearer Christmas when

parcel deliveries and festive

cards make up the bulk of

deliveries.

Ashley said he was proud of

the work force adding: "Royal

Mail is a good employer and I

am proud to work for it. A lot of

our posties have been here for a

long time."

He also praised them for

setting up a Coffee Club at

Arthur's café in Stone Street to

support a local business. He was

also proud to have set up a gym

at the depot.

Postie Jamie Fox, who has

clocked up 17 years' service,

said: "I like working outside. I

do two hours sorting and then

when you are outside delivering

you are your own boss."

Other long-service men are

Bill Williams, who has clocked

up 32 years, and Phil Rimmer,

33 years. The newest recruit is

Chris Gummer.

About 60 per cent of the men

wear shorts throughout the

year which amuses customers

but Mr Fox said: "If it rains and

you wear jeans they stay wet

all day but when your legs are

uncovered they soon dry out."

On the wall in the sorting

office is a chart recording a

number of incidents including

van crashes and dog bites. By

Week 26 there had been five

dog incidents which Ashley said

was five too many.

Dogs, particularly small ones,

he said, were the posties worst

nightmare and if they did bite

someone – whether it was

Christmas or not – deliveries to

that address would be stopped.

Parish Cake • Winter 2019 31
---
BLOOMSBURY

G A R D E N S
---
Sissinghurstspotlight

Transforming

Sissinghurst's Pub

IT'S BEEN a "steep learning curve" for

globetrotting couple

AFTER travelling the world catering

for the tastes of everyone from royalty to

Wimbledon tennis fans, Sarah Allchorne

has turned around the fortunes of a

Sissinghurst pub.

Together with her New Zealand-born

husband, chef Dane, the once tired and

unloved Bull, was transformed into a dining

pub with rooms and changed its name to

The Milkhouse in 2013.

Starting with a course at Prue Leith's –

the Great British Bake Off judge's cookery

school – Sarah met her husband-to-be while

they both worked for catering company By

Word of Mouth. They married in 2006 and

have three children.

Her career took her to Merrill Lynch as

international events director, heading a

team which organised events all over the

globe.

In 2011 Sarah's parents, who live in Kent,

told the couple about the closure of the

Bull, the only pub in Sissinghurst, and after

negotiating for two years with Enterprise

Inns, they signed the lease.

In 2016, the couple saved another pub

– The Barrow House in Egerton – which

was "empty and really sad". It too has been

transformed on the lines of the Milkhouse.

Sarah said: "You have to take a new

view of pubs, making them attractive to a

much broader range of people, those who

come to dine and families with children.

We have a similar business model with

accommodation, dining and garden and the

same ethos at The Barrow House - a home

from home feel."

She added: "It has been a huge learning

curve and we did it together which was very

important." TF

New Rector for

Sissinghurst &

Frittenden

FATHER OF three, the Rev Pete

Deaves, has been appointed the

new rector of Sissinghurst and

Frittenden.

He is expected to take up his

new post in February 2020 and

fills the position left by the Rev

Fred Olney who retired in the

summer.

The interview panel consisted of four churchwardens and three

clergy including the Rev Ann Pollington, vicar of St. Dunstan's

Cranbrook. Their decision was unanimous.

The Rev Deaves is currently assistant curate of Holy Trinity,

Rudgwick, near Horsham. Married to Claire, a primary school

teacher, they have three children.

Brought up in Bookham, Surrey, the Rev Deaves spent three

years in Minsk, Belarus, and Astana, Kazakstan, learning Russian

and teaching English. Apart from a short time in a paper factory,

he has always worked in education or alongside families.

Cycling is his favourite way of getting around and he would "love

to get better at keeping chickens". TF

Parish Cake • Winter 2019 33
---
sponsored feature

Seasonal Magic

at Scotney Castle

Discover the magic of Scotney Castle this

Christmas and New Year

IT'S THE perfect time of year to start to make plans with family

and friends to celebrate the festive season. At Scotney Castle this

year, we'd like to invite you to experience Christmas as the three

generations of Hussey family members would have done over

the years, in the decorated house or around the garden and wider

estate.

With activities for children, carol singing, Christmas lunches

and plenty of inspiring gifts in the shop for those perfect

presents, why not put a date in the diary to visit? We're open

every day over the festive season (except Christmas Eve and

Christmas Day).

CHRISTMAS LUNCHES

Monday 25 November – Friday 20 December

(weekdays only) 12pm-2pm. Two courses

£22.95, three courses £25.95.

From Monday 25 November to Friday 20

December, the tea-room will be serving

two or three course Christmas lunches

(weekdays only), accompanied by a selection

of wines, local ales and soft drinks. Each course

has a variety of options, including a traditional Christmas lunch

or a vegetarian option, with tea or coffee to finish. The tea-room

will be decorated for Christmas and you can sit back and relax

as your meal is served to your table.

Please visit our website to see the menus and download a

booking form, or contact Mike Lynch (01892 893869 /

mike.lynch@nationaltrust.org.uk) if you have any questions or

to reserve your table.

EXPERIENCE THE

HUSSEY FAMILY'S

CHRISTMAS EVE

Saturday 23 November

– Sunday 5 January,

11am-3pm (last entry

2.30pm). Normal

admission applies.

Step through the front

door of the house into

a world of decorated trees, gifts waiting to be opened, sparkling

lights, cosy fires and the dining room set for a feast. It's as if the

family have just stepped out. Children can play with the toys under

the Christmas tree and families can explore the rooms transformed

for the festive season.

In the library, the Hussey children's Noah's Ark will be set out

with one hundred pairs of animals marching across the floor.

The discovery of the ark was one of the highlights found in the

attics. Most of the animals were found in the ark but several were

scattered around the house in various drawers, boxes and biscuit tins.

Many show the signs of years of enjoyment, some have a few missing

ears or snapped off limbs, but most animals are now paired together

and are in excellent condition. We still don't know if we've found the

complete set, as some of the pairs recently reunited have been found

in different boxes, but we do have Noah and his wife!
---
STORYTELLING WITH FATHER CHRISTMAS

Saturday 7, 14 and 21 December, Sunday 8, 15 and 22

December, Monday 23 December, 9.30am-10.30am.

£10 per child (pre-booking essential.)

Father Christmas will be visiting Scotney Castle and

helping families feel even more festive this season.

Take a seat around the Christmas tree in the house

to listen to a fun-filled Christmas story before each

child receives a gift from the man himself.

NOAH'S ARK CHILDREN'S TRAIL

Saturday 23 November – Sunday 5 January, 10am-

4pm. £2 per child, Normal admission applies.

If you're looking to get the kids outdoors and need

something to entertain them, then try the Noah's

Ark children's trail around the garden. Inspired by

the ark on display in the house, follow the network

of paths around the garden to find the missing

animals and take a rubbing at each stop to fill up

the ark. There's a prize to claim at the end as well.

e

J

d c

x

MEET AND GREET WITH FATHER CHRISTMAS

Monday 16 – Friday 20 December, 9.30am-10.30am.

£5 per child (pre-booking essential).

Father Christmas will be waiting to greet you in our decorated house

and find out what you'd like him to bring you on Christmas Eve. Make

sure you've been good all year and have written your list! On booking

you will be allocated a 15-minute time slot between 9.30-10.30am.

Each slot will have a group of five children and each child will have

an individual opportunity to speak with Father Christmas, collect a

special gift and have a photograph taken in front of our decorated tree

with Father Christmas.

d

CAROLS AT THE CASTLE

Sunday 15 December, 11.30am and

2pm. Normal admission applies.

G

We're looking forward to welcoming

a local Victorian carol singing group 7

to Scotney Castle on Sunday 15

December. Join us outside the front

K

of the house to sing some of your

favourite carols and welcome in the

c

festive season.

3 6

CHRISTMAS SHOPPING

From Friday 1 November. Shop open daily

from 10am-4pm.

For some stress-free shopping, why not

come along to the shop at Scotney Castle?

With plenty of parking, no admittance

charge and a tea-room just next door for

refreshments, it's a perfect antidote to the

High Street.

There are food and drink items, personalised

hampers, National Trust branded items,

accessories, books, household items and

Christmas decorations. There's are also

membership packs on sale – a gift that will

give a year's worth of days out and happy

memories.

So however you plan to celebrate

the festive season...

...make a date to visit Scotney Castle to soak

up the magic and ambience of the house,

Old Castle and estate. We look forward to

welcoming you.

For more information on events, please go to

our website www.nationaltrust.org.uk/scotneycastle

or call 01892 893820.

EVENTS COMING

UP IN 2020

Make plans to visit next year

when we will have children's

activities in the school

holidays, Easter activities,

estate walks, gardening talks,

photography workshops, a

flower festival in June, outdoor

theatre, Hops and Harvest

Festival in September and

Christmas events at the end

of the year. Please check our

website for forthcoming

events.

GIVE THE GIFT OF

MEMBERSHIP THIS

CHRISTMAS

For a gift that offers a year's

worth of days out, why not

buy someone membership

to the National Trust? With

prices starting from £10 a

year for a junior membership,

to £6 a month for an adult

membership, there's one to

suit every family or individual.

Please call in to Scotney

Castle to sign up and collect a

membership pack.

Parish Cake • Winter 2019 35
---
Need to see a GP fast before the

holidays get underway?

Choose our private GP at Benenden

Hospital and see a doctor as soon as

today or tomorrow.

Book a comprehensive 25-minute

appointment for just £95. Benefit from fast

referrals for tests and scans, plus an on-site

pharmacy to get you back on track in no time.

Call to book now and discover the private

hospital designed to make you feel better.

01580 242 521

benendenhospital.org.uk/gp

We are recognised by all major healthcare insurers.
---
healthnews

Time is Ticking for

Cranbrook GPs

DOCTORS IN Cranbrook have suggested

that a much-needed fit-for-purpose

surgery would ideally be built as part of

the community centre on Wilkes Field.

Dr Justin Charlesworth, of the Orchard

End practice in Dorothy Avenue, told

parish councillors at their August meeting

that a new GP centre was a "priority".

He believed local doctors faced three

options: work with the parish council

to develop a new surgery on Wilkes

Field, approach a GP premises developer

to find land and develop a building

which would be leased to the doctors,

or "the worst option" which would be

to continue in their current practices

until deciding to conclude their NHS

contract. It would then be down to the

Clinical Commissioning Group to find an

alternative provider which would likely

be a private company as happened in

Staplehurst.

He went on: "There are increasing

demands on how we work and what we

do. We are committed to continuity of

care and I don't think that will change if

we build a new practice.

"We are not sure of the numbers at the

moment but in five years' time we will

lose three of our partners, possibly four.

We have made a commitment to form

together in one practice and would like to

do it in three years. We don't want it to be

five years."

He added: "It would be really good

for Cranbrook to have a joint centre."

Councillors have said they will investigate

the possibility of incorporating the

doctors' surgery in the community

centre. TF

The Weald Goes Pink!

A THINK Pink Weald

tour included

Cranbrook as one of

its venues to raise

awareness of breast

cancer and raise

funds for research

into its cause,

prevention, diagnosis,

treatment and cure.

The Ruby

Rockit choir from

Tenterden sang at

the Vestry Hall and

Gemma Holmes,

the owner of Odyl,

a fashion boutique

in Cranbrook High

Street, staged a

fashion parade. A

nurse was on hand

to provide more

information on

what changes to

note during selfexamination.

Breast cancer is

close to Gemma

Holmes' heart. She

and her team were

recently crowned

champions in the

race to raise money

for the charity, Breast

Cancer Kent, in the

£1,000 challenge.

The team raised

£10,268 by holding

a fashion show and

auction. The money

went to the charity,

which is run purely

by volunteers and

was set up to provide

help, information

and support to Kent

women suffering from

breast cancer. TF

Parish Cake • Winter 2019 37
---
Whatever you want

to store...

...for whatever reason – business, house sale and

purchase not coinciding, travelling, house building

work, paperwork overload or just "de-cluttering" to

sell your house more quickly –

we offer a friendly and

flexible service in

Cranbrook.

With competitive

rates, secure storage

all on one level and

hassle free 24/7 access,

contact us now!

01580 713231

www.barn-store.co.uk

Tim Ivinson

TRADITIONAL WINDOW CLEANING

Est. 2004

Services include:

• Exterior and Interior Window Cleaning,

• Soffits and Fascias Cleaned,

• Gutters cleared and cleaned

If you would like your windows cleaned the

traditional way call Tim on 07974 450069

THE WRIGHT WAY

Painters & Decorators

All aspects of Internal & External Decorating undertaken to

the highest standards by our team of specialists. We offer a

professional service and competitive prices.

Windows Telephone Office: cleaned using

modern 01580 713599 pole fed system

Website:

Call Aldo on 07812 787307

www.the-wrightway.com

Free Written Quotes

Telephone Mobile:

07856 947840

Email:

the-wright-way@outlook.com

Fully Insured

TOMPSETT LANDSCAPING

Tompsett landscaping is a family run business

which takes pride in offering a quality,

professional, friendly and reliable service at

competitive rates for all aspects of garden

maintenance and landscaping.

Please contact us today for your free no obligation quotation

Ready to Make Life Changes in 2020?

Body & Health by Design Life Coaching

KickStart

Programme

Fitness Training

Monday

Group Training – Knoxbridge

Pilates – Knoxbridge

Free Your Mind – Biddenden (6wk course)

Tuesday

Group Training – Knoxbridge

Pilates – Knoxbridge

Wednesday

Bootcamp – Goudhurst

Free Your Mind – Goudhurst (6wk course)

Invest in

yourself this

January:

Thursday

HIIT & Tone – Biddenden

Group Training – Knoxbridge

Friday

BoxFit – Goudhurst

Pilates – Goudhurst

STRENGTH IN MIND | STRENGTH IN BODY

YOU'LL FIND YOURS I PROMISE.

■ Daily coaching videos

■ 9 Daily Kickstart workouts

■ 2 Full body workouts

■ Recipe ideas

■ 10 days of motivation

Karen Porter | 07930 425694

karen@bodyandhealthbydesign.com

www.bodyandhealthbydesign.com

www.facebook.com/bodyandhealthbydesign

38 Parish Cake • Winter 2018
---
comment

Santa looks

forward to

CHRISTMAS!

CHRISTMAS MEANS an awful

lot to me 'cos it was the time

a total stranger picked me

up from the snowy streets

of London and took me to

Battersea Dogs and Cats Home.

I would like to say, that at

15-weeks-old I featured in

Paul O'Grady's For the Love of

Dogs but I have my Hoomans

to thank for giving me a terrific

home. I heard them

talking the other day

and saying that one

in four dogs now is a

rescue dog which is

terrific news for us

abandoned canines.

Staff at Battersea

named me Santa and

when Mr Hooman first saw

me he said: "Have I really got

to shout Santa when we are

out on walks? I suppose it

could be worse, Tinkerbell for

instance..."

But now, nine and a half

years later, he is feeling less

silly still shouting Santa

because no-one could think of a

different name. When I started

dog agility I was registered as

Santa Claws which I thought

was pretty cool. I won oodles

of rosettes and trophies. I

made quite a name for myself,

causing great hilarity when, on

some days, I jumped one fence

and left the ring or found a

good smell to roll in half way

round the course!

With Christmas just around

the corner, it reminds me of

the first time I walked into my

"HAVE I REALLY GOT TO

SHOUT SANTA WHEN WE

ARE OUT ON WALKS? I

SUPPOSE IT COULD BE

WORSE, TINKERBELL FOR

INSTANCE..."

new home. I pretended I was

really cool but deep down it was

all very strange. A large tree

(what's that doing indoors?)

stood in the corner covered in

sparkly things and the house

smelled of spices. At the end

of the room a fire was glowing

which soon had me happy and

snoring.

I was somewhat taken back

when, expecting to share in

the Hoomans' meals, there was

a total ban on a lot of foods.

Christmas pudding, something

to do with some of the fruit

being toxic, as are onions,

chocolate, alcohol, broccoli,

peanut butter with added

sweeteners such as Xylitol and

Aspartame, avocado, milk,

grapes and mushrooms, to

name but a few.

Still, what you don't have

you don't miss and my daily

grub is great together with

PROSECCO THURSDAYS

Free bottle of prosecco when two or

more guests dine with two courses

"The Loveliest Castle in the World"

my teeth cleaning chew

sticks and the odd Bonio. I

am really looking forward

to another happy Christmas

with my Hoomans and if you

are thinking about getting

a dog why not try a rescue

centre? Have a safe and Merry

Christmas! Santa Claws

Note to self: must remember

to water the Christmas tree

using a watering can this year...

oops.

The oak-beamed setting of Castle View Restaurant at Leeds

Castle offers delicious meals served in a relaxed atmosphere,

enjoyed with spectacular views across the terrace to the

magnificent Castle. Parking is free and an entrance ticket to

Leeds Castle is not required to dine in the evening.

To book a table online at

leeds-castle.com/restaurant or call 01622 767777

Parish Cake • Winter 2019 39
---
sponsored feature

Phoenix

Design and

Construction

Introducing Phoenix Design and Construction,

a local construction company delivering a

diverse range of projects. With its office and

yard based in the Cranbrook area, it serves both

the parish and further afield in the South East.

OUR AIM

When Phoenix started, the idea was

to provide a tailored solution to

our customers' construction needs.

Whether that meant taking on all

the administration and organising

of architects and other professionals

required at the planning stage or

fitting out a bathroom with the

goods chosen by our client.

In short, our aim is to streamline

the whole construction process for

our customers to help alleviate the

stress of commissioning or running

a project to make it a memorable

process for all the right reasons.

HOW WE DO THIS

We have developed a network of

building professionals to aid in

the pre planning/design phase and

also have a combination of highly

experienced, fully qualified trade

teams along with specialist subcontractors,

which allows us to be

fully flexible and adaptable to your

needs.

PROJECT PICTURES

The pictures in the article relate to

one of our first ever projects. This

was a double barn restoration and

conversion with a modern glass

walkway to link the two. Several

years later and we have been asked

back to carry out the next phase of

works; a new build barn linked to

the main house, creating a games

room and machinery store. While

this build is ongoing you can take

a look at our Facebook page for

photos and updates as well as

viewing some of our other ongoing

projects.

JUST BARNS?

While we love working on barns

Contact

us

we aren't just limited to this type

of building. Some of our previous

projects include bathrooms and an

1,800 piece Victorian tiled floor and

we are currently coming to the end

of an extension on a museum!

Please visit our website or Facebook page to

have a look at a selection of our completed

and ongoing works. If you think we could be of

service to you or have any queries please don't

hesitate to contact us:

Office: 01580 857718 Mobile: 07587 272928

Email: info@phoenixdc.co.uk Wesbite: www.phoenixdc.co.uk

Parish Cake • Winter 2019 41
---
feature

GRACE KELLY / NATIONAL TRUST

From

CLARINETS

to CLAMATIS

"Even now, I still don't

feel like I am the head

gardener of Sissinghurst."

Michelle Cain talks

exclusively to our garden

writer Penny Royal

LEONORA ENKING

WHEN MICHELLE Cain's

grandmother inspired her to start

gardening at the age of eight she

never dreamed her passion for

plants would see her in charge of

Sissinghurst Castle Garden.

A promising career playing the

clarinet and time with the Leicester

School Symphony Orchestra led to

a degree in music at Oxford Brookes

and jobs in the record industry.

But a total change was round the

corner.

Michelle, 43, who lives with her

partner Ciaran in a cottage on the

estate, said: "After eight years I was

made redundant and I thought I

should do something else with my

life. I considered being a teacher

but decided I would be a gardener."

She has her grandmother to

thank for making such a drastic

move.

"I started gardening when I was

eight planting tulip bulbs with

my nan. She was a really good

gardener. She loved fuchsias which

were all the rage. She could grow

anything but she didn't have a

glasshouse. She grew

seeds on the window

sill. She was old-school,

I DIDN'T

KNOW THEN

THAT MY

FATHER,

WHO LEFT

WHEN I

WAS TWO,

WAS ALSO A

GARDENER

AND I

DID THE

GARDENING

AT HOME

FROM

NECESSITY."

taking cuttings and I learned a lot

from my nan. I didn't know then

that my father, who left when I

was two, was also a gardener and

I did the gardening at home from

necessity."

Her love of gardening has been

inspired by TV gardener Monty

Don and she signed up to do a

two-year course at Capel Manor –

"I didn't have the money to go to

Kew or Wisley".

It was not long before Michelle

found herself working at

Theobalds Farmhouse Garden in

Enfield. Owned by Alison Green,

GRACE KELLY / NATIONAL TRUST

42 Parish Cake • Winter 2019
---
Michelle helped to transform

the land into the spectacular

garden it is today.

"Alison took her

inspiration from Vita and

Harold to make Theobalds

into a series of garden rooms

and I was head gardener with

a small team. It is a mini

Great Dixter and I am still

not sure if even Sissinghurst

beats Theobalds."

Her next project was

working for an "ultra-high

networth" Russian oligarch

in what is believed to be the

largest fully-private garden

in London. The 11-acre

estate had been worked

on by Capability Brown in

1780-1.

After a spell at another

property in Hertfordshires,

Michelle said she wanted

to "get back to proper

gardening" and saw the

Sissinghurst head gardener

Troy Scott Smith's post

advertised.

"I thought it would be

the kind of job I would be

applying for in 10 years' time

but I decided I'd go with it

and throw my hat into the

ring never thinking I would

get it."

She sent her application

at the last moment and was

invited to the candidates'

open day. She said: "I

thought there would be

hoards of people applying

but there weren't."

After two more interviews,

Michelle said she was

amazed to be offered the job.

She sees her role as taking

cautious steps, keeping a

balance between "tidy and

romantically billowy, a

managed organised chaos".

She is particularly

interested in watching the

two-year restoration of

the Delos garden, created

80 years ago by Vita and

Harold after a visit to Greece,

and also keen to address

the increasing demands

of greater output from the

nursery.

"I am new to the National

Trust, new as someone who

works in it and I still see it in

the eyes of a visitor. It is all a

learning curve."

With a footfall of 200,000

visitors a year and an everstrong

connection to Vita

and Harold's legacy, Michelle

is conscious of keeping the

magic they created while the

garden moves further into

the 21st century.

Let's Cook!

Sally's Dutch Cake

I MAKE no apologies for sharing

this recipe for the best fruit cake

I have ever eaten and one we

should all make at Christmas! The

ingredients are sumptuous and

well worth searching for but the

end product will amaze you. As it

is so rich dispense with marzipan

and icing.

Of Dutch West Indies origin, I first

tasted it in Scotland! Like most

recipes it has been handed down

and lost its name so I have named

it after the lovely friend who

passed it on to me.

INGREDIENTS

SERVES 8

8oz raisins

8oz sultanas

8oz glace cherries

4oz candied pineapple

4oz angelica

4oz mixed peel

4oz candied paw-paw (f you can

get it!)

4oz ginger in syrup

4oz strawberry jam

Half a teacup of dark honey

8oz of cashew nuts

1lb caster sugar

8oz butter

15 medium eggs (yes, 15)

8oz semolina

3tbs brandy

A few drops of vanilla extract

2tsp ground cardamom

Level tbs mixed spices

2tsp rose water

1 Cut all fruit and nuts finely, mix

well.

2 Soak in half the extract and

spices with brandy the day before

baking, turning occasionally.

3 Warm the semolina in a flat pan

and add butter. Mix well and set

aside.

4 Separate the eggs. Mix yolks

and sugar, beating well. Mix

together the butter and semolina,

add the eggs and all the fruits,

nuts, jam etc. Beat the egg whites

stiffly and gradually add to the

mixture until it becomes a moist

pouring consistency. Too much

egg white will make the cake too

dry. Add the remaining extract

and more brandy to taste.

5 Line a suitably sized tin with

several layers of grease proof

paper and put about six layers

in the bottom. Tie paper around

the outside of the tin to come

six inches above the rim. Bake in

the oven at Gas 2, Fan 140C or

300F for 2-2.5 hours until a knife

inserted in the middle comes out

clean.

Bon Appetite and Happy

Christmas!

Emma Fraser

TONY HISGETT

Parish Cake • Winter 2019 43
---
feature

Are you

winter ready?

Tips from South East Water

COLD WEATHER can have

a big impact on your home and

cause your water pipes to burst

or freeze. Follow these five

easy steps to avoid any

unnecessary stress and expense

this winter.

PIPES – WRAP 'EM UP

Protecting your pipes may be

the last thing on your mind with

Christmas approaching, but it

really is essential to prepare

your home to prevent bursts.

We recommend covering all of

your water pipes – including

those outside your home – with

a foam tube called lagging. It's

cheap, easy to fit and available

from most DIY stores. Just

remember to use waterproof

lagging for any outdoor pipes

and protective tap guards.

TIP

We have free winter ready kits

including lagging and tap guards at

www.savewatersavemoney.co.uk/

southeast/free-water

-saving-products

KEEP YOUR HOME NICE

AND TOASTY

If you can, try to keep your

home snug at all times. Try

putting draught excluders on

doors or a thin sheet of card

with tinfoil behind your radiator

as this will reflect heat back into

your room, meaning it warms

up faster and retains more heat.

We also recommend you keep

your heating on low, even when

you're out of the house or on

holiday, to help keep your home

warm and prevent pipes from

freezing.

BLEED YOUR RADIATORS

Trapped air causes radiators

to have cold

spots,

reducing

their

efficiency.

You can

bleed your

radiators

yourself using a radiator key or

a flat screwdriver, depending

on your valve type, and slowly

turning the valve counter

clockwise until water starts

dripping out. This will release

trapped air and let hot water in,

giving you a warmer home and

cheaper energy bills.

BE PREPARED

Make sure you know where your

stop tap is - most are under the

kitchen sink or in the cupboard

under the stairs - as you may

need to turn your water off

quickly if your pipes freeze

or burst. It's also a good idea

to have the name and number

of a qualified plumber to hand

so if your pipes do freeze or

burst you can call them straight

away.

TIP

To find an approved plumber

in your area, we recommend

WaterSafe – a one-stop shop which

brings together thousands of

qualified plumbers. Visit

www.watersafe.org.uk or

call 0333 207 9030.

SERVICE YOUR BOILER

Make sure you get your

boiler serviced regularly. We

recommend you do this about

once a year. Lots of modern

boilers also have a frost setting,

which is great for preventing

frozen pipes when your central

heating is not in full use.

HELP FOR PRIORITY

CUSTOMERS

Please contact us at

South East Water if you or

someone you know could be

vulnerable and needs extra

assistance. Registering for our

free Priority Service means

we'll be able to provide any

additional support needed, and

respond quickly to any queries.

TIP

It's easy to register online

for Priority Services. Call our

dedicated Customer Care Team

on 0333 000 2468 or apply

online at www.southeastwater.

co.uk/priority. All of our

advisors are specially trained

to offer confidential advice

and support. Lines are open

Monday to Friday between

8am and 7pm, and Saturdays

between 8am and 1pm.

44 Parish Cake • Winter 2019
---
feature

TIP

From advice on driving

during a cold snap to finding

out about benefits and

allowances you may be able

to claim, there's plenty of

useful information and links to

organisations which can help

you at www.metoffice.gov.uk/

barometer/advice

FROM HEALTH TO

HEATING

Wrapping up for winter isn't

just about your pipework – it's

also about making sure you

and your family are ready for

cold weather.

REPORTING A LEAK

Our extensive water network

carries 517 million litres

of drinking water everyday

through 9,000 miles of mains

and more than six million

joints. If you see a leak or

burst, you can report it to us by

calling our dedicated Leakline

on 0333 000 0002 or by visiting

our interactive map found at

www.inyourarea.digdat.co.uk/

southeastwater

For more winter ready

information go to

www.southeastwater.co.uk/

percy

PIPE CARE

If your pipes have frozen

1 Turn off the water supply at the stop tap

2 Slowly thaw the pipe with either a warm towel

starting at the end nearest to the tap. We

recommend using your tumble dryer or soaking

the towels in warm water. Never use a naked flame

or blowtorch.

If your pipes have burst

1 Turn off the stop tap

2 Open all taps to drain the system quickly

3 Soak up/block off escaping water with thick towels

4 If water has leaked near your electrics or into any

electrical appliances, switch them off at the mains

5 Call a qualified plumber. To find your

nearest WaterSafe accredited plumber visit

www.watersafe.org.uk or call 0333 207 9030

6 Turn off taps once the pipework is repaired to

avoid further flooding.

Help on your

doorstep

Close to Hand is an online service

connecting you to people in your

local community who can lend a

helping hand.

Enjoy the flexibility & convenience of getting

help and companionship when you require it.

Choose the right person for you from local

Home Helper profiles.

www.closetohand.co.uk

Parish Cake • Winter 2019 45
---
EST

1900

Chartered Accountants

helping you, your business

and your family

We specialise in farms, families, trusts and estates and have a

dedicated team who can help you manage your financial needs.

Our directors, Janet Pierce and Mark Howard have direct experience

with equestrian and farming matters, and we also offer an

extensive range of services including:-

Bookkeeping

Succession planning

Accounts preparation

Inheritance tax advice

Tax returns and VAT advice

Estate planning

Payroll

Auto enrolment

Please contact janet.pierce@charter-tax.com or

mark.howard@charter-tax.com • Telephone 01580 313108

www.charter-tax.com

Suite 1 Bedgebury Business Park, Goudhurst, Kent TN17 2QX

Local relationship

banking

At Handelsbanken, relationship banking still

lives up to its name. Our simple aim is to

provide the best possible service.

• You deal with people you know

• Key decisions are made locally by us at the

Tunbridge Wells branch

• A wide range of products and services, including

everyday banking, mortgages and savings, tailored

to suit your needs

To find out how you might benefit from more personal

banking, please contact Nigel Baldwin or Ray Keatley,

Individual Banking Managers, on 01892 547702 or

email: tunbridgewells@handelsbanken.co.uk

Oakhurst House, 77 Mount Ephraim

Tunbridge Wells, Kent, TN4 8BS

handelsbanken.co.uk/tunbridgewells

Handelsbanken is the trading name of Handelsbanken plc, which is incorporated in England

and Wales with company number 11305395. Registered office: 3 Thomas More Square,

London, E1W 1WY, UK. Handelsbanken plc is authorised by the Prudential Regulation

Authority and regulated by the Financial Conduct Authority and the Prudential Regulation

Authority. Financial Services Register number 806852. Handelsbanken plc is a wholly-owned

subsidiary of Svenska Handelsbanken AB (publ).

2892_RL_Parish_Magazine_Advert_TunbridgeWells.indd 1 21/01/2019 09:09:06

46 Parish Cake • Winter 2019
---
legal

From our

Friendly Experts

Buss Murton's lawyers offer their expert advice

Are court proceedings the only way

Q to get a divorce?

Married couples who have sadly

A decided they wish to divorce are able

to do so by alternative methods to the

traditional court proceedings; one of which

is using the collaborative law process.

This approach means the couple decides

what their new family life will look like

through a series of discussions guided by

their lawyers. Each spouse is supported by

their own collaboratively trained lawyer.

These lawyers work together as colleagues

to support the couple in agreeing a fair

arrangement for any children

and finances. The aims behind this

collaborative law approach are:

• To have fully open discussions - there

are no letters back and forth between

lawyers; all discussions are held

together in meetings saving time and

money and allowing decisions to be

made quickly.

• To maintain good communications -

this is so important where there are

children involved as parents need to

keep talking to each other throughout

their children's lives.

• To agree the arrangements for children

- research has shown that arrangements

that have been agreed between a couple

are likely to last longer than those

imposed by a court.

• To agree the sharing of financial

resources - the collaborative approach

means that people can be flexible in

making decisions and put forward

suggestions that may not be possible

within the court process.

• To stay out of court - everyone signs

an agreement to say they are willing to

work together towards an agreement

and to stay out of the court proceedings,

saving money and minimising emotional

stress.

JULIE TAYLOR

Partner, Family

For a free 30-minute

consultation to discuss

any matters involving

separation, divorce,

finances or arrangements for children,

please contact Julie Taylor on T: 01892 502

354 or E: jtaylor@bussmurton.co.uk and

quote the reference 'ParishCake'

QWhat are the key things I need to

consider when taking a lease of a

commercial property for the first time or

moving premises?

Taking business premises for the

A first time or relocating is an exciting

prospect, but also a daunting one. Even

once the perfect premises have been

identified, the tough job of agreeing the

terms of the lease begins. A commitment

from both parties to follow the Code

for Leasing Business Premises provides

an excellent starting point for keeping

negotiations with the landlord on an

even footing.

It is also worth putting as much detail as

possible in the Heads of Terms, which will

reduce overall negotiation time and costs.

Assessing the condition of the property

is vital. Accepting a property in poor

condition does not necessarily relieve

the tenant of the obligation to put the

premises in good repair and condition. A

schedule of condition may be appropriate

for properties in poor condition.

A thorough due diligence process needs

to be carried out to ensure that the tenant

will be able to comply with the covenants

in the lease and fully understands the title

and their position.

Taxes must also be considered. A Stamp

Duty Land Tax liability applies to leasehold

transactions over a certain rental value

or where a premium is paid. VAT may also

apply to the rent in certain circumstances.

Advice should be taken before agreeing

to exclude the statutory rights to renew a

lease at the end of the lease term.

A tenant must ensure the lease grants

any rights required to fully use and enjoy

the property, such as rights of way, or the

right to install an air-conditioning plant

outside the premises.

The tough retail landscape makes

landlords increasingly keen to protect

their position and as such, a landlord may

require a guarantor or rent deposit as

security.

FRASER RICKMAN

Solicitor, Residential and

Commercial Property

We act for both landlords

and tenants. Please feel

free to get in contact if you

require any advice on commercial property

leases on T: 01580 712 215 or E: FRickman@

bussmurton.co.uk and quote the reference

'ParishCake'

further

info

Clermont House, High Street,

Cranbrook, TN17 3DN

01580 712 215 or info@bussmurton.co.uk

www.bussmurton.co.uk

Parish Cake • Winter 2019 47
---
update

News

and views from Cranbrook

& Sissinghurst Parish Council

Optimism About the Future

Cllr. Kim Fletcher, new chair of the parish council, looks ahead

AT A time when there is

division and discord in

the nation there are great

reasons to feel optimistic

about the future of the

parish of Cranbrook and

Sissinghurst.

During the past five

years Bridget Veitch

has led us through

tough times as austerity

eviscerated public

services and laid far more

responsibilities on the

parish council. However,

there are many reasons

to be cheerful because a

number of organisations

are really making a

difference and some

projects look as though

they will finally come off.

Cranbrook in Bloom

is an organisation that

goes from strength to

strength, involving

many people of all ages

making a real difference

to our environment. A

gold award in South and

South East in Bloom

and a silver gilt in the

national competition are

remarkable achievements

and anyone can join in.

Cranbrook goes Nuts

in May and the Apple

Fayre are both unique,

creative events when the

real Cranbrook emerges

from the shadows

and expresses unique

quirkiness and creativity,

all created by small

groups of hard-working

people making fun for

the rest of us.

The Rugby Club is

becoming a multi-sport

club, with a new multiuser

clubhouse coming

to fruition. Beside the

men's and women's

teams, there are about

ABOVE: Wellbeing in

the Weald allotment

holders

300 children involved

at the club each Sunday

morning - a wonderful

place to learn to work

together at an early age.

The NHS is changing

the delivery of primary

health care and our

GPs are now part of a

Primary Care Network

(PCN). Part of this is the

increase in encouraging

people to interact with

one another. We now

have the magnificent

Wellbeing in the Weald,

which during the past

year has created a new

choir (the Compass Choir

meets on Wednesdays

at 5pm in the Vestry

Hall), an allotment group

(who won the second

prize in the allotment

competition in their first

year), walking groups

(meeting every Tuesday

morning), plus other

ideas in the pipeline.

The parish council is

48 Parish Cake • Winter 2019
---
keen to facilitate the

delivery of the new

health services and are

working closely with the

local director of the PCN

to see if the Wilkes Field

site for the community

centre can accommodate

a new medical centre as

well.

The community centre

is beginning to look

feasible, particularly if

we can work to deliver a

wide range of services to

help you, the readers of

this magazine. Hopefully

some of you can help us

realise the project?

The replacement

of the St. George's

Institute in Sissinghurst

is progressing, but all

hands are needed to the

pump. We are also still

looking for individuals to

get together to organise

the summer fete in

Sissinghurst for 2020.

Our retailers have

been suffering from

changing shopping

habits, so hopefully the

planned new housing will

reinvigorate our High

Street.

The new housing poses

a lot of issues, which

are being addressed by

the incredibly dedicated

Neighbourhood

Development Plan

Steering Group, as well as

many individuals in the

community.

The Tunbridge Wells

Borough Council's draft

Local Plan has received

a great deal of feedback,

and we hope this is

being taken on board.

The parish council will

"OUR RETAILERS HAVE BEEN SUFFERING

FROM CHANGING SHOPPING HABITS, SO

HOPEFULLY THE PLANNED NEW HOUSING

WILL REINVIGORATE OUR HIGH STREET"

ABOVE: Cllr. Kim

Fletcher

keep a close eye on the

key issues, which are

numbers of housing,

masterplanning of access

points, where people will

work and travel, how

much of the new housing

will be truly affordable

for local people, and the

Get

involved

design and standard of

the build.

So we have a dynamic

community, open to

more involvement and

a parish council which

wants to get the best for

the community.

Cllr. Kim Fletcher

Please get involved, and tell us how we

can help you realise success with your

group or organisation. Comments can

be send to the parish office at the Old

Fire Station, Stone St, Cranbrook

TN17 3HF.

FOX

construction

RENOVATIONS &

REFURBISHMENTS

Kent Peg Tiling

Bespoke Joinery

Bespoke Bathrooms

Period & Listed Buildings

Conversions & Extensions

Traditional Lime Plastering

Renovations & Refurbishments

T:01580 712072

M:07787 948823

foxconstructionkent.co.uk

Parish Cake • Winter 2019 49
---
local legend

IVOR

HATCHER

The parish's very own Mr Fix It, who admits

he has Cranbrook in his DNA, talks to Trisha

Fermor about his life as parish warden

Where were you born?

At Courtstyle on the Quaker

estate. I had five sisters,

three older than me and two

younger. My mum was at

home but worked in the fields

seasonally and dad worked

for the South East Electricity

Board.

Where did you go to school?

Cranbrook Primary School and

then Swattenden School for

Boys before going on to Angley

when it first opened. I left at

14; you could say I was known

as disruptive but I spent a lot

of time on the school farm and

years later I went on to manage

it. Little did I know that 20

years later I would be taking

and gaining an Open University

degree in social science. I think

it was harder than going to

university.

When did you join the parish

council?

I have worked for them since

1984 doing all sorts of jobs

around the parish. In 1999

they decided to put all the

jobs under one umbrella and I

became the parish warden. My

responsibilities include looking

after Golford Cemetery and

Cranbrook churchyard as well

as overseeing funerals, digging

the ashes plots and caring for

them all.

At one time I used to dig

graves; £60 for a single and

£65 for a double. I also check

the playground equipment

and liaise with other agencies

including Highways. I suppose

I am really the eyes and ears of

the council.

What about your family?

Hatchers go a long way back

in Cranbrook. My wife Liz

used to be the headteacher at

Lamberhurst primary before

taking over at Hawkhurst. We

have two children.

What do you do in your

spare time?

I love being out in the

countryside. I used to ride my

cob George around doing my

job but he is now 26 and retired.

I love looking after Forge

Orchard at Wilsley, picking the

apples and keeping it tidy.

What do you like about the

parish?

Cranbrook is just in my blood.

There is nothing you can put

your finger on. I don't see my

job as work. Because I live in

the parish it's like having an

extension of your garden. None

of us own anything, we are just

custodians, looking after it for

the next generation.

What are your fondest

memories?

For years I dressed as a clown

with a friend of mine and we

were called Muddle and Mushy.

We travelled all over with a

Shetland pony called Seamus

and a donkey doing fetes and

things all over Kent. We even

worked with Leslie Crowther

one time. We used to go on

holiday to a circus in Wales

which had alligators and we'd

join in!

50 Parish Cake • Winter 2019
---
An extra pair of hands

when you need them!

• Bookkeeping

• Credit control

• Data entry

• Back office support

...and more

Are you drowning in paperwork ?

Pink Giraffes offer administrative and

business support services to help you to

use your time more cost effectively.

Our help enables you to do what you

love, after all it is probably the reason

you started your business!

if the service you are looking for isn't here please call us

T. 01580 848190 E. enquiries@pinkgiraffes.co.uk

www.pinkgiraffes.co.uk
---
Growing with our Community

Our Cranbrook Office is

moving to larger premises

just across the road. From

mid-September 2019 our

new address will be:

Clermont House,

High Street,

Cranbrook TN17 3DN

T: 01580 712 215

E: info@bussmurton.co.uk

www.bussmurton.co.uk

Property • Wills, Trusts and Probate • Family and Divorce • Employment Law

• Dispute Resolution • Company and Commercial Law