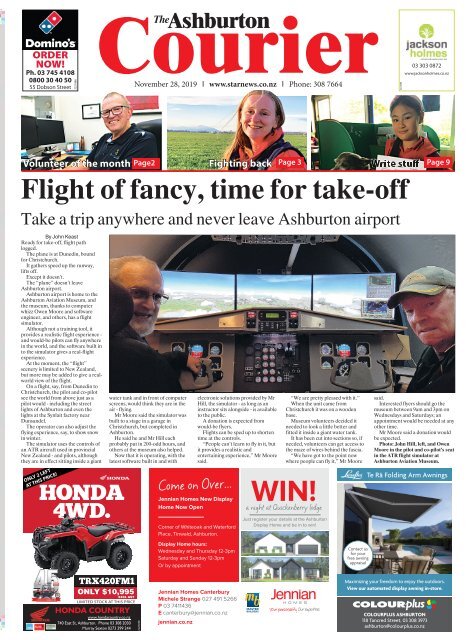 Ashburton Courier: November 28, 2019
You also want an ePaper? Increase the reach of your titles
YUMPU automatically turns print PDFs into web optimized ePapers that Google loves.
ORDER

NOW!

Ph.03745 4108

0800 30 40 50

55 Dobson Street

2221886

November 28, 2019 l www.starnews.co.nz l Phone:308 7664

2223680

03 303 0872

www.jacksonholmes.co.nz

Volunteer of the month

Fighting back

Writestuff

Page2 Page 3 Page 9

Flight of fancy, time for take­off

Take atrip anywhere and neverleave Ashburton airport

By John Keast

Ready for take­off, flight path

logged.

The plane is at Dunedin, bound

for Christchurch.

It gathers speed up the runway,

lifts off.

Except it doesn't.

The ''plane'' doesn't leave

Ashburton airport.

Ashburton airport is home to the

Ashburton Aviation Museum, and

the museum, thanks to computer

whizz Owen Moore and software

engineer, and others, has aflight

simulator.

Although not atraining tool, it

provides arealistic flight experience ­

and would­be pilots can fly anywhere

in the world, and the software built in

to the simulator gives areal­flight

experience.

At the moment, the ''flight''

scenery is limited to New Zealand,

but more may be added to give arealworld

view of the flight.

On aflight, say, from Dunedin to

Christchurch, the pilot and co­pilot

see the world from above just as a

pilot would ­including the street

lights of Ashburton and even the

lights at the Synlait factory near

Dunsandel.

The operator can also adjust the

flying experience, say, to show snow

in winter.

The simulator uses the controls of

an ATR aircraft used in provincial

New Zealand ­and pilots, although

they are in effect sitting inside agiant

ONLY2LEFT

AT THIS PRICE!

water tank and in front of computer

screens, would think they are in the

air ­flying.

Mr Moore said the simulator was

built to astage in agarage in

Christchurch, but completed in

Ashburton.

He said he and Mr Hill each

probably put in 200­odd hours, and

others at the museum also helped.

Now that it is operating, with the

latest software built in and with

Come on Over...

Join us for the Grand opening of

Jennian's New Display home

Jennian Homes New Display

Home Now Open

electronic solutions provided by Mr

Hill, the simulator ­aslong as an

instructor sits alongside ­isavailable

to the public.

Adonation is expected from

would­be flyers.

Flights can be sped up to shorten

time at the controls.

''People can't learn to fly in it, but

it provides arealistic and

entertaining experience,'' Mr Moore

said.

WIN!

anight at Quickenberry lodge

''We are pretty pleased with it.''

When the unit came from

Christchurch it was on awooden

base.

Museum volunteers decided it

needed to look alittle better and

fitted it inside agiant water tank.

It has been cut into sections so, if

needed, volunteers can get access to

the maze of wires behind the fascia.

''We have got to the point now

where people can fly it,'' Mr Moore

said.

Interested flyers should go the

museum between 9am and 3pm on

Wednesdays and Saturdays; an

appointment would be needed at any

other time.

Mr Moore said adonation would

be expected.

Photo: John Hill, left, and Owen

Moore in the pilot and co­pilot's seat

in the ATR flight simulator at

Ashburton Aviation Museum.

Te Ra-

Folding ArmAwnings

Corner of Whiteoak and Waterford

Place, Tinwald, Ashburton.

Just register your details at the Ashburton

Display Home and be in to win!

Display Home hours:

Wednesday and Thursday 12-3pm

Saturday and Sunday 12-3pm

Or by appointment

Contactus

foryour

free awning

appraisal

ONLY $10,995

EXCL GST

LIMITEDSTOCK AT THIS PRICE

HONDA COUNTRY

www.hondacountry.co.nz

740 East St, Ashburton. Phone 03 308 2030

Murray Sexton 0273 299 244

2226048

Jennian Homes Canterbury

Michele Strange 027 491 5266

P 03 7411436

E canterbury@jennian.co.nz

jennian.co.nz

Maximizingyour freedom to enjoy the outdoors.

Viewour automated displayawningin-store.

COLOURPLUS ASHBURTON

118 Tancred Street, 03 308 3973

ashburton@colourplus.co.nz

*
---
Page 2, Ashburton's The Courier, Thursday 28 November 2019

BUSINESS OWNERS

Build customers,

sales and profits

with us ...

Over 16,065

copies delivered to

EVERYhome,farm,

RD and lifestyle

blocks in

MidCanterbury

news

John Keast

Managing Editor

027 628 7679

john.keast@ashburtoncourier.co.nz

Reporters

Mick Jensen

mick.jensen@ashburtoncourier.co.nz

Toni Williams

toni.williams@alliedpress.co.nz

advertising

Jann Thompson

Sales Manager

308 7664

027 587 6351

jann.thompson@ashburtoncourier.co.nz

Roselle Fuaso

Sales Account Manager

308 7664

021 197 8297

roselle@ashburtoncourier.co.nz

Karen Gane

Sales Account Manager

308 7664

021 510 804

karen.gane@ashburtoncourier.co.nz

get in touch

Editorial

john.keast@ashburtoncourier.co.nz

Advertising

info@ashburtoncourier.co.nz

Production

murray.thompson@ashburtoncourier.co.nz

Accounts

accounts@alliedpress.co.nz

Distribution/Deliveries

leonie.marsden@ashburtoncourier.co.nz

Office

office@ashburtoncourier.co.nz

03 308 7664

199 Burnett Street,Ashburton

www.ashburtoncourier.co.nz

2207985

Local news at www.starnews.co.nz

Getting involved by accident

Volunteer of the month -John Driscoll

You could say it was by

accident John Driscoll,

from Birthright Canterbury,

got into volunteering.

An accident stopped

John from farming and

saw him join Ashburton

Rotary which lead to his

involvement with thennamed

Birthright Ashburton.

Ashburton Rotary

started Birthright in Ashburton

in 1946, to help

war families with only

one parent.

John, who is the Volunteering

Mid & South

Canterbury and the Hotel

Ashburton Volunteer of

the Month, went on to

become the rotary representative

at Birthright.

He was appointed by

then­president Dr Phil

Godfrey.

Sixteen years later,

John is still involved, he

became branch president

in 2014, and thoroughly

enjoying every minute of

his volunteering.

He says volunteering is

about helping others and

gives asense of achievement,

it helps him be

positive and he likes giving

his time.

His greatest achievement

is securing the

future of Birthright and

helping it gain a new

identity so it becomes an

even better organisation.

After two years as the

Rotary representative

John joined the Birthright

committee. With

funding an ongoing issue,

John discussed, at a

national meeting, about

Ashburton and Christchurch

branches joining

John Driscoll

together.

It was especiallybeneficial

for Ashburton to have

help with funding. Once

the amalgamation took

place they formed new

identity, Birthright Canterbury.

In his time, John

has served as atrustee of

the Birthright Canterbury

Charitable Trust.

The amalgamation has

placed Birthright Canterbury

in abetter place with

a committed group of

localssupporting the work

in Ashburton. It includes

a social worker, family

visitors (always inneed of

more), and those, like

John, who work away in

the background doing

whatever come up

whether its practical

assistance like procuring

firewood, assisting atthe

holiday programmes or

supporting young people

to attend the Birthright

camps.

John is passionate

about his volunteering

with Birthright including

some of the activities

they've done such as fishing

at Clearwater Resort,

boating at Lake Hoodand

delivering goods to families.

Others within the

organisation say if they

need something done they

ask John, whose practical

skills, strategic thinking

and sense of humour is

greatly valued by them.

Another activity is helping

to collect gifts from

the Christmas Tree set up

at Heartland Bank. John

said the bank, and its

predecessor, had generously

hosted the Christmas

tree allowing members

of the community to

leave so many wonderful

gifts for Birthright families.

He says the goodwill to

families is unreal.

"The Christmas Spirit

is alive in the community

who are so generous".

John's volunteering

gives him so much enjoyment

helping other

people and hoping to

make things better for

people.

Organisations and

groups are encouraged to

get nominations in for the

Volunteering Mid &

South Canterbury &the

Hotel Ashburton Volunteer

of the Month. Nomination

forms are available

by contacting

Volunteering Mid &

South Canterbury, Community

House, 44 Cass

Street Ashburton, ph

3081237 ext 240 or email

volmidcant@gmail.com

or pick up acopy at Four

Square in Rakaia.

Stories of pain, message of love

By Mick Jensen

White Ribbon Day

motorcycle riders shared

storiesand spread

messages of love and

respectduring astopover

at St Joseph'sSchool on

Friday.

Supportinga

nationwide awareness

campaign, the bikers

declared they willnot

condoneviolencebymen

againstwomen and

insteadwill stand up and

speak out against it.

Some 13 motorbikes

have been part of a10­day

South Island tour

spreading the messages of

the White Ribbon

campaign.

At St Joseph's School,

motorcyclistsroared

throughthe maingates

and were greetedwith a

rousinghaka.

Youngerpupils and

older pupils splitinto two

groups and were

addressed by the visiting

bikers.

Speaking to the

youngergroup, ride

leader Brian Mahonfrom

Nelson encouraged

students to be ''nice to

people'' and ''to look after

your friends''.

He urged them to have

respectfor others,totalk

to their matesand to have

fun in life.

Anotherbiker talking

to the older school group

spoke candidly about his

life and an abusive family

history.

He had grown up with

an angryand violent

father.

He in turn had not been

very nice to his own wife

in the early years,but he

had changed and had

made better choices and

had since treated her well.

''I was later able to talk

to my father later in life

and forgave him.''

The youngsters were

alsotold it was OK to ask

atrusted adult for helpif

there were problems at

home.

The White Ribbon

riders headednorth after

the Ashburton stop over.

Family Violence

remains asignificant

social problem for the

Canterbury community

with11,308family harm

episodes referred to the

Christchurch Metro

Police between 1July

2018and 20 June 2019.

Research suggests that

only20% of family

violence is reported to

police.

Photo: White Ribbon

Day motorcycle rider

Brian Mahon speakswith

youngsters at St Joseph's

School.

28-32 MooreSt, Ashburton l Phone 03 550 7000

2228712
---
Local news at www.starnews.co.nz Ashburton's The Courier, Thursday 28 November 2019, Page 3

ME sufferer Nikki making progress

By Mick Jensen

ME (myalgic encephalomyelitis)

sufferer Nikki

Tyrrell has made ''significant''

improvement

relative to where she was

and is grateful to the

fundraising efforts of the

local and wider communities

that helped her

get to aclinic in Cyprus

for treatment.

Avariety concert and

auction were held locally

earlier this year and,

alongside a Givealittle

campaign, helped raise

$40,000 towards the cost

of the trip. The rest was

funded by her family.

Ms Tyrrell spent seven

months at the clinic,

instead of the anticipated

three months, because of

the severity of her condition.

''Going to Cyprus was

a last resort for me

because Ihad tried everything

and Iwas not getting

better.''

She has been seriously

ill for over 20 years and

spends alot of her time in

bed suffering with ME

and Lyme disease.

She can't tolerate most

medications, and everyday

things like perfume

can trigger seizures, on

top of usual pain and

insomnia.

The Cyprus clinic

offered a wraparound

care package and ozone

therapy.

The primary treatment

involved taking blood, filtering

it, and putting it

through ozone under

hyperbaric pressure and

Mid/South CanterburyContinuous Spouting

Nikki Tyrrell.

putting it back in the

body again.

That was done three

times a week and every

other day Ms Tyrrell

received ozone and other

treatments.

''From the point where

Icame from, to where I

am now, the treatment

has made a 'significant'

impact on my health.

''Improvements came

incrementally and

enabled me to do a bit

more each day.

''I was able to start

walking without awheelchair,

do some dishes,

talk abit more and better

tolerate stimulants

around me like noise.''

Ms Tyrrell said there

was still along way to go

on her health recovery

journey and experts had

Youth advocates sought for roles

Ashburton District

youth whoare

passionate abouttheir

community and who

wanttomakea

difference in the lives of

local young people are

being encouragedto

apply forthe 2020

Ashburton Youth

Council (AYC).

Applicationsare now

openfor AYCuntil

December 12 andlocal

youth aged 12 to 24 are

eligibletoput their

nameforward.

AYC is adedicated

committeefor young

peopletoempower and

engagetheir peers

throughactivities,

events andadvocacy,

and to assist the

Ashburton District

Neil Brown

Council in

understanding young

peoples'perspectives

andneedsinthe

decision­making

process.

''TheYouth Council

is agreat opportunity

foryoung people to

develop their leadership

skillsand to work on

issuesimportant to

them and their peers,''

Ashburton Mayor Neil

Brown says.

''Being amemberof

theYouth Council

opens up mentorship,

leadershipand

governance

opportunitiesthat can

help set you up for

futureendeavours. I

encourage young

people who want to play

an active part in local

decision­makingand to

developtheir skillsto

puttheir name forward

forthe 2020AYC.''

Current and previous

terms of AYChave

madesubmissionsto

Ashburton District

Council consultations,

co­ordinated events

suchasBite Nite, raised

funds forlocal youth

charities andraised

awarenessofyouth

services availabletothe

community.

Application formsfor

AYC can be found

onlineatashburtondc.

govt.nz.

2233389

suggested at least three

to five years for her

nervous system, brain

and immune system to

heal.

She still fights

occasional infections,

which put back her progress,

but had had no

seizures since returning

home.

''The Cyprus trip

helped me 'get going

again' and I'm so grateful

and humbled by the support

Ireceived for it.

''For a long time I

hardly left the house or

spoke to people, but now

Iamslowly doing more,

and can walk around the

block, which is fantastic.''

A major setback for

Ms Tyrrell was arecent

electrical fire that destroyed

an expensive

hyperbaric chamber that

she uses at home for two

hours every day.

She is using a pricey,

BLACKFRIDAY

SALE

Huge specialsin-store

TWODAYSONLY

This Friday, 9am-5:30pm

and Saturday 9-2pm

ASHBURTON

hired chamber, which is

less powerful, and means

more time needs to be

spent in it.

Her treatment continues

to be acombination

of the chamber,

detox modalities, ozone

treatment at home and

IV's.

''I am abattler and I

have ahigh pain threshold

and Iwill continue to

take life week by week

and month by month.''

Phone

03 308 5117

393 West St,

Ashburton

BLACK FRIDAY

Half the shop ...

TM

TM

TM

TM

Askabout our large capacityspouting for

commercial and farmbuildings

Residential –fascia, gutter and downpipes

Snowprotection our specialty

The Original

Spouting Specialists

Serving

Mid/South

Canterbury

for over

26 years

Your new spouting proudly installed by

Craig or Josh

John Tull ...providingoutstandingservice,

afterinstallation care and pricing requirements!

Phonehim on 021 288 8290

Email: john@canterburycontinuous.co.nz

www.continuous.co.nz Freephone 0800 50 1993

2181105

½PRICE

Thursday 28 until Saturday 30

SALE

86 Tancred St, Ashburton.

Phone (03) 308 6722

2232293
---
Page 4, Ashburton's The Courier, Thursday 28 November 2019

Interest sought

Ashburton council is

seeking two representatives

to join the Plains

Museum Trust.

Expressions of interest

are sought for the role

Your LocalVoice

I'm available to meet with

constituents onMondays and

Fridays, and anyday that Parliament

isn't sitting. Contact my office in

Timaru or Ashburton tomake an

appointment to meet orspeak with

me. Ialso hold constituency clinics in

other towns across the region.

Andrew Falloon

MP for Rangitata

Authorised by Andrew Falloon MP,

139 Stafford St, Timaru.

Fisherman's Friends

Based on atrue story.

bookings ph307 1230

www.regentcinema.co.nz

because of two resignations.

The trust is responsible

for developing the Plains

Museum at Tinwald as a

visitor attraction.

Timaru Office Ashburton Office

139Stafford Street, 81 Harrison Street,

Timaru

Ashburton

03 6831386

03 3087510

andrewfalloonforrangitata

rangitatamp@parliament. .govt.nz

Reviewed byRowena Hart

Hereisanother cracker of aBritish Movie.

If youenjoyed'Swimming With Men' and'Sunshine

On Leith'you will enjoythis.

It's a gentle, sweet-natured comedy that has

warmth and acertain Xfactor.

Andofcourse fantastic music!

We meet agroup of Cornish fishermen in Port

Issac, that started singing together while they

were hauling in the lobsters.Atalentscout spotted

them in the nineties and recorded an album that

was a huge success. Their songs are authentic

sea shanties and the guys are all ages and real

characters. The leader of the group is Jim agood

looking guy whose family have lived and worked in

this stunning little village forgenerations.

Jim wasplayedbyJames Purefoywho first became

famous to worldwide audiences after playing the

role of Mark Antonyinthe TV series Rome.

Every one of the actors played akey part inthe

success of this movie.

The others leaving the theatre yesterday couldn't

stop giggling and humming the tunes! Wonderful

entertainment!

2231569

THIS WEEK'SSPECIALS

SPECIALS

Local news at www.starnews.co.nz

All hail the unwelcome weather

The last thing Mid Canterbury

farmers, orchardists,

berry growers (and

home gardeners) needed

in this unruly spring was a

thunderous belt of hail

stripping crops.

But it came nevertheless,

cutting apath from

Timaru up through

coastal Mid Canterbury.

And it damaged countless

cars, justasitdid in a

November nearly adecade

ago when hail

punched dents into cars

Courier comment

all over Ashburton, causing

so much damage that

specialist hail repairers

came to town for months.

Old­time farmers cropping

reckoned if you got

three out of five you were

doing well, but that will

be cold comfort for farmers

whose crops were

damaged or ruined.

Farming can be cruel.

A home gardener, no

less invested in his property,

if not so financially

involved, told of his

heartbreak at seeing his

hard work laid bare.

He willsimply clean up

and re­plant, but it is not

so easy of the farm,where

contracts are signed and

crops are supposed to be

ready at acertain point.

We think, too, of the

car dealers and the

Songs, haka for Christmas

NetherbySchool

children, led in songby

teacher MelOakleyand

in the hakabypupil

Kumai Ross, had the

honour of lighting the

indoor Christmas tree at

the EA Networks Centre

on Monday.The pupils

performed several songs,

includingWeWish You

AMerry Christmas,and

thenperformed a

stirringhaka. Pupils also

triedonmayor Neil

Brown's mayoral chains.

Photos: Top, Kumai

Rossleads the hakaand,

right, Anneliese Touli

triesonthe mayoral

chains

individual owners whose

vehicles were damaged.

They, at least, had the

luxury of beingable to get

cars under cover ­ you

can't shirt a paddock,

only hope the hail, which

tends to do its damage in

strips, will miss your

place.

Spring weather in Canterbury

is nothing if not

changeable, and it has

always been so.

November, too, isthe

prime month for such

storms and damage.

So you plant your crops

and take your chances.

The weather, good or

bad, does the rest.

Spring is almost at an

end.

A kind summer, with

spells of gentle rain, is

sought.

­John Keast

Column

Seven

The sign, before it was

stuck to the rear of a

container said: Caution. 9'

6'' High. But the person

who put the sign on the

container forgot about its

steel ribs,sowhen the sign

was stuck onand around

the ribs, some of the

letters, to a following

driver, were obscured.

What they saw was: Ctn.9'

6''igh. Anyway, we are

sure the driver knew he

was hauling something

very high and to beware of

any low bridges.

❑❑❑

It takes abit to stop a

meeting of the Ashburton

council in its tracks, but

the hail last Wednesday

did. First, retired farmer

Stuart Wilson interrupted

proceedings to say bad

news was on the way, and

produced aphoto of golf

ball­sized hail sent from

Hinds, his old stamping

ground. Then mayor Neil

Brown ­ who was facing

south ­said he had seen

the black clouds ­ and

then the hail struck with

such force that it became

almost impossible to hear

anyone talk. Mr Brown,

widely, suggested an interval

until the storm passed,

at which point everyone

grabbed mobile phones to

record the damage. Later

Mr Brown said there

would be damage, but he

hoped it would not be too

bad. Council staff were

seen hurrying out to put

cars under cover.

BeefeaterPink OR

Absolut Flavours OR

Jameson 700ml

$

34 99

Steinlager Classic

DB Draught, Export

Lion Red, Waikato,

Asahi Super Dry OR

Haagen

330ml Bots 18s

Gold,Tui EIPA

Speights

TheNed -

Corona

Peroni NastroAzzurro

330ml Bots 15s

330ml Bots 24s

330ml Bots 24s

Sauv,Pgris,Rose

355ml Bots 18s

330ml Bots 12s

$

29 99 $ 33 99 $ 33 99 $

14 99 $ 40 99 $

23 99

$ 20 99

Heineken

330ml Bots 12s

$

24 99

Teachers

1L

$

35 99

Glenfiddich 12YO

700ml

$

63 99

Jim Beam OR

Pimms Lemonde &

Canadian Club

Ginger Ale 4%

1L

250ml Cans 12pk

$ 39 99 $

23 99

Gordons Pink Gin&

Soda

$

23 99

Soda 4% 250ml Cans 12pk

Smirnoff Ice

5% 250ml Cans 12pk

$

21 99

CodysORKGB

7% 250mlCans 18pk

$

28 99

ASHBURTON

MSA

266 Havelock Street,Ashburton

Telephone 308 7149

www.ashburtonclub.co.nz

HOURS

Monday

Tuesday-Saturday

Sunday

10:00am -8:00pm

10:00am -9:30pm

10:00am -6:00pm

SPECIALS AVAILABLE

from November 28

to December 5

2231571
---
Local news at www.starnews.co.nz Ashburton's The Courier, Thursday 28 November 2019, Page 5

CAR OFTHE WEEK

$27,990

$3,990 2004 Subaru Forester X20 AWD

2L Automatic. CD Player, TowBar and Tinted

Windows.

200 ld S

$11,990 2004 Holden Ute S 3.8L AUtomatic. Air Conditioning, CDPlayer,

Central Locking, Cruise Control and TowBar.

Was $8,990

$7,990$

2008 Honda Fit

1.3L Automatic. 46,300kms. CD Player, Air Con,

Tinted Windows and 5star fuel rating

2011 Nissan Micra Ti

$10,990 1.5L Automatic. CD Player, Keyless Start, Auto

Headlights, 4.5 Star Fuel Rating. Only 24,350kms.

2013 Holden Colorado Extreme 4x4

2.8L Diesel Automatic. Leather Interior, Cruise

Control, Bluetooth, Reverse Camera, Tow Bar and

Canopy. Perfect for Summer.

Financefrom 9.95%

T's, C'sand lendingcriteria apply

$8,990,

2007 Mazda 6GSX Sedan

2.3L Automatic. NZ New, Tow Bar, CD Player,

Air Conditioning and Cruise Control.

$18,990 2014 Holden Trax LTZ

1.8L Automatic. Leather Seats, Front SeatsS

Heated. Reverse Camera/Sensors andBluetooth

Richard

027 889 3870

Shane

027 669 5656

$15,990

2009 Suzuki Carry 4x4

4

650cc, Hi-Low Ratio 4x4. 12,985kms. Dropside

Flat Deck, Air Con and 4.5 Star Fuel Rating.

$38,990

2017 Holden Colorado LTZ 4x4

2.8L Diesel Automatic. Reverse Camera/

Sensors. Sat Nav, Remote Start and TowBar.

WARRANT OF

FITNESS

CHECK

+

EXPRESS

SERVICE

ONLY

$

199INCGST

T&C's apply. Bookings essential.

0%P.A.

FIXED

Finance

ON SELECTED LDV VEHICLES

PAY

1/3 1/3

1/3+ORC

NOW IN 2020 IN 2021

T&C's apply.Offeravailable until 15 December 2019. Based on a1/3 deposit plus the ORCpaidupfront. Then 1/3 in 12 months and the final 1/3 at

24 months.24month term at 0% interest,with 10.35 PPSR fee, $100 UDC doc fee, $250 Dealer doc feeincluded.

Cannot be used in conjunction with anyother special offer.

ASHBURTON: Main South Road, Tinwald \ 03 307 9028 \ Facebook: SmallboneAshburton

Mon -Fri: 8am -5pm \Sat: 9am -12noon

smallbone.co.nz
---
Page 6, Ashburton's The Courier, Thursday 28 November 2019

Local news at www.starnews.co.nz

TCLTELEVISION

50''

YAMAHA AUDIO

SYSTEM

PANASONIC FZ70

CAMERA

½

PRICE

1

ONLY

•3 year warranty

•Android

•4K

$5.50 weekly

NOW$794

•High quality

microstereo

•CD•Bluetooth

•AM/FMtuner

NOW$297

•60xzoom

•Wide angle

lens

NOW$385

PIONEER CD

PLAYER

SOBER CHECK

BREATHLAYSER

MITSUBISHI

FLOOR MOUNT A/C

•AM/FMreceiver

•LCD screen

•Wifi &

Bluetooth

•50W x2

$5.37 weekly

NOW$773

•Highquality

alcohol

checker

from

$379

•KG25

•3.4 Kw

$13.38 weekly

NOW$2000

PARROT BEBOP

DRONE

ONYA FOLDAWAY

E-BIKE

SELECTED SLEEPY-

HEAD PILLOWS

BOSCA360 FIRE WITH

GLASS HEARTH

PANASONIC 55''

OLED TV

WESTINGHOUSE

FREEZER

Rural

use

only

•Quadricopter

•14mega pixel

camera

$3.21 weekly

NOW$444

•Fitsinboot

•Easy to ride

$12.57 weekly

NOW$1875

GREAT

DEAL

60% OFF

•16kW

$12.57 weekly

NOW$1875

•Full web

browser

$19.18 weekly

NOW$2888

•280 litre

•Frost free

$10.07 weekly

NOW$1493

MILFORD

DINING

BEKO8.5kg

FRONT LOADER

WESTINGHOUSE

MERCURYRANGE

SAMSUNG 7kg

FRONT LOADER

PANASONIC 6kg

TOPLOADER

ELECTROLUX

FRIDGE/FREEZER

5year

warranty

HOT

PRICE

•3piecedining

setting,

perfect for

smaller

outdoor areas

$4.21 weekly

$597

•Stainless steel

•5year warranty

•Large capacity

$16.12 weekly

NOW$888

•600mm wide

NOW$997

$4.21 weekly

NOW$597

$4.22 weekly

NOW$598

•Large 453 litre

•Stainless steel

$9.38 weekly

NOW$1388

BEKO245

FRIDGE FREEZER

5year

warranty

BEKOCHEST

FREEZER

5year

warranty

BEKOICE/WATER

FRIDGE FREEZER

5year

warranty

BOSCH

DISHWASHER

German

quality

MIX &MATCH

BED

FREEWEBER

*

PREMIUMCOVER

UPTO$199.95OFVALUE

*

•5year

warranty

•Satina

Stainless

steel

$4.15 weekly

NOW$642

•Large

483 litre

$6.85 weekly

NOW$1000

•631 litres

$11.96 weekly

NOW$1783

$6.14 weekly

NOW$892

•Doubleor

Queen

$4.87 weekly

NOW$697

FREE SUITABLE PREMIUM COVER WITH EVERYWEBER Q, WEBER PREMIUM GAS OR WEBER PULSE BARBECUE SOLD

*TERMSAND CONDITIONS APPLY-NOT TO BE USED IN CONJUNCTION WITH ANY OTHER OFFER -OFFER VALID BETWEEN 18TH NOVEMBERTO3RD DECEMBER2019

Scott

2223585
---
Local news at www.starnews.co.nz Ashburton's The Courier, Thursday 28 November 2019, Page 7

Santa has knocked down prices

for Christmas!

Saturday 14th December 10am till 3pm

Getinto the Christmas spirit and join

us foranafternoon of festivefun!

$

Topflite

15

was $19.98

now

Wild Bird

Welcome Kit

Contains 1xenergy cake,

1xcake feeder,1xseedbell

and ahelpful wild birdd identification guide.

327942

$

29

was $39.99

now

Raptor Naturals

98

kit

BBQ GiftPack

99

pack of4

100% natural.NZartisan crafted rubs and sauce.

Gluten free,noMSG, no preservatives or artifical

flavours.

348038

EXCLUSIVE

Number 8

2Person Dome Tent

UV 50+ with rain protection. Mesh doorfor ventilation.

Includes 4x100mm anchoring pegs.

H1100mm W1400mm D2000mm.

336466

Fuller Junior

Kids Tool Set

Includes 12oz

hammer,

screwdriver withh

bits set and handle.

5m tapemeasure,

torpedo level and

350mm handsaw.

Suitable forages7+.

297044

$

49

was $59.98

now

98

each

29

was $39.98

now

$

98

set

$

6

was $9.98

now

Poinsettia

98

each

Theultimate livingg

Christmas decoration.

100mm pot.

149172

$

29

was $34.97

now

97

each

Living Christmas

Trees

Picea Glauca Concia evergreen

tree with no pruning required.

3.3 litrepot.

2289099

was $149

now

3M

WorkTunes Wireless Earmuffs

24dB noise reduction. Bluetooth technology.

309827

was $999

now

99pair

74

$ $

49each

Cantilever Umbrellas

Rust resistant powder-coated aluminium frameconstruction.

280gsm Novasun fabric.UV50+.

Square: 2620 x3000 x3000mm. Round: 2680mmx3500mm.

336030

was $499

now

Fuller

$

49

was $75.47

now

set

61 PieceTool

Set

CR-Vsteel.Softgripp handles.

Durable carrycase.

203999

was $93.76

now

$

59

Jobmate

73 Piece

Tool Kit

9 98

kit

Assortment of tools forcommon

DIYjobs.Includes heavy dutycarrycase.

229292

was $399

now

wn

Makita

349

$

kit

LXT 18 Volt Hammer

Drill &Impact Driver Kit

B&SOHV series

500E engine.

Includes 2x1.5Ah batteries,

460mm heavy

charger and soft bag.

dutysteel chassis.

295173 290166

$

399each

EXCLUSIVE

Morrison

VinaroV

350ST

140ccPetrol

Lawnmower

was $149

now

was $249

was $999

now

99 1999 now

8999

$ $ $

pack

Sodastream CAT Gasmate

Genesis Carbonating

Machine StarterPack

Includes carbonating machine.

60L gas canister,1xplastic bottle.

40cm High Velocity3-in-1 Fan

Hydra 3Burner Gas&Charcoal BBQ

Heavy dutydesign. 130 Watt.

Independentfireboxesfor gas or charcoalcooking.

3-in-1function; floor, ceiling &wall.

Stainless steel burners.

348000 322103 343570

Mitre10MEGA ASHBURTON

West Street, AshburtonPHONE 03 308 5119

OPENING HOURS

Monday-Friday7am till 6pm

Saturday8am -6pm

Sunday&Public Holidays 8am -5pm

Offers expireMonday16th December 2019.

Terms &conditions apply.While stocks last.

$

Bestway

now

599each

$

119

was $649

now was $149

PowerSteel Rectangular Pool

Includes pool,sand filter pump, ladder and adhesiverepair patch. Corrosion resistant metal frames with

heavy duty3ply sidewalls.Built-in flowcontrol valvefor easy draining.2006 litrewater capacity.

H1000mm W2000mm L4000mm.

292566

Bestway

341531

each

Shaded Play Pool

Hardwearing vinyl construction. 510 x2440mm.
---
Page 8, Ashburton's The Courier, Thursday 28 November 2019

Local news at www.starnews.co.nz

New Ashburton sleigh to make its presence felt

Ashburton's Santa Claus

has anew sleigh and it's

the ''Rolls Royce of

sleighs''.

It's been made by Ashburton's

Sandy Johns,

sponsored by Ray White

Real Estate, and will

make its inaugural

appearance in the annual

Hyundai Mid Canterbury

Santa Parade in downtown

Ashburton on Saturday.

Santa, and his team of

elves and fairies, will be

joined by a variety of

festive, and famous, characters

as well as scores of

people from within Mid

Canterbury.

Primary school children,

preschoolers,

church groups, emergency

service personnel

and cultural groups are

among those taking part

alongside the Ashburton

Silver Band who will be

belting out festive tunes

along the parade route.

Paradeorganiser Carol

Johns said the new sleigh

was the ''Rolls Royce of

sleighs'' for aparade that

''just keeps getting bigger

and bigger''.

Many of last year's

floats are returning but

there are a number of

new floats including a

team from Redmonds

Carpet Court, volunteers

from the Ashburton Fire

Museum and businesses

from Ashburton Arcade.

Also to take part will

be a mix of popular

children's characters

such as Bananas in Pyjamas,

Transformers,

Smurfs, Shrek and Big

Bird as wellasChristmas

crackers, parcels and

trees.

Mrs Johns said this

year clowns would hand

out hundreds ofbags of

lollies and mini bags of

chips to children along

the route.

Many volunteers had

already offered to dress

in some of the scores of

costumes available for

use during the day, but

there was always room

for more.

If anyone else wanted

to dress­up in one of

around 50 costumes

available, Mrs Johns said

they were more than welcome

to take part and

could turn up at Mona

Squareat11.30am on the

day.

The parade starts at

Mona Square and goes

via Kermode Street to

East Street before heading

toward the town clock

in Baring Square East.

It does aloop of the

square before heading

back down East Street

and back to Mona

Square.

It officially starts at

12.30pm but clowns will

be handing out the goodies

to people along the

parade route from

12.15pm, so get along

nice and early.

Photo: Carol Johns

and Mel Perriton inthe

new sleigh, still in its

container.

Zonta backs anti­violence

Zonta Club of Ashburton

member Elizabeth Stuckey

(left) and fellow

members Maree O'Neill

and Debbie McCaw with

their ''orange lady'' in the

window at Heartland

Bank in downtown Ashburton.

Heartland Bank and

other Ashburton businesses

are supporting the

annual ''Zonta Says No''

campaign by having

orange displays set up in

their windows.

It's in support of

Zonta's global antiviolence

against women

campaign.

The campaign, which

runs annually from

November 25 until

December 10, has seen

the Ashburton clock

tower lit up with orange

lights and continues with

Zonta members at the

Ashburton District Council's

'Light the Nights'

event at Baring Square

East tomorrow.

They will have

resources, and messages

from survivors, to help

inspire people to end violence

against women and

girls living in the community,

and beyond.

2229751
---
Wordsmith Isabel

wins poetry prize

Eleven year old Isabel

Wang, of Ashburton

Borough School, has won

a national poetry competition,

supporting animal

welfare and the work

of the SPCA.

Isabel, already abudding

singer/songwriter,

can now add SPCA

national poetry winner to

her growing list of art

accomplishments. She

also plays piano/keyboard

and is a good

artist.

Her poem was one of

many created by pupils in

the Year 6class but the

only one to be written in

shape form and written to

create the letters SPCA.

Isabel wrote the poem

and worked it into its

shape at the same time.

Year 6 teacher Fiona

Shaw, who has rescue dog

Floyd with her in the

classroom, encouraged

the pupils to enter the

SPCA writing competition.

But creating a shape

poem was done at Isobel's

own accord.

She credited Isabel as a

self­motivated pupil who

put the time and effort

into her work, which paid

dividends.

Isabel's poem has gone

on to win first place in the

national junior section

and saw the judges praise

her creativity and ability

to highlight the importance

of being a responsible

animal guardian.

While the unknown

prize was yet to arrive, for

Isabel it's not about the

rewards, it's the enjoyment

she gets from creating

the pieces, including

those she has added to

music.

Not only will Isabel

compete in the school's

annual Todd Cup competition

tonight (Nov 28),

with the song 'Journey to

the Past, from the movie

Anastasia, but she will

perform an original song,

which she wrote and composed,

called S.I.N.G

Isabel said the popish

song is about music,

instruments and performing.

And how anyone

could perform music and

use it to express themselves.

It was Isabel's passion

project and created during

the class Term 3unit

'how we express ourselves'.

Help the SPCA

by Isabel Wang,

1st Place Junior Winner

of the Kind Matters

2019 Writing Competition

Ruff ruff! Adog's life is

tough.

Running around and

peeing on stuff!

Iwill learn how to sit,

jump, and stand,

I can even shake your

hand!

Iwant to eat,

Iwant some bones and a

treat.

I am using my puppy

eyes, you can't resist

Iwant food and toys, I

have awhole list!

But some of us are alone

Amerry little market

Ashburton Trust Event

Centre will host its

annual Merry Little

Christmas Market on

December 1.

The sixth annual

indoor market runs

from 11.30am until 4pm

and will include more

than 65 stalls.

Stalls will be set up in

all areas of the venue

and include a number

with afestive theme.

There are a mix of

returning stallholders

and new stalls lined up

this year, said market

and sad,

So please treat us good

and not bad.

Meow meow, Iplay with

my string,

it is my everything

Idon't need you to look

after me,

you're just ahuman, I'm

gorgeous as can be.

If you don't care for me,

then Iwill face my fear,

Icould lose sight or even

an ear!

I love to climb trees,

don't let me fall,

these trees are so high

and extremely tall.

We will let you even pet

our fur,

and we will thank you as

we purr!

Bla bla, Iamahuman.

we can help, we all day,

you can write apoem,

that is away,

do it for the SPCA.

Caw caw, I'm abird,

we need help, haven't

you heard?

We fly in the sky, but not

for long,

something is happening,

something is wrong.

We are slowly dying,

we're getting extinct,

our population has sinked.

Photo: Eleven year old

Isabel Wang, with rescue

dog Floyd, and her shape

poem for the SPCA.

co­ordinator Casey Rose.

The event was agreat

opportunity to get avariety

of Christmas presents

under one roof.

Entry is by gold coin

donation and you will

receive aglass of bubbles

or juice.

BUY 2MAGG MAGGI ® PACKET SOUP MIXE

ES

&2NESTLÉ ® REDUCEDCREAMD CREAM

CANS IN THE SAMETRANSACTION &

PamsFresh Strawberries

250g Prepack

ProductofNew Zealand

$ 2 79 ccoli

pk

LindtLindorL

AssortedA

PouchP

Bag 125g

$

5 99 ea

Deutz 750ml

(excludes Prestige

*

Serving Suggestions

Broccoli

Product of NewZealand

PuhoiValley

Yoghurt 450g

Value Soft Drink

1.5Litre

$

19 99 ea 99 c ea

See

instore

for more

details

$ 1 99

ea

$

4 99 ea

BARRISTERS, SOLICITORS & NOTARY PUBLIC

www.foursquare.co.nz

Wishing our community asafe and happy

Christmas and prosperous New Year.

Our office will close

12pm Monday 23 December

Reopening 8am Wednesday 8 January

facebook.com/FourSquareNZ

Specials available South Island only from Monday 25thNovember untilSunday1st

December 2019orwhilestockslast. Wine and beer availableatstoreswithanoff

licence.Wine andbeer purchasesrestricted to persons aged 18 yearsold and over.
---
Page 10, Ashburton's The Courier, Thursday 28 November 2019

Local news at www.starnews.co.nz

DEATHS

KENNY, Graeme Reginald

(Snow): On Tuesday,

November 19, 2019, at the

ICU, Christchurch Public

Hospital. Dearly loved

eldest son of the late Keith

and Marjorie Kenny of

Ashburton. Much loved

brother and brother-in-law

of Jocelyn and Graeme

Wilson, Allison and the

late David Fleming, Julie

and Ian Hood, Alister and

Sheryl Kenny and Phil and

Sue Kenny; and a loved

uncle of his nephews and

nieces.

PERRY, Andrew: (Andy):

Suddenly at home in

Ashburton on Thursday

November 21, 2019. Dearly

loved son of the late Jack

and Thora. Much loved

brother of Jonathan and

Raewyn, Daniel, Oliver,

Keren and Greg Earp.

Loved uncle of his niece

and nephews. Andy was

fun loving, good natured

and a generous brother

and uncle. Messages for

Andrew's family may be

left onhis tribute page at

www.eagars.co.nz/andrew

Afuneral service for Andy

has been held.

Paterson's

Ashburton

FDANZ

03 3077433

WATERS, Noel David:

On November 26, 2019 at

Ashburton, aged 90 years.

Loved son of the late Bill

and Rita Waters. Loved

brother of the late George,

RNZAF 31st Squadron, and

the late Gwen Simpson.

Much loved father and

father in law ofMark and

Colleen (Christchurch) and

Grandad to Kristin, Bryce

and Amelia. Messages to

the Waters family C/- PO

Box 472, Ashburton 7740.

At Noel's request aprivate

cremation has been held.

Paterson's

Ashburton

FDANZ

03 3077433

FamilyNotices

ACKNOWLEDGEMENT

BAUGHAN, John William,

"Jack". 1929 – 2019.

Lorraine, Jo-Anne, Tiarna,

Michael, Nathan, Connor,

Barry, Jan-Maree, Nicholas

and Chloe along with

extended families and

friends wish to extend

warmest thanks for

the love, support and

neighbourliness shown

to us by so many during

Jack's illness and recent

death. The phone calls,

visits, cards, flowers, food;

professional assistance

from Barry Hayman and

staff of Paterson's Funeral

Services and celebrant, Lois

Ranson and many others

areverymuch appreciated.

And, to all who attended

Jack's funeral tocelebrate

his life, our sincere thanks;

so many friends and family

who fellowshipped for

his final journey. Special

thanks go also to Patricia

McLaren and family for

loving care, catering and

for the beautiful floral

casket arrangement. Jack

alwayslovedthe spring and

daffodils.

Special thanks are also

extended to Doctor Shane

Lues and the nurses and

staff at Tinwald Medical

Centre, Sue Prowse and

management and nursing

team of Rosebank Rest

Home, Hospice Mid

Canterbury, Ashburton

St John, Hinds Women's

Institute, Hinds church

family, Ashburton Creative

Fibre and many other

organisations.

Please accept this as a

personal acknowledgement

for all your help and

support.

MARSDEN, Brian David:

Anne, Stephanie and Fiona

wish to express their sincere

thanks to all those who

attended the celebration

of Brian's life atStDavid's,

and to acknowledge the

kindness and messages of

supportthey have received.

Supporting the community

96 Tancred Street,Ashburton. Phone 307 8317

Family Notices

ACKNOWLEDGEMENT

MORGAN,Paul Andrew

Laurence

18/05/1979 -29/10/2019

Paul's family would like

to thank all the extended

family members and friends

of Paul and ourselves who

joined us in celebrating

Paul's short meaningful

life. Thank you, too, to

those who brought food,

flowers andtheir time as we

struggled to cope in those

first few days. Thank you to

those who sent cards and

shared memories of Paul

as well. Weare so thankful

to know how much Paul

meant tosomany people.

Thank you toStJohn and

the Police for their kind,

professional assistance.

Birth notices listed by

parents will continue

to be free in the Family

Notices column.

The initial death notice

lodged by a funeral

director will be listed

without charge. There

will be asmall charge

of $15 for subsequent

notices related to the

same death, up to a

maximum of 35 words

and on aper-line basis

after that.

The same low

charges apply to

other family notices,

such as engagements,

acknowledgments, in

memoriam notices and

anniversaries.

Inquiries phone Jann or Leonie on 308 7664

or call into199 Burnett Street.

LREA2008

MCRE

Christian school set

to become secondary

By Mick Jensen

Ashburton Christian

School is set to become a

fully combined primary

and secondary school and

expects notification in the

next few weeks on when it

can begin extending its

education programme to

students in Years 11­13.

The school has a

capped and capacity roll

of 120 and offers a

Christian­based

education from Year 1

through to Year 10.

Principal Tim Kuipers

said the school would

know soon when it could

move forward with its

plans, and the changes

would start no later than

2023.

He said if 2023 was

given the green light, it

would mean current Year

7pupils would be able to

stay on at the school for

Year 11 onwards.

It was also likely that

the Year 11 roll out

would include Year 12 at

the same time, while

Year 13 would start the

following year.

Mr Kuipers said it was

anticipated that the

school roll would be

capped at 250 pupils in

2020 and at 345 when the

extra years were

introduced.

He said if things

happened earlier than

2023, more current

students could continue

at the school, whereas a

delay until 2023 would

SAMANTHA

ROSE

FLOWERS

give more time for

planning.

Ashburton Christian

School was opened in

2009 with just 27

students.

There has been steady

growth over the years,

before numbers levelled

out to 90 for three years

and then jumped again to

the current capped levels.

Mr Kuipers said it was

an exciting time ahead for

the school and he was

motivated by the

philosophy of education

the school offered.

The school's

''personalised learning''

programme allowed for

the ''rich delivery'' of the

national curriculum.

''I believe our tailored

learning approach is a

real game changer in the

FLOWERS +WEDDINGS +GIFTWARE

SAME DAY DELIVERY IN ASHBURTON

WWW.SAMANTHAROSEFLOWERS.CO.NZ

03 307 4020

Family owned,

locally owned

22 MooreStreet,

Ashburton

0800 2636679

2196490

2200590

education field.''

Acompulsory subject,

with optional assessment,

going forward for pupils

from Year 7and above is

called World Studies and

will see students and staff

explore and debate a

range of topics suggested

by both sides.

Atopic already

debated by older students

is transgenderism. Other

suggested topics include

leadership, the place of

pain, music, euthanasia,

race, socialism and

slavery.

Exploration of those

type of topics would

inevitably branch out into

NCEA subjects, where

they could be explored

further and in context,

said Mr Kuipers.

Teachers would be

upskilled to deliver the

World Studies

component of the

programme, he said.

Ashburton Christian

School has nine teachers

and future school

expansion will need more

staff to fill roles such as

head of secondary school,

head of middle school

and specialist roles.

The school has

purchased 1.3ha of

adjacent land, and

buildings for future Year

13 pupils will be located

there from next year. The

extra land will also mean

the expansion and

reconfiguration of sports

areas at the school.

Photo: Ashburton

Christian School

principal Tim Kuipers.

Festive fare on

at Tinwald Hall

Ashburton's longrunning

community

Christmas lunch will be

held in the Tinwald

Memorial Hall at

12.30pm on Christmas

Day.

Organiser Ann Allott

said long­time supporter

Dan Lysaght, of All Fed

Up, would lead the

catering team once

again.

A number of volunteers

from previous

years and newcomers

had already put their

hands up to help and

more volunteers were

welcome.

Nobody should beon

their own at Christmas

and anyone was welcome

to attend, Mrs

Allott said.

The lunch usually

feeds around 150 people

and those attending are

asked to register through

Community House or

Presbyterian Support.

A registration form

appeared in Ashburton

Courier last week

(November 21) and

another will appear on

December 5. Transport

to the free lunch is also

available. Questions to

Ann Allott on 308 0333.

Complete

Local Care

Since 1982
---
Local news at www.starnews.co.nz Ashburton's The Courier, Thursday 28 November 2019, Page 11

Health scrap, then business

Ashburton business woman Robyn

Wall has spent the past few years

battling personal health issues.

They have included breast cancer,

resulting in adouble mastectomy,

breast reconstruction and

lung surgery.

Rather than being stopped in her

tracks, Robyn, and husband Dave,

have changed their lifestyles

becoming rural dwellers and business

owners.

They bought alifestyle block and

set up their business Soul Pods,

which uses heated Epsom salt bath

pods.

The pods, specifically made for

purpose, are designed to help other

people ­among other things ­relax.

The lifestyle change started when

Robyn found a lump in her left

breast.

It was cancer and lead to her

having her breast removed in 2014.

Six months of chemotherapy

followed.

It was then the couple, with

children, Riley, now 12 and Isobel,

11, decided to set up 'the good life'

and move from suburban Ashburton

to the rural outskirts for a

quieter lifestyle.

On their lifestyle block just east

of town, they have two highland

cattle, aspeckled park cow, kune

kune pigs, sheep and chickens, not

to mention the domestic cats and

dogs.

"It's alot of work! It's awesome,

Ilove it," she says.

Robyn's cancer turned out to be

the quite aggressive, triple zero

negative breast cancer ­ so she

elected to have her second breast

removed in 2015.

The following year she had her

fallopian tubes and ovaries also

removed as it had metastasized

(moved to another area).

Then in September, just two

weeks before opening the business

Robyn Wall beside one of two

floating pods brought to

Ashburton for the health

benefits and enjoyment of

others

Robyn was again at the doctor, this

time with alump in her throat.

It turned out to be a growth

larger than agolf ball which was

pressing on her aorta (vein).

It too had to be removed as it

would only continue to grow and

prove fatal by cutting off blood

flow.

Then six weeks ago she had lung

surgery to remove alump from her

lung; thankfully it was benign.

When Robyn and Dave looked at

setting up the business, Robyn, 42,

had been using the treatment in

Christchurch and, after her own

research into the business side,

thought it would be beneficial to

others in Mid Canterbury.

The pods have been in New

Zealand since the early 1980s.

"I just wanted to bring it to

Ashburton for the enjoyment of

others," she says.

She made contact this year with

German manufacturer, Andre Ruschmeyer,

who only makes two or

three a year, and got the 'egg

rolling', so to speak.

The pods, like giant egg­shaped

baths complete with a lid, are

heated to between 34.7 to 35.2

degrees Celsius.

They use 400 litres of locally

sourced well­water and 300

kilograms of food­grade Epsom

salt.

The bathing, done naked to

increase water to skin contact, is

designed to help muscle relaxation,

relieve stress and reduce insomnia.

People can choose to have the lid

open or closed. There are lights

inside the pod.

It is acommon treatment used by

athletes and been aproven solution

for people who have had trouble

sleeping.

Robyn says one client, used to

waking regularly during the night,

was able to sleep for a straight

13­hours after bathing.

"But every experience is different,"

she says.

During the one hour long bathing

session people float in the

water.

Due to the nature of the salts,

they are unable to sink.

She says Epsom salt is naturally

laden with magnesium, which the

body needs, and during the one

hour bathing session it absorbs into

the body.

"It's based on the Dead Sea

principle but in a controlled

environment."

Robyn says there are people the

treatment will not suit and the first

session can be abit unnerving, but

by the second session (around a

month later) people know what to

expect.

Despite all her health concerns

Robyn remains upbeat ­she has a

supportive husband, family and

friends, including Kylie and Cheri

who help at Soul Pods.

New minister starts

in combined parish

It's been almost six years since Presbyterian

churches in Hampstead and

Tinwald have had afull time minister,

but that has now changed.

The Reverend Johanna Warren was

welcomed into the role at a recent

induction service.

She will now take most of the

services at St Paul's in Oxford Street,

Hampstead, on the first and third

Sunday of the month, and also at St

James in Tinwald, on the second and

fourth Sunday.

The two churches have now

combined to form the newly named

Hakatere Presbyterian Parish.

Previous services at the churches

were conducted by part time ministers

and through pulpit supply, and overseen

by an interim moderator.

Rev Warren hails from Northland

and replaces the last full time minister

Luisa Fruean, who departed for Milton

in early 2014.

Rev Warren was aprimary school

teacher for 11 years before deciding in

her mid 30s to train for the church.

After four years at the Knox Theological

Hall in Dunedin, her first

posting was in rural Canterbury.

''My family were not regular church

goers when Iwas growing up, but I

went to Sunday School and those days

did have an impact on me.''

She said it would take time for the

New Hakatere Presbyterian Parish

minister Reverend Johanna

Warren.

new combined parish to evolve and she

was relishing the new adventure.

Rev Warren was at a church in

Feilding before making the move south

and has also been a minister in

Marlborough.

She took her first service at St James

on Sunday.

Fundraiser for toy library

Ashburton Toy Library is raising money

to buy more new toys and has amovie

fundraiser lined up on November 30.

The movie Frozen 2will be screened

at 3pm at the Regent Cinema,.

Tickets are $20 each (children receive

a free combo with their ticket) and

children are encouraged to dress up as

their favourite Frozencharacter and the

best dressed will be in to win aprize.

Tickets can be bought by messaging

Ashburton Toy Library on its Facebook

page, by emailing to ashburtontoylibrary@gmail.com,

or by visiting the toy

library at 106 Victoria Street. (Thursday

and Saturday 9.30am until 12.30pm).

Letters to the editor

Tucker

thank you

On behalf of Ashburton

Lions we would like to

thank everyone for their

help and support you

gave us for toot for tucker.

Karen and property

Brokers are ahuge support,

and also for supplying

bags, abig thank you.

It is not only the cars

and runners, but the after

help of sorting food. 110

people from 8to80years,

what agreat effort.

We apologise to any we

missed that night, so

please take bags to food

banks.

After 19 years of toot

for tucker we know it

make ahuge difference to

many families in Mid

Canterbury.

Thank you from

County Lions.

Jackie Ryan and Janet

Kingsbury directors

membership.

Lamson

memory

Isee from your latest

column seven you found

an old Lamson tube and

got me thinking. Many

years ago in Christchurch

around Christmas I was

looking for short term

employment so visited the

government agency (now

Winz) and spotted ajob

around various parts of

the country with Lamps

and engineering. Having

some wiring experience

albeit with the P&T, I

applied. The manager

seemed abit bewildered

when Isaid Ihad some

wiring know how and it

was more to do with

pneumatics. After abit of

discussion we realised the

person at the employment

agency had misinterpreted

Lamson for

Lamps and! Anyway Igot

the job.

Garry Quinn, Hampstead.

POWERFUL

ANTIOXIDANT SUPPORT

EARN UP TO 60

REWARD POINTS

60s NOW

$33 60

was $44.90

120s NOW

$59 90

was $79.90

or split into six

weekly payments

ASHBURTON

The Arcade

(03) 308 1815

h2k11@xtra.co.nz

25%

Lighthouse Health Distributors Limited, Hamilton.

OFF 20%

www.Health2OOO.co.nz

Follow Health2OOOGroup on:

PROTECT YOUR

PROSTATE

OFF

GO LIFE, Auckland.

Offer ends 30 th November 2019 or while stocks last. Always read the label and take as directed.

If symptoms persist, see your healthcare professional. TAPS PP4789

EARN UP TO 88

REWARD POINTS

40s NOW

$31 99

was $39.99

80s NOW

$54 39

was $67.99

120s NOW

$87 99

was $109.99

or split into six

weekly payments

171 ALFORD FOREST RD,

ASHBURTON

3080006

WE HAVE SOME

NEWEQUIPMENT

WESTSIDE

westsidehire.co.nz

Chippers Generators Access Gear Trailers Excavators Toilets Forklifts Mowers &more

2231619
---
Page 12, Ashburton's The Courier, Thursday 28 November 2019

Local news at www.starnews.co.nz

Ashburton College

Individual Excellence in aSupportive Learning Environment

News

Issue 40

28 November 2019

Message From The Principal

AdvanceAshburtonDonor's Evening

This evening it is my honour tobeone of the

speakers at the Advance Ashburton Donors'

Evening. They have invited me to speak about

the future ofeducation and the requirements for

all education systems globally to undertake major

revision.

In anutshell, our current model requires students

to be given information and for them to then be

able to process thatinformation or recall facts in an exam-type situation.

Oureducation and business worlds have traditionally valued the retention

of information. However, this has all changed with the sum of the world's

knowledge being freely available to all via the internet.

In the future, students will be valued because of their creative problemsolving,abilitytoworkand

communicate with others,and resiliency.

Ourcurrent school system does not really foster these desirable attributes

so, toequip our learners for the future, we need to change our system.

AdvanceAshburtonhas been very supportiveofAshburtonCollege and,

in particular, their support ofstudents in the Kōhanga and those striving

to get their learners'licences.

My presenceatthis evening is asmall acknowledgementofthe valuable

contribution thatthey have made to our College.

Performing Arts Concert

Tomorrow evening is the Performing Arts Concert, being held in the

Auditorium from 7:00pm, to raise money for André van Rooyen. This

charity event features many ofour famous Alumni and also some of our

very talentedcurrent students. The Master of Ceremonies forthe evening

is none other than our very own Ron Cresswell, who will also break into

song himself. The goal forthe evening is to raise enough money to fund

one month's worth ofcancer treatment for André. We are fortunate to

have Debbie on staff and we are hopeful that the whole community can

supportthis venture.

NCEAExams

As our NCEA exams draw to aclose, on02December 2019, Ithink it is

important toacknowledge the good work of Nola Smitheram and her

team. Nola has retired from Ashburton College but agreed to stay onas

Exam Centre Manager to get us through this final, and very important,

NCEA exam period. Onbehalf of the College and the students, many

thanks.

Phoenix RisingTop of the South Tour

Next week we have our Phoenix Rising Chorus heading away forfive days,

principally to Nelson. This is abiennial eventand involves our Year 9and

10 choristers and their choral leaders undertaking workshops and giving

performances in the Nelson region. This is ahuge logistical undertaking

and certainly raises the performance levels of the students involved.

My thanks gotoAngie Cresswell, Carolyn Clough and Ron Cresswell for

organising and accompanying this trip. A special acknowledgement to

Leen Braam who has volunteered to be the bus driver on this year's trip.

Many thanks.

Ross Preece

Principal

Information

Concertfor Andrévan Rooyen

This event, to raise further funds for André's life-extending cancer

treatment, has a stellar line-up of performers ready to treat the

audiencetoagreatevening's entertainment.

Performances

from Ashburton

College current

and past students

to entertain you!

Information

AshburtonCollege Basketball

Submissions of Interest –Coach Positionsfor 2020

•SeniorGirls'Team•JuniorBoys'Team •Junior Girls'Team

Applicationsare nowopenfor submissions of interest

in positionsofCoaches forthe above teams

forthe 2020 Basketballseason.

Guidelines of responsibility: weekly competitions playedinChristchurch

(May-August) and attend respectiveSouth Island Tournaments

(01-06 September2020).

Forfurther details/submissionsofinterest pleasecontact:

Andrew Shepherd–sd@ashcoll.school.nz

Submissions of interest close Friday06December 2019.

Reminder:AshburtonCollege

Phoenix Magazine 2019 –

Final Orders/Paymentupto

Friday13December

This annual productionisawonderful record of each year at College,

and becomesamoreimportantrecordofmemoriesthe longer

students and staff areawayfromAshburton College.

Remember:

This will be published at the end of February

2020.

Payment for Magazine -$25 percopy

Allfamilies have now

received an updatedaccountthatwill

includethe charge forthe Magazine.

Secure your Order

Ordershave been coming in quite well but we

do remindyou that, to secure your copy of the

Phoenix Magazine, payment will be required

by Friday13December

Obtaining your Magazine Copy

These will be delivered tostudents in-College atthe end of February.

Forstudents who have left–families will be notified thatthe Magazinecan

be collectedfromthe CollegeOffice.

Where this isn't possible we will make arrangements to ensure you receive

the copy.

Order aChristmas Magazine Voucher

We will also have vouchersavailable forpurchase.

This would be an ideal gift forgrandparentsorother family members,

whocan then have acopydelivered onceitispublished.

Events

To order: Please contactAnne in theCollege Office -

sn@ashcoll.school.nz or 308 4193, ext881.

United States MicrosoftMentors Supporting

AshColl Students to CompleteDigital Project

Anthony Gola, Zane Cameron, Jordan Green and Tayla Wikitera have

beenselectedtocompleteaprojectwith guidancefrommentors whowork

for Microsoft, and live inthe United States, headed up by Beatris Mendez

from the NuevoFoundation.

The Foundation offers coding workshops that provide hands-on

opportunities for students to learn real-world problem-solving skills using

coding,hardwareand their ownimagination.

(Pictured above, left toright): Our team of Anthony Gola, Zane Cameron,

Jordan Green and Tayla Wikitera in one of the Video Conference meetings

thatoccur fortnightly throughout the project.

This opportunity has come from our College's membership of NetNZ, in

collaboration with Renea Mackie and her Wellington business, Creative

Forest. College's Anne Williams, whose role is Reading Teacher/Teacher

Librarian/eDean, NetNZ/eLearning Hakatere Kahui CoL, said thatRenea has

been supporting these students in aproject-based learning environment

over the past year.

TheCollege team is working on an improved version of the Mihi Paisystem

that iscurrently used to reward our students for behaviour that supports

the AshColl Values.The students have had to pitch ideas,carry out research,

assign roles, create and discuss ideas and document their progress on a

shared drive. They are working with arange of online tools to complete

communication plans, develop marketing strategies and videos, create

graphics and logos,designdatabases,create awebsiteand an app.

Events

Year 13 Peer SupportMentors'Morning Tea

The Student Learning Support Unit students invited the Year 13 Peer

Support Mentors to aspecial morning tea intheir honour, on29

October, to say'thank you' forall thetime spentwith theminthe Unit.

Teacher-in-Charge Cheryl Hardy said that these outstanding students

willingly gave astudy period per week to assist the students with their

learning programmes and social skills. Their contribution was invaluable

and the students and staff truly appreciate all their energy and commitment.

2019 SLSU Peer Support Mentors have been: Jacklynn Afu,

Sophie Bell, Alisha Broker, Chloe Buchanan, Shane Crawford, Sarah DuToit,

Charlie Goulter,Josh Jones,Jacob Kilworth, Maisie Looij,Romina Malabuyoc,

Jared Mattson, Ella McQuillan, Maigen O'Neill,Lupepe Saofai, Harriet Stock,

KauriTeMoananuiGamble,WilliamWallis and Altha Zamora.

(Pictured right, leftand right):

DannyGlanville and Sophie Bell.

Congratulations

(Pictured left, lefttoright):

Jacob Kilworth,

SarahduToit and

Hayden Miller shareajoke.

Foundation Shield Cricket -College Girls'Teams

Seventeams contested this competition on 30 and 31 October, played

at 'the home of cricket', HagleyPark,Christchurch.

Coaches Andrew Tindall and Jeff Shanks said the girlsplayedsome fantastic

cricket and had alot of fun over the two days, with Ashburton College 2

placing second and AshburtonCollege 1placing fourth.

They also said the teams were agreat group of girls totake away, and that

they arekeen to do the same twoday tournamentagain next year.

TheAshburtonCollege 2

team (back row,lefttoright):

wasClaudia Thomas,

Amelie Robertson,

Molly Jones,MaddiLowry.

(Front row, lefttoright):

Brooke Cornish-Madden,

Gemma Taylor,TCTrusler-Clark.

(Absent from photo):

Caendal Harris.

TheAshburtonCollege 1

team wasmade up of (back

row,lefttoright): Chinatsu Hunt,

Riley Tindall,Mae Patterson,

SarahWilson,Anna Gray.

(Front row,lefttoright):

RubyGray, Molly Milmine,

Ella Shanks.

Play was split into two pools of four and three teams respectively. Play on

Wednesday 30October saw Ashburton College 1defeat Rangi Ruru Girls'

and Ellesmere Colleges; while Ashburton College 2defeated StMargaret's

College and HillmortonHighSchool.

On Thursday 31October St Margaret's College Red defeated Ashburton

College 1, while AshburtonCollege had abye first up.

Finals opposition: Runners-Up and4th Placings

Finals play for 1v2saw StMargaret's College defeat Ashburton College 2,

leaving AshburtonCollege 2asrunners-up.

Meanwhile in the 3v4play-off Ashburton College 1was defeated by

St Margaret's College Green, to finishin4th position.

(Pictured above): Jubilation at achieving an opposition playerout.
---
Local news at www.starnews.co.nz Ashburton's The Courier, Thursday 28 November 2019, Page 13

Ashburton College

Individual Excellence in aSupportive Learning Environment

News

Issue 40

28 November 2019

Congratulations

ExcellentWin to CollegeCricketers over

Willows'Cricket Club XI

TheWillows Cricket Club near Loburn was founded in 1994, based on

the principle thatschoolfirst XI cricket teamsshould playagainst more

experienced cricketers,hence the Club's Objectives being:

• Toencourage players in secondary

school first elevens to play with and

against experienced players, many

of whom are present orpast firstclass

cricketers.

• To offer quality cricket to cricket

lovers in the fine country

atmospheregrounds,wherefamilies

maycome to watch and picnic (pictured right).

On Sunday 10November the Mid CanterburyYouth XI (Ashburton College

and Mt Hutt College combined) team travelled north forthe annual fixture

against the 2019 Willows Cricket Club XI.

Wintothe CombinedTeam

Gaining awin over the more experienced players is always achallenge,

although it can be achieved, asthis year's team proved with their seven

wicket win, 213/4 –101.

Being the side's first win of the summer season, it was areal confidence

boost entering into this summer's round of competition matches.

It was reported that the Youth XI team looked in control from the start,

fielding first. TheAshburtonbowlersstartedstrongly,with TomMiddleton

taking early wickets,and finishing with three to his name by the endofthe

innings. Two younger Year 10 bowlers, Liam Fuller and WilJemmett, also

performed well,auguring well forthe future.

Youth XI Team members on the day were all from Ashburton

College: Isaac Bazley, Devon Flannery, Liam Fuller, Angus Jemmett,

Lachie Jemmett, Wil Jemmett, Ben Middleton, Tom Middleton (Captain),

Millar Newlands,Jonty Small,LiamSullivan.

Mt Hutt College players: The two Saturday team members, Will Copland

and Angus Spittal,werenot playing in this fixture.

Team Coach is Dean Harrison, although Dean wasn't presentatthisfixture.

TheWillows team wasdismissed forjust 72 runs,atarget the Youth XI team

reached with just three wickets down, in little more than thirteen overs,

with DevonFlannerytop run-scoring with 42 not out.

Theday's experiencewas enhanced by a

visitand talk,inthe morning,fromJohn

Wright and Richard Hadlee, two New

Zealandcricketing legends.

(Pictured right): AshburtonCollege's

TomMiddleton receives the trophyfor

successfully beating the Willows team

on Sunday.

Photo supplied

Presentation of AirPistolNobes Cupfrom

NZ McMillan Tournament

In June of this year four College students –SierraChambers,LauraCameron,

Mia Chambers and Charlotte Clifford –joined the Ashburton Pistol Club as

junior shooters.

Their purpose was tolearn how to shoot air pistols in order to compete in

the annual inter-school nation-wide competition forthe McMillan Cup. The

McMillan Cup competition operates specifically for junior shooters from

secondaryschools throughout New Zealand.

The four students had from June until late September to develop the

necessary skills to forward ascore to enter into both the Senior (Sierra

Chambers) and Intermediate competitions as individuals and, asinthe

case of the three Intermediate shooters,teams of three whose scores would

countfor both the Intermediate as well as the overall competition results.

OutstandingResults –Intermediate Team

Laura Cameron, Mia Chambers and Charlotte Clifford formed the

Intermediate team of three.

The combinedscores from the threeteammembers earnedthem -

• 1st placeinthe Intermediate competition, winning them the Nobes Cup.

• 6th placeinthe overall competition, from fifteen competing teams.

In the eleven years of competing in this competition Ashburton College

teams have onlywon the McMillan Trophyontwo other occasions,and both

via their senior team.

To make this win more epic, this is the first time an Intermediate team has

won this section, as novices, and the first time it has come to the South

Isalnd.

This is an exceptional effort bythe team members who all scored personal

best scores in the qualifying shoot.

All four students have performed extremely well, without exception, to

attain the level of skill they have achieved in such ashorttime.

(Pictured left, lefttoright):

Coach Trevor Ward,

CharlotteClifford,

LauraCameron,

MiaChambers and

DerekBarrett Coach; afterbeing

presentedwith the trophyon

Monday18November.

National Netball DevelopmentCamp Selectionfor MiaPearson

Netball New Zealand has advised that their Emerging Talent selectors

will be out inforce at next year's National Development Camp as they

continue to profile the country'snextgeneration of netballers.

Fifty athletes from across each of the five

Netball Zones have been invited to attend the

development camp in Auckland from 16-19

January, where they will gain guidance from five

former Silver Ferns.

Selection into the camp was based on

identification, observation and tracking from the

selectors through various national and regional

age-group tournaments, along with feedback

from Zone Performancestaff.

MiaPearson's defensiveplaywas an integralpart

of the very successful, Kaye Kennedy-coached

College A Netball team which qualified this

year for the prestigious New Zealand Secondary

Schools'Championships. Wewish her well forthe

opportunities and growth this camp can provide.

College Volleyball -1st and 2nd Placings

Ashburton College had four teams, Boys' and Girls' Aand B, at the

Aoraki Secondary Schools'JuniorVolleyball Championships held atThe

Southern Trusts EventCentreinTimaru on Wednesday 13 November. A

total of six boys'and twelvegirls'teams contested the event.

Results –all College Teamsplaced 1st or 2nd

•1st placings –gainedbyboth theCollege Boys'Aand Girls'Ateams.

•2nd placings –gainedbyboth the CollegeBoys'BandGirls'Bteams.

Teacher-in-Charge Hiromi Horsleysaidthe players showedgoodteamwork

and supportedeachother well. With all players playing well,some notable

playalsocame from MistyMafiti, Denise Jerao, and RonSildo servedwell

to gain manypoints; while Iolama Iolama, Boaz Drye and Tiffany Agacer

scored highly from anumberofstrong spikes.

Coaches

Senior students Ninah Teves, Samantha Jerao, Zoila Suyat,

Sinifoni Hala, Sam Rakthong, Otto Mareko coached the teams, with

supportfromTeachers Dave Christensenand Hiromi Horsley.

Hiromi said the student coaches came toCollege at lunchtime every day,

and after school on some occasions, to help prepare the students, whose

skills were greatlyimproved duetotheir hardworkand that of thecoaches.

Hiromi noted thatthe prize-giving was'forAshColl students!!'

Team Members were -

JuniorBoys' ATeam

(Pictured above, left toright): Boaz Drye, Ricky Fuluasou, Brand Sione,

Sinifoni Hala (Coach), Ian Pabualan, Luke Pasion,Semisi Balenaisa,Tasi Paese.

Coming Events

November

07- 03 Dec NCEA Exams

28 Year 10 Dancetrip, Tinwald School

Year 9/Year 10 (mixed team) Renegade Hockey and Quick Rip

Competition, Nunweek Park,Christchurch

28-29 Year 10 GLE AkoCamp,WaikukuBeach

29 Year 9CommunityServicesDay

Year 10 Outdoor Education Mountain Bike 2Trip,

AshburtonMountain Bike Track

2019 End-of-YearFinal Days,Prize-Givings,Events

Parents, caregivers,family/whanau,friends and interested community

members aremost welcome at all prize-givings.

December

08 Leavers'Graduation Dinner,Hotel Ashburton, arrive at 6:30pm,

seated at 7:00pm.

12 Year 10 Prize-giving,1:30pm, College Auditorium, and FinalDay

13 Year 9Prize-giving,11:00am, College Auditorium, and FinalDay

Live-streaming of these prize-givings will be available for visitors,

in the eventthe Auditorium seating reaches capacity.

Mia isone of nine players selected from the Netball Mainland Zone,

and the only Mid Canterbury player. The remaining eight from this zone

include six from Christchurch, and one each from Rangiora and Nelson.

This is an exciting opportunityfor emerging players and,atthe camp,the

group of athletes will be split into fiveteamstobecoached by Pathwayto-Podium

well-known coaches and formers players Irene van Dyk, Jo

Morrison, TemeparaBailey,SandraEdge and Anna Galvan.

The head coaches will also be joined by five apprentice coaches in the

Performance Coach Qualification pathway while umpires and umpire

coaches have also been invited to attend the four-day camp.

Netball New Zealand Head of High PerformanceKeir Hansen has said the

National DevelopmentCamp would give the athletes an insightintothe

Netball New Zealand pathway. He noted that'for many, this is their first

step into thatelite environmentand an opportunityfor us to inspire our

developing players building towards their future'.

At the camp the athletes will undergo aseries of movementcompetency

screenings to assesstheir readiness forperformance, and will be observed

on their performance under pressure with ahighly competitive short

tournamentstructuretobeemployedduring the camp.

Junior Girls' ATeam

(Pictured above, back row, left to right): Irish David, Tiffany Agacer,

Anjali Savaiinaea, Sivailoa Teomatavui, Ninah Teves(Coach).

(Front row, left to right): Denise Jerao, Jaimee Chute, Margret Eli,

Tokoono Pori.

Junior Boys'BTeam

(Pictured above, left toright): Kian Teves, Taeauga Pevelise, Pedro Collins,

Salatielu Iakopo,Ron Sildo,Eli Orena, Iolama Iolama, SamRakthong (Coach).

Junior Girls' BTeam

(Pictured above, left to right): Edelma Kelsall, Luvepa Falealili,

Misty Mafiti, Zoila Suyat (Coach), Jesca Descargar, Sefilinga Maamaloa,

NauparaStrickland.

December

05-10 Phoenix Rising,Top of the South Tour

06-08 NZSS Athletics Track,Field and Road Championships,Wellington

11 Finalday SLSU Senior students: Prize-giving and shared lunch

12 Finalday SLSU Year 10 students

Some Key2020StartofYear Dates

Monday27, Tuesday28, Wednesday29January

Course Confirmation days (for selectedstudents,who will be

contacted by the College).

Wednesday 29January New International StudentEnrolments/

Orientation

Thursday 30January New InternationalStudentEnrolments/

Orientation

Monday 03 February First dayfor Year 9and Year 13 students

Tuesday 04 February First dayfor Year 10 students

Wednesday 05February First dayfor Year 11 andYear 12 students
---
Page 14, Ashburton's The Courier, Thursday 28 November 2019

Local news at www.starnews.co.nz

Car for the mayor but not all happy

Ashburton mayor Neil

Brown will get amayoral

car, but new councillor

John Falloon is not

happy.

Cr Falloon asked that

his vote against the

motion be recorded.

Under a new council

policy, the mayor can

choose apetrol or diesel

vehicle worth up to

$55,000, or $65,000 for a

hybrid or electric vehicle.

The vehicle option was

included in a policy on

members' allowances Neil Brown

John Falloon

and reinbursements.

Cr Falloon wanted to know who would choose the car ­the mayor ­and

FATHER CHRISTMAS SHOPS HERE...

...FOR REAL MEN'S DESIGNS

STRETCH JEANS •STRETCH SHIRTS •STRETCH TOPS &JACKETS •STRETCH DENIM SHORTS

MAC SHAW

Clothing for MEN

said he was opposed.

He said the cost of

running a $50,000 car

would be about $12,500,

including fringe benefit

tax, depreciation and the

lost opportunity of having

that money tied up.

He could not see the

economic justification.

Cr Carolyn Cameron

said she supported that,

but deputy mayor Liz

McMillan said she supported

having amayoral

car, as did Cr Lynette

Lovett.

The car has not yet

been chosen.

Salary sacrifice for mayoral car

Ashburton mayor Neil

Brown will be provided

with a mayoral vehicle

but will lose some salary

and hewill have to meet

conditions.

He will not be able to

claim for mileage if a

vehicle is provided; the

mayor must use the

vehicle for travel toand

from council business;

the mayor may suggest a

vehicle to buy but it must

fit with council purchasing

rules.

The maximum price

for apetrol or diesel car

would be $55,000 and

$65,000 for a hybrid or

electric car.

He will be provided

with afuel card and must

act prudently. If he opts

for anelectric vehicle, a

monitorwillbebought to

record exact electricity

usage at themayor's house.

An electric charging station

will beprovided at the

new civic building,yet to be

built.

Thevehicle mustalso be

securely parked.

There are rules, also, if

he opts for full private use.

THE BAYHILL END OF THE MAIN STREET, TIMARU -GOOGLE MAP US

2230931

Cars are provided for

mayors in the Far North,

in Hawkes Bay, Taupo,

Tasman, Timaru and

Waimate.

Meanwhile, pay for

councillors has been

signed off but must go to

the Remuneration Authority

for approval.

Under the new, smaller

council (nine instead

of 12), deputy mayor Liz

McMillan will get

$57,502, the chairs of

standing committees

(Leen Braam, John Falloon,

Angus McKay,

Diane Rawlinson and

Stuart Wilson) will get

$43,000 and other councillors

$35,118.

Mayor Neil Brown gets

$121,500.

Cr Stuart Wilson

wanted to know who provided

the figures, and

chief executive officer

Hamish Riach said the

figures were suggested by

staff to ''frame the

debate''.

He said the pay pool of

$377,856, the minimum

to be paid to councillors

was $25,047, and the pool

had to be allocated.

The pool money does

not apply to the mayor or

the Methven Community

Board ­ $5396 for chairman

Dan McLaughlin and

$2698 for members.

The annual pay for the

mayor also includes the

annual valuation of the

mayoral vehicle, meaning

he will lose some pay for

having avehicle.

The council also signed

off on child care allowances

for qualifying councillors

to the value of $15

an hour, capped at $6000 a

year per child and available

for amaximum of two

children.

How the money is

allocated, split up

An independent body,

the Remuneration Authority,

sets the pay for

elected members (councillors),

and the cost of

the salaries is borne by

ratepayers.

The authority has completed

areview toset the

pay levels and released

its determination in

June.

The remuneration

pool for the Ashburton

council until June 30,

2020 is $377,856,with the

minimum pay for acouncillor

$25,047.

All nine Ashburton

councillors have been

paid the minimum since

taking office on October

18.

The pay pool does not

apply to the mayor, Neil

Brown, or members of

the Methven Community

Board.

Post­election, the

mayor's salary increased

to $121,500, and his

annual remuneration

includes the valuation of

his vehicle.

Pay for community

board members is set

from July 1, 2019 and the

Remuneration Authority

will continue to set those

separately.

There are four

requirements for allocating

the governance pool:

The entire pool must

be allocated;

A base remuneration

will need to be decided

for councillors who have

no additional responsibilities;

For any role that

attracts additional pay,

council is required to

have aformal vote.

With apool of $377,856,

which must be used, the

pay has been allocated

thus ­

Deputy mayor ­$57,502

Five standing committee

chairs ­$43,000, made up

of abase salary of $35,118

plus $7882 additional

remuneration, equalling

$215,000.

Three councillors with

no additional responsibility

­base rate of $35,118,

equalling $105,354.

The council now sends

its proposals to the

Remuneration Authority

for approval, and the

council has noted that the

proposed allocation of the

pool is subject to adetermination

by the authority,

with additional payments

(above the base rate) backdated

once the determination

is issued.

Farmers can hit the surf

Mid Canterbury farmers

looking to give surfing a

go are invited to sign up

for Surfing for Farmers.

The initiative was

launched in Gisborne last

year to give farmers and

their staff an opportunity

to take some time offfarm

once a week to

learn anew skill and have

some fun in the waves.

Beef + LambNZ are

advertising a similar

opportunity for Canterbury

farmers with Surfing

for Farmers in Canterbury,

using the beaches

of Gore Bay and/or Sumner

Beach this summer.

However, an indication

on the number of people

who may be interested is

required.

Contact Sandra Taylor

at sandra.taylornz@gmail.

com or 021 151 8685.
---
Local news at www.starnews.co.nz Ashburton's The Courier, Thursday 28 November 2019, Page 15

28 TH NOVEMBER

19 99

ea

Huggies JumboNappies 48s-108s

or NappyPants 48s-56s,

excludesBulk Size 154s

Ingham's FreshButterfly

Chicken 1.1kg

6 99

ea

Meadow Fresh Yoghurt 1kg,

excludes Greek

2 99

ea

Pams Finest Southern Alps

Camembert 125g

2 79

ea

CHEESE

Pams Fresh Strawberries

250g Prepack

1 99

ea

Wattie'sFlavoured

Tomatoes 400g

79 c ea

SteinlagerPureorStella

Artois 330ml 24 Pack Bottles

36 99

ea

3 99

ea

Tip TopIce Cream 2L

Cadbury Block Chocolate

150-180g

2 49

ea

Sanitarium Weet-Bix 750g

or Up&G0 250ml3Pack,

excludes Blends

2 99

ea

Specials available South Island only,price valid Thursday28November 2019 only.Trade not supplied. Due to current Licensing Trust laws, liquor not

available at Elles Road, Windsor &Gore. Specials maynot be available at all stores. Club Deals areonly available to ClubcardMembersatNew World

South Island stores when theyscan their Clubcardatthe time of purchase.
---
Page 16, Ashburton's The Courier, Thursday 28 November 2019

Radiator Repairs

We areexpertatrepairing all types of

automotiveradiators – FAST

ARTHUR

CATES

LIMITED

26 McNALLYSTREET,

RIVERSIDE INDUSTRIAL

PARK,ASHBURTON

TEL 308 5397

www.arthurcates.co.nz

2226126

Local news at www.starnews.co.nz

Choir scholarships given

Mid Canterbury Choir has presented

annual scholarships to two

local, talented musicians.

Zoe Diedricks and Victoria

Williams­Freeman each received

$100 and acertificate atarecent

prize giving ceremony.

Both girls are just finishing their

high school education at Ashburton

College and Mount Hutt

College respectively.

The music scholarship acknowledges

strong contributions made

to their respective school choirs.

Victoria Williams­Freeman is a

soprano, whileZoe Diedricks plays

the cello in the college orchestra

and is the choral leader in the

school choir, Phoenix Chorus.

Zoe Diedricks

Victoria Williams-Freeman

Mt Huttbestski resort

Christmas Champs +Over

40'sStockcars +Derby!

SUNDAY 1ST DECEMBER 2019

Adult &Youth Ministocks,Stockcards,

Streetstocks,Side Chairs,CGrade,

Saloons,Productions &Derby Cars!

Racing starts 12:30pm

Gate prices

Adult -$15; Senior with gold cars -$10

Children 14yrs &under -Freewith paying adult

LocatedonSeafield Road,nexttothe AshburtonAirport

www.auricelectrical.co.nz

• Domestic electrical services

• New house wiring

• House rewiring &maintenance

SUPPLIERS AND INSTALLERS OF LEADING BRANDS

2232476

Mt Hutt hastaken outthe titleof

New Zealand's best ski resortfor

the fifth year in arow at theWorld

Ski Awards in Austria.

Mt Hutt generalmanager

operationsJames Urquhart wasat

the World Ski Awards galadinner

in Kitzbuhel, Austriatoreceive

the award on behalf of the

mountain team.

''It'saneat moment to be

standingamongthe best­of­thebestinthe

ski industryand

accepting this award on behalf of

the Mt Hutt team. Iknowweare

all extremelyproudofthe

recognition.''

Mt Hutt skiareamanager

James McKenzie is humbled with

the award winand saidreceiving

thisawardfor thefifthyearina

row was an incredible

achievement andtestamentto

how hardhis teamworked.

''I thinkreceivingthis accolade

• TV &Datawiring

• Solar installation

• HeatPumps

Call todayfor an obligation free quote

0800287 423

fivetimes reflects acombination

of factorsthat makes us so

popular. Our authenticKiwi

hospitality, awesometerrainmix,

kaitiakitanga initiatives,and the

factskiingand riding with us is so

accessible with our competitive

season passpricingand Kids4Free

offering creates apretty

compellingpackage.''

Mr McKenziebelieved thetitle

alsounderscored an affinityand

passion guestshavefor the

mountain and wasgratefulthe

publicsupportedMtHutttotake

out thewin again.

''It'sanhonour to be

recognised by our guests as the

bestski areainNew Zealand.Mt

HuttisCanterbury's mountain

and this win justadds to thatlocal

pride we all share as Cantabrians.

So I'd like to thankthose who

voted for us,itreally means alot.''

The past2019season sawtwo

2174603

2225698

kilometers of newtrails opened

and substantial investment in

sustainabilityinitiatives acrossthe

mountain includingeliminating

all singleuse cups and cutlery in

the foodand beverageoutlets and

installing anew food waste

system.

''For the2020 season we are

investing in more snowguns, a

new groomerand doubling the

supply rate of watertoour

snowmaking system to ensurewe

continue to enjoyone of the

longest seasons in NewZealand.

''We'll alsobeadding another

44­seater bus to our transport

fleet to transfer guests fromlower

carparksmore efficiently along

withfurtherupgrades to our

accessroadand carparks.''

The World Ski Awards is the

onlyglobal initiativetorecognise,

reward and celebrateexcellence

in skitourism.

Netballer Mia set

for talent camp

Ashburton College netballer

Mia Pearson (pictured)

will attend aNetball

New Zealand

emerging talent squad

camp in Auckland early

next year.

The talented athlete

has been named in the

squad of 50 and will learn

and be guided by five

former Silver Ferns.

The Emerging Talent

Squad camp runs from

January 16­19 and has

identified players from

the five netball zones who

have shown talent and

potential for higher honours.

The group of athletes

will be split into five teams

to be coached by Pathway

to Podium coaches Irene

van Dyk, Jo Morrison,

Temepara Bailey, Sandra

Edge and Anna Galvan.

The programme helps

provide players with the

tools to take the next step

into becoming an elite

netballer.

Mia Pearson, who is a

defender on the netball

court, will be aYear 13

student next year.

Fete, garage sale

Ashburton Parents Centre

is hosting aChristmas fete

andgarage sale on December

7.

To be held atthe centre's

roomsatthe Netherby

Shopping Centre, the

eventrunsfrom10amuntil

noon.

It will include festive

refreshments,crafts, games

and avisit from santa.

There is a gold coin

entry per family and a

small cost for some activities.

A garage sale of

children's items will present

an opportunity for

some early Christmas

shopping.
---
Local news at www.starnews.co.nz Ashburton's The Courier, Thursday 28 November 2019, Page 17

Getintothe festivespirit

with the

Christmas

Busker Nights

presented by the AshburtonCourier

at Baring SquareEast, in downtownAshburton

Friday6December &

Friday20December

From 6.30pm to 9.30pm

Those toperform will include soloists

LiamPram and Sofia Marilla; and the Jingle

Belles choral singers, as well as:

Some of MidCanterbury'smusical talentwill be showcased

during the twoChristmas Busker Nights events,

presentedbythe AshburtonCourier,nextmonth.

Theeveningsare achancefor the public to get into the

festivespirit with livemusic and asausage sizzle,

courtesy of Bunnings Ashburton.

Ocean

Talented Ashburton youth Ocean Waitokia will be

taking to the stage forboth Busker Nighteventsnext

month; on December 6and December 20

Ocean has been singing from an early age.She plays

guitar and is asinger,songwriter.

Her ability toyodel has gained her national and

international recognition and she has woncountless

awards in country music competitions including the

2019 New Zealand Gold Guitars Intermediate Overall

Winner at Gore. She will represent Ashburton at

Tamworth Country Music Festival in Australia next

year.

She has awide repertoire ofsongs to her credit

including jazz, blues and songs of yesteryear. And

loves toshare her musical talent for the enjoyment

of others.

AshburtonBlues Brothers

AlcoholHarmReductionBand

The Ashburton Blues Brothers Alcohol Harm

Reduction Band is aband on amission, performing

one nightonlyatthe Busker NightonDecember 6.

Featuring local actors, singers and dancers the band

will perform afun musical production with aserious

message -loosely based on ascene from the Blues

Brothers movie.

"We have giveaways and prizes for the audience, a

poster competition will be running on the night, and

we areoffering complimentarybottled water.''

DanceWorxs Ashburton

Dance Worxs Ashburton students will take to the stage

both nights of the Busker Nights. Dancers range in age

from preschool to senior students and learn avariety

of disciplines ranging from classical ballet to jazz dance

which includes HipHop and contemporarylessons.

Dance Worxs has teaching students for more than 45

years,training dancers to the highest degreeoftechnical

ability while at the same time encouraging their self

confidence, commitment, friendship,self respectand fun.

"We work hard toensure that all who participate enjoy

the experience oflearning dance inasafe and positive

environment.''

SouthTwo ChainBand

South Two Chain Band are anall-Filipino dairy worker

band from within the Rakaia and Ashburtondistricts. The

talented Earl (vocals), Christian (keyboard), Noel (lead

guitar), Boboy (bass) and Reinier (drums) will take to the

stage on December 20.

1over99

1over 99are representing CFC-Youth for Christ. The band

of seven areyouth from Ashburtonand Christchurch. Their

passion for music, and ashared faith, has brought them

together on manyoccasions.

Many of the band have been playing, and creating, music

together forthe past fewyears.

"We don't only share the same love for music but most

importantly,wesharethe same faith and hope.''

ProgrammeSchedule

Friday 6December

6.00pm Jingle Belles

6.50pm

7.10pm

8.10pm

8.30pm

8.50pm

DanceWorxAshburton

Ocean Waitokia

TheAshburtonBlues Brothers

Alcohol HarmReduction Band

SarahTempleton

Liam Pram

Friday 20 December

6.30pm

6.50pm

7.10pm

7.50pm

8.10pm

8.30pm

8.50pm

Jingle Belles

DanceWorxAshburton

Ocean Waitokia

Sofia Marilla

South TwoChain Band

LifeDanceAcademy

Liam Pram

9.10pm 1Over 99

Life DanceAcademy

LifeDanceAcademy, basedinTinwald,offerdance classes in a"fusion of jazz,

hip hop and ballet''.

They caterfor toddlers through to adultdance students encouraging beginner

dancers,and helping dancers take their talentand skilltothe next level.

Annuallythey hold twoperformances; one in term twoand the other in term

four,togivestudents valuable performancetime.

"Wefeel it is importantfor parents to be able to enjoywhattheir children are

learning and forthe children to have plenty of opportunitytoperform.''

2231323
---
Page 18, Ashburton's The Courier, Thursday 28 November 2019

Schools get food plants

Mitre 10 Mega Ashburton garden consultant April Breading with a

group of Tinwald School children and their food plants. Mitre 10 has a

new programme running with Ashburton district schools, where

children pot up food plants donated by Mitre 10 to take home and grow.

Classes from Longbeach, Allenton, Hampstead, Carew, Borough and

Tinwald have been taking part.

New digital skills help Wanda return to work

Keen to re-enter the workforce after

raising afamily, Wanda Price realised

she needed to brush up on her computer

skills first.

"I had large gaps in my computer

knowledge, so Iknew that Ineeded to

fix this before Icould confidently apply

for jobs," she says.

And fix it she is. Wanda is currently

studying the New Zealand Certificate in

Computing at Ara Connect in Timaru.

Run by Ara Institute of Canterbury,Ara

Connect offers free computing courses

for anyone wanting to gain skills and

confidence using digital technology.

"I chose Ara Connect because it had the

course Iwanted, it was free and it was

easy to get to. And the 'pick and mix'

timetable really suits me with afamily.

The course is self-paced, so you're only

focusing on what you're doing."

Wanda says she's enjoying the course,

and likes her tutor's teaching style.

"She has the ability to point you in the

right direction so you can then solve the

problem yourself. And approaching a

tutor at any time is never aproblem –

they're only too happy to help."

Wanda encourages others to become

adigital upskiller like her. "Definitely

give it ago! You'll be amazed at all that

you learn and you'll enjoy doing it."

When she completes her certificate,

she'sgoing to weigh up whether to apply

for jobs or do further study.

Learn more about Ara Connect courses

at ara.ac.nz or by calling 0800 24 24 76.

2232861

Local news at www.starnews.co.nz

Topp exhibition on soon

There will be dress ups, information panels, original

clothing, audio visual displays and activities lined up

when the new Topp Twins exhibition opens at

Ashburton Museum this Saturday.

Four areas of the museum, including the Murney

Family Room and research room, will be used for the

large visiting exhibition, which runs until February 9.

Museum director Tanya Robinson said the exhibition

had arrived in a13m container and would take

two weeks to fully install.

''It is the largest exhibition we have ever hosted here

and we are all super excited to have it.

''It's going to be fun and quirky.''

Ms Robinson said the Topp Twins had along and

colourful history in New Zealand, that included

political activism, but they remained true kiwi icons

and were well­loved.

Akid's trail would direct ayounger crowd around

the exhibition and would help introduce another

generation to the comedy and singing duo, she said.

The public is also invited to dress up in five sets of

replica clothing that portray the well known Topp

Twins personas of Prue and Dilly, Ken and Ken, The

Gingham Sisters, Raelene and Brenda, and Camp

Mother and Camp Leader.

Original Topp Twins costumes will also be displayed

and activity stations set up.

Information panels will tell the pair's story and a

performance career that spans 40 years.

Activism work 'empowering'

By John Keast

Morgan Trowland reckons he

could not live with himself if he did

not do all he could to save the

planet.

As such, the former Ashburton

lad, a civil engineer, is working

part­time with Extinction Rebellion

in London.

He believes it is important work,

and something has to change ''as

we are on track to make life forms

extinct''.

Mr Trowland, who went to

Borough, Intermediate and Ashburton

College, did not think

when he lived in Mid Canterbury

that he would become an activist.

He said Extinction Rebellion,

which has asked councils in New

Zealand to declare climate emergencies,

has apowerful logistical

plan and the organisation was

teeming with capable people.

Morgan Trowland in Ashburton

Domain.

He had worked with doctors

and lawyers and scientists, and

climate change deniers should talk

to scientists if they wanted proof of

the damage being done.

Ashburton Museum director Tanya Robinson and

senior curator Maryann Cowan try on some of the

dress-up items during the installation of the Topp

Twins exhibition.

Mr Trowland said one of his

most exciting roles had been

organising asite and stage for a

rally last year.

He was also involved in his local

branch in afundraising role.

He said for many involved the

penny had dropped that something

had to be done.

Mr Trowland said he was still

working as an engineer part time ­

''you have to earn aliving'' ­but

working with Extinction Rebellion

was ''really empowering''.

In his engineering role, he has

designed bridges in Canada and

India.

He was glad water issues were

top of the agenda now in New

Zealand that some might question

whether Mid Canterbury needed

to be covered in grass.

Mr Trowland is in Ashburton

briefly to visit family.
---
Local news at www.starnews.co.nz Ashburton's The Courier, Thursday 28 November 2019, Page 19

OUR BIGGEST SALE OFTHE YEAR.

1WEEK ONLY STOREWIDE SALE +BLACKOUT DEALS. ENDS DECEMBER 1 st 2019 • Exclusions apply.

Tibet 4Piece

Bedroom Package

was $2196

NOW

$

1296

Jenn Sofa Bed

was $379

NOW $

249

Memphis

7 Piece Dining Set

was $1399

NOW

$

999

Miami 7Piece Outdoor

Dining Set

was $2019

NOW

$

1299

ALL BEDROOM ON SALE ALL LOUNGE ON SALE ALL DINING ON SALE ALL OUTDOOR ON SALE

Opal 4Piece Outdoor

Lounge Setting

was $2999

NOW

$

1299 SAVE $ 1700!

Bahamas

Trundler Bed Set

was $897

NOW

$

698

Emmet 2Seater

was $1299

NOW

$

649

1/2 PRICE!

BUY NOW

PAYIN2021

Includes mattresses.

Credit criteria, exclusions, fees, terms &conditions apply.

Kendal Office Chair

was $199

Vintage

Club Chair

was $165

Regan

Sofa Bed

was $999

Dallas Queen Bed

was $399

NOW

$

129

NOW

$

99

NOW $

699

NOW

$

299

BLACKOUT STOREWIDE SALE ON NOW! ENDS 1.12.19!

Shop

Online

Nationwide

Delivery

Finance

Options

Cnr Blenheim &CurlettsRds, Christchurch

Ph: 0800 TARGET (0800 827438)

targetfurniture.co.nz

Offersand product pricesadvertised here expire 1/12/19.

Saleexcludes Manchesterand Accessories.
---
Page 20, Ashburton's The Courier, Thursday 28 November 2019

Local news at www.ashburtoncourier.co.nz Ashburton's The Courier, Thursday 28 November 2019, Page 21

2229506
---
Page 22, Ashburton's The Courier, Thursday 28 November 2019

Local news at www.starnews.co.nz

Local news at www.starnews.co.nz Ashburton's The Courier, Thursday 28 November 2019, Page 23

You could

win some

FANTASTIC

PRIZES!

TO OENTER

Just matchthe Santapictured with their correctstore which is advertised in this

"Santa Comes to Town"shopping gift guide.Ifthatisn't enough, we'regiving you

some clues.Each Santabelowisholding aproductfrom/or standing in their store.

WOW! It's easy! But get cracking -entries close 12 noon, Monday16th December.

You'll also find plenty of terrific gift ideas foreveryone on your list -sosupportthe

businesses thatsupportyou and your town.

MATCH

StoreName

................................................................

................................................................

StoreName

................................................................

................................................................

StoreName

................................................................

................................................................

StoreName

................................................................

................................................................

& WIN

Competition

MATCH THESE BUSINESSES TO THEIR PHOTOS

• PaperPlus Ashburton • PlaceMakers • StihlShop Ashburton • Pool &Pump World

• Honda Country • Drummond &Etheridge • MacrocraftFurniture • Sim's Bakery

• PetZone Limited • Harvey'sBakehouse • Lakeway Nursery • Hoopers Outdoor PowerCentre

StoreName

................................................................

................................................................

StoreName

................................................................

................................................................

StoreName

................................................................

................................................................

StoreName

................................................................

................................................................

Name: ............................................................................................................................................................................................................................................................................

Address: .........................................................................................................................................................................................................................................................................

..........................................................................................................................................................................Phone: .................................................................................................

Drop into TheCourier Office at 199 Burnett Street,oremail to office@ashburtoncourier.co.nz

Entries must reach us by 12 noon on Monday16th December,2019

Conditions -all entries must reach our officeby12noon MondayDecember 16th, 2019.

Only one entryper person is allowed. Participating business and staff arenot permitted to enter. Winner will be published in our December 19, 2019 issue.

No correspondencewill be enteredinto.

StoreName

................................................................

................................................................

StoreName

................................................................

................................................................

StoreName

................................................................

................................................................

StoreName

................................................................

................................................................

2230753
---
Page 24, Ashburton's The Courier, Thursday 28 November 2019

Local Petshop Megastore

Locally owned Petshop in

Ashburtonstocking pet foods,

toys and grooming products.

Visit

us

now!

Local news at www.starnews.co.nz

Forall your festivefare, talk to

Carmen, Glenn and the team at Sims'

Merry

Christmas

Also available:

Tropical and cold water fish, aquariums,aquatic

supplies,rabbits,guineapigs,birds and alot more.

Christmas cakes,Christmas tarts,trifle sponge,shortbread,

truffles,meringues,gingerbread Christmas biscuits,

Christmas mud cakes ...and more!

Supplier of products from:

2216307

Phone 307 8660

167 Tancred Street,Ashburton

Main South Rd, Tinwald. Ph: 308 5774

2231933

Keep your poolclean

this summer

For all your:

Servicing

Repairs

Free watertesting

Chemical sales

Filter sales

Galaxy spa pools

with a

Robotic

Cleaner

Quick and clean technology

Haywardand Bioguard

products available

in-store

Large range of filters and chemicals available

Give Jackie acall today ...

Phone 03 308 2245

Freephone 0800 155 343

E:admin@poolandpumpworld.co.nz

W:www.poolandpumpworld.co.nz

27 Gordons Road, Ashburton

OPEN: Monday-Friday 9am -5.30pm

Saturday 10am -12.00pm

2231956

NEED GIFT IDEAS?

MORE TOYS

IN-STORE

OR SHOP

ONLINE!

John Deere

Torch $17.95

Action Lawn

Mower

$39.95

1:32 JD 6215R

Tractor $44.95

Tractor-opoly

Game

$59.95

832 East Street, Ashburton

Ph 03 307 9911 | www.dne.co.nz

Pedal Tractor with

Loader &Trailer

$263.18

AnimalSounds

Hayride $33.95
---
Local news at www.starnews.co.nz Ashburton's The Courier, Thursday 28 November 2019, Page 25

20% discountonall

FLYclothing

Get sorted forChristmas

NOWONLY

NZ Pine,1.2m

dining table and

4chairs

NOW ONLY

$1,241 $887

NZ Pine,glass

displayunit,1.960

high

NOWONLY

$485

Rustic hall

table,1mlong

NOWONLY

$660

NZ 3door

sideboard1.1m

long

NOWONLY

$285

Small single

bed

NOWONLY

$1846

NZ Pine,1.6m

long dining table

and 6padded

chairs

HONDA COUNTRY

www.hondacountry.co.nz

740 East St, Ashburton. Phone 03 308 2030

Murray Sexton 0273 299 244

2231962

m MACROCRAFT furniture EST 1992

103 South Street 308 0417 l www.macrocraftfurniture.co.nz

*Conditions: DiscountoffRRP

Hours: MondaytoFriday8am -5pm

Saturday10am -3pm

2232862

Christmas Shop

NOW OPEN UPSTAIRS

HUGE SELECTION

of inspirational Christmas

decorations, including trees,

lights, wreaths, garlands,

baubles, bows, figurines

and soft toys.

Bring the family and check out

our Christmas wonderland.

STIHL SHOP ASHBURTON

187 West Street,Ashburton

Phone 03 308 2055

2232854

2232865

OPEN 7DAYS

until Christmas Eve

UPSTAIRS AT ...

212 East Street,Ashburton.Phone308 8308
---
Page 26, Ashburton's The Courier, Thursday 28 November 2019

Local news at www.starnews.co.nz

MerryChristmas and

HappyNew Year

fromthe team!

Let us help you

celebrate Christmas

This Christmas time, just think

how happy you would make her

if your Mum could take abreak

and WE become the baker!

WE can bake and ice her cake

and cook her Christmas pies

and our range of special bread

will fill her with surprise

Your local authorised Husqvarna Servicing Dealer:

MOWERS ON SPECIAL

With our freshly baked selection

(there'snoroom to name them all)

the best thing you can do for Mum

is just give us acall!

Now'sthe time toorder your

Christmas cake, mince pies,

croissants …and much much more!

2230728

11 PeterStreet,Ashburton

307 7055

WWW.HUSQVARNA.COM

2233538

Creek Road,Ashburton.

Phone 3083398

LAKEWAY NURSERY

Givealiving giftfor Christmas

Rododendrons

from $19.99

LemonTree

Theperfect living gift

TALK TO US TODAYABOUT YOUR

LANDSCAPING PROJECTS

Hydrangeas

20% OFF

Cranberries

Addared berrytothe garden

Pamand the team wish youall asafeand happy Christmas

PHONE 3089950

Grahams Road,Tinwald

(1kmfrommain highway)

OPEN

Monday-Friday, 9am - 5pm

Saturday,9am -5pm

2233399

2231919
---
Local news at www.starnews.co.nz Ashburton's The Courier, Thursday 28 November 2019, Page 27
---
Page 28, Ashburton's The Courier, Thursday 28 November 2019

Open day draws big garden crowd

Organisers of acommunity

open day event at

Trotts Garden on Sunday

have given it abig tick,

with just over 1000 visitors

through the gates.

The garden, categorised

as being of international

significance, was

formerly owned and

developed by nurseryman

Alan Trott, and is

now owned by atrust.

Sunday's visitors

included a mix of first

time and repeat visitors,

both local and from out

of town.

Anumber of families

brought picnics and

enjoyed time playing petanque,

or chess and jenga

with giant pieces.

There were also Devonshire

teas on offer, live

mellow jazz played and

local art displayed.

Trotts Garden administrator

and promoter

Nicola Walker said the

open day was an ''overwhelming

success''.

Young and old had

enjoyed the splendor of

the gardens and some

people had spent anumber

of hours in the

relaxed setting.

The event had been

ideal to showcase the

gardens for weddings,

functions and tours.

''We really hope to

make Trotts selfsustainable

going forward

and to do that we need to

maintain and build on our

big pool of volunteers and

also create more income

streams through more

events.''

Trotts will remain open

and free to visitors until

the end of the year, before

the policy is reassessed.

Photos: There was abig

turnout at the Trotts Garden

open day on Sunday.

Looking back with

rose­tinted glasses

Local news at www.starnews.co.nz

Rangitata MP Andrew Falloon comments

It's easy to look back at

history and one's own

experiences with rose

tinted glasses. Of remembering

things the way

they used to be in a

slightly more positive

way than they actually

were.

I'm as guilty of it as

anyone. In my maiden

speech to Parliament I

talked of how parents

(mine included) wouldn't

think twice of letting us

kids kick a ball around

Argyle Park all day until

the sun went down. Of

regularly leaving the

house unlocked while

you popped into town, or

the keys in the car when

grabbing aloaf of bread

from the shops.

It's true the crime rate

has gone up, but it's also

true we've always had

crime. Theft wasn't rare

in the eighties. I recall

our garage being robbed

at least acouple of times,

and the same would have

been true for many

people in town and

around the district.

It was in response to

rising concerns with

crime that more than 25

years ago Ashburton

Town Watch began.

Today they're acommon

sight on our streets, as

are Community Patrols

across the country, but it

wasn't always this way.

Ashburton Town

Watch was one of the

first of its kind in New

Zealand, well before the

Community Patrols NZ

structure was formalised.

In Ashburton and

around the country they

utilise the skills and

knowledge of people in

our community to be the

eyes and ears that are

needed in places Police

can't always be.

Of not intervening, but

being out and about, ever

watchful and ready to

radio Police to an incident

at a moment's

notice. Of recording suspicious

behaviour, in

many cases giving Police

the information they need

that allows them to add to

the data they have, giving

afull picture that leads to

an arrest.

I had the pleasure of

being part of this wonderful

organisation for five

years when I worked in

Wellington. In ajob that

didn't allow for the usual

evening meetings or pitching

in every Saturday or

Sunday, signing up for

community patrol was the

perfect way to volunteer

late at night or in the early

hours of the morning.

More recently I've been

out with our local Town

Watch here in Ashburton,

and their counterparts

down in Timaru. They do

an outstanding job, but

with more recruits they

could do even more. To

have a chat to see if it

would suit you, contact

them on 308 1635 or email

ashburton.cpnz@gmail.

com
---
Local news at www.starnews.co.nz Ashburton's The Courier, Thursday 28 November 2019, Page 29

Authors share

work with kids

Published authors shared

their writing journeys with

pupils at three Mid Canterbury

schools last week.

Organised through

Storylines, a charitable

trust set up to promote

awareness of the importance

of reading and

books, the district tour

featured poet Paula

Green with Year 9/10

students at Ashburton

College, writer Philippa

Werry and illustrator

Vasanti Unka at Netherby

School and writer Eileen

Merriman at Ashburton

Christian School.

Author Philippa Werry,

who has well over 60

books to her name, took

senior students at Netherby

School through a

book of stories she

created during her primary

school years.

She said her love of

reading and writing had

started young.

She had earned points,

merits and stars for her

writing and each one had

spurred her on to write

more.

Some of her early

efforts had won prizes and

also appeared in her local

newspaper.

''Writing has taught me

alot, including the need

for persistence, resilience

and also the excitement

that comes from being a

writer,'' she said.

She said a writer was

the ''best job in the

Eye on waste

world''and seeing your

name on apublished book

was ''the best thing ever''.

Mrs Werry asked

students to consider both

the good and bad aspects

of being awriter.

The good points highlighted

included having

others read and enjoy

your writing, and the

opportunity to use your

imagination fully.

The bad points

included the time it took

to produce a book, and

poor feedback from

readers.

Storylines and the Story

Tour also visited schools,

early childhood centres

and libraries around other

areas of Canterbury last

week, with books donated

at each location.

Photo: Author Philippa

Werry went through the

stories she wrote and kept

from her childhood.

Astudy is under way to

see if Canterbury's

discarded plastic and

paper could be sorted,

processed and recycled in

the South Island.

The study has been

launched by EcoCentral

(ECL), which manages

the recycling and processing

of refuse collections

in the region, to identify

innovative recycling solutions

that meet evolving

global standards.

Alarge percentage of

New Zealand's recyclable

waste is sent offshore

to be sorted, processed

and recycled. Plastics and

paper are separated first

but must undergo amuch

more rigorous sorting and

cleaning process before

being recycled to Asian

markets.

The study will build on a

commitment ''to doing the

right thing'' with recyclable

waste and investigate

whether more can be done

in New Zealand, said ECL

chief executive Craig

Downie.

HYUNDAI MID CANTERBURYBRINGS

Christmas

to town

THIS SATURDAY

SantaParadestarts 12:30pm from Mona Square,

down East Street and returning to Mona Square

Lollies, balloonsandchips

handedoutfrom12:15pm

Special thanks to our sponsors:

thetrust

ASHBURTON

2231739

JOIN US FOROUR EXCLUSIVE

FAMILYPHOTO

IN SANTA'SGROTTO

5December2019

10am–1pm /3.30–5.30pm

THURSDAY

5 DECEMBER 2019

9.00AM–8.00PM

Ruralcomembersare invited to join Ruralco

and selected suppliersinAshburton forall your

Christmas shopping.

Shop to your heart'scontent with exclusive

specials including extra discounts,exclusivee

0800 787 256

RURALCO.CO.NZ

2233743
---
Page 30, Ashburton's The Courier, Thursday 28 November 2019

Local news at www.starnews.co.nz

Thanks to all our wonderful

volunteers who are

involved in our many

SaferMid Canterbury

projects

Your continued support

helps change lives

44 Cass Street,Ashburton

If interested in learning about our volunteer

opportunities,please contactuson:

Phone 308 1395

or email info@safermidcanterbury.org.nz

www.safermidcanterbury.org.nz

At the Cancer Society, we know acancer

diagnosis can affectevery aspectofyour

lifeand we areheretohelp youthrough.

If youorsomeone youcareabout has

cancer or if youare interested in

volunteering please contactAnnie.

Cancer Society, MidCanterburyCentre

122 KermodeStreet,Ashburton

Ashburton

Learning Centre

Phone 03 307 7691

Ashburton

Learning Centre

Would liketothank all our volunteers

Without your continued support, our centre could not operate

Ourhomely centre givesstudents awarm, friendly,non-judgemental

and confidential environment.

We requireadults to become volunteer literacyand

numeracytutors.Full training is provided.

FIND OUT MORE BY CONTACTING

CnrPark&Havelock Streets,Ashburton

Phone: 308 5322 Email: adult.literacy@xtra.co.nz

2233202

2231912

Celebrating volunteers

International Volunteer Dayiscelebrated

globally every year on December 5asa

day to celebrate thework volunteers do in

their communities.

The theme thisyear is 'Volunteerfor an

InclusiveFuture ­Ewhai wahi ai te katoa,

kia tuao te tu'.

It truly is aday to champion the impact

volunteers have helping those communities,

nationally and globally, provide vital

services to function.

Volunteers are used in many organisations

includingwithinemergency services,

agedhealthcare, education, social services

and organisations.

The campaign theme focuses around

United Nation sustainable development

goal 10 and the pursuit of equality ­

including inclusion ­through volunteerism.

It'sanopportunityfor us alltopromote

volunteerism and to encourage decision

makers tosupport volunteer efforts and

recognise volunteer contributions tothe

achievement ofaninclusive future.

It's also an opportunity to recognise

volunteer contributions to the achievement

of the sustainable development

goals at alocal, national andinternational

level.

The theme for International Volunteer

Day 2019 will specifically focus on:

­Volunteerism empowering people to

participate intheir own communities and

fostering inclusion

­ Volunteering promoting inclusion,

diversity, non­discrimination

2233194

­ Volunteerism as a mechanism to

reduce inequalities in society.

United Nations' sustainable

development goals

Inequality continues tobeasignificant

concern despite progress to narrow

disparities of opportunity, income and

power.

In many parts of the world income

inequality continues to rise even as the

bottom 40 percent of the population in

many countries has experienced positive

growth rates.

Greater emphasis is needed on reducinginequalitiesinincome

as well as those

based onother factors.

Additional efforts are also needed to

increase zero­tariff access for exports

from least developedcountries and developing

countries, and assistance toleast

developed countries and small island

developing states.

In more than half ofthe 92 countries

with comparable data during the period

2011 to 2016, thebottom 40 percent of the

populationexperienced agrowthrate that

was higher than the overall national

average. However, those people received

less than 25 percent of the overall income

or consumption.

In many places, the increasing share of

income going to the top one percent of

earners is of significant concern.

~Asnapshot from the report ofthe

United Nations secretary­general, special

edition: progress towards sustainable

development goals.

Youth council recruiting

Youth who are passionate

about the Mid Canterbury

community and want

to make a difference to

the lives of young people

are encouraged to apply

for the 2020 Ashburton

Youth Council (AYC).

It's avoluntary role for

local youth aged 12 to 24.

Applications are open

until December 12.

AYC is a dedicated

committee for young

people to empower and

engage their peers

through activities, events

and advocacy, and to assist

the Ashburton District

Council in understanding

young peoples' perspectives

and needs in the

decision­making process.

Ashburton mayor Neil

Brown said the youth

council was a great

chance for young people

to develop their leadership

skills and work on

issues important to them

and their peers.

''Being a member of

the Youth Council opens

up mentorship, leadership

and governance

opportunities that can

help set you up for future

endeavours. I encourage

young people who want to

play an active part in local

decision­making and to

develop their skills to put

their name forward for

the 2020 AYC.''

Current and previous

terms of AYC have made

submissions to Ashburton

District Council consultations,

co­ordinated events

such as Bite Nite, raised

funds for local youth

charities and raised

awareness of youth

services available to the

community.

Application forms for

AYC can be found online

at ashburtondc.govt.nz

Photo: The Ashburton

Youth Council have coordinated

events such as

the popular Bite Nite

(pictured) in downtown

Ashburton.

MID CANTERBURY

Contactusifyou or someone you

know needshelp

0800 787 254

Phone Judy:027 878 7254

Email: rstmidcanterbury@gmail.com

www.rural-support.org.nz

2230919

Locals in spotlight

Waitaha Primary Health takesthis opportunity

to acknowledge andthank our volunteers who

supportthe weekly Mother for Mother Breast

Feeding Peer Supportgroup in Ashburton.

We value your time and ongoing commitmentto

this servicetothe local community.

If youare interested in learning moreabout this

group,please contactJanine on 0275881007.

St Vincent de Paul

Appreciates, respects and

thanks all our volunteers

Thank you!

Open Monday -Friday 10am -4pm

for quality used clothing &household furnishings

84 Victoria Street, The Triangle, Ashburton

Community House Mid Canterbury

are pleased to support International

Volunteer Day and welcome enquiries

from people wishing to join the

volunteer bank

Phone 308 1237

44 Cass Street

In Mid Canterbury volunteers

from Volunteering

Mid and South Canterbury

are being recognised next

weekonInternational Volunteers

Day (December 5)

with amorning tea and an

early evening function at

the Hotel Ashburton.

It is for financial members

of the organisation.

Volunteering Mid and

South Canterbury coordinator

Dellwyn Moylan

said both events were

themed 'Thanks for Beeing

a Honey and Volunteering'.

''We are buzzing about

celebrating the day.''

THANKYOU TO ALL OUR

VOLUNTEERSAND DONORS

FORYOURCONTINUEDHELP

If youwould liketohelp,

phone Suz Hutchinson 03 2616907

Ashburton

THANK YOU

to all our volunteers forall thatyou do in helping us

achieve all the things we do!

We couldn't do it without YOU!

Bead breaking,kit making,workshop volunteers,bead

donators,events,sewers and anything

else we'vemissed!

We LOVE and APPRECIATE youall.

Fromthe CanInspireteam

2230436

2232020

2233390

22323286

2232104
---
Local news at www.starnews.co.nz Ashburton's The Courier, Thursday 28 November 2019, Page 31

Rural&Lifestyle

Hail deluge hits community hard

By ToniWilliams

The hail which cut acrossMid Canterbury

last week left damage likely to

have lasting effects.

There has been widespread reports

of damaged tocrops, vehicles, homes

and buildings around the district.

Anything exposed to the brief, but

violent, deluge of hailstones ­some as

large as golf balls ­was at risk.

United Wheatgrowers Insurance

Scheme (UWIS) chairman Brian

Leadley said, two days after the event

30­odd claims had been received

ranging from South Canterbury

through to the western side ofChristchurch,

especially Kirwee and Darfield.

However there was a high likelihood

many more were affected asthe

wheat­specific insurance, alevy­order

deducted off sold wheat, does not

include other crops.

Mr Leadley said the scheme is run

by UWIS butunderwritten by Farmers

Mutual Insurance.

"There'sgoing to be alot of farmers

that might'vehad barley only or fodder

beet crops on dairy support farms,

there will be vegetables and vegetable

seed crops damaged, well over and

above all the wheat which isasmall

proportion.''

Hail hitting downtown Ashburton last week caused wide-spread

damage.

He said itwill also include damage

to pea crops,brassicas,forage brassica

seed crops such asrape and kale as

well asspring planted and high value

vegetable seed crops.

"If they've got insurance they will

have their own private insurance

company…but alot of crop isuninsured.

"It tends to be avery low risk of this

happening. So for most of us this

would be the first time with the

severity in their career.

"It's not that it doesn't happen but

its often avery defined little patch,

which goes inbelts and those farmers

that are in the belts probably know

who they are and usually do carry

someinsurance. "It's about economics

Isuppose, it's hardtoinsure, it'scostly

and so we can recognise itfrom an

insurance company point ofview as

well. It'svery hard to planfor so that's

why its reasonably hard for them to

provide this cover.''

Mr Leadley said high value crops

would likely have cover.

But farmers werelikelytocoverjust

the main, highest value crop that was

costly togrow, not some oftheir more

commodity­type crops.

"In arable rotation, the spread of

crops helps reduce risk, becausehail is

just one risk that you can insure for,

fire isanother one and floods, things

like that, sohaving some earlier crops

and later crops can reduce the risk."

He said white clover and red clover

crops on his own farm had suffered

bruising but would likely fully recover

as they were not yet at the productive

stage.

His early wheat had been smashed

around, and the sweet corn ''given a

hard time''.

Mr Leadley said anassessor would

visit each property and work out the

percentages of potential yield loss.

"It's extremely complex."

Final settlement was unlikely to

happen until after harvest to have all

the data.

He said for many farmers it was

worth inspecting the crops and working

with their agronomist how best to

moveforward withthe crop to prevent

further damage such asdisease pressure.

"It's pretty tough decisions for

farmers who, if you're looking at a

reduced yield therefore reduced earnings,

but asked actually to maybe

spend alittle bit more onthe crop to

protect what's there aswell, it's not

easy decisions."

South of Ashburton, Charees

Vineyard owner Charlie Hill, only last

week voicing concern any future

thunderstorm might have towipe out

his vineyard, said Wednesday's deluge

was "bad, but not total.''

Mr Hill said the vines, already

thinned in preparation for growth, was

hit by the hail whipping off their tops

"like it was hit by ahedge hammer."

''We're flat out spraying it with

some sulphur and copper and liquid

seaweed," hesaid.

It was started first thing Thursday,

in an attempttodosome vine recovery

work.

"We aregoingtoget aloss there but

we are going to feed it extra feed to

make itsowehave actually got some

cane totie down next year so it keeps

growing.

"It's abit early to know how much

damage has been done."

"It's awee bit of amessbut we'llsee

what happens," he said."We should

know (how bad it is) by Christmas

time, hopefully."

Hanrahan elected to board

Mid Canterbury arable farmer Randal

Hanrahan, pictured, has been

elected to the Irrigation New Zealand

board of directors.

He will join North Otago

Federated Farmers vice­president

Jared Ross, also elected.

The result was announced at the

annual general meeting in Christchurch

last week.

Mr Hanrahan, who farms at Fairton

along State Highway One, stood

for the board of directors believing

there needed to be more irrigator

representation on the board.

He has 307 hectares under irrigation

and along with his arable crops

runs abeef finishing operation..

''I believe that it is of fundamental

importance that there is a strong

representative presence on the board

from irrigators, and in particular from

the Canterbury region, being the

largest area of irrigators contributing

to Irrigation NZ,'' he said, running for

election.

''On our property I have had

involvement in the evolution from

some dry land to border dyke, wide

borders and the transformation to

overhead irrigation, which now

encompasses our entire effective

area.

''We have been early adopters of

soil moisture monitoring, VRI and

fertigation technologies that are now

foremost in our farming operation.''

Mr Hanrahan said current strategic

priorities were taking Irrigation NZ in

the right direction, but ''in my view

focusing on advocacy, innovation and

communication are critical as we

move forward in the current challenging

environment of proposed changes

that have the potential to severely

impact all of our businesses.''

He said the wider public needed to

know about the positive work ­and

the significant changes ­ that had

already taken place with in the

industry.

Mr Hanrahan, along with Louise,

have afamily of four children. Along

with the farm, they operate an

agricultural contracting business and

own an established pre­school in

Ashburton.

Mr Hanrahan has extensive board

experience and sits on the board of

Ashburton Lyndhurst Irrigation Ltd

(ALIL), is board oftrustee atAshburton

Borough School as well as on a

number of other agricultural based

companies.

He was also amember ofRangitata

Diversion Race Management Ltd's

audited self management (ASM) committee

that was integral inestablishing

and implementing the Farm Environment

Plan dashboard.

Rural

Directory

CONTRACTORSGENERAL

ACL -Ashburton Contracting

Ltd Ph: 308 4039

SHEARING CONTRACTORS

Proshear Limited

Ph: 302 7541

To advertise in this space

please call 308 7664

199 Burnett Street, Ashburton

RURAL DIARY

Thu

Ihelp dairy farmers

drastically reduce

their powerp

bills.

My 3-step processsaves farmersan

averageof$1000 amonth.

Dairy sheds use around 28%moreelectricity than they should,

accordingtoEECA (Energy Efficiency and Conservation Authority)

By reducing the consumption and costs of your power we add

much needed profits to your bottom line.

For more information on how I can help you call me

direct on 0800 332 100

2180558

•

Brought to you by your

local insurance brokers

Thursday, November 28

• Temuka Store Cattle

Friday, November 29

• Canterbury Elite

Ram and Ewe Fair,

Canterbury Park

Monday, December 2

• Temuka

Tuesday, December 3

• Canterbury Park All

Stock

Thursday, December 5

• Temuka Store Cattle

Monday, December 9

• Temuka

Tuesday, December 10

• Canterbury Park

0800 332 100 | www.energyefficient.co.nz | info@energyefficient.co.nz

2208277
---
Page 32, Ashburton's The Courier, Thursday 28 November 2019

Local news at www.starnews.co.nz

open homes

orviewany of our homes in 3D from the comfortofyourhome!

www.realestatenewzealand.net.nz/360-virtual-reality-tours/

191 Burnett St,Ashburton •ph308 6173

Trevor Hurley Real Estate Ltd LREA 2008 -MREINZ

From 10% Deposit $325pw (Conditions apply)

100 Elizabeth Ave, Rakaia (R064)

• Delightful twobedroomcottage with asunnyconservatory &asmallcovered deck

•Nestledona1/4acreofestablished gardens

•Large single garage,hobby room and glass house

•Open plan kitchen, living &dining areas.

$298,000

OpenSaturday16November,11.00 -11.30am

2 1 1

From 20% Deposit $360pw (Conditions apply)

99 Wills Street (W678)

•Superbly positioned forthe sun and outdoor living.

•Spacious lounge,living and kitchen to enjoy.

•3bedrooms with double wardrobes.

•Single car garaging plus large shed at the rear of this stunning cottage garden.

•Only ashortstroll to Domain

•Roomtoadd your ownflair and enhancetosuit your owntaste.

$325,000

OpenSaturday30November, 10.00 -10.30am

3 1 1

From 20% Deposit $360pw (Conditions apply)

43 Princes Street (E658)

•Lovinglyrenovated from toptobottom and in between.

•Three bedrooms,two toilets

•Spacious open plan living and fantasticoutdoor entertaining area

•All setona1012m2 section with potentail to develop as yousee fit

Offes Over $319,000

OpenSaturday30November, 1.00 -1.30pm

3 1 1

From 10% Deposit $315pw (Conditions apply)

3 1 1

1RapleyStreet (E651)

•Perfect first homeor

investment.

•New carpet,compliant

log fire, insulatedtop and

bottom.

•Some double glazed

aluminium windows.

•Well fenced section and

off street parking beside

garage.

•Inspection isamust.

Offers Over $289,000

Open Sat23November,

11.00 -11.30am

3 1 1

103 Belt Road

• Alovely three bedroom, colonial style homeset amongst established grounds

•Open plan living with the opportunitytomodernise and make your markhere

•Prime location close to schools, parks and AllentonShoppingcentre.

•Dontmiss your opportunitytoview this property!

$378,000

OpenSaturday30November,11.00 -11.30am

Get Listed

GetSold

Get 3DMarketing

It's FREE!

308 6173

www.realestatenewzealand.net.nz

From 20% Deposit $410pw (Conditions apply)

Proud supporters of the HeartFoundation of NewZealand! We donate from everypropertysold!

3 1 1

(W669)

Trevor Hurley

0275 435 799

Tracey Henderson

027 405 8064

Manu Otene

022 308 6885

Linda Cuthbertson

0274087965

Stephen Watson

027 433 9695

Julie Srhoy

021 354 885

Deborah Roberts

0210752180
---
Local news at www.starnews.co.nz Ashburton's The Courier, Thursday 28 November 2019, Page 33

SATURDAY 30TH NOVEMBER

23 Kitchener Street, Ashburton 9:45-10:15am 2 1 1 AHB22576

18 Oak Grove,Ashburton 10:00-10:30am 3 1 1 AHB22215

39 Cox Street, Ashburton 10:00-10:30am 3 1 1 AHB22621

6/259 Cameron Street, Ashburton 10:00-10:30am 2 1 1 AHB22602

11 Charlesworth Dve, Ashburton 10:30-11:00am 4 3 3 AHB22611

32 Albert Street,Ashburton 10:30-11:00am 4 1 4 AHB22618

1/130 Victoria Street,Ashburton 10:45-11:15am 2 1 1 AHB22619

1Bennett Place, Ashburton 10:45-11:15am 4 2 2 AHB22605

131 Grove Street,Tinwald 11:00-11:30am 4 2 2 AHB22369

44 Wilkin Street,Ashburton 11:15-11:45am 4 1 2 AHB22624

101 Elizabeth Street, Rakaia 11:30-12:00pm 3 1 1 AHB22520

119a Racecourse Rd,Ashburton 11:30-12:00pm 3 2 2 AHB22588

13 Parkdale Close, Ashburton 11:30-12:00pm 4 2 2 AHB22395

150 Milton Road, Ashburton 12:00-12:30pm 4 2 2 AHB22579

6Graham Street, Ashburton 12:00-12:30pm 3 1 2 AHB22577

23 Cross Street, Ashburton 12:15-12:45pm 4 2 2 AHB22579

19 Wilkin Street,Ashburton 12:30-1:00pm 3 2 2 AHB22606

7Orr Street,Ashburton 12:30-1:00pm 3 2 2 AHB22359

26 Allens Road, Ashburton 12:45-1:15pm 4 2 2 AHB22565

4LudlowDrive, Lake Hood 1:00-1:30pm 3 2 2 AHB22554

360 Burnett Street, Ashburton 1:00-1:30pm 4 2 2 AHB22565

10E Primrose Place, Ashburton 1:15-1:45pm 4 2 2 AHB22461

117 Grove Street, Tinwald 1:15-1:45pm 3 2 2 AHB22460

34 Magnolia Drive, Ashburton 1:45-2:15pm 3 2 2 AHB22583

15 Orchard Grove,Ashburton 1:45-2:15pm 3 2 2 AHB22369

78A Peter Streeet, Ashburton 2:00-2:30pm 3 1 1 AHB22603

36 Church Street,Ashburton 2:45-3:15pm 2 1 1 AHB22614

138 Rolleston Street, Rakaia 3:00-3:30pm 4 2 2 AHB22582

SUNDAY1ST DECEMBER

36 Church Street, Ashburton 10:15-10:45am 2 1 1 AHB22614

78a Peter Street, Ashburton 11:00-11:30am 3 1 2 AHB22603

2Trent Place, Lake Hood 11:15-11:45am 3 2 2 AHB22585

92 Beach Road, Ashburton 12:00-12:30pm 3 1 1 AHB22587

8Elmwood Grove,Ashburton 1:00-1:30pm 5 2 2 AHB22617

3/260 Moore Street, Ashburton 1:00-1:30pm 3 1 2 AHB22578

Village Green, Lake Hood 2:00-2:30pm Sections AHB22309

Open Home

32 Albert Street, Ashburton

Is entertaining friends and family something you

would love to do more of?Well is this the home for

you !!!! Both indoor and outdoor entertaining is fully

covered herewith magnificent social areas to satisfy

the most demanding socialite.

There's accommodation aplenty with 4bedrooms and

alarge open living area overlooking the magnificent

gardens allowing privacy and shelter with adistinct

country feel in the heart of town.

rwashburton.co.nz/AHB22618

Mid Canterbury Real Estate Limited LICENSED (REAA2008)

ForSale

$475,000

View

Saturday10:30 -11:00am

4 1 4

Armand vander Eik

021 597 527

OpenHome

39 Cox Street,Ashburton

-Three ample sized bedrooms

-Open plan stylish kitchen

-Dining, living opening to north facing outdoor area

-Log fire, heat pump &heat transfer system

-Single garage

rwashburton.co.nz/AHB22621

Mid Canterbury Real Estate Limited LICENSED (REAA 2008)

SetDateofSale

closing 10 December 2019, at

4:00pm

View

Saturday10:00 -10:30am

3 1 1

Jarrod Ross

027 259 4644

Kim Miller

027 236 8627

4

Open Home

Open Home

8Elmwood Grove, Ashburton

2 1 1

78A PeterStreet, Ashburton

3 1 1

-4Double bedrooms plus 5th bedroom or office

-Entertainers kitchen with all the mod cons

-Sprawling open plan living with adjoining lounge

-Private rear section, fully fenced, complete with

garden shed, easycare grounds and vege beds

rwashburton.co.nz/AHB22617

Mid Canterbury Real Estate Limited LICENSED (REAA 2008)

SetDateOfSale

closing 10 Dec 2019, at

2:00pm (unless sold prior)

View

Sunday1:00 -1:30pm

BruceMcPherson

027 438 4250

What agreat waytostart the year in your own home.

Sunny, warm and inviting, this cottage has so much to

offer its new owner. Recent renovations including leveling

of floors and updating will provide the new owner with a

home theycan enjoyliving in formanyyears tocome.

rwashburton.co.nz/AHB22603

Mid Canterbury Real Estate Limited LICENSED (REAA 2008)

AuctionOnSite

12 Dec 2019 at 6:00pm

View

Saturday2:00 -2:30pm

Sunday11:00 -11:30am

Lynne Bridge

027 410 6216

Jill Quaid

Manager

027 437 6755

Mark Totty

Sales Consultant

027 454 4745

Kim Miller

Sales Consultant

027 236 8627

ChrissyMilne

Sales Consultant

027 290 6606

Margaret Feiss

Sales Consultant

021 751 009

ShirleyFitzgerald

Sales Consultant

027 220 1528

Denise McPherson

Sales Consultant

027 242 7677

Cheryl Fowler

Sales Consultant

027 461 2614

Armand vander Eik

Sales Consultant

021 597 527

Lynne Bridge

Sales Consultant

027 410 6216

Mike Grant ncre

Sales Consultant

021 272 0202

Dulcie Ellis

Sales Consultant

027 629 3260

BruceMcPherson

Sales Consultant

027 438 4250

Justin Waddell

Sales Consultant

027 437 1111

Jarrod Ross

Sales Consultant

027 259 4644

RogerBurdett

Sales Consultant

021 224 4214

96 TancredStreet, Ashburton 03 307 8317 Main Road,Tinwald 03 307 8317

rwashburton.co.nz

36 McMillan Street,Methven 03 303 3032
---
Page 34, Ashburton's The Courier, Thursday 28 November 2019

Local news at www.starnews.co.nz

trusted

trades &services

2019 GUIDE

Need storage?

we CAN STORE it!

Convenient, affordable

self storage solution

Phone 307 0213

•185 Alford Forest Road •behind

2115432

Lubes WOF

Allmechanical repairs

TRIANGLE

GARAGE LTD

Victoria Street,

TheTriangle,Ashburton

Phone: (03) 308 6772

2200008

FROM

ONLY

$ GST

250PLUS

P 03 308 7298

E mark@dpi.co.nz

dpi embroidme ashburton

AMTax SolutionsLtd.

accounting •for small business

• Annual Accounts

• Tax Returns

• GST Returns

• CertifiedXeroAdvisor

Andrea Matthews

027415 9880

2141391

You

Forall your flooring needs

•Supplier and installer of

carpet and tiles

•Re-stretch &repair

•Carpet cleaning

2226670

Phone Mike Gill

027 491 4210

JukeBox Hire

Weddings,21st,

PrivateFunctions

Sound Systems &Lighting Hire

Phone DJ Dave

03 308 5106

027 251 0015

www.soundmanagement.co.nz

2186259

2115406

FREE LEGAL HELP

Help in person by appointment

Thursday9.15am -1.45pm

Ph 0508 CANLAW

(0508 226 529) to makean

appointment.

Help by phone Infoline

03 371 3819 or 0508 226 529

215 Tancred Street,Ashburton

2115411

FOR ALL YOUR

ADVERTISING

REQUIREMENTS,

GIVE

Jann, Roselle or

Karenacall on

3087664

PROFESSIONAL

PORTRAIT AND

COMMERCIAL

PHOTOGRAPHER

PICTURE FRAMING

GALLERY &STUDIO NOW OPEN

179WEST STREET

027310 6521

emmily@emmilyharmer.co.nz

www.emmilyharmer.co.nz

4WDDiesel &ElectricScissorlifts

Rough terrain and electric lifts available

On site collection or deliveryavailable

403 Nowat6Range West Street St,Riverside

PO Box 60, Ashburton 7740

Phone:03308 8155

Mobile: 0273529 909

Email: sales@nee.kiwi.nz

GREAT

RATES

2115433

We service and repair all makes and models

of sewing machines and overlockers

Your local Bernina

service team

PC Repairs, Set-up and Tutoring

Icome to youday or evening!

OPEN 7DAYS9.30am -4.30pm

Main South Road, Tinwald Ashburton | Phone 307 6277

www.anniesquilts.co.nz

2115423

NewPCs

and Laptops

forsale

John Robbie Rachel

2115388

RESIDENTIAL &

COMMERCIAL SPECIALISTS

Phone Quentin andPhil on

027282 8908 or 027282 89099

TOTAL LAWN CARE SERVICES

Lawnmowing and

Lawn Maintenance

Hedges

Garden tidy

David Sewell

Phone 027 4171732 l evenings 3078355

2211636

2224051

Interior and Exterior Painting

Interior Plastering

Wallpapering

THIS SPOTCOULD BE YOURS

Give Jann, Roselle or Karen

acall on 3087664

Gary Flack

PAINTER & DECORATOR

Services include but not limited to:

• Water blasting •Mould and moss treatment

• Minor repairs •Spouting cleaning •Airlessspraying

~Commercial and Residential ~

Phone 03 307 4200 l 027 936 2452

NO OBLIGATION, FREE QUOTES

2139052

2206183

•PCRepairs/Sales •Networks/Servers

•Firewalls/Security •Spyware Clean-up •Training

20 YearsExperience Microso Cerfied Professional

NETWORKS FIREWALLS AND PCS LTD

Robin Johnstone 67 Aitken Street, Ashburton

P: 03 308 1440 C: 027 768 4058

robinbj@xtra.co.nz

2181086

ALL THINGS CANVAS &PVC

*Awnings/Shade sails/Drop blinds *Autoseatcovers &repairs

*Hay &bin covers *PVC covers &repairs

*Ute tonneau covers *Furnitureupholsteryrepairs

*Commercial

PHONE TRAVIS HOWDEN027 9224544

2163842

•Possum merino •Everast •New season'scolours

606 East Street,Ashburton. Phone 308 6243

2224074
---
Local news at www.starnews.co.nz Ashburton's The Courier, Thursday 28 November 2019, Page 35

trusted

trades &services

2019 GUIDE

NEAT GARDENS

Does your garden need monthly

maintenancetokeep it tidy and

looking good through the seasons?

Or perhaps just need aone off tidy

or pruning completed?

We canhelp!

Allgarden wasteremoved

ContactCAROLYN Phone: 027 2675403 or 3082333

Email: cccolt@xtra.co.nz

2231737

2175612

WILSONS

WINDSCREENS

WE WELCOME ZEK

FROM WINSTONES

TO JOIN OUR TEAM

We areyourone stop glass shop for

AUTO and HOUSE

REPAIR or REPLACE 152 Wills Street,

"Your placeorours"

2214033

Ashburton

Ph.308 8485

Forall your tyre requirements,

see the localexperts

•Wheel alignments

•Wheel balancing

197 Wills Street,Ashburton l www.neumannstyres.co.nz

Phone 03 308 6737 (24 hrs –after hours call out applies)

2115435

Professionalqualitycleaning

with apersonaltouch

• Commercial cleans

• Farmhouse cleans

• Carpetcleaning

• Builderscleans

• Windows

• Small gardeningand maintenance jobs

• Wetravelwithin 1hourofAshburton

• 5% discount if paymentmade on dayofclean

Phone Jan-MareeorRichardParker

308 2405 or 027 341 7038 l www.happy-hoovers.co.nz

2181565

Ashburton, Rolleston &Christchurch

•Paving •Irrigation •Lawns

•Planting •Fences

•Pergolas•Waterfeatures

•Outdoor fires

•Raised planters

•Decks •Stonework

•Brick &blockwork

•Artificial grass and more...

Email –Aaron@theoutdoorspace.co.nz

Phone 0800 688365 /021 542402

www.theoutdoorspace.co.nz

2152985

UNDER NEWAshburton

OWNERSHIP

Same exceptional CleaningServices

level of service

&quality cleaning

"we clean to a

standard,

not aprice"

• regular full house cleans

• one off spring cleans

• farm houses

• builders cleans

•

100% LOCAL

03 307 2656

www.ashburtoncleaning.co.nz

2115389

We offer the following:

• Gutter and DownpipeCleaning • Weed Spraying

• Moss,Mould and Lichen Spraying • Spider Proofing

• Gorse and BroomSpraying • FenceLine Spraying

• Chimney/Flue Cleaning $75 • Heat Pump Service$90

MENTION THIS AD WHEN BOOKING FOR A10% DISCOUNT

ON GUTTER AND DOWNPIPE CLEANING

Call Allan on 027 209 5026 an let us know howwecan help

2115385

NOWEXCLUSIVE MID CANTERBURY SUPPLIERS OF

PARTSAND ACCESSORIES

19 J.B. Cullen Drive, Ashburton •Phone 307 8353

info@mainlandcoachwork.co.nz •www.mainlandcoachwork.co.nz

2136774

VISIT OUR STORE AND GET A

TREATFOR YOUR PET

Always in stock:

• Birdaccessories,food &treats

• Rabbitand guinea pig food,bedding &treats

• Cat accessories,collars &treats

• Dog collars,leads,toys, accessories &treats

• Aquarian accessories &food

• Dog crates &cat crates

• Raw,fresh &frozenpet food

• All sorts of dried products

EVERYDAY

SPECIAL

Dog

Rolls

HAVE CASH

FOR PETFOOD

COWS AND

UNWANTED

STOCK

2for

$

12

(3kgeach)

"Come andsee our friendlystaffin-store today"

Diamond Painters and

Decorators Ltd

Qualityinterior and exterior

painting and decorating

• Wall papering • Airless spraying

• Water blasting • Residential and small commercial

• Roofpainting • Freenoobligation quotes

Gutterguardinstallation and gutter cleaning

Phone Duncan 027 370 2453 l Jeanette 027 318 5055

email: diamondpaintersdecorators@gmail.com

ashburtoncranes2015@gmail.com

Solar powerwhenyou need it most

We are experts at installing solar

power systems for motorhomes.

• SOLAR PANELS • BATTERIES • DC MANAGEMENT

• CAMERAS • TV SATELLITE • PUMPS • REFRIGERATION

AA Solar

&SUN POWER PLUS

South Island

4McGregor Lane Ashburton

03 307 4777 -027 442 3103

ashsolarpower@xtra.co.nz

aasolarsouthisland.co.nz

2224063

Phone (03) 307 8996

027 312 5756 l 99 Archibald Street,Tinwald

2231742

2115428

heartlandprint.co.nz

2195560

Buying or Selling?

RESIDENTIAL

LIFESTYLE

PROPERTY

MANAGEMENT

3D VIRTUAL

REALITY TOURS

308 6173
---
Page 36, Ashburton's The Courier, Thursday 28 November 2019

ACCESSORIES are the perfect

Christmas gift. The Bag

Shop has scarves, jewellery,

bags, wallets, luggage

and gift vouchers available.

ALLENTON Pharmacy

exclusive Christmas evening,

Thursday 28th November

from from 6pm -8pm.

Check out our "exclusive

one night deals" on our

Facebook page.

BEAUTIFUL pot plants of all

different colours ready to

compliment any room. Perfect

for alasting thank you

gift at Christmas. Flowers &

Balloons.

BIKES! Layby now for Christmas.

New kids bikes

arrived. Check out now in

store. Great for gifts.

Wheelhaus, 211 Burnett

Street. Phone 307 6443.

BRACELETS, bangles, earrings,

pendants, necklaces,

watches, rings. Selection

includes Kagi and Olivia

Burton collections. Fabulous

gift ideas at Time For

Diamonds, Tancred Street.

BRIARWOOD bags and

wallets in gorgeous

embossed leather are back

in store at Stepping Out.

Available in soft pink and

pale blue. www.steppingout.co.nz

CHECK out the amazing

range of Christmas gift

ideas at Health 2000 in The

Arcade. Something for the

whole family. Burnett

Street, Ashburton. Phone

308 1815.

CHRISTMAS trees to tag or

cut down. Open Saturday's

and after 4pm weekdays.

Closed Sunday's. $25 cash

only. Anthos Gardens, 94

Thews Road. 308 8386.

DRUMMOND & Etheridge

have ahuge range of John

Deere toys and merchandise,

something for everyone!

Pop into our store at

832 East Street for some

great Christmas gift ideas.

Property Brokers Limited Licensed REAA 2008

Kick your own goals

SELL

EAST Street Pharmacy -Pop

in and see our great selection

of gifts for Christmas.

FOSSIL smartwatches -Your

life on your wrist! At

Robilliards Showcase

Jewellers, The Arcade,

Ashburton.

GOLDFISH pond complete

with pumps, filters, waterfall,

ornaments, pool liner.

Approximately 50 fish (all

sizes) sell separately or

complete lot. Phone 308

2235.

GOLFING gifts? Check out

our range of golf merchandise

including balls, tees,

range finders, gloves,

shoes, clothing and

vouchers. Sega Golf, Ashburton

Golf Club.

HARVEY'S Bakehouse for

all your Christmas baking.

Delicious traditional mince

tarts, Christmas cakes and

croissants. Don't miss out,

order now! Creek Road,

phone 308 3398.

HUNTING & Fishing have

great gifts for all the family.

Camping/tramping gear,

mens, womens, kids clothing,

accessories, books

and vouchers. West Street,

Ashburton. Phone 308

5117.

JEWELLERY for that special

person? Check out the

extensive selection of gift

ideas from Ashburton's

only manufacturing jeweller.

Unique Jewellery, 163

Tancred Street, Ashburton.

Phone 307 6663.

MY Boutique shop and warehouse

clearance specials.

Discounts on all garments.

Ladies and menswear. Triangle

Shopping Centre.

Hours 10am -4pm.

SHOES, wallets, bags,

scarves and more. New

handbags in-store this

week. Gift vouchers available.

Style Footwear, 177

Burnett Street, Ashburton.

Phone 308 7620. Ruralco

suppliers.

LPG REFILLS

9kg cylinders

$27.50

Askabout our

deliveryservice

Anysizecylinderfilled

17 Grey St,Ashburton

Phone 307 2707

LPG

REFILLS

Small LPG cylinders

Off Street Parking

Available

Arthur Cates Ltd

26 McNally Street

Ph 308 5397

Riverside Industrial Estate

14 Gerald Street, Lincoln 0800 367 5263

2180822

2223676

OUTDOOR wicker dining

table 2.2m x 1.0m. Brand

new, still in box, cost $600

sell $300. Spinning wheel

excellent condition, many

attachments. Phone 022

644 6019.

PAPER Plus Christmas Shop

open 7days until Christmas

eve. A wonderland of

Christmas inspirations.

Check it out upstairs, 212

East Street. Phone 308

8308.

PETZONE stock a great

selection of fish supplies

including goldfish, tropical

fish, tanks, weed, accessories

and food. Now at 167

Tancred Street, phone 307

8660.

SIMS' Bakery for Christmas

cakes, mince tarts, trifle

sponge, shortbread,

truffles, meringues, lemon

meringue pie &mud cake.

Christmas cake made to

order. Phone 308 5774.

CROSSWORD

ENTERTAINMENT

BUSINESS OWNERS

Build customers,sales and

profits,with us ...

Over 16,065 copies delivered everyThursday

PRINT, ONLINE AND MOBILE 24/7

QUICK PUZZLE NO. 8545

ACROSS

7. Hair oil (12)

8. Miserable(6)

9. Shellfish (6)

10. Mug (7)

12. Reason (5)

15. Centre (5)

16. Frankness (7)

18. Pamper (6)

20. Sudden (6)

22. Annulment (12)

DOWN

1. Game (8)

2. Run away (4)

3. Bird (7)

4. Rap (5)

5. Fish (8)

6. Hades (4)

11. Fuel (8)

13. Artist (8)

14. Competent (7)

17. Horse (5)

19. Formerly (4)

21. Pace (4)

CRYPTIC PUZZLE NO. 8545

ACROSS

7. Be quick to annoy the dog (4,2,6). 8. What we must do

takes time to work (6). 9. Wound up cold and greasy (6).

10. Having done one's hair, hurry into bed (7). 12. The

silver,meantohave shining (5). 15. Grass snake, perhaps

(5). 16. He loads up the dish (7). 18. It doesn'tmean alot

to apostman! (6). 20. Say,again, the man'sname (6). 22.

Of stolen goods, the easiest of all to sell? (3,9).

DOWN

1. One of those followers that Peg always has? (6-2). 2.

Intend to capture the English soldier (4). 3. On the way,

two boys got lost (7). 4. Say it's nogood to strike (5). 5.

One's pet jumper (8). 6. Said it's the new owner of the

shed (4). 11.Mark the urban area where there'sashortage

(8). 13. The past scale of payment, think better than it was

(8). 14. Catching the female bird is more than amerefag!

(7). 17. Complain that the table is wobbly (5). 19.AChuck

White (4). 21. Brand name (4).

SUDOKU

Local news at www.starnews.co.nz

HARD No. 5197

4 1 2 3

9 6 1

8 2 7 4

6 9 8 1 3 7

5 2

5 7 9 6 4 3

4 8 6 2

2 5 9

6 9 3 7

Solution to previous Sudoku

Howto

solve

Sudoku!

Fill the grid

so thatevery

rowand every

3x3 square

containsthe

digitals 1to9

4 9 2 3 8 7 6 5 1

7 8 6 1 2 5 3 4 9

3 5 1 6 9 4 7 8 2

9 2 3 5 1 8 4 7 6

8 4 5 2 7 6 1 9 3

6 1 7 9 4 3 8 2 5

5 6 8 7 3 9 2 1 4

2 3 4 8 5 1 9 6 7

1 7 9 4 6 2 5 3 8

Solution to previous crossword

QUICK PUZZLE NO. 8544 -SOLUTIONS

Across -6,Concentrate. 7, Tall. 8, Threaten. 9, Lesser.

10, Hidden. 12,Hawser.15, Strict. 17, Prudence. 19, Slay.

20,Screwdriver.

Down -1,Analysis. 2, Better. 3,Starch. 4, Saga. 5, Serene.

6, Crave. 11, Derisive. 13, Arrest. 14, Renown. 15,

Sherry.16, Chair.18, Dart.

CRYPTIC PUZZLE NO. 8544 -SOLUTIONS

Across -6,Fair weather.7,Wood (would). 8, Stop-page.

9, St-r-aps (rev.). 10, Former.12, Scales. 15, Rasc-Al. 17,

Dead beat. 19, Lot-h(ot). 20, Ninth letter.

Down -1,Wind-fall. 2, Twists. 3, Lay off. 4, Shop. 5, B-

rogue. 6, (Jack)Frost. 11,Reso-lute. 13, Cl-E-ans. 14, Seethe.

15, Rot-ten. 16, A-St-er.18, DinE (rev.).

ContactJann Thompson 03 308 7664 jann.thompson@ashburtoncourier.co.nz

2207854

WEB ID LIC72967

RAKAIA

144 Railway Terrace

What will you do with this unique property?

Options and possibilities are only limited by

your imagination. Purpose built in 1966 for

the Rakaia Rugby Club this building offers

scale, scope and potential for the new owner.

The land iszoned Residential Cand comprises

two titles, each 1,012m 2 .The building is

approximately 230m 2 and has large openplan

function room, ladies and gents toilets,

kitchen, bar and two storage rooms.

pb.co.nz

DEADLINE SALE

VIEW Byappointment

DEADLINE SALE

Thursday, 12th December, 2019

John Davison

Mobile 027 436 4464

Office 03 325 2889

john.davison@pb.co.nz

2228433

TheMerryLittle

Christmas Market

Sun 1st December

11.30am until 4pm

With an array of stalls join

us for our yearly Christmas

Market, with stalls

showcased throughout the

building you need to mark

this date in your calendar. Wedohave alimited

amount of stalls left so if you wish to be part of

this event email casey@ateventcentre.co.nz

EntryisaGold Coin Donation

BOOK

NOW

Cabarnet

Fri 6th &Sat 7th

December 7:30pm

For more information

www.ateventcentre.co.nz

Full Bodied. Well Rounded

and that is just the lads.

Afun filled night to raise

funds for Variety Theatre

Ashburton featuring the

talented Tainui Kuru, Chris Woods, Heath Walters,

Tony Kelly, Daniel Wilson and Luke Glendining

perform songs from the Bee Gees, Coldplay,

Queen and many, many more.

Theatre Seating $30*

03 3072010 211A Wills Street, Ashburton 7700 admin@ateventcentre.co.nz *Service fees apply

16,065 COPIES EVERYWEEK

2172834
---
Local news at www.starnews.co.nz Ashburton's The Courier, Thursday 28 November 2019, Page 37

WIN acakefor your

special person with

Main South Rd, Tinwald. Phone 308 5774

Birthdays this week

Ryan Galbraith, 29th November,aged 8

Will Boyd, 1st December,aged 14

Legion Apiate,3rd December,aged 8

Magenta McDonnell,3rd December,aged 7

GenevievePolson, 4th December,aged 4

Congratulations to last weeks winner!

Kyle Gare

If youhave aspecial friend who youwould like to see

win acake,put their name in the BirthdayBooks at Sims

Bakery, Tinwald or Ashburton'sThe Courier,199 Burnett St.

N.B: Names forbirthdays next week

must be with us by 10.00am TUESDAY

ONLYONE ENTRYWILL BE SUBMITTED

INTOTHE DRAW PER NOMINEE

JohnMcCabe

Saturday, November 30 @7:30pm

DEVON Tavern, it's your

local! Book your Chistmas

functions with us now. Garden

Bar &Function Room

available. 116 Victoria

Street, Ashburton. Phone

03 308 7129.

AshburtonClub &MSA

266Havelock2

St,Ashburton.

Phone308P

7149

www.ashburtonclub.co.nzw

1968744

ENTERTAINMENT

2231836

080916

WHAT better place for a

public notice than Ashburton's

The Courier! Simply

clip the form for a run-on

advert like this or telephone

us on 308 7664 if you

require adisplay advertisement.

TWO AMIGOS

LES WADE MIKE EDWARDS

COUNTRY • BALLADS • ROCK 'N ROLL

Saturday, November 30, 8pm

BISTRO OPEN THURS, FRI, SATEVENINGS

Courtesy van

runs every

Thursday, Friday

and Saturday

from 4pm

Join the RSA (the friendly club)

12-14 Cox Street, Ashburton. Phone 308 7175

Members, guests and affiliates all welcome

SELL

SOMERSET Grocer available

for your Christmas

functions. Gift items,

hampers and a lot more

available in store.

Somerset House, 161 Burnett

Street. Phone 307

5899.

TOOLS for your bloke this

Christmas? Pop in and

check out the huge selection

of gift ideas now at The

Toolshed, 34 Robinson

Street.

THE Mower Shop offers a

range of outdoor power

equipment including

mowers, chainsaws, line

trimmers, blowers and

much more. 26 Robinson

Street, Riverside. Phone

307 8553.

TOTS To Teens have a

fantastic selection of clothing,

footwear, toys,

babywear & more. Great

Christmas gift ideas including

gift vouchers for boys

and girls. The Arcade, Ashburton.

Phone 307 7340.

ARE you struggling to make

ends meet? Need extra

money? Why not sell your

unwanted items in The

Courier! Everything helps.

THE Courier is the best way

to advertise in Mid Canterbury.

Ask anyone who

regularly advertises with us

and they'll tell you, they get

results.

LOOKING to earn extra

money, even while you're

out walking? Delivery

people required. Phone

The Courier 308 7664.

HOME SERVICES

ROOF COATINGS: All roof

types, specializing in

Decramastic and Long Run

Iron, Coloursteel etc, steep

roofs not a problem. —

Spraymaster 027-433-7780.

2189835

RELIEF milker required for

milkings in January 2020.

Experience preferred. 10

minutes from Ashburton.

Phone 027 262 6288.

OUR newspaper goes into all

RD's so why not advertise

with us! The Courier, best

read in town.

PHOTOGRAPHS

FOR SALE

Have youhad your photo

taken by our reporters?

Order aPhotoToday!

¼Page*

$5

*approx 6x4

A5

$7.50

Being in business

and not advertising

is likewaving in the

dark....

....you know you're therebut

no-one else does!

Don't be left in the dark,

TheCourier Newspaper has the

key to your event, productor

business advertising.

Phone Jann, Roselle or Karen on (03) 308 7664

Email: office@ashburtoncourier.co.nz

A4

$15

Ph: 308 7664

199 Burnett St,Ashburton

Local Building Companyislooking foran

enthusiastic and reliable person to join our team.

We do alarge diverse range of work.

Allapplicants will be considered.

Please email whitingfamily@xtra.co.nz

or phone 0274187955 expressing your interest.

Kiwi Building &MaintenanceLtd

BUY ahome in Mid Canterbury

and receive The Courier

newspaper every week

to your letterbox. Local

news for local people.

2172890

2172896

2233818

ARE you looking for a

flatmate, somewhere to

rent or a boarder? What

better place to advertise

than The Courier.

SITUATIONS VACANT

ASHBURTON COLLEGE

'Individual ExcellenceinaSupportive

Learning Environment'

CleaningTeam

MemberRequired

This is afixed-term(maternitycover) position

to commence3February2020.

Ourcleaning team worksMondaytoFridayfrom

3.05pm to 5.20pm during school term time.

Theteam ensures our facilities aremaintained

to ahigh standard.

Successful applicants will displayself-motivation,

attentiontodetailand reliability.

Allsuccessfulapplicants must undertake Police

vetting requirements.

Previous experience, including operation of afloor

buffer,isdesirable but not necessary.

Applications close noon, Friday6December 2019

submitted by wayofe-mail to Jodee Ross,

Principal's Secretary, at rj@ashcoll.school.nz.

ASHBURTON COLLEGE

'Individual ExcellenceinaSupportive

Learning Environment'

Canteen Manager

We areseeking awell organised person to

lead our canteen team.

Experienceinfood handling is required.

Thesuccessful applicantwill preferably hold a

formal qualification.

Hours of work will be Monday to Friday,

8.00am to 2.30pm during school term time,

to commencelate January2020.

Successful applicants will displayself-motivation,

attentiontodetailand reliability.

Allsuccessfulapplicants must undertake

Policevetting requirements.

Applications close noon, Friday6December 2019

submitted by wayofe-mail to Jodee Ross,

Principal's Secretary, at rj@ashcoll.school.nz.

DAIRYFARM OPPORTUNITY

We arelooking forsomeone who wouldbe

interested in either relief milking or apermanent

position to assist with managementand milking of

500cows,10minutes from Ashburton.

Experiencedpreferred.

Must be NZ residentand a

driving licence is essential.

Further opportunities available if applying fora

permanentposition.

Formoreinformation please contact

Andrew 027 351 3252

Delivered to over 16,065homes everyweek

Phone 308 7664 l office@ashburtoncourier.co.nz

199 Burnett Street,Ashburton

2233894

2233888

2233977

2172790

AshburtonTrust Events Centre •15th April 2020

Book at Ticketdirect
---
Page 38, Ashburton's The Courier, Thursday 28 November 2019

SITUATIONS VACANT

DELIVERYPEOPLE

wanted

to deliver the AshburtonCourier and Realty

everyThursdaydelivering the Ashburton

Courier and Realtyinthe Tinwald (Buckleys

Terrace/Melcombe Street) area.

Phone Leonie on

308 7664 or email

leonie.marsden@ashburtoncourier.co.nz

Are you looking to build arewarding career without having to have adegree or pay

for one?! This position could suit aschool leaver wanting to start and build acareer in

agrowing industry. Ormaybe you are seeking acareer change that offers long term

security, opportunities for further development, and earning potential?

We are seeking an energetic team player tojoin our innovative team. Youwill need to be

willing to undertake training to learn all aspects of the role, bephysically fit, with akeen

eye for detail.

As aTrainee Sock (Hosiery) Technician, you will undergo afull in-house training program

which will enable you tounderstand all documentation and procedures, learn how to

thread up and remove yarn cones from our bank of knitting machines.

Your keen eye for detail will ensure that production quality is in line with specifications

and samples, learning how toidentify and rectify knitting faults, and identify and repair

processing errors.

Youwill learn how tomaintain our bank of knitting machines during production and perform

preventative maintenance/repairs to improve the performance and safety of the equipment.

Over time you will be able to take styles and designs from concept to prototype and

production ready styles, whilst using the appropriate yarns and raw materials.

Preferred skills, values and behaviours:

• Good English language/literacy skills and can apply basic mathematics

• Basic computer skills

• Knowledge and ability to use basic mechanical tools

• A quick learner with the ability to ask questions

• Anhonest hardworking team player with acan-do attitude

• Good reliable timekeeper

Previous textile orsock industry experience isnot essential; as full training and support

will be given to those who show aninterest inlearning the industry

This position is shift-based, shifts can/will change from time to time. The flexibility of

working both day and night shifts is necessary for the successful candidate.

Applicants for this position should have NZ residency oravalid NZwork visa.

Please apply with your CV, 2Employment references and acover letter to:

Tina Moore

General Manager

tina@nzsock.co.nz

POBox, 179, Ashburton

Trainee Sock (Hosiery) Technicians

Methven Area

Caretaker

In this full-time position you will take responsibility for ensuring our public

conveniences,reserves and gardens in the Methvenand Inland Scenic Route

areasare of ahigh standard forour residents and visitorsalike.

To find out moreabout this vacancy and

what the Ashburton District Council has

to offer you -visit our website.

Applications close

Wednesday,4December 2019.

www.ashburtondc.govt.nz/careers

2172548

2234005

SALES POSITION

We areseekingabrightand enthusiastic person to

joinour friendly sales team.

Youwill need to be ateam player with excellent

communication skills, a focus on offering the

very best customer service and making sales.You

also need tobeaself-starter and proactive with

the everyday tasks the business requires. We are

looking for someone who is auser ofand has

confidenceinselling moderntechnology,and has

adesiretosucceed in sales.

Applicants should possess agood senseofhumour,

strong work ethic, and have an eye for detail. We

are looking for someone who is punctual, has the

ability tothink outside the square and who can

work well unsupervised. You will need acurrent

fullNZdriver'slicence andNZresidency.

Theremuneration package includes an hourlyrate

plus commission onsales. Your earning potential

is inyour hands –the more yousell,the moreyou

earn.

If this sounds likethe position foryou,please apply

in writing including acopyofyour CV to:

alister@smithandchurch.co.nz

Sales Position

Smith&ChurchAppliances

PO Box434,Ashburton 7740

To speak in confidenceorfor any

further information please contact:

Alisteron03308 9019or

email alister@smithandchurch.co.nz

FACTORY SPRAY LACQUER

A NEW LOOK

that lasts!

Existing kitchens, doors,

furniture &appliances

CARPET cleaning -Powerful

equipment & fast drying.

Upholstery, mats and rugs.

Experienced owner/operator.

Phone John Cameron

at Supersucker, 027 435

1042 or 308 1677.

ASHBURTON COLLEGE

'IndividualExcellenceinaSupportive

Learning Environment'

LearningSupportAssistant–

StudentLearning Support Unit

Support(both educational and personal cares)

of students with high to very highlearning

and physical needs.

This is afixed-term, term-time only

position forthe 2020 school year,

forcommencement4February2020.

Hours:29hours per week,tobeconfirmed

with successful applicant.

Employmentisunder the SupportStaffinSchool's

CollectiveAgreement, Grade B.

Initial paymentstepcommensurate

with experience.

Applications close noon, Friday6December 2019

Information package enquiries and applications

please contactJodee Ross,Principal's Secretary

Phone (03) 308 4193 ext809

Email: rj@ashcoll.school.nz

TRADE &SERVICES

The Finishing Company CHARLIE'S Blind Cleaning

03 307 8870 2131557 Service -same day service

and repairs. Charlie can

ALTERATIONS, mending supply new blinds and

and trouser hemming, curtain

alterations and curtain Phone 03 307 1936 or 020

tracks, will hang drapes.

making. Call Michelle on 4169 0342.

027 352 7248.

BUILDING and property

COMPUTER problems? For

solutions. For your complete

alteration or reno-

prompt reliable computer

servicing and laser engraving

contact Kelvin, KJB

vation. We project manage

the whole process. Home

Systems Ltd, 4 Ascot

and small commercial.

Place, Ashburton. Phone

Qualified tradesmen.

308 8989. SuperGold discount

card accepted.

Phone Kiwi Building &

Maintenance Ltd. Gary 308

4798, 027 207 1478 or

Cawte 027 418 7955.

COMPUTER repairs, sales,

training, setup -wireless -

networks, spyware cleanup.

On-site day or evening.

LOW FEES. Call Robin

2231651 231651

2233886

CARR'S Chimney Cleaning,

servicing Ashburton and

surrounding districts, $60

per chimney. Phone

Rodney on 03 324 2999

and leave amessage.

Johnstone, Networks

Firewalls & PC's Ltd, 308

1440 or 027 768 4058.

Local news at www.starnews.co.nz

TRADE &SERVICES

Property valuations

Rural, Residential,

Insurance

2230630

InsuranceWork

Ian McBride

REGISTERED VALUER

A.N.Z.I.V. S.P.I.N.Z.

BCom (Agr,VFM)

Phone: 03 308 5468

Mobile: 029 770 5468

Email: ianmcbride308@gmail.com

Specialising in

PANEL BEATING

SPRAY PAINTING&

of

Cars,Trucks,Buses,Horse Floats &Motorhomes,

Caravans,Trailers,Farm Machinery, Jet Boats,

LightEngineering and Aluminium Welding

17 Range Street (IndustrialEstate)

Ashburton

Phone 307 0378 l 0274 274 007

Email: busandtruckbodywork@xtra.co.nz

CONCRETE pavers direct to

you - Best prices, many

sizes, textures and colours

- Paveco, 13 Robinson

Street, Industrial Estate.

CONCRETE Services -

Driveways, paths, patios,

mowing edging. Decorative

Concrete specialist 30

years servicing Canterbury.

Free quotes. No job too big

or small. Phone Paul 021

152 1966.

DENTURES; Dr Peter

Rumping repairs existing

dentures and also provides

new dentures. Phone 027

220 9997.

★★★

ENGRAVING - 311 Engravers

for all your engraving

requirements. Jewellery,

cups, trophies, awards.

Urgent overnight service

available (conditions

apply). Call/text Trudy 022

600 7144, Facebook, email

trudydalton@icloud.com

FLY control and spider

proofing. For all domestic

and industrial pest control

needs phone AJ Kerr at

Ashburton Pest Control on

03 308 8147 or 027 432

5447.

FURNITURE removals -For

all your household removal

needs call Nudges Furniture

Removals, phone 027

224 0609.

HYDRAULICS; Martin

Bennett -Onsite hydraulic

hose repair service 24/7.

Stockists of Aero Quip

hoses &fittings, Commercial

hydraulics, Dynacool,

Spool valves etc., MP Filtri,

Walvoil. Call Justin on 308

9778.

LEGAL work -Phone Peter

Ragg (Ashburton Law) for

house sales, purchases

and refinances. Will call at

home evenings for wills,

enduring powers of

attorney. Phone 308 0327.

PAINTER for all your painting

needs. No job too small,

inside or outside. Professional

friendly service.

Phone Pete 03 308 1672 or

027 200 1619.

PAINTING wallpapering,

plastering - No job too

small. Interior, exterior.

Professional, prompt, competitive

service. Phone

Tony Sivier at Paint It Ashburton

on 021 878 794 or

307 7289.

PLUMBER: Repair or

replace. Taps, shower

mixers, hot water cylinders,

basins, tubs, toilets, vanity

units, leaking pipes. Call

Pete Young, experienced

plumber 027 280 0889 /

307 7582.

2224011

FORALL YOUR

•LawnMowing

•Pruning

•Garden Maintenance

•Gutter Cleaning

•Rubbish Removal

Call us TODAY

foraFREE quote

2223657

Ph 08004546 546

(0800 4jimjim)

ELECTRICIAN: Alterations, PLUMBING, drainlaying,

additions, sheds, garages, extra blocked drains. Phone

plugs, lights etc; small and Lindsay at Doaky's Plumbing

on 027 555 5575 or 308

medium jobs aspecialty; experienced

qualified professional;

reasonable rates. — Call Simon

1248 (Master Plumbers &

021-576-044.

Drainlayers).

SEWING alterations - anything

considered, reasonable

rates. Smoke and pet

free home. Retired wedding

seamstress. Phone Judith

308 3084, Allenton.

SPIDER and fly treatment.

Weed spraying and lawn

treatment. Plus insects.

Call Allan from AA Performance

Services on 027 209

5026. I'll take care of them.

ROOF COATINGS All roof

types, specialising in

Decramastic and Long Run

Iron, Coloursteel etc, steep

roofs not aproblem. Member

Master Painters &

Roofing Association NZ

Spraymaster 0274337780

SUN Control Window Tinting:

Privacy, UV, glare, heat

control for homes -offices -

and cars. Phone Craig

Rogers 307 6347, member

of Master Tinters NZ.

TILING - For all your tiling

requirements including kitchen

splash backs, flooring

etc. (full water proofing),

call Kevin on 027 496 8314.

TINT-A-WINDOW, fade, UV

block, glare, heat control,

safety, security, privacy,

frosting films, solar protective

window films. Free

quotes, 20 years local service.

Phone 0800 368 468

now, Bill Breukelaar,

www.tintawindow.co.nz

TV Reception Specialists for

all your digital freeview

installations and repairs,

TV wall mounting, Smart

TV set-up, home theatre

installation. Call John at

Ashburton TV &Audio Ltd

03 308 7332 or 027 277

1062.

WINDSCREENS and house

glass. Qualified flat glass

glazier now in-house. Anything

glass, give us acall.

Your place or ours. Wilson

Windscreens, 152 Wills

Street, Ashburton. Phone

03 308 8485.
---
Local news at www.starnews.co.nz Ashburton's The Courier, Thursday 28 November 2019, Page 39

HIRE

SCISSORLIFTS for hire.

4WD and slab lifts available

for daily or weekly hire.

Pickup or delivery. Phone

North End Engineering 308

8155 for abooking.

FRUIT &PRODUCE

NEW potatoes from Monday

2nd December. $3 per kg or

2kg for $5. Bennett, 22

Melrose Road. Phone 308

4015.

NEW season potatoes.

Nadine $3 per kg. Phone

308 3195 or 027 531 9103.

81 Elizabeth Street.

FIREWOOD

SAVE $120 on next winters

firewood. 6cubic metres of

Old Man Pine $475. Limited

supply at this price. Free

delivery to most of Mid

Canterbury. Phone 027 297

7563.

GARAGE SALES

CLEARING sale Saturday

30th November, 101 Seafield

Road (opposite Collegiate).

Automotive retail;

Powerbuilt tools, suspension,

steering parts, filters

etc. Lifestyle block misc.,

office furniture, household

items. Eftpos available.

Gates open 8.30am -

11.30am.

GARAGE sale, all sorts. 62

Nursery Drive, Tinwald.

Saturday 9.00am-12.00pm.

SPACE available for next

weeks Courier -bequick!

Talk to us about your advertising

requirements. Phone

308 7664 or call into our

office at 199 Burnett Street,

Ashburton.

FLOAT away at Soul Pods.

Give the gift of relaxation to

yourself and to your loved

one this Christmas. Gift

vouchers available. Phone

021 128 1095.

FOR LEASE

RENT ME!

Ideal as an extra

bedroomoroffice.

Fully insulatedand

double glazed forwarmth.

Threeconvenientsizes:

Standard3.6m x2.4m,

Large 4.2m x2.4m

Xtra-large 4.8m x2.4m.

Visit our displaycabin

418WestStreet or callfor a

freebrochure.

www.justcabins.co.nz

2186028

HEALTH &BEAUTY

0800 58 78 22

SECURE waterproof storage

available. Capacity from

8m 3 to 65m 3 . Prices from

$25 per week. Inspection

invited. Ashburton Safe

Storage 03 308 3086.

STORAGE available, Ashburton.

Self storage, variety

of sizes. Phone Rainbow

Storage 03 307 0401.

STORAGE: Secure self storage

units available long or

short term at Ashburton

Storage Facilities. Contact

us on 0274 36 26 36 or

www.ashburtonstoragefacilities.co.nz

URGENT CARE CLINIC

WEEKEND DUTYDOCTORS

IN THE EVENT OF AN EMERGENCYPHONE 111

Forall other medicalassistanceoutsideofnormal

hours please phone your generalpracticeteam, 24/7,

to speak with ahealth professionalwho will giveyou

free healthadviceonwhattodoorwheretogoifyou

need urgentcare.

If youdon't have aregular general practice, call any

GP team 24/7 forfreetelephone health advice.

All non-residents and visa holders please bring your

passporttoyour surgeryappointment.

New Zealanders'tobring some form of ID.

TheAshburtonDutyPracticefor

Saturday30th November is MooreStreet Medical

Centre, MooreStreet.

Consultations will be by appointmentonly.

To make an appointmentplease phone 308 3066.

Sunday1st December is ThreeRivers Health,

7-11 Allens Road.

Consultations will be by appointmentonly.

To make an appointmentplease phone 308 9139.

Methven and Rakaia: Formedical attention on the

weekend and public holidays please telephone

MethvenMedicalCentreon03302 8105

or Rakaia Medical Centre on 03 303 5002.

Details foraccessing the afterhours services will be on

the answer phone.

PHARMACIES

Wises Pharmacy, CountdownComplex,

East Street will be open on

Saturdaymorning from 9.00am until 1.00pm

Sundaymorning from 10.00am until1.00pm

and from 5.00pm until 7.00pm evenings.

At Geraldine: TheGeraldine Pharmacywill be open

normal trading hours during the week and on Saturday

morning from 9.30am to 12.30pm.

Closed Public Holidays

Forfree24hour Telephone Health Advice

Phone the healthline on 0800 611 116

Broughttoyouby

WE value the service we

provide - The Courier for

advice on how you can

reach potential customers.

Call us today on 308 7664.

CountdownComplex, East Street, Ashburton

Phone: 03 308 6733 Fax: 03 308 6755

MAKE money selling your

unwanted items. Up to 24

words for only $8. Can't get

better than that. The Courier.

Sue Cahill

Full range of engineering supplies and accessories forall your repairs

&maintenance. Kerrick hot &cold waterblasters &industrial vacuum cleaners.

Esseti welders &accessories. Stockists and distributors of Trailer Equipment.

ASHBURTON

South Street, Ashburton PHONE (03) 308-3147

Email office@blacklows.co.nz FREEPHONE 0800 452 522

PUBLIC NOTICE

Call in atalk to the people who know ...

SUE'S PICK

O F T H E W E E K

Blacklows TradeZone Ashburton your locally

owned &operated family business for 66 year

EDUCATIONAL

Forkliftand Dangerous GoodsCourses

NZTAApproved Course Provider,MITO&Competenz Assessor

Classes 2&4,endorsements F&DG

ForkliftF&OSH, Saturdays and other days as requested

Dangerous Goods Course,½day Mondaymornings

CommunityHouse or your worksite

Forfurther information

Phone Christine027 245 2563

DRIVETECH LTD

"TRAININGTOMORROW'S DRIVERS TODAY"

FORKLIFT ENDORSEMENT

(F &OSH)

•FORKLIFT (ATTACHMENTS) U/STD

•FORKLIFT MOUNTED SAFETY

PLATFORM U/STD

NEED ALICENCE?

Heavy Traffic Classes 2, 3, 4&5

LICENCE ENDORSEMENTS

For Wheels, Tracks &Rollers,Dangerous Goods,

Vehicle Recovery & Passenger Training

FREEPHONE0508237 483

or 03 348 8481, 027 510 0684

info@drivetech.co.nz |www.drivetech.co.nz

CARS WANTED

CARS

CARS

WANTED!

WANTED!

DEADOR

ALIVE!

getcash now!

getcashnow!

Damaged, Mechanical, Deregistered,

Crashed, No WOF–NO PROBLEM

Minimum of $100for most cars,

$500 formost vans, utes, trucks,4WDs*

*Conditionsapply.

Call 0800 225508 or text 027540 9813

AUTOMOTIVE SERVICES

PANELBEATING and spray

painting of cars, trucks,

buses, horse floats &

motorhomes, caravans,

trailers, farm machinery, jet

boats. Light engineering

and aluminium welding.

Bus &Truck Bodyworks, 17

Range Street, Ashburton.

Phone 307 0378.

CARS FOR SALE

MITSUBISHI Lancer GLX

automatic 1992, low kms,

new W.O.F. and registration.

Very good condition,

ideal ladies car or collector

$2,450 o.n.o. Phone 308

2235.

2217880

2204413

LOST &FOUND

'LEGEND' multi-sport kayak

paddle, lost Lake Hood

area near Ashburton

Paintball entrance on Saturday

16th November during

afternoon. Any information

appreciated. Phone 03

360 3529.

MISSING from Ashburton

Highway / Blands Road,

possibly in Methven area.

Friendly female cat, tabby

with white chest and paws.

Any info please phone or

text Errol 022 612 8500.

EVERY week, every home.

The Courier, 199 Burnett

Street. Ph 03 308 7664.

XCEL-ARC

NEW! VIPER SYNERGIC

MIG120 XA MIG120V-SP

One knob control.

Easy operation forbeginners.

Small,compact, portable.

$312.17+GST

(formerly SPCA)

Kindly sponsored by

Ph3084432

BONUS HELMET

BONUS ROLL OF

GASLESS WIRE

HURRY ONLY WHILE

STOCKS LAST

THE KITTENS ARE COMING!

Donations of kitten food and milk

would be greatlyappreciated

Please note: We will not accept animals

dropped at door.

Please phone 308 4432

Tues -Sat 9:30am -noon

or 027 332 9286

HospiceMid Canterbury

We can supportyou and

your family to make

everyday count.

Allservices arefree.

180216

2233084

Dealing with alife limiting illness?

Phone 307 8387 or 027 227 8387 email manager@hospicemc.nz

www.hospicemc.nz facebook hospicemidcanterbury

AshburtonBorough School

OSCAR PROGRAMME

Bookings areopen forthe next

School HolidayProgramme

19 &20December 2019 &

6to31January2020

Forthe plan and bookings go to:

https://ashborough.aimyplus.com

MEETINGS

AshburtonPerforming Arts TheatreTrust

Annual General Meeting

will be held on

MondayDecember9th 2019,at6pm,

in the Bradford Room of the

AshburtonTrust EventCentre.

Wills Street,Ashburton

CAVENDISH

CLUB

AGM

Friday, 29 November

2pm

31 Tancred Street

2228584

LOOKING for work or staff?

Advertise in The Courier.

Call 308 7664.

2209051

2225002

2233933

RAKAIA Rugby Club A.G.M.

Monday December 9,

7.30pm at clubrooms.

Members, supporters,

sponsors, coaches, players

welcome to attend. John

Lawler, secretary 03 302

7328.

PERSONAL

ARE YOU 50-PLUS and

looking for alifestyle change?

—Privatearrangements.co.nz

ANIMALS to good homes

every week in The Courier.

Thur 28th &Fri 29th

10.00 Frozen2

10.00 Bellbird

11.40 Fishermans Friends

12.00 Knives Out

PG

M

M

M

1.40

2.20

4.10

4.20

6.00

6.10

8.10

8.10

Ford Vs Ferrari

Frozen2

Frozen2

Ride Like aGirl

Frozen2

Jojo Rabbit

Knives Out

Fishermans Friends

R16

PG

PG

PG

PG

M

M

M

Sat30th

9.45 Frozen2

10.00 Maleficent2

11.35 Ride Like aGirl

12.10 Frozen2

1.20 Bellbird

2.00 Knives Out

4.20 Frozen2

5.00 Ford Vs Ferrari

6.15 Last Christmas

8.00 Knives Out

8.10 Fishermans Friends

Sun 1st

10.00 Frozen2

10.00 Maleficent2

12.00 Frozen2

12.10 Bellbird

1.40

2.00

3.30

3.50

5.35

5.45

7.30

8.10

Ride Like aGirl

Frozen2

Ocean to Sky

Frozen2

Fishermans Friends

Knives Out

Ford Vs Ferrari

Frozen2

Mon2nd &Tues 3rd

10.00 Frozen2

10.00 Fishermans Friends

11.50 Charlies Angels

12.00 Bellbird

1.40 Jojo Rabbit

1.40 Ride Like aGirl

3.30 Knives Out

3.40 Frozen2

5.30 Frozen2

5.45 Fishermans Friends

7.30 Ford Vs Ferrari

7.45 Knives Out

PG

PG

PG

PG

M

M

PG

R16

M

M

M

PG

PG

PG

M

PG

PG

G

PG

M

M

R16

PG

PG

M

M

M

M

PG

M

PG

PG

M

R16

M

Wed4th

10.00 Frozen2

11.00 Fishermans Friends

11.50 Charlies Angels

PG

M

M

1.10

1.40

3.30

Bellbird

Jojo Rabbit

Knives Out

M

M

M

3.40 Frozen2

PG

5.30 Frozen2

PG

5.45 Fishermans Friends M

7.30

7.45

Ford Vs Ferrari

Knives Out

R16

M

NO COMPS

Fishermans Friends,

Frozen2,

Knives Out

DINING - Got a special

occasion coming up? Let

the Hotel Ashburton take

care of you. Phone 03 307

8887 and talk to our experienced

team.

RELIGIOUS NOTICES

PROPHECY and healing

meeting. Jim and Tana Fox

from USA move in Holy

Spirit gifts. All welcome.

Seniors Centre, 29 November,

7pm. 027 767 6594.

Aplace of

Worship,Friendship

&Caring

Aplacewhere

YOU belong

Sundays @10am

CnrCass &

CameronStreets.

Open at other times.

Phone 3087610.

WANTED TO BUY

METAL, heavy etc. Free

light-grade metal in-yard

dumping 9am-5pm weekdays

&9.30-11.30am Saturdays.

Ashburton Scrap

Metal Recyclers, 117 Alford

Forest Road (behind

Placemakers). Phone 03

308 8033 or 027 249 6625.

2143641
---
Page 40, Ashburton's The Courier, Thursday 28 November 2019

Local news at www.starnews.co.nz

USED VEHICLES

Finance

2004 TOYOTA RUNX 2013 HONDACRV 24G

Body kit,alloys,

twin air bags,

ABS, auto

2400cc, 4WD,cruise control,

65,000kms,ABS,alloys, tow

bar,summer ready

$5,990 $22,995

Quality vehicles at affordable prices

Warranties AA Appraised

Finance

Biggest Yard

Best Selection Trade Ins

2012 NISSAN TILDALATIO 2011 TOYOTA RACTIS

Auto,4door

sedan, 33,000kms

1500cc, auto, ABS,

2air bags,new

shape,

26,000kms

2006 NISSAN BLUEBIRD

2000 cc,ABS, roomy,

only 12,000kms,auto,

large family car

2008 MAZDAAXELASPORT

Alloys,ABS,

twin air bags,

2000cc, very

clean and tidy

Duetoarrive

2010 NISSAN NOTE

Twin air bags,

ABS, 1500cc, easy

access,auto,

31,345kms

Duetoarrive

2012 VOLKSWAGEN CC

3000cc, 4door

auto, 91,000kms,

awd, multiple air

bags,leather

$9,995

2010 TOYOTA PRIUS HYBRID

70,000kms,1500cc,

auto, twin

air bags,

ABS

$11,995

$10,995

ENQUIRE

NOW

-about

our range

of rental

vehicles

$8495

Family, Sports, School or SocialTrips

We have 8, 10 &12seaterminivans available.

Cars and 3trucks forsmall or big loads also available.

$17,995

Selling nice cars to nice people

AUTOSLTD & RENTALS

2233892

308 1396

470 West Street,Ashburton

A/H Keith Drummond 0274 367 646

www.atob.co.nz