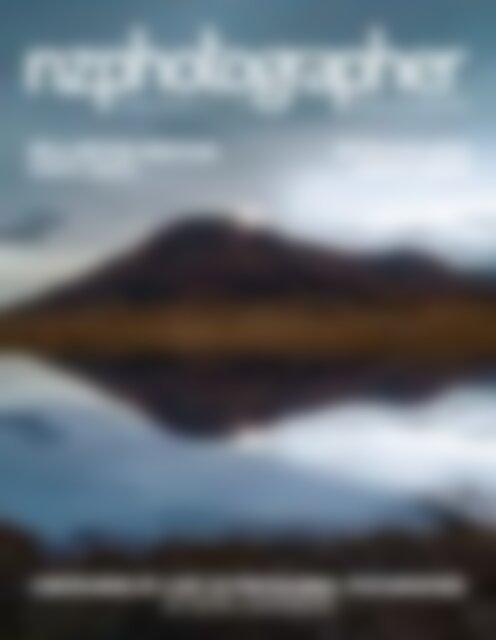 NZPhotographer Issue 26, December 2019
Whether you're an enthusiastic weekend snapper or a beginner who wants to learn more about photography, New Zealand Photographer is the fun and informative e-magazine for all Kiwi camera owners. You can always read the latest issue for free or subscribe to the magazine and get unlimited access to all back issues. Find out more: www.nzphotographer.nz
Whether you're an enthusiastic weekend snapper or a beginner who wants to learn more about photography, New Zealand Photographer is the fun and informative e-magazine for all Kiwi camera owners. You can always read the latest issue for free or subscribe to the magazine and get unlimited access to all back issues. Find out more: www.nzphotographer.nz
SHOW MORE
SHOW LESS
You also want an ePaper? Increase the reach of your titles
YUMPU automatically turns print PDFs into web optimized ePapers that Google loves.
Brought to you by

ISSUE 26, December 2019

WELLINGTON HERITAGE

PHOTO QUEST

INTERVIEW WITH

MARIA LIGAYA

CONFESSIONS OF A NOT SO PROFESSIONAL PHOTOGRAPHER

BY PETER LAURENSON

December 2019 1
---
WELCOME TO ISSUE 26 OF

NZ PHOTOGRAPHER MAGAZINE

HELLO EVERYONE,

I hope you're ready to indulge in

some wanderlust as issue 26 is all

about travel!

We've interviewed travel

photographer Maria Ligaya

whose words and images take us

around the globe to Mongolia,

the Balkans, the Cook Islands,

Chile, and the Philippines which

is where Maria is originally from.

In New Zealand, we head to

Lake Matheson with Brendon,

go to Mokau Beach in Behind

the Shot, and head to a secret

waterfall location with Ken

Wright before returning to the

theme of over-tourism and how

we can protect Aotearoa with

Ann Wheatley.

We also welcome Peter Laurenson back as he reveals more about his style

of shooting in confessions of a not so professional photographer and then

Philip Banks shares his photography journey with us, explaining how joining

photography groups led him to produce his first solo exhibition.

No doubt many of you will be travelling over the holidays too, whether

you're jumping on a flight or hopping in the car, let me take the time to

wish you safe travels and happy holidays wherever you may be.

Emily Goodwin

Editor NZ Photographer

General Info:

NZPhotographer Issue 26

December 2019

Cover Photo

Ashburton Lakes

by Maria Ligaya

Publisher:

Excio Group

Website:

www.excio.io/nzphotographer

Group Director:

Ana Lyubich

Editor:

Emily Goodwin

Graphic Design:

Maksim Topyrkin

Advertising Enquiries:

Email hello@excio.io

2

NZPhotographer
---
REGULAR CONTRIBUTORS

Brendon Gilchrist

Brendon is the man

behind ESB Photography.

He is an avid tramper

who treks from sea to

mountain, and back

again, capturing the

uniqueness of New

Zealand's unforgiving

landscape.

Ana Lyubich

Co-founder of Excio, Ana's

photography journey

started many years ago

with one of the first Kodak

film cameras. She loves

exploring the unseen

macro world and capturing

genuine people's emotions.

Richard Young

Richard is an awardwinning

landscape and

wildlife photographer who

teaches photography

workshops and runs

photography tours. He

is the founder of New

Zealand Photography

Workshops.

nzphotographer nzp_magazine nzp@excio.io

© 2019 NZPhotographer Magazine

All rights reserved. Reproduction of any material appearing in this magazine in

any form is forbidden without prior consent of the publisher.

Disclaimer:

Opinions of contributing authors do not necessarily reflect the

opinion of the magazine.

December 2019

3
---
CONTENTS

INTERVIEW WITH MARIA LIGAYA

10

DRIFTING LEAVES AT MAMAKU

FALLS

BY KEN WRIGHT

6

10

24

30

36

40

44

50

52

BEHIND THE SHOT

with Helen Knight

INTERVIEW WITH MARIA LIGAYA

DRIFTING LEAVES AT MAMAKU FALLS

by Ken Wright

CONFESSIONS OF A NOT SO PROFESSIONAL

PHOTOGRAPHER

By Peter Laurenson

TAONGA FIRST

By Ann Wheatley

A PHOTO JOURNEY THAT LEADS TO

THE CELEBRATION OF WELLINGTON

By Philip Banks

WELLINGTON HERITAGE PHOTO QUEST

WHAT'S THE MOST IMPORTANT THING

IN PHOTOGRAPHY?

By Ana Lyubich

A MIRROR VIEW

by Brendon Gilchrist

24

WHAT'S THE MOST

IMPORTANT THING

IN PHOTOGRAPHY?

BY ANA LYUBICH

52

A MIRROR VIEW

BY BRENDON GILCHRIST

50
---
1 Day Workshops

Learn how to take full creative control

and capture your own unique images.

Different one day options:

Basic Photography

Creative Photography

Long Exposure

Fine Art Printing

2 Day Workshops

Small Group Photography Weekends

Lightroom Processing

Tongariro Landscapes

Kaimai Waterfalls

Cape Palliser

BOP Seascapes & Waterfalls

4 Day Masterclass

Be inspired with our master class

workshops, which are designed to be

educational vacations, where you are

immersed in a specific area

of photography.

Long Exposure - Coromandel.

Landscapes - Aoraki, Mt Cook.

Astro - Aoraki, Mt Cook.

Autumn Colours - Wanaka.

Wildlife - Otago Peninsular

Photography Tours

Taking you to the best locations

the country has to offer.

Draw inspiration from capturing

New Zealand's most iconic

landscapes alongside some of

our more hidden gems.

20 Day: South Island Highlights

20 Day: North Island Highlights

17 Day: Ultimate New Zealand

12 Day: New Zealand Icons

15 Day: New Zealand

Coastal Landscapes

15 Day: North Island Landscapes

7 Day: Wild South Island

7 Day: West Coast Wilderness

7 Day: South Island Beaches

& Bays

7 Day: Volcanic North Island

7 Day: Northland & Bay of Islands

4 Day: Fiordland

www.photographyworkshops.co.nz

info@photographyworkshops.co.nz

021 0845 7322
---
Behind The Shot

with Helen Knight

HELEN, INTRODUCE YOURSELF TO US…

I am 52 years old and a mother of two amazing

young women who are living their lives – My

youngest daughter Ceridwyn is 18 and is studying

law and psychology and my oldest, Ashlynbrenna is

studying to be a personal trainer.

I live in a small town called Te Kuiti with my two cats

and two dogs which are Bull Mastiff x Jack Russel,

overlooking the township.

6

NZPhotographer
---
MOKAU SUNSET DRIFTWOOD

F18, 1/2000s, ISO320

What makes me tick is being in such a beautiful

country and seeing the beautiful birds and wild

scenery that we have – Behind my house is bush

and farmland, every morning I wake up to the

chorus of birds as they bring in a new day.

WHERE'S YOUR FAVOURITE PLACE IN NZ?

My favourite place to visit on the West Coast is

Mokau which is an hours drive from Te Kuiti. It

is beautifully wild with hardly anyone there. My

other favourite coast to visit is Tirohanga outside

of Opotiki on the East Coast, the campsite there

is a fantastic place to stay. Of course, I prefer to

go off season to these places when there are less

people around!

TELL US ABOUT YOUR JOURNEY WITH

PHOTOGRAPHY…

I got into photography in high school when

I was part of the magazine club back in the 80's

where I was a student at Ruapehu college. But

it was during my time living in Tauranga that my

passion evolved and grew and where I became

obsessed with sunrises and sunsets – Getting up

in the early hours to rush to the mount to see

the sunrise. I love the colours that nature brings

to you in those early moments, the golden hour

or blue hour as we call it. It's a time I feel the

power and glory of nature and when you stand

on a beach and see that glorious sun rising and

knowing that New Zealand is the first to see its

rays makes it even more special – It gives you

hope that nothing is all that bad in the world.

It's been a hard year this year with a marriage

breakup and going through 'the change'.

It was extremely debilitating and I suffered

tremendously with depression and anxiety. My

health was affected greatly by the sudden

decrease of hormones, they became so low it

affected my ability to even think and I became

extremely emotional with things. My mothers

death three years ago did not help and my

husband's diagnosis with Huntington's disease

made things even harder. We are still supporting

each other and I am still supporting him but

I needed to find myself and find who I was to

become a better person so that I could be there

for him. I needed to find myself to come right.

I love my photography, it's a passion that runs

deep and has saved my life. At one time I nearly

gave it up but I'm glad I haven't. It takes me

places and I meet amazing people and have a

journey and adventures at the same time.

I love to photograph nature, macro,

astrophotography, city nightscapes, dancers,

and also I love fire photography and have done

quite a bit of work in that area. I would love to

get into photographing ballet dancers and into

extreme sports photography so yes my tastes

vary and I experiment with photography all the

time since technology is forever changing.

December 2019 7
---
I love knowing that I am part of preserving history,

preserving precious moments and creating images

that evoke emotion. It's about giving others

pleasure and preserving our way of life even if it is

just for a split second.

WHAT ARE YOU SHOOTING WITH?

For my landscapes, I have a Nikon D5500 with an

8–20mm lens.

My Canon 80D which alas has died recently, is

currently getting fixed at Canon. For this camera.

I have a 16–300mm Tamron lens, a 150–600mm

Tamron lens and a Samyang 8mm wide angle

which I use for Astro photography. I also have a

Singh-ray Trio filter, a Pluto trigger, and a tripod.

I don't have a lot of funds for photography but will

hopefully be able to upgrade soon – I'd love a full

frame camera one day.

TELL US ABOUT YOUR PHOTO FROM

MOKAU…

The photo was taken on 8 th November 2019, a

Friday night.

The day before this shot I had just found out my

husband was diagnosed with cancer, a tumour

in his throat along with liver disease so a lot of

thoughts were going through my mind, a lot of

emotions.

I have known my husband since I was fifteen years

old. When he was 23 years old he was in a serious

car accident and suffered a chronic back injury

and brain injury. We were married in 1997 and

together for 21 years, so the last year was very hard

as I was his support person. Even though we are

apart it is still very raw and emotional but I am there

always whether he wants it or not.

Combining my anxiety and this latest news, it took

a lot for me to get to Mokau that day but I was

determined as I enjoy spending time at the beach –

I love the power of the waves as it cleanses the soul

and recharges your being.

I did some long exposures that day and noticed

that even more driftwood had washed onto the

beach from when I was last there. It looked like

remnants of decayed skeletons scattered over the

sand, the wind blowing sand across the surface like

those old cowboy movies with the tundra blowing

across the scene.

Whilst taking photos and picking up rubbish (every

place I go I make sure I remove rubbish that I see)

I was having conversations with God and asking

him why is he so cruel, berating him. But as I left

I thanked him for the wonders of nature that he

bestows upon us, the beauty and the power of life.

WHAT ELSE SHOULD WE KNOW ABOUT YOU?

I am half blind from an accident I had as a kid

where a golf ball smashed through my glasses into

my left eye, I'm classed as a monocular driver.

I also have impinged hips and suffer with quite

a bit of pain in my left hip. I'm also half deaf lol

and was born with a rare syndrome along with a

hole in the heart. None of this stops me getting to

places, but what did stop me was the depression

and anxiety – this can be more powerful than any

physical disability you can imagine.

WHAT ARE YOUR PLANS AND DREAMS FOR

THE FUTURE?

Now my girls have grown up I have more time

to concentrate on my photography. My dream

job would be to work for a magazine. I have a

bachelor's in graphic design and photography and

want to get into journalism/photography.

I am taking a cruise next year as an internship on

the Holland American Cruise ship that is travelling

up to Cascade Islands, back down to New

Zealand, Bay of Islands, New Plymouth, Mount

Maunganui, Wellington and Akaroa. Where I will be

writing a blog and promoting the cruise.

I am also currently selling my property in Te Kuiti and

hopefully getting a motorhome where I will spend

the next few years touring New Zealand. I have a

dream to create my own publication too, I have a

few ideas in mind!

WHERE CAN WE FIND YOU ONLINE?

albums.excio.io/profile/knightfire

www.facebook.com/

www.HelenKnightPhotographer

sites.google.com/view/

hellfire-photography/home

BEHIND THE SHOT IS PROUDLY

SUPPORTED BY

8

NZPhotographer
---
Deliver

a larger

impact.

BONUS

Epson Signature

Worthy Sample

Pack**

EPSON PHOTO RANGE – FOR PHOTOGRAPHERS WHO WANT MORE

· Unparalleled print quality: Print at resolutions up to

5760x1440 dpi using advanced Epson all-pigment ink

· Outstanding productivity: Print at high speed with

cost-effective high-capacity ink cartridges up to 200 ml

· Exceptional media support: Print on the widest range of

fine art media including roll based stocks, and thick board*

· Superior control: Print with maximum precision via an advanced

driver, special Black & White Mode, and an optional SpectroProofer*

· Simpler operation: Epson Print Layout Software for rapid production

of a vwide range of outputs for various display requirements

· Lower maintenance: Stable permanent print heads covered by a

comprehensive warranty with optional on-site service extendable up to 5 years

SC-P600 A3+

SC-P5070 A2+

SC-P800 A2+

Learn more, visit www.epson.co.nz

*SureColor P5070 only

**Valid with purchase of SC-P600, SC-P800 from Epson or selected resellers.

December 2019 9
---
Interview with Maria Ligaya

MARIA, WELCOME! LET US KNOW WHO ARE

YOU AND WHAT YOU DO…

I was born and raised in the Philippines but am

currently residing in West Auckland with my partner.

I work as an accounts administrator in one of the top

manufacturing companies in the country and am a

part-time photographer.

I graduated from a course in business management

with honours at the University of the East, Philippines.

I previously worked as a customer service officer in

banking, a budget analyst for government agencies,

and as an office administrator in a real-estate

company.

The course of my life changed entirely when a

window of opportunity opened and I was given a job

offer to work in New Zealand – I packed my bags and

left my home town 10 years ago.

Currently, apart from pursuing my love for travel

photography (I often break the routine of everyday

life to pursue my dreams by travelling to the lesserknown

corners of the globe!), I am working as a

sports photographer for the Beach Series, an 18 week

ocean swim, beach run & stand-up paddle fitness

series held at Takapuna Beach throughout summer.

I am also creating content for a camera phone

brand specialising in designing innovative mobile

photography technology.

WHEN DID PHOTOGRAPHY ENTER YOUR LIFE

AND WHERE HAS THAT PASSION LED YOU?

I knew deep inside me that there was this "hole in

my soul" that would grow deeper and deeper until

I couldn't fill it in. You see, 3 years ago, life hit me hard,

it hurt me, knocked me down and I suffered from mild

depression. It was so difficult to handle; I had some

suicidal thoughts. I know that the only way to fight

through these thoughts is to not surrender, not allow

myself to be consumed by them.

I looked for something to be busy about – I occupied

myself with work but I knew that was just stressing me

out even more. I looked for something more creative

to do, something where I could express myself.

I started sketching and painting some abstracts.

I travelled too and so as to document my travel

experiences, I bought my first DSLR.

I started taking photos of everything that would

remind me of all the moments I had while travelling,

from landscapes to portraits of locals and even

strangers along the road. With every click of the

shutter, I felt alive! As I saw the images I took,

somehow, I could connect with them. I started to take

photos wherever I went and later on, photography,

helped me to express my feelings that are too difficult

to put into words.

Photography became a way of personal healing and

growth. It started to build my self-esteem. It enabled

me to learn more about myself and to see the world

differently. That "hole in my soul" started to be filled in

with so much hope and faith. Photography became a

passion.

I knew I needed to learn more about composition

and the technicalities of photography so I started

attending workshops and took photography courses

online, this earned me a Diploma in Advanced

Photography.

Using what I learned in the course, I applied for

some photography jobs to have extra income. I was

hired to shoot a wedding and then other events like

birthdays. My first proper work as a photographer

was with Express Magazine, New Zealand's leading

LGBT+ media, where I took photos for events and

nightclubs, working there for 3 years. I was also hired

10

NZPhotographer
---
y a professional photographer to assist her with child

photography in her studio.

I am grateful for all these photography opportunities

and never really expected that what had started as

a personal healing process would lead me to where

I am today! In fact, I never really considered myself as

a professional photographer, not even close to that.

I think of myself as a girl with a camera who enjoys

capturing all moments, regardless of whether those

moments are mine or someone else's.

For me, photography is not about the end result,

it's the process. It is something I just love doing, and

sometimes for no reason. It's not something that I do

to please anybody else, I do it because it makes me

happy. Photography is where I feel most alive.

WHAT'S IN YOUR CAMERA BAG?

My camera bodies include a Canon 6D Mark II (fullframe),

a Sony A7 Mark 1 (Mirrorless), and an Olympus

OMD (Micro four-thirds).

For the 6D Mark II I use two Canon lenses, the EF

17–40mm f/4L USM Lens is my walk-around lens and

the EF 70–200mm f/2.8L I use for events and sports

photography, it's good for portraits too.

For my Sony, I use a FE24–240mm f/3.5–6.3 OSS lens,

this is my most versatile lens that I use for my travel

photography. For my Olympus camera, I use a 45mm

F1.8 lens which I use for street photography and

portraits.

Recently, I found myself going back to the basics

and falling in love with film cameras again – It

reminds me of my childhood and why I fell in love

with photography in the first place. I started using an

Olympus Trip 35 and Praktica MTL 5. I love using film

cameras as it allows me to enjoy my surroundings

whilst focusing on creating compositions, not

distracted by the elaborate settings and complexity of

the digital cameras of today.

DO YOU HAVE A FAVOURITE TRAVEL

DESTINATION?

This is one of those questions that I find hard to

answer – It's like having children, you know deep in

your heart that you love and adore all of them!

Personally, my favourite travel destination varies from

the memories that I made, good or bad. Despite

having more than one favourite destination, the place

that has the softest spot in my heart is Mongolia.

KHOGNOKHAN, MONGOLIA

F4, 1/160s, ISO500

December 2019 11
---
YOLYN AM, MONGOLIA

F4, 30s, ISO4000

12

NZPhotographer
---
On our visit to Mongolia, we stayed in a traditional

ger with a host family and received a warm welcome

from the other nomadic families, experiencing their

hospitality, playing with their children, and eating

delightful homemade dishes including "airag", the

Mongolian delicacy of fermented mare's milk. We

joined in with family life; milking the goats, rounding up

and guarding their herds, and driving those herds to

the pastures.

Through living in a ger with the nomadic families, it

gave us genuine insight into a simple and pure way

of living, that despite having no wealth, and not too

many possessions, these people still live a free and

contented life. Life in Mongolia as a nomad can be

harsh sometimes, but we felt that the saying 'less is

more' rang true and this is what led me to question

my own way of living and to reflect on how little stuff

I need in life to be happy; that material things don't

last – I truly believe that the true meaning of happiness

comes from experiences, it comes from the things we

learn, not the things that we own, after all, it was here

in the Gobi Desert that I got engaged!

TELL US ABOUT YOUR MOST RECENT TRIPS

ABROAD THIS YEAR…

I was truly humbled and fortunate that, despite my

busy full-time job, this past couple of months I was

able to travel to the Baltic countries: Latvia, Lithuania,

and Estonia, and right after that, I travelled to one of

the Pacific Island Countries, the Cook Islands.

In the Baltic countries, I travelled with my partner

Greg. We were moving all the time, from one region

to another, and rented a car instead of joining a

group tour so that we could include those off-thebeaten-path

places. We love travelling independently

on our own, apart from the fact that it's cheaper, we

find it challenging and we get to choose our own

route.

Many people underrate the Baltic Countries by

just visiting its capital cities: Riga in Latvia, Vilnius in

Lithuania and Tallinn in Estonia. But the Baltics are

more than just the old towns. We spent a considerable

amount of time exploring the hidden gems that these

countries have to offer, each with its own diverse

landscape, cuisine, and culture.

We ventured to different National Parks of each

country; Gauja National Park, Latvia's first and most

popular park that was established in 1973. Curonian

Spit National park in Lithuania where one of the

highest dunes is located and last but not least,

Lahemaa National Park where the mysterious "bog" is

located.

HILL OF CROSSES, LITHUANIA

F18, 1/200s, ISO250

December 2019 13
---
RELIGIOUS CLOTHING

IN LITHUANIA

F9, 1/250s, ISO320

14

NZPhotographer
---
TRAKAI ISLAND, LITHUANIA

F14, 30s, ISO125

A LADY IN THE ORTHODOX

CHURCH, LITHUANIA

F2.8, 1/40s, ISO2500

December 2019 15
---
TALLINN, ESTONIA

F13, 1/250s, ISO250

HERMANN CASTLE, ESTONIA

F13, 1/250s, ISO250

16

NZPhotographer
---
RIGA, LATVIA

F10, 1320s, ISO200

TURAIDA CASTLE, LATVIA

F5.6, 1/200s, ISO200

December 2019 17
---
One way to understand a country's culture is through its

cuisine. Generally, the Baltic's are all about potatoes and

rye bread but each have their own unique dishes that have

been passed from one generation to another along with

accompanying stories. Some traditional dishes we tried

included Latvia's National Dish – a stew made from grey peas

mixed with fried bacon and pork. We also sampled black

bread and the classic sauerkraut soup. Lithuania is known

for its potato dumplings – hearty, football-shaped dumplings

made with grated raw potatoes and rice boiled potatoes.

They are made in either a curd cheese variety served with a

sour cream-milk sauce or a meat variety. In Estonia, they love

to pickle things, and of course, there's the blood sausage.

Religion is another fascinating aspect of the Baltic's. While

Christianity is the main religion, it was interesting to see the

several denominations and differences between churches,

from Catholic to Lutheran to Orthodox and so on.

The journey through the Baltics, as we tried to encompass as

much as we could, certainly gave us a better understanding

of the region's past. From the atrocities of the concentration

camps around Riga towards the end of WWII, to life under

the Soviet Union which is still remnant in the buildings and ruins

both the towns and the countryside. More recently, to the

fight for Sovereignty in the early 90s as the people peacefully

demonstrated by forming a human chain from Tallinn to

Riga and on to Vilnius, what famously came to be called the

"Baltic Way".

With the Cook Islands, everybody knows that this country is

rich in beautiful lagoons, crystal clear beaches, and gorgeous

resorts. Many are mistaken with the idea that once they've

seen one country in the Pacific Islands, you've seen them all.

While it is true that the seascapes might be no different from

one another, their culture and traditions are very unique.

We immersed ourselves deeply in the culture of the Cook

Islands by attending their church service on Sundays. This is

not hard to do as most resorts offer this kind of experience as

part of their package but we went on our own. It was nice

to observe the locals dressed up in their best brightest white

or colourful outfits as they entered the sacred place. Women

wore a variety of headdresses like a hat and a beautiful

garland of flowers. When mass started, we let ourselves be

carried away with the choir's angelic voices. After the service,

we were invited for morning tea in which the local people

bring food they prepare at home to be shared with others

after the service.

While on the island of Rarotonga, we were able to witness

a unique celebration called "NUKU" – a celebration of the

arrival of Christianity. Churches compete against each other

to put on the best show. Islanders dress up, sing, dance, play

music, perform some stage dramas and generally have a

great time.

We wouldn't have been able to experience these

traditions if we had just stayed in the comfortable confines

of the hotel resorts – Yes, it is important to relax and enjoy

yourself while travelling, but it is more meaningful if you

learn a country's customs and culture as you can then

also learn to appreciate your own.

ONE FOOT ISLAND, AITUTAKI,

COOK ISLANDS

F5.6, 1/1000s, ISO100

18

NZPhotographer
---
WOMAN READING THE BIBLE

DURING THE SUNDAY MASS,

RAROTONGA, COOK ISLANDS

F2.8, 1/400s, ISO500

NUKU, A GOSPEL CELEBRATION

IN THE COOK ISLANDS

F2.8, 1/250s ISO250

December 2019 19
---
WHERE ARE YOUR FAVOURITE PLACES TO

TAKE PHOTOS IN THE PHILIPPINES?

Cultural landscapes of the Philippine are

very diverse, a treasure trove for nature and

adventure lovers, and the reason why I am proud

of where I came from.

When I last visited home, one of the places

I loved photographing was Boracay Island. This

small island in the central Philippines is known for

its beach resorts and diverse marine life, and of

course, it is a prominent place for sunsets.

For a more distinct landscape, I love the place

called 'The Chocolate Hills", a geological

formation in the central Visayas region of the

country that has been dubbed the "8th Wonder

of the World". During the dry season, the grasscovered

hills dry up and turn chocolate brown.

This transforms the area into seemingly endless

rows of "chocolate kisses".

For more cultural and artistic photo possibilities,

Ilocos Region is the place to go. It's known for

its historic sites and the well-preserved Spanish

colonial city. It holds a special place in my own

heart as it's the birthplace of my late Father.

From time to time, I visit my Mother's birthplace,

Pangasinan which is located in the Northern

Philippines. This is where the infamous "Hundred

Islands" can be found. The distinct mushroomshaped

islands (caused by years of ocean waves

and eroding action) are believed to be over two

million years old, very interesting to photograph.

HOW ABOUT A FAVOURITE PLACE IN NZ

FOR PHOTOS?

I love going to the South Island, specifically

Aoraki National Park which I only discovered

recently. Notable for its mountains, lakes,

and glaciers, there are endless photography

opportunities due to the sheer natural

landscapes with so many trails to explore so

many great things to experience.

On our visit, we took a caravan and drove around

the Aoraki. We hiked the Sealy Tarns track which

is called the "Stairway to Heaven" and traversed

the Tasman lake. I have a very sentimental

connection and memory with Aoraki, it being the

highest mountain in NZ but also the first mountain

in NZ that I hiked during the time I was depressed.

WHAT ARE YOUR THOUGHTS ON OVER-

TOURISM AND INSTA-WORTHY IMAGES?

Over-tourism has been an issue for several years

now and while social media does play a role

in contributing to the problem, it cannot be

held solely responsible as humans, by nature,

can become destructive, ignorant, and trash

the environment. Social media and the culture

of taking a selfie at a specific location has just

magnified these consequences to different

levels.

Most people choose their travel destinations

based on what they see on social media and

try to be "cool" by visiting what is trending

now. Once they reach the destination, they

try to recreate the image that they saw, and if

they fail, they feel frustrated. They forget that

the experience of just being there is more than

enough. In this case, I think social media has

become a tool to feed the ego – the inclination

to show the world that they live a perfect life by

collecting photos for their Instagram feed instead

of collecting moments and experiences.

At the end of the day, it is up to each

individual to decide whether they want to be

a responsible traveller or not. We can choose

to have a positive impact on the places we

visit and similarly choose to share enriching and

informative content on social media. This can be

in the form of a story, or a local interaction or a

personal experience. This, in turn, will influence

people to experience rather than search for

"insta-worthy" destinations around the globe.

Social media is just a tool, and like any tool, it

can be misused by people.

TELL US ABOUT YOUR TRIP TO CHILE AND

YOUR INVOLVEMENT WITH TRAVOLUTION

TRAVEL…

When I was planning my trip to Chile, I was

looking to have an authentic and communitybased

experience. I stumbled upon Travolution

Travel and read about their mission and goal

which instantly appealed to me – They work to

promote locally-led projects and communities

by giving visitors the chance to meet local

people and experience authentic cultural

exchange. It's about supporting local products

and homestays that have a direct benefit for the

local community, as well as travellers.

On arriving in the Atacama Region of Chile

through Travolution, we had the opportunity

of staying with a family in the tiny little village

of Coyo. It is here that many of the indigenous

people known as the "Lickan Antay" live. From

experiencing the Ancestral Llama Caravan, to

learning about the crops grown locally and trying

out several local dishes, the activities proved to

be a wholesome experience as we were able

to connect with the local culture on a different

level.

20

NZPhotographer
---
AORAKI NZ

F4, 25s, ISO4000

December 2019 21
---
I share Travolution's vision of travel where tourism

can be used to create a positive effect on the

community and encourage fellow travellers

to be more conscious of their decisions and

contributions. This was the main reason behind

my desire to publicise the company through my

social media accounts.

WHAT'S NEXT FOR YOU?

Next year, my partner and I are going back to

South America, this time to visit Argentina and

Uruguay, which I am very excited about. We also

have plans to go to Iran, later in the year.

CAN YOU LEAVE US WITH A TOP TRAVEL

TIP?

Let go of expectations. It's easy to presume

too much nowadays, with so many amazing

"ïnstagrammable" images posted throughout

social media. We tend to expect a certain

landmark to be the same, only to be

disappointed because it is far too different

from what we saw online. We forget that the

experience to be right there in the moment is far

more important than taking the same image we

saw on social media.

WHERE CAN WE FIND YOU ONLINE?

www.instagram.com/mycameraandbackpack

www.facebook.com/marialigayaphotography

www.marialigaya.com

albums.excio.io/profile/Maria Ligaya

Photography

LUCIA COOKING DIFFERENT TYPES

OF CORN, CHILE

F5.6, 1/100s, ISO200

22

NZPhotographer
---
SANDRA, ONE OF THE

LICKAN ANTAY IN CHILE

F5.6, 1/100s, ISO200

2020, 1 Day Dates:

Auckland Workshop

NZPW Tutor Ken Wright

29th Feburary, 4th July

& 24th October

Wellington Workshop

NZPW Tutor Richard Young

2nd Feburary, 31st May

& 4th October

Long Exposure Workshop

This is a one day coastal and long exposure photography workshop at

Murrys Bay on Aucklands's North Shore or Wellington's South Coast.

On this workshop, you'll learn how to shoot dramatic and awe-inspiring

coastal landscapes and make long exposure photographs.

This is designed as an intermediate-advanced workshop.

www.photographyworkshops.co.nz

info@photographyworkshops.co.nz

021 0845 7322

December 2019 23
---
Drifting Leaves at Mamaku Falls

by Ken Wright

24

NZPhotographer
---
MAMAKU GREEN DRIFT

F14, 0.5s, ISO100

December 2019 25
---
The first time that I saw this location I was blown away,

we spent an hour walking there and it poured with

rain so I didn't get a shot. The next day we tried again

and got perfect light.

"Mamaku Falls" is about 1.5m high and about

6m wide. The cool thing about this location is the

foreground, perfect for my style of photography. I

place a lot of emphasis on the foreground as I want

the viewer to feel like they can walk into the shot.

The foreground in this location is made up of a rock

plate/shelf that over the years has split like a crazy

paving effect. The water runs across the surface at a

depth of 100mm, ankle deep but in the cracks it can

be anything from 500mm to 1.5m deep.

I have shot this fall so many times now that it has

become a challenge to find a new angle.

The concept of drifting leaves came from one

particular workshop, we had already captured the

effect with falling leaves so we decided to add more

to enhance the foreground and show the flow of

water. This created a nice dynamic green effect

drifting out of the foreground. The exposure length

was half a second and shot on burst mode to capture

the leaves as they flow out of the scene. The final

image is a blend of 4 images.

MAMAKU ORANGE

F10, 0.8s, ISO50

26

NZPhotographer
---
On a later workshop we tried to replicate the effect

with autumn leaves, to stand out from the chocolate

brown rocks.

If you Google the name in the hope of finding the

location you will end up at my images. "Mamaku

Falls" is the name given to the location by myself and

the ranger that helped me find it, it's not marked on

the NZ Too Map.

We so called it because each time we have been

there the light falls on the single Mamaku Fern above

the falls. To our knowledge it does not have an official

name.

Each time I go back to this location its a challenge to

get better images than I have gotten before.

For me, this is my favourite location in the Kaimai

Mamaku Forest Conservation Park and it's one of

several locations that I use for our remote Kaimai

Waterfalls Workshop. Join me in discovering this

magical place, and others, in May or July 2020 -

Workshops are limited to 4 people and you will need

a good level of fitness to manage the several river

crossing required to get there but the struggle is well

worth it!

December 2019 27
---
Want your photography

to have impact?

Join Excio today for global reach

and showcase your message.

We're different from magazines and social media.

Take a look

28

www.excio.io

NZPhotographer
---
excio.io

#photographyforgood

December 2019 29
---
CONFESSIONS OF A NOT SO

PROFESSIONAL PHOTOGRAPHER

By Peter Laurenson

What defines a 'professional' photographer; and is computer-based

post-processing cheating?

In this age of digital pixels and instantaneous social

media-based, often free-to-air, self publication it's

never been harder to make a living from professional

photography. While I did start my own journey into

photography with some manual photography night

classes before I set off on my O.E back in 1988, that

hardly qualified me as a professional. Probably like

most photographers, I'm essentially self taught, both

in terms of taking pictures and, since the advent of

digital, post-processing them.

As the years have passed and my photographic

experience and knowledge have grown, I've

sometimes pondered what the gap is between

me and 'real professionals'. Certainly, my gear has

never been top end. Today I own a Nikon D750.

It's a beautiful camera, but still there are more

'professional' models within the Nikon stable, the

D850 and Z7 to name just two. While I've been able

to win photo competition awards, have had quite a

few of my images published in various publications

and sell some of my images in their own right and as

featured in calendars, I certainly don't earn anywhere

near enough from my photography to make a viable

living. Perhaps that's the only meaningful measure to

determine whether someone is 'professional' or not?

But it's also worth considering reputable professional

photographic practises. Aside from using top-end

professional gear, other professional practises that come

to my mind include frequent use of a sturdy tripod (and

cable or wireless shutter release), use of fixed focal

length specialist lenses, use of filters, being very selective

about light conditions, shooting in manual mode, usually

using spot metering, rather than leaving some shooting

decisions to in-camera programming; and shooting

in Camera RAW mode, along with having the skills to

effectively process those files. I'm sure there are some

other practises I should list too – and if I was a 'true

professional' I'd know what they are!

Part of me would like to be recognised as a

professional photographer. Put that down to artistic

pride and ego mainly. Sure, more money would

be nice, but really it comes down to the extent

that others appreciate my work. Rightly or wrongly,

that does matter to me and being recognised as a

'professional' might be a nice manifestation of that

appreciation. But I'm sufficiently honest with myself to

know that I fall short against my list. Another interesting

self observation though, is that my shortfalls are mostly

by choice. I could actually adopt more professional

photographic practises more of the time, but I choose

not to. Why? In my case, because the sheer pleasure

I get from taking and processing photos in the way I

choose to overrides my ego frailties. Let me explain...

The origins of my photography lie in quite fast-paced,

constant backpacker travel through mostly developing

countries. In this mode, carrying a lot of camera gear is

a significant burden in terms of more than just weight.

The risk of theft increases. The degree of spontaneity

reduces. Consequently I mostly shot hand-held, relying

on a wide ranging zoom lens. Lazy I know, but I was able

30

NZPhotographer
---
to take a lot of interesting photos, many times where

I couldn't have if I'd been more technically diligent.

It was an enthralling journey of discovery, where my

photography never became a travel burden.

My photography began before the digital age, but

while I was a manual mode photographer, I only ever

used colour print and slide film and never gained any

darkroom experience. Before pixels, with no back of

camera screens for instant feedback, I had to be on

top of my exposure settings, otherwise costs and/or

disappointments mounted up. But even then, handing

my film over to a lab sometimes ended in frustration.

Use of old chemicals could really mess things up. And

there was a big gap in my ability to enjoy complete

control of the end result. Back then I think professionals

were exerting more overall control on their end results

than me, either by processing their own black and

white film or working much more closely with only

selected top-end processing labs.

But then along came digital. According to Mr Google

the first DSLR was Minolta's 1.75 megapixel RD-175 in

1995. Nikon's 2.73 megapixel D1 followed in 1999 – the

first digital to be built from the ground up by a major

player. I bought my first DSLR in 2005 - a 6.1 megapixel

Nikon D70S, replacing my Nikon F801S film camera. I

really loved my F801S, but felt that digital technology

had progressed sufficiently for amateurs like me to get

on the bandwagon. Immediately I enjoyed the ability

to adjust ISO frame by frame if required - two main

exposure tools had just jumped from two to three.

Having instantaneous back-of-camera feedback was

also a big development, initially probably just making

me a bit lazier about exposure setting. Otherwise, I

continued to shoot pretty much as I had done with

my F801S. To begin with, I was oblivious to perhaps

the biggest game changer of all - while the D70S

could shoot in Camera RAW, I had no post-processing

knowledge and just stuck with jpegs.

Post-processing seeped into my photography skill

set over the next five or so years. In about 2010 I got

my first edition of Photoshop and since then, have

never looked back. Even then though, it took until mid

2014 for me to click on to the power and wonderful

freedom of RAW files. Finally I was starting to build

post-processing skills that approached what the

professionals were applying.

25.4x25.4mm MOS sensor

20.1 megapixels

24-360 F8.8 lens

340g

35.9x24mm CMOS sensor

24.3 megapixels

24-120 flat F4 lens

1450g

These days, a lot of my photography occurs on

mountain slopes in places where a big heavy DSLR

tends to stay in my pack. Tramping and climbing have

largely replaced backpacker travel, but my need to

travel light and remain photographically spontaneous

and opportunistic remains the same. While I love using

my Nikon D750, I frequently use a mirrorless compact

camera (currently a Lumix TZ220) in the hills.

'Shadow and Light' is a stitched image, created from

8 hand-heldportrait shots, taken on my Lumix TZ220. It

is a dawn view of the top 600 metres of Mt Taranaki

(New Zealand), taken from the southern rim of

Fantham's Peak. Syme Hut sits to the left of the summit

cone, which has projected a shadow out to the far

left. Mounts Tongariro, Ngauruhoe and Ruapehu are

SHADOW AND LIGHT

F8, 1/160s, ISO125, 24mm

December 2019 31
---
silhouetted on the right skyline. It was my fifth trip up

this route and the best light so far. I've printed this

image at 1.2m wide by 40cm high and, in terms of

colour and sharpness, it stands up very well.

Digitally enabled mirrorless technology has really

come of age. The amount of photographic power

that can be packed into a space the size of a

sardine can is quite astounding. While some may

deem my gear 'amateurish', when using my TZ220

I still shoot Camera RAW files using spot meter, with

manual settings. The TZ220's three quarter sensor's 20

megapixel files aren't quite as nice as my D750's full

fame 24 megapixel files, but they're still pretty good –

easily sufficient for print publication. The TZ220's built

in Leica optical zoom range is outrageous – 24mm

to 360mm. Of course, there's no such thing as a free

lunch - the higher end of the zoom is not great, but

image sharpness is, for the most part, not an issue

and it being so tiny, there's no need for a heavy-duty

tripod.

More generally, whether I'm using my TZ220 or D750,

I use a tripod less than many professionals do. Good

hand-held technique and being able to dial up the

ISO enable this, especially with my D750, which is very

good in low light. As a consequence I am able to

capture a lot more action than some do and, when

with non-photographers, I tend to hold tramping

progress up less.

In my shot 'Autumn Reflection' which shows a small

lake between Cromwell and Clyde in Central

Otago, a tripod would have been impossible as I

was balanced on driftwood right on the shore line.

In post processing I used adjustment layering on

the foreground as a graduated filter to allow the

foreground detail and colour to come up, balancing

the top and bottom halves.

'Singapore Light Show' is another case in which I

didn't use a tripod. It shows (from left to right) the Helix

Bridge, Marina Bay Sands, the Art Science Museum,

and Marina Bay. When I took it, I was on my way back

to the hotel with my family after dinner and had no

time to set up a tripod. But because the D750 is so

good in low light at higher ISO settings, I was able to

take this hand held stitch of 2 landscape shots.

However, when I want to catch water movement

such as in my shot 'Bridal Veil' a tripod is usually

essential. This shot was taken on my Nikon D750 and

shows the view at dawn from Tunnel View (1,400m)

looking east to Bridal Veil Fall.

BRIDAL VEIL FALL

YOSEMITE NATIONAL PARK, USA

F22, 5s, ISO100, 174mm

32

NZPhotographer
---
AUTUMN REFLECTION

F16, 1/60s, ISO100, 24mm

SINGAPORE LIGHT SHOW

F5, 1/20s, ISO1000, 24mm

December 2019 33
---
I shoot a lot of panoramic series that I stitch together

in Photoshop later. I often find that a standard

landscape or portrait format is too limiting when trying

to capture the vast magnificence of our natural

world. Stitching also brings the advantage of creating

bigger files that can be printed larger or more freely

cropped. Stitched panoramas don't have to be

restricted to grand horizontal landscapes either.

Vertical pans enable me to capture wider angled

images than a single wide angle shot can. I've got

some really interesting results in human-made and

urban settings too, although subject movement, hard

angles and straight lines can present challenges.

There is certainly an art to getting the most from a

stitched series. It adds another whole dimension to my

photography which I love.

Aside from a ubiquitous UV filter (for lens protection)

I don't use lens filters. I've tried them and hence

understand their capabilities, but I find using

adjustment layering in Photoshop to be more versatile

than any set of filters. Is this cheating? One method

uses glass on the end of the camera while the other

achieves the same or perhaps better results on

screen. Both options are forms of image manipulation.

My view is that it's the end result that counts and using

either method requires skill and artistic judgement.

When considering the validity of post-processing

techniques, here's a useful analogy from the alpine

world. Although crampons, as a highly energy efficient

alternative to cutting steps, had been in use in the

European Alps well before the end of the nineteenth

century, it wasn't until after WWI that they started

to be accepted by most serious climbers in New

Zealand. Until then 'old-school' and 'purist' climbers

deemed the use of crampons to be unsporting and

cheating. Today, in the photographic world, some

(probably more novices than professionals) still apply

this sentiment to post-processing. I'm the first to

concede that 21 st Century computer-enabled postprocessing

makes it easier to create really stunning

images. But let's not forget that the professionals were

post-processing long before the digital age – it's just

that darkrooms have been replaced by computers.

Yes, I think computer-based post-processing is much

more accessible (and versatile) than dark room or lab

post-processing was, but to do computer-based postprocessing

well still demands a very wide range of

technical and artistic skills and judgement.

The photo 'Incoming' is a stitch of 2 landscape shots

taken on my Nikon P7800. It shows me sheltering from

snow squalls at about 2,000m on Mount Taranaki with

two of my sons. Those crampons came in handy that

day! I couldn't have taken this image in one wide

angle frame as I was too close to my own feet but

stitching 2 made it possible.

Today the preferred base image file format for

professionals is RAW. In its unprocessed state a

RAW file is dull and flat, but once you open it in

Camera RAW, a whole world of artistic potential is

released. Of course, if you want to create images of

a 'professional' standard, then once you've chosen

your subject, getting things right in camera is still

crucial. But today more than ever, that is just the

first step. Digitisation in photography has introduced

a new and sometimes alternative set of tools and

techniques open to photographers. And because

of that, in my perhaps 'not so professional' opinion,

photography today has never been more enriching.

INCOMING

F5, 1/1250, ISO100, 28mm

34

NZPhotographer
---
December 2019 35
---
WAKATIPU BLUE

F11, 1/800s, ISO200

Taonga First

By Ann Wheatley

Ilive in Nelson, at the top of the South Island, Te

Waipounamu, a region blessed with beautiful places.

To the east, we have the Marlborough Sounds, ancient

sunken river valleys now filled with the waters of the

Pacific Ocean. Golden Bay lies to the north; a paradise

of pristine beaches, rugged mountains, and scenic river

valleys. To the west stretches a wildly beautiful coastline

and the huge Kahurangi wilderness. The snow-capped

spine of the Southern Alps divides Te Waipounamu into

a huge diversity of landscapes, including ten of New

Zealand's fourteen national parks. There's a lot of space

and beauty to contemplate.

While I often photograph landscapes, I wouldn't call

myself a landscape photographer. Masters like Adris

Apse set the bar too high, spending days or even

months waiting for the right moment to realise an idea

imagined in the mind's eye. I make pictures to honour

visual experiences of personal significance. A particular

angle, play of light or juxtaposition of objects reveals

something previously hidden, or something that feels

mysterious, surreal, whimsical or magical, and I'm

moved to raise the camera to my eye. Other times

I make a photograph because the subject arouses

strong emotion or tickles my curiosity. I may itch to know

its origin or history, and post-processing then includes

research to learn as much as I can. Magic, mystery,

wonder and awe are everywhere, if you slow down,

take the time to be present, and to look deeply.

As someone who started with an Olympus OM1 in

1977 and switched to digital in 2009, I can't help but

notice huge changes in every aspect of photography.

With affordable, high quality digital cameras now so

widely available, almost everyone makes pictures. This,

more than anything else, has transformed the world of

photography in ways that were once unimaginable.

In the past, professional nature and landscape

photographers were a small tight-knit community.

Novice photographers would typically spend time with

someone they knew to learn the art and the craft.

Mentors would also pass on the ethics of stewardship

and a deep respect for nature, but with the advent

of phone cameras, social media and the sharing of

GPS coordinates, mentoring is becoming much less

common. Nowadays, technology places decent quality

photographs within reach for many more people. We

can look up a location online, find it using GPS, and visit

without learning anything about the fragility of the area,

why it's special and unique, or how to protect it.

Huge numbers of people now flock to some locations

popularised through social media. Visitor numbers to

Aoraki/Mt. Cook, New Zealand's highest peak, rose 11%

in the past year, reaching one million for the first time.

Visitors to the Blue Pools in Mt. Aspiring National Park

skyrocketed from 3,400 to more than 100,000 in just three

years. In an interview with the BBC, a spokesperson from

the Department of Conservation revealed that visitor

36

NZPhotographer
---
numbers to Roy's Peak had increased by 12% to 73,000

between 2016 and 2018, because the spot had become

a "quintessential icon for the Wanaka region through

social media." The #royspeak hashtag on Instagram had

just over 56,000 images in August 2019 and just under

58,000 by November.

Around the world, some sensitive locations are suffering

damage from the sheer number of visitors, but also

from the behaviour of people who'll do anything to

get "the" shot to post on social media. They trespass,

ignore regulations, trample vegetation, create new trails,

compact fragile soils and harass wildlife. In cities and

towns, cultural locations are suffering similar fates.

Many of the pictures and posts on social media are

mindful, but others feel like a visual bomb, all about "me,

me, me." More than a few people need to show off their

travel images to feel important, to fit in, or as a symbol

of status. This continues unabated, despite ongoing

revelations about depression and anxiety caused by

unhealthy social media use.

Internationally, photography collectives, indigenous

groups, governments and the private sector have

launched campaigns to educate people about the

downside of the photography/social media/tourism

nexus and to recommend appropriate behaviours. In

New Zealand the Tiaki Promise is a wonderful example.

Tiaki is a powerful Māori word, meaning to care and

protect, to look after people and place. The Tiaki Promise

is a commitment to care for New Zealand and is meant

to instill a sense of responsibility and a commitment by

international and domestic tourists to good behaviour.

Another example, initiated by photographers for

photographers, is the Nature First Alliance started by the

Nature Photographer's Network. The Alliance reminds

us that historically, photography has been a vital tool in

environmental protection across the world – promoting

the conservation of wild places and encouraging

positive stewardship practices – leaving a legacy that

makes it possible for photographers today, and many

others, to enjoy protected wild places.

With the rise of social media making it so easy to

share photos and location information; the increased

popularity of photography; the steep increase in

visits to public lands and wild places; and the lack of

widespread knowledge of basic stewardship practices

and outdoor ethics, the Alliance is concerned that

visitors, including photographers, are causing worsening

negative impacts on nature. While these developments

may seem separate from photography, many pressures

on wild lands stem from people being drawn to them

because of inspiring photographs and cinematography.

While most photographers haven't intentionally

contributed to negative impacts, they urge each of us to

acknowledge our potential contribution to these issues,

and to take responsibility for solving them in a positive

way.

DRESSED IN A BRYOPHYTE COAT

FENIAN TRACK, KAHURANGI

NATIONAL PARK

F2.8, 1/125s, ISO500

December 2019 37
---
THE ALLIANCE PROMOTES SEVEN NATURE FIRST

PRINCIPLES:

• Prioritize the well-being of nature over photography

• Educate yourself about the places you photograph

• Reflect on the possible impact of your actions

• Use discretion if sharing locations

• Know and follow rules and regulations

• Follow Leave No Trace principles and strive to leave

places better than you found them

• Actively promote and educate others about these

principles.

The principles are relevant not just for professional

nature and landscape photographers, but for

amateurs and tourists. Replace the word "nature" in

the first one with "cultural treasures," and they apply

just as well to photography in cities and towns.

Since discovering Nature First I've changed my own

practices and adopted some new ones. Rather

than providing geographical information I prefer

non-specific tags like New Zealand, Aotearoa,

South Island (Te Waipounamou), or district names.

I leave comments acknowledging and thanking

photographers who decline requests to provide

geographical information for sensitive locations.

Sometimes I ask people why they're revealing the

location of "beauty spots" that used to be known

only to locals. I'm finding ways to promote the Nature

CLOUDS AND TUSSOCKS

HAKATERE CONSERVATION PARK

F11, 1/150s, ISO200

38

NZPhotographer
---
First principles on Instagram through my personal

page and another I curate called @top.of.the.south.

images.

With Portuguese photographer Hugo Pinho, I coauthored

an article on the growing harm to cultural

and natural treasures occurring around the world

and our responsibility as photographers to work for

change. Our story, Imitation and Its Consequences,

appeared in a recent issue of Olympus Passion

Magazine. Hugo proposes a wonderful challenge

for each of us: to draw on our unique creative spirit

rather than just imitating images of iconic places. He

reminds us to nourish that spirit not just by consuming

images made by others, but by allowing our spirit to

drink from other influences: our personality, family,

culture, traditions, and art in all its forms.

Be inspired to practice photography thoughtfully

and mindfully, in a way that does no harm to our

irreplaceable natural and cultural heritage. And

that's just the minimum. Get inspired and find your

own personal way to help protect and conserve our

taonga.

instagram.com/ann.wheatley.photography

instagram.com/top.of.the.south.images

December 2019 39
---
A Photo Journey That Leads To

The Celebration of Wellington

By Philip Banks

40

NZPhotographer
---
MARTIAN WAR-MACHINE?

F5.6, 30s, ISO6400, 17mm
---
My journey with photography began with an

Olympus Superzoom 110, a film point and

shoot camera. Being a student meant that

I couldn't afford to process much film so it

got used mostly as a holiday snapper. That

was until a friend and I ill-advisedly tried canoeing on the

River Avon and managed to drown ourselves and the

camera. That incident led me to purchase an Olympus

Superzoom 120 which got some use but things went

quiet for some years as studying and then entering the

workforce took priority.

I did get a Canon EOS500 camera but again, the cost of

film meant I dabbled for a long time. It wasn't until digital

cameras came down in price and the feedback loop for

shooting, evaluating and then adjusting how you shoot

was nice and short that I really made a lot of progress

with my photography.

Film was good for teaching me to take the time to think

about the shot, composing a scene before clicking the

shutter but that is only the start of the process – learning

how to use RAW format shooting and then the right

software to manipulate the image is where things began

to really take off for me.

I wouldn't say I have a preferred genre, I end up

doing quite a few landscape and architecture shots

interspersed with wildlife – Zealandia with a 150–600mm

lens is a favourite spot. The camera ends up being a

great excuse to travel and see chunks of the countryside

but I am an engineer by trade so I quite enjoy getting

into the technical side where I can so I end up dabbling

in things like astrophotography, shooting fireworks, and

working on various pet projects.

One long term project I'm working on is to recreate

Pink Floyd's 'Dark Side of the Moon' album cover as a

practical shot. I have tried various experiments using

prisms and different forms of lighting to try and achieve

that and have come close but not quite got it to where

I want it to be.

I do enjoy setting myself challenges such as trying to

create an album cover for a favourite artist/song or

submitting photos to a competition with a particular

theme to see if I can visually interpret it in a different

way. In fact, one of my most prominent images came

out of an informal competition based on the theme

of contrasts. It can be a bit hit and miss as what you

consider obvious in an image can quite often be subtle

to others, that is where I find being active in various

groups helps.

I used to be a member of the Wellington Photographic

Society but had to stop that when I needed to move to

Auckland for a few years. Once I was back in Wellington I

found that the social landscape had changed a bit

and meetups were more my speed. So I've been out

pretty regularly for the photo-walks with the Wellington

Photography Meetup Group which is run by New

Zealand Photography Workshops together with the Excio

Photo Community. I've also joined a more casual Coffee

and Photography group known as CAPES and attend

the more focused Coach with the Camera group. It has

been a good boost because each group provides a

different approach to photography as well as getting

that regularity going.

For me, photography is often an intensely singular activity –

a lot of it is about capturing a scene in your own unique

style. But doing that in a group provides a good way to

see how others are interpreting the same thing and also

share techniques and ideas. Often someone will be trying

a camera technique for fun – like rotating and zooming

during the exposure to see what effect they get. It is a

great way to spark creativity and each group usually brings

something different. The Coach with a Camera group, for

instance, is much more focused around doing something

with the images created and less about the taking of them

directly. It has been that group which has given me the

motivation to put on an exhibition.

Titled 'The Celebration of Wellington', my exhibition has a

fairly loose theme – mostly an exploration of the Wellington

region to try and give people an appreciation for the

varied and beautiful environment we live in so the focus is

fairly heavily towards landscapes with a few exceptions.

My aim isn't to sell anything, I want to do this more as a

community activity of sharing some beautiful images

and hopefully making people aware of some things they

may not have seen. It doesn't hurt that it is on in the rush

up to Christmas to provide a bit of an antidote to all that

busyness that is the norm for the holiday season!

THE CELEBRATION OF WELLINGTON EXHIBITION

9 TH ‐20 TH DECEMBER – 8.30AM‐6PM MON-FRI, 9AM‐5PM SATURDAY.

LEVEL 1, AA CENTRE, 342 LAMBTON QUAY, WELLINGTON
---
Photography

Unleashed

PHOTO COMPETITION

Submit your long exposure photos by 10 January 2020

to be in to win an Unleashed smart camera control

plus other great prizes.

How much do you dare to expose?

Check Out Now

Sponsors
---
Wellington Heritage Photo Quest

The architecture of any city is a reflection of its history

and in the case of Wellington we can look back

over the last 150 years. You can find examples

of almost every architectural style – from wooden

structures to ArtDeco with Chicago-influenced industrial

high-rise buildings in the CBD. From modern buildings

to historical remnants of what were once beautiful

facades, Wellington provides a great number of photo

opportunities for those who love to try their hand at

architectural and urban photography.

There are still many places around the city that have

survived from the early days of its settlement by the

Europeans. Many of the building may at first glance

seem ordinary but if you do some research and explore

a bit more you will soon see the layers of history revealing

themselves. In fact, some buildings may only be fully

appreciated when they are considered in the context

of the era they were built in. Think about some of the

buildings that we see every day on our way to/from

work, more than 600 times a year, that we never have

enough time to pay attention to, these very buildings

may have represented a revolutionary shift in design

and architecture 50 or 100 years ago. Changes in

architectural style always reflect the development of the

nation and with the help of photographs we take today,

our descendants 100 years into the future will be able to

see what 'modern' Wellington looked like back in the

21st century.

By capturing buildings and architecture we create history

– what stands there right now may not exist tomorrow. As

photographers who care about #PhotographyForGood

we need to make sure that the generations after us can

appreciate and enjoy what we see today even if it is no

longer standing in the future. Cities are always in a state

of continuous transition and transformation. Think of any

place you visited a few years ago, if you go back there

in 10 or 20 years you may not recognise the look of it.

The power of photography is that it not only freezes

the moment but it shows the 'collective' view of

photographers. Last month more than 50 photographers

took part in the Heritage Photo Quest organized by

the Excio photo community. Photographers were

encouraged to capture the most interesting buildings

and learn more about the history of Wellington city.

On the following pages, you will see many different

perspectives from some of the photographers who

took part. It is always amazing to be able to see after a

photo walk what other photographers have captured.

Photographers see things differently and that's great –

see for yourself different reflections, long exposures, and

the perspectives and angles captured by creative and

talented Wellington photographers.

To find out more information or take a walk along our

heritage trail at your own pace visit www.excio.io/

heritagewalk

MICHAEL HARRIS

44 NZPhotographer
---
ANDY HEPWORTH

DAVID WILCOCK

DAVID WILCOCK

December 2019 45
---
CLINT MAXWELL

CLINT MAXWELL

46 NZPhotographer
---
MICHAEL HARRIS

MICHAEL HARRIS

MARGARET JEUNE

December 2019 47
---
JOANNA SHRIGLEY

MICHAEL HARRIS

48 NZPhotographer

EMMA HISSEY
---
EMMA HISSEY

CLINT MAXWELL

ANA LYUBICH

December 2019 49
---
What's The Most Important Thing

In Photography?

By Ana Lyubich

Lets' think, what answers jump into your mind?

You might be thinking that the most important thing

in photography is to have a really good camera.

How else do you get that perfect shot if you don't

have the right gear? But wait, what about those

slightly out of focus shots or the ones with lots of

noise that captured that perfect moment, that

smile? Ok, so it's not about the gear.

In that case the most important thing in

photography must be composition? The rule of

thirds, having a straight horizon, and the lines,

light, shadows being perfectly presented. If that's

the answer does it mean we then say that there is

nothing important in creative shots? So no, it can't

be about the composition.

Third time lucky – the most important thing in

photography must be about planning the shot!

Mastering it in-camera so then you don't need

to do any post-processing later. No but wait, you

can't plan street photography, you can't plan that

split second, the look in someone's eyes. Planning

your photo session is a sign of good discipline and

will definitely lead to success but photography is

about being in the right place at the right time and

having your finger on the shutter release ready to

capture the moment so that's not the answer.

What about colour? Black and white? Could that

be the most important thing in photography? There

is definitely a lot to learn about light and shadows

and it takes a lot of time and practice to know

how to shoot in different lighting conditions but

sometimes the images that were shot against the

50

NZPhotographer
---
light, that are faded away, are the ones that most

often touch our souls.

Ok, so it absolutely has to be about gaining

experience – the more you practice the more you

know and can master your skills. Right? I would

agree with just one exclusion – why, when out of

millions of people who have dedicated their lives

to photography and have years and years of

practice, do we only know a few names? Is it about

popularity? Talent? Connections? Networks?

Let me stop playing this guessing game with you

and put you out of your misery.

To me, the most important thing in photography is

the magic. It is a combination of some of the things

mentioned above that enables you to capture

moments so that years later (if those moments are

still important to you) you can easily travel back in

time.

Don't make photography the sole purpose of an

experience. Don't spend hours overthinking the

composition - it doesn't matter in the end. What

matters is being able to fast forward a few years,

and have your photos take you back to that

moment in time when you pressed the shutter

button so that you can re-live the experience.

Photography must be something bigger than

having that perfectly exposed shot. It must be able

to bring back the atmosphere of that moment, the

people around you, the smells, your thoughts and

feelings at that exact point in time. Without that

your photographs won't do their magic and won't

work as time machines. They will be just 'prints for

sale' and silent reminders of you missing being in

that moment.

Every time I look at my photos I instantly find myself

exactly in that moment be it at Washington railway

station or Chengdu panda reserve. Just by looking

at those photos the conversations, laughter,

feelings and everything associated with every trip

and occasion comes back to life. When I look at

the photos from my Denmark trip this time last year,

my fingers start freezing again and I remember

the smell of cinnamon and the sound of Christmas

music in the fairy-tale-like Tivoli gardens. Which of

your images bring back memories and emotions

like that?

Many of you will be travelling over the Christmas

period and while I of course look forward to seeing

what you capture over the holidays, always

remember to bring back experiences, not polished

photography techniques.

December 2019 51
---
A Mirror View

by Brendon Gilchrist

Lake Matheson is the most photogenic

lake on the West Coast of New Zealand

and draws in thousands of tourists every

year but few think about the 14,000 year

old history as they take their photos and

admire the view. You see, Lake Matheson

started out as a river of ice formed from

a large Glacier called Fox. When glaciers

retreat they change the landscape, moving

huge boulders and creating depressions in

the land which then creates lakes giving us

delights such as this.

There are a few vantage points to view the

mountains over Lake Matheson but only one

place gives that iconic picture postcard view

that you must have in your collection of images.

Thankfully, I arrived at Lake Matheson a day

ahead of schedule so that I could scout out

where I needed to be to get the famous

shot. I was shooting a time-lapse at one of

the viewpoints in what I thought was the right

place but I soon realised Aoraki didn't seem

to be quite where I thought it should be.

I waited for the time-lapse to finish as it was

still looking really good and then packed up

to see if I could capture Aoraki in the correct

position.

It was getting a little dark but I had my head

torch and the track was easy enough to

follow, so I headed off around the lake.

I found a place called The Views Of Views

which, to be fair, had a nice view but it was

not the view of the view that I wanted to

F10, 1/200s, ISO100

52

NZPhotographer
---
F10, 1/200s, ISO100

view!! I carried on and found a signpost that

said Reflection Island.

I walked down some steps to get almost to

lake level and looked towards Aoraki – Yes,

this was the view I came for! Now I knew

exactly where I'd be heading for sunrise

but I still didn't know where I'd be spending

the night – Grateful for phone signal I gave

Backpackers a call and got myself a bed.

Now safe in the knowledge that I had

somewhere to sleep, I continued shooting

as I still hadn't captured the shot nor the

time lapses I wanted. I was getting hopeful

for my sunrise shoot though, the weather

was looking really good and there was

snow down quite low on the mountains so

I would be able to get my Winter shot of Lake

Matheson with reflections.

Deciding that the cloud around the

mountains was too much now, I decided to

pack up – I was getting tired and still had a

30 minute walk to the car, then a short 10

minute drive to Fox Glacier township.

Next morning, when it was still dark out and

everyone else in the dorm was still asleep, I was

waking up. Having already pre-packed the night

before I slipped out of the dorm as quietly as

possible and dropped my key off. Walking outside

it was chilly with ice on the parked vehicles so I lost

5 minutes defrosting my car which wasn't part of

my early morning plan but I was soon off, driving

towards the lake and then parking up, gathering

my camera gear for the 30 minute walk.

There was a slight glow on the hills when

I started walking which made me walk

that bit faster, not wanting to miss out on

my much-hoped-for postcard shot. As I

kept walking around the lake to Reflection

Island I caught a glimpse of the water

showing a crystal clear reflection. That

made me excited as there was lots of

low cloud hanging around the lake and

December 2019 53
---
the mountains – My postcard shot of Lake

Matheson was in reach!

Reaching the turn off for Reflection Island

and walking down what seemed like a cloud

onto the platform just above the lake, my first

thought was 'wow, I have this view to myself,

I am beyond blessed'. With clouds in every

layer, the steam rising off the lake due to

the sun hitting it, clouds above Mount Cook,

clouds creating an unreal atmosphere around

the mountains, and snow well below the bushline

I was wondering 'Is this place even real?'.

It was mid-week, not the weekend so I was

hopeful that not too many other people

would turn up as I needed to use the fence

post to rest my camera on for the time-lapse

as I only had one tripod to use (my second

one broke) and I needed that for the stills.

I put my go-to 14–24mm lens on and took

a few shots at 14mm and then 24mm but

neither composition looked good. I only

had one other lens to turn to, my big 80–

200mm zoom, my 50mm being used for the

time-lapse on my other camera. Turning

the camera back on I knew I'd found the

composition I was looking for, even though

the lake is known for its reflection, the

superimposed mountains at 80mm were

looking insanely beautiful.

As the sun kept rising and the clouds kept

moving, the light hitting the clouds and the

mountains, the trees aglow, the ducks and

other birds waking up for the day, the scene

was blowing my mind – I could not have

asked for anything better.

I took around 1000 images at Lake Matheson

that morning, most of those being time lapses,

but the number doesn't matter – I got the shots

I wanted and am ecstatic that I captured

something unique to this lake and something

I said a few years ago that I would never do;

shoot what everyone else is shooting.

My postcard images of Matheson are now in

my collection and show not just one average

shot of a perfect reflection but tell a story,

not just my story, but of a morning that was

just meant to be – a perfect morning.

I still look at my reflection image for

inspiration, reminding myself that no

reflection is perfect, that there is always a

ripple somewhere.

54

NZPhotographer

F11, 1/125s, ISO100
---
THE GALLERY IS PROUDLY SUPPORTED BY

PORTFOLIO

BEST READERS' SUBMISSIONS THIS MONTH

December 2019 55
---
56

NZPhotographer
---
THE MIGHTY

MOUNTAINS MYTHEN

F11, 1/100s, ISO200, 67mm

On my trip up Stoos with the worlds steepest

funicular railway in Switzerland, I saw the

beautiful mountain panorama, the Mythen.

Anita Ruggle

December 2019 57
---
58

NZPhotographer
---
TREE OF LIFE - SAMOA

F3.7, 1/200s, ISO125

The Samoans call the coconut tree, the Tree of

Life. Almost all parts of a coconut tree can be

used. Taken near where a devastating tsunami

washed into Samoa a few years ago on a

Samsung 6 Galaxy phone.

Ann Kilpatrick

December 2019 59
---
60

NZPhotographer
---
WHICH WAY?

F9, 1/320s, 35mm

Seeking directions, or maybe just having a chat,

with the helpful information ladies, near Flinders

Street Station, Melbourne.

Ann Kilpatrick

December 2019 61
---
62

NZPhotographer
---
SURVIVORS

F5.6, 1/2500s, ISO640, 20mm

Photo taken at Craters of the Moon in Taupo.

It's amazing how plants can survive this kind of

soil temperature. Truly one of New Zealand's

interesting attractions.

Anne Balila

December 2019 63
---
64

NZPhotographer
---
CANTONSVILLE, MARYLAND

It is sometimes difficult to find a perfect place to

photograph moving traffic. When I saw this area while

visiting Maryland in the USA I knew I could get the shot.

Chick Piper

December 2019 65
---
66

NZPhotographer
---
ALASKA GLACIER

F3.7, 1/200s, ISO125

GLACIER BAY, ALASKA

Where the glacier meets the sea.

Corinne Moor

December 2019 67
---
"A STORY TO TELL"

F9, 1/125s, ISO200

This photograph was taken in a small village

near the town of Konya in Turkey. The people in

the area live as best they can from the land with

sheep and other animals.

Don McLeod

68

NZPhotographer
---
December 2019 69
---
70

NZPhotographer
---
BURANO ABSTRACT

Taken on the colourful island of Burano, Venice.

Gail Orgias

December 2019 71
---
STREET MUSICIAN, PARIS

F3.7, 1/200s, ISO125

This musician was one of many performing at a

busy morning market in Paris.

Gail Orgias

72

NZPhotographer
---
December 2019 73
---
74

NZPhotographer
---
CATHEDRAL COVE

F8, .6s, ISO100

Cathedral Cove in the Coromandel is an iconic

destination for overseas visitors to New Zealand.

The perfect scenario for this shot was sunrise to

capture the light reflection on the rocks and the

early morning low tide to wash the multitude of

footprints from the previous day away.

It was a 5am start for the hour walk to get to the

location. My hope was to have the place to

myself as by 7am the water taxi's begin arriving.

Graham Jones

December 2019 75
---
76

NZPhotographer
---
ROUGH RIDE

Okere Falls in Rotorua has the most thrilling white

water rafting with the highest 7m Tutea Falls as

the highlight. If you are a thrill seeker this should

be on your bucket list.

Linda Cutche

December 2019 77
---
78

NZPhotographer
---
COLOURS OF INDIA

F8, 1/200s

Walking through the Red Fort in Delhi one is

constantly impressed by the vivid colours. This

image portrays one of the many women who

spend their day at the site in the hope of getting

a few coins from passing travellers who are in

awe of their elegance and charm. I was careful

to select a background that would speak of the

environment and complement the colours.

Paul Rea

December 2019 79
---
80

NZPhotographer
---
GOA FISH MARKET

F8, 1/125s, ISO12800

The Goa market is a dark congested space, an

amazing sensory experience. The colours and

contrasts make it difficult to capture the characters

who make it so interesting. I was determined to

keep my images sharp so I hiked the ISO up.

Paul Rea

December 2019 81
---
82

NZPhotographer
---
HELLO WINTER

It was supposed to be spring, but on this

particular day a frosty sleet had little respect for

the calendar in Saint Petersburg, Russia.

Peter Kurdulija

December 2019 83
---
84

NZPhotographer
---
1600 METRES UP

EYJAFJALLAJÖKULL

F11, ISO200, 18mm

Travel is awesome experiences such as Gunnar

taking us to the summit of Eyjafjallajökull in Iceland

in his 'truck'. It was a beautiful sunny spring day and

even at 1600 metres was quite warm (for Iceland).

The two people in the distance gives some idea as

to the expanse of the summit.

Peter Maiden

December 2019 85
---
86

NZPhotographer
---
HUNT FOR THE

WILDEBEEST

F11, 1/1000s, ISO200, 300mm

On safari in Botswana during a dust storm, these

animal silhouettes drew my attention.

Rudolph Kotze

December 2019 87
---
88

NZPhotographer
---
ONWARDS AND UPWARDS

Ski touring in the Two Thumb Range in Southern Alps of New

Zealand is a great way to get away from it all. On this trip we

started the journey actually carrying our skis until we hit the

snow and then it was a steady upward climb.

Sarah K Smith

December 2019 89
---
90

NZPhotographer
---
SAILING AWAY

F3.5, 1/400s, ISO100, 18mm

A cruise ship leaving Tauranga Harbour. It

almost seems impossible that there is enough

water between the Mount and Matakana Island

in the background.

Tanya Rowe

December 2019 91
---
"THE ONLY THINGS I OWN WHICH

ARE STILL WORTH WHAT THEY

HAVE COST ME ARE MY TRAVEL

MEMORIES.... THE MIND-PICTURES

OF PLACES WHICH I HAVE BEEN

HOARDING LIKE A HAPPY MISER."

BURTON HOMES

92

NZPhotographer