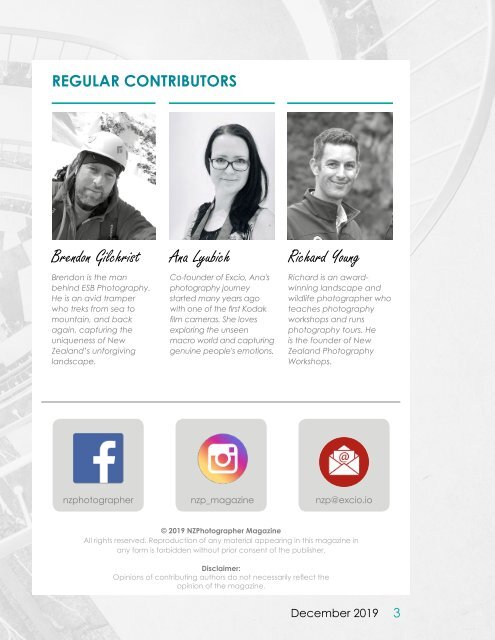 NZPhotographer Issue 26, December 2019
Whether you're an enthusiastic weekend snapper or a beginner who wants to learn more about photography, New Zealand Photographer is the fun e-magazine for all Kiwi camera owners.
REGULAR CONTRIBUTORS

Brendon Gilchrist

Brendon is the man

behind ESB Photography.

He is an avid tramper

who treks from sea to

mountain, and back

again, capturing the

uniqueness of New

Zealand's unforgiving

landscape.

Ana Lyubich

Co-founder of Excio, Ana's

photography journey

started many years ago

with one of the first Kodak

film cameras. She loves

exploring the unseen

macro world and capturing

genuine people's emotions.

Richard Young

Richard is an awardwinning

landscape and

wildlife photographer who

teaches photography

workshops and runs

photography tours. He

is the founder of New

Zealand Photography

Workshops.

nzphotographer nzp_magazine nzp@excio.io

© 2019 NZPhotographer Magazine

All rights reserved. Reproduction of any material appearing in this magazine in

any form is forbidden without prior consent of the publisher.

Disclaimer:

Opinions of contributing authors do not necessarily reflect the

opinion of the magazine.

December 2019

3
More magazines by this user