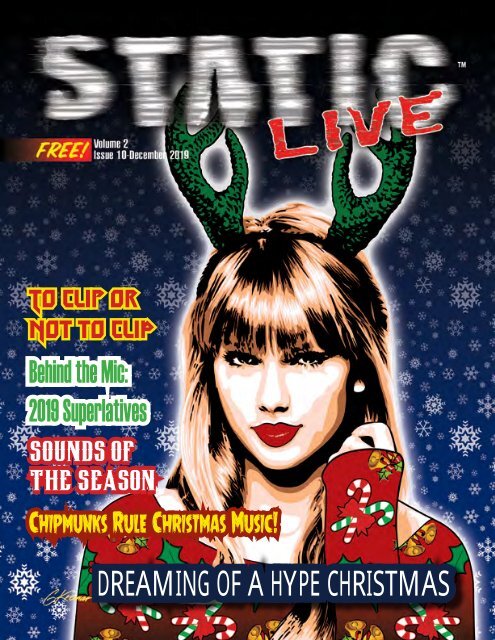 Static Live Magazine December 2019 Issue
STATIC LIVE Magazine is Central Florida's premier publication dedicated to celebrating music and culture. STATIC LIVE provides extensive, detailed community information from fashion to art, entertainment to events through noteworthy interviews, sensational photography and in-depth editorial coverage. STATIC LIVE is the only publication of its kind in Central Florida and reaches all target markets through wide distribution channels. Our staff includes highly accomplished contributors with award-winning backgrounds in music and entertainment; we know how much business is captured from the entertainment market. Our free full color publication can be found throughout Central Florida at key retailers, hotels and restaurants in high traffic areas. Our mission is to highlight the incredible talent, culture and lifestyle in Central Florida. With eye-opening profiles and coverage of the music and art community, STATIC LIVE readers will be positively influenced by our topical content and trending advertisers. STATIC LIVE Magazine is the most effective tool for branding connectivity with consumers in our area.
STATIC LIVE Magazine is Central Florida's premier publication dedicated to celebrating music and culture. STATIC LIVE provides extensive, detailed community information from fashion to art, entertainment to events through noteworthy interviews, sensational photography and in-depth editorial coverage. STATIC LIVE is the only publication of its kind in Central Florida and reaches all target markets through wide distribution channels. Our staff includes highly accomplished contributors with award-winning backgrounds in music and entertainment; we know how much business is captured from the entertainment market. Our free full color publication can be found throughout Central Florida at key retailers, hotels and restaurants in high traffic areas. Our mission is to highlight the incredible talent, culture and lifestyle in Central Florida. With eye-opening profiles and coverage of the music and art community, STATIC LIVE readers will be positively influenced by our topical content and trending advertisers. STATIC LIVE Magazine is the most effective tool for branding connectivity with consumers in our area.
SHOW MORE
SHOW LESS
Create successful ePaper yourself
Turn your PDF publications into a flip-book with our unique Google optimized e-Paper software.
To Clip or

Not to CliP

Behind the Mic:

2019 Superlatives

Sounds of

the Season

Chipmunks Rule Christmas Music!

DREAMING OF A HYPE CHRISTMAS
---
5

6

8

10

12

14

16

18

20

22

24

27

32

36

38

"Anytime someone tells me

that I can't do something, I

want to do it more."

~ Taylor Swift

Oh My Goddess

A Day in the Life of a Gigging Musician

Chipmunks Rule Christmas Music!

Snap It

On the Block

Dreaming of a Hype Christmas

To Clip or Not to Clip

The Accompanist

Static Live Event Calendar

Rocktails

Artist Feature: Kelcie McQuaid

Mike Bloomfield: A Blues Tragedy

Sounds of the Season

Behind the Mic: Riggs

Metal Compost

Static Live Media Group, LLC

927 S. Ridgewood Ave., Suite A5

Edgewater, FL 32132

386-847-2716 www.staticlivemag.com

Sean Impara, Publisher

Billy Chapin, Co-Publisher

Jenny McLain, Editor

Nicole Henry, Graphic Artist

COVER ART BY GARY KROMAN

© 2019, Static Live Media Group, LLC. All rights

reserved. No part of this publication may be

reproduced or transmitted in any form by any

means electronic, mechanical, photocopying,

recording or otherwise without the prior written

permission of the authors.

STUDIOS

DREAM. CREATE.

Making great music since 1999

For scheduling, Contact Sean at (386) 847-2716

GG

Hey I'm GG and I am brand new with Premiere Model Management.

I love fashion, playing hockey, and listening to music. Right now, my

favorite artist is definitely Harry Styles! My friends and I love to road

trip to new places to see the bands we love, this summer we drove up

and down from Florida to Georgia to go to the Midtown Music festival

and see The 1975 in Atlanta!

One day, I'd love to travel all over the world. It would be a dream to

model and see my favorite artists in amazing places like Italy, London,

and more!

Photo credit: Mandy Lynn

Oh My...Goddess

5
---
y Adam Floyd

MISSION

To create competent expanded

functions dental assistants (EFDA's)

that will be employable.

My experience and passion for

Dentistry is dedicated to teaching

the skills that I have enjoyed

and excelled for 28 years.

Most important of all reward of

helping others achieve their smile

SMILES WORLDWIDE!

NOW ENROLLING

RECOVERY from a long week of

concerts, gigs, and lessons is essential for a working

musician. The season is in full swing and I've got to

make hay while the sun shines. How to bounce back

and do it all again, day after day, with energy and

verve? Part of the bounce back needed is physical,

but some of it is mental.

On the physical side, I like to stick with the basics

and they are cheap or free: Sleep, water and walking.

Resting and napping, not just the old eight hours. I'll

lounge around endlessly and chill out with no visitors

or social commitments. Hydrate to the extreme. It's

even more important if you are a singer, but also if

you are doing nightclub work or enjoy a cocktail while

you perform.

Walking is low-impact and an excellent way to stretch

out and restore my energy.

Instrumentalists will benefit from yogic hand stretches

called Mudras. Take it slowly, especially at first: These

hand poses are strong medicine.

6

Mental rebuilding is a bit more tricky but just

as important for my career as a performer.

I use a variety of approaches, starting with

the afore-mentioned chillout. Meditation takes it to

the next level. Reading helps me quite a bit, and the

subject can be a mindless tripe. Sometimes you need

to go low brow and just vegetate. Binge watching your

favorite shows or hanging out at the beach, a long

chat with a lifelong friend can help. We all have things

that re-center us. The key is to find what works for you

and pursue it proactively.

I like to keep the music fresh and cycle in neglected

material while I learn new tunes. Why not have

some fun and invite new players in as guest stars?

Whenever a band member needs the night off, I see it

as an opportunity to expand my horizons. This time of

year with holiday parties and events is a great time to

collaborate with some new blood.

A positive mental attitude is the greatest asset I have.

While those in sales or corporate work are trained

in the practice, musicians sometimes have a more

difficult time. After all, we are often rewarded for

being pouty or punkish. The angry youth or snarling

malcontent from our stage persona can leak over

and become part of our real life. Keep it light with a

healthy dose of humility. Laughing at ourselves will

ensure a quick RECOVERY.
---
Chipmunks

Rule

Christmas Music!

To hell with Spinal Tap's "Christmas With the Devil,"

Bing Crosby's "White Christmas," James Brown's

"Santa Claus Go Straight to the Ghetto" and the

Ramones' "Merry Christmas (I Don't Want to Fight

Tonight)."

The greatest Yule music ever created, at least since

Og the Caveman cut "I Want a Velociraptor for

Christmas," is "Christmas with the Chipmunks."

Alvin and the Chipmunks were an animated . . . ahem,

"singing group" created in the late 1950s by Ross

Bagdasarian Sr. (recording under the name David

Seville). In 1958, Bagdasarian got the ingenious idea

to speed up a recording of his own voice, so that it

sounded mega-high-pitched and squeaky-freaky --

just like he had huffed a six pack of helium balloons.

The resulting song, "Witch Doctor," went straight to

No. 1 on the pop charts.

Soon after that, Bagdasarian somehow intuited

that his freak voice sounded just like chipmunks

would sound if they had human speech – and so

a phenomenon was born. Bagdasarian created

and released "The Chipmunk Song (Christmas

Don't Be Late)" later in 1958, while magnanimously

forgoing vocal credits and instead giving them to the

Chipmunks. The cartoon band's song snagged two

wins at the first-ever Grammy Awards that year: for

Best Comedy Performance and Best Recording for

Children. In 1960 the 'Munks won the Grammy for

Best Album Created for Children for "Let's All Sing

with the Chipmunks."

8

As a lifelong rock music writer, I am required

to point out that, right out of the gate, the

Chipmunks scored one more Grammy than

Led Zeppelin ever did, and Zep's wins didn't come

until their Lifetime Achievement Award in 2005 and

their Best Rock Album honor in 2013 for "Celebration

Day." Suck it, "Stairway to Heaven"!

If that doesn't prove that the Chipmunks are

awesome, there's this bit of scientific research that

makes me unequivocally state that the 'Munks

created the Greatest. Christmas. Music. Ever: Since

"Christmas with the Chipmunks" was released in

1962 and "Christmas with the Chipmunks Vol. 2" was

released in 1963, I have listened to these little freaks

way more than such Yule tunes as John Lennon's

"Happy Xmas (War is Over)" or Paul McCartney's

goofy earworm "Wonderful Christmastime."

Of course, 7,673,213 of those listens came during

a 15-month period in my youth, when my younger

brother and I convinced our poor parents to let us

spin the Chipmunks' Xmas tunes all the way from

December 1962 to July 28, 1963, and, after a threeday

hiatus from those joyous, glorious little bastards,

it was time to start spinning their Yule tunes on August

1 to get in the mood for Christmas 1963!

If you come across the dark-web rumor that the CIA

uses the 'Munks recording of "Silver Bells" to torture

captured Russian spies, ignore it! Yes, that rumor

probably has some degree of truth. But here's another

handy, practical bit of scientific research: If you fear a

visit by Krampus, that goat-looking, demon dude who

punishes bad boys and girls during Christmas season,

the only way to ward him off and avoid getting

speared by his horns is to play the Chipmunks' Xmas

music – 24/7.

Have a cool Yule.

by Rick de Yampert
---
3

1

2

5

4

6 7

8

10

1. Photo Credit Tim Teuch - Alice Cooper 2. Photo Credit Reluctant Genius - Kelly Jarrard 3. Photo Credit Tim Teuch

4. Photo Credit Reluctant Genius - The Cyclones 5. Photo Credit Angela Bugarsky - The Transfers

6. Photo Credit Reluctant Genius - NW Izzard 7. Photo Credit Tim Teuch - Alice in Chains 8. Photo Credit Tim Teuch - Alice in Chains
---
Two Sides to Every Record

12

I grew up listening to my mom's music, my dad's

music, my friends and family members who

played or sang music and music I discovered on

my own. I've found a place in my library for a

certain amount of all genres and decades – Rock,

Pop, Blues, Alternative, Country, Indie, Metal,

Ska, Gospel. Some music appeals to me for

the memories it brings and not so much for the

music itself. I remember listening to the radio

on car trips with my Dad as we traveled around

North Carolina for his job. I remember the songs

my Mom would sing with

us and the songs she

would sing in beautiful

harmony with her sisters.

I remember trying to bond

with my brothers over

whatever was their music

of choice at the time and I

discovered a lot of things

about them by doing that.

I was an awkward teenage

girl many decades ago so

the variety is as vast as

the emotions of a teenage

girl in the late '70s and

early '80s.

Many people my age

and a little older are stuck in the '70s. There

are the typical "staples" that come to mind - the

Rolling Stones, the Grateful Dead, The Who, Led

Zeppelin, Pink Floyd, the Doors. I'm personally

a huge fan of Queen (and Freddy Mercury),

Meatloaf, CCR, Simon and Garfunkel, and the

Kinks but not so much a fan of other popular

artists of that time such as the Bee Gees and Rod

Stewart. I would do almost anything if given the

choice of that thing or going to a Fleetwood Mac

Concert. I saw Barry Manilow in concert once

because the tickets were free and, in the end, I

honestly would have paid for the tickets because

HE was having such a good time. I also saw

Willie Nelson with a free ticket and I would have

paid money NOT to be there. I've walked out of

concerts I paid a lot of money to see because I

didn't want my memories ruined by the noise that was

coming from the speakers.

On the other hand, I listen to music that is not

necessarily my choice while I am at work and find

myself understanding the popularity of some of it and

even downloading songs that I find interesting. I'm

not sure whether I should be ashamed that I like the

remake of "Old Town Road". I also like Panic! At the

Disco, Bastille, Bruno Mars, Luke Combs, Imagine

Dragons and The Script. I have recently become

aware that "Walk-Up" music is a thing even in Little

League (if that's common

knowledge, keep in mind that

I don't have children); I like to

learn what the kids choose for

their song. Because I work in

a fairly large medical practice

and my coworkers have great

demographic variety, I poll

them and ask things like,

"What was the first concert

you went to?", "What is your

go-to playlist?" and "What are

your kids listening to?"

As a result, I have started

choosing playlists that include

current music I may not be

familiar with. I turn some of

it off pretty quickly and go back to my favorites but

more often than not, I find something I like in the mix

somewhere if I just keep an open mind. The same

goes for my weekend live music searches. Even if

I don't know the artist that is playing as I pass by a

venue, I go in and listen for a bit, just to see what's

new and who is venturing out. I've abandoned a drink

or two for the sake of my sanity, but I generally stay

and listen long enough to be respectful.

I've learned from my office polls that many young

people are "discovering" some of the music of my

decade(s) and I'm making the effort to discover new

things as well. After all, anyone who thinks the music

of the '70s was all golden and today's music is all

trash should remember . . . the '70s also brought us

"Disco Duck" by Rick Dees and his Cast of Idiots.

On the Block

By Jenny McLain

13
---
Lately there's been a lot of hype, both positive

and negative, when it comes to this month's

featured artist. Whether you like her or not,

there's no doubt that she's made an impact

on the music world from everything like being voted

VMA's Artist of the Decade to creating a huge amount

of controversy regarding music rights and publishing.

Taylor Swift started out as a country star but it wasn't

long before she sold out and went where the real

money was - pop music. What most people don't

know is that her parents spent millions of dollars to

make her famous. Coming from a very wealthy family

and having the right connections can definitely benefit

you in rising to the top in the music business.

On Friday, November 22, Scooter Braun - the man

behind buying all the music of the artist - directly

addressed Taylor on social media saying that his

family has been receiving "death threats" amid their

very public dispute. Seems silly, yet it's true.

The lengthy Instagram post came hours after Braun

first broke his months-long silence on the matter

during a Q&A at the 2019 Entertainment Industry

Conference. In the letter, the 38-year-old music

manager asked Swift if they could work together to

find a "resolution" to their spat, which most recently

included Swift calling on her legion of fans last week

to put pressure on Braun and Scott Borchetta — the

owners of her masters — to allow her performance to

go forward at Sunday's American Music Awards. After

much debate they agreed to let her perform some of

her previous hits.

It just goes to show, the power of fans and the

ability of a huge star to manipulate the system

sometimes, if not always, works. Perhaps if she and

her management had been a little more cautious

in protecting her music she wouldn't be in the

predicament that is happening now. A similar thing

happened when in In 1985, Paul McCartney gave

the King of Pop a business tip: Owning the catalog

of famous songs from others it can be very lucrative.

What McCartney didn't realize is that Michael Jackson

would play him at his own game. Later that year

Jackson did the unthinkable and purchased the rights

to 251 Beatles tunes.

One would think that people in the music business

would learn from the past, yet Ms. Swift

was doomed to repeat it. Maybe being a

billionaire just isn't enough for her but it

14

DREAMING OF

A HYPE CHRISTMAS

By The Reluctant Genius

seems she's determined to be a Scrooge

and challenge what what was a legal

business transaction. While the future holds

many secrets, one thing is for sure; she's

not hurting for cash this holiday. Here's a

little more about Taylor Swift and what's

she's done to become one of the biggest

and now one of the most controversial

music stars in history:

Taylor Alison Swift was born on December

13, 1989. She showed an interest in music

at an early age and progressed quickly from

performing in children's theater to singing

the National Anthem at a Philadelphia 76ers

game at age 11. When she was 13, her

parents sold their farm in Pennsylvania to

move to the Nashville, Tennessee area and

court nearby country music labels. At the

age of 14, she became the youngest artist

signed by the Sony/ATV publishing house.

She performed songs she had written at

venues in Nashville and was noticed by

Scott Borchetta at one such performance.

At age 16, Swift released a self-titled debut

album after her first single, "Tim McGraw",

spent eight months on the Billboard country

singles chart. She toured with Rascal Flatts

and was certified platinum in 2007. In 2008

her second album, Fearless, courted both

country and pop fans, opened at number

one on the Billboard 200 chart. Her second

album, Fearless, won four Grammy awards

and made Swift the youngest Album of

the Year winner. She won the best female

video category at the MTV Video Music

Awards, where her acceptance speech was

interrupted by Kanye West, who claimed

the award should have gone to Beyoncé.

Later in the evening, when Beyoncé was

accepting the award for video of the year,

she invited Swift back on stage to finish her

speech.

Swift is one of the best selling artists of all

time and has received numerous awards as

a songwriter as well. Her other accolades

include 10 Grammy awards, one Emmy, 29

American Music Awards, 23 Billboard Music

Awards, six Guinness World Records, three

appearances on Time's list of the

100 most influential people in the

world, among others.

15
---
To Clip or Not to CliP

By Randy Pepper

About 15 years ago we started seeing these

little clip on things popping up on guitars.

Most people chucked them up to being a fad,

but to others, it was a revolution. What is this

I am talking about? The clip on tuner. Yes, you see

them on almost every guitarist's headstock playing

solo or duo, and in many bands. You see players like

George Lynch even using one in his concerts.

So what is the best one to get? This is a very hard

question, as it's a very crowded market. Makers

include Snark, who was the first to capitalize and

continue to dominate the market. Others have done

very well as well, like TC Electronics and Intellitouch.

Sirus Nascar, host of The Front Stretch and singer/

guitarist for the Pit Road Pickers said he likes to use

the Intellitouch because it's very bright and he can

see even in the sunlight. Orlando guitarist for MP4, JC

Cova, said he uses the TC Helicon Polytune; super

accurate in loud situations, very readable and it is

sturdier than the Snark. Dave Lauber of the popular

AC/DC tribute band Thunder Jack Uses the Red

Snark ST-2. It's VERY affordable, accurate enough,

and I can SEE it even when the sun is

beating me up. I can also tune with vibration

mode with my volume DOWN and the

audience thanks me for that. Between songs

16

I can literally check my tuning in less than 5 seconds.

Also Paul Revere and Raiders bassist Ron Foos said

his using a Snark clip-on tuner for stage use and or

the built-in tuner, Logic Pro X in the studio.

Some players still prefer not to clip and instead use

pedal tuners to tune up with. The Boss TU-2 and 3

have been the king of this market for a long time but

there are some others that work very well. Nascar

competition director at Richard Petty Motorsports

and also a weekend warrior in the offseason Philippe

Lopez uses the Korg Pitchblack and puts it as the first

pedal in the chain to keep his signal clean. Nirvanna

guitarist Clayton Sturgeon uses both a Snark Clip

on for his acoustic shows and a Boss Pedal for his

electric stuff. There are so many other choices out

there but these are some of what the players are

using.

With Christmas coming, you can't go wrong buying

your favorite guitarist or bassist a clip on tuner even if

they already have one. You can pick one up at places

like Guitar Attic in Holly Hill (shameless plug) and I'm

sure they will be very happy you did.

Randy Pepper is a freelance guitarist for hire and

the owner of the Guitar Attic in Holly Hill.

LIVE MUSIC

4 MARK MOORE

6 MIKE QUICK BAND

CASEY PICOU

7 MIKE QUICK BAND

ETC

11 WARREN BECK

13 DJ

ACOUSTIC INFERNO

14 DJ

RANDY WILLIAMS

18 BRADFORD BUCKLEY

20 SOCIETY

MARRY MCCARRICK

21 SOCIETY

THE VIBE

27 POP CULTURE POETS

PSYCOUSTIC

28 POP CULTURE POETS

ETC / AARON LIGHTNIN

*Music is subject to change

DRINK SPECIALS

SUNDAY FUNDAY

$2 MONTHLY BEER SPECIAL

$3 MARGARITAS

$4 CUERVO MARGARITAS

MONDAY & TUESDAY

$3 SMIRNOFF FLAVORS

$4 CAPTAIN MORGAN

$5 CROWN ROYAL

$1 OFF PINTS

2 FOR 1 WEDNESDAYDAY

GET TWO FOR THE PRICE OF ONE!

LADIES NITE THURSDAY

FREE WELL DRINKS,

DRAFTS & WINE FOR LADIES

317 FLAGLER AVE. NEW SMYRNA BEACH, FL

ALL DAY!

ALL

DAY!

8 to 10

8 to 10
---
THE ACCOMPANIST

18

Much has been written about the allure of

music. You see its effects on toddlers who

hear a song with a strong rhythm. Suddenly

arms are flailing, knees piston-ing, faces

broadcasting unmitigated joy. Most of us

never grow out of this. Our outer reactions

change but the inner thrill remains. The

reasons for this likely lie somewhere beyond

our understanding so we accept the mystery

and let it carry us along. Those of us who

can't leave well enough alone become

musicians. We who came of age before the

advent in popular music of spoken-word and

personal computers came of age in the era

of bands. Bands were cool. Before bands

there was Elvis. Bands were sleek and quick,

had inside jokes. Elvis was giving a handgun

to Richard Nixon. It was easy to take sides.

Many young bands got into the scene for

reasons other than music. Once it became

apparent that the Beatles were not born

into Beatle-dom, that they began to turn into

the Beatles only after several years of 20-

hour work days, many dropped out. Once it

became apparent that no matter how many

20-hour work days a band put in they were

not going to be chased by screaming girls

into a chauffeur-driven Rolls Royce, the rest

dropped out. Not entirely. There were a few

aspirants left, the ones in thrall to the sound.

The sound was the beginning, eternal. It

existed before during and after the comings

and goings of the outer world.

A successful band is the result of a fortuitous

confluence. They are few. We have our

favorites. We know what each member

contributes, how the interaction with other

members shapes the sound we love. Bands

who aren't The Who or The Doors, that is,

most bands break up as the members begin

to enter adulthood, when they are faced with

deciding how to pay their way in the world.

One, sometimes more than one member will

want to continue as a musician. Now what?

This is where a million different stories begin.

I will attempt to outline one path, that of the

professional accompanist, or SIDE-MAN.

("Side-man" was the original term. We will

now, respectfully, shift to "side-person.")

"I need to work, to make money. I cannot

maintain a satisfactory level of instrumental

proficiency with a day job. Can I sing? Do

I want to? Am I entertaining?" Did you answer NO

to any two of the three questions? Well then, find

somebody who answered YES to all three and

go to work for them. If you do you can still pursue

ambitions, if you have them, of being an "artist"

yourself but you must keep them out of sight around

your employer and your employer's fans. I realize

that I haven't told you HOW to go about securing

employment with this artist. Here you will need to

employ a skill that you will continuously employ after

you get the gig: reading the psychology of the artist.

Artists are tremendously complex, walking a thin

rail that bisects terror and euphoria. If you have at

least a touch of an artist in you you stand a chance

of understanding your employer well enough to be

of benefit to them and to yourself. A common rookie

mistake is to try to take for yourself what the artist

you work for has achieved. DO NOT DO THIS. Do

not attempt to promote yourself to the connections

this artist has cultivated. Apply the adage once

applied to children: speak only when spoken to. While

engaged in your employer's business, do not refer

to any of your outside efforts unless asked about

them. Whether you aspire to be an artist or your

goals do not extend past being an excellent sideperson

pay attention to what goes on around your

employer, what works and doesn't work in the music

and presentation. Also learn what works and doesn't

work in your communication with your employer.

Artists vary greatly in how much collaboration they

want. When offering suggestions be sensitive enough

to know how far you should go. Always be willing to

try to give the artist what they are asking for in their

music.

When you work for an artist you are in a relationship.

Most likely, with the obvious exception of family, there

is nothing more important to this artist than their

music. You will be expected to be supportive of this.

There is more at stake here than a job you walk away

from at 5 pm weekdays and forget about completely

on Saturday and Sunday. You, the side-person, can

put the job out of your mind when not actually on the

job, but your employer will be living with it 24/7/365.

This can be a tricky situation to navigate. Some

artists, because they are so immersed, may lose sight

of the fact that you have a life outside of their music.

They may need to be reminded. Remind them. If you

allow them to drag you into their degree of immersion

you may grow to resent it and begin the downward

slide into complaining and discontent.

However, if you are willing to be more immersed in

your employer's career than the next guy it could

work in your favor. There are, working today, many

recording artists whose present-day status in the

music industry does not match the standing they

enjoyed during their heyday. Many artists who once

played arenas are now playing clubs and 250-500

seat theaters. In the past, record companies offered

tour support as a necessary investment toward album

sales. Most of these artists are no longer signed to

record company contracts and are self-producing their

records and selling them at their concerts. They are

paying all of the expenses of touring. A new breed

of touring musician/side-person has emerged. For

the chance to escape the bar band scene, these

musicians are doing extra work. When these stars

were on top they were paying for specific services and

assistants. Now, enter the bass player/booking agent,

the drummer/tour manager. Many of these musicians

are not charging for these extra services. The extra

work is worth the opportunity to join the band of a

legitimate rock star. For the rock star's part, if he can

save money by hiring a bar band musician who will

do another job in addition to his own, who can blame

him?

I have attempted to give a brief overview of the role

and opportunities for the side-person. Cases vary.

There is no clear tried and true path. One thing is

certain: being a side-person can be rewarding to

the musician whose first love is music.

If you are living inside each note as it is

played you are in the best place that can be

reached in music.

By Dan Walters 19
---
www.StaticLiveMag.com

Crabby's Oceanside - Cyclones Unplugged 12pm

Outriggers - Bradford Buckley 2pm

Tayton O'Brians - Casey Picou 8pm

Sunday, December 1

Bounty Bar - Jay Paski 7pm

Chase's - Warren Beck 10am

Crabby's Oceanside - Jonny Odis 12pm

Outriggers - Danny Dread 2pm

Tayton O'Brians - Hall Brothers 8pm

Tuesday, December 3

Grind/Kona - The Transfers 6pm

Wednesday, December 4

Grind/Kona - Are Friends Electric 6pm

Traders - Mark Moore 7pm

Thursday, December 5

31 Supper Club - Warren Beck 6pm

Flagler Tavern - Eddy Davis 5pm

Gind/Kona - The Click 7:30pm

Outriggers - Dustin Stock 6pm

Yellow Dog Eats - Claire Vandiver 6pm

Friday, December 6

31 Supper Club - John Rhodes 7pm

Bounty Bar - Adam Swari 7pm

Crabby's Oceanside - Jay Paski 4pm

Grind/Kona - The Vibe 7pm

NSB Brewing - Warren Beck 6pm

Outriggers - Smokin' Torpedoes 6pm

Traders - Casey Picou 6pm

Traders - Mike Quick Band 9pm

Yellow Dog Eats - The Evening Muze 6pm

Saturday, December 7

31 Supper Club - William Cintron 7pm

Bounty Bar - Hannah Wilson 7pm

Chase's - Faith Hannon 4pm

Crabby's Oceanside - Warren Beck 12pm

Crabby's Oceanside - The Vibe 5pm

Grind/Kona - Ian Opalinski 7pm

NSB Brewing - Down River Duo 6pm

Outriggers - Brent Clowers 6pm

Tayton O'Brians - Bradford Buckley 9pm

Tortugas - The Cyclones 6pm

Traders - Etc 6pm

Traders - Mike Quick Band 9pm

Yellow Dog Eats - Gina Cuchetti 6pm

20

Sunday, December 8

Bounty Bar - The Evening Muze 7pm

Chase's - Bradford Buckley 10am

Crabby's Oceanside - Down River Duo 12pm

Flagler Tavern - Bradford Buckley 5pm

Outriggers - The Vibe 2pm

Tayton O'Brians - Casey Picou 8pm

Tuesday, December 10

Grind/Kona - The Evening Muze 6pm

Wednesday, December 11

Grind/Kona - Chuck Morel 6pm

Traders - Warren Beck 7pm

Thursday, December 12

31 Supper Club -Jonny Odis 6pm

Bounty Bar - Warren Beck 7pm

Flagler Tavern - Ian Opalinski 5pm

Grind/Kona - Luvu 7:30pm

Outriggers - Cory Shenk 6pm

Yellow Dog Eats - The Cyclones 6pm

Friday, December 13

31 Supper Club - The Jazz Team 7pm

Bounty Bar - Thom Blasberg 7pm

Crabby's Oceanside - Danny Dread 4pm

Grind/Kona - Brent Clowers 7pm

NSB Brewing - The Vibe 6pm

Outriggers - Jimmy Z 6pm

Traders - Acoustic Inferno 6pm

Traders - DJ 9pm

Yellow Dog Eats - Jay Paski 6pm

Saturday, December 14

31 Supper Club - Brent Clowers 7pm

Bounty Bar - Brody Mullikin 7pm

Chase's - Danny Dread 4pm

Crabby's Oceanside - Mark Moore 12pm

Crabby's Oceanside - Clint & Layla 5pm

Grind/Kona - The Cyclones 7pm

NSB Brewing - Seth Pause 6pm

Outriggers - The Evening Muze 6pm

Tayton O'Brians - James Ryan 9pm

Tortugas - Smyrna Erb 6pm

Traders - Randy Williams 6pm

Traders - DJ 9pm

Yellow Dog Eats - Adam Floyd 6pm

Sunday, December 15

Bounty Bar - Jeff Risinger 7pm

Chase's - The Transfers 10am

Tuesday, December 17

Grind/Kona - The Transfers 6pm

Wednesday, December 18

Grind/Kona - Are Friends Electric 6pm

Traders - Bradford Buckley 7pm

Thursday, December 19

31 Supper Club - Cesar Romero 7pm

Bounty Bar - Austin Miller 7pm

Flagler Tavern - Ian Opalinski 5pm

Grind/Kona - Bradford Buckley Band 7:30pm

Outriggers - Dustin Stock 6pm

Yellow Dog Eats - Chuck Morel 6pm

Friday, December 20

31 Supper Club - Mark Raisch 7pm

Bounty Bar - Music Matt 7pm

Crabby's Oceanside - Mike Quick Band 4pm

Grind/Kona - Adam Floyd 7pm

NSB Brewing - Sam Seas 6pm

Outriggers - Off the Road 6pm

Traders - Marty McCarrick 6pm

Traders - SocietY 9pm

Yellow Dog Eats - Down River Duo 6pm

Saturday, December 21

31 Supper Club - Rocker Jake 7pm

Bounty Bar - Faith Hannon 7pm

Chase's - Smyrna Erb 4pm

Crabby's Oceanside - The Evening Muze 12pm

Crabby's Oceanside - Austin Miller 12pm

Grind/Kona - Cory Worsley Duo 7pm

NSB Brewing - The Evening Muze 6pm

Outriggers - Relief 6pm

Tayton O'Brians - Cody & Kyle 9pm

Tortugas - 5 Time Shag 6pm

Traders - The Vibe 6pm

Traders - SocietY 9pm

Yellow Dog Eats - Eddy Davis 6pm

Sunday, December 22

Bounty Bar - Jay Paski 7pm

Chase's - Reed Foley 10am

Crabby's Oceanside - Jessie Abbey 12pm

Flagler Tavern - Randy Williams 5pm

Outriggers - The Vibe 2pm

Tayton O'Brians - Pot Likkers 8pm

Tuesday, December 24

31 Supper Club - Warren Beck 6pm

Grind/Kona - The Evening Muze 6pm

DECEMBER

2019

Thursday, December 26

31 Supper Club - The Transfers 6pm

Bounty Bar - Jonny Odis 7pm

Grind/Kona - Trainwreck Trio 7:30pm

Outriggers - Cory Shenk 6pm

Tayton O'Brians - Eddy Davis 8pm

Yellow Dog Eats - Clint & Layla 6pm

Friday, December 27

31 Supper Club - Felix Deneau 7pm

Beacon - Jason Longoria 6pm

Bounty Bar - Warren Beck 7pm

Crabby's Oceanside - Cory Worsley 4pm

Grind/Kona - Bradford Buckley 7pm

NSB Brewing - Brent Clowers 6pm

Outriggers - Gina & Mary Cuchetti 6pm

Traders - Psycoustic 6pm

Traders - Pop Culture Poets 9pm

Yellow Dog Eats - Jonny Odis 6pm

Saturday, December 28

31 Supper Club - Dana Kamide Band 7pm

Bounty Bar - Reed Foley 7pm

Chase's - Jay Crosier 4pm

Crabby's Oceanside - Jonny Odis 12pm

Crabby's Oceanside - Jason Longoria 5pm

Flagler Tavern - Are Friends Electric 5pm

Grind/Kona - Jay Paski 7pm

NSB Brewing - Bradford Buckley 6pm

Tortugas - Cain 6pm

Traders - Etc 2:30pm

Traders - Aaron Lightnin' 6:30pm

Traders - Pop Culture Poets 9pm

Yellow Dog Eats - Hannah Wilson 6pm

Sunday, December 29

Chase's - Jonny Odis 10am

Crabby's Oceanside - Warren Beck 12pm

Flagler Tavern - Adam's Edge 5pm

Outriggers - Are Friends Electric 2pm

Tayton O'Brians - Casey Picou 8pm

Monday, December 30

Tayton O'Brians - Bradford Buckley 9pm

Tuesday, December 31

31 Supper Club -Rat Pack 7pm

Grind/Kona - Bradford Buckley 8pm

Outriggers – The Vibe 8pm

21
---
Rocktails

with Katie

Hey all you Static Live readers out there! It's the most

wonderful time of year for some cocktail lovin' from

your local Mixtress, Cocktails with Katie. This Rocktail

is made in honor of Deep Purple December! A month I

made up dedicated to those English Rock & Roll Hall

of Fame legends that drove hard-rock muscle straight

into the pop charts in the grooviest of eras, the '70s,

baby! So crank up Highway Star as you ride over to

NSB's Flagler Tavern this month for The Bounty's

beloved Christmas Cocktail list; make sure you don't

forget to rock out with your cocktail out.

Naughty list, here we come! I was introduced to the

intoxicating sound of Deep Purple by my bad-ass

drummer/fiancee, Mr. Juliano Ciampaglia Rosa.

Juliano is a crazy talented, self taught drummer

that learned by listening to Deep Purple's own

drummer, Ian Paice. Paice is Juliano's drumming idol

and basically his greatest music influencer. While

listening to all of Deep Purple's albums like Come

Taste the Band ('75), Fireball ('71), Burn

('74); Juliano followed Paice's lead into

becoming a master of the sticks. Paice's

swing-style drumming, solid work ethic

22

and status of being of the founding members of

Deep Purple; earned him the title of Rock & Roll's

greatest drummers of all time. It was Paice's powerful

drumming that served as an important ingredient to

Deep Purple's new harder-rocking direction in the

early seventies. The band has seen members come

and go for various reasons, but Ian Paice has always

been a staple in Deep Purple. He is the only founding

member of the band still performing with the group.

Ian himself once said "How do you keep ninety people

together with one stick? I've got two sticks and I can't

keep five people together."

Smoke on the Water

2 oz Angel's Envy Bourbon

1/2 oz brown sugar syrup

2 dashes Peychaud's Bitters

2 dashes coffee bitters

Pinch of Jack Daniels Single Barrel Whiskey

Get out your favorite mixing glass; pour in Angel's

Envy Bourbon, brown sugar syrup, Peychaud's

Bitters, and coffee bitters. Fill mixing glass with ice.

Stir virtuously until nicely chilled. Strain the chilled

cocktail into a decanter. Then you're ready to smoke it

up! With a culinary smoke gun, pack in whiskey chips,

place the smoking tube into a decanter, then ignite

to fill decanter with heaven smoke. Swirl cocktail into

the decanter to infuse the smoke flavor throughout

the libation. Pour over an ice sphere while singing

the chorus to Smoke on the Water. Garnish with a

luxardo cherry and orange peel. Drink while listening

to Deep Purple's Machine Head '72 album and let

the Space Truckin' begin. Also, be sure to check out

Juliano hitting the skins sometime around town with

the amazing Mike Quick Band!

Ian Paice Photo source: DRUMMERWORLD

IN THE BOUNTY

New Smyrna's Only Speakeasy

4 Course Dinner

$ 89

PER PERSON

$ 99

PER PERSON

5pm SEATING

DINNER ONLY

7pm SEATING

DINNER & BASH*

* Includes Re-Entry Ticket

THE

BOUNTY BASH *

Midnight Champagne Toast

Live Music on the Deck

Party Favors

SPACE IS LIMITED. MAKE YOUR RESERVATION TODAY 386.402.8861
---
ARTIST FEATURE

24

KELCIE McQUAID

By Bartholemew Betelguese III

The art of drawing has been around since prehistoric

men and women used charcoal leftover from fires to

create mosaics on the walls of caves.

It's progressed very little over the years and many

artists have found ways to accentuate the drawings

they create. This month's artist does just that. Taking

what is already interesting and unique drawings, she

then adds watercolors and paints to make each piece

of work more beautiful and vibrant. Her eye for brilliant

colors and placement has helped her become a staple

mark among other painters in her community. Here's

a little more about this month's artist and what makes

her so special.

Awarded "Best Emerging Artist 2015" in Broward/

Palm Beach New Times, Kelcie McQuaid is a

Professional Artist, Curator, and Founder of ShangriLa

Collective. McQuaid's mixed-media paintings

challenge emotional and creative boundaries by

layering bold illustrative portraits with vibrant abstract

painting techniques.

As a curator, Kelcie connects emerging and midcareer

artists with a clear creative vision who seeks

to explore the human experience through multimedia

exhibits. McQuaid was an early champion of local

developing art districts such as Mass District and Fat

Village and has worked with many cultural entities

including Broward County's Cultural Division, Fort

Lauderdale's Museum of Art, Pompano Beach's

Cultural Center, Coral Springs Museum of Art,

ArtServe and many others. She curated and project

managed "Open Canvas Project". a massive public art

project for the City of Fort Lauderdale and ArtServe,

winning Best Non-Profit Collaboration of the Year. Her

influence can be seen and felt throughout the Tri-

County area, where she was born and raised.

Kelcie's paintings are inspired by a balance of

feminine energy, vulnerability, strength, and struggle.

She is largely influenced by relationships from past

to present and how people and our relationships

can evolve, dissolve or transcend. Her art strives to

capture how perspectives change over time. As we

grow and age, we see things in different contexts.

With this in mind, she uses the layering of paint, ink,

and other media to express her personal growth and

power. Each time she picks up a brush, McQuaid

revisits the paintings as a stronger person and she

passes her development on to her works.

954.336.6617 - KelcieMcQuaid.com -

KelcieMcQuaid@gmail.com - Instagram.com/

kelciemcquaid - Facebook.com/KelcieMcQuaidArt

ARTIST FEATURE
---
ARTIST FEATURE

Mike Bloomfield:

A Blues

Tragedy

By Hank Harrison

26

I

first met Mike Bloomfield when the Grateful Dead

were cutting a test track for Tom Donahue's

Autumn records at Pacific-High budding studio in

San Mateo; that would be about Fall of 1965. We

had a few hours scheduled but got bumped because

Bloomfield had to do a Budweiser commercial and

man was he pushy. We got a bad vibe there, but I

loved his blues synthesis, especially when he hooked

up with a whole bunch of my friends from Big Brother,

and the Charlatans. Years went by until I got to know

him better, up close and strung out.

Bloomfield was - what some critics would call - a triple

threat. Not just a blues man but a tyro in jazz and

even folk and country music. When he was in high

school, learning how to finger pick, he had a revelation

that translated those twang and slide techniques to

electric blues. Mike went full blown gospel on "His

Holy Modal Majesty" album but ends the track with

a tribute to John Coltrane, so I guess he fulfilled that

high school vision.

Bloomfield was born into a wealthy Jewish family on

Chicago's north side but preferred music to the family

catering business. By the way, Mike's father designed

those little ceramic creamers in the shape of a cow,

where the milk pours out of the cow's nose… who

knew?

Becoming a Chicago blues devotee in high school

and spending most nights haunting Nelson Algren's

south side blues clubs, the dives that employed

Frankie Machine, the drummer from The Man with the

Golden Arm, really brought out Mikes talent.

According to B.B. King, "The guys Bloomfield sat in

with early on knew this was not just another white

boy from Cicero, looking for jive thrills." Among his

early supporters were Muddy Waters, Bob Dylan and

Buddy Guy. Michael was quoted in Blues Magazine

saying: "Black people suffer externally and Jewish

people suffer internally. The mutual suffering is the

fulcrum for the blues." So I guess he knew early on,

what it meant when the Thrill Is Gone.

During those trips to the south side blues

clubs, Mike ran into Paul Butterfield and

one night Butterfield took Mike over to meet

Elvin Bishop, who ran his own club, the

27
---
Fickle Pickle. After that it didn't take long for Mike to

be discovered on stage. Soon after that, Mike's 6 foot

plus skinny hulk, his afro and constant gigging landed

him an audience with the legendary talent scout John

Hammond. John was a jazz producer at Columbia

(see Miles Davis Kinda Blue) and, although Columbia

wasn't into Blues per se, Hammond signed Mike up

on first sight.

Bloomfield's work on Butterfield's debut album, and

the subsequent East-West raga trip, made it a best

seller and a tour de force. In San Francisco, people

were dancing to it for hours, specifically to East-

West's thirteen-minute title track, an instrumental

combining elements of blues, jazz, psychedelic

rock, and the classical Indian raga. Undoubtedly,

Bloomfield's solos were turning people on. The rumor

became legend that Mike created East-West after an

all-night acid trip, but a subsequent anthology of the

Butterfield band included a booklet denying this.

Bloomfield also gained recognition for his work with

Bob Dylan during Dylan's first explorations into electric

music. In fact, Bloomfield's sound was a

major part of Dylan's controversial change

of style, especially on Highway 61 Revisited

and as Dylan's electrified back-up band

28

at the 1965 Newport Folk Festival, which garnered

many disappointed boos from the folkies.

Mike eventually got burned out on touring and

decided to relocate to San Francisco, but at the same

time he was deeply moved to create his own group

which turned out to be the Electric Flag in 1967 with

two old Chicago buddies, organist Barry Goldberg

and the multi-talented Nick Gravenites, who had

already moved to San Francisco. In fact, around that

time, Nick's sister Linda, became one of Janis Joplin's

best friends and made sure Mike met the ladies of the

foggy city. Stylistically, the Electric Flag - complete

with a horn section - sounded great. The inclusion of

drummer Buddy Miles gave Bloomfield and all-star

doo-wop and R&B throb.

The Electric Flag debuted at the 1967 Monterey Pop

Festival. The most critically REAL track put out by

Electric Flag was, Fine Jung Thing, a still listenable

synthesis that was way ahead of its time. More

important to me was the use of this track in the Peter

Fonda and Susan Strasburg film, The Trip, which I

showed on Beta video to my crisis counselors to train

them to sense what an LSD trip was like. You can

laugh now, but It worked.

By now you've figured out that for part of my life I

functioned as an alternative or underground therapist,

a radical shrink and one of the things that turned me

off was watching my blues singer friends like Pig Pen

and Mike Bloomfield die… one small chunk at a time.

The Pig Pen saga is another story but Bloomfield's

death spiral started for me at New York Kennedy TWA

terminal; you know, the bird shaped building.

September, 1979. I just landed a job with the Irish

Government, feeling pretty damn smug. I'm taking

the SFO bound United and I see this drunk hippy

staggering around in the boarding area giving an

airline official a bad time. Two stewardesses were

giving me the eye, suggesting I do something. They

were denying him boarding even though he had a first

class ticket. The reason? He was staggering drunk

and smelled awful.

I took another look… shit man… it was Mike

Bloomfield trying to get back to Frisco. W T F? Wait!

No! This can't be happening… this is Mike Bloomfield.

I felt a stomach punch, not because it was Mike but

because this massive rock star was wandering around

in an airport as if somebody just dumped him out of

the back of a truck.

I talked to him, "Hey Mike, what's up man? It's Hank

Harrison" He looked up from his grog head. "Oh, l

know you right?"

"Yes Mike, you know me, remember hanging out with

Linda Gravenites? at Janis' house?" "Oh yeah

good times man…"

I looked over at the boarding agent, both hands on

her hips. I knew what that meant. When women get

fed up with something they put their hands on their

hips and glower at you, I got the message… "DO

SOMETHING!" The radical shrink in me kicked in,

"Yes Mike, but are you going to be good?" … "These

people want us to sit together, or they're calling the

feds.

Mike sez, "Oh man I gotta get back to the coast… I

got a gig."

"Well let's get on the plane now and behave

ourselves, OK?"

The hands went down from the hips and all heads

nodded. I thought to myself, "This is an interesting

development, who the fuck left this savant-genius in a

gangway at Kennedy?"

Wheels up! Mike is strapped in. I can smell him but

nobody else in the plane gets the picture. The United

stew set him up with a club soda in his hand. No

booze. I asked him if he had to make a visit to the

boys room, he says no, mainly because he already

pissed himself in the waiting area. Mike took that odd

moment to tell me that he had just finished a book

collaboration with R. CRUMB on his blues mentors

in Chicago, titled ME and BIG JOE… a reference to

Big Joe Williams. I was impressed. Then, magically

the engines droned him to sleep. He crashes out the

whole way and we get home after dark. I have a rental

waiting.

I drove him home to his Corte Madera pad, because

nobody met him at SFO. Another WTF? moment.

But the story doesn't end here. I stayed in touch

with Mike for a couple of visits, he looked okay for a

while, but sinister forces were in the stew. I had to go

abroad for a sabbatical and I lost track of Mike. I did

my research, and I now know the secrets but I can't

even whisper them here… you have to figure it out for

yourself.

Eleven o'clock Sunday morning, February 15th. 1981.

Mike Bloomfield, the guy who talked Dylan into rock

& roll, the guy who put Bollywood into the blues,

was found mysteriously dead, in a car seat on the

100 block of Ulloa street, near the corner of Laguna

Honda Blvd. … no note, no explanation. Mike had

a small funeral with Bill Graham and his ex-wife in

attendance at the Jewish Community center and

then his remains were shipped to Los Angeles, by

his family, where he lies in repose in a high class

memorial with a plaque to mark his tomb. That's all.
---
CROSSWORDPUZZLE

1. What is the name of the iconic musician, Prince's studio?

2. What does the pop trio's name, ajr stand for?

3. What was the title of Jonny Lang's hit song that he released at age 16?

4. What is the title of the movie that pays to tribute to the band, Depeche Mode?

5. What state was American guitarist, Joe Bonamassa born in?

Answers on page 35

6. What 2000s Disney Channel TV show was Miley Cyrus apart of?

7. How did Miley Cyrus get the name "Miley"?

8. What year did the pop band, Maroon 5 form?

9. What was hit Disney Channel TV show was Selena Gomez featured in?

10. What is the title of Harry Styles' upcoming album being released in December?

30

Answers on page 34

Answers on page 35
---
I'm a big fan of holiday music. I know it gets played

out, but there's so much to love about these unusual

seasonal tunes. Whether Christian based, holiday

centric, or weather oriented most contain unifying

elements of love, peace, comfort and joviality

accompanied by the jingling of bells, and happy

harmonies. Some even hold the promise of hope and

holy salvation. Isn't it funny that these rollicking songs

blast the airwaves yearly, overwhelming the rest of

the competition for a while? It's our one universal

soundtrack. As I listen all day long to Music Choice's

Holiday hits, old and new, I've realized a few key

things about this strange genre my sisters and I get

to be a part of. Holiday Music is the great equalizer of

the music industry! It's also an archive of the beautiful

and the bizarre. Here are some of my findings:

1 Any mainstream or

independent Artist can remake

any holiday song and

put their own stank on it! Take

"Santa Claus is Coming to

Town". Listen to Bing Crosby

and The Andrews Sisters

original version, then listen

to Bruce Springsteen's and

Mariah Carey's take on it. All completely different,

all completely awesome and unique to each's

artistry. Holiday music differs from other genres

because it actively encourages a wide variety of

cover opportunities. According to Spotify, the top 3

Christmas covers of all time are: #3 Jingle Bells, #2

White Christmas and coming in at #1 Silent Night

with 137,315 versions! I would've thought Santa Baby

was somewhere in the top 10, but no. It's the most

played-out cover in my book. You have Eartha Kitt's

original vs Madonna vs Gwen Stefani vs Kellie Pickler

vs Ariana Grande vs Rupaul...the list goes on. Eartha

obviously wins this Santa Baby sing off, but the mass

re-make-a-thon can quickly turn into a "Battle of the

Indistinguishables" real fast when you are listening to

the Holiday station for hours. If any of you can tell the

difference between Ashley Tisdale's "Last Christmas"

and the cast of Glee's version, you get a

candy cane!

32

2 Any artist can put out a

brand new seasonal song

and hope it goes on to

become a modern Holiday

Classic. Example, Mariah's

"All I Want For Christmas is

You", Lindsey Buckingham's

"Holiday Road" and "Mary

Did You Know" by Michael English. Honorary mention

goes to the Beu Sisters for "Dear Santa" and "Home

for Christmas", soon to be Christmas classics! (Btw

I saw one copy of Disney's Jingle Jams available on

Amazon recently! Grab it while you can! They're flying

off the...interwebs.)

3 Fun fact: With only a hint

of holiday instrumentation

and some seasonal-ish lyrics,

you may get lucky and have

your song added to that

much sought after holiday

rotation. For example, the

Beu Sisters "My Christmas

was in June", "My Favorite Things" from The Sound of

Music, Franz Schubert's "Ave Maria", Joni Mitchell's

emotionally evocative "The River" and Leonard

Cohen beautiful "Hallelujah". All great songs, but not

technically Christmas songs.

4 Pretty terrible songscan

still be super successful

holiday hits and get tons of

airplay, bringing lots of good

cheer during this time of

year, as long as its kitschy

and Christmas-y enough!

For instance, "I want a

Hippopotamus for Christmas" and "All I Want for

Sounds of the Season

By Candice Beu

Christmas is my 2 Front Teeth" by Spike Jones (not

the filmmaker) or "I'm Gonna E-mail Santa" by Billy

Gillman and Rosie O'Donnell. There's a treasure

trove of "so bad they're just bad" hits such as Bob

Dylan's "Must Be Santa", "Funky Funky Christmas" by

NKOTB, Hilary Duff's "Santa Claus Lane", "Christmas

Cookies" by Rupaul, the truly awful "The Christmas

Shoes" by Newsong, and the now classic "Grandma

Got Run Over By a Reindeer" by Elmo & Patsy. At the

top of my list of terribly tasty holiday treats are two

internet sensations with their most amozzing holiday

hits: "Chanukah Fever" by Mama Doni and the big

winner...Jan Terri's "Excuse My Christmas". Give em

all a listen this season...I double dog dare ya.

5 All Artists of holiday

music (even independents)

are almost always

guaranteed airplay for

at least an entire month

straight. There also seems

to be no discrimination

between artists of today and

yesteryear in the rotation. With virtually no hierarchy,

all are welcome! Everyone gets a seat at the table.

This presents a great musical buffet we often neglect

to ingest in our everyday listening diets. Where else

can you hear little Aaron Carter played side by side

the Trans-Siberian Orchestra? Boyz II Men and The

Beu Sisters in the same lineup as John Lennon and

Paul McCartney...Johnny Mathis following NSync...

Donny Hathaway after Elvis...Frank Sinatra before

a Faith Hill song...Michael Buble' and Mariah Carey

sharing the same platform as Monica Matocha! I only

heard of Ms. Matocha because of her rendition of

"Holiday Road". Her seasonal single was released

independently on iTunes in 2011. How cool is that!

She's out there! We're out there! Elvis is still out there!

And we all somehow made it to the same banquet.

Nowhere on earth, except during the holidays, is this

kind of musical smorgasbord EVER available to the

listener. I'm not saying this is the best idea in the

world...I'm just pointing it out. It's pretty weird but it's

also pretty cool.

6 Artists of old arerevere

for a time on holiday stations,

giving us older kids a chance

to recall our sweetest

childhood memories. Where

once the smooth voices of

Perry Como, Andy Williams,

Bing Crosby, Johnny

Mathis, Frank Sinatra, and Robert Goulet sang to

us thru scratched albums, now crystalline mixes of

these crooners holiday tunes have been preserved

and shared with our kids (tho I still prefer those

gritty recordings). When did any of these recording

giants last get airplay? Well, like all of us, LAST

CHRISTMAS! (lol) Due to the holidays, most artists

who've been relegated to the back bins, or put out to

pasture get resurrected (like Jesus and Frosty) for a

brief moment, one magical month per year.

7 We can put on holiday

songs at home or in the car

with our kiddos present and

not worry much about what

their little ears are absorbing.

For the most part we're

hearing upbeat, positive

songs with good messages

and clean lyrics. Wait...I take that back. There are

those racy exceptions like Indi artist Danielle Car's

"Save Your Cookies For Me". With lyrics like "Let me

jingle your bells, You can play with my elves"...it's

pretty spicy but still not as questionable as the ever

controversial, creepy yet unabashedly catchy "Baby,

It's Cold Outside". If you listen closely, you'll find that

Naughty Santa Songs have been hidden

in plain sight going WAY back. Dissect

the lyrics of Ella Fitzgerald's "Santa Claus

Got Stuck in My Chimney", "I saw Mommy

33
---
Kissing Santa Claus", Elvis's "Santa Claus is Back

in Town", Clarence Carter's "Back Door Santa", the

jazzy "I've Got a Present for Santa" and yes, good ole

"Santa Baby" and you'll see what I mean. I personally

don't get the fascination with sexing Santa or coming

down chimneys but I find it endlessly fascinating

that so many songs have been written in this vein. It

makes me want to write a sexy Santa song, since we

all know sex obviously sells, even at Christmastime.

version of the Nutcracker with a twist by Fred Waring

and his Pennsylvanians. It is the BEST thing I've

ever heard. Conceived by arranger Harry Simeone,

it combines this classic score with charming lyrics

written by Waring. Absolutely brilliant, weird,

humorous and simply enchanting. You can find it on

YouTube and thank me later. The 1940's harmony

style is done in such a dynamic way that my sisters

and I would love to replicate this sound on our own

Christmas album someday.

CROSSWORD

PUZZLE answers

8 Super depressing

Christmas songs are the

worst. Why make shit

worse for those who are

having a hard enough

time during the holidays?

Blue Christmas...skip...I'll

be home for Christmas…

skip..."Please Come home for Christmas", "Another

Lonely Christmas", "Someday at Christmas", "Where

Are You Christmas"…all hard passes! For some

reason there's this trend of sad "story" songs going

around including Nat King Coles "The Little Boy that

Santa Forgot", "Toyland" by Doris Day, Skip Ewing's

"Christmas Carol", Hermann Lammers "Faith In

Santa" and Newsongs "The (mfing) Christmas shoes"!

Who needs it? I don't. Whenever any of these come

on, I flip the channel as quickly as if a Spike Jones

classic came on.

9 Everyone loves

some Cool Yule! If you

are a treasure hunter of

hidden holiday gems then

you'll find lots buried on

movie soundtracks. Vince

Guaraldi's A Charlie Brown

Christmas is full of them. Check out the Home Alone

Soundtracks, The Snowman (short animated film)

and Harry Potters Hogwarts Christmas music. These

are some of the best wintery instrumentals around.

The "Elf" Soundtrack has a stellar playlist too with an

unbeatable, jazzy Nutcracker Suite. It's a standard

in our home, as is the original Nutcracker. "National

Lampoon's Christmas Vacation" soundtrack is great

and if you are an R&B fan then Chris Browns "This

Christmas" is up there too. One of my favorites is

not from a movie but a classical piece by Emile

Waldteufel called "The Skaters Waltz". Written in

1882, it's one of the most famous wintery pieces

around. My final prize for you seekers is a 1947

10 Final consensus:

Nobody likes "The Little

Drummer Boy". Do you?

Most hated boy, most hated

Christmas song. Who let this

kid approach Jesus's crib with

a snare drum anyway? It's the

last thing Mary and Joseph

need, and according to the

Internet, it's apparently the

last thing holiday listeners want. Nationally, this song

has been voted most likely to make you get up and

change the station. The plot of the song reminds me

of a Bad Luck Brian meme: Shows up to babies party

with no gift, plays "sick" drum solo, annoys everyone.

At first glance, it's a long, boring song about excuses,

but as my mom pointed out, the boys gift was his

song and what a powerful message for musicians that

is. There is some controversy around who the actual

composers are. You'd think no one would want credit

for this turd but with 220 versions in 7 languages,

those royalties do add up.

Holiday music is like the Snowman, eventually it melts

away but it is sure to return again next year! So enjoy

it while it's here. On a side note, I'd like to share with

you some news my sisters and I recieved, making

this season all the more merry and bright. We just

found out that our original song "Home for Christmas"

is the opening song in a Shannen Doherty and

Antonio Sabato Jr. holiday movie called "All I Want

For Christmas"! This is what I love about our job.

Sometimes you unexpectedly find out that a song you

wrote 15 years ago has been placed in a movie that'll

get shown every holiday. Who doesn't love a good

old fashioned cringe-worthy holiday film after all?!

They're our favorite. This news has truly been the "gift

that keeps on giving". It makes me smile every time

I think about it. The film was released internationally,

but here's hoping for a US release date in the coming

season and tidings of comfort and joy for all of us this

holiday!

answers

1. What is the name of the iconic musician, Prince's studio? Paisley Park

2. What does the pop trio's name, ajr stand for? Adam, Jack, and Ryan

3. What was the title of Jonny Lang's hit song that he released at age 16? "Lie to Me"

4. What is the title of the movie that pays to tribute to the band, Depeche Mode? Spirit of the Forest

5. What state was American guitarist, Joe Bonamassa born in? New York

6. What 2000s Disney Channel TV show was Miley Cyrus apart of? Hannah Montana

7. How did Miley Cyrus get the name "Miley"? Her parents nicknamed her "Smiley" as a child and this

was then shortened to "Miley"

8. What year did the pop band, Maroon 5 form? 1994

9. What was hit Disney Channel TV show was Selena Gomez featured in? Wizards of Waverly Place

10. What is the title of Harry Styles' upcoming album being released in December? Fine Line

35
---
Behind the Mic: Riggs

95.7 the Hog, Daytona Beach

Merry Christmas & Happy New Year to you all!

Before we screw the cap on this 2019, I thought I

would run through some of the superlatives of the

year. This compilation is purely my experience,

opinion and product of my spotty and selective

memory. Grab a pen and some Post-it notes and

play along at home if 'ya like!

Top Pizzas

1) Mellow Mushroom Standard Pepperoni pie -

Their crust is unmatched. I've had this pizza in two

states and I can't get enough.

2) Little Caesars Extra Most Best Thin Pep - Pop

this crispy, cheesy, meaty flavor bomb in your trap

and GO!

Best Beers I Tried For the First Time

1) Stone Brewing Scorpion Bowl IPA - this brew is a

magical elixir that will make love to your taste buds

while poppin a stinger in your dinger. Awesome

beer.

2) Lucky Scars Wild IPA - Hoptacular fruit notes

and packs a solid punch

Top Gaffes Of The Year

1) Crushing a titanic drive off the 14th tee box and

then being told by a former Super Bowl winner that

I hit the ball in the wrong direction

2) My haphazard fantasy football draft execution

3) Answering an unknown phone call

Fave Concerts

1) IRON MAIDEN - 1st night of tour leg, only Florida

show. Spectacular lights and sound, props and

setlist. Perfection

2) TOM MORELLO - He played hits from his career

to tracks a DJ played, commanded the stage

alone & crushed some Rage Against The Machine

classics. The crazed crowd reaction must've help

lead to the 2020 RATM reunion

3) DISTURBED - The Chitown Crew whipped

Orlando with a multimedia show that featured

crushing riffs, suicide prevention PSAs and a

burning piano. Loved it!

* Honorable Mention - WINGER - This Daytona

Bike Week show was tragically underpromoted and

underattended but these 4 high level musicians tore

through a hits set that did justice to a great sound

system… in the parking lot of a high school football

stadium.

36

Best Things Found In My Driveway

1) A Big-Ass Turtle

2) Cash ($1)

3) An untainted, wrapped Kit Kat

3) Wild Mike's Ultimate Pepperoni - The freezer

delight was a MUST on every one of my WalMart

runs. But they mysteriously disappeared from the

shelves and now I can't taste the magic of a great

flavorful pie and giggle at the best logo in the game.

R.I.P., Wild Mike.

Hardest Material Losses

1) 20-year old Nikes that, while clean and in good

condition, apparently lost glue consistency and fell

apart at the soles.

2) My KISS 1984 tour shirt to the goddamn squirrel

3) My 1st Gen 32Gig IPOD Classic - I've been told

it could be the battery and I'd love to have all those

tunes back, but going to the Apple Store sounds

terrifying.

Oddest Things I Saw In Parking Lots

1) A big black bird holding a full Ritz Cracker in its

beak and squawking loudly, as if to say "This one's

MINE, bitches!"

2) An oil stain that was shaped like the Van Halen

logo

3) Pedestrian Indifference

3) Naturdays - Flamingos, Strawberry Lemonade

& Beer. Go ahead, TRY not to have fun with that

party in your mouth.

Most Awkward Social Moments

1) My altercation with the emotional support goat

on the flight to Cali

2) The wave back to the stranger who was not

waving at me to begin with

3) That part where I put my Bealls Outlet card in my

pocket instead of my debit card and had to do the

walk of shame back to the car, leaving the $78 of

items I didn't know I needed stranded on the belt.

Things I've Shouted In Front Of My Kids

1) Hold on to the fuckin' ball!

2) Why would you wash a shirt with a cat turd in the

pocket?!

3) You don't have to be wearing pants to make

sense!

* Honorable Mention - Who tried to flush pizza

down the toilet?

Fave Celeb Interviews On The Morning HOG

1) George Foreman - What a complete delight the

champ was. I spent many nights shouting at Pay

Per View fights, hoping to see Big George KO a

bum. He has moved on from pitching the grill and

is now spokesman for a pain relief product. His

best line in our chat was "your grandkids don't want

to play with you if you smell funny".

2) Olivia Newton-John - Her hypnotic Aussie accent

is the best. But when I told her that her role in

GREASE was part of my "leap into manhood", it got

a little weird.

3) Diedrich Bader - He is the perfect guest, is

hilarious, has great pipes, and gives up some "Rex

Kwon Do" upon request.

Thanks for taking time to read thru these in 2019!

I will try to make them compelling and awesome in

2020.

If not, they'll just be stupid and fun. That's a Win / Win !

Cheers! RIGGS

Catch RIGGS, GUY, & INTERN STEVE

The Morning HOG / 95.7 The HOG, Weekdays

5-10am & SATURDAY NIGHT LOUD 9-midnight

@saturdayloud on Twitter The Morning Hog on fb

riggs@957thehog.com

37
---
Photo Credit: Wikimedia Commons

TED NUGENT - "The Motorcity Madman"

in Daytona at the Peabody Auditorium

Ted Nugent, better known as "The Motor City Madman" came

with guns a-blazing to Daytona Beach's Peabody Auditorium on

Wednesday, August 21st. Terrible Ted wasted no time in opening with

fan favorite "Stranglehold" to get the almost packed crowd buzzing for

more. Political views aside, the trio jammed through gems "Gonzo",

"Paralyzed", "Free For All" and of course radio play standard "Cat

Scratch Fever", as well as other rarities like "Fred Bear ". The Nugg

ended the evening with the classic "Great White Buffalo" while throwing

in a great rendition of the Star-Spangled Banner. America Rules!

New School Album of the Month

Candlemass - THe door to doom

s

For their 12th studio album "The Door To Doom", Swedish doom

metal band Candlemass enlisted the help of legendary Black Sabbath

guitarist Tony Lommi for a little guitar solo action. This 2019 Napalm

Records release also reunites the band with original vocalist Johan

Langquist (from 1986's Epicus Doomicus Metallicus). The end result?

By far, their best album in years. Founding bassist Leif Edling's

grimly dark songwriting brings back that doomy goodness that made

Candlemass one of that genre's masters of doom perfection. Opening

track "Splendor Demon Majesty" brings that Sabbathian sound that

old school fans of metal will really appreciate. It's business as usual

as Candlemass rips through "Under the Ocean" and then into Lommi's

mid- song electrifying solo on "Astorolus - the Great Octopus". In the

end, all eight explosive jams will leave you searching for the key to "The

Door Of Doom".

Old School Album of the Month

Xentrix - Shattered existence

Xentrix' debut "Shattered Existence" may not have been a

groundbreaking thrash metal album compared to other bands of the

late '80s, but what it did offer was perfect sounding riffs along with

melodic undertones that were precisely executed. Compared to other

Aay Area thrash bands like Testament (singer/guitarist Chris Astley's

voice is similar to early Chuck Billy's ), this 1989 Roadrunner Records

release helped shotgun them to the top ranks of the British euro-thrash

scene. For those who love old school thrash, "Shattered Existence" is a

must have. Songs "No Compromise", "Crimes", and "Dark Enemy" will

send you into post-Metallica ecstasy.

LIVE MUSIC

YellowDogEats.com

New Smyrna Location

December 5 - Claire Vandiver

December 6 - The Evening Muze

December 7 - Gina Cuchetti

December 12 - The Cyclones

December 13 - Jay Paski

December 14 - Adam & Farley

December 19 - Chuck Morel

December 20 - Down River Duo

December 21 - Eddy Davis

December 26 - Clint & Layla

December 27 - Jonny Odis

December 28 - Hannah Wilson

147 Canal St.

New Smyrna Beach 32168

(386) 410-4824

DOG FRIENDLY

Open every day at 11am

Gotha Location:

1236 Hempel Ave.

Windermere 34786

(407) 296-0609
---
DECEMBER

6 th BAD SANTA &

THE ANGRY

ELVES

7 th SHINE & THE

SHAKERS

8 th ANNUAL

CHRISTMAS

PARTY/FOOD

DRIVE

13 th CHUCK MAGID

BAND

15 th DR BACON

21 st RIES BROTHERS &

SUPERVILLAINS

28 th TRAE PIERCE &

THE T STONES

BAND

31 st NYEGALA

WITH SHINE AND

THE SHAKERS

JANUARY

25 th ERIC HUTCHINSON

BEACHSIDE TAVERN

6 7

8 13 15

21 28 31

FEBRUARY

6 th G. LOVE AND

SPECIAL SAUCE

8 th WEDNESDAY NIGHT

TITANS

24 th JOEY CAPE

29 th MICKEY AVALON

All Music starts at 9pm

1/25 2/6

2/24 2/29

2/8

690 E. 3rd St. New Smyrna Beach, Fl www. BeachsideTavern.com