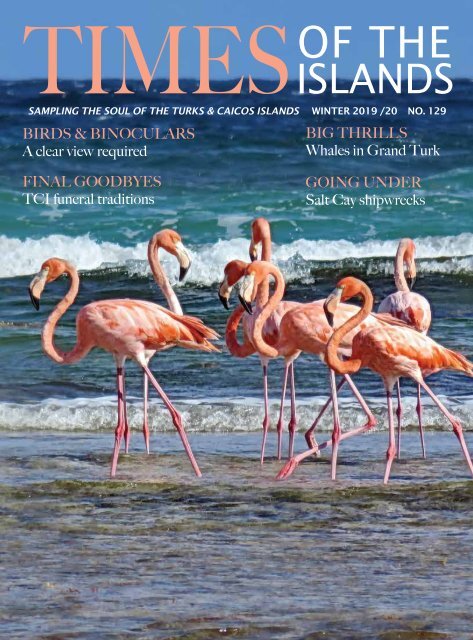 Times of the Islands Winter 2019/20
Presents the "soul of the Turks & Caicos Islands" with in-depth features about local people, culture, history, environment, businesses, resorts, restaurants and activities.
Presents the "soul of the Turks & Caicos Islands" with in-depth features about local people, culture, history, environment, businesses, resorts, restaurants and activities.
SHOW MORE
SHOW LESS
Create successful ePaper yourself
Turn your PDF publications into a flip-book with our unique Google optimized e-Paper software.
TIMES

OF THE

ISLANDS

SAMPLING THE SOUL OF THE TURKS & CAICOS ISLANDS WINTER 2019 /20 NO. 129

BIRDS & BINOCULARS

A clear view required

BIG THRILLS

Whales in Grand Turk

FINAL GOODBYES

TCI funeral traditions

GOING UNDER

Salt Cay shipwrecks
---
T U R K S & C A I C O S ' U LT I M AT E

FA N TA S Y F O O D FA C E - O F F

Two

spectacular

chefs.

Executive Chef Lauren Callighen

Parallel23 at The Palms

Executive Chef Martin Davies

SUI-REN at The Shore Club

S U I - R E N

Award-winning Executive

Chef Martin Davies fuses

Japanese cuisine with

Peruvian flair into a

brilliant blend of the

PA R A L L E L 2 3

Award-winning Executive

freshest seafood and

organic produce.

Chef Lauren Callighen

works her magic with

Caribbean fusion

cuisine featuring the

freshest local ingredients

And

you're the

judge.

seasoned with an abundant

dash of creativity.

A T T H E P A L M S O N G R A C E B A Y

at The Shore Club on Long Bay Beach

Open nightly 6:00 –10:30pm

649.946.8666 | thepalmstc.com

Open nightly 6:00 –10:30pm

649.339.8000 | theshoreclubtc.com
---
TURKS & CAICOS

Generation

Everyone

Everything's Included for Everyone!

2018

2018

More Quality

Inclusions than

any other Resorts

in the World

At Beaches ® Turks & Caicos, everyone can create their

own perfect vacation. For some, it's the white-sand

beaches and calm waters featuring unlimited land and

water sports. For others, it's the awesome 45,000 sq.

ft. waterpark with surf simulator. There's 5-Star Global

Gourmet TM dining at 21 incredible restaurants, and

non-stop bars and entertainment —and it's always

included. Even the tips, taxes, and Beaches transfers*.

We've even added trend-setting food trucks, new live

entertainment, and re-styled accommodations

… making the World's Best even better for

Generation Everyone.

BEACHES.COM in the U.S. & Canada: 1-800-BEACHES

In the Caribbean: 1-888-BEACHES; In Turks & Caicos 649-946-8000

@beachesresorts

WORLD'S BEST ALL-INCLUSIVE FAMILY RESORTS

21

YEARS IN A ROW AT THE WORLD TRAVEL AWARDS

TM/© 2019 Sesame Workshop

*Airport transfers included. Other transfers may be additional. Beaches ® is a registered trademark. Unique Vacations, Inc., is an affiliate of Unique Travel Corp., the worldwide representative of Beaches Resorts.
---
contents

Departments

6 From the Editor

15 Around the Islands

Ice Cream in Parrotice

By Jody Rathgeb ~ Photos By Tom Rathgeb

20 Eye on the Sky

Hidden Dangers

By Paul Wilkerson

24 Creature Feature

Big Thrills —

Meeting Humpback whales in Grand Turk

By Brian Heagney

Photos By Brian Heagney & Sabine Frank

71 Faces & Places

MOTTAC Music Festival

Story & Photos By David Newlands

72 About the Islands/TCI Map

77 Where to Stay

78 Classified Ads

80 Dining Out

82 Subscription Form

Features

44 Final Goodbyes

By Jody Rathgeb

50 Birds & Binoculars

By William J. Cook ~ Photos By Marta Morton

Green Pages

30 The Mighty Mangrove

By Ewa Krzyszczyk

36 Onus or Bonus?

By Kristy Lee, Sylvia Myers, Debbie Bartlett and

Franziska Elmer

40 Roadmap to Sustainability

By Megan Tierney, Lucy Beagley,

Lormeka Williams, Cherylann S. Jones,

Michelle Fulford-Gardiner and Eric F. Salamanca

Photos By Eric F. Salamanca

TIMES

OF THE

ISLANDS

SAMPLING THE SOUL OF THE TURKS & CAICOS ISLANDS WINTER 2019/20 NO. 129

On the Cover

Marta Morton caught this rather disorganized group of

flamingos at North Creek, during a visit to Salt Cay. The

old salinas and salt pans there provide a varied habitat

for waterbirds of all kinds.

Marta documents her life in Turks & Caicos as proprietoress

of Harbour Club Villas with her camera, and readers

are well-familiar with the magic she creates. To see more

of Marta's images, see "Birds & Binoculars" on page 50

and go to www.harbourclubvillas.com.

15

Astrolabe

60 Going Under

Story & Photos By Dr. Joost Morsink &

Dr. Ruud Stelten

66 TCI in WWII

By Captain Eric Wilberg

TOM RATHGEB

4 www.timespub.tc
---
TurksAndCaicosProperty.com

Mandalay - Long Bay Beachfront

Mandalay is the most sophisticated expansive villa built on Providenciales and is set on over 200' of

pristine white sandy beach. The 7 bedroom luxury property features award-winning architectural

design capturing the essence of open Caribbean living with a masterful layout that revolves

a ro u n d a s p e c t a c u l a r m u l t i - l eve l p o o l w i t h c e n t r a l l o u n g e , fi re p i t a n d c a s c a d i n g w a t e r f e a t u re s .

US$15,000,000

Bernadette Hunt

Cell ~ 649 231 4029 | Tel ~ 649 941 3361

Bernadette@TurksAndCaicosProperty.com

Bernadette has lived in the Turks and Caicos

Islands for over 21 years and witnessed the

development and transition of the islands

into a significant tourist destination. Based

on independent figures her gross transaction

numbers are unrivalled. Bernadette

has listings on Providenciales, Pine Cay,

Ambergris Cay, North and Middle Caicos

and is delighted to work with sellers and

buyers of homes, condos, commercial real

estate and vacant undeveloped sites.

Long Bay Beachfront Land

This highly desirable 2 acre parcel of Long Bay beachfront land has an expenasive 150' of beach

frontage and is part of a private residential neighborhood with surrounding spectacular multimilliondollar

villas and luxury developments. This vacant estate site is directly adjacent to The Pearl Villas

and the property has been subdivded into two seperate 1 acre lots that are ready to be developed.

US$3,600,000

Turks and Caicos Property is the leading

independent real estate firm in the Turks and

Caicos Islands with offices located at Ocean

Club West Resort and Ocean Club West

Plaza on the Grace Bay Road.

Bernadette's reputation and success has been

earned over time through her dedication,

enthusiasm and passion for real estate. Her

personal experience as having practiced law

in the islands for more than 10 years together

with owning and renovating a number of

properties means she is well-placed to advise

her customers and developers on what to

anticipate in the purchasing and construction

process.

Bernadette delights in working in the real

estate industry and her humor and energy

make her a pleasure to work with.

Villa Aquazure - Leeward Beachfront

Villa Aquazure is a beautifully designed beachfront vacation rental villa with a total of 4

bedrooms and is located in the most desirable neighborhood of Leeward on the northeastern

corner of Providenciales. The villa has been impeccably maintained and is currently operated

as one of the best vacation rentals in this area generating income in the high six figures.

Please contact Bernadette if you would like

to find out more about owning real estate in

the Turks & Caicos Islands.

US$4,250,000
---
from the editor

MARTA MORTON—HARBOUR CLUB VILLAS

This surreal shot of a late-autumn sunset was captured by Marta Morton overlooking the Harbour Club Villas and Marina docks at South Side

Marina.

Sunrise, Sunset

As I was looking at this photo, one of the songs from the musical "Fiddler on the Roof" came to mind: "Sunrise,

sunset; Sunrise, sunset; Swiftly fly the years; One season following another; Laden with happiness and tears." That's

how I feel these days, as time speeds by and the people and places near and dear to me change.

I think that's why the late autumn's sunlight brings me such joy. It starts with the slow arrival of dawn, marked by

a conch-shell pink tint to the sky, deepening to rose-red at the tops of the billowing clouds at the horizon. Afternoons

are dipped in gold, the sun painting everything in sight with a burnished beauty. These scenes always remind me

of my belief that the God of creation is a master. Nothing humans create comes close to the glorious splendor of

the natural world. This shouts of the existence of a good God, a God of love, a God who will never change. And that

brings me great comfort.

Whenever I count my blessings, living in the Turks & Caicos Islands and having this job come near the top of the

list. I revel in being able to showcase this country's "Beautiful by Nature" portraits and stories in each issue. May this

issue bring you the same joy, beauty and wonder.

Kathy Borsuk, Editor

timespub@tciway.tc • (649) 431-4788

6 www.timespub.tc
---
Introducing the Boathouses

The Boathouses at South Bank will be conveniently

located on the marina waterfront with elevated

water views, most with a private dock keeping

your boat close at hand for when the ocean calls.

Cleverly designed to maximize space and light,

each is imbued with a warm, contemporary

aesthetic as a 1, 2 or 3 bedroom layout. Managed

by Grace Bay Resorts, the Boathouses will offer

the perfect balance of community, service, views

and space.

Prices starting from $795,000

Register interest today at livesouthbank.com

Developed by the

Windward Development Company

www.windward.tc

Brand partners:

Managed by:

For more information contact

Nina Siegenthaler at 649.231.0707

Joe Zahm at 649.231.6188

or email: nina@tcsothebysrealty.com
---
FIVE DISTINCT VILLAGES

TO CHOOSE FROM

1. Key West Village 2. Italian Village

2018

2018

THE WORLD'S BEST

IS NOW BETTERTHANEVER

BEACHES VOTED WORLD'S LEADING ALL-INCLUSIVE FAMILY RESORTS

21

YEARS IN A ROW AT THE WORLD TRAVEL AWARDS

Beaches, waterparks, pools—there's

something for everyone.

MORE QUALITY INCLUSIONS THAN ANY OTHER RESORTS IN THE WORLD
---
3. Caribbean Village 4. French Village 5. Seaside Village

WHERE EVERYTHING'S

INCLUDED FOR EVERYONE

At Beaches ® Turks & Caicos, everyone can create their own perfect day. For some, it's the

white-sand beaches and calm waters featuring land and water sports. For others, it's the

awesome 45,000 sq. ft. waterpark with surf simulator. There's 5-Star Global Gourmet TM

dining at 21 incredible restaurants, and non-stop bars and entertainment —and it's always

included—tips, taxes and Beaches transfers*, too. We've even added trend-setting food trucks,

new live entertainment, and re-styled accommodations … making the World's Best even better.

*Visit www.beaches.com/disclaimers/timesoftheislandsspring2019 or call 1-800-SANDALS for important terms and conditions.

Hang out with some real

characters at Beaches.

Discover a whole world of cuisine with

5-Star Global Gourmet dining.

TM/© 2019 Sesame Workshop

BEACHES.COM • In the U.S. and Canada: 1-800-BEACHES;

In the Caribbean: 1-888-BEACHES; In Turks & Caicos: 649-946-8000 or call your Travel Professional
---
THE WORLD'S BEST IS

BETTER

BEACHES VOTED WORLD'S BEST

21

YEARS IN A ROW AT THE WORLD TRAVEL AWARDS

Beaches ® Turks & Caicos has held the top spot at the World Travel

Awards for two decades by offering families more of everything

on the world's best beach. Every land and water sport, an

awe-inspiring waterpark with surf simulator, 5-Star Global

For more information, visit BEACHES.COM

In the U.S. and Canada: 1-800-BEACHES;

In the Caribbean: 1-888-BEACHES;

Gourmet TM dining at 21 incredible restaurants, and non-stop bars

and entertainment — always included. And now we've added

trend-setting food trucks, new live entertainment, and restyled

accommodations … making the World's Best even better.

In Turks & Caicos:649-946-8000

or call your Travel Professional

TIPS, TAXES AND BEACHES TRANSFERS* INCLUDED

MORE QUALITY INCLUSIONS THAN ANY OTHER RESORTS IN THE WORLD

TM/© 2019 Sesame Workshop
---
Five Distinct Villages

to Choose From

1. Key West Village 2. Italian Village 3. Caribbean Village 4. French Village 5. Seaside Village

THANEVER

Beaches Turks & Caicos

is on the world's

#1 BEST BEACH

by tripadvisor ®

*Visit www.beaches.com/disclaimers/timesoftheislandsspring2019btc or call 1-800-BEACHES for important terms and conditions.
---
The Leading Private Bank in the Turks and Caicos Islands

Where values are growing

Wealth Management • Bonds/Fixed Income

Investment Strategies • Foreign Exchange

Stocks/Equities • Precious Metals

Fixed deposits/CD's • International Transfers

Turks & Caicos Banking Company Ltd.

The Regent Village, Unit H102, Grace Bay Road, Providenciales

Tel: +649 941 4994

Email: services@tcbc.tc • www.tcbc.tc

Regulated by the Financial Services Commission, Turks & Caicos Islands
---
TurksandCaicosRealEstate.com

w/Direct MLS Access

No Nonsense, Just Results!

Beth Atkins

• Authentic • Heart Centered • Powerful and Precise

Turks & Caicos Real Estate Association (TCREA)

2017–2020 — President

2015–2017 — Vice President

2013–2014 — Ambassador

Beth Atkins, President/Broker

HOMES IN PARADISE

BY GRACE BAY REALTY

Cell/WhatsApp: 649-232-5277

Turks & Caicos: 649-941-4105

USA/Canada: 602-324-9400

Beth@GraceBayRealty.com

FOR DIRECT MLS ACCESS

HOMES IN PARADISE

BY GRACE BAY REALTY
---
TIMES

MANAGING EDITOR

Kathy Borsuk

ADVERTISING MANAGER

Claire Parrish

CONTRIBUTING WRITERS

Debbie Bartlett, Lucy Beagley, Kathy Borsuk,

William J. Cook, Franziska Elmer, Michelle Fulford-Gardiner,

Brian Heagney, Cherylann S. Jones, Ewa Krzyszczyk,

Kristy Lee, B Naqqi Manco, Dr. Joost Morsink, Sylvia Myers,

David Newlands, Dr. Michael P. Pateman, Jody Rathgeb,

Dr. Eric F. Salamanca, Dr. Ruud Stelten, Megan Tierney,

Captain Eric Wilberg, Paul Wilkerson,

Candianne Williams, Lormeka Williams.

CONTRIBUTING PHOTOGRAPHERS

Amy Caicos, Can Stock Photo, Franzsika Elmer,

Brian Heagney, Heidi Hertler, Sabine Frank, iStock.com,

Ewa Krzyszczyk, Kristy Lee, Agile LeVin, Dr. Joost Morsink,

Marta Morton, David Newlands, NOAA,

Dr. Michael P. Pateman, Tom Rathgeb, Dr. Eric F. Salamanca,

Ramona Settle, Dr. Ruud Stelten, Turks & Caicos National

Museum Collection, Candianne Williams.

CONTRIBUTING ARTISTS

Wavey Line Publishing

PRINTING

PF Solutions, Miami, FL

OF THE

ISLANDS

Times of the Islands ISSN 1017-6853 is

published quarterly by Times Publications Ltd.

Copyright © 2020 by Times Publications Ltd. All rights reserved

under Universal and Pan American Copyright Conventions.

No part of this publication may be

reproduced without written permission.

Subscriptions $28/year; $32/year for

non-U.S. mailing addresses

Submissions We welcome submission of articles or photography, but

assume no responsibility for care and return of unsolicited material.

Return postage must accompany material if it is to be returned. In no

event shall any writer or photographer subject this magazine to any

claim for holding fees or damage charges on unsolicited material.

While every care has been taken in the compilation and reproduction of

information contained herein to ensure correctness, such information is

subject to change without notice. The publisher accepts no

responsibility for such alterations or for typographical or other errors.

Business Office

Times Publications Ltd., P.O. Box 234,

Lucille Lightbourne Building #1,

Providenciales, Turks & Caicos Islands, BWI

Tel/Fax 649 941 4788 or 431 4788

Advertising 649 431 7527

E-mail timespub@tciway.tc

Web: www.timespub.tc

14 www.timespub.tc
---
around the Islands

Parrotice owner Patti DesLauriers has fun with the photo-op placards created by

Rita Shaw of Middle Caicos.

Ice Cream in Parrotice

North Caicos shop offers big scoops of opportunity.

Many know the silly childhood chant, "I scream, you scream, we all scream for ice cream." In the case of

Parrotice on North Caicos, though, it was the land that screamed, calling out, "I want to be an ice cream

shop!" Also silly? Owner Patti DesLauriers explains.

By Jody Rathgeb ~ Photos By Tom Rathgeb

Times of the Islands Winter 2019/20 15
---
Patti DesLauriers and Howie Bartels had owned a piece

of property along the highway just past Major Hill Road in

North Caicos since 2002. Originally, they thought they'd

build their home on the land, but later decided to place

the house away from the road, in Major Hill. In 2018, they

began clearing the property, intending to sell it.

"When it was cleared, I looked at it and said, 'This is

perfect for an ice cream shop,'" Patti relates. "I always

thought this island needed an ice cream shop."

DesLauriers admits her idea was a bit crazy. A previous

restaurant that sold ice cream had gone dormant,

and Patti had no experience in the ice cream business.

But she is creative and curious. She did lots of research,

bought an ice cream maker and began experimenting

with recipes. "I'd make everyone I know taste it, then go

back and try more," she says. She concentrated on fresh

ingredients and local sourcing, finally coming up with a

list of flavors she believed would work.

Ice cream alone, however, does not make an ice cream

shop. Along with the recipes, Patti worked on other developments.

• Building the shop itself was step one. Major Hill

builder Charlton Gardiner did all the basic work, and

Bartels, who is employed by Gardiner, added a porch,

did the inside finishing work and made tables and outside

seating. Patti did the painting herself, sometimes

enlisting help from friends. She favors bright colors and

combined them to make the place eye-catching and fun.

• Getting equipment and supplies took time, money

and the usual patience of bringing goods to the islands.

The small shop has a surprising amount of overhead,

including two ice cream makers, freezer and refrigerator,

prep sinks and counters, a popcorn machine and more.

• Following health department regulations and getting

a business license took much time and effort, requiring

lots of trips to Provo, visits from inspectors, and just plain

old red tape. Patti says those efforts took a lot out of her,

but she was determined not to give up.

• Finding workers among the local population was

an important priority. "I didn't want to employ myself.

I wanted to give back to the island," Patti explains. She

found exceptional people to run the shop in Islanders

Sherry Williams, manager and ice cream maker, and

Deshanti Forbes, a recent graduate of Raymond Gardiner

High School. Both women quickly became more than

employees; Sherry helped Patti to tweak and perfect the

ice cream recipes, and Deshanti listened to the first customers

and passed on suggestions for new flavors and

other food items to complement the offerings.

The Parrotice menu features cool treats and fun foods.

16 www.timespub.tc
---
Deshanti Forbes (at left) and Sherry Williams take shifts to run the shop. Williams, the manager, also makes the ice creams.

Other people voluntarily became involved, too, caught up in the fun and excitement. Rita Shaw, an artist who

lives on Middle Caicos, made photo-op placards for Parrotice, and David Kennedy of Sandy Point donated a bit of

framed decoration. Jim Frey of Middle Caicos carved an ice-cream-eating parrot (a nod to the shop's logo) from a section

of casuarina tree and presented it as a gift, naming

it Iceman. You could say that artists just flocked to the

place.

On the menu

Parrotice Ice Cream and Sno had a soft opening in July

2019 as Patti's team worked to develop some local support

before launching into tourist season. Basic menu

items are ice cream cones or bowls, sno-cones, popcorn,

hot dogs and grilled cheese sandwiches. The standard list

of ice cream flavors includes coconut, vanilla, chocolate,

strawberry, rum raisin, peppermint, cookies and cream

and butter pecan, but there is also a flavor of the week

and the Parrotice team keeps coming up with new ideas.

On that list are banana (locally sourced), banana-strawberry

and other flavors that will come from North Caicos

fruits. People who want to purchase pints or quarts of ice

cream can call a day ahead to place an order.

There are non-food offerings as well. Customers are

encouraged to hang out, playing cards or dominoes, taking

photos or using the free Wi-Fi. Patti is pleased that

Parrotice has become a family-friendly social place, and

hopes to develop in that direction with a swing set and

some other playground items for children.

Times of the Islands Winter 2019/20 17
---
Giving back

Patti is serious about wanting to give back to the North

Caicos community. She jokes that the place probably

won't turn a profit for at least 20 years, but profit isn't

her motive. "My vision is, I would like to have this area

be a sort-of park with a number of little businesses and

pathways connecting them." To that end, she is offering

Islanders the space, rent-free, to build their own nearby

business spots, envisioning an art gallery, gift shop, tiki

bar . . . "whatever," she says. She adds, though, that her

offer is only for local entrepreneurs and small businesses,

not foreign chains.

The Parrotice logo, a cartoon parrot eating an ice

cream cone, typifies the playful attitude that Patti wants

the business to have and keep. She hopes to keep it fun

for Islanders and tourists alike while offering cool treats

and snacks to make people happy to be in her Parrotice

paradise.a

To place an order or find out more, call (649) 242-8604.

Patti DesLauriers asked her sister if opening an ice cream shop was

a crazy idea. Her sister quoted the "Field of Dreams" movie: "If you

Walkin May2017_Layout 1 5/28/17 5:45 PM Page 1

build Ferry it, Fall they 17_Layout will come." 1 8/22/17 12:52 PM Page 1

* *

Temporary suspension PROVO NORTH 12.30pm & 1.30pm Sept 1st to Oct 31st

*

Resumes Nov 1st

DISTRIBUTOR DISTRIBUTOR FOR FOR EVINRUDE && MERCURY MERCURY

OUTBOARDS, PURSUIT WORLD CLASS CAT, CAT,

SUNDANCE AND BOSTON WHALER BOATS

Lures and Live Bait

Marine Hardware & Gear

Fishing Gear & Supplies

Marine Paints & Varnish

Marine Batteries

Sebago Docksiders

& Sperry Topsiders Shoes

BLUE

BLUE

HILLS

HILLS

ROAD

ROAD

PROVIDENCIALES

PROVIDENCIALES

TURKS

TURKS

& CAICOS

CAICOS

ISLANDS,

ISLANDS,

B.W.I.

B.W.I.

PHONE: 649-946-4411

FAX: 649-946-4945

18 www.timespub.tc
---
WELCOME TO THE TURKS AND CAICOS ISLANDS

CALL US ON (649) 941-7368

OCEANFRONT HOME

200 ACRE DEVELOPMENT SITE

2 BR, 2 car garage home on 1.44 acres

with 240 ft. frontage

Asking: $1,850,000

GRACE BAY COMMERCIAL SITE

1,650 linear feet of beach frontage

Asking: $14,500,000

GRACE BAY COMMERCIAL BUILDING

2 acre site zoned for 100+ room

tourism-related development

Asking: $1,500,000

BEACHFRONT CONDO

Over 17,000 sq. ft. commercial space plus 5

residential units. Great investment potential.

Asking: $3,800,000

BEACHFRONT LAND

1,618 sq. ft. condo at

The Palms. Live in luxury. Great

returns when you're not here.

Asking: $800,000

2 acre Long Bay lot

Asking: $3,500,000

CANALFRONT HOME

ELEVATED CANAL LOT

0.83 acre elevated canalfront lot

in residential subdivision.

Asking: $250,000

3 bedroom + den, 3 bath

Leeward canalfront home

Asking: $975,000

CENTURY 21 ® ERISHAR PROPERTIES

G103 Regent Village West, Grace Bay, Providenciales, Turks & Caicos Islands

649 941 7368 • yourfriends@century21tci.com • www.century21tci.com

Sharon 649 232 4221 • Clyde 649 331 3420

Eugene 649 242 5841 • Floyd 649 232 4568
---
ISTOCK.COM
---
eye on the sky

Opposite page: Water that is turbulently mixed with sand is a possible indication of a rip current.

Above: Pelican Cay appears to be "just offshore" Bambarra Beach in Middle Caicos, but the distance and potential presence of rip currents

can be deceiving and dangerous.

AMY CAICOS

Hidden Dangers

Understanding rip currents and rip tides.

By Paul Wilkerson

Travelers from across the globe descend on the Turks & Caicos Islands at a steady pace throughout the

year. Nearly all are drawn by photos of the clear turquoise waters that surround the country. Our family

fell into that category. Images seemed surreal, and we wanted to see for ourselves if they were accurate.

What we never thought about are the hidden dangers that lie beneath the waters—dangers present along

nearly every coastline around the world, whether ocean or large lakes, such as the Great Lakes of the

United States. What are these dangers? Rip currents and rip tides.

Times of the Islands Winter 2019/20 21
---
Rip currents are off-shore flows that occur most often

where breaking waves push water up the beach face. This

water must naturally escape back out to sea. There are

areas where this water will more easily flow back and

this is where we are most likely to see rip currents form.

Breaks in sand bars, deeper channels of any sort, any

locations where deeper water is bordered by shallow

waters, have the ability to harbor rip currents.

In general, rip currents are not immense, usually

averaging 20 to 50 feet wide, although they can occasionally

be as much as 200 feet. Where rip currents set

up, the flow of water within the current usually averages

1 to 2 feet per second, yet can flow at up to 8 feet per

second. At the upper end of this speed, it would be futile

to try to swim against the current.

So how do you spot a rip current, and if caught in

one, survive? Spotting a rip current can be challenging,

and on average 70% of people can't identify them. Here's

how to up the odds. When you head to the beach, look

at the wave patterns as they come into shallow waters.

Look for breaks in waves where the water appears a bit

calmer. Watch the way the water flows in these areas. It

might be flowing out towards the ocean, and this is likely

a rip current.

Look for water offshore that appears to be discolored.

This water usually has turbulently mixed with sand,

possibly an indication of a rip current. Look for ripples on

the surface of the water (within an active wave zone). Are

these ripples moving toward the open ocean? You may

have found a rip current.

When you venture into the water to snorkel or just

relax, take a look under the water and make note of any

channels or breaks in sandbars. If you locate these, pay

attention to the currents in and around them. Always

exercise caution and be aware of what is going on around

you before you venture into the water.

If you do find yourself caught in a rip current, it is

important to not panic. You need to have all your faculties

available to save your life. If you feel yourself being

carried away, swim parallel to and at a slight angle toward

the shore. It may take a bit of time to realize you are making

progress, but you will eventually escape the current

and be able to make your way back. It is important to not

swim directly against the current, as you will make very

little progress and will tire quickly. Sadly, on average 100

people succumb to rip currents in the United States every

year. In most of these cases, the individuals could have

survived by taking appropriate measures to escape the

current.

Unfortunately, three lives were lost off Middle Caicos

in August 2019 due to another phenomenon that remains

a hidden danger—riptides. It is important to note that

NOAA

22 www.timespub.tc
---
iptides are not the same as rip currents. Riptides develop

naturally in harbors and other protected areas of water

that are bordered by landmasses, jetties or inlets. Riptides

occur as part of the natural tidal cycle daily.

What many people may not know is that there are a

couple of days each month when tidal forces are at their

maximum, and several days when they are at their minimum.

Right around the New Moon and Full Moon, tidal

forces are maximized and the highest variation from high

to low tide is likely to occur. These are called the Spring

Tides. At the 1st and 3rd quarter of the moon, the tidal

forces are at their minimum, called Neap Tides.

What is most important to understand is that once

high tide has occurred, water begins gradually flowing

back out to sea as low tide approaches. This creates a

natural pull/current out to sea. This is where a blocking

land body or an inlet/jetty comes into play.

Let's take a look at Bambarra Beach and Pelican Cay

where this tragedy occurred. As the water is being pulled

away from shore, the placement of Pelican Cay effectively

creates channels of strong current on either side of it as

water is sucked away from the beach. These currents can

become extremely powerful in the waters between the

offshore cay and the beach. These forces and currents

can last quite a way beyond the landmass around which

they are created. What is generally knee-deep to waistdeep

water can quickly become dangerous as the forces

of the current overwhelm unsuspecting people, pulling

them into deeper water and away from shore. It happens

quickly and suddenly, occasionally leading to tragedy.

It is important to remember, as in the case of rip

currents, if you have been pulled into open waters due to

a riptide, swim parallel to shore and at an angle toward

shore. As you swim away from the riptide source, the

effects will weaken and you should be able to safely land.

Charged with this new knowledge, prior to your next

visit take a moment to look up the tidal cycle for the days

you are vacationing in the Turks & Caicos. Review areas

where riptides or rip currents may be more common. A

few minutes of preparation can ensure the safety of you

and your family! a

Paul Wilkerson is an American meteorologist and tourist

who frequents the Turks & Caicos Islands. Along with

his wife and two daughters, the Wilkersons stay actively

engaged with Islanders throughout the year with his

Facebook page Turks and Caicos Islands Weather Info.

Simply Septics Blue Loos

SEPTIC

TANK

Installation, cleaning and maintenance.

Call us about long or short term

portable toilet rentals.

649.231.7448

649.231.2366

Times of the Islands Winter 2019/20 23
---
creature feature

Opposite page: The mother Humpback whale feeds her calf about 150 gallons of fat-rich milk every day. No wonder the calves are so playful!

Above: When you make eye contact with a Humpback whale, you feel their awareness, intelligence and curiosity.

Big Thrills

Meeting Humpback whales in Grand Turk

By Brian Heagney, B.Sc Marine Biology ~ Photo By Sabine Frank & Brian Heagney

The Turks & Caicos Islands (TCI) are made up of a number of islands and cays divided into two distinct

groups . . . somewhat obviously, the Turks Islands and the Caicos Islands. These are separated by the

Turks Island Passage, a body of water 80 miles wide and over 7,000 feet deep. In the winter and spring

month, this passage serves as a natural corridor of navigation for Humpback whales as they migrate into

their TCI nursery grounds.

Visitors typically land on Providenciales and then easily access Grand Turk (and the whales) via a short

and scenic flight of about 25 minutes. (There's hardly time for a nap, but you can begin to search for

whales from the plane.) If you are staying on Provo, you can take the first flight in the morning, meet the

whales and then fly back in the afternoon for the day trip of a lifetime!

Times of the Islands Winter 2019/20 25
---
You can meet the whales on a day boat trip from Grand Turk, without a lot of other boat traffic around you.

Although there are plenty of watersports to keep you

entertained in the TCI (including diving, snorkelling, paddle

boarding, kayaking, wind surfing and kite surfing),

one of the most awe-inspiring, mind-blowing, adrenalinepumping,

truly exhilarating and absolutely breathtaking

experiences here is that natural wonder—the Humpback

whale (Megaptera novaeangliae). Every winter from early

January to late April, migrating Humpbacks turn the

waters of the TCI into an amphitheatre for one of the

greatest spectacles on the planet—the calving, nursing,

courtship and mating rituals of these incredibly powerful,

yet sublimely graceful, marine mammals.

Although whales may be sighted throughout the TCI

during the season, the Turks Islands, comprising Grand

Turk, Salt Cay and several smaller cays, may be considered

the hot spot for people focused on meeting a whale.

This is due to the fact that two very deep passages run

on either side of the Turks—the Turks Island Passage to

the west and the Mouchoir Passage to the east. These

passages provide natural corridors of navigation for

the whales as they migrate into TCI nursery grounds.

Furthermore, the vast expanses of shallow reef systems

surrounding the Turks Islands offer the perfect habitat

for a mother whale to stop, rest and begin nursing her

newly born calf in a protected environment, safe from the

hazards of the deep sea.

Best of all, the TCI is one of the few locations in the

world where it is actually possible to swim with humpbacks.

Other destinations for this unique experience

include extremely remote islands in Oceania, the Silver

Banks (Dominican Republic) and Australia. However, TCI

has several advantages for the discerning whale watcher,

including its relative proximity to North America, Canada

and Europe. Grand Turk is only 600 miles south of Miami,

meaning travel costs are significantly lower and you leave

a much smaller carbon footprint when compared with a

trip to Oceania!

Day trips to meet the whales are shore-based from

Grand Turk. This is very convenient when compared to

the necessity, expense and constraints of a liveaboard

trip to the Silver Bank, the only way to swim with the

whales from the Dominican Republic. Finally, the whale

watching industry in the TCI is in its infancy. This means

that there are only a handful of operators offering the

experience, and the feeling of "too many boats" that may

be experienced in some other destinations is still very

far off here. Hopefully, with proper management of the

industry's growth, this uncongested feeling around the

whales can be preserved.

The Humpback is well known as a gregarious and

playful creature. On any given day you may observe

numerous aspects of their behaviour. One of the most

26 www.timespub.tc
---
impressive is breaching, when the whale throws its entire

body out of the water in a back flip and then crashes

back down in a literal explosion of water. The splash from

a 50-ton adult breaching can be seen for more than 20

miles. The calves also breach, sometimes in unison with

their mother—a sight to behold.

A variation on the breach is the head lunge, when the

males thrust the front half of their body up and forward

out of the sea before smashing their head back into the

water with a loud crack, usually several times in succession,

a mating display of sheer power and fitness.

Tail slapping is another favourite, where the whale

stands in a vertical position, head down, with tail raised

clear from the sea. It then repeatedly slaps its flukes on

the sea surface, making loud bangs. This can continue

for several minutes and is thought to be a method of

communication.

This Humpback is exhibiting the powerful peduncle slap. Pivoting

its head down and using the long pectoral fins for leverage, the

whale pushes its peduncle (muscular area where the tail fluke

connects to the body) upwards with incredible force, resulting in

the peduncle and fluke breaking the water's surface and landing

with an almighty splash!

Pectoral slapping is similar, but in this instance the

whale slaps their huge, three-meter-long pectoral fin

on the water's surface (megaptera means "big wing").

Females in heat will often use pectoral slapping to attract

males in the area. If she attracts enough males, a very

exciting display can ensue called a heat rush. During a

heat rush, several males rush, barge, gouge, jostle and

fight at high speeds to gain the favour of the female.

As the males break the surface during the rush, the sea

foams and they can be heard to trumpet in excitement.

Once the female has selected her mate, the two animals

then enter into a courtship dance, an underwater

ballet that is very rarely seen. During this helical dance,

Times of the Islands Winter 2019/20 27
---
What to bring on a whale watching trip:

This Humpback whale calf is typically playful and curious around

humans.

Wide brimmed hat

Polarized sunglasses

High SPF Sun cream and lip balm

A camera with telephoto lens

Spare memory card

Your smartphone

Underwater housing for your phone

Binoculars

Motion sickness medication is mandatory (follow the

instructions)

Your own prescription snorkel mask if you normally

wear glasses

A dry bag

A wind- and waterproof jacket

A spare t-shirt and a warm sweater

Shrimp for the whales (just joking)

An open mind and positive attitude

the whales dive and then return to the surface on several occasions, sometimes raising their heads clear from the

sea in harmony, like synchronised swimmers—it's a truly magical display.

When a whale raises its head from the water, it is called a spyhop. You might go to see them but sometimes they

decide to have a peek at you too, raising their head up and peering into the boat.

Aside from visual displays, the Humpback is also famous for its distinct and haunting song. A single whale may

sing for several hours at a time and the structure of the song is just as complex as a language. The singing is one

dimension to this animal that should not be missed on a day out. Choose a tour operator who employs the use of a

hydrophone, an underwater microphone that can detect the whales singing, so you can hear it out loud on the boat.

Have your phone handy and you can grab a unique new ring tone, the live song of a whale.

Of course the ultimate thrill is slipping quietly into the water beside the whales to observe them in the water

while snorkelling. This can only be conducted when the whales allow it. An experienced operator can interpret

whale behaviour and know when the time is right, or not. Humpbacks might be big but they are very gentle,

timid in disposition and easily spooked, so an extremely sensitive approach is necessary for interactive success.

28 www.timespub.tc
---
Cays Winter Times 2018_Layout 1 11/14/18 10:30 AM Page 1

This means a period of experienced observation, a very

slow approach if the situation permits, and no splashing

or sudden movements when actually in the water. If the

whales should feel at all disturbed they will simply swim

away, as they are not aggressive animals at all. If a whale

keeps moving away from a boat then you know it is time

to leave it alone. The best case scenario is when the whale

comes to you on its own terms, called "a soft encounter."

Talk to your prospective tour operator, ask how the tours

are conducted and get a feel if the ethics sound right for

you.

Remember, as with any wildlife encounter you get out

what you put in and time is really the key here. It is great

to be optimistic, but imperative to be realistic. Go on a

few trips if you can (as every day is different), plan free

days to allow for bad weather or days with grumpy whales

who might not be open to snorkeling. Accept that nature

is uncontrollable and you might just have the experience

of a lifetime.

If you will be in the Turks & Caicos between January

and April, you can always pop over to Grand Turk for

the day to meet a Humpback whale in the wild. It is a

must-do, bucket list experience and in high demand so

book early. a

CAYS CONSTRUCTION CO LTD

A COMPLETE SERVICE.

Once you have purchased your land

...we take you all the way.

...TO THE KEYS TO YOUR NEW HOME.

We take care of the design,

the building approvals,

the construction management,

and the construction works.

Allow us to design and build your new home.

caysconstruction.com

caysconstruction@aol.com

Brian Heagney moved to the Turks & Caicos with his wife

Sabine in 2016 where they opened the Humpback Dive

Shack on Grand Turk. Brian received his degree in Marine

Biology from the Queens University of Belfast and has

been traveling the globe as a PADI Master Scuba Diver

Trainer and underwater photographer since 2003. He is

a certified whale and dolphin guide, a qualified boat captain

and a self-taught outboard engine mechanic.

Times of the Islands Winter 2019/20 29
---
green pages

newsletter of the department of environment & coastal resources

head office: church folly, grand turk, tel 649 946 2801 • fax 649 946 1895

• astwood street, south caicos, tel 649 946 3306 • fax 946 3710

• national environmental centre, lower bight road, providenciales

parks division, tel 649 941 5122 • fax 649 946 4793

fisheries division, tel 649 946 4017 • fax 649 946 4793

email environment@gov.tc or dema.tci@gmail.com • web https://www.gov.tc/decr/

EWA KRZYSZCZYK

The mighty mangrove holds great value to both humans and the natural world.

The Mighty Mangrove

Are we doing enough to conserve them?

When you think of mangroves, do you imagine blue skies, crystal clear water, lush green forest, dragonflies

silently gliding above, the songs of the mangrove cuckoos? No? You might want to honor them

a visit.

By Ewa Krzyszczyk,

School for Field Studies Center for Marine Resource Studies

30 www.timespub.tc
---
green pages newsletter of the department of environment & coastal resources

In her article, "The Magic of Mangroves," (Fall 2019

Times of the Islands), Kelly Currington describes an

enchanting trip through a mangrove forest: "We move

through the forests, the sound of birds chirping and

leaves rustling is a calm and peaceful sound . . . there is

something incredibly spiritual and magical about gliding

through them." Unfortunately, we do not often view these

coastal forests as "beautiful by nature" or an attraction

for tourists and locals alike. In fact, they are most often

viewed as wastelands or unhealthy environments. The

poor mighty mangrove is terribly misunderstood.

Mangroves hold great value to both humans and

the natural world, as they provide important goods and

services that play a critical role in supporting our well-being.

Mangroves form a natural dense barrier against

extreme weather events and disasters, which reduces the

loss of property and vulnerability of local communities.

Mangroves aid in stabilizing shores by trapping sediments

and building land, thus protecting coastlines from

erosion. Mangroves also help to improve water quality

by filtering out nutrients and sediments and absorbing

massive amounts of carbon from the atmosphere.

On average, mangroves store around 1,000 tonnes of

carbon per hectare in their biomass and underlying soil,

making them some of the most carbon-rich ecosystems

on the planet. And yet mangrove forests also support

a bewildering array of organisms, from sponges, tiny

snails, and algae (such as mermaid's wine glass), to reef

fish such as parrotfish, grouper and sharks, including

endangered and protected species. Not only are mangroves

considered vital nursery grounds for a large range

of marine species, but they also enhance the biomass of

several commercially important fish on neighboring reefs,

consequently providing us with an ample supply of food.

Mangroves are among the most productive, biologically

complex and important ecosystems on Earth, and

yet they are one of the world's most threatened tropical

ecosystems. Mangroves are being destroyed at rates

three to five times greater than the average rates of forest

loss and over a quarter of the original mangrove cover

around the world has already disappeared.

The Turks & Caicos Islands are fortunate to have

extensive mangrove forests along their 389 kilometers

of coastline. The western coastline of the 8.2 square mile

island of South Caicos is particularly abundant with mangroves,

so much that the TCI Government proposed to

designate them as a Wetland Critical Habitat Reserve in

2016. Yet it cannot go unnoticed that the mangrove-rich

coastline is also home to the island's airport, dump and

fish processing plant. These human facilities are well-situated

for their protection from extreme weather events,

but how much of an impact are they having on their surrounding

mangrove habitat?

Living at the edge of land and sea, mangroves are

well adapted to deal with natural stressors, but they

are particularly sensitive to environmental disturbances

created by human activities, such as sewage disposal, airports

and oil spills.

The over-reliance on open dump and landfill systems

for solid waste management has proven to be a significant

environmental problem. Waste contaminants leach

into the surrounding soil which then serves as a sink,

persisting for many years and further leaching into the

surrounding waters. Airports pollute our air with noxious

chemicals such as sulphur dioxide and nitrogen

oxide, and jet fuel exhaust causes particulates to settle

and accumulate in the soil and sediments surrounding

the airport. These various pollutants can be transferred

to humans via their gradual accumulation in water and

sediment (bioaccumulation) and the increasing concentration

from organism to organism moving up a food

chain. This means that the higher the organism is on the

food chain, the higher the load of toxic chemicals (biomagnification).

In order to better understand the health and function

of mangrove ecosystems in relation to human activity,

many avenues of research are possible and useful. At

The School for Field Studies' Center for Marine Resource

Studies (SFS CMRS) on South Caicos, we have been conducting

research to understand how apex predators such

as sharks and rays utilize our local mangrove ecosystems.

Sharks and rays are considered keystone species,

Times of the Islands Winter 2019/20 31
---
green pages newsletter of the department of environment & coastal resources

This aerial photo shows the extensive mangrove forests in South Caicos.

HEIDI HERTLER

meaning they play a crucial role in maintaining the structure

and integrity of an ecosystem and are an indicator

for the health of an ecosystem. Using baby Baited Remote

Underwater Videos (BRUVs), which consist of a weighteddown

camera and bait (local fish) attached to PVC piping,

we found that lemon sharks, nurse sharks, barracuda,

and southern stingrays were in higher abundance near

the mangroves around the airport when compared to

near the dump or fishing plant.

These results provide important insights into the current

health status of our local mangroves and are also

useful baseline knowledge for any future disturbances.

The airport, dump and fishing plant are well situated

within these mangroves, which will help protect them

32 www.timespub.tc
---
green pages newsletter of the department of environment & coastal resources

from storms and hurricanes, but without proper care and

management of these facilities, the mangroves are vulnerable

to pollution and degradation. The consequences

of any potential future mangrove decline would be particularly

severe for the well-being of our coastal community.

The loss of mangroves is a loss for humans—storm

protection will be lost and fishery resources will be

destroyed. Once lost, mangrove forests are very difficult

and costly to restore. It is therefore imperative that we

protect what we have.

In order to protect these "beautiful by nature" mangroves,

we need to educate each other, and it all begins

with our youth. Together, SFS CMRS and Ms. Felix at the

Marjorie Basden High School on South Caicos have reig-

Times of the Islands Winter 2019/20 33
---
green pages newsletter of the department of environment & coastal resources

nited the school's science club. Groups of students are

taken kayaking through our local mangroves, where they

learn how to perform scientific research, discover the

importance of gathering data and asking questions, and

most importantly, learn the significance of these unique

and vital mangrove ecosystems. Ultimately, it is critical

that our next generation learn to be respectful of the

planet, as well as learn about conserving and protecting

wild places and animals. After all, it's their planet too. a

EWA KRZYSZCZYK

From top: This baited remote underwater video unit is deployed in a

mangrove to understand how apex predators utilize the area.

Marjorie Basden High School students kayaked in their local mangroves

on South Caicos to learn the significance of this unique and

vital ecosystem.

34 www.timespub.tc
---
Times of the Islands Winter 2019/20 35
---
green pages newsletter of the department of environment & coastal resources

KRISTY LEE

An example of a beach where no action is taken saw the most significant seaweed mass on the Islands.

Onus or Bonus?

Researchers assess the impact of sargassum seaweed in the TCI.

By Kristy Lee and Sylvia Myers, MSc students, University of Greenwich;

Debbie Bartlett, Ph.D., Faculty of Engineering and Science University of Greenwich;

Franziska Elmer, Ph.D. Marine Ecology Lecturer, School for Field Studies Center for Marine Resource Studies

From the UK, the Turks & Caicos Islands (TCI) are something we imagine only exists in a travel brochure,

idyllic islands where sea and sky meet in one infinite colour of blue, with pure white sandy beaches. As

MSc students studying Environmental Conservation at the University of Greenwich, we were interested

to hear the funding bid to the Darwin Plus Initiative was successful. This UK Government grant scheme

helps to protect the natural environment through locally based projects worldwide, and this specific call

was focused on British Overseas Territories.

36 www.timespub.tc
---
green pages newsletter of the department of environment & coastal resources

The project, in collaboration with the Department of

Environment & Coastal Resources (DECR), the School for

Field Studies on South Caicos and the British Overseas

Territories Special Interest Group, aims to investigate the

impact and potential solutions to the exceptional quantities

of seaweed recently experienced on the Islands'

coastlines. It reflects the experience of the University's

algae biotechnology group in finding commercial uses

for seaweeds. We were even more excited when we won

the competition for two students to travel to the Islands,

with our tutor, to play an active part in this project!

Our research began in the UK, finding out as much as

we could about the TCI, from the history to the wildlife.

We were amazed at the diversity it has to offer—coral

reefs, migratory paths for whales, sea turtles and the

endemic rock iguana, to name but a few. It was the field

trip, however, that became central to the project, and

ideas of a luxurious outing to paradise soon faded when

we realised the enormity of the task. In just over two

weeks we needed to find out who sargassum was affecting

and see first-hand where it was being washed up,

as well as study the composition of the landing, as any

contamination could affect potential use. We needed to

collect samples to take back to the UK for the chemists

to analyse whilst also making time to absorb the culture

and experience some local food!

We began our trip on Providenciales, meeting with

project partners and environmental officers and visiting

beaches, some completely unaffected and others affected

by seaweed washing onto the shore. Seeing fish in the

clear water was a novel experience and we particularly

enjoyed the sea turtles, seeing at least one every day.

This led us to think about whether these and other species

could be affected by seaweed on the beaches and

if there were any other environmental impacts that may

need to be considered.

The importance of tourism to the Islands' economy

was clear and we began to understand the justification

for the term "Beautiful by Nature." We were fortunate that

our short visit to Provo coincided with the famous Fish

Fry, an evening festival where we experienced the warm

welcome and energy of the locals, with music and dance

as well as locally made products. It was a great opportunity

for souvenir shopping and to learn just how many

ways there are of eating conch!

Most of our stay was on South Caicos, where we were

Students Sylvia Myers and Kristy Lee work in the School for Field

Studies laboratory on South Caicos, sorting Sargassum samples.

welcomed by the School for Field Studies, a residential

education centre perched right on the coast and providing

study programmes based on marine science. The

staff introduced us to many aspects of the island, from

the coral reefs and seagrass beds to the excitement of an

evening of singing and dancing by local school pupils,

and Saturday evenings at Triple J's Grill. The School for

Field Studies provided use of their laboratory and transported

us round the island to collect samples of seaweed.

We found the most common components to be

Sargassum fluitans III, Sargassum natans I and Sargassum

natans VIII, to give the scientific names. Sargassum has

many forms (over 300!) and these particular forms are

interesting as, unlike many of the others that attach to

rocks and other substrates, these float on the surface

of the ocean forming floating mats or rafts. This provides

a rich habitat supporting many other organisms,

including sea turtles, various fish and there are some species

endemic to the sargassum. However, when washed

ashore it can become a problem to land managers and

tourism operators who have to balance respecting natural

processes with keeping the beaches clean and beautiful

so as not to impede the visitor experience.

Our work in the lab was to take samples and to find

out which of the three forms found across the Caribbean

were washing onto the beaches. The importance of this

is that little is understood about the chemical characteristics

of these and, if there is to be a commercial use for

the seaweed, this might be affected by the mix. We developed

an identification guide that is now freely available to

KRISTY LEE

Times of the Islands Winter 2019/20 37
---
green pages newsletter of the department of environment & coastal resources

This image was taken in 2018 when the estuary between McCartney Cay and Hog Cay, one of the longest mangrove channels in the country,

was completely closed off with sargassum.

AGILE LEVIN

anyone interested, and a standardised method for collecting,

weighing and sorting the seaweed. This also enabled

identification of any other materials, such as plastics and

other inorganic matter, as well as other types of seaweed

and sea grass that could affect options for more sustainable

methods of disposal. Our work was carried out to the

sounds of the waves beaching themselves on the rocks—

exceeding our expectations of a science lab!

A quick trip to Grand Turk completed our tour of TCI,

enabling us to begin to understand the diversity of these

islands. Unfortunately there was simply not enough time

to visit Middle or North Caicos. Grand Turk was a real

contrast, with the historical buildings of Cockburn Town

dating from the period when the salt industry was highly

profitable. The relic salt pans were of particular interest,

evidence of the island's industrial heritage but now hosting

internationally important populations of birds, many

of them migratory waders, attractive to bird watchers.

We enjoyed the peace and quiet and the opportunity to

watch pelicans and flamingos until there was a burst of

38 www.timespub.tc
---
green pages newsletter of the department of environment & coastal resources

activity in response to the arrival of a large cruise ship.

This is a regular occurrence with tourists visiting briefly,

touring on Segways, in buggys and on horseback, with

some choosing to experience the mangrove-lined creeks

and nature reserves. This habitat supports both rich and

diverse wildlife, whilst providing storm and flood protection

for humans. Grand Turk is exposed to the easterly

prevailing winds and so received more sargassum than

the more westerly South Caicos and Providenciales, but

we were interested to see there was no sargassum on

the Cockburn Town side of the island where most of the

tourism takes place.

As well as making observations, taking samples and

doing our lab work, we were keen to meet as many of

those involved in the tourist industry as possible to find

out if the increase in seaweed on the beaches was affecting

their businesses. We devised a quick questionnaire

and held a focus group on the three islands visited, resulting

in 100 responses from diverse operations including

hoteliers, jet ski hirers, and dive and sport fishing companies.

The results were very interesting, revealing that

while seaweed could be a problem where it needed to

be removed from beaches or could damage equipment

(for example, clogging jet ski intakes), there were also

some benefits—the floating rafts attract large predatory

fish, benefitting sports fishing, and can stabilise beaches,

preventing erosion.

As always seems to be the case, initial research has

generated as many questions as answers! There is no real

information about how much sargassum is being deposited

on the beaches and no regional information on where

or when this is happening, let alone what is causing the

increased amounts seen recently. To try to build up a

more detailed picture, monitoring sites have been set up

and there is an opportunity for anyone to get involved

by sending photos with the date and location through

an app called epicollect5. Simply find and download the

app, select "sargassum watch" and start collecting scientific

data that will feed into a Caribbean-wide monitoring.

Take a picture with the app every time you go to the

beach even if it is sargassum free. It's so easy to become

a citizen scientist and your help is greatly appreciated!

We were sad to leave but returned with samples of

the seaweed which is now producing interesting results

in the university laboratories. It is early days, but the

initial results are causing some excitement among the

chemists and we expect full results to be available in the

near future. We feel a lot has been achieved in the first

six months of this two-year project, and we are grateful

to Darwin Plus for enabling us the opportunity to take

part in this research and to experience the "Beautiful by

Nature" Turks & Caicos Islands. a

If you would like to contribute any photos to our project

to help build on our sargassum map in the TCI, you can

do so by emailing them to franziskaelmer@hotmail.com.

Times of the Islands Winter 2019/20 39
---
green pages newsletter of the department of environment & coastal resources

Fort George Cay is a National Historic Site, featuring underwater cannons that were once charged with protecting the Loyalist cotton plantations

on the Caicos Islands.

Roadmap to Sustainability

TCI's environmental strategy in the making.

By Megan Tierney*, Lucy Beagley*, Lormeka Williams*, Cherylann S. Jones***,

Michelle Fulford-Gardiner*** and Eric F. Salamanca**

*Joint Nature Conservation Committee, **Department of Environment and Coastal Resources,

***Ministry of Tourism, Environment, Heritage, Maritime, Disaster Management and Gaming

Photos By Eric F. Salamanca

With its turquoise blue sea, sandy white beaches and luscious mangroves, it's easy to see why the Turks

& Caicos Islands are described as "Beautiful by Nature." It is widely recognized that people's way of life in

the TCI is highly dependent on its rich and varied environments—the seas are abundant with fish to eat,

the corals and mangroves provide protection from hurricane-induced storm surges, and the natural landand

sea-scapes help support a thriving tourism industry, as well as the health and well-being of residents.

However, the environment is under increasing pressure from factors such as development, resource use

and climate change, which threatens the livelihoods of all those who depend upon it.

40 www.timespub.tc
---
green pages newsletter of the department of environment & coastal resources

Split Rock is a highlight of West Harbour Bluff, a remote area at the southwest point of Providenciales. It includes a small peninsula with sea

cliffs, an open faced cave, and a long stretch of secluded beach.

To safeguard the multiple benefits the environment

provides for present and future generations and to support

sustainable development, the Turks & Caicos Government

through the Ministry of Tourism, Environment, Heritage,

Maritime, Disaster Management, and Gaming (MTE) is

developing the first Environment Strategy for the Turks

& Caicos Islands. The Department of Environment and

Coastal Resources (DECR) is coordinating this activity with

technical support from the UK's Joint Nature Conservation

Committee (JNCC).

An Environment Strategy (ES) will help to join existing

and new environmental plans and activities to ensure

effective implementation of environmental priorities. The

ES is envisaged to be a "living" strategy—that is, it will be

reviewed and updated regularly, enabling it to be adapted

to meet TCI's changing needs. Fundamental to its success

will be the development of an islands-wide information

management system that will ensure all data required

for effective management and monitoring of the environment

is housed and accessible from a central location.

The ES will be crafted to be congruent with TCI's

existing legislative and policy framework, notably the TCI

Constitution (Sec. 18.1—have due regard to the need to

foster and protect an environment that is not harmful to

the health or well-being of present and future generations,

while promoting justifiable economic and social development),

TCI Vision 2040, the National Tourism Strategy

and Policy, the National Disaster Management Plan and

the National Physical Development Plan (in preparation).

The proposed strategy will also be guided by national

and global principles and commitments set out in the TCI

Environment Charter, the UK 25-Year Environment Plan

and the UN Sustainable Development Goals.

To ensure the ES meets user needs, JNCC visited TCI

in October 2019 to hold the first stage of stakeholder consultations.

Over 40 stakeholders attended from the Office

of the Governor, various TCI Government departments

and units, NGOs, the Sustainable Tourism Committee,

watersports operators and civil society, with consultations

taking place on North, Middle and South Caicos,

Providenciales and Grand Turk. Stakeholders were asked

their opinions on the overarching purpose and objective

of the ES, what environmental areas it should contain,

and how to ensure effective implementation.

Times of the Islands Winter 2019/20 41
---
green pages newsletter of the department of environment & coastal resources

Red mangroves are easily identified by their above-ground prop roots that transport air to their

waterlogged below-ground roots.

Further opportunity to input is welcomed through

an online questionnaire at https://www.smartsurvey.

co.uk/s/TCI_Environment_Strategy/ or, alternatively, a

hard copy questionnaire can be obtained and returned

from a DECR office. The survey will close on January 17,

2020.

Responses gathered during the October–November

consultations and from the online questionnaires will

inform the drafting of a framework for the ES and a road

map detailing the steps required to put it into action.

Further input will be invited from interested stakeholders

during a second consultation period and visit by JNCC

planned for February 2020 .

A key component of the first consultation period is

to collect opinions on the proposal that a living strategy

may be achieved through a combination of overarching

aspiration statements and inter-linked dynamic "modules."

Wherever possible, the Strategy will build on and

incorporate work being undertaken by TCI's different

government departments, as well as locally based and

external research organisations and foundations.

To support the development of TCI's ES, a review has

been conducted of other national environment strategies

to learn lessons about structure, content and approach.

Their strengths and weakness will guide preparation of

the TCI ES. Some of the key findings to date are that

strong messaging is important to convey the overarching

ambition of the strategy

and that establishing the frequency

at which the strategy

will be monitored and updated

is necessary to ensure it is

achieving the stated objectives

and remains a "living" strategy.

Considering how the

Strategy will be implemented

will be important to consider

from the outset to ensure that it

is properly resourced and acted

upon. Implementation may take

a phased approach to address

priority areas in turn and all

stakeholders are encouraged to

support it, directly or indirectly.

Additionally, JNCC will continue

to provide technical assistance

and there may be scope to jointly bid for funding to

implement identified activities. An important topic for

stakeholder consideration is the different mechanisms

or tools that could be used to financially support the

Strategy in the long-term. In the past, the TCI Government

managed a Conservation Fund which provided resources

to support protected areas management and community

conservation projects. Discussions are currently underway

to explore if the Conservation Fund could be revived,

and may be one option to help sustainably finance the

Strategy into the future.

Going forward, the aspiration is that by March

2020 the framework and road map for the Environment

Strategy will be finalised and a draft cabinet paper produced

for consideration by Government. Following this,

MTE, DECR and JNCC will continue working together and

with stakeholders in 2020/2021 to ensure continued

development of a Strategy that effectively safeguards

the multiple benefits the environment provides, protects

the livelihoods of those who depend on it and works in

harmony with development of the Islands, ensuring they

remain "Beautiful by Nature" for many years to come. a

To contribute to the development of the TCI Environment

Strategy visit: https://www.smartsurvey.co.uk/s/

TCI_Environment_Strategy/ The survey will close to submissions

on January 17, 2020.

42 www.timespub.tc
---
Times of the Islands Winter 2019/20 43
---
TOM RATHGEB
---
feature

Each island in the Turks & Caicos has its own cemeteries to bury the dead. Shown here (opposite page) is the graveyard in Whitby, North

Caicos and (above) the Public Cemetery in Grand Turk.

© CAN STOCK PHOTO/SFPHOTO

Final Goodbyes

Funeral traditions in the Turks & Caicos Islands.

By Jody Rathgeb

Death is not a likely topic for a magazine such as Times of the Islands. The sunshine, blue waters and

swaying palms of the Turks & Caicos are so full of life that the alternative seems very far away. Yet people

do die here and have for centuries; that has not changed. The ideas, methods and traditions of burial in

the Islands, though, have seen change with the development of the nation.

Times of the Islands Winter 2019/20 45
---
In the "olden days," before electric power on the

Turks & Caicos Islands was widespread, burials were simple

and quick. The dead were buried within 24 hours in

coffins made of wood. Only when morgues were built and

available and bodies could be embalmed, did practices

change to allow funeral planning that could accommodate

families that needed to travel for services.

Enter Elbert Edward Higgs of North Caicos, founder

of A&S Funeral Services and the longest serving mortician

in the TCI. In the 1970s, Higgs, like his father, was

a builder of caskets and began performing burials in that

old traditional style. But upon his father's death in 1983,

when Elbert was pressed during bad weather to get everything

done quickly, he decided that North Caicos needed

a morgue. Soon after, he built that morgue under the

ownership of the North Caicos Mutual Burial Association,

and began a funeral service operation in North Caicos,

using expatriate embalmers as was the custom in other

islands.

His next step was to become an embalmer himself.

He trained in the Bahamas and became a mortician for all

of the Turks & Caicos. He continues doing that work and

has passed on training and skills to other funeral service

companies in the country. Today, his daughter, Adelphine

Higgs-Pitter, is the managing director of A&S Funeral

Services (ansfuneralservices.com), but her father continues

in his work. Together, they have aided and helped

craft what most now view as the traditional island funeral:

A viewing and wake, church service and graveyard service

Above: These crosses mark graves in a cemetery on Salt Cay.

Below: This photo shows a funeral procession on Grand Turk in 1964.

Note that the electricity power lines are in the process of being put

up. The pickup truck is a type used by Pan Am at South Base during

that time. The grey building is the Outten apartments.

RAMONA SETTLE

TURKS & CAICOS NATIONAL MUSEUM COLLECTION

46 www.timespub.tc
---
followed by burial. These are accompanied by memorial

programs containing the obituary and photos, and often

other memory items such as buttons or shirts.

These traditional funeral activities are actually a blend

of many traditions that have fed into the Islands: those of

the English, Irish and Scots who settled here, plus African

beliefs and more modern iterations of ancient rites. The

"island wake," an all-night event with singing, dancing

and refreshments, for example, is a version of the ancient

tradition of safeguarding a corpse until burial. It borrows

from both the famed Irish wakes and the African frenzy-like

displays of sorrow. Families put their own spin on

the wake; for some it's a more religious compendium of

gospel music, while others turn the event into a full-blown

final party for the deceased. The next day's religious services

are also tinged by the fragile emotional states from

a full night of wakefulness.

Those who have noticed processions of a white,

glass-sided carriage during funerals are also seeing an

influence from outside the Islands, in this case the theatrical

funerals of New Orleans (which also grew from

Euro-African traditions). Since Elbert Higgs and a friend

built the carriage, Adelphine notes, it has been used in

about half of the A&S funerals, "Mostly in the younger

generation," she says. The idea of the mobile display of a

casket is only somewhat traditional in the Islands.

Top: Funeral carriages such as this one in the Bahamas are also used

in the Turks & Caicos.

Above: This donkey-drawn funeral hearse was used on Grand Turk

during the 1960s.

Some small changes

Most, but not all, go this traditional route. With the influence

of outsiders, more people have become interested

in cremation and other options such as burial at sea and

"green" funerals. A&S has become flexible enough to deal

with these options, and Adelphine kindly shared explanations

and comments on them, even though cremation is

less than one percent of their business and other traditions

are far less.

When cremation is requested, she says, it must be

done outside of the TCI since there is no crematory in

ISTOCKPHOTO.COM TURKS & CAICOS NATIONAL MUSEUM COLLECTION

Times of the Islands Winter 2019/20 47
---
RAMONA SETTLE GETTY IMAGES

From top: This cemetery in Blue Hills, Providenciales lies peacefully

beside the sea.

The Salt Cay "barren ground" bears the weight of years of tradition.

the country. Her company works with another in Fort

Lauderdale, Florida. Remains must be embalmed first,

then shipped there, as per law. Then the remains are

either returned to TCI via IBC Airways or sent to any other

address. A&S handles the documentation to accompany

the process.

While she says there is increasing interest in cremation,

it may be a while before it can be done in the Turks

& Caicos. "Cremation will definitely be a growing trend

once a facility is established here," she says, but adds,

"The cost to develop a cremation facility by a funeral provider

does not make financial sense based on the low

death rate and amount of funeral business compared to

the population."

Cremation is only somewhat less expensive than

burial in the TCI, Adelphine says, because of the costs of

containers, shipping and documentation. For A&S, a basic

traditional funeral costs around $7,000. Depending upon

what is included, a cremation can run into the $6,000

range.

Scatterings, burial at sea and other options

What families do with returned cremains is up to them.

They may keep the loved one in a sealed urn or scatter

the ashes on land or at sea. Those wishing a scattering

at sea can arrange their own boat, or turn to a Provo tour

operator. Both Sail Provo and Island Vibes Tours offer

packages for the scattering of ashes, a fact that indicates

there has been interest in that non-traditional type of service.

Actual burial at sea, the stuff of English Naval dramas

and pirate fictions, is even more rare in the Turks &

Caicos, but it is legal, with stipulations provided by the

Department of Environmental Health. Sea burial must be

done in a leather bag that contains weights, and it must

occur at least three miles off shore.

The idea of returning to the land or sea is also shown

in the interest in two very different types of memorialization:

reef balls that contain ashes, and old-fashioned

burials without embalming.

One company in the United States provides the former.

Eternal Reefs (eternalreefs.com) is a company that

combines cremains with environmentally safe cast concrete

to create a memorial "pearl," which is then dropped

into one of several sites off the U.S. coast during a ceremony

at sea. The company is permitted through local,

state and federal agencies and approved by the U.S.

Environmental Protection Agency and encourages families

to participate in the four-day process of casting, a

48 www.timespub.tc
---
Salt Cay traditions

In a 2013 article in Turks & Caicos Weekly News, Salt

Cay resident Candy Herwin recalls, "There are only

a few old folk left who can recall the mid-1900s era

and the old traditions of wakes and funerals and the

marching processions in which the whole community

would follow the pallbearers to the tombside in the

Barren Ground."

There was no electricity back then so the

deceased needed to get "dressed down" and buried

as quickly as possible—the men dressed in black and

the women in white. A donkey and cart would carry

the body to the Benevolent Hall where it was placed

in a handmade wooden casket and the "sisters" would

decorate the inside with fresh-cut moringa flowers

which were sweet smelling and white. The casket was

then placed on a heavy white canvas sheet, which

was carried by six male family members who would

lead the onward march with the community and

Benevolent Lodge following behind.

There was always an air of pageantry with

prayers, singing, weeping and wailing while the men

beat the rhythmic bass and tenor drums and blew

the French horns, 'licking' the long sticks as they

marched to the church of membership.

The procession would sing Gospel hymns from

the Sankey, like one of the favourite marching tunes,

"There's a Royal Banner" and yet another popular

refrain, "When I can read my title clear to mansions

in the skies, I bid farewell to every fear, and wipe my

weeping eyes."

Sometimes two chairs were carried along with

the procession so that the pallbearers could rest for

awhile, however, the music and singing continued

through the church service and onward to the Barren

Ground. The body was lowered into the earth and

everyone threw in a handful of soil.

It was a simple affair and they would say, "When

you die your head got to be facing westward." It

was an old belief dating back to when freed slaves

believed that the dead should be facing the right way

when Gabriel blows his trumpet in the eastern sunrise.

Salt Cay residents agree that the ancestral burial

ground is an historic and important part of community

life. a

service and positioning of the pearl. Costs range from

$3,000 to $7,500. Those in the TCI are reminded, however,

that the approved sites for reef balls are not within

this country.

Can one still be buried the old-old-fashioned way, in

a wooden casket without being embalmed? Yes, provided

that such burial has been approved by the coroner. Also,

the dirt grave must be topped with cement and marked.

Such quick and green burials bring the TCI full circle to

the past.

In the end, our final goodbyes depend on one's own

beliefs, traditions and comfort. As the TCI continues to

diversify and be influenced by other traditions, the meaning

of a "traditional" memorial service is changing and

becoming filled with new options. a

Times of the Islands Winter 2019/20 49
---
feature

This is the entranceway to the Turks & Caicos Islands Community College Grand Turk campus, which opened in mid-2002.

Opposite page: It's a tern convention on the dock! This one is largely attended by Sandwich Terns (distinguished by their long bills with a

yellow tip) and one lone Royal Tern with the orange bill.

Above: This Bananaquit appears to have enjoyed quite a feast of pomegranate seeds. They are locally called the "Chickadewilly," a term that

is often applied to all small birds.

Birds & Binoculars

You can't enjoy one without the other.

By William J. Cook ~ Photos By Marta Morton

Few places in the world offer the birding paradise that can be found in the Turks & Caicos Islands, and

there are many vantage points from which to take in these wondrous, diverse and colorful creatures.

Sadly, it's not uncommon for tourists to travel thousands of miles to add to their life lists only to use

binoculars lacking in the clarity that would take a pleasurable adventure to a whole new level. Most of

the anomalies causing that lack of clarity are thought to be related to the binocular but are actually due

to poor collimation (misalignment) or the observer's physiology.

Times of the Islands Winter 2019/20 51
---
Optics is a nebulous subject that many people leave

to the ever-changing opinions found in magazines and on

Internet binocular forums. Therein, when the topic moves

to the more clinical side of things, collimation and physiology

for example, opinions of the ultracrepidarians can

range from inaccurate, through silly, to damaging.

I've spent 45 years in precision optics. First as a Chief

Opticalman with the US Navy, as a civilian optical consultant,

and finally as creator and manager of the Precision

Instruments & Optics department for Seattle's 123-year

old Captain's Nautical Supplies, where I was on the front

lines of working with binocular shoppers and where I

repaired and collimated more than 12,000 binoculars.

Starting in the early 1990s, as a result of trying to add

a touch of reality to the vastly misleading "auto-focus"

craze that so many honest people bought into, I started

writing to take on the false notions that were taking

observers down so many of the costly and non-productive

roads leading to fableland.

Following, I'll correct some of the biggest misconceptions

that have befuddled observers for years and end by

addressing one of today's biggest problems in achieving

a crisp focus. It's a totally avoidable problem that rests

with the observer and not the binocular.

Auto-focus binoculars?

This sales ploy reached its peak in the 1990s but still

haunts the observer looking for that something special

and doesn't mind trying to outsmart logic and physics

to do so.

Regardless of what you have heard, read or think,

you have seen for yourself there are no non-electronic

auto-focus binoculars. Minolta once marketed a binocular

that focused on the same principle as a modern digital

camera, but having numerous deficiencies it wasn't on

the market long.

Years ago, I made a bent-nail puzzle and gave it to

a friend to tinker with while we talked. Figuring it out in

short order, I grabbed the puzzle, turned my back, put

it back together, and gave it to him again saying, "Okay,

hotdog, let's see you get this one apart as fast; I put it

together backwards." Although we continued talking for

quite a while, he couldn't figure it out.

The puzzle only worked one way. Thus, it couldn't

have been put together "backwards." Yet, the power of

suggestion caused him to flounder. And that's just what

the auto-focus craze was based on. Good advertising

need not be accurate or even meaningful; it has only to

be believed.

Order in focusing

Center-focus binoculars must be focused as they were

designed to be focused and, in the vast majority of cases,

the left telescope is to be focused first. For good imagery

it's not optional.

A customer once told me her optometrist said she

ERIC F. SALAMANCA

White-cheeked pintail ducks can be found in seasonal freshwater ponds and swamps, but in times of drought will go into tidal ponds and

old salinas.

52 www.timespub.tc
---
should always focus her right eye first because she was

right-eye dominant. Consequently, based on his "expert"

advice, she had spent years using her expensive Leica binocular

to produce images of lower quality than expected

of a $69 drugstore special, all the while believing something

was wrong with her eyes.

Why was following this optometrist's advice wrong?

Let's start by following his instructions, focusing the right

eye as directed, to find out. Bingo, your right eye is seeing

a great image. But now, with the right eye sharply

focused, you turn the center focus wheel or flip lever to

focus your left eye. Since, however, there's a 2-diopter

difference (for example) in your eyes, and since the center

focus wheel or lever was designed to focus both sides

at the same time, sharply focusing your left eye has just

defocused your right eye by 2 diopters. Something isn't

right. But you did what your optometrist told you to do.

So, it must be you . . . right?

When both eyes are sharply focused on the target,

having followed the correct procedure, you may return to

the center-focus wheel for focusing at various distances

until the focus is altered by another observer or until one

From top: The Brown Pelican is a common sight in the TCI, and although this one seems surprised, it is more likely coming in for a landing.

The female Bahama Woodstar hummingbird builds her tiny nest from bits of plants and spider silk, cemented with her saliva. In it she lays

two eggs; the resulting chicks shown here are quite grown and nearly ready to leave the nest!

Times of the Islands Winter 2019/20 53
---
Times Kevin_Times Kevin 9/18/18 10:51 AM Page 1

of the adjustments has been inadvertently reset. In doing

so, you will maintain the dioptric difference between your

eyes regardless of the distance to the target—500 feet

or 5,000,000,000 miles. (Only 2 to 3% of the population

have the same setting in each eye.)

Spatial accommodation

Spatial accommodation is a collimation (alignment) issue

that, more often than not, originates with the binocular

but which can be caused by the binocular's IPD (interpupillary

distance) to be misplaced relative to the separation

of the user's eyes.

For example, just placing a binocular to the eyes

is inadequate unless positioned in such a way that the

binocular's exit pupil is placed precisely in front of the

pupils of the observer's eyes. If the observer has an IPD

of 69 millimeters and the binocular's IPD is set to match,

all is well. If not, the observer must use some degree of

eye-straining spatial accommodating, even if the binocular

is well collimated.

The Internet is replete with articles telling observers

how they can "easily" correct misalignment by tweaking a

few through-the-body/prism-tilt screws, with most such

instructions omitting other alignment conventions and

the repairs often needed to allow any of those conventions

to work.

There are, however, stipulations of which the exuberant

screw-tweaker needs to be aware. IF only one side

of the binocular is misaligned, IF that side is the one

adjusted, IF the error is small, IF the individual's physiological

accommodation is adequate, and IF the distance

to the desired target is far enough this—conditional alignment—may

be enough to make the instrument perform

well or even excellently. Even so, while that is adequate

for some users, it leaves others, who didn't have all those

IFs in their favor, frustrated with a less than crisp image.

In addition, without specific knowledge, the same

procedure can push the binocular ever farther out of alignment

and can, in some cases, damage the instrument.

And although rarely, if ever, seen in print, understanding

spatial accommodation is critical to getting the best view

from the binocular.

So, if you find that your binocular gives you a double—or

even an uncomfortable—image you should

consider that the binocular may be misaligned or you

don't have the telescopes spaced properly for your eyes.

In order to find out, bring the binocular to your eyes and

seek the best view of a target at least a mile away. A

streetlamp will work fine. Then slowly move the instru-

54 www.timespub.tc
---
The Mourning Dove epitomizes "protection"

as she keeps careful watch over

her chicks. The bird is so-named for its

melancholy call.
---
The longest established legal practice

in the Turks & Caicos Islands

ment 8 to 10 inches away from your face. Try to just

stare. If the error is small, your brain will compensate. If

problematic, alternate the opening and closing of each

eye. Is the image still, or does it dance? If the latter, you

have a collimation issue and with the lack of qualified binocular

techs around, the instrument should be replaced

by the vendor or repaired at the factory.

Real Estate Investments

& Property Development

Immigration, Residency

& Business Licensing

Company & Commercial Law

Trusts & Estate Planning

Banking & Insurance

1 Caribbean Place, P.O. Box 97

Leeward Highway, Providenciales

Turks & Caicos Islands, BWI

Ph: 649 946 4344 • Fax: 649 946 4564

E-Mail: dempsey@tciway.tc

Cockburn House, P.O. Box 70

Market Street, Grand Turk

Turks & Caicos Islands, BWI

Ph: 649 946 2245 • Fax: 649 946 2758

E-Mail: ffdlawco@tciway.tc

john redmond associates ltd.

architects & designers

construction consultants

project management

p.o.box 21, providenciales, turks & caicos is.

tel.: 9464440 cell: 2314569 email: redmond@tciway.tc

Dioptric accommodation

This is an anomaly of your own physiology, something

that affects almost every observer, and is something you

control.

Frequently, an observer will focus on a target quickly

and expect the instrument to remain focused—at least at

the given distance. However, let's say you have a dioptric

accommodation range of 4 diopters and stop focusing

the instant you have an adequate image. As time goes on,

observing may become problematic because your natural

(relaxed at that distance) focus setting should be –1.5

diopters. That means being in a hurry has placed your

focus at an accommodatable, but strained, setting.

Then, as fatigue sets in, you may fiddle unnecessarily

with the focus or suppose there's something wrong with

your eyes or the binocular when neither is true. In addition,

as this "fiddling" takes place, the observer will more

than likely repeat the hurried technique that got him into

trouble in the first place, leaving him or her once again

with an imprecise focus. Perhaps your mother taught you

never to stare. Nevertheless, if you want a crisp image,

you had better forget that advice.

Dioptric accommodation (the ability to focus at a

range of distances) is achieved through the eye's ciliary

muscles, which stretch and compress the eyelenses in

order to achieve a sharp focus. A 10-year old may have as

much as 14 diopters of accommodation. But as we age,

dioptric flexibility drops off fairly quickly. By age 20, it

has dropped to 8 to 10 diopters with the average binocular

user—40 to 50 years of age—having only a 4-diopter

accommodation. Thus, with each year that passes—up

to about 60—the focus mechanism becomes ever more

critical.

Learning to stare comes easily for some people but

takes a great deal of practice for others. But learning to

stare, letting the binocular's focus come to you, is worth

the effort and is absolutely essential to attaining the

sharpest image, most trouble-free focus, and the clearest

views of the nature around you.

Happy and productive birding! a

56 www.timespub.tc
---
TWATIMES_Layout 1 2/16/17 7:49 AM Page 1

Birding in the Turks & Caicos Islands

Bird-watching (these days known as birding), is a recreational

activity for millions of birders worldwide. It

can be done with the naked eye, through binoculars

and telescopes, by listening for bird sounds or by

watching public webcams. Many birders maintain a

life list of all the species they have seen, usually with

details about the sighting such as date and location.

Birding ecotourism is popular because birders typically

have a lighter footprint from not wanting to

disturb the birds and are often pioneers for furthering

conservation projects to protect the habitats of

wild and rare bird species.

Serving international & domestic clients in real estate, property development,

mortgages, corporate & commercial matters, immigration, & more.

TEL 649.946.4261 TMW@TMWLAW.TC WWW.TWAMARCELINWOLF.COM

Hugh final_Layout 1 5/29/17 1:15 PM Page 1

According to TCI Naturalist and Terrestrial

Ecologist for the TCI Department of Environment and

Coastal Resources B Naqqi Manco, the top three locations

here for birders are as follows:

• On Providenciales: Provo Golf Course, Cheshire

Hall Creek (late afternoon into dusk) and Wheeland

Ponds.

• On North and Middle Caicos: Village Pond,

Middle Caicos; Wade's Green Plantation, North

Caicos; Flamingo Pond, North Caicos.

• On Grand Turk: Town and Great Salinas, North

Wells and Red Salina.

What should birders look for? Manco expands,

"Reddish egrets are rare globally but common in TCI.

P

E

R

S

HUGH G. O'NEILL

ATTORNEYSN

AT

L AW

P.O. Box 267

Hibernian House

1136 Leeward Highway

Providenciales

Turks and Caicos Islands

B.W.I.

Tel 649-946-4514

Fax 649-946-4955

Email hugh.oneill@hgoneillco.tc

&

C

CO. O

N

F

I

D

E

N

T

I

A

L

Times of the Islands Winter 2019/20 57
---
Food for Thought provides free daily

breakfast to government school students.

A donation of $300 will provide breakfast

to one child for a whole school year.

To donate or learn more please

email info@foodforthoughttci.com

or visit foodforthoughttci.com

Cuban crows can only be seen in the Caicos Islands

outside of Cuba. TCI has an endemic subspecies of

thick-billed vireo, which is common throughout, and

one of Greater Antillean bullfinch restricted only to

Middle and East Caicos. White-tailed tropicbirds are

seasonal visitors to seaside cliffs in summer. Blacknecked

stilts are common in ponds and are both

easily identified and photogenic. Caribbean flamingoes

are always a favourite and are easily viewed in

great numbers on North Caicos and at close range on

Grand Turk."

"In the winter months, migratory birds may

be seen on the ponds of the Provo Golf Course,

Wheeland Ponds on Providenciales, and at the Wade's

Green Plantation high forest on North Caicos."

"Seabird cays such as French Cay, Bush Cay and

the Southern Cays; and Long Cay off Grand Turk are

sanctuaries and landing is prohibited without a permit.

Thus, summer seabird observations must be

done from boats."

"North and Middle Caicos are worth a visit for

potential life-listers including Key West quail-dove,

pearly-eyed thrasher, white-tailed tropicbird, Greater

Antillean bullfinch, thick-billed vireo, white-crowned

pigeon, smooth-billed ani, mangrove cuckoo, Bahama

mockingbird, and Cuban crow. Large migratory flocks

move through North and Middle Caicos quickly in

September and October and include bobolinks, blue

grosbeaks, and indigo buntings. Summer breeding

residents to these islands absent in winter include

Antillean nighthawks and gray kingbirds."

"The salinas on Grand Turk are especially good

for photography as Caribbean flamingoes, brown pelicans,

snowy egrets, reddish egrets, tricolor herons,

little blue herons, black-necked stilts, and several

species of sandpipers are there unafraid of people

and very approachable. Magnificent frigatebirds are

often seen over the Grand Turk salinas."

There is a series of booklets entitled, "Birding in

Paradise" targeted to the individual islands, and they

include suggested tour routes, bird lists, and information

on other flora and fauna and history. They

are available through the Turks & Caicos National

Museum Foundation or on the website www.ukotcf.

org.uk. Another good source is The Birds of the

Turks & Caicos Islands by Richard Ground. It is sold

in local bookstores and shops. a

Food for Thought Foundation Inc. (NP #102)

58 www.timespub.tc
---
astrolabe

newsletter of the Turks & Caicos National Museum

front street, p.o. box 188, grand turk, turks & caicos islands, bwi

tel 649 946 2160 • fax 649 946 2160 • email info@tcmuseum.org • web www.tcmuseum.org

Exploring Our Islands

It's hard to believe that I have been here at the Turks & Caicos National Museum for two years already.

One of my goals was to explore the rich culture and historic heritage of these Islands. Most recently, I had

the privilege to explore parts of East Caicos, which included a hike to the top of Flamingo Hill. Local lore

states that more people (in modern times) have climbed to the top of Mount Everest than to the summit

of Flamingo Hill. This isn't because of the height of Flamingo Hill, but because of the remote location

and difficult hike.

Over the last year, through the Astrolabe, we have explored rich topics such as the TCI during the

World Wars, the Loyalists' impact on the Islands and digitizing the Colonial heritage, along with explaining

the need for a National Museum system. Over the next year we have exciting articles planned for

your enjoyment, including the Rock Art of the Lucayans on East Caicos, the development of 3D Models

of Historic Grand Turk, more about TCI during World Wars and so much more.

In this edition we join Joost Morsink and Ruud Stelten as they explore this history of salt and cotton

exploitation on Salt and Cotton Cay and further explore Eric Wilburg's story of the survivors of the

Vineland in 1942. a

Michael P. Pateman, Ph.D., Director, Turks & Caicos National Museum

Times of the Islands Winter 2019/20 59
---
astrolabe newsletter of the Turks & Caicos National Museum

This aerial image of Salt Cay reveals views of its historic buildings and salt ponds.

Going Under

Searching lost wrecks on Salt Cay.

Story and Photos By Dr. Joost Morsink and Dr. Ruud Stelten

South of Grand Turk, a small and sleepy island rests in the Atlantic Ocean: Salt Cay. With approximately

90 inhabitants on 2.6 square miles, this is the least populated of the main inhabited islands in the Turks &

Caicos Islands. Tourists often bypass the island in favor of Grand Turk, Providenciales or other Caribbean

islands, but the lucky ones who choose to visit Salt Cay discover unmatched tranquility, superb diving and

whale watching, and beautiful and remote beaches.

60 www.timespub.tc
---
astrolabe newsletter of the Turks & Caicos National Museum

From the 17th to the mid-20th centuries, the island

was not bypassed. In fact, Bermudians sailed their ships

over 800 miles every year to visit Salt Cay for its salt.

Historically, salt was considered "white gold" because in

the absence of refrigeration, salt provided one of the very

few ways to preserve food. The interior of Salt Cay consisted

of a large natural salt pan and in combination with

strong tradewinds, hot days and little precipitation, Salt

Cay culminated into an ideal environment for natural production

of this precious product. Entrepreneurs as they

were, the Bermudians targeted this island for economic

production, building salt storage facilities along the

shore and creating salt ponds with wind-powered pumps

to increase production. The profitable salt industry left a

mark on the island.

In Spring 2019, we conducted archaeological field

research on Salt Cay. Intrigued by the importance of this

relatively common product, our intention was to create an

inventory of archaeological sites on the island. In addition

to the island's visible remains, such as the houses and the

salt pans, many archaeological sites have been obscured

by the water. Underwater archaeological remains are testament

to the importance of the maritime world to this

island.

Surrounded by the sea, Salt Cay functioned as a hub.

To move people to the island, export salt and connect

the island to a wider Caribbean context, a maritime focus

was a must. Smaller vessels would come and go along the

coast, moving goods on and off the island. Larger ships

would set sail and deliver the salt to other Caribbean

islands, the United States and even Europe. Rough seas,

bad material, human error or just bad luck sometimes

interfered, and vessels would not make it to their destination.

With the loss of wealth or even life, these events

were significant in the past. Yet over time, not all wrecks

are remembered and stories are forgotten. Our goal is

to find material evidence of these events, find out what

happened, and revive these forgotten episodes.

Dr. Ruud Stelten measures the North Point Wreck on Salt Cay. The ship is made of wood and its visible remains are approximately 33 feet

long. Could it be the wreck of the Gustavus?

Times of the Islands Winter 2019/20 61
---
astrolabe newsletter of the Turks & Caicos National Museum

Dr. Joost Morsink examines the huge anchor from the wreck of the Endymion.

Because the ship was 141 feet long, this size anchor was a necessity.

62 www.timespub.tc
---
astrolabe newsletter of the Turks & Caicos National Museum

This 3D model of the Endymion allows researchers to study the wreck without going underwater. It also allows Museum visitors to enjoy the

splendor of this "virtual wreck."

As soon as we land on the island after a 45-minute

boat trip from Grand Turk, we hear stories about a potential

wreck on the north coast. Equipped with fins, snorkel,

measuring tape, and camera, we set to explore this lead

and quickly find the remains of a wooden ship. At only

20 feet deep, we can document the ship while freediving.

The ship is made of wood and its visible remains are

approximately 33 feet long, situated along a shallow reef

to the west. It is very possible that these reefs caused

the vessel to sink. Other parts of the ship are still buried

underneath the white sand.

In the tropical waters of the Caribbean, it is unusual

to see wood: Naval Shipworm, Teredo navalis, often gets

a hold before archaeologists get a chance. As the shipwreck

is shallow, many of the associated artifacts were

likely salvaged after the ship went down. The lack of

artifacts hinders our research and make ship identification

difficult. Yet, looking through old naval logbooks

and archives, there is a mention of Gustavus. This ship

planned to visit Grand Turk on January, 8, 1855 to collect

salt. During bad weather, Gustavus hit the cliffs, lost

its navigational abilities, and slowly drifted to the north

coast of Salt Cay and sank. Additional research is necessary

to identify the wreck as the Gustavus, for example

by dating the wood using tree ring analysis, but the first

step is made.

Another known wreck is approximately 16 miles

south of Salt Cay: the HMS Endymion. This British man-ofwar

sank on a shallow reef in 1790, about 11 years after

it was built. On a small skiff, the ride is about two hours

when conditions are ideal. In rougher seas, it is impossible

to navigate these waters. Anchoring near the site

is dangerous and there is a significant chance of history

repeating itself by wrecking the boat on Endymion Rock,

the reef named after the wreck. If two hours on a small

boat sounds less than exciting, plan the trip during the

whale season. We crossed paths with numerous whales

with calves, starting to get ready for their trip north.

Even in calm waters, it is difficult to anchor the ship

close to the wreck and away from the reef. But as soon as

we enter the water, the wreck shows itself. No wood this

time; the Naval Shipworm had over two centuries to eat

its way through. Metal, glass, ceramic and stone objects

remain on the sea floor. Large boulders, which were used

as ballast, signify where the hull of the ship went down.

Of the 44 cannons on board, the crew was only able to

salvage one after the Endymion sank. Piled up, scattered

around, and some single outliers, the cannons are clearly

visible across the site. Other visible objects are large

chain links that cross the entire site and multiple anchors.

Times of the Islands Winter 2019/20 63
---
astrolabe newsletter of the Turks & Caicos National Museum

One of the Endymion anchors was over 16.5 feet long,

one of the largest anchors we have ever seen! At 141

feet, Endymion was of significant size for its time, making

these large anchors indispensable.

In the National Maritime Museum in Greenwich,

England, the original logbook of the HMS Endymion can be

found. The logbook details all the travels, but also the last

days of the ship's existence before it sank south of Salt

Cay. On August 28, 1790, the ship hits a then-unknown

reef. Within an hour, five feet of water entered the ship

and Captain Woodriff quickly understands that the ship is

not going to make it. Leaving a couple of sailors behind,

the crew rows sloops to Grand Turk looking for help. The

next day, all sailors and as much of the ship's contents as

possible were saved. On August 30, the captain leaves the

ship right before it is completely submerged. To remedy

this incredible loss, the crew buys over 60 gallons of rum

as soon as they land in Grand Turk!

By taking hundreds of photos with about 70% overlap

in every photo, we document the majority of the

wreck. Using photogrammetry, it is possible to translate

these photos into a digital 3D model of site. As easy as

it sounds, the reality is different. For an optimal product,

the photos need to be taken on a constant and even

depth, the light needs to be ideal with no shadows showing,

the colors need to be close to the natural colors

(anyone who has ever taken a photograph under water

knows how difficult this can be), and no moving objects,

such as fish, can obscure the artifacts.

The 3D model serves multiple purposes. From the

model, the wreck can be studied without the need to

go back and dive it again. Measurements can be taken,

artifacts can be counted, maps can be made without

needing a single scuba tank! Secondly, the model provides

a baseline for long term management questions.

Large storms or other factors could affect the quality of

the wreck, moving and breaking artifacts. By comparing

the model from 2019, the degree of impact can be measured.

Finally, the model serves an educational purpose.

As said, the wreck is difficult to visit. Its remote location

and the need of very calm conditions before one can dive

there limits how many people can actually see the wreck.

The model will allow more people to visit the wreck and

enjoy its splendor.

While diving the Endymion, we follow one of the large

chains which leads to the General Pershing. This wooden

This adorno was recently found on Cotton Cay.

vessel was powered by engines, which can be found near

the reef. In 1921, the three-year old and 266 foot-long

vessel wrecked on the same reef as the Endymion. With

two wrecks here, how many more unidentified wrecks are

there still to be found on these reefs?

Along the west coast of Salt Cay, multiple smaller

vessels wrecked too. A local inhabitant shows us a location

on the south coast where he found a 16th-century

anchor and multiple bronze nails, which all indicate

another lost ship. Rough seas and little time prohibited a

detailed assessment of the location, but future research

will show what other ships were lost in the salt trade.

The Europeans were not the first people on the

island. Prior to Columbus, the Islands were first colonized

by people from Hispaniola. Later, Lucayan people moved

into the region from the central Bahamas. Evidence of the

populations can be found. Two years prior to our 2019

visit, Ruud Stelten identified Lucayan pottery on Salt Cay's

east coast. Hurricane Maria, however, either destroyed or

buried the site and no artifacts could be found during our

most recent visit. We cover large sections of the island in

our week there, but we were unable to find any prehistoric

artifacts. Possibly, the prehistoric village was located

where the historic occupation occurred and all evidence

is obscured by buildings and roads.

64 www.timespub.tc
---
astrolabe newsletter of the Turks & Caicos National Museum

A quick trip to Cotton Cay, a small uninhabited cay

north of Salt Cay, shows that native people were in the

region. Within two minutes of landing on the beach, Ruud

and I identify multiple pieces of pottery, some with volcanic

sand in them. As the Turks & Caicos Islands are

not volcanic, these pottery sherds were likely imported

from Hispaniola. Typically, these sherds were imported

between AD 700 and 1500. Pottery with burned shell,

rather than volcanic sand, was also identified along the

beach. This pottery is typical of Lucayan sites in the

region and first occur after AD 1100. Excavations are

needed to determine if the site is the product of multiple

short term visits or one long term occupation.

Along the northern coast, another scatter of Lucayan

pottery and shell was found. The color of the sand was

also darker than in other places on the island, suggesting

that people might have altered the local composition

of the soil by living there. The second site was located

on a ridge, next to two natural salt ponds. Elsewhere

in the Islands, prehistoric sites were found next to salt

ponds and prehistoric people were likely exploiting this

resource as well. Maybe Lucayan people set the stage for

exploiting salt in the Turks & Caicos Islands, introducing

the resource and the salt pans to the Europeans who

arrived later.

Our research has just started. Our goal is to understand

the exploitation of salt in the Turks & Caicos

Islands throughout history. By focusing on prehistoric

and historic salt production and exchange, it might be

possible to provide a new perspective on the Islands'

past. Rather than emphasizing the break and differences

between prehistoric and historic times, there might be a

lot of similarities and continuity. Stay tuned! a

Dr. Joost Morsink is an expert in precolonial Caribbean

archaeology with an interest in maritime archaeology. He

is a project manager at SEARCH Inc., the largest full-service

cultural resource management firm in the USA.

Dr. Ruud Stelten is a maritime archaeologist whose

research interests are maritime cultural landscapes, submerged

archaeological sites, and heritage management.

He is the founder of The Shipwreck Survey, an organization

dedicated to maritime archaeological research. He

organizes several archaeological field schoosl every year

in exotic locations around the world.

Join the Museum

Become a Member of the

Turks & Caicos National

Museum and receive a

year's subscription to Times of the Islands (which

includes Astrolabe), free admission to the Museum

and other benefits.

Senior (62+) $35 • Individual $50

Family/Friend $100 • Sponsor $250

Contributor $500 • Partner $750

We have several options for joining:

• Visit the Museum at our Providenciales location at

The Village at Grace Bay or our Grand Turk location

in Guinep House on Front Street.

• Visit our website at

www.tcmuseum.org/membership-support/.

• Send US checks to: Dr. Toni L. Carrell, Friends of

the Turks & Caicos National Museum, 39 Condesa

Road, Santa Fe, NM 87508

*For U.S. residents, support of the Museum may be tax-deductible

if you join via Friends of the Turks & Caicos National

Museum, our affiliated institution and registered 501 (c) (3).

Times of the Islands Winter 2019/20 65
---
astrolabe newsletter of the Turks & Caicos National Museum

JOOST MORSINK

The White House on Salt Cay is still owned by descendants of Daniel Harriott. The Harriott family, along with other families who could, took

in Vineland survivors until they could be transported back to the United States.

TCI in WWII

Survivors of U-Boats: Vineland in 1942, Part II

By Captain Eric Wiberg

In the Fall 2019 issue of Astrolabe, the author detailed the sinking of the Canadian dry-bulk ship Vineland,

on April 20, 1942 by the German submarine U-154 while it was roughly 90 miles north of North Caicos.

The survivors voyaged in three lifeboats until they were picked up by fishermen in the Caicos sloop Emily

Conway and towed to Chalk Sound, Providenciales. The story continues as follows . . .

66 www.timespub.tc
---
astrolabe newsletter of the Turks & Caicos National Museum

This image shows the Vineland at dock loading or discharging newsprint for the Liverpool Steamship Company of Canada. Note the temporary

neutral Panama markings which followed her to the bottom.

Vineland survivors were initially taken to tiny Salt Cay

by fishermen, and hosted by the leading Harriott family

and in other homes for several days. After supplies became

taxed the men were moved a short distance north, where

they staying in guest houses awaiting a north-bound ship.

Their erstwhile hosts, the Harriotts, accompanied them to

Grand Turk to ensure their onward passage.

The Harriotts originally emigrated from Bermuda in

the 1830s and with profits from salt harvests built the

largest building on Salt Cay, wedged between the salt

pans and the ocean. Named the White House, it still

stands today. Family lore has been well kept by Georgina

Dunn Belk. She shared family anecdotes about Captain

Ralph Williams and the Vineland crew. Her aunt writes

that "as children, we saw evidence of the torpedoing of

ships by the German submarines when some of the survivors

of a torpedoed merchant ship were brought to East

Harbour by fishermen who discovered them drifting in

lifeboats. Our family, along with other families who could,

took them in until they could be transported back to the

United States." One of the Vineland survivors says that "on

Grand Turk the women made clothes for some of us."

Life on shore was bleak, but not as bad as for others

surviving wartime winter in Canada: "Ships from the

[Canadian] Maritimes had even poorer food to feed the

crew and for them a meal ashore at the White House,

where [the hostess] would have a chicken killed for them

as honored guests, was memorable." The Islanders had

become, by necessity, adept at scavenging the bounty

of wartime submarine attacks. "Essentially, anything that

floated ended up on a beach, and Turks Islanders would

come to the door of the White House selling items they

had found including life boats, life rafts, oil drums, ropes

and tarps, timber and furniture. But the most treasured

finds were the crates of dried tinned food, so when large

tins of white powder washed up the beach [we] brought it

from the salvager. It has the appearance and consistency

of porridge. Cooked and eaten for breakfast, it had the

consistency of glue but was more or less edible."

One of the Harriotts continues: "We had five seamen

in our home from the sunken British merchant ship with

supplies that left New York for South America to pick up

raw rubber. The rescued men were picked up one afternoon

by our fishermen. (Daddy told us later that the men

were covered in oil and some were burned quite badly).

Five of them were settled into our home after Cleo and I

had gone to bed. We didn't know about our guests until

we came down the next morning for breakfast and there

they were at the dining room table with my father and

mother having their morning tea." She continued: "Our

torpedoed British seamen stayed with us and the other

families four or five days until a ship came for them. We

borrowed additional cots from family, and they took over

our bedroom upstairs, and we moved into our parent's

room and slept on the floor."

Presumably the officers stayed at the White House.

Eight of the men were later accommodated at the Louise

Ariza boarding house in Grand Turk. Osvaldo Ariza

remembers that his mother "put up survivors there" and

that "most were Canadian." He remembers hearing that

a young boy from the ship said he had been torpedoed

three times, and that Captain Williams was fond of telling

local school children that the "V" in Vineland stood

for Victory. Another of Mrs. Ariza's sons remembers one

Times of the Islands Winter 2019/20 67
---
astrolabe newsletter of the Turks & Caicos National Museum

SHERLIN WILLIAMS

of the cooks aboard the

Vineland, a man named

Hutter. The Arizas and Mr.

Hutter remained in contact

for years after the war.

During their stay

in Grand Turk, Captain

Williams managed to

get word through to the

Naval Officer in Charge

in Trinidad. Through

that channel, the British

Admiralty in Jamaica

learned that Vineland had

been lost. After thirteen

days on Grand Turk, or

about May 10, a Dutch

inter-island passenger ship

took them to Curaçao.

Their farewell was poignant

and a community

event. One of the Harriotts

recounts how "When arrangements were made for them

to return on a ship that came to pick them up, Daddy,

Cleo and I went down to the waterfront where all the survivors

had congregated, as did most of the men of the

island. They were loaded into small boats and taken out

to the ship . . . and they were returned to the United States

where they were to be assigned to another ship carrying

supplies to England."

Despite nearly being torpedoed a second time, they

made it and were given "shaving equipment, suits, socks,

underwear, you name it. And they even gave us money

to spend," wrote Mess Boy Ralph Kelly. The harrowing

repatriation of Vineland's men was not over. After less

than a week in Curaçao they boarded a German-built,

Dutch-run ship laden with ammunition, bound to Halifax.

Fortunately for all involved, it was an uneventful voyage of

fourteen days during which "everybody was scared stiff"

wrote Kelly. They didn't arrive back until early June, over

six weeks after their torpedoing.

This is the Louise Ariza boarding house in Grand Turk where survivors were put up in 1942 before being

repatriated by steamer to Haiti or Jamaica.

That autumn Ralph Kelly joined the Royal Canadian

Navy. He and his brother Captain Charlie remained

admired fixtures in the Nova Scotia maritime community.

On the same patrol, U-154 sank five ships worth 28,715

tons. Aged 34 at the time (he would live to 1992 and the

age of 84), German Commander Walther Kölle "made his

career" in a single patrol through the Bahamas. Having

earlier survived the scuttling of the Graf Spee off Uruguay,

he surrendered command of U-154 to Heinrich Shuch

after his third patrol, and moved ashore. a

Eric Wiberg has operated over 100 yachts, many of them

as captain. A licensed master since 1995, he is qualified

as a maritime lawyer, with a Master's in Marine Affairs,

a year at Oxford, and a certificate in screenwriting. He

commercially operated nine tankers from Singapore for

three years, and worked briefly for two salvage firms.

Other jobs have included executive head-hunting, shipping

newspaper salesman,

and marketer of a tugboat

fleet. Besides U-Boats

in the Bahamas, he has

published over a dozen

other books of nautical

non-fiction. A citizen of US

and Sweden who grew up

in the Bahamas, he lives

in Boston. Contact: eric@

ericwiberg.com.

68 www.timespub.tc
---
astrolabe newsletter of the Turks & Caicos National Museum

Museum Matters

News from Grace Bay

Community Garden

The Community Garden project is off to a great start

thanks to Grace Bay Resorts Foundation and their

sales and marketing team who came out in full force

to clear the designated site within the Turks & Caicos

National Museum campus in the Village at Grace Bay,

Providenciales.

The primary objective of the garden project, spearheaded

by Nutrition in Demand, is to encourage persons

to grow their own food, eat more fresh fruits and vegetables

and promote a healthier lifestyle. Farming

showcased in the Caicos Heritage Exhibit as an integral

part of the lifestyle of the 1900s is no longer typical to

the Islands. The Community Garden gives persons who

may need some encouragement to start gardening an

ideal space to do so in a social setting with access to

technical support from the Department of Agriculture.

Within our museum environment, we often straddle

between the past and the present and the sense of

community that existed in the past is often a point of

reference. As the volunteers worked alongside the team

from Caribbean Landscaping to start the project, I could

not help but note that the sense of community is alive

and well.

Special thanks to Grace Bay Resorts Foundation,

Ms. Daphne Forbes and all of the other volunteers

who participated in the clearing project, as well as

those who worked behind the scenes to provide sup-

These volunteers cleared the Community Garden site.

port. Volunteers are welcome to assist as this project

progresses. For more information, contact Tamika

Handfield at 442-3978. a

History and Cultural Heritage Quiz 2019

We congratulate Holy Family Academy, the winner of the

Turks & Caicos National Museum's fourth annual History

and Cultural Heritage Quiz. Well done! Congratulations

to Raymond Gardiner High School on their second place

win and third consecutive placement as a quiz finalist!

Thank you to the nine secondary schools for participating

in the quiz, and to the teachers, parents and

students for the hard work that went into preparation.

It was a closely contested quiz with an exciting finish.

The Community Garden site is in the process of being cleared.

Students from Holy Family Academy earned trophies for winning the

2019 History and Cultural Heritage Quiz.

Special thanks to our sponsors: FortisTCI, interCaribbean

Airways, TC Reef Fund, Grace Bay Car Rentals,

United Taxi Alliance and the Departments of Education

and Culture. We say thank you to the Teacher's

Workshop facilitators, Quiz Committee, Rachel Harvey,

Drexler Smith, Brandon Handfield, Brenda Clare, Enid

Capron Ripsaw Band and our dedicated volunteers. a

Times of the Islands Winter 2019/20 69
---
astrolabe newsletter of the Turks & Caicos National Museum

Museum Matters

Looking forward to 2020

The year 2019 was a banner year for the National

Museum for events in both Grand Turk and Provo. 2020

promised to be another exciting year as we expand our

calendar of events.

Saturday, March 7, 2020 — Fundraising Event for

Grand Turk Museum, themed "Casino Royale"

Saturday, May 16, 2020 — Back in the Day,

Providenciales

Saturday, June 6, 2020 — Gala 2020, Providenciales

July, 2020 — Kid's Camp, Providenciales

Saturday, July 25, 2020 — Second Annual Grand Turk

Cooking Competition

August, 2020 — Kid's Camp, Grand Turk

October, 2020 — Annual History and Heritage Quiz

Saturday, November 7, 2020 — Museum Day, Grand

Turk

These events do not include our movie nights and

"Evening with the Experts." If you are interested in finding

out more about these events, email us at info@

tcmuseum.org. a

Face painting at Museum Day expanded to other parts of the body.

Museum Day, Grand Turk

Despite the uncooperative weather, Museum Day on

Grand Turk had a nice turn out. The children had fun

riding horses, making slime, playing games, getting

their faces painted and painting each other! The Grand

Turk SPCA sold hot dogs and participants also enjoyed

conch fritters, popcorn and cold drinks. Island Vibes

band managed to play a few songs between the rain.

This event focuses on the community and getting

them involved with the Museum and we succeeded in

that goal! We would like to thank Lisa Wandres, Tonya

Vieira, Rob Lightbourne, Ivy Basden, Joseph, Jack Shack,

Kerri-Ann Smith, Hilary Day, Seamus Day and the SPCA

for helping make this a great day. a

"Heritage Matters" Radio Show

In collaboration with the Turks & Caicos National Trust,

the Museum launched a new radio series designed to

explore the history, heritage and culture of the Turks

& Caicos Islands. The goal of this show is to present

a weekly commentary on various heritage matters. It

will attempt to bring to the forefront issues of history,

culture and heritage in the Turks & Caicos Islands,

while placing these aspects in the larger picture of the

Bahamas, the Caribbean, the Americas and the world.

The show is aired weekly on Radio Turks and Caicos

(http://rtc89fm.com/). a

Museum Day 2019 also included horseback riding through the

streets of Grand Turk .

70 www.timespub.tc
---
faces and places

Clockwise from top: MOTTAC family-friendly activities included tug-of-war and music by school and community groups. Performances by local

artists started later in the day, and continued on into the evening. A variety of native crafts and foods were on sale.

MOTTAC Music Festival

On October 26, 2019, the Turks & Caicos' very own music

festival debuted. MOTTAC (Musicians of the Turks & Caicos),

offered the beautiful sounds of local artists including Tess

Charles, Raj the Entertainer, Keno and Kaz, Noel Brown,

and Qband lynkz, along with several school and community

groups.

Taking place at the Downtown Ball Park in Providenciales,

the free festival began with family-friendly activities such as

a tug-of-war and relay race. Guests enjoyed native food from

various vendors and the opportunity to buy local craft goods.

The music began later in the day, starting with several

performances from local school groups. When the sun set, the

festival shifted into full swing with performances from several

local artists. With a successful turnout, the event was well

received and has the potential to become an annual festival.

Story & Photos By David Newlands

Times of the Islands Winter 2019/20 71
---
about the Islands

Map provided courtesy Wavey Line Publishing. Their navigation charts and decorative and historic maps of the Turks & Caicos Islands, the

Bahamas, and Hispaniola are available in shops throughout the Islands. Visit www.amnautical.com.

Where we are

The Turks & Caicos Islands lie some 575 miles southeast

of Miami — approximately 1 1/2 hours flying time —

with the Bahamas about 30 miles to the northwest and

the Dominican Republic some 100 miles to the southeast.

The country consists of two island groups separated

by the 22-mile wide Columbus Passage. To the west are

the Caicos Islands: West Caicos, Providenciales, North

Caicos, Middle Caicos, East Caicos, and South Caicos. To

the east are the Turks Islands: Grand Turk and Salt Cay.

The Turks & Caicos total 166 square miles of land

area on eight islands and 40 small cays. The country's

population is approximately 36,500.

Getting here

There are international airports on Grand Turk,

Providenciales, and South Caicos, with domestic airports

on all of the islands except East Caicos.

At this time, all of the major international carriers

arrive and depart from Providenciales International

Airport. American Airlines flies from Miami, Charlotte,

Chicago, Dallas, New York/JFK and Philadelphia. JetBlue

Airways offers service from Fort Lauderdale, Boston

and New York/JFK. Southwest Airlines travels to Fort

Lauderdale. Delta Airlines flies from Atlanta, Boston and

New York/JFK. United Airlines travels from Chicago and

Newark. WestJet travels from Toronto and Montreal. Air

Canada offers flights from Toronto and Montreal. British

Airways travels from London/Gatwick via Antigua.

72 www.timespub.tc
---
Bahamasair and InterCaribbean Airways fly to Nassau,

Bahamas. Flights to: Antigua; Dominica; Cap Haitien

and Port Au Prince, Haiti; Kingston and Montego Bay,

Jamaica; Miami, Florida; Puerto Plata and Santo Domingo,

Dominican Republic; San Juan, Puerto Rico; St. Lucia; St.

Maarten; Santiago, Cuba; and Tortola are available on

InterCaribbean Airways, while Caicos Express travels to

Cap Haitien daily. (Schedules are current as of November

2019 and subject to change.)

Inter-island service is provided by InterCaribbean

Airways, Caicos Express Airways and Global Airways. Sea

and air freight services operate from Florida.

Language

English.

Time zone

Eastern Standard Time (EST)/Daylight Savings Time

observed.

Currency

The United States dollar. The Treasury also issues a Turks

& Caicos crown and quarter. Travellers cheques in U.S.

dollars are widely accepted and other currency can be

changed at local banks. American Express, VISA, and

MasterCard are welcomed at many locations.

Climate

The average year-round temperature is 83ºF (28ºC). The

hottest months are September and October, when the

temperature can reach 90 to 95ºF (33 to 35ºC). However,

the consistent easterly trade winds temper the heat and

keep life comfortable.

Casual resort and leisure wear is accepted attire for

daytime; light sweaters or jackets may be necessary on

some breezy evenings. It's wise to wear protective clothing

and a sunhat and use waterproof sunscreen when out

in the tropical sun.

Entry requirements

Passport. A valid onward or return ticket is also required.

Customs formalities

Visitors may bring in duty free for their own use one carton

of cigarettes or cigars, one bottle of liquor or wine,

and some perfume. The importation of all firearms including

those charged with compressed air without prior

approval in writing from the Commissioner of Police is

strictly forbidden. Spear guns, Hawaiian slings, controlled

Times of the Islands Winter 2019/20 73
---
drugs, and pornography are also illegal.

Returning residents may bring in $400 worth of

merchandise per person duty free. A duty of 10% to

60% is charged on most imported goods along with a

7% customs processing fee and forms a major source of

government revenue.

Transportation

A valid driver's license from home is suitable when renting

vehicles. A government tax of 12% is levied on all

rental contracts. (Insurance is extra.) Driving is on the

left-hand side of the road, with traffic flow controlled by

round-abouts at major junctions. Please don't drink and

drive! Taxis and community cabs are abundant throughout

the Islands and many resorts offer shuttle service

between popular visitor areas. Scooter, motorcycle, and

bicycle rentals are also available.

Telecommunications

FLOW Ltd. provides land lines and superfast broadband

Internet service. Mobile service is on a LTE 4G network,

including pre- and post-paid cellular phones. Most resorts

and some stores and restaurants offer wireless Internet

connection. Digicel operates mobile networks, with

a full suite of LTE 4G service. FLOW is the local carrier

for CDMA roaming on US networks such as Verizon and

Sprint. North American visitors with GSM cellular handsets

and wireless accounts with AT&T or Cingular can

arrange international roaming.

Electricity

FortisTCI supplies electricity at a frequency of 60HZ,

and either single phase or three phase at one of three

standard voltages for residential or commercial service.

FortisTCI continues to invest in a robust and resilient grid

to ensure the highest level of reliability to customers. The

company is integrating renewable energy into its grid and

provides options for customers to participate in two solar

energy programs.

Departure tax

US $60. It is typically included in the price of your airline

ticket.

Courier service

Delivery service is provided by FedEx, with offices on

Providenciales and Grand Turk, and DHL. UPS service is

limited to incoming delivery.

Postal service

The Post Office and Philatelic Bureau in Providenciales is

located downtown on Airport Road. In Grand Turk, the

Post Office and Philatelic Bureau are on Church Folly. The

Islands are known for their varied and colorful stamp

issues.

Media

Multi-channel satellite television is received from the U.S.

and Canada and transmitted via cable or over the air.

Local station WIV-TV broadcasts on Channel 4 and Island

EyeTV on Channel 5. People's Television offers 75 digitally

transmitted television stations, along with local news

and talk shows on Channel 8. There are also a number of

local radio stations, magazines, and newspapers.

74 www.timespub.tc
---
Brew ad May 2017_Layout 1 5/11/17 10:51 AM Page 1

Medical services

There are no endemic tropical diseases in TCI. There are

large, modern hospitals on Grand Turk and Providenciales.

Both hospitals offer a full range of services including:

24/7 emergency room, operating theaters, diagnostic

imaging, maternity suites, dialysis suites, blood bank,

physiotherapy, and dentistry.

In addition, several general practitioners operate in

the country, and there is a recompression chamber, along

with a number of private pharmacies.

Immigration

A resident's permit is required to live in the Islands. A

work permit and business license are also required to

work and/or establish a business. These are generally

granted to those offering skills, experience, and qualifications

not widely available on the Islands. Priority is given

to enterprises that will provide employment and training

for T&C Islanders.

Government/Legal system

TCI is a British Crown colony. There is a Queen-appointed

Governor, HE Nigel John Dakin. He presides over an executive

council formed by the elected local government.

Lady Sharlene Cartwright-Robinson is the country's first

woman premier, leading a majority People's Democratic

Movement (PDM) House of Assembly.

The legal system is based upon English Common

Law and administered by a resident Chief Justice, Chief

Magistrate, and Deputy Magistrates. Judges of the Court

of Appeal visit the Islands twice a year and there is a final

Right of Appeal to Her Majesty's Privy Council in London.

Taxes

There are currently no direct taxes on either income

or capital for individuals or companies. There are no

exchange controls. Indirect taxation comprises customs

duties and fees, stamp duty, taxes on accommodations,

restaurants, vehicle rentals, other services and gasoline,

as well as business license fees and departure taxes.

Economy

Historically, TCI's economy relied on the export of salt.

Currently, tourism, the offshore finance industry, and

fishing generate the most private sector income. The

Islands' main exports are lobster and conch. Practically

all consumer goods and foodstuffs are imported.

The Turks & Caicos Islands are recognised as an

important offshore financial centre, offering services

Turk's Head Brewery

Brewery Tours Monday-Friday

11AM, 1PM, 3PM

$15/pp

Enjoy a complimentary selection of local craft beer

after your tour!

Email tours@turksheadbeer.com

Call 649.941.3637 x 1005 to book

www.turksheadbrewery.tc

52 Universal Dr.

Providenciales, TCI

TOUR TASTE SHOP

Island Auto_Layout 1 12/12/17 12:49 PM Page 1

ISLAND AUTO RENTALS

For Quality & Reliable Service

& Competitive Prices

The Cruise Center, Grand Turk

Neville Adams

Tel: (649) 946-2042

Cell: (649) 232-0933 or (649) 231-4214

Email: nevilleadams@hotmail.com

Providenciales

Levoi Marshall

Cell: (649) 441-6737

Email: levoimarshall86@gmail.com

Web: islandautorentalstci.com

Times of the Islands Winter 2019/20 75
---
such as company formation, offshore insurance, banking,

trusts, limited partnerships, and limited life companies.

The Financial Services Commission regulates the industry

and spearheads the development of offshore legislation.

People

Citizens of the Turks & Caicos Islands are termed

"Belongers" and are primarily descendants of African

slaves who were brought to the Islands to work in the

salt ponds and cotton plantations. The country's large

expatriate population includes Canadians, Americans,

Brits and Europeans, along with Haitians, Jamaicans,

Dominicans, Bahamians, Indians, and Filipinos.

Churches

Churches are the center of community life and there

are many faiths represented in the Islands including:

Adventist, Anglican, Assembly of God, Baha'i, Baptist,

Catholic, Church of God, Episcopal, Jehovah's Witnesses,

Methodist and Pentecostal. Visitors are always welcome.

Pets

Incoming pets must have an import permit, veterinary

health certificate, vaccination certificate, and lab test

results to be submitted at the port of entry to obtain

clearance from the TCI Department of Agriculture, Animal

Health Services.

National symbols

sports and beachwear, and locally made handicrafts,

Harbour Club:Layout 1 8/17/16 10:16 AM Page 1

The National Bird is the Brown pelican (Pelecanus occi-

including straw work and conch crafts. Duty free outlets

dentalis). The National Plant is Island heather (Limonium

bahamense) found nowhere else in the world. The

National Tree is the Caribbean pine (Pinus caribaea var.

bahamensis). The National Costume consists of white cotton

dresses tied at the waist for women and simple shirts

and loose pants for men, with straw hats. Colors representing

the various islands are displayed on the sleeves

and bases. The National Song is "This Land of Ours" by

the late Rev. E.C. Howell, PhD. Peas and Hominy (Grits)

with Dry Conch is revered as symbolic island fare.

Going green

TCI Waste Disposal Services currently offers recycling

services through weekly collection of recyclable aluminum,

glass, and plastic. Single-use plastic bags have been

banned country-wide as of May 1, 2019.

Recreation

76 www.timespub.tc

Sporting activities are centered around the water. Visitors

can choose from deep-sea, reef, or bonefishing, sailing,

glass-bottom boat and semi-sub excursions, windsurfing,

waterskiing, parasailing, sea kayaking, snorkelling, scuba

diving, kiteboarding, stand up paddleboarding, and

beachcombing. Pristine reefs, abundant marine life, and

excellent visibility make TCI a world-class diving destination.

Tennis and golf—there is an 18 hole championship

course on Providenciales—are also popular.

The Islands are an ecotourist's paradise. Visitors can

enjoy unspoilt wilderness and native flora and fauna in 33

national parks, nature reserves, sanctuaries, and areas of

historical interest. The National Trust provides trail guides

to several hiking trails, as well as guided tours of major

historical sites. There is an excellent national museum on

Grand Turk, with an auxillary branch on Providenciales. A

scheduled ferry and a selection of tour operators make it

easy to take day trips to the outer islands.

Other land-based activities include bicycling, horseback

riding and football (soccer). Personal trainers are

available to motivate you, working out of several fitness

centres. You will also find a variety of spa and body treatment

services.

Nightlife includes local bands playing island music

at bars and restaurants and some nightclubs. There is

a casino on Providenciales, along with many electronic

gaming parlours. Stargazing is extraordinary!

Shoppers will find Caribbean paintings, T-shirts,

sell liquor, jewellery, watches, perfume, leather goods,

crystal, china, cameras, electronics, brand-name clothing

and accessories, along with Cuban cigars. a

Harbour Club Villas

Turtle Tail Drive, Providenciales

Six one-bedroom villas.

Dive operators at our dock.

Bonefishing in the lake.

Fabulous beaches nearby.

Ideal for couples or groups.

Trip Advisor

Travellers' Choice

Awards Winner

E: harbourclub@tciway.tc

T: 1 649 941 5748

See our website

for details.

www.HARBOURCLUBVILLAS.com
---
where to stay

Grand Turk

range of daily rates

US$ (subject to change)

number of units

major credit cards

restaurant

bar

air conditioning

phone in unit

television in unit

kitchen in unit

laundry service

pool

on the beach

H

The Arches of Grand Turk – Tel 649 946 2941 190–210 4 • • • • • • •

Bohio Dive Resort – Tel 649 231 3572/800 494 4301 • Web www.bohioresort.com 170–230 16 • • • • • • • •

Crabtree Apartments – Tel 978 270 1698 • Web www.GrandTurkVacationRental.com 210–250 3 • • • • • •

Manta House – Tel 649 946 1111 • Web www.grandturk-mantahouse.com 110–130 5 • • • • • • •

Osprey Beach Hotel – Tel 649 946 2666 • Web www.ospreybeachhotel.com 90–225 37 • • • • • • • • • •

Pelican House – Tel 649 246 6797 • Web www.pelicanhousegrandturk.com 110-130 3 • • • • •

Salt Raker Inn – Tel 649 946 2260 • Web www.saltrakerinn.com 55–140 13 • • • • • • •

Solomon Porches Guesthouse – Tel 649 946 2776/241 2937 • Fax 649 946 1984 75–100 3 • •

Middle Caicos

H

Dragon Cay Resort at Mudjin Harbour – Tel 649 344 4997 • Web www.dragoncayresort.com 325 8 • • • • • • • • •

North Caicos

H

Bottle Creek Lodge – Tel 649 946 7080 • Web www.bottlecreeklodge.com 155–240 3 • •

Caicos Beach Condominiums – Tel 649 241 4778/786 338 9264 • Web www.caicosbeachcondos.com 159–299 8 • • • • • • • •

Cedar Palms Suites – Tel 649 946 7113/649 244 4186 • Web www.oceanbeach.tc 250–300 3 • • • • • • • • •

Flamingo's Nest – Tel 649 946 7113/649 244 4186 • Web www.oceanbeach.tc 175–340 2 • • • • • • • •

Hollywood Beach Suites - Tel 800 551 2256/649 231 1020 • Web www.hollywoodbeachsuites.com 200–235 4 • • • • • •

JoAnne's Bed & Breakfast - Tel 649 946 7301 • Web www.turksandcaicos.tc/joannesbnb 80–120 4 • • • •

Palmetto Villa – Tel 649 946 7113/649 244 4186 • Web www.oceanbeach.tc 225–250 1 • • • • • • • •

Pelican Beach Hotel - Tel 649 946 7112 • Web www.pelicanbeach.tc 125–165 14 • • • • • • • •

Pine Cay

H

The Meridian Club - Tel 649 946 7758/888 286 7993 • Web www.meridianclub.com 800–1300 13 • • • • • • •

Parrot Cay

H

COMO Parrot Cay Resort - Tel 649 946 7788/855 PARROTCAY • www.comohotels.com/parrotcay 550–2850 65 • • • • • • • • • •

Providenciales

G

G

H

H

H

H

H

H

H

H

H

H

H

H

H

H

H

H

H

H

Airport Inn – Tel 649 941 3514 • Web www.airportinntci.com. 140 18 • • • • • • •

Alexandra Resort – Tel 800 284 0699/649 946 5807 • Web www.alexandraresort.com 280–420 99 • • • • • • • • •

The Atrium Resort – Tel 888 592 7885/649 333 0101 • Web www.theatriumresorttci.com 159–410 30 • • • • • • • •

Amanyara – Tel 866 941 8133/649 941 8133 • Web www.aman.com 1000–2100 73 • • • • • • • •

Aquamarine Beach Houses – Tel 649 231 4535/905 556 0278 • www.aquamarinebeachhouses.com 200–850 24 • • • • • • • •

Beaches Resort Villages & Spa – Tel 888-BEACHES/649 946 8000 • Web www.beaches.com 325–390AI 758 • • • • • • • • •

Beach House Turks & Caicos – Tel 649 946 5800/855 946 5800 • Web www.beachchousetci.com 532–638 21 • • • • • • • • • •

BE Beach Enclave – Tel 649 946 5619 • Web www.beachenclave.com see web 24 • • • • • • • •

Blue Haven Resort & Marina – Tel 855 832 7667/649 946 9900 • Web www.bluehaventci.com 250–650 51 • • • • • • • • • •

Caribbean Paradise Inn – Tel 649 946 5020 • Web www.caribbeanparadiseinn.com 162–225 17 • • • • • • • •

Club Med Turkoise – Tel 800 258 2633/649 946 5500 • Web www.clubmed.com 120–225 290 • • • • • • • • •

Coral Gardens on Grace Bay – Tel 649 941 5497/800 787 9115 • Web www.coralgardensongracebay.com 199-449 32 • • • • • • • • • •

Grace Bay Club - Tel 800 946 5757/649 946 5050 • Web www.gracebayclub.com 650–1750 75 • • • • • • • • • •

Grace Bay Suites – Tel 649 941 7447 • Web www.GraceBaySuites.com 99–195 24 • • • • • • • •

Harbour Club Villas – Tel 649 941 5748/305 434 8568 • Web www.harbourclubvillas.com 210–240 6 • • • • •

The Inn at Grace Bay – Tel 649 432 8633 • Web www.innatgracebay.com 179–379 48 • • • • • • •

Kokomo Botanical Gardens - Tel 649 941 3121• Web www.aliveandwellresorts.com 169–299 16 • • • • •

Le Vele - Tel 649 941 8800/888 272 4406 • Web www.leveleresort.com 303–630 22 • • • • • • • •

La Vista Azul – Tel 649 946 8522/866 519 9618 • Web www.lvaresort.com 215–375 78 • • • • • • •

The Lodgings – Tel 649 941 8107/245 9993 • Web www.hotelturksandcaicos.com 175–255 15 • • • • • •

Neptune Villas – Tel 649 331 4328 • Web www.neptunevillastci.com 150–400 10 • • • • • • • • •

Northwest Point Resort • Tel 649 941 5133 • Web www.northwestpointresort.com 196–550 49 • • • • • • • • • •

Ocean Club Resorts - Tel 800 457 8787/649 946 5880 • Web www.oceanclubresorts.com 180–690 191 • • • • • • • • • •

The Palms Turks & Caicos – Tel 649 946 8666/866 877 7256 • Web thepalmstc.com 595–1700 72 • • • • • • • • • •

Times of the Islands Winter 2019/20 77
---
where to stay

H

H

H

H

H

H

H

H

H

H

H

H

H

H

H

H

H

H

H

Providenciales (continued)

Pelican Nest Villa – Tel 649 342 5731 • Web www.pelicannest.tc 429–857 2 • • • • • •

Point Grace – Tel 649 946 5096/888 209 5582 • Web www.pointgrace.com 424–1515 27 • • • • • • • • • •

Ports of Call Resort – Tel 888 678 3483/649 946 8888 • Web www.portsofcallresort.com 135–210 99 • • • • • • •

Queen Angel Resort – Tel 649 941 8771 • Web www.queenangelresort.com 150–575 56 • • • • • • • • •

Reef Residences at Grace Bay – Tel 800 532 8536 • Web www.reefresidence.com 275-385 24 • • • • • • •

The Regent Grand – Tel 877 288 3206/649 941 7770 • Web www.theregentgrand.com 495–1100 50 • • • • • • • • •

Royal West Indies Resort – Tel 800 332 4203/649 946 5004 • Web www.royalwestindies.com 180–695 92 • • • • • • • • • •

The Sands at Grace Bay – Tel 877 777 2637/649 946 5199 • Web www.thesandsresort.com 175–675 116 • • • • • • • • • •

Seven Stars Resort – Tel 866 570 7777/649 333 7777 – Web www.sevenstarsgracebay.com 365–2400 165 • • • • • • • • • •

The Shore Club – Tel 649 339 8000 – Web www.theshoreclubtc.com 465–4650 148 • • • • • • • • • •

Sibonné Beach Hotel – Tel 888 570 2861/649 946 5547 • Web www.sibonne.com 110–375 29 • • • • • • • •

The Somerset on Grace Bay – Tel 649 339 5900/888 386 8770 • Web www.thesomerset.com 350–1300 53 • • • • • • • • • •

The Tuscany – Tel 866 359 6466/649 941 4667 • Web www.thetuscanyresort.com 975–1300 30 • • • • • • • •

The Venetian – Tel 877 277 4793/649 941 3512 • Web www.thevenetiangracebay.com 695–1175 27 • • • • • • • •

Villa del Mar – Tel 877 345 4890/649 941 5160 • Web www.yourvilladelmar.com 190–440 42 • • • • • • •

Villa Mani – Tel 649 431 4444 • Web www.villamanitci.com 6500–9500 8 • • • • • • •

Villa Renaissance – Tel 649 941 5160/877 345 4890 • www.villarenaissanceturksandcaicos.com 295–650 36 • • • • • • • • •

The Villas at Blue Mountain – Tel 649 941 4255/866 883 5931 • www.villasatbluemountain.com 1200–2500 3 • • • • • • • •

West Bay Club – Tel 855 749 5750/649 946 8550 • Web www.thewestbayclub.com 235–1163 46 • • • • • • • • • •

Windsong Resort – Tel 649 333 7700/800 WINDSONG • Web www.windsongresort.com 275–925 50 • • • • • • • • •

Wymara Resort & Villas – Tel 888 844 5986 • Web www.wymararesortandvillas.com 315–720 91 • • • • • • • • • •

range of daily rates

US$ (subject to change)

number of units

major credit cards

restaurant

bar

air conditioning

phone in unit

television in unit

kitchen in unit

laundry service

pool

on the beach

Salt Cay

Castaway – Salt Cay – Tel 772 713 9502 • Web www.castawayonsaltcay.com 175–265 4 • • • • •

Genesis Beach House – Tel 561 502 0901 • Web www.Genesisbeachhouse.com 1000–1200W 4 • • • • •

Pirate's Hideaway B & B – Tel 800 289 5056/649 946 6909 • Web www.saltcay.tc 165–175 4 • • • • • • •

Salt Cay Beach House – Tel 772 713 9502 • Web www.saltcaybeachhouse.blogspot.com 799W 1 • • • • • •

Trade Winds Guest Suites – Tel 649 232 1009 • Web www.tradewinds.tc 925–1325W 5 • • • • •

Twilight Zone Cottage – Tel 772 713 9502 • Web www.twilightzonecottage.blogspot.com 499W 1 • • • •

The Villas of Salt Cay – Tel 772 713 9502 • Web www.villasofsaltcay.com 150–475 5 • • • • • • • •

H

H

H

G

South Caicos

East Bay Resort – Tel 844 260 8328/649 232 6444 • Web eastbayresort.com 198–1775 86 • • • • • • • • • •

Sailrock South Caicos – Tel 800 929 7197/649 946 3777 • Web sailrockresort.com 800–4400 6 • • • • • • • • • •

South Caicos Ocean & Beach Resort – Tel 877 774 5486/649 946 3219

Web southcaicos.oceanandbeachresort.com 120–275 24 • • • • •

Hotel & Tourism Association Member

Green Globe Certified

Rates (listed for doubles) do not include Government Accommodation Tax and Service Charge

classified ads

SCOOTER BOBS_Layout 1 8/8/18 10:57 AM Page GBC2017_Layout 1 2/16/17 9:10 AM Page 1

We're here to

make your holiday

the island way...

DEPENDABLE VEHICLE HIRE

SERVICE OFFERED:

Provo & North-Middle Caicos

Office: 946-4684

Amos: 441-2667 (after hours)

Yan: 247-6755 (after hours)

Bob: 231-0262 (after hours)

scooterbobs@gmail.com

www.scooterbobstci.com

Grace Bay Road across from Regent Street

Fun Friendly People

Appreciating Your Business!

941-8500

www.gracebaycarrentals.com

78 www.timespub.tc
---
Calls Spa Services

Out

Hair Reduction

Permanent

& Body Waxing

Face

Facials

Anti-aging

classified ads

Forbes Classified changes due_Layout 1 8/9/18 11:51 A

FORBES REALTY TCI

Caicu Naniki_Caicu Naniki classified 8/9/18 12:05 PM Page 1

"Go Beyond Provo"

Find your dream property on North Caicos,

Middle Caicos, Salt Cay or Pine Cay.

Call or email us today!

R E J O U V E N A N C E

SPA

649-432-7546

Touch of Bliss_Layout 1 8/9/18 11:59 AM Page 1

www.rejouvenancespa.com

www.ForbesRealtyTCI.com

Sara Kaufman cell: 1-649-231-4884

Ernest Forbes cell: 1-649-247-7599

info@ForbesRealtyTCI.com

Community Fellowship Centre

A Life-Changing Experience

Sunday Divine Worship 9 AM

Visitors Welcome!

Tel: 649.941.3484 • Web: cfctci.com

Phone: 649-242-3439 or 649-346-7344

Email: touchofbliss@rocketmail.com

Newly located at Caribbean Place

PRIVATE TOURS TO

NORTH & MIDDLE CAICOS &

SOUTH CAICOS.

SWIM LESSONS & SWIM SAFARIS.

STAND-UP-PADDLEBOARD

RENTALS & SALES.

5 STAR TRIP ADVISOR RATING

Stop by Swim & Surf Store at

Caicos Cafe Plaza, Grace Bay.

(649) 432-5000

www.caicunaniki.com

Project1_Layout 1 11/27/18 10:34 PM Page 1

R & K

AUTO

D&Bswift_Layout 1 5/8/18 7:24 AM Page 1

JOHN GALLEYMORE

Project Management

Estate Management

Homeowner Representation

Concierge

______

compasstci@gmail.com

1 (649) 232 7083

COMPASS Ltd

Home Owner Services & Project Management

Diagnostic Services • Wheel Alignment

Balancing • Tune Ups

Exhaust Repairs • A/C Repairs

Radiator Pressure Testing

Ralph Carmichael, Partner

649 242 0063 • 432 2374

Ocean Breeze_Layout 1 4/8/19 10:34 AM Page 1

FOR ALL YOUR

RELIABLE AND

AFFORDABLE

RENTAL NEEDS

Our cleaning solutions are made

from biodegradable materials that

aren't harmful to the environment.

Find our products throughout the

Turks & Caicos Islands.

Call 244-2526

or 241-5584

649-941-8438 and 649-241-4968

autorental@dnbautoparts.com

HOUSEHOLD AND COMMERCIAL CLEANING PRODUCTS

www.oceanbreezetci.com

Times of the Islands Winter 2019/20 79
---
dining out – providenciales

Amanyara — Amanyara Resort. Tel: 941-8133. Light gourmet

cuisine with menu changing daily. Open 6 to 10 PM.

Angela's Top O' The Cove Deli — Suzie Turn, by NAPA.

Tel: 946-4694. New York-style delicatessen. Eat-in, carry-out,

catering. Open daily 7 AM to 5 PM; Sunday 7 AM to 2 PM.

Asú on the Beach — Alexandra Resort. Tel: 941-8888. Casual

Caribbean and popular international fare. Open daily for 7:30

AM to 10:30 PM. Service indoors, poolside, and at beach.

Baci Ristorante — Harbour Towne, Turtle Cove. Tel: 941-3044.

Waterfront Italian dining. Brick oven pizza. Popular bar. Open

for lunch Monday to Friday 12 to 2 PM and dinner nightly from

6 to 10 PM. Closed Sunday.

Barbetta — The Somerset. Tel: 332-3250. Mediterranean classics,

Caribbean specials, small plates and Spanish tapas. Dining

in lounge, terrace or pool bar. Open daily 6 to 10 PM for dinner;

pool bar open 8 AM to 8 PM. Kid's menu. Take-out available.

Bay Bistro — Sibonné Beach Hotel. Tel: 946-5396. Oceanfront

dining featuring creative international cuisine. Open daily

7 AM to 10 PM. Weekend brunch. Catering and special events.

Beaches Resort & Spa — The Bight. Tel: 946-8000.

All-inclusive resort. A variety of restaurants and bars on premises.

Non-guests can purchase a pass.

Bella Luna Ristorante — Glass House, Grace Bay Road. Tel:

946-5214. Fine Italian dining. Indoor or terrace seating above

tropical garden. Open daily from 5:30 PM. Closed Sunday. Lunch

and pizza in the garden. Private catering available.

Big Al's Island Grill — Salt Mills Plaza. Tel: 941-3797. Wide

selection of burgers, steaks, salads, and wraps in a diner-like

setting. Open daily from 11 AM to 10 PM.

Bugaloo's Conch Crawl — Five Cays. Tel: 941-3863. Fresh

local conch and seafood by the beach. Rum, buckets of beer,

live local bands. Open daily from 11 AM to late.

Cabana Beach Bar & Grill — Ocean Club. Tel: 946-5880.

Casual island fare, burgers, salads, snacks. Open daily from

8 AM to 10 PM. Tropical cocktails with a view of the sea.

Caicos Bakery — Caicos Café Plaza. Authentic French boulangerie.

Fresh-baked breads, rolls, croissants, muffins, quiche,

pastries, cakes. Open 7 AM to 4:30 PM daily except Sunday.

Caicos Café — Caicos Café Plaza. Tel: 946-5278.

Mediterranean specialties, grilled local seafood. Fine wines, dining

on the deck. Open 6 PM to 10 PM Monday to Saturday.

Chicken Chicken — Times Square, downtown Provo. Fast food,

fried chicken, native fare.

Chinson's Grill Shack — Leeward Highway. Tel: 941-3533.

The Islands' best jerk and barbecue, Jamaican pastries. Open

daily 8 AM to 10 PM; Friday to Midnight.

Club Med — Grace Bay Road. Tel: 946-5500. All-inclusive

resort. Buffet-style dining; live show and disco in the evenings.

Non-guests can purchase a daily pass.

Coco Bistro — Grace Bay Road. Tel: 946-5369. Continental

Caribbean cuisine by Chef Stuart Gray under a canopy of palms.

Serving dinner from 5:30 PM daily. Look for the Cocovan airstream

lounge with garden seating or take-away.

Coconut Grove Restaurant & Lounge — Olympic Plaza,

Downtown. Tel: 247-5610. Casual native fare. Cracked conch,

conch fritters, fried fish. Open daily 11 AM to 10 PM.

Coyaba Restaurant — Bonaventure Crescent. Tel: 946-5186.

Contemporary Caribbean gourmet cuisine in a private tropical

garden setting. Extensive wine list. Dinner nightly from 6 to 10

PM. Closed Tuesday. Reservations recommended.

Crackpot Kitchen — Ports of Call. Tel: 2313336. Experience

the best of authentic Turks & Caicos and Caribbean cuisines

with local celebrity Chef Nik. Open daily 5 to 10 PM except

Thursday; Happy Hour 5 to 7 PM.

Da Conch Shack — Blue Hills. Tel: 946-8877. Island-fresh seafood

from the ocean to your plate. Covered beachfront dining

for lunch and dinner daily from 11 AM.

Danny Buoy's — Grace Bay Road. Tel: 946-5921. Traditional

American pub fare; imported draught beers. Open for lunch and

dinner daily from 11 AM. Happy Hour specials. Large screen TVs

for sporting events. Karaoke.

The Deck — Seven Stars Resort. Tel: 333-7777. All day dining

and cocktails by the water's edge. Open daily 11 AM to 11 PM.

Live music Friday nights.

Drift — West Bay Club. Tel: 946-8550. Open-air beachfront dining.

Creatively used local ingredients. Full bar. Open daily 7:30

AM to 9:30 PM.

Dune — Windsong Resort. Tel: 333-7700. Private beachfront

dining with limited availability. Fresh fare prepared to perfection.

Open daily.

El Catador Tapas & Bar — Regent Village. Tel: 244-1134.

Authentic Spanish tapas with a wide mix of cold and hot plates

meant for sharing. Fun and lively atmosphere. Open daily from

5 PM.

Element — LeVele Plaza. Tel: 348-6424. Contemporary, creative

cuisine in an elegant setting. Open for dinner Friday to

Wednesday 6:30 to 10:30 PM.

Fairways Bar & Grill — Provo Golf Club. Tel: 946-5833. Dine

overlooking the "greens." Open for breakfast and lunch from 7

AM to 4 PM daily; Friday, Saturday and Sunday open until 8 PM.

Great Sunday brunch 9 AM to 3 PM.

Fire & Ice — Blue Haven Resort & Marina. Tel: 946-9900.

Drinks at the Ice Bar, dessert by the fire pits. South Americanmeets-Caribbean

flavors and spices. Open daily 5:30 to 9:30

PM. Closed Wednesday.

Fresh Bakery & Bistro — Atrium Resort. Tel: 345-4745.

Healthy European salads, soups, sandwiches, bakery, pies and

cakes. Gelato. Open daily 7 AM to 6 PM, closed Sunday.

Fresh Catch — Salt Mills Plaza. Tel: 243-3167. Authentic native

cuisine, from seafood to souse. All-you-can-eat seafood buffet

on Wednesday. Open daily 8 AM to 10 PM. Closed Sunday.

Carry-out available.

Giggles Ice Cream & Candy Parlour — Ports of Call &

Williams Storage. Tel: 941-7370. Cones, sundaes, shakes,

smoothies, "Gigglers," ice cream pies and cakes. Pick 'n' mix

candies. Open daily 11 AM to 10 PM.

Gilley's Sky Lounge & Bar — At the airport. Tel: 946-4472.

Burgers, sandwiches, local food. Open daily 6 AM to 9 PM.

Grace's Cottage — Point Grace Resort. Tel: 946-5096. Refined

new menu in the style of a tastefully sophisticated French bistro.

Serving dinner from 6 to 10 PM nightly.

The Grill — Grace Bay Club. Tel: 946-5050. Al fresco bistro.

Italian-inspired menu and gourmet pizza. Fun cocktails. Open

daily for 7 AM to 9:30 PM.

Hemingways on the Beach — The Sands at Grace Bay. Tel:

941-8408. Casual beachfront bar and restaurant. Fresh fish,

80 www.timespub.tc
---
pasta, sandwiches, salads and tropical drinks by the pool.

Oceanfront deck for great sunsets! Open 8 AM to 10 PM daily.

Hole in the Wall Restaurant & Bar — Williams Plaza, Old

Airport Road. Tel: 941-4136. Authentic Jamaican/Island cuisine

where the locals go. Full bar. A/C dining or outdoors on the

deck. Open daily 7 AM to 9 PM. Pick-up/delivery available.

Infiniti Restaurant & Raw Bar — Grace Bay Club. Tel: 946-

5050. Elegant beachfront dining featuring sea-to-table fare.

Dinner served nightly 6:30 to 9:30 PM. Reservations required.

Island Raw — Le Petite Plaza. Tel: 346-5371. Vegan lifestyle

kitchen, offering fresh, organic, raw, vegan, gourmet. Open

Friday, Noon to 2 PM.

Island Conch Bar & Grill — Bight Cultural Market. Tel: 946-

8389. Caribbean and local cuisine. Open daily 11 AM to 9 PM.

Island Scoop — Grace Bay Plaza. Tel: 242-8511/243-5051.

21 flavors of ice cream made locally. Cones, smoothies, blizzards

and shakes. Open daily, 11 AM to 10 PM.

The Java Bar — Graceway Gourmet. Tel: 941-5000. Gourmet

café serving fresh baked desserts, sandwiches and coffee

delights. Open 7 AM to 8 PM daily.

Jack's Fountain — Across from Casablanca Casino. Tel: 946-

5225. Fresh crab, seafood, unique specialty items in a lively,

relaxed "beach bar" atmosphere. Open daily except Monday

11:30 AM to 10 PM.

Jimmy's Dive Bar & Grill — Central Square, Leeward Highway.

Tel: 941-8925. Take-out lunch specials; daily drink and dinner

specials. Wings, sliders, salads, pasta, burgers, seafood. Open

daily Noon to 2 AM.

Kalooki's Grace Bay — Le Vele Plaza. Tel: 941-8388. The perfect

mix of sweet and spicy Caribbean flavors. New location in

Grace Bay. Open daily 11 AM to 10 PM. Closed Thursday.

Kitchen 218 — Beach House, Lower Bight Road. Tel: 946-5800.

Caribbean cuisine with hints of French and Asian fusion and the

chef's passion for fresh ingredients. Open 8 AM to 10 PM daily.

The Landing Bar & Kitchen — Grace Bay Road across from

Regent Village. Tel: 341-5856. Unique nautical setting for dinner

under the stars. Cocktails, fire pit. Open daily except Tuesday

5:30 to 10 PM.

Las Brisas — Neptune Villas, Chalk Sound. Tel: 946-5306.

Mediterranean/Caribbean cuisine with tapas, wine and full bar.

Terrace and gazebo dining overlooking Chalk Sound. Open daily

8 AM to 10 PM. Take-out available; private parties.

Le Bouchon du Village — Regent Village. Tel: 946-5234. A

taste of Paris. Sidewalk café with sandwiches, salads, tartines,

tapas, dinner specials, wine, cheese, dessert, coffees. Open

daily 11 AM to 10 PM. Closed Sunday.

Le Comptoir Francais — Regent Village. Tel: 946-5234.

French deli, bakery, wine shop. Open daily.

Lemon 2 Go Coffee — Ventura House. Tel: 941-4069.

Gourmet coffeehouse. Sandwiches, muffins, cookies, croissants,

yogurt, salads. Open Monday to Saturday 7:30 AM to 7 PM,

Sunday 9 AM to 1 PM.

Lupo — Regent Village. Tel: 431-5876. Authentic Italian "comfort

food." Regional wine list. Dine in or take out ready-made

gourmet meals. Open daily for dinner 5 to 10 PM.

Magnolia Restaurant & Wine Bar — Miramar Resort. Tel:

941-5108. International cuisine with island flavors, north shore

views. Open for dinner from 6 to 9:30 PM except Monday.

Mango Reef — Turtle Cove. Tel: 946-8200. Fresh local flavors

and seafood, homemade desserts. Open daily 11 AM to 10 PM.

Set price dinner on weekdays. Waterside deck, indoor or patio

dining. Tie-up to dock at Turtle Cove Marina.

Market Café — Blue Haven Resort. Tel: 946-9900. Gourmet

coffees, teas, frozen drinks; fresh breads and pastries; grab 'n'

go salads, sandwiches, smoothies. Open daily 7 AM to 8 PM.

Mother's Pizza — Downtown Times Square. Tel: 941-4142.

Best pizza in the Turks & Caicos, available by the slice or the

island's biggest "large." Open daily 11 AM to 9 PM; to 10 PM on

Friday and Saturday; Noon to 8 PM on Sunday.

Mr. Groupers — Lower Bight and Sunset Ridge Hotel (near airport).

Tel: 242-6780. Serving fresh local seafood straight from

the sea. Open daily 10 AM to 10:30 PM, Sunday 3 to 11 PM.

Opus Wine • Bar • Grill — Ocean Club Plaza. Tel: 946-5885.

International menu with Caribbean flair. Fresh seafood. Serving

dinner nightly 6 to 10 PM. Closed Monday. Indoor/outdoor dining.

Conference facility, events, catering.

Outback Steakhouse TCI — Regent Village. Unbeatable

steak cuts complemented by chicken, ribs, seafood, and pasta.

Generous portions, moderately priced, casual atmosphere. Open

daily 11 AM to 10 PM.

Paparazzi Brazilian Steak House and Sushi Bar — Queen

Angel Resort. Tel: 332-2810. Eat, drink and dance. Open

Monday to Saturday for dinner.

Parallel23 — The Palms Turks & Caicos. Tel: 946-8666. Pantropical

cuisine in a setting of casual elegance. Boutique wine

list. Al fresco or private dining room available. Open daily 6 to

Midnight.

The Patty Place — Behind Shining Stars; Le Petit Place, Blue

Hills. Tel: 246-9000. Authentic Jamaican patties and loaves. 18

flavors of Devon House ice cream. Open daily 9:30 AM to 10 PM.

Pelican Bay Restaurant & Bar — Royal West Indies Resort.

Tel: 941-2365. Poolside restaurant and bar with Caribbean,

French and Asian fare. Breakfast, lunch, dinner daily from 7:30

AM to 10 PM. Special events each week.

Pepper Town Café — Digicel Cinema, #4. Tel: 246-9237.

Native and Caribbean Dishes. Open daily except Sunday 11:30

AM to 7 PM. Island breakfast on Saturday at 7 AM.

Pizza Pizza — Grace Bay Plaza/Cinema Plaza. Tel: 941-

8010/941-3577. New York style specialty pizzas. Open daily

11:30 AM to 9:30 PM, weekends until 10 PM. Free delivery.

Provence — Le Vele Plaza. Tel: 946-4124. Traditional French

artisan-style cuisine. Fresh pasta, gelato, cheeses, charcuterie,

pastries, desserts. Open daily for breakfast, lunch and dinner.

Retreat Kitchen Vegetarian Café & Juice Bar — Ports of

Call. Tel: 432-2485. Fresh, organic, vegan, vegetarian, gluten-free

fare. Fresh juices, daily lunch specials. Open for lunch

Monday to Saturday, 9 AM to 3 PM. Delivery available.

Rickie's Flamingo Café — Between Ocean Club and Club Med.

Tel: 244-3231. Local fare and atmosphere right on the beach.

Best grouper sandwich and rum punch! Don't miss Curry Fridays

and Beach BBQ Saturdays.

Salt Bar & Grill — Blue Haven Resort & Marina. Tel: 946-9900.

Outdoor seating overlooking the marina. Sandwiches, burgers,

salads, classic bar favorites. Open daily 11:30 AM to 9:30 PM.

Seven — Seven Stars Resort. Tel: 339-7777. Elevated contemporary

cuisine fused with TCI tradition. Open Monday to Saturday,

5:30 to 9:30 PM.

72ºWest — The Palms Turks & Caicos. Tel: 946-8666.

Beachside dining with a family-friendly, Caribbean-inspired

menu. Serving lunch daily; dinner seasonally.

Sharkbite Bar & Grill — Admiral's Club at Turtle Cove. Tel:

941-5090. Varied menu; casual dining. Sports bar/slots. Open

Times of the Islands Winter 2019/20 81
---
daily from 11 AM to 2 AM.

Shay Café — Le Vele Plaza. Tel: 331-6349. Offering organic

coffees, teas, sandwiches, salads, soup, pastries, gelato, sorbetto,

smoothies, beer and wine. Open daily 7 AM to 7 PM.

Simone's Bar & Grill — La Vista Azul. Tel: 331-3031. Serving

fresh seafood and local cuisine. Open daily 11 AM to 11 PM;

weekends 7 AM to 11 PM. Popular bar!

Skull Rock Cantina — Ports of Call. Tel: 941-4173. The place

for Tex-Mex; daily drink specials. Open daily, 8 AM to Midnight.

Solana! Restaurant — Ocean Club West. Tel: 946-5254.

Oceanfront dining from sushi to burgers. Teppanyaki and Sushi

Bar, engage with the chefs. Open daily 7:30 AM to 10 PM.

Somewhere Café & Lounge — Coral Gardens Resort. Tel:

941-8260. Casual dining with Tex-Mex flair right on the beach.

Cocktails, beers, specialty drinks. Open early to late daily.

Stelle — Wymara Resort. Tel: 232-4444. Asian and international

fusion featuring fresh fish and seafood. Open 6 to 10 PM

daily, until 2 AM on Friday with DJ.

Sui-Ren — The Shore Club. Tel: 339-8000. Inspired flavors of

Peruvian-Japanese fusion cuisine with fresh seafood and organic

produce in a unique setting. Open daily. Reservations required.

Thai Orchid — The Regent Village. Tel: 946-4491. Authentic

Thai cuisine; over 60 choices! Dine in or carry out. Open for

lunch and dinner daily.

Three Brothers Restaurant — Town Center Mall, Downtown.

Tel: 232-4736. Seafood and native cuisine. Tuesday night buffet

dinner. Catering services. Open daily, 7 AM to 10 PM.

Turkberry Frozen Yogurt — The Saltmills. Tel: 431-2233.

Frozen yogurt in a variety of flavors, with a large selection of

toppings. Custom donut bar. Open 11 AM to 11 PM daily.

Turks Kebab — At Craft Market on Sand Castle Drive. Tel: 431-

9964. Turkish and Mediterranean fare. Salads, falafel, gyros,

kebabs, hummus. Open for lunch and dinner.

Via Veneto — Ports of Call. Tel: 941-2372. Authentic Italian

dining in a stylish indoor/outdoor venue. Open from 5:30 PM to

late. Closed Thursday. Saturday is Pizza Night!

The Vix Asian Bistro & Grill — Regent Village. Tel: 941-4144.

Contemporary Asian menu with a wok station, dim sum, vegan

specialties and keto dishes. Open daily Noon to 3 PM; 5:30 to

10 PM. Delivery to select locations. Catering menus.

Yoshi's Sushi & Grill — The Saltmills. Tel: 941-3374/431-

0012. Sushi bar menu plus Japanese cuisine. Open daily Noon

to 3 PM; 6 to 10 PM. Closed Sunday. Dine indoors or out. Carry

out available.

Zest! — Wymara Resort. Tel: 232-4444. Lunch and dinner

beachfront. Seasonal grilled fare, ceviches and homemade

pizza. Open daily Noon to 5 PM; 6 to 9 PM. Fisherman's night

Wednesday. a

subscription form

VISIT WWW.TIMESPUB.TC TO VIEW CURRENT ISSUE ON-LINE!

TIMES

OF THE

ISLANDS

SAMPLING THE SOUL OF THE TURKS & CAICOS ISLANDS

One year subscription

$28 U.S. addresses/$32 non-U.S. addresses

Name____________________________________________________________________

Date ____________________

Address__________________________________________________________________

City _____________________________________________________________________

State/Province____________________________________________________________

Country/Postal Code_____________________________________________________

E-mail address (not required)_____________________________________________

r New Subscription r Renewal

r U.S. Cheque/M.O. enclosed

Mail with payment to:

Times Publications Ltd., c/o Kathy Borsuk,

247 Holmes Ave., Clarendon Hills, IL 60514

Please allow 30 to 60 days for delivery of first issue.

82 www.timespub.tc
---
SUSTAINABLE

ENERGY

You Can

Count On

R-NETS: A roadmap for

TCI's energy future

Solar integration

to the FortisTCI grid

We're building partnerships to deliver a more sustainable

energy future for the Turks and Caicos Islands.

With the Resilient National Energy Transition

Strategy (R-NETS) serving as a roadmap, and with

new and ongoing investments in solar energy

generation, solar plus battery pilot project, and

an electric vehicle and charging station project,

FortisTCI is working every day to deliver resilient,

cost-effective and environmentally sustainable

energy, to fuel growth and development.

Solar + battery storage

pilot project

Electric vehicle

pilot project

www.fortistci.com | 649-946-4313 |
---
For Those Who Seek An

Exceptional Vacation Home & Lifestyle

Beach Enclave North Shore

Blue Mountain Beachfront

MLS 1900212

THE FINEST COLLECTION

Condominium | Home & Villa | Land | New Development

649.946.4474 | info@tcsothebysrealty.com | turksandcaicosSIR.com

Venture House, Grace Bay | Resort Locations: Grace Bay Club and The Palms

Each franchise is Independently Owned and Operated.