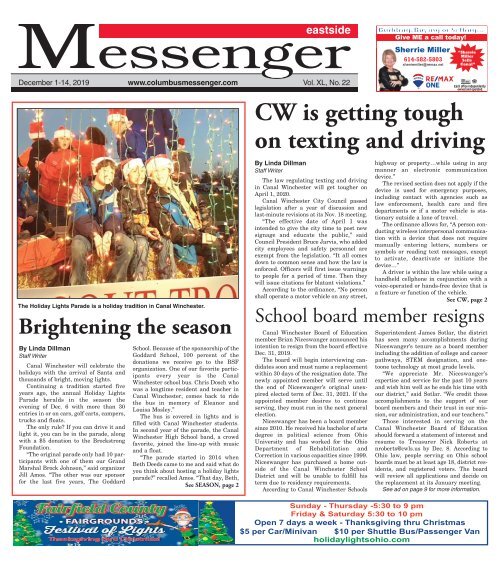 Eastside Messenger - December 1st, 2019
You also want an ePaper? Increase the reach of your titles
YUMPU automatically turns print PDFs into web optimized ePapers that Google loves.
eastside

December 1-14, 2019 www.columbusmessenger.com Vol. XL, No. 22

Building, Buying or Selling...

Give ME a call today!

Sherrie Miller

614-582-5803

sherriemiller@remax.net

"Sherrie

Miller

Sells

Canal"

Each office independently

owned and operated.

CW is getting tough

on texting and driving

The Holiday Lights Parade is a holiday tradition in Canal Winchester.

Brightening the season

By Linda Dillman

Staff Writer

Canal Winchester will celebrate the

holidays with the arrival of Santa and

thousands of bright, moving lights.

Continuing a tradition started five

years ago, the annual Holiday Lights

Parade heralds in the season the

evening of Dec. 6 with more than 30

entries in or on cars, golf carts, campers,

trucks and floats.

The only rule? If you can drive it and

light it, you can be in the parade, along

with a $5 donation to the Brockstrong

Foundation.

"The original parade only had 10 participants

with one of them our Grand

Marshal Brock Johnson," said organizer

Jill Amos. "The other was our sponsor

for the last five years, The Goddard

School. Because of the sponsorship of the

Goddard School, 100 percent of the

donations we receive go to the BSF

organization. One of our favorite participants

every year is the Canal

Winchester school bus. Chris Dosch who

was a longtime resident and teacher in

Canal Winchester, comes back to ride

the bus in memory of Eleanor and

Louisa Mosley."

The bus is covered in lights and is

filled with Canal Winchester students.

In second year of the parade, the Canal

Winchester High School band, a crowd

favorite, joined the line-up with music

and a float.

"The parade started in 2014 when

Beth Deeds came to me and said what do

you think about hosting a holiday lights

parade?" recalled Amos. "That day, Beth,

See SEASON, page 2

By Linda Dillman

Staff Writer

The law regulating texting and driving

in Canal Winchester will get tougher on

April 1, 2020.

Canal Winchester City Council passed

legislation after a year of discussion and

last-minute revisions at its Nov. 18 meeting.

"The effective date of April 1 was

intended to give the city time to post new

signage and educate the public," said

Council President Bruce Jarvis, who added

city employees and safety personnel are

exempt from the legislation. "It all comes

down to common sense and how the law is

enforced. Officers will first issue warnings

to people for a period of time. Then they

will issue citations for blatant violations."

According to the ordinance, "No person

shall operate a motor vehicle on any street,

highway or property…while using in any

manner an electronic communication

device."

The revised section does not apply if the

device is used for emergency purposes,

including contact with agencies such as

law enforcement, health care and fire

departments or if a motor vehicle is stationary

outside a lane of travel.

The ordinance allows for, "A person conducting

wireless interpersonal communication

with a device that does not require

manually entering letters, numbers or

symbols or reading text messages, except

to activate, deactivate or initiate the

device…"

A driver is within the law while using a

handheld cellphone in conjunction with a

voice-operated or hands-free device that is

a feature or function of the vehicle.

See CW, page 2

School board member resigns

Canal Winchester Board of Education

member Brian Niceswanger announced his

intention to resign from the board effective

Dec. 31, 2019.

The board will begin interviewing candidates

soon and must name a replacement

within 30 days of the resignation date. The

newly appointed member will serve until

the end of Niceswanger's original unexpired

elected term of Dec. 31, 2021. If the

appointed member desires to continue

serving, they must run in the next general

election.

Niceswanger has been a board member

since 2010. He received his bachelor of arts

degree in political science from Ohio

University and has worked for the Ohio

Department of Rehabilitation and

Correction in various capacities since 1999.

Niceswanger has purchased a home outside

of the Canal Winchester School

District and will be unable to fulfill his

term due to residency requirements.

According to Canal Winchester Schools

Superintendent James Sotlar, the district

has seen many accomplishments during

Niceswanger's tenure as a board member

including the addition of college and career

pathways, STEM designation, and onetoone

technology at most grade levels.

"We appreciate Mr. Niceswanger's

expertise and service for the past 10 years

and wish him well as he ends his time with

our district," said Sotlar. "We credit these

accomplishments to the support of our

board members and their trust in our mission,

our administration, and our teachers."

Those interested in serving on the

Canal Winchester Board of Education

should forward a statement of interest and

resume to Treasurer Nick Roberts at

nroberts@cwls.us by Dec. 8. According to

Ohio law, people serving on Ohio school

boards must be at least age 18, district residents,

and registered voters. The board

will review all applications and decide on

the replacement at its January meeting.

See ad on page 9 for more information.

Sunday - Thursday -5:30 to 9 pm

Friday & Saturday 5:30 to 10 pm

Open 7 days a week - Thanksgiving thru Christmas

$5 per Car/Minivan $10 per Shuttle Bus/Passenger Van

holidaylightsohio.com
---
PAGE 2 - EASTSIDE MESSENGER - December 1, 2019

www.columbusmessenger.com

Township firefighters are helping families in need

By Linda Dillman

Staff Writer

Madison Township firefighters not only put out blazes,

at this time of year they also create the warmth of kindness

by reaching out to a trio of needy families.

"Each shift gets a family," said Madison Township

Firefighter Ed Dildine, Jr., a member of Union Local 2507,

which sponsors the program. "There is one (family) from

Groveport, one from Canal Winchester and one from the

unincorporated area of Madison Township. We have been

doing this for about seven years. I first started it on my

shift with one family and then our firefighter local union

became involved the next year."

Families are identified by the Center for Groveport

Human Needs and Canal Winchester Human Needs. Their

information is then forwarded to the fire department.

Donations are collected from firefighters and the firefighters'

union.

"Then we go shopping for toys, clothes and food," said

Dildine. "We wrap all the toys and clothes and make

Messenger holiday publication schedule

The Messenger will alter its print publication schedule for the

upcoming holiday season. The Messenger print publication and

delivery dates for the remainder of 2019 will be: Dec. 1 and Dec.

15.

After that, print publication will resume every other week following

the holidays on Jan. 12.

Thank you for reading the Messenger!

Lung Cancer?

Asbestos exposure in industrial,

construction, manufacturing jobs, or the

military may be the cause. Family in

the home were also exposed.

Call 1-866-795-3684 or email

cancer@breakinginjurynews.com.

$30 billion is set aside for asbestos

victims with cancer. Valuable settlement

monies may not require filing a lawsuit.

Winchester

Dental

Call us today to schedule

an appointment.

Winchester Square

Shopping Center

614.834.1834

Ladan Pourmoghadam

D.D.S.

Now offering our

'Smile Plan' to our

non-insured patients

Look Great

Feel Great

Sleep Great

Providing Gentle,

Caring Dentistry

In a Comfortable

Setting.

Accepting New Patients

Most Insurances Accepted

"Each shift gets a family. "There is one (family)

from Groveport, one from Canal

Winchester and one from the unincorporated

area of Madison Township. We have been

doing this for about seven years."

- Ed Dildine

Madison Township firefighter

arrangements with the family to deliver to them using the

firefighters and a fire engine. Our entire department participates

in this program with monetary donations, time

for shopping, wrapping and delivery."

While the number of families firefighters adopt for the

holidays remains the same, Dildine said, from conversations

with both Human Needs agencies, the number of

families who need help keeps growing.

"This, in turn, puts a strain on each organization trying

CW

Continued from page 1

Other CW news

•Council is proposing to re-affirm its support of the

Canal Winchester Historical Society with up to

$10,000 in funding for utilities, security and insurance

for the historical society's High Street complex. Funds

are limited to $2,800 for gas and electric, $1,200 for

security and telephone service and $6,000 in insurance

costs for the historical complex and museum. Funds

not used by Jan. 31 of the subsequent year must be

returned to the city.

The historical society will provide quarterly financial

statements to the city detailing the use of funds. If

approved by council later this year, the agreement

runs from Jan. 1, 2020 through Dec. 31, 2022.

•Construction Services Administrator Bill Sims

said reconstruction of the High Street railroad crossing

requires the temporary closure of High Street.

"It should be a pretty short duration," Sims said,

"and they might do it in two days."

Included in the project is construction of a sidewalk

on the west side of the crossing. Sims is hopeful, barring

any weather delays, that the project will be completed

by the end of this year.

SEASON

Continued from page 1

Rick (Deeds) and I sat down and started planning a

parade."

According to Amos, Brock was the first and only

grand marshal to lead the parade because "he always

brought light to so many people in our community."

Brock was hospitalized the week of the first parade

and the family was doing their best to get him released

for the day, which happened at the last minute. Parade

organizers borrowed a Chevy Camaro from Jeff Wyler

Chevrolet–per Brock's request–to transport the

young boy down the parade route.

"It was raining that night, so we could not even put

the top down. He and his mom waved to people along

the parade route through the window," said Amos.

"Since it was the first year, there was hardly anyone

along the parade route, but as soon as we turned the

corner, there were people everywhere. We let Brock

and Kristi out at the Christmas Tree where Brock and

Mayor Ebert lit the lights to kick off Christmas in the

Village. It was a moment many of us will never forget.

That night, Brock returned to the hospital. He passed

to make their donations go farther," Dildine said. "Human

Needs provides a very vital service to the community and

anything we can do to make it a little easier for them and

make three families have a very Merry Christmas is the

least we can do to give back to the communities we serve."

Dildine hopes word spreads to other organizations and

individuals to step up and help out Human Needs in the

Groveport, Canal Winchester and unincorporated Madison

Township areas.

Firefighters union President Rashid Taylor said the

members of the Madison Township Fire Department are

committed to provide the best service they can for township

residents.

"In the many years that we have been involved with

Adopt-a-Family, it has given our members another opportunity

to be involved with some of those in need in the community,"

said Taylor. "It is always heartwarming for our

firefighters to participate in the program and have a small

impact. We appreciate the collaboration and support from

Groveport and Canal Winchester Human Needs."

"Pedestrians won't have to walk in the street any

more to cross the railroad tracks," said Sims.

•Urban Forester Dick Miller said a joint effort of

forestry, construction services and Franklin County

Soil and Water resulted in reworking a rain garden

west of the community center.

Miller said the project allowed the rain garden to

"better receive and filter pollutants that enter the feature.

This filtered water runs directly into our Walnut

Creek, helping to protect that ecosystem."

The city also worked with Fairfield County Soil and

Water and the U.S. Board of Geographic Names to

name to a previously unnamed stream that flows into

Georges Creek northwest of the city.

"Newly named Pickering's Creek's headwaters

begin north of Pickerington, flow through Pickerington

Ponds, cross Gender Road near Lehman Road and join

Georges Creek near Winchester Pike," said Miller.

"This makes the third stream officially named in the

last 18 months at the request of Fairfield Soil and

Water to help settle flooding issues in the upper catch

basin and better understand the needs of future watershed

protection for all partners here and downstream."

away on May 20, 2015."

It was after the funeral that organizers decided

Brock would remain the permanent grand marshal of

the parade.

"There are so many people that line the roads now

to see the parade along the route and still when we

round the corner onto High Street and thousands of

people line the sidewalk, my eyes fill with tears knowing

that Brock is right beside me in spirit, still waving

and still smiling," Amos said.

Amos added there is always a little rivalry for trophies,

including competitors such as Columbus Street

and Trine Street vying for Street Winner Honor. Four

streets have already signed up and organizers welcome

people to join the challenge.

The parade line-up location is the Winchester Trail

Elementary School parking lot, 6865 Gender Road.

Parade line-up time starts at 4:30 p.m. Best float voting

time is at 5 p.m. The parade starts at 5:30 p.m.

Visit www.cwholidaylightsparade.com for information.
---
www.columbusmessenger.com

Messenger photo by Hannah Poling

Chris Franz and Cameron Jones presented the program "UFO's Are Real" at Wagnalls

Memorial Library in Lithopolis on Nov. 16. This is a photo of an artist's rendering

shown at the presentation of what is believed to be the acorn shaped UFO which

allegedly landed in the woods near Kecksburg, Pa., on Dec. 9, 1965.

Exploring the world of UFO's

By Hannah Poling

Staff Writer

Are UFO's real?

A discussion on the UFO (Unidentified

Flying Object) phenomenon, both past and

present, was held at Wagnalls Memorial

Library in Lithopolis on Nov. 16 to explore

that question. It was presented by

Cameron Jones with special guest Chris

Franz from the Round Town UFO Society.

The Round Town UFO Society is one of

the oldest UFO groups in the nation. It

meets the second Thursday of the month at

6 p.m. at the Circleville Public Library and

the meetings are open to the public.

The Nov. 16 presentation at Wagnalls

included information regarding ancient art

work, famous crashes, UFO sightings,

reported abductions, and more.

Jones said UFO sightings are common

as there were 58,828 UFO sightings

reported across the U.S from 1995 to 2014.

According to Jones, there is evidence of

the existence of UFO's dating back to the

15th century. She said there are pieces of

ancient art work showing what appears to

be unidentified flying objects. From paintings

to tapestries, there are many art

works throughout history where unidentified

objects in the sky are allegedly present.

The oldest known UFO photo was taken

in Mt. Washington, N.H., in 1870. The

photo was taken with newly installed camera

equipment at a weather observatory.

In the photo, the UFO appears to be cigar

shaped.

In April 1897, in Aurora, Texas, it was

reported a UFO fell from the sky and

crashed into the town. Allegedly there was

a pilot on the ship and his remains were

badly disfigured, but it was thought that

he was not an inhabitant of this world.

The ship was said to be crafted of an

unknown metal and it was thought by

some that the UFO and its pilot were from

Mars.

These days, UFO crashes and sightings

continue to be reported from California to

the midwest to the east coast.

The most famous UFO case was located

at Roswell, N.M. According to Jones and

Franz, in 1957, a man found a debris field

on his property after an intense thunderstorm.

He notified the sheriff who contacted

the Roswell Army Air Base for assistance.

Metals were found with allegedly

strange properties and unreadable hieroglyphics.

The wreckage was transported to

the Roswell Army Air Base. A press release

was issued stating the wreckage of the

crashed disk had been recovered. Hours

later, a second press release was issued

rescinding the first claiming it was incorrectly

identified and it was a weather balloon,

not a crashed ship.

According to Jones and Franz, many

people have experienced encounters with

UFO's. In 1980, three people were driving

near Houston, Texas, when they allegedly

saw a bright UFO hovering just over the

road. In 1961, a couple said they were

allegedly abducted by aliens on their way

home from Niagara Falls.

They saw a bright light following their

car and when they got home, they claimed

they had lost two hours of time.

After experiencing disturbing dreams,

they agreed to go under hypnosis and both

are said to have individually remembered

being taken from their car to a strange

craft in the woods where they were examined

by strange beings.

Being a UFO investigator consists of

taking reports and investigating UFO

sites. UFO researchers talk to individuals

and correlate information with other

known events, celestial objects, aircrafts,

and things that have occurred in an area.

It is estimated only 10 percent of UFO

sightings are reported and, according to

Jones, Ohio is one the top 10 places for

UFO sightings.

In their presentation, Jones and Franz

sought to pique people's curiosity and

inspire them to research alleged UFO

events, read more on the subject, and make

their own conclusions about what is going

on in our world, country, state, and our

own backyards.

Clevenger earns grant

Gracie Clevenger of Canal Winchester

was awarded a fall 2019 Theory-to-Practice

Grant from Ohio Wesleyan University.

Part of The OWU Connection, the grants

support research, internship, service, and

cultural-immersion opportunities throughout

the world. The grant awarded to

Clevenger supports a project titled, "The

Cost of Conflict & The Price of Peace: The

Economic and Social Impacts of the

Sectarian Conflict in Northern Ireland."

Clevenger will travel to Northern Ireland

for 10 days in May to explore the economic

and social impacts of sectarian conflict

from the latter half of the 20th century to

the present.

#GR REENHOLIDAY GUIDE

MAKE A DIFFERENCE THIS HOLIDAY SEASON

BY RESOLVING TO REDUCE YOUR WASTE

AND RECYCLE MORE.

REDUCE YOUR WASTE

Look for items with

minimal-to-no packaging.

December 1, 2019 - EASTSIDE MESSENGER - PAGE 3

DONATE

Consider donating unwanted

lights and decorations.

REUSE

Be creative with leftover food by

send

ding dinner guests home with

h for tomorrow.

REC CYCLE RIGHT

Franklin County's curbside and drop-off recycling programs only

accept plastic bottles and jugs, glass bottles and jars, metal cans,

cartons, paper p and cardboard for recycling. Be sure to break down

any cardboard boxes before putting them in the container.

SWACO.ORG

Cookies and candy

Thousands of homemade cookies and

candy, including an abundance of buckeyes,

cutouts, and an assortment of holiday

cookies will be available for purchase on

Dec. 14 beginning at 9 a.m. at Hope United

Methodist Church, 83 E. Columbus St.,

Canal Winchester. For information call

(614) 837-7548.

CW Library Branch

The Canal Winchester Branch of the

Columbus Metropolitan Library, 115

Franklin St., is open Monday through

Thursday from noon to 7 p.m. and Friday

and Saturday from noon to 6 p.m.
---
PAGE 4 - EASTSIDE MESSENGER - December 1, 2019

www.columbusmessenger.com

Holiday Gift Ideas

Holiday Gift Ideas

Christmas in the Village rings in the holiday season

Canal Winchester's annual storybook

Christmas celebration kicks off the holiday

season in downtown Canal Winchester on

Dec. 6 from 6-9 p.m. and Dec. 7 from 5-8 p.m.

Christmas in the Village will feature

Santa visits, a holiday craft bazaar, model

train displays, ice sculpting, kids' activities,

a gingerbread house contest, holiday

music, and more. Santa Claus will arrive

downtown to start the event each night by

officially lighting the Christmas tree at

Stradley Park (behind the city's municipal

building at 36 S. High St.). On Dec. 6,

arrive early to watch the Brockstrong Light

up the Night Holiday Lights parade.

Visit www.cwholidaylightsparade.com

for information on the Holiday Lights

Parade.

BETHANY

LUTHERAN

CHURCH, LCMS

1000 Noe-Bixby Rd. Columbus, OH 43137

614-866-7755

Traditional Worship Service: 9:00 a.m.

Sunday School: 10:30 a.m.

Wednesday Advent Service: 7:00 p.m.

eastside

A Christmas Trolley will make its way

through downtown during Christmas in

the Village, making stops on South High

Street, the Frances Steube Community

Center, and at the historic "Queen of the

Line" Railroad Depot.

Many businesses, shops and restaurants

in the city's historic downtown will offer

special activities and attractions during

Christmas in the Village, from visits with

classic cartoon characters to live performances

by local school groups.

Visit www.destinationcw.org or

www.canalwinchesterohio.gov for information

about Christmas in the Village.

Christmas in the Village is a partnership

between the city of Canal Winchester

and Destination: Canal Winchester.

CORNERSTONE

BAPTIST CHURCH

5164 Ivyhurst Dr., Columbus, OH 43232

December 15 – 5 pm

Youth Christmas Play

"Good enough for Christmas?"

Travis (who is always in trouble) and Felicity (who has been good

all year) learn you can never be good enough for Christmas.

Written by Debbie Entsminger & produced by

special arrangements with Eldridge Publishing company.

Be a Part of Our Local Worship Guide

Our Worship Guide is geared toward celebrating faith and helping

readers connect with religious resources in our community. Make

sure these readers know how you can help with a presence in this

very special section distributed to more than 18,000 households in

the Eastside area.

Contact us today to secure your spot in our Worship Guide.

614.272.5422 • kathy@columbusmessenger.com

Christmas in the Village activities

Both nights:

•Tree lighting, 6 p.m. on Dec. 6; 5 p.m.

on Dec. 7 in Stradley Park - 36 S. High St.

•Visit with Santa (hosted by

Huntington Bank - 37 S. High St., courtesy

of Destination: Canal Winchester). Look for

the Canal Winchester Human Services'

Adopt-A-Family Toy Box. Food, toy, or

donation to Adopt-A-Family Program

appreciated.

•Christmas Trolley (Stops at

Huntington Bank, Community Center, and

Train Depot).

•Canal Winchester Area Historical

Society's Prentiss School and Railroad

Depot will be open to visitors each night.

(96 N. High St.)

•Popcorn station (Miss CW Pageant

Queens, Stradley Place - 36 S. High St.)

•Ice Sculptures (Stradley Place)

•Christmas Music on S. High St. (courtesy

of City Councilman Mike Walker.)

•Children's Train Rides on S. High St.

Irelands Spa

Online Gift Card Available at:

Now

Book

Online

IRELANDS

Irelands Spa & Salon II

614-834-7111

209 Winchester

Cemetery RD., Canal

www.irelandspa.com

@irelandsspa on twitter

instagram.com/irelands_spa

instagram.com/irelands_spa2

•Hayrides (In front of municipal building

- 36 S. High St., courtesy of Dill's

Greenhouse and Larry Dowler.)

•Gingerbread House Contest (HER

Realtors, Kelly Abbott - 11 S. High St.)

•Kids' games (Chase Bank - 8 S. High St.)

•Children's crafts (Town Hall - 10 N.

High St., courtesy of Goddard School.)

•Craft bazaar (Community Center - 22

S. Trine St., courtesy of Destination: CW.)

•Train display (Community Center - 22

S. Trine St., courtesy of Georgie Emerson

Vintage.)

One night only:

•Dec. 6 - Brockstrong Holiday Lights

Parade with Santa. (Begins at 5:30 p.m.

with Santa arriving downtown at 6 p.m.)

•Dec. 6 - Christmas Carols by Canal

Winchester High School Choir (Stradley

Place - 36 S. High St., 5:45- 6:45 p.m.)

•Dec. 7 - Santa Procession (4:30 p.m.

with Santa arriving downtown at 5 p.m.)

Other venues' activities:

Activities hosted by businesses located

beyond the Christmas

in the Village

street closures.

•Cookies &

Cardmaking (Faith

United Methodist

Church - 15 W.

Columbus St.)

•Middle School

Vocal Ensemble on

Dec. 7 - (Faith

Irelands Spa & Salon

740-653-3228

1917 Hubbard DR.

Lancaster

United Methodist

Church, 15 W.

Columbus St. 5:30

p.m.)

•Meet Frosty the

Snowman (e-Merge

Realty, The Megan

Bell Group - 11 N.

High St.)

•Pet photos with

Santa (Vasko offices

- 19 N. High

St.) $10 donation

suggested.

•Meet the Grinch

(HER Realtors,

Smith Home Group

- 25 N. High St.)

•Rudolph the

Red-Nosed Reindeer

(Rise Realty, CW -

36 N. High St.)

•Outdoor Christmas

treats (Re/Max

Connection — 74 N.

High St.)

•Food & fun at

shops & restaurants,

High and

Waterloo streets.)
---
www.columbusmessenger.com

December 1, 2019 - EASTSIDE MESSENGER - PAGE 5

Holiday Gift Ideas

Holiday Gift Ideas

Reindeer Run

Runners, walkers, skippers and

strollers are invited to participate in the

Reindeer Run on Dec. 7, stepping off at

12:30 p.m., with proceeds benefitting

Canal Winchester Human Services.

A first-of-its-kind event in downtown

Canal Winchester, participants have staggered

starting points at four different

restaurants and are invited to wear their

favorite holiday-themed costume such as

Santa, Mrs. Claus, reindeer, elf, a present

or even the Grinch.

Spectators are invited to join in the fun

and dress in costume. People are encouraged

to bring an unwrapped toy or book to

donate to needy children in the community.

Doors open at Barrel & Boar, Loose

Rail, Roman's Pizza and Shade on the

Canal at 10 a.m. with check-in until 12:15

p.m. Each participating restaurant is

awarding a prize for the best holiday costume

within their group prior to the start

of the event.

For more information or to register for

the Reindeer Run, visit https://secure.givelively.otg/event/destination-canal-winchester/2019-reindeer-run.

The fee is $20 and

the first 50 people to register receive a

shirt.

Breakfast with Santa

Santa Claus is coming to town...for

breakfast! On Dec. 14, Canal Winchester

will host its annual Breakfast with Santa

at the Frances Steube Community/Senior

Center, 22 S. Trine St.

Two breakfast sessions will be offered to

help Santa get ready for his 'round-theworld

trip delivering toys. The first session

will take place from 8:30-10 a.m.; the second

session will run from 10:30 a.m. to

noon.

Tickets are available at the Canal

Winchester Municipal Building, 36 S. High

St., and the Frances Steube

Community/Senior Center on weekdays

between 8:30 a.m. and 4:30 p.m. while supplies

last.

Only 80 tickets are available for each

session.

Each $5 ticket will admit one adult or

child (children under one year old are free)

for breakfast.

Children will also receive a gift bag and

visit with Santa. Please bring a camera for

pictures with Santa.

All proceeds from Breakfast with Santa

benefit Canal Winchester Human Services'

Adopt-A-Family program.
---
PAGE 6 - EASTSIDE MESSENGER - December 1, 2019

Wagnalls Memorial Library

Wagnalls Memorial Library, 150 E.

Columbus St., Lithopolis, is open Monday -

Thursday: 10 a.m. to 8 p.m., Saturday: 10

a.m. to 2 p.m. and closed on Friday and

Sunday.

For information call (614) 837-4765 or

visit www.wagnalls.org.

"BEST NEW YEARS PARTY IN TOWN"

CELEBRATE

Per Couple Prices

Overnight Package - $299

Party Only Packages - $235

Single Overnight - $199

Lithopolis Garden Club

Lithopolis Garden Club meets the first

Tuesday each month at 1 p.m. in the

Community Building at Wagnalls

Memorial in Lithopolis.

Anyone interested in gardening and

meeting other gardeners are invited to

attend the meetings.

15 th Annual

Mike ALbert

and

The Big E. Band

Prices include Dinner, Drinks, Room, Party favors,

Full Breakfast

Crowne Plaza • 6500 Doubletree Ave. (formerly Marriott North)

www.columbusmessenger.com

Veterans exhibit at Memorial Hall

Franklin County veterans who have

served and died during our nation's wars

now have a special exhibit dedicated in

their honor which lists the veterans by

name, at an exhibit commissioned by the

Franklin County Board of Commissioners.

The exhibit includes a collection of historic

plaques that list the fallen veterans

by name, as far back as the Revolutionary

War. The plaques had been created

throughout the 1900s and had started to

show the effects of decades on display.

The Franklin County commissioners

had the plaques restored and had an exhibit

custom built so these historic treasures

could be revered by residents once again

for years to come. A dedication took place

in Memorial Hall, which is where most of

the plaques were initially displayed.

"These plaques demonstrate the rich history

of Franklin County veterans who have

served this great nation from its founding,"

said Marilyn Brown, president of the board

of commissioners. "This memorial is now in

its rightful home and in a building that was

solely dedicated to veterans."

The idea for Memorial Hall was conceived

after the Civil War, but the building

would not be dedicated until 1906. It was

designed as a memorial and meeting place

for war veterans, which also gave them a

space to host conventions and civic gatherings.

It hosted many historic events since

then including welcoming troops home

from World War I and was visited by several

U.S. presidents. As the building

changed over the decades, the plaques

were moved around and spent many years

in the former Veterans Memorial, which

was formerly at the site of the National

Veterans Memorial and Museum.

"The idea to restore and display these

plaques on permanent display was an idea

suggested by some local residents and we

are glad they did," said commissioner John

O'Grady. "We were able with input from

local veterans to design a patriotic exhibit

that reveres and leaves a lasting impression

for all those who see it. It is important

that we always remember what these veterans

have done for us all."

Several other similar plaques were

placed in the National Veterans Museum

and Memorial, giving them more exposure

to visitors from across the country.

The Memorial Hall exhibit includes two

interactive displays that give a modern

touch for these historic treasurers.

"We know there is no way to repay the

debt these men and women paid for all of

us. However, with this exhibit we hope this

is a way for Franklin County veterans to

always be remembered and their sacrifice

honored," said commissioner Kevin Boyce.

Anyone wanting to see the exhibit can

visit Memorial Hall, 280 E. Broad St., in

Columbus during business hours, primarily

between 8 a.m. and 4:30 p.m.

--
---
www.columbusmessenger.com December 1, 2019 - EASTSIDE MESSENGER - PAGE 7

Coloring Contest

Sponsored by:

Age Groups

3-5 & 6-9

WINNERS:

1st Place

25% Off Tuition

(expires in 1 year)

2nd Place

3 Open Gym Passes

3rd Place

CGA Shirt and Scrunchies

Name:_______________________

Phone_______________________

Age: ________________________

Winner will be announced in

the December 15th Paper!

CONTEST RULES:

Contest entries will be judged on participants age division with (3) winners in each age. Division (1) will be contestants that are 3, 4, 5 year olds of age at date of contest

entry. Divison (2) will be contestants that are 6, 7, 8, 9 years of age at date of contest entry. Judges will select (3) winners from each division. Decision of th judges will be

final. Any child may enter the contest provided they meet the age criteria for thise respective division. (1) entry per child. No purchase is necesary. You need not be present

to win. Contest winners will be contacted after the judges' decision. Judges are not affiliated with the Southeast Messenger.

To enter the contest cut out the "Coloring Contest" page and complete the entry form with your name, age and phone number. Submit entry to 6810 Thursh

Dr, Canal Winchester, OH 43110 - (614)575-9557. Hours: M-TH 4:15pm - 8:00, Tues - Sat 9am-12pm. Incomplete entries will not be judged. All entries must be

received by Noon, December 14, 2019.
---
PAGE 8 - EASTSIDE MESSENGER - December 1, 2019

eastside

Messenger

(Distribution: 13,559)

Rick Palsgrove................................Eastside Editor

eastside@ columbusmessenger.com

Published every other Sunday by

The Columbus Messenger Co.

3500 Sullivant Ave., Columbus, Ohio 43204-1887

(614) 272-5422

Tune Up NOW or

Bundle Up LATER!

24 HOUR

SERVICE

Financing Available

www.franklinheating.com

CW leaf pick up

The city of Canal Winchester will conduct

curbside leaf collection through Dec.

13. To avoid water backup in the event of

rain, leaf piles must be placed behind the

curb along the street. Leaf piles may contain

leaves only, as sticks, grass trimmings

and other yard waste can cause

damage to leaf collection equipment.

Regular yard waste will continue to be

picked up by Waste Management during

scheduled trash collection.

North Pole Village

The Groveport Town Hall art gallery,

648 Main St., is hosting Jeneane Miles'

North Pole Village through Dec. 31. The

display includes 932 trees, 150 lit features,

more than 200 animals, and 7 pounds of

snow in an old fashioned village decorated

for the holidays. For information call 614-

836-3333.

Drug Drop Box

The Madison Township Police

Department provides an opiate prescription

"Drug Drop Box" for the community.

This drop box is located in the lobby of the

Madison Township Police Department,

4567 Madison Lane, and is accessible to

the public Monday through Friday 8 a.m.

to 5 p.m. Any person can walk-in and dispose

of new or old pills, including prescription

medications, or any other illegal substances

and place them into this box with

no questions asked.

By Linda Dillman

Staff Writer

Canal Winchester High School students

will encounter a new library when they

return from the winter holiday break.

During the Nov. 18 Canal Winchester

Board of Education meeting,

Superintendent Jim Sotlar reported on

construction progress at the high school,

including the library and an auxiliary gym,

which will serve as a holding area until the

rest of the building is done in 2020.

"By Christmas break, we'll have access

to the media center and open it to students

in January 2020," said Sotlar, before

adding that the former library space will

then close in preparation to be turned into

office space.

"The big work this summer will be in

the center of the building," said Sotlar. "A

lot of work will be done this summer.

That's why we're starting school later next

year."

Carpeting and tile are in place in the

new media center and, once other projects

are completed, a new entrance to the center

will be constructed during the summer

break.

Flooring in the auxiliary gym should be

in place later this week. Sotlar likened the

www.columbusmessenger.com

CWHS library to open soon

High school construction update

wood pattern to one in place in the old

Boston Garden. Above-ceiling work continues

in the art wing during the night when

students are not in school.

"We're looking good for Aug. 20," said

Sotlar. "It's going to be well worth it."

Other CW Schools news

•Ohio School Board Association representative

and former Canal Winchester

superintendent Dr. Kim Miller-Smith

lauded board member Mike Yonnotti for

his decade of service on the board.

"We're recognizing the long-standing

service of Mike Yonnotti with a 10-year

Milestone Certificate," said Miller-Smith

speaking on behalf of the association.

"Thank you for all you've done for the

board, the schools and the community."

•The board approved the 2020-21 calendar

with an Aug. 25 start date for all staff

and an Aug. 31 first day of school for students.

•Donations totaling $3,700 from the

Brockstrong Foundation were accepted for

the Indian Trail and Winchester Trail

Elementary Schools, along with $600 from

COSI Columbus to the CW Steel Band,

$973 to the high school boys basketball

program from Vinton County National

Bank, $600 to the Indian Trail media center

from TS Trim, and a $200 donation

from Dennis Duckworth to the girl's tennis

team.

FIL

LL Y

OUR

GREA BOGO! G

HOME WITH

T WAT

TER

B uy a Pr emier Series W ater Soft

ener and

et the K5 Drin king Water Station FREE *

Kinetico believes everyone deserves GREAT WA

ATER.

That's why we are offering

our BIGGEST DISCOUN NT EVER on our most popular wate

er treatment tment equipment.

Wh y a Water Softener?

• Protect plumbing and wate r-using appliances from hard water

• Continuous supply of high-quality,

soft, clean water

Wh y the K5 Drinking Water Station?

• Solves the toughest water-q quality challenges

• Worry-free, great tasting dr rinking water

Call today for a FREE, in-home water test.

800-444-1387 • www.kineticocolumbus.com

m

* Expires

12-31-19. Cannot be combined with other offers, and restrictions s apply

y.

Must pu

urchase a Premier Series Water Softener at full retail price to rece

eive the

K5 Drinking Water Station for free. Does not apply to previous purchases. Valid

at Cana al Winchester, OH Kinetico dealer only.

OFFICIAL WATER TREATMENT T PROVIDER
---
www.columbusmessenger.com

December 1, 2019 - EASTSIDE MESSENGER - PAGE 9

CLASSIFIED ADS

Deadlines: Southeast and West editions, Wednesdays at 5 p.m., • East, Southwest, Madison editions, Tuesdays at 5 p.m.

All editions by phone, Tuesdays at 5 p.m. • Service Directory, Tuesdays at 5 p.m. • Main Street Mailbox, Tuesdays at 5 p.m.

xInformation

xCraft Shows

xPublic Notice

DECEMBER GIVEAWAY

Place a prepaid classified line ad in our paper

during the month of DECEMBER and be registered

to win a $50 Gift Card from

The Columbus Messenger Newspapers.

All ads received by mail, in person, e-mail or phone

will be included in the drawing.

Drawing will be held December 28th, 2019

and the winner will be notified and published

in our January 5th, 2020 Madison paper

and our January 12th, 2020 issue

of the Columbus papers.

GOOD LUCK TO EVERYONE!!!!

Congratulations

To Our Gift Card Winner

For NOVEMBER 2019

DAN HOLMES

From

The Columbus Messenger

Newspapers

Information

INFORMATION

See...

You Looked!

Newspaper

Ads Catch

The Eye!

Call

272-5422

For Info. &

Pricing

ASSOCIATION ADS

Become a Published Author.

We want to Read

Your Book! Dorrance

Publishing-Trusted by

Authors Since 1920.

Book manuscript submissions

currently being

reviewed. Comprehensive

Services: Consultation,

Production, Promotion

and Distribution. Call

for Your Free Author's

Guide 1-877-626-2213

SELLING YOUR OWN

PROPERTY? Need to

advertise it in your local

paper and others like it?

We have the placement

services to help you.

Contact MACnet MEDIA

@ 800-450-6631 or online

at MACnetOnline.

com

HTHS Rangers Marching Band

Jack Frost Winter Bazaar

"One Stop Christmas Shopping"

Saturday Dec 7th 9am-3pm

Hamilton Intermediate School

765 Rathmell Rd., Columbus 43207

Over 50 vendors, Mr. & Mrs. Claus, Food,

Raffle and multiple Community Partners.

Craft Shows

ASSOCIATION ADS

CARS/TRUCKS WANT-

ED!!! All Makes/Models

2002-2018! Any Condition.

Running or Not. Top $$$

Paid! Free Towing! We're

Nationwide! Call Now: 1-

888-985-1806

Wants to purchase minerals

and other oil and gas

interests. Send details to

P.O. Box 13557, Denver,

CO. 80201

IMPORTANT

NOTICE

The following states: CA,

CT, FL, IA, IL, IN, KY,

LA, MD, ME, MI, MN,

NE, NC, NH, OH, OK,

SC, SD, TX, VT and WA

requires seller of certain

business opportunities to

register with each state

before selling. Call to

verify lawful registration

before you buy.

Two great new offers from

AT&T Wireless! Ask how

to get the Next Generation

Samsung Galaxy S10e

FREE. FREE IPhone with

AT&T's Buy one, Give

One. While supplies last!

CALL 1-866-565-8452 or

www.freephonesnow.com/

/cadnet

Elminate gutter cleaning

forever! LeafFilter, the

most advanced debrisblocking

gutter protection.

Schedule a FREE

LeafFilter estimate today.

15% off and 0%

financing for those who

qualify, PLUS Senior &

Military Discounts. Call

1-855-402-0373

CRAFT SHOW

Vendor Fair & Craft Show

Dec. 7, 9am - 2pm

73 Covenant Way,

Canal Winchester

ASSOCIATION ADS

Call Empire Today® to

schedule a FREE inhome

estimate on Carpeting

& Flooring. Call

Today! 1-855-404-2366

SELL YOUR ANTIQUE

OR CLASSIC CAR.

Advertise with us. You

choose where you want

to advertise. 800-450-

6631 visit macnetonline.

com for details.

Applying for Social Security

Disability or Appealing a

Denied Claim? Call Bill

Gordon & Assoc., Social

Security Disability Attorneys,

1-855-498-6323!

FREE Consultations. Local

Attorneys Nationwide

[Mail: 2420 N St. NW,

Washington DC. Office:

Broward Co. FL (TX/NM

Bar.)]

CASH PAYOUT? 70

years old and kids are

grown? Do you need that

life insurance or is a big

life settlement cash payout

smarter? Call Benefit

Advance. 1-877-332-9643

AIRLINE MECHANIC

TRAINING - Get FAA

Technician certification.

Approved for military

benefits. Financial Aid if

qualified. Job placement

assistance. Call Aviation

Institute of Maintenance

866-453-6204

100 Washington Street

Canal Winchester, Ohio 43110

P: (614) 837-4533 f: (614) 833-2165

www.cwschools.org

November 20, 2019

Contact: Nick Roberts, Treasurer

614-920-2605

nroberts@cwls.us

CANAL WINCHESTER LOCAL SCHOOLS SEEKING APPLICATIONS FOR BOARD VACANCY

CANAL WINCHESTER – The Canal Winchester Local School District Board of Education seeks

applicants to fill the unexpired term of board member, Brian Niceswanger, who has announced his

intention to resign effective December 31, 2019.

The board will begin interviewing candidates soon and must name a replacement within 30 days of the

resignation date. The newly appointed member will serve until the end of Mr. Niceswanger's original

elected term of December 31, 2021. If the appointed member desires to continue serving, he or she

must run in the next general election.

Board Member Brian Niceswanger has been a board member with Canal Winchester Local Schools

since 2010. He received his Bachelor of Arts degree in Political Science from Ohio University and has

worked for the Ohio Department of Rehabilitation and Correction in various capacities since 1999. Mr.

Niceswanger has purchased a home outside of the Canal Winchester Local School District and will be

unable to fulfill his term due to residency requirements.

The district has seen many accomplishments during Mr. Niceswanger's tenure as a board member

including the addition of college & career pathways, STEM designation, and one-toone technology at

most grade levels. "We appreciate Mr. Niceswanger's expertise and service for the past 10 years and

wish him well as he ends his time with our district," said James Sotlar, Superintendent. "We credit these

accomplishments to the support of our board members and their trust in our mission, our administration,

and our teachers."

Those interested in serving on the Canal Winchester Local Schools Board of Education should forward

a statement of interest and résumé to Treasurer Nick Roberts at nroberts@cwls.us by Sunday,

December 8, 2019.

According to Ohio law, people serving on Ohio school boards must be at least 18 years old, district

residents, and registered voters.

The board will review all applications and decide on the replacement at its January meeting.

The Canal Winchester Local School District is located in Franklin and Fairfield Counties and serves

approximately 4,000 students in four buildings.

Empowering All Students For Success

Attention: Cities & Townships

ADVERTISE

YOUR LEGAL/

PUBLIC NOTICES

The Eastside Messenger is

now serving Canal Winchester.

CALL KATHY at the

COLUMBUS

MESSENGER

NEWSPAPERS

614-272-5422

Public Notice
---
PAGE 10 - EASTSIDE MESSENGER - December 1, 2019

www.columbusmessenger.com

xEmployment

NOW HIRING!

Local High Volume Pharmacy

Immediate 1st, 2nd & 3rd shift positions available

for Pharmacy Clerks and Technicians.

$

1000 SIGN ON BONUS

HIRING?

Let us help you recruit the qualified employees you need to make

your business succeed. With a print and online audience of more

than 39,000 readers, our employment section is your key to meeting

local job seekers where they look first for fresh career opportunities.

Our Eastside Messenger

now covers

Canal Winchester

Our Southeast Messenger

still serves our Groveport,

Obetz, Madison Twp. and

SE Columbus areas.

Reaches over 35,000

household in these 2 area

To list a job opportunity, contact a

recruitment advertising specialist today at

614.272.5422

or

Kathy@columbusmessenger.com

columbus

Looking for energetic associates

in a fast pace environment.

NEW Starting rate: $11.50 per hour

Shift differential $1.50 an hour

Please apply at: jobs.kroger.com

Use Zip Code 43217

Must be 18 years of age & have high school diploma or GED.

Call 614-333-5012 for more details.

Best Western

Canal Winchester Inn

Immediate Openings Available:

MORNING BREAKFAST, HOUSEKEEPING,

LAUNDRY, FRONT DESK

Apply in Person:

Best Western Canal Winchester

6323 Prentiss School Rd.

Canal Winchester, Ohio 43110

NO PHONE CALLS PLEASE

ASSOCIATION ADS

Cross Country Moving,

Long distance Moving

Company, out of state

move $799 Long Distance

Movers. Get Free

quote on your Long distance

move 1-844-452-

1706

Attention all Homeowners

in jeopardy of Foreclosure?

We can help stop

your home from foreclosure.

The Foreclosure

Defense helpline can help

you save your home. The

Call is absolutely free.

1-855-516-6641

Earthlink High Speed Internet.

As low as $14.95/

month (for the first 3

months.) Reliable High

Speed Fiber Optic Technology.

Stream Videos,

Music and More! Call

Earthlink Today 1-855-

520-7938

$$ OLD GUITARS &

AMPS WANTED$$

GIBSON • FENDER •

MARTIN. ALL BRANDS

TOP DOLLAR PAID.

CALL TOLL FREE 1-

866-433-8277

Portable Oxygen Concentrator

May Be Covered by

Medicare! Reclaim independence

and mobility

with the compact design

and long-lasting battery of

Inogen One.

Free information kit! Call

888-609-2189

ASSOCIATION ADS

[WANTED] CARS/

TRUCKS WANTED!!!

All Makes/Models 2002-

2018! Any Condition. Running

or Not. Competitive

Offer! Free Towing! We

are Nationwide! Call Now:

1-888-368-1016

DISH Network $59.99 For

190 Channels. Add High

Speed Internet for ONLY

$14.95/month. Best Technology.

Best Value. Smart

HD DVR Included. FREE

Installation. Some restrictions

apply. Call 1-855-

837-9146

DENTAL INSURANCE

from Physicians Mutual

Insurance Company.

NOT just a discount

plan, REAL coverage for

(350) procedures. Call 1-

877-308-2834 for details.

www.dental50plus.com/

cadnet 6118-0219

VIAGRA & CIALIS! 60

pills for $99. 100 pills for

$150 FREE shipping.

Money back guaranteed!

1-844-596-4376

HEAR AGAIN! Try our

hearing aid for just $75

down and $50 per

month! Call 800-426-

4212 and mention 88272

for a risk free trial! FREE

SHIPPING!

GENERIC VIAGRA and

CIALIS! 100 Pills $99.00

FREE Shipping! 100%

guaranteed. 24/7 CALL

NOW! 888-889-5515

Employment

BE YOUR OWN BOSS!

INDEPENDENT

CONTRACTORS

WANTED

If you have a reliable car and would like to

earn extra money, then why not deliver?

• Deliver 1 or 2 days a week

• Flexible delivery hours

• Work close to home - often in or

near your neighborhood

CONTACT US

1-888-837-4342

www.thebag.com

ASSOCIATION ADS

READER

ADVISORY

The National Trade Association

we belong to has

purchased the following

classifieds. Determining

the value of their service

or product is advised by

this publication. In order

to avoid misunderstandings,

some advertisers do

not offer "employment"

but rather supply the

readers with manuals, directories

and other materials

designed to help

their clients establish mail

order selling and other

businesses at home. Under

NO circumstance

should you send any

money in advance or give

the client your checking,

license ID or credit card

numbers. Also beware of

ads that claim to guarantee

loans regardless of

credit and note that if a

credit repair company

does business only over

the phone it's illegal to request

any money before

delivering its service. All

funds are based in US

dollars. Toll Free numbers

may or may not

reach Canada. Please

check with the Better

Business Bureau 614-

486-6336 or the Ohio Attorney

General's Consumer

Protection Section

614-466-4986 for more

information on the company

you are seeking to

do business with.

ASSOCIATION ADS

Get NFL Sunday Ticket

FREE w/ DIRECTTV

Choice-All Included Package.

$59.99/month for 12

months. 185 Channels

PLUS Thousands of

Shows / Movies On Demand.

FREE Genie HD

DVR Upgrade. Call 1-855-

781-1565 or satellitedeal

now.com/cadnet

Lung Cancer? Asbestos

exposure in industrial, construction,

manufacturing

jobs, or military may be the

cause. Family in the home

were also exposed. Call 1-

866-795-3684 or email

cancer@breakinginjurynews.com.

$30 billion is

set aside for asbestos victims

with cancer. Valuable

settlement monies may not

require filing a lawsuit.

DISH TV $59.99 FOR 190

Channels + $14.95 High

Speed Internet. Free Installation,

Smart HD DVR

Included, Free Voice Remote.

Some restrictions

apply. Call 1-855-270-

5098

HELP WANTED

Home Health Aides

$13.00/hr. after 90 days

$15.00/hr. Premium Shifts

Performance Bonus and

Paid Time Off after 1 yr.

One yr. experience working

for an employer in a caregiver

12/8 A&M

role is required.

To apply, please visit

v-angels/galloway/employment

• Deliver 7 days a week

• Delivery before dawn

• Work close to home - often in or

near your neighborhood

CONTACT US

614-461-8585

www.dispatch.com/delivery

HELP WANTED

MAINTENANCE

PERSON NEEDED

Apt., House, all phases

Must have tools/transp.

Hourly rate 614-783-7464

HOBBY LOBBY

Now Hiring

Seasonal Help

Flexible Hours

Apply within the store at

4219 Buckeye Parkway

Grove City

WANT TO BUY

We Buy Cars & Trucks

$300-$3000.614-308-2626

We Buy Junk Cars &

Trucks. Highest Prices

Paid. 614-395-8775

MISCELLANEOUS

FOR SALE

Large Selection of

Chandeliers to

choose from.

All in working condition.

Going Out of Business!!

614-271-2469

Delta Children's Convertible

4 in 1 Toddler Bed

& Baby Crib, Black, Like

New. 614-323-8728
---
www.columbusmessenger.com

xAdult Care

December 1, 2019 - EASTSIDE MESSENGER - PAGE 11

xClassified Services

Welcome

Adult Care

Carolyn's

Cottage

Private Assisted Living

3036 Woodgrove Dr.

Grove City, OH

Michelle Preston - Owner

614-991-0652

614-376-9761

xPreschool/Daycare

advertise

YOUR DAY CARE OR PRESCHOOL

in the Messenger Newspapers

Call Kathy

For More Info

614-272-5422

Preschool/Daycare

xFocus on Rentals

APARTMENT MANAGERS!

Did This Catch Your Eye?

ADVERTISE YOUR APARTMENT

COMPLEX IN THIS SPACE

And Get Results!

Call Kathy For More Info & Rates

The Columbus Messenger

614-272-5422

Rentals

RENTALS

Property Management

We are always available!

40 yrs. exp in

Certified Property Mgmt.

Reas. Fees. Call Now!

614-783-7464

SHARED LIVING

New Group Home has 4

beds avail. Prefer private

pay through family estate

or will take SSI or Medicaid.

On Eastside Call

Asia at 614-517-8380

VACATION RENTALS

Englewood, Florida

Palm Manor Resort

Within minutes of white

sand Gulf beaches,

world famous Tarpon

fishing, golf courses, restaurants/shopping,

Bush

Gardens. 2 BR 2 BA

condos with all ammenities,

weekly/monthly, visit

www.palmmanor.com

or call 1-800-848-8141

INFORMATION

Look To The

Professionals

In Our

Service Directory

For

Quality

Service

That Is

OUT

OF

THIS

WORLD!

APPLIANCE REPAIR

Washer, Dryer, Stove &

Refrig. Repair 875-7588

CARPET CLEANING

DIRT BUSTERS

Any 5 areas $75. Home

Specializing in Pet Owners

Annuity 10% Bonus

Tax Free. 614-805-1084

CARPET WORK

Installer has carpet for

Rentals, Flip Houses,

Bedrooms. Call or text

740-927-3504

CONCRETE

AJ's Concrete,

Masonry

Good Work - Fair Prices

Block Foundations

Driveways • Sidewalks

Epoxy/Overlay Floors

Bonded-Ins. • Free Ests.

Now Accepting Credit Cards

614-419-9932

EDDIE MOORE

CONSTRUCTION

Quality Concrete Work

Lt. Hauling & Room Add.,

Block Work & Excavation

Stamp Patios,

Bsmt. Wall Restoration

37 Yrs Exp - Lic & Ins.

Free Ests. 614-871-3834

FIREWOOD

Brewer & Sons

Tree Service

FIREWOOD

$175 a Cord

Delivered & Dumped

Best Prices • Same Day Service

614-878-2568

GUTTERS

Low Price-Great Service

5 & 6" Seamless gutters,

covers, siding, gutter clng.

Bill 614-306-4541

EPP

Seamless Gutters

Mikey 614-927-9132

licensed/bonded/insured

1/5 A

1-5

A&M

HAULING

DEAN'S HAULING

614-276-1958

HEATING

HEATING

Complete System Clean & Check

$49.95

Free Carbon

Monoxide Testing

Gas-Oil-Electric Heat/Pumps

All Makes • All Models

43 yrs exp. • Sr. Discount

614-351-9025

HOME

IMPROVEMENTS

C&JHandyman

Services LLC

Minor Plumbing &

Electric

Install Hot Water Tanks,

Dishwashers & Disposals

Also Fencing &

Interior/Exterior Painting

Free Est. ~ 18 Yrs. Exp.

614-284-2100

SINCE 1973

Phil Bolon Contr.

Windows & Siding

Decks, Kitchens, Baths

Room Additions,

Flooring, Roofing

Bsmt Waterproofing

Deal With Small Non-Pressure Co.

45 Yrs. Exp. - Refs. Avail.

Lic.-Bond-Ins.

Free Est. - Financing Avail.

Member BBB Of Cent. OH

O.C.I.E.B. ID #24273

614-419-3977

or 614-863-9912

HOME

MAINTENANCE

JOE'S HOME MAINT.

Home Repairs, Roofing,

Siding, Gutters, Soffits,

Misc. Int. Repairs

Int. Painting

Call Joe 614-778-1460

37 Years Exp.

LAWN CARE

1-5

A/M

LET US MAINTAIN

YOUR LAWN & GARDEN

FOR YOU

Summer, Spring,

Winter or Fall

WE DO IT ALL!!!!

Lawn Cuts, Edging,

Trees & Shrubs, Garden,

Mulching, Hauling,

Garden Pond &

Home Maint.

Free Ests. Low Rates

$20 & Up

Kevin - 614-905-3117

1/5 A

1-5 A

Always On The Move

"No Job

Too Big or Small

We Will

Move Them All!"

614-447-8558

FREE Estimates

Residential/Apts/Commercial Moves

Aaron Allen Moving

Local Moving Since 1956

Bonded & Insured

614-299-6683, 263-0649

Celebrating 60 yrs in business

A Job Well Done Again

A lic. General Contractor

Some Skilled Services

Incl: Painting • Stucco,

Repair•Carpentry•Exterior

Drainage & Home Maint.

Call Today! 614-235-1819

Painter Over 30 Yrs Exp.

Free Est. Reas Rates

Daniel 614-226-4221

❏ London

❏ Main St.

❏ Phone

❏ Walk In

❏ Sales/Mail

Classification:

Classified Services

columbus

Me ssenger

Established in 1974

the Columbus Messenger Co.

3500 Sullivant Avenue

Columbus, Ohio 43204

614-272-5422

Telephone: ______________________________________________

Print your Name: __________________________________________

Last

First

Print your Address: ________________________________________

Print your City ____________________ State: ______ Zip: ________

Print Your Ad Below...

One word each space. BE SURE YOUR TELEPHONE NUMBER OR ADDRESS is

included in your advertisement. The lessor of 4 words or 22 characters per line. We

reserve the right to use abbreviations when actual space exceeds amount purchased.

1. __________

2. __________

3. __________

4. __________

5. __________

6. __________

7. __________

8. __________

9. __________

10. __________

__________

__________

__________

__________

__________

__________

__________

__________

__________

__________

Your Cost Per Line –– 2 Line Minimum

1 Paper ........$1.00 per line 3 Papers ......$2.55 per line

4 Papers ......$3.00 per line

2 Papers ......$2.00 per line

5 Papers ......$4.00 per line

$

MOVING

PAINTING

12/8 A&M

PLUMBING

All About Drains & Plumb.

Will snake any sm drain

$125 + tax. 614-778-2584

ALL IN ONE

PLUMBING LLC

"One Call Does It All"

$25 OFF LABOR

12/8

With This Ad

A

614-801-1508

All Major Credit Cards Accepted

ROOFING

Robinson roofing & repairs

30 yrs. exp. Lifetime Cols.

resident. Lic./bonded/Ins.

Reas rates. Member of

BBB. Dennis Robinson

614-330-3087, 732-3100

SEWING MACHINE

REPAIR

REPAIR all makes 24 hr.

service. Clean, oil, adjust

in your home. $39.95 all

work gtd. 614-890-5296

❏ Eastside Messenger

❏ Westside Messenger

❏ Southeast Messenger

❏ Southwest Messenger

❏ Madison Messenger

❏ All Newspapers

❏ Cash

❏ Check

❏ Money Order

❏ VISA ❏ MC

__________

__________

__________

__________

__________

__________

__________

__________

__________

__________

SNOW REMOVAL

GOOD NEIGHBORS

SNOW REMOVAL

SNOW & SALT SERVICE

PLOWING

• Driveways

• Sidewalks

• Parking Lots

WE ALSO DO CHURCHES

Cell-614-937-0658

614-238-9237

Ask For Bob 12/8

E/SE

TREE SERVICES

BURNS TREE SERVICE

Trimming, Removal &

Stump Grinding.

614-584-2164

TROTT

TREE & LANDSCAPE

Tree Trimming

& Removal

Also Stump Removal

Free Est. - Fully Ins.

Call 614-235-3791

Cell 614-738-0682

__________

__________

__________

__________

__________

__________

__________

__________

Credit Card Information

$5.00 Minimum by fax or

email or $12.50 by phone

________________________

Credit Card Number

______________________

Exp. Date

12/8

A
---
PAGE 12 - EASTSIDE MESSENGER - December 1, 2019

www.columbusmessenger.com

Village of Lithopolis

Fairfield County's "Best Kept Secret"

Downtown

Spotlight

Lithopolis events

The following community events

will btake place in the village of

Lithopolis in the coming months. See

you in Lithopolis!

•Dec. 14: Simply Christmas

events (facebook: Simply Christmas

in Lithopolis).

Open Late 'Til 8!

See you in Lithopolis for Open

Late 'til 8 on Dec. 12. Enjoy, shopping,

restaurants and live entertainment

as we head into the holidays.

Village Council

Lithopolis Village Council meets

the second and fourth Tuesdays

every month at 7:30 p.m. at 11820

Lithopolis Road NW, Lithopolis. Visit

www.lithopolis.org for information.

www.OldeCountryStoreLithopolis.com

Family Owned and

Operated Since 1926

36 East Columbus Street

Lithopolis, OH 43136

(614) 837-4705

Eileen Law Benson & Kathlynn Benson Moling

Proprietors

Faler Feed

Store, Inc.

Serving Central Ohio Since 1936

4360 Cedar Hill Rd. P.O. Box 277

Lithopolis, Ohio 43136

(P) 614-837-4494

(F) 614-837-3273

Falers4360@sbcglobal.net

FalerFeedStore.com

www.pedregalrestaurant.com

44 E. Columbus Street, Lithopolis, OH 43136

Hours:

Mon.-Thur. 11:00 AM - 10:00 PM

Fri. & Sat. 11:00 AM - 10:30 PM

Sun. 11:00 AM - 9:00 PM

Phone: 614-829-2394 Fax: 614-829-2396

DAILY SPECIALS

HAPPY HOUR 4PM-8PM EVERYDAY

Wagnalls Memorial Library

Christmas open house

Wagnalls Memorial Library, 150 E.

Columbus St., Lithopolis, will host a

Christmas open house on Dec. 14 from 10

a.m. to 2 p.m. The event features pancakes

with Santa, photos with Santa, Christmas

music, cookie decorating, and a performance

of "The Grinch Who Stole Christmas"

by Mouth of the Wolf Productions at 10:30

a.m. For information call (614) 837-4765 or

visit www.wagnalls.org.

Your Local Realtor celebrating 20 years of

helping Home Buyers and Sellers!

Tammy Roof Elliott

614-226-6953 (mobile)

TammyRoofElliott.com

The Pump House

Pizza & Burgers

Spirits

614-837-6823 • 614-837-9306

Dine In and Carry Out

17-21 E. Columbus St. Lithopolis, OH 43136

Mon. - 4pm-11pm

Tues.-Sat. 11am-11pm

www.facebook.com/thepumphouse2017

Yesteryear's

Antiques, LLC

614-266-3418

Always buying antiques &

collectibles, odd and unusual

70 E. Columbus St., Lithopolis, OH 43136

Open 7 Days a Week 11am to 6pm

Please "Like & Follow" us on Facebook

&

Hours:

Mon-Thursday 4-10

Friday 4-1am

Saturday 2-1am

Sunday 2-10

9 E. Columbus St.

Lithopolis, OH 43136

(614) 829-3186

PLEASE SUPPORT THESE BUSINESSES!