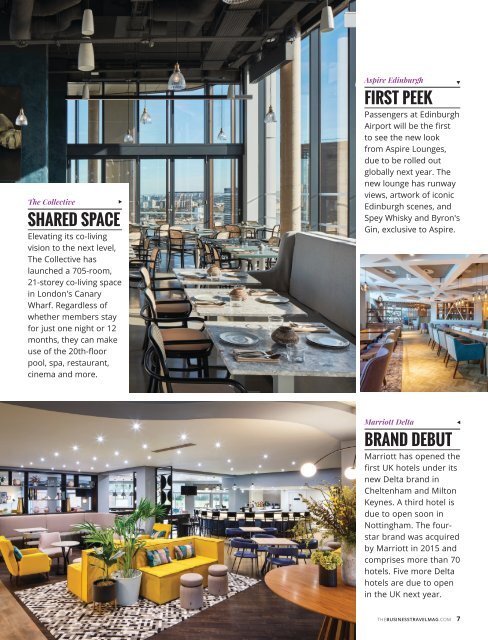 The Business Travel Magazine Dec/Jan 2019/20 The Collective

SHARED SPACE

Elevating its co-living

vision to the next level,

The Collective has

launched a 705-room,

21-storey co-living space

in London's Canary

Wharf. Regardless of

whether members stay

for just one night or 12

months, they can make

use of the 20th-floor

pool, spa, restaurant,

cinema and more.

Aspire Edinburgh

first peek

Passengers at Edinburgh

Airport will be the first

to see the new look

from Aspire Lounges,

due to be rolled out

globally next year. The

new lounge has runway

views, artwork of iconic

Edinburgh scenes, and

Spey Whisky and Byron's

Gin, exclusive to Aspire.

Marriott Delta

BRAND DEBUT

Marriott has opened the

first UK hotels under its

new Delta brand in

Cheltenham and Milton

Keynes. A third hotel is

due to open soon in

Nottingham. The fourstar

brand was acquired

by Marriott in 2015 and

comprises more than 70

hotels. Five more Delta

hotels are due to open

in the UK next year.

THEBUSINESSTRAVELMAG.com

7
More magazines by this user