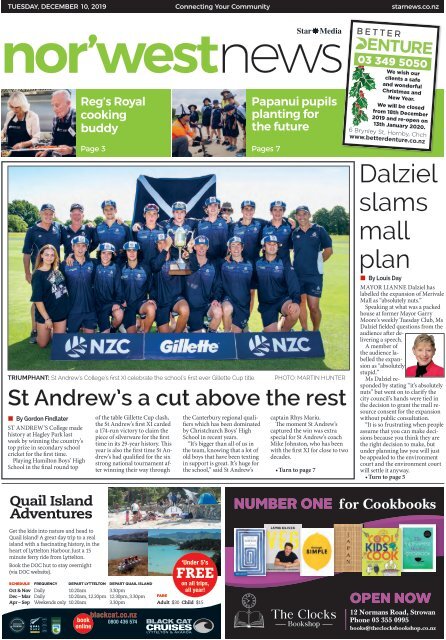 Nor'West News: December 10, 2019
You also want an ePaper? Increase the reach of your titles
YUMPU automatically turns print PDFs into web optimized ePapers that Google loves.
TUESDAY, DECEMBER 10, 2019

Connecting Your Community

starnews.co.nz

Reg's Royal

cooking

buddy

Page 3 Pages 7

Papanui pupils

planting for

the future

03 349 5050

We wish our

clients a safe

and wonderful

Christmas and

New Year.

We will be closed

from 18th December

2019 and re-open on

13th January 2020.

6 Brynley St, Hornby, Chch

www.betterdenture.co.nz

Dalziel

slams

mall

plan

TRIUMPHANT: St Andrew's College's first XI celebrate the school's first ever Gillette Cup title.

• By Gordon Findlater

ST ANDREW'S College made

history at Hagley Park last

week by winning the country's

top prize in secondary school

cricket for the first time.

Playing Hamilton Boys' High

School in the final round top

of the table Gillette Cup clash,

the St Andrew's first XI carded

a 174-run victory to claim the

piece of silverware for the first

time in its 29-year history. This

year is also the first time St Andrew's

had qualified for the six

strong national tournament after

winning their way through

the Canterbury regional qualifiers

which has been dominated

by Christchurch Boys' High

School in recent years.

"It's bigger than all of us in

the team, knowing that a lot of

old boys that have been texting

in support is great. It's huge for

the school," said St Andrew's

PHOTO: MARTIN HUNTER ​

St Andrew's a cut above the rest

captain Rhys Mariu.

The moment St Andrew's

captured the win was extra

special for St Andrew's coach

Mike Johnston, who has been

with the first XI for close to two

decades.

• Turn to page 7

• By Louis Day

MAYOR LIANNE Dalziel has

labelled the expansion of Merivale

Mall as "absolutely nuts."

Speaking at what was a packed

house at former Mayor Garry

Moore's weekly Tuesday Club, Ms

Dalziel fielded questions from the

audience after delivering

a speech.

A member of

the audience labelled

the expansion

as "absolutely

stupid."

Ms Dalziel responded

by stating "it's absolutely

nuts" but went on to clarify the

city council's hands were tied in

the decision to grant the mall resource

consent for the expansion

without public consultation.

"It is so frustrating when people

assume that you can make decisions

because you think they are

the right decision to make, but

under planning law you will just

be appealed to the environment

court and the environment court

will settle it anyway.

• Turn to page 5

Quail Island

Adventures

Get the kids into nature and head to

Quail Island! A great day trip to a real

island with a fascinating history, in the

heart of Lyttelton Harbour. Just a 15

minute ferry ride from Lyttelton.

Book the DOC hut to stay overnight

(via DOC website).

SCHEDULE FREQUENCY DEPART LYTTELTON DEPART QUAIL ISLAND

Oct & Nov Daily 10.20am 3.30pm

Dec – Mar Daily 10.20am, 12.20pm 12.30pm, 3.30pm

Apr – Sep Weekends only 10.20am 3.30pm

blackcat.co.nz

book 0800 436 574

online

CRUISES

LYTTELTON & AKAROA

'Under 5's

free

on all trips,

all year!

FARE

Adult $30 Child $15

NUMBER ONE

for Cookbooks

OPEN NOW

12 Normans Road, Strowan

Phone 03 355 0995

books@theclocksbookshop.co.nz
---
2 Tuesday December 10 2019

Latest Canterbury news at starnews.co.nz

get in touch

GENERAL INQUIRIES Ph 379 7100

CLASSIFIED ADVERTISING Ph 379 1100

Star Media,

a division of Allied Press Ltd

PO box 1467, Christchurch

starmedia.kiwi

NEWS

Georgia O'Connor-Harding

Ph: 021 910 730

georgia.oconnor@starmedia.kiwi

ADVERTISING

Monique Maynard

Ph: 364 7474

monique.maynard@

starmedia.kiwi

sport

Young volleyballers thrive on beach and court

Burnside High School junior girls volleyballers dominated on

both the sand and the court last week.

Page 10

community events

Help with smart devices

If you have questions about your iPad, smartphone or tablet,

head down to GenConnect at Papanui Library from 12.15pm to

12.45pm on Tuesday.

Page 17

tasty bites

Vegan alternatives to favourite dishes

Mushtroom tacos and crispy buffalo cauliflower bites are easy

to make and delicious alternatives to meaty tacos and wings.

Page 19

NOR'WEST NEWS

The best-read local newspaper,

delivered to 15,890 homes

every Tuesday

Harewood, Burnside, Bishopdale, Bryndwr, Fendalton,

Merivale, St Albans, Mairehau, Papanui, Casebrook, Redwood,

Regents Park, Styx Mill, Northwood, Belfast, Strowan.

• The Star

• North Canterbury News

• Selwyn Times

• Ashburton Courier

also publishing:

• Bay Harbour News

• Southern View

• Pegasus Post

• Western News

Everything

You Need For

Christmas at

Celebrating

one year in

business

With

34 on

site car

OPEN 7 DAYS

parks!

254 Cranford Street, St Albans

P: 03 355 6921 E: cafe@kiddscakes.co.nz

www.kiddscakes.co.nz

Baking fresh each day since 1986

Urban Threads

Sewing services repairs & alterations

347 Hills Road, Mairehau

021 0240 7796

janetlawson82@gmail.com

Urbanthreadsnz

e-bike specials

12 MONTHS INTEREST FREE *conditions apply

THE BIGGEST

E-BIkE,

E-SCOOTEr,

E-SkATEBOArd

STOrE IN NZ

NEED YOUR BIKE

SERVICED FOR

SUMMER?

On-site bike mechanic

48 hour turnaround

484 Cranford Street

Phone 03 925 8987

Simply Furniture now trading

upstairs on mezzanine floor.

AvAnti e Sport

German engineered ultra-light frame

with Shimano gears and shifter with a

bosh 250w motor and a 400w battery.

OPENING SPECIAL

NOW $3,999

Receive $500 FREE Accessories

+$500

STORE

CREDIT

MAlvern StAr lA Belle

With a mid-drive motor, colour

Watermelon – also available in black.

Was $2,899

OPENING SPECIAL

NOW $2,599

leHe l3

e-SCooter

Front and back

suspension. LG

battery, rearwheel

drive.

ONLY $999

leHe k1 FoldABle

e-SCooter

White, black, red or

green.

ONLY $1899

HoverBoArdS

300w x2 brushless

motors, 4.4kW 36v

lithium battery.

Hard to beat at

this price.

OPENING SPECIAL

ONLY $299

250W e SkAteBoArd

OPENING SPECIAL NOW $499
---
NOR'WEST NEWS Latest Canterbury news at starnews.co.nz

Tuesday December 10 2019 3

News

Reg's Royal cooking buddy

• By Sophie Cornish

REG STEDMAN is usually lively

and full of jokes – but the 92-yearold

was left speechless when he was

joined by a special sous chef during

his cooking class.

The Duchess of Cornwall visited

the cooking course Mr Stedman

was on during her visit with Prince

Charles to Christchurch.

Everyone on the course had

been vetted by police prior to the

visit, so he knew Camilla would

be there.

But Mr Stedman, from Papanui,

was a little more than

surprised when he was placed

next to Camilla as they prepared

a bean salad.

Mr Stedman, who hails from

Essex in England, and came to

New Zealand in 1958 to marry

his pen pal, was lost for words

standing next to Camilla.

"Backward in coming forward,"

he said.

"It never dawned on me, I was

surprised, I thought 'what have I

done to deserve this?

"I'm quite a retiring person, it

wouldn't have bothered me if I

had been standing behind two or

three people."

Mr Stedman shook Camilla's

hand and spoke with her about

her farm in Gloucestershire, and

whether the food was organic.

"In hindsight, I realised all eyes

were probably on me because I

was with the knife!," he said of

the security staff which follow

the Royals.

After the cooking demonstration

at the Salvation Army building in

the central city, Camilla helped

to launch the new Senior Chef

cookbook, Easy Recipes for One

or Two.

Senior Chef, is a free programme

for older people living

alone or with one other person

and is funded by the Canterbury

District Health Board and

Pegasus Health.

It has a focus on connecting

the community, combating loneliness

and providing a new sense

of purpose.

Active ageing is a key focus of

Camilla's work, who said she was

"delighted" to be at the event,

during their six-day visit of New

Zealand.

"It's a real pleasure to be for

once surrounded by people my

age. I'm feeling a lot better and

I'm so impressed by everything

you're doing here.

"I do think it is so important as

you grow older to be able to cook.

MASTERCHEF: Reg Stedman was lost for words when the Duchess of Cornwall appeared beside

him at his cooking class.

PHOTO PEGASUS HEALTH

This school will re-energise older

people to like cooking again, and

eating good food for your body

and your mind is vitally important

as you get older," she said.

• GO ALONG: The Senior Chef programme is free and runs

classes through-out the city and in Rangiora, Kaiapoi, Lincoln,

Ashburton and Kaikoura. Contact Pegasus Health for more

information.

Dentures not fitting properly?

Ill-fitting dentures can affect your teeth &

mouth, make eating difficult, & just plain hurt!

Using Duchenne's exclusive Digicare system,

we can reline your dentures for optimal fit

and comfort, and you'll be surprised how

quick and convenient the entire process is.

Call 0800 866 8448

now to book your

FREE consultation

at 1 of our 7 clinics

throughout Christchurch

duchenne.co.nz

SILVERSTREAM

MEDICAL CENTRE

• New patients welcome

• Primary Health Care for

your whole family

• Only minutes from Kaiapoi

Town and Belfast/Northwood

"Exceptional care, Exceptional people."

www.silverstreammedicalcentre.co.nz

9/42 Silverstream Boulevard, Kaiapoi Ph (03) 595 1489
---
4 Tuesday December 10 2019

Latest Canterbury news at starnews.co.nz

News

Rangi Ruru students'

cookbook launch a success

• By Bea Gooding

A YEAR of hard work has paid

off for a group of Rangi Ruru

Girls' School entrepreneurs after

last week's successful launch

of their unique cookbook -

"Spoonful of Spice."

Year 13 students Lucy Johnson,

Tulsi Lathia, Sarah Lawrence,

Victoria Park and photographer

Mette Van Pallandt made sure

their project was more than just a

cookbook.

The 100-page spread dished

up recipes, stories and "nuggets

of wisdom" from migrants and

refugees in Christchurch.

Spoonful of Spice head of production

Victoria Park felt proud

because the cookbook was not

for the benefit of the team, but for

the benefit of the community.

"It feels great to be doing something

that will also be helping

others as well," she said.

The last two years saw the

team involved with The Lion

Foundation Young Enterprise

programme, where the venture

was presented to a panel of business

experts and the idea came to

fruition.

City councillor Anne Galloway,

also involved in the project, was

present at the launch, sharing

PUBLISHED: A group of year 13 Rangi Ruru Girls' School

students have compiled a book of recipes, stories and "nuggets

of wisdom" from which all proceeds will go to charity.

how food "evokes memories of

old" - just like her grandmother's

steamed pudding.

Said Cr Galloway: "One day

we talked about how wonderful

it was bringing different cultures

and food together - and the idea

was born."

Head of finance Tulsi Lathia

said the team learned a great deal

from the immigrant women they

collaborated with.

"What I've learned is they're

always determined to do something

positive and share what

they know in the community,"

she said.

Spoonful of Spice is now available

for purchase at Rangi Ruru

and on their website. All proceeds

will go to Immigrant Resettlement

Services in Christchurch.

TREEmendous

start to 2020

NOR'WEST NEWS

THE NEXT school year is

already looking like it will be

off to a TREEmendous start for

Burnside Primary School which

will be getting new outdoor

learning spaces in the new year.

TREEmendous – a joint initiative

between Project Crimson

and the Mazda Foundation has

selected four schools across the

country including Burnside

to receive $10,000 towards

bringing their outdoor learning

dreams to life.

The school was selected alongside

Hobsonville Point Primary

School, Roslyn School and Stanhope

Road School to transform

an unused area of their school

grounds into an outdoor learning

area through the planting of

native trees and shrubs.

Six finalists also received $500

towards their projects.

The TREEmendous team will

help each school develop an area

that encourages a deeper connection

with nature and the chance

to learn first-hand about the environment

in an outdoor setting.

Burnside Primary plans to

transform an unused area next

to its field by planting hundreds

of native trees, as well as adding

seating, worm farms, native ed-

HOORAY: Burnside Primary

School will be getting a brand

new outdoor space next year. ​

ible plants and further developing

its existing butterfly garden.

Principal Matt Bateman said

Burnside aims to create pupils

that are successful in a changing

world with the challenges

that they will face with climate

change.

"Pupils need to respect their

environment and be the instruments

for change. To do this,

they need a place where they

feel connected with the environment,

which is why it is so important

to have outdoor learning

spaces in schools," he says.

• For more information visit

http://treemendous.org.nz

New store now open

Owned by local Podiatrist Charlotte Russell

Featuring our personally selected footwear to provide

fashionable, functional, adjustable, orthotic friendly footwear

New European MEPHISTO footwear range exclusive to The Shoe Room

Soft air technology for

light weight, cushioned

footwear ideal for

summer

Fashionable • Functional • Footwear

Unit 3, 355 Riccarton Rd,

Upper Riccarton, Christchurch

P. (03) 929 0927

E. info@theshoeroom.co.nz

W. theshoeroom.co.nz

Pataka

Christmas

shoP!

oPEN 7 days

10am - 4.30pm

768 Marshland Road (North End)

'CEREC' & cosmetic dentistry

Wisdom tooth removal

Painless, high quality dentistry

Sedation dentistry

Experienced, conscientious team

Experienced hygienists

OPEN SATURDAYS

355 9380

144 Cranford Street

www.stalbansdentalcentre.co.nz

I'm usually more about action than reflection but this year

I'm really looking forward to a Christmas break with my

family and twin daughters.

We've just finished a busy November with 26 written sales

for the month. As the market tends to wind down over the

Christmas holidays now is the perfect time to think about

putting your house on the market in the new year. If you'd

like to talk all things real estate, please give me call.

CAMERON BAILEY
---
NOR'WEST NEWS Latest Canterbury news at starnews.co.nz

Tuesday December 10 2019 5

News

Judicial review in August

• From page 1

"If the law says you don't notify

then there is no ability to listen to

the community and neighbours,"

she said.

This comes as a date for the judicial

review over the expansion,

which was launched by Merivale

residents, has been confirmed for

August 31.

Merivale resident and former

barrister John Burn, who is

spearheading the review alongside

Aikmans Bar and Restaurant

owner Frank van Schaijik, did

not share the Mayor's perspective

on the matter.

"The Mayor has indicated that

the legislation gave the commissioner

little choice, but had he

accepted that a significant effect

on traffic was likely, he and the

council would have been obliged

by that legislation to hear public

opposition," he said.

Mr Burn felt the public deserved

input into the proposal.

A city council hearings panel led

by commissioner Ken Gimblett

concluded there would be no

adverse effects on the community,

and the expansion would have

"negligible" impact on Papanui

Rd traffic volumes. City council

head of resource consents John

Higgins said the panel appreciated

The revolution

in heat pumps

is here now!

APPEAL: The hearing for the judicial review against plans to

expand Merivale Mall will not happen until August.

the public concerns but was bound

by the statutory process under the

Resource Management Act.

The mall's owner, TEL Property

Nominees Ltd, was granted

a resource consent from the city

council, without any public consultation,

in August to almost double

the size of the mall, build a threelevel

car park and 24 homes.

If the judge finds the decision to

grant the resource consent without

public consultation to be unjust,

they will ask the city council to

reconsider their decision.

The expansion was proposed to

The revolution in heat pumps is here now!

Say hello to Fujitsu's latest lifestyle range

The Fujitsu e3series

The brilliant

heat pumps from Fujitsu

be built on the existing outdoor car

park, with retail and food premises

on the ground floor and car parks

spread across three levels on top,

reaching a height of 12m.

The majority of the 24

two-storey, three-bedroom

townhouses would sit along the

western boundary facing Akela

St and four would be located on

Aikmans Rd.

A spokeswoman for mall

manager AMP Capital said they

respected the judicial process and

would not be commenting on the

matter further at this stage.

Cycling for grandad

• By Matt Slaughter

WILLIAM HICKFORD'S

grandad Roy Pemberton cycled

the length of New Zealand to

raise money for St John New

Zealand seven years ago.

Now, William will do the same

to raise money for people like Mr

Pemberton, who was diagnosed

with dementia earlier this year.

The year 13 Cashmere High

School student will be joined by

his friend since childhood, fellow

Cashmere student Holly Ffowcs

Williams on the South Island leg

of the ride.

They have started a Givealittle

page aiming to raise $10,000 for

Alzheimer's New Zealand and

are calling themselves Team

Wolly.

Said William: "Since he [Mr

Pemberton] got diagnosed with

dementia this year, I thought I

just wanted to help support him

and what our family's going

through because it's quite a tough

time so I just wanted to give

back to him by raising funds for

Alzheimers New Zealand."

William will start his ride at

Cape Reinga on December 28

and bike about 100km a day until

January 23, when he estimates

he will finish the about 3000km

journey to the bottom of the

South Island.

NUMBER ONE

Holly will meet William on

January 8 in Picton and they will

ride to the finish line together.

Holly said she was inspired

to join William on part of his

journey after seeing the effects of

Alzheimer's and dementia firsthand

in a volunteer role she does.

"In the past few years, I've been

a volunteer at a Nurse Maude

Hospice Shop in Christchurch

and we get a lot of customers who

are from lots of different retirement

villages across Christchurch

and a few have come in with

family members that have had

dementia and Alzheimer's, so it's

just been really heartbreaking to

see, she said.

"I think putting my love

cycling towards something like

this, it's the way I can [help]."

Holly said the ride will be hard

work but the cause she and William

are riding for will make it

worth it.

"The most of done in one day

has been about 112km and some

days we're doing at least 100km

with a good radical climb, so it's

going to be really mentally challenging

but I think you've got to

remember why you're doing it."

William said his grandad and

granny Hilda Pemberton are

appreciative of what he is setting

out to do.

for Children's Books

e1 : efficiency

e2 : environment

e3 : economy

Website: www.pshc.co.nz

Finance available

FREE consultation from your local

Accredited Heat Pump Expert

Phone today: 03 381 6950

INSERT DEALER DETAILS HERE

NEW ZEALAND'S FAVOURITE AIR ®

Fujitsu's Catechin Filters are

approved by the Asthma and

Respiratory Foundation NZ's

Sensitive Choice ® programme.

Email: info@pshc.co.nz

OPEN NOW

12 Normans Road, Strowan

Phone 03 355 0995

books@theclocksbookshop.co.nz

FG1441

Metro is making

shopping easy

this Christmas.

Swipe your Metrocard on board until

23 December and you're in to win

some great Canterbury experiences.

Visit metroinfo.co.nz

to plan your travel and

check out the dozens

of prizes up for grabs.
---
6 Tuesday December 10 2019

Latest Canterbury news at starnews.co.nz

REAL ESTATE

242 63 Main Hinau Road, Street, Redcliffs Fendalton - "As-Is, Where-Is"

Auction: Thursday, 14 March 2019 Unless Sold Prior

NOR'WEST NEWS

An Must unparalleled Be Seen To Be lifestyle Believedin magical Moncks Bay

4 bedroom | 2 bathroom | 2 lounge | 1 dining | 2 garage | 2 off street | www.harcourts.co.nz | Listing #PI62556

4 bedrooms | 2 bathrooms | 3 living rooms | 1 office/study | 2 car-garage | 2 off-street parks | Listing Number SM0166

A handsome modern home constructed of

Treasured block for ease by two of care generations and timeless and appeal offering Moncks Bay incorporating from Shag Rock

a truly once in a lifetime opportunity, this and right along the Pegasus Bay coastline.

tantalizing Spacious home living, including upon a open-plan 2853m2 family section This property can potentially be subdivided

which furthers your options and adds

enjoys living, an dining overwhelming and kitchen, tranquil plus separate setting and

is presented lounge. to the market on an uninsured another element of interest for buyers.

"as-is, Four where-is" bedrooms basis. (master with en suite), plus Ensconced in a private lane that sits across

Situated family bathroom, in the tightly laundry held and locale double of magical garage from the waterfront, this property is also

Moncks Excellent Bay, flow this to property sunny outdoor makes a living memorable in positioned to enjoy the area's celebrated

first neatly impression landscaped and 764 was sqm constructed grounds. in the microclimate and is located within easy reach

1960s but has naturally received extensive of the beaches, boating facilities, Barnett

A superbly convenient location, handy to

modern enhancements including a Bruce Park and the amenities in both Redcliffs and

Westfield and zoned for Ilam School, Boys'

Banbury architectural renovation in 2004. Sumner.

High and Girls' High.

Resort-style serenity is provided by the With floors needing repiling and being sold

colourful This beautifully Clivias presented as well as home the combines established uninsured, deemed uneconomical to repair,

greenery modern and comfort palms and trees classic that style border for the this unique "as-is, where-is" opportunity is a

swimming undeniable and appeal. spa pool, with the outstanding real game changer with the feel good factor

views Don't and miss majestic your opportunity cliff face to backdrop secure only and is guaranteed to attract attention. Your

escalating a beautifully the property's finished slice visual of this appeal. highly

earliest viewing is advised.

Spacious desirable neighbourhood.

living areas are complemented Open Homes: Wednesdays, Saturdays

by Contact the sizeable the agent Kwila without deck, delay water to view. feature and Sundays 1:00pm - 1:45pm.

and idyllic alfresco surroundings which See you at the open homes or for a private

have Auction: previously Thursday hosted 19 a December wedding 2019 and from could viewing or for more information contact

continue 10.00am to (unless be the scene sold prior) of many Gold memorable

Auction Alison Carter of Harcourts Grenadier

occasions. Rooms, 471 Papanui Road

Ferrymead/Sumner (Licensed Agent REAA

Skylights, Viewing: Contact the superb agent use for viewing of timber, times. a

2008) on 384 7950 or mobile 0274 318 960.

contemporary colour scheme and the

Contact:

magnificent stone fireplaces create an

Cameron Bailey, Licensed Agent REAA 2008

incredibly 027 555 inviting 7079 or 03 ambience 352 6166indoors where

you'll cameron.bailey@harcourts.co.nz

find four double bedrooms, two

bathrooms www.cameronbailey.harcourts.co.nz

and a relaxing sunroom area that

comes complete with a spa bath.

Gold Real Estate Group Limited

With Licensed an Agent expansive REAA 2008 lawn area and the

picturesque garden at the rear of the property

both epitomise peace and privacy and offer

access up to the top of the section where

you can sit and admire the ocean vistas over

A year in review

When I was a child the year used to drag

itself slowly through its 12-month cycle,

but now, so many decades later, it's

practically breaking speed records! 2019

has been a strong year for highlights and

the challenges have felt ever-so-slightly

easier – or maybe I'm just finally learning

to adapt and modify my response to

continued stress.

It's true, sometimes you're so busy with

the mechanics of your occupation that the

opportunity to reflect on the bigger picture

doesn't present itself, but it's so worthwhile

when you do. So, where did I get it right? In

the interests of simplicity, I said 'yes' more

than 'no'. 'Yes' to requests for help, especially

if they delivered on our desire to give back

or lift up those members of our community

who are vulnerable or in great need. 'Yes'

was also the answer when asked if I'd speak

or present on personal or professional

topics including business culture, resilience,

consistent high performance and

mentoring. And some of the biggest 'yeses'

went to incredible people who approached

us about the possibility of joining our

company in the search for a business

that provided inspiration in addition to a

rewarding career path.

I firmly believe this commitment to getting

good people on board, people that embrace

our culture and our values, is why we hold

the awards for No. 1 Residential Office

nationally and internationally for Harcourts

and No. 1 Franchise in New Zealand for earnings

per consultant. A firm 'no' (or two) also made

an appearance, however, when I met people

considering a real estate career while wanting

to avoid accountability, hosting open homes or

training – the list went on, unlike my tolerance! I

may be old-fashioned, but it will always be a 'no' if

you front up to an interview in jeans or arrive late,

under-prepared and over-entitled.

So, what else has stood out this year? An active,

even marketplace with interest rates at very

low levels making first-home owners feel more

optimistic than they have for a long time. More

and more legislation and an acceptance that

the AML (anti-money laundering) requirements

which began last year, whilst inconvenient at

times, are here to stay. Landlords have also had to

continue incorporating changes in the way their

rental properties are presented, maintained and

tenanted, and this looks unlikely to abate.

Professionally, we have also had the incredible

benefit of Chris Kennedy (formerly the CEO for

Harcourts NZ) joining us as General Manager.

To those of you that read my monthly column, I

wish you a Christmas that makes you feel happy

rather than stretched and stressed, and a 2020

full of promise.

Lynette McFadden

Harcourts Gold Business Owner

Harcourts NZ Inspirational Women Ambassador

Ph. 0274 320 447

lynette.mcfadden@harcourtsgold.co.nz

Back Row, left to right: Rebecca Johansson,

Jackie Youngman, Nikila Creagh, Doug Soper,

Margaret Danzer, Rebecca Knight.

FOLLOW US ON...

Front Row, left to right: Chris Kennedy, Lynette

McFadden, John McFadden, Kyle Sutherland.
---
NOR'WEST NEWS Latest Canterbury news at starnews.co.nz

Tuesday December 10 2019 7

News

Papanui pupils plant

natives for the future

Win for STAC

in schools' top

• By Bea Gooding

ATTENTION: Landscaping Co-ordinator Justin Farrell from

GSL (Grounds and Services Ltd) instructs pupils from Papanui

Primary School how to plant the trees. PHOTO: GEOFF SLOAN

TAKING ownership of the

environment was what motivated

Papanui Primary School students

to lend a hand in the planting

of native vegetation along the

Christchurch Northern Corridor

(CNC).

The planting took place at the

newly constructed Cranford St

roundabout over three days last

week, teaching the young helpers

the importance of maintaining

their environment.

More than 60 students between

five and ten-years-old participated,

planting native seeds sourced

locally such as Kowhai trees.

The school's principal Paul

Kingston said the children often

worked together in a buddy system

which developed a "positive

school culture."

Mr Kingston believed more

young people should get involved

in taking care of local environments.

"There is only one earth - start

small with your own community

and your own actions," he said.

The $240m motorway project

began construction in November

2016, aiming to reduce congestion

on routes flowing in and out

of Christchurch.

CNC Alliance engagement

manager Melanie Williams said

the planting on the CNC motorway

was a "big part" of the plan.

"The project won't just be a ribbon

of asphalt through the landscape;

the concept is to create a

parkland corridor which softens

the edges of the new motorway,"

she said.

Ms Williams said the children

understood the positive impact

on the environment by planting

trees and were "really keen" to

help out.

"Along the corridor, we'll be

planting 400 trees and 800,000

plants and shrubs. This will bring

native birds back into the area

and create more oxygen."

Construction of the CNC

motorway is expected to be

completed halfway through

2020.

cricket tourney

• From page 1

"It's been an amazing journey

this year with these boys.

It's been 18 years I've been

coaching St Andrew's, it's the

first time we've been here and

we've won it. We've just got a

great team culture and they've

worked for each other," said

Johnston.

After being put into bat,

St Andrew's opening pair of

Mariu and Harrison Darling

made a composed start before

picking up the run rate and

producing what turned out to

be a match-winning opening

stand of 142 before Mariu fell

for 89.

The solid foundation allowed

the team to reach 276/8 from

their 50 overs.

"We were really surprised

that Hamilton put us into bat

and Rhys [Mariu] and Harrison

[Darling] set the tone

this morning with some great

batting and we knew if we got

more than 250 it was going to

be too many for them to chase

down," said Johnston.

St Andrew's went about

defending their total by restricting

Hamilton Boys' early

in their chase which resulted

in a required run rate of eight

an over by the 20th over. The

pressure eventually took its toll

resulting in Hamilton Boys'

being dismissed for 102 in the

35th over.

"We knew that is we set the

right fields and bowled to them

it was going to be really tough

for them," said Mariu.

The St Andrew's captain

capped off the great day by being

named as the player of the

tournament at the closing ceremony

after scoring 254 runs

at an average of 50.80 while

leading his side to their first

title. Alongside Mariu in the

tournament team where fellow

St Andrew's players Jesse Frew,

Zak Foulkes and Jordy Frew.

NUMBER ONE

for Crime & Mystery

OPEN NOW

12 Normans Road, Strowan

Phone 03 355 0995

books@theclocksbookshop.co.nz
---
8 Tuesday December 10 2019

Latest Canterbury news at starnews.co.nz

Your Local Views

Twenty years supporting

Bishopdale community

THE BISHOPDALE Community

Trust celebrated its anniversary

last week. Community

Development Worker Chris

Coles reflects on 20 years of

supporting the Bishopdale

Community.

The initial idea for the trust

was formed well before the date

of the anniversary- when the

trust was incorporated under

the Charitable Trusts Act on

December 2.

Eric Park, a member of the

local methodist parish, had

seen the work that was being

done by the Bryndwr Churches

Community Support Society and

decided to research the need in

Bishopdale for a similar group.

He visited local churches to

gauge their interest and support

and, with representatives of local

groups, the trust was founded.

Although Eric is no longer part

of the trust, many original trust

CELEBRATION: Chris Cole

reflects on 20 years of the

Bishopdale Communty Trust.

PHOTO: GEOFF SLOAN ​

members are still actively involved

today.

The trust was set up to help

residents and families develop

skills for family and community

life, and to help people with

needs to be part of the community.

Over the past two decades,

it has successfully achieved these

aims, meeting the changing

needs of the community with an

impressive range of activities.

Looking back, BCT has run

courses on leadership, self-esteem

and confidence, parenting,

first aid, cooking and many more

helpful skills and activities.

It's run family camps, garage

sales, antique shows, games and

has mentored, supported and

welcomed new residents to the

area.

The trust has been home to

groups interested in gardening,

craft, yoga, walking, and

games, as well as hosting regular

coffee mornings and community

lunches where folk can get

together, have a bite to eat and a

good old natter.

None of this would have been

possible without active involvement

and support from the wonderful

Bishopdale community.

Whilst usually employing a

small number of part-time staff,

a huge amount of work over the

years has been carried out by

volunteers. Currently BCT has

over sixty volunteers; people who

care enough to freely give their

time to make Bishopdale a better

place to live, work and play.

Here's to the next twenty years.

Roadworks cause

restaurant closure

• By Georgia O'Connor-Harding

A BANGLADESHI restaurant

has become a casualty of the

ongoing Riccarton Rd roadworks.

Nobanno manager Christopher

Palma said the roadworks

were the "last straw".

The site near the intersection of

Clarence St and Straven Rd is its

third location in Christchurch in

12 years.

The restaurant first opened

on the corner of Armagh and

Colombo St in the central city

before it was destroyed in the

February, 2011, earthquake.

"We lost everything in the

earthquake," Mr Palma said.

They then moved to Ferry Rd

in Ferrymead, but the business

suffered there too from roadworks.

"We have gone through loss

after loss, it is heartbreaking," he

said.

The city council halting roadworks

on Riccarton Rd to help

businesses leading into Christmas

had come too late, he said.

"It is not enough because the

damage has been done," Mr

Palma said.

The year of ongoing roadworks

NOR'WEST NEWS

had put the restaurant in debt,

he said.

Mr Palma is now job hunting.

Since February, Fulton Hogan

has been working on the

Harakeke to Matipo Sts section

of Riccarton Rd.

Dumplings on Riccarton

owner Peter Wah said it has

been a very "strenuous" past six

months.

On top of a family tragedy

which forced the business to

close temporaily, the roadworks

were also causing major issues

attracting customers.

"It has been quieter, it is very

hard to make up for all those

losses we will never catch up.

In any business, you need car

parks on the front," Mr Wah

said.

But he had very loyal customers

who have helped in every way

they can.

They don't plan to close.

He is concerned businesses

on Riccarton Rd will lose most

of its car parking following the

roadworks.

The city council said when

work is completed there will be

time-restricted parking provided

to the east of Rotherham St and

south of Riccarton Rd.

Our region of Canterbury can

boast easy access to many

wonderful recreational spaces

and as we head into the summer

holidays, this is a great way to

spend time with friends or family.

We love taking our dog down to

the Groynes, so I enjoyed being

invited as local MP to be a judge

at the opening of the new Kaiapoi

Dog Park. Dog parks provide

great opportunities for community

building and I'm thrilled we now

have another venue for our

residents to meet new friends and

connect to old ones.

My community constituent

clinics in the Papanui RSA are

proving popular, with great uptake

within the community. I enjoyed

meeting with Northern Christchurch

constituents in back-to-back

meetings last week. I'm here to

help, so if you or someone you

know needs help, please email

belfast@parliament.govt.nz .

Meeting with the White Ribbon

riders during their ride through

Canterbury to raise awareness

around domestic violence was

a great way to hear more about

this powerful initiative and the

life-changing work so many of our

fellow Cantabrians are undertaking

to prevent domestic violence

and mental-health issues in our

communities. Well done to all the

participants and everyone who

supported them.

From my family to yours, we

wish you a Merry Christmas and

a peaceful and healthy new year.

I'm looking forward to continuing to

work hard for you in 2020. I entered

my previous career in the mentalhealth

field because I wanted to

make a difference and politics

is a way of continuing to make

that difference. It's through being

accessible to you and ensuring our

region has the infrastructure and

resources we need that I can be an

effective and relevant MP.
---
NOR'WEST NEWS Latest Canterbury news at starnews.co.nz

Tuesday December 10 2019 9

WITH MARY IN FAITH

TĀTOU KO MERE E WHAKAPONO ANA

FROM THE BOARD

As the school year draws to a close, it is wonderful to see students' hard work and

commitment honoured at prizegiving ceremonies. Well done on your achievements.

This year the Board has been working closely with the Bishop and the Diocese Property

Group in overseeing planning for our new school at Papanui in 2023. Alongside

technical work, students and staff have been contributing, through workshops, a

survey and providing input into the development of our cultural narrative, which will

be reflected in the new school buildings and grounds.

While this whole new layer of work progresses, Marian College continues to deliver

high quality teaching and learning and providing wonderful opportunities and

experiences for students. Thank you to Marian staff, Marian College Foundation,

PTA, the Bishop and the Catholic Diocese of Christchurch for your support this year.

We have been thrilled by the steady growth of Rauru – for past students and staff of

Marian College, St Mary's College Christchurch and McKillop College. To reconnect

with us, please register on the Marian website and follow us on Facebook.

Finally, congratulations to our 2019 graduates.

We trust the gospel values will guide you well,

as you venture forth beyond the school gates.

We wish you all the very best.

With blessings

Jan Paterson, Chair

Congratulations to Marian College Dux

2019 Rebecca Everingham (left) and

Proxime Accessit Samantha Price (right).

ESSAY WINNER

CHRISTMAS HOME BAKING

Congratulations to Malaika Sequeira who has won the Catholic Agency

for Justice, Peace and Development prize, senior category. This

year the essay and multimedia topic was Enabling Communities –

Everyone has a part to play. Malaika's winning essay described how

to enable communities to ensure the spirit of participation is extended

to everyone, regardless of intellectual, physical, mental or social

challenges. She showed a sound understanding of the principles of

Catholic Social Teaching, such as Human Dignity, the Common Good,

Solidarity and Subsidiarity. Malaika won a cash prize for herself and her

class and the Justice and Peace Cup for Marian to appreciate for a year.

www.mariancollege.school.nz | 03 385 8449 | exec@mariancollege.school.nz

The giving season lasts all year at Marian, with every student completing at

least six hours of meaningful service within the school and community. Recently

some of our Year 9 and 10 students organised gift-wrapped home baking and

hand-made Christmas cards for families attending the Tafesilafa'i Early Learning

Centre. Marian College has a long tradition of service – both students and staff are

actively involved. Pictured here from left are Anna-Naina Aileone, Taylor Poole-

Nicholas, Emma-Grace Bainbridge and TELC Manager Palepa Letiu. TELC is

located alongside Marian College on Barbadoes Street.

Like and

follow us!

@mariancollegechch
---
10 Tuesday December 10 2019

Latest Canterbury news at starnews.co.nz

Young volleyballers thrive

on beach and court

• By Jacob Page

BURNSIDE HIGH School junior

girls volleyballers dominated on

both the sand and the court last

week.

Not only did their indoor volleyball

team win back-to-back

South Island titles but Rosa Vesty

and Taylah Holdem took out the

beach title as well.

The duo will head to Auckland

in February to represent their

school at the nationals, where

they finished fifth last year.

Teacher in charge of volleyball

Sam Ryburn said they had a

good chance of medalling this

year.

"Last year they made the quarter-finals

and lost to the eventual

winners so if they can improve

on that they should go close."

He said both Rosa and Taylah

were key parts in the indoor success

having been named co-most

valuable players at the South

Island championships at Pioneer

Stadium.

Burnside took down Cashmere

High School 25-22, 25-9 in the

final.

Both teams had to overcame

an early loss in crossover pool

play to make the final.

Burnside suffered a loss to

Christchurch Girls' High School,

while Cashmere High went

down to Richmond's Waimea

College.

Ryburn said the team refocused

well after the loss and was

able to bounce-back.

SPORT

TALENT: Burnside High School junior volleyball team won the

South Island title for the second year in a row.

"They came at us and really

pushed us but sometimes you

need a loss like that in a tournament

just to get you on the right

track again."

He said it was great the team

could win back-to-back Canterbury

and South Island titles which

was a first for the school.

BRIGHT FUTURES: Rosa

Vesty, left, and Taylah Holdem

capped a stellar week by

claiming the South Island junior

beach volleyball title at the

Pioneer Stadium Pit. ​

"We have a lot of depth in

volleyball at the school and a

supportive environment which

helps bring success at both a junior

and senior level over a number of

years," he said.

NOR'WEST NEWS

Avonhead

Park

Cemetery

name

change

A CEMETERY remembering

those who lost their lives in the

February 22, 2011 earthquake

could be one step closer to

having its name changed.

The city council is seeking

feedback on whether the Avonhead

Park Cemetery should be

renamed the Avonhead Memorial

Cemetery.

It has gone out for consultation

following a request from the

Friends of Avonhead Cemetery

for the name change and this is

supported by the Quake Families

Trust.

The cemetery was developed

in the late 1970s as a lawn

cemetery without visible grave

markers to give the cemetery a

park-like appearance.

Following the February 22

2011 earthquake, the city council

designed an interment site for victims

at Avonhead Park Cemetery.

Feedback can be made to the

city council until January 22.

To make a submission go to ccc.

govt.nz and click on the city

council's "Have Your Say" page.

Fantastic selection

of quality gifts

affordable for any budget

Free

luxury gift

wrapping

Remember to see us for your

prescription, travel and summer

needs prior to the holidays.

Bishopdale Pharmacy

37 Bishopdale Court, Bishopdale Village Mall

Phone 03 359 8302 www.bishopdalepharmacy.co.nz

Follow us on facebook
---
NOR'WEST NEWS Latest Canterbury news at starnews.co.nz

Tuesday December 10 2019 11

Diana Isaac & Ngaio Marsh Retirement Villages

Respite care available now

Here when you need us

Holiday time, house relocation, cold and flu season, and

post-hospital recovery can challenge us all. However, these

times can be especially challenging for loved ones requiring

care and for family members providing that care.

Let us care for a while

Time spent in respite care can range from a single night to a

few weeks. It can provide a welcome break and peace of mind

knowing that your loved one will receive round-the-clock care

from friendly, experienced care teams.

"You won't find any better than this. The way you're treated and cared for."

John Henman – next of kin to Faith Henman, respite care temporary resident

Respite care with a difference

• Dedicated and caring staff

• Serviced apartments or private rooms

with ensuites

• Seasonal Delicious menu – providing choice

and prepared fresh on site by village chefs

• myRyman care – our custom-built electronic

care app, installed in every care room

• Ryman Engage programme – activities

and outings

For more information

phone Tracey on 386 3018,

1 Lady Isaac Way, Mairehau

For more information phone

Anna or Marie on 352 5140,

95 Grants Road, Papanui
---
12 Tuesday December 10 2019

Latest Canterbury news at starnews.co.nz

News

Young humanitarian wins

Fred Hollows award

• By Claire Booker

BEN DOWDLE has been

recognised in New Zealand's

first-ever Fred Hollows Humanity

Awards.

The Mairehau Primary School

pupil was presented a certificate

last Friday at a school assembly.

The awards, which were open

to all Year 6 students throughout

New Zealand, are part of a global

movement created to acknowledge

passionate children striving to

improve the world around them.

A spokeswoman from the Fred

Hollows Foundation said humanity

in New Zealand's young people

was "deeply evident" in the

large number of students across

the country who were nominated

for the awards.

Said assistant principal

Amanda Chisnall, who nominated

Ben for the award: "Ben is a

kind and caring student who goes

out of his way to help others. He

embodies our Mairehau Primary

School values of respect, believe,

aspire and achieve.

"Nothing is ever an issue for

Ben. He always puts in 110 per

cent effort into everything that

he sets his mind to. Ben truly embodies

the values of compassion,

integrity and kindness."

YOUNG ACHIEVER:

Mairehau Primary

School assistant

principal Amanda

Chisnall was

pleased to see

Year 6 student Ben

Dowdle presented

with a Fred Hollows

Humanity Award by

William McGrath

from Specsavers. ​

About 70 students were nominated

for the awards across New

Zealand, and Ben said it was an

honour to receive the certificate.

He "felt special that not everyone

could be nominated" and is

looking to develop his leadership

skills within the school.

"It's nice to receive awards for

the effort that is put in," he said.

13-year-old

achieves dream

MONET SCHUTTE has achieved

her dream at 13-years-old.

From a very young age, Monet

has had a dream to perform

internationally.

And last week, she received a

standing ovation at the Vienna

Concert Hall in Austria after

performing her original song,

Like You Did Before.

"Singing on stage in Vienna

was a dream come true. I am so

excited that I now have reached

one of my musical goals. It was

the first song I ever wrote, and

it has a very special meaning,"

Monet said.

Written about a friend with

depression, the song won the International

Sounds of Children's

Rights Songwriting Competition

held in Austria.

She was awarded two prestigious

gold coin awards for her

achievement.

She wrote and recorded the

song with her mentor Sacha Vee

at SOLE Music Academy earlier

this year and decided to enter it

into the competition sponsored

by UNICEF.

Said Monet: "One of my

friends, unfortunately, suffers

from depression and so I wrote

this song about how I tried to

NOR'WEST NEWS

IMPRESSIVE: Monet Schutte,

13, performed her song Like

You Did Before at the Vienna

Concert Hall, Austria and won

the International Sounds of

Children's Rights Songwriting

Competition. ​

help."

When Monet received the

news she had made it to the top

10 contestants from around the

world, she only had two months

to prepare for the trip and get

performance-ready.

This was a challenge, since

Monet had to learn piano to accompany

herself.

However, with the guidance

from Vee she put in the time and

is now reaping the reward.

THE ASHLEY SUITES, CARE AND

SUPPORT WHEN YOU NEED IT

Comfort, style and convenience are very important when it comes to helping you feel at

home. Russley Village's brand new residential care facility and serviced apartment complex -

The Ashley Suites come with these elements as standard.

From our one and two bedroom serviced apartments offering an extensive range of

personalised medical and support services to deluxe care suites for health and medical

care, all available in the elegant surroundings of the village.

We pride ourselves on the level of compassion we provide for every one of our residents,

ensuring the care they receive meets their personal needs making sure they always feel

at home.

For more information on

the Ashley Suites and to take a

tour of the care facility and village

make an appointment today.

russleyvillage.co.nz

03 357 9392

73 Roydvale Ave,

Christchurch

RESIDENTIAL AGED CARE | SERVICED APARTMENTS | INDEPENDENT LIVING
---
NOR'WEST NEWS Latest Canterbury news at starnews.co.nz

Tuesday December 10 2019 13

HARCOURTS GOLD

FOR REVENUE PER SALES CONSULTANT

2013-2019

MEET OUR...

TOP PERFORMERS

HARCOURTS GOLD TOP CONSULTANTS FOR NOVEMBER 2019

1 2 3 4 5

CAMERON BAILEY

PAPANUI

MARY TURNBULL

PAPANUI

MICHELLE FU

PAPANUI

MILENA BARTLETT

NEW BRIGHTON

MARK WANG

PAPANUI

10

6 7 8 9 10

ASH SUTHERLAND TODD

PAPANUI

DEBBIE SOPER

PAPANUI

MARK O'LOUGHLIN

REDWOOD

LEEANN MARRIOTT

PAPANUI

SHARON TRUMPER

PAPANUI

When your brand includes the top Harcourts office out

of 900 around the world, it's clear that you've got an

extraordinary team.

So for these consultants to earn the position of one of the top

ten real estate sales consultants at Harcourts gold is truly a

remarkable achievement.

They are phenomenally good at what they do; highly skilled,

highly trained and dedicated to delivering exceptional results for

property owners. I am extremely proud to work with these real

estate professionals.

JOHN MCFADDEN

BUSINESS OWNER HARCOURTS GOLD

John McFadden

Business Owner,

HARCOURTS GOLD AREINZ

Lynette McFadden

Business Owner,

HARCOURTS GOLD AREINZ

Chris Kennedy

General Manager,

HARCOURTS GOLD AREINZ

Left to Right: Kyle Sutherland Executive Manager, HARCOURTS GOLD PAPANUI

Margaret Danzer Sales Manager, HARCOURTS GOLD REDWOOD

Nikila Creagh Sales Manager, HARCOURTS GOLD EASTSIDE

Doug Soper Liaison Manager, HARCOURTS GOLD AREINZ

HAPPY

PAPANUI 352 6166 International Division (+64) 3 662 9811

REDWOOD 352 0352 PARKLANDS 383 0406 NEW BRIGHTON 382 0043

FOLLOW US ON
---
14 Tuesday December 10 2019

Latest Canterbury news at starnews.co.nz

NOR'WEST NEWS

Christmas gift guide

SUPA KARTS VOUCHERS

Put your family to the test, and see who is the fastest.

We have something for everyone including young

children from 4 years + in our special tandem karts.

Bookings are recommended to avoid disappointment.

Supa Karts, 91 Buchan Street, Sydenham

RECYCLED CLOTHING & MORE

Come in and see our huge selection of designer

clothing, family clothing, menswear amd much more.

We have great Christmas gift ideas for the whole family,

available at any of our three Christchurch stores.

All stores open 7 days from 10am to 4pm.

SaveMart – The Recycled Clothing Store

AQUATIC THRILL RIDE

NZ's largest aquatic thrill ride is now just 90 minutes

from Christchurch! At 13.5m high, the Conical Thrill

is an exciting slide guaranteed to make you laugh and

smile as you whoosh down! Be part of the action at

Hanmer Springs Thermal Pools & Spa.

Hanmer Springs Thermal Pools & Spa

THE GIFT OF FUEL

Caltex Cranford Street thank all customers for their

continuing support and also advise we sell MTA gift

vouchers as an ideal Christmas gift. We are open

throughout Christmas & New Year breaks. We wish you

our compliments of the season and happy safe motoring.

Caltex Cranford Street

CLEANSER + ExFOLIATOR =

GLOWING SKIN

100% Natural and sustainable. All Combo Sets are gift

wrapped in a seagrass box. FREE Travel set valued at

$35.00 with every Combo Set sold before Christmas.

Use the code "XMAS" for your free stocking filler now.

Corbin Rd, www.corbinrd.co.nz

SAY IT WITH FUDGE THIS

CHRISTMAS

The Fudge Cottage has something for everyone this

Christmas including gluten-free, dairy-free and even

sugar-free items!

The Fudge Cottage, Arts Centre, Christchurch

Phone 03 366 7650, www.fudgecottage.co.nz

BAILEYS

1 LITRE

The number one selling

liqueur in the world!

FESTIVE FAVOURITE

Christmas wouldn't be Christmas without the taste

of Baileys Irish Cream! Buy one as a gift and one for

yourself! Available now, along with Baileys limited

release Caramel, and a huge range of other gift ideas

from Super Liquor Papanui.

Super Liquor Papanui, 17c Main North Road, Papanui

CHRISTMAS GOODIES

Freshly baked daily, delicious Kiwi cuisine and

Christmas treats. Open 7 days, 7am - 5.30pm.

Wishing you wish you a safe and Merry Christmas.

Edgeware Village, 365 0802

Bishopdale Village Mall, 359 1020

MAKE THE SWITCH TODAY

Specialising in E-Cigarettes, Vaporizers and smoking

essentials, Shosha has the highest quality products for

beginners and advanced vapers. With Every new starter

kit, you get a free 10ml E-juice of your Choice.

You can find us at 18 Main North Rd, Papanui

and 413 Main South Rd, Hornby, Christchurch.
---
NOR'WEST NEWS Latest Canterbury news at starnews.co.nz

Tuesday December 10 2019 15

In your

neighbourhood

Qualified team with a focus

on vehicle safety

The team at Allan's Tyre & Auto, Burnside

includes fully qualified, MTA-approved

and highly experienced mechanics, who

can turn their hand to most types of vehicle

repairs and maintenance.

Although they are Mitsubishi specialists

with over 20 years' experience between

them, they welcome cars of all makes and

models and the friendly team are there to

make sure that all their customers leave in a

vehicle that is safe on New Zealand roads.

They can give your car a thorough check,

and their well-equipped workshop and

expertise means that if your car needs

repairs or new parts to pass its WOF, these

can be carried out on-site with as little

disruption to your busy life as possible.

Their focus is on making sure customers

leave in a vehicle that is safe – they provide

wheel alignments, which improve handling

and fuel economy, service and repair CV

joints, check and replace cambelts, and will

inspect your brakes to make sure they are

fully operational.

Summer is a key time to check your

car's coolant – before heading off on your

summer holidays.

In short, at Allan's Tyre & Auto they can

do anything from changing oil to extend

the life of the engine, inspecting your car

exhaust and muffler to make sure it is

not leaking, right through to checking,

repairing or replacing your car's suspension,

shock-absorbers and steering.

Although their experience means they

can work on any car, Allan's Tyre & Auto

is the only independent workshop in

Christchurch specialising in Mitsubishi.

That means they are experienced with

Mitsubishis of all models including the

newer ones with common rail diesel and

they have the latest Mitsubishi Factory Scan

tool. This can code keyless entry remotes,

immobiliser keys and scan your vehicle for

fault codes.

Located at 164 Kendal Avenue, the

business has expanded as they continue

to welcome customers old and new. Visit

allansauto.co.nz to find out how they can

keep your vehicle safe and on the road this

summer. Open Monday to Friday, 8am-

5pm and Saturday, 8.30am-1pm. Call in

or telephone (03) 358 9399 to book your

vehicle in.

AUTOMOTIVE

REPAIRS

Well equipped repair shop incorporating

our mechanical workshop, tyre,

WOF & brake servicing.

Making car repairs easy

& affordable...

The team at Allan's Tyre & Auto are here to help.

Ph: 358 9399. 164 Kendal Ave, Burnside

Email: info@allansauto.co.nz

Hours: Mon-Fri 8am-5pm, Sat 8:30am-1pm

178 Papanui Road, Merivale

(3 doors down from St Albans Street)

Ph: 03 355 5942

In business 58 years - same location!

Now is a great time to get your

duvets, blankets & drapes cleaned!

Fabulous haircuts for the

entire family this Christmas

Our fully qualified stylists can make sure

you're looking your very best going into Christmas!

Loyalty card: every

8th haircut is Free

student & pensiOner

discOunts

Open 7 days - nO appOintment necessary

Bush inn Cnr. Riccarton & Waimairi Rds. Ph 03 348 7008

south city 555 Colombo St. Ph 03 366 0619
---
16 Tuesday December 10 2019

Latest Canterbury news at starnews.co.nz

NOR'WEST NEWS

Wishing you a very

special Holiday Season

from the team at

Harcourts Gold Redwood

The team at Harcourts

Gold Redwood would like

to take this opportunity to

wish you all a very happy

and safe Christmas.

Margaret Danzer

MANAGER, HARCOURTS GOLD REDWOOD

May Your Days be

Merry and Bright!

The hard working Redwood team took time out to celebrate Cup Day with a "Peaky

Blinders" themed breakfast. This cohesive team take their work seriously but ensure

that there is always time to enjoy themselves.

Merry Christmas from the team at Harcourts gold Redwood! We

hope that you are taking a well-deserved break to recharge from

a busy year. Go safely, wherever your travels take you, and enjoy

this special time of year with family and friends. Thank you to

all of those who have entrusted us with helping them sell or buy

property during 2019. If your New Year brings plans of moving,

buying or selling, do get in touch as we would love to help.

Harcourts Redwood consultants are working

right through the Christmas break, so don't

hesitate to call the office at any time or to call

any of the consultants direct.

The holiday break could be the perfect time for you to make a

real estate decision. So, our consultants are available to show

you properties and to list your home during the time the office is

closed. We are always available to give you real estate advice.

WE ARE LOOKING FOR

TALENTED INDIVIDUALS

WITH THE DRIVE AND

DEDICATION TO BECOME

A VALUED PART OF THE

HARCOURTS GOLD TEAM.

Christmas

HOURS

CONTACT MARGARET

TODAY IN CONFIDENCE.

P 03 352 0352 M 027 432 8022

margaret.danzer@harcourtsgold.co.nz

Harcourts gold is a successful, forward

thinking real estate company with a thriving

auction business and a group of some of the

most successful consultants in Harcourts.

So whether you want to start a career in

real estate or are an established consultant

looking to grow your business, the culture at

Harcourts gold will see you shine!

All gold offices will close on

the 20th December at 5pm,

and will reopen on the

6th January 2020 at 8.30am

Meet the Award-Winning Team...

MARGARET

DANZER

(MANAGER)

MARK

O'LOUGHLIN

JENNY

LANEY

PEDRO

PARK

CHRIS

CULLENS

ROB

ILOTT

CHRISTEEN

FLYNN

CYRENA

XIAO

ROSIE

ROBINSON

TARUN

SINGH

ANKITA

THAKUR

CHRISTOS

MERENTITIS

FOLLOW US ON...

Planning to buy or sell? We can assist with

all your real estate needs, wherever you

live in Christchurch. Contact a member of

the Harcourts gold Redwood team today –

we'd love to help!
---
NOR'WEST NEWS Latest Canterbury news at starnews.co.nz

Tuesday December 10 2019 17

Email georgia.oconnor@starmedia.kiwi

by 5pm each Wednesday

Knit 'n' Yarn

Tuesday, 1-3pm, at Bishopdale,

Wednesday, 1-2.30pm, at Redwood,

Thursday, 1.30-3.30pm,

at Fendalton, and Friday, 10amnoon,

at Papanui

Take your knitting, crochet or

other craft projects and have fun

with a social group. This is a free,

drop-in event.

Bishopdale, Redwood, Fendalton

and Papanui libraries

Mahjong

Saturday, 1-3.30pm at Shirley,

Monday, 2-4pm at Papanui

Go along if you are interested

in playing or learning about

mahjong. Free. Register for the

Shirley Library event.

Shirley and Papanui libraries

Housie

Wednesday, 7.15pm

Go along for a social night out

and play housie as a fundraiser

for the Christchurch United

Football Club. Food and drink

available for purchase.

Papanui League Clubrooms,

53 Sawyers Arms Rd

SeniorNet

December 10, 7pm

SeniorNet Papanui will host

an open forum for people to

go along and learn about all

things technology. Learn how to

use your smartphone, tablet or

laptop and the mysteries of the

internet. Phone 359 9586.

310 Sawyers Arms Rd, Papanui

Rummikub

Thursday, 1-2.30pm at

Fendalton, Monday, 1-3pm at

Bishopdale

Play rummikub – an exciting,

interactive strategy game. Free,

drop-in event.

Fendalton and Bishopdale

libraries

Scrabble

Tuesday, 10.30-noon, at

Redwood, Wednesday, 1-3pm, at

Bishopdale, and 1.30-3.30pm, at

Shirley

Play Scrabble with a friendly

group. Head along when you

can. No bookings required. All

materials supplied. Free event.

Redwood, Bishopdale and

Shirley libraries

Bolivia card game

Thursday, 1-3pm

Learn a new game. Cards and

cardholders are supplied. Phone

941 7923 for more information.

Bishopdale Library

Christmas Carols singalong

December 18, 6pm

A Christmas carol singalong

will be held on Tuesday, December

18 by the tennis courts at

Redwood Park. Carols will start

at 6 pm, and there will be a free

sausage sizzle and activities for

kids.

Redwood Park

Senior mens' exercise group

Friday, 11-11.45am

Low impact exercise classes

designed for seniors. Wear

something comfortable and turn

up – no registrations required.

Participants are asked to bring a

$3 koha as a donation. Phone 375

0850 for more information.

Northcity Church, 95a Sawyers

Arms Rd, Papanui

JP Clinics

Tuesday, 10am-1pm, at Papanui

and Shirley, Wednesday,

10am-1pm, at Bishopdale, Saturday,

10am-noon, at Fendalton

A justice of the peace will be

available to witness signatures

and documents, certify document

copies, hear oaths, declarations,

affidavits or affirmations,

as well as sign citizenship or

rates rebates applications.

Papanui, Shirley, Bishopdale

and Fendalton libraries

Activity Zone

Monday, 3.45-4.45pm

The after school club has technology,

games, crafts and books.

This is suitable

for children aged six to 10 and

caregivers are asked to remain

in the library during the session.

Free – no bookings required.

Shirley Library

After School Activities

Friday, 3.30-4.30pm

Suitable for ages eight to 13. Go

along for an interactive session

with technology, games, crafts

If you have questions about

your iPad, smartphone

or tablet, head down to

GenConnect at Papanui

Library from 12.15pm

to 12.45pm on Tuesday.

Papanui High School

students will be there to

help you for free.

and books. Take your friends, or

make some new ones.

Papanui Library

Super Saturday Storytimes

Saturday, 11-11.45am

Encourage learning through

stories. This is an interactive

programme with stories, songs,

rhymes, craft and play. Free.

Shirley Library

Tabletop Games

Monday, 11am-5.15pm

Play some tabletop board

games. Free event, no bookings

required.

Shirley Library

Cards Club

Friday, 1.30-3.30pm

The weekly cards club is on

every Friday, join the fun. Free,

no bookings required.

Shirley Library

Now that exams are over,

kickstart your career in 2020!

WEB DEVELOPMENT & DESIGN / SOFTWARE DEVELOPMENT / EARLY CHILDHOOD EDUCATION / SECURITY /

BUSINESS TECHNOLOGY / ULTIMATE FOUNDATION SKILLS / COUNSELLING / MINISTRY & LEADERSHIP

You are invited

to our

INFO NIGHT

10 th December

7:00pm

Dessert Served!

Christchurch Campus:

50 Hazeldean Road

FREEPHONE: 0800 834 834 | HELLO@VISION.AC.NZ | WWW.VISIONCOLLEGE.AC.NZ

Auckland

25 Springs Road,

East Tamaki

Pukekohe

52 Franklin Road,

Pukekohe

Hamilton

21 Ruakura Road,

Hamilton East

Christchurch

50 Hazeldean Road,

Addington
---
18 Tuesday December 10 2019

Latest Canterbury news at starnews.co.nz

NOR'WEST NEWS

Sunday

22 MaRCh

#Areyouupforit?

14km, 6km

Community

Fun Run Event

EntER now

www.city2surf.co.nz

City 2 Surf 2020_Enter Now
---
NOR'WEST NEWS Latest Canterbury news at starnews.co.nz

Tuesday December 10 2019 19

Tasty Bites

Vegan alternatives to favourite dishes

Taco lovers - you owe it to

yourselves to indulge in these

delicious meatless tacos.

These can also be enjoyed

with soft tortillas

Tacos de Hongo

(Mushroom Tacos)

Serves 2

Ingredients

For the black beans

1 can black beans, drained and

rinsed

For the mushroom filling

6 cloves garlic, finely chopped

vegetable stock

30 button mushrooms, stemmed

and chopped

2 ½ Tbsp (non-spicy) chilli powder

1 ½ Tbsp paprika (plus more for

tomato salad)

1 Tbsp dried minced onion

sea salt

¼ cup fresh lime juice (from

about 2 limes), divided

2 ½ Tbsp natural tomato sauce

For the tomato salad and

guacamole

2 tomatoes, diced

½ red onion, diced

1 handful of fresh corriander,

chopped

1 avocado

garlic powder

For serving

4 lettuce leaves

6 hard-shelled tacos

hot sauce (optional)

Directions

Saute the garlic in a bit of

vegetable stock in a saucepan over

medium heat; add the chopped

mushrooms and sauté, stirring

occasionally, until mushrooms

shrink and become chewy. Add

the chilli, paprika, dried minced

onion, sea salt, and a couple of

tablespoons of fresh lime juice;

stir well to combine. Add the

tomato sauce and cook, stirring

occasionally. Taste and add more

tomato and/or spices, if desired.

Make the tomato salad:

Combine the diced tomatoes, red

onions, and corriander in a bowl

and squeeze some fresh lime juice

over; season with paprika and sea

salt to taste.

Make a quick guacamole:

Mash the avocado in a separate

bowl and season with sea salt, garlic

powder, and lime juice to taste.

Prepare a bed of lettuce for the

black beans.

Heat the taco shells. Build each

taco, starting with the mushroom

base, followed by the guacamole,

then finish with the tomato

salad on top. Drizzle with hot

sauce (if using). Serve with black

beans (simply heat and season as

desired).

Replace greasy wings at

a party with these spicy,

crunchy cauliflower bites.

Crispy Buffalo Cauliflower

Bites

Makes 6 cups

Ingredients

⅔ cup brown rice flour

2 Tbsp almond flour

1 Tbsp tomato paste

2 tsp garlic powder

2 tsp onion powder

2 tsp smoked paprika

1 tsp dried parsley

1 head cauliflower, cut into

medium florets

⅓ cup hot sauce or barbecue

sauce

Directions

Preheat oven to 230 deg C. Line

two trays with baking paper.

Combine the brown rice flour,

almond flour, tomato paste, garlic

powder, onion powder, paprika,

parsley, and ⅔ cup of water in a

blender. Puree until the batter

is smooth and thick. Transfer to

a bowl and add the cauliflower

florets; toss until the florets are

well coated with the batter.

Arrange in a single layer on the

trays, making sure that the florets

do not touch each other. Bake

for 20-25min, until crisp on the

edges. They will not get crispy all

over while still in the oven.

Remove from the heat and let

stand for 3min to crisp up a bit

more. Transfer to a bowl, drizzle

with sauce and serve immediately.

NUMBER ONE SUPPLIER

TO THE NZ JET BOATING

COMMUNITY FOR OVER

50 YEARS

• Part Boats & Hulls

• Turn Key Packages

• New Jet Units

• Custom Fabrication

• Expert Advice

SERVICING

John Connelly

03 962 0505

john.connelly@hamjet.co.nz

• Spare Parts Retailer

• Jet Unit Refurbishment

• Engine Tune-Ups

• Insurance Repairs

• Impellor Reconditioning

Discover Christchurch's

best pet

accommodation

• Daycare - all breeds

• Long stay/short stay

Call now to

book in your

fur baby,

inspections

welcome

anytime!

ALAMEDA

KENNELS & CATTERY

271 Dyers Road | Ph 384 1297

www.alameda.nz

mens and WOmens

clOtHing

all 30%

off RRP

Open 7 days

dressmart HOrnby, main sOutH rd

pH 03 344 5304
---
20

Tuesday December 10 2019

REAL ESTATE

Timeless classic with

magnificent views

24 and 26 Bayview Road, Charteris Bay

Asking price: $950,000

4 bedrooms | 1 bathroom | open plan living/dining/kitchen

3 car-garage | 1 boatshed | Listing 10651

Latest Canterbury news at starnews.co.nz

NOR'WEST NEWS

Architecturally designed to blend in

to the hill and maximise the sun and

stunning uninterrupted views this 1977

pole house has an air and feel of quality

and longevity about it.

Over engineered and extremely strong,

there are 4 double bedrooms, bathroom

and laundry etc. on the middle level whilst

on the 3rd floor lovely large open plan

living, dining and kitchen flowing on to

a large North, Northwest facing deck,

perfect for drinking in those captivating

and ever changing views.

Cleverly designed to maximise the

winter sun whilst giving some relief from

the summer sun this property is both

sheltered from the prevailing wind and

very very private. Is set over 1723m2 on

2 separate titles which gives the option of

selling one if required. The properties are

both beautifully landscaped and planted

attracting plentiful birdlife and birdsong.

The lower level of the house is a

triple garage with excellent storage and

workshop areas and gives internal access

in to the house. Classical simplicity with

floor to ceiling windows, well insulated

and double glazed, all timbers are treated

and the property is on mains water and

sewerage. Good access and off-street

parking round off a very appealing

package.

This is the first time to the market but

my vendors are retiring reluctantly and

this very special and unique property will

need to have a new owner. Includes boat

shed on Paradise Beach.

Viewing by appointment only.

Tim Dunningham

Min Sarginson Real Estate

(Licensed Agent REAA 2008)

Phone 027 651 5474

or 329 4161

Are you A buSineSS?

Looking

for more

customers?

Do you have a

new product or

service?

Is brand

awareness

important for you?

Do you want to

be a leader in

your field?

Would you like

to personally

showcase your

business product or

service?

Would you like

to talk to over

10,000 potential

customers in

just 3 days?

Are you looking for

an opportunity to

grow your position

in the market?

Be part of the

most successful

Home and Living

Show in the

South Island.

Enjoy an

excellent return

for your

investment.

Call Lisa on 021 800 809 today!

Star Media Home & Living Show 26-28th June 2020 is where you need to be!

new exhibitor packages now available to get you started. Affordable prices and payment terms.
---
2

NOR'WEST [Edition NEWS datE]

Latest Canterbury news at starnews.co.nz

Tuesday when December you 10 have 2019 21 your

AUTOMOTIVE PROFESSIONALS

ROADSIDE ASS

Give us a call if you have a

Specialists offer

expert servicing

plus

Whatever servicing or repairs your

vehicle needs, Avonhead Automotive

Ltd in Racecourse Road have the

experience and expertise to keep it

running in optimum condition.

They specialise in warrant of fitness,

servicing, tune ups, cambelts, clutches,

brakes, transmission flushes, coolant

flushes, tyres and diagnostics. They can

also provide a loan vehicle, so you are

not inconvenienced while your vehicle

is in the workshop.

However, not only do owners Michelle

and Wayne and their team at Avonhead

Automotive Ltd offer friendly, efficient

service and repairs for all types of

vehicle, they also provide a valuable

a valuable bonus

WOF Servicing Tune ups Cambelts Clutches Brakes

Transmission flushes Coolant flushes Tyres and diagnostics

bonus for their customers. As part of the

nationwide Club Evolution, Avonhead

Automotive Ltd gives six months free

roadside assist to all customers that have

their vehicle serviced there. That means

if you break down, you will get the help

you need to get you back on the road.

More information can be found on the

website clubevolution.co.nz.

Plus, WOFs are only $45 at Avonhead

Automotive Ltd. So, give them a call

on 342 7123 to book in for a warrant, a

service, or for any vehicle repairs.

Avonhead Automotive Ltd is at 126

Racecourse Road. Opening hours are

7.30am to 5.30pm Monday to Friday and

8am to 1pm on Saturday.

Michelle and Wayne at Avonhead

Automotive will make sure your

visit is helpful and efficient.

Avonhead Automotive

For full terms and conditio

PARKER

AUTOMOTIVE

All Automotive Repairs and

Servicing including 4WD

Suspension Brakes & Cambelts

WOF, Tyres, Batteries

23B Birmingham Drive,

Middleton

Ph 03 982 4268

Mobile 027 331 0382

Email: parkerauto89@yahoo.com

s

m

a

r

t

mall

edium

• Panel beating

• Spray painting

Fast

turnaround

utomotive

epair

echniques

Smart repairS (NZ) Limited

automotive refinishers

272 Lichfield St (Fitzgerald Ave end)

Ph 377-0409

Free Check & Assessment

ROSES

AUTO ELECTRICAL

rosesautoelec@gmail.com

A vonhead

utomotive

free

6 months roadside assist

with any vehicle servicing

• automatic transmission

flushing service

• Wof • tune-ups • suspension

• batteries • neW tyres • oil &

lube service • courtesy cars

• full mechanical repairs

oPen 6 days (sat until 1pm)

126 racecourse road

Ph 342 7123 or 027 495 6600

Your LoCAL

TYrE SPECIALIST

New & Quality Used Second-hand Tyres

Alloy Wheels

Replacement Rims

Puncture Repairs

www.jcmdirect.co.nz

8c Birmingham Drive,

Middleton

Next to Addington Raceway

343 0099 or 027 22 63 805

NEW

LOCATION

95 Gasson St

The Automotive Lamp Specialists

New and Used Lamps for Cars, Trucks,

Vans, 4WD and Motorhomes

PH 0800 225 483 | 95 Gasson Street, CHRISTCHURCH
---
22

Tuesday December 10 2019

Latest Canterbury news at starnews.co.nz

NOR'WEST NEWS

If you want more information about an item or to contact a

seller, visit www.postanote.co.nz and search the ID#

2007 Marco 590 Souwester H/T

Honda Accord Euro

Nissan Navara D21 Kingcab

Farm Trailer, Wooden 3 x 2.4m

STX 38 John Deere Ride-on Mower

Toyota Caldina

$49,500 ONO

ID 31132

$5,200

ID 32147

$3,500

ID 29769

$200

ID 28570

$1,600

ID 32452

$2,300

ID 32035

Honda Accord Euro CL 9

Planters Made From Recycled Pallets

2005 Lexus GS300

2006 Subaru Legacy 2.0 GT Turbo Si

Aluminium Boat & Warranted Trailer

1999 Subaru Legacy TSR

$6,000

ID 29801

See Seller

ID 27855

$10,000

ID 31728

$8,000

ID 31456

$2,500

ID 28339

$2,700

ID 32009

Case JX75 Tractor

Skope 3000kW, 2000kW

Quality 9-piece Designer Lounge Suite

Toyota Avensis Wagon 2.0 Auto

Sharp Convection Microwave

Yakima Rocketbox Pro 12

$37,000

ID 32227

$35

ID 31769

$450

ID 31265

$7,999

ID 31664

$150

ID 31210

$350

ID 31731

Toyota Caldina

Outdoor Chairs (Pair)

2005 Toyota Camry

Galvanised Crown Anchor 1.5kg

Sulking Dolls

2015 Kymco Super 8 Scooter

$2,300

ID 32035

$25

ID 32483

$3,700

ID 32505

$10 each

ID 32545

$50

ID 32487

$2,075

ID 28152

1971 Triumph 1500 Hutchwilco Pulsar Lifejackets

2006 Ford Falcon

COWS! Cups,Plates Toastie Pie Machine

Tooline Drop T Slidesaw

Mountain Bike Full Suspension

See Seller

ID 28865

$150

ID 32486

$4,000

ID 32453

$200

ID 32478

$150

ID 32485

$1,800

ID 32473

Tandem Trailer 5.5m x 2.2m

Telephone Stand

Nissan Pulsar Euro LS

Toyota Hilux Surf

Table and Chairs

EZGO Electric Golf Cart

OFFERS

ID 32475

$25

ID 9870

$5,000

ID 32414

$9,000

ID 32389

$300

ID 32550

$4,000

ID 32463

Extraction Fan, Heater & Light

York Mag Air R700HR

2005 4WD Mitsubishi Triton

Car Polisher

Shoprider Mobility Scooter

Keeway Cruiser 250

$150

ID 32367

$200

ID 30550

See Seller

ID 32328

$15

ID 32322

$1,200

ID 32318

$2,500

ID 32529

1119h20chch
---
NOR'WEST NEWS Latest Canterbury news at starnews.co.nz

Tuesday December 10 2019 23

Classifieds Contact us today Phone our local team 03 379 1100

Community Events

ALCOHOLICS

ANONYMOUS, If you

want to have a drink that's

your business. If you want

to stop, we can help. Phone

0800 229-6757

Gardening

& Supplies

A GARDEN OR

LANDSCAPING TIDY

UP? Shrub, hedge &

tree pruning, Lawns,

Gardening, consistently

reliable general property

upkeep, Dip. Hort. 10

yrs experience, One off

tidy ups or on-going

service. Nick's Garden

Maintenance. Keeping

your garden beautiful.

Free Quote. Ph. 942-4440

& 022 264 7452

Holiday

Accommodation

Australia QLD

SUNSHINE

COAST

RESORT

AlEXAnDRA hEADlAnD

All Units Have Ocean Views.

Heated Pools, Spa & Sauna,

Free Wifi, Tennis &

Mini Golf.

ChECk OuR gREAT

SpRing/SummER

SpECiAlS

www.mandolin.com.au

0061 7 5443 5011

Livestock & Poultry

POINT of lay Brown

Shaver Hens Available

from Dec 18th, $30 each,

Ph or Txt 027 474 1723

Personals

CHARMING OLDER

SINGLE MAN.

In NW area, Finan OK,

seeks a slim stylish affable

lady for company. Ph/TXT

027 6594425

To Let

HOMESITTERS reqd

from 20th Dec. Beautiful

homes/pets. Ph Lisa

03 359 2323 www.

townandcountryhomesit.

co.nz

• New homes

• Extensions

• Renovations

Trades & Services

Builder

Brandon Taw

Phone 027 370 2572

enquiries@tawbuilders.co.nz

www.tawbuilders.co.nz

Trades & Services

HOUSE

CLEARING

Are you

moving house

or trying to

downsize?

Call All Clear

Canterbury. We work

with you to recycle,

sell and dispose of

unwanted items.

Ph: 03 260 0934

or 021 078 4553

raewynlcooke@gmail.com

www.allclearcanterbury.co.nz

ROOF

PAINTING

Rope & harness

a speciality,

no scaffolding

required,

30 years of

breathtaking

experience.

FREE QUOTES

Exterior staining,

exterior painting,

moss and mould

treatment and

waterblasting

Phone Kevin

027 561 4629

Trades & Services

BATHROOM

RENOVATIONS

complete service from

start to finish, free quotes,

ph Dave 027 334 4125

BEST BATHROOMS

full renovations

specialists, LBP builder,

free quote, all building

property maintenace ph 03

383 1927or 027 245 5226

ciey@xtra.co.nz

BRICKLAYER

George Lockyer. Over

40 years bricklaying

experience.Uk trained.

Insurance work, EQC

repairs. Heritage

brickwork & stonework

a speciality. No job too

small. Governers Bay.

Home 329 9344. Cell

027 684 4046. E mail

georgelockyer@xtra.co.nz

CARPET LAYING

Exp. Repairs, uplifting,

relaying, restretching.

Phone John on 0800

003181, 027 240 7416

jflattery@xtra.co.nz

• Light Commercial

• Repairs and

Maintenance

concrete & paving

• Driveways

• Earthquake repairs

• New Home Specialists

• Patios & Paths

tel: 0508 873 7483

email: sales@affordableconcrete.co.nz

www.affordableconcrete.co.nz

house and garden

home

cleaning

Trades & Services

DRIVEWAYS

Exposed Aggregate

Stamped Concrete Plain

Concrete Resurfacing

Things we offer...

Competitive/affordable pricing

Attention to detail

Professional service

free quotes/insurance scopes

Cell 0278 145 848

www.drivecrete.co.nz

PAINTER

Michael Kelly Painters

Locally owned and

operated family

business.

25+ years Experience

• Painting • Wallpapering

• Interior • Exterior

Free Quotes

gardening

services available

throughout

christchurch

your one stop shop for home services

www.anextrapairofhands.co.nz

info@anextrapairofhands.co.nz

0800 535 355

Trades & Services

Phone

Michael 0212 649 492

michaelkellypainter@hotmail.co.nz

Trades & Services

PLUMBER

NEED A PLUMBER

Call us now for fast friendly service.

Get your problems sorted out

quick smart - on time!!

Phone for a

FREE

quote now.

Phone 03 377 1280 | Mobile 021 898 380

VIDEO PRODUCTION

business video

PRoduCTion

A video will bring your business alive & into your

customers mind.

Promote your services or business with a

professionally created video with us

• Corporate and Business

video a speciality

• Competitive rates

• 25 years experience

• Start to finished product

• Professional quality

guaranteed

PHone KeRRY 021 635 083

WINDOW TINTING

tintawindow

advanced film solutions

99% uv block

fade protection

heat control

reduce glare

25 Years Experience

privacy films

frosting designs

non-darkening films

Workmanship Guaranteed

Lifetime Warranties on Most Films

UV

block

Free Quotes Canterbury and Districts

03 365 3653 0800 368 468

Trades & Services

ELECTRICIAN

Prompt & reliable

registered electrician

with 24 years experience

for all residential and

commercial work, new

housing and switch board

replacements. Phone Chris

027 516 0669

ELECTRICIAN

Registered, electrical

installation and repairs,

Gorbie Electrical, ph 021

026 73375 or 03 322 4209

PAINTER QuALIfIEd

local professional, int/

Ext,roofs,wallpaller, call

or text Corban 027 846 Spouting

5035

PAINTER

50 yrs combined exp.

New, older homes, int ,ext.

Locals working for locals.

We stand by Canterbury.

Ph Wayne 027 274 3541 /

385 4348

Trades & Services

PEST CONTROL

Qualified & licensed

applicator. Spiders, flies,

ants. Ring Bob 0800

387369

PLASTERER

Gib Stopping, Small

job specialty. 30 + years

experience. Ring 0800

387-369

SHOE REPAIRS

Belfast engraving. Shoe

repairs, key cutting &

engraving. (10 yrs exp)683

Main North Rd, ph 027

3113423

SPOuTING

CLEANING

Unblocked,

Cleaned Out and Flushed

Out. Call Trevor 332 8949

or 021 043 2034

TILING

Flooring - Splashbacks -

Wall incl tile removal, reg

master tiler, ph Dave 027

334 4125

Trades & Services

T.V. SERVICE

CENTRE

Repairs, tvs, microwaves,

audio amps, soundbars.

.Aerial & satellite

installations, kitsets, 480D

Moorhouse Ave, ph 03 379

1400

VHS VIdEO TAPES

& all camera tapes

converted to DVD, video

taping special occasions,

www.grahamsvideo.co.nz

ph 03 338-1655

Vehicles Wanted

CASH/CASH for any

unwanted vehicles, ph

347 9354 or 027 476 2404

CASH/CASH for any

unwanted vehicles, ph

347 9354 or 027 476 2404

Public Notices

ADVERTISE YOUR BUSINESS HERE

Phone for further details

Wanted To Buy

CASH FOR

STAMPS,

COINS &

GOLD

Free Appraisals

Call Matt at

The Stamp and

Coin Exchange

134a Riccarton Rd

0800 39 24 26

We can come to you.

Call today.

Wanted To Buy

fridge freezers. Same day

service. Selwyn Dealers.

Phone 980 5812 or 027

fridge freezers. Same day

service. Selwyn Dealers.

Phone 980 5812 or 027

sawbenches, lathes, cash

AAA Buying goods

quality furniture, beds,

stoves, washing machines,

313 8156

AAA Buying goods

quality furniture, beds,

stoves, washing machines,

313 8156

TOOLS Garden,

garage, woodworking,

mechanical, engineering,

buyer, ph 355-2045

(03) 379 1100
---
24 Tuesday December 10 2019

Latest Canterbury news at starnews.co.nz

NOR'WEST NEWS

Christmas

Made Easy

Get your home Christmas ready and find a gift for everyone on your list!

smithscity.co.nz/christmas

Chic and stylish

5 Seater

Lounge Suite

Turin 9060174

3 Seater + 2 Seater

Lounge Suite

Also available 3 Seater Chaise.

Buy any

$ 1999

Save

$ 1000

less

than

$ per

11 week* >

55" UHD Smart TV 55NU7090 9053384

Limited Stock

$ 999

less

than

55"

Christmas

movies will

have never

looked so

good!

Right On

$ per

11 week* <

Matrix mattress and get a

low profile drawer base

*2

free

Firm Queen 9061221

Also available Single, Double King,

Super King & Califronian King.

Accessories not included.

$ 3199

Free Queen Base

worth $1700

less

than

per

$ 17 week *>

Samsung Galaxy

A70 128GB

9057984

• 6.7" Screen

• On-screen Fingerprint Sensor

• Triple Camera: Ultra Wide

123-degree field of vision, 32MP

camera & 5MP Depth Camera.

$8

less than

per week *<

$ 599

Save

$ 170

233L

233L Bottom

Mount Fridge

Freezer

HRB227W 8784993

less than

$8

per week *<

Right On

$ 599

up to

30OFF *

Electrolux

Vacuums

%

40-

%

50OFF *

Sunbeam Kettles

& Toasters

Nespresso

Essenza Mini

C o ff e e

Machine

BEC250BLK

9036182

$ 199

Save

$ 80

50

months interest free

on furniture & beds $999 and over #

24

months interest free

on everything $499 and over #

OUR PRICE PROMISE

Find a lower pirce and we'll match it †

Applies to identical product.

Some products on display in selected stores only – please call your local store to check for availability. Offers in this ad are valid until Tuesday 10th December 2019, while stocks last or unless otherwise

stated. *Discount is off our full retail price and not in conjunction with any other offer.*2 Not in conjunction with any other offer, excludes clearance and farmlands. Free low profile base must be the matching size

to the mattress purchased. #Apple products, selected computers, game consoles, gift cards, flooring, clearance items and some promotional items are not available in conjunction with interest free offers.

Carpet available on a maximum of 18 months interest free. Exclusions, fees, terms, conditions and credit criteria apply. Equal instalment amounts over finance period of 36 months (unless otherwise stated)

and exclude insurance. Booking fee $45.00, Annual fees $45.00 P.A., Security registration fee $8.05. Current interest rate of 23.95% Applies to any unpaid balance after expiry of (any) interest free period.

See in-store or visit smithscity.co.nz/terms-conditions for details.Instalment amount based on a 50 month finance period. †For full Price Promise

terms and conditions visit smithscity.co.nz/price-promise. ~ For full details and conditions go to www.samsung.com/nz/offer.

JTWK28

550 Colombo Street | Cnr Belfast and Radcliffe Road Northwood, CHRISTCHURCH MEGASTORES