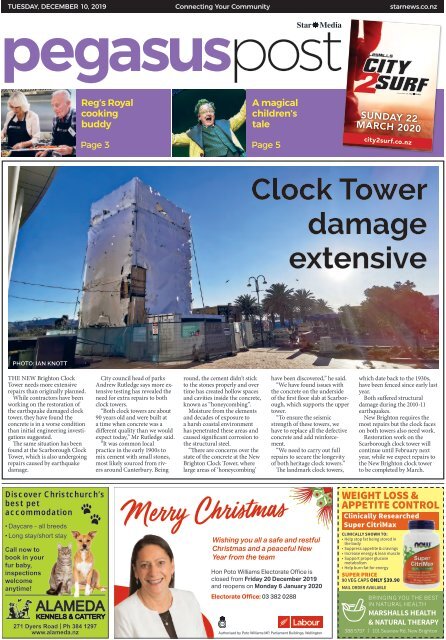 Pegasus Post: December 10, 2019
Create successful ePaper yourself
Turn your PDF publications into a flip-book with our unique Google optimized e-Paper software.
TUESDAY, DECEMBER 10, 2019

Connecting Your Community

starnews.co.nz

Reg's Royal

cooking

buddy

A magical

children's

tale

Sunday 22

March 2020

Page 3 Page 5

city2surf.co.nz

Clock Tower

damage

extensive

PHOTO: IAN KNOTT

THE NEW Brighton Clock

Tower needs more extensive

repairs than originally planned.

While contractors have been

working on the restoration of

the earthquake damaged clock

tower, they have found the

concrete is in a worse condition

than initial engineering investigations

suggested.

The same situation has been

found at the Scarborough Clock

Tower, which is also undergoing

repairs caused by earthquake

damage.

City council head of parks

Andrew Rutledge says more extensive

testing has revealed the

need for extra repairs to both

clock towers.

"Both clock towers are about

90 years old and were built at

a time when concrete was a

different quality than we would

expect today," Mr Rutledge said.

"It was common local

practice in the early 1900s to

mix cement with small stones,

most likely sourced from rivers

around Canterbury. Being

round, the cement didn't stick

to the stones properly and over

time has created hollow spaces

and cavities inside the concrete,

known as "honeycombing".

Moisture from the elements

and decades of exposure to

a harsh coastal environment

has penetrated these areas and

caused significant corrosion to

the structural steel.

"There are concerns over the

state of the concrete at the New

Brighton Clock Tower, where

large areas of 'honeycombing'

have been discovered," he said.

"We have found issues with

the concrete on the underside

of the first floor slab at Scarborough,

which supports the upper

tower.

"To ensure the seismic

strength of these towers, we

have to replace all the defective

concrete and add reinforcement.

"We need to carry out full

repairs to secure the longevity

of both heritage clock towers."

The landmark clock towers,

which date back to the 1930s,

have been fenced since early last

year.

Both suffered structural

damage during the 2010-11

earthquakes.

New Brighton requires the

most repairs but the clock faces

on both towers also need work.

Restoration work on the

Scarborough clock tower will

continue until February next

year, while we expect repairs to

the New Brighton clock tower

to be completed by March.

Discover Christchurch's

best pet

accommodation

• Daycare - all breeds

• Long stay/short stay

Call now to

book in your

fur baby,

inspections

welcome

anytime!

ALAMEDA

KENNELS & CATTERY

271 Dyers Road | Ph 384 1297

www.alameda.nz

Merry Christmas

Wishing you all a safe and restful

Christmas and a peaceful New

Year from the team

Hon Poto Williams Electorate Office is

closed from Friday 20 December 2019

and reopens on Monday 6 January 2020

Electorate Office: 03 382 0288

Authorised by Poto Williams MP, Parliament Buildings, Wellington

WEIGHT LOSS &

APPETITE CONTROL

Clinically Researched

Super CitriMax

CLINICALLY SHOWN TO:

• Help stop fat being stored in

the body

• Suppress appetite & cravings

• Increase energy & lean muscle

• Support proper glucose

metabolism

• Help burn fat for energy

SuPER PRICE

90 Veg caps ONLy $39.90

MaIL ORDeR aVaILaBLe

Bringing You The BesT

in naTural healTh

MARSHALLS HEALTH

& NATURAL THERAPY

388 5757 | 101 seaview rd, new Brighton
---
2 Tuesday December 10 2019

Latest Canterbury news at starnews.co.nz

news

PEGASUS POST

get in touch

GENERAL INQUIRIES Ph 379 7100

CLASSIFIED ADVERTISING Ph 379 1100

Star Media,

a division of Allied Press Ltd

PO box 1467, Christchurch

starmedia.kiwi

NEWS

Matt Slaughter

Ph: 021 910 788

matt.slaughter@starmedia.kiwi

ADVERTISING

Elaine Moon

Ph: 364 7436

elaine.moon@starmedia.kiwi

Cycling trip for grandad

Holly Ffowcs Williams and William Hickford are cycling across

the country to raise money for Alzheimers New Zealand and

people like William's grandad, Roy Pemberton.

Page 4

community events

Yoga on the beach

Head down to New Brighton beach on Sundays, Wednesdays

and Fridays 7.30-8am for a free yoga session.

Page 13

tasty bites

Vegan alternatives to favourite dishes

Mushtroom tacos and crispy buffalo cauliflower bites are easy

to make and delicious alternatives to meaty tacos and wings.

Page 14

The best-read local newspaper,

delivered to 15,645 homes

every Tuesday

Linwood, Avonside, Richmond, Shirley, Burwood, Dallington,

Wainoni, Bromley, Aranui, Avondale, Bexley, New Brighton,

Northshore, Queenspark, Parklands, South Brighton.

• The Star

• North Canterbury News

• Selwyn Times

• Ashburton Courier

also publishing:

• Bay Harbour News

• Southern View

• NorWest News

• Western News

New Brighton Seaside

Christmas Parade

New Brighton Seaside Market's annual Christmas parade

and concert will be held on December 14th.

Meet Santa on the Beach at 10.15am and

watch a fun community parade at 10.30am.

Shop around our Seaside Market for your

Christmas gifts while some great

entertainment happens and Santa greets

the kids in his Grotto.

Take your own photos with Santa for free.

We have a huge array of arts, crafts,

giftware, delicious food and free face

painting for the littlies.

• Market opens at 10am

• Meet Santa as he arrives by boat on New Brighton Beach at 10:15am

• Parade begins at 10:30am on the corner of Marine Parade and Hawke Street

• Concert begins after the Parade, Santa's Grotto opens at approx 11:30am

A New Brighton Project initiative.

"Creating Community Together"
---
PEGASUS POST Latest Canterbury news at starnews.co.nz

Tuesday December 10 2019 3

News

Reg's Royal cooking buddy

• By Sophie Cornish

REG STEDMAN is usually

lively and full of jokes – but the

92-year-old was left speechless

when he was joined by a special

sous chef during his cooking

class.

The Duchess of Cornwall visited

the cooking course Mr Stedman

was on during her visit with Prince

Charles to Christchurch.

Everyone on the course had

been vetted by police prior to the

visit, so he knew Camilla would

be there.

But Mr Stedman was a little

more than surprised when he

was placed next to Camilla as

they prepared a bean salad.

Mr Stedman, who hails from

Essex in England, and came to

New Zealand in 1958 to marry

his pen pal, was lost for words

standing next to Camilla.

"Backward in coming forward,"

he said.

"It never dawned on me, I was

surprised, I thought 'what have I

done to deserve this?

"I'm quite a retiring person, it

wouldn't have bothered me if I

had been standing behind two or

three people."

Mr Stedman shook Camilla's

hand and spoke with her about

her farm in Gloucestershire, and

whether the food was organic.

"In hindsight, I realised all eyes

were probably on me because I

was with the knife!," he said of

the security staff which follow

the Royals.

After the cooking demonstration

at the Salvation Army building in

the central city, Camilla helped

to launch the new Senior Chef

cookbook, Easy Recipes for One

or Two.

Senior Chef, is a free programme

for older people living

alone or with one other person

and is funded by the Canterbury

District Health Board and

Pegasus Health.

It has a focus on connecting

the community, combating loneliness

and providing a new sense

of purpose.

Active ageing is a key focus of

Camilla's work, who said she was

"delighted" to be at the event,

during their six-day visit of New

Zealand.

"It's a real pleasure to be for

once surrounded by people my

age. I'm feeling a lot better and

I'm so impressed by everything

you're doing here.

"I do think it is so important as

you grow older to be able to cook.

MASTERCHEF: Reg Stedman was lost for words when the Duchess of Cornwall appeared beside

him at his cooking class.

PHOTO PEGASUS HEALTH

This school will re-energise older

people to like cooking again, and

eating good food for your body

and your mind is vitally important

as you get older," she said.

• GO ALONG: The Senior Chef programme is free and runs

classes through-out the city and in Rangiora, Kaiapoi, Lincoln,

Ashburton and Kaikoura. Contact Pegasus Health for more

information.

Dentures not fitting properly?

Ill-fitting dentures can affect your teeth &

mouth, make eating difficult, & just plain hurt!

Using Duchenne's exclusive Digicare system,

we can reline your dentures for optimal fit

and comfort, and you'll be surprised how

quick and convenient the entire process is.

Call 0800 866 8448

now to book your

FREE consultation

at 1 of our 7 clinics

throughout Christchurch

duchenne.co.nz

Quail Island

Adventures

Get the kids into nature and head to

Quail Island! A great day trip to a real

island with a fascinating history, in the

heart of Lyttelton Harbour. Just a 15

minute ferry ride from Lyttelton.

Book the DOC hut to stay overnight

(via DOC website).

SCHEDULE FREQUENCY DEPART LYTTELTON DEPART QUAIL ISLAND

Oct & Nov Daily 10.20am 3.30pm

Dec – Mar Daily 10.20am, 12.20pm 12.30pm, 3.30pm

Apr – Sep Weekends only 10.20am 3.30pm

blackcat.co.nz

book 0800 436 574

online

CRUISES

LYTTELTON & AKAROA

'Under 5's

free

on all trips,

all year!

FARE

Adult $30 Child $15

Metro is making

shopping easy

this Christmas.

Swipe your Metrocard on board until

23 December and you're in to win

some great Canterbury experiences.

Visit metroinfo.co.nz

to plan your travel and

check out the dozens

of prizes up for grabs.
---
4 Tuesday December 10 2019

Latest Canterbury news at starnews.co.nz

News

PEGASUS POST

Cycling trip for grandad

• By Matt Slaughter

WILLIAM HICKFORD'S

grandad Roy Pemberton cycled

the length of New Zealand to

raise money for St John New

Zealand seven years ago.

Now, William will do the same

to raise money for people like Mr

Pemberton, who was diagnosed

with dementia earlier this year.

The year 13 Cashmere High

School student will be joined by

his friend since childhood, fellow

Cashmere student Holly Ffowcs

Williams on the South Island leg

of the ride.

They have started a Givealittle

page aiming to raise $10,000 for

Alzheimer's New Zealand and

are calling themselves Team

Wolly.

Said William: "Since he [Mr

Pemberton] got diagnosed with

dementia this year, I thought I

just wanted to help support him

and what our family's going

through because it's quite a

tough time so I just wanted to

give back to him by raising funds

for Alzheimers New Zealand."

William will start his ride at

Cape Reinga on December 28

and bike about 100km a day until

January 23, when he estimates

he will finish the about 3000km

journey to the bottom of the

South Island.

Holly will meet William on

January 8 in Picton and they will

ride to the finish line together.

Holly said she was inspired

to join William on part of his

journey after seeing the effects

of Alzheimer's and dementia

first-hand in a volunteer role she

does.

"In the past few years, I've

been a volunteer at a Nurse

FUNDRAISER: Holly Ffowcs Williams and William Hickford are

cycling across the country to raise money for Alzheimers New

Zealand and people like William's grandad, Roy Pemberton

(above).

Maude Hospice Shop in

Christchurch and we get a lot

of customers who are from

lots of different retirement villages

across Christchurch and

a few have come in with family

members that have had dementia

and Alzheimer's, so it's just been

really heartbreaking to see, she

said.

"I think putting my love

cycling towards something like

this, it's the way I can [help]."

Holly said the ride will be hard

work but the cause she and William

are riding for will make it

worth it.

"The most of done in one day

has been about 112km and some

days we're doing at least 100km

with a good radical climb, so it's

going to be really mentally challenging

but I think you've got to

remember why you're doing it."

William said his grandad and

granny Hilda Pemberton are

appreciative of what he is setting

out to do.

"My granny's very proud of me

obviously trying to help support

him [Mr Pemberton] as much

as possible. My grandad's just

pretty happy that I'm riding a

road bike instead of a mountain

bike. He's always being trying to

convert me to road bikes so he's

quite stoked that I'm doing it on

a road bike for him."

William said what he is doing

would also not be possible without

support from his mum and

dad Kim and Jon Hickford, who

have helped organise the ride.

This Christmas Week

AT EASTGATE

Great eaStGate late niGht

ham prize draw

Every late night between now and

Christmas, starting this Thursday, shop

between 5pm and 7:45pm to receive

an entry form and enter the prize

draw for a delicious Christmas Ham

You'll need to be here to win so stay

for dinner, enjoy the Salvation Army

Band playing 6pm - 8pm, have your

Santa photos taken and be in to win.

Santa Grotto hourS

10.00am - 4.00pm daily.

5.00pm - 7.00pm on Thursday night.

Salvation army band

Playing Christmas music Saturday

10.00am and Sunday at midday.

Free GiFt wrappinG

10.00am - 5.00pm every day.
---
PEGASUS POST Latest Canterbury news at starnews.co.nz

Tuesday December 10 2019 5

News

Children's tale will appeal to all ages

• By Georgia O'Connor-Harding

A HIGH-PROFILE cast of

performers have been brought in

to re-tell the magical children's

tale of The Wind in the Willows.

Playing the complex, starring

role of Toad is Cameron Rhodes

in The Court Theatre's summer

season of the production.

While he claims he has never

had a "big break" in his more

than 30-year

career, Rhodes

has appeared

in major films

associated to

New Zealand

including The

Cameron

Rhodes

Lord of The

Rings and The

Chronicles of

Narnia: The

Lion, the Witch and the Wardrobe

​.

But while Rhodes, 52, said he

loves film, "there is something

about theatre you can't compare

it to."

"A play like this (The Wind

in the Willows) you can do on

screen but it wouldn't be the

same," he said.

Published as a children's

novel in 1908 by Scottish novelist

Kenneth Grahame, the story,

adapted by Alan Bennett, focuses

on four anthropomorphised

animals including Toad.

The show tells the tale of Toad

CHARISMATIC: Cameron Rhodes as the charming but selfcentred

Toad in The Court Theatre's summer season of The

Wind in the Willows. ​

destroying the serenity of the

English countryside with a motor

vehicle.

His obsession with racing

expensive cars puts the future of

his and his friend's home in peril

when it leads to wicked weasels

taking over.

"He is privileged and charismatic

but he is a bit like a child

who hasn't had any boundaries

put on him . . . I can be like

that. It is possible when I was a

bit younger I liked to party for

days. Obviously you can't sustain

that," Rhodes said.

A Toi Whakaari: New Zealand

Drama School graduate, he said

although the story is a children's

tale there are important themes

– particularly on protecting the

environment and the power of

friendship.

"It has got a real company feel

. . . I haven't been in a cast this

big I don't think for years. It is

huge, the set and costumes. I

have not been to a set like this, it

has got three revolving stages. It

is spectacular."

It is not the first time Rhodes

has performed with The Court

Theatre. In 2017 he played a key

role in comedy-thriller Ropable.

Growing up, it didn't take

long for Rhodes to work out he

wanted to do performing full

time.

"My mother got me into

speech and drama for confidence

I think and I just really liked it

CLASSIC

TALE:

Leading cast

members

in the

production.

•The Wind in the Willows

will be performed at The

Court Theatre until January

18. To book tickets go to

https://courttheatre.org.nz

. . . I just knew at about 14 or 15

this is what I want to do forever."

Rhodes said the reality of acting

is job security is "zero" but

there is the opportunity to work

in many different jobs if a person

enjoys variety

In March, he will perform in

Black Lover in Auckland which

depicts the life of Sir Garfield

Todd who was Prime Minister of

Rhodesia from 1953 to 1958.

From there he will travel back

to Los Angeles to try his luck.

"It is the old question people

ask, should I do it? And it is not

should you, you have to do it,

you haven't got a choice."
---
6 Tuesday December 10 2019

Latest Canterbury news at starnews.co.nz

PEGASUS POST

Christmas wishes

from the team at Harcourts Gold

Parklands and New Brighton

The team at Harcourts

Gold Parklands and New

Brighton would like to

take this opportunity to

wish you all a very happy

and safe Christmas.

Nikila Creagh

HARCOURTS GOLD EASTSIDE SALES MANAGER

Tis the Season.…

As 2019 comes to a close I, like

so many others, tend to reflect

on what we have managed to

accomplish throughout the past

year. I also look forward to that

New Year clean slate, and what

2020 (and a new decade) might

hold for us moving ahead.

It has been a year of change and challenge for our

teams at both the Parklands and New Brighton offices.

On a positive note, the property market, I believe,

is now showing early signs of a new growth phase

in Christchurch. Supply across the marketplace has

been light throughout the year, whilst demand has

remained strong, in particular regarding the uninsured

'as is' market.

Our consultants are constantly upskilling and continuing

to gather further knowledge in and around a wide variety

of property. Specific expertise concerning problematic

property has lead to considerable success and positive

results for clients this past year. Our most successful

campaigns have simply derived from sheer hard work,

utilising specialist databases, superior knowledge right

across the marketplace, and making the most of the

wider Harcourts network.

Further development has meant that our local

community is starting to settle and thrive, and it

is satisfying and exciting to see numerous lengthy

projects coming to fruition which will benefit our

community and the people that live here.

It has been such a pleasure to be able to give back to a

variety of community groups this past year by way of

volunteering time, goods, or financially via our Harcourts

Foundation Grants. Should you be involved with a

not for profit organisation that could do with some

assistance, please feel free to contact us in 2020.

Should you be looking to make a career change in the

New Year, it may be of interest to know that we are

seeking new additions to join our award winning team.

Whether you are an established consultant, or if you are

a self-starter who likes a challenge, with an interest in

property and people, give me a call for a confidential

chat. Nikila ph. 0275175645.

Despite our offices being closed briefly over the holiday

period, our consultants will be available and happy to

assist during this time. Contact our after-hours service

and we will put you in touch with one of the team.

We wish you and your family all the very best for a

safe, happy Christmas and New Year and look forward

to helping you achieve your property goals in 2020.

A tremendous thank-you to all those who have sold,

bought and/or referred us to friends and colleagues

throughout the current year.

Merry Christmas and Happy Holidays!

WE ARE LOOKING FOR

TALENTED INDIVIDUALS

WITH THE DRIVE AND

DEDICATION TO BECOME

A VALUED PART OF THE

HARCOURTS GOLD TEAM.

Christmas

HOURS

CONTACT NIKILA

TODAY IN CONFIDENCE

P 03 383 0406 M 027 517 5645

nikila.creagh@harcourtsgold.co.nz

Harcourts gold is a successful, forward

thinking real estate company with a thriving

auction business and a group of some of the

most successful consultants in Harcourts.

So whether you want to start a career in

real estate or are an established consultant

looking to grow your business, the culture at

Harcourts gold will see you shine!

All gold offices will close on

the 20th December at 5pm,

and will reopen on the

6th January 2020 at 8.30am

Call one of our consultants today!

Andrew SWIFT Milena BARTLETT Caleb GRIFFIOEN Peter GRIFFIOEN Bev JOHNSON Chantale JOHNSON Vicki GRACE Judith BODGER Jenny HOWLEY

Debbie GORDON

Kerrin HOOPER Amy HOOPER Sheena ROBINSON Anna AH KUOI Paul NEWMAN Dan READER

Sophie BARY Nicole HAMILTON

PARKLANDS PH 383 0406 Shop 21, Parklands Mall, Queenspark Drive

NEW BRIGHTON PH 382 0043 95 Seaview Road, New Brighton Mall

www.homes4sale.co.nz Follow us on...
---
PEGASUS POST Latest Canterbury news at starnews.co.nz

Tuesday December 10 2019 7

News

Young humanitarian wins

Fred Hollows award

• By Claire Booker

BEN DOWDLE has been

recognised in New Zealand's

first-ever Fred Hollows Humanity

Awards.

The Mairehau Primary School

pupil was presented a certificate

last Friday at a school assembly.

The awards, which were open

to all Year 6 students throughout

New Zealand, are part of a global

movement created to acknowledge

passionate children striving to

improve the world around them.

A spokeswoman from the Fred

Hollows Foundation said humanity

in New Zealand's young people

was "deeply evident" in the

large number of students across

the country who were nominated

for the awards.

Said assistant principal

Amanda Chisnall, who nominated

Ben for the award: "Ben is a

kind and caring student who goes

out of his way to help others. He

embodies our Mairehau Primary

School values of respect, believe,

aspire and achieve.

"Nothing is ever an issue for

Ben. He always puts in 110 per

cent effort into everything that

he sets his mind to. Ben truly embodies

the values of compassion,

integrity and kindness."

YOUNG ACHIEVER:

Mairehau Primary

School assistant

principal Amanda

Chisnall was

pleased to see

Year 6 student Ben

Dowdle presented

with a Fred Hollows

Humanity Award by

William McGrath

from Specsavers. ​

About 70 students were nominated

for the awards across New

Zealand, and Ben said it was an

honour to receive the certificate.

He "felt special that not everyone

could be nominated" and is

looking to develop his leadership

skills within the school.

"It's nice to receive awards for

the effort that is put in," he said.

13-year-old

achieves dream

MONET SCHUTTE has achieved

her dream at 13-years-old.

From a very young age, Monet

has had a dream to perform

internationally.

And last week, she received a

standing ovation at the Vienna

Concert Hall in Austria after

performing her original song,

Like You Did Before.

"Singing on stage in Vienna

was a dream come true. I am so

excited that I now have reached

one of my musical goals. It was

the first song I ever wrote, and

it has a very special meaning,"

Monet said.

Written about a friend with

depression, the song won the International

Sounds of Children's

Rights Songwriting Competition

held in Austria.

She was awarded two prestigious

gold coin awards for her

achievement.

She wrote and recorded the

song with her mentor Sacha Vee

at SOLE Music Academy earlier

this year and decided to enter it

into the competition sponsored

by UNICEF.

Said Monet: "One of my

friends, unfortunately, suffers

from depression and so I wrote

this song about how I tried to

IMPRESSIVE: Monet Schutte,

13, performed her song Like

You Did Before at the Vienna

Concert Hall, Austria and won

the International Sounds of

Children's Rights Songwriting

Competition. ​

help."

When Monet received the

news she had made it to the top

10 contestants from around the

world, she only had two months

to prepare for the trip and get

performance-ready.

This was a challenge, since

Monet had to learn piano to accompany

herself.

However, with the guidance

from Vee she put in the time and

is now reaping the reward.
---
8 Tuesday December 10 2019

Latest Canterbury news at starnews.co.nz

Swainson, Tainui scoop

Woolston boxing awards

• By Jacob Page

THE WOOLSTON Boxing Club

capped a stellar year of growth

and achievement with their

annual awards.

Woolston now has the most

registered competitive boxers in

the South Island and had four

New Zealand representatives

and a national coach plus eight

Canterbury team members as

well as two boxers who are on the

Olympic prospect list for next

year.

Hamuera Tainui and Trevor

Swainson each won multiple

awards.

Tainui earned most wins

for the year with seven, most

scientific boxer and best at all

championships honours.

Head coach Holly Sullivan

said she was keen to find more

international fights for him after

he went to Australia three times

in the past 12 months.

"It would be good for him

to get used to travelling longer

distances and having to fight so

a possible trip to Ireland is something

I'm working on.

"Hams has really improved

his fitness this year, but he's a

very scientific boxer and he's a

southpaw so that helps him in

the ring," she said.

Swainson was named most

improved boxer and also earned

ON THE UP: The Woolston Boxing Club has celebrated one of

its biggest years of growth with their annual awards. ​

the best performance of 2019.

"There's never any issue with

Trev's desire, fitness or work

ethic but the 91kg elite class is a

very competitive one," Sullivan

said.

"He will target a national title

next year and he will work hard

to earn it."

Crissy Reid was named female

boxer of the year after a standout

nationals campaign and also won

best international fighter.

Awards:

Most Wins - Hamuera Tainui

Best female - Chrissy Reid

Mini cadet of the year Bobby

Brown

Most improved cadet - Ryley

Sutherland and Azury Ormsby

Most improved junior - Te Atetangi

Paris

Most improved youth - Patrick

Liptrott

Most improved elite - Trevor

Swainson

Gamest tryer - Philippa White

Best challenge - Oliver Bristowe

Most scientific - Hamuera Tainui

Best performance - Trevor

Swainson

Best at all championships - Hamuera

Tainui

Best international - Chrissy Reid

• By Jacob Page

LUCIA GALE has impressed at

the New Zealand junior tennis

championships at the Scabro

Centre in Auckland.

The Cashmere club player

was competing in the 12s

age-group. Lucia and her

Auckland-based partner Jamie

MacKenzie won the mixed

doubles in convincing fashion.

The top-seeded duo dropped

just two games in their three

matches and won the final

4-0, 4-0 in 37min against No

2 seeds Max Richardson and

Chelsea Wijntjes.

She made it to the semi-finals

of the singles where she lost to

Mahinarangi Warren 4-6,-3-6

but she did bounce-back to win

the playoff for third by beating

Chelsea once again, 6-3, 6-0.

Lucia then teamed with

club-mate Ruby McPhail in

the doubles and lost a tough

semifinal against Chelsea and

her partner Xin Xin Zhu 6-3,

4-6, 7-10.

Her coach James Meredith

said he was thrilled with the

results and he hoped with another

year in the age-group in

2020, she would be able to push

SPORT

Lucia Gale impresses

at junior nationals

Lucia Gale ​

PEGASUS POST

for the title.

"She is quite slight, so some

of the older girls are able to

control the points by being

more physical and using more

spin," he said.

"As she grows, we'll keep

working on it and try to build

her serve up as well because

there are a few too many

double-faults for my liking but

that's quite common at this

grade."

Lucia will now compete

represent New Zealand at the

Tennis Australia nationals in

Melbourne which start today

which will be her fourth time

representing her country

overseas in 2019.

Restoring your confidence through your smile

Full service Denture Clinic

and Laboratory

Caldent Denture Cleaner

Free Consultation

No Obligation

Ph: 385 5517 + 396 Innes Road, St Albans

admin@denturesplus.co.nz

+ denturesplus.co.nz
---
PEGASUS POST Latest Canterbury news at starnews.co.nz

Tuesday December 10 2019 9

WITH MARY IN FAITH

TĀTOU KO MERE E WHAKAPONO ANA

FROM THE BOARD

As the school year draws to a close, it is wonderful to see students' hard work and

commitment honoured at prizegiving ceremonies. Well done on your achievements.

This year the Board has been working closely with the Bishop and the Diocese Property

Group in overseeing planning for our new school at Papanui in 2023. Alongside

technical work, students and staff have been contributing, through workshops, a

survey and providing input into the development of our cultural narrative, which will

be reflected in the new school buildings and grounds.

While this whole new layer of work progresses, Marian College continues to deliver

high quality teaching and learning and providing wonderful opportunities and

experiences for students. Thank you to Marian staff, Marian College Foundation,

PTA, the Bishop and the Catholic Diocese of Christchurch for your support this year.

We have been thrilled by the steady growth of Rauru – for past students and staff of

Marian College, St Mary's College Christchurch and McKillop College. To reconnect

with us, please register on the Marian website and follow us on Facebook.

Finally, congratulations to our 2019 graduates.

We trust the gospel values will guide you well,

as you venture forth beyond the school gates.

We wish you all the very best.

With blessings

Jan Paterson, Chair

Congratulations to Marian College Dux

2019 Rebecca Everingham (left) and

Proxime Accessit Samantha Price (right).

ESSAY WINNER

CHRISTMAS HOME BAKING

Congratulations to Malaika Sequeira who has won the Catholic Agency

for Justice, Peace and Development prize, senior category. This

year the essay and multimedia topic was Enabling Communities –

Everyone has a part to play. Malaika's winning essay described how

to enable communities to ensure the spirit of participation is extended

to everyone, regardless of intellectual, physical, mental or social

challenges. She showed a sound understanding of the principles of

Catholic Social Teaching, such as Human Dignity, the Common Good,

Solidarity and Subsidiarity. Malaika won a cash prize for herself and her

class and the Justice and Peace Cup for Marian to appreciate for a year.

www.mariancollege.school.nz | 03 385 8449 | exec@mariancollege.school.nz

The giving season lasts all year at Marian, with every student completing at

least six hours of meaningful service within the school and community. Recently

some of our Year 9 and 10 students organised gift-wrapped home baking and

hand-made Christmas cards for families attending the Tafesilafa'i Early Learning

Centre. Marian College has a long tradition of service – both students and staff are

actively involved. Pictured here from left are Anna-Naina Aileone, Taylor Poole-

Nicholas, Emma-Grace Bainbridge and TELC Manager Palepa Letiu. TELC is

located alongside Marian College on Barbadoes Street.

Like and

follow us!

@mariancollegechch
---
10 Tuesday December 10 2019

Latest Canterbury news at starnews.co.nz

PEGASUS POST

CAN'T THINK WHAT ON EARTH

TO GET THEM?

WE CAN HELP!

UNBELIEVABLE PRICES!

GREAT NEW

INSPIRATIONAL

BOOKS JUST

ARRIVED!

1005 Ferry rd

Ph 384 2063

while stocks last (see instore for terms and conditions)

Barry & kerry
---
PEGASUS POST Latest Canterbury news at starnews.co.nz

Tuesday December 10 2019 11

Sports hub receives top award

SPORT

NGA PUNA Wai Sports Hub

has received top honours at

the New Zealand Recreation

Association awards.

The hub, which combines

facilities for athletics, hockey,

rugby league and tennis, won

the Outstanding Project Award

at a ceremony in Hamilton on

November 28.

It was judged on the NZRA

awards criteria of innovation,

community engagement, excellence,

efficiency, achievement

and sustainability.

Taiora QEll Recreation and

Sport Centre also won a Merit

Award in the same Outstanding

Project category, which is for a

successful development or major

redevelopment of a facility.

Nga Puna Wai began as a

partnership project between

Athletics Canterbury, Canterbury

Hockey, Canterbury Rugby

League and Tennis Canterbury,

Sport Canterbury, and the city

council.

The venues and grounds used

by these organisations were

damaged by the earthquakes in

2010 and 2011 and athletes and

RECOGNITION: Nga Puna Wai Sports Hub won the Outstanding Project Award at the New

Zealand Recreation Association awards for its facilities which hosts rugby league, athletics,

hockey and tennis.

PHOTO: GETTY IMAGES

players were having to travel

outside Christchurch for suitable

facilities.

Creating a shared sporting

hub was seen as the most costeffective

way to rebuild multiple

facilities rather than constructing

them all separately.

Nga Puna Wai, which is next

to the Canterbury Agricultural

Park in Wigram, opened in stages

from late 2018 and has become

the new home for the four sporting

codes, as well as providing

community playing fields.

Nga Puna Wai Sports Trust

chairman Paul Rogers said the

partnership has led to a much

better outcome than if each

sports organisation, which uses it

had built their own facilities.

"The benefits include greater

value for money, more stakeholder

involvement and a greater

sense of responsibility and ownership,

said Mr Rogers.

"Consultation with the local

community and various partners

was vital and it has happened

through every step of the project

from initial planning to completion.

The outcome is that a grassy

reserve has been transformed

into a $54 million international

standard sports facility."

Nga Puna Wai has already

hosted the National Athletics

Championships, which were

held in Christchurch for the first

time in 10 years, and international

hockey event, the FIH Pro

League series.

Sport Canterbury chief executive

Julyan Falloon said the hub

is a massive boost for local sport.

"It not only meets the needs

of the local community, promoting

participation across

sporting codes, it also benefits

the Christchurch economy attracting

competitors and their

supporters for national and

international events being held

here, he said.

"On top of that, there's wide

exposure of Christchurch on television

and live stream coverage

of the events."

City council recreation and

sports services manager David

Bailey said the award is welcome

recognition of the city council's

partnership with the local

sporting community to create a

regional sports facility.

"Nga Puna Wai is a great

example of how sporting codes,

a local sports trust and a local

authority can collaborate

effectively," said Mr Bailey.

St Andrew's a cut above the rest at

Gillette Cup cricket tournament

• By Gordon Findlater

ST ANDREW'S College made

history at Hagley Park last week

by winning the country's top

prize in secondary school cricket

for the first time.

Playing Hamilton Boys' High

School in the final round top

of the table Gillette Cup clash,

the St Andrew's first XI carded

a 174-run victory to claim the

piece of silverware for the first

time in its 29-year history. This

year is also the first time St Andrew's

had qualified for the six

strong national tournament after

winning their way through the

Canterbury regional qualifiers

which has been dominated by

Christchurch Boys' High School

in recent years.

"It's bigger than all of us in the

team, knowing that a lot of old

boys that have been texting in

support is great. It's huge for the

school," said St Andrew's captain

Rhys Mariu.

The moment St Andrew's captured

the win was extra special

for St Andrew's coach Mike

Johnston, who has been with the

first XI for close to two decades.

"It's been an amazing journey

this year with these boys. It's

been 18 years I've been coaching

St Andrew's, it's the first time

we've been here and we've won

it. We've just got a great team

culture and they've worked for

each other," said Johnston.

After being put into bat, St

Andrew's opening pair of Mariu

and Harrison Darling made a

composed start before picking

up the run rate and producing

what turned out to be a matchwinning

opening stand of 142

before Mariu fell for 89.

The solid foundation allowed

the team to reach 276/8 from

their 50 overs.

"We were really surprised

that Hamilton put us into bat

and Rhys [Mariu] and Harrison

[Darling] set the tone this morning

with some great batting and

we knew if we got more than

250 it was going to be too many

for them to chase down," said

Johnston.

St Andrew's went about

defending their total by restricting

Hamilton Boys' early in

their chase which resulted in a

required run rate of eight an over

by the 20th over. The pressure

eventually took its toll resulting

in Hamilton Boys' being dismissed

for 102 in the 35th over.

"We knew that is we set the

right fields and bowled to them it

was going to be really tough for

them," said Mariu.
---
12 Tuesday December 10 2019

Latest Canterbury news at starnews.co.nz

PEGASUS POST

Christmas gift guide

PAy nO mEmBErsHiP fEEs Till 2020

SuPA KARTS VOuCHERS

Put your family to the test, and see who is the fastest.

We have something for everyone including young

children from 4 years + in our special tandem karts.

Bookings are recommended to avoid disappointment.

Supa Karts, 91 Buchan Street, Sydenham

AQuATIC THRIll RIDE

NZ's largest aquatic thrill ride is now just 90 minutes

from Christchurch! At 13.5m high, the Conical Thrill

is an exciting slide guaranteed to make you laugh and

smile as you whoosh down! Be part of the action at

Hanmer springs Thermal Pools & spa.

Hanmer Springs Thermal Pools & Spa

24/7 global access to all snap fitness gyms in the world.

Short and long term membership options available.

group classes, Personal Trainers, Children's area, Toilets

/ showers. state of the art Techno gym cardio and pin

loaded equipment. functional area with bumper plates,

punching bags and much, much more. All welcome to

our friendly warm environment where we can help you

on your journey.

Snap Fitness New Brighton

185 Bower Ave, Phone 021 612 556

BEAuTIful

GIfTS

We have a good

selection of gifts and

stocking fillers, for

you to choose from.

QE2 Pharmacy

251 Travis Road,

New Brighton

Phone 03 388 9286

ClEANSER + ExfOlIATOR =

GlOWING SKIN

100% Natural and sustainable. All Combo Sets are gift

wrapped in a seagrass box. fREE Travel set valued at

$35.00 with every Combo Set sold before Christmas.

Use the code "XmAs" for your free stocking filler now.

Corbin Rd, www.corbinrd.co.nz

BOOks, gifTs & mOrE

The team at Paper Plus New Brighton would like to wish

everyone a fantastic Christmas. It has been a great year

for us here and I would like to thank all of the community

for the support you have shown us over the years.

Paper Plus New Brighton, 72 Brighton Mall

Phone 03 388 1809

SAY IT WITH fuDGE THIS

CHrisTmAs

The fudge Cottage has something for everyone this

Christmas including gluten-free, dairy-free and even

sugar-free items!

The Fudge Cottage, Arts Centre, Christchurch

Phone 03 366 7650, www.fudgecottage.co.nz

SEASON'S GREETINGS

The team at my Christchurch East Electorate Offices

wishes you compliments of the season.

Please have a safe and relaxing Summer and take

advantage of spending time with family and friends and

enjoying our beautiful New Brighton beach and facilities.

Hon Poto Williams MP

rECyClED ClOTHing & mOrE

Come in and see our huge selection of designer

clothing, family clothing, menswear amd much more.

We have great Christmas gift ideas for the whole family,

available at any of our three Christchurch stores.

All stores open 7 days from 10am to 4pm.

SaveMart – The Recycled Clothing Store
---
PEGASUS POST Latest Canterbury news at starnews.co.nz

Tuesday December 10 2019 13

Email matt.slaughter@starmedia.kiwi by

5pm each Wednesday

Senior Net New Brighton

Tuesday, Wednesday and

Thursday, 10am-noon (by appointment)

This group offers assistance

to mature people with modern

technology, including computers,

tablets, smartphones, email,

Facebook, Skype, Word, cellphones

and the internet. Phone

382 6048 for more information.

202 Marine Pde (next to the

New Brighton Club)

JP Clinic at Shirley Library

Tuesday, 10am-1pm

A justice of the peace will be

available to members of

the community to witness signatures

and documents, certify

document copies, hear oaths,

declarations, affidavits or affirmations

and sign citizenship,

sponsorship or rates rebates applications.

No charge.

Shirley Library

SAYGo Steady As You

Go Falls Prevention Exercise

Class

Tuesday, 10am

This is a specially-designed

class to help you avoid a fall.

There is a $2 koha entry but no

booking fee. Those interested are

invited to turn up on the day and

see what it can do for them.

Parklands Community Centre

Scrabble Club

Tuesday 1-2.45pm at Parklands

Library, Wednesday 1.30-3.30pm

at Shirley Library

Go along to the Scrabble Club.

No obligation, just go along

when you can and join the

friendly group. All materials are

supplied. No fee.

Shirley and Parklands libraries,

as above.

Sit and Be Fit

Thursday, 9.30am

Complete a class of exercises

without even leaving your

chair. The cost of the class is

$5.50 and you'll get a cup of tea

or coffee.

Taiora: QE II Recreation and

Sport Centre

CV help

Thursday, 10-11.30am

A librarian will be on hand to

assist customers who need help

with their CV or resume.

New Brighton Library

Rummikub Club

Thursday, 10am-12pm

Go along and join in a game

of Rummikub, a tile-based game

for two to four players, which

combines elements of the card

games rummy and mahjong.

This is a free event.

Linwood Library

Free Yoga On New Brighton beach will be held on Sundays, Wednesdays and Fridays in

December from 7.30am until 8am at the south side of the pier. Give yoga a go with yoga sports

coach Shelley Charlton. No mat or experience required. No class on Christmas day or rainy days. ​

Game Zone

Thursday, 3.30-4.30pm

Go along and play Minecraft,

charades, Connect Four,

Pictionary and more. Take

your friends or meet some new

ones. All children aged eight

to 13 welcome, no bookings or

payment needed.

Linwood Library

Cards Club

Friday, 1.30-3.30pm

This weekly club is held

every Friday, just go along and

join the fun. Free, no bookings

required.

Shirley Library

Culture Exchange

Friday, 3.45-4.45pm

Make new friends,

practice english and learn

about New Zealand and

Christchurch.

Shirley Library

New Brighton Seaside

Market

Saturday, 10am-2pm

Enjoy a warm and fun atmosphere

beside the seaside. With

live entertainment, food and free

face-painting.

New Brighton Pedestrian

Mall

Super Saturday

Storytimes

Saturday, 11-11.45am

Encourage learning

through stories. This is an interactive

programme with stories,

songs, rhymes, craft and play.

Free.

Shirley Library

Golden Oldies Movie – Show

Boat

Monday, 1.30pm

Kathryn Grayson and Ava

Gardner star in this 1951

drama/musical. The daughter

of a riverboat captain falls in

love with a charming gambler,

but their fairytale romance is

threatened when his luck turns

sour. Cost is $2, go early for a

cuppa and a chat.

New Brighton Museum, 8

Hardy St

O Christmas Tree

Monday, open until

close

Go along and make a paper

Christmas tree using recycled

magazines. A nice addition to

your festive table.

Linwood Library

Now that exams are over,

kickstart your career in 2020!

WEB DEVELOPMENT & DESIGN / SOFTWARE DEVELOPMENT / EARLY CHILDHOOD EDUCATION / SECURITY /

BUSINESS TECHNOLOGY / ULTIMATE FOUNDATION SKILLS / COUNSELLING / MINISTRY & LEADERSHIP

You are invited

to our

INFO NIGHT

10 th December

7:00pm

Dessert Served!

Christchurch Campus:

50 Hazeldean Road

FREEPHONE: 0800 834 834 | HELLO@VISION.AC.NZ | WWW.VISIONCOLLEGE.AC.NZ

Auckland

25 Springs Road,

East Tamaki

Pukekohe

52 Franklin Road,

Pukekohe

Hamilton

21 Ruakura Road,

Hamilton East

Christchurch

50 Hazeldean Road,

Addington
---
14

Tuesday December 10 2019

Tasty Bites

Latest Canterbury news at starnews.co.nz

PEGASUS POST

Vegan alternatives to favourite dishes

Taco lovers - you owe it to

yourselves to indulge in these

delicious meatless tacos.

These can also be enjoyed

with soft tortillas

Tacos de Hongo

(Mushroom Tacos)

Serves 2

Ingredients

For the black beans

1 can black beans, drained and

rinsed

For the mushroom filling

6 cloves garlic, finely chopped

vegetable stock

30 button mushrooms, stemmed

and chopped

2 ½ Tbsp (non-spicy) chilli powder

1 ½ Tbsp paprika (plus more for

tomato salad)

1 Tbsp dried minced onion

sea salt

¼ cup fresh lime juice (from

about 2 limes), divided

2 ½ Tbsp natural tomato sauce

For the tomato salad and

guacamole

2 tomatoes, diced

½ red onion, diced

1 handful of fresh corriander,

chopped

1 avocado

garlic powder

For serving

4 lettuce leaves

6 hard-shelled tacos

hot sauce (optional)

Directions

Saute the garlic in a bit of

vegetable stock in a saucepan over

medium heat; add the chopped

mushrooms and sauté, stirring

occasionally, until mushrooms

shrink and become chewy. Add

the chilli, paprika, dried minced

onion, sea salt, and a couple of

tablespoons of fresh lime juice;

stir well to combine. Add the

tomato sauce and cook, stirring

occasionally. Taste and add more

tomato and/or spices, if desired.

Make the tomato salad:

Combine the diced tomatoes, red

onions, and corriander in a bowl

and squeeze some fresh lime juice

over; season with paprika and sea

salt to taste.

Make a quick guacamole:

Mash the avocado in a separate

bowl and season with sea salt, garlic

powder, and lime juice to taste.

Prepare a bed of lettuce for the

black beans.

Heat the taco shells. Build each

taco, starting with the mushroom

base, followed by the guacamole,

then finish with the tomato

salad on top. Drizzle with hot

sauce (if using). Serve with black

beans (simply heat and season as

desired).

Replace greasy wings at

a party with these spicy,

crunchy cauliflower bites.

Crispy Buffalo Cauliflower

Bites

Makes 6 cups

Ingredients

⅔ cup brown rice flour

2 Tbsp almond flour

1 Tbsp tomato paste

2 tsp garlic powder

2 tsp onion powder

2 tsp smoked paprika

1 tsp dried parsley

1 head cauliflower, cut into

medium florets

⅓ cup hot sauce or barbecue

sauce

Directions

Preheat oven to 230 deg C. Line

two trays with baking paper.

Combine the brown rice flour,

almond flour, tomato paste, garlic

powder, onion powder, paprika,

parsley, and ⅔ cup of water in a

blender. Puree until the batter

is smooth and thick. Transfer to

a bowl and add the cauliflower

florets; toss until the florets are

well coated with the batter.

Arrange in a single layer on the

trays, making sure that the florets

do not touch each other. Bake

for 20-25min, until crisp on the

edges. They will not get crispy all

over while still in the oven.

Remove from the heat and let

stand for 3min to crisp up a bit

more. Transfer to a bowl, drizzle

with sauce and serve immediately.

www.bigbrothersbigsisters.org.nz
---
2

PEGASUS [Edition POST datE]

Latest Canterbury news at starnews.co.nz

Tuesday when December you 10 have 2019 15your

AUTOMOTIVE PROFESSIONALS

Give us a call if you have a

Specialists offer

expert servicing

plus

Whatever servicing or repairs your

vehicle needs, Avonhead Automotive

Ltd in Racecourse Road have the

experience and expertise to keep it

running in optimum condition.

They specialise in warrant of fitness,

servicing, tune ups, cambelts, clutches,

brakes, transmission flushes, coolant

flushes, tyres and diagnostics. They can

also provide a loan vehicle, so you are

not inconvenienced while your vehicle

is in the workshop.

However, not only do owners Michelle

and Wayne and their team at Avonhead

Automotive Ltd offer friendly, efficient

service and repairs for all types of

vehicle, they also provide a valuable

a valuable bonus

WOF Servicing Tune ups Cambelts Clutches Brakes

Transmission flushes Coolant flushes Tyres and diagnostics

bonus for their customers. As part of the

nationwide Club Evolution, Avonhead

Automotive Ltd gives six months free

roadside assist to all customers that have

their vehicle serviced there. That means

if you break down, you will get the help

you need to get you back on the road.

More information can be found on the

website clubevolution.co.nz.

Plus, WOFs are only $45 at Avonhead

Automotive Ltd. So, give them a call

on 342 7123 to book in for a warrant, a

service, or for any vehicle repairs.

Avonhead Automotive Ltd is at 126

Racecourse Road. Opening hours are

7.30am to 5.30pm Monday to Friday and

8am to 1pm on Saturday.

Michelle and Wayne at Avonhead

Automotive will make sure your

visit is helpful and efficient.

Avonhead Automotive

For full terms and conditio

PARKER

AUTOMOTIVE

All Automotive Repairs and

Servicing including 4WD

Suspension Brakes & Cambelts

WOF, Tyres, Batteries

23B Birmingham Drive,

Middleton

Ph 03 982 4268

Mobile 027 331 0382

Email: parkerauto89@yahoo.com

s

m

a

r

t

mall

edium

• Panel beating

• Spray painting

Fast

turnaround

utomotive

epair

echniques

Smart repairS (NZ) Limited

automotive refinishers

272 Lichfield St (Fitzgerald Ave end)

Ph 377-0409

Free Check & Assessment

ROSES

AUTO ELECTRICAL

rosesautoelec@gmail.com

A vonhead

utomotive

free

6 months roadside assist

with any vehicle servicing

• automatic transmission

flushing service

• Wof • tune-ups • suspension

• batteries • neW tyres • oil &

lube service • courtesy cars

• full mechanical repairs

oPen 6 days (sat until 1pm)

126 racecourse road

Ph 342 7123 or 027 495 6600

Your LoCAL

TYrE SPECIALIST

New & Quality Used Second-hand Tyres

Alloy Wheels

Replacement Rims

Puncture Repairs

www.jcmdirect.co.nz

8c Birmingham Drive,

Middleton

Next to Addington Raceway

343 0099 or 027 22 63 805

NEW

LOCATION

95 Gasson St

The Automotive Lamp Specialists

New and Used Lamps for Cars, Trucks,

Vans, 4WD and Motorhomes

PH 0800 225 483 | 95 Gasson Street, CHRISTCHURCH
---
16

Tuesday December 10 2019

REAL ESTATE

Timeless classic with

magnificent views

24 and 26 Bayview Road, Charteris Bay

Asking price: $950,000

4 bedrooms | 1 bathroom | open plan living/dining/kitchen

3 car-garage | 1 boatshed | Listing 10651

Architecturally designed to blend in selling one if required. The properties are

to the hill and maximise the sun and both beautifully landscaped and planted

stunning uninterrupted views this 1977 attracting plentiful birdlife and birdsong.

pole house has an air and feel of quality The lower level of the house is a

and longevity about it.

triple garage with excellent storage and

Over engineered and extremely strong, workshop areas and gives internal access

there are 4 double bedrooms, bathroom in to the house. Classical simplicity with

and laundry etc. on the middle level whilst floor to ceiling windows, well insulated

on the 3rd floor lovely large open plan and double glazed, all timbers are treated

living, dining and kitchen flowing on to and the property is on mains water and

a large North, Northwest facing deck, sewerage. Good access and off-street

perfect for

Sunday

drinking in those captivating parking round off a very appealing

and ever changing views.

package.

Cleverly designed to maximise the This is the first time to the market but

winter sun whilst giving some relief from my vendors are retiring reluctantly and

the summer sun this property is both this very special and unique property will

sheltered from the prevailing wind and need to have a new owner. Includes boat

very very

22

private. Is set over 1723m2

MaRCh

on shed on Paradise Beach.

2 separate titles which gives the option of Viewing by appointment only.

Latest Canterbury news at starnews.co.nz

PEGASUS POST

#Areyouupforit?

14km, Tim Dunningham 6km

Min Sarginson Real Estate

Community

(Licensed Agent REAA 2008)

Phone 027 651 5474

Fun or 329 Run 4161 Event

EntER now

www.city2surf.co.nz

City 2 Surf 2020_Enter Now
---
PEGASUS POST Latest Canterbury news at starnews.co.nz

Tuesday December 10 2019 17

REAL ESTATE

Timeless classic with

magnificent views

24 and 26 Bayview Road, Charteris Bay

Asking price: $950,000

4 bedrooms | 1 bathroom | open plan living/dining/kitchen

3 car-garage | 1 boatshed | Listing 10651

Architecturally designed to blend in

to the hill and maximise the sun and

stunning uninterrupted views this 1977

pole house has an air and feel of quality

and longevity about it.

Over engineered and extremely strong,

there are 4 double bedrooms, bathroom

and laundry etc. on the middle level whilst

on the 3rd floor lovely large open plan

living, dining and kitchen flowing on to

a large North, Northwest facing deck,

perfect for drinking in those captivating

and ever changing views.

Cleverly designed to maximise the

winter sun whilst giving some relief from

the summer sun this property is both

sheltered from the prevailing wind and

very very private. Is set over 1723m2 on

2 separate titles which gives the option of

selling one if required. The properties are

both beautifully landscaped and planted

attracting plentiful birdlife and birdsong.

The lower level of the house is a

triple garage with excellent storage and

workshop areas and gives internal access

in to the house. Classical simplicity with

floor to ceiling windows, well insulated

and double glazed, all timbers are treated

and the property is on mains water and

sewerage. Good access and off-street

parking round off a very appealing

package.

This is the first time to the market but

my vendors are retiring reluctantly and

this very special and unique property will

need to have a new owner. Includes boat

shed on Paradise Beach.

Viewing by appointment only.

Tim Dunningham

Min Sarginson Real Estate

(Licensed Agent REAA 2008)

Phone 027 651 5474

or 329 4161

Are you A buSineSS?

Looking

for more

customers?

Do you have a

new product or

service?

Is brand

awareness

important for you?

Do you want to

be a leader in

your field?

Would you like

to personally

showcase your

business product or

service?

Would you like

to talk to over

10,000 potential

customers in

just 3 days?

Are you looking for

an opportunity to

grow your position

in the market?

Be part of the

most successful

Home and Living

Show in the

South Island.

Enjoy an

excellent return

for your

investment.

Call Lisa on 021 800 809 today!

Star Media Home & Living Show 26-28th June 2020 is where you need to be!

new exhibitor packages now available to get you started. Affordable prices and payment terms.
---
18

Tuesday December 10 2019

Latest Canterbury news at starnews.co.nz

PEGASUS POST

If you want more information about an item or to contact a

seller, visit www.postanote.co.nz and search the ID#

2007 Marco 590 Souwester H/T

Honda Accord Euro

Nissan Navara D21 Kingcab

Farm Trailer, Wooden 3 x 2.4m

STX 38 John Deere Ride-on Mower

Toyota Caldina

$49,500 ONO

ID 31132

$5,200

ID 32147

$3,500

ID 29769

$200

ID 28570

$1,600

ID 32452

$2,300

ID 32035

Honda Accord Euro CL 9

Planters Made From Recycled Pallets

2005 Lexus GS300

2006 Subaru Legacy 2.0 GT Turbo Si

Aluminium Boat & Warranted Trailer

1999 Subaru Legacy TSR

$6,000

ID 29801

See Seller

ID 27855

$10,000

ID 31728

$8,000

ID 31456

$2,500

ID 28339

$2,700

ID 32009

Case JX75 Tractor

Skope 3000kW, 2000kW

Quality 9-piece Designer Lounge Suite

Toyota Avensis Wagon 2.0 Auto

Sharp Convection Microwave

Yakima Rocketbox Pro 12

$37,000

ID 32227

$35

ID 31769

$450

ID 31265

$7,999

ID 31664

$150

ID 31210

$350

ID 31731

Toyota Caldina

Outdoor Chairs (Pair)

2005 Toyota Camry

Galvanised Crown Anchor 1.5kg

Sulking Dolls

2015 Kymco Super 8 Scooter

$2,300

ID 32035

$25

ID 32483

$3,700

ID 32505

$10 each

ID 32545

$50

ID 32487

$2,075

ID 28152

1971 Triumph 1500 Hutchwilco Pulsar Lifejackets

2006 Ford Falcon

COWS! Cups,Plates Toastie Pie Machine

Tooline Drop T Slidesaw

Mountain Bike Full Suspension

See Seller

ID 28865

$150

ID 32486

$4,000

ID 32453

$200

ID 32478

$150

ID 32485

$1,800

ID 32473

Tandem Trailer 5.5m x 2.2m

Telephone Stand

Nissan Pulsar Euro LS

Toyota Hilux Surf

Table and Chairs

EZGO Electric Golf Cart

OFFERS

ID 32475

$25

ID 9870

$5,000

ID 32414

$9,000

ID 32389

$300

ID 32550

$4,000

ID 32463

Extraction Fan, Heater & Light

York Mag Air R700HR

2005 4WD Mitsubishi Triton

Car Polisher

Shoprider Mobility Scooter

Keeway Cruiser 250

$150

ID 32367

$200

ID 30550

See Seller

ID 32328

$15

ID 32322

$1,200

ID 32318

$2,500

ID 32529

1119h20chch
---
PEGASUS POST Latest Canterbury news at starnews.co.nz

Tuesday December 10 2019 19

Classifieds Contact us today Phone our local team 03 379 1100

Collision Repairs

Trades & Services

Trades & Services

Trades & Services

Trades & Services

Wanted To Buy

QEII Collision Repairs.

Free Courtesy Cars

(conditions apply). All

Insurance work, rust

repairs & private work.

Spray-painting.

Free pickup & delivery.

Ph. 03 388 5187

Community Events

ALCOHOLICS

ANONYMOUS, If you

want to have a drink that's

your business. If you want

to stop, we can help. Phone

0800 229-6757

Holiday

Accommodation

Australia QLD

SUNSHINE

COAST

RESORT

AlEXAnDRA hEADlAnD

All Units Have Ocean Views.

Heated Pools, Spa & Sauna,

Free Wifi, Tennis &

Mini Golf.

ChECk OuR gREAT

SpRing/SummER

SpECiAlS

www.mandolin.com.au

0061 7 5443 5011

Livestock & Poultry

POINT of lay Brown

Shaver Hens Available

from Dec 18th, $30 each,

Ph or Txt 027 474 1723

• New homes

• Extensions

• Renovations

Trades & Services

BLOCKED

DRAINS?

• Video inspection

• Waterblasting

• liquid Waste

pH: 03 365 7960

24 hours // 7 days

info@h20jet.co.nz

www.h20jet.co.nz

Builder

Brandon Taw

Phone 027 370 2572

enquiries@tawbuilders.co.nz

www.tawbuilders.co.nz

HOUSE

CLEARING

Are you

moving house

or trying to

downsize?

Call All Clear

Canterbury. We work

with you to recycle,

sell and dispose of

unwanted items.

Ph: 03 260 0934

or 021 078 4553

raewynlcooke@gmail.com

www.allclearcanterbury.co.nz

ADD SOME

COLOUR

TO YOUR ADVERT!

• Light Commercial

• Repairs and

Maintenance

We Can Arrange:

• Design work

• Contract work insurance

• Engineer PS1, PS4, By BLSConsulting

• LBP PS3

PBS what we can offer:

• Foundation relevels

• Slab on grade relevels

• Timber floor relevels

• Subfloor Repair

• Concrete Cutting

BUILDER

BUILDER

• Christchurch City Council Consent

• Christchurch City Council Exemption

• EQC Complaint

• New foundations

• Concrete repair including crack injection

• Concrete work: driveways, patios, paths, etc

• Landscaping: decks, pergolas, fences, etc

• Core drilling up to 400mm diameter

HOME SERVICES

• Window Cleaning

• Pest Control

• Meth Testing

• Full House/Building

Washing

• Moss & Lichen Spraying

• Gutter Cleaning

• Waterblasting

• Carpet Cleaning

(all services up to 3 storeys)

0800 155 166 | 027 714 4812

www.facebook.com/aplusservicesnz

admin@aplusservicesnz.com

www.aplusservicesnz.com

Trades & Services

ROOF REPAIRS

Locally owned & operated with

over 30 years experience.

• Extensions & repair • Roof coating

• Concrete & clay tiles • Butynol

• Malthoid • Asbestos Certified

• Coloursteel • Old iron • Guttering

Phone Dave 981 0278

or 021 223 4200

E: dave@beaumontroofing.co.nz

BEAUMONT ROOFING LTD

VIDEO PRODUCTION

business video

PRoduCTion

A video will bring your business alive & into your

customers mind.

Promote your services or business with a

professionally created video with us

• Corporate and Business

video a speciality

• Competitive rates

• 25 years experience

• Start to finished product

• Professional quality

guaranteed

PHone KeRRY 021 635 083

WINDOW TINTING

tintawindow

advanced film solutions

99% uv block

fade protection

heat control

reduce glare

25 Years Experience

privacy films

frosting designs

non-darkening films

Workmanship Guaranteed

Lifetime Warranties on Most Films

UV

block

Free Quotes Canterbury and Districts

03 365 3653 0800 368 468

FOR ALL YOUR

★Garden Clean-ups

★Pruning

★Lawn Mowing

★Garden Maintenance

Call us today for a FREE quote

PH 0800 4 546 546

(0800 4 JIMJIM)

Trades & Services

BEST BATHROOMS

full renovations

specialists, LBP builder,

free quote, all building

property maintenace ph 03

383 1927or 027 245 5226

ciey@xtra.co.nz

Trades & Services

BRICKLAYER

George Lockyer. Over

40 years bricklaying

experience.Uk trained.

Insurance work, EQC

repairs. Heritage

brickwork & stonework

a speciality. No job too

small. Governers Bay.

Home 329 9344. Cell

027 684 4046. E mail

georgelockyer@xtra.co.nz

CARPET LAYING

Exp. Repairs, uplifting,

relaying, restretching.

Phone John on 0800

003181, 027 240 7416

jflattery@xtra.co.nz

FENCING / TRELLIS

25 yrs exp. Fencing &

trellis, all styles & gates.

Ph Mark 0273 313 223

FENCING / TRELLIS

25 yrs exp. Fencing &

trellis, all styles & gates.

Ph Mark 0273 313 223

PAINTER

50 yrs combined exp.

New, older homes, int ,ext.

Locals working for locals.

We stand by Canterbury.

Ph Wayne 027 274 3541 /

385 4348

SPOUTING

CLEANING

ADVERTISE YOUR BUSINESS HERE

Phone for further details

CASH FOR

STAMPS,

COINS &

GOLD

Spouting Unblocked,

Cleaned Out and Flushed Free Appraisals

Out. Call Trevor 332 8949 Call Matt at

or 021 043 2034

The Stamp and

T.V. SERVICE

Coin Exchange

CENTRE

134a Riccarton Rd

Repairs, tvs, microwaves, 0800 39 24 26

audio amps, soundbars.

We can come to you.

.Aerial & satellite

Call today.

installations, kitsets, 480D

Moorhouse Ave, ph 03 379

1400

Wanted To Buy

VHS VIDEO TAPES

& all camera tapes

TOOLS Garden,

converted to DVD, video garage, woodworking,

taping special occasions, mechanical, engineering,

www.grahamsvideo.co.nz sawbenches, lathes, cash

ph 03 338-1655

buyer, ph 355-2045

(03) 379 1100

We're for

local

EVENTS

From Kaikoura,

to Christchurch,

to Ashburton,

we have it covered
---
20 Tuesday December 10 2019

Latest Canterbury news at starnews.co.nz

PEGASUS POST

Christmas

Made Easy

Get your home Christmas ready and find a gift for everyone on your list!

smithscity.co.nz/christmas

Chic and stylish

5 Seater

Lounge Suite

Turin 9060174

3 Seater + 2 Seater

Lounge Suite

Also available 3 Seater Chaise.

Buy any

$ 1999

Save

$ 1000

less

than

$ per

11 week* >

55" UHD Smart TV 55NU7090 9053384

Limited Stock

$ 999

less

than

55"

Christmas

movies will

have never

looked so

good!

Right On

$ per

11 week* <

Matrix mattress and get a

low profile drawer base

*2

free

Firm Queen 9061221

Also available Single, Double King,

Super King & Califronian King.

Accessories not included.

$ 3199

Free Queen Base

worth $1700

less

than

per

$ 17 week *>

Samsung Galaxy

A70 128GB

9057984

• 6.7" Screen

• On-screen Fingerprint Sensor

• Triple Camera: Ultra Wide

123-degree field of vision, 32MP

camera & 5MP Depth Camera.

$8

less than

per week *<

$ 599

Save

$ 170

233L

233L Bottom

Mount Fridge

Freezer

HRB227W 8784993

less than

$8

per week *<

Right On

$ 599

up to

30OFF *

Electrolux

Vacuums

%

40-

%

50OFF *

Sunbeam Kettles

& Toasters

Nespresso

Essenza Mini

C o ff e e

Machine

BEC250BLK

9036182

$ 199

Save

$ 80

50

months interest free

on furniture & beds $999 and over #

24

months interest free

on everything $499 and over #

OUR PRICE PROMISE

Find a lower pirce and we'll match it †

Applies to identical product.

Some products on display in selected stores only – please call your local store to check for availability. Offers in this ad are valid until Tuesday 10th December 2019, while stocks last or unless otherwise

stated. *Discount is off our full retail price and not in conjunction with any other offer.*2 Not in conjunction with any other offer, excludes clearance and farmlands. Free low profile base must be the matching size

to the mattress purchased. #Apple products, selected computers, game consoles, gift cards, flooring, clearance items and some promotional items are not available in conjunction with interest free offers.

Carpet available on a maximum of 18 months interest free. Exclusions, fees, terms, conditions and credit criteria apply. Equal instalment amounts over finance period of 36 months (unless otherwise stated)

and exclude insurance. Booking fee $45.00, Annual fees $45.00 P.A., Security registration fee $8.05. Current interest rate of 23.95% Applies to any unpaid balance after expiry of (any) interest free period.

See in-store or visit smithscity.co.nz/terms-conditions for details.Instalment amount based on a 50 month finance period. †For full Price Promise

terms and conditions visit smithscity.co.nz/price-promise. ~ For full details and conditions go to www.samsung.com/nz/offer.

JTWK28

550 Colombo Street | Cnr Belfast and Radcliffe Road Northwood, CHRISTCHURCH MEGASTORES