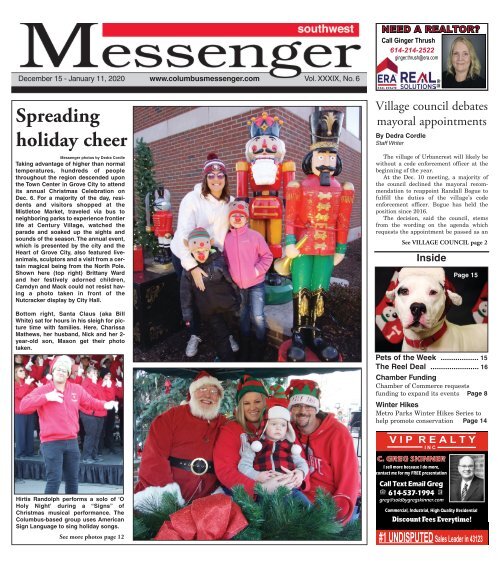 Southwest Messenger - December 15th, 2019
Create successful ePaper yourself
Turn your PDF publications into a flip-book with our unique Google optimized e-Paper software.
December 15 - January 11, 2020 www.columbusmessenger.com Vol. XXXIX, No. 6

Spreading

holiday cheer

Messenger photos by Dedra Cordle

Taking advantage of higher than normal

temperatures, hundreds of people

throughout the region descended upon

the Town Center in Grove City to attend

its annual Christmas Celebration on

Dec. 6. For a majority of the day, residents

and visitors shopped at the

Mistletoe Market, traveled via bus to

neighboring parks to experience frontier

life at Century Village, watched the

parade and soaked up the sights and

sounds of the season. The annual event,

which is presented by the city and the

Heart of Grove City, also featured liveanimals,

sculptors and a visit from a certain

magical being from the North Pole.

Shown here (top right) Brittany Ward

and her festively adorned children,

Camdyn and Mack could not resist having

a photo taken in front of the

Nutcracker display by City Hall.

Bottom right, Santa Claus (aka Bill

White) sat for hours in his sleigh for picture

time with families. Here, Charissa

Mathews, her husband, Nick and her 2-

year-old son, Mason get their photo

taken.

Hirtis Randolph performs a solo of 'O

Holy Night' during a "Signs" of

Christmas musical performance. The

Columbus-based group uses American

Sign Language to sing holiday songs.

See more photos page 12

NEED A REALTOR?

Call REALTOR?

Ginger Thrush

Call 614-214-2522

Ginger Thrush

614-214-2522

ginger.thrush@era.com

Village council debates

mayoral appointments

By Dedra Cordle

Staff Writer

The village of Urbancrest will likely be

without a code enforcement officer at the

beginning of the year.

At the Dec. 10 meeting, a majority of

the council declined the mayoral recommendation

to reappoint Randall Bogue to

fulfill the duties of the village's code

enforcement officer. Bogue has held the

position since 2016.

The decision, said the council, stems

from the wording on the agenda which

requests the appointment be passed as an

See VILLAGE COUNCIL page 2

Inside

Page 15

Pets of the Week .................. 15

The Reel Deal ....................... 16

Chamber Funding

Chamber of Commerce requests

funding to expand its events Page 8

Winter Hikes

Metro Parks Winter Hikes Series to

help promote conservation Page 14

V I P R E A L T Y

I N C

C. GREG SKINNER

I sell more because I do more,

contact me for my FREE presentation

Call Text Email Greg

614-537-1994

greg@soldbygregskinner.com

Commercial, Industrial, High Quality Residential

Discount Fees Everytime!

#1 UNDISPUTED Sales Leader in 43123
---
PAGE 2 - SOUTHWEST MESSENGER - December 15, 2019

Email story ideas to

southwest@columbusmessenger.com

JEFFREY P. COMPTON

ATTORNEY AT LAW

General Practice

Personal Injury • Domestic

Probate • Wills

Power of Attorney

Healthcare Documents

FREE CONSULT & PARKING

614-875-7233 Fax: 614-875-7207

3894 Broadway, Grove City

www.jeffreypcompton.com

Email: jcompton@jeffreypcompton.com

F∩O∩R∩ G∩R∩E∩A∩T∩ A∩U∩T∩O∩ R∩A∩T∩E∩S∩

it takes

a village!

lag

A∩t V∩illage I∩nsurance

A∩gency

we

believe we can save you money

on

your car insurance.

B∩efore e you renew y

ou ur auto

insurance call us and see how much

we can save you!

Volunteers sought at food pantry

The Grove City Food Pantry is looking

for volunteers. The pantry is located at

2710 Columbus St. in Grove City. It serves

about 250 families each month in Grove

City, Orient, Harrisburg and Galloway. It

is open Monday through Friday from 2 to 4

p.m. and on the third Saturday of the

month from 10 a.m. to noon. Volunteers are

needed to work various times and days.

Food donations are also needed. Those

interested in volunteering for the Grove

City Food Pantry or making a food or monetary

donation can email

managers@grovecityfoodpantry.org.

Grove City

Food Pantry

S∩ave E∩ven

M∩ore W∩hen

W∩e I∩nsure

Y∩our C∩ar &

H∩ome!

www.viaoh h.com • (614) 875-3010

3136 B∩roadway, S∩uite 103

G∩rove C∩ity, O∩H∩ 43123

The Grove City Food Pantry is located at

2710 Columbus St., Grove City

Serving about 250 families each month.

Hours: Monday-Friday 2-4pm

Third Saturday of the month 10am til Noon.

Needing assistance

Call Hands on Central Ohio

@ 614-351-2282 for an appointment.

Food donations can be dropped off at the pantry

Monday - Friday 2 - 4 pm or Monday

and Thursday 9am til Noon.

Monetary donations can be sent to the above address.

Volunteers Needed

Contact us at managers@grovecityfoodpantry.org

around the southwest

Choir looking for singers

New singers are needed for an adult

community choir in Grove City. The group

is looking for singers ages 18-50 with the

ability to read music. People with choral

experience is preferred. All voice parts,

especially baritone and bass, will be considered.

To set up an audition, call 614-277-

1614.

Refuse to Lose blood drive

The 11th annual #3 "Refuse to Lose"

Ryan Salmons Blood Drive will be held at

Memorial Baptist Church, at 2435 Eakin

Road on Dec. 14 from 8:30 a.m. to 1 p.m.

Call 1-800-RED-CROSS to register. Walkins

accepted as schedule permits. A raffle

will be offered with all contributions benefiting

the Columbus Blue Jacket

VILLAGE COUNCIL

Continued from page 1

emergency.

"We do this every year," said Alicia

Wiggins.

A motion was passed to make the recommendation

have three readings. They

will revisit the request in February.

Mayor Joseph Barnes Sr., who was not

present at the meeting, later said he was

disappointed in the council's decision, calling

Bogue an important figure in upcoming

legislation and zoning issues.

"There are a lot of cases that are now

open that he has been working on," Barnes

said. "Now all of that hard work will be put

on hold."

He added that he hoped council would

revisit the appointment in January rather

than February.

"Mr. Bogue has been a great asset to

this community," he said. "He has put our

code system in order and brought it up to

date.

"He always goes by the book, and never

turns a blind eye or deaf ear on anyone or

any situation."

The Dec. 10 meeting was not the first

time the issue of mayoral appointments

and the use of 'and to declare an emergency'

has risen at a council meeting.

There was a lengthy discussion about this

topic at the December meeting last year.

During that debate, council said they

wanted time to evaluate the performance

of the appointee and their approval should

not be rushed at the end of the year. As

noted at that meeting, council has the

authority to change the timing of performance

evaluations but have yet to revisit

the legislation.

Barnes said regardless, it falls under his

duties as mayor to appoint candidates to

fulfill certain roles in the village, and the

council to raise objections to their body of

work.

"They didn't do that here," Barnes said

"because there are no objections to his performance."

However, councilwoman Deborah

Larkins-Jackson said she voted to suspend

www.columbusmessenger.com

Foundation. Grand prize is dinner, a pair

of tickets to a Blue Jackets home game and

a buffet dinner. Additional Jackets memorabilia

will be raffled in memory of

Salmons, who died in 2009 after a brief battle

with cancer. Donors receive a complimentary

ticket. Additional tickets can be

purchased for $5 each or three for $10 at

the event or in advance by calling 614-309-

6686.

Blood drive at Kingston Center

The American Red Cross Blood Drive

meets in the Kingston Center, 3226

Kingston Ave., from 1-7 p.m. the first

Wednesday of each month. To schedule an

appointment call 1-800-448-3543 or visit

the American Red Cross Blood Drive website.

the declaration of an emergency appointment

to give more people the opportunity

to voice interest in the position.

The reappointment of law director Rodd

S. Lawrence was also debated. Initially,

the majority council voted to make the

request three readings, which would have

left the village without a law director until

February at the latest.

Fiscal officer Kathy Thimmes told council

members that the timing was not ideal

as there is pending litigation.

"We need Rodd from the very first week

in January," she said.

When asked about the litigation after

the meeting, Lawrence said it stems from

the village's desire to terminate a tax

abatement agreement and the company's

desire that they reconsider doing so.

"The agreement is set to expire so that's

what it's all about," he said.

After an executive session to discuss the

pending litigation, council voted to reappoint

Lawrence to the position of law director

for the 2020 calendar year.

The mayoral appointment of Edward

Banks to the position of street commission

was accepted at the meeting, as was the

appointment of Sandra Saunders and S.

Henry Warr to the planning commission.

Donna Bogue's appointment to the board of

zoning appeals was also accepted. All of

those positions were passed with the emergency

declaration.

In other news, Larkins-Jackson will

take the second council seat available from

the Nov. 5 election after a favorable coin

toss. She and Warr had tied at 51 votes

apiece, which automatically resulted in a

recount. The recount, which was done by

board of election officials, determined those

numbers were accurate and no votes were

missing. That promoted the use of a coin

toss to determine the outcome, and

Larkins-Jackson was determined the winner.

She will join Steven Larkins, Shawn

Moore, Alicia Skinner, Alicia Wiggins and

Nikky Ziglar-Zimmerman on council.
---
www.columbusmessenger.com

December 15, 2019 -SOUTHWEST MESSENGER - PAGE 3

Welcome to 2190 Hills Wood Drive

Welcome to 2190 Hills Wood Drive located close to schools, medical, parks and shopping. This open ranch offers a custom granite kitchen featuring a

large slab eat in island and stainless appliance package. LOTS of work space and plenty of cabinets in this kitchen ! This floor plan offers two large eating

areas, and a sunken, vaulted great room with a floor to ceiling fireplace. You can easily entertain dozens of people in this home. Captivating flooring which

is all hard surface, no carpet in this luxe home! Open and airy, plenty of light throughout. Private Master suite offering its own private bath and a walk in

closet. Hall Bath offers dual sinks. TONS of outdoor entertainment space with three patios. Be the first to see this impeccable home!

$269,900 MLS#: 219044464
---
PAGE 4 - SOUTHWEST MESSENGER - December 15, 2019

Opinion Page

www.columbusmessenger.com

Road to recovery has been steady with support

SUPPORT

your

Community Paper

Through advertising, community newspapers like the

Messenger have always been FREE papers. In these

tough economic times we are asking you the reader to

help offset the current decline in advertising revenue by

participating in a VOLUNTARY payment program*.

To those who have already participated -

We Thank You.

For those who would like to, below is a form

you can mail with your DONATION.

*This is not a subscription.

.Name:

Address:

City/State/Zip

3500 Sullivant Ave., Columbus, OH 43204

1 year ($9) 2 year ($18)

Eastside Westside Southwest

Southeast

There's an old saying routinely used since WWI. One of

the early 50s shows I remember had the title of that saying.

Actor William Bendix starred as Chester A. Riley, a

riveter at an aircraft plant. He was leading, "The Life of

Riley," meaning an easy and pleasant life. He was stereotyped

as a blue-collar family worker, gullible, clumsy, wellintentioned,

socially inept, but a big-hearted man. At some

point in each show, faced with a new plot dilemma, he'd

look at the camera with his sad basset hound look and tell

the audience, "what a revoltin' development this is."

That's what I felt like saying as the surgeon went over

the x-ray with me. "See this hip, that's your left one,

there's the cartilage, good shape. See the right one, no cartilage

at all, completely gone." The x-ray was conclusive,

even to my untrained eyes. "We could try a shot, a few

other things, but I'm positive nothing will work for more

than a short time. You need a hip replacement. From what

I see, you're a perfect candidate for an outstanding outcome."

Now over 70, I've been very fortunate, but I'm finding

wear and tear on body parts are starting to catch up with

me. I'd put up dealing with my leg pain for as long as I

could. I left the office with a surgery date for hip-replacement,

Veteran's Day, my first surgery since the removal of

my tonsils as a little boy. I figured the flags would be

proudly waving high. I'd need all the mental advantage I

could muster.

By way of background, I felt something was amiss some

10 years ago. The symptoms kept changing and weren't

sending this unsuspecting body a clear signal. I've played

sports all my life. As a hockey player, I crashed onto my

right side often. The old 'hip-pointer' syndrome was a common

injury for me. Many years later, after retirement and

sitting at a desk for 30 years, I took up jogging, ran in

numerous 5K races but didn't embarrass myself in a 10K.

But after starting out as the gray-haired Silver Meteor, I

digressed to the Turtle Express and then to the depths of

the Turbo Powered Snail. I stopped jogging but remained

determined to walk.

Even that had become an excruciating painful endeavor.

I started humming that song, Dem Bones, on my walks.

You may remember that from your younger days, 'the hip

bone's connected to the back bone, the back bone's connected

to the neck bone.' When I walked on uneven ground,

sneezed, coughed, turned my torso to look at something as

I walked, I'd verify the lyrics and just how intricately

intertwined our body is as I'd get anguishing pain across

my groin. If I stubbed the foot on a bad sidewalk, I'd let out

a howl a coyote would respond to. My hope it was just a

strain, sport's hernia, or pinched nerve that would go

away, had vanished. When it got to the point where I

couldn't bend down to pet a dog on my walks, I decided the

time was now. It had to be dealt with.

As my Bionic Titanium Man transformation date

approached, I followed all directives. There were multiple

coordinating medical calls, physical tests, guidelines on

what to do and not do, eat and not eat, special bathing

instructions and pre-therapy training so I'd be able to function

at home post-surgery as recovery progressed.

Everything was covered except handling my growing anxiety.

It didn't help when I awoke at 3 a.m. on surgery day

to flashing red lights as the medical squad took my neighbor

to the hospital where he'd ultimately also be facing

major surgery. Nor did arriving and finding all the

flags at half-staff (in honor of the Dayton police

detective).

Finally, I was there, laying in the hospital preop

bed, hooked up to more cords than my cable TV

and computer. The doctor came in and told me to

initial the proper leg. He then marked it. I resisted

asking him if he wanted to play tic tac hip. He tried

to reassure me. It didn't help much. Away we went

to surgery. I'd been wondering how they dislocated

the old hip. That was an error. As we wheeled into

the operating room my peripheral vision saw some

big metal apparatus that looked like something out

of a medieval basement torture chamber. I'm sure

my eyes must have looked like they were going to

pop out of their sockets as my overly creative scenarios

got carried away and I thought, "Uh-oh."

Then I heard, "breath in deeply." I never did ask

about the details; suspect it best I never know.

Next thing I heard were beeps and a "you're fine,

just breath steady," as I awoke in the recovery

Gratitude from the Lions Club

The Grove City Lions Club wish to thank all who

supported our recent pancake breakfast. This charitable

fundraiser enabled our club to provide funds for

our sight saving projects and to Pilot Dogs, Inc for

their use in training guide dogs for the blind. The

financial support of those attending made this event a

success.

Guest Column

Dave Burton

room. There had been no out-ofbody

experience, I hadn't seen

departed family or my beloved dogs,

even though I'm betting they were

there. I just hadn't been anywhere.

But now I was again.

As the day progressed my

strength grew, and the anesthesia

wore off. I was surprised to find I

could get to the restroom with a

walker. I felt like yelling down the hall, "hark, hark, I hath

arisen". However, I quickly found myself being assisted

back to the bed. My blood pressure had tanked faster than

an insurmountable Browns lead, and the world was spinning.

They gave me a spiffy barf bag. I never used it, but

brought it home thinking it might be useful watching a

future Browns game. A little more time in bed, some black

coffee, a few cookies, countless blood pressure checks, and

I was on my way home on the same day after a major

surgery that had only taken an hour, able to move with a

walker. Truly incredible.

After the second day home my walker was cast aside. I

had already graduated to a walking cane. A few days later

I didn't need that either. My visions of being able to

resume playing rousing ping pong matches in my basement

against my also over-the-hill buddy became my driving

force for recovery. I began my outside walks, short at

first, increasing a little each day. My goal was quality versus

quantity as I had to reverse many years of pain compensating

poor gait and posture. I realize it will take more

time, but I'll continue to hard work at it.

The road to recovery has been steady. The good days are

becoming great days and the bad days good ones. The ugly

days all but disappeared days ago. My biggest setback was

watching the Alabama football game and squirming as I

saw their heralded quarterback get carted off the field in

agonizing pain with a separated and fractured right hip

bone. I cringed as I watched.

The hardest part so far has been gaining the confidence

and trust to use my new part and not revert to previous

bad habits while realizing the agonizing steps I took for

years won't be there now.

My thanks to the entire medical staff (for putting up

with me and my sarcasm). They've been great throughout

and I've once again learned how caring and supportive

good neighbors and friends can be.

Dave Burton is a guest columnist for the Columbus

Messenger Newspapers. He lives in Grove City.

letter to the editor

A special thank you extended to the following companies

for their donations; Bob Evans Farms, Inc.

Bussman's 2B Printed, Giant Eagle Stores, Grove City

Kroger Stores on Hoover Road, Meijer Stores,

Schoedinger Grove City Chapel Funeral Home.

Duane Shaul

Grove City Lions Club
---
www.columbusmessenger.com

December 15, 2019 -SOUTHWEST MESSENGER - PAGE 5

Welcome to 5989 Haughn Rd.

Over 5 acres which shows from I 71 South. Just north of SR 665. Buildings on site are tear downs and have no value. Zoned C2

Commercial...2 Diesel repair facilities next door, as well as 2 self storage facilities. In the City of Grove City, all utilities on site. This

is a once in a lifetime opportunity as land with these kind of uses in the city do not come to market often. Land would have to be

rezoned and approved. Owner will look at all reasonable offers, let's talk!

$399,900 MLS#: 219033374
---
PAGE 6 - SOUTHWEST MESSENGER - December 15, 2019

www.columbusmessenger.com

School district ends year on positive financial note

By Dedra Cordle

Staff Writer

A review of the 2018-2019 fiscal year was presented at

the Dec. 9 South-Western City Schools Board of Education

C.M.T

MOWER REPAIRS

614-875-5830

6446 HARRISBURG PIKE, ORIENT, OHIO 43146

Pick-up and Delivery

"We have the lowest price in town!"

Lung Cancer?

Asbestos exposure in industrial,

construction, manufacturing jobs, or the

military may be the cause. Family in

the home were also exposed.

Call 1-866-795-3684 or email

cancer@breakinginjurynews.com.

$30 billion is set aside for asbestos

victims with cancer. Valuable settlement

monies may not require filing a lawsuit.

In Education

meeting. The figures presented indicated an increase in

revenue, a moderate change in expenditures and a positive

cash balance in the general fund.

According to Hugh Garside, the district's treasurer, revenue

was up 5.7 percent from the previous fiscal year.

"That is a $15.2 million increase in revenue," he

said.

That increase was largely contributed to an

expanding tax base through the construction of new

subdivisions and businesses.

"We are seeing a lot of good growth with all of

these homes and businesses going up," Garside said.

Another avenue of revenue increase was through

state funding. Garside said the district received an

additional $9 million last year. Other avenues of

expansion, he said, are through interest earnings,

which was reported as $2.4 million.

With all of the funding sources combined, the district's

total general fund revenue was $283 million.

There was a moderate change in expenditures,

said Garside.

"We saw slightly less of an increase from the last

fiscal year."

He said the district continues to spend 73 cents out of

every dollar on direct instructional activities. Direct

instructional activities include salaries and benefits, supplies,

teacher aide personnel, guidance, curriculum development

and library/audio services.

The other 27 cents is spent on functional categories

such as administration, plant maintenance, transportation

and extracurricular.

Combined, the district's total general fund expenditure

for the fiscal year was $259.95 million.

Garside also spoke of the district's other expenditure

funds, which account for specific services and programming.

He said capital outlay is expected to increase when the

district begins its middle school build project with the Ohio

Facilities Construction Commission, while the enterprise

funds (food service) is expected to maintain its status "in

the black."

"Our food service operation has been a shining star," he

said of the $10.4 million operation.

Altogether, Garside said the 2018-2019 fiscal year was

a positive one for the district and he believed it will be

maintained in the upcoming fiscal years.

Volunteers needed for tax preparation

The AARP Foundation Tax-Aide program, which

provides free tax preparation, primarily for senior citizens,

at the Grove City Church of the Nazarene and

many other locations across the state is seeking volunteer

tax preparers for next year.

From Feb. 1 through April 15, 10 volunteers prepared

more than 600 federal and state tax returns at

the Grove City Church of the Nazarene, saving clients

an estimated $120,000 in tax

preparation fees. Last tax season,

Tax-Aide had to turn away countless seniors

because more people wanted the service than could be

helped. Anyone who does his/her own taxes on a commercially

available program is an ideal candidate for

the volunteer opportunity. Volunteers receive IRSapproved

training. They are asked to work at least one

day a week during the 10 to 11-week tax season.

For more information about volunteering, contact

William Evans at 614-885-0938 or

wlevans88@gmail.com.

No Pur

rchase Fees es on

Holi

olid

day Gift Cards

d

through h December emb

er 31!

See

a ban

k repr

res

entat

tive f or fu ull details.

Visit us at Your Neighborhood Branch!

2250 Stringt town Rd. Gr rove City

y, OH

614.875.8700

VCNBfamily.c

com

Students go "Into the Woods"

The Hayes Intermediate drama club will perform "Into the Woods" at 7 p.m. Dec. 16

at JC Sommer Elementary School, located on Kingston Avenue in Grove City. In

lieu of admission, audience members are asked to bring new winter hats, gloves,

scarves or other items that will be donated to a local shelter.
---
www.columbusmessenger.com

Southwest

Christmas Church Services

December 15, 2019 -SOUTHWEST MESSENGER - PAGE 7

Galloway

Presbyterian

Church

6191 Hall Road, Galloway, Ohio

614-878-5015

Dec 24th - Christmas Eve

Candlelight/Communion

Service - 7pm

Our Lady of Perpetual Help

Catholic Parish & School

3730 Broadway, Grove City

Parish Office: 614.875.3322

www.ourladyofperpetualhelp.net

Jackson Chapel

United Methodist Church

Christmas Eve Candlelight Service

Tuesday, December 24, 7:00-8:00

Beautiful Stained Glass

Windows depicting life of Jesus

4473 Jackson Pike

(coner of White Road & Jackson Pike)

Christmas at First Presbyterian

Church of Grove City

4227 Broadway, Grove City

Sunday, December 15th

9:00 a.m. Service - Adult Bell Choir

11:15 a.m. Service

Sunday, December 22nd

9:00 a.m. Service - Children's Bells

Tuesday, December 24th Christmas Eve

Carols and Candlelight Service

at 7:00 p.m.

Sunday, December 29th

One Service at 10:00 a.m.

Faith Community Church of God

"The Church at the Roundabout"

Welcomes you for the Christmas Season!

Breakfast with St. Nick

Saturday, Dec. 21 - 10 A.M. to 12:00 P.M.

Ages birth to 12

Breakfast treats and the opportunity to make a

gift for mom and dad. Make Cards for friends and

family. Pictures and story time with St. Nick.

St. John's Lutheran Church

3220 Columbus St.,Grove City, OH 43123

Christmas Eve Worship

5pm, 7pm, & 9pm

Christmas Day Service 10am

Traditional Services

Sat. 4pm, Sun. 8:15am & 11am

Contemporary Service Sun. 11am

Merry Christmas

Join us on the following

Sundays at 10:30am:

December 15th

O Come O Come Emmanual

December 22nd

Celebration of Our King

All are welcome at the manger.

Grove City Church of God

4325 Harrisburg Pike,

Grove City, Ohio 43123

Christmas Sunday Service

Sunday, Dec. 22 at 10:30 A.M.

Join with us as Pastor Adrian Powell

brings the message,

"The Wise Still Seek Him." Hear the message

of the "real Christmas story".

First Baptist Church

of Grove City

3301 Orders Road

Sunday Services

9:15 and 10:45 AM

Candlelight Christmas Eve Services

Tuesday, December 24th

4:00 and 6:00 PM Neal Auditorium

4:00 PM Genesis Auditorium

www.firstgc.org

The Purple Door Church

2684 Columbus St., Grove City, OH 43123

Dec 21 st @ 5pm - The Longest Night Service

Remembering those who are no longer with us.

Dec. 24 th Christmas Eve

12pm - Traditional Communion Service

5pm & 7pm Contemporary Services

9pm - Traditional Candlelight Service with

Grove City Chamber Singers

11pm - Traditional Candlelight Service with Choir

www.purpledoorchurch.com

Follow us on Facebook - Grove City UMC

"to form and send intentional,

missionary disciples of Jesus Christ"

Christmas Eve Masses at Our Lady

4:00 p.m. in Church (no incense will be used)

4:00 p.m. in School Gym (no incense will be used)

7:00 p.m. in Church

10:00 p.m. in Church

Christmas Day Mass at Our Lady

9:30 a.m. in Church (no incense will be used)

St. Cecilia Parish

434 Norton Rd., Columbus

Parish Office:

614.878.5353

saintceciliachurch.org

"Where Love is Witnessed Knowledge is Shared

Service is Rendered"

Christmas Eve Masses at St. Cecilia

5:00 p.m. (no incense will be used)

8:00 p.m. (no incense will be used)

11:15 p.m. Office of Readings prior to Midnight Mass

Midnight

Christmas Day Mass at St. Cecilia

9:30 a.m. (no incense will be used)

Join Us for Christmas Eve Service

December 24 at 6:30 p.m.

for Candles and Carols

Come and gather with us in an intimate

setting for your family while singing

traditional favorites.

Family Fun Night

Tues., Dec. 31, 2019

from 5:30 P.M. until ?

join Faith Community for fun, games,

holiday snacks, sing-a-long to

favorite hymns and New Year Plans.

4203 Alkire Rd., Grove City, Ohio
---
PAGE 8- SOUTHWEST MESSENGER - December 15, 2019

A FACILITY MAINTENANCE COMPANY YOU CAN RELY ON

You've got enough people trying to waste your time with products and services you don't really want or

need. I'm not one of those people.

My name is Tom Pack, president of Ohio Facility Maintenance, and this article -- every word of it -- is

about how my company can help your company save more money, maximize your time and increase

productivity by capitalizing on your core competencies.

According to a 2017 report by International Facility Management Association (IFMA), companies who

outsourced the maintenance of their facilities saved an average of 12-18% in operational costs annually.

It is almost a no-brainer…

Having an in-house team oversee your facility maintenance operations will not only drive up overhead

costs but will also serve to distract your human resources from the required high priority tasks.

On the other hand, outsourcing your facility maintenance operations will free up your team and their

resources to better tend to your company's core competencies thereby improving efficiency.

But your facility maintenance is not something you should outsource to just anybody.

You need to put the maintenance of your facility in the hands of a reputable company that consistently

delivers top-notch results time after time.

And that is where Ohio Facility Maintenance comes in.

Ohio Facility Maintenance has over 30-years of full-service facility maintenance experiences. We offer

a broad spectrum of facility maintenance services which include building maintenance, conveyor, dock

plate maintenance, facility lighting, racking, parking lot maintenance, pest and wildlife control and much

more.

We have a relentless dedication to excellence, and our priority is enabling our clients to focus more on

the big picture and to add value to their own organizations.

Give us a call toll free at 833-646-2468, so we can schedule a time to meet for just 30 minutes or less,

to discuss how Ohio Facility Maintenance can help you with your projects - big or small.

We look forward to hearing from you soon!

#GR REENHOLIDAY GUIDE

MAKE A DIFFERENCE THIS HOLIDAY SEASON

BY RE ESOLVING TO REDUCE YOUR WASTE

AND RECYCLE MORE.

REDUCE YOUR WASTE

Look for items with

minimal-to-no packaging.

DONA

ATE

Consider donat

ing unwanted

lights and decorations.

REUSE

Be creative with leftover food by

sending dinner guests home with

h for tomorrow.

REC CYCLE RIGHT

Franklin County's curbside

and drop-off recycling programs only

accept plastic bottles and ju ugs, glass bottles and jars, metal c ans,

cartons, paper p and cardboa rd for recycling. Be sure to break down

any cardboard boxes be efore putting them in the container.

SWACO.ORG

Tom Pack

(614) 679-0175

(833) 646-2468

(833) ohmaint

www.ohiofacilitymaintenance.com

https://youtu.be/y-2UOtCgQZ8

www.columbusmessenger.com

The City Beat

Chamber asks Grove City for

funding to expand popular events

By Andrea Cordle

Southwest Editor

The Grove City Area Chamber of

Commerce has been promoting the city and

its businesses for more than 40 years. To

continue to do so, the group is requesting

help from the city.

At the Dec. 2 Grove City Council meeting,

members of the Grove City Area

Chamber of Commerce Board of Directors,

asked council to include the chamber in its

2020 budget.

"We are seeking a community development

fund to expand events like the Taste

of Grove City, Arts in the Alley and the

Farmer's Market," said Wayne Coakley.

According to Coakley, the chamber's

vision is to not only expand its current

events, but develop new ones that could

showcase the city, its businesses and its

residents.

"We want to advance business growth

and provide higher quality events," said

Coakley.

A new event the chamber featured at

the 2019 Arts in the Alley was the Voice of

Grove City competition. According to

Coakley, this singing contest brought in

contestants from all over Ohio, not just

Grove City and central Ohio.

The chamber requested that the city

allocate $70,000 for the organization in its

2020 appropriation budget.

"There is a lot of growth in Grove City.

We want to do our part to show off Grove

e gift of recreation

Grove City Parks and Recreation gift

certificates make great holiday gifts for

family members and friends of all ages.

From Big Splash season passes to sports

registration, shelter rentals, crafts and

cooking to exercise classes; and everything

in between, a parks and recreation gift certificate

allows recipients to customize their

experience by age and interest.

Gift certificates are available for purchase

in-person only, in increments of $25,

$50 and $100. Purchase through Dec. 23,

and receive a $10 bonus gift voucher for

every $100 worth of gift certificates you

purchase. The $10 bonus certificate must

be used by Dec. 31, 2020

Certificates are on sale in the Grove

City Parks and Recreation office, open 8

a.m. to 5 p.m., Monday through Friday,

and can be redeemed any time after

Monday, Jan. 4, 2020. Your purchase supports

future park programs, maintenance

and preservation.

For more information, call the Grove

City," said Ed Fleming, chamber board

member.

Council accepted the funding request

and said it would be reviewed.

In other news, council approved an ordinance

to allow the city's administration to

enter into an agreement with the Ohio

Department of Transportation (ODOT) for

improvements to State Route 104.

According to City Administrator Chuck

Boso, this project includes 104 resurfacing

in areas from Stringtown Road to State

Route 665. The state would pay for 80 percent

of the project and the city would cover

the remaining 20 percent. Boso said the

city would pay approximately $42,000 for

the improvements.

The measure was passed as an emergency.

Council also approved a development

plan for a subarea in Beulah Park, located

south of Southwest Boulevard.

According to city administration, this

subarea would include 52 homes on single

lots on the westside portion of the Beulah

property.

Pat Kelley, with Grove City Beulah

Investment, said the single-family residences

would appeal to young families. The

homes would be near the relocated

Brookpark Middle School.

"We are very excited about these

homes," said Kelley.

Kelley said the homes would range in

price from $300,000 to $350,000.

around the southwest

City Parks and Recreation Department at

614-277-3050.

S.A.L.T. at Evans Center

The Grove City Division of Police host

Seniors and Law Enforcement Together

(S.A.L.T.) meetings at 1 p.m. the second

Tuesday of each month at the Evans

Center, 4330 Dudley Ave. Adults of all ages

are welcome to attend. If you would like

additional information on other crime prevention

programs visit police.grovecityohio.gov

or call 614-277-1765.

Century Village open house

The Southwest Franklin County

Historical Society welcomes groups and

individuals to Century Village, 4185

Orders Road. Tour the historic log house

and school from 2 to 4 p.m. the fourth

Saturday of each month, May through

September. For more information or to

schedule a visit to Century Village, contact

Steve Jackson at 614-871-0081.
---
www.columbusmessenger.com

December 15, 2019 -SOUTHWEST MESSENGER - PAGE 9

Happy Holidays and Best Wishes

for a Healthy New Year!
---
PAGE 10 - SOUTHWEST MESSENGER - December 15, 2019

By Hannah Poling

Staff Writer

A new flag box will be located in

Pleasant Township.

Boy Scout Mason Stewart, 14, attended

the Dec. 10 board meeting to make a presentation

about a scout project that he has

completed.

As one of his projects for Troop 412,

Stewart has created a flag box, that has

been placed by the flag pole in front of the

Pleasant Township Fire Department. A

flag box is where you bring old American

flags that you need to retire to be disposed

of properly.

Stewart's mother has a friend in the

postal service who donated an old, red,

worn out postal box which was previously

used for sending Santa letters. The scout

then repainted the box and took it to be

wrapped in an American flag design and

then listed on the front of the box all of the

people who have donated to make the project

possible.

The box is currently mounted onto

pavers however, Fire Chief Brian Taylor

has plans to mount and secure the box

properly in concrete once the weather

warms up.

Stewart has two other boxes as well.

One was placed at Grove City Hall and one

is at the Kingston Center. Both of his other

flag boxes have been successful however,

www.columbusmessenger.com

Holiday safety tips from the Grove City Division of Police

As the holiday season approaches, many

become wrapped up in holiday festivities

making it easy to overlook simple safety

precautions. The Grove City Division of

Police would like to remind everyone of a

few holiday safety tips to help ensure you

and your family have a safe and happy holiday

season.

If you are shopping…

• Be aware of your surroundings. Look

around.

• Park in a well-lit area and be sure to

lock your vehicle. Do not leave shopping

bags or purses in your vehicle in plain

view.

• Do not approach your car alone if you

are apprehensive about those around your

car.

• Avoid carrying large amounts of cash.

Pay with a check or credit card when possible.

• Never provide credit card numbers

unless you initiate the purchase.

• Carry your purse close to your body.

Place your wallet in an inside or front

pants pocket.

• Teach your children to go to a store

clerk or security guard if they become lost

or separated.

• Be aware of strangers approaching

you for any reason. "Con-artists" take

advantage of holiday generosity to direct

you with the intention of theft. It is not

uncommon for criminals to solicit door-todoor,

asking for donations or sham charitable

causes.

If you are out for the evening…

• Turn on lights and a radio or TV so it

appears that someone is home.

• Be diligent about locking your doors

and windows, even when you're gone for a

short time.

• Do not display gifts or high-priced

items in your home where they can be seen

from the outside.

If you are going out of town…

• Fill out a Request for Home Security

Check form online or visit the Safety

Complex, 3360 Park St.; forms are available

in the lobby. Your home will be

checked by the Grove City Division of

Police while you are away.

• Stop your mail and newspaper or ask

a neighbor to collect them for you.

• Advise a trusted neighbor that you

will be out of town. Ask them to report any

suspicious activity immediately.

After the holidays…

It's fun to share your joy; but be cautious.

Do not advertise gifts received during

the holidays, this includes sharing on

social media sites. Avoid setting out boxes

from high-priced items at the curb on trash

day by dropping them in a drop box for

recycling. If you must place them at the

curb, break down boxes and turn them

inside out so passersby cannot see the

labels.

Many programs are available to educate

and deter unlawful activity. Visit the

Grove City Division of Police website for

crime alerts, trends and tips.

If you would like additional information

on other crime prevention programs, call

614-277-1765.

Boy Scout puts flag retiring box at Pleasant Township Fire Department

the new box at the fire station has proved

to be the most successful location so far.

According to Stewart, he was just made

Eagle Scout last Wednesday for this flag

box project.

"I'm just happy that I can have it done

so people know where to put their flags,"

Stewart said.

Stewart will continue to empty the

boxes and has plans to begin disposing

them as part of the Pleasant Township

Memorial Day services.

Messenger photo by Dedra Cordle

Holiday dance celebrates those with disabilities

The feet were fast and the rugs were cut as dozens of children and adults came to

the Westgate Park Community Center on Dec. 6 to attend the annual Holiday Dance.

The event, which is hosted by the West Columbus Civitan Club, celebrates those

with intellectual and developmental disabilities and their families and guardians. As

an extra special treat, there was a surprise appearance by members of The Royals

Project. Here, Steve Segal dances with Alissa Schiff, a sophomore at Grove City High

School who volunteers at the center.
---
www.columbusmessenger.com

December 15, 2019 -SOUTHWEST MESSENGER - PAGE 11

Christmas trees are an iconic symbol of

the holiday season. Whether they are personal

trees nestled in the corner of a living

room for families to enjoy or towering evergreens

serving as the focal point of a town

square, Christmas trees are a wonder to

behold.

Many people have fond memories of

time spent around the Christmas tree

sharing gifts and family traditions. Live

trees and their pine-like aroma can be

especially nostalgic trees to include in holiday

plans. The National Christmas Tree

Association says that approximately 25 to

30 million real Christmas trees are sold in

the United States every year. North

American trees hail from all 50 states and

areas of Canada.

While freshly cut trees can be particularly

beautiful and aromatic additions to

the season, they require a bit more work

than artificial trees in order to remain

beautiful and thrive throughout the holiday

season. Maintenance can help keep

Christmas trees as perfect as possible.

• Even though it is tempting to buy a

real tree as early as possible, their shelf life

Holiday Gift Ideas

Last Minute Gift Guide

How to keep your Christmas tree healthy this holiday

is limited even with the best care. Dural

Christmas Tree Farm advises that, under

the best conditions, a real tree should last

up to four weeks before drying out.

• Consider the needles when looking for

a real tree. Pull your hand toward your

body along the branches. If many needles

fall off, the tree is past its peak.

• Think about the room in which the

tree will be located. Leave at least six inches

between the tip of the tree and the ceiling,

accounting for the height of the tree

stand as well.

• If needle retention is a goal, the Scotch

pine variety has the best needle retention

and a high survival rate, lending to its popularity,

offers Precision Tree and

Landscape. Douglas fir and balsam fir are

other durable trees.

• If possible, buy a freshly cut tree from

a reputable nursery or tree farm, advises

The Old Farmer's Almanac. Many pre-cut

trees sold elsewhere were likely cut weeks

before and may not be fresh.

• Cut the bottom of the tree trunk

before bringing it home to facilitate the

uptake of fresh water daily. Trees can

absorb as much as a gallon of water in a

day, so make sure the tree gets fresh water

every day.

• Keep trees away from as many heat

sources as possible and away from direct

sunlight to prolong longevity.

• According to Karabin Farms in

Connecticut, to make a Christmas tree last

longer, boil a gallon of water and then dissolve

one cup of sugar in the water. Allow

to cool. After freshly cutting the trunk,

pour in the warm sugar water. Continue to

add fresh, cool, plain water to the tree

stand afterward.

PAID ADVERTISING

Ring in the new year with Mike

Albert's Elvis tribute show

Get out of the house and ring in 2020 at a New

Year's Eve party that is rated one of the best in

Columbus.

The Crowne Plaza Hotel, 6500 Doubletree

Ave., will host Mike Albert and The Big "E" Band

at this 15th annual New Year's Eve bash.

Albert is an award winning "Elvis Presley

impersonator." His wardrobe, voice and amazing

wit makes for a wonderful show.

You can get a full service dinner, drinks, room,

hats and horns, champaign toast at midnight along

with a full breakfast New Year's Day for only

$299 per couple. There is also a party package for

$235 per couple or $135 per single. Tickets are

limited. For reservations, call (614) 792-3135.

Early check in is at 1 p.m., ballroom doors

open at 7 p.m.

Three drink tickets each for draft beer or wine,

included in the price, will be available until midnight,

with dinner at 7 p.m. The show kicks off at

9 p.m.

"Mike's New Year's Eve show is like no

other," said promoter Doug Henry. "He interacts

with the crowd, which makes for a fun time."

"BEST NEW YEARS PARTY IN TOWN"

CELEBRATE

15 th Annual

Per Couple Prices

Overnight Package - $299

Party Only Packages - $235

Single Overnight - $199

Mike ALbert

and

The Big E. Band

Prices include Dinner, Drinks, Room, Party favors,

Full Breakfast

Crowne Plaza • 6500 Doubletree Ave. (formerly Marriott North)
---
PAGE 12 - SOUTHWEST MESSENGER - December 15, 2019

www.columbusmessenger.com

Christmas Celebration photos

Continued from page 1

The mother-daughter duo Dancer and

Prancer take a rest while cameras snap

away. The reindeer were there courtesy

of the Pine Acres Reindeer Farm in

LaRue, Ohio.

Natasha Davis, Tony Buechner and Ayiona Harwell (above)

check out the miniature Christmas Village display at the city's

Welcome Center and Museum.

Jason Bartlett, (right) an ice sculptor with Rock on Ice, puts the

finishing touches on his reindeer artwork.

FIL

LL Y

OUR

GREA BOGO! G

HOME WITH

T WAT

TER

B uy a Pr emier Series W ater Soft

ener and

et the K5 Drin nking Water Station FREE *

Kinetico believes everyone deserves GREAT WA

ATER.

That's why we are offering

our BIGGEST DISCOUN NT EVER on our most popular wate

er treatment tment equipment.

Wh y a Water Softener?

• Protect plumbing and wate r-using appliances from hard water

• Continuous supply of high-quality,

soft, clean water

Wh y the K5 Drinking Water Station?

• Solves the toughest water-q quality challenges

• Worry-free, great tasting dr rinking water

Call today for a FREE, in n-home water test.

800-444-1387 • www.kineticocolumbus.com

m

* Expires

12-31-19. Cannot be combined with other offers, and restrictions s apply

y.

Must pu

urchase a Premier Series Water Softener at full retail price to rece

eive the

K5 Drinking Water Station for free. Doe s not apply to previous purchases. Valid

at Cana al Winchester, OH Kinetico dealer only.

OFFICIAL WATER TREATMENT T PROVIDER
---
www.columbusmessenger.com SOUTHWEST MESSENGER - December 15, 2019 - PAGE 13

By Hannah Poling

Staff Writer

Medical director retires in Pleasant Township

Pleasant Township Medical Director Dr.

Robert Lowe will retire.

Fire Chief Brian Taylor made a presentation

honoring the retiring director at a

recent Pleasant Township board meeting.

In his 13-year-long career as medical

director for the Pleasant Township Fire

Disabled American Veterans

The Disabled American Veterans

Chapter 144 in Grove City meet the third

Thursday of each month, 6 p.m. at the

American Legion, 532 Demorest Road. Not

only are the meetings informative about

benefits, but participants can find out what

services they may be eligible to receive. It

is also a chance to meet other veterans. For

more information, call 614-309-0171.

Department, Lowe has been responsible for

training and directing countless paramedics

under his command. He began serving

as medical director for the department

in 2006 and decided to retire from service

as of Nov. 18.

"In the short time I've been here, just

over three and a half years, Dr. Lowe in my

opinion is the finest medical director I've

ever been involved with," said Taylor.

A resolution was adopted by the

Historical Society

Help preserve the history of Grove City,

Urbancrest and Jackson, Pleasant. Prairie

and Franklin townships. The Southwest

Franklin County Historical Society meets

the first Tuesday each month at 7 p.m. at

St. John's Lutheran Church, 3220

Columbus St. For information, pick-up a

society brochure at the Grove City

Welcome Center, 3378 Park St.

club meetings

Grove City Arts Council

The Grove City Arts Council meets the

third Tuesday of each month at 6:30 p.m at

Storypoint on Orders Road. For more information,

call 670-2926.

Women's Civic Club

The Women's Civic Club of Grove City

meets at 7 p.m. the first Thursday of every

month, except January and February, at

the Grove City Library. The philanthropic

Realtor

Appreciations

trustees to hereby congratulate Lowe and

wish him well in all future endeavors.

In other news, the trustees have decided

to hold a town hall meeting regarding the

Columbus State Community College burn

lab which could be placed on the property

of the Pleasant Township Fire

Department.

The trustees said that it is important for

them to get the opinions of the neighbors

and residents in the area who this potential

burn lab may affect prior to deciding if

they are going to go ahead with the project.

Final details of the date and time of the

meeting have not been decided, but they

will hand out flyers and post the date and

time on the website once it has been finalized.

The board will attempt to have Jack

McCoy from Columbus State attend the

meeting to answer any resident's questions

and concerns regarding this project.

group begins its evenings with a speaker,

followed by a business meeting and

refreshments. If interested in attending,

contact Carol Bonder at 614-558-6138.

Kiwanis Club of Grove City

The Kiwanis Club of Grove City meets

at 6 p.m. the first, third and fourth

Tuesday of each month at the IHOP on

Stringtown Road. For more information,

contact Phil Rohr at 614-539-3610.

Gary Dean

REALTOR

"I would like to thank all my

wonderful Buyers and Sellers for

their business in 2019!"

(740) 207-7742

gary.dean@riserealtyco.com

garydean.riserealtyco.com

Thank You to all my

buyers and sellers that

helped make 2019 a

successful year!

Happy Holidays!

Terri Ehmann

Real Estate Agent

614-216-7977

terri.ehmann@herrealtors.com

Merry Christma as and

Happy New Year!

Thank You

for a great 2019!

Ginger Thrush

REALTO

OR ®

614-214-25222

ginger.thrush@era.com

Dear Clients,

"I would like to thank all my past

clients and new present clients for

Happy New Year!"

Pam Brown

REALTOR®

614.975.9462

www.era.com
---
PAGE 14 - SOUTHWEST MESSENGER - December 15, 2019

www.columbusmessenger.com

Hiking and helping the environment

By Kristy Zurbrick

Madison Editor

Photo courtesy of John Nixon/Metro Parks

Participants in the Metro Parks Winter Hike Series make their way down a hill at Scioto

Grove Metro Park.

Since its introduction 47 years ago, the

Metro Parks Winter Hike Series has morphed

into a massive event.

Thousands of people now show up for

the hikes which take place in January and

February at 13 of the system's 19 parks.

Participants are treated to guided and selfguided

hikes, hot chocolate and soup, and

the fellowship of like-minded winter adventurers.

But with all that good stuff comes lots of

discarded bowls, spoon and cups, and carbon

emissions from cars carrying those

adventurers to and from the parks.

While Metro Parks is thrilled that so

many people have latched onto the hike

series, they also want to be good stewards

of the environment.

"We're happy to provide the experience,

but we also don't want to make a mess of

this world," said Jill Snyder, assistant

manager of education and interpretation.

To that end, Metro Parks started a few

years ago to encourage participants to carpool

to the hikes and bring their own

reusable mugs and bowls. Hikers also can

earn commemorative mugs by donating

five cans of food, five personal hygiene

items, or $5 to the Mid Ohio Food Bank.

This year, the park system is ramping

up its conservation efforts even more.

"We're really trying to reduce waste

from the event," Snyder said.

To do that, Metro Parks is using compostable

bowls and utensils where possible

in place of styrofoam and plastic. They

have partnered with The Compost

Exchange, which will compost refuse and

food waste from the hikes, as well as educate

hikers about composting. In addition

to the mugs hikers can earn with food bank

donations, the Friends of the Metro Parks

are selling reusable bowls and spoons.

"We hope to divert a whole lot of trash

from the landfill," Snyder said.

Metro Parks staffers plan to track just

how much waste they divert.

"If we hit certain goals, we're going to

save the turtles—not sea turtles, but our

own Ohio turtles," Snyder said.

The idea is to provide better habitat and

resources for protection of turtles, especially

box turtles, whose numbers are declining

due to habitat loss and fragmentation.

(Turtles are getting hit on roads, including

those within the parks, that bisect their

living areas.) Additionally, a new nature

center planned for Blacklick Woods Metro

Park in Reynoldsburg will include an educational

component on turtles.

So, what do turtles have to do with

waste reduction?

"Sometimes, it's hard to get people excited

about trash... This way, we're saying

that if we can get everyone on board with

our conservation efforts, we as a Metro

Park district will give back to protecting

the environment," Snyder said.

Marie Corbitt, a Westerville resident, submitted

this winning design for the 2020

Winter Hike Series commemorative mug.

This year's motto for the Winter Hike

Series is "Hike to a Greener Place." For

more information, go to metroparks.net.

Schedule

The 47th Annual Winter Hike Series,

presented by Columbus and Franklin

County Metro Parks, runs Jan. 4-Feb. 22.

Anyone who completes at least seven

hikes receives an embroidered patch.

Anyone who completes all 13 hikes and is a

paying member of the Friends of the Metro

Parks receives a walking stick and/or a

medallion for the stick. Friends membership

is $10 per year. This year's medallion

pays tribute to the Scioto Audubon Metro

Park.

Dates, times, places and distances for

each of this year's hikes are as follows:

Jan. 4—10 a.m., Blacklick Woods in

Reynoldsburg, 2 or 4 miles;

Jan. 11—10 a.m., Sharon Woods in

Westerville, 2 or 4 miles, pets welcome;

Jan. 12—2 p.m., Prairie Oaks in West

Jefferson, 1, 3 or 5 miles, pets welcome;

Jan. 18—10 a.m., Scioto Audubon, downtown

Columbus, 1 or 2 miles, pets welcome;

Jan. 25—10 a.m., Clear Creek in

Rockbridge, 1, 3 or 5 miles;

Jan. 26—2 p.m., Inniswood in

Westerville, 2 miles;

Feb. 1—10 a.m., Blendon Woods in

northeast Columbus, 2 or 4 miles;

Feb. 2—2 p.m., Scioto Grove in Grove

City, 1 or 2 miles, pets welcome;

Feb. 8—10 a.m., Highbanks in Lewis

Center, 2.5 or 5 miles;

Feb. 9—2 p.m., Glacier Ridge in Plain

City, 2 miles, pets welcome;

Feb. 15—10 a.m., Three Creeks in

Groveport, 1, 3 or 5.6 miles, pets welcome;

Feb. 16—2 p.m., Slate Run in Canal

Winchester, 2.5 or 5 miles; and

Feb. 22—10 a.m., Battelle Darby Creek

in Galloway, 2, 4 or 6 miles, pets welcome.

Hikes are free. No registration is

required.

southwest

Messenger

(Distribution: 23,506)

Andrea Cordle...................................Southwest Editor

southwest@ columbusmessenger.com

Published every other Sunday by the

The Columbus Messenger Co.

3500 Sullivant Ave., Columbus, Ohio 43204

(614) 272-5422

The Columbus Messenger Co. reserves the right to edit, reject or cancel

any advertisement or editorial copy at any time. The company is not

responsible for checking accuracy of items submitted for publication.

Errors in advertising copy must be called to the attention of the company

after first insertion and prior to a second insertion of the same advertising

copy.
---
www.columbusmessenger.com SOUTHWEST MESSENGER - December 15, 2019 - PAGE 15

In Achievement

military news

• U.S. Air Force Reserve Airman 1st

Class Brian Graves graduated from basic

military training at Joint Base San

Antonio-Lackland, San Antonio, Texas.

The airman completed an intensive,

eight-week program that included training

in military discipline and studies, Air

Force core values, physical fitness, and

basic warfare principles and skills. Airmen

who complete basic training also earn four

credits toward an associate in applied science

degree through the Community

College of the Air Force.

Graves is the son of Brian Graves of

Westerville and Shannon Graves of Grove

City. He is a 2019 graduate of Thomas

Worthington High School.

• U.S. Air Force Reserve Airman Alana

Moll graduated from basic military training

at Joint Base San Antonio-Lackland,

San Antonio, Texas.

The airman completed an intensive,

eight-week program that included training

in military discipline and studies, Air

Force core values, physical fitness, and

Pet Corner

Pets of the week

basic warfare principles and skills. Airmen

who complete basic training also earn four

credits toward an associate in applied science

degree through the Community

College of the Air Force.

Moll is the daughter of Robert Moll and

Sarah Brintlinger, both of Grove City. She

is a 2019 graduate of Grove City High

School.

• U.S. Air Force Airman Devin Blount

graduated from basic military training at

Joint Base San Antonio-Lackland, San

Antonio, Texas.

The airman completed an intensive,

eight-week program that included training

in military discipline and studies, Air

Force core values, physical fitness, and

basic warfare principles and skills. Airmen

who complete basic training also earn four

credits toward an associate in applied science

degree through the Community

College of the Air Force.

Blount is the son of Greg and Elizabeth

Schottle of Grove City. He is a 2019 graduate

of Grove City High School.

These furry friends are available

for adoption at local

rescues and shelters

club meetings

Alzheimer's support group

The Alzheimer's and Related Disorders

Support Group meets the fourth Tuesday

of each month at the E.L. Evans Senior

Center beginning at 7 p.m. For more information,

call the Alzheimer's Association of

Central Ohio at 614-457-6003.

Parkinson's support group

The Grove City Parkinson's support

group meets the third Wednesday of each

month at E.L. Evans Senior Center at 1

p.m.

Soapcitylaundry.com

4310 Broadway

Grove City, OH 43123

614-801-1999

Toby is doing his

best Eddie impression

from 'Christmas

Vacation.' This great

guy has been at the

shelter for quite

some time but still

keeps such a positive

attitude. He's quite

the character and

can be such a goofball,

but overall just wants a family that he can

fit in with and be himself. He's best as your

only pup as he does not get along well with

other cats or dogs. But don't let this stop you

from meeting him - come to the shelter and

fall in love with him today.

FYI: 614-525-3647 or www.franklincountydogs.com

Sally is shy yet

charming. She is

searching for a

patient owner with a

relaxed lifestyle.

She's looking for

gentle guidance to

help her come out of

her shell. Treat her

sweet and kind and

she'll blossom. Adopt

Sally from the Franklin County Dog Shelter.

FYI: 614-525-3647 or www.franklincountydogs.com

Winter is a handsome,

all white, 8-

year-old boy who was

rescued off the

streets. He is currently

residing in the FIV

room at the Colony

Cats adoption center.

Winter would like

nothing more than to

find a forever home

for the holidays.

FYI: www.colonycats.org

Chassis is a total

sweetheart and very

well behaved. She

loves walks, car

rides, playing with

toys and racing

around the yard with

the other dogs. She is

cat friendly, likes children

and loves to

snuggle. Chassis is a

1-year-old mixed

breed and weighs around 40 pounds. She is

up for adoption through Colony Cats and

Dogs.

FYI: www.colonycats.org

Southwest Messenger (614) 272-5422
---
PAGE 16 - SOUTHWEST MESSENGER - December 15, 2019

The interwoven thread between greed

and death has been the focus of two movies

released in just as many weeks at the theater.

The first to mine the dual subjects

came out around Thanksgiving and was a

throwback to the whodunit era. The second

and more serious offering was released this

past weekend and was a throwback to,

well, every era. The former is the more

buzzed about option while the latter is an

important, albeit depressing, piece of work.

While vastly different in tone, both are

worthy of a watch.

There are some who believed that director

Rian Johnson was finished after a

groundswell of backlash for his involvement

with "Star Wars: The Last Jedi."

Such was the anger for this film and his

vision that multiple petitions made the

online rounds, begging the studio to change

the film. Some even swore that they would

never support a film written or directed by

him again.

Likely reeling from the intensity,

Johnson went back to his smaller fare roots

and wrote and directed "Knives Out," a

murder-mystery akin to the beloved "Clue."

In it, the audience is taken to the day

after the apparent suicide of a famed mystery

writer on the night of his 85th birthday.

While trying to unwrap the mystery of

this potential murder, the detective on the

case, Benoit Blanc (Daniel Craig), also tries

to solve the secondary mystery as to who

hired him to solve the mystery.

The prime suspects in the crime are

vast, as the late novelist Harlan Thrombley

(Christopher Plummer) has many after his

fortune, namely his family. Throughout the

course of the film, we see various points-ofview

and get to know these self-serving

members and delight in their lying and

scheming ways.

With an ensemble cast that includes

Jamie Lee Curtis, Toni Collette, Chris

Evans, Michael Shannon and Don Johnson,

the movie can feel a little over-stuffed but

it is the presence of actress Ana de Armas

that grounds this film. Her role in this

whodunit is that of Harlan's home health

aide who may know some (or all) of the

buried secrets in this wealthy family.

While it may not be as clever as it sets

out to be, "Knives Out" is great fun, filled

with twists and turns and a terrific performance

by Craig. Though his accent wavers

at times, some of his lines, particularly

those comparing his mysterious hiring to

that of a donut with seemingly endless

donut holes, had me laughing out loud.

In contrast, nary a laugh is to be found

in "Dark Waters" but it is an equally

engaging movie in an entirely different

way.

The script was mined from multiple

journalists (Nathaniel Rich, Mariah Blake

In Entertainment

Two movie reviews with one common theme - greed

and Sharon Lerner) and their respective

publications which detailed the poisoning

of the air and water supply in Parkersburg,

West Virginia by DuPont.

The loosely based film stars Mark

Ruffalo as Robert Bilott, a corporate attorney

who gets roped into listening to a perceived

paranoid hillbilly as a favor to his

grandmother. Said perceived paranoid hillbilly

is Wilbur Tennant (a terrific Bill

Camp), a cow farmer who believes his herd

has been poisoned by the land he shares

with the chemical company.

He shows Robert the preserved

intestines of his cows, noting the blackened

teeth, enlarged spleens and hearts and

shakenly relays that he had to shoot many

of them due to aggressive behavior. At first,

Robert is skeptical but agrees to take the

case and sue DuPont with the approval of

his boss Tom Terp (Tim Robbins).

During the discovery phase, Robert

uncovers that they knowingly exposed

their workers, the townsfolk and just about

everyone and everything else to dangerous

"forever chemicals" for their bottom line.

The movie takes place over the decade

plus of Robert's legal battle with the company

and shows how it changes his life, the

lives of his family, and the lives of everyone

who shares this world. It's an infuriating

look at this public health crisis that is still

ongoing with more horrors unfolding, and

www.columbusmessenger.com

The Reel Deal

Dedra Cordle

useless government

officials that enable

these companies in

order to line their

pockets.

While there are

depictions of bright

spots in the film —

some of those who faced life-threatening illnesses

were granted millions in settlements

— it's cheapened by the fact that

these people, the heads of these companies

who do this, belong in prison but will never

be held to that level of account for their

malfeasance.

"Dark Waters" is not a fun watch, nor is

it an easy one, but it is a worthy one that

brings attention to an infinite crisis and

shine the light on some of the people who

fight tirelessly and thanklessly to bring

them to (some) justice.

Knives Out: B+

Dark Waters: B+

Dedra Cordle is a Messenger staff writer

and columnist.

VIP REALTY, INC.

Greg Skinner, Realtor

Undisputed #1 in 43123 Sales!

Former President Grove City Area Chamber of Commerce

Phone: 614-537-1994

greg@soldbygregskinner.com • soldbygregskinner.com

Greg understands that buying or selling a Grove CIty home is

more than just a transaction. Greg takes pride in the

relationship he builds while working relentlessly on his

clients' behave selling commercial, industrial and

high-quality residential properties. Today's buyers and sellers

need a trusted resource to guide them through the complex

world of real estate. Greg Skinner's extensive knowledge of

the Grove City market has made him No. 1 in sales for over

five years running. He has accumulaed an unprecedented

single-agent sales volume of over $100 million 2015-2019.

Greg list and sells home at 4% to 5% saving his clients

THOUSANDS!
---
www.columbusmessenger.com

December 15, 2019 - SOUTHWEST MESSENGER - PAGE 17

CLASSIFIED ADS

Deadlines: Southeast and West editions, Wednesdays at 5 p.m., • East, Southwest, Madison editions, Tuesdays at 5 p.m.

All editions by phone, Tuesdays at 5 p.m. • Service Directory, Tuesdays at 5 p.m. • Main Street Mailbox, Tuesdays at 5 p.m.

xInformation

xAdult Care

xChristmas Greeting

DECEMBER GIVEAWAY

Place a prepaid classified line ad in our paper

during the month of DECEMBER and be registered

to win a $50 Gift Card from

The Columbus Messenger Newspapers.

All ads received by mail, in person, e-mail or phone

will be included in the drawing.

Drawing will be held December 28th, 2019

and the winner will be notified and published

in our January 5th, 2020 Madison paper

and our January 12th, 2020 issue

of the Columbus papers.

GOOD LUCK TO EVERYONE!!!!

Welcome

Carolyn's

Cottage

Private Assisted Living

3036 Woodgrove Dr.

Grove City, OH

Michelle Preston - Owner

614-991-0652

614-376-9761

Information

See...

You Looked!

Newspaper

Ads Catch

The Eye!

Call

272-5422

For Info. &

Pricing

INFORMATION

The Holidays will

Soon be Here!

Call Marilyn Weaver

For An Appt.

For a New Haircut/Style

for those Holiday Parties

614-277-1921

Indulgence Hair Salon

3387 McDowell Rd.

Grove City

ASSOCIATION ADS

$$ OLD GUITARS &

AMPS WANTED$$

GIBSON • FENDER •

MARTIN. ALL BRANDS

TOP DOLLAR PAID.

CALL TOLL FREE 1-

866-433-8277

ASSOCIATION ADS

CARS/TRUCKS WANT-

ED!!! All Makes/Models

2002-2018! Any Condition.

Running or Not. Top $$$

Paid! Free Towing! We're

Nationwide! Call Now: 1-

888-985-1806

DISH Network $59.99 For

190 Channels. Add High

Speed Internet for ONLY

$14.95/month. Best Technology.

Best Value. Smart

HD DVR Included. FREE

Installation. Some restrictions

apply. Call 1-855-

837-9146

Get NFL Sunday Ticket

FREE w/ DIRECTTV

Choice-All Included Package.

$59.99/month for 12

months. 185 Channels

PLUS Thousands of

Shows / Movies On Demand.

FREE Genie HD

DVR Upgrade. Call 1-855-

781-1565 or satellitedeal

now.com/cadnet

Cross Country Moving,

Long distance Moving

Company, out of state

move $799 Long Distance

Movers. Get Free

quote on your Long distance

move 1-844-452-

1706

Earthlink High Speed Internet.

As low as $14.95/

month (for the first 3

months.) Reliable High

Speed Fiber Optic Technology.

Stream Videos,

Music and More! Call

Earthlink Today 1-855-

520-7938

ASSOCIATION ADS

Call Empire Today® to

schedule a FREE inhome

estimate on Carpeting

& Flooring. Call

Today! 1-855-404-2366

Two great new offers from

AT&T Wireless! Ask how

to get the Next Generation

Samsung Galaxy S10e

FREE. FREE IPhone with

AT&T's Buy one, Give

One. While supplies last!

CALL 1-866-565-8452 or

www.freephonesnow.com/

/cadnet

AIRLINE MECHANIC

TRAINING - Get FAA

Technician certification.

Approved for military

benefits. Financial Aid if

qualified. Job placement

assistance. Call Aviation

Institute of Maintenance

866-453-6204

Wants to purchase minerals

and other oil and gas

interests. Send details to

P.O. Box 13557, Denver,

CO. 80201

Recently diagnosed with

LUNG CANCER and 60+

years old? Call now! You

and your family may be

entitled to a SIGNIFI-

CANT CASH AWARD.

Call 844+231-5496 today.

Free consultation.

Portable Oxygen Concentrator

May Be Covered by

Medicare! Reclaim independence

and mobility

with the compact design

and long-lasting battery of

Inogen One.

Free information kit! Call

888-609-2189

Adult Care

ASSOCIATION ADS

READER

ADVISORY

The National Trade Association

we belong to has

purchased the following

classifieds. Determining

the value of their service

or product is advised by

this publication. In order

to avoid misunderstandings,

some advertisers do

not offer "employment"

but rather supply the

readers with manuals, directories

and other materials

designed to help

their clients establish mail

order selling and other

businesses at home. Under

NO circumstance

should you send any

money in advance or give

the client your checking,

license ID or credit card

numbers. Also beware of

ads that claim to guarantee

loans regardless of

credit and note that if a

credit repair company

does business only over

the phone it's illegal to request

any money before

delivering its service. All

funds are based in US

dollars. Toll Free numbers

may or may not

reach Canada. Please

check with the Better

Business Bureau 614-

486-6336 or the Ohio Attorney

General's Consumer

Protection Section

614-466-4986 for more

information on the company

you are seeking to

do business with.

ASSOCIATION ADS

SELLING A FARM OR

HOUSE? Advertise it

here and neighboring

publications. We can

help you. Contact MACnet

MEDIA @ 800-450-

6631 or online at MACnetOnline.

com

Elminate gutter cleaning

forever! LeafFilter, the

most advanced debrisblocking

gutter protection.

Schedule a FREE

LeafFilter estimate today.

15% off and 0%

financing for those who

qualify, PLUS Senior &

Military Discounts. Call

1-855-402-0373

Become a Published Author.

We want to Read

Your Book! Dorrance

Publishing-Trusted by

Authors Since 1920.

Book manuscript submissions

currently being

reviewed. Comprehensive

Services: Consultation,

Production, Promotion

and Distribution. Call

for Your Free Author's

Guide 1-877-626-2213

IMPORTANT

NOTICE

The following states: CA,

CT, FL, IA, IL, IN, KY,

LA, MD, ME, MI, MN,

NE, NC, NH, OH, OK,

SC, SD, TX, VT and WA

requires seller of certain

business opportunities to

register with each state

before selling. Call to

verify lawful registration

before you buy.

May the coming season renew

your belief in the magic

of this special season.

We do believe in the goodness

of people like you.

Merry Christmas and

many thanks for your

faith in us this past year.

THE

COLUMBUS

MESSENGER

NEWSPAPERS

Christmas Greeting

ASSOCIATION ADS

Lung Cancer? Asbestos

exposure in industrial, construction,

manufacturing

jobs, or military may be the

cause. Family in the home

were also exposed. Call 1-

866-795-3684 or email

cancer@breakinginjurynews.com.

$30 billion is

set aside for asbestos victims

with cancer. Valuable

settlement monies may not

require filing a lawsuit.

HEAR AGAIN! Try our

hearing aid for just $75

down and $50 per

month! Call 800-426-

4212 and mention 88272

for a risk free trial! FREE

SHIPPING!

CASH PAYOUT? 70

years old and kids are

grown? Do you need that

life insurance or is a big

life settlement cash payout

smarter? Call Benefit

Advance. 1-877-332-9643

ASSOCIATION ADS

Help Wanted. Paid Daily.

No Experience Needed.

Full Details Go To:

www.BestEasyWork.com

/bamidan

DENTAL INSURANCE

from Physicians Mutual

Insurance Company.

NOT just a discount

plan, REAL coverage for

(350) procedures. Call 1-

877-308-2834 for details.

www.dental50plus.com/

cadnet 6118-0219

Attention all Homeowners

in jeopardy of Foreclosure?

We can help stop

your home from foreclosure.

The Foreclosure

Defense helpline can help

you save your home. The

Call is absolutely free.

1-855-516-6641

ASSOCIATION ADS

DISH TV $59.99 FOR 190

Channels + $14.95 High

Speed Internet. Free Installation,

Smart HD DVR

Included, Free Voice Remote.

Some restrictions

apply. Call 1-855-270-

5098

Applying for Social Security

Disability or Appealing a

Denied Claim? Call Bill

Gordon & Assoc., Social

Security Disability Attorneys,

1-855-498-6323!

FREE Consultations. Local

Attorneys Nationwide

[Mail: 2420 N St. NW,

Washington DC. Office:

Broward Co. FL (TX/NM

Bar.)]

[WANTED] CARS/

TRUCKS WANTED!!!

All Makes/Models 2002-

2018! Any Condition. Running

or Not. Competitive

Offer! Free Towing! We

are Nationwide! Call Now:

1-888-368-1016
---
PAGE 18 - SOUTHWEST MESSENGER - December 15, 2019

www.columbusmessenger.com

xEmployment

JOB

FAIR

OR OPEN

INTERVIEWS?

CALL KATHY

TO ADVERTISE

614-272-5422

ASSOCIATION ADS

GENERIC VIAGRA and

CIALIS! 100 Pills $99.00

FREE Shipping! 100%

guaranteed. 24/7 CALL

NOW! 888-889-5515

VIAGRA & CIALIS! 60

pills for $99. 100 pills for

$150 FREE shipping.

Money back guaranteed!

1-844-596-4376

Employment

NOW HIRING!

Local High Volume Pharmacy

Immediate 1st, 2nd & 3rd shift positions available

for Pharmacy Clerks and Technicians.

$

1000 SIGN ON BONUS

Looking for energetic associates

in a fast pace environment.

NEW Starting rate: $11.50 per hour

Shift differential $1.50 an hour

Please apply at: jobs.kroger.com

Use Zip Code 43217

Must be 18 years of age & have high school diploma or GED.

Call 614-333-5012 for more details.

Best Western

Canal Winchester Inn

Immediate Openings Available:

MORNING BREAKFAST, HOUSEKEEPING,

LAUNDRY, FRONT DESK

Apply in Person:

Best Western Canal Winchester

6323 Prentiss School Rd.

Canal Winchester, Ohio 43110

NO PHONE CALLS PLEASE

ASSOCIATION ADS

SELL YOUR ANTIQUE

OR CLASSIC CAR.

Advertise with us. You

choose where you want

to advertise. 800-450-

6631 visit macnetonline.

com for details.

INSURANCE

Annuity 10% Bonus

7.5% Int.614-805-1084

CHILD CARE

OFFERED

Depend. Quality Child care

in loving hm. Exp. Mom, n-

smkr, hot meals, sncks,

playroom, fncd yd. Reas.

rates. Laurie at 853-2472

HELP WANTED

MAINTENANCE

PERSON NEEDED

Apt., House, all phases

Must have tools/transp.

Hourly rate 614-783-7464

Auction Auto Detailers

FRANK'S DETAIL OHIO

Immediate Openings

Weekly Pay

$400-$650/week

1 shift Mon-Fri, 7a-4pm

with occasional

Saturdays for overtime

Valid Driver's License Req

We are located at

ManHeim Auto Auction,

Grove City, Ohio

Parking at

1394 Stringtown Rd.

Please Call Leisa in

Human Resources at

614-549-4985 or at

614-871-6820

HELP WANTED

HOBBY LOBBY

Now Hiring

Flexible Hours

Apply within the store at

4219 Buckeye Parkway

Grove City

Home Health Aides

$13.00/hr. after 90 days

$15.00/hr. Premium Shifts

Performance Bonus and

Paid Time Off after 1 yr.

One yr. experience working

for an employer in a caregiver

1/19 A&M

role is required.

To apply, please visit

v-angels/galloway/employment

WANTED

Host/Hostess • Servers • Dish • Grill

You Can Work 29+ Hrs. Based on

Your Availability & Performance

Immediate Full/Part-time Openings

• Weekly Pay

• Paid Training

• No Tip Sharing

• Paid Vacation

We Offer:

• Employee Meal Discount

• Position/Salary Advancement Plan

• Discount Purchase Plan

Apply online at crackerbarrel.com/careers for

Grove City Location 614-871-1444

BE YOUR OWN BOSS!

INDEPENDENT

CONTRACTORS

WANTED

If you have a reliable car and would like to

earn extra money, then why not deliver?

• Deliver 1 or 2 days a week

• Flexible delivery hours

• Work close to home - often in or

near your neighborhood

CONTACT US

1-888-837-4342

www.thebag.com

WANT TO BUY

We Buy Cars & Trucks

$300-$3000.614-308-2626

ANTIQUES

WANTED

Victrolas, Watches,

Clocks, Bookcases

Antiques, Furn.

Jeff 614-262-0676

or 614-783-2629

WANTS TO Purchase

minerals and other oil &

gas interests. Send details

to: P.O. Box 13557,

Denver, CO 80201

• Deliver 7 days a week

• Delivery before dawn

• Work close to home - often in or

near your neighborhood

CONTACT US

614-461-8585

www.dispatch.com/delivery

WANT TO BUY

We Buy Junk Cars &

Trucks. Highest Prices

Paid. 614-395-8775

MISCELLANEOUS

FOR SALE

Large Selection of

Chandeliers to

choose from.

All in working condition.

Going Out of Business!!

614-271-2469

RENTALS

GARAGE FOR RENT

Perfect for Mechanic/

Body Mechanic

Westside area. Has lift &

compressor. Utilities furn.

$400/mo. 614-746-7795
---
www.columbusmessenger.com

xFocus on Rentals

WEDGEWOOD

VILLAGE

2 BR APT. - $499 MONTH!

Call 614-272-2800 or visit us

at 777 Wedgedwood Dr.

TTY/TDD 711

EQUAL HOUSING OPPORTUNITIES

Rentals

ATTENTION:

APARTMENT MANAGERS

Advertise Your

Apartment

Community

In Our Papers!

CALL KATHY TODAY

And Ask About Our

Rental Ad Special!

614-272-5422

RENTALS

Property Management

We are always available!

40 yrs. exp in

Certified Property Mgmt.

Reas. Fees. Call Now!

614-783-7464

HILLTOP AREA

3 BR half double. New

windows, furnace, carpet.

Rent $850, dep. $850. Lic.

Realtor 614-226-6767

SHARED LIVING

New Group Home has 4

beds avail. Prefer private

pay through family estate

or will take SSI or Medicaid.

On Eastside Call

Asia at 614-517-8380

OFFICE SPACE

1000 sq. ft. of office

space at 4150 Kelnor

Dr., Grove City consisting

of receptionist area,

4 office rooms, break

room, men and women's

restrooms plus approximately

2800 sq. ft. of attached

insulated warehouse

space that is optional.

Call 614-221-7746

and ask for Devin or

Gary

VACATION RENTALS

Englewood, Florida

Palm Manor Resort

Within minutes of white

sand Gulf beaches,

world famous Tarpon

fishing, golf courses, restaurants/shopping,

Bush

Gardens. 2 BR 2 BA

condos with all ammenities,

weekly/monthly, visit

www.palmmanor.com

or call 1-800-848-8141

❏ London

❏ Main St.

❏ Phone

❏ Walk In

❏ Sales/Mail

December 15, 2019 - SOUTHWEST MESSENGER - PAGE 19

Classification:

columbus

Me ssenger

Established in 1974

the Columbus Messenger Co.

3500 Sullivant Avenue

Columbus, Ohio 43204

614-272-5422

Telephone: ______________________________________________

Print your Name: __________________________________________

Last

First

Print your Address: ________________________________________

Print your City ____________________ State: ______ Zip: ________

Print Your Ad Below...

One word each space. BE SURE YOUR TELEPHONE NUMBER OR ADDRESS is

included in your advertisement. The lessor of 4 words or 22 characters per line. We

reserve the right to use abbreviations when actual space exceeds amount purchased.

1. __________

2. __________

3. __________

4. __________

5. __________

6. __________

7. __________

8. __________

9. __________

10. __________

__________

__________

__________

__________

__________

__________

__________

__________

__________

__________

Your Cost Per Line –– 2 Line Minimum

1 Paper ........$1.00 per line 3 Papers ......$2.55 per line

4 Papers ......$3.00 per line

2 Papers ......$2.00 per line

5 Papers ......$4.00 per line

$

❏ Eastside Messenger

❏ Westside Messenger

❏ Southeast Messenger

❏ Southwest Messenger

❏ Madison Messenger

❏ All Newspapers

❏ Cash

❏ Check

❏ Money Order

❏ VISA ❏ MC

__________

__________

__________

__________

__________

__________

__________

__________

__________

__________

__________

__________

__________

__________

__________

__________

__________

__________

Credit Card Information

$5.00 Minimum by fax or

email or $12.50 by phone

________________________

Credit Card Number

______________________

Exp. Date

xClassified Services

APPLIANCE REPAIR

Washer, Dryer, Stove &

Refrig. Repair 875-7588

AUTO SERVICE

Don't Get Stuck

in the Cold!

WINTERIZE NOW!

MIDLAND AUTO

for all your

Auto Service Needs!

614-278-9458/778-3864

A Rating-BBB - 46 yrs.

American & Foreign Cars

CARPET CLEANING

DIRT BUSTERS

Any 5 areas $75. Home

Specializing in Pet Owners

614-805-1084

INFORMATION

ONLY

$50.00

For This Ad In Our

West & Southwest

For Info Call

272-5422

CONCRETE

EDDIE MOORE

CONSTRUCTION

Quality Concrete Work

Lt. Hauling & Room Add.,

Block Work & Excavation

Stamp Patios,

Bsmt. Wall Restoration

37 Yrs Exp - Lic & Ins.

Free Ests. 614-871-3834

AJ's Concrete,

Masonry

Good Work - Fair Prices

Block Foundations

Driveways • Sidewalks

Epoxy/Overlay Floors

Bonded-Ins. • Free Ests.

Now Accepting Credit Cards

614-419-9932

FENCING

EAZY FENCE

Chain Link - Wood

No Job Too Big or Small

All Repairs ~ Free Est.

Insured. 614-670-2292

FIREWOOD

Brewer & Sons

Tree Service

FIREWOOD

$175 a Cord

1-5

A&M

Delivered & Dumped

Best Prices • Same Day Service

614-878-2568

1/5 A

GUTTERS

Bates & Sons

GUTTER CLEANING

5 ★ Google Reviews

614-586-3417

Low Price-Great Service

5 & 6" Seamless gutters,

covers, siding, gutter clng.

Bill 614-306-4541

EPP

Seamless Gutters

Mikey 614-927-9132

licensed/bonded/insured

HAULING

DEAN'S HAULING

614-276-1958

HEATING

HEATING

Complete System Clean & Check

$49.95

Free Carbon

Monoxide Testing

Gas-Oil-Electric Heat/Pumps

All Makes • All Models

43 yrs exp. • Sr. Discount

614-351-9025

1/5 A

HOME

IMPROVEMENTS

Quality is our #1 Priority

HELMS' CONTRACTING

Call For FREE ESTIMATES

New Kitchens & Baths

New Replacement Windows

Basement Remodels

Room Additions • Roofs

More than 25 Years Experience

Licensed • Insured • Bonded

Bill Helms 614-296-0850

or 614-801-1801 1-5

W/SW

SLAGLE

HOME REMODELING

Baths, Kitchen,

Room Additions,

Plumbing and Electrical.

All your Handyman needs

No Job too Big or Small

Over 30 Yrs. Exp. Lic.-Bond-Ins.

Jerry

614-332-3320

12-15 SW

HOME

IMPROVEMENTS

SINCE 1973

Phil Bolon Contr.

Windows & Siding

Decks, Kitchens, Baths

Room Additions,

Flooring, Roofing

Bsmt Waterproofing

Deal With Small Non-Pressure Co.

45 Yrs. Exp. - Refs. Avail.

Lic.-Bond-Ins.

Free Est. - Financing Avail.

Member BBB Of Cent. OH

O.C.I.E.B. ID #24273

614-419-3977

or 614-863-9912

C&JHandyman

Services LLC

Minor Plumbing &

Electric

Install Hot Water Tanks,

Dishwashers & Disposals

Also Fencing &

Interior/Exterior Painting

Free Est. ~ 18 Yrs. Exp.

614-284-2100

Classified Services

1-5

A/M

1-5 A

HOME

MAINTENANCE

TOM & SONS

Maintenance Services

No Job Too Small!

614-571-0208

25 yrs exp - Insured

LAWN CARE

LET US MAINTAIN

YOUR LAWN & GARDEN

FOR YOU

Summer, Spring,

Winter or Fall

WE DO IT ALL!!!!

Lawn Cuts, Edging,

Trees & Shrubs, Garden,

Mulching, Hauling,

Garden Pond &

Home Maint.

Free Ests. Low Rates

$20 & Up

Kevin - 614-905-3117

MOVING

Always On The Move

"No Job

Too Big or Small

We Will

Move Them All!"

614-447-8558

FREE Estimates

Residential/Apts/Commercial Moves

1/19 A&M

MOVING

Aaron Allen Moving

Local Moving Since 1956

Bonded & Insured

614-299-6683, 263-0649

Celebrating 60 yrs in business

PAINTING

Painter Over 30 Yrs Exp.

Free Est. Reas Rates

Daniel 614-226-4221

A Job Well Done Again

A lic. General Contractor

Some Skilled Services

Incl: Painting • Stucco,

Repair•Carpentry•Exterior

Drainage & Home Maint.

Call Today! 614-235-1819

Painting - Int./Ext.

Gutters Clnd. Free Est.

26 Yrs Exp. Call Dave

614-270-2369 God Bless

PLUMBING

All About Drains & Plumb.

Will snake any sm drain

$125 + tax. 614-778-2584

ALL IN ONE

PLUMBING LLC

"One Call Does It All"

$25 OFF LABOR

1/19

With This Ad

A

614-801-1508

All Major Credit Cards Accepted

POWER WASHING

Bates & Sons

Soft Wash & Powerwash

5 ★ Google Reviews

614-586-3417

ROOFING

Robinson roofing & repairs

30 yrs. exp. Lifetime Cols.

resident. Lic./bonded/Ins.

Reas rates. Member of

BBB. Dennis Robinson

614-330-3087, 732-3100

SEWING MACHINE

REPAIR

REPAIR all makes 24 hr.

service. Clean, oil, adjust

in your home. $39.95 all

work gtd. 614-890-5296

TREE SERVICES

BURNS TREE SERVICE

Trimming, Removal &

Stump Grinding.

614-584-2164
---
PAGE 20 - SOUTHWEST MESSENGER - December 15, 2019

www.columbusmessenger.com

Thank you for your friendship and your trust.

Greg is rated #1 in 43123

One of the BEST IN COLUMBUS

One of the BEST IN AMERICA

Call or Text Greg at 614-537-1994

www.soldbygregskinner.com

THANK YOU for a record in 2019!