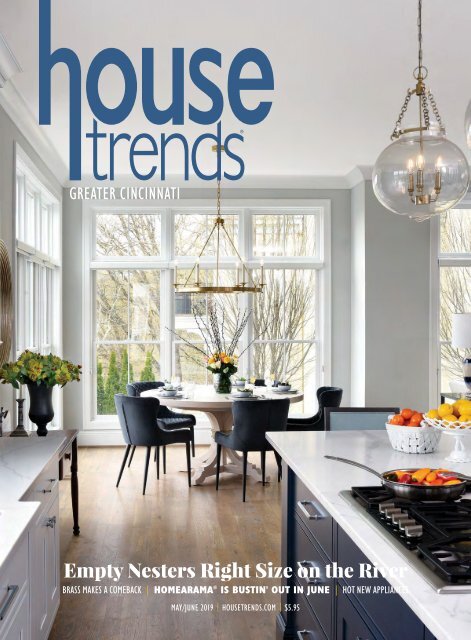 Housetrends Cincinnati May/June 2019
Empty nesters right size on the river; Brass makes a comeback; HOMEARAMA® is busting out in June; Hot new appliances
Empty nesters right size on the river; Brass makes a comeback; HOMEARAMA® is busting out in June; Hot new appliances
SHOW MORE
SHOW LESS
Create successful ePaper yourself
Turn your PDF publications into a flip-book with our unique Google optimized e-Paper software.
GREATER CINCINNATI

Empty Nesters Right Size on the River

BRASS MAKES A COMEBACK | HOMEARAMA ® IS BUSTIN' OUT IN JUNE | HOT NEW APPLIANCES

MAY/JUNE 2019 | HOUSETRENDS.COM | $5.95
---
EVERYTHING GOLD

is

NEW AGAIN.

BECAUSE

THE SHOWER

IS EVERYTHING

Your dream bathroom starts with the latest design trends. Our

all-new Brushed Gold finish sets the standard in luxurious style

choices for your new custom shower enclosure – made for a

precise fit and expertly installed by the people who make them.

HTCI0519.026
---
ascoshowerdoor.com

1.800.45.BASCO

HTCI0519.026
---
just minutes from downtown Cincinnati

Craig and Carolynn Reis, owners

CUSTOM DESIGN SERVICES AVAILABLE

859.441.2378 • BestFurnitureGallery.com • 1123 S. Ft. Thomas Ave. • Fort Thomas, KY

MONDAY 10AM-8PM | TUESDAY, THURSDAY, FRIDAY 10AM-6PM | WEDNESDAY by appointment only | SATURDAY 10AM-5PM

SUNDAY closed to be with family

HTCI0519.017
---
It's more than a showroom.

It's a feast for the senses.

From cooking demos to appliance test-drives, you're invited to taste, touch, and see the

potential for your kitchen in a dynamic space free of sales pressure but full of inspiration.

Mason • 7177 Central Parke Boulevard, Mason, OH 45040 • 513-339-0990 • subzero-wolf.com/cincinnati

HTCI0519.001
---
CONTENTS

MAY/JUNE 2019 CINCINNATI

56

COMING FULL CIRCLE

Mount Adams couple makes the move back to where it all began

10 housetrends.com

ON THE COVER

Once their kids were grown and out of the house, one couple was drawn to a home tucked

into the hillside above the Ohio. Read about their new way of living beginning on page 24.

Photo by Daniel Feldkamp
---
18

24

46

81

CONTENTS

MAY/JUNE2019 CINCINNATI

NEW HOMES

24 RIGHT SIZING ON THE RIVER

Empty nesters enjoy their view from

high above the banks of the Ohio

81 HOMEARAMA ® 2019

Ten incredible homes open to tour

in Warren County's Deerfield Township

KITCHEN

46 AHEAD OF THE CURVE

New appliances cater

to the cook in all of us

38

69

INTERIOR DESIGN

69 BRASS IS BACK

This lustrous alloy makes

a return to the spotlight

DEPARTMENTS

14 HOUSETRENDS.COM

Enjoy design tips, before and afters, recipes and more

18 FRESH FINDS

Great home design discoveries we just had to share

38 WHICH ROOM WORE IT BEST?

Two different spaces share a common design thread

41 CALENDAR OF EVENTS

Take a home and garden tour this spring and summer

12 housetrends.com
---
INTRODUCING THE NEW AND IMPROVED

HOUSETRENDS.COM

GREATER CINCINNATI

Publisher Callie Elkus

Associate Publishers

Linda Bacher, Florence Murphy

Editor Karen Bradner

Contributing Writers

Amy Howell Hirt, Christina Kleiner, Peggy

Nachtrab, Lee Rhodes

Contributing Photographers

Daniel Feldkamp, Amaris Granado, Greg

Grupenhof, Connie Kimsey, Caroline

Morgan, Craig Thompson, Joe Traina

Advertising and Marketing Team

Laura Hausman, Pam Patter,

Leslie Sawan, Evelyn Yaus

Advertising Information

513-403-2744

callie.elkus@housetrends.com

Editorial Inquiries

Karen Bradner

karen.bradner@housetrends.com

Housetrends magazine is published by

Buzz Publications, LLC

4601 Malsbary Road, Cincinnati, OH 45242

CORPORATE

Corporate Managing Partners

Robert J. Slattery, Kevin Slattery

General Manager Betsy Phillips

Editorial Director Karen Bradner

Creative Director Tara Burchfield

Senior Editor Christina Kleiner

Director of Digital Media Mike Gennaria

Digital Content Specialist Heather Fox

Print Services Dawn Deems

Director of Digital Sales Callie Elkus

Sales Production Jacob Schwartz

Production Manager Connie Kimsey

Senior Production Specialist Gina Miller

Production Specialist Megan Swope

Quality Control Katelin Myers

Website Development Bryan Fleckenstein

Founder Sam Wilder

PLEASE RECYCLE OR SHARE THIS

MAGAZINE WITH ANOTHER READER

Everyone loves a good renovation story…

Peruse 1000s of stunning photos, articles

and hot products. Get in touch with professionals

in your area who can help you transform your home.

Robert J. Slattery,

President and CEO,

Buzz Publications, LLC.

© 2019 Buzz Publications,

LLC. Housetrends magazine

is published and produced

by Buzz Publications. All

rights reserved. All logos

and trademarks are the

properties of their respective owners. We assume

no responsibility for errors, inaccuracies, omissions

or any inconsistency herein. Housetrends

makes no warranties, representations or endorsements

regarding any of the services and/or the

advertisers, builders, designers or any third parties

appearing in the magazine. No part of this work

may be reproduced or transmitted in any form or

by any means electronic or mechanical, including

photocopying, recording, or by any information

storage or retrieval system, without the written

permission of Buzz Publications, LLC except

where prohibited by law. Buzz Publications,

LLC reserves the right to edit, alter, or omit any

advertiser. Back issues available upon request for

$10.00 per copy, including shipping (Subject to

availability.) To have your name removed from

our mailing list, send a letter to Housetrends,

Name Removal, 4601 Malsbary Road, Cincinnati,

OH 45242.

14 housetrends.com
---
Custom Cabinetry

designed and constructed

by artisans and craftsmen.

Old-World Quality Furniture

one of a kind Quality

Stop in our showroom for a tour of the beautifully crafted furniture by Amish shops.

Solid Wood Dining • Bedroom • Office • Living Room • Outdoor Furniture

Custom Solid Wood Kitchen and Bath Cabinetry

9442 Loveland Madeira Rd. Cincinnati, OH 45242 • 513-271-5567

HTCI0519.037
---
1

fresh finds

Great discoveries we just had to share

3

2

4

6

7

8

5

9

TRENDING | CLUSTERS | POSITIVE COLORS | LINEAR PATTERNS | ECCENTRICITY

1 Skye chandelier by Hinkley Lighting available locally at A&S Lighting and Electric Supply 2 Patchwork cowhide rug by AVO 3 STACK chest

drawers by Raw Edges for Established & Sons 4 Major chair by Mitchell Gold + Bob Willaims available locally at Mitchell Gold + Bob Williams

5 Lips trinket tray by Jonathan Adler 6 Sapporo buffet by Lexington available locally at Watson's and Hoffman and Albers 7 Poppy wallpaper by

Nathan Turner, Wallshoppe 8 Ceramic light by Marre Moerel for Cappellini 9 Atoll sofa by Antonio Citterio for B&B Italia

18 housetrends.com
---
Create depth and dimension

with tone on tone color.

T H I R T Y Y E A R S O F D E S I G N A N D I N N O V A T I O N

CINCINNATI | THE KENWOOD COLLECTION | 513.826.0070 | MGBWHOME.COM

HTCI0519.007
---
DESIGN/BUILD/RESTORE

HTCI0519.028
---
Specializing in Custom Homes, Estate Development

and Energy efficient design.

Family owned and operated since 1985

513-683-3080 | johnhueberhomes.com

HTCI0519.028
---
HTCI0519.004
---
Atlas Concorde USA Homeland

Sonoma Tilemakers Dakota

Jeffrey Court Chapter 16

HTCI0519.032
---
1
---
Right Sizing

on the

River

Empty nesters enjoy their view

from high above the banks of the Ohio

2

BY PEGGY NACHTRAB | Photos by Daniel Feldkamp

The kids are grown and have moved out of the house. The family cat outlived

expectations, but she too, has moved on. So now you look at your spouse and then

at the four walls that have surrounded your family, providing the backdrops of many

of your best memories and you wonder, "what's next?" Do you remain in this space

and repurpose the extra bedrooms or do you start fresh, creating new memories?

Should you downsize or even better, consider what is the right size? ✦ For the first

time in a long time, couples of a certain age have the chance to consider what they

want in a living space, not just what's best for the kids. Sound exciting? Maybe at first,

but since the needs of others have guided decisions for decades, it may be harder

than it seems. ➻

housetrends greater cincinnati 25
---
3

Where to begin

Sarah Goldman and her husband Jim have successfully

navigated the choppy waters of right sizing.

Their 50-plus-year-old, five-bedroom, one-acre property

with a pool, where they raised their two daughters

has given way to a new three-story, hilltop home with

expansive river views. Narrowing down must-haves for

their new home could have presented a challenge, but

both Sarah and Jim agreed that first on the shopping

list was to be near the water. "Once we established this

priority, the search was on for our next home," Sarah

explains. Luckily for them, Cincinnati is a city that

grew from the shores of the Ohio River, surrounded

by beautiful hills with spectacular views.

Touring some of the city's most beautiful homes,

as a real estate agent with Sibcy Cline, gave Sarah the

chance to get ideas and see the latest housing availabilities.

Quite possibly, these Ohio natives found

the most perfectly situated lot along the Ohio River.

Located on the city's northern tip of the winding

waterway, the home offers inspiring views of both a

vibrant downtown skyline and the rolling river dividing

the hills of Kentucky and Ohio. ➻

1 The soft blues and navy visible at the home's entry hint

at the color choices going on inside the home. 2 From

the vantage point of the rooftop deck, the couple can

see sweeping views of Mount Adams, the riverfront and

Northern Kentucky. 3 Interior furnishings were carefully

selected so as to not compete with the striking view. 4 A

shiplap accent wall surrounds the fireplace.

4

26 housetrends.com
---
housetrends greater cincinnati 27
---
Why it works

So, why is this new home their right size? Flexibility,

for one, Sarah explains. They can head out of town for

a weekend getaway with little preparation. Low maintenance

landscaping can be left for another day. And

when they return, they'll remember why they left the

big yard and the pool in exchange for perfect, carefree

living. A bonus to their new digs is that they only had

to move about 20 minutes from their family home.

They're still near work, friends and all of their favorite

spots throughout the city.

The home, which was built by John Hueber Homes,

features bedrooms on the first and second floors,

while the third floor features an open floorplan kitchen,

dining area and living room, plus a smaller sitting

space with a patio. "The upper two floors are where

we live," Sarah says. "But we have the extra bedrooms

in case our kids visit." It's a striking entrance to the

third floor, which is reached either by stairs or the

conveniently located elevator. The expansive space,

practically floor-to-ceiling windows and incomparable

views, demand a jaw-dropping response.

To help create an interior that enhanced their river

views, Christine Kommer, of Surround Design, offered

support and guidance. "The views of the Ohio River

from the main living floor were the showstoppers—

no design could compete with those views!" Kommer

explains. "We chose elements that complemented,

but ultimately deferred to the home's surroundings."

All decisions were made to not obstruct sight lines

or detract from the views. Glass globe pendants were

selected above the kitchen island and no window treatments

or additional frames were necessary around the

kitchen sink window. ➻

5 The tall navy door leads to an expansive pantry area.
---
housetrends greater cincinnati 29
---
6

Seaside inspiration

The Goldmans had vacationed in Charleston, South Carolina and wanted to create a

coastal vibe while being mindful of their Midwest surroundings. The couple settled

on blue and blue-green hues throughout the interior and exterior of house with one

exception. The kitchen, designed by Karen Gable, of Select Kitchen Design, features

an island base painted a deep navy. That, along with with the white perimeter cabinets

and the driftwood look of the wood floors, add a nautical slant to the space.

The open concept living space needed design elements that coordinated but did

not match exactly, so that each space felt distinct. This was accomplished by using

similar colors throughout and adding a mixture of brass, antiqued bronze as well as

clear glass globe light fixtures to define each separate space.

"The kitchen backsplash is one of my favorite design elements in the house,"

Kommer says. "It certainly feels traditional since it is a basketweave pattern, but

the curved tiles add dimension and an imperfect element to the space that is both

interesting and timeless." ➻

6 The movement in the veining of the countertop helps soften the contrast between the

white and navy cabinetry. 7 Triple pendants add a touch of brass to the kitchen, but their

glass globes keep them from interrupting the view. 8 The double walls of windows put

the focus on the view in the dining area.

7

30 housetrends.com
---
8
---
9

Clouds from both sides now

The water attracted the Goldmans to their new space, but they

were surprised at the other views they would enjoy. Sarah's

eyes widen as she explains, "We love watching the clouds!" From

atop their hill above Columbia Parkway, they knew they'd gaze

at the river, but now they're looking up as much as out. Another

unexpected pleasure is learning about the river traffic. Thanks

to modern technology, she just has to open her Marine Traffic

App to learn where the barges are headed and what they're

hauling. The couple's rooftop terrace offers the perfect spot to

watch all their favorites: water, clouds and boats. Not to mention

sunsets and sunrises from this south-facing gem.

Downsize or right size? This fresh space seems to be the

perfect size for this couple to relax and enjoy the next chapter

of their lives.

RESOURCES Architect Sally L. Noble; Builder

John Hueber Homes; Interior design Surround Design; Kitchen

design Select Kitchen Design; Dining area chairs Quince & Quinn;

Dining table Lexington; Living room built-ins, shiplap, cabinet

and woodwork installation V Collective; Sofa Wesley Hall;

Staging assistance Simply Rearranged; Window treatments

Hunter Douglas, Genesis Window Fashions; Windows Andersen,

McCabe Lumber; Kitchen countertops Zelaya Stoneworks;

Kitchen backsplash Louisville Tile; Sink, faucets and appliances

Ferguson; Island pendants Pottery Barn; Barstools Design

Master; Paint Benjamin Moore Gray Owl; Outdoor furniture

Woodward cast alumininum, wicker couch, Watson's; Landscape

design Bzak; LEED advisor Paul Yankie, Green Building Consulting;

Elevator Custom Home Elevator & Lift Co, Inc.

9 A church steeple is perfectly framed in the southeast-facing

window above the sink.

AIMING FOR LEED PLATINUM

If the views weren't enough, custom homebuilder

John Hueber Homes incorporated state-of-theart

green building techniques. Project Manager

Marc Hueber worked with Paul Yankie, of Green

Building Consulting, to build the home with LEED

qualification in mind.

"The fact that we were working on a small lot

carved into a hill made this project challenging,"

Hueber says. Retaining walls had to be constructed

prior to any foundation work beginning.

Those spatial challenges would continue through

all phases of construction and would require

creative solutions.

Many significant, energy efficient choices were

made, including using high-density R21 batt insulation

and a high efficiency variable speed furnace

with an ERV (energy recovery ventilator). Hueber

adds that once the planned solar panels are in

place they should reach Platinum certification—

LEED's highest designation. The City of Cincinnati

rewards environmentally responsible homeowners

with property tax abatement, plus homeowners

enjoy higher resale value, lower electric bills and

priceless peace of mind knowing they're doing

their part. It's a big bow on top of the wonderful

gift they've given themselves.

32 housetrends.com
---
Elegant Access.

Today and

Tomorrow.

You don't have to compromise

style to achieve peace of

mind. With a home elevator,

your investment in luxury and

convenience for today also

ensures mobility and independence

in the future.

Consider a home elevator as an extension of

your lifestyle, giving you freedom and flexibility.

FREE, NO OBLIGATION ESTIMATES

513-583-5910 | www.CustomHomeElevator.com

HTCI0519.046
---
Culinary art starts with the first course. Culinary culture sooner than that.

The difference is Gaggenau.

The ambitious kitchen is a place of exacting demands in

terms of equipment, ingredients and techniques. The Vario

cooktops 400 series has been meeting these demands from

the beginning – with appliances developed to meet any

challenge. Made from solid stainless steel, the appliances

can feature a visible edge for a conscious design statement

or be flush-fitted. Whatever combination you choose, you

can look forward to exceptional freedom – for decades to come.

For more information, please visit www.gaggenau.com/us.

800-704-6313

CustomDistributors.com

Fairfield Showroom

9190 Seward Road

Fairfield, Ohio 45014

Dayton Showroom

2040 S. Alex Road

Dayton, Ohio 45449

Columbus Showroom

530 Lakeview Plaza Blvd.

Worthington, Ohio 43085

HTRG0519.001
---
©2018 Wood-Mode, Inc.

Design by Tradewind Designs, Inc.

Rise and shine. Brilliant finishes and inviting textures mean brighter

beginnings. Find more modern lifestyles at wood-mode.com/brilliantvista.

Available in the U.S. and Canada.

HTRG0519.006
---
HTRG0519.006
---
WHICH ROOM WORE IT BEST?

SERENA & LILY RIVIERA COUNTER STOOL

Builder Mark Heinauer, Barrington Homes, Inc.

Photo by Craig Thompson

See this Pittsburgh home at housetrends.com,

search: Black is the new white

Contractor Greater Dayton Building & Remodeling;

Interior designer Alison Davis Interiors;

Cabinetry Garber Woodworking

Photo by Caroline Morgan

See this Dayton home at housetrends.com,

search: Sunny side

38 housetrends.com
---
HTRG0519.005
---
Take a Tour

Here are some of our favorite home and garden tours found in Housetrends' cities

this spring and summer. If you know of any others, e-mail us at social@housetrends.com.

CINCINNATI AREA

Garden Walk in Historic

East Row Newport

June 1 & 2

Tickets and info: gardenwalk@eastrowgardenclub.org

HOMEARAMA ®

June 8-23

Deerfield Township, Warren County

Tickets and info: cincyhomearama.com

Lebanon Garden Tour

June 22 & 23

Tickets and info: ohioslargestplayground.com

CLEVELAND AREA

Parade of Homes

June 8 & 9, 15 & 16

Home Builders Association of Greater Cleveland

Tickets and info: hbacleveland.com

GardenWalk Cleveland

July 13 & 14

Free event. Info: gardenwalkcleveland.org

DAYTON AREA

2019 Homearama Touring Edition

July 26 - August 11

Home Builders Association of Dayton

Tickets and info: hbadayton.com

COLUMBUS AREA

Bexley Women's Club

House and Garden Tour

June 2

Tickets and info: bexleywomen.org

WesterFlora Garden Tour

July 21

Westerville Garden Club

Free event. Info: westerflora.com

Vi si t the Worly

housetrends.com 41
---
DISCOVER THE

MARIEMONT

LIFESTYLE AT

HAMPSTEAD PARK

The Village of Mariemont captures

the spirit of a historically rich

community with all the modern

amenities. Greiwe's latest

development Hampstead Park

is one block from the Square

at 3818 Miami Road. The luxury

condominiums include two

bedrooms, two baths, a study and

elevator access to two parking

spaces. The landmark architecture is

a modern take on English Cottage

design. Interiors feature open,

one level, light filled spaces with

high quality designer finishes.

Spacious private balconies overlook

tree lined streets and green space.

OPENING MAY 2019

Visit our furnished model on

Sundays from 12:30-2:30 p.m.

Only a few residences remain,

view the floor plans at

MariemontLifestyle.com

Midwestern has partnered with Greiwe

Development & North American Properties

over the last ten years & is providing

high-quality service & Kohler fixtures.

HTCI0519.020
---
HAMPSTEAD PARK

MARIEMONT

Patti Sibcy 513-254-1776

Elaine Greiwe 513-238-7980

HTCI0519.020
---
ᄁhead

of the

ᄅurvအ

New appliances cater to the cook in all of us

Barista at home

If Starbucks is your home away

from home, then the Gaggenau

400 series fully automatic coffee

machine should be at the

top of your wish list. With the

ability to brew everything from

a simple cup of coffee to a custom

espresso or cappuccino,

this built-in machine is for the

connoisseur in all of us. The

machine can monitor coffee

bean, water and milk levels and

hold up to eight personalized

drink configurations.

BY CHRISTINA KLEINER

Refrigerator revolution

Bosch has completely transformed its refrigeration portfolio with the

launch of its freestanding French Door Bottom Mount refrigerator collection.

The new freestanding refrigerator offers the look of a built-in unit

thanks to the 24-inch deep counter depth design, while the length of the

door extends fully to the ground, offering seamless integration into the

kitchen. Stainless steel details, both inside and outside, paired up with a

plethora of cutting edge technological advances to keep your food fresher

for longer periods of time, make this a powerhouse appliance.

Next generation dishwashing

Next to folding laundry, washing dishes might be the most hated chore in the

house. But thanks to the new Cove dishwasher, the newest brand from Sub-Zero

and Wolf, washing dishes might not be the bane of your existence. The new dishwasher

offers 43 jets, three spray arms and more than 200 cycle options that all

work together in virtual silence. The sleek stainless look blends in perfectly with

its surroundings, although you can also disguise it behind a cabinet panel for a

seamless design.
---
Thinking green

The Big Chill wants you to

think beyond stainless steel

and matte black. The appliance

manufacturer's Retro collection

comes in more than 200 custom

colors, including this year's

newest introduction—Moss

Green. The nature-inspired hue

is versatile enough to work in

any kitchen design and is the

perfect solution for those of

you wanting to add a little personality

to your space.

Fire up the grill

Grilling season is almost upon us and Kalamazoo

has outdoor kitchens on the mind. Its new Arcadia

Cabinetry Series is the perfect accompaniment for

the ultimate grilling area. The new line features more

options and colors in cabinet drawers, as well as 12-inch

pullout racks to house grilling tools and 36-inch double

door base cabinets for storing cookware and serving

platters. The Arcadia line is also the perfect base for a

Kalamazoo Gaucho Grill with a 30-inch spoked wheel

for the ultimate in wood-fired grilling.

Don't forget your glasses

The perfect addition to a wet bar or game room,

Thermador's Glass Care Center is a dishwasher designed

specifically for glassware. The tine-less rubber racks allow

for plenty of space for glassware of various shapes and

sizes. With a load capacity of up to 26 large wine glasses,

you no longer have to worry about having enough clean

glassware for large parties. ➻

housetrends greater cincinnati 47
---
Preserving quality

and taste

Miele wants to help you avoid

food waste. The new Vacuum-

Sealing Drawer is perfect for

the busy cook who plans out

family meals and is looking

for ways to keep food fresh

for longer periods of time. The

sleek built-in drawer eliminates

the need for a bulky countertop

vacuum sealer and allows

cooks to easily seal fresh food,

portion out cooked meals for

later consumption, and even

seal marinades and liquids, like

soup, with ease.

One stop shop

Sub-Zero is serious

about keeping your

favorite drinks fully

stocked and fresh.

Its new 30-inch integrated

beverage center

features a wine

storage unit that preserves

up to 86 bottles

of wine in one

convenient location.

Down below, refrigerator

and freezer

drawers offer the

perfect locations for

cheeses or craft beers

and an assortment

of frozen desserts,

snacks and ice.

Cooking for a crowd

Thermador's new 48-inch gas Pro Grand range

with griddle takes cooking for large crowds to

a whole new level. Boasting six burners, plus a

griddle, and both a large and smaller oven that

do everything from convection baking to broiling,

you can prepare an entire meal, from hors

d'oeuvres to dessert, all at the same time. And

for you tech-savvy cooks—you have the ability to

operate this range via the Thermador Connected

Experience by Home Connect. The app allows

you to turn on the appliance, monitor cooking

and even find digital recipes all from your smart

phone or tablet.

48 housetrends.com
---
Snyder
---
Don't Wait - Live it today!

The Enclave at Woodruff

Anderson Township

Featuring luxury ranch patio homes

with yard maintenance and snow

removal, the Enclave at Woodruff

is convenient to everything that is

Anderson! Maintenance free living,

green space and walking paths.

MODEL OPEN

Brookstone Homes is building homes in communities

across the Cincinnati and Northern Kentucky area. We

invite you to explore the many opportunities below.

Contact us if you need help in choosing just the right

community to fit your needs.

C O M M U N I T I E S

THE VIEWS OF

KENWOOD

A new home community

on a private drive with

beautiful views that

stretch to the Lunken Airport,

the Ohio River and

downtown Cincinnati.

Maintenance free living

and Cincinnati Tax Abatement

Opportunities.

THE COURTYARDS OF

TERRACE RIDGE

Features a variety of two

and three bedroom ranch

patio homes less than five

minutes from shopping,

restaurants and Interstate

275. In the Milford School

District. Maintenance free

living, green space and

walking paths.

MODEL OPEN

TERRACE RIDGE

Features both ranch and

two-story homes less than

five minutes from shopping,

restaurants and

Interstate 275. In the Milford

School District.

MODEL OPEN

VALLEY CREEK FARMS

A new home community

in Burlington, Kentucky

featuring two-story and

ranch single family plans.

Maintenance free living,

green space and walking

paths.

MODEL OPEN

CELESTIAL ESTATES

Offers both ranch and

two-story homes less than

five minutes from shopping,

restaurants and

Interstate 275. Located

in Clermont County, in

Miami Township and

Loveland Schools.

MODEL COMING

SUMMER 2019

513-340-7200 | 7203 WOOSTER PIKE, CINCINNATI, OH 45227 | WWW.BROOKSTONEHOMES.COM

HTCI0519.005
---
1
---
Coming

FULL CIRCLE

Mount Adams couple makes

the move back to where it all began

BY AMY HOWELL HIRT | Photos by Daniel Feldkamp

Once upon a time there was a newly married couple with newly

launched careers. Despite the shoebox-size of their apartment in

Highland Towers, they reveled in the easy lifestyle of Mount Adams.

They could walk to grab a burger or meet friends at one of the many

local watering holes. And nearly every destination offered a dramatic

view of Greater Cincinnati—from the lights of Downtown to the bend

of the Ohio River. ➻

housetrends greater cincinnati 57
---
But over time, their careers evolved and their needs

changed. While the location offered endless opportunity for recreation, their

shoebox offered zero room for growth. So they made the move to suburbia

to raise their children, but never lost their love for that hillside home. As a

reminder, they even kept an oil painting of the Mount Adams view in the

front hall of their home.

"That was always our goal—to come back to Mount Adams," he says. "We

had the young, fun Mount Adams experience and wanted the warm community

experience on the other end."

Twenty-some years later, they're doing exactly that. Once their two children

were out of the house, the couple returned to Mount Adams and a

lifestyle that makes it easy to have fun.

2

58 housetrends.com
---
3

5

Finding community

For the couple, the move to Mount Adams was about getting back

into the community. Like many parents when they gained an empty

nest, they slowly lost many of the connections they had developed

through their kids' school activities and sports involvement. "Over

time, we felt disconnected to the community," she says.

In the three years that they have lived in Mount Adams, they've

found plenty of like-minded folk. "We've met at least 25 couples

who are at a similar place in life. Empty nesters who are fun and

like to try new things," she says.

With about 20 percent less home to maintain and so many

attractions so close by, the couple is out and about much more,

says the homeowner, who regularly meets up with her neighbors

for impromptu happy hours. The couple often walks to Holy Cross-

Immaculata Parish for mass and hikes with their dog to Eden Park

or down the hill to Sawyer Point. And with Mount Adams sitting

just a couple miles from Over-the-Rhine, it costs them just $5 to

take an Uber to try a new restaurant every Thursday.

A relaxed style

The style of their nine-year-old townhome is equally relaxed and

accessible—starting with its placement on the hillside. Rather

than overlooking the hustle of Downtown Cincinnati, the building

is angled to take in the bend of the river to the east, making for a

quieter setting, he says. ➻

4

1 The kitchen's white cabinetry and subway tile backsplash are original

to the home.

2 The oil painting that the couple purchased during their early years in

Mount Adams was created by artist Nancy Nordloh Neville.

3 A close-up view of the corner tile in the Rookwood Tile fireplace surround.

4 Cabinetry and shelving in the living room and bar area were originally

cherry but faux painted to match the new kitchen island.

5 Container arrangements pepper color throughout the rooftop deck.

housetrends greater cincinnati 59
---
6 7

Although they made no major changes to the floorplan, the couple

reimagined the layout to create an open flow—and view—in the main

living area. Because a townhome naturally has a narrower footprint than

a single-family home, accomplishing that required some strategy. While

the couple was able to keep their existing bedroom set, "Most of our

furniture had to be ordered because the shape [of the townhome] is so

different," she says.

Instead of placing a dining table that cut the floorplan in half, the

couple opted for a casual banquette. "We wanted it to flow so people

could move around," she says. Created by interior designer Meg Fiora,

the banquette allows the dining area to be pushed to the far wall, leaving

open floor space between the kitchen and living room. To give the seating

a built-in aesthetic, Fiora brought the walls out on either side of the

banquette and added sconce lighting.

The townhome's open floorplan is complemented by the couple's comfortably

minimal style. From the lighting to the granite countertops and

casual furniture, clean lines, clutter-free surfaces and calm gray and blue

tones dominate. The only adornments on the windows and sliding door

in the living room are barely discernible, retractable panels to protect the

furniture from the glaring sun. Instead of stocking a built-in curio cabinet

with collectibles, this couple adds interest through finishes: Gray woodgrain

wallpaper on the banquette and fireplace wall provide pops of texture,

artwork and floral arrangements introduce bursts of vibrant color,

and plush rugs and rich gray/brown cabinetry inject pockets of warmth.

While the perimeter kitchen cabinets remain their original white finish,

the owners added an island with an espresso finish. They hired artist

Jeannine Dostal to paint the dated finish of the living room built-ins.

The result is a perfect match. Dostal also created the blue flowing mixed

media piece which hangs above the sofa. ➻

10

60 housetrends.com
---
8 9

6 Colorful arrangements add to the

charm of the rooftop.

7 Throw pillows on the sectional

indicate the blend of textures and

colors found throughout the home.

8 Clusters of ranunculus bring a

romantic touch to the dining table.

9 This close-up shows the texture

and color that is brought into the

living room via Dostal's artwork

which hangs above the sofa.

10 Dining chairs were chosen specifically

to double up as comfortable

living room seating when extra

spots are needed.

housetrends greater cincinnati 61
---
Easy for entertaining

As much as the couple enjoys an evening out, they furnished their home for hosting without the hassle.

Another bottle of wine, for example, is always in reach in the Sub-Zero wine chiller, which replaced

a bank of kitchen cabinetry. And thanks to the indoor/outdoor fabric on the base of the banquette,

the homeowner doesn't have to worry about nieces and nephews leaving shoe marks when they slide

in and out of the seat. "I didn't want to be that person," she says.

Because they are sports fans, entertaining often involves gathering around the TV instead of the

dining table. Lightweight dining chairs easily pull over for additional seating when there's a game on

in the living room. There's another TV in the kitchen, where the couple elongated the island to expand

the seating from two to four. Even on the rooftop patio, guests can gaze at the river while keeping an

eye on the TV. Containers bursting with colorful flowers, created by Lisa Gross, owner of Going to Pot,

add a charming touch.

62 housetrends.com
---
12

With amenities like a grill, refrigerator and no competition for a comfortable

seat, this space often entices the couple to enjoy the quintessential

Mount Adams view over dinner and drinks at home, rather than

at one of the hillside hot spots. "Why go someplace to have a drink when

you have this?" he says.

And speaking of their enviable vista—after moving in, the couple was

surprised to realize it closely matches the view depicted in the painting

they purchased all those years ago. An uncanny coincidence, perhaps, or

a sign they're back where they are meant to be.

Resources Interior

Design; Container gardens Going to Pot; Painting of family room and

bar cabinetry painting Jeannine Dostal; Artwork behind sofa Jeannine

Dostal; Fireplace tile Rookwood; Audio visual Sound Advice, LLC;

Painter Eric Kalti; Kitchen countertops Granite from Mees; Pendants

above island Keidel; Barstools and dining chairs Andreu World;

Banquette Custom by Fiora Design; Dishwasher Asko; Range Wolf

6-burner; Refrigerator Sub-Zero; Wine refrigerator Sub-Zero Dual

Temperature from Keidel; Builder Camden Homes

designer Fiora

11

11 The stair railings, shown

to the left, needed to be

removed in order to bring the

island's slab of granite up to

the kitchen.

12 The view off the fourth

floor—or rooftop—balcony

provides a relaxing, southeastfacing

view of the river.

13 Floral groupings, created

by the homeowner, add a

touch of spring throughout

the home.

13

housetrends greater cincinnati 63
---
Outperforms, outresists, outlasts
---
HTCI0519.018
---
Premium Olive Oils

Imported Balsamic Vinegars

Private Events • Cooking Classes

Boutique Wines • Gourmet Pantry Gifts

Taste Before You Buy

Cincinnati's Original Tasting Emporium

Pick-up & Go Gift!

Favorite

All New

2 & 3 Pack Sampler - starting at $13.50

The Best of the Spicy Olive - $58

The Spicy Olive Deluxe Basket - $75

The Wine Cellar in West Chester only

• Custom gift for all

tastes & budgets

• Event space for cooking

and/or wine demonstrations

• On-site cooking and/or

speaking engagements

Friday & Saturday Wine Tasting

Wine Experience Classes

Every 4th Thursday

Sommeliers:

Melanie Cedargren & Chris Hensey

email: info@thespicyolive.com

~ Free Shipping on Orders of $100 or More ~

Beauty & Gourmet Pantry Baskets

visit thespicyolive.com for cooking classes & online orders

West Chester

7671 Cox Ln.

West Chester, OH 45069

513-847-4397

Hyde Park

2736 Erie Ave.

Cincinnati, OH 45208

513-376-9061

Austin Landing

3650 Rigby Rd.

Miamisburg, OH 45342

937-247-5969

HTCI0519.045
---
HOME THEATER - HI-FI AUDIO - HOME AUTOMATION

CERTIFIED

SHOWROOM
---
859.727.1136 • lighting@a-s-electric.com
---
Brass

is

Back

This lustrous alloy makes a return to the interior design spotlight

BY LEE RHODES

Step aside, stainless steel—brass is back. Just like fashion trends (Ahem: tie-dye, feathers and choker necklaces),

interior design trends inevitably come back around. But if you're picturing the gaudy brass of the 1980s, think

again. Today's brass represents luxury without showiness, warmth without pretension. ➻

1

housetrends greater cincinnati 69
---
Luxuriously understated

"Brass may have the reputation of looking dated; however, we

believe brass is a time-honored finish," explains Erin Tober,

showroom manager at Ferguson in Warrensville Heights,

Ohio. "Today's brass is much more understated and luxurious

than its predecessor and it's made with high-quality metals.

Homeowners are embracing today's brass, which is muted,

warm and becomes more beautiful with age."

But designers acknowledge that it can be challenging to

incorporate brass in a way that looks contemporary and not

dated. Then there's the issue of embracing the brass trend

without breaking the bank. One relatively inexpensive way to

freshen up your space is to treat brass as an accessory, sprinkling

it throughout different rooms. Brass drawer pulls and

cabinet knobs, as well as brass finials and fixtures, are good

starting places. "The inclusion of a brass faucet, hardware

or light adds a layer of radiance and hue to spaces that have

become traditionally monochromatic over the past few years,"

says Tober. "In fact, lighting is our favorite way to adopt the

trend. Whether it's a chandelier or wall sconces, a light fixture

in brass elegantly demonstrates the warmth of the finish and

becomes your room's statement piece." 2

3

Selecting the perfect combination

It's also important to select the right brass finish. Avoid

pieces with a shiny lacquer finish or with yellow undertones.

Matte and/or muted tones are versatile enough to invite life

into a room without being overpowering. It's always useful

to fully think through pairings and color schemes, but brass

is the new black—it goes with anything, whether on a color

wheel or part of another metal family, including satin or

brushed nickel, stainless steel or oil-rubbed bronze.

01 The bold pattern of the backsplash tile paired up with brass

accent pieces establish an eclectic design in this Cincinnati bathroom

built by Frazier Homes.

Photo by Connie Kimsey

02 This bedroom in a Cincinnati home built by Justin Doyle

Homes, features a brass chandelier that draws eyes up to the ceiling

and then automatically over to the mural on the wall behind

the bed.

Photo by Connie Kimsey

03 Brass fixtures, such as the pendant lights and kitchen faucet,

complement the crisp white cabinetry and countertop in this

Cincinnati home built by High Pointe Custom Homes.

Photo by Greg Grupenhof

04 This bar in a Cincinnati home includes two popular design

trends—navy blue cabinetry and a subtle brass faucet that stands

out against the white tile backsplash.

Photo by Daniel Feldkamp
---
4

housetrends greater cincinnati 71
---
Mixing metals is not a new concept and it's one

that can add depth and dimension to any space. To

confidently begin mixing finishes, Tober suggests

pairing today's natural brass with a metallic that is

finished similarly, with warm and muted undertones,

to maintain a consistent motif. "If you're introducing

brass to your kitchen or bath, think of brass as an

accent color," says Tober. "Let your original finish be

the theme and let brass be the pop of color."

05 The brass light fixture pops against the dark gray

built-ins in this Cincinnati home office built by Wieland

Builders.

Photo by Connie K msey

06 This elegant master bathroom in a Cincinnati home

built by Sterling Homes features a black and white color

scheme complemented by a series of brass elements

including the chandelier and cabinet hardware, along

with faucets and showerheads provided by Keidel Supply.

Photo by Daniel Feldkamp

5
---
6

housetrends greater cincinnati 73
---
And speaking of colors, "Try combining

today's warmer brass with the smoldering

hues of gray, graphite or matte

black," says Tober. As an example, in

the kitchen, you can pair a matte black

pull-down faucet and cabinet hardware

with brass light fixtures. Brass also hits

a graceful note in an all-white kitchen,

a look that's currently trending.

If brass is incorporated properly, it

will add a touch of elegance that will

never go out of style. And just like the

old song says, everything old is new

again.

7

8

9

07 The round brass coffee table positioned in the middle of this cozy Tampa

sitting room serves as a bright focal point against the soft blush and gray color

scheme.

Photo by Amaris Granado

08 Touches of brass seen in the oversized cabinet hardware, table lamp and

wall mirror add glamour to the farmhouse-inspired look of this Cincinnati

home built by Frazier Homes.

Photo by Connie K msey

09 A white kitchen, like this one in Tampa, is the perfect backdrop for brass

accents, as seen in the tile backsplash that is carried up to the ceiling.

Photo by Joe Traina

74 housetrends.com
---
HTCI0519.014
---
Our proven design-build process "The Legacy Way" was created to bring our clients

ideas and inspirations to life. Design-Build is an approach where the project's design and

construction are contracted and executed from a single source. With the combination of our

expertise in project management and the creativity and skill of our architects and designers,

The Legacy Way provides many advantages for our clients.

7789 Cooper Road Cincinnati, OH 45242 | 513-851-2700 | DesignBuildRemodel.com

HTCI0519.025
---
Bright & Beautiful

Glass Block for Design and Function

■ Building walls with glass block allows light to be shared between rooms

rather than drywall and paint.

■ Make rooms feel larger using glass block to divide the space rather than

painted walls.

■ Glass block provides a clean and bright surface that transmits light from one

room to another.

■ From subtle patterns to bold colors; glass block is an ultra-modern design

component that brings bright surfaces and shared light to your rooms.

HTCI0519.022

For Design Consultation - 513.744.1925

12100 Mosteller Rd. • Sharonville, OH 45241

www.cincinnatiglassblock.com
---
HTCI0519.009
---
Take a stroll through

2019

KENSINGTON IS SURROUNDED BY ENGLISH GARDENS,

BEAUTIFUL WOODS AND 23 ACRES OF GREEN SPACE

From June 8 to June 23, the beautiful Kensington neighborhood in

Warren County's Deerfield Township will host the 56th HOMEARAMA®, produced

by the Home Builders Association of Greater Cincinnati and presented by

JP Flooring Design Center and Two Men and a Truck. This year's show will feature

10 spectacular homes priced from $900,000 and up. Builders, architects, interior

designers and landscapers are busy at work to bring you the best show ever.

housetrends greater cincinnati 81
---
HOMEARAMA ® IS PRODUCED BY THE

HOME BUILDERS ASSOCIATION OF GREATER CINCINNATI

Visit cincyhomearama.com for more information

2019 HOMEARAMA ® HOMES

1 CandleStone

John Candle Homes

Chad Seitz & TC Rogers

513-310-7079

7,700 Sq. Ft.

French Eclectic style

2 The Addington

Justin Doyle Homes

Justin Doyle

513-445-2111

5,085 Sq. Ft.

Urban farmhouse style

3 Glenmoor

Classic Living Homes

Bernie Kurleman

513-515-5123

6,285 Sq. Ft.

Retro, traditional style

4 The Benjamin

WP Land Company, LLC

Mathew B. Walker

513-570-5721

4,152 Sq. Ft.

Urban farmhouse style

5 The Paxton

Fischer Homes

Brian Johnson

513-657-4888

4,069 Sq. Ft.

English Elegance style

6 The Hampton

J&K Custom Homes, LLC

Jim McVicker and

K. Michelle Moran

513-755-0159

6,513 Sq. Ft.

Classic Hamptons style

7 The Breckenridge

Robert Lucke Group

Scott Lucke

513-683-3300

5,273 Sq. Ft.

Modern mountain style

8 Anmer Hall

Wieland Builders, LLC

Jeff Wieland and

Mike Wieland

513-801-0860

4,638 Sq. Ft.

Traditional ranch with

Craftsman influences

9 The Bayberry

Fischer Homes

Brian Johnson

513-657-4888

2,091 Sq. Ft.

Coastal Classic style

10 The Marshall

Fischer Homes

Brian Johnson

513-657-4888

4,895 Sq. Ft.

Western Craftsman style

82 housetrends.com
---
CHELSEA WAY

5

CONCESSIONS

SHE SHED DISPLAY

FISCHER HOMES

HOMEZONE TENT

4

WP LAND

COMPANY

10

FISCHER HOMES

1

JOHN CANDLE

HOMES

2

JUSTIN DOYLE

HOMES

3

CLASSIC LIVING

HOMES

KENS NGTON LANE

6

J & K CUSTOM

HOMES

9

FISCHER HOMES

GREENWICH CIRCLE

WIELAND

BUILDERS

7

8

ROBERT LUCKE

HOMES

MELBURY COURT

SEMCO OUTDOOR

DISPLAY

EVENT/BAND

TENT

RESTROOMS

RESTROOMS

RECREATIONS

PLAYSET

Welcome to the

neighborhood

Kensington, developed by Erbeck

Development Company, is located in one of

the region's top living destinations. It's close

to the Deerfield Towne Center and located

in the highly rated Mason City School

District. Kensington's entry leads through

gently rolling hills and along tree-lined boulevards,

reminiscent of an English garden.

Amenities include walking paths, a swimming

pool, cabana, fireplace, outdoor yard

games and 23 acres of green space.

Attendees will have the chance to tour fully

decorated and landscaped one-of-a kind

estate homes and an opportunity to meet

with some of the region's most talented

custom builders. ➻

housetrends greater cincinnati 83
---
HOMEARAMA ® 2019

Saturday, June 8 through

Sunday, June 23

Mon - Thurs, 4pm – 10pm

Fri - Sun, Noon – 10pm

No admittance after 9pm

For more information visit

cincyhomearama.com

ADMISSION

• $19 at the gate, on the Cincinnati

HOMEARAMA ® app or online at

cincyhomearama.com.

• Discount tickets available for $17

at Cincinnati area Kroger stores.

• Special TWO-DAY tickets are

available for $29 at the gate only.

• Children 12 and under are free if

accompanied by an adult.

• No strollers, wagons or child

backpacks with metal frames

are permitted in show homes.

• We suggest that you wear gym shoes

or flat shoes to HOMEARAMA ® .

• No pets, with the exception

of service animals.

• Tickets include on-site parking.

Parking is at your own discretion.

The HBA is not responsible for

any valuables left in cars.

• Restrooms available.

• Food is available for purchase at

the Café at Kensington, featuring

cuisine by Vonderhaar's Catering.

DIRECTIONS

From Cincinnati Follow I-71 North to

Mason Montgomery Road/Fields Ertel

Road. Take exit 19 from I-71 North. Turn

left onto Mason Road/Mason Montgomery

Road. Turn left onto Fields Ertel Road.

Kensington will be on the right.

From Columbus Follow I-71 South. Take

exit 19 from I-71 South. Turn right onto

Fields Ertel Road. Kensington will be on

the right.

GPS 5780 Fields Ertel Road

Cincinnati, OH 45249

Events Planned for the Show

WHAT'S HAPPENING AT HOMEARAMA ®

There's going to be plenty of fun on the streets of the show

this year. Check out some festivities we have in store.

Saturday, June 8, 12pm...................................................................................HOMEARAMA ® Opens

4pm-8pm .................................................................................................. Classic Car Cruise In

3pm-5pm ..................................................................................................WGRR Radio Remote

5pm-8pm ...............................................................................................The Brody Bunch Band

Tuesday, June 11, 11:30am-4pm ................... Realtor Day/Shopping Extravaganza at HOMEARAMA ®

11:30am-2:30pm ...................................................................................... Reflections Jazz Duo

Wednesday, June 12, 4pm-10pm ..................................................................Ladies Shopping Night

Thursday, June 13, 4pm-7pm .................................................... NextGen Council Cocktail Reception

Friday, June 14, 12pm-10pm ...........................................Mason City Schools Day at HOMEARAMA ®

12pm-10pm ........................................................Pink Ribbon House Party–in the Wieland home

12pm-10pm................................................................Marsh Building Products Weekend Display

6pm-9pm ....................................................................... Thomas Mac Nashville Recording Artist

Saturday, June 15, 12pm-10pm ............................................................MDA Day at HOMEARAMA ®

12pm-10pm ............................................................. March First Brewing Day at HOMEARAMA ®

12pm-10pm................................................................Marsh Building Products Weekend Display

12pm-3pm .................................................................................. My Pets Vet at HOMEARAMA ®

1pm ................................................................................................... Shamrocker with DJ Noah

Sunday, June 16, Father's Day, 2pm-4pm ..................SiteWorx Touch a Truck Day at HOMEARAMA ®

12pm-10pm ........................................................................... Deerfield Township Residents Day

12pm-10pm .............................................................................................. Veterans/Heroes Day

12pm-10pm ............................................................. March First Brewing Day at HOMEARAMA ®

2pm-4pm ............................................................................................. Star 93.3 Radio Remote

5pm-8pm ..........................................................................................................Chapter 3 Band

Monday, June 17, 6pm-8pm ................................................ FC Cincinnati Players at HOMEARAMA ®

Tuesday, June 18, 4pm-9pm ........................................................................................ Food Trucks

Thursday, June 20, 6pm-9pm ................................................................................ Cincy Chic Event

6pm-9pm ..................................................................................... Debi and the Revelation Band

Friday, June 21, 6pm-9pm .............................................................................................. Date Night

4pm-7pm.......................................................................................................... Jim Burns Band

6pm-9pm ..............................................................................Valley Vineyards Winery & Brewery

7pm-9pm...................................................................................................Q-102 Radio Remote

12pm-10pm............................................................................. No Wake Marine Mini Boat Show

Saturday, June 22

5pm-8pm .................................................................................................Katie Pritchard Soloist

12pm-10pm............................................................................. No Wake Marine Mini Boat Show

Sunday, June 23, 12pm-2pm ...................................................................Cincinnati Museum Center

12pm-5pm .................................................................................................................. Kids Day

1pm-3pm...............................................................................................................Reds Mascot

2pm-5pm......................................................................................................... Cincinnati Circus

3pm-5pm...................................................................................................B-105 Radio Remote

5pm-8pm...............................................................................................Real Live Humans Band

12pm-10pm............................................................................. No Wake Marine Mini Boat Show

84 housetrends.com
---
See what we can do for your room

Picking out furniture seems easy enough on the surface. However, choosing

the right items to produce a well designed room is far from simple.

About Us

ID Cincinnati is a locally owned furniture store with interior designers on staff to help you create spaces that are both beautiful

and affordable. We design livable spaces with an emphasis on stylish furniture and superior interior design service. Our awardwinning

designers bring passion and enthusiasm to every project. Whether you need a sofa or a complete room makeover,

we have you covered with NO ADDITIONAL CHARGE and GUARANTEED LOW PRICES!

Our MasterPlan Design Program

We listen to our client's wishes, wants and dreams to

develop a room that reflects them. Best of all, there is NO

ADDITIONAL COST TO YOU!

Working on a project? We ask all the necessary questions before

our clients spend a dime. Inquire about our MasterPlan

program today!

Our Mission

We promise to provide professional interior d esign solutions to

our clients at no additional charge, in combination with quality

furniture at the best prices.

ID Cincinnati is dedicated to providing the best value furniture

option in the Greater Cincinnati area.

t e room ex er s

8180 Montgomery Rd.

Cincinnati OH 45236

513-834-6210

idcincinnati.com

HTCI0519.029
---
ZICKA

H O M E S

Elevated elegance.

Surround yourself in luxurious living with the elegance of a

custom Zicka home. Zicka Homes collaborates with you to design

and build a home that's aesthetically pleasing and functionally

comfortable at every turn.

We take your vision and build it into reality with an unrivaled

attention to detail. It's more than just a home, it's a work of lifestyle art.

Zicka Homes can build to your specifications on your current lot

or within any of our developments in Mason, Loveland and

Anderson. We'd love to hear what you envision for your everyday

environment and help you attain it. With five decades of experience

and numerous awards in our background, we're confident we can get

you there. Please give us a call at 513.247.3500 or visit

www.ZickaHomes.com

HTCI0519.003
---
SLATS

Blind & Shutter Experts

SLATS

Blind & Shutter Experts