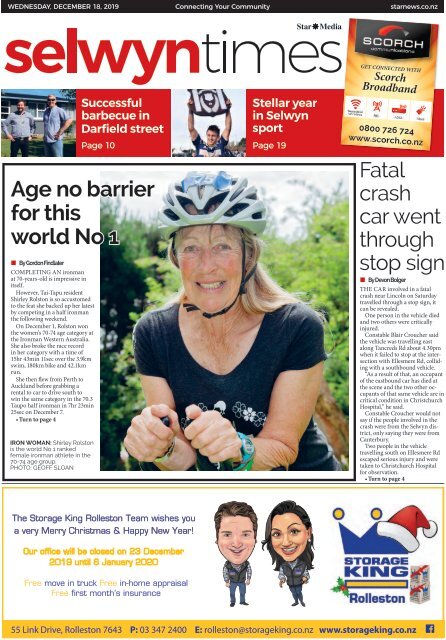 Selwyn Times: December 18, 2019
Create successful ePaper yourself
Turn your PDF publications into a flip-book with our unique Google optimized e-Paper software.
WEDNESDAY, DECEMBER 18, 2019

Connecting Your Community

starnews.co.nz

Successful

barbecue in

Darfield street

Page 10

Stellar year

in Selwyn

sport

Page 19

GET CONNECTED WITH

Scorch

Broadband

0800 726 724

www.scorch.co.nz

Age no barrier

for this

world No 1

• By Gordon Findlater

COMPLETING AN ironman

at 70-years-old is impressive in

itself.

However, Tai-Tapu resident

Shirley Rolston is so accustomed

to the feat she backed up her latest

by competing in a half ironman

the following weekend.

On December 1, Rolston won

the women's 70-74 age category at

the Ironman Western Australia.

She also broke the race record

in her category with a time of

15hr 43min 11sec over the 3.9km

swim, 180km bike and 42.1km

run.

She then flew from Perth to

Auckland before grabbing a

rental to car to drive south to

win the same category in the 70.3

Taupo half ironman in 7hr 23min

25sec on December 7.

• Turn to page 4

IRON WOMAN: Shirley Rolston

is the world No 1 ranked

female ironman athlete in the

70-74 age group.

PHOTO: GEOFF SLOAN

Fatal

crash

car went

through

stop sign

• By Devon Bolger

THE CAR involved in a fatal

crash near Lincoln on Saturday

travelled through a stop sign, it

can be revealed.

One person in the vehicle died

and two others were critically

injured.

Constable Blair Croucher said

the vehicle was travelling east

along Tancreds Rd about 4.30pm

when it failed to stop at the intersection

with Ellesmere Rd, colliding

with a southbound vehicle.

"As a result of that, an occupant

of the eastbound car has died at

the scene and the two other occupants

of that same vehicle are in

critical condition in Christchurch

Hospital," he said.

Constable Croucher would not

say if the people involved in the

crash were from the Selwyn district,

only saying they were from

Canterbury.

Two people in the vehicle

travelling south on Ellesmere Rd

escaped serious injury and were

taken to Christchurch Hospital

for observation.

• Turn to page 4

he Storage King Rolleston Team wishes you

The Storage King Rolleston Team wishes you

very Merry Christmas & Happy New Year!

a very Merry Christmas & Happy New Year!

Our Our office will be closed on 23 on December 23 December

6 January 2020

2019 until 6 January 2020

Free move in truck Free in-home appraisal

Free first month's insurance

Free move in truck Free in-home appraisal

Free first month's insurance

55 Link Drive, Rolleston 7643 P: 03 347 2400 E: rolleston@storageking.co.nz www.storageking.co.nz

5 Link Drive, Rolleston 7643 P: 03 347 2400 E: rolleston@storageking.co.nz www.storageking.co.nz

55 Link Drive, Rolleston 7643 P: 03 347 2400 E: rolleston@storageking.co.nz www.storageking.co.nz
---
2 Wednesday December 18 2019

Latest Canterbury news at starnews.co.nz

get in touch

from the editor's desk

THE DISTRICT is riddled with

intersections. It is at these spots where

motorists are at their most vulnerable.

On Saturday, there was another major

smash, this time at the intersection of

Ellesmere and Tancreds Rds. The outcome

– one dead and two critical (see page 1).

A vehicle heading east on Tancreds drove straight through the

stop sign, collecting another vehicle heading south on Ellesmere

Rd.

The police investigation will hopefully determine why the

driver didn't stop at the intersection. But that will be little

comfort for the person's family, which face as grim a Christmas

as can be imagined.

But it's not intersections which are dangerous – it's the driver.

Always keep your eye out for what other motorists on the road

are doing.

– Barry Clarke

GENERAL INQUIRIES Ph 379 7100

CLASSIFIED ADVERTISING Ph 379 1100

Star Media, a division of Allied Press Ltd

PO Box 1467, Christchurch

starmedia.kiwi

news

Dust off your running shoes

The countdown to the City2Surf is on. On March 22 the Les

Mills City2Surf will be held with two routes - 14km and 6km.

Earlybird entries are open for just $20.

Page 6

community events

Christmas twilight market

Head along to the Christmas twilight market for quality festive

stalls selling a diverse range of genuine local gifts, award-winning

produce and artisan baking. Saturday, 4-7pm, 22 Gerald St. ​

Page 25

tasty bites

SELWYN TIMES

The perfect Xmas table centerpiece

A sticky glaze is slathered all over this juicy, tender, baked

Brown Sugar Mustard Glazed Ham, with crisp edges and an

incredible flavour.

NEWS

Devon Bolger

Ph: 021 914 742

devon.bolger@starmedia.kiwi

ADVERTISING

Lynette Evans

Ph: 364 7434

lynette.evans@starmedia.kiwi

Page 37

The best-read local newspaper, delivered to

20,622 homes, RDs and farms every Wednesday

Ladbrooks, Tai Tapu, Leeston, Lincoln, Southbridge, Prebbleton,

Halswell, Rolleston, Templeton, Burnham, West Melton, Darfield,

Kirwee, Arthur's Pass.

AN AFFORDABLE

HEDGETRIMMER

THAT LETS YOU

FOCUS ON

CUTTING HEDGES.

NOT EXTENSION

CORDS.

Edge Connector

Library Visit West Melton

Saturday 21 December

10am–12pm

West Melton Shopping Centre

Chat to our team about the latest releases and upcoming programmes.

We'll show you how to take the library with you this summer, using our

App to browse the large range of eBooks and eMagazines for the beach!

Plus jump online and place your holds for pick up at West Melton and

we'll bring them to you.

FROM ONLY

$495 $474

STIHL Store SHOP Details Northwood here

554 Main North Road, Belfast, Christchurch

Store Details here

Ph: 03-974-2469

Store Details here

STIHL SHOP Rangiora

Corner Store Lineside Details and here Station Road, Rangiora

Ph: 03-313-3398

STIHL SHOP Fosters

559 Blenheim Road, Sockburn, Christchurch

Ph: 03-343-6339

www.stihlshopchristchurch.co.nz

STS0166

LOVE YOUR LAND

LOVE YOUR LAND

selwynlibraries.co.nz
---
SELWYN TIMES Latest Canterbury news at starnews.co.nz

Wednesday December 18 2019 3

News

District Plan

cost may blow out

• By Devon Bolger

THE REVIEW of the District

Plan is expected to exceed its

budget and reach a cost of $1.2

million for this financial year.

The plan is essentially the district's

rule book on how land can

be used and developed.

The budget for the project

for the 2019/20 financial year is

$805,000.

A district council report said

that budget is expected to be

exceeded by about $400,000 in

order to deliver the new proposed

District Plan for notification in

April.

District council group manager

corporate services Greg Bell said

in spite of the extra cost, they will

continue with their plan for the

review.

"Additional costs are being

incurred because the dynamic

nature of the project means we

need to carry out additional work

on certain topics that are identified

during the project."

Selwyn Times asked the district

council if this will affect ratepayers.

Mr Bell said:

"Although the

final position

will not be

known until

the end of the

financial year,

we do not anticipate

that the

Greg Bell

increased cost

of the project will have a direct

impact on future rate levels."

The significance of the project

ONLY 20%

TICKETS REMAINING

to the future of the district means

that it is not a project they are

willing to short cut, he said,

The report presented at the

district council meeting last week

said the increase in cost is due

to additional workstreams being

undertaken.

"These were not anticipated

to be completed as part of the

review but were directed to be

undertaken by the District Plan

committee.

Tickets

7 MARCH

On Sale

LINCOLN

Now

www.selwynsounds.co.nz

BLOW OUT:

The District

Plan review

may cost

$400,000

more than

budgeted. ​

"This has resulted in additional

cost than what was originally

planned for, in the order of $80-

100k for this 2019/20 financial

year alone," the report said

In 2015, the district council

agreed to undertake a full review of

the District Plan which will lead to

the development of a new one.

As at October 31, $354,931

has been spent on a review of it

against a year to date budget of

$248,831.

In Brief

TRUCK CAUSES OIL SPILL

A mechanical fault in a truck

and trailer engine caused a 500m

oil spill along Main South Rd

between Burnham and Rolleston

on Tuesday. Rolleston chief fire

officer Cam Kenyon said the

vehicle's engine blew which

created the spill at about 3.30pm.

The road had to be reduced to

one lane until about 6pm when

the oil had been cleared.

NO CUTS TO POLICE

Police stations in the district

will not lose officers to bolster

numbers in Rolleston. Mayor

Sam Broughton met with

Canterbury police last week to

discuss their plans for staffing.

He said they confirmed there

would be no loss of staff from

the other stations to allow

Rolleston to run 24-7 across

the district. "This is great

news for our smaller stations.

The work the police do in our

community is invaluable."

Selwyn Times previously

reported the district's policing

is currently being reviewed with

the major emphasis on planning

for a better-resourced station at

Rolleston.

Hon Amy Adams

MP for Selwyn

Working hard for our communities

Check my website if you would

like to sign up for my newsletter

and for details of when I will be

in your area: amyadams.co.nz

Contact me

03 344 0418

selwynoffice@parliament.govt.nz

Authorised by Amy Adams

MP, 829 Main South Road,

Templeton, Christchurch.

WOF

Only $50

• Courtesy cars • oil changes • tyres & batteries

• Brake & clutch repairs • transmission flush service

• Full mechanical repairs • Petrol & diesel servicing

FitzgeRald MotoRs

PHONE 03 349 7813

We've shifted now located at

Unit 8,193 Waterloo Road, Hornby

(6 doors down from our old site)

Driving Miss Daisy

Selwyn

Driving Miss Daisy is a friendly and reliable companion driving service.

We can drive and accompany you to:

• Medical and other appointments

• Grocery or other shopping trips

• Companionship outings/Family and social occasions

ACC registered vendor. Total Mobility Scheme Cards accepted.

Bookings are essential. Call Sheree today.

Ph: (03) 347 1009 Mob: 021 503 312

Email: selwyn@drivingmissdaisy.co.nz

Hear

for the

Holidays

Make sure you're hearing every bit of the

holiday festivities. Book in to see your

hearing expert, Brenna Sincock, so you

hear when it matters most.

Reserve your holiday

hearing appointment today!

Selwyn

Call (03) 390 2332

Rolleston | Darfield | Leeston | Lincoln

Local Selwyn Audiology
---
4 Wednesday December 18 2019

Latest Canterbury news at starnews.co.nz

News

No sign of calling it quits

• From page 1

Rolston is currently ranked No

1 in the world for her age group

over the ironman distance and

ninth in the half ironman distance.

However, she admits the

commitment to the endurance

racing does result in a sore body.

"You usually appreciate a massage

and depending if you run

the whole way your legs feel terrible,

but I've got to a stage where

I refuse to run the whole way

and being a race walker I can

walk as fast as I can run almost if

I'm tired," said Rolston.

The effort in Western Australia

also qualified her for the Ironman

World Championships in

Kona, Hawaii, in October. It will

be her seventh time competing

at the event. This year Rolston

achieved her best result at Kona,

finishing fifth in her age group.

Competing in close to 50

ironman events, you would find

it hard to believe she didn't do

her first until later in life. In

fact, she only began doing short

distance triathlons following the

birth of the youngest of her five

children.

"The ironman was basically a

challenge for my 50th birthday.

A friend informed me that

him and some his mates from

Dunedin, for their 50th birthday

MULTI-TALENTED: Shirley Rolston is also a national record

holder on the athletics track and in 24-hour running.

'You usually appreciate a

massage and depending

if you run the whole way

your legs feel terrible'

– Shirley Rolston

the challenge was to do an iron

and he said to me: 'Well you're

a female, but you can do the

challenge to if you like.' Of that

group of six or so, I'm the only

one still regularly doing ironman,"

she said.

Rolston resident is no stranger

to records outside of ironman

either. In 2016 she broke the

national women's 65-69 24-hour

running record by completing

129.681km. Rolston also holds a

national 5000m track record in

the same age group.

As for when she plans to call

it quits on breaking age group

records Rolston says: "We'll wait

and see, as long as I can."

For now her focus is on

completing Ironman New

Zealand in Taupo in March.

Later that month she will take on

her next challenge by travelling

to Europe to walk the Camino

Frances trail which stretches

780km from French Pyrenees

to Santiago de Compostela in

Spain.

• By Devon Bolger

POLICE HAVE begun their

Christmas campaign to stop

drink driving in the district.

Sergeant Alex Pickover said

they see an increase in the behaviour

during this time of year.

"There are a lot of Christmas

dos and people on holiday

around this time and there are

people who do drink and drive,

we are catching people doing it."

The campaign was launched

last week and will continue

throughout the Christmas and

new year period.

One of the key moves will be

breathalysing every driver who

is pulled over, Sergeant Pickover

said.

"If you're stopped by the police

while driving you will be put

Crash 'easily preventable'

•From page 1

Said Constable Croucher:

"The serious crash unit

is investigating and at

this stage, we are unable

to release further details.

Next of kin have been

advised."

The fatality comes as

police in the district focus

on patrolling controlled

intersections in the lead-up

to Christmas, he said.

Blair

Croucher

SELWYN TIMES

More alcohol checkpoints

through the machine to see if

you've been drinking or not."

There will also be an increase

in alcohol checkpoints in the

area, he said.

Sergeant Pickover said their

advice is if you are unsure

whether you are over the limit,

don't drive.

"Just make other arrangements

or stay sober if you don't have an

appropriate ride home."

He said the campaign is about

spreading preventative messages

as well.

"If you're caught under the

influence you're disqualified from

driving, you run the risk of losing

your job, there's a monetary fine

and you no longer have a means

of transport. It can cause a lot of

issues for you"

"It is just a timely reminder

for everybody travelling on

rural roads to take their

time, take care and be

aware that many of our

roads are obviously

controlled by give way and

stop signs.

"It's very sad but

disappointing at the

same time. It was very

easily preventable," said

Constable Croucher.

before

Paul and the team at

Somerfield Upholstery

Want to thank all their customers

for their support and wish them

A very Happy Christmas

& Prosperous 2020

Closed from 20 th December 2019

& Reopen on 20 th January 2020

after

Somerfield Upholstery Ltd

FURNITURE RECOVERY SPECIALIST

6/47 Sonter Road, Wigram | Ph 021 251 6200 | 349 0456

Rolleston's neW ReGIsteReD RetIReMent vIllaGe

100%

Capital gain

to the resident

$1,000 fully

refundable

deposit

Phone. 03 421 7796 | Email. sales@woodcroftestate.co.nz

WOODCROFT WAY, 28 KENDON DRIVE, ROLLESTON, CANTERBURY

WOODCROFT ESTATE

Reap the RewaRds

retire in rolleston

• Initial weekly fee of $75 includes rates, insurance, window washing,

all gardening, repairs & maintenance.

• Gated community and emergency call button in each villa

• Two & three bedroom villas with single/double garage from $425,000

• There will be an on site manager and a pavilion and bowling green

• Daily activities in the residents community room

• Show home closed from the 20 December 2019 – 7 January 2020

• After hours viewing by appointment call Corinne 021 292 1141

Invest In YoUR RetIReMent anD ReaP tHe ReWaRDs In Rolleston
---
SELWYN TIMES Latest Canterbury news at starnews.co.nz

Wednesday December 18 2019 5

News

Council U-turn on banning

roadside sale of cars

• By Devon Bolger

THE DISTRICT council

has done a U-turn on

banning the roadside

advertising of cars for sale.

You can now advertise

your vehicle for sale on the

road as long as it is within

20m of where you live.

The district council recently

undertook a review

of the traffic and parking

bylaw which led to a number

of proposed changes.

One of the amendments

would ban the roadside

advertising of vehicles for

sale which was allowed

in the former bylaw with

consent.

But a report that was

presented to district councillors

at a meeting last

week said this amendment

has now been changed.

"Following consultation,

this has been expanded to

allow the vehicle to be for

sale if parked outside the

place of residence and during

the normal use of the

vehicle.

District councillors voted

to adopt the new traffic

LEGAL: Advertising your car for sale on the road is

now allowed as long as it is within 20m of where

you live.

and parking bylaw at the

meeting.

Five submissions were

received during the public

consultation period for

the bylaw.

The main topic in four

of the submissions was the

amendment to the sale of

vehicles which submitters

opposed.

They were considered by

a sub-committee consisting

of councillors Mark

Alexander and Sophie

McInnes.

IT'S

Griffin's Branded Products*

*excludes Griffin's Twin Packs and Griffins Marvels

Half leg

sizes

for greater

convenience

Merry

Christmas WEEK

from everyone at

ANY

2 FOR

find your

groove

ballet

hiphop

Selwyn 9 x 6.4cm ad

jazz

contemporary

Monday to Saturday

Preschool to Advanced

RTS RAD BBO JDNZ NZAMD

Classes at Halswell

Ladbrooks and Lincoln

Call 03 354 6228 or 0274 836 265

www.annaleeschoolofdance.co.nz

ANNA LEE SCHOOL

OF DANCE

Merry Christmas

find your

groove

From

ballet

Selwyn 9 x 12.9cm ad

hiphop

jazz

Fresh NZ Quality

MarkHalf Lamb

Leg Roast

contemporary

$

15 99 kg

Monday to Saturday

Preschool to Advanced

RTS RAD BBO JDNZ NZAMD

Classes at Halswell

Ladbrooks

Pams Fresh

and Lincoln

Jersey Benne Potatoes

1.5kg Prepack

Call 03 354 6228 or 0274 836 265

www.annaleeschoolofdance.co.nz

Product of New Zealand

$

6 99 pk

ANNA LEE SCHOOL

OF DANCE Coca-Cola,

Sprite, Fanta,

Lift or L&P

1.5 Litre

ANY

2 FOR

$

3 99 ea

Pams Fresh Cherries

400g Prepack

Product of New Zealand

Cadbury

Favourites 265g

or Roses 225g

$

9 99 pk

$

5 99 ea

Tip Top Ice Cream

2 Litre

$

5 99 ea

Phil Murfitt

ORTHODONTIST

Weekly Orthodontic

Clinic in Rolleston

Clinics are held at the

Rolleston Dental Centre, Tennyson Street

To book an appointment with

Phil or Mark, please call 03 3754418.

www.philmurfitt.co.nz

Easy Parking • Laybuy Welcome

17 Lillian Street, Halswell

03 322 4548

Open Mon-Fri 9.30am - 5.00pm

Saturday 10.00am - 1.00pm

Christmas Hours

Closed 25th & 26th December

Open Friday 27th 10.00am-3.00pm

Saturday 28th 10.00am-1.00pm

Mon 30th & Tue 31st 10.00am-3.00pm

www.foursquare.co.nz

facebook.com/FourSquareNZ

Specials available South Island only from Monday 16th December until Sunday 29th

December 2019 or while stocks last. Wine and beer available at stores with an off

licence. Wine and beer purchases restricted to persons aged 18 years old and over.
---
6 Wednesday December 18 2019

Latest Canterbury news at starnews.co.nz

SELWYN TIMES

News

Countdown to City2Surf

WITH NEW Year's resolutions

quickly approaching, there's

no better time to set yourself a

personal goal than at one of the

country's biggest fun runs – the

City2Surf.

On March 22, the Les Mills

City2Surf will celebrate its 46th

running and as always will have

an option for all types of fitness

levels with a 14km and 6km

option.

The 14km event starts at 9am

at Pioneer Stadium, and the

6km event starts at 10am at

Hansens Park, all culminating

for a massive finish at Ferrymead

Playing Fields where there will

be plenty of entertainment and

prizes on offer.

"The Les Mills City2Surf

gives everyone the outlet to

do something for themselves.

Challenge yourself to the 14km

distance or give yourself a first

test and try to finish the 6km

fun run," said event manager Jon

Holmes.

"It doesn't matter who you

are or where you've come from,

running/jogging/walking the

Les Mills City2Surf is the most

welcoming and achievable thing

you can do in 2020," he said.

•HOW TO ENTER: Earlybird entries are on sale until

December 31 for just $20 at city2surf.co.nz

GET SET: The 2020 Les Mills

City2Surf will take place on March

22, both 14km and 6km events

finish at Ferrymead Playing Fields.

Firewood & Coal

CHECK OUT OUR

NEW PRODUCTS

• Screened soil

• Forest Mulch

• Bark Mulch 10/25mm

• Bark Nuggets 10/20mm

• Premium Organic Compost

WE ALSO STOCK

• Coal – 20 kg bags or 500kg bulk bags

• Firewood - pick up or deliver (delivery

charges apply)

• Paparoa Red Rock available in three

grades: -4mm, 12.25mm and 25mm

plus

• Railway Sleepers - 2.1m lengths

• WINZ Quotes available

• EFTPOS available

ONLY closed

statutory days

over XMAS and

NEW YEARS

417 Creyke Road, Darfield | Phone 03 975 4502

Open Monday to Friday 6am-6pm, Saturday 8am-1pm

or after hours by appointment

Direct to the public

Landscape Products
---
SELWYN TIMES Latest Canterbury news at starnews.co.nz

Wednesday December 18 2019 7

News

Dickson gets naked

to celebrate milestone

WEST MELTON'S Sam

Dickson celebrated his 50th

tournament for the All Blacks

sevens side in style by replicating

the naked celebration photo

which went viral after their

World Cup success last year.

This time it was Dickson going

starkers, with Kurt Baker - the

player who had the honour for

the original photo - holding

him aloft after the team's 7-5

win over South Africa to win

the World Rugby Sevens Series

tournament in Cape Town.

The 30-year-old has been

an integral part of the New

Zealand sevens set up for a

number of years, part of the side

that claimed silver at the Commonwealth

Games in Glasgow

in 2014, going one better to win

gold on the Gold Coast last year.

He was also a member of the

aclandpark.co.nz

0800 ACLAND

New Zealand side that took part

in the Rio Olympics in 2016.

Dickson played his junior

rugby for West Melton before

playing first XV rugby for St

Thomas of Canterbury College.

After secondary school he

returned for West Melton and

played for a number of Ellesmere

and Canterbury Country rep

sides.

NAKED: Celebrating his

50th tournament for the All

Blacks sevens, and a win in

the latest South African leg

of the World Rugby Sevens

Series, West Melton's Sam

Dickson sits naked on the

shoulders of Kurt Baker,

replicating the viral photo

(below) originally created

by Baker himself.

BATTLE: Wards

Rd resident

Grant Prescott

has now taken

his fight to the

Ombudsman's

office.

Road fight goes to Ombudsman

• By Devon Bolger

THE DARFIELD man battling

the district council over his

unsealed road has now taken his

fight to the Ombudsman's office.

Grant Prescott represents 14

residents on Wards Rd who have

been lobbying for the road to be

sealed between Charing Cross

and Greendale Rd.

In his complaint, he said the

district council needs guidance

on the complaints process and

disciplinary action should be

taken against some staff.

Selwyn Times reported Mr

Prescott's claims against the district

council last month.

It came after a report into

Wards Rd said its condition is

"average" and there were no

Canterbury's fastest selling

new subdivision

potholes.

Mr Prescott said that statement

and data is "misleading" and

"incorrect."

"It appears to be a selective partial

report which is abhorrent,"

he said.

Selwyn Times asked the district

council to respond to Mr

Prescott's claims.

Team leader transportation

Mark Chamberlain said the information

in the report was from

an assessment that was carried

out by an experienced contractor

in September.

"On the day he assessed

the road he did not note any

potholes. On another day there

may have been potholes, because

of the changing of the condition

of unsealed roads" he said.

Holiday Season

Kerbside bin collection

Christmas Day

Wednesday 25 December

All collections scheduled for

this day will take place on

Saturday 28 December.

To receive these alerts via text visit

selwyn.govt.nz/binalerts.

Christmas and

New Year's

collections will

be the following

Saturday

New Year's Day

Wednesday 1 January

All collections scheduled for

this day will take place on

Saturday 4 January.

All other collection days will occur as normal.
---
8 Wednesday December 18 2019

Latest Canterbury news at starnews.co.nz

SELWYN TIMES

Christmas

Made Easy

Hurry, last chance to get the perfect gift!

smithscity.co.nz/christmas

Manager's Picks - Start Wednesday

50"

less than

$11

Coda

Bluetooth

Earbuds 9058973

Water

resistant

up to 50

mitres!

50" FHD Smart TV FS500Z 9049156

per week *<

Right On

$ 844

Right On

$ 29

99

Advanced Health

and Fitness Tracker

9054512

Limited stock!

Now

$ 199

329L Bottom

Mount Fridge

Freezer

SRL325DMB 9059835

less than

$12

per week *<

Right On

329L $ 1099

Splendor Leather Right Chaise Lounge Suite

9052744 Available to order in other colours.

less than

$18

per week *>

$ 3499

Save

$ 1500

24

months

interest free

on all Apple products*

11 Pro 256GB

9060982

less than

$24

per week *<

$ 2249

11.6" Chromebook TM G7 EE 9061786

4GB RAM, Intel Celeron N4000 dual

core processor and 32GB storage.

Limited Stock!

Now

$ 379

50

Celebrate today, pay later with affordable finance options to suit you.

months interest free

on furniture & beds $999 and over *

24

months interest free

on everything $499 and over *

OUR PRICE PROMISE

Find a lower pirce and we'll match it †

Applies to identical product.

Some products on display in selected stores only – please call your local store to check for availability. Offers in this ad are valid from Wednesday 18th until Tuesday 24th December 2019, while stocks

last or unless otherwise stated. *Selected computers, game consoles, gift cards, flooring, clearance items and some promotional items are not available in conjunction with interest free offers. Carpet

available on a maximum of 18 months interest free. Exclusions, fees, terms, conditions and credit criteria apply. Equal instalment amounts over finance period of 36 months (unless otherwise stated) and

exclude insurance. Booking fee $45.00, Annual fees $45.00 P.A., Security registration fee $8.05. Current interest rate of 23.95% Applies to any unpaid balance after expiry of (any) interest free period. See

in-store or visit smithscity.co.nz/terms-conditions for details.Instalment amount based on a 50 month finance period. †For full Price Promise

terms and conditions visit smithscity.co.nz/price-promise.

JTWK28

550 Colombo St | Cnr Belfast and Radcliffe Road Northwood, CHRISTCHURCH MEGASTORES
---
SELWYN TIMES Latest Canterbury news at starnews.co.nz

Wednesday December 18 2019 9

Lincoln's top junior students

• By Devon Bolger

LINCOLN HIGH School has

celebrated the success of its

younger students at its junior

prize-giving.

Thelma Hewitt award (for

all-round achievement): Lauren

Hooper, year 9. Lauren gained

distinction awards in dance, english,

maths and science and was

first equal in health and physical

education.

Norman Hewitt award (for

all-round achievement in year

10): Gideon Welford. He was first

in french, mathematics and music

and first equal in social studies.

Gideon also played for the school's

first XI cricket and hockey teams

and was a member of the percussion

ensemble this year.

Fitzgerald Cup (excellence

year 9): Mikal Van Heerden. Mikal

gained distinctions in english,

maths and social studies, and was

first equal in health and physical

education.

Fitzgerald Cup (for excellence

in year 10): Gideon Welford.

School Council Cup (for involvement

in the school given to

a year 9 or 10 boy): Kyle Bratley.

This year he has played futsal and

basketball and competed at the

Canterbury secondary schools

athletics championships.

School Council Award (for

involvement in school given to a

year 9 or 10 girl): Sarah McDougall.

She has been involved in a

Lauren Hooper ​

wide variety of performing arts

and sport at the school this year

and competed at the Canterbury

secondary schools athletics

championships.

Overton Cup (for junior service):

Rayhan Satriawan. For his

involvment in kapahaka where

he often takes a leadership role

including organising and running

practices.

Tikanga award (for demonstrating

school values in year 9):

Brady Blanchard and Eva Nyhan

Tikanga award (for demonstrating

school values in year

10): Luke Chapman and Maya

Weaver.

Gideon Welford (right)

with guest speaker

Duncan Finlayson

Mikal Van Heerden

Sarah MacDougall

Rayhan Satriawan

Eva Nyhan

Brady Blanchard

SCHOOLS

Kyle Bratley

Luke Chapman

Maya Weaver

LAST

Christmas

WEEK OF

cOME And gET yOur BBQ MEAT

We close Monday 23rd 1pm and

reopen Monday 6th January

Thank you to everyone who has

supported us, from the team at Halswell

Butchery. We would like to wish you all

a safe and happy new year.

490 Sparks Rd, Halswell, Christchurch Phone: 03 322 8747

Hours: Mon-Fri 7am-6pm Sat 7am-12pm

Check out our website www.halswellbutchery.co.nz
---
Advert: FCST1812

Newspaper: Selwyn Times

10 Wednesday December 18 2019

Latest Canterbury news at starnews.co.nz

News

16 th – 29 th December 2019

SELWYN TIMES

$

13 00

kg

$

35 00

kg

Fresh NZ Lamb

Leg Roast

Fresh NZ King Salmon

(Catch & Weather Permitting)

$

4 50

pk

$

7 00

kg

2 for

$

5 00

Fresh NZ Pork Leg Roast

(Excludes Free Range)

Fresh NZ Blueberries

125g Punnet

$

5 00

ea

Street barbecue a success

A NEIGHBOURHOOD

barbecue on Ritso St in

Darfield attracted almost

every resident of the street.

Resident Michael

Schionnemann organised

the event to bring people

who live on Ritso St together.

"It was great to see the

whole neighbourhood

coming together for a great

Christmas party. Nearly

the whole street turned

up," he said.

Mayor Sam Broughton

stopped by to spend some

time at the event.

"We showed him what

we have been doing to

COMMUNITY: Mayor Sam Broughton with Ritso

St resident Michael Schionnemann at a barbecue

organised for people who live on the street.

the house and he had a

chance to talk to a few of

our neighbours. We had

a really good talk," Mr

Schionnemann said.

Mr Schionnemann said

it was a great experience

for all involved.

"We have been in Darfield

just over a year and

we have found that people

in this little town has been

very friendly and helpful."

Mr Broughton said it was

really nice to meet some

of the residents of Ritso

Street.

"It's a very friendly street

enjoyed by young and old.

Michael and Yvette have

put a lot of love into their

home and were the hosts

for the event.

"With many new people

having made Selwyn their

home over the past year a

street barbecue is a great

way to get to know your

neighbours and make new

friends."

• The district council

is supporting street

barbecues this summer by

providing reimbursement

of up to $75. Details on

how to apply can be found

at: www.selwyn.govt.

nz/community/yourneighbourhood/meetyour-street

USA Red or Green Seedless

Grapes 500g

Schweppes

Sparkling

Soft Drink

1.5L

(Excludes Mixers)

Cadbury Roses 225g, Favourites

265g, Nestlé Scorched Almonds

240g or Lindt Lindor Bag 123-130g

4 for

$

5 00

$

1 00

ea

$

19 00

ea

Deutz

Marlborough

Cuvée Brut

750ml

leeston

DB Export Gold, Tui,

Speight's Gold Medal

Ale or Summit Ultra

24 x 330ml Bottles

78 High Street, Leeston.

FRESHCHOICE.CO.NZ

Prices apply from Monday 16th December to Sunday 29th December 2019, or while stocks last. Limits may apply.

Eta Ripple

Cut Chips

150g

$

30 00

pk

OWNED &

OPERATED BY

LOCALS

FCST1812

Big crowd for Lincoln parade

FESTIVE: The

Lincoln Christmas

Parade and Market

drew in a big

crowd on Saturday.

The annual event

hosts floats and

market stalls with

a festive theme.

The Lincoln

Pippins, Brownies,

Girl Guides

and Rangers

celebrated the

holiday season on

their float as did

children from the

Lincoln Playcentre.
---
SELWYN TIMES Latest Canterbury news at starnews.co.nz

Wednesday December 18 2019 11

ClearanCe

Store

now open

northwood Supa Centa*

last chance

Christmas

deals

New catalogue

out now

Yellies

Assortment*

Usua ly up to

$24.99 ea

LAST CHANCE

Christmas

DEALS

$

20

*

70 OFF

3 FOR

$20

%

CASHBACK GIFT CARD

when you spend $100 or more

between 10th - 15th December.

One bonus gift card per transaction to be used on your next toy purchase before the 10th Jan

2020. Excludes laybys and gift cards. Card is only validated with branch stamp and signature

SHOP INSTORE OR ONLINE! toyworld.co.nz

*

Natures Tubes

15 assorted tubes.

$

14 99 ea

Huggers

Snap to your wrist.

Over 20 animals to

choose from.

$

9 99 ea

Time Teacher

Watches

To help your kids learn how

to tell the time. And read

an analog clock – in no time

Usually $39.99

$

34 99 ea

Digital Watch

A perfect fit for kids

100m water resistant

Usually $59.99

$

49 99 ea

54˝ Plush

Snakes

15 to choose from.

$

19 99 ea

Activity Tracker

To get your kids moving.

Tracks steps & distance.

Heart Rate Monitoring

Usually $89.99

$

69 99 ea

Tractor Playset

Fork Lift

Usually $49.99

Usually $129.99

$

99 99 ea

$

39 99 ea

Backhoe Loader

Usually $69.99

$

55 99 ea

Truck with

Forklift Playset

Wagon with

Horse Float

Usually $159.99

$

139 99 ea

wow!

Usually $119.99

$

99 99 ea

Catapillar

Excavator

Usually $159.99

$

139 99 ea

Garbage Truck

Usually $164.99

$

139 99 ea

gift idea

Fire Engine

Usually $149.99

$

129 99 ea

Crane Truck

Usually $249.99

Truck With

Excavator

Usually $109.99

$

99 99 ea

$

219 99 ea

WEDNESDAY

DEC 18 TH

THURSDAY

DEC 19 TH

FRIDAY

DEC 20 TH

SATURDAY

DEC 21 ST

SUNDAY

DEC 22 ND

MONDAY

DEC 23 RD

TUESDAY

DEC 24 TH

WEDNESDAY

CHRISTMAS

THURSDAY

DEC 26 TH

10:00pm 10:00pm 10:00pm 9:00pm 9:00pm 10:00pm 6:00pm CLOSED 6:00pm

*Clearance

pop up

store not

included in

late nights
---
12 Wednesday December 18 2019

Latest Canterbury news at starnews.co.nz

SELWYN TIMES

Fishing Fun Play

Centre

Usually $119.99

$

99 99 ea

25% off

Sunset

Glow Pool

Usually $34.99

$

29 99 ea

Mega Floats

Duck, Flamingo

or Swan

Usually $79.99

$

59 99 ea

Dive Sticks

Usually $9.99

$

6 99 ea

30% off

Lollipop

Floats

Usually $44.99

$

39 99 ea

20% off

Popsicle

Floats

Usually

$19.99

Mystic Unicorn Pool

Usually $59.99

$

39 99 ea

33% off

Rectangular

Baby Pool

166 x 100 x 28cm $

23 99 ea

Usually $29.99

Kiwi Floats

Usually $24.99

$

19 99 ea

$

14 99 ea

20% off

Ford Raptor

2.4Ghz, Full Function, Full

Suspension, Rechargeable Battery,

Ready To Run From Box

Usually

$99.99

$

89 99 ea

Jeep Wrangler or Red Bull Peugeot

2.4Ghz, Full Function, Full

Suspension, Digital Proportional

Steering And Turbo Charge In 80Min,

Rechargeable Battery, Ready To Run.

Usually $199.99

$

179 99 ea

Radio Control & Slot cars

Disney Cars 3

Cup Duel

Usually $199.99

$

179 99 ea

Red Speeder 2

or Jeep Trailcat

2.4Ghz, Full Function,

Full Suspension,

Rechargeable

Battery, Ready To

Run From Box

Usually $99.99

$

89 99 ea

Dirt Rider

2.4ghz, Full Function, Full

Suspension, Pneumatic Tyres

And 20 Min Playtime', Long

Life Rechargeable Battery,

Ready to Run.

Usually

$179.99

$

159 99 ea

Disney Cars 3

Finish First

Usually $219.99

$

199 99 ea

2

Shop now, pay later
---
Usual

SELWYN TIMES Latest Canterbury news at starnews.co.nz

Wednesday December 18 2019 13$44.9

Beetle

Usually $14.99

$

11 99 ea

Plumber

Pants

Usually $39.99

FUN FOR THE WHOLE FAMILY

$

34 99 ea

pREScHOOLERS

Mouse Trap

Usually $44.99

$

39 99 ea

Usually $44.99

$

39 99 ea

Cludeo, Game of

Life or Monopoly

Junior Editions

Usually $29.99

NEW

$

24 99 ea

Electronic Battleships

Usually $69.99

FOR THE KIDS

Usually $69.99

$

59 99 ea

NEW

$

59 99 ea

Elsa & The Nokk

Usually $69.99

Tri-Break

Usually $29.99

$

14 99 ea

$

59 99 ea

Arendelle Fashion

Elsa or Anna

Usually $69.99

$

59 99 ea

Strong Arm

Usually $24.99

$

19 99 ea

1/2

pRIcE

HUgE!

LIMITED

STOcK

Ultimate

Castle

Usually

$399.99

Infinus

Usually

$159.99

1/2

pRIcE

Modulus

Evader

Usually

$79.99

$

39 99 ea

$

349 99 ea

$

79 99 ea

WEDNESDAY

DEC 18 TH

THURSDAY

DEC 19 TH

FRIDAY

DEC 20 TH

SATURDAY

DEC 21 ST

SUNDAY

DEC 22 ND

MONDAY

DEC 23 RD

TUESDAY

DEC 24 TH

WEDNESDAY

CHRISTMAS

THURSDAY

DEC 26 TH

10:00pm 10:00pm 10:00pm 9:00pm 9:00pm 10:00pm 6:00pm CLOSED 6:00pm

*Clearance

pop up

store not

included in

late nights

3
---
14 Wednesday December 18 2019

Latest Canterbury news at starnews.co.nz

SELWYN TIMES

TEACH ME TO FLY

Interactive

Flying Pet Owl

Usually $99.99

$

69 99 ea

Glitter Globe

Usually $29.99

$

24 99 ea

Vehicle with Pup

Usually $29.99

$

23 99 ea

O.M.G

Dolls

Assorted

Usually

$59.99

Fire Truck

Usually $159.99

$

127 99 ea

Starter

Pack

Usually

$44.99

$

34 99 ea

Deluxe Pack

Usually $24.99

$

19 99 ea

Amazing

Surprise

Usually $249.99

$

49 99 ea

ULTIMATE UNBOXING

EXPERIENCE - 2 hours!

$

199 99 ea

Scruff A Luv

Electronic Resue

Usually $99.99

BLUE OR

PINk

20% OFF

$

79 99 ea

Digital Target

Usually $44.99

Andrenalyn XL

Starter Pack

Usually $27.99

$

24 99 ea

25%

OFF

$

39 99 ea

Andrenalyn

XL Booster

Usually $3.99

$

2 99 ea

Match Attax

Booster

Tactical

Vest

Usually

$44.99

$

2 99 ea

$

39 99 ea

Theme Deck

Accessories not

included

$

29 99 ea

Hovering

Target

Usually

$59.99

$

49 99 ea

3 Pack

Usually $27.99

Booster

Usually $7.99

$

6 99 ea

$

24 99 ea

$

6 99 ea

$

14 99 ea

$

24 99 ea

3.5˝

7˝

12˝

4

STuck FOR A GIFT IDEA? GIVE A TOywORLD GIFT cARD!
---
SELWYN TIMES Latest Canterbury news at starnews.co.nz

Wednesday December 18 2019 15

Lego SavingS thiS ChriStmaS

Rover Testing Drive

Usually $34.99

$

29 99 ea

Dolphin Rescue

Mission

Usually $79.99

$

64 99 ea

Expecto Patronum

Usually $34.99

$

29 99 ea

Fire

Truck

Usually

$29.99

$

24 99 ea

Mars Research Shuttle

Usually $59.99

$

49 99 ea

Andreas Pool Party

Usually $89.99

$

74 99 ea

Police

Station

Usually

$49.99

Hungarian Horntail

Twiwizard Challenge

Usually $59.99

$

54 99 ea

$

39 99 ea

Deep Space Rocket & Launch Control

Usually $159.99

$

129 99 ea

Heartlake City

Restaurant

Usually $89.99

$

79 99 ea

Save

$100

Hogwarts Castle

Usually $699.99

$

599 99 ea

Frozen Ice Castle

Usually $89.99

$

79 99 ea

Cole's Earth Driller

Usually $89.99

$

69 99 ea

El Fuegos Stunt Truck

Usually $69.99

$

54 99 ea

20%

off

20%

Katana

4x4

Usually

$89.99

Paranormal Intercept

Bus 3000 Usually $109.99

off

$

89 99 ea

Kylo Rens Shuttle

Usually $199.99

Yoda

Usually

$169.99

$

139 99 ea

$

174 99 ea

Car Transporter

Usually $299.99

$

249 99 ea

Porsche

911 RSR

Usually

$259.99

$

229 99 ea

Save

$50

$

69 99 ea

Castle Of The

Forsaken Emperor

Usually $249.99

$

199 99 ea

Save

$50

20%

off

Ghost Train

Express

Usually $149.99

Millenium Falcon

Usually $299.99

$

279 99 ea

Rough Terrain Crane

Usually $499.99

$

399 99 ea

$

124 99 ea

See page

3 for late

nights

Save

$100

Valid until Tuesday December 24th 2019

*Advertised products not available at Northwood store.

TOWER JUNCTION

NZ's Biggest TOYWORLD

Clarence St, Riccarton, Ph 03 343 0330

MARSHLAND

199 Marshland Rd,

Ph 03 982 8697

HORNBY

Chalmers St,

Ph 03 281 8127

NORTHWOOD

Pop up CLEARANCE store

Supa Centa, Northwood*
---
16 Wednesday December 18 2019

Latest Canterbury news at starnews.co.nz

SELWYN TIMES

A big shout out to

all the grandparents

ALTHOUGH NANS deserve all

the praise the headline alludes

to, to be honest this is more a

shout out to Vittoria's Nan.

It's not news having young

kids presenting a hurdle getting

to things you want or need to

do.

I mean, your call, but having

an erratic, wilful and tantrumprone

third wheel or work

assistant isn't ideal, and it's worse

when they're a toddler.

So I'm eternally grateful for

my mum's help over the last

week with some bubs-watching

(and obviously all the other

times before that she, my stepdad

or dad have helped us out

immeasurably beforehand). I

mean it's not the first time by

any means, but it's my first column

about it.

Not only did she watch

Vittoria at her place for a full

day for me last week, but she

also came to ours and watched

Vittoria yet again on Monday so

Laura and I could complete the

goal of one date a month over

the year.

While we enjoyed the sort

of time to ourselves you never

really appreciate in those B.C.

(before children) years, Vittoria

was busy exploring, playing or

getting the sort of treats only a

nan will give.

In one day with Nan, Vittoria

had her first homemade

play dough, walked dogs, got

ice cream, 'helped' around the

house, read books and burned

through clothes by playing with

a bucket of water. So thank

you very much mum, you are

awesome. I fully expect I'll be

churning through my goodwill

points and your patience with

plenty more grand-babysitting

in future.

In more tinsel-tinged news,

we've got Vittoria's Christmas

presents ready and wrapped.

Well, Laura's got them wrapped,

I just provided encouragement

from the sidelines. You'd know

why if I'd ever wrapped a gift for

you.

No spoilers here, you'll have to

wait if you really want to know

what she's getting. I can't risk

letting the cat out of the bag in

the insanely slim chance Vittoria

VITTORIA

& Matt

FUN: Water and buckets combine to excite Vittoria.

learns to read between now and

Christmas.

The last thing I need to arrange

is Vittoria's Christmas stocking

and organise the logistics on how

Father Christmas is going to fill it

on Christmas Eve. He's not visited

this house yet, so I'd best get a plan

ready for him.

I also better let Vittoria know

that Santa's old school and

would prefer stout and a pie to a

glass of milk and biscuits when

he gets here.

•Former Star Media

journalist Matt Salmons

has become a stay-athome

dad. We follow his

journey weekly

BACKYARD CRITTERS

Mike Bowie is an ecologist who specialises in

entomology (insects and other invertebrates). Each

week he introduces a new species found in his

backyard at Lincoln. His column aims to raise public

awareness of biodiversity, the variety of living things

around us. Check out the full list of invertebrates

found at www.inaturalist.org/projects/backyardbiodiversity-bugs-in-my-lincoln-section

Moth not to be

confused with a wasp

LAST WEEK I saw my first

currant clearwing on our

property in Lincoln.

You would be forgiven for not

picking this as a moth as it looks

nothing like one unless you

check the darker wingtips under

a microscope for the tell-tale

scales.

The confusion is due to them

looking, sounding and behaving

like a wasp which helps protect it

from predators.

THeir mostly membraneous

wings, yellow and black stripes,

fan-like tail and buzz when

flying are distinguishing

characteristics of this species.

Four yellow bands on males and

only three on females help to

distinguish the sexes.

Known scientifically as

Synanthedon tipuliformis, this

day-flying moth is about 12mm

long and has a wingspan of 16-

20mm. The moth was accidently

introduced into New Zealand

from Europe and is also found in

Southern Australia and parts of

the United States.

Around December, adult

females lay an average of 100

eggs on buds, leaf scars and

pruning cuts on blackcurrants,

redcurrants or gooseberries and

two weeks later the larvae hatch

and burrow into the canes to eat

the pith.

Foraging by larvae hollow out

and weaken the canes, causing

a reduction in sap flow and

yields. No significant predators

for this pest are reported in New

Zealand.

Christmas is creative at

Avonhead Shopping Centre!

Get creative these holidays

and make your very own gnome!

19 TH TO 23 RD DECEMBER

30 MINUTE SESSIONS. AGE 5+

10AM, 11AM, 12PM, 1PM

Bookings essential at

www.themakecompany.co.nz

for Christmas

AvonheadShoppingCentre

www.avonhead.co.nz

Cnr Withells Rd and Merrin St

Avonhead
---
SELWYN TIMES Latest Canterbury news at starnews.co.nz

Wednesday December 18 2019 17

LIMITED EDITION 4WD

SPORT

Get out more

Whatever the weekend's plans, new

Outlander Sport is up for it. It's kitted

out with a Limited Edition Factory-Fitted

Black Body Kit: 18" Alloys, Grille, Roof

Rails, Mirrors, Spoiler and other black

accents, available with any colour. There's

On-Demand 4WD and 2.4L petrol engine

for the great outdoors, electric sunroof,

Smartphone Connectivity, 7 seats and

Power Tailgate. For a touch of luxury

there's a Leather-Appointed Interior,

heated front seats and powered driver's

seat. Call us, or come and see us while

stocks last.

$39,990 +ORC* 10 year / 160,000km Powertrain Warranty (whichever comes

CHRISTCHURCH MITSUBISHI

386 Moorhouse Avenue,Christchurch | 03 379 0588 | christchurchmitsubishi.co.nz

* Price listed is for Outlander Sport. Price excludes On Road Costs of up to $550 which includes WoF, Registration and a full tank of fuel.

Offer available while stocks last. Visit mmnz.co.nz for full Diamond Advantage terms and conditions.

* Price listed is for Outlander Sport. Price excludes

On Road Costs of up to $550 which includes WoF,

Registration and a full tank of fuel. Offer available

while stocks last. Visit mmnz.co.nz first) (non transferable). 5 year for / 130,000km full New Vehicle Diamond

Warranty (whichever comes first) (non transferable).

Advantage terms and conditions.

PAYMENT

PAYMENT

HOLIDAY HOLIDAY

NO PAYMENTS UNTIL APRIL 2020

NO PAYMENTS NOW THAT'S UNTIL SMART APRIL 2020

NOW THAT'S SMART

36

36

QASHQAI

QASHQAI

PATHFINDER

PATHFINDER

BLIND SPOT

INTELLIGENT

WARNING

CRUISE

BLIND SPOT

X-TRAIL

NAVARA

INTELLIGENT CONTROL

WARNING

CRUISE

INTELLIGENT X-TRAIL

INTELLIGENT NAVARA

CONTROL

EMERGENCY

AROUND VIEW

INTELLIGENT BRAKING

INTELLIGENT MONITOR

EMERGENCY

AROUND VIEW

*Finance offer available to approved applicants BRAKING of Nissan Financial Services only and excludes all lease and some fleet purchasers. Available on new Nissan SUV & Navara MONITOR models only. 1.9% P.A Fixed Interest. Maximum term 36 months.

nissan.co.nz

nissan.co.nz

No deposit required. $375 establishment fee, $8.05 PPSR fee, and $10 monthly account keeping fee apply. Terms and conditions apply. Valid from 1 November 2019 to 31 December 2019. Units must be registered by 31 December 2019.

Offer cannot be used in conjunction with any other offer. Nissan reserves the right to vary, withdraw or extend this offer.

321 Moorhouse Avenue, Christchurch

Ph: 03 595 6820

Finance www.christchurchnissan.co.nz

oer available to approved applicants of Nissan Financial Services only and excludes all lease and some eet purchasers. Available on ne Nissan SUV Navara

vehicles only. 1.9% P.A Fixed Interest. Interest is charged from the commencement of the loan. Maximum term 36 months. No deposit required. $375 establishment fee, $8.05
---
18 Wednesday December 18 2019

Latest Canterbury news at starnews.co.nz

SELWYN TIMES

Christmas

is Shopping

At the Bush Inn Centre

Bush Inn Store Hours

Friday 20 December

9am - 6pm

Saturday 21 December

9am - 6pm

Sunday 22 December

10am - 5pm

Monday 23 December

9am - 6pm

Tuesday 24 December - Christmas Eve 9am - 6pm

Wednesday 25 December - Christmas Day CLOSED

Thursday 26 December - Boxing Day 10am - 5pm

Friday 27 December

9am - 6pm

Saturday 28 December

9am - 6pm

Sunday 29 December

10am - 5pm

Monday 30 December

9am - 6pm

Tuesday 31 December

9am - 6pm

Wednesday 1 January - New Year's Day CLOSED

Thursday 2 January

10am - 5pm

Friday 3 January (Return to normal trading hours) 9am - 6pm

• External retailers will have different trading hours to the above.

Briscoes Bush Inn Store Hours

Wednesday 18 December

Thursday 19 December

Friday 20 December

Saturday 21 December

Sunday 22 December

Monday 23 December

Tuesday 24 December - Christmas Eve

9am - 9pm

8am - Midnight

8am - 10pm

8am - Midnight

8am - Midnight

8am - 10pm

8am - 6pm

Santa's hours

& Free Gift Wrapping*

11.00am - 4.00pm daily

14th - 24th December

*Proof of purchase required

www.bushinncentre.co.nz
---
SELWYN TIMES 19

Selwyn's stellar year in sport

Latest Canterbury news at starnews.co.nz

Wednesday December 18 2019

Reporter Jacob Page

takes a look back at the

sporting highlights in the

district during 2019

SPORT

TALENT: Former Lincoln Combined captain Wil Gualter capped

a strong UC Championship campaign by making the New

Zealand schools' team, a first for a Lincoln College student. ​

MEARES WILLIAMS

LAWYERS

ROLLESTON OFFICE

78 Rolleston Drive, Rolleston

10 Years in Selwyn

Richard Gray

rcg@meareswilliams.co.nz

Kate Warren

kcw@meareswilliams.co.nz

Anita Molloy-Roberts

am@meareswilliams.co.nz

Belinda Ferguson

bkf@meareswilliams.co.nz

W: www.meareswilliams.co.nz

T: (03) 374 2547

Offices also located at:

43 Gerald Street, Lincoln

225 Papanui Road, Christchurch

SPEED:

Rolleston

College and

Selwyn Swim

Club swimmer,

Ella Benn

proved to be a

national record

breaker this

year. PHOTO:

GEOFF SLOAN

FROM THE club triumphs, to

national records, selections and

personal accomplishments, it

was a big year for sport in the

district.

Southbridge claimed their

third title in four years with a 16-

12 win over Darfield at Prebbleton

Oval thanks to some resolute

defence in the final 10min.

The result also meant Darfield's

113-year wait to win the

shield for the first time would

stretch at least one more year.

There was no Ellesmere team

in the final of the Country

Combined competition after

Glenmark-Cheviot beat Southern

in extra time in the final

after game was deadlocked at

31-all after 80min.

Darfield flanker Haigh Jebson

was named senior player of the

year at the annual Ellesmere

Rugby Awards in October.

Lincoln prop Isaac Roth was

named under-21 player of the

year after propping the Ellesmere

scrum to a Southbridge Shield

victory over North Canterbury.

Lincoln No 8 Sam Henderson

was named under-19 player of

the year.

Scott McIlroy was named

rugby personality of the year.

Kim Thackwell was recognised

for her long-time commitment

to rugby with both Prebbleton

and Ellesmere by being named

volunteer of the year.

Jebson capped a strong club

campaign with being a key

member of Ellesmere's Southbridge

Shield winning team during

the representative season.

Lincoln Combined captain

and utility back Wil Gualter

was named in the New Zealand

schools' team, the first such honour

for someone from Lincoln

High School.

The Lincoln Combined team

finished ninth in the UC Championship,

while they did earn a

spirited draw against competition

heavyweights, Christ's College,

they struggled for consistency

throughout the season.

Broadfield beat Greenpark

A 63-50 in the Selwyn premier

netball final in September after

being the team to beat for much

of the season after qualifying

top-of-the-table.

The result was a level of

revenge after Greenpark A had

upset Broadfield by one goal in

the decider 12 months ago.

Leeston-Southbridge won both

the premier 45-over competition

and the twenty20 title in Canterbury

Country cricket.

Selwyn Swim Club's Ella Benn

and Celyn Edwards each excelled

in the pool.

Benn broke the New Zealand

women's S9 100m butterfly

record during the national shortcourse

championships at Auckland

in October. with a time of

1min 27.80sec.

Benn was also named female

para-swimmer of the year at the

Canterbury West Coast swimming

awards.

Edwards earned two top eight

international rankings in the

World Para-Swimming Championships

at the London Aquatic

Centre, in September.

He was New Zealand's flagbearer

at the opening ceremony,

swam a personal best to finish

sixth in the final of the men's

100m S8 backstroke with a time

of 1min 12.94sec.

He backed that up with eighth

in the 100m S9 butterfly final in

a time of 1min 09.03sec.

The multi-talented Lincoln

High School sports woman

Millie Thompson excelled at

multiple sports this year.

FINALLY: Broadield A won the Selwyn premier netball title 63-

50 over Greenpark A in September after they came up short by

one goal in the decider a year earlier.

WINNER: Southbridge captain

Luke Palmer holds up the

Coleman Shield after his team

hung on for a tense 16-12 win

over Darfield in the final at

Prebbleton Oval, in July.

PHOTO: KAREN CASEY

In equestrian Millie is part of

the New Zealand under-21 dressage

team.

Millie was captain of the first

XI girls hockey team and was

awarded most valuable player for

the season.

She was selected in the Canterbury

women's under-18 hockey

team and is also co-captain of

the Lincoln High School mixed

touch team.

She is also a New Zealand

touch rugby representative being

The revolution

in heat pumps

is here now!

The Fujitsu e3series

The brilliant

heat pumps from Fujitsu

e1 : efficiency

e2 : environment

e3 : economy

Website: www.pshc.co.nz

Finance available

FREE consultation from your local

Accredited Heat Pump Expert

Phone today: 03 381 6950

INSERT DEALER DETAILS HERE

selected in the under-20 touch

team which will be playing Australia

in January.

Lincoln cyclist Henrietta

Christie continued her winning

ways winning the South Island's

Calder Stewart road race series

last month.

Henrietta was selected as a

member of the New Zealand

junior women's cycling team in

the under-19 age-group.where in

the individual time trial where

she earned a bronze medal.

National under-17 cross country

mountain bike champion

Ethan Rose also had a big year.

His big achievement for the

year was finishing second in the

Oceania Mountain Bike Championships

in Bright, Victoria,

Australia in April.

Ethan was the top under-17

rider at the national secondary

schools' mountain bike championships

in Dunedin in October

where he was first for his age in

the endurance race, sixth in the

down hill event and first in the

cross country.

He also earned top honours

in the national under-17 cross

country championships in Rotorua

during March.

Lincoln High School and

Selwyn United defender Zoe

McMeeken was part of the New

Zealand under-16 football team.

The revolution in heat pumps is here now!

Say hello to Fujitsu's latest lifestyle range

NEW ZEALAND'S FAVOURITE AIR ®

Fujitsu's Catechin Filters are

approved by the Asthma and

Respiratory Foundation NZ's

Sensitive Choice ® programme.

Email: info@pshc.co.nz
---
20

Wednesday December 18 2019

Latest Canterbury news at starnews.co.nz

Selwyn Times

Support for growing

tourism industry

More improvements to the district's tourism infrastructure have been confirmed with government

support passing $1 million.

Two new public toilets have been confirmed to replace the existing toilets at Hororata Reserve and

Lake Coleridge, after the Council received a $332,600 funding grant from the latest round of the

Tourism Infrastructure Fund.

The district has now received $1.1 million in grants from the fund, including for public toilet and

waste water system upgrades. The district has also received $223,600 from the Responsible

Camping Fund to cover extra staff and campground maintenance over the summer season.

Council's Open Space and Strategy Manager Mark Rykers says the funding is a boost to help the

district support the growing numbers of tourists visiting Selwyn.

"We're pleased to have continued support from the government, which recognises the level of

tourist activity in the district. We work hard to try and ensure these visitors have a great time in

the district and we are very appreciative of this funding, which is an important investment for us

in this work."

Both Hororata and Lake Coleridge have been among the centres in the district seeing that

increase in tourist and visitor numbers and the funding allowed the Council to bring forward its

plans to carry out needed upgrades to both toilet blocks.

The plan is to provide four unisex toilet stalls, including one with an accessible toilet, at Lake

Coleridge and five unisex toilet stalls, including one with an accessible toilet, at Hororata Reserve,

along with a new waste water system for the block.

The fund includes a contribution towards the running costs of the toilet blocks for two years and

the Council hopes to have both toilet blocks installed by the middle of 2020.

Festive feel for

citizenship ceremony

There was a festive atmosphere amid the celebrations for the final

citizenship ceremony of the year.

A group of 29 people from 11 different nationalities took the oath of

allegiance to become New Zealanders. They included new citizens

originally from Russia, Chile, Nigeria, Cambodia and the United

States of America.

In a festive touch, Mayor Sam Broughton broke out his guitar

for the singing of the national anthem, before leading the group

in two Christmas Carols, Silent Night and Feliz Navidad, to round

out the evening.

Several of the new citizens spoke of searching the world before

choosing New Zealand as a place to settle.

Thomas Lowton said he and his family were touring the world after

he retired from the British Army in 2012. "We landed in New Zealand

and we didn't want to leave anymore," he said.

Montana farmer and engineer CJ Johansson said he and his wife

were also searching the world for a place to make a new start after

he lost his job.

"We were looking for a place at least as nice as Montana. We found

New Zealand and it turned out we were right, it's at least as nice

and we're very happy living here and becoming citizens."

Many of the group noted the warm welcome they had received

from their new country when they moved here, including eightyear-old

Megan Nelson, originally from South Africa. "Thank you for

welcoming us and letting us become New Zealanders. Thank you,"

she said.

It was the first ceremony back at the Council offices in Rolleston

after five months away with ceremonies at West Melton Community

and Recreation Centre and Tai Tapu Community Centre while work

was done on the Rolleston building.

Major district projects under way

Ground has been broken and work is on track on three major projects for the district.

Left photo: Council Aquatic Facilities manager James Richmond and Armitage Williams Site Manager

Kirill Makogon stand on the floor of the 10 lane, 25 metre pool extension at Selwyn Aquatic Centre and

inspects work on the new changing rooms. The extension is on track to open at the end of 2020.

Centre photo: A builder for Apollo Projects, works on the foundations for the central area of the eightcourt

Foster Park indoor Courts. The courts are planned to be open by the 2021 winter sports season.

Right photo: A digger at work on the foundations for Te Ara Ātea, the new library, community and

cultural facility, which is the first stage in the Rolleston town centre development and is expected to be

open in early 2021.

Fire restrictions in place for

Selwyn district

Fire and Emergency New Zealand has advised that the Selwyn

district is in a restricted fire season.

Anyone wanting to light a fire outside in the Selwyn district will need

to first obtain a permit from Fire and Emergency.

Gas or charcoal barbecues can still be used without a permit.

People can find out which fires need a permit by calling Fire and

Emergency on 0800 658 628 or at www.checkitsalright.nz, where

you can also find tips on keeping your property safe.

Any fire permits issued during a

restricted fire season are suspended

if Fire and Emergency declares a

prohibited fire season, or prohibits fire in

open air, in the area(s).

ON THE

ROADS

On the roads this week

Brief footpath construction will be taking place

on South Terrace, Darfield, Waddington Road,

Waddington, SH73 Sheffield, and Coaltrack

Road, Glentunnel. These footpaths will closed

during construction.

Council Call

Selwyn District Council

Norman Kirk Drive, Rolleston

Ph 347 2800 or 318 8338

Rolleston Library

Rolleston Drive, Rolleston

Ph 347 2880

Darfield Library & Service Centre

1 South Terrace, Darfield

Ph 318 8338 or 347 2780

CC181219
---
Selwyn Times Wednesday December 18 2019

Latest Canterbury news at starnews.co.nz

21

Notices

COUNCIL SERVICES

HOLIDAY HOURS

Here is a summary of Selwyn

District Council services and

opening hours during the holiday

period.

Council headquarters in

Rolleston will be closed from 12

midday Tuesday 24 December,

reopening 8.30am Friday 3

January.

Rubbish and recycling

collections scheduled on

Christmas Day (Wednesday

25 December) will take place

on Saturday 28 December.

Collections scheduled on

New Year's Day (Wednesday

1 January) will take place on

Saturday 4 January. All other

collection days will proceed as

normal.

Pines Resource Recovery Park

is closed both Christmas Day

and New Year's Day. Standard

opening hours operate for

the rest of the holiday period

(9am–4.30pm).

West Melton Community and

Recreation Centre is closed from

Meetings

Public Forums: Council, Community Board and

local committee meetings are open to the public.

Time is available at the start of meetings for

people to speak on matters of concern. Please

notify Therese Davel or Bernadette Ryan if you

wish to speak at the Council meeting at least five

days before the meeting.

Township, Hall and Reserve Committees: To

list or make changes to meeting details, email

meeting.changes@selwyn.govt.nz or phone 347

2800 or 318 8338 by 9am Wednesday the week

before publication.

Sunday 22 December. Lincoln

Event Centre and Tai Tapu

Community Centre are closed

from Monday 23 December.

Rolleston Community Centre is

closed Monday 23 December.

All centres reopen on Monday 6

January.

All Selwyn Libraries will be

closed from 12 midday, Tuesday

24 December, reopening

from Friday 27 to Tuesday 31

December, 10am–4pm. Leeston

and Darfield libraries will be

closed on Sunday 29 December.

All libraries will resume normal

hours from Friday 3 January.

Selwyn Aquatic Centre will be

closed for the statutory holidays.

It will be open on Sunday 22

December from 8am–8pm, and

on Monday 23 and Tuesday 24

from 6am–6pm. From Friday

27 December to Monday 30

December and from Thursday

2 January to Sunday 5 January

it will be open 8am–8pm. On

Tuesday 31 December the

centre will be open 8am–6pm.

Normal hours will resume on

Monday 6 January.

Enrol to vote in General Election

Animal Control services are

available, operating 24 hours 7

days a week.

The Council's customer contact

line will be operating 24 hours

a day over the Christmas and

New Year break for urgent

issues, phone 0800 735 996 or

(03) 347 2800.

RESOURCE CONSENT

APPLICATION RC195407

- LINCOLN UNIVERSITY -

WITHDRAWN

On Wednesday 11 December

Selwyn District Council publicly

notified a resource consent

application by Lincoln University

to construct and operate 382 car

park space area in two stages;

stage one being 203 spaces and

stage 2 being 179 spaces.

The applicant, Lincoln

University, has now withdrawn

this application. This means it is

no longer being considered by

Selwyn District Council.

If you have any questions about

this, please contact the duty

planner on 03 347 2868 or

planning.info@selwyn.govt.nz

DISTRICT COMMITTEE MEETINGS

Sheffield/Waddington Community Committee –

Triennial meeting with ordinary meeting to follow

Thu 19 Dec 7.30pm

Sheffield Community Hall

Weedons Residents' Association

Tue 14 Jan 7.30pm

Weedons Reserve Pavilion

The Electoral Commission is making it even easier for voters to enrol and update their details. You can

now enrol or update your details online at vote.nz using your New Zealand driver licence, New Zealand

passport or a RealMe verified identity.

The changes will help people get ready for next year's general election, including a simplified paper

enrolment form and updated website to make it easier to enrol, find out about enrolment or check

your details.

You can get a paper enrolment form sent to you in the mail to enrol or update your details by calling

0800 36 76 56, or text your name and address to 3676. You can also pick one up at Electoral

Commission offices or Citizens Advice Bureau (CABs). Selwyn Libraries can also assist people in

enrolling to vote. Enrolment forms are no longer available at PostShop stores.

Clean bill of health for drinking water

Selwyn's drinking water has received a clean bill of health for complying with drinking water standards

under the Health Act – with more improvements to come.

The Council's drinking water supplies were passed as complying with national drinking water standards

for dealing with bacteria and nitrate levels in the Canterbury District Health Board's annual compliance

report. Nitrate levels were tested in four water supplies and all were found to be below the maximum

allowable levels.

The report showed 26 of the 27 water supplies tested were compliant with standards for E-Coli, with

Arthur's Pass having one E-Coli transgression when levels of E-Coli passed the allowed levels. A new

treatment plant is planned for Arthur's Pass next year.

The report found 17 of 27 supplies tested complied

with requirements around protozoa, but seven supplies

needed UV treatment upgrades. The Council has

completed two of the upgrades and has committed

to carrying out the remaining upgrades in the coming

year, Council Group Manager Infrastructure Murray

Washington says.

"It's good to have the confirmation once again that our

drinking water is of good quality and potable, but work

is still needed to make sure we're providing the best

systems we can and keep up with changing drinking

water standards. We have a major project of upgrades

happening this year at treatment plants across the

district, installing UV and filtration systems where they

are needed and expanding supply."

Selwyn Events

SUMMER IN SELWYN

THURSDAY

19

DECEMBER

THURSDAY

19

DECEMBER

UNTIL

12

JANUARY

SUMMER IN SELWYN

WEDNESDAY

15

JANUARY

SUMMER IN SELWYN

SUN 12

AND 19

JANUARY

Christmas Storytime

All Selwyn Libraries, 6–7pm

Dress up as your favourite Christmas

character and help us celebrate the

festive season with stories, songs

and a treasure hunt. For details visit

selwynlibraries.co.nz

Christmas Twilight Market

Lincoln Green, 4–8pm

Lincoln Farmers' and Craft Market

are holding their Christmas Twilight

Market on the Green beside the

Lincoln Library. Special appearance

by the Selwyn Community Choir and

lots of opportunities to get those last

minute Christmas gifts.

The Cash and Carry Show

Down by The Liffey Gallery,

Lincoln, selected hours

Wednesday to Sunday

The gallery's annual Members' Show,

featuring work from over 30 of its

artist members. With so many items

for sale the gallery is a big art shop

– visit for some great gift ideas or

something for your own home.

Teddy Bears' Picnic

Rolleston Reserve and Community

Centre, 11am–1pm

Pack a picnic and dress up your

favourite teddy. The 2020 Teddy Bears'

Picnic will be jam-packed with family

fun, including the annual teddy bear

parade, face painting, pedalmania,

bouncy castles and prizes.

Pool Parties

Sheffield Pool, Sunday 12,

Darfield Pool, Sunday 19, 2–4pm

The summer pool parties are back

with inflatables, games, prizes, a

sausage sizzle and a DJ playing your

favourite songs.

Over 90 events

December–March

SELWYN.GOVT.NZ/EVENTS

SELWYN.GOVT.NZ/EVENTS

YOUR GUIDE TO SUMMER EVENTS IN SELWYN

DECEMBER 2019

– MARCH 2020

YOUR GUIDE TO SUMMER EVENTS IN SELWYN

DECEMBER 2019

– MARCH 2020

Brochure

out now!

selwyn.govt.nz/events

For information on listing a community event visit

www.selwyn.govt.nz/councilcall

Leeston Library & Service Centre

19 Messines Street, Leeston

Ph 347 2871

Lincoln Library & Service Centre

Gerald Street, Lincoln

Ph 347 2876

(03) 347 2800

Darfield call free 318 8338

www.selwyn.govt.nz

SelwynDistrictCouncil
---
22

Wednesday December 18 2019

Latest Canterbury news at starnews.co.nz

Chamberlain stars for

Leeston-Southbridge

SPORT

SELWYN TIMES

• By Jacob Page

LEESTON-Southbridge can

relax over the festive break at

the top of country cricket after

a hard-fought close win over

Lincoln at the weekend.

Harry Chamberlain's fine

Country premier one-day season

continued with a match-defining,

run-a-ball 62 at Lincoln

Domain on Saturday.

Leeston-Southbridge's first innings

was dominant with 184 for

nine in their allotted 45 overs.

Chamberlain, who enjoyed a

500-run off-season playing in

Darwin, was again in the game

with the ball, grabbing key toporder

wickets and helping reduce

Lincoln to 34 for three in their

chase.

Middle-order batsman Liam

Robinson gave Lincoln a sniff of

victory, with a fine 51 off 89 balls.

After he was dismissed, the

tail wagged valiantly but the

defending champions held their

nerve to secure a 10-run win, as

Lincoln stalled at 174 for nine

after 45 overs.

At Southbrook Park, the home

side thumped Weedons by eight

wickets to keep in touch with the

competition leaders.

Imposing new ball attack Sam

Ermerins and Arafat Bhuiyan

knocked off Weedons' quality

top-order before Darryn Boyle

rattled through the middle

order.

Limping to 132 all out in 40

overs, it was never going to be

enough and the 'Brook coasted

home, largely thanks to an

impressive unbeaten 93 by Matt

• By Jacob Page

FOR THE second time in as

many years, the Lincoln High

School mixed touch team's hopes

for a national title were dashed

by Howick College.

The Auckland school prevailed

in the final 12 months ago and

triumphed 6-4 in the semi-final,

at Rotorua's Westbrook Park on

Sunday.

It was Lincoln High School's

STAR: Leeston-Southbridge's

Harry Chamberlain was

impressive with both bat and

ball in two fixtures for his club

team over the weekend.

Boyle, whose innings included

17 fours and two sixes, and came

off just 65 balls.

A mammoth innings of 165

from Rhys Mariu lifted Oxford-

Rangiora to a superb 26-run win

over Cheviot on Saturday.

Mariu, fresh from being

named in the 15-man New Zealand

under-19 squad to compete

in the Cricket World Cup 2020

in South Africa in January-

February, was ruthless in demolishing

the Magpies' attack.

Oxford-Rangiora made an

imposing 279 for five in their 45

overs and would prove too many

for Cheviot to chase, in spite of a

brilliant 97 from Ben Hartland.

Jake Waghorn ripped through

Cheviot's middle-order, snaring

seven wickets and helping complete

the strong victory.

first loss in seven games during

the tournament.

Howick College went on to win

back-to-back titles.

Lincoln won all three games

on day one convincingly, beating

Palmerston North's Awatapu

College 11-4, Patea Area School

14-0 and Massey High School

9-3.

Day two went in a similar fashion

as they beat Orewa College

9-3, South Otago High School

Sefton got back to winning

ways with a complete team

performance in beating Darfield

by 37 runs.

Eight batsmen in double figures,

led by a quick-fire 40 from

Canterbury paceman Fraser

Sheat batting at number four,

saw the Seals post 202 all out.

Zak Foulkes (55 runs off 74

balls) and Tim Boyle (52 off 69)

got the chase off to a flying start,

hoisting Darfield to a commanding

115 for one in 24 overs.

But when they both fell in

quick succession, Darfield crumpled

to be all out for 165, with

Barry Cross the chief destroyer,

claiming four for 27.

The competition will resume

with round nine on January 11.

Leeston-Southbridge capped a

busy weekend by winning their

national club knockout twenty20

encounter against Pleasant Point

by eight wickets at Mainpower

Oval on Sunday.

Leeston-Southbridge restricted

Pleasant Point to 105 for nine

from their 20 overs with wickets

shared between Harry Chamberlain,

Tim Gruijters and Sam

Chamberlain, who each took

two wickets.

Harry then added an unbeaten

45 as they cruised to the target

with 11 balls to spare.

Leeston-Southbridge will play

Lancaster Park on January 19 in

the Canterbury final.

Canterbury Country will host

Nelson this weekend in their

second Hawke Cup match of the

season at Rangiora's Mainpower

Oval.

Lincoln unable to recover from slow start

7-1 and Wanganui's Cullinane

College 8-6 with the team holding

their nerve as the contest got

close.

Lincoln were unable to overcome

a slow start in the first half

to extract revenge from the loss

12 months prior.

They did win the second half

3-1 but by that point, the South

Island champions were too far

behind to make the comeback

they needed.

COMMANDING: Rolleston-Killinchy No 1 Nathan McKenzie,

seen here playing last month, won all three of his matches as

his team beat Kirwee-Springston 10-6 in Canterbury Country

premier tennis, on Saturday. ​

Rolleston-Killinchy

move up tennis ladder

• By Jacob Page

ROLLESTON-Killinchy moved

to second on the Canterbury

Country premier tennis ladder

after a 10 matches to six win over

Kirwee-Springston, on Saturday.

West Melton will go into the

Christmas break undefeated

after four rounds as they swept

aside Prebbleton-Lincoln 13

matches to three while Tai Tapu

had to default to Fernside due to

a lack of players,

Ellesmere Tennis president,

Jason McKenzie said he was

surprised by the ease of West

Melton's win given how competitive

Prebbleton-Lincoln had been

during the second phase of the

season.

"It goes to show just how

strong West Melton is this year,"

he said.

"Even with players away they

still find ways to win," he said.

It was Rolleston-Killinchy's

women's singles trio of Lyndsay

Dick, Mel Williams and Marika

Templeman which turned the

contest in their team's favour.

With teammate Zoe Gilmore

struggling with a calf issue, the

trio won each of their singles

game, after the men's singles had

been split 2-2.

Rolleston-Killinchy's men's No

1 Nathan McKenzie also had a

strong day, winning his singles

encounter against Dave Ashton

9-0 and then also winning his

doubles and mixed doubles

encounter.

West Melton's No 1 Luke Tanner

was away at the nationals in

Auckland, but the competition

favourites welcomed home Grayson

Cullen.

"Grayson has been over in

America playing tennis on

scholarship and is back for the

Christmas break, McKenzie said.

Cullen has been playing his

tennis in Kentucky.

"He's a very handy player to

call-in with Luke away, in many

respects, West Melton lose nothing

with him in the team."

He was able to play with

younger brother Blake for the

day.

West Melton won all four

men's singles with Grayson adding

a doubles and mixed doubles

victory for good measure.

The West Melton men did

not lose a match all day as they

underlined their title credentials

for later in the season.

The competition now has a

break for the holiday period and

will recommence on January 25

with round five.

We're for

local

SPoRT

From Kaikoura,

to Christchurch,

to Ashburton,

we have it covered
---
SELWYN TIMES Latest Canterbury news at starnews.co.nz

Wednesday December 18 2019 23

Jam-packed full of fun activities and entertainment,

you'll find something for all the family to enjoy. Pack

a picnic, sun lotion, the kids, and make a day of it!

15 December-13 March 2020, 7 – 9pm

OUTDOOR MOVIES For a movie night

near you, check it out at: selwyn.govt.nz/

events

29 December & 26 January

INTERISLANDER SUMMER

FESTIVAL MOTUKARARA TROTS

Enjoy a fun day out at the trots, plenty of

entertainment with fun activities for the

kids! Under 18 free.

7-28 January

GUIDED WALKS Explore

Kura Tawhiti Castle Hill - 7

January, Hogs Back Hike -14

January, Devil's Punchbowl

- 21 January and Helicopter

Hill – 28 January with a DOC

ranger. Find out more at

selwyn.govt.nz/events

Quail Island

Adventures

Get the kids into nature and head to

Quail Island! A great day trip to a real

island with a fascinating history, in the

heart of Lyttelton Harbour. Just a 15

minute ferry ride from Lyttelton.

Book the DOC hut to stay overnight

(via DOC website).

SUMMER FUN in SELWYN

Your guide to what's happening over the Summer break

SCHEDULE FREQUENCY DEPART LYTTELTON DEPART QUAIL ISLAND

Oct & Nov Daily 10.20am 3.30pm

Dec – Mar Daily 10.20am, 12.20pm 12.30pm, 3.30pm

Apr – Sep Weekends only 10.20am 3.30pm

blackcat.co.nz

book 0800 436 574

online

15 January

TEDDY BEARS' PICNIC Rolleston

Community Centre & Reserve. Dress up

your favourite teddy and pack a picnic!

Family fun, lots of activities plus the

famous Teddy parade. Postponement date

16 January.

18 January, 8am – 5pm

LITTLE RIVER A&P SHOW Little River

Domain. Great family friendly day out in

the country with fun entertainment for all

the kids - big and small.

18 January, 4pm – 9pm

LONE GOAT VINEYARDWINE RUN

Exercise, Fancy Dress and Wine followed

by a party, with live entertainment.

CRUISES

LYTTELTON & AKAROA

'Under 5's

free

on all trips,

all year!

FARE

Adult $30 Child $15

R18. Run or walk 5km or 10km you

with a wine tasting approximately every

kilometre.

23 January – 11 March

PICNIC IN THE PARK Music,

facepainting, entertainment and free

sausage sizzle. For a picnic near you, visit

selwyn.govt.nz/events

2 February, 1pm – 6pm

GUNYAH GARDEN PARTY An

afternoon of fine drinks and food set

in the stunning gardens of the historic

Gunyah Country Estate.

2, 9, 16, & 23 February, 1 – 3pm

MONTH OF SUNDAYS Relax,

unwind and recharge at the Lincoln

Green (behind the Lincoln Library).

Bring a picnic and listen to an

outstanding line-up of talented

musicians.

7 March 11am – 8:30pm

SELWYN SOUNDS 2020 Selwyn

Sounds is a one-day music festival

held at the Lincoln Event Centre that

transforms the little village of Lincoln into

a popular concert venue.

21 March, 10am – 4pm

ARTHUR'S PASS AUTUMN FETE

Raising funds for the YMCA Arthur's Pass

Outdoor Education Centre. Featuring

music and a huge range of stalls with

crafts, food, and refreshments, plus games

and activities running throughout the day.

Check out their Facebook page.

28 March, 10am – 3pm

LEESTON FETE The whole main street

of Leeston is closed to traffic and lined

with vendors of all sorts, a special area for

the children, and a 'Secret Garden'.

For more activities and events, check

out eventfinda.co.nz and selwyn.govt.

nz/events

Ramp Race

deRby

bOXing day ★★★ 6pm StaRt ★★★

famiLy paSS: (2 adULtS & 4 chiLdRen 15yRS & UndeR) $40

adULtS $20 | SeniORS $10 | chiLdRen $5 | UndeR 5yRS fRee

dOUbLedayS ROad KaiapOi | infOLine 03 327 6117 | www.wOOdfORdgLen.cO.nz
---
24 Wednesday December 18 2019

Latest Canterbury news at starnews.co.nz

SELWYN TIMES

PETS & PAWS

Keep pets safe over summer

Summer is the perfect time to get out and

about with your pets. And to help make

sure your pet's summer gets off on the right

paw, SPCA offer the following tips…

• Hot hours The sun is at its

fiercest between 10am and 4pm,

so be extra vigilant with your

pet between these times. Keep a

close eye on pets that are older,

overweight, flat faced, or have thick

fur, who might struggle in the heat.

• Shade Make sure your pet has

plenty of shade and adequate

shelter to protect them from the

weather, including sun, wind, and

rain. Doghouses are not considered

good shade during the summer

as they can trap heat – utilise tree

shade or tarpaulins as they don't

obstruct air flow.

• Water Pets need access to fresh

water, and in summer this is

crucially important. Pets should

always have clean water that is in

a shady spot. Remember to take

water and a travel water bowl on

summertime walks.

• Hot paws Hot ground can burn

the pads of your pet's paws and

leave them sore, blistered and red.

Check if it is a safe temperature

for them to walk on by holding

Daycare, grooming anD

accommoDation for all

Domestic pets

Kirsten

554 Jones Rd, Templeton. Rolleston

Everyday Contact: 03 347 8835

Emergency Contact: 027 942 7278

Email: bunnylodge@xtra.co.nz

www.bunnylodge.co.nz

the back of your hand on the

pavement or sand for five seconds.

If it is too hot for you to hold

your hand there, then your pet

shouldn't be out walking on it!

• Sunburn Pets that are fair-skinned

or light-furred are particularly

susceptible to the sun's harsh rays.

Skin cancer can occur commonly

in dogs and cats, so use petfriendly

(not human) sunblock

applied every three to four hours

to areas such as tips of ears, end of

nose, and stomach.

• Heatstroke The obvious signs

of a dog who is suffering heat

stroke are excessive panting and

showing signs of discomfort,

such as restlessness and shade

seeking behaviour. Cats will pant

and may have sweaty paws. More

severe symptoms include loss

of consciousness and seizures.

Any hot environment can cause

heatstroke, with hot cars being

a particularly dangerous place

for pets to be left alone in. A

body temperature of over 40°C

is often fatal.

BE AWARE OF RIVERS

AND WATERWAYS

Hot weather also brings with it the

dangers of algae blooms in still water or

shallow rivers, particularly after periods

of little rainfall. Check Council websites

for alerts about algae blooms in your

area or visit www.lawa.org.nz/exploredata/canterbury-region/swimming

FREE MEASURES & QUOTES FOR

A HUGE RANGE OF

PET DOORS TO SUIT YOUR NEEDS

Certified Sureflap supplier

and installer

Zac Johnston

Owner/Glazier

027 349 7023

zac@crystalglass.co.nz

GOING ON HOLIDAY?

Make sure your pets are adequately being cared for either in a pet care facility or

visited daily by a pet caregiver who will feed, exercise if required, and make sure your

pet/s have a plentiful fresh water supply and shade at all times.

Dogs die in hot cars

It takes just 15 minutes. If it's hot outside,

it's sure to be like an oven in your car and

that heat could be fatal for your dog...

If it's hot and you're likely to need to leave

your dog in the car, it's kinder and safer to

leave it at home. Animals can sustain brain

damage or even die from heatstroke in just

15 minutes.

VEHICLE TEMPERATURE

OUTSIDE

TEMP (C)

21

24

27

29

32

o

o

o

o

o

INSIDE TEMP (C)

After 10 mins.

32

34

37

40

43

o

o

o

o

o

After 30 mins.

40

43

46

48

51

o

o

o

o

o

Manufacturers of

Fine Natural Pet Food

Bernie and the

team wish all our

valued clients a

Merry Christmas

& Happy New Year

Closing Tues 24th Dec

Re-open Mon 6th Jan 2020

Phone (03) 347 0626

Shop 4, 855 Jones Road, Rolleston (opposite Redpaths)

Hours: Mon-Tue 9am-5pm,

Wed-Fri 9am-5.30pm, Sat 10am-1pm

DI'S

GROOMING

FULL GROOMS

BATH & TIDY

NAIL

CLIPPING

phone:

0274311395

Member of The NZ Dog

Groomers Association

K9

BY APPOINTMENT ONLY
---
SELWYN TIMES Latest Canterbury news at starnews.co.nz

Wednesday December 18 2019 25

Adult Craft

Darfield on Thursday, 9.30am-

12.30pm

Head along to the Malvern

Material Girls club for simple

crafts and a chat. Phone Sally

Broughton on 318 8284.

Darfield Library

Discovery Time

Lincoln on Sunday, 1.30-3pm

and Darfield on Wednesday,

3.30-5pm

Head along to discover a new,

fun and creative activity each

week at the library. Drop in, no

bookings necessary.

Lincoln and Darfield libraries

Gingerbread Christmas

House

Lincoln from Friday, 6-10pm

Go along and check out this

Christmas house that has been

decked out with Christmas trees

in different themes, garlands,

displays and fairy lights. All

proceeds will help to raise funds

for Camp Purple Live, a week

long camp for children who have

IBD. Open until December 24.

Admission is $5 for adults and

free for children.

18 Matanui Street

Babytimes

Lincoln on Thursday, 9.30-

10am, and Rolleston on Friday,

Email devon.bolger@starmedia.kiwi by

5pm each Wednesday

9.30-10am

Share rhymes, stories and

songs to support your baby's

early language development,

communication and social skills.

Take a blanket. Aimed at those

aged up to one, but older siblings

welcome. Free, weekly sessions,

term-time only.

Lincoln and Rolleston libraries

Rhymetimes

Rolleston on Wednesday,

9.30-10am, Lincoln on Tuesday

and Friday, 9.30-10am, Leeston

on Tuesday, 10-10.30am, Darfield

on Tuesday, 10.30-11am

Stories, songs, rhymes and

bubbles make up this session,

which is designed to assist with

early language development.

Aimed at children aged one to

three. Free, weekly sessions,

term-time only.

Rolleston, Lincoln, Leeston and

Darfield libraries

Christmas Eve Service for

Children

West Melton on Tuesday, 6pm

Go along to be a part of

an interactive Christmas eve

church service and dress up as

shepherds, angels and wise girls

or boys. The service follows the

story of the birth of Jesus, and

everyone attending has the opportunity

to be involved. There

will also be gifts for those best

dressed. Carol singing and Holy

Communion will follow at 8pm.

St Paul's Anglican Church

JP Clinics

Rolleston on Monday, noon-

1pm, Lincoln on Tuesday, 10am-

1pm, Darfield on Wednesday,

11.30am-12.30pm

A justice of the peace will be

available to members of the community

to witness signatures and

documents, certify document

copies, hear oaths, declarations,

affidavits or affirmations, as well

as sign citizenship, sponsorship

or rates rebates applications.

Darfield, Lincoln and Rolleston

libraries

The Cash and Carry Show

Lincoln on Wednesday-

Thursday, 11.30am-2.30pm

and Friday-Sunday, 10am-4pm

Head along to the annual

Members Show featuring work

from over 30 of the gallery's

artist members. The gallery will

also operate as an art shop until

January 12.

Down by the Liffey Gallery

Device Drop In

Lincoln on Friday, 10am-noon,

Darfield on Friday, 1.30-3.30pm,

Leeston on Friday, 2-4pm and

Rolleston on Tuesday, noon-1pm

Head along to the informal

support groups to help familiarise

yourself with your digital

device. Whether it's a tablet or

mobile phone, someone will be

able to help you with the basics.

Lincoln, Darfield, Leeston and

Rolleston libraries

Markets

Darfield Market: Saturday,

9am-noon, opposite Challenge

Darfield, South Tce.

Market@254: Saturday,

9.30am-1pm, rain or shine,

254 Lawford Rd, West Melton.

Lincoln Farmers and Craft

Market: Saturday, 10am-1pm,

Gerald St.

Head along to the

Christmas twilight

market for quality

festive stalls selling

a diverse range of

genuine local gifts,

award-winning

produce and artisan

baking. Topped

off with lots of fun

Christmas activities,

a visit from Santa

between 4-6pm and

live Christmas music.

Thursday, 4-7pm, 22

Gerald St. ​

Running groups

Rolleston Road Runners:

Thursday registration from

6.15pm for a 6.30pm start. 3km,

6km and 9km options in Foster

Park, next to the gravel car park.

Lincoln Road Runners: Tuesday

registration from 5.40pm

for a 6pm start. 3km or 6km

options. Starts outside Coffee

Culture on Gerald St.

Malvern Road Runners: Tuesday

registration from 5.45pm

for a 6pm start. 1.8km, 3km and

6km options. Meet at McHughs

Plantation.

Ellesmere Road Runners:

Wednesday registration from

5.45pm, starts at 6pm. 3km or

6km walk or run. Starts from

Leeston Physiotherapy.

Foster Park Run: Saturday

from 7.50am. Free weekly timed

5km run, jog or walk. Register at

www.parkrun.co.nz/foster and

don't forget your barcode. Foster

Park, Rolleston.

Cropmark Seeds Ltd marks 20 years in the industry

Local company Cropmark Seeds Ltd celebrated

20 years of operation on the 28th November and

marked the event by inviting a number of industry

participants and customers from New Zealand,

Australia, South America and Asia to a day to view its

operations and enjoy an evening function together.

The forage plant breeding and seed marketing

company, which was formed in 1999, specializes in

the breeding, and sales of a range of forage grasses,

clovers, brassicas and forage herbs.

With Head Office based Near Rolleston, and its

plant breeding & research division based out of

Darfield, the company markets its products in New

Zealand, Australia, South America, South Africa,

Asia and Europe. Seed production is contracted

with local arable farmers from around Canterbury

and prepared for shipments using local seed

cleaning companies.

Approximately 30 full time staff are employed in a

range of roles from plant breeding and research, to

production contracting, cultivar trialling, sales and

marketing and based throughout New Zealand

and in Australia.

Of note, bucking the international trend Cropmark

Seeds is now the only fully New Zealand owned

company involved in forage breeding and

marketing left in the country. All other such

companies are now in part, or fully owned by

foreign companies.

It is great to see local businesses thriving and working

with other local companies to grow our economy.

Cropmark seeds

Tel: (+64-3) 347 7950

Fax: (+64 3) 347 7951

Freephone: 0800 427 676

www.cropmarkseeds.com

www.facebook.com/CropmarkSeeds
---
26 Wednesday December 18 2019

Latest Canterbury news at starnews.co.nz

SELWYN RURAL LIFE

SELWYN TIMES

Changes recommended

for winter grazing practices

WE BUILD STRUCTURES & RELATIONSHIPS TO LAST

Warm & Healthy Affordable Homes

TRANSPORTABLE / 8 - 10 WEEK BUILD TIME OR BUILT ON SITE

A Taskforce has made 11

recommendations to improve animal

welfare in intensive winter grazing farm

systems, said Minister of Agriculture

Damien O'Connor.

"I established the Winter Grazing

Taskforce in response to concerns about

the impacts on animal welfare of some

intensive winter grazing practices," Mr

O'Connor said.

"The Taskforce did a stocktake of the

multiple initiatives that are already under

way to promote good winter grazing

and identify where we might work more

together to improve practices."

Recommendations include:

• More work to understand and

mitigate the long-term animal welfare

consequences of intensive winter

grazing practices

• Expand knowledge of barriers to

adopting improved animal welfare

practices

• More active surveillance to ensure

animal welfare standards are being met

• The establishment of a pan-sector

action group to implement the

recommendations

"Winter crop grazing is necessary in

some parts of the country to provide

enough feed for stock at a time when

there's not a lot of pasture, but we must

ensure farmers have the right tools and

advice to ensure animal welfare.

"As a Government, we're committed to

working alongside farmers to maintain

their ability to export on our valuable New

Zealand brand and open up new trading

markets. Our international reputation

depends on getting this sort of thing right,

as does our social licence to operate within

New Zealand.

"Some farmers manage this system very

well but for those who don't – we've got to

find a way of doing it better and help them

do so.

"Following the taskforce's report, I've

asked the Ministry for Primary Industries

(MPI) to work with farmers and industry

groups to ensure farmers get the help they

need.

"I know that many farmers are already

changing and adapting their practice and I

thank them for the effort. We want to help

in that work.

"The next step will be the establishment

of an action group to begin implementing

the recommendations so we can see some

progress next winter and beyond".

Source: Ministry of Agriculture

DESIGNER AFFORDABLE HOUSING

WHY CHOOSE US?

✓ WE LOVE WHAT WE DO ✓ WE UNDERSTAND YOUR NEEDS ✓ WE RESPECT DEADLINES

03 352 0252 or 027 518 1346

richard@trentbuilding.co.nz

www.trentbuilding.co.nz

3 TRUCKS

3 CARS

3 LUBES

3 SERVICING

3 FLEET WORK

3 BOATS

3 DIESEL INJECTOR

3 & PUMP SERVICING

3 ENGINE TUNING

Mon-Fri 7am-5pm

Sat 8am-12pm (WOFs only)

3 BRAKES

3 MAXXIS TYRES

3 WHEEL ALIGNMENTS

3 BATTERIES

3 WOFs

3 CAMBELTS

AND MUCH

MORE!

839 Jones Road, Rolleston P.O. Box 16 Rolleston

Phone Simon on 347 7110 or Mobile 027 272 9213
---
SELWYN TIMES Latest Canterbury news at starnews.co.nz

Wednesday December 18 2019 27

SELWYN RURAL LIFE

ClearTech a game changer

for Lincoln dairy farmer

A revolutionary dairy effluent treatment

system is delivering enormous

environmental benefits for Lincoln dairy

farmer Tom Mason.

Ravensdown's ClearTech system,

developed in conjunction with Lincoln

University, uses a coagulant to bind

effluent particles together to settle them

out from the water. This clarifying process

reduces freshwater use, helps existing

effluent storage go further and reduces the

environmental and safety risks linked with

farm dairy effluent (FDE).

Mason, who runs 550 cows on his

150ha operation at Green Park Dairy,

says ClearTech is an environmental

gamechanger. Given dairy effluent is

99% water, it makes commercial and

environmental sense to recycle the water

using the ClearTech system.

"We're in a sensitive environmental area

here that is also quite densely populated,"

Tom says. "So, we were really looking for

the next level on environmental mitigation

and that's what got us interested in

ClearTech.

"It has significantly increased our

effluent storage capacity. We've got

capacity at the moment that meets the

councils' requirements, but we want more

than that and ClearTech gives us three

times the capacity and that means there

are fewer days we have to spread effluent."

But it's in freshwater conservation that

ClearTech really comes into its own.

"We're using recycled water to wash

the cow yard each day and that's at least

30,000 litres of water per milking that

we're no longer using," says Tom. "When

we're milking twice a day, we're saving up

to 60,000 litres of freshwater a day."

With many lifestyle blocks in the area,

and heightened concerns about effluent

runoff and odour, Tom sees ClearTech

as being an investment in his ongoing

environmental and social licence to farm.

"We're maintaining our right to keep

dairy farming here. There are real

pressures on this area, with subdivision

into lifestyle blocks, so we need to be

doing the right thing. ClearTech is an

important tool helping us to do that."

ClearTech product manager Carl Ahlfeld

says the innovative, award-winning system

not only made environmental sense, but

commercial sense as well.

"Reducing compliance risks, saving on

pumping, effluent storage costs are the

bottom-line benefits to those farmers

who also want to do the right thing in

terms of reducing water use and reducing

environmental impact.

"ClearTech is ideal for dairy farmers

who want to save on effluent pond storage

and take back control of their capacity and

compliance.

"Stripping out the E. coli and other

bacteria in farm dairy effluent means

cleaner water to wash down the dairy yard

or irrigate on to paddocks and less volume

of effluent that has to be stored and used

safely. The nutrients in the effluent can be

reused back on to paddocks with minimal

Lincoln dairy farmer Tom Mason.

odour."

The research behind ClearTech has been

published in internationally peer-reviewed

scientific papers (Cameron and Di:

Journal of Soils and Sediments, January

3, 2019: doi.org/10.1007/s11368-018-

02227-w).

Get ready for summer

Kitset Children's

Play Table

Kitset 1.8m

BBQ Table

Kitset

Planter Boxes

Call in today for your free quote!

I help dairy farmers

drastically reduce

their power bills.

My 3-step process saves farmers an

average of $1000 a month.

Dairy sheds use around 28% more electricity than they should,

according to EECA (Energy Efficiency and Conservation Authority)

By reducing the consumption and costs of your power we add

much needed profits to your bottom line.

For more information on how I can help you call me

direct on 0800 332 100

0800 332 100 | www.energyefficient.co.nz | info@energyefficient.co.nz

NEW ENTRANCE: 167 Manion Road, Rolleston

Jason Pester P 03 347 7465 F 03 347 7032 E jason@cthl.co.nz

Mon-Fri: 7am-5pm Saturday: 8am-12pm

Canterbury

C T H Timber & Hardware

We are here

TANDEM AXLED

GALVANISED TRAILER

Fully galvanised, tandem axled transporter trailer, fitted with electric brakes, hand winch, side lights,

spare wheel and rear side stands for smooth loading.

SPECIFICATIONS

Deck dimensions (L x W) (mm): 4000 x 1900

Drawbar (mm): 1500

Deck height (mm): 460

Wheel rim: 13 inch

Tyre: 175/80D13

Net weight (kg): 580

Max. carrying capacity (kg): 1600

PRICE: $5,500.00 GST inclusive

Winch capacity (kg): 900

Tuatara Machinery Ltd • 291 Weedons Ross Road

Tel. 03 347 4956 • Mob. 0274 770 070

www.tuataramachinery.co.nz
---
$7.90 incl. GST

28

Wednesday December 18 2019

Gardening

Latest Canterbury news at starnews.co.nz

SELWYN TIMES

A sensational time to be in the garden

SUMMER IS here and it's a

heavenly month to be in the

home garden.

Summer flowers are in full

bloom, harvesting the first

summer vegetables begins,

strawberries are growing heavily

with delicious crops and the bees

are buzzing.

Vegetable garden – Summer

salad vegetables planted in

early spring will now be ready for

harvest. Continue regular plantings

of 'quick maturing' vegetables

like dwarf beans and radishes

to ensure continuous harvesting.

Towards the end of December,

start mulching your developing

vegetables to help with the

retention of soil moisture and

control weed growth. Apply side

dressings of vegetable fertiliser

to 'slow-maturing' vegetables like

sweet corn and tomatoes. Early

planted potatoes can be dug up

for Christmas. Water your vegetable

plants when required and

'deeply' for the development of a

strong root system.

Flowering annuals –

Brighten up parts of the garden

and large containers by planting

'classic' summer flowering annuals.

These include ageratum,

cornflower, cosmos, marigolds,

petunias, portulacas, salvias,

strawflowers and zinnias. Prepare

new flower-beds thoroughly

by adding generous amounts

of compost to the existing soil

before planting.

Strawberries – The homegarden

strawberry patch should

be at its peak in December.

Place pea straw, hay or crushed

bark around plants to keep the

strawberries clean. Cover the

patch with bird netting as birds

are rather partial to strawberries.

Water when required.

Fruit trees – The first of the

stone fruit, such as wilson's early

plum, will start ripening towards

the end of the month. Ensure

new fruit trees planted this winter

receive careful attention with

regular watering, applications

of fertiliser and mulching with

crushed bark. They may also require

some light pruning to help

achieve the required shape.

Berry fruit – Boysenberries,

blackcurrants, gooseberries and

raspberries will be ripening by

mid-December. They will also be

producing significant new canes.

Some can be tied down while the

surplus can be removed.

Roses – Possibly the most

enjoyable month in the home rose

garden. Bushes are in full bloom

and the dreaded die back and rust

diseases have not yet impacted

plants. It's important to continue

LUSH: Avoid

mowing your

lawn too low over

summer.

'dead-heading' ie the removal

of finished flowers, to ensure

continuous blooming. Apply side

dressings of rose fertiliser.

Herbs – With the increasing

temperatures, herbs will be

thriving in December. More than

one plant of frequently used herbs

may be required in the home

garden e.g. basil, chives and parsley.

Where possible, site the herb

garden near the kitchen for easy

access, even if they are in pots.

Lawns – Inspect lawns

regularly throughout December.

If there are dry conditions, they

may require irrigation. Apply

lawn fertiliser until the end of December

and then stop late summer/early

autumn. Avoid mowing

too low over summer.

Container gardens – With

smaller properties, containers

are an excellent means of creating

interest in the home garden.

Use them to cultivate flowering

annuals, grow salad vegetables,

or a herb garden. Always fill the

containers with fresh container

mix before planting.

Preparing the garden for

summer holidays:

It's traditional to have the main

summer holidays in January and

this can be problematic in the

home garden, especially in the

vegetable patch.

Sadly, vegetable gardens are

often abandoned at this time even

though these months are successful

for vegetable gardening. Careful

planning can include; harvesting

your vegetables before holiday

time (early planting), heavy

mulching of vegetables with pea

straw or crushed bark, installing

a timer on your irrigation system,

asking a neighbour to water your

vegetables while you are away and

replanting summer vegetables

when you return from holiday.

There are still at least three

months for the successful cultivation

of summer vegetables and

to enjoy the blooms of summer

flowering annuals.

From the team at Intelligro,

we want to thank you for your

continued support this year, and

your patience as the road works

continue around us. We wish you

all a very Merry Christmas and a

Happy New Year.

ViP ClUB ChriStMAS SPeCiAl

rAiSeD PlAnter SUPer SAle

Buy one layer get 15% off

Buy two layers get 25% off

Buy three layers get 30% off

+ an extra 5% off our Organic Compost &

Veggie Garden Mix when purchased with any

planter box!

These are made from Wood Fibre, Recycled

Plastic and Binder (WPC). Variety of sizes,

available in charcoal and dark brown

If you're not part of our VIP CLUB you can

sign up in store!

Garden

In the

with intelligro

ChriStMAS

oPening

hoUrS

Monday 23rd December

7.30am - 5.30pm

Tuesday 24th December

7.30am - 4.30pm

Wednesday 25th December

CLOSED

Thursday 26th December

CLOSED

Friday 27th December

7.30am - 5.30pm

Saturday 28th December

7.30am - 5.30pm

Sunday 29th December

8.30am - 4.30pm

Monday 30th December

7.30am - 5.30pm

Tuesday 31st December

7.30am - 4.30pm

Wednesday 1st January

CLOSED

Thursday 2nd January

Resume normal trading

Retail - Trade - Delivery

Christchurch's largest

range of ...

Compost & Soils

Bark & Mulch

Decorative Stone

Aggregates & Sand

Permeable Paving

Ph: 03 348 2915

www.gardenbox.co.nz

57 Lunns Road, Middleton (off Curletts Road)

Formerly Parkhouse Garden Supplies

growing with you June 2018 | 100%

Plants For

winter wow

Cool Choices

For Colour

& Contrast

From swamp

to sea views

The journey

begins with sarah

the Gardener

Snap it up

Enter our annual

Birdlife Photo

Competition to win

great prizes!

clear the air

Why groWing

indoor PLAnTs is

so good for you

give it a grow

from gArLic

To chinese

ArTichokes,

We hAve your

groWing TiPs

covered

the latest releases

into the rose world

+ rose care

through winter

MAINSCAPE

Garden Supplies

Making your great outdoors greater

20-40mm

CRAWFORD

HILL SCHIST

Check out the rest of our landscape supplies online

www.mainscapegardensupplies.co.nz

Call us now

The magazine for

gardeners who like to get

their hands dirty

SUBSCRIBE FROM

$43. 50*

*6 issues/6 months

WAS $99

nOW $79

peR SCOOp

While stocks last

021 241 7908

1543 Springs Rd Lincoln

SUBSCRIPTIONS FREEPHONE

0800 77 77 10

WWW.GARDENER.KIWI
---
SELWYN TIMES Latest Canterbury news at starnews.co.nz

Wednesday December 18 2019 29

HOME PROFESSIONALS

Quality and reliability

Generation Homes Christchurch are

known for their community involvement.

They have supported a number of

initiatives, including the renovation of the

St John Rolleston base and contributing

towards a new ambulance for Selwyn. This

year, they helped create a new bike park

at Knights Stream School in Halswell, and

were the sole naming sponsors for the

recent Diwali Festival.

The motto of Generation Homes

Christchurch is to be a company clients

can trust to build a modern, dry, warm

and healthy home, and one which will

stand the test of time.

Joint Venture Partners, Evan and Nadja

Beker are personally involved on a day to

day basis in the running of Generation

Homes Christchurch. They guarantee

an on-budget fixed price build with a

specified move-in date.

Their building process is in fourteen

stages with the client involved and guided

through the build, ensuring a stress-free

experience. You will be impressed by the

team's commitment to the job. They look

after each and every client, making sure

their requirements and needs are met,

right down to organising site visits.

Generation Homes Christchurch are

recognised builders in the Selwyn area.

They have been involved in a number

of residential housing developments

in Rolleston. At Devon Green, they

constructed desirable affordable homes in

a setting which engendered a true sense of

community.

The company's latest project in Rolleston

has been in Branthwaite where they have

already built a number of homes. Their

showhome at Branthwaite, has impressed

many viewers due to the attention to detail

and many desirable quality features which

have gone into this home.

At Halswell's Copper Ridge housing

estate, Generation Homes are the preferred

builders. Already a third of the planned

106 lots covering 8.2 hectares have been

sold and the company's first clients have

moved into their new homes. Sections at

Copper Ridge vary in size from 400sqm to

700sqm.

Generation Homes Christchurch have

a number of house and land packages

available: priced from $479,000 in

Rolleston and from $530,000 at Copper

Ridge in Halswell.

With Generation Homes Christchurch,

you are assured a quality finish, fixed

price contract and on-time delivery. This

gives you certainty over your life, living

arrangements and financial commitments.

They have a library of over 300 designs

and the capacity to adapt a design or start

from scratch. Their team always want to

help their clients create a home they will

love.

The Generation Homes team will

be taking a break from Monday, 23rd

December until Monday, 13th January.

To learn more about what Generation

Homes has to offer, go to: www.

generation.co.nz/christchurch and check

out their Facebook page.

Generation Homes Christchurch

have three showhomes in:

• Rolleston: 2 Reuben Avenue,

Branthwaite (corner of the

Lincoln Rolleston Road) – open

Wednesdays to Sundays from

12noon-4pm.

• Halswell: 1 Albert Wills Avenue,

Copper Ridge (corner of

Halswell Junction Road) – open

Wednesdays to Sundays from

12noon-4pm.

• Halswell: 19 Holmes Hanover

Lane, Halswell Common – open 7

days from 12noon-4pm.

1 Albert Wills Avenue, Copper Ridge

19 Holmes Hanover Lane, Halswell Common

2 Reuben Avenue, Branthwaite

Gardening

with intelligro

Open to the public 7 days a week we offer:

• Top-quality landscape • Trailer hire

and gardening supplies • Delivery service

• Bagged and bulk products • Online purchasing of

• Expert advice

bags, tools and fertilisers

Like our Facebook page and follow us on Instagram for the

latest seasonal tips. Feel free to also share your questions and

gardening success pictures with us – we would love to see them!

info@igro.co.nz | 03 3479 012

www.igro.nz

STOP BIRDS

hail, leaves, snow & vermin from

blocking & damaging your spouting

Quality materials: BHP Colorbond steel mesh with unique patented louvre

will even keep out pine needles. Will not rust or sag with age or load.

10 year warranty, range of colours.

Proven in Australia & New Zealand over the last 15 years.

FOR SAFE, PURE DRINKING WATER

FROM YOUR ROOF.

NOW AVAILABLE: STAINLESS STEEL MICO MESH

Call Rohan anytime Mon-Sat for a

no-obligation assessment & quote

03 982 8850 0800 486532 www.gumleaf.co.nz

SHOW HOME OPEN IN

BRANTHWAITE, ROLLESTON

Merry

Christmas

and safe holidays from the

team at Generation Homes

Christchurch.

2 Reuben Ave (off Lincoln Rolleston Road)

Modern design, home and land

packages available, friendly team.

www.generation.co.nz/christchurch

MAKING BUILDING easy

Like us on Facebook: Generation Homes Christchurch
---
30 Wednesday December 18 2019

Latest Canterbury news at starnews.co.nz

HOME PROFESSIONALS

SELWYN TIMES

Styling ideas for entertaining

Whether you're setting the table for

two or 20, you can start to think about

some festive ways to tie everything in.

Like many of us, I adore entertaining

and making sure each guest feels

a certain magic when they enter a

room. Here are my tips that I hope will

help inspire you with your Christmas

Day styling. Wishing you all the best,

and much joy for the 25th.

1. Go big

A large table allows for more food, more

wine and more decor all adding to the vibe

of gifting and giving. Bring that outdoor

table inside, or hire in a couple of trestles

and set them side by side to create an extra

large tabletop. This allow ample room for

platters, water jugs, wines, nibbles, fresh

flowers, fruit and candles all to be set on

the table for your guests' arrival.

2. Create abundance

It doesn't have to be restricted to the bowls

of food. Allow the overflow of foliage

and fruit to spill out along the table by

incorporating fresh lemons, pomegranate,

olive branches and fresh herbs in

terracotta pots along the table. Magic.

3. Opt for stylish serving dishes

Bring in some new and different pieces

to present the food. Think slabs of wood,

large chopping boards, slate tiles and wire

baskets lined with linen for breads.

4. Develop a colour scheme

I'm a fan of the more earthy palette with

neutral tones found in linen napkins

and table runners, wooden furniture,

stoneware and then adding in accents

of gold, or cut crystal glassware for that

touch of elegance. If you want to use the

traditional colours, try something different

in a muted soft pink/red and pale sage

green over the bolder red and green.

5. Personalise your table

Adding name tags are a fun way to

welcome each guest to the table. Try

handwritten or stamped tags, painted

pebbles, or even gold pen written names

on wine glasses. Use natural over plastic

or synthetic where possible, it makes for a

more hand-made feel.

6. Add in a summery signature drink

Make a fun arrival cocktail and tie this

into your overall style for the day. It

will also add colour to the room. Try a

rosemary-infused holiday cocktail, wild

hibiscus champagne, Pimms or a rose with

raspberry and mint.

7. Ensure there is good lighting

As many celebrate the day with a

Christmas lunch, lighting often gets

forgotten. However, candles at a table, no

matter the time of day, always add that

warmth and festive glow. For an outdoor

setting, think hurricane lamps, votives and

jars of candles and for inside you can opt

for candlesticks, which take up less table

HydRoSEEdINg, INStaNt

LawNS aNd LaNdSCaPINg

• Locally owned &

operated

• Residential &

commercial lawns

• Hydroseeding

• Instant roll out lawn

• Full lawn preparations

• Site clearing

• Erosion and dust

control

• Irrigation

• Posthole boring

• Landscaping

• No job too small

Call us today to discuss all your lawn

and landscaping requirements

Phone 347 4000 or 027 456 7777

Email zac@canterburylawns.co.nz

www.canterburylawns.co.nz

space and help create height. I'm currently

loving a natural beeswax or black taper

candle set in brass candlesticks, which

look stunning together with greenery on

a wooden table. Also you can never go

wrong with a pack of copper wire seed

fairy lights. Wind them into a garland of

fresh olive or pine branches and trail down

the table centre for a lush and sparkly look.

8. Remember the children

Growing up in our family, and well into

our teens, we were always seated on a

separate table with all the cousins at

Christmas. The table was complete with

loads of Christmas crackers and lots of

loud laughter. If your family gathering is

on the larger size, then a children's table

is always a good solution. Depending on

their ages, you could choose to bring in

a few more child-friendly elements, like

a brown paper tablecloth, red and green

crayons, a bowl of Christmas crackers and

some silly dress-up props for photos.

Recipe

Create an outdoor

setting with neutral

colours and plenty

of greenery.

9. Add a wreath – or three!

Easy to make, this DIY festive symbol

can even be made by the children. Keep it

green, and make a few to hang along the

wall or window. Try making smaller ones

with rosemary to use as napkin rings. Not

only will they bring a lovely fragrance to

the table, they'll look super cute.

10. Make a chill-out zone

Let's not forget that after all that cooking,

eating, laughing and drinking there

is a certain moment in the day when

everything goes quiet. Some find a good

chair to start that new book, while others

like to nod off into siesta land. So why not

create a lovely lounge area on the veranda

or lawn, where picnic blankets, throw

cushions and beanbags invite your guests

into a blissful state of relaxation — and

digestion!

Source: Sophia Hoadley, My Waiheke

Make a non-alcoholic Christmas fruit

punch the whole family can enjoy.

• 2 cups orange juice

• 2 cups cranberry juice

• 1 cup pineapple juice

• 1 cup ginger ale.

Combine ingredients and chill. Decorate

with mint leaves and add fruit pieces before

serving. Enjoy!

YOUR LOCAL FLOORING EXPERTS

AND WE COME TO YOU AT A TIME THAT SUITS

At Harrisons Carpet you'll always get the

best advice and best price from your

locally owned and operated Harrisons

expert. We'll come to you with our vans

full of over 500 carpet samples plus a

range of other flooring options.

OUR

PRICE

PROMISE

Amanda Wilson - Owner

Harrisons Carpet,

Canterbury Country

FOR A FREE IN-HOME CONSULTATION

0800 103 004 harrisonscarpet.co.nz

Why Harrisons?

• It's easy, we're mobile, so we come to you

• We provide free designer colour and style advice

• Huge range of the latest carpets and vinyls to

suit all decors and budgets

• Our price promise*

• Get Fly Buys with every purchase

• Finance options available (Q Card, GEM Visa)

*See website for details

See you at your place TM

Our Services

• House Re-Wiring

• Garden Lighting

• New Builds

• Mitsubishi Heat Pumps

• Office Re-Fits

• Internet & Telephone

• TV Aerials

• Spa Pool Installation

• Industrial Installation

• Electrical Safety

Certificates

Mobile 021 22 77 275

Web juiceelectrical.co.nz

Email greg@aelectrical.co.nz

03 379 6644

PO Box 7778,

Sydenham,

Christchurch 8240
---
SELWYN TIMES Latest Canterbury news at starnews.co.nz

Wednesday December 18 2019 31

HOME PROFESSIONALS

Increase the value

of your home

A garage door is the biggest door in

your home and needs to stand up to

the elements for years to come. Custom

Made Garage Doors design and build

high quality garage doors in Selwyn/

Christchurch and is New Zealand's leading

architectural garage door company.

The company also operates branches

in Auckland's North Shore as well as the

Wanaka and Queenstown Southern Lakes

area and offers an extensive range of

options that fit your home's individuality.

Their mission is to give you the best

quality and design for your money while

providing the look of tomorrow today,

They stand by their workmanship and

innovative door designs and invite you to

find out what garage door works best for

you and your home.

Gregg Builders took out the 2019

Premier House of the Year award with

their new stunning frameless glass

sectional door while five award winning

builders in last year's House of the Year

featured garage doors from Custom Made.

The company is reknowned for the best

flat panel insulated sectional doors on the

market today. This top-selling insulated

range includes the Phoenix flat panel and

Nevada/Idaho negative detail sectional

doors followed closely by their popular

Smart Line range. All doors are quality

built, powder coated and can be insulated

for energy efficiency. They are available in

aluminium, corten steel and copper and

are in high demand nationwide.

Custom Made Garage Doors also

specialises in timeless cedar doors and

gates. Choose from the popular vertical

and horizontal TG&V cedar style or

consider a barn style cedar door to create a

memorable impression.

Their extensive range also includes the

new Weatherline and V line in either

zincalume or powder coated. Plywood

doors, ply and batten, and classic character

replica styled timber garage doors with

windows are also standouts.

Affordable off-the-shelf sectionals and

tilt and roller doors are also available.

If your garage door needs repairs, spare

parts or servicing, Custom Made Garage

Doors can help. They are also local agents

for Merlin remote auto door and gate

openers.

Their experienced team is happy to

discuss a garage door solution that will

best satisfy your budget, individual

requirements and home aesthetics. All

Custom Made Garage Doors' products and

workmanship are fully guaranteed.

Call Custom Made Garage Doors

Ltd today to discuss your options on

0800661366 or visit www.custommade.

co.nz. The genuine Custom Made Garage

Door professionals.

GARAGE DOORS

The Genuine

Custom Made Garage

Door Professionals

0800 661 366

info@custommade.co.nz

Auckland • Christchurch • Wanaka

www.custommade.co.nz

Canterbury Ltd

Merry Christmas from the

Pumps & Filters Canterbury Team

CLOSED from the 23rd Dec

RE-OPENING 13 Jan 2020

For emergencies, our staff is available on call.

NEW LOCATION

551 Halswell Junction Road

0800 GRUNDFOS / 0800 478 633

For sales and service or

after hours service call

Jason 021 649 944

or Mike 021 560 044

www.pumps-filters.co.nz

Thanks for

growing with us.

Merry Christmas from the

Southern Woods team!

Established in 1987, Southern Woods has

been growing millions of quality plants for

over a generation. Talk to our knowledgeable

team about your summer planting project.

- New Zealand Natives - Specimen Trees

Landscaping Plants - Ornamentals - Premium Tools

- Expert Advice - Delivery Nationwide

Visit our great plant centre - Open 7 days

1002 Robinsons Rd, between Templeton & Rolleston 0800 800 352 southernwoods.nz
---
32 Wednesday December 18 2019

Latest Canterbury news at starnews.co.nz

HOME PROFESSIONALS

SELWYN TIMES

All you need for your outdoor space

Local company The Outdoor Space is

truly the place to go to for anything you

need for your outdoor space and owner

Aaron Bartlett recommends that those

who are building get in early so plans can

be drawn up and landscaping completed

before your move.

"We can do everything except building

the house," says Aaron.

The list of services they provide is

extensive including lawns to planting,

garden sheds, paving, irrigation, outdoor

kitchens , fires and fire pits, raised vege

gardens, fences, decks, pergolas, stone,

schist, brick and block work. No job is

too big or small.

And designing your dream garden

does not need to be expensive. The team

at The Outdoor Space can design your

dream garden for as little as $400 for

a 1000m2 section, producing a colour

hand drawn design.

"Clients may have ideas of what they'd

like or none at all and we can come up

with some great suggestions," says Aaron.

Fire pits and fires are always popular

feature in an outdoor space. Fire pits

are a cheaper and a custom-designed

concrete block fire pit, lined with fire

bricks looks great. A timber top can be

added so it can double as an outdoor

coffee table.

If you would like something bigger

they can put in wood and gas outdoor

fires, either a custom build or install the

likes of Trendz or Flare fires, cladding

them in stonework for a unique look.

The team at The Outdoor Space

recently won a gold medal in the Lincoln

Envirotown responsible business awards

to add to our gold and bronze awards for

international Ellerslie flower show.

"Thank all our clients for the year,

wishing a very merry Christmas, safe and

happy New Year and all the best for 2020.

Remember to check us out and like us

on Facebook to keep up to date on what

we are doing," says Aaron. The business

will be closed from 20 December until 6

January 2020 for their staff to have a welldeserved

break.

For more information visit their

website at www.theoutdoorspace.co.nz

or call Aaron and the team at 347 4422.

For the Outdoor Space

of your Dreams...

Paving, Irrigation, Lawns, Planting,

Fences, Pergolas, Water-features,

Outdoor fires, Raised Vege beds,

Decks, Artificial grass & more...

Merry Christmas

& a Happy New Year

from The Outdoor Space

Call Aaron & the team today!

Phone: 03 347 4422 or 021 542 402

Email: Aaron@theoutdoorspace.co.nz

www.theoutdoorspace.co.nz

PATIOS - OUTDOOR AREAS - CAR PORTS

Lagoon

Pools

03 349 2160

0800 92 72 82

Shadecraft is a locally owned company who specialise in shade and weather

protection products to enhance your homes design and use of outdoor areas.

SHADE SAILS – UMBRELLAS – ALL WEATHER CANOPIES

ShadeCraft (SI) Ltd

0800 742332 • Cell 0274 981239 • www.shadecraft.co.nz
---
SELWYN TIMES Latest Canterbury news at starnews.co.nz

Wednesday December 18 2019 33

HOME PROFESSIONALS

The perfect gate

for every home

Helping to keep

your property

safe is also part

of their service.

When it comes to custom-made gates and

fencing, Town & Country Gates has the

experience to help you choose the perfect

gate or fencing solution for your home.

A Canterbury-based family-operated

business, the team at Town & Country

Gates pride themselves with their

workmanship producing high quality

customised gates and fencing to ensure

you get a product built to last.

Town & Country Gates offers a range

of gate styles including swing, sliding,

driveway and pedestrian with the options

of aluminium, timber or a combination

of louvered, slat, T&G or simple railed

designs. You can even check out their

website to visualise the colour and design

that will be suit your needs.

Helping to keep your property safe is

also part of their service. Gate automation

is a popular way to secure your property

using quality automation systems to

include keypads, video intercoms or just a

standard kit.

The company offers a free measure and

quote and a full installation service. To

check out their products and services

visit www.townandcountry.co.nz

• Driveway gates • Pedestrian gates

• Sliding gates • Swing gates

• Louvered gates • T & G gates

• Aluminium frames with timber infill

No obligation

free measure

& quote

• Fencing aluminium or timber

• Full gate automation systems

• Keypads • Video intercom

Sharon CroftS

LandSCape d e S ign

Ph: 0508 4 gates (0508 442 837) 03 325 4397

E: info@townandcountrygates.co.nz

Town and Country Gates

www.townandcountrygates.nz

• Consultations • Design Concepts • Planting Plans

P. 329 6229

M. 0274 311 558

s-crofts@xtra.co.nz

www.sharoncrofts.co.nz
---
34

Wednesday December 18 2019

MY PRIDE AND JOY

Latest Canterbury news at starnews.co.nz

SELWYN TIMES

Motorcare Christmas

Greetings

Our Motorcare advertisers have provided some tips for a happy holiday period.

"The roads are busier every year. Keep safe, look twice and act

once," says Paul French.

Eddie and Paul at American Auto Parts wish everyone a Merry Christmas and

Happy New Year. They will only be closed for the statutory holidays so if needing

parts for an American hot rod or muscle car, call into 388 Lincoln Road in

Addington, phone 03 379 5585, email usaparts@americanautoparts.co.nz, or check

www.americanautoparts.co.nz (click 'our products'). They will also be at Muscle Car

Madness in Rangiora, 23rd-26th January.

"Drive safely, keep to the speed limit and have a rest

when you're tired," reminds Fred Williams.

Fred, Eric and the team at Escort Metal Polishers wish everyone a Merry

Christmas and safe New Year. They will take a break from 20th December-

20th January. Escort Metal Polishers is at 21 Maldon Street, Sydenham,

phone 366 2708, email escortmetalpolishers@hotmail.com or check www.

escortmetalpolishers.co.nz.

wE Fix

CaRs,

call us and

we can

fix yours

• Panelbeating

• All insurance

claims

• Sandblasting

• Spray (bake)

painting

• Truck

refinishing

• Windscreen

replacements

• Chassis

straightening

• Motorhome

refinishing

• Loan cars

Holland Collision Centre, Rolleston

826 Jones Road, Rolleston, Christchurch

Phone 03 347 8703 Fax 03 347 9576

Mobile 027 228 2854

Email cameron@hollandcollision.co.nz

Selwyn's largest panel and paint shop, Holland Collision

Centre will close on the 20th December.

If unlucky enough to get a ding over the holiday period, the team will be

starting back on the 6th January at 826 Jones Road, Rolleston, phone 03

347 8703. Cameron and the team send their Season's Greetings to all their

customers and others in Selwyn.

"south island's leading hot rod shop"

Phone:

0800 872 727

0800 usa PaRts

338 Lincoln Road, Christchurch

P. (03) 379 5585 F. (03) 379 5094

usaparts@americanautoparts.co.nz

www.americanautoparts.co.nz

• Engines

• Performance Parts

• Chassis

• Suspension

• Hot Rod Parts & more

need parts

oVernight?

order by 3pm. Visa ready.

Phone 0800 872 727

We also Cater For Jet Boats & other Motorsports

Escort Metal Polishers

Specialists in Metal Polishing & Sandblasting in Christchurch

At Escort Metal Polishers in Christchurch, New Zealand we have over 35 years

experience in polishing, from commercial and industrial runs to all your household,

car, motorcycle & marine parts.

Restoring a vintage or classic car or motorcycle?

A modern car or motorcycle you want to tidy up or give that extra shine to?

Then we can help you! We can prepare your parts for repainting or powdercoating

by sandblasting or glassblasting. From wheels to doors, bonnets to boots, engine blocks to motors!

And of course we can do all your polishing too. Here at Escort Metal Polishers we appreciate what

it takes to make your car or motorcycle gleam whether it's just a reshine, polishing up a casting, or

preparation for electroplating. We can do anything from mag wheels to trims, bumpers to manifolds,

tappit covers to exhaust systems, you name it we can polish it!

If your parts need electroplated; zinced, nickeled, chromed or anodised we can even arrange all that

for you from our location.

Call in and see us for a quote.

Mon–Fri: 7am–4pm (often later) | Saturday & Sunday: Closed

21 Maldon St, Christchurch, Phone (03) 366 2708
---
SELWYN TIMES Latest Canterbury news at starnews.co.nz

Wednesday December 18 2019 35

MOTORCARE PROFESSIONALS

"Switch off your device so you give your full attention to

your driving to keep safe on the road," recommends Lisa

Fleck.

Lisa, Nigel and the team at Jones Road Auto and Selwyn Auto say: "A huge

thank you to all our wonderful customers who have supported us through

our first year in our new building".

Jones Road Auto will be open for WOFs on 21st December reopening

6th January at 131 Iport Drive, Rolleston, phone 03 347 4020, email office@

jonesroadauto.co.nz, www.jonesroadauto.co.nz. Selwyn Auto will close on

20th December and reopen 6th January at 132 Leeston Road, Springston,

phone 03 329 5841, email office@selwynauto.com, www.selwynauto.co.nz.

Newlands Auto Electrical suggest installing a reversing

camera to gain a rearward view so you can see people and

objects when backing

A great addition to a large vehicle and for towing by significantly improving

reversing movability and safety, especially around holiday parks and boat

ramps.

Newlands Auto Electrical have reversing cameras at 825 Jones Road, phone

03 347 3476, www.newlands.net.nz. They will close at 5pm, 24th December; be

open 8am-5pm on the 30th and 31st December; closed 1st-5th January; and

resume normal trading hours 6th January.

"Keep your windscreen clean and turn on your headlights

when visibility is poor," says Simon from Rolleston Diesel &

Petrols.

Simon and Haydon say: "Thank you to all our customers. Have a great

Christmas and we look forward to seeing you in the New Year".

Rolleston Diesel & Petrols are located at 839 Jones Road, Rolleston),

phone 03 347 7110, email simon@rollestondieselandpetrols.co.nz; www.

rollestondieselandpetrols.nz. Their last day of opening before Christmas will

be 20th December, reopening 13th January.

Jones Road auto

ALL YOUR MOTORING NEEDS

› While You Wait WOF's › Courtesy Cars › Tyres

› Diagnostics › Repairs › Servicing › Batteries

Last day open for 2019 is Friday 20th December

Closed for Christmas – 23rd Dec 2019 & Reopen Mon 6th Jan 2020

Lisa, Nigel and the Team at Jones Road Auto would like to thank all our

loyal customers for your support during the year, especially with our

move to our new Workshop and we wish you all a Merry Christmas &

Safe Holiday season and look forward to being of service in 2020.

131 IPORT Drive (Cnr Hoskyns & IPORT drive)

Phone 347 4020 | www.jonesroadauto.co.nz

3 TRUCKS

3 CARS

3 LUBES

3 SERVICING

3 FLEET WORK

3 BOATS

3 DIESEL INJECTOR

3 & PUMP SERVICING

3 ENGINE TUNING

3 BRAKES

3 MAXXIS TYRES

3 WHEEL ALIGNMENTS

3 BATTERIES

3 WOFs

3 CAMBELTS

AND MUCH

MORE!

Mon-Fri 7am-5pm

Sat 8am-12pm (WOFs only)

839 Jones Road, Rolleston P.O. Box 16 Rolleston

Phone Simon on 347 7110 or Mobile 027 272 9213
---
36

Wednesday December 18 2019

Latest Canterbury news at starnews.co.nz

SELWYN TIMES

LAST SUMMER,

SPARKS FROM

MACHINERY

AND EQUIPMENT

DESTROYED

2,655 HECTARES

OF BIRD HABITAT.

Protect their lives and homes.

Before working outdoors,

learn how to reduce the risk

at checkitsalright.nz
---
SELWYN TIMES Latest Canterbury news at starnews.co.nz

Wednesday December 18 2019 37

Tasty Bites

The perfect Xmas centerpiece

How to remove ham rind

1

The most perfect sticky glaze

is slathered all over this juicy,

tender, baked Brown Sugar

Mustard Glazed Ham, with

crisp edges and an incredible

flavour

Brown Sugar

Mustard-Glazed Ham

Ingredients

4-5kg bone-in fully cooked ham

½ cup water

½ cup unsalted butter

1 cup brown sugar

½ cup honey

2 tablespoons Dijon mustard

¼ teaspoon ground cinnamon

¼ teaspoon ground cloves

4 cloves garlic, smashed

Directions

Preheat the oven to 150 deg

C. and arrange a rack in the

lower third. Remove any plastic

packaging or netting from the

ham. Trim away the rind and

discard. Set the ham aside to rest

at room temperature for 1-2hr.

Line a baking tray or dish with

several sheets of aluminium foil

or baking paper if you prefer (it

will make clean-up a lot easier).

Remove the rind or skin of

the ham, ensuring you leave the

fat on. Using a sharp knife score

a 2-3cm wide diamond pattern

(don't cut more than 5mm deep)

over the entire ham. Place the

ham in the baking tray; pour ⅓

cup of water into the base of the

Get all 'Christmasy' with us!

PRE-CHRISTMAS

FUNCTIONS, PARTIES,

WORK BREAK UPS.

CHECK OUT OUR

SET MENUS

AVAILABLE LUNCH & DINNER DAILY

UNTIL 24/12/19 FOR PARTIES OF 10 OR MORE

SORRY, WE ARE CLOSED CHRISTMAS DAY

The

RESTAURANT & CAFÉ

RACECOURSE HOTEL

www.racecoursehotel.co.nz

pan and cover

the ham with

two pieces of

foil or baking

paper and bake

for 30min.

Meanwhile,

heat the

butter in a

small pot or

saucepan over

medium heat

until golden

browned. Add

in the brown

sugar, honey,

mustard,

cinnamon and

cloves, stirring

to mix together

well until the

brown sugar

has completely

dissolved,

(about 2min).

Reduce heat

to low and

add in the

garlic. Allow

it to become

fragrant,

cooking for a

further minute

or two until the glaze just begins

to simmer, then set it aside and

let cool to lukewarm (the glaze

should be the consistency of

room-temperature honey).

After 30min baking time,

0pen daily from 6.30am

Breakfast, Lunch & Dinner

& Motorlodge

118 Racecourse Rd, Sockburn,

Christchurch. Ph 03 342 7150

carefully remove the ham from

the oven and increase the oven

temperature to 220 deg C.

Discard the foil or parchment

paper and pour ⅓ of the glaze

all over the ham, brushing in

between the cuts to evenly cover.

Return to the oven and bake

uncovered for 15min.

Remove from the oven, brush

with another third of the glaze

and some of the pan juices, and

repeat again after 15min more

minutes of baking until a dark

golden-brown crust has formed,

(about 30min total). For added

depth of flavour, mix some of

the ham pan juices together with

the glaze in the pot which will

help keep it runny enough for

brushing. If your crust is still

pink after there suggested baking

time, turn on your broiler (or

oven grill), and allow it to broil

for 2-5min, while keeping an eye

on it so it doesn't burn from the

sugar.

Let the ham rest 10-20min

before slicing.

NOTES

If your glaze has been over

simmered and begins to thicken

between each baste, add some

of the pan juices to it and heat it

up over low heat until it warms

through and is the consistency of

warmed honey.

1. Cut a line through the skin

all around the shank end.

2

2. Insert a sharp knife between

the rind and fat and run it

along to detach the rind.

3

3. Using your fingers, gently

separate the rind from the

fat, insterting your hand

deeper into the ham to keep

detaching it.

4

4. Peel off and discard the rind.

This Week at the Hornby Club

let's

eat

Check Out

Our Daily

Café Dining

Specials!

The Club Café

is open daily for

Lunch & Dinner

Bring the

whole family!

www.hornbywmc.co.nz/events

COMING UP...

SATURDAY

28 DEC, 7pm

JO'S KARAOKE

TUESDAY 31ST DEC, 8PM

New Year's Eve

SATURDAY

21 DEC, 7.30pm

REMINISCE

BAND

Hornby Club is

CLOSED

on Christmas Day

We wish you a

Merry Christmas

ALLAN BARRON MARIAN BURNS JOSH KEATING

Tickets $5 at the Hornby Club office

www.bigbrothersbigsisters.org.nz

HWMC | ph 03 349 9026 | 17 Carmen Rd, Hornby

www.hornbywmc.co.nz | Members, guests & affiliates welcome
---
38 Wednesday December 18 2019

Latest Canterbury news at starnews.co.nz

SELWYN TIMES

Classifieds Contact us today Phone our local team 03 379 1100

Classic Cars & Motorcycles

Towing

For safe, damage free

car transportation

call Ashley's Tow Taxi

Special care for special cars

ASHLEY'S TOW TAXI

Breakdown & Relocation

0800 TOW TAXI • 0800 869 8294

Finance

Funeral Directors

Non-Service Cremation $1,745

Commital service with cremation $3,950

Chapel service with cremation $6,500

Family burial service from $3,400

Just Funerals, a family owned and

operated company with qualified,

registered and experienced staff.

Phone 0800 804 663 - 24 Hour Availability

Email: info@justfunerals.co.nz

christchurch.justfunerals.co.nz

Health Professionals

To Let

RENT ME!

Ideal as an extra

bedroom or office.

no bond required

Fully insulated and double glazed for warmth.

Three convenient sizes from $70 a week:

Standard 3.6m x 2.4m

Large 4.2m x 2.4m | Xtra-large 4.8m x 2.4m

Visit our website

www.justcabins.co.nz

for display cabin locations

www.justcabins.co.nz

Tours

Trades & Services

Builder

BUILDers

"A local looking after locals"

• Licenced builder with 20 years

experience in renovations,

alterations and extensions

• A creative craftsman who is

attentive to detail

• Quotes the job, does the job

• Works with all budgets

Andrew Drewitt

Ph: 021 395 324

Email: ad_designs@hotmail.com

Trades & Services

DECORATORS

SICK OF BEING TOLD NO?

We can offer low interest

Finance on:

• Commercial

• Residential

• Personal

• Farms & equipment

• Trucks, tractors,

vehicles, etc

• Refinancing

Plus MUCH more...

CALL 021 688 282

www.tmfnz.co.nz

Farm Equipment

TANKS with

cage wanted 1,000 litre

any condition. will come

and collect Ph Sam 021

158 3478

TANKS with

cage wanted 1,000 litre

any condition. will come

and collect Ph Sam 021

158 3478

Livestock & Poultry

POINT of lay Brown

Shaver Hens Available

from Dec 18th, $30 each,

Ph or Txt 027 474 1723

SHELTERBELT TRIMMING

Boundary

Trimming

Call Tony Dempsey

Phone 03 325 3256

Mobile 0274 323 943

Select Services

Full Site and

Lawn Preparation

Landscaping

Roll Out Lawn

Irrigation

Free QuoteS

Contact Scott

0800 4 GRASS or

03 347 5555

sprayongrass.co.nz

We specialise in supplying

temporary and permanent

staff such as; Nurses, Support

Workers, and Healthcare

Assistants to Hospitals,

Mental Health Units,

Nursing and Care Home,

and Retirement Villages.

Getting staff is easier with

us, give us a call today

P: 022 522 7038

E: adeola@deolitecarestaff.co.nz

W: www.deolitecarestaff.co.nz

Select Services

DRIVEWAYS

HARRIS

BULLDOZING LIMITED

ADD SOME

COLOUR

TO YOUR ADVERT!

• Driveways

• Car Parks

• Lifestyle Blocks

• Site Clearing

& General

Earthmoving

Mark 021 345 571

or Paul 021 705 996

Email harrisbull@xtra.co.nz

www.harrisbulldozing.co.nz

All Work Guaranteed

Please phone for a free quote

PESt

coNtRol

• Spider proofing &

insect control

• all other

pest

problems

Rob & Scott WaRloW

Established since 1987

Qualified & Experienced Professional

office: 03 337 9553

Rob: 027 436 1169

Scott: 021 168 6118

Member of Pest Management

Assoc. of NZ

AUTUMN COLOURS Tour: 24 th April–2 nd May 2020

9 days, Hokitika, Mount Cook and Queenstown

Includes Tranz Alpine Train, Premium hotels.

Early bird special price $2900.00pp Twin Share

CHRISTMAS 4 Day Tour: 29 th Dec – 1 st Jan

Including Greymouth Punakaiki overnight Westport, Buller

Gorge Wairau Valley, Two nights Blenheim Kaikoura Coast.

TASMANIA Tour: 14 th - 25 th April 2020

12 days quality coach travel, National parks, Cradle

Mountain, Gordon River Cruise, Strahan. Early Bird

Special price $4750.00 Twin Share including Flights

Day tours 2019

Homebush Estate 30th October $40.00, Long Beach

Station Garden, 6th November $35.00, Hororata

Highland Games 9 November $36.00

Call Reid Tours 0800 446 886

Email: reidtours@xtra.co.nz www.reidtours.com

Trades & Services

EST.

1979

ARTHUR'S

Roof & Property

Moss Kill & Proof

Silicone Sealing

Roof Repairs

40% off

03-347-2635

arthursroofandproperty.co.nz

UDI PAINTING &

DECORATING

For all painting and

decorating services.

Fully Qualified

• Interior &

Exterior Painting

• Wallpapering

• Plastering

• Roof Painting

All work guaranteed

FREE QUOTES

Contact Udi Aale

Ph. 021 074 2075

ADVERTISE YOUR

BUSINESS HERE

Phone for further details

(03) 379 1100

Trades & Services

UDI PAINTING &

DECORATING

For all painting and

decorating services.

Fully Qualified

• Interior &

Exterior Painting

• Wallpapering

• Plastering

• Roof Painting

All work guaranteed

FREE QUOTES

Contact Udi Aale

Ph. 021 074 2075

Driveways

SWAINS

KIWI KERB

(Since 2005)

Over 22 Years Experience

Quality

Workmanship

• Driveways

• Kerb &

Channel

• Garden Edging

New Paint • Repaints

Wallpapering • Fences

Repairs • Feature Walls

Floor & Roof Painting

Spray Painting

Light Commercial

Restoring Timber

Selwyn based but service the whole of Canterbury

www.andertondecorators.co.nz

www.facebook.com/andertondecorators

027 724 6846 027 PAINTIN

Freephone: 0800 081 400

swainskiwikerb@gmail.com

Excavations

• Driveways

• Car Parks

• Site Cleaning

• Demolition

• Farm Tracks

• Drain Cleaning

• Stump & Hedge

Removal

• Ashpalt Concrete

Trades & Services

Wide range

oF TruckS

• Tennis Courts &

Swimming Pools

• Chip Seal Driveways

• Diggers – 2 Ton

up to 20 Ton

• Excavators

• Bobcat & Drilling

• For Posthole &

Fence hole

For a Free Quote

on your next project

Phone Steve on 021 338 247

or 325 7922

Free

QuoTe
---
SELWYN TIMES Latest Canterbury news at starnews.co.nz

Wednesday December 18 2019 39

Classifieds Contact us today Phone our local team 03 379 1100

Trades & Services

Trades & Services

Trades & Services

Vehicles Wanted

Public Notices

• Irrigation • Drainage • Driveways

• Auger Hole Drilling

• Land Clearing & Development

• Culvert Installation • Construction Site Works

• Tree & Hedge Removal • Concrete Breaker

Phone Mike: 027 272 8058 OR 03 324 4323 A/H

g.m.contracting@xtra.co.nz

www.gmcontracting.co.nz

TAI TAPU TYRES

53 Main Rd Tai Tapu

Ph. 03 329 6767

Will better any

other quoted price

Stockists of Kumho, Goodride and

Petlas Tyres, for all cars, 4WD, bikes,

tractors and trucks.

LOCKSMITH

KEYSTONE LOCKS

Mobile Locksmith

• Residential/Commercial

• Keys Cut, Locks Rekeys

• Lock Installs & Repairs

• Digital Locks & Padlocks

• Ranch Slider Deadlock & Bolts

• Window Catches & Locks

• Garage Door Locks

• House Alarms & Monitoring

• Rental Property Specialists

• Winz & Insurance Quotes

GOLD CARD OR CASH DISCOUNT

Further discount for Pensioners, no GST charged

10% OFF with mention of this ad

Phone: Marc 03 382 2501

Mob: 027 222 2220

Trades & Services

Lawn mowing

Hedge trimming

Gardening

Weed eating

Spraying

and much more

Call Todd

0212059543

toddmc.greenacres@gmail.com

ROOF

PAINTING

Rope & harness

a speciality,

no scaffolding

required,

30 years of

breathtaking

experience.

FREE QUOTES

Exterior staining,

exterior painting,

moss and mould

treatment and

waterblasting

Phone Kevin

027 561 4629

Trades & Services

Barry

McKay

Builders

LBP 35 years building

in the Selwyn area

• Extensions/alterations

• Kitchens Bathroom

• Joinery shopfitting

• Farm buildings

maintenance

• Decks and pergolas

Contact Barry:

027 2626 867

or 03 329 5506

Lawn mowing

Hedge trimming

Gardening

Weed eating

Spraying

and much more

Call Todd

0212059543

toddmc.greenacres@gmail.com

ACE HIGH

PLUMBING

All Plumbing

Gasfitting

Drainlaying

Blocked Drains

Log Fires,

Wetbacks

Gas Hotwater

Phone

021 454 864

BATHROOM TILER

wet area waterproofing,

underfloor heating, soap

boxes, old to new, for best

results, call Devon on 021

375-888 or 03 329 5511

CARPET LAYING

Exp. Repairs, uplifting,

relaying, restretching.

Phone John on 0800

003181, 027 240 7416

jflattery@xtra.co.nz

CARPENTER

HANDYMAN

Small Job Specialists,

Carpentry, Repairs,

Decking & Maintenance,

40 years experience, no job

too small, Ph Warren 03

322-1103 or 027 697-8541

DRIVEWAYS

Specialising in:

Driveways

Outdoor Areas

Patios, Pathways,

Residential

& Commercial Floors

Professional Advice

Free Quotes

Frank McWatt

03 423 9344

027 274 0342

allwaysconcrete@gmail.com

www.allwaysconcrete.nz

FENCING

Quality timber fencing -

gates & repairs, ph Ryan

027 951 8892

Bellamy's

Furniture

Furniture made to

order and restoration

by tradesman with

35yrs experience.

PH Stephen

021 073 2624

JOINERY KITCHEN

cabinet alterations,

integrated appliances

Rangehoods fitted and

supply. New kitchens

and re-doors.

Chris 0280 211 566

LANDSCAPING

Paving, Lawns, Irrigation,

Decking, Fencing.

Kanga & small digger

services. Check out Squire

Landscaping on facebook.

FREE QUOTES. Ph

Arthur 347-8796, 027

220-7014 Edwin 027 220-

7154

LANDSCAPING

Paving, Lawns, Irrigation,

Decking, Fencing.

Kanga & small digger

services. Check out Squire

Landscaping on facebook.

FREE QUOTES. Ph

Arthur 347-8796, 027

220-7014 Edwin 027 220-

7154

RJB PLuMBING

Renovations, New Houses,

Hot Water Cylinders,

Kitchens Bathroom

Upgrades, Laundries,

General Maintenance ,

Water Filters. Phone Mark

0278690026

SHEEP SHEARING

MOBILE

Fast friendly professional

service. 25 yrs exp.

Shearing, drenching, hoof

trimming etc. Call Shaun

021 204 1274

TILING

Flooring - Splashbacks -

Wall incl tile removal, reg

master tiler, ph Dave 027

334 4125

Wanted To Buy

TOOLS Garden,

garage, woodworking,

mechanical, engineering,

sawbenches, lathes, cash

buyer, ph 355-2045

TOOLS Garden,

garage, woodworking,

mechanical, engineering,

sawbenches, lathes, cash

buyer, ph 355-2045

Wanted To Rent

SELF CONTAINED

SLEEP OUT OR

SIMILAR.

Close to Lincoln

University.

Long or short term. Honest

& reliable with refs. Please

call Jason 021 253 8034

CAR REMOVALS

$$CASH PAID$$

CARS, VANS, UTES

& 4X4 WANTED

We use world class vehicle

depollution systems

0800 8200 600

www.pickapart.co.nz

Phil Murfitt

ORTHODONTIST

NZ OWNED

AND

OPERATED

FOR

24 YEARS

Weekly Orthodontic

Clinic in Rolleston

Clinics are held at the

Rolleston Dental Centre, Tennyson Street

To book an appointment with

Phil or Mark, please call 03 3754418.

www.philmurfitt.co.nz

Situations Vacant

Public Notices

PCW-PARTNERSHIP

COMMUNITY WORKER

20 hours per week

Do you want to make a difference to people experiencing

health and wellbeing issues?

The Services to Improve Access PCW – Partnership

Community Worker Service is focused on ensuring

eligible Maori, Refugee, Migrant and low income people in

Canterbury, have access to primary health care services.

The PCW role based in Lincoln, servicing Ashburton.

The duties and responsibilities include:

• Assess and identify needs impacting client health and

wellbeing

• Provide information and education about support and

resources available in the community

• Facilitate access to health, social services and

community support services

• Support people to attend appointments if necessary

• Accurate, timely management of client information and

reporting

Skills and experience

• Relevant tertiary qualification (eg Social Work) and/or

relevant experience within the health sector.

• Has strong relationship building and networking skills

• Creative problem solver and very organised

• Culturally competent

• IT competent

The closing date for application is

Friday 17th January, 2020.

COMMUNITY CARE LINCOLN.

Please reply to Partnership Community Worker

p.mnoonan@farmside.co.nz

RESTRICTED FIRE SEASON

Fire and Emergency New Zealand declares

a Restricted fire season, effective from

midnight, Friday 13th December 2019 in the

following area(s):

• Those lands encompassed by the

Christchurch City Council (including

Banks Peninsula), Selwyn District

Council; and

• Those lands encompassed by the

Hurunui and Waimakariri District

Councils

A permit is required to light a fire in open air

in these areas.

See www.checkitsalright.nz for types of fire

which have been authorised as not being

fires in open air and do not need a permit.

Any fire permits issued during a restricted

fire season are suspended if Fire and

Emergency declares a prohibited fire

season, or prohibits fire in open air, in the

area(s).

Bruce Janes

Principal Rural Fire Officer

North Canterbury

David Stackhouse

Area Commander

Christchurch Metro

David Berry

Area Commander

Canterbury

To check the season status for your

location and to apply for a fire permit,

please visit

www.checkitsalright.nz

or call 0800 658 628

FIREANDEMERGENCY.NZ

Situations Vacant

DRIVETECH LTD

"TRAINING TOMORROWS DRIVERS TODAY"

MERRy CHRISTMaS

Normal office hours over Christmas, closed stat days only.

Call and talk with one of our team at a location near you.

Christmas vouchers available

HEAVY TRAFFIC

Class 2, 3, 4 & 5 Vehicle Recovery, Wheels, Tracks,

Rollers & Dangerous Goods.

LOgbOOK & LOaD SECuRITy TRaININg

CaR DRIvINg LESSONS

Train with a knowledgeable, experienced assessor that will

work with you through your theory and practical steps.

FORKLIFT ENDORSEMENT (F&OSH)

FORKLIFT (ATTACHMENTS) U/STD

FORKLIFT MOUNTED SAFETY PLATFORM U/STD

Interest Free Time Payments (Terms and conditions apply)

Courses in Christchurch, Invercargill, Cromwell

& Mosgiel daily. Other areas by arangement.

FREEPHONE 0508 2 DRIVE (37483) or 03 348 8481

info@drivetech.co.nz / www.drivetech.co.nz
---
40 Wednesday December 18 2019

Latest Canterbury news at starnews.co.nz

SELWYN TIMES

FINAL SALE OF THE YEAR!

BOXING DAY

STOREWIDE SALE. ON NOW. ENDS 31.12.19.

PLUS AMAZING BOXING DAY DEALS!!

Dallas

Queen Bed

WAS $399

NOW

$

299

Ego

Egg Chair

WAS $659

NOW

$

399

MIAMI

Al fresco dining

for the whole

family!

7 Piece

Dining Set

NOW $

1299

Dining Chair

WAS $195

NOW

$

135

Round Dining

Table

WAS $849

Jenn

Sofa Bed

WAS $379

NOW

$

225

LIMITED STOCK AVAILABLE

Dining Table – W240

WAS $1399

NOW

$

899

NOW

$

489

9 Piece

Dining Set

NOW $

1979

Mykonos 7 Piece

Outdoor Dining Set

WAS $2849

NOW

$

1699

Vintage

Z Barstool

WAS $119

Whitehaven 4 Piece

Bedroom Package

WAS $2746

NOW

$

1888

SAVE $1150

NOW

$

59

Includes Queen Bed, 2 x Bedsides

& Tallboy

Verano 3 Seater

WAS $999

NOW

$

699

Scan QR to view all Boxing

Day Super Deals.

ALL BOXING DAY DEALS END 31.12.19. MORE DEALS IN STORE & ONLINE.

Shop

Online

Nationwide

Delivery

Finance

Options

Cnr Blenheim & Curletts Rds, Christchurch

Ph: 0800 TARGET (0800 827438)

targetfurniture.co.nz

Offers and product prices advertised here expire 31/12/19.

Sale excludes Manchester and Accessories.
---
THe BeST PRoPeRTieS AcRoSS

THe SeLWYn DiSTRicT

INSIDE

PUBLiSHeD eVeRY WeDneSDAY

Week commencing WeDneSDAY, 18TH DecemBeR , 2019

Village living architectural style

Kerry Mason architecturally designed family

home, four bedrooms plus office. Kitchen, dining,

sun room overlooking a glorious botanical setting.

Formal dining area interconnecting to a spacious

family room, separate lounge with feature open

fires and ranch sliders opening to deck area.

Coved ceilings throughout with quality chattels.

Large outdoor entertaining area with fire

overlooking this beautiful private setting,

situated on an established section. Ideal to

work from home with an office and reception

area which have separate external and internal

entrances.

Stream boundary, section with room for tennis

court, plenty of room for pets or maybe fishing

from the back lawn.

Easy commute to Lincoln or the city. Viewing will

impress.

Listing ID: LEU72727

Price: By Negotiation

Noel Lowery

Contact:

Mobile: 027 432 8859

Email: noell@pb.co.nz

Penny Dadson-Clausen

Contact:

Mobile: 027 895 5943

Email: pennyd@pb.co.nz

Address: 1116 Leeston Road, Leeston

4 Bedrooms, 2 Bathrooms, 1 Garage

MERRY

From your Property ADVERTISEMENT Brokers & Farmlands team

Property Brokers Selwyn | P 03 929 0306

pb.co.nz

Property Brokers Ltd Licensed REAA 2008
---
2

Property Brokers Limited Licensed under the Real Estate Agents Act 2008 6 Tennyson Street Rolleston rolleston@pb.co.nz 03 929 0306

Country living on the town boundary!

Magnificent Residence in Botanic Setting

WEB ID LEL73250

LEESTON

108 Manse Road

View By Appointment

Situated bordering Leeston's town boundary is a perfect

location for a country lifestyle.

Three Bedroom family home with ensuite and walk-inrobe,

spacious living ares with doors opening to a

private north facing established garden setting. Kitchen

dining adjoining lounge with heat pump.Separate

bathroom, toilet and laundry.

Two main paddocks with irrigation consent plus a small

holding paddock. Three bay barn plus double storage

garage and cattle yards. Ideal grazing, finishing or

Noel Lowery

suitable for horses.

Mobile 027 432 8859

noell@pb.co.nz

Unparalleled luxury and privacy

BY NEGOTIATION

3

2

2

WEB ID LIU72968

IRWELL

357 Hanmer Road

View By Appointment

Tranquility reigns supreme at this exceptionally

picturesque property in enchanting surrounds. A treelined

driveway, manicured hedging, large gazebo and an

outstanding park-like landscaped setting sets the scene

to this 400sqm (approx.) residence.

Solid wood double doors at the entranceway offer a

memorable first impression, with light-filled spaced

complemented by neutral tones and calming vistas. An

impressive array of living areas can accommodate any

number of occasions.

Tracy Stevenson

Mobile 027 543 9029

tracys@pb.co.nz

DEADLINE SALE

Lifestyle haven! $625,000

WEB ID AL71364

BANKSIDE

2906 North Rakaia Road

Located North of the Rakaia River at Bankside within

minute's drive of Rakaia or Dunsandel you will love this

sheltered and private 4-hectare lifestyle property. The

opportunity to create your own perfect lifestyle and land

use option is available here to all buyers. Featuring a tidy

low maintenance 3-bedroom home positioned for all

day sun and views over the land with double garage,

sheds and a great location.

VIEW By Appointment

4

2

6

3

WEB ID LIU72802

WEST MELTON

1217 Hoskyns Road

An incomparable masterpiece, this superbly executed

private luxury estate impresses from the moment you

arrive. Enter through the electric gates and down the

sealed driveway, surrounded by pristine landscaped

grounds and garden, before being led to the stunning

entrance complete with spacious extensive garaging and

stylish exterior. This majestic property stretches

luxuriously out across a 540m2 (approximately) footprint

on a significant 10.0626.78ha block of productive land.

From the inside out, exceptional workmanship and

meticulous design abounds.

pb.co.nz

View By Appointment

Tracy Stevenson

Mobile 027 543 9029

tracys@pb.co.nz

BY NEGOTIATION

6

3

8

Greg Jopson

Mobile 027 447 4382

Office 03 307 9196

gregj@pb.co.nz

The Epitome Of Grandeur $709,000

WEB ID ROU71444

ROLLESTON

10 Beak Street

There's ample space and an abundance of panache on

offer with our feature listing, a brand-new home located

in ever-popular Rolleston.

Inside, this spacious home plays host to four bedrooms

(master with ensuite and walk-in-robe), a well-appointed

bathroom and a modern kitchen. The open-plan

kitchen/living/dining area is complemented by a separate

lounge, both of which enjoy excellent indoor/outdoor

flow. Large windows flood the home in natural light,

while two heat-pumps and gas fire ensure a cosy and

warm ambience even on the coldest of winter nights.

VIEW By Appointment

Michael Robb

Mobile 027 436 7106

Office 03 929 0306

michael.robb@pb.co.nz

1

2

4

2

3
---
3

Property Brokers Limited Licensed under the Real Estate Agents Act 2008 6 Tennyson Street Rolleston rolleston@pb.co.nz 03 929 0306

Location and style!

Don't forget to bring Grandma!

NEW LISTING

WEB ID ROU73530

ROLLESTON

14 Delorean Drive

VIEW Sunday 22 Dec 1.00 - 1.30pm

Be quick to secure this fantastic new property, located in

the popular Urban Estates and surrounded by other

quality builds, this new home is ready now for your

family to enjoy. Boasting fantastic living spaces which

lead out to the alfresco dining area with skylight which

offers great protection from the summer sun while still

being able to enjoy outdoor entertaining.

Neat features in the kitchen give it a point of difference

and the bonus of a wine fridge in the walk in pantry.

This property will not disappoint and early viewing is

Angela Hunt

recommended! Immediate possession available.

Mobile 021 548 777

angela.hunt@pb.co.nz

BUYERS $635,000+

Family Friendly $569,000

WEB ID DFU71240

KIRWEE

44 High Street

Big and beautiful in solid brick that gets the ticks for

quality, locality and family-friendly liveability where

unsurpassed comfort is only outclassed by a serene and

established 953m2 section backing onto a reserve.

•Open plan kitchen/dining/family room

•Large separate lounge & covered patios

•Wet-backed wood burner & heat-pump

•Separate laundry & additional double garage

Peaceful and provincial yet a handy proximity to local

schools and amenities.

VIEW By Appointment

4

2

3

WEB ID ROU73395

ROLLESTON

19 Goldrush Lane

View By Appointment

Designed and built for generational living in 2015, this

343m2 home offers outstanding practicality with a

sophistication to be envied.

Convenience is key here, with each wing having its own

entry and the potential to be completely independent of

the other. There are a multitude of options that will

offer wide appeal to buyers.

Goldrush Lane is well-known for stunning properties

and large sections with the gorgeous rural and Port Hills Sarah Yeates

backdrop. A complete package at this level of finishing

Mobile 027 447 2719

and natural surroundings simply does not present itself

Office 03 929 0306

every day.

sarahy@pb.co.nz

BUYERS $879,000+

Solid & Spacious! $435,000

WEB ID DFU73266

KIRWEE

4 Adelaide Street

Perfect for first home buyers where you get solid value

with this tidy brick and tile set on a full-sized quarteracre

section.

Huge decking is great for the summer get-togethers

around the BBQ and there is loads of space for the kids

to play on, plus a large dog-run if a pooch figures in the

plans. Well set out for family living with four big

bedrooms, separate shower and tub in a remodeled

bathroom with an independent laundry. Great value at

$435K and rare to find a four-bedroom home on a

quarter-acre piece of land in such an affordable price

band.

VIEW By Appointment

4

3

3

Amy Jones

Mobile 021 077 9945

amy.jones@pb.co.nz

Contemporary, Classy $585,000

WEB ID DFU73267

DARFIELD

8 Pearson Street

Looking chic from the street with mono-pitch rooflines

where a stylishly modern homes offers the move-in

magic for today's discerning buyer.

Large, open and airy with natural light filling open plan

dining/family-room and quality kitchen featuring

plumbed-in fridge/freezer that comes with the house.

Dual sliders from communal zones and closable second

lounge/media-room connects to choices of quiet and

private patios where one or both capture a superb sun

aspect throughout the day.

VIEW By Appointment

4

2

4

Amy Jones

Mobile 021 077 9945

amy.jones@pb.co.nz

Delightful on De Renzie BUYERS $519,000+

WEB ID DFU72930

KIRWEE

5 De Renzie Place

Superbly set up for family living where everyone finds

something over a conveniently laid-out single level floor

plan. The handy-man or lady will love having triple car

garaging with additional utility shed, while the musicians

will love having that extra flex room usable as a music

room or media room. The host will love a light bright

kitchen with connected dining/family room and

integrated lounge featuring a wet-back with natural

flow to choices of sunny and private paved patios

overlooking a leafy green 1,066sqm section.

VIEW By Appointment

4

1

1

4

4

Amy Jones

Mobile 021 077 9945

amy.jones@pb.co.nz

2

2

Amy Jones

Mobile 021 077 9945

amy.jones@pb.co.nz

2

3

pb.co.nz
---
4

Four Seasons Realty

Merry Christmas

Four Seasons Realty 2017 Ltd | Licensed Agent REAA 2008

Contributor to realestate.co.nz

harcourts.co.nz

Your home for local property
---
5

Four Seasons Realty

Merry Christmas

From all of us at Harcourts Four Seasons

Realty we would like to wish you all

a very Merry Christmas

& best wishes for the New Year!

0800 789 1011 fourseasons@harcourts.co.nz

Four Seasons Realty

Four Seasons Realty 2017 Ltd | Licensed Agent REAA 2008

Contributor to realestate.co.nz

Your home for local property

harcourts.co.nz

Your home for local property
---
6
---
7
---
8
---
9
---
10
---
11
---
12

Boundary lines are indicative only

36 Farm Lane 36 Farm Lane

Dunsandel 250 Waikimihia Road

Lincoln 34, 35, 36 Farm Lane

Must be sold

Our vendors have given us clear instructions, this

property must go and all offers will be considered. A

beautifully presented 2.5453 hectare property in the

heart of central Canterbury and within commutable

distance to both Christchurch and Ashburton. This

324sqm home was built in 2006 and consists of four

bedrooms, two bathrooms, separate lounge, office

and rumpus room all topped off with an entertainer's

deck and spa area. With excellent fencing and water

to each paddock there are multiple options for the

land which has previously been used for farming goats

and raising calves.

bayleys.co.nz/559604

4 2 2 2

Price by Negotiation

View by appointment

Simon Sharpin 027 631 8087

simon.sharpin@bayleys.co.nz

Brook Yates 027 807 8093

brook.yates@bayleys.co.nz

WHALAN AND PARTNERS LTD, BAYLEYS, LICENSED REAA 2008

Purchase one, two or three -

act now!

• Exclusive development or investment opportunity

• Presentable 1940s, character homes situated on

Freehold sections starting from 1,320sqm

• Floor plans starting from 120sqm

• Established potential for a holding income,

renovate or develop - zoned living one

• Prime location opposite Lincoln University, short

stroll into the Lincoln township and approximately

20-minute commute into the city centre

bayleys.co.nz/5511317

3 1 1

Price by Negotiation

View by appointment

Nathan Collett 027 826 1535

nathan.collett@bayleys.co.nz

Chris Jones 027 220 5043

chris.jones@bayleys.co.nz

WHALAN AND PARTNERS LTD, BAYLEYS, LICENSED REAA 2008

Wishing you a very

Merry Christmas

& New Year

Thank you to everyone we have had the opportunity

to work with over the past year.

KEY 399613623

Richard Innes

027 522 9598

03 375 4818

richard.innes@bayleys.co.nz

Jeremy Gould

027 436 1581

03 375 4724

jeremy.gould@bayleys.co.nz

WHALAN AND PARTNERS LTD, BAYLEYS, LICENSED UNDER THE REA ACT 2008
---
13

Looking for a Property?

What really counts

You are in the market for a new property,

scrolling the Internet, examining

properties for sale and zeroing in on

those with potential. They might be

in locations that offer cheaper land,

larger houses, or convenience to work

or school. You may have visited show

homes and open homes becoming

confused, overwhelmed or swept

away with emotional factors like having

everything new, or extra features such

as three car garaging.

To be happy with your choice, list the

features that you need, considering:

; Family space – Is there room for

the children to play indoors and

for television and entertainment

units? Should this be open plan or

separated?

; Kitchen – What needs to be in your

kitchen? How serious are you about

a butler's pantry? Is it a whim or

something that offers a practical

solution to the way you use your

kitchen?

; Bedroom sizes – What are optimum

sizes? Smaller bedrooms may

translate to slightly lower building

costs while extra space can be

useful. When looking at existing

homes, consider whether the size of

each bedroom is sufficient.

; Garaging – A standard double

garage once two cars are parked

there offers little space for the toys.

What toys do you have and could

they live with the lawnmower in a

garden shed, a cheaper option to

three car garaging? If the budget

allows and a larger garage with

workshop is important, make it a

selection priority.

; Size of land – Lifestyle properties

offer space for children, pets,

hobbies, an expansive garden and

perhaps a home-run business but

they require work so are not for

everyone and a compact section

might be more sensible if a tight

budget or busy lifestyle.

; Bathrooms – Second and third

bathrooms are great in homes with

teenagers and a wet shower room is

ideal for young children. A bath might

be fashionable though is often not

used and its absence could mean a

more spacious bathroom.

; Laundry – Would a laundry in the

garage do the job?

; Storage – How much storage do you

need? Weigh up what can truly be

stored in the garage once vehicles

are in, a preference in winter.

Garages vary in size so check the

size to ensure your vehicles will fit.

Look also at where else the house

offers storage capacity such as in

hall cupboards, a large hot water

cylinder cupboard, wardrobes (check

their width and depth), walk-in robe,

attic storage trusses, as well as the

potential for hooks and shelving in

the garage for bikes, tools, garden

equipment and even kayaks.

; Off-street parking – How many

vehicles can be parked on the

driveway? Will this space be

sufficient?

; Garden - Is there sufficient space

for your children to play or for

entertaining?

A checklist will allow you to determine

what will suit your needs, the point of

the exercise, saving you time looking at

properties or potential house designs

while assisting you to decide whether

to buy a new or existing home with

both options having advantages and

disadvantages.

RURAL | LIFESTYLE | RESIDENTIAL

OPEN HOME

OPEN HOME

DARFIELD 25 Piako Drive

Opportunity To Live The Good Life

Five-year-old, two-storey home on a large 7124sqm section.

Two bedrooms and bathroom downstairs and upstairs is a

large master with en suite, office space and an additional

open-plan area suitable for extra bedrooms or additional

living. Double garage, large workshop and open-bay shed.

$765,000 GST Inclusive

VIEW Sunday 1.00-1.30pm

Min Cookson

M 027 249 5417

E min.cookson@pggwrightson.co.nz

pggwre.co.nz/DAR31624

OPEN HOME

GLENTUNNEL

A Rare Gem in a Tranquil, Park Like Setting!

This idyllic property is home to a very well-maintained

1920's villa. Full of character and charm with the

added convenience of modern-day touches on a

tranquil and expansive 3,930sqm section. Three

bedrooms, bathroom, toilet, laundry, open-plan

kitchen/dining, and spacious living room. Feature

timber panelling, floors, leadlight windows, and french

doors are complemented by quality furnishings

throughout. Double and single garages, greenhouse,

raised vegetable beds, fruit trees, fish pond and views

across rural farmland. You will never want to leave!

DEADLINE PRIVATE TREATY

GST Inclusive

(Unless Sold Prior)

Closes 2.00pm, Thursday 23 January

VIEW Sunday 11.00-11.30am

Karen Hennessy

M 027 967 0186

E karen.hennessy@pggwrightson.co.nz

DARFIELD 12 Snowdon Place

Family Time

Two-storey home on a mature 920m2 section. Four to six

bedrooms, two bathrooms, and open-plan living spaces with

a large mezzanine floor area upstairs. Large two-car garage,

inground 9 x 4m swimming pool, well-fenced and secure.

Walking distance to the local shops and schools.

$515,000 GST Inclusive

VIEW Sunday 12.00-12.30pm

Min Cookson

M 027 249 5417

E min.cookson@pggwrightson.co.nz

pggwre.co.nz/DAR31679

pggwre.co.nz/DAR31589

PGG Wrightson Real Estate Limited, licensed under REAA 2008

Helping grow the country
---
14

Your guide to all things Real Estate

in the Selwyn District

Securing your home

these holidays

There have been a number of burglaries

and thefts in the district more recently.

This emphasises the need to secure your

property when away as well as when

home.

Assets can be replaceable, treasured

keepsakes conveying irreplaceable

memories, not so. Motor vehicles and

electronics are often the target but it is

surprising what a thief will take.

The thought of someone entering our

home is unsettling, the mess and damage

left behind a real hassle. Even when well

insured, there is a cost: the excess, loss of

a no claim bonus; write-down of an asset's

value; the inconvenience of no wheels or

other possessions; the wait time before

insurance pay out; and the time involved

in looking for replacement items.

These are good reasons to make our

homes as secure as possible. The adage: 'if

they want to get in, they will' is true yet

some thieves are opportunistic, looking

for easy targets.

Simple ways to secure your home

and vehicles are:

• Lock your house and garage when going

out, heading away or at home.

• Keep vehicles locked when in the

driveway or on the street, never leaving

the keys in them and ensuring valuables,

bags or other tempting items are hidden.

• Shut all windows at night and when

going out or away; especially those

accessible from the street.

• Activate any alarm system keeping

the codes confidential. Never share

the master code. Set temporary codes

for guests and when issuing a key to a

neighbour or trusted tradesperson.

• Padlock sheds with all tools inside so

they cannot be used for breaking-in.

• Lock firearms in an out-of-the-way

place then secure the key in a separate

location.

• Organise a house sitter or ask a

neighbour, family member or friend to

keep an eye on your property and clear

the letterbox. Alternatively, put a stop on

your mail with NZ Post.

• If away longer than two weeks, arrange

for a neighbour or contractor to mow

the lawns.

• Secure the spa and swimming pools,

locking covers or draining them.

More serious ways to protect your

home include:

• Fitting sensor lights.

• Installing lockable security doors.

• Installing an alarm system.

• Installing security surveillance cameras

like those where you can download an

APP onto your cell phone so you can

remotely view your home while away.

These are ideal when you are not likely

to have power or Internet access.

• Fit an automated irrigation system on

a timer, programming it to turn on

each day. This will give the impression

someone is home and keep your plants

healthy.

Burglaries can be opportunist due to

lax security. Locking doors and windows

helps. Setting the alarm is common sense

– if the facility is there, why not use it.

Adopting other security measures can

be worth the effort and might keep your

home safe over the holidays.

Fit an automated

irrigation system.

Arrange to have

your lawns mowed.

Keep your home & vehicles locked.
---
15

What to ask at

an open home

It's easy to get carried away when you're

searching through property listings for the

house of your dreams. But if you're not careful,

home buying can become a nightmare.

"Buying a property is a complex and

potentially stressful process, not least

because it involves such a scary amount

of money," says Kevin Lampen-Smith,

chief executive at the Real Estate Agents

Authority (REAA).

"It's smart to do as much as you can to

reduce the risk of unwelcome surprises or

unexpected costs further down the line."

In the first instance, Lampen-Smith

recommends drawing up a list of questions

to ask about properties you're interested in.

"Remember that you can ask the real estate

agent anything you like about the property,"

he says. "They are also required to tell you

everything they know and not withhold

any details."

If you're not sure what to ask, here's a handy

list of questions. Open homes can be busy,

so ask the agent if you can talk on the

phone, or send questions via email.

- Have there been any issues with the

property, such as earthquake damage or

water-tightness?

- Are there any offers on the property,

or have any contracts been cancelled by

potential buyers?

- How long has it been on the market? What

is the seller's preferred settlement date?

- What maintenance, repairs or

improvements have been carried out? Do

these have permits?

- Is there a Land Information Memorandum

(LIM) available or a building report

prepared by an accredited property

surveyor?

- Is the property well-maintained? What

condition are the roof, piles, wiring, and

plumbing in?

- Is the property insulated? If so, to what

degree (eg walls, underfloor, ceiling)?

- Is there any risk of methamphetamine (P)

contamination?

- If there is a body corporate (usually for

apartments), what does that entail?

- Are there any issues with neighbours or

planned developments?

"If you are seriously considering making an

offer, you will need to do your own research

and seek professional advice. It may well

become your home, so you need to know as

much about it as possible to save unhappy

surprises later," Lampen-Smith says.

"Knowing the right questions to ask is a

good starting point."

This Week's

Thursday 19Th december

11.00am - 11.30am

81 Faringdon Boulevard, Rolleston

Ray White Rolleston

1.30pm - 2.00pm

606 Springston Rolleston Road, Rolleston

Ray White West Melton

11.30am - 12.00pm

2 Royston Common, West Melton

1.30pm - 2.00pm

50 Strauss Drive, Rolleston

12.00pm - 12.30pm

26 Othello Drive, Rolleston

Harcourts Rolleston

11.45am - 12.15pm

Harcourts Rolleston

105 Faringdon Boulevard, Rolleston

1.45pm - 2.15pm

Ray White Rolleston

4/545 Maddisons Road, Weedons

12.00pm - 12.45pm

1.00pm - 1.30pm

2.00pm - 2:.30pm

129 Johnson Road, West Melton

Harcourts Rolleston

12 Donatello Drive, Rolleston

Harcourts Rolleston

103B Lowes Road, Rolleston

Harcourts Rolleston

12.00pm - 12.45pm

12.30pm - 1.00pm

1.00pm - 1.30pm

Ray White Rolleston

129 Johnson Road, West Melton

Harcourts Rolleston

9 Campion Place, Rolleston

Ray White Rolleston

34 Prebblewood Drive, Prebbleton

1.45pm - 2.15pm

2.30pm - 3.00pm

2.30pm - 3.00pm

Harcourts Rolleston

12 Donatello Drive, Rolleston

Harcourts Rolleston

43 Vernon Drive, Lincoln

Bayleys Canterbury

20 Millstream Drive, Lincoln

Bayleys Canterbury

Ray White Rolleston

sunday 22nd december

1.00pm - 1.30pm

34 Park Lane, Rolleston

Harcourts Rolleston

2.30pm - 3.15pm

703 Robinsons Rd, Broadfield

Ray White West Melton

11.00am - 11.30am

4/214 Orahuna Road, Tai Tapu

Bayleys Canterbury

1.00pm - 1.30pm

14 Delorean Drive

Property Brokers

3.30pm - 4.00pm

150 Springs Road, Hornby

Ray White Rolleston

CHECK OUT THE SELWYN TIMES PROPERTY DIRECTORY EVERY WEDNESDAY

FOR THE BEST OF PROPERTY IN THE SELWYN DISTRICT

For full details of all

Open Homes, please

contact the Real

Estate companies

RAY WHITE

Rolleston 03 347 9988

www.rwRolleston.co.nz

WEST MELTON 03 347 9933

www.rwwestmelton.co.nz

LINCOLN 03 325 7299

www.rwlincoln.co.nz

PROPERTY BROKERS

www.propertybrokers.co.nz

Rolleston 03 929 0306

BAYLEYS

CANTERBURY 03 375 4700

www.bayleys.co.nz

HARCOURTS

www.fourseasons.harcourts.co.nz

HARCOURTS HORNBY 03 349 9919

HARCOURTS Rolleston 03 347 4711

HARCOURTS LINCOLN 03 662 9933

MATSON & ALLAN

www.marealestate.co.nz

Rolleston 03 347 9949

DARFIELD 03 318 8204

LEESTON 03 324 3704
---
16

REAL ESTATE SPECIALISTS

SOLD in 2019

Thanks you for your support in 2019. We appreciate that. Wishing you all a restful break and

an awesome New Year! From Mike & team at One Agency Real Estate Specialists

Mike Goatley

027 249 5561

Elyse Campbell

021 187 6217

Nicola Curtis

Administrator

68 Rolleston Drive, Rolleston

0800 645 346

www.oneagencyres.co.nz

Julz Sibbe

REAL ESTATE SPECIALISTS

Administrator Licensed Agent REAA 2008