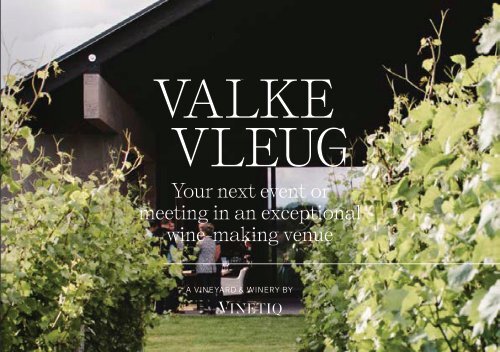 Wijndomein Valke Vleug Event Brochure
You also want an ePaper? Increase the reach of your titles
YUMPU automatically turns print PDFs into web optimized ePapers that Google loves.
Your next event or

meeting in an exceptional

wine-making venue

A VINEYARD & WINERY BY
---
Welcome to Valke Vleug,

a pure & authentic event

venue in Liezele

Valke Vleug is a wine estate situated in the serene and

green landscape of Liezele (Puurs-Sint-Amands), between

Antwerp and Brussels. The majestic vineyard and earthly

architecture by Vincent Van Duysen welcomes your guests in a

timeless and authentic setting and gives visitors a unique insider

view in Belgian grape growing and wine making.

2

3
---
Earthly architecture

by Vincent Van Duysen

Concrete, dark wood and powerful lines define

the central courtyard and its two surrounding buildings.

A modernistic farmhouse interpretation by one of Belgium's

most renowned architects.

The central winery building accommodates the vinification facilities, cellars and a stately

wine salon. The wine salon is equipped with a chef's open kitchen bringing your sensory

experiences to a premium level. The adjoining wine manor has a ground-level education room

and a second-floor board room with roof terrace, overlooking the vineyards.

Ambiance at Valke Vleug is brought to you by an exquisite interior, fine-dining options

and a graceful vineyard setting. As a hospitality venue, we cater all types of wine-centered

experiences and pursue beauty in every event we host.

4 5
---
ANTWERP

Sint-

Niklaas

20 km

Schelde

GHENT

E17

Dendermonde

LIEZELE

Puurs, Sint-Amands

E19

Mechelen

Aalst

E40

24 km

BRUSSELS

OUR VINEYARD & WINERY

'Valke Vleug' in Liezele is centrally

located between Antwerp, Brussels

and Ghent. The venue is easily

accessible through the major entry

roads and 2,5 km from Puurs-Sint-

Amands railway station.

Belgian vineyard & winery

Valke Vleug is a young and ambitious agriculture venture of

5 hectares located in Liezele. The scenic Flemish terroir of an

historic asparagus acreage has been converted into a majestic

vineyard and a state-of-the-art winery. With 17.000 vines of

traditional, cool climate varieties like Chardonnay, Pinot Meunier,

Pinot Blanc, Pinot Gris, Pinot Noir, Pinot Auxerrois and Gamay.

Wine maker Pieter Raeymaekers is passionate about the delicacy of cool climate wines

and, with an organic and natural approach from grape to bottle, strives to make pure and

authentic wines at Valke Vleug.

6 7
---
Discover our vineyard

& event opportunities

Valke Vleug offers various spaces in an inspiring

setting tailored to your wishes. AV systems and wireless

internet access are available in all areas. Stunning views

and premium food & wine experiences guarantee a fruitful

meeting or event.

8 9
---
The

Wine Salon

The Wine Salon is our main event room, with an elegant setting and

a warm living room ambiance, distant views on the vineyard and

connected with an open courtyard. It encourages friendly networking

and seduces you with its warmth and cosiness. From an intimate

cocktail party, a festive launch party or a convivial seated dinner.

"The ideal place for team meetings or

intimate events in combination with

a seated or walking dinner."

SPECIFICATIONS

• PART OF THE CENTRAL WINERY.

• VIEW OF THE VINEYARD, COURTYARD

AND OPEN TERRACE.

• PROFESSIONAL SHOW-COOKING UNIT.

• OPEN FIREPLACE.

• BOSE SOUND SYSTEM.

• FULL A/V EQUIPMENT.

SET-UP STYLES

• BOARD ROOM, 20p

• SEATED DINNER, 40p

• IN COMBINATION WITH OUR TERRACE

(HEATED & WIND SHIELDED UPON

REQUEST): WALKING DINNER, 100p –

SEATED DINNER, 60p

• CLASSROOM, U-SHAPED BOARDROOM

OR OTHER SETTING ON-DEMAND.

LO CAT ED O N

GROUND LEVEL

GROUND SURFACE

80M 2 (WITH TERRACE 160M 2 )

CAPACITY

20-100p

10

11
---
The Winery

& Wine Cellars

The winery & cellars are our sanctuary. Wine ripens in

our stainless steel tanks or matures in wooden barrels in our cellar.

The experience from grape to bottle is lifted to the highest level

when wining or dining in this space (seasonal restrictions apply).

"In combination with the wine salon,

the winery offers the ideal setting for

an unforgettable and exclusive event."

SPECIFICATIONS

• MOST VIBRANT PART OF

VALKE VLEUG SHOWING

SET-UP STYLES

• SEATED DINNER, 40p

• WALKING DINNER, 80p

THE ESSENCE OF WINE MAKING

IN A HYPERMODERN SETTING.

• LIMITED AVAILABILITY DUE

TO OPERATIONS AND WINE MAKER'S

PRIORITIES.

LO CAT ED O N

GROUND LEVEL

GROUND SURFACE

100M 2

CAPACITY

20-80P

12 13
---
The

Living Room

Furnished as a cosy living room you'll love to linger at, this tasting and

dining room is the atrium to all our cool climate Vinetiq wines.

Wine lovers will enjoy a private tasting session or will be enchanted

by a workshop given by one of our wine experts. This place can also

be used for board meetings.

"Discover the full universe

of cool climate wines."

SPECIFICATIONS

• WINE-TASTING ROOM WITH LOUNGE,

SET-UP STYLES

• BOARD ROOM, 6p

FIREPLACE AND PRIVATE TERRACE

OVERLOOKING THE VINEYARD.

• SMALL PRIVATE KITCHEN FOR

CATERING SERVICES.

• BUILT-IN FLATSCREEN TV.

• SONOS SOUND SYSTEM.

LO CAT ED O N

GROUND LEVEL

GROUND SURFACE

90M 2

CAPACITY

6 p

16

15
---
The

Library

Looking for a graceful alternative to the dull executive board room?

Our Library offers the ideal escape. This discrete and quiet setting is

perfectly equipped for half or full-day focused meetings without any

disturbance from outside, where a special atmosphere and sense of

nature can make a key contribution.

"The ideal environment and infrastructure

for executive meetings or team break-outs."

SPECIFICATIONS

• PREMIUM MEETING FACILITIES WITH

SET-UP STYLES

• BOARD ROOM, 16p

LOUNGE AND BROAD WINDOWS

OVERLOOKING THE VINEYARD.

• PRIVATE SANITARY FACILITIES.

• ACCESS TO THE ROOF TOP TERRACE.

LO CAT ED O N

SECOND FLOOR

GROUND SURFACE

90M 2

CAPACITY

18p

20

17
---
Roof Top

Terrace

Our vineyard's manor is 3-stories high with a roof top terrace

providing stunning views over the vineyard and its surroundings.

A relaxed and quite ambiance makes this the perfect location

for an exclusive lunch or outdoor cocktail.

"Feel the breeze, take in the view

and enjoy a healthy and refined meal

on our roof top terrace."

SET-UP STYLES

• BOARD ROOM, 16P

LO CAT ED O N

SECOND FLOOR

GROUND SURFACE

90M 2

CAPACITY

16p

18 19
---
Outdoor &

courtyard

Looking for an outdoor event? No need to say that

Valke Vleug's vineyard offers all you need to create a stunning

open air happening for larger crowds. Both our courtyard and

outdoor meadows (with view on the vines) offer all space needed for

temporary accommodations according to the size for your group.

"Brussels Philharmonic.

Food, music &

cool climate wine tastng."

"When you set up your larger scale event

at Valke Vleug's courtyard or amongst the vines,

the possibilities are simply endless."

24

21
---
22 23
---
Services & extra's

Combine your meeting or event with an unforgettable

(wine) experience. Wine is an art, lift your event by appealing to

all senses.

24 25
---
Wine tastings

& food pairing

Vineyard

activities

Wine is passion. Wine is culture. Wine is the art of living, and so is food!

Discover every secret of our wide range of cool climate wines through

a professional wine tasting, adjusted to your knowledge and wishes.

From amateur to wine geek: we'll take you on a true adventure.

Go one step further and we will introduce you in the art of food pairing

and help you discover the world of countless flavor combinations and

exciting pairings.

At Valke Vleug we offer a range of guided tours for groups large and

small in which visitors can taste our wines, walk through our vineyard

and explore our winery and wine cellars. While guiding you through the

whole story of wine making from grape to bottle, simultaneous you will

discover the winery and manor with its exceptional architectural setting

by Vincent Van Duysen.

ADDITIONAL INFO

• MINIMUM 10p FOR PRIVATE

TASTINGS WITH FOOD BITES.

• PRIVATE WINE DINNERS

FROM 12p MINIMUM.

ADDITIONAL INFO

• TOURS ARE 45 MIN-90 MIN.

• ORGANIZED IN ADDITION

TO A WINE TASTING, LUNCH

OR DINNER ONLY.

• WORKSHOPS OF ALL LEVELS AND

DURATION POSSIBLE - UPON REQUEST.

28

26

27
---
Walks & bike tours

Horse riding

Discover Liezele and its surroundings on foot, by e-bike

or mountainbike. Liezele and Puurs-Sint-Amands have an

extended cycling road network. A perfect activity for team

building or networking by bike.

Horse riding is all about the open air and enjoying nature while

concentrating on the pace of your horse and your own breath.

At Valke Vleug we have our own outdoor riding paddock

in the middle of the vineyard.

ADDITIONAL INFO

• PRIVATE GUIDED TOURS

POSSIBLE UPON REQUEST

"Walk, cycle, discover, ….

there is so much more to

do in and around Liezele &

Puurs-Sint-Amands."

30

28

29
---
Food services

& catering

Your personal

wine sommelier

Our culinary team offers multiple catering services, from cocktail

receptions to business lunches and sumptuous dinners.

In consultation with our different chefs, we will propose menus

tailored to your requests and budget.

At Valke Vleug we understand that the perfect wine pairing can

turn a wonderful meal into something truly spectacular. We go to

great lengths to ensure that all culinary experiences are guided

by the professionalism of one of our sommeliers. From menu and

food-pairing advice to personal service during a luxury dinner: our

expertise is something we love to share.

"From salad lunch to seated

dinner. Treat your guests to

a delightful day or evening in

a unique setting."

"Find the perfect wine to

complement your food, one

that will enhance your senses

and sensations and will

ensure you remember

each bite and sip."

32

30

31
---
Wine boxes

Vineyard extra's

Surprise your guests with our personalized wine boxes.

Want to go the extra mile? Add a delicate pair of Jancis wine tasting

glasses. A unique gift that will remind your guests every time

they have a sip.

Boots to survive a muddy walk in the vineyard? A warm hat for a windy

day? Or rather prefer a branded gift box with premium wine-lovers tools?

We'd like your guests to remember your event and have a long lasting

impact. We make your event special and offer a premium branded

give-away service to make a real difference!

"Wine improves

with age, your guests

improve with wine."

" Surprise your guests

with tailor-made gifts."

34

32
---
Do you want to organize an inspiring

executive meeting, or a truly unique

event for your customers or your team?

Contact us and we will provide you with

a tailor-made proposal.

A VINEYARD & WINERY BY

34

WWW.VINETIQ.EU

VALKE VLEUG

ACHTERHEIDE 21

2870 LIEZELE (BELGIUM)

EVENTS@VALKEVLEUG.BE

T: +32 (0)3 337 84 94

WWW.VALKEVLEUG.BE