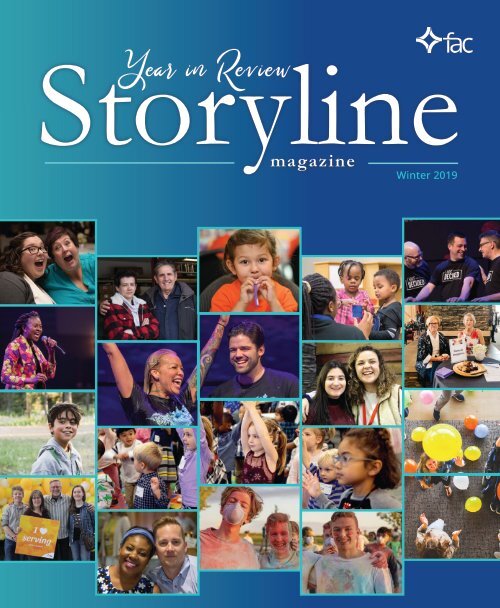 Storyline Winter 2019
A Quarterly magazine published by First Alliance Church (Calgary, Alberta) In this issue, we look back at 2019 in review.
A Quarterly magazine published by First Alliance Church (Calgary, Alberta) In this issue, we look back at 2019 in review.
SHOW MORE
SHOW LESS
You also want an ePaper? Increase the reach of your titles
YUMPU automatically turns print PDFs into web optimized ePapers that Google loves.
Year in Review

magazine

Winter 2019
---
Pastor James

2019

has been a rollercoaster ride for me

personally, with some health challenges

that seemed very complex early in the year,

and then as we prayed God opened doors

and new possibilities emerged. I still face

challenges but have more hope than ever.

Even in our struggles God is with us. Here at

FAC the bold decision to follow God's leading

to 'go off the map' and launch a second

campus certainly increased our stress

levels, but also emboldened our faith as we

witnessed dozens of new families becoming

part of our extended family. FAC Southwest

is flourishing and is widening our gospel

footprint in SW Calgary. Even in our stress

God is with us.

I'm sure you have your own stories. Everyone has a story. And we'd love

to hear them and share them with others. We've just been reminded

in our Beyond series: "They triumphed over him by the blood of the Lamb

and by the word of their testimony; they did not love their lives so much as

to shrink from death." (Revelation 12:11, NIV) Your testimony, your story

matters. It's the story of God with us.

At the turn of the year we often look back at the stories we can tell and

look forward, anticipating or perhaps terrified at the year ahead. Even

in our fears God is with us. Our new teaching series in January is called

Transformed. It's about more than resolutions. We are going to discover

afresh God's promises that can transform our lives from the inside out.

Together we're going to learn about spiritual health, physical health,

emotional health, mental health, relational health, financial health, and

even vocational health. It will be an opportunity not only for us, but for

friends we can bring with us, to truly be transformed. Weekend teaching

will be supplemented with seminars and resources to help you take steps

forward. Maybe already you want to think about your own goals knowing

that God is with you.

Christmas is such a special time. Not always an easy time, but certainly

special. It's when we purposefully remind ourselves of the wonderful

truth: "The virgin will conceive and give birth to a Son, and they will call

Him Emmanuel (which means 'God with us')." (Matthew 1:23, NIV)

And so let me wish you a very Merry Christmas! I love being your pastor.

A platform for stories to be shared here

at FAC: stories to make us smile, cry,

laugh – and ultimately guide us towards a

transcendent hope in Jesus in the midst of

a broken world. This quarterly publication

uses the talent of volunteer photographers,

graphic designers, and writers. Storyline

is a quarterly publication of First Alliance

Church in Calgary, Alberta, of the Christian

& Missionary Alliance in Canada.

faccalgary.com/storyline-magazine

The Team

Editor In Chief

Heather Wile

Managing Editor

Suzanne Van Herk

Graphic Designers

Deon Watson

Janina Resus

Julie McPhail

Peggy Xia

Photo Editor

Sam Campo

Photographers

Enoch Tseng

Jill Hopkins

Quinn Hystad

Story Editor

Cheryl Siebring

Article Contributers

Adam DeMont

Andres Bentancur

Erik Freiburger

Heather Wile

Lisa LeBlanc

Nicole Amsing

Sterling Hunter

Terry Schmidt

Tori Duncan
---
Issue

04 Flashback to FAC International

06 Desire III: the Power Of Hope,

Unity, and Intertwining Forgiveness

by Erik Freiburger

08 Justice Semester – Updates

by Tori Duncan and

Nicole Amsing

11 Celebrate Recovery

by Adam DeMont

12 Reflections of 2019

by Terry Schmidt

14 I Have Decided: Baptism Stories

18 By the Word of their Testimony

19 Our Hope

20 Your Story Matters

by Heather Wile

21 Pink Shoes

by Lisa LeBlanc

23 New Year's Queso Recipe

by Sterling Hunter

13 Life Change

by Andres Bentancur

Contact Us

Phone 403-258-4359

Email storyline@faccalgary.com

Web faccalgary.com/storyline-magazine

Volunteer with Storyline serve@faccalgary.com

Share your story faccalgary.com/storyline-magazine

3
---
Flashback to

Weekend

(November 2018) raised $17,771

towards Alliance Justice &

Compassion projects

Raised $2,280 for international

marketplace ministries

4
---
Total Raised: $24,676

Raised $4,625 for refugee sponsorship

Check out more photos of what's happening at FAC.

Follow on social media: @faccalgary

5
---
Part 3

The Power of Hope, Unity, and Intertwining Forgiveness

b y erik freiburger

In the Summer and Fall Issues of Storyline this year, we met Desire (Des) Muhindo

from FAC and read about the calling of God on his life and the persecution he faced

as a young man from a Rwandan family living in Burundi and his return to Rwanda to

preach the Gospel. His story concludes here.

Tears were forming in his eyes and trickling

down his cheeks as he reached for some nearby

napkins to wipe them away. This was my third

time sitting down with Des and he was telling me the

horrific story of how he was forced to watch as his

mother was brutally killed with machetes in front of

him. While we had both resonated lost our mothers

in our mid-teenage years, I could not fathom how he

could find forgiveness out of the experiences he had

been describing to me. And yet, it was this power

to forgive that would set him free with hope for

tomorrow.

Des has been through much in his younger life but

he shares freely that it was in God's deliverance

through those experiences that he found hope in his

future. Years would pass and Des would eventually

bring his family to Canada, returning often to

Rwanda and the ministry he continues to work in

with his people. His wife, a gifted gospel singer from

Africa, would also return to perform in concerts and

church-sponsored events.

Pointing towards the lessons of unity he learned

from his mother as a boy, he spoke of his deep

convictions to humanity's oneness. Des recalls

questioning as a child, asking her, "What is a Hutu

and a Tutsi?" Surprised by his inquisitiveness, she

responded, "Who told you about this?" "It was our

aunt." Des explained.

"You are not either," his mom would say. Taking

water and some earth she mixed them together to

make a mud-like substance. Then, while telling her

children to take a handful of the mud, she explained

to them, "When the Hutu and the Tutsi came to live

together, they became Rwandan. This is what you

are; you are Rwandan. This is all that should matter

to you!"

Des' words brought to mind Jesus' prayer in the

Garden of Gethsemane. "I ask not only on behalf of

these, but also on behalf of those who will believe in

me through their word," Jesus cried over the stone,

"that they may all be one." In a world deeply divided

by labels and the tensions of us and them, I pray we

too fall to our knees in the spoken and sought-out

actions of finding unity with all people. Humanity's

amazing beauty shines brightest in our unique

recognition of all being children of God.

6
---
Des' lasts thoughts in our time together spoke to the power of forgiveness. "The people who killed my family

are not followers of Jesus. Should I be like them?" Des shared rhetorically. "No! I am a Christian and Jesus says

we are to forgive." The faith that Des embraces has brought radical transformation not only to himself, but to

those who are in relationship with him. I am deeply inspired by his passion for God's love for all people and the

sharing of his faith despite the great tragedies he has been through. Looking to the future he expresses great

gratitude for his wife and kids as he serves God always both here in Canada and in Africa.

Several years ago I read Desmond Tutu's book No Future Without Forgiveness. It was a very difficult read as he

described many of the atrocities prior to the fall of Apartheid in South Africa. Des' stories seemed that much

more vivid as he experienced them firsthand in Rwanda. Yet Tutu would refer to the significance of the African

term "ubuntu" when searching for humanity's healing from these atrocities. He describes it this way:

"Ubuntu is very difficult to render into a Western language. It speaks of the very essence of being

human … It is to say, "My humanity is caught up, is inextricably bound up, in yours." We belong in a

bundle of life. We say, "A person is a person through other persons." It is not, "I think therefore I am."

It says rather: "I am human because I belong. I participate, I share." A person with ubuntu is open and

available to others, affirming of others, does not feel threatened that others are able and good, for he

or she has a proper self-assurance that comes from knowing that he or she belongs in a greater whole

and is diminished when others are humiliated or diminished, when others are tortured or oppressed, or

treated as if the were less than who they are."

How much more should that be for us who dwell in the Holy Spirit?! Ubuntu is not just an African term. It has

significance and meaning for all humanity. If we are willing to openly share all our stories as equals, we might

together find a future in insurmountable hope, transcendent unity, and intertwining radical forgiveness.

(Below: Writer Erik Freiburger with Desire Muhundu) •

"Bear with each other and forgive one

another if any of you has a grievance

against someone. Forgive as

the Lord forgave you."

COLOSSIANS 3:13

READ PART 1 READ PART 2

7
---
This is story is a republication from the Summer

Issue with an update on Tori and a new Justice

Semester student, Nicole Amsing ...

I never felt called to missions in general, and I especially never felt called

to missions overseas.

I

pictured my life in a specific way: college, career,

marriage, children; nothing particularly exceptional.

I watched those around me pursue short-term mission

trips, or going to be international workers, and I could

never picture myself being one of those people. Then in

October 2015, I was attending a Bible study here at FAC,

and I remember hearing a testimony from a young adult

who had recently returned from a short-term missions

trip to Cambodia. The International Worker was going to

buy a T-shirt from a street vendor, and the vendor said

to him, "For an extra $10 you can have her," pointing to a

young girl sitting on a stool beside him. Hearing that story

that night broke me, and I felt God stir something within

me. Definitely a desire to work with the oppressed, and

maybe in Southeast Asia. I didn't think much of it beyond

that, but a seed had definitely been planted.

Over the next two years, I attended university and it was

going great. Come May 2018, I was only one semester

away from graduating, and my clinical practicum was

going very well. I attended a Sunday morning service at

The Exchange Church and heard from a short-term

missions team that had just returned from a twoweek

trip in Phuket, Thailand. I heard about the work

being done by For Freedom International (FFI), an

anti-exploitation ministry in the region. I was

intrigued, and when it was announced that

FFI was offering a gap semester, a Justice

Semester (JSEM) program, that would involve

living in Thailand for three months and

getting hands-on experience serving

in anti-exploitation ministry, I

8

felt God drop that weight on my heart like a boulder.

But I wasn't sure how it would work timing-wise, so I

prayed for God to show me what He wanted of me.

He commanded me to enroll in the Justice Semester,

and pushed aside everything in my life that could have

prevented me from following His calling to Thailand. So

I surrendered to His will and was accepted into JSEM.

I moved to Thailand in early January 2019, barely knowing

anything about Thai culture or the language and not

knowing any of the 6 other people I would be sharing this

experience with. My first few weeks in Thailand involved

learning about Thai culture and customs, including how

sexual exploitation is a part of the culture and the roles

that factor into that: poverty, religion, women's roles,

etc. We learned about how to share the gospel with a

Thai person who has a honour/shame mindset that is

unlike our own guilt/innocence culture in Canada. The

gospel became new to me when I learned to share it

with a different perspective. In Thailand, the monarchy

is highly revered; speaking against the Royal Family is

punishable by incarceration. Thai people also consider

feet to be a very unclean part of the body that should

never be touched by others. Sharing the story of Jesus

washing the feet of His disciples from the book of John

is revolutionary to a Thai – to hear about a King of

kings who is higher than the Royal Family, the most

honourable man to ever walk the earth, who willingly

washed the feet of His followers and willingly took on

their shame and suffered its consequences by death.
---
We had the chance to share the gospel with locals and tourists

weekly on our outreach trips to Patong Beach, on the edge of

the Red Light District. For Valentine's Day, we walked down

the Red Light District and went into the bars to talk to the girls

and share Jesus' love with free gifts of cookies made by FFI's

own vocational baking students. During our exposure trip

to Pattaya (the sex tourism capital of the world) we had the

chance to minister to women there by distributing packages

the JSEM team had assembled containing condoms and a card

with contact information for the local anti-trafficking ministry

that we had the chance to visit and learn from.

For me, my entire Thailand experience was an

exercise in practicing complete trust in God.

I had no idea why God had called me to be in Thailand for the

time I was, but I continued walking forward as He directed me;

it felt as though I was walking forward with eyes closed and

hands outstretched, relying on His guidance as I moved forward.

It took Him sending me to Thailand for me to finally start

hearing Him; it was like going from a loud concert hall into

a quiet hallway.

An update from

"Coming down from an emotional mountaintop

experience like the Justice Semester in

Thailand has given me a greater hunger for

an intellectual understanding of the Word,

and a need for community and fellowship.

As for the future, I'm currently pursuing

my career in health care and prayerfully

considering each next step. Whatever plan

He has for me, in health care or missions or

something in between, I will follow His call

faithfully."

ABOUT FOR FREEDOM INTERNATIONAL

9
---
LEARN MORE ABOUT ENVISION

Nicole Amsing's

2019-2020

Nicole joined a team of 9 from FAC on a short-term mission trip to Phuket, Thailand this past November with

the plan to stay for a 5-month internship with For Freedom International through Envision Canada, similar to

Tori Duncan. Here's a recent update from one of her newsletters.

oday, I find myself in the midst of transitions and

"Tadjustments. Each day I join the team at For Freedom

International (FFI) to tackle tasks and projects preparing for

Vocational Training and Justice Semester. The first week after the

First Alliance Church (FAC) team left for Calgary, I faced the common

doubts interns have coming in: "What is my place and why am I

here?" But through prayer, team-building, and story-sharing the

Lord disclosed a doorway that was deeply rooted in my early years.

'Home is where the heart is. So, I should build homes.' This was

my inner child's dream imprinted on my heart, only that door

never opened. Instead, God opened my eyes to His depiction of my

dream, not as I thought it would look like but as He designed it. This

discovery felt like a puzzle piece clicking into place, overwhelming

joy, and peaceful release. 'Your heart is My home. Home is not

a place. Home is where you and I are. You are building hearts into homes. You'll carry home with you, until I return.'

(Photo: Intern FFI team Sam, Nicole, Kaura-Lea (Long Term Worker), Maddie, and Josh.) •

To subscribe to Nicole's e-newsletter updates, email: nicoleamsing@gmail.com. Have an interest in global missions? Get

involved by praying, financially giving, or applying to go! To learn more visit faccalgary.com/give-back/global-impact

"Give thanks in all circumstances; for this is

God's will for you in Christ Jesus."

1 THESSALONIANS 5:18

10
---
- Adam DeMont

After hitting my rock bottom as a result of

an addiction to pornography during the

summer of 2013, I attended Alpha in autumn of

2013. My wife (I affectionately refer to Mavis as

my "better half") had become a follower of Jesus

the day after we were married, 5 years ago. To be

honest, I didn't think our marriage would be able

withstand this kind of stress, but God had a plan.

Both Mavis and I attended After Alpha during

the winter of 2014 here at FAC. I was fortunate

enough to have the same table leaders for both

sessions. I still believe this is a total

God thing as I reflect back on it.

Mavis and I were invited to

the Alpha leaders' home for

supper on Friday, March 28.

They have been involved

in Alpha for some time

and we made an amazing

connection with them through

some common experiences

(a divine appointment to say the

least, I believe as well). They gave

me a pamphlet from previous Alpha sessions

to take home and read at my leisure. I woke

up and read it cover to cover – yes, another

God moment. To this day, the most profound

thing from reading the pamphlet is a quote

from Nicky Gumbel (a former atheist and the

founder of Alpha): "It's all about relationships."

Then, after sharing with my wife that I'd been

sexually abused as a child by a former babysitter

and neighbourhood boy (the beginning of my

addiction to pornography), I read the prayer of

salvation in the pamphlet and accepted Jesus

Christ as the only Lord and Saviour in my life on

Saturday, March 29, 2014, and it was the best

decision of my life. I was baptized April 12, 2014.

wife in November, 2017. However, both Mavis

and I agreed to meet with a pastor, the one who

baptized me 3 years earlier and a close friend. 4

days after the discussion, God showed up on a

business trip to Edmonton and revealed to me I

needed to stay with my better half and not leave.

"God-fearing" took on a whole new meaning after

that night, let me tell you.

I started coming to Celebrate Recovery the next

week. The first night was like being a teenager

again, getting nervous and not sure if I was

going to share or not. The Holy Spirit

showed up and I shared with all the

guys there that I had an addiction

to pornography; I broke the

chain that bound me. I was able

to have Mavis attend with me

2 weeks later and she agreed

she would continue to come

as well after that night. We both

completed the 12-Step Study that

accompanies Celebrate Recovery and

it turned things around for us. Now, 2

years later, we still attend and made the choice

to give back and serve at CR. Celebrate Recovery

has been the second best decision of my life,

second only to accepting Jesus Christ into my life

and that will never change.

If I could offer some words of encouragement

to anyone who reads this, it would be this quote

from the former Lead Pastor Scott Weatherford

that I have held onto since before I became a

believer, which says, "It's not how you start, but

how you finish." •

ABOUT CELEBRATE RECOVERY

Jumping ahead 3 years … I had succumbed to

the temptation of my addiction to pornography

3 times after becoming a believer. During the

third time my mind was made up to leave my

11
---
INTERVIEWS BY TERRY SCHMIDT

We recently asked people on Main Street what was their highlights of 2019 at FAC. Here's what some of you had to say ...

Russell: "Short-term missions have increased how many

people are getting involved and raised awareness. It's

affected many lives including mine as I hear the stories

that come back with the people that have gone."

Debbie: "The [Life on Life] discipleship program has been

effective for me. I'm a discipler and it's amazing just to

pour into someone's life a little bit and (see) the effect it

can have."

Owen: "I'm amazed at how FAC has grown and [I'm] happy

that it's grown. As many things around the city have been

collapsing, it seems people have found a place to be

excited about growth and God."

Christie: "The best thing I see at FAC and what keeps me

here is community – through small groups, socially with

friends, and volunteering. There's been a lot of challenging

circumstances in my own life, in the church community,

but God has showed up!"

Warren: "I attend choir and I just see people in love with

Jesus and I'm learning that God is doing amazing things

in their lives, because they've decided to engage in this

community. They're the people I know the most here and

it's very encouraging."

Maya (age 13): "Youth is so good and I love it when I go!"

Miriam (age 12): "The community that's been built here

for youth has been awesome. The friendships are the

best."

Matthew (age 9): "DiscoveryLand has been really good

this year. I like the teaching because it's interesting and

like a show every week."

Debbie: "Everywhere you look there are smiling faces.

It's so welcoming. I really like connecting at the Seniors'

Wellness Mornings and at Women2Women."

Sonya: "First I came with my daughter and then on my

own. I really like the courses here. I've been to Alpha

twice, and the Bible study at Women2Women on John that

Arlene wrote herself is amazing. I'm learning so much!"

Ruth: "I really like Pastor James … He just talks to us, not

preaching at us. It's so interesting and you don't go to

sleep!! He just speaks right out of his heart. I love it."

Marilyn: "We see such a diversity in our congregation

on a Sunday – young families, seniors, many cultural

backgrounds. Everyone has a story and they'e sharing

them. It's so encouraging!"

Allan: "I like the preaching. It comes right out of the Bible.

And I like to see the church grow and hearing the stories at

the baptism services."

Erika: "I like how the church leadership is always

challenging us to be and do more … That we're not just at

church but we're a part of the church. A moving part!"

Izaak (age 16): "I've served in the Café and Bistro for a

year and a half and it's the best thing. I get to meet a lot of

new people and have good conversations. I feel like I really

belong here."

Share your 2019 highlights from FAC

Tag @faccalgary

12
---
Life Change

By Andres Bentancur

Iwas raised in a Catholic family and although I have believed in Jesus since I was a child, my faith and Christian values

were not solid enough. As a result, my commitment and the importance I gave to Jesus was not what He deserved.

Although I felt satisfied with my family and professional development, there was something missing in my life. When I

came to Calgary in April 2018 with my partner, Lizeth, and our daughter, Antonella, with no family and no friends in this

city, one of Lizeth's acquaintances told us about First Alliance Church. We made a few visits to the church and in October

2018, one of the pastors invited me to have lunch with him. That day, for the first time, I understood the good news

about Jesus. I asked Jesus to forgive me for my sins and to live in my life. That evening, I shared with Lizeth what I had

experienced and she too placed her faith in Jesus. We decided to get baptized in March, 2019. Also, I asked Lizeth to marry

me and we were married at First Alliance Church in May, 2019.

Now I am able to face whatever comes with faith, knowing that Jesus is with me. Now my life is different and I pay more

attention to improve my Christian values at home and in general anywhere I am. Also, I understood that as Christians we

have a huge responsibility for our communities; for that reason, I try to serve others. Although I have to learn more about

Christ, just based on my life experience I take advantage of any opportunity I have to tell others about the good news of

Jesus and how He changed my life. •

COMUNIDAD HISPANA A FAC

Crecí en una familia católica y aunque desde niño he creído en

Cristo, mi fe y valores cristianos no eran lo suficientemente sólidos.

Como resultado de esto el compromiso y valor que le daba a

Cristo en mi vida no era el que el merecía. Aunque me sentía muy satisfecho con

mi mi familia y desarrollo professional, algo faltaba en mi vida. En Abril de 2018 llegué a

Calgary en compañía de mi pareja, Lizeth, y mi hija, Anthonella, sin familia ni amigos en la

ciudad. Meses después una persona que Lizeth conoció le habló de First Alliance Church

y después de haber asistido a varios servicios, me reuní a almorzar con uno de los pastores en Octubre de

2018. Ese fué un día transcendental en mi busqueda espiritual ya que después de una larga conversación entre

ambos entendí las buenas noticias que Cristo traía para la humanidad. Paso siguiente pedí a

Cristo perdón por todos mis pecados. Esa misma noche, le compartí a Lizeth

mi experiencia y ella también decidió seguir a Cristo. Más adelante, en Marzo del 2019 decidimos bautizarnos.

Paso siguiente le pedí a Lizeth que fuera mi esposa. Nos casamos en Mayo del 2019 en First Alliance Church.

Ahora, soy capaz de enfrentar cualquier reto pues sé que Cristo está acompañándome.

Mi vida es realmente diferente. Presto atención a mejorar mis valores Cristianos en casa y

en general en cualquier lugar donde me encuentre. Además, entendí que como Cristianos tenemos

una gran responsabilidad en nuestras comunidades. Por esta razón, mi esposa y yo siempre

buscamos servir a otros. Aunque aún tengo mucho por aprender y mejorar en mi fe Cristiana. Basado

en mi experiencia de vida, busco siempre hablar con otros acerca de las buenas noticias que

Cristo trae para todos y como el pudo cambiar mi vida para bien. •

13
---
I HAVE DECIDED

I have been introduced to Jesus a few times in my life but

have always drifted away. I experienced some change

several years ago during a difficult period in my marriage.

It was then I was convinced that God was real. Recently, I

have had many challenges but I have begun reading the

Bible frequently and attending church. I feel I have been

given some strength through daily prayer. (Pictured below)

Tegan Spencer (baptized May 2019)

(Pictured above) Before I knew Jesus, life was hard; I was

resentful and full of anger. I grew up in a home with a drugaddicted

parent. My siblings and I moved between homes

in foster care. We encountered many abusive foster homes

especially towards my younger siblings. At the age of 9, I

stopped going to school to care for my siblings. I was angry

and troubled; I took to using drugs when I was 15 to escape

my life. I would often steal from family and friends.

My life was a downward spiral until I saw forgiveness

and love in the eyes and arms of one family. I saw

Jesus in them I thank God every day for the new family

He has blessed me with. If it weren't for them and their

loving, understanding care for others I would not be where

I am today. Sometimes I still feel angry and resentful but

the word of God is helping me to be better. Coming to

this church and meeting wonderful people, hearing praise

and God's Word, seeing the effect He has on people, and

feeling His light in each moment have helped me to come

to know Jesus and helped me decide to live for Him. He

showed me how God truly loves me, and how to love

each and every one and to be thankful to be alive to learn

on this journey to find peace within. My favourite Bible

verse is Jeremiah 29:11: "'For I know the plans I have for

you,' declares the Lord. 'They are plans to prosper you

and not harm you, plans to give you hope and a future.'"

Gregory Paterson (baptized May 2019)

Karen King (baptized March 2019)

"I felt I was missing something always … lost, wandering

aimlessly but never getting anywhere. I was disconnected,

felt misunderstood, lonely, unhappy, chasing the elusive

dream and wondering what purpose there was to my life.

The difference is unbelievable. I feel more at peace and not

so anxious about the future. I'm still a work in progress,

but I can't describe the excitement I have about

learning to be more like Him [Jesus] and seeing how

that change affects those around me in my life.

My story … I'm just an average person, living an average

life filled with trials and tribulations. To some, I have it all:

two beautiful daughters, the most amazing grandchildren,

a great relationship with my mother, my health, amazing

friends, own my own home, have traveled and generally

am 'living the dream.'

14
---
But I felt like I was missing something. I felt disconnected,

misunderstood by many, lonely, unhappy, and

completely discontented with my life. I was chasing all

the wrong things for all the wrong reasons. I was like the

mouse on the wheel. Running, but not getting anywhere.

Last year was when I fell apart. I combusted.

I realized that I needed to (had to) change. And I was

lucky to have someone show me, through example,

what it could be like to have peace, contentment,

love, and acceptance. And I know I wanted to be a

part of that! Through this friendship, I have come to

know what it means to have Jesus in my life. He has

spoken to me in many ways over this last year, and let

me tell you – I'm listening! I'm still a work in progress, but

already I feel so much more at peace!

"He grants the desires

of those who fear Him;

He hears their cries for

help and rescues them."

Psalm 145:19

So, thank you, Laura, for being the bright light and

showing me there is a better way! I've found a reason

to start new.

A favourite poem reminds me: 'During your times of trial

and suffering, when you see only one set of footprints, it

was then that I carried you.'"

15
---
"Whoever believes and is

baptized will be saved, but

whoever does not believe

will be condemned."

(Mark 16:16)

"Jesus answered, "Very

truly I tell you, no one can

enter the kingdom of God

unless they are born of

water and the Spirit."

(John 3:5)
---
"And now what are you

waiting for? Get up, be

baptized and wash your

sins away, calling on his

name."

(Acts 22:16)
---
of

"Then I heard a loud voice in heaven say: 'Now have come the salvation and the power and the kingdom of our God,

and the authority of His Messiah. For the accuser of our brothers and sisters, who accuses them before our God day and night,

has been hurled down. They triumphed over him [Satan] by the blood of the Lamb and by the word of their testimony...'"

REVELATION 12:10-11

During the "Beyond" 2019 Christmas advent series, we invited you to share your testimonies ...

"Jesus met me alone, afraid, trapped in fear as my

shame and guilt was revealed. I was at the end of my

life here on earth and he led me out of the river. He

placed many people in my path to help me with my

addictions. Today, Jesus lives in me and I'm working

with others through Him as they face their own

addictions. I can't. God has the power. All I need to do

is ask Him for help." - Erik

my happiness. On turning to God I have been cured of

desires for sensual pleasures that have been replaced

by a desire for Him, and for sharing life at an emotional

and spiritual level with others."- Brett

"When all was lost and I didn't know where to turn

there was one constant that saved me. That constant is

Jesus." - John

"Jesus saved me from myself. He continues to

transform my heart. Taking my eyes off me and onto

Jesus and His people. Helping me learn and grow in and

through mental illness, I am learning that I'm wired in

a different way than others and with Him I am enough

even in all my broken pieces. Praise the Lord for the

work He continues to do in me so I may serve Him."

- Trudy

"I was angered and unsatisfied. Jesus gave me purpose

in life, I have hope. I am a child of God." - Marisol

"Jesus saved me from death, fear, and so many lies the

enemy had spoken over my life about my worth and

identity. I truly learned how God's truth makes us free.

His truth frees me to be who He has called me to be."

- Jen

"Jesus saved me from an empty and meaningless life.

He captured me with His love – a love I was seeking

and didn't understand. My precious Saviour & Lover of

my soul has given me meaning and purpose. He has

brought me love , peace, and hope. Thank you Jesus!"

- Joy

"Jesus saved me from a life of mediocrity, a life devoid

of passion and purpose. He saved me from wasting

away and not making a difference in my world. I owe

Him everything! All I am, I am because of Him. He has

given me a hope and a future in Him!" - Brian

"Jesus saved me from a life of filling holes with worldly

pleasures, a life of misery always looking to others for

WATCH SERVICE

18
---
OUR HOPE ...

… is that the stories you read in this issue of Storyline help you find hope

regardless of your situation.

"For I know the plans I have for you," declares the Lord,

"plans to prosper you and not to harm you, plans to give you

hope and a future." (Jeremiah 29:11)

Our hope is that you discover God, the true Author of your story. His Son

Jesus represents the greatest gift of hope and love the world will ever

know. God paid the ultimate sacrifice by sending his Son, Jesus Christ, to

die in our place on a cross; to pay the penalty for all the ways we've fallen

short of His justice and perfection. He rose again to prove His victory over

death, pain, and suffering. Through Jesus' death and resurrection from the

grave He has restored our ability to be reconciled and have a relationship

with God ... All we have to do is believe in Him and ask Jesus Christ to be

our Lord and Saviour. This is as easy as praying a prayer to invite Jesus

into your life – and you can do this right where you are. If you feel ready to

invite Jesus into your life, we'd encourage you to pray this prayer today:

Thank You, Jesus, for dying on the cross for me and thank You for Your

unconditional love. I confess my sins; I choose to re-direct my life to follow

You; and I thank You for forgiving me. Please come into my life and teach

me to live for You. Thank You for a new beginning. I accept You as my Lord

and Saviour; I'm now a Christian – a follower of Jesus Christ – and You live

in me. Help me to live my life for You from now on. Amen.

If you prayed this prayer, or have questions about what it means to

follow Jesus Christ, we'd love to connect with you. Contact Pastor

Cory Harasym charasym@faccalgary.com/403-258-4364. •

LEARN MORE

19
---
y Heather Wile

"Your story matters because you matter

to God and to us. "

SHARE YOUR STORY

I

love story and the power of story to change lives. There's something even more powerful about a story based on true

events and real people. There's greater emotional connection with a true story.

On a recent vacation with my husband, we checked into a hotel in Anaheim late enough that the night manager was on

duty to receive us. You know how Norman Rockwell used to represent people with such interesting character, not just

on their faces and expressions but so many details depicted through his paintings? Well, this older, rounded-shouldered

man was just one of those kinds of "characters" that Rockwell would have loved to depict. Meeting him piqued my

interest … What was his story? A stout, barreled-chested fellow, missing more than a couple teeth, and jet black hair

(no judgement, but he was definitely in his 70's) … I would guess because of his dark olive skin that his ethnicity was

Mediterranean – Italian or Greek. Though the aging process had obviously taken a toll on his body, he was sharply

dressed in a tailored grey pin-striped suit, crisp white shirt, and snappy red silk tie. What was his story? Where was he

from? What were the details, the events, the relationships that led to the sum total of the gentleman standing in front of

me?

We each have a story … a story that answers these questions and more. Our stories may begin from our earliest

memories – or maybe you tell your story from the day you were born. Perhaps your story has great significance to you

because of your lineage and family history. God knows your story from the beginning of eternity …

He knew and loved you before you were born. He knew the struggles you would face; He knew the family

you'd be born into, the parent(s) that would raise you, the school choices and friend choices you would make, the other

choices you've made along the way. He knew and gave you your gifts, your passions, your temperament. He has always

been there even if you didn't know it.

The part of your story we love to write about, hear about, and share about here at FAC is where God intersects with your

life. What was your life like before you knew He loved you? What people or events did He use to draw you to Himself?

Are you experiencing abundant life since you met Jesus? What are your struggles and how do you keep pressing forward

and holding on to Christ?

Without a doubt it's these stories that continue to spur us on, encourage us, and strengthen our faith as people just like

you tell your stories of the goodness and faithfulness of God. When we tell our stories we truly do help each other be

"overcomers." Your story matters … It matters to others who are struggling and need to know they're not alone in their

journey. It matters because your story brings hope! It matters because we are responsible for one another.

Our very first edition of Storyline was published April 2012 and since then hundreds of stories have been told. Thanks to

so many of you who have been vulnerable and bravely testified. We are richer for it. •

20
---
y Lisa LeBlanc

Have you ever wanted something so badly that you

thought your heart would break if you didn't get it? My

5-year-old daughter did.

1996. We were living in Winnipeg, Manitoba. My husband and

I had recently separated. I was trying to balance a broken

marriage, two little girls, a dayhome, and more stress than I

had ever experienced.

I was shopping at Superstore with my girls. Brittany was

5, Adrianna was 6 months. While I was grabbing diapers,

Brittany saw the pink shoes. Canvas, Mary Jane-style runners.

Adorable. Only $12, but it was $12 more than I had to spend

that week.

I was trying to be the good Christian

mommy by encouraging my

daughters to pray.

While it broke my

heart a little to say,

"I'm sorry, we can't

21

buy those today," I added, "But you can ask Jesus for

them."

Yikes! Did I just promise her that Jesus would give her the

shoes?? What if I just set God up to fail and my daughter's

faith to crumble? "Really?" God challenged. "I can make

the universe but I can't come up with a pair of shoes? And

by the way, Brittany's faith is way stronger than yours

right now, so maybe you should just stand back and

watch Me go!"

Flashback to December, 1994. Brittany was 2 months

shy of 4 years old. One last check-in during bath time to

make sure we had her Christmas list covered. Along with

a Barney stuffie and a few other things, she added, "And I

want a baby sister."

"Um, sweetie, we've talked about this. You know you

grew in Richelle's tummy before you were born and we

adopted you and that's how we became a family. You

know Mommy's tummy doesn't work to make babies."
---
"What about Daddy's tummy?"

"Daddy's tummy doesn't work to make babies either." The look on

her face said it all. We were complete and utter losers. "In our family

when we want a baby we ask Jesus. He gives us our family. That's

how we got you." She didn't know we had reactivated our adoption

file the previous year and had already had 2 failed potential matches.

She gave me a look I had become all too familiar with — the "I'll Do This

Myself" look. She hopped out of the tub, wrapped up in her hooded

bath towel, and said, "I'll ask Him," and went to her room to kneel by her

bed and pray.

Oh, Lord, what have I just done?

She came back exactly 1 minute later with a smug grin on her face.

"He said yes. I can have one."

"Honey, it's only a couple more weeks until Christmas. You know there

won't be a baby sister under the tree when you come downstairs on

Christmas morning, right?"

"I know that! It takes lots longer to grow a baby!" Accompanied by the

first of countless eye-rolls.

My conversation with Steve later that evening was an interesting one!

And 9 months later, nearly to the day, we welcomed our new daughter

and her birth mom Alison into our family.

Flash forward to 1996, a couple weeks later.

A large box was unexpectedly delivered to

my door. I opened it up and it was filled with

clothes for both our girls. Enough to last them

for the fall and winter season to come. And

sitting right on top? The pink shoes.

Explain to me again that God doesn't care about little things. Tell me

about how it is just a coincidence that the exact shoes my daughter

asked for in a Canadian store were purchased in the US and sent to her

from an aunt who had no idea Brittany had asked for them. Had no clue

what her shoe size was. They fit perfectly, by the way. Brittany wore

those shoes until they were literally falling off her feet.

What's your pink shoes? I've had a few throughout 2019. And I prayed

with faith believing that God cares about me, and He faithfully and

completely provided everything I needed. You can do that, too. Make

2020 the year of asking for your pink shoes. Then stand back and watch

God go! •

VISIT LISA'S BLOG

22
---
Ingredients

• 1/4 cup butter

• 3/4 cup yellow onion, diced small

• 2 habanero peppers, diced with seeds and pith (the white stuff)

• 2 jalapeno peppers, no seeds, no pith, diced small (if you like it really hot add

seeds and pith from these as well; maybe start with just 1 at a time)

• 3 garlic cloves pressed/mince/chewed and spit back out … #MasatoJoke

• 1 tsp. salt

• 1/2 tsp. cumin

• 1 tsp. smoked paprika

• 3 tbsp. cornstarch

• 2 cups 10% cream (half and half)

• 2 cups 35% whipping cream

• 1 block (250 gm) cream cheese

• 200 gm Red Leicester Cheese the more aged the better

• 200 gm aged Gouda (Noord Hollander would be my recommendation)

VIEW MORE RECIPES

How to Make It

Be prepared to spend some money on cheese … or just melt some Cheez Whiz with Tapatio hot

sauce in it, because that works as well.

1. Get a big pot, bigger than you think you need.

2. Make sure you have tortilla chips, lots of tortilla chips.

3. Crack open a Jarritos cola or a Cerveza, whatever your Christian liberties allow.

4. Saute onion in butter with the salt for about a minute, then add the peppers and sauté

for an additional 2 minutes, and finally the garlic for an additional 1.

5. Add cumin and paprika and stir in while sauteing for another minute.

6. Add cornstarch to make a paste, then add the creams.

7. At this point you want to take it slow, turn your heat down and baby this pot. Keep

stirring, especially scraping the bottom of the pot; as the cream heats the starch will

thicken it making it easy to burn to the bottom of the pot … Don't. Let. That. Happen!

8. Once the liquid is simmering and thick, add the cheese and stir while it melts. Remember,

leave no inch of the pot bottom unscraped!

9. Once the cheese is melted you can be done; I take an immersion blender to it and puree

it, but it's not necessary.

10. Abandon moderation, taste, and see that God is good.

23

Photo Source: https://www.thecookierookie.com/
---
TRANSFORMED

new series starting January 4/5

Transformed Winter Semester Group

Get connected! Let God change you from the inside out.

Sundays, 6:00-8:00 pm. January 12-February 23, Grade 5/6 Room,

FAC Deerfoot (upstairs, south end).

No cost, register online faccalgary.com/registrations.

To learn more, contact Cory Harasym charasym@faccalgary.com.

REGISTER FOR GROUP

12345 40 Street SE Calgary

403-252-7572 | faccalgary.com

Building lives that honour God