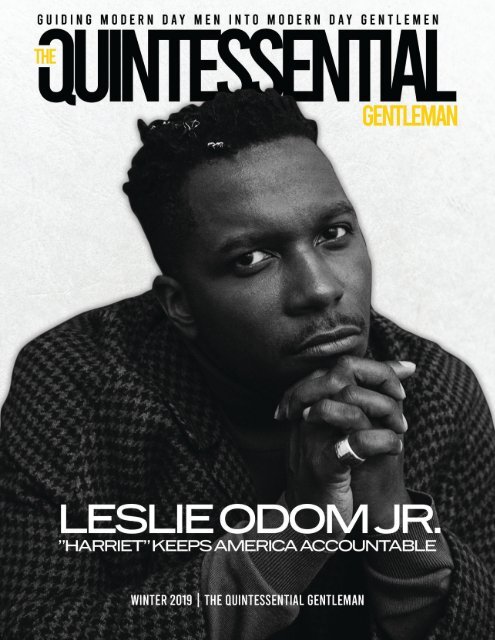 Leslie Odom Jr. | Family Issue 2019
Leslie Odom Jr. Covers the Family Issue of The Quintessential Gentleman
Leslie Odom Jr. Covers the Family Issue of The Quintessential Gentleman
SHOW MORE
SHOW LESS
You also want an ePaper? Increase the reach of your titles
YUMPU automatically turns print PDFs into web optimized ePapers that Google loves.
EDITOR'S NOTE

Growing up, the weekend after Thanksgiving was always a busy one. Christmas is my mother's

favorite holiday and putting up the Christmas tree was her favorite part. As the houses got

bigger, the more trees we got but it was always the same process. I was in charge of digging the

ornaments out of the garage or basement, my sister untangled the lights, my father brought in

the tree and my mother started to strategize on how she wanted the tree to look. Till this day,

that tree continues to go up after Thanksgiving. It is a memory, it is my family, it is TRADI-

TION. In this issue, we talk about family. From Black fathers who are inspiring their children

to be confident to a story about brothers learning to accept and understand their sibling who

is Trans. This Family issue will motivate you, remind you to love, and inspire you to keep those

traditions.

Eric K. Thomas

Editor-in-Chief

2 / THE THE QUINTESSENTIAL GENTLEMAN WWW.THEQGENTLEMAN.COM
---
TABLE OF CONTENTS

PG. 4 WHEN THE GAME OF FASHION IS A FATHER-SON SPORT

PG. 6 KELVIN HARRISON JR. IS MAKING "WAVES" IN

HOLLYWOOD

PG. 8 7 THINGS BLACK AND BROWN MEN SHOULD TAKE AWAY

FROM "WAVES"

PG. 10 TOP FIVE MOVIES CELEBRATING FATHERHOOD

PG. 12 LESLIE ODOM JR.'S ADVICE TO AMERICA ON

SUPPORTING "HARRIET"

PG. 16 HOLIDAY GIFT GUIDE

PG. 18 THE MEN OF ISSA RAE'S NEW YOUTUBE WEB SERIES

"KING ESTER" SHARE THE IMPORTANCE OF PROTECTING

TRANS WOMAN

PG. 20 BLACK INK CREW COMPTON'S LEMEIR MITCHELL ON

FATHERHOOD AND HIS NEW VEGAN VENTURE

PG. 24 HOLIDAY DRINK RECEIPE WITH BELVERDERE

PG. 26 6 FAMILY FRIENDLY DESTINATIONS

PG. 30 6 TAKEAWAYS FROM QUEEN & SLIM

PG. 33 FOX SPORTSCASTER MIKE HILL USES "OPEN MIKE" TO

SPEAK HIS TRUTH

PG. 36 A SEASON OF GIVING

PG. 37 DADDY DRESSED ME

PG. 40 FORMER SUPERBOWL CHAMPION KAYVON WEBSTER

IS USING HIS IMAGINATION TO MOBILIZE THE YOUTH

PG. 43 THE LARGEST BLACK-OWNED BANK TEAMS UP WITH

BME COMMUNITY TO CLOSE THE RACIAL WEALTH GAP

pg.12

LESLIE ODOM JR.

OUR STAFF

EDITOR-IN-CHIEF ERIC K. THOMAS

DIRECTOR OF PUBLIC RELATIONS DANE YOUNG

FASHION EDITOR AARON CAMPBELL

BRAND AMBASSADOR QUE JACKSON

WRITERS BRIAN ANTHONY, MONIQUE HOWARD,

DONALD COLEMAN

COPY EDITOR GABBY CORRICA

MAGAZINE GRAPHIC DESIGNER ELIZABETH AFERI

FAMILY 2019 / 3
---
GAME OF FASHION

WHEN THE

IS A FATHER-SON SPORT

BY: AARON CAMPBELL

4 / THE THE QUINTESSENTIAL GENTLEMAN WWW.THEQGENTLEMAN.COM
---
WHEN ONE THINKS OF PASSING DOWN THE FASHION GENE, MEN, AND SPE-

CIFICALLY BLACK MEN, MAY NOT BE THE FIRST PEOPLE TO COME TO MIND.

HOWEVER, THERE ARE SEVERAL FAMOUS BLACK FATHERS AND SONS THAT

HAVE MADE FASHION A MAJOR PART OF THEIR PERSONAL BRANDS, AND IN

SOME CASES A SERIOUS SOURCE OF INCOME. LET'S TAKE A LOOK AT A FEW

OF THE MOST INFLUENTIAL FATHERS AND SONS IN TODAY'S FASHION SCENE.

P. DIDDY, JUSTIN AND CHRISTIAN COMBS

Sean "P. Diddy" Combs has been a fixture on the fashion scene

since he started Bad Boy Entertainment in the early 90s. In

fact, one could say that fashion has been just as important to

the evolution of P. Diddy's career as music. He was one of the

first rappers to intertwine high fashion into every aspect of his

brand. He also started his own clothing line, Sean John, in 1998.

So it probably comes as no surprise that two of his sons, Justin

(25) and Christian (21) have followed in their father's footsteps,

making fashion a key part of their growing careers. Justin,

whose mother stylist Misa Hylton-Brim helped curate many of

the looks for Bad Boy artists, is a staple at New York Fashion

Week. He and his brothers have been named by Forbes as one

of the black youths leading the new black renaissance in fashion.

Meanwhile Christian doesn't just attend fashion shows,

he walks them, serving as a runway and campaign model for

brands like Dolce and Gabbana and Philipp Plein.

DAPPER DAN AND JELANI DAY

Daniel Day, widely referred to as Dapper Dan, and his son

Jelani Day may not be as well known as P. Diddy's family, but

their impact on the fashion world is no less great. A Harlem

New York native, Dapper Dan got his start as a clothier in the

1970s and opened his own boutique on 125th street in 1982. He

quickly became known for his bold use of logos copied from

top luxury brands such as Gucci and Louis Vuitton. With the

rise of both hip hop culture and the crack epidemic, Dapper

Dan saw his clientele skyrocket, dressing both entertainers and

kingpins eager to embrace the height of 1980s excess. Eventually,

luxury houses caught on to the fact that celebrities were

wearing knock-off versions of their monograms incorporated

into outfits created by Dan and sued him, eventually putting

him out of business. Ironically, it would be one of those same

brands, Gucci, and its newly appointed creative director, Alessandro

Michele, whose copies of Dan's original designs would

help bring his name back into the headlines. Dapper Dan's son,

Jelani Day, who serves as his brand manager, along with a social

media outcry demanding Gucci acknowledge Dapper Dan's

work, have been instrumental in his resurgence in recent years.

He and Jelani have since fostered a new professional relationship

with Gucci, creating an off-shoot menswear line for the

Italian house. The duo, in partnership with Gucci, also openedv

an atelier, Dapper Dan of Harlem, in 2018.

KANYE AND SAINT WEST

One of the more controversial names in fashion, or anywhere

for that matter, is undoubtedly the former Louis Vuitton Don

himself, Mr. Kanye West. When Kanye came from behind the

scenes and released his first album The College Dropout in

2004, he was lauded not only for his musical genius but also

for his unique style aesthetic. At a time when most rappers

still embraced the oversized tall-tee look, West was decked

in bright-color Ralph Lauren polos and designer backpacks.

Through the years, his star power and style have evolved, leading

him to create his own (highly popular and often criticized)

apparel and shoe lines. His sneaker collaboration with Adidas

has produced some of the most sought after silhouettes in the

sneaker business. He and his four young children have already

begun to have their own influence on the fashion industry. Oldest

son Saint, at a mere three years old, is a style star in his own

right. He, along with older sister North, have been featured in

fashion magazines and have even inspired their parents to create

a clothing line for kids.

WILL AND JADEN SMITH

Will Smith has made a name for himself as a rapper, actor and

Instagram obsession. While you may not automatically associate

him with fashion, he has served as a major influence of

Black men's style since the start of his career in the late 1980s.

His 90s sitcom, The Fresh Prince of Bel-Air, helped showcase

his edgy and sometimes quirky fashion sense and propelled

him into leading movie roles that increased his stardom. While

papa Smith has since adopted a more classic Hollywood look,

his youngest son Jaden has carried on his dad's more unconventional

style legacy. Jaden is known for his out-of-the-box fashions

and is a staple at major industry events such as the Met

Gala, where he once carried his freshly cut-off dreadlocks as

an accessory. Jaden has also starred in numerous campaigns for

luxury fashion houses. In fact, arguably his most talked about

fashion moment was when he starred in Louis Vuitton's 2016

womenswear campaign, wearing a series of skirts from the collection.

As the younger of this Smith duo is only 20, it's safe

to say that probably won't be his last time rocking the fashion

boat.

FAMILY 2019 / 5
---
KELVIN HARRISON JR.

IS MAKING "WAVES" IN HOLLYWOOD

BY: QUE JACKSON

6 / THE THE QUINTESSENTIAL GENTLEMAN WWW.THEQGENTLEMAN.COM
---
Kelvin Harrison Jr, America's rising star has continued

to build his reputation in the film industry as a force to

be reckoned with. From his role as Luce Edgar in the

film, Luce starring Octavia Spencer, to his role as Teddy Green

in the Epix drama, Godfather of Harlem starring Forrest Whitaker,

Kelvin continues to play characters that ignite great conversations.

His latest role as Tyler Williams in the romance drama,

Waves alongside Sterling K. Brown, was no different.

Waves hit theaters and became an immediate topic of

discussion within many families. Kelvin has toured the country

and spoke on panels regarding the extremely emotional film,

which follows the ups and downs of an African-American family.

His hopes are that the movie continues to open up a dialogue

between families, especially fathers and sons who often have the

most misunderstood relationships. He admits that when it has

come to the relationship with his own father, there were communication

barriers. After making the film, Kelvin understood

that he couldn't judge his father due to the fact that his father

didn't know how to love or communicate in the same way he

did. Kelvin says, "I feel empowered to make that step. I want

families to open up and communicate. I want them to have a dialogue

with each other so that they can heal together. We don't

have to exist in these past pains and traumas."

When speaking about his current success, Kelvin says,

"It is so humbling and I just feel so full inside. I actually sat down

and reflected on everything. I have all my scripts and when I

was cleaning up my apartment, I saw some of them and I just

started to cry because I was so grateful that I got this opportunity.

I could have never imagined what I would have been doing

growing up in New Orleans. I'm from a family of musicians and

I went to school for marketing. I never thought I was going to

get the chance to move to LA or New York. It feels like I have so

much purpose and I never knew what God had in store for me

and my life. It's so much bigger than I could have ever expected

and I'm thankful that I mean something to people. I value myself

more and it just inspired me to want to share that with other

people. There are many of us that add value to this world and

you would never know that until you allow yourself to go on

that journey. I'm just over the moon."

In 2020, Kelvin takes a different approach and shows

his comedic side of acting. He is currently wrapping up a new

film called The Photograph, a romantic comedy where plays an

intern alongside Issa Rae and Lakeith Stanfield, Will Packer,

Courtney B. Vance and more. Harrison will also be starring in

the music-centric comedy Covers, where he plays Traci Ellis

Ross's love interest. Rounding out the films to anticipate from

Kelvin, he will also be starring in the crime drama film The Trial

of The Chicago 7. In it, he plays Fred Hampton the man who

took over the Chicago chapter of the Black Panther Party in

1968. The movie is based on the story of the Chicago Seven, a

group of seven defendants charged by the federal government

with conspiracy, inciting to riot, and other charges related to anti-Vietnam

War and countercultural protests that took place in

Chicago on the occasion of the 1968 Democratic National Convention.

With so many memorable roles under his belt and so

many roles left to play, Kelvin Harrison Jr. is truly an actor deserving

of all the love he is receiving from the industry and his

supporters. Kelvin is a true Quintessential Gentleman.

FAMILY 2019 / 7
---
7THINGS BLACK AND

BROWN MEN SHOULD

TAKE AWAY FROM

"WAVES"

BY: KELVIN HARRISON JR.

5.

6.

7.

1. Vulnerability isn't a trap or a flaw.

2.

You can be imperfect and complicated and

troubled at any time and that's okay.

3. Our parents are so wise, they love us so much

and we should be able to recognize that even

when they don't know how to show that.

4. The women in our lives are Queens and they

are so powerful. I love Taylor Russell in this

movie because she shows that in such an eloquent

and subtle way.

We should learn to listen to our black women

more and embrace them.

We're all so smart. I think that we possess

emotional intelligence that we may not even

understand yet.

Trust our instincts because whatever we're

feeling in our gut is probably right.

8 / THE THE QUINTESSENTIAL GENTLEMAN WWW.THEQGENTLEMAN.COM
---
YOUR

SKIN

TELLS A

STORY

FAMILY 2019 / 9
---
- BY MONIQUE HOWARD -

Life lessons, memorable stories, and captivating characters are vital features that can earn a movie a place

among the classics. Good movies impact the audiences' thinking and resonate with them on an emotional

level. These movies share uplifting life lessons about overcoming adversity, self-realization and finding one's

place in the world. The strong male characters offer an exemplary reflection of what it means to be a man and father

from many diverse perspectives. Each movie offers an inspiring story that encourages and empowers the audience.

The unforgettable performances and heartfelt moments are just a few reasons why these movies should be on your

watch list.

10 / THE THE QUINTESSENTIAL GENTLEMAN WWW.THEQGENTLEMAN.COM
---
THE PURSUIT OF HAPPYNESS

The Pursuit of Happyness tells the incredible true story of Chris Garner, a struggling

single father who overcomes homelessness and becomes a multi-millionaire

investor. The lead roles are skillfully played by Will Smith and his son, Jaden.

The movie instills the importance of showing children they can achieve their

dreams no matter the circumstances.

DADDY'S LITTLE GIRLS

In Daddy's Little Girls, Idris Elba plays Monty, a hardworking, single father who

fights to regain custody of his three daughters. This movie provides a beautifully

rendered example of the lengths a parent will go for the sake of children.

BLOOD DIAMOND

In the gritty action flick Blood Diamond, a mercenary, and a fisherman embark on

the perilous journey to recover a rare diamond that will alter their fates. Djimon

Hounsou co-stars as the fisherman Solomon Vandy, a father who makes the ultimate

sacrifice by giving his life to ensure his son's safety. The movie presents a

heart-wrenching example of self-sacrificing love in its purest form.

THE BUTLER

The historical drama The Butler is loosely based on the life of Eugene Allen, who

served as a butler in the White House for 34 years. In the film, his story is reimagined

with character Cecil Gaines, played by Forest Whitaker. His story unfolds

in a time of political unrest and war as he serves as a butler in the White House

during eight presidencies. The movie wonderfully showcases an unconditional

love of family that is strong enough to withstand life's adversities.

THE GREAT DEBATERS

The Great Debaters features Denzel Washington as Melvin B. Tolson, a professor

and father figure of sorts at Marshall, Texas's Wiley College in 1935. He encourages

and challenges his students to achieve greatness as the school's first debate

team. The movie illustrates the importance of mentorship and inspiring young

minds to flourish.

Through the characters' hardships and triumphs, viewers can both relate

to and learn from their mistakes and successes. Love is the driving force that

compels each man to go against the odds for children.

FAMILY 2019 / 11
---
LESLIE ODOM JR.'S

ADVICE TO AMERICA ON SUPPORTING "HARRIET"

BY: DANE YOUNG

Photo Credits: Jimmy Fontaine

Harriet Tubman is undoubtedly an unsung hero.

She's one of the few Black public figures that we

learn about in our history books. Her story will

forever be an imprint in the soils of this nation

that we praise as the land of the free. However, I believe we are

devaluing the impact of our ancestors' prowess and their activism

when we refuse to support films like, Harriet, which provide

us with more insight into our history. Although the film grossed

over $23 Million in sales so far and is considered as an Oscar

frontrunner, many have voiced their reasons for the lack of support

of the film.

Actor Leslie Odom Jr. brilliantly portrayed abolitionist

William Still in Harriet. He assisted her with the rescue of over

70 slaves throughout her epic pilgrimage on the Underground

Railroad and was also credited as the father of the movement.

When asked about the importance and validity of this film, Leslie

had this to share, "I can understand the fatigue that people

may have towards slave movies, but I don't share it. There are all

these stories being told about certain times in history because it's

fascinating, and there are so many advantages for sharing them.

Slavery was a holocaust, and we are still feeling the repercussion

and pain from it. We are still unpacking the systematic damages

and trying to heal as a people, as a country, and a society. Slavery

was a big sin that we are reckoning with. We are trying to coex-

12 / THE THE QUINTESSENTIAL GENTLEMAN WWW.THEQGENTLEMAN.COM
---
ist in a society where our beginnings were subdued to chains and

shackles. I never get tired of seeing these films. America needs to

stay on the metaphorical couch to tackle the pain that slavery has

caused and to pinpoint exactly what it is. There is room for films

like Django, 12 Years a Slave, and there is room for Harriet. We may

not be able to stomach them all but America needs to stay on this

psychiatrist's couch. I understand that people are tired of seeing

slave films told a certain way. However, in Harriet, you pick up on

slave narratives, the ingenuity, the brilliance, and the courage it

took for every single one of them to escape. And each party has a

significant role and story that should be told."

Like some, I too had my apprehensions toward seeing

another slavery themed movie and wasn't afraid to share my concerns

with Leslie. I began by stating my appreciation as a journalist

to have been selected to screen the film in advance and

informing him of my observation of the lack of diversity in the

screening room, adding that I was one of three Black faces in attendance.

This prompted me to ask Mr. Odom as a participant

and lead actor on this project to explain who the film was indeed

intended for. "Not to shirk the responsibility of answering this,"

said Odom. "I had to get used to this medium [referring to the

film industry] coming from theater. This is a filmmaker–medium.

It's more about the director and editor. They are hugely important.

For example, some directors are making films that speak to

FAMILY 2019 / 13
---
14 / THE THE QUINTESSENTIAL GENTLEMAN WWW.THEQGENTLEMAN.COM
---
them and their personal passions, and there are directors hired

to execute the studio's vision. I've learned that actors are low on

the totem pole. So I can't truly answer who the film is intended

for. What I do know is that it was made with really skillful and

loving hands by Kasi Lemmons with good intentions. Producer

Debra Martin and actress Cynthia Erivo wanted to give Harriet

a hero and an action treatment. To give her a movie they thought

was befitting. There has been a lack and deficiency when it comes

to our stories being told. This may not be the Harriet movie that

everyone wants it to be, but I'm excited that it's a start and I don't

think this will be the last."

Regardless of if you're a fan of the narrative depicted in

this version of Harriet, we as Black and Brown people need to rally

behind this film as a community. It's our voice crafted by our

hands to commemorate our journey. In the words of Lena Waithe,

"to be Black is beautiful, but it's also traumatizing." This Harriet

film has sparked healthy dialogue to be exchanged among all races

and is a work of art that will transcend generations. It's a responsibility

of our own to be resilient in supporting projects that will

continue to bring awareness to the legacies of those whose backs

we stand on. We have to be like Leslie's character William and

quickly denounce any doubt that we all may have. There's a bigger

message in our testimony that will keep America on that metaphorical

couch until all wounds are healed.

FAMILY 2019 / 15
---
1

HOLIDAY

Gift Guide

2

1. THE BEVEL TRIMMER

The Bevel Trimmer runs quieter, cooler and now has double

the battery power over previous generations (it now holds up

to 8 hours per charge and keeps that power for 180 days.) Combining

innovations in design, power and cleanliness, the Bevel

Trimmer is a world-class device for both barbershop and home

grooming needs (use alongside the Bevel Shave System for consistently

smoother, clearer skin and fresher, sharper lines.

WEBSITE: GETBEVEL.COM/TRIMMER

PRICE: $199.95

2. MVST SELECT LUGGAGE

Help the QG in your life travel easier with a premium suitcase/

travel bag from MVST select. This suitcase is made of 100%

polycarbonate, which is used in bulletproof glass and the visor

of an astronaut's helmet because it is exceptionally resilient and

strong.

WEBSITE: MVSTSELECT.COM

PRICE: $225

4

3. LAETLY

Laetly is a New York-based brand of bold, fun knit scarves that

are universal, easy-to-gift, and the fun "exclamation point" to

your winter outfit. These make great pieces that are perfect for

men, including happy color-blocked styles and sophisticated

greys and muted tones.

WEBSITE: LAETLY.COM

PRICE: STARTING AT $60

4.SOOTHERAPY HEALING BATH SALTS

Men take baths too! Soothe not only have candles but they also

have healing bath salts. The 3-pack of Sootherapy Healing Bath

Salts contains all-natural, non-GMO, tropical ingredients such

as exotic Moloka'i & 'Alaea salts, taro, noni, ginger, raw cane sugar,

organic coconut oil and coconut milk. They smell incredible,

and leave skin feeling soft, hydrated and nourished!

WEBSITE: SOOTHE.COM

PRICE: $30

3

5

5. PAPERCLIP

Paperclip makes sustainable changing bags for the modern parent,

made using recycled materials. This is the gift that every

gentleman didn't know they needed. With a built-in changing

station that unfolds in second, this bag eliminates the need to

worry about the lack of changing stations in public restrooms

and is totally gender neutral - it also converts quickly from backpack

to messenger bag. It's a great gift for that 'cool dad' - the

modern, traveling parent's best friend.

WEBSITE: NORDSTROM

PRICE: STARTING AT $140

16 / THE THE QUINTESSENTIAL GENTLEMAN WWW.THEQGENTLEMAN.COM
---
8

10

6

6. WP-STANDARD LEATHER TRAVEL TOTE

The ultimate travel companion. With contrast stitching, rolled handles,

a detachable strap, and Riri zipper, the airport crowd will be

wowed with every adventure.

WEBSITE: WPSTANDARD.COM

PRICE: $419

7

7. POLO BLACK EDT HOLIDAY EDITION

Following its debut in the 1980s, Ralph Lauren's Polo Bear has become

an unmistakable icon for the brand, which will now star in the

brand's first-ever limited-edition holiday fragrance bottle collection.

The bottle collection will feature the brand's classic Polo fragrances

adorned with custom Polo Bear designs inspired by each scent.

WEBSITE: RALPHLAUREN.COM

PRICE: $105

8. G-SHOCK SKELETON SERIES

Part of the latest Clear Skeleton Series, which launched this April, the

new watches are colorful additions to the DW5600 series. Arriving

in the popular candy color trends with their striking appeal including

a one-tone chromatic color casing and band in transparent jelly style,

these new models express a futuristic take on nostalgia. The reverse

LCD with matching color tint showcases a minimalistic design that

matches the classic original G-SHOCK.

WEBSITE: GSHOCK.COM

PRICE: $110

9. ASHLEY NORTH - NOIR SANTAL CANDLE

Men like candles too. Noir Santal is Ashely North's one of signature

scents. This candle has luxe notes of black currant, rose and sandalwood

to create a truly warm and inviting feeling.

WEBSITE: SHOPANSTYLE.COM/

PRICE: $52

9

10. MY DRINK BOMB

The Original Drink Bomb are artisan handcrafted cocktail drink

mixers made with natural ingredients, organic herbs and 24K gold.

Simply add to your favorite alcohol of your choice, sparkling soda or

water. A new and fun twist to drinking cocktails.

WEBSITE: MYDRINKBOMB.COM

PRICE: $12.50

FAMILY 2019 / 17
---
KING ESTER

THE MEN OF ISSA RAE'S NEW YOUTUBE WEB SERIES

SHARE THE IMPORTANCE OF PROTECTING A TRANS WOMAN

By: Dane Young

18 / THE THE QUINTESSENTIAL GENTLEMAN WWW.THEQGENTLEMAN.COM
---
SOME PEOPLE YEARN FOR SECURITY.

It's a simple yet complex need that is essential to the way

one navigates through the world. Security alleviates the

anxieties that come with fear. It creates a force field that

is meant to protect one's well-being. Although, protection

is a fundamental right not often shared or offered to

specific groups of people due to systems of oppression

and the lack of knowledge. In the Dui Jarrod-produced

web series, King Ester, we are introduced to characters

who are fighting for a sense of belonging. They are

learning to accept their personal truths while living in a

community that ostracizes them.

The series is centered around leading lady Ester, who is

trans. She is a self-aware woman with dreams of leaving

her mark on the world and is undoubtedly a force to be

LIKE MANY OF US, ESTER

FACES OBSTACLES THAT

ARE HOLDING HER BACK

FROM ACHIEVING HER FULL

POTENTIAL. AS CLICHÉ AS

IT SOUNDS, THINGS LIKE

LOVE, SUPPORT AND CON-

FORMITY ARE DESIRED BUT

THE LACK THEREOF COULD

CREATE AN EXHAUSTING

SEARCH FOR FULFILLMENT.

reckoned with.

As confident

and brass as she

may be, the realization

that the

world doesn't revolve

around her

seems minute

and is not of her

concern. "I crafted

Ester with

the notion of her

being fully aware

of who she is as a

person, and the

world around

her needed to

make a shift towards

change.

I strategically

placed this character

in a family specifically with a brother who should

have the most reasons to love her, but doesn't understand

the concept of being trans and is slow to accept who she

is. As a writer, this was extremely difficult to come up with

but I felt the importance of sharing the dynamics between

the two," said Jarrod.

it sounds, things like love, support and conformity are

desired but the lack thereof could create an exhausting

search for fulfillment. LJ Scott, who plays Damien, becomes

Ester's confidant and safety net as she tries to escape

being objectified for survival. According to Scott,

"My character Damien is Ester's safe place. Everything

Ester ever wanted or had expectations for Damion has.

However, he himself is dealing with the acceptance of his

own sexuality, which is something that Ester has already

accomplished and what Damien admires about her."

A home is deemed one's secure space, a place that should

be free of judgment. Whether it's a mother, brother, or

friend, our hope is to have a home that serves as a safe

space to express our full selves without being looked

down upon. As King, Ester's brother played by Martin

Bradford, witnesses her transformation firsthand, he is

slow to accept, confused and not sure how to support

her due to the provincial mindsets of outside influences

and personal beliefs. But he innately knows that he

has a responsibility to protect his sister. "I play King, and

he represents that black man who is trying but may not

have the proper education or the words to interact with

someone who is considered trans. Our society wasn't designed

for us to enter into those types of conversations

smoothly. As we have evolved, so should the lessons surrounding

gender and sex, which is why this project is so

important. King has done damage but he's trying to heal

and grow from his mistakes," said Bradford.

The King Ester series is a coming of age story that speaks

to the realities of today. It's relatable and forces the audience

to look at the importance of identity through familiar

lenses. The show can now be viewed on Youtube

as a part of the Issa Rae Presents channel. We owe it to

ourselves to ignite the conversations of how we can protect

all women. "Many of us take our human rights for

granted. People within the LGBTQ community aren't

receiving their allowed human rights by default. Everyone

wants to be accepted; none of us should hold dominion

over someone's pure existence and humanity. It

should be so easy, but for whatever reason people make

it so hard," Bradford explains.

Like many of us, Ester faces obstacles that are holding

her back from achieving her full potential. As cliché as

FAMILY 2019 / 19
---
Black Ink Crew Compton's

Lemeir Mitchell

on Fatherhood and His New Vegan Venture

BY: D.LEWIS COLE

20 / THE THE QUINTESSENTIAL GENTLEMAN WWW.THEQGENTLEMAN.COM
---
Mitchell is most known for displaying

his talent as a tattoo artist on VH1's Black

Ink Crew Compton. As his fans know, he is

a new business owner, and most importantly

a new father to a beautiful baby girl.

Happy Ice, Mitchell's new business, sells an ice cream alternative.

His treat is a vegan, water ice mix made without

egg, dairy, or nut products. The result is a colorful concoction

designed to bring happiness to any situation.

Read on to learn more about how he balances his art, business,

and fatherhood.

How did you get your start in the tattoo

business?

I got my start in the tattoo business by just going for it. I

am a self-taught tattooist. I came from a rough neighborhood

in Philadelphia, and I got in trouble multiple times in

my younger years. I wanted out of that life. One day while

walking home, a friend came up to me to sell all his tattoo

equipment for $50. With my last $50 I made from cleaning

family members' houses, I bought the equipment. I

got home, cleaned the equipment, and called a friend over.

That night I tattooed a Famous Stripe and Stars-themed

half sleeve on him. From that moment on, I studied my

craft diligently by watching YouTube videos and drawing

consistently until I became great. It's been a fun journey.

What motivated you to start Happy Ice?

What motivated me to start Happy Ice was my desire to

making it for myself to eat. When I moved to LA, my initial

goal wasn't to open Happy Ice, but I just couldn't get

this type of product here. I grew up on this type of product

since I was a kid. So I went from wanting to be a consumer

to becoming an owner and introducing Los Angeles to my

childhood dessert. When starting the company, my artist

ways took over. I saw so many opportunities to make the

experience unforgettable. I created a recipe distinct to me

and branding that caught everyone's attention. This became

my new tattoo canvas.

What led you to implement a storefront for

Happy Ice?

We wanted our own commissary kitchen instead of sharing.

Commissary kitchens cost the same amount as storefronts.

Our idea became a possibility when the previous

tenants of the building where we parked our truck were

moving out. My wife was inside the truck the moment

they were moving out. She called me instantly to tell me

the "happy" news. This seemed to be a God-sent opportunity

and we jumped right on it. So, we now have a storefront

opening in the exact location we've already established

for Happy Ice.

Congrats on the new baby. How do you

balance the responsibilities of being a new

father and a business owner?

When we first found out my wife was pregnant, we were

excited and nervous because we had a lot going on, and it

did not seem like the best time. Now that our child is here,

the timing couldn't be better. Having my daughter made

me a better businessman Lemeir instantly. Fatherhood

has pushed me in the direction of creating a structure for

my company and trusting it. Before this, I had my hands

in everything and never had time. Now, I've structured

the company, and I have more time than ever before. I've

been finding the balance more and I have my daughter to

thank for that push.

What moment from your childhood would

you say shapes the father you are and plan

to be?

Growing up with my Uncle Joey has shaped the father I

am today. My dad was sentenced to life in prison when I

was 11 years old. From that moment, I was out of control

and my mom could not handle me. She made a hard, but

great decision to let my Uncle Joey take custody of me. He

gave me all the tools I needed to survive in this world. He

raised me and always reminded me of the quote, "Do unto

others as you want done unto you." I still got into trouble

a little during this time, but when I stepped out into the

real world by myself, all the things he instilled in my mind

started presenting themselves. Instantly, I realized how

many valuable lessons he taught me. From there I held on

tight to his voice as I started my journey into the world

and became the Lemeir Mitchell everyone knows today.

Keep up with Lemeir, his family, and Happy Ice by

tuning in to Black Ink Compton on VH1 Wednesday

evenings at 10/9c. If you're ever in LA, make

sure you stop by Happy Ice.

FAMILY 2019 / 21
---
22 / THE THE QUINTESSENTIAL GENTLEMAN WWW.THEQGENTLEMAN.COM
---
FAMILY 2019 / 23
---
HOLIDAY DRINKS WITH

RYE CARRE

INGREDIENTS:

• 1oz Belvedere Vodka

• .5oz Hot Water

• 1oz French Fortified Wine

• 1oz Fresh Lemon Juice

• .5oz Honey

• Cinnamon Stick, Orange Wedge, Clove,

Nutmeg

DIRECTIONS:

Stir all ingredients over cubed ice in mixing

glass and strain into a chilled rocks

glass over a large ice cube.

BELVEDERE

CHAMPAGNE

PUNCH

INGREDIENTS:

• 1 oz Belvedere Vodka

• .75 oz Pineapple Juice

• .75 oz Moët & Chandon Imperial Brut

• .5 oz Averna

• .25 oz Vanilla Simple Syrup (1:1 vanilla

extract to simple syrup)

DIRECTIONS:

Add all ingredients, except Moët & Chandon

Imperial Brut, to a shaker with ice.

Shake and strain into a glass mug, add ice

and top with Moët & Chandon Imperial

Brut. Garnish with a dusting of fresh nutmeg.

GARNISH: Fresh Nutmeg

24 / THE THE QUINTESSENTIAL GENTLEMAN WWW.THEQGENTLEMAN.COM
---
BELVEDERE

toddy

INGREDIENTS:

• 1oz Belvedere Vodka

• 1.5oz Hot Water

• oz French Fortified Wine

• 1oz Fresh Lemon Juice

• .5oz Honey

• Cinnamon Stick, Orange Wedge, Clove,

Nutmeg

DIRECTIONS:

Add hot water to heat glass mug, then

honey to melt. Add remaining liquid ingredients.

BELVEDERE

Cider punch

INGREDIENTS:

• 10 oz Belvedere Vodka

• 14 oz Cloudy Apple Cider

• 3 oz Allspice Syrup

• 4 oz Lemon juice

• 4 Lemon wheels

• 4 Orange wheels

• 5 Cinnamon sticks

DIRECTIONS:

Combine all ingredients in a large punch

bowl with ice and serve immediately.

Serves 6-8.

GARNISH: Nutmeg, Cinnamon Stick,

Orange Wedge, Clove

FAMILY 2019 / 25
---
6FAMILY FRIENDLY

Destinations

D

26 / THE THE QUINTESSENTIAL GENTLEMAN WWW.THEQGENTLEMAN.COM
---
aytona

across from the famed Daytona International Speedway.

THE DAYTONA

DAYTONA BEACH, FL

Book it to sunny Daytona Beach for a family-friendly

getaway the kids are going to love. The DAYTONA is a

brand new Autograph Collection hotel located directly

The property takes full advantage of its prime location

with a racing-inspired design that evokes the energy of

the Speedway. Families can begin the morning with some

fun in the sun, by relaxing at the property's outdoor pool

with private cabanas. After, head downstairs to the ONE

DAYTONA retail and entertainment district where you'll

have access to more than 50 retail and restaurant outlets

like Cobb Luxury Movie Theatre and Game Time, an

indoor gaming complex boasting arcade games for the

kiddos. While you're in the iconic destination known for

racing, parents can jet over to the Speedway and book

the junior ride-along experience, the ultimate adrenaline

rush of a lifetime - where kids have the opportunity to

ride shotgun in a real NASCAR race car.

For more information or to book your stay, visit thedaytona.

com

Jupiter

JUPITER BEACH RESORT

Resor

JUPITER BEACH, FL

Families can get into the swing of easy, breezy beach life

at Jupiter Beach Resort & Spa, the area's only oceanfront

hotel, located on a pristine stretch of golden Atlantic

coastline. Perched on a sand dune overlooking the turquoise

ocean, the resort is the ultimate family vacation

destination with activities for everyone. From complimentary

bicycle rentals to kayaking nearby in Dubois

Park, there's always something the whole family can enjoy

together. After a day spent outdoors, the whole family

can unwind at the resort's Opal spa, where adults can

indulge in restorative ocean-inspired treatments while

the kiddos enjoy 'La Petite' mani/pedis.

For more information or to book, visit jupiterbeachresort.

com.

FAMILY 2019 / 27
---
Colony

COLONY CLUB

Club

BARBADOS

Though Colony Club in Barbados takes on a more

adult-centric wellness identity (in-room yoga mats, onsite

organic garden), kids are welcomed at the west coast

property with mini bathrobes, a plush turtle to snuggle

with and a plate of milk & cookies at bedtime. While the

sun's up, the AAA Four-Diamond hotel offers a stand-up

paddleboard and turtle swim so youngsters play amongst

the native hawksbills at a local turtle hangout. For a

hands-on fishing experience, the Bait to Plate excursion

takes the family out to sea to hook their dinner and watch

the head chef prepare the day's catch once they're back

on land. Kids can also up their game at Colony Club's tennis

clinics taught by a professional coach or jump in for a

game of beach cricket with a former West Indies cricketer.

For more information or to book, visit eleganthotels.

com/colony-club.

For more information or to book, visit eleganthotels.com/colony-club.

South

MARRIOTT STANTON SOUTH

Beach

BEACH

MIAMI

While the Magic City is known for its stunning beaches

and vibrant nightlife, the city is teeming with culture, history,

and endless family-friendly activities. Grab the fam

and cruise the streets of Wynwood by buggie, make your

way to downtown Miami to experience the Phillip and

Patricia Frost Museum of Science, or catch the night time

festival of lights at Luminosa at Jungle Island. After a day

of fun, retreat to Marriott Stanton South Beach. Located

in the South of Fifth district of Miami Beach, a quieter

and more sophisticated area that is notably less crowded,

this relaxed, beach chic resort features a sandpit on the

beach with toys for the kids, spacious rooms and suites

with ocean and city skyline views, two pools overlooking

the ocean, a chic sun deck, and two restaurants including

Azabu Miami Beach and Mexican restaurant Lolo's Surf

Cantina.

For more information or to book, visit marriottstantonsouthbeach.com.

28 / THE THE QUINTESSENTIAL GENTLEMAN WWW.THEQGENTLEMAN.COM
---
Cancun

MARRIOTT CANCUN RESORT

CANCUN

Getting ready to reveal its brand new lobby and Polynesian

restaurant, Marriott Cancun Resort is a family-friendly

retreat in the heart of Cancun. Located just 15

minutes from the airport (so no long car rides with overly

excited kids screaming, "Are we there yet?"), this kid-approved

escape is the best place for families seeking a little

warm-weather this winter. The Family Fun at Marriott

Cancun package puts the little ones in charge of their

Cancun vacay and includes everything...well, except boredom.

Families will snag ocean-facing connecting rooms

and free breakfast. Kids ages 4-12 also have daily access

to the Kid's Club, which features activities like Spanish

lessons, piñata making, sushi rolling, sandcastle building

and arts and crafts. With a $100 spa credit, parents can

beeline to the 30,000 square foot spa at sister property

JW Marriott Cancun for some parent/kiddie R&R. Little

ones can be pampered with treatments like "Mayan Princess

For A Day" or the "Ice Cream Pedicure."

For more information or to book, visit marriottcancunresort.

com.

Turks + Caic

WYMARA RESORT & SPA

TURKS + CAICOS

Recently debuting its ultra-luxurious, private, oceanfront

villas, Wymara Resort and Villas welcomes families

to one of the most lavish resorts in the Caribbean.

With indoor and outdoor living areas, a full kitchen and

its own private waterfront pool flanked by an over-thewater

swim platform with direct ocean access, these picturesque

five-bedroom villas (enough rooms that mom/

dad, the kiddos and grandma/grandpa can all have their

own room!) are the epitome of Caribbean living. It's only

right that on an island revered for its powdery white sand

and turquoise waters, families can enjoy complimentary

kayaking, stand-up paddleboarding and Hobie Cat sailing

along Grace Bay Beach. If that weren't enough, the gang

can up the ante with a snorkeling and conch cruise to the

island's barrier reef, the third-largest in the world.

For more information or to book, visit wymararesortandvillas.com.

FAMILY 2019 / 29
---
HERE ARE SIX TAKEAWAYS FROM

BY: BRIAN ANTHONY

30 / THE THE QUINTESSENTIAL GENTLEMAN WWW.THEQGENTLEMAN.COM
---
While Queen & Slim embodies everything from

provocativeness, stunning cinematography, injustices,

and the visibility of oppression, it is

not to be confused as love on the run or Bonnie

and Clyde. The film exhibits systematic racism with an impactful

ending that's historic, honest, and heartbreaking on many levels.

It's a tale of one's escape from the hell of America with gripping

and jaw-dropping moments. Here are six things I took away from

Queen & Slim.

ONE THING CHANGES EVERYTHING:

It's not long before you realize how one mishap has the ability to

alter the trajectory of one's life. That's exactly what happened

to Queen and Slim. An unfortunate incident, which they knew

wouldn't be viewed as an accident, forces them to embark on a

journey neither one of them wanted but understood they had to

because there will never be any real justice.

OVEREXPOSURE OF TODAY'S YOUTH:

We are no longer living in an analog world, it's digital. On their

journey, Queen and Slim's paths cross with a young boy who's become

overly invested and intrigued by their story. Perhaps it had

something to do with the dashcam footage going viral. The film

exposes us to how today's youth are overly exposed to things that

our parents were once able to shield us from. It showcases how

much of an influence the world outside of the four walls we live

in impacts our children, and there's not much we can do about it.

Hatred vs Heroism: Some are going to love what you do and some

are going to hate what you do. Queen and Slim soon found out

how people truly felt about what they've done. They were met

with a jarring approval and disapproval, but the sense of community,

pride, and solidarity seemed to act as a shield and hope for

the pair. The film's underlining theme told the story of how blacks

are often perceived by the public without explanation.

hopes the one who comes to their aid would be someone black.

Queen quickly replies by saying, "that isn't always a good thing."

They've encountered their fair share of eye rolls and betrayal from

blacks on their journey and found refuge in the Shephard's modern

day "underground railroad." In the end, it came down to every

man for themselves verses a crab in the barrel mentality.

BLACK LOVE:

To believe this all started from a Tinder date. This unforgettable

first date became a six-day love story. It doesn't read any more

beautiful than two strangers becoming bonded by an unexpected

incident. Who knew a believer and non-believer could become

each other's belief system? On this road trip to freedom, they unveil

scars and healed them all while finding balance in one another.

They decided to enjoy the experience regardless of the outcome,

although it was a first and only date that was destined to be

doomed before it ended. It remarkably examined the experience

and exchange that resides in a new relationship that many don't

want to survive.

UNDERSTANDING:

One thing in particular this film did to combat against present-day

racism was beg for more understanding rather sympathy. Instead

of trying to coerce the audience to see the plight and struggle of

blacks, it urged for understanding of the plight. It spoke on the

multi-levels of racism; how black lives really matter and are perceived.

By examining black radicalism and black suffering, the

creators perfectly painted the picture that blacks aren't just deer

tangled in branches that need freeing.

Queen & Slim is non-violent and hones in on the pain, strife, complexity,

and unapologetic-ness of blackness. It didn't reinforce

any black stereotypes, but more so mirrored the truth that lies in

blackness. All Queen and Slim ever did were be black, while journeying

to their destination, which ultimately became their legacy.

SKIN FOLK AIN'T ALWAYS

KINFOLK:

They like to say, "it be your own people," and that truth wasn't farfetched.

Earlier in the film, when they're hitchhiking for help, Slim

FAMILY 2019 / 31
---
32 / THE THE QUINTESSENTIAL GENTLEMAN WWW.THEQGENTLEMAN.COM
---
FOX SPORTSCASTER

Photo Credits: Erick Robinson

MIKE HILL

USES "OPEN MIKE" TO SPEAK HIS TRUTH

BY: QUE JACKSON

Photo Credits: Erick Robinson

Mike Hill is one of sports' most

noticeable infotainers. Since

the 1990s, Mike has created a

name for himself by informing and entertaining

people in the world of sports

through his journalism. He is now opening

up and allowing the world to understand

the man behind the personality. In

his new book, Open Mike, he shares his

many triumphs and disappointments.

Mike is no longer afraid to dig deep in

order to share his truth with the hope of

encouraging someone to embrace theirs.

Mike Hill is a devoted father of two young

ladies and a man who has overcome a lot

of loss and is not afraid to admit that he

is a work in progress but every day he is

striving to be a better man.

FAMILY 2019 / 33
---
Mike's journey into entertainment started the day

he was discharged from the military and received

a call 2 hours after with the offer of his first job in

sportscasting. He always knew that his passion was in sports

and that he wanted to inform sports lovers all around the world.

This passion led him to spend time on platforms both local and

national in Fresno, California, Nashville, Dallas, New York and

more. As his career was on the rise, on 9/11, a day that many of us

will never forget, became a turning point in his life. The network

ran out of money and he lost his job in New York. After 6 months,

he then moved to Dallas where he eventually lost his job. He admits

that this was one of the worst yet most eye-opening experiences

of his professional life. During those times everything in

his life came into question and he slipped into a deep depression.

"How could a man who rose to the top so fast lose everything just

as fast?" "What will I do next?" "Is anyone ever going to hire me

again?" "Is life even worth living?" These are things that he admits

to thinking during the year and a half that he couldn't find work.

Even after extended unemployment and being saved from making

a decision that would ruin the rest of his career, he heard a

voice saying, "I have something better for you." He kept working

hard and soon after was offered a position at ESPN, eventually

spending 9 years at the network. In 2013, Los Angeles became his

new home and the beginning of what he feels has been the best

years of his life both personally and professionally.

Dealing with the challenges of life, Mike eventually got

to the place where he understood counseling was necessary if

he wanted to be free and truly be happy. He understood that

throughout his journey he was hurt, but there were people that

he hurt as well. He shares a lot of this in his book and hopes that

by opening up and being transparent that our community will

seek counseling for the traumas that affect the lives they lead. He

advises that we seek professional resources available and don't

try to fix ourselves. It doesn't make you stronger to hold it in, it

makes you weaker. Writing the book was cathartic for him. "If it

wasn't for this book, I don't believe I would be where I am right

now in my career or personally. I wouldn't have been able to let

go of my past and receive the blessings that I have," says Mike.

"The things you do as a man doesn't make you a man," is

a quote that comes from Mike. He understood that to be a man,

there were plenty of things he needed to overcome, put aside and

admit. Admitting that he hurt his daughters was one. Admitting

that when in relationships, he didn't treat people as well as he

should have was another. Mike worked daily to become the better

version of himself. He got the help he needed to become the

best person and father he could be. Becoming a role model to

not only his daughters but to every man of color who felt as if

they couldn't overcome who they thought they were. In 2014, he

began writing the book that would take over 5 years to complete,

as the story of his life was developing. He put the book to the side

for a few years, but one day his life felt so heavy and he believed

that if he didn't write how he felt, he was going to die. "The more

I wrote, the lighter I felt. I had to get everything off of my chest.

I felt everything in my life had turned around and I could see

things more clearly. I still have a long way to go. I have nothing

to hide and I have no problem putting it out there and exposing

myself," said Mike. "We all have errors, we all have flaws, but it's

not until you are willing to accept them and learn from your mistakes

that you can move forward." During the process, he came

to understand why things in his life were the way they were. He

learned more about himself in terms of the way he was and why

he did the things he did. He was able to pinpoint his challenges

and eventually change the negatives into positives.

Realizing that he was ready for love, he went on Steve

Harvey's talk show dating segment where he met model, mogul

and Real Housewives of Atlanta star Cynthia Bailey. The two began

a long-distance romance that would eventually lead to Mike

proposing. During their courtship, Mike opened up to Cynthia

about his truths while sharing that he was writing a book about

his life and experiences. Allowing her to see his truths on paper

ultimately brought them closer together. Despite being apart of

the social scene, they felt as if they didn't have to put on facades

with one another.

"I don't have any shame. It's my life and I can't hide from

it. This book shares the image of who I was. This is what I've

gone through and this is what people in society go through. I

want people to know if I can grow through it, you can certainly

do it too," he says.

Mike is currently working with the new Fox Soul

streaming platform available online or via the app. The platform

spotlights what's impacting African-American and multi-ethnic

communities, speaking on such things as colorism, Afrofuturism,

relationships and so much more. The Mike and Donny Show is

a 2-hour show co-hosted by Mike and Donny Harrell, which airs

weekdays. His goal is to inspire his people to strive for that greatness

that lives inside of them.

When asked what Mike wanted his legacy to be, he

answered, "He was a good father, a great husband, and a great

friend. He wanted to change the world. He wanted to impact society

and bring everybody together. I lived to make people happy

and make them smile. I did my best to do it the right way. When

people think of me, I want them to smile."

Mike Hill is a man who is the epitome of someone who

uses his life to inspire others. His story of truth, transparency and

transformation is one that everyone can learn from. Mike has

partnered with his beautiful fiancée Cynthia Bailey to develop,

host and produce a dating show to help other singles find love

called The Hookup. It's not your average dating show, as it infuses

reality with a game show. You can also check out his new

show The Mike and Donny Show on Fox Soul. His new book

Open Mike will be out the first quarter of 2020.

Stay Connected with Mike via Instagram @ItsMikeHill

34 / THE THE QUINTESSENTIAL GENTLEMAN WWW.THEQGENTLEMAN.COM
---
Photo Credit: Omar Piechurski

FAMILY 2019 / 35
---
- BY MONIQUE HOWARD -

Whether it's the simple act of holding the door for a senior citizen

or helping a stranger who's down and out, daily compassion transcends

the holiday joviality that inspires giving. It's one of the most

beautiful aspects of human nature. Smile more and lend a helping

hand whenever you can. These actions can inspire what all people

seek in life– happiness.

Volunteering at homeless shelters, participating in food and

toy drives are some of the best ways to usher in the holiday spirit

by providing hope and letting those in need know that they are not

alone or forgotten.

As the family gathers around the dinner table to enjoy a holiday

meal, they will have the satisfaction of knowing someone else

is doing the same because they helped make it happen. A holiday

tradition will become an everyday practice that will last a lifetime. In

life, the season of giving never ends, and one of the greatest traditions

to pass on to the next generation is the joy of helping others.

36 / THE THE QUINTESSENTIAL GENTLEMAN WWW.THEQGENTLEMAN.COM
---
BY: AARON CAMPBELL

While scrolling through Instagram, a page appears featuring a vibrant Black girl, posing

in typical kid settings (the park, the beach, her neighborhood) wearing eye-catching

clothing. One outfit features a matching dress and turban made from a bold print

covered in colorful fish. Another features a hot pink feathered jacket with the words

"Daddy's Girl" sewn on the back. The page is full of striking children's fashion in bold

patterns, prints and colors, all modeled with style by this same little girl.

FAMILY 2019 / 37
---
WHILE THERE ARE SEVERAL

CHILDREN'S FASHION AND

MODELING PAGES ON SO-

CIAL MEDIA PLATFORMS,

THE "DADDY DRESSED ME

BY MG" PAGE HAS A TWIST.

The person responsible for designing and sewing the clothes

featured happens to be the little girl's father. Michael Gardner

has cultivated and nourished his relationship with his daughter

in a rather unique way, using their love of fashion and sewing.

Michael's intention to use his talents to lean into his daughter's

interests has proven to be successful, subsequently evolving into

an amazing wardrobe for her, a website and blog for him, and an

unbreakable bond between the two of them. We had the opportunity

to interview Micahel to learn more about "Daddy Dressed

Me by MG."

What was your first introduction to fashion?

I have always had an appreciation for fashion and the opportunity

we have to express ourselves through what we wear. Growing up,

I remember observing the women in my family dressing in various

styles, colors, prints, accessories and creative hairstyles and

that inspires me today.

How did sewing in particular turn into a way for you to

bond with your daughter?

One of my main goals as a father was to ensure my daughter loved

herself and felt confident in the way she looked and her abilities. I

was in search of a new way to utilize my creativity while learning

how to be a father, and sewing became the outlet I used to conquer

both goals. I began sewing clothing for Ava, and she would

model all the pieces. This experience has helped us be able to

communicate, encourage and support each other; we are both so

proud of what we can accomplish together.

What was the process you went through deciding to

start this business?

As I began to learn how to share, I would share what I created

on social media platforms. I was encouraged to start accepting

orders to make custom clothing and I opened an Etsy shop a few

years ago. After doing this, I realized I could not commit the time

to make that business a success, and I shifted my focus to solely

sewing for my daughter. I began to blog about it and created

my website. Currently, I only post to Instagram, and I plan to relaunch

our blog in the next few months.

How does your daughter play a role in your design process?

Ava is fully involved in shopping for fabrics, creating ideas, choosing

accessories and does a great job bringing the clothes to life

in photos. She is present throughout the entire process from me

"ONE OF MY MAIN

GOALS AS A FATHER

WAS TO ENSURE MY

DAUGHTER LOVED

HERSELF AND FELT

CONFIDENT IN THE

WAY SHE LOOKED

AND HER ABILITIES."

cutting the fabric to putting the finishing touches on everything

I create. We sometimes disagree on the details; short or maxi

length, sleeves or no sleeves or what accessories look best, but

we come to a resolution, which is usually Ava getting her way. She

also gives her opinion on the locations to take her pictures. We

are a team and really enjoy collaborating with each other.

38 / THE THE QUINTESSENTIAL GENTLEMAN WWW.THEQGENTLEMAN.COM
---
How has your daughter influenced your personal style?

My daughter has helped me step out of my comfort zone. I value

her opinion, and she is honest in telling me what looks good and

what does not. In teaching her to be confident, I became more

confident in myself. I feel encouraged to wear whatever I like and

feel great within myself. I wear more bold colors, mix prints and

pay more attention to how my clothes fit. Creating custom outfits

for her often puts a spotlight on me as well, so I've learned to

make sure I'm well-dressed.

Do you have plans to expand into other fashion areas?

I enjoy creating accessories as well. I've created earrings, a few

handbags and I'll be creating a pair of sandals very soon. I also do

my daughter's hair and nails. I have become a one-stop shop for

all of Ava's beauty and fashion needs.

What advice would you give to fathers struggling to find

ways to connect to their daughters (or sons)?

Find what your child is interested in and engage in those activities

with them. Being present and encouraging them along the

way makes a huge difference. Open the lines of communication

to learn what they're curious about and spend time helping them

find their passion. One of the reasons I chose sewing was because

I noticed Ava's interest in fashion. She would compliment people's

clothing, always noticed nice shoes and was infatuated with

all things sparkly and that had glitter. Get to know your child and

observe what they're attracted to, and you'll be able to build a

bond.

Make sure to follow their Instagram @DaddyDressed-

MeByMG

FAMILY 2019 / 39
---
40 / THE THE QUINTESSENTIAL GENTLEMAN WWW.THEQGENTLEMAN.COM
---
FORMER SUPERBOWL CHAMPION

Kayvon Webster

IS USING HIS IMAGINATION TO MOBILIZE THE YOUTH

INTERVIEW BY: MANNY ADEYEYE | WRITTEN BY: DANE YOUNG

SUPER BOWL 50 CHAMPION, KAYVON

WEBSTER HAS A WAY WITH WORDS. He is

using his star power and vernacular to invigorate at-risk youth,

which gives them just a little more hope to make better life decisions,

to affirm who they are, and their willingness to succeed.

Kayvon's creativity and passion to inspire has lead to the creation

of The Adventures of Kim and Kay, an animation series devoted

to providing real-life tips and encouragement on how to set goals

and seeing them materialize. Education, family, and love nurtured

this New Orleans Saints cornerback into the multifaceted

success story he is today. In this interview, Kayvon shared more

insights into the animated series, his other social initiatives, and

family upbringing.

Describe the community you grew up in?

I grew up in Opa-locka, Florida. It was a rough area. In my neighborhood,

there were a lot of great nonprofessional players that

inspired me to keep playing. Unfortunately, a lot of them that

I grew up watching didn't have a chance to make it out themselves.

They were faced with life's realities that ultimately the

streets and gang life were their best option for survival. They really

didn't have anybody to motivate them. We didn't really have

too many role models to look up to. Mike McKenzie was probably

one of the few neighborhood success stories that I knew of.

He offered football camps in our area and so did Brett Perriman.

They kind of inspired me to look at the NFL and football as a

way out. I went to Carol City High School where pro-athletes

Santana Moss and Mike McKenzie attended. Those guys were

like role models for us. I was grateful to have them as examples

just to know that your upbringing does determine your destiny.

This helped me to accomplish my dream.

When did you realize you had to make something

of yourself and rise above the stigma of

the community?

Living in Miami we grew up pretty faster than in other places.

Around 14 I knew that I desired more than what was offered

there. While in the ninth grade, I came to the conclusion that I

had to figure it out. If I'm going to do something with my life, it's

going to be up to me and nobody else. Nobody else is going to

push you as hard as you will push yourself. My pops never played

football. My birth pops wasn't really around. My mom was always

at work to provide for us. She came to the games that she could.

I had a good support system. But when it came to the things that

I needed, I knew I was going to have to count on me. At an early

age, I told my mom that she didn't have to worry about me. I was

going to figure it out.

Tell us about the Adventures of Kim and Kay.

It actually came from my idea I had a long time ago. Growing up

I used to watch a show called Bruno the Kid. Bruce Willis had

his own cartoon. It's an old cartoon. I don't know many people

that watched it but it is something I watched. I always wanted

to be someone who was innovative. Nobody in my family really

had anything for me to go off of as a guideline on how to navigate

through life. Sports gave me a platform for experiencing all

these different things. Cartoons can be a means for inspiration

for kids like how Bruno the Kid motivated me. I have a friend

named Jason Canela that I went to high school with. He is an

actor on Young and Restless. During the time of my injury, I

reached out to him and told him I wanted to get into the film

world and let's do a cartoon. He linked me up with a few people

and they brought the vision to life. Now we are just waiting for it

to continue to unfold.

What ways do you think athletes should use

their platforms?

I think anybody who has a platform should use it as a tool to inspire

the youth. It's not just about us, it's about us uplifting everybody

else. Giving back is doing God's work. We are helping them

have more of a positive mindset. We have to be selfless when it

comes to that because not everybody is fortunate. I would tell

another athlete to pay it forward.

Talk to us about the Kayvon Webster's Gamechangers

Foundation.

We do a lot of work with underprivileged kids that don't have

opportunities that other kids may have. I just had a couple of

workshops where I took a bunch of kids to Microsoft to learn

gaming and coding. Introducing them to the tech world. This is

just one example of the things we do. But our hope is to teach

and inform them of other opportunities. That you don't need to

play football or any sport in order to succeed. Giving them the

confidence of knowing that they can succeed at whatever they

put their minds to.

To learn more about Kayvon's projects and how you can support

visit K-webb.com.

FAMILY 2019 / 41
---
42 / THE THE QUINTESSENTIAL GENTLEMAN WWW.THEQGENTLEMAN.COM
---
THE LARGEST BLACK-OWNED BANK TEAMS UP WITH

BMe COMMUNITY

- TO CLOSE THE RACIAL WEALTH GAP -

BY: ERIC K. THOMAS

The Banker is a film that tells the story of one of the first Black banks in America in

the 1950-60s. Over fifty years later, OneUnited Bank is the largest Black-owned bank

in America and recently they announced BankBlack X, a nationwide plan to close the

racial wealth gap. The goal of BankBlack X is to galvanize the community to share the

truth about Black people and money and make financial literacy a core value of the Black

community. One of the partners of this campaign is BMe Community. We had the opportunity

to speak with their CEO/Co-founder Trabian Shorters to learn more about the

non-profit, their partnership with OneUnited Bank and how they make black men aware

of their excellence!

WHAT IS BME COMMUNITY AND WHY WAS IT

CREATED?

We're a network of black leaders who have committed ourselves

to making society better for black people. We work in non-profit

land, finance and government. We created BMe Community

when I was vice president of the John S. and James L. Knight

Foundation, which is a National Foundation headquartered in

Miami.

HOW DID THE PARTNERSHIP WITH ONEUNIT-

ED BANK COME ABOUT?

OneUnited is the largest Black-owned bank in the country. The

nonprofit came about independent of OneUnited Bank and

within a couple of years, we overlapped and realized that our

work around building stronger black communities and their

work around building black wealth and also strong black communities

totally overlapped. It was very simple for us to make

the decision to deposit with OneUnited. Unlike Wells Fargo or

Bank of America or any of these other banks, the majority of

OneUnited's lending is to us and for us, whereas those other

banks you might get 1% of their loan portfolio having anything to

do with us and they often look upon us as fee generators, not as

people whose prosperity they're trying to grow. But OneUnited

in contrast, of course, looks at growing black wealth and closing

the loan gap so it made perfect sense for us to deposit with them.

WHAT DOES THAT PARTNERSHIP LOOK LIKE?

We partnered with them about three years ago because

FAMILY 2019 / 43
---
TRABIAN SHORTERS

CEO/FOUNDER BME COMMUNITY

OneUnited's commitment

to investing in and developing

the black community

matched our interest

in building a more caring

and prosperous black

community, which is our

nonprofit's goal. We run

fellowships and executive

retreats for black leaders.

We fund black men who

are committed to making a

difference in their various

walks of life and we make

grants. As part of our partnership

with OneUnited we

put a million dollars on deposit

and we observed within a year they had turned our million-dollar

deposits into two and a half million dollars' worth

of low to moderate worth of property loans and low to moderate-income

black communities.

From our perspective OneUnited is a social impact

bank, they're an excellent bank because merely depositing with

them gives us the ability to fight asset poverty for free. We retain

full access to all of our funds but because we had our funds on

deposit, they were able to leverage them and lend to our community

so we just think that's the best of all possible worlds.

HOW IS BME INVOLVED WITH THE BANK-

BLACK X CAMPAIGN?

What OneUnited calls the X Factor is this new generation of

leaders who are activating to grow black wealth and black

prosperity. I think it's brilliant and beautiful that we have a national

institution that is committed to this new type of black

consciousness where we own and control our finances and we

literally have a card as a symbol and a bank as a resource that

believes in us and helps us to believe in ourselves.

YOU WORK WITH A LOT OF MEN OF COLOR

WITH FUNDING PROJECTS AND THEIR BUSI-

NESSES. WHAT ARE SOME OF THE ISSUES

AND HARDSHIPS THAT MEN OF COLOR ARE

FACING?

What's fascinating about our people is that we are characterized

and defined entirely by hardships, by challenges, setbacks

and failures. What BMe focuses on is how we have been assets

to this country. And by the way, black people have always been

assets since before this country had a name. We're literally on

America's books as assets, that's how we arrived here. We are

literally the only population that has always been an asset to

the nation and built the wealth of this nation. We continue to

build wealth in this nation. We are the most likely to serve in the

military. We're the most likely to be actively engaged with our

children.

Black women are the most likely to actually start businesses

in this country. And by the way, we use and get these statistics

from the US Army on black enlistment from the Center

for Disease Control and Prevention on black men and their engagement

with their children being number one in the country.

Black women starting businesses comes from the Department

of Commerce. We don't have to go to some radical source to

find this data. Our case is black folks are literally always an asset

to this country and we continue to be assets for this country.

We rather be defined by our assets. We'd rather be defined by

our aspirations. We'd rather be defined by our contributions and

OneUnited understands that.

A LOT OF TIMES, WE AS BLACK BUSINESSMEN

DON'T KNOW HOW TO EFFICIENTLY USE OUR

MONEY. OUTSIDE OF FUNDING, HOW ELSE

DO YOU HELP MEN OF COLOR SPECIFICALLY

GROW PERSONALLY AND PROFESSIONALLY?

One of the main things we do is help black men and women be

aware of all the different ways that their contributing and making

a difference and also aware of how so many other things

that we do and we take as normal are actually extraordinary.

According to Maryland's Small Business Administration, black

men who start businesses are far more likely to have some sort

of give back or social impact built into their business plan. The

idea of hiring from the community. The idea of giving support

to local programs, sports or youth programs. We do that very

commonly and we don't necessarily even recognize that is actually

uncommon. Most businesses do not do that. We do that as

a sense of being part of the community. We help black folks to

become more aware of what they're already doing.

The second thing we do is network with these outstanding

black men and women who have committed their lives

to making things better for themselves and for others. We pull

them into a network. We literally give them an index of each

other. We give them an online platform that they can use to

meet, connect and work with each other on projects. We have a

training curriculum that teaches them the philosophical roots of

cultural difference. It teaches them how to write op-eds and be

influential in the media space. It teaches them how to influence,

how to organize campaigns and how to do fundraising. We give

them personal to social financial literacy.

WHAT CAN WE LOOK FORWARD TO FROM THE

NONPROFIT OR WHAT ELSE CAN WE LOOK

FORWARD IN THE FUTURE?

OneUnited recognizes that BMe Community totally believes

in its mission of black uplifting. We have a very complementary

relationship that's all about building not only the integrity and

respect for our people but the wealth and opportunity for our

people as well. So, heading into 2020 we're going to partner

with them on this BankBlack X campaign and we're also doing

a campaign we call "Black L.O.V.E". The letters in Black Love

stand for; L is for love us, O own ours, V is vote black and E is to

Excel. So, we believe that if we do these four things, Love, Own,

Vote and Excel then our communities will prosper.

44 / THE THE QUINTESSENTIAL GENTLEMAN WWW.THEQGENTLEMAN.COM
---
FAMILY 2019 / 45
---
Stay up to date with all of the latest from

The Quintessential Gentleman by following us online at:

THEQGENTLEMAN.COM

46 / THE THE QUINTESSENTIAL GENTLEMAN WWW.THEQGENTLEMAN.COM