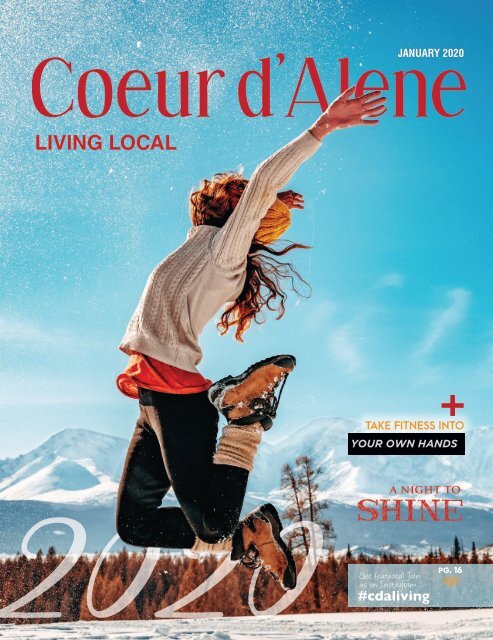 January 2020 Coeur d'Alene Living Local
January 2020 Coeur d'Alene Living Local
January 2020 Coeur d'Alene Living Local
SHOW MORE
SHOW LESS
You also want an ePaper? Increase the reach of your titles
YUMPU automatically turns print PDFs into web optimized ePapers that Google loves.
JANUARY 2020

LIVING LOCAL

+

take fitness into

YOUR OWN HANDS

a night to

SHINE

Get featured! Join

us on Instagram...

#cdaliving

pg. 16

CDALivingLocal.com

1
---
destination

HOME

We do what's right for our clients. That's our company standard.

Representing some of the finest properties available in the Coeur d'Alene, Hayden,

Spokane and surrounding market. John Beutler has relentlessly been selling real

estate for the past 40 years. Experience counts!

JOHN BEUTLER

Cell: 208.661.2989

C21JohnB@aol.com

NWSelectRealEstate.com

1836 Northwest Blvd., Coeur d'Alene, ID 83814

CDALivingLocal.com

2
---
IT MIGHT BE HERE

This might be where you watch your children grow up. It might be where your family gathers for holiday dinners. Or it

might be where you bake Grandma's cookies. It might be where you gather for movie and game nights. Or it might be where

you fall in love. One thing is for certain, it will be where life happens.

208-449-1905 | www.myarchiterra.com | 1859 N. Lakewood Drive, Suite 200, Coeur d'Alene, ID 83814

CDALivingLocal.com

3
---
a gift for all coeur d'alene residents

and their family & friends

15%

Reservation

Discount

15% DISCOUNT - FRIENDS AND FAMILY OF COEUR D'ALENE RESIDENTS

OUR GIFT TO YOU THIS HOLIDAY SEASON

Use Code CDAFAM19 when booking directly through our website or by phone. Offer Valid November 2019 - February 2020

820 E. Sherman Ave. | Coeur d'Alene, ID | 208.765.7799 | blackwellhotel@gmail.com | BlackwellBoutiqueHotel.com

CDALivingLocal.com

4
---
We build homes that speak for themselves.

5097 N. Building Center Dr. | Coeur d'Alene, Idaho | 208.772.9333 | www.MonarchCustomHomes.com

JOEL & SHAWN ANDERSON

CDALivingLocal.com

5
---
@OURTOWNCDA

BEST OF

THINKING ABOUT LISTING YOUR HOME?

Give us a call today at 208.640.3794 for a FREE CONSULTATION

CDALivingLocal.com

6
---
Realtor for Today;

Friend for Life!

raniel diaz

208.640.3794

In 2020 VOTE for Raniel and his

team to help you sell your home!

HAPPY NEW YEAR!

CDALivingLocal.com

7
---
DECEMBER 2019

VOLUME 6 NUMBER 12

JANUARY 2020

VOLUME 10 NUMBER 1

inside

Take Fitness Into Your Own Hands

Home gym essentials for 2020

70

68

Workout Fashion Trends for the New Year

From the home to the gym, step into your New

Year's resolution in style

Eating Right!

Healthy tips for the entire family

74

72

80

78

70

74

CDALivingLocal.com

8

78
---
There's expected ...

then there's extraordinary

BEAUTIFUL CRAFTMANSHIP + MODERN FLAIR

1831 N. Lakewood Dr.

CDA, ID 83814

EXPLORE. DREAM. DISCOVER.

208.664.9171

AspenHomes.com

CDALivingLocal.com

9
---
CDALIVINGLOCAL.COM

We're Your Resolution Solution

MARKETING

DIRECTOR OF MARKETING

Allyia Briggs | 208.627.6476

allyia@like-media.com

SALES & MARKETING

Alison Henslee | 208.610.8806

alison@livinglocal360.com

• MUV Tribe Training Studio

• Les Mills Group Fitness

• Kids Club

• Indoor Basketball, Tennis,

Racquetball & Pickleball Courts

• Pool, Sauna, Steam & Jacuzzi

• Hot Yoga, Pilates Reformer

& Cycling Studios

• Group Fitness - 156 classes

per week

• Executive-Style Private

Locker Rooms

• Certified Personal Trainers

& Group Fitness Instructors

DIGITAL CREATIVE DIRECTOR

Whitney Lebsock

EDITORIAL

EDITOR IN CHIEF

Jillian Chandler | jillian@livinglocal360.com

STAFF WRITER & DISTRIBUTION MANAGER

Colin Anderson | colin@livinglocal360.com

DESIGN

DESIGN DIRECTOR | Maddie Horton

LEAD GRAPHIC DESIGNER | Darbey Russo

GRAPHIC DESIGNER | Donna Johnson

GRAPHIC DESIGNER | Kennedy Pew

OPERATIONS

MANAGING PARTNER | Kim Russo

EXECUTIVE DIRECTOR | Steve Russo

DIRECTOR OF OPERATIONS | Rachel Figgins

CONTRIBUTORS

Nikki Luttmann, Dan Thompson, Ryan Crandall, Taylor

Shillam, Maureen Dolan, Scott Porter, Kristin Carlson,

Ryan Egan, Marc Stewart, Abigail Thorpe, Brian Treat,

Marguerite Cleveland

COEUR D'ALENE LIVING LOCAL MAGAZINE

is brought to you by Like-Media.com. If you would

like to advertise with us, please call 208.627.6476

or email allyia@like-media.com. To submit articles,

photos, nominations and events, email us at events@

livinglocal360.com.

CLOSE TO HOME. CLOSE TO WORK. 3 CONVENIENT LOCATIONS.

LOCALLY OWNED AND OPERATED FOR 37 YEARS

Call now for more information!

www.thePEAKid.com

HAYDEN - 208.762.5777 • COEUR D'ALENE - 208.667.2582 • POST FALLS - 208.773.0601

Living Local magazine is published monthly and distributed

freely throughout Coeur d'Alene, Hayden, Post Falls,

Rathdrum, Spokane Valley, Sandpoint, Bonners Ferry and

Dover Bay. Opinions expressed in articles or advertisements

do not necessarily reflect the opinions of the publisher.

Living Local magazine is not responsible for omissions or

information that has been misrepresented to the magazine.

Living Local magazine is produced and published by

Like Media, and no part of this publication may be reproduced

or transmitted without the permission of the publisher.

CDALivingLocal.com

10
---
SELLING RESULTS

NOT PROMISES

F

O

R 2 20

Over 100 Properties

SOLD

By Chad Oakland in 2019!

Properties SOLD ranging from $25K-$2.6M

Thinking of Making a Move?

Call, Text or Email Today!

208.664.4200 2022 N Government Way, CdA, ID

www.northwestrealtygroup.com

119224

Chad Oakland

Realtor/Owner

208.704.2000

CDALivingLocal.com

chad@nwidaho.com

11
---
New Year

Happy

MAY YOU RUN FULL SPEED INTO THE NEW DECADE

CATCHING SNOWFLAKES ON YOUR TONGUE AND

EMBRACING WHAT'S TO COME.

- Your Friends at like media

CDALivingLocal.com

12
---
CDALivingLocal.com

13
---
PUBLISHER'S

Note

WINTER

ELECTRICAL

SERVICE

Trust NextGen Electric to

provide superior workmanship,

expert service and assistance

from conception and execution

to maintenance of every

project however large or small.

Realize the unique vision for

your home or business with

quality electrical wiring and

sustainable solar installation

from NextGen Electric.

Cheers to a New Year!

Over the course of 2019, we lived,

laughed and loved. There may have

been struggles we overcame and

reasons for celebration.

2020 has arrived. A time of renewal, a new

year marks a new start. Starting January 1,

anything you hope to accomplish and aspire

is in your grasp. You just need to believe it

and do all in your power to manifest your

goals for the year. It is up to you to make

your life the one you want.

In our first issue of 2020, you'll be inspired

with articles on health, fitness trends for

workout fashion, those at-home workout

essentials to help take your fitness into your

own hands on your own schedule and much

more.

This month's feature story highlights

LeMay - America's Car Museum in Tacoma,

Washington, the nation's top car museum

where automotive history abounds.

Explore West Yellowstone in our January

travel story, where winter activities and

exploration flourish.

And, as you flip through the pages of this

month's issue, you'll once again be treated

to many of the local businesses who make

our community so special. As the new year

has arrived, make a point to revisit those old

favorites and stop in those you might not

have visited before. You're sure to find some

truly unique businesses with caring owners

who are proud to be part of this community.

From our Like Media team, Happy New

Year! May 2020 abound with blessings.

Steve Russo

Executive Director

steve@like-media.com

As winter is in full swing, some opt for

warmer climates, while others choose to

embrace the colder elements of the season.

ABOUT THE COVER

208.765.WIRE(9473)

www.nextgencda.com

311 Coeur d'Alene Ave., Ste. C

Coeur d'Alene, Idaho

IT'S HARD TO BELIEVE, BUT 2020 HAS

ARRIVED, and with it, a fresh start! As the beautiful

snow falls to the ground, blanketing the earth in

white, now's the time to take advantage of all the

outdoor opportunities. It's also the perfect time to sit

by the fire and plan out your goals for the year. All

things are attainable if you believe they are!

Would you like to receive this issue and future

issues in your inbox? Visit CDALivingLocal.com

and sign up for our FREE Digital Edition.

CDALivingLocal.com

14
---
NORTH IDAHO'S PREMIER CUSTOM HOME BUILDER

The Creekside home philosophy of building is based on achieving superior craftsmanship on all levels.

Our commitment to excellence serves as the foundation on which we build every custom home. It is our

dedication that ensures your new home will meet your highest expectations.

TRADITION - INNOVATION - PERFORMANCE - REPUTATION

www.CreeksideCdA.com // 10075 N. Government Way Hayden, ID 83835 // 208.666.1111

CDALivingLocal.com

15
---
your guide to everything local

GET CONNECTED WITH COEUR D'ALENE LIVING LOCAL!

1.

3.

2.

#CDALIVING

#CDALiving and your photos will show up on our Get Social

page at CDALivingLocal.com and you'll have the chance to

see your photos in print right here!

facebook.com/cdaliving

instagram.com/cdaliving

pinterest.com/LL360

twitter.com/cdaliving

1.

2.

3.

We want this winter wonderland back! #cdaliving

neutralsandheels via

I still love snow, but be careful out there! #cdaliving

#cabinlife #cdaidaho

lancerossphoto via

We enjoyed some more snow this weekend! #loveithere #cdaliving

#northidaholife

dipitydoodahday via

CONTACT US TO ADVERTISE

Allyia Briggs | 208.627.6476

allyia@like-media.com

SEO

CDALivingLocal.com

LET US TAKE THE GUESS WORK OUT OF YOUR MARKETING

Creative Services | Reputation Management | Google Ad-Words | Google Listings

SEO | Social Media Management | And More

WWW.LIKE-MEDIA.COM | ALLYIA@LIKE-MEDIA.COM

16
---
CREATE THE LOOK

OF YOUR DREAMS

Capturing that look takes time and

effort. It can also take a little help.

From selection to specification, all

the way through installation, we'll

help you make that look a reality.

FURNISHINGS + LIGHTING & RUGS + ART & DECOR + DESIGN SERVICE

Call or Text 509-535-1111 • 1727 E Sprague Ave • Monday - Saturday 10 - 5 • www.TinRoofFurniture.com

Follow our story & connect with us

@tinrooffurniture

CDALivingLocal.com

17
---
Contents

60

86

36

42

GET FEATURED

Join us on Instagram @CdALiving for a

chance to get your photos, recipes, ideas

and much more featured

ESSENTIALS

The latest tips and trends in home, garden,

finances and life.

LIFE & COMMUNITY

An Elegant Evening of Fundraising: Raise

your paddle for Hospice

GOOD NEWS

30

A Passion to Serve Those in Need: Priest

River Ministries continues its loving mission

IN FOCUS

Rooms With New Views: Museum finds

new home, but there is much to be done

LIVING LOCAL

A Night to Shine: Prom night to honor

Coeur d'Alene's special needs community

HEALTH & LIFESTYLE

36

42

52

Tips and informational articles about living

a healthy, active lifestyle

56

16 BUSINESS IN THE 34 FEATURE STORY

20

28

SPOTLIGHT

Peak Health & Wellness: Three centers offer

convenience for that busy lifestyle

From Model T to GT4: Exhibits continue

to wow

TRAVEL & LEISURE

A Winter Wonderland: Make a trip to West

Yellowstone this season

FOOD & DRINK

Your local guide to the tastiest hot

spots around town and local recipes

ARTS &

ENTERTAINMENT

Calendar of great local events, music,

sports and shows!

60

82

85

92

CDALivingLocal.com

18
---
CDALivingLocal.com

19
---
Remodel

WHAT TO EXPECT WHEN YOU'RE REMODELING

BY NIKKI LUTTMANN, SEVEN BEE INTERIORS

FOR SANDPOINT FURNITURE, CARPET ONE AND SELKIRK GLASS AND CABINETS

I

love January. The stress of the holidays has passed, and the new

year is a clean slate. It seems like the perfect time to start fresh

on a project—whether that's developing a healthy eating plan or

fixing up our homes. Last year, my husband and I decided that

we would concentrate on remodeling the exterior, including new

windows, doors and siding, and I'm happy to report that we were

able to achieve our goals and stay married in the process. That's not

always an easy feat—remodeling or building a home can be stressful.

Many of my clients underestimate the amount of stress a

construction project may cause. Especially for those who have no

option but to stay in their home during the process, it can be very

trying indeed. Before you undertake a remodeling project, I urge

you to educate yourself on the process. Following are a few common

home projects and some of the things required for each one.

Whole house painting. This can be very rewarding and perhaps the

most common of all remodeling projects. However, before you hire

CDALivingLocal.com

20

that painter, keep in mind that this process can be very invasive. All

artwork must come off the walls, furniture must be moved to the

center of each room, light fixtures should be removed, and floors

and furniture will be tarped off. As well, windows and doors may

be taped over (if they are spraying), and the air may be fairly toxic

for a few days. Ask your painter how long the process will take and

ensure that they can be at your house for the time it takes to finish,

not breaking off to different jobs in between. Also ask the method

they will use to paint—rollers, brushes or spray—and ask if the paint

they use is low in VOC (volatile organic compound) emissions. This

will help you determine whether you should stay or just check into

a hotel room for the week!

Kitchen remodeling. This can include new cabinetry, flooring,

countertops, paint, etc. Sounds like fun, right? But if not scheduled

properly, with a kitchen remodel, days can easily turn into weeks

of no appliances, no countertops and cooking exclusively outdoors

on a barbecue! This might be OK in the summer months, but in
---
Zelda fabric power recliner

with power headrest and

power lumbar

Zelda leather power reclining

sofa with power headrests and

power lumbar

$

1,459 $

2,449

Come in and see

our full gallery

display of Flexsteel

furniture on SALE!

2 Piece Thornton sectional

with cuddle corner *Available

for custom order in many

configurations and fabrics.

Starting at

$

2,299

See us at Sandpointfurniture.com!

CDALivingLocal.com

401 Bonner Mall Way, Ponderay, Idaho

263-5138

SANDPOINT FURNITURE STORE HOURS:

Mon-Fri 9am-6pm, Sat 9am-5pm, Closed Sunday

YES! We Deliver to Coeur d'Alene!

21
---
educate yourself on the process

the winter, it can be hard to live without the ease and comforts of your

kitchen. Working with experienced contractors and sub-contractors and

having your decisions made ahead of time are key to keeping your sanity

throughout the process.

New flooring. This is one of my favorite changes to any home, and

there are some wonderful options out there. LVP (luxury vinyl plank)

for example, comes in many colors and subtypes and boasts a fairly easy

installation process. An entire home can be installed in LVP in less than

a week if you are dealing with experienced flooring installers. Opposite

this product on the spectrum of installation, however, would be sand

and finish hardwood. This is an amazing look that truly sets your home

apart, but it can be very time-consuming. First the wood is installed, then

sanded, then layers of product are applied in coats. Finally, the whole

thing has to cure for two days before furniture can be put back on. After

that, it takes a full month for the new floor to fully cure and harden.

Bathroom tile. This is one category that truly depends on the

professionalism of your installer. If you are removing old tile, this is best

done by a professional, as they will be able to remove the old tile with

minimal damage to the subfloor or walls behind. I can't stress enough

the importance of appropriate waterproofing in showers and wet areas. If

your installer is good, he will be able to save you a lot of headache down

the road in good prep, waterproofing and overall tidiness. But, keep in

mind, they will need access to water for their tile saw and a relatively

enclosed, preferably heated, space for cutting. Oftentimes, a garage is

perfect, but please don't expect your tile installer to set up their wet saw

outside in the middle of winter in freezing temperatures. This isn't fair to

them as craftsmen, and I know that my fingers do not work their best if

they are frozen solid—and neither will your tile installer's!

In next month's article, we will continue the list of projects, so stay tuned

and have a happy new year!

CDALivingLocal.com

22
---
Envision, your dream home...

Spring visions come to life with Nest Designs

RESIDENTIAL DESIGN

Interior Design | New Construction | Design & Color Consultation | Project Consultation | Renovations

CDALivingLocal.com

23
---
TAKE CHARGE

OF YOUR

FINANCIAL

FUTURE

F I N A N C

I A L F O C U S

Time for Some New Year's Financial Resolutions

This article was written by Edward Jones for use by your local Edward Jones

Financial Advisors Doug Rupiper, Chris Liermann and Debbie Holmes

www.edwardjones.com

www.edwardjones.com

You've Spent a Lifetime

Preparing for Retirement.

Doug Rupiper, CFP®

Financial Advisor

Now 2115 E. Sherman What?

Ave., Ste. 107

Coeur d'Alene, ID 83814

Office: 208.667.1539

doug.rupiper@edwardjones.com

If

If

you're

you're

recently

recently

retired

retired

or

or

planning

planning

to

to

retire,

retire,

you're

you're

probably

probably

concerned

concerned

about

about

making

making

the

the

right

right

financial

financial

decisions.

decisions.

Together,

Together,

we

we

can

can

find

find

the

the

answers.

answers.

We'll

We'll

sit

sit

down,

down,

face

face

to

to

face,

face,

to

to

develop

develop

a strategy

strategy

designed

designed

to

to

help

help

your Chris

your

finances Liermann

finances

meet

meet

your

your

needs

needs

over Financial

over

the

the

long Advisor

long

haul.

haul.

1810 Schneidmiller Ave., Ste. 210

Post Falls, ID 83854

Office: 208.773.3268

christopher.liermann@edwardjones.com

To develop a retirement

income strategy that

works for you, call or

visit today.

Have you thought about your New Year's

resolutions for 2020? When many

of us make these promises, we focus

on ways we can improve some form of our

health. We vow to get more physically healthy

by going to the gym, or we promise to improve

our mental health by learning a new language

or instrument. But it's also important to think

about our financial health—so it's a good idea

to develop some appropriate resolutions for

this area too.

What kinds of financial resolutions might you

make? Here are a few suggestions:

• Increase your retirement plan contributions.

One of the best financial moves you can make

is to take full advantage of your 401(k) or

similar employer-sponsored retirement plan. If

you contribute pre-tax dollars to your plan, the

more you put in, the lower your taxable income

will be for the year, and your earnings can grow

on a tax-deferred basis. So, if your salary goes

up in 2020, increase the amount you put into

your plan. Most people don't come close to

reaching the annual contribution limit, which,

in 2019, was $19,000, or $25,000 for those 50 or

older. You might not reach these levels either,

but it's certainly worthwhile to invest as much

as you can possibly afford.

• Use "found" money wisely. During the course

of the next year, you may well receive some

money outside your normal paychecks, such as

a bonus or a tax refund. It can be tempting to

spend this money, but you may help yourself in

the long run by investing it. You could use it to

help fund your IRA for the year or to fill a gap

in another investment account.

• Don't overreact to market downturns.

You've probably heard stories about people

who lamented not getting in "on the ground

floor" of what is now a mega-company. But

a far more common investment mistake is

overreacting to temporary market downturns

by selling investments at the wrong time (when

their prices are down) and staying out of the

market until things calm down (and possibly

missing the next rally). The financial markets

always fluctuate, but if you can resolve to stay

invested and follow a consistent, long-term

strategy, you can avoid making some costly

errors.

• Be financially prepared for the unexpected.

Even if you're diligent about saving and

investing for your long-term goals, you can

encounter obstacles along the way. And one

of these roadblocks could come in the form of

large, unexpected expenses, such as the sudden

need for a new car or some costly medical bills.

If you aren't prepared for these costs, you might

have to dip into your long-term investments to

pay for them. To prevent this from happening,

you may want to keep sufficient cash, or cash

equivalents, in your investment accounts.

Or you might want to maintain a completely

separate account as an emergency fund, with

the money kept in low-risk, liquid vehicles. If

possible, try to maintain at least six months'

worth of living expenses in this account.

It will take some effort, but following these

resolutions could help you move closer to your

financial goals in 2020—and beyond.

Kevin R Callos, AAMS ®

Financial Financial

Advisor

Advisor

6797

6797

Eisenhower

Eisenhower

St

Debbie HolmesSt

Bonners

Bonners

Ferry,

Ferry,

ID

ID

83805

Financial Advisor 83805

208.267.5664

208.267.5664

6600 W. Commerical Park Ave., Ste. E

Rathdrum, ID 83858

Office: 208.687.5765

debbie.holmes@edwardjones.com

IRT-4513A-A

IRT-4513A-A

Member SIPC

Member SIPC

CDALivingLocal.com

24
---
TEACHER OF THE MONTH

By Abigail Thorpe

Photo By Shay Mejie, 15th Street Photo

COUNTRY GIRL

Kelley Martin spends her mornings

teaching first and second grade

readers and leading a team of reading

paraprofessionals. In the afternoons, she's

surrounded by her class of twenty-five 5-

and 6-year-olds; singing, reading, counting,

playing and problem-solving.

She's been a teacher for almost 20 years, and

in that time she's learned

that relationships are key

to making memorable

experiences and a

positive impact on her

students' lives. "I've

never had a student say, 'I

love the way you helped

me conjugate verbs!' or

'The "Days of the Week"

song changed my life.'

What I have heard from

students is, 'Mrs. Martin,

you make my day, every

day,' and 'I like it when

you make us laugh,'"

says Martin. "Learning

about verbs, the days of

the week, multiplication

facts and the water cycle

are all important things;

but none of those things

matter until my students

know they matter to me."

Martin's passion for being a positive influence

in her students' lives goes back to her third

grade teacher, Mrs. Parrot, who knew how

important relationships are. It's because of her

that Martin became a teacher. "Mrs. Parrot

was the first to open my eyes to the power

of a teacher's influence," reflects Martin.

She channels that same energy and purpose

she learned from Mrs. Parrot into her own

classroom today, making it more than just

"schoolwork" for her students.

Ask any teacher what they find most rewarding

about their work, and they will almost all say,

"I teach for the 'Aha!' moment," says Martin.

"There's a moment when a student looks at

you with a face filled

with joy and surprise

and says, 'I get it now!'

That moment is what

fills a teacher's bucket."

But for Martin, it's more

than just this "Aha!"

moment. Her most

fulfilling experiences

teaching are when a

student takes a risk and

finds the courage to

try something new—

it's these moments

that fuel her passion

for teaching. "Being a

witness to a student's

first courageous steps

into something new and

unfamiliar is thrilling,

and I'm honored to be

part of that journey,"

she says.

HER MOST FULFILLING

EXPERIENCES

TEACHING ARE WHEN

A STUDENT TAKES A

RISK AND FINDS THE

COURAGE TO TRY

SOMETHING NEW—IT'S

THESE MOMENTS THAT

FUEL HER PASSION FOR

TEACHING.

Kelley

Martin

Reading Specialist and

Kindergarten Teacher

Dalton Elementary School

Martin has spent

every day of her teaching career helping her

students gain the skills and courage to take

the next steps in their lives, but if she had one

life lesson she could leave them with, it's this:

"Be generous to everyone, in every way, every

chance you get. You'll never regret it."

Bring Life to

Any Room!

Benefits of potted plants:

• Cleaner air

• Cheerful color

• Enhance mood and

productivity

• Aesthetics for employee,

customer and your

enjoyment

• Create a welcoming

atmosphere

Give us a call

today!

208.964.1621

CountryGirlGarden.com

CDALivingLocal.com

25
---
PLANNING FOR YOUR

ESTATE WITH REVOCABLE

LIVING TRUSTS

Why trusts can be a more efficient

way to administer your estate

By Ryan Crandall, J.D.,

Crandall Law Group

PROTECTING

YOUR FUTURE

PRESERVING

YOUR LEGACY

MEET THE TEAM

Jeffery Crandall

Ryan Crandall

Helps families

protect their

legacies through

estate planning,

probates,

guardianships and

Medicaid benefits

planning.

An experienced,

certified estate

planning specialist

practicing in the

areas of wills, trusts,

asset protection

and business

planning.

208.772.7111

8596 North Wayne Drive, Suite B

Hayden, ID

info@CrandallLawGroup.com

Living trust. It's a term you've probably

heard before. But what exactly is it, and

what's its function in an estate plan?

Don't know? Rest assured, even those who have

living trusts often find them difficult to explain.

To understand how living trusts work, it helps

to understand why estate planners use them.

One of the primary purposes of a living trust

is to avoid court supervision of your estate at

death or incapacity. If

you have a will or die

intestate (without a will),

it means your estate

will likely go through

the legal process known

as probate. Probate is

time consuming and

expensive. It is also open

to the public and can

take control away from

your family. These same

concerns arise if you

become incapacitated, in which case your loved

ones will need to institute conservatorship

proceedings in order to manage your property.

Living trusts can save your loved ones the

expense and hassle of going to court.

So how do they work? It can help to think of a

living trust like a bucket that holds all of your

stuff: your house, cars, investments, savings,

etc. On the outside of the bucket you write

your instructions—what you want to happen

FOR DECADES, LIVING

TRUSTS HAVE BEEN

THE BACKBONE OF

MOST ESTATE PLANS.

with your property when you die or become

incapacitated. As long as you're healthy,

you hold the bucket. You can change your

instructions and do anything you want with the

property. It's still yours. At death or incapacity,

the bucket gets passed on to a successor trustee

(often a spouse or family member) whose job

it is to carry out your instructions. Because

you've taken the time to put your property in

the bucket (the living trust) and write down

your instructions (the

trust documents), that

person will not need the

court's permission to

carry out your wishes.

You've already provided

the authority and the

legal mechanism for

doing so.

For decades, living trusts

have been the backbone

of most estate plans. Not

only do they save time and money, they provide

more flexibility than a will and can be used to

reduce taxes and protect your loved ones from

creditors and predators.

Crandall Law Group is a boutique estate

planning law firm. To learn more about living

trusts and other estate planning tools, schedule

a complimentary consultation with an estate

planning specialist. Call 208.772.7111 or visit

CrandallLawGroup.com.

CDALivingLocal.com

26
---
CDALivingLocal.com

27
---
AN ELEGANT EVENING OF FUNDRAISING

Raise your paddle for Hospice

By Jillian Chandler

It's an opportunity that comes once a year

but continues to make a lasting impact to

many in our local community. The annual

Hospice Wine Taste is an incredible blacktie

evening filled with full glasses and giving

hearts, and this year's tasting event and auction

marks its 35th year raising the crucial funds

needed in order for Hospice of North Idaho to

continue its mission of providing exceptional

hospice care to those in our community.

This year's event is fast approaching! Saturday,

February 1, the 2020 Hospice Wine Taste will

offer an unforgettable evening downtown

at the Coeur d'Alene Resort. Held 5 to 9pm,

attendees will be treated to a fundraising

experience unlike any other as they gather

with like-minded members of the community

who strive to make a difference in the lives of

others—supporting hospice care for all.

As you mingle among friends and new

acquaintances, you will have the opportunity

to enjoy tastings from hundreds of fine wines,

sample dozens of gourmet appetizers from the

area's premier chefs, and most importantly,

GATHER

WITH LIKE-MINDED

MEMBERS OF THE

COMMUNITY

WHO STRIVE TO

MAKE A DIFFERENCE

IN THE LIVES OF

OTHERS—

SUPPORTING HOSPICE

CARE FOR ALL.

raise your paddle during the live auction.

Through your generous support, you are

helping Hospice of North Idaho to ensure

that expert hospice care is available to those

in need.

If you're looking to get away on a luxury trip

for two, be sure to purchase a raffle ticket for

your chance to win a $4,995 travel voucher

for eight days on the Aegean Sea including

Italy and Greece. Raffle tickets are on sale

now, with only 500 tickets available. Raffle

tickets are $50 each and can be purchased

through HospiceWineTaste.org until 4:30pm

on January 31. Any remaining tickets will

only be available for purchase during Hospice

Wine Taste. The winner will be drawn and

announced during the event, though they do

not need to be present to win.

Tickets for this year's Hospice Wine Taste

are $125 per person and can be purchased

online at HospiceWineTaste.org. Help make

a difference for a hospice patient in the

community by attending the 2020 Hospice

Wine Taste.

CDALivingLocal.com

28
---
Discover the power that comes with deciding for yourself

what it means to be beautiful. Signature Aesthetics is here to

help you see a "you" you'll love in the mirror each day.

COOLSCULPTING

We are #1 in North Idaho for the 4th time &

#1 in the Pacific Inland Northwest for the 2nd time

we can use three machines at one time

WOMEN'S WELLNESS

AESTHETIC SERVICES

NOW OFFERING SPIDER VEIN TREATMENTS

NOW OFFERING HYDRAFACIAL TREATMENTS

208.627.6869 | SignatureAesthetics.com

1130 West Prairie Avenue, Coeur d'Alene, ID

212 North First Avenue, Suite 103, Sandcreek Plaza, Sandpoint, ID

CDALivingLocal.com

29
---
A Passion to Serve Those in Need

PRIEST RIVER MINISTRIES CONTINUES ITS LOVING MISSION

BY JILLIAN CHANDLER

PRIEST RIVER

MINISTRIES -

ADVOCATES FOR

WOMEN IS HELPING

TO SAVE LIVES AND

AID IN A BRIGHTER,

SAFER FUTURE FOR

WOMEN AND THEIR

CHILDREN.

has done so many amazing things

for us."

"God

It is inspiring to witness the incredible

people in North Idaho who give of

themselves selflessly to impact others in a positive

way; devoting countless hours to help improve the

lives of those in our local communities. And one such

organization that works toward its mission every hour

of every day is Priest River Ministries - Advocates

for Women—which strives to do all it can for the

betterment of women who have endured, and are

continuing to be affected, by physical and sexual abuse

and violence.

Serving victims from Bonner, Boundary and the

northern part of Kootenai counties, Priest River

Ministries continues to be a blessing for those women

and children in need throughout these communities

for more than 17 years.

"It is an amazing miracle to see God work in this

ministry that started in 2002 as a bible study for women

who had or were experiencing domestic or sexual

violence," says Rhonda Encinas, executive director.

"Now we shelter over 150 women and children and

their pets per year."

Priest River Ministries receives no assistance from

the county, state or government to run their shelter

program. Rhonda and her team are dependent on the

support of foundational grants, businesses, churches,

corporations and individuals. She adds that their

greatest need is more volunteers in all three offices to

accomplish their mission, as there continues to be so

much need, and it continues to increase, everywhere.

"Our volunteers are the backbone to this organization's

success, receiving little recognition," attests Rhonda.

"But they provide immeasurable kindness as they live

out their service to God at Priest River Ministries -

Advocates for Women."

At its inception, Priest River Ministries was made

up of just six members and acted as a support group

for women who were victims of sexual assault and

domestic violence. As the ministry for women and

children grew stronger, the team at Priest River

CDALivingLocal.com

30
---
COME EXPERIENCE THIS REFRESHING NEW APPROACH TO CUSTOM HOME BUILDING

Whether your style is a Mountain Contemporary Home, Western Rancher Home, Classic Coeur d'Alene Luxury Home

or a Rustic Timber Framed Compound Home with contemporary finishes, a custom home built by Affordable Custom

Builders in Coeur d'Alene, Idaho, is guaranteed to express your creativity and style.

Thank you for keeping us booked full for 4 years in a row!

208.666.4141 | AFFORDABLECUSTOMBUILDERS.COM | 401 SHERMAN AVE., STE. 207 | COEUR D'ALENE, ID 83814

CDALivingLocal.com

31
---
Ministries determined that the need was so great for these women and

children that they turned their attention to doing all they could to try and

find ways to help them. "We shifted a majority of the things we did to help

these women and children who were suffering," declares Rhonda.

"Domestic violence happens to one in three women, so everyone knows

somebody who has experienced this—or is that somebody," Rhonda says.

"Through Priest River Ministries, we're encouraging these women and

giving them their self-respect back. We're helping them to make good,

healthy decisions for themselves and their children—a happy life free of

violence. To not be afraid every day. That makes healthy communities,

healthier schools, healthier places to work at."

Priest River Ministries received their nonprofit 501(c)(3) status in 2006

and opened their first shelter, Ruth's House, more than a decade ago in

2008. Once Ruth's House was established, Lydia's Place was born. "There

were so many women leaving situations with nothing," says Rhonda.

"That's what instigated Lydia's." Here, those in need will find clothing,

bedding, blankets, linens, towels, children's furniture (from baby baths

and beds to walkers), and more. And people come in for those things on

almost a daily basis, according to Rhonda. For those who are unaware,

Lydia's is open to the general public as well.

Over the years Priest Rivers Ministries has grown and expanded. Today

they have three shelters—Ruth's House, Esther's House and Rebekah's

Room, which offers long-term shelter for those who need a place to stay

longer than just an emergency situation. In addition, they have office

locations in Priest River, Sandpoint and Spirit Lake, along with clothing

"closets" that are open to the general public and free of charge.

"When mothers are struggling to buy clothes, diapers and formula for

their children, being able to supply these things every month for them,

free of charge, is truly rewarding," says Rhonda.

"Being able to do that is important. When we can reduce that stress, we

can reduce violence.

"Between Priest River, Spirit Lake and Sandpoint, just in our clothing

supply, just those in crisis, we see over 450 people a month," states

Rhonda. "And we never charge for anything; our counseling, childcare,

all the supplies we give out."

Rhonda is excited to announce that Priest River Ministries recently

moved their Sandpoint office to a much larger facility at 502 North

Second Street downtown! You will find them on the first (bottom) floor

of the Life Choices Pregnancy Center. Now with three office spaces, this

is where those in Sandpoint and the surrounding communities can also

find their free clothing and supply room.

"We are thrilled to be working alongside this amazing nonprofit, as many

of our clients intersect," smiles Rhonda. In addition, they have opened

Tabitha's Closet, where they provide children's clothing sizes 12 months

and up, as well as free household and personal supplies. The office

and closet are open Monday through Wednesday, noon to 4pm, to the

general public, while counseling and paralegal assistance is available by

appointment.

Priest River Ministries - Advocates for Women is helping to save lives

and aid in a brighter, safer future for women and their children. If you

are looking to volunteer or make a donation to Priest River Ministries,

Rhonda invites you to stop by their office. For those who are seeking

assistance or know someone who is in an unhealthy and unsafe situation,

please don't hesitate to call 208.448.2800.

"We want to try and help prevent these situations as much as we can,"

affirms Rhonda. "The more people who engage, the more people who

volunteer, the more we can stop these assaults."

CDALivingLocal.com

32
---
Blinds Shutters Shades Drapes Accents Solutions And More

Happy 2020!

Ready for an update to your

window treatments this decade?

We can help!

208-664-5777

budgetblinds.com/coeurdalene

Call now for your free in-home consultation!

Transform your home by changing your window coverings with cellular shades, panel tracks, roller shades and

window shadings.

*Applies to selected Enlightened Style window treatments sold by Budget Blinds.® Some restrictions may apply. Ask for details. At participating franchises only. Not valid with any

other offers, discounts or coupons. Valid for a limited time only. Offer good at initial time of estimate only. ©2018 Budget Blinds, LLC. All Rights Reserved. Budget Blinds is a trademark

of Budget Blinds, LLC. and a Home Franchise Concepts Brand. Each franchise independently owned and operated.

THOUGH THE

SEASONS CHANGE

THE NEED REMAINS.

We're still here for our community's

most vulnerable children.

We thank you for another year of

love and support.

Happy New Year!

1350 W. Hanley Ave., Coeur d'Alene, ID | 208.667.1189

theChildrensVillage.org

A Trauma-Informed Care Facility

Loving Children ~ Restoring Hope

CDALivingLocal.com

33
---
Health,

Wellness,

Fitness

THREE CENTERS OFFER CONVENIENCE

FOR THAT BUSY LIFESTYLE

BY JILLIAN CHANDLER

Peak Health & Wellness Centers

ThePeakID.com

940 Ironwood Drive

Coeur d'Alene, Idaho 83814

208.667.2582

95 West Centa Drive

Hayden, Idaho 83835

208.762.9014

927 East Polston Avenue

Post Falls, Idaho 83854

208.773.0601

"WE KNOW THAT IT TAKES A LOT MORE

STRENGTH FOR PEOPLE TO WALK IN OUR

CLUBS AND TRY SOMETHING NEW. EVERY

SINGLE ONE OF OUR PERSONAL TRAINERS

IS READY TO HELP PEOPLE OF ALL AGES, ALL

SHAPES, ALL SIZES. THE MOST IMPORTANT

THING WE ARE OFFERING AT PEAK IS A

WELCOMING ATMOSPHERE."

It was 37 years ago when Peak Health & Wellness Center opened its

doors to the Coeur d'Alene community. Locally owned and operated

since day one, Peak offers abundant amenities combined with a

professional and friendly staff. With the success of the first location

and the desire to help more people, the Coeur d'Alene location was joined

by Hayden, which opened in 1998, and Post Falls, opened in 2000.

With three convenient locations close to home and work, Peak makes it

easy to make your health, wellness and fitness a priority in today's busy

world. As the new year is upon us, what better time than now to seek the

active lifestyle you've been looking for? Or tackle that next fitness goal?

"Anyone who is starting a new healthy lifestyle, looking to change up

their fitness routine, or even just try Peak for the first time, walks through

our doors and sees that we are a non-threatening, friendly gym," affirms

Lindsay Cantrell, Peak Coeur d'Alene general manager. "We know that it

takes a lot more strength for people to walk in our clubs and try something

new. Every single one of our personal trainers is ready to help people of all

ages, all shapes, all sizes. The most important thing we are offering at Peak

is a welcoming atmosphere. That face-to-face, non-judgmental support is

the first thing our members need in order to succeed."

At all three locations, they strive to continuously update all of their

facilities with the current fitness trends. Peak is always progressing,

CDALivingLocal.com

34
---
anticipating its clients' needs and staying ahead of the curve. "We pride

ourselves on providing state-of-the-art studio space boutiques within

one organization, all at an effective price point," says Gary Retter, Peak

managing owner.

Peak's innovative and extensive membership gives a convenience that's

simply unprecedented in this area. "One of the biggest discouragements

for people looking to start or continue a fitness program is a lack of

convenience," states Lindsay. "If it's not convenient, you're not going

to workout properly. If it's a struggle to go, you won't want to go. If it's

inconvenient, it's hard to stay motivated."

At Peak Health & Wellness, you can go to cycling class, or you can join

a yoga class or a Pilates reformer class. You can work on your cardio or

lift weights. Offering indoor racquet facilities including four pickleball

courts, four tennis courts and five racquetball courts, Peak offers

something truly unique. In addition, they offer specialized group training

with their MUV Tribe Group Personal Training Studios located at all

three facilities. With Peak's full-service facilities, it's all encompassing.

Peak prides itself on its reputation as North Idaho's leader in exercise

evolution.

When it comes to what the staff finds most rewarding about the work

they do at Peak, they all agree that being able to participate in, watch and

enjoy the successes of their members as they pursue healthy lifestyles is

truly fulfilling.

While fast approaching four decades in business, they attribute Peak's

success to being a locally owned and operated facility paired with their

loyal members and a growing community.

An important aspect to the business since the beginning, Peak has

been actively involved in community events since 1983 with various

charities including: Toys 4 Tots, Community Action Partnership Food

Banks, Peak's Annual Health Fair (six years running), Kootenai County

Police & Fire Foundation, Peak Health Club Community Fundraisers

for local schools and sports teams, Kootenai Humane Society, Ironman

Aid Station, Boys & Girls Club, and various county-wide fun runs, 5ks,

triathlons and more.

In 37 years, Peak has helped raise more than $ 298,000 for these charities

and community events.

There's no time like the present to grow in your personal health and

fitness. Let Peak and its experienced staff help guide you. To view all the

wonderful amenities that Peak Health & Wellness has to offer its clients,

they invite you to stop in at one of their locations or visit ThePeakID.

com today.

CDALivingLocal.com

35
---
CDA

IN FOCUS

ROOMS WITH

NEW VIEWS

MUSEUM FINDS NEW HOME, BUT THERE

IS MUCH TO BE DONE

BY DAN THOMPSON

PHOTO COURTESY OF MUSEUM OF NORTH IDAHO

The offices and hallways behind the

exhibit hall at the Museum of North

Idaho are a crowded network. Boxes

line the floors. Clear workspace is at a premium.

Rarely can two people stand shoulder-toshoulder

in the same area.

"Right here I filled this box because I don't have

shelves to put them on," said Dorothy Dahlgren,

the museum's director, referring to a collection

of unfiled photos. "The table has to be up against

the shelves there because it's so small in here."

The museum's paid staff of four and its

50-member crew of volunteers compete for

space because as history passes, the museum's

collection of photos, artifacts, maps, directories

and other memorabilia only grows. And it is

certain that the museum, which is open only

by appointment during the five-month offseason,

has outgrown its current on-site space,

estimated at 4,371 square feet.

But Dahlgren, who has been with the museum

since 1982, has her eye on a move.

Last fall, the museum received a rather large

donation: It was given a house. And after it was

physically moved across Coeur d'Alene in mid-

November, the J.C. White house will undergo

renovations over the next few years at its new

site at the base of Tubbs Hill.

Standing inside it a few weeks later, before

giving a tour of the current museum back

rooms, Dahlgren walked around the house that

will, she expects, be occupied by museum staff

by the end of 2020.

"I think we're gonna do all right here," Dahlgren

said. "It's just so exciting."

The house dates back to 1903, when J.C. White,

manager of Red Collar Line steamboats, built it

at 805 Sherman Avenue. He owned it until 1924,

and soon after, Philip McManamin's family

became the long-term owners. It eventually

became an event venue in the 1990s, when it

was renovated.

The plan is for the house, currently about 5,800

square feet, to undergo further renovations at

its new site and to ultimately be the centerpiece

of a much larger space for the museum, which

would expand to more than 16,000 square feet,

divided into exhibit, office, storage, library and

other spaces.

"They opened it when they made it an event

center in the '90s, and that's perfect for us, to

have this openness and the views all the way

around," said Mike Dixon, museum board

president.

CDALivingLocal.com

36
---
"This would make a beautiful library," Dixon

said, standing in one area of the house. "We're

rethinking the whole concept, trying to get this

right."

The board is currently raising money for the

early phases of the renovation project, which

includes the move and the cost of refurbishing

the home, said Board Vice President Julie Gibbs.

The museum is required to have a certificate of

occupancy by the end of 2020, so Gibbs said the

plan is to use the house on a limited basis before

completing the entirety of the project over the

next few years. They have not settled on an exact

date for when the museum would officially

migrate to the new house.

But the house is in place, which was in itself a

considerable achievement that saved money

and materials: Demolishing the house and

rebuilding on this new site would have been

much more expensive, said Rob Johnson, who

oversaw the move.

"My biggest challenge is over," he said. "Now

it's just keep chugging along and keep people

excited about it and keep the fundraising going."

The house survived the move almost entirely

unscathed, Johnson said, noting a few cracks in

the ceiling of the uppermost room. The front

door can't be accessed without a ladder, but

once inside, the allure of the home is obvious:

multiple spaces, open staircases, large windows

and original wood floors.

"Let them tell the story of the history," Johnson

said of the floors. "We can patch in some boards

and it'll be a great floor."

Currently the museum sits along Northwest

Boulevard, adjacent to City Park and northwest

of the Coeur d'Alene Resort. During the summer,

parking can be a challenge, Dahlgren said, and

plans for later phases of the project include a

dedicated parking lot behind the White house.

Jocelyn Whitfield-Babcock, the museum's

development director, said that while the

current location is easy to spot when driving

by, the new location will make more sense as a

destination—and it will have great views too.

"The (museum) is on Northwest Boulevard,

and so many people are driving by and seeing

us, but what we're making this into is, instead of

making this an afterthought … it's a destination,"

Whitfield-Babcock said. "They're getting in the

car and they're coming here, and it's part of the

plan."

And, she said, the museum is certainly visible,

being so close to McEuen Park, the library,

CDALivingLocal.com

37
---
The board is currently

raising money for the early

phases of the renovation

project, which includes

the move and the cost of

refurbishing the home.

PHOTO BY DAN THOMPSON

PHOTO BY DAN THOMPSON

Tubbs Hill and the Centennial Trail. Just standing in the parking lot for 20

minutes, she said she saw 10 to 12 people drive by just looking at the house.

The idea that a historic building will soon house a museum dedicated

to history was not lost on Robert Singletary, the museum's program and

marketing director, who, as part of his job, hosts walking tours of Coeur

d'Alene.

"The idea of preservation is growing in this community," he said. "There

was an emphasis at the city, for a time, to develop, but I think you can have

both: that balance between preservation and development. … Preservation

in the long run means economic development."

Gibbs and Dixon highlighted the partnerships that made the move possible

and that have enabled them to dream big in modernizing the museum. The

City of Coeur d'Alene, the Tubbs Hill Foundation, Ignite CDA and others,

including Mark Launder, who donated the house, have been enthusiastic

in supporting the project and helping to make it happen, they said.

Still, though, the museum hums along. Back at the current museum,

Dahlgren and volunteers will keep busy throughout the offseason before

the museum re-opens as usual for its regular hours in April. The museum's

50 volunteers log about 2,000 hours annually, Dahlgren said, updating

archives, staffing the gift shop, sending out quarterly mailings and assisting

people who wish to come in an access the archives, which anyone, she said,

is welcome to do year-round.

The museum also has a 4,000-square-foot off-site storage facility with

more exhibit materials; a space it will continue to operate after the move.

But as it is now, the hallways are crowded, and Dahlgren is ready to have

spaces where people can come and look through old maps, directories and

other original documents with open tables dedicated to that purpose.

"Our programming is exceeding our ability to handle it with the current

staff," she said, referring to the walking tours, school visits, archivers and

researchers who visit. "With the new building we would be able to have

more of a presence, and our services could be more accessible to people."

CDALivingLocal.com

38
---
LIKE MEDIA IS EXPANDING!

FULL-TIME

EMPLOYMENT

POSITION AVAILABLE

FOR COEUR D'ALENE

& SPOKANE AREA

• Sales & Marketing

Professional

• Outgoing person with great

people skills.

• Works well independently & in

a team environment.

• Like Media hires for

personality & will train for skill.

Please send in your resume to

Jobs@like-media.com

to apply for the position.

CDALivingLocal.com

39
---
BLUE LIZARD

NATIVE AMERICAN GALLERY

Specializing in

Jewelry, Art and Artifacts

Athletes of the

BY COLIN ANDERSON

PHOTO BY ANDREA JENSEN

Month

PHOTO BY JASON DUCHOW PHOTOGRAPHY

Visit Our New

Location Today

and find your perfect gift!

SETH HANSON

Lake City High School

When senior Seth Hanson started

competing in high school sports,

he wasn't the biggest kid on the

floor. From very early on he told himself that

being shorter than most wouldn't hold him

back from achieving his goals. "Although I

could not control my height, I continued to

work hard to continue to improve and, now

that I am older, my size and strength have

increased, allowing me to be the player I

know I can be," he said.

Seth has participated in baseball, track

and field, and basketball, the latter being

his favorite of the three. While initially he

wanted to continue his baseball career, his

junior year he crossed over his basketball

leaping ability to the long jump and triple

jump events, earning a varsity letter in track

and field in his first season.

Seth's been on the varsity basketball team

since his sophomore season and says

his coaches taught him that hard work,

dedication and persistence will always pay

off in the long run. "Coach Winger always

says to "Stay on the ship," which means don't

give up no matter what, even when things get

difficult," said Seth.

For Seth, having healthy competition in

practice and playing against top talent in

the state has brought great challenges and

successes as he competes in his final season.

"The thing I enjoy the most about playing

basketball is being able to compete at a high

level with my teammates and having fun

while being successful," he said.

Seth carries a 3.7 GPA and has maintained his

Honor Roll status throughout the entirety of

high school. He's been accepted to Montana

State, Lewis and Clark State, and Montana

Western and will likely make the decision

on where to earn his degree at one of these

schools.

Seth envisions basketball being a major part

of his post high school life. "I would like to

study sports administration in hope of one

day being able to coach basketball at the high

school and/or college level," Seth explained.

"Playing different sports while growing up,

I realized my love of basketball was greatest

and would like to be around and involved in

the sport regardless if I am playing or not."

208.255.7105

100 Cedar Street, Suite B

Sandpoint, Idaho 83864

In His words....

"The thing I enjoy the most about playing basketball is being able to compete at

a high level with my teammates and having fun while being successful."

CDALivingLocal.com

40
---
BROUGHT TO YOU BY

PHOTOS BY CHERYL NICHOLS PHOTOGRAPHY

Eat healther this year

with Super 1 Foods!

HUNTER SCHUELLER

Coeur d'Alene High School

Playing multiple sports has taught Coeur

d'Alene High School senior Hunter

Schueller that there will always be

triumphs and tribulations in life. Hunter holds

a long list of academic and athletic accolades

that include North Idaho top scholar, North

Idaho College's Dean's List (he is currently

dual enrolled), multiple athletic letters and

trips to the state tournament in both football

and wrestling. However, it was an unexpected

outcome his junior year that helped him see

life a bit differently.

Going into the state wrestling tournament

ranked No. 3 in his weight class and having

placed the previous two years, Hunter was

expecting another medal, however, that

didn't happen. "I did not wrestle to my full

capabilities in that tournament due to placing

too much pressure on myself to place high in

that tournament," he recalled. Instead of letting

that moment define him, Hunter re-centered,

worked harder in the offseason and took a new

mental approach for his senior season. "I am

also learning to trust my training so I can relax

and have more confidence before matches," he

adds.

Another life lesson that has stuck with Hunter

is from his wrestling coach Tony Hook,

who told his team to "be comfortable in the

uncomfortable."

In His words....

"Whether it be in life or in sports, people

should always strive to be the best version

of themselves, and I think this quote shows

people how to achieve this. It is not always

going to be easy, but if you can just push

yourself a little bit more each day, even if you

don't think you can, you will be able to achieve

things you didn't think you would be able to,"

said Hunter.

The 4.0 student will soon face the decision on

whether to become a Beaver or a Cougar, as

he's been accepted to both Washington State

and Oregon State universities. While he is

currently not looking to pursue Division I

athletics, Hunter does want to keep sports as a

major part of his life moving forward.

He's collected shoes for much of his life and

enjoys sketching out new designs. He has

hopes to continue to do so for a major apparel

label. "I really enjoy customizing apparel, and

as someone who believes in enjoying what

they do, I want to go down a path that I know

I will have fun in," he said.

When reflecting on his high school athletic

career, Hunter said he is thankful that he was

able to challenge himself against the highest

competition in the state and learn about

adversity, enjoying the grind, teamwork, and

pushing his own limits. "This can translate to

life," Hunter said, "as there are many work- and

life-related situations where working together

is the only way to get something done."

"I am also learning to trust my training so I can relax and have more confidence

before matches."

CDALivingLocal.com

41

SUPER1FOODS.NET

RATHDRUM

HAYDEN

COEUR D'ALENE

POST FALLS

ATHOL
---
A NIGHT TO SHINE

PROM NIGHT TO HONOR COEUR D'ALENE'S

SPECIAL NEEDS COMMUNITY

BY TAYLOR SHILLAM

PHOTOS COURTESY OF THE CAUSE CHURCH, COEUR D'ALENE

For one special night in February, people in cities across the world

will simultaneously celebrate an opportunity for guests of all

abilities to have a dazzling prom night experience.

Night to Shine, an annual event sponsored by the Tim Tebow Foundation,

is a chance to come together to support, recognize and honor the special

needs community. The foundation is committed to bringing faith, hope

and love to those needing a brighter day, inspired by Tebow's experiences

on international mission trips. The foundation created the event to

celebrate individuals with special needs.

This year's Night to Shine will take place on February 9 and will be hosted

locally at the Cause Church in Coeur d'Alene.

The "shine" factor of the evening will extend to all participants. The

prom event is known for being a thoughtfully well-rounded, high-quality

experience provided to not only the honored guests but the family

members and caretakers accompanying them, the event volunteers and

the hosting church. It will truly be a night to remember for the entire

community; a chance for people to come together in support of an

incredible cause.

Thousands of people across the world have already committed to

making their contribution to this year's Night to Shine, an event that has

continued to steadily gain momentum and participation since it began

in 2015.

In that first year, Night to Shine events were held in 44 churches across 26

states and three countries. More than 15,000 volunteers came together to

honor a total of 7,000 guests that year.

The prom night event has since grown to reach more than 650 churches,

from 35 different denominations, in all 50 U.S. states and a total of 24

total countries. Four years later, the most recent Night to Shine event

CDALivingLocal.com

42
---
Happy New Year!

208.660.0617

www. mrscleancda.com

Coeur d'Alene Cleaning Services, LLC

residential. commercial. vacation home.

call us today for a free consultation

serving all of north idaho

Creating Beautiful Spaces

A Finer Cut in Quality

and Customer Service

Tile & Stone Installation

Commercial/Residential

Lifetime Warranties Available

Discounts on maintenance by

Cleanlinez for all installations.

Fully Licensed and Insured

208.946.3919

RustTileAndStone.com

Now Serving Coeur d'Alene And Surrounding Area

CDALivingLocal.com

43
---
" We want nothing less than a five-star experience."

THE MOST RECENT NIGHT TO SHINE EVENT SAW A

TOTAL OF 200,000 VOLUNTEERS COME TOGETHER

TO SERVE MORE THAN 100,000 GUESTS IN 655

CHURCHES. THE IMPACT OF NIGHT TO SHINE CAN

TRULY BE FELT ALL OVER THE WORLD.

saw a total of 200,000 volunteers come together to serve more than

100,000 guests in 655 churches. The impact of Night to Shine can truly

be felt all over the world.

The heartfelt impact will certainly be present locally, with the Cause

Church hosting the event for a second year this February. As a Christian

church, their "cause" is to see people far from God come into saving,

healing and transforming relationship with Jesus.

Located on 1010 East Sherman Avenue, the Cause Church shares

what they do in this simple statement: know God, find freedom,

discover purpose and make a difference. The church moved into its

current location in November of 2017. It's a welcoming space that will

comfortably hold its maximum of 120 honored guests and 100 volunteers

on the night of the event.

In a tour of the Cause, pastor Jeff Cope emphasized the high standard

of excellence that comes with hosting an event like Night to Shine. He

was noticeably honored to play a key role in producing such a large-scale

event celebrating the local special needs community.

"It's a call to action," he said, reflecting on the preparation and care that

is required to host Night to Shine.

Cope considers every factor. From effectively utilizing the space,

decorating to create an experience, coordinating a large group of

volunteers, reaching out to community partners, providing quality food,

and every fine detail that makes the event inclusive and memorable for

each person in attendance, he is dedicated to providing a night that is

deeply special. "We want nothing less than a five-star experience."

Night to Shine guests are guaranteed to have nothing short of the prom

of their dreams, with every detail the Cause and its community partners

have in store.

Upon their arrival to the event, guests will walk the red carpet along the

church's long main hallway. Professional photographers and cheering

fans will line the red carpet, ready to capture every moment. Each

guest will have the opportunity to have their photograph taken against

backdrops resembling magazine covers or take their own pictures to be

printed instantly with the provided Polaroid cameras. Guests will have

two main rooms available for them to enjoy the night. Dancing and

dining will take place in front of the church's main stage, where guests

will enjoy a catered meal served on tables with linens provided by the

Coeur d'Alene Resort. The nave of the church provides an excellent

space for guests to put on their dancing shoes and let loose.

A break from the dance floor will be provided in the game room, where

guests can relax, engage in board games and let their inner rock stars

shine with karaoke, a reported favorite activity of the night last year.

Throughout the entire event, a local limousine company will provide

rides through Downtown Coeur d'Alene on a rotating schedule,

providing a first-class transportation experience reminiscent of a classic

CDALivingLocal.com

44
---
Happy

New Year!

Make sure your little one

is school ready

Call to schedule your tour today!

• Strategic lesson plans for each age group

• Ensuring growth and development

• Focusing on school readiness and more!

1 208.966.4256 4 smartstartcda.com 0 smartstartcda@gmail.com 5 180 W. Clayton Ave. | Coeur d'Alene, ID

CDALivingLocal.com 45
---
prom night. To cap off a night of lasting memories, every single one of

the honored guests will be crowned king or queen of the prom.

While the honored guests enjoy dancing, limousine rides and games,

their accompanying caretakers, relatives and community members will

have their own opportunities to relax, shine and feel appreciated.

A room at the Cause will be dedicated to their pampering for the night,

including hair and beauty services provided by local business owners.

Massage therapists will also be in attendance to provide stress-relieving

head and neck massages.

Night to Shine, an event all about inclusivity, joy and celebrating life,

will honor guests aged 14 and older. With all the care, thought and love

that its hosts are so clearly pouring into the event, it is not a night to

miss. Members, supporters and friends of Coeur d'Alene's special needs

community are all encouraged to attend as a guest or volunteer.

"What we can do here, we can't do anywhere else," said Cope. He hopes

the event will provide a call to action for more local churches to host a

Night to Shine and continue building the event's reach to encompass a

greater population within the Spokane/Coeur d'Alene area.

To contribute or volunteer at the event, contact The Cause via email

at info@thecausecda.com. Additional information for prospective

volunteers will be posted to their website in the coming weeks. Cope

stated The Cause will gladly accept volunteer assistance from anyone

who wants to join in on the special night.

For more information about the Tim Tebow Foundation, including

directions to host or contribute to a Night to Shine event, visit

TimTebowFoundation.org. You can also send a person with special

needs to the event by donating $35 through the foundation's website.

CDALivingLocal.com

46
---
The most

AMAZING CARE

anywhere.

Pediatric Orthopaedic Specialists

888-895-5951

ShrinersSpokane.org

MANAGEMENT

with Purpose.

We make managing your community easy.

At Boardwalk Association Management,

we ease the administrative duties of HOA Boards.

Samantha@BoardwalkIdaho.com | 208.287.8811

www.BoardwalkIdaho.com

CDALivingLocal.com

47
---
NEEDED IN THE LAB

NATION FACING SHORTAGE OF CERTIFIED LAB PROFESSIONALS | BY MAUREEN DOLAN | PHOTO COURTESY OF NIC

North Idaho College Medical Laboratory Technology Program

Director Sonja Nehr-Kanet instructs a student.

Medical lab technicians play one of the most significant and

necessary roles in health care, and there's a rising need for more

workers with this special training and knowledge.

The demand for lab workers has grown 13 percent in the last year, almost

double the average for other U.S. jobs, according to Bureau of Labor Statistics.

Those jobs are becoming increasingly hard to fill because medical laboratory

technology is a field seldom first considered by career-seekers, and lab

workers often go unnoticed by patients.

"We're so behind-the-scenes that people don't really think of us," said Sonja

Nehr-Kanet, director of the Medical Laboratory Technology Program at

North Idaho College. "Most people think of doctors and nurses."

Every day, the work of lab professionals influences a majority of clinical

decisions made by doctors, nurses and other more visible health-care

practitioners. Diseases and medical conditions are detected, diagnosed and

monitored, all based on lab test results.

It's estimated that 70 percent of all patients have some type of lab work done.

Students who successfully complete the two-year Medical Laboratory

Technology Program at NIC will obtain an Associate of Applied Science

degree, and they will be eligible to sit for a national certification examination.

Certification enables them to work in labs in hospitals, clinics, physicians'

offices and in private diagnostic labs.

"But there is a backlog (of lab results) because there aren't enough of us," Nehr-

Kanet said. "There is a nationwide shortage of qualified lab professionals."

The rise of automation in labs may help address the shortage.

"But you're still going to need a person with a brain overseeing the work and

making sure it makes sense," Nehr-Kanet said.

NIC's program, the only of its kind in Idaho that is accredited by the National

Accrediting Agency for Clinical Laboratory Science, was designed by

Nehr-Kanet to make it easy for graduates to transfer their credits toward a

bachelor-level Medical Laboratory Scientist credential, a program offered at

Idaho State University.

There are other advanced career paths that can begin with a two-year Medical

Laboratory Technology certification. A student can ladder up to advanced

education opportunities like pharmacy school or medical school. It can be

a stepping stone along the way to a career as a specialist like a neurosurgeon

or pediatrician.

"Our students are well-prepared for so much. I love to see where my students

have gone and what impacts they've made," said Nehr-Kanet, a medical lab

scientist herself. "My contribution to patients is through my students."

To apply, and for more information about the program, visit NIC.edu/mlt.

CDALivingLocal.com

48
---
Nightly + Vacation Rentals

Marina and Moorage

Water Sport Rentals, Seaplanes and More

Year-Round Pool, Hot Tub and Fitness Center

Miles of Trails to Explore

Resort & Marina

DoverBayBungalows.com • 208.263.5493

Dover Bay Marina Lake Club Fitness Center Vacation Rentals

Events at the Barn

Book online today or call for more information!

DoverBayBungalows.com • 208.263.5493

Dover Bay Resort and Marina • 659 Lakeshore Ave. Dover, ID 83825

CDALivingLocal.com 49
---
208.699.9692

NORTHWEST BUSINESS

Union Gospel Mission Center

for Women & Children

UGM's long-term, residential recovery center for women with

children in Kootenai County provides a home-like setting in

which to explore and confront the issues underlying abuse,

addiction and homelessness. Residents receive food, shelter,

clothing, therapy, life skills classes, Bible study, educational

and vocational training, and medical care free of charge.

196 West Haycraft Avenue | Coeur d'Alene

208.665.4673 | UnionGospelMission.org

The Big Picture

Serving the community for 26 years, The Big Picture specializes

in senior, family, children and business photography. Both

outdoor and indoor (studio) sessions are available, allowing

then to capture the perfect photo year round. Combined with

owner/photographer Mark Huender's expertise in lighting,

posing and re-touching techniques, he can capture just what

you're looking for. Choose from photographic prints, canvas

wraps, metal and digital file options.

13403 North Government Way, Suite 114 | Hayden

208.772.4244 | BigPixr.com | F Bigpixr

Prime Trade NW

At Prime Trade NW, owners and ITEX brokers Arthur and Kimberly Shaw offer an independent

brokerage within the ITEX barter network. ITEX allows businesses to trade with each other

with ITEX currency while the brokerage helps build membership in the ITEX network and

supporting local members in earning more business and spend ITEX currency. Call today for

more information.

1869 East Seltice Way | Post Falls

208.699.9692

PrimeTradeNW.com | F itexpacificnw

CDALivingLocal.com

50
---
EXPERTS...

**All business listings are members of ITEX Corporation and currently accept ITEX dollars.

All About You

Practicing the art of massage since 2007 and averaging 1,200

to 1,500 massages per year, Bob Murray brings his extensive

experience of prenatal, sports and deep tissue massage, and

reflexology. Each massage is catered to each client's specific

needs, with 60- and 90-minute massages available, as well as twohour

sessions. Massage has been shown to reduce stress and toxins

and relieve muscle aches as well as deeper chronic pain, all while

promoting better quality of life.

205 East Seltice Way, Suite C | Post Falls

208.777.7142

Hippo Car Wash

Hippo Car Wash has been providing quality vehicle care at

affordable prices since 2006. Securing the most advanced

tunnel in the area combined with the industry's best car

wash equipment, Hippo provides you the cleanest vehicle

wash around—and fast! In addition, crew members are well

trained and use only the best, safest methods when cleaning

your vehicle. If you love your car, there's no better choice

than Hippo Car Wash.

510 West Bosanko Avenue | Coeur d'Alene

208.667.5603 | HippoCarWash.com

All Pro Auto Repair & Electric LLC

Honest, trustworthy, affordable and experienced. Look no further than All

Pro Auto Repair and Electric for your auto repairs and maintenance services.

A full-service auto repair shop, they specialize in vehicle diagnostics and

auto maintenance. Servicing vehicles of various makes and models, trucks,

motorcycles and more, they'll keep your vehicle running smoothly year-round.

The facility is fully approved and ASE certified. Financing options are available.

Open Tuesday through Saturday, 8am to 5pm.

185 West Haycraft Avenue | Coeur d'Alene

208.966.4396 | AllProAutoAndElectric.com

CDALivingLocal.com

51
---
SEASONAL LIVING FOR WINTER WELLNESS

Tips for replenishing your body

By Jeff Pufnock L.Ac. Ph.D. and Jessica Youngs L.Ac.

In Chinese medicine and many holistic healing traditions around the

world, the simplest path to health is learning to live in alignment

with the seasons. This alignment can be understood by observing the

seasonal processes of nature around us. The spring is the initiatory growth

of seeds into sprouts that then give rise to the full abundance of fruit in

the summer. The fall is the drawing inward of nutrients and the release of

the leaves to the ground. The winter holds the place of complete stillness,

deep nourishment and infinite potential. The seeds of the next year's

blossoms are firmly planted beneath the earth, resting in the dreams of the

flowers they will become and the fruit they will bear. This winter process is

absolutely essential for the spring to rise anew from a place of well-being

and vitality.

Without the deep rest and quietude of winter, the vitality of spring is

reduced and the potential for the entire year is diminished. American

culture emphasizes 'perpetual summer' through its endless pressure to

always do and produce more, and we all inhibit ourselves from embracing

adequate rest during the correct time of year. This yearly depletion pattern

repeats and leads to a drastic reduction of energy and vitality, including a

weakened immune system.

Science suggests the prevalence of winter colds and flus results from

stagnant air indoors and increased close personal contact with others.

If our bodies are well nourished and our immune systems are resilient,

we should be able to be moderately exposed to colds and flus without

contracting them ourselves.

In Chinese medicine, deep rest during winter is essential for the

replenishment of our vitality. It is completely natural to need and desire

more rest at this time of year, even if responsibilities at work and home do

HEALTHY TIP

NEW YEAR, NEW YOU!

It's a new year! What better time than now to start on a new

you. No matter your goal, write it down and read it out loud

every day. The more you see it, the more you'll believe in it

and ultimately achieve it!

CDALivingLocal.com

52
---
EXPERIENCE

IN THE NEW YEAR

TOAST THIS SPECIAL - 2 HOURS - $150

30-minute Strawberry full-body scrub, a Champagne Shimmer body wrap and a 55-minute

massage! Steam Sauna and beverage of choice included.

WINTER WARM UP SPECIAL - 90 MINUTES - $110

Warm up with our 90-minute Hot Stone massage! Steam Sauna and a beverage of choice included.

HOLIDAY GLOW SPECIAL - 2 HOURS - $110

Our 55-minute Highlands Facial and a 55-minute massage! Steam Sauna and beverage of

choice included.

NEW YEAR, NEW ME SPECIAL - 3 HOURS - $200

Our premier Fountain of Youth facial and a relaxing 90-minute massage. Steam Sauna and beverage

of choice included.

GIFT CERTIFICATES AVAILABLE!

4365 INVERNESS DRIVE | POST FALLS, ID 83854

HIGHLANDSDAYSPA.COM | 208.773.0773

CDALivingLocal.com 53
---
IT'S TIME FOR SELF-REFLECTION

THIS WINTER PROCESS IS

ABSOLUTELY ESSENTIAL FOR

THE SPRING TO RISE ANEW

FROM A PLACE OF WELL-BEING

AND VITALITY.

not accommodate this. Replenishing our vitality through deep rest

requires going against the societal tendencies to always do more and

instead relax into opportunities to do less. We are all able to do our

best quality work when our rest is of the same quality.

Tips for a Replenishing Winter:

Fulfilling Nourishment: Drink warm water with lemon, herbal

teas and hot cider. Enjoy slow-cooked foods such as stews, soups,

curries, root vegetables, beans, lentils, seeds and nuts. Steam or bake

vegetables—and eat plenty of them. Avoid ice water, raw salads and

cold smoothies.

Deep Rest: Create extra time for sleep and honor your commitment

to your health. Turn off electronic devices one hour before bedtime,

avoid the news and anything disruptive. Instead, use soft lighting to

journal, meditate or snuggle up. Be in bed in a dark room by 10:30pm

and wake with your own natural rhythm when possible.

Self-Reflection: Winter is a time for deeply listening to your inner

self. What gives you the most nourishment in your life? What

opportunities already exist for you to find more rest and relaxation,

and where can you create more opportunities for self-care?

CDALivingLocal.com

54
---
NATURAL, LIFTED, EXTENDED

Lash enhancement options and choosing the best option for you

JUNE 20, 2020 | CHAFE150.ORG

By Kristin Carlson, Medical Esthetician

T

he options are endless: extensions,

strips, growth serums, perms,

even magnetic. Whatever your

choice is for getting eyelashes

that "pop," there is no doubt it is currently one

of the biggest beauty trends. Depending on the

type of pop you're looking for and the condition

of your lashes, there are many options out there

to accentuate those beautiful eyes of yours.

Let's explore the different options to help you

determine what will enhance one of your most

alluring features.

Lash Extensions - We all have friends with long,

thick, perfectly curled lashes. Many times, they

are our own children or a partner who could care

less about perfect lashes. Ugh. For those of us who

were not blessed with the "perfect eyelash gene,"

we may turn to lash extensions. Lash extensions

can be made of several different materials

including synthetic fibers, silk, mink, human

hair, even horsehair, and are used to accentuate,

lengthen and fill in your natural lashes. An

adhesive is used to glue an individual or small

bunch of hairs to your existing lashes. The nice

thing about extensions is you can determine the

length and amount of volume you would like, thus

enabling your technician to create a very natural

or very dramatic look. Lash extensions require an

initial treatment which can take anywhere from

one to three hours, with "fill-in" appointments

every two to four weeks. Your lashes have a

natural shedding process, resulting in a loss of

approximately one to five lashes per day, which

is why fill-in appointments will keep your lashes

looking consistent.

Lash Strips - Similar to extensions, lash strips are

typically made of synthetic fibers or human hairs

and are applied with an adhesive. The difference is

they come adhered to a strip, which you measure

and cut then apply to your natural lash line with

an adhesive. They typically create a more dramatic

look and are applied and removed daily, or for

special events.

Lash Lifting/Perming - This is a process in which

your natural lashes are placed onto a rod using

adhesive then processed into a curled position.

This typically includes a lash tint, giving your

natural lashes the look of using an eyelash curler

and applying one coat of mascara. This is a lowmaintenance

treatment, usually lasting six to

eight weeks. It is great for those with long, straight

lashes and those who want a less dramatic look.

Lash tinting is great for those with light-colored

lashes.

Growth Serums - Growth serums are solutions

applied to the lash line, promoting lash growth

and resulting in longer, fuller, stronger natural

lashes. There are natural serums as well as

medical grade. Natural growth serums typically

contain biotin as their main ingredient, which

is a vitamin B used to strengthen the lash, thus

resulting in longer, stronger lashes. Medicalgrade

growth serums, such as Latisse, require a

prescription through a medical provider. Latisse

is a bimatoprost ophthalmic solution, approved

by the FDA, to produce longer, thicker, stronger

lashes. Natural serums tend to take a bit longer

to produce results but can be purchased over the

counter.

Talk to your aesthetic provider to discuss the

best lash enhancement option for you. Do your

research and be certain you are trusting your eye

area to a trained professional.

EARLY REGISTRATION OPENS JANUARY 15, 2020

Sandpoint Rotary presents the 13th Annual

CHAFE 150 Gran Fondo, named one of the

top charity rides in the US! CHAFE offers

magnificent routes of 100, 80, 40, 25 and a

Family Fun ride, awesome ride support and

a fabulous after-ride party in Sandpoint.

Ride proceeds support after-school reading

and literacy programs of the Lake Pend

Oreille School District and other Rotary

youth and educational programs. Register

January 15 at chafe150.org.

PRESENTED BY

OUR SPONSORS MAKE IT HAPPEN. WE THANK YOU!

PLATINUM SPONSORS:

GOLD SPONSORS:

CDALivingLocal.com

55
---
QUIT

THE HIIT

Sustain Those Workouts

Without Burnout

By Ryan Egan, Licensed Joint and

Movement Specialist

TO GET HEALTHY, AND

IMPROVE YOUR FITNESS,

GET YOUR METABOLIC RATE

AND YOUR VO2 ANALYZED.

THEN YOU'LL KNOW

EXACTLY WHAT HEART RATE

ZONES TO TRAIN IN AND

HOW MANY CALORIES YOU

ACTUALLY NEED.

With oodles of science in support of

the benefits, and results, produced

with HIIT training (high intensity

interval training), nearly every gym is packed

with people in classes performing movements,

and conditioning work, at high intensity

in order to achieve the body they've always

wanted in half the time. News flash! You cannot

achieve long-lasting physical superiority in

30-minute workouts. Things that are made fast

also break fast; your addiction to the high of

HIIT, and the lie you have been marketed to

believe, will ultimately lead to an unsustainable

path of broken promises—and damaged body

parts.

High intensity interval training is primarily

used at the pinnacle of athletic development

to achieve very specific adaptations and

gain an edge on the competition. It is also

used alongside a well-executed training plan

designed by a coach who knows exactly why,

what and how to engage in high intensity work

at the correct dosage, and frequency, without

injury and exhaustion.

It is not a weekly training tool to be used week

in and week out, by weekend instagram fitness

"experts" and stay-at-home moms, or the "I

just don't have time" excuse-aholics.

HIIT training can deliver varying results, but at

what cost? Unfortunately, most "go-hards" lack

key fundamentals needed to benefit from such

training and resist injury. Joint mobility is the

top requisite to performing any exercise, but

it is the king when it comes to high-intensity

work. Because the demand on the body is so

high when you're redlining yourself, it simply

does not allow for any other thoughts other

than breathe, keep going and don't vomit—

which eliminates focus on body position and

form. Without the ability to keep your form in

check, injury risk rises sharply.

HIIT training can only deliver so much. You

cannot offset eating, drinking and living like an

unsupervised child for 9,990 minutes in three

30-minute workouts per week. HIIT training

isn't magic, and please stop talking about the

"afterburn." If your metabolism is the size of

a matchstick, then it can only burn so much

regardless of intensity, and once the fire is

out, it cools off quickly. Your metabolism can

increase however, but only with continually

sustained controlled efforts to build an aerobic

base that increases resting metabolic processes

and oxygen consumption.

Finally, HIIT training does not allow room

for motor learning or refinement, because the

brain makes decisions on how to move by what

is available for use (dynamic systems theory).

If you lack the body control, joint range of

motion or skill to engage in high-intensity

work with precision, you're likely just flailing

around wasting your time—and money.

To get healthy, and improve your fitness, get

your metabolic rate and your VO2 analyzed.

Then you'll know exactly what heart rate zones

to train in and how many calories you actually

need. Once you know what heart rate zone you

burn fat the best, spend three or more hours a

week in that zone, but I guarantee, it won't be

high intensity. Which is actually good, because

you might be able to sustain those workouts

without burnout, or injury.

CDALivingLocal.com

56
---
Managed by Eden Health

Ask Yourself:

• Is it taxing for you to leave your

home?

• Do you need assistance with

medications?

We Can Support Clients Who:

• Are recovering from surgery or an

injury and are healing at home

• Are diagnosed with a new illness

• Are in need of physical,

occupational or speech therapy

About Us:

• All caregivers are bonded and

insured. An extensive criminal

background and driving history is

also performed.

• AFS accepts Medicare, insurance

and private pay.

MEDICARE COVERS HOME HEALTH AT 100%

SERVING BONNER, BOUNDARY AND KOOTENAI COUNTIES

AFS Home Health —208.255.1640—530 Pine St., Sandpoint, ID 83864

Discover More: AFS Home Health Agency—www.Eden-HomeHealth.com/Sandpoint

f

CDALivingLocal.com

57
---
MORE

REASONS TO

SMILE

BECOME A NEW PATIENT AT OUR AWARD WINNING

DENTAL OFFICE AND YOU'LL BE SMILING A LOT MORE!

To show our appreciation to the community, we are offering all new patients a chance

to win your choice of a $1,000 gift card to Costco or Pilgrim's Natural Food Market.

You can also save now on these special new patient offers:

ONLY $150 NEW PATIENT SPECIAL

FOR XRAY, EXAM & CLEANING A $400 VALUE

$100 OFF

IN-OFFICE WHITENING

3D IMAGING • IMPLANTS • 1-DAY CROWNS • WHITENING

VENEERS • INVISILIGN • DENTURES • ROOT CANALS

LASER PERIODONTAL THERAPY

208-664-8283 | KootenaiFamilyDental.com

CDALivingLocal.com

1420 Lincoln Way, 58 CdA |
---
ONE LIFE AT A TIME

Drug addiction grips the Silver Valley

BY MARC STEWART, HERITAGE HEALTH

MIKE'S FIRST DRINK OF ALCOHOL

CAME BEFORE HE WAS 6 YEARS OLD.

He smoked marijuana at 11, then took opioids

later that same year. He eventually graduated to

heroin and methamphetamines.

Mike was arrested numerous times, but it didn't

matter. Drugs and alcohol controlled him.

Over a year ago, the Pinehurst resident hit rock

bottom.

"I was using heroin and meth together, and I

couldn't see a future for myself or point in my

life. I was so ready to be done. I couldn't stop

and I didn't care if I died," said Mike. "I couldn't

find a way out. I couldn't see a reason to."

However, an arrest last February finally changed

his perspective.

"It was an eye opener for me," he said. "I was

able to get clean and decided what I wanted

to do with my life. That's not who I wanted to

be. That's not my potential. I have way more

potential than that."

Mike found help and hope through the Restored

Paths program at Heritage Health. He faced his

internal issues and worked hard to defeat the

lifestyle that had dominated his world for most

of his life.

Today, Mike is clean and sober. He is working

for a construction company in the Silver Valley.

"For the first time, I have my own place, I have

my own truck," he said. "I am still learning how

to budget my money, but I am getting there."

He credits Heritage Health for providing him

coping mechanisms to avoid slipping back into

using drugs and alcohol.

"The only thing that has saved me is the program

here at Heritage Health," said Mike. "I have

learned so many skills, and they have shown me

a way to apply them to regular day occurrences."

Michael Gooch, who is an addiction counselor

for Heritage Health's Restored Paths Program,

said Mike's success story is a beacon for others

fighting the same fight.

"Our rooms should be full because the problem

is so extreme," said Gooch. "Mining was the

industry here for a long time, but it's fading out.

Addiction is the industry here now. You see

families who are now highly addicted to drugs."

In major metropolitan areas, addiction can be

seen on the streets. Cities like Seattle, Portland

and Spokane are struggling with what to do

with large groups of homeless people who have

substance abuse and mental health problems.

"There's no homelessness here," said Gooch.

"You don't have that rock bottom of the

streets here. The parents cradle it, enable it. It's

generational."

To help combat the problem, Gooch helped

create Narcotics Anonymous in the Silver

Valley and encourages his patients to assist their

friends and family.

"What you say you're going to do isn't important,

it's what you're doing," said Gooch. "It's an

important philosophy. We're here to help, but

you have to want to do it."

For more information about the Restored Paths

program, contact 208.664.8347.

RESTORED PATHS

Follow Us!

CDALivingLocal.com

59
---
FROM MODEL T

TO GT4

Exhibits continue to wow

BY COLIN ANDERSON

PHOTOS COURTESY OF LEMAY - AMERICA'S CAR MUSEUM

If you've meandered through one of the many car shows of the

Northwest, you've probably seen some pretty cool rides. It's

a great way to get up close to a piece of history. The common

vehicles featured in most of these shows are mid '50s to late '70s

American-made automobiles. Some shows have rules as to how

old the car must be to be shown, what condition it is in or where it was

made. While these shows can be a lot of fun, especially for those who

grew up driving one of these muscle machines, being able to see a wider

variety of automotive history is a more difficult thing to find. Lucky for

us, North America's largest continuous "car show" can be found right in

our backyard. And if you've never been, you are sure in for a treat.

LeMay - America's Car Museum is a bucket-list trip for those serious

about automotive history but also a great time for those who know little

to nothing about vehicles of the past or even how a car works; and that's

the beauty of this place.

"It's truly multi-generational," said Ashley Bice, National Strategic

Initiatives Officer with America's Automotive Trust, a nonprofit

organization aimed at preserving America's car heritage. "Everyone

walks away with a great experience."

The ACM collection includes some 300 cars, trucks and motorcycles

inside the 165,000-square-foot complex, with vehicles spanning more

than a century. "It's all about the celebration of America's love affair

with the automobile, not one particular vehicle or brand," said Bice. The

collection varies from some of the earliest models ever made to some of

the newest in luxury, high speed or concept on the market today.

The museum came to be when Harold and Nancy LeMay had amassed

the largest privately owned collection of vehicles and memorabilia in

the world. When asked about his collection, the late Harold LeMay said,

"I don't go for just the dollar value car. If it is unusual, I like it. So, I am

kind of a maverick, since I am not a dyed-in-the-wool Chevy, Ford or

Duesenberg man. I see it, I like it, I buy it."

After amassing such a large collection, and seeing the sheer enjoyment

of guests at their annual car show and open house at the couple's

homestead, the LeMays made the decision that instead of seeing their

collection scattered and auctioned off to private owners, it would be

better served as a piece of history that all could enjoy. After more than

a decade of planning, grant writing, fundraising, ups and downs, and

surviving the economic downtown, ground was broken in 2011, and

the museum saw its doors open for good in June of 2012. Since then,

thousands of visitors from all 50 states and 47 countries have passed

through the doors to admire this truly one-of-a-kind collection.

First-time visitors are amazed almost instantly as they walk through the

doors. Most museums typically display only a small portion of their

collections, as many of the rare artifacts are kept in storage and away

from the public eye. Rather unique to LeMay - America's Car Museum

is that the collection is held in an "open air" setting. Vehicles that aren't

currently on display in one of the numerous exhibits are still open for

easy public view in the center lower levels of the complex.

While the LeMays are the primary donors to the museum, other cars,

trucks, motorcycles and unique pieces of automotive history have come

from many different sources. According to Bice, two-thirds of the

vehicles on display come from private donors—not just from the area

but across both oceans.

"We had a 1941 Buick go to China for an exhibition and then back to the

museum. Our 1927 La Salle that is currently on display competed in the

2011 Mille Miglia in Italy," she said.

It's a unique opportunity for collectors as they have a safe place to display

their car where thousands more people will get to see and experience

it than at a regional car show. It also helps the museum continually

bring in new pieces of history to share as the exhibits rotate often and

CDALivingLocal.com

60
---
CDALivingLocal.com

61
---
showcase different brands, eras and styles.

"You don't have to be a 'car guy' to enjoy this place,

but if you are, there is definitely a lot of eye candy to

enjoy," said Bice.

Getting the unique autos is often a two-way street.

Sometimes the museum is made aware of a special

car or vehicle that would make a great fit for an

upcoming exhibit, making a request to the owner; and

other times, the vehicle's owner is made aware of the

museum and wants to be part of sharing its history

with others.

The museum recently wrapped up displaying one of

the more unique collections on the planet. While many

donate a single vehicle or maybe a couple, Brown M.

Maloney loaned LeMay 125 Honda motorcycles from

multiple decades. Maloney was highlighted in the

2019 Master Collector's Exhibit, which is reserved for

"dedicated enthusiasts whose passion for cars knows

no bounds." A new Master Collector will be featured

later this year.

The collection at LeMay includes just about anything

you can think of, along with several vehicles and

artifacts you might not have known to exist. One

exhibit might include the earliest Cadillac, Model Ts

and Model As, and around the corner you'll find a

display of British-made automobiles. Muscle cars and

family wagons, high-end ultra-fast sports cars and

even the foot-powered "Flintmobile" from the 1994

Flintstones movie are on display for guests' enjoyment.

One of the more popular exhibits is Route 66, which

includes a rotating interactive collection of cars and

memorabilia to celebrate America's iconic roadway.

This exhibit is dedicated to the heyday of American

automobile travel and helps a younger generation see

what a family road trip on this iconic highway looked

Rather unique

to LeMay -

America's Car

Museum is that

the collection

is held in

an "open air"

setting.

CDALivingLocal.com

62
---
SPRAY IN BEDLINERS BY BULLET LINER

HIGH CALIBER PROTECTION

PREVENTS SCRATCHES, SCUFFS & DENTS

$50 OFF BEDLINERS WHEN YOU MENTION THIS AD

CAMPER SHELLS BY LEER

TONNEAUS & TRUCK CAPS

$100 OFF LEER SHELLS WHEN YOU MENTION THIS AD

254 W. Kathleen Ave. | Coeur d Alene, ID | 208.765.4444

7225 E. Sprague Ave. | Spokane Valley, WA | 509.924.9999

www.customtruck.info

Serving the mining, oil, logging and trucking industries.

CHAIN SERVICES FOR

On-road & Off-road | Snow Removal | ATVS | Recreational Vehicles

DISTRIBUTOR OF TRYGG CHAINS

208.267.6215 | whitemountainchain.com

CDALivingLocal.com

63
---
like in the 1950s and '60s.

First-time visitors should set aside some time to visit

Lucky's Garage to learn about Harold LeMay, his passion

for automobiles, how he came to own so many and his

decision to put them on display for all to enjoy. This is a

permanent exhibit paying tribute to those who made it all

possible.

Though initially popular in the south, NASCAR's following

has grown not just nationwide but has spread to a worldwide

audience. Two-hundred mile per hour super cars dominate

the tracks today, but this sport got its humble beginning

from southern moonshiners tuning engines for a few

extra horsepower in order to avoid the law while running

their illicit alcohol. In the Legends of Motorsports: The

NASCAR story you'll not only learn about how the sport

began to blossom but see the evolution of race cars, many

of which you'll recognize from popular drivers throughout

its history.

If you want to take your racing experience up a notch, be

sure to stop by the Speed Zone. Here you are strapped into

a state-of-the-art CXC racing simulator so you can get the

feel of track and slot car racing.

One of the most exciting new exhibits at LeMay is Saleen:

From the Heart of a Racer to America's Supercar. The

incredible display was unveiled this past fall with Steve

Saleen in attendance. Visitors are treated to a unique

display of Saleen's rich automotive history spanning over

four decades. You can enjoy a variety of historic vehicles

on display, including his personal racing machines, early

Saleen Mustangs, the Saleen S7 (considered America's first

supercar), and examples of the company's new Saleen 1

mid-engine turbocharged sports car and recently unveiled

Saleen 1 GT4 concept race car.

Other exhibits include the opulent rides of the 1930s and a

wing of all British-made autos.

There is no shortage of vehicles to see, but there are also

great opportunities to get hands on and interactive as well.

"We have dedicated spaces for kids and families to really

experience automobiles," said Bice. These include the

photo car where you can have your picture taken with

a 1923 Buick touring car. There is also the Family Zone

which has multiple interactive pieces for kids to explore.

Here they can study how a car works by looking at an

exposed chassis, build and race pinewood derby cars, get

behind the wheel of a Mustang, and design their own car.

Many school groups have come through the museum, and

there are also family-focused programs as well as adultonly

programs on the calendar. What's truly amazing is

the museum is run almost entirely on a volunteer basis.

These folks handle everything from tour guides, greeters

and manning various interactive stations to monitoring

the collections and doing general maintenance and upkeep

on the collection.

While many of the museum's collection will likely never

see outdoor roadways again, that isn't to say you won't soon

CDALivingLocal.com

64
---
2129 Main Street at Riverstone | 208.277.4116 | www.CulinaryStone.com

PROFESSIONAL BUILDING

CONTACT PAUL BIELEC FOR YOUR

TOUR TODAY!

208.699.9000

13403 N. Government Way,

Hayden, ID 83835

WHERE YOUR OFFICE

CAN FEEL LIKE A

WEEKEND GETAWAY

EVERY DAY

NOW LEASING!

• 40,000+ SQ. FT. BUILDING

• VARIOUS OFFICE SIZES

• SPECTRUM HIGH SPEED INTERNET

• CONFERENCE ROOMS

• OPEN SEATING AND GAZEBO BY THE RIVER

• LARGE, SURROUNDING PRIVATE PARKING LOT

• 24-HOUR SECURE BUILDING

CDALivingLocal.com

65
---
see and hear some of them rumbling the

streets of the Northwest.

"Our Drive Home program takes vehicles

from the collection and gets them out

on the road driving from one point to

another," explained Bice.

In fact, part of the collection will take a

unique journey later this year. To recreate

the iconic American road trip, vehicles

from LeMay will be brought to California

in late spring and driven across the

country, eventually landing in Detroit

for the American Auto Show in June. The

cars will be making stops at famous points

of interest and National Parks along the

way. "We really want to keep the hobby

alive, and this is a great opportunity to get

people to see these cars up close, outside,

and appreciate the history," said Bice.

While any time of year is a great time

to visit, those wanting an even more

unique experience will want to mark

their calendars for the evening of March

you don't have

to be a 'car guy'

to enjoy this

place, but if

you are, there

is definitely

a lot of eye

candy to enjoy.

13. Each year, the museum hosts a yearly

party called Drive the Blues Away. This

year's theme is "Viva Las Vegas." Guests

can still wander throughout the museum,

but you'll also be treated to food,

drink and live music as you peruse the

collection. Tickets will be going on sale

soon for this exclusive event.

When the weather turns brighter and

warmer, you'll find even more fun

outside the museum walls with Cruise

Ins and Drive-In movies featuring a 40-

foot screen. Take a Spin will put you in

a moving car, which could be anything

from a Packard to a vintage fire truck.

There is always something new to find

at LeMay - America's Car Museum. New

visitors are astonished by the sheer scope

of the place, while members continue to

find new details they might have missed

on previous visits. Nowhere else can you

find a collection of such variety, all thanks

to the incredible generosity of Harold and

Nancy LeMay.

CDALivingLocal.com

66
---
YOUR RENTAL HOME IS BEAUTIFUL

let 's keep it that way

Mediterranean

Savings

Plus Receive Prepaid Gratuities

Italy and Adriatic Voyage

Rome to Venice

10 Nights from $3,199 *

Piazzas & Promenades Voyage

Barcelona to Monte Carlo

10 Nights from $2,499 *

What you can expect from me

with my 35 years of trip

planning experience . . .

Provide valuable privileges

such as . . .

Complimentary breakfast and

upgrades in more than 1,000

hotels and resorts worldwide

Exclusive shipboard credits

and private shore excursions

in ports around the world

Contact your local travel

expert in Coeur d'Alene,

Shelby Feemster | 208.930.4360

GO SANDPOINT

We specialize in high-end vacation rentals

with a unique marketing platform!

vacation home specialists

BVTRAVEL.COM/

advisor/shelby-feemster/

GoSandpoint.com

208.610.4416

Jackson@GoSandpoint.com

Rates are per person, based on double occupancy and subject to availability.

Cruise-only fares and do not include OLife Choice amenities

or airfare. Prepaid gratuities apply to select dates and to the first two

passengers only. Not all promotions are combinable. Some restrictions

apply. Contact Shelby Feemster for complete terms and conditions.

CDALivingLocal.com

67
---
02

CDALivingLocal.com

68
---
01 YEAR

366 POSSIBILITIES

(THANKS LEAP YEAR)

CDALivingLocal.com

69
---
TAKE FITNESS INTO

YOUR OWN HANDS

HOME GYM ESSENTIALS FOR 2020

BY TAYLOR SHILLAM

The beginning of a new year is, for most of us, synonymous with a

fresh start. It's a symbolic hit of the "reset" button in areas of life

like mindfulness, home improvement, education and, of course,

physical fitness.

You've seen it happen year after year: January hits and gym memberships

surge, with New Year's resolutions driving the masses to revamp their

fitness routines with full force.

If fitness is on the forefront of your New Year's resolutions, but sweating

your days away in a crowded gym is not, it might be time for a change

of scenery. With the right equipment, your fitness goals can be reached

within the comfort of your own home.

Resistance bands - You can quite literally start small in terms of your

home fitness equipment with resistance bands. They're space-efficient

and highly portable; for frequent travelers, the bands will pack easily

into your suitcase, and for those working with limited space, they can

be tucked in a drawer when not in use. The elastic bands add an element

of dynamic strength training to a workout, with the additional level of

challenge depending on the size and stiffness of the band. Smaller, thicker

bands can be set around the knees and ankles during dynamic warmups

and lower body work, while longer, looser bands can be used to

strengthen and stretch the upper body. The small bands provide a long

list of opportunities to diversify your workouts.

Jump rope - Don't underestimate the power of the jump rope. The jump

rope packs a huge cardiorespiratory punch in a small package, and

all you need for an effective workout with one is the right amount of

space. According to ACE Fitness, jumping rope can help improve your

coordination, as it requires you to keep a cadence as you move. Creating

intervals by alternating quicker cadences with slower cadences drives

your body to work hard to adjust, maximizing your effort and burn in

a shorter amount of time. This also encourages cognitive function as the

communication between your brain, wrists and leg muscles keeps your

entire body moving. A study by the Cooper Institute reported that 10

minutes of jumping rope can have the equivalent benefits of a 30-minute

jog, and who wouldn't want to make that trade?

Suspension trainer/TRX bands - Suspension training is low impact,

highly adjustable and allows you to build strength while perfecting

posture simply by using your body weight. All you need is an anchor

point with the TRX Home System, and nothing works the core muscles

you didn't know you had like this does. Using your body weight to balance

and stabilize against the anchor point engages your deep core muscles

every step of the way. You can plank, squat, lunge, row, even incorporate

CDALivingLocal.com

70
---
IF FITNESS IS ON THE

FOREFRONT OF YOUR NEW YEAR'S

RESOLUTIONS, BUT SWEATING

YOUR DAYS AWAY IN A CROWDED

GYM IS NOT, IT MIGHT BE TIME

FOR A CHANGE OF SCENERY.

CDALivingLocal.com

71
---
yoga sequences into your TRX training, taking each to the next level

as the support from the straps allows for increased intensity when you

simply change your body angle. Find new workout inspiration in the

TRX app, which releases new workouts regularly and is often included

for one year with your purchase of the bands.

Medicine Ball - Revive your athleticism and demonstrate your power

with the medicine ball. They can be thrown, caught and slammed,

allowing for the explosive movements that will get the heart pumping

and improve overall functional performance. Available in varying

weights and sizes, you'll have plenty of options—choose a weight that

will undoubtedly make you notice the additional effort with each move

but won't compromise your form. You can add the medicine ball into

almost any move, including cardio (hold and press it up in jumping

jacks), core work (weighted V-ups and Russian twists) and dynamic

strength (in a push-up, place one hand on the medicine ball as you push

and engage the core). Have fun with it and play an adult fitness version

of wall-ball or grab a partner for a strengthening game of catch. This lowimpact,

high-power tool is a must.

Dumbbells - It's proven that strength training is the type of workout

that continues burning the most calories long after the workout ends,

due to the higher metabolism associated with increased muscle tone.

However, you don't need the big machines at the gym to build and tone

muscle. Instead, invest in a pair of dumbbells. Dumbbells allow you to

strengthen every part of the body, keep the muscles guessing and push

past fitness plateaus with the hundreds of different exercises they make

possible. Because they allow for a wider range of motion, they provide a

deeper stretch to the muscle, more room for functional movement and

the ability to isolate more specific muscles to reach your unique goals.

Start with one pair that challenges you but allows you to work through

your desired rep range with good form, then work up in weight from

there.

Sliders - Maybe you've never associated doing lunges with "gliding," but

it's also likely you've never considered incorporating sliders into your

fitness routine. These small discs add a whole new dimension to your

workout, increasing intensity by adding an element of instability that

instantly requires your core to work in sync with the rest of your body

and stay engaged the entire time. Place them under your feet or hands to

increase the work in body-weight moves like planks, mountain climbers

and lunges, taking them to the next level for plank jacks, moving pikes

and three-way side squats. You'll immediately notice the extra pull in

hard-to-target areas like the lower abs. The discs are budget friendly,

compact and designed to work on both flooring and carpet, allowing

you plenty of room to glide your way into total-body toning.

Yoga mat - If you've ever practiced yoga regularly, you know it doesn't

take long to notice the benefits. It's a long list including enhanced

flexibility, relaxation, mental clarity, muscle tone and better posture.

Yoga rounds out a great fitness regimen as a form of moving meditation

that strengthens while relieving tight muscles and keeping your nervous

system (including that fight-or-flight mentality) in check. The term

yoga encompasses a wide variety of flows, from the more challenging

and strength-based Power Vinyasa, and there are classes available online

in formats from power yoga to simple stretching. To access online yoga

courses at any time, check out sites like Gaia or Glo that categorize

workouts by skill level, time limit, fitness goals and more. Having a yoga

mat around will provide support in other elements of your workout as

well, from TRX training to ground-based core work.

If your 2020 goals are calling for you to skip the gym and take your

fitness into your own hands, start with these seven items. Get creative

and keep yourself motivated with the endless amounts of workouts you

can build with these seven essentials, all while staying within the space

of your own home.

CDALivingLocal.com

72
---
new year new spa

Pool World has been a locally owned, family run business

for over 44 years now and is proud to serve the CDA area

with quality products and exceptional customer service.

208.765.5220

745 W Appleway Ave

Coeur d'Alene, ID 83814

CDALivingLocal.com

73
---
WORKOUT

FASHION

trends

FROM THE HOME TO THE GYM, STEP INTO YOUR NEW YEAR'S RESOLUTION IN STYLE

BY ABIGAIL THORPE

The Inland Northwest is the land of outdoor adventure, but

when you aren't hitting the slopes or paddle-boarding the lake,

there's plenty more to keep you active—whether it's a morning

yoga session, CrossFit or the good old gym. Wellness has

increasingly become more of a lifestyle choice than a stand-alone event

in our day-to-day lives, and as working out becomes a central part of our

every day, so too do the clothes we do it in. Leggings aren't just for the

trail or the studio anymore, and our trainers don't come off the moment

we walk out the gym door.

According to Allied Market Research, the global activewear market is

experiencing an annual 6.5 percent growth rate and expected to reach

$547 million by 2024. Celebrities like Kate Hudson, Beyoncé and Khloé

Kardashian have created fitness fashion empires of their own and taken

to social media, promoting athletic wear as more of a statement piece

and less an outfit reserved only for the gym.

Whether you're on the mountain, in the yoga studio or out running

errands this new year, here's a quick trip down the 2020 runway of

workout fashion trends.

Athleisure and Multifunctional - Workout clothing no longer fits only

one specific need or occasion. Men and women alike are looking for

pieces you can wear on your morning workout and out to run errands

or meet friends for coffee. As lines between the workplace, home and

social spaces become increasingly blurred, activewear has to fit many

purposes—and look good doing it. The birth of athleisure—activewear

you can be athletic in and wear for leisure—has caused the explosion of

athletic-wear consumerism.

CDALivingLocal.com

74
---
Whether Building or Remodeling, We Can Help to

Make Your House feel more like a Home.

Your Vision. Our mastery.

Offering Innovative Cabinetry,

Countertops AND Flooring to meet

your needs.

CALL TO CONNECT WITH ONE OF OUR DESIGNERS TODAY!

6055 N. SUNSHINE ST., COEUR D'ALENE, ID | 208.664.8830 | ACCENTCDA.COM

CDALivingLocal.com

75
---
Expect this trend to continue into the new year, with new

design and tech innovation transforming the way we wear our

workout clothing. Bold colors, sleek design and eye-catching

details mean those leggings aren't just meant for the studio—

they're making their way into everyday activities, and even

occasionally an evening out.

Retro: Bold and Bright - Everything comes back around, and

workout fashion is no exception to the rule. Expect 2020 athletic

wear to run full force into the '90s trend that's been spreading

across the fashion industry. We're talking bright neon colors,

statement pieces like matching tracksuit ensembles and big

bold logos. Rebirth of brands like Reebok, Champion and Fila

are part of this flashback to the '90s, with original logos front

and center—a fashion statement on and off the track. Despite

the winter chill, midriff exposure continues to flaunt its face;

don't expect those crop tops to go anywhere.

Sustainable - It may be a flashback to a previous decade

style-wise, but athletic wear is taking a forward-thinking

step when it comes to sustainability. Traditionally, activewear

incorporates a lot of nylon and spandex—materials that take

a lot of energy to produce and don't break down easily in their

afterlife. Consumers are more aware of the products they

purchase and increasingly look for a company's sustainability

practices—both in its material and waste use, and its approach

to fair wage and labor practices. Brands like Patagonia and

Athleta are responding in kind, offering new options for the

environmentally and socially conscious consumer. Eighty

percent of Patagonia's snow collection is made with recycled

CDALivingLocal.com

76
---
What we leave out of our

Be Authentic

CBD & CBG products

No junk, no chemicals, no preservatives . . .

Just authentic relief.

is just as important as what we put into them.

866 W. Hayden Ave., Hayden, ID 83835 | 509.919.0124 | authenticbotanicals.com

GOOGLE ONLY LOVES YOU WHEN EVERYONE ELSE LOVES YOU FIRST.

REPUTATION

MANAGEMENT

SOCIAL MEDIA

MARKETING

GOOGLE LISTING

DIGITAL

MARKETING

SEO

...

AD

ROCKETFISHAGENCY.COM

GOOGLE ADS

POWERED BY

CDALivingLocal.com

77
---
"

AS ATHLETIC FASHION GROWS

IN POPULARITY, COMPANIES

ARE TRENDING TOWARD A

MORE INCLUSIVE, EXTENSIVE

OFFERING THAT CATERS TO

ALL BODY TYPES.

fabrics; Athleta offers their "supersonic" leggings made of

recycled nylon fabric; and Adidas' Ultraboost shoe features

material made from recycled plastic found in beach and coastal

communities.

Animal Print - Don't hide your wild side—if it's spotted or

striped and looks like a wild animal, it's runway approved.

Animal print, like zebra and leopard, is hot in the fashion world

this year, and athletic wear is living up to its hype as a wearanywhere

statement genre that keeps up with the times. Maybe,

just maybe, those zebra print leggings will help you run a little

faster.

Technologically Innovative - Pretty is as pretty does, but it

needs to function well too. Multifunctionality is key to workout

clothing these days, which means it needs to hold up as well

at the gym as it does on the couch and seamlessly bridge

the transition between performance and comfort. Athletic

brands have increased their tech performance immensely over

past years, and 2020 is all about innovation. Look for highperformance

fabrics that keep you cool (or warm) and have

sweat-wicking properties for comfort in and out of the gym.

Ultra-sculpt leggings help to define muscle, while no-seam

technology makes that transition from workout to hangout

(literally) seamless. Running and training shoes are sleek and

light—and pack more of a punch when it comes to comfort for

your feet. And of course, don't forget the actual inclusion of

tech into your gear. Whether it's hidden pockets for your phone

or built-in tracking, workout fashion is all about making your

life a little easier.

Body Positive - The activewear world is finally catching on that

fit comes in all shapes and sizes. As athletic fashion grows in

popularity, companies are trending toward a more inclusive,

extensive offering that caters to all body types. Established

brands like Nike are increasing their size offerings, while

smaller labels like Good American or Girlfriend Collective are

actively promoting fashion inclusivity and body positivity in

their activewear, ensuring everyone a good fit in their fitness

lifestyle.

CDALivingLocal.com

78
---
Collars

Toys

Treats

Gifts

Clothes

Pillows

A fun, unique and original dog shop.

It is for all dog lovers!

210 E. Sherman Ave., Ste. 143 | Coeur d'Alene

Resort Plaza Shops • 208.664.0414

www.thelabradorstoreandmore.com

Creative Soul Collective

LIKE "KYMS" ON FACEBOOK FOR

COMMUNITY EVENTS & MORE!

· Workshops

· Classes

· Group & Private Sessions

For schedules & details:

Alison Henslee | Artist & Creative Coach

208.610.8806 | aghenslee@gmail.com

Bonners Ferry | Sandpoint | Coeur d'Alene

CDALivingLocal.com

79
---
EAT RIGHT

healthy eating tips

BY JILLAN CHANDLER

Our bodies and minds work best when they are fueled by healthy foods, but with the busyness of everyday

life, it can be difficult incorporating the right foods into our meals. We've compiled some tips and tricks to help

make 2020 a successful year filled with delicious and wholesome meals—and make it easy for the entire family!

PLANNING & PREPPING

It's easy to find oneself scrambling about when it comes to mealtime—

especially dinner. Pizza or takeout anyone? Instead of that drive-through

window or reaching for your phone to call in your order, what if you had

all the prep work done for that next family meal? Allot one day a week

where you set aside time to plan out your meals for the week, making a

list, shopping for those items then prepping them all so they're ready to

go when it comes time to cook. By doing this, dinner will be a breeze,

as all you have to do so pull everything you need, ready to go, from the

fridge straight to the stove or oven.

PREPARE & FREEZE

It's Sunday night, and you're making a delicious lasagna for the family

to enjoy together. Why not make two, freezing one for another night?

Homemade always beats store-bought and allows you to cater the meal

precisely to your family's taste. Incorporate lean meats, vegetables like

spinach, zucchini and bell peppers, and anything else you desire! While

you're at it, plan on making a homemade marina to layer and top it off

with, storing the rest either in freezer bags or by canning it. Now you

not only have another lasagna ready to pop in the oven whenever you

choose, you also have fresh sauce to use for another evening meal.

KEEP IT SIMPLE

When shopping for the family, you can't forget the snacks. Be sure to

choose easy to eat foods that are also great for on the go—but not the

pre-packaged ones! Instead of opting to buy that sugar-laden applesauce,

why not go for the fresh apples? Let's skip the chips and cookies and

instead select other fruits like bananas and oranges, which all make for a

great snack on the go. And don't forget the veggies! Celery, carrots and

mini bell peppers are great choices. Raw nuts and trail mix are also great!

But be sure not to buy the sugar- and salt-coated kind. Raw nuts and trail

mixes that have natural dried fruit (sorry, no chocolate chips or M&M's)

make the best choice. String cheese is another great option!

CDALivingLocal.com

80
---
GET THE KIDS INVOLVED

Children are more prone to eat healthy meals that they helped prepare!

Not only will dinner become more relaxing, as the kids will be more than

excited to eat what they have made, but it's a wonderful way to spend

uninterrupted quality time together as a family. Choices are always good.

Start with letting them choose what vegetable to have, then let them do

the cutting, whether it's lettuce for the salad, broccoli or green beans.

For the protein, give them the option of chicken or steak, then let them

help in selecting the seasonings to flavor the meat with. Mashed potatoes

anyone? Let them do the mixing. The options are endless.

HOMEMADE "TREATS"

It is quite alright to indulge in something sugary and sweet on occasion.

Instead of purchasing that cake or cookies from the grocery store, why

not invest in a healthy dessert cookbook (there are lots to choose from

these days!) and let the kids pick one to prepare together each week. It's

amazing the wonderful treats that you can make that can be healthy for

you too! Substituting organic honey, maple syrup or coconut sugar for

the staple white sugar is one of the first steps. And, it's always good to

use a bit less than the recipe calls for. Desserts that incorporate fruits

like bananas, apples and blueberries are always a good choice. There's

nothing like the smell of something baking in the oven on a cold winter's

day.

DON'T FORGET THE WATER

Water is extremely important for all ages and lifestyles. It is said that eight

8-ounce glasses of water a day per person is ideal, though that number can

fluctuate greatly, depending on weight. The more accurate measurement

of water one should consume each day is their body weight, divided by

two, in ounces. If you are a 150-pound person, you should be consuming

a minimum of 75 ounces of water each day. Many times, when one feels

hunger, it is dehydration they are experiencing. By drinking the right amount

of water that your body requires, this can help curve desires for unnecessary

snacking or overindulging at mealtime. And the more water you drink,

the less you'll desire sugary, calorie-filled choices. It's a wonderful, simple,

healthy habit the entire family can incorporate into their daily routine.

eat well

BE WELL

CDALivingLocal.com

81
---
A WINTER WONDERLAND

Make a trip to West Yellowstone this season

By Marguerite Cleveland

When the winter snows blanket the town of West Yellowstone and Yellowstone National Park, the summer

crowds dissipate, making this the ideal time of year to visit. West Yellowstone makes the perfect base

for exploring all the area has to offer in the winter months and is the closest park entrance to the Old

Faithful Geyser. Surrounded by three National Forests, plenty of trout streams and lakes, it makes

getting back to nature easy. There is a surprising number of things to do from snowmobiling, cross-country skiing and

snowshoeing to winter fly fishing. The town of West Yellowstone is right outside the West Entrance to the park and,

although it is closed to cars in the winter, it is open for licensed tour operators for snowmobile and snowcoach tours.

Where to Stay

The Yellowstone Lodge has a great location for your base during your time in the area. It is only one block away from

popular attractions, restaurants and shopping, and just three blocks away from the West Entrance to Yellowstone

National Park. The hotel is one of the newer properties in West Yellowstone. It has decent sized modern rooms, and

there is even a family suite option if you need more space. Amenities on the property include an indoor heated pool

and hot tub. The included continental breakfast is substantial with a nice variety. The staff is very friendly and helpful.

Where to Eat

Most restaurants in the area are heavy on the Western theme. Think hearty steaks, burgers and comfort food. While in

town make sure to try an elk or bison dish. Madison Crossing Lounge is in an old school. The first West Yellowstone

school was built in 1918 and now houses commercial businesses including the restaurant. This is a wonderful place to

CDALivingLocal.com

82
---
NO TRIP TO THE AREA IS COMPLETE

WITHOUT A TRIP TO YELLOWSTONE

NATIONAL PARK. ALWAYS STUNNING, IT

WILL BLOW YOU AWAY WITH ITS BEAUTY

DURING THE WINTER MONTHS.

dine. They work hard to source locally as much as possible to support the

local economy and offer a very well-rounded menu with nightly specials

and several elk and bison options; think delicious bison meatloaf or elk

tenderloin medallions with a blueberry-tarragon reduction.

The Slippery Otter Pub is a rowdy, casual pub with good service and tasty

food. Try a bison burger or jalapeno wontons with huckleberry sauce.

The Book Peddler is a coffee shop tucked in the back of a store. This is

where the locals grab coffee. The baked goods are house made, and the

blueberry scone is light and delicate, and pairs perfectly with a cup of

coffee.

What to Do

No trip to the area is complete without a trip to Yellowstone National

Park. Always stunning, it will blow you away with its beauty during the

winter months. Mounds of snow contrast with steaming geysers, and

wildlife viewing is at its peak. If you are going to splurge on anything

during your trip, make it hiring Yellowstone Guide Amy Beegel, Easy

Tours Yellowstone, LLC to guide your snowmobile trip into the park.

Certified guides are required in the winter months, and Amy is a pro.

Super fun and so knowledgeable about the park, she will curate your

tour to fit the interests of your group. A great guide makes or breaks a

trip, so contact Amy first and she will help you arrange the snowmobile

rentals. Plan for a full-day adventure. Local outfitters also have snowsuits,

gloves and boots available for rent. Be aware when making any kind of

reservations that there is no cell phone service outside of town, so many

outfitters will get back to you in the evening after they have returned

from day tours.

You won't be able to spot a bear in Yellowstone National Park in the winter

because they hibernate, but the bears that live at the Grizzly & Wolf

Discovery Center don't hibernate. The center gives you the opportunity

to explore the world of grizzly bears and gray wolves as well as the new

River Otter Exhibit. Each exhibit has warm buildings so you can observe

the animals both inside and outside. The center has also acquired a

world-class exhibit BEARS once it completed its tour of the country. It

is interactive and explores the ways bears have captured our attention

CDALivingLocal.com

83
---
The Speci f ics

WHERE TO STAY

Yellowstone Lodge - YellowstoneLodge.com

WHERE TO EAT

Madison Crossing Lounge -

MadisonCrossingLounge.com

Slippery Otter Pub -

Find them on Facebook.com

WHAT TO DO

Easy Tours Yellowstone -

EasyToursYellowstone.com

Spirit of the North Sled dog Adventures -

HuskyPower.com

Grizzly & Wolf Discovery Center -

GrizzlyDiscoveryCtr.org

Yellowstone Giant Screen -

YellowstoneGiantScreen.com

320 Guest Ranch Sleigh Rides - 320Ranch.com

through myth, art, literature, history and

folklore. It is well worth a visit. The animals

that live at the center can no longer return

to the wild for a variety of reasons including

being orphaned, a nuisance animal or

suffered injuries. This is not a typical tourist

attraction but an education center, and you

will learn so much about the wildlife in the

area. Your ticket is good for two days, so

don't be surprised if the kids ask to go back

again.

The Yellowstone Giant Screen and Trading

Post makes a nice stop if the weather is not

cooperating. It opens in the afternoon for

shopping, and movies start at 3:30pm. The

Yellowstone Movie shows every day and

provides a good overview of the history of

Yellowstone National Park. A current movie

is also shown each day. Check with the

theater for current listings and times.

You'll want to schedule in time to explore West Yellowstone by foot. It is

a cute walkable town with a "Wild West" feel about it.

If you want a special adventure, head out to Big Sky for a dogsled

adventure with Spirit of the North. Unlike many companies, with Spirit

of the North you will receive hands-on instruction and have the thrill of

driving a sled dog team. If you've never been around an Alaskan huskies

dog team, you are in for a treat. The dogs are high energy and love to run.

They are friendly and enjoy receiving lots of petting. The trips take place

1 mile about the Mountain Village at the ski resort in what is known

as Moonlight Basin. You'll enjoy breathtaking scenery along the trail

including views of Lone Mountain and the Spanish Peaks.

Located around 30 miles outside of West Yellowstone, the historic 320

Guest Ranch offers evening sleigh rides. This magical ride takes you

along the Gallatin River on a sleigh pulled by draft horses. On a clear

night, being so far out of town, the stars are so bright in the night sky. The

sleigh ride takes you to Mountain Man Campsite where you will enjoy

wild game chili, a variety of snacks and hot beverages, with the option

of adult beverages. Listen to ranch stories by the bonfire before heading

back. The trip lasts about an hour. You can also arrange for a private

sleigh ride.

West Yellowstone is truly special during the wintertime. When planning

for your trip, prepare for extreme weather and pack layers and warm

clothing. Before heading out each day, check the weather forecast so you

don't get caught in an unexpected storm. For more information, visit

DestinationYellowstone.com and YellowstoneDestination.com.

CDALivingLocal.com

84
---
YUM

Your local Dining Guide

PRESENTED BY

www.northwestsizzle.com

RECIPES LOCAL FLAVOR SPOTLIGHTS

CDALivingLocal.com

85
---
ACAI BOWL

Recipe & Photo Courtesy of Brian Treat

NUTRIENT PROFILE:

350 calories (average)

24 grams of protein

High in micronutrients

Low-carb, low-sugar

INGREDIENTS:

¼ cup fresh organic blueberries

2-3 fresh organic strawberries

¼ cup Zola Acai Purée

¼ cup water

2 scoops of vanilla protein powder

2 scoops of berry-flavored protein powder

ice

METHOD:

• Pour blueberries into a 16-ounce cup, then add two to

three strawberries. Fill the cup to the top with ice. Pour

in blender.

• Add Zola Acai Purée and water to blender.

• Add vanilla protein powder and berry-flavored protein

powder.

• Blend on low speed, increasing speed as mixture

allows. Blend for approximately 2 minutes.

• Pour into a bowl of your choice, add desired toppings

and serve. Suggested toppings include sliced banana,

granola, coconut shavings, peanut or almond butter,

chia seeds, goji berries, pistachios and more!

CDALivingLocal.com

86
---
Breakfast, Lunch, Dinner

Waterfront Views

Live Music

An Experience

58 Bridge Street at City Beach | Sandpoint, Idaho | 208.255.7558 | TrinityAtCityBeach.com

CDALivingLocal.com

87
---
SWEET LOU'S RESTAURANT

AND TAP HOUSE

American fare with a twist. Ribs (pork or bison) smoked in house. Unique

burger menu featuring burgers made from ground top sirloin, topped with

pulled pork, hand-battered onion rings or jalapenos. 32 beers on tap to

enjoy while watching the game on one of their 24, 4K TVs.

601 E. Front St. Ste. 101 | Coeur d'Alene

208.667.1170 | SweetLousIdaho.com

f SweetLousCDA

Browse, Eat, Relax, Enjoy

A shopping and culinary experience awaits

By Jillian Chandler

Photos by Owen Aird

The Culinary Stone has been serving the Coeur d'Alene

community for six years now, and exciting things are

happening!

Be sure to stop by their neighborhood boutique deli for

artisan deli meats and cheeses. They invite you to take

a seat and enjoy great food. Try their delicious gourmet

sandwiches, salads and homemade soups, all made to order!

CALYPSOS COFFEE

At Calypsos you'll find a combination of amazing coffee, which they roast

on site, ice cream, fantastic food and live music on a regular basis. They

display artwork from local artists, offer free Wi-Fi, have a play area for the

kids and also offer a Smart Room for meeting rentals!

116 E. Lakeside Ave. | Coeur d'Alene

208.665.0591 | CalypsosCoffee.com

If you are looking for that perfect charcuterie or veggie

platter for a party or special event that is not only tasty but

a work of art, The Culinary Stone is read to make it happen.

Just call or stop in. And don't forget about their café featuring

artisan breads, European pastries and cakes.

Each week, area chefs invite you to pull up a seat at one of

The Culinary Stone's cooking classes, where you will learn

to create new delicious meals that you can share with others,

all while engaging with new friends. They also host weekly

wine tastings, so you can explore new wines to pair with your

meals at home.

The Deli is open 10:30am to 6pm Monday through Saturday,

10:30am to 5pm Sunday; while The Cafe is open 7:30am to

5:30pm Monday through Saturday, 10:30am to 5pm Sunday.

Enjoy an experience you won't find anywhere else … at The

Culinary Stone.

Culinary Stone

2129 Main Street | Coeur d'Alene

208.277.4116 | CulinaryStone.com

CDALivingLocal.com

88

MAX AT MIRABEAU

Join MAX at Mirabeau for an unforgettable experience. You'll be treated

to eclectic cuisine, an award-winning menu with more than 100 items, a

wine list boasting more than 500 labels and 75 eclectic cocktails—a perfect

match for everything on the menu. Enjoy two happy hours daily, a-la-carte

brunch featuring multiple benedicts, mimosas and the area's best Bloody

Mary Bar—starting at only $5.90 per person! There's live music on Friday

and Saturday evenings, and late-night dining with a full menu is offered

until close. Open daily at 6am.

1100 N. Sullivan Rd. | Spokane Valley

509.922.6252 | MAXatMirabeau.com
---
START THE NEW YEAR OFF WITH A FULL FREEZER!

Learn more about our packages and specials by visiting our website or speaking with a specialist.

WHOLE, HALVES AND QUARTER CUTS OF YOUR FAVORITE BEEF AND PORK OPTIONS ARE AVAILABLE TODAY!

Stop in for all of your home cooking essentials from Wood Chips for Home Smokers,

Select Sauces, Rubs and everything in between! Large selection of American-Made

Smokers, Grills and Locally Made Fire Pits.

Tim's Special Cut Meats, Inc

.

Come see us at our NEW LOCATION!

525 N. Graffiti St. • Post Falls, ID 83854 • 208.772.3327

YOUR OLD-FASHION BUTCHER SHOP...

Sweet Lou's Restaurant & Bar

Hwy 95 N Ponderay | 208.263.1381

Come hungry, Stay late, Eat well!

www.sweetlousidaho.com

Sweet Lou's Restaurant & TAP HOUSE

601 Front Ave. 208.667.1170 | DOWNTOWN Cda

CDALivingLocal.com

89
---
THE PORCH PUBLIC HOUSE

A beautiful golf-course view without the cost of joining the

country club. They offer a full menu of sandwiches, salads,

soups and specialties prepared from scratch without the

high price of fine dining, and the region's finest cocktails,

microbrews and wines to accompany your meal. Feel at home

in the comfortable pub-style dining room or the fantastic

outdoor dining area. Open daily at 11am year round. Photo by

Lauren Denos, Adventure Bound Media.

1658 E. Miles Ave. | Hayden

208.772.7111 | WeDontHaveOne.com

MOON TIME

Serving some of the best food around in a comfortable pub-style

atmosphere. The menu offers soups, sandwiches, pastas, salads

and other specialties prepared from scratch daily, along with a

fantastic selection of micro-brewed beers and fine wines by the

glass and bottle. Open daily at 11am, the kitchen is open late

every night. Be sure to stop in Thursday night for live music

featuring national and local artists. For more information

including photos, menu, specials and directions, make sure to

visit their website.

1602 Sherman Ave. | Coeur d'Alene

208.667.2331 | WeDontHaveOne.com

FISHERMAN'S MARKET

DELICIOUS FOOD & FUN COCKTAILS

41 Lakeshore Drive, Sagle, ID

Next to the Lodge at Sandpoint

A local favorite for an array of reasons, including the friendly

staff, unbeatable atmosphere and phenomenal food. Voted best

seafood in Coeur d'Alene 2012, 2013 and 2014. Their menu includes

salads, fishwiches, taste of baja, fish and chips, smoked

fish, fresh sushi bar and fresh fish market with live shell fish

and lobster.

215 W. Kathleen | Coeur d'Alene

208.664.4800 | FishermansMarketCdA.com

315 MARTINIS AND TAPAS

At 315, guests will be treated to a full dinner menu and tapas

using fresh and seasonal food, more than 50 hand-crafted

martinis using the best natural ingredients, great wine, beer

and a variety of non-alcoholic beverages. Guests can choose

to dine in the large dining room, comfortable lounge, at the

bar our outdoors on their expansive patio. 315 offers nightly

specials and food and drink pairings weekly, and live music

on Tuesday night! The Greenbriar Inn also offers getaway and

elopement packages. Open Tuesday - Saturday 3:15pm - close.

315 Wallace Ave. | Coeur d'Alene

208.667.9660 | 315MartinisandTapas.com

FORTY-ONE SOUTH

OPEN 7 NIGHTS A WEEK

208.265.2000

41SouthSandpoint.com

A beautiful waterfront, fine-dining restaurant in a romantic

lodge setting overlooking Lake Pend Oreille. Whether it

is summer on the patio or cozying up to the fireplace in the

winter, Forty-One South's spectacular sunsets, innovative

cuisine, full bar and extensive wine list are sure to make it a

memorable night out. A variety of delicious food year-round.

Reservations recommended.

41 Lakeshore Dr. | Sagle

208.265.2000 | 41SouthSandpoint.com

CDALivingLocal.com

90
---
THE CULINARY STONE

Whether you love to eat or simply love to cook, at The

Culinary Stone, you'll discover specialty foods from

around the world, while the large space also offers

hundreds of unique items to outfit your kitchen. Here

they invite you to learn how to "live to eat." Located at the

Riverstone Shopping Center in Coeur d'Alene, they offer

everything from gourmet foods, cheeses and Italian meats,

wine tastings, cooking classes, kitchen supplies and more!

2129 Main St. | Coeur d'Alene

208.277.4116 | CulinaryStone.com

Shopping. Dining. Take-Out.

MOONDOLLARS BISTRO

Moondollars Bistro is known for their burgers,

accompanied by scratch-made bread and soups. They

uses only fresh ingredients, which are the backbone

of this customer favorite. With a comfortable, friendly

atmosphere, awesome food, great service, huge patio

and full bar there is always something to keep customers

coming back for more.

609 N. Syringa St. | Post Falls | 208.777.7040

5416 W. Village Blvd. | Rathdrum

208.687.5396 | MoondollarsBistro.com

ANGELO'S RISTORANTE

"There is no substitution for quality. Our food is organic

and prepared from scratch." Authentic Italian cuisine.

Guaranteed best steaks in town. Catering and private

cooking classes available with Chef Angelo. DINNER FOR

2 & A BOTTLE OF WINE $65. Choose from 15 Entrees

and 10 Bottles of Wine. Open 7 days a week from 4 to 10pm.

846 N. Fourth St. | Coeur d'Alene

208.765.2850 | AngelosRistorante.net

JUNIOR'S BBQ

Enjoy North Idaho's best barbecue at Junior's, where guests

are treated to bold backyard flavor. Whether you dine in,

take out or need catering, you will not be disappointed,

and ordering is simple. Choose a sandwich, taco or salad.

Next choose your meat, then your choice of fixin's, from

Granny's baked beans, Mamma's mashed taters, smothered

green beans, coleslaw or pig tail fries. Top it all off with

Hillbilly Habanero or Junior's Original sauce.

85 W. Prairie Shopping Ctr. | Hayden

JuniorsBarbecue.com

TIM'S SPECIAL CUT MEATS

Tim's Special Cut Meats is your perfect, old-fashioned

butcher shop. The friendly staff is ready to help you pick out

the perfect cut. Tim's carries only the finest natural meats

and also handles custom orders, with an extensive line

of house-made products from pickled garlic to specialty

sauces, marinades, rubs and salsas. Mobile butchering and

wild game processing are also available.

525 N. Graffiti St. | Post Falls

208.772.3327 | fTimsSpecialCutMeats

TimsSpecialCutMeats.com

CDALivingLocal.com

91

Happy

New Year!

Be a chef at home or dine with us!

• Fresh Fish Market and Sushi Bar

• Smoked Fish

• 12 different kinds of fish and chips

208.664.4800

Mon-Sat 11am-8pm

215 W. Kathleen, Coeur d'Alene

Locally Owned & Operated

t f
---
coeur d'alene

ENTERTAINMENT

Check out what is going

on in Coeur d'Alene this

January!

CDALivingLocal.com

92
---
AN

IHG

HOTEL

EVALUATE

www.hiexpress.com

YOUR

TRAVEL

Stay & Play

Minutes from

Schweitzer!

477326 Highway 95 North

Ponderay, ID 83852

208.255.4500

www.hiexpress.com

8 CONCERTS FOR $299

*!

THE FESTIVAL AT SANDPOINT

AUGUST 6 - 16, 2020

LINE-UP ANNOUNCED APRIL 1ST!

FESTIVALATSANDPOINT.COM • 208.265.4554

* PLUS TAX & CITY PARKS FEE

CDALivingLocal.com

93
---
CHEESY GOODNESS

TO WARM

THE SOUL

Mac & Cheese Festival returns in

gourmet fashion

By Jillian Chandler

JANUARY

18

IT'S A CHILDHOOD FAVORITE THAT, EVEN AS ADULTS, STILL MAKES

OUR HEARTS, AND BELLIES, HAPPY. Yes, that's right, we're talking

warm, cheesy, gooey macaroni and cheese. But, hold tight, we're

not talking about Kraft or Velveeta here. We're referring to gourmet

concoctions made by favorite area chefs and businesses that are sure

to wow your taste buds!

Come celebrate this favorite dish at this year's Mac & Cheese Festival.

Hosted by the Coeur d'Alene Downtown Association, this food

celebration takes place noon to 5pm Saturday, January 18, at the

Coeur d'Alene Resort.

While adults and children alike enjoy a comfort-food-filled day,

participating chefs will be competing for the Golden Noodle Award!

Attendees also have an opportunity to cast their votes for their favorite

dish to help determine the 2020 People's Choice winner.

If you're looking to pair your mac & cheese with a nice cold brew, you

have the option to taste craft beer samples as well during the event.

As of press time, unfortunately, Kiddie Mac tickets (for children 12

and younger), along with VIP Experience tickets, had already sold out.

But you're in luck. Mac Pack tickets, which include six mac & cheese

tasters, are still available and just $25; Mac & Beer tickets, which

include eight 4-ounce beer tastings, a commemorative pint glass and

six mac & cheese tasters, are available for $35 (must be 21 and older

for the beer tasting).

And if you're hungry and thirsty for some more once you've devoured

your samples, there will be additional mac and beer tasting tickets

available for purchase during the event.

Be sure to check out CdADowntown.com as the event nears to check

out what restaurants will be participating at this year's Mac & Cheese

Festival.

Tickets can be purchased online through CdAResort.com or EventBrite.

com. As tickets are sure to sell out for the event, don't hesitate! Cheesy

goodness awaits!

CDALivingLocal.com

94
---
HOTTEST HAPPENINGS

/ JANUARY

FOR MORE EVENTS, VISIT CDALIVINGLOCAL.COM

18

January

18

January

24-

26

January

POST FALLS BRIDAL TOUR

18

10am to 4pm

Jacklin Arts & Cultural Center, Trailhead Event

Center & Red Lion Templin's Hotel

Brides, and grooms, you won't want to miss the 2020 Post Falls

Bridal Tour taking place Saturday, January 18. Held 10am to 4pm,

this is a great opportunity for you to find everything you're looking

for to make your wedding a day to remember. Trailhead Event

Center, Jacklin Arts and Cultural Center and Red Lion Templin's

Hotel will all be participating, each offering a unique location for

your wedding or reception, as well as vendors for bridal attire,

cakes, catering, flowers and more. This event is free to attend. For

additional information, contact Post Falls Parks and Recreation at

208.773.0539.

CRAB FEED

18

4:30 to 9pm

Coeur d'Alene Shrine Club Event Center

208.457.7001

This annual event is a favorite, selling out each year! This year's

Crab Feed takes place Saturday, January 18, from 4:30 to 9pm at the

Coeur d'Alene Shrine Club in Hayden (1250 West Lancaster Road).

Guests will enjoy a feast of all-you-can-eat crab, salad and french

bread. There will be free beer (for those 21 and older) until the keg

runs dry, along with a no-host bar. Be sure to bring some extra cash

for the silent auction, offering a variety of great items. Proceeds

will benefit the Shrine Club. To purchase tickets, $40 each, call

208.457.7001 and leave a message for a call back.

BANFF MOUNTAIN FILM FESTIVAL

24 - 26

Friday & Saturday at 7pm | Sunday at 6pm

Schuler Performing Arts Center

The Banff Mountain Film Festival returns to Coeur d'Alene January

24 through 26. Approximately 26 different films will be shown over

three evenings at Schuler Performing Arts Center in Boswell Hall

on the North Idaho College campus. Be inspired by the international

film competition, showcasing footage of spectacular mountain

subjects from all over the world. Showtimes are 7pm Friday

and Saturday, 6pm Sunday. Online tickets are $18 and available at

BrownPaperTickets.com. You can also purchase tickets at Mountain

Madness Soap Co., The Art Spirit Gallery, Ski Shack, Tri State

Outfitters, Vertical Earth, Camera Coral, and all three

Capone's locations.

SUBMIT YOUR EVENTS ONLINE!

Want your event to appear on the largest event site in the

Northwest? Submit your events to us at

Events.DirectoryNorthwest.com 24/7 365 days a year!

CDALivingLocal.com

95
---
LOCATIONS

CDALivingLocal.com

96

SANDPOINT, ID COEUR D'ALENE, ID BONNERS FERRY, ID SPOKANE, WA GIG HARBOR, WA TACOMA, WA
---
WE MAKE SURE YOU'RE

BEING NOTICED

A FULL-SERVICE MARKETING AGENCY

BRANDING & CREATIVE

DIGITAL MARKETING

MARKETING AUTOMATION

PRINT MARKETING

CONTENT MARKETING

SOCIAL MEDIA

CONTENT DEVELOPMENT

SEARCH ENGINE OPTIMIZATION

your guide to everything local

WWW.LIKE-MEDIA.COM | INFO@LIKE-MEDIA.COM | 208.946.0901

CDALivingLocal.com

97
---
509

L I F E S T Y L E M A G A Z I N E

OPEN

Like Media is excited to present 509 Lifestyle

Magazine, a classy and sophisticated publication.

This is not your traditional vanity magazine but rather

a publication that dives deep into the local scene in

a way no one has done before. From our community

and culture, area cuisine and fashion to great local

stories, you'll find all of these and more in the pages

of 509.

Our lifestyle ... our hopes ... our dreams are reflected

and steeped deep in our history; the roots of what

make us ... us!

We hope you will join us in our journey of offering the

best to our readers. 509 will be unlike anything the

area has seen before. This is the place you will want to

be seen.

ADVERTISING INQUIRIES PLEASE CONTACT:

Allyia Briggs 208.627.6476 allyia@like-media.com

Brought to you by the publishers of

CDALivingLocal.com

98
---
Free Home Search

All homes, all companies at www.BrendaBurk.com

$595,000 | MLS # 19-8639

Your Private Lake Retreat or next Vacation Rental

opportunity awaits at Eagle's Nest. Enjoy endless

sunsets and direct views of the CDA Resort from

this home that overlooks Echo Bay and is located

only 20-minutes via car and just 5-minutes by

boat from beautiful downtown Coeur d'Alene.

Recreation abounds by either hiking the nearby

trails or fishing in one of the deepest bays on

Lake Coeur d'Alene. It's also only 5 minutes from

Gozzer Ranch, named the 28th best golf course

in America. This community provides access to

the water with a private beach and also affords

the opportunity to lease your very own boat slip

at the community dock. Don't miss out on the

opportunity to own this Lake Retreat!

$440,000 | MLS # 19-6387

Modern loft living -- Live and work space in

historic Priest River, Idaho. Walking distance to

the Pend Oreille River, post office, library & many

restaurants. The luxury loft space features 2

bedrooms, 2.5 bathrooms, exposed brick walls,

original hardwood floors & a two car attached

garage. The commercial area includes a retail

space with high ceilings, upstairs office and an

open public viewing area of the studio/work area

below. As a bonus there is a sound proof work/

shop area on the lower level complete with an

exhaust fan. Enjoy this short commute to work or

lease out for extra income. This is a must see!

$1,200,000 | MLS # 19-7566

Looking for some of the most amazing views in

Coeur d'Alene with privacy but minutes to town?!

This home is for you! Situated on top of the

mountain in a rare setting on nearly 10 acres, this

home provides gorgeous lake and mountain views

galore in a highly desired area. On a private, paved

road with 4 bedrooms, 3.5 bathrooms and a 24x36

shop this is a rare find. Enjoy a spacious master

suite, fireplace, central air and over 4,300 square

feet. Relax in comfort and enjoy this picture-perfect

piece of Idaho.

$150,000 | MLS # 19-11529

RARE level vacant lot located in Downtown CDA!

Close to the Garden District & schools with easy

freeway access, this lot is ready or keep for future

investment. City water & sewer available.

$1,250,000 | MLS # 19-3286

This fully furnished Spectacular Diamond Lake

Mediterranean Waterfront property sits on 75' of

pristine deep lake frontage with a sandy beach

and beautifully landscaped yard. This stunning

home is currently being run as a B&B and

recently received the coveted 5-star award from

Trip Advisor for 2018! This home also boasts 7

master suites, 7 baths, and 2 decks to enjoy the

breathtaking views.

$290,000 | MLS # 19-5714

Peace and serenity await you on 6 acres to build

your dream home! Backing up to Rathdrum

Mountain Nature Reserve, which includes over

600+ acres of land including trails for hiking

and cross country skiing. Less than 1 mile to

town gives you the privacy you want with the

convenience of being close to shopping, parks

and schools.

Proudly Selling North Idaho & Eastern Washington

208.818.3668 | Brenda@BrendaBurk.com

CDALivingLocal.com

99
---
9th Best Casino.

Top-50 Golf Course.

Or, as we say,

new goals to beat.

Business Insider just named Northern Quest the

ninth best casino in the country. Golfweek also

ranked our Kalispel Golf and Country Club among

the top 50 casino courses in the nation. And to

think, we were just trying to please you.

northernquest.com | 877.871.6772 | Spokane, WA

CDALivingLocal.com

100