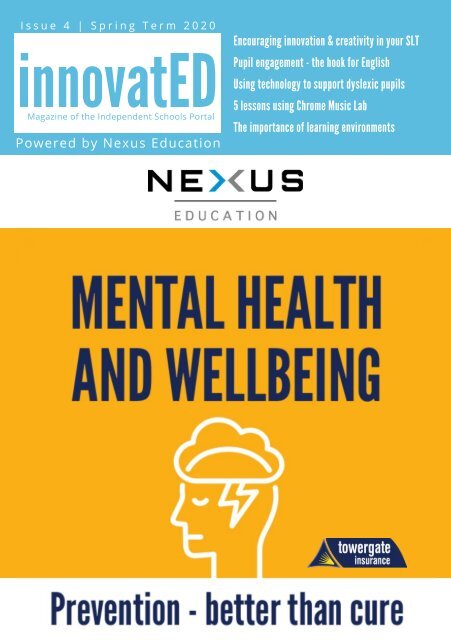 innovatED Magazine - Issue 4 - Spring 2020
A mixture of news, opinion, research, ideas, great practice and regulatory updates. innovatED takes a global perspective and brings the latest educational developments from across the world onto your laptop, smartphone - and with the printed edition - into your staff room.
A mixture of news, opinion, research, ideas, great practice and regulatory updates. innovatED takes a global perspective and brings the latest educational developments from across the world onto your laptop, smartphone - and with the printed edition - into your staff room.
SHOW MORE
SHOW LESS
You also want an ePaper? Increase the reach of your titles
YUMPU automatically turns print PDFs into web optimized ePapers that Google loves.
Put simply, we help companies excel

by helping their leaders to excel

Being a successful leader requires a wide-array of skills and

capabilities. This is where TaylorBest, founded by Dr Katie Best, can

help. With over 15 years experience straddling academia and practice

and working with a considerable roster of high profile corporate clients

through to non-profits and Universities, we know what it takes to be

an effective and respected leader.

Here's how we can help:

Training &

Development

Coaching

Planning &

Consulting

"Katie is great at designing and delivering high-quality training

programmes on interesting topics. She's helped our staff to be more

creative, become better storytellers, and have tricky career

conversations." -- ICAEW.

"Katie brought to bear her years of experience in the field of

leadership, management and strategy to craft sessions that

resonated with Barclays colleagues across the spectrum of age,

gender and ethnicity... She was not afraid to face difficult questions

and regularly encouraged attendees to ask them." -- Barclays

To discuss your school's leadership development

requirements, or to see if we can help, contact us today.

TaylorBest.com

| 07709 496621 | Katie@TaylorBest.com
---
innovatED

EDITOR & DESIGN

David Winfield

ASSISTANT EDITOR

Rhiannon Challenger

Contributors

Dr. Katie Best

Dr. Neel Burton

Jayne Carter

Nadine Finlay

Phil Garner

David Goulbourn

Chris Griffiths

Kate Heap

Gary Henderson

Harry Hortyn

ADVERTISING & EVENTS

Andrew Jennings

Andrew Keegan

Julie Keyes

Mark Langley

Maisey Laurels

Sue O'Leary-Hall

Robert Lilley

Tom Packer

Daniel Storey

Jo Ware

Damien Challenger

damien@nexus-education.com

Mike Reardon

mike@nexus-education.com

T: +44 (0) 1244 687371

ADVERTISING DESIGN

Johanna Reardon

David Winfield

PRINT SUBSCRIPTIONS

bit.ly/innovated-subscriptions

We accept article submissions for the

magazine throughout the year. The

submission deadline for the Summer

edition is March 20th, 2020, but please

get in touch as soon as possible if you

intend to forward a piece. All

submissions should be emailed to the

editor:

david@independentschoolsportal.org

Exciting times

Welcome to issue 4 of innovatED

magazine. As always, it's been a

pleasure to edit the work of such an

outstanding group of educators who

are so enthusiastic about sharing their

inspiring and transformational practice

so freely with colleagues.

The diversity of the contributors and variety of

settings in which they work is testament to spirit

of collegiality from which our profession

benefits so enormously and also perfectly

illustrates the high quality work that is taking

place across all sectors of education. It also

gives me great hope for the future of our

profession that irrespective of our differing

challenges, we can come together in a

publication like innovatED and pool our

collective knowledge and experience for the

benefit of everyone.

I would also like to thank all of the schools and senior

leaders who have hosted the locally-led CPD that we

were able to deliver in 2019. We will be expanding the

programme throughout 2020/21 as we begin

developing CPD for early years practitioners and

subject specialists.

Most of these meetings and conferences are heavily

subsidised through our partnership with Nexus

Education and we will continue to be able to offer

these high-quality professional days for just a nominal

attendance fee, or even free of charge in some cases,

and I am extremely grateful to Nexus for their

unwavering support and generosity to schools.

Finally, the Independent Schools Portal and innovatED

magazine were both created in 2016 to give

practitioners a louder voice and a vehicle to share

ideas and experiences, as well as a way to facilitate

subsidised local training networks that could actively

shape the CPD that is provided.. Our remit has not

changed since our formation, and if you would like to

get involved, then do get in touch. Whether you can

offer a venue, your training expertise, or time to write

an article, we'd love to hear from you.

Enjoy the issue.

David Winfield, Editor.

I N N O V A T E D M A G A Z I N E • V I S C O U N T H O U S E • F L O O R 2 , S U I T E 5 •

R I V E R L A N E • C H E S T E R • C H 4 8 R H
---
innovatED

Regulars

14 Tom Packer

18 Julie Keyes

26 Kate Heap

32 Robert Lilley

40 Sue O'Leary-Hall

51 David Goulbourn

53 Phil Garner

14

26

8

10

14

18

20

Towergate Insurance

Mental Health and Wellbeing in the workplace.

Encouraging innovation & creativity in your

senior leadership team

How innovation, creativity and avoiding group think are critical to

ensuring your leadership team stay at the top of their game. Katie

Best.

How to manage when there are problems

with staff

Tom Packer provides more sage guidance and a wise approach to

tackling this thorny issue.

The importance of learning environments

The importance of the learning environment has been overlooked

by policy makers in recent years. Julie Keyes considers what an

ideal learning space should offer.

So you want to be a head?

Former Deputy Head of Barnard Castle, Mark Langley, discusses his

academic research and how you can become involved.

22 Pupil Engagement: The Hook for English

24

26

EYFS Senior Practitioner, Nadine Finlay provides some inspirational

ideas for exciting young learners about English.

Effective, efficient planning via vocabulary

English Lead Teacher and Vocabulary Ninja, Andrew Jennings,

shows you how to simplify your planning AND and improve

outcomes by using key vocabulary.

Learning beyond the classroom with a

literacy inspired outdoor education

Primary English Specialist, Kate Heap, discusses how taking English

teaching outdoors helped to transform learning in her school.

28 One to one devices: Do they have impact?

Director of IT at Millfield School, Gary Henderson, reviews the

evidence.

30 How technology can transform the

classroom for dyslexic people

There are a whole host of widely available tools to support dyslexic

children in the classroom. Creativity expert, Chris Griffiths, explores

the options.

P A G E 4 | I S S U E 4 | I N N O V A T E D | S P R I N G 2 0 2 0
---
Breaking news, opinion and research

Stay up to date with the latest education news,

views, regulatory changes, research and

resources with the Independent Schools Portal

and Nexus Education

Join the Independent Schools Portal Facebook Group:

www.facebook.com/groups/ISPCommunity

Subscribe to Nexus Education teaching blogs:

www.nexus-education.com/blogs/subscribe/

32

34

38

40

44

46

The flipped classroom

Former Grammar School at Leeds Junior Head and experienced

inspector, Robert Lilley, explores the benefits of this truly enriching

approach to teaching and learning.

5 Lessons using Chrome Music Lab

Music specialist Andrew Keegan imparts some practical advice on

how you can bring music lessons to life, and make links to other

areas of the curriculum, using Google's free Chrome Music Lab.

Understanding the process of daydreaming

in a cognitive curriculum

Allowing the mind to wander brings enormous benefits. Jayne

Carter explains how you can make space for it in your setting.

From ugly frogs to memory clocks

Acdademic Director of Thesan Coaching and former Deputy Head of

Silcoates School, Sue O'Leary-Hall reviews the processes pupils

should follow to revise effectively, link their knowledge and build

exam stamina.

Hypersanity: Why thinking needs to be on

every school curriculum

Why thinking, emotion and imagination need to be valued by

educators and policy makers far more highly than simply 'knowing',

argued Psychologist, Dr. Neel Burton.

A well behaved class = A happy you

SEMH teacher, Daniel Storey, provides some wise words on the

subject of behaviour management.

50 The importance of a global outlook

Harry Hortyn argues that an international perspective and

experience can be a key differentiator when it comes to University

applications.

52 Presentation Matters

Jo Ware, Vice Principal at Plymouth UTC reflects on the approaches

they have taken to improve the presentation of work in general, and

boys handwriting in particular.

54 The Last Word

'Maisey Laurels' reflects on the joys of teaching, relationships with

pupils and the many hats we wear.

40

46

52

S P R I N G 2 0 2 0 | I N N O V A T E D | I S S U E 4 | P A G E 5
---
provinces or children who are tested

in China. Additionally, the OECD has

also drawn criticism as a

consequence of refusing to share the

test procedures that are used in the

country.

Indonesia

There are number of initiatives in

progress in Indonesia in order to get

it's young people 'future ready'.

Indonesia suffers from high (15%)

youth unemployment, and much of

the local discussion to solve this

problem has been centred around the

poor quality of local graduates,

especially in relation to rising to

challenge and opportunity of the '4th

Industrial Revolution'. In an attempt to

solve the issue, a number of foreign

universities are being encouraged to

create international campuses within

the country through Government

incentive schemes.

Iceland

Iceland recently launched a

programme to actively encourage

refugees and asylum seekers from

around the world to apply for a

University education in the country.

'Student Refugees Iceland' is partfunded

by the European Student

Union and the country is looking to

expand the scheme to also award

places at upper secondary level •

S P R I N G 2 0 2 0 | I N N O V A T E D | I S S U E 4 | P A G E 7
---
Such teams are also less likely to have blind spots in

their thinking and more likely to remove fatal flaws in an

idea. Teams should thus seek everyone's opinions when

making decisions, and warmly welcome the sharing of

alternate views.

Diverse teams are also less prone to groupthink.

Groupthink is faulty decision making that takes place

when team members are more concerned with

conforming with the group norm than with making a

high-quality decision. In a school context, groupthink can

lead to problems such as inadequately considering all

alternatives to a new boarding house design in order to

maintain unanimity; poor examination of objectives when

making a senior hiring decision; or failure to properly

evaluate the risks of a new teaching timetable. It

happens less frequently when teams are comfortable

with their own differences, and when there is good

perceived psychological safety. This will mean that the

individuals feel that the team unit is a safe container in

which they can take risks. In context, every individual

within a senior leadership team feels respected and

confident to express their own individual ideas and

opinions and feel able to offer challenges and counterideas.

It would be good to check in, in the next week,

whether you able to say that everyone in your team

feels that way.

As we have hopefully made clear above, diversity

doesn't necessarily have to mean having lots of different

skin colours in the room; we can be diverse in our

culture, background, sexual orientation, political views,

religious orientation, diet, exercise regime, attitude to

educational issues, parenting styles, teaching styles, and

so forth. These differences, if allowed to bloom in a

positive way, can make a positive difference to the

decision making of the senior team, and to their ability to

be innovative and creative. So, what can senior leaders

do to encourage diversity in their teams?

1. Create a culture of innovation

Innovative teams tend to be good at assuming that there

are better ways to do things. Even if a system is working,

they believe they can make it better. They often focus

deeply on their customers' needs and desires to explore

and achieve this. Collaborating internally and with those

outside the group; and empowering their members to

voice dissenting opinions are also critical to having a

culture of innovation within a team. As a senior leader,

paving the way to a team culture that has these values

at its heart, and finding ways to enact them will be

critical. For example, having rules about needing to hear

an opinion from everyone on a key issue for the school

could make sure that you hear everyone's raw

perspectives rather than some voices drowning out

others. If you introduce ways of doing this quite formally

to start with (such as asking people to record their

opinions on paper so that they are not overly influenced,

and then insisting that everyone shares their views), it

should quickly become a habit and co-workers will

become more confident sharing their views with one

another.

2. Encourage a dialogue about difference

Everyone is the same as someone else in some ways,

and different in other ways. Recognising this as a leader,

and encouraging teams to talk about their similarities

and differences can be very beneficial. School leaders

can promote active conversations about difference, in a

way that is supportive and enquiring. Leaders can also

model successful approaches to embracing diversity.

Can you, as a leader, have conversations with others

about who you are, publicly and sensitively? Can you

bravely and honestly talk about yourself, and others, ask

questions where they feel appropriate, and encourage

reflection on how these differences can be understood

and used? Understanding differences may provide clues

as to who might be best placed to help understand

stakeholder perspectives on issues such as changing

holiday schedules or remodelling the Year 3 classrooms.

3. Emphasise collaboration and execution in

conjunction with quality leadership

Key markers of a high-quality team are that they are

focused on common goals, share high standards of

excellence and have a strong sense of themselves as a

group. The more that you can encourage diverse teams

to work together on tasks that are additive and

collaborative - particularly where they have already had

conversations around their similarities and differences,

and perhaps where they have de-biased, too - then you

will grow the sense of 'team' and the feeling that they

are united, and so their performance will further

improve.

S P R I N G 2 0 2 0 | I N N O V A T E D | I S S U E 4 | P A G E 1 1
---
Team / group coaching is one way of doing this, which is

increasing in popularity. It helps teams to find the courage

and language to talk about what unites them, what divides

them, and to find ways forward. Where I've facilitated

workshops and team coaching focused on exploring

diversity and creativity, there are often moments where

people find out something really fundamental about how

their colleague thinks, or works, that fundamentally

changes how they interact for the better. It shows that

there is plenty there in most teams, ripe for improvement

in this regard. Giving time to team coaching gives the

space and permission to have these conversations.

In summation, shaping a school's senior leadership team

to explore its diversity and use it to drive creativity and

innovation gains can be challenging, but lead to great

results. Using a combination of the methods above, you

can lead your teams towards embracing diversity and

attaining higher levels of performance. Good luck! And if

you would like to talk about any of the topics above in

more detail, please get in touch •

katie@taylorbest.com | www.taylorbest.com

Katie is the Founder and Director of TaylorBest, a highly-specialised leadership development & training consultancy that

uses leading-edge research, coaching and training, to help organisations excel by helping their leaders to people excel.

Katie has more than 15 years' experience in the field of leadership development and coaching. She works with

organisations to create bespoke leadership development programmes which fit the needs of their business and leaders.

These can range from half-day workshops on a specific area or type of leadership, to coaching engagements, to yearlong

programmes with multiple touchpoints including; workshops, 360 degree feedback and coaching to name a few.

Whether the focus is on specific personal effectiveness, communication or management skills that are needed to

support high quality leadership, Katie's style is clear, consultative and encouraging. She works closely with clients to

understand their needs and develop solutions that will deliver practical, targeted results.

Katie has worked with a considerable roster of clients, including Simmons & Simmons, Lewis Silkin, KPMG, EY, Barclays,

Kaplan Altior, NHS, V&A, The Olympic Legacy Corporation, LSE and Cass Business School.

Within a year of completing her PhD at King's College London, Katie became MBA Director at BPP Business School.

Within this role she designed and delivered award-winning MBA programmes where graduates were shown to be

considerably more adept at leadership, client work and treated as a significant asset by their firms. After three years, she

moved to LSE to become the Foundation of Management Education Fellow, providing a bridge between academia and

practice, engaging students in real-world learning, and bringing academic expertise to businesses. Her award-winning

research has been published in top-ranked journals in the fields of Management and Social Sciences.

To this day, Katie continues her affiliation with the London School of Economics, acting as Head Tutor on the MBA

Essentials programme; and as Chief Examiner on the module 'Core Management Concepts'. She works with over 2500

students a year, including CEOs, business owners and senior leaders across the globe. In addition to the above, Katie is a

coach and mentor to individuals in leadership positions such as Partners, CEOs, and Board Directors, as well as future

leaders. She also facilitates workshops and meetings to achieve a more effective, actionable outcome for clients.

You hear can Katie speak at selected Spring 2020 Aspects of Leadership meetings: www.independentschoolsportal.org/events

P A G E 1 2 | I S S U E 4 | I N N O V A T E D | S P R I N G 2 0 2 0
---
ASPECTS OF LEADERSHIP LOCAL CPD MEETINGS - SPRING 2020

Networking & professional development suitable for current and aspiring senior leaders

Taking place in schools around the UK in February and March

BUILDING TEAMS THAT WELCOME DIVERSITY OF THOUGHT & DEED • THE ROLE OF

DIGITAL TECHNOLOGIES IN SUPPORTING EFFECTIVE TEACHING & LEARNING •

MINDBLOWING EDUCATION TECHNOLOGY: PRACTICAL ADVICE & DEMONSTRATIONS

£35 - £55. Price includes lunch and refreshments

https://www.independentschoolsportal.org/events
---
How to

manage

when there

are problems

with staff

Improve, move or remove.

P A G E 1 4 | I S S U E 4 | I N N O V A T E D | S P R I N G 2 0 2 0
---
Subsequently, at a whole staff meeting, you can cement

this into an agreed code of practice for the whole school.

It will make your job of judging poor performance

rigorous and hence reasonably straightforward, since all

members of staff have been allowed an input. After all,

they are the professionals!

In general, there are two approaches to what constitutes

good teaching:

Practices. This approach links capability to specific ways

of doing things, for instance:

setting and marking prep

planning

lesson preparation

appropriate lesson delivery in terms of;

structure

organisation

pace

teacher involvement

pupil activities

adherence to scheme of work and lesson plan

pitching learning at the right level

carrying out pastoral duties

attendance at meetings

following school procedures

fulfilling management roles and responsibilities

Outcomes. This approach is concerned with what effect

the teacher is having, for example:

motivation of pupils

expectations

creating confidence in pupils

generating enthusiasm

pupil progress

classroom climate

classroom management

personal development

pupil engagement

The latter requires courage and determination. The

criteria are more nebulous, but far more aspirational than

the robotic approach taken by the former.

Given this, I'm not sure that we're going to identify poor

practice in a timely fashion! Yet I would argue that an

effective appraisal scheme should be the backbone of

recognising and developing good teaching as well as

identifying poor performance. Again, an in-depth look at

this isn't possible here, but training and consultations can

be arranged through ISP.

Having agreed with the staff what constitutes good and

poor practice, you need evidence. A word of caution;

evidence needs to factual. Speculations, opinions and

hearsay simply won't do. There are many ways to gather

evidence, data (exam results, assessment results, pupil

progress ie "value added", take up at GCSE & A level etc),

pupil feedback, scrutiny of pupils' work, quality of

feedback given to pupils (which need not necessarily be

in writing) and lesson observations. I have a real difficulty

with the latter, although I am certainly not saying you

shouldn't undertake them. The problem is that they are

used for two diametrically opposing purposes: making

judgements and encouraging development. It's like

comparing the feeling you had when learning to drive;

the relationship with the driving instructor is quite

different from the one with the driving examiner.

Having identified poor performance the next steps must

be taken swiftly. The first is to decide on whether to

improve, move or remove.

Improve. In most cases improvement is seen as the best

option. It's vital that however painful it might be, the

shortcomings must be clearly and clinically identified at

the outset. There must also be a clear understanding

that improvement leading to sustained good

performance is the only acceptable outcome. Too often

schools put in place an elaborate and intensive

programme of support leading to short term

improvement followed by relapse. Then the cycle is

repeated. This helps no one. The solution has to be

sustained good practice. A relapse must lead to

dismissal. Spell that out at the start. Following this initial

difficult conversation an agreed programme of support

can be instigated, with a definite (but fairly urgent) time

frame and achievable goals.

Whichever approach is taken, including a hybrid, the

criteria must be defined. In other words there has to be a

description of what 'motivation of pupils' etc looks like.

I return to the matter of appraisal. A survey I undertook

recently showed that 80% of employees found their

appraisal system to be a waste of time, with 67% of

managers feeling the same way! One report from the

Harvard Business School, taken from US industry as a

whole has figures of 70% and 60% respectively.

Move. Often schools will consider re-allocating the

individual to another role. This is rarely the right solution.

It will be seen as a cop-out and can create problems

further down the line if it's not handled carefully. That's

not to say that it's never appropriate. Only move an

employee to another post if that job really exists or

needs doing. It should fit within the strategic direction of

the school. If the post were to be advertised, would this

person get it? Unless the pay and conditions are similar

there will be many obstacles to be overcome.

P A G E 1 6 | I S S U E 4 | I N N O V A T E D | S P R I N G 2 0 2 0
---
Remove. Whilst a step never undertaken lightly, schools

owe it to their pupils to remove an underperforming

member of staff, especially when that member of staff has

been given every means of improving but simply fails to

measure up, whether deliberate or otherwise. The legal

position is outside the scope of this article, but rest

assured that one can, quite legitimately, remove an

employee in the right circumstances. As a general rule,

remember to put the children first and seek legal advice

as soon as the situation looks the slightest bit ugly. If the

employee chooses to involve his/her union, don't be

frightened. Whilst understandably the Union will protect

their member's interests, they are professional in their

approach and will want to see that a proper and fair

process is followed. Often discussions with Union Officials

can be productive for all parties. Indeed, it could be

argued that encouraging the Union to be involved will

protect the school from any later allegations of

malpractice.

In conclusion, other staff will be grateful to see that the

one or two colleagues who are not up to the mark are

being challenged and encouraged. As long as you are

courageous, determined to put the children first and to be

fair and factual at every stage your school will flourish as a

result •

S P R I N G 2 0 2 0 | I N N O V A T E D | I S S U E 4 | P A G E 1 7
---
On the surface, the trend is perhaps bucked by

secondary schools. A science lab, for

example, is very clearly a science lab, an art

room is more often than not, obviously defined

by its fixtures and fittings. Whilst on the

surface this may appear to set these subjects

apart, what it actually illustrates is the

blinkered view that we as educators have for

our pupils and staff. Classrooms should not be

pigeonholed into distinct sectors to allow for

short bursts of creativity and investigation.

Every room in the school should present the

opportunity for awe and wonder, for in-depth

inquiry and intricate exploration. Children and

teachers should feel inspired by the

environment around them, and feel free from

the constraints of the traditional classroom.

The world has changed beyond recognition in the last 100

years. The expectations we have of our pupils has

elevated to new heights. We are asking our teachers to

equip pupils with the skills to solve problems as yet

unimagined. Yet our classrooms - the spaces where our

pupils gain the knowledge to tackle these problems -

have remained unchanged. An engineer from the 1900s

would look at today's world in complete disbelief. A

teacher from the 1900s would marvel at the invention of

the whiteboard, and proceed to go about their business.

So, for a moment, imagine entering an empty classroom, a

blank canvas. Ask yourself, what is the core purpose of this

room?

Image Credit: Cothill House Science Lab, courtesy of Envoplan

Try to elevate the question to one of a higher order, forge

an intention that represents an aspirational outcome for

the pupils and teachers. Instead of designating a space as

a 'maths classroom', perhaps opt for: 'an area that inspires

critical thinking'. Alternatively, consider redeploying the

reception classroom as: 'a space that engages our

youngest learners during their first encounters with

formal education.'

By undertaking this approach, we encourage all those

involved in the pupil's learning journey to begin with the

'why', rather than the 'what'. And in doing so, create

inspirational spaces for a modern generation of highachievers

•

Image Credit: Burnley UTC Science Lab, courtesy of Innova Design Group

S P R I N G 2 0 2 0 | I N N O V A T E D | I S S U E 4 | P A G E 1 9
---
Children were given pre-made packs, that contained a

map of the school grounds, a pencil, class camera and

some clues so the children knew where to head

around the school grounds. Once the walk began the

children came across a dragons' nest and in a variety

of different places there were dragon eggs.

Alien eggs

When I took the class into the whole school assembly,

a TA from a nearby classroom placed some alien eggs

and a letter in the middle of the carpet. The children

and I returned to the classroom and found the alien

eggs in the classroom. The children knew that it

couldn't have been me that put them there, as I had

been in assembly with them. The letter outlined what

the children needed to do in order to care for the

aliens appropriately. This was a really successful way

of beginning instructions and letter writing in English,

as well as learning how to care for others in PSHE.

Flight

On the first day back to school after a half term, the

children entered the classroom to find that it had been

filled with paper aeroplanes and flight mobiles. They

were hanging from the ceiling all around the room. On

each table there were different clearly written stepby-step

instructions and an assortment of coloured

card. The children were instantly mesmerised and

began following the instructions to create different

aeroplanes. This topic grew into learning about Amelia

Earhart, making predictions about what different card

would do to the flight length of their planes,

measuring distances of flight and so many more

areas.

A Hook can be incredibly powerful as a means of

capturing a child's attention and inspiring them to find

out more. I believe that learning should be purposeful

and fun and that is what I try to recreate in my

classroom. Why not give it a try yourself? •

Nadine is a Child development specialist who

has recently joined the Salisbury Plain

Academies.

She has worked with children for 17 years

having originally trained as an International

Montessori Directress before moving into state

schools and completing a Graduate Teacher

Programme. Nadine is passionate about making

the most out of every day, either at school or

with her two young children. She has previously

written articles that have been published in

various magazines including the TES.

S P R I N G 2 0 2 0 | I N N O V A T E D | I S S U E 4 | P A G E 2 3
---
Quite simply, for some pupils (especially lower

attaining ones, who often have social, emotional and

other barriers to learning), such plans and planning

processes can be extremely ineffective, because it's

just too much information (that may be relatively new

to them, in the form of a new text) for them to process

and hold in their working memory and remember - let

alone write the text.

Why not try simplifying your whole planning process to

a few well-chosen words, that are heavily embedded

in those immersive and engaging dramatic, sketching,

talk and sensory experiences that the pupils can refer

and relate back to, underpinned by vocabulary – with

the simple prompt of a single word? In doing so, you

will save potentially a lesson every week or in every

writing sequence from laborious and often pointless

planning, which can be used to spend more time

immersing the learners in the book, the landscape, the

setting, or in the characters very own shoes and

modelling how to develop aspects of the text

effectively.

Using the precise vocabulary to plan or structure,

allows the pupils to cognitively focus on the task at

hand without the mental overload that the traditional

plan can create. Providing your pupils with the faculty

to retrieve the familiar content of the book or stimulus,

and still be able to focus on the developing and

including the expected grammatical features of the

text.

See the example below for Shackleton's Journey. Ten

well-chosen words which elicit memories, discussion,

facts, opinions and much more from the text in this

case lots of meaning rich verbs). A simple and effective

way to prompt and structure the writing process!

Simple to prompt pupils' knowledge and drive adult

questioning. It is however, important to consider, that

for some pupils, ten words may still be a lot to

manage, especially in KS1. The beauty of using

vocabulary to 'plan' is that, because you are merely

thinking of a number of well-chosen and thoughtfully

ordered words, the amount of words chosen to drive

the text could quite easily be varied for every pupil to

create personalised and effective plans in very little

time:

Stranded

Ice Pack

Speech

Mutiny

Hunger

Execution (dogs)

Shelter

Farewell

Elephant Island

Rescue

Time Spent Vs Outcomes Produced – Another

concept to consider is the amount of time that

traditional planning can take, definitely one, if not two

lessons – a huge amount of time in school terms,

which often for lots of pupils doesn't produce the

outcomes we desire. By using vocabulary to plan, that

time could be much better spent, orally rehearsing

ideas, developing phrases, capturing ideas, or even

just a greater amount of time spent writing, rather than

rushing. All of which are much more likely to drive

better writing outcomes.

If you're not convinced, think about vocabulary in the

following way; consider the importance of water to

human beings. Without water, human beings will very

quickly die, within a matter of days. Vocabulary, much

like water for human beings, is essential for our pupils

writing to flourish. Without understanding the essential

vocabulary, our pupils understanding and subsequent

writing outcomes will also wither and metaphorically

die.

Whichever way you chose to plan your writing,

vocabulary should constitute every stage of the writing

process, especially your own planning stage as the

class teacher. You should always consider the

essential vocabulary that pupils may need to be taught

in the early lessons of a unit, in order to fully

understand a story or topic. Quite quickly, if you are

picky and precise about the language you intend to

teach from the outset of a unit of work, you can see

how this essential vocabulary will ultimately become

the vocabulary you intend to use with the children to

effectively and efficiently plan with •

During the day, Andrew is a serving primary

Assistant Head Teacher, KS2 Leader, English

Lead and Y6 teacher, working in the North-

East of England. At night, he stealthily

transforms into Vocabulary Ninja, writing

books, creating educational apps, developing

educational resources and working to make

vocabulary a worthy priority in schools.

Image from Shackleton's Journey by Will Grill,

courtesy of Flying Eye Books.

S P R I N G 2 0 2 0 | I N N O V A T E D | I S S U E 4 | P A G E 2 5
---
The children came away with an in-depth, practical

understanding of the sailing and marine elements of the

book which was invaluable.

Their second activity was a survival role play. Using

extracts from Kensuke's Kingdom, the children

imagined they had been washed up on a beach. As they

lay on the ground at the side of the water with their eyes

closed, they took in the sounds, smells and feelings of

the shore. Listening to the story being read aloud, the

children slowly opened their eyes to see nothing but

sky and then slowly got up to take in their surroundings.

A discussion about basics needs for survival helped to

focus the group on their priorities for exploring the

nearby trees. They worked in small groups to role play a

search for food, water, shelter and fire building. At the

end of this session, they made brief notes in their

booklets in preparation for a "Recipe for Survival" to be

written back at school – more advanced instructional

writing to add to their range of genres.

Finally, the children took part in a vocabulary and poetry

session on the shore. With a focus on being intentional

and specific with their word choices, the children sat

quietly to take in their environment. The adults

encouraged them to jot down a wide variety of words,

thinking about nouns, verb, adjectives and adverbs

linked to water, waves, wind, weather and sky.

The group then developed their understanding of

abstract nouns and figurative language, thinking about

possible themes for shape poetry based on sailing and

the sea. Using examples in their booklet, the children

experimented with lines of poetry in the shape of

sailboats, waves and the wind which they continued and

improved once they were back at school.

Linking Literacy with OAA was more successful than we

could ever have imagined. The empowerment of

adventure, the depth of the conversations and the focus

on teambuilding as the children worked together on

something completely new contributed to love for

fantastic novel, respect for the outdoors and elements

of survival, and inspired the children to write with rich

language and detail. Every child, especially those with

EAL or who had lower Literacy skills, progressed and

surpassed our expectations.

I encourage every teacher to look for OAA links in their

Literacy units. Thinking beyond the classroom helps to

create a meaningful, vibrant and engaging curriculum

that is memorable and inspiring for our students.

For more information, you may wish to visit the Council

for Learning Outside the Classroom website.

https://www.lotc.org.uk/ •

Kate is an experienced Primary English

Specialist from Leeds. She is passionate

about helping children to be inspired by

their learning through adventure and

imagination. She is skilled in supporting

colleagues in their professional

development, creating meaningful

cross-curricular English plans and

linking English objectives, lessons and

resources to the rigorous Key Stage Two

assessment requirements. Kate is also

an author for teachers with her

book, Classics for Key Stage Two, to be

published in 2020. Read more from Kate

on her blog:

www.scopeforimagination.co.uk and

follow her on Twitter (@KateHeap1)

S P R I N G 2 0 2 0 | I N N O V A T E D | I S S U E 4 | P A G E 2 7
---
The research shows that simply giving devices out has

no statistically significant impact on learning outcomes.

This I can agree with. It means that, if we don't consider

for the planned use, teacher motivation, teacher

technology skills and experience etc., and simply give

out devices, there will most likely be no significant

positive impact on outcomes. I am not sure this is a

surprise. Do we give out calculators and expect Maths

results to go up, or do we give out textbooks and

expect subject knowledge to increase?

At this point I want to take another look at the Hattie

research and this time focus on those activities which

are indicated, unlike one to one laptops, to have a large

positive effect size, which IS statistically significant.

Lets consider, for example, feedback;

Feedback

Hattie identifies feedback as having a 0.74 effect size or

the "potential to considerably accelerate student

achievement". Through technology this feedback can

be facilitated much more quickly as it can delivered

electronically as opposed to waiting for the next time a

student sees a particular teacher or attends a class.

Feedback can be provided in different formats

including the usual written feedback, verbal feedback

and even video based feedback, again facilitated by

technology and one to one devices. In addition,

feedback can be more of a two way discussion

allowing students to seek clarification on the feedback

they receive in a safe online environment rather than

trying to question it in lessons or around school in the

sight of other students.

Interventions

Interventions for students with learning needs is indicated

to have a 0.77 effect size. One to one devices support a

student with learning needs in a number of ways.

Microsoft and Google both have accessibility at the heart

of their learning tools, for example, supporting students in

a number of ways to allow easier access to digital content

including supporting the reading out of text content and

changing text background colour to name but two. Also

through technology, discussions or activities in lessons

can easily be reviewed or continued outside lesson

through collaboration platforms and digital video and

audio recording among other methods.

Conclusion

Technology in the form of one to one devices cannot be

expected to simply have a positive impact on outcomes.

Teaching and learning isn't that simple. There are lots of

considerations required including teacher motivation,

experience and skills, availability of support and training,

school culture, and many other factors. If technology is to

have a positive impact these things need to be

considered and the application of technology carefully

planned and implemented. It is not the giving out of the

devices which has the impact but how a skilful educator

goes about using them, to support feedback and

students with learning needs, to encourage discussion

and encourage students to act as problem solvers •

Reference

(1) http://bit.ly/garyhenderson

Hattie actually emphasises that strategies focusing on

meta cognition and self regulation can have positive

impact on outcomes, such as help seeking among

pupils with a 0.72 effect size. Surely one to one devices

which allow students to seek help from teachers easily

both in and outside class is a positive thing?

Classroom Discussion

Classroom discussion is another influence which Hattie

identified, this time with a 0.82 effect size. Without one

to one technology this is limited to classroom time.

With technology, a record of discussion is easily

retained for evaluation or revision later, plus the

conversations can continue beyond the time or

geographical bounds of a class based lesson. Students

unable to attend classes for whatever reason are also

able to engage after the lesson. Those students who

have difficulty keeping pace with discussion or who

may be reluctant to engage in classroom discussion

can also do so via technology.

Gary Henderson is currently the Director of IT of

Millfield school in the UK. Prior to this he worked as a

Head of Learning Technologies, working with public

and private schools across the Middle East; this

included leading the planning and development of IT

within a number of new schools opening in the UAE.

Gary is a trained teacher with over 15 years working in

education. His experience includes UK state

secondary schools, further education and higher

education, as well as experience of various

international schools teaching various curricula. In

addition, he is also a Google and Microsoft Certified

Educator, a Microsoft Innovative Educator Expert and

an Apple Teacher.

S P R I N G 2 0 2 0 | I N N O V A T E D | I S S U E 4 | P A G E 2 9
---
Using a distinct combination of colours, images, and

visual-spatial arrangement, Mind Mapping is ideal for

helping dyslexic thinkers break down complex

information. Though Mind Maps can be drawn by hand,

using dedicated software will make it easier for your

students to make changes, store their Mind Maps

securely, and collaborate with others on them.

Spell Checkers

Did you know that a number of spell checkers were

designed with dyslexia in mind? As they will

automatically correct misspellings in word processing

documents, online searches, emails, and more, they take

the pressure away from the writer (particularly in exams

and other timed exercises) by allowing them to not be

slowed down by difficult spellings and instead focus on

getting their words down on the page. Though a basic

spell checker will only check for spelling errors, many

have now evolved to also detect contextual and

grammatical errors, improving the overall quality of your

students' writing. Like speech recognition software, spell

checkers now come as standard on many apps on most

technological devices - just make sure they're enabled.

Reader Pens

This pocked-size device is becoming increasingly

popular in schools because it's portable and simple to

use. The user can trace printed sentences with the pen,

and the device will read these back to them in a clear

digital voice. Some pens even provide definitions of

scanned words and enable you to save them to refer

back to later. All of these capabilities help dyslexic

readers to process complex written information with less

difficulty. The ability to quickly read and understand

written information is vital in exams and other similar

situations.

Tablets and E-Readers

Although electronic tablets are usually associated with

being used to play games and browse social media, they

have become great teaching aids in the classroom for

pupils that are affected by dyslexia, as well as those that

are not. They make it simple for the user to quickly take

notes and edit them, and they include many of the tools

that can help dyslexic students, such as spell checkers

and speech recognition.

In a similar vein, e-readers are also a handy device that

shouldn't be overlooked. In subjects such as English,

where students are required to read a number of texts, an

e-reader could make this task less of a struggle. It is

thought that their ability to display text in large font and

short lines help those with dyslexia process information

with less difficulty.

Despite many finding reading, writing, spelling and

organisation to be more of a challenge than others,

dyslexic students tend to be innovative thinkers that

are deeply creative and great at solving problems. By

providing these pupils with the right tools and support,

you'll easily enable their talents to shine bright •

Written by Chris Griffiths with additional

material by Caragh Medlicott.

Chris is a world-leading creativity expert

and creator of the app Ayoa.com – a

platform used by top thinkers to boost

productivity.

Fortunately, a number of reader pens have now been

approved to be used in exams, so they don't need to be

more stressful than they already are.

S P R I N G 2 0 2 0 | I N N O V A T E D | I S S U E 4 | P A G E 3 1
---
Flipped learning is not:

Sharepoint or school learning platforms

Google Classroom, Microsoft Class Onenote or Teams

Edmodo or Nearpod

About replacing teachers with videos

An online course

Pupils working without structure

Pupils working in isolation

There are four parts to this process:

1. The notion of the flipped classroom and the learning

objective need to be explicitly shared with pupils so

that there is a shared understanding of the activity.

2. The teacher needs to effectively share the learning

resources and explain to the pupils how to access or

use them. This takes some preparation by the teacher.

3. When the class reconvenes, they engage in activities /

projects / group work to develop and utilise their new

knowledge and skills.

4. Evaluation of the process by teachers and pupils.

The secret is to keep the core homework limited to 10

minutes.

How do you know whether the pupils have done the

work?

Either offer an old fashioned spot-quiz, an online quiz via

MS-forms or use features in apps like Nearpod which ask

them to complete questions as they go, which you can

look at next lesson.

Next time the class is together you can use your class

time for creating a better understanding of the subject

matter (more time to answer specific questions). You

could work on speaking, listening and writing skills, work

on projects or really focus in on those tricky concepts

where everyone struggled.

There are various tools to help you do this including

many you will already have in school such as:

PowerpointVideo / YouTube tutorial (on school

system rather than open internet!)

Explain everything

Nearpod

Ready made platforms such as Khan Academy,

Mathletics and Atom Learning

You need to think about how to distribute the materials to

children. Many schools now engage with purchased

systems including:

There are particular benefits for some pupils with

learning difficulties as they can take as many

opportunities to view the learning materials as is needed

and can refer back to them whenever required. Judicious

use of film and oral material can also help relieve them of

hours of reading.

In summary, the Flipped Classroom offers an interesting

and interactive opportunity for a different style of learning

and of teaching. It does take some preparation by the

teacher but it does offer time savings when compared to

traditional marking. It is something to use now and then

rather than every day •

Bibliography

1. http://bit.ly/innovatedflipped1

2. http://bit.ly/innovatedflipped2

3. http://bit.ly/innovatedflipped3

4. http://bit.ly/innovatedflipped4

S P R I N G 2 0 2 0 | I N N O V A T E D | I S S U E 4 | P A G E 3 3
---
And that's it! OK, that's not quite all there is to it, but

that's your starting point. To extend the task, your class

could pair up, with one person creating the first bar and

the second person trying to copy the pattern into the

remaining three bars. Something else I've done in the

past is to print out a screenshot of the blank starting

screen, asked the class to create their patterns, or

compositions, by hand, and then fill them in on Song

Maker. Apart from being a fun activity for music, this is

also a great opportunity to talk about repeating patterns

in terms of maths and art. You could also add limitations

to how they create their patterns, e.g. "You can only use

a quarter of the percussion notes" which will really get

them thinking!

2. The beauty of symmetry.

Similar to 'complete the pattern', start off with a blank

screen in Song Maker, but this time create a pattern or

image that fills the first two bars, like this:

Image 4

4. An artists delight.

This activity is great for younger classes, but it can be

developed for older children too. To begin with, ask the

children to draw any of the following shapes on either a

sheet of paper, in their books or on a personal

whiteboard: Lines, Circles, Squares / Rectangles

(quadrilaterals) or Triangles. The shapes can be as big,

small or as numerous as they like. They might even only

want to use one shape! Once they have created their

images, introduce them to Kandinsky. Kandinsky is a

beautifully simple 'experiment', because all the

children have to do is draw! Ask the class to copy their

original pictures into Kandinsky, then hit play.

Image 3

Once they have the first two bars copied, treat the end

of bar two as a mirror line and get the class to reflect the

shape, creating a symmetrical image. They will have lots

of fun creating their own images, again working

independently or with a partner whilst developing digital

artistic and mathematical skills. If you want to make this

a little easier, go to settings and change the length to 2

bars. This will allow pupils to work with one reflected

bar, instead of 2. Again, you could print out blank work

spaces and get the class to reflect the patterns by hand

before copying them into their digital documents.

3. What can you spell?

This is an old music lesson favourite, and it is based on

the principal of using musical notation to spell words.

Before working on Music Lab, as a starter, ask your class

to spell as many words as possible using only the letters

A, B, C, D, E, F & G. They can use letters more than once

if they wish. You could make this a competition, who can

spell the most words? Who can find the longest word? (I

won't spoil this for you, give it a go yourselves!) Once

you have your word bank, you can head over to Melody

Maker to get started. Using the colour scheme in image

4 to match the letters used, get the class to input their

spelling to see what they sound like!

Image 5

What do they notice about the different

sounds produced? Do the shapes all make the same

sound? What is the difference between larger shapes?

What happens when you draw shapes higher or lower

on the screen? Ask the class to change the colour

scheme and see what they think now! You could then

look into the life and work of Kandinsky, and use your

compositions as examples of work inspired by him.

5. Give me a beat

This is a really simple activity which brings the digital

world into the acoustic one. Start by opening

up Rhythm. Once it's open, press the right arrow until

you have these two critters on your screen:

S P R I N G 2 0 2 0 | I N N O V A T E D | I S S U E 4 | P A G E 3 5
---
Once they're up, create your own rhythm for them to

play. You could start with something simple, like this:

If you're feeling REALLY adventurous, you can buy a

four-way headphone splitter online and try

connecting four different devices to the same

speaker! This is really challenging, but allows you to

mix and match 'experiments' and create some

fantastic music.

Image 6

This creates a beat which your class are now going to

play along with using their own instruments. Rhythm is a

fantastic 'experiment' for simply creating a backing beat,

or metronome, for your pupils to play along with. They

could clap or march in time, or they could compose

their own ostinato (repeating musical pattern) on their

own instruments to play. You could split the class into

three groups, each group playing or clapping one of the

lines of the rhythm, such as this:

As with everything I write, I don't expect you to do

exactly as I say. In fact, I fully expect you to take these

ideas and bend, twist and develop them into your own

resource to meet the needs of the pupils you have in

front of you day in, day out. I hope you find some of

these ideas useful, and I'd love to see what you and

your classes get up to using Chrome Music Lab. If you

feel like sharing your work, you can find me over on

Twitter @andykeegan – I look forward to seeing how

you get on, and don't forget to use the hashtag

#chromemusiclab to let the Chrome team know what

you're up to as well! •

Image 7

They will find this really challenging at first, but in time

will help develop a greater sense of pulse and ability to

perform different parts alongside classmates. If you

wanted to look at the mathematical aspect of this

'experiment' you could look at how many of each beat

you've used, then transfer this to fractions. You could

even ask the pupils to create rhythms which only use

set amount of each beat. For example, "You MUST use

half of the orange beats, three eighths of the blue and

all of the yellow notes."

Hints and Tips

Most of the 'experiments' are there to

demonstrate very small areas of music and sound

creation. This means that saving your work is not

possible all of the time. However, as you can

see, screenshots can be taken to share work that has

been done.

In Song Maker, when you click on "save" you will be

given more saving options. If pupils work digitally,

they can save the link to their own digital portfolios.

You could even use the link to create a QR code and

display the work around school for others to

experience.

I would highly recommend investing in a portable

speaker to help share work with the rest of the class. I

picked up a cheap bluetooth speaker from a

supermarket for £20 and connected it with an AUX

lead to share work – perfect!

Andrew Keegan

Teacher, music specialist and consultant

Andrew is a music specialist with over 15

years education experience. Previously

a Head of Department in a large

comprehensive school, he is now a

primary teacher in Swansea. Alongside

mainstream teaching, Andrew works on

a range of projects, including most

recently developing a set of literacy,

numeracy and music resources to

support teachers in Wales to create

their own custom music curriculum for

their schools. He mainly blogs about

music in education, but sometimes

comments on wider educational issues

as well.

P A G E 3 6 | I S S U E 4 | I N N O V A T E D | S P R I N G 2 0 2 0
---
daydream. Researchers compared those who looked

away from others at points during a lesson versus those

who do not do this, instead focusing intently on the

teacher. Youngsters aged four to six, for example, were

more likely to avert their gaze when carrying out a task

they found difficult, or that was new, but looked away

less if being tested by someone they knew. For older

children, so-called 'gaze aversion' was linked to the

complexity of the task in hand, rather than familiarity with

the tester. These results are important because they

show that children avert their gaze when they are trying

to carry out a task which is difficult or with which they are

not yet familiar.

Given that there seems to be a growing bank of projects,

research and opinion on neuroscience, learning styles &

cognitive pedagogy on what, if any, is the role of

daydreaming in the development of an aspirational

holistic curriculum for our children? Does it have a place

in teaching and learning?

Let's look at what is considered important for any adult

supporting any child:

the development of a strong sense of opinions &

beliefs

development of a creative appreciation &

understanding of creative expressions

being emotional & socially well

promotion of thinking skills as a tool for learning,

processing & communicating

building a knowledge base

Perhaps when these characteristics are considered, there

are more potential elements of daydreaming which

arguably have a place in the curriculum.

Daydreaming, as the research has shown us, can give

children the opportunity to consider information and

ponder whether this information makes sense in their

own mind and / or fits in with existing beliefs; giving them

the further opportunity to mould an alternative viewpoint

if needed.

Daydreaming gives children the wonderful opportunity to

enter a make believe life; one which is full of countless

possibilities, based on ideas & influences assimilated

through life. Reflect on the advantage of this for writing,

storytelling, designing, acting etc. The development of

thinking skills potentially has its closest links with

daydreaming. Teaching children to understand and use

the process of daydreaming (or mind wandering) gives

everyone, regardless of their abilities, needs and personal

learning style an additional tool which can open up the

world of learning & thereby support the strengthening of

connections to make content more secure.

This is what I have found which has worked for me.

(Please feel free to consider or disregard any or all of

these suggestions. I appreciate that we all have a varying

pedagogy and have different children with different

needs whom we support).

First and foremost was giving children the permission

to daydream. This was not only an ok thing to do, it

was encouraged. Explicitly modelling the process to

children and talking them through how ideas can be

considered / changed / developed has raised the

value of daydreaming from simply being distracted /

bored / uninterested to a credible tool for

development.

Creating an ethos that it's ok to challenge and ask

questions. Respectfully listening and considering

others' points of view together with the time to come

to terms with this information and drafting an

alternative view, not only gives children the chance to

add layers to their own understanding but also

provides everyone with lifelong, transferable skills.

Using a range of approaches: Mind mapping,

storytelling (using props, visual prompts, film, music),

prove it, make me believe, debating.

Developing, with the children, a bank of questions and

statements. What if…. I wonder…. Tell me both sides…

Daydreaming recording on flipchart paper, using postit

notes, sequence of ideas and daydreaming box of

ideas are the current favourites.

Last thought: think back to when you last day dreamed….

not the daydream where you were sat on a lovely beach

with a certain someone living an alternate life, but

'consciously' daydreamed. You may have heard

something on the news which encouraged you to enter a

different place in your mind to assimilate the information,

churn it round and either accept or adapt it. Or you may

have had a conversation with a friend or colleague which

prompted you to delve back into a distant memory,

retrieve information to add new ideas to.

If we can recognise the power of daydreaming for us,

then perhaps this is sufficient reason to include it in your

classroom? •

Jayne is a committed shoe lover and independent Early

Years Consultant. She loves discussing all things Early

Years with anyone who will give her the opportunity

and prides herself in looking after the adults in the

hope that they can also look after the children.

Achieve your potential!

S P R I N G 2 0 2 0 | I N N O V A T E D | I S S U E 4 | P A G E 3 9
---
Our slogan "Do you boost?" is now used regularly in all

lessons and has been shared with parents to help

reinforce the message."

Linking Knowledge

We will all recognise the image of a pupil happily

highlighting their notes in a rainbow of colours and

then ticking that topic off their to-do list.

Our working memory can only hold around 7 pieces of

information at any one time, so we need to do

something with that information to move it into our long

term memory before we lose it. But highlighting is not

the answer. We are more likely to remember

information if we can link it to our existing knowledge or

experience, creating chains of meaning (schema).

Therefore, a higher impact strategy could involve

drawing a diagram or a flow chart to link the pupil's new

learning to their existing knowledge of a topic. Adding

questions and possible answers (which the pupil might

need to go and research) to the diagram is likely to

further strengthen their understanding, building more

secure neural connections for long-term memory.

The simple message is – if you want to remember a

piece of information, you need to actually do

something with it! This revision method is the first step

to enabling pupils to make the pieces fit the jigsaw of

an exam question. Teachers have long been providing

success criteria to help pupils take ownership of their

learning. The next step is to invite pupils to unpack

existing exam responses in order to derive their own

success criteria. This metacognitive approach pushes

the pupils to really consider what makes an excellent

response and encourages them to then draw together

appropriate content in a structured manner to have a

go themselves. A note of caution though: They may find

this hard. As we've already explored, for learning to

'stick', there has some degree of intellectual grappling.

Therefore, pupils need to start this process early.

Exam Stamina

Therefore, pupils need to start this process early. But

they need to start early for another, more simple reason

anyway: The average GCSE pupil will sit between 25-30

exams over about five weeks next summer. That

means that some days they'll sit an exam in the

morning and another in the afternoon, and possibly the

same the next day. That is exhausting, not just mentally

and emotionally, but physically too. Our job

as educators isn't just to teach our subject's exam

content; it's to teach pupils 'exam stamina'. You don't

go from a 5k run to a marathon in a couple of weeks

and neither should pupils expect to go from doing no

revision until Easter to successfully sitting 25-30 exams

half a term later.

Last Spring the Chartered College of Teaching

published a useful revision model called The Memory

Clock:

S P R I N G 2 0 2 0 | I N N O V A T E D | I S S U E 4 | P A G E 4 1
---
Y A E A T ' E M !

ugly

frogs...

We know from years of research into memory for

learning that 'distributed practice' and 'spaced

retrieval' provide the conditions for more secure

retention in the long-term memory as does varying the

order of topics within a pupil's revision plan. This is an

area where we can really add value to our pupils'

revision experience. Throughout this term, I have been

chatting to pupils about how they organise their revision

timetables; unsurprisingly, they tend to schedule their

favourite subjects early in the week and as the first

session of the day, leaving the really unpleasant, tricky

stuff until last. While this is completely understandable,

it only makes matters worse. The greatest energy

is needed to grapple with the hard stuff, so it makes

sense to put this at the start of the schedule and plan a

break after it before moving onto the topics with which

pupils feel more at ease.

It's what time management guru Brian Tracy calls

"eating the ugly frog". Again, Cundall Manor has a

resplendent display of exceptionally ugly frogs

displayed throughout their Year 11 classrooms!

For optimum revision effectiveness I propose the

following:

September to October half-term: Revision boosters of

10-20 minutes per day

November to Christmas: The Memory Clock one hour

revision sessions (the revision boosters can form the first

section of this model)

Christmas to February half-term: Increase the middle

section of The Memory Clock model to incorporate

a section of an exam paper 2-3 times a week, but take a

30 minute break before completing the last part of the

model

February to Easter: Increase the middle section of The

Memory Clock model to incorporate a full exam paper 1-

2 times a week, but take a 30 minute break before

completing the last part of the model

Easter to May half-term: Increase the middle section of

The Memory Clock model to incorporate a full exam

paper 2-3 times a week, but take a 30 minute break

before completing the last part of the model.

This revision plan creates the capacity – in terms of both

time and habit-forming - for pupils to revise topics

repeatedly throughout the year.

I would argue that the most important thing to consider

is that everyone – pupils, teachers and parents – needs

to understand what makes effective revision so that

there is a practical and emotional support system

around each pupil. In today's landscape of reformed

GCSEs and high-stakes exams, there are no shortcuts to

revising thoroughly; however, as illustrated here, some

methods are certainly more efficient than others. So

let's put our pupils in the driving seat and give them the

support they deserve •

Sue O'Leary-Hall is the founder and Academic Director of

Thesan Coaching & Training. Her team includes psychologists

and academics, who distil the latest research into practical

strategies to improve pupil outcomes. Thesan provides

bespoke, cost-effective CPD for teachers and school leaders

as well as pupil workshops and parent seminars.

https://thesancoachingandtraining.com/

Memory Clock Graphic: Creaby C, Mouncey K and

Roskilly K (2018) Learning to learn: Using evidence to

enhance knowledge retention and outcomes.

Impact 2: 28-29.reproduced with permission of the

Chartered College of Teaching.

P A G E 4 2 | I S S U E 4 | I N N O V A T E D | S P R I N G 2 0 2 0
---
Listening : Advising : Supporting

Time to review your

catering and cleaning

services?

WLP is an independent consultancy

with broad experience and proven

expertise in education facilities

management, providing support

throughout the UK in both the

Independent and State school

sectors.

• Contract review & tender

management

• Support management &

procurement for in-house catering

services

• Registered trainers with RSPH for:

Food Safety ◦

◦Health and Safety

◦Food Allergens

◦Special Diets & Nutrition

Contact us now to book an

initial free consultation meeting

e: admin@wlpconsultancy.co.uk

t: 01691 664234

www.wlpconsultancy.co.uk
---
Reasoning in contrast is a much broader psychological

activity which also involves selecting and assessing

evidence, creating and testing hypotheses, weighing

competing arguments, evaluating means and ends,

developing and applying heuristics (mental shortcuts),

and so on.

All this requires the use of judgement, which is why

reason, unlike logic, cannot be delegated to a computer,

and also why it so often fails to persuade. Logic is but a

tool of reason, and, occasionally, it can be reasonable to

accept something that is or appears illogical.

With the decline of religion and traditional social

structures, our emotions have come to assume an

increasingly dominant role in our lives. It has forever

been said that we are ruled by our emotions, but this

today is truer than ever. Much more than reason or

tradition, it is our emotions that determine our choice of

profession, partner, and politics, and our relation

to money, sex, and God.

Yet, remarkably, the emotions are utterly neglected by

our system of education, leading to millions of mis-lived

lives. Nothing can make us feel more alive, or more

human, than our emotions, or hurt us more. To control

our emotions is to control ourselves, and to control

ourselves is to control our destiny.

What about imagination? Imagination is the highest form

of thought, almost divine in its reach. With enough

imagination, we could identify and solve all our

problems. With enough imagination, we would never

have to work again—or, at least, not for money. With

enough imagination, we could win over, or defeat,

anyone we wanted to.

But our imagination is so poor that we haven't even

imagined what it would be like to have this kind

of imagination.

I'm lucky to have received a solid education, but one

thing it certainly didn't do for me is cultivate my

imagination. In fact, medical school in particular did

everything it could to destroy it. In recent years, I've

been trying to recover the bright and vivid imagination

that I left behind in primary school. For that, I've been

doing just three things, all of them very

simple—or, at least, very simple to explain:

• Being more aware of the importance of imagination.

• Making time for sleep and idleness.

• Taking inspiration from the natural world.

Which brings me onto inspiration. Think back to your

favourite teacher at school: for me, a French teacher

who wept silently as he read to the class from a novel by

Marguerite Duras. The teachers whom we hold dear in

our hearts, who changed the course of our lives, are not

those who assiduously taught us the most facts, or

fastidiously covered every bulleted point on the

syllabus, but those who inspired us and opened us up

to ourselves and to the world. Despite its importance to

the individual and society, our system of education

leaves very little place for inspiration—perhaps

because, like wisdom and virtue, it cannot easily be

taught but only ever… inspired. Unfortunately, a person

who has never been inspired is unlikely to inspire

others. That is a great shame. The best education

consists not in being taught but in being inspired; and if

I could, I would rather inspire a single person than teach

a thousand.

Our schools and universities and wider society

privilege knowing over thinking and equate thinking

with reasoning, and reasoning with logic. This has done,

and continues to do, untold harm. Instead of digging

ourselves in deeper, we need to make more time and

space for thinking. And we need to rehabilitate

alternative forms of cognition such as

emotion and imagination that can support,supplement,

or supplant reason and return us to wholeness •

About the author

Dr Neel Burton is a

psychiatrist,

philosopher, writer,

and wine-lover who

lives and teaches in

Oxford, England. He

is a Fellow of Green-

Templeton College,

Oxford, and the recipient of the Society of

Authors' Richard Asher Prize, the British Medical

Association's Young Authors' Award, the

Medical Journalists' Association Open Book

Award, and a Best in the World Gourmand

Award.He has written over two hundred articles

for Psychology Today and is the author of

several books. These include Psychiatry (2006),

Living with Schizophrenia (2007), The Meaning

of Madness (2008), Master your Mind (2009),

and Heaven and Hell: The Psychology of the

Emotions (2015). His work has been translated

into several languages.

S P R I N G 2 0 2 0 | I N N O V A T E D | I S S U E 4 | P A G E 4 5
---
Even though I work in a special school, we all share the

same aim as teachers – to have a lovely class with wellbehaved

children who want to learn.

This is my target for my class each year. In spite of the

fact I have experienced extremely challenging

behaviours like those listed above, I still have extremely

high standards. I am proud of the number of children who

have left my class in year 6 and gone on to become wellrounded

individuals, whose attitudes and behaviours

have completely transformed. Two boys out of my class

even went back into mainstream this year. Most of the

time they come to school and have been labelled

'trouble,' 'naughty' and even 'horrible.' Don't get me

wrong, they do show challenging behaviours at first but

soon enough their behaviour patterns change, and that

'naughty child' is no more.

In my school, every class has 10 boys with a plethora of

different disorders ranging from ASD, ADHD, Conduct

Disorder and Attachment Disorder. Even though this is a

high number, most mainstream classes in the UK can

have at least one challenging child in that class. Whether

you are an NQT or experienced teacher, there is always

that one 'celebrity' in each cohort who is often

disengaged and therefore would rather misbehave.

I have so many strategies and intervention that I have

used to improve behaviour. It was a struggle narrowing

them down. However, I have reduced them to my top 4.

1. High standards.

This starts with you. You need to be punctual, committed,

dress appropriately and treat everybody with respect. If

children know you have high standards, then they will

mirror this. In terms of the pupils, they need to come into

school in the correct uniform, show respect and put a

good amount of effort into their work. When it comes to

children's work, if they do not complete this to the best of

their ability, I will rub it out or make them complete it

again. They need to know that you will not accept poor

effort. If you must stay in every break time, dinner time

until they complete the work to the expected standard,

then so be it. It may be a battle of wills but it's important

to stand firm. In the end, the children will recognise and

understand the high expectations you have for them.

If children take ownership of the behaviour policy, then

they will respect it, understand it and follow it more

successfully. It then needs to be applied consistently

throughout the school. If I give a child a consequence, it

will all fall apart if I go on my break and come back to find

that my LSA has let them off without completing their

work. Children can become experts at manipulating

situations, especially if they know the response is not

always the same. You all need to be working as a team

and singing from the same hymn sheet.

3. Consistency in response.

If child A and child B have been disrupting the first lesson,

then both need to miss the same amount of their break.

Whether it's the same day, different day, different lesson,

both should be aware of and receive the same

consequence (referring to behaviour policy). You cannot

reprimand child A more harshly because they're 'always

disrupting and playing up' and let child B off earlier

because 'this isn't how they normally behave'. This

inconsistency will cause anger and frustration, confusion

and uncertainty (which is never a good recipe for a wellbehaved

class). In addition, these consequences must

always be followed through, otherwise you will be setting

yourself up for some gentle manipulation and attempts to

sway your earlier decision. You many have told a child

they owe you 10 minutes of their afternoon break to

complete work. However, for the rest of the lesson they

listen to you and behave impeccably. You cannot then

rub off the 10 minutes owed because of this. You gave

them that consequence for the original behaviour and

you need to show them you will follow through with what

you say.

2. Consistency through school.

Ensure a whole school approach. Your school should

have a behaviour policy that all children should be aware

of. At the start of the year, each class in my school will

work on the school behaviour policy and if they have any

good ideas to adapt and improve the policy then this will

be added to it.

S P R I N G 2 0 2 0 | I N N O V A T E D | I S S U E 4 | P A G E 4 7
---
4. Building strong and positive relationships with your

pupils.

People used to say you are not there to be the child's

friend. I do agree. However, a classroom doesn't thrive

on hate or fear. Yes, we all want respect but not by

scaring children. I have seen teachers bully and shame

pupils. I have seen teachers belittle the child in front of

his peers. I have seen teachers scream and shout. This

does not work. You will get more out of children if they

like and respect you.

I use a lot of humour in my class. I think I am funny, but

the kids do tell me off for the constant "dad jokes"

which, in itself, is an ongoing joke! On a serious note, if

there is a child whose behaviour is particularly

problematic, I ask them about their weekend. I find out

about their interests, do a bit of background research so

that we have some common ground.

One boy in my class was causing major problems in

school. I found out he loved drawing and motorbikes.

Not only did we develop a mutual respect for one

another, we also shared some great chats about

motorbikes and I bought some motorbike magazines,

colouring books and mindfulness activities. When he

completed his work, he could research motorbikes,

make PowerPoint presentations and draw motorbikes.

Those major problems quickly reduced in severity and

frequency and the respect he showed for my authority

as a teacher was much improved.

In addition to their current interest, I also find out

everything I can about a child's background. Do they

have an EHC plan? Has there been any history of abuse?

Have they been in and are still in care? Do they come

from a deprived area? Finding these things out can

really help you in supporting them. If a child looks upset

in the morning, then give them time out to speak to

somebody. This could be yourself or a chosen adult

they have a strong relationship with. If a child regularly

arrives at school having had no breakfast, allowing time

for them to have some breakfast would mean a lot to

that child. It would show that you cared.

Very few children, if any, actually want to misbehave.

They want to know that we care, that we provide

consistency, clarity and security. Some just need more

convincing than others.

Small steps at a steady pace will lead to long term

success. Give it time. It's our job to try and try again and

show children that persistence and resilience will lead

to achievement and success •

Daniel Storey is an experienced SEMH

Teacher who has worked in a boys

primary SEMH school for over 10 years.

The school has had two outstanding

Ofsted inspections in that time.

Daniel has had extensive training on

Attachment Disorder, ADHD and ASD. He

also has a primary PGCE, PGCE in SEN,

Diploma in education and a Masters in

SEN. He has expertise in behaviour

management and has a substantial

number of strategies and interventions

that have been successful in supporting

children with their range of behavioural

problems and disorders.

We all want a happy life. We all crave good

relationships with parents, friends, loved ones and

family. This is all children want. They want to be listened

to, given praise and given confidence. I, for one, love it

when I am praised by my fiance for putting the bins out

or when my Headteacher tells me he has seen a huge

turnaround in a child's behaviour. I also understand the

feeling of having a child or two in class who make you

want to tear your hair out, after all we are only human.

But it is important to remember that our pupils are only

children.

P A G E 4 8 | I S S U E 4 | I N N O V A T E D | A U T U M N 2 0 2 0
---
Jo Ware, Vice Principal, Plymouth UTC

UTCs are all about technology – so why does Plymouth

UTC have such a strong focus on handwriting?

Presentation matters. This is one of the first things young

people learn when they join us at UTC Plymouth. We also

expect them to step up and learn the conventions of

operating in a workplace, from shaking hands to

expressing themselves clearly, both orally and in writing.

Despite daily use of Chromebooks and other technology,

we encourage all our students to improve their

handwriting as they will need it for exams, filling in forms

and for workplace note taking.

I have heard it claimed that boys' handwriting is worse

than girls, but this has not been the experience in our

college. However, when students join us from

mainstream schools in year nine, their handwriting can

look childish. We want them take pride in their work.

Word processed text has that neat, uniform appearance

but it is impersonal and not always appropriate. What we

don't want is young people letting themselves down with

ill formed letters and illegible work.

Here are our five top tips for improving handwriting:

Give them the tools. We buy in special handwriting

pens and have gathered together materials based on

a variety of resources. However, one of the most

successful interventions has been gel and glitter

pens. They have amazing colours, feel special and

the students enjoy using them. Recently they have

used them for work in the maths department and

lecturers cannot believe the difference in

presentation.

Display and celebrate. Professor John Hattie's

Principles of Visible Learning inform much of our

work at the UTC and we are always looking for

opportunities to help students demonstrate their

progress to themselves, to their peers, and to the

teacher. We have what we call WAGOLL boards

(What A Good One Looks Like) where we collect

pictures of their very best work and students are

proud put forward pieces of their work to be

photographed.

Revisit regularly. Our new year nine intake have

made great strides with their handwriting and so we

will be showing some of their 'before and after' work

to year elevens, just to let them know they will have

to up their game before the exams! •

Presentation Matters

Give them a reason to improve. We make it clear that

good handwriting is part of being an adult. They are

moving on from being a pupil in a secondary school to

being a young employee in a workplace and their

image will be affected if they have a childish scrawl.

'The future will thank you for this'. We focus on

metacognition in the college and encourage children

to be more organised. It is much easier to revise and

learn from beautifully presented notes that are well

structured and easy to read. This is an investment in

their future.

P A G E 5 2 | I S S U E 4 | I N N O V A T E D | S P R I N G 2 0 2 0