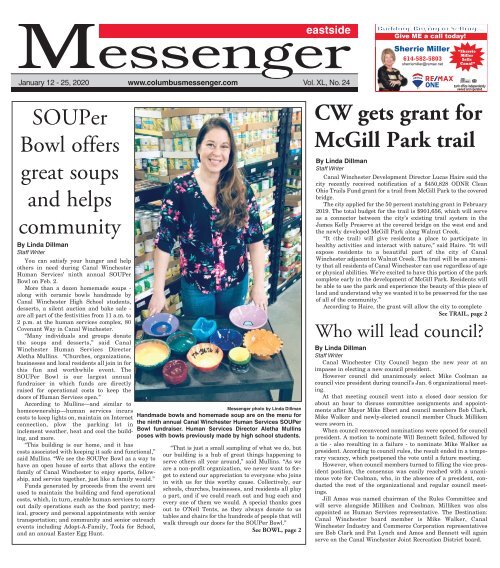 Eastside Messenger - January 12th, 2020
You also want an ePaper? Increase the reach of your titles
YUMPU automatically turns print PDFs into web optimized ePapers that Google loves.
eastside

January 12 - 25, 2020 www.columbusmessenger.com Vol. XL, No. 24

Building, Buying or Selling...

Give ME a call today!

Sherrie Miller

614-582-5803

sherriemiller@remax.net

"Sherrie

Miller

Sells

Canal"

Each office independently

owned and operated.

SOUPer

Bowl offers

great soups

and helps

community

By Linda Dillman

Staff Writer

You can satisfy your hunger and help

others in need during Canal Winchester

Human Services' ninth annual SOUPer

Bowl on Feb. 2.

More than a dozen homemade soups -

along with ceramic bowls handmade by

Canal Winchester High School students,

desserts, a silent auction and bake sale -

are all part of the festivities from 11 a.m. to

2 p.m. at the human services complex, 80

Covenant Way in Canal Winchester.

"Many individuals and groups donate

the soups and desserts," said Canal

Winchester Human Services Director

Aletha Mullins. "Churches, organizations,

businesses and local residents all join in for

this fun and worthwhile event. The

SOUPer Bowl is our largest annual

fundraiser in which funds are directly

raised for operational costs to keep the

doors of Human Services open."

According to Mullins–and similar to

homeownership–human services incurs

costs to keep lights on, maintain an Internet

connection, plow the parking lot in

inclement weather, heat and cool the building,

and more.

"This building is our home, and it has

costs associated with keeping it safe and functional,"

said Mullins. "We see the SOUPer Bowl as a way to

have an open house of sorts that allows the entire

family of Canal Winchester to enjoy sports, fellowship,

and service together, just like a family would."

Funds generated by proceeds from the event are

used to maintain the building and fund operational

costs, which, in turn, enable human services to carry

out daily operations such as the food pantry; medical,

grocery and personal appointments with senior

transportation; and community and senior outreach

events including Adopt-A-Family, Tools for School,

and an annual Easter Egg Hunt.

Messenger photo by Linda Dillman

Handmade bowls and homemade soup are on the menu for

the ninth annual Canal Winchester Human Services SOUPer

Bowl fundraiser. Human Services Director Aletha Mullins

poses with bowls previously made by high school students.

"That is just a small sampling of what we do, but

our building is a hub of great things happening to

serve others all year around," said Mullins. "As we

are a non-profit organization, we never want to forget

to extend our appreciation to everyone who joins

in with us for this worthy cause. Collectively, our

schools, churches, businesses, and residents all play

a part, and if we could reach out and hug each and

every one of them we would. A special thanks goes

out to O'Neil Tents, as they always donate to us

tables and chairs for the hundreds of people that will

walk through our doors for the SOUPer Bowl."

See BOWL, page 2

CW gets grant for

McGill Park trail

By Linda Dillman

Staff Writer

Canal Winchester Development Director Lucas Haire said the

city recently received notification of a $450,828 ODNR Clean

Ohio Trails Fund grant for a trail from McGill Park to the covered

bridge.

The city applied for the 50 percent matching grant in February

2019. The total budget for the trail is $901,656, which will serve

as a connector between the city's existing trail system in the

James Kelly Preserve at the covered bridge on the west end and

the newly developed McGill Park along Walnut Creek.

"It (the trail) will give residents a place to participate in

healthy activities and interact with nature," said Haire. "It will

expose residents to a beautiful part of the city of Canal

Winchester adjacent to Walnut Creek. The trail will be an amenity

that all residents of Canal Winchester can use regardless of age

or physical abilities. We're excited to have this portion of the park

complete early in the development of McGill Park. Residents will

be able to use the park and experience the beauty of this piece of

land and understand why we wanted it to be preserved for the use

of all of the community."

According to Haire, the grant will allow the city to complete

See TRAIL, page 2

Who will lead council?

By Linda Dillman

Staff Writer

Canal Winchester City Council began the new year at an

impasse in electing a new council president.

However council did unanimously select Mike Coolman as

council vice president during council's Jan. 6 organizational meeting.

At that meeting council went into a closed door session for

about an hour to discuss committee assignments and appointments

after Mayor Mike Ebert and council members Bob Clark,

Mike Walker and newly-elected council member Chuck Milliken

were sworn in.

When council reconvened nominations were opened for council

president. A motion to nominate Will Bennett failed, followed by

a tie - also resulting in a failure - to nominate Mike Walker as

president. According to council rules, the result ended in a temporary

vacancy, which postponed the vote until a future meeting.

However, when council members turned to filling the vice president

position, the consensus was easily reached with a unanimous

vote for Coolman, who, in the absence of a president, conducted

the rest of the organizational and regular council meetings.

Jill Amos was named chairman of the Rules Committee and

will serve alongside Milliken and Coolman. Milliken was also

appointed as Human Services representative. The Destination:

Canal Winchester board member is Mike Walker, Canal

Winchester Industry and Commerce Corporation representatives

are Bob Clark and Pat Lynch and Amos and Bennett will again

serve on the Canal Winchester Joint Recreation District board.
---
PAGE 2 - EASTSIDE MESSENGER - January 12, 2020

www.columbusmessenger.com

Franklin County coroner issues overdose death report

The Franklin County Coroner's Office

released its preliminary overdose death

statistics for the first nine months of 2019.

The statistics used are decedents who

have died of overdoses in the county using

injury location, not residence.

The coroner office statistics are sometimes

different from those of the state and

other agencies who use decedents who have

died of overdoses in the county using residence

only.

By using injury location, the coroner's

office captures persons who are homeless

with last known addresses in other counties

or states, persons who are "couch surfing"

with last known addresses outside of

Franklin County, persons who have moved

Valentine's Show

Mike Albert

&

The Big E Band

Tickets - $ 51.00 (Includes dinner)

Sat., Febuary 15th

Villa Milano - 1630 Schrock Rd.

Doors Open - 5:30pm | Dinner - 6:30pm

Show -7:30pm

CALL FOR TICKETS

(614) 792-3135

For the first three quarters of

2019, 69.4 percent of the overdose

deaths were male and 30.6 percent

were females. In terms of age,

the highest number of those who

died of overdoses were between

the ages of 30 and 49.

in with someone unofficially with outside

last known addresses, and persons who

overdose and die in motels/hotels but have

last known addresses elsewhere.

From Jan. 1 to Sept. 30, 2019 the

Franklin County Coroner's Office saw 421

Madison Township

Police statistics

December crime statistics for Madison

Township, according to the Madison

Township Police:

39 assist/mutual aid, 3 animal complaint,

3 burglary, 23 domestic complaints,

5 missing persons, 15 suspicious

persons, 9 larceny/thefts, 5 assaults, 4

threats or harassment, 56 traffic offenses,

5 DUI, 7 accidents with injuries, 19 property

damage accidents, 1 shooting, 1 shots

fired in area, 1 stabbing/cutting, 1 vandalism,

5 hit-skip accidents, 308 dispatched

calls, 490 non-dispatched calls.

CW Library Branch

The Canal Winchester Branch of the

Columbus Metropolitan Library, 115

Franklin St. (located in the rear portion of

the former school at 100 Washington St.),

is open Monday through Thursday from

noon to 7 p.m. and Friday and Saturday

from noon to 6 p.m.

people die of overdoses.

This is approximately an increase of 15

percent from the same period last year.

Opiate-related deaths accounted for 90 percent

of overdose deaths for the first three

quarters of 2019. Fueling this was fentanyl

which accounted for 83.6 percent of all

overdose deaths.

Carfentanil-related overdose deaths

accounted for 3.5 percent, and heroin-related

deaths accounted for 7.6 percent of all

overdose deaths.

Cocaine, methamphetamine and cocaine

with fentanyl related overdose deaths:

cocaine: 40.8 percent, methamphetamines:

10.6 percent, and cocaine + fentanyl: 35

percent.

Day at the Museum

Drop in to the Groveport Heritage

Museum, 648 Main St., from 1-4 p.m. on

Jan. 25 to learn about bygone forms of entertainment.

There will be items to use and

explore that adults and children will find

interesting and amusing. Mini-tours and

scavenger hunts will be available, as well as

a craft. Experience various ways to play

music — from Victrolas to old record players

and tapes. Find out what preceded 3D

movies. Take part in old-fashioned parlor

games. For information call 614-836-3333.

TRAIL

Continued from page 1

more of the planned improvements to

McGill Park within an expedited time

frame, starting with the first phase later

this year, which includes athletic fields, a

playground, shelter houses, utilities, an

access drive and parking.

"The trail will connect to these amenities

when complete," Haire said.

The estimated cost for the first phase of

improvements at McGill Park, including

items previously mentioned, is approximately

$2.1 million. The city was awarded

a $500,000 grant last year to complete

improvements through the National Park

Service's Land and Water Conservation

Fund.

"We are awaiting a final signed agreement

so that we may begin this phase of

work later this year," said Haire. "Our

hope would be to bid the projects together

and complete them at the same time."

BOWL

Continued from page 1

Mullins said part of human services'

mission statement is to connect people,

resources, and compassion together in

order to support and serve our local community

in life-changing ways.

"We see these elements merge and come

together every day of the year, whether it

is for a food drive, outreach event, or taking

a cancer patient to their medical

appointments."

Individuals and groups interested in

donating to the SOUPer Bowl can visit

Looking at race and ethnicity, 28 percent

of those who died of overdose deaths

were African-American, 67 percent were

Caucasian, 3 percent Hispanic, 1 percent

Asian and 1 percent other, according to the

coroner's office.

For the first three quarters of 2019, 69.4

percent of the overdose deaths were male

and 30.6 percent were females. In terms of

age, the highest number of those who died

of overdoses were between the ages of 30

and 49.

The five zip codes with the highest number

of overdose deaths for this period were:

43211, 43207, 43229, 43204, and 43232.

Drug Drop Box

The Madison Township Police

Department provides an opiate prescription

"Drug Drop Box" for the community.

This drop box is located in the lobby of the

Madison Township Police Department,

4567 Madison Lane, and is accessible to

the public Monday through Friday 8 a.m.

to 5 p.m. Any person can walk-in and dispose

of new or old pills, including prescription

medications, or any other illegal substances

and place them into this box with

no questions asked.

The city previously received an ODNR

$100,000 Nature Works grant to complete

improvements to Westchester Park,

including additional playground equipment,

a shelter house, expanded parking,

and enhancement of an existing nature

trail.

"With the three grants combined, the

city has received over $1 million in grant

funding related to parks in less than two

years," said Haire. "This is a direct result

of the Master Parks Plan that the city completed

in 2017 and adopted in 2018. This

set the direction for the improvements that

were necessary and gained the public input

and support to pursue these plans. Having

this document assisted in writing all of the

grants and showed the scoring committee

that there was community engagement

and support for these improvements."

www.facebook.com/cwhumanservices or

www.cwhumanservices.org. Cash or check

payments can be mailed or dropped off at

80 Covenant Way, Canal Winchester, OH

43110 any time. Donations will also be

accepted on the day of the SOUPer Bowl

event on Feb. 2.

The SOUPer Bowl has been held on

Super Bowl Sunday each year since 2012,

but wraps up well before the NFL's annual

Super Bowl game kicks off.
---
www.columbusmessenger.com

What to do with former auto museum?

By Linda Dillman

Staff Writer

The quest for consolidated municipal space in a sprawling

building formally housing a Canal Winchester auto museum

moved into the legislative phase following a Dec. 16 public meeting.

Up for discussion was an ordinance proposing the $2.4 million

purchase of a 23,700 square foot structure sitting on a 1.29-acre

site at 45 E. Waterloo St. Opened in the summer of 2014 by auto

dealer Bob McDorman, the auto museum closed in 2016 after

McDorman passed away in 2015 and its inventory liquidated in

2017.

If the purchase contract, up for a first reading during the regular

council meeting following the public meeting, is approved by

Feb. 12, the seller–Alice McDorman–agrees to finance the contract

on a 10-year term at 4 percent interest. The city would make

quarterly payments of approximately $73,000.

"This would centralize municipal operations within Old Town

of Canal Winchester so they remain in the heart of the community,"

said Canal Winchester Development Director Lucas Haire. "It

would provide for a larger public meeting space to allow for more

resident engagement. There's just not enough space in our current

environment."

It was standing room only during the Dec. 16 public meeting as

45 chairs were filled with community members hearing about the

details of the proposed agreement.

Haire said the new space would double the number of available

seats, while also providing overflow space if necessary, along with

expanded office space, meeting rooms, a new community center,

security upgrades and potential room for a larger library branch.

"We're still one of the fastest growing cities in Ohio," Haire

said. "It would provide an expanded area for the community center.

When we have heavy rains, that place floods. It's nearing the

end of its useful life."

Depending on needs, the Fairfield County Sheriff's Department

substation could move out of cramped quarters in the basement of

Town Hall, 10 N. High St., and occupy the first floor or take over

part of the 36 N. High St. municipal building.

Haire said the city looked other locations throughout the years,

including sites on North High Street, Groveport Road, Gender

Road, and West Waterloo Street, or expanding into Stradley Park.

He said none met the needs financially or physically that the

McDorman complex provides, even though the city will still need

to budget another $2.2 million for renovations.

"We have not discussed nor intend to ask for any debt from the

residents," said Canal Winchester Finance Director Amanda

Jackson, who said the contract would be covered by the general

fund, with the renovation initially funded by short-term borrowing.

"Financially speaking, our general fund is very healthy.

Typically we only budget what we think we'll take in and we've

done very well."

Haire said the Canal Winchester Branch of the Columbus

Metropolitan Library, currently located at 115 Franklin St., is

exploring the idea of relocating to 45 E. Waterloo St.–if the city

ends up purchasing the building–as part of an expansion plan.

There is approximately 8,000 square feet of available space on the

east side of the structure the city planned to initially lease to a

tenant complimenting municipal operations.

"I do like the idea of the library being a part of that," said Canal

Women's self-defense class

Don't be a victim! What you learn from this class

could one day help to save your life. Awareness, how

not to be a target, punching, striking, kicking, escape

holds and more will be covered. Groveport Police

Officers will serve as instructors. Sign up at the

Groveport Recreation Center, 7370 Groveport Road.

Class is limited to 30 participants and is being held on

Feb. 29 from 10 a.m. to 1 p.m. Fee is $10. Ladies must

be at least age 14 to participate. For information call

614-836-1000.

Messenger photo by Rick Palsgrove

The city of Canal Winchester is seeking to purchase this former

auto museum located on East Waterloo Street.

Winchester City Councilman Mike Walker.

Resident Randy Stemen said larger council chambers and an

upgraded community center would be nice, but he also feels the

city should first list needs and then set priorities. He questioned

why the city is interested in keeping municipal operations downtown.

Former city council member Bobbie Mershon called for another

preliminary study of the current municipal

building and potential for expansion.

"You are taking a whole block of downtown

and creating a space that does not create

tax dollars," said Mershon. "You don't

want to take up such a big footprint with

non-tax generating dollars.

Mershon feels the proposed complex is

also over-priced. According to Haire, the

building was initially listed at $3.2 million.

The city's intent to purchase agreement is

$2.4 million.

"I like the overall concept of the building,"

Canal Winchester City Councilman

Pat Lynch, "but it's one big piece of an overall

puzzle. I want a clear understanding of

where the money's coming from and future

expansion."

While Lynch and Councilman Will

Bennett voted against untabling the ordinance

and Councilman Bruce Jarvis

abstained citing he would not be on the

council when final action was taken, the

ordinance was untabled by the four remaining

council members and moved on for a

first reading on the regular agenda at a

future meeting.

Special Olympics

A local chapter of Special Olympics Ohio formed in

the Groveport/Canal Winchester area. The mission of

Special Olympics Ohio is to provide year round sports

training and competition in a variety of Olympic type

sports for intellectually disabled individuals. For information

contact Penny and Cassandra Hilty at groveportspecialolympics@gmail.com

or at (614) 395-8992 or

395-6640. Donations may be sent to Groveport Special

Olympics, P.O. Box 296, Groveport, OH 43125.

January 12, 2020 - EASTSIDE MESSENGER - PAGE 3

columbusmessenger.com

eastside

Messenger

(Distribution: 13,559)

Rick Palsgrove................................Eastside Editor

eastside@ columbusmessenger.com

Published every other Sunday by

The Columbus Messenger Co.

3500 Sullivant Ave., Columbus, Ohio 43204-1887

(614) 272-5422

Coloring Contest

Winners

3-5 Age Group:

1st place: Claire W.

2nd place: Abby S.

3rd place: Josie G.

6-9 Age Group:

1st place: Autym Y.

DENTAL Insurance

Physicians Mutual Insurance Company

A less expensive way to help get the dental care you deserve

If you're over 50, you can get coverage for about

$1 a day*

Keep your own dentist! You can go to any dentist

you want

NO annual or lifetime cap on the cash benefits

you can receive

FREE Information Kit

1-877-308-2834

www.dental50plus.com/cadnet

No wait for preventive care and no deductibles –

you could get a checkup tomorrow

Coverage for over 350 procedures including

cleanings, exams, fillings, crowns…even dentures

*Individual plan. Product not available in MN, MT, NH, NM, RI, VT, WA. Acceptance guaranteed for one insurance policy/certificate of this type. Contact us for complete details

about this insurance solicitation. This specific offer is not available in CO, NY; call 1-800-969-4781 or respond for similar offer. Certificate C250A (ID: C250E; PA: C250Q);

Insurance Policy P150 (GA: P150GA; NY: P150NY; OK: P150OK; TN: P150TN)

6096E-0917 MB17-NM008Ec

Winchester

Dental

Call us today to schedule

an appointment.

Winchester Square

Shopping Center

614.834.1834

Ladan Pourmoghadam

D.D.S.

Now offering our

'Smile Plan' to our

non-insured patients

Look Great

Feel Great

Sleep Great

Providing Gentle,

Caring Dentistry

In a Comfortable

Setting.

Accepting New Patients

Most Insurances Accepted
---
PAGE 4 - EASTSIDE MESSENGER - January 12, 2020

columns

www.columbusmessenger.com

"e Grudge" is a hodgepodge of haunting stories

A new decade has begun on the silver

People can't call it lazy because it's Spencer (John Cho and Betty Gilpin) and

screen and with it comes the death of the The Reel Deal

married elderly couple William and Faith

not a traditional reboot and there is still a

reboot and the birth of the continuation.

Matheson (Frankie Faison and Lin Shaye).

market for it because it adds on to a

Long noting and never caring about the Sarah Michelle Gellar,

Each tale tells of their experience with this

general public's growing discontent with

known property. It's quite the con, but I

which was itself an

unknown entity that haunts.

the reboot, movie studios have decided now

appreciate the attempt at the appearance

of originality.

American reboot of the

Though each tale is portrayed by strong

is the time to turn over a new leaf and 2002 Japanese film

character actors, had writer and director

lessen their reliance on the sure-fire cash "Ju-On." It begins back

Nicolas Pesce decided to trim one or two

new partner, Detective Goodman (Demian

grab. To make up for this potential loss in in Tokyo where the latest

caretaker of the

of-view, this film would have felt more com-

storylines, or maybe chosen a main point-

Bichir), discover a heavily decomposed

profits, the studios have craftily rebranded

body in a car in the woods off of a service

these properties and transformed them Saeki home has tendered

her resignation.

ing like a hodgepodge of angry ghosts with

pact and cohesive; instead it ends up feel-

road. In the glovebox, it says her last

into continuations of a shared universe.

Dedra

known address was 44 Reyburn Drive, a

This term is an interesting mix of ideas; Like all who step foot

interconnected stories.

location which causes Goodman's face to

it starts with the pitch to reboot a property in that house, Fiona Cordle

There are elements of a good movie here;

pinch more severely.

that has been stagnant for five or more Landers (Tara

it's based on an expression of the grief and

Upon the prompting of Muldoon,

years and the rejection due to the lack of Westwood) is disturbed by its oppressive

rage left behind at places of emotional

Goodman tells her of the murder-suicide of

originality. At that same meeting, they feeling and believes the only way to get rid

impact, it's moody and atmospheric and it

an entire family years prior, and the slow,

brainstorm ways to tweak the property so of that sensation is to get as far away as

features a great cast. It just doesn't work

mental deterioration of his former partner

something fits into that universe, it is possible.

because there is too much going on with too

who was obsessed with the case. Knowing

promptly greenlit due to the abundance of Shortly after, she is seen at her home in

little time devoted to establishing a relationship

between the characters and the

that she is interested in the case, Goodman

new ideas and — voila — you have a fresh Pennsylvania, happily hugging her family warns his new partner away from the

continuation. People can't call it lazy and then experiencing hallucinations of a

audience.

house, telling her not to step foot in it as it

because it's not a traditional reboot and dark presence. Fast forward two years and

You feel bad that they're being haunted,

gives off an evil vibe. Naturally, she doesn't

there is still a market for it because it adds we are introduced to Detective Muldoon

but not so bad that you don't stop to check

listen and a slew of ghostly apparitions

on to a known property. It's quite the con, (Andrea Riseborough, whose character is

for the time every 10 minutes either.

soon begin.

but I appreciate the attempt at the appearance

of originality.

into the same small town with her young

Dedra Cordle is a Messenger staff writer

never given a first name) who has settled

Grade: D+

As their story is being told, the rest of

the film unfolds in a non-linear fashion,

The first of a slate of new films to son after the death of her husband.

and columnist.

cutting between the Landers family, married

real estate agents Peter and Nina

receive this treatment is "The Grudge," a At her first day on the job, she and her

continuation of the 2004 film starring

Two unique books for your reading consideration

One of the wondrous things about books

is that they can take on a variety of forms

in which to present information, provide

entertainment, and generate insight.

Two books I enjoyed this past year are

examples of how the traditional narrative

form of a novel or short story can be molded

into something else entirely and be just as

delightful and intriguing.

The books are "Humans of New York:

Stories," by photographer Brandon

Stanton; and "Notes From a Public

Typewriter," edited by Michael Gustafson

and Oliver Uberti. The strength of both

books is that they offer personal and philosophical

insights from every day people in

a mere paragraph, or sometimes, one sentence.

Though short, these passages are, in

essence, fully formed short stories in their

own right.

"Humans of New York: Stories" sprang

from Stanton's online blog, "Humans of

New York." Over the past few years

Stanton has photographed and interviewed

about 10,000 strangers of all ages he met

on the streets of New York. Each page of

the book has a photo of the interviewee and

some statements from Stanton's interviews

with them. It is personal storytelling with

a face. Stanton's photos appear to capture

the personalities of the anonymous people

being interviewed.

There's a photo of a pensive man, who

looks to be approaching middle age, sitting

Editor's Notebook

in a park. He

observes to Stanton

that, as we age, there

are fewer things to

experience for the

first time and, even

when one does, the

excitement is muted.

But he adds one also

does not feels as hurt.

He then ponders

what it will feel like

when he reaches age

70.

Rick

Palsgrove

Another photo

shows a man walking

with a cat on his head. The man matter-offactly

tells Stanton that one can make

more money with a cat on one's head than

if the cat is on one's shoulder.

Some of the people's comments express

alienation. Some are joyful. Some people

are forthcoming with their words and others

are more reticent. Some are sad. Some

are funny, such as the little girl who told

Stanton she wanted to be a princess hairdresser.

When he asked her what the hardest

part of that job was she answered that

it would be cutting Rapunzel's hair.

I often make notes in the books I own of

the page numbers and passages I like and

will revisit in the future. My copy of

"Humans of New York: Stores" has dozens

of such notations.

The content in "Notes From a Public

Typewriter" was gathered when a typewriter

with paper was set up in a Michigan

book store and people were invited to

anonymously type a message. Much like in

"Humans of New York: Stories," the passages

in "Notes From a Public Typewriter"

can be a paragraph, a sentence, or one

word. Where "Humans of New York:

Stories" presents storytelling with a face

filtered through an interview, "Notes From

a Public Typewriter" brings the typists'

thoughts directly to you from their brains,

through their fingers on the typewriter

keys, to the typefaced words all can read.

The many typed messages collected in

the book are widely varied in temperament

and can be described as poignant, humorous,

hopeful, raw, sad, philosophical,

romantic, questioning, and more. Some

examples include: someone who typed that

they race snowflakes to see who falls first;

a writer comparing their lover's eyes to

that of wonderful August skies; another

noted that they were on a date, but their

bladder was leaking; and, in what had to be

more youthful typists, asking where the

power button is on the typewriter and

another who wrote if they had to type an

essay on "this thing" they would quit

school.

Both books are a random sampling of

the thoughts that go through our heads on

a daily basis. A dominant theme in both

books is love and relationships, which indicates

the age old battle of loneliness marches

on.

One typist's comment seemed to sum up

both books' contents, as well as the human

condition, as they wrote that, in the end,

we are all stories.

Rick Palsgrove is editor of the Eastside

Messenger.

Letters policy

The Eastside Messenger welcomes

letters to the editor. Letters cannot be

libelous. Letters that do not have a signature,

address, and telephone number, or

are signed with a pseudonym, will be

rejected. PLEASE BE BRIEF AND TO

THE POINT. The Messenger reserves

the right to edit or refuse publication of

any letter for any reason. Opinions

expressed in the letters are not necessarily

the views of the Messenger. Mail letters

to: Eastside Messenger, 3500 Sullivant

Avenue, Columbus, OH 43204; or email

eastside@columbusmessenger.com.
---
www.columbusmessenger.com

January 12, 2020 - EASTSIDE MESSENGER - PAGE 5

Obetz passes 2020 budget totaling more than $48 million

By Ris Twigg

Staff Writer

The village of Obetz passed its final

2020 appropriations budget and created

two new divisions at its December council

meeting.

Obetz's general fund for 2020 totals

more than $14.7 million for the upcoming

year and can be spent on any legal village

expenses, while the rest of the budget –

which has a series of funds meant for specific

purchases only – adds up to more

than $33 million.

"We have loaded everything in that you

need to be able to function," said Rod

Davisson, Obetz economic development

director. "I expect we will re-look at these

things more closely in January and make

sure that both the outgoing council and

incoming council have a chance to coordinate."

The total $48.8 million appropriations

budget only covers the village's expenses,

Davisson said, and does not include revenue.

Notable line items in the budget

include: $1 million for the capital improvement

fund for things like new parks and

over $2.5 million for street improvements,

among other expenditures.

One difference between this year's budget

and last year's is that Obetz's capital

outlay numbers have decreased because

the village has been taking loans from

funds in future years in order to "deliver

projects now and pay (them) back later,"

Davisson said.

Two public works divisions created

In addition to passing their annual

budget appropriations, council created two

new divisions within Obetz's Department

of Public Works and codified four other

divisions in both the Department of Public

Works and the Department of

Development.

Three of the divisions have appointed

directors moving into 2020, and the

remaining will be filled in as the need arises,

Davisson said.

"As we move toward becoming a city,

things become more regimented, and you

need more structure in that," he said. "This

is installing that structure."

The two new divisions include a grounds

crew and space for research and development,

a division Davisson said will make

the village more efficient.

"We realize when you buy stuff as a village,

it's expensive. You're using taxpayers'

hard-earned money to buy things that

aren't terribly sexy, like stop signs,"

Davisson said. "We have taken the

approach here that government can do better."

For instance, the Village of Obetz

pets of the week

invested in a field-lining robot. According

to Davisson, it takes two workers about

three days to line one football field. The village

lines a variety of sports fields about

15-20 times a year, he said.

"So we bought a $30,000 robot. You put

paint in it, turn it on, and it does a football

field in two-and-a-half hours. So it's those

investments – either buying new technology

and implementing it or developing our

own – that are going to allow us to remain

efficient stewards of the taxpayers' money,"

Davisson said.

Mayor recognized; Wiley and Hall

are honored for their service

Obetz Village Council recognized Mayor

Greg Scott's service to Obetz over the last

15 years and said their goodbyes to the outgoing

mayor.

During his time as Obetz mayor, Scott

helped spur the construction of Fortress

Obetz, added over 300 acres to the Obetz

park system and helped bring thousands of

jobs – and their income tax revenue – to

Obetz.

Council also passed ordinances renaming

two separate Obetz facilities after two

Obetz staff members who passed away this

fall.

Jim Wiley was a former village council

member who passed away in November.

Council posthumously honored him at the

meeting by renaming the newly-constructed

Obetz Sledding Hill to "Wiley Hill."

Both Scott and Davisson agreed that

Wiley was "an advocate for the kids."

"If you said, 'We're going to spend a $100

million to make an Obetz kid happy', he

would have said, 'Yes, let's do it,'" Davisson

said. "Jim was a man of the people. He

wanted to be out there. He wanted to hear

what people thought and that's going to be

hard to replace."

Another staff member, Kevin Hall, former

superintendent of Obetz's service

department, unexpectedly passed away

this fall just four weeks after his cancer

diagnosis, Davisson said.

To honor his years of work in the service

department, council named the Obetz service

complex the "Kevin M. Hall Service

Complex" to keep his legacy of kindness

and hard-working spirit alive in Obetz for

years to come.

Both of these places – the Kevin M.

Hall Service Complex and Wiley Hill – are

located right next to each other.

Council held a tribute to Wiley on

Thursday, Dec. 19 in the council chamber

at 4175 Alum Creek Drive.

"Both of them were tragic losses for us.

They are going to be impossible to replace

for us and both of them happened way too

quickly," Davisson said.

Tristan, 3, is still hanging

out at the shelter

waiting for his forever

family. This affectionate

guy is smart, quiet and

housebroken. His

sleepover host said

"Tristan is an absolute

angel!" We also learned

he's not a fan of stairs.

His favorite TV channel

is the Food Network as he loves treats. Share

some bacon cookies with this handsome guy

today. He is up for adoption at the Franklin

County Dog Shelter.

FYI: 614-525-3647 or www.franklincountydogs.com

Jerome is patiently

waiting at the shelter to

meet you. This 1-yearold

sweet guy can get a

little hyper and will need

positive reinforcement

training to learn some

manners. Because of

this, we recommend he

be in a home with older

children. Come check

out this large mixed breed guy today at the

Franklin County Dog Shelter.

FYI: 614-525-3647 or www.franklincountydogs.com

Omega watched as everything was moved

out of the house, except him. They came and

fed him, but left him in

his crate for many days

alone. They frantically

tried to find someone to

take him but no one

said yes. Now Omega is

safe with us and is

seeking a new family

and home. He's a big,

playful boy that is still a

little nervous but doing

well in foster care. DOB Aug 2018 Omega is

a boxer/mastiff mix weighing 65 lbs. He's

neutered, microchipped, heartworm negative

and up to date on vaccines. He would be

best suited in a home without small children

due to his energy level and size. He's in a foster

home so if you are interested in adopting

him, fill out an online adoption application at

https://colonycats.org/adoption_app.html

Otter, a ticked tabby

who was born April

2017, is currently in our

Zen Den at the adoption

center as she's a bit on

the shy side. She purrs

non-stop and is hoping

someone will open their

heart and home to her.

She's very playful and

sweet. Otter is spayed,

microchipped, FL/FIV

negative and up to date on vaccines. 2740

Festival Lane, Dublin, OH 43017

www.colonycats.org
---
PAGE 6 - EASTSIDE MESSENGER - January 12, 2020

www.columbusmessenger.com

CW Human Services had a busy year in 2019

By Linda Dillman

Staff Writer

Canal Winchester Human Services has

come a long way from its humble beginnings

in 1955 when a local family lost their

home in a fire and the town responded by

forming Emergency Assistance and Adopt-

A-Family programs.

Over the course of 65 years, more programs,

such as senior transportation and

the food pantry, were added as need and

the population grew.

"The scope and depth at which we can

impact those in our immediate area has

made CW Human Services a hub of compassion

in Canal Winchester, meeting people

'where they are in life' in very practical

and meaningful ways," said Canal

Winchester Human Services Director

Aletha Mullins.

Last year, staff changes found Mullins

promoted from operations manager to

director. Shortly thereafter, two new staff

members were hired to oversee daily operations

and provide communications and

grant writing support for the organization

as a whole.

"A specific challenge we faced in 2019

had to do with revamping the digital face of

our organization with a redesigned website

and more intentional use of media such as

Facebook," said Mullins. "We are a hub of

"An ongoing challenge that any

non-profit organization faces on a

yearly basis is in finding the balance

between funding the various programs

within the organization while

also seeking and acquiring funds for

operational costs that are not always

provided for with program-specific

grants and donations."

- Aletha Mullins, director

CW Human Services

so many events and activities with connections

to so many people, and we found we

needed to connect and communicate what

we are doing in more intentional and sometimes

real-time ways."

In December, human services needed

children's coats for its annual Adopt-A-

Family program, and, within 24 hours of

posting the need on the organization's

Facebook page, more than 50 coats were

donated overnight in its drop box.

Emergency Assistance provides financial

help towards utility shut-off and

rent/mortgage eviction situations. In 2019,

21 families were provided assistance.

Senior Transportation fulfills a variety

of needs, from medical appointments to

personal trips. Group trips are scheduled

every week to four local groceries in the

community. In 2019, 4,123 one-way trips

were driven for a total of 33,284 miles.

The Community Food Pantry is a designated

Choice Pantry where clients have the

opportunity to shop for preferred foods

twice a month and up to a total of 30 meals

per family each month.

Under the umbrella of the food pantry,

low-income students within the school district

are also served through the Feeding

Our Future weekend backpack program,

which provides food to these students

throughout the school year by sending food

home each Friday.

In 2019, the Choice Pantry served 5,573

individuals and 77,147 meals were provided

overall.

Over 100 students were given weekend

food through the backpack program, for a

total of 2,492 meals.

Nearly 300 individuals and 72 families–including

208 children–were served

in 2019 through Community and Senior

Outreach, which assists the youngest to

the oldest within the Canal Winchester

community.

Programs include once-a-month senior

lunches at the Steube Community Center;

Tools for School, which assists students

throughout the year; and, Adopt-a-Family,

which provides gifts, clothing and all the

"fixin's" for a family Christmas dinner.

"An ongoing challenge that any nonprofit

organization faces on a yearly basis

is in finding the balance between funding

the various programs within the organization

while also seeking and acquiring funds

for operational costs that are not always

provided for with program-specific grants

and donations," said Mullins. "We have

found that many people use our programs,

but they don't realize the full scope of what

we do across the board."

At the end of 2019, Destination:Canal

Winchester held their first annual

Reindeer Run with proceeds directly benefiting

the Adopt-A-Family program.

Mullins said there are two other fundraisers

on the horizon that will also support

Adopt-A-Family and other outreaches as

well.

"In general, our new staff will be reaching

out to churches and organizations to

maintain and/or strengthen our partnerships

and potential impact in our community,"

said Mullins. "People can find out

about our organization, programs, and

events at www.cwhumanservices.org, at

facebook.com/cwhumanservices, or call

614-834-4700."

Township Police &

collaborative standards

The Madison Township Police

Department and the Hilliard Division of

Police implemented state standards established

by the Ohio Collaborative

Community-Police Advisory Board as part

of the state's efforts to strengthen community

and police relations.

There are 449 agencies employing over

26,000 officers (representing over 75 percent

of all law enforcement officers in Ohio,

including most of Ohio's metropolitan areas)

that are certified, and 57 that are in the

process of becoming certified by meeting

standards for the use of force, including deadly

force, and agency recruitment and hiring.

The standards were developed and

established by the Ohio Collaborative

Community-Police Advisory Board as part

of the state's efforts to strengthen community

and police relations.

The state partnered with the Buckeye

State Sheriffs' Association and the Ohio

Association of Chiefs of Police to help certify

Ohio's nearly 900 law enforcement agencies

on a process to ensure that they are in

compliance with Ohio's new standards.

Legacy of Love 5K

The Legacy of Love 5K is coming on

March 22 at noon to the Groveport

Recreation Center, 7370 Groveport Road.

Previously held in Bexley, the Legacy of

Love 5K is the primary fundraiser for the

Alexandria Leigh Goodwin Angel

Foundation (ALGA), an organization committed

to creating a more positive, loving

world through random good deeds.

The Foundation was created in the

memory of Alexandria "Alex" Goodwin, a

2014 graduate of Groveport Madison High

School and a student who had just finished

her sophomore year at Capital

University at the time of her unexpected

passing.

Sara Sherman, ALGA founder/board

chair, said Alex's family and friends recognized

that the energy she created in the

world was still badly needed, and created

the ALGA Foundation in 2017 to continue

her spirit of kindness, and to encourage all

to build their own legacy of love by simply

performing random acts of goodness as the

opportunity arises.

To date, the foundation has given over

$4,000 in scholarships to Groveport

Madison High School graduates and

Capital University students, $1,000 to

Groveport Madison Human Needs, $400 to

Dolly Parton's Imagination Library of

Franklin County, and will soon deliver 30

sleeping bags to local residents experiencing

homelessness.

According to Sherman, the Legacy of

Love 5K is a high energy event with lots of

music, awards, goodies, and raffle prizes.

You can participate by running, walking,

cheering and/or donating; and of course, by

sponsoring.

More information is available at

www.alex5k.org/alex5k.

Register at www.alex5k.org/alex5k.
---
www.columbusmessenger.com January 12, 2020 - EASTSIDE MESSENGER - PAGE 7

ings. It hosted many historic events since

and create rock and gravel beds. These

Veterans exhibit

Restoring streams with

then including welcoming troops home

beds contribute additional services by creating

habitat for aquatic creatures, storing

Franklin County veterans who have from World War I and was visited by several

U.S. Presidents.

creek water and improving water quality.

innovative stream inserts

served and died during our nation's wars

now have a special exhibit dedicated in As the building changed over the Inasmuch as many of central Ohio's Twenty-two inserts have been installed

their honor which lists the veterans by decades, the plaques were moved around streams are impacted by urban development,

there is a pressing need for sustain-

Creekstone subdivision, and eighteen are

in the creeks running through the

name, thanks to an exhibit commissioned and spent many years in the former

by the Franklin County Board of Veterans Memorial, which was formerly at able ways to restore them.

being put into the stream in the Willow

Commissioners.

the site of the National Veterans Memorial Franklin Soil and Water Conservation Brook Crossing subdivision.

The exhibit includes a collection of historic

plaques that list the fallen veterans "The idea to restore and display these restoration that costs approximately one along the streams, which will also help

and Museum.

district has piloted a method of stream Trees and shrubs will also be planted

by name, as far back as the Revolutionary plaques on permanent display was an idea tenth of traditional stream restoration improve and protect water quality in these

War. The plaques had been created suggested by some local residents and we methods. With support from grants funded waterways. The Willow Brook Crossing

throughout the 1900s and had started to are glad they did," said commissioner John by the USEPA's 319 program and distributed

by the Ohio EPA, Franklin Soil and year, while the Creekstone project on

project will be completed by the end of the

show the effects of decades on display. O'Grady. "We were able with input from

The Franklin County commissioners local veterans to design a patriotic exhibit Water is in the process of implementing Dysart Run will be finished in the spring of

had the plaques restored and had an exhibit

custom built so these historic treasures sion for all those who see it. It is important restoration approach to improve water

that reveres and leaves a lasting impres-

two new projects, using this pioneering 2020.

could be revered by residents once again for that we always remember what these veterans

have done for us all."

and reduce the ever pressing issue of local-

Hopeful Hearts in CW

quality, enhance aquatic life and habitat,

years to come.

A dedication took place in Memorial Several other similar plaques were ized bank erosion.

Hopeful Hearts Free Children's

Hall, which is where most of the plaques placed in the National Veterans Museum The first stream insert project is being Clothing Ministry - a free baby clothing

were initially displayed.

and Memorial, giving them more exposure implemented in the Creekstone subdivision distribution for sizes infant to 5T, as well

"These plaques demonstrate the rich to visitors from across the country.

on headwater streams of Dysart Run in as shoes, blankets, bibs, small toys and

history of Franklin County veterans who The Memorial Hall exhibit includes two partnership with the city of Reynoldsburg other baby needs - is open the third

have served this great nation from its interactive displays that give a modern and Columbus Recreation and Parks. The Saturday of the month from 10 a.m. to noon

founding," said Marilyn Brown, president touch for these historic treasurers.

second is on an unnamed tributary of at Hope United Methodist Church, 83 E.

of the board of commissioners. "This memorial

is now in its rightful home and in a debt these men and women paid for all of Crossing subdivision and in being imple-

Everyone is welcome to come in and shop

"We know there is no way to repay the Blacklick Creek in the Willow Brook Columbus St. in Canal Winchester.

building that was solely dedicated to veterans."

is a way for Franklin County veterans to Township.

needs in sizes Infant to 5T.

us. However, with this exhibit we hope this mented in partnership with Jefferson for your free children's summer clothing

The idea for Memorial Hall was conceived

after the Civil War, but the building honored," said commissioner Kevin Boyce. tures that mimic leaky beaver dams. The Drop off donated items at the church.

always be remembered and their sacrifice The projects involve installing struc-

Everything is free and all are welcome.

would not be dedicated until 1906. It was Anyone wanting to see the exhibit can structures, called stream inserts or bioreactors,

filter the creek water, help add Call (614) 837-7548.

Clothing for all seasons is needed.

designed as a memorial and meeting place visit Memorial Hall, 280 E. Broad St., in

for war veterans, which also gave them a Columbus during business hours, primarily

between 8 a.m. and 4:30 p.m.

storage along the creeks, reduce

oxygen to the water, increase groundwater

space to host conventions and civic gather-

erosion
---
PAGE 8 - EASTSIDE MESSENGER - January 12, 2020

www.columbusmessenger.com

Theresa

Garee

Advertising Sales

Representative

Specializing in

Marketing and Advertising

Let's Get Your Business

Out to the Masses

Delivering to

100,000 Homes

Contact Me Today!

eastads@columbusmessenger.com

(614) 272-5422

"Bee-come" a beekeeper

The Fairfield County Beekeepers Association will

hold beginning beekeeper training classes on

Feb. 15, Feb. 22, and Feb. 29, from 9 a.m. - 3:30

p.m., at St. Mark's Church, 324 Gay St.,

Lancaster. Pictured here is FCBA member Steve

Saum inspecting a frame of bee brood (capped

larva in pupa stage). Cost for the classes is $85

for one student and includes a $20 beekeeping

book, a $15, one-year membership to FCBA, a

$20, one-year membership to OSBA; breakfast,

lunch, snacks, drinks (a $15 value); and a year of

support from experienced beekeepers. Tuition for

an additional family member (spouse or child age

9-18) attending and sharing a book is $65 each.

As a Fairfield County Beekeepers Association

member, you will have access to monthly beekeeper

training at meetings, discounts on products

and supplies, beekeeper contact list, club t-

shirts and participation in the club bee yard, on

the premises, observing, learning, and doing.

Registration is open now. Classes are limited to

35 students. Register online at

tinyurl.com/fcbashop or download the registration

form from FaceBook/Fairfield County

Beekeepers Association page under files, or

download form from

fairfieldocuntybeekeepers.org. Fill out and mail in

with payment. Email fairfieldcountybeekeepers@gmail.com

for information.

BETHANY

LUTHERAN

CHURCH, LCMS

1000 Noe-Bixby Rd.

Columbus, OH 43213

614-866-7755

Traditional Worship Service: 9:00 a.m.

Sunday School: 10:30 a.m.

Be a Part of Our Local Worship Guide

Our Worship Guide is geared toward celebrating faith and helping readers connect

with religious resources in our community. Make sure these readers know

how you can help with a presence in this very special section distributed to more

than 18,000 households in the Eastside area.

Contact us today to secure your spot in our Worship Guide.

614.272.5422 • kathy@columbusmessenger.com

eastside

BRICE

UNITED METHODIST

CHURCH

3160 Brice Road

Brice, Ohio 43109

614-866-3025

Pastor Phyllis Plear Dixon

Sunday Morning Worship Service - 10:30 a.m.

Barber Museum

The National Barber Museum in Canal

Winchester is located at 135 Franklin St.

(behind the former CW High School building).

The museum, housed in approximately

5,000 square feet, showcases art, artifacts,

and memorabilia from decades of the barbering

profession — from the early days

when surgeons and barbers served as one

to the present when those seeking a trim.

Regular hours are Friday and Saturday

from 11 a.m. to 4 p.m. or by appointment

(614) 837-8400.

The 47th Annual Winter Hike Series,

presented by Columbus and Franklin

County Metro Parks, runs Jan. 4 - Feb. 22.

This year's motto for the series is "Hike to

a Greener Place." For more information, go

to metroparks.net.

Anyone who completes at least seven

hikes receives an embroidered patch.

Anyone who completes all 13 hikes and is

a paying member of the Friends of the

Metro Parks receives a walking stick

and/or a medallion for the stick. Friends

membership is $10 per year. This year's

medallion pays tribute to the Scioto

Audubon Metro Park.

Dates, times, places and distances for

each of this year's hikes are as follows:

•Jan. 12—2 p.m., Prairie Oaks in West

Jefferson, 1, 3 or 5 miles, pets welcome;

•Jan. 18—10 a.m., Scioto Audubon,

downtown Columbus, 1 or 2 miles, pets

Metro Parks Winter Hike Series

GriefShare support group

Groveport United Methodist Church,

512 Main St., will sponsor a GriefShare

group beginning Jan. 9 at 7 p.m. The group

is open to anyone in the community or surrounding

area who has experienced the

loss of a spouse, child, family member, or

friend. If you would like to learn more

about GriefShare, check out the website at

http://www.griefshare.org/about.

Registration online is now available at

https://www.griefshare.org/groups/115138.

Call 614-836-5968 or email groveportgriefsharegroup@gmail.com

for information.

welcome;

•Jan. 25—10 a.m., Clear Creek in

Rockbridge, 1, 3 or 5 miles;

•Jan. 26—2 p.m., Inniswood in

Westerville, 2 miles;

•Feb. 1—10 a.m., Blendon Woods in

northeast Columbus, 2 or 4 miles;

•Feb. 2—2 p.m., Scioto Grove in Grove

City, 1 or 2 miles, pets welcome;

•Feb. 8—10 a.m., Highbanks in Lewis

Center, 2.5 or 5 miles;

•Feb. 9—2 p.m., Glacier Ridge in Plain

City, 2 miles, pets welcome;

•Feb. 15—10 a.m., Three Creeks in

Groveport, 1, 3 or 5.6 miles, pets welcome;

•Feb. 16—2 p.m., Slate Run in Canal

Winchester, 2.5 or 5 miles; and

•Feb. 22—10 a.m., Battelle Darby Creek

in Galloway, 2, 4 or 6 miles, pets welcome.

Hikes are free. No registration is

required.
---
www.columbusmessenger.com

January 12, 2020 - EASTSIDE MESSENGER - PAGE 9

CLASSIFIED ADS

Deadlines: Southeast and West editions, Wednesdays at 5 p.m., • East, Southwest, Madison editions, Tuesdays at 5 p.m.

All editions by phone, Tuesdays at 5 p.m. • Service Directory, Tuesdays at 5 p.m. • Main Street Mailbox, Tuesdays at 5 p.m.

xAuction

AUTHORIZING THE SALE AT PUBLIC AUCTION

OF REAL PROPERTY OWNED BY THE BOARD AND

NO LONGER NEEDED FOR SCHOOL PURPOSES

(Ohio Revised Code §3313.41)

WHEREAS, the Canal Winchester Local School District Board of Education (the "Board") is the owner of

approximately 2.50 acres of certain real property located at Groveport Road, Canal Winchester, Ohio, known

as Franklin County Auditor tax parcel number 184-002281-00 inclusive of all improvements located thereon

and more particularly described on the drawing attached hereto as Exhibit A (the "Property"), which Property

the Board has determined to offer for sale at public auction in the manner

prescribed by Ohio Revised Code ("O.R.C.") §3313.41.

NOW, THEREFORE, BE IT RESOLVED by the Board that:

Section 1. It is found and determined that the Property, which exceeds $10,000 in value, is no longer needed

for school purposes.

Section 2. The Board finds that there are no start-up community schools or collegepreparatory boarding

schools located within the territory of the School District and therefore the Board is not required to first offer

the Property to such entities pursuant to O.R.C. §3313.413(B). Further, there are no STEM/STEAM schools

in the District's territory entitled to notice of the sale under O.R.C. §3313.413(B) besides Canal Winchester

Middle School and Winchester Trail Elementary, but this Board is the governing board of those schools and

has determined the Property is not needed by such schools.

Section 3. The Property shall be presented for sale at public auction in the manner prescribed by O.R.C.

§3313.41 after giving at least thirty (30) days' notice of the sale by publication in the Eastside Messenger, a

newspaper of general circulation in the School District, in accordance with O.R.C. §3313.41.

Section 4. The sale of the Property shall be made on the following terms and conditions and such other terms

and conditions as the Board may subsequently impose prior to conducting the auction:

a. The auction will be conducted beginning at 6:00 p.m. on February 10, 2020 and will be held at the

Education Center, Board Room, located at 100 Washington Street, Canal Winchester, Ohio.

b. The auction shall be subject to a right of the Board to reject all bids for the Property if it finds that no

acceptable bids have been made.

e. The Property will be sold on an "AS IS, WHERE IS" basis, with no representations or warranties of any

kind given by the Board.

Section 5. The Superintendent, Treasurer, and/or Board President are hereby authorized and directed to do

all things necessary and consistent with this resolution to accomplish the sale of the Property at public auction,

including paying reasonable costs incurred in connection therewith. The Board President and Treasurer shall

execute the deed conveying the Property to the applicable purchaser at closing if the high bid is accepted by

the Board.

Auction

INFORMATION

ASSOCIATION ADS

INFORMATION

INFORMATION

See...

You Looked!

Newspaper

Ads Catch

The Eye!

Call

272-5422

For Info. &

Pricing

ASSOCIATION ADS

Two great new offers from

AT&T Wireless! Ask how

to get the Next Generation

Samsung Galaxy S10e

FREE. FREE IPhone with

AT&T's Buy one, Give

One. While supplies last!

CALL 1-866-565-8452 or

www.freephonesnow.com/

cadnet

GENERIC VIAGRA and

CIALIS! 100 Pills $99.00

FREE Shipping! 100%

guaranteed. 24/7 CALL

NOW! 888-889-5515

ASSOCIATION ADS

DISH Network $59.99 For

190 Channels. Add High

Speed Internet for ONLY

$19.95/month. Call Today

for $100 Gift Card! Best

Value & Technology.

FREE installation. Call 1-

855-837-9146

ATTENTION: Used Juul

or another e-cigarette

vaping device & developed

a serious health

condition such as a

stroke, seizure, convulsions,

lung damage, pulmonary

issues including

heart attacks? You may

be entitled to compensation!

Call 1-866-872-

0776

ASSOCIATION ADS

Recently diagnosed with

LUNG CANCER and 60+

years old? Call now! You

and your family may be

entitled to a SIGNIFI-

CANT CASH AWARD.

Call 844-231-5496 today.

Free consultation.

No Risk

Cross Country Moving,

Long distance Moving

Company, out of state

move $799 Long Distance

Movers. Get Free

quote on your Long distance

move 1-844-452-

1706

Get NFL Sunday Ticket

FREE w/ DIRECTV

Choice-All Included Package.

$59.99/month for 12

months. 185 Channels

PLUS Thousands of

Shows / Movies On Demand.

FREE Genie HD

DVR Upgrade. Call 1-855-

781-1565 or satellitedeal

now.com/cadnet

DENTAL INSURANCE

from Physicians Mutual

Insurance Company.

NOT just a discount

plan, REAL coverage for

(350) procedures. Call 1-

877-308-2834 for details.

www.dental50plus.com/

cadnet 6118-0219

ASSOCIATION ADS

Become a Published Author.

We want to Read

Your Book! Dorrance

Publishing-Trusted by

Authors Since 1920.

Book manuscript submissions

currently being

reviewed. Comprehensive

Services: Consultation,

Production, Promotion

and Distribution. Call

for Your Free Author's

Guide 1-877-626-2213

To Our Gift Card Winner

For DECEMBER 2019

Charles Bates

From

The Columbus Messenger

Newspapers
---
PAGE 10 - EASTSIDE MESSENGER - January 12, 2020

www.columbusmessenger.com

xEmployment

JOB

EXPLOSION!!

STA F F I N G

WANTED

Your Partner at Work

SW CITY SCHOOLS

SCHOOL BUS DRIVERS

The South-Western City School

District is currently hiring drivers

$16.55/HR

Available positions are for substitute

drivers that can develop into "Regular"

positions with benefits. Interested

individuals should submit an application

on our website at swcsd.us. Follow the

employment link. Applicants should have

an excellent driving record and must

submit to drug, alcohol, and background

screening. A high school diploma or

equivalent is required.

EOE

IS YOUR HELP WANTED

SIGN WORKING?

If Not, consider advertising in our

Employment Section!

We reach over 41,000 homes in the

East/Southeast areas.

Call Kathy to Advertise

or for more info.

614-272-5422

30 Over Immediate

Warehouse Openings Available

Pick/Pack to Forklift,

Variety of Shifts

Temp to Hire

UP TO $14/HOUR

Apply Today at Trillium

Located at 4998 West Broad St., Suite 100

Columbus, Ohio

614-351-3100

ASSOCIATION ADS

Applying for Social Security

Disability or Appealing a

Denied Claim? Call Bill

Gordon & Assoc., Social

Security Disability Attorneys,

1-855-498-6323!

FREE Consultations. Local

Attorneys Nationwide

[Mail: 2420 N St. NW,

Washington DC. Office:

Broward Co. FL (TX/NM

Bar.)]

Portable Oxygen Concentrator

May Be Covered by

Medicare! Reclaim independence

and mobility

with the compact design

and long-lasting battery of

Inogen One.

Free information kit! Call

888-609-2189

Call Empire Today® to

schedule a FREE inhome

estimate on Carpeting

& Flooring. Call

Today! 1-855-404-2366

DISH TV $59.99 FOR 190

Channels + $14.95 High

Speed Internet. Free Installation,

Smart HD DVR

Included, Free Voice Remote.

Some restrictions

apply. Call 1-855-270-

5098

HEAR AGAIN! Try our

hearing aid for just $75

down and $50 per

month! Call 800-426-

4212 and mention 88272

for a risk free trial! FREE

SHIPPING!

ASSOCIATION ADS

SELL YOUR ANTIQUE

OR CLASSIC CAR.

Advertise with us. You

choose where you want

to advertise. 800-450-

6631 visit macnetonline.

com for details.

READER

ADVISORY

The National Trade Association

we belong to has

purchased the following

classifieds. Determining

the value of their service

or product is advised by

this publication. In order

to avoid misunderstandings,

some advertisers do

not offer "employment"

but rather supply the

readers with manuals, directories

and other materials

designed to help

their clients establish mail

order selling and other

businesses at home. Under

NO circumstance

should you send any

money in advance or give

the client your checking,

license ID or credit card

numbers. Also beware of

ads that claim to guarantee

loans regardless of

credit and note that if a

credit repair company

does business only over

the phone it's illegal to request

any money before

delivering its service. All

funds are based in US

dollars. Toll Free numbers

may or may not

reach Canada. Please

check with the Better

Business Bureau 614-

486-6336 or the Ohio Attorney

General's Consumer

Protection Section

614-466-4986 for more

information on the company

you are seeking to

do business with.

BE YOUR OWN BOSS!

INDEPENDENT

CONTRACTORS

WANTED

If you have a reliable

car and would like to

earn extra money,

then why not deliver?

• Deliver 1 or 2 days a week

• Flexible delivery hours

• Work close to home - often

in or near your neighborhood

CONTACT US

1-888-837-4342

www.thebag.com

• Deliver 7 days a week

• Delivery before dawn

• Work close to home - often

in or near your neighborhood

CONTACT US

614-461-8585

www.dispatch.com/delivery

ASSOCIATION ADS

IMPORTANT

NOTICE

The following states: CA,

CT, FL, IA, IL, IN, KY,

LA, MD, ME, MI, MN,

NE, NC, NH, OH, OK,

SC, SD, TX, VT and WA

requires seller of certain

business opportunities to

register with each state

before selling. Call to

verify lawful registration

before you buy.

[WANTED] CARS/

TRUCKS WANTED!!!

All Makes/Models 2002-

2018! Any Condition. Running

or Not. Competitive

Offer! Free Towing! We

are Nationwide! Call Now:

1-888-368-1016

SELLING A FARM OR

HOUSE? Advertise it

here and neighboring

publications. We can

help you. Contact MACnet

MEDIA @ 800-450-

6631 or online at MACnetOnline.

com

Have you or your child

suffered LUNG ISSUES

from JUULing or Vaping?

Let our attorneys

fight for you! Get

justice you deserve! Cll

866-872-0776

$$ OLD GUITARS &

AMPS WANTED$$

GIBSON • FENDER •

MARTIN. ALL BRANDS

TOP DOLLAR PAID.

CALL TOLL FREE 1-

866-433-8277

Wants to purchase minerals

and other oil and gas

interests. Send details to

P.O. Box 13557, Denver,

CO. 80201

Employment

the

ASSOCIATION ADS

FARMERS, LAMDSCAP-

ERS or GARDNERS - Did

you or a loved one use

Roundup Weedkiller

and were diagnosed with

NON-HODGKINS LYM-

PHOMA (Cancer)? You

may be entitled to compensation.

Call Attorney

Charles Johnson 1-800-

535-5727

Attention all Homeowners

in jeopardy of Foreclosure?

We can help stop

your home from foreclosure.

The Foreclosure

Defense helpline can help

you save your home. The

Call is absolutely free.

1-855-516-6641

AIRLINE MECHANIC

TRAINING - Get FAA

Technician certification.

Approved for military

benefits. Financial Aid if

qualified. Job placement

assistance. Call Aviation

Institute of Maintenance

866-453-6204

Earthlink High Speed Internet.

As low as $14.95/

month (for the first 3

months.) Reliable High

Speed Fiber Optic Technology.

Stream Videos,

Music and More! Call

Earthlink Today 1-855-

520-7938

Fair, Festival or Event

coming up? Need to

reach a larger audience

to attend. Advertise with

us, Community Papers

who reach the audience

you need. Give us a call

at 800-450-6631

CARS/TRUCKS WANT-

ED!!! All Makes/Models

2002-2018! Any Condition.

Running or Not. Top $$$

Paid! Free Towing! We're

Nationwide! Call Now: 1-

888-985-1806

VIAGRA & CIALIS! 60

pills for $99. 100 pills for

$150 FREE shipping.

Money back guaranteed!

1-844-596-4376

NOW HIRING!

Local High Volume Pharmacy

Immediate 1st, 2nd & 3rd shift positions available

for Pharmacy Clerks and Technicians.

$

1000 SIGN ON BONUS

Looking for energetic associates

in a fast pace environment.

NEW Starting rate: $11.50 per hour

Shift differential $1.50 an hour

Please apply at: jobs.kroger.com

Use Zip Code 43217

Must be 18 years of age & have high school diploma or GED.

Call 614-333-5012 for more details.

Best Western

Canal Winchester Inn

Immediate Openings Available:

MORNING BREAKFAST, HOUSEKEEPING,

LAUNDRY, FRONT DESK

Apply in Person:

Best Western Canal Winchester

6323 Prentiss School Rd.

Canal Winchester, Ohio 43110

NO PHONE CALLS PLEASE

ASSOCIATION ADS

Elminate gutter cleaning

forever! LeafFilter, the

most advanced debrisblocking

gutter protection.

Schedule a FREE

LeafFilter estimate today.

15% off and 0%

financing for those who

qualify, PLUS Senior & HELP WANTED

Military Discounts. Call

1-855-402-0373 HOBBY LOBBY

Now Hiring

INSURANCE

Flexible Hours

Apply within the store at

Annuity 10% Bonus

7.5% Int.614-805-1084

4219 Buckeye Parkway

Grove City
---
www.columbusmessenger.com

xAdult Care

Welcome

Adult Care

Carolyn's

Cottage

Private Assisted Living

3036 Woodgrove Dr.

Grove City, OH

Michelle Preston - Owner

614-991-0652

614-376-9761

xInformation

JANUARY GIVEAWAY

The Columbus

Messenger Newspapers

All classified line ads received

by mail, in person, e-mail or phone

will be included in the drawing.

Drawing will be held January 29th, 2020

and the winner will be notified and published

in our February 2nd, 2020 Madison paper

and our February 9th, 2020 issue

of the Columbus papers.

GOOD LUCK TO EVERYONE!

Information

January 12, 2020 - EASTSIDE MESSENGER - PAGE 11

SHOP THE CLASSIFIEDS!!

Only $1 per line

❏ Check for one additional FREE week.

Not Valid for Garage Sales

columbus

Telephone: _________________________________________________________

Print Your Name:____________________________________________________

Last

First

Print Your Address:___________________________________________________

Print Your City:__________________________ State:_______ Zip:____________

West ___ Southwest ___ East ___ Southeast ___ Madison___

Print Your Ad Below…

One word each space. BE SURE YOUR TELEPHONE NUMBER OR ADDRESS is included in your

advertisement. The lessor of 4 words or 22 characters per line. We reserve the right to use abbreviations

when actual space exceeds amount purchased.

1. __________ __________ __________ __________

2. __________ __________ __________ __________

3. __________ __________ __________ __________

4. __________ __________ __________ __________

HELP WANTED

Home Health Aides

$13.00/hr. after 90 days

$15.00/hr. Premium Shifts

Performance Bonus and

Paid Time Off after 1 yr.

One yr. experience working

for an employer in a caregiver

1/19 A&M

role is required.

To apply, please visit

v-angels/galloway/employment

WANT TO BUY

WANTS TO Purchase

minerals and other oil &

gas interests. Send details

to: P.O. Box 13557,

Denver, CO 80201

We Buy Junk Cars &

Trucks. Highest Prices

Paid. 614-395-8775

We Buy Cars & Trucks

$300-$3000.614-308-2626

MISCELLANEOUS

FOR SALE

Large Selection of

Chandeliers to

choose from.

All in working condition.

Going Out of Business!!

614-271-2469

RENTALS

HILLTOP AREA

3 BR half double. New

windows, furnace, carpet.

Rent $850, dep. $850. Lic.

Realtor 614-226-6767

RENTALS

Property

Management

We are always available!

40 yrs. exp in

Certified Property Mgmt.

Reas. Fees. Call Now!

614-783-7464

SHARED LIVING

New Group Home With

DODD has 4 beds avail.

On Eastside Contact

Asia at 614-517-8380

VACATION RENTALS

Englewood, Florida

Palm Manor Resort

Within minutes of white

sand Gulf beaches,

world famous Tarpon

fishing, golf courses, restaurants/shopping,

Bush

Gardens. 2 BR 2 BA

condos with all ammenities,

weekly/monthly, visit

www.palmmanor.com

or call 1-800-848-8141

5. __________ __________ __________ __________

6. __________ __________ __________ __________

Columbus Messenger

3500 Sullivant Ave. • Columbus, Ohio 43204

614-272-5422

classified@columbusmessenger.com

$

❏ Cash

❏ Check

❏ Money Order

❏ VISA ❏ MC

Credit Card

Information

___

__________________________

Credit Card Number

____________

__(___)__

Exp. Date 3 digit code

Minimum Charge $5.00

xClassified Services

INFORMATION

Look To The

Professionals

In Our

Service Directory

For

Quality

Service

That Is

OUT

OF

THIS

WORLD!

APPLIANCE REPAIR

Washer, Dryer, Stove &

Refrig. Repair 875-7588

BASEMENT

WATERPROOFING

Walker's Basement

Waterproofing. LLC

614-359-4353

CARPET CLEANING

DIRT BUSTERS

Any 5 areas $75. Home

Specializing in Pet Owners

614-805-1084

CARPET WORK

Installer has carpet for

Rentals, Flip Houses,

Bedrooms. Call or text

740-927-3504

CONCRETE

EDDIE MOORE

CONSTRUCTION

Quality Concrete Work

Lt. Hauling & Room Add.,

Block Work & Excavation

Stamp Patios,

Bsmt. Wall Restoration

35 Yrs Exp - Lic & Ins.

Free Ests. 614-871-3834

CONCRETE

AJ's Concrete,

Masonry

Good Work - Fair Prices

Block Foundations

Driveways • Sidewalks

Epoxy/Overlay Floors

Bonded-Ins. • Free Ests.

Now Accepting Credit Cards

614-419-9932

CLEANING

Cleaning-$5 Off for Srs. 20

yrs exp Judy 614-946-2443

GUTTERS

Low Price-Great Service

5 & 6" Seamless gutters,

covers, siding, gutter clng.

Bill 614-306-4541

EPP

Seamless Gutters

Mikey 614-927-9132

licensed/bonded/insured

HAULING

DEAN'S HAULING

614-276-1958

SNOW REMOVAL

DUMPSTER RENTAL

Hauling All Misc. Items

Danny, 614-774-2336

2/2 A

HEATING

HEATING

Complete System Clean & Check

$49.95

Free Carbon

Monoxide Testing

Gas-Oil-Electric Heat/Pumps

All Makes • All Models

43 yrs exp. • Sr. Discount

614-351-9025

HOME

IMPROVEMENTS

C&JHandyman

Services LLC

Minor Plumbing &

Electric

Install Hot Water Tanks,

Dishwashers & Disposals

Also Fencing &

Interior/Exterior Painting

Free Est. ~ 18 Yrs. Exp.

614-284-2100

2/2 A

2-2 A

HOME

IMPROVEMENTS

CandC

See The Difference

Plumbing & Electric

Install Hot Water Tanks,

Dishwashers & Disposals

2 -2

Also Fencing & A

Interior/Exterior Painting

No Job Too Big Or Too

Small - We Do It All

614-702-3691

SINCE 1973

Phil Bolon Contr.

Windows & Siding

Decks, Kitchens, Baths

Room Additions,

Flooring, Roofing

Bsmt Waterproofing

Deal With Small Non-Pressure Co.

45 Yrs. Exp. - Refs. Avail.

Lic.-Bond-Ins.

Free Est. - Financing Avail.

Member BBB Of Cent. OH

O.C.I.E.B. ID #24273

614-419-3977

or 614-863-9912

Classified Services

2-2

A/M

HOME

MAINTENANCE

Finishing Carpenter for all

your extra home repairs or

Honey-do-list. over 40 yrs.

exp. Sonny 614-325-1910

JOE'S HOME MAINT.

Home Repairs, Roofing,

Siding, Gutters, Soffits,

Misc. Int. Repairs

Int. Painting

Call Joe 614-778-1460

37 Years Exp.

LAWN CARE

LET US MAINTAIN

YOUR LAWN & GARDEN

FOR YOU

Summer, Spring,

Winter or Fall

WE DO IT ALL!!!!

Lawn Cuts, Edging,

Trees & Shrubs, Garden,

Mulching, Hauling,

Garden Pond &

Home Maint.

Free Ests. Low Rates

$20 & Up

Kevin - 614-905-3117

MOVING

Always On The Move

"No Job

Too Big or Small

We Will

Move Them All!"

614-447-8558

FREE Estimates

Residential/Apts/Commercial Moves

Aaron Allen Moving

Local Moving Since 1956

Bonded & Insured

614-299-6683, 263-0649

Celebrating 60 yrs in business

PAINTING

Painter Over 30 Yrs Exp.

Free Est. Reas Rates

Daniel 614-226-4221

Walker's Interior Painting

Free Est. 614-359-4353

A Job Well Done Again

A lic. General Contractor

Some Skilled Services

Incl: Painting • Stucco,

Repair•Carpentry•Exterior

Drainage & Home Maint.

Call Today! 614-235-1819

1/19 A&M

PLUMBING

All About Drains & Plumb.

Will snake any sm drain

$125 + tax. 614-778-2584

ALL IN ONE

PLUMBING LLC

"One Call Does It All"

$25 OFF LABOR

1/19

With This Ad

A

614-801-1508

All Major Credit Cards Accepted

ROOFING

Robinson roofing & repairs

30 yrs. exp. Lifetime Cols.

resident. Lic./bonded/Ins.

Reas rates. Member of

BBB. Dennis Robinson

614-330-3087, 732-3100

SEWING MACHINE

REPAIR

REPAIR all makes 24 hr.

service. Clean, oil, adjust

in your home. $39.95 all

work gtd. 614-890-5296

TREE SERVICES

BURNS TREE SERVICE

Trimming, Removal &

Stump Grinding.

614-584-2164
---
PAGE 12 - EASTSIDE MESSENGER - January 12, 2020

www.columbusmessenger.com

Village of Lithopolis

Downtown

Spotlight

Yesteryear's Antiques

Stop by Yesteryear's Antiques to

visit multiple rooms of repurposed

custom-made furniture and home

décor items. Anything your heart

desires from primitive to modern can

be found in abundance.

One-of-a-kind, hard to find items

abound in Yesteryear's charming setting.

Reminiscent of by-gone days,

these memorable finds will bring

back fond memories of years past.

Located at 70 E. Columbus St. in

Lithopolis, normal business hours are

11 a.m. - 6 p.m. seven days a week.

Call 614-266-3418.

Sandine elected mayor

Effective Jan. 1, Eric Sandine

became the new mayor of the village

of Lithopolis. Sandine has experience

for the job as he previously served as

mayor in the past.

www.OldeCountryStoreLithopolis.com

Family Owned and

Operated Since 1926

36 East Columbus Street

Lithopolis, OH 43136

(614) 837-4705

Eileen Law Benson & Kathlynn Benson Moling

Proprietors

Your Local Realtor celebrating 20 years of

helping Home Buyers and Sellers!

Tammy Roof Elliott

614-226-6953 (mobile)

TammyRoofElliott.com

History of Wagnalls

Learn about the history of The Wagnalls

Memorial, 150 E. Columbus St., Lithopolis,

from its founder herself, Mabel Wagnalls

Jones. Librarian and Wagnalls historian

Carol Gaal, will dress as Mabel and give

tours of the building from Mabel's perspective.

Learn about Mabel's family, her

famous friends (such as Harry Houdini and

the author O. Henry), and why she wanted

to gift the city of Lithopolis with the

library. You will even visit the "tower

room." which is usually off-limits to library

guests.

Tours are the second Wednesday of

every month at 7 p.m. They are free of

charge and open to the public.

If you have a larger group that would

like a private tour outside of the public tour

times, email smayzum@wagnalls.org or

call 614-837-4765 ext 126 to make arrangements.

Lithopolis Village Council

Lithopolis Village Council meets the second

and fourth Tuesdays every month at

7:30 p.m. at 11820 Lithopolis Road NW,

Lithopolis. Visit www.lithopolis.org for

information.

Dog Tales

Well-behaved canine friends are here to

read with your kids at The Wagnalls

Faler Feed

Store, Inc.

Serving Central Ohio Since 1936

4360 Cedar Hill Rd. P.O. Box 277

Lithopolis, Ohio 43136

(P) 614-837-4494

(F) 614-837-3273

Falers4360@sbcglobal.net

FalerFeedStore.com

The Pump House

Pizza & Burgers

Spirits

614-837-6823 • 614-837-9306

Dine In and Carry Out

17-21 E. Columbus St. Lithopolis, OH 43136

Mon. - 4pm-11pm

Tues.-Sat. 11am-11pm

www.facebook.com/thepumphouse2017

Fairfield County's "Best Kept Secret"

Memorial, 150 E. Columbus St., Lithopolis.

Registered therapy dogs offer young readers

a fun environment to learn and mater

their reading skills.

Why read to dogs?

• They create a relaxed environment for

the kids.

• They listen attentively.

• They do not judge, laugh, or criticize.

• They allow your kids to read at their

own pace.

• They are less intimidating than peers

• It's fun!

Children ages 6-12 may sign up at the

children's desk for a one-on-one, 15 minute

session with a furry friend.

After three sessions, receive a free book.

Dog Tales meets every Wednesday from

6-7 p.m. in the Children's area.

Contact The Children's Department to

sign up for a 15 minute session at 614-837-

4765 ext. 118.

Lithopolis history

Here is some history of Lithopolis,

according the village of Lithopolis' January

newsletter:

•The town was originally platted in

1815 and was known as "Centerville."

•It was chartered as "Lithopolis" in

1836.

•The name "Lithopolis" is Greek for

"Stone City." It refers to the large deposits

of stone found in and near the town, some

of which was used in the construction of

www.pedregalrestaurant.com

44 E. Columbus Street, Lithopolis, OH 43136

Hours:

Mon.-Thur. 11:00 AM - 10:00 PM

Fri. & Sat. 11:00 AM - 10:30 PM

Sun. 11:00 AM - 9:00 PM

Phone: 614-829-2394 Fax: 614-829-2396

DAILY SPECIALS

HAPPY HOUR 4PM-8PM EVERYDAY

Yesteryear's

Antiques, LLC

614-266-3418

Always buying antiques &

collectibles, odd and unusual

70 E. Columbus St., Lithopolis, OH 43136

Open 7 Days a Week 11am to 6pm

Please "Like & Follow" us on Facebook

The Wagnalls Memorial Library.

Books and Brews

Books and Brews is a new kind of book

club. Socialize, talk about books and enjoy

a local brew in a laid-back atmosphere.

The club is hosted by the Wagnalls

Memorial Library and meets at the

Eldridge & Fiske Brewing Company, located

at 9 E. Columbus Street in Lithopolis.

Meetings will be held the first Tuesday

of every month at 7 p.m., starting Feb. 4.

At the first meeting participants will

discuss what they've been reading and the

direction they would like the club to take.

Wagnalls Memorial Library

Wagnalls Memorial Library, 150 E.

Columbus St., Lithopolis, is open Monday -

Thursday: 10 a.m. to 8 p.m., Saturday: 10

a.m. to 2 p.m. and closed on Friday and

Sunday.

For information call (614) 837-4765 or

visit www.wagnalls.org.

Lithopolis Garden Club

welcomes all gardeners

Lithopolis Garden Club meets the first

Tuesday each month at 1 p.m. in the

Community Building at Wagnalls

Memorial in Lithopolis.

Anyone interested in gardening and

meeting other gardeners are invited to

Maple time!

The following activity will be held at

Slate Run Living Historical Farm, 1375

State Route 674 North, Canal

Winchester:

•Feb. 22-23 and Feb. 29, 1-3 p.m.:

Maple Time - Sample this sweet treat and

learn about making maple syrup the

1880s way. A short hike to the sugarbush

leaves the farm at 1 p.m. and 2 p.m. Sap

collecting and boiling depends on the

weather but all other activities will take

place. Call 614-833-1880 to see if the sap

is flowing.

Lithopolis Village Office

The Lithopolis Village Office is located

at 11820 Lithopolis Road, NW. The regular

office hours are 9 a.m to 4 p.m.,

Monday through Friday, with the exception

of observed holidays. The mailing

address is P.O. Box 278, 11820 Lithopolis

Rd NW, Lithopolis, Ohio 43136. Contact

numbers are: phone: (614) 837-203; and

fax: (614) 837-2722.

PLEASE SUPPORT THESE BUSINESSES!