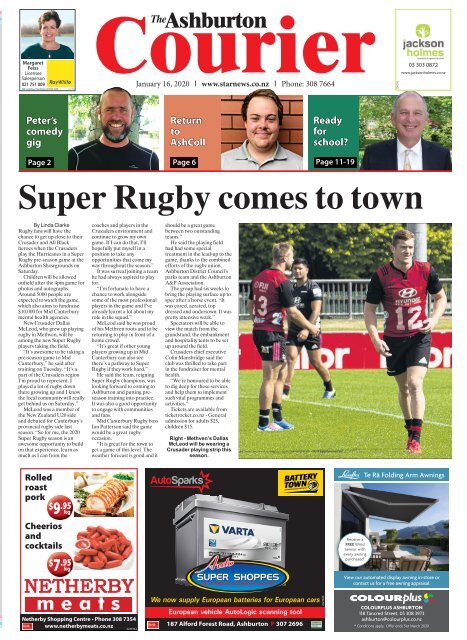 Ashburton Courier: January 16, 2020
You also want an ePaper? Increase the reach of your titles
YUMPU automatically turns print PDFs into web optimized ePapers that Google loves.
Margaret

Feiss

Licensee

Salesperson

021 751 009

MidCanterburyRealEstateLtd REAA 2008

2241390

January16, 2020 l www.starnews.co.nz l Phone:308 7664

2245242

03 303 0872

www.jacksonholmes.co.nz

Peter's

comedy

gig

Return

to

AshColl

Ready

for

school?

Page 2 Page 6

Page 11-19

Super Rugby comes to town

By Linda Clarke

Rugby fans will have the

chance to get up close to their

Crusader and All Black

heroes when the Crusaders

play the Hurricanes in aSuper

Rugby pre­season game at the

Ashburton Showgrounds on

Saturday.

Children will be allowed

onfield after the 4pm game for

photos and autographs.

Around 5000 people are

expected to watch the game,

which also aims to fundraise

$10,000 for Mid Canterbury

mental health agencies.

New Crusader Dallas

McLeod, who grew up playing

rugby in Methven, will be

among the new Super Rugby

players taking the field.

"It's awesome to be taking a

pre­season game to Mid

Canterbury,'' he said after

training on Tuesday. ''It's a

part of the Crusaders region

I'm proud to represent. I

played alot of rugby down

there growing up and Iknow

the local community will really

get behind us on Saturday.''

McLeod was amember of

the New Zealand U20 side

and debuted for Canterbury's

provincial rugby side last

season. ''So for me, the 2020

Super Rugby season is an

awesome opportunity to build

on that experience, learn as

much as Ican from the

coaches and players in the

Crusaders environment and

continue to grow my own

game. If Ican do that, I'll

hopefully put myself in a

position to take any

opportunities that come my

way throughout the season."

It was surreal joining ateam

he had always aspired to play

for.

''I'm fortunate to have a

chance to work alongside

some of the most professional

players in the game and I've

already learnt alot about my

role in the squad."

McLeod said he was proud

of his Methven roots and to be

returning to play in front of a

home crowd.

''It's great if other young

players growing up in Mid

Canterbury can also see

there's apathway to Super

Rugby if they work hard."

He said the team, reigning

Super Rugby champions, was

looking forward to coming to

Ashburton and putting preseason

training into practice.

It was also agood opportunity

to engage with communities

and fans.

Mid Canterbury Rugby boss

Ian Patterson said the game

would be agreat rugby

occasion.

''It is great for the town to

get agame of this level. The

weather forecast is good and it

should be agreat game

between two outstanding

teams.''

He said the playing field

had had some special

treatment in the lead­up to the

game, thanks to the combined

efforts of the rugby union,

Ashburton District Council's

parks team and the Ashburton

A&P Association.

The group had six weeks to

bring the playing surface up to

spec after ahorse event. ''It

was cored, aerated, top

dressed and undersown. It was

pretty intensive work.''

Spectators will be able to

view the match from the

grandstand, the embankment

and hospitality tents to be set

up around the field.

Crusaders chief executive

Colin Mansbridge said the

club was thrilled to take part

in the fundraiser for mental

health.

''We're honoured to be able

to dig deep for these services

and help them to implement

such vital programmes and

activities."

Tickets are available from

ticketrocket.co.nz ­General

admission for adults $25,

children $15.

Right -Methven's Dallas

McLeod will be wearinga

Crusaderplayingstrip this

season.

Rolled

roast

pork

$9 .95

kg

Cheerios

and

cocktails

$7 .95

kg

NETHERBY

meats

Netherby Shopping Centre •Phone 308 7354

www.netherbymeats.co.nz

2245352

NZ'S PREMIUM AUTOMOTIVE CENTRES

We now supply European batteries for European cars

European vehicle AutoLogic scanning tool

187 Alford Forest Road,Ashburton P 307 2696

2227845

Receivea

FREE Wind

Sensor with

every awning

purchased *

Te Ra-

Folding ArmAwnings

Viewour automateddisplayawningin-storeor

contact us forafree awning appraisal.

COLOURPLUS ASHBURTON

118 Tancred Street, 03 308 3973

ashburton@colourplus.co.nz

*Conditions apply. Offerends31stMarch 2020

*
---
Page 2, Ashburton's The Courier, Thursday 16 January 2020

BUSINESS OWNERS

Build customers,

sales and profits

with us ...

Over 16,065

copies delivered to

EVERYhome,farm,

RD and lifestyle

blocks in

MidCanterbury

news

Linda Clarke

Editor

308 7664

linda.clarke@ashburtoncourier.co.nz

Reporters

Mick Jensen

mick.jensen@ashburtoncourier.co.nz

Toni Williams

toni.williams@alliedpress.co.nz

advertising

Jann Thompson

Sales Manager

308 7664

027 587 6351

jann.thompson@ashburtoncourier.co.nz

Roselle Fuaso

Sales Account Manager

308 7664

021 197 8297

roselle@ashburtoncourier.co.nz

Karen Gane

Sales Account Manager

308 7664

021 510 804

karen.gane@ashburtoncourier.co.nz

getintouch

Editorial

linda.clarke@ashburtoncourier.co.nz

Advertising

info@ashburtoncourier.co.nz

Production

murray.thompson@ashburtoncourier.co.nz

Accounts

accounts@alliedpress.co.nz

Distribution/Deliveries

leonie.marsden@ashburtoncourier.co.nz

Office

office@ashburtoncourier.co.nz

03 308 7664

199 Burnett Street,Ashburton

www.ashburtoncourier.co.nz

2207985

S

A

L

E

S

ALE

SALE

Starts

Saturday

OPEN 10AM -3PM

THIS SATURDAY

194 East Street,Ashburton. Phone 308 1819

www.steppingout.co.nz

2246105

Local news at www.starnews.co.nz

Bumper barley yield for club

An eight­hectare holding paddock

at the former Tinwald

saleyards is still paying dividends

for Mid Canterbury

machinery fans.

For the third yearinarow the

Mid Canterbury Vintage

Machinery Club has harvested a

crop of winter barley from the

site. And this year ithas been

cited as the best crop ever.

Club president John Stewart

said that despite the crop being

hit by hail in mid­November,

they were able toget 7.6 tonne

per hectare of dryland yield,

well up on last year's 6.5 tonne

per hectare. The 2018 yield was

double the volume of the first

season's crop.

''It's the best yield we've

had,'' he said.

''We're probably still using all

that fertility from the saleyards

... and we got some of the rains

at the right time.''

For the second year running,

the crop was harvested by Greg

Carr rather than by club members

with their own machinery,

but Mr Stewart said it was due

to a shortage of available

combines with many members

still fulltime farming and the

Mid Canterbury Vintage Machinery Club president John Stewart says the latest barley straw

harvest from the former Tinwald saleyards holding paddock is the best in three years.

Photo Struan Christie

time involved.

Mr Stewart was thankful to

the many individuals and businesses

who had ahand in the

successful season, among them

land owner Greg Donaldson,

Mr Carr, and club member

Allan Martin (in charge of the

agronomy), Ravensdown, Cates

Grain and Seed, Rural Transport

and Evans Animal Feed.

He said money raised from

the sale ofthe crop would boost

the club's funds following the

Uncomfortable bra?

ShapeleSS figure?

free GIft

CONSULTATIONS

&FITTINGS

completion of the new clubrooms

built at the Ashburton

A&P Showgrounds.

The saleyards, now owned by

Greg Donaldson, closed in

December 2016 after 138 years

of operation.

Principal relishing comedy spot

By Mick Jensen

Tinwald School principal Peter

Livingstone likes nothing better

than putting asmile on aface, or

hearing people laugh. Stand­up

comedy is his new thing, and he's

the support act for well­known

comedian Ben Hurley at agig in

Methven in March.

Peter has performed at four

previous pop­up comedy sessions

in Methven in recent

months and is enjoying the

opportunity of delivering his

unique style of jokes and stories.

He was given the chance at

stand­up by comedy promoter

Bec Sandys.

Rehearsing routines, he says,

is not done in front of family or

friends, but rather to the bubbling

background of the spa pool

at home.

''I type my ideas up on the

laptop and many of them are, to

be honest, rubbish. But Ioften

go back and figure out another

twist on them.''

Peter said his day job meant

he was well practised at delivering

clear messages and talking to

Tinwald School principal and

part time comedian Peter

Livingstone.

large numbers.

He had also been an MC for a

number of events and aregular

local stage performer over the

years.

''What Ideliver at events and

in shows is on behalf of someone

else, or prepared text.

''For me, comedy has nothing

to do with my day job and is

outside of my previous comfort

zones.''

He had been ''as nervous as

hell'' at his first stand­up gig, but

had got through it.

''Bec Sandys videoed me on

stage, so Iwas able to see how

my comedy 'hit' the audience

and how Idelivered it.

''The dread for all comedians

is that they are simply not going

to be funny, or get a positive

reaction.''

Peter has built on his first gig

nerves, slowed down his delivery

and learnt to pause for an

audience reaction.

Simply standing up and telling

an old style joke doesn't work

these days, he says.

''You have to be astory teller,

have an original angle and

authentically connect with

people.

''I take the mickey out of

myself and believe in the 'fish out

of the water' approach of taking

one context and putting it into a

totally different context.''

He preferred to avoid excessive

swearing, didn't use husband

and wife or Donald Trump jokes,

and didn't take digs at the rivalry

with Australia in his routine.

Instead, he preferred to use

twists on his own experiences

and observations, and used comedy

to sometimes highlight some

serious underlying social issues.

His jokes and stories use an

array of life experiences, including

his Christian upbringing,

strong belief in equality for

women, observations of what's

delivered by the media, and

simply by people watching.

Peter is abig fan of English

comedy, including shows like

Fawlty Towers and Dad's Army,

and performers such as Rowan

Atkinson, Griff Rhys Jones and

Mel Smith.

He also admires the humour

of Michael McIntyre and Ed

Byrne.

His slot on the Ben Hurley

undercard at Samuel's Bar on

March 27 is already sold out, and

he can't wait to share his

humour.

• No under wires

• Straps do not fall down

Formerly

Jeunique

Bra

• Full support from beneath the bust

• Front-opening options in all

bra styles

• No stretch straps

• Large size range:

6A to 26KK

• Unique ShapeWear

Perfect Fit by Rebecca Hawkes

Ashburton & Timaru

For appointments please phone 027 937 5533

352 Havelock Street, Upper Hampstead, Ashburton

perfectfit352@gmail.com • www.beautybra.co.nz
---
Local news at www.starnews.co.nz Ashburton's The Courier, Thursday 16 January 2020, Page 3

Singing school marks 20th year

By Mick Jensen

The Mid Canterbury Summer

Singing School is in its 20th year

and this year's singing intakeis

rehearsing hardahead of three

public concerts, including a

special celebratorygala

performance on Saturday

evening.

Friday evening and Saturday

afternoon concerts will follow the

usualformat and present

favouritemedleys from the pastas

well as new music.

The galashow willalso feature

ascholarship alumni group, and

an alumnichoir of past students,

some of whomhave enjoyed

successful careers in musical

theatre.

Past scholarship winners

performing includeLuke

Glendining,Julia Bell,Jack

Hanrahan, Olivia Brown, Lucy

Clough, Jacqueline Doherty,

LibbyHigson, Samantha

McArthur, Emily­JaneStockman,

Jack Bubb,Joe Danielson and

three2020 scholarship winners.

The alumni choir of 40 includes

some well­known performers such

as Chris Woods, Courtney

Donaldson,Jared Corbett, Layna

Hunt,Matt Williams, Megan

O'Reilly, Sophie Brennan, Sarah

Yeoman and Sarah Hart.

Singing schooldirector Jo

Castelow said 20 yearsofmusical

theatre camps was quite an

achievementand afitting

milestonetocelebrate in style.

''In the early daysweperformed

at Ashburton College, butlater,

and to accommodate more

students and greater technical

requirements, we moved to the

event centre.''

Numbers had been wellover

100 for many years and peaked at

150 afew years ago.This year's

intakenumbered 120, she said,

with 70 juniors and 50 seniors.

Auditions for sought­aftersolo

roles were held on Sunday.

The public concerts willtake

audiences through such shows as

Les Miserables, Jekyll and Hyde,

Finding Neverland, Matilda,

Motownand manymore.

The senior and juniorgroups

will perform at all three concerts,

but the alumniatthe Saturday

evening concert only.

Tickets for all shows are

available from the Ashburton

Trust Event Centre or

ticketrocket.co.nz.

Photo:Seniors practising at

Mondayafternoon's Mid

CanterburySummer Singing

Schoolsession.

World champs beckon Layna for final time

By Linda Clarke

Ashburton­grown singer and actor

Layna Hunt will represent New

Zealand at the talent Olympics in the

USA later this year.

Ms Hunt, 28, will be part of the

Kiwi contingent at the World Championships

of Performing Arts and is

busy fundraising for the trip.

The championships have been

running for 24 years and attracts

performers from over 60 countries;

they compete for medals, cash and

scholarships. The event will be held

at Disneyland in late July.

The talented local performer

attended the National Academy of

Singing and Dramatic Art after

leaving Ashburton College in 2009.

She was part of the New Zealand

team in 2017 and went to Long

Beach, California, with 25 others

ranging in age from 5to29years. She

bought home asilver and abronze

medal.

''This year will be the last year I

can apply to attend as the age cuts off

at 29,'' she said. ''Being one of the

eldest members of the team was nice

as Ifelt that Icould lend ahelping

hand to the younger team members.''

Ms Hunt said she loved acting and

dancing, but singing was her main

strength and she will only be competing

in singing categories at the

championships.

After grading with aBachelor of

Performing Arts from the national

academy in 2012, she has performed

in musicals in Mid Canterbury and

worked at the Court Theatre in

Christchurch, where she now lives.

''As well as musicals Ihave been

singing with my partner's Dad's rock

bank Odyssey, who have been

together for over 45 years.

''We play good, old school rock

music and perform often at the

Wunderbar in Lyttelton.''

Tapping into her creativity, Ms

Hunt started her own photography

business Kaleidoscope Eyes Photography;

when she is not working

fulltime as a receptionist at Argus

Heating, she is out capturing special

memoriesfor others with her camera.

She is fundraising to attend the

world championships and is planning

to do sausage sizzles in both Christchurch

and Ashburton. She has also

started a Givealittle page where

supporters can help her cause: https:/

/givealittle.co.nz/cause/help­laynaget­to­la­for­the­worldchampionships

Ms Hunt will be back in Ashburton

this week to take part in a special

alumni choir at the Mid Canterbury

Summer Singing School. The school

will be marking 20 years.

''I have so many special memories

of performing in Ashburton. Singing

at Christmas in the Park, the summer

singing school with Jo Castelow and

Alice Sollis and Mid Canterbury

Children's Theatre.

''The Ashburton Operatic Society

productions hold very dear memories

to me. My all­time favourite memory

was performing as Eponine in Les

Miserables in2009. Getting to perform

in the brand new event theatre

was an absolute pleasure and something

Iwill treasure for life.''

Layna Hunt is off to the World Championships of Performing Arts in

America.

Sizzling Hot Specials not tobemissed!

HUNDREDS OF TILES ON

SALE 30-70% OFF! *

EXCLUSIVE to TILE WAREHOUSE. *T's &C's apply -see website.

Burnett Street,Ashburton l Phone (03) 308 5269 l www.redmonds.co.nz

2245969
---
Page 4, Ashburton's The Courier, Thursday 16 January 2020

Rugby's $10k

goal for health

Ashburton District

Council and the Crusaders

have joined to

raise $10,000 for local

mental health services.

Both organisations

have pledged to donate

$1 each for every ticket

sold to the Crusaders v

Hurricanes game in

Ashburton; 5000 tickets

are on offer.

The $10,000 raised

will promote and support

mental health

awareness and suicide

prevention, through

Safer Mid Canterbury's

Life's Worth Living

project activities.

Ashburton District

Mayor Neil Brown says

the fundraiser will help

to increase awareness

of a cause close to

many residents' hearts.

''Like many rural

communities, mental

health is an issue for

our district. This

1917

Reviewed by Theo Thompson-Hart

and Rowena Hart

This is awar film the likes of which you'll never

have seen before!

But you may say that its all been done before,

well believeus–never in this manner.

The attention todetail is unbelievable –the

abandoned trenches and weapons – even

the post battle scenes including casualties,

destroyed landscapes, mud, and not forgetting

the rats.

Theremarkable cameraworkmeans it really feels

like youare thereand watching the storyunfold

as William Schofield (George MacKay) and Blake

(Charles Chapman) set off on their seemingly

suicidal mission through German lines with a

message thatcouldsavethe lives of 1600 British

soldiers.

To do this they have to brave all that the

unforgiving frontlines will throw at them and

pass through many physical and emotional

challenges.

Do they make it? Go see foryourself!

bookings ph 307 1230

www.regentcinema.co.nz

initiative will put muchneeded

funds into the

front­line prevention

activities working to

combat this issue and

help to support our

people.''

Council chief executive

Hamish Riach says

the initiative is awonderful

opportunity to

support local people

and the services they

rely on in times of

need.

''We're very proudto

work with the Crusaders

to make this

fundraiser a reality.

Mental health is such

an important factor in

community wellbeing

and we want to do what

we can to promote its

awareness and make a

real difference to

people's lives.''

Tickets are available

online at ticketrocket.

co.nz.

2245212

THIS WEEK'SSPECIALS

SPECIALS

Local news at www.starnews.co.nz

Keep focus on long­term vision

CassStreet businesses will

be bracing for some

disruption whenthe

streetscape renewal

project begins on January

27.

Businesses on the street

will be impacted when

underground water, sewer

and stormwater pipes are

installedinthe initial

stagesofthe CassStreet

work, which is expected to

takeabout fivemonths.

workwill beginat the Cass/

HavelockStreet

intersection.

Trafficand pedestrian

movementislikely to be

affected by road and

Courier Comment

footpath closures as work

progresses alongeach

area.

Businesses know there

will be somedisruption but

arekeeping hold of the

long­term vision thatwill

make the whole area more

modern, pleasantand

pedestrian­friendly.

It could be atough two

years forthe durationof

theproject, but tolerance

andpatience by everyone

whoworksinand visits the

CBDwill be key.

Andhow the

contractorsdothe first

section willset the tonefor

the whole project. Maybe

council could relax or

suspend parking

restrictions in the

undeveloped Eastfield car

park for customers who

needtoparkclose to

affectedbusinesses.

Council servicedelivery

group manager Neil

McCann says contractors

will be working with all

businesses in the affected

areas to ensure day­to­day

business activitiesare

disrupted as little as

possible.

''As with any major

works, heavymachinery,

noise,and dustinthe area

should be expectedduring

the projectduration.''

He said council staff had

been visiting every business

and/orstakeholder in the

CBD to ensure owners

were aware of the project.

''Once the physical

worksbegin, there will also

be close liaison from the

contractors with all

business owners.''

Council will also provide

regular updates via an

electronic newsletter;

anyone can subscribe to

this resource by signingup

at ashburtondc.govt.nz/

stayinformed. Anyone

interested in receiving alert

notificationsspecific to the

project, can text the

keyword #CBD to 4196.

Detailed information on

the Ashburton Centre

StreetscapeRenewal

project can be foundonthe

council's website, including

background information,

concept plans, and work

completedso far.

­Linda Clarke

Trevor hopes for swing to green

By Linda Clarke

Gardening enthusiast Trevor

Gamblin is hoping that 240

special seeds he planted nearly

12 months ago are about to bear

fruit.

The seeds were certificates of

merit awarded to 240 people by

organisers of the annual Ashburton

Garden Competition, run by

the town's horticultural society.

Judges said the 240 gardens

had flowers, gardens and lawns

that were attractive, uplifting

and good for the soul.

The garden competition was

revamped last year and rather

than seeking entries, judges

viewed all the town's gardens in

a driveby and awarded certificates

to the best.

Trophies for the best floral

display and best special feature

were still awarded.

Mr Gamblin said declining

entries had forced the change

last year and he was looking

forward to this year's event. He

hopes that the 240 people

awarded certificates of merit will

have continued to love their

gardens and encouraged others

to do the same.

''Hopefully last year's certificates

have been talked about

and more will make an effort to

get their gardens up to scratch.''

The certificates were wellreceived

and seven propertyowners

wrote to the society to

say thank you.

He said another noticeable

trend over the years was the

growing number of high front

fences, which sometimes hid

Trevor Gamblin with some of the 60 flower baskets he tends at his Lochlea home.

lovely gardens.

The competition, however, is

simply about acknowledging

attractive gardens and lawns and

encouraging people's green

thumbs.

It has been running for about

60 years and also presents an

award for the best street.

Mr Gamblin, 85, has been

gardening all his life. Around the

Lochlea home he shares with

wife Anne are some 60 baskets

planted with fuchsias and petunias,

and aproductive vegetable

garden. The couple help others

in the lifestyle resort with their

gardens too.

He said gardening was a

pleasurable pastime and the

horticultural society was always

on the lookout for new members.

Members of the society will do

a preliminary competition

driveby at the end of this month

and judges from Christchurch

will come down for the final

inspection in early February.

It's not too late to do aquick

spruce up.

Corona

355ml Bots 18s

$

40 99

Haagen

Heineken

330ml Bots 15s

330ml Bots 12s

$

20 99 $ 24 99 $ 24 99

Malibu incl.

Passionfruit or Kahlua

700ml

Coruba Dark or

Gold

1L

$

38 99

Stil

1L

$

35 99

BeefeaterPink or

Jack Daniel's 700ml

Absolut Flavours or

Range or EL Jimador

Jameson 700ml

$ 34 99 $

39 99

700ml Range (Excl.Anejo)

Smirnoff Ice

5% 250ml Cans 12pk

$

21 99

Woodstock Black 4YO

7% 330ml Cans 10pk

$

24 99

Graham Norton–

Sauv,Rose,Shiraz

$

13 99

Mt Difficulty

Roaring Meg

–Sauv,Pgris,

Riesling

$

16 99

ASHBURTON

MSA

266 Havelock Street,Ashburton

Telephone 308 7149

www.ashburtonclub.co.nz

HOURS

Monday

Tuesday-Saturday

Sunday

10:00am -8:00pm

10:00am -9:30pm

10:00am -6:00pm

SPECIALS AVAILABLE

from January 16

to January 23

2245151
---
Local news at www.starnews.co.nz Ashburton's The Courier, Thursday 16 January 2020, Page 5

DEMONSTRATOR

CLEARANCE

Was $75,160

$64,990

2018 Holden Acadia LTZ-V AWD

3.6L, 9spd Auto. 7Seater, Adaptive Cruise Control,

360 Degree Camera, Leather Trim, Wireless Phone

Charging. 14,340kms.

Was $61,685

$41,990

2019 Holden Equinox LTZ-V AWD

1.6L Diesel, 6spd Auto. Dual Sunroofs, Heated

Leather Seats, Park Assist, Power Tailgate. 8,650kms

Save THOUSANDS across

our Holden Demonstrator

vehicle range.

Was $71,600

$55,990

2019 Holden Colorado LT 4x4

2.8L Diesel Automatic. Lockable Hard Lid, 20 inch

Alloy Wheels, TowBar, Bonnet Bulge, Flares. 8000kms.

Was $66,585

$46,990

2019 Holden Colorado LTZ4x4

2.8L Diesel Auto. Reverse Camera/Sensors, Remote

Start, Tow Bar, Tonneau Cover, Deck Liner. 4,650kms

Allvehicles come with the

balance of FREEServicing

Planand FactoryWarranty*

Financefrom 9.95%

T's, C'sandlending criteria apply

Was $37,145

$30,990

2019 Holden Equinox LS

1.5L Turbo 6spd Auto. 17inch Alloy Wheels, Reverse

Camera/Sensors, Auto Headlights. 5000kms.

Was $74,470

$66,990

2019 Holden Acadia LTZ-VAWD

3.6L 9spd Auto. 7seats, Adaptive Cruise Control, 360

Degree Camera, Leather Interior, TowBar. 5,350kms

Richard

027 889 3870

Shane

027 669 5656

Was $68,110

$49,990

2018 Holden Commodore Tourer

3.6L 9spd Auto. Adaptive AWD, 360 Degree Camera,

Dual Sunroof, Heated Leather Seats. 10,500kms.

Was $54,740

$48,990

2019 Holden Acadia LT AWD

3.6L 9spd Auto. 7 seats, Remote Start, Reverse

Camera/Sensors, Sat Nav. Only 360kms.

WARRANT OF

FITNESS

CHECK

+

EXPRESS

SERVICE

ONLY

$

199INCGST

T&C's apply. Bookings essential.

Holden

2019 STOCK

CLEARANCE

2019 Holden Colorado LTZ 4x4 Auto

$

50,990

+ORC

Offer available until 31 Jan 2020. Not available with any other offer. 2019 Stock Clearance Sale is based on

2019 dealer stock vehicles. Free Scheduled Servicing 3years/ 100,000kms (whichever occurs first).

See holden.co.nz for full details.

Beat the 2020 Price Rises

3YEARS/ 100,000KMS FREE

SCHEDULED SERVICING AND

FACTORY WARRANTY

ASHBURTON: Main South Road, Tinwald \ 03 307 9028 \ Facebook: SmallboneAshburton

Mon -Fri: 8am -5pm \Sat: 9am -12noon

smallbone.co.nz
---
Page 6, Ashburton's The Courier, Thursday 16 January 2020

High interest

in new plots

The new extension may be

all­but completed, but

burialplots are still

available in the original

Ashburton Cemeteryon

Seafield Road and

residentsare being

advised thesespaces need

to be used firstbefore

moving on to the new

extension.

The AshburtonDistrict

Council has built anew

cemetery alongsidethe

originaltomeet the

town's remembrance

needsfor the next 40

years. Space has been

fillingupinthe

Ashburton Cemeteryand

the $1.5 million extension

wasanecessary

investment.

As wordhas spread

aboutthe new extension,

council has beenfielding

inquiries to purchase

plots in the area, however

thesewill remain

unavailable untilthe last

remaining plots in the

original cemetery have

been used.

As well as providing

remembrance space for a

growing community,the

extensionisalso designed

to meetthe needsofan

increasingly culturally

diverseone.

It includes anatural

burial site,acremation

and ashes scattering area,

as wellasatraditional

gravesite.

Final touches are being

tidiedup at the new

cemetery, including

fencing andgates,

plantingsand signage.

Local news at www.starnews.co.nz

CBD revamp under way

Ashburton District Council has

announced that the construction

tender for the Ashburton

town centre streetscapes

renewal has been awarded to

Tru­Line Civil.

The Christchurch­based civil

engineering company will be

responsible for replacing and

upgrading the CBD's three

waters infrastructure; constructing

new road and footpath

surfaces; and installing new

landscape features.

The $15 million construction

project is expected to begin in

the CBD later this month and

will take about two years to

complete.

The project will create a

pedestrian and cycle­friendly

environment, introduce a

30kmh speed limit in the area

bordered by East, Moore, Cass

and Havelock streets, revitalise

the existing landscaping with

more trees, new plantings and

rain gardens, and install new

lighting and street furniture.

Concept designs were consulted

on with the community

in 2018.

Chair of the Town Centre

Subcommittee, councillor

Carolyn Cameron said the

council was impressed with

Tru­Line Civil's expertise and

Cass Street will be the first street to be redeveloped, with work beginning January 27.

experience in delivering projects

around Canterbury and

the wider South Island.

''Tru­Line Civil have a

proven track record carrying

out a range of civil engineer

projects, and we are very

pleased to have them undertake

this significant upgrade.

''We are excited ­asI'm sure

many in the community are, for

the physical works to finally

begin in the town centre. It will

make atremendous difference

to the look and feel of this

important space, with the intent

of reinforcing a viable and

vibrant CBD, reclaiming retail

spend and attracting businesses

back in the commercial

centre.''

The design scheme was completed

in September 2019 and

is available on the council

website.

The council has been liaising

with affected stakeholders

including property owners and

businesses in the town centre

and will continue to work with

affected stakeholders to reduce

disruption as much as possible

throughout the project's twoyear

duration.

Work will begin on Cass

Street first, followed by

Tancred, Moore and Burnett

Streets, before work finishes up

on East Street and Havelock

Street. For more information

on the project, visit ashburtondc.govt.nz/ashburtoncbd.

Social sciences on Pat's agenda

2245638

By Mick Jensen

It isn't too manyyears ago that

PatrickSandrey wasinschool

uniform and astudent at

Ashburton College.

For thestartofthenew

school year,he'sback, thistime

at thefront of theclassroom,

and as ateacher.

The 22 year­old returnstohis

almamater to teach social

science, in amaternity cover

role.

Since leaving school,Patrick

has completedaBachelor of

Arts at theUniversity of

Canterbury, majoringin

history, andalsoearned a

Graduate Diploma in Teaching

and Learning.

Teaching is his chosen

profession and he's excitedby

the prospectofstartinghis

journeyathis oldschool.

New Ashburton College

social science teacher

Patrick Sandrey is aformer

college old boy.

''Before theinterviewfor the

job, Ihadn'tactuallybeenback

to Ashburton Collegesince

finishingasastudent.

''Instinctively, Iprobably

thoughtIwas goinginfor a

detentionrather thanajob

interview.''

Patrick said there was the

obvious senseoffamiliarity

withthe school, but coming

backasan educator would

present araft of newchallenges

and opportunities.

''It'sonly natural to havea

few nerves mixed in as well, but

generally I'mreally looking

forward to seeingthe futurefocused

direction thatthe

school is heading in andI'm

eager to contribute where I

can.''

Patrick saidhefondly

remembersplayinginthe

school football teamand

travellingtoaway tournaments,

eventhough the resultswere

subpar.

He also really enjoyed school

house events.

''I thinkAsh Coll'shouse

culture is secondtonone.

Events like theprelimsand

Festival of the Spoken Word

werealways agreat chanceto

represent thehousecolours

and to show offsomeskills.''

As an emergingeducator,

Patrickwill be workingtowards

completinghis two years

registration.

He follows in thefootstepsof

former Ashburton College

students,Tom Kitchen and

JackHanrahan, who haveboth

beenrecruited in recent

months to teach German and

drama respectively,and former

headboy Michael Clark, who is

now the assistant head of the

Englishdepartment.

YOUR YEAR OF

GOOD SLEEP

FAMILY-FRIENDLY

MULTIVITAMIN

IRON FOR

ENERGY

Useyour outdoor living areas all year round

EARN UP TO 52

REWARD POINTS

60s NOW

$30 30

was $37.90

20%

OFF

20%

OFF

20%

OFF

120s NOW

$51 90

was $64.90

or split into six

weekly payments

EARN 31

REWARD POINTS

100s NOW

$31 10

was $38.90

HOT PRICE

30s NOW

$15 10

was $18.90

CALL FOR A

FREE QUOTE

ASHBURTON

The Arcade

(03) 308 1815

h2k11@xtra.co.nz

Offer ends 31st January 2020 or while stocks last. Always read the label and take as directed.

Lighthouse Health Distributors Limited, Hamilton. HealthZone Limited, Hamilton. TAPS PP5098.

www.Health2OOO.co.nz

Follow Health2OOOGroup on:

2245665

• Warm &dry in winter • Stylish &permanent

• UV protection forsummer • 5year warranty

Call your local installer

BrentPatterson based in Geraldine

MID &SOUTH CANTERBURY

Freephone 0800 777 855 l www.archgola.co.nz

2128195
---
Local news at www.starnews.co.nz Ashburton's The Courier, Thursday 16 January 2020, Page 7

Century on debut

makes rep coach smile

Record­breaking knocks by

two young Mid Canterbury

cricketers at Hawke Cup level

have senior rep coach Garfield

Charles smiling about

cricket seasons to come.

Angus Jemmett, 16, scored

108 on debut for the team

against Otago Country last

weekend while Archie Redfern,

18, scored 94.

Charles said the impressive

tallies helped Mid Canterbury

post 327, but Otago Country

scored 331 for 8inreply and

collected the first innings

points.

He said the batting of

Angus and Archie was ahuge

highlight of the game. The pair

are among several youngsters

Charles is blooding into the

side.

''If these guys stay around,

in the next few years we will be

aforce.''

Charles said Angus' 108 was

asensational knock. The Ashburton

College first XI cricketer

opened the batting with

Nick Gilbert, who departed in

the fifth over.

He said Angus gave the

Otago Country fielders just

one chance and played a

classic opener's knock, his runs coming off

224 balls over two sessions. He was eventually

caught at mid­on.

Archie, batting at No 3, also showed his

quality, hitting his 94 off 178 balls and always

looking in control.

''Unfortunately he fell short of his century.

Angus Jemmett

They set aleg side field for

the short delivery and he

gloved one.''

While Angus will be back

this season, Archie had knee

surgery this week and is

unlikely to play again in this

Hawke Cup campaign.

Charles said the Christchurch

Boys' High School

cricketer had abright future

and would be aiming to make

the Canterbury Under 19s

again, and higher, when he

had recovered.

Angus and Archie created

a new record Mid Canterbury

partnership (176) for

any wicket against Otago

Country. Captain James

Southby also scored 53 and

starred with the ball, taking 4

wickets. Other wicket­takers

were Shaun Stagg 2­60 and

Will Graham 1­38 and Jay

Houston 1­46.

Two games remain in the

Hawke Cup and Mid Canterbury

will take on North

Otago at Aorangi Oval in

Timaru this weekend.

Charles said with Redfern

and opener Nick Gilbert

unavailable, 15­year­old

Devon Flannery would get a

chance to play.

Mid Canterbury then faces Southland at

Timaru on February 22 and 23. The side's

other Hawke Cup match against South

Canterbury in early December was abandoned

when floodwaters in the Rangitata

River shut down road access to Timaru.

Archie Redfern

The Mid Canterbury Cricket primary rep team, back row, coach Kath Clark, Bailey Fletcher,

Jack Butterick, Tyler Maher, Patrick McHugh, Hanroux Wessels, manager Rosie Robinson,

front, Tom Mckenzie, Blake Robinson, co captains Henry King, George Fulton and Ryan

Richan. (Absent: Ben Walker)

Youngsters nab trophy

AMid Canterbury cricket rep team has won the

Neville Hoskin Plate at the South Island Primary

Schools Tournament (SIPST) inWestport.

The team beat Marlborough byjust one run to

bringhome the silverwareand cap off agood week

of competitive cricket.

Batting first, Mid Canterbury scored 148 inthe

plate final, before being bowled out in the 38th

over of the 40 over match.

Top scorers were Patrick McHugh on 39 and

Blake Robinson with 27. George Fulton followed

up his 21 runs withthe battotake 5­20 offhis eight

overs.

Day one of the five­day tournament did not

start well for Mid Canterbury, with their first T20

game against Southland Country abandoned and

the second game resulting in a defeat against

Marlborough.

On day two, they upset aDunedin team inthe

20­over encounter with three balls to spare, but

lostasecond game to Nelson by 29 runs. Day three

resulted in wins over Buller and Otago Country.

Mid Canterbury finished 4th equal with five

other teams after the grading rounds, but alower

netrun rate put theminthe bottomdivision of the

play­offs.

Playing inthe semi­final ofthe Neville Hoskin

Plate against West Coast, the Mid Canterbury

boysscored 385­5 from their 40 overs andwenton

to comfortably win the match by ahuge 330 run

margin.

Blake Robinson retired on84, Tyler Maher hit

78 offjust 36 balls, GeorgeFulton pickedupahalf

century and Hanroux Wessels took 4­10 from his

4.4 overs.

The Mid Canterbury team was coached by

Kathryn Clark and Rosie Robinson was the team

manager.
---
Page 8, Ashburton's The Courier, Thursday 16 January 2020

Pickleball event

GREAT

RATES

Your LocalVoice

I'm available to meet with

constituents onMondays and

Fridays, and anyday that Parliament

isn't sitting. Contact my office in

Timaru or Ashburton tomake an

appointment to meet orspeak with

me. Ialso hold constituency clinics in

other towns across the region.

Andrew Falloon

MP forRangitata

Timaru Office AshburtonOffice

139Stafford Street, 81 Harrison Street,

Timaru

Ashburton

03 6831386

03 3087510

andrewfalloonforrangitata

rangitatamp@parliament. .govt.nz

Authorised by Andrew Falloon MP,

139 Stafford St, Timaru.

Ashburton will host the

South Island's first pickleball

tournament this year.

Called the Mid Canterbury

Winter Classic 2020,

the tournament will run

from July 10­12 and be

held at EA Networks

Centre. The centre hosts

regular pickleball sessions

on Sundays.

Pickleball combines elements

of badminton, tennis,

and table tennis and is

one ofthe fastest growing

sports inAmerica.

Playersuse special paddles

and awiffle ball, and

games take place on courts

with specific pickleball

lines. Nets and court sizes

are smaller than for tennis

or badminton, and the

most common game is

doubles, although singles

are also anoption.

PC Repairs, Set-up and Tutoring

Icome to youday or evening!

NewPCs

and Laptops

forsale

•PCRepairs/Sales •Networks/Servers

•Firewalls/Security •Spyware Clean-up •Training

20 YearsExperience Microso Cerfied Professional

NETWORKS FIREWALLS AND PCS LTD

Robin Johnstone 67 Aitken Street, Ashburton

P: 03 308 1440 C: 027 768 4058

robinbj@xtra.co.nz

2245342

Local news at www.starnews.co.nz

Hip­hopping for acause

By Toni Williams

Dance teacher and choreographer

Poppy Donaldson ran a

hip­hop workshop in Ashburton

last weekend to raise money for

people affected by the Australian

bushfires.

The 26­year­old, who has

lived in Melbourne, Australia,

for the past seven years hails

from Ashburton. She was home

for the holidays and wanted to

do something to support those

back in her newly­adopted

country.

"It's something that really hits

home for me because it's the

place I chose to make my

second home and literally the

whole country is on fire at the

moment," she said

While her own home in the

citywas untouched, she knew of

people who had been affected.

"There's been alot of bushfires

around Melbourne and it's

affected alot of the people I

know and alot of families of

people Iknow."

Her workshop was well

received. Twenty­five women,

of all ages and abilities, took up

her offer to learn some hip­hop

moves at the Balmoral Hall in

downtown Ashburton onSaturday.

It was the studio she

learned todance in more than

20 years ago.

Ms Donaldson, who has been

dancing since she was three

years old, has been choreographing

and teaching dance

since she was 15 years old.

She originally trained under

Police app

Police have released afree

mobile app for people to

access news, information,

alerts and other police

services.

The NZ Police app is

available for download

from the Google Play

Store and Apple App

Store.

Commissioner ofPolice

Mike Bush said the app

gives users an easy way to

receive national and local

bulletins, report incidents

via the new 105 online

form and access other

policing services.

Dance teacher Poppy Donaldson leads ahip-hop workshop for budding dancers keen to

learn new moves and support people affected by the Australian bushfires.

Ashburton dance teacher Charmaine

Quaid and then worked

with musical theatre, including

the children's and operatic theatres

in Ashburton, the Methven

Theatre Company and Hagley

Dance Company in

Christchurch before venturing

across the Tasman to take up a

scholarshipstudy opportunity at

The Edge Performers School in

Melbourne in 2011.

It opened up the door to

professional work and she now

teaches dance, including hiphop,

jazz, tap and ballet, at two

studios in Melbourne six days a

week. One of those studios has

a hip­hop dance team which

competes in the United States

every two years.

During the 90­minute workshop,

which included cardio

warm­up and stretches,budding

dancers learned some grooves,

learned about isolation body

movements, waacking (adance

style) and to let go and havefun.

She encouraged people to ask

heaps ofquestions.

"It's going to be super fun,

super chilled," she said, of the

workshop.

"It's all about just getting out

there and doing something fun

for yourselves but also for the

community."

She was grateful for the

support from the Ashburton

District Council and the dance

studios around town who had

shown their support.

Money raised from the workshop

was to be given to Salvation

Army who were helping

people affected bythe fires.

Check out the video at

ashburtoncourier.co.nz

Mid/South CanterburyContinuous Spouting

The Original

Spouting Specialists

TM

TM

TM

Have youbeen affectedbythe

recent hail storms?

We can deal directly with your

insurancecompanyand

minimise your stress

Call us nowfor afreequotation

Serving

Mid/South

Canterbury

for over

26 years

John Tull ...providingoutstandingservice,

afterinstallation care and pricing requirements!

Phone him on 021 288 8290

Email: john@canterburycontinuous.co.nz

www.continuous.co.nz Freephone 0800 50 1993

2244865

Ian Fyfeand Paul Gray tinker with athree-horsepower Hornsbystationary engine during anopen day

at the Plains Vintage Railway and Historical Museum.

Showcasing engineering history

Ian Fyfe and Paul Gray enjoy

tinkering with engines.

They both have an interest in

engineering and, as members ofthe

Plains Vintage Railway and

Historical Museum, they get to

explore the workings of the many

engines on site at the Tinwald

facility and learn about their

history.

They also get to showcase them

to the public, which they were

doing last weekendasthey worked

with some of the stationary, or

fixed, engines; among them a

couple of Hornsby's engines, an

Anderson Foundry engine and a

Fowler engine.

The Hornsby (pictured front) is

around 100 years old. It was made

in England and converted from gas

to petrol.

The three­horsepower engine

was used to pump water before

electricity arrived.

The Anderson engine, aquiet

running engine, was used in Mid

Canterbury dairy sheds. It too is

three horsepower and runs on

petrol.

However the bigger Fowler, an

eight­horsepower model, was used

on Mid Canterbury's irrigation

motor pumps and runs on diesel.

Tinkering with engines is ahobby

both men have been able to do in

their professional lives as truck

drivers, although Mr Fyfe is since

retired.
---
Couple tow coffin

to Parliament

Camilla and Julian Cox left Ashburton on Wednesday morning with their

tandem bike and coffin on their awareness ride to Wellington.

Dunedin husband and wife Julian and

Camilla Cox arrived in Ashburton on

Tuesday afternoon on atandem bicycle

and towing a coffin with a skeleton

named Hope seated behind them.

The couple are part way through an

epic 1200km ride from Dunedin to

Wellington aimed at persuading the

Government to increase the funding of

Pharmac, the agencywhich decideswhich

medicines and pharmaceutical products

are subsidised for use in the community

and public hospitals.

The bike trip isapart of an awareness

campaign and is collecting signatures for

apetition over its 18­day duration.

The petition, organised by Patient

Voice Aotearoa, asks Parliament to urge

the Minister of Health to conduct

external reform of Pharmac and to

double Pharmac's budget immediately,

with aplan to triple the budgetwithintwo

years.

The drug funding issue is important to

Julian and Camilla Fox because their

19­year­old daughter Rachael has cystic

fibrosis, but cannot freely get new lifesaving

and life­changing medications

here.

''We can't access the drugs in New

Zealand, despite these medicines being

funded in countries like Australia and

Britain,'' Mr Cox said.

''Pharmac has agreed tofund at least

one of these treatments, kalydeco, with

low priority. This effectively means it will

never be funded.

''People who need kalydeco, like our

daughter, just can't afford to wait.''

New Zealanders who have never

needed unfunded medicines don't know

how dire the state of funding in New

Zealand is, says Mr Cox.

New Zealand ranked last out of 20

OECD countries for market access to

modern medicines.

''We think it's just so important that

the petition to double Pharmac's budget

is successful, so we decided to do the ride

to Wellington to generate publicity, raise

awareness and collect more signatures.''

The tandem bike being ridden bythe

Dunedin couple was bought 28 years ago

to tour the USA, after the pair finished a

year teaching inJapan.

The coffin being pulled weighs in at

about 50kg with luggage inside it.

The couple plan to arrive in Wellington

on January 22 and will leave the

coffin outside Parliament and present the

petition.

The petition is aiming for 250,000

signatures and can be viewed and signed

via the website rip.kiwi.

Cultural showcase back on

The Ashburton district

will once again showcase

its cultural diversity at the

11th Multi Cultural Bite

(MCB) event on February

6.

The community event

invites different cultures

from within the community

to prepare and share

bite­sized portions of

food which represent a

taste of their culture.

There is also an entertainment

line­up with an

international flavour that

offers afurther glimpse of

cultural identity.

MCB co­ordinator Ida

Casipit said the final

details of the Waitangi

Day event were coming

together and it was shaping

up to be agreat day

out and acelebration of

the district's cultural

roots.

Countries signed up for

the food stalls included

the Philippines, Singapore,

Brazil, Egypt, India,

Nepal, Argentina, Tonga,

Netherlands, Sri Lanka

and Samoa.

New countries for this

year's event were Nigeria,

Poland and South Africa.

Mrs Casipit said there

Takumi Japanese Drumming Group

was a huge line­up of

performers that included

the return of the popular

Takumi Japanese Drumming

Group.

Others on stage were

the CCC Samoa Ashburton

Youth and Christchurch

Zhonghua Chinese

Society dancers.

Local performers

included Ocean Waitokia,

Ashburton Silver

Band, Tekoare Paul and

Ashburton Pipe Band.

''The emphasis is about

showcasing all the different

cultures that now call

the Ashburton district

their home,'' she said.

''There will be teachings

of how to wear traditional

clothes, henna, calligraphy

sessions and face

painting, as well as the

Smile project, map pinning,

and aphotobooth.

''Bite is not just about

nourishing ourselves with

different foods, but also

about educating ourselves

about different cultures

as well.''

The event will also feature

acultural parade and

judging of the best stall

and food. MCB runs from

10am until 2pm and will

be held on East Street in

front of the clock tower

and around Baring

Square East.

PamsFresh Sweet

Temptation Tomatoes

500g Prepack

Product of New Zealand

$

2 29 pk

Heartland

Potato Chips

150g

$

1 99 ea

KeriPremium

Fruit Juice 1Litre

Fresh NZ Skinless

Chicken Breast Fillets

Puhoi Valley

Yoghurt 450g

Pams Fresh

Cooked Chicken

Large (Available at

Selected Stores)

12 99 ea

$

12 99 kg

$ 4

99 ea

ANY

2FOR

$

4 99

www.foursquare.co.nz

The Ned 750ml

(excludes Pinot Noir

&Chardonnay)

$

13 99 ea

facebook.com/FourSquareNZ

Specials availableSouthIslandonly from Monday13th January untilSunday26th

January2020orwhile stockslast. Wine andbeeravailableatstores with an off

licence.Wineand beer purchases restricted to personsaged 18 years old and over.
---
Page 10, Ashburton's The Courier, Thursday 16 January 2020

Family Notices

DEATHS DEATHS DEATHS DEATHS DEATHS

DOLBEY, Wilfred (Keith):

Died peacefully on December

29, 2019 aged 88 years, now

back in the arms of his true

love Ngaire to whom he was

married for57years.

Best ever dad, father in law

& grandad of Rosy & Peter,

Shirley &the late Tim &Don,

Carolyn & Richard, Lenny &

Trina, Robert&Merran, Emelia,

Michael,&Issy &Wayne.

Loved eldest son of the late

Leonard and Florence Dolbey,

and brother to the late

Maureen, Daphne, &Yvonne.

Will be sadly missed but will

be in our hearts forever. Alife

well lived.

Messages to: The Dolbey

Family, c/- PO Box 6035,

Ashburton7742

A service celebrating Keith's

lifehas already been held.

0800 2MEMORY

027 637 1229

GRIFFITHS, John: On

January 11, 2020, suddenly

at Ashburton. Aged 82 years.

Dearly lovedhusband of Janett.

Much loved dad of David and

Gail, Mike and Michelle, Anne

and Hoss Yeatman, Richard

and Megan, and Jan and

Quinny Ross. Loving grandad

of all his grandchildren and

great grandchildren. Loved

brother and brother in law of

Mervyn and the late Judith

Richardson. "A valued member

of the Ashburton community".

Messages to the Griffiths

family PO Box 472, Ashburton

7740. Agraveside service for

John has been held.

Paterson's

Ashburton

FDANZ

03 307 7433

Birth notices listed by parents will continue to be

free in the Family Notices column.

The initial death notice lodged by a funeral

director will be listed without charge. There will

be asmall charge of $15 for subsequent notices

related to the same death, up to amaximum of 35

words and on aper-line basis after that.

The same low charges apply to other family

notices, such as engagements, acknowledgements,

in memoriam notices and anniversaries.

Supporting the community

96 Tancred Street,Ashburton. Phone 307 8317

Complete

Local Care

Since 1982

HARE, James Joseph (Jim):

On January9,2020, peacefully

at Ashburton Hospital. Inhis

92 year. Dearly loved husband

and companion of the late

Joan. Much loved dad of

Richard and Annie, and Sue

and Cliff. Loved grandpa of all

his grandchildren and great

grandchildren whom he was

very proud. Special thanks to

his Methven House family for

their loving care and kindness

to Jim. At Jim's request a

privateservicehas been held.

Paterson's

Ashburton

FDANZ

03 307 7433

LILL, Donald John

Cunningham: On January

10, 2020, peacefully at

Ashburton Hospital, after a

shortillness.Belovedhusband

and soulmate of Elizabeth,

loved father and father-inlaw

of Mike and Florence

(France), Geoff and Julie,

Felicity and Doug, Cate and

Ben and cherished grandpa

of Kaelan, Alexanne, George,

Ben, Hamish, Sophie, Alex,

Georgie, Ella, Joe, Charlie and

loved brother of Margaret.

Messages to Unit 80, Lochlea,

25 Charlesworth Drive,

Ashburton 7700. A special

thanks tothe wonderful staff

at Ashburton Hospital who

helped ensure Donald's last

days were full of family time,

love and expertcare. Aservice

forDonald has been held.

Paterson's

Ashburton

FDANZ

03 3077433

SKILLING, Nisbet Irene

Georgena: Passed away

peacefully at Ashburton

Hospital on January 13, 2020.

Aged 95 years. Wife of the

late Ron. Loved mother and

mother in law of Annette

and Les Wickstead, (Australia)

Lyall, (Australia) Carolyn and

Les Donaldson and loved

grandma of Jason, and Julian

and great grandma of Ally,

and Jessie; and Tristan. Loved

auntie of all her nieces and

nephews. No flowers by

request please but donations

to the Blind Foundation

would be appreciated and

may be left at the service.

Messages to Skilling family,

POBox 472, Ashburton 7740.

Special thanks to the staff

at Rosebank Rest Home and

Ashburton Hospital for their

special care and attention

they gave to Nisbet. Aservice

to celebrate Nisbet's life

will be held at our Chapel

Cnr East and Cox Streets,

Ashburton on Thursday

January, 16, commencing at

2.00pm. Followed by private

cremation at the Ashburton

Crematorium.

Paterson's

Ashburton

FDANZ

03 307 7433

SAMANTHA

ROSE

FLOWERS

STAPLES, Ernest: (Ness):

Passed away peacefully,

after a long illness, on

January 1,2020, at his home,

Christchurch. Loved husband

of Bevand father and father in

lawofChris and Rana, Dwayne,

Karl and Mel, Hayley and Andy

and much loved grandad

of Michael and Kate; Max,

and Devon; Tamara, Mason,

and Danielle. Messages to

POBox 22, Methven 7745. At

Ness' request aprivate family

servicehas been held.

Paterson's

Ashburton

FDANZ

03 307 7433

WHYTE, Myra Dulcie: (Dulc),

on January 9,2020, peacefully

at Radius Millstream,

Ashburton. Treasured wife

of the late Jack. Dearly loved

mum of Graeme and Michelle,

and Barry. Loved gran of

Nathan, Simon and Skye, Matt

andAleysia, and Emily. Aloved

sister, sister inlaw, and aunt.

Messages to the Whyte family

c/- P O Box 472, Ashburton

7740. A service for Dulc has

been held.

Paterson's

Ashburton

FDANZ

03 3077433

Fire ribbons

Volunteering Mid &

South Canterbury are

supporting the volunteers

fighting the fires in Australia

selling ribbons in

the red and blue colour of

the International firefighter

ribbons. The colours

represent red for fire and

FLOWERS +WEDDINGS +GIFTWARE

SAME DAY DELIVERY IN ASHBURTON

WWW.SAMANTHAROSEFLOWERS.CO.NZ

03 307 4020

Family owned,

locally owned

LREA2008

MCRE

blue for water.

The ribbons are available

for agold coin donation

at Community House

Mid Canterbury, 44 Cass

Street.

All money raised will

go to the firefighters in

Australia.

22 MooreStreet,

Ashburton

0800 2636679

2196498

2227763

Local news at www.starnews.co.nz

Restrictions used

to manage water

The average daily water

consumption in Ashburton,

Tinwald and Lake

Hood forthe first 14 days

of the 2020 year was

15,244 m3, peaking on

January 12 at 19,918 m3.

Residents in Ashburton,

Chertsey, Fairton,

Hinds, Hakatere, Lake

Hood, Mayfield and

Rakaia are currently on

Level 1 water restrictions,

whileMethven and

Mt Somers residents are

on Level 2restrictions.

Council used water

restrictions asatool for

managing demand onits

potable water supplies,

said Ashburton council's

acting group manager

service delivery Brian

Fauth.

He said generally

Level1waterrestrictions

were largely precautionary

and usually enacted

in the summer period as

areminder to customers

to use water sensibly during

the hottest periods of

the year.

In other cases more

targeted water restrictions

(Levels 2to5)may

be required and could be

applied for a range of

reasons such as maintaining

acceptable levels

of service, protecting a

water source from

excessive depletion,

ensuring compliance

with resource consent

limits and conserving

water where a supply's

capacity was reduced, he

said.

The five levels of water

restrictions that council

canimplement are: Level

1 ­ alternative day use;

Level 2­alternate days,

time­limited; Level 3 ­

hand held hosing; Level

4­hosing ban; Level 5–

water conservation

notice (emergency management).

There are around

500km of drinking water

pipes in Ashburton.

Council operates 12

water supply schemes

across the district, schemes

that service around

71% of the population.

Few submitters

on electoral areas

Geraldine people say

they don't want to be

lumped in with Queenstown,

Wanaka and other

towns in the Waitaki

voting district.

The Electoral Commission

is seeking views

about proposed electorate

boundary changes

and seven Geraldine

submitters say they

identify with the Rangitata

electorate rather

than Waitaki.

Rangitata takes in

Mid Canterbury and

Timaru.

There were no submissions

on changes to

the Rangitata electorate

to include Rakaia, which

was previously part of

the Selwyn electorate.

Geraldine resident

Jan Oliver, in a submission

to the commission,

said she had

been a resident of

Geraldine for over 50

years and never missed

voting in ageneral election.

She said Geraldine

was connected to Timaru

for its local government,

health care and education

and the town was

just 30 minutes away.

''It makes no sense to

me that Geraldine is

lumped inwith Queenstown,

Wanaka, Cromwell,

Alexandra,

Oamaru, Tekapo and

Twizel and that our elected

representative

resides in Oamaru.''

Other submitters said

Geraldine identified with

Timaru and Ashburton.

Mike Clare said he

accepted the rationale

for population determining

boundaries, but

including Geraldine in

the greater Waitaki was

bizarre.

''It's obvious whoever

did this has no concept of

the topography and roading.

Please show some

commonsense.''

Alister France said

Geraldine had been an

orphan area of interest

for many years. But it

would be better for the

town tobeinthe Rangitata

electorate, while

Waitaki could gather

more areas ofits interest

in the south.

The commission will

hold public hearings of

objections and counterobjections

next month on

all electorate boundaries,

with a final decision in

April.

Rangitata MPAndrew

Falloon had pushed for

Rakaia to be in the

Rangitata electorate.

"There's a requirement

for them to consider

communities of

interest, and that's the

argument Iput to them

over areas like Rakaia,

Chertsey, Lauriston,

Dorie and Pendarves

being included with Ashburton

rather than Akaroa

and Rolleston.

"Geraldineisinasimilar

position where for a

number of years they've

been part of the Timaru

district but not in the

same electorate as Timaru

itself, so Ican completely

understand their

desire to be part of the

Rangitata electorate.

Unfortunately the

requirements around

population are very tight,

so it's difficult to see how

Geraldine can be

included without major

changes elsewhere."
---
Local news at www.starnews.co.nz Ashburton's The Courier, Thursday 16 January 2020, Page 11

neducationeducationeducationeducationeducationeducationeducationeducationeducationeducationeducation

ucationeducationeducationeducationeducationeducationeducationeducationeducationeducationeducationedu

EDUCATION

ioneducationeducationeducationeducationeducationeducationeducationeducationeducationeducationeducati

ationeducationeducationeducationeducationeducationeducationeducationeducationeducationeducationeduca

ucationeducationeducationeducationeducationeducationeducationeducationeducationeducationeducationedu

ucationeducationeducationeducationeducationeducationeducationeducationeducationeducationeducationedu

ducationeducationeducationeducationeducationeducationeducationeducationeducationeducationeducationed

Enrolling your child at school

Your child can startschoolorkura in New Zealand

between ages fiveand six. All children must be

enrolled at school by their sixth birthday.

If you enrolyour child in aschool whichhas cohort

entry,your childmay be abletostartschoolbefore

their fifth birthday. Cohort entry is when new

entrants start school in groupsthroughout the year,

at the startofeachschool term.

When yourchildhas started at schoolorkura, they

must go to school everyday. This is achange from

the earlier rule,where regular attendance was

required only fromage six.

Enrolling early helpsthe school or kurawith their

planning.

As soon as you'vedecidedonaschool or kura get

in touch withthemtoenrolyour child,arrange atime

for your child to startand arrangesomevisits to get

yourchildused to school or kura.

­Choosing aschool

You can not always enrolyour child at any school

you like.

If the schoolhas an 'enrolmentscheme', inother

words,iszoned, thisgivesthem the authority to

restrictenrolments to families living withinthe zone.

If you want your childtoattendazoned school and

you live outside thezoneyou willhave to apply to go

into their ballot.

Alternatively,yourarea may havemorethan one

school option for you to consider.

Contact your school of choice to discuss options.

­Changingschools

If yourchildischanging schoolorkura for any

reason, you need to let the school know they are

leavingand which school they willbegoing to, and

make sure they are enrolledintheir new school.This

includes movingtoanewprimary school, kura,

intermediate or secondary school.

Once your child is enrolled at anew school, all

theirpersonal records will be sent from theprevious

one.

Hinds School

Are you looking for after school

and holiday childcare?

Ashburton Borough

School

OSCAR Programme

(Out of School Care And Recreation)

Monday - Friday (School terms)

3.00pm - 5.30pm

Monday - Friday (School holidays)

8.30am - 5.30pm

5 - 13 year olds

We provide:

Recreation and art and craft activities

Homework supervision

Afternoon tea

Adult child ratio: 1:10

Experienced and caring staff

A safe environment

LIMITED CASUAL AND PERMANENT

SPACES AVAILABLE NOW

for further information

contact the school office 307 8529

You do not have to be a

Borough School student to attend

2240438

Hinds School is afull primary school catering for

students Years 1­8.

We have adedicated staff who work hardto

foster alove of learning and success for all

students, forming strong partnershipswith parents

and students.

Our staff focus is to cater for all students

abilities and needs by delivering quality teaching

and learning through our Core Beliefs ­

FoundationLearning Skills (literacy and

numeracy), Students as Powerful Learners, aRich,

Relevant and Real Curriculum and Teachers as

Mentors.

These beliefs are well supported by our PRIDE

values: Partnership, Respect, Integrity,

Determination and Excellence.

Within the structure of Hinds School is the

management of the Mid CanterburyTechnology

Centre (MCTC). It caters for 10 surrounding rural

and Ashburton­based schools.

MCTCisavaluable asset to our Mid Canterbury

region, which Year 7and 8students attend every

week.

Strong communication between homeand

school is essential, this is delivered by way of class

seesaw, email,school newsletter, Facebook and

our school website.

Being arural based school we are the hub of the

community and we welcome all within our district

to join us at school based functionsand events.

We are very appreciative of our community's

support and assistance of our students.

Together we strive for our school vision''to be

the best we can be'.

Waihi School

We Believe in Boys

As specialists inboys' education, we spend alot

of time thinking about the unique ways in which

boys learn and grow.

Single­sex education programmes allow boys to

thrive and learn at their own developmental pace

in accordance with their unique learning and

emotional needs.

Boys learn better in an environment that:

~allows them to move while learning (more

kinaesthetic learning and less time on chairs),

~ gives them tasks to apply knowledge, i.e.

learning by doing hands­on activities,

~recognises that boys often 'act first and think

later' so teaches them to take risks responsibly,

~encourages humour; boys make each other

laugh, it is agreat coping strategy,

~ accepts that boys are more comfortable

writing about action, not feelings,

~gives them asafe space inwhich to embrace

performance and other creativepursuits –boys are

extremely creative,

~understands that boys track moving objects

faster than girls but don't hear as well therefore

they need instructions to be short and clear,

~ recognises boys have boundless physical

energy they are often competitive, physical in

nature and inclined toward competitive sport, ~

recognises that boys are essentially disorganised,

so helps them manage themselves,

~provides great male role models and gives

boys an opportunity to be leaders and teaches

them how to lead.

If you'd like to know more or if you think your

son would thrive in this environment, then please

contact us for an informal chat or to arrange avisit.

2239916
---
Page 12, Ashburton's The Courier, Thursday 16 January 2020

AshburtonCollege

Individual ExcellenceinaSupportive LearningEnvironment

COMMENCEMENT OF COLLEGE YEAR 2020

NewEnrolments: AllYear Levels (Students) and Adult Students.

From Monday27January, by appointment

If your student isnot yet enrolled at the College or, asanadult student you are not enrolled, please

phone theCollege Office(308 4193), from Monday20January, tomakeanappointment.

Enrolmentfor Year 9students will include testing.

Leavers sinceend of 2019

Any students not returning to College and who have not notified this, please make contact with the

College Office (308 4193), from Monday27January.

Course Confirmation Arrangements: ForselectedYear 12 and 13 Students only,

by appointment

Dates: Monday27, Tuesday 28 and Wednesday29January, 10:00am-5:00pm.

Venue: College Library.

Year 12 and 13 studentsrequired to confirmcourses, in relation to subjectclashes/courseentry pre-requisites,

will be advised by email to parents/caregiversand students, by Tuesday21January.

Families without email will be notified via post.

Electronic Booking System -Please Book Your AppointmentTime

• Anelectronic booking system is operating forthesedays.

• 'Howtobook'instructions will be included in the email/letter home.

• The booking system will be open from the time youreceiveyour email/letter.

If,due to genuine circumstances,astudentisunable to attend on the abovedates please

email info@ashcoll.school.nz or phone 308 4193. An alternativedate/time will be arranged.

NCEA Results Document: Allstudents -please bring print-out of NCEA Results Document.

Year LevelInformation and Return Dates

Reminder

• Students, ofany year level, not yet enrolled are required todoso-refer to above information and

please phone foranappointment.

• Specific Year 12 and13students: Course Confirmation required -refer to aboveinformation, and please

book on-line foranappointment.

• NewYear10, 11, 12 and 13 students who have enrolled. Please reportdirectly to the StudentOffice.

Year 9Students -Monday03February

• All Year 9students attend,inuniform(College year starts).

• Please reporttothe Auditorium at 8:50am.

Year 13 Students -Monday03February

• All Year 13 students attend,inuniform(College year starts)

• All Year 13 students reporttoAuditorium at 10:00am (notelatestart).

• New Year 13 students reportdirectly to StudentOffice.

• Year 13 students will be released at 12.25pm unless course confirmation meeting required.

Tuesday04February

•Year 13 students return to College Period 3 (11:25am), unless course confirmation meeting

required.Totimetabled classes.

Wednesday05February

•Year 13 students–start Period2(10:00am).ToAko groups.

CommunityEntry Programme Students -Monday03February

• Interviewswith families and students to prepareIndividual Learning Plans begin Monday.

• Families and studentswill be contactedinadvancebythe Community EntryProgramme Manager to

arrange appointmenttimes.

• Any questions–pleasephoneDeniseon027 308 4193.

Kōhanga Students -Monday03February

• All Kōhanga students return, to startat8:45am.

Year 10 Students -Tuesday04February

• All Year 10 students attend,inuniform(College year starts).

• All Year 10 students reporttothe Auditorium at 9:00am.

• New Year 10 students reportdirectly to StudentOffice.

SLSU (StudentLearning SupportUnit) Students –Tuesday04February

• All year level students attend,inuniform(College year starts). Transportstarts today.

Year 11 Students -Wednesday05February

• Course confirmation not required -coursesremain as selectedatthe end of 2019or, where changes may

be required,senior staff will meet with those students.

• All Year 11 students attend,inuniform(College year starts).

• All Year 11 students reporttoUpstairs Café at 9:00am

• New Year 11 studentsreportdirectly to StudentOffice.

Year 12 Students -Wednesday05February

• All Year 12 students attend,inuniform(College year starts).

• All Year 12 students reporttoAuditorium at 9:00am.

• New Year 12 studentsreportdirectly to StudentOffice.

Local news at www.starnews.co.nz

neducationeducationeducationeducationeducationeducationeducationeducationeducationeducationeducation

ucationeducationeducationeducationeducationeducationeducationeducationeducationeducationeducationedu

ioneducationeducationeducationeducationeducationeducationeducationeducationeducationeducationeducati

ationeducationeducationeducationeducationeducationeducationeducationeducationeducationeducationeduca

ucationeducationeducationeducationeducationeducationeducationeducationeducationeducationeducationedu

ucationeducationeducationeducationeducationeducationeducationeducationeducationeducationeducationedu

ducationeducationeducationeducationeducationeducationeducationeducationeducationeducationeducationed

EDUCATION

Ashburton College

Kia Ora and Welcome

Thank you for considering Ashburton

College for your child's

secondary education.

As alarge college weoffer afull

range of academic and vocational

subjects. Likewise, we offer an

enormous scope of sporting and

cultural opportunities.

If your child has an interest in an

activity then chances are we will

have itonoffer. Equally valued is

our widespread community support

which enhances what we can

offer to students' learning, work

and life experiences, and activities.

Our key goal is to provide a

future­focused education that will

enable our leavers to thrive in

Ross Preece

their futures and to make apositive

contribution to our society.

As part of this future­focus we

have, this year, offered our Innovation

Programme to both Year 9

and 10 students.

The emphasis of this programme

istodevelop the skills of

communication, collaboration,

creative problem­solving and

resilience. Our college's values of

'Quality, Pride and Respect' will

continue to serve our students and

our community well.

Currently, weare in the master

planning process for asignificant

school rebuild, as approved by the

Ministry of Education last year.

Thank you for considering our

College.

Ross Preece

Principal/Tumuaki

What Do Students Bring On Their First DayToCollege?

AllYear Levels -onday one please just bring arefill pad and pens (thereisnoneed to bring all books).

StationeryRequirements 2020:

• Year 8students entering Year 9: Students issued with astationerylist during new entrants'visit.

• Year 9students entering Year 10: Astationerylist wasincluded with Year 9Reports posted at theend of

2019.

Forboth year levels stationerylists arealso available on the College web-site:

www.ashburtoncollege.school.nz

• Years 10-12 entering Years 11-13: Students will be advisedbytheir subjectteachers as to whatstationery

they arerequired to have as they attend each subjectclass.

This will be issued with timetables.

Bring Your OwnDeviceRequirements 2020 -all students:

Areminder thatweare asking all students to bring their owndevicetoschool.Specifications have beenissued

to families.Alimited number of devices will be available forstudents not able to provide their own.

College Uniform Clothing Shop

• Open from Monday20January, during officehours: 8:00am-4:30pm.

• Pleasecome to the College Office.

Newand Returning International Students -Enrolments/Orientation:

Wednesday29January - New International Students Only

• Host families please deliver students to,and collect from, the College Office.

• Day starts at 11:00am and finishes at 3:00pm.

• Bring ownlunch.

• Students please bring Passport, and InsuranceDocumentation if youhave this.

• The Clothing Shop will be opened forInternational Students and Host Families.

Thursday30January - New International Students

• Orientation continues.

• Day starts at 11:00am and finishes at 3:00pm.

• Bring ownlunch.

Friday31January - All International Students Welcome

• Day Trip.

• Bring ownlunch,sun screen, sun glasses,swimwear and towel.

Monday03February - Year 9and 13 International Students start

Tuesday04February - Year 10 International Students start

Wednesday05February - Year 11 and 12 International Students start

Year 12 Peer SupportStudents -Monday03February

• Meet in Upstairs Café at 11:25am (Period 3) forbriefing.

• Pleasewear College uniform.

• Peer SupportofYear 9students Period 4(12:25pm).

• 1:20pm -sausagesizzle provided forYear 9, and Year 12 Peer Supportstudents.

• Year 12 studentsleave College at 1:50pm.

Buses -Mid CanterburySchool TransportSystem(MCSTS)

• AllCollege bus runs commenceMonday03February.

These include Ashburton Intermediate School students and Primary students of schools which use the

MCSTSService

Enrolment-ifnot already completed,pleaseaction by Monday20January

• Existingbus students -wedorequireMCSTStobenotified if continuing to use the bus service.

Please advise via email (admin@mcsts.co.nz) -[anytime],orphone: 307 2420.

• Enrolment of students newtothe bus service -please completethrough the web-site www.mcsts.co.nz.

Note: Newbus students arerequiredtoenrol with the bus servicebefore theycan use the buses.

• Parents/caregivers will be notified via email, orbypost where email isnot available, when enrolment is

complete.

Note: Bus Routes –information forall currentusers

Bus routes continue the same as they were at the end of Term Four,2019. Thereare no changes.

College Office Hours

Theofficewill be open from Monday20January,8:00am-4:30pm.

Other Dates

• Leadership Camp (Year 13 students who areconfirmed as attending)

-Monday27-Wednesday29January

• Teacher Only Days -Thursday 30 Januaryand Friday31January

• Pōwhiritowelcome new staff and students(11:30am) -Wednesday05February

• WaitangiDay public holiday -Thursday06February

COLLEGE CONTACTDETAILS Phone:(03)308 4193

Email: info@ashcoll.school.nz

Web-site: www.ashburtoncollege.school.nz

2231481
---
Local news at www.starnews.co.nz Ashburton's The Courier, Thursday 16 January 2020, Page 13

neducationeducationeducationeducationeducationeducationeducationeducationeducationeducationeducation

ucationeducationeducationeducationeducationeducationeducationeducationeducationeducationeducationedu

EDUCATION

ioneducationeducationeducationeducationeducationeducationeducationeducationeducationeducationeducati

ationeducationeducationeducationeducationeducationeducationeducationeducationeducationeducationeduca

ucationeducationeducationeducationeducationeducationeducationeducationeducationeducationeducationedu

ucationeducationeducationeducationeducationeducationeducationeducationeducationeducationeducationedu

ducationeducationeducationeducationeducationeducationeducationeducationeducationeducationeducationed

Methven Primary

School

Methven Primary School is an exciting and

vibrant place for children to do theirlearning.

Our teachers are committed to providing

stimulating learning programmes both inside

and outside of the classroom.

Within our rich and broad curriculum

there is abelief that being able to read, write

and do maths successfully is at the core of a

child's learning needs. To do this we are

increasingly using 'Stellar' (our schoolowned

bus) to transport our children to

learning opportunities within our local

environment.

Our location allows usto run an extensive

Snow SportsprogrammeinTerm 3. Students

take part in class trips and senior students

can opt into aweekly programme tofurther

develop their skiing and snowboarding skills.

Students striving to achieve to their

potential isexpressed in our vision "Preparing

for our future through making pathways

to the stars".

Our learners are collaborative, innovative,

communicators who are able to self­regulate

and manage their well­being.

We have modern, attractive learning

spaces across our school. Students are

supported toestablish their goals and work

towards these through accessing the curriculum

in a variety of ways. As the only

Microsoft Showcase Primary School inthe

South Island, we provide arange of digital

learning experiences to allow students to use

and create with technologies.

We have a great team of teachers and

support staff, supported by aproactive BoT.

We provide avariety ofprogrammes for

children who need specific learning goals.

For further information, please contact Sue

Furndorfler at principal@methven.school.nz

School

term

dates

The Ministry of Education

sets out school date

guidelines each year but

check with your school to

find out your term times

especially around school

start and end of year

information.

Term 1(11 weeks)

between Monday 27

January (at the earliest);

and Friday 7February (at

the latest) and runs until

Thursday April 9.

The school holiday is

then from Saturday April

11 until Sunday April 26.

Term 2(10 weeks)

runs from Tuesday April

28 until Friday July 3.

The school holiday is

from Saturday July 4until

Sunday July 19.

Term 3(10 weeks)

runs from Monday July

20 until Friday 25 September

25.

The school holiday is

from Saturday September

26 until Sunday

October 11.

Term 4(10 weeks)

runs from Monday October

12 until no later than

Friday December 18

(check with your school

for confirmed date).

The school holiday is

generally five or six weeks

long (from school's closing

date until opening

date of school the following

year).

Start ofYear Information

New Enrolments

Monday27January,9:00am - 12:00pm

Ourofficewillbeopenfor newfamilies

wishingtoenrol theirchildren

Class Lists Available

Tuesday 28 January, 5:00pm

Emailedtofamiliesand placedonwebsite

Office Opens

Friday31January,8:30am - 3:30pm

Students First Day

Monday3February,includesawelcome

morningfor students andfamilies

from 8:30am - 9:30am

Visit methven.school.nz for more details

Tinwald School

2020 Back toSchool Dates

Office open for inquiries and enrolments

Thursday 30 and Friday 31,

January 2020, 9am-12pm

Students return Monday, 3February,

classes begin 8.55am

Tinwald School offers excellent education

opportunities for New Entrant

to Year 6children.

We welcome all enquiries and are happy for

prospective families to visit the school and

see learning in action.

For further information contact the

Principal -Peter Livingstone.

School Wiki is the site to see

Visit the school wiki to see our

school in action;

www.tinwaldschool.weebly.com

131 Thomson Street, Tinwald, Ashburton

03 308 4555 admin@tinwald.school.nz

2244890

Ashburton Learning

Centre

AshburtonLearningCentre, centrally

located at 71 Park Street in Ashburton,has

staff availabletoassist you with your

learning needs whetherits for education,

employment or social opportunities.

We offersupport to peopleinneedof

help with different levelsofliteracy,

numeracy andcomputing skills.

For those looking to improve on basic

Englishliteracy (spellingand writing) and

basicnumeracy(maths) skills. OurEnglish

for newcomers can help peopleseeking to

improvetheir English language skills, either

through our English classes or by speaking

in English, andcan openupfurther

opportunities for higher online study.

We offertuition in International English

Language Testing System(IELTS) for those

wanting to sit the IELTS exam.

For peoplelooking to gain National

CertificateofEducational Achievement

(NCEA) literacy or numeracy creditslevel

one, or apprentices wanting supporttodo

their individual qualifications we can help.

Ourdigital support can alsohelp people

looking to becomemore confident

computer users.

TheAshburton LearningCentre also

offersdriver licencesupport,classesinTe

Reo Maori and foundation learning to

support people looking for employment

opportunities.

Allour coursesare free to New Zealand

residents, withasmall feefor non­residents.

To seewhatwecan offeryou check out

our website at www.

ashburtonlearningcentre.co.nz or get in

touch withuson 03 3085322.

Computing/Digital Classes:

Mondays 10:30 AM – 12:30 PM & 1 PM – 3 PM

Tuesdays

7:00 PM – 9:00PM

Wednesdays 9:00 AM – 11:00 AM

Workplace Literacy/Numeracy Support

Work Readiness classes

Health and Safety at Work Unit Standard 497

Apprenticeship Support

Reader Writer Support

Specific Learning Difficulty (SLD) Tutoring

CV and job seekers support

Driver's Licence Support

Digital Literacy

Individual support for computers and cellphones within a group

class setting

At no cost to NZ residents

PELT (Prepaid English Language Tuitition)

Accredited PTE to deliver English tuition for Immigration NZ requirements

ESOL (English to Speakers of Other Languages)

One-to-one classes at times to suit and group classes available

Small fee for non-residents

Mondays Intermediate Level 7:00 - 8:30pm

Tuesdays Beginning Level 7:00 - 8:30pm

Wednesdays Advance Level/IELTS Preparation 7:00 - 8:30pm

Fridays Intermediate Level 10:00 - 11:30am

Forinquiries and moreinformation, please contact:

Phone: 03 308 5322 Mobile: 027 226 9496 Email: adult.literacy@xtra.co.nz

71 Park Street,Ashburton(CnrHavelock Street,old St Joseph's School Bldg)

2239919
---
Page 14, Ashburton's The Courier, Thursday 16 January 2020

Local news at www.starnews.co.nz

neducationeducationeducationeducationeducationeducationeducationeducationeducationeducationeducation

ucationeducationeducationeducationeducationeducationeducationeducationeducationeducationeducationedu

EDUCATION

ioneducationeducationeducationeducationeducationeducationeducationeducationeducationeducationeducati

ationeducationeducationeducationeducationeducationeducationeducationeducationeducationeducationeduca

ucationeducationeducationeducationeducationeducationeducationeducationeducationeducationeducationedu

ucationeducationeducationeducationeducationeducationeducationeducationeducationeducationeducationedu

ducationeducationeducationeducationeducationeducationeducationeducationeducationeducationeducationed

Schools support

The Government

announced last year a

reset of Tomorrow's

Schools, which will put

more support closer to

schools to give every

child the best chance

to succeed.

Tomorrow's Schools

is the name given to

the reforms that dramatically

changed the

governance, management

and administration

of our schools

nearly 30 years ago.

While the current

system has strengths, it

isn't adequately serving

some of our

learners, in particular

Maori, Pacific, people

with disabilities,

people with learning

needs, and those from

disadvantaged backgrounds.

The Government

announced a reset of

Tomorrow's Schools,

which will put more

frontline support closer

to schools to give

every child the best

chance tosucceed.

You can read the

Tomorrow's Schools

Taskforce final report

on the Education Conversation

website.

SCHOOL FOOTWEAR

for boys and girls

• College • Intermediate • Primary

McKinlays, Clarks,Keen,

Julius Marlow, Skechers andmore

Great:- •Quality•Styles •Prices

Tots To Teens

TheArcade, Ashburton Phone: 307 7340

Installing Prideineverything we do.Celebrating

and learning through the values of:

P=Perseverance

R=Responsibility

I=Integrity

D=Diligence

E=Excellence

Enrolments welcome to our family orientated

school from Thursday30January2020.

Pupils and classes resume from Monday3February.

We areproud to be a'PositiveBehaviour 4Learning

and Duffy Book School'.

Contactdetails: Phone 308 5799

office@netherby.school.nz

Principal: Phil Wheeler

We provide help with your child's learning

needs.

Features of our tuition system include:

*Qualified teachers as tutors

*FREEinitial assessmenttodetermine

learning needs

*Individual programmes in Numeracy

and Literacy–includes writing,spelling,

comprehension

*Abalanceofbook work and computer work

*All materials provided -nohiddencosts

*Successful outcomes -manyhappyclients

Call us today!

307 6252

Check us out on Facebook

2239404

2237641

2231178

Preparing your child

Here are some ideas to helpyour

child get ready for school: ­visit the

school or kura with your child ­get the

principal and teacher to meet your

child ­arrange some settling in visits

with their teacher before their first

day ­have aplay at the school in the

weekend ­run around, climbonthe

playground equipment, kick aballon

the field ­talk to the teacher about

your child, include; if your child has

any special health needs, and what to

Ashburton

Kindergartens

Ashburton Kindergartens is agroup of well­established, not

for profit, professional kindergartens based in the Ashburton

community, offering pre­school education for two to five

year­olds.

The kindergartens ­ Allenton, Tinwald Aubrey Mason,

Hampstead, Netherby Merle Leask and Thomas Street ­

maintain a high quality programme, which is taught by

qualified and registered teachers in Early Childhood

Education and supported by amanager and board.

The teachers extend your child's thinking and choices

through individual programme plans and provide an

educational environment and appropriate resources to

support your child's learning needs.

The programme is based on the early childhood curriculum

Te Whaariki, an inclusive approach to achild's development.

Children benefit from the wealth of educational and play

resources, while in asafe and secure purpose­built environment.

We promote high self esteem and confidence for happy

children bring happy parents and families.

All kindergartens are accepting enrolments now and offer

sessions of up to six hours aday, 30 hours aweek, with no fees.

For more information, or to enrol your child, contact your

nearest kindergarten directly, or call us on 03 308 3779.

do, what your childlikes to do, what

they are good at and what makes them

happy

Teach your child somepractical

skills such as; ­todouptheir shoes ­

put on and takeoff their coats­goto

the toilet and wash their hands ­blow

their nose ­unpack and hang up their

bags where they aretold ­recognise

when they arethirsty and get adrink

of water ­ask for things they need.

Help them get ready to learn and

participate in the class by:­beingable

to sit on achair at atable for ashort

time to complete an activity ­are

comfortable being away from you ­

know howtotake turns, and wait for

things ­know the names of colours ­

know the letters of the alphabet ­

know the numbers 1to9­can hold a

pencil correctly and use scissors ­can

write their name ­are able to hold a

picture book and turnthe pages

carefully.

Life

Education

Trust

Inspiring children and young

people to make positive

choices – Life Education

Trust.

In our complex and changing

society, children experience

many challenges that

can seriously impact their

health and wellbeing.

Through our Healthy

Harold Programme we educate

and inspire children to

make positive choices teaching

them tools and strategies

to work through life's challenges.

Oureducators visit schools

around the country in our

fleet of mobile classrooms; in

Mid/South Canterbury we

educate around 8,000 children

every year.

We use arange of technology

to engage children's

imaginations, teaching them

how brilliant the human body

is, about relationships and

communities, and about

resilience and theiridentities.

Our specialist educators

are all registered teachers,

who offer schools a shared

planning approach to create

tailored lessons to ensure we

meet individual children's

learning needs.

As a charity we rely on

sponsors, grants, donations,

and volunteer Trustees to be

able to do our work with

schools and children in the

community.

To find out more about

Life Education Trust visit:

www.lifeeducation.org.nz or

get it touch at haroldlifeed@orcon.net,

or 03 687

7369.
---
Local news at www.starnews.co.nz Ashburton's The Courier, Thursday 16 January 2020, Page 15

neducationeducationeducationeducationeducationeducationeducationeducationeducationeducationeducation

ucationeducationeducationeducationeducationeducationeducationeducationeducationeducationeducationedu

EDUCATION

ioneducationeducationeducationeducationeducationeducationeducationeducationeducationeducationeducati

ationeducationeducationeducationeducationeducationeducationeducationeducationeducationeducationeduca

ucationeducationeducationeducationeducationeducationeducationeducationeducationeducationeducationedu

ucationeducationeducationeducationeducationeducationeducationeducationeducationeducationeducationedu

ducationeducationeducationeducationeducationeducationeducationeducationeducationeducationeducationed

Longbeach

School

Longbeach School offers

Year 1to8students asafe

learning environment where

differences are acknowledged,

accepted and supported.

We strive toensure every

student achieves to the best

of their ability.

Longbeach School has six

well resourced, excellent

learning environments,

where thestaff take the time

to get to know each child,

care forthem andchallenge

them to be the best theycan

by reaching for the STARS.

Our team approach

ensures we deliver the best

teaching and learning programmeswecan

to meetthe

needs of all our students.

Over the years we have

developed many excellent

teaching and learning programmes

which are obtaining

very good achievement

results for our students.

We believethat establishing

trusting and honest professional

relationships with

students is paramount to

learning. This is because

true learning requires

students to take risks. And

so, risk­taking requires trust

and trust is developed when

positive relationships are

established.

Underpinning all that we

do are our six Cs; Citizenship,

Collaboration, Communication,

Character,

Creativity, Critical Thinking.

We live and breathe

these values to ensure that

our school remains a safe

and positive place to learn

while developing essential

lifelong skills in our

learners.

Our strong focus on a

team approach, where teachers

and students work

together to implement our

rich and exciting learning

programmes, ensures our

students from Year 1to 8

become well­rounded citizens

who are more than

ready to moveontosecondary

school.

For more information

please visit www.longbeach.

school.nz

Giant Leaps

Giant Leaps Speech and

Drama provides communication

and performance coaching

for children and teens.

They are the South Island's

largest, and most experienced,

speech and drama company

and are now established in

Ashburton, Geraldine, Timaru,

Christchurch, Oamaru, Waitaki

Valley and Waimate.

Giant Leaps was founded by

Anna Keno who is a NZ

registered Speech Therapist

and Speech and Drama

teacher. The company grew in

response to the demand for

quality programmes and the

realisation that it is vital for

children to be confident,

creative and to achieve lifelong

communication skills.

''It is at the core of who we

are as individuals. It is crucial to

our ability to learn and to

function in our everyday lives

and relationships. Every interaction

we have with others is

defined by our ability to effectively

communicate and perform.

''Giant Leaps Speech Company

was established from that

dream that every child and

teenager can achieve their very

best communication and performance

skills to succeed in

life. These skills are needed

more today than ever before.''

Giant Leaps has ahandpicked

teaching team that are able

to provide their students with

the very best tuition. Teachers

are highly qualified and experienced

with backgrounds in

performing, directing, public

speaking, vocals, radio, theatre

and education.

"We are incredibly lucky to

have ateam that is made upof

the very best in our industry."

''We knowthat if you want to

succeed in a world that

demands confidence, articulation

and the ability to share

your ideas clearly, then you

need good communication

skills.

''So that's why we offer the

best programs you can go

looking for.''

Check out our website at

www.giantleaps.nz to find out

how we can every child achieve

their communication potential.

Ashburton

Gymnastics Club

Thursdays at the AshburtonCollege Gymnasium

Beginning Thursday13th February2020

Threesessions running from

3:45pm to 7:15pm, starting at $9 per week.

Limited spaces available.

Check out our facebookpage

or email ashgyminfo@gmail.com

Forkliftand Dangerous GoodsCourses

NZTAApproved Course Provider,MITO&Competenz Assessor

Classes 2&4,Endorsements F&D

ForkliftF&OSH, Saturdays and other days as requested

Dangerous Goods Course,½day Mondaymornings

CommunityHouse,Ashburtonoryour work place

Forfurther information

Phone Christine 027 245 2563

Everyone reaching for the stars

•CITIZEN •COLLABORATION •COMMUNICATION

•CHARACTER •CREATIVITY•CRITICAL THINKING

StartdateMonday3rd February2020

Ourofficeisopen from the

27th of January9am -3pm

office@longbeach.school.nz or ph 3026643

Principal Neil Simons

MayfieldSchool open forenrolments

Wednesday, January29, 2020

SCHOOLBEGINS

Thursday, January30, 2020

PHONE 303 6214

office@mayfieldschool.co.nz

2236858 2240879

2232109

2239745

Inspiring children and young people

to makepositivechoices

EveryyearLifeEducation Trustteach around

8,000 children in mid southCanterbury

about theirbody,friendships,their

identity, food andnutritionand

helpful and harmfulsubstances.

Find outmoreatwww.lifeeducation.org.nz

or getintouch on 03 6877369|haroldlifeed@orcon.net.nz

CarewPeel Forest School

Caring for:

Myself and Each Other: ManaakiTangata,

Learning: ManaakiAko,

the Environment: ManaakiTaiao

EnrolmentDates: 28thand 29th January2020

at 10am -2pm.

School Starts: Thursday30thJanuary2020

We welcome visitors to our school and would be

happy toshow you around by prior arrangement.

Please phone foranappointment.

Anyqueries canbedirected to thePrincipal,

contactdetailsbeloworemail:

principal@carewpeelforest.school.nz.

We welcomeyour visit.

CarewPeel Forest School

1051 Ealing MontaltoRoad,

Carew, RD 5, Ashburton

Phone (03) 696 3556

Principal: Sharon Ketter

2238846

2237869

WhereChildren Learn

ALL KINDERGARTENS COMMENCE

ON TUESDAY,JANUARY 21, 2020

Up to 30

hours FREE

ECE available at

all kindergartens

&nofees

Newenrolments and enquiries taken from Monday, 20 January2020

•Allenton: 46 Allens Road.Phone 308 7896

•Aubrey Mason (Tinwald): 136 Thomson Street.Phone 308 4379

•Hampstead: 44 Cambridge Street.Phone 308 3954

•Merle Leask (Netherby): 34 Davis Cresent. Phone 308 3337

•ThomasStreet: 21 Thomas Street.Phone 308 9587

Contact: Kindergarten Association Manager

Phone308 3779. Emailassociation@ashkindy.co.nz

Visit: ashburtonkindergartens.org.nz
---
Page 16, Ashburton's The Courier, Thursday 16 January 2020

Local news at www.starnews.co.nz

neducationeducationeducationeducationeducationeducationeducationeducationeducationeducationeducation

ucationeducationeducationeducationeducationeducationeducationeducationeducationeducationeducationedu

EDUCATION

ioneducationeducationeducationeducationeducationeducationeducationeducationeducationeducationeducati

ationeducationeducationeducationeducationeducationeducationeducationeducationeducationeducationeduca

ucationeducationeducationeducationeducationeducationeducationeducationeducationeducationeducationedu

ucationeducationeducationeducationeducationeducationeducationeducationeducationeducationeducationedu

ducationeducationeducationeducationeducationeducationeducationeducationeducationeducationeducationed

Back to school tips

­Ifyour child is new to school, visit the

school grounds over the holidays to help

them feel comfortable with their new

surroundings

­Get your child to have their clothing

and backpack ready the night before

school to reduce stress in the morning

­Ifyour child/ren are anxious about

the first day, make time to talk about

their worries

­Pack alunchbox that will give your

child energy to last the day ­ try

including a mix of fruit, vegetables,

whole grains, dairy products and protein

­Check if your school has asecondhand

uniform shop, or put apost online

to see if you can buy aless expensive

second­hand uniform

­Netsafe has great advice for parents

on buying and using devices for school ­

If you have concerns about your children's

progress, make atime to chat with

their teacher

­ Health experts recommend 9­11

hours sleep for school­age children, and

8­10 hours per night for teens

­Parents on abenefit or low incomes

may be eligible for assistance fromWork

and Income for some school costs

­Ministry of Education

Back to

school

2020.

Mount Hutt College

Principal Jack Saxon started at Mount Hutt

College (MHC) thebeginning of Term 4,

2019.

In the relatively short time Jack has been at

the helmofMHC he has made getting to

know the students and the community his

priority.

He actually startedbysendingout a

consultation survey to staff, studentsand the

school community before he arrived.

By the end of Term 4using information

from the strategic plan, last EROreport,

community surveys and wider conversations

with students,staff, parents and the wider

community,clear directions have been

established for 2020 with the key priorities

including:

1Strengthening communication with staff,

students, parents and community

2StrengtheningStudent Leadership and

Student Agency at MHC.

3Successfullyimplementing Project Based

Learning, Opuke Time, at Year 9­10.

4StrengtheningWellbeing and Inclusion

within andacross the school.

5Developing new partnerships with the

community to supportstudent success.

With this as astarting point for 2020 Jack,

the Board of Trustees, staff, parentsand

students will be setting awider direction,

Vision 2021, through arigorousprocess of

collaboration and consultation over the first

half of 2020.

The starting point for 2020continues the

ongoing developmentofMHC learning

programmes to be futurefocused and to

prepare all students for the world they will

enter as they leave school in the 2020s.

Teachers at MHC are very excited the

introduction of Project Based Learning, or

Opuke Time, across Year 9­10.

Opuke Time willallow students to choosea

project theyare interested in and work

collaboratively with arange of otherstudents,

developing keyattributes and capabilities in

authentic 'real world' environments.

Opuke Time willtake place on

Wednesdays, periods2­4 with each project

spanning two terms.

Teaching staffhave been working

throughout 2019 in preparation for the

introductionofOpuke Timeand the

excitement is high around the potential of the

programme both for MHC Year 9­10 students

in 2020 and the wider school in the future.

Developing greater ownership of their

learning journeyisafocusthat challenges

studentsand provides opportunities for

growth of their 'soft skills' and key

competencies.

MountHutt Collegeasasmaller high

school is fortunate to be able to combine

providing awide curriculum with an

individual focus on studentneeds.

WelcomED.

Welcome to 2020 at Geraldine High School

Mon 20th January: SchoolOfficeopens

Tue28thJanuary: 10.30am-12.30pm -Year 12 CourseConfirmation

Wed 29th January: 10am -3pm -Year 13 Leadership Day&Course

Confirmation

Thu 30thJanuary: Year 7Orientation Day.

SchoolBusesrunning pm only

Fri 31stJanuary: All school begins. Powhiriassembly at 8.40am.

SchoolBusesrunning am andpmfor all students.

93 McKenzie St, Geraldine |03693 0017 |office@geraldinehs.school.nz

geraldinehigh

geraldinehs.school.nz

2148717

Mayfield School

Mayfield School is a decile 7 co­educational

state fullprimary school (U2 grade) catering for

new entrants to Year 8students.

At the end of 2019 our roll was 80 students.

Mayfield School is very much at the heart of

the Mayfield community. We are surroundedby

mountains, notably Mt Somers, Mt Hutt, Mt

Peel and Surrey Hills.

These form the names of our four house

groups we run at school and give usour local

identity. In 2020, we will be afive classroom

school, all with low pupil­to­teacher ratios. We

have asupportive board oftrustees, who fund

an extra teacher and run aschool farm and an

active Home and School committee who

organise fundraising activities and social events.

We are proud of our recreational facilities,

which include four adventure playgrounds,

extensiveplayingfields andschool gardens. Our

school has amotto, 'Striving High'.

This motto is what everything Mayfield

School is about, aswestrive high ineverything

we do and this is an expectation for our

students, staff and school community.

The school is well­equipped with the latest

information and communications technology

with25iPadsand alaptop eachfor the children

in the senior class.

Aspecial feature of our school is the club

programme we run in winter for a six­week

block. Thisinvolves staff, parents andcommunity

members sharing their interests and expertise

to give the children meaningful and fun

learning experiences.

For more information about our wonderful

schoolcontact principal Richard Kidd via email

on principal@mayfieldschool.co.nz or visit our

website: www.mayfieldschool.co.nz

Mt Hutt College 2020

SENIORS -YEAR 11, 12, 13

Make an appointmentfor

Wed29 th January 12pm -4pm

to choose or change subjects for2020

FIRSTAID COURSE -YEAR 12,13

Monday27 th andTuesday28 th January

FIRST FULLDAY -YEAR11, 12,13

Thursday30 th January

It's all here!

Contactcollege@mthutt.school.nz,302 8437

Te Kura

oŌpuke

YEAR 7,8,9,10 ORIENTATION

AND ACTIVITY FULLDAYS

Year 7: Friday 31 st January

Year 8(new):Friday31 st January

Year 9,10 (new): Thursday30 th January

SURF SAFE DAY-ALL YEAR 9

Friday31 st January

Whāia te iti kahurangi, ki te tuohukoe,

me he maungatete

Seek the treasure youvalue most dearly, if you bow your head,

let it be to alofty mountain

Office open from Wednesday22 rd January

Timetable for all students starts Monday3rd February

Formal welcome begins at 8.40am. Allparents arewelcome.

furtherdetails: www.mounthuttcollege.co.nz
---
Local news at www.starnews.co.nz Ashburton's The Courier, Thursday 16 January 2020, Page 17

neducationeducationeducationeducationeducationeducationeducationeducationeducationeducationeducation

ucationeducationeducationeducationeducationeducationeducationeducationeducationeducationeducationedu

EDUCATION

ioneducationeducationeducationeducationeducationeducationeducationeducationeducationeducationeducati

ationeducationeducationeducationeducationeducationeducationeducationeducationeducationeducationeduca

ucationeducationeducationeducationeducationeducationeducationeducationeducationeducationeducationedu

ucationeducationeducationeducationeducationeducationeducationeducationeducationeducationeducationedu

ducationeducationeducationeducationeducationeducationeducationeducationeducationeducationeducationed

Carew Peel Forest School

Carew Peel Forest School is your community school

helping children to learn and grow, to care for

themselves, each other and the environment.

We offer an inclusive, caring, family environment

with an innovative curriculum staffed by four teachers

in newly refurbished learning hubs.

Our smaller class sizes give pupils more individual

attention.

We are well­resourced with technology (one device

per student) and awell­stocked library.

The school's latest Education Review Office report

(March 2018) commended our ''very strong, well

established and sustained processes and practices for

equity and excellence and accelerating children's

learning and progress."

It noted ''the curriculum is highly responsive to

children, their interests, learning and well­being'' and

''links closely to children's lives, their place in the

school, the local environment and wider community."

We are assisted by asupportive and energetic Home

and School Association who help us to make sure our

children are at the heart of everything we do.

And our children, who take part in many outdoor

activities and camps, enjoy the school's fabulous play

areas, with spacious landscaped grounds and our very

own 25­metre swimming pool.

We also have garden growing areas, amini farm and

bike track where the children learn about cultivation,

food production and can have fun.

As a Green­Gold Award Enviroschool, and our

ability to own and operate our own school transport

system, we are extremely proud of our special little

school nestled in the heart of Carew.

Please phone us on Ph 03 696 3556, or call in at

Carew Peel Forest School, 1051 Ealing Montalto

Road, Carew, so we can show you around.

The Tutoring Centre

Helping students progress at

accelerated rates is not just a

goal, but a reality for many

students who attend The

Tutoring Centre.

Director Jill Patterson,

along with teachers, Linda

Bullock and Muriel Morgan,

are ateam who are passionate

about building into the lives of

children.

It's not just about learning

gains : for many it's about a

complete shift in self­belief

and a new­found confidence

that is the real achievement.

Once this change takes place,

progress usually happens

quickly.

We recognise that as your

child is unique, so are their

learning needs and our programmes

reflect this. The

Tutoring Centre offers afree

educational assessment prior

to starting lessons.

We are here to help make

learning apositive experience!

Call today for afree assessment.

Phone 03 307 6252.

Business administrationskillsneeded in everysector

Up anddownthe countryandinalmost

every sector of business, employment

opportunities exist forpeoplewithskills

in business administration.

Celine Husband recognised the extent

of those opportunities and decided to

quit herhospitalityjob to studybusiness

administration and technology. "It's an

area with such abroad range ofjobs

available,"she says.

Shechose a17-week certificatecourseat

AraInstituteof Canterburyin Timaru.It

gave herataste of all aspectsofbusiness

and equipped her with awide range of

skills.

Celine says much of her learning was

done through projects and role playing

in realistic business environments.

As part of the programme, she also

undertook a work placement with

Rooney Earthmoving in Timaru."Itwas

great. Igot to put everything I'd learned

into practice."

Sandra Black, senior business tutor at

Ara, says theNew Zealand Certificatein

Business Administration &Technology

is agreatentrylevel course that canlead

to jobopportunities in abroad spectrum

of industries.

"It gives you areally solid foundation of

skills andknowledge that canbeapplied

in all sorts ofsectors. Youdon'tneed to

have anyprior experience,and as well as

gaining plenty of useful skills, thecourse

will reallybuildyourconfidencetoo."

Sandra addsthatAra's extensive industry

connections means students get great

work placementopportunities.

Having completed the Level 3

programme inbusiness administration

and technology, Celine has decided to

continue her studies with the Level 4

programme.

The next New Zealand Certificate

in Business Administration starts in

February 2020 at Ara's Timaru and

Ashburton campuses. For details visit

ara.ac.nz.

2244087
---
Page 18, Ashburton's The Courier, Thursday 16 January 2020

Local news at www.starnews.co.nz

neducationeducationeducationeducationeducationeducationeducationeducationeducationeducationeducation

ucationeducationeducationeducationeducationeducationeducationeducationeducationeducationeducationedu

EDUCATION

ioneducationeducationeducationeducationeducationeducationeducationeducationeducationeducationeducati

ationeducationeducationeducationeducationeducationeducationeducationeducationeducationeducationeduca

ucationeducationeducationeducationeducationeducationeducationeducationeducationeducationeducationedu

ucationeducationeducationeducationeducationeducationeducationeducationeducationeducationeducationedu

ducationeducationeducationeducationeducationeducationeducationeducationeducationeducationeducationed

CJ's Driving

School

Schools database online

There is aschool tool available at www.

educationcounts.govt.nz/find­school

which gives information about every

school in New Zealand.

Enter the name of the school you are

looking for, or click on the map, to find

information, like:

­their address and contact information

­type of school ­egprimary, intermediate,

secondary, special school, teen

parent unit

­ the school gender co­educational,

girls or boys school

­ whether they are state, state integrated,

private or partnership schools

­whether they offer boarding facilities

­whether they offer teaching in Maori

medium or Pasifika medium

­ links to their Education Review

Office reports.

If it's got wheels ­preferably big wheels ­

Christine Jones will drive it!

Christine started her career in Driver

Training at the YMCA in 1996 and has

worked hard to gain experience and achieve

her goal of being an Independent Course

Provider for NZTA and ITO Industry

Assessor.

She is aLicenced Driving Instructor and

Assessor, has National Qualifications in

AdultEducation and TESOL, and the owner/

operator of CJ's Driving school.

She has spent most of her life driving all

sorts of heavy vehicles from tractors and farm

machinery to forklifts, trucks and buses.

C J's Driving School provides driver

training and assessment locally right here in

Ashburton.

Christine offers NZTA Approved; Classes

2 and 4 Licence, Dangerous Goods and

Forklift Licence Endorsement courses.

She also offers Competenz/Worksafe

Approved Forklift Safe Operator's Certificate

Courses, as well as the approved Limited

Credit programmefor School Bus Drivers, as

required by the MOE.

All training is offered WEEKLY at

Community House, 44 Cass Street, Ashburton

or CJ's Driving School is able to come to

you and train at your own location.

Christine is excited about training the next

generation of drivers and helping to alleviate

New Zealand's huge skills shortage of

qualified and professional heavy vehicle

operators.

''I am passionate about road safety and

driver awareness. I like to help drivers

appreciate that we all need to be Professional

Drivers and feel proud of the industry we are

working in. Without heavy vehicle operators,

how would we get the food and fibre we New

Zealanders need to feed and clothe ourselves

moved around the country. This is an exciting

career. It's a job where you get to work

outside and you will never get bored, every

day is different.''

She drove school buses for 20 years, which

fitted nicely around family life and other

commitments. Christine has also spent time

abroad driving arange of heavy vehicles.

She has developed a broad range of

experience and life skills and her practical

experience combines with awealth of classroom

experience. CJ's Driving School can be

contacted on 0272452563, through their

Facebook Page, via email: cjsdrivingschool@outlook.com

or by visiting NZTA

and NZIDI websites.

OPENING

HOURS:

8.30am-5.30pm Monday-Thursday

8.30am-6pm Friday

9am-6pm Saturday

10am-4pm Sunday

212 East Street,Ashburton. Ph 308 8309

2244765
---
Local news at www.starnews.co.nz Ashburton's The Courier, Thursday 16 January 2020, Page 19

neducationeducationeducationeducationeducationeducationeducationeducationeducationeducationeducation

ucationeducationeducationeducationeducationeducationeducationeducationeducationeducationeducationedu

EDUCATION

ioneducationeducationeducationeducationeducationeducationeducationeducationeducationeducationeducati

ationeducationeducationeducationeducationeducationeducationeducationeducationeducationeducationeduca

ucationeducationeducationeducationeducationeducationeducationeducationeducationeducationeducationedu

ucationeducationeducationeducationeducationeducationeducationeducationeducationeducationeducationedu

ducationeducationeducationeducationeducationeducationeducationeducationeducationeducationeducationed

Our Lady of the Snows

OURSIZE IS OUR

ADVANTAGE

Our Ladyofthe Snows is afully

integrated Catholic Primary School

for pupils from new entranttoYear 8.

The school'scurriculum reflects

our special Catholic character

preparingour pupils educational

needs in acaring environmentwhere

everyoneshares and lives the values,

teachings and traditions of the

Catholic Church.

The school, convenientlylocated at

20 Main Street,inMethven,isdivided

into two classes; new entrant to Year

3inone room and Year 4to8in

another.

Wealso have amulti­purpose room

where we hold assembly,school

prayer, meetings. It can also be used

as an art and music room.

All classrooms andpupils at Our

Lady of the Snows are individually

equipped with digital technology.

Senior pupils have Chromebook

laptops for classroom use, and the

juniorpupils have access to iPads,

whichare used in literacyand

mathematics programmes.

Extragroup support and teaching is

provided by qualified teacher aides

and all pupils haveaccess to the

schools learning support facilities.

At Our Ladyofthe Snows we have

afully equipped, newly refurbished

MercyLibrary, ateacher aide room,

large spacious grounds with a

playground, two tennis courts, a

scooter area, volleyball court, full size

soccer and rugby pitches and many

trees and gardens.

The school values programmeand

religious education are deliveredin

an integrated approachwith the rest

of the curriculum. And we encourage

all pupils and families to be actively

part of our Christian community with

daily class prayers regular prayer

liturgies and school massheld at least

once each term.

The national curriculumis

delivered with astrong emphasison

literacy and numeracy integratedinto

diverse learning experiencesthat

draw on our unique community and

environment.

There is an extensive fitnessand

sportsactivities programme and we

also valuethe cultural and creative

side of the curriculumwith Kapa

Haka,art, music and drama an

importantpart of learning.

Nestled down atreelined driveway on the edge of

the Methventownshipyou will find averyspecial

Catholicschool, asafe&beautiful placewhere

childrenlearn,play&grow...

We feel positivethatthe smallersizeofour school is

amajor factor in ourability to developthe

self-confidence andabilityofour students.

To arrange aschoolvisistpleasecontact:

Pattie Ree–Principal027 531 7518

principal@ladysnow.school.nz

ladysnow.school.nz

2241063

Unique personal profiles

Some Mid Canterbury children moving

from early childhood education centres to

primary schools this year will be accompanied

by unique personal profiles telling

their new teachers all about them.

Around 1500 children attend early childhood

education centres in the district and

ahigh number of the 300 or so children

who start primary school each year have

attended one.

The unique profiles are the result of a

special research project begun last year to

make the transition from early childhood

to primary education aseamless one.

Advance Ashburton funded the project,

which was undertaken by a group of

dedicated early childhood and new entrant

teachers who are members of the Hakatere

and Opuke Kahui Ako (Community of

Learners). Children usually leave early

childhood centres with alearning journal/

profile book that is part of any transition

process. The early childhood teachers

wanted to find out how useful these

journals/books were, and to differentiate

between the ''nice to know'' and the ''need

to know'' information that would support a

successful transition process for the child

and family.

Nine out of the 14 members of the

Hakatere (Ashburton) early childhood

centres have actively participated in the

research project, while all eight members

of the Opuke (Methven, Lauriston,

Rakaia, Dorie) centres were active participants.

The group has been led and

supported by professional development

consultant, Liz Depree, as well as Across

School Teachers from Hakatere (Anne

Porter) and Opuke Kahui Ako (Rhian

Dyer and Bridget Grant).

The early childhood teachers say feedback

from trialling the first draft of the new

profile in the last term of 2019 had been

positive and the information pack will be

available to all early childhood centres/

services in 2020. They hope to gain

consistency across the whole region so that

they are all on the same page ­moving

towards aseamless education system, birth

to 18 years of age, where children and their

families experience successful transitions

with minimal barriers.

Currently centres vary in the length of

time they prepare children and their

families for transition to school, but

common to all in this new process is an

opportunity to begin aconversation with

the parent, the child and the teachers as to

The Mid Canterbury early childhood and primary education research team

included (back row, from left) Kim Wall, Steph Hansen, Liz Depree, Anne Porter

and (front, from left) Vincent Brierly and Amanda Moore.

what authentic and useful written information

needs to go with the child. One centre

can have children moving on to nine

different schools so the logistics are often

tricky to manage.

The unique profiles are not about telling

new entrant teachers that their new student

can recite the alphabet or count to 100, but

about whether that student is very shy, or

very inquisitive or maybe has specific needs

that better help them learn. The profile

identifies achild's strengths, what they're

working on, what they love, what does and

doesn't work for them. The valuable

knowledge collected by early childhood

teachers is passed on, educator to educator,

through aprocess that is child­centred and

meaningful. Early childhood and primary

teachers agree that it is arelationship of

trust and collaboration, like passing aball

that cannot be dropped.

Tiddlywinks owner Amanda Moore said

ashy child might find standing up in front

of the class on their first day afrightening

experience, so new entrant teachers

needed to know that. Adeep thinker asking

aquestion would need more information

than was usually given.

The early childhood centres and schools

have relished the opportunity to work

together to be part of the research project,

and believe the wellbeing and achievement

assessments for each child in transition will

enable apositive start.

Ms Depree said that after such a

successful year in 2019 the group was

applying to Advance Ashburton for funds

to continue the collaborative research

project this year and with an expected

increase in active participation they

envision growing consistency across early

childhood. The first students with the new

refined profiles will potentially start

schools in February.

Welcome back to 2020

We look forwardtosharing our

P.R.I.D.E.values with you

Partnership-Respect-Integrity-

Determination-Excellence

Startdate is Monday 3rdFebruary2020

Ourofficewill be open FridayJanuary31st

forany enquiries

Please contactuson 03 3037208

or email -office@hinds.school.nz

Principal –Mrs VickiMcIntyre

Commencementof

2020 School Year

School officeopen from

Thursday30th January

Pupils commence

Monday, 3rdFebruary, 9am

Formoreinformation:

Phone 308 9205

Email: office@fairton.school.nz

Principal: Mike Hill

Pride Integrity Excellence Strength

Speech &Drama

ASHBURTON!

ENROL NOW FOR

2020 CLASSES

ALL AGES &ABILITIES

Formoreinformation email: info@giantleaps.nz

freephone: 0800 4SPEECH /www.giantleaps.nz

Confidence. Creativity. Communication skills for life!

2239590

2238771

2069759
---
Page 20, Ashburton's The Courier, Thursday 16 January 2020

Local news at www.starnews.co.nz

HOME &GARDEN

Myrtle rust ­athreat to native trees

As you take to the

garden this summer,

keep an eye out for a

threat to New Zealand's

native plants thatmay be

lurking in yourown

garden –myrtlerust.

Myrtle rust,adisease

caused by the fungus

Austropuccinia psidii,is

threateningmyrtle

plants in New Zealand,

includingsome festive

summer favourites such

as Pohutukawa

(common in the North

Island) and kanuka

(common in the South

Island).

The disease first

appears on myrtle plants

as blotches of yellow dust

on the leavesand stems.

Spores are tinyand very

easy to distribute by

touchand even by wind.

Its abilitytoattack many

differentspecies of

STOP BIRDS

leaves, hail and vermin from blocking

and damaging your spouting

Qualitymaterials: BHP Colorbond steel mesh

with unique patented louvrewill even keep

out pine needles.Will not rust or sag with age

or load.10year warranty,range of colours

Proven in Australia &New Zealand

over the last 15 years.

FOR SAFE, PURE DRINKING WATER

FROM YOUR ROOF.

NOWAVAILABLE:STAINLESS STEELMICRO MESH

Call Rohan anytime Mon-Sat for

ano-obligation assesssment&quote

0800 486532 03 982 8850

myrtle plants and its

ability to spreadsoeasily

means that the disease is

already present in many

areas of the North Island

and in some parts of the

South Island.

You may or may not

havenativemyrtlesin

yourgarden,but nonnative,common

garden

myrtles can also get

infected.

Non­nativemyrtles

include eucalypts,

bottlebrush, guavas and

monkey apples or lilly

pilly, acommon hedge

species. Whennonnativesare

infected, the

spore load builds up,

increasing the threat to

other myrtles,asthe

spores are easily spread

by wind.

Whatcan gardeners

do to make sure their

gardens are protected

www.gumleaf.co.nz

2245493

from disease? The

Beyond Myrtle Rust

Programme, in

partnership with

myrtlerust.org.nz

(hostedbythe Ministry

for Primary Industries),

has released aresource

for gardenerstohelp

them protect against

diseaseorprevent its

spread if the disease is

present.

Tips include:

•Know myrtlerust:

Myrtle rust forms

blotches of tinyyellow

spores thatlook like

clumps of pollen. Spores

can stick to clothes,

shoes and fingers–so

don't touch it!

•Know your myrtles:

If you'renot sure

whetheraplant with

signs of infection is a

myrtle,upload apicture

of it to iNaturalist.NZ

for professional

confirmation, or try the

iNaturalistSeek app for

afast ID.

•Donot prune

myrtlesover the

holidays: Myrtle rust

attacksnew growth and

is less infectious in the

winter,sowait to prune

to avoid growth in

summer and autumn.

•Water myrtles at the

base of the plant in the

mornings: Myrtlerust

thrivesinhumidity.

Water in the mornings at

the base of the plant

avoids wettingnew

leaves,buds and flowers

that are most

susceptible.

•Remove and report

Popular New Zealand native trees such as kanuka and pohutakawa are among those under threat by

myrtle rust.

infected plants:Follow

correct protocols to

removeplants without

spreading the infection.

Pleasereport the

infection on iNaturalist.

NZ

•Don't plant highly

susceptible myrtles: Lilly

pilly/monkeyapple

(Syzygium species)and

Lophomyrtusspecies

(ramarama, rohutu and

cultivatedhybridssuch

as "reddragon")are very

susceptible to myrtle

rust. Chooseotherplants

for your garden.

You can also get into

the holiday spirit by

giving New Zealand's

native plantsavaluable

gift–the removalof

highly­susceptible nonnative

myrtles from your

garden in the North

Island.Itiseasier to

remove plants whenthey

are stillhealthy, instead

of removing them after

they have become

infected.

Keep your home, property secure

2245794

It may be the holiday season, but remember just because

you maybetaking abreak,opportunist thieves are

always on the lookout so keepyour property secure

these holidays.

NewZealand Police prevention manager senior

sergeant Beth Purcell says whilethe holiday season may

be on your mind, it's not the time to relax when it comes

to keepingyourhomeand property secure.

Police staffhaveseenanincreaseinburglaries, thefts

and dishonestyoffences from residential properties in a

number of areas aroundthe country overthe summer

months.

Some simple tipsimprove your homesecurity and

deter burglars:

•Lockyourdoors andwindows.

•Record the serial numbers of expensive electronic

items and photograph these andother valuables, email

images to your home emailfor vault storage.

•Keep valuables out of sight suchasjewellery,

cameras andelectronic games.

•Install an alarm system, get sensor lights fitted.

•Keep gardensheds and garageslocked when not in

use and don'tleave garden tools and mowers outside.

•Keep hedges or plants around doors and windows

well­trimmed, don't give the burglar aplacetohide.

•Keep thehouse secure when you areout in the

garden or yard.

•Note downregistrations, descriptions,date, time

andplaceofany suspicious vehicles or people andgive

us acall.

•Don't leaveyour vehicle windows down whenit's

sitting outside your property.

And remember when going on holidaymake

arrangements for yourmail and newspaper to be

stopped or collectedbyafriend or neighbour.

•Hide valuable items, financial documents and spare

keys to vehicles.

•Lock your garages and any sheds.

•Set timer switches on lights and/or radios.

•Don't mention on yourvoicemail you will be away

from home forafew days.

•Beaware that burglars haveaccesstosocialmedia.

If youare going awaydon't post this publicly on your

socialmedia.

•Get aneighbourorfriend to makeregularschecks

on the property. Or get them to close curtainsinthe

eveningand turn lights on to givethe appearance that

someoneishome.

2242242
---
Local news at www.starnews.co.nz Ashburton's The Courier, Thursday 16 January 2020, Page 21

Rural&Lifestyle

Good farm management learnings

By Toni Williams

Chris and Anne­Marie Allen opened their farm

gate to around 40 Canterbury teachers and

industry representatives recently giving them

insight into afarm working to good management

practice.

The Allen's own a 360­hectare sheep and

beef farm at AshburtonForks,near Mt Somers,

in Mid Canterbury.

They run 1500 breeding ewes (either cross

breeds or half breeds).

The half breeds are Merino and Romney

which produces softer wool at around the 23 to

24 micron range.

It makes a"big difference between getting

$2.50 per kilogram to $13 to $14 per kilogram

for the half breed wool. And Iknow which one

I'd rather spend all my time in the shedslooking

after," Chris says.

They also finish 300 to 500 cattle in various

classes, and have a"small amount of cropping"

(20 hectaresofbarley);half of which is for stock

and the rest is sold.

The Allen's bought the property in 1994.

It was sold to them as 900­acres, the yields

noted in bushelsand the fertiliser requirements

in hundredweight. And they have made afew

changes in the past 25 years to bring it into the

21st century.

There is an upgraded irrigation system; they

now have one lateral and five centre pivots.

And it's work made just that bit easier with

reliable connectivity.

They use it to control the water supply and to

turn on and off the irrigation system all from the

touch of abutton on amobile phone.

They also use it to check moisture levels in

the soil and nitratelevels in one of their on farm

wells.

"Stop and start pumps alter the flow­rate for

the amount of water we are putting on per

hectare...it's all (via) cellphones. It's important

to be connected.''

Chris and Anne-Marie Allen address teachers visiting their property.

The recent addition ofthe nitrate sensing

probe into one of their wells, measures in real

time what the nitrate level isin the well.

"We'vegot shallow aquifers,two and ahalf to

three metres deep, sowhat we're doing does

affectthe water but at least we'll build up astory

of what's going on with our activities."

The readings will help them plan their farm

operation; where they plant their winter feed,

and the crops they should grow.

"We use precision irrigation scheduling

water,water monitoring, probes,physical assessments

and relying on electronic systems to

perform."

"It's real time information."

"We'vegot 10 different soil typessowe'vegot

some of the finest soils you can imagine in

Canterbury tosome of the worst challenges."

"And they change over the length of this

house. What's good inone part, may not be in

another."

The property isfully irrigated and has had a

long term irrigation consent off the Ashburton

River since the early 1980s.

It was one of the earlier adopters of

irrigation. And over the time it's changed from

borderdyking (at 30 odd feet gradient) to pivot

irrigation. The gravity fed option was not

efficient enough.

Chris says just athird of the farm was covered

by border dyking, but the water rights should

have been enough to do all of the farm. And it

was only 70 percent reliable.

"We're using the same volume of water we

were using, over all of the farm now with as

much reliability as we can."

Even with the reliable source, the property

has its own water storage pond which spans six

and ahalf hectares.

It holds 150,000 cubic metres of water and is

two and ahalf metres deep.

"That's enough water for 18­20days over the

whole of the property," Chris says.

Chris spends afair amount of time off­farm

duetohis commitmenttothe National Board of

FederatedFarmers and advocating for farmers,

which he is passionate about doing.

And he has some pretty big policy responsibilities

with water, the environment and

biodiversity.

"I'm avery strong advocate of good management

practices," Chris says.

"It's anational discussion and aCanterbury

incentive discussion about getting everyone

doing good management practice."

He says aclassic example was not using the

same level of fertiliser used by forefathers on

the land 60 yearsago. It was unlikely to need it.

Chris saystestingthe paddocks, and getting a

programme for its needs, meant they were

getting the right levels offertiliser they needed

at optimum level.

The other consideration was irrigation and it

meant knowing your soil types, being aware of

moisture deficits, and the need to use water

such as aneed to activate ingredients in added

chemical.

"Make sure you've got aneed for turning it

on".

"We just want to make sure we're being

efficient atwhat we do," he says.

Clark: Farmers cautious on spending

Mid Canterbury farmers are taking

acautious approach to spending,

even though commodity prices are

in their favour, says Mid

Canterbury Federated Farmers

president David Clark.

He said prices for lamb, milk and

crops were buoyant but farmers

were not thinking about buying new

tractors or building new yards

because of uncertainly about

pending Government legislation.

Environmental rules being

considered by Government over the

summer will affect farmers. Some

say the rules have unachieveable

bottom lines that will spell

economic disaster for agriculture

and the country.

Mr Clark said the public policy

needed to be fair and reasonable.

Farmers voiced their big

concerns when the proposed rules

were released in October.

Hundreds of submissions have been

received and Ministers are working

through them before deciding the

final form of the document.

''We are waiting to see where

they decide to land it,'' Mr Clark

said.

''But farmers have stopped

spending. Maintenance and

development has stopped.

''They are not upgrading

irrigation or building anew hay

barn, or re­fencing or building new

yards.

''Commodity prices are near

record highs and this should be a

buoyant time in the cycle.

''But if those rules come out,

retailers in Ashburton better get

used to empty shops.''

Mr Clark said cropping farmers

were gearing towards harvest, with

promising yields expected for those

not affected by last year's hail.

David Clark

Rural

Directory

CONTRACTORSGENERAL

ACL -Ashburton Contracting

Ltd Ph: 308 4039

SHEARING CONTRACTORS

Proshear Limited

Ph: 302 7541

To advertise in this space

please call 308 7664

RURAL DIARY

Thu

•

Thursday, January 16

• Rakaia Gorge On Farm

Lamb

• Temuka Calf Only

Monday, January 20

• Temuka

Tuesday, January 21

• Canterbury Park

All Stock

Thursday, January 23

• Temuka Store Cattle

Monday, January 27

• Temuka

Tuesday, January 28

• Canterbury Park All

Stock excl. Store Cattle

Wednesday, January 29

• Temuka 2th Ewe and

Ewe Lamb

2231137

• DairyNZ accredited

Effluent Pond Design

andConstruction

• Pond Constructionand

Irrigation Development

• Hedgeand Stump

Removal

• Farm Conversions

• DairyTracks–

Lime or Gravel

• PumpHire

• Wellsand Galleries

• Bulk Earthworks

• Subdivisions

• Site Works

• Tree Shear

• Transportation

2246502

199 Burnett Street, Ashburton

2245974

Brought to you by your

local insurance brokers
---
Page 22, Ashburton's The Courier, Thursday 16 January 2020

Local news at www.starnews.co.nz

Reducing nitrates for industry good

Mayfield dairy farmers Grant and Jan

Early have been involved in the

DairyNZ­led programme, Forages for

Reduced Nitrate Leaching (FRNL),

which has won an industry award.

The collaborative six­year programme

focuses on reducing nitrate

leaching on­farm.

It has won aSignificant Achievement

Award through the Canterbury Section

of the New Zealand Institute of

Agricultural and Horticultural Science.

The Early's were among the more

than 100 people and ten commercial

farms who joined the project to learn

more for themselves and as away to

help the industry.

"Nutrient management is going to

affect everyone. The sooner we have

some tested solutions on how we can

mitigate nitrate leaching, while still

farming profitably, the better it will be

for the industry as awhole," they said.

At the start of theproject theirfarm,

which sits on Ruapuna soils and has an

annual rainfall of 800mm, was 375 ha,

90 percent irrigated, at astocking rate

of 3.9.

They had a550 ha dryland support

block providing winter grazing (Kale)

and grain for the dairy.

Since being involved in the FRNL

project the couple have made afew

changes to their operation including

plantain in their regrassing regime,

decreasing their stocking rate to 3.7

cows per hectare, introducing fodder

beet on to the milking platform

followed by an oat catch crop and

reduced the support block to 250ha of

irrigated land, using a rotation of

fodder beet­barley­short rotation

ryegrass­fodder beet.

This has resulted in adecrease inN

surplus ofsix percent and estimated N

leaching of 13 percent.

"We now understand the surpluses

that come from nitrogen fertiliser and

nitrogen in supplements, and how we

can change those to make a difference,"

Mr Early said.

DairyNZ senior scientist Dr Ina

Pinxterhuis said those people and

business were involved in the science,

development and farm application of

the FRNL programme identifying pasture

and crop options farmers can use

to reduce nitrate leaching.

"We're all extremely pleased to

receive this award, and we are even

more delighted to see that many

Grant and Jan Early

farmers have been following the programme

and have already adopted

some of the lower nitrogen pastures,

crops and practices into their farm

systems to improve their environmental

management."

The programme drew onacrossorganisation

team from DairyNZ, the

Foundation for Arable Research, Lincoln

University, AgResearch,Plant and

Food Research,and Manaaki Whenua

­Landcare Research. Eight PhD and

post­doctoral students have been part

of the programme along with several

Honours and Masters students.

"We started in 2013 when farmers

and the community were looking for

better tools and farming practices that

could help reduce nitrates in their

systems and ultimately reduce any

impacts on freshwater and groundwater,"

Dr Pinxterhuis said.

As part of the programme farmers

trialled arange of options to reduce

their nitrogen leaching by 20 percent.

Options included planting low­protein

feed crops such as fodder beet, and

pasture specieslike plantain and Italian

ryegrass which result in less or diluted

nitrogen excretion by animals and more

nitrogen uptake from the soil.

FRNL scientists are now working

with Overseer so it can model the

practices used as part of the programme.

Fun and games

Spot The Difference

Can you find 10 differences between the pictures?

Mighty Maze

2

SNAKES &

LADDERS

Puzzle One

Can you solve the six-letter words?

Connect the letter pairs in the ladder

on the left with the correct pairs in

the ladder on the right, with middle

letters IL. Wehave solved one to

start you off. GRILLS

Puzzle Two

Use the coloured letters to

make two five-letter words on

the snake's back.

We have given the first

letter of the red word

and the green word.

BU

CH

GR

NA

SA

SM

C

IL

L

OR

DS

ED

ES

LS

LY

Build AWord

How many words of three or more

letters can you make from these

blocks? Youmay use each letter

only once. Plurals are OK, but no

words starting with acapital letter

are allowed. There is at least one

word that uses all five letters.

Good 7 Very Good 9

Excellent 11+

O

G

H

T

U

©The Puzzle Company

MAZE SOLUTION

All puzzles ©

The Puzzle Company

BEGINNER'S CROSSWORD

Across: 1. Pilots, 5. Present,

6. Explain, 9. Sparks.

Down: 1. Pepper, 2.Lie, 3. Toe,

4. Stings, 7. Pip, 8. Air.

BUILD AWORD

got, gut, hog, hot, hug, hut, OUGHT,

out, thou, thug, tog, TOUGH, tug, ugh

SNAKES AND LADDERS

BUILDS, CHILLY, GRILLS, NAILED,

SAILOR, SMILES.

CRUMB, LORDS.

SPOT THE DIFFERENCE

1 2 3

5

6 7 8

9

4

Beginner's Crossword

Across

1. People who fly aeroplanes (6)

5. Agift (7)

6. Give an explanation (7)

9. Tiny pieces of burning stuff that jump

out of afire (6)

Down

1. Salt and ______ (6)

2. Tell afib(3)

3. This is on your foot (3)

4. Anettle ______ your skin (6)

7. Aseed in an apple (3)

8. We breathe this (3)
---
Local news at www.starnews.co.nz Ashburton's The Courier, Thursday 16 January 2020, Page 23

PEOPLE

010211

Is your garden

screaming forattention?

Forall your gardening needs

We offer the personal touch

•Mowing•Pruning •Flowerbed preparation

•Fertilisation •Service&Advice

•Professional attention

tion

WHO MEAN

BUSINESS

Ashburton's largest

propertymanagement

company

4PropertyManagers

peace ofmind, better customer

service for you,your tenant &

your property!

www.realestatenewzealand.net.nz/property-management/

RESIDENTIAL

LIFESTYLE

Ph: 308 6173

PROPERTY

3D VIRTUAL

Spruce

Gardens

2245214

Forqualified,experienced &reliable

serviceand advice

Forfreequotes contactAndrew

027 765 2899 or 03 307 1693

sprucegardens@xtra.co.nz

"NoJob TooSmall"

Locally owned

and independently

operated

Andrew

Williams-Freeman

Painting • Wallpapering • Plastering

• Interior • Exterior

• Professional • Prompt

• Competitive

Tony Sivier: M021 878 794 • P307 7289

Email: paintitash@yahoo.co.nz • www.paint-it-ashburton.com

Painting • Wallpapering • Plastering

"NoJob TooSmall"

• Interior • Exterior

• Professional • Prompt

• Competitive

Tony Sivier: M021 878 794 • P307 7289

Email: paintitash@yahoo.co.nz • www.paint-it-ashburton.com

2245201

2245194

2245453

Don't delay call AJ today

•Spider Proofing •Fly Control

•Grain Fumigation •Moss/Lichen Treatment

•Rodents •Wasp nests

Fully qualified &registered Pest Control Technician

A.J Kerr

BEST PRODUCT,THE BEST TRAINED

BEST SERVICE, THE BEST RESULTS!

LocallyOwned &Operated

Call A.J 308 8147

or 0274 325 447

Murray Kerr

On-SiteMobile Hose Repair

and Hydraulic Service

LOCALLYOWNED

ANDOPERATED

•Sales&servicehydraulic components

•Aeroquip hose and fittings

•Repsol oils • On-call 24/7

•Designand installation of hydraulic systems

Email: justin@martinbennett.co.nz

104 Moore Street,Ashburton.

Phone: (03) 308-9778

Justin Bennett

0275 301 272

2245461

2245444

Doaky's Plumbing Ltd

WILSONS

WINDSCREENS

2245448

WE WELCOME ZEK FROM WINSTONES

TO JOIN OUR TEAM

We areyourone stop glass shop for

AUTO and HOUSE

REPAIR or REPLACE

"Your placeorours"

152 Wills Street,

Ashburton

Ph.308 8485

•Plumbing

•Drainlaying

•Blocked Drains

Lindsay027 555 5575

150 SmithfieldRd, Ashburton

doakys@xtra.co.nz

03 308 1248

2245437

PEOPLE

WHO MEAN

BUSINESS

Call The Ashburton Courier

to secure this spot.

Phone 308 7664

2246804

InsuranceWork

Specialising in

PANEL BEATING

SPRAY PAINTING&

of

Cars,Trucks,Buses,Horse Floats &

Motorhomes,Caravans,Trailers,

Farm Machinery, Jet Boats,

LightEngineering and Aluminium Welding

17 Range Street (IndustrialEstate)

Ashburton

Phone 307 0378 l 0274 274 007

Email: busandtruckbodywork@xtra.co.nz

Your Digital

TV Experts

2245440

• Aerial/Dish installations and repairs

• Prewirefor TV/Audio and controlsystems

• TV wall mounting • Cell phone aerials

• Home theatreinstallation • Authorised SkyTVtechnician

Ashburton Geraldine

Methven Rakaia

andeverywherein between

Servicing

ASHBURTON

TV &AUDIO

PH 308 7332 /027 277 1062

ashburtontvandaudioltd.co.nz

2245425
---
Page 24, Ashburton's The Courier, Thursday 16 January 2020

Local news at www.starnews.co.nz

Greens prepped

for Brandon Open

JayJay Simon, 6, Hinarere Simon, 9, Zaylah Morunga, 11, and Mikaere Morunga, 8, (above) were

among the scores of people enjoying adip in the Tinwald Community Pool in the Tinwald Domain last

weekend as the temperature around Mid Canterbury hit the high 20s. The children, who are regular

users of the open air, heated pool, were enjoying their second swim in it this season. During the

school holidays the pool is open every day from noon to 7pm. Costs vary but an average swim costs

$4 for adults and $3 for children.

The Ashburton Golf Club is

expecting abig field for its annual

Brandon Open on February 1.

The 36­hold strokeplay

tournamentisopen to men and

women fromany affiliated golf club

and this year's will be the third

edition. The 36 holesare played on

one day.

Club spokesman Paddy Bradford

said the club's other annual fixture,

the Brandon Bonanza, had been reinvented

to become the Harvey

Norman Classic so there was agap in

the golfing calendar for atwo­round

strokeplaytournament.

''In 2018, the matchcommittee

decided to try out a36­hole gamein

one day,'' Mr Bradford said. ''The

thought being,get it sponsored, put

up agood prize pool, and see if it

would take off.Localbusiness

HydraulinkMid Canterbury jumped

onboard, thanks to Danand Abbey

Bruce, and over50players signed up

for the first year.It's really taken off

over the three years.''

The 2018 event was won by

Cameron Grant, who shot a4­under

par 68 in the morning roundand

followeditupwith an 11­under par

61 in the afternoon, shattering the

courserecord and winningby15

shots.

Lastyear about 70 players took

part, coming from Christchurch and

Gore,aswell as Ashburton. Locals

Josh Smith and Catherine Bell were

the winners.

Mr Bradford said entries were

openfor the 2020 tournament and

sponsors and prizes had been

organised for the bestgross and nett

scoresacross the grades on the day.

Entries can be made via the club or

Mr Bradford,on027 22 44 228.

Sudoku

Quick Crossword

Simon Shuker's CodeCracker

2

Fill the grid so that every column, every row

and each 3x3 box contains the digits 1to9.

1 2 3 4 5 6 7

8 9

10 11

12

13 14

15

16 17 18

19

20 21

22 23

Across

1. Riotous fight (5)

4. Beg (7)

8. Windpipe (7)

9. Intended (5)

10. Always (4)

11. Similarly (8)

13. Smudge (4)

14. Gratis (4)

16. Contrary (8)

17. Frozen (4)

20. Lessen (5)

21. Release from duty (7)

22. Faithfulness (7)

23. Conditions (5)

Target

How many words of four letters or more can

you make? Each letter must be used only

once and all words must contain the centre

letter. There is at least one nine-letter word.

No words starting with acapital are allowed,

no plurals ending in sunless the word is

also averb, e.g. he burns with anger.

Down

1. Nacre (6-2-5)

2. Hire (5)

3. Resound (4)

4. Scram! (4,2)

5. Balance (8)

6. Shifty (7)

7. Tendency to be impetuous

(13)

12. Predict (8)

13. Scholarship (7)

15. Amiss (6)

18. Transparent (5)

19. Oversupply (4)

O T S

S H O

E T L

Good 15

Very Good 20

Excellent26

QUICK CROSSWORD

N

?

I

E

L

P

E

P

Across: 1.Melee, 4.

Beseech, 8. Trachea,

9. Meant, 10. Ever, 11.

Likewise, 13. Blot, 14. Free,

16. Perverse, 17. Iced, 20.

Abate, 21. Relieve, 22.

Loyalty, 23. Terms.

Down: 1.Mother-of-pearl,

2. Lease, 3. Echo, 4. Beat it,

5. Symmetry, 6.Evasive, 7.

Hotheadedness, 12. Foretell,

13. Bursary, 15. Astray, 18.

Clear, 19. Glut.

WordWheel

Insert the missing letter

to make an eightletter

word reading

either clockwise or

anticlockwise.

1 2

C

E

N

U

TARGET

ethos helot hoes hole holes

holt hoot hoots hose hoses

host hostel hosts hotel hots

shoe shoes shoo shoos

shoot shoots shot shote

slosh sloth sooth soothe

soothes thole those tooth

TOOTHLESS tosh

S

O

?

L

SUDOKU

CODECRACKER

WORDWHEEL

1. ZEPPELIN 2. FLOUNCES
---
Local news at www.starnews.co.nz Ashburton's The Courier, Thursday 16 January 2020, Page 25

Ford Focus hatch big seller in UK

By Bob Nettleton

The FordFocushatchis

one of the UK's biggest

selling models but it is

comprehensively

outsold here by Kiwi

favouritessuch as the

Toyota Corolla, Mazda

3and Hyundai i30.

Ford is looking to

turn around that

situationwith its

recently­launched allnew

fourthgeneration

Focus, one of the safest,

most technologically

advanced and fuel

efficient ever. Is this

the breakthrough

modeltofinally put one

of Ford'sbest sellers

globally on the sales

map in thiscountry?

The original Focus

launchedin1999 set

new benchmarks for

driveability and

handling in the small

hatchmarket.Its

successorlaunched six

yearslater lifted it

againtoawhole new

level.

However, the third

generation Focus

released in 2012 really

failed to carry those

benchmarks onwards

and upwards. This, and

unimaginative styling

and the absence of

anything to give it areal

pointofdifference over

some pretty decent

rivals, meantsaleshere

neverreally got out of

firstgear.

Ford will be looking

for amuch stronger

showing from their

recently released fourth

generation Focus,acar

whichlooks to have the

necessary ingredients

to rekindle buyers'

interest in amodel

whosesales have in

recent times slumped.

So what are the big

changesover the old

model? Adventurous

and aerodynamic

styling thatmakes this

latest Focus agenuinely

slipperycustomer with

adrag co­efficientof

just 0.27. There's a

more generously­sized

cabin,afreshly­minted

1.5 litrethree cylinder

engine hitched to anew

8­speed automaticwith

nifty steering wheel

mounted paddle

shifters for whenyou

want to row your Focus

abit harder.

In anutshell, thiscar

is betterright across the

board compared to the

one it replaces, with an

appealing five­strong

model range

comprising four

hatchbacks and aturbo

dieselwagon targeting

the company fleet

market. Prices start at

$31,995 for the entrylevel

Trend hatch, then

ladder their way up to

$41,990for the flagship

Titanium. Between

these two bookends in

theFocus family is the

well­appointed and

priced $36,990 ST­Line.

Recently I've test

driven both ST­Line

andTitanium withboth

making apositive

impression. This

started with the 134kw

1.5litre three­pot

EcoBoost engine. It

certainly raises the

performancebar and

does it with an engine

with one less cylinder

than the motorit

replaces.Aunique

feature is acylinder

deactivationsystem

where one cylinder is

shut down in low speed

driving,improvingfuel

consumption and

reducing engine

emissions.

Boundless energy

andenthusiasm make

this motorengine a

hoot to drive with its

crispeager throttle

response and seamless

powerdelivery. At

times therewas just a

hint of turbolag andthe

occasional hesitant

moment underhard

acceleration from

standingstarts.

This was all that

really stood between

what would havebeen

an otherwise perfect

scorecardfrom me, for

this likeable engine that

hasthe added bonusof

an exhaust note witha

delightful three

cylinder beat.

Ford'snew eightspeed

automaticmixes,

matches and dispatches

thegearchanges with

clockwork precision.

This transmission

skilfully utilisesthe

power and torque of the

motor and maximises

them to provide lively

and smooth power

across awide rev range.

Iwas surprised by

justhow much this

enginepunches above

its weightinthe low to

mid rev range, to create

sucheffortless

performance

particularlyover hilly

and twisty terrain.

Amodernand

functional cabin will

win this car plenty of

fans. Thereisareal

sense of order about

the way all the switches

and stalk controls for

lights, wipersand

indicatorare organised,

making them easy to

findand use.

Instead of a

conventionalgear lever

for the automatic,

there's arotary dialto

select the gearyou

want.This seemsa

slightly odd

arrangementatfirst,

but onceyou become

familiar withitand stop

looking for agear lever

like Idid, it works

brilliantly.

This is the most

refined Focus yet with a

serenelysilent cabin

apartfrom sometyre

rumble over coarse

chipped bitumen. Alot

of focus,excuse the

pun, has gone into

soundinsulation, with

thicker side window

glass, increased

insulation in the door

trims, and engine bay,

all soaking up

unwanted noise.

Cabinand load space

is amajor improvement

over its predecessor.

Unlike that model,

there's plenty of rear

seat leg and headroom,

plus a

well­proportioned rear

hatchthat's up for

carrying decent­sized

loads.

Connectivity is a

majorselling pointfor

this latest Focus,

allowing ownersto

keep in touchatall

times, via asystem

called SYNC 3. You

can operatethe car's

climate controls,

entertainment system,

navigation system and a

linked smartphone with

natural voice

commands.

Acentrally placed,

high resolution

touchscreen puts even

more controlatthe

driver'sfingertips, with

easy menu navigation.

Both cars are laden

with safety kit to keep

you out of trouble,

includingLane Keeping

Aid and Lane Keeping

Alert,along with

pedestrian and cyclist

alert.

Right from day one,

the Focus has been well

ahead of the ride and

handling game.While

some of the

competition has closed

the gap, this model

extends it again, and by

asizeable margin. The

blade control

suspension has been

aroundfor whilenow

and is still as goodas

ever, and betteredby

few in the mainstream

small hatch class.

Through aconstant

programme that's

mixed revolution with

evolution, it's kept

ahead of the advancing

years to deliver aride

and packagethat's

consistently good

acrossthe whole gambit

of driving conditions

and roads.

Of the two models

testedhere, the ST­line

is the best value for

money.However, some

will pay theextra $5k

premium forthe fulllengthsunroof,

leather

seating and afew other

luxury trappings on

offer in the Titanium

package delivers.

Ratingout of 10:

Performance 8,

handling 8, build

quality7,comfort 7,

passenger and load

space 7.

Fuel Economy:

Rightcar website rating

not available,on­road

test average

consumption

7.6L/100km

Value formoney: 7.

Safety: Five Star

ANCAP crashrating.

Overall pointsout of

10: 7.5

The new Ford Focus hatch will win back fans.

:: ROBBIE :: KYLE :: WILLIAM

Your safety is our concern!

Don't wait for your WOF to expire ifyou think

there issomething wrong with your car!

•WOF •Servicing •Tyres •Suspension •Steering •Brakes

• Exhaust specialists •Batteries •Mechanical repairs

Cnr Cass and South Streets, Ashburton

P 03 308 9984 F 03 308 9910

M 0274 999 565

E undercars@robbies.co.nz

OPEN SATURDAYS FOR WOF, 8.00am to 12 noon

2246481

2245778
---
Page 26, Ashburton's The Courier, Thursday 16 January 2020

Speed

shear

event

Pendarves Young

Farmers, Farm

Strong and Rakaia's

Railway Tavern are

hosting aYoung Farmers

Speed Shear

event. It will be held

at the tavern on January

25.

Pendarves Young

Farmers, through

their Facebook page

and by word of

mouth, are calling for

competitors who are

keen to take part.

Registrations can be

made by emailing

pendarvesyoungfarmers@gmail.com

The entry fee for

people wanting to

take part is $20 in the

clean category, $25

for senior category

and $30 in the open

category.

There is a gold

coin entry for spectators

but all proceeds

from the event

will go to Farm

Strong.

Everyone is welcome

to have ago.

Farm Strong is an

initiative designed to

give farmers the skills

and resources to live

well, farm well and

get the most out of

life. Farm Strong

events are used to

help get farmers off

farm for afew hours

and have a chat to

people or just simply

get off farm for a

beer and abreak.

Registrations open

at the Railway Tavern

from 5.30pm on

the day. Agumboot

challenge will kick off

at 6.15pm, and be

followed by the competition

speed shear

from 7.30pm.

Local news at www.starnews.co.nz

Gardens add to drama for students

Imaginations have been given full rein

and Trotts Garden is being used as the

impressive backdrop and playground

for drama students to ''explore'' at this

year's Big Little Theatre Company

(BLTC) summer school.

The ninth theatre summer school

started on Monday and runs through to

the end of the week.

A picnic and drama performance,

using techniques and material developed

over the week, will be presented to

parents on Saturday.

BLTC director Jackie Heffernan said

drama students were using the book

The Lost Words by Robert Macfarlane

to help inspire them to create amap of

their own enchanted gardens in which to

perform their own written scripts.

The large­format spellbook celebrated

the magic and wonder of the

natural world, she said.

Students had looked at words from

nature that featured in the book and in

other fictional drama that were used

infrequently these days, or not all.

Those words included ''lark'', ''conker'',

''bramble'' and 'kingfisher''.

Students used a'wonder word hoard'

to help generate ideas for the scripts.

The aim of the Garden Drama

themed summer school was to bring the

enchanted gardens to life, said Mrs

Heffernan.

The chapel at Trotts was used for

some voice work and spells from Robert

Macfarlane's book were practised and

performed.

Some 15 youngsters aged between

eight and 14 are at the summer school

and Mrs Heffernan is being assisted by

four of her senior drama students.

Christchurch's JASI swim team members and supporters at their accommodation base, the new lodge

in the Tinwald Domain.

City swim team returns for camp

Some 27 swimmers from Christchurch's

JASI swim team have

been enjoying eight days of training

at asummer swim school in Ashburton.

Alongside two coaches and two

managers, the young swimmers

have been training twice aday in

the EA Networks Centre pool

(8am­10am and 4pm­6pm) and also

doing land training.

Swimmers cycle daily from the

Tinwald Domain lodge, where they

are staying, to the pool, which they

share with other swimmers.

The swim team were among the

very first users of the new Tinwald

lodge during a'soft' opening period

last year. Team officials mooted an

interest at the time of returning for

another stay and training camp.

Big Little Theatre Company (BLTC)

summer school students in playful

mood at Trotts Garden on Tuesday.

ACL wins

water contract

The district's drinking,

stormwater and

wastewater services will

be managed by

Ashburton Contracting

Limited (ACL) for the

next five years, after

the award of the

treatment, network

operations and

maintenance contract

by AshburtonDistrict

Council.

The announcement

follows acompetitive

tender and evaluation

process, which

included astatutory

cost­effectiveness

review of the service.

Council chief

executive Hamish

Riach says through this

exercise, the council

was able to test the

market and achievea

competitive price for

ratepayers.

''We're delighted to

award the three waters

maintenance and

operations contract to

ACL. They made a

compelling bid for what

are crucial core

services that residents

rely on.

''Following on from

the review and the

tender process,itwas

very pleasing to achieve

both cost savings and

an improved level of

service for council and

the community.''

The $9.8 million

contract will begin on

July 1.

Stay fit &earn $$$

at the same time

Spend a couple of hours

every Thursday delivering the

Ashburton Courier and Realty in

the Tinwald (Buckleys Terrace/

Melcombe Street) area.

Enjoy the fresh air, stay fit and

reap the health benefits!

Phone Leonie todayon308 7664

to get startedoremail

leonie.marsden@ashburtoncourier.co.nz

Ashburton Mayor Neil Brown comments:

Playball formental health

Show your support for mental

health at the Crusaders game.

Last week, the council and the

Crusaders announced we would be

putting our support behind local

mental health services this weekend

at the highly anticipated Crusaders

versus Hurricanes preseason

match in Ashburton, and I

urge you to get behind this worthwhile

initiative.

For every ticket sold to the

Crusaders' first pre­season match

of the year, the council and Crusaders

will donate $1 each to Safer

Mid Canterbury's Life's Worth Living

project, which is afantastic way

to support our local services and

the people who rely on them in

times of need. Our goal is to raise

$10,000.

We are very proud to be working

with the Crusaders to deliver this

initiative. The club were eager to

get on board and show their

Mayor Neil Brown

support, so that together we can

put much needed funds into the

services that make areal difference

to people's lives.

It means that come Saturday

afternoon, not only will fans get to

see the reigning Super Rugby

champions in their first pre­season

game of the year (and afew new

recruits who are tipped to make an

appearance), but they will also play

apart in supporting Life's Worth

Living project activities too.

Poor mental health doesn't discriminate.

It can affect anyone at

any stage in their lives. In fact,

findings in the New Zealand

Health Survey in recent years

showed that one in six New Zealanders

have had what is clinically

referred to as a''common'' mental

health diagnosis, such as depression,

bipolar and anxiety. This

figure demonstrates just how many

lives are directly touched by mental

health problems, and the reality is

that many of us are in that situation

or know someone who is.

Do something special this weekend

and put your support behind

our local mental health services.

2172542
---
Local news at www.starnews.co.nz Ashburton's The Courier, Thursday 16 January 2020, Page 27

SATURDAY 18TH JANUARY

92 Beach Road, Ashburton 10:00-10:30am 3 1 1 AHB22587

65 Buckleys Terrace, Tinwald 10:00-10:30am 6 2 2 AHB22626

170 Seafield Road, Ashburton 10:00-10:30am 3 1 2 AHB22447

19 Wilkin Street, Ashburton 10:15-10:45am 3 2 2 AHB22606

11 Charlesworth Dve, Ashburton 10:30-11:00am 4 3 3 AHB22611

50 Elizabeth Street, Ashburton 10:30-11:00am 3 2 2 AHB22648

34 Magnolia Drive, Ashburton 10:45-11:15am 3 2 2 AHB22583

15 Orchard Grove,Ashburton 10:45-11:15am 3 2 2 AHB22369

117 Grove Street,Tinwald 11:00-11:30am 3 2 2 AHB22460

25 Saunders Road,Ashburton 11:00-11:30am 3 1 2 AHB22645

24 Charles Street, Ashburton 11:15-11:45am 4 2 2 AHB21619

101 Elizabeth Avenue, Rakaia 11:30-12:00pm 3 1 1 AHB22584

119a Racecourse Road, Ashburton 11:30-12:00pm 4 2 2 AHB22588

1Bennett Place, Ashburton 11:30-12:00pm 4 2 2 AHB22605

4Trellech Place, Ashburton 12:00-12:30pm 4 2 2 AHB22199

150 Milton Road, Ashburton 12:00-12:30pm 4 2 2 AHB22579

26 Allens Road, Ashburton 12:00-12:30pm 4 2 2 AHB22565

2a McDonald Street,Ashburton 12:00-12:30pm 3 1 0 AHB22625

8Elmwood Grove,Ashburton 12:15-12:45pm 5 2 2 AHB22617

22 Wellington Street,Ashburton 12:15-12:45pm 3 1 0 AHB21858

44 Wilkin Street,Tinwald 12:45-1:15pm 4 1 4 AHB22624

25 Wills Street,Ashburton 1:00-1:30pm 4 2 2 AHB22627

13 Parkdale Close, Ashburton 1:00-1:30pm 4 2 2 AHB22395

1/130 Victoria Street,Ashburton 1:00-1:30pm 2 1 1 AHB22619

131 Grove Street,Tinwald 1:00-1:30pm 4 1 2 AHB22593

44 Nursery Drive, Tinwald 1:30-2:00pm 3 2 2 AHB22610

Hutt 8Hakatere, Ashburton 2:00-3:00pm 2 1 0 AHB22650

SUNDAY19THJANUARY

Open Home

24 Charles Street, Ashburton

Everydayliving revolves around the ground floor

which hosts amodern kitchen, dining &living areas &

aseparate lounge aswell as 2bedrooms PLUS an

office. Heating isprovidedvia acompliant log fire &a

heat pump. Arelatively easy-care property which has

been extensively upgraded fortoday's modern

lifestyle. Buyers will appreciate the amount of

windows that flood the home with light &warmth.

Ideally suited to families or those with Airbnb

aspirations.

SetDateofSale

closing 25 January 2019, at

3:00pm

View

Saturday11:15 -11:45am

5 2 2

Armand vander Eik

021 597 527

55 Farm Road, Ashburton 10:00-10:30am 3 1 1 AHB22638

97 Alford Forest Rd,Ashburton 12:00-12:30pm 2 1 2 AHB22544

29 Nixon Street,Tinwald 12:45-1:15pm 4 1 4 AHB22624

Village Green, Lake Hood 2:00-2:30pm Sections AHB22309

rwashburton.co.nz/AHB21619

Mid Canterbury Real Estate Limited LICENSED (REAA2008)

OpenHome

55 Farm Road, Ashburton

Permanentmaterial affordable 3bedroom home in afantastic

soughtafterlocation. Thehardwork has been done, new

kitchen, modernised bathroom, compliant logburner, heatpump,

private outdoor living.

BIR $375,000 -$400,000

rwashburton.co.nz/AHB22638

Mid Canterbury Real Estate Limited LICENSED (REAA 2008)

ForSale

Price onapplication

View

Sunday10:00 -10:30am

3 1 1

Justin Waddell

027 437 1111

4

Open Home

2Trent Place, LakeHood

3 2 2

1/130 Victoria Street, Ashburton

2 1 1

What an opportunity!

-3bedrooms, Master with ensuite &Walk in Robe

-Spacious open plan living with great indoor outdoor

flow

-Good sized double garage

ForSale

$529,500

View

by appointment

Kim Miller

027 236 8627

If you are looking foragood sized unit close tothe heart

of town then your wait is over. This home boasts two

ample sized bedrooms, asizable bathroom/laundry area

and aspacious kitchen, dining, livingarea. Single external

access attached garage plus garden shed.

ForSale

Price bynegotiation

View

Saturday1:00 -1:30pm

Kim Miller

027 236 8627

rwashburton.co.nz/AHB22585

Mid Canterbury Real Estate Limited LICENSED (REAA 2008)

rwashburton.co.nz/AHB22625

Mid Canterbury Real Estate Limited LICENSED (REAA 2008)

Jill Quaid

Manager

027 437 6755

Mark Totty

Sales Consultant

027 454 4745

Kim Miller

Sales Consultant

027 236 8627

ChrissyMilne

Sales Consultant

027 290 6606

Margaret Feiss

Sales Consultant

021 751 009

ShirleyFitzgerald

Sales Consultant

027 220 1528

Denise McPherson

Sales Consultant

027 242 7677

Cheryl Fowler

Sales Consultant

027 461 2614

Armand vander Eik

Sales Consultant

021 597 527

Lynne Bridge

Sales Consultant

027 410 6216

Mike Grant ncre

Sales Consultant

021 272 0202

Dulcie Ellis

Sales Consultant

027 629 3260

BruceMcPherson

Sales Consultant

027 438 4250

Justin Waddell

Sales Consultant

027 437 1111

Jarrod Ross

Sales Consultant

027 259 4644

RogerBurdett

Sales Consultant

021 224 4214

96 TancredStreet, Ashburton 03 307 8317 Main Road,Tinwald 03 307 8317

rwashburton.co.nz

36 McMillan Street,Methven 03 303 3032
---
Page 28, Ashburton's The Courier, Thursday 16 January 2020

Local news at www.starnews.co.nz

open homes

orviewany of our homes in 3D from the comfortofyourhome!

www.realestatenewzealand.net.nz/360-virtual-reality-tours/

191 Burnett St,Ashburton •ph308 6173

Trevor Hurley Real Estate Ltd LREA 2008 -MREINZ

6Ascot Place

(E661)

•Substantial family home

•Threebedrooms +attachedsleepoutwith its ownbathroom

•LED lighting,double glazing,underfloor heating and heatpump

•Sunnyconservatory and spacious section

Offers Over $439,00

OpenSaturday18January,10.00 -10.30am

4 2 3

NEWLISTING

From 10% Deposit $345pw (Conditions apply)

99 Wills Street (W678)

•Superbly positionedfor the sun and outdoor living.

•Spacious lounge,living and kitchen to enjoy.

•Single car garaging plus large shed at the rear of the section

•Only ashortstroll to Domain

$325,000

OpenSaturday18January, 10.00 -10.30am

3 1 1

1Catherwood Close

•Recently redecorated,premium underlay, carpet,vinyl &all new

switchesetc

•Conservatoryofflounge and alifttothe second floor

•Man cave,two toilets,internal access garage

Offers Over $435,000

OpenSaturday18January, 11.00-11.30am

RAKAIA

4 1 2

(W680)

From 10% Deposit $410pw (Conditions apply)

From 10% Deposit $410pw (Conditions apply)

From 10% Deposit $315pw (Conditions apply)

4Andrew Street

(W678) 49 Lane Street (W680) 100 Elizabeth Ave, Rakaia (R064)

•Lovely characterhome with some renovationscompleted

• Appealing homebuilt in the 1980's

Youwon't be disappointedwith this cosy 2bed cottage,nestled on a

•Two extrafully insulated rooms

•Positioned nicely forall daysun

1/4 acreofestablished gardens. Situatedon the east side of the Rakaia

•Several patios foryou to enjoy

•Verysecure fenced section

township,this homeboasts asunnyconservatory and covereddeck

•Close to schools &shopping centre

•Doublegarage with internal access

generous sized single garage,hobbyroom and aglasshouse.

$PBN BIR $349,000 -$379,000

Offers Over $375,000

Enquiries Over $289,000

OpenSaturday18January, 11.00 -11.30am

4 1 2 Open Saturday18January,12.00 -12.30pm

3 1 2

OpenSaturday18January, 11.00-11.30am

2 1 1

From 10% Deposit $240pw (Conditions apply)

Westside Unit

•Great buying here! This unit wasbuilt in the 1980s and is in arow of

three units.

•Ithas averysecure, fully fenced frontyard, in asoughtafter Westside

location with alow maintenaceexterior.

•RVof$240,000

Offers Over $215,000

PremiumDevelopmentOpportunity

(W683)

•Perfect positioning with Mill Creek on one side and acouncil owned

Heritage parkonthe other

•Three large storage sheds with three phase power

•ThereisResource Consentattached to the sheds

•Bareland in townwith the countryatyour doorstep

$PBN

From 10% Deposit $400pw (Conditions apply)

(W670) ProjectWith Potential

(E645) Five Bedrooms!

(W679)

•Project with potential,an opportunityforanastuteinvestor/builder to •Sought afterWestside location on Middle Road

turnthis unique building into adesirable upmarket property

•Roomfor alarge family, heatedbyheatpump+logburner

•Consentedplans available fortwo bedrooms,one bathroom, laundry, •Veryspacious section with plenty of trees

kitchen and livingareas

•Secondshowerroom and toilet downstairs

•This is an excellent opportunity...call todayfor aviewing

2 1 0

Offers Over $365,000

Offers Over $119,000

4 1 2

5 2 2

OTEMATATA

From 10% Deposit $435pw (Conditions apply)

PriceReduced,MustSell (0100)

•Sold fullyfurnished

•Extra large garaging

•Uninterrupted views

•Spacious off road parking

$PBNBIR $359,000 -$399,000

SetSale (USP) 2pm,31January 2020

3 1 2

Proud supporters of the HeartFoundation of NewZealand! We donate from everypropertysold!

New Year -New Career?

Real Estate NewZealandare asuccessful

independant boutique community basedcompany in

Ashburton.Weare without boundaries or

franchisefeesthatlimityourincome&weare

lookingfor anew Salesperson to join ourteam.

So if youare lookingtobeginanew career or if you

arealready licensedand experiencedbut lookingfor

changewewanttohearfromyou!

Apply onlineat

http://www.realestatenewzealand.net.nz/employment/

or email

admin@renz.net.nz.

Confidentiality is assured.

Trevor Hurley

0275 435 799

Tracey Henderson

027 405 8064

Manu Otene

022 308 6885

Linda Cuthbertson

0274087965

Stephen Watson

027 433 9695

Julie Srhoy

021 354 885

Deborah Roberts

0210752180
---
Local news at www.starnews.co.nz Ashburton's The Courier, Thursday 16 January 2020, Page 29

Birthday treat for

Stuart at Plains

BUSINESS OWNERS

Build customers,sales and

profits,with us ...

Over 16,065 copies delivered everyThursday

PRINT, ONLINE ANDMOBILE 24/7

ENTERTAINMENT

Four­year­old Stuart Pouniu (above)

got abirthday treat visiting the Plains

Vintage Railway &Historical

Museum at the weekend. The

preschooler, who celebrated his

birthday on Sunday, was among the

many people to take advantage of the

the Plains open day taking in the

sights, sounds and smells of the

historic village, including the

miniature Burrell traction engine

owned by Methven farmer Ian Marr

(also pictured).

Mr Marr, amember of the

WIN ENTERTAINMENT

acakefor your

special person with

Ashburton Steam and Model

Engineering Club, has owned the

model for two years. He also owns

two miniature steam locomotives and

has two traction engines.

Mr Marr said the fully working

Burrell, modelled on asix­horse

power steam engine, was bought in

''pretty good'' condition although he

had done work on its valve timing and

altering the gear shift.

It runs on ''very little'' Welsh

smokeless coal and if pushed was able

to travel up to10km per hour.

Hatchery manager role

SalmonSmolt NZ is looking for

someone to manage its new hatchery

facilityatWinchmore.

The company is after an enthusiastic

individual who is ''keen to make their

mark and establish thesite as a

standalonesalmon hatchery production

facilitywith the ability to produce high

qualitybroodstock,eyed eggs,fry and

smolt''.

Prior experience in an aquaculture

farming operation is preferred and the

full­time positionwill be supported by a

general manager and assistant

manager.

Salmon Smolt NZ's primary hatchery

is locatedatSilverstream, 20 minutes

northofChristchurch.

MAKE money selling your

unwanted items. Up to 24

words for only $8. Can't get

better than that. The Courier.

LOOKING to earn extra

money, even while you're

out walking? Delivery

people required. Phone

The Courier 308 7664.

CROSSWORD

QUICK PUZZLE NO. 8550

ACROSS

6. Insobriety (11)

7. Stopper (4)

8. Sportsman (8)

9. Antenna (6)

10. Stop (6)

12. Blossom(6)

15. Sparing (6)

17. Snake (8)

19. Ireland (4)

20. Tendency (11)

DOWN

1. House (8)

2. Pin (6)

3. Mean (6)

4. Pound (4)

5. Evaluate (6)

6. Dig (5)

11. Memento (8)

13. Vegetable (6)

14. Bad (6)

15. Uproar (6)

16. Foreign (5)

18. Fowl (4)

CRYPTIC PUZZLE NO. 8550

ACROSS

6. No reason why one shouldn't have beef, too (5,2,4).7.

Run right back to, worried (4). 8. Cups full of water for

the rookies (8). 9. Knockssome objectsfrom the roof (6).

10. An adherent let the little blighter in (6). 12. Rose is

less rational (6). 15. At whichtolaugh -orcry (6). 17. Not

bad: will be capable of cultivation (8). 19. Pinches back,

in turn (4). 20. Except for the elegance that's redeeming

quality (6,5).

DOWN

1.Worried, tried tostir people up (8). 2. Says it's acollapsible

seat, by the way(6). 3. Attack at an auction, verbally

(6). 4. Bank the spare (4). 5.Take that woolly coat

off, do! (6). 6. The lesson to be learned is it'sbad to hide

gold (5). 11. Heshoots and scars the fellow (8). 13. Say

"two points against" (6). 14. Dressing the old boy to go

into the arena (6). 15. Asmall shelf onrunners (6). 16.

She left one inside, one outside (5).18. Say it'swonderful

and seem very touched (4).

SUDOKU

HARD No. 5202

7 9 5 1

9 3

2 5 3

6 3 2

3 4 9 7

8 5 7

6 8 1

2 4

5 1 6 2

Solution to previous Sudoku

Howto

solve

Sudoku!

Fill the grid

so thatevery

rowand every

3x3 square

contains the

digitals 1to9

8 4 3 1 7 2 5 6 9

9 1 2 5 6 8 3 4 7

6 5 7 4 9 3 8 2 1

5 2 9 8 3 6 1 7 4

4 3 8 7 2 1 6 9 5

7 6 1 9 4 5 2 3 8

2 7 5 3 1 9 4 8 6

1 9 6 2 8 4 7 5 3

3 8 4 6 5 7 9 1 2

Solution to previous crossword

QUICK PUZZLE NO. 8549 -SOLUTIONS

Across -6,Motionless. 8,Teak. 9,Mere. 10, Whale. 11,

Rust. 12, Unhurried. 16, Sensation. 20, Fuss. 22, Clear.

23, Tote. 24, Alto. 25, Repository.

Down -1,Solemn. 2, Hideous. 3, Answer. 4,Decade. 5,

Aster. 7,False. 13, Inn. 14, Statute. 15, Build. 17, Exempt.

18, Stress. 19, Outcry.21, Score.

CRYPTIC PUZZLE NO. 8549 -SOLUTIONS

Across -6,Stan-d in a-we. 8, Lark. 9, Flat. 10, Easel. 11,

Sock. 12, Gr-land-ed. 16, Grill-room. 20, Spot. 22, Right.

23, Va-I-n. 24, (yl)Lis-a (rev.). 25, Man of steel.

Down -1,Ste-L-la. 2, In-stall. 3, G-I'd-eon. 4, L-ass-ie.

5, Wells. 7, Crack. 13, DA-I (rev.). 14, Pr-I-V-ate.15,April.

17, R-ag-ing.18, Let off. 19, O-liver.21, TrA-mp (rev.).

ContactJann Thompson 03 308 7664 jann.thompson@ashburtoncourier.co.nz

2231120

Main South Rd, Tinwald. Phone 308 5774

Birthdays this week

Chris Clay, 17th January, aged 40

Connor Stratford, 20th January, aged 9

Seth Hosken, 21st January, aged 15

Josh Jones,24th January, aged 18

Congratulations to last weeks winner!

Ben Leary

If youhave aspecial friend who youwould like to see

win acake,put their name in the BirthdayBooks at Sims

Bakery, Tinwald or Ashburton'sThe Courier,199 Burnett St.

N.B: Names forbirthdays next week

must be with us by 10.00am TUESDAY

ONLYONE ENTRYWILL BE SUBMITTED

INTOTHE DRAW PER NOMINEE

ARE you struggling to make

ends meet? Need extra

money? Why not sell your

unwanted items in The

Courier! Everything helps.

ARE you looking for a

flatmate, somewhere to

rent or a boarder? What

better place to advertise

than The Courier.

THE Courier is the best way

to advertise in Mid Canterbury.

Ask anyone who

regularly advertises with us

and they'll tell you, they get

results.

SPACE available for next

weeks Courier -bequick!

Talk to us about your advertising

requirements. Phone

308 7664 or call into our

office at 199 Burnett Street,

Ashburton.

WHAT better place for a

public notice than Ashburton's

The Courier! Simply

clip the form for a run-on

advert like this or telephone

us on 308 7664 if you

require adisplay advertisement.

Sat 14th March 6:30pm

This is atailor made programme for all ages.

Watch the dancers of RNZB perform some of

their favourite works inspired by the goddess of

the hunt and of the moon. With agreat line up

of dancers this is aballet not to be missed.

2245257

Celebrating 20 years –

MidCanterburySummer Singing School

Fri 17th January 7:30pm, Sat 18th January

2pm and Gala Evening 7:30pm

Celebrating 20 years of musical theatre camps

this show has it all. With students from the past

and present there will be 110students who will

showcase their talents. The Gala Evening on

Saturday night will include an alumni choir.

Tickets are $25*. Gala tickets $40*

Tutus On Tour

Adult from $27.00* /Child 17 and under $12.00*

Seniors or groups of 6plus from $24.30* each

BOOK

NOW

For more information

www.ateventcentre.co.nz

Brendan Dooley- ComedyMagician

Fri 13th March Mayhem! –Kids Show at 4:30pm,

Cheeky, Quirky and Classy –Family Show at 6:30pm

Brendan Dooley is fast becoming the World's

TopYoung Magician being described by the

New Zealand Press as "A new generation of

talent already snapping the heels of established

acts". Recently receiving the New Zealand Top

Comedy Magician Award which makes him the

youngest ever to

receive it.

Open Hat

Night

TheLookofLove–Ali Harper

Thursday 19th March 7:30pm

Burt Bacharach's hit songs have asound like

no other ...Poignant, atmospheric, beautiful.

Spend an evening with award winning Ali

Harper as she weaves through the Grammy

award winner's extensive collection –Close To

You, Alfie, That's What Friends Are For, Walk

On By,Anyone Who Had AHeart and more.

Tickets: Early Bird until 21st January $35*

Adult $45* /Senior $39* /Child $25*

03 307 2010 211A Wills Street, Ashburton 7700 admin@ateventcentre.co.nz *Service fees apply
---
Page 30, Ashburton's The Courier, Thursday 16 January 2020

Having problems with your internal gutter systems?

ALPS

Do your drains keep blocking,causing leakage into the soffits and even your house?

Areyour soffits falling out due to water rot?

We canconvert your internal gutters to standard external gutters.

CONTINUOUS SPOUTING

ALTERATIONS, mending

and trouser hemming, curtain

alterations and curtain

making. Call Michelle on

027 352 7248.

BUILDING and property

solutions. For your complete

alteration or renovation.

We project manage

the whole process. Home

and small commercial.

Qualified tradesmen.

Phone Kiwi Building &

Maintenance Ltd. Gary 308

4798, 027 207 1478 or

Cawte 027 418 7955.

CARPET 2You -For all your

flooring needs. Supplier

and installer of carpet and

tiles, re-stretch &repair and

carpet cleaning. Phone

Mike Gill on 027 491 4210.

CARPET cleaning -Powerful

equipment & fast drying.

Upholstery, mats and rugs.

Experienced owner/operator.

Phone John Cameron

at Supersucker, 027 435

1042 or 308 1677.

CARR'S Chimney Cleaning,

servicing Ashburton and

surrounding districts, $60

per chimney. Phone

Rodney on 03 324 2999

and leave amessage.

CHARLIE'S Blind Cleaning

Service -same day service

and repairs. Charlie can

supply new blinds and

tracks, will hang drapes.

Phone 03 307 1936 or 020

4169 0342.

COMPUTER problems? For

prompt reliable computer

servicing and laser engraving

contact Kelvin, KJB

Systems Ltd, 4 Ascot

Place, Ashburton. Phone

308 8989. SuperGold discount

card accepted.

COMPUTER repairs, sales,

training, setup -wireless -

networks, spyware cleanup.

On-site day or evening.

LOW FEES. Call Robin

Johnstone, Networks

Firewalls & PC's Ltd, 308

1440 or 027 768 4058.

CONCRETE pavers direct to

you - Best prices, many

sizes, textures and colours

- Paveco, 13 Robinson

Street, Industrial Estate.

CONCRETE Services -

Driveways, paths, patios,

mowing edging. Decorative

Concrete specialist 30

years servicing Canterbury.

Free quotes. No job too big

or small. Phone Paul 021

152 1966.

FLY control and spider

proofing. For all domestic

and industrial pest control

needs phone AJ Kerr at

Ashburton Pest Control on

03 308 8147 or 027 432

5447.

FURNITURE removals -For

all your household removal

needs call Nudges Furniture

Removals, phone 027

224 0609.

GARDENING, mowing,

pruning, fertilising, projects

or general spruce ups? Call

Andrew at Spruce Gardens

to get the job done right.

027 765 2899 or 03 307 1693.

sprucegardens@xtra.co.nz

HYDRAULICS; Martin

Bennett -Onsite hydraulic

hose repair service 24/7.

Stockists of Aero Quip

hoses &fittings, Commercial

hydraulics, Dynacool,

Spool valves etc., MP Filtri,

Walvoil. Call Justin on 308

9778.

FOR ALL YOUR

•LawnMowing

•Pruning

•Garden Maintenance

•Gutter Cleaning

•Rubbish Removal

Call us TODAY

foraFREE quote

2245223

Ph 0800 4546 546

(0800 4jimjim)

PLASTERING

&COATINGS

Rockcote. Waterproofing.

Texture/Specialist

Coatings.

The Finishing Company

03 307 8870 2238795

LEGAL work -Phone Peter

Ragg (Ashburton Law) for

house sales, purchases

and refinances. Will call at

home evenings for wills,

enduring powers of

attorney. Phone 308 0327.

PAINTER for all your painting

needs. No job too small,

inside or outside. Professional

friendly service.

Phone Pete 03 308 1672 or

027 200 1619.

PAINTING wallpapering,

plastering - No job too

small. Interior, exterior.

Professional, prompt, competitive

service. Phone

Tony Sivier at Paint It Ashburton

on 021 878 794 or

307 7289.

PLUMBING, drainlaying,

blocked drains. Phone

Lindsay at Doaky's Plumbing

on 027 555 5575 or 308

1248 (Master Plumbers &

Drainlayers).

SEWING alterations - anything

considered, reasonable

rates. Smoke and pet

free home. Retired wedding

seamstress. Phone Judith

308 3084, Allenton.

ROOF COATINGS All roof

types, specialising in

Decramastic and Long Run

Iron, Coloursteel etc, steep

roofs not aproblem. Member

Master Painters &

Roofing Association NZ

Spraymaster 0274337780

SUN Control Window Tinting:

Privacy, UV, glare, heat

control for homes -offices -

and cars. Phone Craig

Rogers 307 6347, member

of Master Tinters NZ.

TILING - For all your tiling

requirements including kitchen

splash backs, flooring

etc. (full water proofing),

call Kevin on 027 496 8314.

TINT-A-WINDOW, fade, UV

block, glare, heat control,

safety, security, privacy,

frosting films, solar protective

window films. Free

quotes, 20 years local service.

Phone 0800 368 468

now, Bill Breukelaar, www.

tintawindow.co.nz

TRADE &SERVICES

Allworkmanship guaranteed

Ben Kruger 021 808 739 or 308 4380

TV Reception Specialists for

all your digital freeview

installations and repairs,

TV wall mounting, Smart

TV set-up, home theatre

installation. Call John at

Ashburton TV &Audio Ltd

03 308 7332 or 027 277

1062.

WINDSCREENS and house

glass. Qualified flat glass

glazier now in-house. Anything

glass, give us acall.

Your place or ours. Wilson

Windscreens, 152 Wills

Street, Ashburton. Phone

03 308 8485.

232 BoundaryRoad,Ashburton

www.alpscontinuousspouting.co.nz

E; benkruger@xtra.co.nz

HEALTH &BEAUTY

URGENT CARE CLINIC

IN THE EVENT OF AN EMERGENCYPHONE 111

Forall other medicalassistance outsideofnormal

hours please phone your generalpracticeteam, 24/7,

to speak with ahealth professionalwho will giveyou

free healthadviceonwhattodoorwhere to go if you

need urgentcare.

If youdon't have aregular general practice, call any

GP team 24/7 forfreetelephone health advice.

All non-residents and visa holders please bring your

passporttoyour surgeryappointment.

New Zealanders'tobring some form of ID.

TheAshburtonDutyPracticefor ...

Saturday18th January is ThreeRivers Health,

7-11 Allens Road.

Consultations will be by appointmentonly.

To make an appointmentplease phone 308 9139.

Sunday19th January is ThreeRivers Health,

7-11 Allens Road.

Consultations will be by appointmentonly.

To make an appointmentplease phone 308 9139.

Methven and Rakaia: Formedical attention on the

weekend and public holidays please telephone

MethvenMedical Centre on 03 302 8105

or Rakaia Medical Centre on 03 303 5002.

Details foraccessing the afterhours services will be on the

answer phone.

PHARMACIES

Wises Pharmacy,CountdownComplex,

East Street will be open on

Saturdaymorning from 9.00am until 1.00pm

Sundaymorning from 10.00am until1.00pm

and from 5.00pm until 7.00pm evenings.

At Geraldine: TheGeraldine Pharmacywill be open

normal trading hours during the week,and on

Saturdaymorning from 9.30am to 12.30pm.

Closed Sundays and Public Holidays

Forfree24hour Telephone Health Advice

Phone the healthline on 0800 611 116

Broughttoyouby

Introduction to

2227819

FRUIT &PRODUCE

NEW season potatoes.

Nadine $2 per kilo. Phone

308 3195 or 027 531 9103.

81 Elizabeth Street.

POTATOES - Ilam Hardys

freshly dug, $2 kg. Minimum

order 3kg, delivered

Friday afternoon Ashburton

and Tinwald. Phone 302

7272.

OUR newspaper goes into all

RD's so why not advertise

with us! The Courier, best

read in town.

WEEKEND DUTYDOCTORS

CountdownComplex, East Street, Ashburton

Phone: 03 308 6733 Fax: 03 308 6755

REFLEXOLOGY

COURSE

15 rd &16 th February

Oamaru

www.southerntherapies.school.nz

2020 Diplomadates–refer website

Tutor:Cathy Searle MRNZ,NZCHP,CertAdEd

(03) 4372366 •027 412 6170•stschool@xtra.co.nz

2245495

SELL

4 DRAWER deep freeze,

washing machine,

refridgerator, queen slat

bed &mattress, single slat

bed & mattress, bedding,

electric mower, tallboy,

loppers, garden fork,

spade, edger, table, crockery,

cutlery. 021 160 3660.

LPG

REFILLS

Small LPG cylinders

Off Street Parking

Available

Arthur Cates Ltd

26 McNally Street

Ph 308 5397

Riverside Industrial Estate

LPG REFILLS

9kg cylinders

$27.50

Askabout our

deliveryservice

Anysizecylinder filled

17 Grey St,Ashburton

Phone 307 2707

2245232

2245262

SITUATIONS VACANT

Executive

Assistanttothe

Chief Executive

Local news at www.starnews.co.nz

This opportunity will be perfect for acareer focused Executive Assistant who

thrivesinbusyenvironments and enjoys task diversitybut wantstowork foran

organisationwho putsthecommunity first.

To find outmoreaboutthisvacancyand

whatthe Ashburton District Council has

to offer you, go toour website.

Applications close

Wednesday,29January2020.

HOME SERVICES

ROOF COATINGS: All roof

types, specializing in

Decramastic and Long Run

Iron, Coloursteel etc, steep

roofs not a problem. —

Spraymaster 027-433-7780.

GARAGE SALES

SATURDAY 18th, George

Street, Tinwald 8am to

2pm. Household furniture,

kitchen equipment, garden

tools, heaps more. Everything

must go.

PROPERTIES FOR SALE

FULLY FURNISHED

Holiday Home 15 minutes

from Timaru. Tranquil setting

close to river. 3

bedrooms, fully fitted kitchen,

bathroom and laundry

room, woodburner

stove, detached 7m x 3m

garage. All kitted out and

ready to use. $140000 neg.

to view phone 0212611517

FIREWOOD

TREES wanted suitable for

logging/firewood. 20 ton

digger for clean up. Phone

Shane James 027 611

3334.

www.ashburtondc.govt.nz/careers

FOR LEASE

RENT ME!

Ideal as an extra

bedroomoroffice.

Fully insulatedand

double glazed forwarmth.

Threeconvenientsizes:

Standard3.6m x2.4m,

Large 4.2m x2.4m

Xtra-large 4.8m x2.4m.

Visit our displaycabin

418WestStreet or callfor a

freebrochure.

www.justcabins.co.nz

0800 58 78 22

STORAGE available, Ashburton.

Self storage, variety

of sizes. Phone Rainbow

Storage 03 307 0401.

STORAGE: Secure self storage

units available long or

short term at Ashburton

Storage Facilities. Contact

us on 027 436 2636 or www.

ashburtonstoragefacilities.co.nz

DELIVERYPEOPLE

wanted

to deliver the AshburtonCourier and Realty

everyThursdaydelivering the Ashburton

Courier and Realtyinthe Tinwald (Buckleys

Terrace/Melcombe Street) area.

2227764

Phone Leonie on

308 7664 or email

leonie.marsden@ashburtoncourier.co.nz

2246178

2245841
---
Local news at www.starnews.co.nz Ashburton's The Courier, Thursday 16 January 2020, Page 31

SITUATIONS VACANT

Driving mentors required

Do youhave

• Afull NZ driver's licence

• Agreat sense of humour

• Acouple of hours spareeachweek

• Areover 25

TheMid CanterburyRural Drivers Licensing Scheme

is looking forvolunteer driving mentors to helpour

migrant rural women tolearntodrive.

This will be the best job you will have which you

don't get paid for(andwill be far lessstressful than

teaching your ownkids to drive☺)

And ...you will get to meet someone from a

differentculture.

And...our students provide the car!

Interested?

Pleasecontact

WendyHewitt,Safer MidCanterbury,

Phone 027 6113301.

wendy.hewitt@safermidcanterbury.org.nz

This project is a partnership between the Mid

Canterbury Rural Support Trust and Safer Mid

Canterbury.

MID CANTERBURY

Salesperson

Bathroomdepartment

(Part-time)

Mitre10MEGAAshburtonhas avacancyfor

aSalesperson in their Bathroom department.

This position is Part-time Sundayand Monday

8hours per dayand would suit someone

looking forafew hours work and an interest in

home renovating or DIY.

Thesuccessful candidatewill requirethe

following skills:

• Retail experienceanadvantage

• Reliable

• Able to work in ateam environment.

• Physically fit and able to lift

• Passion forcustomer service

Please send your CV and covering letter to

HR.Ashburton@mitre10.co.nz.

Applications close on Tuesday 21st January 2020.

SCAFFOLDERS

We are looking for reliable, enthusiastic and hard-working

people for the above positions. Do you have agood level of

physical fitness and enjoyworking with heights? We areseeking

Scaffolders with at least 2years scaffolding experience for fulltime

employment. Youmust be able to startat7amonMonday

to Fridayand occasionally work weekends when required.

Skills/Qualifications required:

• Tobeconsidered youmust have at least 2years experienceas

aScaffolder

• Beable to work overtime when required

• Due to OH&S requirements you must pass pre employment

checks including adrug test

• HTLicenceisanadvantage but not essential.

The successful candidate(s) will be rewarded with agenerous

hourly rate and further training opportunities. This is arare

chance tojoin asmall business that takes pride in every job we

do.

Applicants forthis position should have NZ residencyorvalid NZ

work visa.

To apply or for moreinformation contact

Mark on 021 440 364 or

admin@elitescaffolding.net.nz

BARBER/HAIRDRESSER

required for gents barbershop,

part-time/casual

position. Please call 021

148 8942.

WANTED TO BUY

LP RECORDS and books.

Phone Rodney on 03 324

2999 and leave message.

METAL, heavy etc. Free

light-grade metal in-yard

dumping 9am-5pm weekdays

&9.30-11.30am Saturdays.

Ashburton Scrap

Metal Recyclers, 117 Alford

Forest Road (behind

Placemakers). Phone 03

308 8033 or 027 249 6625.

2246933

2246473

2246746

GARDEN SUPPLIES

PLAINS Rotary -Mushroom

compost, bulk or bag.

Delivery can be arranged.

Contact Owen Moore 027

434 4797.

HIRE

SCISSORLIFTS for hire.

4WD and slab lifts available

for daily or weekly hire.

Pickup or delivery. Phone

North End Engineering 308

8155 for abooking.

Sue Cahill

Call in atalk to the people who know ...

SUE'S PICK

OF THE WEEK

Blacklows TradeZone Ashburton your locally

owned &operated family business for 67 years

Full range of engineering supplies and accessories forall your repairs

&maintenance. Kerrick hot &cold waterblasters &industrial vacuum cleaners.

Esseti welders &accessories. Stockists and distributors of Trailer Equipment.

ASHBURTON

South Street, Ashburton PHONE (03) 308-3147

Email office@blacklows.co.nz FREEPHONE 0800 452 522

PERSONAL

Alone Is No Fun…

Joinourmembersseeking

companionship/love!

Meetvia Personal phonecalls not

computer matchups

25+ yearsofmatchmaking experience.

City/Ruralmembersof all ages (seniors

welcome!)

Call 0800 315 311

to seewho is waiting to meet you!

www.newbeginningsnetwork.co.nz

AUTOMOTIVE SERVICES

2202068

PANELBEATING and spray

painting of cars, trucks,

buses, horse floats &

motorhomes, caravans,

trailers, farm machinery, jet

boats. Light engineering

and aluminium welding.

Bus &Truck Bodyworks, 17

Range Street, Ashburton.

Phone 307 0378.

ADVERTISEMENT makeover!

From before to after.

You'll notice the difference

with The Courier, 308 7664.

ADVERTISING space available

in the next issue of The

Courier Newspaper. Call us

today 308 7664.

BUY ahome in Mid Canterbury

and receive The Courier

newspaper every week

to your letterbox. Local

news for local people.

TALK to us today about ways

you can improve your business.

Professional, reliable

service with a smile. The

Courier 308 7664.

16,065 COPIES EVERYWEEK

1278047

MEETINGS

AllentonNetball Club Inc.

AGM

Monday,3February

2020, 6.30pm

AllentonRugby

Clubrooms,

MelroseRoad.

Enquiries: Leith Skelsey

allentonnetballclub@gmail.com

2244554

EDUCATIONAL

PUBLIC NOTICE

CRC

THE PROFESSIONALS

CHOICE

Full range available in-store.

HOSPICE Mid Canterbury -

Here when you need us. If

you, or someone you care

about has a life limiting

illness, phone 307 8387 or

027 227 8387.

TRAVEL

FEBRUARY; Dunedin

attractions. March; Auckland,

Christchurch by rail.

April; Milford, Doubtful

Sounds, Earnslaw cruise.

June; Norfolk Island. John

&Kathleen Lawler, Rakaia.

03 302 7328 for details.

DRIVETECH LTD

"TRAINING TOMORROW'SDRIVERS TODAY"

"MERRY CHRISTMAS"

Normal office hours over Christmas, closed Stat days only.

Call and talk with one of our team atalocation near you.

FORKLIFT ENDORSEMENT (F &OSH)

•FORKLIFT (ATTACHMENTS) U/STD

•FORKLIFT MOUNTED SAFETY PLATFORM U/STD

CHRISTMAS VOUCHERS AVAILABLE

Heavy Traffic Classes 2, 3, 4&5

LICENCE ENDORSEMENTS

For Wheels, Tracks &Rollers,Dangerous Goods,

Vehicle Recovery & Passenger Training

FREEPHONE 0508 237 483

or 03 348 8481, 027 510 0684

info@drivetech.co.nz |www.drivetech.co.nz

2204413

Do youwantto

learn to playbridge?

Bridgeisanexcing

card game.

Join afriendly club–the

AshburtonBridgeClub and

makenew friends.

Lessons areonMonday

evenings, starng Monday

3rdFebruary,at7pm.

Theygofor at least

10 weeks. Totalcostis$50,

which includes

1styear's subscripon.

Fordetails,ring KayRobb

on (03) 308 6838

or 027 682 2091.

RASPBERRIES

Final Week

P.Y.O&

freshly

picked

Smithfield Road

(signatgate)

2244246

PH 3083498

NO EFTPOS

2246102

MID CANTERBURY

Thur 16th

10.00 My Spy

10.00 Dolittle

11.50 Spies in Disguise

PG

PG

PG

11.50 Shaun the Sheep -Farmageddon G

1.20

1.40

PlayingWithFire

My Spy

PG

PG

3.00 Shaun the Sheep -Farmageddon G

3.30

4.35

6.00

6.30

8.15

8.30

Little Women

Dolittle

Jumanji 2

1917

Bad Boys forLife

TheGentlemen

G

PG

PG

R13

R16

R16

Fri17th

10.00 Abominable

10.00 Dolittle

11.50 Frozen2

11.50 Shaun the Sheep -Farmageddon

1.20 PlayingWithFire

1.40 My Spy

3.00 Shaun the Sheep -Farmageddon

3.30 Little Women

4.35 Dolittle

6.00 Jumanji 2

6.30 1917

8.15 Bad Boys forLife

8.30 TheGentlemen

Sat18th &Sun 19th

10.00 My Spy

10.00 Dolittle

11.50 Spies in Disguise

11.50 Shaun the Sheep -Farmageddon

1.20 Dolittle

1.40 My Spy

3.10 Shaun the Sheep -Farmageddon

3.30 Star Wars TheRise of Skywalker

4.40 PlayingWithFire

6.00 Jumanji 2

6.30 1917

8.15 Bad Boys forLife

8.30 TheGentlemen

Mon20th, Tues 21st

&Wed 22nd

G

PG

PG

G

PG

PG

G

G

PG

PG

R13

R16

R16

G

PG

PG

PG

PG

R13

G

M

PG

PG

G

R13

R16

10.00 My Spy

10.00 Dolittle

11.50 Spies in Disguise

PG

PG

PG

11.50 Shaun the Sheep -Farmageddon G

1.20

1.40

PlayingWithFire

My Spy

PG

PG

3.00 Shaun the Sheep -Farmageddon G

3.30

4.35

6.00

6.30

8.15

8.30

Little Women

Dolittle

Jumanji 2

1917

Bad Boys forLife

TheGentlemen

G

PG

PG

R13

R16

R16

NO COMPS

1917, Bad Boys forLife,

Dolittle,MySpy,

Playing With Fire,

Shaun the Sheep –Farmageddon,

Free learner's licencecourse

•New to the district?

•Liverurally?

•Need adriver'slicence?

We canhelp you!

TheMid CanterburyRural Driver Licensing Scheme

arerunning another free Learner's LicenceCourse.

This free courseisopentonewcomers in ruralMid

Canterburyand will take placeinAshburtonbeginning

Tuesday 17th Marchfrom11am –1pm.

On gainingalearner'slicence, wewill begin working

towardsarestrictedlicenceortoconvert your

internationallicence.

To register, please contact

WendyHewitt,Rural LicensingCoordinator

Phone 03 308 1395 ext228 or 027 6113301

wendy.hewitt@safermidcanterbury.org.nz

TheCancer Societyoffering

supportfor people

with acancer diagnosis

and their families

CANCER SOCIETY

TheMackenzie Centre,

122 Kermode Street,Ashburton

ContactAnnie on 03 307 7691

2246936

2245220
---
Page 32, Ashburton's The Courier, Thursday 16 January 2020

Local news at www.starnews.co.nz

Student SleepMaker UltraQueenSummerLavish Bed Devotion Queen

IMMEDIATE

DELIVERY

HOTPRICE

NOWONLY

Greatqualitystudent/

spareroom bed at an

unbelievable price

WAS$1499

$

798

WEEKLY$5.59

• Stretchknitfabric

enhances the overall

comfortand appeal

• Performafoam

layers

provide medium

conforming

comfort

IMMEDIATE

DELIVERY

NOWONLY

WAS$2299

$

1485

WEEKLY$10.80

• Medium comfort,

twin pocket spring

sleep system

• Twin pocket

spring layers

provide the perfect

combination

of comfortand

support

IMMEDIATE

DELIVERY

MEDIUM

COMFORT

QUEEN

SIZE

Bed

NOWONLY

½

PRICE

WAS$8499

$

4248

WEEKLY$28.14

MilfordDining

LangfordChaise

Webber Genesis II E310

IMMEDIATE

DELIVERY

3piecedining

setting,perfect for

smaller outdoor

NOWONLY

DINE-IN

STYLE

OUTDOORS

WAS$699

$

498

WEEKLY$4.88*

Beko Stainless Steel Fridge/Freezer

Ice&Water

IMMEDIATE

DELIVERY

Ice&Water

• 629 litres

• Inner water dispenser

• Turbo icemaker

• Neofrost technology

NOWONLY

WAS$3299

$

1897

• Relax, sit back and put your feet up

• WeatherresistantSynthetic Wicker

• Chaise can be fitted either side

• Perfect forany outdoor area

IMMEDIATE

DELIVERY

NOWONLY

WAS$1499

$

1099

WEEKLY$7.50

Electrolux FrontLoader Washer

IMMEDIATE

DELIVERY

• 8.5kg capacity

•

•

Includes latest SensorWatch Technology

UltraMix System

• 15 programmes • Add clothes function

• Vapour refresh • EcoInverter motor

• 5Star energy rating •4.5 Star rating

WEEKLY$6.90*

• 3high performance

burners

• Porcelain-enamelled

cast iron cooking grills

• Infinityignition

• Tuck away warming rack

CLEARANCE

$

1299

WEEKLY$8.80*

Westinghouse TopLoad Washer

• 6kg capacity

SAVE $300

HOTPRICE!

12 MONTHS $

998

INTEREST FREE

NOWONLY

CLEARANCE

PRICE

SAVE

$300

IMMEDIATE

DELIVERY

12 MONTHS

INTEREST FREE *

• 11washprogrammes

• Includes variable water level

• 3.5 Star water rating

NOWONLY

$

633

AIR CONDITIONING

FROM $

1297 *

*Excludes installation

Weekly payments from $8.79

2244066