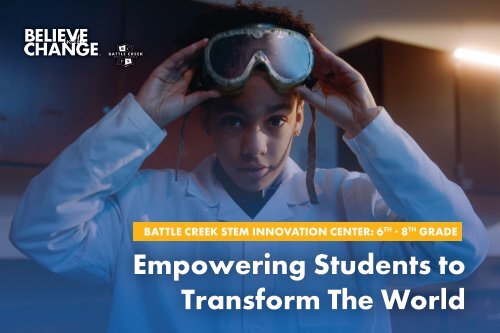 Battle Creek STEM Innovation Center Brochure - 2020
Learn more at www.battlecreekpublicschools.org/BCSTEM
Learn more at www.battlecreekpublicschools.org/BCSTEM
SHOW MORE
SHOW LESS
You also want an ePaper? Increase the reach of your titles
YUMPU automatically turns print PDFs into web optimized ePapers that Google loves.
BATTLE CREEK STEM INNOVATION CENTER: 6 TH - 8 TH GRADE

Empowering Students to

Transform The World
---
At BC STEM

Innovation Center,

Students Think

Differently

The Battle Creek STEM Innovation

Center (BC STEM, for short) is a new

kind of middle school. At BC STEM, we

see our students as innovators.

We empower every innovator to ask questions

and explore possibilities. Students research,

collaborate, and learn new ways of thinking.

Through our integrated curriculum, students

experience every school subject through the

lens of creative exploration. Our innovators

develop critical thinking skills to help them

create real solutions to the problems that matter

to our students and to our community.

WHAT IS STEM?

STEM — which stands for science,

technology, engineering and math — is

our nation's fastest-growing career field.

Here at BCPS, we want to ensure that

our students are well prepared for higher

education and careers in these industries.

Using an integrated STEM program,

our students learn in a whole new way.

Hands-on projects help them examine

questions and problems through an

engineering and technology lens in order

to create innovative ideas and solutions.
---
THE

INNOVATOR

EXPERIENCE

BC STEM students

experience STEM

throughout the day,

not just in science or

math class.

The STEM model encourages

students to constantly draw

from prior experiences to

apply that knowledge in new,

innovative ways. BC STEM

students create — they take

apart and build motors and

machines, they code and

create games and apps, and

explore the world around

them through innovation.

STEM is not a special

class or club; it is the key

aspect of student learning

every day.

Our innovators learn traditional middle

school subjects like social sciences and

English in the context of STEM projects,

to encourage innovation in every

subject. These projects allow students to:

• Build reflective inquiry and

problem solving skills.

• Use innovation and creative

thinking to envision, design and

test solutions.

• Gain hands-on experience through

activities like designing bridges,

building communication devices and

programming LEGO taskbots.

• Learn everything from

programming to physical

computing to

HTML/CSS as they build their

own websites, devices, and so

much more.

• Develop their understanding of

engineering and design, as they

take apart objects to learn how they

function and begin to build their

own models.
---
OUTDOOR

EDUCATION

FOR SIXTH

GRADE

STUDENTS

BC STEM sixth grade

students will enjoy

weekly visits to our

Outdoor Education

Center to experience

hands-on science

activities, solve

problems in teams,

encounter wildlife

and learn key skills

in outdoor recreation

which will be useful in

all aspects of life.

Students will:

• Learn teamwork,

collaboration, risk taking,

decision-making and

conflict resolution through

group activities like canoeing,

creating remotely-operated

vehicles and working together

to navigate the outdoors using

maps, compasses and radios.

• Build important outdoor

skills like fire building, shelterbuilding

and plant and

animal identification.

• Conduct field research

data/sample collection

through activities like bird

counting and observation and

a long-term pond study.

• Experience unique and

challenging physical

education activities like

a high ropes course and

tower climb.
---
STATE-OF-THE-ART

FACILITIES

BC STEM's advanced facilities offer our innovators excellence,

adaptability, and growth to encourage student-led inquiry

throughout the day — inside and outside the classroom.

Our classrooms include digital

collaborative whiteboards

called Jamboards which

make it easy for students to

collaborate and share ideas,

and create and innovate

without boundaries.

Our laboratories are fullyequipped

with everything our

students need to explore and

discover, including compound

microscopes, Chemistry start-up

chemicals, a class set of field/

stream waders, and much more.

BC STEM is a one-to-one school, meaning each

innovator is issued a Google Chromebook

computer to take home.

This initiative extends opportunities for them to learn

about technology in a supervised and controlled

environment and to practice appropriate digital

citizenship skills, opening up a world of learning

everywhere they go.
---
"WHAT STUDENTS

ARE SAYING:

BC STEM helps me understand things that will help me in life and

use knowledge to help in the future and support our community.

BC STEM always teaches us

above and beyond.

It is always a challenge and my

teachers help me understand

what I don't know.

If the world were in trouble, our BC

STEM team would have the smarts to

overcome our problems — and we

would all work together to do it.

At my old school(s) there are things I am doing now that I'd never dream of doing.

I am an

innovator

meaning I

help solve real

world problems.

WHAT FAMILIES

ARE SAYING:

My grandson is thriving, excited and happy to go to school.

I love the technical and computer-based aspects of their learning experience!

I have two sons attending and they absolutely love it! The staff is amazing

and welcoming! The classes are a great learning atmosphere.

My boys are able to experience new things and they have

learned a lot in a short period of time. I am impressed and look forward to

next year already!

Staff is very involved

with students and families. My daughter had a

rough year last year but she loves her school,

teachers and classmates this year. I'm extremely

impressed and would definitely recommend.
---
COME JOIN US!

All students in the Battle Creek area are

encouraged to apply. Learn more about how to

apply at battlecreekpublicschools.org/BCSTEM

Battle Creek STEM Innovation Center

100 West Van Buren Street

Battle Creek, MI 49017

269. 213.3513

Facebook.com/steminnovationcenter