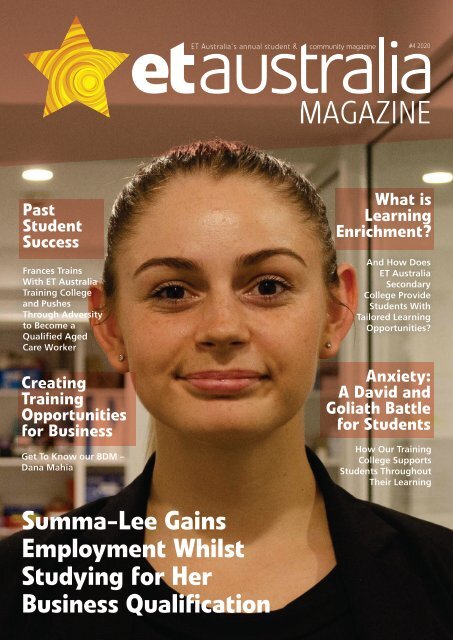 ET Australia Magazine Issue #4 January 2020
ET Australia's annual magazine.
ET Australia's annual magazine.
SHOW MORE
SHOW LESS
Create successful ePaper yourself
Turn your PDF publications into a flip-book with our unique Google optimized e-Paper software.
ET Australia's annual student &

community magazine

#4 2020

MAGAZINE

Past

Student

Success

Frances Trains

With ET Australia

Training College

and Pushes

Through Adversity

to Become a

Qualified Aged

Care Worker

Creating

Training

Opportunities

for Business

Get To Know our BDM –

Dana Mahia

What is

Learning

Enrichment?

And How Does

ET Australia

Secondary

College Provide

Students With

Tailored Learning

Opportunities?

Anxiety:

A David and

Goliath Battle

for Students

How Our Training

College Supports

Students Throughout

Their Learning

Summa-Lee Gains

Employment Whilst

Studying for Her

Business Qualification
---
Welcome to 2020

ET Australia provides students

with the skills to be successful

in employment and/or further

studies. Our adult training

college and independent

high school models provide

professional, supportive

and nurturing learning

environments.

Tony Mylan, CEO, ET Australia.

ET Australia's adult training

college has expanded its scope

of registration by adding

disability qualifications to

our suite of programs. Our

reputation with industry has

continued to flourish. We have

once again expanded our

industry partnerships and this

has led to an increase in the

number of direct employment

outcomes our adult students

have gained.

In 2019 ET Australia Secondary

College (ETASC) reached its

notional maximum number of

enrolments. 2020 will be a year

of building on the cumulative

success we have shared with our

students. We look forward to

2021 when we will be able to

outline more exciting plans to

help more young people with

their studies and employment.

We have just completed a

major IT upgrade at our Wyong

campus and in Gosford for both

the training college and the

school. ETASC now has an IT

centre with 3D printers, a 3D

scanner and new computers that

provide the perfect platform to

teach digital technologies as per

the Australian Curriculum.

Our focus on building business

partnerships on the Central

Coast gives our students unique

employment opportunities.

Please come and experience

why our students are achieving

so highly.

ET Australia always welcomes

your feedback.

Please drop us a line at

email@etaustralia.com.

Contents

ET Australia is a Registered Training Organisation (RTO ID 90084)

delivering Nationally Recognised Training qualifications.

P3

P4

P6

P8

ET Australia Creates a Framework to

Support the National Reconciliation

Movement

Get to Know Our Business

Development Manager: Dana Mahia

Frances Trains With ET Australia

Training College and Pushes Through

Adversity to Become a Qualified

Aged Care Worker

Anxiety: A David and Goliath Battle

for Students

P10 Don't Let Age Be a Barrier to

Changing Careers

P13 Upcoming 2020

Training Programs

P14 ET Australia Training College Class

of 2019 Graduation

P16 What is Learning Enrichment?

P18 The Lowdown on ET Australia

Secondary College's Gifted and

Talented Program

P20 ETASC 2019 Excursions

P22 Are You a Current Year 10 ETASC

Parent?

P23 Enrolling Now for 2021

12

ET Australia Training

College Business Graduate

Summa-Lee Buchanan.

ET Australia

Board of Directors

Paul Tonkin

Deputy

Chairman

& Public Officer

Partner & Lawyer –

Tonkin Drysdale

Partners

Kath Hamilton

Treasurer

Partner &

Accountant –

Lavery Hamilton

Graham McGuinness OAM

Chairman

Managing Director

and Consultant –

Delgarah Pty Ltd

Michael North

Director

Tim Cornish

Director

Alan Williams

Director

Director

and Chief

Technology

Officer –

One Blink

2
---
ET Australia Creates a

Framework to Support

the National Reconciliation

Movement

In September 2019 ET Australia

announced that Reconciliation

Australia formally endorsed its

Reflect Reconciliation Action Plan

(RAP) for 2019 - 2020.

Reconciliation Australia is an

independent, not-for-profit

organisation whose vision is for

a just, equitable and reconciled

Australia. Their purpose is to

inspire and enable all Australians to

contribute to the reconciliation of the

nation.

A RAP is an annual document

which provides a framework for

organisations to support the

national reconciliation movement.

ET Australia's first annual RAP

document, named the Reflect RAP,

clearly sets out the steps ET Australia

is going to take to prepare for

reconciliation initiatives within the

organisation in successive RAPs.

Committing to a Reflect RAP allows

ET Australia to spend time scoping

and developing relationships with

Aboriginal and Torres Strait Islander

stakeholders, deciding on a vision

for reconciliation and exploring

ET Australia's sphere of influence,

before committing to specific actions

or initiatives. This process will help

to produce future RAPs that are

meaningful, mutually beneficial and

sustainable.

ET Australia is proud to be a part of

the RAP community of over 1,000

corporate, government, and notfor-profit

organisations across the

nation that have formally committed

to reconciliation through the RAP

program since its inception in 2006.

ET Australia has committed to raising

awareness, building relationships,

showing respect and providing

opportunities for Aboriginal and/

or Torres Strait Islander people. The

ET Australia team are excited to see

what can be achieved in the next 12

months and are looking forward to

making a positive and meaningful

impact in this space.

The Reflect RAP is now available

for you to view on our website

www.etaustralia.com

Reconciliation Australia

is an independent, notfor-profit

organisation

whose vision is for a

just, equitable and

reconciled Australia.

3
---
Get to Know Our

Business Development

Manager: Dana Mahia

Creating Beneficial Training Opportunities

for Central Coast Businesses

Moving to the Coast at a young age,

younger than she can remember,

Dana is definitely a product of the

Coast, just without the title of 'being

born on the Coast'. "I completed my

schooling on the Coast. When I was

19 I met my now husband and moved

away to the country for just under a

year and brought him back with me.

That was nine years ago now and we

haven't looked back since" Dana said.

"I tend to call myself a well-travelled

Coastie, because now I live on the

northern part of the Coast, and travel

to different parts every day".

Dana is the perfect example of

what the Vocational Education

and Training industry can do for

those who don't 100% know what

they want to do straight out of

high school. "I was brought up to

understand the value of work, and

coming straight out of high school I

knew I had the drive to succeed and

be independent, but I wasn't really

sure what I wanted to do". Her drive

to succeed and be independent led

Dana to complete a Certificate III

in Hairdressing apprenticeship after

completing Year 11.

In 2015, after a number of years

of hairdressing, she slowly started

developing a passion for helping

people, which led her to complete

a Diploma of Counselling whilst

on maternity leave. "When I was

hairdressing I was speaking to clients

everyday and listening to their issues.

I would occasionally offer advice where

I felt it was appropriate. I would get

customers coming back saying "hey I

did what you said and it worked". This

made me feel amazing, knowing that

I helped someone solve their issue".

Following this passion and idea of

helping others, Dana moved into work

as a course advisor at a private training

college. The role focused on guiding

students down a career pathway and

helping them to achieve their career

Dana presenting one of the many information

sessions for ET Australia Training College students.

goals. "I really enjoyed my time as a

course advisor, essentially you began

working with a student who was a lot

like me. They needed career direction

and advice. After taking the time to

understand what they were looking

for in a job, I would then develop a

career plan for the student inclusive of

the course they needed to study to get

the outcome they were after".

After her maternity leave contract

finished early in 2016, Dana found

an opportunity with The ORS Group,

as an Employment Consultant. The

4
---
It felt like it was

the next step in my

career, to shift into

helping those who

were doing it tough.

Dana, representing ET Australia Training

College at Gorokan High School.

ORS Group were a trusted provider of

employment programs for the disabled

and those facing hardship. During

her time with ORS she completed a

Certificate IV in Employment Services,

"it felt like it was the next step in my

career, to shift into helping those who

were doing it tough" she said. In 2017

Dana was awarded The ORS Group's

Employment Consultant of the year

for NSW and around the same time,

was promoted to Senior Employment

Consultant.

Dana's passion to want to help people

succeed and be independent helped

to land her the role of Business

Development Manager with ET

Australia Training College. "When I

first interviewed Dana, she had this

really bubbly, positive attitude, but

what resonated with me the most

was the way Dana spoke about

helping people", ET Australia Training

College Manager Cath Roden said.

"If you think outside the square for a

moment and put aside experience and

expertise, and focus on an employee's

personality and drive when hiring,

this is exactly what Dana had, a really

positive personality with a drive to

succeed. This, combined with extensive

knowledge of the VET industry, made

Dana an ideal person for the role".

It's this positive, welcoming personality

of Dana's that has made her become

an important cog in the ET Australia

Training College machine.

Dana's primary responsibility in her

role is to be the glue between ET

Australia Training College, the local

business community and job service

providers. "I meet with business

owners to educate them on the

benefits of hiring Trainees including

the financial incentives on offer from

government agencies. I help employers

hire entry level staff through ET

Australia Training College's recruitment

process and I liaise with job providers,

to keep them up to date on our in

class training program timetable and

traineeship vacancies so they can refer

clients" she said.

5

"Right now, I'm really fortunate that

I am in the position where I have the

opportunity to support students and

businesses by providing them with

training solutions for future success which

they may not have otherwise considered".

In 2020, Dana is focused on creating

more traineeship opportunities with

businesses on the Coast, building

awareness about ET Australia Training

College and reinforcing the positive

outcomes businesses can achieve

through training and through hiring an

ET Australia Training College student.

Dana, celebrating at the 2019

Central Coast Training Awards

with ET Australia colleagues

Brittney (left) and Michelle.
---
Frances Trains With

ET Australia Training

College and Pushes

Through Adversity to

Become a Qualified

Aged Care Worker

Past Student Success

At the start of 2019, Frances, a mother

of four and grandmother of three,

was working in the community sector

as a cleaner. Whilst she loved her

job, she wanted to better herself and

secure employment opportunities for

the future. That's when she stumbled

across an advertisement on Facebook

for a CHC33015 Certificate III in

Individual Support (Ageing) Program

with ET Australia Training College.

Mary, Frances'

aged care Trainer.

To Frances, it looked like a great

opportunity to gain a qualification

that would enhance her skills at her

current job, and give her opportunities

long term, and keep her on the

Central Coast, where she has called

home since 1992.

"I love it here, I have no intention of

ever moving".

At 17, Frances became a mother

6

and unfortunately lived through

additional traumatic experiences which

contributed to her isolation in Western

NSW. At 19, she had her second child

and remained in the Narrabri area until

she decided to make the brave move,

with her two kids to the Central Coast.

She was scared, she didn't know a

single soul, but as soon as she got

to the Coast she knew it was the

right choice. Her determination and

her ability to push through adversity

gave her the motivation to keep on

'plugging away' and she was able

to get a job as a gardener at a local

public school.

During the 1994 bushfires, which

affected a large part of NSW, Frances

suffered a bout of heatstroke. She

went to the doctor only to discover

she actually had Fibromyalgia (a

condition that causes widespread

pain and tenderness in the body) and

arthritis in her back.
---
"I was told I would be in a wheelchair

by the age of 45".

Frances wasn't about to let this stop

her after everything she had been

through to get where she was.

"Bugger that I said – No way!"

Now, Frances is almost ten years past

the predicted "wheelchair years" and

absolutely loving life.

With her new found lease on life,

Frances started looking to the future

but didn't necessarily want to leave

her current job.

"When I started reading about the

course, it just seemed to be the right

fit for me at the time".

Frances attended an aged care

information session at ET Australia

Training College in Gosford to find

out more about the program. She

was terrified, because she had not

completed any study since high

school and her previous attempts to

update her skills had not worked out

for her. Because of this, she wanted

to enrol with a Registered Training

Organisation she knew would be able

to support her in the classroom. She

needed to know that she could say "I

need help", and actually get it.

With her previous medical history,

Frances was worried that she wouldn't

be able to meet the physical demands

of the aged care industry, but after

talking to staff, she realised that the

work would be no more physical than

her current cleaning role, which she

handled capably.

After the information session, Frances

said everything just fell into place.

"The smaller class sizes appealed to

me because I knew the trainer would

be able to give me the support I

needed".

"If I didn't have the support from

my trainer, I would have pulled

out ten times over. I wouldn't have

made it. It's not just the work,

its circumstances that took place

throughout the course that set me off

track. But Mary (one of ET Australia

Training College's Aged Care Trainers)

doesn't let you walk away easily".

After the first block of practical work

placement in a facility, Frances came

back to class with a fresh perspective

and a solid determination to complete

the program.

"During work placement, I was able

to make connections with residents

who knew the same people I grew up

with in my home town. I met a lady

who would have been cotton chipping

the same time as me! Aged care is

my passion, it has set me up for the

future".

When asked why people considering

doing this qualification, should choose

ET Australia Training College, Frances

said "I've had friends who have

studied with other providers that offer

really short aged care courses, and I

can see that they aren't at the level I

am at with my knowledge and skills.

With ET Australia Training College,

you aren't getting a watered down or

condensed version of the qualification.

It's not a walk in the park because you

are getting taught the proper way to

do things, and that means that you

know what you're doing when you're

done. You are job ready".

Frances went on to say that her newly

gained skills have made her better at

her job. Her boss from Clean N Care

has even commended her for the

changes she has made.

"What I took in most was the

empowerment and personal care

given to the client. I learned that I can

do more than what I thought. I've

always known I have a lot to give but

this course magnified that. I know I

can do something now that I have

never done before, even if I don't feel

confident at first".

"This course has given me

empowerment. Now I've got a real

qualification and it's given me the

confidence to study even more

through work, I know I can do it now

because I've done this".

Frances proved to be an exceptional

student, by completing all thirteen

competencies and the required work

placement hours, without any course

extensions needed.

7

Frances, happy with her decision to

become an aged care worker .

I was told I would be in

a wheelchair by the age

of 45.

Aged and Disabled Care

Industry Overview*

$1,265

Weekly Pay

Very strong

Future Growth

Lower unemloyment

Future Growth

175,800 workers

Future Growth

Lower skill

Future Growth

33% Full-time

Full-Time Share

43 hours

Average full-time

47 years

Average age

80% female

Gender Share

*References: https://joboutlook.gov.au/

Occupation?search=Career&code=4231
---
Anxiety: A David

and Goliath Battle

for Students

By Lauren Ede, one of ET Australia

Training College's Training Officers.

"Anxiety is the most common mental

health condition in Australia. On

average, one in four people (one in

three women and one in five men) will

experience anxiety at some stage in

their life" 1 .

At ET Australia Training College, we

have, in the past, enrolled students

who have been diagnosed with an

actual 'Anxiety Disorder'. But what we

have found more common amongst

people enquiring about courses, are

feelings of anxiousness.

This differs from an anxiety disorder,

as the anxious person often has the

ability to control their 'worry' through

certain management techniques. For

people with an anxiety disorder, this

feeling doesn't go away.

It's OK to be anxious

when studying

There are many reasons people

consider returning to study. Whether

it is for financial reasons in order

to return to work, upskilling for a

promotion or for self-development,

the decision to take on an extra

activity in your life can become very

stressful. Stress can make us jump

straight to that 'worst case scenario'

and the cycle of anxiousness begins.

As a Training Officer for ET Australia

Training College, I estimate that

about 80% of students who inquire

about courses have experienced some

form of anxiety relating to returning

to study. In many cases, their

anxiousness subsides after attending

one of our course information

sessions, which provides all the

specific details of the course. It's also

a chance to meet the Trainer and staff

they will be working with during the

course, and an opportunity to see

other potential students who are in

the same boat as them.

"I can't do this", "I get anxious

meeting new people", "What if I

don't remember how to study!?" are

all examples of the negative self-talk

students have experienced when

thinking of starting a course.

If this sounds like your inner voice, the

Beyond Blue Website 2 provides a list

of strategies people can use to try and

manage their anxiety 3 .

Small acts of bravery

"The way through anxiety is by

learning that what you fear isn't likely

to happen – and if it does, you'll be

able to cope with it" 3 .

At ET Australia Training College, we

encourage people to take that act of

8

bravery and come in to see us. We will

be able to give you all the information

needed to make an informed decision

about whether or not returning to

study is the right option for you at

the time.

As a small Registered Training

Organisation, we have the benefit

of being able to cater our training

to support each student individually.

We keep class sizes small and offer

additional support to students to

assist them to navigate their way

through the training, both in and out

of class.

We also encourage a supportive

and respectful atmosphere amongst
---
students and have strict policies

relating to bullying and equal

opportunity for all. Students become

at ease from very early on in their

training courses and form friendships

that continue long after they have

received their qualification.

Our supportive

environment will change

your approach to

learning

From my experience as a Training

Officer, I have witnessed the way a

flexible training style and supportive

learning environment has changed the

lives of our students. With each day of

the course, the anxiousness subsides

and their confidence in their own

abilities builds.

I have also been able to witness the

crippling effect of self-sabotage when

students don't have the strategies or

support to combat negative self-talk

or anxiousness.

Behaviour is said to be self-sabotaging

when it creates problems in our life and

interferes with long-standing goals. 4

Overcoming anxiousness

about learning –

Amanda's example

Amanda*, a former CHC33015

Certificate III in Individual Support

(Ageing) student, struggled with

motivation. Constant absences and

procrastination during the latter half

of her aged care course sent her on

a destructive path that could

potentially derail her chances of

completing the qualification.

Through open discussion and the offer

of genuine, non-judgemental support

from ET Australia Training College

staff, we were able to ascertain

the reasons behind Amanda's

absences. She determined that her

own negative self-talk had made

her subconsciously self-sabotage. In

addition, the anxiousness regarding

changes to her life and responsibilities

upon completion meant Amanda was

literally afraid to succeed.

As a result of these discussions,

we were able to create a catch-up

plan for her missed practical hours.

Through constant encouragement

from ET Australia Training College

staff to combat that negative self-talk,

she completed her aged care course.

Amanda is now working in the aged

care industry and is extremely proud

of herself. An outcome that may not

have occurred if we had not given her

the support she needed.

We hope that more educational

institutions foster the idea of

individualising training, and taking

mental health more seriously.

If you are considering returning to

study, and anxiety is the giant in your

'David and Goliath Battle', be the

David.

References:

1 www.beyondblue.org.au/the-facts/anxiety

2 www.beyondblue.org.au

3 www.beyondblue.org.au/the-facts/anxiety/

treatments-for-anxiety/anxiety-managementstrategies

4 https://www.psychologytoday.com/au/basics/

self-sabotage

*Student name changed to protect privacy.

You're not alone when studying at

ET Australia Training College.

9
---
Don't Let Age

Be a Barrier to

Changing Careers

7 Tips for Finding

Employment Over 50

Age Discrimination, whilst illegal, is still

apparent as an obstacle across certain

industries for many older Australians

seeking employment, or returning to

the workforce today.

At ET Australia Training College, we

have found that employers appreciate

the stability and experience of hiring a

mature aged employee and the benefits

it can bring to their organisation.

Through feedback gained from

the employers of our graduating

students, older employees are very

dedicated and loyal to their employer.

Older Australian's have the benefit

of life experience and can bring a

level of maturity to the role that a

younger person may not have had the

opportunity to gain.

Enquiries from potential students at

ET Australia Training College, aged

over 50, have highlighted that their

main concern when it comes to

undertaking study, is the employment

prospects for them upon completion.

Many have commented they feel they

are 'past their prime' in the eyes of

employers and feel they would be

overlooked for younger applicants

simply due to their age.

At ET Australia Training College,

students in the over 50s age bracket

have enjoyed great success both during

and after completing our courses.

Such is the case with Joanne, who

commenced a CHC33015 Certificate III

in Individual Support (Ageing) program

while in her early 60s. Joanne came out

of retirement to re-enter the workforce

and complete this course. After

completion, she successfully gained

employment with a local aged

care facility and in her new role has

been able to maintain a great work/life

balance.

Some of ET Australia Training College's aged care students gaining

practical tips from their trainer Michelle (far left).

Audrey, an ET Australia Training College

CHC33015 Certificate III in Individual

Support (Ageing) graduate, also

commenced the course in her early 60s.

Whilst her main focus was employment,

her personal circumstances greatly

benefited from the skills she acquired

during the program. Audrey successfully

completed the program and was spoilt

for choice when she was offered

multiple positions upon receipt of

her certificate. She ultimately

10
---
chose a position with a large Australian

company delivering home care services,

aged care and retirement living on the

Central Coast.

7 Tips for Finding Employment Over 50

In the last 2 years, just under 19% of

the students who gained employment

after completing full qualifications

across Business, Aged Care and Early

Childhood Education qualifications with

ET Australia Training College (excluding

traineeship programs), were aged 50

and over.

When interviewing potential students

for our courses, we find that older

students often haven't considered the

transferable skills they have acquired

during previous employment or

through life experience in general.

More often than not, older students

have a clearer idea of their intentions

for studying and the impact this

will have on their lives, meaning

are more likely to keep themselves

motivated during the course, are able

to prioritize tasks, have excellent time

management and can successfully

navigate challenges that often occur

when learning a new skill.

ET Australia Training College also

offers further support in addition to

the quality training from our industry

experienced Trainers and Assessors.

We have recognised the need to

support students with resumés, cover

letters, interview techniques and work

placement in order to gain industryrelevant

experience. ET Australia

Training College has access to employer

networks with employers who regularly

call to ask us for job-ready students to

fill their employment vacancies.

So whilst we all agree that it can be

difficult to find employment when

considered a 'mature age' person,

it is also equally true, that more and

more employers are looking for the

reliability and experience which mature

age workers can bring, as the quicker

an employee becomes productive, the

quicker the business can operate more

successfully.

Update your skills

Recent qualifications will show that

you have updated your knowledge

of an industry, or show that you

have gained recent skills in a new

industry.

Make your resume 'ageless'

Adding your age or birth date to

your resume gives an employer

the opportunity to pass over your

application due to your age.

Cover letters

Yes. You must write a cover letter

for every application as it allows

you to expand on your experience.

Although this can be taxing on your

time and patience, it's what will

make the difference between your

application and someone who is

only relying on their resume.

Personal presentation

This one is timeless. First

impressions last, so make sure you

are putting your best foot forward

when you get the opportunity to

meet an employer face to face.

Know your skills and abilities

Many people don't realise they

have a variety of skills gained

11

through their previous

employment, or through their life

experience. Work with what you

have and treat them as assets.

Some examples may be; time

management, interpersonal skills,

teamwork, personal motivation and

initiative etc.

Familiarise yourself with

current technology that may be

involved in the industry

If you haven't got the skills needed

to do the basics in the industry you

are looking for work in, educate

yourself. There are many courses

available in basic computer training

and ET Australia Training College

offers one-on-one training also.

See the ET Australia website for

further details.

Be persistent

Don't give up if you get a few

knockbacks. An employer may

receive hundreds of applications

for one advertised position, and

there simply isn't time to respond

to them all. If you find you are

constantly receiving rejection emails,

look over your cover letters and

resumé with someone and fine

tune them.

Some of our aged care students enjoying

problem solving in a group setting.
---
Summa-Lee Gains

Employment While

Studying for Her

Business Qualification

Past Student Success

Noticing a skills gap in her current

experience, Summa-Lee sought out

the opportunity to close the gap with

professional development, in the form

of a BSB30115 Certificate III in Business

from ET Australia Training College.

"I was currently employed, but

really wanted to focus on gaining

administration type skills, and via

Google I found ET Australia Training

College were offering a nationally

recognised business course that

finished in June 2019 at their Wyong

campus which was a great fit for me

location wise" Summa-Lee said about

her decision to train with ET Australia

Training College.

When asked to recall some parts of

the course she really found beneficial,

Summa-Lee said "I really enjoyed the

ability to focus on and fine tune my

general business skills especially around

email writing, and the opportunity

to practice resolving customer

complaints in a work setting was a

great way to learn. I found it terrific

that the Certificate III in Business course

taught the fundamentals of using the

Microsoft office software suite and

how all the suite applications work

together in a business environment.

On a personal level, organisational

skills was a big takeaway from the

course. Just learning little tips and tricks

that I have now implemented in my

personal life and at work, for example

using Microsoft Outlook at home

and at work to organise my tasks,

appointments and to do lists."

During the course, a number of jobs

were offered to students, with Summa-

Lee putting her hand up to go for an

interview with Coastwide Eye Surgery,

located in the Platinum Building at

Erina. After reviewing candidates, they

employed Summa-Lee on a casual

basis in April of 2019, while she was

still completing her business course.

This turned into permanent part time

employment in September 2019.

Summa-Lee is now employed as a receptionist at

Coastwide Eye Surgery, Erina, NSW.

I really enjoyed the

ability to focus on and

fine tune my general

business skills.

12
---
Upcoming 2020

Training Programs

Enquire now to apply for any of the 2020 programs below:

Program Code

and Name

Next Classroom

Start Date

End

Date

Classroom

Days

Time

Location

Additional

Delivery Modes

Individual Support (Ageing)

CHC33015 Certificate III

in Individual Support 10 February 9 June Mon, Tue, Wed

CHC33015 Certificate III

in Individual Support 18 March 17 September Wed, Thurs

CHC33015 Certificate III

in Individual Support 1 April 29 July Wed, Thurs, Fri

CHC33015 Certificate III

in Individual Support 22 June 14 October Mon, Tue, Wed

CHC33015 Certificate III

in Individual Support 12 August 11 December Wed, Thurs, Fri

CHC33015 Certificate III

in Individual Support 13 October 29 April 2021 Tue, Wed

CHC43015 Certificate IV

in Ageing Support

Individual Support (Disability)

9:00am to

2:30pm

9:00am to

2:30pm

9:00am to

2:30pm

9:00am to

2:30pm

9:00am to

2:30pm

9:00am to

2:30pm

Woodport

Aged Care

Young Parents

Hub, Wyong

ET Australia,

Gosford

ET Australia,

Gosford

ET Australia,

Gosford

Young Parents

Hub, Wyong

Start this course today. Call ET Australia on 4323 1233 or email training@etaustralia.com

Traineeship/

Self Paced

Traineeship/

Self Paced

Traineeship/

Self Paced

Traineeship/

Self Paced

Traineeship/

Self Paced

Traineeship/

Self Paced

Traineeship/

Self Paced

CHC33015 – Certificate III in

Individual Support (Disability)

Business

Start this course today. Call ET Australia on 4323 1233 or email training@etaustralia.com

Traineeship/

Self Paced

BSB10115 Certificate I

in Business

BSB20115 Certificate II

in Business

Start these courses today. Call ET Australia on 4323 1233 or email training@etaustralia.com

BSB30115 Certificate III

in Business 17 February 1 June Mon, Tues, Wed

BSB30115 Certificate III

in Business 15 June 1 December Mon, Tues

BSB30415 Certificate III

in Business Administration

BSB40415 Certificate IV

in Business Administration

Leadership and Management

9:00am to

2:30pm

9:00am to

2:30pm

Young Parents

Hub, Wyong

Young Parents

Hub, Wyong

Start these courses today. Call ET Australia on 4323 1233 or email training@etaustralia.com

Self Paced

Traineeship/

Self Paced

Traineeship/

Self Paced

Traineeship/

Self Paced

Traineeship /

Self paced

BSB42015 Certificate IV

in Leadership and Management

Early Childhood

Start this course today. Call ET Australia on 4323 1233 or email training@etaustralia.com

Traineeship /

Self paced

CHC30113 Certificate III in Early

Childhood Education and Care 2 March 14 December Monday

CHC50113 Diploma of

Early Childhood Education and Care

CHCPRT001

Child Protection Training

9:00am to

2:30pm

Young Parents

Hub, Wyong

Start these courses today. Call ET Australia on 4323 1233 or email training@etaustralia.com

Traineeship /

Self paced

Traineeship /

Self paced

Traineeship /

Self Paced

Subsidised training places available (subsidised by the NSW Government), eligibility criteria applies.

*Actual end date may vary depending on completion of required mandated work placement hours. Units of competency from within

each of these qualifications are available individually or can be grouped to meet a specific need.

Call ET Australia today on 4323 1233

or email us at training@etaustralia.com to apply.
---
ET Australia

Secondary

College Class of

2019 Graduation

Year 10 Students Celebrate Their

Achievements Among Friends and Family.

ET Australia Secondary College

Year 10 students celebrated their

achievements at the annual College

Year 10 graduation ceremony held

on Friday the 13th of December 2019

in the Show Room of The Mingara

Recreation Club.

Students, parents, teachers and

distinguished guests celebrated students

completing Year 10 and achieving their

Record of School Achievement (RoSA)

with a three course dinner, speeches by

teachers and students, and dancing late

into the night.

Students were presented with their

College graduate certificates and high

achievers were recognised for their

achievements throughout the year with

individual and subject awards.

Year 10 ETASC students

celebrating their

achievements with

family and loved ones.

Congratulations to all Year 10 2019 graduates and

special thanks to those who volunteered at the

school throughout 2019.

14
---
Gavi Duncan, from the Darkinjung

Local Aboriginal Land Council,

formally and warmly welcomed

us to country.

Congratulations to our

ET Australia Secondary College

2019 award winners:

Award Winners

First place in Geography - Taren LeBreton

First place in History - William MacKillop

First place in Science - Natalie Denniss

First place in Mathematics – Sebastian Keir

First place in PDHPE - Mikayla Murray (not present)

First place in English - Mikayla Murray (not present)

Luke Wilson

Congratulations to Luke Wilson on being awarded

the Principal's Award which recognises high standards

of overall achievement, attitude, academic progress

and involvement in the school community.

15
---
What is

Learning

Enrichment?

And How Does ET Australia Secondary College (ETASC)

Provide Students With Tailored Learning Opportunities?

The Learning Enrichment (LE) team

at ETASC deliver additional learning

opportunities to students who might

fall through the cracks in large school

settings. Learning Enrichment's

objective is to support all students to

develop independence and responsibility

for their own learning. To achieve this,

ETASC Learning Enrichment teachers

provide an encouraging and caring

learning environment, targeting specific

literacy and numeracy proficiencies and

teaching students the skills they need to

succeed.

Learning Enrichment at ETASC is datadriven.

At the beginning of the school

Alyshia (right), helping students learn with the

Quicksmart Literacy program.

undertake a series of standardised

year or upon enrolment, students

tests. These standardised tests provide

diagnostic data which, along with

teacher observations and referrals, help

determine the learning needs of each

individual. Learning Enrichment teachers

use a collaborative approach so that

students themselves and their parents/

carers are involved in planning students'

short and long-term learning goals.

To ensure that all students receive the

assistance they need to thrive, ETASC

employs a Multi-Tiered System of

Support. This is a three-tier hierarchical

model that enables Learning

Enrichment teachers to systematically

meet the learning needs progress

frequently to determine if the

interventions in place are working for

that student.

"Tier 1 of this model is support within

the classroom; this typically suits

about 80% of students. In Tier 1, the

class is taught using strategies that

research has shown to be effective.

All students are assessed frequently to

determine who is and isn't responding

to this approach. Here, students may

receive targeted teacher or teacher

assistant support and may be placed

into smaller groups. If Tier 1 is not

meeting the needs of a student, they

will receive additional support in Tier 2.

Approximately 15% to 20% of students

benefit from this level of intervention.

Tier 2 can involve small group learning

programs and or consolidation of

course content. Students who have

difficulties progressing in the previous

instructional tiers receive intensive,

individualised instruction in Tier 3",

Alyshia said, one of the ETASC Learning

Enrichment teachers on staff.

ETASC's five Learning Enrichment

teachers work with the students in a

number of ways; in the classroom team

teaching, in small groups, afterschool

tutoring and working with individuals.

Learning Enrichment offers strategies,

resources and evidence-based programs

to support all students to access the

16
---
Melanie ( left), guiding students

through a Macqlit learning session.

QuickSmart Numeracy

helped with algebra

because I'm now better

with multiplication and

division.

Chris, Year 10

curriculum. The primary focus of

Learning Enrichment is to improve

the students' literacy and numeracy

proficiencies. The programs used at

ETASC to support literacy include

Macquarie University's MacqLit reading

intervention program and the University

of New England's QuickSmart Literacy

program. The University of New

England's QuickSmart Numeracy

program is used to support students'

understanding and recall of basic

number facts, numeracy language and

problem-solving skills.

One student who has benefited

immensely from Learning Enrichment is

Chris, who started at ETASC in Year 7,

2017. Chris completed the QuickSmart

Literacy program in Year 7 and the

QuickSmart Numeracy program in

Year 8. Throughout Year 9 he chose

to attend ETASC's free Mathematics

after school tutoring to consolidate

his understanding of new concepts.

"Before QuickSmart Literacy I had

trouble with spelling and sequencing

my ideas, now I can gather ideas and

put them on paper independently.

QuickSmart Numeracy helped with

algebra because I'm now better with

multiplication and division.," said Chris.

Hayley, another student who started

at ETASC in Year 7 in 2017, was

also identified by the LE team as

needing some extra help with her

basic numeracy skills. Hayley began

QuickSmart Numeracy in Year 7 and

completed the program half-way

through Year 9. Hayley is now more

self-reliant in class and only attends

after school Mathematics tutoring

when she is having difficulties with new

content. "At my old school, I did not

feel like I could keep up with the Maths

work. Maths was really tough because

I didn't have enough support. Coming

to ETASC and completing QuickSmart

helped me gain confidence in my

Maths ability and improved my basic

skills," she said.

"It's not a case of fail first and

then intervene; we take a proactive

approach. ETASC students, like Chris

17

and Hayley, are identified early through

diagnostic testing, classroom teacher

referrals and Learning Enrichment class

observations. The LE team then

collaborate with other teachers, the

student, their parents/carers to develop

an individual learning plan," said Alyshia.

To ensure all students can achieve at

ETASC this year, all new Year 7 students

will undergo additional testing called

YARC (York Assessment for Reading

Comprehension), which provides the

LE team a thorough understanding

of a student's word recognition and

comprehension skills. This year the LE

team have three full time and two part

time staff who enhance the already

positive outcomes the team is achieving

with ETASC students.

Sophie (left), supporting an ETASC

student in Mathematics class.
---
The Lowdown on

ET Australia Secondary

College's Gifted and

Talented Program

What is it and What do Students at ET Australia

Secondary College (ETASC) get out of it?

Did you know gifted and talented

children make up about 10% of the

student population in Australia?* Did

you also know that in 2019, ETASC

exceeded this national benchmark

with just under 20% of its student

population identified as gifted and

talented?

"When we first started ETASC, we

always had the idea of creating and

implementing a gifted and talented

program (GAT) for students on the

Coast who wanted to focus on

expanding their academic talents

without distractions" Lachlan Scott, ET

Australia Secondary College Assistant

Principal said. "What's great to see

is some students are now coming to

ETASC to take up the opportunity to

expand their academic ability via our

program".

Gifted and talented students have

specific learning needs that may

require positive adjustments to the

pace, level and content of the New

South Wales Education Standards

Authority (NESA) high school

curriculum. Generally, gifted and

talented students demonstrate the

following characteristics:

• The capacity to learn at faster rates.

• The capacity to find and solve

problems.

• The capacity to make connections

and manipulate abstract ideas.

For ETASC gifted and talented

students, their curriculum is adjusted

to include:

• Differentiation: modifying the

pace, level and content of teaching,

learning and assessment activities.

• Acceleration: promoting students to a

level of study beyond their age group.

• Curriculum Compacting: assessing

a student's current level of learning

and addressing aspects of the

curriculum they have not yet

mastered.

*References: https://www.abc.net.au/news/2018-10-22/how-to-tell-if-you-have-a-gifted-child-explainer/10393244

Elissa (bottom left), providing guidance and

support to the Mathematics Ability Group.

18
---
Gifted and Talented

Program Background

ETASC's gifted and talented program

started in February 2018. Identified

students are given a one hour session

per week to focus on their individual

learning need with gifted and talented

teachers, Jaclyn and Elissa. "We

limit GAT sessions to one per week

complimenting core, in class learning"

said Elissa.

Jaclyn has a Masters Degree in

Special Education, has attained her

Bachelors of Fine Art and Secondary

Education and has a Certificate of

Gifted Education. While Elissa has a

double Degree in Secondary Teaching

and Science, and has recently taught

overseas learning how other countries

nurture their gifted and talented

students.

Student Outcomes

With the introduction of the GAT

program at ETASC, students can push

themselves further academically by

entering academic competitions,

which allows them to compete against

other gifted and talented students

across the country.

Elissa (top) instructing students in the

Year 8 Mathematics Ability group.

Elissa (right) helping Darcy with

her Engineering challenge.

Darcy – Year 8

Darcy sees Elissa once per week in

the Mathematics Ability Group. This

group extends upon the core course

content Darcy is currently learning in

Mathematics class by applying her

core learning to real life scenarios.

Being a part of the Mathematics

Ability Group provides Darcy

Montana (middle), working with

Elissa (top) on her novella.

Montana – Year 9

Montana is a part of the Creative

Writing Group and works with

Elissa once per week. Like Darcy,

Montana is also presented with

the opportunity to gain an

understanding of the core course

content taught in Year 10 English

the opportunity to gain an

understanding of the core course

content taught in Year 9 and 10

Mathematics classes. This extends

and tests Darcy's Mathematical

abilities in a safe and supportive

environment with Elissa.

In 2019, Darcy competed in an

Engineering Design Challenge

and the Australian Mathematics

Competition.

When asked about what she

enjoys the most from the gifted

and talented program, Darcy said

"Even though I'm only in Year 8,

I really like how I'm allowed to

start looking at Year 9 and 10

class work. It kind of feels like it

won't be such a shock when I start

looking at Year 9 and 10 Maths

problems in the next few years".

class in a safe and supportive

environment.

In 2019, Montana focused on

developing an eight thousand word

novella to be submitted into the

2020 Somerset Storyfest writing

competition. Montana was also

invited to present her creative writing

work at the Central Coast Council

Seniors Festival in 2019 and submitted

creative pieces into the Write 4

Fun – Poetry, Short Story and Arts

Competition for Australian Schools.

"Being able to enter competitions

and see how my creative writing

stacks up against other students

across the country gives me an

understanding of the level I need to

get to, to be the best" Montana said.

What New Opportunities

Are There for Students

This Year

"We want to expand the opportunities

our students have to enter

competitions as we believe this

gives them an insight into the

academic benchmarks they need to

be at, to be considered among the

top students in the country for their

identified talent" Elissa said.

"This year, students will have the

opportunity to enter Youth 4 Youth, a

Central Coast Council leadership and

skills development program. Students

will also enter the UN Youth Australia

debating competition. We are

expanding our focus and supporting

students to enter monthly and annual

photographic competitions put on by

Australian Photography" she said.

19
---
ETASC 2019 Excursions

Central Coast field surveys

In Term 3, ET Australia Secondary College

Year 9 and 10 students visited various

locations on the Central Coast as part

of the study of Geography and Science

subjects. This excursion provided all

students the opportunity to use the skills

taught in class to collect data samples

and conduct fieldwork.

Students travelled by bus to Gosford

Waterfront, Erina Creek, Terrigal Lagoon

Luna Park

In Term 3, Year 9 and 10 students

visited Luna Park in Sydney where they

were given the opportunity to 'Learn

as They Ride'. Luna Park provided

an ideal environment for practising

mathematical skills and doing

mathematical calculations.

Students completed a variety of tasks

related to the Maths curriculum,

assisting students to develop a deeper

understanding of the concepts taught

in the classroom and see mathematics

as part of everyday life.

Topics covered on the day included

Financial Mathematics, Algebra,

Rates and Ratios, Measurement,

Trigonometry and Statistics.

and Wamberal Beach to conduct water

quality testing.

Students also focused on completing

a field survey of Wamberal Beach,

examining the beach ecosystem, effects

of erosion caused by previous storms,

coastal processes and management

strategies to restore and protect

beach ecology.

20

Mountain

biking

In Term 2, 3 and 4, ET Australia

Secondary College Year 9 and 10

students were invited to participate

in a Mountain Bike Skills course.

Students were trained in the safe

use of mountain bikes and had the

opportunity to practice riding on

service trails, fire trails, and single

tracks on Kincumba Mountain to

become proficient in the handling

of bikes on different types of

terrain.

In addition to riding, students

were taught to respect the bush

environment, native fauna and

other road/park users.
---
Zoosnooz

In Term 4, ET Australia Secondary

College Year 9 and 10 students

enjoyed attending the Zoosnooz

overnight stay at Taronga Zoo, Sydney.

Students had exclusive access to the

zoo after the general public had left.

They participated in workshops related

to sustainability, examined ecosystems,

and examined the key characteristics

of a variety of unique flora and fauna.

Students also completed a high ropes

course after their workshops and

explored the zoo exhibits in groups.

Sydney Living

Museum

In Term 3, ET Australia Secondary College Year 7 students visited the Sydney

Living Museum where they were given the opportunity to conduct a historical

investigation into the impact of the British colonisation of Australia by

examining historical sources and perspectives.

Students practised historical archaeology, analysed a range of archival sources,

handled artefacts from the archaeological collection at the museum and used

them to answer a series of inquiry questions from their History class.

21
---
Are You a

Current Year 10

ETASC Parent?

Mark Your Calendar to Attend Your Child's

Pathway Plan Meeting in Term 3 and Term 4.

Pathway plans are an essential

ingredient for student success in any

modern high school environment.

At ET Australia Secondary College we

place a huge emphasis on ensuring

your child has the best opportunity

to graduate Year 10 with a defined

education and/or career path when

they leave ETASC.

We do this through our student

pathway planning process. If a student

started at ETASC in Year 7 and

completed Year 10, they would have

had three pathway planning sessions

with career staff including the:

• Principal and CEO of ET Australia.

• ET Australia Secondary College

Student Development Coordinator.

These sessions support students to

think about and convey what they

would like to do once they have

finished Year 10.

Parents of students in Year 10 will have

the opportunity to attend their child's

final pathway plan meeting, held in

Term 3 and 4.

All ETASC staff members mentioned

above will be in attendance to review

the goals set out by the student in

their pathway plan process and ask

questions about what extra services

or support your child needs to achieve

these goals in their final year of

schooling at ETASC.

Year 10 is a pivotal year in a child's

education and it's important that you,

the parent, are included in this

22

process to understand the direction

your child is going in after they have

finished Year 10.

We look forward to meeting you at

your child's pathway plan meeting

to discuss what else we can do to

support your child achieve their future

education and career goals.
---
Enrolling Now for

2021 and Beyond

ET Australia Secondary College is an independent Year

7 to 10 high school which equips students with the literacy

and numeracy skills to be successful in employment and/or

future study by delivering the mainstream curriculum in a

safe and supportive learning environment.

Now is the time to book your tour of the school for your

child to attend ET Australia Secondary College in 2021.

With over 94% of graduates engaging in further studies or a career,

you can be confident ET Australia Secondary College will equip your child

with the skills to be successful in ongoing studies and employment.

Book your tour at:

etaustralia.com/secondary-college

Click on 'Enrol Today'.

The excursions,

the tutoring,

everything is

included in the

school fee.

Parents of Chris, Year 10
---
ET Australia Magazine is produced by ET Australia

in collaboration with Mars Design.

A special thanks to all those who contributed to this issue of ET Australia Magazine, especially

Coastwide Surgery for allowing ET Australia to photograph Summa-Lee during office hours.

ET Australia is comprised of an adult Training College (RTO ID 90084) and Independent Year 7 to 10 Secondary College.

The primary focus of ET Australia is to provide students with the skills to be successful in employment and/or further study.

Contact Mars Design:

enquiries@marsdesign.com.au

@ www.marsdesign.com.au

Contact ET Australia

(02) 4323 1233 @ email@etaustralia.com

Follow ET Australia

ET Australia

ET Australia

@ETAustralia

ET Australia