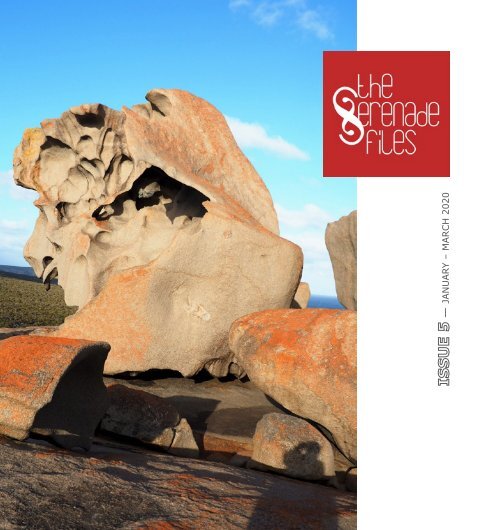 Issue 5 - The Serenade Files
Issue 5 is about the 'remarkable' and this cover photo of one of Kangaroo Island's natural wonders seemed fitting. Having featured visual artists on the cover of each of the 2019 issues, we're featuring photographer Pia Young's work as a tribute to the residents of Kangaroo Island affected by the Australian bushfires. Australia is home to many remarkable arts practitioners and this publication aims to shine a light on as many as possible beginning with our Bravo feature artists Joanne Hartstone and Tom Kitney, whose partnership proves that one can have it all, true love and a successful and satisfying career. We introduce our new team of writers who will be reviewing shows and interviewing artists in the Adelaide Fringe Festival. James Murphy is back with his State of Mind column and he interviewed Frankly ahead of her new show Frankly's Wordrobe. Furthermore, Indianna Bell of Stakeout Films is our featured Dolce artist, and Jakub Gaudasinski of Synthetica Digital Audio reflects on his time as Sound Production tutor at the Australian Youth Orchestra's 2020 National Music Camp.
Issue 5 is about the 'remarkable' and this cover photo of one of Kangaroo Island's natural wonders seemed fitting. Having featured visual artists on the cover of each of the 2019 issues, we're featuring photographer Pia Young's work as a tribute to the residents of Kangaroo Island affected by the Australian bushfires. Australia is home to many remarkable arts practitioners and this publication aims to shine a light on as many as possible beginning with our Bravo feature artists Joanne Hartstone and Tom Kitney, whose partnership proves that one can have it all, true love and a successful and satisfying career. We introduce our new team of writers who will be reviewing shows and interviewing artists in the Adelaide Fringe Festival. James Murphy is back with his State of Mind column and he interviewed Frankly ahead of her new show Frankly's Wordrobe. Furthermore, Indianna Bell of Stakeout Films is our featured Dolce artist, and Jakub Gaudasinski of Synthetica Digital Audio reflects on his time as Sound Production tutor at the Australian Youth Orchestra's 2020 National Music Camp.
SHOW MORE
SHOW LESS
You also want an ePaper? Increase the reach of your titles
YUMPU automatically turns print PDFs into web optimized ePapers that Google loves.
— JANUARY – MARCH 2020
---
"The flame trees spread across the plains,

The burned out nation grieves.

We mourned and hoped for rain,

As fire swept through the leaves."

Jennifer Trijo

| photo by Jennifer Trijo
---
Remarkable Rocks

"This photo was taken of the Remarkable

Rocks on the beautiful Kangaroo Island

in 2016. It's so devastating to hear

about the vast destruction the fires

have caused, rapidly wiping out flora

and fauna, resulting in the loss of

human life. Some of the island's native

inhabitants have been brought to the

brink of extinction. My heart cries for our

beautiful country and its wildlife."

Pia Young, photographer
---
I've thought a lot about what I would love

this publication to become in the next

ten years, and I really want to build a

community of creatives around it. The artistic

community is deeply concerned about the

future of arts policy following the Federal

Government's announcement to restructure

departments from February 2020; there

will no longer be a Department of Arts

and Communication. Nevertheless, I am

committed to giving Australian contributors

a platform for storytelling. I will continue to

highlight the work of the Aussie battlers in

the arts community, and proactively seek out

professional development opportunities for

my readers.

#5. Welcome

The prospect of new beginnings may allow

the imagination to run free, vividly creating

new possibilities, and directing us toward

bigger goals. This welcome is significant

in that we have ushered in a new decade

but the start to this year is bittersweet as

Australia endures its worst fire season ever.

It is heartbreaking to see the devastation

around the country and my heart goes out to

Aussie battlers everywhere. The generosity of

our fellow countrymen is heartwarming and

hope is on the horizon.

The 'twenties' present both uncertainty and

a sense of excitement for me. I recently

published Why I am not writing a list of

resolutions for 2020 on the blog as a selfcare

imperative. My aim is to narrow my

focus and diminish mental clutter.

Issue 5 is dedicated to those who create for

a living and the many ways in which these

creators have reached audiences with their

art. It features Hartstone-Kitney Production's

Artistic Director Joanne Hartstone and Head

of Production and Tom Kitney, and filmmaker

and writer Indianna Bell as our Dolce artist.

Jakub Gaudasinski of Synthetica Digital Audio

reflects on his time as sound production tutor

for the Adelaide Youth Orchestra's National

Music Camp, and James Murphy is back to

write his State of Mind column.

In other news, I'm elated to introduce a

team of new writers in this issue, and this

year I'll be launching Crescendo, a new

category of articles dedicated to professional

development. I aim to build a library of

resources to help creatives to achieve their

goals in creative industries. Thank you for

supporting the arts and for being a valued

reader of my publication.

Sincerely,

Jennifer Trijo

Founder and Editor

WELCOME
---
Contents

JANUARY – MARCH

2020

5. Welcome

Accento

8. A new team of contributors

State of Mind

12. Cabaret is better than therapy,

says Frankly

Bravo

16. Fringe gets classy: meet the

power couple behind Hartstone-

Kitney Productions

Dolce

22. Indianna Bell's stake in filmmaking

Synthetica

24. Reflections on National Music Camp

2020
---
Founder & Editor

Jennifer Trijo

Artist — Cover Artwork

Pia Young

Logo Designer

Jakub Gaudasinski

Graphic Designer

Jacek Gaudasinski

Contributors

James Murphy

Kristen Dang

Naomi Crosby

Quyen Tran

Tanner Muller

Contact us

PO Box 59

Greenacres

South Australia 5086

Instagram: @the_serenade_files

Facebook: @Jennifer.Trijo.TSF

The Serenade Files is published four

times a year by Jennifer Trijo and is

proudly based in South Australia. Views

expressed by authors are not necessarily

those of the publisher.

All rights reserved. No part of this

publication may be reproduced without

the prior written permission of the

publisher.

Copyright © 2017 – 2019 Jennifer Trijo
---
ACCENTO

Introducing a team of

new contributors

Jennifer Trijo

It's a new decade and the sixtieth

anniversary of the Adelaide Fringe

Festival therefore I am thrilled to

be contracting new voices for this

publication. This diverse group will assist

me in media coverage of the festival

during February and March through

reviews, interviews, and profile articles.

Each writer has a unique background

in the arts and media and I believe

they will bring valuable perspectives to

enlighten our readers.

Kristen Dang

Kristen is a writer, family doctor, and

mother who loves all things creative.

She writes a regular column for

Christian Today as part of Press Service

International, and has contributed to

medical journals as a writer, reviewer

and editorial team member. In 2019,

Kristen was a joint recipient of the

Basil Sellers Young Writers Award. She

also runs two blogs (lostnowfoundk,

lilyofthevalleysk), and enjoys making

music, digital artwork and dresses.

Kristen has a passion to see people

encouraged by the life-inspiring side of

the arts.

ACCENTO
---
Tanner Muller

Tanner is a queer writer and editor who

largely focuses on storytelling, interviews

and creative industry reviews. His work

has been published in Glam Adelaide,

Verse Magazine, Kill Your Stereo, and

YEWTH. He also performs spoken word

and has been featured during Adelaide

Fringe and Feast Festival. Having

recently completed his Honours degree

in Creative Writing, Tanner is currently

navigating the local industry. When he's

not selling second-hand items at his

retail job, you can find him typing a new

story, or speaking his words at an open

mic.

Quyen Tran

Journalist and writer Quyen Tran prefers

nothing more than to immerse herself in

cultural experiences. Passionate about

art and culture, she has been actively

promoting spaces, events and quirky

interests in Australia and overseas since

2015. Next to writing, she relishes in

visiting intimate places offering good

grub and funny anecdotes with locals

and strangers. Quyen's work can be

found with the Taiwan Tourism Bureau,

Insider Guides and Kyoto Journal.

ACCENTO
---
has written for film and publications

as a Flinders University student in

the capacity of academic work and

public communication of nutrition and

wellbeing.

Adelaide Fringe Festival will run

from 14 February – 15 March. Visit

https://adelaidefringe.com.au/

fringetix for more information.

Naomi Crosby

Naomi Crosby is an Australian actress,

singer, public speaker, and freelance

writer who holds a Bachelor of Nutrition

and Dietetics. Born in Edinburgh, she

holds true to her dual heritage from the

world's largest fringe festivals. Naomi

has gained experience in children's

entertainment through touring with The

Skeleton Crew, and presenting for Peppa

Pig, Sesame Street, and performing

various Disney characters. Naomi has

also worked as a host and singer for

various local enterprises and innovators

including the award-winning Post Dining.

As a dietitian, Naomi promotes wellbeing

and creativity as @nomcrosby. She

ACCENTO
---
ACCENTO
---
STATE OF MIND

Cabaret is better than

therapy, says Frankly

James Murphy

When quirky Adelaide songstress

Nicole O'Rielley aka Frankly enrolled in

an elective cabaret course at university,

she did not anticipate that the topic

would not only shape the voice she

uses on stage while seated behind a

keyboard, but also, occasionally, the one

she evokes to quell her social anxiety

when seated with friends around a table

at the bar.

Adelaide fans have become acquainted

with Frankly's searingly honest voice

through her previous three Fringe

shows which have alternated between

bare-chested honesty and oddball

ridiculousness. Through her fourth

original cabaret work, Frankly's

Wordrobe, the 2019 Adelaide Fringe

Emerging Artist award recipient says

she has arrived at a voice that manages

to blend the light and shade, and she is

ready to take this one the road.

For the wordy but socially anxious

O'Rielley, discovering cabaret (while

studying a BA majoring in performing

arts and creative writing at the

University of South Australia) was a

revelation, not just artistically, but also

as a therapeutic outlet, as she explains.

"Honestly it's been more beneficial than

therapy; it's great."

"I think probably the best thing about

doing it was I used to have really bad

social anxiety; I couldn't talk to people,

I'd just get all clammed up and be

horrific socially."

"I guess the process of doing cabaret,

where I was sharing very vulnerable

feelings and embarrassing stories to

make people laugh, [afforded me]

that really genuine connection with my

audience. And those moments of silence

in the room, that you can tell people

are completely engaged and receiving

positive feedback, had this really good

effect on my emotional wellbeing

because it led my brain to process that

I'm literally getting paid to be myself, so

why should I hold back in my everyday

life?"

STATE OF MIND
---
Nicole O'Reilley is Frankly | photo by Daniel Sutherland

"It's made me a

lot more open and

communicative. If I

can get on stage and

tell people everything

about me, I can live

my life and make

friends, interact."

O'Reilley's alter-ego,

Frankly, doesn't just

make appearances

during festival

season anymore,

she says; often she

pops up whenever

times get tense or

uncomfortable.

"If I feel like I'm in a

situation where there's

lots of people looking

at me and I feel myself

getting anxious, it's

sort of like 'oh well

Frankly can take over

this conversation'. I

feel like I can naturally

work in my show

presence in everyday

life to get myself

through."

Festival February and

Mad March, though, is

when there is a flurry

of Frankly; she has

created a new work

each year for the last

STATE OF MIND
---
four years, with last year's Big Smoke

Fauna winning her the Adelaide Fringe

emerging artist award. This recognition,

she explains, gave her faith that she is

on the right path.

"It was exciting receiving that award

and it helped me deal with some of the

doubts I have about myself; I have

shocking Imposter syndrome and spend

a lot of time thinking 'I'm not worthy', so

it was reassuring."

"I think regardless of how well I get my

peers rocking up to my shows, I think

having that validation from the Fringe

Festival, that they saw my work and

believe I'm growing and improving was a

bit of a confidence boost. I needed that

because I was feeling disheartened at

times."

While the hustle of Fringe can be

draining, Adelaide's summer of madness,

O'Reilley says, is her time of year.

"I'm weirdly good in a crisis and I

feel that Fringe is the same; it's a

lot of work, obviously and a lot of

energy output and you need be on for

people and engaging and charismatic.

Obviously, the workload as an

independent performer is really high, but

I usually get through it shockingly well."

to give but getting through it is usually

quite good."

For O'Reilley, the summer sun also helps

to raise her mood, she says.

"Usually there is that rhythm where

summer brings out my zest for life in all

areas of my life. In winter, I'm pretty low

energy; I get the winter blues pretty bad

so usually I'm just sleeping. I'm usually

a pretty moody person as it is, so if it's

really cold for months on end, I'm quite

intolerable."

Putting yourself out there as completely

as she does with Frankly, though,

inevitably does have emotional

repercussions, but O'Reilley has a

favourite tactic to help her get through

the season.

"I'm a big fan of the car park cry in the

car just to have that release just to keep

going because there's no time to stop

really."

Frankly's Wordrobe plays the Gilles

Room at the Astor Hotel from the 20

February to the 13 of March 2020.

"I think because there's so much

mayhem going on and it's so manic that

you either sink or swim and I usually

feel like a couple of weeks afterwards

that I'm crushed and having nothing left

STATE OF MIND
---
BRAVO

Fringe gets classy:

meet the power couple

behind Hartstone-Kitney

Productions

Jennifer Trijo

Established in 2017, Hartstone-Kitney

Productions (HPK) has quickly become a

mainstay of the Adelaide Fringe Festival.

Artistic Director and Producer Joanne

Hartstone and Head of Production Tom

Kitney are the prolific creatives at

the helm of this multi-award winning

production house. They each have an

impressive portfolio to their credit, and

they've returned stronger than ever for

this year's festival.

How did the both of you meet?

We first met through a mutual friend

at the 2015 Edinburgh Fringe. Tom was

designing the original fringe production

of Trainspotting: Live and I had stopped

over for a few fringe days as part of a

European tour with my brother. That's

when Tom and I learnt 'of' each other,

but it wasn't until Edinburgh Fringe 2017

that our trajectories really collided.

In 2017, I was presenting The Girl

Who Jumped Off The Hollywood Sign in

Edinburgh, after winning the inaugural

Made In Adelaide award in Adelaide

Fringe earlier that year and completing

a hugely successful Hollywood Fringe

season. Tom had designed several fringe

shows – including Ben Hart: Belief, Choir

of Man and The Magnets. We had met up

a couple of times in London before the

madness of the fringe began, so there

BRAVO
---
was certainly an established friendship

going into the festival.

But as we weren't working together,

it wasn't until after tech week – after

all our collective shows were up and

running – that our friendship developed

into something more. Tom took me to

see all his shows, and he saw 'Hollywood

Sign' at least three times and I think

he was relieved that he didn't have to

pretend to like it! We had a huge group

of mutual friends and there was a lot

of mutual respect – both personally

and professionally. Typically, most of

our friends knew there was something

between us before we did. We hung out

in London after fringe until I left the

country and we've been best friends ever

snce.

Why did you both decide to combine

your talents and create a production

company?

The decision to collaborate was a

natural progression, really. Tom's only

constructive criticism of 'Hollywood

Sign' was of the production design –

specifically (and obviously) the lights.

Being an (already) award-nominated

Lighting Designer, he knew he could

make the show look like I had originally

envisioned. I had a season coming up

in New York, and Tom redesigned the

show for me to present Off-Broadway.

We realised how complimentary our

skills were, and together we could build

something quite exciting.

However, it wasn't until Tom came to

Adelaide for the first time in 2018 that

we realised the true potential of our

partnership. Admittedly, each of us was

getting along quite far without the other

in this industry, but we felt we could

achieve so much more together.

We made a new show That Daring

Australian Girl together (with Director

Nicholas Collett) and the process

of creation was a dream. The show

exceeded our expectations, was very

well received and gave us another 'hit'

production to tour. We also built a popup

theatre together and I continued to

introduce shows to Adelaide audiences

(2018 included We Live By The Sea and

Orpheus). Tom left Australia knowing

he was coming back to recreate our

Off-Broadway design of The Girl Who

Jumped Off The Hollywood Sign in the

2018 Cabaret Festival and the seeds for

Hartstone-Kitney Productions were well

and truly sewn.

You are the powerhouse duo behind

a multi-award winning company.

What do you think makes your

collaboration so effective?

We certainly have complementary skills

and talents at a similar level within

the global arts industry. We also now

have a shared vision and goal that

we collectively work towards – and

that we both develop and enhance as

time goes on. Tom and I have similar

artistic values, a congruent eye for
---
quality, and have

naturally developed

a shortcut of

communication

between us. We

certainly take a lot

of risks together

– personally,

financially and

artistically – but

then again our

whole international

relationship has

been rather risky

so it isn't surprising

that we continue

to make educated

gambles. I think

the risk makes us

deeply loyal to each

other.

How do you go

about balancing

your personal and

professional life?

This is a hard

question to answer

for many reasons.

As most artists

know finding this

work/life balance

is challenging to

begin with, let

alone balancing

two workaholic

artists in the one

BRAVO
---
house working on the same projects.

Performance deadlines are strict

mistresses, and housework will always

come second to rehearsals. We are

still finding our "balance" with this,

as we rarely pass an evening without

discussing work. However, as work is our

shared passion, we define it as more of a

lifestyle than a work/life balance issue.

Tom says the only answer to this is

[having] dogs. Our Labradors Molly

(7) and Winnie (1) are not allowed in

the theatre, so we get to escape the

pressure of our work with our furmascots

at home.

Your tagline 'Fringe Gets Classy' has

created a buzz and for the past few

years you've curated the diverse

programme at Noel Lothian Hall.

What do you look for in the acts you

select?

It is really exciting that 'Fringe Gets

Classy' is creating a buzz. Its origins

come from a description of HKP's 2019

Adelaide Botanic Garden fringe activation

design: an enchanted rose garden,

complete with antique furniture and

chandeliers. Our artistic 'happening'

would be "where fringe gets classy", and

it really was as described, heightened

by a seriously good season of shows in

our pop-up 'black box' style theatre in

the Noel Lothian Hall. We pushed a lot

of boundaries, got a lot of notice and

developed a reputation, or as I like to

think of it, an expectation.

A lot has happened since last year. After

extensive consultation with Adelaide

Botanic Garden management and our

hospitality partners Blanco Horner

Hospitality, we acknowledged a need to

label our work beyond the name of our

location. After all HKP are a completely

independent theatre company that only

rent the Noel Lothian Hall for a couple

of months a year, and when we aren't

using it the walls are white! Everyone

agreed that a re-brand of 'The Noel' was

appropriate to grow our activation.

In 2020, we will have three venues

in our 'Fringe Gets Classy' activation:

the Black Box Theatre (located in the

Noel Lothian Hall) with 14 outstanding

shows from Australia and around the

world; the Open Air Theatre, nestled in

the Rose Garden and housing the 2019

Best Theatre award winning Eurydice,

and her brother show Orpheus; and our

third venue is The Bus Stop, a voyage

point for a theatrical journey created by

Canadian immersive theatre experts Talk

Is Free Theatre.

Each of our shows had to fit with our

curation criteria: 1. High quality of

production (or perspective quality for

world premiere's, based on the artist's

previous work); 2. Interest to our

audiences (Will people want to see it?);

3. Relevance (Why this show? Why

now?); and 4. It has to be a perfect fit

for the venue (or we create one for it)!

BRAVO
---
You've curated twenty shows for

Adelaide Fringe 2020. What can

audiences look forward to this year?

This year is all about pushing

boundaries.

'Fringe Gets Classy' includes some of

the best solo-shows on the international

fringe circuit: Josephine, Dietrich:

Natural Duty, I'll Tell You This For

Nothing, Femme, and a limited revival of

The Girl Who Jumped Off The Hollywood

Sign.

We are showcasing Australian musicians

with Gobsmacked! by Nikki Aitken and

Jamie Burgess, Spooners for Crooners

by Planet Clare, Joni Mitchell's Daughter

by Delia Olam, and The Real Housewives

Choir. We are also presenting Writer / 20

세기작가 by Theatre Hooam, an awardwinning

Korean theatre company making

their Australian premiere, and reinforcing

our relationship with Holden Street

Theatres by co-presenting Casey Jay

Andrews in The Wild Unfeeling World.

'Fringe Gets Classy' is also pushing

the boundaries of genre and location.

A Special Day is turning our Black Box

Theatre into a chalkboard universe,

Orpheus and Eurydice are recreating

ancient myths under the stars, and the

'Canada Capsule' (a trio of immersive

shows by Talk Is Free Theatre) literally

transports audiences to a secret location,

including one show that is performed on

the moving bus!

HKP are again collaborating with The

Flanagan Collective and Gobbledigook

Theatre to create The Gods, The Gods,

The Gods, converting the Black Box into

a 360 degree gig-theatre experience

fusing original music, poetry, storytelling

and an immersive lighting design by

Tom.

We have also challenged ourselves to

realise one of our favourite plays and

are excited to present the all-South-

Australian production of Enterprise

by American satirist, Brian Parks.

Tom is designing, I'm one of four

South Australian actors, and we are

co- directing. It is fast, funny, clever,

very self aware, and a safe bet for the

discerning fringe-goer.

And we have have improvised Unplotted

Potter by Adelaide improvisation

specialists Scriptease because it's

awesome.

What are some of the challenges

that you've faced while working

in the entertainment industry?

How have you overcome these

challenges?

It is very hard to tour shows

internationally, let alone as independent

artists with no guaranteed subsidy

or sponsorship. Limited resources

(physically and financially) results

in a lot of creative problem solving

and artistic compromise. [You ask

yourself] 'How do you put a show on a
---
plane?', 'How do you build the 'H' of the

Hollywood Sign in the East Village?', and

'How do you set up an entire show in 15

minutes from scratch?'

For now, that has to be part of our

artistry – to see what we can create

with limited budgets and limited time

in places we don't call home. Shows

are never perfect but we often get very

close, and now we can tour together so

we always have the others' back during

the inevitable challenges. Together, Tom

and I have come up with some pretty

interesting solutions.

Perhaps this is why we are so confident

in our Adelaide Fringe activations.

Here we have the home advantage

[with] more reusable resources, more

supporters, greater production values,

and we get to invite the world to our

doorstep to perform.

We still have to set up the shows in 15

minutes though.

be asked to collaborate, or curate, or

participate. It is a hard slog for everyone

in 'the biz', with rare exception, so be

kind to your colleagues.

Thank you so much for your insight

and 'chookas' for your 2020

Adelaide Fringe Season.

Is there any advice you could give

to people who hope to work in

production or artistic direction?

If you have ambitions to curate festivals

or create theatre, know that you can

not do it alone. The 'live' arts are all

about working with others, even if you

are driving the project or operating

equipment. If you are able to work as

a harmonious team, you will advance

in your practice, no matter your craft.

Then, as work begets work, you will
---
Indianna Bell's stake in

film

Jennifer Trijo

Adelaide has produced successful

filmmakers like Scott Hicks and Rolf de

Heer but there is a new generation of

talent that is worthy of note.

South Australian filmmaker Indianna

Hope Bell has begun to make her

mark on the short-film festival circuit

with several accolades under her belt,

and recognition by prominent arts

organisations such as Carclew.

awards for Safe Space and Call Connect

respectively.

Bell and Allen have been mentored by

experienced fimmakers Nash Edgerson

and Spencer Susser of Blue-Tongue Films

during Tropfest and, as a result of this

masterclass, produced the film Crossed.

The Stakeout Films duo are currently

working on a new film with plans to

partake in notable film festivals.

Follow Indianna on Instagram @

indianna_bell and visit https://

www.stakeoutfilms.com/ for more

information.

With a physical likeness to starlet

Scarlet Johansson, one would think her

aspirations would be on screen, however,

Bell's expertise is behind the camera as

a producer, screenwriter, and director.

Bell is one of the founders of Stakeout

Films along with Josiah Allen and John

Chataway. Bell and Allen, both Flinders

University alumni, took out the Carclew

Young Filmmaker of the Year award in

2019.

Together they have created short films

Safe Space, Call Connect, Crossed,

Filmies, and Small Town P.D. and they

continue to build their portfolio, with

their sights set on even bigger projects.

Stakeout Films has been recognised

at the South Australian Screen Awards

and the Austin Film Festival taking out

DOLCE
---
DOLCE
---
Reflections on National

Music Camp 2020

Jakub Gaudasinski

Alright. Here's a scenario. You

have less than two weeks, twelve

days to be exact, to record twelve

orchestral concerts, three of them

while simultaneously running a PA

system, and concurrently delivering a

course in orchestral audio production

and commercial audio engineering. I'm

writing this post hoc, so it appears that

I have indeed done just that and have

likewise survived, and I'm not sure what

units to use, but suffice to say that the

work compression ratio per unit time

was rather high. Logistically, artistically

and intellectually it was the most difficult

job I have done to date. But hold on,

let's back up a little.

This was my first job for the year,

working as a Sound Production tutor at

this year's Australian Youth Orchestra's

National Music Camp held annually here

in Adelaide; a strangely action-packed,

utterly exhausting but altogether

challenging and very much rewarding

beginning to 2020.

I have accepted this mission, much like

any job anywhere else, knowing the

broad strokes of the job and knowing

that the details can only be ascertained

on the job itself. To be fair, only four

of the twelve concerts were orchestral

of the symphonic kind, but even those

carried two symphony and one chamber

orchestras, and most of the others were

sizeable too.

At this point it would be remiss of me

to pretend that I did all of this alone,

since as I've mentioned this was to be

a course in Sound Production, and my

two students, while initially relatively

inexperienced, were soon to be sorting

out microphones, installing cables,

configuring recording sessions, and

mixing chamber ensembles.

I do not necessarily see myself as a

teacher, and admittedly, in preparation

for the facilitation of this course, I did

open the books again to refresh my own

knowledge on what I knew I would have

to teach. Apparently, you only really

know something if you can explain it to

someone else, though my issue here is

with the word "teach" in and of itself,

since that wasn't what I aimed to do.

I could grant myself the premise that I

can explain certain concepts relatively

well, but the greatest teachers in my

life (and there were a few) have not

taught as such, but rather they led by

example, and I have found this to be the

most powerful and compelling way of

not necessarily teaching, but giving my

students a stake in what we are doing,

so that knowing more about it becomes

something that is necessary, something

that is useful and therefore desirable.

In a very real way, I don't want to teach

SYNTHETICA
---
the parameters of abstract problem

"x". Instead, I want to put myself and

my students in a real problem situation

which gives us the parameters, and

where knowing how to solve for "x"

becomes a convenient and practical way

of apprehending said situation.

I have picked two bright, self-starting

young applicants (nay, individuals), and

on the afternoon of our first meeting

at the camp grounds I have introduced

myself to them, and then them to the

crazy plan before us. Twelve concerts

over three stages, two of them with PA

systems, and a fortnight to cover enough

mathematics, physics, and electronics

to make a semester of undergraduate

rocket science look comparable. Well,

maybe that last one is a stretch, but the

order was nonetheless tall, and I love a

challenge.

So, "lead by example", I thought, and I'd

like to think I did just that. Throughout

the two weeks we have devised many

plans, carried and installed a lot of

equipment across the campus, invented

ways of reconfiguring the stages at our

disposal to accommodate the musicians,

listened to countless hours of rehearsals,

all to the tune of a constant stream of

questions going both ways. Indeed, my

students would ask me questions all the

time, sometimes about power supplies

and digital transport lines, sometimes

about non-linear editing or logarithmic

measurement, and I would do the same,

playing my usual devil's advocate, giving

them a stake in, and responsibility for,

the recording projects before us.

And then, just like that, our two weeks

were up, and suddenly it dawned on

me that the concerts were recorded,

that I was very, very tired, and that a

hope grew inside me that the two of

my students carried away with them

not necessarily every one of my crazy

mathematical explanations on stacks

of graph paper, but a love for the craft

that is audio engineering, and perhaps

engineering in general with a love for

solving problems, I suppose.

SYNTHETICA
---
the Serenade Files

— JANUARY – MARCH 2020