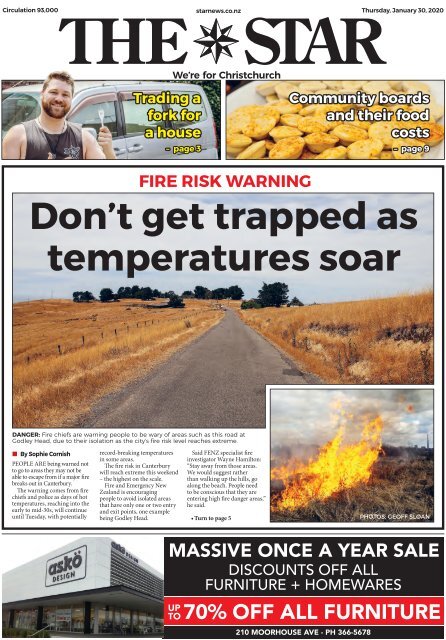 The Star: January 30, 2020
Create successful ePaper yourself
Turn your PDF publications into a flip-book with our unique Google optimized e-Paper software.
Circulation 93,000

starnews.co.nz

Thursday, January 30, 2020

Trading a

fork for

a house

– page 3

Community boards

and their food

costs

– page 9

FIRE RISK WARNING

Don't get trapped as

temperatures soar

DANGER: Fire chiefs are warning people to be wary of areas such as this road at

Godley Head, due to their isolation as the city's fire risk level reaches extreme.

• By Sophie Cornish

PEOPLE ARE being warned not

to go to areas they may not be

able to escape from if a major fire

breaks out in Canterbury.

The warning comes from fire

chiefs and police as days of hot

temperatures, reaching into the

early to mid-30s, will continue

until Tuesday, with potentially

record-breaking temperatures

in some areas.

The fire risk in Canterbury

will reach extreme this weekend

– the highest on the scale.

Fire and Emergency New

Zealand is encouraging

people to avoid isolated areas

that have only one or two entry

and exit points, one example

being Godley Head.

Said FENZ specialist fire

investigator Wayne Hamilton:

"Stay away from those areas.

We would suggest rather

than walking up the hills, go

along the beach. People need

to be conscious that they are

entering high fire danger areas,"

he said.

• Turn to page 5

PHOTOS: GEOFF SLOAN

massive once a year sale

discounts off all

furniture + homewares

UP

To70% oFF all FUrniTUre

210 moorhoUse ave - Ph 366-5678
---
2 The Star Thursday January 30 2020

inside

Is your library book overdue?.......................8

Great things to do this weekend..........10

Gardening advice................................................ 16

Food..................................................................................17

Crossword, decoder and sudoku........20

City2Surf.......................................................................22

Gig guide.....................................................................33

newsroom

Sophie Cornish News

021 915 924

Sophie.Cornish@starmedia.kiwi

New lease on life for long-term

beneficiary

see page 7

Louis Day News

021 919 917

Louis.Day@starmedia.kiwi

Gordon Findlater Sport

027 408 1993

Gordon.Findlater@starmedia.kiwi

Barry Clarke Editor in Chief

021 359 426

Barry@starmedia.kiwi

advertising

Shane Victor Advertising Manager

021 381 765

shane@starmedia.kiwi

Ford Cortina will bring back Ruapuna memories

see page 25

Show aims to change society's

views on sex and relationships

see page 14

Classified advertising: 379 1100

General inquiries: 379 7100

A division of Allied Press

Regional Manager: Steve McCaughan

PO Box 1467, Christchurch

359 Lincoln Rd, Addington

www.starmedia.kiwi

Will the Crusaders get an easy

run in 2020?

see page 23

Build customers, sales

and profits with us...

With just one ad placement reach

168,000

readers

"THE BEST washing machine in

the world."

That's how Kate Robinson

Circulation 93,000

GREAT

THINGS

TO DO THIS

WEEKEND

Page 12

describes the $101,000 her

family won after purchasing

a new washing machine from

Smiths City during a recent

promotion.

The windfa l wi l actually

be life-changing for Mrs

Robinson, her husband

Jamie and two-year-old son

Scotty.

PEDALLING OVER

THE SPEED BUMPS

Here's to you Mrs Robinson – $101k

THRILLED: Jamie and Kate Robinson with Scott receive a $101,000 cheque from Smiths City chief executive Roy Campbe l.

• By Karen Pasco

rechargeable

hearing aids

free

FREE HEARING CHECK

• FREE CLEAN & CHECK OF

YOUR PRESENT HEARING AIDS

• FREE LISTENING EXPERIENCE

OF THE LATEST TECHNOLOGY

OFFER ENDS FRIDAY AUG 30, 2019

Merivale Hearing Clinic

S p o r t i n g i c o n C r a i g Ad a i r

Mrs Robinson finished

chemotherapy treatmen two

months ago and was given the

"all clear" two weeks ago.

•Turn to page 5

Restore your oiled CEDAR BLINDS with our

NEW re-oiling service.

Rejuvenate your lacquered CEDAR BLINDS

High-tech Cleaning

We clean and repair a l types of blinds –

Venetians, Cedar, Verticals, Ro ler, Ho lands,

Romans and Pleated – with environmenta ly

friendly cleaning products.

Temperature Contro led Drying

Re-oiling & Rejuvenating

Fabric Blinds - eg Austrian & Roman

Same Day Pick Up & Drop Off

Bookings are required. We offer a same

day, pick up and drop off service for most

types of blinds.

Page 33

• By Sophie Cornish

FIFTEEN PEOPLE have been

arrested and 24 properties raided

in the week-long manhunt for

a leged hit-and-run ki ler Liam

Strickland.

Late yesterday police had not

located the

21-year-old

Black Power

member who

is wanted in

relation to the

death of Dean

Amies in New

Brighton last

Wednesday.

Strickland

was allegedly

driving a stolen

white van and fleeing police

when he struck Mr Amies at the

intersection of Shaw Ave and

Hawke St.

A funeral service for Mr Amies,

46, was held at St Faith's Church

Ha l in New Brighton yesterday

afternoon.

Police have recovered six

firearms, drugs and two stolen

cars during the raids.

•Turn to page 4

BLINDS...Cleaned, Repaired & Restored...

To advertise contact Shane Victor: Phone 021 381 765 | Email shane@starmedia.kiwi | www.starmedia.kiwi

24b Church lane

Call now: 356 2324

by Appointment only

• Simplicity

No ba teries

• Convenience

Charge overnight

Thursday, August 15, 2019

Arrests,

raids as

police

hunt for

wanted

driver

Convenient Location

We are located at 47 Mandevi le St, Riccarton

(next to Window Treatments NZ Ltd), parking

available onsite

Ro ler Blinds cleaned

from as li tle as $22

per blind

OPEN

Mon - Fri 8.00am to 5.00pm

***NEW LOCATION***

Ph 377 0770, 47 Mandevi le St,

Riccarton Christchurch

Liam

Strickland

155,000 copies

delivered every week

The Quickest, Cleanest, Greenest Wash in NZ

Did You Know...

GoLD

UNLIMITED

WASH CLUB

$59

month

SILvER

We have Unlimited and Fleet Wash Clubs available!

For enquiries, Please call 0800 5333 555 or see an attendant on site.

UNLIMITED

WASH CLUB

FLEET

WASH CLUB

530b Sawyers Arms Road, Harewood, Christchurch • 0800 5333 555 • www.autoexpresswash.co.nz

$49

month

GoLD

$59

month

SILvER

FLEET

WASH CLUB

$49

month
---
Thursday January 30 2020 The Star

Warning for Styx Mill serial flasher

• By Sophie Cornish

MEMBERS OF the public and

police have combined to find

a man exposing himself in a

popular recreation park.

The 19-year-old was caught by

a police dog patrol in the Styx

Mill Reserve on Sunday afternoon.

It followed more than 10

reported sightings of the man,

often doing an indecent act,

over three weeks, Christchurch

North Community Patrol chairman

Sam Hall said.

A police spokeswoman said

the man was arrested and given

a pre-charge warning.

The warning is an alternative

to prosecution for offenders who

have committed offences with a

maximum penalty of no more

than six months imprisonment.

Police use discretion to not

• By Sophie Cornish

EIGHTEEN-MONTHS-AGO

Tim Hunt was watching a video

on how an American traded in a

paperclip for a house.

Sitting on the couch beside

him just happened to be a plastic

fork.

Then an idea struck the

30-year-old musician – if an

American turned a paperclip

into a house – could he do the

same with a fork?

"I thought, you know what?

I'm gonna do it!" said Mr Hunt.

On December 27, Mr Hunt

traded a Merida road bike for a

1999 Nissan Serena.

It was his biggest trade yet, and

his eighth.

It all started with a friend, who

was willing to take on the plastic

fork in exchange for a book,

about snoring.

"I'm in a band called Stonehurst,

we've been around for

about 15 years. Stace is a lead

singer from another band and

we're quite good friends. I think

he took it on and thought it

might go well. He took it happily,"

said Mr Hunt.

The book was then traded for a

soft guitar case, which was then

traded for a hedge trimmer.

The hedge trimmer was then

traded in for a sound rack, which

was traded for a Nintendo gaming

console.

From there, Mr Hunt acquired

a 32" LG TV, in exchange for the

console.

The TV was then traded up for

the road bike, which he sat on for

a while.

"This guy (who had the road

bike) was a bit down, he had a

bad break up and needed a TV

because he moved out of his

home and I actually had a whole

bunch of DVDs and CDs that I

gave him as well."

"I've just been waiting for the

right opportunity. The main

Latest Canterbury news at starnews.co.nz

prosecute, even though there is

sufficient evidence to do so.

"It's quite ironic that the dogs

found him in the dog park," Mr

Hall said.

A woman, who didn't wish

to be named, said her teenage

daughter and another teenage

family member were out walking

on a track off Hussey Rd,

when the man, with his pants

down, began following them.

purpose of it is bigger and better.

Every time I trade I have to trade

of at least equal or greater value."

He struck a good deal when he

found a man willing to trade in

his Nissan for the bike.

"He had been looking for a

bike for a while and wanted to

bike around, go to the shops etc.

He has another vehicle and the

van had been sitting there taking

up room for a while."

Mr Hunt is now looking ahead

to the next milestone, which he

hopes will be property.

"I guess the next logical step

"When they looked around he

kept hiding behind bushes, they

started to jog as they felt really

uncomfortable and felt something

wasn't right. It was a hot

day and he had a thick hoodie,"

she said.

Mr Hall said his patrol group,

which has about 30 volunteers,

had been monitoring the area

during its daytime and evening

patrols.

A van, the musician and

a single plastic fork

TRADE-UP:

Tim Hunt is hoping

to trade a simple

plastic fork up to

a house. He has

managed to trade

his way to a Nissan

Serena so far.

is a caravan – that would be cool

to go to next. It might be more

difficult from now on.

"I'm just having fun. I just

want to see how far it goes. I

could even get a house. It will be

interesting to see where it goes.

People have been following it and

loving it."

His advice for anyone considering

doing the plastic fork game

was simple:

"Be patient, have a positive

outlook, don't expect too much

and be open to receiving."

NEWS 3

in brief

Dog killed, two people

injured in crash

A dog was killed when a car

crashed and flipped on to its

roof yesterday morning. Two

people were also injured in

the incident just after 9.10

on Travis Rd, west of the

Anzac Dr roundabout. One

was moderately injured and

another sustained minor

injuries, a St John spokesman

said. A police spokesman

confirmed the dog, which was

in the car at the time of the

crash, died.

Man jailed for breaking

into parking meters

A man has been jailed for at

least 30-40 thefts of parking

meters in the city, totalling

anywhere from $20,000 to

$35,000. But police failed to

prove that the self-confessed

night raider, Brent John Davie,

was the thief behind more

than 170 machines that were

targeted. The 46-year-old was

jailed for a year by Judge Kevin

Phillips in the district court

yesterday. Davie previously told

police he would cycle around

the central city with a jemmy

bar tucked up his sleeve.

Pool reopened after

repairs

Jellie Park Recreation and

Sport Centre's recreation pool

reopened on Saturday after the

tank tiles were repaired. Said

a Christchurch City Council

spokeswoman: "The Jellie Park

recreation pool was repaired

and reopened to the public on

Saturday, 25 January." A city

council memo last week said

the pool tank was relined due

to a significant number of tiles

failing and customers and staff

receiving cuts to their feet.

Free fruit offered on

new map

The city council has released a

new online map revealing where

people can find free fruit and

nuts across the city. In total,

there are 122,741 council-owned

trees in Christchurch and Banks

Peninsula. Of these, 6846 are

fruit or nut-producing trees.

business is easier

in South City

WSLWK27D

warehousestationery.co.nz
---
The Star Thursday January 30 2020

4

• By Louis Day

NEWS

• By Kurt Bayer

A WHITE supremacist jailed

for sharing disturbing footage

of the mosque shootings has

been banned from the city's two

mosques – and from having any

contact with all Muslims.

Philip Neville Arps, 45, who

was sentenced to 21 months in

prison last June for spreading

disturbing footage of the Al Noor

Mosque massacre, was scheduled

for release late yesterday.

But last week, the Department

of Corrections applied for extra

release conditions, on top of the

raft of conditions imposed on

him when he was sentenced at

the district court on June 18 –

including a blanket internet ban,

inspections of any electronic

device capable of accessing

the internet, counselling, and

drug or alcohol treatment

programmes.

Corrections officials said they

have "ongoing concerns" about

Arps' risk to the public, in particular

to the Muslim community,

after fears over his "general

behaviour" towards prison staff,

along with intercepted letters

and phone calls.

The content of those letters

and phone conversations were

CITY COUNCILLOR Phil

Mauger has made a bid to get

parts of an earthquake-battered

road in the eastern suburbs

relocated to the red zone.

Cr Mauger said parts of New

Brighton Rd should be moved

30m to higher

ground in the red

zone away from

the Avon River.

This makes

more sense than

the ongoing

Phil Mauger

patch-up costs

ratepayers face

when the river floods in high

tides and heavy rain, and damages

the road, he said.

Cr Mauger said as a result of

his idea the city council put a $1

suppressed by Judge Stephen

O'Driscoll at a special hearing

over Arps' prison release conditions

at the district court on

Monday.

Yesterday, judge O'Driscoll approved

extra special release conditions,

which includes a ban on

Arps entering or loitering near

any mosque, prayer room, or any

other place where the Muslim

community congregates, without

prior written approval from his

probation officer.

The city businessman, who

million planned maintenance

spend on New Brighton Rd

between Bower Ave and Wattle

Drive on hold.

'Just slapping paint on

something that is buggered

is not the way'

– Phil Mauger

Said Cr Mauger: "New

Brighton Rd should be moved

30m north up into the red zone

property. This would mean that

the new New Brighton Rd could

be constructed at a higher level

to avoid flooding then move the

stopbank back to cover old New

Brighton Rd.

"It is an insult to people in the

east's intelligence to spend a mill

patching an old road that will

Latest Canterbury news at starnews.co.nz

White supremacist banned from mosques

owns a Nazi-themed insulation

company, is also not allowed to

contact or associate with any

Muslims without approval.

Corrections said the moves

were for "victim safety" and felt

that jail time hadn't reduced his

risk to the Muslim community.

Arps, who does not hold a gun

licence and has more than 30

previous criminal convictions

for indecent assault, guns, drugs,

burglary, and fraud, is also not

allowed to possess or use firearms,

or to be involved in airsoft

Quake-damaged road could be diverted through red zone

continue to flood when the same

money could be put toward a new

higher one that would be much

more suitable."

Cr Mauger said relocation of

New Brighton Rd to red zone

land would be a priority for himself

and the Coastal-Burwood

Community Board he sits on.

"Every community board has

six things they want to achieve

this term, this is one of our priorities.

"Just slapping paint on something

that is buggered is not the

way."

City council head of transport

Richard Osborne said if New

Brighton Rd was to be relocated

the project would need to be

added to the next Long Term Plan

which will be reviewed next year.

• Editor's desk, page 12

CONDITIONS:

Philip Arps is

not allowed

to contact or

associate with

any Muslims

without

approval.

or BB-gun activities.

Arps had challenged the extra

conditions sought by Corrections.

Through defence counsel

Anselm Williams, he argued that

the existing "carefully considered"

release conditions would

be sufficient and was critical that

the Corrections report writer

had never met with Arps in person

and spoken to him about his

views or correspondence.

There was nothing to suggest

Arps was a physical threat or at

a heightened risk of reoffending,

Williams said.

A Corrections official who

gave evidence at the hearing said

that Arps, who compares himself

to Adolf Hitler's deputy and war

criminal Rudolf Hess, found

anyone who disagrees with his

belief system to be offensive.

She fears he could harm

the Muslim community again

"through his views … most

likely through online advocacy."

The Muslim Association of

Canterbury supported the extra

release conditions, saying the

community is "still very much

traumatised" and says it's imperative

that Arps, who maintains

his anti-Muslim rhetoric cannot

visit or be seen around mosques

nationwide.

Corrections also expressed

concern over Arps' business

Beneficial Insulation, with its

various Nazi symbols and white

supremacist messages, and

sought a condition that prevents

him from using his employment

as a platform to promote extreme

views.

However, Judge O'Driscoll did

not impose that condition.

Full reasons for his decision

will be released today.

• Mosque leader to speak in

US, page 7

RADICAL IDEA: City councillor Phil Mauger wants to

relocate New Brighton Rd onto red zone land to stop it

from flooding.

Dunedin Concert Guide

Are you going to

the big concert

in Dunedin next

Tuesday?

If so, we can help make

your time in the city as

enjoyable as possible with

our concert guide. Find all

the best places to unwind,

eat, shop and drink.

Exclusively in your O D T this Saturday!

Trusted. Independent. Local.
---
• By Louis Day

CITY COUNCILLORS say

Canterbury has received a

"slap in the face" over the

Government's $12 billion

nationwide infrastructure

package.

The North Island will receive

the majority of the funding, with

$3.48 billion spent in Auckland,

$991 million in Waikato and the

Bay of Plenty, $692 million in

Northland and $1.35 billion on

Wellington.

Canterbury will get $159

million and

Queenstown,

the only other

South Island

area to receive

any funding,

will get $90

million. The

$249 million

allocated

towards the South Island is less

than the $692 million put aside

for a single road in Northland,

a 22km four-lane corridor from

Marsden Point to Whangarei.

City councillor Sam

MacDonald described this as a

"slap in the face."

"I think Christchurch and

Canterbury, in general, deserves

better, the reality is we are still

recovering from the earthquakes,"

he said.

City councillor Aaron Keown

also described it as a slap in the

face.

The package for Canterbury

• From page 1

All walks in areas

with vegetation should

be limited to the cool

of the morning, Mr

Hamilton said.

FENZ is also asking

for people to save

outdoor activities in

rural vegetation areas,

such as motor-cycling,

trail-biking and dirt-biking for

includes upgrades to more than

100 schools across the region, six

transport and roading related

projects, and building upgrades

to Hillmorton Hospital's mental

health unit.

Christchurch Central Labour

MP Duncan Webb thought

it was "churlish" to label the

infrastructure injection as a slap

in the face.

"To say that is a bit of a slap in

the face is unfair, because one

thing that needed to happen

was for Canterbury, both at a

regional and city level, to come

to Government with proposals

that work," he said.

City councillor Sara Templeton

contested this.

a cooler day when

the fire risk is lower.

Additionally,

FENZ is asking motorists

to not park

their cars on dry

vegetation.

"It's a real issue;

vehicles cause a lot

of fires. It is very

important they

park on gravelled areas, don't

Latest Canterbury news at starnews.co.nz

NEWS 5

Funding package for Canterbury

described as 'a slap in the face'

Sam

MacDonald

CONTRAST: Auckland will receive $3.48 billion in infrastructure funding in comparison to

Canterbury's package of $159 million.

"The New Zealand Transport

Agency are funding our business

cases for transport projects but

they shelved it, that is not on us

[city council]," she said.

City councillor and chairman

of the urban development and

transport committee Mike Davidson

labelled the funding as a

"knee-jerk reaction."

"This seems to be a knee-jerk

reaction to people who moan

and complain. We have been

trying to get this boost for a while

and because we don't moan and

complain we get left behind," he

said.

Minister for Greater

Christchurch Regeneration

and Labour MP Megan Woods

drive off the road on to areas of

vegetation," Mr Hamilton.

A total fire ban continues in

the entire Canterbury region,

meaning lighting any fires is

strictly prohibited.

Small amounts of drizzle,

such as what was experienced

in the city overnight on Tuesday

does not make a difference to

fire risk conditions, Mr Hamilton

warned.

said the cash injection into

the region would help prepare

Canterbury for the future.

"Canterbury is of course in

a unique position because our

earthquake recovery necessitated

major infrastructure investments

in our roads, hospitals

and schools. For example over

the last decade, more than $1.4

billion has already been spent

on Christchurch motorways

projects. Today's announcement

adds to the investments already

made," she said.

The funding announcement

was made by Prime Minister

Jacinda Ardern and Minister

of Finance Grant Robertson

yesterday.

Warnings as fire ban continues in tinder-dry Canterbury

Wayne Hamilton

"Unless we get significant

rain, people should not be

complacent, it doesn't make a

difference."

Earlier this month, The

Star revealed a multi-agency

approach, Operation Lucifer,

conducted by FENZ, police

and neighbourhood watch

groups was under way to prevent

fires.

Senior Sergeant Roy Appley

Thursday January 30 2020 The Star

Alleged

assault at

junior

tennis

• By Gordon Findlater

POLICE WERE called to Wilding

Park on Tuesday after an alleged

assault on a player at a junior

international tournament.

The incident happened after a

match between a top ranked New

Zealand player and a promising

Australian at the International

Tennis Federation Event.

It is understood the player accused

of the assault put his shoulder

into the other player following

a heated match.

The father of the alleged victim

called the police and told them

his son had been assaulted. Police

went to Wilding Park and spoke

to the players involved.

A police spokesperson said it

was unlikely any further action

would be taken.

The player alleged to have made

the assault was withdrawn from

the tournament. It is understood

he has the right to appeal any further

sanctions handed out to him.

Tournament director and ITF

official Tony Glentworth did not

want to comment on the incident

due to it currently being under

investigation by the ITF.

Tennis Canterbury chief

executive Ryan Forbes was

also unable to comment on the

incident due to the tournament

falling under ITF jurisdiction.

said the operation is continuing

and is monitoring suspicious

behaviour.

He is encouraging members

of the public to take photos,

particularly of vehicles and

people, who may be acting

suspiciously.

• Phone 111 immediately if

you see or smell smoke,

or see any suspicious

behaviour.

Dewar's

White Label

Scotch Whisky

1 Litre

35 .99

each

Ngatarawa

Stables 750ml

(excl Reserve)

9 .99

each

Smirnoff Vodka, Gordon's Gin

1 Litre or Gordon's Pink Gin 700ml

34 .99

each

Coruba Rum

1 Litre

39 .99

each

St-Rémy VSOP

Brandy 1 Litre

39 .99

each

Baileys

Irish Cream 1 Litre

41 .99

each

Jim Beam

White Label

Bourbon 1.125 Litre

42 .99

each

Tanqueray Gin

1 Litre

47 .99

each

Jack Daniel's

No. 7 Whiskey 1 Litre

52 .99

each

Kraken Black

Spiced Rum 700ml

54 .99

each

Chivas Regal

Extra Whisky 700ml

56 .99

each

Woodstock 7%

330ml 6 x Cans

12 .99

pack

Heineken

330ml 15 x Bottles

29 .99

pack

Billy Maverick 7%

250ml 12 x Cans

21 .99

pack

Vodka Cruiser 5%

275ml 12 x Bottles

22 .99

pack

Jim Beam Gold 7%

or Canadian Club

7% 250ml 12 x Cans

24 .99

pack

Cody's 7%

250ml 18 x Cans

29 .99

pack

Moa Beer

330ml 6 x Cans

14 .99

pack

Panhead 330ml 6 x

Bottles (excl Rat Rod)

19 .99

pack

DB Export Gold or

Tui 330ml 15 x Bottles

23 .99

pack

Steinlager Pure or

Stella Artois

330ml 12 x Bottles

24 .99

pack

Corona

355ml 12 x Bottles

27 .99

pack

Speight's Gold Medal

Ale or Summit Lager

330ml 24 x Bottles

34 .99

pack

www.henrys.co.nz CHRISTCHURCH: AVONHEAD • HORNBY • MOORHOUSE AVE • PARKLANDS

• WOOLSTON • TIMARU: HIGHFIELD MALL • NORTHTOWN MALL • RANGIORA • KAIKOURA • GREYMOUTH • QUEENSTOWN: CENTRAL

• FRANKTON • CROMWELL • ALEXANDRA • DUNEDIN • NELSON: RICHMOND

Henry's encourages safe & responsible use of alcohol. Shout prices run from Monday 20th January until Sunday 2nd February 2020 or while stocks last.

Collect Fly Buys or Airpoints for every $20 spent.
---
6 The Star Thursday January 30 2020
---
Thursday January 30 2020 The Star

The Otautahi

Community

Housing Trust is

nine months into

a pilot programme

which places its

tenants into jobs. It

is currently seeking

funding for it to

continue beyond

May. Louis Day

reports on how the

programme found

one man a job

after spending the

majority of his life on

the benefit

AUSTEN SPRIGGS had been on

the benefit for 24 years.

The 42-year-old was born into a

beneficiary family.

"When you are brought up into

a beneficiary family you sort of

become institutionalised into it,"

he said.

But in November, his life

changed completely: He got a job

the day he signed up to the Otautahi

Community Housing Trust's

employment coach programme.

He works as an asbestos

labourer with TechClean that

is currently working at the old

Linwood College site.

Since being employed in

November, he has completed his

training and is now a fully qualified

class A and class B asbestos

labourer.

TechClean Canterbury manager

James Ackroyd said Mr

Spriggs was "a dream to work

with."

"Austen has been superb as a

worker and also on a personal

level," he said.

In order to become a supervisor

Mr Spriggs needs at least two

years of experience. This was

something he said he wouldn't

rule out going for in the future.

MAN AT WORK: Austen Spriggs shows Otautahi Community Housing Trust job coach

Tracie Palmer around the site he now works on.

PHOTO: GEOFF SLOAN

Mr Spriggs said his new job

had given him a "new lease of

life."

"I am definitely the happiest I

have been in a long time. I don't

have anxiety anymore.

"It is good being around the

other guys, they really are quite

good guys. It is great to have a

laugh with them, it is so much

better than being isolated in a

little flat all day.

"I don't have any plans of going

anywhere anytime soon."

He said the programme had

specifically helped him with

formulating a CV, getting

appropriate clothing for a

job interview and his overall

confidence.

"I was a bit lost, I had that long

time off work, I have dyslexia

as well which just makes things

even harder.

Latest Canterbury news at starnews.co.nz

Long-term beneficiary finds

job gives new lease on life

"I didn't know how to find a

job, I kind of just lost touch with

all of that. I am useless with

computers.

"I definitely would have struggled

just doing it [finding a job]

by myself, I don't think I would

have had a job by now," he said.

The programme started in May

2019 and is currently scheduled

to run to the end of May this

year.

However, Otautahi Community

Housing Trust tenancy

operations manager Martin

Pearce said it was currently

seeking funding to ensure the

programme continues. He said it

was "hopeful" of securing more

funding.

Mr Pearce said since the programme

began it had helped 10

tenants into employment and a

further five into educational and

occupational programmes.

He said the programme has

provided support to 50 tenants

in total.

Along with help formulating

CVs, getting interview clothes,

job searching, interview skills,

travel and ongoing support six

months into employment, the

programme also has a job club

where tenants can share ideas

and support each other in finding

work.

Job coach Tracie Palmer, who

has spearheaded the programme,

said the job club had a significant

impact on the overall wellbeing

of tenants.

"There is lots of improvement

in well-being with a lot of them.

They might not all get a job

straight away but you do see that

wellbeing improve at the very

least," she said.

NEWS 7

Mosque

leader

to speak

at US

conference

• By Louis Day

THE IMAM of Al Noor Mosque

Gamal Fouda will feature

as the keynote speaker at an

international conference aimed at

challenging Islamaphobia.

The challenging

Islamophobia

Conference

in Minnesota,

which will take

place a year and

two days after

the mosque

shootings on

March 17,

invites speakers

from across

Imam

Gamal Fouda

the globe to discuss challenging

Islamaphobia.

Imam Gamal Fouda received

widespread praise for his response

in the aftermath of the March 15

terror attack.

A week after the shootings

he led a call to prayer in Hagley

Park where thousands of people

including Prime Minister Jacinda

Ardern heard his message that

"evil ideology" will never triumph

over "love and unity."

He was also elected to the

Halswell-Hornby-Riccarton

Community Board in last year's

local body elections.

The Council on American Islamic

Relations, which is hosting

the event, will be covering all of

Mr Fouda's travel and expenses.

Council On American Islamic

Relations chief executive Jaylani

Hussein said Mr Fouda was

chosen as the keynote speaker

mainly because of his leadership

and representation of the Muslim

community in Christchurch.

On Tuesday, the city

council announced a national

rememberance service of the

mosque shootings would be held

on March 15 in North Hagley

Park.
---
The Star Thursday January 30 2020

8

NEWS

Charges

over selling

homekill

• By Sophie Cornish

A CHRISTCHURCH dairy is

facing prosecution for selling

homekill meat.

Eight charges under the Animal

Products Acts have been laid

following an investigation by the

Ministry of Primary Industries.

An MPI spokesman said it was

unable to provide any further information

about the investigation as

the case is now before the courts.

MPI's website states the penalties

for breaking homekill rules

are significant.

"The maximum fine is $75,000

for individuals and $300,000 for

corporations."

In New Zealand, homekill trade

is restricted to be eaten only by

the animal's owner, family, household

or any farmworkers involved

in a farm's daily operations, their

family and household.

It can also be served on a marae.

Homekill cannot be served to

paying customers, bartered, raffled

or donated as a prize or fundraiser.

It cannot be used by schools,

universities, hospitals or prisons.

Its trade is restricted only to parts

of the animal that are not for

consumption, such as hide, skins,

horns or antlers.

• By Louis Day

LIBRARIES collected $316,000

in fines for overdue, damaged

and lost books last year.

A staggering 4,734,658 fines

were handed out which is an

increase from the 4,664,676

fines and $292,946 dished out

throughout 2018.

The city council currently has

$235,745 worth in outstanding

fines.

This comes as the city council

revealed the most issued book

of 2019 was British author Lee

Child's Past Tense which is the

23rd book in the Jack Reacher

series. The crime thriller novel

series follows former American

military policeman, Jack Reacher,

who wanders throughout the

United States.

Child's The Midnight Line,

which is the 22nd book in the series,

came in as the second most

issued book of last year.

Adults are charged 70c per day

for overdue books with a $21

maximum fine per item.

City council head of libraries

and information Carolyn

Robertson said the money from

fines was put into the libraries

Latest Canterbury news at starnews.co.nz

Borrowers rack up overdue

library book fees

DEBT: Borrowers currently owe more than $235,000 in

overdue library book fines across city council libraries.

general fund which helped offset

expenditure.

She said when an individual

with an adult membership returns

an overdue book to the

library, the fine is automatically

added to their membership record.

"If the fine is not paid within

one month, or the customer has

fines owing of $30 or more, then

the customer cannot borrow any

more items until such time the

fine is paid," she said.

Ms Robertson said debt collection

agencies become involved

when fines exceed $30 and once an

item becomes 62 days overdue.

She said with lost or damaged

items individuals are charged the

total cost of the item, plus a $21

processing fee.

"A recovery fee is only charged

once an outstanding debt is

referred to a debt collection

agency."

Top 10 titles issued in 2019

Lee Child

Past Tense 1633

Lee Child

The Midnight Line 1129

Jodi Picoult

A Spark of Light 1093

Liane Moriarty

Nine Perfect Strangers 1049

Michelle Obama

Becoming 1031

David Baldacci

Long Road to Mercy 916

Jojo Moyes

Still Me 865

Jane Harper

The Lost Man 837

Nora Roberts

Shelter in Place 824

John Grisham

The Rooster Bar 816

Longest overdue books

(due date)

Concise Book of Muscles

24/02/2013

Christmas Baking Book for

Children 4/03/2013

Choo! Choo! 4/03/2013

Johnny Cash: The Songs

24/03/2013

Law & Order 25/03/2013

Edmonds Great Tastes

20/11/2013

One-of-a-kind handmade

weddings 20/11/2013

Handmade Wedding

20/11/2013

Extreme Wedding 20/11/2013

Pumped Up Hits 20/11/2013

STIHL FSA 56

COMPACT CORDLESS

LINETRIMMER KIT

(Includes AK 10 Battery

& AL 101 Charger)

$445

STIHL MSA 140

COMPACT CORDLESS

CHAINSAW KIT

(Includes AK 30 Battery

& AL 101 Charger)

$665

LOOK WHAT

ACCESSORIES

YOU COULD

GET….

STIHL Chaps

STIHL SHOP Northwood

554 Main North Road, Belfast, Christchurch

Ph: 03-974-2469

STIHL SHOP Rangiora

Corner Lineside and Station Road, Rangiora

Ph: 03-313-3398

STIHL SHOP Fosters

559 Blenheim Road, Sockburn, Christchurch

Ph: 03-343-6339

www.stihlshopchristchurch.co.nz

STIHL Super

Clean Spray

STIHL HSA 56

COMPACT CORDLESS

HEDGETRIMMER KIT

(Includes AK 10 Battery

& AL 101 Charger)

$445

STIHL RMA 339

COMPACT CORDLESS

LAWNMOWER KIT

(Includes AK 30 Battery

& AL 101 Charger)

$775

STIHL Battery

Carry Bag

STIHL Safety Glasses STIHL Concept 24

Earmuffs

* To spend on STIHL Accessories in-store. Offers valid from 01 January – 29 February 2020. Terms and Conditions apply. See in-store for details.

LOVE YOUR LAND

LOVE YOUR LAND

First encounters with our native plants

Exhibition on now

Rolleston Avenue, Christchurch

Free entry; donations appreciated

www.canterburymuseum.com

VISITING DUNEDIN

THIS WEEKEND?

Get all the best local news and

information from the South and further

afield by requesting your

complimentary ODT when checking

into your accommodation.

Trusted, Independent, Local
---
• By Louis Day

THE MAJORITY of community

boards are cutting back on

catering costs following public

scrutiny last term.

The Banks Peninsula Community

Board is the only board to

increase its catering budget.

It now takes the title of the

highest spending board with

an estimated $228 put aside for

catering per meeting, an increase

from the $216 allocated towards

catering in the previous term.

City council head of community

support, governance and

partnerships John Filsell said a

new supplier was being trialled

and options were being explored

to reduce costs.

"Meetings are at Lyttelton,

Little River and Akaroa; this

requires elected members and

others to travel some distance to

and from the meeting, extending

the overall time commitment. At

some venues and at some times,

such as Little River, there may

not be the opportunity for elected

members and others to purchase

refreshments close by," he said.

Banks Peninsula board

members may have the highest

catering budget, but they have

the lowest annual salary. Banks

Peninsula board members are

paid $9864 and the chair $19,729,

whereas city board members

are paid up to $24,580 and their

chairs up to $49,160.

Halswell-Hornby-Riccarton,

has cut back its catering budget

again after coming under fire

mid-way through last term. It has

reduced its budget from $78 to

about $68 a meeting, it previously

sat at $174.

Fendalton-Waimairi-Harewood

will not have any catering

after a decision was made last

term to remove it.

Coastal-Burwood will also go

without any catering this term

following "modest catering" last

term.

However, Mr Filsell said these

board members would still have

access to a kitchenette facility

where they could make their own

Latest Canterbury news at starnews.co.nz

Community boards cut back catering costs

UNSAVOURY COSTS: The Banks Peninsula Community

Board now has the highest catering budget, setting aside

an estimated $228 a meeting.

tea and coffee which would have

no impact on the catering budget.

He said options were being

explored to reduce the Spreydon-

Cashmere catering budget of

$130 to around $90 a meeting.

Linwood-Central-Heathcote

has shaved about $25 off its

catering budget by purchasing

items directly from the

supermarket as opposed to a

catering supplier, bringing the

budget to an estimated $75 a

meeting.

Papanui-Innes will spend

a maximum of $50 a meeting

following a decision to reduce costs

last term.

WHAT HAS BEEN SPENT

ON FOOD:

Banks Peninsula

2016/17: $3399.56

2017/18: $3709

2018/19: $1092.98

Total: $8201.54

Coastal-Burwood

2016/17: $3668.53

2017/18: $3687.73

2018/19: $1647.76

Total: $9004.02

Fendalton-Waimairi-

Harewood

2016/17: $1616.78

2017/18: $742.57

2018/19: $363.73

Total: $2723.08

Halswell-Hornby-Riccarton

2016/17: $4495.46

2017/18: $4515.04

2018/19: $1061.75

Total: $10,072.25

Linwood-Central-Heathcote

2016/17: $2634.90

2017/18: $4574.60

2018/19: $1429.64

Total: $8639.14

Papanui-Innes

2016/17: $2371

2017/18: $2606

2018/19: $331

Total: $5308

Spreydon-Cashmere

2016/17: $2328.83

2017/18: $2484.44

2018/19: $900

Total: $5713.27

Total from 2016/17 to October

2018/19: $49,661.30

Thursday January 30 2020 The Star

NEWS 9

Programme

aims to boost

central city

residents

• By Louis Day

A NEIGHBOURHOOD walks

programme starts on Saturday

in a bid to boost the central city's

residential population to 20,000

by 2028. The programme is part

of the city council's Project 8011.

The free 90min walks will

be led by central city resident

Richard Ball.

City council head of urban

regeneration, urban design and

heritage Carolyn Ingles said

"The walks will help council

staff gather more information

about initiatives that might

achieve good neighbourhoods in

the central city."

She said two walks would be

undertaken initially, but up to

five walks could go ahead.

"After the first two walks are

completed, council staff and Tē

Pūtahi will undertake a pause

and review process to evaluate

the results, approach and scope

of the project."

The city council has commissioned

independent non-profit

organisation Tē Pūtahi to run

the programme.

The cost of two walks to the

city council is $7150, the cost of

five is $14,710.

MORVEN APARTMENTS UNDER CONSTRUCTION - SELLING NOW

ELEGANT RETIREMENT LIVING

Contemporary design with all the comforts of home

Nestled in the heart of Fendalton, take time to enjoy Holly Lea Village's idyllic parklike setting

with beautiful grounds, established trees and the Waimairi Stream meandering its way

through the village grounds.

At Holly Lea Village your health and wellbeing is our priority. We provide a supportive lifestyle

with a range of services that can be tailored to meet your individual requirements.

Construction has commenced on the Morven Apartments, eight spacious two bedroom

apartments, architecturally designed with your comfort and safety in mind.

For more information about

purchasing an apartment,

contact Juliane.

hollylea.co.nz

03 351 7764

123 Fendalton Rd, Christchurch

APARTMENTS | ASSISTED LIVING | REST HOME LEVEL CARE
---
10 The Star Thursday January 30 2020

Friday, 10am-6pm, Saturday,

10am-5pm, Sunday, 9am-5pm

Skope Classic Motor Racing

The largest classic motor racing event in the South Island, well over

200 cars from the 1920s through to the 2000s. A family-friendly event,

with free entertainment for the children, bouncy castles, slides and

face painting. Tickets from $20. Kids under 16 free with paying adult.

Mike Pero Motorsport Park Ruapuna, 107 Hasketts Rd,

Templeton

Saturday, 10am-5pm

See It, Touch It, Smell It, Taste It,

Hear It, Map It

Creative map making for under 18s. Learn different creative

methods to make a map by using all your senses, each week will use

a different sense to explore the Tiny Shops in Linwood Village. At

the end of the workshops all the maps produced will form part of an

exhibition and be included in the Linwood Atlas.

Tiny Shops Village, 108 Stanmore Rd, Linwood

Sunday,

3.30-5pm

Deep South

Lazy Sundays

Put summer into your Sundays with

free live music in the Botanic Gardens.

Bring a picnic and spend the end of

your weekend relaxing with good food,

music and friends. This week it's Coyote

– Holly Arrowsmith and Amiria

Grenell, Tiny Pieces of 8, playing.

Christchurch Botanic

Gardens, Rolleston Ave

Sunday noon-3pm

Belfast Skate Jam

Bring your friends and family

to learn to skate with the Skate Skool

team. Have-a-go skateboard event.

With learn to skate, skate demonstrations,

best trick competitions, and

a free Hellers sausage sizzle. Free

skateboard and skate hire. Suitable for

children aged from 5 to 17.

Sheldon Park, Main North Rd,

Belfast

Sunday, 8am

Christchurch

10km Series

2020

​Choose to compete in one,

two, three or all four 10km

events through Christchurch.

Each event will be set on a

different terrain bringing a

new challenge to each course

and competitor.

Hagley Park North,

Rolleston Ave

Saturday, 10am-noon

Central Neighbourhood Walks: South Central

This walk is a tour and a conversation for everyone to share experiences of living

and being in inner city neighbourhoods. It is part of a programme of walks funded by

Christchurch City Council's Central City Residential Programme to generate and gather

people's perceptions and experiences of these neighbourhoods as the central city develops.

The event is free but booking is required at events.humanitix.co.nz

Atlas Quarter, 36 Welles St

Sunday, noon-2pm

Summer pool party – Tots and toddlers at

Te Hapua

Mermaid and pirate-themed tots and toddlers pool party. There will be face painting, dry

inflatables and farmyard for all to enjoy.

Te Hapua, Halswell Centre, 341 Halswell Rd, Halswell
---
Thursday January 30 2020 The Star 11

Ruapuna

1st and 2nd

February 2020

Celebrating 30 years racing

2020 Skope Classic - Car Racing like no other!

After 30 years of uninterrupted classic race meeting,

the Canterbury Car Club along with the long-time

sponsor and supporter, Skope Industries, will celebrate

the iconic two-day birthday event this weekend with

some fanfare.

Originally under the name of the BP Alfa Classic,

PDL Industries took over naming rights in 1995 before

Skope became involved in 2003. The enthusiasm from

competitors and the public has never waned, and the

meeting remains the biggest in both entry and crowd

numbers on the club's calendar.

A handful of cars from the inaugural 1991 event

remain and while the value of these cars has increased,

the current owners still believe that as racing cars, their

right place is on the track.

Over the years the event has invariably carried a

theme. This year it will celebrate 50 years of the Open

Saloon Car Association (OSCA). Strictly a South Island

affair these days, OSCA was formed by a local group

who deemed that the costs of racing in the national

championship for "all-comers" type cars had become

too expensive.

In the early years, the front running cars were always

V8 powered. This has changed with time, with turbo

and rotary-powered cars also becoming front-runners.

For OSCA's birthday at the Skope it is anticipated that

some 30 cars will line up. Some of these have not raced

for years. This includes the winning MK1 Ford Escort

Turbo of Michael Johnston, a car restored and driven

by new owner, Nick Donaldson.

Also in the field will be a 1977 5-litre Alfa Romeo

Alfetta, a car that has not raced in OSCA but against

them in the 1980s. It is competing by invitation and will

be driven by former BNTV8 champion, Angus Fogg.

Other saloon cars of note that will compete in other

classes include three former Australian Supercars, a 2004

Ford Falcon, a 2006 Ford Falcon and a 2007 Holden

Commodore, along with a selection of New Zealand

muscle cars and the Historic Touring Car category.

A crowd-pleaser for many years has been the Formula

5000 revival series cars. The category fits nicely into the

theme of classic cars. At a time when the "sound of silence"

vehicles are becoming more common on the road, it is

generally accepted that the sound of these cars along with

the V8 saloon cars are an added crowd attraction.

In the driver line, will be the well-known Richards

family - father Jim, a seven-time winner at Bathurst, his

son Steven, a five-time winner of this classic event and

his son, Clay, who now drives Formula Ford in Australia.

While the major attraction is a wonderful array of

cars, the meeting is also designed to cater for families.

Pit entry comes at no extra charge and spectators are

welcome to mingle with drivers and their cars. For

younger family members, there will be a number of

activities. We've got one huge children's activity area

this year.

There have only been 4 outstanding

drivers who have taken part in all 30

Classic Car events, now known as Skope.

Dennis Champan, Debbie Chapman,

Keith Cowan & Brian Dixon.

Brian Dixon, Van Diemen RF84

Keith Cowan, Johnston Formula Ford

With over 200 competitors across 44 races our 30th Skope

Classic is going to be an outstanding weekend of racing

Kids under 16yrs are free to attend Skope

Dennis, Debbie (& Dale) Chapman

in their Fiat X19 Abarth Replicas

THIS WEEKEND

FAST FUN

FOR THE ENTIRE

FAMILY 1ST & 2ND FEBRUARY

AT RUAPUNA MOTORSPORT PARK
---
The Star Thursday January 30 2020

12

OPINION

The coming week

in our history

January 30, 1911 – A 1910

amendment to the Gaming Act

banned bookmakers from New

Zealand racecourses, other public

places and hotels.

January 31, 1921 – Piloted

by Captain Euan Dickson, the

first flight of the Canterbury

Aviation Company's new airmail

service left Christchurch at 8am,

carrying several hundred letters

to Ashburton and Timaru.

February 1, 1981 –

Transtasman sporting relations

reached a new low at the

Melbourne Cricket Ground when

Australian captain Greg Chappell

ordered his brother Trevor to

bowl the final delivery of a 50-

over cricket international against

New Zealand underarm along the

ground.

February 2, 1974 – The

men's 1500m final was run on the

last day of the 1974 Christchurch

Commonwealth Games.

Tanzanian Filbert Bayi ran the

first 800m in 1min 52.2sec,

conserved energy on the third

lap, and held off 22-year-old John

Walker to set a new world record

of 3min 32.16sec.

February 3, 1931 – When

an earthquake, measuring 7.8

magnitude, struck at 10.47am,

many buildings in central

Napier and Hastings collapsed

immediately. In terms of loss of

life (256), it remains the worst

civil disaster to have happened in

New Zealand.

February 4, 1985 – New

Zealand's Labour government

refused the USS Buchanan entry

because the United States would

neither confirm nor deny that the

warship had nuclear capability.

February 5, 1911 –

Pioneering aviator Vivian Walsh

took to the skies over South

Auckland to make the first

successful flight in New Zealand.

LAST YEAR the council signed

off on a major programme of

works to get heat pumps and

ventilation into 909 priority

social housing units by the

beginning of next winter – that

is by the beginning of June.

Obviously, some individual

units could require more time,

for example electrical wiring

issues, but the goal is to have

them all completed in that time

frame.

Nothing has changed, and

we remain on track to deliver

this part of the Warm & Dry

programme.

So why the confusion?

Latest Canterbury news at starnews.co.nz

Great idea for battered road

I LIKE PEOPLE who think

outside of the box.

It's where we get our best innovations,

it leads to discoveries

and new ways of doing things.

On page 4 today, we have one

of those out of the box ideas –

and for my money it looks like a

pretty good one.

New city councillor Phil

Mauger wants part of New

Brighton Rd rebuilt on red zone

land.

New Brighton Rd was

smashed in the February 22,

2011, earthquake and parts of

the road, which is the major

link between Shirley and New

Brighton, is still in fairly much

the same state.

Ongoing patch-up repairs

have worked for a short time

but water from the Avon River

always returns in a big tide or

when it rains to undo the work.

So Mauger has come up with

an idea. Move part of New

Brighton Rd away from the river

onto the red zone.

Last year the city council earmarked

$1 million to fix a tiny

part of the road between Bower

Ave and Wattle Drive.

It floods badly there – always

has, even well before the earthquake

when a king tide or heavy

winter rain fell. The river would

spill over and run down towards

Wattle Drive.

To rebuild all of New Brighton

Rd would cost squillions, but

doing something is vital if it is

to be able to carry the muchanticipated

traffic when New

Brighton becomes a thriving

seaside village in 10 years. That's

according to some of our city

The council tender (1/11/19)

was for a panel of contractors

to supply and install heat

pumps and mechanical ventilation

to 416 social housing units,

with further installations as

required.

This was interpreted as meaning

we were not going to meet

the winter target of 909 units,

From the

editor's desk

Barry Clarke

Heat pumps remain on track for winter

Mayor

Lianne Dalziel

leaders anyway.

So after what appears to be

Mauger's idea, the city council

has parked repairing the stretch

between Bower Ave and Wattle

Drive, pending further thinking.

That's a good idea.

but that was incorrect. The

tender process was designed to

allow staff to assess the performance

of the contractors as the

first wave of installations got

underway, (as well as the price

per install), before issuing the

rest of the works for the remaining

installs.

And then there was the added

BATTERED: City councillor

Phil Mauger (above) has

come up with a novel idea

to fix New Brighton Rd, one

of the city's most damaged

roads in the February 22,

2011, earthquake.

Now the real work begins in

terms of mapping out how parts

of the road could be moved from

where it is now onto parts of the

red zone, how much that will

cost and when it can be factored

into the city's budget.

Mauger should sit alongside

council staff when that conversation

happens.

As a businessman in the construction

industry he will know

best value for money for ratepayers

if the project gets traction.

That's the kind of cooperation

and outside of the box

thinking we need going forward.

– barry@starmedia.kiwi

confusion of including the insulation

component of the Warm

& Dry Programme, which was

always the next stage and due

to be delivered by the end of the

year.

So, an assumption was made

that the programme had slipped.

It hasn't. And we remain committed

to achieving the goal that

we have set for 909 units to have

the heat pumps and ventilation

installed by winter.

I am sorry to see our social

housing tenants get caught

up in what started as a

misunderstanding of the

tender.
---
Readers respond to articles in last week's The Star

Latest Canterbury news at starnews.co.nz

Thursday January 30 2020 The Star

OPINION 13

Items including sacred

pounamu have been stolen

from the graves of two of

Gwyneth Beard's children

Tania Hopkins – Every

time I've put stuff on my mum's

and brother's graves it's been

taken. We even found some of

the stuff a little further down.

It's very upsetting that people do

this.

Angela Cribb – My son's

grave got some Christmas stuff

taken already. We are going

cement stuff down, hopefully,

they don't get broken.

Jess Taylor – It's absolutely

disgusting behaviour. My

cousin's picture on her headstone

has been defaced and broken

twice. The people who do these

things will have their share of

bad juju. Karma is a wonderful

thing.

Laura Macioce – Disgusting

behaviour. Someone stole my

son and nephew and niece's

vases from the grave. Makes

me sick how people can do such

things in other people's tragic

circumstances.

Wendy Johnson – My

dad's photo set in marble

was chipped off his headstone

and taken. Disgusting that

they can do it to children's graves

too.

Cherie Fredricksen – It

should be a safe place, however, is

it worth it putting things like that

into temptation of idiots. Have

a shrine at home and put them

there where it is safe.

Niki Kitto – This is just

appalling that some people have

no respect for others, stealing

from a child's grave is the lowest

of the low.

Stacey McConnochie –

It's heartbreaking for an already

grieving mum to again be faced

with heartache. We put these

things with our loved ones as

an extension of our love and for

it to be taken makes me so

angry.

Maureen Diane Pope-

Beacham – How can anybody

do such a cruel thing as to steal

from a grave. So very sad for the

family. Absolutely disgusting.

Sondja Emmerson – My

mum was heartbroken several

years ago upon learning that

flowers and trinkets at her mum's

grave were stolen. She went

online to share her dismay and

a young guy posted and was

bragging that he takes flowers

from cemeteries to save money

when he wants to treat his mum

or girlfriend.

Lou Skinner – Who is dumb

enough to steal greenstone and

even worse from a grave? They

will pay more than they know for

that. So sad.

Alison Aluni – People

who steal taonga are asking

to have an illness, maybe not

them but whoever they give it

to. Who steals from graves

anyway?

Cheryl Smith – My heart

grieves for this mum and for

all those who apparently have

no longer have hearts or moral

compasses.

Helen Smith – I am not

surprised but this especially

after the first offender was

not charged. Seems like it

okay to steal these days. Even if

caught, nothing happens.

Stephanie Hagerty

– Do we have to put cameras in

graveyards now to keep things

safe there as well?

Danielle Baxter – That's

tapu. Good luck with karma.

Mike Vivian – Well those

thieves will live a life of misery.

We all know what happens

when you steal someone else's

greenstone.

William Patterson

– Stealing from graves? What the

hell is wrong with people?

Carina Mulitalo – Bottom

line is no one should ever touch

someone's final resting place.

Debra Sinclair – Sad but we

really need camera surveillance

in cemeteries now.

A plan by Chinese artist

Yang Yi to find a home no

one seems to want for a

Richie McCaw sculpture

Gerald Thorner – I think a

fitting place for it would be in the

plaza in front of The Dunedin

Railway Station to help advertise

The NZ Hall of Sports Fame.

Secondly, it could be installed

in the town where Richie grew

up. Or thirdly a centrepiece for

the new Christchurch Sports

Stadium. The piece conveys

LOSS:

Thieves have

stolen items

from two

of Gwyneth

Beard's

children's

graves.

PHOTOS:

GEOFF

SLOAN

a rugged brute strength of a

sport that is iconic in New

Zealand.

Kerry Coles – I would not

like the Richie McCaw statue

in Christchurch. I prefer trees

actually.

Rosemary Fraser – We

don't want yet another

grotesque sculpture in our city.

Our city suits water fountains

and we have some lovely public

art on our buildings and we have

a glorious mix of architecture.

Maybe there could be a Wall of

Heroes at our new stadium that

displays facial or full-body relief

sculpture and information on

why we venerate that person. If

we must have sculptures littering

our city they need to be in

keeping with our environment

and not huge.

Prince William's two-day

visit in the aftermath of the

March 15 terror attacks cost

taxpayers $300,000

Annabel Temple-

Furman – Why can't the

Royals simply donate their own

time, money, travel expenses

and security in situations

such as this? I'm all for them

supporting the Commonwealth

Send us your views. If

you have an opinion

on a Christchurch

issue, email barry@

starmedia.kiwi and

put 'Opinion' in the

subject line. Emails

should be kept to

about 150 words

and boosting morale, but the

Commonwealth also has a lot

of smaller nations, who'd likely

rather not put the expense of

'hosting' back on their regular

taxpayers.

Kim Rose Powers – Why?

He was the one who wanted to

come.

Liz Richardson – Doesn't

bother me. Great he visited and

supported Christchurch.

Wade Millar – The

costs were not payment.

They were security-based

and more. However, you can

guarantee there was a decent

return on the money spent

through local business being

busier with people coming

out to see them. Swings and

roundabouts really.

Jude Cayford – What good

did it do having him here, waste

of money.

Jonathan W Goodman

– Ridiculous. Paying for royalty

when our allegiance to the

monarchy is holding us back

from developing a unified

national identity.

Chief Ombudsman Peter

Boshier says the city

council appears to be

making good progress

in response to his heavily

critical assessment of it last

year.

Trevor Taylor – Won't

improve until Dalziel is gone.

Owen Fine – It's always been

run by the backroom executives.

Those elected are just along for

the ride.

Pony ride could lead to an uncertain financial future

SO, MY financial future may be

in dire straits. But boy, I'm so

proud of Vittoria.

Continuing the fun of birthday

season we had another second

birthday on Saturday, this time in

rural North Canterbury.

Being that it was farmyardthemed

there were a few animals

in attendance – rabbits, guinea

pigs and a few hot cows hiding in

some shade in a back paddock.

However, the grand flourish was

a pair of ponies available for rides.

Vittoria had only seen ponies

at Willowbank previously but

didn't seem too put out by them

or even excited when we arrived.

Her first reaction was to run right

past them to go down a slide a

few times.

Other kids were happily taking

short rides on either one of the

ponies, which got Laura and I

curious as to whether Vittoria

would be willing to do the same.

She did not take a huge amount

of convincing, I asked her once

and she happily followed me

over to a waiting steed and let me

lift her onto the saddle without

complaint.

I was worried she would fall

off as soon as I let go, so hovered

about a bit while the woman organising

the rides got her sorted –

including putting her helmet on,

which surprisingly elicited not

even a squeak out of her.

With my worries still lurking

about, I tried to keep a reassuring

hand on Vittoria's back (ready

to grab her should she make

an insane dive from the pony).

But it became apparent pretty

VITTORIA

& Matt

quickly that she was in no need of

Daddy's help.

She sat in the saddle perfectly,

confidently. Her expression calm,

back straight, her body moving

slightly to allow for the movement

of her mount.

Within about 5m of her ride, I

stood back in amazement.

As far as my talent goes on

horseback, I've only got fleeting

memories of some lessons I took

inland of Waikuku.

My great-grandmother Mary

Matches was known in her

younger days as a rather skilled

horse-breaker and talented rider,

so I'm guessing her skills have

jumped a few generations.

Unfortunately, in another

unlike-my-great-grandmother

moment, I neither live on a farm

nor own a horse. So if a passion

for equestrian pursuits has been

awakened in Vittoria, I'm looking

at a long future of forking out

for pony clubs, lessons and, God

forbid, a ruddy horse.

Expensive as that all may be,

GIDDY-UP:

The moment

my financial

future fell

into a state of

jeopardy.

if it would give her as much

happiness as that pony ride

did on Saturday and she's truly

passionate, I'll make it happen.

•Former Star Media

journalist Matt Salmons has

become a stay-at-home

dad. We follow his journey

weekly
---
The Star Thursday January 30 2020

14

THEATRE/ARTS

Latest Canterbury news at starnews.co.nz

Show aims to change society's

views on sex and relationships

• By Georgia O'Connor-Harding

AJ JUER always knew many

people do not understand what

real consent is.

But when Juer went to

interview 17 people as part of

research for a new show on positive

sex, relationships and communication,

the 22-year-old was

shocked to learn sexual violence

in society was even worse than

he initially thought.

Last year, the National Academy

of Singing and Dramatic Art

graduate decided to interview a

wide range of people identifying

as women, transgender

and non-binary to gather their

experiences on growing up and

understanding their sexuality.

The research was to help Juer

write a new play aiming at getting

audiences to realise society's

understanding of sex and relationships

is "not adequate."

The young performer also interviewed

people assigned female

as birth, regardless of what their

sexual/gender identity is now, to

understand what women feel is

expected of them in society.

But what Juer took away from

the interviews was "absolutely

shocking."

"Out of the 17 people I interviewed

there were one or two

people who hadn't experienced

sexual assault."

Juer said what was even more

disturbing was while 17 people is

a small number and not statistical

or scientific, the interviews

weren't specifically aimed at

speaking to people who had

experienced sexual assault.

"I didn't say I wanted to

interview women, transgender

and non-binary people who have

experienced sexual assault.

"Just by chance, almost every

single person has experienced

some sort of sexual manipulation

or emotional manipulation

within relationships," he said.

It comes as a national survey

from Counting Ourselves, which

focuses on the health and wellbeing

of trans/non-binary people

in New Zealand, found trans/

non-binary people experience

sexual violence at more than 4x

the rate of the general population.

The in-depth survey of 1178

trans and non-binary people

aged 14-83 released last year

revealed almost a third of participants

reported someone had

sex with them against their will

since they were 13.

Statistics from Aviva Family

Violence Services also showed

one in three women experience

physical/sexual violence from a

partner in their lifetime.

It is why Juer wants to highlight

in the show how important

it is to have open communication

with a sexual romantic partner.

"I want people feeling less like

sex is about "I have to perform"

AJ Juer ​

or "I have to get something from

the other person" and more like

sex is about mutually benefiting

each other in a way where you

both feel safe," he said.

It is hoped the play will be

completed over the next year.

Juer also wants people to

question the sex education in

schools and the common narrative

society has around sex and

relationships.

Last year, a report released

by the Education Review Office

found the majority of schools

were not meeting students' needs

with sex education and they

were being let down by a lack of

education around consent, pornography

and sexual violence.

While Juer's show is in the

early stages, it is hoped to be

staged as a sex therapy session

with the main character teaching

people about consent from a

comedic perspective.

He said one of the most common

shared experiences to come

out of the interviews is manipulation

in a relationship in which

a person feels safe.

It was also found people who

identify or previously have identified

as a woman felt pressure to

please people.

In the midst of working on the

new show, Juer, formerly known

as Amy Juer, has recently gone

through a massive life change

coming out as transgender.

Compared to others, Juer

has had the "best experience

possible" coming out - with a

supportive network of family,

friends and acquaintances

"I am lucky from a personal

experience because my family -

even if they don't fully get it they

try to get it," Juer said.

Even people who are not Juer's

friends want to accommodate

and learn.

"I think it just is the older

generation - I think they are just

really scared."

Before coming out, for years

Juer would not allow the possibility

to explore being transgender/non-binary.

"I felt really uncomfortable in

my own skin not because I hate

LOVE OF THE ARTS: AJ Juer (lying down) performing in Blackboard Theatre Collective's

production of He Says She Says last year as part of a fundraiser for The Champion Centre.

my body but because I was really

forced into the whole woman

thing".

But since coming out Juer has

had to face the daily frustrations

of getting people to use the correct

pronouns, in spite of it not

being new.

"I definitely have fears of people

getting annoyed because I am

transgender please don't ignore

that, please don't treat me like a

woman, please don't expect me

to be a woman, use my correct

pronouns in the workplace."

Juer described coming out as

transgender in the theatre scene

as an "interesting experience"

due to not knowing anyone else

in the industry at the time who

identified the same.

Companies such as The Court

Theatre have tried to accommodate

Juer's requests.

But Juer has fears as a freelancing

actor of not being protected

under the law.

"It would be very easy for anyone

to go well we won't put you

in a contract again because the

fact you are transgender annoys

us."

Currently under the Human

Rights Act 1993, it doesn't

explicitly protect people from

discrimination on the ground of

gender identity, but it prohibits

discrimination on the grounds

of sex.

It was reported while the

Human Rights Commission

interprets sex to include gender

and gender identity, in a 2008

Transgender Inquiry said to

advance the rights of LGBTQI

people, trans people need explicit

protection under the act.

Juer said while the new show

isn't about gender, within society

gender plays a role in sex and relationships

and the entire experience

of coming out is valuable in

its creation.

Where to get help:

Police: 111

Rape Crisis NZ: 0800 883300

or for a local branch detail, visit

www.rapecrisisnz.org.nz

Sexual Assault Support

Services Canterbury (SASSC)

24/7: (03) 377 5402

Police statistics for sexual assault victims:

Statistics show a 2.6 per cent decrease in victims of sexual

assault and related offences in Canterbury, from October 2018

to October 2019.

There were 912 victims who reported sexual assault in

Canterbury compared to Counties/Manukau which had 756,

the second-highest.

The offences released by police were broken down into two

divisions - sexual assault and non-assault sexual offences.

Police data on victims for a 12-month period beginning

from October 1 2018, and ending on October 31, 2019:

1. Canterbury District (Canterbury metro area – south of the

Waimakariri River to Governors Bay and west to Hornby and

the Mid/South Canterbury area)

2019 – 912

2018 – 936

2.6 per cent decrease

2. Counties/Manukau

2019 – 756

2018 – 664

13.9 per cent increase

3. Wellington District (Hutt Valley area, Kapiti-Mana area,

Wairarapa area, Wellington)

2019 – 666

2018 – 703

5.3 per cent decrease

4. Central District (Manawatu, Taranaki, Whanganui)

2019 – 657

2018 – 625

5.1 per cent increase

5. Bay of Plenty District (Eastern BOP area, Rotorua, Taupo,

Western BOP area)

2019 – 635

2018 – 621

2.3 per cent increase
---
Thursday January 30 2020 The Star 15

MASSIVE

MARKDOWNS

ON NOW - GET IN QUICK!

Samsung

Galaxy A30

Smartphone

9057981

Right On

$ 359

The easiest finance in town, everyday.

50 months

interest free

on furniture & beds $999 and over *

24 months

interest free

on everything $499 and over *

Come and talk to one of the team in-store

or visit smithscity.co.nz/interest-free

for more info.

THAT'S

50 % OFF

$9

less than

per week* >

1700H x 595W x 663D

329L Bottom Mount

Fridge Freezer

SRL325DMB 9059835

Keep

the air in your

fridge clean

with a power

deodoriser

$ 1199

less

than

Right On

$13

per

less than

$ 15 week *<

per week* <

6.5kg Top Load

Washing Machine

WA65F5S6DRW 9050968

$ 649

less

than

Right On

$9

per

less than

$ 15 week *<

per week* <

Turin Fabric 5 Seater Lounge Suite - Grey 9060174

Also available in Chaise - view this option in-store or online.

This pricing is valid until the 11th Feb 2020.

Express

Crock

Multi

Cooker

CPE200

9048449

$ 159

Save

$ 100

$ 1499

Save

$ 1500

HUGE

END OF SEASON

CLEARANCE

Outdoor Furniture

BBQs, Camping

Get in quick - once they're gone they're gone

70"

MASSIVE

SCREEN

Right On

$ 1999

50 % OFF *1

Selected

Sanea 6 Seater Outdoor Setting

$ 1448

less

than

Right On

per

$ 9 week *<

70" 4K Smart UHD TV

UM7380 9060033

less

than

$21

per

less than

$ 15 week *<

per week* <

Beds

BYOD Made Easy!

Check out our Back to

School Mailer Online!

smithscity.co.nz/catalogue

Found a lower price?

We'll match it.

Price match requests now available online!

Applies to identical product * 4

$20 OFF

your first EasyCard purchase

with all new EasyCard sign ups! *2

Visit smithscity.co.nz/easycard

to sign up now with NO FEES! *3

Not all products or product colours in this catalogue are available in all stores but are available online and for order. Please call us on 0800 764 847 to check for availability at your local store.

Offers in this ad are valid Wednesday 22nd January until Tuesday 4th February 2020, while stocks last or unless otherwise stated. * Selected computers, game consoles, gift cards, clearance items and some

promotional items are not available in conjunction with interest free offers. Flooring available on a maximum of 18 months interest free. Exclusions, fees, terms, conditions and credit criteria apply. Available in-store only.

Equal instalment amounts include one-off booking fee of $45.00, annual fees of $45.00 p.a., and security registration fee of $8.05, and exclude insurance. Current interest rate of 23.95% applies to any unpaid balance

after expiry of (any) interest free period. See in-store or visit smithscity.co.nz for details. Instalment amount based on a 50 month finance period.*1 Discount is

off our full retail price and not in conjunction with any other offer. *2 $20 discount applies to your first EasyCard purchase over $100. Not redeemable for cash or as a payment on a new or existing account.*3 There are

no set-up, annual fees, or account maintenance fees - a notification fee of $19 may be charged in circumstances of default. Terms & conditions and credit criteria apply. See in-store or visit smithscity.co.nz for details.

*4 See smithscity.co.nz/price-promise for full price promise terms and conditions.

KKWK40

550 Colombo Street | Cnr Belfast and Radcliffe Road Northwood, CHRISTCHURCH MEGASTORES
---
The Star Thursday January 30 2020

16

GARDENING

Dining al fresco? Make sure your

outdoor living area is up to task

IT'S DEFINITELY the time

of year we all like to get

outside as much as

possible.

It's warm and you now

have plenty of time in the

evenings after work to have

a relaxing meal in your garden

or outdoor living area.

It's very easy to design an

area that will make outdoor

entertaining enjoyable.

• Plants –Try and use

plants that you like the look

of, and that complement

the garden area whatever

your favourite style, and

plants that will help to

soften any solid structures

like concrete walls and

paving.

The best idea is to take a

note when you go to other

peoples places, of what

plants you like, and this will

help you in choosing the direction/

style for your own

area. Plain wooden fences

most of the time look ugly,

and a bit like prison walls,

so softening these is a good

start. You can do this by

planting a hedge, or a border

of assorted plants and

where there is very little

room, espaliering a plant

onto a fence is easy and

very effective.

• Water features —

There are some awesome

water features available

these days, in all shapes

and sizes. If you want the

water feature to be seen

from several angles you will

need to select one where

the water spills over on all

sides.

The latest trend is that

the water features are made

of a composite material

of fibreglass/cement

mixture – lightweight but

strong – and importantly

Latest Canterbury news at starnews.co.nz

ON THE

LOOKOUT:

Garden art

will add

a point of

interest and

get people

talking.

they look very natural. Also

the sound of water near

an outdoor living area is a

relaxing sound.

• Garden sculptures/

art – If adding either art

or sculpture into your

garden it will, like the water

feature, add an element that

you don't get in lots of other

gardens. Set amongst your

plants or in pride of place

on a feature wall, it will add

a point of interest that will

certainly get your visitors

talking.

oN sAle Now!

Now only

$35.80

Plus $5 P&H per copy

AvAilAble from stAr mediA:

Level One, 359 Lincoln Road

Addington, Christchurch

Phone 379 7100

A. Azaleas are attacked

by leaf-spoiling thrips in

warmer weather. Protect

new growth with

pesticides.

B. Beans are easy-grow

summer veges. Climbing

beans take up minimal

space.

C. Cut back long shoots on

climbers so they don't

snare passers-by.

D. Daisies, which come in

all sorts of shapes, colours

and sizes, brighten summer

gardens.

E. Eggplants love the warm

weather in late summer.

F. Fuchsias can be trimmed

back in midsummer.

G. Gardenias look at their

best in summer. Feed with

fertiliser and, once a year,

with iron sulphate.

H. Hydrangeas can be

pruned straight after

flowering or can be left to

develop autumn colours in

the blooms.

I. Indoor plants can be

given a spell outside during

summer, but make sure you

keep them in the shade.

J. Jumping insect pests are

also called leafhoppers.

Control with pyrethrum.

K. Keep on top of summer

weeds by hand pulling or

spraying as soon as they

appear.

L. Set the blades on

your mower higher for

thesummer months.

M. Make plans. A garden

is not a static place – things

grow larger, things die,

your use of it changes as

you and your family age.

Every garden benefits from

an update now and again.

N. Nectarines and peaches

are favourite summer fruit

but they're very susceptible

to fungal diseases like shot

hole. Use a copper spray in

late winter.

O. Over-watering kills

many plants. Make sure

soil drainage is adequate

and don't leave water-filled

saucers sitting under plants.

P. Pick tomatoes, beans,

berries and other crops

regularly. This promotes

further production.

Q. Quercus species (english

oak, pinoak, scarlet oak)

are popular shade trees for

larger gardens.

R. Roses can be pruned in

mid-summer to promote an

autumn flush. Remember

to keep them watered for a

good floral repeat.

SWEET:

Nectarines

are a

favourite

summer fruit

but be wary

of fungal

diseases.

The alphabetical guide

to summer gardening

S. Sweet corn tastes best

when it's home grown and

picked fresh.

T. Tomatoes, too, are home

garden favourites. If you

have a glut make a pasta

sauce and freeze or get out

the preserving pan and

relish, chutney or green

tomato jam for a taste of

summer in mid-winter.

U. Update your reading.

Summer is the perfect

time to increase your

knowledge or make new

garden plans.

V. Vines such as

mandevilla, bougainvillea

and pandorea add colour

to the summer garden in

warm areas.

W. Water at the base of

the plant to keep leaves

dry and prevent fungal

diseases.

X. Xeronema callistemon is

the native poor knights lily

– they may take 15 years

to flower from seed but

provide a spectatcular

display when they do.

Y. Young plants may need

temporary shade

protection until they are

established.

Z. Zucchinis are fast

growing and productive in

the home vege patch.

The magazine for gardeners who

like to get their hands dirty

SUBSCRIBE FROM

$43. 50*

*6 issues/6 months

$7.90

SUBSCRIPTIONS FREEPHONE

0800 77 77 10

WWW.GARDENER.KIWI

growing with you June 2018 | 100%

Plants For

winter wow

Cool Choices

For Colour

& Contrast

From swamp

to sea views

The journey

begins with sarah

the Gardener

incl. GST

Snap it up

Enter our annual

Birdlife Photo

Competition to win

great prizes!

clear the air

Why groWing

indoor PLAnTs is

so good for you

give it a grow

from gArLic

To chinese

ArTichokes,

We hAve your

groWing TiPs

covered

the latest releases

into the rose world

+ rose care

through winter
---
Latest Canterbury news at starnews.co.nz

FOOD 17

Olive this from my bread tomatoes

Focaccia Bread is a great

companion to any soup,

and can be served as a

side or a wonderful base

for a sandwich. When it

comes out of the oven

after filling your entire

house with the luscious

smell of fresh herbs, it will

be very hard to stop at just

one slice

HERBED FOCACCIA

BREAD WITH OLIVES

AND CHERRY TOMATOES

Ingredients

For bread

2½ cup all purpose flour

2-3 tsp dry active yeast

1 Tbsp sugar

1 cup warm water

2 Tbsp olive oil

Salt

½ tsp garlic powder

1-2 tsp Italian seasoning

For toppings

½ cup halved cherry tomatoes

¼ cup halved pitted olives

1 tsp minced garlic

¼ cup chopped fresh herbs

(Rosemary, Thyme, Basil,

Oregano and Parsley)

2-3 Tbsp olive oil for brushing

Sea salt or coarse salt for sprinkling

Directions

Take a small bowl. Add warm

water, sugar and mix it until

dissolved. Add dry active yeast

and cover the bowl for 8-10min

or until the yeast becomes foamy

White Flesh Peaches ......................... 4 .99

kg

Corn ............................................................3 for 3 .00

Loose Eve Apples ................................... 2 .99

kg

Red Capsicums ................................................ 1 .49

each

Sunburst Cherry

Tomatoes 200g ............................................. 2 .99

each

Bunched Spinach ..................................... 2 .49

each

Chicken Breast (skin on) .... 8 .99

KG

Beef Ribeye Steak ................................ 28 .99

KG

Butterflied Lamb Leg ................... 18 .99

KG

Pork Shoulder Chops .................... 8 .99

KG

Beef Brisket ...................................................... 13 .99

and bubbly.

In a large bowl, add flour, salt,

garlic powder, Italian seasoning,

olive oil and mix it well.

Now add the prepared yeast

liquid mixture into the flour

KG

mixture, knead it, add 2-3 Tbsp

water if required to make a

smooth soft dough.

Cover the dough and keep aside

in a warm place until it doubles

in size, typically it takes about

35-40min.

Preheat the oven to 230 deg C.

Now take a baking sheet or cast

iron skillet, brush it with olive oil

and keep aside.

Take the dough, punch it down

to make a dough ball and place it

on the baking sheet or skillet.

Pat the dough ball, and make a

thick circle (about 2½ cm thick)

and poke your finger in, making

At

we have...

FRIDAY TO

SUNDAY ONLY

Thursday January 30 2020 The Star

dimples all over it.

Now place the halved tomatoes

and olives into each dimple,

generously brush the top with

olive oil, spread the chopped fresh

herbs and minced garlic, sprinkle

2-3 pinches of coarse salt over it

and allow the dough to rest for

10-15min.

Bake in the preheated oven

for 15-20min, or until both sides

begin to brown then place under

the grill until the top becomes

golden brown.

Remove it from the oven and

serve warm with soup or dips.

You can also enjoy it simply as a

side.

NZ Oranges

1.5kg 1 .99

................................................................ each

Telegraph

Cucumbers .........................................99 c

each

Check our website for

your local stores opening hours

All our fresh meat is 100% NZ FARMED. specials VAlid

27th January - 2nd February 2020.

WHILE STOCKS LAST! ONLY AVAILABLE AT RAEWARD FRESH HAREWOOD RD, TOWER JUNCTION

WWW.

.CO.NZ

Like us on

Facebook
---
18 The Star Thursday January 30 2020

8932658AA

C

FUN School Holiday &

After School Activities

Phone 349 9260

Email: info@caspa.org.nz

Website: www.caspa.org.nz

CASPA

says

Only

go with

people you

know and

trust.

Never

go with

strangers!

D

Dental implants

are a wonderful

way to replace

missing teeth...

Wear your mouthguard

when you play sport so

you won't need them.

1st Floor Merivale Mall, Phone 355 8297

dentistry@merivale.co.nz

www.dentistryonmerivale.co.nz

Everyone needs to

take care of their skin.

Always remember to

Ewear your sunblock.

Euphoria

body & beauty clinic

Harewood Road, Bishopdale (inside the YMCA)

Phone 359 3445

www.euphoriabodybeauty.com

FFIRST

AID KIT

$37.50

Based on our own

experiences of

mishaps with the

family, this kit helps

deal with those minor

scrapes, burns and

prickles so you can

get back to enjoying

what matters most.

Find out more at redcrossshop.org.nz

Global Leaders in First Aid Training

K

L

M

N

Keep medicines up

high out of the

reach of children

Bishopdale Pharmacy

37 Bishopdale Court,

Bishopdale Village Mall

Phone 03 359 8302

www.bishopdalepharmacy.co.nz

Follow us on facebook

Look both

ways

before

crossing

the road

PH 0800 225 483

95 Gasson Street, CHRISTCHURCH

MASH provides a safe, secure and

exciting environment for your kids before

and after school as well as in the holidays

nature grounds our

heart and soul

97 Harewood Road

P: 03 352 6816 e: aratupu@mmsi.org.nz

S

Sunglasses

save your

sight

BARRINGTON - 256 Barrington Street

PH 332 1730 | www.suckling.co.nz

T

Take care when reversing

out of the driveway

waTCh FoR ChildRen.

Car City

EST. 1973 ChCh

Cnr Moorhouse & Ferry Road

Ph (03) 379 4254

U

YOU CAN KEEP

YOUR CHILDREN

SMOKEFREE.

We Can Help You QUIT

General Practice &

Urgent Care Centre

RICCARTON CLINIC

www.riccartonclinic.co.nz

VVegeland says

Eat fresh fruit

and veggies to

grow healthy

bodies and

minds

vegeland

310 Marshland Road, Chch

Phone 03 385 3718
---
Thursday January 30 2020 The Star 41

A

Avonside Early

Childhood

Centre providing

excellence for

the children of

our community

since 1943

Bis for Booster

Up to their 7th birthday,

children are legally

required to be in a child

restraint or booster.

From 7 years up, research

shows they are best

protected in a booster

until 148cm in height.

For advice on which

booster is right for your

child, contact your

local child restraint

technicians at

Christchurch North

515 Wairakei Rd, Burnside

Ph 960 9752

Christchurch Central

87a Gasson St, Sydenham

Ph 421 3243

43 Woodham Rd

(03) 389 8473

www.avonsidekids.co.nz

G

Go slow

around

children,

drive safely

on the roads

H

J

8987425AA

32 Moorhouse Ave,

Christchurch

Phone 366 7768

"South Island's largest range of

vehicles on one site"

H is for Home Based

Early Learning

A home away from home for your

child, where safety is paramount.

Amy Warwood Early Learning Advisor

Phone: 027 707 8247 Email: info@bel.org.nz

Jim's Mowing says..

"Always remember to keep

garden poisons locked

away safely in the shed"

Phone 0800 454 6546

for all your mowing and gardening needs

O

Value the wellbeing

of children

Put tamariki first

P

Protect

your cHild's

Future now

Have you got your will sorted?

Q

Quick thinking

saves lives -

In emergencies

dial 111

R

Riding

your bike

always

wear a

helmet

www.orangatamariki.govt.nz

www.saunders.co.nz

Phone 379 7100

359 Lincoln Road, Christchurch

Cycle Trading Co

23 Elgin St, Sydenham

(opposite The Colombo)

Phone: (03) 366 3760

www.cycletrading.co.nz

W

Wishing your

child would speak

up and speak out?

Many young people find difficulty in

expressing themselves. By providing

simple skills, we help children

increase their self confidence and

discover their voices within.

Christchurch Speakers

Phone: 03 352 7394

E: christchurchspeakers@gmail.com

X

OUT

FAMILY

VIOLENCE

Kids need a happy,

safe home

161 Pages Rd, Wainoni, Christchurch 8061

or reception@hewakatapu.org.nz

Y serviced

Your children are

precious cargo -

get your vehicle

at:

WAYNE HILL CARS

313 LINCOLN RD ADDINGTON CHRISTCHURCH

03 338 3255 | hillcars@es.co.nz |

www.waynehillcars.co.nz

ZStay safe with high viz fabric from Haralds.

Z is for zips -

we have

over 10,000

of them!

Half price zips

and zip slider

replacements when

you show this ad!

"THE TRUSTED NAME IN FABRICS"

is for high

VIZ fabric

47 Birmingham Drive, Middleton

Phone 338 7700

Open Monday to Saturday 10am-4pm
---
The Star Thursday January 30 2020

20

PUZZLES

Latest Canterbury news at starnews.co.nz

CROSSWORD

1 2 3 4 5 6

131

7

8 9

CHRISTCHURCH

CREMATORIUM

FUNERALS

6

22

r) (5)

131

SUDOKU

Every row, column and box

should contain the digits 1 to 9.

CROSSWORD

DECODER

Each number represents a

different letter of the alphabet.

Write the given letters into

all squares with matching

numbers. Now work out which

letters are represented by the

other numbers. As you get the

letters, write them into the main

grid and the reference grid.

Decoder uses all 26 letters of

the alphabet.

DECODER

Each number represents a

different letter of the alphabet.

Write the given letters into

all squares with matching

1 2

numbers. Now work out which

letters are represented 131

Across

by the

1. Temperate (5)

other numbers. As you get the

3 4 5 6

4. Come up with (6)

O

letters,

Dwrite them

Linto the main

7

grid and the reference grid.

Decoder uses all 26 letters of

the alphabet.

8 9

How many words of three or more letters,

10 11

including plurals, can

12

you make from

13

the six

letters, using each letter only once? No foreign

words or words beginning with a capital are

allowed. There's at least one six-letter word.

TODAY Good 13 Very Good 17 Excellent 20

WordBuilder6

Solution 020: Ale, all, alley, ally, are, aryl, aye, ear,

earl, early, ell, era, lay, layer, lea, leal, ley, lye, lyre,

rale, rally, ray, real, relay, REALLY, rely, rye, yare, yea,

0021

14 15

Every row, column and box

SUDOKU should contain the digits 1 to 9. WORDBUILDER

16 17

year, yell.

Your local

18specialists 19 20

for all things

21

baby.

22

(5)

13

>> Carseats, buggies and strollers

>> Cots, portacots and linen

>> Highchairs and feeding products

23 24

25

H U S

O D L

H U S

>> Breastfeeding 26products

27

>> Gifts, toys and so much more How many words of three or more letters,

©THE PUZZLE COMPANY

including plurals, can you make from the six

>> Hires - short or long term

Across

letters, Downusing each letter only once? No foreign

1. Temperate (5)

words 1. Unemotional or words beginning (5) with a capital are

4. Come up with (6)

allowed. 2. Small There's and elegant at least (Fr) one (5) six-letter word.

7. Organ of sight (3)

TODAY

3. Comment

Good

(6)

13 Very Good 17 Excellent 20

8. Deadlock (6)

4. Mock (6)

9. Spoiled (6)

www.babyonthemove.co.nz

Solution 5. There 020: it is! Ale, (Fr) all, (5) alley, ally, are, aryl, aye, ear,

10. Something it takes time to earl, 6. early, Exhausted ell, era, (5) lay, layer, lea, leal, ley, lye, lyre,

CHRISTCHURCH CENTRAL appreciate (8,5) 03 421 3243 / 87a Gasson rale, 10. rally, Street, Up ray, in the real, Sydenham. air relay, (5) REALLY, rely, rye, yare, yea,

CHRISTCHURCH NORTH 14. Broadcasting 03 960 (2,3) 9752 / Unit 3 & year, 4, 11. 515 yell. Seemingly Wairakei Road, (5) Burnside.

15. Welcome (5)

12. Curse (5)

18. Process of experimentation 13. Cross the threshold (5)

(5-3-5)

16. Open flask (6)

23. Film house (6)

17. Look up to (6)

24. Contaminate (6)

19. Elevate (5)

We're 25. for In favour (3)

20. Turn away (5)

local

26. Condition (6)

21. Mention (5)

27. Gaffe (5)

22. Take place (5)

voices

From Kaikoura,

to Christchurch,

to Ashburton,

we have it covered

HIRE

- short or

long term

WordBuilder6

0021

WORDBUILDER

10 11 12 13

14 15

16 17

18 19 20 21 22

23 24

25

26 27

©THE PUZZLE COMPANY

7. Organ of sight (3)

8. Deadlock (6)

9. Spoiled (6)

10. Something it takes time to

appreciate (8,5)

14. Broadcasting (2,3)

15. Welcome (5)

18. Process of experimentation

(5-3-5)

23. Film house (6)

24. Contaminate (6)

25. In favour (3)

26. Condition (6)

27. Gaffe (5)

SUDOKU

Every row, column and box

should contain the digits 1 to 9.

DECODER

Down

1. Unemotional (5)

2. Small and elegant (Fr) (5)

3. Comment (6)

4. Mock (6)

5. There it is! (Fr) (5)

6. Exhausted (5)

10. Up in the air (5)

11. Seemingly (5)

12. Curse (5)

13. Cross the threshold (5)

16. Open flask the (6) alphabet.

17. Look up to (6)

19. Elevate (5)

20. Turn away (5)

21. Mention (5)

22. Take place (5)

Each number represents a

different letter of the alphabet.

Write the given letters into

all squares with matching

numbers. Now work out which

letters are represented by the

other numbers. As you get the

letters, write them into the main

grid and the reference grid.

Decoder uses all 26 letters of

WordBuilder6

0021

WORDBUILDER

O D L

H U S

How many words of three or more letters,

including plurals, can you make from the six

letters, using each letter only once? No foreign

words or words beginning with a capital are

allowed. There's at least one six-letter word.

TODAY Good 13 Very Good 17 Excellent 20

Solution 020: Ale, all, alley, ally, are, aryl, aye, ear,

Puzzle earl, early, ell, era, solutions, lay, layer, lea, leal, page ley, lye, lyre, 32

rale, rally, ray, real, relay, REALLY, rely, rye, yare, yea,

year, yell.

S
---
Thursday January 30 2020 The Star 21

• Beckenham Lotto and

News Agency, Sydenham

• Bishopdale Unichem Pharmacy

• BP Connect Fendalton

• BP Connect Dallington

• BP Connect Riccarton

• BP Connect Rolleston

• BP Connect Edgeware

• BP Connect Bush Inn

Available from 7.30am at:

• BP Connect QEII

• BP Connect Moorhouse Ave

• BP Connect Marshlands

• Caltex Russley

• Fresh Choice Merivale

• Hagley Night & Day, Riccarton

• Hillmorton Superette, Halswell

• Kiwi Bookshop and Lotto, Edgeware

• New World Bishopdale

• New World Fendalton

• New World Halswell

• New World Ilam

• New World Rolleston

• Paper Plus Bush Inn, Riccarton

• Paper Plus Barrington, Spreydon

• Paper Plus Hornby

• Paper Plus South City, Sydenham

• Piccadilly Books, Avonhead

• Relay, Christchurch Airport

• Pak'nSave Riccarton

• Templeton Convenience Store

• Whitcoulls Hornby

• Whitcoulls Merivale Mall

• Whitcoulls Northlands

• Whitcoulls Palms

• Whitcoulls Westfield Riccarton

• Whitcoulls South City

Sign up to our e-edition

A convenient exact replica of the newspaper in a digital format. View the ODT

e-edition on your desktop, tablet, laptop and smartphone (Apple IOS & Android).

To sign up, call our circulation

team on (03) 479 3555 OR

visit odtshop.co.nz
---
1

22 The Star Thursday January 30 2020

TraInInG ProGraMMe

Sunday 22 March

14km, 6km Community Fun Run Event

#Areyouupforit? www.city2surf.co.nz

weeK Three: Knuckling down and some tips on nutrition and weight loss

In week 3 the early excitement of the City 2 Surf project you have undertaken is wearing off. You may not have

sensed a big improvement in fitness levels yet and other commitments are getting in the way of training. After

your determined start the first doubts set in: "Can I do this?" This is the time to knuckle down. You need another

2 or 3 consistent weeks before you notice a significant improvement in fitness and energy levels and perhaps

some noticeable weight loss. Once that happens you will be well on your way. The best time of day to exercise is

early morning. It is good to get it out of the way and it will energise you for the rest of the day. Later in the day you

might just feel that little bit of fatigue or things crop up which will tempt you to say "tomorrow is another day…."

This can easily become habit and before you know it you have lost one or 2 training sessions every week. Of

course you might have a good reason for not being able to get out early. Other times of the day for your training

session are perfectly fine too but good planning is required. A light snack (toast/bread, fruit) before your early

morning training session is generally recommended to assist your blood sugar levels. This also applies if you

exercise later in the morning or afternoon. Breakfast or a meal after training will assist with replenishing energy

stores. Exercising before going to bed might keep you awake for a while if you are a light sleeper.

LeveL Monday wedneSday ThurSday SaTurday

Beginner

14km Jog/run

Intermediate

14km

Jog/run

6km

walk

6km/14km

24 min

Run 5 min x 4

Walk 1 min x 4

35 min

Easy jog

20 min

Walk 1 min x 4

Jog 4 min x 4

6km 20 min (light)

4km 40 min (light)

36 min

Jog 5 min x 6

Walk 1 min x 6

40 min

Easy Jog

30 min

Walk 2 min x 6

Jog 3 min x 6

6km 15 min (mod)

14km 30 min (mod)

40 min

Walk

30 min

Easy Jog

40 min

Walk

6km 255 min (mod)

14km 60 min (light)

42min

Walk 1 min x 7

Run 5 min x 7

60 min

Easy Jog

40 min

Walk 2 min

Run 3 min x 8

6km 40min

4km 75min

(alternate 5 min easy/mod)

To achieve this goal

you need to develop

some awareness around

the basic requirements

of exercising for health

and fitness. First and

foremost this has to do

with 3 key principles:

1. How often do you train? To

improve your level of health and

fitness you will need to aim for 4

sessions per week. 2 or 3 sessions per

week will only maintain what you have and 1

session per week is definitely not sufficient.

2. How long are your sessions? The

duration of your sessions will generally

build towards between 30 and 50 minutes

with one longer session of 60-80 minutes.

3. What is the right intensity to train at?

The good thing about the programme

is that all your runs will be done at

submaximal pace, also called conversation

pace. That means a pace where you can still

talk. If you can't talk you are going too fast

and you are likely to come to a grinding halt

sooner or later.

This programme and accompanying information are written

as a guide only. If you are concerned about your health at

any stage please undergo a health check with your GP.

TIP oF The weeK

If you need to lose some weight, then this

training programme will help you. But it

will only do so if you pay attention to your

nutrition at the same time. Healthy choices

include bread and or cereals for breakfast,

sandwiches or a salad for lunch and an evening

meal consisting of plenty of vegetables with

fish, chicken or lean meat. Pasta and rice are

also good staple foods for active people.

One helping and avoidance of rich desserts

will assist your weight loss. A healthy snack

mid morning and afternoon will help you get

through the day. Fruit is always an excellent

choice. Avoid fatty foods and snacks with

refined sugars. If you need help with your

nutrition or weight loss this might be a good

time to have a consultation with an expert, like

one of the SportsMed nutritionists.

on behalf of the team at SportsMed

www.sportsmed.co.nz

dr John hellemans, SportsMedicine

Practitioner/coach

SINGAPORE AIRLINES

BRAND GUIDELINES

SUMMARY

Proud Sponsors
---
IT'S THAT time of the

year again.

Super Rugby starts

tomorrow, yes it's still only

January, but it's time to

gaze into the crystal ball

and take a look at how this

year's competition could

shape up.

The biggest question on

all of our minds is if the

Crusaders can accomplish

a record fourth straight

title which would undoubtedly

mark this generation

of the team, under Scott

Robertson, as our greatest

ever.

Unlike the beginning of

his first title campaign the

bookies have the Crusaders

starting the season as

favourites. However, with

the departure of more

than 800 games of Super

Rugby experience in Owen

Franks, Sam Whitelock,

Matt Todd, Jordan Taufua,

Kieran Read and Ryan

Crotty, this will be his biggest

challenge yet.

It's hard to read too

much into pre-season, but

the last two weeks would

suggest the Crusaders will

be a force to be reckoned

with after wins over the

Hurricanes (40-19) and

Highlanders (41-7).

There is no doubt about

the Crusaders attacking

prowess which boasts

arguably the competition's

best backline. Richie

Mo'unga will once again

stake his claim as the

country's best first-five

with the likes of Braydon

Ennor, Jack Goodhue, Will

Jordan, Sevu Reece, David

Havili and George Bridge

to feed.

The one area the Crusaders

are likely to be targeted

is at the breakdown with

some questions remaining

around the lack of experience

in the loose forwards

after the departure of

Read, Todd and Taufua.

There is no doubting the

class of the experienced

Whetu Douglas and if the

likes of Tom Christie, Billy

Harmon, Sione Havili and

Tom Sanders can step up

to the rigours of Super

Rugby then there's no reason

to think the Crusaders

can't be there come the

grand-final.

The biggest threat within

the New Zealand conference

is likely to come from

the Chiefs who look strong

with the return of Aaron

Cruden from abroad and

Damien McKenzie from

injury. Brodie Retallick's

departure to Japan is a

major loss, but the recruit-

MR FIX IT: Can

Beauden Barrett

elevate the Blues from

laughing stock to

relevance?

ment of Warren Gatland as

coach is a massive coup for

the Chiefs.

Further north it will remain

to be seen if the Blues

can finally sort out their

woes with the addition of

Beauden Barrett. Surely his

star power combined with

a flurry of talent which is

yet to reach its potential

has the right ingredients

to return the Auckland

franchise to relevance.

Another question begging

this year is if we will

see a return to strength in

South Africa. For the best

part of over a decade any

New Zealand side going

SPORT 23

Crusaders are the

favourites but will it

be all one-way traffic?

One-eyed Cantab

Gordon Findlater

gordon.findlater@starmedia.kiwi

CHASING FOUR: Jack Goodhue and Will Jordan

are part of a star-studded Crusaders back-line

which looks like the side's biggest asset in 2020.

unbeaten during their

stint in South Africa was

an anomaly. However, in

recent years the feat has

become all too easy for our

top sides.

Come play-off time the

South African sides will

be the biggest threat to

any New Zealand sides.

The Lions contested three

consecutive finals between

2016 and 2018, but last year

under the pool's structure,

the Jaguares were able to

top the African pool with

their South American flair.

However, if their Super

Rugby sides can ride the

wave of reassurance in

South African rugby on

the back of their World

Cup win the South African

conference could be back

to its best.

As for the Australian

conference, it would be

nice to see old time foes

like the Brumbies, Reds

and Waratahs return to

contention.

However, nothing over

the last 12 months would

suggest they're ready to

make the jump just yet.

Yes, the Brumbies

finished third last year,

but that was courtesy of

sweeping aside a very poor

Australian conference.

Let's hope it's not the same

in 2020.

John Conelly

Hamilton Jet

CHiefs

BrumBies

sHArks

reBeLs

CrusAders

HurriCAnes

JAGuAres

PlaCed: –

Last week: – Total: 0

2020 SUPER RUgby

TiPPing ComPETi T ion

Brought to you By the star media company

O U R T I P S T E R S S E L E C T I O N S

Jamie harris

Venluree

BLues

BrumBies

sHArks

reBeLs

CrusAders

sTormers

JAGuAres

PlaCed: –

Last week: – Total: 0

RoUnD 1

JAn 31 – feB 2

BLUES v

ChIEfS

BRUmBIES v

REdS

ShaRkS v

BULLS

SUNwOLvES v

REBELS

CRUSadERS v

waRaTahS

STORmERS v

hURRICaNES

JaGUaRES v

LIONS

NUMBER ONE SUPPLIER

TO THE NZ JET BOATING

COMMUNITY FOR OVER

50 YEARS

• Part Boats & Hulls

• Turn Key Packages

• New Jet Units

• Custom Fabrication

• Expert Advice

SERVICING

John Connelly

03 962 0505

john.connelly@hamjet.co.nz

• Spare Parts Retailer

• Jet Unit Refurbishment

• Engine Tune-Ups

• Insurance Repairs

• Impellor Reconditioning

for 2020 season

meeting dates

check out

www.woodfordglen.co.nz

the place to be

this summer!

Season passes available at the Woodford Glen Shop,

129 North Avon Road, ChCh | Ph (03) 385-1515

Brent Jeffries

A1 Auto

CHiefs

BrumBies

sHArks

reBeLs

CrusAders

sTormers

Lions

PlaCed: –

Last week: – Total: 0

Thursday January 30 2020 The Star

steve lennon

Woodford Glen

BLues

reds

sHArks

reBeLs

CrusAders

sTormers

Lions

PlaCed: –

Last week: – Total: 0

Sizzling

Saturday

$22

John mCCann

Artworks

CHiefs

BrumBies

sHArks

reBeLs

CrusAders

sTormers

JAGuAres

PlaCed: –

Last week: – Total: 0

FREE MEASURE & QUOTE

Curtains

Blinds Shutters

Mobile showroom service

Unit 2 / 99 Sawyers Arms Rd

03 365 4666 or 027 779 6574

www.venluree.co.nz

WOF

Bookings essential. Conditions apply.

WE'RE BACK!

Cnr Fitzgerald Ave & Hereford St.

Phone: 365-5220

workshop@a1auto.co.nz

PICTURE FRAMING

SPECIALISTS

We have the perfect frame for you!

6 Main North Road | Ph 352 7594

Open Mon-Fri 9am-5pm

www.artworkspictureframing.co.nz
---
24 The Star Thursday January 30 2020

24

NEWS

in brief

Three tennis titles for

veteran Meredith

Cashmere tennis player Dave

Meredith completed a clean

sweep at the New Zealand

Seniors 2020 National

Championships. Yesterday,

Meredith won the 70 and over

men's single title in Hamilton by

defeating Erwin Notter 6-2, 6-3.

Earlier in the week Meredith

teamed up with Max Morrison

to win the men's doubles title.

He also won the mixed doubles

title with Victoria Kerrison.

Meredith is best known for his

35-year career in cue sports,

which included four snooker

and a record 15 national

billiards titles.

Straight set tournament

win for Heap

Waimairi tennis player Connor

Heap won the Kiwi Money

Tournament at Wilding Park

at the weekend. The No 1 seed

didn't drop a set en route to the

title, defeating Auckland's James

McPherson 6-3, 6-1 in the final.

Two Canty players in

NZ A squad

Canterbury batsman and parttime

spinner Cole McConchie

and pace bowler Ed Nuttal are

in the New Zealand A squad to

play India A in a four-day match

at Halgey Oval starting today.

McConchie – the Canterbury

captain – was part of the NZ A

side which defeated India A 2-1

in a recent 50-over series.

Kay wins Otago

strokeplay event

Nic Kay shot rounds of 69,

70 and 68 to win the Otago

Strokeplay title at Otago

Golf Club on Sunday. The

Christchurch member finished

three shots clear of Allan

Grange's Kayne Wardell. The

women's event was a close

contest with Sumin Kang, of

Wakatipu, snatching the win

in an extra hole play-off over

Russley's Maddie May.

US scholarship for

basketballer

Basketballer Tom Webley is

heading to the United States

after receiving a scholarship to

play at University of Hartford in

Connecticut. The 209cm centre

was a major contributor to

Cashmere High School earning

fourth at last year's national

secondary tournament – their

best ever finish. The 18-year-old

averaged more than 30 points a

game at the tournament.

Dragons look for form

at home

The Canterbury United Dragons

will hope to end a three-match

losing streak when they return

to English Park to face Waitakere

United on Sunday. The Dragons

have slumped to the bottom

of the national league table

following a 1-2 loss to Southern

United in Dunedin at the

weekend. The match at English

Park kicks off at 4pm.

• By Gordon Findlater

JUST DAYS OUT from the

beginning of the Crusaders

bid for a record fourth straight

Super Rugby title, coach Scott

Robertson still has time for

something at the grass roots

which makes him tick.

Robertson might be one of the

biggest names in World Rugby,

but outside of the day-to-day

running of the Crusaders it's the

progression of his local Sumner

colts side playing on the back of

his mind.

This comes to fruition on Tuesday

and Thursday evenings when

Robertson finishes his day with

the Crusaders at Rugby Park and

heads to colts training to help

the Sumner teenagers as what he

describes as a technical adviser

role for the team.

"I'm just giving back," said

Robertson.

In the past Sumner have tried,

but failed to establish and maintain

a colts side – which is crucial

for the development of players

out of secondary school before

moving to premier grade.

Robertson had the same pathway

to achieve his dreams as a

teen at the Mt Maunganui club

before moving south. He now

hopes Sumner will be able to

offer the same opportunity for its

local players.

"That's what I would like, the

opportunity for one of the local

boys from Sumner to have what

I had and be given a pathway to

achieve what they can and play

for Canterbury, Crusaders and

the All Blacks."

Robertson – a life member at

Sumner – says the emergence of

the Storm colts team this year is

a massive step for the club.

"Colts grade is tough. We

know the participation rates in

rugby is an area that needs attention

and it's a real challenge

for us.

"Being involved is just what

anyone would do for their club,

just to keep to connected with

the young players because we

know how important they are for

our game," said Robertson.

It's easy to see that Sumner has

a special place in Robertson's

heart. He has lived in the seaside

community for 20 years and

began his coaching career with

the club. He was a player coach

for the club's top side and after

undefeated division 2 campaigns

in 2008 and 2009 they gained

promotion to the premier

competition for the first time

in 2010. He coached the side to

a debut 6th-place finish, before

concentrating on his role with

Canterbury at the time.

His passion for the colts team

has already rubbed off on some

of its players. First-five Ollie

Lewis played his junior rugby

at Sumner and now after five

years at Christchurch Boys'

Latest Canterbury news at starnews.co.nz

Razor giving Sumner

grass roots rugby an edge

TALENT: Ollie Lewis will steer the Sumner Storm backline

after a standout season at Christchurch Boys' High School

in 2019.

High School – which included

playing for New Zealand Schools

last year – is returning to his

boyhood club with the Storm.

"We just had a little gettogether

the other week and he

was really passionate. I think all

the boys thought, hang on this is

something else. It's pretty cool to

have him come along and show

how much passion he has for the

club," said Lewis.

"I don't think too many clubs

have a Super Rugby coach

coming down to training."

The 18-year-old was part of

a very strong junior side also

called the Storm several years

ago.

Lewis says the side spent four

years together and could count

the amount of losses they had

on one hand. The boys then

departed for secondary school

and many eventually played first

XV rugby.

However, five years ago

somewhat of a pact was made to

regroup in 2020 and get a colts

team running.

"We always wanted to come

back and play for Sumner," said

Lewis.

The side is coached by Gareth

D'Almeida who was a player

under Robertson's reign with the

club's premier side.

"It's been a long time in the

making," said D'Almeida.

'Grass roots rugby is the lifeblood of communities and

the spirit of our nation'

– Scott Robertson

"There's a good core group of

them that played junior rugby

together for Sumner. They would

have been eight or nine. They've

had Storm 2020 gear for the last

three years. That's always been to

finish school and aim for 2020.

"If you don't have colts, you

don't have a pathway. They go

to first XV, but where do they

go from there. If you're a sharp

half-back or first-five you might

go straight to div one, but ideally

they want to play premier colts

for a year and go from there."

CLUB MAN:

Robertson has

been helping

coach the

Sumner colts

side on Tuesday

and Thursday

evenings (left).

In recent years

he has built

a reputation

as one of the

globe's top

rugby coaches

after winning

three straight

Super Rugby

titles with the

Crusaders

(below).

D'Almeida says that Robertson

has played a key role in establishing

the colts side and believes his

presence at training is a massive

boost for the players.

"Razor's been involved with

that right through the years as

well. He's certainly there to help

. . . he's just keen to see it get off

the ground," said D'Almeida.

"If you're a budding young

rugby player and you've got the

Crusaders head coach cruising

around, it's absolutely a big

drawcard and equally he could

have been the All Blacks coach."

Robertson says his involvement

with Sumner is just one

aspect to his values of wanting

to give back to grass roots rugby

which he fondly remembers

growing up. He also expressed

he has and open door policy for

coaches from club rugby to come

into the Crusaders and up-skill.

"Grass roots rugby is the

lifeblood of communities and the

spirit of our nation, so everyone's

got their little part to play," said

Robertson.

"I think it's key that everyone

has a role in their club. I just see

the role in my club as connecting

people and to get people to

continue their love for rugby."
---
SPORT 25

Skope Classic to feature

replica V8-powered Cortina

• By Gordon Findlater

IN 1973 Clyde Collins drove his

V8-powered Ford Cortina to win

the OSCA championship.

THis weekend Clyde will watch

a replica of the same car, he and

his son Adam have built, race at

OSCA's 50th-anniversary event

at Ruapuna.

The OSCA 50th-celebration is

part of the Skope Classic meeting

this weekend where the Collins'

car will be driven by Adam.

The decision to create a replica

of the championship-winning

Cortina has been a special

experience for Clyde and Adam

– who has been through a turbulent

time.

Adam's daughter Maddie

was diagnosed with nephrotic

syndrome, a kidney disease, in

2008, and has since received

two different kidneys. In 2012, a

kidney donated from Adam was

rejected by her body. Maddie's

current kidney was donated in

January last year.

Clyde, who turns 79 tomorrow,

says the project has been

instrumental in giving his son

something else to focus on during

that challenging time.

"Adam was in a pretty bad

spot with the situation going

on over a period of eight years

and I thought it would be good

for him to be involved in this

project to help him through the

situation, and it's done that," said

Clyde.

"He has got the passion and it

helped him get out of a very grey

spot a couple of years back."

The car racing this weekend is

almost identical to the original

Cortina which ran a 5-litre

Chevrolet engine taken from

and old formula 5000 belonging

to Australian racer Warwick

Brown.

Clyde remembers the early

days of the Open Saloon Car Association

fondly. He and many

others had been racing in the

national open saloon class.

However, the class was

scrapped by Motorsport New

Zealand, leaving many drivers

who had invested in cars without

a class to compete in.

"There were a lot of open

saloon cars which were left

redundant . . . so I, Ron McPhail,

Trevor Crowe and a few others

got together and set up OSCA

to allow those redundant cars to

race," said Clyde.

"It was a lot of enthusiasts with

a passion for racing. It allowed

you to build your own car and

compete in it on a reasonable

budget."

Now, 50 years on the class is

still going strong albeit with a

different look. However, this

weekend's annual Skope Classic

meeting at Ruapuna will see the

best of the class from the 1970s

and 1980s celebrated.

"The whole structure of the

class has changed because the

new drivers coming into it are

heavily into Japanese smaller

engines with turbochargers.

They've got them going really

well . . . but what made the class

so popular back in the day is

that they were all V8s. Everyone

wanted to come and see V8s,"

said Clyde.

"It's good to see that the class

is coming back again with a new

breed of driver and a new breed

of car, but with the same level of

passion."

The OSCA celebration will

also see the return of one of the

classes most dominant cars – the

first of two Trevor Crowe-built

V8-powered Toyota Starlets

which won the national title in

1981, 82, 84 and the 1985 Ashley

Forest Rallysprint.

The Starlet will be raced by

current owner Richard Quinn.

However, a reunion with its

original owner could be on the

cards.

local sport

Proudly brought to you by...

CLASSIC:

Clyde

Collins will

watch his

replica of

the 1973

OSCAwinning

Cortina at

the Skope

Classic's

50th

anniversary

of OSCA

this

weekend.

PHOTO:

GEOFF

SLOAN

"He's [Quinn] always trying

to twist my arm and get me

back behind the wheel of it,

we'll see what happens. I'm

sure I could be convinced," said

Crowe.

Amongst the North Island

contingent coming south is the

Ian Algie Alfetta which will be

driven by former NZ V8 champion

Angus Fogg.

The Skope Classic meeting

will also feature formula 5000,

historic touring cars, classic

and historic sports cars, classic

saloons, muscle cars, vintage

racing cars and single seaters.

Thursday January 30 2020 The Star

Tower JuncTion

Phone: 348 6020 Open 7 days 11am to late www.speightstowerjunction.co.nz

in brief

Pace bowler Henry

rejoins for Kent

Canterbury and Black Caps pace

bowler Matt Henry will return

to a happy hunting ground in

England later this year. The

28-year-old will re-join Kent

County Cricket Club for the first

seven matches in the County

Championship later this year.

Henry originally joined Kent

in 2018 and took 75 wickets in

just 11 matches in the County

Championship, finishing the year

as division two's highest wickettaker,

with a bowling average of

only 15.48.

Twenty20 semi-finals

tonight

The finalists for this year's

premier twenty20 men's

competition will be found

tonight. The two semi-finals see

top qualifiers Burnside West

University host Lancaster Park

at Burnside Park, while East

Christchurch Shirley host St

Albans at Burwood Park. Both

matches begin at 5.30pm.

McNicol gets

10-wicket bag

Nathan McNicol completed his

first career 10-wicket match on

Saturday. The left-arm quick

finished with match figures of

10/81 during his East Christchurch

Shirley side's innings and

eight-run victory over Lancaster

Park in the two-day premiership.

McNicol is now the leading

wicket-taker in the competition

with 19 scalps at an average of

15.05.

New Brighton club

host to bowls event

The region's best bowlers will be

crowned at the New Brighton

Bowling Club this weekend. The

Bowls Canterbury centre finals

will feature singles, pairs, triples

and fours in men's, women's and

mixed grades as well as first and

second year grades. The major

event over the weekend will see

Elmwood Park take on Papanui

Club in the men's sevens final.

The women's sevens final will see

Burnside play Elmwood Park.

SAt 1 St fEBRUARY

6.30pm StARt

SOUth iSLAnD SALOOn

cAR chAmpS

cAntERBURY +

DEmOLitiOn DERBY

tEAmS chAmpS finALS

fAmiLY pASS: (2 ADULtS & 4 chiLDREn 15YRS & UnDER) $40

ADULtS $20 | SEniORS $10 | chiLDREn $5 | UnDER 5YRS fREE

DOUBLEDAYS ROAD KAiApOi | infOLinE 03 327 6117 | www.wOODfORDgLEn.cO.nz
---
TRUCK SALES & EQUIPMENT

EST. 1973

TM

DRIVEAWAY

5,347K's, 5 Sp ed, FWH, Air Con,

Ready for work! # 249

$41,900+GST

2011 toyota corolla

CHIllER VAn

trUcK sales & eQUiPment

• Very low kms

NO DEPOSIT!

www.grcaudio.co.nz

See page 5 for details

2010 TOYOTA (REGIUS HIACE)

4Dr Chi ler Van

2.0L Petrol Automatic, 140, 0kms,

3 x Seater - Cloth, Vinyl Trim, ABS,

Power St er, Air bag, Air Con, AM/FM,

Rear Camera, Fu ly Insulated,

+2 Degr es, Rear D or, LH slider,

Interior Lights, size 2, 60L x 1420 x

1050H, Easy A ce s. Great Capacity,

Drives like a Car… # 213

$27,000+GST

A fordable new parts available for BMW / MERCEDES BENZ / AUDI

454 St Asaph Street, 03 378 1818 or 021 480 201

location: 68 Falsgrave Street, Woolston, Christchurch

TM

Terms & conditions a ply.

Ce l 0272 424 76 Ce l 021 8 5 84

2009 lexuS iS 250

Hardtop convertible, smart black

leather interior, new rims & tyres,

electric/heated seats.

excellent condition

ORC

4x4, only 4okMs, bullbAr

Ideal for the farmer or

contractor, late model

low mileage diesel ute

with dropside deck, 6

spd manual, Bluetooth.

$37,990

Ca l 03 377 3030 or Brian 027 267 9602,

Hadley 027 459 2146 or Ma t 027 303 0101

NO DEPOSIT

$62 PEr WEEk

CAR AUDIO CAR SECURITY REVERSE CAMERAS

AUDIO VISUAL CELLULAR RADAR DETECTORS AERIALS

Terms, conditions & lending criteria apply

From $61,990

$9,995

FULL REPAIR SERVICE

PLEASE TAKE ONE

• Very a tractive interest rates

• Up to 5yr term available

• Very low kms

NO DEPOSIT!

Terms & conditions a ply.

TM

Ce l 0272 424 76 Ce l 021 8 5 84

2005, fu l leather, 10,000kms,

chain driven, towbar,

drives nicely.

S e our ad on the back page.

198 Yaldhurst Road,

Avonhead

Phone (03) 342 3434

3.6 a loytec, automatic, Canopy

with 3 opening windows a l

lockable, Tu f deck, Towbar, g od

tidy ute for the kms, a l set for

work or play.

IPOD INTEGRATION

GPS/TRACKING

S e our ad

on page 19

4x2 D/Cab

TM

26 The Star Thursday January 30 2020

Skoda Kodiaq RS draws on rally heritage

THERE'S NO denying sport

utility vehicles are the cars of

choice for today's buyer. Sales

figures globally are heavily biased

in that direction.

The choice is overwhelming,

especially in the mid-size

sector. If family or recreational

requirements facilitate the

need for an SUV, but you want

something just a little bit different

in your purchase – something

biased towards sporty – then

Skoda has the car for you, the

Kodiaq RS.

The Kodiaq has been with

us for a year or two now, and it

lands here in three variants, an

entry-level model at $41,990, a

high-grade Sportline at $64,990,

and just recently an RS model has

joined the ranks. The RS sits at

$72,990 and is characterised by its

flashy looks, inside and out, and

high power driveline.

Herein lies a secret. Under

the bonnet sits a 2-litre diesel

engine, and while you wouldn't

ordinarily expect diesel to be

the basis for performance, you

have to remember that Skoda,

in the past has had many sports

models with diesel engines, and

I can report that is a concept the

company does very well, even in

motorsport.

In the Kodiaq, the

turbocharged four-cylinder unit

pumps out 176kW and a feisty

500Nm at the bottom end. The

latter is the ingredient that makes

the RS so special, not only is the

specific output high, maximum

torque is available from 1750rpm

to 2500rpm, which is the area

where the engine wants to

constantly work.

As a result, there is dynamic

engine performance, midrange

boost will offer a 4.2sec

overtaking time (80-120km/h),

and an off-the-mark time of

7sec to make 100km/h from a

standstill.

Even if you aren't in a hurry,

there is a constant willingness

from the engine that tantalises

the driver, and if you take into

account there is manufactured

exhaust sound which throbs

constantly, the RS is hard to drive

without wanting to give it some

freedom.

There are several drive modes,

and depending on which is

activated the exhaust sound can

be encouraged or left in a more

subtle tone. The Kodiaq is also

a pretty useful off-roader, there

are modes which channel power

more usefully through the fourwheel-drive

platform.

There is also another element

which adds spice to the

SKODA KODIAQ RS: Sporty variant with diesel engine.

driveline, power is channelled It has to be remembered the

through a seven-speed direct Kodiaq has traditional SUV

shift transmission, and this handling, it sits high at almost

configuration is one of my 1.7m, and with long-travel

favourites.

suspension it isn't as nimble as

DSG is more of a manual-type a sedan, however, the spring

gearbox, although there are only and damper rates arrest body

two foot pedals; the beauty of movement well, along with the

this is the lack of load through parameters that allow for high

the transmission, engine power occupant comfort. You'd expect

is mostly unimpeded, and nothing less from this Czech

with quick shifts the feeling of Republic manufacturer which has

performance is well enhanced. drawn significant build quality

I took the test car through direction from the Volkswagen

some of the tight, hilly roads group.

close to Sheffield, and although Perhaps one of the most

the weather had closed in and the exciting aspects the RS offers is

roads were greasy I felt at ease in the point-to-point ability, it will

the RS.

lunge out of corner and blast

Grip in the first instance is without lag through the paddle

supplied by sticky Pirelli Scorpion shift system to the point where

tyres (235/45 x 20in) and they speed needs to be chiselled off,

offer substantial steering feel high grade brakes take care of

along with direct turn-in.

that and with the grip naturally

• Price – Skoda Kodiaq RS,

$72,990

• Dimensions – Length,

4699mm; width, 2087mm;

height, 1685mm

• Configuration – Fourcylinder,

four-wheel-drive,

1968cc, 176kW, 500Nm,

seven-speed automatic.

• Performance –

0-100km/h, 7sec

• Fuel usage – 7.7l/100km

associated with four-wheel-drive

the RS feels well attached to the

road, it is dynamic and forceful

when asked to respond.

This is all from a car which

has a vastly different role to play

as well, it is the quintessential

mid-size seven-seater that also

looks after its occupants in terms

of fitment and specification and

safety. At $73k it needs to be well

appointed, and I can report it

leaves little to chance.

It also has fuel economy on its

side, Skoda claims a combined

cycle average of 7.7-litres per

100km (36mpg).

It takes a very special car to

win the New Zealand Motoring

Writer's Guild Car of the Year

Award and the Kodiaq took

honours for 2017.

Obviously, that recognition

speaks for itself, the RS adds

another ingredient into the

equation, it certainly captured my

attention with its performance,

economy yet practicality all

thrown in for good measure.

incorporating best motorbuys

Check out the below adverts from The Star, March 1988

We've been

helping you buy

vehicles since your

computers had

Y2K bugs!

Friday 11th October 2019 | No. 619

2012 nissan fuga

$16,999 Best

2007 nissan

skyline 250GT

2.4, auto/tiptronic,

two smart keys, front & rear

parking sensors,

17" factory a loys.

•Reversing Camera

•50/50 Leather/Cloth Trim $7,999

LAncAstER

MotoR GRoup

Car City Chch

4X4 FLAT DECK

O'NEILL

331 WILsons RoAD/

102 sHAKEspEARE RoAD

pHonE 365 0972

A/HouRs pAuL pH 021 121 1472

Hilux spares

Now Available @ NZ Van Spares

location: 68 Falsgrave Street, Woolston, Christchurch

email: nzvanspares@hotmail.com | phone: 03 379 3932 / 0508 698 267

Best

Motorbuys

Friday 18th October 2019 | No. 620

$10,999 Best

o'neill

FREE

PLEASE TAKE ONE

Motorbuys

See page 5 for details

Don't Forget BATHURST

2003 Holden Calais

3800cc, auto, ABS, CD, A/C, multibags,

leather, traction control, alarm

immobilizer, great look!.

FROM NO DEPOSIT

Leather

SeatS

www.bestmotorbuys.co.nz

Now Only

$5,990

Cnr Moorhouse Ave & Fe ry Rd,

Christchurch. Ph: 03 379 4254

* NO DEPOSIT SUBJEC TO NORMA LENDING CRITERIA (n on road costs) www.carcitychch.co.nz

2014 TOYOTA TOYOACE

XZU675 4X4 FLAT DECK,

CAR LICENCE 4.0L Turbo Diesel,

Electric Windows/Mi ror, Exhaust Brake,

Eco-Mode, Disc Brakes F&R, Deck

3 10x1610mm – Drop-sides, 2165kg

Payload, Low K's, Complied & Serviced,

81 Branston St, Hornby | 021 290 0073

www.onei ltrucksales.com

THIS WEEKEND!

For advertising enquiries, phone Star Media 03 379 7100

Thinking Finance for a New Car,

Boat, Caravan, Truck or Trailer?

Think Paul Kelly Finance

Phone – 0800 PAUL KELLY

www.paulkellyfinance.co.nz

Terms, conditions & lending criteria apply

81 branston st, Hornby | 021 290 0073

www.onei ltrucksales.com

2018 Everest Titanium

From $61,990

Hilux spares

$7,995

Now Available @ NZ Van Spares

email: nzvanspares@hotmail.com | phone: 03 379 3932 / 0508 698 267

393 Ferry Road, Christchurch

P 03 389 6108 urbanauto.co.nz

The South Island's leading motoring publication FREE

every Friday at hundreds of locations around the South Island,

and it's available online at www.bestmotorbuys.co.nz

• Very a tractive interest rates

• Up to 5yr term available

www.bestmotorbuys.co.nz

o'neill

trUcK sales & eQUiPment

$112pw *

* Terms and conditions a ply

CHILLER/FREEZER

www.grcaudio.co.nz

Inch Quality

European

Friday 25th October 2019 | No. 621

2008 audi a4

Motorbuys

$21,999 +

2016 ford rAnger flAtdeck

$190 PW

547 Moorhouse Avenue

2013 Holden

CaPtiva 5

1 owner, fu l service history,

2384 c, NZ new, CD, aBS, p/s,

climate control, cruise, r of rails,

spot lights, remote locking.

$7,995

S e more from our

& uNDer SeLeCTIoN

TurN The page .

www.avoncityford.com

2009 Lexus Is 250

New shape, 2500 c,

Petrol, leather interior,

4 seats, auto, tiptronic,

ABS, airbags, cruise

control, only 88,158kms!

$29,999

Hilux spares

541 Moorhouse Ave

Christchurch

Ph 03 3799528 or 0274366076

Now Available @ NZ Van Spares

location: 68 Falsgrave Street, Woolston, Christchurch

email: nzvanspares@hotmail.com | phone: 03 379 3932 / 0508 698 267

mobile installation service 0800 212 777

FREE

ANYTHING WITH A MOTOR!

For advertising enquiries, phone Mathew Stephens on 021 902 729

Thinking Finance for a New Car,

Boat, Caravan, Truck or Trailer?

Think Paul Kelly Finance

Phone – 0800 PAUL KELLY

www.paulkellyfinance.co.nz

393 Ferry Road, Christchurch

P 03 389 6108 urbanauto.co.nz

$14,999 Best

2018 Everest Titanium

See page 5 for details

2017 FORD

RANGER PX2 XLT

3.2 T. Diesel, 20"A loys,

Wildtrak Ro ler Lid,

Front Bu lbar, Sync 3 GPS

Sat/Nav, Bluet oth,

only 27,8 0km.

"Stu ning"

2012 ISUZU ELF SWB

FREEZER, 1.5TONNE

3.0L Turbo Diesel, Auto,

139K's, Freezer Box

3010x1530x1210H ID, Side

Door & Internal Compartment

Doors, Removeable, Internal

Lights, Geared to Go! #2184

$33,000+GST

81 branston st, Hornby | 021 290 0073

www.onei ltrucksales.com

NISSaN muraNO

2005 HOLDEN

COMMODORE

See more from our

TurN The page .

SeLeCTIoN aNd

$8,850

CAR AUDIO CAR SECURITY REVERSE CAMERAS

AUDIO VISUAL CELLULAR RADAR DETECTORS AERIALS

Motorbuys

$37,990

Corner Main South Road and Epsom Road,

Sockburn, Christchurch

Ph: 03 348 4129 or 0800 655 551

Rangiora Service Centre, 78 Ivory St, Ph: 03 313 7059

www.bestmotorbuys.co.nz

mobile installation service 0800 212 777

For advertising enquiries, phone Mathew Stephens on 021 902 729

FULL REPAIR SERVICE

2018 Everest Titanium

From $61,990

IPOD INTEGRATION

GPS/TRACKING

S e our ad

on page 19

• Very a tractive interest rates

• Up to 5yr term available

• Very low kms

NO DEPOSIT!

Terms & conditions a ply.

Ce l 0272 424 76 Ce l 021 8 5 84

FREE

PLEASE TAKE ONE

ANYTHING WITH A MOTOR!

Thinking Finance for a New Car,

Boat, Caravan, Truck or Trailer?

Think Paul Kelly Finance

Phone – 0800 PAUL KELLY

www.paulkellyfinance.co.nz

Terms, conditions & lending criteria apply

$24,995

393 Ferry Road, Christchurch

P 03 389 6108 urbanauto.co.nz

2014 HOLDEN

COLORADO

LX CREW CAB

Loaded with extras, Bu lbar, Winch, Snorkel,

Light Bar, Flashing work lights, Big fu ldeck

t ol box completely lockable, This ute wi l

suit a variety of people for work or play.

SEE MORE FROM OUR

TURN THE PAGE .

SELECTION AND

To advertise in Drive South Best Motorbuys, please phone Mathew Stephens 021 902 729

www.DriveSouth.co.nz
---
Thursday January 30 2020 The Star 27

WHY CHoose

for Your next VeHICLe?

VALUE

REPUTATION

SELECTION

TRUSTED

PLUS

REGISTRATION

PLUS

REGISTRATION

PLUS

REGISTRATION

PLUS

REGISTRATION

PLUS

REGISTRATION

2019 nissan march

$13,999

The March is a light steering, easy to drive,

popular, economical and surprisingly spacious 5

door family hatch, features a 1.2 litre engine with

automatic trans, super low kms, black interior,

reverse camera, keyless entry, rear wiper, ABS, T/C

and airbags, fantastic buying!

2011 subaru treiza

$9,999

"Toyota Ractis" 5 door family hatch, features an

economical 1.3 litre engine with automatic trans

and 5 star fuel efficiency, looks really good in satin

blue with driving lights and 15" alloys, push button

start, reverse camera, spoiler, ABS and airbags,

come and view today!

2014 toyota prius

$15,999

Extremely popular fuel-efficient vehicle, features

a 1.8 litre hybrid engine with automatic trans and

5.5 star fuel efficiency, low kms, push button start,

reverse camera, rainshields, spoiler, ABS, T/C and

airbags, quick sellers!

2009 toyota ractis

$7,999

The Ractis is a stylish, nippy, good handling,

spacious 5 door hatch, features a 1.5 litre engine,

Tiptronic trans with paddleshift option, cruise

control, push button start, reverse camera, low

kms, rear wiper, ABS and 8 airbags, great vehicle

and great buying!

2014 toyota vitz

$11,999

The ever popular Vitz just gets better, this

generation features a roomier interior, sportier

stance and redesigned front, 1.0 litre engine with

automatic trans, stands out in yellow, very low

kms, keyless entry, rear wiper, ABS and airbags,

never lose your car in the carpark again!

PLUS

REGISTRATION

PLUS

REGISTRATION

PLUS

REGISTRATION

PLUS

REGISTRATION

PLUS

REGISTRATION

2005 nissan note

$6,999

Economical, spacious, practical everyday

commuter, features a 1.5 litre engine with

automatic trans and 5 star fuel efficiency, finished

in red metallic, rear wiper, ABS and airbags,

awesome buying!

2007 hyundai coupe

$6,999

Sporty two door coupe, 4 seater, features a powerful

2.7 litre V6 engine with Tiptronic trans, looks sharp

finished in silver with sports body styling, driving

lights, rear spoiler and 17" alloys, black partial leather

interior, sunroof, Bluetooth, keyless entry, rear wiper,

ABS, T/C and airbags, come and take for a spin!

2010 toyota mark-x

$10,999

Popular RWD family sedan, features a 2.5 litre V6

engine with Tiptronic trans, looks sharp finished in

white on 16" alloys, black interior, reverse camera,

push button start, parking sensors, ABS, T/C and 9

airbags, inspection won't disappoint!

2004 nissan fuga

$7,999

Very nice 4 door sedan, features a 3.5 litre V6

engine with Tiptronic trans, finished in silver

metallic with driving lights and 17" alloys, travelled

low kms, push button start, powered seats, reverse

and side blind cameras, ABS, T/C and airbags,

seamless combination of power and luxury!

2008 jaguar x-type

$10,999

Luxurious 4 door European sedan, features a 2.1

litre V6 engine with automatic trans, looks great in

wine red with driving lights and 17" alloys, luxury

leather interior, cruise control, heated front seats,

reverse camera, Jaguar styling, ABS, T/C and 8

airbags, view now!

PLUS

REGISTRATION

PLUS

REGISTRATION

PLUS

REGISTRATION

2019 8x4 trailer

$1,799 plus orc ($135)

Heavy duty caged tipping trailer, solid square axle,

hot dipped, galvanised 5 leaf 8mm springs, Jocky

wheel & LED lights, tows really well and quiet!

PLUS

REGISTRATION

2019 8x5 atv trailer

$1,899 plus orc ($135)

Versatile 8x5 ATV trailer, multiple use – golf cart,

mower, ATV, quad etc. Solid beam axle, heavy duty

6 leaf springs, Jocky wheel & LED lights, ramp

stays & stability bars!

PLUS

REGISTRATION

2010 subaru legacy

$11,999

The Legacy has become a very desired sports

sedan, features a 2.5 litre engine, Tiptronic trans

with paddleshift option, Si Drive, looks smart

finished in black with factory body kit and stylish

black interior, very low kms, AWD, keyless entry,

rear wiper, ABS, T/C and airbags, worth a look!

2014 honda fit shuttle

$11,999

Economical and spacious family wagon, features

a 1.3 litre engine with hybrid technology and

automatic trans with 5.5 star fuel efficiency,

looks sharp in white with dark interior, keyless

entry, rear wiper, ABS, T/C and airbags, awesome

buying!

2019 10x5 tandem trailer

$2,499 plus orc ($135)

Versatile 8x5 ATV trailer, multiple use – golf cart,

mower, ATV, quad etc. Solid beam axle, heavy duty

6 leaf springs, Jocky wheel & LED lights, ramp

stays & stability bars!

Registration for 6 months is $301

Value Cars Warehouse

4.72

CANTERBURY OWNED

& OPERATED

ESTABLIShED 1993

32 Moorhouse Ave, P: (03) 366 7768 IMVDA

www.valuecarswarehouse.co.nz
---
28 The Star Thursday January 30 2020

PRIVATE SALE

LIFESTYLE

DWELLING

56 Gressons Rd Waikuku

• Contemporary 5 year old

4 bedroom home on 1 hectare

• 3 car garaging plus 3 bay barn

• Price $839,000

OPEN HOME

Sunday 2 Feb 1-1.45pm or

view by appointment

Trade Me # 2510044734

LIST WITH ME AND I

WILL GET YOUR PRICE

WITH MUCH LOWER

COMMISSION AND

MARKETING COSTS

OYDS REAL ESTATE

Phone: 027 228 7002

LREA 2008. The agent with 50+ years experience whose

commission is half most firms.

Appears every week in

For more information:

Mike Fulham

P 379 7100

E mike@starmedia.kiwi

The TLC Realty experience

After 50 years selling

Christchurch property I

have learnt to combine

results with cost

effectiveness. Some

firms are charging at

exhorbitent levels.

tlc realty limited

Why use TLC?

We are all about you.

You are our Number 1 Focus.

We will listen to what you want.

We will work hard and long to get the best result for you.

We will do this with quality personal service (from your

sales consultant, not a PA or anyone else), communication,

and the respect you deserve.

We will be your "personal negotiator" working exclusively for you.

We are a full service company and can offer you everything

a bigger company can offer with a much more fair fee.

Rhonda Tapp

Knowing what could happen if

you can't complete a sale

Life can sometimes take an unexpected turn when you're

buying a house. Knowing what could happen to your

deposit and sale and purchase agreement if your circumstances

suddenly change and you are unable to complete

the deal will leave you in a much stronger position.

"There are many "what-ifs" to consider when buying a

home and I urge you to talk through your concerns with

your lawyer or conveyancer as soon as your circumstances

change," says Real Estate Authority (REA) chief executive,

Kevin Lampen-Smith.

"A sale and purchase agreement is a legally binding

contract between you and the seller, which becomes

unconditional once the allocated time for meeting your

conditions has been reached," says Lampen-Smith.

"Once the agreement for sale and purchase becomes

unconditional, then you not only don't get your deposit

back, but also face the likelihood of having to purchase

the property – even if you can't afford to – or having to

cancel the agreement and be sued for any loss the seller

suffers as a result of you failing to settle the sale. So, if your

circumstances suddenly change, you'll need to speak to

your lawyer as soon as possible."

Getting finances sorted to buy a property isn't easy, but

understanding the different deposits when you buy a

house can help. There are two different kinds of deposits

– the deposit you pay when you make an offer and your

bank deposit.

A buyer will usually be required to pay a deposit when

the sale and purchase agreement is signed by both parties.

The deposit paid is often about 10 per cent of the total

price you are offering – you can negotiate a different rate

if you need to – and is usually held in a trust account

by the real estate agent. The real estate agent takes their

commission fee out of this amount when the agreement

becomes unconditional and the remaining balance goes

to the seller.

When you arrange a home loan with a bank, you must

have a certain amount of funds to use as a deposit – your

bank deposit. This deposit will more than likely be different

from the amount your sale and purchase agreement

Oamaru

Licensed Sales Consultant

Ph 050 896 7564

I get results

You are our No. 1 Focus, we value you, we value your business

tlcrealty.co.nz

Home & Property appears every Thursday, delivered FREE

throughout Christchurch

For more information and bookings, contact Mike Fulham

M: 021 300 567 E: mike@starmedia.kiwi

NEW LISTINGS

the tlc experience

Why pay a huge fee

– call us now for

superior, quality

service - imagine

what you can do

with the $ savings!

Our fee 2.5% + GST to

$400,000 then 2% + GST

on the balance

(plus $450+GST base fee and

marketing to suit)

Trish Lawrence

AREINZ (Nat.Dip.RE)

Licensee Agent/Director

Ph 0800 874 745

Trust in Trish

Licensed Agent REAA 2008

states that you must pay the seller. For example, your

bank may need you to have 20 per cent of the purchase

price available as a bank deposit in order to secure your

mortgage, even if you only have to pay the seller a 10 per

cent deposit.

"When drawing up a sale and purchase agreement, you

can include conditions of the sale, such as a title search,

valuation, LIM report, obtaining finance, obtaining insurance

and builder's inspection," Lampen-Smith says.

"Including conditions can really help – you can even

negotiate your sale and purchase deposit."

"If you find that you need extra time to complete any

conditions of the purchase, you must speak to your lawyer

or conveyancer immediately. They will negotiate with the

seller through their real estate agent or lawyer or conveyancer,"

Lampen-Smith says.

"Any changes to the conditions will need to be added

to the sale and purchase agreement and signed off by you

and the seller. If your conditions are not able to be met, eg,

the building fails the property inspection, then you may be

able to cancel the agreement and then your deposit will be

refunded to you."

"It's very important that you speak to a lawyer before

finalising your offer conditions so that they adequately

protect you if something that you find out about the

property during the conditional period is not to your

satisfaction," Lampen-Smith says.

"There is potential that defaulting on a sale, because of

finances, could affect future borrowing. Talk this through

with your lawyer and it would also be wise to seek advice

from a qualified financial adviser. A financial adviser may

also be able to talk you through the pros and cons of income

protection insurance for situations such as sickness,

disability, unemployment and death."

"In life, there are so many things we cannot be sure of,

but it's always worth doing your homework and seeking

solid professional advice when purchasing a home."

For independent guidance and information on buying

or selling, check out settled.govt.nz.

Your

Earthquake

damaged

home!

Talk to us if you are serious about

selling your "As is Where is" home.

We have sold over

150 "As is Where is"

homes and we have

a huge database of

qualified buyers.

Phil & Holly Jones

Ph 03-382-2230

Phil 027 435 7711

Holly 027 222 0220

holly.jones@raywhite.com

Licensed (REAA 2008) Results Realty Ltd

RENT ME!

Ideal as an extra

bedroom or office.

no bond required

We have achieved

record breaking

prices recently!

Fully insulated and double glazed for warmth.

Three convenient sizes from $70 a week:

Standard 3.6m x 2.4m

Large 4.2m x 2.4m | Xtra-large 4.8m x 2.4m

Home & Business Security • Cameras • Gates & Fencing

Access Control • Alarm Monitoring • Home Automation

Alarms Electrical Cameras Intercoms Auto Gates

Residential and Business Security

Tailor Made Security Solutions

All Your Electrical Needs

Custom Designed Automatic Gates

Innovative Intercom Systems

Pet Friendly Sensors

Security Cameras

Access Control Systems

Electric Fencing

Service and Maintenance

24/7 Fault Service

Locally owned and operated

All faults attended that same day

FREE QUOTES

Visit our website

www.justcabins.co.nz

for display cabin locations

www.justcabins.co.nz

P: (03) 384 0995 24/7 E: info@actionsecurity.co.nz

www.actionsecurity.co.nz

Local Oamaru & Loyal

3 1 2 2 1 1

3 1 1

4 2 2

OPPURTUNITY KNOCKS!

TIDY REED STREET UNIT

TOP LOCATION - TOP OPPORTUNITY

QUALITY, LOCATION AND SPACE!

LUXURY LIVING

Price: SBD BEO $189,000

Price: SBD BEO $269,000

Price: SBD BEO $289,000 + GST (if any) Price: SBD BEO $499,000

Price: SBD BEO $685,000

Web: NQRGF3

Web: NNVGF3

Web: NPQGF3

Web: NH0GF3

Web: NPFGF3

Check out all our listings at www.oamaru.ljhooker.co.nz | Deal with the Best: LJ Hooker Oamaru - The Most Productive Team in NZ *

SBD BEO = 'Sale By Deadline Buyer Enquiry Over'

*

LJ Hooker Harveys Group, based on number of transactions

Call Oamaru's No. 1 Team For Listing & Selling - Ph (03) 434 9014

Robertson Real Estate Ltd MREINZ - Licensed Real Estate Agent REAA 2008
---
Show

home

Guide

Homes by Parklane

"Standout Homes for an

Outstanding Price"

Faringdon East

NEW SHOWHOME

Opening Soon

Wigram - Office

2 Harvard Avenue

Mon to Fri 9am - 5pm

Registered Master Builders

House of the Year Multi Gold

Award Winning Builder

Gold Reserve Award Winning

Showhome

(03) 341 3000 or 029 201 2453

www.homesbyparklane.co.nz

Jennian Homes -

Canterbury North

Rolleston Display Home

2 Thornborough Drive,

The Borough

Wed - Sun 12 - 4pm

or by appointment

Halswell Commons

9 Nevermore Place,

Halswell Commons

Sat and Sun 12pm - 4pm

Ashburton

Whiteoak Grove,

Oaklea Development,

Tinwald, Ashburton

Wed and Thu 12pm - 3pm,

Sun 12pm - 3pm

www.jennian.co.nz

First Homes - Christchurch

St Albans

39 Sherborne Street

Open Tues to Sat 10am - 4pm

Ph 021 575 545

chchsales@firsthomes.co.nz

www.firsthomes.co.nz

Cambridge Homes

Kaiapoi

17 Durells Crescent

Silverstream, Kaiapoi

Mon to Sun 11am - 4pm

www.cambridgehomes.co.nz

The

showhome

guide

To advertise

please phone 379 7100

The Star Classifieds

Car Parts

The Automotive Lamp

Specialists

New and Used Lamps for

Cars, Trucks, Vans, 4WD

and Motorhomes

Caravans, Motorhomes

& Traliers

CARAVAN Wanted to

buy. Up to $5000 cash

today 027 488-5284.

Cars

$1,501 - $4,000

MITSUBISHI 380 SX,

2007. Sparkling Red, 3.8

V6, 40mpg, spoiler, 17"

alloys., to see is to buy

$2000, ph 352 5963

Church Notices

SYDENHAM CHRISTIAN

SPIRITUAL CHURCH

Sydenham

Community Centre

23/25 Hutcheson St

Sunday 7pm

Address

Laeis

Clairvoyance

Sandra

All Welcome

Phone 349-9749

NEW AGE CHRISTIAN

SPIRITUAL CENTRE

61 Grafton Street

Sunday 7pm

Address:

Tahnea

Clairvoyance:

Tahnea

Tuesday afternoon

1-1.45pm Healing

2pm Clairvoyance

All Welcome

Psychic Fair

Sat 29 Feb 10am-2pm

Christian

sPiritUaList

ChUrCh

182 Edgeware Road

Sunday Service

7pm

Address

Bernie

Clairvoyant

Bernie

All Welcome

PH 0800 225 483

95 Gasson Street

CHRISTCHURCH

Clairvoyance

CLAIRVOYANCE.

FREE practise reading-

At this time in your

life. U18 yrs -parent or

guardian required. Privacy

respected. Please text your

first name to Brenda +64

022 6899 304. Feedback

appreciated

Classic Cars &

Motorcycles

MITSUBISHI CORDIA

turbo GSR, 1985, low

kms, 1 previous family

owned, red, suit collector,

ph 352 5963

Curtains

A1 CURTAINS &

DRAPES.

Roman blinds,tie

backs,cushions,nets &

voiles plus alterations.

Free quotes.Ph Kay 980

1501 or 021 2571823. kay.

tainui88@gmail.com

Finance

CASH LOANS

$200-$20,000

GET CASH

NOW

3/11 GOULDING AVE. HORNBY

9B BUCKLEYS ROAD. LINWOOD

PH 0800 760 000

WWW.INSTANTFINANCE.CO.NZ

Flatmates

DBLE ROOM to let for

lady over 50's. Room

very warm,, quiet & tidy.

Unfurn. $180 p/w incl

power & internet. Ph 027

551 4118

ADD SOME

COLOUR

TO YOUR ADVERT!

Non-Service Cremation $1,745

Commital service with cremation $3,950

Chapel service with cremation $6,500

Family burial service from $3,400

Just Funerals, a family owned and

operated company with qualified,

registered and experienced staff.

Phone 0800 804 663 - 24 Hour Availability

Email: info@justfunerals.co.nz

christchurch.justfunerals.co.nz

Funeral Directors

Direct

Cremation

No frills, No Service,

No fuss, simply

straight to the crem.

Other options

available.

Ph: 379 0178

for our brochure

or email

office@undertaker.co.nz

Garage Sales

BURNSIDE

1/3 JUNIPER ST.

Saturday 8am-1 2 noon.

Toys, Household items

MAIREHAU 47A Briggs

Rd, Sat after 8am. H/hold

goods for everyone.

ST ALBANS

14 Cleveland Street.

Saturday 8am -12 noon.

Furniture, household items

For Sale

CANE CLUB CHAIR.

Exc order. $100.Ph 385

7263

COUCH. Leather 2

seater.Light Beige,

Leather, very good cond.

Length 1680 x width 900.

Must sell $350. Ph Helen

0275 490048

PRIVATE SALE of

Victorian silverware,

quality china and

collectables. 114 Aikmans

Rd, Saturday & Sunday

1pm - 5pm or ph 355-6760

evenings.

Funeral Directors

Garage Sales

ST MARTINS 36A Wades

Ave, Sat 8am till 1pm.. All

sorts.

Gardening

& Supplies

A GARDEN OR

LANDSCAPING TIDY

UP? Shrub, hedge &

tree pruning, Lawns,

Gardening, consistently

reliable general property

upkeep, Dip. Hort. 10

yrs experience, One off

tidy ups or on-going

service. Nick's Garden

Maintenance. Keeping

your garden beautiful.

Free Quote. Ph. 942-4440

& 022 264 7452

PETE'S GARDENING

SERVICE Gardening,

rubbish removal, cleanups,

expert pruning, hedge

trimming, tree cutting,

good rates, no job too big

or too small, half the price

of a franchise. Compost

& wood chips for sale. Ph

027 551 4118

CHRISTCHURCH PERIOHYGIENE

The Dental Hygiene Centre At Idris

ARE YOU GETTING THE DENTAL

CLEANING YOU NEED?

Plaque and Tartar cause gum disease.

Early and thorough removal is key.

OUR 4-STEP SIGNATURE FOCUS

1) Enhanced & Early Detection

2) Thorough Removal

3) Pain Minimisation

4) Patient Comfort

W

E

P

A

www.periohygiene.com

reception@periohygiene.com

(03) 928 1878

140, Idris Road, Strowan

Photo Credit: Bishka Nguyen (from unsplash)

Health

Professionals

SPECIALISED

CANCER CARE

Lymph Drainage

Massage by Registered

Physiotherapist (40 years

experience) in tranquil

South New Brighton.

Mobile service available.

Moira McDougall 021 153

7076. HeartFire Therapy.

www.heart-fire.com

Massage

Indian Ayurvedic herbal

massage. Male & female

therapists. Ph 022 135

0177

MALE Masseur, relax

massage, waxing for men,

8am-8pm ph 027 723 5756

Health & Beauty

Thursday January 30 2020 The Star 29

Personals

SINGLE FUN

MATURE MAN. Seeks

an older lady (45+) for

company,pleasent times &

laughter. 027 6594425

SLIM pensioner man ,

n/s, n/d would like to meet

slim woman for country

western dancing. Reply to

Box 17, c/o The Star, PO

Box 1467 , ChCh

Pets & Supplies

CATS UNLOVED

can help with the cost

of desexing your cat.

Ph 3555-022 or email

catsunloved@xtra.co.nz

CATS UNLOVED

can help with the cost

of desexing your cat.

Ph 3555-022 or email

catsunloved@xtra.co.nz

Trades & Services

Black & White

Tree and Garden

Services

Qualified Arborist,

Landscape Gardener

and all other

garden services

Contact Rick: 02041454337

B.and.W.Garden@gmail.com

NORTH CANTERBURY

PLASTIC WELDING

All plastic and fibre

glass repairs.

James De'Ath

021 180 5103

House & Garden

Property services Ltd

Tree & hedge

trimming

& removal

Stump Grinding

CALL us 021 405 277

Trades & Services

Trades & Services

EXPERIENCED

GARDENER

(Kevin Garnett)

30 Years

Christchurch Botanic

Gardens.

ALL landscape

work done.

Maintenance, pruning,

tidy up, lawn work,

landscape planning

and planting etc.

Free Quotes

Phone 348 3482

30 years + experience

Older house

restorations:

no problem!

Quotes: FREE!

Rates: Reasonable

Paint supplied at

trade price!

NO JOB TOO SMALL

Light industrial also

Roger Brott

Painter & Decorator

021-1966-311

• Commercial Carpet Cleaning

• Residential Carpet Cleaning

• Upholstery Cleaning

• Stain & Odor Removal

• Tile & Grout Cleaning

NEED HELP

WITH YOUR

CARPET CLEAN?

Simply give us a call

on 021 035 8989

We will get the job done

in a professional way.

DOES YOUR

BATHROOM NEED

A REFRESH?

• Fixed price quotes

For bathroom renovations

Contact the experts

Abby and Cameron

027 247 9947

abby@affordablebathrooms.co.nz

www.affordablebathrooms.co.nz

•Re Roofing

•Roof Repairs

•Spouting

Approved Age Concern provider

Over 30 years experience

Licensed Building Practitioner

N A BARRELL

ROOFING LTD

Ph: 349 9778 or 0275 389 415

Email: nabroofing@xtra.co.nz
---
30 The Star Thursday January 30 2020

Your guide to our LOCAL & TRUSTED

Trades & Professional Services

To advertise: Phone 379 1100 or email star.class@starmedia.kiwi

Builder

BUILDER

Builder

concrete & paving

BUILDers

"A local looking after locals"

• Licenced builder with 20 years

experience in renovations,

alterations and extensions

• A creative craftsman who is

attentive to detail

• Quotes the job, does the job

• Works with all budgets

Andrew Drewitt

Ph: 021 395 324

Email: ad_designs@hotmail.com

We Can Arrange:

• Design work

• Contract work insurance

• Engineer PS1, PS4, By BLSConsulting

• LBP PS3

PBS what we can offer:

• Foundation relevels

• Slab on grade relevels

• Timber floor relevels

• Subfloor Repair

• Concrete Cutting

BUILDER

• Christchurch City Council Consent

• Christchurch City Council Exemption

• EQC Complaint

• New foundations

• Concrete repair including crack injection

• Concrete work: driveways, patios, paths, etc

• Landscaping: decks, pergolas, fences, etc

• Core drilling up to 400mm diameter

• New homes

• Extensions

• Renovations

• Light Commercial

• Repairs and

Maintenance

Brandon Taw

Phone 027 370 2572

enquiries@tawbuilders.co.nz

www.tawbuilders.co.nz

• Driveways

• Earthquake repairs

• New Home Specialists

• Patios & Paths

tel: 0508 873 7483

email: sales@affordableconcrete.co.nz

www.affordableconcrete.co.nz

DECORATORS

DRIVEWAYS

Driveways

Excavations

New Paint • Repaints

Wallpapering • Fences

Feature Walls

Floor & Roof Painting

Spray Painting

Light Commercial

Restoring Timber

* Finance available (T's & C's apply)

Selwyn based but service the whole of Canterbury

www.andertondecorators.co.nz

www.facebook.com/andertondecorators

027 724 6846 027 PAINTIN

Exposed Aggregate

Stamped Concrete Plain

Concrete Resurfacing

Things we offer...

Competitive/affordable pricing

Attention to detail

Professional service

free quotes/insurance scopes

Cell 0278 145 848

www.drivecrete.co.nz

SWAINS

KIWI KERB

(Since 2005)

Over 22 Years Experience

Quality

Workmanship

• Driveways

• Kerb &

Channel

• Garden Edging

Freephone: 0800 081 400

swainskiwikerb@gmail.com

• Driveways

• Car Parks

• Site Cleaning

• Demolition

• Farm Tracks

• Drain Cleaning

• Stump & Hedge

Removal

• Ashpalt Concrete

Wide range

oF TruckS

• Tennis Courts &

Swimming Pools

• Chip Seal Driveways

• Diggers – 2 Ton

up to 20 Ton

• Excavators

• Bobcat & Drilling

• For Posthole &

Fence hole

For a Free Quote

on your next project

Phone Steve on 021 338 247

or 325 7922

Free

QuoTe

LOCKSMITH

KEYSTONE LOCKS

Mobile Locksmith

• Residential/Commercial

• Keys Cut, Locks Rekeys

• Lock Installs & Repairs

• Digital Locks & Padlocks

• Ranch Slider Deadlock & Bolts

• Window Catches & Locks

• Garage Door Locks

• House Alarms & Monitoring

• Rental Property Specialists

• Winz & Insurance Quotes

GOLD CARD OR CASH DISCOUNT

Further discount for Pensioners, no GST charged

10% OFF with mention of this ad

Phone: Marc 03 382 2501

Mob: 027 222 2220

Mailer Deliveries

For a local, reliable

mailer delivery

service contact

Star Media

• Newspaper inserts

• Magazine inserts

• Letterbox deliveries

• Urban & Rural deliveries

For a cost effective, targeted delivery

please call 03 379 7100 or email

michaela.malloch@starmedia.kiwi

www.star.kiwi

PLUMBER

NEED A PLUMBER

Call us now for fast friendly service.

Get your problems sorted out

quick smart - on time!!

Phone for a

FREE

quote now.

Phone 03 377 1280 | Mobile 021 898 380

ROOF REPAIRS

Locally owned & operated with

over 30 years experience.

• Extensions & repair • Roof coating

• Concrete & clay tiles • Butynol

• Malthoid • Asbestos Certified

• Coloursteel • Old iron • Guttering

Phone Dave 981 0278

or 021 223 4200

E: dave@beaumontroofing.co.nz

BEAUMONT ROOFING LTD

Towing

tree services

VIDEO PRODUCTION

WINDOW TINTING

For safe, damage free

car transportation

call Ashley's Tow Taxi

Special care for special cars

ASHLEY'S TOW TAXI

Breakdown & Relocation

0800 TOW TAXI • 0800 869 8294

TREE STUMP

GRINDING

TREE REMOVALS

Qualified Arborist

Insured - FREE quotes

Phone Mark 022 085 0300

E info@superiorstumps.co.nz

www.superiorstumps.co.nz

business video

PRoduCTion

A video will bring your business alive & into your

customers mind.

Promote your services or business with a

professionally created video with us

• Corporate and Business

video a speciality

• Competitive rates

• 25 years experience

• Start to finished product

• Professional quality

guaranteed

PHone KeRRY 021 635 083

tintawindow

advanced film solutions

99% uv block

fade protection

heat control

reduce glare

25 Years Experience

privacy films

frosting designs

non-darkening films

Workmanship Guaranteed

Lifetime Warranties on Most Films

UV

block

Free Quotes Canterbury and Districts

03 365 3653 0800 368 468
---
The Star Classifieds

"I WILL TURN UP

WHEN I SAY I WILL"

Need a certified and reliable plumber for filtration

systems or hot water cylinder replacement?

Bathroom upgrades or refurbishments?

FREE CALL

TEXT

EMAIL

Trades & Services

0508 H2O BOY

426 269

027 245 5100

NICK@NICKJONESPLUMBING.CO.NZ

Trades & Services

CLEANED

SEALED

PAINTED

Call Sam now: 027 315 7980

Email: roofshieldnz@gmail.com

Thursday January 30 2020 The Star 31

• Phone our local team 03 379 1100 • Email star.class@starmedia.kiwi

www.roofshield.co.nz

ProfESSIoNAL roof CoATINgS

SPECIAL oNLY $2650

Trades & Services Trades & Services Trades & Services Trades & Services

AAA HANDYMAN CARPENTER

GLAZIER

licensed carpenter BUILDER

Glass repairs - pet doors

LBP, all property and Licensed Building - conservatory roofs. Exp

rooF

building maintenance, Practitioner no. 100981. Tradesman. Call Bill on

repairs, bathroom/shower All carpentry & building 022 413 3504 or 981-1903

painting installations, with free repairs & maintenance. HANDY - DAN

quotes 03 383 1927 or 027 Alterations & property General Handyman for

Book now for

245 5226 ciey@xtra.co.nz upgrades.Laundries / all your maintenance

Summer and BRICK & BLOCK bathroom / kitchens requirements. I specialise

receive 20%

LAYING

replaced. Specialising in in fences and decking, also

all restoration work replacement of all rotten do spouting cleans and

discount. and new work plus timber, fascia boards, repairs and everyday home

Rope and harness

foundations, ph 342 9340 window, windowsills etc. maintenance. NO JOB TO

or 021 853 033

John Sandford, ph 329

a speciality.

BIG OR SMALL I can do

BUILDER

4616, mob 027 5189 598 it all, please don't hesitate

No scaffolding QUALIfIED

johnsandford2@gmail. to call me on 022 600 7738

required. licensed, and insured. com

for a no obligation free

30 years jmhbuilders.co.nz Ph 020 CONCRETE CUTTING quote.

experience. 400 96143

Affordable Concrete HANDYMAN

BUILDER QUALIfIED Cutting with Quality, and

Free quotes,

REPAIRMAN

50 yrs exp. Bathrooms, removal work. Free quote.

call Craig

20 yrs exp.No job too

Kitchens, Renovations, No job to small. Phone 027

021 060 2392

small.Prompt service.

Repairs & Extensions 442-2219, Fax 359-6052

Free quotes. Discount for

On site engineering &

a/h 359- 4605

pensioners. Ph Mike 03

welding a speciality.

ELECTRICIAN

980 9771 or 027 2266 930

Reasonable rates.Free

Prompt & reliable

ROOF BUILDER QUALIfIED

quotes.Ph Wayne 9813873

registered electrician

PAINTING 24/7 Decks, T & G Flooring,

/0272853083

with 24 years experience

Villa Restoring, New

HANDYMAN

Rope & harness

for all residential and

Homes, Weatherboards.

All handyman services eg:

a speciality,

commercial work, new

Free Quotes. Bennet &

drippy taps, sticky doors,

no scaffolding

housing and switch board

Sons Ltd Sam 027 496-

locks, moss spraying etc.

required,

replacements. Phone Chris

9362 or Tony 027 224-

Discount for pensioners.

30 years of

027 516 0669

0374

Ph 390 1565 or 022 5275

breathtaking

ELECTRICIAN

BUILDER

668

experience.

Available, 30 years

Qualified builder

FREE QUOTES

experience, immediate

LANDSCAPING

available.Repairs,

start, competitive rate,

Paving, Lawns, Irrigation,

20% OFF other renovations, new homes.

ph Brian 027 433 9548

Decking, Fencing.

roof quotes www.dohertybuilders.

No Call out fee

Kanga & small digger

Exterior staining,

co.nz. Ph John 027 224

exterior painting, 2831

ELECTRICIAN

services. Check out Squire

Landscaping on facebook.

moss and mould CARPET LAYING

All types of domestic

FREE QUOTES. Ph

treatment and Exp. Repairs, uplifting, & commercial work

waterblasting relaying, restretching. undertaken, new housing,

Arthur 347-8796, 027

Phone Kevin

Phone John on 0800 alterations, extensions,

220-7014 Edwin 027 220-

003181, 027 240 7416 ranges, security lights,

7154

027 561 4629 jflattery@xtra.co.nz quick response, efficient LANDSCAPING

service, free quotes, Paving, Lawns, Irrigation,

Trades & Services

city -wide. No call out Decking, Fencing.

fee. M/S, 8-5. Call Pat Kanga & small digger

Barrett 03 359 2087/ 027 services. Check out Squire

YOU COULD

7331384.

Landscaping on facebook.

fENCING , DECKS & FREE QUOTES. Ph

HOME RENO'S Arthur 347-8796, 027

All types of fencing. 220-7014 Edwin 027 220-

BE HERE

decking & reno's. Free 7154

quotes. Ph Jim 022 137 LAWNMOWING

1920

You Grow I Mow. Free

fENCING

quotes. Ph / text Chris 021

Quality timber fencing - 252 1801

Let us help take gates & repairs, ph Ryan LAWNMOWING

027 951 8892

GARDENING

your business to fURNITURE MOVERS From $10. Weekly,

two men and a good size fortnightly, monthly.

new heights

truck $157 per hour (incl) Excellent, reliable service.

GST Call Gerard 027 668 Ph Todd 342 4056 or 021

Advertise your business in our

3636 movemen.co.nz 088 91481

Trades and Services column.

GARDENING

LAWN MOWING

For assistance contact Vicky

Phone 03 364 7419 or email

Weeding, Lawns, Hedges,

Pruning, Garden Cleanups.

Garden and rental property

tidy ups, hedge trimming.

vicky.sayers@starmedia.kiwi Call Phil The Gardener Call Glen at Bottle Lake

021 661 246 for your free Lawn Mowing. Ph 027

quote.

499 7571

Trades & Services

OVEN CLEANING

Professional cleans

$50.00. Gift Vouchers

avail. Phone 0800 683-

6253 or 027 228-0025

PAINTING

PLASTERING

Free quotes. Int/ext &

roof painting Family run

business, work guaranteed.

Pensioner discounts. Ph

Kerin or Paul 022 191

7877 or 379-1281. Website

www.swedekiwipainting.

co.nz

PAINTING

Indoor / Outdoor, over 30

yrs exp, same day quotes,

ph Steve 021 255 7968

PAINTER QUALIfIED

local professional, Int /

Ext,roofs,wallpaller, call

or text Corban 027 846

5035

PAINTER

50 yrs combined exp.

New, older homes, int ,ext.

Locals working for locals.

We stand by Canterbury.

Ph Wayne 027 274 3541 /

385 4348

PLASTERING (INT)

Experience and

Excellence. Small to

Medium job specialists

in all aspects of Interior

Plastering. Also small

painting jobs. Please call

Tim 022 53809595

PLASTER MASONRY

PAINTING, TILING,

WALLPAPERING

Roofing & Brick

Repairs, Stucco, Fixing,

Stopping, Cracks &

Holes. Small jobs ok.

Property Repairs

. 30 yrs exp . Gary

3428950 / 021 529 022

REMOVALS

Small furniture removals,

have own van, can fit

various types of whiteware

appliances, some furn,

bedding, boxes etc, honest

& reliable, any area

considered, ph Chch 027

517 7001

RUBBISH REMOVAL

Van & Trailer Rubbish

Removal. Free quotes. Ph

Gary 342-8950, 021 529

022

SHRUBS & TREES

Trimming or Removal.

Hedges cut. 25 yrs exp. Ph

Alister ABT Tree Services

359 3090

SPOUTING CLEANING

Spouting Unblocked,

Cleaned Out and Flushed

Out. Call Trevor 332 8949

or 021 043 2034

SPOUTING CLEANING

SPECIALIST

15 years experience.

Hundreds of happy

customers. Ring or text Jo

021 164 0365

SPOUTING

Select Spouting

The PVC specialist.

Repairs & replacement. Ph

022 197 2351

TREE SERVICES

Free quotes 20+ yrs exp.

Tree, hedge or shrub

- reduction, shaped or

removed. Ph/text Paul

The Branch Manager

0274314720

WATERBLASTING

Housewash, Drives, Paths,

Decks, Moss kills, Gutter

cleans. Ph 020 410 67205

WINDOW CLEANING

Average 3 brm house

inside or out from $40.

Both from $70 Phone

Trevor 344-2170

Trades & Services

WINDOW CLEANING

Brown & White Ltd.

Family owned since 2001.

Ph Paul 027 229 3534

House & Garden

Property services Ltd

Tree & hedge

trimming

& removal

Stump Grinding

CALL us 021 405 277

Situations Vacant

STORE

MANAGER

Suitable candidate should have work

experience that includes at least up

to 4 years work experience within

the retail liquor industry and up

to 4 years more proven leadership

/ supervisory or management

experience.

Should hold qualification in

Business. Must hold a LCQ and

Managers Liquor Certificate. Must

be prepared to work weekends and/

or public holidays.

Applicants may be subjected to a

drug test and to produce a NZ Police

Clearance.

Email CV to murari.agwl@gmail.com

Situations Vacant

PART TIME RETAIL

PERSON. Immediate

start, must be honest and

have own transport. Ph

027 223 0948

Situations Vacant

DRIVETECH LTD

"TRAINING TOMORROWS DRIVERS TODAY"

HEAVY TRAFFIC

Class 2, 3, 4 & 5 Vehicle recovery, Wheels,

tracks, rollers & Dangerous Goods.

Logbook & Load Security training

FOrKLIFt enDOrsement (F & OsH)

FOrKLIFt (attaCHments) u/stD

Interest Free tIme Payments

(Terms and conditions apply)

CAR DRIVING LESSONS

• Pre employment assessments

• H&s Driver assessments

• advanced Driver training

Courses in Christchurch, Invercargill, Cromwell

& mosgiel daily. Other areas by arrangement.

8 Jipcho Road, Wigram, Christchurch

FREEPHONE 0508 2 DRIVE (37483) or 03 348 8481

info@drivetech.co.nz / www.drivetech.co.nz

Situations Wanted -

Jobs Wanted

DRIVER Exp Full or part

time. Licences 1-2-4-P-W-

R-F. Any type of work

considered. Phone 027

333 6684

Situations Vacant

electrician

Situations Wanted -

Jobs Wanted

R-F. Any type of work

DRIVER Exp Full or part

time. Licences 1-2-4-P-Wconsidered.

Phone 027

333 6684

Who we are

Allied Press Limited employs over 450 people on a permanent

basis across its 15 sites in the South Island. We operate across

multiple media platforms (print, online, digital) delivering news,

information and entertainment through our various regional

and city publications, including printing and publishing of

newspapers from our print centre in Dunedin and a commercial

print facility in Alexandra.

The role

Reporting to the Operations Manager, the main purpose of

the position is to ensure smooth running of our newspaper,

commercial publication and facility maintenance.

Some of the key accountabilities include:

• Production remains uninterrupted.

• Production equipment availability is maximised.

• Preventative maintenance is prioritised to ensure minimal

downtime.

The business has just invested in a major upgrade to the

electrical/electronic systems on the printing press, scheduled to

commence in the New Year. This presents the ideal opportunity

to learn from the installation and commissioning engineers to

enable the successful candidate to hit the ground running.

Your skills and experience

We are looking for a registered Electrician ideally from an

Industrial background holding a current practising licence. The

ideal candidate would be competent and confident in using

computers and experienced in PLC's, Analogue/Digital control

and AC/DC motor drive systems. Although not essential,

knowledge of Goss Press and Ferag mailroom will be a bonus.

Further details

This is a full-time permanent position working the day shift from

Monday to Friday, with rostered 'On call'.

As well as a competitive salary, we offer you a great team

environment, minimal commute time, being based within

Dunedin city, professional development opportunities, job

security and opportunity to grow. Training and support will be

provided for the successful applicant.

If you think this role is for you, please apply by way of CV and

a covering letter. Informal inquiries about the role are welcome

and should be directed to raja.chakrabarti@alliedpress.co.nz

A copy of the position description can be requested from HR

at recruitment@alliedpress.co.nz

Applications will close on Thursday 13 February 2020.

All applications will be treated in the strictest confidence.

Please note that you must have the right to work in

New Zealand to apply for this role.

Disclaimer: Allied Press does not accept unsolicited agency

résumés. Allied Press is not responsible for any fees related to

unsolicited résumés.

2245370
---
32 The Star Thursday January 30 2020

The Star Classifieds

You're Invited!

St Martins Community Centre

122 Wilsons Road

Monday February 3rd, 11am

You are invited to a presentation

about FUNERALS, meet the 'Funeral

Director' on Monday February 3rd

Between 11:00am and 12:30pm.

NO matter what your questions!

Bring them along…

Questions to Answer:

• Funeral Arranging and Costs

• Pre Arranging

• Pre Paying

• Cremation verses Burial

• Wills and Probate

Morning Tea provided.

Please contact us to register your

interest on either email or by phone.

Email: gbs@simplicity.co.nz

Mark Glanville FDNZ cert

Supported by Jane Yee, Lawyer

Allen and YEE Lawyers

Corner of Gasson & 58 Coleridge Streets, Sydenham

Whatever your needs, we will care for you with care, compassion & excellent advice

We are a member of the FDANZ

Tuition

COMPUTER LESSONS

avail for computer, IPad,

or Mobile. Please contact

Jobee 027 290 9246 www.

computertutor.nz

Public Notices

Public Notices

Public Notices

HOUSE & GARAGE

Cleanout. I'll pick up for

free. Ph 022 510 5420.

Recycling Man. Charity

for Chch.

Canterbury wide,

we're part of your community.

Providing 24 Hour Care, 7 days

03 379 0196

www.simplicity.co.nz

Public Notices

HOUSE & GARAGE

Cleanout. I'll pick up for

free. Ph 022 510 5420.

Recycling Man. Charity

for Chch.

• Phone our local team 03 379 1100 • Email star.class@starmedia.kiwi

Wanted To Buy

WANTED

Removeable

Buildings

Sleepouts galore

11 Brixton Street, Hornby

349 9633

AAA Buying goods

quality furniture, beds,

stoves, washing machines,

fridge freezers. Same day

service. Selwyn Dealers.

Phone 980 5812 or 027

313 8156

A+ About to move? Books,

china, coins, medals,

furniture, furs, jewellery,

tools, old photos, estate.

Ph 385-5117

ACADEMY ANTIQUES

Buying estates, antiques,

old china, crystal, art,

Royal Doulton , Royal

Albert etc. Best prices,

free appraisal. Call Rob

349-4229

ALL whiteware wanted.

Same day service, cash

paid for freezes, fridges,

washing machines, ovens.

Also buying furniture &

h/hold effects.Anything

considered. Ph Dave 960-

8440, 027 66 22 116

Wanted To Buy

A RECORDS Wanted

top cash prices paid for

good records. No easy

listening. Please ph 027

624 1138

MILITARIA Any

country, firearms,

uniforms, badges, medals,

memoribilia, WW2 or

earlier ph 338-9931

TOOLS, Garden garage,

saw benches, Lathes. Cash

buyer Phone 355-2045

Entertainment

STAMP AND

POSTCARD FAIR

The Philatelic Centre

67 Mandeville Street,

Riccarton

Saturday 1st February

9am-12pm

Sellers tables available

Phone 027 6354 957

Star

Public Notice Public Notice Public Notice

Crossword Solutions

PROHIBITED FIRE

SEASON

Fire and Emergency New Zealand declares

a prohibited fire season, from midnight,

Friday the 24th January 2020 in the

following areas(s):

• All land covered by the Hurunui,

Waimakariri, Selwyn and Christchurch

counciles

See www.checkitsalright.nz for types of

fire which have been authorised as not

being fires in open air and do not need a

permit.

Any fire permits issued during a restricted

fire season are suspended from the start

of the prohibited fire season.

Bruce Janes

Principal Rural Fire Officer

North Canterbury

Dave Stackhouse

Area Commander

Christchurch Metro

Dave Berry

Area Commander

Canterbury

To check the season status for your

location please visit

www.checkitsalright.nz

or call 0800 658 628.

FIREANDEMERGENCY.NZ

Permitted Temporary Depots and Storage Facilities

Under Clause 8(3)(a) of the Canterbury Earthquake (Resource Management Act Permitted Activities) Order 2011

Despite anything to the contrary in the Christchurch City Plan the activities listed below are permitted activities in the specified locations if they comply

with the prescribed standards:

1. ACTIVITY: Stockpiling of roading materials

2. ACTIVITY: Temporary Storage Depot - for the storage of plant/

LOCATION: 230 Pages Road

equipment associated with road repair works

APPLICANT: Christchurch City Council

LOCATION: 76A Warden Street, Richmond

REFERENCE NO: RMA/2018/3037

APPLICANT: Barry Templeton

STANDARDS:

1. The activity must proceed in general accordance with the information

submitted to the Council and collated in the Approved Consent

Documentation at reference 19/1002607 (54 pages).

REFERENCE NO: RMA/2019/2993

STANDARDS:

1. The activity must proceed in general accordance with the information

submitted to the Council on 20 December 2019.

2. No new materials shall be brought to the site.

2. No work, other than dust control, shall be undertaken on Sundays, Public

Holidays or outside the hours of 7.00am to 6.00pm Monday to Saturday,

3. The stockpiles will be removed from the site by 20/02/2020 unless

without the Council's prior consent.

an alternative date has been agreed with the Unit Manager Resource

3. The consent holder must notify Christchurch City Council (email to

Consents (via rcmon@ccc.govt.nz).

rcmon@ccc.govt.nz) the name and contact details of the site supervisor,

4. The activity must not create any significant adverse effects (relating, but

no less than three working days prior to site occupation.

not limited to, noise, dust, mud, light spill, odour, traffic generation, refuse

4. A copy of the letter notifying local residents about this project shall

disposal, animal control and visual amenity) that will, in the opinion

include the name and contact phone number of the site supervisor. A

of a Council Compliance Officer or Environmental Health Officer, cause

copy of this letter is to be emailed to rcmon@ccc.govt.nz

nuisance for occupiers of surrounding sites. Note: If any significant adverse

5. The consent holder must keep a record of all complaints received including

effects do arise, then the Council can impose additional requirements or key details (date and time of complaint, type of activity, outcomes).

conditions to avoid, remedy or mitigate those adverse effects.

5. The Council shall be notified of the start of earthworks at least 10 working

days prior to the earthworks commencing on the site. The notification

shall be emailed to rcmon@ccc.govt.nz and shall include the following:

6. Any change in ground levels shall not cause a ponding or drainage

nuisance to neighbouring properties, nor affect the stability of the ground

or fences of neighbouring properties.

7. At the completion of the works any public road(s), footpath, landscaped

• Contact details of the project manager overseeing the works;

areas or service structures that have been affected/damaged by

• Contact details of the contaminated land specialist (i.e. SQEP) who

will undertake additional testing;

contractor(s), consent holder or by vehicles and machinery used

in relation to the works, shall be reinstated to the relevant Council

• A copy of the site management plan.

Construction Standard Specification (CSS) at the expense of the consent

6. All contaminated soils removed from the site will not be suitable to be disposed

of at a cleanfill facility and must be disposed of at a facility whose waste

acceptance criteria permit the disposal. Alternative disposal is only to occur

where a suitably qualified and experienced contaminated land specialist has

holder and to the satisfaction of the Council's Subdivision Engineer.

8. The activity must not create any significant adverse effects (relating, but

not limited to, noise, dust, mud, light spill, odour, traffic generation, refuse

disposal, animal control and visual amenity) that will, in the opinion

provided a report to Christchurch City Council to the effect that soils being

of a Council Compliance Officer or Environmental Health Officer, cause

nuisance for occupiers of surrounding sites. Note: If any significant adverse

disposed of are not contaminated and that report has been accepted by the

effects do arise, then the Council can impose additional requirements or

Council's Environmental Health team (via rcmon@ccc.govt.nz).

conditions to avoid, remedy or mitigate those adverse effects.

7. In the event of contamination discovery e.g. visible staining, odours and/

or other conditions that indicate soil contamination, then work must

cease until a Suitably Qualified and Experienced Practitioner (SQEP) has

assessed the matter and advised of the appropriate remediation and/or

disposal options for these soils. The discovery shall be notified to Council

(rcmon@ccc.govt.nz). Any remedial or management measures must be

approved by the Christchurch City Council.

8. Evidence of waste disposal such as weighbridge receipt should be

submitted to the Christchurch City Council within three months of

completion of works. Alternatively, the locations (street address/GPS

locations) where the materials have been taken, the corresponding

resource consents (if applicable), soil test results and volumes can be

provided. The documentation shall be included in the final site report.

The general Standards for Permitted Temporary Accommodation and Temporary

Depots and Storage Facilities can be viewed on the Temporary Accommodation

page of the Council's website at www.ccc.govt.nz/tempaccomm.

Any temporary activity established under these provisions shall not create or

give rise to any existing use right in respect of any land, activity, or structure

(refer clause 5(3) of the Canterbury Earthquake (Resource Management Act

Permitted Activities) Order 2011).

If you have any questions or would like more information about the

activities listed above please phone 941 8999 and ask to speak to

the Duty Planner.

John Higgins

Resource Consents Manager
---
christchurch

GIG GUIDE

Thursday 30 Jan - Wednesday 5 Feb 2020

To add a listing, contact

Jo Fuller 03 364 7425 or

027 458 8590

jo.fuller@starmedia.kiwi

www.star.kiwi/whatson

'Famous for their roasts!'

RESTAURANT & CAFÉ

Kid's SPECIAL

Two courses

Seniors SPECIAL

Two courses

$13

We are family friendly. Great Kids menu plus designated play area.

Soup/Roast or

Roast/Dessert

Special available lunch only

Monday - Saturday 12pm - 2.30pm

$22

Thursday January 30 2020 The Star 33

Start your

day with us

We are open from 6.30am

Cooked

breakfasts

$19

Check out our extensive

breakfast menu from

Continental to Cooked

The

RACECOURSE HOTEL

& Motorlodge

118 Racecourse Rd, Sockburn,

Christchurch. Ph 03 342 7150

www.racecoursehotel.co.nz

Singer-songwriter,

Katie Thompson

performs with her

all-star band on the

Archery Lawn in the

Christchurch Botanic Gardens

this Sunday from 3.30pm.

A ROLLING STONE, 579 Colombo

St: Friday 9pm - Mammoth Live. Saturday

7.30pm - Rachel Hair & Ron Jappy (Scottish

Harp & Guitar), ticketed. Sunday 6.30pm -

Clapton, Page, Beck Tribute, ticketed.

Wednesday - Traditional Irish Music Session.

Monday 7pm - Quiz Night. Tuesday 7pm -

Gordie Tentrees (Canada), ticketed.

CASHMERE CLUB, 50 Colombo St:

Thursday 7pm - Cashmere Ukulele Group. All

welcome. Saturday 7.30pm - Mainland Big

Band, $10 entry.

CASSELS BLUE SMOKE, 3 Garlands

Rd: Friday 10pm - You Should Be Dancing,

ticketed.

CHRISTCHURCH CASINO, Victoria

St: Thursday 8pm - Marcel Friday 6pm -

Rusila; 9.15pm - X-Files.

CHRISTCHURCH TOWN HALL,

Kilmore St: Thursday 13 Feb - The

Stranglers with Mi-Sex. Saturday 15 Feb -

Gladys Knight. Sunday 15 Mar - Aldous

Harding. Saturday 28 Mar - Soweto Gospel

Choir. Thursday 16 Apr - Th' Dudes. Sunday

19 Apr- Larkin Poe. Sunday 19 Apr- The Ten

Tenors. Saturday 25 Apr - Patti Smith. Sunday

17 May - Wet Wet Wet. Sunday 24 May - Billy

Bragg. Wednesday 17 Jun - The World of

Musicals. Thursday 30 Jul - Russell Howard.

Friday 27 Nov - James Blunt. Tickets at

Ticketek.

DEEP SOUTH LAZY SUNDAYS,

Archery Lawn, Chrsitchurch

Botanic Gardens: Sunday 3.30pm - Katie

Thompson and all-star band.

GBC, Garden Hotel, 110 Marshland

Rd: Saturday 5.30pm - Vintage Blue. Sat Feb

8 - Vintage Blue. Saturday Feb 22 - Rhonda

Campbell duo. Sat 29 Feb - DnD Duo (Jojo &

Mark).

HORNBY WMC, 17 Carmen Rd,

Hornby: Saturday 7.30pm - John McCabe.

HORNCASTLE ARENA, 155 Jack

Hinton Dr: Saturday Feb 22 - Alice Cooper.

Thur Mar 5 - A-ha & Rick Astley. Sun 3 May

- So Pop feat. The Pussycat Dolls. Wed 9

December - Simple Minds. Tickets at

Ticketek.

RACECOURSE HOTEL, 118

Racecourse Rd, Sockburn: Sunday

6pm - Lance Kiwi Karaoke.

RICHMOND CLUB, 75 London St:

Thursday 7pm - Everlong. Saturday 7pm -

Reboot. Sunday 3pm - Fire & Ice.

SELWYN SOUNDS, Lincoln: Saturday

7 March, 11am - Icehouse; 10cc; Midge Ure

(Ultravox); Zed; The Mockers; Jed Parsons;

Automatic 80's. Tickets at

tickets.selwynsounds.co.nz.

SHERPA KAI, The Commoners (The

British basement), 10 Oxford St,

Lyttelton: Thursday, 7pm - Gaelic Jam

Session.

TEMPS BAR, 21 Goulding St,

Hornby: Friday 8.30pm - Misfitz. Saturday

8.30pm - No Secrets.

THE CRAIC IRISH BAR, 84

Riccarton Rd: Thursday 10pm - Karaoke.

Friday 9.30pm - Elle Duo. Saturday 9.30pm -

Karaoke. Sunday - Free pool. Wednesday

10pm - Karaoke.

THE EMBANKMENT, 181 Ferry Rd:

Thursday 9pm - Titanic (Kevin Emmett, Nick

Buchanan, and Peter K Malthus). Friday

5.30pm - Bobby Lee followed by Open Mic.

Wednesday 9pm - Titanic (Kevin Emmett,

Nick Buchanan, and Peter K Malthus).

THE GOOD HOME, 62 Pegasus

Main St: Saturday 9pm - Allin Drive Band.

THE LOOK OF LOVE, The Piano,

156 Armagh St: Saturday 21st & Saturday

28th March, 2pm & 7.30pm - Join awardwinning

Ali Harper and Christchurch musical

icons Tom Rainey and Harry Harrison as

they weave their way through Burt

Bacharach's extensive collection of hit songs.

Bookings at The Court Theatre 0800 333 100.

THE MILLER BAR, 308 Lincoln Rd,

Addington: Thursday 7pm - Learn to

Rock n Roll. Friday 9.30pm - Misconduct.

Saturday 9.30pm - Reckless Duo. Sunday

1pm - Lance Kiwi. Tuesday 7pm - Quiz

Night.

THE PAPANUI CLUB, 310 Sawyers

Arms Rd: Sunday 3pm - HeadRush Duo.

WOOLSTON CLUB, 43 Hargood St:

Saturday 7.30pm - Double Trouble. Sunday

3pm - Song Book Session with Lisa Tui.

WUNDERBAR, LYTTELTON: Friday

8pm - Max Earnshaw with Run 77 & There's

A Tuesday, ticketed. Saturday 8pm - Kallidad,

ticketed. Tuesday 7.30pm - Open Mic.

IN THE BAR

HAPPY HOUR

5PM - 7PM DAILY

LIVE MUSIC

SATURDAY 5.30PM

Vintage Blue

Bookings Essential PH 386 0088

fb.com/GardenRestaurantBuffet

www.gardenhotel.co.nz

IN THE CAFE

OUR CABINET ITEMS ARE HOMEMADE

CREATED FRESH ON SITE DAILY

Breakfast

AVAILABLE

FROM

9AM

DAILY

COFFEE

HAPPY

H O U R

2PM-4PM

DAILY $3.50

Offer available for a

limited time and includes

tea, hot chocolate

Lunch $12 Specials

MON: ROAST MEAL

TUE: FISH & CHIPS

WED: FISH BURGER

THU: ROAST MEAL

SAT: FISH & CHIPS

AVAILABLE FROM

11.30AM-2PM

FOR A LIMITED TIME

PHONE 385 8880 FIND US ON FACEBOOK fb.com/GBCCHCH

THE GARDEN HOTEL COMPLEX, 110 MARSHLAND RD

www.gardenhotel.co.nz | phone 385 3132
---
34 The Star Thursday January 30 2020

This Week at the

Hornby Club

let's

eat

The Club Café

is open daily for

Lunch & Dinner

Bring the whole family!

CLUBS NEW ZEALAND WARMLY WELCOME MEMBERS,

THEIR GUESTS AND AFFILIATE CLUB MEMBERS.

Check Out These Club Café Dining Specials!

Roast of the Day with veges

or Fish of the Day with

chips & salad

Add a dessert for

just $5

Midday to 2pm Mon, Tue, Wed

John's latest

single carries

a strong

environmental

message

KIWI Country music recording artist,

John McCabe has just released another

single and this one carries a strong

environmental message. It's called

'Aotearoa I Love You' and written about

concerns about our water quality.

Affectionately known as the Kiwi with

the "golden voice", John McCabe was

born and raised in Oamaru and has been

performing since he was 12 years old.

John departed for Canada in 1981 and

quickly gained recognition touring with

his live band through several states of the

USA and Canada.

Returning to New Zealand some 13

years ago, John has been in demand,

performing regularly at Clubs, events and

private functions.

He has an impressive catalogue of

material with several more original

releases pending. Many of his songs have

been recorded in Nashville using

some of the very best record

producers and studios.

Under his own recording label,

Airedale Records Limited, his

songs are released in 243 different

territories world-wide which

includes radio station and music

download sites.

John appears at the Hornby

Club this Saturday night from

7.30pm.

What's On @ Woolston

UPCOMING EVENTS

www.hornbywmc.co.nz/events

SATURDAY

7.30PM

IN THE

SPORTS HALL

JOHN

McCABE

HWMC | ph 03 349 9026 | 17 Carmen Rd, Hornby

www.hornbywmc.co.nz | Members, guests & affiliates welcome

THIS WEEKEND

7PM FRIDAY

BUSH FIRE QUIZ

FUNDRAISER

Rego 6.30pm. Starts 7pm.

7.30PM SATURDAY

Double Trouble

3PM SUNDAY

Song Book Session

SING ALONG WITH LISA TUI

43 Hargood St, Woolston. Ph 03 389 7039

www.woolstonclub.co.nz

Follow us on Facebook

www.facebook.com/WoostonclubInc

RESTAURANT OPEN

Wednesday - Sunday from 5pm

Woolston Weeklies

TUE: STEAK, EGG, CHIPS

& PINT FOR $20

WED: HALF PRICE RIBS $10

THU: 2-4-1 PIZZA

FRI: KIDS DINE FREE

FRI:

1/2 CHOOK & CHIPS,

SLAW & GRAVY for $28

WEDS-SUN: BUFFET ROAST

TWO COURSE $20

HOU S I E

TUESDAY 12.45PM

THURSDAY 7.30PM

FRIDAY 7.30PM

SATURDAY 12.30PM
---
Thursday January 30 2020 The Star 35

What s On

AT THE

CLUBS NEW ZEALAND WARMLY

WELCOME MEMBERS, THEIR GUESTS

AND AFFILIATE CLUB MEMBERS.

FOR MORE INFORMATION, CONTACT A

CLUB WITHIN THIS SECTION.

Entertainment News & Advertising

Jo Fuller

Phone 03 364 7425 or 027 458 8590

jo.fuller@starmedia.kiwi

www.star.kiwi/whatson

Cashmere Club

50 Colombo Street

cashmereclub.co.nz

THURSDAY & FRIDAY

HA PPY

HOUR 5pm-6pm

THURSDAY

6.15pm

REDRAW

6.15PM FRIDAY

Ph 03 332 0092

E: cashmere@

cashmereclub.co.nz

MEMBERS'

CASH

DRAW

IF NOT WON. $1800

THURSDAY from 7pm

CASHMERE LOUNGE - ALL WELCOME

FUN

H O U S I

FRIDAYS from 7pm

E

SWING, WALTZ

ROCK N ROLL, TANGO

JAZZ, LATIN

AND SO MUCH MORE.

PUBLIC EVENT AND

BAR OPEN TO ALL 18+

THIS SATURDAY

7.30PM, $10 ENTRY

CASHMERE CLUB

50 Colombo St, phone 03 332 0092

$4 PER CARD. 35 GAMES. CASH PRIZES.

RAFFLES. ALL WELCOME.

IT'S ON AGAIN

SUPER RUGBY BACK

LIVE & KICKING ON OUR BIG SCREENS

FRIDAY 7.35PM: BLUES v CHIEFS

followed by BRUMBIES v REDS

SATURDAY 7.35PM:

CRUSADERS v WARATAHS

RIVERVIEW RESTAURANT

OPEN TUESDAY - SATURDAY

LUNCH FROM 11.30AM. DINNER FROM 5.30PM

NEW MENU COMING SOON

SUNDAY

KIDSEAT *FREE

*under 12 when accompanied by an adult dining

BOOKINGS RECOMMENDED

WHAT'S ON

AT THE

RICHMOND

CLUB

EVERLONG

FRIDAY

31

7-11PM

REBOOT

SATURDAY

01

7-11PM

FIRE & ICE

SUNDAY

02

3-6PM

• Open daily from 11am

• BISTRO Lunch/Dinner

• TAB & Gaming

• Courtesy Van

75 London St

PH 03 389 5778

www.rwmc.co.nz
---
36 The Star Thursday January 30 2020

Love a bargain?

WE'VE EXTENDED OUR ANNIVERSARY

Exclusions apply.

EXTENDED

NOW ENDS

5.2.20.

Grab a new year look for less!

Aruba

Boxed Queen Mattress

WAS $599

INDUSTRIAL BEDROOM

Queen Bed Frame

WAS $999

NOW $

799

Charlie 2 Seater

WAS $1099

NOW

$

499

2 Drawer Bedside

WAS $299

NOW $

279

NOW

$

899

PARIS DINING

Dining Table – W190

WAS $999

NOW

$

799

Dining Chair

WAS $170

NOW

$

150

Miami 9 Piece Outdoor

Dining Set

WAS $3335

NOW $

2831

SAVE

$500

C ottage country charm...

the look?

Get it with finance.

ANNIVERSARY STOREWIDE SALE EXTENDED! NOW ENDS 5.2.20.

Shop

Online

Nationwide

Delivery

Finance

Options

Cnr Blenheim & Curletts Rds, Christchurch

Ph: 0800 TARGET (0800 827438)

targetfurniture.co.nz

Offers and product prices advertised here expire 5/2/20.

Sale excludes Manchester and Accessories.
---
Thursday January 30 2020 The Star 37

THE

SALE

TEN DAYS OF SAVINGS

STARTS FRIDAY 31 JANUARY 9.30AM

31 JANUARY – 9 FEBRUARY

WOMENSWEAR | LINGERIE | WOMENS SHOES

ATRIUM | CONTEMPORARY LOUNGE | ACCESSORIES

COSMETICS | CHILDRENSWEAR | MENSWEAR

MENS SHOES | MEN'S GIFTING | BED & BATH

LUGGAGE | PANTRY | HOME & LIVING | COOK & DINE

POTTERY BARN | POTTERY BARN KIDS | WEST ELM

OFFERS INSTORE ONLY
---
38 The Star Thursday January 30 2020

SHOP THE SALE FOR 10 DAYS OF SAVINGS

50%-70% OFF

SELECTED

WOMENSWEAR

INCLUDING

70% OFF SELECTED

PAULA RYAN, GERRY WEBER,

ADINI AND EMRECO.

50% OFF SELECTED

VASSALLI, CAROLINE SILLS,

SEASALT, SILLS, LORNA JANE,

JOULES AND VERGE.

50% OFF

SELECTED

CONTEMPORARY

LOUNGE

INCLUDING

HUFFER, TED BAKER,

SUPERDRY, KAREN WALKER,

TWENTY SEVEN NAMES,

TOMMY HILFIGER, G-STAR

AND JULIETTE HOGAN.

JEWELLERY

50% OFF SELECTED

HANDBAGS

50% OFF SELECTED

LINGERIE

50% OFF SELECTED

ATRIUM

50% OFF ALL

CALVIN KLEIN, ELK,

THOMAS SABO, AMBER SCEATS,

AND DYRBERG KERN.

RADLEY, ELK, SANCIA, TED BAKER,

BRIARWOOD AND LULU GUINNESS.

BERLEI, WACOAL, SIMONE PERELE,

CALVIN KLEIN, LONELY, TRIUMPH

AND JOCKEY.

TRELISE COOPER AND COOPER

50% OFF SELECTED

MAGGIE MARILYN, GEORGIA ALICE,

ACLER, VIKTORIA AND WOODS

MAISON AND REBECCA TAYLOR.

CHILDRENSWEAR AND TOYS

50% OFF SELECTED

WOMENS SHOES

50% OFF SELECTED

ECCO, KATHRYN WILSON,

HOGL, SUPERGA, TED BAKER,

ARA, ADIDAS ORIGINALS

AND TOMMY HILFIGER.

NATURE BABY, HUXBABY,

JOULES, ROCK YOUR BABY,

FOX & FINCH, MUNSTER,

RADICOOL DUDE, BEBE,

WILSON AND FRENCHIE, MILKY,

TOMMY HILFIGER, BOBUX,

HUGO BOSS, TIMBERLAND

AND LITTLE MARC JACOBS.

COSMETICS

FROM 40% OFF

SELECTED

THE AROMATHERAPY CO.

FRAGRANCES

40% OFF SELECTED

DOLCE AND GABBANA, BVLGARI,

ELIE SAAB, ISSEY MIYAKE,

JEAN PAUL GAULTIER AND

THIERRY MUGLER ANGEL.
---
Thursday January 30 2020 The Star 39

SHOP THE SALE FOR 10 DAYS OF SAVINGS

HOME AND LIVING

50% OFF SELECTED

NEW ZEALAND GIFTS, STATIONERY,

CARDS, NAPKINS, VANILLA FLY,

COZY LIVING, BURGON AND BALL,

LIGHT AND LIVING, MADRAS,

LINDEN LEAVES AND MORE.

70% OFF SELECTED

CITTA

50% OFF

SELECTED

BED AND BATH

TOWELS, SHEETS, DUVET INNERS,

PILLOWS, CUSHIONS AND THROWS.

INCLUDING

SHERIDAN, BAKSANA, MM LINEN,

FAIRYDOWN AND SENECA.

25% OFF ALL

CALVIN KLEIN BEDDING

AND TOWELS.

COOK AND DINE

30% OFF SELECTED

KITCHEN AID.

40% OFF SELECTED

LE CREUSET AND STAUB.

UP TO 50%

OFF SELECTED

COOKWARE INCLUDING

MAXWELL WILLIAMS CASHMERE

RANGE, SELECTED GLASSWARE,

WMF, EATWELL BAKEWARE AND

THE BALLANTYNES RANGE.

PANTRY

50% OFF SELECTED

CONFECTIONERY

40% OFF SELECTED

TEA

25% OFF SELECTED

CHAMPAGNE AND BUBBLES

50%

OFF

SELECTED

POTTERY BARN,

POTTERY BARN KIDS

AND WEST ELM.

LUGGAGE

50% OFF SELECTED

SAMSONITE, PIERRE CARDIN,

DELSEY, LULU GUINNESS,

AND TED BAKER.

50% OFF

SELECTED

MENSWEAR

INCLUDING

R.M. WILLIAMS, GANT,

TOMMY HILFIGER,

POLO RALPH LAUREN,

GAZMAN, BARBOUR,

JOE BLACK, JOULES,

CALVIN KLEIN JEWELLERY

AND MANY MORE.

MENS SHOES

50% OFF SELECTED

INCLUDING

R.M. WILLIAMS, ECCO, FLORSHEIM,

RIEKER, JULIUS MARLOW,

NEW BALANCE AND MANY MORE.
---
40 The Star Thursday January 30 2020

EXTENDED WEEKEND OPENING HOURS DURING THE SALE

FRIDAY 31 JANUARY . ..............9.30AM – 8PM

SATURDAY 1 FEBRUARY . .............. 9AM – 6PM

NORMAL TRADING HOURS RESUME: SUNDAY 2 FEBRUARY – SUNDAY 9 FEBRUARY: WWW.BALLANTYNES.CO.NZ/OPENING-HOURS

40% OFF

SELECTED

LE CREUSET

70% OFF

SELECTED

PAULA RYAN

50% OFF

SELECTED

JOE BLACK

50% OFF

SELECTED

POTTERY BARN

Instore Only, City Mall, Christchurch. PHONE (03) 379 7400