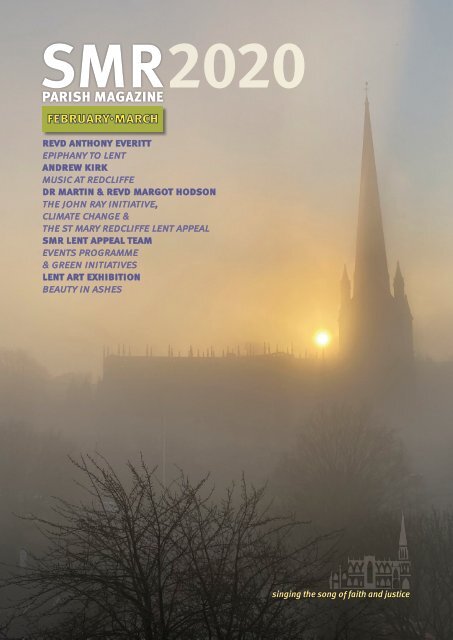 St Mary Redcliffe Parish Magazine February/March 2020
Create successful ePaper yourself
Turn your PDF publications into a flip-book with our unique Google optimized e-Paper software.
SMR

PARISH MAGAZINE2020

february.march

revd anthony everitt

epiphany to lent

andrew kirk

music at redcliffe

dr martin & revd margot hodson

the john ray initiative,

climate change &

the st mary redcliffe lent appeal

smr lent appeal team

events programme

& green initiatives

lent art exhibition

beauty in ashes

1

singing the song of faith and justice
---
St Mary Redcliffe

with Temple, Bristol

& St John the Baptist, Bedminster

VICAR

Revd VICARCanon Dan Tyndall — 0117-231 0067

email: Revd Canon dan.tyndall@stmaryredcliffe.co.uk

Dan Tyndall — 0117-231 0067

ASSOCIATE email: dan.tyndall@stmaryredcliffe.co.uk

VICAR

Revd ASSOCIATE Kat Campion-Spall VICAR — 0117-231 0070

Revd email: Kat kat.campion-spall@stmaryredcliffe.co.uk

Campion-Spall — please note that Revd Campion-Spall is on Extended Ministry

ASSOCIATE Development MINISTER Leave from February to May

Revd ASSOCIATE Anthony MINISTER Everitt

email: Revd Anthony anthony.everitt@stmaryredcliffe.co.uk

Everitt

CURATE email: anthony.everitt@stmaryredcliffe.co.uk

Revd CURATE Aggy Palairet — 0117-231 0066

DIRECTOR OF MUSIC

email: Revd Aggy aggy.palairet@stmaryredcliffe.co.uk

Palairet — 0117-231 0066

Andrew Kirk — 0117-231 0065

ASSOCIATE email: aggy.palairet@stmaryredcliffe.co.uk

CLERGY

andrew.kirk@stmaryredcliffe.co.uk

Revd ASSOCIATE Peter Dill CLERGY

ASSISTANT ORGANISTS

Revd Peter Dill

Claire and Graham Alsop

CHURCH WARDENS

RESEARCH ASSISTANT

Elizabeth Shanahan — 07808 505977

Rhys Williams — 0117-231 0068

eshanahan21@googlemail.com

rhys.williams@stmaryredcliffe.co.uk

Richard Wallace — 0117-923 2219

EDUCATION OFFICER

oldwal_wynnford@btinternet.com

Sarah Yates — 0117-231 0072

head of operational development sarah.yates@stmaryredcliffe.co.uk

Roseanna Wood — 0117-231 0073

FAMILIES & YOUTH MINISTER

roseanna.wood@stmaryredcliffe.co.uk

Becky Macron — 07934 041638

PARISH ADMINISTRATOR

sunday.school@stmaryredcliffe.co.uk

Sarah Purdon — 0117-231 0060

COMMUNITY YOUTH WORKER

sarah.purdon@stmaryredcliffe.co.uk VERGERS David Cousins — 0117-231 0069

david.cousins@stmaryredcliffe.co.uk

COMMUNITY DEVELOPMENT WORKER

Rachel Varley — 0117-231 0071

rachel.varley@stmaryredcliffe.co.uk

Vergers' office — 0117-231 0061

verger@stmaryredcliffe.co.uk

Matthew Buckmaster — Head Verger

matthew.buckmaster@stmaryredcliffe.co.uk

Judith Reading

judith.reading@stmaryredcliffe.co.uk

Paul Thomas

paul.thomas@stmaryredcliffe.co.uk CLEANER

Sally Trivett

THE pariSH offiCE

12 Colston Parade, Redcliffe

Bristol BS1 6RA. Tel: 0117-231 0060

email: parish.office@stmaryredcliffe.co.uk

— all listed on this page may also

be contacted via the parish office

SMR ONLINE

www.stmaryredcliffe.co.uk

Contents . . .

Vicar's letter

4

The Christian Year: blurring the frontiers— Revd Anthony Everitt 4

At church

6

Soundbites — Andrew Kirk

7

Lent Appeal:

9

A Ray of Hope — Liz Hewitt

9

The John Ray Initiative — Dr Martin & Revd Margot Hodson 11

Lent Appeal initiatives: Eco bricks, and more — Liz Hewitt 15

Children's Church — Becky Macron

21

Christmas Sing-along — Rosemary Kingsford

24

Community

26

Redcliffe Christmas Lunch — Rachel Varley, Jenny Martin 26

Treefest — Sue Hartley

28

Carols for Christian Aid — Auriol Britton

30

Period Poverty — Sarah Purdon

31

Winter Night Shelter cards — Marcus & Jane Ashman

32

Diary & listings

34

February & March diary

34

Editor's Note

37

Seasonal colours

37

Prayers

38

Prayers for Epiphany and Lent

38

In the February-March issue: It may seem a while back now, but

Happy New Year to all our readers! Thank you for your contributions

to this edition, the first of the new decade, and we look forward to

an excellent year at the magazine. A note to say that editions will

be bi-monthly from now on (in the next edition look out for a note

of the way this will pan out); in the meantime I hope you will be

inspired and informed by the Lent Appeal articles in these pages

and by words of the Vicar's Letter. — EV

2 3
---
Vicar's letter

THE LECTIONARY IS THE CYCLE OF

READINGS set for day-by-day use

throughout the year. It takes account

of the various seasons of the Christian

calendar and, over three years, strives to

arrive at a cohesive pattern of reading much

of the Bible over the lectionary's span.

FEBRUARY–MARCH

LIVING THE CHRISTIAN YEAR

— REVD ANTHONY EVERITT

ASSOCIATE MINISTER

The lectionary splits the Christian year into

three blocks. The first looks forward to, and

is focussed on, Jesus' incarnation. Therefore it

starts with Advent and runs through Christmas and the season of Epiphany.

The second is that of the Crucifixion and Resurrection. Starting a little

before Ash Wednesday, it continues through Lent, Holy Week, and Easter,

ending just after Pentecost. The final block is known as "Ordinary Time"

and is split into a couple of periods. The first is short and goes from

Candlemas (2nd February) to the second Sunday before Lent. The second

is much longer and runs from the day after Pentecost to just before Advent

Sunday. The very name "Ordinary Time" reminds us that God is God of all

time and is found not only in the big festivals and dramatic seasons of the

church but also in the everyday, the usual, the ordinary run of life.

February is the one month when we encounter all three sections of the

lectionary. Candlemas ends the sharp focus on the Incarnation and

Revelation; the second Sunday before Lent falls in February (16th February

this year) and so our gaze turns towards the preparation of Lent, the

agony of the Cross, and the joy of the Resurrection. In between the two is

the first period of "ordinary time". In a way, then, the month reminds us

that it does not do to compartmentalise the Christian year too much.

The blocks within the lectionary are not firmly demarcated by hard borders

but lightly defined by permeable frontiers. The Incarnation does not wholly

make sense without the Cross and Resurrection neither of which, of course,

could have happened without the Incarnation. Meantime our ordinary lives

can only be made complete in the context of the truth of God incarnate,

the agony of the Cross and the joy of the Resurrection.

The apparent blurring of the frontiers' edges is seen Sunday by Sunday

when in the Eucharist we ordinary people remember Jesus on the Cross,

celebrate His Resurrection and declare that He is God incarnate, redeemer

for all. In February and March we turn our faces towards Jerusalem,

follow Jesus along the way of His ministry and teaching, and prepare for

the rigours of Holy Week. As we do so let us remember that the life, death

and resurrection of Christ together are God's gift to us, through which we

encounter God's love, and in the light of which we are called to live.

— Revd Anthony Everitt

Associate Minister

A message from Kat, our Associate Vicar, on the

eve of her Extended Ministry Development Leave

(EMDL), who writes:

"My development leave begins today and later in the

week the whole Campion-Spall family will set off for New

Zealand where we will immerse ourselves in a different

context and culture, including for me, a different church

culture as I base myself at Auckland Cathedral and St

John's Theological College. Thank you so much to everyone who has wished us well

on our adventure, but particular thanks to those who have made it possible for me

to go by taking on extra work. We will miss you, and will see you in May!" — Kat.

Cover image: "St Mary Redcliffe at 7am on a Winter Morning"; photo ©

John Davies. Thank you to John Davies for this wonderfully evocative

photograph, taken from the offices of Smith & Williamson, that seems

to resonate with the work of the church at the start of the new decade.

4 5
---
A

t

church | soundbites music at redcliffe

THE OXFORD CONNECTIONS

CONNECTIONS AND CONCERTS

— ANDREW KIRK, DIRECTOR OF MUSIC

Congratulations to Philip Burnett on the award of his PhD in music from

Bristol University. He was a member of our choir for over five years

before moving to Oxford, where he is a librarian at University College,

Oxford, along with duties as organist at St Barnabas, Jericho.

Also at University College is former chorister Barney Pite reading Classics,

and at Corpus Christi, Constance Pite, reading Classics and English,

both of whom sang at our Christmas services at Redcliffe during their

university vacation, along with Dafydd Alexander, who is now in his

final year at Worcester College, studying Fine Art and singing as a Choral

Scholar in the Chapel Choir.

Simon Hogan, former chorister and Organ Student at SMR, spent last

term as Acting Organist at Christ Church Cathedral. David Bannister,

another former organ scholar, is Director of Music at St John's College

Chapel. It is wonderful to see these young people using their musical

talents in such a way.

FORTHCOMING: CONCERTS AT CHURCH IN MARCH & APRIL

On Friday 13 March there will be a 'Mixtape Concert' (like BBC Radio

Three at 7pm) in church at 7:30pm in aid of the Lent Appeal and Preludes.

A retiring collection will be taken at the end of the concert. As well as

a few items by our choirs and organists, there will be a wide range of

musical items from Bristol Brass Consort, a string quartet, Exultate

Singers, and Carmina (a folk group). Hopefully it will be a concert with

'something for everyone! Please come along!

On Sunday 29 March, our girls choir will be performing John Rutter's

Requiem with organ, oboe, cello and flute, as part of the Music & Readings

for Passion Sunday at 6:30pm. Do come along — it's a really beautiful

work and this will be the first time the choir has performed this piece.

6 7
---
On Wednesday 8 April at 7:30pm, the acclaimed vocal group 'Gesualdo

Six' will be performing a varied concert of sacred and secular pieces

for Holy Week. The founder of the group Owain Park was a chorister

at St Mary Redcliffe and went on to be Organ Scholar of Trinity College

Cambridge. He is now an established composer, with works published

by Novello, as well as being a gifted organist and singer. Tickets for the

concert will be £15 for nave, £10 for side aisles. This event is organised

in conjunction with the Canynges Society, so the proceeds of the concert

will be used for fabric projects at the church.

MANY OF YOU will know that the Colston Hall is currently closed for

a major upgrade and re-fit. We are privileged to be hosting a concert

on Saturday 25 April at 3pm as part of the Colston Hall Contemporary

Organ Music Festival which will feature Ellen Arkbro from Sweden, an

international artist specialising in electronic music and how the different

systems of tuning (meantone and just intonation) can work. I encourage

anyone whose curiosity is aroused to attend to see what happens!

Tickets will be available from the Colston Hall and on the door and further

details will be forthcoming.

Music at a glance:

— Andrew Kirk; Director of Music

Fri 13 March Mixtape Concert | 7:30pm

Sun 29 March Music & Readings for Passion Sunday | 6:30pm

Weds 8 April Gesualdo Six | 7:30pm

Sat 25 April Contemporary Organ Music Festival (series concert) | 3:00pm

Wardens on the Move — a note from the churchwardens:

After Easter you will no longer see the churchwardens in the front pew.

We're moving nearer the back, which is after all the usual place in which

to find wardens' pews. We want to be in a better position to see

anything that might require our attention, but above all to be part of,

rather than detached from, the congregation we serve (as at present we

feel). — Elizabeth and Richard

at church | Lent charity appeal

LENTAPPEAL

A RAY OF HOPE

THE SMR ECO TEAM was formed last year

following the Diocese of Bristol's decision in

November to declare a Climate Emergency and

its aim of being the first diocese in the UK to commit to reach net

zero carbon emissions by 2030. Bishop Viv said:

"Care for God's creation is key to our Christian faith. Climate

change hits our poorest global neighbours first and worst,

exacerbating migration, conflict over resources and the spread

of disease. By declaring a Climate Emergency, our practical

action and collective voice will send a strong message. We

must all act now." — Rt Revd Vivienne Faull, Bishop of Bristol

OUR AIMS, VISION

AND THE JOHN RAY INITIATIVE

— LIZ HEWITT |SMR ECO TEAM

IN VIEW OF THIS we have chosen the John Ray Initiative (JRI) as our charity

for this year's Lent Appeal — A Ray of Hope. Our aim is to help us all to be

more thoughtful about the way we lead our lives to help look after God's

creation better than we have done so far. The human race has harmed our

planet in many ways but there are lots of small steps we can take to correct

this damage. JRI will be helping us bring together scientific and Christian

understandings about the environment and how to care for it.

Many of you will already be recycling and are more environmentally aware,

but we hope to show you all something new that you can do to help reduce

further harm to God's creation. Over the page see our Events programme.

In the pages that follow meet JRI, and check out our practical Lent Appeal

opportunities, 'how-to' sessions, tips and more...

8 9
---
Here is the Lent Appeal Events programme:

Don't Ditch it Stitch it

10am–12 noon each Friday from 7 February and during Lent

Mending Café during our Coffee Morning. An opportunity to bring your clothing

and other textiles and to work together on repairs.

at church | Lent appeal

LENT APPEAL LAUNCH: 'Pancake for the Planet'

Shrove Tuesday 25 February 6–7:30pm

Pancakes, pledges and a presentation from our partnering charity, the

John Ray Initiative | Eco brick-building demonstrations and more.

Art Exhibition: Beauty in ashes

25 February–14 April "Artists respond to climate change in work exploring

creation, nature and the human touch amid declarations of climate emergency."

Opening night 25 February; works on show through Lent until after Easter.

Afternoon Cream Tea

15 March 2–4pm Come for a relaxing afternoon at SMR, with scones homemade

in the local community, fun and games with coins and another chance to

make Eco Bricks!

Mending café at Faithspace Community Centre

Don't Ditch it, Stitch it workshop in the local community. Bring your damaged

clothes and find out how to make things last longer from our team of experts.

ECO FAIR

28 March 12 noon-4pm Lots to keep you occupied at SMR's Eco Fair, including

a bicycle repair shop, a clothes swap, a mending café, children's activities and a

whole range of stalls from a variety of organisations. There'll be refreshments, a

raffle and a talk from our Lent Charity JRI at 2pm.

Children's Church Fundraising: for exciting activities for children and

families please contact Becky Macron, our Chilren's & Youth Minster.

— we hope you find it inspiring

Liz Hewitt; SMR Eco Team

THE SMR ECO TEAM looks forward to working with you all in developing

and implementing changes in the ways we care for our planet. The

Team includes: Aggy, Angela, Becky, David, Jackie, Liz, Margaret, Peter, and

Roma, with Eleanor at the magazine — for more on the work of the Team

please contact Revd Aggy Palairet at:

Tel: 0117-231 0066 | Email: aggy.palairet@stmaryredcliffe.co.uk

The John Ray Initiative

St Mary Redcliffe Lent Appeal Charity 2020

THE ENVIRONMENT is now a topic of major public concern with

items in the news about climate change, biodiversity loss or

plastic almost every day.

We only have to look at the recent wildfires in Australia to know that we have very

serious problems. School children are going on strike, Extinction Rebellion are

protesting, and governments at all levels are declaring climate emergencies. Bristol

was the first diocese to declare a climate emergency. But what should a Christian

response to the environmental crisis look like? How can Christians understand the

issues, and put these together with their faith? What should they do in practice?

The John Ray Initiative (JRI) is a small Christian charity that looks at the interactions

between the environment, science and faith. We were founded in 1998 by Sir John

10 11
---
Houghton and other leading scientists, and our office is in Gloucester. The main

focus of JRI is education, and we specialise in publications, conferences and courses.

Recent conferences have looked at the Sustainable Development Goals, transport,

re-wilding and environmental theology. We publish a series of briefing papers, and

the JRI blog has frequent shorter articles on a considerable range of topics. Our staff

and associates are frequent contributors to other publications. We have regular

conferences ourselves and provide speakers for other organisations and churches.

— Izzy, a young graduate from Lyme Regis, found her studies helped her lead her

church towards an Eco Church award and gave her contacts and confidence to

speak at churches across the south west.

In collaboration with A Rocha UK we run the distance learning course, Christian

Rural and Environmental Studies (CRES www.cres.org.uk). This two year course leads

to a certificate or a diploma. It covers subjects ranging from environmental

theology and ethics to climate change and biodiversity loss. Regular meetings are

held at Ripon College, Cuddesdon near Oxford, and the College also validates the

course. A few examples of the students we have helped:

— Kailean, from India, is a community worker with A Rocha UK in Southall,

London. He says "I finally found a pathway where I could marry up my secular

degree and my Christian faith."

— Ji Young is from South Korea and started the CRES course alongside her

doctoral program in climate change. She writes "The CRES course inspired and

challenged me to think about how to integrate my knowledge with faith and

real life."

We currently have students from all around the UK and are gradually expanding

overseas. Our aim is to equip Christians to help their churches and communities

care for the environment as part of their faith.

Although JRI is small it does have a wide reach and provides the educational arm of

the growing Christian environmental movement. We are very grateful to St Mary

Redcliffe for making us their Lent Appeal charity for2020 and we look forward to

meeting you soon.

— Dr Martin and Revd Margot Hodson

The John Ray Initiative

Dr Martin Hodson is Operations Director at the John Ray Initiative.

Revd Margot Hodson is Director of Theology and Education at JRI. Revd Hodson

is also Associate Minister at the Shill Valley and Broadshire Benefice.

The John Ray Institute: for more details about the activities of JRI please visit

their website at www.jri.org.uk

[Photos provided courtesy of JRI]

12 13
---
Beauty in ashes

Tuesday 25 February to Tuesday 14 April 2020

St Mary Redcliffe Church, Bristol BS1 6RA

Artists, climate change and the human touch

ARTISTS respond to the natural

world in an exhibition, during

the season of Lent, of works exploring

creation, nature and the human

touch amid local and national

declarations of climate emergency.

BEAUTY IN ASHES weaves together

something of the to-and-fro between

the glory of the world, our stripping

of its resources, our urgent need to

live within its and our means, and

our unquenchable thirst for beauty.

The human touch pervades the

artists' choices of media and subject

matter — in textiles, drawing, paint,

photography and more.

at church | lent appeal

— ECO BRICKS AND HOW TO MAKE THEM

LIZ HEWITT; LENT ECO TEAM

AN 'ECO BRICK' IS A BUILDING BLOCK

made entirely from unrecyclable plastic.

It is created by filling a plastic bottle with

clean, dry plastic until it is packed so tightly it

resembles a traditional brick and then can be used

as a building block. Plastic doesn't biodegrade,

it photodegrades, meaning that it slowly breaks

down into smaller and smaller pieces. So plastic

is extremely durable, making it ideal as a building

material. Throughout the world Eco bricks are being

used to construct furniture and even buildings,

such as composting toilet blocks, and school

buildings in Guatemala and South Africa. Here in the

UK they are being used, for instance, to construct greenhouses

and children's playgrounds.

What type of plastic to collect for Eco bricks? Any type of plastic can

be used. Plastic that can't be recycled is ideal for Eco bricks — that can't

be scrunched and is firm and crisp to the touch. Examples include biscuit

and sweet wrappers; chocolate trays; greeting card bags; plastic wrapped

around flowers and around clothing (high street and online shopping);

plastic that the council can't recycle (some coloured plastics), and more.

Image: "Nest"; Jenny Purrett; charcoal on paper; 2008 | courtesy of the artist

However... please recycle plastics if possible — much can be, so check with

your local council to find out what they can take. Please note that some

supermarkets recycle used crisp packets and soft, stretchy types of plastic

bag, or any that can be scrunched into a ball or torn by hand — bags used

for fruit, vegetables, bread and so on; carrier bags; bubble wrap; pet food

packets; coffee packets; clingfilm, and so on. Tesco have 5 stores in Bristol

with recycling points, and Sainsburys, Waitrose and Morrisons will recycle

soft, stretchy plastics in in-store boxes — plus a company called TerraCycle*

offers free recycling to communities of many unrecyclable plastics.

14 15

*see overleaf
---
HOW TO MAKE AN ECO BRICK [RECYCLING INFO SHEET]

SMR Eco Team Info Sheet

Liz Hewitt | Eco-bricks

Making Eco bricks is really easy, but takes a lot of time. However, they can

be made by anyone and no special skills are required — below are some

instructions:

1) Save your plastics — you will need lots of clean, dry, non-recyclable plastics. If

plastic is dirty, please wash and dry thoroughly before using. Dirty plastic inside

the Eco brick will lead to microbiological growth and methane gas developing,

which may cause the brick to explode...

2) Choose your bottle — any size bottle can be used but ideal sizes are 500ml or

1.5 litre, which are the most commonly available: if the Eco bricks are all the same

size, it makes building with them easier. Don't buy a bottle specially; recycle ones

you normally use and/or collect them from friends or family. The SMR Eco team

need bricks made from 500ml and 1.5 litre bottles.

3) Have tools to hand — you will need a piece of dowel or a wooden spoon with

a long handle (or piece of bamboo or a wooden stick) to help you compact the

plastic in the bottle, and you will need a pair of scissors too.

4) Don't use... — make sure not to put any metal, paper, glass, or plastic

contaminated by food waste in your bottle.

5) Stuff the bottle — before stuffing the bottle cut the plastic you are using to fill it

with into small pieces about 1 to 2 inches across (2.5–5cm). Compact the stuffing

with your stick as you go, taking care not to pierce the bottle.

6) Weigh your Eco brick — the ideal weight for a 500ml bottle is 175g, and 500g

for a 1.5 litre bottle. To make it as strong and as firm as a brick, the bottle must be

packed as tightly as possible; bottles that are still soft and pliable can't be used as

a building block (nb: it can take up to a 2 large sacks of plastic to fill a 1.5L bottle).

7) Don't overfill — if your Eco brick is too full the lid will push off, which will make

it unusable.

There's lots of information online about how to build Eco bricks and a

very good short video on the Ecotricity website — visit the link below and

the link to TerraCycle too.

Photos — top: Eco Brick materials | bottom: Eco Brick-making sessions at SMR

Undercroft (photos: Liz Hewitt, Becky Macron).

Ecotricity: www.ecotricity.co.uk /news/news-archive/2019/what-is-an-ecobrick

TerraCycle: www.terracycle.co.uk

16 17
---
WHY DON'T WE MEND, patch

or alter clothes now? As fast

fashion has taken a grip on the

high street it seems our desire to

treasure clothes has declined.

Mending skills used to be handed

down from mother to daughter — I

remember my mother darning socks,

patching trousers and turning sheets

from side to middle. But how many of

us now have these or similar skills?

In the last 10 years the Slow Movement

has affected how we feel about our

clothes. There's been a resurgence

in people knitting their own jumpers

and socks, making their own clothes

and upcycling unwanted ones. There

have been knitting groups and slow

stitch groups starting all over the

world — people knitting or stitching

together, enjoying refreshments and

slowing their pace of life.

It's been shown that the slow pace of

hand stitch can calm the mind — with

its in-and-out motion, stitching mirrors

breathing. The process of mending a

loved piece of clothing helps you

remember why you bought or made

it, and deepens your regard for it.

With the rediscovery of mending,

rather than making an invisible mend,

make it a decorative feature of your

— DON'T DITCH IT STITCH IT!

LIZ HEWITT; LENT ECO TEAM

well-loved jumper, and show how

much you treasure it. With this in mind

I'm starting Don't Ditch It, Stitch It

mending sessions in church on Friday

mornings, from 10am to midday at the

Coffee Club. The sessions start on 7

February. I'll also be running sessions

at the Eco Fair on Saturday 28 March,

and at Faithspace on 17 March.

So come and learn mending and

darning skills — darn the moth holes

in your favourite jumper, patch those

jeans or make a bag out of that wool

jumper you accidently shrank in the

wash. And I'll also be showing you how

to make a patchwork memory quilt

from treasured fabrics or clothing.

If you have mending skills you could

share, please come along too. Enjoy a

cup of coffee and a piece of cake and

make new friends while stitching!

AT A GLANCE

Don't Ditch It Stitch It

Mending cafés:

In church from 7 February

(Fridays 10am–12 noon)

Faithspace 17 March

Eco Fair 28 March

— Liz Hewitt

SMR Eco Team

DON'T DITCH IT TREASURE IT! [RECYCLING INFO SHEET]

SMR Eco Team Info Sheet

Liz Hewitt | Recycling Clothes

DID YOU KNOW that according

to the waste charity Wrap*

more than 300,000 tonnes of used

clothing (worth £12.5 billion) goes

to landfill in the UK every year?

It said that 5% of the UK's total annual

carbon and water waste comes from

clothing alone. Research shows that

on average each person in the UK puts

8 items of clothing in the bin every year.

More than half of those asked said

that the items were perfectly wearable

and that they hadn't thought to donate

them to family, friends or charity.

After the Second World War people

regularly made their own clothes,

mended and reused clothing, or

passed it on to family or friends. It

was common to "make do and mend"*

As clothing has become cheaper and

cheaper there has been less incentive

to do so. Our culture has shifted to one

where we simply dispose of unwanted

clothes. Today there are more impulse

purchases made, and most households

have items in their wardrobes

that have never been worn. Fifty percent

of people surveyed didn't think

they could recycle dirty or worn out

garments, and others didn't know that

clothing can be recycled. So what can

we do? Read on...

DON'T... don't put wearable clothes in

the bin as they will end up in landfill.

DO...

• Donate unwanted wearable clothes

to charity shops, family or friends.

• Donate damaged clothes: most

charity shops take them — they sell

them on to companies who turn them

into rags, or shred them to make yarn,

paper, insulation or furniture stuffing.

• Swap new and old: some clothes

shops now provide recycling bins, so

when buying a new item leave an old

one behind in one of their bins.

• Donate or sell: to organisations that

ship recycled clothing to Africa or India,

where it is used to create employment

both in recycling and in shredding to

make yarn, paper and insulation.

• Buy second-hand or vintage: find

bargains online and in charity shops.

• Consider the quality of your clothes:

if possible spend more on quality

items that will last, and less on cheaper,

low quality items that won't.

• Take the Slow Fashion Challenge:

a growing number of people are trying

not to buy new clothes and instead are

buying second-hand, or altering clothes

they already have. Why not try it?

• Treasure your clothes: Remember

that people have worked hard to create

them; that you loved an item enough to

buy it and have enjoyed wearing it — so

if you suddenly find a tear or a hole . . .

darn it or patch it — don't ditch it.

18 19
---
Show others how much you treasure your clothes — mending is easy and decorative

and really fashionable now. Our clothes shouldn't cost the Earth. Be kind to our

planet and think more carefully before buying new clothes or throwing clothes

away. We can all make small changes and help create a sustainable world.

If you would like to know more about what happens to unwanted and discarded

clothing exported to India from the western world, check out the video link below

There are lots of others too, showing the uses of our unwanted clothing in Africa.

Liz Hewitt | SMR Eco Team member | Recycling Clothes

* NOTES

Wrap is an acronym for Waste & Resources Action Programme

Make Do and Mend:

From the British Library online —

"Make Do and Mend" was a pamphlet issued by the British Ministry of Information in

the midst of WWII. It was intended to provide housewives with useful tips on

how to be both frugal and stylish in times of harsh rationing. With its thrifty

design ideas and advice on reusing old clothing, the pamphlet was an

indispensable guide for households. Readers were advised to create pretty

'decorative patches' to cover holes in worn garments; unpick old jumpers to

re-knit chic alternatives; turn men's clothes into women's; as well as darn, alter

and protect against the 'moth menace'. An updated version of the book was

recently released to coincide with the economic recession, offering similar frugal

advice for 21st century families.

Visit: https://www.bl.uk/learning/timeline/item106365.html

Discarded Clothing video link:

https://www.youtube.com/watch?v=bOOI5LbQ9B8.

"...The best motto to think about is to not waste things. Don't

waste electricity, don't waste paper, and don't waste food. Live

the way you want to live, but just don't waste. Look after the

natural world and the animals in it, and the plants in it too. This

is their planet as well as ours. Don't waste them."

— Sir David Attenborough

at church | children's & youth church

HAPPY NEW YEAR! —

BECKY MACRON

FAMILIES & YOUTH

MINISTER

HAPPY NEW YEAR!... what I love most about St Mary Redcliffe

is the people. We are blessed to have so many people who

do so many things for our church, the community, the wider

world and for one another. And what I really like is that I never stop

discovering new things…

Over the past few years I've had the pleasure of assisting Mary, Joseph and

the donkey on their Advent journey. Christmas 2019 gave us an opportunity

to see just a few of the many things (and by no means everything!) that take

place, not just at Christmas, but every day in the life of Redcliffe...

The

people are

so welcoming,

I feel like we

really fit in...

We really

enjoyed meeting Sarah,

the Education Officer,

and the children from

the local primary

school.

20 21

...so Mary

and Joseph, can

you tell us about your

Advent journey

in 2019?

...and

they've gone

to such effort

to make us feel

at home.

I was

so pleased when the

Vergers found the donkey. It

made getting around

so much easier...
---
And we've

been under a lot

of trees recently too,

haven't we Joseph?

They're very pretty

trees...

Yes Mary,

and did you see

how many they had

in the church? I've never

seen trees like those before.

It was spectacular — and

what a huge amount

of work!

We had

an unplanned visit to

Mothers' Union, which was

a real treat and goes to show

much goes on all the time

for our people.

We had

another delicious meal

at the Lunch Club, and also

at the houses of all the

families we

visited.

...and I

expect all the

children were glad as

well — they loved singing

about me during those

wonderful services in

the lead up to

Christmas.

We've gone

out and about and

met some very kind people

who taught us how to do new

things... It's not just inside the

church building that

wonderful things

happen.

It was

such a privilege

to meet members of

our talented

choir.

...thank you

to everyone at St

Mary Redcliffe for what

you do, for your gifts, for

your time, enthusiasm,

and energy. You make it

such a great place to be!

Becky Macron

Families & Youth

Minister

But we

couldn't vote as

we hadn't yet been

registered.

We spent

some tiime at a

local primary school. It's

nice meeting the children and

seeing how they learn. It's also

lovely that people are keen to

share the good news

of Jesus.

We

had a great

time at Toddler

Church.

...not

to mention a

comfortable night

at the verger's

house.

We

had such a

lovely meal at the

Vicarage...

Our visits

around Redcliffe ended

on a high—we climbed

up into the bell tower where

we had a very warm welcome

from Gareth and the team

of bellringers. It was

spectacular!

I think

its wonderful —

just wonderful!

...So

what do you

think Mary?

22 23
---
at church |

community

singing

HYMN SING-ALONG

— HAPPY NEW YEAR!

ROSEMARY KINGSFORD

CO-ORDINATOR

WE'VE HAD A GREAT

carol-singing December.

We started with singing

carols for the Treefest. All

getting into the Christmas spirit

with donning tinsel and red

garments! I think we looked

and sounded excellent — well

done all the singalongers!

We then went to ASDA and entertained

the shoppers with more

carols — a shopper from Taunton

couldn't resist coming with her full

trolley of goodies, and singing with

us. She did say she wished a group

like ours existed in Taunton!

The following week we were invited

to sing at the Stoke Gifford Retirement

Village at their Christmas

Fayre. We started off singing fairly

slowly, due to a friend of mine

playing the piano at a slower pace

than we were used to! However,

after a well-earned rest, coffee,

tea, mince pie etc. we were back

on the stage with renewed vigour!

Some of the residents came and

joined us, including a gentleman (a

retired vicar) who had a wonderful

voice and made our group sound

magnificent! To cap it all, speakers

were put in front of us and this really

did enhance our performance! It was

a wonderful lead-up to Christmas.

Now we are looking forward to

some more joyous singing in the

new year. Everyone is welcome —

we are a happy group of souls and

definitely not a "choir". Every FIRST

Wednesday of every month at 11am

(mostly in church but sometimes in

the Faithspace Centre) — do phone

me to find out more.

— Rosemary Kingsford

T: 0117–922 1627

E: rosemarykingsford@btinternet.com

Photos: David Williams (Christmas Fayre; below "O

Come All ye Faithful") & Rosemary Kingsford (Treefest)

Carols at Treefest (top, centre left) and at Stoke Gifford Retirement Village Christmas Fayre (centre right; bottom)

24 25
---
C ommunity

| redcliffe

NEWS &

EVENTS

— RACHEL VARLEY —

community

development

worker

ONCE AGAIN we were delighted to host

neighbours from our local community in a

Christmas Day lunch at Faithspace.

We had 32 people sign up to join us on the day, which was hosted

by a team of friendly volunteers from our church family. Thank

you to each of them for helping to make it such a warm and

welcoming celebration for those who attended! The food was

generously cooked by the staff at the Doubletree Hilton Hotel

on Redcliffe Way.

A special thanks to Jenny Martin for her role in co-ordinating and

preparing the occasion. Jenny writes to say: "on Christmas Day we enjoyed

a very good lunch provided by The Hilton Double Trees. After lunch John,

one of our guests, played the piano for all of us to sing Christmas carols. I

would like to thank everyone who helped make it such an enjoyable day."

Thank you Jenny and team [photo: Rachel].

Wishing you all a

very Happy New

Year and please

keep in touch!

RACHEL VARLEY

— Community

Development

Worker

— Redcliffe Christmas Lunch

Photos: Jenny Martin

26 27
---
initiatives + treefest

H

APPY BIRTHDAY!

Jenny Martin writes —

Many happy returns to Alan Stevens who

turned 90 last year on the 28th December.

We all took Alan to lunch at the Carpenters

Arms in Dundry — he had a lovely day as did

everyone!

(Photo by ]enny)

| messages

This meant that we were able to present

a wide-ranging music programme during

Treefest, including performances by the

schools who were benefitting from the

Preludes initiative. These pupils came

along and brought their parents with

them — and in 2019 we had a record

number of 5,000 visitors!

We also had the highest total of donations

we have had so far: £6,350, to be

divided between Preludes and the SMR

Outreach projects. Well done and a huge

vote of thanks to all who contributed

this year to our success! Thanks to all

who exhibited such imaginative trees.

Special thanks go to Christine Bush and

her refreshments team, who achieved

record takings in the pop-up café, and

all those people who kindly made and

donated cakes every day. Also to Andrew

Kirk for sourcing so many diverse musical

events, and to Allan Schiller and Roger

Huckle for giving of their time to perform.

Thanks to all who volunteered to

be stewards, welcoming our many visitors.

Thanks also to the vergers, and to

the Parish Office staff who helped with

design and printing. Thanks to John Rudin

for doing the lighting, and thanks to

our sponsors Hollis Morgan, Benjamin &

Beauchamp, and Queen Square Chambers

for helping us to cover our expenses.

As always the competition for the mostliked

tree attracted many entries, and

this year was won by a new exhibitor,

the 255th Bristol Channel Sea Scouts,

with an innovative tree made out of oars

and nautical items.

— Sue Hartley; Treefest Committee

Nautical details; 2019 Winning Tree | photo: Rhys Williams

A MUSICAL TREEFEST —

SUE HARTLEY

TREEFEST COMMITTEE

Cheque presentation to Preludes by the Vicar, & John Viney of Treefest | photo: Sue Hartley

TREEFEST 2019 had a distinctively musical theme. Our special

charity was Preludes, sponsored by the Bristol Ensemble, which

enables children from disadvantaged areas of Bristol to learn to read

music, sing, and play a range of musical instruments, in a supportive setting —

28 29
---
initiatives

'SINGING IN THE RAIN'

— FUNDRAISING FOR CHRISTIAN AID

AURIOL BRITTON; SINGER & CAMPAIGNER

I

AM A SINGER and jack of all arts. I am not ashamed to be a capitalist

with a conscience for eleven months of the year, making a profit.

People sometimes ask, when I am out and about singing, from January

to November inclusive: "What's it in aid of?"

"Money-making," I sometimes reply, or similar. I often wonder, on such occasions,

whether they ever go into their bank and ask the manager: "What's this in aid of?" If

I did not make the cake for eleven months, as it were, there would be nothing to put

the icing on in the twelfth month. At midnight on 1st December, a sort of notional

trip-switch clicks, and all of a sudden, for one month only, capitalism is replaced by

charity, getting is superceded by giving, the pause button is pressed on profiteering.

This year, as ever, I undertook fourteen a capella carol sings, for Christian Aid, and

am happy to announce that the total amount raised was £1,145. This has been

taking place for many years, with an annual fundraising target of 'a grand,' which is

almost always exceeded, by some measure. This year's locations included, as ever,

Temple Meads, The Galleries and Bath. For my eight London Underground shifts,

my best course of action is to earn the money myself, then donate it as a personal

gift, with a small sign notifying customers of this intention. Officially, entertainment

and charity are organised separately in TFL [Transport for London]. I do not take

travel expenses — the money raised is equal to the funds given.

I should have given up singing as a way of earning most of my living years ago, were

it not for the joy of the carol singing. Whatever the state of faith across the nation,

however low the numbers appear in terms of religious practice, people always enjoy

a carol — it is unfailingly popular. I generally seek, in life, to do the right thing, rather

than the most popular thing, reasoning that the former will be the latter if the end,

if one sticks to Christian principles, broadly speaking. This is a rare example of both

coinciding. There are, however, three problems:

1. The annual round of carol singing places a great financial burden on my music

and mixed arts enterprise, which takes a few months to recover from and is increasingly

under strain due to a number of factors.

2. The westerly carol sings in particular, this year, were affected by illness — the

beginnings of a respiratory infection, back strain, abdominal pain. The heavy lifting

and trekking about were tiring, and are not becoming any easier. Thank goodness I

have a lift to one location.

3. Climate change. I just about reached the end of my tether with rain and

unpredictable weather — I was ready to throw in the towel on the whole project,

in Bath, for instance. I cannot sing from paper in wet conditions — I know some of the

carols by heart (I can get from one end of "God Rest You Merry Gentlemen" to the other,

seven verses) but I haven't memorised all of them. I can genuinely say, that in all the

years I've been doing this, December 2019 was the most challenging, weather-wise.

It should also be noted that while I receive the credit, this would not be possible

without the faithful assistance of, in particular, Roger Tucker, my volunteer admin

assistant, who has assisted with admin for many years (as his role suggests) and who

comes on some of the carol sings with me. I am always looking for other, local

volunteers for westerly locations, so if anyone would be interested in helping out next

time, please call me for a chat [see below]. No musical skills are required and a light

lunch and out of pocket expenses can be covered.

I hope to be able to continue this ministry — taking carols out to people, where

they are, in the community — in years to come. It is a surprisingly simple idea,

which has both a proven record of deliverability and works to alleviate poverty

and suffering — someone, somewhere, is alive today who would not be, were it

not for the fact that carols are sung and funds given. This year is Christian Aid's

75th birthday, and I am very thankful to all who contribute so generously to my

efforts for them and to God for making this endeavour a reality.

— Auriol Britton

Tel: 0117-9668853 or Mob: 07969 215932

ON AURIOL: "Ms Auriol Britton BA FLCM is a singer, actor, writer and artist, who trains medical

students in visual and disability awareness. She is a member of Bristol Diocesan Synod, house of

laity. Auriol has been blind since 1982, and is partially deaf in one ear. She is a political campaigner.

Aims: saving lives in the present; justice for lives lost in the past."

CHRISTIAN AID www.christianaid.org.uk Our ... work began in 1945, when we were

founded by British and Irish churches to help refugees following the Second World War. For more than

70 years, we have provided humanitarian relief and long-term development support for poor communities

worldwide, while highlighting suffering, tackling injustice and championing people's rights.

30 31
---
initiatives

ALLEVIATING PERIOD POVERTY

— SARAH PURDON; PARISH ADMINISTRATOR

VULNERABLE WOMEN in our community go without adequate

sanitary provision. Young women and girls are most at risk of not

having access to tampons and pads as well as those on lower incomes.

At the end of 2019 St Mary Redcliffe

received a letter asking us to consider

how we can help in the fight to end so

called Period Poverty, a serious issue

facing some women. Women without

access to feminine hygiene products are

using what they can get their hands on

from toilet paper to socks and in some

instances going without.

The government have recently committed

to providing provisions in schools, and at

church Liz Hewitt has kindly offered to take

up the baton of managing the provision in

our ladies' loos voluntarily. Tampons and

pads are both on offer, for free, to those

who need them. Since we started last year

there has been a considerable number

of women taking up the offer and it is

something we will continue to provide.

If you would like to donate tampon or

towel supplies please see Liz or one of the

Vergers at church, or contact me at the

Parish Office — and for more information

visit www.periodfriendlybristol.org.

— Sarah Purdon

tel: 0117-231 0060

email: sarah.purdon@stmaryredcliffe.co.uk

EDITOR'S NOTE

Help in Hands

Myanmar : photo

information /

correction

Photo:

A Children's Home,

Myanmar : children

displaying their

blankets

The previous issue of

the magazine carried

a note of thanks from

Jenny Martin to all

who helped knit blankets in aid of the work of Help in Hands Myanmar. For privacy reasons we showed

an edited version of the above photo ('tiles' showing the blankets only). Jenny is keen to confirm permission

for the whole photo to be shown, and says the children & their carers are delighted with the blankets. — Ed

32 33

CHRISTMAS CARD PROJECT for

the Bristol Churches Winter

Night Shelter

— Marcus Ashman writes:

We would like to thank all those who

supported this project to raise funds for

the Winter Night Shelter work. This year

we sold 1,500 cards which raised just

over £800 for the fund when the gift

aid is added.

We would very much like to thank Eleanor

for the design and production of the card,

which featured a detail from the East window

in the Lady Chapel.

Jane and I have decided that we will

not be organising a sale of cards next

Christmas. If a member of the congregation

would like to take it over then please get in

touch — we will be pleased to pass on all the

relevant information, and understand that

Eleanor will be pleased to collaborate once

more. Shown here are reminders of the

card designs over the past 3 years; each

featuring an item in the church's heritage

collection (glass; vestments).

EDITOR'S NOTE

UPDATE: In October last year

we published Auriol Britton's

account of her visit, during the

summer, to Lockerbie in support

of the town.

The cutting here is from an

appreciative spread on her work and visit that was published in the Annandale

Herald & Moffat News in December — great news Auriol!
---
Listings | church diary & records

CHURCH DIARY — FEBRUARY–MARCH 2020

Please note that in addition to the monthly listings below, which vary in frequency or other

details, the following events happen every week in this period:

tuesday Coffee Morning / 10am–12 noon | Faithspace Community Centre

Christian Meditation / 6:15–7pm | Parish Office

wednesday Jazz in the Undercroft / 7:30–10pm | SMR Undercroft

thursday Redcliffe Gardening Group / 10am–12 noon | at Somerset Square

friday Toddler Church / 9:30am | SMR North Transept

Coffee Club / 11am | SMR

Police Beat Surgery Drop-in / 1–2pm | Faithspace

February

2 Candlemas

4 Holy Communion / 12:30pm | St John's Chapel

5 Hymn Sing-along / 11am

5 Redcliffe Lunch Club / 12 noon | Faithspace

5 Redcliffe Film Club / 2:15pm | Faithspace

6 Holy Communion / 12:30pm | Lady Chapel

6 Organ Recital / 1:15pm / Gary Desmond; Bath Abbey

7 Mending Café at Coffee Club / 10am

11 Holy Communion / 12:30pm | St John's Chapel

12 Redcliffe Lunch Club / 12 noon | Faithspace

13 Holy Communion / 12:30pm | Lady Chapel

13 Organ Recital / 1:15pm / Michael Bonaventure; Edinburgh

14 Mending Café at Coffee Club / 10am

18 Holy Communion / 12:30pm | St John's Chapel

18 Theology Book Club / 8pm | at Canon John Rogan's house

20 Holy Communion / 12:30pm | Lady Chapel

20 Organ Recital / 1:15pm / David Halls; Salisbury Cathedral

21 Mending Café at Coffee Club / 10am

24 Feminist Theology Group / 8pm | at Helena's house

25 Holy Communion / 12:30pm | St John's Chapel

25 Lent Appeal Launch: Pancakes for the Planet / 6:30pm

Beauty in ashes art exhibition opens / daily until 14 April |North Transept

26 ASH WEDNESDAY: LENT

26 Redcliffe Lunch Club / 12 noon | Faithspace

27 Holy Communion / 12:30pm | Lady Chapel

27 Organ Recital / 1:15pm / Emma Gibbins, Newport Cathedral

28 Mending Café at Coffee Club / 10am

March

3 Holy Communion / 12:30pm | St John's Chapel

4 Hymn Sing-along / 11am

4 Redcliffe Lunch Club / 12 noon | Faithspace

4 Redcliffe Film Club / 2:15pm | Faithspace

4 Organ Recital / 1:15pm / Samuel Ali; Royal College of Music

5 Holy Communion / 12:30pm | Lady Chapel

6 Mending Café at Coffee Club / 10am

10 Holy Communion / 12:30pm | St John's Chapel

11 Redcliffe Lunch Club / 12 noon | Faithspace

12 Holy Communion / 12:30pm | Lady Chapel

12 Organ Recital / 1:15pm / Andrew Kirk & Alison Howell; St Mary Redcliffe

13 Mending Café at Coffee Club / 10am

13 Mixtape Concert / 7:30pm

15 Afternoon Cream Tea & activities / 2pm

17 Mending Café / [please check time] | Faithspace [please check time]

17 Holy Communion / 12:30pm | St John's Chapel

17 Theology Book Club / 8pm | at Canon John Rogan's house [please check date]

18 Redcliffe Lunch Club / 12 noon | Faithspace

18 Redcliffe Film Club / 2:15pm | Faithspace

18 Parish Magazine April-May edition copy deadline / 12 midnight

19 Holy Communion / 12:30pm | Lady Chapel

19 Organ Recital / 1:15pm / Simon Bell; Cheltenham

20 Mending Café at Coffee Club / 10am

22 Mothering Sunday

23 Feminist Theology Group / 8pm | at Helena's house [please check date]

24 Holy Communion / 12:30pm | St John's Chapel

25 Redcliffe Lunch Club / 12 noon | Faithspace

26 Holy Communion / 12:30pm | Lady Chapel

26 Organ Recital / 1:15pm / Paul Walton; Bristol Cathedral

27 Mending Café at Coffee Club / 10am

28 Eco Fair / 12 noon to 4pm

29 Passion Sunday

Music & Readings for Passion Sunday / 6:30pm

31 Holy Communion / 12:30pm | St John's Chapel

April

1 Hymn Sing-along / 11am

1 Redcliffe Film Club / 2:15pm | Faithspace

1 Organ Recital / 1:15pm / Nigel Nash; Bristol

5 Palm Sunday

34 35
---
8 Concert: Gesualdo Six / 7:30pm

9 Maundy Thursday

10 Good Friday

11 Easter Eve

12 EASTER

NB: diary entries are correct at the time of going to print given the information

supplied; for event details provided later on please see the church website or contact

the Parish Office.

PARISH REGISTER — Baptisms, Weddings and Funerals

As previously stated, for privacy reasons (GDPR) the publication of the Register in the

magazine is under review; we will keep readers informed but it remains suspended

until then. — Ed

•

SUNDAY CHURCH SERVICE ATTENDANCE — Period: 24.11.19–19.01.20

Date 2019 24 Nov 1 Dec * 8 Dec 15 Dec 22 Dec §

Adult Child Adult Child Adult Child Adult Child Adult Child

8:00am 7 - 8 - 10 - 10 - 7 -

9:30am 109 39 102 35 100 31 114 36 81 21

11:15am 30 - 18 1 22 - 26 2 23 -

6:30pm 27 - 107* 6 26 - 24 - 545 § 31

Date

29 Dec 5 Jan 12 Jan 19 Jan

2019–2020

Adult Child Adult Child Adult Child Adult Child Adult Child

8:00am 12 - 6 - 11 - 12 -

9:30am 41 2 88 35 118 51 110 39

11:15am 16 - 13 - 22 4 23 2

6:30pm 20 - 32 - 30 - 45 1

* 8 December: Advent Carols by Candlelight | § 22 December: Festival of Nine Lessons

and Carols | NB: Sunday Attendance figures refer to congregation not to clergy, servers,

choir or vergers.

WE LOOK FORWARD AND BACKWARD at this time of year — forward

to the things we have committed to do, to new initiatives; backward

in memo either on the back of the things we have been doing or as

a new initiative. In all this Dan reminds us to

Editor's note

email: editor.mag@stmaryredcliffe.co.uk

EPIPHANY AND LENT — the Vicar's Letter for the edition

months of February and March explores the seasonal (liturgical)

mix of the period and its "apparent blurring of the frontiers'

edges" between the three focal areas of the Christian calendar. An

invitation to us to explore the 'border country' between all three that

is found in the month of February: to be present in the stories of Our

Lord's life and for that Story to seep into our own.

THE COLOURS OF THESE SEASONS? I note that the green of Epiphany

and purple of Lent produce a series of dunn colours when mixed:

mute hues that seem to resonate with the direction and work of the

period as we follow Our Lord toward his Passion. A youthful green, a donkey

grey and a deep royal purple are the seasonal palette, and an evocative mix.

Thank you to our Lent Appeal charity partners, the John Ray Initiative, for

their introduction to their invaluable work. Likewise to Liz Hewitt for her

informative articles, and to the Lent Appeal Team for the imaginative ways

in which they are engaging, on behalf of SMR, with climate change, the

dominant issue of our time. It is salutary to see such a quick response to Bishop

Viv's call to action. We look forward to learning new skills and dusting down

old ones, and to seeing evocative work in the Beauty in ashes art exhibition.

We look forward too to the splendid concerts organised by Andrew, and

especially to welcoming back Gesualdo Six (heard here in 2017), and we're

very glad to learn of the successes of SMR's former choristers.

Thank you to all our contributors and the many initiatives in church and

community, from fundraising (Treefest; for Christian Aid and the Winter Night

Shelter) to visible signs of care (birthdays celebrated; hymns sung; Christmas

Lunch shared; 'period poverty' tackled; blankets knitted) and more...

Lastly I hope that readers will adjust to a bi-monthly magazine; putting

together editions is extremely rewarding but inevitably the hours are long.

In this I am excited to report that I now have an editorial team — we will

introduce ourselves in the next edition!

— best wishes, Eleanor

Eleanor Vousden, Editor; tel: 0117-9634856 (direct) or 0117-2310060 (Parish Office)

The April–May edition deadline is Wednesday 18 March

36 37
---
Prayers • Epiphany & Lent

Lines from The Fairacres Madonna

Who carved you, Lady,

Set you free?

What majesty was axed for you,

What leaves lay crushed,

That you might be?

What beauty first in need and shoot,

What sapling grace,

What hope grew firm?

What years of steady growth and death

Prepared the heart for Master-hand?

Pietà

— Sister Rosemary Dawn Watling

A dome superb as heaven's vault, capping a story

Whose hero blessed the meek; a desert of floor

Refracting faith like a mirage; the orchestration

Of gold and marble engulfing the still, small voice:

You cannot pass over St Peter's and what it stands for,

Whether you see it as God's vicarious throne

Or the biggest bubble yet unpricked...

I was lost, ill at ease here, until by chance

In a side chapel we found a woman mourning

Her son: all the lacrimae verum flowed

To her gesture of grief, all life's blood from his stone.

There is no gap or discord between the divine

And the human in that pieta of Michelangelo.

— C Day Lewis 1904-1972

An Italian Visit

notes & permissions — an excerpt from the fairacres madonna by sister rosemary dawn

watling printed here as a reflection for the feast of the annunciation [25 march] | pietÀ

from an anthology for the church year; ed h j richards; kevin mayhew publishing © 1998

groups within the church

The regular congregation is large, active and involved

— if you would like to join one of the many groups

connected with the Church, please contact the group

leader concerned from the list below.

Head Server

Head Sidesman

Head Steward

PCC Secretary

PCC Treasurer

PCC Safeguarding

PCC Recorder

Children's Church

Faithspace Centre

Lunch Club

Meditation

Mothers Union

Church Flowers

Coffee Rota

Bell Ringers

Canynges Society

Journey into Science

Magazine Editor

get in touch

Dean Barry

Graham Marsh

Marion Durbur

Keith Donoghue

David Harrowes

Stephen Brooke

c /o Parish Office

Becky Macron

Sarah James

c/o Parish Office

Lewis Semple

c /o Parish Office

Mildred Ford

Christine Bush

Gareth Lawson

Pat Terry

Eric Albone

Eleanor Vousden

0117-9099862

01275-832770

0117-9422196

0117-9422539

0117-9779823

0117-3311260

0117-2310060

07934-041638

0117-9258331

0117-2310060

0117-9255763

0117-2310060

0117-9359064

0117-9773023

07798 621834

0117-2310060

0117-9247664

0117-9634856

If you or one of your family is sick or has gone into hospital, please let

us know — contact the Clergy or Vergers as soon as possible.

Please consult the Parish Office before making any arrangements for

baptisms, weddings or funerals.

MAGAZINE SMALL PRINT: Please note that the views expressed in the body

magazine of the magazine small print are not — please necessarily note those that the of the views Editor. expressed Please in also the note body

of that the every magazine effort are has not been necessarily made to credit those copyrighted of the editor. material please in line also with note

that UK every copyright effort law has but been in the made event to of credit any unintended copyrighted oversight material please in line email with

legislation, the editor at but editor.mag@stmaryredcliffe.co.uk in the event of any unintended or contact oversight the Parish Office. please — email Ed

the editor at editor.mag@stmaryredcliffe.co.uk or contact the parish office

38 39
---
sunday services

8:00am holy communion

9:30am sung eucharist

with crèche and Sunday School / followed by coffee

11:15am choral mattins

all year round except from mid-July to end August

6:30pm choral evensong

weekday services

holy communion

Tuesdays and Thursdays at 12:30pm

2nd and 4th Thursdays at 12:30pm with prayers for healing

morning and evening prayer

Monday to Friday at 8:30am and 4:30pm in the Lady Chapel

toddler church

Fridays at 9:30am in the North Transept

opening times

weekdays all year round 8:30am–5:00pm

bank holidays 9:00am–4:00pm, except New Year's Day

Sundays 8:00am–8:00pm

the church is occasionally closed for special events and services

The Arc Café in the Undercroft

serving home-made refreshments every day

opening hours:

Monday to Friday 8:00am–3:00pm

lunch served from 12:00 noon–2:30pm

tel: 0117-929 8658

40