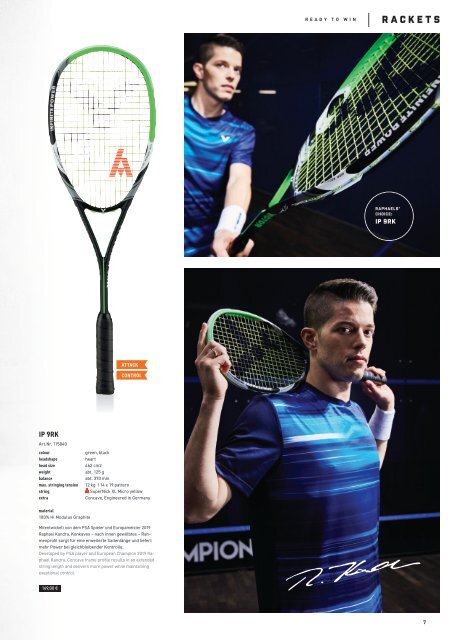 VICTOR Squash Katalog 2020/21 VICTOR Squash Katalog 2020 / 21
The new collection of Rackets, Shoes, Bags and Textiles
RACKETS

RAPHAELS'

CHOICE:

IP 9RK

ATTACK

CONTROL

IP 9RK

Art.Nr. 115840

colour

headshape

head size

weight

balance

max. stringing tension

string

extra

green, black

heart

462 cm2

abt. 125 g

abt. 370 mm

12 kg I 14 x 19 pattern

SuperNick XL Micro yellow

Concave, Engineered in Germany

material

100% Hi Modulus Graphite

Mitentwickelt von dem PSA Spieler und Europameister 2019

Raphael Kandra. Konkaves – nach innen gewölbtes – Rahmenprofil

sorgt für eine erweiterte Saitenlänge und liefert

mehr Power bei gleichbleibender Kontrolle.

Developed by PSA player and European Champion 2019 Raphael

Kandra. Concave frame profile results in an extended

string length and delivers more power while maintaining

exeptional control.

169,00 €

7
More magazines by this user