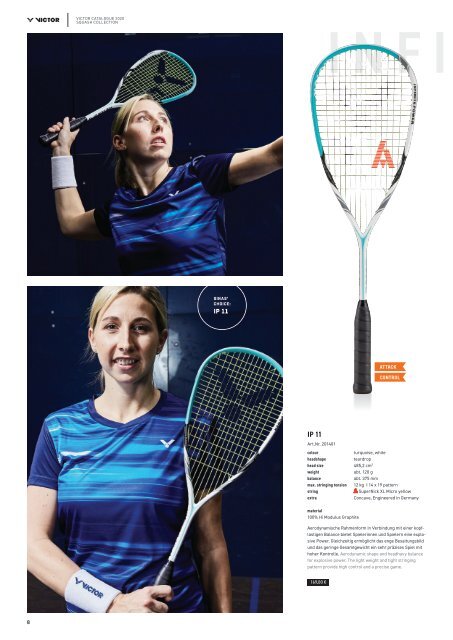 VICTOR Squash Katalog 2020/21 VICTOR Squash Katalog 2020 / 21
The new collection of Rackets, Shoes, Bags and Textiles
VICTOR CATALOGUE 2020

SQUASH COLLECTION

INFI

SINAS'

CHOICE:

IP 11

ATTACK

CONTROL

IP 11

Art.Nr. 201401

colour

turquoise, white

headshape

teardrop

head size 485,2 cm 2

weight

abt. 120 g

balance

abt. 375 mm

max. stringing tension 12 kg I 14 x 19 pattern

string

SuperNick XL Micro yellow

extra

Concave, Engineered in Germany

material

100% Hi Modulus Graphite

Aerodynamische Rahmenform in Verbindung mit einer kopflastigen

Balance bietet Spielerinnen und Spielern eine explosive

Power. Gleichzeitig ermöglicht das enge Besaitungsbild

und das geringe Gesamtgewicht ein sehr präzises Spiel mit

hoher Kontrolle. Aerodynamic shape and headhavy balance

for explosive power. The light weight and tight stringing

pattern provide high control and a precise game.

169,00 €

8
More magazines by this user