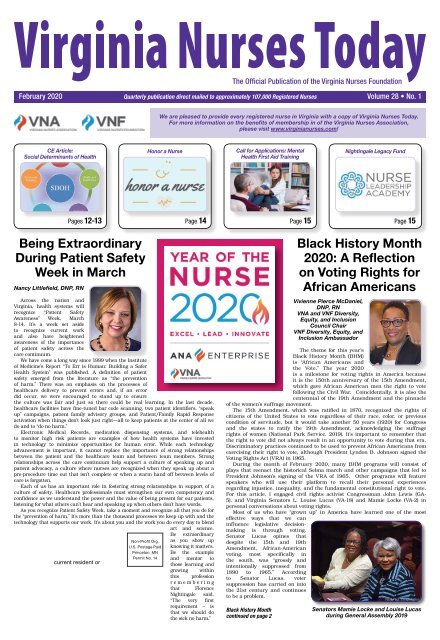 Virginia Nurses Today 2_20
Create successful ePaper yourself
Turn your PDF publications into a flip-book with our unique Google optimized e-Paper software.
The Official Publication of the Virginia Nurses Foundation

February 2020 Quarterly publication direct mailed to approximately 107,000 Registered Nurses

Volume 28 • No. 1

We are pleased to provide every registered nurse in Virginia with a copy of Virginia Nurses Today.

For more information on the benefits of membership in of the Virginia Nurses Association,

please visit www.virginianurses.com!

CE Article:

Social Determinants of Health

Honor a Nurse

Call for Applications: Mental

Health First Aid Training

Nightingale Legacy Fund

Pages 12-13 Page 14

Page 15

Page 15

Being Extraordinary

During Patient Safety

Week in March

Nancy Littlefield, DNP, RN

Across the nation and

Virginia, health systems will

recognize "Patient Safety

Awareness" Week, March

8-14. It's a week set aside

to recognize current work

and also have heightened

awareness of the importance

of patient safety across the

care continuum.

We have come a long way since 1999 when the Institute

of Medicine's Report "To Err is Human: Building a Safer

Health System" was published. A definition of patient

safety emerged from the literature as "the prevention

of harm." There was an emphasis on the processes of

healthcare delivery to prevent errors and, if an error

did occur, we were encouraged to stand up to ensure

the culture was fair and just so there could be real learning. In the last decade,

healthcare facilities have fine-tuned bar code scanning, two patient identifiers, "speak

up" campaigns, patient family advisory groups, and Patient/Family Rapid Response

activation when things don't look just right—all to keep patients at the center of all we

do and to "do no harm."

Electronic Medical Records, medication dispensing systems, and telehealth

to monitor high risk patients are examples of how health systems have invested

in technology to minimize opportunities for human error. While each technology

advancement is important, it cannot replace the importance of strong relationships

between the patient and the healthcare team and between team members. Strong

relationships across the care continuum help support a culture of speaking up and

patient advocacy, a culture where nurses are recognized when they speak up about a

pre-procedure time out that isn't complete or when a warm hand off between levels of

care is forgotten.

Each of us has an important role in fostering strong relationships in support of a

culture of safety. Healthcare professionals must strengthen our own competency and

confidence as we understand the power and the value of being present for our patients,

listening for what others can't hear and speaking up when others don't have words.

As you recognize Patient Safety Week, take a moment and recognize all that you do for

the "prevention of harm." It's more than the thousand processes we keep up with and the

technology that supports our work. It's about you and the work you do every day to blend

art and science.

current resident or

Non-Profit Org.

U.S. Postage Paid

Princeton, MN

Permit No. 14

Be extraordinary

as you show up

knowing it matters.

Be the example

and mentor to

those learning and

growing within

this profession

remembering

that Florence

Nightingale said,

"The very first

requirement – is

that we should do

the sick no harm."

Black History Month

2020: A Reflection

on Voting Rights for

African Americans

Vivienne Pierce McDaniel,

DNP, RN

VNA and VNF Diversity,

Equity, and Inclusion

Council Chair

VNF Diversity, Equity, and

Inclusion Ambassador

The theme for this year's

Black History Month (BHM)

is "African Americans and

the Vote." The year 2020

is a milestone for voting rights in America because

it is the 150th anniversary of the 15th Amendment,

which gave African American men the right to vote

following the Civil War. Coincidentally, it is also the

centennial of the 19th Amendment and the pinnacle

of the women's suffrage movement.

The 15th Amendment, which was ratified in 1870, recognized the rights of

citizens of the United States to vote regardless of their race, color, or previous

condition of servitude, but it would take another 50 years (1920) for Congress

and the states to ratify the 19th Amendment, acknowledging the suffrage

rights of women (National Park Service, 2019). It's important to remember that

the right to vote did not always result in an opportunity to vote during that era.

Discriminatory practices continued to be used to prevent African Americans from

exercising their right to vote, although President Lyndon B. Johnson signed the

Voting Rights Act (VRA) in 1965.

During the month of February 2020, many BHM programs will consist of

plays that reenact the historical Selma march and other campaigns that led to

President Johnson's signing of the VRA of 1965. Other programs will feature

speakers who will use their platform to recall their personal experiences

regarding injustice, inequality, and the fundamental constitutional right to vote.

For this article, I engaged civil rights activist Congressman John Lewis (GA-

5), and Virginia Senators L. Louise Lucas (VA-18) and Mamie Locke (VA-2) in

personal conversations about voting rights.

Most of us who have "grown up" in America have learned one of the most

effective ways that we can

influence legislative decisionmaking

is through voting.

Senator Lucas opines that

despite the 15th and 19th

Amendment, African-American

voting, most specifically in

the south, was "grossly and

intentionally suppressed from

1890 to 1965." According

to Senator Lucas, voter

suppression has carried on into

the 21st century and continues

to be a problem.

Black History Month

continued on page 2

Senators Mamie Locke and Louise Lucas

during General Assembly 2019
---
Page 2 | February, March, April 2020

Virginia Nurses Today | www.VirginiaNurses.com

Black History Month continued from page 1

In a similar conversation with Senator Mamie

Locke, she expressed discontent in past and

current voting practices. Senator Locke said, "there

is no reason to make it difficult for individuals to

exercise their right to vote; it definitely should not be

happening in this century." "As Americans, it is our

duty to ensure that anyone who is eligible to register

and vote be allowed to exercise their given right to do

so without obstruction," stated Senator Locke.

When I met with Congressman John Lewis I

wanted to know what it was like on the Edmund

Pettus Bridge in Selma, Alabama on March 7, 1965,

particularly when the nonviolent protesters were

met with brute force opposition that included state

troopers brandishing nightsticks, tear gas and

whips. Congressman Lewis vividly accounts the

day he and the other protesters marched for the

voting rights of those denied the right to vote. The

details are graphic and will not be discussed here,

but Congressman Lewis said he feared that he

would "die on that bridge." Congressman Lewis said,

"When I was being beat on that bridge, I thought I

would lose my life right there, but it would not have

been in vain." The congressman emphasized the

significance of voting and having your vote count.

"It is imperative that citizens remain vigilant, stay

informed about changes in legislation, and most

importantly, exercise their right to vote," says

Congressman Lewis.

I would be remiss if I did not acknowledge civil

rights activist Mary Eliza Mahoney, the first African

American to complete nurse's training in 1879. Miss

Mahoney is also credited as one of the first women

to register to vote in her state of Massachusetts

following ratification of the 19th Amendment (Spring,

2017). Senator Lucas said she imagines that many

African Americans were feeling euphoric thinking

that the amendment was a quick fix to the ongoing

issues of voting rights, only to learn that barriers

such as poll taxes continued to exist. Mahoney, along

with many African American women such as Ida B.

Wells, Nannie Helen Burroughs, Josephine St. Pierre

Congressman John Lewis and Dr. McDaniel discuss

his participation in the 1965 March to Selma

Ruffin, and Mary McLeod Bethune led civil rights

organizations that contributed to the VRA of 1965

(National Park Service, 2019).

There are too many nuances surrounding the

African American suffrage movement to discuss

here, but perhaps your curiosity and propensity

for gaining new knowledge will lead you to further

investigate. And remember, you should never take

your constitutional right to vote for granted. You

must always seek ways to ensure that you are

allowed the opportunity to exercise that right. Happy

Black History Month!

*The Virginia Senate recently named Sen. L.

Louise Lucas (D-Portsmouth) as president pro

tempore, making her the first woman and first

African American to hold the chamber's secondhighest

office. Senator Mamie Locke was the first

African American mayor of Hampton, VA.

References

National Park Service (2019). Series: Suffrage in America:

The 15th and 19th Amendments. Retrieved from https://

www.nps.gov/articles/black-women-and-the-fight-forvoting-rights.htm

Spring, K. A. (2017). Mary Eliza Mahoney. The National

Women's History Museum. Retrieved from https://www.

womenshistory.org/education-resources/biographies/

mary-mahoney.

is the official publication of the Virginia Nurses

Foundation: 2819 N. Parham Road, Suite 230,

Richmond, Virginia 23294, VNF's affiliate, the

Virginia Nurses Association, is a constituent of

the American Nurses Association.

www.VirginiaNurses.com

admin@virginianurses.com

Phone: 804-282-1808

The opinions contained herein are those of the

individual authors and do not necessarily

reflect the views of the Foundation.

Virginia Nurses Today reserves the

right to edit all materials to its style

and space requirements and to

clarify presentations.

VNF Mission Statement

To support the advancement of nursing through

recognition, research, and innovation.

VNT Staff

Janet Wall, Editor-in-Chief

Kristin Jimison, Managing Editor

Virginia Nurses Today is published quarterly

every February, May, August and November by

the Arthur L. Davis Publishing Agency, Inc.

Copyright © 2012, ISSN #1084-4740

Subscriber rates are available, 804-282-1808.

For advertising rates and information, please

contact Arthur L. Davis Publishing Agency,

Inc., 517 Washington Street, PO Box 216,

Cedar Falls, Iowa 50613. (800) 626-4081,

sales@aldpub.com.

VNF and the Arthur L. Davis Publishing

Agency, Inc. reserve the right to reject any

advertisement. Responsibility for errors in

advertising is limited to corrections in the next

issue or refund of price of advertisement.

Acceptance of advertising does not imply

endorsement or approval by the Virginia Nurses

Foundation of the products advertised, the

advertisers or the claims made. Rejection of an

advertisement does not imply that a product

offered for advertising is without merit, or that

the manufacturer lacks integrity, or that this

association disapproves of the product or its

use. VNF and the Arthur L. Davis Publishing

Agency, Inc. shall not be held liable for any

consequences resulting from purchase or use of

advertisers' products. Articles appearing in this

publication express the opinions of the authors;

they do not necessarily reflect views of the staff,

board, or membership of VNF, or those of the

national or local chapters.

Stafford County Public Schools is actively

seeking qualified applicants for the

following position: School Nurse

Under the supervision of the Building Administrator and/or other designated

administrator, the school nurse provides health services and leadership in establishing

a complete and effective program of school health.

Qualifications: Must be a graduate of an accredited program of registered nursing

and hold a current license to practice nursing in the Commonwealth of Virginia;

Bachelor of Science in Nursing preferred. Current certification in First Aid,

CPR, and AED required.

Must have at least two years successful nursing experience.

Pediatric and community health experience preferred. Salary $36,447-$76,092

Please visit our website at www.staffordschools.net to learn more about the position

and to submit our on line licensed application at www.staffordschools.net

www.VirginiaNurses.com

Published by:

Arthur L. Davis

Publishing Agency, Inc.

Come join our caring team of professionals in a Five Star rated,

CARF-CCAC accredited community, located in the beautiful

Shenandoah Valley. We offer a competitive salary and benefits

package, sign on bonuses and excellent resident to staff ratios,

and are currently recruiting for CNA, LPN and RN positions.

For more information and to apply,

please visit our website at www.svwc.org
---
www.VirginiaNurses.com | Virginia Nurses Today February, March, April 2020 | Page 3

As of May 2020 only members of Virginia Nurses Association will

receive a print copy of Virginia Nurses Today.

If you are not a member of Virginia Nurses Association,

look for the next issue in your email inbox! To be sure to receive your free

digital copy, subscribe online at https://tinyurl.com/VNTGreen.

We are excited to announce that Virginia Nurses Today is going GREEN!

Beginning with the May 2020 issue, the publication will be distributed as

part of a Virginia Nurses Association membership benefit in both printed and

electronic form, and it will be available as an electronic publication to nonmembers.

We encourage every nurse in Virginia to register to receive Virginia Nurses

Today publication electronically. Whether you want to go green, or just like

reading it electronically, signing up for the online version of Virginia Nurses

Today is super easy. It will be in your inbox faster than standard mail!

Register your email now and sign up to receive Virginia Nurses Today

electronically at https://tinyurl.com/VNTGreen. If you have any questions

or comments about Virginia Nurses Today, please contact Virginia Nurses

Association at admin@virginianurses.com or phone 804-282-1808. You can join

Virginia Nurses Association at virginianurses.com/page/VNAMembership –

click JOIN ANA & VNA!
---
Page 4 | February, March, April 2020

VNF President's Message

Virginia Nurses Today | www.VirginiaNurses.com

Addressing Virginia's Bed Shortage and Other

Challenges to Mental Healthcare Delivery

The Virginia Nurses Foundation's Mental Health

Roundtable continues to identify, explore and focus

on the difficulties and challenges of providing mental

healthcare to a large population of Virginians,

inclusive of all ages, genders, ethnic groups and

nationalities. The Roundtable meets quarterly and

includes, in addition to nurses, behavioral health

professionals, law enforcement, legislators and

any other interested individuals and stakeholder

groups. Three Roundtable workgroups have evolved:

1) Stigma, 2) Integrated/Interdisciplinary Care, and

3) Access, Availability and Appropriateness of Care,

and all concur that there are significant issues

surrounding availability of beds and staff to care

for patients suffering from mental/behavioral health

issues.

Speaking at a recent meeting of the Roundtable,

VHHA (Virginia Hospital & Healthcare Association)

Director of Intergovernmental Affairs Jennifer Wicker

indicated that the shortage of beds for individuals

dealing with mental health issues is not new but

has been a constant challenge. This, she suggests,

is more likely a result of an insufficient investment

in the system that is far more reactionary than

proactively planning. Wicker shared with the

group that from 2015 to 2018, hospital admissions

increased by approximately 5,000, but that 4,000

of those admissions were voluntary across not only

psychiatric hospitals but community hospitals,

as well. Unfortunately, individuals of all ages who

are seeking mental healthcare end up retained in

emergency rooms that generally are ill-prepared to

care for patients long-term while waiting for a mental

health bed.

The concern about access and availability of

care identified by the Roundtable appears to be

validated in a recent article in the Virginia Mercury

by Robert Zullo who concurred with Wicker. He

states that "involuntary admissions to state mental

hospitals are spiking" and this is happening at a

time when beds are not available for the number

of patients seeking care. Zulo further writes that

hospitals are "not properly staffed," echoing a report

by the state inspector which states "more than half

of the hospitals were not properly staffed." The

Inspector General report also seemed to confirm

other challenges identified by both the Access &

Availability of Care and Interdisciplinary/Integrated

Care Workgroups that due to "an increase in certain

patient populations and the staff turnover at

facilities, more personnel are being asked to care for

patients for which they have not received training."

Interestingly, Wicker echoed these concerns when

she shared challenges of bed issues and shortages

of certain patient groups with the Mental Health

Roundtable. She specifically identified the lack of

resources in the system to deal with the aggressive,

substance abusing, and geriatric patients requiring

extensive stays in the emergency room setting

while seeking a bed and

resources that will be able

to care for the patient.

The shortage of beds

Terris Kennedy,

PhD, RN

does seem secondary to the lack of staff who have

the knowledge, skills and credentials to work with

individuals seeking mental healthcare. According

to the Inspector General as documented in Zullo's

article, "Not having staff members cross-trained

puts the employee and the patient at risk for not

effectively providing and receiving the patientspecific

care needed." These are also major

workforce issues identified by the Stigma and

Interdisciplinary/Integrated Care Workgroup of our

Mental Health Roundtable.

What has been made obvious are the challenges

and the work left to be done to provide the

appropriate care and treatment to individuals

seeking mental healthcare. Clearly the Governor's

Office and Virginia's legislators understand and

share the concern for not only the bed shortage

issues but the appropriate staff knowledge, care

and resource issues. The next meeting of the Mental

Health Roundtable will be held Friday, February

28 and will focus on mental healthcare versus

incarceration and while incarcerated. Please contact

VNA/VNF CEO Janet Wall at jwall@virginianurses.

com if you are interested in attending and/or

working with any of the workgroups.

Zullo, Robert. Report: As Admissions Surge, Some State

Mental Hospitals Are Understaffed, Lack Overtime

Policies. 18 Nov. 2019, https://www.virginiamercury.

com/blog-va/report-as-admissions-surge-some-statemental-hospitals-are-understaffed-lack-overtimepolicies/.

Palliative Care

Shadowing

at No Cost

for Virginia Health Care Professionals

Here's your chance to become a palliative care champion in your

community and learn from award-winning experts with hands-on

observation as they deliver palliative care. These one- and two-day

programs include site visits at Virginia Commonwealth University's

Massey Cancer Center and at Capital Caring.

To learn more, contact Teri Dulong-Rae at

teri.dulongrae@vcuhealth.org or call (804) 628-0617.

Thanks to the Virginia legislature for making this program possible.
---
www.VirginiaNurses.com | Virginia Nurses Today February, March, April 2020 | Page 5

President's Message

Nursing Collaborative Tackles Nurse Staffing

and Workforce Challenges

The nursing shortage and workforce forecasts

vary depending on the source, but one thing is for

certain: it weighs heavily on levels of nursing and

practice settings, from frontline nurses and chief

nursing officers to academia. The bottom line is that

it jeopardizes the care we provide to our patients and

clients, and the quality of life for our communities.

Addressing the multiple issues attributing to the

shortage and ongoing staffing concerns will require

several strategies employed in tandem. The American

Nurses Association (ANA) in conjunction with the

American Organization of Nurse Leaders (AONL) and

the Healthcare Financial Management Association

(HFMA) recently released a white paper addressing

the optimal allocations of nursing resources.

Building on these efforts, VNA convened the

Nurse Staffing & Workforce Group in early 2018. The

group is composed of nurse leaders representing an

array of organizations and practice settings, and has

the goal of identifying a shared path to positively

impact the nursing and healthcare workforce

shortages in Virginia.

The group has identified six primary focus areas

shared below in no particular order of priority:

• Project workforce needs based on population

needs

This includes forecasting by population needs

and ability to care for those within these

specialty areas; and the alignment of core

competency needs and education's ability to

keep pace with these growing needs.

• Support innovative clinical care delivery

models in which team members practice to the

full extent of their preparation

The group further discussed utilizing

technology solutions to provide predictive

analytics for staffing numbers, while also

aligning skill set, education, and competency

with patient/client assignments to enhance

quality care provision.

• Construct a model of nursing progression

at the point of care to enhance nursing

satisfaction, retention, and elevate patient care.

• Develop a coordinated academic practice model

of student clinical experiences and create a

pipeline for progression to meet workforce

demands.

This includes preparation for specific fields

of practice; pipeline enhancement for nursing

assistants, ease of access to education, and

funds to support entry level educational

pathways and stackable credits.

• Enhance alignment between education,

practice, finance, and regulation to assure

effective practice.

• Ensure that diversity exists in the workforce

and mimics the populations being served.

The group was expanded to include representation

from the Virginia Association of Colleges of Nursing

(VACN) and the Virginia Organization of Nurse

Executive Leaders (VONEL) at our most recent

meeting last month. These organizations are also

working to address nurse

staffing and workforce

issues. The targeted

outcomes of VACN and

VONEL are to:

Linda Shepherd,

MBA, BSN, RN

• Identify the roles in nursing that will assist

in addressing the health priorities across the

commonwealth

• Detect gaps in the nursing workforce relative

to knowledge, skills, and transition to practice

now and in the future

• Distinguish what infrastructure and resources

are necessary for collaboration across the

commonwealth.

The priorities identified by VACN and VONEL

align on multiple levels with those of VNA's Nurse

Staffing & Workforce Group. As we move forward,

both groups plan to engage in ongoing collaboration

to further advance and enhance the work around

nurse staffing and the nursing workforce. Our next

meeting will occur in early February.

This is an extremely important step as the

inability of nursing to provide a unified front creates

further challenges and distractions. The goal of

VNA's Nurse Staffing & Workforce Group, VONEL,

and VACN is to provide a unified voice on nurse

staffing and workforce initiatives. In this way, we

can collectively and uniformly educate the public

and collaborate with other partners to help advance

our work on behalf of nurses throughout the

commonwealth. Stay tuned for more!
---
Page 6 | February, March, April 2020

CEO Report

Virginia Nurses Today | www.VirginiaNurses.com

Welcome to the Year of the Nurse!

This year, VNA, ANA, and organizations

worldwide are expanding the traditional nurses'

week to a full month, and further recognizing 2020,

as the Year of the Nurse!

Nurses account for nearly 50% of the global

health workforce and play a vital role in providing

health services worldwide. As nurses, your care

for the individual begins before they're born and

continues until they take their final breath and, like

never before, you've needed to rise to the challenge

of increasing acuities and a rapidly changing

healthcare delivery system. You're the first and

often only healthcare professional your patients and

clients see, and as such, you are in a unique position

to join us as we work to educate the public about

who today's nurse is. This increased understanding

of the complexity, breadth, and depth of the nursing

role is essential, as ANA President Dr. Ernie Grant

recently said, "in order to expand investment in

education, practice and research."

Throughout the year we'll be working with our

organizational partners to advance initiatives

related to essential community health services,

identify real solutions to a myriad of staffing issues,

and advance nursing and access to healthcare

services in the legislative and regulatory arena.

In great part, our successes will hinge on having

you by our side and engaged in the process. Be

sure to stay informed with our weekly VNA News

Brief, legislative action alerts, and calls-to-action

throughout the year, and respond to our issuesfocused

surveys. We want to know what you think!

And if you're not already a member, please add your

voice to those of our more than 4,000 members, by

joining today…. At just $15/month, now is a great

time to join! https://tinyurl.com/JOIN-TODAY

And of course you have great cause for

celebration. Not only has nursing been recognized

for the 18th consecutive year as the most trusted

profession in the US, it's also the 200th anniversary

of Florence Nightingale's birthdate! Be sure to post

your photos remembering Florence, celebrating the

Year of the Nurse… and celebrating YOU on our

Facebook page (www.facebook.com/vanurses) for

all to enjoy. Alternatively, you can send your photos

to our communications coordinator, Elle Buck, at

ebuck@virginianurses.com.

We'll be celebrating

several individual nurses

in future 2020 issues of

Virginia Nurses Today;

nurses leading at all levels Janet Wall

and in various practice

settings, so stay tuned! For now, I thought you

would enjoy reading some inspiring stories of nurses

leading the way from around the world!

• Eva Tegnander – educating midwives in

Norway on ultrasound for more than 30

years. https://tinyurl.com/tkvvmgp

• Inés Maria Comino Sanz: A nurse researcher

in Spain helps bring evidence into practice.

https://tinyurl.com/soejb2c

• Community nurses in Romania – the eyes,

ears and voice of people in need. https://

tinyurl.com/wjf2fah

• Natalya Saulskaya: as a nurse [in Russia],

I worry for every baby who hasn't been

vaccinated. https://tinyurl.com/r73l4hv

We have much to do as we work to raise the

visibility of the nursing profession in policy dialogue

and develop and grow the nursing workforce. Let's

make it a great year… together!

Goochland Powhatan Community Services

is looking for a licensed LPN or RN

with experience in psychiatric services

for 24 hours/week.

Please see www.gpcsb.org for job

description & application or call

804-556-5400. Open until filled. EOE.

We are offering increased PRN rates in lieu of benefits for LPNs and RNs.

Discover a retirement community where team members have a heart for

providing exceptional care and have the desire to create a memorable

experience for our seniors. We're looking for dynamic team members

who take pride in their work and enjoy working with seniors as part of a

dedicated team. If you are looking for a rewarding career in more ways than

one, join us in setting the new standard for service. We have increased our

PRN rates in lieu of benefits for RN's, LPN's, C.N.A.'s and CMA's.

We are now hiring for:

MDS/QAPI Manager – FT

RN – Full-time, Night Shift

RN's (PRN)

LPN's (PRN)

If you are interested in applying for a position, go to www.nationallutheran.org/careers.

It takes the best people to create a great community! EEO employer.

Clinical Nurse Managers

Lynchburg, Virginia!

Openings in Behavioral Health programs in

Lynchburg for compassionate, experienced

and Virginia Licensed BSNs with Management

Experience, MSN preferred.

Competitive Compensation Package.

Generous Sign On Bonus & Tuition Reimbursement.

To apply, contact: Ann Belvin, VP Talent Engagement

Phone: 804.649.9340

Email: abelvin@diamondhealth.com

Diamond Career Page: diamondhealthjobs.com

100 Most Influential People in Healthcare

includes Past VNA President

ANA Enterprise Chief

Executive Officer and

Past VNA President

Loressa Cole, DNP,

MBA, RN, FACHE, NEA-

BC, was named one of

Modern Healthcare's "100

Most Influential People in

Healthcare." This awards

and recognition program

honors individuals in

healthcare who are

deemed by their peers

and an expert panel to be the most influential

individuals in the industry based on leadership

and impact. For more information on the 100

Most Influential People in Healthcare - 2019, visit

modernhealthcare.com.

Dr. Cole has more than 30 years of nursing and

leadership experience. She served as president of the

Virginia Nurses Association from 2012 until 2014.

Dr. Cole became the ANCC Executive Director and

Executive Vice President in 2016 and in 2018 was

appointed as the ANA Enterprise CEO. You can learn

more about Dr. Cole and her accomplishments at

nursingworld.org.

VIRGINIA DEPARTMENT

OF CORRECTIONS

VADOC Nurses are top tier professionals with extensive

nursing knowledge and clinical skill sets. Our nurses are

exposed weekly to the following clinical nursing skills:

• Chronic and Acute Care

• Emergency/Trauma

• Medical Clinic +

Infirmary Care

• Public Health & Education

• Psychiatric + Behavioral Health

• OB/Women's Health

• Geriatric and Long Term Care

• Palliative Care

BENEFITS

• Student Loan Assistance • Federal Student Loan

Forgiveness Program • Education Assistance Program

• VRS Retirement Planning • 401(a) • 12 Paid Holidays

• Short & Long Term Disability • Flexible Spending Program

• Health Benefits • Group Life Insurance Plans

• Annual Leave • Family and Medical Leave • Sick Leave

APPLY ONLINE TODAY!

vadoc.virginia.gov/job-opportunities

Have questions or would like to request more information about

a specific nursing position?

Send all inquiries to: Health-Recruitment@vadoc.virginia.gov

WE'RE HIRING!

The VADOC is currently looking for:

Licensed Practical Nurses &

Registered Nurses who are interested

in 12 hour shifts: DAYS OR NIGHTS

*Multiple Facilities*

Connect and Follow VADOC

Virginia Department of Corrections

@VADOC

@vadoc_recruitment
---
www.VirginiaNurses.com | Virginia Nurses Today February, March, April 2020 | Page 7

UVA Nursing Students Tackle Climate

Change Induced Disaster in Class

Christine Kueter

A hurricane devastates a rural town where

mounting injuries from a building collapse, chemical

burns, and multiple car accidents, create a frenzy

of need. Uninjured victims frantically search for

missing loved ones, disrupting and distracting

already overwhelmed emergency responders while

medical supplies—bandages, defibrillators, clean

water, and splints—are in drastically short supply.

Then the power goes out. What do you do?

Thankfully, it's just another day in the Clinical

Simulation Learning Center, UVA School of

Nursing's 10,000-square-foot lab. Nursing students

in two countries are testing their mettle in practice

scenarios involving disasters caused by extreme

weather to gain a better sense of what makes

communities both prepared and resilient in the face

of climate change.

Through the school's partnership with peers in

Bluefields, Nicaragua, a low-lying coastal community

hit hard by the realities of climate change, UVA's

Global Initiatives director and Nursing Professor

Emma Mitchell has expanded the richness of

simulated scenarios. UVA nursing students and

their counterparts from the Bluefields Indian

and Caribbean University (BICU) practice and

refine drills both separately and together, offering

immediate feedback on the experience and their

learning takeaways.

Over the last several years Mitchell has taken

more than 50 nursing students to Bluefields

in small groups. In addition, BICU faculty and

Bluefields' public health officials visit UVA to offer

students a sense of climate change's impact on their

communities and a portrait of how they're preparing.

"If we look at nursing study abroad programs

across the U.S., they're all guided by good

intentions," says Mitchell, a public health nurse and

global health scholar. "But not all of these are guided

by a vision that really emphasizes sustained cultural

and professional engagement. For too long we've had

a history on a national scale of offering students

experiences where they parachute into a community

to provide services that may not be in line with

community needs, or socio-culturally appropriate,

and then leave."

"Our partnership with Bluefields, a true ideas

exchange," she adds, "is intended to lead a new trend

in global engagement."

Much of what's rich about the exchange is

embedded in the lived experience of Mitchell's

Bluefields partners. Faculty including BICU

professor and nursing school director Diana

Hodgson and Youth Program Coordinator for

the Región Autonoma Costa Caribe Sur Gorman

Jaenstchke lived through hurricanes Mitch (1998)

and Joan (1988). These events impacted the lives

of thousands of Nicaraguans, devastated crops and

infrastructure, and displaced millions of central

americans.

"Before [Hurricane] Joan," Jaenstchke said to

students on a recent visit to UVA, "I wasn't prepared.

My Bluefields region wasn't prepared. And that's

why the institutions, the families, the regions, the

leaders—all of us are working together to make a

plan. Bluefields is getting prepared, that's why we

have these exchanges."

In addition to disaster simulation, UVA students

also learn how climate change is affecting Bluefields

more globally from its economy to its fishing,

agriculture, and young people's labor market

engagement, gleaning a more nuanced view of how

changing weather patterns can impact every facet of

society.

The biggest lesson though is the need to plan for

climate change, a process that nurses can help lead,

Hodgson says.

We Want to Know!

How's the health of your workplace?

The health and culture of every practice

setting plays an important role in the

happiness, retention, and well-being of its

staff. VNA's Healthy Workplace Culture

Workgroup is conducting a brief survey to

assess the health of all types of workplaces

throughout Virginia. We're eager to learn

which areas are most challenging and to also

glean your ideas for creating healthier work

environments.

OPTIONAL: Complete the survey by

Wednesday, March 18 for a chance to win

one of two VNA "Keep Calm & Nightingale On"

canvas tote bags! All survey responses will be

kept strictly confidential.

Visit https://tinyurl.com/vghdlos to

complete the survey. Thank you for your

participation!

Ask about scholarships or

employer tuition reimbursement

NursingALD.com

Free to Nurses

NursingALD.com

can point you right to that

perfect NURSING JOB!

Privacy Assured

Easy to Use

E-mailed Job Leads
---
Page 8 | February, March, April 2020

Virginia Nurses Today | www.VirginiaNurses.com

| Glen Allen, VA

The Virginia Nurses Association's 2020

Spring Conference, Cultivating a Happy Work

Environment, will take place on Wednesday,

April 22. Join us as we investigate what happy

work environments look like and discuss how

participants can build a culture of happiness

within their organizations.

VNA members have shared that in order to

improve nurse engagement and retention, they

need the knowledge and resources to address

workforce issues, including improving the

environment they work in. Speakers will examine

crucial issues such as navigating change,

staying engaged personally and professionally,

communicating effectively with co-workers, and

strategies to strengthen professional teams. This

program is for nurses across all practice settings

who want to improve their work environment to

ultimately maximize their team's outcomes.

Keynote Speaker

Julian Lute, a

consultant from Great

Place to Work®, will

explore elements

that companies on

Fortune's "100 Best

Companies to Work

For" list use to build a

superior experience,

beat the market to

attract and retain

talent, and will reveal

how you can apply

these tactics within

your organization. Lute has more than 15

years of experience as an operational leader

and consultant. He works with top leaders

from Fortune 100 companies to connect the

dots between superior business performance

and a best-in-class employee experience.

Lute has a history of working with some of

the largest businesses in manufacturing,

information, technology and retail including:

AT&T, McDonald's, Dow Chemical, 3M, Workday,

Princess Cruises, Weight Watchers, Activision

Blizzard, and Virgin America/Alaska Airlines.

Cultivating a Happy Work Environment will be held

at the Place at Innsbrook in Glen Allen, VA (20

minutes west of downtown Richmond) in addition

to satellite locations in southwest and northern

Virginia.

More details including topics, speakers, and

contact hours are available online. Registration

is open at https://virginianurses.com/page/

2020SpringConference. The price is $139 for

members and $169 for nonmembers. Questions?

Contact Jackie Jester at jjester@virginianurses.

com.

Share Your Best Practices or Pitch an Idea!

If you and your team have an innovative

best practice that has cultivated a happy work

environment in your setting OR you have an idea

for how to transform your work environment, we

want to hear from you!

We are accepting abstracts for Short Podium

Presentations and Pitch an Idea Sessions.

Participants will leave with the knowledge and

resources to cultivate a happy work environment

that will improve outcomes. Our planning

committee is looking for best practices and ideas

from across different nursing environments

and specialties, so no matter where you work

– on the frontline, in a leadership role, serving

in academia, advanced practice, in acute care,

the community, or long-term care – we want to

learn from you! The Short Podium Presentations

and Pitch an Idea Sessions will be 20 minutes in

length.

Dates for Submission

Submissions are being accepted now. The

deadline to submit abstracts for both podium and

idea pitches is March 6, 2020. You may submit

your abstract electronically here: https://form.

jotform.com/193493814155969

If you have difficulty accessing the form at your

workplace, please try your mobile device or home

computer.

Notification

The abstract review committee will review all

submissions and notify selected presenters by

March 25, 2020.

Criteria

Submissions will be evaluated based on:

• Presentation: grammar, spelling, clarity

• Content: substantive, current, of interest to

potential attendees

• Relevance: provides knowledge on best

practices or new approaches to cultivate a

happy work environment OR provides an

innovative idea for how to cultivate a happy

work environment

• Outcomes: demonstrates potential or actual

outcomes, describes what tools or standards

were used or would be used to measure

outcomes, and discusses transferability

to other practice environments and

organizations

Who May Submit

Anyone who has a best practice OR an idea

related to cultivating a happy work environment,

may submit an abstract to be considered to serve

as a podium presenter.

Short Podium Presenter Requirements

• Selected presenters will be provided a

template to follow for presenting at the

conference. Presenters should be prepared to

speak for 20 minutes, including five minutes

for questions. All final presentations will be

due by April 1, 2020.

• Podium presenters will be required

to submit all necessary forms by the

deadlines provided in the acceptance letter.

Acceptance as a presenter will be contingent

upon a conflict of interest assessment. VNA

reserves the right to rescind the acceptance

of an abstract due to any conflict of interest

discovered after acceptance.

• Presenters are responsible for all

costs associated with registering for

the conference and all travel and

accommodations. Conference agenda and

registration is at www.virginianurses.com

Idea Pitch Presenter Requirements

• Selected presenters will be provided a

template to follow for presenting their idea.

Presenters should be prepared to pitch their

idea in 10 minutes and facilitate discussion

and field questions for 10 minutes. All

presentation slides will be due by April 1,

2020.

• Idea pitch presenters will be required

to submit all necessary forms by the

deadlines provided in the acceptance letter.

Acceptance as a presenter will be contingent

upon a conflict of interest assessment. VNA

reserves the right to rescind the acceptance

of an abstract due to any conflict of interest

discovered after acceptance.

• Presenters are responsible for all

costs associated with registering for

the conference and all travel and

accommodations. Conference agenda and

registration is at www.virginianurses.com

Submission Requirements

Applicants must submit their abstract

electronically here: https://form.jotform.com/

193493814155969

The submission must describe a best practice

or idea for a new practice that focuses on

cultivating a happy work environment. Please

provide the title and a two to four sentence

description of the presentation. The abstract

should be a maximum of 250 words and should

discuss:

• Purpose

• Description of the best practice or idea to

cultivate a happy work environment

• Implementation strategies

• Potential or actual outcomes and what tools

or standards were used or would be used to

measure outcomes

• Implications for practice and transferability

Please do not reference the organization/

author(s) within the title, program description, or

abstract.

Please Share

Please feel free to share this call for presenters

with any individual or organization that has a best

practice or idea to share related to cultivating a

happy work environment!

You can find out more about how to submit

an abstract by visiting the spring conference

webpage at https://virginianurses.com/page/2020

SpringConference
---
www.VirginiaNurses.com | Virginia Nurses Today February, March, April 2020 | Page 9
---
Page 10 | February, March, April 2020

Virginia Nurses Today | www.VirginiaNurses.com

Expanding Access to Primary Care in Free and Charitable Clinics:

Cynthia Fagan, Rebecca Bates, Susan Adamson,

Paula Hill-Collins, & Teresa Tyson

A major challenge facing the U.S. healthcare

system is the current and future projected workforce

shortage of primary care physicians (PCP).

Population growth and a growing elderly population

accompanied by an increasing prevalence of chronic

diseases associated with aging places the greatest

demand on primary care services. Expanded health

insurance coverage under the Affordable Care

Act (ACA) and Medicaid expansion is expected to

further widen the supply and demand gap. A deficit

of 23,640 PCPs is projected by the Health Resources

and Services Administration (HRSA) National Center

for Workforce Analysis by 2025. 1 This finding is

consistent with recent projections developed by the

Association of American Medical Colleges (AAMC),

which suggest that PCP shortfalls may range from

14,900 to 35,600 by 2025. 2

In addition to the PCP workforce shortage, there

is a maldistribution of physicians in rural and

medically underserved areas. In Virginia, there

are 105 designated health professional shortage

areas (HPSA) for primary health care affecting

a population of 1,559,609. 3 Virginia is also

challenged with a significant uninsured rate of

10.3% between 2016 and 2017 for nonelderly (ages

0-64), representing about 719,000 individuals,

87.6% of whom were adults. 4 This estimate does not

account for Virginia's Medicaid expansion, available

to residents earning up to 138% of the poverty

level. As of October 2019, approximately 325,000

Virginians had gained coverage. 5 Despite Medicaid

expansion, there remains a significant number of

uninsured adults who are much more likely than

those insured to have unmet health needs and are

less likely to receive preventive services. 4

Virginia's free and charitable clinics serve as

an important safety net resource in meeting the

unmet health care needs of the uninsured, Medicaid

and other vulnerable patients. Safety net clinics

provide a variety of services including, chronic care,

specialty care, dental care, pharmaceutical care,

vision care, women's health, mental health, health

education, case management, care coordination,

and various supportive services. Harnessing the new

autonomous licensure law for nurse practitioners

(NPs) will expand access by allowing NPs with five

or more years of clinical experience to practice

without the restriction of a mandated collaborating

physician and can help mitigate the shortage of PCPs

by increasing provider capacity in safety net clinics.

This article will discuss how NPs are leveraging the

autonomous licensure law to increase access to care

in three of Virginia's free and charitable clinics – the

Health Wagon, the Harrisonburg-Rockingham Free

VIRGINIA DEPARTMENT

OF JUVENILE JUSTICE

The Virginia Department of Juvenile Justice

(DJJ) currently has openings for both

Registered Nurses and Licensed Practical

Nurses at Bon Air Juvenile Correctional Center

in Chesterfield Virginia. DJJ provides primary

medical, dental, and psychiatric care to youth

committed to state custody. Nurses are an

integral part of the multidisciplinary teamwork

at Bon Air JCC. Nurses at the facility administer

medication, respond to patient medical

requests, provide chronic care treatment, and a

range of other nursing treatments.

We offer a generous state benefits package

which includes a defined benefits pension

plan, health insurance, annual leave, education

leave, and 12 paid holidays. For a complete job

description and to apply online please visit us at:

www.djj.virginia.gov and click on 'DJJ Careers'.

EOE

Clinic and the Adams Compassionate Healthcare

Network.

Autonomous Licensure Law

The autonomous practice licensure law for

Virginia NPs became effective January 7, 2019,

following promulgation of regulations by the Joint

Boards of Nursing and Medicine. The new law,

codified under Virginia Code § 54.1-2957, reforms

scope-of-practice (SOP) permitting qualified NPs to

be licensed to practice independently. 6 Elimination of

the career-long collaborative agreement with a team

physician following a transition to practice period

is a significant public policy change projected to

increase the primary care workforce across the state.

Eligible NPs must meet a five-year full-time

clinical practice experience equivalent and file

an attestation from their collaborating physician

with the Board of Nursing (BON). Clinical practice

experience is delineated as the postgraduate

delivery of healthcare directly to patients, which

unfortunately excludes administrative and faculty

teaching time. The five-year full-time equivalent

is based on a 36-hour work week and is defined

as 1,800 hours per year for a total of 9,000 hours. 7

Applications for autonomous practice licensure

are available on the BON at https://tinyurl.com/

y5val9y8. The application requires a signature by

the patient-care team physician(s) affirming that:

1) The physician served as the NP collaborator

pursuant to a practice agreement;

2) The physician routinely practiced with a

patient population and in a practice area for

which the NP is certified and licensed; and

3) The time period practiced with the NP

pursuant to the practice agreement.

If circumstances inhibit the NP from obtaining an

attestation from the collaborating physician, "other

evidence" meeting the qualifications for autonomous

practice licensure may be submitted. 7 A one-time

administrative fee of $100 per certification category

in which the NP is licensed and certified is required.

Upon verification that requirements have been met,

a new "autonomous practice license" is issued and

the NP may practice autonomously.

Since implementation of the new autonomous

practice licensure law, 639 NPs have obtained

autonomous licensure. This represents

approximately 16% of an estimated 4,000 eligible

NPs. These numbers are expected to grow with

uptake of the new law and development and

diffusion of innovative service delivery models.

The Evidence

Autonomous NP practice in Virginia has the

potential to decrease healthcare costs, improve

access to care, particularly in rural areas, and

improve evaluation of healthcare metrics for NPs.

Robust evidence supports the high-quality of

care that NPs provide 7-38 and increasing numbers

of policy influencing bodies have recommended

expanding the use of NPs in primary care. 39,40 In

states where full SOP for NPs is in place, access

to care increases in rural and underserved areas.

In states with restricted SOP for NPs, statistically

significant higher rates of poverty, uninsured, and

unemployment are observed. 41-43 Removing SOP

barriers such as collaborating agreements has

demonstrated increased access to care for the most

vulnerable populations in these states.

The quality of care NPs provide to Medicare

beneficiaries has been well documented with

a recent study demonstrating lower hospital

admission and readmission rates, emergency

department (ED) use, and imaging for low back

pain as compared to physicians. 44 In states that

expanded Medicaid, ED visits increased by 28% in

states with restricted SOP for NPs whereas in states

with autonomous practice laws for NPs, ED visits

increased by only 7%. 45 The decreased utilization

of EDs for non-emergent conditions provides a

significant cost-savings to the healthcare system.

In states with fewer SOP restrictions, NPs were

more likely to independently bill Medicare for

services provided in rural areas thereby increasing

access to care for rural dwelling elders and

individuals with disabilities who are dual eligible

for Medicaid and Medicare. 46 In fact, reimbursement

costs for care provided by NPs for evaluation and

management services was 29% less than that for

physician managed care. 47 This demonstrates an

opportunity for cost-savings among this population

without sacrificing quality or outcomes.

From a workforce perspective, NPs practicing in

rural and underserved areas were more satisfied

with their jobs, worked to the top of their license,

education and training, and were less likely to

look for a new job. 48 Examination of workforce

development for NPs reveals academic-community

partnerships offer an opportunity to expose more

students to clinical practice sites working with

underserved populations while providing additional

support or resources to these preceptors who are

often the only provider in a large geographical

area. 49,50

Malpractice is a common concern among

healthcare providers. In states with full SOP laws

for NPs, one extra regulatory effect of autonomous

practice has been a decrease in physician

malpractice payments by up to 31%. 51 Removing

SOP barriers may reveal the actual malpractice

claims paid by provider type, which will improve

transparency in malpractice evaluation between

provider types.

Impact of Autonomous NPs in Free and

Charitable Clinics

Susan Adamson, MS, FNP-BC has served as

a volunteer NP clinical provider for over 22 years

at the Harrisonburg-Rockingham Free Clinic,

which provides medical care to low-income,

uninsured adult residents. Ms. Adamson also has

the distinction of being the first NP in Virginia to

be issued an autonomous practice license. She

reports full support from the two physician medical

directors for autonomous practice demonstrated by

signatures on NP attestations and support of clinic

policy changes in support of full use of NPs. The

clinic's governance board has embraced the new

law with support for changes to clinical policies by

the professional services subcommittee to utilize

autonomous licensed NPs to the fullest. Changes in

the credentialing of clinicians have been updated.

"Essentially, NPs with autonomous practice

licenses, once verified and with no sanctions,

can begin to see patients." They are of course

added to the clinic's Division of Risk Management

clinician list. NPs without autonomous licensure

are still assigned to a practice agreement with

one of the medical directors. Several "NP slots"

have been opened up by autonomous licensed

NPs. Additionally, autonomous licensure has

increased the ability to spend more time and

resources focusing on healthcare delivery instead

of the administrative burdens associated with

collaborative practice agreements, chart reviews,
---
www.VirginiaNurses.com | Virginia Nurses Today February, March, April 2020 | Page 11

Leveraging the New Nurse Practitioner Autonomous Practice Licensure Law

etc. Ms. Adamson states, "It has been such an easy practice change for us in

this setting."

Rebecca Bates, DNP, APRN, FNP-C practices with the Adams Compassionate

Healthcare Network with only four administrative and clinical employees and

herself as the only paid clinician. The clinic provides medical services to lowincome

and uninsured individuals for free or at a low cost. The clinic has

volunteer providers including physicians and a medical director who owns his

own practice. Under a collaborative agreement, Dr. Bates had to ensure the

collaborating physician was available for consultation as needed. If he left the

country to visit his family overseas or was otherwise unavailable, she would

not be able to practice. With autonomous practice licensure, Dr. Bates is not

required to practice with a collaborating physician. Additionally, any NPs who

have obtained their autonomous practice licensure and wish to volunteer in the

clinic do not need to have a collaborative agreement with the medical director.

This reduces the required oversight and nullifies the limit on the number of NPs

a collaborating physician may have an agreement with at any one time.

Dr. Bates states, "Autonomous practice has allowed me to seamlessly

integrate my scope of practice into the workflow and the care I provide in the

clinic." As a preceptor, her NP students learn to participate in clinical care and

consultation as any healthcare provider does. Mandating a single provider for

collaboration is an onerous and ineffective model that reduces access to care,

particularly in a vulnerable population such as the uninsured. "My students

now learn to consider which healthcare provider is the most appropriate for a

particular consultation; it is most often not another primary care provider."

Teresa Tyson, DNP, FNP-BC, FAANP is the executive director of the Health

Wagon and Paula Hill-Collins, DNP, FNP-BC, FAANP is the clinical director.

The Health Wagon's mission is to provide compassionate, quality health care

to the medically underserved people in the mountains of Appalachia. 98% of

the Health Wagon's patients are uninsured. Drs. Tyson and Hill report that the

autonomous practice licensure law has removed a tremendous burden of "fear

of losing our collaborative physician" who is in his seventies though remains

active in practice. The new law has allowed them to add two additional NPs to

the clinic. Dr. Collins-Hill states, "The law also permits NPs to freely volunteer

without the requirement for a collaborative physician at the M7 Move Mountains

Medical Mission (formerly Wise RAM)." This event, held annually at the Wise

Fairgrounds, serves thousands of individuals who come to get needed free eye,

dental, medical and diagnostic services. The new law has increased access to

services provided by the Health Wagon.

contextual factors that may enhance or impede uptake. Finally, an organization

may implement and monitor the policy and practice changes associated with

autonomously licensed NPs. NPs are qualified to independently deliver highquality

care and already do so in 22 states plus the District of Columbia. 53

Embedding policies and practices that fully utilize autonomous NPs in the

organization increases primary care capacity and access to care.

Conclusions

The autonomous practice licensure law for Virginia NPs effective since

January 7, 2019, has the potential to mitigate the primary care workforce

shortage and increase access to care across the state. With delivery system

changes and full utilization of NP and physician assistant (PA) services,

the projected shortage of 23,640 PCPs by 2025 can be effectively mitigated. 1

Although NPs and PAs do not replace physicians, studies have shown that NPs

and PA practitioners can augment and expand physician capacity in many

care settings. 54, 55 NPs can manage 80 to 90% of care provided by primary care

physicians such as: take medical histories, conduct exams, order and interpret

tests, develop treatment plans, and provide preventive care. 56 Leveraging use of

autonomous licensed NPs in free and charitable clinics is a strategy to increase

primary care capacity to address the health care needs of Virginia's uninsured,

Medicaid recipients and other vulnerable patients.

For a full list of references, please visit https://cdn.ymaws.com/

virginianurses.com/resource/resmgr/full_practice_authority_refe.pdf.

Debunking Barriers and Misinterpretations

Some physicians and professional medical associations have justified their

support for limiting NP SOP regulations on the grounds that they are necessary

for the health and safety of patients from non-physician providers. 52 The robust

evidence-based research presented in this article argues against this stance.

In its 2010 evidenced-based report, The Future of Nursing: Leading Change,

Advancing Health, the Institute of Medicine (IOM) called on states to eliminate

"outdated regulations and organizational and cultural barriers that limit the

ability of nurses… to practice to the full extent of their education, training,

and competence." 39 Virginia state legislators have removed restrictions on NP

SOP with passage of the autonomous licensure law. It is now incumbent for

organizational policy makers such as credentialing and governing boards

to revise policies permitting NP practice to the fullest extent of education and

training. Failure to fully integrate use of autonomous NPs into healthcare

delivery models will be at the expense of accessible care for many vulnerable

individuals.

Institutionalizing Autonomous Licensed NPs

A first step in the process to institutionalize autonomous licensed NPs is

garnering professional and political support from diverse stakeholders in the

organization. Starting discussions with stakeholders, including the board of

directors, administrators, nurse practitioners, physicians and other healthcare

workers surrounding the new licensure law is necessary for buy-in and to

address any knowledge gaps or misperceptions. These discussions must include

participatory approaches with bi-directional communication. The systematic

presentation of the evidence-base on NP safety, quality and cost-effectiveness

can be a powerful tool to build support for policy change and to dispel

misconceptions. Implementation also commonly requires behavior change

among individuals or organizations, and therefore a deeper understanding of

the social, economic, institutional or cultural attitudes must be considered as

Join our team today!

We are currently hiring for the following positions:

Registered Nurses

Licensed Practical Nurses

Please apply at our website at www.diamondhealthjobs.com

Looking for nurses with a passion for the behavioral health field.
---
Page 12 | February, March, April 2020

Continuing Education

Virginia Nurses Today | www.VirginiaNurses.com

Social Determinants of Health:

The Zip Code is the Most Important Number on the Patient's Chart!

Disclosures

• Nurses can earn 1 nursing contact hour for

reading Social Determinants of Health: The

Zip Code is the Most Important Number on

the Patient's Chart. Participants must also

complete the continuing education post-test

found at: https://virginianurses.com/page/

On-DemandContinuingEducation

• This continuing education activity is FREE

for members and $15 for nonmembers!

• The Virginia Nurses Association is

accredited as a provider of nursing

continuing professional development by the

American Nurses Credentialing Center's

Commission on Accreditation.

• No individual in a position to control

content for this activity has any relevant

financial relationships to declare.

• Contact hours will be awarded for this

activity until February 15, 2023.

• Disclaimer: The opinions expressed here

are solely the author's and do not represent

those of the United States Government, the

Department of Defense, or the United States

Navy.

Elaine Bruner, MSN, RN-BC

Author Bio

Elaine received her BSN

from the State University

of New York at Plattsburgh

and MSN from the University

of Virginia. Her nursing

practice has included

oncology, nutrition support/

home infusion, home health/

community-based services

and physical rehabilitation.

Elaine has more than 15

years of case management

experience and received Nursing Case Management

certification/ANCC, in 2002. She is a member of the

Hampton Roads and Alamo Case Management Society

of America (CMSA) chapters. Elaine also serves as

Immediate Past President of the Hampton Roads

Case Management Society (HRCMS) and as the 2015

HRCMS chapter conference Chair. Currently, she is

faculty for the Nurse Case Management reviews with

the ANA/American Nurses Credentialing Center and

co-authored Nursing Case Management Review and

Resource Manual (4th ed.) with Margaret Leonard.

Her publications include manuscripts in Home Health

Care Nurse, Home Health Care Advisor, Case In Point,

CMSA Today and The Case Manager. Elaine has been

faculty for national, state and regional meetings on

home health care and case management topics. She

serves on the Virginia Nurses Association Commission

on Nursing Education and the CMSA Nominating

Committee. In 2008, she was selected for the Award of

Service Excellence from the CMSA. Elaine is honored

to be the nurse case manager with Navy Special

Warfare, Virginia Beach.

Introduction

Challenged by high need, high cost patients

who struggle with adherence and self-care? Too

often the lack of healthcare funding may not be

the primary challenge for people as they live with

chronic illnesses, struggle to secure preventive care

or survive a catastrophic injury. Historically, our

healthcare and social service delivery systems are

not well-equipped to effectively manage patients with

multiple chronic diseases and complex social needs

such as food, housing, or substance abuse services.

In the November 1919 issue of the American

Journal of Nursing, Isabel M. Stewart shares "The

roots of disease are usually found in bad housing,

inadequate food, overwork and hundred other

causes…If a nurse is to help in the prevention of

disease, she has to get back to the unsanitary

conditions which produce disease." And here we

are, 100 years later, asking how we can advocate,

educate, and facilitate the best healthcare for people

facing barriers that may not be captured in an

admission assessment or medical history/physical.

Consider the elements of a biopsychosocial

assessment and the valuable information available

by knowing where your patient lives, works, shops for

food or even exercises. These elements will positively,

or negatively, influence the transition of care/discharge

plan. Often the social determinants of health (SDOH),

impact a person's ability for self-care more than

the diagnosis or available insurance. It is widely

recognized that the health of populations is often

determined by social factors other than health care.

SDOH can be the identified barriers for a seamless,

safe transition to self-care. Being knowledgeable on

the SDOH, identifying the actual, or potential barriers,

then deploying appropriate resources will enable

nurses to be a successful advocate for a patient's

continued healthcare and services.

How are the SDOH defined? In 2008, the World

Health Organization defined social determinants of

health (SDOH) as the conditions in which people are

born, grow, live, work, and age. These circumstances

are shaped by the distribution of money, power,

and resources at global, national and local levels.

Consider the person with newly diagnosed diabetes

and their lifestyle modifications including diet and

exercise. How do they adhere to appropriate food

choices if they live in a food desert neighborhood

that lacks a full service grocery store? What about

exercise where there are no sidewalks or parks?

And to adhere to their primary care appointments

requires a two hour public bus ride, one-way.

These circumstances seem daunting to a healthy

person; imagine what it presents to someone with

limited functional abilities or financial resources.

Managing social determinants within population

health is critical to improving outcomes, closing

care gaps, and lowering the cost curve. Nurses

are well-positioned to identify the SDOH, increase

patient engagement by integrating SDOH to improve

adherence, offer better access, and promote health

equity.

The five domains that describe the SDOH are:

• Economic Stability such as available

employment; housing; and food security

• Education such as early childhood education;

high school completion; and job training.

• Neighborhood and Built Environment

such as environmental conditions; crime and

violence; and quality of housing.

• Health and Healthcare such as available,

accessible providers; and health literacy.

• Social and Community Context such as

discrimination; racism; and incarceration.

Healthy People 2020, www.healthypeople.gov

Assessment of SDOH

Assessing the SDOH means asking personal,

probing, and often delicate questions regarding a

person's lifestyle, home environment, or finances.

Consider elements outside of traditional healthcare

questions when assessing barriers to self-care.

Early assessment, screening, and interventions are

imperative. Prepare by reviewing all available data

prior to meeting a patient/family/caregiver. There

may be statements that offer clues to non-adherence

such as "non-compliance with meds" or "no-show for

second scheduled appointment." Nurses are poised

to assess elements that are not included in the

usual history and physical, yet present tremendous

barriers to patient adherence, self-care, and

healthy living. What questions will yield additional

information related to SDOH? Consider the

psychosocial issues that are currently reviewed such

as housing, income, support system. What about

food security, neighborhood crime, or incarcerated

family members? Each has an effect on a person's

ability to self-manage a chronic health problem or

health emergency.

According to the United States Department of

Agriculture, one of eight people in the USA faces

food insecurity (USDA, 2019). To address food

insecurity, use the Hunger Vital Sign, developed by

Drs. Erin Hager and Anna Quigg in 2010; it offers

insight into a family's ability to secure adequate

food. The Hunger Vital Sign identifies individuals

and families as being at risk for food insecurity if

they answer that either or both of the following two

statements is 'often true' or 'sometimes true' (vs.

'never true'):

"Within the past 12 months we worried

whether our food would run out before we got

money to buy more."

"Within the past 12 months the food we

bought just didn't last and we didn't have money

to get more."

How about addressing crime and violence in a

person's neighborhood? Are you comfortable asking,

"Do you feel safe walking in your neighborhood?"

What about the housing or built environment? Many

older housing developments may have lead paint or

asbestos in the building. Nurses can, and should,

ask the hard questions which yields information to

support interventions that improve healthy living.

Transportation is a barrier for people in many

locations. The issue is more than whether or not

the public bus stop is within walking distance.

Travel time, the number of transfers, or safe

locations are all considerations. In rural areas

without public transportation the challenges may

be access to private vehicles with licensed drivers,

fuel costs, and distance to healthcare providers.

The simple question, "How do you get to your doctor

appointments?" offers nurses clues to an individual's

transportation access and its impact on other SDOH

such as grocery shopping or neighborhood safety.

The United States locks up more people per

capita than any other nation. Incarceration extends

to the children, families and communities who

must manage the social, financial and emotional

effects. Decreased income, lack of family support or

caregivers, plus the stigma of jail time have life-long

consequences. When a parent faces prison, their

children may go into foster care. Adverse Childhood

Experiences (ACEs) may include all types of abuse,

parental mental illness and incarceration. ACEs

impact future health and lifelong opportunity; learn

more at https://www.cdc.gov/violenceprevention/

childabuseandneglect/acestudy. When a parent

is imprisoned, the family finances may become

strained and the risk of homelessness increases.

Prison time may ban people with certain convictions

from receiving government benefits or subsidized

housing. Higher rates of incarceration tend to

occur in communities where poverty, violence and

increased police presence are seen. Jail takes a

tremendous toll on families and neighborhoods.

Learn more at http://humantollofjail.vera.org/thefamily-jail-cycle/.

A community health needs (CHN) assessment

offers critical data on a locality's healthcare

service needs and issues through comprehensive,

systematic data collection and analysis. These

assessments, required every three years, identify

unmet community health needs and justify how and

where resources should be allocated to best meet a

location's needs. Investigate your community's CHN

for additional information, https://www.cdc.gov/

stltpublichealth/cha/index.html.

Intervention/Collaboration/Facilitation

How do nurses intervene when they identify
---
www.VirginiaNurses.com | Virginia Nurses Today February, March, April 2020 | Page 13

SDOH needs that affect adherence, access

and overall health? Connecting individuals to

appropriate resources, public and private, will

follow from the nurse's assessment and identifying

SDOH needs will improve health and address

health disparities. Early referral to a social worker

or case manager offers immediate intervention for a

myriad of public, private and charity resources. Any

offered resource that has restrictive requirements,

or is inconvenient, will be less valuable to an

individual and their family/caregiver. Examine the

available resources in your organization such as

a central community referral center where the gap

between clinical care and community services can

be addressed. Embedded public benefits workers

who assess eligibility and offer enrollment on-site

streamline the application process thus lessening

the burden, and stigma, of enrollment.

What about sending discharged patients home

with food? Medications from a medical pharmacy;

food from a food pharmacy? Sentara CarePlex

Hospital in Hampton, VA offers a Food Pharmacy,

in partnership with the Virginia Peninsula Food

Bank, that provides comprehensive care to heart

failure patients. How about discharging identified

patients with three days of groceries? Or offering

one week of home delivered meals? Collaboration

between hospitals, clinics, community resources

and health plans are successfully addressing

food, transportation and loneliness/isolation. One,

or all, of these challenges may result in hospital

readmission or impact a person's self-care ability.

Collaborating across service lines to create a

meaningful resource directory that is transparent

to all users is essential to addressing SDOH.

Transitions of care occur 24/7, 365 days a year

so all healthcare professionals appreciate a

comprehensive resource. Colleagues in all settings

have their "go to" people, providers and agencies.

Merge those contacts into a "resource bank" that is

critical outside of regular operating hours or when

a social worker or case manager may not be readily

available. Update the directory as often as needed to

provide accurate points of contact, locations, etc.

Know your community. Not just where you live but

the entire service area of your organization. Take a

drive and be aware of your surroundings. What do

you see on your commute? Be familiar with what

faith communities and other non-profit agencies

offer. Faith communities with farmer's markets,

transportation assistance and health clinics are

available to serve their localities. Appreciation and

comprehension of what your patients, or customers,

experience is both enlightening and essential to

their health and wellness success.

Facilitating and offering resources is 50%

of the equation. The remaining initiative is on

the individual/family/caregiver. Therefore, it's

sensible to offer resources that are specific to

their needs. Just giving a phone number may not

empower someone into action. A point of contact,

established appointment or assistance with required

documentation personalizes the assistance and

demonstrates that nurses meet people where they

are and recognize individual concerns.

What's Next?

As the interest in incorporating SDOH

for a more comprehensive view of patients is

addressed, community initiatives are dependent

on local funding and sustainable dollars. Success

depends on convincing the community and other

stakeholders that health disparities and inequities

are related to SDOH. SDOH can account for up to

40% of individual health outcomes (Booske, 2010).

That's a significant number in our healthcare

environment where patient-centered care, the

patient experience and quality of life are identified

imperatives.

On the federal level, the Centers for Medicare

and Medicaid Services (CMS) wished to address the

connection between medical services and social

needs. Accountable Health Communities is a $157

million test payment mode, funding pilots, which

ask does addressing health-related social needs

reduce healthcare costs and utilization. Also, CMS

developed a 10-item screening tool to identify patient

needs in five different domains. The tool is designed

to be short, accessible, consistent and inclusive. The

domains are housing instability, food insecurity,

transportation needs, utility needs and interpersonal

safety (CMS, May 30, 2017). SDOH influence

readmission risk, increased utilization and affect

health outcomes. The National Academies of Science,

Engineering, and Medicine, acting on a request from

the Department of Health and Human Services,

convened to examine the SDOH elements that could

be considered for Medicare accounting purposes,

criteria to identify these factors, and methods

to do so in ways that promote health equity and

improve care for all patients (National Academies of

Sciences, Engineering, and Medicine, 2017). Medicare

Advantage plans are adding SDOH assessments and

benefits such as gym memberships, home-delivered

meals and friendly visitors.

Addressing SDOH with dual eligible Medicare

recipients, those that qualify for Medicare and

Medicaid, reveals that these patients have poorer

outcomes such as higher healthcare utilization,

higher healthcare spending, and lower quality

measure scores. Dual recipients report lower

educational attainment, a key SDOH. (Heath,

2019). More than half of dual recipients live in a

neighborhood where at least 20% of its inhabitants

live below the poverty level. Non-dual eligibles

experience better health, are more likely to have

higher education and are less likely to live with

diabetes, hypertension, heart failure or depression.

Other population-focused SDOH challenges are

experienced by the LGBTQ community, disabled

persons, homeless veterans and those living with

mental illness. Their healthcare may be impacted

by stigma and being a marginalized, vulnerable

individual. These individuals may have lower

incomes, fewer resources and complex health

conditions which when complicated with SDOH

result in poor health outcomes. Sensitivity to

individual experiences and needs is critical to

offering a superior patient experience.

Across our nation, partnerships are developing

to address SDOH. Many are between healthcare

organizations and community agencies. One

example is the local Agency on Aging and a

community hospital where they are addressing the

needs of older adults. Another is the Community

Service Board partnering with law enforcement and

the hospital emergency department for behavioral

health intervention. Other grassroot efforts focus on

specific needs with individual neighborhoods such

as street lighting, bike lanes and playgrounds.

Consider where people are born, grow, live, work

and play. Broadening nurses' knowledge and skills

to include factors outside of traditional healthcare

services will truly address areas that impact selfcare

and healthy living.

References

Alley, D., Asomugha, C., Conway, P. et al. (2016).

Accountable health communities-Addressing social needs

through Medicare and Medicaid. http://www.nejm.org/

doi/full/10.1056/NEJMp1512532National

Booske, B.C., Athens, J.K. et al. (2010). Different

perspectives for assigning weights to determinants of

health. University of Wisconsin Population Health

Institute.

Centers for Disease Control and Prevention (CDC) (2015).

Community health assessment & health improvement

planning. https://www.cdc.gov/stltpublichealth/cha/

index.html

Centers for Medicare and Medicaid Services (CMS), (2017).

Standardized screening for health-related social needs

in clinical settings. https://nam.edu/wp-content/

uploads/2017/05/Standardized-Screening-for-Health-

Related-Social-Needs-in-Clinical-Settings.pdf

Fink-Samnick, E. (2019). The Social Determinants of Health:

Case Management's Next Frontier. HCPro: Brentwood,

TN.

Hager, E. R., Quigg, A. M., Black, M. M., Coleman, S. M.,

Heeren, T., Rose-Jacobs, R., & Frank, D. A. (2010).

Development and validity of a 2-item screen to identify

families at risk for food insecurity. Pediatrics, 126(1),

e26-e32

Healthy People 2020. United States Department of Health

and Human Services. https://www.healthypeople.

gov/2020/topics-objectives/topic/social-determinantsof-health

Heath, S. (2019). Most Medicare dual-eligibles see

social determinants of health. Accessed at: https://

healthpayerintelligence.com/news/most-medicare-dualeligibles-see-social-determinants-of-health

Institute of Medicine (March 2016). A framework for

educating health professionals to address the social

determinants of health. The National Academies of

Sciences-Engineering-Medicine. http://national

academies.org/hmd/reports/2016/framework-foreducating-health-professionals-to-address-the-socialdeterminants-of-health.aspx

National Academies of Sciences, Engineering, and

Medicine, (January 10, 2017). Accounting for

social risk factors in Medicare payment. http://

nationalacademies.org/hmd/reports/2017/accountingfor-social-risk-factors-in-medicare-payment-5.

aspx?_ga=2.218029013.2138807034.1515360046-

1035669673.1515360046

The Human Toll of Jail (2016). Incarceration's impact on

kids and families. http://humantollofjail.vera.org/thefamily-jail-cycle/

World Health Organization, Commission on Social

Determinants of Health (2008). Closing the Gap in a

Generation: Health equity through action on the social

determinants of health. Available from: http://www.who.

int/social_determinants/en

Join Our Clinical Team at Compassus,

You'll Remember Why You Do What You Do!

Now Hiring RNs & LPNs

Northern Virginia to Fredericksburg

If you are passionate about impacting patients' lives through

compassionate hospice and palliative care, a position on our team

may be perfect for you! We offer medical benefits, 401(k) with

company match, generous PTO, and more lucrative benefits!

Visit our website to learn more about our amazing

culture and commitment to our patients and their

families, and to apply for our open positions:

compassus.com/careers
---
Page 14 | February, March, April 2020

Virginia Nurses Today | www.VirginiaNurses.com

VNA/VNF Board Member

Appointed to Maternal

Health Strategic Planning

Session

FACULTY OPENINGS

Are you a talented, innovative educator with a passion

to teach in a new BSN program in Central Virginia?

Full-time, 9-month position with tenure-track

(DNP, PhD) or non-tenure track (MSN)

for 2020-21 academic year

For more information, visit:

http://bit.ly/rmc1222

HIRING

RNs (FT, PT, Day, Overnight)

Seeking Charge Nurses for residential dorms for children and adolescents.

The Barry Robinson Center is a premier behavioral health system

dedicated to improving the lives of children since 1933. We offer

residential treatment, outpatient services and foster care from our

campus in Norfolk, VA.

Must have associate degree in Nursing, VA license and a passion for psychiatric

nursing. Rotating weekends & holidays.

Great benefits – Medical, dental & vision, company 403(b) match,

tuition assistance, paid leave & sick time, paid life & long-term

disability insurance, and more.

Apply online via www.barryrobinson.org

In December 2019 Virginia Governor Ralph

Northam appointed Virginia Nurses Association and

Foundation board member Dr. Sherri Wilson, DNP,

MPA, RN to participate in a maternal health strategic

planning session. The purpose of the session was to

draft a set of statewide strategies to improve maternal

health in the commonwealth and meet the governor's

goal to eliminate racial disparities in the maternal

mortality rate by 2025. Other participants included:

state agency staff, representatives of key stakeholder

groups, and women and family members who have

been or will be impacted by the issue.

Dr. Wilson is a public health nursing leader

in Fairfax, Virginia who specializes in maternal

and child health (MCH). Through her role as

Assistant Division Director for Health Services for

Fairfax County Health Department, she oversees

the planning, development, implementation, and

evaluation of public health services across multiple

clinics in Fairfax County with a focus on population

health and health equity.

In 2010, Dr. Wilson joined Kaiser Permanente

as an Operations Director. There, she impacted

systems-level change through the development of the

Regional Perinatal Service Center and the Early Start

program, a nursing outreach and care coordination

service addressing addictions in pregnancy and

obstetric populations with high-risk diagnoses and

co-morbidities. These programs improved health

outcomes by reducing the rates of preterm labor,

improving healthy behaviors, and reducing hospital

costs related to the length of stay.

Earlier in her career, Dr. Wilson served as the

director of maternal and child health services for

Prince George's Hospital Center and also worked as

a public health nursing supervisor for the State of

Delaware, overseeing MCH programs. While in that

role, she was also assigned to staff and support the

Access to Care Committee for the former Lieutenant

Governor Carney's Task Force for Health Disparities.

• Online RN to BSN

• Online RN to BSN to MSN

• Online MSN

- MSN in Patient Safety & Healthcare Quality

- MSN/MHA dual degree - MSN/MBA dual degree
---
www.VirginiaNurses.com | Virginia Nurses Today February, March, April 2020 | Page 15

Seeking Volunteer Applicants

for Mental Health First Aid

Instructor Training

The Virginia Nurses Foundation recently received a grant from the Robert

Wood Johnson Foundation (RWJF) to support its mental health initiatives.

Among those initiatives, we will be underwriting the cost of one nurse to take

the Mental Health First Aid Instructor Training, Youth Module.

Research tells us that mental health distress is greater in economically

disadvantaged areas, so we will arrange for that nurse to subsequently present

the Mental Health First Aid, Youth Module Training on behalf of VNF in three such

communities. Our goal is to provide this free training to predominantly nurses

in these communities, with a special push for participation of school nurses and

nurses employed by health districts and community service boards. Non-nurses,

such as school guidance counselors, will also be encouraged to participate. The

instructor training is anticipated to take place during the 1st quarter of 2020,

with the three subsequent sessions occurring in the first six months of 2020.

If you have a passion for improving mental healthcare for our commonwealth's

youth, and have not already participated in the Mental Health First Aid

Instructor Training, please complete our online form at https://form.jotform.

com/193495785591174 to be considered for this volunteer leadership role.

Though not a requirement, preference will be given to nurse applicants from

economically disadvantaged counties within the commonwealth.

Get Your Organization's CE

Approved by VNA

The Virginia Nurses Association (VNA) is accredited as an approver

of nursing continuing professional development by the American Nurses

Credentialing Center's (ANCC) Commission on Accreditation. Accreditation

as an approver allows VNA to approve other organizations to award nursing

contact hours for individual educational activities they are providing.

In the past year, VNA approved nearly 100 individual educational activity

applications to award continuing nursing education. VNA also approves

organizations, who demonstrate they have the structure and process to

consistently deliver nursing continuing professional development in adherence

to the ANCC criteria while monitoring outcomes, as Approved Providers. This

allows the Approved Provider organization to independently plan, implement,

and evaluate educational activities and award nursing contact hours during

a three-year approval period. In 2018, VNA's Approved Provider organizations

provided more than 100,000 nursing contact hours. As an Accredited Approver,

VNA is able to contribute significantly to enhancing the quality and quantity of

nursing continuing professional development available to nurses across Virginia

and the country.

If your organization provides educational programming for nurses, you can

apply through the Virginia Nurses Association to award nursing contact hours.

The first step is to learn more about the individual activity application process

by visiting https://virginianurses.com/page/SubmitanIndividualActivity.

Organizations providing a large number of nursing educational activities may

also want to learn more about becoming an approved provider by visiting

https://virginianurses.com/page/BecomeanApprovedProvider. Contact

VNA Director of Professional Development Lindsey Cardwell at Lcardwell@

virginianurses.com to learn more about how your organization can be approved.

Pay it Forward via VNF's

Nightingale Legacy Fund

Nancy Littlefield, DNP, RN

Nurse Leadership Academy Steering Committee Member

In 2019, leadership of the Virginia Nurses Association and the Virginia

Nurses Foundation recognized an opportunity to greater support nursing

leadership development across the care continuum–everywhere nurses

lead. Nursing executives across Virginia came together to develop a year

long program called the Nurse Leadership Academy where high performing

nurses with less than five years of management experience could garner

exposure and immersion in key topics and therefore strengthen their

leadership core competencies.

The first six months of this year long program will be dedicated to live

didactic sessions and webinars. Participants will focus the subsequent six

months on their applied leadership project with virtual check-in points

along the way, with support from their mentor, who is chosen by the

candidate and has also committed to the success of their mentee and the

program.

Additional coaching opportunities with program leadership and peerto-peer

engagement via a virtual community will round out the list of

resources aimed at ensuring every participant's success. The program

culminates in month 12 with presentations from participants on their

applied leadership projects.

If you're interested in enrolling in the Nurse Leadership

Academy, you can sign up for the waitlist at https://tinyurl.com/

NurseLeadershipAcademy.

Through hours of work and discussions, we couldn't help but discuss

the impact that strong nursing leaders had in our own careers. Leaders

who are still present in our lives that we will ask to be speakers to help

teach the curriculum as well as leaders who we no longer work with but

when we look back we recognize they made such a significant impact on

us. How can we, through this leadership course, thank them for their

influence on us as well as their impact on nursing?

As a tribute to nursing leaders who have made a difference to us

and to help support the development of this important program,

we wanted to open up an opportunity for individuals to give to the

VNF Nightingale Legacy Fund. Monies donated will help support

the initial start-up of this leadership development program and

provide us with an opportunity to recognize and give tribute to those

we are thankful for because of the difference their leadership has

made to us.

Do you have someone you would like to honor because of the impact

that they have made to you as a nursing leader? Contributions will help

those taking the course to develop their own leadership skills and impact.

Donations can be made at https://tinyurl.com/ssfvp3c.

Virginia Cancer Specialists is

devoted to treating patients with the

best, most effective and advanced

therapies available today. As a part

of The US Oncology Network, we

deliver high-quality, evidence-based

care to patients close to home.

• 10 Convenient locations in northern Virginia

• State-of-the-art technology, innovative treatments, and extensive research

• Specializing in medical oncology, radiation oncology, palliative care, genetic

risk assessment, hematologic, social work and nutritional services

• Monday-Friday schedule

• 401K

• Medical, Dental and Vision

Join our team!

Please visit our website at

www.virginiacancerspecialists.com for our job postings.
---
Page 16 | February, March, April 2020

Virginia Nurses Today | www.VirginiaNurses.com

How to Write the Perfect Elevator Speech

An elevator speech is a brief, concise speech that tells who you are, what you

do, and what you want to achieve!* Use them to answer the questions "What do

you want and why should I care" in one minute or less. The goal is to plant a

seed of curiosity so as the elevator doors (real or metaphorical) open, the listener

says, "Tell me more."

Elevator speeches should be short (30 seconds to one minute in many cases),

specific, and memorable!

Why are Elevator Speeches Useful to Nurses?

Any time you need to influence someone, you can use an elevator speech!

They are useful during job interviews, salary negotiations, performance reviews,

and in your LinkedIn profile or other social media to let everyone know what you

do for a living. We have found that a good elevator speech is particularly useful

when speaking with your legislators in support of nursing legislation.

Components of an Elevator Speech

When speaking with your legislator about issues related to nursing practice,

it is important to make sure your message is clear and that you avoid using

healthcare-specific jargon, as most legislators do not work in this field!

The Story and Key Data

The story/key data is where you can either use facts to enhance your

message or you can tell a personal story that relates to the problem you're trying

to solve....or both! It's important to remember that if you're using data or facts,

you should be able to provide their reputable source. If you're telling a personal

story, choose one that will leave a lasting impact.

The "Ask"

The "ask" is perhaps the most important part of your elevator speech! This

is what you're asking the listener to do. It might be an action you want them to

take, a position you want them to agree to, or even a candidate you'd like them

to vote for! Your ask should be clearly stated and easy to understand.

Examples

Issue: Protecting the Title of Nursing

Patients and families rightfully expect that health professionals who hold

themselves out as a nurse have received the legally required education and

training. To ensure this, we must maintain existing protections in the Code of

Virginia so that non-nurses are prohibited from using the term "nurse."

The Message

The message is your main point or problem you're trying to solve. You're

stating what fact you'd like your listener to take away from your interaction.

Nurses Wanted

At Southside Regional Medical Center (SRMC), we

believe that nurses are at the heart of healthcare.

Located about 25 minutes south of Richmond in

Petersburg, VA, SRMC is a 300-bed medical center

whose volumes are growing year after year. A

newer facility, advanced technology, award-winning

service lines and education assistance to further

professional growth are just a few of the reasons our

nurses say they like working here.

For information about job opportunities,

call 804-765-5790 or visit SRMConline.com.

Current Openings Include:

• Med/Surg (General, Oncology,

Post-Surgical, Telemetry)

• Behavioral Health

• Emergency Department

• Free Standing Emergency

Department

• ICU/CVICU

• OR/CVOR

Sign-on bonus for select positions

An Equal Opportunity Employer

Minorities/Females/Vets/Disabled
---
www.VirginiaNurses.com | Virginia Nurses Today February, March, April 2020 | Page 17

Restricting the use of the title "nurse" to only those who have

received the legally required education protects the public

from unqualified professionals. 39 states agree that a nurse

is a person who has completed required education, clinical

training, examination, and licensing requirements. We must

maintain existing protections in the Code of Virginia so that

non-nurses are prohibited from using the term. Can I count on

your support?

To access electronic copies of

Virginia Nurses Today, please visit

http://www.nursingald.com/publications

Issue: Ensure an Educated and Adequate Nursing Workforce

By providing financial incentives for healthcare professionals who serve as

uncompensated preceptors (hands-on clinical instructors) for APRN (advanced

practice registered nurses) students, we can increase access to care, address

the primary care shortage, handle mental health crises, and manage chronic

diseases. All of these factors are crucial in improving the health and wellness of

all Virginians. The incentive would be available for uncompensated preceptors,

including APRNs, physicians, and physicians' assistants.

Experienced nurses and other health professionals serving

as preceptors are at the core of nursing education. We are

currently facing a preceptor shortage. Giving financial

incentives to uncompensated preceptors will help end the

shortage, and this will help increase access to care for many

Virginians. Will you support a tax incentive for uncompensated

preceptors, including APRNs, physicians, and physicians'

assistants?

*https://corporatefinanceinstitute.com/resources/careers/resume/elevatorpitch/

Western State Hospital

We're Hiring!

Opportunities available for RNs,

LPNs, & Psychiatric Nursing Assistants

• Psychiatric acute admissions units

• Psychiatric longer term units

• Med/Psych unit

Conveniently located in the Shenandoah

Valley, WSH affiliates with 9 Schools of

Nursing and major universities.

Nursing at Western State Hospital

Offers Excellent Benefits Including:

• Up to $7500 RN Sign On Bonus for New Hires

• Eligibility for Federal Loan

Repayment Programs

• Moving/Relocation Expenses

Reimbursement will be considered

• Unique Clinical Care Opportunities

• Ongoing Training Opportunities

• Educational Assistance

• Comprehensive Healthcare Benefits

• Group & Optional Life Insurance

• VRS Retirement Benefits

• Flexible Spending Account

• Paid Holidays, Vacation, Sick Leave

• Short & Long Term Disability Benefits

• State Employee Discounts

To submit your credentials for a career enhancing position, simply...

Visit jobs.virginia.gov, click "Search Jobs," and under "Agency"

select "Western State Hospital" and click "Search."

Western State Hospital : State psychiatric hospital licensed and operated

by the Virginia Department of Behavioral Health and Developmental Services.
---
Page 18 | February, March, April 2020

Virginia Nurses Today | www.VirginiaNurses.com

Top Seven Reasons to

become a VNA Member

1. Show commitment to your profession!

Membership in VNA makes a powerful

statement about you. It shows employers,

colleagues and your patients/clients your

commitment to nursing. Membership identifies

you as a nurse who is serious about the

profession as well as purposeful about staying

informed, educated and involved. Joining VNA

gives you an immediate connection to other

Virginia nurses, and a real sense of community.

2. Networking Opportunities

Members have opportunities for networking

on the local level at chapter meetings and on

the state level at our conferences throughout

the year. ​VNA offers many events throughout

the year allowing nurses across all spectrums

to network with their peers at a discounted

(and sometimes free) rates. These include local

chapter meetings and other regional events, as

well as our three annual conferences. These

events provide both continuing education and

opportunities for members to connect with local

and national leaders within the healthcare

industry to expand their professional networks.

We also have an online community our

members can utilize to network with their

fellow nurses without having to leave home!

3. ​Career and Leadership Development

Becoming actively involved with VNA not

only opens up educational and networking

opportunities, but can also help you hone

valuable leadership skills. Leadership roles

are available at both the local and state level,

as providing a variety of opportunities to

enhance leadership skill development. We're

also constantly expanding our leadership

development opportunities through programs

like our soon-to-be launched Nurse Leadership

Registration opens soon for our 2020 Fall Conference,

Ending Incivility, Bullying, & Workplace Violence.

The conference will take place on Friday, September 25

and Saturday, September 26 at a new location:

the Renaissance Hotel in Portsmouth, Virginia.
---
www.VirginiaNurses.com | Virginia Nurses Today February, March, April 2020 | Page 19

Academy and the SYNC interprofessional

leadership program, both offered through the

Virginia Nurses Foundation.

4. Two memberships for the price of one!

When you join VNA, you ​also​become a member

of the American Nurses Association. For one

membership rate, you receive the membership

benefits of both organizations! More

importantly, you join with nurses across the

country as well as in Virginia, speaking with

one strong voice on behalf of your profession

and your patients.

5. Significant Discounts on Continuing

Education!

As a VNA member, you will have access to

free and discounted continuing education,

specialty journals, and our highly acclaimed

conferences! You already know how critical

these can be to your continuing competency,

which in turn can lead to better patient

outcomes, systems improvements, and personal

career advancement.

VNA has a variety of high quality educational

programming options to fit your busy schedule.

Much time and effort has been dedicated to

offering web-based CE modules available

on demand, and we also offer live-stream

distance-learning programs. All of these

learning opportunities are in addition to our inperson

conferences and chapter meetings. As

a CE provider, we continue to look for ways to

offer our members CE at a reasonable cost (and

in many cases, ​free​).

Don't forget: ​members receive a significant

discount​ on all continuing education

opportunities and receive access to membersonly

free online continuing education through

VNA and ANA.

6. Stay informed!

Stay up to date on the news and issues

affecting nursing through our free, members'

only publications and members' only website

areas. Members receive exclusive access to

interviews, evidence based research, and much

more.

Here's a sampling of what our members receive:

• VNA News Brief,​our weekly e-news – a

compilation of important national and

statewide news, relevant articles, and the

latest goings on at VNA.

• Virginia Nurses Today - Print and Digital

– b​eginning in May 2020, Virginia Nurses

Today i​s going green! All RNs will continue

to receive a digital version, but we will

continue to provide a print version of VNT

for members only!

• Legislative Updates – weekly ​email

briefs during the legislative session with

up-to-the-minute news on our legislative

activities.

• American Nurse Today ​—Monthly journal

(six print/six electronic) featuring peerreviewed

clinical, practical, practiceoriented,

career and personal editorial.

• OJIN—The Online Journal of Issues in

Nursing – Peer-reviewed, posted online

three times a year

• CINAHL®​ ​– access to a database with

more than 2.6 million records dating back

to 1981, covering nursing, biomedicine,

health sciences librarianship, alternative/

complementary medicine, consumer health

and 17 allied health disciplines.

• Navigate Nursing​webinars – webinars on

current and emerging topics provided free

or at significant savings to members.

7. We advocate for nurses!

Nurses make up the largest group of healthcare

providers in the state, and so it's essential

that we have a voice in policy making and

engage in the political process. The perceived

time needed to engage in policy involvement

or development outside of daily "nursing work"

as well as the resources to develop skills

in policy participation has often hampered

nursing from becoming involved in advocacy.

Yet, ​when it comes to advocating on behalf of

nurses, VNA makes advocacy easy. We are the

only organization speaking for the 110,00+

nurses throughout Virginia. Our lobbyist,

leadership, and members work passionately to

educate our legislators and state policymakers

on issues crucial to the advancement of the

nursing profession. We update our members

weekly during our legislative calls and send

legislative e-blasts with breaking news during

the legislative session.