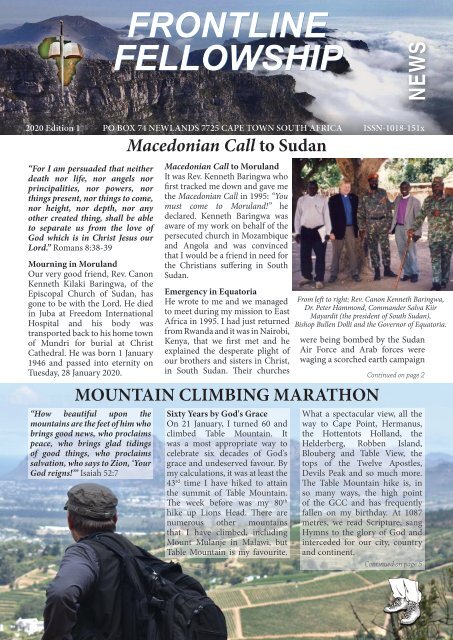 FF News Edition 1 of 2020
Macedonian Call to Sudan
Macedonian Call to Sudan
SHOW MORE
SHOW LESS
You also want an ePaper? Increase the reach of your titles
YUMPU automatically turns print PDFs into web optimized ePapers that Google loves.
FRONTLINE

FELLOWSHIP

NEWS

2020 Edition 1 PO BOX 74 NEWLANDS 7725 CAPE TOWN SOUTH AFRICA ISSN-1018-151x

"For I am persuaded that neither

death nor life, nor angels nor

principalities, nor powers, nor

things present, nor things to come,

nor height, nor depth, nor any

other created thing, shall be able

to separate us from the love of

God which is in Christ Jesus our

Lord." Romans 8:38-39

Mourning in Moruland

Our very good friend, Rev. Canon

Kenneth Kilaki Baringwa, of the

Episcopal Church of Sudan, has

gone to be with the Lord. He died

in Juba at Freedom International

Hospital and his body was

transported back to his home town

of Mundri for burial at Christ

Cathedral. He was born 1 January

1946 and passed into eternity on

Tuesday, 28 January 2020.

Macedonian Call to Sudan

Macedonian Call to Moruland

It was Rev. Kenneth Baringwa who

first tracked me down and gave me

the Macedonian Call in 1995: "You

must come to Moruland!" he

declared. Kenneth Baringwa was

aware of my work on behalf of the

persecuted church in Mozambique

and Angola and was convinced

that I would be a friend in need for

the Christians suffering in South

Sudan.

Emergency in Equatoria

He wrote to me and we managed

to meet during my mission to East

Africa in 1995. I had just returned

from Rwanda and it was in Nairobi,

Kenya, that we first met and he

explained the desperate plight of

our brothers and sisters in Christ,

in South Sudan. Their churches

were being bombed by the Sudan

Air Force and Arab forces were

waging a scorched earth campaign

MOUNTAIN CLIMBING MARATHON

"How beautiful upon the

mountains are the feet of him who

brings good news, who proclaims

peace, who brings glad tidings

of good things, who proclaims

salvation, who says to Zion, 'Your

God reigns!'" Isaiah 52:7

Sixty Years by God's Grace

On 21 January, I turned 60 and

climbed Table Mountain. It

was a most appropriate way to

celebrate six decades of God's

grace and undeserved favour. By

my calculations, it was at least the

43 rd time I have hiked to attain

the summit of Table Mountain.

The week before was my 80 th

hike up Lions Head. There are

numerous other mountains

that I have climbed, including

Mount Mulanje in Malawi, but

Table Mountain is my favourite.

From left to right: Rev. Canon Kenneth Baringwa,

Dr. Peter Hammond, Commander Salva Kiir

Mayardit (the president of South Sudan),

Bishop Bullen Dolli and the Governor of Equatoria.

Continued on page 2

What a spectacular view, all the

way to Cape Point, Hermanus,

the Hottentots Holland, the

Helderberg, Robben Island,

Blouberg and Table View, the

tops of the Twelve Apostles,

Devils Peak and so much more.

The Table Mountain hike is, in

so many ways, the high point

of the GCC and has frequently

fallen on my birthday. At 1087

metres, we read Scripture, sang

Hymns to the glory of God and

interceded for our city, country

and continent.

Continued on page 5

FRONTLINE FELLOWSHIP PO BOX 74 NEWLANDS 7725 CAPE TOWN SOUTH AFRICA admin@frontline.org.za www.FrontlineMissionSA.org

1
---
Continued from page 1 - Macedonian Call to Sudan

Presenting the first complete copy of the Bible

in Moru to Canon Kenneth Baringwa.

against their communities in

Equatoria. Crops were being

burned, livestock stolen, or killed,

pastors were being executed and

they had no Bibles and no

medicines. Their children were

growing up without schools. The

communities were in desperate

need!

Working in the War Zone

It was Rev. Kenneth Baringwa who

organised the first Church

Conferences for pastors and

Seminars to train schoolteachers.

He also brought to me the first

candidate for training as a

Chaplain for the Sudanese Peoples

Liberation Army (SPLA). Kenneth

Baringwa was an invaluable guide,

translator, organiser and enabler,

who made things happen. We can

safely say that it was Rev. Kenneth

Baringwa who challenged me to

make South Sudan a central focus

of my ministry for many years. He

was the one who organised

hundreds of church meetings and

outreaches in many villages and

ministry amongst the military.

Textbooks for Teachers

By God's grace, we were able

to deliver hundreds-ofthousands

of Bibles and

Christian books into Western

Equatoria and restore the

Bishop Gwynne Bible College.

We helped to equip over 100

primary schools and a

Christian High school with

thousands of quality Christian

textbooks.

Chaplain's Corp

As a result of Canon

Kenneth Baringwa's

efforts, I trained the first

Chaplains of the SPLA

and provided them with

Chaplains Handbooks,

Bibles, boots, berets,

Bible bags, bicycles,

backpacks, audiovisual

Gospel Messenger handcranked,

or solar panel

powered, tape recorders, with

accompanying flip charts, God

Story VCD kits and much more.

Medical Corp

We were able to provide the first

paramedic training to SPLA

Medics. We also flew in the first 50

paramedic bags, fully equipped to

enable these medics to provide

basic First Aid to wounded

soldiers. We also drove up a 4

Wheel Drive ambulance to

transport the wounded to medical

care.

The Desperate Need

It was Kenneth Baringwa who

challenged us to please bring

medicines and doctors into the war

zones of South Sudan. There was

not even one hospital for seven

million people in

Equatoria. In a

Medic Training

Course, I gave

lectures and

practicals in the

four B's of First

Aid: Breathing;

Bleeding;

Breakages and

Burns. We then

flew in a nursing sister to give

medical training and later medical

doctors to conduct further training.

Under Fire in Sudan

On many occasions, Kenneth

Baringwa and I walked long

distances to minister to remote

villages. We endured aerial,

artillery and rocket bombardments

together, as well as arrest, detention

and interrogation.

Pioneer Kenneth Fraser

Kenneth Baringwa explained to

me how the Gospel came to

Moruland, through the

extraordinary ministry of Dr.

Kenneth Fraser. This led me to

track down the book: The Doctor

Comes to Lui – A Story of

Beginnings in Sudan, by Eileen

Fraser, first published by the

Church Missionary Society in

1938. With a copy from a second

hand bookshop, we published this

book and it was received with

much rejoicing in Moruland. As

one pastor described: "You have

given us back our history!"

2

FRONTLINE FELLOWSHIP 2020 EDITION 1
---
The Rwandan Genocide

In praying as to how best we could

respond to the request to establish

a hospital in the Liberated zones of

South Sudan, one ministry seemed

to me to be the ideal answer,

Samaritans Purse. During my

mission to Rwanda, Samaritans

Purse had been the only medical

mission working in that devastated

country. They waded into the

sewer system of Kigali hospital to

extract the vast amounts of body

parts blocking the entire drainage

system, broke up the congealed

blood and restored the hospital to

full operation, despite the plague

of rats and myriads of flying,

crawling insects. When even the

Red Cross and Doctors Without

Borders (Medecins Sans Frontiéres)

had fled the genocide in Rwanda,

Samaritans Purse was the only

medical mission operational in

that desperately needy country, at

its time of greatest need.

Approaching Samaritan's Purse

So, I wrote to Franklin Graham,

head of Samaritans Purse (SP),

requesting his involvement. Soon

the reply came, from his secretary,

that their programme was full and

SP was overcommitted, not able to

take on any new projects. As I was

praying over this, the news came

that Franklin Graham was

scheduled to come to Cape Town,

South Africa, to conduct an

Evangelistic Crusade at Newlands

Cricket grounds! I eagerly wrote

again, requesting an interview with

Franklin Graham when he was in

Cape Town. Another polite reply

came back informing me that,

sorry, but his programme was full.

An Invitation to City Hall

Pondering this, convinced that

this had to be God's timing,

wondering how I would manage to

meet him, a gold

embossed envelope

was delivered to my

desk. Inside it was a

card from the Mayor

of Cape Town,

inviting me to a Prayer

Breakfast at City Hall,

where the guest of

honour would be:

Franklin Graham! I

praised God.

Meeting Franklin Graham

On the day of the Prayer Breakfast,

I ensured that I was there early.

Parking my motorbike close to the

entrance, I walked in with my

helmet over one arm. I greeted

Franklin Graham: "Mr Graham, I

believe that you are also a

motorbiker?" Franklin Graham

beamed, replied that he was and

told me about his Harley Davidson.

Next, I commented: "I see that you

have been working amongst the

Contra resistance fighters in

Nicaragua?" Franklin Graham

replied: "Yes, I have."

"I have one question for you, Mr

Graham: Why is Samaritans Purse

not involved in Sudan?"

"We have been," he replied.

"Yes, but that was in Upper Nile

and I know that the experience was

frustrating, but you were trusting in

the wrong people. Riek Machar's

crowd are surrogates of the Muslim

government."

Mr Graham looked surprised.

"I did not know that," he said.

"I know the people that you can

trust in South Sudan, in Equatoria.

I also know just the right hospital

for Samaritans Purse to renovate

and use as your base of operations

in Lui. It was the first hospital

established in South Sudan, by

pioneer missionary, Dr.

Kenneth Fraser. There is no

hospital for seven million

people in Free Equatoria..."

Mission to Sudan

At this point, a line was

beginning to form behind me

and Mr Graham had to

FRONTLINE FELLOWSHIP

PO BOX 74 NEWLANDS 7725

CAPE TOWN SOUTH AFRICA

admin@frontline.org.za

www.FrontlineMissionSA.org

politely excuse himself to give

attention to other guests arriving.

Later, during the prayer breakfast,

he brought me his Operations

Manager, Ken Isaacs, to brief. At

first, Mr Isaacs was a bit skeptical,

leaning back with his legs crossed

and his arms folded. Soon,

however, he was leaning forward,

looking at my photographs and

maps and asking penetrating

questions. Two days later, I received

a phone call from Ken Isaacs:

"Franklin has given us the green

light. Can you take us into South

Sudan in 2 days' time?" I was a bit

overwhelmed at the abruptness, as

I had a full and demanding

programme. Ken challenged me:

"Peter, you have a green light, go

through the intersection!" So, I

rearranged my schedule, cleared

my plate and headed off to Nairobi

to lead Ken Isaacs and the

Samaritans Purse exploratory team

into Moruland to explore the newly

liberated town of Lui.

The Legacy of Kenneth Fraser

I had told Ken Isaacs much about

Dr. Kenneth Fraser, the pioneer

CMS Missionary, who had

established the first hospital, the

first school and the first church in

Equatoria. I told him that the

people of Moruland were so

evangelised that you could leave

your wallet on the road outside the

3
---
market place and someone would

bring it to you and nothing would

be missing. So, one morning, as we

were driving out to explore the

newly liberated town and hospital

at Lui, Ken asked me to hand him

my wallet. Whereupon he

unceremoniously threw it out the

window to land on the ground

outside the market place! The rest

of the American team roared with

laughter.

Test the Community Character

It was a full day and my thoughts

often returned to my wallet lying

as a test case outside the Mundri

marketplace on the main road.

Not that there was much money in

it. There were just a few cards, a

couple of notes and my ID card.

However, I began to have second

thoughts and to worry over what

might happen if someone from

another tribe was passing by. There

was no word when we returned

that night. However, the next

morning, which was a Sunday, on

the way to church, Canon Reuben,

came up to me with two young

boys and asked if this wallet was

mine. Sure enough it was. "These

two boys found it and seeing your

picture inside, they brought it to me

to return to you." I looked inside

and nothing was missing. I looked

sideways at Ken

Isaacs and his team.

They were all

standing there,

open-mouthed,

wide-eyed, in

obvious shock. They

were impressed.

The Hospital in Lui

From that point, it

was clear that

Samaritans Purse

was committed to establishing a

hospital in Moruland. Within just

a matter of weeks, they were back,

fully laden with everything

necessary. Within days, they set up

a fully operational hospital, with

surgery, equipment and specialist

staff. It was impressive! Initially,

they only planned to be there for 6

months. As Ken Isaacs explained,

"We seldom are anywhere for more

than three months at a time.

However, we will commit ourselves

to South Sudan for six months." Ten

years later, they were still running

the hospital in Lui. The longest

running and most successful

medical operation in the history of

Samaritans Purse. They saved

tens-of thousands of lives and

treated hundreds of thousands of

patients. None of that would have

happened without the Macedonian

Call of Kenneth Baringwa and the

integrity of the Christians in

Moruland.

Pray for the Baringwa Family

Please remember in prayer, Rev.

Kenneth Baringwa's wife, Grace

and their children. Rev. and Mrs

Baringwa were blessed with 8

children (4 sons and 4 daughters)

and 15 grandchildren (7 boys and

8 girls).

Faithful and Fruitful

We praise God for the life and

legacy of Rev. Canon Kenneth

Kilaki Baringwa. He was a good

and true friend. A tireless Christian

worker, dedicated to the Episcopal

Church of Sudan. Kenneth

Baringwa was a patriotic South

Sudanese committed to Freedom

Dr. Peter Hammond, the Governor of Equatoria,

Bishop Bullen Dolli and Rev. Canon Kenneth Baringwa.

and Independence for his country.

He was courageous, dedicated,

dependable and diligent. Truly,

Canon Kenneth Baringwa can

declare: "I have fought the good

fight, I have finished the race, I

have kept the Faith." 2 Timothy 4:7

Certain Hope of the Resurrection

We praise God that our Lord Jesus

Christ is "…the Resurrection and

the Life. He who believes in Me,

though he may die, he shall live…"

John 11:25-26

May God search each one of our

hearts, that in pain we may find

comfort, in sorrow, hope and in

death, Resurrection.

Dr. Peter Hammond

www.FrontlineMissionSA.org

4

FRONTLINE FELLOWSHIP 2020 EDITION 1
---
Continued from page 1 -

Mountain Climbing Marathon

Completing the GCC 2020

We concluded our three-week

Great Commission Course

(GCC), the first part of which was

the Biblical Worldview Summit

(BWS) where over 80 participants

came from as far afield as the

Congo, Kenya, Zimbabwe and

the USA. The BWS forms the first

phase of the GCC. Packed and

productive as the BWS was, the

smaller number of participants

undertaking the GCC were

quickly transitioned into a far

more demanding schedule, which

kept all of us busy from 6am in the

morning, until, frequently, way

past midnight.

The Whole World Hear His Word

All in all, the GCC involved: 15

speakers; 60 lectures/presentations;

29 worship, Devotions and Bible

Drill sessions; 23 films, including

all eight of the Way of the Master

Basic Evangelism Training Course;

10 workshops; 9 Just a Minute

Debating/Public Speaking Skills

games; 5 hikes, including night

hike Bible smuggling simulation,

infiltration and exfiltration

hikes with backpacks of Arabic

Scriptures, in the dark, across

rivers and in complete silence, a

Lions Head hike and the Table

Mountain hike. It also involved

a Work Party at a local mission

station; radio recordings; dragon

boating team building in Table Bay

Harbour; 17 energetic P.T. sessions;

10 assignments and 7 exams. What

with all of the lecture preparations

(I had 34 sessions) and marking

of assignments, I seldom got to

bed before 2am. Several of our

leaders, including Hunter, Tobie

and I, came down with flu and

fever and lost our voices for a time,

but we did not allow that to stop us

from fulfilling all our duties and

responsibilities and attaining the

summit of Table Mountain.

GCC 2020 Written Responses

Some of the written responses,

which we have received from

participants, includes: "A great

experience!"; "The GCC is focused

FRONTLINE FELLOWSHIP

PO BOX 74 NEWLANDS 7725

CAPE TOWN SOUTH AFRICA

admin@frontline.org.za

www.FrontlineMissionSA.org

on God and that is rare in these

days!"; "Very challenging! It made

a big impression on me."; "Great

challenging lectures that stretched

mind, body and character."; "Intense,

daring, beneficial and essential.";

"Fun, exciting, growing experience,

great fellowship and great overall.";

"Experienced dedication."; "Enjoyed

the challenge."; "It was a great and

awesome way to prepare for the

mission fields."; "Excellent course!";

"I loved it!"; "This is the first camp

that I have been to that takes

Christianity seriously and doesn't

just play around."; "I learned how

to really reach the lost and how to

defend my Faith."; "Fun, exciting,

fruitful!"; "An excellent programme"

and "Uplifting!"

Please pray for our participants

as they begin college, head for

the field and seek to apply in their

daily life and implement in their

congregations and communities

what they have learned and

experienced during the GCC.

March for Life

We then organised the March for

Life to Parliament on Thursday,

30 January 2020, to mark the 23 rd

anniversary of the legalisation

of abortion on demand in South

Africa. Africa Christian Action

has been leading the pro-life

movement in South Africa

since 1991, organising annual

Life Chains; Marches for Life;

National Days of Repentance and

submissions to parliament; media

campaigns; bringing in pro-life

films and giving presentations

at schools, churches and youth

groups. Visit www.christianaction.

org.za website for articles and

links to audios and videos and

many great resources to empower

you to be effective Salt and Light

in your community, to "speak up

for those who cannot speak for

themselves…" Proverbs 31:8

Thank You for Your Prayers

Thank you very much to all

those who faithfully pray for and

support our Mission, for all your

encouragement and practical help

over the years.

Momentous Milestones

Last year (2019) marked Lenora

and my 30 th Wedding anniversary

and 40 years since I began the daily

Bible study and prayer fellowship

in the South African Army, out

of which grew our Frontline

Fellowship Mission. This year, 3

April, will mark 43 years, since I

was converted to Christ.
---
Rescued from Rapture Fever

It is an amazing milestone to me

to have reached my 60 th birthday.

I never really thought that I would

live this long. Back in 1977 when

I was converted, we were whipped

up in Rapture Fever, with The Late

Great Planet Earth, Like a Thief in

the Night and A Distant Thunder,

convincing many of us that we were

The Terminal Generation, living in

The Last Days, if not the last hours,

with endless speculation of the

planets lining up in 1982, wars and

rumours of wars, earthquakes and

other indicators that we did not

have that much time left.

Reckless Short-Term Vision

As a result, in my early years as

a Christian, I did not consider

marriage, never thought that I

could have children, let alone

grandchildren! I was also closed

to the idea of Bible college, or

Theological training, as there just

was not enough time! I was an

evangemaniac, but did not put

much attention to discipleship, or

planning long-term, as many of us

were really convinced that the Lord

was coming before the end of that

year! All of that and my natural

adventurous and somewhat

reckless spirit, led me to take far

more risks than I should have and

it is only by the grace of Almighty

God that I survived ambushes,

arrests, aerial bombardments,

artillery and rocket barrages, in

some of the most dangerous war

zones on the continent.

Providential Protection

My mother also reminded me that

as a child, I was always getting into

adventures, like getting swept over

a waterfall and in my early years,

seemed to be in hospital frequently.

She commented that there must be

a special angel assigned to enable

adventurous little boys to survive

into adulthood. I can only thank

our merciful Saviour and Lord

for preserving and protecting,

redeeming and rescuing me on

so many countless occasions.

Sadly, I have all too often taken

God's protection, provision and

mercy for granted. Looking back,

I can clearly see the guiding hand

of Almighty God, mercifully

extended over my life and that of

my very adventurous children.

Being a parent and a grandparent

most certainly gives one another

perspective and has helped me

appreciate my parents so much

more and the grace of Almighty

God, far more than ever before.

Isandlwana, Rorke's Drift & GCC

After completing the Table

Mountain climb on my birthday,

I spent the rest of the night, into

the early hours of the morning,

marking the assignments of our

GCC participants. So, that the

next day, 22 January (which is

the anniversary of the battles of

Isandlwana and Rorke's Drift in

1879), we could conclude our

GCC 2020 by awarding those

participants, who had completed

the course and passed all the

exams and assignments, with

Certificates and handing back

their marked exams, with Personal

Evaluations of their performance

and characters as observed by our

missionary team leaders. Every

participant was given books and

a GCC 2020 Data Disc with a vast

amount of lecture notes, manuals,

books, audios and resources,

to enable them to disciple and

train members of their family,

congregation and communities in

Missions and Evangelism.

Upcoming Missions and Projects

There is so much more that lies

ahead of us, this year. On hikes

and over meal times, we have

been planning upcoming crossborder

missions and there is much

excitement over the many projects

and invitations for ministry,

which we need to respond to, all

throughout Africa.

Printing Projects

We have several books and

many tracts awaiting funds for

printing. These include Afrikaans

translations of Victorious

Christians Who Changed the

World and Answering Skeptics

and the greatly expanded and

updated Great Commission

Handbook, which we want

to donate to Bible colleges

throughout Africa. Our ageing

vehicles are needing serious

repairs, or replacement.

Audio Visual Resources

Please be sure to listen to our From

the Frontline podcast, which

is uploaded every week and the

sermons, devotions and lectures

from the Great Commission

Course, which are being regularly

uploaded onto our SermonAudio

and Vimeo page on www.

FrontlineMissionSA.org.

Audio Visual Boxsets

We will soon have the Biblical

Worldview Summit and Great

Commission Course 2020 audios,

videos and data discs available in

boxset version, for those of you

who would like to benefit from

much of the programme, but were

unable to participate.

Thank You

Thank you very much for all

your prayers, encouragement and

support, without which none of

our ministries would be possible.

May God continue to be your joy

and strength.

Yours for the fulfillment of the

Great Commission

Dr. Peter Hammond

www.FrontlineMissionSA.org

6

FRONTLINE FELLOWSHIP 2020 EDITION 1
---
LET the WHOLE WORLD HEAR HIS WORD

"….contend earnestly for the

Faith which was once for all

delivered to the saints." Jude 3

Back to the Bible

By God's grace, despite great

difficulties, dangers, obstacles and

opposition, we marked the 500 th

anniversary of the Back to the Bible

Reformation launched by Swiss

Reformer, Ulrich Zwingli, in 1519,

by completing the New Testament

Survey book and audio MP3

Boxset. This, along with the Old

Testament Survey book and AV

Boxset, is the culmination of a sixyear

project, preaching and teaching

through every Book of the Bible.

Bibles for Africa

Our Literature4Africa ministry

delivered and distributed over 97

metric tonnes of Bibles, New

Testaments, Gospels, Sunday

school materials and other

Evangelistic and Discipleship

resources during 2019. This made

up a total of 3,892,186 Scriptural,

Evangelistic and Discipleship

materials. This does not include

the 40 metric tonnes of 125,000

Bibles and books delivered and

distributed by the Frontline

Mission team in the Nuba

Mountains of Sudan.

Bible Smuggling to Bible Printing

It is remarkable that the Bibles and

books, which we are shipping into

Sudan, are printed in Belarus, once

part of the Soviet Union.

Historically most of the Bibles that

we have had printed for Sudan

were printed in South Korea,

Taiwan or Singapore. Now Belarus

is providing more Bibles for less

unit cost than even Singapore,

which previously provided the

most cost effective print runs on

Bibles. Considering that Brother

Andrew and Rev. Bill Bathman

used to smuggle Bibles into

Belarus, this is a remarkable turn

of events!

Missions to the Nuba Mountains

You can view this video of the

largest consignments of Bibles

ever smuggled into an officially

Islamic country, on our www.

FrontlineMissionSA.org website.

John, Hunter, Christopher and

Rozanne have produced a worldclass

documentary film: Missions

to the Nuba Mountains of Sudan

film that focuses on the courageous

Christians in the Nuba Mountains

of Sudan, an island of Christianity

in a sea of Islam. These besieged

and beleaguered brethren have

been fighting for the Faith and

freedom, in a desperate struggle

for survival against Islamic Jihad,

for many centuries. This film will

take you across many borders, vast

distances of North Africa, into the

10/40 Window of the Muslim

Middle East, into one of the most

difficult to reach and dangerous

mission fields on earth. You will

see and hear inspiring testimonies

from pastors, teachers and

chaplains in the Nuba Mountains

of what God is doing, in spite of

vicious persecution.

Yours for Reformation, Revival

and the fulfilment of the Great

Commission

Dr. Peter Hammond

mission@frontline.org.za

www.FrontlineMissionSA.org

FRONTLINE FELLOWSHIP

PO BOX 74 NEWLANDS 7725

CAPE TOWN SOUTH AFRICA

admin@frontline.org.za

www.FrontlineMissionSA.org

7
---
8

A Ministry of Frontline Fellowship
---
9
---
10

Biblical Worldview

Summit 2020
---
11
---
12

Great Commission Course 2020
---
13
---
25 Years Ago - Anthony Paul Duncan

DIED in the SERVICE of CHRIST

A Disastrous Series of Events

25 Years ago, four Frontline

vehicles were sent into the field.

Only one vehicle came back. In the

early morning mist of 14 December

1994, Frontline Fellowship Field

Worker, Anthony Duncan, was

killed in a head-on collision.

A Complex Series of Missions

Anthony was returning back from

a long, difficult and dangerous

mission to five countries. Anthony

had been part of a Frontline

Fellowship mission team that had

successfully delivered desperately

needed medicines and Bibles

into war-torn Angola. Despite

a shoot-on sight policy, which

was maintained to enforce the

United Nations blockade on

UNITA-controlled Free Angola,

the Frontline Mission team had

succeeded in delivering a tonne

of desperately needed medicines

and Bibles to suffering Christians

in Angola. The Mission team was

on the way back from this eventful

trip, which had also included one

of our vehicles rolling down an

embankment and crushing the

canopy on the way up to Zambia

on the so-called "Golden Highway"

dirt road running the length of

the Caprivi Strip. A cloud of dust

hung over the dirt road severely

restricting visibility. Our vehicle

had to swerve to avoid a head on

collision with an oncoming truck.

More Lives Than a Cat

Anthony had faced life-threatening

situations before, when he was

in the army and later as a game

ranger, even before becoming a

missionary. Anthony had been

knocked down and

trampled underfoot

in the mud by a rhino,

charged by elephants

and attacked by lions.

Once, while reversing

fast up a road to

escape a charging

elephant, he literally

bumped into a herd of elephants!

On another occasion, Anthony

warded off an attack by two lions

by throwing stones at them! He was

armed, but being a serious animal

lover, he could not bring himself

to shoot a magnificent lion, even

when being threatened by them!

Anthony had survived several

other vehicle accidents, including

coming off an 1100cc motorbike

at 160 km's/hr. Like a cat, Anthony

seemed to have had nine lives and

he lived those to the full.

Consistent Christian Character

Anthony was a remarkably

dedicated Christian, whose

possessions could fit into his

backpack. Everything in excess of

his bare necessities he gave away.

Anthony was a zealous Evangelist,

a patient and compassionate

counsellor and a calm and cheerful

co-worker in times of crisis.

His testimony of single-minded

devotion to the Lord continues

to challenge, convict and compel

others to give our all for Christ.

Soldier and Game Ranger

Anthony Duncan served in the 7 th

South African Infantry Battalion as

a tracker from 1985-1987. After his

military service, Anthony worked as

a game ranger in Timbivati, Jabula

and Etosha. During this time, he

distinguished himself as a tracker

on the anti-poaching tracker team.

One of his fellow game rangers,

Michael, led him to the Lord. Once

he gave his life to Christ, Anthony

was wholehearted in his singleminded

dedication to follow Christ

and to lead others to Him.

14

FRONTLINE FELLOWSHIP

2020 EDITION 1
---
Missionary

Anthony's last mission involved

him driving across the length of

South Africa, with ministry and

travel throughout Zimbabwe and

Zambia, before beginning the

Bible smuggling operation into

Angola from Namibia.

Only One Vehicle Came Back

November/December 1994 stands

out in Frontline Fellowship's

history as the marathon obstacle

course where we sent four vehicles

into the field and only one came

back. The vehicle I drove up to

Zambia needed to be diverted

after our Biblical Worldview

Seminar in Lusaka, to rescue

our workers stranded in Caprivi

(Namibia). Their Land Rover

was written off after a successful

mission into Angola. The team

was ambushed and arrested on reentry

to Namibia, after completing

their mission to Angola. One of

our vehicles had been donated to

a ministry in Zambia (Anthony

had driven this vehicle up) and

now our other vehicle had been

totally destroyed in a

head-on collision in the

early morning mist, of 14

December 1994.

From Here to Eternity

On the way back to Cape

Town, Anthony stopped

in the game park where

he had been converted,

climbed up the mountain

where he had first placed his faith

in Jesus Christ as Lord and Saviour

and spent a special time in prayer

there. That was the last sunrise

he would see before entering the

presence of our Lord. When he

came down from this mountain top

experience, Anthony found all his

personal belongings stolen from

the vehicle. (This was the vehicle

that had rolled in the Caprivi Strip

to avoid a collision in the dust

cloud. The fibreglass canopy had

been shattered, so the back of the

pick-up truck was open.) Anthony

and his co-worker drove through

the day and the next night. In the

early hours of the next morning,

a speeding vehicle, overtaking a

big transport truck, collided headon

with our mission vehicle. Our

pick-up truck burst into flame,

but a fire extinguisher quickly put

out the flames. Anthony had died

instantly in the collision.

Store up Treasures in Heaven

Anthony had always travelled light.

He never collected a lot of material

possessions. All of his worldly

possessions were stowed neatly

in a backpack. He was a generous

person who gave away everything

he did not need. We cannot take

our possessions with us when we

die. Anthony is the one person

that I know who actually had no

possessions to take with him when

he died. He died,

literally, with his

boots on, but he did

not leave an extra

pair behind. What

Anthony did leave

behind cannot be

measured in earthly

value.

He Chose to Obey God

Those who knew him were struck

by his radiant faith and his deep

love for our Lord Jesus Christ.

We will always remember his

friendly smile, his kind words

and his helpful deeds. He died in

the service of Christ, after having

faithfully ensured that suffering

Christians had received lifegiving

medicines and the lifetransforming

Word of God, which

an international shoot-on-sight

blockade was seeking to deny

them. Anthony chose to obey God

rather than man.

Anthony Paul Duncan could truly

say: "I have fought the good fight,

I have finished the race, I have

kept the Faith." 2 Timothy 4:7

Dr. Peter Hammond

Anthony's testimony and the

incredible events

surrounding

this series of

Missions, is dealt

with in Rev. Bill

Bathmans' book

Angola by the

Back Door,

available from:

Christian Liberty

Books

admin@christianlibertybooks.co.za ;

www.christianlibertybooks.co.za.

To listen to the radio interview

dealing with Anthony's life and

final mission, listen to the From

the Frontline podcast: What Can

Go Wrong on a Mission.

www.FrontlineMissionSA.org

FRONTLINE FELLOWSHIP PO BOX 74 NEWLANDS 7725 CAPE TOWN

SOUTH AFRICA admin@frontline.org.za www.FrontlineMissionSA.org

15
---
16

FRONTLINE FELLOWSHIP 2020 EDITION 1