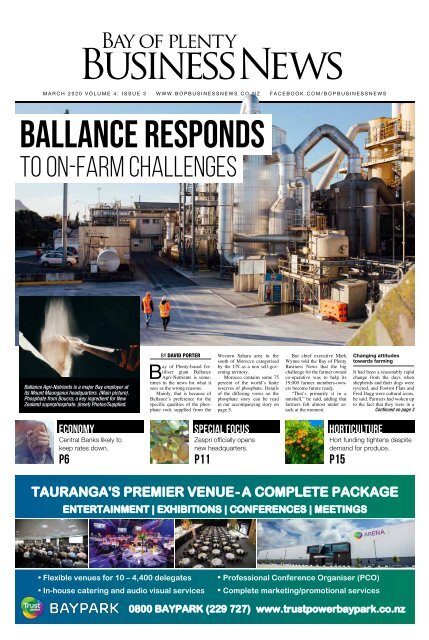 March 2020 - BAY OF PLENTY BUSINESS NEWS
From mid-2016 Bay of Plenty businesses have a new voice, Bay of Plenty Business News. This new publication reflects the region's growth and importance as part of the wider central North Island economy.
From mid-2016 Bay of Plenty businesses have a new voice, Bay of Plenty Business News. This new publication reflects the region's growth and importance as part of the wider central North Island economy.
SHOW MORE
SHOW LESS
Create successful ePaper yourself
Turn your PDF publications into a flip-book with our unique Google optimized e-Paper software.
MARCH 2020 VOLUME 4: ISSUE 3 WWW.BOPBUSINESSNEWS.CO.NZ FACEBOOK.COM/BOPBUSINESSNEWS

BALLANCE RESPONDS

TO ON-FARM CHALLENGES

Ballance Agri-Nutrients is a major Bay employer at

its Mount Maunganui headquarters. (Main picture).

Phosphate from Boucra; a key ingredient for New

Zealand superphosphate. (Inset) Photos/Supplied.

BY DAVID PORTER

Bay of Plenty-based fertiliser

giant Ballance

Agri-Nutrients is sometimes

in the news for what it

sees as the wrong reasons.

Mainly, that is because of

Ballance's preference for the

specific qualities of the phosphate

rock supplied from the

Western Sahara area in the

south of Morocco categorised

by the UN as a non self-governing

territory.

Morocco contains some 75

percent of the world's finite

reserves of phosphate. Details

of the differing views on the

phosphate story can be read

in our accompanying story on

page 5.

But chief executive Mark

Wynne told the Bay of Plenty

Business News that the big

challenge for the farmer owned

co-operative was to help its

19,000 farmer members-owners

become future ready.

"That's primarily it in a

nutshell," he said, adding that

farmers felt almost under attack

at the moment.

Changing attitudes

towards farming

It had been a reasonably rapid

change from the days when

shepherds and their dogs were

revered, and Footrot Flats and

Fred Dagg were cultural icons,

he said. Farmers had woken up

to the fact that they were in a

Continued on page 3

economy

Central Banks likely to

keep rates down.

P6

special focus

Zespri officially opens

new headquarters.

P11

horticulture

Hort funding tightens despite

demand for produce.

P15

TAURANGA'S PREMIER VENUE - A COMPLETE PACKAGE

ENTERTAINMENT | EXHIBITIONS | CONFERENCES | MEETINGS

• Flexible venues for 10 – 4,400 delegates

• In-house catering and audio visual services

• Professional Conference Organiser (PCO)

• Complete marketing/promotional services

0800 BAYPARK (229 727) www.trustpowerbaypark.co.nz
---
2 BAY OF PLENTY BUSINESS NEWS March 2020

Introducing Aussie

Business roaming

at no extra cost

Plus $7 daily business roaming

in over 100 destinations

To find out how 2degrees can help

your business, contact Andy Bell on

022 200 0256

Use your business plan allocations

in Aussie for free and $7 daily in

over 100 destinations

MC11404

Daily rate applies if you use your phone including

receiving calls or voicemail.

Use your business plan NZ calls, texts and data for free in AUS (up to

90 days per year) or $7/day in selected destinations. Exclusions apply

including Int. Chat Pack. NZ Int. rates apply to Int. calls. A day is 00:00

to 23:59 NZ time. Destinations subject to change. 300kbps max speeds

apply in selected destinations. Fair Use Policy and T&Cs apply,

visit bus-roam.2dm.co.nz for more info.

MC11404A Bay of Plenty News Ad 256x386 V2.indd 1

18/02/20 2:40 PM
---
COVER STORY

March 2020 BAY OF PLENTY BUSINESS NEWS 3

Ballance

responds to onfarm

challenges

From page 1

new era when people were letting

them know they didn't like

everything they were doing.

"People talk about the

urban rural divide. I don't

think there is that big a divide.

But there is frustration around

certain areas where we know

we've got to fix the rivers, and

get it together."

Ballance's role was not just

to manufacture effective fertilisers,

he said.

"Essentially we need to get

right the four 'rs' – the right

product, in the right place, in

the right amount, at the right

time," he said.

Ballance has about 45

percent of the fertiliser market,

with main competitor

and similarly farmer-owned

cooperative Ravensdown accounting

for about 35 percent,

said Wynne. The market was

highly competitive, with a

total of around 40 importers

making up the remainder of

supply, he said.

The company – which has

around 260 of its 800 New Zealand

staff based in the Mount,

a fertiliser manufacturing plant

at Awarua in the South Island,

and three pelletised feed

operations in Morrinsville,

Wanganui and Ashburton, and

contributes "10s of millions of

dollars" to Bay GDP.

Ballance also runs the urea/

ammonia plant in Taranaki –

site of a fascinating new partnership

with Hiringa Energy

to use alternative energy-produced

hydrogen for fuel.

Creating efficiencies

Wynne emphasised that its

key concern was to do the best

it could to make its farmer

members more efficient and

effective.

"Our innovation programme

essentially wraps

around that mind set," he said.

"For example, late last year

we launched a new, world

first product, called Sure-

Phos – a low water-soluble

superphosphate,"

SurePhos can reduce the

phosphate solubility (or runoff

into rivers) by up to 75 percent,

said Wynne.

"Everyone talks about Nitrogen

in rivers, but phosphate

is just as bad," he said

With the new product, the

water soluble element can

be washed off the land in the

event of a major rain event and

Essentially we need

to get right the

four 'rs' – the right

product, in the right

place, in the right

amount, at the right

time." – Mark Wynne

reduce leaching into waterways,

he said.

The new product, which is

currently only being manufactured

in the Mount, had been

getting an excellent market response,

he said.

Wynne said he believed

Ballance's major tool was its

nutrient specialists.

"We have about 100 people

on the road who are advising

farmers," he said.

"Now everyone thinks

they are there to flog fertiliser,

but they are actually there

to talk about their farms and

make sure they can help them

achieve their objectives.

"How do nutrients fit into

that farm system? We spend

a lot of time training them

so they understand nutrients,

they understand farm systems

and they know how to tease

out from the farmer their real

issues."

Building digital capability

Wynne said the company's

biggest changes in the Bay had

been around digital capability

and innovation, including

tools such as Mitigator. This

allows the creation of an aerial

3D map of a farm taking in all

available information on nutrients

use, stock, farm systems,

contours and soil types.

It operates on the basis of

finding where the majority of

phosphate leaching, nitrate

leaching, your sediment runoff,

and e coli buildup and

ranks the farm in terms of how

best to mitigate the unwanted

side effects.

"I think we're making

progress."

Our statistics tell the story...

$3b

worth of

businesses sold

3k+

businesses

currently for sale

250k+

active buyers on

our database

500+

LINK Business brokers

across four countries

B2B Highly Profitable

SOLD

$5,800,000

Bay of Plenty

• Provides essential services to the

roading sector

• Full management structure in place

• Two main income streams

• EBITDA $2,375,060

linkbusiness.co.nz/BOP00070

Roger Brockelsby 027 919 5478

roger.brockelsby@linkbusiness.co.nz

Sales Over $28,000 per Week

SOLD

$359,000

Bay of Plenty

• Fantastic surburban cafe

• Operates 6 days a week

• 25 – 30Kgs of coffee per week

• Owner oversees operation, great team

• More than one direct income stream

linkbusiness.co.nz/BPW01082

Theresa Eagle 021 289 0949

theresa.eagle@linkbusiness.co.nz

Outstanding $300K Profit

SOLD

$795,000

Bay of Plenty

• Supplying quality product and customer

service to the home renovation sector

• Experienced, qualified contractors & staff

• Work from home

• Good forwards orders and earnings

linkbusiness.co.nz/BPW00758

Steve Catley 021 341 117

steve.catley@linkbusiness.co.nz

Rural Delivery Run

SOLD

$299,000

Bay of Plenty

• 6 day service to approximately 1500+

delivery points

• Currently operated by 2 full time working

owners plus a part time driver

• 2019FY turnover was over $240,000

linkbusiness.co.nz/BOP00071

Grant Jacobson 0274 540 432

grant.jacobson@linkbusiness.co.nz

Sensational Lifestyle Business

SOLD

$455,000

Bay of Plenty

• Lifestyle friendly with no fixed hours

• Processing a consumable imported

product

• Fantastic plant & equipment

• Full training offered by Vendor

linkbusiness.co.nz/BOP00076

Peter Redward 027 492 0453

peter.redward@linkbusiness.co.nz

Very Profitable Rest Home

SOLD

$630,000

Bay of Plenty

• Consistently high occupancy

• Great profitability

• Same high profile spot for 40 years

• Owner will put new lease in place,

offering unique opporunity

linkbusiness.co.nz/BPW01086

Lisa Lloyd 027 685 4556

lisa.lloyd@linkbusiness.co.nz

Bay Business Brokers Ltd - Licensed (REAA08)

NZ's most awarded business brokerage

8 OFFICES NATIONWIDE. 26 FOURTH AVE, TAURANGA

Connecting business

buyers & sellers since 1996

0800 225 999

LINKBUSINESS.CO.NZ
---
4 BAY OF PLENTY BUSINESS NEWS March 2020

From the editor

CONTACT

INFORMATION

PUBLISHER

Alan Neben

Ph: (07) 838 1333

Mob: 021 733 536

Email: alan@bopbusinessnews.co.nz

EDITOR

David Porter

Mob: 021 884 858

Email: david@bopbusinessnews.co.nz

PRODUCTION

Copy/Proofs/Graphic Design

Times Media – Clare McGillivray

Ph: (09) 271 8067

Email: clare@times.co.nz

ADVERTISING

INQUIRIES

www.bopbusinessnews.co.nz

ELECTRONIC

FORWARDING

EDITORIAL:

News releases/Photos/Letters:

david@bopbusinessnews.co.nz

GENERAL INQUIRIES:

info@bopbusinessnews.co.nz

Bay of Plenty Business News has

a circulation of 8000, distributed

throughout Bay of Plenty between

Waihi and Opotiki including

Rotorua and Taupo, and to a

subscription base.

www.bopbusinessnews.co.nz

Bay of Plenty Business Publications

210/424 Maunganui Road,

Mount Maunganui, 3116

This month's cover story

takes an in-depth look

at major Bay of Plenty

company Ballance Agri-Nutrients,

which contributes millions

to the Bay's GDP and has

260 of its 800 New Zealand

staff based in the Mount. Although

in the media because it

sources phosphate from a disputed

area in the Western Sahara

– an issue we also cover

– chief executive Mark Wynne

says the big challenge for the

farmer owned co-operative is

to help its 19,000 farmer members-owners

become future

ready.

"That's primarily it in a

nutshell," he said, adding that

farmers felt almost under attack

at the moment.

"People talk about the

urban rural divide. I don't

think there is that big a divide.

But there is frustration around

certain areas where we know

we've got to fix the rivers, and

get it together."

Ballance's role was not just

to manufacture effective fertilisers,

he said.

"Essentially we need to get

right the four 'rs' – the right

product, in the right place, in

the right amount, at the right

time," he said.

Meanwhile, the dairy sector

is not alone in struggling for

bank finance, with the horticultural

sector also finding funding

tougher to come by since

the New Year.

Mike Chapman, chief executive

of Horticulture New

Zealand, said he is hearing

anecdotally from growers in

every sector of horticulture -

including kiwifruit - that banks

are proving tight fisted over

funding options for the sector.

"Banks demand security

and they have increased the

security that they demand to

reduce their risk," he says. "As

a result, the opportunity for the

rural sector to expand has been

reduced. This situation is for

new loans, as well as for the

renewal of existing loans."

Chapman said the funding

limitations also come off the

back of the new Reserve Bank

capital requirements coming

into play. "It also seems that

if you are going to plant a forest,

there is plenty of support

there, but that is very much a

one trick pony policy," he said.

And finally, some good

news for the Bay from China.

In our Special Focus on

Zespri's formal opening of its

new headquarters, we report

that it has also just received

welcome key trademark protection

status against copyright

infringements in mainland

David Porter

China.

The trademark protection

will deliver a boost to Zespri's

in-market protection through

significantly stronger legal and

administrative powers open to

it for pursuing breaches of its

intellectual property.

Zespri now shares this reinforced

protection with such

high profile companies as Disney

and Ferrero Rocher, and

is the first New Zealand company

to be offered it.

The protection has been issued

by the Shanghai government,

but it is being circulated

throughout China to other

provinces, ensuring it receives

national priority for brand

protection.

Meanwhile, here in New

Zealand, Zespri has been

awarded $15 million in damages

in a civil court case

against an individual who

allegedly sent SunGold G3

plants to China.

BUSINESS DIRECTOR

Pete Wales

Mob: 022 495 9248

Email: pete@bopbusinessnews.co.nz

Bay of Plenty Business

Publications specialises in

business publishing, advertising,

design and print media services.

HAVE YOU

OUTGROWN

YOUR

ACCOUNTANT?

Find the right fit

with Ingham Mora.

Expert service,

tailored for you and

delivered on time.

As promised.

Make the switch easy. Give

us a call and we'll tell your

accountant it's 'over'.

EXPERIENCE. THE DIFFERENCE ADDS UP.

07 927 1200 | 60 Durham St, Tauranga | www.inghammora.co.nz
---
COVER STORY

March 2020 BAY OF PLENTY BUSINESS NEWS 5

Phosphate

dispute's

colonial roots

Ballance Agri-Nutrients recently hosted a delegation of officials from

Morocco's OCP. The visit was one of several regular visits to New

Zealand aimed at countering the campaign by representatives of

Polisario, the organisation that claims to reflect the views of those

Saharawi people largely living in refugee camps in Algeria.

Hajbouha Zoubeir and M'barka Bouaida, president of the Regional Council of

Guelmim Oued Noun, with Tauranga mayor Tenby Powell during OCP's recent

visit to New Zealand. Photos/Supplied. (Main picture, Boucra phosphate)

BY DAVID PORTER

Representatives of OCP

– the world's biggest

phosphate mining company

– spoke to Bay of Plenty

Business News. The Boucra

mine OCP controls is in the

disputed Western Sahara region,

which is regarded by the

UN as a non self-governing

territory under the legal administrative

authority of Spain, but

under de-facto Moroccan civil

and military occupation.

The OCP representatives

emphasized that the Boucra

mine was a key source of social

development for approximately

500,000 Sahawaris living

in the disputed region, and

the 2100 directly employed by

the mine.

The mine supplies approximately

70 percent of the

phosphate imported by New

Zealand. But according to the

OCP officials, the Western

Saharan phosphate represents

only two percent of Morocco's

total phosphate reserves, most

of which are in the north in undisputed

territory.

Small portion of exports

to NZ

Last year Boucra sent approximately

22 percent of its output

to New Zealand, the balance

going to other countries

worldwide.

Between them Ballance

Agri-Nutrients and its main

competitor, fellow farmers

cooperative Ravensdown, import

about $30 million worth

of phosphate a year from the

disputed territory.

Hajbouha Zoubeir, president,

Phosboucra Foundation,

OCP, said the total Boucra

exports were approximately

"We've been visiting

the region for 20

years now and seen

huge development of

infrastructure over

that time."

– Mark Wynne

400,000 tonnes, compared to

the 11 million tonnes OCP

produced.

"That is nothing to what

we sell around the world," she

said.

Zoubeir, whose father originally

worked in the mine, is

a Sahawari. She said families

in the region benefit from

OCP's massive investment

in the community, including

schools, hospitals and social

programmes.

Major phosphate source

Morocco holds around 75

percent of known worldwide

deposits, only around two percent

of which are in the Western

Sahara.

Boucra was originally

owned by a Spanish company

and the regional dispute has its

origins four decades ago when

Spain left its former colony.

Polisaro regards Morocco as

having invaded the region in

1976 when Spain withdrew as

an occupying power, driving

out many Sahawaris into refugee

camps on the Algerian side

of the border.

OCP took over the mine

in 2002, when, according to

Zoubeir, it was not producing

any income.

According to Zoubeir, Boucra

did not make a profit until

2008 and the parent company

still did not receive any income

from it, instead reinvesting it

in the development projects in

the region.

"People say the mine

doesn't benefit local people,"

she said.

"What I can say is it does.

They say it is the biggest mine

in Morocco – but it is actually

the smallest. They say

the money goes to the north,

whereas none goes to the

north."

The trade was completely

in conformity of international

rules, she said.

Ballance chief executive

Mark Wynne told Bay of

Plenty Business News that its

superphosphate was made up

of approximately 70 percent

from Boucra, with the remainder

from South Africa, Vietnam

and some from Christmas

Island. The Boucra phosphate

is low in cadmium, and high in

carbonate, making it particularly

suitable for application to

New Zealand's soils, he said.

According to Ballance,

without phosphate fertilisers,

New Zealand rural production

would fall at least 50 percent,

which equates to a $10 billion

per year hit to the economy.

"We've been visiting the

region for 20 years now and

seen huge development of infrastructure

over that time," he

said.

"We have met many of the

employees who have directly

benefited from the social,

health and educational programmes

that OCP continues

to deliver."

But ultimately, it was

something the UN needed to

resolve, said Wynne.
---
6 BAY OF PLENTY BUSINESS NEWS March 2020

Optimistic start for investment markets

Investment Market Update, quarter ended 31 January, 2020

Inflation remains subdued, central banks remain committed

to low interest rates, and trade tensions between the US and

China have de-escalated (for now) with the signing of a Phase 1

trade agreement in mid-January.

WHAT TO DO WITH YOUR MONEY

> BY BRETT BELL-BOOTH

Investment Adviser with Forsyth Barr Limited in Tauranga, and

an Authorised Financial Adviser. Phone (07) 577 5725 or

email brett.bell-booth@forsythbarr.co.nz.

The progress in trade negotiations

between the

world's two largest economies

appeared to have helped

stimulate improved economic

activity highlighted by improved

commodity prices and

better manufacturing data.

Consumers remain an economic

strength in most developed

markets. Jobs are plentiful,

and real wages and salaries

are rising. Low interest rates

have reduced debt servicing

costs, and strong asset prices,

including for housing, have

made consumers feel wealthier.

Consumers will continue

to spend (outside of coronavirus

fears), and housing construction

is buoyant.

But then came along

coronavirus

Markets don't like uncertainty,

and coronavirus was an unanticipated

risk.

Health-scares impact economic

activity through factors

such as people spending and

travelling less. If it becomes

significant enough – such as

the coronavirus – quarantine

measures are put into effect

and places of work are closed.

China has quarantined an

estimated 60 million people

and extended the annual Lunar

New Year holiday beyond the

traditional one-to-two week

celebration period. Because

coronavirus is centred in China

where so much of the world's

manufacturing is based, work

closures can disrupt global

supply chains meaning companies

around the world are

not able to obtain products

and services essential to their

businesses.

No one knows how far

and wide the coronavirus may

spread, and therefore what the

impact on global markets may

be. Other recent series viral epidemics

include SARS (2003),

MERS (2012), Zika (2015-

2016), and Ebola (2018).

The most comparable to the

Wuhan coronavirus is SARS,

which infected thousands

across the Asia Pacific region.

At the start of that epidemic,

the regional global equity

index (MSCI Pacific ex Japan)

dropped -13 percent. In the

US, equities dropped as much

as minus five percent. Markets

did not fully recover until the

virus was contained. China is

now a far larger contributor to

the global economy than it was

in 2003, so the threat the virus

represents is more significant

today. However, if the coronavirus

follows the pattern of

previous epidemics, then the

economic impact will be relatively

short-lived.

Investors still need

returns

The dominant influence on

markets since the beginning

of 2019 has been the world's

central banks' commitment to

low interest rates. Last year

the markets climbed a wall of

worry to deliver exceptional

returns despite headline-grabbing

risks such as trade wars,

Brexit, Hong Kong protests,

and US-Iran tensions.

In a world of ultra-low interest

rates, we suspect equities

will likely continue to be

supported by the "TINA" effect.

For many investors "there

is no alternative" (TINA) to

equities to generate an acceptable

investment return. Meaning,

as we have seen in early

February, any pullback in equity

prices will likely be met

with good buyer demand.

Mergers and

acquisitions remain a

feature of the market

An additional consequence of

low interest rates has been a

sharp resurgence in corporate

merger and acquisition (M&A)

activity. 2019 saw a number of

companies acquired and delisted

from the NZX, including

TradeMe, Methven, Orion

Healthcare, and SLI Systems.

Late last year the boards of

both Abano Healthcare and

Metlifecare recommended

takeover offers, which are

pending shareholder approval.

And this year Augusta Capital

has followed suit.

Conditions remain ripe for

M&A activity to continue.

High stock prices provide

companies with a strong takeover

"currency", interest rates

and funding costs are low, and

private equity funds around

the world have record levels

of cash they are looking to

deploy.

Diversification is the

best risk management

tool

Equity markets finished 2019

very strongly and that momentum

carried on into 2020. The

recent volatility due to coronavirus

concerns should be

taken in that context. Interest

rates remain historically low

and central banks are expected

to provide further support to

markets if needed this year.

The outlook for global corporate

earnings remains positive

although we expect companies

will now be more conservative

around their outlooks.

The future is inherently

uncertain, and markets can always

face unexpected shocks.

Diversification remains the

key risk management tool. We

recommend clients maintain a

balanced approach with diversified

exposure to both equities

(across a range of geographies

and industries) and high-quality

fixed income. This helps

cushion short-term volatility

while also offering the potential

to capture long-term capital

growth.

This column is general in nature

and is not personalised investment

advice. This column has been prepared

in good faith based on information

obtained from sources believed

to be reliable and accurate.

Disclosure Statements for Forsyth

Barr Authorised Financial Advisers

are available on request and

free of charge.

BEWARE OF FOREIGN IMITATIONS.

There's no shortage of great ideas in New Zealand.

But for an innovative bunch, we're not the best at

realising the full potential of our innovations, particularly

when exporting them.

At James & Wells, we can identify your competitive

edge, offer business strategies for specific markets and

help you own and leverage your intellectual property to

ensure no one steals the fruit of your labour.

www.jaws.co.nz | +64 7 928 4470
---
March 2020 BAY OF PLENTY BUSINESS NEWS 7

achieve more

Exceed your expectations with us

Nothing substitutes for dedication, persistence

and hard work. Nothing amplifies that like working

with professionals that share the same values and

goals. Achieve more with the best real estate team

in New Zealand.

Title Partner of the world's most beautiful Marathon.

nzsothebysrealty.com

Each Office Is Independently Owned and Operated. Browns Real Estate Limited (licensed under the REAA 2008) MREINZ.
---
8 BAY OF PLENTY BUSINESS NEWS March 2020

If you don't know where you are

going, then any road will do

Although it sounds complex,

an IP Strategy is

simply a plan detailing

how a business will use IP

rights and knowledge to help

achieve its objectives, by developing

its intangible assets

and reducing risk.

Managed well, IP can be a

powerful tool.

For instance, it can help

with attracting and retaining

customers, improving margins,

increasing productivity,

competing more effectively in

the market, or securing a deal

with a partner or distributor.

Is IP Strategy relevant

to me?

IP Strategy is relevant for all

businesses because it secures

and leverages your intangible

INTELLECTUAL PROPERTY ISSUES

> BY DAVID MACASKILL

David Macaskill is a Senior Associate at James & Wells with expertise

in all areas of intellectual property and a particular focus on Intellectual

Property Strategy. He can be contacted at 07 957 5660 (Hamilton) or

07 928 4470 (Tauranga), and davidmacaskill@jamesandwells.com.

The competitive and fast-changing business environment is posing

new challenges for all businesses. An effective tool in combating these

challenges is the development of an intellectual property (IP) strategy.

assets, ensuring that you can

continue to enjoy the benefits

of your competitive advantage.

Many businesses have

never considered how IP

rights are relevant to them and

whether better outcomes could

be achieved by controlling and

leveraging those rights.

The process of developing

an IP Strategy is also an opportunity

to reassess your existing

assumptions and critically

evaluate your business.

Businesses that will find an

IP strategy particularly beneficial

include:

• Existing businesses investing

in R&D and new product

development. These

businesses need to be able

to identify their outputs and

make informed decisions.

• Established or emerging

exporters. These businesses

are exposed to new and

variable threats as they encounter

new markets, unfamiliar

legal considerations

and different competitors.

• Businesses commercialising

a new product or innovation.

These businesses

are often creating a new

market segment, disrupting

an existing market, or competing

with an established

market leader. This can

bring them onto the radar

of the incumbents, who are

only too willing to leverage

their market dominance to

squeeze out the new player.

• Businesses that are raising

money to help start or

grow a business. Investors

want assurance that a business

can operate without

infringement risk, and that

they own the assets critical

to the business's growth.

• Businesses looking to generate

passive income by

licensing their innovations

to third parties for commercialisation.

These businesses

must have control

and ownership of their IP

rights in order to leverage

them in licensing deals.

• Businesses looking to pivot

or redefine themselves to

compete in a changing

environment.

Basically, any business

looking to maximise return

on investment and improve its

chance of success.

What does an IP

Strategy involve?

The scope and scale of an IP

Strategy is limited only by a

business's goals and its willingness

to commit.

There's no one-size-fits all

approach, but that means that

you can easily and cost effectively

develop an IP Strategy

to meet your business's needs.

An IP strategy may include:

• Integrating and embedding

IP thinking into your overarching

business strategy.

• Identifying early what IP

is owned or generated in

your organisation and how

it will sustain or grow your

business.

• Identifying and capturing

your IP in a timely and systematic

way. This will help

with identifying and controlling

your IP.

• Considering timing of disclosure

of innovations and

when to make decisions.

Confidentiality can mean

the difference between securing

certain IP rights or

not.

How do I develop an IP

Strategy?

Knowing how to start is

often the hardest part of the

process.

Initially it pays to talk to

someone with experience developing

and implementing an

IP Strategy, who can answer

your questions and reassure

you that the investment of time

and effort is justified.

This may be other business

owners and leaders, or an IP

advisor with proven strategic

experience.

The Innovation IP ® program

is a useful tool for getting

started with IP Strategy.

An IP professional will

start by gaining an understanding

of your business perhaps

by talking with key team

members, learning about the

business's history and growth,

understanding future business

plans and goals, and touring

premises.

What is Innovation IP ® ?

Innovation IP ® , is a two-stage

programme that Callaghan Innovation

part-funds in which

businesses work with an IP

professional to create and implement

a bespoke IP Strategy.

During Stage one, businesses

build on their knowledge

of IP rights and learn

how they can be managed to

achieve the defined business

goals. They identify their key

IP assets and develop an IP

strategy that aligns with their

business strategy. During

Stage two, businesses implement

the strategy.

Where can I find out

more?

James & Wells is an approved

provider for both Stage 1 and

Stage 2 provider of the Innovation

IP ® programme – see our

website www.jamesandwells.

com for more details.

The importance of walking the talk

I am continually

amazed at what

appears to me to

be a growing gap

between what

people say and what

they actually do.

In the business world one

would expect it to be relativity

simple, be clear on what

you are offering, and deliver

on that. Walk the talk – or just

do what you say you are going

to do. In other words, deliver.

These gaping holes appear

everywhere. From how long

it takes to get a cup of coffee

and the quality or lack of said

coffee, through to having supposedly

customer-centric large

companies address customers'

issues.

What's this got to do with

franchising? I believe the

franchise business model can

address the delivery of walk

the talk in a number of unique

ways.

Franchise systems

provide frameworks

Franchising involves the systemisation

and documentation

of a business process, service

or product.

To be successful as a brand,

a franchise system needs to be

not only be good at, but able

to reproduce the process, and

train others to do it. Reproduce,

refine, develop.

A franchise is also more

likely to monitor feedback

and use it as a proxy measure

of customer delivery versus

solely revenue. Whatever it is,

chances are that it will evolve

over time and benefit from

group learnings.

The franchise mind set

As a business model, franchising

is not for everyone, but a

successful franchisee will be

one that is able to follow a

model or process.

This starts at the beginning

when they apply for or

examine a franchise business.

The franchisor is able to see

quickly whether or not the

franchisee can follow an application

process. If they can

follow the systems here they

are more likely to follow the

systems that are designed to

walk the talk in the business

itself. The franchisee picks up

the system, and one supports

the other.

Human nature helps. As

competitive individuals, franchisees

often share and compare

information on performance,

which leads, no great

surprise, to improved performance.

Corporates may have

similar benchmarking, but for

franchisees it's far more personal,

which leads us to the last

area where they have a great

incentive to walk the talk.

Everyone has skin in the

game

Here's the big kicker and it's a

factor that is very difficult for a

corporate model to emulate. A

franchisee has a personal and

vested interest to deliver.

FRANCHISING

> BY NATHAN BONNEY

Nathan Bonney is a director of Iridium Partners. He can be

reached at nathan@iridium.net.nz or 0275-393-022

Incentive programs, KPI's

and the like cannot reproduce

for an employee what the personal

skin in the game provides

for a franchisee. It's personal

– their livelihoods depend on it.

They are closer to the customer

interaction and as such more

motivated to walk the talk.

Add the next layer to this.

A good franchisor will ensure

that the franchisee is walking

the talk. They will receive

coaching, training and if ultimately,

they are unable to walk

the talk, the franchisor will assist

them in walking along.

I am not saying that a franchise

business is going to deliver

the goods each and every

time, because obviously there

are multiple factors involved.

However, starting with

a systemised approach for

a business that has already

proven that it works, delivered

by an individual that has a

personal interest in delivering

well on the business offering,

sounds promising to me.
---
March 2020 BAY OF PLENTY BUSINESS NEWS 9

Tell 'im he's

dreaming

A few of you may remember the 1997

Australian movie, The Castle. It was a

comedy classic about a family in Melbourne

whose home was being compulsorily

acquired by the airport – and the family's

efforts to fight this. A few times in the movie

one of the sons, Steve, reads the local

trading newspaper (two years pre TradeMe)

– and after telling the dad Darryl about an

advert, he responds with the now timeless

line "tell 'im he's dreaming."

Now here is where I tell

you what this has to do

with buying a business.

I suggest it is not uncommon

for a prospective business

buyer to go to an accountant all

excited to tell them about the

potential business they have

found to buy. And sometimes

the response is effectively "tell

'im he's dreaming."

Now of course at times this

is absolutely the right thing

to say. There are vendors out

there who want moonbeams

for their business – and it is

our job to advise our clients

that that price is too high in

that case.

However, I believe there

are other occasions where we

risk pouring cold water on

an idea – without necessarily

holding all the facts.

It's not just about the

money

Generally, accountants see a

lot of businesses across many

industries – which means we

see success, but also failure.

We want to protect our clients

from poor decisions. But

what we do not see as often as

business brokers, is what businesses

sell for.

Most of the time when a

client brings us a business to

consider, they do not want to

pay for us to do our own valuation.

They just ask us for our

views on whether it is worth

the price. We must watch out

that we give advice based on

facts – and not any inherent

bias that a value should not be

over say a 3x multiple etc.

There is a risk that if we do

not take the time to understand

the opportunity, the motivations

and plans of the buyer

and the reasons why the business

is asking for a particular

sum, we may do our clients a

disservice.

People buy businesses for

many reasons – and money is

just one of them. Sometimes

it is for lifestyle and location

reasons. Sometimes it is just

to have the opportunity to be

self-employed. Often it is a bit

of all the above.

Now accountants are not

taught what to do about any

of the touchy-feely reasons,

so we gravitate to the numbers

by nature. Sometimes that can

risk souring a buyer on an idea

they were previously excited

about – and that might not be

in their best interest.

As a rule, I think it is fair

to say that most asking prices

bear some relationship to the

valuation the broker has done

on the business. That appraisal

BETTER BUSINESS BUYING

> BY TOM BESWICK

Director at Ingham Mora Chartered Accountants in Tauranga, is a

business advisor who specialises in buying and selling businesses.

He can be contacted on 027-5744- 019 or tom@inghammora.co.nz

should reflect what other people

have paid in recent times

for similar businesses. So, it

should (for the most part) be

a reasonable starting point in a

negotiation.

Overall, I believe the accountant's

role is to understand

why the vendor is asking

for what they are, and then to

help the prospective buyer

understand the wider opportunities

and risks of the acquisition

– not just the multiple of

profits being asked.

I think this is more valuable

advice then a default setting of

"tell 'im he's dreaming."

SELLING

YOUR

BUSINESS IS

A ONCE IN A

LIFETIME

VOYAGE

THE MOST IMPORTANT FINANCIAL DECISION

A BUSINESS OWNER WILL EVER MAKE.

ENSURE IT'S ALL PLAIN

SAILING FROM HERE

As a busy business owner, you may not have had time

to consider what will happen when you want to exit

your business.

That's where Tabak can help.

A successful sale and smooth transition out of

business ownership depends on achieving a clear

understanding of market conditions and the potential

sale value of your business.

Our team of business brokers are experts in guiding

business owners through this process.

So if you are looking for expert, tailored advice on how

to prepare your business for sale we want to hear from

you.

Contact us today!

203503AA

tauranga@tabak.co.nz

07 578 6329

www.tabak.co.nz

Tabak Limited. Licensed REA (2008)
---
10 BAY OF PLENTY BUSINESS NEWS March 2020

International gymnastics likely to be a proving

ground for the Olympics. Photos/Supplied.

Trustpower Baypark – the Hub of

Entertainment in the Bay of Plenty

Recognised as the Bay of Plenty's Hub of Entertainment, 2020 is

keeping up the tradition and is shaping up to be extremely busy.

The calendar of upcoming events is jam- packed full of a diverse

range of things to do and see.

Speedway

Speedway season is in full

swing, with many more action-packed

nights of racing

for the whole family still to

come including February 8 &

22, and March 7 & 21.

If you are interested in

watching the races from the

comfort of one of our Corporate

Boxes contact events@

bayvenues.co.nz us for more

information. Check out www.

bayparkspeedway.co.nz for

further race details.

Tattoo and Art

Extravaganza

The NZ Tattoo and Art Extravaganza

is back again on 14 &

15 March.

Prepare yourself for the best

international and local tattoo

artists festival, indoor and outdoor

zones, live entertainment,

Wearable Art Show, Creative

Village, caravan street art

exhibition, bike stunts, live

bands, 'The Island' – with a

variety of food and drinks and

more. Come along to celebrate

creativity & celebrate life.

Netball

Waikato Bay of Plenty Magic

Netball Team play against

the Otago Northern Stars in

Round 2 of the ANZ Premiership

competition on 23 March

at Baypark. The ANZ Premiership

is the premier domestic

netball league in New Zealand.

The new domestic league

was launched by Netball

New Zealand as a successor

to the ANZ Championship, a

Trans-Tasman netball competition

that was contested by

five Australian teams and five

New Zealand teams starting

from 2008.

The ANZ Championship

saw netball reach the status of a

semi-professional sport in both

countries, with players making

significantly higher salaries

than in previous competitions.

Seniors and Travel Expo

The Seniors and Travel Expo

2020 is on March 28 & 29

from 10am to 3pm. The Expo

has expanded to many more

exhibits offering many more

options from Ocean Cruising,

River Cruising, travel within

New Zealand destinations, in

fact, 50 plus destinations to

learn about.

There will be caravans

on show for tripping around,

and lots more options to suit

all tastes and budgets. Colin

explains "The purpose of the

Expo is to provide seniors

with first-hand opportunities to

discuss products and services

usually advertised in magazines

and newspapers alone."

The Expo is showcasing

a vast range of services and

products for seniors in one

convenient location and it's all

for free. This year Ray Woolf

entertains us, live at 1pm,

both days, singing 60s and 70s

hits, including songs by Matt

Munro, such as Walk Away,

Born Free, Portrait of my

Love, etc. An event not to be

missed, loads of information

and entertainment, and tastings

for all.

Pacific Rim Gymnastics

Tauranga has secured hosting

rights for the 2020 Pacific Rim

Gymnastics Championships

which will take place 17 to 19

April.

The biennial international

event gathers the best of men's

and women's artistic, rhythmic

and trampoline gymnastics

from the 21 eligible Pacific

Rim nations, including traditional

power houses. The US,

Russia, Canada, Australia, Argentina,

Chile and Mexico are

among the countries already

registered.

The Pacific Rim Championships

is one of only three

events on the international

calendar that competes all four

Olympic sports under one roof.

As in other Olympic years,

the event is expected to continue

to play a key lead-in for

Tokyo 2020 Olympians.

The 2016 Pacific Rim

Championships saw several

subsequent Rio Olympians

take the floor including world

gymnastics phenomenon Simone

Biles, alongside New

Zealand's own Olympians

Dylan Schmidt and Courtney

McGregor.

Schmidt is no stranger

to the Pacific Rim Championships

having won bronze

in 2016 in the lead-up to his

Olympic debut in Rio. In

2012, he gained recognition

on the world stage by winning

gold in the junior division.

2020 will be Schmidt's fifth

championships.

Trustpower Baypark offer

a complete package for any

event with state of the art conference

and meeting rooms,

full Professional Conference

Organiser (PCO) event management

services, in-house

catering, audio visual services

and marketing/promotions.

Meet at Baypark for your next

event.

For more information on any events, enquiries for Baypark venues, BayStation activities or service on/off site from BayCatering, BayAudioVisual visit

www.trustpowerbaypark.co.nz, email events@bayvenues.co.nz or call 07 577 8560.
---
SPECIAL FOCUS

March 2020 BAY OF PLENTY BUSINESS NEWS 11

Cutting the ribbon: Craig Greenlees, Doug Voss, Peter McBride, John Palmer and

Dan Mathieson. Photo/Jamie Troughton, Dscribe Media.

Zespri officially opens

new Mount Maunganui head office

Zespri officially opened its Mount Maunganui head office in February as

part of the kiwifruit industry's marquee Momentum 2020 conference.

With phase one of the

new building complex

completed in

April 2019, phase two has

seen the completion of a new

meeting wing featuring an additional

486 sqm space, five

meeting rooms and a demonstration

kitchen. The building

project saw Zespri work with

a range of construction partners

including Beca, Hawkins,

Rider Levett Bucknall and

Warren and Mahoney.

The office was officially

opened by Minister of Agriculture

Damien O'Connor, with

four previous Zespri Chairmen

– Craig Greenlees, Peter Mc-

Bride, John Palmer and Doug

Voss – cutting a commemorative

ribbon in front of around

500 growers, Zespri customers,

representatives from NZKGI,

KVH and the post-harvest

sector.

Zespri Chair Bruce Cameron

said the completion of the

complex represented a significant

milestone for the kiwifruit

industry.

"We're very proud of our

story and the contributions

our industry has been able to

make to growers and our local

communities.

"This building was always

designed to be a hub for the industry

and to celebrate its completion

with so many of our industry

stalwarts and customers

during Momentum 2020 is a

fitting way for us to start what

we hope will be another successful

year for our industry.

"With the building's completion

and our recent brand refresh,

Zespri now has an excellent

platform for its next phase

of growth which we hope will

enable us to create continued

strong returns for our growers

and help people, communities

and the environment around

the world thrive through the

goodness of kiwifruit."

Multi-functional centre

The total office complex is

now 5264 sqm, with the meeting

wing's demonstration

kitchen designed to enable the

industry to host tour groups

and provide a multi-functional

space for significant events.

"Last year alone we hosted

nearly 800 visitors and the new

meeting wing provides not

only a stunning space to host

them, but also educate them

about our industry's history,"

said Cameron.

"The meeting rooms all

carry names of significance

to our industry, recognising

people like Alexander Allison,

Isabel Fraser or Hayward

Wright, and important locations

around the world."

Within the complex there is

also a redeveloped greenspace

which Cameron said would

provide a fantastic spot for

both the Zespri team and the

We hope that being able to enjoy a fantastic

open green space in the heart of Mount

Maunganui might encourage some of the

next generation to think about a future career

in our industry." – Bruce Cameron

wider public to enjoy.

"We hope that being able

to enjoy a fantastic open green

space in the heart of Mount

Maunganui might encourage

some of the next generation to

think about a future career in

our industry."

Reflecting the commitments

announced during Momentum

2020, the building

also features a number of sustainable

design features.

"Embracing sustainable design

principles was certainly a

focus for us in this build," said

Cameron.

"The complex features

solar roof panels, energy efficient

sensor lighting, grey

water storage, electric vehicle

charging stations, ability to

charge 16 electric bikes and

improved recycling options.

We've already seen some efficiencies

and we're looking

forward to that continuing with

the new wing now in action."

HAWKINS

is proud to have built

the new head office

for Zespri
---
12 BAY OF PLENTY BUSINESS NEWS March 2020

SPECIAL FOCUS

Growers urged

to yell louder on

produce benefits

Kiwifruit growers have been urged to sing their own praises louder in

the market to their consumers, as plant-based foods risk stealing the

limelight after several years of phenomenal growth.

Cathy Burns heads up

the Produce Marketing

Association (PMA), a

global trade organisation representing

more than 2000 floral

and produce producers and

accounting for several billion

dollars of global produce trade.

Addressing delegates at the

recent Zespri Momentum conference

in Tauranga, she said

one of the biggest emerging

trends in consumer behaviour

in six regions surveyed globally

was "healthy living".

"This includes a desire to

shed things from the diet that

are not good for me, and it has

become a proxy term for 'intelligence'

and 'social acceptance',"

she said.

"There are two main pathways

are been seen in behaviour

to achieve that outcome, choosing

organics and plant-based

foods in the diet."

Organic produce accounted

for 36 percent of total organic

spend in the US, with dairy

products next accounting for

about 18 percent in a sector that

has enjoyed almost 10 percent

per annum growth for the past

10 years.

"For the first time we have

seen the US organics market

break the US$50 billion mark

for sales in 2018 and we do not

see that slowing down at all."

Obviously, PMA members

got to enjoy the growth organic

produce has experienced

in recent years. But it was the

growth in plant-based foods

and the claims those foods were

making that gave Burns and her

executive most concern.

"We are the original plantbased

food [as produce growers],

and someone else is going

out and talking our story."

This sector was now at

US$19 billion and expected to

be valued at US$85 billion by

2030.

Stronger messaging

needed

Claims of low environmental

footprint and good health

benefits were already well

substantiated by the fresh produce

sector, but simply telling

people "eating fruit and vegies

is healthy for you" was not

enough, she said.

The kiwifruit sector had already

made major advances by

validating its gut health claim

several years ago.

This had in turn been linked

to a product supported with

strong marketing and connections

to growers, something

consumers were seeking more

of when considering purchases.

The use of videos to tell

product stories on the internet

was a valuable plank for promotion,

given this year videos

are estimated to form 80

percent of all global internet

traffic.

Worldwide, people were

spending 84 minutes a day

watching video on line and 50

percent of video watched on

line is on a mobile device, with

90 percent shared with friends.

Add in the most popular social

media platform of choice,

which is now Instagram, 89

Produce Marketing Association CEO Cathy

Burns: Kiwifruit companies should sing

their own raises louder. Photo/Supplied

percent of users were aged

under 35.

"I cannot think of a better

time to capitalise on what you

are already doing."

The message about fresh

produce's health benefits was

one increasingly easy for growers

to back up with evidence.

Burns pointed to health

practitioners in the United

States who "prescribed" fruit

and vegetables to their patients.

A programme in Connecticut,

"Wholesome Wave," had

55.3 percent of participants reporting

an increase in their fruit

and vegetable consumption.

Over one-third of child participants

showed a decreased

Body Mass Index, the metric

used for measuring obesity,

since enrolling in the program.

Sustainability policy

ramping up

Zespri also used the Momentum

conference to announce its

sustainability policy for heading

towards 2025, by which

time all products used for packaging

would be reusable, recyclable

or compostable.

It has committed to reduce

its packaging footprint by 25

percent per kg of fruit produced

by 2030, building on a

track record of consistent packaging

improvements.

Burns said PMA had identified

consumer concerns over

environmental footprint, and

plastic waste in particular was

a key area influencing consumption

decisions.

In the US, 72 percent of

We are the original

plant-based food [as

produce growers],

and someone else is

going out and talking

our story."

– Cathy Burns

consumers expected grocery

chains to have a sustainability

policy, and 62 percent expected

the same from their

restaurants.

But recent research out of

Holland had also highlighted

how much of an issue food

waste was. Researchers now

maintain food waste may actually

be almost double the

1.3 billion tonnes a year estimated

by the United Nations at

present.

Zespri chief innovation and

sustainability officer Carol

Ward said the packaging announcements

were based on

the company's belief in respecting

and enhancing the

natural environment, optimising

natural resources and fostering

health and wellbeing.

Zespri already had 95 percent

of its packaging used

to transport our kiwifruit to

market as cardboard, but realised

there was more to do,

she said. "Today's consumers

care about what their food is

wrapped in, want to know more

about where it comes from and

are seeking reassurance that

it's been grown in a way that

enhances the environment and

supports livelihoods."

We have been a tiny part of

your huge success, from the

very begining.

We have been tiny part of

We your have huge been success, a tiny from part the of

their huge very success, begining. from the

very beginning.

Congratulations Zespri International! Beca is proud to support

this great Kiwi brand with a sustainable and resilient HQ that

will be part of a thriving Bay of Plenty business community.

We have been a tiny part of

Jenkins is

your

proud

huge

to be

success,

supplying

from

the kiwifruit

the

industry

with the worlds first fully certified food grade,

very begining.

compostable fruit label.

www.beca.com

Jenkins is proud to be supplying the kiwifruit industry

with the worlds first fully certified food grade,

compostable fruit label.
---
SPECIAL FOCUS

March 2020 BAY OF PLENTY BUSINESS NEWS 13

Zespri boost to

Chinese trademark

protection

As Zespri works to identify plots of illegally grown kiwifruit in China,

it has also just received welcome key trademark protection status

against copyright infringements in mainland China.

By RICHARD RENNIE

The trademark protection

will deliver a boost to

Zespri's in-market protection

through significantly

stronger legal and administrative

powers open to it for pursuing

breaches of its intellectual

property.

Zespri now shares this reinforced

protection with such

high profile companies as Disney

and Ferrero Rocher, and

is the first New Zealand company

to be offered it.

Zespri's general manager

for greater China, Michael

Jiang, said there was significant

kudos for the company to

be awarded such protection. It

was a conscious acknowledgement

of the high profile it held

as a foreign brand in China, he

added.

To be circulated

throughout China

The protection has been issued

by the Shanghai government,

but it is being circulated

throughout China to other

provinces, ensuring it receives

national priority for brand

protection.

Jiang said having the

boosted protection meant

Zespri will be able to act on

companies using the brand for

products other than just fresh

fruit, something it was unable

to do before.

Meanwhile, here in New

The recognition

also reflects the

challenges Zespri

is facing with

counterfeiting in

China, including with

the unauthorised

growing of our

Zespri SunGold

kiwifruit variety

there."

– Michael Jiang

Fake "Zespri" lookalikes could be a less of a problem, following

Chinese support in curbing counterfeits. Photo/Supplied.

Zealand, Zespri has been

awarded $15 million in damages

in a civil court case

against an individual who

allegedly sent SunGold G3

plants to China. (see accompanying

story)

The trademark protection

afforded Zespri, marks moves

by Chinese authorities to

clamp down on the notoriously

high level of counterfeiting

that has blighted most aspects

of Chinese commerce in the

past.

New trademark protection

laws came into effect from 1

November last year, with the

maximum penalty doubled to

just over US$700,000.

Two years ago, the sale of

more than a million pieces of

fake Dole, Zespri and Sunkist

labels resulted in a company's

directors and staff being sentenced,

including a two-year

jail term.

Over 100 trays of fake

Zespri fruit were also intercepted

by government officials

in the Xiamen province.

Food fraud is becoming an

increasing focus for Chinese

authorities, with a 40 percent

increase in the number

of food-related cases heard

by Shanghai courts between

2015-17.

Zespri staff have fought an

ongoing battle with companies

duplicating company logos

and packaging, often with only

minor detectable variances

from legal versions.

"The recognition also reflects

the challenges Zespri

is facing with counterfeiting

in China, including with the

unauthorised growing of our

Zespri SunGold kiwifruit variety

there," said Jiang. "And

is another demonstration of the

support we have received from

Chinese authorities."

Zespri welcomes successful defence of IP rights

By DAVID PORTER

Zespri has welcomed the successful

result of legal action

taken against a forrmer kiwifruit

grower who took Zespri's

protected plant material to China,

where it has continued to spread.

The court awarded Zespri almost

$15 million in damages. Zespri will

now consider its options in China in

relation to Gao and his associates,

as well as seek to collect the damages

awarded.

The civil action was launched

in 2018 against kiwifruit grower

Haoyu Gao, his wife Xia Xue and

their company Smiling Face Limited,

after Zespri discovered that

two of Zespri's protected kiwifruit

varieties had been taken from New

Zealand to China and propagated

by Gao and his associates.

Efforts by Zespri to work with

Chinese authorities to identify and

prosecute owners of the illegally

grown fruit make it the first fruit

company to dispute such an instance

on Chinese soil.

The Court found that Gao had

fraudulently offered to sell Zespri's

varieties as well as the right to licence

them to parties in China – a

right exclusively retained by Zespri.

It had also facilitated the planting

of Zespri's varieties on Chinese orchards

and breached his contractual

obligation to notify Zespri of any

infringement that they were aware

of.

Important decision for

growers

Zespri's chief grower and alliances

officer Dave Courtney said it was

an important decision for New Zealand's

kiwifruit growers, as well as

for other New Zealand horticultural

businesses. It gave them the confidence

that if they continued to invest

in research and development

to create value for New Zealand,

they would have protections against

New refreshed branding for

Zespri. Photo/Supplied.

those who seek to undermine that,

he said.

"Gao's actions, along with those

of his associates, put at risk the

livelihoods of New Zealand's 2,800

growers, directly contributing to

the unauthorised spread of Zespri's

SunGold Kiwifruit in China which

has the potential to cost New Zealand

communities significantly.

"Zespri has been investigating

the spread of unauthorised plantings

of its varieties in China and has

identified parties associated with

Gao, as well as others who were

involved in the establishment of

SunGold in China and who knowingly

misled Chinese investors and

growers to plant Zespri's varieties

without authorisation."

Courtney said the Chinese Government

had strong Plant Variety

Right (PVR) legislation, which it

is in the process of strengthening

further, alongside enforcement

provisions.

Encouraging development

"We're very encouraged by that, as

well as by China's broader commitment

and efforts to clamp down on

other types of intellectual property

infringement in China and we hope

to work alongside Chinese officials

to strengthen the protections of investors

and IP holders further. "

"New Zealand and China are

both in the process of bringing their

PVR legislation into line with the

latest UPOV [International Union

for the Protection of New Varieties

of Plants] standards. This decision

is a clear recognition of the importance

of governments continuing

to progress multi-lateral protection

mechanisms for innovation and intangible

assets."

Courtney said investment in new

plant varieties was becoming an increasingly

important way of creating

value around the world and the

sector needed to protect intellectual

property rights to encourage that investment

and to feed the world.

"Zespri is talking to other plant

variety rights owners in New Zealand

and around the world about

how we can work together to protect

those rights for the benefit of growers

and consumers who receive the

benefit of the extensive quality and

food safety innovation and practices

that plant variety owners place

around their protected varieties."

Orchard to market excellence

Working in partnership with growers to deliver excellent fruit quality, yield and

industry leading orchard gate returns.

LEADING SUPPORT – Technical advice, labour, orchard management

LEADING INNOVATION – Thinking, technology, systems

LEADING RETURNS – Advanced analytics, tracking, reporting, forecasting

Growing kiwifruit?

Call today on 07 573 0303

seeka.co.nz
---
14 BAY OF PLENTY BUSINESS NEWS March 2020

SPECIAL FOCUS

New sustainability

commitments

Medal awarded to

Ian Greaves

Zespri has announced a new commitment to make all of its

packaging 100% reusable, recyclable or compostable by 2025.

By DAVID PORTER

The announcement is one

of a suite of sustainability

commitments

shared recently with growers,

consumers and suppliers at

the New Zealand kiwifruit industry's

marquee conference

– Momentum 2020: Standing

Up and Standing Out.

Zespri also revealed commitments

that by 2025, any

plastic packaging will be

made from at least 30 percent

recycled plastic, and

that it will reduce its packaging

footprint by 25 percent

per kg of fruit produced by

2030, building on a track record

of consistent packaging

improvements.

Chief Innovation and

Sustainability Officer Carol

Ward says the packaging announcements

are based on the

company's belief in respecting

and enhancing our natural

environment, optimising natural

resources and fostering

health and wellbeing.

"While we are already one

of the lowest impact foods

produced, we can do even

better," she said.

"Today's consumers

care about what their food

is wrapped in, want to know

more about where it comes

from and are seeking reassurance

that it's been grown

in a way that enhances the

environment and supports

livelihoods.

Zespri already had 95 percent

of its packaging used

to transport our kiwifruit to

market as cardboard, but realise

there was more to do,

she said.

New Plastic Economy

commitment

The announcements follow

Zespri joining some of the

world's biggest brands in

2019 to sign up to the Ellen

MacArthur Foundation's

New Plastics Economy

Global Commitment and

working with its industry

partners to create a circular

economy for plastics.

Ward said a dedicated

work programme focusing

on sustainable packaging

had been established to

build on actions already

undertaken by Zespri, including

reducing the weight

of liners used in cardboard

transport packs, trialling fibre-based

solutions for pocket-packs,

implementing improved

recycling options, and

eliminating all unnecessary

packaging.

Ward said this was a

time of great opportunity for

Zespri, and the commitments

were designed to enable the

industry to succeed in the

right way, helping to both lift

people up and take better care

of our environment.

"We're confident these

commitments reflect what

matters most to our customers

and industry partners, and

will allow us to deliver better

value to our consumers."

Other Zespri sustainability commitments

• Carbon positive by 2035

• Zespri will disclose its climate risks and opportunities

by August 2021 and develop an industry-wide climate

change adaptation plan by December 2022

• By 2025, the industry will more effectively monitor nutrient

inputs and losses as well as its impact on water.

The kiwifruit industry's Fresh Carriers Hayward

Medal recognising outstanding contributions

has this year been awarded to Ian Greaves,

for the life-saving pastoral care he provided

the industry during the Psa outbreak.

Kiwifruit Industry Advisory

Committee chair

and Zespri director Tony

Hawken presented the medal

to Greaves at the industry's

Momentum 2020 conference

dinner, recognising the efforts

he put in to caring for the

health and wellbeing of growers

during the Psa outbreak

through his Grower Support

Network.

"The judging panel unanimously

awarded Ian this

year's Fresh Carriers Hayward

Medal," said Hawken.

"The outbreak of Psa was

truly distressing for our kiwifruit

growers and the wider industry,

and an event that would

forever change the trajectory

of our industry, putting those

involved in the industry at the

time under real pressure.

"However, as a grower himself

during the outbreak, Ian

stood up to advocate for mental

health awareness and suicide

prevention within the kiwifruit

industry. He established a

support system that previously

didn't exist, and which ultimately

saved lives."

Hawken said Greaves

clearly met the judging panel's

criteria, which assessed

the nominee's length of service,

the benefits from their

contributions, their leadership

within the industry, their selflessness

and the legacy they

had created.

During the Psa outbreak,

Greaves brought together a

team of volunteers and created

a pastoral care plan which

provided a variety of services

to support growers. Under

his Grower Support Network

which launched early in the Psa

outbreak, he helped arrange industry-wide

seminars, counselling,

grower discussion groups

and other support avenues in

growing regions across New

Zealand.

These services not only

empowered growers to ask for

help but supported the collaboration

of the wider industry

during a stressful and unprecedented

situation.

His work is now used as an

example for other rural industries,

and Greaves was the recipient

of the Kiwibank Local

Hero Award in 2013 and also

awarded the inaugural HortNZ

Hayward Media winner Ian

Greaves. Photo/ Dscribe

Media Jamie Troughton.

President's Award in 2015 for

his life-saving pastoral support.

"The Hayward Medal was

established in 2012 to honour

the dedication, knowledge, excellence

and passion of the kiwifruit

industry's world-class

leaders, and Ian has truly been

a leader in our kiwifruit industry,"

said Hawken

"Ian showed true leadership

and selflessness during the Psa

outbreak," said Hawken.

"Our wellbeing is so important,

but often in times,

rarely considered or talked

about. Ian understood the anguish

our people were feeling,

and he was motivated to step

up, even though he was an affected

grower too."

Hawken noted Greaves'

compassion extended outside

of kiwifruit and included funding

and establishing micro-enterprises

in India that employ

people out of poverty, and acting

as chairman and trustee of

The Life Foundation.

Congratulating Zespri for another successful

Momentum conference and the opening of

their new global head office.

www.dms4kiwi.co.nz Ph 07 578 9107

Photo/Sam Hartnett

Rider Levett Bucknall is proud to have

provided Quantity Surveying services on

Zespri's new

Mount Maunganui

head office

The development, which embraces sustainable design

principles, will provide Zespri an excellent base for growth

and also a place for the wider public to enjoy and learn

about the Kiwifruit industry.

A thousand

little

decisions

create big

wins.

RLB.COM Tauranga 07 579 5873
---
March 2020 BAY OF PLENTY BUSINESS NEWS 15

Hort sector finds funding tight

The dairy sector is not alone in struggling for bank finance,

with the horticultural sector also finding funding tougher to

come by since the New Year.

Mike Chapman, chief

executive of Horticulture

New Zealand,

said he is hearing anecdotally

from growers in every sector

of horticulture – including kiwifruit

– that banks are proving

tight fisted over funding

options for the sector.

"Banks demand security

and they have increased the

security that they demand to

reduce their risk," he told Bay

of Plenty Business News.

"As a result, the opportunity

for the rural sector to expand

has been reduced. This

situation is for new loans, as

well as for the renewal of existing

loans."

Chapman said the funding

limitations also come off the

back of the new Reserve Bank

capital requirements coming

into play.

"It also seems that if you

are going to plant a forest,

there is plenty of support there,

but that is very much a one

trick pony policy," he said.

All funding aspects

getting tighter

Chapman noted all aspects of

financing for orchardists have

got tighter, whether for seasonal

financing or for orchard

projects.

"It may not be a silly idea

to have a conversation with

banks about the fact the sector

is very positive, and there is

plenty of opportunity there to

do more with it."

In the Ministry for Primary

Industries Situation and

Outlook for Primary Industries

Report, released prior to

Christmas, apple exports were

expected to be up 7.2 percent

to almost 1 billion dollars this

year, kiwifruit to be up 8.6 percent

and approaching $2.5 billion,

and wine up 1.8 percent

to $1.8 billion.

Chapman said there was a

sense in the horticultural sector

that growers were being

treated like their more indebted

dairy farming colleagues when

it came to securing finance.

The dairy sector accounts

for two thirds of the $61 billion

agricultural debt market, compared

to less than 10 percent

for horticulture.

Debt per dollar of exports

equates to $2.79 for dairying,

compared to only 68c for

horticulture.

Dairy debt averages $2.9

million per dairy farm business,

compared to $523,000

per horticultural business.

Kiwi demand still strong

MyFarm investment syndication

company received an unprecedented

40 enquiries for

its latest kiwifruit orchard syndication

project, located near

Edgecumbe.

Con Williams, MyFarm

head of investment research,

said the level of enquiry was

unprecedented, and indicated

there was a strong appetite

among investors to put funds

into a promising sector.

He said it was an unusual

point in time in the sector,

when predictions were positive

across almost all crop types

for strong market returns, but

money was hard to get.

"It would not be as hard

to raise the funds as it is in

dairying right now, but it is

definitely harder than it should

be."

Williams said funding for

new green field projects was

particularly hard to come by,

with banks spooked by the delays

in cash flow new projects

inevitably involve.

He agreed restrictions

around foreign land ownership

in New Zealand were only further

constricting the availability

of capital here.

It is only possible for foreigners

to purchase up to 24.9

percent of farm or orchard land

greater than 5ha by gaining

regulatory approval.

Investors getting more

innovative

Banks demand

security and they have

increased the security

that they demand to

reduce their risk." –

Mike Chapman

Hort NZ CEO Mike Chapman: All funding aspects for

orchardists have got tighter. Photo/Supplied.

Syndication or private purchases

were often becoming

the main vehicle for orchard

purchases, outside of iwi deals,

and investors were having to

get more innovative about how

they structured deals.

MyFarm's latest syndication

incorporates lease income

and orchard profit.

Williams said leasing was a

common income stream for kiwifruit

and viticultural operations.

His company was trying

to take more of a commercial

property approach to earning

streams from orchard operations,

something that worked

better for some operations than

others.

He said shortages in root

stock plants for establishing

apples and cherries can push

development times and costs

out further in new developments,

making bankers less

likely to lend on those longer

time frames.

The Veros project

management team is

delivering landmark

projects for the Bay.

Our extensive range of project

management services provide a total

solution to your property needs and

include:

• Project Planning

• Programme Management and Planning

• Tenancy Co-ordination

• Relocation Management

• Risk Management

• Consultant Procurement

• Design Management

• Local Authority & Consent Management

• Main Contractor Procurement

• Value Management

• Contract Administration

• Budget Estimating & Cost Control

ROTORUA LAKEFRONT REDEVELOPMENT

Put your next project in safe hands and

contact Veros today.

Located in Tauranga, Hamilton & Rotorua

info@veros.co.nz | www.veros.co.nz
---
16 BAY OF PLENTY BUSINESS NEWS March 2020

Production for export

While there's unprecedented demand around the country for

industrial property from logistics, warehousing and distribution

companies, there's also increasing need for industrial space to

cater to food and beverage processing, and the production of

complementary medicines, cosmeceuticals and nutraceuticals.

According to Plant &

Food Research, a

New Zealand government-owned

Crown Research

Institute, the international food

and beverage industry is growing

at around five percent a

year and global expenditure on

food products by consumers is

expected to reach US$20 trillion

by 2030.

It says key trends for new

product development are in

health, convenience, naturality

and sustainability with the intrinsic

"health halo" of natural

produce meaning products derived

from fruits and vegetables

are highly sought-after in

the global marketplace.

Manuka honey led the way,

but "functional foods" – that

is, foods that offer benefits beyond

basic nutrition – is one of

the fastest growing segments

of the global food industry and

it's taking off in New Zealand.

There's a lot of talk about

mussel derivatives to help

combat inflammation, cherry

concentrates deemed to assist

with sleep, probiotics said to

improve gut health, trending

superfoods like blackcurrants

said to aid exercise recovery

and post-exercise immune

function, along with extracts

from seaweed, kelp – even native

tree ferns with health-giving

claims.

New Zealand is also jumping

on the "nootropics" train.

These are plant-based supplements,

and other substances

that may improve cognitive

function, particularly executive

functions, memory, creativity,

or motivation, in healthy

individuals.

And then there's plant-derived

protein products which

are starting to make waves.

Agri-food exports

expected to grow

Plant & Food Research says

the broad category of agri-food

exports from New Zealand are

predicted to treble by 2025, to

around NZ$58 billion. This is

primarily due to the production

of new high-value food and

beverage products, combined

with value chains that enhance

the delivery of New Zealand

products to its premium

customers.

An example of a business

with a consolidated presence

within an industrial estate, is

Hamilton-based dairy biotech

company Quantec which operates

from the Waikato Innovation

Park.

Quantec has received multiple

awards, including the

Cawthron Institute Innovation

Award, for its specialist approach

to extracting high-value

bioactives from natural ingredients

which are then developed

into proprietary

ingredient formulations

for use in human and animal

products.

One of Quantec's main

business growth areas is within

the gut health and immune

health sector in China. Quantec

is combining omega-3 oil

with an aqueous milk protein

powder to produce a high-end

innovative nutraceutical product

to be marketed to the mother-baby

supplement market.

Natural Health Products

NZ, a national industry organisation

representing the natural

products, functional foods,

complementary medicines,

cosmeceuticals, and nutraceuticals

industries, says New

Zealand's natural products industry

is worth NZ$1.4 billion

annually and growing. Major

markets are already established

in Asia and North America,

and there's a developing presence

in Europe.

A report released by research

and consulting group

Coriolis in conjunction with

the Ministry for Business, Innovation

and Enterprise, The

Investor's Guide to the New

Zealand Processed Food Industry

2017, says New Zealand

has robust credentials to attract

new investment in food-related

industries and the potential to

drive strong export growth.

It says as a country, we have

significant untapped potential

to generate more product, to

add value to large volume of

raw material ingredients which

at present are exported as unprocessed

commodities, and

to bring a distinct and unique

edge to the sector.

This signals that there will

be increasing demand for industrial

space to accommodate

this growing sector and

it is likely that location will be

pinned to areas with good distribution

links for export.

www.bayleys.co.nz/workplace/industrial/insights/

production-for-export

At Bayleys, we believe relationships are what businesses are built on and how they

succeed. We understand that to maximise the return on your property you need:

Professional property management

A business partner that understands your views and goals

Contact the Bayleys Tauranga Commercial Property Management team today.

Bayleys Tauranga

Commercial Property Management

07 579 0609

jan.cooney@bayleystauranga.co.nz

SUCCESS REALTY LTD, BAYLEYS, LICENSED UNDER THE REA ACT 2008

ALTOGETHER BETTER

Residential / Commercial / Rural / Property Services
---
March 2020 BAY OF PLENTY BUSINESS NEWS 17

Prepare your

business for

the minimum

wage increase

The Government has announced that from 1 April 2020, the

minimum wage is going to increase from $17.70 to $18.90 per

hour. This is an increase of 7.27 percent or $1.20 per hour. It

will mean an extra $48 per week before tax for employees on

minimum wage working a 40-hour week.

MONEY MATTERS

> BY STEPHEN GRAHAM

Stephen Graham is a Director and Managing Partner at BDO

Rotorua, Chartered Accountants and Advisers. To find out more

visit bdorotorua.co.nz or email rotorua@bdo.co.nz

The training/starting out

wage also sees an increase

from the current

rate of $14.16 to $15.12 per

hour on the same date. The

training/starting out wage rate

is set at 80 percent of the adult

minimum wage rate.

The Government has indicated

a likely further increase

to lift the minimum wage to

$20 per hour in 2021. So, what

can you do to prepare your

business for this change? Here

are some practical tips to help.

Update your payroll

system

Most payroll systems should

either automatically update or

provide you with instructions

on how to adjust settings to

manage the increase from 1

April. We recommend that you

confirm well in advance if any

action is required to ensure

compliance.

Consider moving to a

cloud system

If you are currently using a

manual or desktop payroll system,

it is timely to consider the

benefits of moving to a cloudbased

solution. There are many

options available to suit the

needs of your business.

Cloud-based means you

can access payroll from anywhere

with an internet connection,

ensures that you are always

using the most up to date

version of the software, and

means you are not reliant on

in-house backup procedures.

You may also be able to link

with time sheeting and finance

systems to reduce the opportunity

for data input error.

Prepare an annual

budget

Understanding the financial

impact of the increase is vital

so you can plan and make adjustments

as necessary. Preparing

an annual budget on a

month by month basis with the

help of your accountant will

highlight the effect of the increase

both on wage cost and

holiday pay liability.

Using tools such as Spotlight

or Futrli can help you

visualise the impact in a user-friendly

format.

Review other employees'

wages

The minimum wage increase

is likely to have a bearing on

Preparing an annual budget on a month by

month basis with the help of your accountant

will highlight the effect of the increase both

on wage cost and holiday pay liability.

wage expectations from those

employees who are currently

receiving more than minimum

wage because of their skills/

loyalty.

You may wish to consider

whether to maintain wage

parity across your employees

by offering increases to those

above the current minimum

wage.

As this increase is not required

by law (provided they

are already on or above $18.90

per hour), you could stagger

these.

There may also be other

non-financial benefits, such

as flexitime or training, that

you could offer to those more

skilled employees in order

to keep them motivated and

engaged.

Review your pricing

strategy

All other things being equal,

the cost of operating your business

will increase on 1 April

2020. Just as you would look

at your options if any other

supplier passed on increased

costs, the increased wage cost

should prompt a review of

your current customer pricing,

if this has not been carried out

recently.

Is your market such that

you could raise prices across

the board incrementally? Or

should you focus on increasing

selected product/service pricing

only? Other ways to look

at pricing include reviewing

discounts offered and how you

bundle goods/services.

Trusted to sell the Bay of Plenty's finest homes and

lifestyle properties.

OLIVER ROAD ESTATE AGENTS LIMITED | LICENSED REAA 2008

Luxury & Lifestyle

420 MINDEN ROAD, TE PUNA

$3,650,000 4+ bed 4 bath 3 car 597 m 2 9,026 m 2

Cameron Macneil 021 800 889

Jason Eves 027 587 5509

Nestled into a sheltered and established north facing position, this property enjoys a front row

seat to the very best views that the Bay of Plenty has to offer. Drawing inspiration from the iconic

setting, renowned architect Brendon Gordon cleverly designed the sleek and contemporary 597m2

residence that our clients enjoy today. Seeking a home that works for comfortable family living

equally as well as entertaining friends and family, great importance was placed upon independence

and interdependence of living and social spaces.

oliverroad.co.nz
---
18 BAY OF PLENTY BUSINESS NEWS March 2020

CONNECTING

BUYERS AND

SELLERS OF

QUALITY

BUSINESSES

First on the scene

Photos from the Tauranga Chamber of Commerce's BA5 networking event hosted by

BlueOcean at the Tauranga Club.

Photos by Laval Photo & Video

When is the right time to sell

your business? Right now.

At TABAK, we promise to guide

you through the sales process

with focus, integrity and

complete confidentiality.

1 2

1 Henrik Arlund, BlueOcean. 2 Fiona Lysaght, Lysaght Consultants, Dale Koerner, BlueOcean, Leanne Elder, and Lee Hunter

and Roland Leemans, BlueOcean.

FOCUS • INTEGRITY

CONFIDENTIALITY

3

4 5

3 Sam Tabac, HOBEC and Aaron Fitchett, Design Clad. 4 Sam Williamson, Business Networks International (BNI) and Mark

Collins, n-Gon Group. 5 Jacqui Wren-Hilton, Wharf42 and Matt Cowley, Tauranga Chamber of Commerce.

WHY TABAK

INDUSTRY EXPERIENCE

REALISTIC APPRAISALS

TEAM APPROACH

6

7

6 Susan Lock, Design Clad and Jo Burns, BlueOcean. 7 Geraldine Hutchison, Trinity Wharf, Dan Allen-Gordon, Graeme Dingle

Foundation BOP and Miriam Hauke, Trinity Wharf.

PRE-QUALIFIED BUYERS

P5177Y

147 Cameron Road

p. 07 578 6329

e. tauranga@tabak.co.nz

w. tabak.co.nz

8

9 10

8 Ben Cain, James and Wells and Kat Macmillan, Dale Carnegie, BOP Waikato. 9 Alison MacKenzie, MacKenzieIP and Blake

Ramage, The Artistry Online. 10 Kate Taitimu and Nicole Langton, Alignz Recruitment.
---
March 2020 BAY OF PLENTY BUSINESS NEWS 19

All category winners from last year's Bay of Plenty Export Awards: (from left) Dan Meade and Hemi Coates, Manaaki Adventures;

Brian Smith, Automation & Electronics NZ; Murray Denyer, Cooney Lees Morgan; Ruby Grant, Heilala Vanilla, and Greg Jarvis, Bluelab.

Bay Export awards open

for nominations

Entries are now open for this year's Bay of Plenty ExportNZ Awards 2020,

sponsored by Zespri International, in early March, says ExportNZ Bay of

Plenty executive officer Joanna Hall.

The organisers of the

Bay of Plenty ExportNZ

Awards are

encouraging local businesses

to nominate companies and

people in their networks

that deserve showcasing for

their contribution to the export

sector for what will be

the 30th anniversary of the

awards, to be held on 19

June.

"We welcome exporting

companies who'd like to get

recognition for their hard

work, objective feedback

from experienced judges,

and boost their staff morale

to enter the 2020 awards,"

said Hall.

The theme for this year's

awards will be announced in

early March and Hall said

the event was sure to be 'out

of this world", said Hall.

Entries close Friday, 8

May, 5pm so ExportNZ

BOP is encouraging early

nominations.

For further information,

please contact Joanna Hall at

joanna@exportnz.org.nz

THE CATEGORIES THIS YEAR ARE:

• Best Emerging

Business – sponsored by

You Travel

Recognising success for exporting

businesses with up to

five years' history of international

operations with growth.

• Excellence in

Innovation – sponsored

by Page Macrae

Engineering

Recognising success in developing

and commercialising innovation

in international markets,

incorporating intellectual

property, strategy, processes,

and monitoring.

• Best Medium-Large

Business – sponsored by

Sharp Tudhope Lawyers

Recognising success for exporting

businesses with total

annual revenue over $5

million.

• Export Achievement –

sponsored by Beca

Recognising a particular individual

within a business who

has made a material contribution

to their export success

through processes, products or

technologies, team dynamics,

ultimately resulting in export

growth and profitability.

New co-working space at The Lakes aims

to support contemporary working styles

A drive to support small businesses

in the local community has resulted in

the opening this month of Bloom Co,

Tauranga's newest concept in shared

work, meeting and event space.

Founders Jade Maddox

and Sheree Merrick said

that Bloom Co provided

a workplace home. In fact, it is

located in a former show home

in The Lakes.

The Bay had become a real

magnet for entrepreneurs doing

wonderful things, but many

were also feeling the limitations

and isolation of their

working space, they said.

Bloom Co is a space to support

them, a place where they

can thrive individually and in

the company of others, and an

alternative to more traditional

leased offices, they added.

"Bloom Co draws inspiration

from the need for connection

and collaboration amongst

independent businesses," said

Jade Maddox. "It also fills a

local need for small, beautiful

spaces for events, workshops

and classes."

Bloom Co provides options

for full time, part time or casual

office and meeting space, with

all the expected professional

resources included.

From glass whiteboards and

ultra-fast internet to ergonomic

chairs and standing desks,

Bloom Co is fitted out to high

standards, but it looks less like

an office and more like a beautifully

crafted day spa, according

to Maddox.

Ideal for different

businesses

The founders said the space is

ideal for different businesses,

community groups, and ventures

to coexist and gain the

benefits of collaboration. The

workspaces range from individual

rooms or offices

through to open plan co-working

spaces.

The larger break-out spaces

are ideal for groups, catering

for more than 30 people for

meetings, seminars or community

events.

"What makes Bloom Co

unique is the unexpected – a

zen garden surrounded by

bamboo and a waterfall, indoor

plants, essential oil diffusers,

Bloom Co co-founder Jade Maddox: offering a new

approach to the co-working environment. Photo/Supplied

contemporary art and comfy

chairs to sink into," she said.

Bloom Co's location in The

Lakes, a community-focused

suburb, was a deliberate move,

said Maddox, in order to offer

an environment that reflected

the more serene, laid-back vibe

of the region.

"The feel of this suburb,

designed with the community

in mind, completely fits our

ethos. We are away from the

hustle and bustle of the city,

surrounded by homes, cafes,

small businesses, and a whole

lot of greenery."

Jade Maddox said that

Bloom Co is committed to

making a positive difference

in the community, supporting,

mentoring and collaborating.

"Supporting local charities

is also an important part of

our culture," she said. "When

a new member joins, we plant

a tree locally through Trees

That Count, and have already

funded the planting of over 100

trees."

Bloom Co will be at the

Smarter Business Event on 18

March, and can be contacted

directly at: hello@BloomCo.

nz, or Jade Maddox on 021

0616961.
---
20 BAY OF PLENTY BUSINESS NEWS March 2020

Beware of 'bad credit' loans

CREDIT MANAGEMENT

> BY NICK KERR

Nick Kerr is Area Manager BOP for EC Credit Control NZ Ltd.

He is also a director of International Private Investigations Ltd.

Nick can be reached at nick.kerr@eccreditcontrol.co.nz

In the responsible lending code (June 2017) it is suggested that one

role of a responsible lender is to "assess whether a borrower will

make repayments without substantial hardship, the lender should

conduct more detailed inquiries for products or borrowers where the

consequences of default are serious or there is a greater risk of default".

Unfortunately this seems

to be at odds with a

great deal of the lender

behaviour displayed by information

that is in the market as

of writing this article.

Just this evening while

scrolling through Facebook's

marketplace looking at cars

that my wife will never let me

buy, I have seen three posts advertising

"quick and easy" auto

loans specifically encouraging

"beneficiaries with bad credit"

to apply for loans – and that

was over a 30 minute period.

In the past I would have

thought that these "Bad

Credit" loans would be for

small amounts. And surely

they would not have been for

people with really bad credit,

ie outstanding debts. But after

being involved in more than

300 repossessions, hundreds of

investigations and consulting

to numerous financial institutions,

the things I have seen

have proven that assumption is

untrue.

I have seen $10,000-plus

loans given to applicants with

no job, numerous outstanding

loans and in several cases court

judgments for fraud involving

accessing credit. When I say

bad credit, I am talking about

credit scores of 180 out of

1000. To put that in perspective,

such a rating gives an

approximate 18 percent likelihood

of the applicant paying

the debt based on their fiveyear

credit history.

Now I know that this looks

bad from the lender's perspective.

But it can be just as bad or

worse from the borrower's perspective

and can lead to severe

hardship.

You are considered insolvent

when you are unable to

pay your debts when they fall

due. The very fact that applicants

have unpaid debts when

they are granted additional

credit means, in my opinion,

that a current insolvency is

being made worse and the

chances of the applicant becoming

debt free is once again

reduced.

Although many reputable

lending institutions have software

and strict processes for

determining affordability ratios,

there are quite a few lenders

that rely on the applicants'

own supplied information or

the information passed on to

the lender via a finance broker

who receives a fee for each

successful loan drawn down.

Readers may think it

doesn't really matter because

if the loan is secured against a

car, then the lender can simply

repossess it and sell it to recoup

their money.

Not so. The following is

a real situation that proves

why this is not always the

case. A debtor financed a car

for $10,000 from a yard with

a $200 loan establishment fee,

plus a $1200 mechanical warranty.

The debtor made none

of the agreed $193 weekly

payments, damaged the car

while drink driving, and after

three months the car was repossessed,

incurring around

$1500 in repossession, storage,

default and admin fees.

The car was auctioned and

sold for $3450 (the word repossessed

in an auction or listing

generally halves the value

to a buyer) minus a $500 +

GST commission to the auction

house giving a net result

of $1375 from an outlay of

$11,400 paid by the lender.

The debtor is technically liable

for the $10,025 but in this

case the debtor applied for a

NAP (no asset procedure) and

the debt was legally wiped,

leaving the lender out of pocket

with absolutely no chance of

ever being paid.

We are also seeing a resurgence

in debt consolidation

loans that promise to get people

"debt free faster". These

are great when the original

contracts allow for an early repayment

without penalty or a

low early repayment fee.

If not, the applicants can

often find themselves paying

back a good portion of the interest

payable on the original

loan as well as the interest on

the consolidation loan, in addition

to any loan establishment

fees.

As with any agreement, the

Devil is in the detail, but having

one payment rather than

several looks so attractive to

people that may be struggling,

that they compound the problem

rather than alleviating it.

Just a thought.

Driving efficiencies through

business defined technology

Get a technology site audit to the value of $495 FREE!

Is technology defining your business? Let us help you change that.

Contact Selwyn at Selwyn.west@yorb.tech

www.yorb.tech | 027 555 3181

Bay of Plenty

Manawatu

Whanganui

Hawke's Bay
---
March 2020 BAY OF PLENTY BUSINESS NEWS 21

Keys to small business

marketing success

Successfully getting a new business off the ground is a feat of prioritisation. There are

myriad ways to spend your time and energy, not to mention your starting capital.

One of the questions I'm

often asked by people

starting a business is

"what marketing efforts should

I prioritise?" These business

owners all grasp the importance

of marketing, but with so

many options available, many

find it difficult to know where

to start.

The good news is that there

are some obvious areas any

starting business should invest

in if it wants to maximise its

chances of success. Developing

a plan, creating a powerful

brand and establishing a solid

web presence are three critical

foundations for growth.

Have a plan

So you've come up with that

business idea and decided it's

a winner. Maybe you've done

your market research or even

gone as far as outlaying some

cash for your first production

run or to lease a store.

Before you book advertising

across all New Zealand

radio stations or lock yourself

in to attending every trade

show in the country, it's worth

developing a marketing plan.

That way you can ensure your

marketing spend is contributing

to your objectives and

reaching the right people, in

the right place, at the right

time.

A good marketing plan

will identify your objectives,

the audiences you are trying

to reach, your unique selling

point, and the avenues you can

use to best reach those audiences.

It's worth timelining

each of your planned activities

so you can hold yourself

or your team to account, and

including measures you will

use to determine whether your

plan is working.

Create a strong brand

THE LAST WORD

> BY JAMES HEFFIELD

Director of Bay of Plenty marketing and PR consultancy Last

Word. To find out more visit lastwordmedia.co.nz or email

james@lastwordmedia.co.nz.

A strong brand is critical to

any new business. This is

much more than a logo – it's

what you say about yourself in

your marketing messages and

how you and your team conduct

yourselves when you do

business. Ultimately, it's how

others perceive you.

Creating a strong brand is

about knowing what you stand

for and knowing what really

drives your prospective customers.

It needs to be authentic

too. If it's based purely on

what you think your customers

want to hear, and not reflective

of the way you and your team

behave, it will fall flat. That's

not to say your brand can't be

aspirational but make sure the

values and story you are telling

are demonstrated in the

way you do business now, or

at least the way you want to do

business in future.

Develop a web presence

These days, the first tangible

marketing output most new

businesses should make is a

website. This doesn't need to

be perfect in its first iteration

– websites are forever evolving

– but it should portray your

brand and business in a positive

light.

It's particularly important

that your site is easy to navigate

and makes it easy for

customers to find what they

are looking for. Ensure the

written content reads well and

that the overall look and feel –

including the photos you use –

reflects your brand as well as

the values your target audience

holds dear.

It's also worth taking steps

to ensure your website will be

easy to find in a Google search

as – other than word of mouth

– this is the most likely way

people will find your business

in the early days. With this in

mind, it's worth researching

search engine optimisation or

enlisting the help of an expert

in this area.

Last, but not least, a strong

web presence should typically

include social media. There

will be some rare cases where

this isn't the way to go, but for

most businesses, getting on

board the social bandwagon

is worth the money. Facebook

is particularly well used

in New Zealand, but others

worth consideration are Instagram,

LinkedIn and possibly

TikTok and Twitter. Keep in

mind that it's better to build a

community and following well

on one or two of the platforms

that reach your target audience

well, than to run accounts

across all social channels in a

mediocre way.

There's much you can do

outside of these three areas and

what will work best will vary

wildly by business and industry.

Once you have these foundational

elements in place, you

can explore the many other

channels available. That might

be digital advertising, print

advertising, public relations,

attendance at trade shows and

events, or something else.

Getting the mix right requires

regular investment and experimentation

– the key is measuring

progress and being willing

to adapt your approach based

on what's working best.

Business continuity and contingency

planning

HUMAN RESOURCES

As the world and New Zealand react to the threat of the

Coronavirus Virus, employers are finding themselves wondering

how this may affect our own businesses and what we can do to

plan for what may eventuate.

> BY KELLIE HAMLETT

Kellie Hamlett is Director and Recruitment & HR Specialist, Talent

ID Recruitment Ltd. She can be contacted on kellie@talentid.co.nz

We are already seeing

the effects of this in

crucial sectors here

– such as tourism – with some

devastating consequences.

Time to dust off the Business

Continuity Plan – a revisit

and refresh to ensure we are

ready for what may lie ahead.

As a business who provides

advice to employers, and also

as an employer of my own

staff, I'm finding it is timely to

revisit the planning around the

possible interruption of business

operations.

Over the past few years we

have seen issues arise from

earthquakes in the South,

businesses who have suffered

losses through fire and flooding,

as we as SARS and the

Bird Flu scare.

Planning for business continuity

will help you to identify

the most important aspects of

your business and the critical

risks in these areas. The aim

is to help you to recover as

quickly as possible.

Think about the following

aspects: what are your specific

risks if something were to go

wrong? And it doesn't need to

be a pandemic or natural disaster.

How would you get back

to a business as usual state?

What options should you consider

if you couldn't return to

business as usual.

To start your business

continuity plan you'll need to

identify your key products or

services, the most profitable,

least profitable and what are

the essentials you need to carry

out these activities.

Who are the key people

within your business? And

this won't always be limited to

employees. What about your

vital business connections –

for example suppliers, service

providers, regular customers,

etc.

Plant and equipment – what

do you need in order to do

what you do? What is essential

and what would you do if

you didn't have access to your

usual equipment? In terms

of location, where could you

work from if you didn't have

access to your usual work

premises?

When planning for the unexpected,

think outside the

square in terms of where your

business could potentially operate

from.

For example, if your premises

were damaged or unavailable,

could your staff work

from home or another location

and how easily could company

information and data be accessed

in order to do so? How

would your customers know

how to find you or contact

you?

Do you have appropriate

insurance cover in place to

protect you against losses?

Business interruption insurance

can help cover businesses

with their normal operating

expenses and this will likely

include covering wages for a

period of time while your business

may not be generating an

income.

If you couldn't run your

business, who could? Have

you identified key roles within

the business and their roles in

helping your business operate?

It might even be a good idea

to talk to your bank manager

about managing cash-flow

should a disaster occur.

In terms of managing your

staff, employers have obligations

to their employees under

the Employment Relations

Act. Business interruption can

present itself in many forms

– not necessarily through a

national disaster. Businesses

can't rely upon outside assistance

as a given.

An important factor when

dealing with any interruption

in your business and then subsequent

decisions around running

the business and negotiating

with your staff, is to keep

communication lines open and

active.

It's a stressful time for all

concerned and a flexible and

common-sense approach is

needed to get businesses up

and running and staff back on

board.

There is a general obligation

for employers to pay salaried

and wage workers who are

fit, willing and able to work,

but can't because their place

of employment is closed or

damaged.

There are other options,

which include the negotiation

of using annual leave for a period

of time, negotiating a reduction

in wages, unpaid leave

or the offering of alternative

work.

Planning and communication

are key in times of adversity

and we can take practical

steps to minimise the impact

such an event could have on

our own situations.
---
22 BAY OF PLENTY BUSINESS NEWS March 2020

Learn from great business leaders.

Over 100 businesses attending.

ONE

DAY

ONLY!

Don't miss out - Bookings close - 5pm, 11th March.

LEADERSHIP

DIRECTORSHIP

& GOVERNANCE

SOCIAL MEDIA/

CONTENT MARKETING

KEY NOTE SPEAKER

Craig Hudson

Managing Director

New Zealand &

Pacific Islands, Xero

GUEST SPEAKER

Kirsten Patterson

Chief Executive,

Institute of Directors

GUEST SPEAKER

Brent Ireland

Director, Collab Digital

Smarter Business Event

The National Business Network – Smarter Business Event 2020

will bring together hundreds of businesses from corporates to

SME's in one location for one day across all business categories

attracting business owners, decision makers, managers and staff.

The purpose of the event is to bring Bay of Plenty wide businesses

together annually at one location for a day to hear from leaders

and well-respected business people to network, make contacts,

build new relationships, find new business partners, contractors,

suppliers and clients to do business.

The event is designed to provide every business that attends with

a return on their investment by offering fantastic value at a very

competitive price. This is a ticketed only event with all businesses

attending being paid attendees.

Format

B2B ticketed only event.

Each business gets a 1m x 1m table with entry

for 2 people from that business.

Please bring a pull up banner, business cards

and other collateral to promote your business.

Location

Queen Elizabeth Youth Centre (QEYC)

Cnr Devonport Rd & 11th Ave, Tauranga

PULL

UP

BANNER

Pricing

PER BUSINESS,

INCLUDES

2 X PEOPLE FROM

YOUR BUSINESS AND

A 1M X 1M TABLE.

$349 + GST

10% OFF

PRIORITY ONE MEMBER DISCOUNT

Extra individual tickets available per business upon request

at $80 + GST each after purchase of main business ticket

DON'T DELAY, BOOK TODAY

PRINCIPAL SPONSOR

Promotional Partners

SUPPORT SPONSOR

SUPPORT PARTNER

For great deals on the following services leading up to and on the event day please see

the event website for great deals/special offers from our promotional partners.

BOOK ONLINE

www.eventspronto.co.nz/tnbn

FOR MORE EVENT INFORMATION

www.businessnetwork.co.nz

PRINTING

GRAPHIC DESIGN

SOCIAL MEDIA

WEB DESIGN, HOSTING

AND MARKETING

BANNER / SIGNAGE

GET SOCIAL

@TheNationalBusinessNetwork

FOR MORE EVENT INFORMATION

www.businessnetwork.co.nz

PROUDLY

PRODUCED BY
---
March 2020 BAY OF PLENTY BUSINESS NEWS 23

Consider this

before signing a

commercial lease

If you are about to lease a

commercial property to run

your business from, it's not

just the real estate agent you

need to talk to. Commercial

leases come in different shapes

and sizes and before you sign,

there are several things to consider.

Make sure to do your

homework and don't forget to

consult your lawyer before you

commit to anything.

Whether it's a showroom,

retail space or hospitality business,

or even just an area to

park your company vehicles,

it's important to have a lease

which ensures that both you

and your landlord have a clear

understanding of each other's

rights and obligations.

Paula Lines, director of The

Law Shop, says that the Auckland

District Law Society has

Paula Lines, Commercial

Lawyer at The Law Shop.

a standard form Deed of Lease

that can be used. She says it

is the easiest option because

the terms are well known,

tested in other cases, and fully

unambiguous.

Paula explains that many

people settle for an Agreement

to Lease, often prepared by

the real estate agent who has

marketed the premises, and

while the Agreement to Lease

does say that the terms of the

current Deed of Lease apply,

she points out that it is still important

to also follow up with a

formal Deed of Lease.

"One of the reasons for

this is that an Agreement to

Lease doesn't contain all the

terms and conditions you need

to be aware of. If you haven't

seen the Deed of Lease, you

may not be fully informed of

what you are agreeing to," she

clarifies.

"The Agreement says

you're bound by the Deed of

Lease that is used at the time,

but as that Deed is updated

Commercial leases come in different shapes

and sizes and before you sign, there are

several things to consider. Make sure to do

your homework and don't forget to consult

your lawyer before you commit to anything."

from time to time, you need

to know which version applies

to you. Some significant

changes have been made after

the Christchurch earthquakes

for instance, so it's important

to know whether it's an earlier

or latter one that applies."

Signing a commercial

lease is a big commitment,

and you'll have to make sure

you've addressed every aspect

and issue before you sign. Renegotiating

a lease is much

more difficult once the terms

have been agreed and the lease

is signed.

The team at The Law Shop

is highly experienced in Business

Law and happy to help if

you require guidance on your

commercial lease. They can

explain the ins and outs in a

no-nonsense manner and help

finalise the documents to make

sure they suit your business

needs and goals.

"No matter if you're starting

out in business or if you're

expanding your existing venture,

you are welcome to book

in a meeting with me or one of

our other business lawyers to

make sure you've thought of

everything on the legal side of

things," Paula says.

"In most cases, we can

quickly asses what you need

to suitably protect your business

as well as your personal

assets."

The Law Shop works from

a virtual space in Tauranga

and in Rotorua, the office can

be found at 1268 Arawa Street.

Call 0800 LAW SHOP or

email team@thelawshop.co.nz

to get in touch.

PAULA LINES

LL.B | Director

ROTORUA

1268 Arawa St

Rotorua

TAURANGA

Virtual Office
---
24 BAY OF PLENTY BUSINESS NEWS March 2020

Trusted to sell the Bay of Plenty's finest homes

and lifestyle properties.

OLIVER ROAD ESTATE AGENTS LIMITED | LICENSED REAA 2008

Willowdene

174C MOFFAT ROAD, BETHLEHEM

$2,875,000 5 bed 5 bath 4 car

Luxury & Lifestyle

420 MINDEN ROAD, TE PUNA

$3,650,000 4+ bed 4 bath 3 car 597 m 2 9,026 m2

Country Class

397 m 2 1,467 m 2

3,369m 2 Private Coastal Retreat

Rewrite History

34 GASSON LANE, PYES PA

9 LEVERS ROAD, MATUA

EO $2,150,000 6 bed 3 bath 2 car 470 m 2 6,439 m 2

$2,475,000

5 bed

5 bath

2 car

411 m 2

One Harvey Street

1 HARVEY STREET, TAURANGA SOUTH

EO $3,000,000 4 bed 3 bath 2 car 410 m 2

1,391 m 2

265 WALKER ROAD EAST, AONGATETE

$1,575,000 5+2 bed 3+1 bath 2+1 car 455 m 2 2,883 m 2

Jason Eves 027 587 5509

Cameron Macneil 021 800 889

oliverroad.co.nz