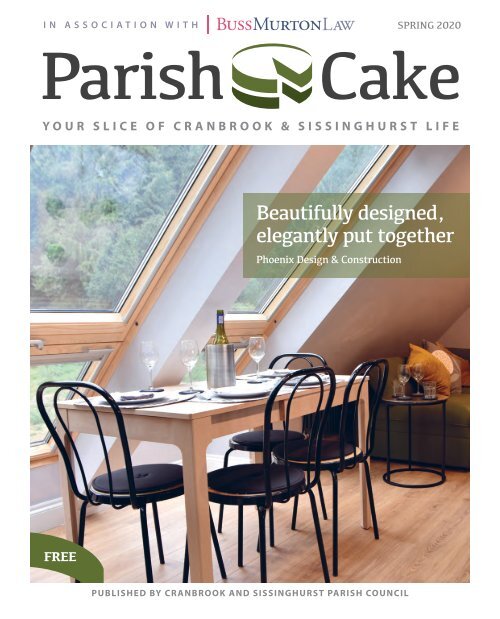 Parish Cake - Spring 2020
Your slice of Cranbrook and Sissinghurst life - published by Cranbrook and Sissinghurst Parish Council
Your slice of Cranbrook and Sissinghurst life - published by Cranbrook and Sissinghurst Parish Council
SHOW MORE
SHOW LESS
You also want an ePaper? Increase the reach of your titles
YUMPU automatically turns print PDFs into web optimized ePapers that Google loves.
IN ASSOCIATION WITH

Parish

SPRING 2020

Cake

YOUR SLICE OF CRANBROOK & SISSINGHURST LIFE

Beautifully designed,

elegantly put together

Phoenix Design & Construction

FREE

PUBLISHED BY CRANBROOK AND SISSINGHURST PARISH COUNCIL
---
Do you need help at home?

Help at

mealtimes

Private Care Service

Help at

bedtimes

Help at

bathtimes

Escort

Services

Domestic

care

Our Private Care Services provides tailored packages of

care that can help people stay in their own home for as

long as possible, rather than going into care home before

it's really needed. We assist those who need due to frailty,

disability or illness to live a independently as possible,

with comfort and dignity, in their own homes.

For a free assessment of your care needs or to

receive your brochure call us on 01580 762244

www.townandcountryhomecare.co.uk
---
Parish Cake

YOUR SLICE OF CRANBROOK & SISSINGHURST LIFE

EDITOR:

Cllr. Brian Clifford

brian@brianclifford.net

FEATURES EDITOR & CHIEF

FEATURE WRITER:

Cllr. Trisha Fermor

trisha@parishcake.co.uk

YOUTH EDITOR:

Zachary Phillpot-Brian

ADVERTISING SALES:

Mignon Brian

07779 185870

mgnnbrian@gmail.com

BUSINESS DEVELOPMENT:

Graham Holmes

graham@parishcake.co.uk

PUBLISHED BY:

Cranbrook and Sissinghurst Parish Council

01580 713112

www.cranbrookandsissinghurstpc.co.uk

PRODUCED BY:

Tally Wade

Coffee Shop Media Ltd

01580 848555

www.coffeeshopmedia.com

PRINTED BY:

Stephens & George, 1 Goat Mill Rd,

Dowlais, Merthyr Tydfil CF48 3TD

welcome

SOMETIMES SOMEONE emerges in the community as a really

enthusiastic and sincere contributor to enhance the lives of so

many people. Such is the contribution to Cranbrook that Philip

Mummery has made, that resident Stuart Cleary was inspired

in the last edition of PARISH CAKE to propose that Philip be

appointed the Hon. Mayor of Cranbrook.

Such was the reaction, as you will see in the letters pages of

this magazine, that at a special ceremony in the Vestry Hall,

Philip accepted the honour in front of over 100 members of the

public including – see the full report on pages 24-25.

Back to everyday life and the announcement of major road

works in and around Cranbrook to enable a new mains gas

supply to be installed, forthcoming VE Day celebrations, new

museum sponsors and the eight year old trombone player in the Town Band are but a few

stories about life in our parish – and there's much more for you, I hope, to enjoy.

You will also read that your parish councillors continue to play a very important role

not only with financial planning but also caring about the development of the parish.

PARISH CAKE is a magazine for you, providing a slice of community life – I hope that

you look forward to receiving it.

FRONT COVER:

Phoenix Design &

Construction is a

local construction

company delivering

a diverse range of

projects. With its office and yard based

in the Cranbrook area, it serves both the

parish and further afield in the South

East. Phoenix aims to streamline the

construction process for customers to help

alleviate the stress of commissioning or

running a project and make it a memorable

process for all the right reasons.

Its extensive network of building

professionals includes fully qualified trade

teams and specialist sub-contractors and

can deliver projects from planning and

design to the finished build or installation.

01580 857718 / www.phoenixdc.co.uk

Whilst every effort is made

to ensure accuracy, the

Cranbrook and Sissinghurst

Parish Council, editor and

authors cannot be held

responsible for published errors. The views or

opinions expressed do not necessarily reflect

views of the Cranbrook and Sissinghurst

Parish Council. Inclusion of any advertising

material does not constitute a guarantee or

endorsement of any products or services or

claims made.

contents

REGULARS

4 Directory & What's On

7 Chairman's View

8 Letters

10 Parish News

14 Club News

29 Youth Comment

48 Parish Council Update

FEATURES

21 Helen Grant – an update

from our MP

22 Community Centre – it's

all go as land is gifted to

the parish

Cllr. Brian Clifford – Editor

ISSUE 12 SPRING 2020

24 Mayor Making –

Philip Mummery is Mayor

of Cranbrook

27 VE Day – this year's

celebrations in Cranbrook

31 Tourism Group – the

history behind Cranbrook's

tourism champions

33 Cranbrook Museum –

two new exhibits on show

from April

34 Affordable Housing -

Cllr. Garry Pethurst says

councils should build more

houses

36 Lambtastic – young

shepherdess produces

quality lamb

39 My Life as a Guinea Pig –

Bridget Veitch is part of an

important study

41 High Weald Academy –

the new build is celebrated

with art

43 Kitchen & Garden –

preparing for winter

blooms and Cephalonian

Meat Pie

47 From our Sponsor –

advice from lawyers at Buss

Murton

50 Local Legends – Ann and

John Gurr

Parish Cake • Spring 2020 3
---
what'son

The

Parish Cake guide to events

in Cranbrook and Sissinghurst

REGULAR EVENTS

• Farmers' Market every fourth Saturday in the

month, 9am -12 noon

• Tempo Singing every Saturday morning at

Cranbrook School Music Centre, 9.30am-11am

• Messy Church Children and Parent Group,

second Friday each month, 3.30-5.30pm

• The Children's Centre, Cranbrook, offers free

sessions for parents and children throughout

the week. Call 03000 411035 for a timetable

• Compass Community Choir, Wednesday

evenings 5.30pm, Vestry Hall, everyone

welcome!

• Cranbrook Cemetery Chapel open every

Wednesday until 3 October

• The Planning and Preservation Committee

meets in the Council Office on the 1st and 3rd

Tuesday of every month

• The Policy and Resources Development

Committee meets in the Parish Council office

at 5pm on the Tuesday preceding the Full

Council meeting

MARCH

THURSDAY 5

1pm FREE Cranbrook

School Musicians

Concert - refreshments

on sale from 12.30pm, St

Dunstan's

SATURDAY 7

Cranbrook Open Market

SATURDAY 7

7pm St. Dunstan's Annual

Quiz, Vestry Hall

SUNDAY 22

9.30am Mothering

Sunday, distribution of

posies, St. Dunstan's

THURSDAY 12

7.30pm Full Parish

Council Meeting, Council

Chamber, everyone

welcome

SATURDAY 14

Gentlemen's Breakfast,

Hartley Dyke Farm Shop,

speaker Nathan Tongh/

Torchlight Charity -

tickets: 01580 7I5861

SUNDAY 15

7.30pm CODS

Community Centenary

Concert, St. Dunstan's

Church

SATURDAY 28

2.30pm Sissinghurst

Spring Summer Show

APRIL

THURSDAY 2

1pm Free lunchtime

concert Keith Fox

(Baritone), refreshments

on sale from 12.30pm, St

Dunstan's

SATURDAY 4

Cranbrook Open Market

THURSDAY 9

7.30pm Full Parish

Council Meeting, Council

Chamber, everyone

welcome

THURSDAY 23

12.30pm Bangers and

mash lunch/plant sale,

St. Dunstan's Church

Vicarage

SATURDAY 25

Cranbrook Choral

Society Concert, St.

Dunstan's Church

MAY

THURSDAY 7

1pm Free Ashford

School Musicians

Concert, St. Dunstan's

Church, refreshments

on sale from 12.30pm

FRIDAY 8

VE Day High Street

Celebrations

SUNDAY 10

3pm VE Day Concert -

Cranbrook Town Band,

tickets at door £5,

afternoon tea during

interval, St. Dunstan's

Church

THURSDAY 14

7.30pm Full Parish

Council Meeting, Council

Chamber, everyone

welcome

SATURDAY 16

Sissinghurst Primary

School May Fair

THURSDAY/SATURDAY

28–29

CODS Arabian Night's,

Queen's Theatre

While every effort is made

to ensure accuracy, dates

and times may change.

If you are organising an

event in the parish why

not drop us a line and we

might be able to include

you in the listings too –

editorial@parishcake.co.uk

directory

Cranbrook and Sissinghurst

Parish Council

The Old Fire Station

Stone Street, Cranbrook

KENT TN17 3HF

Clerk – Mrs. L. Ham

Deputy Clerk – Mrs. L. Thirkell

01580 713112 / clerk@

cranbrookandsissinghurstpc.

co.uk

BOROUGH & COUNTY

COUNCILS

Tunbridge Wells Borough

Council

01892 526121

www.tunbridgewells.gov.uk

Kent County Council

03000 41 41 41

www.kent.gov.uk

USEFUL NUMBERS

UTILITIES

Electricity: 0800 727282

(24 hrs)

Gas: 0800 111 999

Water: South East Water

(drinking water) 0800

0283399, Southern Water

(waste water) 0800 820999

(24 hrs), Emergency leak 0800

0283399, Floodline 0845

9881188 (24 hrs)

CRIME

Non-Emergency Police: 101

Crime Stoppers: 0800 555111

KCC Community Warden:

Adam Osbourn

07813 695741

PCSO: Lee Jules

07772 226048

Neighbourhood Watch Area

Co-ordinator: 01622 604395

ROOMS & HALLS TO HIRE

St George's Institute,

Sissinghurst: Ursula O'Connor

01580 713938

The Parish Room,

Sissinghurst: Sue Crowe

01580 712567

ts.crowe74@gmail.com

The Vestry Hall, Council

Chamber and Addison VC

Room, Cranbrook:

01580 713112 (10am-12pm

weekdays).

A full list of over 30 venues for

hire in the parish is available

from the parish office

USEFUL CONTACTS

CHURCHES

Congregational Church,

Cranbrook: 01580 388070

St. Dunstan's, Cranbrook:

01580 715861

St. Theodore's RC, Cranbrook:

01580 713364

Strict Baptist Church,

Cranbrook: 01580 713212

Trinity Church, Sissinghurst:

01580 852275

Vine Church, Cranbrook:

01580 712620

SCHOOLS AND PRE

SCHOOLS

Colliers Green CE Primary:

01580 211335

Cranbrook CE Primary:

01580 713249

Cranbrook Children's Centre:

03000 41 10 35

Cranbrook School:

01580 711800

Dulwich Preparatory School:

01580 712179

High Weald Academy:

01580 712754

Rainbow Pre School,

Cranbrook: 01580 715570

Sissinghurst CE Primary:

01580 713895

Woodpeckers Pre School,

Cranbrook: 01580 720195

DOCTORS

Jockey Lane Surgery,

Cranbrook: 01580 713032

Old School Surgery,

Cranbrook: 01580 712476

Orchard End Surgery,

Cranbrook: 01580 713622

DEFIBRILLATORS

Cranbrook Medical Centre,

Cranbrook

Cricket Club, Sissinghurst

Parish Council office

Sissinghurst Castle Garden

St. George's Institute,

Sissinghurst

Tennis Club, Sissinghurst

The George Hotel, Cranbrook

The Milkhouse, Sissinghurst

4 Parish Cake • Spring 2020
---
Need to see a GP fast before the

holidays get underway?

Choose our private GP at Benenden

Hospital and see a doctor as soon as

today or tomorrow.

Book a comprehensive 25-minute

appointment for just £95. Benefit from fast

referrals for tests and scans, plus an on-site

pharmacy to get you back on track in no time.

Call to book now and discover the private

hospital designed to make you feel better.

01580 242 521

benendenhospital.org.uk/gp

We are recognised by all major healthcare insurers.
---
Feel good,

fly high

dulwichprepcranbrook.org

Financial

Advisers you

can Depend on

Halcyon Wealth are highly qualified financial advisers

who can help you with savings & investments planning,

tax efficient investing, retirement planning, protecting

your loved ones, protecting your property and inheritance

tax planning – with offices in the City of London,

Canary Wharf and Royal Tunbridge Wells.

• Pension and retirement planning;

• Tax efficient investing;

• Savings and investments;

• Protecting your loved ones

and property;

• Inheritance tax planning

Quote:

'Cake' when

you call

BOOK YOUR FREE CONSULTATION NOW!

Sit down with one of our highly qualified, professional financial advisers for a no-obligation financial planning review.

01892 280 230 | www.halcyonwealth.co.uk

22 Mount Ephraim Road, Royal Tunbridge Wells, Kent TN1 1ED

68 Lombard Street, London EC3V 9LJ

37th Floor, One Canada Square, Canary Wharf, London E14 5AA
---
comment

CHAIRMAN'S VIEW

A LETTER published in Parish

Cake suggested that Philip

Mummery should become the first

mayor of Cranbrook.

This letter galvanised the parish

to create a new role of Honorary

Mayor and Phil is the first person

to hold the post, complete with

gown and medallion.

His inauguration on February

14th was a fitting tribute to a

local man who has made so many

community events happen over

very many years. Thank you too

to the community for raising this

and getting it done and thanks

to Phil for his dedication to

Cranbrook.

It is 20 years since the

millennium celebrations kickstarted

a project to build a

community centre in Cranbrook.

The plan was to raise £100,000

to build it, difficult to believe in

these days.

A few stalwarts have stuck with

the project, the main issue being

where to put it and how to afford

the land.

Through the generosity of a

businessman Guy Johnson and

his wife, the parish has been

gifted a large plot of land on

Wilkes Field, by the bridge

to the Frythe. Tunbridge

Wells Borough Council

has also gifted us the

public toilets and the

parish is purchasing

the old Tanyard Dental

surgery.

This gives us a

substantial piece of land

on which to plan a new

multi-GP medical surgery with

a new library and community

centre. The contracts have been

signed and exchanged and the

land is ours. This is something

the Millennium Trust members

dreamed of all those years ago!

We have a multi-talented team

which has offered to help with the

planning and construction of the

site, but we will need your input,

skills and support to get it done

on time and in budget. See a later

article in this edition of Parish

Cake.

The 800 or so new houses that

are planned in Sissinghurst and

Cranbrook will be adding more

change to our community. The

Neighbourhood Development

Plan group is trying hard to

ensure these are built to a high

ABOVE: Cllr. Kim

Fletcher.

standard, in the least damaging

places, and will make nice

neighbourhoods with good links

into town. There is a piece later

in the magazine about the group's

activities.

There will be upheaval, and

some neighbourhoods will be

affected more than others. The

Parish Council will do its best to

minimise and mitigate changes,

but the parish will change.

We hope the new buildings

planned by the parish will

facilitate the new residents to

integrate, while offering muchneeded

space for improving

health provision, recreational

and meeting space and a library

open for longer hours than

currently. These changes will need

parishioners to be considerate, as

we will continue to be neighbours,

with many common goals.

We have adopted a new

saying in the parish office: 'You

can disagree without being

disagreeable'.

In this spirit, I wish you a great

spring, there is so much to look

forward to.

Cllr. Kim Fletcher.

Parish Cake • Spring 2020 7
---
letters www.bussmurton.co.uk

| T: 01580 712 215

Letters in Support of Philip Mummery for Mayor of Cranbrook

I am writing to you to express my support

for the idea that Phillip Mummery should be

appointed as Cranbrook honorary Mayor. Philip

has over the years made a huge contribution to

Cranbrook and Angley School, particularly in his

support for the young enterprise scheme with

one company getting to the national final.

His enthusiasm and support for the town has

been boundless. I feel that the town appointing

him as Mayor would go some way towards

recognising all his hard work, as such I urge the

council to create the post and make him the first

Mayor for many years.

Robin Chiles

I am delighted to write on behalf of Cranbrook

Windmill Association in support of the proposal

to install Phillip Mummery as Mayor of Cranbrook.

He is also a very committed and knowledgeable

Steward in the Mill with a seemingly endless fund

of witty stories to amuse visitors. His speciality is

the 'Bin Floor' at the top of the Mill. There isn't

much room up there so his slight stature is a

definite asset.

Visitors often comment on the wonderful

time they have had on the Bin Floor thanks to

Phil. So "Thank you Phil" from everybody in the

Windmill Association. You'll be a great Mayor, a

real ambassador for Cranbrook, but we hope your

Mayoral duties won't prevent you from continuing

at the Mill for many years to come. You're too good

to lose.

Nick Vinall, chairman, Cranbrook

Windmill Association

I propose Phil Mummery for Mayor of Cranbrook.

Neil Levett

We would like to put in our vote for Phil Mummery to be the first Mayor

of Cranbrook. Phil has worked so hard to give his time and energy to

many events in Cranbrook over the years, never thinking of himself, just

the community. If anyone deserves this, Phil certainly does! What a star.

Wendy and Mark Waters

Phil's inauguration as Mayor of

Cranbrook an honour long overdo.

Rod Dann

I write to say that I thoroughly

support the proposal that Philip

Mummery should be made Mayor

of Cranbrook. I have known

Philip for over 30 years and his

constant energy, enthusiasm

and hard work in support of

Cranbrook town traders and

residents during all of this time

has been inspirational and

we believe that he more than

deserves to made Mayor of the

town that he has given so much

to over the years.

Raj Bisram, director, Bentleys

Fine Art Auctioneers

I propose Phil Mummery.

Michelle Levett

We would like

to put in our vote for Phil

Mummery to be the first Mayor

of Cranbrook. For many years

Phil has worked so hard to give his

time and energy to many community

events for Cranbrook with no gain

for himself. He so deserves the

recognition.

Julie, Kevin and Hollie,

Larkins Ale House

As a keen fan of the Annual

Apple Fair may I add my support

to Stuart Cleary's proposal? A

Mayor for Cranbrook seems

like a good idea and compared

to some of the people who have

been Mayor in larger urban

centres Philip is an exemplary

candidate...

Ian Hislop

Please send your letters to editorial@

parishcake.co.uk or by post to Parish Cake, Cranbrook

and Sissinghurst Parish Council,

The Old Fire Station, Stone Street, Cranbrook, TN17 3HF. Please

note, letters may be published in a shortened form at the

discretion of the editor.

8 Parish Cake • Spring 2020
---
We have been providing expert and

trusted legal advice to individuals and

businesses for generations.

I have had the pleasure of witnessing the amazing work

Philip has done over the years for Cranbrook, especially

at the Apple Fairs. His commitment to the local

community is to be admired and should be recognised.

As a long standing local entrepreneur owning a

business in the High Street for many years, he has an

excellent understanding of the business community and

is very well known to most in the surrounding areas. He

has been a catalyst for collaboration and has brought

many people together from near and far.

From an outsider's perspective, Cranbrook could

really benefit from a figurehead such as a Mayor and

from experience it has a huge positive impact. You will

find there are many that would support nominating

Phillip and I am 100% on that list. Phil Mummery for

Mayor! Three Cheers!!!

Chris Luff, chief executive Watford and Herts.

Chamber of Commerce

We would like

to add our support

to the brilliant idea of

proposing Philip Mummery

as the first ever Mayor of

Cranbrook. No one deserves it

more than he.

Dinah and John

Badcock

There is no-one better than

Phil Mummery for the first

Mayor of Cranbrook. He has

done so much for the town.

Lyn and Mick Howlett

I wish to vote for Phil Mummery to

become Mayor of Cranbrook. He is

such a true gent and asset to our town.

Diana Jarrett

I would like to second Phil Mummery as

the ideal inaugural Mayor of Cranbrook.

As Stuart Cleary pointed out, Cranbrook

is worthy of such a position, and though

generally considered ceremonial

nowadays, over time they can be seen

as a focal point for improving the

town. I am confident that there is the

enthusiasm to do so, should someone,

such as your publication pick up the

baton and get the community to back it.

Andrew Kennedy

FOX

construction

RENOVATIONS &

REFURBISHMENTS

Kent Peg Tiling

Bespoke Joinery

Bespoke Bathrooms

Period & Listed Buildings

Conversions & Extensions

Traditional Lime Plastering

Renovations & Refurbishments

T:01580 712072

M:07787 948823

foxconstructionkent.co.uk

Parish Cake • Spring 2020 9
---
newsbites

News

and views from

Cranbrook and Sissinghurst

Let There be Light –

and There Was!

Farewell to Outgoing Chairman

THE DEDICATION and hard work of former parish council

chairman, Bridget Veitch, has been recognised with a

special presentation.

After nine years on the council, more than four as

chairman, Mrs Veitch was presented with a painting of

Cranbrook, a town she loves, by Cllr. Kim Fletcher who

has taken on her role.

He thanked her for her commitment to the council,

especially her enthusiasm for the town's planned

community centre. She devoted the project to her late

husband and former Kent County Councillor Thomas

Veitch. TF

THE LEVEL of

artificial light

in St Dunstan's

church was widely

recognised as being

abysmal but no

longer!. In August

2018 the Parochial

Church Council

decided to rectify

matters and Mr Jeff

Barker, a chartered

engineer parishioner,

voluntarily took on

the job as project

manager. Today,

with the rewiring

nearing completion

and having raised

and spent more

than £130,000, the

situation is very

different with a

brightly lit church

available at all times

of the day and night

Thanks to the

leadership of the

vicar, the Rev. Ann

Pollington, and Nye

Jones, a PCC member

as fundraiser, the

generosity of the

community at large,

the congregation

and a number of

local and national

charitable trusts,

funds steadily built

up throughout

the year enabling

work to start last

September.

Rev. Ann said:

"Let there be Light

was the slogan for

fundraising for

the new lighting

and rewiring of

the church. I am

extremely pleased

to be able to tell

everyone, with your

help over the past

14 months, we have

raised the total of

£134,000 and by the

end of February the

project should be

completed.

"Then I will be able

to say, Let There

be Light and There

was Light. Thank

you to one and

all, to our project

manager, chief grant

applier, all who

have generously

given a donation

and, of course,

to our wonderful

contractors who

have done such a

great job." TF

Minimising

Traffic Disruption

A MAJOR project to replace Victorian

cast iron gas pipes with plastic will

affect traffic in and around Cranbrook

until July.

The work, which is being carried

out by Southern Gas Networks (SGN)

began in February in Hartley Road. KCC

councillor Sean Holden convened a

meeting with Kent Highways, SGN, the

contractors and the parish council to

work out how to minimise disruption.

By re-routing and re-engineering,

SGN has brought the road closure time

down from 12 weeks to two. However,

there will be traffic lights for several

weeks around the town.

Traffic lights will be on stretches of

Hartley Road until 14 April and the High

Street will be closed at the junction of

New Road. A diversion will run through

Wheatfield Way, by the fire station, with

HGVs diverted to Waterloo Road. Traffic

lights will control traffic while houses

are connected to the new pipe.

From 11 May for seven weeks lights

will control traffic between the war

memorial and Wheatfield Way on the

Angley Road.

From 10 July there will be traffic lights

at Baker's Cross, by Rammell Field.

Most of the gas pipes on the Frythe and

Dorothy Avenue are being upgraded this

year but the timing has not yet been

announced. TF

10 Parish Cake • Spring 2020
---
news

God

Speed

the

Plough

AN ANCIENT plough took

pride of place inside

St, Dunstan's Church,

Cranbrook, for a special

service in January.

The vicar, the Rev. Anne

Pollington, revived the

annual Plough Sunday

service for the second

year running, this time

the machine having been

successfully manhandled

into the church.

The service included

blessing the plough,

which had been loaned by

Staplehurst farmer Terry

Offen. He had spent the

previous months restoring

the machine which

was decked with flags.

The vicar also blessed

gardening tools brought

along by parishioners.

She said: "Blessing

the plough appears

to be a very ancient

festival, revived by the

Victorians. Traditionally

it is celebrated on the first

Sunday after Epiphany, 6

January.

"Often the plough

was feted and drawn

through the streets to be

blessed in church. This

was thought to ensure

food for the coming year.

Plough Monday was the

first day that work in the

fields commenced after

Christmas." TF

Cranbrook

Literature

Festival

THE CRANBROOK Literature

Festival (a biennial event) is back

this year, taking place on Friday

25 and Saturday 26 September.

The programme for the two

day cultural event is really

taking shape with authors Tessa

Hadley and Deborah Moggach

booked to attend as well as Great

Dixter gardener and chef Aaron

Bertelsen who will be talking

about his books The Great Dixter

Cookbook and his soon to be

released Grow Fruit & Vegetables

in Pots.

Children's authors are being

added for the schools events

on the Friday as well as writing

workshops and poetry. Take a

look at the festival website for

up-to-date information and

additions to the programme.

www.cranbrookliteraturefestival.

com

Snowdrops

to Brighten

Churchyard

AS PART of the ongoing of

rewilding of St. Dunstan's

churchyard, the vicar the Rev.

Ann Pollington, assisted by

parish warden Ivor Hatcher,

planted snowdrops in

January. TF

MP in Rat Pack Pic

ON A visit to Cranbrook our MP

Helen Grant couldn't resist having

a picture taken with Tarot Rat lead

singer Tim Hill.

When the Maidstone and Weald

MP visited the Hub in Stone Street,

she jumped at the chance to have

a selfie taken with Tim. The Cranbrook-based

contemporary blues-rock band Tarot Rats released

their first single Only the Brave (Will Remain) last

summer. TF

Parish Cake • Spring 2020 11
---
news

Have your say: The Bank of

England is coming to Cranbrook

Where There is

Brass There is Ned!

NED NEWSOM, eight, is looking

forward to a bright future playing

the trombone thanks to the

Cranbrook Town Band.

His father David, a member of the

band, was delighted when Ned said

he wanted to join and is pleased that

he is in the training band, taught by

Robin Traves.

Another proud member of Ned's

family is Mitzi Newsom, chairman

and general secretary of the

Sissinghurst Flower Show

Society. TF

THE BANK of England's

regional Business Insights

roundtable, in association

with the Federation of

Small Businesses (FSB), is

being held in Cranbrook

on Wednesday 7 October

2020.

The event, which will

include an economic

update, followed by

a business insight

discussion, will be chaired

by the Bank of England's

deputy agent, South

East & East Anglia, Alex

Golledge, and will also

be attended by the FSB's

development manager,

Alison Parmar.

In addition to providing

local businesses with

an opportunity to

speak face-to-face with

representatives, delegates

will also gain invaluable

insight into key economic

issues and trends across

the region, as well as

opportunities for business

networking.

Emma Wood of The Hive

said: "It's so important to

get local businesses and

start-ups together, and

to hear what they have

to say, as they will help

shape the economy of

the future. We're thrilled

to have been chosen to

host the event, as we

can provide the perfect

platform for local business

owners to get involved in

the discussion."

Local businesses are

invited to participate

in a series of intimate

Wealden Business Insights

roundtables, co-hosted

by The Hive and Darwin

Whitty, and held on the

first Thursday of each

month between March

and July 2020, from 6pm.

Participation is free

of charge, on a firstcome

first-served basis,

including tea, coffee,

fruit juice and light meze.

For further details, or to

register your interest in

participating, please email

emma.smith@hivehubs.

buzz. Brian Clifford

Children Host Tea Party

YOUNGSTERS AT Sissinghurst Primary School turned waiters for

the annual Over 60s tea party in January.

As well as the younger children singing Christmas songs, the

guests were treated to a sumptuous tea served by the older ones.

The afternoon was organised by Patricia Stearns and her team with

the backing of the school. TF

12 Parish Cake • Spring 2020
---
Premier Property Maintenance

Painting Houses Inside & Out Since 1983

• Weatherboard a Speciality

• Windows, Fascias, Roof and Gutters Repaired

PAINTWORK THAT LASTS

References Fully Insured

Victor Kellett - 01580 240309

www.CranbrookPropertyMaintenance.co.uk

New Fuse Boards - L.E.D Lighting

Rewires – Extra Sockets – Fault Finding

Smoke Detectors - New Builds & Extensions

GARDEN LIGHTING AND POWER

SPONJEM UK Limited

Capital Allowances Consultants

Helping people in the area save money upon

their commercial buildings such as offices,

shops, restaurants, hotels and holiday let cottages

For Information contact Paul Jempson on

Tel: 0800 954 5081

Mob: 07957 822110

A different kind of funeral director

for a changing world.

At Holly's Funerals we treat all

our customers as individuals.

We'll work closely with you to

help you achieve exactly the kind

of funeral that's right for you.

For more information please feel free

to call us at any time or look online.

From love comes beauty

01580 389184

www.hollysfunerals.co.uk

Hartley Dyke, Cranbrook • Coombe Lane, Tenterden
---
clubnews

A

round-up of news from

Cranbrook and Sissinghurst clubs,

groups and associations

And the Band Played on…

CRANBROOK TOWN Band had an excellent 2019. We won all the

prizes at the local contest, played in 19 concerts and with Tesco's

help were able to refresh the instruments for our youth band. We

raised significant donations for Demelza and Macmillan Cancer

Support and were honoured once again to be part of Remembrance

Day in Cranbrook.

2020 promises to be equally exciting. The band is flourishing,

new members are welcome and our youth band is developing young

musicians. We are self-supporting and rely on patronage from the

local community. We need support in terms of attending our concerts

and booking us. If you need music at your event then get in touch at

www.cranbrooktownband.org.uk

Finally, put 26 September in your diary as a date where you can

hear the world-renowned trombonist Chris Thomas from The Cory

Band playing with us in Cranbrook.

David Newsom

Hop Pickers Line AGM

AT ITS Annual General Meeting in Cranbrook on the

10 December 2019, chair Yolanda Laybourne reported

on a busy year for the group. Talks were given to the

Frittenden History Society as well as the Horsmonden

History Society and the group participated in the High

Weald Walking Festival in September when it led a

guided walk around Goudhurst featuring some of the

remaining structures of the line.

During the same month the group attended the

Horsmonden Nostalgia Day, providing a small

exhibition and film show.

Yolanda went on to mention that a second

information panel had been installed in Goudhurst

near to the entrance of Finchcocks. The possibility of a

further panel in Horsmonden is being researched. Her

report was concluded by announcing that the group

would again be undertaking profile raising activities

during 2020. She also took the opportunity to express

her thanks to both the members of the Hop Pickers Line

Heritage Group for their commitment and to David

Scully of Tunbridge Wells Borough Council for his

continued support and valued guidance.

Active members are drawn from the parishes of

Cranbrook and Sissinghurst, Goudhurst, Horsmonden

and Paddock Wood. Graham Holmes

Cranbrook in Bloom

WE ARE a friendly group of volunteers working to keep the town looking

welcoming and florally attractive all year round. Fund raising events are held

throughout the year, such as plant sales, garden safari and a craft fair. These

events help fund the work we do and volunteers are encouraged to help when

they can. Whatever time you can spare will be appreciated.

To maintain and improve certain areas, we have work parties that member

volunteers can come along to. This may involve emptying or re planting

planters, work at the Copse, the wildflower area, Forge Orchard or the Library

Pond. However you do not need green fingers, just a bit of enthusiasm.

Details and photographs can be seen on our website

www.cranbrookinbloom.co.uk. Come and join us, new ideas are new faces

are always welcome! Chairman, Linda Page – 07432 640571.

14 Parish Cake • Spring 2020
---
Your Country Lifestyle

Department Store!

Our departments are:

Equine • Small Holder • Pets & Wild Birds

Garden • Gifts and Cards • Fuel

Clothing including:

Joules, Seasalt, White Stuff, Toggi, Jack Wolfskin, Hoggs,

Thought, Jack Murphy, Hunter Outdoor and more...

We have plenty of free parking, and we offer a free local

delivery for orders over £50 (£2.50 charge for under £50)

Open 8.30-5.30 weekdays, 9-5 Satudays and 10-4 Sundays

Swattenden Lane Cranbrook, TN17 3PS

01580 713189 | info@charityfarmcountrystore.co.uk

www.charityfarmcountrystore.co.uk
---
club news

Cranbrook

Men's Breakfasts

FOR SOME years, St. Dunstan's Church has

been organising a Men's Breakfast which is

open to all men in and around Cranbrook

(and some ladies come from time to

time). We say Grace before eating, but it

is otherwise non-religious. with speakers

ranging over a wide range of topics. We

meet four times a year.

For example, last September we had

former MP Charles Wardell to speak on

the changing face of politics over his

lifetime, being careful not to get too deep

into Brexit! Then in November we had a

speaker from Chapel Down vinery, who

gave us two excellent glasses of local wine

and a good talk to go with them.

We meet at the Hartley Dyke Coffee

Shop on a Saturday morning for breakfast,

and our next meeting is on 14 March

when Mr Nathan Tough, of the charity

Porchlight, will be giving us an insight into

how the poor are helped here in Kent.

If you are interested contact myself on

713836, or Ronnie Todd-Young on 715064,

or join our email circular by contacting

Clare in the St. Dunstan's office – office@

stdunstansoffice.org.uk. John Tapper

Cranbrook U3A – A Force for Good in the Community

CRANBROOK U3A

continues to thrive – we

have over 250 members,

25 of whom having

joined within the past

six months, so we must

be doing something

right! This year we will

celebrate our 5th birthday

– another milestone for

this local organisation

run by a small group of

dedicated volunteers from

the membership working

tirelessly to support interest

groups, social events and

outings.

U3A provides people in

their third age (retired,

semi-retired or working

part time) to come

together, learn something

new, maybe pass on their

knowledge or passion to

others, or just enjoy a social

occasion – fundamentally

important to the wellbeing

of those who may live

alone.

Our interest groups have

also expanded to 30 with

the addition of a seasonal

Soup Kitchen, Keep Fit,

Learn to Sail a Yacht,

Cranbrook Quizzers and

most recently Art for Fun!

Our monthly meetings

held in the Vestry Hall offer

members the chance to

listen to a wide range of

topics from professional

speakers. This year subjects

include history, science,

discovery and the arts. A

workshop exploring the

fascinating subject of oil

painting restoration is also

planned.

20 March: Fred Walker on

Captain James Cook and his

amazing life

18 April: Lucy Simiter on

Charles Babbage and Ada

Byron and the contribution

made by these two 19th

century pioneers, now

recognised as being at the

dawn of the computer age

15 May: Andrew Baker on

the pace of social change

since 1945 brought about

through immigration,

housing, working practices

and the welfare state

19 June: Bernard Lockett

on Gilbert & Sullivan

We welcome new

members so if you would

like to join us please visit

www.u3asites.org.uk/

cranbrook/welcome.

Jane Pugh

On Earth as

in Heaven?

YOU PROBABLY learnt The

Lord's Prayer at school. "Our

Father who art in Heaven…"

For many people it's a form

of words buried deep in the

sub-conscious that can be

easily rattled off. Our most

recent series of talks focused

on this prayer; the words that

are so familiar to us today were

revolutionary at the time they

were first spoken.

When Jesus taught His

followers to pray, "Your

kingdom come, Your will

be done, on Earth as it in in

Heaven", He highlighted the

fact that all is not well in the

world. Sickness and suffering,

lack, hardship and injustice are

common here but they don't

exist in heaven. For God's

kingdom to come here on Earth

means bringing the antidote to

the evils we see around us.

Often God wants us to work

with Him to become part of

the answer to our own prayers.

He guides us and gives us the

ability to stand up for truth,

care for those who need help

and speak up for justice. You

and I can be part of spreading

God's kingdom wherever we

live and work this week. Chris

Goodchild, Vine Church

16 Parish Cake • Spring 2020
---
British-made gifts, art exhibitions &

creative workshops in Cranbrook

www.happyglorious.co.uk

47b High Street, Cranbrook, Kent TN17 3EE

18 Parish Cake • Spring 2020
---
club news

LADIES RUGBY

CRANBROOK LADIES continue their

journey through their third season, team

numbers are strong, and team morale is

even stronger! The team are an amazing

bunch of ladies who also socialise

together a lot. Rugby is not just a sport

for us, it is a support network, family

and social life. The foundations are truly

planted and we look forward to seeing

what the future brings for us. Training is

Tuesday and Thursday evenings at 8pm

if anyone would like to come and give

us a try!

Cranbrook Rugby Club has recently

started a girls section for girls aged

between 10-17. Rugby is great for fitness, making

friends and building confidence. We already have great numbers in the girls section

and they are loving it, they have so much fun and in such a short time some have gone

from shy young ladies to a crazy, giggly and a fun bunch who are enjoying every minute

and making friends. The parents love it too! If you have anyone who would like to join,

bring them along on a Sunday morning at 10am and we will be there to welcome you!

Calling all Young Cricketers

Inspired by the England Team!

CRANBROOK CRICKET

Club is continuing preseason

net sessions for

4-16 year olds on Tuesday

evenings through to

the end of April and we

are looking forward to

moving outside on Sunday

mornings in May.

The coaching continues

to be led by professional

coaches from Skillz Sports

Academy, backed up by

some of our older players

completing their Duke of

Edinburgh volunteering. It

is always fun and engaging

for all ages and abilities of

boys and girls.

There are plenty of

opportunities for matches,

with teams competing

at every age group in the

Weald of Kent league and

we now have 13 players

from the club who have

been selected and play at

district/Kent level.

We are also looking to

expand our Adult T20

team with more fixtures

– last year we had a 100%

record of played 4 won 4.

New players are always

warmly welcomed at the

club – come along for a

free trial!

There will also be

Skillz Academy Cricket

Camps running at the

club in the half term

and summer holidays.

For more information

please contact us at

cranbrookcricketers@

gmail.com. Sue Webster

Cranbrook

Sports Club –

New Clubhouse

Development

CRANBROOK SPORTS Club has

assembled funds amounting to some

£300k towards the new build – these

from fundraising activities, events

and operating surpluses, as well as

contributions from some developers.

The first major fundraising application

is currently with Sport England and

the latest indication is that, subject

to the club providing some further

information, it is likely that a formal

offer of a grant will be made.

This award will be a major boost

to the club's fundraising efforts and

the fundraising team are currently

evaluating how to deal with further

grant applications as well as planning

further activities within the club.

We are always looking for help

and if you have experience that that

you feel would be useful, would like

to assist in raising a large amount of

money or indeed would like to donate

please contact the fundraising team at

funding@cranbrooksportsclub.co.uk

SUPPORT ST. DUNSTAN'S

AND WIN CASH PRIZES!

A CALL has gone out for more people to join St Dunstan's Church's 100 club

which raises money for its upkeep while paying out cash prizes to members.

Being such a large building, it is in constant need of maintenance with an

average of £2,500 a week needed for its upkeep. Attracting visitors from all

over the world, the church organ featured in the Great Exhibition at Crystal

Palace in 1851 and its clock was a prototype for Big Ben.

Anyone who would like to join can pick up a leaflet from the church. TF

Parish Cake • Spring 2020 19
---
We have over 25 years' experience

delivering any aspect of general

building, property maintenance,

carpentry, joinery, plastering, tiling,

kitchen and bathroom fitting,

landscaping, brickwork, traditional

restoration and decorating.

07787 524836

01580 389309

@jasonhollands1

@jason_hollands

20 Parish Cake • Spring 2020
---
comment

AS THE dust has now settled

following the General Election

before Christmas, I want to

thank people in Cranbrook and

Sissinghurst for again placing

your trust in me as your MP.

It is humbling to have your

support and I am enormously

privileged to continue to serve

our fabulous community.

I am looking forward to once

more dedicating myself to the

issues that matter to us here in

Kent. My priorities will include:

bettering our public transport

and tackling congestion,

Working on Your Behalf...

improving access to GPs,

securing more investment for

our schools and preserving our

precious green spaces. The hard

work has already started, and

since the election I

have already: lobbied

the Government

regarding overbearing

housing targets,

liaised with our

local authorities

about the need to strengthen

our road infrastructure and

arranged a meeting with the

trains Minister to discuss

improvements to rail services

in Maidstone and The Weald.

Further from home, I am

delighted that we have now

secured the strong Conservative

majority which our country

so desperately needed. The

certainty this offers has been

widely welcomed. We have now

"WE HAVE NOW LEFT THE

EUROPEAN UNION AND CAN

BEGIN TO CHART A NEW PATH

AS AN OUTWARD LOOKING,

GLOBAL BRITAIN"

left the European Union and

can begin to chart a new path

as an outward looking, global

Britain.

The new Government will

also deliver on our other

priorities here in rural Kent. We

will invest a record amount of

money in the NHS, and I'll be

fighting to ensure our hospitals

at Maidstone and Pembury get

their fair share, and we'll recruit

20,000 new police officers; with

the 181 new officers announced

for Kent this year marking

the first step. Furthermore,

the Government will provide

a funding increase for every

school pupil in Kent from April

and press ahead with rolling out

superfast broadband, which is

so important in the more rural

parts of the High Weald.

Finally, I always want to hear

from my constituents about the

issues that matter to you, so

contact me anytime at at

helen.grant.mp@parliament.uk

Tel. 01580 388190

The Street, Benenden, Kent, TN17 4DB

www.dreamlashesnailsandbrows.co.uk

Michael Laws

Careers Coach

Career development sevices,

including coaching, CVs

and interview techniques

www.activatecareers.co.uk

michael@activatecareers.co.uk

07973 406215

Activate Your Career

MEET

YOUR MP

Helen Grant

Helen Grant, MP for Maidstone

and the Weald, holds regular

surgeries around the

constituency.

If you would like to arrange

an appointment to discuss

an issue of concern to you,

please e-mail Helen at helen.

grant.mp@parliament.uk or

telephone 020 7219 7107.

helengrant.org

@HelenGrantMP

HelenGrantMP

Promoted by Helen Grant MP,

of House of Commons, London SW1A 0AA

Parish Cake • Spring 2020 21
---
feature

Cranbrook Centre: We Need to

Know What You Want

CRANBROOK RESIDENTS have been asking

for a community centre for the past 20

years. In this time we have lost most of our

community spaces: the Tunbridge Wells

council offices, church and drill halls. This

means that we have few places to meet,

for events, for social occasions or for

recreational clubs.

We are now planning to build our new

centre, which will include a new library, open

for longer hours than currently, an open

air 'town square' and other spaces for the

community to:

• run clubs for hobbies or come together in

interest groups

• to hold celebrations, functions or music

events

• engage in adult education or well-being

sessions

• meet as pensioners or new parents in

groups for coffee, play or lunch

• hold community festivals without

worrying about the weather!

The GPs are keen to have a self contained

medical centre on the site, to ensure

continued care well into the future.

HAVE YOUR SAY

The new centre will serve all ages in the

community, and this is where we need your

help. We need to define how many rooms,

what size and resources are needed - be as

creative as you can!

• Who would like to use the centre?

• How many people would be involved?

• How often would you meet?

• How much storage you need?

• Do you need any specific resources?

• Do you need access to a kitchen?

• What benefits you think this will bring to the

community?

Please send the answers for as many

organisations as you can think of to

cranbrookcommunitycentre@gmail.com

HOW DOES THE COMMUNITY GO

ABOUT BUILDING A COMMUNITY

CENTRE?

To keep you informed at all stages of the

exciting Community Centre development we

will report back in each issue of Parish Cake

on what's currently going on, and on our

planned next steps.

Where you have comments or ideas on

current or planned activities, or where you

want to get involved please email us at

22 Parish Cake • Spring 2020
---
feature

cranbrookcommunitycentre@gmail.com

We'll be using the Royal Institute of

British Architects (RIBA) seven stage

process to plan our delivery.

The outputs of the current strategic

definition phase are an outline business

case that sets out:

• the key accommodation requirements

and user needs of the building

• the delivery options that have been

considered

• a business plan for delivery, and

• a project budget.

Of course, much excellent work was done

on strategy definition in 2016. In the next

period, we'll refresh and update this to

reflect the latest local requirements, for

example, the involvement of the Medical

Centre.

We'll be using the standard government

'five case' methodology when developing

the business case, which considers:

1 What's the strategy? How do we

appraise delivery options? (Strategic

case)

2 What are the financial costs and

benefits and when do they fall?

(Financial case)

3 What's the economic impact on our

society? (Economic case)

4 How will we manage project delivery?

(Management case)

5 What is our procurement strategy?

(Commercial case)

At this stage, with our focus on the

outline business case, we'll emphasise the

strategic case and the outline financial

and economic costs and benefits. As

the work progresses through the design

phases, we'll increasingly focus in on

the operational detail of the financial,

management and commercial cases.

We'll be writing shortly to invite your

latest thoughts on user requirements for

the Community Centre, which we'll use to

update the 2016 plans.

In the meantime, if you've any

comments or questions on these plans,

latest thoughts on local requirements for

the Community Centre, or would just like

to contribute any relevant expertise to

the benefit of our community, we'd love

to hear from you - do please get in touch

using the email above. Cllr. Kim Fletcher

SALES AND SERVICE

M&A Brown & Sons Ltd, Iden Green Farm, Cranbrook Road, Goudhurst, Kent TN17 2PA

info@mabg.co.uk ✆ 01580 211599 www.mabg.co.uk

Parish Cake • Spring 2020 23
---
feature

History

Made as First

Mayor of

Cranbrook

Honoured

PHOTOS BY DAVID MEREWETHER

THE AFFECTION held for Cranbrook shopkeeper Phil

Mummery was all too evident on St Valentine's Day

when he was crowned as the new honorary mayor of

the town.

Thanks to Stuart Cleary, whose idea it was to

see Phil as mayor, he entered the packed Vestry

Hall to the sound of Town Crier, alias Cllr. Andy

Fairweather, ringing his bell and announcing his

arrival.

The popular man who has dedicated most of his

life to the town was "crowned" with a mayoral chain

by parish council chairman Cllr. Kim Fletcher as

guests raised the roof with cheers.

Cllr. Fletcher said: "I cannot think of a better

person to be mayor whether it is a man, woman

or clown," a reference to Phil's love of dressing up

when taking part in numerous town events. TF

24 Parish Cake • Spring 2020
---
feature

Cranbrook is

the hidden

gem of the

South East,

despite all the

brickbats

thrown at it

during the

past 30 years.

A Plea From the Heart

I MOVED to the town in 1976 for business reasons

and have never regretted it for a minute.

I'm going to list some of the assets: an

outstanding parish church, St Dunstan's, a town

museum to be proud of, the impressive Cranbrook

School complex with pupils from all over the world,

a fine theatre and, of course, the tallest working

smock mill in the UK, not to mention the many

buildings and homes which reflect England's

architectural history.

But what really makes a town are the people, the

clubs and societies. I daren't list them. There are so

many I am sure to miss some!

Now the brickbats lobbed at us from regional

and central government. First of all, tourism. The

Princess Royal opened the Weald Information

Centre which was the parish council office, the

borough council's face in the town and a tourism

office. Well, over the years the borough office was

open less and less until it closed at the end of

last year and info for tourists is not available at

weekends when most of them

are about and need information.

Sandwich, also a historic

town, in Dover district has a

tourist office and even a coach

park which can be used, unlike

ours. The town seems to have

had more money spent on it by

Dover council than our borough

spends on us.

After the last local election,

the idiotic £90-odd million

complex in Tunbridge Wells was

put on hold. Perhaps now the council will remember

Cranbrook exists and spend a little money restoring

it to some of its former glory.

The most important help to Cranbrook in recent

years has been the parish council taking over the car

parks and keeping them free. I dread to think what

state the town centre would be in now if charging

had been brought in.

What I am saying is, support your parish council,

vote in local elections, don't moan, be positive and

get involved in this unique community. Help make

Cranbrook and Sissinghurst become the regional

centre it once was.

Philip Mummery

On 28 January I was invited to Cranbrook Primary

School for a special "thank you assembly," for

the years I had been involved with the school as

a governor and volunteer. I want to give a big,

big thank you to everyone involved, and to say

what a lovely atmosphere there was there. I was

greatly affected by the amount of affection that

came across.

Parish Cake • Spring 2020 25
---
The Beautiful Skin Clinic is an advanced

aesthetic clinic specialising in skin rejuvenation

and maintenance. Our comprehensive range

of treatments includes anti-wrinkle injections,

dermal fillers and other advanced

non-surgical treatments.

anti-wrinkle injections ❧ dermal fillers

excessive sweating treatment

lip enhancement ❧ genuine dermaroller

medical microdermabrasion

medical strength exfoliating peels

thread vein removal acne scarring treatment

sun protection products

CLINICS HELD AT

Frittenden

FOR FURTHER DETAILS

thebeautifulskinclinic.co.uk

01580 852793 or

info@thebeautifulskinclinic.co.uk

26 Parish Cake • Spring 2020
---
Victory in Europe Day

feature

David Riddick, churchwarden at St. Dunstan's, introduces the

planned celebrations in Cranbrook for the 75th VE Day

NO, THIS is nothing to do

with BREXIT, but celebrating

the 75th Anniversary of the

ending of the war in Europe

on 8 May 1945. You may have

already noticed that your

diaries and calendars make no

mention of a May Day Bank

Holiday on the first Monday of

May as the Bank Holiday has

been moved to Friday 8 May.

THE NATIONAL PLAN IS:

At 3.00pm Pipers play Battle's

Over and VE 75 Years. Also

a local dignitary to lead the

community in the Nation's

Toast to the Heroes of WW2.

In this context the heroes

include all those involved

in the war effort not just

the sailors, soldiers and

airmen. The British Beer

& Pub Association will be

encouraging landlords of pubs

across the UK to get their

customers to raise a glass and

take part in the Nation's Toast

to the Heroes of WW2.

At 6.55pm Town Criers and

members of communities

undertake a Cry for Peace

Around the World.

At 7.00pm Church Bells

ring out, followed by local

festivities.

On Sunday 10 May at

10.30am, services are held

in cathedrals and churches

across the UK to celebrate

the peace we enjoy today,

and remember those who

lost their lives or were badly

wounded, but also recognising

those who kept the nation

fed and the factories, mines

and hospitals working during

those difficult times. The

services to include the playing

of the Last Post and Reveille.

To join in the national

celebrations, St. Dunstan's

Church will be holding a

special service on the evening

of Friday 8 May. This service

will include the Toast to the

Heroes of WW2,The Cry for

Peace Around the World and

end with the ringing of the

church bells.

The service on Sunday 10

May will begin at 10.30am and

will include the laying up of

Standards, at the beginning

and recovering at the end,

and the playing of the Last

Post and Reveille. The event

is intended to encompass the

local community so include

Scouts/Cubs/Beavers, Girl

Guides/Brownies/Rainbows,

schools and so on. The Town

Band has been invited to play

HEN HOUSE

POULTRY

Quality Point of Lay Chickens

Excellent choice available, fully

vaccinated, laying lovely fresh

eggs in a variety of shell colours

at this service and they have

agreed to hold a concert

in the afternoon in St.

Dunstan's where no doubt

they will reflect the tunes

of WW2.

More

info

If you would like to become

involved in any way, then

please contact Brian on

brian@brianclifford.net

Does your garden

need work?

Mowing, hedge-cutting, weeding, pruning,

tidying and other general garden maintenance.

Call Steve on 07498 232117

Over 40 years of gardening experience, reasonable

rates and local to the Cranbrook area.

Country living at its best!

www.henhousepoultry.co.uk

01622 843649 (Sutton Valence)

Parish Cake • Spring 2020 27
---
YEAR 7 ENTRY

SCHOLARSHIPS

OFFERED

ENJOYING TODAY

EDUCATING FOR TOMORROW

PRE-PREP & PREP | BOYS & GIRLS 3-13 YEARS | DAY & FLEXI BOARDING

Open Morning

Friday 15th May, 9.30am – 12pm

Pre-register online marlboroughhouseschool.co.uk

Marlborough House School, Hawkhurst, Kent, TN18 4PY

70% success rate for senior school scholarships

'Excellent' academic and pastoral care (ISI rated)

Pre-Senior Baccalaureate for Years 7 and 8

150 years of traditional values and family ethos

Body and Design.pdf 1 24/02/2020 17:54

ELBA

ELBA PRIVATE HIRE - PERSONAL CARRIAGE

"We go that extra mile"

Lady & Gentlemen Drivers

Town and Country

Travel in Style

Business and Social Pleasure

Allows you to Drink

Like a Lord

Leave Like a Lady!

To Book Text: 07785 11 20 21 or Call: 01580 441 302

Email: book@elbaprivatehire.com

www.elbaprivatehire.com

Ready to Make Life Changes in 2020?

Body & Health by Design Life Coaching

KickStart

Programme

Fitness Training

Monday

9am: Fit & Lean – Dulwich Prep

10.15am: Pilates (mat based) – Dulwich Prep

2pm: Stretch & Mindfulness (5 weeks prog)

Tuesday

2.30pm: Group Training – Dulwich Prep

Wednesday

9am: Bootcamp – Goudhurst

2.30pm: Group Training – DPC

Invest in

yourself this

YEAR:

STRENGTH IN MIND | STRENGTH IN BODY

Friday

9am: BoxFit – Goudhurst

10.30am: Dynamic Pilates – DPC

YOU'LL FIND YOURS I PROMISE.

■ Daily coaching videos

■ 9 Daily Kickstart workouts

■ 2 Full body workouts

■ Recipe ideas

■ 10 days of motivation

Karen Porter | 07930 425694

karen@bodyandhealthbydesign.com

www.bodyandhealthbydesign.com

www.facebook.com/bodyandhealthbydesign
---
youth

YOUTH

COMMENT

Zachery Phillpot-Brian has his say

RECENTLY I did an anonymous

online survey and asked

Cranbrook and Sissinghurst

residents what the local issues

were that bothered them.

I was hoping lack of funding

to local schools or childhood

poverty might come up (at

least 23% of children in the

area are living in poverty

with a massive spike of 40%

in Maidstone) but it didn't.

Not one person in over 60

responses mentioned it.

That's alright, I understand. I

am not having a dig at anyone,

but I would be lying if said it

didn't sadden me.

The things mentioned were

– speeding, pot holes, dog

poo, lack of police presence,

teenagers with nothing to do,

vandalising, littering and a lack

of decent places to eat out.

So, I am going to write

about two things. First, I

guess we are really lucky to

live in Cranbrook. That the

mentioned issues are the

things that play on the minds

of local people. Especially

considering, and I know other

young people feel the same

way as me, that we live in a

very troubled country. Two –

speeding.

I bet that people assume

that as a teenager and a guy,

that speeding wouldn't bother

me. That I am probably a boy

racer; but I'm not. I want to

live. Or at very least, keep my

body intact. However, I think

that there are a lot of other

local people who don't. Or

think maybe they have a force

field around their car.

I have seen cars on

Stone Street, Cranbrook, so

impatient to get past vehicles

coming in the opposite

direction that they mount

the pavement at speed. How

someone innocently coming

out of a shop hasn't been

killed is just luck.

People speeding down the

High Street when people are

trying to cross. People so

impatient to get from A to

B, they are dicing with not

only their own life, but with

other people's. I have been on

the receiving end of people

swerving away from me, just

in the nick of time, because

they were busy on their

phone. Or if you dare hold

someone up on the road for

just a second, you get beeped

or glared at or have angry

rants mouthed at you.

So, I guess I am saying

slow down and calm down!

Before someone gets seriously

injured or worse. We clearly

live in a nice place, so let's

try and be nice on the road.

What's more important?

Shaving one precious

minute off your journey? Or

someone's life?

LETTINGS AND SALES PROPERTY EXPERTS

Local Experts with a Network of London & Regional Offices

FOR YOUR FREE MARKET APPRAISAL PLEASE CALL US

cranbrook@jackson-stops.co.uk

www.jackson-stops.co.uk

Parish Cake • Spring 2020 29
---
sponsored feature

Qi – From

Bush to Cup,

via Goudhurst

WE REALLY are one of the very few

independent tea brands. We run our small

independent tea company from our office

based in Goudhurst, Kent. Our ethos has

its roots firmly planted in sustainability,

organic ingredients and Fair Trade

agreements. The brand name, pronounced

'chee', is inspired from ancient Chinese

teachings about Qi energy and using

natural herbs to benefit and balance the

body.

Our teas are brought to you direct from

the tea gardens. We work in partnership

with our growers and trade with them

directly, supporting the farmers and their

communities producing top quality, fairly

traded and sustainable teas. We've been

supplying independent retailers with top

quality, handcrafted teas for

over 20 years. Qi - all the way

from bush to cup.

If you are looking for a

completely natural and

organic addition to your healthy lifestyle

then please have a look at our website,

we always guarantee fair trade and

sustainability as well as mouth-watering

flavours and absolutely NO aftertaste.

EXCLUSIVE OFFER

use code CAKE25 to get 25% off your

first order at qi-teas.com or call

01580 713613

MOWER PLANT SERVICES LTD.

www.mowerplantservices.co.uk

Sunpatch Farm,

Headcorn Rd,

Smarden, TN27 8PJ

Tel: 01622 890046

Sales • Service • Repairs & Parts

OPENING HOURS

Mon - Fri 8.30am– 5.30pm,

Sat 8.30am – 1pm

30 Parish Cake • Spring 2020
---
spotlight on..

Cranbrook

Tourism Group

The Cranbrook Tourism Group had its origins

in the former Cranbrook and Weald Tourism

and Economic Forum

THE FORUM had been

created in 2005 following the

appointment by Tunbridge

Wells Borough Council of Trisha

Spencer as the Cranbrook

Tourism Development Officer

operating from the newly

opened Weald Information

Centre in Cranbrook. This role

was subsequently included in

a new post in 2008, of Rural

Tourism and Local Economic

Development Officer.

Trisha's work received many

plaudits and she was largely

responsible for the creation

of the "Walk Through Time"

folders containing suggested

walks in the district. She was

also responsible for setting

up the Tourism and Economic

Forum which included

representatives from local

businesses, TWBC, Parish

Council, bed and breakfast

establishments and a host of

other interested parties.

History reminds us that the

country was enveloped in a

financial crisis in 2008 and

this led to a squeeze on local

authority budgets. One of the

early casualties was the decision

not to replace Trisha when

she left. The Forum, however,

continued but with limited

funding its ability to deliver

projects became very difficult.

Cranbrook and Sissinghurst

Parish Council continued to

provide representation and what

little funding was at its disposal.

By 2013 it was apparent that

the Forum was no longer an

effective body.

Interestingly, what remained

of the core membership actually

represented the Museum, the

Windmill, St. Dunstan's and

Cranbrook in Bloom. Since they

all felt the need to continue

promoting these attractions

it was decided in 2015 to

relaunch the old Forum as The

Cranbrook Tourism Group under

the enthusiastic leadership

of borough councillor, Tom

Dawlings.

With the continued valuable

support of the parish council

the group has delivered

the informative "Discover

Cranbrook" leaflets and

completed the reprinting of the

popular "Walk Through Time"

folders. It has also produced a

series of full page promotions

in the Wealden Advertiser

highlighting our attractions and

forthcoming major events. 2020

looks like being another busy

year for the group.

The present team comprises:

• Chairman: Cllr.Tom Dawlings

• Admin: Graham Holmes

• Windmill: Ian Burrows

• Museum: Sue Beavis

• Cranbrook in Bloom: Marian

Cumberland

• St.Dunstan's: Clare

Bezuidenhout

The Group is always looking

to strengthen its membership.

If you are keen to become

involved, contact any of the

current members.

Graham Holmes

The End of the

Apostrophe

Society

Sissinghurst resident

Carolyn Rolfe on a sad day

for English grammar

WHAT A terrible shock it was, last month, to

read that the Apostrophe Protection Society

closed its doors and effectively ended the formal

struggle to protect the apostrophe. Founded 20

years ago to correct the widespread incorrect

use of the apostrophe, which was

widely used and abused (we've all

seen the misuse of MOT's, HGV's

etc), plonked here or there at

random, with no regard as to

whether it made sense or not,

leading to serious confusion to

those who use correct English

grammar.

The founder, chairman John Richards' first

success was to get his local library to write CDs

instead of CD's. He doggedly persisted with big

names of stores (I can think of several) but in

2012 when Waterstones decided to remove their

apostrophe, he objected, saying if McDonald's

and Sainsbury's can get it right, why can't they?

Do they not teach the correct use in schools,

where an apostrophe is only to be used in the

possessive, or missing letters, such as the dog's

bone, or I can't instead of cannot? They are never

to be used in plurals. I saw such abhorrent

anomalies over the Christmas period, for

example: Christmas Tree's, address's,

smile your on TV, resident's and

visitor's.

What should be done? Should we

stalwarts soldier on and never go out

without chalk or rubber, and continue to

alter the greengrocer's poster or signs (we've

all seen tomato's !), or should we accept that the

word "Like" will dominate speech, by replacing

punctuation and grammar altogether?

We should all be ardent grammar vigilantes

and apostrophisers, or must we act like sheep

and copy the masses?

Parish Cake • Spring 2020 31
---
sponsored feature

The Kings Head

Staplehurst

THE KINGS Head public house has been

at the heart of Staplehurst since the

17th Century. Today, as the only pub

in the village, it continues to play and

important role in the local community.

The 21st Century Kings Head

combines old world charm, beams,

Kentish hops and a roaring log fire with

a contemporary friendly pub appeal.

We serve a range of premium lagers

and traditional cask ales from Shepherd

Neame, Britain's oldest brewer.

In the last 12 months The Kings

Head has had extensive renovations

in the kitchen, restaurant, toilets and

garden areas and we have welcomed

our new managers Scott and Sabrina

who are doing a fantastic job making

new and old regular customers feel very

welcome.

Freshly cooked food is served all

week and has a traditional theme that

includes favourites such as homemade

Steak and Ale pie, Fish and Chips,

Steaks, Burgers and Traditional Roasts

on Sundays. Sample some of our

homemade dishes on our specials board

and why not try our Steak Night every

Thursday – two Steak meals for £20,

and Fish Fridays – two freshly in-house

battered cod, haddock or breaded plaice

meals for £16.

Come and try our delicious Sunday

roasts from 12-6pm, and at 3pm we host

a meat raffle with any profits going to

local charities. Join us and you could

win your dinner for the following week!

We have a pretty 24-seater separate

restaurant area that is perfect for dining

away from the main bar area and can

also be booked for private functions

such as christenings, birthdays,

weddings and wakes. We have a buffet

menu catering for all requirements.

Book a table for Mother's Day on Sunday 22nd March and

all mums will receive a free dessert. Call 01580 891231

In addition to having our own darts teams, pool table,

Sky TV & BT Sports, the pub also stages regular live music

events:

Friday 27th March – 9pm, Seamonkeys

Friday 24th April – 9pm, Get your kicks with Micks hot lips

May Bank Holiday

Friday 8th May – 9pm, Outriders

Saturday 9th May – 2pm-4pm, Jason Allen & BBQ All Day

Chilled Sunday 10th May – 7pm, Jack Falmer

Stay in

touch

Check out our website for the latest events,

menus and pub information.

Follow us on Facebook:

The King's Head 2019 (Staplehurst)

The Kings Head, High Street, Staplehurst, Kent, TN12 0AR

www.kingsheadstaplehurst.co.uk / 01580 891231

32 Parish Cake • Spring 2020
---
history

Cranbrook Museum

When Cranbrook Museum re-opens for its new

season in April 2020 there will be two significant

new exhibits on display writes Mike Huxley,

chairman of Cranbrook Museum and Local

History Society

IN 1857, during the creation of

an ornamental pool in Leggs

Wood, Frittenden, two clay

urns were found. The urns were

discovered on what is now

the site of a pond in a wood

near Knoxbridge, about three

quarters of a mile east of the

Roman road from Rochester to

Hastings.

The hole in which they

were found was partly timber

lined and filled with decayed

vegetable matter to the depth

of about 12 feet. They were

on solid ground at the base of

the pit and embedded in the

peat. They were subsequently

dated to around the first

century, i.e. during the Roman

occupation of Britain. This

perhaps indicates that this

route was opened fairly early

in the Roman occupation. The

pit may have been a well or a

shaft serving some sepulchral

or ritual purpose. It would

seem that two such large and

narrow-mouthed jars would be

unlikely to have been used for

drawing water. Nor, given their

undamaged condition, could

they have been dropped into a

well accidentally.

Although under the

control of various Frittenden

organisations over the years,

since 1968 the urns have been

housed in Maidstone Museum

on a long-term loan, but appear

never to have been exhibited

there. In November 2019,

the urns were permanently

returned to Frittenden

Historical Society. The Society

has now agreed a long-term

loan to Cranbrook Museum

where the urns will be on view.

The Museum re-opens

on Wednesday 1st April and

welcomes visitors Tuesday to

Saturday, 2pm – 4.30pm. During

April and May there is a special

exhibition on the history of

Cranbrook Primary School

followed in June and July with

a display of maps and aerial

photographs of Cranbrook and

the local area.

Thank You from Cranbrook Museum

CRANBROOK MUSEUM

and Local History Society

would like to thank the

growing number of sponsors

and supporters whose help

in keeping the museum

running is very much

appreciated. The Co-op, who

supported us as their local

good cause, Travis Perkins

who frequently help out

with materials and tools for

the maintenance work we

ABOVE: Alec Cox (Lambert and Foster),

Liz McGurk (Museum Curator) and Tim

Duncan (Lambert and Foster)

do and Lambert and Foster, our most recent financial supporter.

Cllr. Sean Holden secured funding through the KCC Local

Members Grants Scheme to support our development of outreach

boxes and Cranbrook Parish Council has awarded grants in the past,

the most recent of which was £500 towards a Cranbrook Colony

watercolour.

Any other businesses or individuals who would like to become

a sponsor are always welcome and are invited to contact us at the

museum.

come

along

Please come along and see if you can spot

yourself in one of the many school photos or,

perhaps, where you live on a map or aerial

photograph. www.cranbrookmuseum.org /

Facebook @cranbrookmuseum

Parish Cake • Spring 2020 33
---
comment

Affordable Housing –

What does it Mean?

Cllr. Garry Pethurst says councils must build more houses

IT IS often repeated, but

nonetheless true, that

the country is in the

midst of a housing

crisis.

We are

concerned that

there are

not enough

"affordable" houses.

We are obsessed with

affordability, when the

truth is that all houses must be

affordable. There is no benefit to

society in expecting anybody to

take on a property which they are

unable to afford, but affordability

means different things to different

people in different parts of the

country.

The recently published TWBC

Draft Local Plan (DLP) refers

to affordability in some detail,

the emerging Cranbrook and

Sissinghurst Neighbourhood Plan

(NDP) naturally highlights this

as a local problem. At the end of

2019 Kent County Council set up

a Select Committee to investigate

the situation further and canvas

local views.

Since about 2014, the most

commonly used definition for

affordability is that preferred by

the government. This identifies

property as being affordable if it

is at least 20% below the average

local market value and applies

to properties which are available

either to rent or buy.

An alternative view of

affordability could be based on

percentage of disposable income

spent on housing costs. For

example, the amount of rent paid

in the South East as a proportion of

net salary has risen from 31.2% in

2000 to 49.8% in 2020. We should

be seeking to reverse this trend.

It is possible to keep the cost

of maintaining a property low, by

ensuring all new houses are built

to the highest standards with

insulation, triple glazing etc. If we

reduce other costs, such as travel

to work, it should mean that the

true cost of living in a property

will be kept low, ensuring it is truly

affordable.

LAND TRUSTS

There are schemes, such as

Community Land Trusts (CLT),

which should be more widely

supported to ensure that properties

are made available to local people

at a substantial discount, which is

protected when the property is

sold on.

34 Parish Cake • Spring 2020
---
comment

In our parish, the Crane Valley

Land Trust has been set up by

individuals concerned at the lack

of truly affordable local housing

and in response to an employment

survey carried out which identified

300 local workers who could

not afford to live in the parish

including key workers such as

teachers and nurses.

This may be the nearest thing we

currently have to social housing,

therefore land put forward for

development should be offered to

the local CLT, or equivalent, first.

The current definition of

affordable housing is not fit for

purpose, particularly in London and

the South East, as it favours larger

developers, who can manipulate

local market values on which the

discount is calculated. This can be

done by building only larger, more

expensive properties, or by limiting

the supply, keeping prices high.

AFFORDABLE RENT

The true cost of affordable renting

needs to be considered, since many

individuals are reliant on housing

benefit in order to be able to

afford the higher rents now being

charged. This puts an extra burden

and stress on those individuals and

the civil servants responsible for

administering the benefits system.

The logic is to reduce rents to a

level where housing benefit does

not need to be claimed. This may

not be enforceable in the private

sector, but should be in the public

sector, which must also be looked

upon to increase the supply of

properties available for rent. We

must enable more local authorities

to build housing for local people.

Local

Data

At the last census (2011) the

parish had a population of 6,717,

which is predicted to rise, and

could be as much as 11,000 by 2036, at the

end of the current Local Plan period.

As at the beginning of 2020, the average

house price is £506,000, however, the parish is

one of six areas identified in the DLP as being

areas of income deprivation. Research carried

out in 2017 suggested the average earnings

for workers in the parish was £28.2k per

annum. Assuming this figure has increased

in line with inflation, this will now be

approximately £30k and would mean that the

average house would be 16 times the average

salary, compared to the national figure of 7.8

times, and 12.8 times for the Tunbridge Wells

borough. This makes the parish one of the

most unaffordable areas in the country for

local people.

COME AND SEE US AT THE

WHITE HORSE

We have launched

our new menu and

are now serving our

home cooked Sunday

lunches.

We will have Entertainment & Live Music

throughout the year and have plans for

specially themed events and weekends

coming together nicely.

Watch this space for special menu launches

and new offers coming soon.

Christine, David & Katie

Parish Cake • Spring 2020 35
---
feature

Absolutely

LAMBTASTIC!

A young shepherdess from Egerton is rapidly making a name for herself producing the very

best of fresh British lamb, writes Chris Lawson

PHOTOS BY CHRIS LAWSON

HARRIET HEATHCOTE is just 21

years old and like many others

is concerned about climate

change and the environmental

challenges facing society today.

The Heathcote family have

been farming in Kent since the

1920s and Harriet prides herself

on being a fourth generation

shepherdess. "It was something I

was born into" she says. "Dad has

always been a sheep farmer so I

was brought up doing this".

As well as looking after her own

mixed flock of 300 Suffolks, North

Country Mules and Romney

sheep, Harriet is a contract

shepherdess for other local

"A LOT OF

PEOPLE

TODAY ARE

CONCERNED

ABOUT

ANIMAL

WELFARE AND

WANT TO

KNOW HOW

THE SHEEP

HAVE BEEN

REARED"

farmers. "I've seen the bottom

fall out of the livestock market.

Prices for sheep are virtually nil

and certainly don't represent

the amount of hard work and

dedication that goes into rearing

and producing a quality flock

these days," she adds.

Concerned not just about

the future of livestock prices,

but also the rising conflict with

veganism and a major campaign

that suggests livestock are

36 Parish Cake • Spring 2020
---
feature

major contributors to global

warming, Harriet launched

'Lambtastic Meatboxes'

this summer. Keen to

make a difference, Harriet

collaborates with a local

abattoir in Heathfield and a

butcher in Pluckley, to bring

the most succulent, fresh,

local and sustainable, lamb,

hogget and mutton, to the

table. "A lot of people today

are concerned about animal

welfare and want to know

how the sheep have been

reared. Our flock graze rich

permanent pasture, which

contributes to the fantastic

taste". Every sheep farmer

will tell you that lamb is

naturally rich in protein,

low in sodium, and provides

multiple vitamins and

minerals that contribute to

good health and well-being.

"I want to produce for local

people who want the best

home reared sheep," says

Harriet.

Being a small start-up

with no external investment,

marketing budgets are nonexistent.

"I've been using

social media and doing it all

myself, but word of mouth

recommendation has so far

been my most successful

ally".

"I WANT TO PRODUCE FOR LOCAL PEOPLE

WHO WANT THE BEST HOME REARED SHEEP"

FOXY

LOCKS

KENT

Locksmith

07795 254834

Parish Cake • Spring 2020 37
---
INTERESTED IN

GROWING YOUR

BUSINESS?

DID YOU KNOW KENT & SUSSEX BUSINESS

CLUB MEETS ONCE A WEEK AT DALE HILL

GOLF CLUB?

We're a friendly group of local businesses who meet every

Friday morning over breakfast to share advice, pass business

and learn more about each others specialisms and skills.

Suitable for established businesses and start-ups, the club is

privately run by its members for its members. Why not take

advantage of our free introductory meeting (Full English

breakfast included!) and see if its something you feel would

benefit your business.

OVER £200K OF BUSINESS PASSED IN 12 MONTHS

Email members@ksbusinessclub.co.uk

or call 01892 547495 to reserve a seat,

find out more and get involved...

Tim Ivinson

TRADITIONAL WINDOW CLEANING

Est. 2004

Services include:

• Exterior and Interior Window Cleaning,

• Soffits and Fascias Cleaned,

• Gutters cleared and cleaned

If you would like your windows cleaned the

traditional way call Tim on 07974 450069

THE WRIGHT WAY

Painters & Decorators

All aspects of Internal & External Decorating undertaken to

the highest standards by our team of specialists. We offer a

professional service and competitive prices.

Windows Telephone Office: cleaned using

modern

01580 713599

pole fed system

Website:

www.the-wrightway.com

Call Aldo on 07812 787307

Free Written Quotes

Telephone Mobile:

07856 947840

Email:

the-wright-way@outlook.com

Fully Insured

TOMPSETT LANDSCAPING

Formerly known as Hartley Dyke Farm Shop

Tompsett landscaping is a family run business

which takes pride in offering a quality,

professional, friendly and reliable service at

competitive rates for all aspects of garden

maintenance and landscaping.

Please contact us today for your free no obligation quotation

Fresh Fruit & Vegetables • Flowers • Plants

•Shrubs • Hot & Cold Foods • Drinks

• Groceries & Delicatessen

Charity Farm, Swattenden Lane, Cranbrook, TN173PS

Tel: 01580 712546

www.cranbrookfarmshop.co.uk

38 Parish Cake • Spring 2020
---
feature

My Life as a

Guinea Pig!

For former parish council chairman Bridget Veitch

a trip to the doctors is something she has been

doing almost every year since she was born.

RATHER THAN ill-health

prompting the journeys to

London, I have been helping in

a unique national survey on the

health of children born at the

end of the 1940s and data is still

being taken today.

About eight weeks after my

birth my mother was visited

by a health visitor and asked

questions about her pregnancy,

expenditures and the experience

with the new baby.

This was the largest survey

ever done and Dr James Douglas

was the man given the job of

conducting it. 91 per cent of

babies born in a week in early

March were visited and some

13,687 mothers. The survey

team is still in contact with

about 3,000 of those children.

Each survey looks at different

aspects, resulting in a huge

amount of data which is mined

by scientists the world over as

it is the biggest, oldest set of

information.

The data has been used

in the establishment of the

welfare state and all sorts of

health and social issues, such

as smoking, the impact of

poverty on children's health and

educational achievements.

Insight46 is the most recent

survey which looked into brain

changes accompanying old

age. Held in London with 500

of us each spending an hour

in the MRI scanner at the

Macmillan cancer centre. Try

this for yourself! 15 cards with

unrelated words, nouns, verbs,

adverbs, one per page. Look at

each for five seconds then see

how many you can remember.

Others included remembering a

name and address, or associating

names and occupations with

photographs or a complicated

diagram. Phase two will be

completed in the next few

months. Early indications are

that lifestyle between the ages

of 30-40 may have an important

impact on aging.

At a 65th birthday party held

in London presenters described

how the survey had changed

their lives. One person had a

medical condition identified of

which they were unaware and,

because it was seen early, was

cured. Another who came from a

■ Brain scan results from an Insight46 study

large family said the importance

of being singled out for the

survey had given her confidence

to become a high achiever.

I thoroughly enjoy taking part

in these surveys and the recent

"The Loveliest Castle in the World"

one provided a thorough MOT

of my brain and cardio-vascular

functions. I dread to think how

much my memory has changed

over the past two years!

Bridget Veitch

The oak-beamed setting of Castle View Restaurant at Leeds

Castle offers delicious meals served in a relaxed atmosphere,

enjoyed with spectacular views across the terrace to the

magnificent Castle. Parking is free and an entrance ticket to

Leeds Castle is not required to dine in the evening.

To book a table online visit

leeds-castle.com/restaurant or call 01622 767819

@CastleViewRestaurant

@CV_Restaurant

@CV_Restaurant

Parish Cake • Spring 2020 39
---
sponsored feature

Phoenix

Design and

Construction

WHO WE ARE

We are a local construction

company delivering a range of

projects for our customers. With

our office and yard based in the

Cranbrook area we predominantly

serve the local area as well as

further afield within the South

East.

AIM

When Phoenix started the idea

was to provide a tailored solution

to our customers' construction

needs. Whether that meant

taking on all the administration

and organising of architects and

other professionals required at

the planning stage or fitting out a

bathroom with the goods chosen

by a customer.

In short, our aim is to streamline

the whole construction process

for our clients to help alleviate the

stress of commissioning or running

a project and make it a memorable

process for all the right reasons

HOW WE DO THIS

We have developed a network of

building professionals to aid in the

pre planning/design phase as well

as having a combination of highly

experienced, fully qualified trade

teams combined with specialist subcontractors,

which allows us to be

fully flexible and adaptable to your

needs.

PROJECT PICTURES

These pictures show one of our

most recently finished projects

for Rye museum. We were asked

to construct a first floor office

extension over an existing courtyard

area. Being grade II listed the

work was done with sympathetic

consideration towards some of

the more traditional materials and

finishes, such as the lime render

and keeping the original brick wall,

whilst making sure the new building

meets the most up to date building

control regulations and structural

requirements.

This project also included an

Contact

us

awful lot of bespoke joinery and it's

something we produce and fit a lot

for our clients. If you take a look

at our Facebook page you can also

see a beautiful set of four hardwood

wardrobe doors with antique mirror

inserts that we recently completed.

All were expertly hand painted

rather than sprayed for an authentic

traditional finish.

Please take

a look at our

website or

Facebook

page to have a look at a

selection of our completed

and ongoing works, and

if you think we could be of service to you or

have any queries please don't hesitate to contact us:

Office: 01580 857718 Mobile: 07587 272928

Email: info@phoenixdc.co.uk

Facebook: @PhoenixDesignandConstruction

40 Parish Cake • Spring 2020
---
feature

New Era of

Education

High Weald Academy's New

Building is now officially open

THE HIGH Weald Academy's new

21st century building has been

officially opened. To celebrate, the

unveiling ceremony revealed the

winning students of the academy

artwork competition, whose work

will be displayed in the school to

commemorate the event.

Mr Daniel Hatley, executive

principal for academy, said: "There's

really no comparison between the

new building and what we had before.

It's visible to see as you walk around

the school that the students and staff

enjoy and are extremely proud of the

new surroundings. On behalf of The

High Weald Academy community, I

would like to thank everyone involved,

who I know worked tirelessly on the

project to build our new school."

The multi-million pound build

started in July 2018 and in November

2019 staff and students moved

into their new school. The school

was previously housed in a 1970s

building, which had been modified

over the years to meet educational

requirements, but was deemed no

longer fit for purpose. Today The

High Weald Academy building is one

of the most state of the art learning

environments in the area and boasts

69 climate controlled classrooms and

offices, which include eight science

laboratories, three art rooms, five

ICT suites and a purpose built drama

studio.

Annie Watsham, founder of Grierson

Galleries, located at The Hive in

Cranbrook, said: "We were delighted

by the response of the artwork

competition. Judging of the 200 entries

was an extremely difficult task; the

creativity and imagination shown in

all the entries was wonderful. Today,

it's been an absolute pleasure to meet

the winners. The detail in their pieces

successfully captured elements of the

Weald and inspired the judges."

ABOVE: Winners of The High Weald Academy Artwork

Competition. Left to right: Max Bunyan – Year 7, Sam

De Sagun – Year 9 and James Sanders – Year 7

BELOW: Head of School with students from The High

Weald Academy outside the new building

Parish Cake • Spring 2020 41
---
Let's Cook!

In the

Garden

CEPHALONIAN

MEAT PIE

I have been making

this Greek pie for

more years than I care

to admit. It is great

in the winter straight

from the oven and

just as good cold in

the summer with a

side salad. You can use

beef, pork or lamb or

just two of these. Be

warned the mixture

has to be rested

overnight before

cooking for a great

flavour!

INGREDIENTS

Serves 8

740-800g lean meat

4 tbsp Greek olive oil

2 medium or one large

onion finely chopped

4 large cloves of garlic

Quarter tsp ground

nutmeg

1 tsp ground cinnamon

1 level tsp fennel seeds,

pounded

1 tsp dried oregano

100ml (3 fl oz) dry white

wine

1x400g tin chopped

tomatoes

75g paella rice

20g chopped parsley

75g provolone or

Gruyere cheese

2 medium eggs

1x500g pack of puff

pastry

Salt and freshly ground

black pepper

You will need a baking

tray measuring 17.5 x

25.5cm

1 Heat two tbsp of oil in

a large frying pan, fry the

meat in batches, spoon

off any fat but retain the

meat juices. Set aside.

2 In the same pan add

the remaining olive

oil and fry the onion

gently until soft. Add

garlic, spices, fennel

and oregano and stir.

Pour in the wine and let

it bubble for a minute

or two then add the

tomatoes, rice and

reserved meat juices. Stir

and simmer for about

15 minutes until rice

has plumped up. Add

parsley. Set aside to cool.

3 Cut the meat into very

small chunks. When the

tomato and rice mixture

is cold, mix in the

meat, cheese and one

beaten egg. Cover and

refrigerate for at least

two hours or preferably

all night to let the

flavours develop.

4 When you are ready

to cook the pie, set

the oven at 200C (fan),

400F gas 6. Roll out the

pastry into two squares,

one slightly larger than

the other. Beat the

remaining egg. Put the

meat mixture into the

centre of the smaller

piece of pastry leaving a

quarter of an inch border

brushed with beaten

egg. Put the other piece

of pasty on the top and

carefully press the two

edges together then

trim. Make three slits on

the top of the pie and

glaze with remaining

egg.

5 Put the pie onto a

baking tray and pop

into the oven. After 20

minutes reduce the heat

to 180C (350F or gas

mark 4) for a further 30-

40 minutes. The pastry

should be golden brown.

Bon Appetite!

Emma Fraser

AS WE teeter on the edge

of spring – the snowdrops

already becoming a

memory – it is a great time

to look at the garden and

ask oneself "what needs

improving?"

When Christmas gave

way to 2020, I marvelled

at the resilience of many

of the winter flowering

plants and vowed to increase my collection.

Winter can be such a bleak time but believe it or not there are

many ways of brightening up a corner or two with colour and

scent.

Perhaps my favourite winter shrub is Sarcococca, an

evergreen whose tiny white flowers have a strong, sweet scent;

just a couple of sprigs will fill a room with a delightful aroma.

With box blight sweeping the country, Sarcococca – also known

as Christmas box or sweet box – is an excellent alternative.

There are several varieties but the one I grow is S. confusa

whose maximum height at maturity is around 6ft. Grow it free

standing or as a low hedge.

Believed to be a native of China, this winter beauty is easily

grown in a multitude of positions from full sun to part shade

and is not fussy about soil. After the flowers have bloomed

come the black berries which are loved by birds and the plant

has rightfully gained an RHS Award of Garden Merit. Prune it

lightly to keep its shaped immediately after it has flowered or

leave it to do its own thing.

A very close second to the sweet

box and entirely different is a real

favourite of mine, Garrya eliptica

"James Roof". A leathery-leaved

evergreen tree, it enhances its foliage

in mid-winter with a riot of amazing

silver-green silky catkins at least 1ft

long. James Roof, a male plant, has

the showier flowers while the female

has smaller tassels followed by

purple-brown fruits in the autumn.

Grow in well-drained soil in a

sheltered position and while they

will put up with shade a sunny site will produce the best

catkins. A native of California and Oregon it can grow to 16ft at

maturity. It really needs no pruning but, if you must, carry out

surgery immediately after flowering as catkins are born on the

previous season's wood.

I know it seems ages until we will be seeing our winter

flowering favourites again but now is a great time to give them

a flying start. Penny Royal

Parish Cake • Spring 2020 43
---
sponsored feature

SAM MILLING

DAVID SELLMAN

Step into spring

at Scotney Castle

WITH THE days getting longer and the woolly

scarfs being cast aside, it's great to feel the sun

on your face and notice the season

evolving. From the swathes of

daffodils under the trees in

March to delicate pink blossom

blowing across the paths or the

vivid bursts of colour from the

rhododendrons in May, Scotney

Castle is a spring delight.

Take in the view of the

picturesque garden and estate from

the Old Castle or mansion house or pull

on your walking boots and get outside. No visit

is complete without a stop in the tea-room to

rest weary legs or a browse of the shop and

plant centre to take a touch of spring home

with you.

There are many reasons to visit over the

coming weeks, with plenty of events and

activities to interest you. Whether it's a

Monday morning coffee or a mid-week lunch

with friends, an after-school ice-cream or

wearing the grandchildren out before lunch,

plan ahead for one of the events below.

DAVID SELLMAN

IMMERSE YOURSELF IN NATURE

You can join a guided estate walk to discover

some of the more far flung corners of Scotney

Castle, or if you prefer to stick to the hard

paths in the garden, then why not join garden

talk. Walled Garden Wednesdays start

again in early April, covering a

variety of topics to help you

successfully grow fruit and

vegetables at home. See the

website for details.

There is no charge to join

these walks or talks, just normal

admission applies. Booking in

advance is not required.

GUIDED ESTATE WALKS:

Scotney History – People & Places: 1-8 March,

11.30am-1pm & 2pm-3.30pm

Signs of Spring – 25 April - 25 May,

11.30am-1pm & 2pm-3.30pm

GARDEN TOURS:

Trees of Interest – 30 March - 10 April

(weekdays only), 10.30am-12pm & 12pm

-1.30pm

Rhododendron Walks –13 April - 15 May

(weekdays only), 10.30am -12pm & 12pm-

1.30pm

Walled Garden Wednesdays – 8 April - 9

December, every alternative Wednesday,

2pm-3pm

SAM MILLING

BEAUTIFUL BLOOMS AT THE

FLOWER FESTIVAL

Inhale the floral fragrance in the air

and admire the colourful displays

during the Flower Festival this May.

Tour the home of Betty Hussey, who

loved to pick flowers from the garden

to bring indoors, and stroll around the

late spring garden taking in the views

and scents of the Rhododendrons and

kalmias.

For seasoned gardeners and keen

amateurs, join a walk or talk with

our knowledgeable garden team to

learn more about nurturing flowers.

Creative flower workshops and

photography courses will also be

taking place.

44 Parish Cake • Spring 2020
---
sponsored feature

NURTURE YOUR SOUL AND ENHANCE

YOUR WELLBEING

Lend your voice and join our pop-up choir to

help celebrate spring and the National Trust's

125th anniversary. A four minute anthem will

pass along a wave of song across National Trust

properties in the South East, with lyrics inspired

by supporters.

Spring Song Choir – Saturday 16 May, 8.30am-

11am (free event but booking essential)

Or stride out at sunrise with our rangers to

hear the dawn chorus across the estate. Their

knowledge will take you to the special places

with the best views and you'll learn how to

identify some of our most iconic bird species by

sound and by sight. Pull up a chair in the tearoom

afterwards for a full English breakfast and a

tea or coffee.

Dawn Chorus Walk – Wednesday 27 May, 6am-

9am, £18 per person (booking essential)

SPRING DELIGHTS IN THE SHOP

New seasonal ranges are bringing a

fresh look and smell to the shop. From

grapefruit and lime candles and reed

diffusers, to spring scarves and accessories

and new crockery inspired by the lush

healthy foliage lining the streams at

Nymans. Browse the shelves for this

season's new arrivals or pick up a pot of

National Trust jam or a tasty selection of

biscuits.

TASTY TREATS IN THE TEA ROOM

Have you tried the scone of the month

at Scotney Castle? As well as the fruit

and cheese varieties baked in our kitchen

every day, there's a seasonal scone each

month to tempt you further. To make your

afternoon tea even more special, why

not try a prosecco afternoon tea? They're

available every afternoon in the tea room

and will certainly add a sparkle to your

afternoon.

LEARN A SKILL, INDULGE

A PASSION

If one of your resolutions for 2020

was to learn a new skill, then why

not consider a workshop at Scotney

Castle? We have a variety on offer

this spring, led by local experts

using the garden and meadows as

their inspiration. Classes are small

and pre-booking is essential on all

of these workshops.

Basket Making Workshop –

Saturday 14 March, 9am-4.30pm,

£70 per person

Meadow Painting in Mixed Media

– Wednesday 18 March, 10am-

12.30pm, £40 per person

Garden Printmaking Workshop

– Saturday 28 March, Saturday

9 May & Wednesday 13 May,

11am-4pm, £40 per person

Spring Photography Workshop

– Wednesday 20 May and

Saturday 23 May, 2.30pm-6pm,

£25 per person

CHRIS LACEY

RACHEL WHITING

BRING THE KIDS FOR A

FUN DAY OUT

From school holidays to bank

holidays or weekend days

out for all the family, there's

plenty for children to enjoy

this spring at Scotney Castle.

Book worms can swap their

World Book Day token in

the shop and take part in a

trail over World Book Day

Weekend. Then Easter sees the

return of our Cadbury Easter

Egg Hunts, this year with two

trails to choose between, for

kids of different ages. More

activities and challenges will

keep young, inquisitive minds

occupied come May half term.

World Book Day Weekend –

7-8 March

Cadbury Easter Egg Hunt –

2-19 April, £3 per child

May Half Term Trail –

23-31 May, £2 per child

More

So, however you

decide to welcome in

spring, we hope to see

you at Scotney Castle

over the coming

weeks.

For further

information or to

book onto any events,

please call 01892

893820 or visit our

website,

www.nationaltrust.

org.uk/scotney-castle

Please note, normal

admission charges

apply to some events.

Please check the

website for details.

Parish Cake • Spring 2020 45
---
EST

1900

Chartered Accountants

helping you, your business

and your family

We specialise in farms, families, trusts and estates and have a

dedicated team who can help you manage your financial needs.

We have direct experience with equestrian and farming matters,

and we also offer an extensive range of services including:-

• Bookkeeping

• Succession planning

• Accounts preparation

• Inheritance tax advice

• Tax returns and

VAT advice

• Estate planning

• Payroll

RESIDENTIAL SALES & LETTINGS

REGISTERED VALUERS

AUCTIONS

PLANNING

RURAL PROFESSIONALS

SITE PROMOTION & DEVELOPMENT

BUILDING SURVEYING

Please contact mark.howard@charter-tax.com

Telephone 01580 313108

www.charter-tax.com

Suite 1 Bedgebury Business Park, Goudhurst, Kent TN17 2QX

Local relationship

banking

At Handelsbanken, relationship banking still

lives up to its name. Our simple aim is to

provide the best possible service.

• You deal with people you know

• Key decisions are made locally by us at the

Tunbridge Wells branch

• A wide range of products and services, including

everyday banking, mortgages and savings, tailored

to suit your needs

To find out how you might benefit from more personal

banking, please contact Nigel Baldwin or Ray Keatley,

Individual Banking Managers, on 01892 547702 or

email: tunbridgewells@handelsbanken.co.uk

Oakhurst House, 77 Mount Ephraim

Tunbridge Wells, Kent, TN4 8BS

handelsbanken.co.uk/tunbridgewells

Handelsbanken is the trading name of Handelsbanken plc, which is incorporated in England

and Wales with company number 11305395. Registered office: 3 Thomas More Square,

London, E1W 1WY, UK. Handelsbanken plc is authorised by the Prudential Regulation

Authority and regulated by the Financial Conduct Authority and the Prudential Regulation

Authority. Financial Services Register number 806852. Handelsbanken plc is a wholly-owned

subsidiary of Svenska Handelsbanken AB (publ).

2892_RL_Parish_Magazine_Advert_TunbridgeWells.indd 1 21/01/2019 09:09:06

46 Parish Cake • Spring 2020
---
out & about legal

From our

Friendly Experts

Buss Murton's lawyers offer their expert advice

FAMILY LAW

Can I obtain an immediate divorce

Q without blaming my spouse?

At the time of writing it is not possible

A to apply for an immediate divorce

without blaming your spouse. It is hoped this

will soon change as there is new legislation

being debated which will introduce a system

of no-fault divorce. This legislation had

its first reading in the House of Lords on 7

January with a second on 5 February. Further

information will be available soon.

How long will a divorce take from

Q start to finish?

The divorce process can take some

A time and the application for a divorce

takes between six to nine months and can be

longer depending on the court's resources.

The associated financial matters can take

up to two years to resolve if there are court

proceedings. All matters can be resolved

sooner if a couple use the alternative

methods of mediation and collaboration to

come to an amicable agreement.

I am separated from the mother of

Q our child and we are having difficulty

agreeing who our child lives with and when

my child will see me, what should I do?

The first step is to discuss this between

A the two of you to see if you can reach

a compromise focusing on your child's best

interests. If not, there are various options

open to you and it is important to take legal

advice as soon as possible. If you usually

make the arrangements yourselves you may

need additional support from a solicitor

who is able to guide you to an agreement via

mediation, negotiation, collaborative law or

ultimately within the court process.

It is always best to try to resolve matters

as amicably as possible by mediation or

collaboration as you and the mother will

always need to communicate, and these

processes help maintain relations.

JULIE TAYLOR

Partner, Family & Divorce

For a free 30-minute

consultation to discuss

any matters involving

separation, divorce,

finances or arrangements for children,

please contact Julie Taylor on T: 01580 712

215 or E: jtaylor@bussmurton.co.uk and

quote the reference Parish Cake – Spring

2020'

PROPERTY LAW

Changes to Capital Gains Tax (CGT) rules

on the disposal of residential property by

individuals come into force on 6 April 2020.

I own a property which was originally

Q my main residence but which I now

rent out. Do the Capital Gains Tax changes

proposed affect me?

Under the current regulations it is

A possible to deduct 'letting relief' of up

to £40,000 from any capital gain. However,

under the new rules coming into force on

6 April 2020, the relief will no longer be

available unless the letting of your property

occurred whilst you were still living there

(such as sharing the property with a lodger).

If you were not sharing occupancy of the

property with your tenant when it was

let out, then the relief will no longer be

available when you dispose of the property.

I am selling my property which was

Q my main residence until I rented it

out a few years ago. I understand that I

will be eligible to a reduction in the capital

gains tax payable for the last few months

of my ownership under Principal Private

Residence relief. Are there any changes that

will affect me?

Under the current rules, as long as the

A owner has occupied the property as

their main residence at some stage, then the

final 18 months of ownership are treated as

a period of occupation regardless of whether

the property was occupied in those final 18

months. This is known as the final period

exemption (forming part of PPR relief). From

6 April 2020 the relief is to be reduced from

18 months to nine months.

When must I report my capital gain

Q from the sale of property?

Currently, on the sale of property you

A must report any capital gain on your

self-assessment return and pay any resulting

tax payable by 31 January the year following

the gain was made. If you sell property

on or after 6 April 2020, a provisional

calculation must be sent to HMRC within 30

days following completion of the sale and

the payment of any CGT due must also be

made within 30 days of completion to avoid

interest and potential penalties being levied

by HMRC.

KERRY CARTER

Partner, Residential

Property and Private Client

We are happy to assist

with any questions. Please

feel free to contact Kerry

Carter on T: 01580 712 215 or E: kCarter@

bussmurton.co.uk and quote reference

'Parish Cake – Spring 2020'

further

info

Clermont House, High Street,

Cranbrook, TN17 3DN

01580 712 215 or info@bussmurton.co.uk

www.bussmurton.co.uk

Parish Cake • Spring 2020 47
---
update

News

and views from Cranbrook

& Sissinghurst Parish Council

Budget Precept

I WAS appointed chairman

to the Policy & Resources

committee in April 2019 which

is responsible for the financial

aspect of the Parish Council.

Every December budgets are

set for each of the council's

committees. The actual sums

we spend in each committee

are below. These figures do

not take into account the

fees we charge, but show

the responsibility we take as

councillors.

Policy and Resources £263k

Environmental Management £70K

Burials and Properties £11k

Economic & Community £9k

Contingency £3k

With the able assistance

from former Councillor Brian

Swann, and his considerable

experience in budget

projections, the 2020-21

precept budget was presented

and accepted at the full

council meeting in January.

The overall budget for

2020-21 is £356k, compared to

last year of £336k, an increase

of £20,000. Last year the

precept did not change, and

the previous year it went up

1.4%.

There are two main

changes that have resulted

in increased costs. First,

Tunbridge Wells Borough

Council no longer provides

services from the Weald

Information Centre, so the

parish now has to pick up all

of the costs, about £8,000 per

annum.

Secondly, our clerks are

dealing with more and more

work so instead of hiring a

temporary clerk, we are doing

some succession planning and

taking on a new staff member.

Due to these increased

costs, the parish council

element of your council tax

bill will increase by £6.19 this

year (4.8%). The figures are

based on Band D property

categories and 2,784 houses in

the parish. All of the detailed

figures are available on the

parish council website.

A major change in the

coming years will be the

exciting launch of the

Community Centre project.

It goes without saying that

there will be significant costs

involved, but due to extremely

prudent budgeting in recent

years, some cash has already

been earmarked but there

will have to be fund raising

schemes to assist the venture.

I intend reporting in the

Cake on a regular basis as to

the costs associated with the

Community Centre. Should

you have any observations or

issues regarding the parish

council finances that you wish

to discuss please let me know.

Cllr. Robin Beck

Is it Still Worth Doing a

Neighbourhood Plan?

THIS WAS the question that

members of the Cranbrook and

Sissinghurst Neighbourhood

Development Plan (NDP)

Steering Group were asking

themselves at the end of

2019. Having spent

years of time and

effort writing a

draft plan based

on the evidence

collected

through a

series of public

engagement events,

workshops and further

research, the dream of

being able to influence

the spatial distribution and

scale of development in the

parish seemed dead.

GOVERNMENT'S

EARLY PROMISES

The words of Greg Clark

speaking in 2010 on his vision

for local communities now

appear vacuous: "When people

know that they will get proper

support to cope with the

demands of new development;

when they can have a proper

say over what these homes will

look like and when they can

influence where those homes

will go, they will have a reason

to say "yes" to growth." (Better

Planning: From Principle to

Practice speech given to Localis

on 28.11.10).

It is little wonder then, that

ABOVE: Cllr.

Nancy Warne

the local backlash to the recent

draft Local Plan has seen an

increasingly organised and

vocal number of protest groups

who are objecting to both the

scale and nature of proposed

development in the

parish.

PLANNING

UNDERMINED

In the nine

years since

the Localism

Act was passed,

the government

has introduced a

number of subsequent

measures which have actively

undermined the planner's

ability to deliver on the

vision of community-led

development. These include

permitted development rights,

cuts to local authority budgets

and planning departments,

aligned with financial

incentives for house building

and community infrastructure

provision, and of course the

doubling of house building

targets.

MAKING PLACES

FOR PEOPLE

One of the areas that locallywritten

policies are essential

is in the aspiration for high

quality design. Design is not

just thinking about the look

of an individual building or

48 Parish Cake • Spring 2020
---
development, but is much

broader in its consideration of

the many elements that create

pleasant places for people to

live in. It is vital to think about

the layout of streets and public

realm spaces, ensuring that

new developments are wellconnected,

inviting and safe for

pedestrians and cyclists.

By incorporating the excellent

work of both the Cranbrook

Conservation Area Committee

and the High Weald AONB

Unit, the neighbourhood plan

can ensure that the historic

character of the existing

settlements and landscape is

respected and enhanced.

Creating new homes

which respond to the climate

emergency through policies

which encourage energy

efficiency and flood mitigation

measures, as well as protecting

green open spaces are also

examples of how the local voice

can be respected.

ACTIVE COMMUNITY

INVOLVEMENT

The NDP research shows that

the parish needs more smaller

unit and affordable homes.

These can be delivered through

local policies on housing mix

and a good integration of

different housing types.

Greater community input at

an early stage in the planning

application process through

representation can establish

clear local design aspirations

in a manner that cannot be

ignored by developers and

planners.

EDUCATION OF COMMUNITY

REPRESENTATIVES

The education of local

councillors, at both parish

and borough level, about the

importance of good design is

a key factor to strengthening

the policies and ensuring

that the leaders and decisionmakers

can properly support

community wishes.

THE FUTURE OF

THE NDP

Following a rather depressing

NDP Steering Group meeting

in December I sought an

urgent meeting with Stephen

Baughen, head of planning

at TWBC in January to

discuss the future of the

Cranbrook and Sissinghurst

Neighbourhood Plan. He was

encouraging and is keen for

the NDP to progress as soon

as possible, pledging extra

support from his officers to

get us to the next stage.

The NDP group will move

forward to deliver a draft plan

for public consultation as

soon as possible.

Cllr. Nancy Warne

Welcome to Cllr. Wendy Waters,

co-opted onto the parish

council in January 2020.

Need a hand turning your ideas into

something to be proud of?

Re-vamp your marketing materials

and improve your brand identity.

stationery

logo design

newsletters

event marketing materials

You need great images to look

your best on social media, on your

website and in your advertising

and brochures.

headshots and staff portraits

event photography

brochure/marketing imagery

product shots

magazines & booklets

websites

get in touch

contact@fraserallen.co.uk 07545 977431 fraserallen.co.uk
---
local legends

John and

Ann Gurr

John and Ann Gurr tell Trisha Fermor of their

long floral association with Sissinghurst

WHERE DID YOU MEET?

A: At Cranbrook tennis club

in 1963. I was a teacher but

wanted to be an archaeologist.

I went to Canada on a teacher

exchange for a year and our

friendship carried on at a

distance.

J: I was an agricultural worker

and corn merchant rep and

when we married in 1968 we

lived at Chart Sutton working

with hops and fruit. Ann was

born in Fairlight, East Sussex,

and I was born in Sissinghurst.

My ancestors had been in

the village for years and

Gurrs Cottages were built by

one of my predecessors who

forgot to put in the staircase!

My grandparents ran the

Windmill pub [now derelict]

on the way into Cranbrook. My

grandmother on my mother's

side walked out one day and

was never seen again.

HOW DID YOU BECOME KEEN

GROWERS?

A: I was headmistress of

Colliers Green School and

growing sweet peas and

runner beans at home. When

I left the school I began

growing tomatoes, herbs and

herbaceous plants. I did an

RHS course at Hadlow College

and then got side-tracked

into growing tomatoes on a

big scale, 2,000 plants a year!

I grow more than 30 different

varieties and Sungold is my

favourite.

HOW DO YOU SELL YOUR

PRODUCE?

A: We ran the Cranbrook

Farmers' Market for a long

time, taking it over from the

council, and loved doing my

stall inside. I was delighted

when Princess Anne visited

one day and shook our hands.

We also had stalls at Tenterden

and Rolvenden. We still visit

markets, boot fairs and other

events including Nuts in May

in Cranbrook.

DO YOU HAVE CHILDREN?

J: Yes, Karen and Julian and two

grandchildren Daisy and Lori.

The cottage we live in was left

to us in 1979 but was almost

derelict and we did not move in

until 1983. We bought 11 acres;

Julian has five where he grows

lots of flowers for sale.

WHAT DO YOU DO IN YOUR

SPARE TIME?

J: I used to be a member of

Cranbrook Golf Club until it

closed. We both love horse

racing, both jumping and

flat, and belong to an owners'

syndicate.

A: I just love being in the quiet

of the countryside. I love trees,

dogs and looking at things

growing.

WHAT DAILY PAPER DO

YOU READ?

J: Daily Mail.

A: I do not buy a paper,

it would be bad for the

environment.

50 Parish Cake • Spring 2020
---
out & about

An extra pair of hands

when you need them!

• Bookkeeping

• Credit control

• Data entry

• Back office support

...and more

Are you drowning in paperwork ?

Pink Giraffes offer administrative and

business support services to help you to

use your time more cost effectively.

Our help enables you to do what you

love, after all it is probably the reason

you started your business!

if the service you are looking for isn't here please call us

T. 01580 848190 E. enquiries@pinkgiraffes.co.uk

www.pinkgiraffes.co.uk
---
Local firm of solicitors for all your

personal and business needs

Property Conveyancing

Family, Children & Divorce

Employment law

Wills, Trusts and Probate

Litigation & Dispute Resolution

Company & Commercial law

Our Cranbrook Office:

Clermont House

High Street

Cranbrook

Kent TN17 3DN

T: 01580 712 215

E: info@bussmurton.co.uk

www.bussmurton.co.uk

CRANBROOK | TUNBRIDGE WELLS | EAST GRINSTEAD

Buss Murton Law LLP is a Limited Liability Partnership No. OC345994 and is authorised and regulated by the Solicitors Regulation Autority