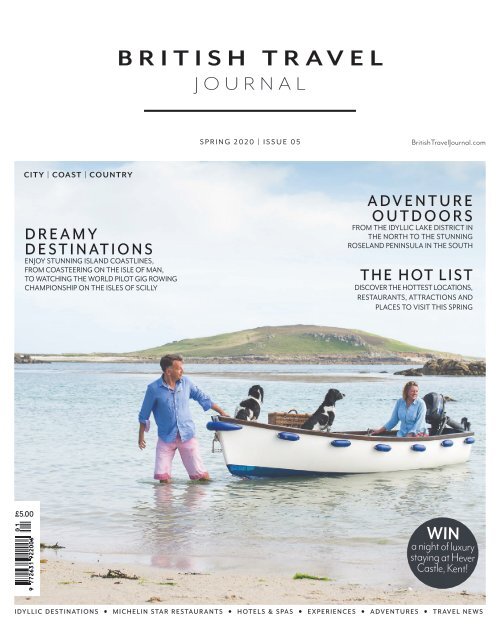 British Travel Journal | Spring 2020
Eco-friendly tourism is at the top of our 2020 travel agenda. We have introduced a new Sustainable Travel series, kicking off this issue with ideas for Environmental Volunteering, in an eco-conscious quest of our own, we have discovered a supplier of recyclable paper wraps for sending our magazines in the mail. Next issue we will be featuring the UK's finest eco-friendly holiday homes so, if you know of any hidden gems you are happy to share, please get in touch. Back to this issue - our 10 of The Best Charity Challenges, are sure to inspire. From cycling across Britain to skydiving from 15,000 feet, you can raise some vital charity donations while pushing yourself to your limits. The World Pilot Gig Championships is a seaside spectacle like no other on The Isles of Scilly this May, and we go Behind-the-Scenes ahead of The Cheltenham Festival, this March. Other destinations we uncover this season include the beautiful Lake District, spending a wonderful 48 Hours in St Mawes and the Roseland, an adventure packed weekend on The Isle of Man, and, arguably with the best views in London, our In the Capital series this season takes us to discover the highlights of leafy Greenwich. As always I hope this issue helps to inspire your travel experiences, and the spring season brings you many magical moments spent savouring the glorious British Isles - wherever you choose to visit.
Eco-friendly tourism is at the top of our 2020 travel agenda. We have introduced a new Sustainable Travel series, kicking off this issue with ideas for Environmental Volunteering, in an eco-conscious quest of our own, we have discovered a supplier of recyclable paper wraps for sending our magazines in the mail. Next issue we will be featuring the UK's finest eco-friendly holiday homes so, if you know of any hidden gems you are happy to share, please get in touch. Back to this issue - our 10 of The Best Charity Challenges, are sure to inspire. From cycling across Britain to skydiving from 15,000 feet, you can raise some vital charity donations while pushing yourself to your limits. The World Pilot Gig Championships is a seaside spectacle like no other on The Isles of Scilly this May, and we go Behind-the-Scenes ahead of The Cheltenham Festival, this March. Other destinations we uncover this season include the beautiful Lake District, spending a wonderful 48 Hours in St Mawes and the Roseland, an adventure packed weekend on The Isle of Man, and, arguably with the best views in London, our In the Capital series this season takes us to discover the highlights of leafy Greenwich. As always I hope this issue helps to inspire your travel experiences, and the spring season brings you many magical moments spent savouring the glorious British Isles - wherever you choose to visit.
SHOW MORE
SHOW LESS
Create successful ePaper yourself
Turn your PDF publications into a flip-book with our unique Google optimized e-Paper software.
BRITISH TRAVEL

JOURNAL

SPRING 2020 | ISSUE 05

BritishTravelJournal.com

CITY | COAST | COUNTRY

dreamy

destinations

ENJOY STUNNING ISLAND COASTLINES,

FROM COASTEERING ON THE ISLE OF MAN,

TO WATCHING THE WORLD PILOT GIG ROWING

CHAMPIONSHIP ON THE ISLES OF SCILLY

adventure

outdoors

FROM THE IDYLLIC LAKE DISTRICT IN

THE NORTH TO THE STUNNING

ROSELAND PENINSULA IN THE SOUTH

the hot list

DISCOVER THE HOTTEST LOCATIONS,

RESTAURANTS, ATTRACTIONS AND

PLACES TO VISIT THIS SPRING

£5.00

WIN

a night of luxury

staying at Hever

Castle, Kent!

idyllic destinations • michelin star restaurants • hotels & SPAS • experiences • adventures • travel news
---
WHICH IS THE MOST ICONIC

HOTEL IN THE UK?

#Siblingrivalry

CHEWTON GLEN, HAMPSHIRE

CLIVEDEN HOUSE, BERKSHIRE

THE LYGON ARMS, COTSWOLDS

11 CADOGAN GARDENS, LONDON

Our Iconic family is growing…

The Mayfair Townhouse opening autumn 2020

ICONICLUXURYHOTELS.COM
---
THE NEW TR ADITI O N

RESEIGH FOOKS BRAND AND PACKAGING DESIGN CLIENT: NOBLE ISLE STAGE 3 29th June 2011

C O N T R I B U T I O N S

BRITISH TRAVEL

JOURNAL

BritishTravelJournal.com

WELCOME

editors

Editor-in-chief Jessica Way

FEATURES EDITOR Samantha Rutherford

CHIEF SUB-EDITOR Angela Harding

expert contributors

FOOD & DRINK Chantal Borciani

ARTS & CULTURE Melanie Abrams

SHOPPING & LIFESTYLE Emma Johnson

SPECIAL EVENTS Emma O'Reilly

UK OUTDOORS Adrian Mourby

TRAVEL & ADVENTURE Max Wooldridge

LONDON INSIDER Helen Holmes

TRAVEL & LIFESTYLE Lydia Jackson

FRONT COVER IMAGE

Tresco, Isles of Scilly

Courtesy of Visit Isles of Scilly / Anthony Greenwood

editor's IMAGE

St Nectan's Glen, Cornwall

Published by

CONTISTA MEDIA

Mitchell House, Brook Avenue, Warsash,

Southampton, SO31 9HP

MAIN SWITCHBOARD 01489 660680

contistamedia.co.uk

KEEP IN TOUCH

BritishTravelJournal

ECO-FRIENDLY TOURISM is at the

top of our 2020 travel agenda.

We have introduced a new

Sustainable Travel series, kicking

off this issue with ideas for Environmental

Volunteering, p22, and, in an eco-conscious

quest of our own, we have discovered a

supplier of recyclable paper wraps for sending

our magazines in the mail. Next issue we

will be featuring the UK's finest eco-friendly

holiday homes so, if you know of any hidden

gems you are happy to share, please email

words@britishtraveljournal.com. Touched to hear about two Longleat koala

keepers, Graeme Dick and James Dennis, who, following the devastating

Australian bushfires, travelled to South Australia's Cleland Wildlife Park,

to help to save the lives of koalas, wombats, echidnas and a host of other

unique Australian wildlife - we have the pleasure of featuring the Wiltshire

attraction in our new seasonal 'Hot List', p81-87.

For those with the confidence to go one step further, our 10 of The Best

Charity Challenges, p38-41 are sure to inspire. From cycling across Britain to

skydiving from 15,000 feet, you can raise some vital charity donations while

pushing yourself to your limits. The World Pilot Gig Championships is a seaside

spectacle like no other on The Isles of Scilly this May, p70-73 - and we go

Behind-the-Scenes ahead of The Cheltenham Festival, this March, p60-63.

Other destinations we uncover this season include the beautiful Lake

District, p74-79, spending a wonderful 48 Hours in St Mawes and the Roseland,

p64-69, an adventure packed weekend on The Isle of Man, p26-31, and,

arguably with the best views in London, our In the Capital series this season

takes us to discover the highlights of leafy Greenwich, p32-37.

As always I hope this issue helps to inspire your travel experiences, and

the spring season brings you many magical moments spent savouring the

glorious British Isles - wherever you choose to visit. u

BTravelJournal

PROUD TO BE IN PARTNERSHIP WITH

stage 3 - B&W detailed logo

Jessica x

Jessica Way

Editor-In-Chief

Contista Media Ltd cannot accept responsibility for

unsolicited submissions, manuscripts and photographs.

While every care is taken prices and details are subject to

change and Contista Media Ltd take no responsibility for

omissions or errors. We reserve the right to publish

and edit any letters. All rights reserved.

BritishTravelJournal.com 3
---
09

CONTENTS

SPRING 2020 | ISSUE 05

74

42

C O M P E T I T I O N

88 WIN A

NIGHT OF

LUXURY IN HEVER

CASTLE, KENT...

We are offering you and

your companion the

chance to stay overnight

at Hever Castle Luxury

Bed and Breakfast, a 13th

century Castle in Kent,

once the childhood home

of Anne Boleyn.

P74 IMAGE ©VISITBRITAIN/TOMO BREJC

JOTTINGS

09

13

TRAVEL NEWS

A look at what's new and travel

noteworthy in the British Isles

CULTURAL AGENDA

Dates for your diary of things you

don't want to miss out on this spring

47 HEALTH

Keep your body and mind feeling well

with our unmissable spring selection of must-haves

promoting wellbeing and mindfulness

81

THE HOT LIST

A round up of some of the best

destinations, attractions, restaurants and

hotels to visit this spring

FOR YOUR JOURNEY

98 Latest books, travel gadgets and our

British travel inspired crossword

FEATURES

22

SUSTAINABLE TRAVEL

In the first of a new series, we look at

Environmental Volunteering

MEET THE MAKER | FLOWER

42 FIELDS

How an innovative Dorset venture is changing

the face of the British perfume industry

OPERA IN THE COUNTRY

48 A British phenomenon - we take a look

at the English Country House Opera

THE FINAL FURLONG

61 Behind the scenes at one of the oldest

race-meets in Britain; The Cheltenham Festival

70

WORLD PILOT GIG

CHAMPIONSHIPS

Join in the festivities of maritime tradition and

experience a seaside spectacle like no other

à

BritishTravelJournal.com 5
---
£5.00

CITY | COAST | COUNTRY

AUTUMN 2019 | ISSUE 03

BritishTravelJournal.com

E D I T O R

L O V E S

ALLBIRDS

While enjoying a leisurely

afternoon in London's Covent

Garden recently I discovered this

stylish new ethical brand, allbirds,

first London store.

New to the UK they are a locals'

best kept secret, and have just

opened their second store in

Marylebone.

While they're not cheap, they are

easily the most comfortable pair of

shoes I have ever owned!

Women's Wool Runners, £95

allbirds.co.uk

LIFESTYLE

38

88

10 OF THE BEST

Charity Challenges

HEVER CASTLE

Stay overnight in luxury at the

childhood home of Anne Boleyn

LONDON HILTON PARK LANE

92 An iconic hotel in London's exclusive

Mayfair district

INTERVIEW WITH HEAD CHEF

94 OF THE DORCHESTER

Tom Booton tells us about his inspiration and

how he's transforming a London icon

ITINERARIES

26

32

64

WEEKEND OF ADVENTURE

The Isle of Man

IN THE CAPITAL

Greenwich

ST MAWES AND THE

ROSELAND

Marvel at the unspoilt beauty of Cornwall to

78

connect with nature and walk in the footsteps

of pirates

48 HOURS IN

74 The Lake District

SUBSCRIBE

SUBSCRIBE TODAY

Receive the ultimate luxury getaway essential

from Noble Isle worth £20 and four issues of

British Travel Journal for just £19!

britishtraveljournal.com/subscribe

CITY | COAST | COUNTRY

dreamy

destinations

ENJOY STUNNING ISLAND COASTLINES,

£5.00

FROM COASTEERING ON THE ISLE OF MAN,

TO WATCHING THE WORLD PILOT GIG ROWING

CHAMPIONSHIP ON THE ISLES OF SCILLY

BRITISH TRAVEL

JOURNAL

SPRING 2020 | ISSUE 05

adventure

outdoors

FROM THE IDYLLIC LAKE DISTRICT IN

THE NORTH TO THE STUNNING

ROSELAND PENINSULA IN THE SOUTH

the hot list

take DISCOVER a THE HOTTEST LOCATIONS,

journey RESTAURANTS, ATTRACTIONS AND

EDINBURGH TO PLACES THE TO VISIT THIS SPRING

CALEDONIAN FOREST

idyllic destinations • michelin star restaurants • hotels & sPas • exPeriences • adventures • travel news

BRITISH TRAVEL

BritishTravelJournal.com

JOURNAL

Luxury

free gift

WIN

a night of luxury

staying at Hever

Castle, Kent!

WORTH

£26!

taste a

destination

AUTUMN FORAGING

HOLIDAYS

Interview

raymond blanc

CELEBRATES TWO BIG

MILESTONES THIS YEAR

WIN

a luxury

short break

for two in

Exeter!

EVENTS ■ IDYLLIC DESTINATIONS ■ MICHELIN STAR RESTAURANTS ■ LUXURY HOTELS ■ NEW EXPERIENCES

38

INSTAGRAM

HIGHLIGHT

@BRITISHTRAVELJOURNAL

In need of some coastal air we've

taken a trip to Cornwall and just

stumbled upon the beautiful St

Nectans Glen Waterfall. Happy

New Year from St Nectans

Waterfalls, the 4 hour drive to get

here has already been worth it!
---
PRIDE OF BRITAIN HOTELS

Experience

More.

ICONIC LOCATIONS

Pride of Britain is a collection of 50 of the finest independent British hotels.

Discover them all online today: www.prideofbritainhotels.com
---
New for 2020:

Fly direct with

Penzance Helicopters

Time to be...

Just 28 miles from the Cornish coast, in the Isles of Scilly

archipelago, is the family-owned island of Tresco.

Explore a subtropical garden, unwind in the spa or

discover deserted bays and historic forts. Enjoy a lazy

lunch, take to the water for an island-hopping adventure

or cosy down in your cottage overlooking the ocean.

TRESCO.CO.UK • 01720 422849

SPA & WELLNESS • ACCOMMODATION • ABBEY GARDEN • DINING • GALLERY
---
TRAVEL NEWS

W H A T ' S N E W

Destinations | Renovations | Launches | Celebrations

TASTY LONDON LANDMARK

Master Belgian chocolatiers Neuhaus have unveiled a

giant, handcrafted chocolate replica of Big Ben to mark

the opening of their UK flagship boutique in St Pancras

International. The statue took over 100 hours to create

and 45 kg of Neuhaus Belgian dark chocolate!

stpancras.com/shop/neuhaus-chocolates

NEW HELICOPTER SERVICE TO ST MARY'S AND TRESCO, ISLES OF SCILLY

Helicopters will once again link the Isles of Scilly with Penzance. Penzance Heliport and Sloane

Helicopters are partnering to provide regular helicopter flights from Penzance to both St Mary's

and Tresco – it will be the only Isles of Scilly helicopter service to fly to both islands. There will

be up to 17 return flights per day and a limited Sunday schedule. Helicopter flights, which are

more weather-resilient than other options, will take just 15 minutes!

penzanceheliport.co.uk

CATHEDRAL AMONG PUBS

The Philharmonic Dining Rooms in Liverpool

has just become the first purpose-built Victorian

pub in England to be given Grade I listed status.

nicholsonspubs.co.uk

N E W L A U N C H

SAIL ON THE SOUTH COAST

Sunsail is bringing its popular flotilla holidays to

the UK for the very first time! Based at Port Solent

in Hampshire, the new luxury flotilla charters mini

cruises, with skipper, are perfect for exploring the

stunning south coast - even for first time sailors.

sunsail.co.uk/destinations

RETREAT TO NORFOLK

Set within Somerleyton Estate's 1000-acre wildland

project, Fritton Lake is an exclusive new holiday

destination in the wild east of England. Stay

in either a cabin retreat or farm cottage, and

enjoy yoga, wild swiming and paddleboarding.

somerleyton.co.uk/fritton-lake

CABIN CASE CHIC

The new Hi-Fi Spinner,

is a sleek lightweight

case with a water

repellent zipper, priced

£165, available in a

range of bright, vibrant

and dark colours.

samsonite.co.uk

BritishTravelJournal.com 9
---
HOTEL OF THE SEASON

S T R A N D P A L A C E L O N D O N

BRITISH

TRAVEL

JOURNAL

L O V E S

2 0 2 0

THE 110-YEAR OLD STRAND PALACE HOTEL IN LONDON'S WEST END HAS A MULTI-MILLION POUND INVESTMENT

Located in the heart of London, just minutes from Covent Garden, Trafalgar Square and the Thames, Strand Palace has the perfect hotel location

for discovering cultural icons by day, and enjoying West End theatre by night. As part of a multi-million pound refurbishment all 785 guestrooms, the

reception, concierge, restaurant and bar areas have been completely transformed into luxuriously modern stylish spaces, with intriguing touches of

the 1920 art deco stylings that the hotel is renowned for. Look out for photos and hotel memorabilia proudly framed on the walls - or visit London's

V&A Museum to see an original Strand Palace key, dating back to the First World War, found in the trenches in Normandy, France, together with

the hotel's original revolving doors. The new rooms have air conditioning, luxurious White Company toiletries - and if you opt for a Deluxe room

there's even a complimentary minibar! They have also recently opened a brand-new art deco restaurant and bar at the hotel, Haxells – with a

quintessential afternoon tearoom and private dining room, and don't miss the hotel's colourful and elegant cocktail bar - The Gin Palace.

strandpalacehotel.co.uk

BEST FOR WELLNESS

Set within 55 acres of nature, in a Grade II listed

Georgian mansion house, (formerly home to

the 1920s socialite Lady Valerie Meux) Birch is a

new city escape - ideal for meditation, with a running

track in the surrounding woods, pottery, bakery

and a rolling cultural programme of events.

birchcommunity.com

BEST FOR ENTERTAINMENT

The Gantry opens in Stratford this summer, a

luxury hotel featuring a bustling artisan food market,

restaurant and cocktail bars - situated on the 18th

floor - has the highest rooftop bar in East London,

with floor-to-ceiling windows, offering sunset

views across the capital - live music and DJs.

thegantry.co.uk

BEST FOR ROMANCE

Inspired by the area's bustling theatre scene,

Ruby Lucy is set to be London's coolest hotel in

Southbank, with cosy 'Nest' rooms to expansive

'Loft' rooms with a sleep-scientist-approved

formula, with full soundproofing, blackout curtains,

and extra-long and wide custom mattresses.

ruby-hotels.com

10 BritishTravelJournal.com
---
IN A

DIFFERENT

EXCLUSIVE OFFER

Call +44 (0)20 7408 0214 to

book a tour and quote 'travel'

for 25% off your joining fee.

LEAGUE

The Royal Over-Seas League is a unique not-for-profit private

members club in the heart of Mayfair. Members can enjoy

clubhouse accommodation, food and drink, a global network

of over 100 reciprocal clubs and a diverse portfolio of social

activities which supports young artists, musicians, and writers.

www.rosl.org.uk
---
THE GREAT BRITISH ESCAPE!

STOKE PARK

Stoke Park is a luxury 5 AA Red Star Hotel, Spa and Country Club set within 300 acres

of beautiful parkland and offers world-class sporting and leisure facilities.

FACILITIES INCLUDE:

• 49 Bedrooms and Suites

• Award winning Spa

• 27 hole Championship Golf

Course

• David Leadbetter Golf Academy

• 3 Restaurants and Bars, including

Humphry's (3 AA Rosettes)

• 13 Tennis Courts (indoor, grass

and artificial clay)

• 2 Padel Courts

• Indoor Pool

• State-of-the-art Gym with Fitness,

Hot Yoga and Spinning Studios

hosting up to 50 classes per week

• Tinies Kids Club and Crèche

• Games Room

• Playground

Only 30 minutes from London, and a short drive from both Windsor and Heathrow Airport.

For Hotel Reservations please call 01753 717171 or email reservations@stokepark.com

Stoke Park, Park Road, Stoke Poges, Buckinghamshire SL2 4PG | www.stokepark.com
---
CULTURAL AGENDA

H O T T H I S S E A S O N

Exhibitions | Museums | Galleries | Shows

IMAGE: ANDY WARHOL'S PORTRAIT OF DEBBIE HARRY

à

Words | Melanie Abrams
---
W H A T W E ' R E B O O K I N G

Richard Alston Dance Company:

Final Edition

02 MARCH – 08 MARCH 2020

It's the final curtain call for the Richard

Alston Dance Company this March as the

contemporary corps closes after 25 years.

New and recent works will be performed at

the Cambridge Arts Theatre and London's

Sadler's Wells "to show my current

extraordinary dancers at their very best,"

says Alston.

cambridgeartstheatre.com;

sadlerswells.com

101 Dalmatians

16 MAY – 21 JUNE 2020

Cruella de Vil stalks onto the Regent's Park

open air stage on 16 May as the lovable

story of 101 Dalmatians is given a musical

twist. The new production sets an upbeat

tone for the season including Rodgers and

Hammerstein's Carousel.

openairtheatre.com

Damon Albarn: The Nearer the

Fountain, More Pure the Stream Flows

26 MAY 2020

With Blur and The Gorillaz, Damon Albarn

was synonymous with Britpop. Now his

latest solo work premieres in Britain at

the Barbican Hall on 26 May. Typically

experimental, he mixes natural sound and

electronics with an orchestral ensemble to

evoke Iceland's poetic landscape.

barbican.org.uk

To Kill A Mockingbird

21 MAY – 10 JUNE 2020 (PREVIEWS)

11 JUNE 2020 – 05 SEPTEMBER 2020

Classic American novel, To Kill A

Mockingbird by Harper Lee comes to

London's Gielgud Theatre from May.

Adapted for the stage by The West Wing

creator, Aaron Sorkin, Rhys Ifans plays the

earnest lawyer in this tale of racial injustice.

Tokillamockingbird.co.uk

14 BritishTravelJournal.com
---
W H A T W E ' R E R E A D I N G

Jane Was Here: An Illustrated

Guide to Jane Austen's England

28 MAY 2020

For a lively literary pilgrimage, dip into Jane

was Here: An Illustrated Guide to Jane

Austen's England by Nicole Jacobsen,

Devynn Dayton and Lexi K. Nilson,

published by Hardie Grant.

From Portsmouth to the Peak District,

explore the places where the Pride &

Prejudice author visited to where her books

were filmed. The tips of nearby eateries

included are also worth sampling.

hardiegrant.com

IMAGE: RICHARD ALSTON DANCE COMPANY © CHRIS NASH

W H A T W E ' R E S E E I N G

Andy Warhol

12 MARCH - 06 SEPTEMBER 2020

(TATE MODERN)

15 APRIL – 05 JULY 2020

(NATIONAL GALLERY)

London is going Andy Warhol crazy this

Spring with his works in two major shows.

Tate Modern hosts his retrospective

from March including the iconic Marilyn

Monroe diptych. While the National

Gallery's new interpretation of Sin pits

his pop art alongside Old Masters and

others from April.

tate.org.uk /

nationalgallery.org.uk

Mat Collishaw

14 MARCH – 07 JUNE 2020

Since his heady days as a Young British

Artist (YBA) alongside Damien Hirst,

Tracey Emin and others, Mat Collishaw

has been experimenting with high

technology in his art – from virtual reality

to animatronics. Now highlights are on

show in his Nottingham hometown at the

university's Djanogly Gallery including

the shadowy laser scanned recreation of a

local Sherwood Forest oak.

lakesidearts.org.uk

IMAGES LEFT AND ABOVE:

ANDY WARHOL AT TATE MODERN

BELOW: MAT COLLISHAW,

LEFT-RIGHT, THE CENTRIFUGAL

SOUL AND ALBION COURTESY OF

THE ARTIST AND BLAINSOUTHERN

© PETER MALLET
---
IMAGES ABOVE LEFT-RIGHT: HIDE AND SEEK, MICHAEL JOHN

HUNT, £12,500 FROM THE HUNT GALLERY / THE PETWORTH PARK

ANTIQUES & FINE ART FAIR. SNEAKERS UNBOXED: STUDIO TO

STREET/THE DESIGN MUSEUM, KENSINGTON.

TOP-BOTTOM: ANTIQUE FRAMES, £21,000; IN

THE SHENANDOAH VALLEY, £28,000; PLEASE

TAKE YOUR SEAT, £21,000. ALL MICHAEL

JOHN HUNT FROM THE HUNT GALLERY / THE

PETWORTH PARK ANTIQUES & FINE ART FAIR

IMAGES ABOVE: SNEAKERS

UNBOXED: STUDIO TO STREET

/ THE DESIGN MUSEUM,

KENSINGTON

BELOW: ROYAL WINDSOR HORSE

SHOW © RWHS / NIXONPHOTO

Sneakers Unboxed: Studio to Street

06 MAY – 06 SEPTEMBER 2020

Calling Sneakerheads to the Design

Museum from 6 May as the Kensington

gallery unveils its latest drop, Sneakers

Unboxed: Studio to Street. Archives

from the likes of Nike are opened,

unrealised models revealed and visitors

can also create their own designs. Join

the snaking queues.

designmuseum.org

Niki de Saint Phalle: Joy of Living

02 MAY – 06 SEPTEMBER 2020

Bold colour and fantasy brighten the

Yorkshire Sculpture Park as its Weston

Gallery showcases Niki de Saint Phalle's

multi-faceted work. Birds, snakes and

other recurring symbols feature in

sculpture to jewellery; complementing

her mirror, glass and stone Buddha

which sits permanently in the park.

ysp.org.uk

W H E R E W E ' R E

P A R T Y I N G

Royal Windsor Horse Show

13 MAY – 17 MAY 2020

Head to Windsor Castle for the best

British equestrian sport. Don a smart

Drake's jacket and tie or pretty Erdem

dress for this 77 year old show-jumping

to dressage extravaganza. An up-tempo

evening pageant showcases Britain's

military and equestrian history.

rwhs.co.uk

The Petworth Park Antiques

& Fine Art Fair

15 MAY – 17 MAY 2020

17th century Petworth House and Park is

the magnificent backdrop to May's fine

art and antiques fair. Set in the rolling

Sussex Downs, discover treasures

from majestic marble and gilt bronze

objets d'art to the unusual egg tempera

painting of local artist, Sue Viner.

petworthparkfair.com

16 BritishTravelJournal.com
---
mg.co.uk

Greenwich

Means

Looking up

Time

Explore world-class architecture and

art at the Queen's House gallery.

The Queen's House | Cutty Sark | Royal Observatory | National Maritime Museum

Cutty Sark Greenwich (only 8 mins from London Bridge) Greenwich Pier
---
Carters Cottage, Wiltshire

Find your special place

From quintessential cottages and country houses

to quirky windmills and lighthouses.

A portfolio of over

550 luxury, self-catering

holiday properties

in the UK and Ireland.

View the properties

ruralretreats.co.uk

Call for our 2020 brochure

01386 897 959
---
RHS Flower Show Cardiff

17 APRIL 2020 – 19 APRIL 2020

The gardening season blossoms in April

as Bute Park behind Cardiff Castle

hosts this year's 15th Royal Horticultural

Society's Flower Show Cardiff. There

are top British nurseries, live floristry

demonstrations and more. Top tip: visit

the park's arboretum with its Siberian elm,

Gingko biloba and other exotic trees.

rhs.org.uk

Chiddingstone Castle Literary

Festival

07 MAY 2020 – 10 MAY 2020

Chiddingstone Castle's literary festival in

Kent is fast making its mark. Five this year,

intimate talks and workshops are given

by seminal authors including War Horse's

Michael Morpurgo, Joanna Trollope

and former Vogue editor, Alexandra

Shulman. The bonus: exploring the 19th

century house with its ancient Egyptian to

Japanese lacquer collections.

chiddingstonecastle.org.uk/

literary_festival

The Great Escape

13 MAY 2020 – 16 MAY 2020

Discover hot new music from around the

world at Brighton's Great Escape Festival.

Ones to watch include Nigeria's Odunsi

(The Engine) with his alté (which stands

for alternative) mix of R&B, funk and

Afrobeat to the Manchester rapper, Aitch.

greatescapefestival.com

WHAT WE'RE LISTENING TO

Future Nostalgia by Dua Lipa

3 APRIL

It's been worth the three year wait

for Dua Lipa's second album, Future

Nostalgia, releasing on 3 April. Don't

Start Now set the pop pace, whilst

Physical adds pulsating electro beats.

Our pick: Break My Heart with its

melodic nod to INXS's Need You

Tonight. Hear her live from London to

Glasgow from 26 May to 15 June.

dualipa.com; ticketmaster.co.uk

W H A T W E ' R E W A T C H I N G

No Time To Die

02 APRIL 2020

James Bond is back. And so is Daniel

Craig – maybe for the last time as the

suave spy. In his 25th outing, Bond is

recruited by the CIA to rescue a scientist

and finds himself on the trail of a villain

(played by Rami Malek) armed with

dangerous technology. Billie Eilish,

the 18 year old big winner at this year's

Grammys, warbles the theme tune.

007.com

WHERE WE'RE DISCOVERING

Borough Market Kitchen

Sample this season's freshest produce at

Borough Market Kitchen's long tables.

Choose from daily changing tortillas to

tahini pie at its various stalls. For heartier

fare, try Stoney Street by 26 Grains

restaurant with dinner dishes including

braised venison with wild mushrooms.

boroughmarket.org.uk

ABOVE: NO TIME TO DIE James Bond (Daniel

Craig) and Dr. Madeleine Swann (Léa Seydoux)

drive through Matera, Italy; Paloma (Ana De

Armas) in Cuba; James Bond (Daniel Craig)

in discussion with Dr. Madeleine Swann (Léa

Seydoux)

IMAGE TOP LEFT-RIGHT:

RHS FLOWER SHOW CARDIFF ©

RHS / JASON INGRAM; DUA LIPA,

PHOTO BY HUGO COMTE.

ABOVE AND BELOW: BOROUGH

MARKET KITCHEN

BritishTravelJournal.com 19
---
Discover

England's

only koalas

Find out more at longleat.co.uk
---
Environmental Volunteering

SUSTAINABLE

TRAVEL

In the first of a series about

sustainable travel, we discover

how to visit some of the most

beautiful parts of the UK – and

help to preserve them while

you travel.

Words | Helen Holmes

THE HEBRIDEAN WHALE AND DOLPHIN TRUST

TREES FOR LIFE VOLUNTEER

It's a rare traveller in 2020 who isn't at least

slightly haunted by the spectre of their carbon

footprint. Most of us are trying to figure out how

we can best combine our love for discovering new

places with the need to fly less, consume less, and

tread lightly on the beautiful environments that

we are privileged to visit.

It can be a tough calculation, weighing up the

potential environmental cost of your proposed

trip, against the need for a change of scene, a

breath of fresh air, a dip in the cool ocean. But

what if there was a way to visit some of the most

remote and precious parts of the British Isles, see

them from a perspective that isn't available to

an ordinary traveller, and to feed your soul at the

same time?

Residential conservation holidays offer exactly

this opportunity. From dolphin watching off the

Hebrides to drinking country wines in Cheshire,

by volunteering some of your time to help protect

the environment, you can give yourself an

experience that you'll never forget.

22 BritishTravelJournal.com
---
SAIL THE WILD

WEST COAST OF

SCOTLAND

The Hebridean Whale and Dolphin

Trust is based on the Isle of Mull. The

organisation gathers evidence about

whale, dolphin and porpoise, collectively

known as cetaceans, as well as basking

sharks, in the waters around the Hebrides.

The information they collect is used by the

Scottish Government to help protect these

important species.

The Trust uses citizen scientists to

collect data, and one unique volunteering

opportunity that they offer is to join the

crew of the Silurian – the Trust's research

yacht. Expeditions last 7 to 10 days, and

no experience is required. Rod White is

a veteran of nine Silurian expeditions:

"To sail in the wonderful scenery off the

Scottish coast is a privilege, and anchoring

in wild places accessible to only a few

makes the experience unforgettable.

"If you've never experienced a close

encounter with cetaceans you will very

likely find it a profound and spiritual

event. No two expeditions are the same.

The weather, time of year, complement of

the crew and of the volunteers ensures a

unique experience. I'm always pleasantly

surprised by the diversity of the people

aboard – it doesn't take long for a team

spirit to develop." hwdt.org

à

BritishTravelJournal.com 23
---
REWILD THE

HIGHLANDS

Trees for Life is a conservation charity

dedicated to rewilding the Scottish

Highlands. They have planted

nearly two million trees, and offer

conservation weeks where volunteers

plant and grow trees, monitor wildlife

and support other vital work which

helps restore the Caledonian Forest.

Stephen Couling is a volunteer

week leader for Trees for Life: "I

love the work we do, which I think is

crucially important in trying to repair

some of the damage done to the

environment by centuries of poor land

management; I love the people with

whom I do this work – my Trees for Life

colleagues and the amazing volunteers

who come from all walks of life and

many different countries; I love the

places in which we do this work: the

Highlands of Scotland."

"Our volunteers say that they

enjoy doing something to help nature

recover; they enjoy the community

spirit that comes from living and

working with like-minded people for a

week; they love being outside working

in all winds and weathers; they love

meeting new people; and they love

being so isolated and wild – away from

phones and the internet – and living

completely off-grid for a week. But

above all they love ending the week

feeling that they've made a difference."

"We're drowning in stories of

natural disasters – fires, floods,

hurricanes, tornadoes, melting

ice caps, pollution, plastics,

disappearing animals and insects.

These conservation weeks are small

but important moments of hope."

treesforlife.org.uk

GLENCOE IN THE HIGHLANDS, VISITSCOTLAND / KENNY LAM

ABOVE AND BELOW: TREES FOR LIFE VOLUNTEERS

24 BritishTravelJournal.com
---
CONNECT WITH

NATURE ON AN

ORGANIC FARM

Founded in the UK in the 1970s

WWOOF (World Wide Opportunities

on Organic Farms), is an organisation

connecting willing WWOOFers with

farming hosts. Accommodation, meals

and learning are given in return for

help on the farm. Emma Robinson has

been WWOOFing for several years

now: "It seemed like a brilliant way to

travel, meet really interesting people,

stay in some wonderful places, and

learn lots about organic growing and

off-grid lifestyles."

"I took my partner for his first

WWOOFing adventure to a

smallholding just outside Macclesfield,

where we stayed with a lady who was

an absolute inspiration. She lived a

very simple life, with no electricity, and

kept her milk in the stream. She made

her own country wines and let us sample

a different one each night. We stayed

in a gypsy caravan, with its own little

stove, we bathed in the stream and

had beautiful walks across the nearby

meadows."

"Another of my favourite visits was to

a community farm in the South West –

another idyllic place. I was there during

a holiday week, where various families

came every year for a break. Every day

included amazing meals, sharing stories

and lovely conversations."

"For me, although I really love learning

about gardening, growing, animal

husbandry and so on, the best bit is

the people. Really, it's about enjoying

the company of people that I otherwise

wouldn't meet, and who are always

incredibly interesting, warm, inspirational

and generous. There's something about

the nature of WWOOFing and its mutual

generosity that really warms your soul."

wwoof.org.uk

SCOTTISH WILDLIFE TRUST VOLUNTEERS AT LOCH OF THE LOWES

PROTECT VITAL

ECOSYSTEMS

The Scottish Wildlife Trust undertakes

policy and campaigning work to protect

Scotland's wildlife for the future, as

well as managing a network of around

120 wildlife reserves across Scotland.

The organisation offers a range of

volunteering opportunities, from cleaning

beaches to saving squirrels. Helen

Lancaster worked with the Trust as a

volunteer assistant ranger. "I experienced

and worked on all five of the Trust's

wildlife reserves in Perthshire. Each one

of these reserves has unique features

and working on them has given me an

insight into how different habitats such

as meadows and woodlands need to be

managed.

"Loch of the Lowes Wildlife Reserve

is one of the Trust's flagship reserves,

with iconic wildlife including beavers,

red squirrels and ospreys. Helping

to look after the reserve was a great

responsibility to get to take on. The

best thing about volunteering, though,

was sharing time with like-minded

people. There was a huge amount

of support and encouragement from

everyone I met during my time as a

volunteer."scottishwildlifetrust.org.uk

BritishTravelJournal.com 25
---
Weekend of Adventure

THE ISLE

OF MAN

World-famous for being home

to the Isle of Man TT Races, we

explore the uniquely charming and

mysterious bays, towns and ports,

without the smell of petrol, or a

speedy superbike in sight

Words | Jessica Way

© MIKAEL BUCK /JILL JENNINGS / ISLE OF MAN

With 95 miles of beautiful coastline, ancient

ruins, historic castles, adventure sports,

wonderful wildlife and an endless amount

of activities, the Isle of Man is the perfect

playground for some unforgettable family fun

and an awe-inspiring weekend break.

A melting pot of character and taste, there's

an abundance of attractions, cafes, cosy pubs

and trendy restaurants offering something for all

ages. Little ones, especially, are bound to love the

hidden tales of giants and fairies.

From the miniature buildings that evoke the

island's rich folklore where fairies take flight,

to discovering the Fairy Bridge - a quaint old

stone structure where trinkets, tokens and letters

are left for the 'Little People' known locally as

'mooinjer veggey' - to bring luck.

Young adults, and the young at heart,

might prefer the water and outdoor activities,

enjoying an adventure-fuelled break amidst the

mountainous peaks, emerald waters and tangled

trees and twisty trails, and everyone will enjoy

the many unique towns, picturesque villages and

quaint harbours just waiting to be explored.

26 BritishTravelJournal.com
---
Pictured leftright:

Dhoon

Glen Beach;

Garwick Bay;

Ballaglass

Glen; Close

Leece Farm

DAY 1

Where better a place to start than

the capital, Douglas, with its unique

blend of traditional seaside resort

and bustling culture quarter?

Here we enjoy exploring the

peaceful seafront by horse-drawn

tram admiring the views of the twomiles

long bay, which includes a

mini-castle (The Tower of Refuge)

built by the founder of the RNLI,

William Hillary, before heading

across the island to Peel.

Douglas is located on the east

side of the island, just 13 miles

in width, so it takes no time at

all to drive across to Peel on the

opposite, west side of the island.

On our journey, we decide to

stop for a breakfast-brunch at Close

Leece Farm. Their shop and cafe,

housed in a stylishly renovated

old barn, is an absolute must - it

opened in 2018, and still feels brand

new with a warming wood burner,

floods of natural light, and modern

artwork filling the walls. With the

help of their Tamworth pigs, Golden

Guernsey goats and Manx bees they

serve some of the best breakfasts on

the island!

Along with some friendly

local folk we are lucky enough to

have the cafe almost entirely to

ourselves, and we sit outside in

their spacious garden admiring the

beautiful countryside, surrounded

by their Manx Loaghtan sheep,

goats and free-range chickens. à

BritishTravelJournal.com 27
---
Just a five-minute drive around

the corner and we arrive at

Adventurous Experiences, where

we meet Keirron, the owner and

head coach of our coasteering

adventure. Wetsuits on, and safety

briefing over, we head down the

road in convoy to the stunning

Peel Beach, a white sandy bay,

overlooked by the magnificent Peel

Castle, on the majestic coastline.

The rugged cliffs of St Patrick's

Isle, supporting the castle above,

are steep and craggy, and as they

plunge into the sea they create the

perfect coasteering landscape.

We start off gently, scrambling,

swimming and stepping, sometimes

jumping, into the crashing sea from

reasonably low heights as we make

our way around the rocks further

behind the imposing castle.

The waters are choppy and we

enjoy the rushing waters between

the rocks and the thrill of navigating

our way through the push and pull

of the swells.

Keirron advises that if we get

tired from swimming to simply flip

on our backs and let our buoyancy

aids do the hard work for us, and

he's right - you simply stay afloat

and let the waves take you.

We reach the next outcrop and

take a short breather in a cave

where we examine the sedimentary

rock formations of blocks and

geometric shapes the sea must

have formed over the years. There

are also some interesting markings

inscribed into the rock by sailors

from a time gone by.

Keirron's knowledge of the

island is profound. He was born on

the Isle of Man, trained in North

Wales, and then set up his business

15 years ago. Keirron teaches us

some more about the history of the

island, before stepping it up, and

taking us up to our biggest jump

yet, around 20ft high!

28 BritishTravelJournal.com
---
Keirron is brilliant, very professional

and he made us all feel completely

at ease, and most importantly when

coasteering, safe! My youngest

jumped in just as I had reached the

top, my heart was in my mouth, but

not wanting to let my family down or

lose face, I took the leap of faith - and

we celebrated together in the water.

Back in Peel, once dry and warm,

we decide to spend the rest of the

afternoon exploring this thriving Manx

fishing port. Aptly named 'Sunset

City', Peel is famous for its stunning

sunsets, sandy beach and of course the

magnificent castle, constructed by the

Vikings in the 11th Century.

We stop to see a working kipper

curer who gives us a fantastic insight

into the production of the famous

Manx Kipper before visiting Davisons

Ice Cream Parlour, for a taste of the

most beautiful ice cream on the island.

We enjoyed wandering along the beach

and up the promenade, investigating

the quaint, winding streets lined with

numerous shops and cafes - passing the

Island's only cathedral, and spotting our

first Manx Cat with its very short tail -

ginger and adorable!

Peel is also a great town for learning

more about Peel's, and the Island's,

history and marine heritage by visiting

the interactive House of Manannan

museum, the Leece Museum and the

unique Manx Transport Heritage

Museum.

One of the locals tipped us off about

The Boatyard Restaurant, which is

located on Peel's historic quayside and

enjoys stunning views of the bustling

marina and ancient Peel Castle.

Here we enjoy fresh local fish, (I order

Monkfish and Prawn Moilee - delicious)

before driving back to our holiday home,

admiring the striking sunset and believing

the legends here to be true.

Pictured left-right: Jessica's

daughters and Keirron,

owner of Adventurous

Experiences, Jessica and

her family coasteering;

Sunset at Niarbyl

DAY 2

Our morning starts with a 5k run at Nobles

Park, Douglas. The only Parkrun on the

Isle of Man, attracting around 150 locals

and parkrun tourists every Saturday

with the run starting at 9am. Parkrun is

something we do regularly as a family at

home, and it's always an adventure to take

part when we're away on holiday too.

Here we discover the TT Grandstand

and enjoy looking at the startline, pit

lanes, refuellers, and scoreboard, and

we meet Karen Penny, an impressive

lady who is walking the entire coast of

Britain and Ireland - 19,000 miles - for

Alzheimer's Research UK (justgiving.com/

fundraising/thepennyrollson).

We drive to The Sound, the Island's very

southern tip, approximately a 30-minute

drive. It's breathtaking, one of the most

scenic places in the British Isles, with views

over to the Calf of Man - and a great place

for spotting seals. With floor to ceiling

windows, The Sound Cafe is an excellent

place to then treat yourself to local Manx

dishes, coffee and some cake while still

enjoying those fabulous coastal views.

If you prefer walking to running, allow

yourself the day to explore footpaths

which lead from The Sound to Port Erin

or Spanish Head, Cregneash and the

Chasms in Port St Mary. Or you could

hire bikes from The Bike Hut in Port Erin,

and make like Peter Kennaugh and Mark

Cavendish for an afternoon of cycling!

Alternatively, book a boat trip to or

around the Calf of Man. à

BritishTravelJournal.com 29
---
Given its remote location, the island is,

unsurprisingly, a UNESCO Biosphere

Reserve and wildlife haven, above

and beneath the waves, with regular

visits from whales, dolphins, porpoises

and seals as well as chough, fulmar,

redshank and a breeding colony of

Manx shearwater. As a Nature Reserve

and Bird Observatory, the Calf of Man

is a 600-acre islet located on one

of western Britain's major migration

routes, making it an ideal place for

birdlife, fauna and flora. Around 33

species of seabirds breed on the islet

annually, include Manx Shearwater,

Kittiwake, Razorbill and Shag.

This area is also a hotspot for seals

sunbathing on the rocky Kitterland,

an even smaller rocky islet - often

frequented by dolphins and basking

sharks.

Next, we head to the Manx Electric

Railway terminus back in Douglas. The

car park is next to the Terminus Tavern

Pub, a good option for lunch - serving

generous, homemade and freshly

prepared meals.

From here we take an unforgettable

journey, aboard the electric tram,

along the east coast. Travelling on this

unique heritage railway, which dates

back over 100 years, is an adventure in

itself. The 17-mile route takes us along

some of the most scenic stretches of

railway in the British Isles.

On one side are views of the beautiful

Manx countryside, glens and charming

villages and to the other, far-reaching

views out to sea.

We stop at Laxey, a picturesque village

on the east coast, set in a deep valley.

Here you can discover insight into the

Island's mining heritage and view

the world's largest working water wheel,

the Laxey Wheel, or Lady Isabella as she

is also known, which used to pump

water out of the mines.

We enjoy a light lunch at Ballacregga

Corn Mill Tearooms, a newly

refurbished mill offering a mix of history,

contemporary art and delicious food

before taking a ride on the Snaefell

Mountain Railway.

This unique Victorian enterprise,

which is around five miles long, has been

in operation since 1895 and is the only

electric mountain railway in the British

Isles! The tram winds its way to the

summit of the Island's only mountain,

Snaefell, at a height of 2,036 feet above

sea level. On a clear day, it is said seven

kingdoms can be seen from the top of

Snaefell: Isle of Man, England, Ireland,

Scotland, Wales, Heaven and the Sea.

Roam, relax and be refreshed at the

summit cafe, before taking the next

convenient tram back to Laxey, where

you alight and wait for the Manx Electric

Railway service to take you back to

Douglas.

In Douglas there is a huge selection of

restaurants to choose from. We decide on

Ocean on North Quay where they had a

vegan menu, ideal for my daughter, who

was delighted to have the option of a

cauliflower coconut curry and sticky toffee

pudding with ice cream.

It was so refreshing escaping the

everyday and waking up each morning

in such sublime surroundings, with a day

packed full of excitement and adventure.

We felt we still might have only scraped the

surface of this extraordinary island - next

time we will hopefully stay for a week! u

GETTING THERE

In addition to ferry services from Heysham,

Liverpool, Belfast and Dublin, there are

over 200 flights from UK and Ireland

airports to the Isle of Man each week.

Once on the island, it is best to hire a car.

Try ASP (aspcarhire.com) and request a

satnav for navigating the island.

Jessica and family were guests of Visit Isle of

Man, and stayed in a self-catering holiday home

in Santon courtesy of Ballavartyn, an exclusive

equestrian centre. visitisleofman.com

BritishTravelJournal.com 31
---
In the Capital

GREENWICH

Visit this UNESCO World

Heritage Site for beautiful

buildings, a wealth of history

and stunning views of London

The Maritime Greenwich

World Heritage Site

comprises the historic

town centre, Royal Park

and related institutional

buildings. Maritime

Greenwich has joined a

unique club of the most

important and natural

places on earth – special

places which people

are encouraged to visit

and explore now and for

generations to come.

The ensemble of

buildings at Greenwich

and their landscape

setting, including the

Royal Park, are a potent

architectural symbol of

English artistic, scientific

and other institutional

endeavour, notably

from the 17th to late 19th

centuries.

Words | Helen Holmes

Pictured right

page:

View of

Greenwich

Naval

College and

the City of

London from

the Royal

Observatory

in Greenwich

NESTLING IN A SOUTH

eastern curve of the

Thames, Greenwich is an

oasis in the city. Whether

you're taking a stroll in the 180

acre park and enjoying panoramic

views over the capital, or admiring

the broad expanse of water from

a riverside pub or restaurant, in

Greenwich you don't feel hemmed in.

It's also an area where you

can really connect with London's

seafaring history – since Saxon times

Greenwich has been a place where

people moored their boats, and it's

now home to the National Maritime

Museum, the Old Royal Naval

College and the Cutty Sark – not to

mention quirky shops like Nauticalia,

and Maritime Books, which add to the

nautical feel.

Where Greenwich town centre is

steeped in history, North Greenwich

adds a contemporary dimension to

the area. The peninsular is dominated

by the Millennium Dome, now The

O2 arena, which hosts entertainment

and sports events, as well as housing,

shops and restaurants. The new

Tide elevated linear park, with five

meditation points, provides a tranquil

space from which to enjoy the river

views, and art installations, and

the NOW Gallery hosts immersive

exhibitions from contemporary

artists. à

32 BritishTravelJournal.com
---
BritishTravelJournal.com 33
---
ATTRACTIONS

Step back in nautical time aboard the Cutty Sark. A

slice of life on one of the fastest ships of the nineteenth

century, it's packed with artifacts, as well as handson

activities for kids. To continue your seafaring

adventure, the National Maritime Museum houses a

collection of more than two million items relating to the

history of Britain at sea – with four new galleries having

recently opened and free entry, it's one not to miss.

Built in the seventeenth century, the Royal

Observatory played a pivotal role in the global

advancement of astronomy and navigation, and is the

site of the Prime Meridian, longitude 0° -the line which

officially divides the eastern and western hemispheres

of the world. Aside from the amazing telescopes

and clocks, visit for the unique opportunity to be

photographed with one foot in each hemisphere.

The Cutty Sark, Maritime Museum and Observatory

are all part of Royal Museums Greenwich: rmg.co.uk

The Old Royal Naval College is a magnificent

architectural masterpiece designed by Christopher

Wren. Inside, the recently refurbished Painted Hall, is

decorated with eighteenth century baroque paintings

by James Thornhill, and has been compared to the

Sistine Chapel. ornc.org

For something a bit more energetic why not climb the

O2? Yes, you can actually trek up the outside of the

iconic dome. On a clear day you can see for 15 miles

from the top, and for the romantics, Up at the O2 also

organises climbs to coincide with dusk and sunset.

theo2.co.uk/up-at-the-o2

34 BritishTravelJournal.com
---
FOOD AND DRINK

If climbing The O2 isn't enough of a thrill, how

about having dinner at a table suspended 100

feet in the air? London in the Sky will hoist you

and your fellow diners up for a three course

meal complete with unique views of the capital's

skyline (May-July). londoninthesky.co.uk

For a proper London lunch, it's hard to beat

Goddards. On the edge of Greenwich Market, it's

a traditional pie and mash shop with a selection

of pies (including veggie and vegan options) and

plenty of seating. goddardsatgreenwich.co.uk

The Trafalgar Tavern has amazing views of

the river, and is a great spot for a sundowner on a

spring evening. trafalgartavern.co.uk

Founded in 1999, Meantime Brewery was

ahead of the curve on craft beer. You can visit

the brewery and shop on Lawrence Trading

Estate, and also have a pint in the Meantime

pub, the Greenwich Union, on Royal Hill.

meantimebrewing.com

Avocado x Coffee near Maze Hill does the

best organic vegan cakes and breakfasts in town.

avocadoandcoffee.com

Finally, for the best in fine dining, head to

Craft London, next to The O2 arena. Modern

British food by acclaimed chef Stevie Parle, in an

interior designed by Tom Dixon, is sure to make it

a night to remember. craft-london.co.uk à

Pictured top left then clockwise: Greenwich

University with Royal Museums Greenwich, Queen's

House in the background; The Trafalgar Tavern;

Goddards at Greenwich; Cutty Sark at the National

Maritime Museum; Royal Museums Greenwich,

Queen's House; Up at the 02 climbing experience.

BritishTravelJournal.com 35
---
SHOPPING

Greenwich's historic covered/undercover market is crammed

with crafts and antiques, and surrounded by cute boutiques.

It's a great place to pick up an original gift or souvenir.

If it's upmarket groceries you need, take your shopping

basket to Royal Hill. With a cheese shop, traditional

greengrocer, a flower shop and a butcher your weekly

shop can be complete without darkening the door of a

supermarket.

Lush Designs on College Approach sells a range of home

wares with distinctive, bright prints. Many items made by the

designers in their studio in nearby Deptford.

For more mainstream shopping at discount prices, the

ICON Outlet at The O2 includes over 60 stores, including

Hackett, Hobbs, Radley and Moss Bros.

WHERE TO STAY

Why not enter into the nautical vibe of this part of town by

staying on an actual boat, without sacrificing anything in

the way of comfort or facilities? The Sunborn London Yacht

Hotel is moored in Royal Victoria Dock, just across the river

from North Greenwich, and perfect for catching the cable car.

The luxury yacht has a bar and restaurant and a spa, as well

as 132 guest rooms and 4 suites. sunbornhotels.com/london

If you want to be in the heart of Greenwich, surrounded

by historic buildings, the De Vere Devonport House is your

place. The red brick Georgian building is next door to the

National Maritime Museum, and a short stroll from the

market, the Royal Observatory and the Cutty Sark. devere.

co.uk/devonport-house

On Greenwich Peninsula, The Pilot Inn is a 200 year old

pub, and also a boutique hotel. The ten hotel bedrooms are

quirkily decorated, and the hotel is ideally located for visits to

the O2. pilotgreenwich.co.uk

36 BritishTravelJournal.com

Pictured top

left then

clockwise:

The O2 arena;

Thames

Clippers

sailing past

The O2 arena;

Cable car from

Royal Victoria;

Thames

Clippers

sailing past

Greenwich

University; The

Tide, People

walking in

Greenwich

Park

© VISITBRITAIN/TAREQ MOORADUN / ED SIMMONS
---
Don't Miss:

London's first-ever elevated

riverside linear park open

on Greenwich Peninsula.

Initially 1km in length,

running from Peninsula

Square to the river and

along the riverside, The

Tide will eventually stretch

5km in length around the

whole Peninsula.

GETTING THERE

The most fun way to arrive is by cable car from

Royal Victoria - enjoy spectacular views as you

swing into the North Greenwich peninsular. There's

no need to book ahead, you can simply swipe in with

your contactless card.

Another option is the river bus. Thames

Clippers serve both North Greenwich and Maritime

Greenwich from moorings up and down the river –

and again, the boats are part of the TfL network, so

you can swipe on and off.

The Docklands Light Railway stops at Cutty

Sark and Greenwich, and North Greenwich has a

tube station on the Jubilee Line.

You can even walk to Greenwich under the river,

with a foot tunnel connecting the Cutty Sark area

with the north bank of the Thames. u

BritishTravelJournal.com 37
---
10of the best

CHARITY

CHALLENGES

Words | Max Wooldridge

Remember that New Year Resolution to get in

shape? It's not too late! Why not try an endurance

event, a personal challenge or a fun day out - and

raise some vital charity donations at the same time?

38 BritishTravelJournal.com
---
D E L O I T T E R I D E

A C R O S S B R I T A I N

9 DAYS/1,000 MILES

2

Push yourself to the limit and make memories to

last a lifetime on one of the UK's greatest twowheeled

challenges. Join hundreds of other cyclists

from Land's End to John O'Groats on the ultimate

British bike ride - nearly 1,000 miles in nine days

through marvellous landscapes. There's full support

en route - food, mechanics and medics - leaving you

to focus wholly on making friends – and the road

ahead (5-13 September).

rideacrossbritain.com

T R E K S N O W D O N B Y N I G H T

2 DAYS/1085M

1

Combine an unforgettable experience with a real sense of achievement

on a moonlight trek to the summit of Snowdon, the highest mountain

in England and Wales. On your descent see the sun rise over mountain

slopes and the stunning, rugged landscape of Snowdonia National Park.

Experienced leaders guide the challenge, with full support throughout.

There's dinner before you ascend and a slap-up celebration breakfast at the

finish (various dates, May-August).

discoveradventure.com/challenges/snowdon-by-night

J U M P F O R J O Y I N

P I T L O C H R Y

132 FEET

3

Here's a highland fling with a difference!

Head to Perthshire and this special bungee

jump platform 132 feet above the beautiful River

Garry, near Pitlochry. Take a leap and (try to) enjoy

spectacular views of the historic Pass of Killiecrankie,

a dramatic gorge surrounded by ancient trees. Jump

experts Highland Fling Bungee works with charities of

any size and cause and offers jumps all year round.

bungeejumpscotland.co.uk

BritishTravelJournal.com 39
---
J U R A S S I C C O A S T T R E K

25KM/50KM/100KM

4

Embark on an historic trek along the spectacular

sites of Lulworth Cove and Durdle Door along

the Jurassic Coast - a World Heritage Site since 2001.

Starting at Poole Harbour, this walking challenge takes

in Portland Bill, Chesil Beach and the famous cliffs at

West Bay. There are three trek options to choose from

– 25km, 50km, or push yourself to the limit with the full

100km challenge (16-17 May).

jurassiccoastchallenge.com

L A K E D I S T R I C T F I V E

P E A K S C H A L L E N G E

14 MILES

5

Here's a weekend to treasure: why not tackle

five of the Lake District National Park's most

demanding peaks. Challenge yourself to 14 miles

of walking across dramatic crags and moorland,

the Langdale Pikes towards England's highest peak,

Scafell Pike. There's full support and qualified

mountain leaders to show the way (April, August &

September).

charitychallenge.com

C H A R I T Y S K Y D I V E

7,000/10,000/15,000FT

5

2020 is a leap year, so no better challenge than

a tandem skydive in aid of charity. As a specialist

first-time skydiving centre, Salisbury-based GoSkyDive

are perfect for fundraisers who have never jumped before.

They work with hundreds of charities across the UK, so,

go ahead and jump into an enthralling experience you'll

remember for years (throughout the year).

goskydive.com

40 BritishTravelJournal.com
---
R I V E R D A R T 1 0 K S W I M

10,000M

9

Join swimmers in the UK's longest

established ultra swimming challenge, along

the River Dart from Totnes to Dittisham. It's the

watery equivalent of the London Marathon and at

10,000m, nearly a third of the length of an English

Channel swim (5-6 September).

outdoorswimmingsociety.com

W A L K T H E I S L E O F

W I G H T C O A S T A L P A T H

FULL, HALF OR QUARTER ISLAND

7

Great challenges need great settings - and few

are better than the Island's coastal path - with

white cliffs, sandy beaches, stunning views and an

undulating coastal path to really test you. The Full

Challenge starts at Chale, in the south, and at 106km

and 2,000 metres climb - makes it a tough one! The

2 Day Full Challenge Option enables rest at half-way

in Cowes, with the whole route in daylight. (2/3 May

2020) For a much slower pace, you might also enjoy

2-17 May, Isle of Wight Walking Festival - two weeks

of stunning guided walks around the Island.

isleofwightchallenge.com

D E V I Z E S - W E S T M I N S T E R

C A N O E R A C E

17 MILES

8

Pitch your strength and wits against other water

babies in a memorable canoe challenge - The

Devizes to Westminster International Canoe Race.

Starting in Devizes, in Wiltshire, competitors paddle

125 miles along the Avon Canal and River Thames.

Over 70 locks will need to be navigated en route, and

a 17-mile stretch of Thames tidal water (10-13 April).

dwrace.co.uk

L O N D O N T O B R I G H T O N

U L T R A C H A L L E N G E

25KM/50KM/100KM

Put your best feet forward from the capital

10 to the coast on a trek from Richmond to

Brighton over the North and South Downs. There are

great views en route to the south coast, full support

throughout and even the chance to camp midway.

Walk, run - or even hop - the Full (100km), Half

(50km) or Quarter (25km) Challenge (23-24 May).

ultrachallenge.com

BritishTravelJournal.com 41
---
Meet the Maker

FLOWER

FIELDS

In a quiet part of the English

countryside, in fields bursting

with scented flowers and herbs,

an innovative Dorset venture

is changing the face of the

British perfume industry

Words | Emma Johnson

Nestled in the in the Tarrant Valley, and bordered

by the River Stour, Keyneston Mill is a beautiful,

tranquil estate, whose scented perfume fields

stretch across 50 acres. The rural idyll is in full

force here – with river walks, natural woodlands,

converted stone barns and an orchard where

bees are happily and productively located. But

it's the fields and formal gardens that are really

the star of the show at Keyneston Mill, Blandford

Forum, Dorset – their heady, colourful expanse a

striking patchwork on the valley canvas.

The Bridgers moved here in 2015, after

looking specifically for a property with enough

space and scope to grow the flowers and herbs

for their perfume business, which they had

started to explore a few years before. "We have

both loved perfume for many years, but in fact we

approached the business from the horticultural

angle," explains Julia. The duo started growing

cut flowers and trialling herbs on a small scale at

David's family property, and then visited Grasse

in the South of France, the centre of modern

perfumery in Europe, whilst on holiday. "It was

then that we started thinking in terms of growing

our own perfume ingredients," says Julia. "And

42 BritishTravelJournal.com
---
the idea grew from there. It turns

out that this was quite a unique

proposition as no-one else has

taken on the challenge in quite the

way we have."

The Bridger's launched

their first perfume in Fortnum

& Mason in 2017, and three

years on, with open gardens,

a bistro, a gift shop as well as

perfume workshops and a busy

year-round events programme,

Parterre is now a thriving creative

and experimental hub.

Julia, David and their team

grow, harvest and distill all the

key ingredients for their luxury

perfumes on-site – with all

50-acres dedicated solely to

aromatic and scented plants.

"There are over 1500 varieties

currently in cultivation," explains

Julia. Beautiful and gloriously

scented, these gardens are also

practical trial beds where unusual

varieties are grown and distilled

in small batches, and are then

planted out in the fields for use in

future perfumes.

Designs for the trial beds and

Collection gardens – which house

all the plants used in the fragrances

- have been thoughtfully put

together, divided into distinct

sections and often created with

consideration for history and

heritage of some of the great

gardens of the world.

The gloriously scented Padua

garden is home to the floral family

of fragrances, featuring roses,

jasmine, sweet peas and lilies, and

is based on the design of the Orto

Botanico, founded in 1545 in Italy

by the Venetian Republic. "This

garden is beautiful year-round,"

says Julia. "From early spring when

the bulbs emerge, through the

summer months when the roses, à

BritishTravelJournal.com 43
---
44 BritishTravelJournal.com
---
peonies and sweet peas come into

their own, and right through to the

first frosts it is always colourful and

gloriously scented."

Close by, the Fougere (French

for 'fern') garden is a heady mix of

lavender, rosemary, clary sage, and

mint as well as hundreds of different

ferns, their earthy scent mixing

perfectly with the pungent herbs;

while the Citrus garden – a favourite

of David's - is an especially fresh and

exciting addition, with a host of tangy

scents and aromas.

The Spice Garden reflects the

colours and scents of a contemporary

spice market and is designed in

geometric, block-planted beds,

inspired by the works of Kandinsky.

It includes classic spices such as bay

and fennel, and the more unusual, like

Vietnamese coriander and perilla.

All the plants in the Collection are

related in some way to fragrance,

and many have fascinating histories.

"The gardens help us to bring to life

some of the stories behind perfume

making," says Julia. Walking around

the gardens, visitors are encouraged

to rub the leaves between their fingers,

and to allowing the different scents

to release into the air. Julia explains

that: "The plants are here for us all to

enjoy. We want them to look – and smell

– wonderful." Entry to Keyneston Mill's

gardens is free throughout the winter,

but you can also do garden tours that

focus on specific flowers and herbs in the

gardens, as well as workshops where Julia

and her team share some of the process

of perfume-making, and in particular

the harvesting and distilling process that

runs throughout the summer and into

autumn.

The process of creating Parterre

fragrances is quite complex, as every

plant has to be treated differently,

and the team now works with over 40

different crop varieties at any one time.

As an example, Julia takes me through

the process of working with rose-scented

geraniums. "We propagate and nurture

them indoors until May, when we plant

them out in the perfume fields in rows.

They are then tended for the next few

months until it is time to harvest them,

before distilling."

Distillation takes place in the

converted Long Barn, close to the

Collection gardens, using their large

still – affectionately called Dorothy -

which extracts the oil from the foliage

and flowers. The timing and the detail

has to be very precise, and the intensity

of fragrance is achieved through the

careful nurturing of the plants, each of

which is picked at the optimum moment.

"Most plants, such as rose geranium,

are harvested in the early morning and

taken directly to the distillery, resulting in

essential oils infused with freshness," says

Julia. "But, others, like vetiver root, are

dried before distillation, a process that

takes several days and produces an extract

of rare depth and richness."

After the oils have matured and been

tested for several months, they are sent

to Jacques Chabert, Parterre's master

perfumer based in Grasse – who has

previously worked with Chanel and

Guerlain. Using Parterre's oils, produced

fresh that season, he creates a series of

perfumes, which are then bottled and

packaged back at Keyneston Mill in

Dorset.

The whole process from planting to

bottled perfume can take 18 months or

more, and each perfume is a highly limited

edition, because each year Parterre only

produces a small amount of the finest oils

that form the key notes. From this, only

a finite number of bottles of perfume is

created from each yearly extraction. Like

wine, no two years are the same, and so

each bottle of perfume produced has its

own unique and rich qualities, meaning

a Parterre fragrance is both a luxury

item and a unique piece of the British

countryside. u

BritishTravelJournal.com 45
---
HEALTH

W H A T ' S N E W

Wellbeing | Health | Fitness | Mindfulness

BRITISH

TRAVEL

JOURNAL

L O V E S

2 0 2 0

THE SPA AT CARDEN

The much anticipated £10m luxury Cheshire spa

has now opened, with large vitality pools, relaxation

spaces, and one of the largest spa gardens in the UK.

cardenpark.co.uk/spa/

WELLBEING AND 'OUTDOOR EXPERIENCE' FESTIVAL IN WALES

The Big Retreat Wales, an annual wellbeing festival set in Britain's only coastal National Park in

Pembrokeshire, is on course for an early sell out in 2020, just four years after it was first launched.

Set in parkland on the site of a former mansion in one of the most stunning locations in Wales, the

festival has quickly become a favourite for festival goers looking for an uplifting and unforgettable

weekend to relax, reflect and recharge in the great outdoors.

thebigretreatwales.co.uk

AQUA CLUB AT THE HEADLAND

Set in a world-class position over-looking Fistral

Beach, the new £10 million Aqua Club at the five-star

destination, The Headland, opens this spring.

headlandhotel.co.uk

W E L O V E

HEALTHY TIPPLE

TV personality, Spencer Matthews is redefining

the low and no alcohol drinks industry with the

world's first CleanGin, with 30 times less alcohol

than a standard gin and only two calories per 25ml.

cleanliquor.com

MASSAGE REINVENTED

Improves sleep, offers natural stress relief

accelerates recovery and muscle repair, and even

relieves tension build-up from jet lag - this is the

travel must-have of the moment! Priced from £229

theragun.com

ACTIVEWEAR

A new luxury collection of leisure and

activewear for men and women available

exclusively at the Royal Opera House shop.

shop.roh.org.uk

BritishTravelJournal.com 47
---
OPERA

IN THE

The English Country House

Opera Season is a hugely

successful British phenomenon,

now being copied across Europe

CO

Words | Adrian Mourby

48 BritishTravelJournal.com

© GLYNDEBOURNE PRODUCTIONS / JAMES BELLORINI
---
UNTRY

à

BritishTravelJournal.com 49
---
THE IDEA IS SIMPLE: as summer stretches

across the English countryside, take the

world's great operas out of air-conditioned

opera houses and stage them in rural estates,

either in the grounds or the house itself. Audiences will

follow. The atmosphere is festive. People arrive with

picnic hampers – the long dinner interval is an essential

element of country house opera – and they tend to

dress up.

It all began at Glyndebourne before World War

II, when John Christie opened up his Sussex mansion

to fellow opera-lovers. The wealthy landowner never

intended to establish an art form but that is what

Country House Opera has become. As these festivals

proliferate across England, there seems to be no

diminishment of appetite for them. The season grows

longer and festivals are getting more distinct identities.

Each has its speciality.

As well as hearing great operas well sung, the

Country House phenomenon offers the chance to stay

overnight in some lovely hotels or pubs nearby and

make a whole weekend of your night at the opera.

© GLYNDEBOURNE PRODUCTIONS / JAMES BELLORINI

50 BritishTravelJournal.com
---
GLYNDEBOURNE

FESTIVAL OPERA

21 MAY – 30 AUGUST

—

In the opera world, 4G is nothing to do with mobile phone

reception. It's all about the four big opera festivals that

dominate the English countryside in the summertime:

Garsington, Grange Park, the Grange Festival - and then

Glyndebourne.

Glyndebourne began it all. Based in a beautiful faux-

Jacobean house in Sussex, Glyndebourne's owner John

Christie inadvertently invented country house opera in 1934

when he staged a small festival at his home for the benefit of

his wife , the soprano Audrey Mildmay. She told her husband

that if he was going to stage an opera, he may as well build

her an opera house – so he did.

All the traditions of country house opera began at

Glyndebourne, including the long interval, the champagne

and picnic baskets, and the distinctively British combination

of dinner jackets with panama hats.

The festival is now run by Gus Christie, grandson of

John, whose family still live in the manor house. In 1994

Glyndebourne replaced its old performing space with a new

state of the art opera house, acoustically one of the best in

Britain and the administration of the three-month summer

season – the longest of all the festivals - is now a year-round,

highly professional business.

This year Glydebourne offers six operas – new

productions of Dialogues des Carmélites, Alcina and Fidelio,

plus revivals of Die Entführung aus dem Serail, L'elisir

d'amore and The Rake's Progress which was designed by

David Hockney. glyndebourne.com

—

Where to stay

Ockenden Manor

Ockenden Manor is 15 miles north of Glyndebourne

© GLYNDEBOURNE PRODUCTIONS / SAM STEPHENSON

BritishTravelJournal.com 51
---
THE GRANGE

FESTIVAL

5 JUNE – 12 JULY

—

The Grange in Hampshire is a magical

venue that since 2017 has been run by

the opera singer Michael Chance CBE

(pictured left). The building has had a

long and glamorous history.

In 1795 it was leased to George, later

Prince Regent and king, as a hunting lodge offering more

than 400 deer in its park. In the nineteenth century the

building was reworked in the Greek Revival style and in

1823 a substantial iron and glass greenhouse was added.

This hot-house would eventually have its floor dug out to

become an unconventional opera house.

In 1998 Martha Fiennes used the decaying mansion as a location

in her film Onegin, starring her elder brother Ralph. In 2017 a

new festival was created at The Grange by the celebrated English

singer Michael Chance. Its first season (in June 2017) opened with

operas by Monteverdi, Mozart, Bizet, and Benjamin Britten. Their

2020 season is brimming with young love - from Puccini's tragic

tale of urgent young lovers Manon Lescaut, and Rossini's fizzing

masterpiece La Cenerentola to Britten's most popular

A Midsummer Night's Dream full of summer antics and fairy

dust. And don't miss ballet superstar Edward Watson, who will

premiere at Dance@TheGrange, with a piece created especially

for him by in demand choreographer Mtuthuzeli November.

thegrangefestival.co.uk

—

Where to stay

The Woolpack Inn is two miles north

of The Grange Festival

52 BritishTravelJournal.com
---
THE DORSET OP E R A

MMXX

The home of Country House opera in South West England with

internationally-renowned soloists, a full orchestra and a chorus of 70

Marquee bar | Picnics | Formal Dining

Giacomo Puccini

LA RONDINE

Conductor: José Miguel Esandi | Director: Christopher Cowell

22, 23 July at 19:00 | Matinée 25 July at 14:00 | Sung in Italian with English surtitles

Modest Mussorgsky

BORIS GODUNOV

Conductor: Jeremy Carnall | Director: Paul Carr

21, 25 July at 19:00 | Matinée 23 July at 14:00 | Sung in English with surtitles

OPERA GALA CONCERT

Friday 24 July at 19:00

Box Office: 01202 499199 | dorsetopera.com
---
GRANGE PARK OPERA

4 JUNE – 18/19 JULY

—

Grange Park Opera began in 1998 at a country house in

Hampshire that had been rebuilt in the early years of the

nineteenth century. Grange Park had the appearance of a

Greek temple but had been allowed – through decades of

neglect – to fall apart. Then came Wasfi Kani OBE, the former

Chief Executive of Garsington who set up Grange Park Opera.

This festival ran from 1998 to 2016 making the most of the

Grange's crumbling, Miss Havisham-like interiors where

guests could dine in the intervals.

When Wasfi's lease was up in 2016, a new management

took over at The Grange but the lady wasn't done yet. She

took her high-profile festival to a new venue, sixteenth-century

West Horsley Place in Surrey. This country house is owned

by the writer and University Challenge broadcaster Bamber

Gascoigne. In 2016 Gascoigne leased part of his estate to

Wasfi where she built herself a brand new "Theatre in the

Woods". With four tiers of seating in a horseshoe shape

(modelled on La Scala, Milan), the Theatre in the Woods can

accommodate 700 people. This summer Grange Park at West

Horsley is performing La Bohème, Ponchielli's rarely heard La

Gioconda, a new commission The Life and Death of Alexander

Litvinenko and musical Meet Me in St Louis.

grangeparkopera.co.uk

—

Where to stay

Barnet Hill is nine miles south of Grange Park Opera

© GRANGE PARK OPERA / RICHARD LEWISOHN / WILLIAM DUFFY

54 BritishTravelJournal.com
---
LONGBOROUGH

FESTIVAL OPERA

4 JUNE – 4 AUGUST

—

While opera's 4G venues all began in old country houses,

Longborough in Gloucestershire began in a cowshed. In 1998

Martin Graham, a successful local businessman, converted an

agricultural building on his land into an opera house with the

intention of one day mounting Wagner's Ring. In 2013 Graham's

ambition was achieved with three complete stagings of The Ring

Cycle, as is the tradition at Bayreuth.

Seven years on, and now under the artistic direction of

Martin's daughter Polly, Longborough has already begun its

second Ring Cycle which will be given in its entirety in 2022. This

year Wagner's Die Walküre will be presented alongside L'elisir

d'amore, The Return of Ulysses and The Cunning Little Vixen.

Visiting Longborough is similar to the 4G festivals, although

here many people erect their own gazebos in the carpark (not

something that happens at Glyndebourne). There is the same

long interval for dinner and the same dress code. The opera

house itself remains an exception however. Martin Graham

bought old seating and a chandelier from Covent Garden but

no attempt has been made to disguise the fact that this was

once an agricultural building. "The moment we start to pretend

it is an opera house, it will look like a barn," says Martin.

lfo.org.uk

—

Where to stay

The Sheep in Stow less than three miles south of Longborough

© LONGBOROUGH FESTIVAL OPERA / MATTHEW WILLIAMS-ELLIS

BritishTravelJournal.com 55
---
GARSINGTON OPERA

28 MAY – 18 JULY

—

The Garsington festival is no longer at Garsington, but has kept the

name. Garsington was founded by the financier Leonard Ingrams

and his wife, Rosalind Moore in 1989. The Ingrams had bought the

manor house that had belonged to the Bloomsbury patron, Lady

Ottoline Morrell.

The couple wanted to stage opera in their gardens, much as the

Christies had, and so built a 500-seat auditorium. However from

the start Garsington distinguished itself in its programming which

mixed well-known works with the less well-known. The very first

season presented Mozart's Così fan tutte with the British premiere

of Haydn's (perhaps deservedly obscure) Orlando paladino.

By 2008 the Ingrams family decided they wanted their home

back and a new location was found for the festival fifteen miles

away at the idyllic Getty estate in Wormsley. A remarkable new

600-seater house was designed that could be assembled every

year and taken down at the end of the six-week season.

This year the company will perform a rare early Verdi comedy,

Un giorno di regno plus Mitridate, Re di Ponto, Rusalka, and

Fidelio. garsingtonopera.org

—

Where to stay

Cliveden House Hotel is 15 miles south of

Garsington at Wormsley

56 BritishTravelJournal.com
---
PETWORTH 2020 ad BT Journal 120H x 191 W.qxp_esher 2012 83 x 128 06/02/2020 10:29 Page 1

GP_MARCH_HALF—1.indd 1 19/02/2020 11:20

THE PETWORTH PARK

ANTIQUES & FINE ART FAIR

THE MARQUEE, PETWORTH PARK

PETWORTH, WEST SUSSEX GU28 0QY

Come and buy the very finest

art and antiques at our sixth

annual event of distinction

15 - 17 MAY 2020

Friday 11.00 - 20.00

Saturday 10.30 - 18.00

Sunday 10.30 - 17.00

THE

ANTIQUES

DEALERS

FAIR

LIMITED

01797 252030

www.petworthparkfair.com

SUPPORTED BY

To request your

complimentary invitation

for three please email

BTJ@adfl.co.uk
---
NEVILL HOLT OPERA

10 JUNE – 1 JULY

—

Beginning as recently as 2013 with a staging of The

Magic Flute, Nevill Holt Opera is a newcomer on the

country house opera scene. This festival takes place at

Nevill Holt Hall, Leicestershire, the home of the Cunard

family from 1876 to 1912 but now owned by David Ross,

co-founder of Carphone Warehouse. In 2018 Ross built a

beautiful new theatre for his festival, seating 400 people

in the hall's seventeenth-century stable courtyard. This,

the smallest opera house in Britain, was subsequently

shortlisted for the Stirling Prize.

With a commitment to new talent, Nevill Holt Opera

aims to cast young singers whenever possible. This year

the festival offers productions of La traviata and Don

Giovanni. nevillholtopera.co.uk

—

Where to stay

Hambleton Hall is 14 miles to the north of Nevill Holt

WEST GREEN HOUSE OPERA

18 JULY – 26 JULY

—

West Green House was built in the early eighteenth century

by Henry Hawley, the general who led the cavalry charge that

massacred Bonnie Prince Charlie's army at the Battle of Culloden

in 1745. In the twentieth century this Hampshire mansion came

into the possession of Sir Victor Sassoon, builder of the Peace

Hotel in Shanghai. Sassoon left the property to the National Trust

on his death in 1957. In 1993 Marylyn Abbott, former marketing

and tourism manager of Sydney Opera House, bought the lease

and instituted an opera season which is held annually in July and

August. A purpose-built auditorium in the garden known as The

Green Theatre stages all the productions. This summer's festival

includes Eugene Onegin, Puccini's La Rondine, the musical Gigi

in concert and Howard Goodall's choral work Invictus: a Passion.

westgreenhouseopera.co.uk

—

Where to stay

Tylney Hall is three miles from West Green House.

You might also enjoy.... BAMPTON CLASSICAL OPERA a mini festival – staging just one,

little known opera annually - in the garden of the Deanery at Bampton. This charming, mostly seventeenthcentury

rural Oxfordshire house uses a curved yew hedge to enclose the opera stage. In August performances

transfer to The Orangery in Westonbirt. 17, 18 July – 31 August, bamptonopera.org

BritishTravelJournal.com 59
---
Tulip Festival Mid

Tulip Festival Mid

April Tulip to Festival early Mid May

April to early May

April to early May

Ancient

Ancient

Castle,

Castle,

Stately

Stately

Home

Home &

Gardens

Gardens

Ancient Castle, Stately Home Gardens

for more details, call 01903 882173

for more details, call 01903 882173

for visit more www.arundelcastle.org

details, call 01903 882173

or visit www.arundelcastle.org

or visit www.arundelcastle.org
---
Behind-the-scenes

THE FINAL

FURLONG

Not only one of the most important dates in

the racing calendar, but also a key part of the

spring social season, Cheltenham Festival

has been a celebrated event for over a century.

Emma Johnson places her bets at one of

the oldest race-meets in Britain…

LOCALS AND EXPERTS will tell you

that nothing beats the 'Cheltenham

roar'. As the horses in the first race

of the Festival take their places at the

starting line, the sound rising from the crowd is

sheer power and excitement, rippling in waves

across the grandstand. As the horses' hooves

thunder across the turf, turning their keen

noses to the final straight, the crowds surge

forwards to the finish line, hands in the air, à

BritishTravelJournal.com 61
---
waving and cheering for their favourite, their faces

a mixture of joy and frustration. Big winners turn to

cheer with friends and the winning jockey raises his

fist in a gesture of victory, while his horse trots gently

back down the course, tail swishing with pride and

excitement. Cheltenham has begun.

It is a thrilling moment, at a venue renowned

for its atmosphere, and one voted 'The Greatest

Racecourse in the World' by the Racing Post in

2019. Nestled in the natural amphitheatre created

by Cleeve Hill, which flanks the course and faces

the rising terraces that overlook the expansive

racecourse and the green Cotswold hills beyond,

Cheltenham Racecourse is known as the home of

jump racing - and the Festival the jewel in its sporting

crown. Its three-tiered grandstand and terraces

provide unparalleled views across the racecourse,

and the countryside beyond, and the sense of

excitement in town when 'the Festival' arrives is

palpable.

One of the oldest race-meets in the Britain, with

prize money second only to Grand National, the

Festival has been running at Cheltenham in late

March since 1911. A bucket-list event for many, the

meet itself features several Grade I races including

the Champion Hurdle, Queen Mother Champion

Chase and the Cheltenham Gold Cup. Held on the

final day of the four-day Festival, The Gold Cup is

always a sell-out event, with a 70,000 strong-crowd

there to witness one of the biggest races in the

sporting calendar.

This iconic event attracts over 250,000 people

over four days, catered for with nearly 6000 staff

and nearly 30 races run. For 2020, many of the

races look to be some of the most exciting of the past

decade. Favourite Altior will race for the £400,000

winnings in the Queen Mother Chase on Ladies Day

(day two), while memorable 2019 winner Frodon

will compete on day three and the last three Gold

Cup winners are among 31 entries for the Magners

Cheltenham Gold Cup 2020 on day four.

PICK YOUR SPOT

There's perhaps no better way to enjoy The Festival

than from the Club Enclosure, which has spectacular

views from the tiered main grandstand, as well as the

expansive members' lawn where you can watch the

racing up close and even get a spot by the winning

post. A club ticket also means access to the Parade

Ring and the newly launched Orchard, a luxurious

themed area hosting a range of luxury British brands

© PA WIRE/PA IMAGES

"New for 2020,

an area called The

Park, featuring a

Ferris Wheel, for

wonderful views

of the whole

course, as well as

live music all day

and DJ sets after

the racing from top

names such as Nick

Grimshaw. "

including Glenfarclas whisky, Bentley, Boodles and

Nyetimber keeping the celebrations going with their

finest English sparkling wine. The Orchard also

boasts glamorous 'pods' which can accommodate

between 12 and 20 guests, and offers relaxed dining

and a private balcony.

In addition, the Festival usually coincides with

St Patrick's Day, making it particularly popular

with Irish visitors, as well as the many Irish jockeys

and trainers that dominate the sport. There is

a dedicated Guinness Village onsite, which has

become an area famed for fun, and home to the Irish

fan base. New for 2020, the course has also created

an area called The Park, featuring a Ferris Wheel, for

wonderful views of the whole course, as well as live

music all day and DJ sets after the racing from top

names such as Laura Whitmore and Nick Grimshaw.

62 BritishTravelJournal.com
---
SIZING IT UP

THE FESTIVAL IN

FIGURES

> £4.5m - the record amount of prize money on

offer at The Festival

> 21,120 ft – the distance run during the National

Hunt Chase, The Festival's longest race

> 12,320 – yards of running rails surrounding the track

> 5,000 – bundles of birch used in jumps every season

> 22 – fences jumped during the Magners

Cheltenham Gold Cup

> 24 – the number of times an Irish-trained horse

has won the Magners Cheltenham Gold Cup

> 266,779 - people attending in 2019

> 134,600 – people using Cheltenham Spa train

station over the four days of racing

> 45,000 – afternoon teas served

> 8,000 - gallons of tea and coffee served

> 9 – tons of potatoes consumed

> 5 - tons of smoked and fresh salmon consumed

> 5,936 – staff employed over The Festival,

including 350 chefs

DRESS CODE

There is no particular dress code at Cheltenham,

but you can expect to see plenty of tweed, as well

as people wrapped up in chic coats and striking

hats against the - often bracing - early Spring

weather.

GOOD TO KNOW

KEY MOMENTS IN

HISTORY

> 1934 – Golden Miller became the first

horse to win both the Cheltenham Gold

Cup and the Grand National in a single

season.

> 2001 – the only year (besides the

periods during the two World Wars)

that The Festival has been cancelled

(due to foot and mouth disease)

> 2009 – jockey Ruby Walsh rode a

record-breaking seven winners over the

four days

> 2009- 2014 Quevega achieved the

most consecutive victories by a horse in

any Cheltenham Festival race

> 2010 - Ruby Walsh rode Sanctuaire

to victory in the Fred Winter Juvenile

Novices Handicap Hurdle and became

the jockey with the most wins in the

history of the Cheltenham festival

> 2016 - Ruby Walsh equalled his

2009 record

> 2019 - Bryony Frost became the first

female jockey to win a Grade One over

fences at The Festival in 2019, when

she and her "best friend" Frodon, won

the Ryanair Chase

OUT AND ABOUT

If you're staying overnight during the Festival you can't beat

No. 131 for accommodation – a grand Georgian lodge in

the centre of Cheltenham, it has 11 beautiful rooms with

vast beds and roll-top baths. Downstairs the restaurant

and bar serve creative British food and excellent cocktails,

while on Thursday and Friday nights there are DJs in the

bar until 3am. Slightly out of town, the 16th Century The

Frogmill Hotel is nestled in the Cotswold countryside close

to the racecourse and features beautifully styled rooms, with

Feather and Black beds, statement wallpaper, and premium

fabrics. Packages are available with the racecourse, which

include helicopter and Bentley transfers, and luxury dining

options while at the races. Dining in Cheltenham is also

fantastic - The Ivy providing a bit of big city glamour, while

Le Champion Sauvage and Purslane both make for a

decadent end to your day. u

BritishTravelJournal.com 63
---
ST MAWES AND

THE ROSELAND

Marvel at the unspoilt beauty of Cornwall to connect

with nature and walk in the footsteps of pirates

Words | Lydia Jackson

If you're looking to shake off the last of the

winter and experience some of the best the

UK has to offer, look no further than St

Mawes and the Roseland Peninsula. Bordered

by the Fal Estuary to the west and St Austell

Bay to the east, The Roseland Peninsula has

been designated part of Cornwall's Area of

Outstanding Natural Beauty for the quality of

its landscape and coastal scenery. Spring is the

perfect time to explore this spectacular part of

Cornwall; its pretty fishing villages, dramatic

coastline and beautiful sandy beaches are at

their finest when the tourists of summer are yet to

arrive and you have the space to fully appreciate

what the south coast has to offer.

ST MAWES, ST JUST, PORTSCATHO

AND ST ANTHONY'S

WE STARTED OUR ADVENTURE in St Mawes,

situated at the mouth of the Percuil River and

known as the principal village on the Roseland

Peninsula, boasting spectacular views of the river

Fal, Falmouth town and the English Channel.

It has a rich maritime history and a fabulous

castle, which stands today as the best preserved

of King Henry VIII's coastal fortresses. Its sister

castle, Pendennis, is visible just one mile across

the water in Falmouth.

From here, begin the 2.5-mile walk to St Just

in Roseland. An easy walk, the route is beautiful,

navigating along the cliffs, past a boatyard

and through fields of sheep and cattle. Pristine

shingle beaches along the way invite you to dip

©VISITBRITAIN/ BEN SELWAY

64 BritishTravelJournal.com
---
Pictured main image: Looking across the

water to St Mawes and St Mawes Castle

Above top-bottom: St Just Curch, in

Roseland and pretty cottage in St Mawes

your toes in, or even take a brisk swim in the clear and

tranquil waters, though they tend to be a bit chilly

before April! Despite this, with the early spring sun

on our faces, our adventure was proving to be almost

Mediterranean and we took in the dramatic coastline

of granite cliffs whilst watching the comings and

goings of fishing boats and yachts.

Arriving at St Just in Roseland you are greeted

by a small 13th century church, which sits above

the tidal creek of St Just Pool. The waters are an

azure reflection of the banks, which rise covered in

lush foliage. The churchyard is set slightly higher

up, overlooking the church and creek; its gardens

embellished with a plethora of sub-tropical species,

as well as rhododendrons, camellias, azaleas,

bamboos, wild garlic and bluebells.

There are also ponds with giant gunnera and

small streams. The atmosphere is magical, and

reminiscent of a fairy tale.

After soaking up the ambience, the route headed

across the peninsula to Portscatho, famous for

pilchard fishing in the eighteenth and nineteenth

centuries and well-known today for its art galleries.

A fantastic and sheltered spot for swimming in

its own right, Portscatho is also in close proximity

to a number of beautiful sandy beaches, including

Porthcurnick, Towan and Carne.

Rest and refresh at The Plume of Feathers, a cosy

pub just a couple minutes' walk from the harbour,

before catching a bus back to the starting point. à

BritishTravelJournal.com 65
---
Pictured

left-right:

Coastal

path from

Carne

Beach and

fishing

boats

in the

harbour at

Portloe.

CARNE, PORTLOE, VERYAN AND MEVAGISSEY

Begin your second morning with a pleasant drive to Carne

beach, home to The Nare - one of Cornwall's only two five star

hotels (along with the Headland Hotel in Newquay).

Facing south and sheltered by Nare Head rising to threehundred

feet over the bay, Carne Beach is an excellent spot

for both walkers and dog-owners at low tide and is one of

Cornwall's few beaches which are dog friendly all year round.

From the beach, follow the coastal path towards Nare Head,

walking right to the end to lap up the views overlooking Gerrans

Bay, continuing westwards on the South West Coast Path along

The Roseland Heritage Coast to Portloe, taking in spectacular

views of the rugged Cornish coastline. We stopped twice along

the way, once at Mallet's Cottage, a ruined stone building at the

foot of a wooded valley with breathtaking views, and then at

Kiberick Cove, a gorgeous spot where fields roll into the sea and

there is a beach at low tide, the perfect spot for snorkelling.

Arriving in Portloe, we realised why it has a reputation for

being one of the prettiest villages in Cornwall. Its steep sided

valleys shelter the small cove, where fishing boats sit on the slip,

surrounded by lobster and crab pots: a quintessential Cornish

postcard scene! Disney chose Portloe to film scenes for their 1949

version of Robert Louis Stevenson's classic Treasure Island, a nod

to its piratical past when local fishermen would smuggle French à

EDITOR'S HIGHLIGHTS

DON'T MISS

Pictured above-left: Two Round Thatched Cottage,

Veryan; The Nare Hotel

66 BritishTravelJournal.com

—

Veryan Round Houses

Veryan has five roundhouse cottages each with

a thatched roof and topped by a cross. Dating

back to the nineteenth century, the cottages

were built by the Vicar of Veryan church, Samuel

Trist, for each of his daughters. Legend has it

they were constructed without any corners, so

the devil couldn't hide in them!

The Hidden Hut

This adorable beach cafe can be found on

the South West Coast Path on the Roseland

Peninsula - look forward to what could quite

possibly be the best Cornish pasty and Rocky

Road you have ever tasted!

Trelissick Parkrun

You might enjoy taking the King Harry Ferry

across the Fal River directly to National Trust's

Trelissick, and joining in with their weekly 9am

Saturday parkrun - but be warned there's a very

steep hill in the middle of the course!

The Nare Hotel

This luxurious country house by the sea is an

exceptionally rare gem where the memories will

stay with you a lifetime. Family-owned for five

generations this remarkable hotel with rooms

and private suites has an outdoor pool and hot

tub, indoor spa pool, two hotel boats, a classic

car and direct access onto Carne Beach.
---
THE FAMOUS FIVE © 2017, Hodder & Stoughton Limited.

You can too on the Night Riviera Sleeper,

between London and Cornwall, now with

refurbished cabins and extra comfort.

Book now at GWR.com/sleeper

Only guide dogs allowed in cabins.
---
4 Breathtaking views 4 Stunning coastal scenery 4 Safe family beaches 4 A haven for sailing and watersports

WELCOME TO

THE ROSELAND

PENINSULA

A jewel in the crown of Cornwall

and a truly remarkable place to take

your holiday

Whether you choose a traditional holiday cottage as

a rural retreat, a property in the heart of a village or a

modern property for the height of luxury, one of our

specially selected holiday properties will be the perfect

start to a memorable holiday.

tel: 01326 270900

email: info@portscathoholidays.co.uk

www.portscathoholidays.co.uk

Portscatho Holidays, 3 The Quay, St Mawes, Truro, Cornwall, TR2 5DG

An idyllic, luxury Grade II listed cottage right on the waterfront in stunning Mousehole

SALTPONDS HOUSE IS A FABULOUS SELF-CATERING COTTAGE WHICH HAS FEATURED IN NUMEROUS

NATIONAL PRESS ARTICLES AND WAS ONE OF THE SUNDAY TIMES '50 COOLEST COTTAGES'.

www.saltpondshouse.com
---
The Ship

Inn, Portloe

WHERE WE STAYED

ST MAWES

brandy and hide it in their cellars. You may decide to stop for a drink in the local

pub, The Ship Inn, where the walls are adorned with seafaring pictures and

paraphernalia and the bartenders are extremely friendly.

Suitable refreshed, follow the footpath to Trewartha before taking a right

to Veryan, most famous for its five nineteenth century thatched Round Houses.

You must visit the ancient village church before continuing your tour eastwards.

You could spend the afternoon delighting in the joys of traditional

Mevagissey, a historic fishing village which still boasts a working harbour.

Here, you can wander the narrow streets, perusing the many gift shops, craft

workshops, galleries, cafés and pubs. You can't stop here without feasting on

a Cornish pasty, locally caught fish and chips, or if you fancy a treat, dining

out in one of its well-renowned seafood restaurants.

FALMOUTH, ST ANTHONY HEAD, THE LOST GARDENS OF HELIGAN,

CHARLESTOWN VILLAGE AND SHIPWRECK CENTRE

If you have any time to spare, or don't want to spend as much time on the

coastal path, there is plenty to see and do nearby.

For £10 you can catch a return ferry from St Mawes harbour to Falmouth

and spend the day exploring its bustling high street and fantastic range of

restaurants. Falmouth also has a number of beaches popular for swimming

and Falmouth Maritime Museum holds a number of exhibitions each year.

Another option is catching the Place Ferry, which runs from April to

October, and walking to National Trust's St Anthony. Take the coastal

route (signs show you the way) past the two secluded beaches of Great and

Little Molunan. Its lighthouse, marking the entrance to the Carrick Roads,

keeps ships clear of the infamous Manacle Rocks and was the setting for the

television series Fraggle Rock.

Alternatively, Charlestown Shipwreck Centre is an excellent place to visit

for adults and children alike. The village is a UNESCO World Heritage Site

and the Shipwreck Museum holds the largest private collection of shipwreck

artefacts in Europe. Not only this, but Charlestown is a fabulous place to visit

in its own right. To this day the port remains unspoiled and retains much of

its Georgian character. It is also a popular location for film and television,

including the Cornish drama Poldark.

Near Mevagissey, you can also find the Lost Gardens of Heligan.

Rediscovered 29 years ago after being lost during the First World War,

Heligan has since been restored to become one of the most beautiful gardens

in the UK and holds a number of events all year round. u

Chapel House East

This is just one of Portscatho Holidays wonderful self

catering holiday homes on the beautiful Roseland

Pennisula. This beautiful three-bedroom property is

located in the heart of St Mawes - a perfect base for

exploring the local area offering a luxurious homefrom-home

coastal stay.

The beach is just a pebble throw away, or step

outside your front door and stroll into the village. Leave

your car behind and hire a bike, or kayak, or take the

ferry taxis across the water for an eco-friendly day of

adventure simply messing about by the water.

There's a well-equipped kitchen, breakfast terrace,

spacious bright living room and balcony with stunning

sea views of St Mawes Harbour and St Anthony Head.

Dining out? You can find traditional harbourside

fish and chips at The Victory Inn, or if you're feeling

flush try the A' la Carte Menu at the award-winning

Idle Rocks. For a cosy night in we ordered woodfired

takeaway pizzas from St Mawes Hotel - delicious!

St Mawes

To book your stay with Portscatho Holidays - a family

run business that dates back more than 50 years visit:

portscathoholidays.co.uk

BritishTravelJournal.com 69
---
WORLD PILOT GIG

CHAMPIONSHIPS

Join in the festivities of maritime tradition and

experience a seaside spectacle like no other

between 1st and 3rd May on The Isles of Scilly

Words | Lydia Jackson

70 BritishTravelJournal.com
---
NOW IN ITS 31ST YEAR, the World

Pilot Gig Rowing Championship is a

spectacular event that sees thousands

of rowers and supporters travel to The

Isles of Scilly to watch the gigs power through the

waves in a colourful and exciting extravaganza.

Taking place on the first bank holiday of May, a

week in Scilly at this time enables you to watch

the islands transform from an idyllic haven to

a festival-like celebration of Cornish heritage,

offering the best of both worlds in a stunning

and family friendly location. The population of

the island doubles, there's a buzz in the air and

everyone is in high spirits. à

BritishTravelJournal.com 71
---
"The start line is over a mile

long and as the race ensues, you

can hear the paddles as they cut

through the water and clatter

against one another as teams

strive for pole position."

What is gig rowing?

Whilst The Isles of Scilly are an enchanting archipelago boasting white

sandy beaches and crystal-clear turquoise waters, these waters are

famously treacherous to navigate. The islands have one of the highest

concentrations of shipwrecks in the UK, with over nine hundred wrecks

having foundered on the rocks fringing the shores (you can learn all about

this at Charlestown Shipwreck Museum on the Cornish mainland). Gig

boats have been used since the eighteenth century to carry pilots with

expert knowledge of the coastline to board and direct vessels requiring

assistance. They would race from each island to approaching ships, with

the hope of arriving first and being awarded the contract for the pilotage

and therefore payment. It is from this tradition that gig rowing was born

as a sport and is now an important social activity for bringing the island

community together.

Those spectating the championships can see three gigs known for saving

many lives from shipwrecks and transporting cargo (the Bonnet, Slippen

and Golden Eagle) in action, being raced by Newquay Gig Club.

What are the championships?

Initially, the championships were mostly inter-island with a few crews

travelling from Cornwall. However, since then it has grown considerably in

popularity, attracting crews from around the globe and even a blind crew!

The main event is the race from St Agnes to St Mary's on Saturday,

involving every gig scrambling to get to the harbour in Hugh Town first.

The event comes alive as each of the brightly coloured gigs churn up the

water, hoping to scoop a favourable group position in preparation for the

heats taking place over the remainder of the weekend. The start line is over

a mile long and as the race ensues, you can hear the paddles as they cut

through the water and clatter against one another as teams strive for pole

position. This fabulously unique sight and sound is best experienced from

the water by boarding one of the many available visitor boats, but for those

who favour the land, welcoming the boats to the finish line amongst the

crowds is also an exhilarating experience. Alternatively, there are a number

of favourable viewing spots around the Garrison, from which you can also

view the shorter Nut Rock races. If you're struggling for directions, fear not;

72 BritishTravelJournal.com

© VISIT ISLES OF SCILLY / ANTHONY GREENWOOD
---
the gig and island communities are well-known for

being friendly and there is always a local or fellow

reveller happy to point you to a viewing point.

Sunday afternoon's races determine the overall

positions, group and medal winners, but festivities

are held each evening of the weekend as crews

celebrate or commiserate the day's successes. Hugh

Town comes alive as people flock to the pubs lining

the harbour, where a pint of island brewed ale is a

must and Cornish chants boom through the streets.

Whilst the championships are a jovial and exciting

occasion, the sport is still taken very seriously. A

spokesperson for St Mary's Gig Club told me that

training takes place all year round, with intense gym

sessions during the winter and training on the water

whenever the opportunity arises. This year, the level

of competition is expected to be higher than ever

as the event's popularity has increased so much

that a selection criterion for crews has had to be

introduced!

How to make the most of your visit to the

Isles of Scilly

The best way to enjoy the championships is by

booking a week on the islands with a few days

either side of the weekend. This way, you can enjoy

the build-up of the event and the excitement of the

races, before watching the island return to its idyllic

state for a few days of relaxation. To get the full

experience, exploring the islands is a must.

There's plenty to do and it's often that visitors are

so wrapped up in the exhilaration that they forget

to delve into the many wonders on offer. Easter is

typically the start of the tourist season, so by the time

gig weekend swings around most, if not all, places are

already open and well prepared for visitors. At this

point of the year the puffins are returning; The Isles

of Scilly being one of only a handful of sites in the UK

where you can spot them. Other animals to keep an

eye out for are basking sharks, seals and dolphins;

though there's a better chance of seeing them when

the excitement of the races has died down. There are

also a number of boat tours happening, so you can go

island hopping and visit one of the many inhabited or

uninhabited islands around St Mary's.

There are plenty of walking and cycling trails

and the sights and scents of Scilly are something

to marvel at. Covered in sub-tropical plants and

flowers, you can see a number of unusual species of

flora, especially if you take a trip to the spectacular

Tresco Abbey Gardens where twenty thousand

plants from more than eighty countries flourish.

By night, Scilly sunsets are some of the best in the

country and the stargazing is truly spectacular. u

BritishTravelJournal.com 73
---
4 8 H O U R S I N

IN THE

LAKE

DI

ALL IMAGES ©VISITBRITAIN/TOMO BREJC
---
STRICT

There's water, water everywhere in this stunning

part of England, and oh so many ways to enjoy

it, whether in it, on it or simply looking at it!

Words | Emma O'Reilly

I'VE BEEN VISITING the Lake District for many years, encouraged by my husband for

whom it was an annual family pilgrimage. They used to stay in basic B&Bs with flowery

carpets and fierce landladies. Each day, rucksacks would be stuffed with sandwiches and

Thermos flasks for ascents up into the surrounding fells. A treat would be a visit to a twee

teashop. Once they camped - and experienced a summer storm with horizontal rain that

filled the tent. None of this dampened his enthusiasm.

These days, the rain still comes (how else those emerald hills and sparkling waters?)

but the Lake District is also awash with hip hotels, top class spas and a veritable galaxy

of Michelin starred restaurants. Still, home comforts apart, nothing beats the feeling of

striking out into the countryside, where time seems to have stood still. In this age of constant

technological distraction, nothing soothes the soul like a day spent with Mother Nature at

her very best, enjoying her most dramatic scenery. Despite the popularity of the area, it's

relatively easy to leave the crowds behind and, as Wordsworth did, wander lonely as a cloud.

At this time of year you will also see many hosts of golden daffodils, we promise.

à

BritishTravelJournal.com 75
---
HIGHLIGHT

DON'T MISS

Lodore Falls waterfall

Find Lodore Falls behind the Lodore Falls

Hotel near the Grange end of Derwentwater.

The waterfall is formed by the beck from

Watendlath Tarn cascading over huge boulders

for a distance of some 100 feet!

visitcumbria.com

DAY ONE

Take a hike – it's the one thing you simply must do in the Lake District. If you're

not feeling dressed for it, head for George Fisher in Keswick for a kit out. Fear not

if you blanch at the thought of wearing a cagoule and battling up vertical fells

as there are routes to suit everyone, including flat circular strolls around tranquil

lakes and tinkling tarns.

Fell virgins wanting a relatively gentle incline might try the route up Catbells

from Hawes End. It's an easy hike (my daughter did it at the age of three!), up and

down in less than two hours, with a bit of a scramble at the top and the reward of

astonishing views over Derwentwater. Many other walks are accessible from the

Keswick area, including England's highest peak, Scafell Pike.

You'll be hungry by now, so refuel with a bowl of steaming Hungarian goulash

with dumplings, the speciality at The Dog & Gun, one of Keswick's oldest pubs

and popular with tourists and locals.

Next, head over to Keswick Boat Landings for a boat trip around

Derwentwater. It takes around 50 minutes and there are various hop-off points.

The Lingholm Estate is worth a visit for its octagonal walled garden. The original

provided inspiration for Mr McGregor's vegetable patch in The Tale of Peter

Rabbit (Beatrix Potter spent many holidays on the estate). The café has its own

bakery and mountain views so stay for tea and cake. Or get off at Lodore Jetty

and it's a 15 minute walk to the bijou but beautiful Lodore Falls waterfall.

Dinner may be beckoning by now. For something special, try The Cottage in the

Wood. This 17th century restaurant with rooms, recently awarded a Michelin star, is

tucked away in the Whinlatter Forest - on the aptly named Magic Hill. à

76 BritishTravelJournal.com
---
DAY TWO

More Beatrix Potter nostalgia is on offer at Hilltop, in Near

Sawrey. Her former home, where she wrote 13 of her 23

books, is charming and exactly as it was when she died

in 1943. The garden is also being restored and fans will

recognise scenes from the books – like the beehive featured

in Jemima Puddleduck and the rhubarb patch where the

character tried to hide her eggs.

Hilltop is close to Lake Windermere, so if you fancy

getting out onto the water again, hire a traditional rowing

boat or motor boat for a putter around, Swallows and

Amazons style.

Grasmere is an easy drive from here, and worth a

visit just for the to-die-for gingerbread at Sarah Nelson's

Grasmere Gingerbread shop . It's been made to the same

secret recipe since Victorian times. When you've indulged,

wander over to Dove Cottage, once home to William

Wordsworth and his sister Dorothy, for an insight into the

life of Britain's best loved poet. The cottage has reopened

this spring after a major refurbishment to make it more

interactive and relevant to today's visitor.

If you need to walk off that gingerbread, have a walk

along the Grasmere lake shore, or do the 'Coffin Route',

a glorious three mile stroll through a wooded valley to

Ambleside.

If you're still in the Grasmere area come the evening,

the Jumble Room is a casual, cosy, slightly quirky place to

hole up and eat good, hearty food. Foodies should book

well ahead for the tasting menu at Simon Rogan's two

Michelin-starred L'Enclume restaurant in Cartmel. Or, try

Simon's latest venture, Henrock, at the newly refurbished

Linthwaite House hotel in Bowness. u

Getting there:

A car is undoubtedly

the easiest way

to get around the

Lake District but if

you want to be ecofriendly,

it's possible

to travel there by train

(direct services from

London, Glasgow

and Manchester)

then catch buses to

get around.

78 BritishTravelJournal.com
---
LUXURY HOTELS

WHERE TO STAY

Brimstone Hotel

Modern romantics will fall in love with this cool, classy

hotel. Rooms and suites are huge, many with bedside

baths and fireplaces. The lavish spa includes seven

thermal experiences and an indoor/outdoor pool. It's

a walk to the restaurant, but 24 hour complimentary

snacks and drinks are available in the onsite lounge.

brimstonehotel.co.uk

Another Place

I stayed here years ago, when it was the stuffiest hotel.

Now it's transformed into a trendy haven for families.

Activities include wild lake swimming, cycling, kayaking

and horse riding. Rooms have views over Ullswater and

there's a spa with stunning pool and two restaurants.

another.place

Gilpin Hotel & Lake House

A contemporary country house hotel near Windermere.

Stay in the main house, in a garden suite with cedarwood

hot tub or in a detached spa lodge with ensuite

treatment area, steam room, outdoor sauna and

hydrotherapy tub. The separate Lake House has just six

rooms, sharing an indoor pool, outdoor whirlpools and

saunas and grounds around a private lake.

thegilpin.co.uk

BritishTravelJournal.com 79
---
EXCLUSIVELY

YOURS

Located in the heart of Bath,

you can experience exclusive use of the

historic Cross Bath as a couple or group

of up to 10 friends and enjoy a glass of

Prosecco whilst bathing in the natural

thermal waters.

Cross Bath at Thermae Bath Spa

Open daily from 10.00 – 20.00

01225 33 1234

www.ThermaeBathSpa.com
---
THE HOT LIST

S P R I N G D E S T I N A T I O N S

Places | Resorts | Attractions | Restaurants

ISLES OF SCILLY

After a day spent enjoying clear waters, relax on the

islands of Bryher, Tresco or St Mary's with a blanket

and bottle of fizz for a romantic evening under the

sparkling stars in this official Dark Skies location.

visitislesofscilly.com

© VISITSCOTLAND / PAUL TOMKINS

THE CAIRNGORMS NATIONAL PARK

For expansive landscapes blooming with fauna and flora, vast woodland and breathtaking lochs, head

on over to explore Scotland's wonderful spring scenery. A great place to start a springtime Scottish

adventure is Loch Morlich, which is nestled in the picturesque Cairngorms National Park. Fans of cruising

will cherish the memory of gently gliding through the calm loch surrounded by the great outdoors; even

beginners can enjoy an instructed kayak trip through the loch. Visitors should not miss the chance to

explore these stunning waters in 2020, during VisitScotland's official Year of Coasts and Waters.

cairngorms.co.uk

THE PEAK DISTRICT

For a taste of the wilder side of the British

countryside, hike your way on an outdoor adventure

in the beautiful Peak District National Park.

peakdistrict.gov.uk

W E L O V E

PEMBROKESHIRE

For a revitalising break full of unforgettable

moments take a trip to the rugged Welsh coast,

enjoy the views and and fill your lungs with fresh sea

air, during VisitWales' official Year of Outdoors.

visitwales.com

NORTHUMBERLAND

For medieval ruins, traditional pubs and the

chance to see a unique walled garden head to

Lindisfarne, also known as Holy Island, a charming

tidal refuge and slice of rustic coastal life.

lindisfarne.org.uk

THE ENGLAND COAST PATH

1,000 mini adventures around the world's longest

coastal path, by Stephen Neale. Priced £18.99

bloomsbury.com

BritishTravelJournal.com 81
---
WHERE TO GO

H O T A T T R A C T I O N S

THE ROYAL YACHT BRITANNIA

Step aboard The Royal Yacht Britannia between

18 - 21 May and you will get the opportunity to meet

the 'Yotties', the former crew of Royal Yachtsmen.

They will be donning their white overalls once

again and returning to their beloved Royal Yacht.

royalyachtbritannia.co.uk

DISCOVER ANIMALS FROM AROUND THE WORLD

BY ROAD, RAIL, BOAT AND FOOT

For the first time in nearly 20 years, you may see Amur tiger cubs in the Safari Drive-through at

Longleat, nestled within the Wiltshire countryside. Born in July 2019, Yuki and Rusty are growing

fast and enjoying roaming around Tiger Territory. Explore further into the Safari Drive-through

and be entertained by the infamous Rhesus monkeys as they clamber over cars. Spot the big

cats, hyenas and pack of wolves as they roam free in their open enclosures before exploring the

main park from the squeal-inducing koalas to the endearing zebra mice. Walk with the meerkats,

watch the charming giant otters play in their underwater viewing enclosure and marvel at the

adorable Egyptian fruit bats above your head. Feel the weight of a rainbow lorikeet as it lands on

your hand to drink nectar, see how agile the sea lions are as you throw fish to them on the Jungle

Cruise boat tour, listen to the entertaining parrots and gain first-hand experience as you feel

various textures while holding a tarantula, snake or cockroach in the Animal Handling Hall. Find

the centre of the Hedge Maze then, take a breath, and board the miniature Longleat Railway.

longleat.co.uk

ABBEY OF ST EDMUND

Surrounded by the beautiful Abbey Gardens, an

award-winning 14-acre park, visited by 1.3million

people from all over the world every year, Abbey

of St Edmund, in Suffolk, this year celebrates

its 1,000th anniversary since its founding.

abbeyofstedmund1000.co.uk

FOR LITERARY LOVERS

The Story Museum, an unusual museum in

the heart of Oxford, has just re-opened, fully

transformed, following a £6m redevelopment.

The museum will present distinct narrative worlds,

immersive installations and gallery spaces to inspire

visitors, of all ages, to connect with stories.

storymuseum.org.uk

FOR ENTERTAINMENT

Turn your world upside down with a visit to one

of these creative and fun two storey houses in

Brighton, Essex, Bristol and Manchester – with

more launching soon. This is a hybrid of street

art and experiential entertainment providing

visitors with a zero-gravity illusion experience.

upside-down-house.designmynight.com

FOR HEALTH & WELLBEING

Early birds to the Thermae Bath Spa, famed for

its naturally hot thermal waters, can start their

session with a complimentary Aquasana class

in the Rooftop Pool thanks to a a Feel Good

Bath campaign, and new events, launched by

sister-property The Gainsborough Bath Spa.

thermaebathspa.com

82 BritishTravelJournal.com
---
Cartmel Village Shop is a haven of

foodie treasures, all the finest food you

would expect to see from only the best

local artisan producers like ourselves...
---
CHANNEL ISLANDS

Just a stone's throw from the

south coast of England lies the

beautiful island of Alderney. With

no crowds, no queues and no

traffic jams our small island is

often described as the 'hidden

gem of the Channel Islands' and

offers a warm, peaceful and

relaxing escape for you to enjoy.
---
WHERE TO EAT

H O T R E S T A U R A N T S , C A F E S & B A R S

A SUPERHERO IN SOHO

Park Row is the world's first theatrical dining

experience set in an immersive DC-inspired

Art Deco Grade II listed venue with five restaurants,

storytelling and multi-sensory tasting menu with

360-degree projection mapping technology.

parkrowlondon.co.uk

NEW ARTISANAL AFTERNOON TEA STOPS TIME IN PADDINGTON

One of London's grandest Victorian hotels, the Hilton London Paddington, has launched a

delectable new afternoon tea offering with British artisanal tea Hope & Glory and Belgian

chocolates from Maison Pierre Marcolini. The new space, 'Time Stops Here @ 146' is an oasis

of calm which can be accessed through the hotel, directly from the commuter hub Paddington.

Enter the elegant, floral inspired tea room and take a moment to 'stop time' and enjoy a

collection of premium teas, sweet treats, scones and savouries. The finest teas and tisanes are

served in bespoke bone china sourced from Sri Lanka, tea-inspired cocktails by Hope & Glory

and champagne by Pommery Royal Blue Champagne are also available to order. The bespoke

'Time Stops Here @146' afternoon tea is available seven days a week from 12-6pm.

paddington.hilton.com

ICONIC DESTINATION DINING

Cinnamon Kitchen Battersea is part of the first

chapter in the exciting regeneration of the Grade II

listed Battersea Power Station, serving contemporary

Indian dishes inspired by the dishes found on the

Mumbai Jaipur Pink City Express train route.

cinnamon-kitchen.com/battersea

TIMELESS FUN

Timeless Bar is a new time-travelling cocktail

bar in Hackney offering an all-day happy hour,

playing along with the age old idiom of it always

being happy hour somewhere, offering some

of the greatest cocktails ever invented - and

sharing plates from the kitchen.

cocktail-time-machine.com

WEST LONDON'S NEW HYDE

The Hyde is a super-intimate new restaurant

located on the ground floor of the Grade II listed

boutique hotel, Roseate House London, tucked

away on leafy Westbourne Terrace, in West London.

The menu options are modern European cuisine,

with innovative contemporary twists.

roseatehotels.com/london

INSPIRATION FOR TOURISTS

Page Common at the new Page8 hotel,

located off Trafalgar Square, not only serves

great coffee and all-day dining, it has been

designed to encourage conversations, be it

by sharing coffee experiences, travel stories or

taking part in a coffee masterclass.

pagehotels.com

BritishTravelJournal.com 85
---
WHERE TO STAY

H O T A C C O M M O D A T I O N

THE BLONDE HEDGEHOG

The Blonde Hedgehog is a brand-new boutique

hotel located in the quiet cobblestone streets of

St Anne, Alderney made up of nine rooms and

suites set across two buildings, as well as one

detached luxury three-bedroom cottage.

blondehedgehog.com

MEDLEY COURT AT HEVER CASTLE & GARDENS

Dating back to 1903, Medley Court is a luxurious four bedroom 5* gold holiday cottage surrounded

by private lawns forming part of the Astor Wing at Hever Castle & Gardens in Kent. The charming,

double-moated Castle and surrounding lawns provide a stunning backdrop to this beautiful holiday

cottage. Although Medley Court is now just over 100 years old, its appearance is that of a Tudor

house, and it still retains the warm, relaxed feel of a family home, with a regal dining room displaying

a fine collection of period paintings. There is a kitchen and a sitting room, with views across to the

Castle, that opens out onto a beautiful outside covered terrace. The four stunning bedrooms are

divine and sleep up to eight guests. Once the childhood home of Anne Boleyn, Henry VIII's ill-fated

second wife and mother of Queen Elizabeth I, Medley Court guests have the opportunity to visit the

historic Castle and gardens throughout the duration of their stay - even during times when they are

closed to the public. Medley Court residents arrive to the private gated entrance of the Astor Wing

and upon arrival a member of staff will escort guests to the house, via the private riverside driveway.

Guests will be welcomed with a 'Castle Kitchen' hamper to get their stay off to a special start.

To book call 01732 861800 or email events@hevercastle.co.uk

FOWEY HALL

Luxury Family Hotels' Fowey Hall Hotel,

Cornwall, has reopened following an impressive

multi-million pound refurbishment of all of the

hotel's 36 bedrooms, reception and lounge areas,

spa, library, games room, crèche and indoor pool.

luxuryfamilyhotels.co.uk

THE METHUEN ARMS

Award-winning coaching inn, The Methuen, a

3 AA Rosette restaurant, pub and kitchen garden

in Corsham, has unveiled 14 beautifully designed,

country-inspired bedrooms, with free-standing bath

tubs and stunning views over the quintessential

town, following a major refurbishment.

themethuenarms.com

HARTWELL HOUSE

2020 is the 125th anniversary of the National

Trust and the perfect time to experience Hartwell

House, one of three Historic House Hotels, owned

by the National Trust. This Grade I listed property

is located in over 90 acres of gardens and parkland

in the Vale of Aylesbury in Buckinghamshire.

hartwell-house.com

HOTEL INDIGO

Hotel Indigo, is a new hotel in Stratford upon

Avon, formerly The Falcon Hotel. The hotel

has undergone a multi-million-pound major

restoration project. The decorative black and

white half-timbered building is now blended

with modern, stylish, contemporary bedrooms,

stratford.hotelindigo.com

86 BritishTravelJournal.com
---
Nestled in the rolling valleys of Dartmoor National Park you will find 5 Red Star luxury

at Bovey Castle. The hotel offers 60 bedrooms along with 22 self-catering country lodges

tucked away within the grounds. There's also two award-winning restaurants, our luxurious

Elan Spa and a professional 18-hole championship golf course.

CALL THE HOTEL RESERVATIONS TEAM TO BOOK YOUR STAY: 01647 445007

STAY | DINE | SPA | CONFERENCE | WEDDING

BOVEYCASTLE.COM

NORTH BOVEY, DARTMOOR NATIONAL PARK, DEVON, TQ13 8RE
---
©VISITBRITAIN/PETE SEAWARD

HEVER CASTLE

You might have been one of the 400,000 visitors to the childhood home of Anne Boleyn

last year, but did you know you can also stay overnight in luxury accommodation, with

access to parts of the gardens after the Castle and grounds have closed to the public?

Words | Jessica Way

88 BritishTravelJournal.com
---
WAKING UP AT HEVER CASTLE has

the perfect blend of luxury and history

combined. 16th-century portraits,

paintings, furniture and tapestries charm

you happily back to Tudor times, while the sumptuous

furnishings, fluffy dressing robe, and opulent bathroom

(many with heated flooring) offer a wake-up morning

routine fit for a 21st-century King or Queen.

Located within William Waldorf Astor's Edwardian

extension to the Castle are the Astor Wing and the Anne

Boleyn Wing where there are 28 five star luxury bedrooms,

each with their own unique charm and character. We

stayed in the super spacious Edward VII Suite. The

room was flooded with natural daylight and comes with

a 7ft bed, living area with a deep sofa and armchairs

positioned next to the leaded windows looking out across

the apple orchard to the Castle. This enchanting view of

the Castle, from morning to evening, frost to sunlight,

is mesmerising. Throughout our stay, we couldn't help

admiring the changing view and atmosphere around the

Castle at different times of the day, from a warm romantic

sunset, being covered in morning mist and frost, to the

mysteriously beautiful sunrise. When the sun is really

shining the reflections of the Castle in the intense blue

moat are just magical.

There are not many places I have stayed where the team

who work there make you feel as truly welcome and at home

as they do at Hever Castle, helped I'm sure by the fact that

everyone we met, from the receptionists, waitresses, porters

to the gardeners, were so happy and proud to be part of the

Castle team. And who wouldn't be - the Castle, grounds

and luxury accommodation are utterly exquisite!

The team thank William Waldorf Astor, who used his

fortune to restore and extend the Castle in the early à

BritishTravelJournal.com 89
---
20th century. It is said he invested around £10 million in turning Hever

Castle into his own 'grand design', spending the equivalent of over

£1 billion today. Astor's wealth and vision enabled him to turn Hever

Castle into a lavish family home while also indulging his passion for

history - and it is both elegant and fascinating.

Astor visited many Tudor and Elizabethan buildings for inspiration

at that time. On the private tour of the Castle (which is included for

overnight guests on days that the Castle is closed to the public) you

are first taken into the ornate Inner Hall which in Tudor times was

used as the kitchen. It has been beautifully furnished with Italian

walnut panelling and with a staircase gallery that was a copy of the

King's College Chapel Rood Screen, which William had admired from

Cambridge University.

Hever Castle has been beautifully restored, without losing its

13th-century charm, that visitors are able to appreciate its history

and heritage throughout all of its years. The tour is an unmissable

opportunity to learn more about the Castle's fascinating Tudor

heritage while also admiring the extraordinarily sumptuous

furnishings, inspired by Astor and from around the world, lining the

walls of the galleries and halls as we see them today.

Originally the Castle was built in 1271, almost 750 years ago. It was

built to protect the nearby town of Edenbridge, which at that time

was a very influential and prosperous town with a tannery making

expensive leather goods. The fear was that the river Eden, which runs

adjacent to the Castle and accommodation and then to the town,

could be used as a gateway for an enemy to come up the river and

attack the town. So Hever Castle was built to stop that happening,

and you could say it worked, as Edenbridge was never attacked.

The Castle then was just the gatehouse with two rooms above (The

Council Chamber) and the Castle walls, and it remained that way for

90 BritishTravelJournal.com
---
a further two centuries until Geoffery Boleyn, Anne Boleyn's Great Grandfather,

bought the house in 1462. Geoffery had risen through the ranks to become Lord

Mayor of London, and he wanted more accommodation in the property, and so

he went about building within the walls, adding a single-storey, and two doublestorey

wings. Further into the tour you learn more about Henry VIII and his six

wives. Anne Boleyn was his 2nd wife and Queen of England for just 1,000 days

before Henry arranged her beheading.

Hever later passed into the ownership of another of Henry VIII's wives, Anne of

Cleves, and from 1557 onwards it was owned by a number of families including the

Waldegraves, the Humphreys and the Meade Waldos.

William Waldorf Astor came along just at the right time, as by now it was

beginning to fall into gradual decline. He commissioned the 'Tudor Village', now

called the 'Astor Wing' and the construction of the magnificent gardens and lake.

As an overnight guest, you are entitled to access to the Castle and Gardens

throughout your stay to include the opportunity for an early morning or evening

stroll at times when the Estate is closed to the public - a wonderful way to

experience the peace and tranquillity of the Gardens and made our stay even

more memorable. No matter what time of year you visit this is an absolute must.

In spring the walls are covered in camellias and tulips are in bloom, by summer the

fragrance from the Rose Garden drifts through the air, come autumn the Dahlia

Border provides dazzling displays and, as winter approaches, the warm red bark of

the redwood trees glow against the winter sky and berries glisten in the frost.

One of our highlights was appreciating the views from the Loggia as we gazed

across the 38-acre lake, followed by a sunset walk of The Pergola in the Italian

Garden, before relaxing in the Music Room (guests' sitting room) sinking into the

sofas in front of the roaring wood-fire.

To make your stay extra special, beauty treatments, massage and exercise

classes can be booked at Hever Castle's wellbeing centre, located at Hever Castle's

Golf Club, with a 27-hole golf course, just a short drive away. u

Prices start from £180 per room per night hevercastle.co.uk/stay

How to get there...

Trains run to Edenbridge Town and Edenbridge Station, from there it is a short

taxi journey, or from Hever Station, you could take the one-mile rural walk.

Alternatively, there is free parking for guests directly adjacent to the Astor Wing.

COMPETITION

WIN A LUXURY STAY!

Win a one-night stay for two at Hever Castle

Luxury Bed and Breakfast, a 13th century

Castle in Kent, once the childhood home

of Anne Boleyn. Arrive to the private gated

entrance of the Astor Wing where your journey

begins. Discover an abundance of rich fabrics,

crisp linens and panelled walls. There are

leaded windows looking out on to private

lawns, ornate fireplaces, four poster beds

and roll top baths. Complimentary access

to the Castle and gardens is included during

the stay. Relax and unwind in the peace and

tranquillity of this special place. Enter online at

britishtraveljournal.com Last entries 31 May

2020. Terms and Conditions apply.

—

DON'T MISS

Squerryes

Take a visit to family-run gem, Squerryes

and join one of their Vineyard Tour and

Tasting Flight experiences. Just a 15-minute

drive from Hever Castle this 2,500-acre

vineyard estate is home to the Wardes - the

8th generation of Wardes to live there.

Learn more about their vintage sparkling

wine, rich heritage and beautiful North

Downs Estate. squerryes.co.uk

King Henry VIII

Book a table at the nearby King Henry

VIII, Hever, dating back to 1597. This is a

historic half-timbered, peg-tiled pub serving

hearty, wholesome dishes by candlelight.

Think dramatic chimney stacks, authentic

oak beams, open fires and panelled bars.

kinghenryviiihever.co.uk

BritishTravelJournal.com 91
---
LONDON HILTON

PARK LANE

An iconic hotel in London's exclusive Mayfair district

Words | Jessica Way

AN ICON OF BRITISH hospitality since

1963, London Hilton on Park Lane

was the first Hilton hotel to open in the

UK. Set in the heart of the West End,

Mayfair is one of London's most attractive villages

abundant with pretty streets, boutiques and cafés.

Overlooking Hyde Park, and with Green Park

nearby, the location is an oasis of calm, while being

conveniently close to West End theatres, historic

landmarks and the famous shopping districts of

Oxford Street, Knightsbridge, and Bond Street.

Inside the hotel, there are elegant rooms with

magnificent views, world-class dining, and modern

facilities - everything you need for an exceptional

stay in the capital. Choose from a Deluxe Room,

Executive Room or a delightfully spacious Suite

with separate living space and views of Hyde Park,

Mayfair or the city. With the option of a suite, you

can enjoy the space of a separate dining area,

walk-in wardrobe, and whirlpool tub - not to

mention helpful access to the Executive Lounge

with complimentary breakfast each morning.

With world-famous landmarks such as

Buckingham Palace on your doorstep, exploring

the capital will be a delight, and you will feel so

much at home you won't want to leave! If you

don't get round to visiting them all just head to the

28th Floor for views of the London Eye, Houses

92 BritishTravelJournal.com
---
of Parliament, Westminster, St Paul's Cathedral, The Shard, The

Gherkin and the River Thames.

The hotel concierge will happily organise other experiences too,

with Touriocity for example, you might like a tailor-made walk of

the local neighbourhood or a whistle-stop tour of London's iconic

landmarks and stunning landscapes. Or head to the best seats in

the house with the Royal Box Experience package (to include a

bottle of fizz and snacks) at Curzon Mayfair.

As night falls, there's no better place to be than the hotel's preeminent

sky bar, 10°, on the 28th-floor - sip a signature cocktail,

or vintage Champagne as you unwind in stylish interiors with

abundant natural light, enjoying the amazing 360° views across

London. Take time to reflect and appreciate the energy of London,

with a warm and mellow ambience, live music, and DJs.

You might like to enjoy some hand-crafted miniature dishes

before heading next door to the award-winning restaurant, Galvin

at Windows.

Here you can enjoy à la carte dining from Chef Patron Chris

Galvin, Head Chef Joo Won and his team. Chris and Joo have

together won over 30 awards - setting the bar as high as the

restuarant itself! Their seasonally-inspired menus have been

based around modern French haute cuisine - think pan-fried Faroe

Islands salmon, mussels and purple sprouting broccoli followed by

Poached Yorkshire rhubarb, yoghurt cream and hibiscus.

You might also enjoy Trader Vic's - a London institution and

home of the Mai Tai cocktail. Sample the eclectic global cuisines,

taste a little bit of paradise with their signature tropical cocktails

and savour an exotic atmosphere bedecked with authentic

artefacts, Tiki carvings and trappings from around the world which

adorn the walls of this tropical bar and restaurant.

And don't check-out before sampling the hotel's legendary

Chocoholic Afternoon Tea designed and created by pastry chefs

Emmanuel Bonneau and Sam Leatherby, crowned the winners of

Bake Off: The Professionals 2018. The afternoon tea menu offers

chocolate lovers a four-course feast of exquisite treats! Following a

selection of open sandwiches with traditional fillings, enjoy freshly

baked chocolate chip scones served with homemade chocolate

praline spread, indulgent cupcakes and miniature chocolate

fancies, all served on an edible chocolate plate - delicious! u

BritishTravelJournal.com 93
---
I N T E R V I E W W I T H

Head Chef

TOM

BOOTON

At 25 years old, Tom Booton is the youngest head chef

in the Dorchester Grill's 88-year history. He sits down

with Chantal Borciani to talk about his inspiration and

how he's transforming a London icon

TOM BOOTON'S CAREER actually

began at 15 years of age, when he

won Chef of the Future at the Essex

Food & Drink Awards. His talent

was clear, doors opened, and Tom's ambition

saw him succeed at the kitchen passes of

restaurants including Le Talbooth, L'Autre Pied

and Dabbous. Following stints in New York,

Copenhagen and Iceland, Tom worked as

head chef for Alyn Williams at The Westbury

in London and it was there that the general

manager of The Dorchester discovered him. So

impressed by his meal, the general manager

struck up a conversation with the head chef

and the rest is history.

In July 2019, Tom was named the new head

chef of The Grill at The Dorchester, heralding

a fresh direction for the historic hotel. Built in

1931, The Dorchester has hosted Hollywood

starlets, literary greats and royalty. The hotel

is famously the establishment chosen by Prince

Philip for his stag do the night before his

wedding to Princess Elizabeth in 1947. Its Grill

restaurant was a business lunch stalwart, but

under Tom's direction the restaurant reopened

in November 2019 with a fresher more

contemporary air.

"When you walk into the restaurant it feels

a lot more open and more approachable. It's

almost stripped back a little now – you've got

no starched white tablecloths and I wanted

guests to feel a kind of home from home vibe. It

doesn't feel stuffy and you don't feel like you're

scared to ask where your table is," Tom says.

This is not to say that The Grill doesn't share

the opulence that courses through the rest of

the hotel. The centrepiece gold Murano glass

chandelier is still retained and through a deft

use of glass, mirrors and butterscotch seating

and soft lighting, the restaurant feels buzzy yet

intimate. The cocktail bar is a sumptuous full

run along one side of the restaurant, its myriad

decanters twinkling in the glow.

Tom is certainly the fresh face of The Grill –

looking even more youthful than his 25 years.

"I honestly think age is just a number," explains

the head chef. "I've been working for 12 years

at a high level. I would say 12 years in any trade

is quite a lot really – I don't suppose there's

many people my age who have worked for

more than a decade doing the same thing. A

lot of my guys in the kitchen have worked with

me before. It's a young team as well – my sous

chef is only 25 – but I knew I wanted him and

he would be brilliant."

94 BritishTravelJournal.com
---
Confident, highly trained and full of

energy, Tom comes to The Dorchester

with vision and aptitude in equal

measure.

"The general manager [of The

Dorchester] came to eat at the

Westbury and that's how this all

started. It certainly teaches you to look

after every single table, because you

never know what might happen!

The general manager and the food

and beverage director invited me to the

hotel. The first thing I said when I walked

into The Grill was why do we have this

bar at the back? The counter was a lot

higher, you see, so it was tricky to reach

your drinks and it just didn't work as a

space. It seemed clear to me; lower the

bar, put a little kitchen in the back and

make it into a pudding section."

The Pudding Bar is one of the

pieces of theatre Tom has created in

the reinvented Grill, believing dessert

should be "savoured not skipped".

Diners who choose to move to the

clutch of bar stools along the open à

BritishTravelJournal.com 95
---
"A lot of people in hospitality

don't actually have the most

important value at the core, and

that's that the customer is the

most important. If the customer

wants it, we will make it happen -

I never want to hear, "let me just

go and ask the chef "

kitchen pass can watch and talk to the

chefs as they prepare dessert bowls of

heaven – from an irresistible banoffee

tart to Tom's new classic, the 'Double

Decker'.

While much has been reimagined,

Tom doffs many a cap to The

Dorchester's rich history. "It's such an

iconic hotel. I looked into the history,

the war secrets and the stories through

the eras," Tom says.

Stories do indeed abound. When

the hotel was built after World War

I, the new building was constructed

from reinforced concrete, to make

giant open-plan rooms a possibility.

During World War II, this made The

Dorchester one of the safest buildings

in the capital. In 1944, General

Eisenhower set up base in the hotel in

what's now known as the Eisenhower

Suite and planned the Normandy

landings of D Day and during the same

era, Ernest Hemingway used the hotel

as a London base from which to work

as a war correspondent.

Today, the hotel stands in the

same much-envied spot overlooking

Hyde Park. Brunei-owned, the décor

is unavoidably lavish with gold and

Middle Eastern hues alongside some

more traditional palettes.

On the menu, Tom's dishes often

make a play on the classics; a prawn

scotch egg with a warm tartare sauce,

The Grill's lobster thermidor tart; and

doughnuts and ice cream.

"I hate the phrase signature dish,

but the lobster tart is what we are

becoming known for. The menu is

designed as four courses, with the first

course being very light, for example a

really beautiful fresh scallop ceviche

– we get fresh scallops in every day

from the Orkney Islands. My favourite

dish from the second course is the

veal sweet bread, which goes really

nicely with a little lentil ragu. For the

third course, we have the lobster and

great British meats. There's a really

fresh rack of lamb dish with a lamb

boulangère on the side."

The menu will change with the

seasons, classics will remain and so will

Tom's ethos.

"A lot of people in hospitality don't

actually have the most important

value at the core, and that's that the

customer is the most important. If

the customer wants it, we will make it

happen - I never want to hear, "let me

just go and ask the chef".

It seems The Grill has fallen into

the right hands to steer it through the

next era, complete with Pudding Bar,

inventive cooking and a passionate

brigade. u

Lunch menus are priced at £23 for two

courses and £30 for three courses.

Dinner menus are priced at £60 for three

courses and £75 for four courses. All

include a vegan and vegetarian menu.

Sunday Roast is priced at £65 for three

courses, dorchestercollection.com.

96 BritishTravelJournal.com
---
Saturday 18 July 2020

thAMes

Saturday 18 July 2020

thAMes

Saturday 18 July 2020

patH

patH

Saturday 18 July 2020

thAMes

Saturday 18 July 2020

thAMes

migHty

hIke

patH

migHty

hIke

patH

migHty

migHty

hIke

Take part in a fully-supported marathon or half marathon

hike along the magnificent River Thames and raise money

for people living with cancer.

Take Find part out in a more fully-supported and sign up marathon at or half marathon

hike macmillan.org.uk/thamespath

along the magnificent River Thames

for

and

people

raise Find living with out money

cancer. more and sign up at

for people living with cancer.

macmillan.org.uk/thamespath

Macmillan Cancer Support, registered charity in England and

Wales (261017), Scotland (SC039907) and the Isle of Man (604).

Also operating in Northern Ireland.

Find out more and sign up at

macmillan.org.uk/thamespath

Take part in a fully-supported marathon or half marathon

hike along the magnificent River Thames and raise money

for people living with cancer.

Take part in a fully-supported marathon or half marathon

hike along the magnificent River Thames and raise money

Find out more and sign up at

macmillan.org.uk/thamespath

Macmillan Cancer Support, registered charity in England and

Wales (261017), Scotland (SC039907) and the Isle of Man (604).

Also operating in Northern Ireland.
---
BRITISH TRAVEL JOURNAL CROSSWORD 05

ACROSS

1 Nail polish remover (7)

5 Warm welcome (7)

9 Not so fast (6)

10 Skye castle (8)

11 Crack (8)

12 Stalactite of water (6)

13 Sits (5,1,4)

15 Overflow with enthusiasm (4)

16 Softest mineral (4)

19 Four-faced solids (10)

22 Beefed-up banger (3,3)

24 Coloured like the middle traffic

light - sort of (8)

25 Such as Wallis Simpson or

Meghan Markle (8)

26 Hops and proms (6)

27 Welsh castle with a railway

museum (7)

28 Toughens by heating and

cooling (7)

DOWN

2 --- Atrebatum, Iron Age/

Roman town at Silchester (7)

3 Town at one end of the

Buttertubs Pass (7)

4 Lindisfarne's region (5-4)

6 Strait between Anglesey and

mainland North Wales (5)

7 Malodorous (7)

8 Boz's first name (7)

10 Earliest British steelmaking

furnace (11)

14 Place for light summer

refreshments (3,6)

17 Worry intensely (7)

18 Highest-altitude British mainline

railway station (7)

20 A cousin of Prince William (7)

21 Family name at Woburn Abbey (7)

23 Cornwall or Rothesay, for example (5)

Answers will be printed in the Summer Issue

The first correct crossword received will be rewarded with a free gift from

The Travelling Reader. Simply send your completed crossword (or the answers)

with your choice of The Original, The London, or Simply British Tastes box,

(thetravellingreader.com) and your postal address, by post to British Travel

Journal, Mitchell House, Brook Avenue, Warsash, Southampton, Hampshire,

SO31 9HP, or email the answers to crossword@britishtraveljournal.com

ANSWERS TO CROSSWORD 04 | WINTER 2019

ACROSS: 9 Heeding 10 Axially 11 Leger 12 Aldeburgh 13 Eccleston

14 Rondo 15 Skillicorne 20 Mario 22 North Cape 25 Accidents 26 Uncap

27 Grudges 28 Sleeves. DOWN: 1 Chelsea 2 Belgic 3 Disraeli 4 Aghast

5 Sardonic 6 Bibber 7 Clarence 8 Typhoon 15 Struck up 16 Langness 17

Rehouses 18 Embargo 19 Bedpost 21 Old age 23 Resist 24 Alcove.

FOR YOUR JOURNEY

Books, apps, travel gadgets and crossword

WE LOVE

WILD GUIDE

Hundreds of secret and wild places

through central England, including river

swims, lost ruins, hidden waterfalls,

ancient forests, sunset hillforts, plus

artisanal food producers and wilder

places to camp and stay. £16.99.

wildthingspublishing.com

KINDLE OASIS

The all-new Kindle Oasis has a load

of new functions, including a design to

safe-guard you from accidental drops,

reading in the hot tub or by the pool, it is

protected against immersion up to two

metres of fresh water. Priced £229.99

amazon.co.uk

LOST LANES NORTH EMBER TRAVEL MUG²

For the ultimate pedal power, 30 Designed to be used on-the-go, the new

glorious cycling routes in Northern Ember Travel Mug² does more than simply

England, covering Yorkshire, keep your coffee hot. This smart mug allows

Lake District, Pennines and you to set an exact drinking temperature

Northumberland - plus six additional and keeps it there for up to 3 hours, so your

quirky cycle ride events. £16.99 coffee is never too hot, or too cold. £179.95.

wildthingspublishing.com

ember.com

98 BritishTravelJournal.com