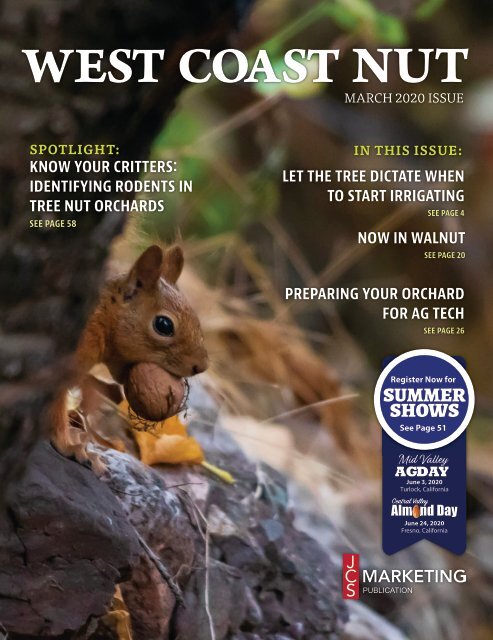 Create successful ePaper yourself
Turn your PDF publications into a flip-book with our unique Google optimized e-Paper software.
WEST COAST NUT

March 2020 ISSUE

SPOTLIGHT:

KNOW YOUR CRITTERS:

IDENTIFYING RODENTS IN

TREE NUT ORCHARDS

SEE PAGE 58

IN THIS ISSUE:

LET THE TREE DICTATE WHEN

TO START IRRIGATING

SEE PAGE 4

NOW IN WALNUT

SEE PAGE 20

PREPARING YOUR ORCHARD

FOR AG TECH

SEE PAGE 26

Register Now for

SUMMER

SHOWS

See Page 51

June 3, 2020

Turlock, California

Alm nd Day

June 24, 2020

Fresno, California

PUBLICATION
---
LET'S PUT

ABILITY IN

SUSTAINABILITY.

We're all working to create a sustainable future for our nation's food supply.

Let us help you get your operation there faster. We're Valent Sustainable

Solutions. We stand for the science-based, modern grower with proven

products and methods to help you achieve a more sustainable, viable and

profitable operation that is both resilient and enduring.

valentsustainablesolutions.com

Always read and follow label instructions.

LET'S BREAK NEW GROUND.
---
By the Industry, For the Industry

Publisher: Jason Scott

Email: jason@jcsmarketinginc.com

Editor: Marni Katz

Email: marni@jcsmarketinginc.com

Associate Editor: Cecilia Parsons

Email: cecilia@jcsmarketinginc.com

Production: design@jcsmarketinginc.com

Tel: 559.352.4456

Fax: 559.472.3113

Web: www.wcngg.com

Contributing Writers & Industry Support

Almond Board of California

Contributing Writer

Alexander Ott

Executive Director,

American Pecan Council

Danita Cahill

Contributing Writer

Phoebe Gordon

UCCE Madera and

Merced Counties

Seth Hansen

Independent PCA/CCA,

Reliant Crop Services

Jenny Holtermann

Contributing Writer

Hazelnut Marketing Board

Contributing Writer

UC Cooperative Extension Advisory Board

Elizabeth Fichtner

UCCE Farm Advisor, Tulare County

Franz Niederholzer

UCCE Farm Advisor, Colusa/Sutter/Yuba Counties

Emily J. Symmes, PhD

Sacramento Valley Area IPM Advisor

Roger Isom

President/CEO, Western

Agricultural Processors

Association (WAPA),

Contributing Writer

Julie R. Johnson

Contributing Writer

Rich Kreps

CCA, Contributing Writer

Mitch Lies

Contributing Writer

Steve Pastis

Contributing Writer

Amy Wolfe

MPPA, CFRE, President

and CEO, AgSafe

Mohammad Yaghmour

UCCE Kern County

The articles, research, industry updates, company profiles, and

advertisements in this publication are the professional opinions

of writers and advertisers. West Coast Nut does not assume any

responsibility for the opinions given in the publication.

IN THIS ISSUE

4 Let the Tree Dictate When to Start Irrigating

10 Understanding Winter Chill in Pistachios

12 Drone Technology Helps with Precise Input Management

16 'Moonshot' Effort Needed to Build Future Ag Water Supply

20 NOW Becoming a Bigger Pest in Walnuts

26 Preparing Your Orchard for Ag Tech

32 Introducing the Superpowers of Pecans

34 Protecting Pollinators

38 Fertility Starts With a Spring Soil Sample

42 Taking the Mystery Out of Rootstock Selection in Pistachios

48 Managing Weeds Beyond Glyphosate

52 Insurance for Hullers and Processors Skyrockets

54 Grower Profile—Valk Ranch

58 Know Your Critters: Identifying Rodents in Tree Nut Orchards

62 Hazelnut Growers Society Annual Meeting

64 AB5 Means Changes for Agricultural Businesses

66 Successfully Navigating the Farm Guestworker Program

70 Gains Being Made in SIT NOW Research

74 Putting Almond Waste to Good Use

78 Introducing Our New Editor

80 Bacterial Canker and Blast in Almond Trees

Let the Tree Dictate When to Start Irrigating

View our ePublication on the web at www.wcngg.com

"The typically stated objective of irrigation is to apply water to match ET. You think of

the soil as a reservoir and we know that plants use water and the idea is that you need

to give them back whatever they use but this system doesn't tell you when to start

irrigation." - Ken Shackel, UC Davis

See full article on page 4

March 2020 www.wcngg.com 3
---
LET THE TREE DICTATE

WHEN TO START IRRIGATING

By JULIE R. JOHNSON | Contributing Writer

(Photos courtesy of K. Shackel)

THIS ARTICLE IS

SPONSORED BY:

There are many available techniques

for scheduling irrigation in

walnuts during the season, says Ken

Shackel, Professor in the Department

of Plant Sciences at UC Davis. These

schedules are based on weather, soil

measurements, plant measurements and

"WYND - What your neighbor does."

"But, how do you know when to start

irrigating," he asks.

The most proposed method of late

for scheduling irrigation is Evapo-Transpiration

(ET). But newer research suggests

there may be better alternatives

for determining when to start.

He explains that growers worry

about two things--starting too late, and

starting too early.

"Growers worry that if they wait too

long, trees will use up the deep soil

moisture and run out of their bank

account at harvest," Shackel said.

Is There a Downside to

Starting Too Early?

Citing UC Integrated Orchard

Walnut and Almond Specialist Bruce

Lampinen, Shackel said, "Trees that are

consistently too wet (above baseline

stem water potential) in the spring

can develop numerous symptoms later

in the year, often mistaken for other

disorders."

Shackel said nobody should start

irrigating if the soil is wet, but the question

remains, "How does the tree feel?"

Early Season Water

Management Project

A research team of Shackel, Allan

Fulton, Lampinen, Kari Arnold, Nick

Matsumoto, and Hal Crain and Jeff

Phillips as cooperators, started a project

in 2014 on early season water management.

The experiment was conducted

in five different treatments in five

blocks (zones), totaling 25 independent

treatments, in deep, well drained, sandy

loam, silt loam soils in Tehama County

at the Crain Walnut Ranch.

One objective of the project was to

field test four levels of stem water potential

(SWP) for the start of irrigation

in the spring. That spring the team

used a pressure chamber to measure

SWP. Then they let the project site

grower do whatever he wanted in terms

of when to start irrigating, while the

team waited to start irrigating until the

trees were stressed, hitting 1, 2, 3, or

4 bars below baseline (fully irrigated)

SWP value.

"The key grower concern was that

they always saw a lot of water stress in

their trees at harvest, a time when they

had to stop watering so they could get

in the orchards to harvest the crop,"

Shackel said. "They were worried they

weren't putting on enough water."

The grower started irrigating in mid-

April that year. The researchers waited

to start irrigating when the trees were

two bars below baseline. That didn't

occur until around early to mid-June in

different blocks. That year the grower's

irrigation was "by the book," matching

ET closely over the season. However,

the orchards' irrigation manager

noticed that the research team's trees

"looked healthier at harvest," they

looked less stressed, even though the

team started irrigating much later

than the grower and put on less water,

Shackel said.

"The next year, and for all the years

after that, the grower started doing

what the research team was doing and

started irrigating his orchards later

in the season," he added. "The trees

looked healthier, but what about the

yield?"

In 2014 the research team's trees

looked healthier, but their crop yield

was down somewhat compared to the

grower's.

"In the second year we again got a bit

of a lower yield than that of the grower,"

Shackel said. " But they started catching

up in the third and the fourth year

was a big surprise when we actually got

more yield in our trees. Then, after that

the yields from the grower's trees and

our trees were pretty much the same. It

was pretty much a wash economically,

but the team's trees looked healthier."

The Tehama County experiment

was designed to test whether delaying

Continued on Page 6

4 West Coast Nut March 2020
---
Apply less, expect more?

There's nothing quite like California agriculture, and successful growers need

a nutrition plan that meets the unique goals, climate and challenges we face.

Get precisely the advanced products and agronomic knowledge you need to

support your crops, your soil and a sustainable future.

Find an AgroLiquid dealer near you.

AgroLiquid.com

Sure-K® and Kalibrate® are registered

trademarks and PrG is a trademark of AgroLiquid.

© 2020 AgroLiquid. All Rights Reserved.

March 2020 www.wcngg.com 5
---
A research team has learned to-date that a plant-based irrigation delay strategy appears to be working similarly in two contrasting soil

types – the deep, well-drained sandy-loam/silt-loam in a Tehama County walnut orchard study, and a heavier clay-loam in a Patterson

study.

Continued from Page 4

irrigation in the spring was a good idea

to avoid over-irrigation problems, or a

WALNUTS & ALMONDS

WALNUT AND ALMOND PROCESSING EQUIPMENT

Walnut

Almond

Equipment

CONTACT US

Equipment

• Receiving

TODAY

Receiving •

• Precleaning TO GET A QUOTE

Precleaning •

• Hulling

FOR THE BEST

Hulling •

• Drying

PRICES

In-Shell •

• In-Shell

Shelling •

• Shelling

Almond Drying •

• Eletronic Sorting

Eletronic Sorting •

• Hand Sorting

Hand Sorting •

• Packaging

Packaging •

Custom Sizing to Fit Your Needs

Serving the California Walnut &

Almond Industry for over 25 years.

Contact Us Today

209.883.2817

3200 TULLY ROAD, HUGHSON, CA • Grossifabrication.com

bad idea that would cause water stress

problems around harvest.

"It is definitely not a bad idea on this

soil in this location, in fact, trees in

all delay treatments

were less

stressed around

harvest," Shackel

said. "There is

evidence that mild

to moderate stress

is associated with

higher nut load

and quality in

economic terms."

Newer Trials

Underway

Based on the

finding from the

Tehama County

project, the

research team

initiated a new

trial in 2018 on

a heavier soil in

a commercial

walnut orchard in

Patterson, California.

The four-yearold

Chandler/

Vlach orchard

with 15-by-24 foot

spacing, 120 trees

per acre, was in a

clay loam soil.

"This new trial is a very interesting

situation," Shackel said.

Historically, the grower was using

soil water readings to guide irrigation,

keeping the 18-inch-deep sensor from

getting too dry and irrigating longer

to wet the 36-inch-deep sensor if it

showed progressive drying.

"The usual idea is that the shallow

soil is going to get dry and wet as

you irrigate, but that deep soil, if it

starts drying out, if the sensor starts

reading more and more tension, then

sometimes you need to bump up your

irrigation and get that water down deep.

And that is exactly what the grower

had been doing for years at this site,"

Shackel added.

The grower's soil moisture readings

showed a lot of dryness in August to

We have not yet

"

found the 'sweet

spot' for optimal

water management

in walnuts, but

all indications are

that it will not

be as simple as

applying a give

percentage of ET.

6 West Coast Nut March 2020
---
Walnut yields were measured from a trial looking at whether or not delaying irrigation at the start of the crop season is a practical and

economical approach for walnut growers.

October, even though it appeared he

was always at or above SWP baseline.

The research team conducted their

delayed irrigation, starting water in

early June when SWP was two bars below

baseline. Both the grower and team

delivered less irrigation that year than

was normally applied following the ET

calculations. In 2019 the team added

another demonstration plot, this one in

Corning, Calif., again a grower versus

delayed start.

Comparing the crop yields at both

Continued on Page 8

PMS Instrument Company

Plant Based Irrigation Scheduling

GROWER

FAVORITE

Model 615

Pressure Chamber

· Fine tune your irrigation

schedule!

· Minimize water usage and

pump cost!

· Optimize nut size and

quality!

PMS Instrument Company

T. 541-704-2299 | F. 541-704-2388

info@pmsinstrument.com | pmsinstrument.com

1725 Geary Street SE | Albany, OR 97322

Contact Us Today

March 2020 www.wcngg.com 7
---
Continued from Page 8

Dr. Ken Shackel, professor with the UC Davis Department of

Plant Sciences, is part of a research team conducting trials on

delayed irrigation. (Photo courtesy of J. Johnson.)

Knowing when to start irrigating in walnut orchards can be key

to tree health and the economics of water management.

Continued from Page 7

sites, grower versus delay, Shackel

reported that at the Patterson site, the

grower yield was higher, but also a

MYERS BROS.

WELL DRILLING, INC.

Agriculture

Commercial

Municipal

Test Hole

Fax: 559-582-5744

Lic. #548214

8650 E. Lacey Blvd

PO Box 1283

Hanford, Ca 93232

much higher canopy shaded area, so

possibly a local difference in tree size.

However, there was a higher yield per

canopy shaded area in the delay block.

In Corning, with an almost identical

canopy shaded area

in the grower and

delay blocks, the

higher yield went to

the delay block.

"There was no

statistical differences

at either site," Shackel

said, "which was

consistent with the

Tehama site."

Well Abandonment

Well Rehab

Serving the Central Valley for 60 Years

Delayed Irrigation

Based on Stem

Water Potential

Shackel said so

far the research team

has learned to date

that a plant-based

irrigation delay

strategy appears to

be working similarly

in two contrasting

soil types – the deep,

well-drained sandy-loam/silt-loam

in Tehama, and a

heavier clay-loam in

Patterson. The water

savings is substantial,

and even if the cost

of water is not a significant factor, monitoring

SWP to delay the start of irrigation

may pay for itself in lower costs

for irrigation system operation, "not to

mention the possibility for improved

tree and root system health," according

to Shackel.

He said mild water stress is associated

with benefits to nut quality, small

decreases in nut weight, and higher

crop load.

"We have not yet found the 'sweet

spot' for optimal water management in

walnuts, but all indications are that it

will not be as simple as applying a given

percentage of ET," Shackel added.

"This is a good argument that maybe

the ET approach to irrigation scheduling

is not the best approach – might

cause you to start too soon, because if

you don't match ET you worry about

it; and it may be that walnuts, because

they have deep roots, have access to

a lot of water that you may not know

about."

However, he noted, irrigation practices

may depend on the particulars of

the orchard's site, such as the Patterson

test site where they applied only 35

percent of ET and still had the highest

amounts of tree wetness (SWP) of all

the sites in the project.

Comments about this article? We want

to hear from you. Feel free to email us at

article@jcsmarketinginc.com

8 West Coast Nut March 2020
---
They may

be unseen,

but they

shouldn't go

unnoticed.

Nematodes are the invisible threat to almond orchards.

Protect your crops from nematode damage with Velum ® One.

Protection from wide-spectrum

nematode damage.

Can increase yield 8.3% with an

average of $475/bearing acre. 1

58% average increase in canopy

diameter in newly planted trees. 2

Convenient in-season application

via chemigation.

For more information, visit www.VelumOne.com.

1

Profit increase based on 2017 almond price/lb. and average yield/bearing acres with 8.3% increase in yield versus untreated over three-year trial, per trial data of five locations with a single

application of Velum One at 6.5 or 6.85 fl. oz./A.

2

Velum One applied at 6.5 oz./A, spring 2017, via drip irrigation. Trees planted in January 2017. Increase in green canopy pixels based on an average of two rows of untreated trees compared

to an average of two rows of Velum One-treated trees.

© 2019 Bayer Group. Always read and follow label instructions. Bayer, the Bayer Cross, and Velum are registered trademarks of the Bayer Group. Not all products are registered for use in all states.

For additional product information, call toll-free 1-866-99-BAYER (1-866-992-2937) or visit our website at www.CropScience.Bayer.us. Bayer CropScience LP, 800 North Lindbergh Boulevard,

St. Louis, MO 63167. CR0119VELONEB034S00R0

March 2020 www.wcngg.com 9
---
UNDERSTANDING PHYSIOLOGICAL EFFECTS OF

WINTER CHILL IN PISTACHIOS

By MITCH LIES | Contributing Writer

Gurreet Brar hopes to determine

not only what it will take to boost

pistachio yields following warm

winters, but the reason why trees fail

to produce in the absence of winter

W

chill and whether and why treatments

improve yield.

The understanding, Brar said,

will help researchers provide a science-based

solution to what has

NDERFUL PISTACHIO ROOTSTOCK TREES NOW AVAILABLE!

Exclusive from Wonderful Nurseries for our Grower Partners.

WONDERFUL PISTACHIO ROOTSTOCK TREES

True to our "Growers First"

commitment, Wonderful Nurseries

is now offering our proprietary

Wonderful Pistachio Rootstock

(WPR) trees to our grower

partners. This is your opportunity

to reap the benefits of over 20

years of meticulous research and

development into promising

selections of UCB-1 rootstock.

We believe this rootstock can

yield more pistachios per acre

than any other rootstock in the

market. To stand behind our

product, Wonderful Orchards has

designated over 17,000 acres for

planting through 2019.

To find out how you can become

eligible to purchase these

exceptional Wonderful Pistachio

Rootstock trees, call Director of

Sales Dustin Hooper, at 661-301-

7399, for all the details and to

schedule a visit today.

SERVING YOUR VINE, ALMOND AND PISTACHIO TREE NEEDS

WonderfulNurseries.com 661.758.4777

© 2020 Wonderful Nurseries LLC. All rights reserved. WONDERFUL, WONDERFUL NURSERIES and the

accompanying logos are trademarks of Wonderful Nurseries LLC or its affiliates. The Wonderful Pistachio

Rootstock Trees are the subject of U.S. Plant Patent Nos. PP26915, PP26916, PP27318, PP27319 and PP27436.

become a persistent problem in recent

years: low chill accumulation in winter

months.

Brar, an assistant professor in

the Department of Plant Sciences at

California State University, Fresno, is

in the midst of four-year study analyzing

several issues surrounding chill

requirements in pistachios. Among issues

he is studying: How trees respond

to changes in temperature, or the

physiology of chill accumulation and

dormancy break in pistachios; and how

pistachio trees respond to horticultural

oil, an input that growers use to offset

low chill accumulation.

Researchers in Brar's lab are collecting

flower buds from early January

through March from sprayed and nonsprayed

pistachio blocks and analyzing

the buds for their sugars, starches and

other enzymes and metabolites.

"What that is going to give us are

the complete changes that occur in the

buds, so we can pick out what is going

to be our best strategy to manipulate

dormancy break," said Brar, who holds

the Rodger B. Jensen Professorship in

Pistachio Physiology and Pomology at

Fresno State.

Brar proposed the project to the

California pistachio industry in the

wake of some severe yield declines in

recent years that were precipitated by

warm winters.

Like cherries and walnuts, in order

to bloom and leaf-out properly in the

spring, pistachios have a high chill

accumulation requirement during the

winter months, Brar said. The average

winter temperatures in the Central Valley,

meanwhile, have been on the rise

since the 1950s, leading to erratic bud

breaks in commonly grown pistachio

varieties.

In the spring of 2015, for example,

Brar said, high winter temperatures

caused the male pollinator variety

Peters to not bloom at all in some

orchards and led to erratic bloom in

Kerman, the most commonly produced

10 West Coast Nut March 2020
---
variety in California. Fahrenheit temperatures

climbed into the 60s during

much of the winter and even into the

low 70s, Brar said.

"In many areas of the Central Valley,

the pistachio trees did not bloom out

normally and did not leaf out normally,"

he said. "There were very low yields

industry-wide. And for many years,

we have seen that pattern." He added

that researchers predict average winter

temperatures in Central Valley "will

be much warmer by the end of the 21st

century."

To date, growers have largely turned

to horticultural oils to help offset

low chill accumulation during winter

months, Brar said. The effects of

horticultural oils, however, are not fully

understood and their performance has

been erratic.

"Industry people do not really know

what the oil is doing," he said. "So,

every year, hundreds of thousands of

acres across the state are being sprayed

with oil, and we are getting mixed results.

Nobody really knows what makes

the oil work. It is hit or miss."

In a separate research project, one

of Brar's graduate students had begun

testing a handful of rest-breaking

agents, or RBAs, including plant

growth regulators and horticultural

oils, to see if there are some promising

compounds available that could be

worth further study. But that research

was discontinued.

"We thought we should first try to

answer basic physiological questions,

such as what is the oil doing in the bud,"

Brar said. "Once those questions are

answered, then we can figure out what

we need to do.

"We need to focus on what we are

looking at first," he said, "with the

eventual goal of determining where do

we need intervention and at what time

and with what compounds."

Ultimately, Brar said, new varieties

bred for less chill-accumulation requirements

could provide the solution

to warm winters. But developing new

varieties, he said, could take decades.

"When we think about having a

totally different climate in the Central

Valley at the end of the century, we

know that we need to do long-term

breeding programs to come up with

varieties that can produce a decent crop

in a low-chill scenario," Brar said. "But

right now, the goal is to do some kind

of intervention, maybe by using growth

regulators or find some other chemical

inputs that can help trees wake up normally

even in a low-chill year."

Brar compared the research approach

to research of fertilizer inputs.

"We all add nitrogen, potassium,

sulfur and micronutrients to the trees,"

he said. "And because of research, we

know that when there is fruit on the

tree, we need the most nitrogen. And

we learned that at bloom we need boron,

because boron is needed for flower

development. And we learned that

through research.

"So that is what we are doing in

trying to manage chill in pistachios,"

he said.

Brar has three researchers in his lab

focused on the project, including two

conducting lab work and one in the

field collecting samples and monitoring

oil sprays and harvest, as well as documenting

when bloom occurs in relation

to the different treatments. Researchers

are compiling nut growth, nut quality

and yield data, as well as data on percentage

of blanks. Temperature gauges

enable researchers to follow chill accumulation

at the different sites.

Researchers expect to have first-year

data compiled by this spring.

Brar said it could be several years

before the research yields results growers

can take to the field.

"By the end of four years, we will

at least know what changes are occurring

in the trees," he said. "Then it will

take another two to four years to test

the potential rest-breaking agents, the

chemical compounds that will break

the rest of the tree."

Several compounds under consideration

for use as rest-breaking agents

currently are registered for use in

pistachios, Brar said. Others aren't, but

researchers plan to pursue registration

of those compounds if an interest is

showing in doing so, Brar said.

Kraemer & Co. Mfg., Inc.

Nut Drying & Storage Facilities

Almonds • Pecans • Pistachios • Walnuts

• Burners

• Fans

• Drying Systems

• Storage & Handling

• Custom Manufacturing

• Spiral E-Z Let Downs

• Installation & Service

Let Kraemer & Co. Design

and Build the Facility

that is Right for Your Needs

Comments about this article? We want

to hear from you. Feel free to email us at

article@jcsmarketinginc.com

Walnut Drying Bins

Bin Features

• Knock Down Kit

• Modular

• Corrugated / Galvanized Construction

• Do-It-Yourself Option

• Low Lead Time

• 6 Ton Capacity

3778 County Road 99 W

Orland, CA 95963

530-865-7982 │ Fax: 530-865-5091

CA Cont. Lic. #485-547 │ Web: www.kcomfg.com

March 2020 www.wcngg.com 11
---
DRONE TECHNOLOGY

IN NUT CROPS

FROM BOOTS ON THE GROUND TO EYES IN THE SKY:

DRONES HELP WITH PRECISE INPUT MANAGEMENT

By CECILIA PARSONS| Associate Editor

Growers have put 'boots on the

ground' for generations to visually

inspect their fields and orchards.

With the advent of unmanned aerial

vehicles that carry infrared cameras,

growers now have the opportunity

to view real time orchard and field

conditions on their phones and make

management decisions to improve crop

health and production.

Dr. Gregory Kriehn, California State

University, Fresno, engineering professor

and speaker at the Walnut Day

in Visalia, said use of unmanned aerial

vehicles or drones is becoming more

common in agriculture as growers are

seeking more precision in application

of water, nutrients or pesticides. California

farms, which produced 13 percent

of U.S. farm dollars, rely on about

20,000 drones to assist with management

decision and one in 10 California

farmers use drones

to help with management

decisions, mostly

in higher value

permanent

crops,

Kriehn said.

For perspective, last year there were

9,000 registered unmanned aircraft systems

in the United States. Of that total,

Continued on Page 14

12 West Coast Nut March 2020
---
For more information

818-249-4647

west-link.com

Optical Sorters

Buhler:

Sortex Optical Sorters

Aeroglide Dryers & Roasters

Buhler Grinders

Packaging Systems:

Wrappers

Conveyors, Stretch Wrapping

Processing Systems:

Bin Dumpers, Vibratory Feeders

Bucket Elevators, Air Separators

Aspirators, Bag Houses

Thermo

Metal Detectors, Checkweighers

X-ray - Systems

March 2020 www.wcngg.com 13
---
Continued from Page 12

nearly half were used in real estate and

aerial photography. Industrial inspections

were the second highest use at 28

percent. Agriculture accounted for 17

percent of unmanned aircraft use.

Multispectral images of an orchard

do not relieve a grower or farm

manager from 'boots on the ground'

responsibilities but can show trends as

they develop for further investigation.

For instance, Kriehn said, multispectral

imaging identifies plant stress, but

gives no indication of the cause. That is

why visual inspection is still important,

as well as multiple sets of good data.

Extracting useful information from the

multispectral images involves Machine

Learning Algorithms, or MLA. Given

the proper criteria, MLA can interpret

the images to produce patterns of plant

behavior. Multiple runs of data can increase

the accuracy of the information.

"USE OF

UNMANNED

AERIAL VEHICLES

OR DRONES IS

BECOMING MORE

COMMON IN

AGRICULTURE

AS GROWERS

ARE SEEKING

MORE PRECISION

IN APPLICATION

OF WATER,

NUTRIENTS OR

PESTICIDES."

With more

data, the algorithms

can offer increased probability

and create a model that can be compared

with visual inspection.

Using the Data

Transforming raw data from the

images into actionable information is at

the heart of the value of this technology.

The information can allow growers

14 West Coast Nut March 2020
---
June 3, 2020

Turlock, California

Alm nd Day

June 24, 2020

Fresno, California

Register Now for

SUMMER

SHOWS

See Page 51

to make management

decisions for pest control,

irrigation, and nutrition.

Benefits include more

efficient use of spray applications,

fertilizers and water.

Over large areas, the images

can determine tree populations

or spacing, canopy variation,

and harvest timing.

Integrated unmanned

aerial vehicles are both rotor

and fixed wing. While the public

is primarily familiar with the

rotor type, Kriehn said that the slower

moving, large wingspan drones are

more often used to capture images due

to their stability. In addition to carrying

camera systems, the drones are

directed with flight control software to

fly desired routes.

Images from a camera-equipped

drone can provide a big picture of what

is happening on a piece of land. Multiple

images taken over time can show

emerging trends in an orchard.

Going deeper than aerial photography,

camera use in agriculture involves

multispectral imaging. Multispectral

imaging technology uses green, red, red

edge and near infrared wavebands to

capture images of crops and vegetation.

These spectral bands show the reflectance

of light by vegetation. Every surface

reflects back some of the light that

it receives. Different surface features

of plants reflect or absorb the sun's

radiation in different ways. The ratio

of reflected light to incidental light is

known as reflectance and is expressed

as a percentage. In his presentation,

Kriehn said that reflectance depends on

the time of day the images were taken.

Normalized Difference Vegetation

Index Imaging shows the difference between

near infrared and red band spectra.

This provides a plant 'greenness'

index and measures photosynthetic

activity. Potential uses are evaluation

of canopy coverage, long term growth

trending, frost damage detection, largescale

pest outbreaks, biomass production

and soil moisture. Normalized Difference

Red Edge Index Imaging is the

difference between near infrared and

red edge band. This measures canopy

reflectance and potential uses include

optimizing harvest time, hull split in

almonds, sugar content in grapes, crop

stress and pest infestations.

Using multispectral imaging as

a complement to field scouting to

pinpoint specific trouble areas, a nut

grower, for instance, has the opportunity

to determine, based on early trends

supplied by the images, changes in

orchard health that would have gone

undetected for a longer period.

Comments about this article? We want

to hear from you. Feel free to email us

at article@jcsmarketinginc.com

"MULTISPECTRAL

IMAGES OF AN

ORCHARD DO

NOT RELIEVE A

GROWER OR

FARM MANAGER

FROM 'BOOTS

ON THE GROUND'

RESPONSIBILITIES

BUT CAN SHOW

TRENDS AS

THEY DEVELOP

FOR FURTHER

INVESTIGATION. "

March 2020 www.wcngg.com 15
---
A WORD FROM THE BOARD: THE ALMOND BOARD OF CALIFORNIA

EXPERT PANEL SUGGESTS

'MOONSHOT' EFFORT

NEEDED TO BUILD FUTURE AGRICULTURAL WATER SUPPLY

Successful groundwater recharge will require unprecedented collaboration

to capture, move and store water from excess rainfall, according to experts.

(Photos courtesy of Almond Board of California)

After decades of over-pumping

groundwater, California faces declining

aquifers and stark choices

– a future so challenging that a collective

"moonshot" effort is needed to preserve

irrigation supplies and viable agriculture

in many parts of the state.

That message was the theme among

experts participating in a panel at The

Almond Conference 2019 focused on

the state's landmark 2014 Sustainable

Groundwater Management Act, or

SGMA. SGMA requires many areas

to balance supply and demand for

groundwater, leaving local regions

scrambling to develop plans to ration

pumping while figuring out how to

return more water to aquifers during

times of plentiful rain.

Jesse Roseman, principal analyst

for Environmental and Regulatory

Affairs at the Almond Board of California

(ABC), led the panel. Roseman

said ABC conducts research, education

and outreach to help almond growers

understand their opportunities for

shoring up water supplies through

efforts like groundwater recharge.

"We're looking very closely at how

we can do recharge in a way that

doesn't harm our trees," he said. "We've

got an optimistic goal. The Public Policy

Institute of California said that in

the San Joaquin Valley we can recharge

up to 500,000 acre-feet of water per

year, addressing about a quarter of the

overdraft. Let's work together to make

that happen."

Making it happen requires unprecedented

collaboration to capture, move

and store water during infrequent

periods of excess rainfall, according to

Kamyar Guivetchi of the California Department

of Water Resources. DWR's

Flood Managed Aquifer Recharge

program, or Flood-MAR, is looking at

strategies ranging from re-operating

reservoirs, increasing storage and creative

efforts to increase water transfers

and banking and innovative methods

of cultivating crops.

All this will require cooperation

at the local, regional and state level,

including the public and private sectors,

Guivetchi said. Perhaps most important

is building conveyance infrastructure

to carry water during the rare times it

is in oversupply, and identifying ahead

of time the best places to send it in

hopes of storing it underground.

"Everyone has a part to play in

advancing Flood-MAR," Guivetchi

said. "This is a moonshot for California.

Getting all these water sectors and

agencies to work together is going to

take work, but it really is something we

need to do."

The panel included several almond

growers with experience in groundwater

recharge. They pointed to the need

to thoroughly assess the needs and capabilities

of individual farms, and their

local irrigation district programs, as

part of developing a recharge strategy.

A key thing to remember is that

when surplus water becomes available,

it often arrives in huge amounts over

very short periods, sometimes with little

warning. But getting ready for those

sporadic events can take years of diligent

planning, effort and investment.

"The flood flows come fast and they

come hard, and you need to capture

them quickly and spread them around,"

said Don Cameron, vice president and

general manager of Terra Nova Ranch,

located southwest of Fresno.

Responding to declines in the local

water table of about two feet per year

since the early 1980s, Cameron said

16 West Coast Nut March 2020
---
Terra Nova has made tremendous

progress preparing for and implementing

groundwater recharge. But those

advances haven't been easy, cheap or

risk-free. For example, the farm experimented

with over-applying irrigation

water during especially rainy seasons,

such as 2011 and 2017, to walnuts, olives,

pistachios and almonds.

"We tried a lot of different scenarios,"

he said. "We kind of took a leap,

because no one had done the research

on this and we wanted to find out what

we could and couldn't do, and where

we would start having problems."

Since then, more university research

has been done, including groundwater

recharge in almond orchards, led by Dr.

Helen Dahlke of the University of California,

Davis. This work, supported by

a grant from the Almond Board of California,

focuses on how recharge can

be conducted with minimal impacts to

almond orchards.

Cameron said Terra Nova got a

boost to its efforts to pursue recharge

upon receiving a $5 million grant from

the Department of Water Resources.

The grant helped fund a project to pull

excess floodwaters from the North Fork

of the Kings River and carry it through

a new canal to a dedicated recharge

area on the ranch. The project was

supposed to cost $7 million, but costs

soared and will be about $12 million

when the project is finished this year,

after more than eight years of work.

"This takes a lot of patience," Cameron

said. "You've got the CEQA [California

Environmental Quality Act], you've

got cultural studies, you've got agreements,

permitting, you name it. It's a

long process and frustrating. But in the

long run, we'll cover 18,000 acres and

be able to take 500 cubic feet per second,

which is 1,000 acre-feet per day."

Other growers said the efforts,

though difficult, are not only worth it,

but essential to the future survival of

many farms.

Matt Efird, a fifth-generation grower

from the Fresno-area, said his family

has been practicing recharge for years,

using a flexible irrigation system that

allows him to deliver water to his

trees through flood, microsprinklers

or dual drip lines, depending on the

circumstances. He recently decided to

work with the non-profit organization

Sustainable Conservation to measure

the efficiency of his recharge efforts.

"We found out that when we're

bringing this surface water in, we are

briefly recharging over an acre-foot per

acre in less than four weeks," Efird said.

"So, for a 1,000-acre operation, we're

looking at 1,000-acre-feet of water in a

month."

He advised growers to cooperate

with their irrigation districts and make

capital investments in their operations

so they can take extra water when it is

available. He also suggested growers

learn which of their soils are right for

on-farm recharge and be prepared to

adjust their other orchard management

practices, as needed, to accommodate

recharge events. These include potential

adjustments to post-harvest fertility

Continued on Page 18

FUNDAMENTALLY BETTER

ACADIAN ® DELIVERS FUNDAMENTAL

VALUE TO YOUR PROGRAM WITH:

• Improved plant vigor

• Enhanced root growth

• Resistance to environmental stress

• Higher yields

When you're looking to build your

nutritional program – ask for Acadian ® .

CONTACT US TODAY!

Chris Coolidge (Central CA) . . . . 559-779-3579

Taylor Hoover (Coastal CA) . . . . 949-547-0880

Duncan Smith (NorCal) . . . . . . . 209-471-2412

Annalisa Williams (CA) . . . . . . 805-801-5238

Jeff Downs (SoCal/Az) . . . . . . . 559-285-8448

Acadian Plant Health is a division of Acadian Seaplants Limited.

Acadian ® is a registered trademark of Acadian Seaplants Limited.

acadian-usa.com

DO NOT PRINT

March 2020 www.wcngg.com 17

McDaniels Marketing • Client: Acadian• "2020 Acadian Fundamentally Bet-
---
Almond grower Don Cameron talks about groundwater recharge at a session

on SGMA during The Almond Conference 2019 on "How to Make Lemonade

Out of Groundwater Regulation".

Continued from Page 17

programs and weed control, as these

activities can be hampered or negated

by recharge if not coordinated properly.

Though it takes planning, investment

and adjustment, Efird said recharge

is one of the most direct avenues

for growers to find benefits.

"One of the easiest and most awesome

things we have is the ground to

put the water out on," he said. "Anything's

better than allowing it to go out

to the ocean. We've got to do what we

can to capture that."

Madera grower Tony Savant, after

watching his water table drop about

four feet annually over the past 26

years, was eager to figure out how to

turn the tide. He's been working with

Madera Irrigation District, which

offers several incentive programs, and

because he operates several orchards

in different locations, he's assessed the

soils and crops at each site so he always

knows the best direction to direct extra

water when it is available.

He's also installed solar panels to

help reduce his energy costs for moving

water.

"It's going to cost you a little money,

but in the end, you're going to get a better

product and it's good for your crop,"

Savant said. "I'd recommend recharge

to anybody."

Joe Choperena, director of Sustainable

Conservation's program for

encouraging recharge in the Central

Valley, works with growers to identify,

pursue and measure success of

recharge, in hopes of sharing success

stories and information that helps other

growers. He said he's optimistic.

"There are about a dozen different

irrigation districts in the San Joaquin

Valley that are already providing

incentives to participate in recharge

programs," Choperena said, adding

that the incentives can include direct

payments, discounted water prices,

and pumping credits. "Those incentives

have helped spur more elaborate

and costly recharge projects, not just

over-irrigation on cropland."

Those more complex projects

include dedicated recharge basins, or

using existing borrow pits or unlined

irrigation reservoirs as a place to store

excess water when it's available and to

let it recharge aquifers.

Choperena told growers, "If you're

interested in doing recharge on your

property, I really encourage you to start

communicating with your districts

and your Groundwater Sustainability

Agencies, and even state agencies, and

let them know you want to be part of

the solution."

To learn more about the role of

Groundwater Sustainability Agencies

and to determine which agency, or

agencies, represent your area, visit

Water.ca.gov/Programs/Groundwater-Management/SGMA-Groundwater-Management/Groundwater-Sustainable-Agencies.

See also "Multiyear

UC Davis study shows little impact

from winter flooding, with best

outcomes in sandy soils," at https://

newsroom.almonds.com/content/

where-might-almonds-fit-into-groundwater-recharge.

Comments about this article? We want

to hear from you. Feel free to email us at

article@jcsmarketinginc.com

18 West Coast Nut March 2020
---
Introducing the Precision Fit 8 Cab (exclusive to John Deere)

• Ceiling Mounted Climate System

• Improved Serviceability

• Greater Visibility

• Roomier

• Quieter

"Celebrating over 35 Years of Orchard Cab Innovation"

www.KeyDollarCab.com (800) 481-0876

March 2020 www.wcngg.com 19
---
One of the best current guidelines of insecticide use in walnut navel

orangeworm management is to focus protection from husk-split

through harvest, according to research. (Photos courtesy of E. Symmes)

NOW IN WALNUTS:

ONCE A MINOR PEST, NOW BECOMING A BIGGER

CONCERN IN WALNUT ORCHARDS

By JULIE R. JOHNSON | Contributing Writer

Contiguous acreage of nut crops

in California is making navel orangeworm

(NOW) a more pressing

pest concern for walnut growers, according

to Emily Symmes, Sacramento

Valley area IPM advisor with the UC

Statewide IPM Program and Cooperative

Extension.

"Navel orangeworm has a broad

host range and availability in the state,

with tree nuts among the preferred

hosts," Symmes said. "And we are

seeing expanded, contiguous acreage

in tree nuts of almond, walnut and pistachio,

up nearly 50 percent in bearing

acreage over the last decade."

The contiguous acreage makes NOW

movement and spread a significant

threat to nut crops.

"What we (researchers) did is we

mapped the walnut, almond and pistachio

acreage in the state," Symmes

said. "In the Central Valley we see this

expanding continuous acreage of nut

crops prime for NOW."

She explained this pattern creates

a staggered crop phenology, "which

means we have this continuing available

host and susceptibility period."

Importance of Sanitation

Enhancing the NOW cycle in

orchards are mummy nuts—those

left over from last year that remain in

trees—or any of the in-season damaged

nuts. NOW have a high dispersal

capacity, with the ability to fly up to six

miles a night. This is a real challenge

when it comes to management of the

pest, Symmes said. They also have a

high reproductive capacity with each

female capable of laying 80 to 100 or

more eggs.

"We have seen a single female lay as

many as 200 eggs," Symmes added.

Multiple larvae can develop in a

single nut so one leftover mummy nut,

or one in-season damaged nut can bear

multiple larvae.

"We have seen as many as 10 larvae

developing on a single nut," she said.

NOW life cycle depends on mummy

nuts for overwintering, whether its

walnut, almond or pistachio. Mummies

provide an overwintering bridge to get

NOW from one season to the next, and

can allow early generations to infest

orchards before the in-season crop

becomes vulnerable. In-season crop

susceptibility occurs in damaged nuts

and at husk or hull split.

The nut industry has an extremely

low tolerance for crop damage, less

than 2 percent, out of food safety concerns

with aflatoxin.

"Effective management depends on

sanitation, minimizing damage from

other sources, harvest timing, insecticides

and mating disruptions," Symmes

said.

Management challenges related to

20 West Coast Nut March 2020
---
economics and logistics (control over

harvest timing and insecticide timing,

for example) must be addressed

through an integrated approach.

"It really goes back to the map of the

continuous-host smorgasbord," Symmes

said. "We really have to take an

area-wide IPM approach to this pest

based on its biology, ecology, and ability

to readily move between hosts over

significant distances."

Four Generations a Year

Navel orangeworm produce four

generations per year now, and this

is the norm statewide, according to

Symmes.

"It used to be that it would sometimes

happen in the Sacramento Valley,

but we can pretty well count on four

generations most years now, partly due

to earlier springs and summer heat,"

she added.

The first and second flight on walnut

are going to cycle through last season's

mummies and in-season damaged nuts.

"However, the impact of the third

and fourth flights on the harvestable

walnut crop depends on what variety

you have, husk split and harvesting

timing, how abundant the navel

orangeworm population is, and how

much migration into the orchard is

occurring," Symmes said.

Research and Projects

"So often I hear the question, 'I'm

trapping, and these are the numbers

I'm seeing in my traps, do I need to

treat my walnuts now, or when, and

with what, to avoid certain crop damage,'"

Symmes said. "So, we have been

looking into what monitoring tools

are available and what information

they are telling us. That really is the

million-dollar question that I wish I

could answer. Our research is working

towards being able to answer that

question."

That is why Symmes and her team –

Houston Wilson, IPM specialist, Kearney/UCR;

Chuck Burks, USDA entomologist;

and Jhalendra Rijal, Northern

San Joaquin Valley Area IPM advisor

– are working on current projects evaluating

a number of monitoring tools to

learn how to best predict damage and

when intervention is needed to avoid

damage.

They are also conducting research

on what factors influence NOW populations

and damage in walnut orchards

by focusing on the movement of NOW

between crops and landscape and relating

traps counts to harvest damage and

figuring out what other factors should

be included in a damage "risk model."

Monitoring with Traps

There are three main trap-based

monitoring tools for NOW that have

been included in current research for

adult NOW – kairomone for gravid

(mated/egg-carrying) females, phenyl

propionate (PPO) for males and

females, and pheromone for males.

"For treatment thresholds it remains

unclear for all three monitoring traps.

This is one of those things that is a

puzzle. You use different types of traps

Continued on Page 22

Navel Orangeworm Control!

Mating disruption product for conventional and organic California tree nuts!!

LESS DAMAGE – MORE PROFIT

SEASON-LONG CONTROL THROUGH POST-HARVEST

MATING DISRUPTION PRODUCT

FOR NAVEL ORANGEWORM IN

ALMONDS, PISTACHIOS & WALNUTS

© 2019, Trécé Inc., Adair, OK USA • TRECE, PHEROCON and CIDETRAK are registered trademarks of Trece, Inc., Adair, OK USA • TRE-1491, 4/19

Navel Orangeworm,

Amyelois transitella

• Up to 80% or more potential reduction in

damage vs. current insecticide program

• Season-long control through post-harvest

• Easy application with ready-to-use

carrier pack

• No moving parts, no batteries, no

gummy deposits

• Removal not required

INCORPORAT ED

INSECT PHEROMONE & KAIROMONE SYSTEMS

Your Edge – And Ours – Is Knowledge.

Contact your local supplier and order now!

Visit our website: www.trece.com or call: 1- 866-785-1313.

®

March 2020 www.wcngg.com 21
---
Continued from Page 21

and other measures of risk in the environment

and that is how you decide

whether or not to treat," Symmes said.

Current research shows that fewer

pheromone traps are needed per block

compared to kairomone and PPO traps.

In addition, Symmes said, "Pheromone

traps may be telling you more of a

landscape scale, more of what is going

on in general amongst the flight. The

kairomone and PPO traps may be more

tied to local population pressure and

the damage potential in that orchard or

block."

Movement Between Orchards

In a 2018 study to determine moth

origin, researchers trapped NOW in

adjacent almond and walnut orchards

in the center of the orchards using different

trap types to see what was being

caught and where. Analyzing the fatty

acids in the captured moths, researchers

learned the male moths moved

between orchards during the duration

of trapping.

"With the females, using the Peterson

traps, we found a similar thing,

while there was some movement

between orchards, what we learned is

that most of the females trapped in an

orchard had developed from larvae

in that orchard. That said, later in the

season we saw an apparent influx of

females into the walnut orchard from

the almond orchard, much more than

movement from the walnut into the

almond orchard," Symmes said.

The possible reason, she explained,

is that later in the season the females

are looking for

someplace to

lay their eggs. In

August, almond

orchards are

being shaken and

the females are

losing that host,

so they move

over to an adjacent

or nearby

host, in this case

a walnut orchard.

At the same time

the males aren't

worried about

the orchard, they

are just looking

for the females.

"It is also important

to note

in this study that

we learned that it

is often a misconception

that

'all of NOW entering into my walnut

are flying in from the almond orchard

next door.' And certainly we see that

while this is significant, growers need

to understand they still have their own

in-house population of NOW in walnuts,"

Symmes added.

She reported that results from the

study are consistent with the hypotheses

that NOW pheromone traps (for

males) have a greater trapping radius

than ovipositional bait traps (for

females), and that female-based trap

counts may provide more block-specific

data and a greater association with

ultimate crop damage. Evidence of the

second phenomenon has also been

Emily Symmes, Sacramento Valley Area IPM advisor, presents information

on navel orangeworm management to a group of growers.

(Photo courtesy of J. Johnson)

observed in almonds. (Rosenheim et al.,

December 2017, Journal of Economic

Entomology).

In a practical sense, Symmes

asked, what do results of this research

mean for monitoring NOW in walnut

orchards as a decision-support tool for

deciding whether to apply husk split

treatments? Utilizing a combination of

adult trap types may provide the best

two-pronged information: (1) pheromone

traps for male NOW to inform

season-long activity (e.g., population

detection, flight patterns, relative abundance),

and (2) ovipositional bait bag

traps for female NOW or PPO traps

Continued on Page 24

22 West Coast Nut March 2020
---
POWERFUL MARKETING DRIVES

POWERFUL SALES

It's true. When our TV campaign is on the air, visits to the California

Walnuts website jump an incredible 500% or more!

And our newly launched consumer campaign tested very highly with consumers,

with 78% saying they would be more likely to purchase after seeing the ad.

Research showed that our consumers are seeking simple solutions to make

life easier and more manageable. The new spots feature humorous vignettes

illustrating that modern life isn't always easy. This effort will be supported by

an unprecedented investment at retail, to remind consumers to add California

walnuts to their shopping cart.

An Industry Working Together.

At the California Walnut Board, we're continually

working for you to drive the awareness and

sales volume of walnuts. To stay informed, sign

up for our newsletter at walnuts.org, and stop

by to say hi at the upcoming agricultural shows

and California Walnut Conference.

walnuts.org/our-industry

March 2020 www.wcngg.com 23
---
Continued from Page 22

for males and females to inform

site-specific pressure and damage

potential.

2019 NOW Research

"We are looking at what these

different NOW traps are telling us

throughout the season and really

trying to analyze the relationship

between moth counts, harvest damage

and these different trap types

and determine where the moths

are coming from over the course of

the season," Symmes said. "We also

want to compare seasonal changes

in NOW source and abundance in

walnut orchards in the context of

landscape-scale factors such as comparing

almond dominant versus walnut

dominant landscapes."

Selected 2019 research regions

included the Sacramento Valley, San

Joaquin Valley-North and San Joaquin

Valley-South. Within each region there

were three walnut dominant sites and

Sanitation in walnut orchards susceptible to navel orangeworm is critical as the pests life

cycle depends on mummies for overwintering, says Emily Symmes, Sacramento Valley Area

IPM advisor.

three almond dominant sites, totaling

18 sites of research altogether. Within

each site three trap types have been

established – one pheromone, one PPO

and six kairomone, each monitored

weekly.

Damage evaluation at harvest was

conducted on 1,000 nuts per site, providing

the following general conclusions:

Certain traps/lures may better

predict damage – (more robust data set

needed, which will be collected over

the next two additional seasons).

▶ Factors that contribute to crop

damage are complex – such as

landscape, geography, cultivar,

sanitation, other damage.

ISOMATE ® CM Mist Walnut Plus

Innovative and Effective

Mating Disruption Technology

for Codling Moth

• SEASON-LONG pheromone

release, 200+ days

• PRE-PROGRAMMED,

ready to use

• LIGHT WEIGHT

• EASY to deploy, reduced labor

• For ORGANIC or conventional use

Reliable aerosol disruption from

the Trusted Leaders in

Pheromone Technology

▶ Moths move between orchards –

resident walnut populations are not

negligible.

▶

Sink-source dynamics change

over the season – drivers include

resource availability, hull vulnerability,

harvest timing, and others.

Symmes also summarized the

ongoing Sterile Insect Technique program

for NOW. Houston Wilson and

Chuck Burks are actively involved with

research evaluating the fitness of sterile

moths and optimal release strategies.

She said the concept of the program is

to introduce sterile insects into wild

populations to overwhelm mating

success among the native (non-sterile)

populations, with the goal of reducing

viable offspring, thereby decreasing

NOW populations and crop damage

(See related story on Gains Being

Made in SIT NOW on Page 70.)

PACIFIC BIOCONTROL CORPORATION

www.pacificbiocontrol.com

ISOMATE ® is a registered trademark of Pacific Biocontrol

Jeannine Lowrimore

Northern California

209.603.9244

Christeen Abbott-Hearn

Central and Coastal California

559.334.7664

Comments about this article? We want

to hear from you. Feel free to email us at

article@jcsmarketinginc.com

24 West Coast Nut March 2020
---
The potassium nitrate experts

Three potassium nitrate products

to fit the needs of the Nut grower

KNO3

3-0-10

KNO3

K Plus

KNO3

SQM North America

Tel: 1 (888) 241 0233

E-mail: spn-northamerica@sqm.com

sqmnutrition.com

March 2020 www.wcngg.com 25
---
Preparing

Your

Orchard

for

Ag Tech:

DON'T LET THE CHOICES

OVERWHELM YOU. MAKE A

PLAN INSTEAD.

By SETH HANSEN | Independent

PCA/CCA, Reliant Crop Services

Determine the capability of your soil moisture monitoring station to accept

and send weather data to maximize the value of your investment.

(Photos courtesy of S. Hansen)

The technology floodgates have burst wide-open in

the agriculture industry. It is nearly impossible to

read a trade magazine, attend a convention or scroll

through social media without encountering agricultural

technology in one form or another. That should be no

surprise. The rapid pace of technological advancement is

transforming many industries, as well as our daily personal

lives. But the continual procession of new ag technology

products and services can be overwhelming, and the

associated time and cost of evaluating each is proving to

be a barrier to adoption.

Most growers and consultants recognize a need to become

more efficient in their business. Rising labor costs,

suppressed commodity prices and ever-expanding regulatory

requirements are putting intense financial pressure

on many agricultural operations in California. Compliance

programs alone, for food safety, worker protection,

pesticides and nutrient management, are inundating operators

with documentation and reporting requirements.

In light of the significant challenges facing the industry,

it makes perfect sense that researchers, vendors and their

investors see a tremendous opportunity in bringing their

technology solution to your farm. But how do you know

if any one of these "solutions" you encounter will actually

26 West Coast Nut March 2020
---
solve one of your pressing problems?

Independent crop consultants like

myself face some of these same challenges,

albeit at a smaller scale. How

can I cover more acres without overlooking

a developing problem in the

field? What more can I do for my client

to deliver value and stay ahead of my

competition? How do I maintain all the

necessary documentation required for

compliance, without sacrificing time in

the field? New ag technologies may be

able to address these questions, but the

simple reality is that they will demand

investments of time and money. As

these resources are in limited supply

to most of us in the industry, wisdom

dictates that a careful and deliberate

approach is needed in the pursuit of

technology solutions.

Assessing and Planning

Your Tech Needs

What follows are three simple, yet

important steps you can take as a

grower, consultant or other agricultural

operator, to get the most out of your

ag technology investments. They are

the outcome of many efforts to find,

evaluate, and even promote various

technologies in the field, along with

the resulting successes, and not a few

failures or disappointments.

The first, and perhaps most critical

step, is to develop a comprehensive

technology plan for your operation.

This plan does not need to be complex

or overly technical, but should be thorough

and specific to your company's

needs.

Consider the planning necessary to

develop a highly productive orchard.

Site selection, as well as rootstock and

variety selection, soil analysis and remediation,

irrigation system design and

evaluation of water sources, are just a

few critical components for success. A

wrong decision regarding any one of

these components could have longterm

effects on the productivity and

profitability of the orchard. The same

is true when making decisions about

ag technology. Each ag technology

investment you make should contribute

to the larger technology and business

objectives of the operation.

Take, for example, a grower searching

for a soil moisture monitoring

system to manage irrigation scheduling

more effectively. In a half-second

search of the web, it is possible to find

multiple suppliers in their area. But

before scheduling any vendor meetings

or comparing pricing, he should take

a few minutes to address some of the

following questions:

• Who will be doing the monitoring,

and therefore who needs access to

the data?

Ag Tech

• What desktop or mobile devices/operating

systems are compatible? Can

I or my employees access the system

from the field?

• Is monitoring the only need, or are

irrigation controls desired also?

• Can reports be produced for

regulatory agencies or sustainability

Continued on Page 28

March 2020 www.wcngg.com 27
---
Ag Tech

Continued from Page 27

audits, without manually transferring

the data to another spreadsheet

or binder?

• If salinity and weather data is

important, can the system capture

these?

• Does the vendor's platform integrate

with other software currently used

by the operation?

Without adequate planning, this

grower could invest thousands of

dollars in a specific system on multiple

fields and ranches, only to find it

unable to meet their current or future

operational requirements. Perhaps the

user interface is too complex for the

irrigators who are supposed to interact

with it, and the grower is left to do all

the monitoring and scheduling. The

agronomist may be creating irrigation

schedules in their existing agronomy

software, and is unwilling to manage

another software platform. Or, the

grower may find the moisture monitoring

hardware has limited inputs and

additional costs are incurred to set up

telemetry for a weather station.

There is a very real risk of investing

resources in software, hardware or services,

only to abandon or replace them

before the promised value has been

realized. Before the next technology

vendor calls, take some time to identify

and prioritize the broader technology

needs in your operation, the staff or

consultants to be involved, and specific

requirements for each technology that

will be pursued. This periodic exercise

of planning for your company's longterm

technology needs will prepare you

to evaluate and invest in ag technology

better.

Lay the Groundwork for

Managing Data

The second step is to expand your

capacity for managing data. As many

new ag technologies consume and

generate tremendous amounts of data,

your operation must have the tools

and talent to manage all of that data

efficiently. Crop imagery providers, for

example, have continued to increase

the resolution, frequency and coverage

available to growers. Improved sensor

capabilities and computing power are

transforming imagery from a basic

indicator of vigor on field crops, to a

sophisticated predictive tool with applications

in water stress, nutrient status

and harvest timing on many specialty

crops. However, will you or your team

have the time to review and react to

imagery generated on all of your fields,

multiple times every week during the

season? Do you or your agronomist

have the expertise to interpret the data

displayed in the imagery? If the answer

is "no," then you may not be ready for

this technology, or at least not on all

your acres.

Perhaps some of your data management

needs are less complex, such as

soil and tissue analytical results from

Continued on Page 30

28 West Coast Nut March 2020
---
September 17-18, 2020

Visalia, California

New This Year

Extended DPR

and CCA Topics

Pre-Register at:

progressivecrop.com/conference

Save

The

Date

AG MARKETING SOLUTIONS

March 2020 www.wcngg.com 29
---
Ag Tech

Continued from Page 28

your local agricultural laboratory. If

you have farmed for many years, and

regularly test soils and plant tissues,

you may have accumulated hundreds of

analytical results, even from multiple

labs. From an agronomist's perspective,

there is substantial value in observing

trends over time from these reports,

or comparing the current season's

results to a previous season's results. Is

this information readily available to

you or your agronomist when making

important decisions about your crops'

nutritional requirements? If not, you

may want to find a way to continue

extracting the value from this data you

have already invested in.

Even a small step such as building

a spreadsheet or buying a software

license to manage your important field

information can be a meaningful step

toward efficiently managing your data.

How do you decide what tool is the best

fit? Reference your company's technology

plan. Determine what you need to

track, who needs to use it, how it will

be accessed, and what other data you

may want to incorporate in the future.

If you do not have the time or talent to

set up your data management system,

schedule some online training for a

technology-savvy employee, or hire

a freelance data analyst to build it for

you. Expanding your company's capacity

to manage data will improve your

business processes now, and prepare

you to engage with more advanced ag

technology in the future.

Apply the Westbridge Nut Tree Program

to Improve Crop Quality & Yield

ORGANIC

Contains Auxiliary Soil & Plant Substances

®

Applying the Westbridge Nut Tree Program at key stages of plant

development improves root and plant vigor, which can lead to

enhanced nut uniformity and size, and improved flowering, pollen

viability, nut set and nut retention.

Apply a foliar application in

February at 70% full bloom, and

again in March at 1st mature leaf to

improve flower vigor and nut set.

Call today for additional

application timings and rates.

*When plants are in need of more nitrogen, Organic BioLink® Cal-N

can be substituted for Organic BioLInk® Cal-Plus 7%

®

ORGANIC

Plant Nutrients

Nut Tree Program Includes:

• Organic TRIGGRR ®

• Organic BioLink ® Cal-Plus 7%*

• Organic BioLink ® 3-3-3 Fertilizer

• Organic BioLink ® Micronutrients

(800) 876-2767

www.westbridge.com

®

Choosing the Right

Vendor and Product

After you have developed your

technology plan and are working on

expanding your capacity to manage

data, you may be ready to talk with an

ag technology vendor. The final step

before you invest in any ag technology

is to thoroughly vet the vendor and

product.

The ag technology market is filled

with many exciting, innovative companies.

I genuinely believe some of the

technologies they are developing will

revolutionize our industry and equip

growers to be more productive and

profitable in the future. However, there

are also many new startup companies

with technologies yet to be proven in

the field.

When you have the opportunity to

evaluate any new product or service,

ask about the history of the company.

How long have they been in business,

how many employees do they have, and

do they have sufficient experience in

the field to understand your needs? Ask

them to explain what they do now, and

what are they hoping to accomplish in

the future with their technology. As to

the product or service they provide, try

as much as possible to get a hands-on

demonstration of the technology. Find

out where you can see it in the field. If

it is software or a mobile application,

do not just look at screenshots or a

presentation, but ask for a trial account

and actually use it. After you test it,

communicate what did not work or you

did not like, and determine the vendor's

willingness and capacity to make

30 West Coast Nut March 2020
---
Ag Tech

Mobile software can provide convenient access to important production records, activity schedules, and sensor readings, even in the field.

improvements or customizations

for you. Find someone you know

who is using the technology, and ask

them how it works and if they will

continue to use it. Use the same level

of thoroughness in your technology

vetting that you would for any other

major business purchase, thereby

increasing your potential for a return

on your technology investment.

It is a new season, as well as a new

decade. Ag technology is advancing

rapidly, and will continue to transform

the way growers produce their

crops and compete in a global market.

However, there is no need to feel

overwhelmed by these changes. Plan

for your specific needs, build some

capacity for data management, and

prepare to vet each technology you

pursue. Invest some time today in

planning for your company's technology

needs so you can enjoy the benefits

of adopting the right technologies

in the future.

Comments about this article? We want

to hear from you. Feel free to email us

at article@jcsmarketinginc.com

PACIFIC DISTRIBUTING INCORPORATED

Authorized Distributor of Orchard-Rite® Tree Shakers

559-564-3114 orchard-rite.com

March 2020 www.wcngg.com 31
---
A WORD FROM THE BOARD: THE AMERICAN PECAN COUNCIL

SUPERNUT GOES SUPERHERO:

INTRODUCING THE

SUPERPOWERS OF PECANS

By ALEXANDER OTT | Executive Director, American Pecan Council

Revitalizing New Year's Resolutions

We're now a couple months

into 2020, and like many people,

you may have made plans

for a healthier year. Resolutions have

long been a part of ringing in a new

year – pledges to make this year better

than the last with improved habits and

lifestyle changes. Living a healthier life

is often first on the list. In a recent INC.

com survey, 71 percent of respondents

stated that dieting, or eating healthier,

was their number one resolution for the

New Year.

However, as many of us know, resolutions

of change are easier to make

than keep. In fact, the same survey

indicated that more than 80 percent of

Americans failed at keeping their New

Year's resolutions – with a separate

Strava study suggesting the majority

fail by Jan. 12, often because goals feel

unattainable and too many lifestyle

changes become overwhelming.

How does this apply to pecans?

Well, as we've shared before, we ground

our marketing campaigns in consumer

behaviors and research. We know

that there is a genuine desire by many

Americans to eat more nutritiously, but

that many struggle to maintain significant

eating and lifestyle changes. With

this in mind, we are showing Americans

how they can make the nutritious,

delicious – and simple – change of

adding pecans to their regular eating

and snacking routines. Not only are

they tasty and versatile, but pecans put

their "superpowers" to work effortlessly,

keeping consumers satisfied with

nutrients while they go about their busy

days.

32 West Coast Nut March 2020
---
Introducing the

Superpowers of Pecans

It's no surprise that there are many

other brands working to promote

health and nutrition benefits. In order

to stand out in a crowded market, we

are taking a unique approach to our

next big marketing campaign. The

Superpowers of Pecans highlights the

nutritional power of pecans in a fun

and approachable way by introducing a

quirky, nostalgic, and engaging series

of animated, comic strip-styled content.

Superheroes are wildly popular with

today's consumers – in fact, more than

a quarter of the 100 highest-grossing

movies of all time are superhero flicks.

There is a very good chance you or

someone you know saw a superhero

movie last year, as three of the top five

grossing movies of 2019 were superhero

themed, including Avengers: Endgame,

the highest-grossing movie of all time.

Today's cultural fascination with

superpowers inspired this latest content

collection. The graphics, curated in

partnership with a professional graphic

illustrator, spotlight different characteristics

that make pecans a stand-out

snack or ingredient.

From heart health*, to vitamins and

minerals, the nutritious superpowers

of pecans are the stars of the series. Pecans

are superheroes in their own right,

but also the ultimate sidekick to busy

consumers everywhere. The content

shows pecans working their superpowers

in easy-to-incorporate ways – a

handful tossed into a smoothie, topping

a salad, or chopped into energy

bars, equally perfect for a snack in the

carpool or at the office.

Superpowering Moms and Families

Another dimension of The Superpowers

of Pecans campaign is its

potential to influence a broad group of

potential pecan purchasers. You may

recall that our primary target audience

is Gen X and Y moms – these are

women with families and children still

living at home, and who hold primary

purchasing power for their household

when it comes to food and groceries.

From fitness-focused moms, to

those that follow particular diets or

lifestyle plans, The Superpowers of

Pecans campaign is universally appealing.

With tailored comic strip captions

and targeting via paid social media, the

program will not only appeal to moms

and kids, but to all those pursuing a

healthier lifestyle.

Getting Involved

The Superpowers of Pecans is built

for industry use, and we are committed

to making resources accessible

and ready to use. The new creative

campaign launched in early February.

Follow @AmericanPecan on social media

(Facebook, Instagram, Twitter, and

Pinterest) to check out the latest comic

content as it is released.

See something you really like? Head

to the Industry Toolkit on AmericanPecan.com,

and you can unlock an entire

library of resources ready for your use.

Whether you're interested in social

media posts of your own, or something

to print out and share in your store

or package with your online orders,

American Pecans has you covered.

Stay Connected

To receive the latest campaign announcements

and updates on resources

made with you in mind, make sure

you are subscribed to our email list.

You will not only receive our monthly

newsletter and Monthly Marketing

Highlights report, but also stay updated

on all other news from the American

Pecan Council.

To register, visit AmericanPecan.

com and navigate to the "For Industry"

tab across the top bar. There, you

can select "Industry Registration" and

submit your information. If you'd like

assistance in this process, please don't

hesitate to reach out to the American

Pecan Council at 817-916-0020, and a

staff member will help.

*According to the U.S. Food and

Drug Administration: Scientific evidence

suggests but does not prove that

eating 1.5 ounces per day of most nuts,

such as pecans, as part of a diet low

in saturated fat and cholesterol may

reduce the risk of heart disease. One

serving of pecans (28g) has 18g unsaturated

fat and only 2g saturated fat.

Comments about this article? We want

to hear from you. Feel free to email us at

article@jcsmarketinginc.com

T H E N U T Y O U

T H O U G H T Y O U

K N E W , I S S O

M U C H M O R E

T H A N Y O U

E X P E C T E D .

S U P E R

N U T R I T I O U S .

S U P E R

D E L I C I O U S .

S U P E R

V E R S A T I L E .

LEARN MORE AT

AMERICANPECAN.COM

March 2020 www.wcngg.com 33
---
AS SPRAY SEASON

APPROACHES,

PANELISTS OFFER

ADVICE FOR

PROTECTING

POLLINATORS

By DANITA CAHILL | Contributing Writer

Adding flowering habitat in the orchard can feed and protect pollinators.

(Photo courtesy of Cal DPR)

34 West Coast Nut March 2020
---
Pollinator protection starts with

education and communication,

according to panelists at a recent

California Department of Pesticide Regulation

(DPR) brown bag lunch emceed

by DPR Director Val Dolcini.

There are literally thousands of

different kinds of pollinators, including

many varieties of bees, flies, butterflies,

moths, birds, and even mammals such

as the Mexican fruit bat, but honeybees

are the keystone pollinator, and their

numbers are dwindling. Several factors

contribute to honeybee decline, including

habitat loss, pesticides and mites

but it is a problem recognized as far

back as the mid-1970s.

To make up for habitat loss, growers

can plant new habitat in, around or

near their production fields. At least 3

percent of land should be provided for

bee and pollinator forage. Native plants

are best whenever possible, but even if

they aren't native, planting a variety of

flowering plants can also be beneficial.

Aim for plants with varying bloom

times so bees have pollen available to

them for an extended period.

Varroa mites have caused considerable

damage to the health of honeybee

hives. The mites are an external

parasite. They are dark brown to

reddish brown in color and flat and

oval in shape. Varroa mites are transferred

to new colonies on adult bees

and then crawl into a brood cell before

it is sealed. They then live out their life

cycle in the trachea of the bee, shortening

a bee's lifespan. Infested bees

don't fly well, so in a contaminated hive

there may be many crawling bees on

the ground around the hive. There are

currently no controls for varroa.

Avoid Pesticide Problems

"Bee protection starts before bees

arrive on a site. Clean water and good

food keep bees local and healthy," said

DPR Senior Environmental Scientist

Peggy Byerly. "Pay attention to the 'Bee

Box' on pesticide labels."

Follow the recommendations and

restrictions. Don't allow pesticide to

drift outside the target area. Beware of

residual toxicity from pesticides. Adult

bees may encounter the residual or

carry it back to the nest.

"We've been trying to stress to our

growers not to use any kind of tank

spray during pollination, unless it's at

night. Especially when the temperatures

are sixty degrees and above, when

pollinators are more active," said Tim

Pelican, Agricultural Commissioner of

San Joaquin County. "Even fungicides

and fertilizers can harm bees' respiratory

system."

Education and Communication

Kelly Rourke, director of programs

and operations with Pollinator Partnership,

suggested people educate themselves

on all the things they can do to

protect pollinators. It's also important

to educate others, she said. Talk with

people you know at social or agricultural

events about pollinators, their need

for protection, and what can be done to

help them thrive.

"Communication between parties

is also vital," Byerly said. Growers

Continued on Page 36

March 2020 www.wcngg.com 35
---
Almond growers understand there is a mutually beneficial relationship

with pollinators and are working to protect them in the orchard.

(Photo courtesy of Cal DPR.)

Tim Pelican, Agricultural Commissioner of San Joaquin County

advises growers to avoid tank mixes during the day when

pollinators are active. (Photo courtesy of Cal DPR.)

Continued from Page 35

or applicators need to let beekeepers

know when and where they are spraying

pesticides, as well as what they are

spraying.

Beekeepers must register in each

county where they keep bees. They

need to notify the county agricultural

commissioner when bees are moved

within a county, and when they remove

the bees from the county. They can

also register hive locations online at

BeeWhere and mark the locations with

simple pin drops. In 2019, more than

2,000 beekeepers with 904,486 bee

colonies registered in the program, or

roughly half the California colonies.

The registration system will become

mandatory in 2021.

"In 2020 the goal is to try to get

COMPLETE PLANTS

Built to Fit Your Needs

WizardManufacturing.com

info@wizardmanufacturing.com

530.342.1861 • Ca Lic. # 1036445

everyone into compliance, because in

2021 there will be fees or penalties," to

Patricia Bohls, environmental scientist

at CDFA's Bee Safe Program.

This type of communication helps

growers be aware of where the bees are

so they can plan their spray program

accordingly, while beekeepers can

also see where spray applications are

happening. Applicators must provide

their pesticide and location information

48-hours before spraying. It's up

to beekeepers whether they want to be

notified or not from applicators, which

will be noted on the site. Beekeepers

also note how they want to be notified.

"Growers used to call the county and

say when they were spraying," Bohls

said. "The county would look within a

one-mile radius to see where the bees

were. Now it's all computerized."

Hives must be

marked with the

name of the beekeeper,

the beekeeper's

phone number,

city and state. The

information must be

posted on a sign at

the site of the hives,

or stenciled onto

the hives. If several

hives are placed on a

pallet, at least one of

the hives on the pallet

must be stenciled.

"It's really the

beekeepers' duty to make sure these

bees are registered. If beekeepers don't

register, they don't get warned before

an application," Pelican said.

Growers face up to $1,000 in fines

if improper spray notification leads to

a bee kill in registered hives. Bees are

treated as livestock. In the case of a bee

kill, an inspection is done. Bees are

gathered and sent to a lab to make sure

it was pesticide that killed them and

that the application was made within a

one-mile radius of the hive.

Registering may help deter bee theft,

too. "One-million dollars' worth of

bees in Fresno were stolen out of fields,"

Pelican said, so the county ag commission

is working with law enforcement.

Efforts to protect pollinators are

paying off, Bohls added. She noted

improvement in apiary theft prevention

and a decrease in apiary pest pressure,

and in apiary stress due to pesticide

exposure. The current focus of Bee Safe

is to train county and apiary health inspectors,

and to promote the program.

For more on the Apiary Protection

Act, go online to Division 13 Bee

Management and Honey Production

(Sections 290000-29736) of the California

Food and Agricultural Code.

Comments about this article? We want

to hear from you. Feel free to email us at

article@jcsmarketinginc.com

36 West Coast Nut March 2020
---
MAXIMIZE YOUR YIELD POTENTIAL

Key first steps to increase nut

set, size and yield.

Add Top Set, Vigor SeaCal

and Agro-Best 9-24-3 to your

pink bud/early bloom sprays.

Right nutrients

Right time

Right form

Right mix

Maximizing profitability in your almond orchard starts with

maximizing nut set every year. Achieving consistent set is key to

higher yields and profitability. The secret is ensuring your trees

have the right nutrients, at the right time, in the right form and

right mix.

Nut set is influenced by boron which stimulates pollination. Boron

is synergistic with calcium and enhances its affect. Molybdenum

plays a direct role in nut set and retention by increasing pollen

production. Moly also synergizes boron. Agro-K's Top Set DL is

the right tool to apply from pink bud through bloom. Top Set DL

supplies a balanced nutrient mix that significantly improves nut set.

It is soft on blooms, bees and other beneficial insects. It penetrates

tissues rapidly and thoroughly to drive increased nut set.

Once set, nut size and weight is the next step to maximizing yield.

Size is driven by cell division and phosphate is a key energy source

that drives this process. Calcium is a critical factor in nut weight.

Getting it into the nut during cell division is the key to heavier nut

meats. Getting calcium where it is needed at this peak demand

timing is therefore very important. Applying Vigor SeaCal provides

plant available calcium along with an effective seaweed nutrient to

help reduce biotic stress that the tree goes through during bloom.

Vigor SeaCal also supports uptake of phosphate for increased cell

division which leads to increased nut size. Tank mixing AgroBest

9-24-3 a high phosphate/low potassium blend, with Vigor SeaCal

delivers the energy inputs the tree needs to maximize nut cell

division, nut size and nut retention. AgroBest 9-24-3 is the

most cost effective liquid phosphate available and specifically

designed with minimal potassium content for early season

foliar applications to give you more P per dollar and less K at a

time when the tree requires very little K. Foliar applications of

potassium applied during cell division will antagonize calcium

uptake and negatively impact cell wall integrity and nut weight.

This spring make the most of your pink bud/early bloom sprays and

set the stage for increased yield on your farm. Talk to an authorized

Agro-K dealer today about how Top Set DL, Vigor SeaCal and

AgroBest 9-24-3 can help maximize your profitability.

Products Available At:

®

Science-Driven Nutrition

Corporation

8030 Main Street, NE • Minneapolis, MN 55432 • 800-328-2418 • www.agro-k.com

March 2020 www.wcngg.com 37
---
SHAKE THE RUST

OFF THAT SHOVEL:

START THE NUTRITION SEASON OFF WITH A SPRING SOIL SAMPLE

By RICH KREPS | CCA, Contributing Writer

A

shovel. A farmer's best friend

and sometimes worst enemy. You

can hear it, calling your name,

beckoning you to help it shake off that

winter coat of rust and get into that soil.

Of course, it can't do it alone, but the

Need a career?

Ultra Gro

is hiring.

Looking for 2-3 Crop Advisors to

join our team.

IMMEDIATE OPENINGS IN

MERCED, STANISLAUS AND

SAN JOAQUIN COUNTIES

Contact Craig Fourchy for more

info: cfourchy@ultragro.net

old saying, "the best thing a farmer can

put on his field is his own footsteps,"

rings especially true in the spring. Last

year we had a few incredible deluges

late in the spring here in the Central

Valley of California that upset the apple

cart. This year, we

are praying for that

again as the drought

pattern has set in

early. Until then, we

need to see what has

changed over winter,

under our trees, with

a good soil sample.

Starting the

year off with a

spring soil sample

allows you to

create a road map

for your nutrition

plans. You can get

a better feel for the

nutrient movement

over the winter

with rainwater and

what was pulled

up into the trees.

Knowing whether

you're sufficient or

out of balance with

your nutrient load

will help you start

the season off on

the right foot.

Soluble Calcium

If your calcium is below 60 percent,

you need to make a correction.

Roots need soluble calcium for the

early flushes as cells divide and build

structure. You'll also need a constant

supply throughout the season

as the leaves and nuts develop. Once

calcium finds its place in a plant, it

stays there and is no longer mobile

in a plant, even if new growth is deficient.

Unfortunately, many times a

soil sample will show ample calcium

but a deeper dive into the saturation

paste extract will let you know it

isn't soluble. That goes back to my

old analogy of being hungry, wanting

a steak, but all you have access to is a

frozen side of beef.

Phosphorous

In the spring, plants need phosphorus

to create energy from the

sun. Soil reports indicating P below

20 ppm is troublesome, even more

so if phosphorous is tied up. A plant

can only drink orthophosphate.

Many of our less expensive fertilizers

are mostly poly-phosphate.

Studies show it can take as long

as 100 days to break down poly

into ortho in cooler and wet conditions.

If we dump excess amounts of

unavailable polyphosphate on a soil

heavy with unincorporated, insol-

Continued on Page 40

38 West Coast Nut March 2020
---
COMPOST

100% Fully Composted Dairy Manure

The Leaders in Dairy Compost Manufacturing

Custom Blending Available

Gypsum - Limestone - Sulfur

YOU CALL, WE HAUL

Servicing the Valley since 1925

559-686-5707

What can Cain do for you?

Ask us about our Dust Control and Fertilizer Products.

March 2020 www.wcngg.com 39
---
O f f e r i n g O v e r

1 5 0 Y E A R S

of walnut growing experience

A c c e p t i n g

t r e e

2021

o r d e r s

Enrollment

E A S O N I S N O W O P E N

S

CALL US

TODAY

2 0 9 . 6 0 2 . 8 3 9 4

O r e s t i m b a V a r i e t i e s :

Chandler Cisco

Durham Hartley

Ivanhoe Franquette

Howard Livermore

Solano Tulare

Rootstock Available

Clonal

VX211 VLACH

RX1

''Check out our Roots''

www.orestimbanursery.com

We believe in helping other

growers, GROW!

inc

Continued from Page 38

uble calcium, we just created very

hard, small rocks in our soil—rocks

that resemble the same rock we

mined and altered to render those

two nutrients in the first place?!

Don't shoot yourself in the foot. Use

smaller shots more often, both

upstairs and down. As calcium is

needed more heavily in root flushes,

put it there, and you can go upstairs

that week with your phosphorus. As

temps warm and you bump phosphorus

shots in your fertigation, go upstairs

with a foliar spray of calcium.

Magnesium

Looking at your soil report, one

often overlooked nutrient is magnesium.

On the east side of the valley,

we are very often limited by our

magnesium levels and may need

foliar shots to supplement what is

pulled from the soil. Remember, Mag

is the central element in chlorophyll.

That's kind of important. But Mag

is going to be a strong contender in

upsetting our Calcium and Potassium

levels. High Calcium and low

Magnesium is a problem. On the flip

side, high Magnesium soils are the

most difficult to make adjustments

to. It's a smaller element with the

same double charge as Calcium. It

pulls pretty hard as a soil magnet.

Liming high mag soils to increase

Calcium can bring levels in check

quicker but have detrimental effects

on your pH. You'll now need to try

to increase organic matter and use

acids to treat your water and bring

that pH down.

Potassium

With Calcium and Magnesium

levels in check, Potassium becomes

critical to offset Sodium absorption.

Soils with Sodium over 3 percent

and Potassium at or below that number

will have issues keeping that element

at bay. When my growers are

discussing salts with me, they are

usually referring specifically to Sodium.

Almost every fertilizer is a salt,

but sodium is top of mind. Its nearly

the same

size as Potassium

and has

the same charge.

Unfortunately, it fits

neatly into the same

electrolyte space as Potassium

in a plant and therein

lies the issue. Overloading the

soil saturation with high sodium

levels as late spring potassium

demand increases will give you burn

issues. Treat the water, treat the soil.

It's easy to make potassium soluble,

but plant ready and salinity index

can be another issue. Murriate of

potash adds Chloride to the soil. Sulfate

of potash adds SO4 which may

already be high from past gypsum

applications. Potassium hydroxide

by itself is caustic potash. Potassium

thiosulfate in heavy doses can burn

roots. Know your nutrients, their effects

and their derivatives. The type

of nutrient is often more important

than the amount.

Make a Nutrition Plan

So, the shovel is gleaming, you

added a bit of iron to your soil with

all your effort, you have a report,

now what? Turning on the water

and doing the exact same thing you

have done for the last 10 years will

probably get you the same results.

If you want higher yields, formulate

a plan. Sit down with your crop

advisor, calculate how much of each

nutrient you'll need compared to

the budget, and how much the soil

can actually take (without causing

a detrimental effect somewhere

else!) Now plan those applications

to match nutrient demand curves.

Putting out too much nutrition at a

time when a plant can't drink it can

cause ripple effects elsewhere. Use

these spring soil reports to sharpen

your focus on matching a plant's

needs. Digging deeper into your soil

will keep you from digging deeper

into your pockets to make a profit.

Comments about this article? We want

to hear from you. Feel free to email us at

article@jcsmarketinginc.com

-Mark Crow

40 West Coast Nut March 2020
---
Innovative by Nature

at Bloom and

Petal Fall

INCREASE PLANT GROWTH AND VIGOR DURING THIS CRITICAL TIME

Features:

Bioavailable

nutrients to

• enhance and

support

photosynthesis

Increased

photosynthesis

stimulates

energy

• production for

improved plant

and root

development

Can be tank

mixed and

•

applied with

Grower Standard

foliar program

Improves plant

•

growth and vigor

Supports abiotic

•

stress tolerance

Trial Results for 2019

Benefits of

B Sure®

Boosts plant

metabolism,

increases

• photosynthesis

and stimulates

plant growth

and plant vigor

Enhances crop

quality and yield

under both

•

favorable and

stressful growth

conditions.

Available Through Your Local Retailer

B Sure® is a liquid nutrient solution derived by microbial fermentation that

increases the activity of multiple critical metabolic pathways in the crop.

Premier Product for Conventional and Organic Growers

Agrinos.com

March 2020 www.wcngg.com 41
---
TAKING THE MYSTERY OUT OF

ROOTSTOCK

SELECTION IN

PISTACHIOS

By CECILIA PARSONS | Associate Editor

Variability in seedling pistachio rootstocks can

be seen in this nursery selection.

(Photos courtesy of Elizabeth Fichtner)

Interest in planting pistachio trees

continues to grow in California, but

many growers, even those with experience

in pistachio production, may not

be aware of all the basics of rootstock

selection for their orchards. UCCE

Tulare County farm advisor Elizabeth

Fichtner said she receives many questions

from new growers about pistachio

rootstocks, including differences

between seedlings and clones and how

they are produced. Fichtner's presentation

at the annual Statewide Pistachio

Day was directed at answering many

of the questions and "demystifying

rootstocks."

In the past 10 years, Fichtner said,

there has been an overlap in tree nut

production, with walnut and almond

growers moving into planting pistachios.

The terminology used in rootstock

production is not uniform across

all nut crops and can be confusing to

new growers.

Rootstocks comprise the roots and

crown of trees and are selected for

certain horticultural characteristics

as is the scion that is grafted to the

rootstock.

Fichtner said primary reasons

certain pistachio rootstocks are chosen

include freeze tolerance, disease or pest

tolerance, adaptability to soil or water

quality or horticultural qualities such

as vigor. The scion variety is chosen

for its horticultural qualities as well as

disease resistance. A disease that may

affect the scion may not affect a resistant

rootstock.

Kern County pistachio growers

realized the importance of rootstock

disease resistance when many orchards

were planted on former cotton ground

that harbored the fungal pathogen

Verticillium. Those early trees planted

between 1969 and 1975 were on

Pistacia atlantica and Pistacia terebinthus

rootstocks, both sensitive to the

Verticillium pathogen, which infects

the roots and leads to flagging in the

canopy where individual scaffolds

collapse and tree death occurs.

The threat of this disease stopped

all new planting until 1980 with the

development of Pistacia integerrima

or PG1 rootstock, which was resistant

to Verticillium. That development

provided new hope and momentum for

pistachio growers, Fichtner said, but

the challenge with P. integerrima was

its sensitivity to frost.

Recent evidence of rootstock resistance

to fungal infection was found

in a 2018 farm call Fichtner made to a

mature Golden Hills orchard. In that

instance, she said, the scion was found

to be infected with Phytophthora while

the rootstock PG-1 was healthy. The

infection was caused by irrigation water

hitting the tree trunks above the graft

Continued on Page 44

42 West Coast Nut March 2020
---
PISTACHIO TREES

platinum pistachio rootstock

(P.N. 1-15 PP#14,706)

ucb-1 pistachio rootstock

clonal (FRP Source) or Seeded (UC Protocol)

• Budded trees to contract •

On-Site Tissue Culture Lab

Sierra Gold Nurseries • (530) 674-1145 • sgtrees.com

March 2020 www.wcngg.com 43
---
Mother pistachio tree for seedling rootstock production can be protected at pollination to ensure genetics.

Continued from Page 42

union, Fichtner said. Had the water hit

the rootstock, infection by this disease

would have been less likely.

T5

Most new pistachio orchards are

planted in the spring. The most common

routine in pistachio is to plant the

rootstocks in the spring and bud them

to the desired scion variety in August.

Fichtner said

budding done later

in the year tends to

have a lower success

rate. This routine is

different in walnuts.

Young walnut trees

are typically budded

onto rootstocks in

the nursery and then

planted. She noted,

however, that budded

pistachio trees

are sometimes sold

and some walnut

trees are budded in

the field.

With pistachios,

the T-bud is the

most common

method used to bud

a pistachio scion

onto the rootstock.

The shield is cut

from the budstick

and inserted into a

t-shaped cut on the

rootstock.

Two different

genotypes make

up the genetics of a

100-PTO-horsepower

www.gartontractor.com

pistachio orchard. The scion Pistacia

vera is one genotype and the rootstock

is another. Pistachio growers

in California use multiple rootstocks

in their orchards. P. atlantica and P.

terebinthus are no longer used due to

the susceptibility to Verticillium. The

pistachio industry is using two interspecies

hybrids that have the same

parentage. P. atlantica (male) crossed

with P. integerrima (female) produces

UCB-1 which is Verticillium resistant,

frost tolerant and has salinity tolerance.

The second interspecies hybrid is

trademarked Platinum which is P. integerrima

(male) crossed with P. atlantica

(female) and is Verticillium resistant.

Fichtner said both are vigorous rootstocks

with excellent productivity.

The UCB 1 hybrid rootstock can be

a clone or a seedling. Platinum is an

interspecies cross that is clonally propagated.

It was a selection from a seedling

population chosen for Verticillium

resistance and vigor. PG1 is from a

single species and is a seedling rootstock.

Fichtner said the USDA pistachio

rootstock breeding program is working

on new selections that might benefit

the industry in the future.

Pistachio rootstocks are propagated

sexually from seeds or asexually cloned

using micropropagation. Seedling

rootstocks, even if they were propagat-

Continued on Page 46

44 West Coast Nut March 2020
---
Potassium

A Vital Nutrient for tree Nuts

KTS® (0-0-25-17S) delivers immediately available potassium to rapidly

developing orchards. KTS blends well with many other products and

can be conveniently applied through irrigation systems directly to the

root zone. Provide the essential nutrients to your crop exactly when and

where they are needed.

Learn more about KTS at

www.cropvitality.com

Or call (800) 525-2803 - Email info@cropvitality.com

March 2020 www.wcngg.com 45

©2020 Tessenderlo Kerley, Inc. All rights reserved. KTS ® is a registered trademark of Tessenderlo Kerley, Inc.
---
UCB1 seed on tree

NOW Monitoring System!

Monitoring lures for conventional and organic California tree nuts!!

optimum detection

the choice is yours

NOW L 2 High

Pheromone Lure

Pheromone Lure

NOW L 2 NOW L 2 Low

MONITORING SYSTEM FOR NAVEL ORANGEWORM IN

ALMONDS, PISTACHIOS & WALNUTS

Contact your local supplier and order now!

Visit our website: www.trece.com or call: 1- 866-785-1313.

PHEROCON ® VI

DELTA Trap

For greater attraction use with the

PHEROCON ® NOW PPO-HR L 2 in mating disruped orchards!

High/ Low Amplitude Monitoring Lures

• Targeted lure calibration

• Designed for use in adhesive or non-adhesive traps

INCORPORAT ED

INSECT PHEROMONE & KAIROMONE SYSTEMS

Your Edge – And Ours – Is Knowledge.

© 2020, Trécé Inc., Adair, OK USA • TRECE, PHEROCON and CIDETRAK are registered trademarks of Trece, Inc., Adair, OK USA • TRE-1685, 01/20

®

Continued from Page 44

ed from the same tree, will have genetic

variability. Cloned rootstocks are

genetically identical.

Each clonal line should have no

variability.

Fichtner explained that Platinum

is not available as a seedling rootstock

because it was a specific selection

generated from a seedling population

that was chosen for its resistance to

Verticillium and vigor. To maintain the

desired characteristics of this selection,

the Platinum rootstock is clonally propagated

in tissue culture.

Pistachio trees are dioecious, meaning

both male and female trees are

required to produce a crop. The male

flowers are born on one tree and the

female flowers on another. The pollen

from the male flowers is spread by

wind. It is important that the male and

female trees produce pollen and bloom

in roughly the same time frame.

To produce UCB-1 seed for producing

rootstocks, pollen is collected from

P. integerrima and stored. The pollen

is applied to an Atlantica female tree

at bloom several weeks later. Because

pollen is spread by wind, nurseries producing

rootstock will have their female

trees enclosed to ensure controlled

pollination.

Choice rootstocks from seedling

populations may be selected for asexual

(cloning) propagation. Selections are

made for vigor, disease resistance,

compatibility with scion and tolerance

to soil and water conditions. Clones are

produced from seedling populations,

selected for desired characteristics. This

method can achieve a rapid multiplication

of plants in a short time, allowing

46 West Coast Nut March 2020
---
Budded pistachio trees in nursery.

nurseries to meet the demand for new trees.

Pistachio rootstock tissue culture is used for rapid multiplication

of plants. Axillary bud proliferation is one method

of micropropagation with high reliability of genetic stability.

Nurseries are using pre-formed buds from stems to generate

new trees. This meristematic-based proliferation system

ensures quality and a reproductive rate five times faster than

seedling generation.

Clones are all derived from UCB seedling parents, Fichtner

explained, but different nurseries made different specific

selections from the genetically variable seedlings to produce

rootstocks with the desired characteristics. There could be

variability between clonal lines of UCB1, but there should be

uniformity within clonal lines, Fichtner said.

Data on the various rootstocks used in the pistachio

industry was derived from field trials from 1989 to 2002 at

multiple sites in the San Joaquin Valley. The freeze episode

of 1990 showed the rootstock Integerrima's vulnerability to

cold. Atlantica parentage associated with UCB1 and Platinum

showed tolerance for cold temperatures. 2019 field trial

being conducted by Bruce Lampinen and Mae Culumber at

the West Side Research Station is looking at the influence of

the last irrigation date on cold tolerance.

Comments about this article? We want to hear from you.

Feel free to email us at article@jcsmarketinginc.com

March 2020 www.wcngg.com 47
---
BEYOND GLYPHOSATE:

ORCHARD WEED

EXPERT STRESSES

THE SCREWDRIVER

RATHER THAN

HAMMER APPROACH

TO MANAGING WEEDS

By STEVE PASTIS | Contributing Writer

Automated vehicles such as this GUSS autonomous orchard sprayer are

expected to play an increasing role in weed management.

(Photo courtesy of GUSS Automation)

"

Sometimes a bigger hammer isn't

the best solution for our orchard

weed management challenges," said

UC Cooperative Extension Weed Specialist

Brad Hanson. "A bigger hammer

doesn't put a screw in any better than a

small hammer. A screwdriver is the best

tool for that job."

Hanson uses that philosophy as

the principal investigator on several

research projects to find new ways

beyond the use of broad-spectrum

post-emergent herbicides to address

weed problems in the orchard. Glyphosate

is very commonly used in California

orchard production systems for its

broad weed control spectrum. In most

tree nut crops, glyphosate is applied

to about twice as many acres as the

next most important herbicide active

ingredient.

"Glyphosate is widely used because it

is effective and is relatively inexpensive,"

Hanson noted.

Glyphosate, however, has become

controversial in recent years and growers

and handlers are under increasing

pressure to significantly reduce glyphosate

in the products they produce and

sell, according to Hanson.

"A cotton grower or other commodity

crop may have little pressure, but a

wine grower or a walnut grower could

have more market-driven pressure," he

said.

In addition, some weeds have

developed a tolerance for glyphosate,

Hanson said, describing the process as

"evolved resistance."

New Strategies to

Counter Tolerance

To limit the potential for glyphosate

resistance, research at UC Davis is

examining the effectiveness of different

herbicide combinations in the winter

and summer. The current focus is on

using more pre-emergent herbicides

in the winter to reduce post-emergent

use in the summer, by as much as 50

percent. This seems to provide better

weed control "and save growers some

money," according to Hanson, who

conceded, "This is not an across-theboard

solution in all cases."

One of the eventual solutions to

weed management may be found in

the Cover Crop Project. Hanson and

his collaborators at UC Davis and UC

Agriculture & Natural Resources are

looking into adding new plant systems

to nut orchards as a way to maintain

sustainability and soil and crop health.

"While the cover crop project has

many potential benefits to the orchard

production system, from a weed

control standpoint, the simple idea

here is to put in a plant system that is

predictable and controllable to displace

weeds that are more difficult to predict

Continued on Page 50

48 West Coast Nut March 2020
---
MAXIMIZE YOUR YIELD POTENTIAL

Key next step to increasing

nut size and yield.

Add Vigor SeaCal, Sysstem-

Leaf Max, Micro SeaMix and

Agro-Best 9-24-3 to your

fungicide & insecticide sprays.

Right nutrients

Right form

Right timing

Right mix

Once nut set is complete and petal fall and rapid leaf expansion is

occurring growers need to focus on two key components affecting

yield – 1) maximizing leaf size and chlorophyll development

during rapid leaf-out and 2) continuing to push nut cell division

and calcium into nut cell walls before the division window closes.

These two steps are critical to achieving top yields at harvest.

Demands for zinc, magnesium, and other micronutrients reach

peak demand timing during rapid leaf and root development.

Soils are often cold and wet during this time which limits nutrient

availability and uptake hindering root and leaf growth and

chlorophyll development. Satisfying peak nutrient demands are

critical to maximizing yield potential. Zinc is the cornerstone

for leaf, root and vascular system development. Manganese

and molybdenum play a key roles in nitrogen metabolism. Iron,

magnesium, copper and manganese are backbones of chlorophyll

development and structure. Shortages of one or more of these

nutrients will limit yield potential. Applying Micro SeaMix and

Sysstem Leaf Max with fungicide or insecticide sprays at rapid

leaf-out is an ideal way to meet early season almond nutrient

needs while simultaneously reducing plant stress. Maximizing

leaf surface area ensures the photosynthetic factory is capable of

supporting and sizing a large nut crop.

At petal fall, nut cell division is not yet finished and it is important

to support the final stages of this process with foliar phosphorus

and calcium. Foliar applications are important as cold and/or wet

soils combined with limited root activity at this time limit uptake

of these important nutrients. Vigor SeaCal supports uptake of

phosphate for increased cell division leading to increased nut size.

Tank mixing 100% ortho-phosphate based AgroBest 9-24-3 and

Vigor SeaCal with fungicide sprays delivers the nutrients needed,

in the right form and at the right time to maximize nut cell division

and ultimately increase nut size. Nut size and weight directly impact

yield. Proper nutrient management at rapid leaf-out also reduces

May/June nut drop another major factor to increased yields.

This spring make the most of your fungicide and insecticide

sprays. Talk to an authorized Agro-K dealer today about how Micro

SeaMix, Sysstem Leaf Max, Vigor SeaCal and AgroBest 9-24-3

can help maximize your profitability.

Products Available At:

®

Science-Driven Nutrition

Corporation

8030 Main Street, NE • Minneapolis, MN 55432 • 800-328-2418 • www.agro-k.com

March 2020 www.wcngg.com 49
---
Some growers have developed a peaceful coexistence with the weeds in their

orchards. (Photo courtesy of S. Pastis.)

Research on glyphosate-resistant junglerice (Echinochloa

colona) continues to be a focus of research at UC Davis.

(Photo courtesy of B. Hanson)

Glyphosate-resistant hairy fleabane in almonds will flourish without

integrated herbicide programs. (Photo courtesy of B. Hanson)

Continued from Page 48

or manage," Hanson explained. "In our

current projects, we're looking almost

exclusively at winter growing crops.

They have less of a chance of competing

(with nut crops) by not using water at

the same time, and utilizing sunlight

and other resources when the orchard

crop is dormant."

Various plant combinations have

been studied for use in orchards. A

mustard pollinator mix has recently

produced positive results.

Autonomous Orchard Sprayers

for Managing Weeds

Hanson is intrigued by the possibility

of using autonomous vehicles in

weed management.

"There's a real incentive with some

crops to use more robotics," he said.

"Right now, that kind of technology

for weed control is already having an

impact in vegetables and other crops

highly dependent on hand weeding

due to the cost and availability of hand

labor."

Hanson believes the widespread use

of robotics for orchard weed control

may be "a ways off, but I think there's

interest. I think automated vehicles will

have some opportunities in orchards."

Hanson discussed four robotic devices

at a field day in January, including

the GUSS Autonomous Orchard

Sprayer.

"GUSS sprayers do not need to take

breaks, they simply need to be filled

with diesel and spray material and they

will continue working day and night,"

said Gary Thompson of GUSS Automation.

"Currently, GUSS is being used for

foliar applications in orchards, however,

we do plan to begin doing herbicide

applications as well."

The Kingsburg, CA-based company

plans to add a spray boom to the back

of its current machine, as well as a

lower volume chemical pump, which

will enable growers to continue using

products like paraquat.

"With conventional tractors, it is

impractical, if not impossible, to get all

your tractor drivers to become certified

applicators," Thompson said. "With

GUSS, a single employee could obtain

the certification and operate a fleet of

GUSS herbicide sprayers."

Regulations may limit a grower's

options to use autonomous spray rigs.

Automated vehicles are prohibited in

areas that do not allow driverless cars,

including in some counties known for

their ag production.

Comments about this article? We want

to hear from you. Feel free to email us at

article@jcsmarketinginc.com

50 West Coast Nut March 2020
---
June 3, 2020

Turlock, California

STANISLAUS COUNTY FAIRGROUNDS

900 N. Broadway, Turlock CA, 95380

Alm nd Day

June 24, 2020

Fresno, California

FRESNO FAIRGROUNDS

1121 S. Chance Ave, Fresno CA, 93702

Pre-Register at wcngg.com/Register

AG MARKETING SOLUTIONS

March 2020 www.wcngg.com 51
---
State Insurance Commissioner Ricardo Lara met

with insurance brokers and industry leaders at a

tree nut industry meeting hosted by WAPA.

(Photo courtesy of WAPA)

INSURANCE FOR

HULLERS AND

PROCESSORS

SKYROCKETS

By ROGER A. ISOM | CEO Western Agricultural Processors Association

Our software, Nutware, provides a

complete solution for inventory control,

shipping, and grower accounting.

Including traceability,

grower & sales positions, barcoded inventory,

and integrations with

scales and mobile devices.

Nutstar is located in central California,

allowing face-to-face consulting and training.

We have successfully customized

software for the tree nut industry for nearly

15 years and over 60 customers nationwide

and internationally.

Duration for installation: 1-3 months.

For more more information please call

our office at (209) 250-1324 or visit

NutStar.net

California's catastrophic wildfires have

claimed yet more victims, and these victims

didn't see it coming either. While not directly

related, many agricultural processing facilities,

including tree nut hullers and processors, have seen

exorbitant increases in property and stock insurance

as a result of devastating losses absorbed by

insurance companies over the past two years due to

horrific wildfires. Insurance companies have paid

out more than $26 billion in wildfire claims in the

past few years, resulting in cancelled policies, huge

rate increases or, in some cases, insurance companies

leaving California.

Several agricultural processing facilities have

seen double- or even triple-digit increases in the

past year. And it doesn't stop there. It is also

important to note companies aren't just facing huge

rate increases. In some instances, they are seeing

an unwillingness of insurance companies to cover

the entire liability. To compensate, some companies

are buying multiple policies, so called "surplus

lines," from multiple companies in order to try and

cover as much as possible—all at tremendous cost.

This is not affordable, or sustainable.

In seeking answers, the industry has reached

52 West Coast Nut March 2020
---
out and help meetings with California

Insurance Commissioner Ricardo

Lara, who has been overwhelmed by

the same problem on the residential

side, especially those homes located in

fire prone areas. Commissioner Lara

is stating he is doing all he can in his

power, including looking at changes to

the California Fair Access to Insurance

Requirements (FAIR) Program, which

is the "insurance of last resort" available

to all California property owners.

Unfortunately, the FAIR Program has

many limiting requirements including

a $3 million cap and requirements

for sprinklers to be installed. And in

response to one directive by Commissioner

Lara, the FAIR Program has

sued the Commissioner opposing a

demand that FAIR offer "comprehensive

insurance."

On the industry side, a recent meeting

was held in Fresno and hosted by

the Western Agricultural Processors

Association (WAPA), where several insurance

brokers shared their stories of

huge increases and impacts to businesses

throughout California. Attendees

urged the Commissioner to convene a

special agricultural roundtable to seek

potential solutions to the problem. It's

a problem that most likely isn't going

away soon given the poor condition of

the state's forests and the potential for

more devastating fires. That effort will

take place this spring. At the meeting,

industry officials asked what "mitigation

efforts" could be employed to help

"protect against" fires or other damages

to help control costs. The Commissioner

urged the industry to put their

proposals on the table at the upcoming

meeting and try to get ahead of the

situation to the extent possible.

The state legislature may also consider

some potential solutions, though

none have been introduced at the time

of this article. Forcing companies to

come back to California is likely impossible,

but having agricultural facilities

Several

agricultural

processing

facilities have

seen double- or

even triple-digit

increases in

the past year.

"

pay huge rate increases or go without

coverage makes no sense, especially

considering these facilities aren't located

in fire prone areas and face no risk

whatsoever from fire. This is one more

brick on the backs of businesses trying

to operate financially viable companies

in California, and quite frankly struggling

to do so.

Comments about this article? We want

to hear from you. Feel free to email us at

article@jcsmarketinginc.com

WalnutTek Advantages

• Walnut sorting at the huller, and in-shell

• Green and black re-sorting at the huller

• Several width options — 32, 48, 64 or 80in

• Capacity from 5-30 tons/hour

Automated Moisture Monitoring

at the Dryer

All moisture meters are available for use individually

or in conjunction with the WalnutTek sorter.

• Hand-held moisture meter

• Automated moisture meter

• Automated moisture meter with door control

• Automated moisture meter with door control

• and bin fill

AgTrack

• Traceability from the farm-to-processor

LOCAL

FULL

SERVICE!

TECHNICIANS

AVAILABLE

24/7

Woodside Electronics Corp.

1311 Bluegrass Place, Woodland, CA 95776

Phone: 1-530-666-9190 • Fax: 530-666-9428

Website: www.wecotek.com

Chris Sinclair

530-979-7633

16 Years in Walnuts | 30 Years of Sorting in the Field

March 2020 www.wcngg.com 53
---
GROWER PROFILE—VALK RANCH

TELLING HIS FARMING

STORY THROUGH

SOCIAL MEDIA

@CALIFORNIAFARMER

By JENNY HOLTERMANN | Contributing Writer

In 1933, Valk Ranch was established

in Oakdale, California at a time well

before Instagram or YouTube and

definitely before smartphones. Generations

later, Ryan Valk is using social

media daily to not only improve his

farming practices, but in his new role as

an agriculture advocate. Like many of

today's new age farmers, Ryan is using

social media and his phone not only to

help him farm and operate his

business

more effectively and efficiently,

but to help share his farming story.

You might know Ryan better as

@CaliforniaFarmer, his handle on

Instagram and YouTube. You might

even be a YouTube subscriber to his

channel or viewer of his daily Instagram

stories. Maybe you even attended

a recent Blue Diamond grower meeting

or Stanislaus

Valk Ranch has made the transition in

recent years from livestock to permanent

crops such as almonds.

(Photos courtesy of @californiafarmer)

County Farm Bureau

meeting where he was sharing his success

in telling his farming story. Ryan

developed his Instagram and YouTube

platforms as a way for him to interact

with farmers and consumers alike. He

has grown his platforms to now more

than 6,000 Instagram followers and

4,000 YouTube subscribers in less than

two years.

When asked how he was able to

be so successful, Ryan credits other

farmers. "I started following other

Instagram farmers. I saw the funny,

light-hearted, and goofy side

of farming they brought to social

media. I started tagging other farmers

and tried to start conversations

with them using Instagram stories.

They helped me grow my following,"

he says.

Just by having daily conversations

on Instagram stories with

other farmers, Ryan was soon

creating bonds and brother-like

relationships with farmers across

the nation and the globe.

"I started a daily conversation

with an Oregon farmer and an

Australia farmer, and now we

talk back and forth via Instagram

stories and tag each other

daily. It really helped to gain

Continued on Page 56

54 West Coast Nut March 2020
---
Under the Instagram handle @CaliforniaFarmer,

Ryan Valk uses social media to strike up conversations

and share advice with other growers on

an international scale.

Grow with us

Signing up new growers

Established walnut handler

Reliable home

Competitive returns

Transparent quality schedules

Exceptional service

Contact Brian Greathouse

530-419-9224

bgreathouse@sacvalleynut.com

sacvalleynut.com | 530-671-7630 | Yuba City, CA

March 2020 www.wcngg.com 55
---
Continued from Page 54

As a farming advocate, Ryan plans to use social

media more to reach out to consumers to help

them understand life on a California farming

operation.

followers through their interactions

and making farming more fun and

light-hearted. Soon their followers

started following me, and I was able to

grow my followers with an international

audience as well as a non-farming

audience."

There has been quite a learning

curve he adds, including "what

hashtags to use, don't use, what words

or terms are hot buttons right now. It

has taken research and a lot of searching

through other accounts to see what

they use and what works for them."

Ryan says the use of hashtags has

helped him bridge the gap in conversations

he may not otherwise have been

a part of. "Using the word sustainable

with a hashtag when talking about

prunings and grinding them up, is

not what others would imagine when

searching #sustainable."

He says it has been a mostly welcoming

experience diving into social

media advocacy. "There are a lot of

negative comments on YouTube when

I posted a video on deep ripping. But,

sadly, 75 percent of those negative

comments are from other farmers.

Sometimes we can be our own worst

critics when it comes to farmers on

social media."

For the most part, he said, on Instagram,

he finds more farmers are intrigued

and wanting to learn how and

why he does certain farming practices

the way he does. And as a new grower

to almonds, he values the opinions

of other farmers who genuinely offer

advice. Ryan and his father consider

themselves both first-generation

almond farmers.

The family has been farming in

Oakdale since 1933, but back then, the

farm looked much different, and not

just from a social media perspective.

Ryan's great-great-grandfather and

great-grandfather were sheep and cattle

ranchers with occasional feed crops in

rotation. In 1989, Valk Ranch diversified

the cattle business and added

turkey production to the family farm.

In 2005, it sold off the turkeys and has

had chickens ever since. Ryan says the

birds provided an easy transition, but

he wanted to find the fit that matched

his passions for California and farming.

56 West Coast Nut March 2020
---
It wasn't until one of his Soil Science

professors at Modesto Junior College

started talking about California's ideal

and unique conditions for almonds

that he even thought about permanent

crops. While on a church

mission trip in Idaho, Ryan and his

father decided that they would give

almonds a try. Seven years later, he

sees more almonds, and perhaps

fewer chickens, in his future.

Ryan manages the family's

almond orchards now, and he

values the help other social

media farmers have provided to

him. He has learned new and

innovative farming practices

to incorporate into their farm

from the friendly conversations

of others on social

media. In fact, he credits

social media in part to the

farm's success. "I have met

so many other farmers that

have offered advice and

even people who do custom

labor and whatnot."

As for the future of @

CaliforniaFarmer, he

says, "my name alone

has me thinking. My

handle has almost given me an expectation

that I need to help share more

about California agriculture and not

just our farm." Ryan has plans to share

other farms and commodities on his

YouTube channel to show the diversity

of California agriculture. He explained

how he wanted to show more about the

hundreds of different commodities that

are farmed in California and how the

uniqueness of California agriculture.

Ryan enjoys advocating for agriculture

and his new role as a social

media advocate. He wants to get better

at sharing with consumers, noting

farmers often find themselves talking

to their own tribes, and it can be hard

to break open that barrier to speak outside

of the agriculture community.

"One of my goals is to really focus

on consumer outreach and beyond,"

he says. "Social media is helping to

tell our story, and we need to get more

farmers doing it. If we get more voices

out there, there will be more farmers

for consumers to see."

Ryan's advice to other farmers is

Ryan and his family also use social

media to show the lighthearted

and fun side of farming.

simple:

"Get more involved

in social media, period.

Get your story

out there. As long

as we speak up and

share our story, we

aren't going to get

steamrolled by other

policies, or whatever

it may be that is

impacting our farm.

We are the minority

as farmers, so we

need to speak up so

others can see the

good we are doing."

Comments about

this article? We

want to hear from

you. Feel free to

email us at article@

jcsmarketinginc.

com

PROUDLY SERVING NORTHERN & CENTRAL CALIFORNIA SINCE 1990

CALL US TODAY!

(530) 891-5545

AGRICULTURAL

COMMERCIAL

MUNICIPAL

DOMESTIC

FAMILY OWNED

AND OPERATED

LIC # 812678 LIC # 534959

-- WATER WELL DRILLING -- -- LOCAL SALES & SERVICE --

NEW & USED PUMPS

MOTORS & CONTROL

WELL DEVELOPMENT

REHAB & REPAIR

WELLINDUSTRIESINC.COM | MEMBER OF BOTH CGA & NGWA | 3282 HIGHWAY 32, CHICO, CA

March 2020 www.wcngg.com 57
---
KNOW YOUR CRITTERS

IDENTIFYING RODENTS IS

THE FIRST MANAGEMENT

STEP IN TREE NUT

ORCHARDS

By CECILIA PARSONS | Associate Editor

Vertebrate pests chew the bark

on young trees, create extensive

burrow systems that pose problems

with equipment movement and

worker safety, damage irrigation lines

and in extreme situations, affect crop

yields. Roger Baldwin, UCCE wildlife

specialist, said that correct identification

of the problem species is the first

step in controlling populations. What

may work for ground squirrel control

won't be as effective against a vole

invasion. Understanding biology and

habitat of the target species will help

with choosing the most effective control

strategies.

Identify the Pest

California ground squirrels are

a common pest in many tree nut

orchards. They are a social, diurnal species

that can girdle young trees, chew

irrigation lines and cause crop losses.

Baldwin, in a presentation at Pistachio

Day 2020, said these mottled greybrown

rodents live in burrows that are

normally two-three feet below ground.

Ground squirrels are active during the

day and have two periods of dormancy

during the year. They hibernate during

the winter months, but some young can

be active when winters are not severe.

During summer when temperatures are

high, they have a period of inactivity

called estivation that can last a few days

to a week or more.

California ground squirrel mating

period can start as early as January in

warmer locations and continue through

June. One litter per year is produced.

Ground squirrels usually forage close

to their burrows. Their home range

typically is within a 75-yard radius

of their burrow. After hibernation,

ground squirrels feed on green grasses

and plants. When annual plants begin

to dry and produce seed, squirrels

Continued on Page 60

58 West Coast Nut March 2020
---
CO-JACK

Rodent Control System

Bright white smoke to detect

connected openings.

Protect your investment from rodent damage with the safe

and effective CO-Jack carbon monoxide delivery system

• Compact and lightweight design

• Available with trailer or on skids

• No permit or license required

• Easy to operate and maintain

Contact Us Today for More Information.

471 Industrial Ave. • Ripon, CA 95366 • 209.599.6118 • www.jackrabbit.bz

March 2020 www.wcngg.com 59
---
Continued from Page 58

Squirrels feed on grasses and annuals until the food source runs out and then switch to

feeding on nuts (Photos courtesy of UC ANR.)

switch to seeds, grains, and nuts, and

begin to store food.

Pocket gophers are another burrowing

rodent and their presence in

an orchard can be determined by the

presence of fan-shaped mounds of dirt

on orchard floors. Adults are 6 to 10

inches long, including their short tail.

Pocket gophers live in a burrow system

that is usually 6 to 12 inches below

ground. They are active year-round,

and can be active any time of the day

or night. They feed on plant roots as

they dig burrows, including the roots

of young trees, girdling roots below the

soil line. Gophers also damage irrigation

systems by gnawing on the plastic

tubing. Their tunnels can divert water

from the root zone. Pocket gophers

are more common in alfalfa fields and

vineyards, but can also invade nut

orchards.

Meadow mice or voles are smaller

rodents and their populations tend to

be cyclical, but can explode in a short

60 West Coast Nut March 2020
---
time. Like pocket gophers, they also

gnaw and girdle young trees, but their

damage is generally above ground.

Integrated Management Strategies

Once identified, management strategies

can be implemented. Understanding

the biology of the rodent pest and

the ecology of the infested site are the

first steps in managing the pest.

"Using multiple tools will give better

results," Baldwin said. An integrated

approach to rodent pests requires

several tools, including habit modification,

baits, fumigation, trapping and

repellents.

Modify habitat for control of rodent

pests in an orchard by removing brush

piles and destroying burrows. Vegetation

that provides cover for rodents

should be removed. If ground squirrels

are the problem, the plan should also

include burrow destruction so squirrels

don't re-invade the site.

Voles seek vegetation cover when

above ground. Mowing an orchard

cover crop close to the ground can help

along with burrow destruction. Exclusion

can be an effective tactic for pocket

gophers, removing young trees as a

food source by using tree wraps. To be

effective tree wraps have to protect tree

trunks six inches below the soil line.

Baits work best if set out during

the time of year they will be sought by

rodent pests. Baiting ground squirrels

with treated grain is effective in summer

and fall because they feed primarily

on seeds that time of year.

Baldwin said bait placement is key.

Bait application for gophers is only

allowed directly within burrow systems.

With pocket gophers, bait should

be placed in the main tunnel. After

locating a tunnel and making sure it

is an active tunnel, bait can be carefully

deposited in the tunnel. Strychnine-treated

grain is the most effective

bait for pocket gopher control. Zinc

phosphide baits are also available and

like strychnine, both are lethal after a

single dose. These treated baits are only

legal if placed inside burrows. Anticoagulant

baits can be used, but need to

be in larger amounts since they require

multiple feedings to be lethal.

Bait stations for rats and mice are

effective, but they can only be used

during the winter months.

Burrow fumigation is most

effective in spring, when moist soil

helps seal gasses in the burrow system.

Fumigating at this time is also

more effective in reducing ground

squirrel numbers since squirrels

die before they can reproduce.

If squirrel numbers are low to

moderate, trapping is a practical

approach. Live catch traps require

euthanasia by methods considered

humane by the American Veterinary

Medical Association. Drowning

is not an approved method of

euthanasia and is illegal in California.

Box traps and tunnel traps that kill

can be placed near burrows or runways

and baited. Baldwin recommends not

setting the traps for the first few days

so squirrels become accustomed to

them. Once the squirrels are taking

the bait, the traps can be set. Monitoring

populations for reinfestation is

necessary since squirrels will reinvade

over time. Be on the lookout for new

burrows. It is easier and less expensive

to manage a small

population rather

than to allow it to

build up to larger

numbers. Trapping

is a time consuming,

but effective method

for gopher control.

Two-pronged

pincer traps, such

as Macabee, Cinch

or Gophinater work

well. Traps should

be set in all tunnels

present and wired

to stakes to retrieve

them from the burrows.

Baldwin said

there is no advantage

to covering trap

sets other than to

eliminate non-target

species trapping.

Promoting

biological control

is another option.

Predators including

owls, snakes and

coyotes will seek

out squirrels and

gophers as a food

Vole burrow.

Manufacturing Commercial Grade

Products and Solutions to Growers and

Investors of Almonds Around the World

Since 1963.

source, but before they eliminate the

pest, they generally move on to where

prey is more available.

More detailed information about

identification, management, and other

resources is available at the UC Ground

Squirrel Best Management Practices

website, www.groundsquirrelbmp.

com.

Comments about this article? We want

to hear from you. Feel free to email us at

article@jcsmarketinginc.com

License No. 251698

P. 209-599-2148

sales@riponmfgco.com

www.riponmfgco.com

March 2020 www.wcngg.com 61
---
A WORD FROM THE BOARD: THE HAZELNUT MARKETING BOARD

NUT GROWERS SOCIETY ANNUAL MEETING:

HAZELNUT

GROWER OF THE YEAR

RECOGNIZED DURING ORGANIZATION'S ANNUAL GATHERING

2019 Hazelnut Grower of the Year Tim Newkirk, left, is recognized by Oregon Hazelnut Commissioner Sean Denfeld.

(Photos courtesy of Hazelnut Marketing Board)

62 West Coast Nut March 2020
---
About 800 hazelnut growers

recently converged at Oregon

State University in Corvallis for

the 105th Annual Winter Meeting, hosted

by the Nut Growers Society (NGS).

NGS represents hazelnut growers from

Oregon, Washington and British Columbia,

and is responsible for keeping

growers up to date on the latest industry

news and trends.

The Winter Meeting is one of two

paramount events—along with the

Summer Tour—that are held annually

to bring hundreds of growers together

to share ideas, learn about research

results and find out about the newest

technologies that could benefit them in

the orchard.

The 105th edition of the meeting

featured a robust trade show, complete

with 59 exhibitors; ranging from

hazelnut processors to equipment

manufacturers to financial institutions,

these vendors had ample opportunity

to speak one-on-one with hazelnut

farmers from the Willamette Valley to

British Columbia.

A hallmark of the Winter

Meeting is the seminars. Each

year, the Nut Growers Society

Board of Directors select a group

of speakers to present on topics

deemed most relevant to growers.

Every speaker is an expert in

their field and each topic molds

the hazelnut industry for the

upcoming year.

The keynote speech was delivered

by Allan Fulton, UC-Davis

extension specialist, who addressed

results from his research

on agricultural water management.

In addition, Nik Wiman,

extension agent and orchard

specialist with Oregon State University,

informed growers on his

findings regarding orchard pests,

most notably brown marmorated

stink bug. Kelly Vining, assistant

professor at Oregon State University,

detailed the role genomics

play in the hazelnut industry.

Industry representatives updated

attendees on international

marketing and trade efforts, the

2019 crop price as set by the

Hazelnut Growers Bargaining

Association, the importance of the

USDA Objective Yield Survey and legislation

being discussed at the Oregon

state capitol that could impact hazelnut

growers. Industry representatives and

growers formed a panel for a discussion

on the importance of the Hazelnut

Stewardship Program—a massive undertaking

that is set to launch in 2020

and more clearly illustrate the stewardship

practices being done by growers.

Perhaps the most illustrious moment

of the Winter Meeting is the

annual announcement of the Grower

of the Year. This is the most prestigious

honor the Nut Growers Society

can bestow and is reserved for those

individuals that dedicate countless

hours and serve in leadership roles that

strengthen the hazelnut industry. The

award was first presented in 1970, and

its lineage boasts many luminaries of

the industry.

The 2020 recipient is Tim Newkirk.

He is one of—if not the youngest—recipient

in the history of the award. He

has served on nearly every committee

and in every leadership position

possible, including principal roles

with the Nut Growers Society, Oregon

Hazelnut Commission and Hazelnut

Marketing Board. He also manages his

own orchard, helps operate a nursery

business and provides planting services

for fellow growers looking to expand

or break into the hazelnut industry.

Furthermore, he is a former CEO of

Willamette Hazelnut Growers. He is a

paragon of the hazelnut world and a goto

resource for the entire industry.

Attendance to the Winter Meeting is

included with every Nut Growers Society

annual membership; any hazelnut

grower that is not currently a member

can contact the Hazelnut Industry

Office to sign up and learn about the

additional benefits that come with

membership. The office can be reached

at 503-678- 6823 or juli@oregonhazelnuts.org.

Comments about this article? We want

to hear from you. Feel free to email us at

article@jcsmarketinginc.com

March 2020 www.wcngg.com 63
---
AB5 Changes How Agricultural

Businesses Can Contract for

SERVICES FROM

CONTRACTORS

By JENNY HOLTERMANN | Contributing Writer

California Governor Gavin Newsom

in September signed Assembly

Bill 5, or AB5, into law, which

could have significant impacts on hiring,

manning and staffing in California

by changing the classification of certain

workers from independent contractors

to employees. Also referred to as the

Opportunity to Work Act, according to

the California State Legislature, the bill

aimed to protect workers that were not

otherwise eligible for minimum wage,

sick leave, employment benefits, workers'

compensation and other employee

protections. The bill did outline exemptions

for doctors, dentists, insurance

agents, lawyers, accountants and real

estate agents.

The initial intent of AB5 was for

unions to ensure employees had the

option to unionize. The original targets

of the legislation were Uber, Lyft and

similar rideshare services who rely on

independent contractors. The authors

of AB 5 wanted to eliminate the option

of being independent contractors,

which essentially forced companies to

hire people who were formerly treated

as independent contractors.

The ramifications of AB5 are astronomical.

Almost immediately, the

California Trucking Association set

out to sue the state of California for

now forcing them to hire truck drivers.

Many of these truck drivers operate

their businesses and own their trucks

themselves. The law would essentially

force truck drivers to become a business

entity, whether a corporation or

limited liability company, to continue

to operate for hire. If truck drivers

were not willing to become a business

entity, they would have to be hired

on as employees to continue to earn a

living. This would limit their flexibility

in driving for multiple companies

and being able to set their own hours.

Many companies that use truck drivers

seasonally were also going to face increased

costs down the line by bringing

on drivers as employees.

A federal judge ruled in favor of

the California Trucking Association

and granted a preliminary injunction

against AB5 for truck drivers. The

judge ruled that AB5 conflicts with the

Federal Aviation and Administration

Authorization Act. The ruling allowed

truck drivers to maintain their independent

contractor status.

Another round of lawsuits came

from the American Society of Journalists

and the National Press Photographers

Associations. Freelance

journalists would be limited by AB5 in

the amount of work they can have from

a single publisher. Uber and Postmates

also filed a lawsuit based on limiting

their work. These lawsuits are still

pending. From freelance writers, musicians,

and actors, AB5 aims to limit

contractors to less than 35 jobs from a

single company to maintain independent

contractor status.

The California Farm Bureau developed

a fact sheet of frequently asked

questions to ensure farmers are operating

within the law. A farmer may have

business relationships that fall under

AB5, such as farm labor contractors,

agronomists, pest control advisors, human

relations consultants, or irrigation

contractors. The bill lays out an ABC

test to enforce the employee status on

formally independent contractors that

fail to meet all the conditions. AB5

imposed an ABC test for a worker to

be classified as an employee if they do

not match all requirements. A service

provider that is an individual would be

subject to the ABC test as outlined in

AB5.

A

B

C

a. Under the contract for the

performance of the work and in

performing work, the worker is

free from an entity's control and

direction

b. The work performed by the

worker for the entity is outside

its usual course of business

c. The worker is customarily

engaged in an established trade,

occupation or business of the

same nature as that involved in

the work performed.

Businesses are not eligible under

the ABC test because they are considered

an entity, not an individual. Only

individuals could be classified as an

employee or an independent contractor.

AB5 outlines a business to business

exemption. To be eligible for a business

to business exemption workers must

meet the Borello Test 12 criteria to

be classified as a business and not an

individual.

The following criteria are outlined to

ensure service providers are operating

as a business and not an individual:

1. Be free from the control and direction

of the service recipient business

in connection with the performance

of the work.

2. Provide services directly to the

service recipient business rather

than to its customers.

B

C

64 West Coast Nut March 2020
---
3. Have a written contract with the

service recipient business.

4. Have any required business license

or business tax registration.

5. Maintain a business location that is

separate from the business or work

location of the service recipient

business.

6. Be customarily engaged in an

independently established business

of the same nature as that involved

in the work performed.

7. Contract with other businesses to

provide the same or similar services

and maintain a clientele without

restrictions from the hiring entity.

8. Advertise and hold itself out to the

public as available to provide the

same or similar services.

9. Provide its own tools, vehicles and

equipment to perform the services.

10. Be able to negotiate its own rates.

11. Be consistent with the nature of the

work, set its own hours and location

of work.

12. Not perform the type of work for

which a license from the contractors'

state license board is required.

It is essential to ensure that a

business meets all these qualifications.

Purely being a sole proprietor doesn't

guarantee classification as a business.

The flexibility of being an independent

contractor has now changed. The state

of California wants to ensure service

providers are operating as an actual

business and paying appropriate taxes.

Many companies and even attorneys

are unsure how and what businesses

should do to adjust their dealings to

comply. It is always best to consult a

lawyer to understand how new laws

impact a business.

Within the California Farm Bureau

fact sheet, there is a description to help

make sense of the service recipient

business exemption criteria. "As a practical

matter, a farmer or rancher receiving

services under a properly written

contract from a law-abiding, separately

established business that has and

advertises for other customers/ clients,

that exclusively controls how its services

are provided, and that performs

its services using its own tools, vehicles,

and equipment should be able to show

the 12 business to business exemption

criteria apply and the service providing

business is an independent contractor

under the Borello test. This is especially

true for the service business organized

as an entity such as a corporation or

limited liability company, as opposed

to a sole proprietorship."

Comments about this article? We want

to hear from you. Feel free to email us at

article@jcsmarketinginc.com

PersonneL & LanD ManagemenT

ProvidinG DependablE LaboR — SecurinG HR & SafetY CompliancE since '95

W EBSITE

COTCAG.COM

BAKERS

-FIELD

(661) 588-8675

V I SALIA

(559) 625-5152

March 2020 www.wcngg.com 65
---
SUCCESSFULLY NAVIGATING H-2A: MAKING

DECISIONS ABOUT USING THE FARM

GUESTWORKER PROGRAM

By AMY WOLFE | MPPA, CFRE President and CEO, AgSafe

As labor shortages continue

across agriculture, many growers

are wrestling with the option of

using the nation's farm guestworker

program. It has been the subject of

spirited debate in recent years, playing a

critical role in how Congress addresses

immigration reform. For many in California,

though, the program appears

untenable and that assessment is often

made on soundbites of information as

Since 1969

Injection Pumps

opposed

to a thorough

analysis

of the program's requirements,

as well as its strengths and

weaknesses. The reality is, unless meaningful

change happens in short order,

many growers need to take the time

learn the program's specifics and make

an educated decision about whether or

not it's the right fit.

The Nuts and Bolts of H2A

The H-2A temporary agricultural

PBM Supply & MFG., INC.

Quality Agricultural Spray Equipment, Parts and Supplies

www.pbmsprayers.com www.pbmtanksupply.com

-Sprayers- -Tanks- -Liquid Delivery Trailers- -Parts & Accessories-

Chico - 530-345-1334

324 Meyers St. Chico, CA 95928

Yuba City - 530-671-0068

955 N. George Washington Blvd. Yuba City, CA 95993

Fowler - 559-834-6921

3732 S. Golden State Blvd. Fowler, CA 93625

Murrieta - 951-696-5477

41648 Eastman Dr. Murrieta, CA 92562

Walking Beam Sprayers

- New Store Location!

HAV Self Propelled Sprayers

Mixing Trailers

Parts, Tanks & Accessories

program creates a mechanism for US

growers to hire foreign workers, on

a temporary basis, to address the

domestic labor shortages impacting

that operation. There are a variety of

guestworker visa programs overseen by

a network of government agencies, but

the H-2A and H-2B programs address

the needs of production agriculture.

The H-2A program is specifically for laborers

that will work on-farm and with

the crop in its original state, as opposed

to the H-2B program, which is used for

temporary jobs beyond the farm but

still involving commodities, including

packing, shipping and processing.

The H-2A program is overseen by

the US Department of Labor, Wage and

Hour Division (USDOL), with additional

involvement by the US Department

of Homeland Security, Citizenship

and Immigration Services (USCIS).

As can be expected when multiple

agencies are involved, the process to

secure temporary workers is laborious

and includes a number of steps that

must be executed in a specific order.

The first is validating that, in fact, your

operation does not have sufficient

domestic labor to fill your needs. This

includes proving that you have actively

recruited for available positions in line

with the program's domestic hiring

requirements. When those efforts

have been exhausted, you will submit

your temporary labor certification

application to USDOL, validating your

exhaustive efforts to provide a job to

domestic workers.

Keep in mind that ultimately, the

government wants to ensure that any

willing, able and qualified US worker

is given the job. As such, throughout

this process, there will be steps that

require you to prove you are ensuring

US workers are not being adversely

impacted by foreign workers. This in-

66 West Coast Nut March 2020
---
The Adverse Effect Wage Rate is determined by the US Department of Labor specifically for the H-2A program using a complicated

formula. This map provides perspective relative to the 2019 and current rates by state.

cludes how your existing US workers

and these temporary foreign workers

are compensated in total, including

wages, benefits, housing and transportation

made available. More on this

shortly.

Once you adequately demonstrate

that there are not enough workers, the

process of applying to bring in foreign

workers begins. The process presumes

that you have identified viable foreign

candidates and when you submit the

second set of paperwork to USCIS,

(Form I-129: Petition for Nonimmigrant

Worker) you are doing so on behalf

of individuals known to you. From

a practical perspective, this means you

have already invested the time, energy

and resources to recruit for the positions

needed. You, or those you engage

to assist you with this process, will now

assist the foreign workers you have

identified with their meetings at the

US consulate or embassy you designate

for them to have their visa applications

reviewed. If that process is successful,

those foreign workers will be allowed

into the country for a maximum of ten

months in a twelve-month period, but

the specific length

of time was determined

based on the

production need you

identified in your

application.

There are a number

of other responsibilities

you take on

as the agricultural

employer using

the H-2A program,

including:

• Wages: Whether

paying an hourly

wage or piece rate

calculated to the

hourly equivalent,

foreign workers

need to receive,

at minimum, the

Adverse Effect

Wage Rate (an

hourly wage

determined

Continued on

Page 68

Nut

processors!

Is your software

ready for next

season?

Upgrade to the industry's best

nut processing software:

Detailed inventory that sales can trust

Configurable receiving app

Integrated with your ERP

Tyler Marshall

425-408-9500 x 522

TMarshall@ParityCorp.com

ParityFactory.com

March 2020 www.wcngg.com 67
---
Continued from Page 67

annually by the USDOL specific to

the H-2A program), the contracted

rate you guaranteed or minimum

wage, whichever is highest.

• Transportation: The employer

assumes the responsibility for all

foreign worker transportation at

no cost to them, starting with their

trip to the consulate or embassy to

secure their visa, then to get to your

farming operation from their home

country, the day-to-day travel while

working for you (including access to

transportation options during their

time off), and then travel back home

once the contract is complete.

• Housing and Meals: Foreign workers

must be provided housing, at no

cost to them, that meets standards

set by the Occupational Safety

and Health Administration with

Puffer ®

ü

ü

ü

NOW Ace

Deploy Faster

Reduce Damage

Made in USA

Made in the USA, the new Puffer ® NOW

Ace delivers the same trusted results in a

single unit per acre. Hang once for seasonlong

control from the #1 name in Navel

Orangeworm mating disruption.

Ask your PCA for details or

email us at agsales@suterra.com

specific details relative to personal

space, bathroom facilities and other

elements. In addition, laundry

facilities must be provided at no

cost and you can either offer free

and convenient cooking facilities

or provide three nutritious meals

each day. If you opt for the latter,

you may deduct $12.07 each day

from workers' pay, but doing so

must be disclosed at the time of hire,

allowing the employee the option to

decline the position based on those

terms.

Avoid These Common Citations

While agricultural employers are

cited by USDOL for a wide variety of

employment violations relative to using

H-2A, the two most common and costly

citations focus on the relationship

between US and foreign workers. The

agency finds that most often, US workers

who are willing, able and qualified

are not offered the available jobs. As

previously noted, it

is essential that if a

domestic worker applies

for an open position

and is capable

of doing the work,

that the individual

is given the opportunity.

This is such

an important issue,

the H-2A program

requires you to continue

actively advertising

your available

positions for half the

length of the foreign

workers' contract.

Meaning, if you are

using the program

for six months, you

must prove that you

are still recruiting

domestic workers

for the first three

months of their time

in the US.

The other area of

issue is that domestic

workers doing

similar work are

adversely impacted

by the foreign workers, namely relative

to compensation. If you have

two harvest crews, one made up of

domestic workers and one of H-2A

workers, the program expects that the

domestic workers will receive higher

total compensation. Note that this is

total compensation, which means you

need to calculate the total cost associated

with wages, benefits, housing and

transportation for the foreign workers

and determine the rate your domestic

workers need to be paid that is greater.

The alternative is to provide the

same benefits to your domestic workers

relative to housing and transportation,

which is a costly proposition.

In reality, the H-2A guestworker

visa program is cumbersome and

includes a litany of steps mired in

bureaucracy. However, it is still the

only viable, legal option currently

available to the agricultural industry

to fill our meaningful labor shortages.

This recap of the program is by no

means exhaustive. Each element has a

series of additional specific details that

must be reviewed to more fully understand

the impact to your operation. In

addition, it is critical to consider cost.

AgSafe recently developed the H-2A

Cost Estimator, a tool created with the

support of current H-2A program users,

designed to provide a more detailed

analysis of the true costs of using the

program. To learn more about the

tool, visit https://www.agsafe.org/

h2a-cost-estimator/

For more information about worker

safety, human resources, labor relations,

pesticide safety or food safety issues,

please visit www.agsafe.org, call (209)

526-4400 or email safeinfo@agsafe.org.

AgSafe is a 501c3 nonprofit providing

training, education, outreach and tools

in the areas of safety, labor relations,

food safety and human resources for

the food and farming industries. Since

1991, AgSafe has educated over 85,000

employers, supervisors, and workers

about these critical issues.

Comments about this article? We want

to hear from you. Feel free to email us at

article@jcsmarketinginc.com

68 West Coast Nut March 2020
---
NEW Distributor of

March 2020 www.wcngg.com 69
---
GAINS BEING MADE IN SIT NOW RESEARCH

By MITCH LIES | Contributing Writer

Hopes that sterile insect technology

(SIT) can offer a viable

alternative for controlling navel

orangeworm (NOW) in tree nut crops

appear to have undergone a reversal of

fortune as researchers were able to dramatically

improve trial results between

2018 and 2019.

"After the initial field trials in 2018,

we realized we were facing a lot of

challenges with these sterile NOW,"

said Houston Wilson, a Cooperative

Extension Specialist with the Department

of Entomology at University of

California Riverside, who is leading

the research along with Chuck Burks, a

research entomologist at USDA-ARS in

Parlier, California. "As we go into 2020,

it now feels like we have a lot clearer

idea of what specific issues need to be

addressed."

In 2019, the second year of releasing

irradiated moths into pistachio

orchards, Wilson said researchers

documented significantly improved

sterile moth recovery rates – a key indicator

of moth performance in the field

– and eliminated several concerns they

initially thought contributed to the low

recovery rates of 2018.

"I'd say we are about half-way there,"

Wilson said. "At present, our best

estimate of the expected recovery rate

(for healthy, nonirradiated NOW) is

somewhere around 5 percent (of the

total number of moths released into an

orchard). We weren't seeing that all the

time with the sterile NOW, but we went

from essentially zero recovery in 2018

to something in the range of 0.5 to 5

percent in 2019."

Wilson added that researchers

working on sterile moth programs in

other parts of the world have said they

are happy with recovery rates as low as

three percent. "They said, 'We'd be over

the moon with five percent,'" he said.

"Granted, that is for a different species

of moth than NOW, and we expect

each moth's recovery rate to be different.

So, is three-percent or five-percent

recovery good enough for NOW? We'll

need more research to have better confidence

in the numbers we're currently

seeing."

Sterile insect technology, which has

been around for decades, was first used

as a pest control technique in the 1950s

to control the New World screwworm,

a pest of livestock in the southeastern

United States. At its most basic level,

the technology sterilizes moths that are

mass-produced and then releases them

into commercial orchards, where they

hopefully mate with wild moths. Wild

moths that mate with a sterile moth

become infertile, which can lead to an

overall reduction, or even eradication,

of the target pest population. Mating

with sterile moths can reduce populations

by either directly blocking reproduction

or through inherited sterility.

The sterile NOW program in California

leads to direct infertility of wild moths.

Discussions about the use of SIT

for NOW began about five years ago,

when the California pistachio industry

partnered with the USDA's Animal

and Plant Health Inspection Service

(USDA-APHIS) to explore the idea

of utilizing a moth mass-rearing and

irradiation facility operated by the

USDA near Phoenix, Arizona, which

was originally designed for the production

of sterile pink bollworms. With the

eradication of pink bollworm in 2018,

the USDA-APHIS facility had become

available for production of another

insect, and the California pistachio

industry jumped at the opportunity to

see if SIT could work for NOW. The

almond industry is now also getting

involved and investing in the research

project.

Since 2018, Wilson and Burks have

conducted a series of experiments to

investigate several suspected causes of

poor performance of the sterile NOW,

including the effects of irradiation, the

mass-production process, the shipping

and handling and release methods.

They found that by tweaking the

release mechanism, or how the moths

were released into orchards, recovery

rates jumped noticeably. Researchers

used wing traps baited with pheromone

to recover male moths and baited

with pistachio/almond meal to recover

females.

Further, other experiments showed

that the methods of collecting and

storing the irradiated moths appeared

to have a significant effect on their

competitiveness and flight ability.

"Going into 2020, we are hyper-focused

on how they are collecting

and transporting the moths from

the USDA-APHIS mass-rearing and

Continued on Page 72

70 West Coast Nut March 2020
---
PHEROCON

®

NOW PPO-HR L 2

+

®

MODIFIED PHEROCON TRAPS

NEW! Peelable

Technology

NEW! Patent Pending, High-Release

Microporous Gel Multi-Gender

NOW Attractant System:

PHEROCON ® 1CD

QUICK- CHANGE Trap

NOW/Trap/Week

10

9

8

7

6

5

4

3

2

1

0

NAVEL PHEROCON® ORANGEWORM

NOW

COMPARATIVE TRAP & LURE TRIAL, Almonds, CA CA, 2019 2019

NOW PPO - HR L 2 + NOW L 2 - L = Multi-gender,

greater attraction in mating disrupted almonds

Pheromone PPO + Pheromone PPO PPO + Pheromone PPO PPO + Pheromone

Wing Trap, Modified PHEROCON® VI DELTA Trap PHEROCON® VI DELTA Modified

Source: SOURCE: Dr. Dr. Chuck Chuck Burks, Burks, Research Research Entomologist, USDA-ARS, USDA-ARS, Parlier, Parlier, CA, N=8 CA Mating Disrupted Almonds, N=8

Key Features:

• Multi-Gender NOW Attractant

• Duplicates Standard USDA vial release rate

• 12 weeks field longevity

• Easy to use; ready-to-use barrier pack

• NOW PPO-HR L 2 + NOW L 2 -L = Multi-gender,

greater attraction in mating disrupted almonds,

pistachios, and walnuts

Trap Options:

• PHEROCON ® 1CD QUICK-CHANGE, with expanded

SNUG-FIT ® spacer

• PHEROCON ® VI DELTA Modified, with cut outs

• PHEROCON ® VI DELTA Trap

PHEROCON ® 1CD QUICK- CHANGE Trap PHEROCON ® VI DELTA Trap PHEROCON ® VI DELTA Modified Trap

®

INCORPORAT ED

INSECT PHEROMONE & KAIROMONE SYSTEMS

Your Edge – And Ours – Is Knowledge.

Contact your local supplier and order now!

Visit our website: www.trece.com or call: 1- 866-785-1313.

NOW PPO-HR L 2

MULTI-GENDER MONITORING SYSTEM FOR NAVEL

ORANGEWORM IN ALMONDS, PISTACHIOS AND WALNUTS

March 2020 www.wcngg.com 71

© 2020, Trécé Inc., Adair, OK USA • TRECE, PHEROCON and CIDETRAK are registered trademarks of Trece, Inc., Adair, OK USA • TRE-1713, 02/20
---
Continued from Page 70

irradiation facility, specifically how

they are cooling them, how the moths

recover from that chill period, as well

as further aspects of the release mechanism,"

Wilson said. "Of course, we

will also continue to explore improved

release mechanisms and generate data

on the expected recovery rate using

healthy, locally produced, non-irradiated

moths."

He added that the temperatures they

used to cool and transport the sterile

NOW were originally developed for the

pink bollworm program. "And there

are a lot of issues when you simply

swap out one insect and put another

in its place," he said. "We now realize

there is something about the current

collection and/or cold storage process

that is having a significant negative

impact on the sterile NOW."

Wilson cautioned growers from

getting overly excited about using the

technology in the immediate future.

Typically, he said, developing successful

SIT programs for individual pests takes

many years, if not decades. The pink

bollworm SIT program, part of a larger

areawide IPM program to eradicate

the cotton pest, took four decades to

fine-tune, he said. Canadian researchers

worked several decades to develop

and implement a sterile codling moth

program in use in British Columbia's

Okanagan Valley, which is home to

about 6,000 acres of apples.

Wilson said that even in an optimistic

scenario, pistachio growers probably

won't be able to commercially utilize

sterile NOW for five to ten years, at the

earliest.

"In a best-case scenario, where, say

this coming year we got everything

to work: we got a totally competitive

moth; we know how to rear it; we know

how to ship it; we know how to release

it; it is right there with the wild moth; it

is mating; it is flying as far. Even if we

were able to get there this year, we still

would have to do additional field work

to understand the timing and the densities

of sterile moths that need to be

released into orchards to actually drive

down crop damage, and that would

take at minimum of two to three years –

and again, that is a time estimate where

everything goes perfectly well, which it

rarely does," Wilson said.

There are also questions about what

size of orchard block is needed for

sterile insect technology to be effective,

he said.

In British Columbia's Okanagan

Valley, where growers operate under

more government control, participation

in the SIT program is mandatory. "That

obviously won't happen in California,"

Wilson said, "since this is not a quarantine

pest." Instead, growers may need

to come together to develop regionwide

programs that improve the effectiveness

of a SIT program, or like mating

disruption, it could be led by private

industry.

And there are questions about how

the technology will work with existing

integrated pest management programs,

such as mating disruption.

"If mating disruption is trying to

confuse moths from finding each other

72 West Coast Nut March 2020
---
to mate and SIT is hoping the sterile

moths will find and mate with wild

moths, how do those two approaches

coexist? This is an important question,

but there are examples where SIT and

mating disruption work together," Wilson

said.

When perfected, researchers envision

that the sterile moth technology

will be part of a suite of methods for

controlling navel orangeworm in pistachios

that includes sanitation, mating

disruption, monitoring, timely sprays

of pesticides and early/timely harvest,

Wilson said.

"Optimistically, we've made some

progress towards getting a more

competitive sterile moth," Wilson said.

"Is this going to be the thing that just

wipes out navel orangeworm entirely?

No. For us, this is one more IPM

tool that we are trying to develop and

understand how to use in conjunction

with the other tools.

Another issue that awaits the team

of researchers working on the technology

is where to release the moths. "We

have 1.5 million acres of tree nuts, so

how do you decide where these moths

go?" Wilson asked. He added, "The

USDA-APHIS facility is currently

able to produce about 1 million sterile

moths per day, but it may be possible to

increase moth production in the future."

And commercializing the technology

to handle large acreages is another

hurdle California research has yet to

confront.

Wilson pointed out that in Washington

state, which has begun utilizing

the SIT to help control codling moth in

apples, growers are paying a commercial

provider to release the sterile moths

with drones. "The drones fly over the

top of an orchard and drop the moths

from a small container," Wilson said.

Wilson and Burks had mixed results

in experimenting with drones last year,

and plan to do more experiments with

drones this year.

"We are making progress, and we are

optimistic about our ability to make

some additional gains," Wilson said.

"But whether or not SIT actually plays

into a viable strategy is yet to be determined.

At present, we are simply trying

to develop a process to mass-produce,

irradiate, ship and release NOW in a

way that allows it to effectively behave

similarly to and compete with wild

NOW.

"It is still a long road ahead of us," he

said. "These sterile moth programs typically

take multiple years to even get to

the point where you have a competitive

moth, much less be able to use it in a

way that actually reduces crop damage,

and much less take it to a phase after

that in terms of implementation on a

statewide basis.

"But it is nice to see that after making

some tweaks (in 2019), we were able

to get improved performance of the

moths," he said, "and we're optimistic

about our ability to make additional

gains in 2020."

Comments about this article? We want

to hear from you. Feel free to email us at

article@jcsmarketinginc.com

The Future

of Mating

Disruption

is NOW

Remote-controlled camera traps and dispensers

Unique variable rate pheromone application

Installation, monitoring, and maintenance included

New for 2020: Water management & per acre

hull split prediction tools

Call us at

1.855.924.3282

or email us at:

info@semios.com

semios.com

A full-service solution of sensors and controls to monitor and

manage pests, weather, disease risk, and soil moisture.

March 2020 www.wcngg.com 73
---
PUTTING ALMOND WASTE TO GOOD USE:

Conference Panelists explore alternative

uses for wood, shells and hulls

By CECILIA PARSONS | Associate Editor

Make electricity from almonds

trees? Convert almond wood

waste into a biopesticide? Those

are intriguing business plans put forth

by two new companies that aim to

remove wood, shells and hulls from the

waste stream and put them to beneficial

use.

Right from

the Start

Orchards demand well-prepared, smooth terrain. The

versatile Schmeiser Model 77 Orchard Leveler pulverizes

the soil, fills depressions and packs it all in one operation.

The right equipment does make the difference: better floor

preparation leads to better orchard management and

trouble-free harvests.

Eric McAfee of Aemetis Inc., a

renewable fuels and biochemical

company, and Mike Woelk of Corigin

Solutions LLC, an organic ag solutions

company, laid out the science and the

business plans for their technology

endeavors at an Almond Industry

Conference session in December. Their

Count on the Schmeiser Model 77 Orchard Leveler for proven soil preparation that will

benefit your fields now and for the life of the orchard. Contact us for complete information.

A Smoother Orchard Floor Starts with TG Schmeiser

1-800-288-8128 • www.tgschmeiser.com

®

common goal is to divert wood waste

and end open burning of orchard waste.

Aemetis is using new technologies

to produce advanced fuels as replacements

for traditional petroleum-based

products. They are converting first-generation

ethanol and biodiesel plants

into advanced bio refineries to produce

zero emission fuels which also reduce

carbon impacts of transportation.

Energy from solar, wind, hydroelectric

and nuclear all reduce emissions

of greenhouse gases compared to coal

and petroleum, McAfee said, but these

energy sources do not consume carbon

dioxide from the atmosphere. Plants

used as feedstock for biofuels and biogas

consume CO2 as they grow, allowing

greenhouse gases to be reduced by

use of biofuels

McAfee said he is a big fan of

electric vehicles, but "are we making

electricity from coal or almonds?"

The renewable fuel production

proposed by Aemetis will come from

waste plant material that has consumed

carbon dioxide during its life span and

can achieve true progress in reversing

climate change.

According to the California Air Resources

Board's Low Carbon Fuel Standard,

biofuels lead in carbon reduction

in California. Ethanol, McAfee said, is

cleaner burning than gasoline and its

use in vehicles reduces air pollution.

Ethanol, which is 34 percent oxygen

by weight, burns cleaner than gasoline

by adding oxygen to engine combus-

74 West Coast Nut March 2020
---
tion. Ethanol fuel cells can be used as

generators to power electric motors for

pickups, vans and trucks.

Aemetis will source the more than

2 million tons of ag waste produced

annually in the Central Valley when

unproductive orchards are removed

as well as other woody waste to produce

cellulosic ethanol, The amount

of wood waste from orchard removals

has been increasing as many biomass-to-electricity

plants close due to

competition from lower cost solar and

wind generated power. Burning waste

wood has increased since 2012, a UC

Feedstock study has concluded, due to

the closing of those plants.

The UC study confirmed that air

emissions assumptions for carbon

intensity score under the Low Carbon

Fuel Standard. It also confirmed

biomass growth and availability tonnage,

identified feedstock pricing and

feedstock projected cost for 20 years as

supply increases due to foreign demand

for almonds.

There are approximately 1.5 million

acres of almond and walnut orchards in

California. With an average production

life of 20 years for almond trees, there

are about 40,000 acres of trees removed

annually providing about 1.6 million

tons of orchard wood waste per year.

Adding in pistachio shells and hulls,

California orchards can support the

production of 160 million cellulosic

ethanol gallons per year at a conversion

rate of 100 gallons per ton of wood

waste. Cellulosic ethanol production

would also create 30,000 direct and indirect

jobs in the Central Valley, attract

capital investment and eliminate open

burning of wood waste.

Aemetis, McAfee said, is building

the first biomass to ethanol plant using

a Lanzatech process that involves a proprietary

microbe in the fermentation

process. The integrated demonstration

unit has already been completed and

operated for 120 days. Aemetis has

a signed 55-year lease on a 140-acre

former U.S. Army ammunition production

plant near Modesto. The site

has additional space for expansion

and waste wood feedstock storage area

adjacent to plant. The plant will be

100 percent powered by hydroelectric

energy.

The business has USDA loan approval

for $125 million. In addition, the environmental

assessment of the plant is

complete and Aemetis has signed a 20-

year feedstock contract and completed

Ethanol Off-Take contracts and process

engineering. Detailed engineering work

is ongoing. Plans for the future include

expansion to four plants in California

with capability of 160 million gallons.

Corigin's figures show that in 2020,

the almond industry in California will

produce 857,000 tons of shells, 924,000

tons of hulls, 2 million tons of trees,

and 3.8 million tons of orchard waste.

"There is value locked in the waste

stream that could be more valuable

than the kernels," Woelk said at The

Almond Conference.

That waste, Woelk said, could be

converted into $3.8 billion worth of

Continued on Page 76

Helping Farmers Grow NATURALLY Since 1974

FEATURING:

Office: 559-686-3833 Fax: 559-686-1453

2904 E. Oakdale Ave. | Tulare, CA 93274

newerafarmservice.com

March 2020 www.wcngg.com 75
---
Register Now for

SUMMER

SHOWS Continued from Page 76

See Page 51

June 3, 2020

Turlock, California

Continued from Page 75

biochemicals, biocarbons and biooils.

In the process, 3.8 million tons

of carbon dioxide could potentially be

sequestered because the manufacturing

process is carbon-negative. Such carbon

offsets could be sold at $20 to $30 per

ton or whatever the market supports.

Corigin's process converts 2,000

pounds of almond shells into 1,600

pounds of product. That includes 600

pounds (75 gallons) of biodistillate, a

plant growth stimulant, 600 pounds

of the soil amendment biochar, 400

pounds of bio-oils (55 gallons) and

volatiles, as well as biogas as an energy

source to sustain the process.

The biodistillate process, Woelk explained,

produces phenolics which are

a natural defense mechanism for plants.

The Corigin product Coriphol, made

WE sort THEM ALL

Walnut Almond Cashew Hazelnut Pistachio Pecans Peanuts

Insects Shell fragments Rubber Wood Glass fragments

www.insort-inc.com

Metal

from almond shells, has been approved

as an organic plant growth enhancer by

OMRI and the California Department

of Food and Agriculture. There is potential

for such biodistillates to eventually

be used as a natural pesticide. A

recent USDA Agricultural Research

Service study found Coriphol repels navel

orangeworm at hull split and Asian

citrus psyllids from citrus trees.

A Corigin biochar product made

from almond shells, Corichar, is an

approved organic soil amendment.

Woelk reported it was tested in an

almond orchard where it improved

yields and reduced water use. Woelk

also commented on the potential of

biochar as a livestock feed additive to

reduce methane emissions, and improve

animal health and growth rates.

From a carbon sequestration standpoint,

Woelk explained that one ton of

biochar is equivalent to three tons of

carbon dioxide. But unlike other forms

of CO2-equivalents, Corichar is a tangible

product that is shipped in sacks

adding a level of credibility to buyers of

carbon offsets.

Woelk said that Corigin aims to

build a highly scalable business with

initial capacity of 3,200 tons of biomass

with a maximum capacity of 20,000

tons. The plan is to prove the economic

model at the Merced plant and then

build additional plants in California

and North America.

Production is scheduled to begin

May 2020 at the site in Merced. Corigin

has already been granted OMRI and

CDFA regulatory approval for their

flagship products and permits have

been filed with the San Joaquin Valley

76 West Coast Nut March 2020
---
Register Now for

June 24, 2020

Alm nd Day Fresno, California SHOWS

See Page 51

SUMMER

Air Pollution Control District.

Dr. Karen Lapsley, Chief Scientific

Officer at the Almond Board of California,

moderator of the conference

session, said the California almond

"Through the

Almond Board's

biomass research

program, we're

bringing groups

together – groups

that haven't worked

together before – to

think differently,

innovate and generate

value. It's not

just about being

responsible with everything

the orchard

produces. It's about

looking for new and

innovative uses for

food products that

may solve potential

issues or provide

benefits elsewhere."

Karen Lapsley,

Almond Board of

California

PACIFIC BIOCONTROL CORPORATION

www.pacificbiocontrol.com

ISOMATE ® is a registered trademark of Pacific Biocontrol

industry is committed to finding higher

value, optimal uses of almond co-products,

noting that doing so is integral to

the orchard of the future.

"Through the Almond Board's biomass

research program, we're bringing

groups together – groups that

haven't worked together before – to

think differently, innovate and generate

value," Lapsley said. "It's not just

about being responsible with everything

the orchard produces. It's about

looking for new and innovative uses for

food products that may solve potential

issues or provide benefits elsewhere."

Comments about this article? We want

to hear from you. Feel free to email us at

article@jcsmarketinginc.com

PROVEN EFFICACY YOU CAN TRUST

ISOMATE® Mist NOW

Pheromone Mating Disruption

Grower

Standard

ISOMATE®

Mist NOW

Jeannine Lowrimore

Northern California

209.603.9244

Christeen Abbott-Hearn

Central California

559.334.7664

March 2020 www.wcngg.com 77
---
INTRODUCING OUR

NEW EDITOR

I'm pleased to introduce myself as the new editor of West Coast Nut magazine. Many of you I

have met, interviewed, and otherwise known during my 30 years covering the nut industry in the

Western United States. The rest of you I will look forward to meeting and getting to know.

The nut industry has changed a lot and yet in many ways stayed the same since I first began following

it in 1994. Regulations, trade issues, new and emerging pests, resource demands, and new

technologies continue to keep almond, walnut, pistachio, pecan and hazelnut growers on their

toes. And yet, as they always have, growers find a way to adapt and adopt solutions that keep them

moving profitably forward. West Coast Nut works hard to be an important resource in bringing

those solutions to you.

West Coast Nut has grown tremendously in the last decade on its way to becoming the leading

industry publication covering nuts in the United States. Publisher Jason Scott has a commitment

to quality, original editorial content that brings growers to the cutting edge of research, products

and programs to manage their orchards efficiently and cost effectively. I am excited to join Associate

Editor Cecilia Parsons and the rest of the team here at JCS Marketing, in bringing those stories

to you.

If you see me at a meeting, trade show or field day, please come up and say hello and reintroduce

yourself. In the meantime, if you have any questions, comments or story ideas feel free to

contact me at marni@jcsmarketinginc.com.

Marni Katz

Marni Katz

78 West Coast Nut March 2020
---
August/September 2019

Adopting Diversified Organic Farming

to Increase Ecosystem Services

A Preliminary Evaluation of Using Drip

Irrigation in Organic Spinach Production

November/December 2019

Using Concentrated Organic Fertilizers

Biocontrol of Aflatoxin Contamination

in Nut Crops is Working!

WEST COAST NUT

SPOTLIGHT:

Almond and Pistachio

Growers Need to be on the

Lookout for BMSB

SEE PAGE 38

FEBRUARY 2019 ISSUE

Southern Blight in Processing Tomatoes:

Diagnosis, Management and Monitoring

IN THIS ISSUE: ISSUE:

Entomopathogenic Fungi Antagonizing

Macrophomina phaseolina in Strawberry

Economic Outlook for the

2019 Almond Pollination Season

SEPTEMBER 26-27, 2019

September 26th | 1:00PM - 9:00PM

September 27th | 7:00AM - 1:00PM

See page 25-29 for agenda details

SEE PAGE 4

Maximizing the Efficiency of Airblast Spraying

2019 Nitrogen

Considerations

SEE PAGE 14

5-Year Almond Outlook

Reveals Profitable Prices

SEE PAGE 20

PUBLICATION

Volume 2 : Issue 4

The Effects of Winter Shaking

on Bud Loss and Yield Yield in in Almonds

SEE PAGE 26

PUBLICATION

Volume 4 : Issue 6

November / December 2019 www.progressivecrop.com 1

PUBLICATION

March 2020 www.wcngg.com 79
---
BACTERIAL

CANKER

AND

BLAST IN

CALIFORNIA

ALMOND

TREES

By PHOEBE GORDON | UCCE Madera and Merced Counties

and MOHAMMAD YAGHMOUR, UCCE Kern County

Cankers caused by P. syringae have spotting. (Photo courtesy of P. Gordon).

Bacterial blast and bacterial canker

are caused by the bacterium Pseudomonas

syringae pv. syringae (Pss).

Both diseases are a tough problem to deal

with in almond and stone fruit orchards.

Bacterial diseases are more common in

cold and humid regions causing significant

damage to orchard trees. However, we can

still see both diseases causing significant

losses under certain conditions here in

California. As detailed below, it doesn't

require existing wounds for infection (but

they certainly can increase a tree's vulnerability),

it is exacerbated by but doesn't need

plant stress to infect, and it currently has

no effective chemical control options.

P. syringae pv. syringae is an epiphytic

bacterium which resides on plant surfaces.

It's safe to assume it's in many orchards

in California, however it will not invade

the plant until conditions are conducive

to infection: wet weather accompanied by

freezing temperatures which can damage

plant tissue. Even the mild frosts we

typically experience in California can

facilitate the movement of the bacteria

through the bark. This invasion can

cause bacterial canker infections as well

as bacterial blast, which can move into

twigs in fruit trees progressing sometimes

to canker development (Kennelly et al.,

2007). Late season pruning wounds can

be entry points for infection, and while

leaf scars have been implicated in the past,

later work has not shown any connection

(Sayler and Kirkpatrick, 2003). P. syringae

can also invade leaves through stomata

(Kahlon, 2016).

Symptoms and Causes

of Blast and Canker

Symptoms of bacterial blast are shriveled

up, 'fried' looking blossoms, often

on twigs that have died back. In more extreme

cases in California, Pss can invade

buds through the bud scale scar, killing

buds before they have the chance to open.

Some UC personnel regard the two as different

diseases, though they are caused by

the same pathogen. Conditions leading

to bacterial blast are less understood than

bacterial canker. Cool, rainy conditions

can predispose trees to blast, it tends to

be more severe in the lower canopy and in

cold spots in the orchard.

Bacterial canker infections show up as

Continued on Page 82

80 West Coast Nut March 2020
---
March 2020 www.wcngg.com 81
---
Continued from Page 80

amber-colored gumballs on the trunk

or scaffolds of trees that end at the graft

union. If you cut away at the bark and

smell the canker, it gives off a sour and

fermented scent. The margin of the

canker is not solid or continuous, such

as on phytophthora for instance, but

shows as streaks and flecks. P. syringae

pv. syrnigae causes damage to plant

tissue by producing a toxin called syringomycin.

This phytotoxin kills plant

cells by disrupting cellular membranes

and leads to the presence of the cankers

we observe in the field.

degree of copper resistance or tolerance

in many Pss populations, and

other work has shown that treatments

that improve the condition of the tree

is more effective at reducing canker

disease severity. Sayler and Kirkpatrick

(2003) examined copper sprays, NPK

and copper+NPK in young French

prune trees and found that copper

sprays did not reduce damage severity

compared to the control, while NPK

and copper+NPK did. Copper sprays

reduced disease incidence, however.

There has been other research showing

that Pss populations found in

California are mostly resistant to

'REMEMBER THAT STRESS PLAYS A MAJOR ROLE IN PREDISPOSING PRUNUS TREES

TO THIS DISEASE. IF YOU'RE PLANTING AN ORCHARD IN SANDY SOILS WITH A

HISTORY OF BACTERIAL CANKER OR RING NEMATODE, SET YOUR ORCHARD UP FOR

SUCCESS BY FUMIGATING (WHICH ALSO REDUCES THE CHANCES OF GETTING PRUNUS

REPLANT DISEASE) AND SELECTING TOLERANT ROOTSTOCKS.'

"

Cherry tree in Kern Co. showing streaks

and flecks of bacterial canker. (Photo

courtesy of M. Yaghmour).

"

Stress is a Factor

Bacterial canker infections are more

common in stressed orchards. We

have seen them most commonly in

young Prunus species orchards (5 th leaf

or younger) on peach x almond hybrid

rootstocks in sandy soils, with no

fumigation prior to replanting. These

sites often have high ring nematode

populations. Plant nutritional status

may play a role as well, as detailed later.

These conditions are all stressful to

replanted Prunus species, which makes

them more susceptible to infection. It's

important to note that while ring nematode

feeding increases the susceptibility

of Prunus species to bacterial canker,

the feeding damage itself does not lead

to infection, as Pss only affects aboveground

portions of the plant. Bacterial

canker doesn't need these conditions

to attack trees: one recent farm call

revealed bacterial canker in a heavier

textured orchard planted into former

rangeland.

There has been some work done

looking at the efficacy of copper as a

bactericide against both bacterial blast

and bacterial canker, however studies

have shown that it often doesn't work,

likely due to the fact that there is some

copper bactericides, so we do not recommend

relying on sprays to control

either disease.

Nutrient Status and Disease

Research on the connection between

plant nutrient status and bacterial canker

has also been mixed. The previous

study mentioned showed some positive

effect due to added nutrients. In

other work, Roger Duncan and Bruce

Kirkpatrick sprayed third-leaf peach

trees with 100 pounds of low-biuret

urea in 100 gallons of water per acre.

The peach trees were growing either in

fumigated or unfumigated ground and

were artificially infected with Pss. They

found that trees that were grown in

fumigated ground had smaller cankers

than those grown in unfumigated

ground. Urea sprays had no effect on

trees in treated soil. In addition, of

the trees grown in untreated soil, urea

sprays significantly reduced canker

sizes compared to the control, and the

cankers in these trees were no larger

than trees grown in fumigated soil.

However, it should be noted in a paired

trial performed at Kearney REC, there

was no effect due to urea sprays. (Cao

et al., 2005). It seems that urea sprays

82 West Coast Nut March 2020
---
Cankers caused by P. syringae have spotting. (Photo courtesy of P. Gordon).

work by increasing the nitrogen content

in the trees, which suppresses Pss' production

of syringomycin, which is what

kills plant cells and causes cankers.

In the absence of the major predisposing

factors described earlier, Cao et

al. (2011) examined inducing nutrient

deficiencies in potted peach seedlings

before purposefully infecting them

with Pss, as well as re-examining the

role of freeze-thaw cycles in Pss infections.

They confirmed the importance

of freeze-thaw cycles in lesion size

development, but the nutrition study

connected only phosphorus to lesion

size: phosphorus deficiency reduced

bacterial canker lesion size. The

researchers were so surprised they

performed another study where they

induced nitrogen deficiency and tried

infecting leaf scars: they found that

more leaf scars were infected in plants

with nitrogen deficiency, but the lesions

developed were very small and there

was no difference in lesion size.

Management Strategies

Rootstock selection is also important

when trying to manage bacterial

canker. Peach almond hybrids and

Mariana 2624 are the most vulnerable,

especially when put in sandy ground,

which has been backed up by farm

advisor observations on field calls.

Viking, Lovell, and Guardian are the

most tolerant.

So, what's the bottom line? Remember

that stress plays a major role in predisposing

Prunus trees to this disease.

If you're planting an orchard in sandy

soils with a history of bacterial canker

or ring nematode, set your orchard up

for success by fumigating (which also

reduces the chances of getting Prunus

Replant Disease) and selecting tolerant

rootstocks. This is the most important

thing you can do. Keep your trees

vigorous and in good health, and only

think of post-plant treatments as a last

resort. Work is underway to evaluate

the efficacy of Velum and Movento

as post plant nematicides, however

whether they reduce

tree stress enough

to reduce bacterial

canker would need

to be evaluated

separately.

In the spring

of 2019 there were

localized areas,

including Madera

county, where

there were a large

number of orchards

that were hit with

flower blast. Isolations

done by

Florent Trouillas's

lab pulled both

Pss and Botrytis

cinerea from

blasted blossoms,

and he concluded

that the spring's

cool, extremely wet

conditions led to

a disease complex.

While fungicides

are absolutely not a

control option for

Pss, it's important

in unusually cool, wet springs to select

bloom sprays that will target B. cinerea

as well as the more typical bloom-time

pathogens. Please consult the fungicide

efficacy tables published on the UC

IPM website for the appropriate fungicides

to target B. cinerea.

Comments about this article? We want

to hear from you. Feel free to email us at

article@jcsmarketinginc.com

March 2020 www.wcngg.com 83
---
Weeds are thieves.

Time to put 'em away.

End weed theft from the start. And six

months from now. Trust long-lasting Alion, ®

the foundational herbicide, to give your

trees and vines the healthy start they need.

Find out what Alion can do for

you at AlionEndsWeeds.com.

© 2019 Bayer Group. Always read and follow label instructions. Bayer, the Bayer Cross, and Alion are registered trademarks of the Bayer Group. Not all products are

registered for use in all states. For additional product information, call toll-free 1-866-99-BAYER (1-866-992-2937) or visit our website at www.CropScience.Bayer.us.

Bayer CropScience LP, 800 North Lindbergh Boulevard, St. Louis, MO 63167. CR0119ALIONNB031S00R0