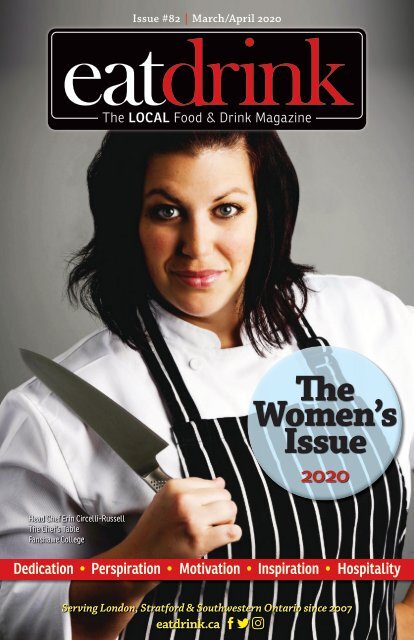 Eatdrink #82 March/April 2020
The LOCAL food & drink magazine serving London, Stratford & Southwest Ontario since 2007.
The LOCAL food & drink magazine serving London, Stratford & Southwest Ontario since 2007.
SHOW MORE
SHOW LESS
You also want an ePaper? Increase the reach of your titles
YUMPU automatically turns print PDFs into web optimized ePapers that Google loves.
Issue #82 | March/April 2020

eatdrink

The LOCAL Food & Drink Magazine

The

Women's

Issue

2020

Head Chef Erin Circelli-Russell

The Chef's Table

Fanshawe College

Dedication • Perspiration • Motivation • Inspiration • Hospitality

Serving London, Stratford & Southwestern Ontario since 2007

eatdrink.ca
---
LEXUS

SELF-CHARGING

HYBRID ELECTRIC

LIVE LIFE UNPLUGGED

INSTANT TORQUE,

RESPONSIVE POWER

AND A SMOOTH RIDE

SEAMLESSLY COMBINES

AN ELECTRIC MOTOR

AND GAS ENGINE

RECHARGE AS YOU DRIVE

2020 Lexus UXh Models

Starting at $42,242.90*

COMPLETE

Lexus Pricing

Taxes and licensing extra.

519 680 1900

1065 Wharncliffe Rd S, London ON

WWW.LEXUSOFLONDON.COM

SEE LEXUS OF LONDON FOR FULL OFFER DETAILS*
---
eatdrink

The LOCAL Food & Drink Magazine

eatdrinkmagazine

@eatdrinkmag

eatdrinkmag eatdrink.ca

Think Global. Read Local.

Publisher

Chris McDonell – chris@eatdrink.ca

Managing Editor Cecilia Buy – cbuy@eatdrink.ca

Food Editor Bryan Lavery – bryan@eatdrink.ca

Copy Editor Kym Wolfe

Social Media Editor Bryan Lavery – bryan@eatdrink.ca

Advertising Sales Chris McDonell – chris@eatdrink.ca

Bryan Lavery – bryan@eatdrink.ca

Stacey McDonald – stacey@eatdrink.ca

Terry-Lynn "TL" Sim – TL@eatdrink.ca

Finances

Ann Cormier – finance@eatdrink.ca

Graphics

Chris McDonell, Cecilia Buy

Writers

Jane Antoniak, Darin Cook,

Melissa Graham, Gary Killops,

Bryan Lavery, George Macke,

Nancy McSloy, Sue Sutherland Wood,

Tracy Turlin, Kym Wolfe

Photographers Steve Grimes, Nick Lavery

Telephone & Fax 519-434-8349

Mailing Address 525 Huron Street, London ON N5Y 4J6

Website

City Media, Cecilia Buy

Social Media Mind Your Own Business

Printing

Sportswood Printing

OUR COVER

Erin Circelli-Russell —

Head Chef & Instructor at

The Chef's Table, Fanshawe

College's teaching

restaurant in Downtown

London — is a stellar

representative of the

outstanding women in our

culinary community that

we celebrate this year. The

tributes begin on page 10.

© 2020 Eatdrink Inc. and the writers.

All rights reserved.

Reproduction or duplication of any material published in Eatdrink

or on Eatdrink.ca or LocalFlavour.ca is strictly prohibited

without the written permis sion of the Publisher. Eatdrink has a

printed circulation of 20,000 issues published six times annually, for

a total of 120,000 copies in print. The views or opinions expressed

in the information, content and/or advertisements published in

Eatdrink or online are solely those of the author(s) and do not

necessarily represent those of the Publisher. The Publisher welcomes

submissions but accepts no responsibility for unsolicited material.

Serving up

Great

partnerships

commercial | digital | wide format | design

Let us help with your next project...

519.866.5558 | ben@sportswood.on.ca

www.sportswood.on.ca
---
Contents

Issue #82 | March/April 2020

Our Third Annual Women's Issue

Publisher's Notes

Why a Women's Issue?

Our Third Annual Celebration

By CHRIS McDONELL

6

Spotlight

Women in Food — and Drink!

(2020)

Talented Women Making

a Difference

10

Beer

Ladies' Entrance

This Way to the Brewhouse

By GEORGE MACKE

34

Wine

A Winemaker with Strong Roots

Tanya Mitchell of

Sprucewood Shores Estate Winery

By GARY KILLOPS

38

The BUZZ

Culinary Community Notes

New and Notable

By THE EDITORS

42

34

38

57

54

58

Theatre

A Captain Hook for Our Time

Laura Condlln at the Avon Theatre

By JANE ANTONIAK

54

Books

Be My Guest

Reflections on Food, Community

and the Meaning of Generosity

By Priya Basil

Review by DARIN COOK

57

Recipes

Taste the Wild

by Lisa Nieschlag and Lars Wentrup

Review & Recipe Selections

By TRACY TURLIN

59

The Lighter Side

Stop the Press

By SUE SUTHERLAND WOOD

62

62

Your sustainable studio who cares

hair • colour • barber • skin • spa • makeup • 4 everyone

140 Ann Street, Suite 106, London

519 709 4247

www.studioHartistgroup.com

@studioHartistgroup
---
eatdrink: The Local Food & Drink Magazine

March/April 2020 | 5

RESERVE NOW

For Our Famous Gourmet

MOTHER'S DAY BRUNCH BUFFET

Sunday, May 10, 11am — 2:30pm

Call for reservations

519-430-6414

/Blakes2ndFloor

¦
---
Issue #76 | March/April 2019

Serving London, Stratford & Southwestern Ontario since 2007

Eleanor Kane

Co-founder,

Stratford Chefs School

6 | March/April 2020

Publisher's Notes

Why a Women's Issue?

Our Third Annual Celebration

By CHRIS McDONELL

eatdrink.ca |@eatdrinkmag

This annual celebration of women

has become a fixture on the Eatdrink

calendar. As I have

noted before, there

has not been a single issue of

Eatdrink ever published that

didn't acknowledge important

contributions from women.

It just wouldn't be possible

to celebrate our local culinary

culture without writing about

women. So the question has Eatdrink #70, 2018

been raised, "Do you really

need to have a Women's Issue?"

The short answer to this question is a

simple yes. For those who require a more

detailed response, and I don't want to be

eatdrink

The LOCAL Food & Drink Magazine

The

Women's

Issue

Dedication

Perspiration

Motivation

Inspiration

Hospitality

www.eatdrink.ca

Eatdrink #76, 2019

dismissive, I will add that

despite significant progress,

the culinary world remains

an unequal playing (and

paying) field, and we want

to acknowledge that and

support and celebrate the

changes for women.

This is the third time

that we have published a

Women's Issue, and the

calibre of candidates profiled here clearly

demonstrates the challenge we have in

WIN A LEXUS FOR A WEEKEND!

Plus get your own car cleaned and detailed!

eatdrink &

Presented by

Enter by going to eatdrink.ca/contests

Contest ends April 24, 2020. Complete details online.

Congratulations Erin Helm,

winner of our January/February Draw!
---
eatdrink: The Local Food & Drink Magazine

drawing up a short list every year. All of these

women would have been a natural fit back

in 2018 or 2019. I know I will say something

similar next year. For those who will protest

the omission of a certain woman here, I can

only assure them that there is next year, and

thank them for their advocacy on behalf of

a strong woman. We do appreciate feedback,

and we welcome suggestions. We'll keep

publishing this special annual compilation

for the foreseeable future, and be mindful of

celebrating women's achievements in every

issue of the magazine.

Beyond our general roundup of distinguished

women, we asked our regular contributors

to turn their attention to this issue's theme.

I believe our readers will be pleased with the

results. I especially like the conversation about

women and beer in George Macke's "Ladies'

Entrance" column for its balance in looking

back at where the culture has been versus

where we are now. Sexism is sometimes a

subtle force, but with beer it has been blatant.

I've long been an admirer of Sue Sutherland

Wood's take on life, and she hits the mark

2nd Annual Maple Syrup Festival

Saturday, March 7, 9am – 1pm

Enjoy maple syrup production artifacts, maple syrup

flavoured products, Canadian crafts, and in-housemade

pancakes by Katherine from Growing Chefs topped

with locally produced maple syrup from our very own

Lynch Maple Farms. We couldn't be more excited!

Free Kids Craft Program!

Saturdays, 9:30 am – 11:30 am

Run by Dotsy's Entertainment Co., you'll find the table

upstairs on the Mezzanine in one of the market booths,

surrounded by good food,

live music and free cooking

classes for adults.

March 7:

Canada Critter

Clothespin Puppets;

March 14: Leprechaun Door Wreath;

March 21: Butterfly and Snails Spring Stamping;

March 28: Slime!

April 4: Paper Egg Easter Craft

SATURDAYS IN MAY

Join us for mammoth meals,

deals and experiences along

the Oxford County Cheese Trail.

Outdoor Easter Farmers' Market

Saturday, April 11th, 8am – 1pm

Enjoy an abundance of local favourites in our annual

Easter celebration, outside on the Market Square.

See our website or Facebook page for further details.

OxfordCountyCheeseTrail.ca

1-866-801-7368 x3355

tourism@oxfordcounty.ca

MARKET HOURS

Mon–Fri 8am–7pm

Saturday 8am–6pm

Sunday 11am–4pm

Mezzanine & Restaurant Hours Differ
---
Hope Made

Delicious

35

YEARS

APRIL 22

25% of sales will be

donated in support of

Regional HIV/AIDS

Connection

www.aTasteForLife.org

See the list of our incredible Taste restaurants!

Reserve a table for a DELICIOUS night out.

eatdrink.ca |@eatdrinkmag

again for Eatdrink with her "Lighter Side"

contribution to close this issue. She too takes

a look back at where women have been in our

culture, contrasted with where we are now,

and leaves me with plenty of food for thought.

Progress can be a double-edged sword, and

I appreciate Sue's attention to this with her

gentle but deft touch.

International Women's Day, celebrated

on March 8, is the ostensible reason for the

timing of the Eatdrink Women's Issue, and

we're proud to support that. The roots of

the day are in protest movements, both for

women's suffrage a hundred years ago —

voting rights — and working women's rights.

Today's #metoo movement stands clearly in

that tradition, and while the battle for the

vote has largely been won, we all know that

women's work continues to be a virtual and

literal battleground. As a wise woman once

told me, it's just as important to celebrate the

positive as it is to protest the negative. I hope

we are doing that with this issue of Eatdrink.

Peace,

LOVE,

LOVE IT!

SO MANY

SHOPS.

THEMARKETWFD.COM

HALINA A.

GOOGLE REVIEW
---
eatdrink: The Local Food & Drink Magazine

London Training Centre's

Culinary

Pre-Apprenticeship

Program

Chef Instructors Steve James & Chandany Chen

Are You an Aspiring Chef?

Just starting out or currently working in the industry, this 6-month

program is the place to gain new skills

• No Cost to Students — Fully Funded by The

Ministry of Labour, Training and Skills Development

• Interactive & Unique Learning Opportunities

• Includes an 8-Week Placement

ondon

ra n ng

CENTRE

www.londontraining.on.ca

This Employment Ontario Program is

Funded by the Government of Ontario

Program Starts April 6, 2020

Submit a letter of interest and resume to

Steve James, Program Manager

London Training Centre

steve@londontraining.on.ca

For more information visit:

www.londontraining.on.ca
---
10 | March/April 2020

eatdrink.ca |@eatdrinkmag

Spotlight

Women in Food — & Drink! (2020)

Talented Women Making a Difference

I

t was once a truism that there is a

woman standing behind every great man.

That may still be the reality today but the

women profiled in the following pages

stand here on their own merits. In many cases

there is a man standing proudly beside them,

but their contributions are no secret.

In compiling this list, the only rigid criteria

is that a candidate has not been celebrated

previously in this annual Eatdrink tradition.

Our goal is to present a diversity of candidate,

from veteran contributors to our region's

culinary life, to relative newcomers who

are making a mark. Once again, the list of

worthy candidates is far longer than the final

honour roll, but we've resisted the tempation

to shorten the length of the profiles to fit

more women into the limited space we have

available. We assigned a group of writers to

the difficult job of keeping these summaries

brief —an agonizing process — but their

creative snapshots and different approaches

to the job offer insightful introductions that

we believe do justice to some of the most

influential women in our region's food and

drink culture.

An effort to divide this list according to

roles — chefs, entrepreneurs, and such —

proved futile, as so many of these women

wear multiple hats. On any given day, one

job might define their role, only to change

moments later. These are creative women,

and problem solvers, and that is the common

ground that unites them. One list of names,

and the arbitrary nature of alphabetical order,

follows. Prepare to be impressed.

Nicole Arroyas

Chef/Owner of Petit Paris & The Coop

Rotisserie, London

petit-paris.ca / thecooprotisserie.ca

By Sue Sutherland Wood

Chef Nicole Arroyas always knew that her

career would be centered around food. From

her early years (she was working in the

kitchen at her parent's restaurant, Archie's

Fish and Chips, at age 13) to moving to France

to attend the prestigious culinary school,

Institut Paul Bocuse, to running the Auberge

du Petit Prince restaurant for five years, she

has already lived many lives. More recently,

Nicole has been able to create a vehicle for

her long-held love of all things pastry in the

highly-regarded retail/supply patisserie Petit

Paris, located in Covent Garden Market.

"I take each day as it comes and am

thankful for family and for being able to

do what I love, working with an amazing

passionate team every day," Nicole shares. She

adds that "as a woman, sometimes, you are

not taken seriously and respected; however,

this only drives my passion more and pushes

me to be the best I can be. I am proud to be a

woman raised in Canada where we have equal

rights and opportunities."
---
eatdrink: The Local Food & Drink Magazine

Nicole's newest venture, The Coop Rotisserie

Express — online delivery from The Coop

Rotisserie, another of Nicole's success stories

and also located within Covent Garden —

provides convenient wholesome foods (including

brined slow-roasted chicken), all made from

scratch. A full catering menu has recently been

added with delicious options for breakfast,

lunch and dinner and (of course!) desserts.

The Coop Express — at the Commissioners

Road location — will also feature Archie's

Famous Fish and Chips. Good to know, The

Coop boasts eco-friendly packaging.

Jennifer Boyar

Co-owner of sixthirtynine, Woodstock

sixthirtynine.com

As told to Nancy McSloy

Celebrating 15 years as an independent,

family-owned business, we are Oxford

County's only farm-to-table restaurant where

menus are seasonal, based on local products

with everything prepared in house.

I am the co-owner with my husband and

business partner, Chef Eric Boyar. We took

over from Eric's mother last year. Eric has

always been chef and I have always been

involved in some capacity. I manage the front

house, which includes training, scheduling,

serving and assisting our Wine Director to

curate wine, beer and cocktail lists.

As a Registered Nurse, I felt that caring for

people was my true calling. I left nursing to

stay home with my children but felt a void,

wondering what my future would bring.
---
12 | March/April 2020

Serving customers has been a wonderful

way to communicate the care and attention I

practiced as a nurse. Ensuring that customers

have incredible, artisanal meals combined

with the best in genuine, warm, attentive and

professional service makes me happy.

To be hands-on in your business while

balancing home and family life takes effort

and perseverance. This industry is not for the

weak at heart. I love the challenge because

of the feeling you get when you hear a buzz

Natalie Chapman

Manager, David's Bistro, London

www.davidsbistro.ca

As told to Kym Wolfe

I started working at the Bistro as a server

in high school, almost 20 years ago. Once I

started working busy weekends and getting

to know the customers and found a wee bit of

confidence I knew it would be for life!

Erin Circelli-Russell

Head Chef/Instructor at The Chef's Table,

Fanshawe College, London

https://bit.ly/2wWMLuc

By Bryan Lavery

London native Chef Erin Circelli-Russell is one

of the city's most influential chefs and culinary

educators, inspiring hundreds of young chefs.

Chef's deep appreciation for cuisine developed

eatdrink.ca |@eatdrinkmag

in your dining room, see guests happy and

relaxed, treating themselves to a nice meal.

You feel a sense of purpose being fulfilled in

front of your eyes.

I love supporting women in our

communities as I can identify with their

struggles. I am a member of Oxford Women

in Networking and sit as a chair on the

International Women's Day committee. I love

connecting with other businesses to bring

unique events to Oxford County.

Growing up my Dad was not home too

much — he worked six days week until at least

midnight. Once I got to know the business

and the customers, I understood why he put

in that effort and time, and I wanted to do it

with him. Now that I have my own children,

I'm very lucky that Dad tries to help me find a

better balance of work and family time.

There have been challenges — like "the

night from hell" as it is referred to, when the

cash register died. Getting through those with

a team of people all in it together is like no

other satisfaction!

On the flip side you have nights when

things go perfectly with seating and orders,

the kitchen is on fire — in a good way! — and

customers tell you how much they enjoyed

their evening. And then, when it's all cleaned

up, you get to sit down for dinner with your

work family, which for me is extra special

because that includes my Dad.

What makes David's Bistro special for me

is our customers. We are serving some third

generation! I work front of the house, and we

try to have unique and interesting wines. To

ensure I have the knowledge to recommend

and pair wines, I have taken the first level

sommelier course.

Eventually I will take over the restaurant,

but right now Dad is still "king of the castle."

Even when he retires it will always be David's

Bistro.

when she was exposed to a variety of foods and

traditions at an early age. This would fuel her

lifelong passion for cooking. Working in a pasta

and sandwich shop at the age of 15 was the

beginning of her culinary career.

Enrolling in the Culinary Management

program at Fanshawe College, she became

an award-winning graduate focusing on and

excelling in culinary competitions. It was at this

point that she embraced her career with passion.
---
eatdrink: The Local Food & Drink Magazine

She completed her culinary apprenticeship in

Scotland and continued to travel the world,

diving deep into local cultures and cuisines.

Upon returning home in 2003, she secured

a position at Fanshawe College as a Seal Chef.

Currently Circelli-Russell is the head chef

instructor guiding hospitality students at

The Chef's Table, the teaching restaurant at

Fanshawe College. With a passion for food

and education, she guides students towards

gaining practical hands-on experience and an

understanding of what it really means to work

in and be committed to the hospitality industry.

The Chef's Table honours the procurement of

local and sustainable foods and is focused on

The heart of

Downtown

Strathroy

Girls Getaway Weekend!

2 Junior Suites each with queen beds

and a $100 voucher for the Bistro.

Erin Circelli-Russell

serving quality and seasonal Ontario grown

ingredients and Ocean Wise approved seafood.

Circelli-Russell encourages the students

to try new and exciting mashups with food

and drink. In her eyes, everything can be

paired with everything, and there are no

rules about food and cooking. Outside the

restaurant, you'll find her baking up a storm

and producing some fantastic cakes and

sweet creations, as well as teaching her three

children about the world of food and the local

culinary community. "Start them young, and

with any luck, they too will develop a lifelong

love of the kitchen," says Circelli-Russell.

Subject to availability. Valued at $300.

Historic Post Office & Customs Building

71 Frank St, Strathroy • 519-205-1500

www.clocktower-inn.com
---
14 | March/April 2020

Ellie Rachel Cook

Co-wner, The Root Cellar, LOLA Bees & On

The Move Organics, London

hrootcellarorganic.ca

facebook.com/londonontariolearningapiary

onthemoveorganics.ca

By Bryan Lavery

As a long-time sustainable food advocate, Ellie

Cook is co-founder and co-owner of Old East

Village's farm-to-table organic restaurant The

Root Cellar, and the natural urban beekeeping

project LOLA Bees. She is also a co-owner of

On The Move Organics.

As an avid beginner beekeeper,

unconventional special events coordinator,

and environmentalist, Ellie strives to create

eatdrink.ca |@eatdrinkmag

opportunities for people to engage with the

local food system. The Root Cellar is the only

genuinely farm-to-table restaurant in London.

"Since we opened our doors in 2012, our

ethos at The Root Cellar has been to support

and grow our local, sustainable food system,

says Cook. "My partners and I aren't as

much restaurateurs as environmentalists

who approach our work through the lens of

local food. Our menus are simple, familiar

and seasonal, and we're pretty fanatical

about our sourcing practices. Because of the

incredibly hard work of our sister company,

On The Move Organics, we're able to purchase

directly from dozens of small organic farms

surrounding London."

"As business owners, we're also interested

in how far we can push the envelope of

sustainability. In 2019 we joined Green

Economy London, and that's been an

invaluable resource for us. We've been avid

composters since day one and go to great

lengths to divert all our organic waste from

the landfill. These days we're increasingly

interested in reducing food waste and

packaging, tracking/reducing/offsetting our

carbon emissions, and learning more about

regenerative and urban agriculture and

supporting pollinators."

"My food philosophy continues to evolve

as I learn more about sustainable agriculture.

These days I'm particularly interested in

the intersections between food, place, and

sustainability. Also relevant is whether my

picky kids eat the food I prepare!"

Roula Dereza

Owner, Merla-Mae, London

merlamae.com

By Sue Sutherland Wood

Roula Dereza, charming owner and businesswoman

at Merla-Mae Ice Cream, has been

making customers happy for many years

with a simple yet effective set of values. "My

parents were always entrepreneurs and taught

me the value of hard work and dedication,"

Roula shares. "Even now, my mother [Julie

Stavrou], who is retired, still comes in on a

daily basis to make sure everything is up to

par. That alone makes me very passionate

to strive to be successful, to continue my

parents' legacy."

Many of Merla-Mae's faithful customers

are now bringing their own children (or even

Roula Dereza (left) & Julie Stavrou
---
eatdrink: The Local Food & Drink Magazine

grandchildren!) to taste their first "half and

half" soft serve cone or place an order for one

of the famous ice cream cakes for birthdays

and special occasions. It seems fitting that

such a family-fueled institution would create

family traditions for others, and Roula says

many customers report having Merla-Mae

cakes every year since they were born. This

old fashioned, vintage vibe is completely

intentional and Roula notes that she takes

pride in offering "fast friendly service" and

this is reflected again in the Merla-Mae motto:

Through these windows we serve the finest

people in the world … our customers. That's

how we felt in 1957 and we STILL feel the

same today!"

Manuela Frongia

Manager, Blackfriars Bistro & Catering

and Lavery Culinary Group, London

blackfriarsbistro.com

laveryculinarygroup.ca

By Bryan Lavery

Photo: Phong Tran

Freshly home-made in the heart of the community

The

Village

Teapot

NOW OFFERING

"Take Home

Prepared Meals"

Menus posted on

FB every Monday

Ask about Catering &

Private Event Bookings

Manuela Frongia was born in London,

Ontario and moved back to her father's

hometown of San Mugheo in Sardinia when

she was 10 years old. Returning to Canada

in 1997, she worked with Bryan Lavery and

Chef Barbara Toomer at the former Murano

Restaurant. Frongia is a founding member of

London's former Slow Food Convivium and

Breakfast

Brunch

Lunch

Cream Teas

Wed–Sun 10–2:30

Closed Mon & Tues

Gift Certificates

Available

13257 Ilderton Road, Ilderton ON

thevillageteapot.ca

519-298-TEAS (8327)
---
16 | March/April 2020

advocate of the Slow Food Movement. She has

worked closely with Lavery producing events

over the past 20 years. Frongia has been, and

is still, instrumental in various fundraising

and charitable initiatives.

As catering manager at Blackfriars Bistro

& Catering, Frongia works alongside culinary

luminaries Betty Heydon and Chef Jacqueline

Shantz. Her milieu and focus are in the dining

room at Blackfriars Bistro, an environment

where have women felt cared for and valued

for 24 years.

Frongia is also a long-time associate of the

Lavery Culinary Group and helps manage

and customize culinary experiences, special

eatdrink.ca |@eatdrinkmag

events, pop-ups and cooking classes. This

involves planning, coordinating, delivering

and evaluating a variety of innovative

fundraising, culinary and special events.

Frongia has worked as a cooking instructor

with an expertise in regional Italian cuisines,

particularly Sardinian, and has a strong

background in regional types of pasta making,

taught to her by her Calabrian mother. More

recently she has worked as a food stylist for

Gotham Studio boutique photography and

videography studio located in downtown

London. Frongia has two daughters, Isabela

and Sophia, and a spirited puppy named Luna.

Nancy Hotson

Owner, Buzz Stop, Stratford

buzzstop.com

By Melissa Graham

You can tell the moment you walk in that

Nancy Hotson's Buzz Stop was the first

gourmet coffee shop in Stratford. It smells

fantastic. Nancy has been on York Street for

30 years. She has fresh roasted coffee beans

delivered weekly. Organic and fair trade,

including Ethiopian, Viennese and Turkish.

She sells a lot of beans. There is tea, too.

Nancy says she feels "blessed to have such

loyal customers from far and wide." There are

lots of locals and downtown business-people

that come in for a cup to go, or a pound for

home. In the summer there are regulars that

come every year when they visit the Festival.

Many have been coming since the coffee

shop opened. And not just for the fabulous

coffee. Nancy has a vast selection of wellstocked

humidors holding some of the best

cigars in the world. Cuban, of course, but also

Nicaraguan, Dominican, and Honduran. She

also has pipe tobacco and pipes.

There are jams, marmalades (bought one!)

and preserves from Scotland. And biscuits

and crackers from Holland to serve with local

Stonetown cheeses, and jars of preserved

lemons and chestnuts.

Nancy volunteers with Feline Friends, and

all tips go to animal-related causes. There is a

quaint courtyard patio in the shaded front of

The Buzz Stop where you can relax and enjoy a

river view with your coffee.

Deborah Hunter

Co-owner/Chef de Cuisine/CFO, The King

Edward Restaurant & Pub, Ilderton

thekingedward.com

By Sue Sutherland Wood

After well over a decade of success at The

King Edward Restaurant & Pub in Ilderton,

co-owner Deborah Hunter is still refreshingly

upbeat about the many hats she wears in her

busy life. "There is nothing more feminine
---
eatdrink: The Local Food & Drink Magazine

Deborah Hunter

than a strong woman who is confident in

the role of Co-owner, Chef de Cuisine and

CFO, while also being a mother, wife and

grandmother," Deborah says.

March/April 2020 | 17

The King Edward prides itself on

authenticity as a pub (Deborah's husband

and co-owner, Rich Hunter, is a genuine

Englishman himself) and as you might

expect, there is a stellar selection of both

locally crafted beers, British imports and

cider. (The King Edward also boasts one of

the few hand-pulled cask beer systems in

Southwestern Ontario). The menu is also

extensive (over 50 different kinds of chicken

wings) but traditional pub-fare such as Steak

and Murphy's Pie and a selection of handmade

burgers are also available, as well as

Daily Specials and take-out options. (Deborah

points out that everything is "scratch-made,

utilizing local ingredients.") Noteworthy is

a particularly thoughtful Kids' Menu, with

realistic but wholesome, keeping-it-real

choices such as buttered penne pasta with

parmesan and a salad.

Running a business while balancing

family commitments is gritty, hard work but

Deborah's sincere passion and energy have

helped make the King Edward a sought-after

destination.
---
18 | March/April 2020

Kimberly Hurley

Co-owner, Keystone Alley, Braai House and

The Little Green Grocery, Stratford

keystonealley.com

braaihouse.ca

thelittlegreengrocery.com

By Melissa Graham

Kimberly Hurley is the co-owner of Keystone

Alley, Braai House and The Little Green

Grocery. Keystone Alley has been a part of

Stratford's casual fine dining scene for over

three decades. Kimberly and her husband/

business partner Anthony Jordaan have

owned Keystone for four years and continue

to offer the quality hospitality that people

have come to expect.

Braai House is a new adventure that

began with great success last year. It focuses

on South African open-fire cooking (Braai

is Afrikaans and rhymes with dry) — fire

eatdrink.ca |@eatdrinkmag

bringing together people, food and nature in a

comfortable atmosphere.

The Little Green Grocery offers local

produce in low-waste and reusable containers.

The store offers many new products with a

seriously environmental attitude, taking little

steps towards changing the way we shop. "No

positive change comes with guilt,"

Kimberly says.

Kimberly is a Doctor of Audiology,

a career she continues. She also

does the marketing, front of house,

customer relations, and inspired

social media for all three businesses.

Anthony is a chef who's been in the

industry for 20 years. They are equal

partners in their adventures. And

they have three young children.

Kimberly and Anthony have a

close relationship with their staff.

Kimberly says, "We've created a

family of people with the same

common goal." There is no "us

or them," she adds. Many staff

are graduates from chef schools and share

Kimberly and Anthony's love of seeing people

enjoy what they have created. Kimberly

stresses love of food, health and wellness. The

couple are also involved in volunteer work,

including Soup's On and Heartburn Day.

Keystone and Braai House have two of

the nicest patios in town where, thanks to

fireplaces, fire table and torches, you can sit

well into the fall. They also offer in-house craft

beer brewed in the basement. You may find

Kimberly on the patio enjoying a well deserved

glass at the end of day — whenever that is!

Katherine Jones

Chef, Growing Chefs! Ontario, London

growingchefsontario.ca

By Bryan Lavery

Executive Chef Katherine Jones is a Stratford

Chef School graduate and for eight years has

been with Growing Chefs! Ontario, working

to challenge the perceived limitations of

children and youth in the kitchen. Her

interest lies in using hyper-local ingredients

and foraged finds. A day in the work-life of

Jones can include anything from leading a

family-activity cooking class for 150 people

in a school, to helping the Beet lunch team

produce up to 300 healthy lunches daily for

their school and camp lunch program. It

might also include harvesting vegetables in

the learning garden or hosting a fundraising

dinner for Growing Chefs! programming

initiatives.

Jones' interest in foraging took root

after her daughter was born. She stated,

"We lived next to a beautiful green space

and throughout the seasons we would take

baskets to collect, taste, and learn together,

as a family, about what was growing in our

backyard." As a chef, this opened her eyes

to the bounty of ingredients available and
---
eatdrink: The Local Food & Drink Magazine

Katherine Jones

allowed her food to become more individual,

idiosyncratic and exciting. What she did

not anticipate was that, once she gained a

firmer knowledge and understanding of the

March/April 2020 | 19

culinary and medicinal uses of plants, her

perception of Canadian cuisine would change.

"I am proud to be able to incorporate these

truly Canadian ingredients into menus, and

to share this knowledge about invasive plant

species and native plants, as a way to get

people excited about going outdoors and

walking through the forests with their friends

and families," she says.

Food education centres can teach children

and families to develop healthy relationships

with food. "Food literacy means building

excitement around food, and a willingness to

learn about what we eat. Reading recipes and

cooking meals from scratch will significantly

increase food literacy. If kids have a hand in

what they are making, they are much more

likely to try it," says Jones. "What we try to

do at Growing Chefs! is to let people have

fun with food. It is not about your technical

skillset, or the nutritional breakdown of

recipes, just cooking with your children and

playing in the kitchen will increase everyone's

food literacy.
---
20 | March/April 2020

Dianne Krampien &

Annette Gerber

Distinctly Tea, Stratford

distinctlyteastratford.ca

By Melissa Graham

Dianne Krampien has been selling tea

on York Street for over a decade. She

started as an employee and became

the owner nine years ago. Her right

hand is her daughter Annette Gerber.

"We work well together," says

Dianne. "I love working with my

mother," Annette adds.

Both Dianne and Annette studied

at the Tea and Herbal Association of Canada

and are certified tea sommeliers.

Annette continues, "I love finding the right

tea for the right person."

They enjoy loyal customers from near and

far. More recently they have noticed a younger

audience popping in for a cup.

The tea selection is vast, lining the walls up to

the ceiling. All kinds of tea: Earl Grey, Oolong,

all the greens, fruit, and even chocolate teas. All

naturally flavoured. The teas come in multiple

sizes, from a 10-gram taster up to a kilogram.

eatdrink.ca |@eatdrinkmag

Most of the tea is blended in Germany.

A selection of beautiful Polish pottery and

Japanese teapots, traditional and modern,

decorate the store. Dianne and Annette host

tea tastings in the winter, but in the summer

they are too busy.

Hot tea to go is available all year, and iced

tea in the summer to enjoy while you walk

along the river. "Tea is so good for your health.

I have been known to be called a tea pusher!"

Dianne tells me. And indeed — I did buy some

excellent tea.

Deb Kussmann

Owner, Pepper Tree Spice Co., Port Stanley

& Western Fair Market, London

peppertreespice.com

As told to Nancy McSloy

Launched as Hyde Park Spice in 2010, the

company was rebranded as Pepper Tree Spice

in 2012. We are now Canada's leading artisan

spice crafter with over 300 organic and natural

spices, best known for our 90-plus proprietary

artisan hand-crafted blends made on-site in

Port Stanley. Our blends are made with little

to no salt, wheat, dairy or additives. We also

carry gourmet foods, gluten-free and vegan

options, local artisan cheese and bread, as well

as quality kitchenware.

We offer a fresh alternative to mainstream

spice solutions as well as private blending

services for clients nationwide. It is a spice

wonderland! Our cooking classes and workshops

are a great platform to learn about local and

international cooking and more about spices.

Our business is for everyone regardless of

culinary experience. By offering the highest

quality products available, exceptional

customer service and a welcoming space our

customers can be creative and inquisitive. For

me the creativity is endless!

This business has been a natural fusion of

three significant influences in my life: a farm

upbringing, an art degree and a 20-plus-year

career in manufacturing management. At 30

I returned to school and obtained a master's

degree in business. It is never too late to put

yourself out there! I did at 45 and love it!
---
eatdrink: The Local Food & Drink Magazine

My advice to other women would be: don't

cut corners, do your research, find a niche and

be prepared to work long hours. Surround your

self with great, supporting people and go for it!

Lori Lupton

Sales Representative, Pelee Island Winery,

Kingsville

peleeisland.com

As told to Kym Wolfe

I started in this business 35 years ago in

Stratford and learned from wine expert Bill

Munnelly, the founder of Billy's Best Bottles.

He's still my mentor. Bill brought wine culture

to everyone from the novice wine drinker to

the wine collector. I've adopted his philosophy

— you can enjoy a good bottle of wine

without having to spend a fortune.

Trust...

Taste...

Quality...

At Metzger's,

we follow Old World

recipes to create healthy and

wholesome foods. We hand select

dry aged Ontario Prime and AAA

Beef and offer superior local Pork,

Poultry and Lamb. We are especially

proud of our own handcrafted

artisan-style meats and salamis. We

are confident that you will taste the

Metzger Meats difference.

I've been with Pelee Island Winery for 20

years. My job is all about creating relationships,

and they've allowed me be as creative as possible

with our clients. Many have been long term

clients in the hospitality industry, who I work

with to create wine lists. I have the pleasure

of working with brides and grooms to help

them choose wines for their special day, with

the LCBO to promote our wines, and with the

general public at trade shows.

Pelee offers Southwestern hospitality at the

winery in Kingsville and the pavilion on the

island. I love bringing customers to both. As

the southernmost inhabited point in Canada,

Pelee Island is still a well-kept secret. There are

always lots of laughs and a bit of education or

Open six days a week.

Hensall, Ontario

Just off Hwy 4,

45 minutes north of London.

www.metzgermeats.com

519-262-3130

Available in London at

The Village Meat Shop

at Western Fair Farmers' Market

on Saturdays!

Local Beef • Pork • Lamb • Poultry

Specialty European Meat Products
---
22 | March/April 2020

the sharing of something new about our wines.

One of my favourite memories goes back

to when I was working with the LCBO. I was

at Vinexpo in Bordeaux and the Canadian

flag was raised after an Ontario winery was

Meredith Maywood

Product Development & Marketing Tourism

Specialist, Tourism Oxford, Woodstock

tourismoxford.ca

As told to Nancy McSloy

We support and work with over 300

businesses and organizations in growing and

celebrating tourism in Oxford County.

Facilitating and celebrating the food and

drink scene in Oxford County, we provide

opportunities for businesses to meet and

collaborate. A great example of this was the

development of the Oxford County Cheese

Trail and Oxford Fresh. The Cheese Trail is

a self-guided culinary tour involving over

25 food producers, restaurants, cultural

attractions and accommodation providers.

Oxford Fresh celebrates local food producers

and restaurants that feature their ingredients.

It has been an honour to work so closely

with businesses as they craft new experiences

for visitors, welcoming them and hearing

stories of how Oxford inspires them. Visitors

can now picnic in a blueberry patch, learn

about aging cheese, make truffles or roast

eatdrink.ca |@eatdrinkmag

awarded the top prize. I'm very proud of how

Ontario has grown its world class wineries,

and to have been a small part of that success

by promoting not just Pelee Island but all

Ontario wines.

coffee. Seeing business people opening their

doors and sharing their passions makes me

proud of where I am.

My advice to other women: get out and

network and meet the people who inspire you.

Work with new people in innovative ways and

celebrate each others' accomplishments.

Growing up in rural PEI gave me a passion for

local food, the environment and the art of story

telling. Through my work I can do just that!

Bhan Mudliar

Chef/Owner, New Delhi Deli, Covent Garden

Market, London

https://bit.ly/3ceRozU

By Bryan Lavery

Photo: Phong Tran

Bhan Mudliar was born in Nadi, Fiji Islands,

and later moved to Sigatoka, an urban

centre on the island of Viti Levu. Mudliar

developed a strong work ethic early, alongside

her sugarcane farmer father. Sugar cane

is indigenous to the islands of the South

Pacific, and farming is a difficult way to make

a living. She immigrated to Canada to assist

her brother almost two decades ago. In return

her brother put her through the Fanshawe

Culinary Management program, where she

completed five semesters.

Mudliar worked at Fanshawe Pioneer Village

for a few years, producing large quantities of

"Canadian" food for large events. She worked
---
eatdrink: The Local Food & Drink Magazine

in the kitchen at Black Trumpet Restaurant for

a year and with respected culinary instructor

and educator, Maya (Clarke) Love, at Real

Canadian Superstore. She also worked at the

Covent Garden Market part-time, eventually

purchasing the New Delhi Deli, becoming the

fourth owner of the business.

Mudliar works seven days a week, making

everything from scratch, on-site. She started

cooking with her mother at the age of four.

Both parents cooked at home. Mudliar serves

a distinct Indian-South Asian/Caribbean

fusion cuisine. In many Fijians' homes,

cuisines from other cultures are prepared

on a regular basis, such as Indian masalas

(Mudliar roasts and grinds her own Indian

and Caribbean spice blends) and specialties

from South Asia and the West Indies. This

cuisine is rooted in and reflects the diaspora

of hundreds of thousands of indentured

labourers taken to the sugar cane fields of

the Fiji Islands, Caribbean, South Africa and

Mauritius to replace freed African slaves.

Mudliar's repertoire includes items such as

jerk chicken (it takes three months to ferment

a batch of fiery scotch bonnet peppers to

make her jerk seasoning), oxtail, curry goat,

roti wraps, onion bhajias, samosas and

seafood, curry chicken and Jamaican patties

that only skill and expertise can produce

properly. The New Delhi Deli offers a selection

of gluten-free, plant-based and vegan options.

Mudliar's niece Seema Narayan recently

arrived from Fiji via the United States to give

her a helping hand at the Deli. Mudliar has

enrolled her in the Fanshawe College Culinary

program, to bring things full circle.

Ann Neydon Wilson

Owner, Oxley Estate Winery, Harrow

oxleyestatewinery.com

As told to Kym Wolfe

My husband Murray Wilson and I both grew

up on farms. When I retired from practicing

law I was ready for another adventure; I think

Murray just wanted to drive a tractor again!

We started the winery in 2010 when we

planted our first five acres of vines on a

farm near our home. We named the winery

after the historic hamlet of Oxley where it

is located. We have a rich sandy soil that

grapevines love, and in year two we had a

hellishly hot summer — perfect conditions for

growing grapes! We opened the winery and

restaurant in a renovated 1920 barn, built the

"a gastronomical landmark for over 24 years"

Booking

NOW for

Mother's Day!

"Where ALL Mothers

Are Queen!"

May 10

Bistro & Catering

Chef-driven Farm-to-Table Cuisine

Dietary Needs Accommodated

Ample Free Lunch Parking Mon–Fri

Available for Private Dinner Parties Mon–Sat

Gift Certificates Available

46 Blackfriars Street, London | 519-667-4930

blackfriarsbistro.com

LUNCH Wed to Fri 11:30–2:30

DINNER from 5pm daily

432 Richmond Street

at Carling • London

ALWAYS

a 3-course prix fixe

menu option

www.davidsbistro.ca
---
24 | March/April 2020

eatdrink.ca |@eatdrinkmag

Ann Neydon Wilson

big patio and outdoor fireplace, and planted

the large gardens that grace our site. When we

had the basics, we set out to hire a great staff

and succeeded by hiring young people from

our rural neighbourhood and small

town. We now have two farms

across the road from each other,

20 acres of vines and a distinctive

fruit-forward wine making style.

We've been involved in the

annual Explore the Shore weekend

along our road since it started in

2010. We have great neighbours,

and the 22-kilometer stretch of

road along Lake Erie is full of agribased

entrepreneurs.

My favourite part of each day

is working with the young people

we work with here — managers,

tasting bar staff, chefs, servers, dishwashers,

including our son and four grandsons. They

are full of fun, smarts and fresh ideas, so

every day is a good day at Oxley.

.

Kimberly Nunez

Owner, Cream Beanery Cafe, London & Mt.

Brydges

facebook.com/creambeanerycafe/

As told to Nancy McSloy

We offer delicious food and beverages in a

delightful atmosphere suitable for all. We

are one of the few pour-over coffee bars in

London. The coffee is ground fresh, we use

filtered water and manually pour the coffee

on the spot. Our fair-trade coffee beans are

organically sourced from Columbia and other

countries and roasted in Mt. Brydges. We also

have over 30 varieties of organic loose-leaf tea.

My role is quite simply everything! A typical

day/week includes serving, cooking, baking,

making gelato, staff scheduling, payroll,

shopping and more. Owning your business,

you do it all.

Seeing our customers on a regular basis,

conversing with them is so special. Having

them understand and appreciate how hard we

work (for them) is so rewarding. Seeing a child

— or adult — excited about our ice cream

flavours is fun!

If you are looking for a rewarding career

and enjoy food and drink, I would say, "go

for it". Understand that it is not always easy,

requiring a huge commitment. The hours are

long, and you will have struggles as you grow.

I didn't plan to be a café owner. I was an

elementary school teacher for 14 years. When

my husband was transferred to London, I

didn't go back to teaching. When an ice cream

business came up for sale, we decided to

leave our past and try something new. The

business was seasonal, so in December 2017

we expanded and opened the London location,

and in 2019 we opened in Mt. Brydges with

plans to further expand.
---
eatdrink: The Local Food & Drink Magazine

March/April 2020 | 25

at the London Hunt Club

April 30 th

5

Different Chefs &

Course Dinner

ONE INCREDIBLE EVENING

supporting BethanysCure

Cocktail Hour 5:00PM

5 different restaurants hosting tasting stations!

Featured signature cocktails with

an amazing Silent Auction.

Dinner Program 6:30PM

5 local Chefs will take you on a culinary

journey throughout the evening. Live Auction

hosted by the one and only The Auctionista!

Musical Guest:

Paul Zubot & The Hollywood Band

Tickets $200.00 each

call 519-858-HOPE or visit

BethanysHope.org
---
26 | March/April 2020

Liz Payne

Owner, The Milky Whey Fine Cheese Shop,

Stratford

themilkywhey.ca

By Melissa Graham

The sign is from Monty Python's cheese shop sketch.

The first thing you notice when you walk into

Liz Payne's Milky Whey Fine Cheese Shop

in Stratford is the quote on the back wall:

'Cheese — milk's leap toward immortality.'

(Clifton Fadiman.)

"I had been thinking about a cheese shop

for a long time. The opportunity presented

itself and I made it happen," says Liz.

Liz has chosen local artisanal and small

batch cheeses as well as a varied selection

eatdrink.ca |@eatdrinkmag

of products from Quebec, the Maritimes,

Manitoba and BC, and cheeses from around

the world. Seasonally related blues, cheddars,

and goat cheeses share the shelves.

The Milky Whey offers not only a wellcurated

cheese cooler but also many

dry goods. Liz offers charcuterie, local

honey and honeycomb. She has cheese

boards, knives and fabulous olives, as

well as olive oils from Spain, Provence

and Greece. The dry goods started as

an afterthought — she had to have

crackers! — and now offers a variety

of products you can't get elsewhere in

the city.

Liz studied at the Cheese Education

Guild with founder Kathy Guidi — a

Canadian cheese industry leader. She

chose Stratford to set up home after

the company she was working for in

marketing went bankrupt.

Liz is involved in the Hunters

Banquet, a fundraiser held every year

by the Local Community Food Centre, where

wild game and fish are donated, prepared,

and served by a team of volunteers from the

culinary community.

The Milky Whey also has a warm and cozy

back room where Liz offers private Saturday

afternoon tastings and pairings with wines

and local beers. Liz is a wonderful host for an

afternoon nosh and conversation.

Kate St. Laurent

Baker/Owner, Bake Shop Studio, London

bakeshopstudio.com

By Bryan Lavery

Cake designer and baker Kate St. Laurent

was born and raised in London, Ontario.

Possessing an artistic nature, St. Laurent

grew up playing piano, drawing, painting and

singing in the choir throughout public and

high school. St. Laurent began her career not

in the pastry arts but Fine Arts, attending

Fanshawe College and then completing her

Bachelor of Fine Arts at NSCAD in Halifax.

St. Laurent began the search for work in a

creative field and landed in the up-and-coming

world of custom cakes and sugar flowers,

using her artistic skills in the medium of

buttercream. She began working in bakeries

back in her hometown, gaining a wealth of

experience and knowledge before deciding to
---
eatdrink: The Local Food & Drink Magazine

open a shop in 2016.

St. Laurent's focus for Bake Shop Studio

is to specialize in artistic cake designs while

maintaining the integrity of traditional

scratch baking methods. Her Fine Arts

background provides inspiration, and she

creates beautiful and delicious works of edible

art. Everything is made in-house including

French macarons, cupcakes, brownies, and

cheesecake as well as a selection of gluten-free

and vegan options.

Bake Shop Studio found a perfect home

in the heart of Wortley Village in November

2018, upstairs above what has become the new

Wolfe Pack Company Bar. Former co-worker

Vanessa Fields joined St. Laurent and is now

head baker. St. Laurent lives in London with

her son Miles — who enjoys leftovers and is

the official taste tester for Bake Shop Studio

— and her partner, Tim.

Suzy Schlotzhauer

Pastry Chef/Owner, AO Pasta, Stratford

aopasta.com

By Melissa Graham

Suzy Schlotzhauer is making a big move

this year. She and her husband and business

partner, Kris, and their new partner, Tom

Van Oosterhout, are moving their successful

restaurant AO Pasta to a great new location

Heather's

Incomparable Journeys

PLUS

Absorb history and culture on this unique journey through

major cities and the stunning countryside of Eastern Europe

For any and all of your travel needs

Heather Wilkinson

Regional Office: 31 Nottinghill Gate, Suite 203, Oakville

TICO#50013851
---
28 | March/April 2020

in downtown Stratford. They have been in

business since June 2018.

AO Pasta, taken from the initials of

the couple's two children, has created a

comfortable, informal dining experience that

welcomes families, date nights and take out.

They are filling a gap between fine dining and

fast food.

Suzy says they weren't really thinking about

moving but this great opportunity came up.

Now they will be closer to the theatre and

have more dining and kitchen space. Suzy is

also looking forward to being more involved

this year. "I am excited to get back in the

kitchen after having kids," she says.

Suzy is originally from Calgary and

trained as a pastry chef at the International

eatdrink.ca |@eatdrinkmag

Culinary Centre in New York City. She and

Kris worked for many years at a variety of

fine dining restaurants in Toronto before

moving back to Kris's hometown of Stratford

to open their own place. Suzy says she will

be "focusing on Italian desserts using fresh

and simple ingredients." She will be making

the pasta every day to go with AO's made to

order sauces, as well as baking most of the

bread in house.

AO Pasta has been in Stratford for a short

time, but is already a local favourite. For the

last two years Suzy and Kris have participated

in the fund raiser Empty Bowls for the House

of Blessing. AO Pasta opens on Wellington

Street this April.

Jean Vedova

Innkeeper/Owner, Kettle Creek Inn, Port

Stanley

kettlecreekinn.com

As told to Nancy McSloy

The original structure dates to 1849. After

extensive renovations we opened the inn in

1983 offering dining and accommodations. We

renovated again in 1990. For over 35 years we

have provided everything from fine dining to

great pub fair. Our latest project has been the

creation of a "people-watching patio" along

the front sidewalk.

The bottom line stops with me. I have done

everything from waitressing to marketing

to being the CFO. Just don't put me in the

kitchen. I am the planner and worry wart.

It gives me incredible pleasure when guests

tell me how much they enjoy our amazing

cuisine and genuine hospitality, or when

they say how much they enjoyed their luxury

suite. I love it when newcomers are pleasantly

surprised that we are much more than what

is apparent from the street, and greeting

repeat guests who are now bringing their

grandchildren.

The food/drink industry is becoming more

complicated. It is difficult to get trained staff

with the same passion as you. If you have a

culinary talent you are in an ideal position.

But you need to keep a sense of humour and

love what you do!

I left Cape Breton, headed to Alberta,

ended up in Ontario, opening the inn. That

started an incredible adventure in the tourism

industry from local organizations in Elgin

County to helping establish the Ontario Finest

Inns organization. I have travelled the world

by bike and kayak, but having the inn is what

has given me that zest for life.
---
eatdrink: The Local Food & Drink Magazine

Cindy Walker

Chocolatier/Owner, Chocolatea, Ingersoll

chocolatea.ca

As told to Nancy McSloy

Featuring

Creative Menus

from Chefs

Erryn Shephard

& Ben Sandwith

Ladies

Nights for

Breast & Colon

Cancer

March 24, 25 & 26

Always Available

for Caterings!

Chocolatea is a retail shop that sells ethicallytraded

tea and makes in-house handcrafted

chocolates. Our chocolates are made

from scratch in small batches using fresh

Seasonal Hours

Always Closed Monday

Reservations Recommended

519.238.6224

42 Ontario St. S., Grand Bend

www.finearestaurant.com

Benmiller Inn & Spa

escape the ordinary

55 Unique Guest Rooms

Four Diamond Dining & Accommodation

Indoor Heated Pool, Hot Tub & Sauna

Getaways, Conferences & Weddings

25 Acres of Scenic River & Countryside

Renewing Petit Aveda Spa

519.524.2191

1.800.265.1711

www.benmiller.ca

81175 Benmiller Line

Goderich ON N7A 3Y1
---
30 | March/April 2020

ingredients. The chocolate flavours change by

season, or, just because!

We educate people with their tea choices as

all teas are not the same. We are passionate

about the region and telling the local food

story through our chocolates. Quality,

freshness and authentic ingredients make

our chocolates unique. This paired with

sustainable, high quality Belgian chocolate

allows us to offer a truly unique product.

Customer satisfaction is key! We enjoy

chatting with travellers and locals alike.

Behind the scenes I love to experiment with

new flavour combinations in the chocolate.

eatdrink.ca |@eatdrinkmag

Sometimes people are skeptical until they

try it! Lime and basil are a combination that

puzzles many.

Chocolatea just celebrated our 5th anniversary.

I recently started Truffle Camp which has

become a hit. We have been nominated and I

am a finalist with Ontario's Southwest for an

Innovation Award. Without trying I have created

a following that has people driving from

other areas strictly for my chocolate.

I would say, you love what you do and have

a personal support system, take the leap of

faith. Translate the love into your business

and your customers will love it too.

Maryam Yaro Wright

Chef/Owner of YaYa's Kitchen, London

yayaskitchen.ca

By Bryan Lavery

Photo: Phong Tran

Co-founder and chef/owner Maryam Yaro

Wright of YaYa's Kitchen arrived in Canada

in 2014. After three weeks in Toronto, she

and her husband were off to Baker Lake in

Nunavut for five years, where she worked as

a Lands Administrator. It was a culture shock

coming from Tula, Gombe State, Nigeria,

where daytime temperatures can exceed

45 °C degrees, to Nunavut, where winter

temperatures can drop to -50° C.

It was in Nunavut that Maryam learned how

to fish. With her husband, she started hosting

community-building dinners highlighting local

fish and also game hunted by her husband,

which she prepared with authentic Nigerian/

Sahel spices for community dinners.

After five years in Nunavut and with

Maryam pregnant with her third child, the

family relocated to London and purchased a

house, sight unseen. They decided to continue

hosting their traditional dinner and posted

the event on Facebook. The response was

surprisingly positive and 20 people attended

their first dinner. This was the beginning of

YaYa's Kitchen, which has since evolved into

a chef-driven, community-building pop-up

featuring a multi-course meal for 40 people.

The experience is unique because it features

a family-style communal table and storytelling,

with an elevated dining atmosphere where

patrons dress semi-formally. The focus of the

evening is on food and conviviality. You'll be

introduced to each course by the host of the

pop-up. Maryam and a team of volunteers cook

and serve the meal based on the authentic

Black experience. The bi-monthly cultural

experience takes place at the London Food

Incubator in Old East Village.

Wright is the eldest of four siblings and

now has four children of her own. YaYa's

Kitchen means "older sister's kitchen" in

Hausa, one of over 300 Nigerian languages.

Wright has been cooking since she was eight

years old and grew up surrounded by the

diverse flavours of Nigerian/Sahel cuisine.

The dishes find inspiration in the diversity of

cuisines and specialties from the hundreds of

ethnic groups that comprise Nigeria. Maryam

explains, "You can go from one village to

another, or just down the road, and the food is

entirely different."
---
Simply the finest authentic Italian cuisine

available in the region!

eatdrink: The Local Food & Drink Magazine

March/April 2020 | 31

• Family-Owned & Operated

• Beautiful patio on Thames River

• Catering and 2 well-appointed

Private Function Rooms available

• Family-friendly

(Kids Menu Available)

From-scratch cooking with

the best local ingrendients

231 King Street West, Chatham

519-360-1600

Open for Dinner Daily / Lunch Monday-Saturday

mammamariasristorante.ca
---
32 | March/April 2020

Sylvia Zietek

Owner, Pierogi Queen, London

pierogiqueen.ca

By Bryan Lavery

Sylvia Zietek was born and raised in London,

Ontario and went to Catholic Central High

School before heading to Ottawa to study

linguistics, which led her to explore her love of

language and culture. She backpacked through

Europe and Central and South America,

eatdrink.ca |@eatdrinkmag

learning about different cultures and cooking.

Zietek worked in various restaurants for a

decade, mainly in London and Port Stanley.

She worked in front-of- house and back-ofhouse

positions as well as management for

Casey's, Kelseys, and GT's On the Beach.

Last year, equipped with a reliable business

and marketing plan, Zietek launched Pierogi

Queen, her chef-driven indie food truck,

offering an innovative from-scratch local

menu. Food trucks are incubators for culinary

innovation and Zietek, a natural entrepreneur,

completed a year-long certificate program

for startups at Fanshawe College. Later she

immersed herself in the College's Leap IN

Incubator, a nine-week summer program that

focuses on mentorship and business growth

and supports startups with seed funding and

one-on-one in-depth business analysis.

Pierogi Queen is part of the London

Food Truck Association, a talented group

of dedicated food truck owners who work

together to support each other and grow the

local food truck scene.

Zietek was taught how to make pierogi from

her Babcia (Grandma) at five years old and

learned other traditional Polish dishes from

her mother. Zietek offers an always-evolving

menu with a selection of flavourful pierogis

such as her grandmother's classic potato and

cheddar, jalapeño cheddar, buffalo chicken and

apple pie. She has the flexibility of being able

to create new flavours based on the seasonality

and local ingredients. At Heeman's Food Trucks

on the Farm last September, Zietek also served

schnitzel and cabbage rolls. Those will be

regular menu items this year when she is back

on the road in mid-April.

Profile Contributors

BRYAN LAVERY, Eatdrink Food Editor and Writer at

Large, brings years of professional experience in the

restaurant and hospitality business, as a chef, restaurant

owner ,and partner in the culinary experience and

consulting business, Lavery Culinary Group. Always on

the lookout for stories Eatdrink should be telling, he helps

shape the magazine under his byline and behind the scenes.

NANCY LOUCKS-MCSLOY is a freelance writer who

loves cooking and entertaining. Her work has appeared

in Chicken Soup for the Soul, The Fur-Bearing Trout and

Other True Tales of Canadian Life, McLean's, Vitality,

Eatdrink, and many other publications.

SUE SUTHERLAND WOOD is a freelance writer and

regular contributor to Eatdrink. Read more of Sue's work

on her blog. www.speranzanow.com

MELISSA GRAHAM has waitressed, bartended,

managed, dishwashed, food prepped, and catered while

also working as an actor. She taught ESL for many years,

worked in new play development, and currently teaches

Writing and Communications at Stratford Chefs School.

KYM WOLFE is a freelance writer and speaker based in

London. Whether people read her articles or books, attend

a presentation or take a walking tour, she hopes that they

will learn something interesting, entertaining or useful,

and will consider it time well spent. www.kymwolfe.com
---
eatdrink: The Local Food

WIN

& Drink Magazine

March/April 2020 | 33

A LOCAL FLAVOUR

OVERNIGHT TRIP

to

CHATHAM-KENT

A Luxurious Road Trip

for Two!

Use of a beautiful Lexus automobile

Accommodations at the Retro Suites Hotel

Wine Tasting at Early Acres Estate Winery

• Dinner for two at Mamma Maria's Ristorante

Go to localflavour.ca/contests to enter and for complete details.

Contest runs until September 1, 2020. Dates are subject to availability. Prize has no cash value.
---
34 | March/April 2020

eatdrink.ca |@eatdrinkmag

Beer

Ladies' Entrance

This Way to the Brewhouse

By GEORGE MACKE

That image of plaid-wearing

30-something men with big, bushy

beards selling

you a bitter

IPA? Forget about it.

The craft beer

industry is ready for a

woman's touch.

"I think that women

have more of an impact

on the craft beer industry

than ever before in the

history of the beer," said Erica Hughes, General

Manager of Upper Thames Brewing and the

Brickhouse Brewpub in Woodstock. "There is so

much opportunity for different styles of beer,

using local ingredients, supporting other small

businesses, collaboration and networking —

all of which I believe are attractive to women.

There has been a shift!"

Hughes was in the franchise restaurant and

hospitality industry for 10 years before making

the switch to what was then a new craft brewery.

"I didn't know much about the craft beer

industry, but what my past franchised world

taught me was valuable: managing people,

marketing, and policies and procedures. The

question was, could I have a passion for the

craft beer industry?"

"Quickly the stars

aligned and I was shifting

my career to be

general manager of the

fastest growing and

most exciting local business

in Oxford County.

I was now part of this

A vintage sign indicating the bar door that women could

enter through — if they were accompanied by a man. growing business, in a

predominantly malerun

operation, that I didn't know much about."

"Luckily, I had a team of owners/bosses

that gave me full autonomy with my ideas,

input, and suggestions for their business.

I started doing what I knew best, asking

questions and becoming immersed in what

would turn out to be a dream job. I learned

quickly that the craft beer industry was not

so cutthroat, but more collaborative, helpful

and open on best practices."

It was only 50 years ago that women going

out for a drink had to enter hotels through a

designated "ladies and escorts" door. [This had

nothing to do with paid escorts. Women had

to be accompanied .wby a male companion or

were barred from entering.]

It made news in Toronto

in 1971 when a singles bar

opened in Toronto and

women could legally enter

unescorted.

For decades, big beer

companies used bikini-clad

women to sell their products

to the target audience — men.

General Manager Erica Hughes

(left) and Taproom Supervisor

Vanessa Taylor help run Upper

Thames Brewing and the

Brickhouse Brewpub in Woodstock
---
eatdrink: The Local Food & Drink Magazine

"Women can drink and enjoy beer, too,"

Hughes said. "And that hasn't been the

belief historically. Instead, women have been

used as marketing tools to attract men and

increase sales, a trend that occurred with the

big domestic brands. I think that it's most

absurd that the belief at one time was that

beer wasn't meant for women to drink and if

they did, it wasn't proper or acceptable, but it

was perfectly acceptable to use their beauty to

attract men to drink it."

Still, craft breweries throughout Canada and

the United States have had their share of marketing

missteps when trying to come up with

edgy or punny beer names such as Big Tiddy

Assassin, Wailing Wench, Chunky Gal Amber,

Midnight Sun Panty Peeler, and Poly gammy

Porter. Craft brewers today aim higher.

"Beer labels and can designs lead to a big

opportunity to be more creative than ever

before," Hughes said. "The flashiest, welldesigned,

or most attractive label or logo on the

shelf are what people are drawn to. These labels

appeal to both genders and are a breakthrough

in being inclusive of both sexes. Gone are the

days of selling beer with sex appeal."

It's not just in beer names and label design

that women are placing craft beer on the high

road. Brew development has become a key role.

"There are beers being created every day

that either have women in mind as the target

or are being created by a woman based on her

tastes or desires in a beer," Hughes said. They

range from low-alcohol fruity beers all the way

up the scale to heavy porters and stouts.

In terms of naming new beers in a way

that's catchy and fun for everyone, Hughes

points to one she had a hand in, Take A Hike

Dry-Hopped Pale Ale.

"Take a Hike has gone on to be listed with

the LCBO and sold all over Ontario," she said.

March/April 2020 | 35

"It's a close number two seller in our taproom

and brewpub and is my favourite Upper

Thames beer. I particularly like the sarcasm

behind the name, but that it also stays true

to our brand and our Canadian or outdoor

theme. 'Take a hike!', 'No! You take a hike!' —

I love laughing with people over the double

meaning in the name."

There are brands to which many female

patrons gravitate. "We have an amazing

following from both genders at both locations,"

Hughes said. "If I were to guess, women

SUNDAY BRUNCH

11am−2pm

Open 7 Days a Week

Mon/Tues 11:30-10, Wed/Thurs 11:30-11, Fri/Sat 11:30-12, Sun 11-10

Come explore our rotating

selection of beer styles

complimented by a seasonal

food menu, local wines, cider,

and non-alcoholic drinks.

17 TAPS + BEER TO GO

INCLUSIVE TAPROOM

TRIVIA + OTHER EVENTS

PATIO + PARKING

169 Wharncliffe Rd S. London, ON

For special discounts, visit:

STORMSTAYED.COM/EATDRINK
---
36 | March/April 2020

Katie Anderson-Gautreau is co-owner of Shakespeare

Brewing Co., in the village of Shakespeare, near Stratford.

make up approximately 30 to 40 per cent of

our regular patrons. Craft beer has become a

hobby. It's an opportunity for women to be

on the same playing field as men. We have an

exclusive mug club — The Voyageur Society —

with a membership that continuously grows to

include more and more women."

At Shakespeare Brewing near Stratford,

co-owner Katie Anderson-Gautreau's interest

in craft beer was sparked when she and

eatdrink.ca |@eatdrinkmag

husband Ayden toured Europe.

"[Being in the craft beer business] certainly

wasn't something I had thought I would be

doing in the future, as I was going through

university," she said. "I liked beer back then

but I wasn't very adventurous. I really started

to see craft beer as part of my life while Ayden

and I were in Europe. When we were staying at

a farm in England that had an on-site brewery

and a pub over the hill, my appreciation of

beer really began to grow."

"It became a hobby of ours to visit craft

breweries and try different styles of craft beer.

When Ayden began working at Bell City we

knew we wanted to open our own brewery at

some point, and it was just a matter of learning

as much as we could until that could happen."

Anderson-Gautreau said women — or anyone

new to craft beer — are initially surprised that

there are so many different styles available.

"I find my taste buds are constantly

changing," she said. "I go through phases

where I love IPAs, then lagers, then sours.

There really is something for every taste bud

in the craft beer world. The best part about

craft beer is that the people in the industry

are passionate about it and are happy to share

Get to The Farm, folks!

— SOUTHERN ONTARIO BEER BOYS

FAMILY-FRIENDLY, FULLY-ACCESSIBLE RESTAURANT

and DESTINATION CRAFT BREWERY in BLYTH

40035 BLYTH RD., BLYTH, ON N0M 1H0 1-844-523-4724 WWW.COWBELLBREWING.COM
---
eatdrink: The Local Food & Drink Magazine

Katie Anderson-Gautreau with her husband Ayden and

their two children outside their brewery.

their knowledge and what they create."

She's noted little divide between the kinds

of beers women order versus men.

"For the most part both men and

women like to try new flavours and styles

to determine what they like," Anderson-

Gautreau said. "Many times those who are

new to craft beer, men or women, tend to lean

towards the lighter beers because that may be

what they are used to. Once they try the beers

March/April 2020 | 37

they are surprised by how much they enjoy

the more bitter beers or the flavours of a dark

beer like our milk stout."

Craft brewery taprooms have nothing in

common with the smoky hotel barrooms

of the 1960s and are little like the musicthumping,

meat market discos of the 1970s

and 1980s. Many taprooms are set up like

living rooms or have long, group tables meant

to be shared with other patrons to encourage

conversation with each other and the staff,

including owners and brewmasters.

"Women just want a place they feel welcome

and can hang out with their friends, partners,

or kids. I always feel so much better when

I go to a brewery and feel like my kids are

welcome too. It means I can spend my time

enjoying and appreciating my beer rather than

worrying about the kids."

"I think in general, everybody likes a

judgment-free zone when they go to a craft

brewery, whether they are new to craft beer or

a craft beer enthusiast."

GEORGE MACKE is a Southwestern Ontario craft beer

explorer who spends too much time at the LCBO and craft

breweries.
---
38 | March/April 2020

eatdrink.ca |@eatdrinkmag

Wine

A Winemaker with Strong Roots

Tanya Mitchell of Sprucewood Shores Estate Winery

By GARY KILLOPS

It was about 12 years ago on my first

visit to Sprucewood Shores Estate

Winery that I met Tanya Mitchell, the

winemaker at the family owned and

operated winery located on the shores of

Lake Erie just outside of Amherstburg. At

that time, she was Ontario's youngest female

winemaker. The wines she was making then

were very good. And they continue to get

better every year.

Tanya has grown up with the Ontario wine

industry. She is now married with children

and balances family with work and is a mentor

to future female winemakers looking to follow

her path.

gk: How did you become the winemaker for

Sprucewood Shores Estate Winery?

tm: Our family was developing the concept

for the winery during the last year of my

Chemical Engineering degree. I took the

opportunity to spend a harvest at Henry

of Pelham since it was close to McMaster

University. This taught me a lot about the lab

analysis and gave me a glimpse into the cellar.

Mostly, it developed a very strong interest in

the winemaking side of the business for me.

It was perfect timing for me to jump right

in from the ground up in something I was

passionately curious about. Turns out, it was

the perfect career for me in so many ways.

gk: Your family has always owned the winery.

How did it all begin?

tm: The vineyard land was purchased back

in the 1970s by my parents Hannah and

Gord Mitchell, and our first vineyard plot

was planted by hand, by us and our closest

relatives, in the late 1980s. I still remember

that day so well, my first real glance at the

hard work ahead of us. What I didn't realize

at the time, was how incredible a feat my
---
eatdrink: The Local Food & Drink Magazine

parents had already accomplished, and

just how far these vines would take us. We

planted strong roots for our family to grow

a business and a reason to always keep us

working together.

gk: What interests you the most about wine?

tm: It is a living thing, constantly changing,

and surprising me. It always keeps me on

my toes. Bonus, it tastes great and when

someone loves my products, I glow in the

praise. There is a lot of hard work that goes

into every bottle, so it's wonderful when it's

received well.

gk: What are you trying to achieve with your

wines?

tm: I always aim to produce small batch

wines that focus on showcasing the vibrant

fruit and crisp flavours of Ontario wines.

The wines I produce are approachable,

quality and dependable products that are

meant for everyone to enjoy. I produce

a large range of styles and varietals, so

any customer will find something they

love when they visit, or pick up a bottle

March/April 2020 | 39

off the shelf. I enjoy playing around with

different styles, and trying new ways of

making wine, using new technologies, and

incorporating old techniques together in

the best way possible. Our newest venture

with appassimento wines excites me and

our customers are loving it!

gk: What grape varietal do you find the most

exciting and challenging, both for drinking

and production?

tm: Cabernet sauvignon. We can ripen these

incredible grapes down our way in our warm

and sunny long summers. I love the colour

of the grapes and the hardy skins on them,

they are a pleasure to ferment and make into

wine. It's often delicious on its own, but also

a wonderful compliment to many wines in

a blend, providing the backbone and tannic

structure that so many other varieties lack.

The challenge with this fruit is getting the

plants through the cold winters.

gk: What is your favourite part of the

winemaking process?

tm: Harvest! When the grapes arrive. The

Our Wine, Your CREW

The new CREW Winery & Gallery is officially open!

The tasting bar is open year round, and a new galley

lunch menu launches March 4. Taste local wines, see

original art, and take in our vineyard views.

Colchester Ridge Estate Winery

108 Essex County Road 50, Harrow ON

519-738-9800

@crewinery
---
40 | March/April 2020

eatdrink.ca |@eatdrinkmag

tm: Yes … run away and never

return! Just kidding. Honestly,

yes 15 years of advice would have

been great. I'm still learning

every day and I am 15 years into

my practice. Thankfully I worked

with many skilled winemakers

in the early years to help develop

my craft.

smell of them pouring into the vats. The

smell of a perfect white fermentation. The

snap decisions required during such a chaotic

time. Watching the incredible change a wine

undergoes in only a few days and watching it

develop slowly over years after that.

gk: Is there any advice you wish you got

before you started making wine?

gk: Are there varietals that grow

better in Lake Erie North Shore

than other regions?

tm: Cabernet sauvignon, cabernet

franc and baco noir are incredible

down here. We have the longest

growing season and the highest

heat units of anywhere in Ontario.

gk: What advice do you have for a woman

wanting to get involved in the wine

business today?

tm: If you want something, go for it. If you

have a strong interest in science, math and

most importantly a strong passion for wine

— and you don't mind physical work, some

Visit Ontario's Only Beachfront Winery!

Open Daily

Year Round

11am-5pm

www.sprucewoodshores.com

519-738-9253

Quality Craft Wines Available at the LCBO
---
eatdrink: The Local Food & Drink Magazine

long days and getting your hands (and feet!)

wet — it's the most rewarding career you

could ever ask for.

gk: Where are women going to be in this

industry in the next 10 years?

tm: Everywhere, like they already are, in

every facet of the business.

gk: Does being a woman have any bearing on

winemaking?

tm: Our senses can be different from men,

which can reflect in the styles of wines

we produce. Our physical strength and

endurance play an important role in the

production side.

gk: How do you maintain a work/life/family

balance?

tm: The support of my family and staff have

enabled me to continue to pursue this timeand

mind-consuming career. It has been

quite challenging at times, especially during

harvest and bottling time. Challenging for

both me and my husband, who I am very

March/April 2020 | 41

grateful to for all the extra work he puts

into our family during my busy seasons.

gk: Anything else you would like to add? Proud

moments at the winery? Perhaps info on any

upcoming projects that you can share?

tm: I have been working on a project with

my brother Steve for a few years now,

getting into production of appassimento

wines and it has been a very challenging,

but extremely rewarding pursuit. We have

a wine out right now that I am very proud

of, and it is getting an incredible reception

from our customers.

Overall, I consider myself lucky to have

been given the rewarding and challenging

opportunity to run my own business with

my family and I look forward to the many

years ahead, especially when our young

ones start to join in on the fun.

GARY KILLOPS is a CAPS Certified Sommelier

who loves to talk, taste, and write about wine. He

shares his tasting notes on EssexWineReview.com

Lifting Spirits and Sales

VQA Wines, Craft Beer and Cider

Import Wines not available in LCBO

Contact me if you're thirsty

to learn about unique

farm to glass experiences

for your home, business

or special occasion.

inspiirit.ca

Tina Roberts

troberts@inspiirit.ca
---
42 | March/April 2020

eatdrink.ca |@eatdrinkmag

The BUZZ

Culinary Community Notes

New and Notable

London

London Training Centre is providing the Culinary

Pre-Apprenticeship program again this year

starting April 6. This six-month, full-time program

includes four months of instruction and two

months of paid placement at area restaurants and

food establishments. Fully funded by the Ontario

Ministry of Labour, Training and Skills Development

(no cost to students) it is an ideal opportunity

for 12 students seeking to launch their culinary

careers. There is a competitive application process.

lonndontraining.on.ca

Chef Dave Lamers of Abruzzi and Taverna 1331 won

Food Day Canada gold again in 2019. He will be

heading to NYC with the other winners to represent

Canada at James Beard House in May.

Chef Logan Withers, formerly of Abruzzi Ristorante,

is leading the culinary team at Dave Lamers and

Rob D'Amico's new Taverna 1331, at 1331 Hyde Park

Road, taverna1331.ca

Now that Blackfriars Bridge has reopened,

it's a perfect time to return to Betty Heydon's

acclaimed Blackfriars Bistro. Heydon and her

team recently celebrated a 24th anniversary. One

of the city's most respected caterers, the culinary

team at Blackfriars prepares innovative, seasonal

blackboard specials with cutting-edge menus that

respect tradition. Be sure to try Betty's signature

savoury Stilton cheesecake with heritage greens

— it's a classic. 46 Blackfriars St., 519-667-4930,

blackfriarsbistro.com

Katana Kafé & Grill is switching things up again

for the season, with new menus launching March

12. They are continuing the popular "Half-price

Bottle of Wine Wednesdays" and $5 16 oz pints of

beer on Thursdays. There have been many aesthetic

changes at Katana over the past year or so, with

more changes coming soon. katanakafe.ca

Updates from Grace Restaurant: Bartender Myles

Davis qualified for the finals in the "Made with

Love" cocktail competition which will be held in

Toronto in April. Grace will hold a monthly drag

brunch starting in March. Sunday Dinners in March

will include Maple Sugar Shack on March 1 and a

collaboration with Nuts for Cheese on March 15.

215 Dundas Street, 226-667-4822, gracelondon.ca

The landmark Budapest Restaurant has been

operating since 1956 and will celebrate its 64th (!)

birthday on March 17. 348 Dundas Street, 519-439-

3431, budapestrestaurant.com

Paradigm Spirits Co. is being created by passionate

craft spirit entrepreneurs with a vision to build a

distillery within the new 100 Kellogg Lane. (100

Kellogg Lane is the ongoing transformation of the

former Kellogg's cereal plant into a million-squarefoot

hub for tenants, workspaces, entertainment and

attractions, such as Powerhouse Brewing Company.)

Paradigm will produce quality spirits showcasing

the bounties of our region and people, by blending

age-old tradition with new flavours and methods.

Spirits authorities from whisky ambassadors to
---
eatdrink: The Local Food & Drink Magazine

bourbon stewards, they bring years of experience

and certifications to the table. Lively and interactive

cocktail classes are designed to inform participants

about the art of crafting cocktails, the use of bar

tools, and classic ingredients like bitters and tonic.

Paradigm is expected to open in late May 2020.

paradigmspirits.com

Locomotive Espresso recently celebrated its 6th

anniversary. Co-owner Jill Wright tells us, "The

second location in the Old South neighbourhood,

Locomotive Espresso South is coming along.

Follow at Locomotiveespresso on Instagram for

updates on a soft opening in late April." 519-601-

3896, locomotiveespresso.com

Wolfe Pack Company Bar is located next door

to the popular breakfast spot Little Bird. In

the middle of Wortley Village it is accessible,

welcoming and convivial with inspired cuisine

such as house-made charcuterie and seasonal or

artisanal items in limited quantities, in order to

maintain a high level of quality. The resto seats

about 60 customers, and will include two patios,

one seating an additional 45 patrons, and another

30 seats at the front of the restaurant. The menu

is reminiscent of the best of the former Wolfe of

Wortley, but scaled-down and more accessibly

priced. 145 Wortley Road, 226-663-4567

Above the new Wolfe Pack Company Bar in Wortley

Village is the boutique Bake Shop Studio. You

can visit during retail hours, and by appointment

on Tuesdays. Everything is made in-house from

scratch. If you can't come during retail hours, or

have trouble with the stairs, the gluten-free and

vegan cupcakes are offered across the street at

the new Wortley Café (formerly Fire Roasted.) 145

Wortley Road (Upper) bakeshopstudio.com

Building on the momentum around urban

experiential tourism, Growing Chefs! Ontario

is excited to invite you into the HQ where a

spectacular culinary adventure has been created:

Food, Fire, Feast! This experience is based on

the highly successful children's education

programming, where participants explore how food

systems work through the largest school-based

food education project in Ontario. Through this

tremendously unique experience you will cook

your way through an extensive "tour" of London

and Middlesex County. Led by the award-winning

Growing Chefs! Ontario Chef Team, you will improve

your culinary skills using seasonal ingredients,

wildcrafted foods, invasive species and native

Ontario plants and be introduced to feature

products from unique local farms and producers.

The experience promises to keep a strong focus on

Come Experience Our World!

Award Winning Artisan Cheese

NOW OFFERING! Affinage 101

A hands-on behind-the-scenes experience

• Visit the aging room where cheese is cured

• Taste the changes in flavour as the cheese cures

• Discover steps to judge cheese quality and taste

• Create a delicious Gunn's Hill fondue from scratch

• Find details and register on our website

445172 Gunn's Hill Rd, Woodstock, ON

519-424-4024

www.gunnshillcheese.ca

Boutique Bakery

Buttercream Cakes,

Cookies and

French Macarons

Open for Walk-in Purchases

WED–FRI 11–6pm • SAT 10am–3pm

closed sun/mon/tues

145 Wortley Road, London

Upstairs—above the new Wolfe Pack Company Bar

bakeshopstudio.com
---
44 | March/April 2020

eatdrink.ca |@eatdrinkmag

sustainable sourcing and zero-waste. It will launch

in the spring of 2020, growingchefsontario.ca

Lavery Culinary Group's Forest City Culinary

Experiences' team of culinary insiders brings

together groups of visitors for intimate, immersive

culinary and cultural experiences. Attend one of the

culinary pop-ups, cooking classes, and dinners, or

book an experience like the "Covent Garden Market

Gastro Tour." They also offer an interactive culinary

and cultural tour centred on and around the Forks

of the Thames with partners such as Museum

100% Local — from Our Farmers to Your Table

Hormone & Drug-Free

Ontario Beef, Pork, Bison, Lamb & Chicken

THE VILLAGE

MEAT SHOP

LOCAL - NATURAL - QUALITY

WE ARE YOUR LONDON OUTLET FOR

• Metzger Meat Products • Lena's Lamb

• Blanbrook Bison Farm • Little Sisters Chicken

• Glengyle Farm Organics

The Market at Western Fair District: SAT 8–3; SUN 10–2

226-376-6328 • www.thevillagemeatshop.ca

More than just a Coffee Shop!

Over 200 Flavour Shot Flavours

Loose Leaf Tea • Espresso • Lattes

Cappuccino • Iced Coffee

Baked Goods–even Keto sweets

–and so much more!

Ask

about our

Catering & Event

Space!

Homemade ice cream including dairy free, vegan and Keto!

Dessert Waffles, Smoothies & other new items coming soon!

Pour Over Coffee Bar Open 7 Days a Week

creambeanerycafe.com

London, Rhino Bakery & Lounge, and Eldon House.

Or simply explore downtown London on one of two

soon to be launched "Asian Culinary Experiences."

forestcityculinaryexperiences.ca

Covent Garden Market, established in 1845, is

the longest historical link to London's culinary

history. Several merchant families have served the

market public for generations. Hasbeans follows

a Smith family tradition that began in the 1880s.

The coffee business is a hands-on enterprise with

the hospitable Joel McMillian running the daily

operations. Glenda and Danielle (Smith Cheese

+ Glenda's) offer over 250 varieties of cheese.

Havaris Produce has been a market staple since

1910. Covent Garden Market also houses take-away

restos such as the New Delhi Deli, The Salad Bowl,

Mercado Burrito and Thai Delight (the green,

yellow and red curry combos are a market staple.)

Mark Kitching's Waldo's On King is where you

will find the best organic burger, sourced from the

eponymous Mark's Meats (his stand-alone shop

in the Market that carries a wide range of certified

organic and grass-fed meats, seafood and other

items) and one of the very best Caesar salads in

town. Chris Doris (Doris Produce) and restaurateur

Greg Efstatheu operate Olive R Twists, and nestled

into the Market Lane side of the building, Tanakaya

Japanese Restaurant offers made-to-order sushi

rolls, sashimi, teriyaki, tempura and bento boxes.

The International Bakery, a prominent vendor for

over 40 years, provides pastries, cakes, breads,

and Italian-inspired staples. Petit Paris Crêperie

& Pâtisserie is an excellent example of the French

pastry tradition, and is located at the King Street

entrance of the market. Petit Paris offers macarons,

personalized cakes and pâtisseries, made from

scratch and crafted with premium ingredients.

Next door try the Coop Rotisserie for some of the

best chicken in the city. We are also fans of Mona`s

Shawarma & Grill and her Middle Eastern fare, and

are especially partial to her falafels, shawarma

New 2nd Location!

22469 Adelaide Rd, Mt Brydges

226-490-0301

825 Southdale Rd W, London

519-652-1607

PATIO

OPEN!
---
eatdrink: The Local Food & Drink Magazine

and varieties of hummus. Sample one of Zoran

Sehovac's hand-made Balkan-inspired savoury

bureks from the Hot Oven. These classic spiralled,

savoury spinach and cheese or meat-stuffed

pastries attract a loyal following. 130 King Street,

coventmarket.com

Dining at T.G. Haile's Addis Ababa Restaurant

is characterized by the ritual of breaking injera

(the traditional yeast-risen flatbread which is

spongy in texture, crêpe-like in appearance and

has sourdough tanginess) and sharing food from a

communal platter, signifying the bonds of loyalty

and friendship. For more than 15 years T.G.'s Addis

Ababa has offered a tour de force from the Ethiopian

culinary repertoire with classic East African dishes.

465 Dundas Street (at Maitland), 519-433-4222,

tgsaddisababarestaurant.com

Mainsay Visouvath and Fouzan (Rafael) Beg's

Thaifoon Restaurant continues to distinguish

itself as the premier Thai restaurant in town with

authentic and exuberant flavours, craft cocktails,

ambience and stellar service. The recently

renovated restaurant is a multi-sensory experience

with a modern and elevated take on Thai culture.

The dining room is sleek, fresh and modern. Recent

visits have exceeded all of our expectations.

thaifoonrestaurant.com

Anna and Stelios Papadopoulos arrived in

Mississauga from Greece in 2012, with son Kosta

and daughter Marina, and later relocated to

London. Anna says, "Wortley Village feels like

a true village," not unlike their home in Greece,

where coffeehouses, restaurants and roasters are

prevalent. By roasters, Anna means roasters of

fresh nuts. Unimpressed by the roasted bulk nuts

they sampled in Canada, Stelios envisioned bringing

a bit of Greece to Wortley Village. They imported

a unique Greek-designed nut-roasting machine

from Germany. On Canada Day 2016, Karpos

Dry Fruits and Nuts was launched in Wortley

Village. On offer are several Greek food specialties

and premium olive oil in bulk. Customers are

encouraged to bring containers for nuts, fruits

and olive oil. Fresh baklava and spanakopita are

available for purchase. Entrées such as stuffed

roasted peppers, dolmathakia, meatballs, chicken

with potatoes, and avgolemono soup are available

for takeaway on Tuesdays and Fridays. With the

unexpected passing of Stelios last year, Anna,

Kosta, and Marina continue to offer high-quality

dry fruits and nuts procured globally. They remain

the only Mediterranean-style roasters for fresh

nuts in London. 190 Wortley Road, 519-672-5200,

karposnutsandfruits.weebly.com

"Reasonably priced, fresh, well-executed

Ethiopian cuisine ..." — Bryan Lavery, Eatdrink

Blair Blvd

Gift

Certificates

Available

London

International

Airport

Oxford St

• FAMILY FRIENDLY

• Vegetarian &

Vegan Options

• Takeout

• Catering

ADDIS ABABA Restaurant

Tuesday–Sunday 11am–10pm by reservation

Closed Monday

465 Dundas Street 519 433-4222

www.tgsaddisababarestaurant.com

Far Out ...

but we like it that way!

Blueberry Tea

519-455-9005

Crumlin Rd

katanakafe.ca

2530 Blair Blvd, London

Diamond Flight Centre

MON & TUES: Lunch 11–3

WED, THURS & FRI: Lunch 11–5; Dinner 5–9

Weekends: Breakfast 9–12, Lunch 12–3, Dinner 5–9
---
where art is

Hey, Cupcake! a piece of cake

The ORIGINAL

LONDON CAKERY &

GOURMET CUPCAKE

BAKERY

ASK US Custom Bakery • Walk-In Orders Available

ABOUT OUR

"RANDOM

ACTS OF

SWEETNESS!"

CAMPAIGN

www.heycupcake.ca

1305 Riverbend Road, Suite 110

519-433-CAKE (2253)

STORE HOURS: Mon–Fri 11–7

Saturday 10–5 • Sunday 11–4

Traditional, Real Food.

Real Good!

Try our world famous Goulash Soup, Cabbage Rolls,

Schnitzel, Chicken Paprikash, a Combination Platter, or

many other mouthwatering Hungarian dishes.

Gift

Certificates

Available

519-652-9696

aranka.ca

aranka.csarda arankacsarda

7447 Longwoods Road, London

Our beautiful country setting is on Longwoods, the continuation of

Wharncliffe Road, just outside Lambeth

eatdrink.ca |@eatdrinkmag

Pepe's Filipino Restaurant, named after the

owner's father, is located in the premises formerly

occupied by the Chinese BBQ Restaurant. Dishes

range from lumpia (fried spring rolls with pork,

shrimp and vegetables) to arrozcaldo, (a hearty

Filipino congee made with chicken and rice,

seasoned with onion, and garlic and served with a

boiled egg) to the more complex dinuguan (pork

blood stew with liver pork meat and intestine). We

enjoyed the Filipino-style pork bbq served with rice

or sweet potato fries and the Filipino-style chop

suey with vegetables sautéed in garlic oyster sauce

with miniscule shrimp and quail eggs. The calamari

is lightly breaded and fried and served with

sriracha aioli. 994 Huron Street, 519-601-0375

Congee Chan offers a large menu of Cantonese

specialties prepared with fresh high-quality

ingredients. A favourite is preserved egg congee with

minced duck. This is traditional Chinese cooking

combined with Canadian-Chinese versions of modern

Asian specialties like crispy-sweet and piquant

General Tao chicken. Congee Chan offers more than

just congee and noodles. Order the lobster with

ginger and green onion chow mein, and the clams or

beef with black bean sauce. 735 Wonderland Road

North (in the plaza across from Angelo's), 519-641-

5686, congeechanrestaurant.com

Five Fortune Culture House is known for its

Yunnan-style home cooking with Sichuan and

Guizhou influences — not a formulaic Chinese

restaurant serving Anglo-genres conceived by oldstyle

Taishanese and rural Cantonese immigrants

who adapted traditional Chinese recipes to

suit local tastes and available ingredients. 368

Richmond Street, 226-667-9873

The Market at Western Fair District is a vibrant hub

in Old East Village bringing together community,

food artisans and startups. Two floors and over 100

vendors make up The Market which operates on

Saturday and Sundays and features fine retailers

such as The Village Meat Shoppe, Loco Fields,

Common Ground, Evi's Deli, The Butcher's Wife, On

the Move Organics, Monforte Cheese, Petojo Food &

Catering (Indonesian cuisine), Yam Gurung's Momos

at the Market (featuring Nepalese Cuisine), Harvest

Pantry (ferments, preserves, salts and culinary

tools), Artisan Bakery, Lebanese Bakery and Downie

Street Bakehouse. Food truck operators Bifana Boys

and Goodah Gastrotruck have popular booths at The

Market and recently opened Out of the Deep Seafood

Co., featuring ethically-sourced and sustainable

offerings. themarketwfd.com

Willie's Café continues to grow and thrive in the

London Food Incubator. Ian Kennard has expanded
---
eatdrink: The Local Food & Drink Magazine

the seating with more tables, comfy chairs and

a new cozy dining area. There is inexpensive

municipal parking off of Queens Ave. and customers

are welcome to use the entrance accessible from the

parking lot. Willie's continues to provide catering

services with a focus on office/corporate lunches.

630 Dundas Street East, williescafeandcatering.com

Tina Roberts of Inspiirit is excited about her

partnership with The Wine Agents, importers of

great wines you won't find at the LCBO, to help

restaurants drive growth by having exclusive VQA

and imported offerings positions. "Pinot Grigio is

not a commonly grown wine in the Niagara Region,

so having a couple in my portfolio is a real coup,"

says Tina. "It's such a popular wine and one that

customers always ask for. My favourite so far is

from Cantine Monfort in Trentino Italy, and it's

their Terre Del Fohn Pinot Grigio. This a very easy

drinking wine. Almost too easy!" Inspiirit's products

are available to licensee, wedding and event venues

and direct to consumers. Check out their Wine Club

to. Contact Tina at troberts@inspiirit.ca.

The goal of the Culinary Federation of Chefs &

Cooks is to unite chefs and cooks across Canada in

a shared dedication to professional excellence. The

Federation was founded in 1963 and incorporated

in Ottawa as a non-profit association in 1972. It has

1,200 members nationally. Throughout its history

as Canada's most significant federally chartered

professional chefs' organization, the name of

the Federation has undergone several changes

to recognize the chef's continually changing

role in the kitchen and education. Membership

in the Culinary Federation is available to all

persons with career paths as a Cook Apprentice,

Journeyman Cook, Professional Chef/Cook or

Culinary Professional. Join colleagues from

London and the surrounding area for the relaunch

of the London branch of the Culinary Federation.

This isn't the same organization that you may

March/April 2020 | 47

remember or perhaps have been involved with

in the past. Contact Chef David Franklin, VP of

Central Region, for more information about CF

London. chefdavidfranklin@gmail.com, 226-7065,

culinaryfederation.ca

Stratford

Chef Kris Schlotzhauer and Pastry Chef Suzy

Schlotzhauer's restaurant AO Pasta is relocating to a

bigger and better space this spring (formerly Renee's

Bistro) and they are excited about this next chapter.

With the move, they will be welcoming Tom Van

Van Simpson - Scotia Wealth Management presents

April 25, 2020

at Museum London

$55 advance / $65 at the door

UPwithART.ca

Grand Bend's Annual Art, Culinary & Music Tour

MAY 1,2 & 3

OVER

24

LOCATIONS

GRANDBENDSTUDIOTOUR.COM
---
48 | March/April 2020

Oosterhout as a partner. AO Pasta will remain closed

until the projected early April reopening. aopasta.com

Sobrii 0-Gin is new to Stratford and is Canada's

first non-alcoholic gin. Sobrii is distilled in

Stratford in small batches at Junction 56

Distillery with zero sugar, zero calories and no

artificial flavours or sweeteners. Sobrii can simply

be substituted for gin in most cocktail recipes or

can be used to create a custom drink. Purchase

at Bradshaws & Kitchen Detail or Junction 56. 45

Cambria Street, Stratford. sobrii.ca

See Facebook for Weekly Specials!

Lunch Hours Available for Private Events

Locally Sourced Ingredients

Authentic Italian Cuisine

Local Craft Beers

Regional & Organic Wines from Italy

Take Out & Gift Certificates Available

Tuesday–Thursday 4pm–8pm

Friday & Saturday 11:30am–10pm

Sunday Brunch 11am–2pm, Dinner 3pm–7pm

Reservations Recommended

2135 Dorchester Road, Dorchester

519-268-0001

fatolive.ca

eatdrink.ca |@eatdrinkmag

Jobsite Brewing Co. began with a conversation

between Dave Oldenburger and Phil Buhler during

a break at a construction site. Their passion for

construction has turned into a new love for making

in-house local brews. Stop by for a visit and enjoy

a pint, flight or a made-to-order wood-fired

pizza. 45 Cambria Street, Stratford, 519-305-3335.

jobsitebrewing.ca

Braai House menus offer a South African-inspired

cuisine, focusing on open-fire cooking. The menu

is created by Executive Chef/co-owner, Anthony

Jordaan, who has been able to highlight some of the

fantastic flavours that come off of a South-African

braai, more commonly known as a wood-fired BBQ/

grill. Did we mention that they also microbrew their

own beer onsite? 34 Brunswick Street, Stratford,

519-271-5647. braaihouse.ca

Red Lion Room is a cozy, hip lounge in downtown

Stratford. It offers an extensive menu by Head

Chef Blake Anderson that includes snacks, shared

plates, pasta and grilled meats. All kinds of pasta,

sauces and breads are made in-house. Local

beers are featured on tap along with hand-crafted

cocktails. Enjoy live music with your dinner,

ranging from jazz to classic rock. 23 Albert Street,

Stratford, 519-272-1776. redlionroom.ca

Stratford Farmers Market, hosted by The Stratford

& District Agricultural Society, is one of the oldest

markets in Ontario. Vendors bring the finest cuts

of meat, vegetables, fruits, baked goods, coffee,

craft items and much more. Don't worry about

having breakfast before you arrive, and the

made-to-order BBQ has you covered for lunch with

sausage or back bacon on a bun. The Market will be

running until December 19, from 7:00 am – 12:00

pm. 375 McCarthy Road, Stratford, 519-271-5130.

stratfordagriculturalsociety.com

Stratford Chefs School Open Kitchen features

Cooking with Cannabis! With Canada's legalization

Picture Yourself:

• Relaxing on our patio ...

• Enjoying lunch, dinner or a snack ...

• Staying the evening in a room or suite!

Main Street, Port Stanley

(519) 782-3388

www.kettlecreekinn.com

information@kettlecreekinn.com
---
eatdrink: The Local Food & Drink Magazine

of cannabis, more and more people are interested

in safely exploring its medicinal properties and

recreational uses. At the SCS Open Kitchen class,

you will learn how to include the correct cannabis

oil breakdown, decarboxylation, the benefits of

infused butter versus oil, purification techniques,

how to store your infusion, and how to make

cannabis calculations when cooking. Perfect for

anyone curious about cooking with cannabis at

home. 136 Ontario Street, Stratford, 519-271-1414.

stratfordchef.com/open-kitchen

A recent expansion has added 20,000 sq ft of

greenhouses, giving organic grower Loco Fields a

total of 60,000 sq ft now, just outside Stratford. As a

supplier to many of the best local restaurants, they

grow a variety of mixed vegetables, specializing

in leafy greens, salad mixes, ginger, turmeric,

over 100 varieties of heirloom tomatoes, peppers,

specialty potatoes and other roots. Catch them

at the Market at Western Fair and Stratford's

summer Slow Food Market on Sunday, at specialty

food shops, and online. Cut micros and cut greens

are now available and sunchokes will be coming

out of the ground in April. Late summer, a major

expansion into local ginger and turmeric will be

harvested. info@locofields.com

Around the Region

We lost a dedicated farm-to-table advocate and

mentor when celebrated chef Michael Potters

passed away suddenly. A former Londoner, Potters

was a graduate of Sir Wilfred Laurier University

and studied Culinary Arts at George Brown

College. Leading the charge for positive change in

the restaurant industry, Potters was well-known

in Ontario's culinary circles for his decadeslong

career and influence as a chef, hospitality

consultant, educator and mentor. Potters' career

spanned The Little Inn in Bayfield, co-owner of

Harvest in Picton, Accolade at Toronto's Crown

Plaza, Spoke Club, Hockley Valley Resort,

Angeline's Inn in Prince Edward County and Milford

Bistro. Most recently he was the Executive Director

of CAPE Private Events in Picton.

Cowbell Brewing Co. is rolling into spring with

several exciting new beer releases. Back by

popular demand is Cowbell Brewing's Renegade

Series. Five new, limited-edition, small-batch

Renegades, featuring bold and exciting flavours,

will be available on draught and in 473mL cans.

The first Renegade Series beer will be launching

exclusively at the Cowbell Farm and online in April.

For Cowbell fans who cannot wait until April to

try new brews, Hazy Days, a Hazy Juicy IPA will be

Bring back "homemade"

again with Marshall's Pasta!

Reunions

Anniversary

Parties

Quality

Convenient

Meals

Healthy Food the Whole

Family Will Love!

We Cater!

Family

Functions

& More!

Birthday

Parties

Graduations

Baptisms

580 Adelaide St N, London 519-672-7827

MON–FRI 9:30am–7pm • SAT 9:30am–5pm • SUN 11am–5pm

Full menu available at marshallspastacatering.ca
---
Book

Now for

Mother's Day!

.COM

Over 300 Handcrafted Blends

& Fine Spices

Gourmet Foods • Kitchenware • Artisan Bread

Local Cheese • Cooking Classes • Gifts

OPEN DAILY

223 Colborne St., Port Stanley ON

519.782.7800

Sat & Sun. 900 King St., London

www.peppertreespice.com

eatdrink.ca |@eatdrinkmag

hitting LCBO and grocery shelves in March. Keep

an eye on Cowbell's social channels for updates

on all upcoming beer releases. 40035 Blyth Road,

cowbellbrewing.com

The Village Teapot in Ilderton is owned and

run by Gaynor Deeks and Jana Yassine. Gaynor

is originally from the UK, Jana from Chatham,

Ontario. They are tea drinkers, soup and sandwich

makers, and know a good scone when they see one.

Located in one of the oldest properties in the town,

believed to be at least 145 years old, in premises

that retain many period features. Reservations are

appreciated. thevillageteapot.ca

Elio and Kate Caporicci's Early Bird Coffee is a

small-batch, wholesale coffee roaster and café

situated close to where the 401 and 403 meet in

Woodstock. Their mission is simple, "To provide

Oxford County with a world-class coffee experience

by delivering the freshest, best tasting, small-batch

coffee in the region." They achieve this by using

only expertly-roasted, ethically-sourced, premium

beans. Since its inception, Early Bird Coffee has

found its way into the homes of many area families,

as well as onto the shelves of local businesses, such

as Habitual Chocolate and Beantown Coffee Co.

815 Juliana Drive, Woodstock, 519-532-3127

Chef Eric Boyar's sixthirtynine in Woodstock

delivers a homegrown Oxford County "from

scratch" farm-to-table Feast On certified

experience. An elegant and contemporary dining

room of 30 seats welcomes guests to a tasteful

and comfortable atmosphere. Front house service

is headed by Eric's wife, Jennifer Boyar, where

the emphasis is on unpretentious yet attentive

and professional service. Zach Lebert directs

the restaurant wine program, which features

both high quality regional VQA wines and unique

international wines. Wine selections change

regularly to suit the current menu. Additional

seating is available for up to four guests at the

Chef's Table, which provides guests an up-close

look at the talented kitchen crew in action. Service

is often headed by Sous Chef Sam Vandenberg, who

ensures guests at the Chef's Table have an engaging

and memorable experience. Tasting menus with

optional wine pairings are available upon request.

639 Peel Street, Woodstock, 519-536-9602,

sixthirtynine.com

Chocolatier and owner of Seed Confections,

Genevieve Scarfone's love of all things pastry

began in her teens. She enrolled in the Culinary

Management program at Niagara College. Later

Scarfone worked three summers at a luxury

golf course resort in Muskoka and spent winter
---
eatdrink: The Local Food & Drink Magazine

seasons in Banff as a baker. In 2009 she moved

to Vancouver, where she began her career as a

chocolatier learning the nuances of chocolate

production. While she was working as a sous chef

at Beta5 Chocolates in Vancouver, the team won

multiple Canadian and International Chocolate

Awards. In 2015, she moved home to St. Thomas.

Before starting Seed Confections she spent months

travelling the world solo, visiting Indonesia,

Australia, and New Zealand. It was on this trip she

created the concept of Seed Confections, which is

known for its signature macarons. All the desserts

are fresh, local and delectable. Scarfone has won

both silver and bronze awards in the Canadian

portion of the International Chocolate Awards. In

2018 she won a bronze medal at the International

Chocolate Awards in Italy for her Cranberry Sage

bonbons.159 Ross Street, St. Thomas, Ontario, 519-

207-4060, seedconfections.com

Steelhead Food Co. offers fresh locally processed

fish that are cleaned and cut at the Fish and Seafood

Market. Based in St. Thomas, Steelhead offers a

selection of premium quality fish, fresh oysters and

seafood — fresh, frozen, and smoked. 5 Barrie Blvd,

St. Thomas, 226-237-3474, steelheadfoodco.ca

The Southwest Ontario Tourism Corporation

(SWOTC) recently announced the finalists for the

2019 Innovation Awards. Innovator of the Year

finalists includes the Lavery Culinary Group's

Forest City Culinary Experiences, Lambton

Heritage Museum, and Texas Long Horn Ranch.

Innovator of the Year award recognizes businesses,

organizations and leaders that are building the

tourism industry within Ontario's Southwest with

purpose and passion. Innovative Experience of the

Year finalists includes Culture City X, hosted by

London Arts Council, Sweetest Smell on Earth –

Maple Dining Experience, hosted by Richardson's

Farm, and Truffle Camp, hosted by Cindy Walker's

Chocolatea. The Innovative Experience of the Year

award recognizes meaningful experiences, events,

and programming offered to travellers, that tell the

stories of Ontario's Southwest.

The former schoolhouse which houses The 1909

Culinary Academy was built in that year. Located

just west of Ayr, the building has been converted

into a chef-owned private culinary institute with a

restaurant-style kitchen. Executive Chef Murray

Zehr offers a lesson in community heritage

stewardship. Original details include slanted

blackboards, decorative tin ceiling, lighting

fixtures, trim, doors, wainscoting, hardwood floors,

dual entry foyer and the original schoolhouse

bell. The 1909 Culinary Academy is Canada's first

FINE FOOD FOR FINE PEOPLE

PRIVATE DINING ROOM AVAILABLE

Book Early for Sunday Brunch!

G R A C E R E S T A U R A N T

farm-to-table fine dining downtown

FOR SOLO TRAVELLERS

Travel Professionals International

1131 Nottinghill Gate, Suite 203, Oakville ON, L6M 1K5

647-689-3884, TICO registration #50013851
---
eatdrink.ca |@eatdrinkmag

EASTER

BRUNCH!

April 12

FLIGHTS & BITES

HALF PRICE Sharing Plates & Oysters

Tuesday–Friday from 3:30–5:30pm

SUNDAY INDUSTRY NIGHTS

20% OFF!

Join us for Mother's Day! Sunday, May 10

TUES–SAT Lunch & Dinner 11:30am to Close

SUNDAY Brunch 11am & Dinner

449 Wharncliffe Road South

519.914.2699

Your love of all things Italian begins at

Gift Cards

Available

519-652-7659 • HWY 401 & 4 • pastosgrill.com

chef training facility with a focus on agriculture

and hands-on techniques for food cultivation. The

dinner plate is ever changing. An invitation has

been extended by the 1909 Culinary Academy for

a complimentary 3-hour session with Chef Murray

Zehr, designed specifically for chefs, cooks and

restaurant managers. Tourism Oxford and SWOTC

are excited to partner with the Academy to offer

this free workshop for restaurants on Monday,

March 9, 1–4 pm. 5183 Trussler Road, Ayr, Ontario,

the1909culinaryacademy.ca

Chatham-Kent Tourism, in partnership with

Grey County Tourism, is hosting the third annual

Rural Tourism Symposium. This one-day event is

designed to raise the profile of rural tourism as an

integral part of the provincial and national visitor

experience. It targets those in the rural tourism

industry, and seeks to inspire tourism industry

professionals to redefine success by leveraging

up, capitalizing on opportunities and partnering

for success. Join Chatham-Kent Tourism as they

host rural tourism stakeholders, destination

marketing organizations and tourism businesses in

partnership with Grey County Tourism. Celes Davar

of Earth Rythms is the keynote speaker. Thursday,

April 23, 8:30 a.m. –3:30 p.m., Ridgetown College,

120 Main St E, Ridgetown, chatham-kent.ca/

Tourism/rural-tourism-symposium

The new Huron Waves Music Festival will formally

announce its inaugural Spring lineup at The White

Squirrel Golf Club and Restaurant (a Festival

sponsor) at 5pm on Tuesday, March 10. Artistic

Director is John Miller, who founded and ran for

18 years the renowned Stratford Summer Music

Festival, will bring programming that includes

four incredible women, each with a unique musical

perspective. Karen Gibson, founder of Britain's

Kingdom Choir that's famous for her "Stand By

Me" rendition at the royal wedding of Meagan

Markle and Prince Harry, brings her Choir for

performances in Goderich and Exeter and leads an

open, choral workshop for regional singers and

conductors. Barbara Croall, an Odawa First Nations

composer and educator rooted in Anishinaabeg

traditions, will be Huron Waves' artist-in-residence

with aboriginal youth at the Kettle and Stony Point

Hillside School. Anne Bourne, an Ontario specialist

in blending Nature's vibrations with the sounds of

human voices and musical instruments, will lead

Deep Listening experiences with walkers along the

shores of Lake Huron. And Leigh Ann Ryan, a St.

John's educator and signing specialist, will bring

the Newfoundland Deaf Choir to the music festival

to inspire audible-capable audiences with how the

partially and totally deaf create their music with
---
eatdrink: The Local Food & Drink Magazine

American Sign Language. Huron Waves Music

Festival will present concerts in Bayfield, Blyth,

Exeter, Goderich, Grand Bend, Hensall, Zurich and

points in between, May 7 to 17. Information and

tickets: huronwavesmusicfestival.ca

With an eclectic ambience and a contemporary

take on classic culinary favourites combined

with unparalleled service, the Chilled Cork offers

a culinary experience that inspires locals and

travellers alike. The restaurant is nestled within the

Retro Suites Hotel's century-old building located

on Chatham's "retro block." Guests are captivated

by the welcoming atmosphere and the exposed

brick walls, iconic pop-culture pieces, original

modern art and stunning neon. 22 William Street

South, 519-354-7818, chilledcork.ca

St. Marys Farmers' Market is running a pilot for an

indoor St. Marys Winter Farmers' Market this year,

funded by the Libro Prosperity Fund. The winter

market is open the first Saturday of the month

from 8 until noon at the St. Marys Legion. Vendors

include Edible Acres, Sheldon Berries, Forest Hill

Orchards, Ann Slater, Bradley's Lamb, Taylor

Heritage Hogs, Slater's Organic Meats, FAM Hot

Sauces, Black Sombrero, Syrian Bakers, Bespoke

Confections, Martha and Rachel, Breadtopia,

Pillitteri Estates Winery and Busy Momma.

stmarysfarmersmarket.ca/winter-market

Stonetown Artisan Cheese is a purveyor of Swiss

mountain-style cheeses, hand-crafted by master

cheesemaker Ramon Eberle. Using unpasteurized

milk from farmers Hans and Jolanda Weber's herd

of Holsteins, Eberle uses raw milk so that the cheese

ripens as naturally as possible while the flavours

improve with maturation. Cheeses and other local

products are available to buy on-site at the farm

store. 5021 Perth County Line 8 (Kirkton Road), St.

Marys, 519-229-6856, stonetowncheese.com

We want your BUZZ!

Do you have culinary news or upcoming events

that you'd like us to share?

Every issue, Eatdrink reaches more than

50,000 readers across Southwestern Ontario

in print, and thousands more online.

Get in touch with us at editor@eatdrink.ca

Submission deadline for the next issue:April 5

"Where everyone knows your game"

New Pro Shop!

18 Hole Golf Course • Year-round Restaurant / Bar

whitesquirrelgolfclub.com

7 km north of Grand Bend on Hwy. 21

BISTRO • CONFERENCE • SUITES • SPA

519-565-2576

Sunday Brunch

10am–2pm

Live Music

thurs & sat

LakeHouseofBayfield.com
---
54 | March/April 2020

eatdrink.ca |@eatdrinkmag

Theatre

A Captain Hook for Our Time

Laura Condlln in Wendy & Peter Pan at the Avon Theatre

By JANE ANTONIAK

Batten down the hatches theatregoers;

it is time for a gender switch

in a classic tale. Meet the 2020

version of Captain Hook: Laura

Condlln. She's ready to rock the boat with a

female swagger at the Stratford Festival this

season. "The world needs more female pirate

stories," says Condlln. "It's important to have

this complex, powerful man portrayed as a

woman by a woman," she adds.

Wendy & Peter Pan is a new adaptation, by

Ella Hickson, of the J.M. Barrie book, Peter

Pan. It opens on May 27 at the Avon Theatre

with previews beginning on April 24.

In this adaptation Hickson puts an

emphasis on the women in Peter Pan:

Wendy, Tink and Tiger Lily. "It's a female

kaleidoscope," says Condlln. She will play

the Captain as a woman, with the pronouns

changed and any references to Hook as a

male removed. "The essence of the Captain

is female," says Condlln. "However I am not

called she or her. I am only called Captain."

Her costume includes "killer boots" with heels,

and she wears pants. "It is sexy, masculine and

Laura Condlln. Creative direction by Punch & Judy Inc.

Photography by David Cooper..

feminine at the same time. I am not saying I

am androgynous, but it is interesting. We are

not in gender fluidity but there is a strong

person there that is being played as a woman."

Directed by Keira Loughran, the story has

other female plot lines such as Wendy and

Mrs. Darling fighting for women's rights, and

the Lost Boys looking for a mother, whom

they find in Wendy. "Playwright Ella Hickson

adapted Barrie's story with a subversive

spirit; she believed Neverland belonged to

Wendy as much as it did to Peter, and she

actively cracked stereotypes that have been

propagated through previous adaptations in

ways that were both hilarious and surprisingly

moving. I wanted to maintain that spirit

in our production and Laura embodied it

perfectly in her Hook. It won her the role; the

trio of Laura as Hook, Cynthia Jimenez Hicks

as Wendy, and Jake Runeckles as Peter, really

anchor the 2020 Canadian première of this

classic story," says Loughran.

Condlln lives full-time in Stratford and she

tapped a fellow Stratford actor, Jan Alexandra

Smith (who portrayed Scrooge as a woman

at the Grand Theatre,

London in 2018) for some

gender-switching advice.

"I saw Jan as Scrooge and

I have thought about that

role a lot. Scrooge was a

woman but she was very

masculine. This challenge

is totally thrilling and

terrifying in equal measure

for me," says Condlln.

Her Captain Hook will

"push me way outside

of my comfort zone,"

says Condlln. "What

are we as artists if we

are not treading into

the unknown? And I

am so grateful for the
---
eatdrink: The Local Food & Drink Magazine

opportunity to do that," she adds.

At Stratford, Hook will be hungry for

possession of power. She will also be obsessed

with Peter Pan — his youthfulness and

energy. And she will be melancholy about her

own aging. Condlln says she will draw on her

own emotions and parallels about being a

middle-aged woman in this reflective role.

"When we hit middle age we are in our

prime, for sure. Should we be so lucky and

there is time left, we start looking behind

us too. There is a beautiful section in this

adaptation where Hook reveals a deep yearning

for more time. I'm interested in discovering

what that means particularly for a woman."

Watch for Condlln's interplay with the

ticking crocodile, and her regard for Wendy's

ambition, and dependence on Tink and Tiger

Lily. This will be a not-to-miss female pirate

story in a very special Neverland, reminding

the audience that the complex desire for

power is not tied to gender.

JANE ANTONIAK is a regular contributor to Eatdrink.

She is also Manager, Communications & Media Relations,

at King's University College in London.

Hurry Hard

July 22 to August 15

A truly Canadian Award

Winning comedy about

curling, underdogs and

rising to the occasion.

20

20

SUMMER

THEATRE

SEASON

Written By

Kristen Da Silva

PortStanley

FestivalTheatre

(519)782-4353 www.psft.ca

The First Presentation in Our Inaugural Festival
---
56 world | March/April premiere

2020

A musical comedy

about the unbreakable

bond of family

GROW

eatdrink.ca |@eatdrinkmag

Book by Matt Murray

Music by Colleen Dauncey

Lyrics by Akiva Romer-Segal

Directed by Dennis Garnhum

april 14

to may 2

grandtheatre.com box office 519.672.8800

SE A SON

SPONSOR
---
eatdrink: The Local Food & Drink Magazine

March/April 2020 | 57

Books

Be My Guest

Reflections on Food, Community and the Meaning of Generosity

By Priya Basil

Review by DARIN COOK

Be my Guest: Reflections on Food,

Community and the Meaning of

Generosity (Canongate Books,

2019) by Priya Basil is an eloquent

book crafted with the same precision as the

eye-catching porcelain plate on the front

cover — gold and cobalt hues on a platter are

fashioned into garlic, wooden spoons, foliage,

forks, beans, serving pots, pasta bowls, and

human hands. The swirling design mesmerizes

and draws you into the book, where the

captivation with the visual is replaced by

an enthralling cascade of words about food,

religion, culture, love, politics, family, and

cooking — all set at a global dinner table that

is clearly Basil's comfortable place to bring

thought-provoking ideas.

Basil is a true global citizen with a melange

of cultures influencing her tastes as a food

lover, author, and activist. She was born in

England to Indian parents who moved to

Kenya to raise her. Living in Berlin as an adult

after marrying a German, she now dabbles in

the Sikhism of her ancestors as it relates to

treating all humans equally and altruistically

serving the community. But

her deepest cravings always

come back to her mother's

cooking, her most favourite

dish in the world, the essence

of her mother, the taste of her

home: the creamy curry dish,

kadhi. She writes, "Each bite

holds the flavour of the past

and the present, a lifetime

of my mother's love, her

unstinting hospitality."

Kadhi and many other

traditional Indian dishes are the

taste of home for Basil, which

has unfolded from her maternal

grandmother's kitchen. Her

Author Priya Basil

grandmother's

unconditional

desire to cook

for others is

legendary in

the family.

"She wields

ingredients

like weapons

and has

made food

the front line in a

fight for first place in the affections of

family." This often meant not letting others

in on the secrets of her recipes. Even though

being asked for a personal recipe is the ultimate

compliment, her grandmother hoarded them

in her brain and Basil tells us "if she was ever

cornered into explaining how to make a dish,

she deliberately left out key ingredients or

crucial steps." She never owned a cookbook and

never wrote down any of her recipes.

Whether or not a recipe comes from family

secrets or a cookbook, Basil writes, "The food

that is cooked for you is imbued with an

ingredient no recipe can list,

no culinary sleight of hand

can substitute: hospitality."

In her book, she delves

deeper into how hospitality

has many dimensions and is

not just about inviting guests

for dinner — although it

is that in spades for Basil,

who would undoubtedly

be an outstanding hostess.

Hospitality is also about

accepting refugees fleeing

from war-ravaged countries

by giving food, shelter, and

safety in the welcoming

arms of another culture or
---
eatdrink.ca |@eatdrinkmag

Destination for the food lover

Featuring specialty foods,

kitchenwares, tablewares,

cooking classes and gift baskets.

religion. Being a guest in the world means

having to be a continual host, to address

the needs of other humans by donating to

religious charities, volunteering time for

humanitarian services, feeding the hungry,

and eliminating as much food waste as we can.

We are all guests and hosts at differing

times in our lives. We all must be participants

in the give and take of life in varying

circumstances. Basil writes, "The way we

cook for and eat with others is one of the

more tangible, quotidian ways of measuring

generosity." Food gives us the chance to fall

into the social arrangements of inviting guests

to our homes for dinners that represent our

familial or cultural heritage, or the more

public display of fighting over a bill at the end

of a restaurant meal, but all we're really trying

to do is make ourselves feel at home wherever

we have settled.

115 King St., London Ontario

jillstable.ca 519-645-1335

DARIN COOK is a freelance writer based in Chatham

who keeps himself well-read and well-fed by visiting the

bookstores and restaurants in London.

FOR

TIME A

COME IN

rinkAd_2019.indd 1

SPRING TUNE-UP?

2019-06-18 11:37 AM

FOR

AN

OIL CHANGE

A fresh, new harvest of EVOO has arrived just in time for Spring!

Come say Hola, Ciao, Ya su, or Merhaba to our fresh crush

of Spanish, Italian, Greek & Turkish Extra Virgin Olive Oils.

The

Pristine

live

Est. 2012

884 Adelaide Street N.

884 Adelaide Street N. | London | 519-433-4444

www.thepristineolive.ca
---
eatdrink: The Local Food & Drink Magazine

March/April 2020 | 59

Recipes

Taste the Wild

Recipes and Stories from Canada

By Lisa Nieschlag and Lars Wentrup

Review and Recipe Selections by TRACY TURLIN

Lisa Nieschlag and Lars Wentrup are

the co-owners of a multi-awardwinning

communication and design

agency in Münster, Germany. He also

illustrates, designs and paints very cool retro

travel posters. She writes cookbooks, blogs

about food, and creates beautiful culinary

photography.

Sascha is a personal trainer based in

Münster. He also happens to be an avid

photographer who posts much of his art on

Instagram. He and his wife Ninja traveled

to Canada, documenting the natural beauty

along the way. The photos and stories they collected

were the inspiration for Taste the Wild:

Recipes and Stories from Canada (Lisa Nieschlag

and Lars Wentrup; Murdoch Books; 2019).

I enjoy reading cookbooks about Canada,

especially when they try to expand the

perception of Canadian food. I've been known

to complain about books that make it look as

if we spend our days eating blueberries and

salmon drenched in maple syrup, as if these

were the only foods our country has to offer.

My first instinct upon picking up Taste the

Wild was to dismiss it as one of these.

Actually, my first thought was that the

Lisa Nieschlag

Lars Wentrup

pictures were

gorgeous and

that the photographer

is a genius.

Upon

further

reading, I

found that

the food

shots

and the

ambiance

photos

were done by different

people. Okay, two geniuses. Still, the overdose

of maple leaves. And a Caesar with tomato

juice instead of Clamato? Isn't there a law

against that?

When I stopped being huffy long enough

to go back to Taste the Wild, it was these

imperfections that allowed me to see the

book in a different light. Maybe it's good to

see ourselves through a stranger's eyes once

in a while. The authors weren't treating our

food and customs as quaint habits of "the

Canucks," I was. They were embracing them,

reveling in the simplicity of a few

ingredients, blended well, in a relaxed

and casual way to make great tasting

food. That could only be more Canadian

if the food apologized for something.

I can argue against stereotypes all I

like but we really do have great salmon

here. And it does taste fantastic when

grilled on a cedar plank. And this

picture of it is stunning and makes me

wish it was summer, and I was sitting

at a campfire by a Canadian river eating

this dish with some potato salad and a

piece of fresh, crusty bread. And, yes,
---
60 | March/April 2020

there are recipes for both of those too.

At a count of 50 recipes, Taste the Wild is

a light cookbook. It feels more like the most

beautiful travel scrapbook I've ever seen.

Inspirational quotes and descriptions of

Canadian adventures that read like a brochure

for a camping resort. Many of the recipes

are what you'd expect to find. Hearty, rustic

fare, comfort food to eat while curled up by a

fire. That said, I found a recipe for Wild Rice

Frittata with Mushrooms and Bacon that

looks light and delicate yet is filling enough

for a mid-day meal. Prepare the wild rice

ahead of time and this could easily become a

Sunday brunch staple.

eatdrink.ca |@eatdrinkmag

If you prefer something sweeter with

brunch, try the Waffles with Salted Butterscotch

Sauce. Whisking and adding the egg

whites separately makes these ridiculously

fluffy on the inside. The sauce is gorgeous

enough to convert a die-hard maple syrup fan.

I haven't found anything it doesn't taste great

on, and I've poured butterscotch sauce on half

the food in my fridge. You know, for science.

Taste the Wild offers a fantasy about

running away to summer in the backwoods

of Canada. It may not be the most accurate

portrayal of our country, but it is a lot of fun.

Seriously, though, someone should tell them

about the Clamato juice.

Waffles with Salted Butterscotch Sauce

Serves 4

Whether with afternoon tea or as an indulgently

sweet breakfast, waffles make a delightful

treat at any time of the day. This recipe makes

particularly fluffy waffles, which are served

drizzled with a home-made butterscotch sauce.

Canadians love their butterscotch as much as

Australians love their mango.

1 vanilla bean

450 ml (16 fl oz) milk

1 tbsp sugar

200 g (7 oz) butter, melted, plus extra

for greasing

8 eggs, separated

1⅔ cups (250 g) plain flour

1 pinch salt

FOR THE BUTTERSCOTCH SAUCE

400 g (14 oz) brown sugar

1.2 litres (42 fl oz) single (pure) cream

1 tsp salt

Also: Raspberries, for serving

1 For the butterscotch sauce, caramelise the

brown sugar in a small saucepan over medium

heat, without stirring. Deglaze with the cream

(be careful, the caramel will be very hot!) and

simmer for about 5 minutes until you have a

creamy caramel sauce (it will thicken further as

it cools). Stir in the salt.

2 Preheat the waffle iron for the waffles. Split

the vanilla bean lengthwise and scrape out the

seeds. Combine the milk, sugar, vanilla seeds

and melted butter. Whisk in the egg yolks. Sift

the flour over the mixture and whisk until all

lumps have dissolved. Beat the egg whites and

salt in a large bowl until stiff. Gently fold into

the batter.

3 Grease the waffle iron. Add one ladleful

of batter at a time and cook the waffles until

golden brown. Serve the waffles with the warm

butterscotch sauce and fresh raspberries.
---
eatdrink: The Local Food & Drink Magazine

March/April 2020 | 61

Wild Rice Frittata with Mushrooms and Bacon

Serves 4

With its delicate long grains and a nutty taste,

wild rice is very different from plain rice in both

appearance and taste. This shouldn't come as a

surprise, as wild rice is actually the seeds of a

wild reed grass that is not related to rice at all.

It imparts a wonderful flavour to this frittata

and makes it a satisfying meal.

⅔ cup (125 g) wild rice

1 tsp salt

5 eggs

2 egg whites

3 sprigs parsley

½ tsp salt

½ tsp freshly ground black pepper

¼ tsp freshly grated nutmeg

1 red onion

2 tsp olive oil

1 sprig rosemary

200 g (7 oz) mixed mushrooms

(chanterelles, button mushrooms)

3 small slices bacon

½ cup (45 g) grated parmesan

1 Place the wild rice in a sieve and rinse

thoroughly in cold water. Transfer the

rice and salt to a saucepan together with

230 ml (7.34 fl oz) water. Bring to the boil.

Cover with a lid and simmer the rice over

low heat for 40–50 minutes. Drain and set

aside.

2 Whisk the eggs and egg whites in a bowl.

Rinse the parsley and shake off excess

water. Pick off the leaves and chop

finely. Stir the parsley, salt, pepper and

nutmeg into the egg mixture. Peel and

finely dice the onion. Heat the olive oil in

an ovenproof frying pan. Add the onion

and sweat until translucent. Rinse the

rosemary and shake off excess water. Pick

off the leaves and add to the onion. Wipe

the mushrooms with a clean tea towel and

halve. Transfer to the pan, increase the heat to high

and sear. Reduce the heat and add the wild rice.

3 Preheat the oven using the grill function. Pour the

egg mixture into the pan and allow to set over low

heat. Top with the bacon and parmesan. Transfer the

pan to the oven and bake the frittata under the grill

for about 5 minutes.

TRACY TURLIN is a freelance writer and dog groomer

in London. Reach her at tracyturlin@gmail.com

Images and text from Taste the Wild by Lisa Neischlag and

Lars Wentrup. Murdoch Books RRP $37.99
---
62 | March/April 2020

The Lighter Side

Stop the Press

eatdrink.ca |@eatdrinkmag

By SUE SUTHERLAND WOOD

Afriend from a large family was recently

reflecting wistfully on the light and

sumptuous pancakes that his mother

— who worked full-time — would

often prepare for the family on Sundays.

"It's funny though," he said, scratching his

chin thoughtfully. "I never saw her eat one

herself."

My own suspicion is that she ate the first

abstract, malformed efforts right out of the

pan and counted that as her own breakfast,

since making pancakes for a

crowd is something that should

be over as soon as possible. Still,

life as a woman is chock-full of

doing things for others that we

do not always find enjoyable but

do anyway. Automatically.

I think we can all agree that

no one wants to return to

the old Mad Men days when women were

unapologetically kept down and could not

rely on equality in or outside of the home.

But it seems important to note that during

those so-called simpler times, the many

activities today that we consider de rigueur

— gym memberships, children's competitive

sports/dance lessons, committee/coaching

commitments — did not exist, at least to

the same degree as today. Similarly, the way

people ate dinner only a few decades ago was

extremely predictable and, therefore, less

complicated. Sunday was a roasted something,

then leftovers, maybe a midweek chop or two

and then the whole cycle was repeated. Again,

not only did other options not occur (there

were no "Memories of Szechwan") but without

FoodTV, recipe blogs and Instagram, the only

celebrity chef was "Boyardee."

My own mother, a person of some

resilience, once presented "Turkey Tetrazzini"

— leftovers transformed by a curious powder,

flecked with green — and was rewarded with

familial outrage. The "strangeness" of it all was

too much for my father, who was rattled by

suddenly not having the same-dinner-every-

Wednesday of his life. As a child, I found it

exotic and happily lapped up every one of

those (way) beyond al dente noodles.

The point is, that even though women

today have a much better chance of "having it

all," none of the traditional expectations have

actually been dropped. In fact, many more

have been surreptitiously grafted on. Meal

planning is now a daunting task since dinners

must not only be healthy, frugal, locallysourced

and fast, but everyone must enjoy it.

This, I think is especially unique to our times.

Back in the day, enjoying

dinner was a nice bonus,

but certainly not a primary

concern. Providing a decent

meal (no one worried about

processed foods!) was enough.

Lack of time and guiltfueled

exhaustion have now

created an industry that will

not only deliver meals but also cater to dietary

preferences. Millennials especially are hugely

comfortable with this concept and definitely

don't expect to eat the same thing every day.

The dietary bar is set high. Instagram proves

that "regular cooks" are making expensive

enamelware, sous-vide machines, and a

working knowledge of Kombucha positively

mainstream.

For women running their own businesses

and single mothers particularly, exhaustion

and self-sacrifice are an accepted part of life as

they try to do everything, and do it well. But

it's time to be kinder to ourselves. An hour on

Sunday to read, or a quiet glass of wine as the

pasta water boils is not too much to ask. Make

sure it happens. Regularly.

I recently read an article in which a woman

likened her chaotic life to being slowly

squeezed in a panini press. The fact that she

made this analogy, and that we all understand,

says it all.

SUE SUTHERLAND WOOD is a freelance writer and

regular contributor to Eatdrink. Read more of Sue's work

on her blog www.speranzanow.com .
---
CHATHAM-KENT • ELGIN • HURON • LONDON • MIDDLESEX

OXFORD • PERTH • SARNIA-LAMBTON • WINDSOR-ESSEX-PELEE ISLAND

Local Flavour

SOUTHWEST ONTARIO

CULINARY GUIDE

Restaurants • Specialty Shops & Services • Farmers' Markets

Craft Beer & Local Wine • Agri-Tourism Attractions

eatdrink

The LOCAL Food & Drink Magazine

EXPANDED

EDITION

VOLUME 8

NOW AVAILABLE!

In print. Online. Everywhere.

localflavour.ca
---
TASTE THE

MARKET

Local favourites under one roof.

130 King Street, London

Market Hours: Mon-Fri 8am-7pm,

Sat 8am-6pm and Sun 11am-4pm

www.coventmarket.com