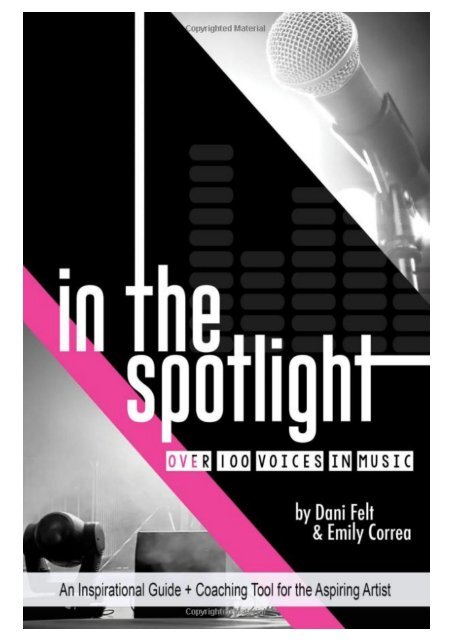 In the Spotlight: Over 100 Voices in Music by Emily Correa
I wrote this text in 2015 and I hope oyu can enjoy this FREE copy! If you wish to explore a free coaching session with me, please book a time here: https://UltimateSparkCoaching.as.me/?appointmentType=12233659 20 years in the arts #MillennialLifeCoach
I wrote this text in 2015 and I hope oyu can enjoy this FREE copy!

If you wish to explore a free coaching session with me, please book a time here:

https://UltimateSparkCoaching.as.me/?appointmentType=12233659

20 years in the arts #MillennialLifeCoach
SHOW MORE
SHOW LESS
Create successful ePaper yourself
Turn your PDF publications into a flip-book with our unique Google optimized e-Paper software.
In The Spotlight: Over

100 Voices in Music
---
In The Spotlight: Over

100 Voices in Music

❖ ❖ ❖

Dani Felt & Emily Correa
---
Legal Information and Disclaimer

In the Spotlight: Over 100 Voices in Music

Copyright © 2015 by Dani Felt and Emily Correa

All Rights Reserved. No part of this book may be reproduced in any form without

permission in writing from the authors. Reviewers may quote brief passages in

reviews.

Disclaimer and FTC Notice

No part of this publication may be reproduced, stored in a retrieval system or transmitted

in any form or by any means, electronic, mechanical, photocopying, recording

or otherwise, without prior permission in writing from the publisher.

While all attempts have been made to verify the information provided in this publication,

neither the author, nor the publisher assumes any responsibility for errors,

omissions, or contrary interpretations of the subject matter herein.

This book is for entertainment purposes only. The views expressed are those of

the author alone and should not be taken as expert instructions or commands. The

reader is responsible for his or her own actions.

Adherence to all applicable laws and regulations, including international, federal,

state, and local governing professional licensing, business practices, advertising,

and all other aspects of doing business in the US, Canada, or any other jurisdiction

is the sole responsibility of the purchaser or reader.

Neither the author nor the publisher assumes any responsibility or liability whatsoever

on the behalf of the purchaser or reader of these materials.

Any perceived slight of any individual or organization is purely unintentional.

ISBN: 1512270482

ISBN 13: 9781512270488

Library of Congress Control Number: 2015908039

CreateSpace Independent Publishing Platform

North Charleston, South Carolina

Reviews for In The Spotlight:

Over 100 Voices In Music

❖ ❖ ❖

"Inspiration' is a fitting title for Chapter 1 of In The Spotlight: Over

100 Voices In Music!

The anecdotes shared in the 'Keys to Success' portion illustrate that

inspiration can come from anywhere and anyone. The 'Featured

Interview' with Broadway star Joanna Christie reminds readers that

self-belief is the biggest 'Key to Success'. Authors Dani Felt and Emily

Correa have created a motivational guide that is sure to inspire."

- Steve Gordon, Entertainment Lawyer, Author of "The Future of the

Music Business"

"Thank you for sharing these words of wisdom. The first chapter

"Inspiration" is like "Chicken Soup for the Soul" by Jack Canfield.

The stories are short and to the point, ego free, and without long

drawn out rhetoric. Many artists and new industry people want to

know experiences from both the indie and the established. Never

has a book been written where you get the personal inside scoop

from artists themselves, I felt as though I was in group therapy! Stay

blessed!" -Andrea Arroyo, Music Artist

v
---
Reviews for In The Spotlight: Over 100 Voices In Music

In The Spotlight: Over 100 Voices in Music

"What an amazing way to reach creatives around the world by delivering

such an inspirational book. It showcases stories and keys

to help you unlock your inner power, to keep going and to focus

always on your art and creativity without boundaries. This is one

of the toughest times right now to be an artist since we are fighting

such a crisis of survival and this book helps and inspires you to

strive for what you believe in. I am blessed to be one of the featured

artists and think this is already one of the best things I could have

done in my career this year, opening and sharing my story to inspire

other musicians and artists. What a great job Dani and Emily have

done taking their time to put this all together! I wish from the bottom

of my heart that this book reaches millions of people all over the

world"- K'Sandra, Performing Artist

"Inspiration" has caused me to reflect about my own journey – I look

forward to reading more of "In the Spotlight" to gain more insights

into different strategies I can use to reach my goal as an artist."

Elena Murzello, Author of "The Love List"

"I am so blessed to be a part of Creative Spotlights in this book.

As an artist working from the ground up, it can feel like pushing a

boulder uphill to just move forward a half step in your career. Dani

and Emily`s bravery in starting this book and their online presence is

HUGE. Not only does it validate artists as performers, it showcases

talent as talent…not needing labels or producers to be the middleman.

I have so appreciated Creative Spotlights' kindness and opportunity

in my life"

- Michelle Anderson, Performing Artist

"While the book title suggests that the content will only pertain exclusively

to the musically inclined, varying artists at any stage in their

career can benefit from these words of wisdom. I enjoyed reading

the featured interview with Broadway actress, Joanna Christie depicting

her trials and tribulations throughout her career. Her thoughts

on using self-belief as an internal compass resonated with me, especially

when navigating through difficult times. The first chapter

vi

vii
---
Special Thanks

❖ ❖ ❖

"I would like to thank God, my family Lori, Eric,

Morgan, Michael, my partner Zach, Emily my amazing

and genius Co-Founder and all of my friends for

their constant support and believing in me no matter

how crazy my dreams might have seemed."

- DANI FELT

"I would like to thank my business partner and best friend

Dani for all the hundreds of hours we spent analyzing every

corner of this book! Also all those people in my life that

believed in our dreams and heard me chatter endlessly,

especially my partner John. As always, I am thankful to

God, divine presence, in all forms I was approached in

light and love with a clear direction on all parts of this

work. It wasn't always easy, but always enlightening."

- EMILY CORREA

We also give thanks to our Creative Spotlights Team + Supporters,

without your belief in the vision of Creative Spotlights, we wouldn't

know the depths of what could be…

ix
---
Our Creative Mission:

❖ ❖ ❖

In November 2013, Dani Felt and Emily Correa partnered up

on an amazing idea to support the over 300 music artists and

professionals

Creative Spotlights had featured over 4 years of hard work;

the design of an inspirational guide with words of advice on the

music industry

by those who are in it!

Our mission is to provide a truly motivational resource

of life and career advice for the music artist to:

1. Truly understand their creative gifts

2. Learn how the industry really works

3. Ultimately understand what it takes to compete at higher

levels in the music industry

We hope as you read this book you become as inspired, empowered

and strategic as we have become from creating this book!

xi
---
Table of Contents

Reviews for In The Spotlight: Over 100 Voices

In Music · · · · · · · · · · · · · · · · · · · · · · · · · · · · · · · · · · · · · · v

Special Thanks · · · · · · · · · · · · · · · · · · · · · · · · · · · · · · · · ·ix

Our Creative Mission: · · · · · · · · · · · · · · · · · · · · · · · · · · · ·xi

How to Use This Book · · · · · · · · · · · · · · · · · · · · · · · · · · xv

Foreword: The First Note · · · · · · · · · · · · · · · · · · · · · · · ·xix

Chapter 1 Inspiration · · · · · · · · · · · · · · · · · · · · · · · · · · · · · · · · · · · · 1

The Coach's Perspective: Staying Inspired · · · · · · · · · · 11

Featured Interview: Joanna Christie, Broadway

Star from "Once" · · · · · · · · · · · · · · · · · · · · · · · · · · · · · · 13

Chapter 2 Realities of the Music Industry · · · · · · · · · · · · · · · · · · · · 25

The Coach's Perspective: Knowing the Industry · · · · · · 35

Feature Interview: Trevor Gale, Vice President

of SESAC · · · · · · · · · · · · · · · · · · · · · · · · · · · · · · · · · · · · 38

Chapter 3 First Steps · · · · · · · · · · · · · · · · · · · · · · · · · · · · · · · · · · · · 51

The Coach's Perspective: Walking a New Path · · · · · · · 61

Featured Interview: David Schuler, Award-Winning

Music Producer · · · · · · · · · · · · · · · · · · · · · · · · · · · · · · · 65

Chapter 4 Creative Belief · · · · · · · · · · · · · · · · · · · · · · · · · · · · · · · · 77

The Coach's Perspective: Designing Your Vision · · · · · · 87

Featured Interview: Steven Memel, Celebrity

Vocal Coach · · · · · · · · · · · · · · · · · · · · · · · · · · · · · · · · · · 90
---
Chapter 5 Power Relationships · · · · · · · · · · · · · · · · · · · · · · · · · · · 103

The Coach's Perspective: Building your Network · · · · 113

Featured Interview: David Dufresne,

CEO of Bandzoogle · · · · · · · · · · · · · · · · · · · · · · · · · · · 117

Chapter 6 Words to the Wise! Creating Your Artistic Armor · · · · 125

The Coach's Perspective: Hold Your Armor High · · · · 135

Featured Interview: Steve Gordon, Famed

Entertainment Lawyer · · · · · · · · · · · · · · · · · · · · · · · · · 138

Chapter 7 Dream Collaborations · · · · · · · · · · · · · · · · · · · · · · · · · 149

The Coach's Perspective: Inspired by Greatness · · · · · 157

Featured Interview: Noah Guthrie, YouTube

Superstar · · · · · · · · · · · · · · · · · · · · · · · · · · · · · · · · · · · 159

Chapter 8 Music in Five Years · · · · · · · · · · · · · · · · · · · · · · · · · · · · 167

The Coach's Perspective: Vision in Music · · · · · · · · · · 175

Featured Interview: Benji Rogers, CEO of

PledgeMusic · · · · · · · · · · · · · · · · · · · · · · · · · · · · · · · · · 178

Chapter 9 Legacy: Leaving Your Art Behind · · · · · · · · · · · · · · · · · 189

Coach's Perspective: Leaving your Legacy · · · · · · · · · 211

Featured Interview: Lou Plaia, Co-Founder

of ReverbNation · · · · · · · · · · · · · · · · · · · · · · · · · · · · · · 214

Chapter 10 The Laws to the Ultimate Creative Spark · · · · · · · · · · · 223

About the Authors · · · · · · · · · · · · · · · · · · · · · · · · · · · · 229

Special Thanks to our Writers · · · · · · · · · · · · · · · · · · · 231

Creative Directory · · · · · · · · · · · · · · · · · · · · · · · · · · · · 235

Our Sponsors · · · · · · · · · · · · · · · · · · · · · · · · · · · · · · · · 241

What's Next? · · · · · · · · · · · · · · · · · · · · · · · · · · · · · · · · 247

How to Use This Book

❖ ❖ ❖

Congratulations on taking the next step to truly empowering

yourself as an artist!

THIS BOOK HOLDS 10 INSPIRING chapters ranging from "Inspiration," "First

Steps," "The Realities of the Music Industry," all the way down to

"Legacy".

Chapters 1 through 8 each begin with a personal story from Dani

Felt, the CEO & Founder of Creative Spotlights. These chapters hold

over 40 key pieces of advice from the over 100 music artists featured

in this book! Look out for Dani's best business and life strategies called

Keys to Success to stay on track.

Included in each chapter is a special full length interview

by Emily as

our top entertainment writer with one of the industry's highly-respected

music professionals.

Chapter 9 spotlights an amazing Inner Circle Roundtable of music

industry professionals and "movers and shakers" showing how they

feel their legacy will make a difference in music.

Each chapter ends with the coach's perspective by Emily Correa,

a certified life/business coach for those in arts + entertainment and

xv
---
How to Use This Book

Founder of Vida Linda Coaching. You will find specially designed

exercises to empower, guide and motivate you to connect to your

highest creative purpose. This way you can use your new awareness

to attract true prosperity, make better business decisions and swiftly

bring forward your dreams!

As a special bonus, we are including her exclusive tool, "The Laws

of The Ultimate Creative Spark" for Chapter 10 to help raise your creative

energy immediately and enhance your luck.

What to do next:

Grab a journal/notebook/pen or IPAD and find a favorite place to

reflect and strategize!

When you are done reading In the Spotlight: Over 100 Voices in

Music, we have some special invites for you too...stay tuned!

xvi
---
Foreword: The First Note

❖ ❖ ❖

MY NAME IS DANI FELT, the CEO of Creative Spotlights. I would like to

start off by sharing with you the story of how Creative Spotlights was

born. As I write this book, I am still reaching for my dreams. I have always

felt that I was born as a mover and a shaker, and that I was meant

to create great changes in this world. I didn't know it at the time, but

my trip to London in 2011 to learn about the music scene was going to

be the start of just that. It began while I was volunteering to sell raffle

tickets for a music therapy foundation at a Stevie Wonder concert.

While standing in the VIP area, this tall, handsome British guy caught

my immediate attention. I walked over to sell him a ticket. I told him

he looked "like an artist." Little did I know that sentence was bound

to plant a seed, a creative connection to the development of Creative

Spotlights that would blossom with time.

Upon returning to the United States for my junior year, I became

more interested and involved in the music scene. I decided to start a

music blog. I started out by searching for my favorite bands online. I

proceeded to email them fun questions, such as "What's your favorite

color?" and "Who would you go on a date with and why?" Given the

fact that I had always wanted to be a singer, combined with the rise

of social media marketing, this was the perfect way for me to connect

with the artists I admired.

Eventually, I started showing my new online project to some of my

friends, who all enjoyed reading it. It was the excellent feedback that

xix
---
Foreword: The First Note

In The Spotlight: Over 100 Voices in Music

encouraged me to showcase the site on Facebook. Next, I realized it

couldn't hurt to make my website project known to my acquaintances,

(you know, those people who end up on your list of friends, but you

maybe talk to them once a year). One of them happened to be Henry,

the cute British musician I met in London. While most people were

telling me they liked what I was doing, Henry's response was more

elaborate.

Henry wanted to partner with me and make the blog useful for

other artists. He suggested we formulate new questions that would

serve as advice for their careers. Henry is a painter and a musician,

so he understood firsthand what it was like to be looking for clear,

defined guidance. After brainstorming for weeks together, we developed

fifteen basic questions for musicians that, if answered correctly,

would serve as a road map to a fruitful artistic career. Once the new

questionnaire was online, I started to get more in-depth responses

than I had gotten in past interviews. I suddenly began to understand

how my blog could effectively offer insight.

In time, Henry and I realized that if we were going to take our joint

endeavor seriously, we needed our own domain, and that was how the

name "Creative Spotlights" was created.

It didn't take long for Creative Spotlights to be discovered by PR

companies whose representatives contacted me to feature their artists

on the site. Although I originally created the blog for fun, I was increasingly

investing more time into it. As a result, it had become a more

serious avenue for me to explore.

Three years later I realized that Henry's focus had drifted more

towards the visual arts while my heart had always belonged to music.

Therefore, I decided to purchase his percentage of the company from

him and revert Creative Spotlights back to my original vision. Finally,

my website was solely dedicated to the music industry. That way, the

website became more manageable. Once there was a more defined

focus, it became easier to identify, target and market to an audience.

(This would change again in 2015, as CS took a more expansive

direction into all the arts; Music, Fashion, Acting, Photography and

more through the design of our first artist development program...)

In 2013 Creative Spotlights was reborn and I moved to New York

City. In order to recruit new writers to interview artists for the website,

I submitted a post on LinkedIn, and other internship sources. This is

how I met Emily Correa. Like me, Emily was a creative entrepreneur

passionate about the arts with her business, Vida Linda Coaching. As a

certified life and business coach she was looking online for new creative

projects to be a part of and came across my ad by fate. Entertainment

writing for Creative Spotlights would expose her to the world of music

that I loved so much.

After spending two years in New York City she came to understand

the value of networking, which motivated her to host events

for her Meetup group, NYC Artists On The Rise. Her group attracted

a variety of artists including actors, painters, singers, photographers

and many more. Emily's understanding of art and music along with

her coaching background made her ideal for interviewing the music

professionals that Creative Spotlights began attracting. We started

getting full length interviews with producers, such as Dave Schuler

(John Legend, Pink), Doug Fenske (Chris Brown, Emily Osment), as

well as the CEO`s of music companies such as Bandzoogle, Featured.

me, ONErpm and PledgeMusic. Creative Spotlights' expansion into

music was growing at a swift speed.

Emily and I both had very similar goals: to transform the entertainment

industry by using our growing network to inspire and guide

artists. During a business call with Emily, I asked her advice on what I

could do to take Creative Spotlights in a new direction for 2014. Emily

suggested we create an inspirational book using key career strategies

and life lessons from all the interviews CS had completed. We decided

to feature quotes from the over 300 interviews Creative Spotlights had

showcased on the website. The book you are reading is a culmination

of hundreds upon hundreds of hours of work and over 1 year of business

meetings, coaching sessions, research and a lot of NYC coffee!

xx

xxi
---
Foreword: The First Note

My favorite part about forming Creative Spotlights is how I've had

the opportunity to reach out to new levels of people from the music

industry, from not only music artists and their labels and publicists,

but also CEOs, celebrity producers and vocal coaches, making great

marks in the music industry. I mean, how often does a 25-year-old

indie singer-songwriter get to have inside access to the inner world of

the entertainment industry professionals' best kept secrets and insight

for success? What I had was golden.

xxii
---
CHAPTER 1

Inspiration

❖ ❖ ❖

MY CREATIVE JOURNEY IN MUSIC started when I was five years old, when I

used to put on performances for my parents. I would dress up as my

favorite nursery rhyme characters, stand on top of a yellow bucket,

and pretend I was "on stage". I was one of the lucky ones as a young

artist; my parents always supported everything I did and told me to

follow my dreams. This gave me great confidence in my passion for

singing. I truly believe I would never have gone as far as I have today if

it wasn't for their constant support.

When I was around nine years old, I was blown away by this 10-yearold

in my art class who had an amazing voice. Every time she opened

her mouth to sing I was in awe. I asked her what her secret was, and

she told me it all came down to voice lessons. I realized that was the

answer to becoming great at what I loved, and I started weekly lessons.

I found them to be an amazing tool that truly shaped me into the

acoustic folk singer I am today.

As I grew older, and entered middle school, I had a hard time fitting

in. I started to get picked on a lot. I used to come home every

week and cry in my mom's arms. Throughout the years, I learned how

to use my songwriting ability and voice as a way to channel my frustration

into something beautiful; something people could relate to.

Songwriting was an incredible experience and an outlet for me. I

used to write many songs, mostly sad music, because I was not a very

happy child. Then in middle school, I decided to try out for the school

1
---
Inspiration

In The Spotlight: Over 100 Voices in Music

talent show, and I made it! From that moment on, I knew I was going

to make music a big part of my life. There's nothing like the feeling of

an audience cheering your name and strangers congratulating you -

people who you never would have spoken to otherwise. It was a glorious

sensation.

By the time I was 14 years old, I found a songwriter workshop camp

to attend in New Hampshire. It was that summer that helped me become

the outgoing person I am today. I was forced to introduce myself

to strangers, and from that experience, I learned I had a love for

connecting with new people. This camp was a monumental step in my

journey as a singer as there we were taught how to write simple structures

for a song. I would create lyrics and vocal melodies, and then the

director would come up with the guitar parts, and help me mold it into

a finished product: a song. We would then record all of our songs in a

studio and perform them for all the parents at the end of the summer.

From then on, songwriting became my number one passion, so

I applied to college to study music business. In college, I joined the

Music & Entertainment Industry Student Association (MEISA). One day

I suggested creating a compilation album to raise money for breast

cancer awareness. I waited for weeks, yet no one seemed interested

in moving forward with the idea. I asked once again, and one of the

board members suggested I should create it as my own personal project.

I had never been in a leadership position like that before, so I was

pretty nervous but I decided to embrace the challenge. It took quite a

while, but soon enough, I had found the bands to put on the compila-

tion album, which was later titled "A Minor Effort for A Major Cause".

I designed the cover and promoted the CD to friends and family, as

well as on my college campus. Between my dad promoting it to all his

work friends, and my efforts in pushing it to everyone in my network, I

got to hand the Linda Creed Breast Cancer Foundation a $1,000 check

that summer. Doing that made me realize how much I loved leading

and being an entrepreneur. I also realized how much I loved to make a

difference using the power of music and how music can be used as a

tool to implement change. That summer The Philadelphia Inquirer

ran

that story and featured me as a "citizen of the week".

"It's amazing what we can do when we try."

– DANI FELT

Keys To Success:

Connection: If you are looking to expand your business network, LinkedIn

is a great place to start. It is similar to Facebook, but you connect with

people in a more professional setting. On LinkedIn you can create profiles,

get testimonials, post projects, and connect with an abundance of

people to help build your network even further. I highly recommend signing

up on LinkedIn. Connect with Creative Spotlights on LinkedIn today.

Community: If you are looking to expand your network, another tool to

use is www.meetup.com. This is a platform that makes it easy to meet new

people with similar interests as you. There are Meetup groups for singer/

songwriters, producers, actors, writers, and many more. Some events are

free while some cost money. You can also start your own group by becoming

an organizer, although you would have to pay a fee for that.

"Everyone has a special someone, a cool event or a combination of

experiences that first ignited their passion for music. Here is what

some artists had to share! Hopefully their words can serve as inspiration

for you." - Dani Felt, CEO of Creative Spotlights

"The true artist will produce higher quality work with a balanced,

multi-dimensional experience. As such, I am inspired by great human

beings who have changed history, not just musicians. Ultimately,

greatness is my biggest inspiration and by comparing myself to the

2 3
---
Inspiration

In The Spotlight: Over 100 Voices in Music

all-time greats, I always know that there is more work to be done and

that my own meager efforts are nothing compared to theirs. There

is always the next level – always push for it." - Leo Freire, Session

Drummer, Queens, NY

"I remember being asked to sing at almost every family gathering since

I was four, and that's really where the 'fire' for singing began. I would

credit my family and friends as being the ones who have always, and

will always, support my passion for music." - Christian Hollingsworth,

Entrepreneur, Model, Singer/Songwriter, CA

"Since a very young age, I always had the most fun performing in

school plays, singing and making costumes and getting dressed up

and becoming another character. I expressed very early on my emotions

through singing and songwriting instead of just talking about

myself or my problems. I was never a very good talker and swallowed

a lot of pain, but through music, found a way to process all my

emotions. Music has been a passion and healer for me all my life." -

K'Sandra, Singer, Los Angeles, CA

"I would have to say my biggest inspiration is my Mom. My mom was

a single mother who worked 4 jobs to keep a roof over our heads and

food on the table. My mom worked so hard to bring me to Broadway

shows and put me in dance classes. My mom always brought me to

NYC to see as many shows as possible. I have always had a love for

NYC." - Andrea Benham, Singer, NJ

"When I was playing alto sax in the seventh grade school band, I went

over to a band mate's house to play some music. His brother had a

keyboard, and when I saw him overdub a hi-hat, my mind was blown.

That was an epiphany. I thought it was the coolest thing I'd ever seen or

heard. At age 17, I decided I wanted a career in record production." -

Doug Fenske, Producer, Los Angeles, CA

"I feel like I was born with songs in my head, so it's hard to say who,

or what, first ignited my passion. However, there are quite a few artists

that have forever changed me. The most obvious of them being

Michael Jackson. Watching his sheer magnificence ignited a burning

desire in my heart that hasn't ever gone out. He changed my perspective

on the purpose of a song." - Alexa Falk, One Half of Country Duo:

Falk, UT

"Sofia Gubaidulina, James MacMillan, Betty Olivero and other contemporary

composers allow me to experience music to the fullest.

The same goes for players and conductors; the score, their musical

understanding, education and technical abilities are reflected in every

note, phrase and musical gesture. To experience their remarkable

works taught me from what inner place I should approach my own

compositions." - Gilad Hochman, Classical Music Composer, Israel

"It's very coincidental to be giving this quote on this day. My grandmother

(who passed away one year ago today) is the reason I got into

music. Some of my earliest memories are of my grandma putting a tambourine

in my hands, teaching me words to songs, and us just marching

around her living room singing and dancing. I was hooked. Whether it

be performing, writing, or working in the industry, music has been a

part of my life ever since." - Jesea Lee, Musician/Publicist, NYC

"My biggest inspiration is the thought...the prospect... of living life at

your highest potential. Seeing the emotional and mental garbage that

we are subject to everyday, but overcoming it in order to bring our

deepest imaginations, of a perfect life, into fruition. This is what I like

to write about most." - Stephen Rivera, Rock Vocalist and Producer,

Los Angeles, CA

"My passion for music came at a young age. When I was 10 years old

I was diagnosed with Hodgkin's disease. While undergoing treatment

4 5
---
Inspiration

In The Spotlight: Over 100 Voices in Music

in the hospital, as part of recreation, we were able to go and play

instruments. Playing made me forget about the treatment and what I

was going through for a little while." - Charlie Scopoletti, CT

"Listening to everything. I try not to let one specific thing be my main

inspiration ever, because I don't want to fall into a sound derivative of

something else. Every song I hear, I think, subconsciously inspires me.

I just want inspiration to come naturally, I think that's where the best

songs come from - a headspace where you don't even have to think

about it." - The Ready Set, IN

"My parents. They are such strong authentic hard working people. My

father was in the Emergency Service unit of the NYPD for 23 years and

my mother (after raising 5 children) is starting her career as a therapist.

It is very easy to lose track of reality in the rush of this business.

But my parents are a constant reminder of the truthful simple day to

day problems that everyday people face." - Marrick Smith, Broadway

Star and Singer/Songwriter,

NYC

"When I was six, a babysitter gave me a toy piano. I played it until the

batteries ran out. That's when I had that moment of discovery: 'This is

what I'm built for!' " - Alexis Babini, NYC

"Everything and everyone in my life. I am a sponge, affected and impacted

by everything around me. I am also really interested in selfexploration

and cannot help, but become inspired by other artists

(writers, painters, musicians, sculptors, etc.). They all pay their creative

energies forward. It's not just one thing or person." - Selena Garcia,

NYC

"My biggest inspiration towards being a better artist is definitely my

fans. I go on Twitter and Facebook and see they may not be having

the best day, so I go try and talk to them and make them feel as good

as I can through a computer screen. They tell me my music helps them

get through some tough times, and for that I am grateful and strive to

become a better artist and reach more people."- Dylan Ander, NYC

"My brother was actually famous in the Midwest, and I followed him

around until I picked up some of his skills on my own by playing shows

with him. Low and behold, he discovered that there was something

about my voice that I was not tapping into yet. Out of the blue he said,

'C'mon, let's go see Pavarotti!' We saw him at an outdoor arena, and

when I heard that sound, that voice, and that music, that was it! I do

not know how he knew it! We were not even listening to opera at the

time. We were heavy into rock 'n' roll. After that, I went off to school

and started studying." - Alexander Kariotis, Rock Opera Vocalist, NYC

"My biggest inspiration is the hope that my music could possibly help

someone. Music is so powerful, and I really want to inspire people

through my songs." - Marie Miller, VA

"My father had a lot of instruments around the house even though he

was a doctor. He had a violin, mandolin, bongos, an organ and various

flutes. He'd teach me just basic melodies of songs he loved like

old film music and Indian songs on the organ. He bought me a guitar

when I was five, and I started taking lessons at 10." - Anu Gunn, Rock

Vocalist/Guitarist/Actor, Los Angeles, CA

"I started playing bass guitar as a teenager and fell in love with being

a musician. I'd have to say that I had to work really hard to develop my

ears and skills as a musician, but once I got into the audio/recording/

mastering side of things, I found pretty early on that I had an aptitude

and ear for what I do as an engineer." - Adam Ayan, Master Engineer,

Portland, ME

6 7
---
Inspiration

In The Spotlight: Over 100 Voices in Music

"My parents always played all different kinds of music, so I had a vast

range of music styles from a young age. They are the reason I want to

succeed because someday I want to spoil them like they spoiled me

all these years!" - Alex Flanigan, Nashville, TN

"I always felt a really strong attraction to recording. Freezing time.

Freezing a moment and a feeling. It's a similar reason why I love photography

too. I'm fascinated by that process of being able to take a

snapshot of a feeling, a thought, a moment, and being able to relive it

later or to be able to share it. It's like proof of existence or something.

Once I started I couldn't stop! I've become almost addicted to that

process of expressing and documenting in the hopes of understanding

myself, and then somehow connecting. I have something to say

through music and art that I can't express in any other way. Most artists

I know feel that way." - Adam Watts, CA

"Stevie Wonder inspired me to really just want to be great and just not

settle for less. I have worked with Stevie Wonder before, but at the

same time, he was the reason why I had the drive and the ambitious

attitude today. His music made me want to create something that was

on his level." - Jason "Poo Bear" Boyd, Producer, Los Angeles, CA

"Along

with being a musician, I come from a non-profit background. I

spent some time in Washington D.C. working on an anti-poverty/antihunger

campaign inside the schools. Getting started in music is hard,

and over the years, I knew I didn't want to stay where I was. The work I

was doing in non-profit was such a good thing to do, but I was always

going to do my music. People need help, but people need music too.

If I am just sharing what I feel, and if someone else feels it, they know

they are not alone. That is powerful to me, and special. I guess that

helping place is where I write from." - Casey Dinkin, NYC

"My passion for music is linked to my childhood. When I hear the

Gipsy Kings I imagine being six years old in the summer. I'm soaked

from the pool and reaching for corn chips, while the adults are smoking

cigarettes, drinking beers and laughing. My inspirations are all the

memories that I try to recreate." - Adam Lasher, Los Angeles, CA

"I was always interested in the 'heart and soul' of music as a young kid,

and what really fascinated me is how a song could make a person feel

various emotions and moods. When I was eight, I talked my mom into

buying me an acoustic guitar, and I taught myself to play. When I was

about 12, I formed a band and started playing at local events. We even

had a manager who just happened to have a makeshift recording studio

in his house. We used to record songs that we would perform live

from time to time." - Craig Bartock, Lead Guitarist from "Heart", CA

"There are many things that inspire my passion for music. Talking

to people and hearing their stories is always inspiring. Listening or

watching a great band play or hearing a good song is not only humbling,

but also inspiring. Bad days, good days, rain, sun, tears, joy,

hard times, great times, it's hard to pinpoint what inspires that passion.

I guess it`s a little bit of everything." - Emily Earle Brooklyn, NYC/

Nashville, TN

"I've been a music lover my entire life. When I discovered my talent,

my passion grew to a point where I couldn't see myself pursuing anything

else. My parents have been beyond supportive every step of the

way since day one." - Yaya, Artist Manager/CEO of Ya IndieGround

House, NYC

"I was initially inspired by my cousin, B.E. Taylor, and his band while I

was coming up through the music ranks. The thrill of the live show and

8 9
---
Inspiration

In The Spotlight: Over 100 Voices in Music

the intense connection created between the musician and the listener

in that environment led me to be a performer." - Dom Liberati, Los

Angeles, CA

"Ever since I can remember, I've been obsessed with music. Nothing

makes more sense to me. I love everything about it." - Dan Wright,

NYC

"My mom and dad are professional artists and encouraged my creative

streak from day one. They were open to inspire any of my emerging

talents, but when I came out singing and whistling and banging on

the piano, it was clear that music was my thing." - Neara Russell, Los

Angeles, CA

The Coach's Perspective: Staying Inspired

When I was a child, my big requests every Christmas were crayons,

colored pencils and blank drawing pads. I had the mind of an artist

even back then. For me, seeing the endless colors all displayed like

rainbow-hued candy inspired my young creative mind, and helped me

express myself as I drew the world around me. With each passing year,

I experimented with different forms of art while observing the world's

interaction and connection with the creative part of society, not really

sure where it would all lead.

My love for the arts started with drawing, then moved unto devouring

hundreds of books, soon enough a fascination for writing grew

within me. My interest then turned to poetry, which led me to create

over 80 poems in my teens. Finally, when I was 16 years old, I became

obsessed with acting and theater, with which I truly fell in love, and

felt creatively free. I received classical acting training through various

scholarships. That led to teaching within the arts.

Ultimately, what truly inspired me was the psychology of an artist,

their contributions to society and the business side of the industry. I

chose to give back to the artistic community as a thought leader and

life/business coach, in a niche I was once part of and knew so well.

Now, in collaboration with Creative Spotlights, I got to design this

amazing, healing, guiding tool to inspire all music artists. I now feel

higher levels of understanding about my creative purpose. I am truly

living "inspired."

That is what art does to the honest, brave and self-aware person.

It allows people to reach into the innermost core of who they are as

creative beings.

At your most deepest core, you are a creative being because you

were created by an introspective universe that wanted to explore the

meaning of the world through you.

10 11
---
Inspiration

In The Spotlight: Over 100 Voices in Music

As your coach, I ask you the following:

1. What first inspired you to express yourself through your art?

Featured Interview: Joanna Christie,

Broadway Star from "Once"

2. What are you truly creating with your work?

3. At this moment, name the top 10 ideas, images or words that inspire

you to create your art?

1. 2.

3. 4.

5. 6.

7. 8.

9. 10.

Chapter 1 Affirmation: Stay Inspired

"I am creative because I was created. It is my natural state

to receive inspiration from it all, then to inspire others with

my art. When I do this, I know I am continuously supporting

the process of creation and living inspirationally."

❖ ❖ ❖

JOANNA CHRISTIE most recently starred as Girl in Broadway's

Once. She trained at Mountview Academy of Theatre Arts and was

a member of the National Youth Theatre. Television includes: Mr

Selfridge (ITV); Starlings (Sky 1); Misfits 3 (E4); Lewis series II

(ITV);

Small Dark Places (BBC); No Angels (Channel 4); Holby City

(BBC1).

Theatre includes: Equus (Gielgud Theatre); The 24 Hour Plays (The

Old Vic); Be My Baby (Hull Truck Theatre); The Ramshackle Heart

(Public Theatre NY/The Old Vic); School For Scandal (Greenwich

Theatre); Dr Faustus (Greenwich Theatre); Bloody Poetry (Jermyn

Street Theatre); Immaculate Conceit (Lyric Hammersmith); One Night

In November (Belgrade Theatre Coventry).

Emily: Today on Creative Spotlights, we're welcoming Joanna

Christie from the Broadway hit show "Once," winner of eight 2012

Tony Awards, including best musical. Joanna will share her creative

journey to help guide, inspire and motivate our creative fans to find

their voices in the music scene and keep going after their dreams.

12 13
---
Inspiration

In The Spotlight: Over 100 Voices in Music

So Joanna, my first question for you is; have you always dreamed

of being on Broadway?

Joanna: Actually—well, I was on the phone talking to my mom yesterday.

I was saying to her that actually, Broadway was even beyond my

dreams!

I have always, always wanted to be an actor, and I had been utterly

dedicated to that since I could speak. But I never even thought about

Broadway. This thing is kind of so far away and so kind of…(trails off)

All I wanted to do was work.

All I wanted to do was just be able to play good parts and good productions,

be on radio and just have a varied and interesting career.

That's all I wanted.

So it's not the bright lights or any of that that attracted me. I haven't

been dreaming of that. You know what I mean? I'd just been focused

on making a living out of acting and just being able to work as much

as possible. I just didn't think I had the voice. I didn't think I had what

it took to do that. It's beyond my wildest dreams.

Emily: That's great because, of course, a lot of people who are singers/dancers/actors,

aka triple threats, desire to be on Broadway

so badly! The dream is always, "Oh, I wanted to be on Broadway

since I was a young child." But the fact is that you attracted it into

your career. It was part of your path as an artist.

Joanna: Yeah, yeah. I'm so lucky. I just really feel very lucky, and grateful

every day.

Emily: Absolutely. So how did you begin your journey as an

actress?

Joanna: Well, as a child, I always wanted to act. I just did as much as

I could always do to perform. I did loads of amateur stuff when I was

a kid. I'd always say I wanted to go to drama college! What you can

do in the UK, instead of going to university, you go to drama college

for a year for a practical performance degree. Then I started working

from 21 when I graduated from there. I was really fortunate enough to

find a great agent straight from drama college. But then, the real hard

work started.

Emily: Do you feel that is the best path for an actor/actress, to

get a degree in theatre, in drama?

Joanna: No, now I'm older and hopefully a bit wiser, and I can see

other people's paths and different trajectories. There's no rhyme or

reason. There's no set formula. There's no "way" to do it. There's no

way to "not" do it and all that.

I think that with this industry, unfortunately, there's so much luck involved.

It takes one person in a position of power to believe in you and

to give you an opportunity to show what you can do. But it's really rare.

I felt like all through my career, I've had to have such huge self-belief

because there's been so many setbacks, but I've always thought, "I

know I can do more than I'm being given the opportunity for." You just

have to hold on to the hope that one day you'll get these opportunities

to do that.

I do feel a tiny bit of regret. I don't regret anything because I wouldn't

be here now. And I don't regret anything in my life, but I do feel that I

do sometimes wish I had gone to a university instead of drama college

actually. At the time, I thought going to a drama college is the obvious

way to get into the business. But actually, I had a really good education,

and I'm interested in a lot of other subjects. And I kind of regret

not having an opportunity to study on another level.

14 15
---
Inspiration

In The Spotlight: Over 100 Voices in Music

And certainly in England, going to a good university like Oxford or

Cambridge and Edinburgh and Bristol, they have such great drama

departments. You get to do tons of great drama when you're there,

and the agencies respect those places. So I kind of feel like that is a

really good route to go down as well.

I think if you are intelligent as well as talented as an actor, the next step

is to study something like English or history or something else that

you're really interested in. Because as an actor, the more strengths you

have, the more interests and knowledge, the more you know, then the

better an actor you are, to be honest, I think.

Emily: I think that's a good point. I think it definitely makes an actress

well-rounded. My own journey after I completed my own training

in acting was to go to college, but instead of majoring in theater,

I majored in psychology and sociology with a minor in business management.

I felt inspired that this sort of education with my acting

background would suffice in navigating the realities of the industry.

Joanna: Absolutely. You're not going to be the best actor you can be

without being well-rounded because obviously, when you're playing

roles, you're playing normal people. You're not playing an entertainer

in our industry. The more you know about everything else, in my opinion,

the better.

Emily: Right! I would suggest classes on history, philosophy and

psychology… business management, hopefully, to get very wellrounded

as an actress.

Joanna: Yes, exactly. Actually, last year, I was studying anthropology

in between my acting jobs and rehearsals. I was going to lectures, attending

free seminars. It was so fascinating. I realized that I didn't do

that enough in my life and that it could only make you a better actor.

It completely opened my eyes a lot.

Emily: That's really great advice right there. You also mentioned a

couple key points in your sharing I would like to point out!

You mentioned strong self-belief as an artist pursuing this career

track. You can navigate your career through the ups and downs

with that self-belief. You also mentioned having that right person

who's going to change your life at the moment is key, a person in

power to direct your career.

You really shared a number of nice introspective viewpoints that

will inspire our readers, as it's so important for artists to coach

themselves and to continuously do that on a daily basis and just

know the gift that they have within them.

Joanna: Yeah, absolutely, and to nurture it. I feel like there are so many

obstacles that are going to be against you. You have to do so much

yourself to just keep going. Emotionally, physically, mentally, you just

have to do it to be strong enough to get through all that.

Emily: Right, very true, very good tips! I can understand what

you mean. You're showing the different areas where artists can

develop themselves. You said you've got to be mentally very

strong to handle the ups and downs of the industry, and physically,

you've got to be in shape to be on Broadway because it's so

physically demanding.

I do want to ask about the cast. They all sing and play their own

instruments. I mean, it's such a beautiful show. What did you learn

most about yourself as a musician while doing this show?

16 17
---
Inspiration

In The Spotlight: Over 100 Voices in Music

Joanna: Oh, God! I got so much as a musician, as an actor, as a person.

The show, I feel, has gifted me an opportunity to learn so much

about myself. That's been one of the major profound things about me

regardless, like achieving a dream. Just the self-exploration that it's

enabled me, it's been quite profound.

I mean, I didn't even think of myself as being a musician before I did

the show. When I got to the audition, it was like, "Oh my God! I got to

play the piano. Argh!" I think it was going to be an absolute nightmare.

And actually, my mom is a musician… my brother is a musician. The

music is on my mother's side of the family. I've played the piano from

a really young age, and I did tons of it. That was what I just did. But

when I was 15, I played a concert and basically got stage fright, and I

just absolutely crumbled. I just decided that I don't want to ever play

in front of anyone again. And this is off of kind of 10 years of playing

competitions and concerts… Suddenly, I didn't want to do it anymore.

So since I was 16, I haven't played in public again. So just having the

audition for "Once" was kind of really, really nerve wracking! But I got

over it suddenly after 10 years, and I feel really proud of myself. I'm so

happy playing a simple piano piece in front of 1,200 people when at

one point years ago, it would have been an absolute nightmare for me.

But it's not like that right now. I enjoy it, and love it. It's really precious

to me.

The fact that I'm back with the piano, a part of my life since age six,

then I lost it and had it fall by the wayside, to now rediscover that at

age 30 and play on Broadway, I'm just so grateful for that because it's

a really beautiful thing to be able to play.

Every time I meet a young person who plays the piano, I just say, "God!

Just don't ever give it up because it's such a joy." And every adult I

meet who used to play when they were young and gave up, regrets it,

every single one of them.

So I feel really strongly about that. It's such a beautiful thing to be able

to play music. It's a really big part of anyone who has music in their life,

it's a big part of it. I feel I just want to say to any young person to keep

that with you. It's a really precious gift.

Emily: That's so inspiring and beautifully said. And I want to ask

you, what is the Broadway schedule like? I know it's very demanding!

How many shows… ?

Joanna: It's crazy! Today is my anniversary actually on Broadway.

Today is the day it all started. When I started, I didn't actually know

if I'll be able to do it because I've never sung before. I've never sung

professionally. I just never used my voice this much. And also, I've had

a lot of voice problems in the past.

Emily: What happened to your voice?

Joanna: I've had nodules on my vocal cords twice. I've had them when

I was 15 when I was singing in the rock band at boarding school. I

developed nodules, and I had to stop singing. And then I got them

again when I went to drama college at 18. I had to have an operation

to remove them.

Since then, I've always had to be so careful with my voice. I lose it really

easily. And I think that's kind of why I haven't sung more than I have before

now because I didn't think I could. I didn't think my voice would handle it.

So starting this job was kind of scary because I thought, "Oh, my God!

Am I actually going to be able to do eight shows a week?" But it's

amazing…

18 19
---
Inspiration

In The Spotlight: Over 100 Voices in Music

Emily: It's just so ironic. You play the piano and sing for eight

shows a week. It's a wonderful thing that you have going on.

Joanna: I know! There's so many things that I just didn't know I could

do, but I think when you prove to yourself that you can do something

that you didn't think you could, it's the most liberating, strengthening

thing you can do.

And so to get to this point, to have my yearly anniversary of doing all

these things that I never thought I could do, I'm kind of proud of myself.

I mean, I feel it's probably one of my greatest achievements.

And my voice got so much stronger just by doing the show. It's amazing!

Again, instead of this taking out of me, it's given me so much more.

I found my singing voice a lot more, and my range has increased. I'm

singing a fifth higher than I did when I started the job. I work out with

my vocal coach every week, and she's just been incredible to work

with. She has helped me find my potential in my voice. I never thought

I had that as well. It's great!

Emily: What is your vision for your career in the next five years?

Joanna: Oh, God! Part of me feels like I should have more business sense

really about my career, but I kind of feel like my career so far has had [a lot

of] I-never-know-what-is-around-the-corners. I could never have guessed

that this would happen for me, so who knows what the future holds?

But all I want to, as I've said, all I wanted to do is just to be able to

work. It's kind of funny, my brother said to me, "You know, doing the

job you're doing now, for you, it's the top. It's the summit. There's nowhere

higher to go."

I mean, I don't necessarily agree with that, but I know what he's saying.

I just would love to keep working. I would love to do more Broadway. I

would love to do more theatre, more musicals if I can. I can't believe this

world [that] has opened up to me—and some TV.

I just would love to have as much variety in terms of what projects I

do and what roles I play. My absolute dream would be to be seen as

an actor, a versatile actor who was not of any "type" and to just play

and to be considered for character roles, as well as leading roles and

just as I would say not to be put in any kind of box. That's the ultimate

dream for me. I would love to do rom-coms and then action films and

indie films. I would just love to do everything, everything and anything,

as much as possible.

Emily: You're on Broadway, yet you're so down to earth. You're

such a strong woman. You've been through a lot of ups and downs.

You have this strong, fighting spirit in you.

Joanna: Thank you. Yeah, that's actually what I think I prize most above

anything else.

Emily: Inspiration—definitely, definitely as a woman artist.

Adventurous—you're open to wherever life takes you in a positive

direction.

Joanna: Oh, absolutely. You kind of just summed me up. That's kind

of how I try to be anyway—strong and adventurous, kind of more like

I'm learning, and [having] courage.

I would think that if you have courage in everything you do in life, then

you can't regret anything. You just have to dive in. You have to be

bold. You have to be brave and not be scared… All those things.

20 21
---
Inspiration

But it's so tough. It's so hard. I've just been there in a place in my career.

When I'm not working, it makes me extremely unhappy. So when

I've had those periods of unemployment in my career, they have been

my most unhappy times. It's so difficult to keep going.

But to find inner strength and to find what makes you feel strong [is

important], to find other talents and to nurture those and have other

interesting hobbies that make you feel worthy as a person because

being unemployed and getting rejected in your career, it can really

make you feel worthless and destroys what's inside of you.

So I kind of feel like just your inner strength is just so important. To

keep believing in you; in yourself.

22
---
CHAPTER 2

Realities of the Music Industry

❖ ❖ ❖

I HAVE BEEN SINGING SINCE I was five years old. I used to dream of being on

magazine covers and singing in front of crowds of a million people. I

thought, "I can sing. Of course, I'm going to be famous." I look back,

aware now that I needed to be realistic.

The truth is, millions of people can record music at the push of a

button. That doesn't imply that they will deliver quality, but instead

means that there will be clutter, so it's hard to find good music and

real talent. The reality is that if I want to have a chance at "making

it," I need to not only be on top of my singing, but also my branding,

marketing, social media, my overall image and finding the right team.

I need to stand out, and do something that makes people consistently

remember me. Audiences listen to millions of songs in a lifetime, so

the only way to get their attention is to be original, to wow them and

to connect with them.

I used to think, "Oh, I will get discovered by a label and get signed,"

but nowadays, artists need to develop themselves and build a team.

Then they need to create a following, and once they develop enough

of a buzz, they will grab the attention of an indie or major label.

There is also a fine line when it comes to how and when you reach

out to your fans. If you only talk to them when you have a new song to

sell, odds are they might eventually tune you out. If you want to gain

attention, start a YouTube documentary about your life, cut a cover of

a song, make a contest for your fans to participate in. Music is not just

25
---
Realities of the Music Industry

In The Spotlight: Over 100 Voices in Music

about the song anymore, and it's not just about selling an album; it's

about creating an experience for your target audience. That is how

you will gain their support.

It might not be strategic to focus all your energy on selling songs

unless you are on a major label because, let's face it: the majority of

people will find ways to download your music for free. Just look at

Spotify, it lets you listen to millions of songs free of charge. The real

way to make money from music these days is to team up with great

brands, gain sponsorship opportunities, license your music, go on

tour, and sell merchandise. You can be creative. Maybe your mom is a

painter. You can have her paint custom guitar picks, and sell them as a

necklace at your merchandise table. There are unlimited possibilities.

Set goals for yourself. Remember that if making money is the only

drive for your success, chances are you will fail. You have to do this

for the passion you have for music. When you are passionate, you are

abundantly more successful in everything you do. Keep faith and love

in your heart, and you will go a lot further than you would by just striving

to get paid. Music isn't just about making money. Music is art. It's

creation. It's incredible! Make music for your fans, for your team, for

the people who believe in you.

Understand that you might have to play in clubs with 10 or 12 people,

hundreds of times before you get to play in bigger venues. Realize

that if you meet the right people this might not be necessary. Know that

this industry is full of politics and that you need to focus on building the

right relationships. Maybe you don't invest all your money in creating

an album the first time around, and instead you just create a demo at

your friend's apartment with Pro Tools and use that as a key to convince

venues to give you a chance or to eventually find the right producer.

Know that no matter what you are doing, there are hundreds of

thousands of people who are working just as hard as you, and would

practically do anything to succeed. If you want success, you have to be

mentally strong and persistent, and have passion and faith in yourself.

If you've knocked on one hundred doors, be prepared to knock on

one thousand more. Don't give up if you truly want your chance more

than anything in the world. Remember, each obstacle will come with

opportunities and lessons. Use them as a chance to develop as an artist

and gain experience.

Lastly, being an artist is a lot of pressure, and it's not for everyone.

Anyone who makes it, is not doing it just for the money. They are doing

it for the love of music. Know that anything is possible, but you still

need to work for it. It takes the right drive, passion, positive mindset

and team, but you will get there.

Keys To Success:

COMPETITION: Learn to compete against yourself first, and then focus

on those around you. Realize that it is more important to improve

yourself than to try to beat others. If you wrote a good song last year,

try to write an even better one this year. If you performed in front of

100 people, try to gain an opportunity to perform for 200, 500 or even

1,000. If you have 5,000 Twitter followers, make it your goal to gain

10,000. There are always ways to constantly improve. The more we

can focus on competing against ourselves and developing ourselves

and our artistry, the more chances we have of reaching our objectives.

HEALTH: Make sure to take care of yourself. If you are not healthy, you

can't help others. If you are not happy, you will not want to improve

yourself. Make sure to set yourself in a positive environment as much

as possible. This will make a huge difference to your well-being. Make

sure you eat enough every day and drink plenty of water. Food equals

energy. You are accomplishing nothing by starving yourself, and that

can only make your career go downhill. The reality is that if you are

only worried about your image and don't take care of your health, life

will be bleak and depressing. And remember to take breaks, that may

be the time when you are your most creative self!

26 27
---
Realities of the Music Industry

In The Spotlight: Over 100 Voices in Music

MEDITATION: Listen to meditation CDs, be in nature, take some time out

for yourself to relax and just be. When we are passionate about something

it is easy to get caught up in it and become a workaholic. Passion

is amazing but everyone needs time off. Just as being physically fit is important

for your health, so is being in a peaceful mindset. The calmer we

are the easier time we will have in finding solutions to issues that come up.

Reality hits hard, yet in can be the fuel behind an artist's dream. This is

what they had to say about it:

"Many artists lose their 'soul' in striving to be more mainstream. I credit

artists like Adele as individuals who balance mainstream success and

passion well." - Christian Hollingsworth, Entrepreneur, Model, Singer/

Songwriter, CA

"Technology and the Internet have allowed everyone to make music.

In the past, record companies served as filters, and I think they did a

very good job. Now there are no filters. Everyone is a musician and

music producer. The problem is they aren't making good music, and

most of it sounds awful. It makes it a lot harder for those of us who

really are professionals. Indie artists don't realize this. It's one thing to

make a great record… It's another to get people to pay attention to

it. That costs dollars." - John McCracken, Producer, NYC

"One thing I have learned, especially in moving to Los Angeles, is that

getting opportunities doesn't always have to do with talent… Most

industries are driven by money, and the music industry is no exception.

Sometimes it's hard to look at your art like a business, and I think this

turns a lot of amazing musicians bitter. I don't want to turn bitter." -

Rachel B, NYC

"For a while, the industry was solely relying on the artist's look to carry

the product, but over the past year, I've seen a lot of independent

artists stepping up their game and demanding attention, whether

they were drop dead gorgeous or not. It's really refreshing to see and

having the audience take notice." - Carly Lind, Los Angeles, CA

"Simply put, from what I can see, there's less money to go around, and

it's eliminating the middle class of the industry. I'm keeping myself

busy by working smart, efficiently and creative. Time is precious, so

I'm focusing work on the GREAT songs and not the mediocre or good

ones." - Greg Ogan, Writer/Producer/Engineer/Mixer, Hollywood, CA

"Even though companies, business models and record labels are dying,

I feel like we're in the wild frontier with social media and the new

marketing paradigm. I made tour videos for "Slumdog Millionaire"

Oscar and Grammy award winning composer/musician A.R. Rahman

while on his Jai Ho World Tour. His Facebook fan base was at 600K

when I started. After four months of releasing just the videos I made,

it grew to 2.3 million. Now it's over 5.3 million. He puts out a post,

and within 10 minutes he's got 800 likes. You don't need record labels

once you get to that point, but you don't have to be an A.R. to be

there. Bands like OK GO make amazing videos that go viral." - Anu

Gunn, Rock Vocalist/Guitarist/Actor, Hollywood, CA

"The amount of creativity in the world is enormous; however, the arts

are usually the first to be taken as a luxury. On that point, I state that

only a society where decision makers know the value of music and

the arts can be a prosperous one." - Gilad Hochman, Classical Music

Composer,

Israel

"Call me naive, a believer, or just plain stupid, but one aspect that has

taken me totally by surprise is that I had no idea that you can buy your

way into the music industry. If I had two million Euros for radio promotion

and a marketing campaign, I could probably be as big as a Lady

Gaga or Taylor Swift. I guess that makes me sad, though… I always had

28 29
---
Realities of the Music Industry

In The Spotlight: Over 100 Voices in Music

this romantic notion that all it took was talent and a lucky break, but

when I got to Los Angeles no one seemed interested in music, only in

how much budget I had to work with." - K'Sandra, Los Angeles, CA

"Being a record producer requires long hours, extreme attention to

detail and a sharp business mind. My high points are always when

I receive recognition from my peers. We are in the business to sell

records, and while sales are great, it's even better when other working

professionals admire something that you've put together. Low

points are definitely when you think a song is great, and it doesn't get

the reception that you're hoping for." - Doug Fenske, Producer,

Los

Angeles, CA

"I feel excited about the industry today! It's evolved to a place where

anyone has the ability to create their own career due to the opportunities

the Internet has provided. It gives an artist, like me, a chance

to connect with fans, write honest lyrics, and say things I want to say,

regardless of how a giant record company feels about my opinion." -

Alexa Falk, One Half of Country Duo: Falk, UT

"We are living in a digital world now where artists can produce music

from home. You don't have to be in Nashville, L.A. or New York in

order to 'make a record.' It's convenient for sure, but also there's a lot

of 'self-produced' music out there. Also, it's not about making records

anymore. More artists are delivering EPs or singles in order to get

their fans music quicker." - Brian Fuente, Nashville, TN

"The corporate structure tends to be in opposition to the innate way

that music is created. I think some of the best music comes from

the most personal place. There's something wild and unpredictable

about that. Yet, the corporate world does everything possible to

guarantee consistent results and profits. That said, I've had so many

great experiences in that world, and there are some really talented

executives out there who totally get it and love music and artists." -

Adam Watts, CA

"A

singer will work really hard to get their voice and branding together.

Once they get a record deal, they tend to forget what got them

there in the first place. They have radio interviews and other obligations

and a lot of people talking to them. They forget about what they

worked through to get to the top, and they put their attention to the

demands of the industry. They stop maintaining their voice." - Renee

Grant Williams Vocal Coach, Nashville, TN

"Unfortunately, I see a lot of colleagues of mine that have won

Grammys, have 20 Gold/Platinum Records, have number one hits, all

have tremendous amounts of success, and who have left the industry

because they couldn't make a living anymore. Thank God I was able

to make that transition for myself, which is basically marketing our

services to independent labels, independent musicians, independent

singers, and not rely on the record and publishing companies for the

majority of our work." - Arty Skye, Producer, NYC

"Music is suffering because labels want instant gratification. If they

meet an artist and they put their record out, and it doesn't connect

with the people, then they'll let them go. Back in the day, they built

artists. If it didn't work the first time, they just kept building their fan

base. Right now, that's a lost craft. Now, as an artist or a musician, you

have to come into this game basically at the top of it to be respected.

It's making it harder for artists and musicians to grow because everything

is so 'here today, gone tomorrow.' " - Jason "Poo Bear" Boyd,

Producer, Los Angeles, CA

30 31
---
Realities of the Music Industry

In The Spotlight: Over 100 Voices in Music

"It's more effective for independent artists to put out singles rather

than focus on putting out EPs or full albums. As individual artists, it's

harder to get people to digest an entire product at one time."

- Dylan Synclaire, Producer, Los Angeles, CA

"There is a lot of struggle in the music business, but that does not

mean things can't turn around. As far as the music goes, I just hope

talent continues to be something important for success (not money)."

- Alex Flanigan, Nashville, TN

"The recording world has traditionally been male-dominated, and

even though it's improved in the last five years, much of the gender

discrimination still exists." - Erica Glyn, NYC

"As we are becoming more fast-paced and less personable, more

opinionated and less active, more needy and less attentive, we are catering

our music to those attributes. Like I said, though, it's a hopeful

time. The talent and authentic always rise to the top." - Dom Liberati,

Los Angeles, CA

"I think what is most surprising is how hard it is to keep people interested

in your music. I remember when we first started touring, we would

play shows and have all these people come up to us afterwards telling

us that we were their favorite band. Then the next time that we came

through the city they wouldn't even be at the show! … We learned we

needed to focus on not thinking of people as just another 'fan,' but as a

friend whose life we can be a part of." - The Icarus Account, FL

"Making money is probably the biggest challenge, for sure. It's hard

to make money. When you're going into other markets and touring

around, if you don't have a lot of promotion leading up to it, it's hard

to get a crowd at some of the places. That's always a demoralizing

thing." - Zak Smith, NJ

"One of my biggest fears that I'm getting over was having a normal

life and going out with friends over the weekend. You know, you can't

do that as an artist. You have to kind of stay in and work, work, work,

work. It's kind of like the AMAs and VMAs are your prom and homecoming."

- Macy Kate, Los Angeles, CA

"I do think that the music industry is full of alligators, and you have to

watch who you swim with. We have been offered many contracts that

were very dangerous to a career, and I am sure a lot of bands are signing

without really thinking what they are signing or going to a music

lawyer." - Dream Aria, Toronto, Canada

"With illegal downloading, we were only getting two or three out of 10

in our purchasing-to-consumer ratio, meaning that if 10 people are listening

to a song, only two or three of them actually bought it. There are

several ways to increase this ratio, and one of them is a monthly fee for

streaming services. Mechanical royalties should increase too!" - Doug

Fenske, Producer,

Los Angeles, CA

"The music industry is split in two, unevenly. Ten percent of artists are

making music for radio, and that's what Joe Public hears every day.

It's a here today, gone tomorrow kind of deal that's a double-edged

sword. Someone is making bank — possibly not you. The other 90

percent are creating music through a passion for their art and a desire

to be understood through it. They're broke. They don't get played

on the radio and are just looking for an audience, touring and doing

it grass roots style." - Declan Bennett, Broadway, Star and Singer/

Songwriter,

NYC

"There's just so many facets to everything, and I love the art and creativity

involved, as well as the passion and excitement from people

when all the pieces work together properly. Sometimes though, it can

get muddled up with the business and bureaucracy of things and lose

32 33
---
Realities of the Music Industry

In The Spotlight: Over 100 Voices in Music

sight of why we all got involved with music in the first place." - Chase

Coy, Nashville, TN

"There's far more bad music out there than there is mediocre music,

and there's more mediocre music out there than there is GOOD music.

Music that is well written, carefully crafted, performed by exceptional

musicians, recorded and produced at the utmost level of quality

and mixed and mastered so that the details, dynamics and EMOTION

of the song are brought to the forefront is becoming hard to find." -

Derik Nelson, Los Angeles, CA

"I am pretty sure that you're better-off making friends with people

than making music they like. In short, be nice to everyone, don't expect

anything from them, and, above all, never trap yourself in bitterness

by thinking that you deserve anything. No one really deserves

anything. If you get it, it's luck, connections and chance. Good music

probably helps, but not all that much. Bad music does hurt though." -

Michael Epstein, MA

"You have to love it. If you are in the business or want to get in it for fame

or money, forget it. That all comes later if you work hard and are honest

about the art. If you 'chase paper,' that's all you will be doing." - Karl

Heilbron, Producer,

Atlanta, GA/Los Angeles, CA

The Coach's Perspective: Knowing the Industry

Many artists I have worked with don't realize how much every craft,

whether it's music, acting, visual arts, etc. is a business. They either don't

manage the career side of their art or mishandle it by choosing the wrong

people, disregarding branding, lacking direction, and so on. When you

are expressing your art, you're selling a brand. Your brand is everything; it

goes from how you look, and sound, which is your individual style, all the

way to the basic theme colors of your website and marketing materials.

Your branding as an artist must match your fan's perception of your art.

Working with a coach can clarify your message to your fans so you can

reach that next level. Don't take your branding for granted!

However, what I have just mentioned here is the "outer stuff," the

somewhat superficial part of your artistic package that matters, yes,

but only to a point. As an artist, there is a core part of who you are

from within, which is powerful, a creative energy that you must take

good care of consistently. There will be highs and lows; that is the expression

of your emotional life.

At regular intervals, you must strengthen your inner self alongside

all the areas of your creative business and seek to improve who you are

and how you express yourself as an artist to the world.

It's hard to crack open who you really are and what you have

been through. It's just as hard to separate your weaknesses from your

strengths, and bring the right team in to support you. But like I explain

in my A.V.A. method, awareness of your creative gifts at the present moment

is your key to success in your future. The creative universe will rejoice

in the capturing of this clarity. This clarity will heighten your power.

As your coach, I ask you the following:

1. What is the exact state of your music career today? What is working

and not working?

34 35
---
Realities of the Music Industry

In The Spotlight: Over 100 Voices in Music

7. How does the world see you?

2. Where was your career a year ago? What have you achieved since

then?

8. What is the true "you"?

3. What are your biggest blessings and gifts?

Chapter 2 Affirmation: Realities

4. What are the biggest weaknesses that you have as a music artist??

"I know who I am as an artist and a creative being. I have

complete clarity in expressing myself to the world. I accept

my weaknesses and my strengths, knowing I define my own

state of perfection. I am full of creative power and have a

great purpose in this world. Knowing this, I continuously

build my inner power towards my ultimate success."

❖ ❖ ❖

5. What resources do you need from others to improve your level of

success?

6. What is the biggest fear that crosses your mind about your career?

About yourself?

36 37
---
Realities of the Music Industry

In The Spotlight: Over 100 Voices in Music

Feature Interview: Trevor Gale, Vice President of SESAC

Emily: I'm sure our readers will appreciate the wisdom from someone

who has been there, done that and accomplished so much in

supporting artists with your work!

So my first question is this: What would you say are "some keys to

success in the music industry" that an artist needs to commit to

whether they're aspiring or they're in the midst of a music career,

promoting… touring, etc. What should they focus 100% on?

Emily: Today on Creative Spotlights, we are welcoming Trevor

Gale, Vice President of performing arts giant SESAC, which represents

thousands of songwriters and publishers, and their right

to be compensated for having their music performed in public.

They have headquarters in Nashville and offices in New York,

Los Angeles, Atlanta, Miami and London. SESAC is one of the

top three organizations to support songwriters in all genres including

Bob Dylan, Neil Diamond, Bryan-Michael Cox, Bale'wa

M Muhammad, Omarion, Swizz Beatz, Jason Perry and Angela

Hunte, to name a few.

The goal of this interview is to receive your wisdom and guidance

as a music industry veteran so that music artists checking out our

site, Creative Spotlights, can truly succeed in the music industry,

and be inspired. So welcome!

Trevor: There's a lot of things to keep in mind if you want to be successful

in the music business. Most of them are pretty simple. Most of

them are pretty straightforward.

Trevor: That's a very good question. The first thing that I do say to

many, many artists and many, many musicians every day is don't be

afraid of hard work.

No. 1: The music industry, no matter how you slice it, is very rewarding

but most of the time, the real reward comes at the end of a long drive

of hard work.

It's like you have to back out an expensive Cadillac through a very narrow

driveway that has these granite walls on either side and there's a new

paint job on the car and you have to get it through without too many

scratches. It's very difficult to not get the scratches, but it's also very difficult

to not get discouraged when you do get the scratches. It's also very

'relieving', so to speak, when you actually get the car out of the driveway.

It's kind of like what the music business is about… It's a challenge, a

never-ending challenge. So you have to not be afraid of hard work.

You have to never give up. Never give up. You have to have an enormous

amount of confidence in yourself, but that confidence has to be

based in reality. That confidence has to be based in the fact that you

know you put in the work, and you've done the homework, so to speak

and you've really developed your craft and your ability to a certain

38 39
---
Realities of the Music Industry

In The Spotlight: Over 100 Voices in Music

level. That's what it has to be based in, not like, "Oh, my girlfriend said

I was good, so I guess I'm good."

Those are the first three or four things I would tell somebody because

just like anything in the entertainment field, you're going to start with

just rejection. Everyone is going to say, "No, you're no good. Get out

of here!" Even if you're good, they'll say, "Wow! You're great, but I'm

not looking for a tall great guy that can sing good. I'm looking for a

short person who just does that," or whatever.

Emily: That's amazing advice that you are sharing. Your analogy

is definitely original, it does take a lot of confidence and selfawareness

for an artist to claim their musical gifts, and have a door-die

mentality and passion for their career, you know? So tell

me about the mission of SESAC and how it all started.

Trevor: SESAC is a performing rights organization. We make sure that

songwriters, as you said, get paid for their public performances. What

that means really is that when your music is performed that you created

(you created a song), it actually is your intellectual property.

You dreamed up that song. It was created within your intellect, and

it's your property. So intellectual property, when that song is performed

in a nightclub, on a radio station, on a television station, on

the Internet provider, on an airline, a cruise ship, anywhere where to

gain access to that place or venue, someone had to pay money, then

there is theoretically, a royalty or a payment that is now due to you

because your intellectual property has been utilized to sort of draw

people in.

I always use the analogy of 'cheese on a mousetrap'. The reason why

radio stations play music is not necessarily because the radio station

people actually like music, they play music because they like money,

and they know that if they play music that the people like, they'll get

listeners. The more listeners they get, the more they can charge advertisers

who advertise on their station. You know what I mean?

If they can tell the advertisers (i.e. Pepsi, Coke, Chevrolet, Kentucky

Fried Chicken or whoever it is) that they have six million listeners, then

their fees goes up.

So that's what we do. We make sure songwriters get paid for the usage

of their music in those types of situations.

And those types of situations, I might just add, have vastly expanded

and blossomed. Initially, it was clubs and bars and radio and then television.

And now we have this whole Internet world and viral world, so

it is there as well.

Emily: Yes, definitely a lot more layers there nowadays and artists

in my opinion, shouldn't be afraid of branching out and expressing

their branding in multiple ways to get exposure and influence.

I did notice that you also use very sophisticated technology at

SESAC to keep track of the songs that are out there from your

artists that you worked on signing and representing.

Trevor: Right, right. Basically, we use a system called BDS, which is a

company called Broadcast Data System. They're sort of a sister company

of the Nielsen company. When you hear television ratings and successful

television shows, you hear about 'high Nielsen rating', well the

same people have another company called Broadcast Data Systems

and they measure and account for the number of performances that

songs have on radio and in some music-intensive television networks.

40 41
---
Realities of the Music Industry

In The Spotlight: Over 100 Voices in Music

We use that technology. We use them to track the performances of

the songs that we represent. That is very, very accurate. We're very

satisfied with that system and it's worked out very well for us.

Emily: Let's look at your start with SESAC. I know that you started

with SESAC in 1996 as the Director of writer/publisher relations.

And then you swiftly moved up to Vice President. Next to Senior

Vice President; impressive!

I'm sure our readers would love to know how the music scene was

back then in the day in 1996 compared to how it is right now. You've

seen it all! Plus, you also have your own musical background as an

independent record producer, songwriter and drummer that has

toured with Whitney Houston, Aretha Franklin, Vanessa Williams

and Run DMC and CEO of Gale Warnings Production Company, a

full-service music production facility in NYC.

Trevor: It's interesting because the music scene has changed a lot.

Music, necessarily, hasn't changed a lot and what it takes to be successful

in music hasn't really changed that much. But the scene of music,

parts of the music business have changed a little bit. Before, when

I started at SESAC in those sort of days and times, you got a record

deal. The record company promoted your record if you're fortunate

enough to have them do that.

And then you went on the road and you performed and you became

famous, so to speak, based on the success of your songs.

That still happens to some degree today, but as we know now, the

Internet is the way to go. It's everything. It's just taken over. It has

changed some of the methodology and some of the processes of how

you become known for your music, but at the end of the day, there's

also a shallowness to the Internet.

I think the Internet is a great thing and it creates great access to music

and access to different artists and such. But at the same time, because

it creates so much access, it's something that doesn't have weight.

"We love you. We love you" and the crowd is then, "Okay… now, I'll

go and listen to somebody else."

Emily: Yeah, nowadays anyone can put a song on their Facebook

page and YouTube and all that!

Trevor: Next week, I'm kind of listening to somebody else like, "I heard

you. I saw you. Get out of here. Leave me alone." It wasn't so much

of that back in the day when you only had the more traditional ways

of promoting artists. It was a little bit more of "If I like you, I like you"

back then. Not "If I like you now, I like you right this second. I might

not like you ten seconds from now."

It's so much access. It's just so much coming at you. It's so much...

touching, there's so much feeling, there's so much hitting you, there's

so much there that you don't even have time to know an artist and to

get to understanding artists.

Even though the Internet allows you to kind of do that because you

can search back, "What was their first record? What was their record

before that first record? What was their demo?" It allows you to dig

deep, but most people, they don't dig that deep because they're busy

going to the next thing. It's a challenge.

So that, the scene of music, as you say, how has it changed? I think the

enormous access that the Internet provides also takes away from the

depth of my association with an artist.

Emily: I agree. Now the artist is much more of a creative entrepreneur

in a sense. The Internet provides all this self-promotion

42 43
---
Realities of the Music Industry

In The Spotlight: Over 100 Voices in Music

for any person that it can get cluttered with so many new

artists…

Trevor: When I was a kid, I used to listen to Santana records. I used to

play the record until the groove wore out basically on the record, you

know what I mean? But now, if I listen to Santana, it'll tell me, "Oh, you

like Santana, you're going to like this guy" and before I know it, I was

listening to Santana for a minute, the next thing I know I'm listening to

some other guy… and then some other person, which is cool. But now

I've gone away from that artist that I really was interested in in the first

place, and now I've started listening to what something is telling me

I'm going to think is the first artist.

It's a very subtle, but not so subtle change to what has become the

music scene. It takes away I think from the intensity of the fan base.

It's funny because in some ways, people will argue and say, "A true fan

now is really a true fan," but it's just a little different I think because of

the amount of access to all the music we have.

It's good in a lot of ways because it enables new artists to get heard,

so it's always a fabulous thing. The challenge of it is the fact that the

whole society, so to speak, has become disposable a little bit and this

quick, "Oh, I chew that gum. It loses its flavor in two seconds, I get

another piece of gum."

When you buy gum now, it's like they give you 40 pieces of gum in the

box and the little thing. Back in the day, you'd buy the chewing gum

and it'd have five sticks of gum in there if you're lucky and you'd chew

that for like a week or something, or three days or something. Now,

because it loses its flavor in ten minutes, you go through the box in a

half hour.

It's kind of that way with some of the music. It's very interesting.

Emily: I interviewed Jason Boyd, producer of Justin Bieber's records

and he was saying the same thing. He was like, "Oh, nowadays,

people have ADD with music." It's just everything is so

commercialized in a way, and it's like, "Okay, what's the next artist,

or next sound." They jump around.

Trevor: Back in the day an artist would come with an album, they

would tour, they would take a break, they would record another album,

it would take them a while, and then they'll be like, "Oh, my God! So

and so's album is coming out." You would really wait for that. It'll be

exciting.

Nowadays, it's like the artists come out with new albums, it seems like

every two weeks. You can't even keep up what album that song is from

because they're constantly putting songs out there… because they're

so afraid that the people will forget them and go away, their fan base

will wane and dissipate that they're constantly putting more songs out.

It's a very strange and interesting phenomenon.

It's also interesting from another perspective that because of the different

layers and levels of the uses of music and access to music that

songwriters have opportunities to at least have a little bit of a difference

and more options as far as streams of income are concerned.

Emily: I've been saying that as well! There are some great opportunities

for artists, especially if they have the right team around

them.

Trevor: There's more songs being used in films and TV. There's obviously

more channels on television. It's just a little bit more opportunity.

44 45
---
Realities of the Music Industry

In The Spotlight: Over 100 Voices in Music

It's still not perfect. It's still not the way we all really want it to be, but

the light is a little brighter a little bit, just a little bit.

Emily: There's more freedom. They have a little more freedom in

their brand management and their marketing. Social media helps

a lot too.

Trevor: Yeah, it's interesting.

Emily: At labels today, there isn't artist development or mentors

like there used to be in old days… Like Ray Charles was with

Atlantic Records.

I thought that was really great because I, myself am a life and

business coach for people in the arts and entertainment. I'm doing

my part to help inspire and work with artists in developing

their careers because I saw this need in the market plus I had passion

for the arts. What is your perspective on that?

Trevor: You're right. Like I say, the level of artist development is a completely

different scenario now with labels. Labels are actually looking

for artists who are developed already. They're looking for artists who

have fan bases already.

The phenomenon of these television shows, X-Factor, American Idol,

the Voice, all these stuff is based on, "Okay, we'll find semi-talented

or talented artists or singers," let's call them (we don't know if they're

artists), "…and we'll put them on this TV show, which is a reality-based

sort of thing, and they'll get fans from the people that watch the show.

So, as soon as we put the record out, they'll have a fan base. Thus,

we'll have record sales from day one."

That is their thing. Outside of that, if they do sign someone new, they're

looking for those who have already had a presence online. That way,

they can say, "Oh, these people already have 500,000 views on their

video and this and that and a web page and blah-blah-blah, so we

don't have to do anything. We just have to put the record out because

all we want to do is make money.

So it is a completely different thing when you go to a label back in the

old days and they had a staff producer who had a sound that the label

is famous for, and so to develop and hone this artist into something, or

an artist who was ready to go out and perform with a sound and with

an identity, and a look and all of that.

Now, you'd have to walk in the door with that. It is completely different.

That's why I say that artists have to have the ability to work really hard

because you have to not only work to say, "I'm the best guitar player in

New Jersey," but you have to have a vibe, a uniqueness and a message

and a persona and character. "Who are you? What are you saying?

What are you talking about? Why do I like you? Why should I like you?"

You have to come in the door with all of these before they even pay

any attention to you. It takes a lot of thought, it takes a lot of work, and

it takes a lot of trial-and-error to get to that point where you've got

that stuff together.

Emily: Awesome advice! Are there any final things you want to

share with Creative Spotlights?

Trevor: It's interesting. Music to me that works and lasts is all emotional.

It speaks from the heart. It speaks from the soul actually. In order for

an artist to do that, whether you're sculptor, a painter, a photographer,

a musician, a dancer, you have to find out who you are and understand

who you are, and what you have to say. Understand that that's the only

thing that really means anything.

46 47
---
Realities of the Music Industry

Or else you'll be an artist that has a hit song. It'll be one of those things

that come on at three in the morning.

"You remember the Pink Doorknobs? They had this song, "Baby, I

Love You" and they were like, "Oh, yeah. I had the Pink Doorknobs,

but then they only had that one song, and then I never heard from the

Pink Doorknobs again."

I mean, that's not bad. You can be one of the Pink Doorknobs. But if

you want to be Bono or…or Otis Redding, you want to be somebody

that somebody cares about, or can change somebody's life.

You have to really dig deep and work extremely hard to find your voice

within your soul first, and make it come across through music, which is

sometimes difficult.

48
---
CHAPTER 3

First Steps

❖ ❖ ❖

NOWADAYS, IT IS REALLY IMPORTANT to pay attention to your brand. Society

is shallow and will judge you from your shoes to your hairstyle. Be

prepared for judgment. Just as in clothing and overall appearance, it

is vital to master the right branding for yourself as an artist. That said,

your social media profiles are equally, if not more, important. When

becoming an artist, you need to decide what kind of artist you want

to be. If you are a metal artist, you are probably not going to use hot

pink as your main branding color for your website or logo. If you are a

country singer, it is unlikely you would dress in all black and sell t-shirts

that curse out the world. My point is: your brand awareness starts from

the moment your name is browsed.

Often, the question is: where to start? First, begin with the basics.

Sit down and think about what kind of music you want to perform.

What kind of artist do you want the world to see you as? Are you looking

to be that singer with the awesome-acoustic-guitar-rocker-chick

vibe or more of an innocent pop girl for teens to idolize? Also, in this

day and age, bands and brands go together. I recommend calling the

head of communications for a brand/cause you believe in and setting

up a meeting. If they see how passionate you are about what they do,

there is unlimited possibilities. They could end up hiring you to be

their spokesperson, or even hire you as a songwriter for their brand.

Now that you have a cause or brand you are teaming up with, it`s time

to hit social media. Start by creating an email account for your creative

51
---
First Steps

In The Spotlight: Over 100 Voices in Music

work, so all band related requests can be organized. I highly recommend

Gmail. Adding a great promotional photo to match your email

address is important too.

Next, it is time to start creating a fan page on Facebook, spreading

the word, and having people like/endorse your page.

Then, you should add some photos of your band to your social

media sites. I'd recommend using great professional photos instead of

amateur ones that a lot of beginning artists use. This means no selfies.

Personal photos are great for your personal Facebook page only. Take

professional ones to show you are serious and that you mean business.

The type of photos reflect your brand, so always keep in mind what

you want the world to see in you.

Next, upload your music on different platforms. If you don't already

have recordings, I would suggest finding a music producer to

record, engineer and master your tracks. Once you have your music,

you can connect your music player to your Facebook page by using

Reverbnation.com or www.bandpage.com. To build your brand awareness,

I recommend you creating profiles on www.soundcloud.com and

www.reverbnation.com The latter is great because it allows you to upload

your press kit to your profile and gives you the chance to send

requests to venues. All this is great for your presence as an artist.

Another great step to take is to find a graphic designer to create

your logo, an image that goes with your brand. If you are looking to

save money, try www.fiverr.com. Once you have a logo, you can use

it as your email signature and on your flyers, your Facebook page, CD

album, merchandise, and so on. Remember to always keep your brand

image consistent. Make your brand name and logo something that

stands out, something people will remember.

Next, I highly recommend buying your domain name and setting

up your website. If you are trying to do it yourself, I recommend using

Bandzoogle which is a platform to help create websites for artists. We

speak about this more with David Dufresne, CEO of Bandzoogle later

in this book.

Now, on your website you want to have the following sections:

photos, a biography, a music player with some of your songs, videos of

your performances, social media links, a button so people can sign up

for your mailing list and the schedule of your upcoming shows.

You can use several sites for mailing lists. My personal favorites are

MailChimp and ReverbNation. It is also a good idea to set your band

up with some social media profiles on Facebook, Twitter, Instagram,

Google+ and ReverbNation. Moreover, get a YouTube page, so you

can post videos of your performances and your overall journey.

Finally, make sure to constantly put out new content. Fans love this!

Keys To Success:

Social Media: Make sure to set up a social media profile on Google+,

Facebook, YouTube, ReverbNation, SoundCloud and Instagram.

Google+ is great because there are different music groups to join just

like on Facebook. There is even a YouTube singer/songwriter Google+

group. You can use this as a great outlet to promote your music, and

connect with more singer/songwriters.

SoundCloud is excellent for expanding your fan base and audience.

It's all about the sound on this platform. On the other hand, Instagram

is very useful when it comes to making your fans feel more connected

to you. You could post a photo in the studio or of lyrics you just wrote.

The more your fans feel connected to you, the more likely they will

be to promote you and support you by purchasing your albums, merchandise

and more. In the same way, YouTube is perfect for videos,

and when you create a Google+ hangout, you can record it and the

file will convert right to YouTube.

Engage your Fans: Make sure to keep your fans engaged. Let them know

about upcoming shows, tours and albums you are working on. You can

52 53
---
First Steps

In The Spotlight: Over 100 Voices in Music

also send them holiday cards and tie them in with your music. For example,

you could have a Valentine's Day contest where one lucky lady would

win a brand new, original song written just for her. You would ask those

interested to submit a video about why they should be the winner, and

encourage them to post it on your Facebook page, or tweet about it to

bring more views and activity to your profiles. You can get super creative

with this. No matter what, make sure to keep your fans updated. Even if

you send out a quick hello every month, it will make a difference.

"Make sure whatever you are creating, artistically satisfies you on a soul

level. If it is connecting with you, it will connect with the people." - Dan

Kimpel, Los Angeles, CA

"Really understand finances. I'm here because of understanding returns

on investments in all aspects of life. It'll get you further. For example,

instead of spending hundreds of dollars on headshots, I spent a bit more

on buying camera equipment to do my own headshots. Now I've got the

equipment to make films as well. Also, figure out ways to make passive

income. For example, owning a vending machine can bring in money

while you're writing your screenplay, and scale it up to getting into rental

properties." - Anu Gunn, Rock Vocalist/Guitarist/Actor, Los Angeles, CA

"Classical training will definitely mold you as a singer. My college

voice teacher, Emily Riggs, is my knight in shining armor! She really

helped me find my voice, and build a strong technique to carry with

me throughout my career." - Rachel Lynn, NYC

"I read a book called 'Outliers' by Malcolm Gladwell. He talks about

the 10,000 hour rule. If you do something for 10,000 hours, you will

achieve greatness in that field. Twenty hours a week for 10 years. If

you haven't already—get started. Do what you love, and what you

love will do wonders for you."

- Declan Bennett, Broadway, Star and Singer/Songwriter,

NYC

"YouTube is the reason I was discovered. Social media is a big part

of what started my career, and it helps me continue to connect with

fans and hear their stories, letters, etc. I use it to respond to as many

as possible, and it helps our relationship become a community." -

Meredith O'Connor, NYC

"I think the main thing in the industry, in the entertainment industry as

a whole, that I found that really helps you more than anything, is being

a nice guy to everyone and really gaining respect." - Noah Guthrie,

YouTube Superstar with over 50 million views, SC

"Understanding music is the first step toward being a producer. Look

at top music producer, Quincy Jones. The guy is an incredible musician.

That's what you need to be able to do. You need to understand

a number of different instruments. You have to understand from the

engineering point of view the different sound qualities of the different

instruments and how they all fit together." - Arty Skye, Producer, NYC

"Find a good mentor starting out. The whole notion of assistant/mentor

training in the studio has changed quite a bit recently. It's so much

easier to purchase a DAW and jump right into engineering or producing

records with little experience. The problem with that is you're missing

out on learning the art of recording from an experienced engineer.

There is the reason that those at the top of our industry are so good

at what they do. Learn from them!" - Adam Ayan, Master Engineer,

Portland, ME

"Stay levelheaded and be able to see how situations or people can

change in seconds. Just believe in yourself. And do one thing everyday

that will help you toward your goal." - Alex Flanigan, Nashville, TN

"I hate to say this, but you have to be honest with yourself and your

goals because if you have ANY doubts about a music career path,

54 55
---
First Steps

In The Spotlight: Over 100 Voices in Music

then it's not for you. It's very competitive… Be focused and take advantage

of opportunities in your immediate surroundings as well as

the bigger music world. Say 'yes' to everything." - Greg Ogan, Writer/

Producer/Engineer/Mixer,

Hollywood, CA

"Get acquainted with all the social media formats. Also, acquire a relationship

with a Performing Rights Organization, publisher, etc. Also,

acquire relationships with recording studios that fit the mold to the

sound you envision for your recorded music… I would say that you

need to refine your craft by spending time with people who are better

than you… If you are more of a business savvy person, a music

theory course can help your communication skills… Take marketing

and economics courses to brush up that part of your brain and remind

yourself that it's not just about practicing your instrument or pouring

your soul onto the page." - Alexander "Sheriff" Ariff, Musician/Radio

Producer,

NYC

"I think asking the advice of ANYONE and EVERYONE about your

music is totally key." - DJ Dark and Stormy, NYC

"Lay a solid foundation first. I'm one of those individuals who organizes

everything with a purpose behind the passion, with the intention

of never failing. This is one of the reasons I decided to get into

the marketing/business industry first. I decided that if I wanted to

find an audience for my music, I should have an intense understanding

of how business and marketing works. This has led me to harnessing

the power of people, and now I have a Twitter following of

over 152K and a blog that is syndicated to over 11 million people."

- Christian Hollingsworth, Singer/Songwriter, Entrepreneur, Model,

CA

"I just knocked on every door that I could. I just talked to every person

that I could. I spent my whole first year just trying to meet people." -

Zach Adam, NYC

"You have to think of yourself, your music, your performance and even

your social media presence as a product and you have to constantly

ask yourself; is your product something people would want to spend

money on? If it's not then you have to work harder and improve your

craft to make it worthwhile for your audience." - Danielle from Danielle

and Jennifer, NYC

"I learned everything I could about every facet of the music business

including entertainment law, distribution, publishing, etc. I had a great

mentor named Arthur Mann, who started a very successful record label

called Rykodisc in the mid-80s. He was invaluable in my learning

the ropes in the music business. I can't express enough how valuable

it is to have a mentor." – John McCracken, Producer,

NYC

"1. Hard work 2. Hard Work 3. Hard Work. Really for me, it's about

setting goals and working my butt off to accomplish them. Every year

I make a goal list, and throughout the year, I check to make sure I'm

doing what I need to be doing in order to be where I want to be." -

The Autumn Film, CO

"Being a musician, songwriter or engineer is a great place to start …

I would advise the people who want to be in the back end of music

to practice one or two of these core skills and to go to school! There

are tons of recording schools across the country, and the interns with

formal education almost always get further than the ones who don't."

- Doug Fenske, Producer,

Los Angeles, CA

"Not only do you have to be concerned with what you like as an artist,

but you have to take into consideration what your audience wants as

well." - Jennifer from Danielle and Jennifer, NYC

"Depending on what you're doing in the industry, first hone your specific

craft. If you play guitar, take lessons, and if you sing, take voice

lessons. Take a course on publishing or marketing… Every tool you

56 57
---
First Steps

In The Spotlight: Over 100 Voices in Music

have can be an asset to you and make the difference in your career."

- Charlie Scopoletti, CT

"My personal motto is: act like everyone is your biggest supporter

and your biggest opportunity because they just might be." - Robert

Ballesteros, Talent Handler/ Photographer, Los Angeles, CA

"Be a student of the arts, pursue excellence and stay humble." - Rob

Chiarelli, Producer,

Los Angeles, CA

"…There are a LOT of bases to cover to establish yourself as an artist—

making albums, social networking, having a nice website, having good

pictures and working on your image, writing and recording good songs,

promoting yourself, expanding your fan base, networking, working on

your performance (performance experience plus vocal and dance training,

etc.). The work is never done." - Adam Shenk, VA

"First you need to figure out three things: 1.) What am I better than

other people at musically? 2.) What do I enjoy doing musically? 3.)

How can I make the most money with music? Figure out what those

are, and stick to those fields." - Adam Lasher, Los Angeles, CA

"I think the most important thing is to say yes to everything, to opportunities

big and small. I learn more during bad shows than on good

ones. When a night is going terrible, the crowd isn't on my side, no

one wants to buy anything, and I'm messing up… that's like throwing

someone into a river for the first time, so they can learn to swim. You

stay afloat by making the best of those situations." - Alexis Babini, NYC

"Be a sponge. You can be a sponge anywhere. Know what you want to

do, then soak up everything you can from any and all sources. We're

all a little bit different and respond differently to things. Do what will

work for you rather than what you think you should do. Be willing to

do any and all of it. Take lessons, learn your craft, figure things out

yourself, search things, watch videos, read interviews, whatever you

can think of. And focus on what gets you results. And always, always,

always use your intuition and your logic." - Adam Watts, CA

"If you have an idea and you can see it through, and have an impact

on people, that's success. Always remember why you're doing this,

and never get caught up in the things that don't relate to your reason

for making music. Never sacrifice your intent for success." - Alyson

Greenfield, NYC

"…Practice every day, and try to do at least one musical thing a day,

whether it be obsessing over an artist or writing a song. Do anything

you can that will help you become a better person, which helps you

become a better artist." - Carly Lind, Los Angeles, CA

"It is so important for musicians to be educated in music business because,

as an artist, you are your own business. More and more, artists

are in charge of their own booking, marketing, promoting, recording

and financing." - Emily Earle, Brooklyn, NY/Nashville, TN

"There's no better course, or class than just doing it. I would suggest

to not get bogged down with books, tests, etc., and get a Mac, get

GarageBand or Pro Tools, find some friends and make some music.

Or if you're on the business end, get a job as an intern somewhere.

Practical experience… There's no substitute. That being said, the best

teachers are the ones that have actually been there, and done that." -

Craig Bartock from Heart, CA

"I will have to say my key philosophy in life would be four Ps: prayer,

persistence, patience and then that all equals perseverance. Those are

my keys to become successful." - Jason "Poo Bear" Boyd, Producer,

Los Angeles, CA

58 59
---
First Steps

In The Spotlight: Over 100 Voices in Music

"Never try to sound EXACTLY like your favorite artist. You may think

this is an excellent way to get fans since the person you're trying to

emulate is probably successful, and if you do it right, you might be

right. You might find a slight amount of success in doing this, but is it

worth it? Do your fans honestly listen to you for you or because you're

just another catchy mainstream artist? Be different, be unique, and if

you find success on your own, it'll all feel worth it in the end. People

will look up to you." - Diary Of Snow,

Atlanta, GA

"If you're looking to start a career in music, it helps to be in a huge

entertainment mecca like L.A. simply for the connections available.

However, with the state of the Internet today, and the tools available

for home recording, marketing and distribution, there are ways to get

your music heard and create a name for yourself from anywhere in the

world without having to be in L.A., New York or Nashville. It just takes

a lot of hard work, passion and fearlessness. It's kind of like pointing

to your goal on a map, and then driving as fast as you can in a straight

line with your eyes closed until you get there." - Derik Nelson, Los

Angeles, CA

"Learn as much as you can. Part of this learning will be your art,

learning all aspects of your craft in depth and always challenging the

boundaries of your style and comfort zone. But also study the world,

literature, philosophy, politics, science—all the things that combine

to form life as we know it because art is the portrayal of life, and the

more you learn, the more you will have to call upon and be inspired

by. Finally, don't be afraid to market yourself. No one else will do it for

you. Know what you are capable of, and do not rest until others see it

too." - Michael Bihovsky, NYC

"Take EVERY opportunity you get. Don't let fear push you away from

what you want. Let it be your motivation to succeed." - Nick Finochio, PA

The Coach's Perspective: Walking a New Path

Your first words… your first steps… first kiss… first track?

It's said that the most consistent part of life is change. How do you

feel about that? What will it take for you to truly let go of the past, and

stop worrying about the future? To simply focus on achieving success

in the "now" = the present moment? Life is all a series of moments in

the "now" isn't it? You are living your future right now!

Now, in the journey to become the level of artist you desire, you

got to stop, and truly look at your level of self-awareness! Who really

are you? What have you been through? What are the hidden life

lessons in all the good and bad you have been through? What do

you need to let go and accept?

In each of your life experiences is a clue to reaching your ideal future.

There is a message for you if you look close enough. Once you

unravel that part of you, you can now truly move onto attracting your

ideal future. On top of that, it has to be a pretty determined crystal

clear future! Success will come to you if you are persistent, confident

and unwavering on your path. Do not switch back and forth in your

decision-making, as your chances increase greatly when you stay focused.

In life, the directionless go nowhere.

Who you are + your past + your potential future = the full picture,

a mirror effect that I unbiasedly share to my clients in our sessions. I

collect several pieces of information hidden in their stories, adamant

truths to their persona, and glitches in their psychology. As a professional,

I reflect it back so my client can understand their inner world

much better, and be able to release old energy. Although I like to

focus on career strategies, clearing the way for this information makes

it much easier to influence my clients to move forward in making real

plans of actions. Layering emotionality to the process with acceptance

and gratitude seals the process towards success.

60 61
---
First Steps

In The Spotlight: Over 100 Voices in Music

Now there is a natural pull in nature towards a timing in things.

There are many metaphors for this in the coaching world, but I like to

use the 4 seasons; Spring, Summer, Fall and Winter. Where you fall

season-wise when starting the coaching process provides a bit of a

road map for the artist/coach connection, making it easier to navigate

these changes together over time.

Here is a description of the seasons:

Spring: During this time period there are many new beginnings and fresh

starts. You are starting new things; perhaps a new direction for your music,

a new image, moving to a new area, or teaming up with new people

who can help support and manage your dreams. Spring time is innocent

and positive, as all the dark debris from winter has finally eased up. You

are in a new life cycle, and the feeling is adventurous and freeing.

Summer: This stage is full of experimentation, quick conversations, new,

fast business relationships, just getting the projects and ideas, that you

started during spring, moving quicker. Since it is a fiery season, full of

passion, you may get very enthusiastic about new business/creative

ideas, and quickly tire of some other ones. Time quickens and so does

the pace of your moves in the music industry. It is a social season, as well

with more opportunities to network. This is the season of social leverage.

Fall: The stage of autumn is about patience. The combination of all

the work started during spring + the somewhat exhaustive pace of

summer really starts bringing some amount of anxiety for results. As a

music artist, you want your harvest at this time, especially the fruits of

your labor from your more intense key projects. This is a good season

though as you start to see the lasting values of those key projects,

the truth behind key relationships, and just generally securing a really

good foundation. If you congratulate yourself for all your efforts, you

will actually realize that you have done quite well, and know the results

are occurring in a perfect timing.

Winter: Endings. Analysis. Relaxation. Rest. Peace. Introspection.

During winter, you rest while you move through endings and settle

things once and for all. This could be finishing up the last stages of

your music projects, finishing recording your album, or ending partnerships

with band mates or a manager. It is time to clear what is not

moving you forward in your career. You clear the wrong out of the way

and you slow down and just think. You heal and analyze until spring

comes again, and it's time for you to begin anew.

If you did this right, the new life cycle will be a blessing, and you

will be stronger, wiser and more strategic than ever. You may physically

and energetically feel a transformation. It wasn't easy, but the life lessons

you collect along the way, and the payout is worth it.

As your coach, I ask you the following:

1. Considering all the seasons, which one are you currently in? What

are some signs that tell you this? Please explain:

2. What is the one truth about your past that you must accept? Be brave:

3. Where do you want to be 1 year from now? What support do you

need?

62 63
---
First Steps

In The Spotlight: Over 100 Voices in Music

4. What is the next step you can take today, in the present moment,

to drive your career forward?

Featured Interview: David Schuler,

Award-Winning Music Producer

Chapter 3 Affirmation: First Steps

"I have a complete clarity on who I am and what I have

been through. The journey is perfectly arranged because it

has only made me stronger and wiser. I accept the lessons

of my past, for it has made me brave. I own the moment

that is now, and only I design my future as that comes from

within. With my creative armor raised high, a vibration of

protection around my creative gifts and my true supporters,

I fight for my dreams to come true. I am starting now."

❖ ❖ ❖

Emily: We are excited to feature our first interview in a new year

(This was done January 2014). It's number 301 for us at Creative

Spotlights with Grammy-nominated and multi-platinum, worldwide

selling record producer, songwriter and artist, David Shuler.

How are you?

David: I'm good. That was quite an introduction, wow!

Emily: At Creative Spotlights, we appreciate all your years of experience

in the music industry. You most recently worked with

John Legend and Pink as their producer. So the focus of this interview

is to provide your perspective on what it takes for a music

artist to succeed in the industry.

This information will help countless readers of our Creative

Spotlights site, get an edge around what they need to stand out,

and make a good impression with the fans.

64 65
---
First Steps

In The Spotlight: Over 100 Voices in Music

So my first question for you was; if you could express your journey

in music over the years into one sentence to share with your

fans, what would it be and why?

David: In one sentence and why. Let me see, I would say passion, not

permission.

Emily: Wow! Passion, not permission!

David: The reason that I would say that is because there's gonna be

a lot of people that are going to say to whoever's reading this that

they're foolish for wanting to pursue a career in music and that it's unachievable,

it's unattainable. A lot of people are going to tell you that

you just can't do it, period.

Making a life in music, you have to make it without asking anyone. You

just have to do it because you're never going to get the answers that

you seek from anyone else but yourself. You only get what you put in,

which I feel goes along with anything in life. It really is a long, challenging,

exciting journey, but I think that seeking validation in what others

think, is just going to yield nothing but negative results 9 times out of

10 unless you're dealing with your peers.

Emily: So one of the keys to success, you would say, is having this

instinct that you're meant to be in the music industry, the intuition

on who you are to listen to for advice, and listen clearly to yourself.

David: Yeah! I mean, be passionate about what you do, in that it has

to show every ounce of your character and even more importantly

in your work. Your music should be able to speak to people, and it

should speak for itself. There should never have to be any kind of a

disclaimer.

I feel like that's the secret ingredient. When you can find a way to create

music that just speaks to people without any excuse or any kind of pretense,

that's really what I think every musician should strive to achieve.

Emily: When you first started back in the industry, you probably

had a totally different perspective than where you're at right

now, about how you see the industry. What do you wish you knew

back then, when you started, about being in this industry?

David: It's great because I played in bands for years. I really started

when I was in my junior high school. Honestly, if I had one wish, it

would've been to spend my time a little bit wiser.

At first, I was the guitarist, and I was convinced that if I can learn every

metallic song in the catalog that I would be the best guitar player in

the world. I did that, and I was like, "Oh, I'm still here. What am I going

to do now?" It's like if I could join a band and it sounds a certain way,

then that's going to be it.

I went and I found that band, and I was still kind of in the same place.

You set goals for yourself along the way because that's what you have

to do to get by, but I wish that I was a little bit more reasonable with

the goals that I had set as opposed to being so immediate.

I mean, I'm 31 now, and it took me a long time to really make a commitment

to just let go of everything that I was holding onto that was

holding me back and really commit to making music professionally for

a living.

I feel like there's plenty of other producers out there. They're a lot

younger than I am that are breaking it down by the numbers and being

66 67
---
First Steps

In The Spotlight: Over 100 Voices in Music

successful in the business, and you always think, "What could I have

done better?" But I think it's almost important to not think that way

because everybody's story is different.

Emily: I coach artists and a lot of times, it is about having a focus.

It's this serious drive for who you are as an artist and your purpose

in this life and expressing your art, but a lot of times, a lot

of it has to do with kind of surrendering to the fact that you're an

artist and that you can't control everything around you. Just have

faith and confidence at the same time that as you go along in the

journey, the right people will come your way, you're authentically

expressing your art, you develop yourself, you learn from mistakes

and on and on, you know?

David: Yes, definitely.

Emily: So what do you think it takes for a music artist to really

succeed in the industry that we have right now in 2014 where

everything is so competitive?

David: I think first, the most important thing is that success is determined

by an individual always. There's so many ways to break through

the noise of today in music because you can get music on your watch…

There's a watch now that you can get with a phone and an mp3 player.

Music is coming at you from every possible format of media that there

is. It's really about finding where your music lives and who you're trying

to speak to and finding the best format to reach those people in the

biggest way whether it's on a specific blog.

If you're making EDM music, then you know you should go to Fresh New

Tracks, and you should be sending your music to that blog or anybody

who writes for that blog. If you're in hip hop and you're a musical director,

you should be sending your videos out too… If you're just a guitar

player, you should be making YouTube videos of you—just start playing

guitar and other songs and hosting them. There's just endless ways. As

far as success, overall, to break through, I mean again, I feel like it's a

relative term because it really is defined by the individual.

Emily: Right. Some artists would be satisfied just being a local

band or just being a local famous artist. That's good enough for

them. They want to have kids and a family because that's success

for them.

David: Yeah, totally! And I think there's formulas that work for producers.

There are formulas that work for songwriters. There are formulas

that work for singers, for touring musicians.

It's like there's so many different ways to make a living off of music that

it really depends on what you do and what you see yourself doing for

however long. It's just endless. There's so many opportunities in music,

just like anything.

Emily: That's good to hear for anyone who is a musician or a music

artist and they maybe want to get to the behind the scenes

side of the industry. You've been there, both musician and on the

business side as a producer. How is the view different from each

perspective for you?

David: Well, the only difference in producing a record is that you have

to deal more with personalities. When you produce a record, you have

to make a) everybody happy and b) the record everyone wants and

that includes the artist, the label, the artist's manager, whoever works

for the artist, everyone at the record company.

68 69
---
First Steps

In The Spotlight: Over 100 Voices in Music

At the end of the day, everyone is just going to have their creative

input, but nobody knows really what they want to hear until they

hear it. That includes the artist and the producer and the songwriters

at the same time. You set out to realize this musical journey, but

you really don't know what it's going to sound like until you start to

make some noise in the studio and figure out what the sounds are

and everything.

It really comes together in such a strange way, but as a producer, it's

most important to make sure that you're spending the money for the

budget of the record wisely, that it's not getting blown on shirtless

nights in the studio, like the liquor or whatever the artists wants to

do. You have to really kind of steer the creative work but also create a

space that the artist feels safe and open to try things, but also understanding

that they have an obligation to the record company to deliver

a record.

It's really just kind of a juggling thing. And it's much different. I think

a lot of people think that—like movie producers, for instance, it's like

they're producing a film, their job is entirely different than that of a

record producer. It means two totally different things. In TV, again, it's

totally different.

And I feel like you should also—I guess in today's landscape, we'll call

it being a record producer—I really feel like musically, you should have

an arsenal of ideas and abilities. I mean, 95 percent of the records that

I produce, I play every instrument. I do a lot of the engineering. I do a

lot of the writing.

I think with these guys who work in recruitment, they don't necessarily

play instruments or touch-and-gear anything anymore, but they have

that ear. There's a new wave of producers on the rise that do everything.

They play everything.

I feel like you should be able—at any given moment, if things are going

well in the studio and suddenly, you need that guitar recorded and

nobody is in the room that can play guitar—you should be able to pick

up the guitar and play that guitar quite right, the way the song needs

it. That's just my opinion though.

Emily: Yeah, it sounds awesome because you're basically saying

that because you've been there, done that, you've been a musician

and that you got your start in high school playing guitar, and

it's part of who you are.

You're able to, as a producer, have the edge, the extra thing that

you need to create all the success and the successful records

that you've done so far. You can contribute and have that vision

and just really put your amazing input into the work that you've

done. You know, John Legend and Pink and the Backstreet Boys.

Awesome!

What are some of the things that you noticed that can ruin an

artist trying to make it? Because you know, it's a lot. A lot of

pressure you have on your team and on you, you have your own

creative ideas, you're trying to keep the ideas with the management

and all.

David: In any situation, it doesn't matter. I don't care who it is, if it's a

massive star to an unknown singer, the most vulnerable person in the

entire equation throughout the entire journey of anyone's career is

the artist. It isn't the manager. It's not the A&Rs. It's not anybody but

the artist. And because of that, a lot of times, they're also the most

impressionable.

I think that they forget that an artist is the one, that if the rest of the

world looks at you, it's like, "I want to be like that girl… or that guy.

70 71
---
First Steps

In The Spotlight: Over 100 Voices in Music

They are awesome for what they say. They're awesome for what they

wear, what they stand for."

A lot of times, recording artists will let the music kind of float around

a bit, and they'll seek opinions that they may not want to hear. I just

think that leading by example as an artist as opposed to letting

someone at a record company determine whether or not you like

your own song is—it's something that I've experienced that is a

shame because you think if the artists say, "Look, this is music. Get

onboard or get out of the way" because I know artists that are like

that as well. Pink is one of those people. I mean, that's really how

it should be because at the end of the day, everyone's working for

that pinnacle of what the artist is doing which is songs. If they can't

rally up behind their own music and lead, that doesn't really work

well.

I think being confident is the most important thing. When you record a

song and you're like, "I love this song," and three weeks later, no matter

how many people told you they've hated it, it shouldn't change the

fact that you love that song.

Emily: I love that. Yeah, a musician should also be timeless in a

way. Music, I feel, should be such that 20 years from now, it's still

a great song. People go, "Oh, okay! That song is great. I remember

it back in the day, and it's still good. Let's listen to it…" When

it's timeless like that, it creates a form of a musical masterpiece.

So what do you feel is the future of music in the next five years?

David: Honestly? Spotify. It pains me to say that as a songwriter because

they're not paying what they should for the music that they service,

but that's a debate that will probably never end. Companies like

Spotify, they are offering massive amounts of streaming music for literally

free with the exception of a few advertisements that you have to

listen to unless you want to pay a subscription.

Emily: Wow! That's a challenge. Musicians worry about their

creativity, their branding, social media and fans, but also how

technology has changed the music industry and will continue

to rapidly change how music is heard and what kind of music

keeps the attentions of the market. So I agree with that point.

David: I think that's probably where everything is heading. I think that

the day of the album is numbered as well, at least when it comes to

pop music because there's so much noise. You have to release a new

song like every three months or else people forget.

It went from a day and age where you would buy an album, open that

pamphlet, see that person and be like, "Oh my God! This Bon Jovi

is like a legend." You would go to the concert and see Bon Jovi and

almost be able to touch him, but that's as close as you could ever get

and ever imagine to get unless you've got some meet-and-greet pastry

radio station or something.

Now, if Bon Jovi doesn't tweet you back, you're not a fan. If he doesn't

reach out directly and speak to you and connect, then it's almost like

Bon Jovi loses that fan.

So the entire mystery has kind of been stripped, but that's the world

that we live in because people want things now and they don't want

to wait. And when they get something, they get it and then they want

something new. It's the day and age that we live in. If that's what everybody

else is doing, then in that sense, it is a race and you have to

keep up or else… I've seen it happen.

72 73
---
First Steps

In The Spotlight: Over 100 Voices in Music

Emily: That's amazing advice for the readers. As an artist, it is important

to stay ahead of the curve and observe the trends. Social

media networking and it's influence, getting close to one's fans is

really where it's at. The walls fade a lot every few years. What are

some key success habits that you recommend that a music artist

or musician commit to?

David: That's a tricky one. It really depends on what you do. I mean,

I feel like you should be practicing if you're a musician. You should

constantly be practicing and performing if that's what you want to be

doing. You should be booking shows. You should be tweeting your ass

off if you're the artist, if you're the singer of the band or just a singer.

You should be making it known to the Internet that you're out there

and that you're there to find if people look for you.

But at the same time, I feel like you should only pay so much attention

to the Internet because it's also a very cruel and unforgiving place.

It can be a lot of negativity at the end of the day. So it's like you really

have to commit to who you are and just let that be that and give

people their right to free speech, but try not to look at it because it

gets pretty ugly.

Emily: What do you feel fans really want from the artist now?

What are they really looking for in 2014?

David: Something new. Everybody knows how much they hate to turn

on the radio. Now radio is still the biggest format, but it's also the

slowest. I think guys that are breaking through, whether it's…(thinks

about it) oh man, I don't know, like I do like Zed or a band like The

1975 or like this band, Joywave, (that I'm a huge fan of and friends

from my hometown)—these people are making music that just doesn't

sound like anything else, but it also has that home-cooked feeling at

the same time.

When you listen to it, you love it. It takes you somewhere, but you don't

know where it is. But you gravitate toward it because it seems familiar

because the songs are good. I think that that's what everybody wants.

Emily: Music is basically, out of all the arts (acting, dancing and all

of it), the one that hits you the deepest because it's just vibration-

al, and it connects to your subconscious and your spirit. I feel that

music is so influential because of that, because it has that power.

David: Also, I will say I'm a huge cinephile. I'm a massive fan of cinema.

I see pretty much everything that comes out. I think that when it's

paired with film that it's very powerful.

Emily: For example, like music videos. You get a combo of both

and that influences you.

David: Yeah, whether it's a music video or if it's a movie or whatever. I

agree. I think that it's like you're going to listen to music on a tone and

you can watch a movie that has no music, but when you watch a movie

that does have music, then it has everything.

But at the end of the day, who doesn't want a new favorite band or

a new favorite singer though? I mean, every time you discover new

music, it's like being born again or something. It's a whole new experience

in itself.

74 75
---
CHAPTER 4

Creative Belief

❖ ❖ ❖

I BELIEVE HAVING A POSITIVE mindset in your music career can make or break

your success. If you don't believe in yourself, why should anyone else

believe in you?

Throughout my music journey I have chosen to focus on the positive

and it has resulted in some incredible opportunities. I have had

the opportunity to sing in front of a music producer who has worked

with stars like Madonna and Will Smith. I've managed to build an entertainment

site which has featured over 300 interviews with people

in the music industry over five years. I've also been able to work with

a very successful voice coach. I believe it takes more than luck to be

where I am today.

I meditate and pray to God all the time to bring people into my life

that can help me build CS to ultimately help artists around the world.

I believe God has played a huge part in what I have been able to accomplish

so far with CS.

Having gratitude is also an important step to creating success. Be

grateful for what you have. I can't tell you how many times I have said

"thank you" for everything that has been brought into my life.

Another important step I like is visualization. You need to be able

to see in your mind whatever you want to bring into your reality. When

I was living in Pennsylvania, I pictured myself living in New York City.

I created a vision board with pictures of NYC apartments and moved

there without a job but with a little faith and a savings account.

77
---
Creative Belief

In The Spotlight: Over 100 Voices in Music

I believe things happen for a reason. If I had not taken a chance,

moving to NYC, I would have never met Emily, my Co-Founder, who

help kickstart this book with me and our new artist development program

on our site. Or have met all the other incredible people I have

been blessed to get acquainted with so far. I knew I wanted to move

to NYC. I pictured finding jobs day after day. I found a job, I found an

apartment but most importantly, I believed it would all come together.

So I took a chance to make it happen.

Keys To Success:

Positive Mindset: Thinking positive is a huge key to being successful

and gaining way better results. It actually enhances your luck, which

you definitely need in the music industry. Every time I walk into a music

networking event and I am thinking positively about who I am going

to meet, the most amazing things happen to me. The right people are

standing in front of me waiting to speak to me about whatever I was

excited to speak to them about. This has a great deal to do with being

positive in the first place.

Stay Open Minded: You never know when the people you've met

throughout your life will come into play, or how, for that matter. Never

expect an artist to still be right where they are now, in five years. Always

build a relationship and be open to learn, grow and change. Try to find

a way to provide support for others too. You never know who knows

that person who can help launch your career in the right direction.

"If you don't believe in yourself, you'll never push yourself to get better.

If you don't push yourself to get better, you'll never grow as a musician.

If you don't grow as a musician, you'll never make it in the industry. If

you don't believe in yourself, no one else will." - Brian Hull, Dallas, TX

"Listen to yourself, believe in the possibility of your dreams, do what

makes YOU feel happy, not what you someone says you SHOULD do,

and always live in joy. Anything is possible." - Alexa Falk, One Half of

Country Duo: Falk, UT

"With so many gadgets and devices all barking and nipping at our

heels for attention, taking time to analyze your own needs and goals

is vital." - Dion Roy from Fire and the Romance, NYC

"It is important to have a positive attitude. Regardless of an individual's

success, there will always be people who disagree with certain

career decisions. That's what makes this creative business so great

and exciting. Keeping a positive attitude allows you to have faith in

yourself, and to press forward. Oftentimes, positive forward progress

is the key to navigating this rocky industry." - Jacob Kupin, Artist

Manager/Promotions Coordinator, Nashville, TN

"The faithful muse that always inspires me is my vivid imagination.

Living in a world of dreams brings me to the most unchartered and

wildest territories imagined. I know that for a fact and teach that concept

to all of my students, that visualizing your dreams in the most

precise details will bring tremendous amounts of creative results and

inspiration. Try dreaming big. Put yourself in a place where you are

happy doing what you love. Imagine the scent, the colors, people

around you. Then go sit at the piano and watch magic happen!

Also...I always knew I was born to change this world with my art. When

I see poor children struggling to survive, I get an adrenaline rush, and

voila! another benefit concert is on its way. It is someone's misfortune

that kicks me hard, screaming, "Get up and go! They are waiting, and

you can help them!" - - Elena Ryepkina, Classical Pianist and Vocalist,

NYC

78 79
---
Creative Belief

In The Spotlight: Over 100 Voices in Music

"Everyone is living their own movie. The visions you create, the beliefs

you hold, dictate the next scene in your movie. Dream beautifully,

dream big, dream with love and watch your life become better than

your dreams." - Wendy Parr, Vocal Coach, NYC

"A

positive mindset is important to being successful in any area of

life, not only as a musician. Nobody really wants to be around Debbie

Downer. The energy in the room gets drained when they are there.

Unfortunately some people just have that energy about them. One

thing I have to give credit to this country is the yes-we-can attitude towards

everything. Other countries start with "no, we can't and slowly

change their mind to "ok, we can do this." As far as visualizing or meditating

goes, every artist has their way of finding that special creative

place. Michael Jackson for example, loved having stuffed animals in

the studio when he recorded. It made him feel good, it found him a

happy place that inspired him. Every artist is different. Some need the

Nag Champa, others need a spot to meditate, some need a place to

exercise.

The important thing is to find that place that opens up your creativity

and allows you to bring the best out of you. When you are in that

spot, you make some of your best work. An artist needs to be in that

space to be successful. When you have a positive outlook on life and

work, you swim with a direction. When you lack this concentration, it

is like being stranded out at sea. You can swim and swim and swim,

but you have no idea what direction you are going in." - Pablo Arraya,

Producer, NYC

"If you want something, go out, get it. Manifestation turns into reality."

- Adam Lasher, Los Angeles, CA

"Creative belief is key to survive [in the industry]. My intention is to

live a life of joy and creativity, inspiring hope in others. It's a daily

process of confronting yourself, and asking yourself what would bring

you happiness." - Michelle Anderson, Los Angeles, CA

"Give yourself to this industry at all times. If you are only going to

give 50%, it isn't worth it. When I started out, I made a decision not to

stop, and I haven't looked back yet. You have to be ready to kick down

every door that gets closed in your face, and be able to see that light

at the end of the tunnel." - Daniel Rinaldi, MA

"Music is a very personal thing that brings people together. If you

don't believe 100% in what you are doing, then you are wasting your

time. You could be the most talented person in the world, but if what

you are expressing isn't from the heart, then you can't touch people's

lives." - DJ Axis from Shinobi Ninja, NYC

"Believe in yourself, and do one thing every day that will help you towards

your goal." - Alex Flanigan, Nashville, TN

"Any

kind of spiritual practice that puts you in line with your vision,

and opens you up to life's possibilities is a key. You have to to let go

of things that are not serving you and focus on manifesting what you

want to create. If the intention is good, the how is unimportant. It will

happen." - Tatyana Kalko, NYC

"Stick with it. It's not going to be easy, and it won't always be fun. If

it's what you want to do beyond anything else, stick with it." – Greg

Burroughs, Nashville, TN

"You have to tell yourself everyday that you know what you want, how you

can get it, and that no one can stop you." - Carly Lind, Los Angeles, CA

"As

an artist, you will encounter every obstacle imaginable and hear

a thousand 'No's' before you hear a 'Yes'. You have to endure the

80 81
---
Creative Belief

In The Spotlight: Over 100 Voices in Music

journey. Sometimes, persistence and work ethic trumps everything

else." - Ahmir, Boston, MA

"There have been times throughout life, where I've had a vision or

dream reaffirming a simple truth. I believe that what you imagine becomes

reality." - Christian Hollingsworth, Entrepreneur, Model, Singer/

Songwriter, CA

"If no one knows who you are, no one can hire you. Even if you don't

know anyone in the industry now, reach out. Many people have been

in your shoes and would love to help. You will be amazed at how kind

most people are in the industry." - Brian Hull, Dallas, TX

"Dreams are art, they come from inside. One must be true to the

purity of both. The art that is released to the world is a dream that

one has realized for others to use in their dreams." - Manic Mike from

Shinobi Ninja, NYC

"Taking the time to meditate, in whatever form, is best for you, whether

it's yoga, a quiet moment, listening to music, going for a run etc. it

always helps us come back to our true and simplistic selves. It helps us

find our breath and be present in the moment. When it comes to playing

and performing music, that is a necessity. We want to be honest

and authentic in what we put out there." - 5j Barrow,

NYC

"If you are giving up, then a part of you doesn't want it. Having a plan

B is only right, when you're not certain. In the life of a successful person,

there is plan 'A' and that's it. You just do that until you have done

it the way you wanted to do it." - Stephen Rivera, Rock Vocalist and

Producer, Los Angeles, CA

"Creative belief is essential for any artist to cultivate or have. Because

the first step to create anything, is to believe, or to see it, envision it with

the imagination, then the creative medium usually creates itself." - Dani

Tersini, NYC

"Creative Belief expresses who you are, helps to open your creative

mindset and, last but not least, it defines you." - 'JC Stang', Lead singer

of 'Wysteria', NYC

"Visualization helps us strive for our goals. It keeps us motivated. It

puts our goals into a realistic perspective. We watch old NSYNC concerts

and take time to figure out how, what, where they were at that

stage of their careers to get to that status. Then visualization helps us

apply these occurrences to our own band. All of these methods are

crucial for us as artists!" - Phase Five, Los Angeles, CA

"Without determination your goal has no fuel. Without fuel, a goal is

just a wish. Determination must be in the picture. Faith, I believe, is

your moral compass to what you are, and what you are not, willing to

do to achieve your goal. It sets boundaries and parameters that let

you sleep at night." - Eric G., NYC

"We are formed by what we do. It is our actions that ultimately make

us. What we do slowly becomes the creator of our lives and our souls.

What we are doing in life decides how we are creating ourselves.

What our behavior is in life decides the directions our soul will travel,

the paths it will move on, the new worlds it will explore." - Ghastly City

Sleep, NY

"I actually do a lot of yoga and it really helps to center me. I'm a pretty

energetic guy with lots of ideas flying around. I've found that my meditative

practice combined with yoga helps my creativity immensely.

Check out www.mogamind.com, fantastic friends of mine are starting

their own meditative revolution right here in Chicago." - Avi Dell from

AyOH, Chicago

82 83
---
Creative Belief

In The Spotlight: Over 100 Voices in Music

"Self-belief is crucial in an industry that is hyper critical and often

cruel. You need a 'game plan' and you need to stick to it. If negative

comments or bad reviews make you want to quit then you probably

should. Successful artists are generally loved and hated in equal measures.

Both Liam Gallagher and Bono fit into that category, and I have

worked with both. They thrive on the insults and negative comments

thrown their way. Stay strong and focused and believe in yourself." -

Pete Maher, Master Engineer, UK

"Visualization and meditation and different things is really better than

prayer because we live in a thought world. Everything is thought out

in your mind first and then that`s what goes out. Your mind is a very

powerful thing. That`s what goes out to the universe. The first thing

with visualization is you can't doubt. It takes practice. It has helped

me a great deal. Once you put your mind to something and put it out

there in the universe, you have to know it, you have to feel it. It`s called

laws of attraction. That is the key to life. Never second guess yourself.

Your first mind is what we call God's mind, the second time it's on you.

As soon as you have one inkling of doubt come to you in your mind,

then you have to start all over again. It works for me." - Daryl Brown,

son of the "godfather of soul", James Brown, Los Angeles, CA

"Think of every little failure or obstacle as training. As your skills develop

and your experience accumulates, your abilities strengthen.

Visualize the finish line. You may not get there first and hurt yourself

on the way, but you will cross it." - Meghann Wright, NYC

"I believe that truly anything can make you creative, you just have

to open your mind to it. Anything and everything can make you create,

and should make you feel creative." - Greg Baughman Jr., The

Deadlight Projects, Nashville, TN

"Having the desire and expectation that I create something timeless

and worthwhile is important to me, but equally important is visualizing

that I have already achieved that goal by allowing myself to know

success has already taken place. Having faith in the creative process

and knowing there is no such demon as 'writer's block' is the best

mantra for meditation." - Rob Hegel, Los Angeles, CA

"Early on, the world of songwriting was so fresh that I could dive into

each composition without any fear of retreading melodic or lyrical

ground, but now greater forethought is required to ensure that I'm

keeping the process fresh." - Matt Jaffe, Matt Jaffe & The Distractions,

San Francisco, CA

"Pursuing a life in the arts requires a blind kind of determination. You

have to ignore all of the naysayers, haters, doubt and evidence-tothe-contrary

and just go for it. In the end, a life lived with purpose,

focus and dedication is so much richer and more dynamic than a life

sacrificed to the daily grind out of fear of failure." - Alexis Hightower,

NYC

"Believe endlessly in your pool of water or it will dry up. People will

drink your water and tell you they are still thirsty. You are dehydrated

and can't make more water. You decide what goes in your water recipe.

If others don't like the taste, either make them some water they'll

like, or tell them to spit it out." - Duke Sims from Shinobi Ninja, NYC

"The great and universal truth in all art is that it is defined 50/50 between

creator and audience. The artist channels something or works

to express an idea, then gives it up entirely to the viewer to define

and understand. It's a subtle but deep relationship. It's really the most

sublime form of conversation." - Alec Gross, NYC

84 85
---
Creative Belief

In The Spotlight: Over 100 Voices in Music

"There is a virtually limitless amount of things that inspire me.

Almost every day, I find something that inspires me to write a

new song. Whether it's generic inspirations or whether it's based

on events in my life, there's always something." - Diary Of Snow,

Atlanta, GA

"True art is real. True art can be sad, ugly and twisted. Much of the

mainstream music we hear today has been chopped down, so the

listener does not have to think, interpret or struggle to find meaning

inside. The artistry is fading away, and if listeners keep seeking out

this music, the art will soon be gone." - Adam Christopher, IN

"Music is always changing so it will definitely be different in five years.

I think it will go back toward more musical live performances with

instruments rather than people pushing buttons on huge stages with

big lights." - DJ Axis from Shinobi Ninja, NYC

"The main source (likely the only source) of musicians' income will

be entirely on merchandise and live ticket sales. I believe a new

way to sell music and profit off of music sales will come to the

forefront."

- Rick Rocker, Queens, NY

"Music is the thing. It is the connecting point. It's the international language.

It is something that gives me purpose." - Dan Kimpel, Author,

Educator, Journalist, Los Angeles, CA

"Songwriting and producing are partially instinctive endeavors. In the

moment of creation, you go with what feels right. That said, the more

tools in your toolbox, and the more you've studied other ideas, the

more successful you can be at piecing together the puzzle that is a

song, a cue, or a piece of music." - David Das, Composer/Producer,

Los Angeles, CA

The Coach's Perspective: Designing Your Vision

Why do you create your music? What guides your mind when

you are creating?

Some artists are pulled by the fame. The anticipated riches. Awards.

Popularity. All of it! But if you are a true artist, one that is on an authentic

life path, you will pursue music for something way greater. How

about: To express your heart, mind and spirit to the world and

change the lives of countless of your fans in the process?

Want to make your art last? Leave behind a legacy? Then speak

through your art to the hearts of your fans! Stay committed to your

own vision of success. Most of all know you deserve it all; prosperity,

love, friendship, wisdom, health, truth… but all in the right ways without

selling yourself in the process. Stay strong and see things clearly!

A cycle for increasing your inner power:

Accept the greatness of all your past accomplishments. Yes,

you did all of that!

Reflect on hidden life lessons and gifts that arise from your trials

and tribulations. See their worth to your learning and development.

Design a vision for the future, preferably in writing, and stay faithful

to it, and you will receive. Never give up for nobody or nothing.

Stay positive and strong with laser focus on your goals, while

living in the moment to fight fear and stagnation.

Have gratitude for who you are and what you have been through

+ accomplished in that same moment. Do this on a regular basis.

Meditate and take time away from distractions to release negative

energy and to learn to hear the voice of your inner light.

Ultimately, forgive others, forgive yourself, and let go of the

past. Know all human emotions are valuable and just a sign

that you are alive.

86 87
---
Creative Belief

In The Spotlight: Over 100 Voices in Music

Having a strong creative belief in your work + using the above balancing

methods will enhance your intuition. This is like having a deeper

level of hearing, seeing, feeling and knowing about your environment

that will lead you through the right doors. Little by little, you will have

a special feeling when you meet the right people and get inspired with

fresh, new ideas for lyrics and beats. As your trust in your inner voice

grows, so will your self-awareness, confidence and inner peace.

The opposite effect, the decrease of your creative power through

self-created drama, chaos, drug and alcohol abuse, sex addiction, lies,

manipulation etc. will shift a shutdown of your inner resources. It can

really make you go astray in the music industry or just about any creative

industry. You see, there is a magic that exists in the vibration

of music. One that can heal and shift society, inspire the masses for

amazing action and collaboration. Or you can do the other route with

your gifts, be self-seeking and express music for the fame. The energy

goes in totally different directions. Where is your middle ground and

how do you keep your inner voice clear?

3. What is the biggest lesson you learned through your trials? How

has it made you stronger?

4. What are you truly grateful for? Ready to let go of? Who will you

forgive?

5. Living in the moment you know this:

As your coach, I ask you the following:

1. Why were you made to be an artist? What is your purpose?

Chapter 4 Affirmation: Creative Belief

2. How does your music change the world?

"There is a greatness in my music. I am here to shift the

world. Through thick and thin, I have strived for my best

and I accept my past, knowing that only I have ultimate

power over my future. I forgive it all, moving on towards

my blessed future. I am healed. I am grateful. I am free".

❖ ❖ ❖

88 89
---
Creative Belief

In The Spotlight: Over 100 Voices in Music

Featured Interview: Steven Memel,

Celebrity Vocal Coach

the teacher said, "Okay, what are you doing in this class?" Well, I was

honest and I said, "I need the units." She knew my teacher. She said,

"Okay, you can stay in this class if on the day that I split up the men

and the women, I'll take the women, I'll give you the classroom and

you teach the men."

Emily: "You teach the men?" Great start! Tell us more..

Emily: Today on Creative Spotlights, we're featuring Steven

Memel, a celebrity vocal and performance coach based out of L.A.

Steven has worked with many singers including Adam Levine and

Jesse McCartney and also actors Drew Barrymore, Justin Long,

and Isabella Rossellini, to say the least. The goal of this interview

is to get your perspective as a coach on what it takes for a music

artist to express himself fully and get the success they seek in the

entertainment industry.

My first question is what pulled you to become a coach and help

others in the entertainment industry?

Steven: Good question, well people wanted my help. It's a strange

thing. I say sometimes [that] it "chased" me down. I had a rather auspicious

beginning, as in I needed to graduate from college and I needed

two extra units. I had already been singing for a couple of years, I was

19 and so I took a beginning voice class. On the first day, I sang and

Steven: I know! I got my own classroom and a bunch of students.

That kind of thing kept happening. I studied with an acting teacher

and they'd say, "Do you teach voice?" My voice teachers that I had

worked with, they'd say, "I want to send you my overflow students."

So I guess people were seeing something and so I kind of fell into

it like that. Then I left it for a while and then, several years later (ten

years later or whatever), somebody started really asking me again

and I just went, "Okay... I yield." I hung up my shingle and the rest

is history.

Emily: That sounds really amazing. Tell me about your 'Science of

Switching On' technique and how it attracts artists to you and

just anything you want to share about that.

Steven: Sure, the 'Science of Switching On' – well, let me backtrack

and say that the only thing that drew me to teaching was not this fortuitous

stuff. It was also [that] I had a real love of seeing the underlying

structure of things. And so if I really look at it, it was always a leaning

of mine to break things down and explain them to other people. I think

teachers just have that desire.

And so, the 'Science of Switching On' kind of came to me when I was

21, but I didn't really codify it and call it that until many, many years

later.

90 91
---
Creative Belief

In The Spotlight: Over 100 Voices in Music

I'm involved in so many arts. I'm a dancer. I'm an actor. I've directed.

I've done film/television, and recorded in the recording studio. I've

done voiceover. I've produced. I mean, you name it, I've done it.

What became extremely clear is that there's really one set of principle

that lead to mastery. The channel just is different depending upon

what discipline you're involved in.

So in singing, which is where I originally made my mark as a coach,

in singing the voice is the channel. And therefore, having an understanding

of the channel and the mechanics involved and the ability to

removing obstacles towards its greatest expression of not only your

feelings, but its created expression of color and tone and dynamics,

that is an important piece.

But also being equally versed as an actor and a director and having

studied an enormous amount of psychology, spirituality, personal development

with being a movement person, because I have been a

dancer, all these things came together and I saw that there were these

elements that were inextricably unified to be able to be a master at

any discipline.

Now because you have to make an entry somewhere, since I was

teaching singing and since I was coaching performance of singing

also, that's where I decided to originally begin. The differentiation of

what I do in the 'science of switching on' is most people have a big

understanding of performance or acting or they have a big understanding

of real deep skill set at the technical aspects and a moderate

understanding of performance.

Because I come from where they are completely unified, inextricably

linked, then that's the uniqueness of the work I do with singers and

performers. There is really no clinging separation line between the

technique and the inner work; between the outside and the inner. The

simplest demonstration of that is asking the question, "Is your body

going to be in the same state when you're standing in front of a teacher,

in front of a piano, and you're doing vocal exercises that it's in when

you're in stage in front of a thousand people?" Of course not.

"Is it in the same state during that moment when you're in front of

the teacher as when you're expressing anger, when you're expressing

joy?" No, the body is consequently in a dynamic state.

Therefore, to practice technique only as a mechanical attribute, then

it's not the same because intention needs to move the body and shift

the body and shift the physiology and shift the mind. And so these

things have to be brought together as a unified whole to really have

that extraordinary "it" factor/hit the zone/lose the self/become the

character, whatever it is.

So that's the 'Science of Switching On'.

Emily: That's an amazing explanation. It definitely sounds like the

artist needs to have an extreme self-awareness, a sense of selfawareness

on their intention with their technical gifts or skills, to

create that creative performance for themselves. And also, the

environment is really important.

Steven: Exactly. And not only that, over the last couple of years, my

intention was always to develop it in the arts, but then move it into

business and expand into other areas.

I've been working with entrepreneurs and business owners and just

people in all walks of life bringing the same principles together of

mastery. The principles that enable one to become a high-performer,

a top performer in the arts, those are the same principles that enable

92 93
---
Creative Belief

In The Spotlight: Over 100 Voices in Music

people to become a high-performer in any area of endeavor, human

endeavor.

Emily: Right. Even in a professional setting as well.

Steven: Yes, because if you even think about what are the levels of

communication, "Am I communicating authentically?" If it's about my

business, if it's about my brand, what is my voice, what's the story that

my voice is telling, is it that I'm a powerful person while I'm talking

about power, or is it communicating some undermining other impression

that, "Oh, he's got a weak voice," you know?

Emily: How do you like your clients to come to you? As an ideal

client, what do you look for when they come to you? Do you like

them to be very experienced, or do you like them to have an open

mind or they have their own techniques?

Steven: That's a great question. You ask good questions, Emily. Well,

what I'm looking for, what I'm always interested in, is somebody with

desire, somebody who has a passion to develop further, to get the

competitive edge, to grow, to expand.

Some people come to me with major obstacles like this gentleman

that I work with who was sent to me by a laryngologist, a Beverly Hills

guy who does all the American Idol people and all that. This gentleman

had vocal nodules.

So instead of surgery, I worked with him to build his technique. So

whatever was in the way, whatever friction was occurring to create that

impasse, that bottleneck, it goes away. And in a matter of let's say

about two months, his nodules completely disappeared.

And that's not because I'm hearing it, it's because you see the film.

You see the film with the nodules when he has them and then you see

the film with them gone.

Emily: So what caused more of a difference? Was it more the

technical training that you provided to him as a coach or was it

more the internal stuff that you helped him with or was it a combination

of both?

Steven: I was going to say yes, because first of all, technical [issue] has to

be resolved. You can be as developed or expanded as you want, on your

internal level, your chakras can be beautifully ordered. But if the channel

(which in this particular case is the voice, in the case of an accountant, it's

the spreadsheet), the inner world can be as well-expanded and full as you

wanted it to, but if the channel is blocked, it ain't getting out.

Now what happens is there is a psychological, emotional and energetic

ramification of the blockage. Here we are wanting to express

ourselves without care, without holding back and yet, we hit this obstacle

and it draws our attention and it distracts us and we're no longer

able to be free. We're no longer able to release because we hit this

impasse or stricture.

And so yes, they're both [necessary] component[s]. One has to find

center and peace to even affect the musculature and all the other

physiological aspects to be in their most responsive state, because it's

no mystery that I've invented that when one's mind is tense or when

it's doing anxious, your muscles are in a compromised state.

So both changing the musculature, moving away from the attachment

to the results releases the inner world. Changing the inner world can

94 95
---
Creative Belief

In The Spotlight: Over 100 Voices in Music

release the musculature. So it's a constant flowing of mechanics and

energy back and forth.

Emily: That's great because it explains your philosophy, which is

also what I was going to ask next: what's your key philosophy in

life?

Right there it was so philosophical on how you see the world

spiritually, the inner energy and the outer stuff too. It's just a

perfect, nice answer to showcase your philosophy. Your style is

beautiful.

Steven: We all as human beings (or most of us I should say) vastly,

dramatically, underestimate ourselves and undervalue ourselves. If we

only knew how amazing we were, we would have so much more of that

'amazing' at our disposable.

One of my basic philosophies and obviously, if somebody walks in

my studio, I'm not going to throw this at them, we'll start with the

scales, but ultimately, whether it's ever spoken or whether it's tacitly

understood through the sense of wholeness that one has when you

finally embrace your ability, we are intrinsically so valuable that nothing

we ever do in our life can add to that one bit and nothing we ever

fail to do can detract from it one bit. It's a done deal that they were

born (and some would say, from the day before the day we were

born).

So what life is about, is owning that unbelievable vast value and that

unbelievable understanding of the beauty of human life and our life

and then saying, "While I have this time here on earth, what do I want

to create? What do I want to make it about?"

If we can maintain that position, much better. What is not a joy can

become a joy.

Emily: I want to ask, you're in L.A, you see the acting scene and

music scene, how is it? What do you see going five years from

now?

Steven: Wow! Yeah. Well, it's the wild west. I like to say it's the wild

west.

Emily: Yeah, I've heard that before.

Steven: Yeah, I'm sure. The reality is that the acceleration of change

is so intense that the one thing we have to become good at now is

change and navigating our way through things that will not remain the

same most likely, and that are incredibly volatile and dynamic.

So the more capable we are of doing that, the better we're going to

survive the industry. And if you want to put it down to street terms, I

say, "You have to be scrappy." You just have to say, "You just have to

be scrappy. How do I make it work?"

So ultimately, right now, it's about people developing their own audiences,

people building their fan base. And when you have visibility,

when people see you, then you have a good shot. But you need the

other element of being a real hardcore entrepreneur. It's not a day's

work where you can say... I mean, some people still can walk into this.

There's no rule or anything, but it's not the same way that most people

can expect somebody to go and take them and then make it happen

for them. You are lucky if you get that. But for most of us as artists,

we have to be an entrepreneur at the same time. Know our business.

96 97
---
Creative Belief

In The Spotlight: Over 100 Voices in Music

Spend 50% of the time on understanding the business, understanding

what impacts fans, understanding the channels you can use, being

able to measure so that you're not going on instinct.

"Well, I like doing this channel."

Well, what's the result you're getting and are you able to convert that

into hard cash, because if you want to make a living as an artist, then

you have to understand your sources of income and how to create

them and turn your streams on for yourself. It's not that it can't happen

any other way, but that's the way it happen[s].

Emily: And your work is definitely about it, as well. Artists should

definitely surround themselves with someone like a coach, a manager,

having an agent and on and on, the right chain.

Steven: Yeah. And you have to learn how to manage the team. The

skills of management has[sic] sic] to be – you know, people skills, social

skills. How do you influence others and I'm not saying in a manipulative

way, but how do you influence others – you understand what I'm

saying because...

Emily: Absolutely, yeah. Authentically and powerfully to influence

others.

Steven: Exactly, authentically and powerfully. And I'm sure that's what

you do a lot in your work.

Emily: Love it! My final question is regarding legacy. At the end

of the day, what do you want the people you work with, what do

you want to leave behind for them? At the end of the day, how do

you want them to remember your work?

Steven: Legacy, if we're going from a general place, the legacy I want

is to leave my son thriving and healthy. Of course, every parent would

say that, but that's the impact I would like to make.

And then on the world, what I'd like to leave is the impact of having

contributed a set of tools to which I'm hoping there's some originality

or if not even originality, that it's just another voiced thing in a new way

that would affect people's lives, and help them achieve their goals in a

powerful way. I'm sure you've heard this. This is:

To laugh often and much

To win the respect of intelligent people and the affection of

children

To earn the appreciation of honest critics and endure the betrayal

of false friends

To appreciate beauty

To find the best in others

To leave the world a bit better whether by a healthy child, a

garden patch or a redeemed social condition

To know even one life has breathed easier because you lived

This is to have succeeded.

Emily: I love that one. Emerson, yeah. He's amazing.

Steven: Isn't that beautiful? Something that's really, really important is

people must take the long view. They must keep their vision.

Too many of us allow ourselves to be swayed by the momentary ups

and downs that happen along any journey. My difficulties as a young

artist was[sic] sic] that that's exactly what I did. If I had know[

sic] that the

world was really understood – not just heard, but really understood

98 99
---
Creative Belief

– that the world [was] built on relationships and that those relationships

come to you in ways that you could never imagine and you just

treat people decently.

And this doesn't mean to say, "Well, I'll do that for free" because you

also deserve to be compensated. And maybe sometimes you do it for

free… Because it takes care of you, right? Isn't that true? So you take

care of yourself, but you've got to take the long view.

And also in that, you've got to be able to survive. So find additional

methods that bring you an income that leave you the most time. Live

as modestly as you can so that you don't put a noose around your

neck. And continue to just create things. Just continue to create.

100
---
CHAPTER 5

Power Relationships

❖ ❖ ❖

"IT'S WHO YOU KNOW"

I WOULD SAY THE MOST important thing I have learned so far is the importance

of networking with the right people.

The first time I really had the opportunity to network was during my

freshman year at University of New Haven. That was back when I was in

a music organization for students called MEISA. I had ordered business

cards for myself that promoted my music website. The MEISA conference

was coming up, and I had to go. I had never been to an event like

it, so naturally, I was quite nervous to try networking for the first time. I

took a deep breath and told myself to meet as many people as possible.

When I got there, I started walking up to everyone. With a great,

big smile across my face, I handed people my business card and introduced

myself. I gave them my card with such confidence that I was

sure they were all going to contact me. This was not true. Years later,

I realized that the key to effective networking is not the amount of

people you talk to, but how strong the relationship you build with

them becomes over time.

Over the years, I started attending events to network more in the

music industry. I started really paying attention to those I had an immediate

connection to versus those I didn't. If I felt that I couldn't help

them, then I would move on because my time was valuable. I thought

to myself, "no wasting time."

103
---
Power Relationships

In The Spotlight: Over 100 Voices in Music

There are many ways you can go about strategizing at a networking

event. One might be going to it with a purpose in mind, such as

looking to connect with a graphic designer. Another way you can go

about it is going with the flow, being open to meeting everyone and

seeing where it takes you.

The part people probably have the most trouble with is what to

say to the potential contact. I always introduce myself to them, "Hi,

I'm Dani." I always try to smile at them to make them feel comfortable.

Then, I ask them what they do. I cut to the chase. What I say next

depends on the answer they give me. The conversation should feel

natural and fulfill the purpose of supporting each others' careers.

It's also a good idea to practice your 30 second elevator speech.

It is a hypothetical scenario of what you would say to a good contact

about yourself if you only had an elevator ride with them. This is basically

your pitch.

It's also really important, after an event, to follow up via email with

the people you really want to build a connection with. It`s really good

to do this within three days. Otherwise people will forget about you.

People are super busy. I believe the right people will connect with you,

depending on your intention.

One great way to meet new people is using sites like www.meetup.

com or www.eventbrite.com. I have met some great people like my cowriter

Emily who hosted her own artistic Meetup group where we were

introduced. However, I don't limit myself to where I meet new people.

If I'm on the train and I see a younger guy with a guitar, I ask him about

what kind of music he does and how long he has been playing. If it feels

right, I will have no problem handing out my business card out almost

anywhere.

Keys To Success:

Networking: When it comes to networking, it is imperative to be yourself.

People will feel uncomfortable around you if you have issues

being who you are. They will feel that awkwardness of you trying to be

someone who you are not. Therefore, don't say things just to impress

people. If you are new to networking events, it is better to tell people

that it is your first time than to pretend you've been to them before.

Pretending to know everything gives a false impression. Once people

start to call you out, you are done—your reputation is tainted. Do not

proceed on the fake route; it is not worth it. People will know when you

are lying. Just smile, be friendly and be curious about others.

Listen First: Always find out about the other person. Try to listen more than

speak. I admit, this is one of my faults, as I am so passionate about what I

am doing that sometimes I can go on and on about it. When people get

bored or annoyed, I know I just lost that potential relationship. Learn from

me: It's not worth it. Rant to your best friend, sibling or parents instead.

Create Intrigue: When it comes to business, try to keep it short; make

people feel intrigued. Think of it like a first date. You don't want to give

out all the information about yourself at once. Otherwise, why would

people need to follow up with you to learn more? You want to say

something to catch their attention. You may also want to market yourself

and your work differently to different people. Pay attention and

listen for what their need or want is. For example, if you hear someone

say they just started a new company and you are a web designer, see

if they are looking for a new website. Find their ache or pain and then

provide the needed medication/treatment, aka your services.

"There are so many talented musicians in this world, so networking is

very important." - Gina Cimmelli, NYC

"In a competitive environment, whenever you're successful, you're filling

a spot that everyone wants-- so you want to build relationships

that take others up with you. So your friends and connections are

rooting for you as well as themselves, and you're rooting for them,

too. Renegade artists don't climb far." - Tom & Hebron, Nashville, TN

104 105
---
Power Relationships

In The Spotlight: Over 100 Voices in Music

"Networking is everything in music. I always tell my fellow musician

friends that the industry is sadly 20 % about talent, 80 % about business."

- Leo Freire, Session Drummer, Queens, NYC

"Artists

should care because those one off encounters and meetings

can lead to something major years later." - Robert Ballesteros, Talent

Handler/Photographer, Los Angeles, CA

"Your networking should be as dated and consistent as your experience

in your industry. A good network is the by-product of positive,

supportive relationships nurtured thus far, and a safe haven for the

progression of one's career." - Maniak Mike from Shinobi Ninja, NYC

"Relationships are the most important tools in the music industry.

Without knowing at least one or two people to open doors for you,

it is damn near impossible to break into the business. A very small,

seemingly insignificant relationship could blossom into you meeting

that one person that could change your life forever." - Jesea, Musician/

Publicist, NYC

"Look past fear. Express yourself if you have something you need to

share." - Maggie Szabo, Los Angeles, CA

"You can join all the music organizations in the world, attend a million

music seminars about how to succeed in the business, and have

a thousand people critique your music, but in the end what matters

is that you are happy and proud with what you have created. Please

yourself first, have high standards, all else will follow." - David Harrison,

Songwriter/Owner of Get Me Out of Here Publishing, NYC

"Because of networking, I've been able to sing on other artists' tracks

or even do some songs together. There's no one way to market yourself

anymore, and connections are vital. I used to work as a stand in

on Pretty Little Liars when I first was getting started recording music,

that was pretty much the lowest position on the totem pole, but because

of the relationships I made there, I was contacted about having

one of my songs played on the show, four years later! You just never

know." - Michelle Anderson, Los Angeles, CA

"Networking keeps you relevant. If you don't have new music to put

out, networking is the closest thing you can [do] to putting out music."

- Dion Roy from Fire In The Romance, NYC

"Networking is vital. It's your way of letting people know, "Hey this is

what I do and I'm darn good at it!" and in turn you get to know about

other people and what makes them tick. Maybe help yourselves along

the way." - Eric G., NYC

"Life is all about experiences shared with people. It's not only your

skills that get you a gig, it's a good hang." - Wendy Parr, Vocal coach,

NYC

"Networking allows doors to open for you when you need them most.

Everyone is looking for something. I need tomatoes - you sell them.

Music is all about connecting with people. As a musician, engineer,

producer, or even stagehand, you have to build relationships with the

people you work with. They need to trust you and know what your

strengths are. The most qualified person for the job doesn't always

get it. The one with strong relationships does. How will people know

what you are capable of if they don't know who you are, or what you

can do?" - Pablo Arraya, Producer, NYC

"Networking in an organic way has been one of the many factors in

the success of our band. We love people. We love meeting music lovers,

artists and other bands. Naturally by supporting other's work, collaborating

with other artists, and connecting with our audiences, we

106 107
---
Power Relationships

In The Spotlight: Over 100 Voices in Music

have been 'networking'. These connections have led to some great

opportunities and most importantly fruitful collaborations and friendships."

- 5j Barrow, NYC

"Networking is very important because that is what best gets to

the grassroots of people. It is the grass roots that are gonna spread

your name. That spreads quicker than the internet. Word gets

around fast. Once you get the word out there about what you are

doing then it spreads like wildfire. The Internet is another source

of that. It`s used the same way. If you don't, then you will just be

lost." - Daryl Brown son of the godfather of soul James Brown, Los

Angeles, CA

"We have to learn from each other how to communicate, how to hunt,

how to care for others. Think of everyone you meet as a teacher." -

Meghann Wright, NYC

"For me, the line between fans and friends has always been blurry. I

hate feeling like I am shilling for something online, when I am trying to

get my friends to come out to a show or listen to a new song. It can

feel like a delicate tight-rope walk, but I've been learning not to let it

bother me. Anyone I really consider a friend will understand why I do

these things and encourage me to press on." - Arison Cain, NYC

"You have to interact with fans; the days of distant rock stars are over.

You are expected to connect with people and build relationships with

them. I see the modern music industry as a two way street: if you want

fans to invest in you, you need to invest in them. If you think investing in

your fans just means providing new music for them, you are mistaken.

Fans don't just invest money in your artistry, they invest their time and

their emotions. It's only fair that you do the same for them." - Michael

Flayhart, Nashville, TN

"You're only as successful as the people who can help you. Everyone

starts out independent, but in order to become a superstar you

have to lean on people who have the ability and resources to help

you in a multitude of areas. In the beginning, people don't know

who you are, so start small and begin making connections until you

have cast a wide net. Out of 50 people you meet, maybe only one

of them can actually help you, so you have to be relentless." - Ahmir,

Boston, MA

"You never know who is going to be the person who leads you to your

next break. It's always a good idea to get out there and just be nice

to people. Be interested and be authentic. Sometimes it's the unsuspected

neighbor or corner store clerk who holds the keys to your

fate." - Alexis Hightower, NYC

"The music industry is a business based on relationships. I always joke

that any success I have is probably because I bug agents and managers

to death until they answer my questions." - Zach Falkow, NYC

"Networking and social media is your introduction to the industry. It's

your way of letting the world know you exist and if worked correctly,

can lead to a successful career. My success as a leading mastering

engineer can be traced back to the contacts I made in the early days

of MySpace (2002). As a complete outsider working with unsigned

artists all the way up to mastering U2, The Killers, Jack White etc. was

all down to networking." - Pete Maher, Master Engineer, UK

"Networking helps build relationships and connections to develop

and share wisdom with others. Without networking, some of the most

successful artists of our generation wouldn't be in the place they are

at. Creating this new family helps maintain a healthy career!"

- Phase

Five, Los Angeles, CA

108 109
---
Power Relationships

In The Spotlight: Over 100 Voices in Music

"The most vital networking is done in person out in the world. The

social media aspect is important but the most important thing is a

handshake and an incredible audience experience. If you can make

your content emulate that, then you're starting in the right place." -

George Woods, Boston, MA

"It comes down to how you make use of opportunities and how you

put yourself in a place to succeed. To me, once you have the talent,

it's all about creating networks." - John McCracken, Producer, NYC

"I moved from a small town in Canada to LA and I didn't know anyone

when I got here. Networking, meeting new people, and getting

inspired and motivated by other people in the business has been

helpful to me. Even though it can be scary and intimidating sometimes,

we all have to put on a brave face and be open to meeting new

people. I've been lucky enough to have met some amazing people

that support my music and I'm grateful for that." - Maggie Szabo, Los

Angeles, CA

"Networking is important in every aspect of life. These days the world

is a constant experiment in crowdsourcing. From finding a roommate

to buying technology to listening to music and the more your can be

relevant in different networks the more likely you are to be noticed." -

Avi Dell from AyOH, Chicago

"Talk to everyone; no one is a waste of time. You never know how someone

can help you and how you can help them. Always extend a helping

hand, and you might receive one back." - Rick Rocker, Queens, NYC

"I feel that good music and true artists will surface with time, but the

people who seem to take off overnight always end up knowing someone,

or being some famous actress's sister. That is what I don't understand

about major labels; 'Oh, she's the daughter of two celebrities?

Does she write good songs? Who cares! Let's sign her!' Yuck!" - Keeley

Bumford from Hotel Cinema, Los Angeles, CA

"Network to get where you want, just always remember who got you

there." - Lawrence Bray, UK

"Strive to create AUTHENTIC relationships. We've been fortunate

enough to keep the flame of creative passion burning for over 2/3rds

of our lives. Over this time, we have built and maintained loving, helpful

and authentic relationships with tremendous numbers of people.

Watching our friendships with them blossom, seeing how their existence

has made our creative existence possible, is just as gratifying as

the art itself." - Ghastly City Sleep, NYC

"There are many great programs at plenty of universities around the

world that can teach you the fundamentals of the industry. However,

NOTHING can teach you how to be a professional other than being

around other professionals and having enough sense to listen

more than talk. You have to surround yourself with truly great, caring

people in order to exude that yourself. And don't worry, you'll find

them, or they'll find you. It's just the way it works." - Dom Liberati,

Los Angeles

"Everything revolves around creating and building relationships, in

the music industry especially, as we are all interconnected. It is important

to build healthy relationships in the business. Whether you are

an artist, manager, agent, song-writer or the CEO of a record label, it

is good to stick to appointments, be very clear with intentions and to

continue to cultivate relationships in the business." - Dani Tersini, NYC

"My network is conformed by those people that, if I call out of the

blue, they answer. We'll start talking about the weather, we'll start

talking about anything and the next thing we know, it's a two-hour

110 111
---
Power Relationships

In The Spotlight: Over 100 Voices in Music

conversation. They are the same people that have been there since

day one." - Adam Clark, Rochester, NYC

"Truly having vision doesn't just mean thinking ahead and having

goals. It's knowing what parts of the picture are replaceable and

which parts are absolutely necessary. Life will happen and chances are

you'll change a few things here and there based on your experiences,

but some things should be held steady. Identify those things. That's

vision." - Justin Howard from VYD, NYC

"Networking is the one thing I didn't think would be as big of an influence

in my career as it turned to be. The music world gets exponentially

smaller with each musician I meet." - Cassandra House, NYC

The Coach's Perspective:

Building your Network

How are your networking skills? From 1-10, 10 being the best

you can be and 1 being not at all good at networking, where

would you mark your score?

Being a good networker is vital to success in life, especially if you are a

music artist. The music industry is about relationships, collaborations,

trust and teamwork. But how did I become so passionate about the

topic of networking when I was a serious skeptic on it? I had the best

mentor via my sister, a certified career coach that over the last 10+

years has worked with youth.

My whole life my older sister Lynette, a CEO of www.CC4Kidz.com,

was a true career inspiration for me. She has an impressive network from

all levels of academia, youth activism and community outreach, and she

got that way from always attending events and joining advisory boards.

Entering college for my psychology/sociology degree, she was

adamant about me getting out there with her to networking events at

the key colleges of Boston; at Harvard University, Northeastern, Umass

Boston, Lesley, Boston University, the list goes on.

Attending these events and observing this powerhouse was truly

inspirational. Being two strong Latinas, we always chose events related

to leadership, women empowerment, diversity and entrepreneurship.

I learned from her how to "confidently approach the host in the room"

and just about anyone in power without much intimidation.

One day my graduate school, Suffolk University was holding an

amazing event for the Entrepreneur's Club, I was invited as a guest

and had submitted a business idea for their contest.

My sister was to join me, she already knew the host and a couple of

other key people at this event and it was her goal to formally introduce

me to them. The day arrived finally, and guess what, she couldn't go!

She had a meeting and urged me to go by myself, for my first time solo,

not let my introductory meetings down, and just to stay open and learn.

112 113
---
Power Relationships

In The Spotlight: Over 100 Voices in Music

I did go and for the first time I navigated that room by myself.

I met the hosts and added them on my growing LinkedIn. I felt incredibly

inspired by the life and business lessons of several CEOs

who were on the panel. Most of all, I totally had an epiphany while

sitting in that room with over 100 aspiring entrepreneurs, that energetically,

spiritually and mentally I was truly just like them! I decided

then and there that I was going to go down some sort of entrepreneurial

path. I didn't know it would be a certified life/business

coach myself, an entertainment writer and Co-Founder of Creative

Spotlights.

I was just a student, but I had as much potential as anyone. With

the right outfit, a friendly smile and a great confident handshake, attending

events started to become fun for me, and my LinkedIn grew to

over 1,000 connections. I succeeded in expanding my network quickly.

A few years later, post my Masters degree, I took these skills to NYC

and built a huge network of those in the arts too.

KEY TIPS:

The point of networking is not "to meet everyone in the room."

That will just deplete your energy, and you will come across as

inauthentic.

When I network, it is about the energy surrounding a person and

how that energy can flow positively with my own. Observe body

language + the energy in their aura first. Look for a "vibrational

match".

When I enter a room full of art & entertainment people, I know my

own power and presence is attractive, but I only seek to attract

positive, like-minded people. Let the right people also come to

you.

Pinpoint the main people of the event; like the host, the event photographer,

the DJ, whoever was part of event planning, and have a

quick conversation with them and get their card. You want to know

the top organizers to build your reputation! Then spend the rest of

the time attracting like-minded people.

As your coach, I ask you the following:

1. Consider the top five people you spent the most time with over the

course of the last 3 months. Who are they, and what do they do?

2. For each person, write out five adjectives to describe him or her:

Person 1:

Person 2:

Person 3:

Person 4:

Person 5:

114 115
---
Power Relationships

In The Spotlight: Over 100 Voices in Music

3. What are the most common words you see? You are "the company

you keep", so this is a clue of how you come across to others!

Featured Interview: David Dufresne, CEO of Bandzoogle

4. Knowing this, what can you do to improve who you network with +

invite into your inner circle?

Chapter 5 Affirmation: Power Relationships

"My art is a gift to the world, and I only attract the right

people into my inner circle for the right reason, for a

season or for a lifetime. I release the wrong people

swiftly and surely. Looking outward, I can see who is

right and wrong for me by observing the signs. I am

protected and blessed. When I meet the right vibrational

match, I invite them into my creative, spiritual family. I

win, they win, we all win in prosperity and peace."

❖ ❖ ❖

Emily: Today on Creative Spotlights we are featuring Bandzoogle,

an awesome artist website development platform that allows music

artists to develop their branding through online promotion,

merchandise sales and social media. I'm here with David Dufresne,

the CEO of Bandzoogle. My first question for you is: there are a

lot of sites out there that works to support artists. What makes

Bandzoogle stand out?

David: The core thing that makes us stand out or differentiates us from

other website-building platforms is that we are a platform that is made

FOR musicians and made BY musicians.

We are a team of about 20 people, almost everyone is a musician or a

singer or in my case, a huge music geek.

For the past 10 years, we've been refining our platform, working with

tens of thousands of musicians, taking their questions, their suggestions,

etc. So everything that we build, every new feature or action

that we add comes from an actual need that some of our users and

members have asked us for.

And if you ask how Bandzoogle compares to other music platforms,

we're a platform that anyone can use to first build their own website.

It's extremely easy to use. You don't need to code anything, you don't

need to hire anyone. We have all the features you need to build a

116 117
---
Power Relationships

In The Spotlight: Over 100 Voices in Music

professional artist website – music players, photo galleries, advanced

calendars.

We have a blogging platform as well. We also have a store feature, so

you can sell either your digital music or your CD or your merchandise

directly to your fans. You actually get to keep 100% of your sales. We

don't take any cut from your sales.

We have that built into the platform. We also have a mailing list tool

built in the platform. If you want to send out newsletters to different

groups of emails you've acquired.

You can also do things like send geo-targeted emails if you're touring

and want to email, for example, your fans that are within a hundred

miles of Nashville. You can do that using our platform.

So overall, it's an all-in-one solution that is easy, but also powerful and

professional and very affordable that musicians can use to build their

home base and the hub for their online strategy.

Emily: The company definitely sounds progressive and a fierce

leader in the market. You have ten years of really responding to

your clients and developing the company in a way that the artist is

super creative and if they don't have that business side developed

as much, Bandzoogle provides this awesome opportunity for them

to manage their career using technology, to really develop their

career into a creative business like it has to be. It has to be a 360°

management of their career and this is a great direction for them.

David: Yeah. I mean, it's the west side. There's many other sides to

their career, we definitely try to make that part as easy and as painless

as possible and as affordable as possible.

I still see too many artists that either don't have control over their

website because sometimes, someone else built it for them and they

have to contact them as soon as they want to update it or if they want

to change something, add a new section, change a design. We give

that power back to the artist so that they can easily and quickly do it

themselves. And then we let them manage their part of the marketing.

I mean, definitely the mailing list is extremely important as you must

know. We let them manage their commerce. It's a big part of what they

need to do. That saves them money for what I think are more important

things.

Again, I still see too many artists that spend thousands of dollars to

get a website. That's thousands of dollars that they should be spending

on getting professional photography done, getting professional

video shot and/or pay the rent, buy gas for the van and buy some new

instruments. But yeah, definitely the website part should be easy and

very affordable.

Emily: I love it. Now, how did Bandzoogle start its journey?

David: The short version of the story is that the founder of the company

is actually my partner, Chris. His name is Chris Vinson, he's now

our CTO. So he takes care of the technology, chief of technology.

But Chris, in the late '90s used to play bass in a grunge band here in

Montreal. He had learned how to build a website back in those days.

For the band, he had built one of the first websites where they had fan

forums where a lot of their fans were super active in those community

forums – organizing ride shares to go see their gigs out of town and

things like that. I know some couples were made and unmade through

the community of that band. Their website helped them get signed by

one of the big labels here in Canada.

118 119
---
Power Relationships

In The Spotlight: Over 100 Voices in Music

So they did a record, they toured, lived the rock star life for a couple

of years I think and then the band decided to break up. After the band

broke up, the label hired Chris as the webmaster for all their websites –

so all the websites of all of their artists. That was kind of a big task, so

Chris built a platform that would let either the managers or the artists

themselves update the website. If they wanted to add a new photo or

a new track, or a new tour date.

People loved it. A lot of his friends and people in the industry started

asking him if they could use their platform for their own indie bands.

So that's how he got the idea of Bandzoogle and launching it as a

start-up. He got a small loan back them from his boss and went on his

own. I mean, it started just by himself with no employees.

Emily: Most great companies start organically like that, with all

the efforts placed at the beginning from a smaller team, then

building upwards from there.

David: Yeah, I mean, ten years later, we're a team of about twenty. We

have over 20,000 paying customers. It's been a very organic growth.

We've never had big venture capital or outside investors. So it's a very

healthy growth and yeah, we have to thank our members for it.

Emily: What does it take for an artist to truly have an incredible

website that helps develop their career?

David: Well, the first thing they need is amazing music. Even if you

have the best website ever and your music is not so good, or your

performance is not so good, it won't really help you.

Music is also great content. You need to have great songs, but also really

great professionally shot photos. If you can have great videos, it's

going to make a better website.

Then you need to give reasons for people to visit the website and reasons

for people to come back to it. So you need to regularly update

the contents.

The website is your opportunity to really connect with your fans because

that's an environment – like if you compare that to Facebook

and Twitter where you compete with tab videos and 'news of the

day' and tons of other updates from strangers, if you're able to get

people to visit your website, you control the narrative, you control

the design, you control the call-to-action. If you want people to

focus on your new EP, you can put that right on the homepage and

make sure that people check it out. If it's a new video, you can also

make that your main call-to-action if you're building your mailing

list.

So it's only on your website that you have full control over that. That's

where people are one-click away from visiting your store. And if they're

in your store and they download music either for free or to buy something,

you can get them to sign up to the mailing list.

Those are all things that happen in a website, so you need to give

them reasons to come back, so that means if you can have regular

blog updates or new videos and new photos that then you can promote

on Facebook and Twitter and get people to come and visit your

website. If your content is great, you're going to have a great website.

Emily: It definitely sounds very interactive. I love all the calls-toaction

because that's the best way to connect to your fans and

provide with different opportunities to connect with their fans

whether it's a blog or look at a video or buy merchandise from

the site.

I wanted to ask you. How does merchandise sales help the artist?

120 121
---
Power Relationships

In The Spotlight: Over 100 Voices in Music

David: It depends on the artist, but I think it's extremely important

because I think everyone knows that there's more and more music

available. So as an artist nowadays, you're competing for attention

with thousands of musicians, right?

What I'm trying to say is we moved from an industry that was based

on volume where the name of the game was to get as many fans as

possible, many thousands or even millions and then sell them a little

margin, undifferentiated product that was either a CD or in the last

two years, the ¢99 or the $9.99 album.

I think we're moving now toward an industry where you probably won't

get as many fans, but you have to focus on quality so that the fans that

you're able to get and that you're able to engage with, you have to

stop thinking that your goal is to sell them ¢99 and the occasional gig

ticket, concert ticket when you finally get to their town.

So having nice options of merch, giving people the opportunity to

buy vinyl records, to buy your t-shirts and I don't know, your books of

poetry – you can make it up.

Emily: Yeah! It's more horizontal marketing and branding at that

point.

I have access to all the music in the world for $10 a month or even for

free with some services.

For the artist, again, it means that you're competing with the hundreds

of millions of tracks that are on there and you're probably not going to

make tons of money with people just listening to your music. So you

have, again, to find new products. So find new things that people are

going to be willing to pay for.

I like to see things like crowdfunding becoming more of a thing, more

of an accepted behavior. I think people more and more are going to

be paying for experiences that involves music, but not necessarily music

itself – concerts, private concerts, house concerts, online, limited.

Anything limited edition that is made for your top fans, I think –

I don't think there's going to be one music industry.

I think there's going to be tons of small music industries, so you kind

of have to make your own.

And our job as technology providers is to give you the tools to make

that happen and there's more and more tools that are extremely exciting

for that.

David: The whole idea is that the quality of each relationship you have

with your fans should be better. So in theory, they should be in the

best sense. You should be ready to invest and spend some money on

what you have to offer. So it's important to have something to offer.

Emily: Where do you see the future of music going in five years?

David: Well, more of what I just described. The future of music is moving

towards streaming, which is for a music fan, it's amazing because

122 123
---
CHAPTER 6

Words to the Wise! Creating

Your Artistic Armor

❖ ❖ ❖

WHEN I WAS IN SEVENTH grade, I decided to try out as a singer for my

middle school talent show. I was speaking to a classmate who was an

amazing singer. She had asked me what song I had selected to audition

with. Not thinking twice, I told her the song. I was really excited

and proud of my choice. At this young age I didn't know anything

about how competitive the industry is, I was naive.

One week later, I spoke with her again about the talent show. I

asked her about what songs she was considering doing. I was shocked

and horrified when she had chosen the song I was going to do! I was

extremely angry and felt completely betrayed. How could she do this

to me? She seemed so nice! The next week I spoke with the director of

the talent show and told him what had happened. He called her in the

office to talk and decided she had to choose a different audition song.

I didn't end up making the talent show. I was so upset. Aside from

my disappointment, she had spread a rumor that I had stolen her

song, which caused everyone to look down on me. From that point

on, I realized not everyone is as nice as they seem, and you should be

really careful who you trust. Since that day, I have kept my guard up.

A few years later, I was really passionate about my music and all I

could think about was being famous. One day, I received a message

125
---
Words to the Wise! Creating Your Artistic Armor

In The Spotlight: Over 100 Voices in Music

from a producer telling me he had enjoyed my music and that he

would love to talk further about collaborating. I was beyond excited.

He had told me how he really appreciated my music and wanted

me to sing on a track he wrote, so he could pitch it to A&R companies

and shop it around.

Naturally, I recorded it and sent him the track. He loved it and told

me that he wanted to begin shopping my music around. He named

some people he had worked with, but when I googled their names

with his name, I was not able to find much information. I thought nothing

of this, though, and kept a happy mindset instead. One day, he

told me my music was going to be played on the radio. Words could

not describe how excited I was. "My music was going to be played on

the radio—that's amazing," I thought.

I started to get advice from different people just to find out more

about him and ask questions. Nobody I spoke with had heard of him.

Finally, I asked him when my songs would be played on the radio. He

told me my music would be played the same time I had planned to go

abroad to London that summer for a music internship. So I would not

be able to hear the track on the radio. I thought it was super weird that

he happened to want my music to be played during that particular time.

That was the last straw, I thought to myself. From then on, I ignored

his emails and phone calls. Weeks later, when I was in London, I got a

phone call from someone from his company. I never called them back.

Keys To Success:

Protect Yourself: There are a plethora of people out there looking to

screw artists, to trick them and take advantage of them. If something

seems too good to be true, odds are it is. Do things the legitimate way

and be careful of who you trust. Always stay grounded and around a

team of people who care about you and want you to succeed. Be extremely

wary of people who seem to make amazing promises without

proof or credentials. Lastly, always make sure people sign non-disclosure

agreements. You can find free templates for different NDA agreements

online. No matter how nice people seem, you don't know what

their agenda is, and it's always better to be safe than sorry!

Ask Questions: Always check people's credentials. Make sure you have

proof of what they say they've done. There are a lot of professional

liars in this industry. Make sure to go with your gut. If you have a weird

feeling about people, don't trust them. On the other hand, if you meet

people and you feel great energy around them, it's probably better

to build a relationship with them and let them prove themselves to

you. Some people are braggers, and try to get your trust by quickly

impressing you. If anyone tells you they are going to make you famous

overnight, you should ask them questions. There are many scammers

out there just preying on people who have a dream.

"The most challenging thing for me used to be when I was told how

to sound, what to do, what to wear, what to say, how much I should

weigh. And it was exhausting because it was all based on ever-changing

opinions. One of our greatest songs, 'Deadly Beauty,' wasn't even

considered as a song that we could record because the producers

thought it was not 'radio friendly.' We decided to trust ourselves and

played it live on 97.1 instead of the song we were supposed to promote.

It is now our top seller on iTunes. My sister and I took the risk

of our lives when we decided to move back to Utah. We left all the

big-named people we had worked with behind and decided we were

going to get back to our roots and make music that meant something

to us. We finally said 'Hell no' to recording any more manufactured

bullshit. It was liberating and terrifying. The two of us had to

completely start over, without a record company, money, producers,

managers, agents, etc. All we had was faith in ourselves and each

other. Here we are two years later: ambassadors for NEDA, co-owners

of NaShea records, living in Nashville, mixing the last few songs for

126 127
---
Words to the Wise! Creating Your Artistic Armor

In The Spotlight: Over 100 Voices in Music

our album, getting ready for a big show at CMA's Fan Fest and having

more fun and success than ever. Now we're free and living the

dream!" - Alexa Falk, One Half of Country Duo: Falk, Utah

"Waste no time and spend every waking moment making moves toward

your goal. Walk the path. Be bold and confident, not afraid of criticism.

Be different. Don't change yourself into something you're not, but find

a unique quality in yourself and your writing, then put the spotlight on

that. Be true to yourself, but be aware that you will need to make hard

decisions down the line concerning image and your market. Learn who

you play for, what they enjoy and how to expand their musical horizons

while bringing them along for the ride." - Robert Gillies, CA

"Whether you're a struggling artist or you're doing amazing, if you're

happy with yourself and what decisions you've made, then I consider

that a success." - Ryan Cabrera, Los Angeles, CA

"People who offer you INSTANT success or recognition are liars. Do

not give them money. To protect yourself, work hard, and earn your

keep. Also learn about what you are paying others to do." - George

Woods, Boston, MA

"I think anyone can be in music production, but you have to have thick

skin, take criticism well, stay focused and make sacrifices—especially

at first. All your time and money should go into your craft, not your

car." - Doug Fenske Producer, Los Angeles, CA

"Sometimes your dreams seem like they are unreachable, and sometimes

it's because you can't reach them at that moment. You want to

become a professional skateboarder, then you break your leg, tough

break. Sometimes those hard times help fuel passion you didn't even

know you had, for something you didn't even know you wanted. Sharp

turn, then the road seems straight again. Suddenly, you realize that

old dream wasn't what you were supposed to do in this life. Your new

passion is your calling." - Matt Costa, CA

"Be tenacious and keep your level of intensity at 100 percent at all

times. You only get out what you put in. Success is never handed to

anyone. Find genuine people to work with, and know that nothing is

accomplished alone." - Esnavi, NYC

"Be nice to everyone, don't expect anything from them and above

all, never trap yourself in bitterness by thinking that you deserve anything.

Make the best music you can and only make things you really

believe in. If you don't believe in what you're doing, get out of everyone

else's way." - Michael Epstein, MA

"Understand the cost of what you're getting into. I'm not talking about

money either. There's a sacrifice that comes with pursuing what you're

passionate about. There's a deeper commitment to being yourself

that has to be made in order to create the most genuine art. People

want to be a part of that. It may cost you relationships. It may cost you

your job. It may cost you what you thought your sound was. But at the

end of the day, being a part of this industry is really all about being

the best you that you can be. Find your song. Don't try and become

someone else's. People who want to entertain have to realize that

they're walking brands. Know what you're advertising, and what it is

that you want to be known for. Live it, eat it, breathe it and wear it. Get

ready to work! You are your business. As a musical artist, you can no

longer just be 'creative' anymore; it's really important to understand

how to market or brand your art." - Afterlife Parade, Nashville, TN

"Always

be true to yourself. Never conform to anything, never. Hard

work does pay off. When you work hard and are committed, when you

keep your head on the prize, that's when success comes into play." -

MJ Rodriguez, NJ

128 129
---
Words to the Wise! Creating Your Artistic Armor

In The Spotlight: Over 100 Voices in Music

"It inspires you to trust your own instincts and take chances. The best

music challenges the trends and is ultimately different. That's why

it's important to follow your creative impulses and break the rules.

Following trends will get you nowhere." - Boy Pierce, NYC

"Master your own assets. When you can look yourself in the mirror

and announce who you are with clarity and confidence, your industry

worth just became invaluable. Who doesn't want to work with someone

who owns a wealth of talent and knows how to use it? Also, owning

a baseball bat and some knockout jokes can be helpful when the

competition gets rough." - Neara Russell, Los Angeles, CA

"It's challenging to stay relevant in an ever-changing industry. The

way I deal with it is trying to be as out of the box as I can. You need to

be different to reach your fans and also reach out to new ones… You

need to give excitement, energy, urgency and identity so that at the

end of the day you are the right artist for right now." - Daniel Rinaldi,

MA

"Caring is what pushes me forward so having overly thick skin can be

counterproductive. Half the reason I do this is for myself. The other

half is to connect with people. I do find, though, that if I really get that

first 50 percent right, I'm more at peace with what people think. If it's

any less than 50, I'm in trouble." – Adam Watts, CA

"Take it all with a grain of salt. Don't just negate what people give you

as criticism. Understand how to absorb it and let it make you stronger."

- Dan Kimpel, Author/Educator/ Journalist, Los Angeles, CA

"The initial challenge is becoming a legitimate artist, but ultimately it

comes down to: does everyone else believe that you are a legitimate

artist?" - The Icarus Account, FL

"My thing so far is I've done over 60 personal house concerts. I told

my fans I would come play a show in their living room if they can

get 25 or more friends to attend (in addition to covering the gas).

I've toured all across the country this way. I've also focused a lot on

building an online fan base through social networking sites. That led

to a pretty cool feature on the YouTube homepage. It's all been very

grassroots but effective." - Mikey Wax, NYC

"Some musicians think licensing their music to commercials and branding

themselves with a product is selling out, so they refuse to do that.

I think it is hard to generalize like that. I would not have really discovered

Leslie Feist if it wasn't for that Apple commercial." - Kailynn West

from Tiny Stills, Los Angeles, CA

"I would like to say that independent is the way to go, but the truth is,

paying out of your pocket for things like touring, merch, etc. is really

tough. You're expected to run all the business aspects of your band,

work a full time job AND write/create good songs? I think that every

band needs a sugar daddy, of which we are fully open to applications…

But in all seriousness, I'm hoping that something will surface

and bring the music industry in a new direction." - Keeley Bumford

from Hotel Cinema, Los Angeles, CA

"Really good venues could become like labels, build a stable of performers,

really take ownership of an artist and his/her career. I'd trade

playing at other clubs for steady work and steady pay. For sure." - Alec

Gross, NYC

"I once wrote to several influential acoustic guitar players asking if I

would be able to study under them and learn their techniques. The list

included Tommy Emmanuel, Don Ross and Erik Mongrain, and I didn't

expect much in the way of responses. Every one of them but one,

130 131
---
Words to the Wise! Creating Your Artistic Armor

In The Spotlight: Over 100 Voices in Music

wrote back. It just goes to show how far a well-written, well-sourced

and honest email can go." - Robert Gillies, CA

"I think the hardest thing about being in the music world is that there

is so much pressure to be something that we just aren't and never

will be. For artists in the music industry there's a huge pressure from

the media that makes it seem like the only way to get noticed is to

be a sex symbol which is completely false and untrue. There are definitely

many other ways to get noticed." - Danielle from Danielle and

Jennifer, NYC

"We protect ourselves by just staying true to who we are and staying

grounded. People seem to be really responding and respecting

us for that, which makes us very grateful. It's definitely a scary world

out there but we are prepared for it." - Jennifer from Danielle and

Jennifer, NYC

"I like to get into a zone with the band before every show. We talk

about the set. We talk about what we're going to do. Everybody has—

somebody—may have a new idea... 'Hey, let's try this…' and just get

us pumped up and psyched. I'll do 20 push ups with everybody in the

band, just to get us in a real good frame of mind and to go out there

at our best." - Eddie Gindi, lead vocalist from Men In My Head, NYC

"As

a composer and arranger, the priority is to find the way to write

the music that makes the visuals work right. That can mean Beethoven

one day, Stravinsky the next, and Weird Al the next. As a producer, the

key is to work with the artist and figure out the music that's in them

to make. Figure out who they are, what they're trying to say and then

translate that into a recorded document. Sometimes that means an

acoustic guitar and vocals; other times it means a large orchestra." -

David Das, Los Angeles, CA

"Be in the music industry if you're compelled to, but it's not an easy

path to riches or fame or anything. It's just another way of working

in the independent artist community." - Brian Felsen, Former

President at AdRev; CD Baby, BookBaby, HostBaby, Los Angeles,

CA

"Just

like any job there are many pros and cons. Being a freelance

Producer/Engineer I believe the highs and lows are extreme. Work

begets work so you never try to say "no" to anything, this leads to

the sacrifice of personal time. The way to protect yourself is try to

be there when you are and live in the moment. It also applies to

when you are working with an artist, they should feel like they have

your undivided attention even though you might have several ongoing

projects, make them feel like this is all you think about, this in

turn will get you complete trust from an artist." - Andy Manganello,

Producer,

NYC

"Be tenacious and keep your level of intensity at 100 percent at all

times. You only get out what you put in. Success is never handed to

anyone. Find genuine people to work with who believe in you. And

know that nothing is accomplished alone." - Esnavi, NYC

"Artists

out there, they do half the work, and they don't follow through,

which I used to do back in the day. But as I've grown, I've learned how

to put my best foot forward and follow through. That also has a lot

to do with determination. Some artists have what it takes, and some

artists don't." - Adam Clark Rochester, NY

"If you have the money, invest in advertising. If not, invite friends to like

your page and create profiles on different social media sites and utilize

free ways to spread word of mouth. The object is to go viral." - Eric

Olson, ME

132 133
---
Words to the Wise! Creating Your Artistic Armor

In The Spotlight: Over 100 Voices in Music

"I think it's hard not to get distracted by comparing yourself to the

success of others. I pray and try to stay focused on the real goal, which

is to make good music." - Marie Miller, Virginia

"As

an undiscovered talent, you must either spend hundreds building

a decent recording studio in your home or pay by the hour to have

your music recorded in a studio, which may end up being just as expensive.

As an artist who has explored both options, my best advice

is to create a simple setup in your home: microphone, interface, and

digital audio workstation, such as Mixcraft, Pro Tools, even Audacity,

which is free. This way, even if later on you want to record your songs

in a professional studio, you can make the rough draft right at home

using the equipment you already have." - Diary Of Snow, Atlanta, GA

"There is an incomparable rush to being on stage. The point of creating

is to bring light to the ears, eyes and minds of the audience. The

music industry can do as it pleases—I don't try to let it limit me. I

don't want to take all the conventional routes to success. Don't get

me wrong, I'll take some of them. But I'm going to do it my way. I truly

believe that the artist of today can really take over his brand and be

his own boss while being successful." - Danny Severance, NYC

The Coach's Perspective:

Hold Your Armor High

Back when I was crazy passionate about acting, I had seen my share of

the scams that existed out there, from paying hundreds of dollars to be

listed on fake auditioning sites, to waiting hours for lame casting calls

and to not getting copies of my work. It's such a stressful, fickle field

that can be a huge time waster! The arts and entertainment business is

at times such a mess, so that's why it is important to have the right, supportive

team around you at all times to provide guidance and support.

The worst scam I've encountered was when I teamed up with a business

alliance named Eli to develop a modeling management as Co-founder.

For about 4 years, I was a lead modeling/acting instructor at a modeling

school. I had trained over 1,000 young women on personal development,

beauty, and the facts of a career in the entertainment industry.

This business alliance met me while travelling to NYC, discovered

my background in our conversation and became very interested in

forming a modeling management company with me. I was working on

my master's degree at the time, therefore, I also knew how to design

workshops and curriculums, a skill he needed.

We spent five months having meetings, while I started to develop

an ideal curriculum of entertainment-based classes with industry professionals/agents,

etc. He was very smart and kept recordings every

time we met on everything we discussed. I felt empowered and flattered,

thinking this was my career path; doing something I loved, educating

others. The potential as Co-founder was amazing; I was told

that I was going to be the lead spokesperson for this management at

various locations, lead trainer and a casting director. He even set me

up with top photographers to get promotional pictures for my own

use and for the site. I was very excited and positive that all my experience

in the arts was going to go to good use.

But then one day I tried to contact him and his phone was

disconnected.

134 135
---
Words to the Wise! Creating Your Artistic Armor

In The Spotlight: Over 100 Voices in Music

He had disappeared with all my basically free consulting advice,

curriculum work and even my pictures. Now, I had studied business

law previously and read all our contracts carefully, so I couldn't believe

it. But I wasn't going to just walk away. I did my research and I was able

to locate the photographer who was still working with him and didn't

know he did this. I confronted them both at the studio and threatened

him with a lawsuit. When he saw how serious I was, he gave me my

pictures as settlement and I walked away.

Now what was his excuse for cutting ties? A bogus excuse that I didn't

produce the work he requested fast enough. He was trying to take absolutely

all of my ideas, and have me write training manuals next, but I felt

uncomfortable and wanted my copies of my pictures first. I trusted my

instincts, but ultimately he was able to walk away with all my intellectual

property and waste many hours of my life, mind and heart for nothing.

I got burned badly by this, but it made me way more careful

with legal agreements and making sure my own priorities are clearly

stated and protected. I became way more attentive to ulterior motives

in all new connections and potential alliances. I learned to trust

my inner voice right from the beginning of a business relationship,

and over the years since, really shook out the fakeness from many

more characters in this industry. I'm happy to say the lesson may

have been worth it.

As your coach, I ask you the following:

1. What are 2 things you need to keep an eye on in your life or career,

and maybe even protect?

2. What is a lesson you learned from a past negative experience?

3 . . What are three signs that a possible alliance is good for you?

4. Why is your art worth protecting?

Chapter 6 Affirmation: Words to the Wise

"I am aware of my boundaries and share them without

fear. When it's meant to work with someone, it will just

flow. I see the realities in the music industry clearly. I can

learn my life lessons from positive experiences. I trust

myself and my instincts. I watch and observe, knowing

when I encounter the wrong vibrational match, I will

just know and test it for truth. I am not easily swayed

by false promises. I grow stronger each day."

❖ ❖ ❖

136 137
---
Words to the Wise! Creating Your Artistic Armor

In The Spotlight: Over 100 Voices in Music

Featured Interview: Steve Gordon,

Famed Entertainment Lawyer

Emily: Today, Creative Spotlights is excited and honored to interview

Steve Gordon. The goal of this interview is to share Steve's

perspective on what it takes for a music artist to succeed in the

industry and stay inspired.

Steve, my first question is: how did your journey in the music business

begin?

Steve: I studied entertainment law at NYU Law School, and my first

job was with my entertainment law professor. He was a litigator and

we worked on a variety of legal disputes involving entertainment business

contracts, copyrights and trademarks. Some of the cases were

interesting, but I wanted to be involved in making projects successful

instead of engaging in legal battles. So I took a job in LA as the music

lawyer for a Hollywood studio, De Laurentiis films.

Steve Gordon is an entertainment attorney, educator, and consultant

based in New York City specializing in music, television, film

and digital entertainment projects. His clients include music artists,

songwriters, managers, record companies, music publishers as well

as television and film producers, TV, web networks and digital startups.

Steve also operates a music-clearance service for producers

and production companies who wish to use music in documentaries,

feature films, ad campaigns, live theatre, digital stand-alone

projects and more. A Fulbright Scholar, he has taught courses

at universities in Europe and Israel. Steve served as Director of

Business Affairs/TV & Video at Sony Music for over a decade, and

previously worked as an attorney for Atlantic Records as well as

a major Hollywood movie studio. He is a graduate of New York

University Law School.

Eventually, I realized that I did not want to spend my life in LA, and decided

to return to New York. The best job I could find was with a small music

public performance organization ("PRO") called SESAC, which, at the

time, stood for the "Society of European Stage Authors and Composers."

I enjoyed working at SESAC, but I wanted to be more engaged in the

"real" music business. I landed a job at the in-house law firm for Atlantic

Records. After that, I got what was then my dream job: Director of Business

Affairs at Sony Music. There, I specialized in television and video, including

doing the contract work for over 250 music videos each year plus dozens

of concerts videos and music based documentaries for artists such

as Michael Jackson, Mariah Carey, Bruce Springsteen, and many others.

During my time at Sony from 1991 to 2001, the record business was doing

great. And my position was extremely secure. Now, unfortunately,

the situation for people working at major labels is quite different. Income

from recorded music has declined in almost every year from an all time

high in 1999 of 14.5 billion to less than 7 billion in 2014, and that income

138 139
---
Words to the Wise! Creating Your Artistic Armor

In The Spotlight: Over 100 Voices in Music

continues to decline in 2015. No one is absolutely sure if the lights will stay

on, or at least, the lights in their own office.

Five or six years after I started at Sony, they decided to create an inhouse

production company called Automatic. I became Automatic's

lawyer and handled the business affairs for three different TV shows

including Sessions at West 54 th , a concert series which was named after

Sony's studio on 54 th street near 10 th avenue. That building is now a

condo – which gives you an idea of the state of the recording business

today. That is, not as great as it was in the 90's!

Emily: For those artists, who haven't really worked with an entertainment

attorney of your caliber, how does your service support

them?

Steve: Entertainment lawyers perform a number of services. Contract

negotiation and drafting are a music lawyer's main job, but he can

also set up your record or publishing company, give strategic business

advice, file trademark registrations to protect your name, guide

you on how to properly file copyright registrations for your songs and

masters, and perform many other necessary legal functions. Perhaps

most importantly, though, an established music lawyer has relationships

with all kinds of people in the business who can help their clients

including investors, managers, producers, labels (both large and

small), music publishers, PROs, etc.

But before reaching out to a music lawyer, you should always try to find

out as much as you can on who you are calling. Also think in advance

about what you are calling for. In the music business, no one has time

to waste, and that's especially true of lawyers who are trying to make

a living based on their time. So find out about a lawyer's practice by

checking their website, and then ask yourself why you need a lawyer

and whether that lawyer would be able to help you. In fact, it's almost

always better to email before calling, so the lawyer you are trying to

connect with can evaluate whether he can help you. Some lawyers will

listen to your music and give feedback for a fee. Personally, I never

charge money for that. I'm an attorney, not an A&R.

In terms of how I can help a client, I'll give you two recent examples.

A young man who had a hit song on the Internet but who had no idea

about the business called me and showed me a contract that he was

offered. He didn't understand what the contract meant because it was

written almost entirely in "legalese." But I saw immediately what the

contract really provided. As I explained to the artist, if he had signed

it, he would owe over 50% of his income from the entertainment business

to the company for the rest of his life. There was no money for

him upfront, and the contract did not specifically require the company

to do anything, except find a "distribution deal." That term was

defined so broadly that all the company had to do would have been

record a few tracks and upload them to iTunes through CD Baby or

TuneCore. I prevented the client from signing what I like to refer as

the "contract from hell." Then I hooked him up with a leading management

company. That led to a series of meetings with major labels.

Negotiations are now underway, and so is his brilliant future.

Last week I helped two gentlemen set up their own label by registering

the LLC, drafting the Operating Agreement for the management

of the company, protecting their name with a trademark registration,

preparing an exclusive recording contract that the label can use for all

three of their artists with minor modifications, and writing a producer

agreement with the guy that makes beats for them.

Emily: That's great. You painted a very good picture of the different

areas that an entertainment lawyer could be involved with,

and how an artist can connect to each area whether they're a

songwriter or a singer etc.…

140 141
---
Words to the Wise! Creating Your Artistic Armor

In The Spotlight: Over 100 Voices in Music

Steve: To add a personal note, I was a little shy when I was at Sony.

At parties and other events, I would have chance encounters with

managers and producers of very successful artists. But I wasn't really

into socializing with other music business folks. Now I nurture all my

relationships with people in the business because having good relationships

with them is crucial to helping my clients.

Emily: Yes, it's all about relationships, especially in the entertainment

industry. In our book, we have a whole chapter about this

topic.

Steve: Yes, relationships are all important in the entertainment business

– even in entertainment law. For instance, I worked at a couple

of "boutique" music law firms before Sony. There were partners who

used to "schmooze" all day, and then there were worker bee lawyers.

Those were the guys and gals in small offices who drafted and negotiated

the details of the 80 page plus standard recording contracts. In

the meantime the partner lawyers in the corner offices were just talking

on the phone all day -- getting and making deals happen. Basically

there are two kinds of music lawyers: the deal makers, and the ones

who do the "legal" work. It's great to have somebody who's good at

both!

Emily: That's right. Being versatile in your career track is so vital,

just to be flexible. For example, I'm a life AND a business coach

because my expertise lies in business, but due to my own life experience

as an artist and a classically trained theater actress, I'm

able to bounce back and forth with my clients, depending on their

preferences. What would you say are the top three things that an

artist must do to break through to the top of the industry?

Steve: Well, an artist can make it in all kinds of ways.

It's great to start when you're 12 and you're on Disney. That's a huge

head start. I mean, ask Britney Spears, Justin Timberlake, Christina

Aguilera, and, more recently, Miley Cyrus, Selena Gomez and Demi

Lovato. Ariana Grande fits in that category too, although she was on

Nickelodeon. Their TV career brought them to the attention to people

in the business, as well a huge number of kids. Now, if you take somebody

like Beyonce, who's just loaded with talent and looks so great,

she got her first break when her father got interested in the music

business, and helped launch her career by casting for Destiny's Child

which he build around her. Taylor Swift's parents supported her decision

to move to Nashville and supported her until she took off. And if

you look at Lorde, in fact, my knowledge is that when she was 12, her

dad found a guy from Universal Music/New Zealand to work with her.

She didn't happen overnight. The point is it's good to start young,

and have great support from either a corporate behemoth and/or your

family.

But then – look at Jay Z. He didn't start on Disney, and he didn't have

a rich daddy. He really did do it on his own. He booked his own gigs

and released his first record on his own. Kanye is another example of a

"self-made" artist. He got his big break producing tracks for Jay.

That brings to my mind something Donald Passman, the great music

lawyer, told me. He said in the course of my podcast interview

with him that he had a lot of different famous artist clients, but the

one thing they all had in common is that they all would have "broken

down walls" to become successful. I think that that's the key –

you have to really want it, in addition to being talented. So it's a

combination of a lot of things – being incredibly talented, gifted,

beautiful are all great, but most of all though, whether you're born

with connections or not, you've got to really, really want it and work

hard.

142 143
---
Words to the Wise! Creating Your Artistic Armor

In The Spotlight: Over 100 Voices in Music

Emily: Who are the top artists that you loved working with, who

just really inspired you with having a hunger for being in the music

industry?

Steve: Over the years I've worked with various famous artists including

Mariah Carey, JLo, Billy Joel, Bruce Springsteen and Michael Jackson.

That was at Sony. Now I work with a lot of talented emerging artists,

songwriters, and producers, as well as managers, indie labels, and

publishers.

One of the things I enjoy most about my current practice is the diversity

of the matters I work on. Currently I'm putting the finishing

touches on an offering memorandum in a limited partnership deal for

an indie movie. Yesterday, I finalized a deal for use of music in a new

app. The day before that, I was clearing music for a Broadway musical.

Who knows what tomorrow will bring?

But perhaps I get the greatest satisfaction from helping new talent. A

young singer songwriter I work with has been approached by a very

famous producer who could make her a star if he puts his mind and

talent to it. But in the meantime, I helped get her PRO to put her in a

major concert for their best new talent of the year. And I am hooking

her up with other talented producers who can hone her sound. One

way or another this girl is going to make it, and I am going to do everything

I can to make that happen.

Emily: Now, I saw your podcast on your site – it's awesome –

about all the businesses that came out since the sales of CD's

have dropped, over the years, and how digital music has provided

opportunities for new businesses to come out, like ReverbNation,

Bandzoogle, PledgeMusic and Apple iTunes.

Steve: My point is actually that digital has created better opportunities

for entrepreneurs than they have for musicians. Let me explain.

To give you an example, aggregators such as CD Baby makes money

from each download of a track on iTunes or another Web store. CD

Baby's cut is 9% of what the artist would otherwise receive. iTunes

pays 70 cents for each 99 cent download, so CD collects approximately

6 cents for each sale. The majority of artists who use the service

sell very few units. But since CD Baby has over two million tracks, all

those pennies add up to a good business model -- for CD Baby. I am

not knocking CD Baby, I am just saying that the digital middlemen

sometimes do a lot better financially than the talent.

Another example: Beats Music. When started, the service, I thought

Dr Dre and Jimmy Iovine, who is also the president of Interscope, were

foolish. Why roll out another on-demand streaming service when even

Spotify and Rhapsody, though established, are still struggling financially?

Then Dre and Jimmy turned around and sold Beats, along with

their headphone business, to Apple, for $3 billion. Most of that was for

the music service, as Apple now wants to compete in in the streaming

space. Like I said, the opportunities can be amazing for entrepreneurs.

For artists, though, technology has had mixed results. Sure, you can

make your own records on the cheap, with new technology, which

allows you to record and mix on a laptop, and yes, you can get your

music out to a worldwide audience without a record company. But

it is even harder now to be heard. That's because there are so many

other musicians using the Internet to try to succeed. Also, outlets

like Facebook, Spotify, SoundCloud and iTunes which all allow you

to reach a mass audience, don't pay advances or money to market

your music.

In the 90's, if you were attractive, young, talented and fit into the latest

trend, you had a fighting chance to get signed, and you could become

a star via the production and marketing money and manpower provided

by the major labels or their affiliates. Now those opportunities

are more rare, as the labels make a lot less money. And therefore, they

have less capital to invest in new artists.

144 145
---
Words to the Wise! Creating Your Artistic Armor

For instance, once Nirvana hit, the big record companies descended

on Seattle and Portland or wherever and they signed a lot of bands

who looked grungy, played guitar and had a possible hit. Many bands

got a shot. That wouldn't happen today. One of bands that came out

of that frenzy, Pearl Jam, and a few others have gone on to great success.

That success was built by major labels who spent a great deal of

money to make the band known to the masses. That is not happening

as often anymore. So is it a better time for musicians? In some ways,

yes. You could reach a worldwide audience. In a lot of other ways, it's

even harder than it was before.

Emily: Then what can an indie artist do to continue to get to the

next higher level?

Steve: Amanda Palmer wrote the Foreword to my book. She raised

over a million dollars on Kickstarter. She said that one of the ways she

was able to be successful, including with the Kickstarter campaign,

was because she didn't do it all herself, she asked for help, and she got

it from a lot of people, who became her "Team." But Amanda didn't

exactly answer how to build that team, except to say that she asked

for help. But maybe she put her finger on the nub, you have to ask for

help, and at the same time, you have to be talented, beautiful and/or

persuasive enough to get it.

Visit www.futureofthemusicbusiness.com for details of the latest edition

of "The Future of the Music Business" by

Steve Gordon and oth-

er amazing advice to help support your career. If you send Steve an

email (steve@stevegordonlaw.com), he will provide you with the section

of the book on the role of managers, how management agreements

work, plus whether you can or should hire an attorney to shop

your music.

146
---
CHAPTER 7

Dream Collaborations

❖ ❖ ❖

FOR MY 22 ND BIRTHDAY I decided to visit NYC to meet up with a high level

producer, Arty Skye, who we had interviewed on our site. When

I stepped into his office, I felt the situation was pretty surreal. I saw

awards on the wall with the names Will Smith, Madonna and Brandy

on them. This was the real deal. I had always dreamed of working with

famous producers. Then, I had told him that I wanted to sing for him

the song I was auditioning with for The Voice.

Singing for him was nerve-wracking! I mean, here is this guy who

works with top singers, and he is listening to me sing. I was so grateful

for having that opportunity.

After I was finished, he told me I had good tone. This Grammy

nominated producer/engineer said I have a good tone! Being around

a person with so much talent was such a high. I felt so honored to even

be in his presence, much less to receive a compliment from him.

At another time, I spoke with a master engineer after interviewing him

on my site, and I asked if I could send him my music, and he agreed. After

I did, he ended up mastering one of my tracks as a thank you and sent it

back to me. The track sounded amazing! This producer had worked with

top talent as well, so again, I was thankful for that opportunity.

A third time, I sent my music to a famous producer who told me

that if I kept working on my craft, I could be the next Adele. I was

so honored by the compliment and couldn't have asked for anything

better.

149
---
Dream Collaborations

In The Spotlight: Over 100 Voices in Music

All three of the producers were down to earth. Each piece of wisdom

they shared with me guided and empowered me as an artist. The

way these producers made me feel is how I want you to feel reading

this book. They gave me confidence and insights so I could be a more

successful singer. Emily and I want this book to be a source of wisdom

and guidance for you.

One of my dreams is to work with high level producers and songwriters

for my own music. I want to create hit songs for the radio. I want

to change lives through the music I create with these producers. I want

the songs to reach people on an emotional and spiritual level.

Ultimately, I know it is part of my purpose to change and touch

lives.

Keys To Success:

Take a Chance: Don't be afraid to reach out to people you look up to. I

used to think, "Oh, well, I am just a singer/songwriter. Why would they

agree to be interviewed by me? I am not famous. They will not want

to talk to me." But that is far from the truth. I believe almost anyone is

more accessible than you imagine. You might as well reach out to them

via email or by phone. Worst case scenario is they say no, and musicians

must get used to that word anyway. Therefore, a refusal will not become

lethal. On the other hand, imagine what would happen if they say yes.

"Yes, I would love to meet you," or "Yes, we'd love to answer a few questions,"

or "Yes, I'll listen to your song." You never know the outcome until

you try.

The best way, though, to meet or connect with these people is through

your network. Try to find someone you know who knows the people

you are looking to connect with. Don't be afraid to check out a musician

on LinkedIn and then reach out to your friend who is a mutual

connection to ask them to introduce you. Have no shame in asking for

introductions. We all are here to help and guide each other.

Be Yourself: Know that these people you look up to, no matter how

famous and accomplished they might be, are just people like you or

me. They are someone's uncle, aunt, cousin, brother, etc. Don't put

yourself below them. Don't kiss the feet they walk on. Sure, you can

look up to them, but if you just treat them like regular people, they

will, most likely, respond better than they would if you try to kiss their

butts. Understand that they were at the same place you find yourself

now. Chances are that they worked very hard to get where they are

today, and they had to overcome obstacles just like you might have to

now. Use them as inspiration, not obsession. View yourself as equally

able to accomplish anything they can accomplish. This will not only

help your self-esteem, but also your drive and dedication will largely

increase as well. You can do anything. Creative Spotlights sure believes

in you!

"If I could collaborate with anyone in the world, it would definitely be

Ed Sheeran. Ed has such a talent for telling it how it is and I love his

style. He fills stadiums with fans for just himself, a guitar, and a loop

pedal and that is something amazing. His songwriting is so in depth

and makes you feel like you're living in his tracks. I hope to one day

follow in his shoes." - Dylan Ander, NYC

"If I think about this for more than 10 seconds I will go absolutely mad,

so I will just go with the first two that come to mind: Jack White and

Olafur Arnalds. Jack White because I think he could really pull out

some elements in me that I am even curious about, and Olafur Arnalds

because I am obsessed with his talent as a composer and artist. I'd

love to see what we could do together. I literally have a physical reaction

when I listen to his music." - Selena Garcia, NYC

150 151
---
Dream Collaborations

In The Spotlight: Over 100 Voices in Music

"I am very interested to work with ethnic musicians, so we can combine

my classical and improvisatory piano skills with the authentic and unique

sounds of their instruments. That is my long time dream, and I know it

is coming true!" - Elena Ryepkina, Classical Pianist and Vocalist, NYC

"I have always dreamed of working with Darkchild (Rodney Jerkins).

He is a phenomenal producer and has worked with some of my favorite

artists, including Brandy, Destiny's Child, Britney Spears, TLC, etc.

I also definitely wouldn't mind working with Frank Ocean. I am just

doing what I'm doing in order to get one step closer to working with

them everyday. Always keep your head up, and if you want it that bad,

it will come to you." - Carly Lind, Los Angeles, CA

"I've always dreamed of working with Celine Dion. She's one of those

artists who has a voice that reaches deep into my soul, helping me

to remember that dreams come true and happiness isn't only a fantasy.

One day I'll sing with her, and I hope to do so by sending positive

thoughts into the world!" - Christian Hollingsworth, Entrepreneur,

Model, Singer/Songwriter, CA

"I have many musical heroes and admirations in a field of giants. I love

all types of music, styles, and art. I would love the opportunity to work

with some of these artists again or for the first time: Bruce Springsteen

Mat Kearney, Paulo Nutini, Tom Waits, Vienna Tang, Rocky Business,

Wilco, Michael Kiwanuka, Ryan Adams, Daniel Lanois. These artists

I listen to everyday and they still inspire me to enjoy music and the

making of it." - Andy Manganello, Producer,

NYC

"In the Music world: Rick Rubin and/or Jeff Buckley (If he was still

around)." - Marrick Smith, Broadway Star and Singer/Songwriter,

NYC

"I think the giants of the industry have always been a dream of mine to

work with. Nigel Godrich, Brian Eno, George Martin, Charlie Peacock,

many more. To accomplish working with them, I'd probably have to

be introduced to them. That sort of thing takes a lot of time and patience."

- The Autumn Film, Colorado

"There are so many amazing artists I would love to work with like

Rob Thomas, Daryl Hall and Jason Mraz. Also, when I first started

performing, Dave Matthews had a major influence on me. He is

someone I respect for how he got recognized. They just went out

and toured like crazy, the grassroots way." - Charlie Scopoletti,

Connecticut

"I used to dream about being in the studio with Michael Jackson. To

me growing up, he was the top guy. Now that he is gone, I would love

to work with producers more than artists. Flood would be a great

one. Jay Z was an artist I wanted to work with and got the opportunity

to [do that] this year." - Karl Heilbron, Producer,

Atlanta, GA/Los

Angeles, CA

"Neil Diamond! I grew up listening to his music plus I've seen him in

concert like 30 times! How fun would that be to have a collaboration

with Neil Diamond on a EDM track!" - Andrea Benham, NJ

"There was never one person who I set out to work with, but there

were people who inspired me. Todd Rundgren was one because he

wrote, recorded, engineered and played almost every instrument

and did some of the most amazing pop songs along the way. Stevie

Wonder is another. I love 'Innervisions' and how you can just hear him

in every track. The drums, the synth bass, etc, they are all extensions

of Stevie. So many others. The list is just too long. Brian Wilson, Harry

Nilsson, Paul Simon, Randy Newman, any of the Beatles, the entire

British Invasion, Gilbert O'Sullivan, Led Zeppelin, Vanilla Fudge, Kenny

Burrell, Wes Montgomery… OK, I'd better stop." - Craig Bartock from

Heart, CA

152 153
---
Dream Collaborations

In The Spotlight: Over 100 Voices in Music

"I'd LOVE to work with John Mayer, Damien Rice, Bruno Mars, Ed

Sheeran, Ryan Tedder and Sheryl Crow. I think they are all incredible

artists. They each have their own style and their own story!" - Alexa

Falk, One Half of Country Duo: Falk, UT

"I have to say that the team of producers we had for the concept record

we've released this year was quite an all star cast. They certainly

represented a dream team for me personally. It was nice to finally share

time and space with guys like Jeremy McCoy (bass for The Fray), Jason

Morant, Jeremy Lutito (Leagues) and Dan Brigham (Canon Blue). I've

admired them for so long, and I finally got the opportunity to work

with them. There are a few other producers that I love too, and I'm

interested in how they would interpret Afterlife Parade. A few of them

are Mike Elizondo, Ken Andrews, Steve Lillywhite, Lukas Burton and

Renaud Letang. They've produced some of my favorite records, and I

would be happy to work with them." - Afterlife Parade, Nashville, TN

"I would love to sit down and write a song with Dr. Luke just to see

what his creative process is like. That guy is a HIT MACHINE. Maybe

make a record with Brian Eno? Put a Jay Z verse on 'Loveblind?' I

dream big. When the time is right, I'll be able to work with big names.

The first step right now is focusing on my goals. I'm more determined

than ever. 'Babiniworld' is growing." - Alexis Babini, NYC

"Paul McCartney, Sting and Imogen Heap to name a few. Love them

all. Brilliant on all levels." - John McCracken, Producer,

NYC

"I've always looked up to Duncan Sheik as a writer and would love

to work with him. I think the way to go about working with a writer/

producer like him is to just approach him with an idea and hope that

he's interested. I would only want to work with people that believe in

what I am doing." - Brian Fuente, Nashville, Tennessee

"I would love to work with Prince. His artistry and musicianship is on

a supernatural level. He has written and composed hits AND has the

ability to play seven different instruments. Insane!" - Esnavi, NYC

"There are a few artists I want to collaborate with. One of them would

be Paul McCartney. I know it's really out there, but I'd love to one day

be able to at have a chance to play him a song and maybe get his input.

As far as newer artists, I want to collaborate with artists like Lorde, Alicia

Keys, Drake and possibly also Rihanna or Christina Aguilera because I really

like what they've been doing lately. Tori Kelly, she's great! Definitely

someone I want to collaborate with." - Adam Clark, Rochester, NY

"Kailynn and I both have always dreamt of working with Chris Walla

from Death Cab for Cutie. Not only is he the tastiest guitarist ever,

he's produced some of our favorite records from artists like Tegan

and Sara & Telekinesis… as well as all the Death Cab records. I have a

strong love for that band… they're from my home town of Bellingham,

Washington." - Keeley Bumford from Hotel Cinema, Los Angeles, CA

"There are many talented people that I'd love to work with, Colbie

Caillat being one of them. I already had the pleasure of producing a

duet that featured her, which I never thought would happen, so I don't

know if I've thought ahead to who I'd like to work with next. In this industry,

you tend to meet people in unexpected ways, so I try to keep

my options open and learn from all the people I come into contact

with." - Chase Coy, Nashville, TN

"There are lots of people I would like to work with, but one of the top

ones would be Brandi Carlile. I love the way she sings, and I love her

band. A couple of her songs were among the first that I learned when

I was trying to get better at guitar and writing." - Emily Earle, Brooklyn

NY/Nashville,TN

154 155
---
Dream Collaborations

In The Spotlight: Over 100 Voices in Music

"Paul McCartney, Slash, The Roots, Alison Krauss, BB King, Mos Def.

I'm going to keep networking. I actually really enjoy expanding my

circles and putting myself in a powerful position by acting as a connector."

- Danny Severance, NYC

"Adam

Young, mastermind behind the band Owl City. Ever since the

first day I heard his music on iTunes, long before 'Fireflies' was on the

radio, he inspired me greatly, and I think fans can hear that in my style

of music. As far as how I would go about accomplishing this, at the

moment I can only dream. Hopefully someday he'll hear my music and

possibly feature me in one of his songs." - Diary Of Snow, Atlanta, GA

"Michael Jackson, Stevie Wonder and Stevie Ray Vaughn were HUGE

influences. I just want to work on my talent and my dream of being an

artist, however, I would love someday to meet the people that inspire

me." - Alex Flanigan, Nashville, TN

"I would love to work with Taylor Swift. Her albums are albums, not records

with three or four hit singles on it, while the remaining tracks are

fillers. Every single song is well done. I would go about accomplishing

a potential collaboration with her, by working hard and never giving

up." - Nick Finochio, PA

"I would love to sing with Andrea Bocelli and/or Josh Groban. They

both have magnificent voices and can sing pop and classical. I would

love to do a duet with them. Do not know how to accomplish this, but

hey, if anyone out there can make this happen, I would be ecstatic!"

- Patricia Welch, CA

The Coach's Perspective: Inspired by Greatness

When I think of dream collaborations, I think of the power of mentors.

Not many people can succeed in life without the positive example set

forth by good role models and influencers. Mentors and a good inspirational

environment will do wonders for your creative success.

Mentors have certain life experiences + attitudes about life that

invigorate their mentees to confidently chase after their own dreams

with strength and conviction! Meeting your musical mentor and working

with them one day is the ultimate dream for many people and can

prove to be life-changing.

When I think of my own mentors, I think of Anthony Robbins, the

world's top performance coach, and how his four-day boot camp

changed my life back in November 2013. Being surrounded by 5,000

entrepreneurs, CEOS and success-thinkers led by his brilliant techniques

truly changed my confidence and inner strength to live more

fearlessly.

Other role models in my life include, Steve Jobs for his relentless

drive for a vision, Richard Branson because of his fearless innovation

as a serial entrepreneur, Deepak Chopra for his personal healing presence

in my life as one of the top spiritual leaders of our modern times,

Suze Orman due to her financial genius and path from rags to riches,

Mark Cuban for his amazing passion for "the game of business" and

most of all Napoleon Hill, author of "Think and Grow Rich". Reading

this book at 19 years old totally changed my inner world and swung

me on a faithful path towards achievement and imagination.

In his or her own way, each of them changed my life by allowing

me to understand a perspective towards success-thinking which can

be learned and followed by their incredible vision. Nothing is truly

impossible.

As your coach, I ask you the following:

156 157
---
Dream Collaborations

In The Spotlight: Over 100 Voices in Music

1. What does a dream collaboration look like to you? Who do you

dream of meeting and working with?

Featured Interview: Noah Guthrie, YouTube Superstar

2. Who are your top 5 influencers? What do you most admire about

them and their work?

3. Painting a picture of where you could go in your future; how will

you influence the world?

Chapter 7 Affirmation: Dream Collaborations

"The same way my music idols have inspired me, I will inspire

my fans. I am a voice for my generation through my work. Each

day my influence for doing good in the world expands. I center

myself in a positive creative environment, and frequently

take time to heal. I lead the pack with devotion to my dream.

My imagination is my guiding force towards success."

❖ ❖ ❖

Emily: Today on Creative Spotlights we have singer/songwriter

and actor, Noah Guthrie, who has credits not only on Glee, but for

opening for Ed Sheeran, Neon Trees, Ben Rector, Cobra Starship,

Matisyahu, Matt Nathanson and Selena Gomez. His impressive

credits include a cover of LMFAO's 'Sexy and I Know It' which garnered

him 22 million views (he has over 53 million views in total

from his famed YouTube covers) and he has appeared on NBC's

Today Show, Jay Leno's Tonight Show, Dancing With The Stars, to

say the least.

We are interested in getting his advice on the realities of juggling

both a music and acting career, and what it takes to succeed in a duo

of industries and stay positive! So Noah, can you tell us a little bit

about your creative journey as an artist? In 2014, your CD Among

the Wildest Things was released so can you share a bit about that?

Noah:

Yeah. So I released my album in 2014. It was really just about

15 songs and, before we recorded the album, I had probably 40 songs

written. And we had to narrow that number down. I co-wrote a lot

of the songs in the album, so it would be me and another person on

songs. Then, there's one song in there that I wrote by myself. It was

158 159
---
Dream Collaborations

In The Spotlight: Over 100 Voices in Music

really something I needed to do because I had all these songs that I

was sitting on. I just kept writing and writing.

I finally got a little break with that YouTube cover that I did, and a lot

of my other YouTube covers as well. But that one, 'Sexy And I Know It',

really took off. I think there was a lot more pressure to get something

together and get something released. I'm really glad that I did that because

I really wanted my original music out there. I've been doing covers

for probably three years at that point. I just wanted to start adding

my original songs into the mix. It seems to be going pretty well and

people like the album. I'm very happy about that. Ever since I released

it, we've been doing little pushes here and there. Things will come up

to help it out. It's been great so far. Last year, I toured the country and

supported the album. It was great.

Emily: Sounds great! It's really important for artists to have

as many diverse skills as possible to grab more opportunities.

You write your own songs. You play instruments and you have a

voice. So it's really good that you have all those different gifts.

On top of that, you understand marketing really great. YouTube

is one of the top things out there to truly promote yourself as

an independent artist. So you're able to utilize that with your

YouTube covers. So how many covers would you say you had up

to this point? What are your favorites?

Noah: I would probably say I have around a little over 100 covers up.

Emily: Wow! That's really impressive!

Noah:

Yeah. I've just been doing it forever. That's a rough estimate.

But I'm pretty sure that's around what I have. I think that YouTube is a

really amazing platform. If you're not taking advantage of it to a certain

extent, then you're missing a whole market.

I also love the very grassroots way of being in a band, which is playing

in shows and getting in front of the audiences, and stuff like that. And

that does work.

But I think now, everything is so digital and so driven by social media

that if you're not just paying attention to that, then you're not really

doing yourself any favors.

I believe we figured out early that we really need to be paying attention

to social media. I just figured why not keep doing the covers and

see what happens. Now, I've got quite a good little fan base. They're

loyal and they're great fans.

YouTube has been a big help to me. It's been my home for a little

bit. Then once I started adding originals into the flow of content on

YouTube, people saw them and liked them.

I can do that more and start to transition hopefully a little more into my

originals, and then, do covers here and there. So it won't be all about

the covers.

Emily: Yeah, it's very smart to transition into your own work with

a mixture of both methods while increasing your fan base. Covers

are really commercial and great for clicks definitely!

Now, I'm a co-writer of a book called In The Spotlight: Over

100 Voices In Music along with Creative Spotlights' CEO, Dani

Felt. We spent a year pulling this guide together, and we feature

over 150 indie music artists on their journeys with loads

160 161
---
Dream Collaborations

In The Spotlight: Over 100 Voices in Music

of advice. One of the biggest pieces of advice we share in the

book is about using social media to your biggest benefit. You

cannot be a known artist without being a bit more personal

with your fans, staying committed to providing interactive

content.

Noah: Yeah. It doesn't take much. It just takes good content, but it

needs to be a regular basis thing. I think it's very important.

Emily: But, of course, you gotta pay your dues, I would say.

Noah: Yeah, I know that for sure.

Emily: I want to talk to you about acting. So you jumped into the

acting world after your start in music. How did that happen? How

did you see that you had a gift for that? You have done a lot of

good stuff with Glee.

Noah: Yeah. It was very strange. It was a very random thing.

Acting was never on my radar at all. And then, I was on the road playing

music and I got a phone call from the casting department for Glee.

They basically called me and said, "Hey, we're having trouble finding

someone for this new part on the last season of Glee. We think you'd

be good for the part." I told them, "I've never ever acted before, ever.

So I don't know if I'd be good." But they were looking for a certain

voice. They told me about the character of Roderick. Basically, he's the

chubby underdog who has the voice of Otis Redding, or something.

I was like, "Well, if you need a soulful voice, I guess I can try. I'll give

it my best." I sent an audition tape and read some lines. I waited a

couple of weeks to hear anything back.

Then, a couple of weeks went by, and they said, "Hey, we'd love for

you to come and audition in person." They flew me up to Los Angeles.

I auditioned in front of Ryan Murphy, and the rest of the creators and

some of the writers. It was very intimidating.

But I just got up there and did my best. I guess the next day, they

called me as I was getting on the plane. They told me, "Noah. Hey,

you got the part." I was like, "Oh!"

So I went home. I was like, "What will I do?" I think I flew back home

for a day and a half and packed up all my things. Then I went out to LA

and I lived out there for, I guess, five, almost six months. I literally just

got back to South Carolina two days ago.

But yeah, it's been a whirlwind. Acting is a completely different world.

It's very funny. I think I learned a lot. It was a great group of people to

be around. They were very good to me, very welcoming.

Emily: That's awesome. I wanted to ask you about one thing –

you've seen the acting world. You've seen the music world. What

are some insider lessons that you've learned about working with

people across two different industries. A lot of our artists may

stick just with music, but it's really good for them to be in multiple

directions, multiple industries, more opportunities. Is there

a difference?

Noah: I guess, yeah, there is a difference. I don't know if I had noticed

it as much while I was acting. (Thinks about it) Yeah, I did know there

was a difference.

I think the main thing in the industry, in the entertainment industry as

a whole, that I found that really helps you more than anything, is being

a nice guy to everyone and really gaining respect.

162 163
---
Dream Collaborations

In The Spotlight: Over 100 Voices in Music

I know it sounds so cheesy, but it's true. Be that nice person and

always take lessons when they're given. Respect the people that

have been there doing it longer than you have and try to learn from

them.

Emily: No ego. Be cool… just being your authentic self while doing

great work…

Noah: Yes. You make connections by just being a relaxed, happy person

with all these new people. I made tons of connections that I would

have never had. Just by hanging out with these people!

Glee fell in my lap. I was very close to not doing it because it was so

outside of my comfort zone.

But then I just figured I know 100 more people that would kill to have

that opportunity. This literally fell on my plate, and I would have been

ridiculous not to pursue it.

I'm so glad. It opened me up so much, not just career-wise, but it really

made me step out of my shell a good bit. I made some really good

friends and really cool choices. So, you just keep doing what you're

doing. Someday, it's going to happen.

It doesn't have to be a big scary intimidating world as musicians and

actors make it.

Emily: My final question is: where do you see your career going in

the next, let's say, two or five years? Where do you want it to go?

Noah: Honestly, I'm definitely focused more on music again. I mean

music is my number one.

I'm just now starting to record some new stuff. I really want to get

some EP out of some new things. Then I'd love to hit the road with

my band and tear up the pavement for a little bit, and see where that

goes.

I really just want to extend my music. That's my main goal right now.

Emily: I wish you the best of luck on your tour! What would be

some final inspirational advice for the aspiring artist?

Noah: …You just have to keep doing what you're doing. I mean it's

funny how things happen.

164 165
---
CHAPTER 8

Music in Five Years

❖ ❖ ❖

IN THE NEAR FUTURE ARTISTS will have some amazing opportunities to get

their music out there. At this point, anything is possible:

I believe in five years more indie musicians will get sponsored by

brands, such as lifestyle companies like drink, clothing and car

companies. This will help them remain independent and truly direct

their careers.

Indie artists will find more opportunities through licensing their

music in video games, films and commercials. This will bring a diversity

of channels to expand their brand.

Many indie artists will become entrepreneurs and start their own

publishing companies or record labels. They will realize the value

of having the right team to simply do things their own way.

There will be many more crowdfunding platforms and social networks

to support and connect the creatives.

I definitely believe consumers will be charged to stream videos

and music on YouTube.

There will be more virtual experiences for seeing music festivals,

tours, etc. from inside your own living room (Emily's idea)

There will be some kind of technology created to make it easier to

make your own music videos.

I think some people will still purchase CDs but most physical music

stores will be gone.

167
---
Music in Five Years

In The Spotlight: Over 100 Voices in Music

I believe there will be more music platforms to sell your music such

as www.featured.me to cater to the artists over the corporations.

This platform lets artists sell premium music content to their fans.

I also believe there will be more collaborations within different

genres. Country artists will collaborate with R&B artists etc.

Being versatile will be one of the keys to career success. It will

become more of a do it yourself mentality, with artists being more

aware of business skills, design, photography and publishing.

Within five years Creative Spotlights envisions not only having an

artist development program catered to creatives, but also artist

showcases, becoming a label, being an artist management and

having a series of inspirational books with coaching tools to inspire

those in all the arts.

"One of my main mottos, I came up with, is to 'become what stops

you.' So if you can't get a record deal, become the record company.

It's a lot of work, and this is the main reason why I have subscribed

to the Robert Rodriguez school of doing everything to get it done

because no one else will do it for you." - Anu Gunn, Rock Vocalist/

Guitarist/Actor, Los Angeles, CA

"The traditional industry, as focused on a tiny number of very commercial

acts, ends up being pretty irrelevant to me. There is, however,

a much smaller and far more fractured set of people in the game

at the moment, but they fly under the collective mainstream radar. I

don't think we're going to see many superstars anymore, and I really

don't think we'll see any superstars with 20-30 year careers. Is Lady

Gaga the new Madonna? I really doubt it. Is she the new Vanilla Ice or

MC Hammer? Probably. If she's smart, and I think she is, she'll save her

money." - Michael Epstein, MA

"In five years, more artists will be releasing music independently and

making money on their own terms. I do hope that our services will be

better valued by the industry and listeners, aside from being just a

commodity." - Tatyana Kalko, NYC

"I believe music goes in cycles. In the next five years I hope to see that

ring true." - Greg Baughman Jr. of The Deadlight Projects, Nashville,

TN

"This industry is full of twists and turns, but I enjoy that aspect of

things, it keeps it interesting. In five years, I'll most likely continue to

smile, and thank God for the ridiculous blessings He's placed in my

life!" - Michael Flayhart, Nashville, TN

"Music in 5 years will be just as fun and infinitely varied as it is now,

but the quality of craftsmanship and writing will definitely be better.

There's been a huge jump in hobbyist participants in the music

industry, and that's flooded the market and reduced the intellectual

impact of music. It's only a matter of time before their production experience

drives the progression of their talent into being full-fledged

professional media producers. There are some that will always be way

above this bar of quality, but for the vast majority, in 5 years it will

become less cool to make beats that sound like they came from a lateafternoon

class of careless third graders." - Maniak Mike from Shinobi

Ninja, NYC

"I think the industry is headed towards a less flashy form of music and

more of music with substance. With the rise of the indie music, that is

all heart and no bells and whistles, there is a strong reason to believe

that it will continue that way." - Brian Hull, Dallas, Texas

"Well, this question is very broad. There are so many different Genres

and styles that it is difficult to say 'it's going this way or that way.'

On an industry level, we are headed deeper into subscription based

format rather than selling records. I think U2 releasing their album for

168 169
---
Music in Five Years

In The Spotlight: Over 100 Voices in Music

free on iTunes is a clear example. That being said, the way we make

music or the way we connect with audiences will change, but the deep

core values of what connects an artist to his audience will still be the

same. Social media is a new way to interact, but deep down inside, it's

just exactly the same as it was before. People trying to find things and

moments that identify with themselves and the ones around them.

There is a saying I have heard in the past that I really like. I am 36,

and my generation is an analog generation living in the digital world.

Young kids today are a digital generation trying to understand the

analog ways." - Pablo Arraya, Producer, NYC

"Music is always changing so it will definitely be different in five years.

I think it will go back toward more musical live performances with

instruments rather than people pushing buttons on huge stages with

big lights." - Shinobi Ninja, NYC

"Making music that matters. It's my desire that in five years, 'Afterlife

Parade' will have a loyal fan base that fills theaters and arenas, and

that I'm able to give back to those who have given to me and to help

others who can't help themselves. I would like to be doing what I love

to do with, and for, people who love it too. We want what we do,

however big or small, to inspire change in others. That's a big dream

that I'm willing to pay the price for." - Afterlife Parade, Nashville, TN

"The industry in 5 years will be driven by digital content and social media.

We are moving to an online age, with companies quickly realizing

how to monetize web based endeavors. Apps are the way of the future,

and the industry is moving to a much more personalized music business,

where artists communicate directly to fans on a one to one basis." -

Jacob Kupin, Artist, Manager/Promotions Coordinator, Nashville, TN

"We don't guess it will veer off too dramatically from the direction it

has begun heading in the recent past. We assume it will drift more

and more towards a non-physical realm, less about product and more

about what connections can be made from musical talents." - Ghastly

City Sleep, NYC

"I think that genres will be meaningless, since they are becoming

more obsolete every day. In five years we will finally accept that true

musicians don't create music for genres, musicians make music and

the genres are applied after the fact. In five years, music lovers will

let the industry know what its next step should be, and not the other

way around. Last, I think artists will finally own up to being the great

business people they so often have to be. The mix of business and

creativity will be seen as a given and not as an exception." - Alexis

Hightower, NYC

"I think independent artists will be a lot more prominent. The advances

that will be made within the next 5 years - in both recording and

promoting your music - will allow an independent artist to get his/her

name out there without the support of a record label." - Michael Ravid

from Swear To Me, NYC

"It is my hope and belief that we will see a return to songs that are

comprised of memorable melodies and well-written lyrics. I believe

the general listening public will demand higher quality recordings

made by artists who play real instruments and can sing without using

auto-tune. I would hope we will all want to write better songs and

make better records." - Rob Hegel, Los Angeles, CA

"I'm pretty sure we'll all be wearing Aluminum foil and tin hats.

I think that as time goes on, the battle between Top 40 and the

niche-based music discovery will heat up even more. It is my hope

and belief that people will eventually get tired of the same 40

songs, and will begin to move to higher level of music consumption,

and, instead of background noise, they will find music that

170 171
---
Music in Five Years

In The Spotlight: Over 100 Voices in Music

caters to them specifically." - Dion Roy from Fire and the Romance,

NYC

"I set my goals and my dreams as high as they can be… I want to

sing the World Cup song like Shakira… It's how this industry works:

you have dreams, and if something doesn't happen, it's not really a

letdown. It's just a different path because the path to success is so

crazy." - Berry Galazka, Los Angeles, CA

"In 5 years music will cross more genre's leaving the industry with more

hybrid multi-talented artists." - 'JC Stang' lead singer of 'Wysteria',

NYC

"The industry has changed a lot in recent years, and in a good way.

Artists are, generally, producing their own music and doing a great

job. As a mastering engineer, it's often hard to tell the difference between

a track produced by a 'big name producer' or one produced by

the artist themselves, especially after mastering. So the future is set

up nicely for the independent artist. One area for improvement, is the

business side of things. Five years from now I would like to see artists

taking control and being more 'switched on' when dealing with the

industry." - Pete Maher, Mastering Engineer, UK

"I see the music business with much more emphasis on social media. I

also see much more involvement in the artist management realm over

PR firms and record labels. I don't know where the music industry is

going, and that is one thing I do love about the industry. In 5 years,

I see myself as a touring artist. I hope to have side businesses in the

music business/industry as well as my career as a performance and

recording artist. I also see myself in 5 or more years performing at

Jones Beach." - Dylan Ander, NYC

"Music is like water or air, people need it to live. I think the industry

is just starting to get smarter about this. They're finding newer and

more innovative ways to control the 'faucets' of music, so to speak, I'm

thinking of streaming services, online radio, etc. I'd say there's a good

chance the industry will be back to financial form in 10 years, if not

5. As far as the sound goes, it's hard to predict what specific sound

or genre is going to have an impact, but I think what you definitely

WON'T hear is a repeat of the last decade. Say goodbye to overproduction

and dramatic bass drops." - Justin Howard from VYD, NYC

"I think the music industry is in the midst of a paradigm shift. Everyone

can sense it. We are going to see a huge backlash against mainstream

pop music in a way that we haven't seen since Nirvana shook up the

industry in the early nineties. The income from studio recordings just

won't be there like it used to be. If you can't bring something to the

table in a live setting, there just won't be a place for you at the table.

The next five years will truly be a test. The artists that are going to

cut through and connect with an audience are going to be the people

that really work for it, the people that have mastered their craft." -

Arison Cain, NYC

"Everything cycles in music. Boy bands came back recently. With that

trajectory, I'm bracing myself for a resurgence of 90's rock." - Zach

Falkow, NYC

"I see myself as a well established artist with a Grammy or at least

a Grammy nomination, possibly a TV, radio or talk show, constantly

touring, being a part of some endorsements or campaigns and overall

just being in that space of what most call successful." - Esnavi, NYC

"The music business has changed so much in the last decade, and so

has the music recording industry. I like to say it's the 'revolution to the

evolution of music.' Things have to change, otherwise we are stuck in a

vicious cycle. We need to keep challenging ourselves and experimenting

with new and different ways of doing business as well as recording

172 173
---
Music in Five Years

In The Spotlight: Over 100 Voices in Music

techniques and art. I feel in five years I will still be pushing the limits of

sound and business and working with clients who embrace the change

but respect the past." - Andy Manganello, Producer,

NYC

"Music does not change, people do. If it's not good music, then it's

not going to exist. We go through these different phases where we

are dragged to different things. Eventually it's going to be phased

out. When I say good music, I mean good music with messages that

help you get along in life. Real good music is always going to bring

the people together. Music is not going to change because music is

part of the universe, music is a part of God. There is no such thing as

the music industry anymore, and that has been ever since mp3 has

come out. Vinyl is coming back, trust me. They want to bring it back.

That was a part of music history. Technology has totally destroyed the

industry. That`s why the people of music today don't sound different,

they sound the same." - Daryl Brown son of the "godfather of soul",

James Brown, Los Angeles, CA

"There will be a renewed focus on quality. Other mediums have begun

to realize that consumers recognize the difference between real

effort and ingenuity, versus formulaic, uninspired content. It's only a

matter of time for the music industry to realize that originality leads

to bigger and longer-lasting rewards." - Tom & Hebron, Nashville, TN

"In five years, I better be performing my music on the international

circuit. The American pop market is rude and overwhelming, but my

goal for Neara Russell is to promote as much of my authentic artistry as

possible while adapting to audience and industry feedback." - Neara

Russell, Los Angeles, CA

"In five years from now, I see me right here, doing what I love. I see me

writing songs and playing shows, and whether that's to 100 people or

2,500 people, I'll be happy." - Nick Finochio, PA

The Coach's Perspective: Vision in Music

The future exists now. What are you currently creating?

When I think back to one of the first musical influences I had, it was the

song "Thriller" by Michael Jackson as my parents drove us kids to dinner

in 1987. That song, as it played on the radio, was unbelievable and till

today it still is! How can you make your music stand the test of time?

Look at your music, your image, your site and your marketing materials.

How can you innovate? Move 2 years forward? Have a bit

of an edge?

It's so easy to just live in the moment as a music artist. But it is way

more powerful to have a "vision", a plan for the future! Not having a

vision is a really bad move for one's career. Yes, the artistic life is spontaneous,

adventurous and fluid—that is what makes it so intoxicating—

but the truth is, the directionless go nowhere without an unwavering

focus on a vision.

In my own life, I haven't known exactly where things would end up

with my bold choices, but I frequently held onto my vision. I wanted to

move to NYC for 10 years, ever since I started my training as a classically

trained actress at 16 years old. I couldn't afford to move to NYC to pursue

my dreams, nor did I have any friends or resources there. So I redirected

my actions, but didn't fully give up on my dreams. I hung a large

portrait of Times Square in sight for all those years, wishing to make that

move I never did. After my Master's degree, I did go anyway, knowing

only one person and relying on my savings to succeed. In 3 months, I

got a high-paying corporate job which I held for three years. I enjoyed

my lifestyle, developed a huge network and fell in love with the city.

However over the years, I started to feel my energy deplete in this

new city, especially with that soul-killing job. I had completed coaching

school with 350 hours of training. I started my business mingling

with the creatives of NYC, and transitioning into a new person, a phase

of life. My spirit called for the ocean to center myself, and I took 6 trips

174 175
---
Music in Five Years

In The Spotlight: Over 100 Voices in Music

to tropical places; three trips to Puerto Rico, a one trip each to Mexico,

Dominican Republic and Costa Rica.

I felt the message of these trips, which was to move to Miami, a guidance

I took to heart. So again, I moved by myself, this time to Miami with

just my savings and a dream. As of writing this, I have been here less than

a year, but I am living in one of the most luxurious buildings in Downtown

Miami with a view of the skyline + ocean. I'm in love and in a serious relationship

with my dream partner. And I'm a full time entrepreneur, just

bubbling with inspiration and productivity. I visit the ocean to center myself

frequently and my intuition grows with each passing week.

Therefore, my message to you is: design an ideal vision of your

future and make some firm decisions to make it come true. Build your

inner voice and be brave when you know what the right moves are for

you. There is a certain element of risk-taking, you must not be afraid,

instead you must trade your fear for faith consistently along the way. It

is human to be afraid at times, to worry and doubt, but you only have

one shot now to succeed, and make your dreams come true. Fight on

anyways and settle for nothing!

4. What is the risk you need to take to completely move your creative

world forward?

Chapter 8 Affirmation: Five Years from Now

"I can clearly see where my music career will be 5

years from now. With each plan made and committed

to, my vision improves. My actions all lead to the

direction of my success. Walls crumble as I move

forward, spreading my positive influence on the world.

I fear nothing. I am strong. I am succeeding."

❖ ❖ ❖

As your coach, I ask you the following;

1. When you envision your life 5 years from now, what do you see?

2. Looking at the current music scene, realistically, where do you

see it going?

3. What is the gap in the market that will wake up the masses to

something new?

176 177
---
Music in Five Years

In The Spotlight: Over 100 Voices in Music

Featured Interview: Benji Rogers, CEO of PledgeMusic

The purpose of this interview is to find out more about PledgeMusic's

philosophy and direction in helping artists and also, to gather your

perspective on what it truly takes for a music artist to succeed in the

industry.

So, my first question for you is: how did PledgeMusic get started?

What sparked that first insight?

Benji Rogers is an independent musician from London who has

been making his own records since 1999. In 2009, Benji founded

PledgeMusic, the leading international direct-to-fan platform offering

artists a unique way to engage their fans in the music making

process while interacting with a global audience of music super fans,

resulting in chart topping albums worldwide. In 2013, Benji was recognized

on Billboard's 40 Under 40 Power Players list, and in 2014 at

the MUSEXPO International Music Awards, he won Digital Executive

of the Year.

Emily: Today we have Benji Rogers, President and Founder of

PledgeMusic, an amazing direct-to-fan music platform that truly

supports artists in connecting closely with their fans, supporting

their creative developmental projects and expanding their

network.

PledgeMusic is recognized by official chart companies around the

world including the OCC and SoundScan and can account for a

significant share of first week and overall chart shares.

Benji: Basically, I'm an artist myself, performing and making records

for ten years. I had a couple of independent record label deals and

that type of thing. I couldn't quite make it work for me. I would get really

close and get some amazing experiences, and then things didn't

work out. The label would not work out or the band wouldn't work out,

all kinds of things.

Basically, I just saw something in my head one night and I was like,

"Wouldn't it be amazing if artists could offer their fans the experience

of the making of an album, the experience of a tour, the experience of

an EP, a single."

I looked for it online and there were companies that did crowdfunding,

there were companies that did direct-to-consumer, but nowhere

did I see that really did direct-to-fan, which is this unfolding

process.

I was really just obsessed by this thought that artists, when they're

making music are a lot more interesting to their fans than when they're

just selling music. So when an artist is a salesman or woman, they are

one thing and when they're making music, they are another.

I think that when artists are making music, it fascinates their fans and

that is something they can truly participate in, that's a lot more interesting

and a lot more exciting and it turns out, worth a lot more to the

178 179
---
Music in Five Years

In The Spotlight: Over 100 Voices in Music

fans than just the, "I've made an album, buy it here," which is what

tends to commonly happen around most releases.

Emily: Yeah, definitely. In other interviews, I've definitely heard how

disconnected it can be between the artist and the fans nowadays

with so much competition and so many artists coming out, and with

all the different social media – fans are overwhelmed with all types

of directions and which different artist are coming on the market.

So it's really great I believe that the fans can have a great, true

connection through PledgeMusic.

Benji: I agree. The funny thing, in the one sense, the Internet made it

both harder and easier to do disseminated content. It's easy just selling

content, but harder to actually get that content heard and engaged.

The way I view this is that artists do things that are fascinating to other

people. Selling products to them is not one of them. It's really fascinating

to watch an artist play live. It's fascinating to watch an artist record.

It's fascinating to watch an artist talk about their process. It's not interesting,

I don't think, to have an artist stand there holding up a record

saying, "Buy it, it's $20."

Really, what it is, the landscape of social media has really radically altered

that relationship. If you think about it, you can have a really close

direct relationship with a brand, whether it's your cellphone company

or whether it's your favorite restaurant, and often times, you can have

a better connection.

Like if I stay at a hotel or I tweet or post on Facebook or Instagram,

"Hey! Having a coffee at "Mario's in Toronto," this hotel will tweet back

saying, "Hope you enjoyed it. By the way, did you check out…" – this

is a hotel that does this.

So when certain brands get it better than artists who are creative people –

I think that the artist has to listen to that. I think that the days of being able

to shelter yourself away in a cocoon of creativity and emerge once every

couple of years with a shining product for people to buy is not going to be

a sustainable future.

I looked at it when I was first having the idea of Pledge (and it kind

of solidified through now), that there were basically two frontiers in

music. There was the release of an album and a touring of the album.

The touring of the album was normally to help sell albums. That was its

intention. It wasn't designed as a money-maker, or if it did, it wouldn't

break even for quite a while.

What, I believe, becomes the vision that guided Pledge was there, was

actually a third frontier, which is the making of the album. That making

of the album can't be stolen because it's not coming from the artist. It

can't really be had after the fact. It's literally something that you experience

in real-time.

This morning I heard a new track by an artist – I love Mike Doughty, off

of our platform, because he released it straight to pledgers only. So

I'm getting to hear something for the first time directly from the studio

while this is happening.

You can't really go back and do that again. It has to be right there and

then. It's got the urgency in certain cases of a live show, but that happens

across the Internet.

A lot of artists, they're like, "But I just want to go make records and sell

them," and that's fine, but it doesn't work. If it works, we've got kind

of like top tier.

Emily: Yeah, I can see how it doesn't work anymore if at all.

180 181
---
Music in Five Years

In The Spotlight: Over 100 Voices in Music

Benji: Yeah. Really, there's a top tier of artists who have broken through

and then you've got the bottom tier who are just not doing it. The middle

tier of artists are really getting a hard time because they're having

to wrestle with a new way of communicating.

The funny thing is it's not that hard. Every album, every EP, every video

has a story to be told. If the only part of the story that the artist is telling

is how to buy it, then it's not a story. The Internet is built on stories. If you

look at Facebook, it's the story of what your friends are doing, it's the

story of who they're in love with, it's the story of what your exes are doing.

And so, for an artist that just simply posts, "Buy tickets here" or "Buy

my album here," it's really selling the experience of what's possible so

fans have alternatives for people who are doing it really well and they

go follow them.

There's a reason that Amanda Palmer or Ben Folds or these artists are

incredibly good at social media. It's because they just tell stories, they

respond, they're real. They've understood what that communication

means to those fans who are on the receiving end of it.

Emily: Yeah, I saw that definitely great artists have collaborated

with PledgeMusic including Lucinda Williams, Slash, Bring Me the

Horizon and BB King…

Benji: Yeah, as an example, today, we have the no. 2 album in America,

in the Billboard Top 200 with Lindsey Stirling. She uses the platform to

engage with her fans. It was her way of telling her story to her fans and

having her fans be a part of the process, which she was really excited

about.

I think it's really telling that an artist of that size and stature understands

direct-to-fan.

Emily: Yeah, you definitely found a part of the market with a huge

need for artists to truly connect with their fans. Especially now

with social media, you have all the different methods to do so.

The last few years, there's definitely been innovative opportunities

for artists to really get out of the middle level, the middle

layer of being confused with how to really market to your fans in

the best way, and to really take this opportunity and truly expand

with connecting with others through their music.

I saw that one of the quotes on the site was that "PledgeMusic

gives you many of the benefits of a record deal, but you remain

in control of the creative process and retain 100% of the commercial

rate, music rate." I would love to know more about that. That

is definitely interesting.

Benji: Sure. So basically, what it is, the traditional model, the artist accepts

an advance on a record label. In exchange for that advance, the

label owns that album for a certain amount of time.

It reverts back. That model worked very, very well, but that was when

the label's greatest skill was in getting albums to more and more

people.

Labels, they had massive radio reach, massive retail reach and digital

reach more often. Now, an artist with a TuneCore or a CDBaby account

can access all of the digital distribution platforms from day one

for $20 or whatever it is.

And so what we really felt was a) we weren't involved in making the

album (as in we were in the studio), we weren't making artist repertoire

decisions about it. We were just a way in which it got to people and

the story in which it got to people.

182 183
---
Music in Five Years

In The Spotlight: Over 100 Voices in Music

And so a lot of artists would go on to sign a record deal or they'll sign a

publishing deal. They'll sign with someone. They're basically free to do

whatever it is that they want after the fact. And a lot of labels, in fact,

look at what our artists do, and, basically – a lot of people, they look at

what artists are doing, and they go, "Wow! I'd like to find them."

So we've upstreamed maybe 50-60 artists to major independent labels

from the platform, and it's been very, very cool. It's definitely not

something that I 100% expected, but I've been really, really pleased to

see it happen because ultimately, if we can de-risk the label's investment

in that band, the band will get a better record deal. I think that's

something we definitely want to shoot for.

Emily: What is an ideal way for a music artist to set up a campaign

and get fans and more interest?

Benji: So there's a few ways to do it, but basically artists email us and

we get them involved in that way or artists sign up on the website

and then one of our teams (either the UK or the US) will bring them

into the system, and help them through that way. The artist can do it

completely on their own or else, we will basically get involved and help

them through it.

So it's a very collaborative process that works best when everyone's

running in the same direction. We, basically, are able to convert more

fans to become pledgers than any other platform because it's got

these pledgers-only update where we feed artists' fans the experience

of the making-of-an-album.

So yeah, we're very friendly. We have artists by our office all the time.

I just didn't want to be an infinite company, I wanted to be a music

company that runs via the Internet.

Our team is at shows pretty much every night somewhere in the world.

We really actively do seek out shows. We actively do this.

Emily: I saw that the average pledge was $60, which is a lot higher

than average. I saw that also a percentage of the funds raised

go to supporting charities. I think that's amazing.

Benji: When we had the idea for it, it was to solve a few things. I think

ultimately, there were a few problems. First of all, I worked with refugees

in the Middle East in 2004. That profoundly affected me. And so,

I wanted to find a way to give back, and to help out the things that I've

seen and done.

And then the other thing was that at the time, it was very much designed

that every artist I ever knew was passionate about a charity. They

would have one cause that was near and dear and close to their hearts.

And so the thinking was, "Well, why can't we combine those two?"

I also was thinking in my head that a lot of us, we'll be posting and release

material and release music, et cetera, and what I was thinking was

you'd have to be pretty cold-blooded to pirate an artist's music, which

would be taking away from them personally, and from a charity as well.

And then charities got involved. They helped too. It's just a win-win. It

doesn't work if it's not genuine. We say to artists, "What's the charity

that you love? Don't just pick one. Find out about it," but most of them

just have one. So it's been really nice to see that roll out. That's been

a huge piece for us.

Emily: Well, to me you come across as a visionary. You have the

visionary mindset. You developed a service that is helping the

world.

184 185
---
Music in Five Years

In The Spotlight: Over 100 Voices in Music

Benji: Oh, thank you. I appreciate that. It's a team effort as well. I'll say

from our CEO who answers to the board (and I'm on the board, so he

answers to me, and then I answer to him). No, it's been a blessing to

have gotten this far.

I've made it my mission to ask very stupid questions, what I've seen as

very stupid questions all the way through, because ultimately, what I

want is – no, not what I want. I'm often asked, "What's your vision for

the future of this way of doing things?", and my answer is: so that it becomes

normal. The artists realize that this is how this is going to look.

I really believe that this is the future, this is what it looks like. When

you're trying to turn around an industry that is used to doing things in

a certain way, its own way, and it's not used to changing, there's not

one change

What I love, the philosophy of it – it's actually from Nick Bilton's book,

I Live in the Future and Here's How it Works, the customers of the

future, where they can't find the stories that they want, will steal them

or create them. That makes it a huge potential and a huge possibility.

Artists can totally control their own futures now, and that's a super

exciting time. There will be winners and losers in this. I don't believe

that the labels will disappear, but just the nature of what they do will

change and it's not a bad thing. It's essentially very exciting.

So yeah, that's what I believe it will look like.

I think, it becomes challenging. You are hitting your head up against

the wall all the time. The reality of it is that there's no other way this can

really go. This is the future. This is what it looks like. It's super exciting.

It's a brilliant thing to watch unfold.

We've just built a dedicated team that is second to none. So yeah, I'm

blessed to be here.

Emily: Wow! So my final question is; where do you see music going

five years from now?

Benji: I think that basically 99% of music in the future will be streams.

The dissemination where people are streaming it from the Internet,

they won't need it on their phone. It'll live that way.

But one change is the fact of stories that people will fall in love with

the narrative that exists within bands, the narrative that exists for solo

artists. They'll question why.

186 187
---
CHAPTER 9

Legacy, Leaving Your Art Behind

❖ ❖ ❖

PEOPLE NOWADAYS LIVE SO MUCH for today. They don't really focus on where

they see themselves in the future. Times move so fast, music changes

so fast, that one doesn't realize that in the long run, you are leaving

your legacy behind to your fans. You are changing a part of the music

industry each day with your work.

Music is a part of my spirit, and ever since I was 5 years old, I knew

I was one of a kind. Over the years, I learned to channel my natural

creative mindset, out of the box thinking and hyper focused ADDattention

span into my purpose with Creative Spotlights.

My college education in marketing, public relations, communications

and social media gave me a foundation to strengthen my work

with each artist we have interviewed for the site. Now 300+ interviews

later I know with each day, I am adding to the legacy that I will leave

behind.

I always knew I was meant to sing, but the last few years I came to

realize that I am much more than a singer/songwriter. At my deepest, I

am a connector. It gives me great joy to bring others together.

I feel that I am supposed to create a revolution in the music industry

with Creative Spotlights. I'm not fully sure how, but I feel that I am

going to be leaving a huge footprint when it comes to relationship

building and connecting others as well as supporting and inspiring

other people's dreams. All real artists have a sort of wisdom within

them of their real purpose with their art.

189
---
Legacy, Leaving Your Art Behind

In The Spotlight: Over 100 Voices in Music

What is that footprint? Well, that's something you'll just have to

wait and see. One thing I can tell you is that I would love this book to

be given to music schools as a guide for their students to follow their

dreams.

I would like to inspire musicians who don't even have a website or

know where to start.

I'd love it if a musician who hasn't played in five years picks this

book up and then starts playing music again.

I'd love it for that girl who is passionate about her gifts, to read this

and feel empowered and excited to fight for her dreams.

I want every person who wants to know how to be successful in

music, or just in life, to feel inspired by this book. I want this to make

them feel so alive, excited to live and ready to take this journey to

reach their dreams.

Keys To Success

Follow Your Passion: If you want your dream bad enough, go for it! It is

your life, so you might as well live out your dreams. Pursue your passion!

You will only be one million times happier, that's all! Just a little bit of a difference,

right? Taking chances can be scary, but is walking around sleeping

on your dreams and be miserable your entire life until you are on your

death bed with regret, worth it? That is more of a risk, don't you think?

Strategic Imagination: We are trained in school to only think logically.

Over time, we can move further away from what our hearts really want

in life. Especially when it comes to our careers. Do not be afraid of

going after your dreams. By strengthening your inner wisdom, you will

move closer to what you truly desire when you make the right decisions.

Stay grounded always. Combine logic with imagination. Don't

keep your head in the clouds, make intuitive choices connected to

your inner truth. It will truly lead to prosperity.

INDUSTRY INNER CIRCLE ROUNDTABLE

OUR CREATIVE PANEL:

Fred Lipsius: Multi-Grammy Award winner and Co-founder of the

legendary jazz-rock band, "Blood, Sweat and Tears." Lipsius has performed

with Simon & Garfunkel, Janis Joplin, and jazz greats Cannonball

Adderley, Thelonious Monk, Zoot Sims, Eddie Gómez, Al Foster, George

Mraz, Larry Willis, Randy Brecker, Rodney Jones and many others. He has

written music for and performed on over 30 CDs as both a leader and

sideman. He has also authored six books/CDs on jazz improvisation and

jazz reading.

Isaac Morris, American Music Industry Executive, Consultant and

Founder of Morris Entertainment Group and Rich Life: which consists

of a record label, management, and marketing company which works with

and represents artists and producers such as Teddy Bishop, Dave Hall,

Bone Thugs n Harmony, Smitty Lil Mo, Cadillac Don j-money, VIC, Liberty

City, Devin Johnson, profile, Lil G silk, Nivea, Marquise Daniels, C Wallace,

Khao, Sam Salter, Tony Rich, TLC, Usher, Outkast, Goodie Mob, Darnell

Jones, Jagged Edge, JT Money, Youngbloodz, Yung Ralph, GS Boyz, Coco

Kiss, Young Joc, Gunplay, Letoya Luckett, Destiny's Child, Anthony Dent,

Sterling Simms, B major, Ideal, Jackie O, Young Jeezy, Rick Ross, Drummer

Boy, Ensayne Wayne, Gorillaz Zoe, ET Dirty Boyz, Jermaine Dupri, Lil Jon,

DJ Montay, Dollhouse, Beyonce, Nicki Minaj and many more.

He's called "one of the most powerful figures in the music business."

Lou Plaia, Co-Founder of ReverbNation: This tremendous online

platform supports 3.5 million music industry professionals from around

the world — artists, managers, labels, venues, festivals — with powerful,

easy-to-use technology to promote and prosper online.

190 191
---
Legacy, Leaving Your Art Behind

In The Spotlight: Over 100 Voices in Music

Music Industry veteran with over 20 years experience; spent twelve

years at Atlantic Records where he was VP of Strategic Marketing and

worked with Jewel, Hootie & the Blowfish, Collective Soul, George

Carlin and hundreds of other artists and bands. Was also Head of

Marketing and Artist Development for Atlantic imprint, Lava Records,

where he worked for four years with artists such as Kid Rock, O.A.R.,

Simple Plan, Trans-Siberian Orchestra, Matchbox 20, Uncle Kracker,

Unwritten Law and many others.

The Venetia Fair, American Rock Band: As shared, "We're a band

called The Venetia Fair and we have no fucking clue what we're doing.

Our names are Benny, Mr. Chark, Mike, Joe Brown, and Austin. My

name, specifically, is Benny and I feel like I'm babysitting four 12-yearolds

all the time. Actually, I feel like I'm a 12-year-old babysitting four

other 12-year-olds and doing a really bad job (even for a 12-year-old).

Mr. Chark is like that weird 12-year-old who has a calculator watch,

carries a compass (but still gets lost all the time), and loves the sound

of his own voice, especially when he's not using words. Mike's more

like a hyperactive 14-year-old who got held back and has to hang out

with the younger kids but doesn't mind because he gets to be better

than them at everything and the older kids are boring, anyway. Joe

Brown is the obnoxious 12-year-old who steals "chromies" off of tires

in the parking lot and learns obscene words to scream so he can explain

that "it actually means female dog!" to his angry teachers. And

then there's Austin, the excitable 12-year-old who can't wait to get a

sip of his dad's beer or a peek down a girl's shirt. Hanging out with us

is probably more aggravating than anything else but I think we're all

best friends. If we actually were 12 years old, we'd be in a secret club

and have an awesome fort.

We get compared to a lot of different bands that don't sound anything

like each other so it's hard to believe anyone. We try to make

music that is theatrical, chaotic, catchy, and sometimes a little silly but

not too silly because it's also serious business. We have a lot of fun

writing the music we write and performing the way we perform.

Not a single one of us had any substantial training in our instruments

or music in general so being in a band was really hard for us sometimes

but we worked really hard to make up for it. It takes a lot of

work to pretend to be good at something. Then Mike joined up with

us and he knows how to play stuff but we still talk to him like we're

idiots (we're idiots) so we're still working pretty hard (not smart). We

try to play together every single day and some of that playing involves

music..."

S.J. Tucker: Tucker has been the glad captain of her own independent

music career since 2004, when she left the workaday world behind

to travel the continent, singing songs and changing lives. Named a

vanguard of the Mythpunk movement and even "the face of neo-tribal

Paganism" by Witches & Pagans Magazine, Tucker is the voice of lore

at the campfire and the sharp laughter of modern myth. With one

hand anchored in her art and the other held out to you, she is songs

and stories, community and wit.

With over ten albums released to date and several more currently in

the works, Tucker has received songwriting awards and has traveled

the USA, Canada, and Europe with her music. S. J. (called "Sooj"

by fans and friends) believes that there's more than one way to be a

rock star. If you're chasing your dreams and living your life in a way

that keeps you happy and healthy, Sooj believes you've got it made.

You may often find her on tour with similarly hard-working artists

and groups who believe in giving their fans all that they've got,

such as Toronto's Heather Dale Band, Seattle cellist Betsy Tinney

(often with their shared project, Tricky Pixie), or Pride Rockers Big

Bad Gina.

192 193
---
Legacy, Leaving Your Art Behind

In The Spotlight: Over 100 Voices in Music

Billy Gilman; Multi-platinum-selling Country recording artist,

Grammy Nominee and American Music Award winner: In 2000, at

the age of 11, he debuted with the single "One Voice," a Top 20 hit on

the Billboard

country music charts and became the youngest singer to

a Top 40 hit on the country music charts. In 2001, he was included in

the Guinness Book of World Records for being the youngest singer to

ever reach #1 on the Billboard Top Country Album charts. He has sold

five million albums worldwide and garnered awards and nods from the

Academy of Country Music, the Country Music Association, Billboard

Magazine, and the American Music Association.

In 2012, Gilman made waves by recruiting 18 fellow country superstars

to collaborate on a charity single called The Choice to benefit the

Soles4Souls charity. Proceeds from the song, which included Keith Urban,

Alan Jackson, Reba McEntire, Josh Turner, and Rodney Atkins, placed

shoes on tens of thousands of barefoot children around the world.

Kenny Fame: Stage name of musician Levi Wise Kenneth Catoe Jr. In

the NYC area, Fame has built an impressive resume as both a: spoken

word artist and a sought-after poet / lyricist in less than three years.

After creating a buzz in the competitive world of NYC's Spoken Word/

Poetry scene. In 2013 Fame decided to focus all of his energies into

recording music which led to his debut CD "Kenny Fame The First

Album" released back in November of 2013. His 2nd album EP "Fame

Nation was released on June 3rd 2014; and he has an upcoming "The

Live Album" set for release on November 18th 2014, one year after the

"The First Album.

Samantha Echo: Echo hails from the mountainous regions of the Island

of Many Hills in the City of Blinking. She has been performing since

the age of six, when she decided she wanted to be a Disney character

when she grew up, and is a licensed busker with the Music Under

New York program. Her song "The Slut of Denmark" received the

November 2014 Akademia Music Award in the Folk-Cabaret category.

She has been featured in Suzanne Stout's first annual Buskers' Carnival

at the Players' Club, the Notable Features' documentary Rhythm in

Motion, and the Award-Winning Book The Noise Beneath the Apple,

by Heather Jacks, who calls her "a Salvador Dali of sound, challenging

and disrupting perspective."

Tanner: By the age of 20, Tanner had overcome not only drug addiction,

but also a rare, life-threatening blood disease. Now clean and healthy,

the singer-songwriter is here to share his self-titled EP with the world. The

songs are delivered with the experience, knowledge and clarity of someone

well beyond Tanner's twenty four years, yet not without the angst

and raw emotion that one would expect, considering his history. The end

result is rock excellence with an indie edge that's "sure to please."

Law: 2-Time Indie Music Award Winner & Grammy Recognized Singer/

Rapper, Songwriter, Producer, Choreographer & Multi-Instrumentalist,

"Whose Talents Know No Limits."

Being the grandson of Blues/Soul legend The Late Sam "Bluzman"

Taylor & coming from one of the most famous families in music history

as well as one of the biggest buzzes & greatest live stage reputations

in the industry, This Brooklyn hood boy from the Crown Heights section

has been known to make Hip-Hop (Underground & Commercial

styles) work in his favor using Funk-Rock-Metal, R&B/Soul elements

while embracing Country, Pop, Jazz & even Techno exist under one

roof while at the same time balancing the commercial element & staying

true to his underground roots.

Marco Foster, Music Artist: Hailing from Washington D.C., Marco

came to New York where he was quickly discovered and soon signed

to Flo Rida's label, IMG/StrongArm. Since then, Marco has been opening

for Flo Rida around the world from the US to Russia to Turkey to the

194 195
---
Legacy, Leaving Your Art Behind

In The Spotlight: Over 100 Voices in Music

Dominican Republic - delighting crowds upwards of 40,000 people.

Other TV and high profile appearances include the Today Show, The

Major League Baseball All Star game and the Jingle Ball tour throughout

the US.

Dennis Lambert; Legendary Songwriter and Producer: One of the

most successful and diverse songwriter/producers of the '70s and '80s,

with hits like "Ain't No Woman Like The One I've Got," "Rhinestone

Cowboy," "Don't Pull Your Love," "Baby Come Back," "One Tin

Soldier" and "Nightshift." He had chart-toppers in almost every genre

of music - at one point four of his songs were simultaneously on the

Billboard Hot 100 chart, a feat previously accomplished only by The

Beatles. Lambert has had #1 songs in almost every genre of music.

Ken Bianco from Foxtrot & The Get Down: From the streets of

Northeast Philadelphia, as well as Havertown, PA, Colin Budny, Ryan

Fox, and Ken Bianco met as freshman at West Chester University. After

realizing similar musical influences and a love of playing live music,

the three formed Foxtrot & The Get Down. Since late 2011, the boys

have found their own sounds, comprised of Blues-based Rock riffs,

with a tendency to lean on Jazzy drum fills and thick, booming bass,

tinged with screaming harmonica and meaningful lyrics. With most

major venues under their belt in Philadelphia, the band has traveled to

New York City and made their mark in Wilmington, with many new tour

dates being announced regularly.

WHAT IMPACT DID YOU HAVE ON THE LIVES OF YOUR

FANS/ARTISTS?

Fred: Most people probably remember me as the original saxophonist

and arranger with Blood, Sweat & Tears (1967-71). BS&T, a highly

innovative band to hit the pop scene in 1967, brought a fresh/different

kind of music to the public with our blending of jazz, rock, blues, classical

and folk styles. I've heard different comments from people over

the years about how BS&T or I, personally touched their lives with

our music. I'm sure each fan has their own story to tell about how our

music affected them.

Someone shared with me that, at a very "delicate" time in their young

life, from just hearing the sound of the horns on "Spinning Wheel,"

it gave them hope and energy to carry on in life. This person had listened

hundreds of times to the recording of this particular song just

for comfort. Two of my close friends (one is a musician) mentioned

to me similar reactions they've had to my music—my tunes and playing.

They basically said that my music comes from another place beyond

this physical universe and it lifts them up to a higher reality…

One friend called it: "unto another ledge." From what I remember

about fans reactions at BS&T concerts, our music and energy onstage

brought them great joy and happiness, something they could carry

with them as a wonderful memory.

Music serves as an echo or reminder of the wonder, tremendous love

that was felt, along with other revelations. It's also a vehicle for sharing

this feeling and love or connection with God, so that others might

experience a higher state of awareness through my music. It's like

passing the spiritual torch. I believe we're all connected.

Issac: For me as a music executive I think the impact that we have had

on fans are just showing artists how to interact socially through the

web and being more relevant to the fans.

I think it's more so an understanding of the business, everyone I work

with I try to make understand something about the business they may

not know. There are a lot of artists that I have met today that know

nothing about royalties, they don't want to sign the split sheet when

196 197
---
Legacy, Leaving Your Art Behind

In The Spotlight: Over 100 Voices in Music

they are in the studio creating, but you have to sign it before you start

creating, but they don't understand that in this generation. It's about

showing them an education on this business and how to become successful.

Over the years I think it was about this part of leading them

that has impacted their careers.

Lou: I think that I helped develop some superstar artists in my 15 years

at Atlantic and Lava Records and then helped hundreds of thousands

of artists go from point A to point B while at ReverbNation.

The Venetia Affair: Let me first state that our fans impact OUR lives

so much as well. I've been a touring musician since 2006 and honestly,

if there weren't any fans coming out and supporting, I would have

hung it up in 2007. We'd be nothing without them and the most recent

occurrence proving so, was the last kickstarter we did. If the fans didn't

get involved and really give us a boost, we would have never made

our last album, so essentially our career is in their hands. To reciprocate

and talk about how we change their lives, I would have to say the

lyrics hold a lot of this weight. I've seen numerous fans come up and

show me a tattoo of an image of ours and/or lyrics of ours. I'd like to

think they help people with certain issues they may have and act as a

clutch to power through them in times of need, whether it be relationships,

illness, friends, family, weight, depression… ANYTHING.

S.J Tucker: I hope I'll continue to have an impact, as I've got no plans

to stop making music! One thing I love about my job is how often

people take the time to write or speak to me, to share their stories

with me of what a song of mine has done for them, given them, or

helped them discover. This includes (and I'm not exaggerating) quite

a number of people who've been on the verge of choosing to end

their own lives, who changed their minds because one of my songs

started playing in the room, or came up on a playlist. Fans have told

me that I've helped them to heal, that I've helped them remember

how to breathe and to dance, and even that I've helped them find a

stronger connection with the spiritual. These things humble me and

give me the confidence I need to keep making music, even when I'm

not feeling so great myself. I'm not a megastar by anyone's measure,

but I have direct evidence that my songs have done some good in the

lives of friends, fans, and strangers. I'm honored by this, and I hope to

keep doing that amount of good for as long as I'm alive and singing.

Billy: My goal is to use my God-given voice to be a tool in providing

people with lyrics and melodies that they can either relate to and/or find

some sort of peace within. I always try to give my fans quality over quantity.

The songs have to touch me in order for me to be able to touch them.

Kenny Fame: My fans are my friends. I feel like referring to someone

as a fan is reductive. I feel like we are friends and are from the same

nation, #FameNation. My impact is [that] everybody is a star! We are

one and the same. I'm very approachable. It hurts when people don't

approach [me].

LAW: I like to think I made them smile and made them ok for them to

be themselves & to open to listen to any kind of music they love… I

grew up in a hood where it wasn't always cool to be different but I was

one of the fortunate ones who was accepted for being who he was

and the kind of music I loved.

Samantha Echo: I think that the cathartic nature of my songs has a

cleansing effect on people. Catharsis originally means cleaning out

and eliciting strong emotions from an audience through an experience

of pity and fear. What I express in my songs is often not pretty,

but I feel that it absolutely needs to be said, that there is value in that

kind of art, and that it harkens back to the writing of Ancient Greece,

which is where I got my stage name, Echo. By contrast, I am nice to

everyone in my personal life and I disprove the saying "nice guys [girls]

198 199
---
Legacy, Leaving Your Art Behind

In The Spotlight: Over 100 Voices in Music

finish last." I inspire the underdogs, the people who have been told

they are "too nice," and the people who are not afraid to be eccentric.

Tanner: A few months ago, I got a message from a woman who told

me one of her parents had just passed and that my music was helping

her get through it. That alone was enough for me to continue for a

long time. I'm not trying to change the world; I'm just trying to give

people songs they can relate to, so a lot of my songs have dual meanings,

one that's true to my experience and one that can be applied to

them and whatever they are going through. Most of my songs use the

same words to tell a few different stories.

Lorenzo Hall: My thing is making a difference with a positive force or

impact one community at a time via entertainment.

Marco Foster: From my experience creating original music and sharing

it with others, I have noticed the impact and impression you can

leave behind. My dream is to make others feel the way that I feel when

I hear or see my favorite artists. I turned a passion into a career because

of my desire to be like those who came before me. If it wasn't

for the great artists who inspired me to create music of my own, I

wouldn't be where I am today.

Dennis Lambert: Fans of my songs feel as if they are transported

back in time when they hear them. Don't we all feel this way, myself

included, when you hear the music of your past.

Ken Bianco: I'm totally one of those people who connects memories

with certain bands/songs, so I would love for us to have that type of relationship

with our fans in regard to our music. There are so many songs

that when I hear them, they take me back to places/memories of my

own life, both good and bad. I want our songs to be soundtracks for our

own fans' lives, for both the good times and the rough patches of life.

WHAT CAN YOU SAY ABOUT YOUR IMPACT IN THE MUSIC/

ENTERTAINMENT WORLD?

Fred: I think the only music I've been involved with, that had a major

impact in changing the world of music was the music from early Blood,

Sweat & Tears. Like the Beatles, BS&T's audiences were comprised

of both young and old listeners because of the musical content—it

had something for everybody. And like the Beatles, who created a

wide variety of musical approaches in their songs and arrangements,

our music opened up the doorway for countless other music groups

to follow us and try fresh musical directions/possibilities that hadn't

been explored previously in commercial music. Around the time BS&T

had a few hit singles, various top jazz players broke away from the

music they had been doing in the past and formed their own groups

playing "fusion" (jazz rock) music. The influence of BS&T (with lots of

freedom in the music) was obvious! Many teachers at Berklee College

of Music (where I've been teaching full-time for almost 30 years) along

with other musicians I've met in my life, told me of the great influence

on their lives that BS&T had on them.

Isaac: Being a part of great music and sharing great ideas to the world

to make them dance, from all cultures. And showing people that you

can be anything that you dream of. Anything you think of can happen

in your life. Working hard, passion and never giving up.

And for me it's also the sound, coming from the direction of the

sounds that came out of the 90's, and then going into the 2000's

with the sounds that came from us working in the studio with TLC,

Destiny's Child, Aaliyah… we gave different sound percussions… that

impacted the industry as it is today.

Lou: In 25+ years in the music business, I've worked with the biggest

superstars in the world and thousands of "unknown" artists. And no

200 201
---
Legacy, Leaving Your Art Behind

In The Spotlight: Over 100 Voices in Music

matter how established the artist was, I treated them the same in

every way.

I do not think I changed anything in regards to the music itself. I think

our company, ReverbNation, has helped artists accelerate their career

path by providing free and low cost marketing tools and opportunities

that they could probably not create on their own.

The Venetia Affair: Music and entertainment is constantly shifting

with or without my addition to it, so I can't say that I single handedly

changed it, but I'd like to think that I added to it and hopefully

inspired others to add to it as well. The fact that no one can pinpoint

who my band (The Venetia Fair) sounds like is a step in the right direction,

however it may also be hindering in that, although many say

it's "unique," sometimes that uniqueness can also prevent us from

opportunities such as lining up with a perfect tour package or getting

signed to a label. People are sometimes scared of different things. I

often think the industry is saying, "If it can't be on FM radio, then why

invest our time and efforts into it" where they should be saying "FM

radio needs a revolution, let's get busy."

Kenny Fame: Probably because I started out as an international

award winning poet. I think most lyricists consider themselves to be

poets anyways, but I was inducted into the Poets & Writers national

Directory of Writers as a poet and was printed and reprinted all

around the world before I ever released a single tune. That was epic! I

don't think many singers—or even songwriters—can say that.

S.J Tucker: Ha! Well, I'm as indie as they come, but I'm comfortable

with that. In my own perception, rather than being one of the big

movers and shakers, I'm one of the people who's benefitted most

from the actions and hard work of the people who've really helped

to change the music world into a place where it's possible to make a

living as an unsigned indie artist-- and as a woman. I'm doing that, and

it's both because of my own hard work and because of the awesome

precedent set by others. I would hope that I'm doing those others

proud.

LAW: I'm still on my journey but so far & from what my fans do tell me,

the impact I have made is that through my musical diversity, I changed

the way some people looked at Hip-Hop while opening the minds of

ones who weren't receptive to Funk, Rock, Country Or Soul music.

Samantha Echo: We are living in a time of genre-blending and we are

moving towards being more accepting of more diverse styles of art. I

feel that my music pulls together an eclectic set of musical influences

and that my style of songwriting unites opposites, joins the morbid

with the whimsical and the acerbic with the vulnerable in a way that

hasn't been done very much before.

Tanner: It's time to bring back the front man, the performer. I've also

noticed people seem to use the word "vibe" a lot now to describe music.

Music needs more "hooks" and less "vibe" I think. Simple, relatable

songs that make people feel better about whatever they are going

through. That's my goal as a musician and as a performer. I just write

what I've lived and what I've seen in hopes that someone can relate to it.

Lorenzo Hall: I would like to assist in making change in the entertainment

industry by finding fun voids in the industry, hence the birth of

Chuckle It Up Comedy Series which I am the Founder & Executive

Producer [of]. The show includes Live R&B, Vendors (Complimentary

Massages, Fashion Jewelry, Chuckle It Up merchandise and more).

We also do a name-that-tune trivia for prizes, free raffles and giveaways.

We just make it a fun atmosphere for the people. It is a great

feeling to sit back and watch people enjoy themselves because at that

moment they are not thinking about any of their life issues they may

202 203
---
Legacy, Leaving Your Art Behind

In The Spotlight: Over 100 Voices in Music

have going on, and that's what comedy does, it's an outlet... Laughing

is also healthy and burns tons of calories...

Marco Foster: I have yet to change the face of music, but I aspire to

be a voice for a generation. Music is an amazing tool because it is a

universal language. I want to create my own sound that others can

both respect and enjoy. Although I personally haven't changed the

world of music, I have witnessed firsthand the monumental impact

that my mentor Flo Rida has had on popular music. I have so much

respect for him because he has such a unique sound and approach to

his art. He combines both rap and pop music in a way that no one else

can. To have sold 75 million records over the course of five years is an

astounding feat for one to accomplish as well.

Dennis Lambert: I do feel like I made a significant impact on the development

of the Los Angeles Rhythm & Blues recording scene. From

1969 on, I was creating a lot of R&B when little had been produced or

created there, prior to that.

Ken Bianco: I really do not feel a need to change the music/entertainment

industry. If anything, I would return to that idea of making honest

music that comes naturally. I feel like the industry sometimes can

get really trendy, and you see artists trying to fit into a certain scene

that simply might not be right for them. Just be yourself. I guess that's

something I hope to see more in the music world in the future.

WHAT LEGACY DO YOU FEEL THAT YOU'RE

LEAVING BEHIND?

Fred: I haven't thought much about this, probably because I feel I'm

simply a product of the times in which I've lived. I've been so greatly

influenced by my many musical heroes, mostly in jazz—sax players,

piano players and other horn players, in addition to some of the great

classical composers, Debussy being my favorite, plus popular tunes of

the day. I've always loved playing beautiful melodies—standard tunes

from the 1920s through the 1940s and then into the 1950s.

Later, the Beatles came along and brought something new to the

world of music… I'm a melody kind of guy. All the great jazz players

used phrases or "quotes" from the old standards in their solos.

My original compositions, I feel, all contain catchy melodic ideas with

strong musical substance coming from true inspiration! I've heard all

the greats, and I'm, in a sense, imitating a lot of what they did. I loved

what they did and wanted to be like that with my music. I've tried

to reach their high level of musical artistry. I have my own sound on

saxophone. It, of course, contains influences and is a mixture of all my

jazz saxophone heroes plus the legacy of sax sound from my old sax

teacher Bill Shiner, who taught Stan Getz. He had a beautiful, rich tone

and sounded wonderful on all the woodwind instruments he played.

Sound is everything. I try to do all things with sincerity, compassion

and love.

With our collective basketball experience, vision and passion for the

game, we hope to inspire these young student athletes. We want

them to build both good sportsmanship and character, developing

their talents and improving their skills in the game of basketball, and,

more importantly, life.

Our motto is: Education + Motivation + Dedication = Successful

Prosperity.

Isaac: The legacy is as a music executive who has a passion and love

for music to go to the next generation. I have been able to work with

a lot of people. I remember working with Michael Jackson in the

studio and it was mind-blowing but he was able to make us feel so

204 205
---
Legacy, Leaving Your Art Behind

In The Spotlight: Over 100 Voices in Music

comfortable. It wasn't like you are in here and can't be yourself, because

you are here with Michael Jackson.

As far as legacy goes, me as a kid growing up seeing artists they were

superstars to me, and now I want to leave a legacy that is [if] I can do

it, so can they with the same passion, drive, and hard work.

Marco Foster: I want to be known as one of the greatest artists of my

time. I want to be remembered for my passion for my craft as well as

my dedication and determination to always challenge myself to push

the boundaries. Too many people in the music industry focus on having

a hit record rather than a lifetime career. This job isn't a race; it's

a marathon. It takes discipline and hard work to make a name for

yourself. Not many people are universally known and adored for their

work, but I plan on being one of the few.

Dennis Lambert: My legacy is a wide variety of music in many different

genres. My career is proof that you don't have to be pigeonholed

into any one musical genre if your talents allow you to spread your

wings.

Ken Bianco: I really think our legacy would be just a band that made

good, fun music. As individuals we all like to have a good time and

don't carry ourselves too seriously, and I think you can hear that in the

music. One thing we pride ourselves on is being a great live band, so

as far as a legacy, I think that would be very important.

Lorenzo Hall: The legacy I feel I am leaving behind is my Non-Profit

Organization called "Making A Difference Through Hoops Basketball

Academy." It is the mission of Making A Difference Through Hoops

Basketball Clinics & Academy to teach young student athletes that

education is first and foremost, motivation and dedication will always

equal successful prosperity in life. Through basketball clinics and individual

trainings, our team of coaches works with the players in a safe,

disciplined environment and helps every student athlete reach their

full potential while also having fun.

S.J Tucker: In spite of the fact that I've been singing and working almost

entirely under the radar for over a decade now, having released and produced

ten plus albums of original music is a pretty good start on a legacy,

I think. I'm certainly a niche artist, but my witchy, nerdy niche is very

strong, very welcoming, and very loyal. That means that there are a lot

of young people (with fabulously nerdy and often witchy parents) who've

grown up/who are growing up listening to my work, and enjoying it.

Sometimes I don't really feel grown-up enough for that to be true (at

the time of this writing, I'm 35 years old), but it most definitely makes

me smile. It makes me feel loved. It reminds me that I'm worth listening

to, and that my work is relevant, when I end up having someone in

a concert audience choose to ignore me in favor of their smartphone

and headphones. I know that I've encouraged others, young and old,

to go after their own dreams, in the course of going after my own.

I've seen it with my own eyes in some cases, and I've encouraged it

wholeheartedly. What better reason could I have to be here?

Samantha Echo: I am what nostalgia sounds like. I am the voice of a

female Peter Pan, among the millennials, who are the first generation

ready for a female Peter Pan. I am the voice of the secret life of the

most badass good girl ever, in a generation that was born into the

beautiful, technologically-charged chaos of the Aquarian Age, a generation

that didn't quite know how to grow up, but also knew that it

was a pioneer of something very exciting.

HOW DO YOU WANT TO BE REMEMBERED?

Fred: As someone who played and wrote music from his heart and

was more interested in communicating—making a bridge to the

206 207
---
Legacy, Leaving Your Art Behind

In The Spotlight: Over 100 Voices in Music

audience—than looking for the applause; shared something positive and

encouraging; served others in various ways; was loving, sincere, compassionate,

patient; cared about others and gave them their freedom.

Isaac: As a great music executive that cares about the talent, the art,

in the fans and as a music lover that has respect for the culture and

respect for real music.

Lou: In 25+ years in the music business, I've always respected the musicians

I've met and worked with because the value they bring to the

lives of every human being is completely underrated. I, in turn, want

to be remembered as someone who's, honorably and respectfully,

added value to their careers.

The Venetia Fair: I guess I would like to be remembered as close to

how and who I am as possible. Someone that enjoys art and wants to

keep pushing it to new boundaries yet someone that cares and is genuinely

concerned about the industry as a whole and everyone that is a

part of it. I would like to see it become more of a team effort of honest

people as opposed to what sometimes feels like an "every man for

himself" type scenario. In short and less serious, I'd want to be remembered

as a handsome, young, talented rock star like Kurt Cobain, but in

order to preserve my age I would have had to pass away 3 years ago.

S.J Tucker: Several months ago in Seattle, I had a deep conversation

with an indie filmmaker friend of mine. Among other things, we were

discussing what the world might be like after we're gone, with respect

to climate change. This friend of mine has a young daughter, and he

cares very deeply about what sort of world she and her generation

stand to inherit. He told me his theory, that the people who still have

hope, once life on earth gets that much harder, will be the people who

have community they can rely on, community they can trust. I want

my music to be part of that. I want to be part of the hope that people

have left.

Billy: To be remembered, period. Although I have a long way to go

before I will think of this with more [of] a reflective manner, however,

I hope when people hear my name or hear one of my songs they say,

"That guy was a good role model."

Kenny Fame: I want to be remembered as an artist that made a difference.

In terms of breaking through genre restrictions, going against

the grain of what everybody else was doing and just being original

while being creative.

Songwriting! And most importantly good songwriting! I think it's sad

that everybody is trying to write the same type of songs. I feel like if

you are trying to write a hit record, you are going about it all wrong.

Just write a song with all of the right elements:

1. Interesting transitions (verse, chorus, bridge)

2. Interesting chord progressions

3. Open your heart (emotions)

4. Build up to the chorus (the payoff)

5. Build up to the crescendo (the bridge)

That's what I want to be remembered for, reminding the world

how to craft a great song [that] will never go out of style!

LAW: I want to be remembered as an artist who came in the business

and shook it up with real musical talent & unapologetic, non-compromising

musical vision.

Samantha Echo: I want to be remembered as someone who was

never afraid to be herself and inspired others to do the same, and as

someone who made people happy.

Tanner: I want to be remembered as a solid frontman, someone that

put on a good show sonically and visually. Someone that wrote about

208 209
---
Legacy, Leaving Your Art Behind

In The Spotlight: Over 100 Voices in Music

their life, and poured themselves into their music. I want people to say,

"He gave it all he had until he just keeled over. He gave it 100 percent."

Lorenzo Hall: I would like to be remembered as the one Lorenzo who

changed the hall tree by leaving a positive legacy behind to be continued

on by my Great Great Great Great Grandkids and also the fact

that I have a natural passion to help kids and people in general. That

is the impact I would like to be remembered by.

Marco Foster: As an artist I want to be remembered for my music

and unique voice. I want it to resonate with people and inspire them

to create. Art of any form is such a powerful medium because it can

change the lives of others as well as live for generations after. I'm still

in an early stage of my career, but I can only hope that one day I leave

my mark on the world in some way.

Dennis Lambert: As the greatest songwriter and producer that ever

lived! Since that's definitely NOT going to be the case, I'll settle for "a

songwriter and producer who created some quality music that endured."

Ken Bianco: I would like for us to be remembered simply as a great

band that made good, honest music. I think one of the things that

makes us such a great band is that we are not trying to be something

we're not. What you hear is what you get. When people hear our music

I really want them to picture three friends making music they love.

Coach's Perspective: Leaving your Legacy

Why have you lived this life?

Why have you gone through it all?

What have you been fighting for?

What makes it worth it?

Your legacy is your lasting impression to the world. It is of supreme

value and a sign of your impact. There are those who do not worry

about their trail of actions and how those actions have played out over

time. They do as they wish, not understanding how their every action

impacts the world, much like the butterfly effect. But the truth is that

every single thing you do does impact the world and you have much

power within you. So make your life journey worth it!

Design a legacy so that at the end of your life, you are remembered

for your greatness, grace and positive impact on the world. Your legacy

lives on and will remain in the eyes of your children, in the memories

you have shared with your loved ones. As a music artist, it remains in

the hearts, spirits and minds of your fans. Your legacy is part of your life

purpose, because we are all connected to each other. And through this

interconnection, you can tap into your real power in shifting the world.

As a coach, I never expected to work with creatives in shifting their

lives to find real success and fulfillment. In the beginning of my coaching

journey, my aim was to work with corporate professionals and I

was going for the money. I spent years building up my business network,

attending countless prestigious events, all gearing up to make

my presence be known as a "Millennial executive coach." But when

I tried the pro bono coaching path with business professionals, the

energy was all off. These people were miserable at their office jobs,

wishing they pursued some long lost passion or had the strength to

start their own business. I was too creative and felt uninspired.

210 211
---
Legacy, Leaving Your Art Behind

In The Spotlight: Over 100 Voices in Music

Even though I was blessed with about 10 years of business experience

in marketing, sales and training, this was the furthest space from

my true purpose. The only passion I knew would still be alive during

my final days on this earth was the arts. The legacy I wanted

to leave behind was to create great shifts in the arts + entertainment

world. I knew I wanted my future kids, grandchildren, and all of my

family to think of me in high self-esteem for the sacrifices that I made

in following my own dreams. I would be risking it all for that moment

at the end of my life knowing I walked my own path towards success.

Accomplishing this, I know I will forever glow in the aura of my legacy.

There is no way to ignore your life purpose once you truly figure it

out. You will evolve into that level of greatness if you keep being strong

and walking forward. Each page is another page of your incredible story!

Chapter 9 Affirmation: Leaving a Legacy

"There is a grand purpose to all that I have been through and

all I will go through. It is the story of my life, and my influence

on the world. What matters the most are the memories I

create with others, and how I help heal the world with my

art. I am walking now towards greatness and alongside the

shore of my own potential towards my ultimate impact. "

❖ ❖ ❖

As your coach, I ask you the following:

1. At the end of your life, when you look back at your career, what

legacy are you leaving behind?

2. How have you drastically changed the music industry with your work?

3. What influence have you created over the lives of your family and

future generations?

4. What lasting impact did you have on the lives of your fans?

212 213
---
Legacy, Leaving Your Art Behind

In The Spotlight: Over 100 Voices in Music

Featured Interview: Lou Plaia,

Co-Founder of ReverbNation

And I said, "Let's create a website and we'll have bands create and put

up their contents on their own pages, artists and fans can talk to each

other, people will listen to music on their computer." And unfortunately,

the Warner Music people laughed at me and said, "Why would

artist and fans want to talk to each other? Why would anybody listen

to music on a computer?" and things like that.

So that was back in 1999. I think MySpace was born right after that,

which is kind of the idea actually. But then, I put this on hold. When I

left Atlantic/Lava I said to myself, "Wow, what the hell am I going to

do now? I don't know anything other than the music business. I've

been doing this for 20 years".

Emily: So today on Creative Spotlights, I am with Lou Plaia, Co-

Founder of ReverbNation! Lou is a Music Industry veteran with

over 20 years experience; he spent twelve years at Atlantic

Records where he was VP of Strategic Marketing and worked

in some capacity with Jewel, Hootie & the Blowfish, Collective

Soul, George Carlin and hundreds of other artists and bands.

He was also the Head of Marketing and Artist Development for

Atlantic imprint, Lava Records, where he worked for four years

with artists such as Kid Rock, O.A.R., Simple Plan, Trans-Siberian

Orchestra, Matchbox 20, Uncle Kracker, Unwritten Law and

many others.

Now, I'm a person very passionate about entrepreneurship. My

first question is how did the idea of ReverbNation get started?

What was your mission?

Lou: Sure, actually when I was at Atlantic Records back in 1999, I had

this idea of "why not expose as many emerging artists in the world to

everything that the labels had. Why not try to find the next big bands

out of what's buzzing underneath".

So then I met with a bunch of technology guys because I really don't

know anything about technology. I'm really like a technical idiot, I

guess. So I hooked up with all of these brilliant, brilliant business and

technology guys in North Carolina. And they said, "That's great! Let's

do this. I love the idea." They had a very similar idea, but they didn't

have a music person. So it was a perfect fit. This was 2006 I guess, so

we launched.

That's how it came about. Basically, we just wanted to help artists develop

because with the internet, there are so many artists out there.

The good thing about the Internet is anybody can do whatever they

want and they have a lot of the same tools. But the bad part about the

internet is you've got what I just said it. There's too much stuff going

on. How do you discover the best?

So we wanted to start this company more of an artist services company,

as opposed to Myspace, which was really more of a fan site. With

Myspace, Artists put up their pages and then, hopefully, their fans

would go there. Myspace would make all their money on the advertising,

but they weren't giving the Artists any tools to help advance their

214 215
---
Legacy, Leaving Your Art Behind

In The Spotlight: Over 100 Voices in Music

careers. They never gave an email system or press kit or distribution or

anything. So we decided, ReverbNation would be the ones to give the

Artists these necessities. So that's how it all started.

Emily: Yeah! I remember the Myspace days, wow how far we

have come. And I do want to ask how can someone really use

ReverbNation to build a career? You mentioned a lot of these tools

and I know the business has definitely grown over the 10 years.

Yeah, what are the highlights that they can really utilize from the

site?

Lou: I'm pretty sure we were the first company to really start doing

widgets way back then in 2006. A widget is something you can put on

other websites. Everyone had Myspace pages, but their music player

was really bad. So we created these widgets where artists can just copy

and paste their widget from ReverbNation and put it on Myspace, so it

became a big marketing tool for artists.

It wasn't just a music player widget. It was a tour widget for showing

all the tour dates, a press widget to show their press, a store widget to

sell their music and merch.

So we were really ahead of the game. We were and still are a pretty

innovative company. We were the first company to create artist apps

for Facebook. So our band profile was the first one way back when

Facebook really started getting big. Now we've had millions of installs

of that over the years.

So that was some of those early tools.

Emily: I can't believe ReverbNation kicked off artist apps on

Facebook. Totally awesome. And how about you? How did you

get you starting with music? Were you a musician too?

Lou: No, actually, I was not. All my friends were from Berkley and all

the other cool schools. I don't know. I can't play anything. I think I

played the guitar in the 11 th or 12 th grade, but really, really bad.

But I just love music and I love the whole music business part of it. I like

to have fun as a person and everyone said, "Well, if that's the business

you want to be in…"

I had a long hair and things like that, so I couldn't work anywhere

else.

Emily: That's hilarious. I guess you had the look though! Well,

you're just really passionate about the industry and just connecting

with the players in the industry, a true entrepreneur. How

is the music artist like an entrepreneur? A lot of times, they get

confused. They think, "I'm just the artist. I'm just creative. That's

it! I can't do it all."

Lou: Yeah, that's a great point. Every artist has to act as if they are a

company, their own business. And hopefully, someone in the band

acts as the CEO of the company because they do have to be completely

entrepreneurial. They're doing everything on their own, they

have to make use of the tools that are out there, spend as little money

as possible because they're not making a lot of money.

And it's really hard and it's very, very risky. Do you quit your day job or

do you not quit your day job? So it has a lot of characteristics, I guess,

as an entrepreneur in those facets of it. It's just very, very risky. But

they need to realize that they are a business and have to treat it that

way, and a lot of them don't.

Emily: Well, I guess you can always bring in support, just some

people to support you. Managers, you bring in a coach etc.

216 217
---
Legacy, Leaving Your Art Behind

In The Spotlight: Over 100 Voices in Music

Lou: Yeah, totally. Once they start moving the needle a little bit and

really can't do it themselves, the only way you're ever really going to

have a money-making career is if you get the team together.

Emily: A publicist. You gotta build that team!

Lou: Exactly, a publicist, management, booking agent, whatever

it takes to make you go from point B to point C. Companies like

ReverbNation and other companies out there can help you go from A

to B, but that's about it. We're not going to make anyone superstar.

You definitely need team members behind you to go from B to C.

Emily: Yeah, I was going to ask that a while ago. What are some

steps an artist can take to go from indie and then climb up, mingle

with the inner circle of music, the celebrities etc? I guess,

of course you gotta build your A-Team and you got to network.

There's really no shortcut. It's about paying your dues…there's a

little bit of luck in there, but still?

Lou: Yes, it's very true. It is. There's timing and there's luck involved,

and there's relationships you have. All that stuff that definitely brings

you ahead of the other artists that you're competing against because

if you have a relationship or even money or something like that, you're

already ahead of the game.

Of course you have to have a great song. Just because you have a

million dollars from a trust fund or you won the lottery doesn't mean

you're going to be successful. It's still all about the song.

But I think just getting the right people in place. There's a time and a

place when you need a publicist. There's got to be some type of story

for the publicist to be successful.

You can't just go and hire a publicist and say "we're on our way". What

are they going to talk about? If there's not really a buzz, and you have

no story, what are they going to write about?

You have to have a lot of things going on before you can really get to

that next level.

Emily: Awesome advice. Now, who are some of your favorite

artists?

Lou: I guess I'm an old-school guy, so I love all the old metal stuff

like Iron Maiden and Metallica and Judas Priest. That's where I come

from. That's what I love. Also, Frank Zappa is my favorite. I idolize

him.

But I guess over the past bunch of years, I've haven't loved the metal

scene that much, so I've gotten away from that. I got more into other

kinds of music. I definitely still love the hard rock, but the newer stuff

doesn't do that much for me anymore. So I have actually learned to

like things like Americana and indie rock and genres like that. So I

definitely thought I would never listen to some of that stuff because it

was too slow for me, but now I definitely appreciate it a lot more now

as I've gotten older.

Emily: yea, I totally get it. I personally love it all, from house to

hip hop. So where do you think music is going on in five years?

With everything right now, it's definitely like house music is the

hot thing – well, the hotter

thing right now. And then that's ver-

sus hip hop. I mean, I was living in New York and New York was

all about hip hop. And then in Miami, it's all about house over

here. And everyone I interview tell me it's all about the lyrics

now.

218 219
---
Legacy, Leaving Your Art Behind

Lou: I'm not sure. I think the music that's popular in Miami, for instance,

is still going to be popular in Miami just maybe a different form of it. I

do know this, the EDM genre has been crazy the last couple of years.

I personally think it's probably just going to be a trend kind of like disco

was. That lasted a few years and it went away. EDM will still exist but

it will just be a different form of EDM. We've had EDM for 20, 30 years.

It was just a different version of that. I think some of these genres will

definitely last forever but may change its form a bit – I mean, look, hip

hop has changed over and over so many times and so has rock.

There will always be rock. There's always going to be hip hop, just I

think different forms of it will just get popular and it's all going to be

played on your phone anyway.

Emily: Good point! And what really matters at the end of the day

for the music artist?

Lou: To have a great song. I mean, it really just all revolves around

the song. There are these great voices, but there's no song. There are

great songs and no voices.

So you just have to start with the song. Without a good song, you're

just not going to have a hit basically. I know it sounds like a no-brainer.

But then the artist think they're the best (which is great that they're

confident), but they have to realize you can't be a 10 anymore. You've

got to be an 11.

220
---
CHAPTER 10

The Laws to the Ultimate

Creative Spark

❖ ❖ ❖

"I came across these laws from a striking epiphany during a

walking meditation on the streets of NYC and immediately

wrote them down. An inner wisdom within me spoke this

truth and my ultimate creative mind came into play with

its structure. Many months went by and the laws almost

got lost, but I found them and quickly typed them up.

They were almost lost forever... Now I have inspired many

others with this truth, and it is here as a gift for you."

- EMILY

The universe is creative

All around us is energy ready to be molded based upon our desires

and at times by our fears.

The universe seeks and thrives on creative organization.

You have the universe inside of you.

223
---
The Laws to the Ultimate Creative Spark

In The Spotlight: Over 100 Voices in Music

Moreover you are made up of the same materials that share equal

family with the universe.

In actuality, we are all made of stars.

Therefore, you were born naturally creative, the only separation is

time.

So you must make the rules.

The Process of Creation

At the core, it is to write down your long term and short term goals

in the blessing of "clarity".

There is a grand personal power expressed in the writing.

It is the alchemy of spirit's first action of creation.

Write your goals with the most energetic impact

by putting your mental energy behind it through visualizing the successful

completion of those goals.

Put emotion into it by feeling it from the area of your heart.

Then actually write down the goals and keep them safe.

To seal the process, find gratitude for what you already have accomplished

and learned.

Next, write down your daily rules to guide your time.

Time is your ultimate life's blessing.

As a certified coach I can help you form these together in the best,

objective way.

The Results

What you will get is your creative power expressed from within you.

You will start to see yourself designing your own inner universe, your

own world by raising your own power and your desires becoming attracted

to you.

Just like the planets rotating around the sun.

You will start seeing the evidence of things in proper motion.

A system being created within you, and experienced outside of you.

Where things "make sense"

That is where happiness lies, in the harmony of this rotating, attracting,

magnetic system.

And a balance being formed between the universes, within everyone

else around you.

You have tapped into your own personal power.

There is a power in fruitful habit and consistency.

Now is not the time to let it go.

224 225
---
The Laws to the Ultimate Creative Spark

In The Spotlight: Over 100 Voices in Music

Impact on your life

You filter the right people into your universe and the wrong people

out with much more ease.

You become extremely self-aware of the reasons of why things occurred

in your past, "who you really are," and each thought that

enters your mind in a way that you look at it objectively to best understand

it, not with supreme lower-level emotions.

You quickly understand the karmic reasons for all past and current

relationships and you learn from the lessons of unmet expectations,

faster.

Your intuition starts to rise and you get crystal clear moments of

inspiration.

Finances start to improve as your time is being managed properly as

you go about your ideally designed system.

You understand your own life purpose and start accepting it, living

with much less fear.

The Truth

Within who you are is an extremely powerful being.

Any time you have felt lack or failure, you have experienced an illusionary

state of perception caused by your core thoughts and beliefs.

Nothing that has ever happened to you in the past can diminish the

great power that you have carried within you on your travel since

birth, 365 days a year, 24 hours a day and will continue to carry until

your death.

Your weakened self is just the opposite of your powerful true self.

It serves as a scale of perception to help you understand yourself.

Your inner powerful creative self seeks to live freely, create beauty

and be in peace with your core system, flowing in alignment with

"who you are meant to be."

Together we can design this world for you, in all areas of your life.

First session free

You bring your ideal romantic partner in, get rid of the bad ones

quicker or build your current relationship to the highest level.

Listening skills sharpen; you can read body language much more

objectively and feel the truth of one's words much more clearly.

Much more forgiving and letting certain situations heal, while quickly

shielding yourself when outside negative "systems" get too close.

226 227
---
Ab out the Authors

DANI FELT: CEO OF CREATIVE Spotlights

LLC since 2010. B.A. in Marketing

Communications. Songwriter/Singer, focus:

folk/pop music. Her goal was to create

a company to serve as a platform to

help guide and inspire music artists.

Working on a master project with this

book with partner Emily, she was able to

do just that, while getting the best pieces

of advice from over 300 interviews she had featured on her site.

Dani shares her story of how Creative Spotlights started, her own

experiences from being a singer/songwriter as well as valuable insights

on using marketing in this digital age. In 2015, Creative

Spotlights is now a creative development firm passionate about

supporting all artists with promotion, publicity and career

development.

Emily Correa: Co-Founder/Creative

Director of Creative Spotlights and CEO of

Vida Linda Coaching, which provides strategic

life and business coaching for those

in arts + entertainment. Certified through

the International Coaching Federation, she

received over 350 hours of training as a 2012

graduate of Institute for Professional

Excellence in Coaching. B.A. in Psychology/

Sociology, minor in Business Management. M.S. in Organizational

Learning and Development. Spent 10 years collecting life lessons

mixed with business experience. Emily hopes to inspire all artists using

her "AVA" method of "Awareness, Vision and Action" so those who

read this will be able to tap into their own creative gifts powerfully.
---
OUR EDITORS + AWESOME STAFF

We wish to thank our first editor Virginia Podesta for jumping

into this book and helping us kick start the editing process! We

also have the amazing Malgorzata Mika and Aditya to thank for

joining us on some final rounds of editing, it was a very tedious

process! We also wish to thank Ashley Hirasuna and Elena Carvell

who did a beautiful job designing our first chapter as an interactive

digital copy, with fillable worksheets, voiceovers and everything!

Visit our site here www.creativespotlights.com for your

free digital copy!

Special Thank You to Our Team at Creative Spotlights!

Vanessa Blake

Elena Carvell

Jordan Gass-Poore

Kristen Bennett

Ashonti Carr

Ian Gallagher

Josue Correa

Wendy Wei-Li Lin

Will Kencel

Katie McCue

Samantha Risley

Ashley Hirasuna

Rhianna Reinmuth

Allie Kachapuridze

Arielle Grey

Malgorzata Mika

Ian Von

Special Thanks to our Writers

❖ ❖ ❖

Thank you to all our wonderful writers over the past five years!

Adam Hauptman

Aine Doyle

Alexandra Fees

Allie Kachapuridze

Amanda Weiss

Ashley Spink

Ben Breuner

Ben Gilligan

Brett Murphy

Billy Lipschutz

Brian Gabel

Brittany Atwater

Christian Bond

Crystal Santana

Devin Stanford

Elyse Mueller

Emma Adams

Emily Correa

Evan Cohen

Eric Brown

Eric Ethan

231
---
Special Thanks to our Writers

In The Spotlight: Over 100 Voices in Music

Eric Thomas

Erin Sutera

Fauziya

Fernando Michael

Henry Gomez

Jacob Kupin

Jenna Roberts

Jennifer Babu

Jon Joaquin

Joe Billi

Jordan Gass-Poore

Joseph Allen Woods

Julia Novack

Justin Conyers

Katelyn Collins

Katie McCort

Kendra Gravelle

Kristina Vega

Natasha Benjamin

Nick Christophers

Nick Auchello

Malgorzata Mika

Megan Serencha

Meghan Player

Nick Auchello

Renee Then

Ryan McCrimmon

Salome Perez

Sarah Solomon

Sarah Mariano

Sienna Vance

Simone Alicea

Steven Kraushaar

Tifini Lewis

Tim Carroll

Tessa Heron

Venkat Mokkapati

Victoria Vassallo

Wonjin Hahn

232 233
---
Creative Directory

❖ ❖ ❖

FEATURED MUSIC ARTISTS & INDUSTRY PROFESSIONALS

Adam Ayan: http://www.gatewaymastering.com/

Adam Christopher: https://www.facebook.com/

MrAdamChristopher

Adam Clark: https://www.facebook.com/AdamMusicClark

Adam Lasher: https://www.facebook.com/adamlasherband

Adam Shenk: https://www.facebook.com/AdamShenkMusic

Adam Watts: https://www.facebook.com/pages/

Adam-Watts/129601873758827

Afterlife Parade: https://www.facebook.com/Afterlifeparade

Ahmir: https://www.facebook.com/ahmirmusic

Alec Gross of Our Wild America: https://www.facebook.com/

AlecGrossMusic

Alexander "Sheriff" Ariff: http://www.thewalisanga.com/

Alexa Falk: https://www.facebook.com/falkfans

Alex Flanigan: https://www.facebook.com/AlexFlaniganMusic

Alexander Kariotis: https://www.facebook.com/

AlexanderKariotisMusic

Alexis Babini: https://www.facebook.com/alexisbabini

Alexis Hightower: https://www.facebook.com/pages/

Alexis-Hightower/139962739401396

235
---
Creative Directory

In The Spotlight: Over 100 Voices in Music

Alyson Greenfield: https://www.facebook.com/

alysongreenfieldmusic

Andrea Benham: https://www.facebook.com/pages/

Andrea-Benham/303844042980049

Andy Manganello, http://www.andymanganello.com/

Anu Gunn: https://www.facebook.com/AnupSugunan

Arison Cain: https://www.facebook.com/arisoncain

Arty Skye: http://www.skyelabmusic.com/

AyOH, https://www.facebook.com/ayohmusic

5j Barrow: https://www.facebook.com/5jBarrow

Benji Rogers: http://www.pledgemusic.com/

Berry Galazka: https://www.facebook.com/berrymusiconline

Billy Gilman: https://www.facebook.com/billygilman

Boy Pierce: https://www.facebook.com/boypiercemusic

Brian Felsen: http://adrev.net/

Brian Fuente: https://www.facebook.com/thebrianfuente

Brian Hull: https://www.youtube.com/user/hullbkh

Carly Lind: https://www.facebook.com/Nyxxmusik

Cassandra House: https://www.facebook.com/thecasshouse

Casey Dinkin: https://www.facebook.com/caseydinkin

Chase Coy: https://www.facebook.com/chasecoy

Craig Bartock: https://www.facebook.com/craigbartockmusic

Charlie Scopoletti: https://www.facebook.com/

CharlieScopolettiMusic

Christian Hollingsworth: http://imlordchristian.com/

Dan Kimpel: http://www.dankimpel.com/

Dani Tersini: https://www.facebook.com/d.tersini

Danielle and Jennifer: https://www.facebook.com/

DanielleandJennifer/info

Daniel Rinaldi: https://www.facebook.com/DanielRinaldiMusic

Danny Severance: https://www.facebook.com/

dannyseverancemusic

Dan Wright: https://www.facebook.com/wrighttracks

Daryl Brown: https://www.facebook.com/pages/

DARYL-BROWN/174626929412218

Dave Schuler: https://about.me/boybluemusic

David Das: http://daviddas.com/

David Dufresne-Bandzoogle: https://bandzoogle.com/

David Harrison: http://www.harrisonsongs.net/

Declan Bennett: https://www.facebook.com/pages/

Declan-Bennett/7080438510

Dennis Lambert: http://www.bignoisenow.com/dennislambert.

html

Derik Nelson: https://www.facebook.com/deriknelsonmusic

DJ Axis from Shinobi Ninja, https://www.facebook.com/

ShinobiNinjaMusic

DJ Dark and Stormy: https://soundcloud.com/darkandstormy

Diary of Snow: https://www.facebook.com/diaryofsnow

Dion Roy from Fire and the Romance: http://fireandtheromance.

com/

Dom Liberati: https://www.facebook.com/DomLiberatiMusic

Doug Fenske: https://twitter.com/dougfenske