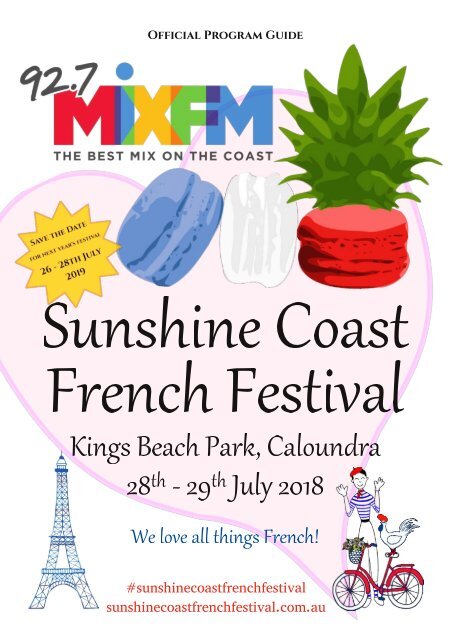 Sunshine Coast French Festival Program Booklet
Official program guide to the Sunshine Coast French Festival
Official program guide to the Sunshine Coast French Festival
SHOW MORE
SHOW LESS
Create successful ePaper yourself
Turn your PDF publications into a flip-book with our unique Google optimized e-Paper software.
Official Program Guide

#sunshinecoastfrenchfestival

sunshinecoastfrenchfestival. com. au
---
L'Amitié Tours

Small group tours for women who love to travel

Experience the delights of Southern France or Italy with the one-stop ease of a cruise.

Indulge yourself in the unique

style of Southern France that is

Provence. Join us in May or

September, unpacking only

once, for a 12 night experience

that will create vivid memories

to last a lifetime and special

friends with whom to share

them.

... or transport yourself into the

breathtaking medieval villages

and stunningly beautiful hills

of Tuscany and Umbria - into

a lifestyle filled with simple

pleasures and traditions dating

back centuries. Join us to share

all the history and romance of

Tuscany.

lamitietours.com.au

lynette@lamitietours.com.au

ph: 0410 530 761

Your host, Lynette
---
Sunshine Coast French Festival
---
Festival Director's Message

Emergencies, Lost Children, First Aid
---
We can provide quality

French wines

for your events!

For more details:

kiron@wearingmemories.com

0412192560
---
Thank You To Our Sponsors
---
a magic moment..........

In every bottle there is

capture your moments

www.wearingmemories.com
---
Exhibitors

Île-de-France

Stall # Stall #

Rue des Repas

La Colline

Stall #
---
Wine Pavilion - Tasting Experience

2016 La Galope Savignon Blanc Gascony

2016 La Galope Chardonnay Gascony

2016 La Galope Rosé Gascony

2016 La Galope Malbec Gascony

Famille Hugel – Gentil 'Hugel' AOP

Famille Hugel – Pinot Gris 'Classic' AOP

Louis Bouillot ­ 'Perle d'Aurore' Brut Rosé AOP

Joseph Faiveley ­ 'Bourgogne Rouge' AOP

William Fevre ­ 'Petit Chablis' AOP

Marc Bredif – Vouvray 'Classic' AOP

Marc Bredif – Chinon AOP

E Guigal – Côtes du Rhone Blanc AOP

E Guigal – Côtes du Rhone Rouge AOP

Domaine de Triennes Rosé IGP Mediterranee

Veuve d'Argent 'Cuvee Prestige' Blanc de Blanc NV

La Vieille Ferme – Côtes du Luberon Blanc

La Vieille Ferme – Côtes du Ventoux Rosé

La Vieille Ferme – Côtes du Ventoux Rouge

Champagne Royal Riviera (DOC)

Champagne Pol Couronne Brut

Paradis Rosé

Alsace

Alsace

Burgundy

Burgundy

Burgundy

Loire Valley

Loire Valley

Rhone Valley

Rhone Valley

Provence

Vin de France

Vin de France

Vin de France

Côte Des Bar

Reims

Provence

2016 Chateau Le Grand Verdus Bordeaux Blanc Bordeaux AOC

2015 Chateau Le Grand Verdus Bordeaux Supérieur Bordeaux Supérieur

2015 Chateau Le Grand Verdus Bordeaux Supérieur Génération Bordeau Supérieur

2014 Domaine Villebois Sauvignon Blanc Loire Valley

2014 Chateau Beychevelle Bordeaux

2014 Chateau Jolys Jurançon Sec Jurançon

2014 Chateau Tour des Gendres 'Cuvèe de Conti' Bergerac

2015 Deomaine de la Frègate Rosè Provence/Bandol

2015 Domaine Bellegarde Cuvèe Tradition Jurançon Moelleux

2012 Chateau Labrie 'Camille de Labrie' Bordeaux

2012 Chateau Fontenille Bordeaux

2012 Chateau Tour des Gendres 'le Classique' Bergerac

2012 Chateau Haut­Monplaisir Cahors

2015 Domaine Roche­Audran Côte Du Rhone

Achille Princier Champagne NV

Champagne

Jeeper Grand Assemblage NV

Champagne

Jeeper Grande Rosé

Champagne
---
French Facts - Did you know?

⚜ Louis XIX was the king of France for just 20 minutes, the shortest ever reign – he

ascended to the French throne in July 1830 after his father Charles X abdicated,

and abdicated himself 20 minutes later in favour of his nephew, the Duke of

Bordeaux. He shares this record with Crown Prince Luís Filipe, who technically

became king of Portugal after his father was assassinated but died from a wound

20 minutes later.

⚜ The French Army was the first to use camouflage in 1915 (World War I) – the

word camouflage came from the French verb 'to make up for the stage'. Guns and

vehicles were painted by artists called camofleurs.

⚜ In France you can marry a dead person – under French law, in exceptional cases

you can marry posthumously, as long as you can also prove that the deceased had

the intention of marrying while alive and you receive permission from the French

president. The most recent approved case was in 2017, when the partner of a gay

policeman gunned down on Paris's Champs-Elysees by a jihadist was granted

permission to marry his partner posthumously.

⚜ France was the first country in the world to ban supermarkets from throwing away

or destroying unsold food – since February 2016, shops must donate wastage to

food banks or charities

⚜ Europe's highest mountain is in the French Alps – Mont Blanc, at 4,810m, takes

an arduous 10 to 12 hours to climb to the summit. Alternatively, you can take a

leisurely 20-minute trip up on Europe's highest cable car on the nearby Aiguille du

Midi to get a brilliant view of Mont Blanc.

⚜ Paris Gare du Nord is Europe's busiest railway station – and by far, with some 190

million passengers passing through each year. Inaugurated in 1846, it it also one

of the world's oldest stations.

⚜ France produces nearly a billion tons of cheese a year in around 1,200 different

varieties – in France it's an ancient art: goats cheese dates back to at least 500AD,

the blue-veined Roquefort was mentioned in records of an ancient monastery in

Conques as early as 1070, and hard farm cheeses like Emmental started to appear

in the 13th century. A French proverb claims 'un fromage par jour de l'année' –

there is a different cheese for every day of the year.

⚜ The French eat around 30,000 tonnes of snails a year – but only about 1,000

tonnes of the classic French delicacy (served with garlic, parsley and butter) come

from France; only some 100 registered snail farms existed in France in 2015. If

you've eaten snails in France, chances are they were plucked from the fields and

roadsides of Eastern Europe.

⚜ It is against the law to carry live snails on a high-speed train in France without

their own tickets – in fact, any domesticated animal under 5kg must be a paying

passenger in France. In 2008, a Frenchman was fined when he was caught

carrying snails on a TGV, although the fine was later waived.
---
Main Stage/Masterclass Entertainment Schedule

Samedi 28th Juillet
---
WIN TV Cuisine Corner Schedule

Montmartre Artists Corner
---
Main Stage/Masterclass Entertainment Schedule

Dimanche 29th Juillet
---
PHOTOGRAPHY&VIDEOGRAPHYTO TAKEYOURBUSINESSTO THENEXTLEVEL

0455272583-HELLO@H2HSTUDIOS.COM.AU-WWW.H2HSTUDIOS.COM.AU

CAPTURING THEESSENCEOFYOURLIFE.PORTRAITS,FAMILIES,BOUDOIR .

0455272583-HELLO@LIFEPORTRAITS.COM.AU-WWW.LIFEPORTRAITS.COM.AU
---
• Event Management

• Audio, Lighting and AV Hire

• Event Infrastructure

• Vendor and Stall Management

• Solutions to suit any budget

www.quevents.com.au

KAG

EVENT ELECTRICAL

EST 2016

Licence No: 65546

• Festival and Event Power

• Temporary Power

• Generators

• Distribution Boards

• Event planning

• Experienced event staff

• Temporary lighting

• Cabling
---
A SOFA,

A GOOD

READ,

AND YOU

www.provinciallivingmag.com.au

BreakFree Grand Pacific is the ultimate

location for all your conferencing and

accommodation needs.

To book call (07) 5436 4444 or visit

breakfreegrandpacific.com.au
---
Get Excited!

Amazing Moments | Great Memories

ACOUSTIC GUITAR

SPECTACULAR

HERMAN'S HERMITS

6 O'CLOCK HOP

BELL SHAKESPEARE

JULIUS CAESAR

SATURDAY 4 AUGUST

SUNDAY 19 AUGUST

THURSDAY 6 SEPTEMBER

$30 / Con & Grp: $28

MELBOURNE CITY BALLET

$44 / Conc & Grp: $37

THE

MADAME BUTTERFLY

GRUFFALO

SYDNEY COMEDY

SHOWCASE

FRIDAY 7 SEPTEMBER

TUESDAY 18 SEPTEMBER

FRIDAY 21 SEPTEMBER

$30 / Con & Grp: $28

GRIGORYAN

$44 / Conc & Grp: $37

MENOPAUSE

BROTHERS

THE MUSICAL

AN EVENING WITH

JOHNATHAN THURSTON

SUNDAY 7 OCTOBER

FRI 12 & SAT 13 OCTOBER

FRIDAY 26 OCTOBER

Bookings: 07 5491 4240

theeventscentre.com.au
---
Escargot Eating Competition

Beret Wearing Record Attempt

Petanque (Boules) Game
---
Notes

Tastes - Products - Meetings - Experiences - Memories
---
MARK&CAROLINE

TODD &SAMI