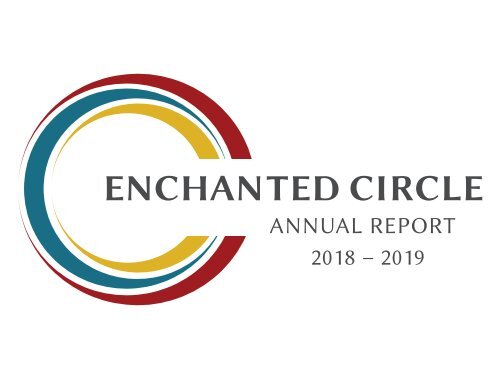 Enchanted Circle Annual Report FY18_19
View Enchanted Circle's Annual Report for 2018–2019.
View Enchanted Circle's Annual Report for 2018–2019.
SHOW MORE
SHOW LESS
You also want an ePaper? Increase the reach of your titles
YUMPU automatically turns print PDFs into web optimized ePapers that Google loves.
ENCHANTED CIRCLE

ANNUAL REPORT

2018 – 2019
---
ENCHANTED CIRCLE

CHANGES LIVES

We are dedicated to engaging, enhancing, and inspiring learning

through the ARTS. Founded in 1976, we partner with schools and

community organizations to provide equal access to arts inspired learning for

people of all ages and abilities. Our work fosters creative and critical thinking and

bridges arts, education, and human services in many of the most underserved

and marginalized sectors of Massachusetts.

Summer Shakespeare in the Holyoke Public Schools – A Midsummer Night's Dream 2
---
ARTS INTEGRATION

IN THE CLASSROOM

ENCHANTED CIRCLE works directly in the classroom with students and

teachers, integrating the arts into all aspects of learning. Programs range

from eight days to year-long residencies, where students create original

works linked to math, science, social studies, and English language arts.

3

SPOTLIGHT: ARTS INTEGRATED MATH

In 2019, we worked with Kindergarten, 1 st and 2 nd grade classrooms in

three Holyoke schools, focusing on Arts Integrated Math. AIM is designed

to enhance a student's ability to understand, conceptualize, explain, and

retain mathematical concepts and standard practices while developing

creative thinking skills. Students learned through theater, dance, and

visual arts to act out stories to define sequential order, form geometric

shapes with their bodies to demonstrate the attributes of the shape,

and produce art to represent repetition and reflection.

"I didn't just learn about what a triangle was… I was the triangle!"

– student

© Thinking With A Line (TWAL) – Cathy Weisman Topal

ARTS INTEGRATED CURRICULUM

1850

STUDENTS

20

SCHOOLS

66

CLASSROOMS K–8

14

TOWNS

4
---
CREATIVE YOUTH DEVELOPMENT

Our creative youth development programs equip youth with the skills they need to reach their

full potential. Through culturally relevant programming, we provide a platform for youth to

develop trust, artistic expression, empathy, and a passion to create essential

connections in their lives and their communities.

REAL LIFE WRITING: POETRY INTO PERFORMANCE enables youth in the juvenile justice system to be seen and heard,

with opportunities to create and present something meaningful to them. The young women, ages 14–18, living in a

residential treatment program, develop skills to productively express their ideas and experiences, along with the belief

in themselves, to help navigate the transition into adulthood.

COMMUNITY PARTNERS: RFK South Hadley Girls Program, Commonwealth Corporation,

Collaborative for Educational Services, and the MA Department of Youth Services.

YOUTH TRUTH PERFORMANCE ENSEMBLE, now in its 9 th year, provides theater training for youth who have experienced

foster care. YOUTH TRUTH promotes healing and personal growth through creativity and community. Our youth are arts

advocates for change in the foster care system – and in their lives!

COMMUNITY PARTNERS: The Treehouse Foundation & the HEROES YOUTH Leadership Project,

MA Department of Children and Families, and the Massachusetts Cultural Council.

Mel

Just because I am Black

Doesn't mean I'm ghetto

Doesn't mean I'll be a teen mom

Doesn't mean I'll be in a gang

Doesn't mean I'll drop out

I am smart with a place to soar

In my days to come

– YOUTH TRUTH, 2019

5 6
---
COMMUNITY PARTNERSHIPS

Enchanted Circle is well known for our unique community partnerships

that integrate literacy, history, the environment, civics, sociology or

anything with the arts to meet a community's evolving needs.

Have an idea for a community collaboration?

7

SPOTLIGHT: NEIGHBORHOOD ENGAGEMENT LEARNING LAB (NELL)

In 2018–2019, Enchanted Circle, in partnership with Springfield–based

Home City Development Inc., created a multifaceted arts integrated

literacy program designed to support families in addressing their

community's educational challenges, and to train youth leaders to

recognize the power of their voice within the community.

For the culminating project of the Learning Lab, Enchanted Circle

teaching artist Gabriela Micchia worked with residents and staff at the

Liberty Hill Townhouses in Springfield to create a community mural

now on display by the Liberty Street bus stop.

"As soon as the event ended everybody was talking and laughing

with each other. Everyone was cool. Everyone was bonding so it

was really cool. It was really nice."

– Aviance, youth resident Liberty Hill Townhouses

57

COMMUNITY

PARTNERS

24

NELL

PARTICIPANTS

AGES 2–82

8
---
PROFESSIONAL DEVELOPMENT

Our professional development programs provide exceptional training for PreK–12 teachers in hands–on, practical,

arts integration methods for engaging students in academic learning and social emotional curriculum. In 2018–19

we formed an exciting new partnership with Mount Holyoke College's Professional and Graduate Education program.

Together we are launching Enchanted Circle's INSTITUTE FOR ARTS INTEGRATION at Mount Holyoke College.

The INSTITUTE FOR ARTS INTEGRATION (IAI) is a dynamic center for innovative learning,

teaching, and research that utilizes the arts as a compelling and interdisciplinary teaching

tool. IAI will provide a wide range of professional development opportunities for classroom

teachers, special educators, administrators, teaching artists, social workers, community

leaders, parents, and social activists.

"I now understand why we should incorporate the arts, and how I can do it every day. We were actively

participating, thinking, inventing, and creating connections to our curriculum units together as a group.

I am taking back powerful learning ideas and activities that I will use in my classroom tomorrow!"

– Enchanted Circle Professional Development participant, Northampton Public Schools

350

TEACHERS

42

COMMUNITIES

9 10
---
11

NOTE FROM OUR LEADERS

Dear Friends,

We are proud to share this year's annual report with you, a view into

the extraordinary world of Enchanted Circle and our award-winning

arts in education programs.

Celebrating 44 years of engaging, enhancing, and inspiring learning

through the arts, we have earned the reputation as a turn–around

agent in our region's most challenged districts. We have a proven

history of excellence, rigor, and community commitment, and we

hold ourselves to the highest academic and artistic standards. Our

partnerships are built on an unwavering commitment to equity,

inclusion, and socially-just practices.

In the 2018–19 school year, we targeted our three most strategic

imperatives to ensure the greatest impact on our community:

• Equal access to arts integrated learning during the school day

to help give children the skills they need to succeed.

• A platform for creative expression and community connection

for youth to build a solid sense of identity and purpose as they

transition into adulthood.

• Training educators in culturally resonant, creative engagement methods, expanding their reach, and building a network of

teacher supports.

The story of our organizational growth is palpable and visible, and intentional. With our generous community of donors, we

have taken a developmental leap towards a sustainable future.

We believe in the power of arts in education to change lives – creating an equitable playing field for all children, giving voice

to our youth, providing support for our teachers, and illuminating the creative potential in all of us.

Thank you for your support.

Amy B. Dopp

President, Board of Directors

Pioneer Valley Data Collaborative

PHOTO CREDIT: Don Treeger / The Republican

Priscilla Kane Hellweg

Executive / Artistic Director

IMPACT STATEMENT

New research out of the Brookings Institute (2019) "provides strong evidence that arts educational experiences produce

significant positive impact on academic and social development." Our experience at Enchanted Circle parallels national

findings: Arts integration improves academic achievement, attendance, attitudes, critical and creative thinking, effort,

empathy, and engagement. And that's just from A–E.

ENCHANTED STATS LAST 3 YEARS

7500

STUDENTS

SERVED

HOLYOKE STATS

1000

PROFESSIONAL

DEVELOPMENT

ATTENDANCE

12,000

COMMUNITY

EVENTS

ATTENDEES

78% ECONOMICALLY

CHALLENGED

81%

LATINO

62% ENGLISH

LANGUAGE

LEARNERS

26% CHRONICALLY

ABSENT

SOURCES: MA Dept. of Elementary & Secondary Ed., 2019

NATIONAL STATS

LOW–INCOME STUDENTS

WHO ARE HIGHLY ENGAGED

IN THE ARTS ARE

5x

MORE LIKELY

TO GRADUATE

HIGH SCHOOL AS

THEIR PEERS WITH

NO ARTS EDUCATION

AMERICANS FOR THE ARTS, 2018

LOW–INCOME STUDENTS

WHO ARE HIGHLY ENGAGED

IN THE ARTS ARE

2x

MORE LIKELY

TO GRADUATE

STUDENTS WHO ARE INVOLVED

IN THE ARTS ARE

3x

MORE LIKELY

TO ATTEND SCHOOL REGULARLY

COLLEGE AS THEIR PEERS

WITH NO ARTS EDUCATION

LOW SOCIOECONOMIC

STATUS STUDENTS WITH A

HIGH PARTICIPATION IN

THE ARTS HAVE A

DROPOUT RATE THAT IS

5x

LOWER

THAN THEIR PEERS

12
---
13

WHERE WE WORK

SCHOOLS AND DISTRICTS

Amherst

Crocker Farm Elementary School

Fort River Elementary School

Pelham Elementary School

Wildwood Elementary school

Belchertown

Swift River Elementary School

Easthampton

Easthampton High School

Hilltown Cooperative Charter Public School

Williston Northampton School

Hatfield

Hatfield Elementary school

Holyoke

Blessed Sacrament School

Holyoke Public Schools

Dr. Marcella R. Kelly School

E.N. White School

Holyoke STEM Academy

Joseph Metcalf School

Lt. Elmer J. McMahon School

Maurice A. Donahue School

William R. Peck School

Longmeadow

Longmeadow Montessori Internationale

Ludlow

Chapin Street Elementary School

Saint John the Baptist School

Orange

Ralph C. Mahar Regional School

Northampton

Campus School of Smith College

Leeds Elementary School

South Hadley

Mosier Elementary School

Springfield

Veritas Preparatory Charter School

Westfield

Westfield Middle School

West Springfield

Memorial Elementary School

Worcester

Jacob Hiatt Magnet School

COLLEGES AND UNIVERSITIES

Bay Path University

Elms College

Holyoke Community College

Mount Holyoke College

Smith College

University of Massachusetts, Amherst

Westfield State University

COMMUNITY–BASED ORGANIZATIONS

Chicopee

Valley Opportunity Council

Easthampton

Greater Easthampton Chamber of Commerce

Treehouse Foundation

Holyoke

Boys & Girls Club of Greater Holyoke

Enlace de Familias

Greater Holyoke Chamber of Commerce

Holyoke Chicopee CFCE

Holyoke Chicopee Springfield Headstart

Holyoke Early Learning Initiative

Holyoke Public Library

Holyoke Rows

One Holyoke CDC

The Care Center

Northampton

Collaborative for Educational Services

Northampton Education Foundation

South Hadley

Commonwealth Corporation Hadley / Boston

Robert F. Kennedy Children's Action Corps.

Springfield

Home City Development Inc.

Springfield Boys & Girls Club Family Center

YMCA of Greater Springfield

Square One

Westfield

Westfield CFCE

Westfield Athenaeum

West Springfield

18 Degrees Family Services for Western MA

PARTNERSHIPS

NATIONAL / STATE ARTS AFFILIATIONS

Americans for the Arts

Arts / Learning

Arts Midwest

Barr Foundation

Metropolitan Group

MA Department of Elementary & Secondary Education

Arts Advisory Council

Massachusetts Cultural Council

Creative Youth Development Leadership Council

Massachusetts Nonprofit Network

MASSCreative

Leadership Council

National Guild for Community Arts Education

ARTS AND CULTURAL ORGANIZATIONS

Chicopee Cultural Council

Eric Carle Museum of Picture Book Art

FOCUS Springfield

Gateway City Arts

Holyoke Cultural Council

Holyoke Media

Holyoke Senior Center

John Reuter Productions

MIFA Victory Theatre

Smith College Museum of Art

The People's Institute for Survival & Beyond

Trustees of Reservations – William Cullen Bryant Homestead

Wistariahurst Museum

HEALTH AND SOCIAL SERVICE AGENCIES

Employers Association of the Northeast

DIAL / SELF Americorps

Massachusetts Department of Children & Families

Massachusetts Department of Youth Services

14
---
FINANCIAL HIGHLIGHTS

We are proud to report a strong year of sound financial management and fiscal stability, with no debt or liabilities.

Our financial position is grounded in the balance between mission-based programming and responsible business

practice. Earned income represents 49% and contributed revenue represents 51% of the FY19 operating budget.

Audited Financial Statements are available upon request.

"The bottom line is this:

as financial advisors, we believe in

making good, solid and long-term

investments. That is why we support

Enchanted all year round."

– Amy Jamrog, CEO,

The Jamrog Group

$641,169

INCOME

Earned Income 49%

Individual Donations 30%

Grants 21%

REVENUE GROWTH

FY15 FY16 FY17 FY18 FY19

Budget

$418,000 $454,000 $486,000 $634,000 $647,000

$638,902

EXPENSES

Programming 73%

Fundraising 14%

Administrative 13%

73%

OF EXPENSES

GO DIRECTLY TO

YOUTH PROGRAMS

$

Actual

$426,238 $449,896 $467,468 $723,898 $641,169

C.F. ADAMS CHALLENGE GROWTH

In 2019, Enchanted Circle received a first-time grant from the C.F. Adams Charitable Trust, a

notable Boston-based foundation that is committed to improving children's behavior health

in Massachusetts. They saw such value in the therapeutic aspect of our education work with

children in trauma, and such potential in our organization that they followed their capacity

support with an additional matching challenge grant of $10,000. Buoyed with their vote of

confidence and supported by our generous donors, we met and exceeded their challenge!

THANK YOU!

15 16
---
THANK YOU

FY19 DONORS

Lauren Abraham

Liz & Paul Adzima

Gabrielle Agron

Nick Aieta

Nora & Kenneth Albert

Edith Allison

Tahirah Amatul-Wadid

Norma Anderson

Sara Anderson

Jeffery & Juan Anderson–Burgos

Lori Andruss-Jewell

Kristin & Steve Angel

Valerie Annear

Anonymous

Elizabeth Armitage

Allan Arnaboldi

Kathi Arnow

Rob Arpin

Pauline & Alexander Atherley

Arlene Avakian

Andrea Ayvazian & Michael Klare

Marsha & Geb Bailey

Susan Bain Bellak & Andrew Bellak

Matthew Bannister

Emily Barber

Lynn & David Barclay

Lora & Tom Barrett

TO THE PEOPLE WHO MAKE IT HAPPEN.

Your support means the world to us!

Our donors are at the heart of our mission. They are helping us to build capacity and

deliver programmatic excellence with their informed, engaged and intentional giving.

We are grateful to each one.

LEAP DONORS

Anonymous

Olivia Bernard

Chia Collins & Michael Cohen

Karen Pigman Congdon

Lori Divine–Hudson

Kim Githler

Eileen Barry & Kevin Harkins

Margaret & James Bartley

Anna Bartoli

Lisa Baskin

Mary Bates & John Pucci

Fredrick Baumgarten

Edith & Frank Beal

Beth & Larry Beede

Amy Ben–Ezra & Farnsworth Lobenstine

Joyce & Len Berkman

Ginny Biggie

Elizabeth & Peter Bigwood

Sarah Bing–Owen

Christine Blacke

Nick Blais

Kevin Boissonnault

Monica Borgatti

Laura Boucher

Paige Bray & Tim Lawrence

Danielle Brazeau

Kathie Bredin & Alan Bloomgarden

Theresa Bruckerhoff

Alison & Michael Buchanan

Elaine & Edward Buckley

Laura Bundesen

Mary Burgh

Amy & Kevin Burke

Wilmont Hastings

Priscilla Kane Hellweg & John Hellweg

Betsy & John Kane–Hartnett

Stanley B. Kane

Marisa Labozzetta & Marty Wohl

Robyn Newhouse

Angela Burke

Shannon Burke

Sarah Buttenwieser & Hosea Baskin

Ellen Bywaters

Susan Cagney–Dargie & Mark Dargie

Elizabeth & Tom Caine

Sophine Campbell

Stephanie Carlson & John Bruner

Angelica Castro

Jodi Causey

MaryJane & Carlo Centeno

Cindy Chandler–Guy

Patricia Charest

Woody Clift

Brittany Collins

Crystal Colon & Nino Nieves

Eileen Corbeil

Barbara & Sandy Cortez–Greig

Clara Crandall

Tiffani Curtis

Patricia Cutler

Metta Dael & Martha Neubert

Rima Dael

Louann D'Angelo

Brenda Davies

Lynne Davis

Liesel DeBoor & Sheila Siragusa

Katie DeMars

John Dever

Mariana Diaz

William Diehl

Cynthia & Todd DiGeronimo

Elizabeth Dineen & Stephen Spelman

Emily & Jacob Ditkovski

Mara Dodge

Amy & Peter Dopp

Mike Dopp

Nikki & Stephen Downes–Martin

Diana Dragon

Andrew & Ray Drewnowski

Roz Driscoll & Alton Wasson

Patricia Duffy & Joe Paul

Kermit Dunkelberg

Marisa Egerstrom

Elizabeth Elder

Darlene Elias

Megan Elizabeth

Christina Elman

James Emery

Cindy Enriquez

Lisa Enzer & Robert Mahler

Tiffany Espinosa

Yaldira Felix–Castro

Darcy Fernandes & Asher Hamilton

Pamela Fiaccone

Laura Finn–Heafey & Mark Heafey

Karen & Andrew Fisk

Naomi & Isaac Fleisher

Ingrid Flory & Andrew Foster

Kelsey Flynn & Jamie Olander

Laurie Flynn

Lily Foster

Erin Freed & Bill Johnson

Krista Gale

Lori–Ann Gallant

Sylvia Galvan & Gary O'Connor

Joshua Garcia

Samantha Garcia

Diane Garey & Lawrence Hott

Geraldo & Paul Gauthier-Zayas

Jacqeline Gavioli

Eileen & Anthony Giardina

Frank Giuliano

Pauline Goldwater–Fogel

Kathy Goos & Barry Werth

Cleo Gorman & Ronald Ackerman

Muriel & Robert Griffin

Jane Gronau

Barbara Gross

Judy Grupenhoff & Lew Rudolph

Michael Gula

Andrea Hairston

Gina Hall

Korin Hall

Celine Hamilton Quill & Jim Quill

Cathy Harraghy

Anne & Thom Haxo

Mary & Jeffrey Hayden

Alice Hearst

Brendan Hellweg

Jasper Hellweg

Janice Henderson

Carol Hepworth

Michelle & Luis Hernandez

Theresa Hickson

Kathryn Hobbs

Theresa & Eric Hojnoski

Heidi Holder & Eugene Hill

Frank Holmquist

Kerry Homstead

Jeanne & David Hoose

Carole Horowitz

Edy Howe & Ralph Hill

Sarita Hudson & Harley Erdman

Maureen Humpage

Marsha Humphrey & Stephen Jasinski

Eileen Hurley & Michael Lavin

Lee & Alfred Hutt

Gabriel Immerman

Sage & Dan Inglis

Motoko Inoue

Vanessa James & Don Sanders

Amy Jamrog

Julie Jaron

Shawna Jean

Rachel Jenkins & Ed Hirsch

Amy Johnquest

Colleen & John Johnston

Tony Jones & David Foley

Stephen Kallaugher

Katherine Kane & Olin West

Ticia Kane & Peter Healey

Meghan Kane–Hartnett

Mindi Katzman

Kristin Kay

Mary Keane

Thomas Kegelman

Alison Keller

Liza Kane–Hartnett

Pat Szumowski & Skip Klepacki

Susan Knightly

Linda Kniola–Gifford

Harvey Knowles

Trudy Knowles & Dan Smart

Deborah Koch

Tracie Konopinski

Jeanne Ann & Stephen Kuchyt

Rachel Kuhn

Sonai Kumar

Julie Kumble

Marcy Kwiatkowski

Tracy LaBroad

Jennifer Ladd

Nicole Lantaigne

Marjorie Latham & Denis Luzuriaga

Eileen & Dechen Latshang

Marjorie Laule

CN Le

James LeFebvre

Lisa Leizman & Ernie Alleva

Denise Lello & David Smith

Margaret Leonard

Patrice Leonard

Karen & Christopher Lewis

Diane Liebert

Emily Ruddock

Stephen Linsky

Rebecca Lisi

Kelly Lockwood Primus

17 18
---
19

Nathan Lockwood

Sue Lofthouse

Barbara Lucas

Kate Lytton

Michelle Macklin

Morellen MacLeish & John Voci

David Mager

Pam Magnuson

Diane Mango

Mary & David Manning

Wendy Marquez

Ashley Martin & Alex Grant

Penni Martorell

Susan Mason

Lynn Matteson & John Hoops

Mary & John McAndrews

Alyssa McBride

Eileen McCaffery & Fred Cuda

Cathy McCarthy–Rosenberg

Margaret McClamroch

Kimberly McDowell

Linda & Chris McInerney

Kathy McKean

Kathleen & James McMahon

Sarah Meier–Zimblest & Luis Salazar

Sarah & John Meiklejohn

Dale Melcher & William Newman

Arthur Meyer

Gabriela Micchia

Meredith Michaels & Lee Bowie

Ilene Miklos & Gail Wasserman

Davina & Josh Miller

Nancy Mirkin

Susan Monahan

Jolene Monfette

Kim Monson

Maureen Moore & Gene Friedlander

Stephanie & Howard Moore

Ellen & Peter Moriarty

Gwynne Morrissey

Carolyn Mowers

Joann Murphy & Richard Romboletti

Albert Mussad

Vivian Nabeta & Jason Jones

Merry Nasser

Jaqueline & Michael Neiman

Andrea Newmark

Kelli Nielson

Ellen & Barry Nigrosh

Lauren Niles

Lyndsey Nunes

Paula O'Brien & Ted Davis

Linda & Geoff O'Connell

Liz O'Dair

Kate & Chris O'Donnell

Barbara Ogman

Ruth Olmeda

Ryan Olszewski

William Oram

Isolda Ortega–Bustamante & Jaime Davila

Wendy & Lawrence Osborn

David Ostrander

Lynda & Thomas Overlock

Doug Ozelius

Jane & Francis Pasini

Jennifer & Russell Peotter

Daisy Pereira–Tosado

Dale & Lorna Peterson

Sally & Lewis Popper

Teagan Quill

Marybeth Radke

Charles Raffetto

Judeth Rainville & Chris Milne

Alicia Ralph

Paul Redstone

Karen & John Reuter

Mandy & Ezra Riber

Martha Richards

DeAnne & Chris Riddle

Marion Roberts & Jim Angell

Tara Roberts

Ana Rodriguez

Navae & Patrick Rodriguez

James Roraback

Chelsea Rose

Jackie Rosenbloom & Jeff Mazur

Margaret Russo

Lindsay Sabadosa

Rossana Salazar

Andrea Salvas

Lise & Eric Sanders

Margaret Sarkissian & Jerry Dennerline

Amanda & Keith Sbriscia

Linda & John Sbrogna

Barbara Schaffer–Bacon

Sara Schieffelin

Rosemary Schmidt & Barry Steeves

Sarah Schmidt

Lois & Tom Schwab

Josh Seamon

Jonathan Severance

Dorie Shallcross

Emily Shankle

Claire Shea

Deborah & James Sheehan

Debra Sicilia

Micala Sidore

Lisa & Paul Sihvonen-Binder

Wendy & John Sinton

Ann Sirignano & Elzaibeth Harlow

Catherine Smith

Kattye Soares

Anna Sobel & Brian Bender

Betsy & Fred Sokol

Soliel Sonoda

Carol & Baird Soules

Andrea Spak & Larry Perosino

Susan & Philip Spak

Magda Spasiano

Beth Spong

Susan Sprung & Jim Mueller

Abby Srivicharnkul

Cheryl Stanley

Wendy & Freeman Stein

Elizabeth Stone & Marc Berman

Stacey Styles

Michelle Suarez

Maureen Sullivan

Patricia & Michael Sullivan

Renee Tastad & Linee Perroncel

Alvin & Mark Taylor

Nina Tepper & William Stewart

Aelan Tierney & Michael Palmer

Patricia Trant & Leland Johnston

Elinor & John Twohig

Jossie Valentin & Myriam Quinones

Judy & Hans Van Heyst

Debra & Aaron Vega

Elaine Vega

Nanny Vonnegut

FOUNDATIONS

AEC Trust

Amazon Smile

Arts Midwest

C.F. Adams Charitable Trust

Community Foundation of Western Mass.

Irene E. & George A. Davis Foundation

Janet & Stanley Kane Foundation

Scarlet Sock Foundation

Shurtleff Children's Services

The Beveridge Family Foundation

TD Charitable Foundation

William O. & Carole P. Bailey Foundation

David Waldman

Emily Waniewski

Sandra Ward

Robin Warner

Mark Webb

Elaine & Wayne Wetzel

Dyan Wiley & Tor Smith

Laura Winter & Arthur Downey

OUR GENEROUS COMMUNITY

SPONSORS

A.J. Virgilio Construction, Inc.

Ahearn Funeral Homes

Burkart Pizzanelli, P.C.

Directed Capital

Eagle Home Buyers, LLC

Family Veterinary Center

HMR Properties

Holyoke Community College

Holyoke Gas & Electric

Kuhn Riddle Architects

Northampton Rental Center, Inc.

Open Square

Paradise City Landscape Design

PeoplesBank

Peter Dopp, PsyD Healthy Networks

Stakeholders Capital

The Jamrog Group

United Bank Foundation

Valet Park of America

Valley Opportunity Council

Whalen Insurance Agency

Wohl Family Dentistry

Kimberley Wolcott & Paul Jablon

Lora Wondolowski

Amy & Michael Woolf

Tammi Wortham

Angela & Joseph Wright

Susie Zeiger & John Haag

Daniel Zimmerman

Stephen Zrike

STATE AND FEDERAL AGENCIES

Massachusetts Cultural Council

MA Department of Elementary & Secondary Ed.

National Endowment for the Arts

IN–KIND

cdeVision

John Reuter Productions

Open Square

PIP Printing

Radioplasma

The Log Cabin Delaney House

20
---
WHO WE ARE

OUR STAFF

Priscilla Kane Hellweg

Executive / Artistic Director

Celine Hamilton Quill

Associate Director

Andrea Spak

Director of Development

Gabriela Micchia

Design & Curriculum Resource Director

Steve Angel

Communications Manager

Janelle Aieta

Programs Manager

Kattye Soares

Special Programs Coordinator

Livvy Milne

AmeriCorp Fellow

BOARD OF DIRECTORS

Amy B. Dopp

President

Luis Soria

Vice President

Rus Peotter

Treasurer

Margaret Leonard

Clerk

Arlene Avakian

Margaret Bartley

Rima Dael

Stefany Garcia

Kathy Goos

Jordan Hart

Trudy Knowles

Iohann Rashi Vega

Geb Bailey

Emeritus

Dorie Shallcross

Emeritus

OUR TEACHING ARTISTS

Emma Ayres

Fiona Black

Kate Carreiro

Axel Cruz

Priscilla Kane Hellweg

Tony Jones

Amina Jordan–Mendez

Gabriela Micchia

Melissa Redwin

Maya Rivera

Julissa Rodriguez

Kattye Soares

Anna Sobel

Stephen Taranto

21

FRONT ROW: Luis Soria, Amy B. Dopp, Margaret Bartley, Priscilla Kane Hellweg; BACK ROW: Trudy Knowles, Jordan Hart, Arlene Avakian,

Rus Peotter, Iohann Rashi Vega; NOT PICTURED HERE: Rima Dael, Magaret Leonard, Stefany Garcia, Kathy Goos

22
---
ENCHANTED CIRCLE THEATER | 4 Open Square Way | Studio 206 | Holyoke, MA 01040

www.enchantedcircletheater.com | info@enchantedcircletheater.com | 413.534.3789