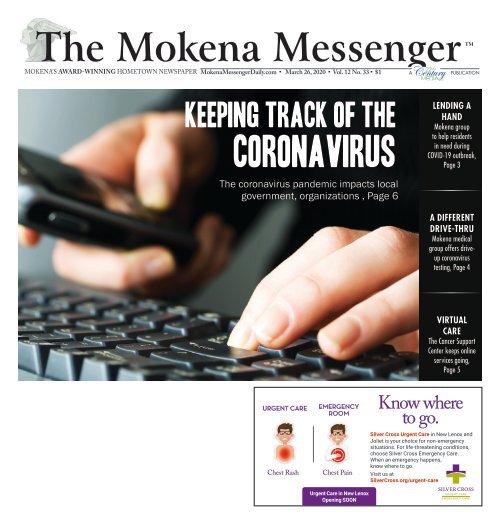 Do you know the secret to free website traffic?
Use this trick to increase the number of new potential customers.
®

mokena's Award-Winning Hometown Newspaper MokenaMessengerDaily.com • March 26, 2020 • Vol. 12 No. 33 • $1

A

Publication

,LLC

Lending a

hand

Mokena group

to help residents

in need during

COVID-19 outbreak,

Page 3

The coronavirus pandemic impacts local

government, organizations , Page 6

A different

drive-thru

Mokena medical

group offers driveup

coronavirus

testing, Page 4

Virtual

care

The Cancer Support

Center keeps online

services going,

Page 5

URGENT CARE

ChestRash

EMERGENCY

ROOM

Chest Pain

Know where

to go.

Silver CrossUrgent Care in NewLenox and

Joliet is your choice fornon-emergency

situations. Forlife-threateningconditions,

choose Silver CrossEmergency Care.

When an emergency happens,

know wheretogo.

Visitusat

SilverCross.org/urgent-care

Urgent Care in NewLenox

Opening SOON

URGENT CARE

EMERGENCYCARE
---
2 | March 26, 2020 | the mokena messenger calendar

mokenamessengerdaily.com

In this week's

Messenger

Editorial........................11

Faith Briefs....................14

The Dish........................16

Puzzles..........................17

Going Rate....................20

Classifieds................ 21-28

The Mokena

Messenger

ph: 708.326.9170 fx: 708.326.9179

Editor

TJ Kremer III, x29

tj@mokenamessenger.com

sports editor

Steve Millar, ext 34

s.millar@22ndcm.com

Sales director

Lora Healy, x31

l.healy@22ndcenturymedia.com

real estate sales

Courtney Masinter ext 47

c.masinter@22ndcenturymedia.com

classifieds/Legal Notices

Jeff Schouten, x51

j.schouten@22ndcenturymedia.com

PUBLISHER

Joe Coughlin 847.272.4565, x16

j.coughlin@22ndcenturymedia.com

Managing Editor

Bill Jones, x20

bill@opprairie.com

president

Andrew Nicks

a.nicks@22ndcenturymedia.com

EDITORIAL DESIGN DIRECTOR

Nancy Burgan, x30

n.burgan@22ndcenturymedia.com

22 nd Century Media

11516 West 183rd Street

Unit SW Office Condo #3

Orland Park, IL 60467

www.MokenaMessenger.com

Chemical- free printing on

30% recycled paper

circulation inquiries

circulation@22ndcenturymedia.com

The Mokena Messenger

(USPS #025404)

is published weekly by

22nd Century Media, LLC,

11516 W. 183rd Pl.

Unit SW, Office Condo #3

Orland Park, IL 60467

and additional mailing offices.

Periodical postage paid at

Orland Park, IL

POSTMASTER: Send changes to:

The Mokena Messenger

11516 W. 183rd Pl.

Unit SW, Office Condo #3

Orland Park, IL 60467

Published by

www.22ndcenturymedia.com

A Message From 22nd Century Media Leadership

An unshakable commitment to community

There is no denying

we are enduring a

historic moment in

time. The spread of the

coronavirus is affecting

our world and our community

as we know them.

We are all in this

together. We cannot just

say those words; we must

live by them and act in

their respect. And here at

22nd Century Media, we

are working tirelessly with

that goal in mind.

We publish 15 newspapers

(including the

one you are reading) and

news sites, as well as

operate a number of community

events and offer

local marketing solutions.

When the news reached a

critical point two weeks

ago, we let our employees

know that while we

serve an essential function

in these trying times

we needed to act in their

Warm Regards,

Joe Coughlin, Publisher

Cancellations/

postponements

Mokena Junior High School

presents Disney's "The

Little Mermaid Jr." -

Cancelled

7 p.m. March 27; 2

p.m. and 7 p.m. March

28, Lincoln-Way Central

High School, 1801 E.

Lincoln Highway in New

Lenox.

Ava Logan Quartet -

Cancelled

1-2 p.m. March 28, Mokena

Community Public

Library District, 11327

195th St. in Mokena.

Woodcock Walk -

Cancelled

best interests as well. We

offered for them to work

remotely whenever they

could and told them that

if they felt ill in any way,

please not to come into

the office.

Upon receiving the

email, not one person

exited the newsroom.

News was coming

in, and our journalists

wanted to report it to you.

Local businesses were in

need, and our sales reps

wanted to offer solutions.

Our events director was

rescheduling.

Since that day, whether

working in or away from

the office, our staff has

been dedicated to equip

you with news, information

and resources to help

you and your loved ones

navigate these uncertain

times.

That is our everyday

goal for your community:

6:30-8 p.m. March 28,

Hickory Creek Preserve

– LaPorte Road Access,

10537 W. LaPorte Road in

Mokena.

Mission Meals Dinner -

Cancelled

April 2, EggCetera

Cafe, 19709 Mokena St.

in Mokena. One Love

Global Wellness would

ask that individual and

families that would

have attended to please

call (708) 479-6613 and

we will try to help or

refer to agencies that

can.

Pride Fest

Noon-5 p.m. June 13,

Yunker Farm, 10824 W.

LaPorte Road.

To provide accessible and

reliable information and

resources. You deserve access

to such information.

It is a responsibility

that we do not take

lightly. There are many

out there that may abuse

that responsibility and

through either negligence

or immorality present

inaccurate and unreliable

information.

Accuracy matters.

Credibility matters. Your

reality is affected by the

news you receive. That is

always at the forefront of

our decision-making, and

we are honored to be the

trusted provider of your

local news.

In that vein, we have

created a dedicated web

page where you can find

all our news related to the

coronavirus, as well as

local resources — such as

how to help, where to get

Mokena Seniors Club -

Suspended

11:30 a.m.-2:30 p.m. on

the third and fourth Thursday

of the month at the

Frankfort Township Community

Room, 11100 Lincoln

Highway in Frankfort.

help, activities for children,

health information

and more — for you and

your family. We have the

latest news that directly

affects your immediate

health and wellness, as

well as the uplifting stories

that deliver hope.

To support local business,

we have also created

a special Carryout and

Delivery Directory, which

is also free at Directory.

22ndcenturymedia.com

This dependable coverage

is vital during these

times. We thank our loyal

subscribers who help fund

this work, and for those

who have not subscribed,

we hope you see value

in this information and

consider supporting local

journalists at

MokenaMessenger.com/Plus.

Within the news feed,

you will notice multiple

stories of local businesses,

residents and service

groups doing what they

can to help their community

during this time. It is

of the utmost importance

that we support each other

during this time. We have

all heard how this virus

will affect our health and

wellness, but it will no

doubt also have an effect

on our livelihoods.

To the extent of our

means, we must support

each other. Order carryout

from a local restaurant.

Take an online class.

Choose a local grocer. We

will emerge from this, and

when we do, what kind

of community will it be?

That's up to us.

It is in times of crisis

that true character is

revealed, and we don't

know about you, but we

think that our bond is

stronger than any crisis,

stronger than any virus.

Heather Warthen, Chief Events Officer Andrew Nicks, President Collins Mony, Chief Technology Officer

Editor's Note

LIST IT YOURSELF

Reach out to thousands of daily

users by submitting your event at

MokenaMessenger.com/calendar

For just print*, email all information to

tj@mokenamessenger.com

*Deadline for print is 5 p.m. the Thursday prior to publication.

All events listed here were set to occur as of press

time Monday, March 23. As cancellations may

occur, please check directly with the organization

hosting the event for the most up-to-date

information.
---
mokenamessengerdaily.com news

the mokena messenger | March 26, 2020 | 3

'It takes a village'

3

Mokenians band

together to offer

assistance to

residents

Jon DePaolis

Freelance Reporter

Amidst a backdrop of

uncertainty and anxiety, a

group of Mokena residents

have banded together with

the intention of helping

those in the community

who are in need.

Terry Germany, a Mokena

resident, and other

like-minded community

members have formed

Mokena Strong, a 501c3

nonprofit designed to help

their neighbors during the

COVID-19 pandemic.

Germany said the idea

formed around March 12,

after he read a post on

Facebook from a woman

who wanted to help the elderly

by going to the grocery

store for them. The

woman wrote that she also

would take out garbage or

do other helpful services

for any older resident who

needed help.

"I was on the road, thinking

about it and thinking

about it," Germany said.

Later, Germany called

up a friend, Village of Mokena

Trustee Joseph Siwinski,

and asked for his

input on putting together

some sort of community

volunteer group. As they

talked over options, they

decided to loop in another

Mokena resident, Tim Ozinga.

The three of them met

on March 14 to hammer

out some of the details. By

the end of the day they had

reached out to the Village,

the fire department and the

police to let them know

what they were thinking of

doing.

"With their blessing,

which was very nice to

hear by the end of that

Saturday night, the next

step was to get [the group

together] to discuss what

we could do legally," Germany

said. "Can we pick

up pharmaceuticals? How

do we do that without getting

ourselves into a situation

where you try and

help and do something you

shouldn't have done?"

What they determined

they could do was take

nonemergency calls from

community members in

need and determine from

there if it was something

the volunteers could handle.

If not, they would

direct the resident to the

fire department, police or

emergency personnel.

"It's been happening

naturally, which is heartwarming,"

Germany said.

"It's bringing us together,

which is what we need in

this country. We need to

be brought together, instead

of being divided. It

naturally has brought us

together communitywide."

Germany said the group

has created a database to

log all the calls and requests.

As the requests

come in, the volunteers

filter them into 19 designated

areas in which

they have divided up the

Village. Each area has a

dedicated number of volunteers.

From there, the

request gets sent to one of

the area's volunteers to be

handled.

He gave the example of

someone requesting assistance

picking up groceries.

He said the group

would ask where the groceries

were purchased,

where they needed to be

delivered to and any other

specifics about where to

place the groceries upon

delivery.

"There will be no [physical]

contact between the

person who needs help

and the volunteers," Germany

said. "They will

come place [things] on the

porch, call the homeowner

… and deliver with a mask

and gloves on. Safety will

always be a priority."

He said all volunteers

will need to be 18 years

or older, and background

checks will be performed

on every volunteer before

they can assist or help.

Germany said before

the group even officially

launched, seven requests

had come in. Currently, he

said Melissa Fedora, the

executive director of the

Mokena Chamber of Commerce,

was volunteering

her time to help answer

some of the requests.

He also said that Mokena

Strong's services

would not just be for senior

citizens. He said the

group can assist those who

have sustained injuries and

cannot leave their home,

as well as others who are

immunocompromised because

of health conditions.

The group will not deal

with medical assistance or

emergencies in any form,

however, as those calls and

requests should be made

of emergency personnel,

the fire department and the

police.

For more information,

call (708) 400-3434, or

visit mokenastrong.org.

There is also a Facebook

page for the group at @

mokenastrong.

800-421-3220

dykstrahomeservices.com

"Piecing together your home comfort!"

4

WHAT CAN I DO TO

PROTECT MY HOME?

STOP AIRBORNE ATTACKS FROM VIRUSES, GERMS, & MOLD

Scientifically proven Indoor Air Quality systems help keep building envelopes

clean! Here is a breakdown of the Indoor Air Quality Products we offer!

OFFER

— 6 MONTHS —

0.0 %

financing through

Wells Fargo

RESPICAIRE OXY 4

The Oxy 4 uses Ultra Violet light & catalytic reactions to

create airborne oxidizers. These highly effective air cleaners

freely circulate throughout your home to help reduce &

eliminate mold, virus, bacteria, microbes, and orders.

CARRIER INFINITY AIR PURIFIER

Works silently with your HVAC system to make the air you breathe healthier. It uses

Captures & Kills technology to trap up to 95% of particles,

then uses an electrical charge to kill or deactivate them!

With every cycle of air that passes through this patented air

purifying system, pollen, animal dander, smoke, bacteria and

other pollutants are trapped and held tightly to the filter. An

electrical charge then bursts the cell walls of pathogens it

comes in contact with giving you healthier air!

OR

9.99 %

APR FIXED line

of revolving credit

Commercial models also available. Call or see store for details.

Reg. $ 1095

NOW

$

995

iWAVE-R

With technology installed in over 100,000 applications, iWave-R is the world's first

self-cleaning, no maintenance needlepoint bi-polar ionization generator designed

specifically for treating air in residential duct A/C systems.

As

the air flows past the iWave-R, positive and negative

ions actively purify the supply air, killing mold, bacteria and

viruses in the coil and living space. The ionization process

also reduces allergens, smoke and static electricity, as well

as

controlling odors (cooking, pet, VOCs) and other particles

(no more sunbeams) in the air without creating ozone or any

harmful byproducts.

Reg. $ 1095

NOW

$

895

Reg. $ 1495

NOW

$

995

PROVEN EFFECTIVE AGAINST THESE AND

MANY OTHER HARMFUL BACTERIA & VIRUSES

COMMON COLD

BACTERIA

MOLD

INFLUENZA

STREP
---
4 | March 26, 2020 | the mokena messenger news

mokenamessengerdaily.com

Mokena medical group offers drive-up coronavirus testing

T.J. Kremer III, Editor

Family First Medical Group,

with offices in Mokena and Evergreen

Park, has begun offering

people drive-up testing for the

coronavirus.

Testing begins with a phone

consultation, followed by a video

screening, according to Ryan Dawson,

marketing director for Family

First Medical group.

Should a physical test be recommended,

patients are scheduled for

a drive-up appointment where they

are first given a flu swab, the results

of which take about 8-10 minutes,

Dawson said.

If that flu swab comes back negative,

then patients are administered

a COVID-19 swab, which takes

about 48 hours for results to come

back, Dawson said. COVID-19 is

the disease caused by the coronavirus.

Patients enrolled in Family First

Medical Group's in-network health

insurance plans typically have

Family First Medical Group founder

Dr. David Beckmann performs a

drive-up test for the coronavirus.

Photo submitted

their costs covered through their

insurance policies; however, those

outside of the network can also be

tested. The cost for the flu swab is

about $90, but Dawson said Family

First Medical Group is working

on securing testing kits that would

give results faster than 48 hours

and would cost $60 to those outside

the group's health insurance

network.

Family First Medical Group secured

the testing kits from a thirdparty

independent lab, Dawson said.

Family First Medical Group also

works with Women's Healthcare of

Illinois.

The group's founder, Dr. David

Beckmann, understood the need for

quick testing while maintaining the

safety of patients who have to come

into the group's offices, according to

Dawson, and so began the drive-up

testing on Monday, March 16.

Those interested in setting up a

phone consultation should begin by

calling Family First Medical Group

at (708) 572-7575, or Women's

Healthcare of Illinois at (708) 425-

1907. More information can be

found on their websites at yourffmg.

com and whcillinois.com.

Election 2020

Incumbent Bobby Rush wins

D1 Democratic primary

Jacquelyn Schlabach

Contributing Editor

Incumbent Bobby Rush

won a four-way U.S. Congressional

District 1 Democratic

primary March 17,

setting up a three-way bout

in November against Republican

nominee Philanise

White and independent

Ruth Pellegrini.

In the primary, Rush

earned 88,499 votes (71.76

percent of total ballots

cast), with all precincts

reporting, according to

unofficial results from the

Board of Election Commissioners

for the City of

Chicago, as well as the

clerks' office from suburban

Cook and Will counties.

Challenger Sarah Gad

earned a total of 12,805

(10.38) votes, while Robert

Emmons Jr. had a total

of 12,254 (9.93) as of Saturday,

March 21.

In Chicago, Rush dominated

with 67,545 votes

(70.55). There, Emmons

took second with 7,067

votes (8.32).

In suburban Cook County,

Rush tacked on another

16,861 votes (58.62).

Gad followed with 5,349

(18.60).

Rush also won Will

County with 4,093 votes

(42.45). Gad was closest

there, with 2,859 (29.65).

Emmons follows with

1,592 (16.51), then Matthews

with 1,098 (11.39).

FREE ESTIMATES

LAWN CARE • TREE & SHRUB CARE

Lawn-Tech , LTD. (708) 532-7411

SINCE

1984

LAWN CARE

ALL DRY

FERTILIZER

PROGRAMS

r

r

W

W

r

TREE &

SHRUB CARE

r

r

r

Thank you for Voting us Best Lawn Care 5 Years in a Row!!!

FIND OUT WHY 13,000 CUSTOMERS IN THE

SOUTHWEST SUBURBS LOOK FORWARD TO

OUR FAMILY OWNED BUSINESS

CARING FOR THEIR PROPERTY

-Mark&Sue Spence, Owners

5-TIME winner
---
mokenamessengerdaily.com news

the mokena messenger | March 26, 2020 | 5

Virtual programs remain active at Mokena cancer center

2

Mary Compton

Freelance Reporter

Going through cancer is

tough, and going through

cancer amidst a pandemic

can create more anxiety

than usual. The Cancer

Support Center of Mokena

wants to make sure that its

patients are not alone.

"Because of the recommendations

from the [Centers

for Disease Control

and Prevention], we had to

close our doors with oneon-one

direct contact with

our participants," said Sue

Armato, executive director

of The Cancer Support

Center.

"We have engaged activities

so we can still support

our participants using virtual

options," Armato said.

"One of the things we're

doing is anyone who has a

therapy appointment, nutrition

counsel or needs to

talk to somebody, they can

talk to our therapist over

the phone. We also have

a wide range of programs

on our website that people

can watch at home."

Armato said that new

videos will continue to be

posted every week.

Because of concern

about the coronavirus, two

major fundraisers for the

Cancer Support Center

have been rescheduled.

The Casablanca Casino

Night gala that was scheduled

for May 1 will now

be held on Oct. 30 at the

Olympia Fields Country

Club, and the Spring Walk

of Hope scheduled for

May 17 has been rescheduled

for June 21.

Also because of the

coronavirus, a special program

has been implemented

for mental wellness.

"We want to reduce anxiety

by conference calls,"

Armato said. "Participants

can call in and hear the

presentations remotely.

We're also going to be

doing wellness checks for

people who are active participants

who have been

coming to the center for

the past 12 months, we

are checking in with them.

We're still having opportunities

for people who still

want to plug in."

Armato encouraged

people to visit The Cancer

Support Center's Facebook

page to get updates

and access all the new information.

Armato encourages

those who have been recently

diagnosed with cancer

to call the center.

With rewards for safe behavior that

protects what matters most, rather

than penalties for what doesn't go

quite right. And with the support you

need, every step of the way. For your

car. Your home. For your unique life.

Dream fearlessly with

American Family Insurance.

Contact me today.

Donations can be made

on The Cancer Support

Center's website at cancer

supportcenter.org, or

checks can be mailed to

The Cancer Support Center,

19645 S. LaGrange

Road, Mokena, Illinois

60448. For more information,

call (708) 478-3529.

Maria Hohman, Agent

Bus: (815) 464-6155

mhohman@amfam.com

American Family Mutual Insurance Company, S.I. &

its Operating Companies, American Family Life Insurance Company,

6000 American Parkway, Madison, WI 53783

©2020 017720 – 1/20 – 12011156

Thank you for voting us

Best Window and Door

for 5 Years in a Row!

5-TIME winner

Windows

Interior & Exterior Doors • Mirrors & Glass

Millwork • Shower Doors

Professional Installation & Service

Serving Chicagoland for over 60 years!!

Visit our 4,000 square foot showroom to view our wide selection of products

CALL US TODAY FOR A FREE ESTIMATE ON WINDOW REPLACEMENTS!

18445 Thompson Ct. Tinley Park, IL

708.342.0900 | www.schaafwindow.com

Follow us on
---
6 | March 26, 2020 | the mokena messenger news

mokenamessengerdaily.com

Coronavirus pandemic begins to shape new normal for community

T.J. Kremer III, Editor

With the rapidly developing

situation that is the

coronavirus pandemic,

The Messenger wants our

readers to have the most

up to date information possible.

The following articles

have been published online

for free at Mokena

MessengerDaily.com, and

DRIVE

CAR BUYERS

there is a dedicated page

on our website with all

the latest area-wide information,

which readers

will find at the top of our

website. The Messenger

encourages our readers to

utilize these resources to

remain informed and safe

during these trying times,

as we will continuously

update these and other articles

as they happen.

TO YOUR DOOR WITH A

CLASSIFIED AUTO AD

708.326.9170

22ndcenturymedia.com

First death related to COVID-19 in Will County reported by State

T.J. Kremer III, Editor

A case of COVID-19

has led to a death in Will

County, the Illinois Department

of Public Health

announced Thursday,

March 19.

As of press time Monday,

March 23, the total

deaths in the state related

to the illness were nine.

Currently, IDPH is reporting

a total of 1,049

cases in Illinois, 21 of

which have been reported

in Will County. Cases

have occurred in ages 9 to

99.

Will County Executive

Larry Walsh on March 16

issued a Proclamation of a

Disaster for Will County

via email in relation to

the COVID-19 outbreak

across the county. This

proclamation will activate

the county's emergency

response plans to assist

the residents during this

time, according to the

email.

The email advised to

limit gatherings with more

than 50 people and to consistently

wash hands and

use hand sanitizer. People

also are encouraged to

self-quarantine to limit the

spread of the virus.

The Will County Health

Department is recommending

the following

actions be taken for those

who feel they may have

been exposed to the coronavirus:

• Isolate yourself and

self-monitor for the symptoms.

This includes taking

your temperature three

times daily (morning,

afternoon, evening) to

check for a fever, along

with watching for other

symptoms such as cough

and shortness of breath.

• If you do have these

symptoms, you are asked

to phone your medical

provider for an examination,

as your medical

provider is the one who

knows you and your family's

medical conditions

best. Always call ahead

of time, as your provider

may have certain times or

areas where they prefer

symptomatic patients to

go.

• Call the hotline. The

Will County Health Department

has established

a Coronavirus hotline for

questions, available from

8 a.m.-4 p.m. Monday

through Friday at (815)

740-8977.

Residents are encouraged

to continue to monitor

the Centers for Disease

Control and Prevention's

website for more information:

cdc.gov/

coronavirus/2019-nCoV/

index.html.

VENDORS

WANTED

PRESENTED BY

22ND CENTURY MEDIA

Join the LARGEST women's

VENDORS

expo in the southwest suburbs!

WANTED

Deadline

NEW DATE!

Deadline

6-10 p.m.

Wednesday, June 17

Tinley Park Convention

Center, 18451 Convention

Center Drive, Tinley Park

ONLY 10 SPOTS LEFT!

WEDNESDAY,

MAY 27

10 a.m.–2 p.m.

Saturday, Feb. 22

WEDNESDAY, Northbrook Court - Lower Level,

FEB. For more 5 information, 1515 Lake call Cook (708) Road, 326-9170 Northbrook, ext.16 IL

or visit 22ndCenturyMedia.com/lady

For more information, call (708) 326-9170 ext. 16 or

visit 22ndCenturyMedia.com/camp

LWSRA provides timeline,

answers questions about

participant who tested

positive for COVID-19

Bill Jones, Managing Editor

Lincolnway Special

Recreation Association

provided additional information

March 18 about a

situation involving one of

its participants who tested

positive for COVID-19

after taking part in three

events in early March, in

response to questions the

organization said it has

received since publicly

addressing the situation

March 16.

LWSRA issued a letter

March 18, offering a

timeline, message from

the parent of the Cook

County resident who reportedly

tested positive

for COVID-19 and answers

to some frequently

asked questions about the

situation.

The timeline says the

participant may have

come in contact with

someone at Elim Christian

Services in Crestwood

who tested positive

for the coronavirus,

though the letter from

LWSRA emphasizes this

has not been confirmed.

Coronavirus

update

to Village

services

Submitted by the

Village of Mokena

All Village facilities

remain open for business;

however, a number

of practical, common

sense operational adjustments

have been made

in the interest of protecting

the health, safety,

and well-being of you

and your family, as well

as Village elected officials

and staff.

Village Hall – 11004

Please see lwsra, 8 Please see services, 10
---
mokenamessengerdaily.com mokena

the mokena messenger | March 26, 2020 | 7

READY TO SELL

YOUR REAL ESTATE?

Call

MIKE MCCATTY

GROUP

5000 SOLD

BILLION IN SALES

AFFILIATED

FILIATED

708.945.2121

mccattyrealestate.com

BREATHTAKING MANSION • ORLAND PARK • $799,000 ESTATE - INDOOR POOL • ORLAND PARK • $1,100,000 ALL SPORTS LAKE • MORRIS • $1,150,000

NEW 2 STORY • ST. JOHN, IN • $400's

MODERN FRENCH CHATEAU • NEW LENOX • $1,899,000 1.3 ACRE ESTATE • PALOS PARK • $965,000

HGTV REMODEL • ORLAND PARK • $799,000

NEW RANCH MODELS • ORLAND PARK • $500's PRESTWICK ESTATE • FRANKFORT • $545,000
---
8 | March 26, 2020 | the mokena messenger News

mokenamessengerdaily.com

NL native making motorcycle trip around the world

Sean Hastings

Contributing Editor

David Smith, a New

Lenox native and 2010

graduate of Lincoln-Way

Central, has known he

wanted to do a big trip and

adventure since he was in

the academy. And when he

was active duty, he would

lay in his bunk and dream

of what that trip would be.

The trip was going to be

on a motorcycle. Some of

the inspiration came from

a book from the '70s called

"Jupiter's Travels."

Just a few years later,

that trip has begun. Smith

embarked on his motorcycle

March 4 from "his

backyard" in Washington

D.C., where he currently

lives.

The plan has been in the

works for three years.

"There's so many different

facets," Smith said.

"What type of motorcycle

do I want? And what do

I want to bring? I didn't

Pictured is the map of David Smith's route.

want to bring too much

because I have to carry it

on the bike. I wanted to

launch from New Lenox. I

thought it would be poetic.

But when I was getting

discharged and the time of

year, I didn't want to push

it off."

The trip is to help raise

awareness for veteran suicide.

He said that every

duty station he was at,

there was some form of

self harm or suicide.

He is teaming up with

Vets4Warriors.com.

"I didn't hear about them

when I was active duty,"

Smith said. "I think there

are a lot of people who

could [benefit] from hearing

about them. There are

a lot of people in my network

who are active duty."

Smith, himself, got out

of the military Nov. 1. He

served as a Navy Officer

and graduated from the

United States Naval Academy

at Annapolis with a

degree in mechanical engineering

in 2014

Smith is giving himself

12-18 months to finish the

entire trip.

In planning his trip,

Smith said he spent more

time planning in the other

counties since he is not

as familiar. In the United

States, he said he has

it planned out, but also

dropped pins on places he

wanted to see and "connected

the dots."

The support he has received

is far more than

what he expected.

"I've been completely

blown away by the response

people have given

me," he said. "It's been

1,000 times more than

what I expected. People I

haven't talked to in years

have reached out. The guy

I stayed with in Charleston,

South Carolina, just posted

an Instagram story saying

it's cool to see someone

pony up and go do their

dream. People have been

sharing stuff, too."

At first, Smith did not

think the coronavirus was

going to hinder his trip too

much, but the last couple

weeks ended up doing

that. He said he has had to

reroute around cities, but

is still pushing forward

Pictured is New Lenox

native David Smith.

Photos Submitted

with the adventure.

Once he makes his way

across the U.S., he is shipping

the bike to Australia

where he will then ride

across.

He added that he has

learned about the best way

to take the trip across Australia

and has had friends,

and friends of friends,

reach out to him and offer

a place to stay while he is

out there.

Smith's father, Dave

Smith Sr., plans to join his

son on the Mumbai leg of

the trip.

"This is huge," Smith Sr.

said. "I'm extremely proud

of the boy. He is an amazing

individual. He has not

failed on anything he's

wanted to do."

Smith Sr. has never had

a chance to ride with his

son. He gave it up when

Smith was 1 or 2 years old.

For those interested in

following along with his

trip, follow him on Instagram

@westwardmoto

or at westwardmoto.com.

At press time, he was in

Texas.

"It happened fast. It's

really crazy to see something

go from when I was

in deployment daydreaming.

I felt like the guy from

Forrest Gump starting the

shrimp company," he said

with a laugh. "It's starting

to materialize and now I'm

on the road, it's been awesome."

lwsra

From Page 6

That LWSRA participant

then attended a Shamrock

Shuffle event March 6

at the Orland Park Civic

Center, spending 20 minutes

around 6 p.m. at the

LWSRA facility.

HIRING

Then, on March 8 the

participants attended a

Chicago Wolves game, as

part of an LWSRA program,

during which the

group sat in Section 116;

Rows P, Q and R; Seats

1-7. And on March 9, the

individual was part of an

LWSRA program at Thunderbowl

in Mokena.

LWSRA said the bowling

alley also was notified.

According to the participant's

family, the individual

did not show symptoms

of COVID-19 until March

12, and LWSRA said it

was not aware at that time.

Need help staffing your

business or finding

volunteers during this

time of need?

WE'RE HERE TO HELP!

Reach out to our Recruitment Team today

to get help FAST.

(708) 326-9170 ext. 46 • n.pavlina@22ndcenturymedia.com

The person tested positive

for the coronavirus at

Northwestern Hospital in

Chicago, as previously reported.

On March 13, the association

said it canceled

programs, and cleaned

buses and vehicles, unaware

that an individual

was infected but to address

growing coronavirus concerns.

LWSRA received notice

of the positive coronavirus

test on March 16. It closed

the Lincolnway Special

Recreation Center that

day, according to the letter,

and staff started to notify

people.

LWSRA confirmed in

the letter that the participant

was on buses, which

were sanitized after the

March 6 and March 8

events. Daily sanitizing

started March 13 in an effort

to be "proactive," according

to LWSRA.

The organization said

no one on its staff has

been experiencing symptoms.

The letter also

notes the participant did

not take part in a March

9 lunch, but was on the

bus the day prior to that

program going out. It also

notes LWSRA moved a

polling place and canceled

a board meeting "in

the best interest of the

community."

The Q&A adds that

LWSRA will not provide

participant information,

but anyone who thinks

their children have directly

contacted the individual

should self-isolate for

14 days and monitor for

symptoms. The letter also

suggests notifying one's

primary care physician if

symptoms develop.

LWSRA's building and

buses are to be cleaned

and sanitized the week of

March 27.

The LWSRA is a nonprofit

organization that

serves those with mental

and physical disabilities

through athletic, social

and educational programming.

LWSRA programming

is suspended

through April 5, and

its offices until March

30, in accordance with

Centers for Disease

Control and Prevention

guidelines.

Publisher Joe Coughlin

contributed to the reporting

of this article.
---
mokenamessengerdaily.com mokena

the mokena messenger | March 26, 2020 | 9
---
10 | March 26, 2020 | the mokena messenger news

mokenamessengerdaily.com

FROM THE FRANKFORT STATION

Virtual gallery lets

residents appreciate area

artists from home

The Frankfort Arts Association's

downtown

gallery may be temporarily

closed, but community

members can still enjoy

local artists' work by visiting

the organization's

newly-launched digital

gallery.

The association's latest

exhibition, titled "Treasures,"

challenged artists

to create artwork with a focus

on something valuable

to them. Originally slated

to run March 8 through

April 25 at the physical

gallery, the exhibition has

since moved to an online

format at frankfortarts

association.org/treasuresexhibit.

Frankfort Arts Association

board member Katie

Stempniak said the organization's

leadership opted

to create the digital gallery

in an effort to help "flatten

the curve" by reducing potential

community spread

of COVID-19.

"We just wanted to be

able to give the community

somewhere to go and

virtually appreciate some

of the art, and give them

the option to purchase it if

they wanted to," Stempniak

explained. "We want

to be part of the community,

and whether it's

in-person in the gallery,

a pop-up gallery or a virtual

gallery, we just want

to support local arts and

artists."

Nearly three dozen artists

from Frankfort and

surrounding communities

contributed work to the

juried exhibition. The submissions

include photography,

sculptures, paintings,

pastels and jewelry,

Stempniak said.

Reporting by Nuria Mathog,

Editor. For more, visit Frank

fortStationDaily.com.

FROM THE TINLEY JUNCTION

Tinley police chief warns

residents at-home

coronavirus testing 'does

not exist'

Some recent Facebook

postings surrounding coronavirus

concerns have

warned the public that

scammers are going doorto-door,

claiming they are

authorized to administer

at-home tests.

Tinley Park Police Chief

Matthew Walsh said the

police station has not received

any calls related to

it but that it is still important

to let residents know

"this does not exist."

"Do not let people in

[your] house to be tested

for this virus because it

does not exist," Walsh

said. "There's not enough

kits available, and there's

nobody that's doing that."

Assistant Village Manager

Pat Carr said in an

email to The Junction

that he also has not heard

of anything like this in

the area, but the Village

of Tinley Park is not testing

anyone. He added that

testings are to go through

an individual's health care

provider.

Carr is involved in a new

volunteer initiative with

other residents to provide

assistance to those who are

at-risk individuals and the

elderly.

"What I was told was

any deliveries of food or

anything would be made

by people in uniform in a

Tinley Park marked vehicle,"

Walsh said. "Volunteers

would be making

phone calls to those that

might possibly be in need."

Volunteers will have

proper credentials and

identification, Walsh added.

Reporting by Jacquelyn

Schlabach, Editor. For more,

visit TinleyJunctionDaily.

com.

FROM THE ORLAND PARK PRAIRIE

Joey's donates roughly

500 pizzas to people

helping in Chicago area

Two Orland Park businesses

have been helping

those helping others

by making sure they are

well-fed — to the tune of

roughly 500 pizzas.

Joey's locations in both

Orland Park and Morgan

Park teamed up with

Nick's Painting & Decorating

Inc., of Orland Park,

to deliver the pizzas March

19 and 20 to first responders,

family shelters, city

workers, medical staff and

more in the Chicago area.

Nick Ipema, owner of

Nick's Painting, said the

idea started with interior

designer Susan Devito,

who wanted to serve the

community during its response

to the coronavirus

pandemic. She wanted to

"be a light for those that

serve us daily," Ipema

said.

The original plan was to

provide goods, doughnuts

and other items to people,

but Ipema started making

calls and found everyone

was short on food and had

limited supplies.

"We wanted to do something

big," he said. "So,

I was conjuring up ways

that we could get a lot

of food, quickly and efficiently,

without taking

over a shop's entire product

and workload."

He turned to friends Anthony

Nardo and Nick Iozzo,

of Joey's. And Joey's

Pizza soon became the

topic of discussion.

"What an excellent way

to get food out to these

people," Ipema said. "We

could stagger the deliveries

every three hours, and

I could have my guys use

our vans to deliver."

Ipema said both Joey's

and Nick's are seeing a

slowdown in business, so

this effort became a way to

put their combined talents,

employees and business

tools to use.

Reporting by Bill Jones, Editor.

For more, visit OP

PrairieDaily.com.

FROM THE HOMER HORIZON

Neighborhood comes

together to provide safe,

fun activity for kids

As the world around

them stopped and people

sealed themselves inside of

their homes, one neighborhood

in Homer Glen found

a unique way to get out of

the house while practicing

social distancing.

On March 17, residents

of the Pebble Creek neighborhood

put shamrocks in

their front windows and

challenged local children

to find as many as they

can. Throughout the rest of

the week, it offered a way

Please see nfyn, 11

services

From Page 6

Carpenter St.

• While regular operating

hours continue to be

maintained, we encourage

you to conduct business

with us over the phone at

(708) 479-3900, or online

for the immediate term.

• Water shut-offs for

non-payment of Village

utility bills are being temporarily

halted.

Mokena Police Department

– 10907 Front St.

• Shift strength has been

increased during certain

times each day to offer

greater service to residents

and businesses.

• Public contact for nonemergency

service calls is

being limited. In practical

terms, this means a police

officer may respond to you

over the phone rather than

meeting with you in person.

• Emergency calls for

service (crime or a lifethreatening

medical situation)

will continue to be

answered promptly. Simply

dial 911.

• All on-site public services

(including public

fingerprinting, child safety

seat inspections and drug

take-backs) have been

temporarily suspended.

Precaution guidelines

While the current environment

presents significant

challenges, your

Mokena Village Board and

staff remain committed to

providing the best possible

service to you during this

difficult time.

Social distancing is a

necessary defense in the

battle against this novel

coronavirus; however, we

encourage you not to forget

about our local Mokena

businesses. They need

your support. Did you

know that many Mokena

restaurants have adapted to

Governor Pritzker's recent

executive order (closing

bars and restaurant dining

areas) by providing carryout,

drive-thru, pick up/

take-out and/or delivery

services.

To be fair, these are

highly challenging times,

but together we will get

through this.

As we have previously,

we urge you to utilize the

following resources to inform

and protect yourself

against the possibility of

this disease:

• Illinois Coronavirus

Hotline: (80) 889-3931

• Centers for Disease

Control: cdc.gov/

coronavirus/2019-ncov/in

dex.html

• Illinois Department

of Public Health: dph.il

linois.gov/topics-services/

diseases-and-conditions/

diseases-a-z-list/coronavi

rus

• Will County Health

Department:will

countyillinois.com/Coun

ty-Offices/Public-Healthand-Safety

You should also continue

to practice the common

sense actions listed below:

• Wash your hands often

with soap and water for at

least 20 seconds. If soap

and water are not available,

use an alcohol-based

hand sanitizer with at least

60% alcohol.

• Avoid touching your

eyes, nose, and mouth with

unwashed hands.

• Avoid close contact

with people who are sick.

• Stay home when you

are sick.

• Cover your cough or

sneeze with a tissue, then

throw the tissue in the

trash.

• Clean and disinfect

frequently touched objects

and surfaces.

Finally, be assured that

Mayor Frank Fleischer,

Clerk Melissa Martini, and

your Board of Trustees,

along with Village staff,

are working closely with

our partners at the federal,

state, and county levels regarding

developments and

additional resources that

may become available to

combat this public health

issue.

Stay healthy, stay safe,

and remain vigilant. We're

all in this together.
---
mokenamessengerdaily.com news

the mokena messenger | March 26, 2020 | 11

Social snapshot

Top Web Stories

From MokenaMessengerDaily.com as of

Monday, March 23.

1. Breaking News — LWSRA participant

tests positive for coronavirus

2. Breaking News — 10 coronavirus

cases now reported in Will County

3. Patient tests positive for the

coronavirus at Silver Cross Hospital

4. UPDATED: LWSRA provides

timeline, answers questions about

participant who tested positive for

COVID-19

5. Mokena medical group offers driveup

coronavirus testing

Become a member: mokenamessenger.com/plus

From the Editor

On the value of living virtually

TJ Kremer iii

tj@mokenamessenger.com

Technology is often

viewed as both a

curse and a blessing,

and we are seeing

clear examples of that as

the coronavirus pandemic

continues to affect our

community.

There is no doubt that

modern technology has

contributed to the spread

of the pandemic, with

travel taking such a large

role. Because people were

so easily able to hop from

one place to the next via

airplane or some other

mode of transportation

during the early stages

of the pandemic, untold

numbers who may have

otherwise remained unaffected

potentially became

infected.

But, through the wonders

of the virtual world,

not all ties to the outside

world have been cut.

We are seeing community

members reach

out to others who need

assistance via the internet.

In particular, a group of

Mokenians has started a

nonprofit group, Mokena

Strong. (That story is on

Page 3.)

Even area churches are

turning to modern technology

in order to provide

spiritual comfort to their

followers. (That story is

on Page 15.)

In the coming days,

weeks and —likely —

months, we will become

even more dependent on

technology to keep us

connected.

But we cannot forget

that there are some people

who either do not have access

to the internet, or are

not proficient enough to

utilize this technology.

We must continue to

provide as best we can the

latest news and updates to

those who are unfamiliar

with or unwilling to use

this technology, as well as

to continue to check in on

them to offer any assistance

that we can.

Technology can help us

get through these trying

times. But, for all of us

to get through it together,

we must do our best to

keep those who lack the

technology in the loop as

best we can.

"#9pmroutine"

Steve Frank posted this to Mokena Neighborhood

Watch's Facebook page Saturday,

March 21.

Like The Mokena Messenger: facebook.com/

mokenamessenger.com

"Go to MOKENALIBRARY.ORG , click on

Reference, and then scroll down and click

on Tutor.com Live Homework Help to get

started for FREE!"

@MokenaLibrary posted this on its

Twitter account March 18.

Follow The Mokena Messenger: @mokenamessenger

nfyn

From Page 10

for youths to get out of the

house and burn some energy.

It also gave parents a

way to get a few minutes

of relief and relaxation.

Kaitlyn Yoder, a resident

of Pebble Creek, found out

about the hunt on Facebook.

"It falls under the social

distancing guidelines,

because we can all do it

from our houses and decorate,"

Yoder said. "But we

can still get out and walk

around the neighborhood

and ride bikes with your

family and make a game

of it."

With the world slowing

down, people are coming

to terms with the fact that

some things they have enjoyed

in the past might not

be there for them as the

coronavirus continues to

spread across the country.

"This way, we still get to

kind of celebrate St. Patrick's

Day and get out of

the house while doing it,"

said Yoder, who was wearing

a green White Sox shirt

and green socks as she

worked from home.

After the work day was

over, Yoder and her husband

took their two daughters

out hunting for shamrocks.

Reporting by Benjamin

Conboy, Assistant Editor. For

more, visit HomerHorizon

Daily.com.

CONTACT

Sound Off Policy

Editorials and columns are the opinions of the author. Pieces from

22nd Century Media are the thoughts of the company as a whole.

The Mokena Messenger encourages readers to write letters to Sound

Off. All letters must be signed, and names and hometowns will be

published. We also ask that writers include their address and phone

number for verification, not publication. Letters should be limited

to 400 words. The Mokena Messenger reserves the right to edit letters.

Letters become property of The Mokena Messenger. Letters that

are published do not reflect the thoughts and views of The Mokena

Messenger. Letters can be mailed to: The Mokena Messenger, 11516

West 183rd Street, Unit SW Office Condo #3, Orland Park, Illinois,

60467. Fax letters to (708) 326-9179 or e-mail to tj@mok

namessenger.com.

www.mokenamessenger.com.

HELP YOUR

BUSINESS BLOOM

ADVERTISE YOUR BUSINESS IN

The Mokena Messenger

LORA HEALY

708.326.9170 ext. 31 l.healy@22ndcenturymedia.com

®
---
12 | March 26, 2020 | the mokena messenger mokena

mokenamessengerdaily.com

THANK YOU FOR VOTING US

BEST SENIOR LIVING FOR

FOUR YEARS IN A ROW!!!

WHAT MAKES TINLEY COURT DIFFERENT

THAN ALL THE REST?

Tinley Court offers a Unique Lifestyle of Catered Senior Living

All Residents monthly fees include:

• 3 Chef Prepared meals served to you by professional wait staff

• Full Daily activity program which includes

entertainment & trips

• Wellness Center offering podiatry, therapy,

x-ray, lab, hearing & dental services without

having to leave the building

• Weekly housekeeping

• Utilities

• Library, chapel, café, beauty/barber shop

• Walking distance to Tinley Park shops & restaurantsts

• Veteran's Financial Assistance available

WHAT DOES "CATERED

SENIOR LIVING" MEAN?

It means we understand that

each person has unique needs

and wants. At Tinley Court

those needs and wants will

be met with dignity,

respect and support.

Tinley Court strives to nurture individuality with a

sense of purpose in hopes of enriching one's life. We offer

a support system like no other senior community. Staffed

24 hours for the well-being and security of our residents.

Most Affordable Senior Living on the Southwest Side!!!

2017 WINNER

2018

WINNER

2019

WINNER

Call 708-532-7800

TO SCHEDULE A PRIVATE TOUR.

16301 S Brementowne Rd.,

Tinley Park, IL 60477

www.tinleycourt.com

SPRING

SPECIAL

1/2 OFF ENTRANCE

FEE IF THE DEPOSIT

PUT DOWN ON DAY OF

TOURING. LIMITED TIME

OFFER PLUS $200 OFF

OF YOUR MONTHLY

RENT FOR A 12

MONTH PERIOD

PET

FRIENDLY

Member of Tinley Park Chamber of Commerce Since 1994

2020 WINNER

22nd Century Media has an opportunity available for a

Digital Marketing Sales Director

to join its growing sales team. The position would be responsible for the sales of various

digital marketing solutions, such as reputation management, social media marketing,

and targeted display ads.

The Digital Marketing Sales Director will work with an established sales team to sell our

marketing services to new and existing clients!

The ideal candidate would possess an entrepreneurial spirit and a drive to work with

our sales team as well as small and medium-sized businesses. Candidates should

be comfortable with spending large amounts of their time calling existing and

prospective clients to help them find their most effective advertising solutions. You will

also be expected to be the liaison between clients and getting them on board with

our digital marketing services.

This position offers a base salary plus commission. A comprehensive benefits package

is also available.

What you are responsible for:

- Proactively prospecting and qualifying potential new advertising accounts

- Going with sales reps on calls to existing clients to sell them IMC services

- Developing and maintaining client relationships

- Working closely with clients to develop effective advertising campaigns

- Working with decision-makers to obtain customer commitment

- Working with our digital marketing team and clients to make sure their campaigns

are successful

- Onboarding new clients and be a liaison between our marketing and the client.

- Achieving and exceeding weekly revenue targets

Qualifications:

Ideal candidates will possess 1-3 years of experience in sales, digital marketing or social

media marketing. Must have a strong work ethic and ability to work independently

as well as with a team. Excellent communication skills, time-management, and

interpersonal skills required.

If interested, Email us at

careers@22ndcenturymedia.com

APRIL BLAIR

Broker

No phone calls, please. EOE

• Lifelong resident of the

LincolnWay area

• Full time realtor since 1992

• Remodeling & staging

experience

• Competitive commission rates

• Professional photography

included with all listings

(815) 954-4443 Cell

april.blair@comcast.net

www.AprilBlairHomes.com
---
the mokena messenger | March 26, 2020 | mokenamessengerdaily.com

History lesson

Contributing Columnist Matt Galik reexamines

flu pandemic of 1918, Page 15

Curbing the spread Chesdan's

provides curbside service, talks cleanliness amid

growing coronavirus concerns, Page 16

Mokena church goes digital to reach parishioners, Page 15

The Rev. Dindo Billote prepares to celebrate Mass to a mostly empty St. Mary Church in Mokena Sunday, March 22. The Mass was livestreamed on social

media because of concerns about the coronavirus and large gatherings of groups. T.J. Kremer III/22nd Century Media
---
14 | March 26, 2020 | the mokena messenger faith

mokenamessengerdaily.com

Faith Briefs

St. Mary's Catholic Church (19515

115th Ave., Mokena)

All events canceled until

further notice. For more

information, call (708)

326-9300.

St. John's United Church of Christ

(11100 Second St., Mokena)

All Church Services and

activities are currently suspended.

For more information,

call (708) 479-5123.

Mokena United Methodist Church

(10901 LaPorte Road, Mokena)

Sunday worship is suspended.

For more information,

call (708) 479-1110.

Marley Community Church (12625 W.

187th St., Mokena)

All programs and services

have been suspended

until further notice. For

more information, call

(815) 485-8587.

Immanuel Evangelical Lutheran Church

(10731 W. La Porte Road, Mokena)

All church services and

activities have been suspended

until at least April

5. For more information,

call (708) 479-5600.

Parker Road Bible Church (18512

Parker Road, Mokena)

Worship Service will

be streamed online. Sunday

School and our other

weekly groups are canceled

until further notice.

For more information, call

(815) 463-1125.

Grace Fellowship Church (11049

LaPorte Road, Mokena)

All events and worship

services have been canceled

until further notice.

For more information, call

(708) 479-0300.

Have something for Faith

Briefs? Contact Editor T.J.

Kremer at tj@mokenames

senger.com or call (708)

326-9170 ext. 29. Deadline

is noon Thursday one week

prior to publication.

Robin's Nest

Seeing how love can make a difference

Robin Melvin

Contributing Columnist

Our world is highly

anxious and so

easily panicked.

But, take heart. Spring

is about to bloom. In

fact it already has. T.J.

Kremer's article here in

The Messenger a couple

weeks ago, "Out of tragedy

springs opportunity,"

proves there is always

something good and

wonderful happening.

Jesus tells us that a

true neighbor is someone

who stops to help

another. Especially in the

midst of pain and unsure

times.

That's what happened

in February as hundreds

of neighbors gathered to

support the Manka family

whose son, Jacob, died

last spring. His dad said,

"There's a lot of love in

this building … And yes,

it does help. We don't

know what tomorrow

will bring but we know

that we have people who

care and are praying for

our family. So, yeah, it's

definitely helpful."

There were neighbors

in need and neighbors

who stopped to help.

Jacob's spirit, his passion

to help others, is

quite alive. And I believe

Jacob was loved well,

too. He's still making a

difference because that's

what love does.

With tons of negative

media out there, we

need to hold on to these

good stories, these God

stories. Like another I

hear from a friend who's

helping Nashville rise up

from tornadoes that hit a

couple weeks ago.

"As I worked as a crisis

counselor yesterday,

in the most devastated

area after the tornadoes, I

heard over and over how

neighbors are helping

neighbors. One person

said 'It doesn't matter

what color they are, what

party they voted for,

they're humans in need

just like us.'"

Ya'll, Nashville and

Mokena show us what

neighborliness is all

about. This is how we

change our communities

and our world. With

kindness and compassion,

we are the heart,

hands and feet of Jesus.

"We the people" break

down dividing walls and

rise strong together.

Death and devastation

don't get the last word.

The cross is empty.

And because hope rose,

we have the power to

redeem. We have the

tenacity to use pain for

good purpose. By putting

Please see robin, 16

Here's the good word

"I subscribed for

the breaking local news,

(and) it is great to see what

is going on in our area and

local sports coverage."

— Ryan Johnson,

of Frankfort

"Love being kept

informed of local news

and events. The online

(version) is easy to read and

very informative."

— Mary Smith,

of Lockport

"Get the latest

neighborhood news in

real time via email and can

share with other

family/friends."

— Rosemarie Melnik,of

Tinley Park

Join thousands of

your neighbors

who get daily local

news, alerts,

and more with a

digital subscription

"I enjoy the digital

subscription because

the content is very informational.

… Keep doing what

you're doing!

— Tony Gugliuzza, of

New Lenox

"I get to read the

articles before the

newspaper arrives AND I get

to read all of the other 22nd

Century Media papers."—

MaryEllen Smolinski,

of Mokena

" I subscribed

because I feel it is

important to know what is

going on in and around my

community"

— Joan Pavlik, of

Homer Glen

"I like the

hyper-local aspect. ...

Also, the reporting seems

to be faster on breaking

stories than any other local

news sources."

— Joseph Solek, of

Orland Park

Starting at just

$3.25/month

Subscribe today at MokenaMessenger.com/Plus

or scan the QR for a direct link
---
mokenamessengerdaily.com life & arts

the mokena messenger | March 26, 2020 | 15

Churches turn to technology in time of crisis

3

T.J. Kremer III, Editor

As Rev. Dindo Billote of

St. Mary Catholic Church

in Mokena prepared for

Sunday Mass this past

weekend, he recognized

he and the church were in

uncharted territory.

Instead of preparing to

greet in person the 100 or

so parishioners that regularly

attend the 9:30 a.m.

Mass, Billote was preparing

to greet them in a

somewhat unconventional

manner: online.

Because of restrictions

on gatherings implemented

by the State of Illinois

and recommendations by

the Centers for Disease

Control and Prevention,

churches across Mokena

are turning to technology

to reach their followers.

"And, so, we had wanted

to do something for

our people to keep them

spiritually connected to

our parish," Billote said.

"And while the Mass itself

is beautiful and should be

experienced live to receive

communion, we decided

since they can't have that

people should make something

called 'a spiritual

communion,' which is a

certain prayer that they

would say and receive the

eucharist that way spiritually."

That led Billote and the

Rev. Dindo Billote, of St. Mary Catholic Church in

Mokena, prepares for a livestream of Mass Sunday,

March 22. Churches are turning to technology in order

to reach followers who are no longer to gather in large

groups. T.J. Kremer III/22nd Century Media

church to get innovative

and livestream the Mass

on social media.

"The technology that we

have — and have never

had in the church 10, 20

years ago — [we decided]

to actually use that and

have livestream of the actual

Mass, which will be

taking place in our parish

church being filmed," Billote

said.

St. Mary Catholic

Church is among several

Mokena churches — including

Grace Fellowship

Church of Mokena, Immanuel

Lutheran Church

Mokena and Mokena United

Methodist Church — to

continue to try and reach

followers virtually.

With the nature of

church communities being

close-knit ones, shutting

the doors to the public

is a trying experience,

Billote said; however, he

added that being an online

presence for the faithful is

something to help lift people's

spirits up.

"We just can't wait for

the day when all this is

over and everyone again

is united with our community

because, basically,

we're a community and we

want to be together again,"

Billote said. "We want to

be together, for sure. So,

this is kind of whetting our

appetite for that day."

For more information on

online services, visit the

churches' Facebook pages:

@stmarychurchmokena,

@mokenaumc and @

GraceFellowshipMokena.

Matt's Old Mokena

Drawing comparisons between 1918, 2020 pandemics

Matt galik

Contributing Columnist

Much like the

spring of 2020,

the Mokena

of fall 1918 was a place

of worry. World War I

was reaching its bloody

end, and many village

families had loved ones in

the French combat zone.

Although the war was

winding down, American

casualties were still a daily

occurrence. A little over

a century ago, another

enemy reared its ugly head,

and this one too at home.

The new foe, the Spanish

flu pandemic, proved

itself to be just as deadly

as anything lurking in the

trenches of the Western

Front.

While the outbreak of

the illness is usually dated

as having begun in early

1918 and carried on until

the end of 1920, October

1918 bore the worst of it

in the United States. One

chronicler called the Spanish

flu the "greatest medical

holocaust in modern

history", while the London

Times wrote "never since

the Black Death has such

a plague swept over the

world." Anywhere between

50-100 million people

across the globe were lost

to the pandemic. Normal

strains of influenza are

most dangerous to the

children and the elderly,

while the variant from a

century ago was claiming

relatively young people in

robust health.

By Oct. 2, 1918, the first

recorded case in smalltown

Mokena cropped up

when 16-year-old Hugo

Niethammer fell ill. The

son of a Front Street hardware

merchant, the trouble

was compounded when

pneumonia also set in. But,

luckily, the lad was able to

pull through. Meanwhile,

just outside town, another

drama was unfolding. At

the time, the Rock Island

railroad housed 52 itinerant

Mexican workers in several

converted box cars on a

sidetrack about a quarter of

a mile east of Mokena. It

was here that the Spanish

flu's deadly tentacles

would wreak the most

havoc.

Over the course of

the second weekend in

October, the entire camp

was walloped with the

pandemic, entire families

coming down with it at

once. Mokena farmer

George Maue, who also

served as the supervisor

of Frankfort Township,

knew what was happening

and immediately went into

crisis mode, sending an

urgent call for doctors, of

which three Rock Island

physicians showed up that

Sunday. On Monday, Oct.

14, the railroad sent out

mattresses and blankets for

the ill, which was a step up

from the austere conditions

of the bare box cars they

were living in, the inhabitants

oftentimes sleeping

on the floors. Before long,

new cars were sent down

the line, while the old ones

were fumigated.

It was all to no avail. By

the end of that week, six

of the workers were dead,

including a young, freshly

married couple. The harvest

of human life also left

a baby motherless. Saddest

of all, time has not preserved

any of the victims'

names, whose immediate

burial was provided for in

St. Mary's Cemetery.

As October carried on,

hardly a family in the village

escaped the flu, the list

of infected reading like a

who's-who of Mokenians

in the era. The Wolf Road

home of Carl and Mable

Krapp was invaded by the

virus, while at around the

same time Clinton and

Dorothy Kraus, children

of the town barber, also

were knocked down with

it. Also included among the

sufferers were blacksmith

Albert Braun, postmaster

Ona McGovney and cattle

man John Cappel. Eighteen

people were displaying

flu-like symptoms on Oct.

14, and that the number

had dramatically climbed

to 25 two days later demonstrates

the rapidity with

which the Spanish Flu was

making short work out of

Mokena.

To protect village residents,

warning signs were

placed around town, and

the homes of the infected

Please see matt galik, 16
---
16 | March 26, 2020 | the mokena messenger dining out

mokenamessengerdaily.com

The Dish

Chesdan's remains operational with curbside pickup, delivery during pandemic

Business continues

to serve customers

their favorites

Thomas Czaja

Contributing Editor

With several modifications,

a Homer Glen business,

like many others,

is ready to keep filling

orders for the cuisine patrons

want during a global

pandemic.

Chesdan's Pizzeria &

Grille in Homer Glen has

had carryout and delivery

options for a while, meaning

it was prepared for recent,

indefinite changes,

according to owner Dan

Garr.

With Gov. J.B. Pritzker

mandating all bars and

restaurants in the state

eliminate dine-in through

March 30 because of

coronavirus concerns,

establishments are doing

what they can to keep

business going. Takeout

via pickup and delivery,

which Chesdan's does,

are still allowed, as are

drive-thrus.

"We are pretty well set

in terms of having boxing,

delivery bags," Garr said.

"We have quadrants set

up, and our staff is trained

to take credit cards over

the phone for deliveries

or curbside pickups."

The business announced

on its Facebook

page March 17 that while

patrons cannot currently

dine in, Chesdan's is not

limiting its menu for pickups

and delivery. During

this unprecedented time,

all deliveries are free and

taking place all day, beginning

at 11 a.m.

"Somebody can be out

in the parking lot, and

they can always call and

we'll run it out to them,"

Garr added about pickups.

In terms of cleanliness,

Chesdan's is following the

Centers for Disease Control

and Prevention guidelines,

along with sanitization

checklists. Staff there

wear gloves. Disinfectant

has always been at maximum

strength, and door

handles and pens that are

frequently used are being

wiped down as much as

they possibly can be.

Customers can still

walk in to pick up their

order, but if they are not

"Support your local restaurants.

It'll be good for everybody."

Dan Garr — Chesdan's owner

Chesdan's Pizzeria & Grille

15764 S. Bell Road in Homer Glen

Hours:

• 11 a.m.-10 p.m. Monday-Thursday

• 11 a.m.-11 p.m. Friday-Saturday

• Noon-9 p.m. Sunday

For more information ...

Phone: (708) 301-8300

Web: chesdanspizza.com

comfortable doing so

given the circumstances,

curbside remains the best

option, with a pickup area

set up on the side of the

building. That said, Chesdan's

is still trying to do

all it can for its employees.

"We are trying to keep

the waitstaff working,

because we do need hostesses

and people manning

the phones for deliveries,

pickups and things of that

nature," Garr said.

He noted on the first

day of the new guidelines,

on St. Patrick's Day, that

orders were still coming

in at a decent pace. On

March 17 on Facebook,

the business wrote, "A

great big thank you to all

our loyal Chesdan's customers

who are placing

those curbside pickup and

delivery orders! We love

you!"

Garr said since Chesdan's

makes everything

from pizzas to pastas to

sandwiches to desserts

and more, he expects a

mix of their offerings to

keep moving out the door.

Those in the mood for

a pizza can still get the

The king special personal-size pizza ($9.67) is a quick

option for an individual looking for a meal on the go

from Chesdan's Pizzeria & Grille in Homer Glen.

Thomas Czaja/22nd Century Media

likes of a large 14-inch

thin crust cheese ($18.50)

that serves 3-4 people,

or any of their other pies

with various sizing, pricing

and toppings.

Elsewhere on the menu,

the baked rigatoni ($17 or

$12.30 for the meta portion)

comes with tomato

Alfredo and mozzarella

cheese, with the option to

add spinach, mushrooms

or broccoli for $3 each.

That and the Parmesancrusted

tilapia ($15.55)

— served with garlic butter,

lemon and Parmesan

— are solid options during

Lent or anytime.

While it is unknown

what the future holds, including

if the no-dining in

mandate will be extended,

Garr and his staff are

ready and willing to keep

serving customers their

favorite menu items.

Those interested can

also order online with

DoorDash via the Chesdan's

website and/or follow

the eatery on Facebook

to keep up on the

latest with any potential

further changes.

"Support your local

restaurants," Garr said.

"It'll be good for everybody."

Robin

From Page 14

love's energy into the

living, we serve well and

suffer well. Yes, out of

tragedy springs opportunity.

"I imagine Lent for

you and me as a great departure

from the greedy,

anxious anti-neighborliness

of our economy, a

great departure from our

exclusionary politics that

fear the other, a great departure

from self-indulgent

consumerism that

devours creation. And

then an arrival in a new

neighborhood, because it

is a gift to be simple, it

is a gift to be free; it is a

gift to come down where

we ought to be.

"Self-giving God, call

us to walk the road of

newness—a new self,

a new society, a new

world, one neighbor at a

time. May we have traveling

mercies this Lenten

season. Amen." ~ Walter

Brueggamann

For more with Robin,

visit robinmelvin.com/

contact or on Facebook,

Robin Melvin, Author.

Also be on the lookout

for her story in a new

Chicken Soup for the

Soul book coming out in

April.

The thoughts and opinions

expressed in this column are

those of the author. They do

not necessarily represent

the thoughts of 22nd Century

Media or its staff.

matt galik

From Page 15

were quarantined. Like

our current battle against

COVID-19, all four village

churches and the Mokena

Public School were

closed until further notice,

and "gatherings of every

nature" were banned in

the incorporated limits.

Early on, 15-year-old Ruby

Bechstein of Mokena

Street was one of the ill.

On Oct. 16, she lost her

battle with the Spanish

flu, and has been remembered

by history as the

first resident of the village

proper to succumb to the

pandemic. The grim reaper

struck town twice that day,

when 33-year-old Emma

Schenkel was also claimed

by the virus. Their deaths,

along with those of the

Mexican railroad laborers,

led the local correspondent

to the Joliet Herald-News

to lament that week as "one

of funerals" for Mokena.

In keeping with quarantine

rules and the belief that the

flu thrived indoors, theirs

were held outside, while

crowds were kept away,

before the young women

were ultimately laid to rest

in St. John's Cemetery.

When we look back upon

the experience of our village

forebears, we can learn

from their example. Community

leaders placed rules

upon the town, and while

they were uncomfortable

and new, townfolk followed

them and came out of the

pandemic more resilient and

unified than ever.
---
mokenamessengerdaily.com puzzles

the mokena messenger | March 26, 2020 | 17

crosstown CROSSWORD & Sudoku The crosstowns: Frankfort, Homer Glen, Lockport, Mokena, New Lenox, Orland Park, Tinley Park

Crossword by Myles Mellor and Cindy LaFleur

Across

1. A.A.A. suggestion,

abbr.

4. Western wolf

8. Bother

13. Night of poetry

14. Much may follow

it

15. Orland Park

standout student,

Jaclyn

16. Be human

17. Heart

18. Bank profit source

19. Overstep a

boundary

22. Like Swiss cheese

23. Weather wetness

27. Character in "As

You Like It"

29. In view

30. First baseball Hall

of Famer

32. Philosophic

33. Go over

37. Cogged wheels

40. Abrogates

41. Car racing champ,

Castroneves

43. Indian lodging

(var)

45. Sandburg basketball

and soccer

player, Erin

48. Reagan and

Sinatra

53. Highly admiring

55. Country rocker

Steve

56. Decide in advance

58. Cold cream

61. Bloviate

62. Affront

63. Planet

64. "Veni, vidi, ___"

65. ___ pinch

66. James Patterson's

detective

67. First Lady of Jazz

68. Profit bringer,

cash ___

Down

1. Bounce back again

2. Overbearing fear

3. Sign up for college

4. Not really sing

5. "Step ___!"

6. Cover

7. Milo of "The Verdict"

8. Black trees

9. Estrange

10. Big conference in

the BCS

11. Army member

12. Prof's helpers, for

short

15. Think out loud

20. Caspian or Dead

21. French flower

24. Coal color

25. Declined

26. Parts of a min.

28. Boxer or chow, for

example

31. Hitter's tool

33. Sneaker

34. Chest muscles,

briefly

35. More than some

36. Bowling variation

38. Raccoon feature

39. Masseur's workplace,

maybe

42. Burdensome

44. Inactivity

46. Signs

47. Empty (of)

49. Rotating piece of

machinery

50. Of part of the eye

51. Meteorological

event

52. Playground piece

for two

54. Boldness

57. Abbr. on a business

letter

58. Director Jean-___

Godard

59. John Boyd ___:

nutritionist and nobel

prize winner

60. Confucian path

How to play Sudoku

Each Sudoku puzzle consists of a 9x9 grid that

has been subdivided into nine smaller grids

of 3x3 squares. To solve the puzzle, each row,

column and box must contain each of the

numbers 1-9.

LEVEL: Medium

Reach more than 88,000 homes and businesses!

2020 GUIDE

Crossword by Myles Mellor and Susan Flanagan

answers

Publishes:

THURSDAY,

APRIL 9, 2020

Space reservation deadline:

Wed, March 25

Ad approval deadline:

Tues, March 31

22ndcenturymedia.com

Call 708.326.9170 to reserve your Ad today!
---
18 | March 26, 2020 | the mokena messenger local living

mokenamessengerdaily.com

Lennan II

1 st Floor Master Suite With

Walk-in Closet and Large Bathroom

3 Spacious Bedrooms, Plus Loft and 2 1/2 Baths

Full Walkout Basement & Deck

Chicago Water - School System is Among the Best in the State

Homes Tucked Away in a Private Secluded Neighborhood

that Backs Up to a Open Natural Setting

Decorated Models are Open Mon-Thu 10am-4pm Sat/Sun Noon-4pm

Since 1970

Contact the Sales Center for details at

708.479.5111

and visit online any time at www.cranahomes.com

Friday by Appt.

Exit I-80 at La Grange Road south for just under twomiles to La PorteRoad andturn east for one-half mile to Brookside Meadows.

OPPORTUNITY
---
mokenamessengerdaily.com Mokena

the mokena messenger | March 26, 2020 | 19

UNLIMITED

REINVENTED

PLUS, CHOOSE ONE OF THESE PREMIUM SERVICES

WITH THE AT&T UNLIMITED &MORE SM PREMIUM PLAN * .

CALL NOW and ask about Next Day Installation.

Iv Support Holdings LLC

500 West Putnam Ave, Greenwich, CT 06830

877-803-6297

*Add to AT&T Unlimited &More Premium plan. Video may be ltd to SD. Must add TV benefits & Premium Add-on option at attwatchtv.com/verifywatchtv. Streaming limits apply.

Content, programming and channels subj. to change. Add'l charges, usage, speed & other restr's apply. See below for details.

AT&T UNLIMITED &MORE PREMIUM PLAN: Avail. to elig. customers only. Plan starts at $80/mo. after autopay & paperless bill discount w/in 2 bills. Enroll in both to get discount. Multiple Phone Line Discount: Monthly $15 (3 lines) or $30 (4 or more lines) discount applied to plan charge w/in 2 bills. Limits: After 22GB of data usage on a line in a bill cycle, for the remainder of the cycle, AT&T may temporarily slow data speeds on that line during

times of network congestion. Select devices only, 10/plan. See att.com/unlimited for plan details & pricing. Wireless Streaming: Plan includes Stream Saver which limits wireless streaming to max of 1.5 Mbps (to stream in HD (up to 1080p) when avail., turn Stream Saver off). Details at att.com/streamsaver. Streaming ability & resolution vary and are affected by other factors. Tethering/Mobile Hotspot: Includes up to 15GB per line/mo. After 15GB,

tethering speed will be slowed to max of 128 Kbps except for Connected Cars. WATCHTV: Add to &More Premium plan. To add, you must create account at attwatchtv.com/verifywatchtv, verify your wireless account & then you can access through WatchTV app or compatible browser. May require verification via text msg. Req's compatible device (sold separately). WatchTV subject to its own terms & conditions, see attwatchtv.com/terms-and-conditions for

details. Included channels, programming & content subj. to change & benefit may be terminated. Lost Eligibility: If you cancel elig. wireless svc, you lose access to WatchTV. Limits: Access to one WatchTV acct/wireless acct. Limit 1 concurrent stream with WatchTV. May not be stackable. Use only in the DCA. CHOOSE ONE: Elig. customers can add to AT&T Unlimited &More Premium for no extra charge. Use only in the DCA. Must create acct at attwatchtv.com/verifywatchtv,

verify your wireless acct & then select your one add-on. Music apps not avail. to Puerto Rico or U.S. Virgin Islands customers. May require verification via text msg. Req's compatible device (sold separately). May require acct creation and acceptance of third-party terms & conditions for certain add-on choices. Access to add-on is for 12 months; then may select new add-on option for next 12 months. Customers w/ elig. AT&T TV svc also get Premium

movie channel selection on that platform, which is billed & credited w/in 2 bills. Premium movie channel access ltd to WatchTV app only for customers in Puerto Rico and U.S. Virgin Islands, and for certain MDU customers. Included channels, programming and/or content subject to change and benefit may be terminated. Lost Eligibility: Upon cancellation of elig. wireless plan you may lose access. Limits: Access to one add-on per elig. wireless account. May

not be stackable. AT&T employees, retirees & IMO consumers are not eligible for the autopay & paperless bill discount, adding WatchTV at no extra charge or the &More Premium add-on. Offer, programming, pricing, channels, terms & restrictions subject to change and may be discontinued at any time without notice. GEN. WIRELESS: Subj. to Wireless Customer Agmt at att.com/wca. Svc not for resale. Credit approval, deposit, active and other fees, monthly

& other charges per line apply. See plan details & att.com/additionalcharges for more. Coverage & svc not avail. everywhere. International & domestic off-net data may be at 2G speeds. Other restr's apply & may result in svc termination. AT&T svc is subj. to AT&T network management policies, see att.com/broadbandinfo for details. HBO,® Cinemax® and related channels and service marks are the property of Home Box Office, Inc. SHOWTIME® is a registered

trademark of Showtime Networks Inc., a CBS company. You must be a SHOWTIME subscriber to get SHOWTIME ANYTIME® and watch programs online. STARZ® and related channels and service marks are the property of Starz Entertainment, LLC. Visit starz.com for airdates/times. Amazon, Amazon Music, and all related logos and motion marks are trademarks of Amazon.com, Inc. or its affiliates. The Walking Dead: ©2018 AMC Network Entertainment LLC. All

Rights Reserved. ©2018 Viacom International Inc. All Rights Reserved. ©2018 AT&T Intellectual Property. All Rights Reserved. AT&T, Globe logo, DIRECTV and all other DIRECTV marks contained herein are trademarks of AT&T Intellectual Property and/or AT&T affiliated companies. All other marks are the property of their respective owners.
---
20 | March 26, 2020 | the mokena messenger real estate

mokenamessengerdaily.com

Feb. 20

• 11869 Golden

Gate Drive, Mokena,

60448-2027 - Antonio

J. Gonzalez to David

W. Latko Jr., Marissa

Degroot, $555,000

Feb. 21

• 12526 Crystal Court

W, Mokena, 60448-

7102 - Chicago Trust Co

Na Trustee to Jessica

Ward, Zachary Ward,

$448,455

Feb. 24

• 19736 Foxborough

Diver, Mokena,

60448-1891 - Martin

Cosgrove to Stefano

Fazio, Elizabeth Fazio,

$118,500

Feb. 25

• 20130 Alison Trail,

Mokena, 60448-1688

- Diplomat Property

Manager Llc to Joseph

L. Earl, Joseph H. Earl,

$600,000

• 18133 Haas Road,

Mokena, 60448-8902

- Darren M. Zwonitzer

to John G. Heim, Jill M.

Heim, $550,000

• 10259 Cambridge

Court K, Mokena,

60448-7925 - Federal

Home Loan Mtg Corp

to Terry W. Hammar,

Sandra S. Hammar,

$160,500

The Going Rate is provided

by Record Information

Services, Inc. For more

information, visit www.

public-record.com or call

(630) 557-1000.

STAY UP TO DATE

ON 22CM EVENTS

IN YOUR AREA.

For more info visit

22ndcenturymedia.com/events
---
mokenamessengerdaily.com classifieds

the mokena messenger | March 26, 2020 | 21

CLASSIFIEDS

Help Wanted · Garage Sales · Automotive

Real Estate · Rentals · Merchandise

Sell It 708.326.9170 | Fax It 708.326.9179

Charge It | DEADLINE - Friday at 3pm

Automotive

$52 4 lines/

7 papers

Real Estate

$50 7 7 papers

lines/

Help

Wanted

1003 Help Wanted

Help Wanted

$13 4 lines/

per line 7 papers

Merchandise

$30 7 4 papers

lines/

1023 Caregiver

Automotive

1061 Autos Wanted

Business Directory

2003 Appliance Repair

QUALITY

APPLIANCE

REPAIR, Inc.

• Air Conditioning • Furnaces

Refrigeration • Dishwashers

Stoves & Ovens • Microwaves

Garbage Disposals

Washers&Dryers

Family Owned &Operatedsince 1986

Someone you can TRUST

All work GUARANTEED

BEST price in town!

708-712-1392

2004 Asphalt Paving/Seal Coating

Outside Work:

Lawn Fertilizing & Core

Aeration: Year-round &

Seasonal Employment

Potential for paid winters off.

Benefits incl. health, dental,

IRA. Good driving rec a must.

Time and a half over 40 hrs.

Apply in-person 8am - 3pm

Lawn-Tech, Ltd.

7320 Duvan Dr

Tinley Park, IL

708-532-7411

School Bus Drivers Wanted

Homer School District 33C

seeks quality individuals

to join our family of

school bus drivers.

$17.42/hr. + full benefits

available

Training provided.

Call (708) 226-7625

or visit homerschools.org

employment tab

Lawn Care Service

Looking for responsible,

motivated with driver's

license. Pay based on exp.

708.226.9322

Part-time Telephone Work

calling from home for

AMVETS. Ideal for

homemakers and retirees.

Must be reliable and have

morning &evening hours

available for calling.

If interested,

Call 708 429 6477

M-F, 10am - 1pm Only!

LAWN TECHNICIAN

Professional company

located in Frankfort

looking for reliable

individual to apply dry

fertilizer. Experience a

plus, but not necessary.

For interview call:

(708)479-4600

landscapeassociatesinc.com

Sterling Site Access

Solutions LLC.

Located in Phoenix, IL

(near Harvey, IL)

Seeking: Manufacturing

Operators (2 years exp.) &

Manufacturing Maintenance

Technicians (8 years exp.)

Submit resumes to:

recruiting@sterlingsolutions.com

WANTED!

WE NEED CARS, TRUCKS & VANS

Running Or Not!

Top Dollar Paid - Free Pick-Up

Locally Located

(708)205-8241

The legend 1995 Jeep Cherokee

straight six. Tires worth

$400. Motor needs work. $850

Call 708-717-5903

1074 Auto for Sale

Rental

DRIVE CAR BUYERS

TO YOUR DOOR WITH

A CLASSIFIED AUTO AD

CALL US TODAY at 708.326.9170

1225 Apartments for Rent

New Lenox

Clean 2 Bedroom

Close to train & stores

Appliances included,

laundry

$1,000

815-485-2528

Place a garage sale ad & reach

over 96,000 homes across

the southwest suburbs!

FOR $42 YOU'LL GET

ASINGLE FAMILY AD

4 LINES in 7 PAPERS

CALL THE CLASSIFIED

DEPARTMENT: 708.326.9170

With the Purchase

of a Garage Sale Ad!

www.22ndcenturymedia.com

2006 Basement Waterproofing

Want to

See

Your

Business

in the

Classifieds?

Call

708-326-9170

for a FREE

Sample Ad

and Quote!
---
22 | March 26, 2020 | the mokena messenger classifieds

mokenamessengerdaily.com

CLASSIFIEDS

Help Wanted · Garage Sales · Automotive

Real Estate · Rentals · Merchandise

Sell It 708.326.9170

Fax It 708.326.9179

Charge It

DEADLINE -

Friday at 3pm

Automotive

$52

4 lines/

LOCAL

7 papers

REALTOR

DIRECTORY

Help Wanted

per line $13

4 lines/

7 papers

Real Estate

$50

7 lines/

7 papers

Merchandise

$30

4 lines/

7 papers

2011 Brick/Chimney Experts

Ready to Sell

Your RealEstate?

CALL

MIKE McCATTY

GROUP

708-945-2121

BILLION INSALES

5000 SOLD

BUY, SELL ORRENT

Handling your entire Family'shousing needs for over 15 years.

• Your listing advertised on all major websites

• Instant feedback- weekly updates

• Professional photography- aerial shots too

• Discounts to all teachers, senior citizens,

veterans, 1st responders, doctors & nurses.

CALL TODAY-LISTED TOMORROW

Bob Haustein

Lincoln-Way Resident • Remax 1st Service

Call, Text or Email

708-822-3690

bobhaustein@yahoo.com

www.bobhaustein.com

2017 Cleaning Services

Barb's Cleaning

Service

We clean your home the

way YOU want it

cleaned! Good

Quality, Professional,

Reliable, and

Experienced.

Please call for

estimate.

708-663-1789

Advertise your

RENTAL

PROPERTY

in the newspaper

people turn

to first

CALL US TODAY: 708.326.9170

www.22ndcenturymedia.com

Experienced

Cleaning Lady

Will Clean House or

Apartment.

Free estimates!

815 690 7633

...to place your

Classified Ad!

708.326.9170
---
mokenamessengerdaily.com classifieds

the mokena messenger | March 26, 2020 | 23

2018 Concrete Raising

2025 Concrete

Work

2070 Electrical

CLASSIFIEDS

Help Wanted · Garage Sales · Automotive

Real Estate · Rentals · Merchandise

Automotive

$52 4 lines/

7 papers

Help Wanted

$13 4 lines/

per line 7 papers

Sell It 708.326.9170 | Fax It 708.326.9179

Charge It | DEADLINE - Friday at 3pm

Real Estate

$50 7 7 papers

lines/

Merchandise

$30 7 4 papers

lines/

2090 Flooring

2025 Concrete Work

2032 Decking

EXPERIENCED

ELECTRICIAN

R E A S O N A B L E

D E P E N D A B L E

SMALL JOBS

CALL ANYTIME

(708) 478-8269

2120 Handyman

2075 Fencing

Sturdy

Deck & Fence

Repair, Rebuild or

Replace

Make It Safe - Make it Sturdy

708 479 9035

2080 Firewood

2060 Drywall

Drywall

*Hanging *Taping

*Additions

*Remodeling

Call Greg At:

(815)922-3782

HANDYMAN SERVICE —WHATEVER YOU NEED

"OVER 30 YEARS OF EXPERIENCE"

Windows, Doors, Decks Kitchen & Bathroom Remodeling, Plumbing Interior and

Exterior Painting Wall Paper Removal Professional Work At Competitive Prices

...to place your

Classified Ad!

708.326.9170

...to place your

Classified Ad!

708.326.9170

Advertise your

RENTAL

PROPERTY

in the newspaper

people turn

to first

CALL US TODAY: 708.326.9170

www.22ndcenturymedia.com

CALL MIKE AT 708-790-3416

...to place your

Classified Ad!

708.326.9170
---
24 | March 26, 2020 | the mokena messenger classifieds

mokenamessengerdaily.com

CLASSIFIEDS

Help Wanted · Garage Sales · Automotive

Real Estate · Rentals · Merchandise

Automotive

$52 4 lines/

7 papers

Help Wanted

$13 4 lines/

per line 7 papers

2132 Home Improvement

CLASSIFIEDS

Help Wanted · Garage Sales · Automotive

Real Estate · Rentals · Merchandise

Automotive

$52 4 lines/

7 papers

Help Wanted

$13 4 lines/

per line 7 papers

Sell It 708.326.9170 | Fax It 708.326.9179

Charge It | DEADLINE - Friday at 3pm

Real Estate

$50 7 7 papers

lines/

Merchandise

$30 7 4 papers

lines/

Sell It 708.326.9170 | Fax It 708.326.9179

Charge It | DEADLINE - Friday at 3pm

Real Estate

$50 7 7 papers

lines/

Merchandise

$30 7 4 papers

lines/

2120 Handyman

2132 Home Improvement

Advertise your

RENTAL

PROPERTY

in the newspaper

people turn

to first

2130 Heating/Cooling

CALL US TODAY: 708.326.9170

www.22ndcenturymedia.com

2135 Insulation

Place a garage sale ad & reach

over 96,000 homes across

the southwest suburbs!

...to place your

Classified Ad!

708.326.9170

DRIVE CAR BUYERS

TO YOUR DOOR WITH

A CLASSIFIED AUTO AD

CALL US TODAY at 708.326.9170

...to place your

Classified Ad!

708.326.9170

FOR $42 YOU'LL GET

ASINGLE FAMILY AD

4 LINES in 7 PAPERS

CALL THE CLASSIFIED

DEPARTMENT: 708.326.9170

With the Purchase

of a Garage Sale Ad!

www.22ndcenturymedia.com
---
mokenamessengerdaily.com classifieds

the mokena messenger | March 26, 2020 | 25

CLASSIFIEDS

Help Wanted · Garage Sales · Automotive

Real Estate · Rentals · Merchandise

Automotive

$52 4 lines/

7 papers

Help Wanted

$13 4 lines/

per line 7 papers

2140 Landscaping

CLASSIFIEDS

Help Wanted · Garage Sales · Automotive

Real Estate · Rentals · Merchandise

Automotive

$52 4 lines/

7 papers

Help Wanted

$13 4 lines/

per line 7 papers

Sell It 708.326.9170 | Fax It 708.326.9179

Charge It | DEADLINE - Friday at 3pm

Real Estate

$50 7 7 papers

lines/

Merchandise

$30 7 4 papers

lines/

Sell It 708.326.9170 | Fax It 708.326.9179

Charge It | DEADLINE - Friday at 3pm

Real Estate

$50 7 7 papers

lines/

Merchandise

$30 7 4 papers

lines/

2140 Landscaping

2150 Paint & Decorating

...to place your

Classified Ad!

708.326.9170

2145 Lawn Maintenance

Family owned & operated

Services offered:

• weekly grass • retaining walls/

cutting

paver bricks

• clean ups • tree/bush

• mulch/rock trimming

installation • free estimates

815-534-4723

We offer discounts for seniors, first

responders, and military families

Advertise your

RENTAL

PROPERTY

in the newspaper

people turn

to first

2150 Paint & Decorating

CALL US TODAY: 708.326.9170

www.22ndcenturymedia.com

2170 Plumbing

...to place your

Classified Ad!

708.326.9170

MARTY'S

PAINTING

Interior / Exterior

Fast, Neat Painting

Drywall

Wallpaper Removal

Staining

Free Estimates

20% Off with this ad

708-606-3926

Advertise your

RENTAL

PROPERTY

in the newspaper

people turn

to first

CALL US TODAY: 708.326.9170

www.22ndcenturymedia.com

Neat, Clean, Professional

Work At ACompetitive Price

Specializing in all

Interior/Exterior Painting

• Drywall/PlasterRepair

• Wallpaper Removal

• Deck/Fence Staining

• PowerWashing

Free Estimates

Senior Discounts

Forquality & service you

can trust, call us today!
---
26 | March 26, 2020 | the mokena messenger classifieds

mokenamessengerdaily.com

CLASSIFIEDS

Help Wanted · Garage Sales · Automotive

Real Estate · Rentals · Merchandise

Sell It 708.326.9170

Fax It 708.326.9179

Charge It

DEADLINE -

Friday at 3pm

Automotive

$52

4 lines/

7 papers

Help Wanted

per line $13

4 lines/

7 papers

Real Estate

$50

7 lines/

7 papers

Merchandise

$30

4 lines/

7 papers

2200 Roofing

2170 Plumbing

2200 Roofing

Place a garage sale ad & reach

over 96,000 homes across

the southwest suburbs!

FOR $42 YOU'LL GET

ASINGLE FAMILY AD

4 LINES in 7 PAPERS

CALL THE CLASSIFIED

DEPARTMENT: 708.326.9170

With the Purchase

of a Garage Sale Ad!

www.22ndcenturymedia.com

2200 Roofing

2220 Siding

2255 Tree Service

...to place your

Classified Ad!

708.326.9170

Advertise your

RENTAL

PROPERTY

in the newspaper

people turn

to first

CALL US TODAY: 708.326.9170

www.22ndcenturymedia.com
---
mokenamessengerdaily.com classifieds

the mokena messenger | March 26, 2020 | 27

2276 Tuckpointing/Masonry

2294 Window Cleaning

P.K.WINDOW

CLEANING CO.

Window Cleaning

Gutter Cleaning

Power Washing

Office Cleaning

call and get $40.00 off

708 974-8044

www.pkwindowcleaning.co4

2390 Computer Services/Repair

2489 Merchandise Wanted

Metal Wanted

Scrap Metal, Garden

Tractors,

Snowmobiles,

Appliances, Etc.

ANYTHING METAL!

Call 815-210-8819

Free pickup!

Advertise your

RENTAL PROPERTY

in the newspaper

people turn to first

CALL US TODAY: 708.326.9170

www.22ndcenturymedia.com

Place a garage sale ad & reach

over 96,000 homes across

the southwest suburbs!

FOR $42 YOU'LL GET

ASINGLE FAMILY AD

4 LINES in 7 PAPERS

CALL THE CLASSIFIED

DEPARTMENT: 708.326.9170

With the Purchase

of a Garage Sale Ad!

www.22ndcenturymedia.com

CLASSIFIEDS

Help Wanted · Garage Sales · Automotive

Real Estate · Rentals · Merchandise

Sell It 708.326.9170 | Fax It 708.326.9179

Charge It | DEADLINE - Friday at 3pm

Automotive

$52 4 lines/

7 papers

Real Estate

$50 7 7 papers

lines/

Help Wanted

$13 4 lines/

per line 7 papers

Merchandise

$30 7 4 papers

lines/

MAGNA |ACCOUNTING ASSOCIATES, LTD.

• Individual, Business,Trust &Estate Tax Services •

• Business Accounting Services •

Have Your Tax Return Prepared By ACPA!

NEW Client Special

Most Individual

Tax Returns -Only $99

708.873.9222

9031 W. 151st St., Ste 204

Orland Park, Illinois 60462

Contact Classified Department

to Advertise in this Directory

708.326.9170

2900 Merchandise

Under $100

Chicago Bear official NFL

authorized hooded sweatshirt

large, perfect condition. $15

Call 708-403-2525

Civil war puzzles 1000pcs all

done w/frames $20ea; wooded

ships of all kind Mayflower etc

$20ea. Call 630-346-2163

Complete set bed-in-bag brand

new never used queensize yellow

and blue floral print $25.

Call 708-403-2473

Decorator's dream! Black w

/gold leatherete bound Encyc

Americana-shelf dec, lamp

base history buffs- creativity is

yours. FREE Call

708-687-0938

Dooney & Bourke leather

handbags -authentic -excellent

condition, both black

w/tan trim. $50ea. Call

708-429-7929. Will text picture.

Electric snow shovel, seldom

used $95. Call 815-478-3870

Golf umbrellas $10ea; tennis

racquet $10; Sears 3/8" electric

drill $20; Black & Decker

edger $10. Call 708-601-1947

Hankook Optimo H426 size

P215/55R17 slightly used,

good threads $25 Call

815-463-0282

Julien #3900 stainless steel

prep sink, new, dimensions

16"x13"x8" deep, high quality

under mount sink with mounting

hardware $85. Call

708-310-0699

Kidde fire extinguisher, rated

A-B-C gauged $17; Vehicle

w/shield snow-shield $6;

1988-89 Tracer rear window

wiper blade $10. Call

708-460-8308

Kitchen dinette set, good condition

all but one chair has no

back. Chairs are caster chairs

$100. Call 815-464-6176

Lg tent w/attached sunroom,

new in box $95. Call

708-429-0259 after 4pm

Lynx pro golf bag $35;

Bullseye putter $30; Titleist

golf bag like new $35. Call

708-478-8976

Men's Austin Reed suit 44long

tan includes Alfani shirt

16-34-35 and 3ties $80. Call

708-614-8541

Mens cold weather jacket, rich

deep green with all the trimmings.

Excellent condition.

$25 OBO Call 708-403-2525

Mini LED flashlite $2; Large

LED flashlite $5; Miniwax

12oz wood filler, repairs damaged

wood $10; Alum. snow

scoop shovel, new $24. Call

708-460-8308

2900 Merchandise

Under $100

Mini snow shovel steel

blade/handle $8; Ice blast

w/shield de-icer $4; New wall

covering smoother brush $5;

24pc foam brush set $5. Call

708-460-8308

Pair of 26" crystal-look table

lamps cut-glass/polished brass,

excellent condition asking

$50pair OBO; oval mirror

34x21w beveled edge $50. Call

708-460-2587

Peerless kitchen faucet,

#P299575LF.SS, brand new in

box, with sprayer high arc $40.

Call 708-614-5728

Pillsbury Doughboy porcelain

collection 7pieces, $100 Call

815-464-6176

Pro golf bag $35; Bullseye putter

$30; 3pack Titleist balls

$5; Titleist golf bag new $30.

Call 708-478-8976

Quadrilla children's wooden

blocks, 2complete sets-Rail +

Twist and Rail, lightly used

$100 Call 708-475-2102

Red Wing steel toe insulated

work boots, new inthe box.

Paid $160, sell for $100 OBO.

Call 815-485-6008

Ron Popeil rotisserie grill $30;

grey trunk, great for college

student $30. Call

708-790-1824

Singer sewing machine portible,

many fancy stitches $35;

Sea shell Tritons trumpet $50.

Call 708-535-9354

Snow skies: 5'6" Dynastar,

5'6" Rosignol, 6'3" Heads

w/poles, all for $100. Call

708-717-5054

Weight bench and weights

$100. Weights alone worth

$450. Call 815-469-0891

Weight bench plus weights

$100 (weights alone selling for

over $450 at store). Call

815-469-0891

Weight vest up to 40lbs $40;

Vintage Bulls xl winter jacket

$30; Scottie Pippen vintage

jersey $30. Call or text

224-394-2765

Whirlpool Cabrio laundry

dryer $100 firm. 708-785-0987

Wooden fireplace mantel,

never used, $70. Call

708-479-0193

Place a garage sale ad & reach

over 96,000 homes across

the southwest suburbs!

FOR $42 YOU'LL GET

ASINGLE FAMILY AD

4 LINES in 7 PAPERS

CALL THE CLASSIFIED

DEPARTMENT: 708.326.9170

With the Purchase

of a Garage Sale Ad!

www.22ndcenturymedia.com
---
28 | March 26, 2020 | the mokena messenger sports

mokenamessengerdaily.com

Athlete of the Week

10 Questions

with Matt Stillman

Matt Stillman is a senior

at Lincoln-Way Central

and an outside hitter for

the Knights boys volleyball

team.

The start of the

upcoming season is on

hold because of the

coronavirus. What are

your thoughts on that?

I'm just trying to stay

positive. Trying to think of

things I'm grateful for, and

pick up friends who are

down. It's kind of crazy,

all of it.

How did you get

started playing

volleyball?

I've been playing since

eighth grade. I've played

club every year since then.

My cousin, Sam Gorecki

who is my age and is a libero

on our team here at

Central, played. So I wanted

to play, too. He went to

Martino and I went to Mokena

Junior High, so we

were rivals. I used to play

soccer until eighth grade

but now it's just volleyball.

What is it about

volleyball that makes

it the sport for you?

I've made good friends

playing it. I just love the

competitiveness of it. But

it's mostly being with your

teammates and having

leadership with them.

What have you learned

from Central volleyball

Photo submitted

coach Mary Brown?

I've learned a lot from

her. She makes us work

hard at practice. She

makes us mentally tough.

I've learned to be a leader

because she teaches life

lessons too.

Do you have a favorite

moment so far playing

for the Knights?

Yes, it's actually our loss

to [eventual state champion]

Marist in last season's

sectional semifinal

[at Marist]. Even though

we lost [25-18, 26-24]

we worked really closely

together [being the only

team that took Marist past

25 points all postseason]

and played our best match

of the year.

What do you do to

pump yourself up

before a match?

Before a club match, I

play on Ultimate 18 Gold,

I listen to music. But in

high school, we get in a

circle and talk about what

to focus on and that's what

3

really gets you into the

match.

If you could be any

superhero, who would

you be and why?

The Flash. Because he's

really fast and I could

get to my block sooner. I

would be able to close the

block and get the ball up.

If you could meet any

person in the world,

living or dead, who

would it be and why?

Walt Disney. My family

likes Disney a lot. It would

have been cool to meet

him and see what went

on in his head to make the

whole Disney franchise.

Are you going to play

volleyball in college?

Yes. I've already committed

to Trine University

in Angola, Indiana. I did

that last October. The volleyball

coaches and the

team are really cool. But

they also have a really good

engineering program and

I'm going to study that.

What's the best

thing about being an

athlete at Lincoln-Way

Central?

Probably the competition

that you get here. But

also the teammates in general

and the environment

for the athletes in general.

Interview by Freelance Reporter

Randy Whalen.

FREE FREE FREE

CLASSIFIED MERCHANDISE ADS!!!

In this tough economy, we'll give you a free

merchandise ad totaling $100 or less.

· Write your FREE ad in 30 words or less.

· One free ad per week.

· Same ad may not be submitted more than 3 times.

· The total selling price of your ad must not exceed $100.

· Ads will be published on a space available basis.

· Free Ads are Not Guaranteed to Run!

GUARANTEE Your Merchandise Ad To Run!

Free Merchandise Ad - All Seven Papers

Ad Copy Here (please print):

Merchandise Pre-Paid Ad $30! 4 lines! 7 papers!

Choose Paper: Homer

Horizon New Lenox Patriot Frankfort Station

Orland Park Prairie Mokena Messenger Tinley Junction

Name:

Address

City/State/Zip

Phone

Payment Method(paid ads only) Check enclosed Money Order Credit Card

Credit Card Orders Only

Credit Card #

Signature

$30 for 7 papers

®

Exp Date

Please cut this form out and mail or fax it back to us at:

22nd Century Media

11516 W. 183rd St, Suite #3 Unit SW

Orland Park, IL 60467

FAX: 708.326.9179

Circle One:
---
mokenamessengerdaily.com sports

the mokena messenger | March 26, 2020 | 29
---
30 | March 26, 2020 | the mokena messenger sports

mokenamessengerdaily.com

Athletes, coaches wait and hope for a spring season

6

STEVE MILLAR, Sports Editor

Mariam Azeez misses

long jumps.

The Lincoln-Way East

sophomore track athlete

is able to stay in gear for

her running events easy

enough while school is out

and practices are on hold

amid the coronavirus pandemic.

But after breaking the

school record for the long

jump, going 19 feet-1.5

inches at the LW East Invitational

indoor meet on

Feb. 29 at Olivet Nazarene,

she is not able to

practice that event. There

are no pits for her to jump

into at home.

"I miss it," she said. "It's

my favorite event. Right

now, I'm just running outside,

going on the treadmill,

trying to stay active."

Like all athletes in the

area, Azeez and her Griffins

teammates are in waitand-see

mode, hoping

their seasons can resume

in April or May.

"It's so sad," she said.

"Everyone on the track

team is devastated about it,

but we're all still training.

We're just hoping the outdoor

season will happen

at some point and that this

will be over with."

Azeez's coach, Brian

Evans, said this is unlike

anything he has ever experienced.

"It's certainly a new

curveball," he said. "This

is Year 21 for me and

we've never had a scenario

or event like this take

place. There's no manual

or playbook we can go to,

so we're just taking it one

day at a time.

"Obviously safety is a

Lincoln-Way East's Mariam Azeez hopes to get back to

competing in the long jump soon. 22ND CENTURY MEDIA

FILE PHOTO

the number one priority.

We just want everybody

to sit down for a minute

and make sure they're being

safe and we can get

through this as a society

before we even begin to

think about track and field

again."

Lincoln-Way Central

softball coach Jeff Tarala

said it is tough for coaches

to be apart from their players

for so long.

"We took team pictures

on Saturday [March 14],

and it was kind of sad,"

Tarala said. "A lot of the

girls were like, 'Hopefully

we'll see you in a month.'

You get so connected with

them all. We spend an incredible

amount of time

with each other. We're sad

to have to separate like

that."

Players and coaches say

they are trying to remain

hopeful that there will be

competition at some point.

"I feel awful for the seniors,"

Tarala said. "I really

hope there is at least

something, whether it's a

shortened season or just

a playoffs or tournament

format."

Lincoln-Way West athletic

director Ted Robbins

said all the Lincoln-Way

district athletic directors

are in a "holding pattern."

They have not yet canceled

games beyond the

start of April, except in

cases where the scheduled

opponent has mandated a

longer shutdown.

"We'll adapt and move

when we get further information,"

he said. "That's

where we're at, I think like

everybody.

"Everybody's been great

about it, though. They all

understand this is a bigger

situation than high school

athletics. It's a worldwide

issue. The athletes, especially

the seniors, are disappointed,

of course, but

they have been fantastic in

dealing with this."

Azeez said her teammates

have tried to get beyond

the initial shock and

sadness and take a positive

approach to the situation.

"We're trying to stay optimistic,"

she said. "We've

been talking in group chats

and we were all really sad

about it at first, but then we

started trying to encourage

everyone to stay positive

and keep working."

Youth Sports

Pride and heartbreak for Mokena Jr. High volleyball team

7

STEVE MILLAR, Sports Editor

Mokena Junior High's

seventh-grade girls volleyball

team made a memorable

run to a sectional championship

and qualified for

state for the first time since

2006.

The Meteors never got

their chance to play at

state, though, as the Illinois

Elementary School Association

canceled the tournament

amid the coronavirus

pandemic.

"We're trying to stay

positive about the situation,

but it is disappointing,"

Mokena coach Crystal

Grimes said.

Mokena was set to play

Taylorville Junior High in a

Class 4A state quarterfinal

match Friday, March 16,

at Kingsley Junior High in

Normal.

The day before, however,

the IESA announced

the tournament would be

postponed. The organization

later announced the

cancellation.

"We knew there was a

possibility it would be canceled,

but we had a normal

practice, getting ready for

the game with Taylorville

the next day," Grimes said.

"They hadn't made it to

state in about 20 years, so

we knew it would be an underdog

vs. underdog-type

situation because the last

The Mokena Junior High seventh-grade girls volleyball

team huddles during a match. The team won a sectional

title and qualified for state before the tournament was

canceled. SHARNA WILKERSON/MOKENA JUNIOR HIGH

time we made it to state

was 2006.

"As soon we started

practice, we found out the

news."

Still, there was some

hope the tournament might

be resumed at a later date.

"At first it was just postponed,"

Grimes said. "We

didn't know if it would for

sure be canceled. We knew

that if it did get postponed,

we'd have a couple weeks

to practice. So, we wanted

to make this a fun practice

and not push the girls too

hard. They ended up having

fun and stayed positive.

"We reflected on our success

throughout the season.

I couldn't be more proud of

this group."

Mokena, which finished

15-4, beat Liberty Junior

High from New Lenox 25-

18, 11-25, 25-20 on March

9 in the sectional match.

The team included Bella

Bullington, Bella Dimitrijevic,

Ava Birmingham,

Morgan Kozlowski, Charlotte

Wilkerson, Aubrey

Birmingham, Flynn Meyer,

Ava Quinlan, Skyla Dolan,

Paige LeCompte, Taylor

Mowry, Gianna Kolenko,

Lily Vargas and Lindsey

Klitz.

Lauren Bullington was

the assistant coach.

"In the end, the girls

were disappointed, but they

stayed positive," Grimes

said. "That is something

that set this team apart. If

we lost a game, they didn't

get down on themselves

and came back strong for

the next one."
---
mokenamessengerdaily.com sports

the mokena messenger | March 26, 2020 | 31

fastbreak

22nd century media file

photo

1st-and-3

THREE FEATS FROM THE

GIRLS INDOOR TRACK

AND FIELD SEASON

1. Kate Guderjan

Guderjan (above,

No. 51), a LW East

sophomore, broke

school records in

the 600 meters and

the mile (5 minutes,

14.33 seconds).

2. Mariam Azeez

The LW East

sophomore broke

the school record

in the long jump

(19 feet-1.5 inches)

at the LW East

Invitational at Olivet

Nazarene on Feb.

29.

3. Sam Spencer

The Providence

senior and

defending state

pole vault champion

broke the state

record in the event,

vaulting 13 feet, 5.5

inches March 5 at

the Joliet Central

Steelmen Shuffle.

Air Force brings home LW East grad, team stuck in Honduras

STEVE MILLAR, Sports Editor

Lincoln-Way East graduate

native Shannon Cooley and the

other 54 players and coaches on a

women's tackle football team that

had been stranded in a Honduras

hotel after the country closed its

borders and began a lockdown

were airlifted out of Honduras on

Friday, March 20, and returned to

the United States via two U.S. Air

Force planes.

"It was definitely a crazy couple

days, but I'm really glad to be

back," Cooley said.

Cooley, a junior at Arizona

State, was part of the U.S. team

competing in the American Women's

Bowl in Tegucigalpa, Honduras.

The team was set to fly home

on Monday, March 16, but late

night on Sunday, March 15, Honduras

president Juan Orlando

Hernandez ordered the country's

borders to be closed for at least

seven days and put a curfew in

effect because of the coronavirus

pandemic.

The team was staying at a Clarion

Hotel and was not allowed to

leave the hotel premises.

"We have no idea how long

we are going to be here," Cooley

said before the team was evacuated.

"Our team is together in one

place, so that helps a lot. We want

to stick together as a team.

"We're just looking forward to

getting out of here, being back

home. Right now, everything is

turned upside down and we're

looking forward to getting back to

our families and dealing with the

crisis back in the States."

Cooley and the rest of the team

got their wish as the Air Force

planes flew them into Charleston,

Frankfort native Shannon Cooley

was part of a U.S. women's

football team that was stranded

in a Honduras hotel for nearly a

week after Honduras closed its

borders amid the coronavirus

pandemic. PHOTO SUBMITTED

S.C. Cooley made it back to Arizona

the next day.

"It was wild," Cooley said.

"We were in the jump seats. All

our luggage was saran wrapped

and put on pallets and loaded

on. The plane was packed. Every

seat was taken. It was crazy

loud. It was an experience that I

never thought would be on my

bucket list, but now it's checked

off.

"Just walking off the plane, it

felt so good to be back in the U.S.

It was crazy. It was unreal. It felt

so good to be home and to be all

together as a team.

The coronavirus had not yet

made much of an impact in Honduras

when the team flew into the

country Wednesday, March 11.

The tournament went on as

scheduled from Thursday, March

12, through Saturday, March 14,

before the Honduras government

issued an edict banning events

of more than 50 people, causing

the championship game between

the U.S. and Mexico, scheduled

for Sunday, March 15, to be canceled.

"It wasn't hectic at all when we

got [to Honduras]," Cooley said.

"Everything was fine. There were

only three [coronavirus] cases in

Honduras, so it actually seemed

safer than the United States."

Cooley said the hotel was essentially

void of guests other than the

team. Most of the hotel staff was

also gone, but a few employees

were still around to help them out.

"There are some people who

live at the hotel and also work

here, so they are still here," Cooley

said. "Other than them, there

are no employees here. The hotel

has been good with us, though,

trying to figure out a solution.

"The Mexico team and Costa

Rica team have had to move multiple

times because their hotels

have closed. We've been lucky

that this hotel has worked with us

and let us stay."

Shannon's mom, Kathi, was in

regular contact with her daughter

throughout the ordeal.

"She's tough," Kathi said.

"She's going to act like, 'Mom,

I'm good.' But I know she's having

a tough time.

"They shouldn't have to deal

8

with this. They should be able to

go home."

Cooley, who played basketball

at East, decided to give football a

shot and joined the Phoenix Phantomz

of the Women's Football Alliance.

She is in her second year as a

receiver with the team, and has

also had the opportunity to play

with the U.S. team – essentially an

All-Star team – in multiple international

tournaments.

"It's so crazy because I tell people

two years ago, I didn't even

know how to put a helmet on and

now I'm travelling all over the

world playing football," she said.

"It's been an amazing experience,

except for something like

this happening."

It's a situation Cooley never

imagined she would be in.

"It seems like it was a movie,"

she said. "It definitely doesn't

seem like it actually happened, but

I know there were a lot of people

who took some time out and there

were a lot of strings pulled to get

us out of there. I'm thankful for

our organization, all the congressmen

and local representatives who

helped, and anyone that had a part

in getting us out."

Cooley said she and her teammates

will now share a lifetime

bond.

"Our team said we have to come

up with a saying, so we came up

with 'There was always Honduras,'"

she said. "When we go other

places or play other teams, we'll

think back about this.

"We come from all over the

country, so a lot of us didn't really

know each other before this. But

after this, we definitely know each

other better than I ever imagined."

Listen Up

"It's so sad. Everyone on the track team is devastated about it, but we're all

still training. We're just hoping the outdoor season will happen at some point

and that this will be over with."

Mariam Azeez - LW East sophomore track athlete, on spring sports being

suspended

what2watch

Scheduling decisions

Will spring sports resume as April begins, be further

postponed, or will the season be canceled entirely?

Index

29 – Team 22 Boys Basketball

28 – Athlete of the Week

FASTBREAK is compiled by Sports Editor

Steve Millar, s.millar@22ndcm.com.
---
mokena's Hometown Newspaper | March 26, 2020

HOMECOMING LW East grad

makes it home after being stuck in

Honduras as borders close, Page 31

KINGS OF THE COURT Meet

our Team 22, featuring the area's

best boys basketball players, Page 29

Area athletes, coaches deal with life

without sports as they hope for seasons to

resume, Page 30

The Lincoln-Way Central baseball field sits

empty March 17 as all high school sports

games and practices have been suspended.

STEVE MILLAR/22ND CENTURY MEDIA