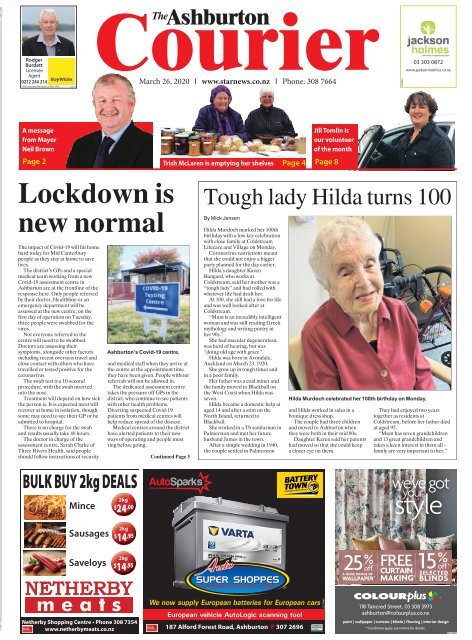 Ashburton Courier: March 26, 2020
Do you know the secret to free website traffic?
Use this trick to increase the number of new potential customers.
Rodger

Burdett

Licensee

Agent

0212 244 214

MidCanterburyRealEstateLtd REAA 2008

2265435

March26, 2020 l www.starnews.co.nz l Phone: 308 7664

2245242

03 303 0872

www.jacksonholmes.co.nz

Amessage

from Mayor

Neil Brown

Jill Tomlin is

our volunteer

of the month

Page 2

Trish McLarenisemptying her shelves

Page 4

Page 8

Lockdown is

new normal

The impact of Covid­19 will hit home

hard today for Mid Canterbury

people as they stay at home to save

lives.

The district's GPs and aspecial

medical team working from anew

Covid­19 assessment centre in

Ashburton are at the frontline of the

response here. Only people referred

by their doctor, Healthline or an

emergency department will be

assessed at the new centre; on the

first day of operation on Tuesday,

three people were swabbed for the

virus.

Not everyone referred to the

centre will need to be swabbed.

Doctors are assessing their

symptoms, alongside other factors

including recent overseas travel and

close contact with others who have

travelled or tested positive for the

coronavirus.

The swab test is a10­second

procedure, with the swab inserted

into the nose.

Treatment will depend on how sick

the person is. It is expected most will

recover at home in isolation, though

some may need to see their GP or be

admitted to hospital.

There is no charge for the swab

and results usually take 48 hours.

The doctor in charge of the

assessment centre, Sarah Clarke of

Three Rivers Health, said people

should follow instructions of security

BULK BUY 2kg DEALS

Mince

Ashburton's Covid-19 centre.

and medical staff when they arrive at

the centre at the appointment time

they have been given. People without

referrals will not be allowed in.

The dedicated assessment centre

takes the pressure off GPs in the

district, who continue to see patients

with other health problems.

Diverting suspected Covid­19

patients from medical centres will

help reduce spread of the disease.

Medical centres around the district

have alerted patients to their new

ways of operating and people must

ring before going.

2kg

$24 .00

Continued Page 3

Tough lady Hilda turns 100

By Mick Jensen

Hilda Murdoch marked her 100th

birthday with alow key celebration

with close family at Coldstream

Lifecare and Village on Monday.

Coronavirus restrictions meant

that she could not enjoy abigger

party planned for the day earlier.

Hilda's daughter Karen

Bungard, who works at

Coldstream, said her mother was a

''tough lady'' and had rolled with

whatever life had dealt her.

At 100, she still had alove for life

and was well looked after at

Coldstream.

''Mum is an incredibly intelligent

woman and was still reading Greek

mythology and writing poetry in

her 90s.''

She had macular degeneration,

was hard of hearing, but was

''doing old age with grace''.

Hilda was born in Avondale,

Auckland on March 23, 1920.

She grew up in tough times and

in apoor family.

Her father was acoal miner and

the family moved to Blackball on

the West Coast when Hilda was

seven.

Hilda became adomestic help at

aged 14 and after astint on the

North Island, returned to

Blackball.

She worked in aTbsanitarium in

Palmerston and met her future

husband James in the town.

After asimple wedding in 1940,

the couple settled in Palmerston

Hilda Murdoch celebrated her 100th birthday on Monday.

and Hilda worked in sales in a

boutique dress shop.

The couple had three children

and moved to Ashburton when

they were both in their mid 80s.

Daughter Karen said her parents

had moved so that she could keep

acloser eye on them.

They had enjoyed two years

together as residents at

Coldstream, before her father died

at aged 95.

''Mum has seven grandchildren

and 13 great grandchildren and

takes akeen interest in them all ­

family are very important to her.''

Sausages

Saveloys

2kg

$14 .95

2kg

$14 .95

meats

Netherby Shopping Centre •Phone 308 7354

www.netherbymeats.co.nz

NZ'S PREMIUM AUTOMOTIVE CENTRES

We now supply European batteries for European cars

European vehicle AutoLogic scanning tool

187 Alford Forest Road,Ashburton P 307 2696

2227845

2269102
---
Page 2, Ashburton's The Courier, Thursday March 26, 2020

Local news at www.starnews.co.nz

BUSINESS OWNERS

Build customers,

sales and profits

with us ...

Over 16,065

copies delivered to

EVERYhome,farm,

RD and lifestyle

blocks in

MidCanterbury

news

Linda Clarke

Editor

308 7664

linda.clarke@ashburtoncourier.co.nz

Reporters

Mick Jensen

mick.jensen@ashburtoncourier.co.nz

Toni Williams

toni.williams@alliedpress.co.nz

advertising

Jann Thompson

Sales Manager

308 7664

027 587 6351

jann.thompson@ashburtoncourier.co.nz

Roselle Fuaso

Sales Account Manager

308 7664

021 197 8297

roselle@ashburtoncourier.co.nz

Karen Gane

Sales Account Manager

308 7664

021 510 804

karen.gane@ashburtoncourier.co.nz

getintouch

Editorial

linda.clarke@ashburtoncourier.co.nz

Advertising

info@ashburtoncourier.co.nz

Production

murray.thompson@ashburtoncourier.co.nz

Accounts

accounts@alliedpress.co.nz

Distribution/Deliveries

leonie.marsden@ashburtoncourier.co.nz

Office

office@ashburtoncourier.co.nz

03 308 7664

199 Burnett Street,Ashburton

www.ashburtoncourier.co.nz

2253088

Tech keeps family united

Ashburton nurse Linda George is using

Skype to keep in touch with her 84­year­old

dad.

Linda helped him set up the audiovisual

communication last week when she decided

to stop visiting in person, to eliminate the

chance of passing on Covid­19 to him or her

mother, who has memory problems.

Her parents live in Dunedin, but even if

they lived around the corner in Ashburton,

she would have done the same.

''Because Iamafrontline health worker,

Idecided not to visit them.''

The elderly are most at risk of serious

complications if they contract the virus and

Linda says families need to find safe ways of

staying in touch.

She and her dad tested the Skype

arrangement last week and have been using

it ever since.

''They worry about what is coming. They

are very aware and have their own way of

dealing with the effect of the protocols to

stay inside.''

Linda said it was difficult sometimes for

her dad, who needed to repeat messages

about handwashing because of her mother's

memory problems.

But Skype has allowed them to all see

each other's faces and chat. ''Seeing aface

really adds to the conversation.''

Linda's nursing takes her into the

Ashburton community where she works

with older people.

Some said they missed not seeing their

families.

Very rarely do Luxaflex

blinds go on sale –

youdon't want to missthis.

Foralimited time only,you canexperience the

world'smostadmired windowcoveringsata

discountwith 15%off Roller Blinds,

Sunscreensand Venetian Blinds.

Beautyis in thedetails,

find them here

luxaflex.co.nz

Linda George keeps in touch with her elderly parents via Skype.

Some families were using their creativity

to stay together, but with asafe physical

distance.

''One family bought tea up and they ate it

15 %

off

* Offer available 1stMarch -31stApril.

Redmonds Furnishing &FlooringLtd

174Burnett Street, Ashburton

Phone (03) 3085269

furnishing@redmonds.co.nz

www.redmonds.co.nz

on the balcony, while the parents sat inside

behind glass and ate.''

Linda said it was important to look out for

older people and to see if they needed help.

Amessage from Ashburton Mayor Neil Brown

We will getthroughthis, we must

These past few weeks and

especially in the last 24 hours,

our nation has been coming to

terms with Covid­19 and what

needs to be done to protect our

people.

Alevel four alert is in effect

right across the country and

during this unprecedented time,

Iwish to impress upon every

resident the severity of this

situation and the necessity of

following the Government's

instructions.

This lockdown on nonessential

services and activities

has never before happened in

our lifetimes and Ihope that it

will never need to be revived

again in the future.

But, in this time of immediate

risk to our people and

communities, it is anecessary

measure to save lives, potentially

thousands of lives. Ifully support

the Government's actions to

reduce the spread of Covid­19.

Covid­19 is aserious disease,

Mayor Neil Brown

which carries severe risks

particularly for the elderly, those

with underlying health issues and

compromised immune systems.

Please take this level four alert

seriously and play your part to

protect ­not only your own

health but that of our whole

community. As Prime Minister

Jacinda Ardern has said, the

Government is doing everything

in its power to protect us and

now it is up to all of us to do what

we can to protect each other.

Treat yourself as if you were

infected and distance yourself

from everyone you are not in

isolation with. You may not be

worried about the affects of

being infected, but think about

your loved ones who may be at

more risk of the disease's

symptoms.

Let's also ensure we are being

kind and looking out for one

another. We may be restricting

physical contact, but there are

still ways to keep in touch,

whether that be aphone call,

email, text message or Skype.

Keeping in touch with our

families, friends and neighbours

will be hugely important to our

mental health over the coming

weeks.

The affect on our local

*

economy will be very tough and

my thoughts are with those who

may be out of work and

businesses who may seriously

struggle. Financial assistance is

available through the

Government's economic

package and you can find details

about this on the covid19.govt.nz

website.

Iwould also stress that

essential services are continuing

to operate through this time, and

this includes supermarkets.

Please do not stockpile items.

There is plenty for everyone if

we continue to shop as we would

usually do. Panic buying only

causes distress for those who are

vulnerable and who are then

unable to buy essential items for

themselves.

As the Prime Minister has

made clear, we will get through

this together, and we must. Let's

work together ­every single one

of us, to do right by our country

and our people.

2263108
---
Local news at www.starnews.co.nz Ashburton's The Courier, Thursday March 26, 2020, Page 3

Drive­through

flu vaccines

From Page 1

Flu vaccines have

arrived and doctors have

been calling up elderly

and other vulnerable

patients to arrange

vaccinations. The Tinwald

Medical Centre is

operating adrive­through

vaccination clinic and on

Tuesday vaccinated 80

people in two and ahalf

hours. People drove

through acar park at their

instructed appointment

time, sleeves rolled up

and ready to be

vaccinated. Dr Emma

Andrew said people

receiving flu vaccinations

would be contacted by

their medical centres and

they should follow

instructions. At Tinwald,

patients could have a

support person in the car,

preferrably someone in

their self­isolating contact

bubble.

The lockdown

announced by Prime

Your dream laundryis

easiertoachievethan

you think!

Our highlyexperienced

teamishappytowork

withyou on your

renovation or new build.

The Renovation Experts

Minister Jacinda Ardern

will last four weeks. Only

essential businesses,

including supermarkets,

pharmacies and farming,

will continue. Police will

continue to patrol streets

and respond to crime.

Ashburton District

Council will continue to

pick up red rubbish bins

and yellow recycling bins

from the kerbside as per

normal collection days.

If you are sick, call your

GP if you have afever,

cough, shortness of

breath, sneezing or runny

nose. If you do not have a

GP, call Healthline (for

free) on 0800 358 5453.

If you are well, stay

home. If you are outside

your home bubble, keep

2metres away from

others.

Use trusted sources of

information in the

lockdown period:

www.covid19.govt.nz

and www.moh.govt.nz

Laundry Dreams

9am-5pm Mon-Fri9.30am-12.30pm Sat

Useyour outdoor living areas all year round

• Warm &dry in winter • Stylish &permanent

• UV protection forsummer • 5year warranty

Call your local installer

BrentPatterson based in Geraldine

Talk to

us now!

Free Quote

BOOK NOW

606 East St, Ashburton P: 307 7131

www.kitchenexpress.co.nz

CALL FOR A

FREE QUOTE

MID &SOUTH CANTERBURY

Freephone 0800 777 855 l www.archgola.co.nz

>>

2269232

Anew route to Sharplin Falls is being planned and environmentally assessed.

Sharplin Falls on funding radar

By Linda Clarke

Advance Ashburton has given

the Mt Somers Walkway Society

just over $20,000 to complete an

environmental effects

assessment of aproposed

alternative walking track to

Sharplin Falls.

The original and popular

family walking track has been

closed since 2015 because of the

danger of falling rocks after

earthquakes.

Society chairman Charles

Ross said the study could take a

couple of months. The engineer

undertaking it would be looking

for any adverse effects that

could result from aproposed

new track that would skirt

around the rockfall area.

The new track should not

disrupt existing bush too much,

Stay

home.

Save

lives.

2128195

he said. Society members, trackbuilders

and engineers will head

into the area soon for a

preliminary look.

Mr Ross said the society

would apply for grants from

other funding organisations to

build the new track, if the

environmental report was

positive.

He said the walkway society

was very grateful to have

received $21,700 via the

Advance Ashburton Charitable

Foundation, from the trust fund

of the late Ian Glassey.

The environmental affects

study is necessary to progress

the proposed new track.

Mr Ross said the society

believed that reopening the new

track to the falls would return a

valuable recreational

opportunity to the district, and

enhance the wellbeing and

health of local people and

visitors to the area.

Following an earlier positive

geotechnical report, and after

much deliberation, the society

had chosen anew route to the

fall, he said. It would include

substantial bridges.

Society members had been

liaising with excellent preferred

contractors for the engineering

and design of the bridges and

track, and awell­respected

construction company who

would install the bridges.

''The Department of

Conservation (DOC) has not

given final approval but they are

supportive of the walkway

society's work to reopen the

walk to the falls.

''Although the society has

received some small donations

and the proceeds from arecent

4x4 safari, the Advance

Ashburton contribution is the

first substantial grant for which

an application has been made,

and received. Once the report

from the assessment of

environmental effects is

received it allows the project to

be submitted to DOC for final

approval. After that approval of

substantial funds will need to be

raised to complete the project.''

The Sharplin Falls track is

part of anetwork of tracks

maintained and developed by

the society and Department of

Conservation.

Since it has been out of

commission, the society has

created asubstitute walk and

picnic area, but members are

keen to have the falls back in

public walking distance.

ADC chief executive Hamish Riach

Servicesinunprecedented times

The events unfolding around the

country, especially in this past

week, have been rapid and

confronting. We are now in

unprecedented times that require

us –more than ever, to be united as

acommunity and country to work

through the challenges of Covid­19.

With alevel four alert now in place

for at least the next four weeks, we

must all be doing our part to slow

the spread of this disease.

While this is under way, the

council is doing everything it can to

follow the Government's new

measures while also ensuring

crucial local services are

maintained for you.

Very shortly after the Prime

Minister announced the country

was moving into alevel three and

then four alert, the council made

the call to close our community

facilities –the EA Networks

Centre, Ashburton Public Library

and Museum as well as the

Ashburton Trust Event Centre.

Reserves, camping grounds (unless

for essential service personnel) and

community halls are likewise,

closed.

Our staff from these centres are

now being redeployed to support

not only other essential council

functions, but also community­led

support activities.

Council's administration

building on Baring Square West is

Hamish Riach

closed in line with the

Government's directive to reduce

physical contact with others. We

have many of our staff working

from home so that essential

services can continue.

Our drinking, storm, stock and

waste water services are being

delivered as normal. We will

continue to pick up your red

rubbish bin and yellow recycling bin

from the kerbside as per your

normal collection days. We are

working through the potential to

have limited opening hours for the

Resource Recovery Park and will

give further advice as soon as we

can.

Rural recycling drop­off sites will

remain open.

Unfortunately, glass recycling is

suspended until further notice. We

ask that you store your empties at

home in the meantime. We will let

you know when this changes.

Our customer service team are

working from home, but are set up

to take calls and emails to assist you

with your inquiries.

Regulatory services such as

building and resource consents

remain operational.

The speed of change to level four

has been understandably very swift,

and the situation may well continue

to change over the coming four

weeks and potentially beyond. We

will continue to adapt and respond

as necessary, and will continue to

stay in touch with the community

throughout.

We understand these are very

challenging times for everyone.

The council will continue to

communicate with you about any

potential change to our services or

activities.

Follow our Facebook page

(@AshburtonDC), sign up to our

free text/SMS alert service (by

texting your postcode to 4196) or

head to our website ashburtondc.

govt.nz to stay informed.
---
Page 4, Ashburton's The Courier, Thursday March 26, 2020

Trish exits pickle market

Eighty­two­year­old Trish McLaren has

made $27,000 for RonaldMcDonald

House through salesofher homemade

jams, pickles, sauces, preserves and

biscuits at Ashburton Farmers'Market

over the pastfour years.

The Ashburton St John health

shuttle also received $1000 from her

last year from product proceeds.

Mrs McLarensold at the market for

the lasttime on Saturdayand is now

keen to clear remainingstocksof

homemade goodies from her

cupboardsathome.

She said she wouldmiss the social

aspectofthe Saturday morning

markets on WestStreet.

Fellowmarkettraders had been abig

support to her, she said.

Product tastings had tempted buyers

over the pastfour years and had

''helped hersell so much more''.

Mrs McLarensaid she was grateful

for donations of fruit and vegetables

from the community, whichshe had

used in her products, and alsotothe

support of those who had helpedher

sterilisethousandsofjars.

''I'vebeen very happy to support

RonaldMcDonald House because it

provides such avaluable service and

I've been humbled by the thanks I've

received from theorganisation.''

Mrs McLarenishappytosell her

remaining stocksfrom homeafter the

current lockdown is over and can then

be contactedon308 8105.

''I'm happy to selltopeople if they're

healthy and I'm healthy.''

Trish McLaren (left) with Ashburton Farmers' Market treasurer Bernie Harkness at her last market day.

Our family is bonding in cyberspace

By ToniWilliams

We have aregular Thursday family

catchup at my parents' house.

It sort of just happened many,

many moons ago.

It's referred to as Thirsty

Thursday and achance to drink in

the wisdoms and entertainment of

the older folk in my family, along

with abeverage or two.

My parents, uncles, aunties,

sister, brother, nieces and nephews

all pop in to at least one or two, if

not more, sessions amonth.

It's best when we are all there

vying for talk time and keen to share

news or family stories, past and

present.

However the Covid­19 level four

alert means for safety and because

we are resourceful and resilient, we

need to do something else to stay in

Trying to create an online pub so my family can still connect.

touch and, while the telephone is

good, face to face is best.

And if we can all be there, even

better.

Ithought of creating an online

pub, enjoyed with others in the

same relaxed way as usual, but

different, from the comfort of our

own homes using some form of

technology. Ididn't know what type

­I'm an ideas gal.

Roping in tech­savvyish children I

tried acouple of options such as

Google meets, Google classroom,

and finally Google hangout ­a

common site used by the children

among friends.

However my face frozen midsentence

on the screen when doing

atest­run did nothing to make me

want to socially connect, with

anybody.

And by the time my Windows 8

computer, with its just­faster­thandial­up

connection, froze

completely, Iwas over it.

So while the set up might have

been successful ­wewill test is out

this week ­Iwill have to borrow a

much faster Chromebook from my

children, to speak to my parents,

who have better technology

knowledge than me. Cheers!

Local news at www.starnews.co.nz

Wheels Week off

Ashburton's Wheels Week Plus

has been cancelled because of

the currentcoronavirus

situation. Organisers meton

Mondaynight to make the

officialdecision. The annual

wheels showcase was scheduled

to run from May2­17 and usually

openswith the popular

Ashburton Vintage Car Club

SwapMeet and finishes with the

Wheels Week Street Parade.It

includes anumber of wheelsrelated

attractionsand displays

for the whole family. ''We would

like to thank our sponsors and

supporters and we willnow be

workingonafull programme of

events for 2021,'' it saidonthe

Wheels WeekFacebook page.

The decision to cancel the

Ashburton SwapMeet was made

at an earlier date,and included

the cancellation of the

WinchesterSwap Meet.

Chinese gardens

Ashburton District Council

has approved additionalfunding

of $40,000 to complete building

restoration work at the Ng King

Brothers Chinese Market

Garden Settlement on Allens

Road. Thefunds are in addition

to $25,000 recently received

from aPoll Tax grant and are

subject to that funding been

matched with $65,000 from

Heritage New Zealand.

Ashburton council business

support group manager Paul

Brakesaid it was more cost

efficient to do all the identified

building work in one go, rather

than drip feed funds and do bits

of it overanumber of years.The

totalcost of the projectwas

estimated to be $130,000, and by

securing the additional funding,

it would cost council $40,000.

Fire season

The fire seasoninMid

Canterbury has changed from

restricted to open. This means

that apermit is no longer

required to light afire in open air

in high country and coastal

zones. Arestricted fire season

will remainfor the Geraldine

and Waimate Forest zones and

permits will continue to be

required for those areas. Sixtyfive

per cent of New Zealand

wildfires are causedby

controlled burns, cooking and

camping fires getting out of

control. Go to www.

checkitsalright.nztocheckthe

fire seasoninyour location.

THIS WEEK'SSPECIALS

SPECIALS

JAGERMEISTER

JAMESON 1L

DB DRAUGHT,

OR MOUNT GAY

incl.Limited

JAMESON

EXPORTGOLD,

ECLIPSE

Edition St Pats

CASKMATES

JAMESON 5%

TUI EIPA

HEINEKEN

1L

Bottle

700ml

333ml Bots 4pk

330ml Bots 24s

330ml Bots 12s

$

47 99 $ 43 99 $ 13 99 $ 34 99 $ 24 99

STIL

TEACHERS

1L

1L

$

33 99 $ 35 99

JIM BEAM

1.125L

$

43 99

$

48 99 $

14 99

GORDONS PINK &

JACK DANIEL'S

SODAORPIMMS &

DOUBLE JACK

CHIVAS 12YO

GINGER ALE 4%

&COLA 6.9%

700ml

250ml Cans 12pk

250ml Cans 10pk

TUI BOURBON

OR VODKA 7%

250ml Cans 12pk

CODYSOR

KGB 7%

250ml Cans 18pk

$

49 99 $ 23 99 $ 19 99 $ 20 99 $ 28 99

THE NED -

SAUV,PGRIS,

ROSE

PEPPERJACK

RANGE OR

LINDAUER

FICKLE MISTRESS

CLASSIC

Excl.COPnoir

RANGE

$

18 99 $ 11 99

ASHBURTON

MSA

266 Havelock Street,Ashburton

Telephone 308 7149

www.ashburtonclub.co.nz

HOURS

Monday

Tuesday-Saturday

Sunday

10:00am -8:00pm

10:00am -9:30pm

10:00am -6:00pm

SPECIALSAVAILABLE

from March26

to April2

2269078
---
Howto

self-isolate

if you're 70+

If you're over 70 yearsofage, you shouldstay at home

(self-isolate)asaprecaution. It's agoodidea toorganise

aplan of actionbyreaching outtofamily, friends and

neighbours.

Continueenjoying physical exercise –like gardening

–and ensureyou have agood supply offood and

medication.Asahelpinghand,the Governmenthas

doubled the WinterEnergyPayment.

Formore advice go to Covid19.govt.nz

Howto

support

anyone 70+

It's really important thatweall support people aged 70+inour

communities during this challenging time. Hereare afew suggestions:

1. Stay at least 1metreaway.

2. Wave or nod instead of shaking hands.

3. Keep visits short(under 15 minutes).

4.Talk to neighboursover the fence.

5. Offer to pick up supplies and medicine.

6.Offer to help them connect in ways other

than in person, likevideo chat.

7. Send videos or pictures of children

rather than taking them to visit in person.

Formoresuggestions go to Covid19.govt.nz
---
Page 6, Ashburton's The Courier, Thursday March 26, 2020

Spruce­up for military plots

By Toni Williams

Air Training Corp (ATC) cadets of

24 Squadron got some historical

learnings at the Ashburton Cemetery

this week, cleaning the headstones of

deceased military personnel.

It was their final unit outing, with

group activities put on hold until

further notice because of Covid­19.

Training moves into an online class

forum.

Nine cadets, and their leaders,

with scrubbing brushes and water

buckets in hand, spent five hours at

the cemetery on Sunday respectfully

cleaning down and repainting faded

inscriptions, some of which dated

back to men who served during the

Boer War in at the turn of the

century.

There are others scattered around

the cemetery who took up with the

defence forces including the Royal

Air Force, Imperial Forces and New

Zealand Military Forces, doing roles

such as field artillery, machine gun

squadron, rifle brigade, electrical

and mechanical engineers, drivers or

medical corps, to name afew.

They came from around New

Zealand, but also include

internationals serving with the likes

of Canada and Australian forces.

ATC unit commander Luke

Sutton said the clean­up was part of

the ATC's 2020 Heritage Project but

was also being done in association

with the New Zealand

Remembrance Army.

Cadets used BioShield product to

remove stubborn lichen and moss,

but mostly water and muscle power,

before applying the paint.

Typically veterans' headstones

were placed into three types, with

three bodies who looked after them;

the Commonwealth War Graves

Commission (for those who died in

the two World Wars), Veterans

Affairs (for those who died during

service or near to service) and those

in the Returned Services Association

Air Training Corp cadet in training Lochlainn Hall (standing) and

cadet Andy Armour put elbow grease to good use cleaning RSA

service plot headstones at the Ashburton Cemetery.

plots.

On average each headstone, with

basic clean and paint, cost $2 to

clean, but the newer­styled bronze

headstones, needing added product

to clean, were $10 each.

Mr Sutton said nationwide the

army, which are all volunteers, were

looking for sponsorship to keep the

cleaning options operating.

He said any family members who

knew of headstones, whether they

were on farm land, or remote plots,

which needed some attention could

contact the RSA who would pass on

the information.

While Ashburton's Army cadets

have in the past focused on war

memorials around the district, the

ATC cadets will focus on RSA

headstones at the Ashburton

Cemetery before looking at Rakaia,

and Methven cemeteries at alater

date.

Right: With aclean and some

paint, just like new.

Tourism operators in scary times

International and domestic travel

restrictions are likely to hurt

operators for monthstocome.

Experience Mid Canterbury

manager BruceMoffat said local

accommodation providers had

reported anumber of cancellations of

forward bookings in recent days.

Those bookings amounted to

between$400,000 and $500,000 and

that lost income would only climb

over the coming weeks.

The loss of revenue impacted the

localeconomy and was mirrored

across the country.

''These lossesare hugefor small

business operators and it is scary

times at the moment for tourism

businesses.''

Mr Moffat said official tourism

spend statistics published by the

Ministry of Business, Innovation and

Employment would start to reflect

and measure the downturn in tourism

spend.

For the year to March 2020, he

expected the local spend tofall

between $3 million and $5 million to

around$189m.

Mr Moffat said the tourism market

would bounce back, but when that

would be, was the big unknown.

Local news at www.starnews.co.nz

Power

supply

no issue

EA Networks is reassuring the

Mid Canterburycommunitythat

the currentCovid­19situation

poses no direct threat to their

networks.

The business willcontinue to

provide the region with essential

electricityand fibreservices

throughout the pandemic

situation.

The companyhas no concerns

about thepower andfibre

networks' resilience as more and

more people beginworking from

homeorother remotelocations.

''Our networks are

comparatively new androbust,we

don't foresee any issuesaspeople

change how and when theyaccess

these networks,''said network

manager Brendon Quinn.

Of critical importance is the

health andwellbeing of staff who

respond to network emergencies

andfaults.

The company is taking

precautionsto guard against

transmission withinits workforce.

''The greatestconcern forusis

the potential impact on our staff

numbers,'' Mr Quinn said.

''Weneedpeople to be readyto

respond to typical network events

andfaultsday and night.

''This is whyweare taking a

verycautiousapproach.''

The company hasfollowed

government recommendations

such ashavingstaffworkfrom

homeand self­isolating. In

addition, asecond operatingsite

has beensetuptoallow greater

physical separationofpeople.

Thiswill allowthe company to

splitteams into two operating

environments,whichishoped will

reduce spreadofany infections.

''We recognise the seriousness

of thesituation and theimportant

partweall playensuringthatrisk

of transmission is reduced.

''We want to assureour

community that we areworking

hardtoimplement new measures

to protect the public andour staff

so we cancontinue to provide

essential power services.''

Furtherupdates on howEA

Networksismanaging its

responsetothe Covid­19

pandemic can be found on thecooperative's

website eanetworks.

co.nz.

Smokefree domain plea

Purpose. Environment.

Partnership.Innovation.

Excellence.

• DairyNZ accreditedEffluent

Pond Design andConstruction

• Pond Constructionand

Irrigation Development

• Hedgeand Stump Removal

• Farm Conversions

• DairyTracks–

Lime or Gravel

• PumpHire

• Wellsand Galleries

• Bulk Earthworks

• Subdivisions

• Site Works

• Tree Shear

• Transportation

2262549

Smokefree Mid Canterbury wants

the entire Ashburton Domain to be

smoke and vape free.

Health promotersCarly

McDowell and Mandy Casey from

the smokefree organisation are

among more than 40 people to

have already made submissions to

the Ashburton DistrictCouncil on

its long­term development plan for

the domain.

Feedback is open until April 5.

Many of the submissions

received so far supportretaining

the Ashburton Bowling Club in its

current location;council had

proposed moving the 125­year­old

club to aless central part of the

domain or off­site altogether.

The bowlingclub would be

replaced by acentral information

hub, one of manynew or redesigned

features on the long­term

domain plan. Anew access of

Walnut Avenue, near the walkway,

is also proposed.

Smokefree Mid Canterbury says

many areas of the domain are

already smokefree,including

playgrounds and sports field. But

the gardens are not and the

organisation wantsthe whole

domain area fully endorsed as

smokefree and vape free.

''With the new plan's goal,of

celebrating the waterways, where a

play environment for children and

families is encouraged, it is

especially important we focus on

providing asmokefree location for

all to enjoy.''

Smokefree environments

provided positive smokefree rolemodelling,

encouraged and

supported others to quit.The

organisation also wants new and

more smokefree and vape free

signs.

Edith Smith,for Ashburton

Forest and Bird,said native

biodiversity should be apriorityin

the development plan because

original vegetation across the wider

plans was disappearing.

''This is an opportunity to

connect Ashburtonians with the

natural heritage of their district.''

Native species could be used

along the waterways.

She said the aviary should also be

disbanded because it was an

unnatural environment, receiving

negative comments. ''Why not

focus on nativevegetation trees

and shrubs to attract native

birdlife.''
---
Local news at www.starnews.co.nz Ashburton's The Courier, Thursday March 26, 2020, Page 7

OAKLEA DEVELOPMENT

Sections Selling Now

12 -896m2

19

1015m2

22

1017m2

SECTIONS AVAILABLE

FROM $151,000!

11 -979m2

107 51 -1036m2

-908m2

10 -1016m2

50 -814m2

9-1026m2

49 -809m2

48 -924m2

47 -922m2

44 -937m2

43 -937m2

55 -793m2

56 -802m2

Located west of Tinwald, with the

main entrance off Melcombe Street,

the Oaklea Development has sections

available to buy now. Our building

partners Jennian Homes and Milestone

Homes can also offer fantastic House &

Land Packages to suit your needs.

40 -940m2

41 -804m2

38 -851m2

57 -736m2

31 -852m2

75 -951m2

Get in touch!

30 -1038m2

Jennian Homes Canterbury

Michele Strange

P 027 491 5266

E michele.strange@jennian.co.nz

jennian.co.nz

Milestone Homes Selwyn &Mid Canterbury

Danny Brown

P 027 722 5525

E danny.brown@milestonehomes.co.nz

www.milestonehomes.co.nz
---
Page 8, Ashburton's The Courier, Thursday March 26, 2020

Driver mentor and firefighter

Volunteer of the month -Jill Tomlin

Keepingcool, calm and collected

is the best way for Jill Tomlin to

carry out her volunteering roles.

She is amentor withthe Mid

Canterbury RuralDriver

Licensing Scheme but also a

firefighter with the Rakaia

Volunteer FireBrigade and is

VolunteeringMid &South

Canterbury and the Hotel

AshburtonVolunteer of the

Month. When Jill heardpeople

wereneeded to mentor migrant

women learning to drivefrom

within rural communities around

the AshburtonDistrict, she was

spurred to actionasitwas

something shecould do. She is

now mentoring her thirdstudent

after the two previous women

gained their licences.

Jill was just as excitedasthe

student's whentheygot their

licences as it opened up so many

opportunities for them. It not only

gave themfreedom to drive their

childrentopreschooland school,

attendactivities in the community

or go to townbut also opened

doorstoother opportunities such

as volunteeringinthe community

or looking for employment.

Jill is passionate about the

service and cares for her students.

She provides arelaxed

environment as apassenger sitting

next to the women learning to

drive.

The regularsessions, either once

or twice aweek, involvedriving

around Ashburton for around

three quarters of an hour

experiencing traffic lights,

roundabouts or merginginto

traffic.

Jill says this experience also

sharpensher driving skills.

She makes sure to communicate

clearly, given that sometimesthere

can be alanguage barrierbut says

that's where hands signals can be

really helpful.

There is no timeframe,but

training usually takes around six

months.It is donein the student's

vehicle and will includetwo lessons

with aprofessionaldriving

instructor.

Teaching someone to drive, and

being taught to drive, can be a

nerve racking experience for both

parties so the ability to remain

calm and be relaxed are greatskills

for amentor.

And the regular contact often

sees the mentorand student, along

with their family, become friends

due to the rapport they build up

between themtodispel any nerves

about driving.

Jill recommends volunteering to

everyone.

She saysitisagreat feelingbeing

avolunteer and something

membersofher family know only

too well. Her husband,son and

daughter­in­law are also volunteers

with the Rakaia Volunteer Fire

Brigade.

Jill likes to be busy which is why

she volunteers.

Plus there is agreat needfor

volunteerswith Fire and

Emergency NewZealand,

especially duringthe day in places

like Rakaia.

The decision to volunteer as a

driving mentor wasmostlybecause

it appealedand she enjoysteaching

and driving.The key to being a

greatdriving mentor is

communication with the student,

Jill says.

Volunteering Mid &South

Canterbury are always on the

lookout for nominations.

Nomination forms are availableby

contacting Volunteering Mid &

SouthCanterbury, Community

House, 44 Cass Street Ashburton,

ph 3081237 ext 240 or email

volmidcant@gmail.com or pick up

acopy at FourSquare in Rakaia.

Local news at www.starnews.co.nz

Council delegates

decision­making

Ashburton District Council has established

aCovid­19 Response Committee

to ensure local government decision

making continues throughout the Level

Four lockdown.

Council has delegated powers, duties,

and functions to the new committee,

which includes all elected councillors

and the mayor.

Aquorum of two has been set up for

the committee, meaning two members

have to be physically present at meetings,

while others can attend remotely.

Council has suspended all of its

committees, with the exception of the

Library and Civic Centre Project Control

Group, with immediate affect and

until further notice. The project group

has some external members and also

delegated authorities already in place.

Community board meetings will also

not be held until further notice, and

where possible council will seek board

member feedback on decisions

impacting their areas.

Having effective governance during

this time is important, asisthe need to

streamline council and community

decision making, said council chief

executive Hamish Riach.

He said meetings were anticipated to

be weekly, or less frequently if no

decisions were needed.

Every council was going through the

same process, with some giving delegated

authority to the chief executive.

With the country in lockdown, council

needed to be ''agile'' with its decision

making and needed to make use of

modern technology, said Mr Riach.

Some functions must be retained by

council, such as adopting the Annual

Plan and setting rates, and further

emergency legislative amendments

would be considered that may relax the

requirements.

The council closed its community

facilities onMonday and is considering

the way it delivers services for the

foreseeable future.

A local Government Covid­19

response team has been formed to

provide information to councils about

contingency measures in the event of a

community wide outbreak.

One of the issues they are looking at

is to modify the quorum requirements.

Currently members have to be physically

present to meet the quorum and if

modified, quorums could meet via

electronic methods.

Ashburton council recently amended

its Standing Orders to enable elected

memberstoattend meetings via audio or

audiovisual means, should that option

be required.

The standing order is in place until

October and will then be reviewed.

Asecond motion agreed by councillors

was to reduce the quorum numbers

at committee and sub committee meetings

by one person, with a review

planned again in October.

Ashburton mayor Neil Brown said

council was ''ready'' for the lockdown

and he praised the chief executive and

his staff for their preparation work in

recent days.

Stage

show

off

BayRoad Merinos

2020 Collection

shop online or by phone

ProudlyChristchurch-made, BayRoad

Merinosare renowned fortheir quality,

comfort,softness andwarmth. Beautiful

rangeofsoftpastels &vibrant jewel tones.

COVID-19NOTICE

Our physical storeisclosedfor now.

However, we remain open for both phone

andonlineorders.

Find us just 1 Km off Hwy 1 at Rangitata on

Hwy 79. Open 7 days 9am to 5pm,

Ph 0508 504 006 thetinshed.co.nz

VarietyTheatre

Ashburton's (VTA) 2020

production It's onlyRock

'n'RollBabyhas been

postponedbecause of

coronavirus.

Some26singersand

dancers weremid way

through rehearsals for

shows to be performedat

AshburtonTrust Event

Centre in May.

Show directorGavin

Templeton said the cast

wasdisappointed,but the

decisionwas based on the

current situationwith

coronavirus.

The health and

wellbeing ofthe

community andcast, both

on and offthe stage,was

paramount.

Asecond VTAshow

calledJerseyGirlsis

scheduled to be

performed in early

November and updates on

it willbeissued over the

coming weeks.

Tickets purchased

online through Ticket

Rocketfor It's only Rock

'n' RollBabywill

automaticallyreceive a

full refund within 60 days.

Emailto

support@ticketrocket.co.

nz forticketspurchased

fromthe Event Centre,

detailing yourname, the

showdetails and abank

account forrefunds.

12a Tin 2020 Snow
---
WHAT'S ON AT

FOUR SQUARE?

BUY APAMS LARGE

HOT COOKED CHICKEN

+PAMS ICEBURG LETTUCE

Rallou Keeley with dirty items dumped recently at the Mid Canterbury

Animal Welfare Centre.

Dirtybedding dumped

While Mid Canterbury Animal Welfare

Centre manager Rallou Keeley is

very grateful for community donations

of old sheets, towels, pillowcases

and blankets, she is saying ''enough is

enough'' to those people using the

facility to dispose of dirty, unwanted

bedding and pillows.

Anumber of dirty items and old

quilts were dropped off out of hours

on March 16 and ''stunk to high

heaven''.

The vast majority of donations to

the centre were clean items that were

much appreciated, said Mrs Keeley.

''Most people are really good, but

there are a few out there that are

using the centre to dump things that

they should be dumping themselves at

an official drop off point.''

Mrs Keeley said it cost the centre

money to dispose of dirty, useless

items.

Pillows, cushions and mattresses

were not needed at the centre

because they could be ripped open.

Sheets, towels, pillowcases and

blankets were useful because they

could be cut up and used as cleaning

cloths and for cage bedding.

Hygiene was a priority at the

animal centre, said Mrs Keeley.

District­wide water

metering apossibility

The roll out of water metering districtwide

is once again up for consideration.

Ashburton council staff are preparing

a cost benefit analysis to investigate

installing water meters.

The cost benefit analysis will include

details on the estimated costs of water

metering and council will again have the

chance to vote on the matter once the

analysis has been presented.

If meters are installed, council will be

able to collect water use data and better

understand patterns and water leakage,

and if it chooses, mayconsiderintroducing

volumetric charging.

Currently council provides drinking

water to homes and businesses through

12 potable water supplies, with all

properties charged a fixed rate for

operating costs.

Council schemes service over 70% of

the district's residents through 10,538

water supply connections.

Each connected property, with the

exception of the Methven/Springfield

and Montalto water supplies, pay the

same targeted fixed rate and for the

2019/20 year connectedordinaryproperties

pay aconnection fee of $450.20 per

year.

In the Long Term Plan 2018­28 it was

proposed that water meters beinstalled

on smaller schemes for asset management

and leakage detection purposes,

and meters are currently going in in Mt

Somers, with Chertsey and Hinds set to

follow.

Currently athird of properties zoned

Residential Dare beingmetered and are

charged for the volume of water they

use. The rest are set to have meters

installed over the next six months after

council approving abudget of $120,000

last week to complete the roll out.

Mayor Neil Brown speaking at last

week's Audit, Risk &Finance Committee

said 51% of water was lost through

the reticulation systems and that meant

the current systems were not working

well.

''We need water meters fitted to help

stop that loss and to use water more

efficiently,'' he said.

Cr John Falloon said the option of

metering needed to be looked atclosely

now, and not in five years time.

Financial help packages

Mid Canterbury's small businesses

should be checking out financial help

offered by the Government to survive

Covid­19, says Ashburton retailers'

spokesperson Bob McDonald.

He said workers and business owners

could find information on Covid19.govt.

nz and they should register and apply for

subsidies. Most of Ashburton's cafes,

restaurants and retail outlets are shut in

the four­week lockdown.

Mr McDonald said businesses still

had bills including rent to pay in the

lockdown and they should be seeking

help from their accountants and other

advisors too.

All New Zealanders worried about

money are beingurged to seek guidance

through official government services

Sorted and MoneyTalks.

$

13 99 www.foursquare.co.nz

facebook.com/FourSquareNZ

AVAILABLE AT SELECTED STORES

Specials availableSouthIslandonly from Monday23th March until Sunday

5thApril 2020 or while stocks last.Wineand beeravailable at stores with an off

licence.Wineand beer purchases restricted to personsaged 18 years old and over.
---
Page 10, Ashburton's The Courier, Thursday March 26, 2020

Local news at www.starnews.co.nz

Family Notices

ENGAGEMENT

DEATHS

DEATHS

ACKNOWLEDGEMENT

Mr Thames and Mrs Jackie

Proudman,together with Mr

Brent and MrsSandraClarke

are delighted toannounce

the engagement of Samuel

Clarke and Olivia Proudman

on the 22nd of March2020.

DEATHS

BONIFANT, Annabel

Audrey: Passed away

at Christchurch Hospital

on Wednesday 18 March

2020, aged 72 years. Dearly

loved wife ofRoger, mother

and mother in law of Tim

(deceased) and Hilary

(Wellington), Georgie and

Marcus Peacock (Hawkes

Bay), Tessa and Jamie

Durham (London), Daniel

and Abby (Wellington),

and grandchildren Aimee

and Ollie, Hana, Jimmy and

Micky, Francesca, Walter and

Rose, Millie, and Ben and

Poppy. Aprivatefamily service

has beenheld.

Paterson's

Ashburton

FDANZ

03 3077433

McLACHLAN, Trevor

Murray (Trev): On March 19,

2020 passed away peacefully

at his home, Christchurch).

Aged 66 years. Dearly loved

husband of Jackie. Father

and father in law ofAudrey

and Heath Cater, grandad

of Tyla, Xanthe, and Nevaeh.

Loved stepfather of Andrew

and Rosie and Poppa Trev of

Bailee, and Kymzara. Loved

son of the late Beverley

and Murray and brother

and brother in law of Ken

and Polly Darrell, Betsy and

David Tipple, and Jason and

Kimberlee. Aloved uncle of

all his nieces and nephews.

Messages to C/- 2/351

Lincoln Rolleston Road,

Rolleston 7678. At Trev's

request a private cremation

has been held.

Paterson's

Ashburton

FDANZ

03 3077433

Birth notices listed by parents will continue to be

free in the Family Notices column.

Theinitial death noticelodged by afuneral director

will be listed without charge.There will be asmall

charge of $15 forsubsequentnotices relatedtothe

same death, up to amaximum of 35 wordsand on

aper-line basis afterthat.

The same low charges apply to other family

notices,such as engagements,acknowledgments,

in memoriam notices and anniversaries.

Supporting the community

96 Tancred Street,Ashburton. Phone 307 8317 LREA2008

MCRE

Complete

Local Care

Since 1982

DOIG,Neil Joseph (Rowdy)-

Passed away in Christchurch

on Saturday 14March after

a long courageous battle

with leukaemia. Aged 60

years. Dearly loved husband

of Yanin, loved step-father

of Kanta and Hang, adored

and loving grandfather of

Reggie. Much loved brother,

brother-in-law and uncle

of Rosemary (Neils twin)

and Grant Brown, Jessica

and Orin Tapp, Hayley and

Milo Klaus; Laurel and David

Allan, Larissa and Connor;

Sandra and Brent Clarke,

Sam, Georgia, and Rebecca.

A loved son of Stuart and

NancyDoig (both deceased).

Special thanks to the staff

at the Christchurch Hospital

Bone Marrow Transplant

Unit. Messages may be

sent to : 20 Trellech Place,

Ashburton 7700. At Neil's

request a private family

servicehas been held.

John Rhind

Funeral Directors

03 379 9920

ACKNOWLEDGEMENT

DEAKER, William Graham:

Shona, Kelvin and Meghan,

Blair and Jo and their families

thank you for the love and

support given to us at the

sad loss of Graham. Your

cards, phone calls, flowers,

baking and visits have been

greatly appreciated.

EDE, Maurice Edgar:

Beverley, Nigel and Sharron,

Shona and John, Deborah

and Craig and their families

wish to thankyou allfor your

kindexpressionsofsympathy

and support, for your visits,

flowers, cards, phonecalls

and food. Thanks to the

staff at Ward Two Ashburton

Hospital and special thanks

for the wonderful care and

help thatMauricereceived at

Rosebank Resthome, itwas

much appreciated. Thank

you to Bernard Egan and

Linda at Paterson's Funerals.

Please accept this as a

personal acknowledgement

of our gratefulthanks to all.

NEWTON, June: Dianne and

Angela, and families,wish to

sincerely thank all those who

in any way acknowledged

the sad loss of their

cherished mother, motherin-law,

nana and great-nana.

We appreciated your love

and support. Thank you to

those who attended the

serviceand the church ladies

for their catering. Special

thanks to Wendy Millichamp

for officiating, and to

Rochelle, Polly and Barry

from Paterson's fortheir help

and care.

Agracious,gentle and patient

lady nowatrest.

So sadly missed.

Please accept this as our

personal acknowledgement.

Aperfect venue for

Functions,

Funerals

and

Weddings.

Trott's Garden

371RacecourseRoad, Ashburton

www.trotts.co.nz |Email: info@trotts.co.nz

2258775

Family owned,

locally owned

Ashburton cubs Sean Williams, Jack Scoon and William Carnell prepare

to set sail in alesson at Lake Hood.

Cubs master sailing skills

Ashburton cubs took to the waters of

Lake Hood last week with some

twilight sailing. Around 15 cubs, each

with different experience levels, took

to yachts, kayaks and arow boat to gain

some new skills.

22 MooreStreet,

Ashburton

0800 2636679

2262527

Under the watchful eye of leaders,

and Mania­O­Roto water co­ordinator

Dave Strong, the cubs spent just over

an hour on the water familiarising

themselves with the use of oars and

rigging lines to steer.

Refugee family

delays expected

By Mick Jensen

The first wave of Afghan families

expected in Ashburton as part of the

refugee resettlement programme are

likely to arrive alittle later than

scheduled, but systems and support

mechanisms are being developed to help

them settle into anew life in New

Zealand.

The refugee resettlement service is

funded for three years by the Ministry of

Business, Innovation and Employment

and involves eight communities across

New Zealand.

The firstquota refugees arrived

recently in the country for asix­week

reception programme at the Mangere

Refugee Resettlement Centre.

They will thenmove to settlement

locations that include Blenheim and

Timaru.

The UN refugee agency hasnow

temporarily suspended refugee

resettlement departures in line with

developments in theCovid­19 situation.

Two to three families, or around 10

people, were originally expectedin

Ashburton on June 19, but that was now

likely to be delayed, said Ashburton

Refugee Settlement Supportteam

leader Kathy Harrington­Watt.

The former social worker and clinical

art therapist, who holds adoctorate in

anthropology with aspecial focus on

Letter to the Editor

Farmers' market

The Ashburton District

Farmers' Market

stallholders wish to advise

their customers and the

people of Mid

Canterbury that with the

current regulations due to

the Covid­19 Pandemic,

we have ceased trading.

We havestarted our

winter break early but

plan to be back late

September, all going

well.

Our twelfth market

season has gone well,

with some new

stallholders joining us

and thishas added to the

varietyand atmosphere

at the market. We have

also appreciated the local

buskerswho have given

their time to entertain us.

We thank all our loyal

customers who have

supported us, wet or fine,

migrant communities,said plans were

developingtowelcome and support the

refugees whenthey did arrive.

Mrs Harrington­Watt will build a

support teamofcaseworkers/social

workers and is currently advertising for

part­timestaff who will focus on the

areas of youth, housing, cultural

navigationand volunteer co­ordination.

On­site training is planned, including

cultural training, before the refugees

arrive and the Red Cross willsupport

the refugees to find employment

throughtheir pathways to employment

scheme.

The Afghan refugee community in

Christchurchwill also be consulted.

Learning English was apriority for

the refugees, as was getting ajob, said

Mrs Harrington­Watt.

She said caseworkers would work with

the families to identify complex issues

that may affect them and would provide

appropriatesupport and referrals.

Eachfamily would be supported for

12 months, or longer if necessary.

Mrs Harrington­Watt said anumber

of community volunteers had already

put up their hand to help and their role

would be defined over time and based

on needs.

''Weneed to find out from the

refugees whattheir needs andwants are

and then offer them choice and

solutions.''

and will be pleased to

welcome themback next

season, would also liketo

encourage morelocals to

come to the market when

we recommence at the

end of September 2020.

Shouldanyone be

interested in joiningasa

stallholder, this is an

excellent time to start

thinking and planning,

site availability is not a

problem, new ideas and

variety would be

appreciated.

Judith Crozier,

Ashburton District

Farmers' Market

secretary
---
Local news at www.starnews.co.nz Ashburton's The Courier, Thursday March 26, 2020, Page 11

Loving Mt Hutt tracks,trails

By Mick Jensen

The slopes of Mt Hutt are a

year round playground for

Methven brothers Reilly and

Patrick Duff.

The teenagers are among the

country's best school age

downhill mountain bikers and

also talented skiers.

Both were set to compete at

the South Island Secondary

Schools (SISS) MTB

Championships at the Mt Hutt

Bikepark from tomorrow, but

that event, like countless

others, has been canned

because of Covid­19.

Reilly, 16, won the under­17

downhill last year and was

second in the enduro, while

brother Patrick, 14, won the

under­15 downhill and was

sixth in the enduro.

Reilly went on to win the

downhill and was the fifth

fastest overall rider at the

school nationals last October,

and Patrick claimed second

place in the under­15 downhill.

The Mt Hutt College

students have been biking and

skiing from avery young age.

Reilly said he had been

looking forward to competing

at the SISS championships at

Mt Hutt.

He had hoped to win his age

group downhill event again and

wanted to improve his enduro

time.

He said his younger brother

was sometimes faster than him,

and had proven it at arecent

club event when Patrick had set

the atime of 1m:47s for the

Diggler route.

The Duff boys have been

racing competitively for four

years and both own trail,

downhill and BMX bikes.

The pair enjoyed ataste of

top competition earlier this

year at the Oceania and

National Downhill MTB

Championships in Dunedin,

Methven brothers, from left, Patrick and Reilly Duff.

where Reilly finished fourth in

the Oceania and fifth in the

nationals.

Patrick, riding in the U17

events, finished seventh in

both.

Downhill racing was about

speed, control and adrenaline,

said Reilly.

''You need to stay relaxed

and have aclear mind on the

way down.''

Patrick said he and his

brother preferred the thrills of

downhill and enduro than the

flatter, loop trails of cross

country.

Enduro, like downhill, was

timed, but had multiple stages

and bikes needed ''a bit more

suspension and different

gearing''.

Downhill had one track and

needed explosive power, he

said.

Reilly and Patrick Duff

would both love to be

professional mountain bikers

like their idol Anton Cooper,

but for now they are content

with riding and juggling school

with part time jobs.

The boys have Mt Hutt in

their sights over winter, and if

all goes well, they'll be speeding

down the slopes.

Andrew Falloon

MP for Rangitata

Your LocalVoice

Due toCOVID 19 Alert Level4my

offices are CLOSED

Both myself and my staff remain

available by phone and email.

Timaru 03 683 1386

Ashburton 03 308 7510

andrew.falloon@parliament.govt.nz

Authorised by Andrew Falloon

MP,139 Stafford St,Timaru.

GREAT

RATES

PC Repairs, Set-up and Tutoring

Icome to youday or evening!

NewPCs

and Laptops

forsale

•PCRepairs/Sales •Networks/Servers

•Firewalls/Security •Spyware Clean-up •Training

20 YearsExperience Microso Cerfied Professional

NETWORKS FIREWALLS AND PCS LTD

Robin Johnstone 67 Aitken Street, Ashburton

P: 03 308 1440 C: 027 768 4058

robinbj@xtra.co.nz

2245342

Uncertainty over skifield opening

A big cloud of uncertainty hangs over

whether the Mt Hutt Skifield will open this

season because of the Covid­19 outbreak.

Mt Hutt, which is owned by NZSki, is

scheduled toopen on June 5.

NZSki chief executive Paul Anderson

said the company was planning for everything

from a''reduced demand season'' all

the way through to ''not beingable to open''.

He said Mt Hutt had nine permanent

staff, which inwinter grew to around 300.

Last year, half of the staff were on

working visas and 60% were returnees.

''With the current travel restrictions and

advisories, and airlines reducing international

services for the foreseeable future

it means their journey to New Zealand is

likely to be delayed.

''Our team is following this closely and

working on contingencies.''

Mr Anderson said NZSki was preparing

for arange ofscenarios and had placed a

hold on any further recruitment at the

moment.

''Messaging to our permanent and contracted

seasonal staff currently is thatwe are

remaining optimistic and we are still

planning toopen asscheduled, however, we

are reviewing what our season might look

like and will keep everyone updated.''

With the ski season still nine weeks away,

the skifield is not currently considering

requests for refunds on ski passes and will

continue to review the situation as the

season gets closer.

In the event that Mt Hutt is unable to

openfor the entire season, rollover products

purchasedfor use in the 2021season,orfull

refunds will be provided.

If mountain operations are disrupted or

affected bythe pandemic for aperiod of

time the ''cancellation and refund policies

will be reviewed to be fair and flexible for

our customers'', it says onthe mthutt.co.nz

website.

Ashburton

April

16, 17, 20, 21, 22 &23

2265774

171 ALFORD FOREST RD,

ASHBURTON

0800 86 22 44

WE HAVE SOME

NEWEQUIPMENT

hireworx.co.nz

Chippers Generators Access Gear Trailers Excavators Toilets Forklifts Mowers &more

2269088
---
Page 12, Ashburton's The Courier, Thursday March 26, 2020

Local news at www.starnews.co.nz

Ashburton College

Individual Excellence in aSupportive Learning Environment

News

Issue 8

26 March 2020

DeputyPrincipal Message

Controlling COVID-19

We appreciate that the measures required

to combat the spread are inconvenient and

disruptive compared with our 'normal'lifestyles.

These disruptions can lead to a range of

emotions –anger, frustration, impatience and

sadness to nameafew.

At these times it is important wesupport each

otherand work hardtodisplayand demonstrate

the values thatmake our Collegeagreat placeto

be.For us,this is the AshColl Way–Quality,Pride and Respect.

To paraphrase Bob Myers,'it is easy to be agood person when things

are going well. When things are rough, then who are you?'This quote

challengesusall to step up and actinpositive ways at this time.

Information and Technology

We live in a world where information is freely available in huge

quantities,and messages can be spread widely usingtechnology. While

this has manybenefits,ithas also led to widespread misinformation and

the adventofphrases such as 'alternativefacts'.

As a school, we work hard to develop students'skills as critical appraisers

of information. This includes their ability and tendency to question

content and determine the extent to which it is accurate, factual and

free from bias.

With the varietyofinformation sourcesregarding COVID-19, Iencourage

our studentstoapply theseskills with aviewto basing their actionson

quality information. At home, you can support this by reinforcing the

importanceofchecking facts rather thanspreadingthe latest rumour or

hypothesis in their social media feed.

Supporting Students'Learning

With Monday's announcement by Government, at College we are

implementing our plan to supportyour child's learning from home. We

appreciate this is asudden and significant change and will be heavily

disruptivetomanypeople in our community.

We will be supporting our studentswith their learning,using the online

platforms and resources that have been set up and distributed to the

students.

FutureCommunication

Collegewill continuetocommunicate with familiesaswereceivefurther

updates.

In the meantime,wethank youfor your ongoing supportofour school

staff and school community at this challenging time.

Kia kaha, Kia māia,Kia manawanui.

Be strong,bebrave, be steadfast.

JonoHay

DeputyPrincipal • Tumuaki Tuarua

Changed DatestoSchool Holidays due to

COVID-19 Shut-down

Please note:

Theschool holidaydates have been changed and

arenow scheduled from

Monday30March to Tuesday14April.

This means thatdistance learning will resumeon

Wednesday15April –

whichwill be the beginning of Term Two.

Events

Year 12 OutdoorEducationCircuit

Little MtPeel

On 03-04 March the Year 12 Outdoor Education class set out on their first

trip for the year, being acircuit of Little Mt Peel via the South Ridge and

down via Deer Spur.

Outdoor Education teacher Luke Martin said that all students set off with

astrong pace and soon realised, once they hit the bottom of the ridge, it

was going to be abit tough to keep at that pace! He said, though, that it

was great to see students supporting each other and working together as

ateam.

The weather was forecast for heat but, asany experienced tramper knows,

the weather can always change and this trip was nodifferent. By the time

the group was halfway up the climb, the clouds had rolled in with rain,

and the wind had picked up. This provided agreat learning opportunity

for students to understand how vital it is to be prepared for all weather

conditions.The sudden and considerable drop in temperature surprised a

fewofthe students.

Due tosome unforeseen circumstances our trip had to be cut short so,

once down the mountain, the group had to head back to school rather

than complete the overnight camp. This aspect will be completed as part

of another trip laterinthe year,although with the current concerns around

COVID-19 all overnighttrips arepostponed until further notice.

Events

First Mufti Dayfor 2020 –

ForMosque Attack First Responders

On Monday16March Collegeheld its firstmufti dayofthe year,toraise

awarenessofand fundingfor the firstresponders(St John Ambulance,

Canterbury) of the 15 March2019 Mosqueattack.

Theme:Colour Your Day

Students wore brightclothing

to recognise the anniversary

of one of New Zealand's

darkest days.

The day was organised bythe

College's Student Executive

(pictured right).

(Backrow,lefttoright):

Jonty Small, Ngakau Howell,

Penny Stilgoe, Lucy Moore,

Kotiti Patea, Henry Chapman,

Ian Teves, Ocean Waitokia.

(Middle row, left to right):

WillowDiedricks,Seluvai Ratoul,Jacob Gray,Maria Costas, PoppyKilworth.

(Front row,leftand right): Jestena Raj, Kyle Cabangun.

Donations

It was decided to have donations to St John Ambulance asitisrun and

staffed by people who arepassionate about serving theircommunities and

caring forfellowNew Zealanders.

Adding to this decision is the fact that StJohn is acharity, not funded by

Government. It is also an organisation with avolunteer ethos, where paid

and volunteer members work side-by-side.

Abig thankyou is giventoallwho donatedtothis causeand in recognition

of the courage required from the first responders during the horrific events

of 15 March and,after the day, copingwith whatthey experienced.

(Pictured above): Year 13 students,'in colour'.

Congratulations

Aoraki Lawn Bowls Championships

In preparation for this tournament our students were fortunate enough to

have the continued support ofthe Allenton Lawn Bowls Club, practising

weekly after school under the guidance of Bob Holdem, Tom Sutton,

BobHarrison and BruceHopwood.

TheClub also sentusonour waywith nine sets of newly purchased bowls,

so the team really did look the part onarrival atthe Meadowbank Lawn

Bowls Club in Oamaru,onFriday13March.

College enteredfive pairs teams in theCompetitionGrade (two female and

three male teams).

Manager Darion Gray said that, once again, thesupportfromMeadowbank

and the Oamaru community enhanced the day, as every game had an

experienced person toscore, measure and offer the occasional pearl of

wisdom to assistwith the run of the green.

Results –2nd Placing

Nine rounds were contested, with the standard ofplay quite impressive,

denyingfourofour teams apodiumplace.

Our best result of the day was the team of Emma Rollinson and

Victoria Binnie who were placed 2nd from the three teams.

(Pictured above): Emma Rollinson, and (pictured right): Oliver Davidson in

action.

Darion saidthatitwas athoroughlyenjoyable day, with theplayers coming

away with improved skills for the game and bowls banter for the return

journey!

Events

Museum Trip for10Y Innovation Class

Over the last two years readers have had some information regarding

Innovation Class options at,firstly,Year 9level and,this year,toYear 10 level.

Angela Mitchell, Head of Social Sciences Faculty, outlines one of the

activities undertaken with 10Y Innovation learning this year,encompassing

collaborative learning from both the English and Social Studies learning

areas.

The learning this term is focused on two of the United Nations Sustainable

Development Goals - Reducing Inequality and Ensuring Peace, Justice and

Strong Institutions.

On Tuesday 17March the class spent the afternoon at the Ashburton

Museum learning about Protest. Protest can be used to bring attention to

situations where inequality may have existed or where peace and justice

were not present.

There are many great historical examples of people and groups who have

used various forms ofprotest to stand up for the right ofothers, with the

students shown historical examples of protests in New Zealand that were

highlighted inthe Topp Twins' exhibition. These protests included the

Springbok Tour,New Zealand's Nuclear-free stance, GayRights and Bastion

Point.

The students then started todesign their

own protest to campaign onanissue of

importance to them. This was a great

learning opportunity asalead into their

Innovation Project for Term One, which

they will work on over the next three

weeks.

Many thanks are given to the Ashburton

Museum staff forhosting us.

(Pictured): Students brainstorming issues

that are of importance to the youth of

New Zealand, by creating a person with

aplacard.

(Above): Adam Goudie beginning

his design work, while (right,

left to right): Amelia Harris,

Ruby Thomas, Sarah Bradley and

AliceHomer.

(Pictured above,back row lefttoright): Team members: Zac Woolf,

Sophie Watson, Maddy Wilson, Emma Rollinson, HenryHobbs,

Caleb McNulty-Burns.

(Front Row, lefttoright): Oliver Davidson, Liam Sullivan, Victoria Binnie,

Ethan Walsh.

Manager wasDarion Gray.
---
Local news at www.starnews.co.nz Ashburton's The Courier, Thursday March 26, 2020, Page 13

Ashburton College

Individual Excellence in aSupportive Learning Environment

News

Issue 8

26 March 2020

Congratulations

Medal Winners at South Island Secondary

Schools'Rowing Regatta

With information provided by Harriet Leverton,Cox

The Ashburton College rowers had an exciting weekend, inTwizel from

13-15 March, competing at the above regatta. With racing starting at

1:00pm Friday afternoon, the rowers left the Ashburton College bus bay

early,at6:00am.

The water was superbly flat the whole weekend, but on Saturday morning

the fog was thick, resulting in athree hour delay which was maintained

throughout the whole day.

With the recent cancellation of Maadi Cup due to COVID-19, sadly this was

the last regatta forthis season.

The novice rowers this season have come along way, progressing at every

regatta, and this is shown in their results.

Therefore-that'sawraponthe 2019/2020 season and we nowlook forward

to wintertraining and next season, under Team Coach Justin Wall.

The weekend results were as follows:

(Pictured above, left): Ged Wall, winner of the Boys' Under 17 Single Gold

Medal. (Pictured above right, left toright): Bronze Medal winners in the

Boys' Under 18 Novice Coxed Quad -Jed Amos (Cox), Matthew Pearce,

Mitchell Taylor,HenryWallis,Riley Harris, Fran Connelly-Whyte (Co-coach).

AFinals

1st placing Boys'Under 17 Single GedWall.

3rdplacing Boys'Under 18 NoviceCoxedQuad Matthew Pearce,

Mitchell Taylor,HenryWallis,Riley Harris, Jed Amos (Cox).

4th placing Boys'Under 18 NoviceDouble Matthew Pearce,Riley Harris.

Boys'Under 18 Single GedWall.

5th placing Boys'Under 18 NoviceCoxedFour Zane Cameron,

Parker Bradford, HenryWallis,Charles Savage,Jed Amos (Cox).

8th placing Boys'Under 18 NoviceDouble Parker Bradford,

Charles Savage.

(Pictured left): Gold Medal

winner GedWall.

(Pictured below, lefttoright):

Boys'Under 18 NoviceCoxed

Quad BronzeMedallists

Jed Amos (Cox),

Matthew Pearce,

Mitchell Taylor,HenryWallis,

Riley Harris.

BFinals

1st placing Boys'Under 18 NoviceDouble Zane Cameron,

Mitchell Taylor.

7th placing Girls'Under 15 Double Meagan Binnie,

RubyLeverton.

Boys'Under 15 Double HenryWallis,Mitchell Taylor.

8th placing Girls'Under 15 CoxedQuad IsabelWall,Mia Chambers,

RubyLeverton,

Meagan Binnie

Harriet Leverton (Cox).

Trades Students -2020

Kyle Backhouse-Smith, teacher-in-chargeofAutomotive, Designand Visual

Communication, advises that, to date this year, students have gained a

number of tickets as part of the process of getting 'workready'.

Students have worked through their First Aid Level 1qualification, Pro

MedHealth and Safety ticket,Site-Safe ticket and their Introduction to Mig

WeldingthroughAra Polytechnic.

This preparation is designed to ensurestudents arereadytosafely operate

on work-sites,the opportunities from which add to their job applications at

alater stage.

(Pictured above): Ashburton College Trades Coursestudents at Ara Polytech,

Timaru. (Back row, left toright): Aidan Bennett, Timothy Poasa, Matt Giles,

Gabriel Forster Lobato de Faria, Jack Gibbons,AlexChapman.

(Front row,lefttoright): LaurenceVan Zeyl-Hemara, Josh Dunlea, Lily Wills,

BrontsonCudmore, Brad Blundell, Cameron Radford.

Scheduled for when schools re-open is the community component ofthe

course where students gain experience inarange of different trades and

then narrowthese down to specific trade areas of interest andsuitability.

Also planned forthis year arethe experiencesof'Plumber foraDay', 'Builder

foraDay','Mechanical Engineerfor aDay'and 'Sparky foraDay'.

(Pictured above): Trades Course students in the workshop, with

Gabriel Forster Lobato de Faria (front left) and Lily Wills (light blue overalls)

facingthe camera.

AutomotiveCourse at College

New this year at Collegeisthe Automotiveclass.Kyle Backhouse-Smith said

therehas been asignificantuptake by students,with twoclassesofsixteen

studentswherethey work in groupsoffour on all aspectsofthe automotive

industry. Students work online in classaccessingresources and undertaking

their assessments, alongside ofpractical work, towards gaining their MITO

(IndustryTrainingOrganisation)Ignition ProgrammeQualification Level2.

To date, student Tod White

holds the record for the fastest

tyre change (1.37 minutes).

Apparently this is equal to teacher

Kyle Backhouse-Smith'stime!

(Pictured right, clockwisefromleft):

Tod White, Sophie Woods and

Blake Farr, working on the CV

Joint.

TwoWins at Inaugural Selwyn Schools'

Debating Competition

TeacherofEnglish PennyBayley said that, on Tuesday17March, College had

aJuniorand Senior Debating Team travelling to Lincoln High Schoolfor the

inaugural Selwyn Schools' Debating competition which is planned to be

held onceaterm in 2020.

Results

Both College teamswerevery happytohaveawin, andwererewarded with

chocolatesbytheir Lincoln hosts!

The SeniorTeam of Year 12

students(pictured right, leftto

right):Lauren Taylor,

TiaMcCallumand

GemmaTaylor successfully

negatedthe moot that 'This

housewouldban cosmetic

surgery'againstthe Ellesmere

CollegeSenior Team.

The Junior Team of (pictured below, left to right): Chloe-Lyn Edwards

(Year 9), Danielle Faichnie (Year 10) and Genevieve Felton (Year 9)

successfully affirmed the moot that 'This house supports parents having

access to all their kids'online activity'against the Lincoln High School Junior

Team.

Staff vStudentExecutiveVolleyball Match

One of the last events to take place before the COVID-19 increased social

distancing and lockdown, wasthe Staff vStudentsVolleyball match, held in

the College gymnasium on Friday20March,tothe entertainmentofstudent

spectators.

Amidst the customary jovial approach, competitiveness was alive and

well amongst both the staff and the students, with game completion

acknowledged by thenew-normal elbow 'high five'.

(Pictured left): Staff member

Julia Bell preparing to serve a

winning shot.

(Pictured below): PoppyKilworth at

full stretch as she chases the ball to

assist it to ateam-mate.

Result

As the Student Executive held the trophy last year they considered they

were in the boxseatand challenged the Staff to this year's fixture.

However, tides canchange and this year resulted in aconvincing win to the

Staff,45-32.

(Pictured left): Samuel Corbett

working on the leftCVJoint.

(Pictured below):

Automotiveclass members.

(Pictured above,front and back): Zane Cameron and Mitchell Taylor on their

waytowinning the Boys'Under 18 NoviceDouble.

Heats

5th placing Girls'Under 18 NoviceCoxedQuad Isabel Wall,

Claudia Thomas,Mia Chambers,

LauraJensen, Harriet Leverton (Cox).

6th placing Girls'Under 18 NoviceDouble Claudia Thomas,

LauraJensen.

7th placing Girls'Under 18 NoviceCoxedFour Claudia Thomas,

MiaChambers,Isabel Wall,

Laura Jensen, Harriet Leverton (Cox).

(Pictured above): Both teams, but with afirm grip on the trophy bystaff

members Julia Bell (left), James List (right) and Jason Vannini (behind the

trophy).

(Back row, left to right): Luke Martin, Ron Carlson, Jayne Cornelius

(partly obscured), Jacob Gray, Patrick Sandrey, Pete Lee, Ngakau Howell,

Vaughan Matheson, TomKitchen,Kotiti Patea, HenryChapman, Jonty Small.

(Front right group,front leftand right): PoppyKilworth, Lucy Moore.

(Middle row,lefttoright): MariaCostas,Seluvaia Ratoul,Kyle Cabangun.

(Back row,leftand right): WillowDiedricks,Jestena Raj.
---
Page 14, Ashburton's The Courier, Thursday March 26, 2020

Local news at www.starnews.co.nz

Stayingwell and connected

Caring for yourself and others

By Pup Chamberlain

The word pandemic sounds

dramatic, panicky even. Let's face it

we are in uncertain times where the

unknown is exactly that and while

panic is the last thing we want, we do

need to be AWARE and

RESPONSIBLE.

Aware: means as adults we need to

be aware of what coronavirus means

to our country. There is only one

accurate source for this and that is

through central government.

Thinking you know more or you

don't like the person guiding us at

times like this is destructive and will

do nothing to help the situation that

we all find ourselves in.

As acountry it is time to work

together, look after each other and

get through coronavirus with as little

damage as is possible. When we are

Be neighbourly

Be kind, be patient, be

safe, and keep

connected in anonphysical

way, says

Ashburton District

Neighbourhood Support

co­ordinator Christine

Richards.

She said key messages

from the organisation

were to stick to

government directions

regarding self­isolation

and how to keep healthy,

including handwashing

and using hand sanitiser

''I strongly encourage

Call us todayfor allyourpharmacy

needs delivered to your door

allenton pharmacy

67 Harrison Street

Ashburton

Mon-Fri 9.00am -5.30pm • Sat9.30am -12.30pm

directed to do something by central

government it is because they are

looking at abig picture that has been

put in place over years by better

minds than you and me.

Responsible: means looking after

each other, some people have

already been hit badly with job losses

and we know from overseas some

groups are more susceptible to

Covid­19 than others. Again this is

about our whole community, don't

lose that focus.

Stop panic buying, New Zealand is

in agreat position of producing

plenty for all, this is not

Armageddon, put it into perspective.

Protect the elderly, children and

yourselves from anxiety. Don't

become addicted to watching every

news item and online rubbish about

the virus. Remember there is one

people to join

ashburton.getsready.net

if they haven't already

done so. This such an

easy and important thing

to do.''

Mrs Richards said

people on streets where

there was no active

Neighbourhood Support

group could still make

contact if possible to do

so in asafe non­physical

contact way. ''Exchange

names, addresses,

phone/mobile numbers

and keep in touch.''

P(03)308 6030

F(03)308 9900

2270202

source that matters central

government with its various

departments.

Listening to ateenager in London

or adoomsdayer in the middle of

America is neither helpful or

accurate and will only add to unease.

Keep an eye on your children and

what they are being exposed to

online and through your own

behaviour, it is more important than

ever to remember your job

description as aparent, nurture and

protect.

Check on neighbours and friends ­

aphone call, offer of support and

showing care helps them and yourself

at such times.

The things we have taken for

granted are and will change in the

next few weeks, so let's focus on

what's really important: People!

Pup Chamberlain

Staying safe: Five ways to wellbeing

The Five Ways to Wellbeing are

agood guide to look at and take

note of over the next few weeks:

GIVE: Think of others, if

people are in need don't be

scared to reach out, this may be

picking up groceries or other

jobs that they be unable to carry

out. We know we are a good

community at giving so let's do it

again.

BE ACTIVE: Unless you are at

home keeping warm because you

are ill, remember we have great

outdoors, back yards and even

indoors to keep active (I might

even do some housework,

might?). We can keep a safe

distance from others and still

keep active.

KEEP LEARNING: We may

well reach astage that schools

and many jobs are based at

home, make sure you are ready

to do your learning and work

online. Might be agood time to

do some online learning about

something you always wanted to

do, but never had time. Imight

even blow some dust off the

book­shelf.

CONNECT: Obviously this

may be limited with personal

contact but we have never been

better equipped to connect

through other means such as

Skype, Facebook and several

other tools, even the good old

telephone. Make a point of

connecting with loved ones and

mates more often than usual. If

you are knocking on neighbour's

doors to see if they are OK

respect safe distances and personal

hygiene, but it is agood

time to keep connected or make

anew connection.

Local media will keep us up to

date community wise and there

will be plenty of wellness updates

available.

TAKE NOTICE: Maybe, just

maybe this will be achance for

society to slow down and focus

on what is really important to us

all. Loved ones, our outdoors,

community, the simple things

that we all too often dismiss or

take for granted in aworld that

has become materialistic and

stupidly busy.

We will keep in touch over the

next few weeks, be kind and

caring of each other and we will

ride out this storm together as

we have always done with past

adversity.

Don't be scared to treat yourselves

to keep the morale up at

home, Ilike that advertisement

on TV at the moment with mum

locking the door for bath time, a

soak in the tub on her own.

Maybe ablock of chocolate or

hokey pokey ice cream, mmm.

Remember, if you feel the

need to talk about your mental

wellbeing phone, txt 1737 any

time. (This is for yourself or to

get advice about others).

You can also contact your

local doctor (GP); phone first to

find out about their procedure

for coronavirus.

Other helpline numbers:

Crisis Mental Health Care

0800 222955

Covid 19 helpline 0800

3585453

Lives Worth Living:

Connie Quigley

027 450 0742

connie.quigley@safermidcanterbury.org.nz

Pup Chamberlain

027 382 6501

paul.chamberlain@safermidcanterbury.org.nz

Support sleep, muscle relaxation

&overall wellness

20%

OFF

Solgar Full

Spectrum

Curcumin

support for

brain, joint and

immune health.

If you have any pre-existing medical conditions, consult ahealth professional prior to use.

Always read the label and take as directed. TAPS PP5244. HealthZone Limited, Hamilton.

ASHBURTON

The Arcade

(03) 308 1815

h2k11@xtra.co.nz

EARN UP TO 44

REWARD POINTS

30s NOW

$45 50

was $56.90

90s NOW

$95 90

was $119.90

www.Health2OOO.co.nz

Follow Health2OOOGroup on:

20%

OFF

Lighthouse

Magnesium

Max supports

the relaxation of

your mind and

body for agood

night'ssleep.

EARN UP TO 44

REWARD POINTS

60s NOW

$19 90

was $24.90

120s NOW

$31 90

was $39.90

200s NOW

$43 90

was $54.90

2265438

Make apoppy

Poppy Day and ANZAC Day services

may have been cancelled but the

national body is looking at alternative

ways for people to honour and

remember those who have served, many

making the ultimate sacrifice.

RNZRSA national president Barry

Clark, posting on Facebook, said: ''We

are looking at ways you can honour and

remember those who have served, many

making the ultimate sacrifice.

''The Government announced the

closure of all schools so our children will

be at home looking for ways to occupy

their time. My suggestion is to get them

to make their own poppies, large and

small, and decorate your front fence or

letter box. Imagine lots of home­made

poppies decorating our streets, it would

so amazing and afitting tribute to those

we owe so much.''

He was hopeful for agreat response.
---
Local news at www.starnews.co.nz Ashburton's The Courier, Thursday March 26, 2020, Page 15

Staying well and connected

Coping with lockdown

Mid Canterbury businesses,

groupsand services are making

an effort to keeptheir people

connectedbythinking outside

the box.

When Covid­19concerns

grew, many groups and

individuals at places like

schools, churches, fitness

centres, playgroups and

businesses were already

thinking how besttokeep in

touch,and keep safe.

Many took to social media

using sites suchasZoom,

GoogleHangouts, FaceTime,

Viber or Skype using face­toface

technologies.

And others are usinglive

feeds or websites alreadyin

place to keep people active.

Rural Support Trust Mid

Canterbury manager Judy

Skevington urgedrural

communities to keep an eye

out for eachotherand checkin

on their neighbours.

Support is stillavailable

through the trust, contactable

via its 0800 787 254 number,

which people can phone or text

to make contact. There is also

emailatrst.

midcanterbury@gmail.com

Mrs Skevington said

wellness advocates Lance

Burdett and Doug Avery had

also, via their Facebook pages,

made themselves available to

peoplelooking for inspiration

or assistance.

The district'steachers, given

mere minutes'notice of school

closure's are ensuring pupils

and students have learning

that willaccessibleeither

onlineorthrough home

learning packs after finding

out in the past week from their

communities just how many

had home access to internet.

Netherby School was

reminding its school

communitytokeep up the

reading, playing games with

family, teaching children how

to bake,arts and crafts can be

set at homeand visit learning

sites on line for your children

to engage in.

Labour List MP Jo Luxton

Let's alllook out forone another

Jo Luxton

You can stay connected with family and friends by using face-to-face technology.

They wereencouraging

parents and caregiversto

expect to be at home for some

time and to keep visiting the

school sites for learning

opportunities.

Priortothe alertlevel

increase,many restaurants,

food producers and providers

had adaptedtheir business

models by offeringdelivery

options, email ordering,or

drivethroughordering not

previously considered.

NetherbyFour Square,one

of the many essential services

in the supply and sale of food,

beverage and other key

consumer goods is still

providing email and collect

orders duringset hours and

days of the week.

As is Mountain ViewEggs,

at Winchmore.The egg

producer usually supplies

district cafes, restaurants and

bakeries but with thatbusiness

slowing to ahalt,their freerangechickens

are still

producing.

"Cafedemandisslowing

We are experiencing an

unprecedented global event as

the world deals with Covid­19.

Here in New Zealand we have

moved to fight the virus by going

hard and going early.

This is adynamic situation and

the decisive action we take now

can potentially prevent the

worst. We are pulling out all the

stops to protect the health of

New Zealanders, and the health

of our economy.

Now that there is evidence of

community transmission, we

have stepped up our efforts to

control the spread of the virus by

moving New Zealand to the

highest Alert level of 4asof

midnight on Wednesday.

This means we will all need to

go about life very differently to

down but the chooks haven't

caught up with the news and

are still producing well."

With 1500 hens already

producing and afurther 600

due in the coming weeks,

Mountain ViewEggs has made

its eggs available to the public

for purchase; adozeneggs cost

$7 and atray of 30 eggs is $17,

payment online.

People can checkout their

Facebook page for contact

information or email them

directly at murrayfields@xtra.

co.nz for details.

They willstillbeable to

deliver under alertlevel 4, as

an essential service provider,

and will deliveraround

Ashburton,Rakaia and

Methven for free.

Othergroups, suchas

church groupshave been

encouraging parishionersto

join onlineservices via

Facebook or YouTube.

The Ashburton Parent

Centre have startedplaygroup

and music sessions online

using the online forum, Zoom.

help slow down the spread of this

virus. We all have arole to play.

We are all in this together.

This means that if you are not

part of essential services, stay

home and stop interactions with

those outside of your household.

Non­essential business premises

must close. This includes bars,

restaurants, cafes, gyms,

cinemas, pools, museums,

libraries and other places where

people gather together.

All events and gatherings must

be cancelled, schools and ECE

centres are now closed,

workplaces must implement

alternative working with

everyone who can work from

home, there is to be no

discretionary domestic air travel

between regions and public

The group had their first

virtual meetingthis week to

ensure their supportnetwork

remained.

And the EA Networks

Centre have joined up with Les

Millstoprovidearangeof

group fitness workouts, open

to anyone, thatcan be done

from anywhere.

''Grab yourphone or your

device and stay strongand

healthy throughthis

challenging time," they state.

The workoutscan be

accessed,for free, via the

virtual fitness button on the

EA Networks centre website.

And popular Garage Gym

owner,Anna Johnson, in

tryingtokeep her four­monthold

business viablefor the

future, has created aprivate

Facebook page,atasmall cost,

givingpersonnel challenges,

motivation and general banter

to users.

It is called the Covid19Save

the Business Membership and

will featureamix of 30­minute

live workoutsand programs.

transport is only for people

undertaking essential services.

These most serious

restrictions will be in place for a

minimum of four weeks to help

defeat the virus. We need to

make sure we continue to do

what New Zealanders do best:

look out for one another, check

in on people who may be at risk,

and unite against Covid­19.

There will be considerable

disruption and we will all need to

go about life differently, the

potential cost of not acting now

is just too high. None of us want

to see our loved ones suffer, so

let's do what we do best Mid

Canterbury, look out for one

another, check in on people who

may be at risk, and unite against

Covid­19.

Hearing seminar

huge success

Giving advice and support

to those with hearing

difficulties saw the

Ashburton Hearing

Association's inaugural

seminar touted a

''resounding success'' by

association president

Aine Whiting.

The well­attended

seminar had hearing

therapist Heather Talbott

speak about the causesof

hearing impairment, how

to cope with hearing loss

and the various aids,

devices and services

available for people

affected.

The Ashburton

Hearing Association

provides arange of

service for its members

especially focused on

social activities.

Aine said the

association decided to

hold the seminar because

it recognised aneed

within the community for

advice and support; the

question and answer

session following

Heather's presentation

and the exchange of

personal experiences

which took placeover

afternoon tea, confirmed

it.

Although the seminar

was athe first event, the

association plan to

arrange similar events in

the future.

The association's

annual general meeting,

scheduled for April 17,

has been postponed and

the premises are closed

however those requiring

hearing aid batteries can

phone 308­3999 or phone

/text 0274 853006 for

assistance.

Anglers, hunters

should stay home

Fish &Game New Zealand

is all anglers and

hunters to do the right

thing and stay at home

while New Zealand is at

Covid­19 Alert Level

Four.

''Unfortunately, being

at Level 4 means that

anglers and hunters aren't

able to do the pursuits

that they love,'' said Fish

& Game New Zealand

chief executive Martin

Taylor.

''The advice wehave is

that atAlert Level 4anglers

and hunters should

not undertake activities

that expose them and others

to higher levels of risk.

We are also advised that

7Allens Road

Ashburton

Contactusat:

TrevorWilson Centre

215Tancred Street

Ashburton7700

Phone: 03 2616907

DOC huts and campsites

are closed as they do not

meet minimum separation

requirements.''

New Zealand Search

and Rescue (NZSAR) is

asking people to stick to

simple outdoor exercise

and avoid areas where

they could get lost or

require search and rescue.

NZSAR want to ensure

that emergency services

are available to help those

in the greatest need.

Fishing and hunting,

even close to home,

inherently carry adegree

of risk and itisimportant

for anglers and hunters

not to further burden the

emergency services.

THREERIVERS

HEALTH

Phone 03 308 6030

Mon -Fri 8.30am -5.30pm

Enliven

PositiveAgeing Service

www.enliven.org.nz

Upper South Island -Mid Canterbury

We wish to advise that

Presbyterian Support

Enliven will continue

contactwith current

clients.

2270203

2270325
---
Page 16, Ashburton's The Courier, Thursday March 26, 2020

Local news at www.starnews.co.nz

Rural&Lifestyle

AgriKids Aorangi region winners

AgriKids Aorangi winners Tabitha White, Tessa

Macdonald and Edward Pottinger, of Longbeach

School.

Hinds School pupils Kate Sheppard, Alison Harbutt and

Morgan Harbutt placed second.

Longbeach School pupils Liam Lash, Aiden Smollett

and Milli Pottinger placed third.

Mid Canterbury school children have taken out the top three

placingsinthe AgriKidsAorangiregionalfinals. The competition,

which was changed to an online competition, was won by

Longbeach School pupils Edward Pottinger, Tabitha White and

Tess Macdonald, second place went to Hinds School pupils Kate

Sheppard, AlisonHarbutt andMorganHarbutt and third placeto

Longbeach Schools Liam Lash, Aiden Smollett and Milli

Fonterra performance good

Fonterra has announced an improved

financial performance but has decided

not to declare an interim dividend,

citing the impact Covid­19 could have

on its second­half earnings.

The co­operative's normalised net

profit after tax was $293million for the

six months to January 31, up from

$72million the previous year. Normalised

earnings before interest and tax

were $584million, up from $312million.

In astatement, chief executive Miles

Hurrell said it was ''now a very

different co­op to this time last year''.

He was pleased with the progress

Fonterra had made in the first six

months of the financial year, but said it

was now operating in avery different

global context as aresult of Covid­19.

For the second half of the financial

year, Mr Hurrell reaffirmed the forecast

farmgate milk price range of

$7­$7.60 per kg ms and forecast

normalised earnings guidance of

15c­25c per share.

''Our underlying earnings are tracking

well at the half year but there is no

doubt that we have anumber of risks

that are outside our control in the

second half — in particular, the

potential impact of Covid­19 on global

demand, geopolitical risks in key markets

such as Hong Kong and Chile, and

ongoing dry weather conditions here in

New Zealand which could impact

collections and potentially input costs,''

he said.

Fonterra was reporting early signs of

turning its performance around and,

while it was still ''early days'', the

results announced were an encouraging

start, he said.

Dairy auction prices fell for the

fourth consecutive auction; key whole

milk powder prices dipped 4.2% and

overall prices fell 3.9%.

Farmers offer an essential service

Farmers can carry ondoing what they do best ­

putting high quality food on people's tables and

earning export revenue ­with confirmation they

are an 'Essential Service' and can continue

operating under the Covid­19 lockdown.

Services associated with the primary sector,

including food processors, diagnostics, farm suppliers,

freight and trucking can also go about their

business, while taking all practical steps to limit

people to people contact. The confirmation is a

relief and reason for pride for many farmers and

workers in those associated industries.

Mid Canterbury­based Federated Farmers

arable vice­chairman,Grains, Brian Leadley ,said

the South Island grain harvest was largely

complete, withmost growers happy with yields and

quality.

''From spring 2019 surveys the expectation was

for a slightly reduced total tonnage due to a

reduced planting, particularly in feed wheat and

barley. The feeling now is the reduction will have

been replaced with a return to good yields

following the last two poor production seasons.

Pottinger.

New Zealand Young Farmers chief executive officer Lynda

Coppersmith, inaFacebook post, congratulated the winners on

their victory taking part in the first online competition, organised

at short notice due to Covid­19 restrictions.

''It started with anonline quiz which was released on Tuesday,

beforethe topteam fromeach school was chosen.From there they

Currently wheat and barley would be available

from the South Island suitable for manyclasses of

livestock to help bridge feed shortages and support

the North Island feed suppliers and livestock

farmers.''

Care is needed gradually transitioning stock to

grain. They'll need adequate water while this

happens.

''For this reason itis best tostart feeding early

while there is some other feed available to feed

with thegrain. The grain willalso ensurethe other

feeds last longer. Also, following the harvest there

is still supplies of ryegrass straw, as well as limited

supplies of baleageavailable that would be agreat

blend with grain.''

Farmers interested in thesefeed optionsshould

talk to their trusted supplier. If districts work

together and co­ordinate, savings on transport

costs could berealised. ''Also rural contractors

have contacts with each other throughout the

country so may be able to help arrange feed

purchases, particularly hay, straw or baleage, and

also help arrange transport.''

battleditout in anotheronline competition –this time going head

to head live (also online).''

In theAorangi regional final of the FMG JuniorYoung Farmer

of theYear, GeraldineHighSchool students took out thetop three

spots. First place went to Nicole Wakefield Hart and Hannah

White, second toJames Rowley and Robert Furrer and third to

Zara Glenie and Maddy Smith.

Cautionary measure stops spread

A precautionary measure at the

eleventh hour saw the potential for

further spread of Covid­19 into

Mid Canterbury stopped with the

cancellation of aplanned visit to

the area. Members of the World

Hereford Conference were due to

visit Okawa Poll Hereford farm at

Mayfield last week but host organisers

exercised caution after being

notified an Australian attendee had

gone home unwell and since tested

positive for the virus.

Okawa Poll Hereford's Nick and

Penny France said, via Facebook,

"today we were meant to host the

World Hereford Conference tour

at Okawa and continue up to

Hakatere quarters and Erewhon.

"An Australian person attending

the conference last week tested

positive at home in Australia for

Covid 19. The NZ government

health specialists advised that the

tour group is at zero risk of being

infected.

"A number of our local community

involved in making the day

happen were nervous Covid 19 is

not fully understood. There was

also the perception that the

information about the conference

attendant had too many opportunities

for risk.

"We decided in the interest of

our local community and protecting

them from any real or perceived

risk that we would cancel the

event."

It was deemed to be a good

decision with the resulting news

four people at the conference had

since tested positive for Covid­19.

The international conference was

held in Queenstown, from March 9

to 13, before the enormity of the

crisis was apparent.

The four cases, two overseas

visitors, an Auckland man and

another New Zealander not resident

in the South, were confirmed

by the Ministry of Health. About

480 people from 18 countries were

at the conference; several stayed on

for a five­day South Island tour,

and some are known to have visited

Wanaka and gone to the town's

A&P show. Prior to the Alert Level

increase, all conference attendees

had been asked to self­isolate.

Mt Somers waterway tests due

Environment Canterbury (ECan) is expecting

test results soon of water taken from a

Mt Somers waterway where hundreds of

dead and dying fish were discovered.

Ashburton zone manager Janine Holland

said what happened inthe stockwater race

was an ongoing investigation and no conclusions

had been reached.

''We are still awaiting the results of water

sampling tests so can't confirm what has

affected the stockwater race at this stage.

Multiple parties ofinterest are assisting us

with our inquiries at present.''

ECan encouraged the Mt Somers community

to continue toavoid the stockwater

race and not allow animals to enter the

water.

''We have signs along the race and this

advice remainsinplace until we havefurther

information. AshburtonDistrict Council will

talk directly with stockwater race users

about their access to, and use of, the race.

''We ask residents not to speculate about

Dying fish in aMtSomers waterway.

the causes or parties involved in this

situation, asitismay impede the investigation's

progress. Environment Canterbury

thanks residents who have willingly shared

information with us in the last fortnight."
---
Local news at www.starnews.co.nz Ashburton's The Courier, Thursday March 26, 2020, Page 17

House information needed

Ablack and white image of the old house being researched by John Carter.

Ashburtonman John Carter is looking

for information about amajestic old

housethat once stood on the corner of

Cass and Peters streets.

John is avolunteer atthe Ashburton

Museum and has already published

abook about the district's old

garages.

Now he has turned his attention to

tracking down information about the

old house, which was pulled down in

the last 1960s.

He remembers the two­storey

building, with ornate balcony: his

grandmother lived down the road on

Cox Street and Doug Robin's garage

was behind it.

John said the museum had little

information on it and he is hoping

otherswith memories of the house will

come forward. His number is 3081574.

Put outdoor

plans on hold

The Mountain Safety Council is

urging Mid Canterbury hunters,

trampers and outdoor recreation

enthusiasts to adhere to the

Covid­19 Alert Level 4 criteria

announced by the Government on

Monday.

MSC chief executive Mike

Daisley reiterates that the eliminate

criteria of Level 4 requires

everyone to stay home and avoid

all non­essential movements.

''Unfortunately, this latest

development is going to have a

significant impact on many peoples

plans to get out into the hills,

but that's asmall price to pay for

the alternative of not getting on

top of the Covid­19 virus.

''Our message to everyone is

simple: stay at home, stay out of

the backcountry, put the trip plans

on ice and save them for another

day. We will all have plenty of

opportunities to enjoy our wonderful

country once this is over, we

all want New Zealanders to stay

safe and healthy.''

However, this does not mean

people can't get outside and get

physical activity. Mr Daisley says,

''it's about choosing the appropriate

level of recreation, maintaining

some sense of physical activity

for health and wellbeing benefits,

but not tackling those longer

challenging day trips and certainly

nothing that requires an overnight

stay.''

The Ministry of Health has

advised the MSC to ensure everyone

knowsto''stop all interactions

with other people outside of those

in your household'' and ''we are

asking you only spend time with

those who you are in self­isolation

with, keep your distance (minimum

of 2­metres) from all others

at all times''.

The MSC strongly advise

people who do get out for exercise

to stick to their local area, walk or

run to the local park,gofor ashort

walk in the local bush reserve, take

your mountain bike up your local

bike track, but keep your adventures

close to home and always

maintain the necessary social

distancing measures.

It's also essential that people

don't meet up with others when

they're out getting some exercise,

only take part in these activities

with the people in your household.

Be extremely careful of high

touch items like handrails, avoid

touching these or immediately

wash/sanitise your hands afterwards

if you can't avoid it.

You shouldn't do any overnight

outdoor recreation of any type

during Alert Level 4. All Department

of Conservation campsites

and backcountry huts are closed.

It is not appropriate to participate

in these activities at the present

time. The MSC suggests you put

your trip plans onhold and select

shorter, local and more suitable

physical activities.

Club news

Mid Canterbury Ladies

Friendship Club

Ann McKay welcomed

members to the March

meeting of the Mid Canterbury

Ladies Friendship

Club. After the

national anthem was

sung, birthdays and anniversaries

were celebrated.

The Annual General

Meeting will be on

April 8, new committee

members are needed. A

luncheon will be held at

the RSA on April 29.

The Mini Speaker was

Ann McKay who told

that she had shifted

homes 16 times, with

many different towns. In

Dunedin she lived on a

steep street and had to

push the pram upwards.

The baby became very ill,

so they were told to

change climate, consequently

moving to Alexandra.

The house was two

miles out of town, but the

health of the baby

improved.

Then to Dead Man's

Gully to ahouse with no

floor coverings and parties

being held next door.

Another move was to

near Invercargill, then to

Ashburton. Lived at Fairton

for 21 years, then

Tinwald, and now is in

Havelock Street.

The Main Speaker was

Carol Gunn, a person

who wears several hats!

Carol began her working

life as ateacher at Ashburton

College, then on

to Aoraki Polytechnic,

where she wrote courses.

Was there for 18 years as

atutor and course leader.

Being atutor is stressful,

so it was time to move on

and is now afuneral and

wedding celebrant. She

also had a computer

training business but last

year this was sold. Carol

is aJustice of the Peace

and trains new JPs.

Carol is also involved

with the Mid Canterbury

Choir and is in the production

of the Messiah.

She has three children,

and six grandchildren.

Another interest is growing

daffodils and peonies.

She told of some of the

celebrant events, such as

surprise weddings,

conducting her daughter's

wedding ceremony

and the funeral of her

mother.

She believes in enjoying

life. A fascinating

address from abusy person.

The meeting was

closed with the Thought

for the Month –Cinderella

is proof that anew

pair of shoes can change

your life.

Lions Club of Ashburton

Our club's meeting,

held at Hotel Ashburton,

featured the induction of

new member Andy

McKee sponsored by

Roger Paterson and

inducted by Garth

Bateup. This was followed

by athree­minute

talk by recent new member

and much travelled

Chris Barham. Both were

well received. Lion Colin

Jowers was presented

with his 15 years membership

award.

A number of Community

Help lists were

circulated. However the

feasibility of anumber of

events are in jeopardy

due to the Coronavirus.

President Roger Paterson

has stated the Lions

Club of Ashburton will be

taking every responsible

action to support the

steps being introduced by

all parties. At the time of

writing, both the Swap

Meet and the Methven

A&P Show had been

cancelled.

The success of the

South Island Motorhome

Show was outlined at the

March meeting and the

hardworking team led by

Brendon Quinn, Rex

Whiting, Jeff King and

Garth Bateup et.al was

acknowledged and thanked.

Guest speakers for the

evening were Tony and

Christine Todd who gave

adetailed account of the

formation and subsequent

development of

the iconic retailer Todds,

including changes occurring

and met accordingly.

In line with President

Roger Paterson's plea

for support of Coronavirus

prevention

measures, our April

meeting set down for

Wednesday April 1 has

been cancelled.

Ashburton MSA Petanque

Club

Because of the Covid­

19 virus the Ashburton

MSA Petanque Club has

postponed all its Tournaments

and Club competitions.

The first one on the

agenda was for the end

of the monthand was the

clubs women's and clubs

men'sdoubles. Theseare

popular events and we

already had several

entries.

At the beginning of

April was the Stephen

Kyle Memorial mixed

doubles. This event was

held for the first time last

year in memory of a

founder member who

did an amazing amount

of work for the club.

The event that was on

the agenda for the next

day was the Canterbury

ASHBURTON

Property Brokers Ltd Licensed REAA 2008 217 West Street Telephone 03 307 9176

Private &Peaceful

ASHBURTON

160 Bremners Road

Enter yourown tranquility.Thiscomfortable 3bedroom home was designed around openplan living. Timelessinits appearance,

withagenerous sizedkitchen and effortless flow to outdoor living,almost aMediterraneanfeel.

Space andprivacy is plentiful, both insideand out.9,867sqm provides options of subdivision.

Quality garaging andirrigated mature plantings, hiddenaway in your very ownsanctuary.Previouslyoperatedasanursery.

pb.co.nz

Triples and this has only

been played three times

before in recent years,

after being resurrected

in Christchurch.

Clubdays haven'tbeen

cancelled, but members

are being encouraged to

stay safe, but can go

along and play if they

choose to.

Ashburton 9­holers

Ashburton Golf

Course was closed for

maintenance last week,

so we headed out to one

of the district's hidden

treasures, the 9­hole golf

course at Lake Hood.

Thisisasuperblittlegolf

course createdand maintained

by John Fechney.

It provides challenges

not seen in other places.

The fairways are shorter,

with the longest

being 200 metres and the

shortest, a mere 54

metres.

The greens vary from

smooth and green number

1 to rather bumpy

and dry number 5, making

putting much more

interesting. We golfers

set out in beautiful

weather ingroups of 4.

At the end of play,elbow

bumps replaced the traditional

handshakes.

Winner of the Netherby

Pharmacy Voucher

for top scores in stroke

and putting was Paul

WEB ID AL74866

Baird (34/14). Runners

up and winners of Club

vouchers were Anne Fleming

for putting(16) and

Stewart Bennett for

stroke (37). Stewart also

won aSmith and Church

golf ball for scoring atwo

on the 8th hole.

After play, we enjoyed

aBBQ, prepared by the

two Johns (Fechney &

Morgan) and we sat and

chatted in the fresh air

and sunshine. What a

great way to end our

Thursday gathering.

Anyone iswelcome to

play at any time on the

Lake Hood course. It's

open 24/7 the green fee

is agold coin donation.

Toby O'Donnell

Mobile 027 322 6256

Email toby@pb.co.nz

Paul Cunneen

Mobile 027 432 3382

Email paulc@pb.co.nz

DEADLINE SALE

Deadline Sale unless soldprior,closes

3.00pmFriday3rd April 2020

3

1

4
---
Page 18, Ashburton's The Courier, Thursday March 26, 2020

Local news at www.starnews.co.nz

Week 1 Week 2 Week 3 Week 4 Week 5 Week 6 Until Sold
---
Local news at www.starnews.co.nz Ashburton's The Courier, Thursday March 26, 2020, Page 19

ATTENTION

Open HomesCancelled

In accordancewith the Ministry of Health Guidelines,

we take ourcommunities wellbeing seriously

thereforewehave made the decision to

cancel this weekends open homes.

We will be reviewing this daily moving forward.

Forany information on any properties forsale or

property management please call uson03 307 8317

4

Please rememberifyou have afever, cough, sore throat or

shortness of breath and have travelled overseas in the past 14days

DONOT ENTER OUROFFICE

Ifyou are unwell please phone Healthline on 0800 358 5453 foradvice.

Jill Quaid

Manager

027 437 6755

RichardQuiad

Sales Consultant

027 454 4745

Kim Miller

Sales Consultant

027 236 8627

ChrissyMilne

Sales Consultant

027 290 6606

Margaret Feiss

Sales Consultant

021 751 009

ShirleyFitzgerald

Sales Consultant

027 220 1528

Denise McPherson

Sales Consultant

027 242 7677

Cheryl Fowler

Sales Consultant

027 461 2614

Armand vander Eik

Sales Consultant

021 597 527

Lynne Bridge

Sales Consultant

027 410 6216

Mike Grant ncre

Sales Consultant

021 272 0202

Mark Totty

Sales Consultant

021 664 113

BruceMcPherson

Sales Consultant

027 438 4250

Justin Waddell

Sales Consultant

027 437 1111

Jarrod Ross

Sales Consultant

027 259 4644

RogerBurdett

SalesConsultant

021 224 4214

96 TancredStreet, Ashburton 03 307 8317 Main Road,Tinwald 03 307 8317

rwashburton.co.nz

36 McMillan Street,Methven 03 303 3032
---
Page 20, Ashburton's The Courier, Thursday March 26, 2020

Scan the QR code

using the camera

on your phoneto

view our current

listings in 3D!

view anyofour properties fromthe comfort of

your home in 3D...becauseyou can!

Local news at www.starnews.co.nz

Trevor Hurley Real Estate Ltd LREA 2008 -MREINZ

NEWLISTING

NEWLISTING

28 -34Galbraith St (W694)

•Fourunits situatedontheWestside

•Currently managed by our rental department.

•All properties up to current rental compliance.

•Weekly market rent $860 per week combined

•Large 1359m² section mayhave futurepotential.

•inspection welcome

Offers Over $675,000

24 Galbraith St (E693)

•Kitchenfitfor Gordon Ramsey,huge gas &electric hob with four

ovens!

•Spacious living opens on to acovered entertainers area

•Double garage with workshop &hobbyroom

•Family sized section with plenty of spacefor

•Situatedonthe Westside

Offers Over $299,000

4 4 4 3 1 2

101 Trevors Rd (E668)

•Lovely threebedroom brick home with pleasantrural outlook

•Sunnyliving area with outdoor living

•Spacious family sized section

•Ample parking with garage and carport

•Bonus of buying double glazed

•Urgentinspectionadvised

Offers Over $299,000

3 1 2

133 Belt Rd (W691)

•Whatafind!

•Permanent material threebedroom homeinsoughtafter

Allentonlocation

•Decentsizesection with room to add value.

•Currently tenantedat$340 per week,with greattenantswho

wouldlike to stay.

OffersOver$289,000

3 1 1

48 Cambridge St (E665)

•Recentlyrenovatedinside and out

•Sunny living areas with greatindoor outdoor flow

•Semi attached hobby or rumpusroom

•Plentyofoffstreet parking

•Perfect investmentproperty

•Bequick to view,this property wont lastlong!

$259,000

3 1 0

4AndrewSt

(W678)

•Modernised open plan kitchen &dining, large living area

•French doors into spacious lounge

•Modernbathroom with walkin shower

•Large bedrooms,Frenchdoors &patios forevery room

•Spa pool in aprivate setting

•Two modernrooms fullylined and with heatpump

$PBN BIR $349,000 -$379,000

StillWanting

to Sell?

3D Marketing... it lets

people walk through

your homeinVirtualReality!

Scan the QR code using the cameraonyour phone to view our

current listings in 3D or go to:

www.realestatenewzealand.net.nz/360-virtual-reality-tours/

Proud supporters of the HeartFoundation of NewZealand! Wedonatefromevery property sold!

Trevor Hurley

0275 435 799

Tracey Henderson

027 405 8064

Manu Otene

022 308 6885

Linda Cuthbertson

0274087965

Stephen Watson

027 433 9695

Julie Srhoy

021 354 885

Deborah Roberts

0210752180
---
Local news at www.starnews.co.nz Ashburton's The Courier, Thursday March 26, 2020, Page 21

ENTERTAINMENT

DEATHS

2269107

BUSINESS OWNERS

Build customers,sales and

profits,with us ...

Over 16,065 copies delivered everyThursday

PRINT, ONLINE AND MOBILE 24/7

CROSSWORD

QUICK PUZZLE NO. 8560

ACROSS

1. Domestic appliance

(6,7)

8. Minimum (5)

9. Flexible (7)

10. Flag (6)

11. Rue (6)

12. Irritable (5)

14. Grin (5)

18. Affectionate (6)

20. Contaminate (6)

23. Lively (music) (7)

24. Wash (5)

25. Seizure (13)

DOWN

1. Fabric (6)

2. Category(5)

3. Tense (7)

4. Munch(4)

5. Delete (5)

6. Unaffected (7)

7. Quote (6)

13. Surround (7)

15. Island (Balearic

Islands) (7)

16. Animal (6)

17. Scattered (6)

19. African (5)

21. Boredom(5)

22. Heath (4)

CRYPTIC PUZZLE NO. 8560

ACROSS

1. Handed the money to and made take responsibility for

(6,3,4). 8. Slither bythe Indian quietly (5). 9. Country

from which no Frenchman has returned (7). 10. As the

senior,that makes Steed about fifty (6). 11.Seem hurt by

the document heproduced (6). 12. For about ahundred,

disposed of the nag (5). 14.Apart from the man and woman

retiring(5). 18. Pat will mind the ship (6). 20.Snapped at

the leg -aploy (6). 23. Glassthat fell out when you opened

the cupboard? (7).24. Be told there'smoney to make (5).

25. Tons of time? (5,8).

DOWN

1. Boat for those with alot of money? (6). 2. What the

profligate do to pass the time? (5). 3. It reveals anote and

ten British pence change, also (7). 4. Rang, you say, and

informed on (4).5.Amongthem berries emitting heat (5).

6. Not famous, is overlooked (7). 7. Putting up man after

man in the shelter (6). 13. Taxi with asheep in it and it's

Spansh, good gracious!(7). 15. Will have to get up to have

somethingtoeat (7). 16. Fix one adrink! (6). 17. Bearing

the name"Keys" (6). 19. With agirl friend,following the

sun (5). 21. Beef and jellied meat (5). 22. Out without

havinghad to buy oneself out? (4).

SUDOKU

MEDIUM No. 5213

4 6 3

5 1

3 5 2 9

1 6 8

4 1

7 1 9

3 5 9 1

5 3

2 5 6

Solution to previous Sudoku

Howto

solve

Sudoku!

Fill the grid

so thatevery

rowand every

3x3 square

contains the

digitals 1to9

7 3 2 8 1 9 4 5 6

8 9 6 3 4 5 1 7 2

1 4 5 6 2 7 3 9 8

9 2 7 4 8 3 5 6 1

4 5 1 7 9 6 2 8 3

3 6 8 2 5 1 7 4 9

2 7 9 5 3 8 6 1 4

5 1 3 9 6 4 8 2 7

6 8 4 1 7 2 9 3 5

Solution to previous crossword

QUICK PUZZLE NO. 8559 -SOLUTIONS

Across -1,Distress. 6, Tale. 8, Half. 9, Gratuity.10, Level.

11,Debris.13, Dynamo. 15, Rocket. 17, Turtle. 19, Mouth.

22, Agitator.23, Tend. 24, Brie. 25, Commerce.

Down -2,Inane.3,Taffeta. 4, Edge.5,Standard. 6, Thumb.

7, Lattice. 12, Domestic. 14, Younger.16, Chortle. 18, Title.

20, Tunic. 21, Grim.

CRYPTIC PUZZLE NO. 8559 -SOLUTIONS

Across -1,Had words. 6,Lope (anag.). 8,Rung. 9,

Sol-I-tary. 10, He-ma-n. 11, Tar-Mac. 13,Tiller. 15, Res-

I's-t. 17, Forces. 19, Brick. 22, V-iennese. 23, Ivan (anag.).

24, Here. 25, Ti-reso-me.

Down -2,A-muse. 3, Wag-tail. 4, Rose. 5, Sal-(C)ut-ary.

6, L-ater. 7,Per-H-aps. 12, Prospect. 14, I-dol-is-e. 16,

Stra-I-ts (rev). 18, Canoe (anag.). 20, Charm. 21, (bet)Tea-r.

ContactJann Thompson 03 308 7664 jann.thompson@ashburtoncourier.co.nz

BOOK

NOW

For more information

www.ateventcentre.co.nz

UPDATED SHOWDATES

Menopause TheMusical - CANCELLED

Caitlin Smith and Aro-CANCELLED

FightNightSouth-POSTPONED :New date to be advised

Comedy Festival - POSTPONED

Tina Simply TheBest -4th November,7pm

TheMatarikiGlowShow-6th November,10am &11.30am

TenTenors -17th April2021, 7.30pm

WorldofMusicals -6th May2021

It's Only Rock 'n'Roll -May 2021

03 307 2010 211A Wills Street, Ashburton 7700 admin@ateventcentre.co.nz *Service fees apply

WIN acakefor your

special person with

Main South Rd, Tinwald. Phone 308 5774

Birthdays this week

Amarlie Fletcher,27th March, aged 5

Mark Summerfield,27th March

Neroli Reveley,29th March, aged 60

TomProuting,31st March, aged 10

Congratulations to last weeks winner!

Shamika Epilo

If youhave aspecial friend who youwouldlike like to see

win acake,put their name in the BirthdayBooks at Sims

Bakery, Tinwald or Ashburton'sThe Courier,199 Burnett St.

N.B: Names forbirthdays next week

must be with us by 10.00am TUESDAY

ONLYONE ENTRYWILL BE SUBMITTED

INTOTHE DRAW PER NOMINEE

LOST &FOUND

MISSING: 'Koji'

Since Tuesday10th March from the

Wellington St, CambridgeSt, Hugh St area.

Half grown silver/grey tabbywith white

feet, wearing areflective collar with ateal

bell attached.

Please checkyour properties inside

and out, sheds,garages etc. and ask

neighbourstodothesame.

Anysightings with good news or bad, please phone or text:

022 026 1211 or if youcan pickhim up and takehim indoors,

please contactmeand Iwill collect him.

Ijust want this boyhome.Iappreciate allyour help,thank you.

RENT ME!

Ideal as an extra

bedroomoroffice.

Fully insulatedand

double glazed forwarmth.

Threeconvenientsizes:

Standard3.6m x2.4m,

Large 4.2m x2.4m

Xtra-large 4.8m x2.4m.

Visit our displaycabin

418WestStreet or callfor a

freebrochure.

www.justcabins.co.nz

2262540

0800 58 78 22

AWESOME office space for

lease, rent or hire. Park like

setting. Indoor and outdoor

areas. North-west town

boundary. Must view.

Phone 027 475 4241.

FOR LEASE

STORAGE and space leasing

for vehicles, motorbikes,

bicycles, boats,

motor-homes, caravans,

tractors, trucks, trailers and

containers. Indoor, outdoor

or under cover. Call Peter

027 333 3626.

Advertising

that works!

Talk to Jann,

Roselle or Karen

todayabout

ways youcan

reach potential

customersor

advertising with

thatspecial

differenceprofessional

servicewith

asmile.

Phone

308 7664

199 Burnett St,Ashburton

2270502

STORAGE available, Ashburton.

Self storage, variety

of sizes. Phone Rainbow

Storage 03 307 0401.

STORAGE: Secure self storage

units available long or

short term at Ashburton

Storage Facilities. Contact

us on 027 436 2636 or www.

ashburtonstoragefacilities.co.nz

MAKE money selling your

unwanted items. Up to 24

words for only $8. Can't get

better than that. The Courier.

2270651

HOARE, Margaret Glenn

(Glenn, nee Aitkenhead). —

With sadness, we

announce the passing, on

March 20, 2020, of Glenn.

Cherished wife of the late

George Hoare, precious

mother and mother-in-law

of April and David Breading

(Ashburton), and Christopher

and Suzanne Hoare

(Te Kuiti), treasured Nana

of Hamish, Duncan, Ella,

Abbe, Mitchel and their

partners, Great-nana to

Chance, Lachlan, Patrick

and Florence, daughter of

Marjory (Hill) and Victor

Aitkenhead of Parakai,

youngest sister of Beryl and

Hector. Nurse, midwife and

friend; 85 years enriching

the world, eternity in

Heaven. — A private

cremation will take place for

Glenn and a Memorial

Service will be held at a

later date.

Forrest Funeral

Services

Hibiscus Coast

(09)4267950

SPACE available for next

weeks Courier -bequick!

Talk to us about your advertising

requirements. Phone

308 7664 or call into our

office at 199 Burnett Street,

Ashburton.

ARE you struggling to make

ends meet? Need extra

money? Why not sell your

unwanted items in The

Courier! Everything helps.

ARE you looking for a

flatmate, somewhere to

rent or a boarder? What

better place to advertise

than The Courier.

ADVERTISING space available

in the next issue of The

Courier Newspaper. Call us

today 308 7664.

WHAT better place for a

public notice than Ashburton's

The Courier! Simply

clip the form for a run-on

advert like this or telephone

us on 308 7664 if you

require adisplay advertisement.

SELL

PEA STRAW Conventional

Bales $5 per bale Medium

Square Pea Straw, barley

straw and linseed bales for

Sale $40 a bale delivery

$10 per bale. Ph

02040233792

LPG

REFILLS

Small LPG cylinders

Off Street Parking

Available

Arthur Cates Ltd

26 McNally Street

Ph 308 5397

Riverside Industrial Estate

LPG REFILLS

9kg cylinders

$27.50

Askabout our

deliveryservice

Anysizecylinderfilled

17 Grey St,Ashburton

Phone 307 2707

2245232

2245262

RYOBI wet/dry vacuum

cleaner, 1250 watt. Sturdy

stainless steel cannister

includes easy carry

handles, in good condition

$80. Must sell, phone 021

439 277.
---
Page 22, Ashburton's The Courier, Thursday March 26, 2020

HEALTH &BEAUTY

URGENT CARE CLINIC

WEEKEND DUTYDOCTORS

IN THE EVENT OF AN EMERGENCYPHONE 111

Forall other medicalassistance outsideofnormal

hours please phone your generalpractice team, 24/7,

to speak with ahealth professionalwho will giveyou

free healthadviceonwhattodoorwheretogoifyou

need urgentcare.

If youdon't have aregular general practice, call any

GP team 24/7 forfreetelephone health advice.

All non-residents and visa holders please bring your

passporttoyour surgeryappointment.

New Zealanders'tobring some form of ID.

TheAshburtonDutyPracticefor ...

Saturday28th March is

ThreeRivers Health, 7-11 Allens Road.

Consultations will be by appointmentonly.

To make an appointmentcall your regular GP 24/7.

Sunday29th March is

ThreeRivers Health, 7-11 Allens Road.

Consultations will be by appointmentonly.

To make an appointmentcall your regular GP 24/7.

Methven and Rakaia: Formedical attention on the

weekend and public holidays please telephone

MethvenMedical Centre on 03 302 8105

or Rakaia Medical Centre on 03 303 5002.

Details foraccessing the afterhours services will be on the

answer phone.

PHARMACIES

Wises Pharmacy,CountdownComplex,

East Street will be open on ...

Saturday from 9.00am until 1.00pm

Sunday from 10.00am until 1.00pm

At Geraldine: TheGeraldine Pharmacywill be open

normal trading hours during the week,and on

Saturdaymorning from 9.30am to 12.30pm.

Closed Sundays and Public Holidays

Forfree24hour Telephone Health Advice

Phone the healthline on 0800 611 116

Broughttoyouby

CountdownComplex, East Street, Ashburton

Phone: 03 308 6733 Fax: 03 308 6755

DebraCurtin

Chiropractor

Mon, Wed, Fri8:30am-5pm

Tues9:30am-5pm

Fri8am -2pm;Sat appt only

03 308 9516

www.ashburtonchiropractic.co.nz

WANTED TO BUY

METAL, heavy etc. Free

light-grade metal in-yard

dumping 9am-5pm weekdays.

Ashburton Scrap

Metal Recyclers, 117 Alford

Forest Road (behind

Placemakers). Phone 03

308 8033 or 027 249 6625.

FIREWOOD

TREES wanted suitable for

logging/firewood. 20 ton

digger for clean-up. Phone

Shane James 027 611

3334.

FRUIT &PRODUCE

POTATOES, Nadine &Agria

$2 per kilo. Phone 308

3195 or 027 531 9103. 81

Elizabeth Street.

GARDEN SUPPLIES

PEASTRAW, small bales.

Delivered Ash. $5.50, ex

paddock $4.50 each.

Phone/text 027 434 0442.

HIRE

SCISSORLIFTS for hire.

4WD and slab lifts available

for daily or weekly hire.

Pickup or delivery. Phone

North End Engineering 308

8155 for abooking.

TRADE &SERVICES

2254835

EDUCATIONAL

CJ'S Driving School -

Classes 2 & 5,

endorsements F & D,

forklift F&OSH, dangerous

goods. NZTA approved

course provider. MITO &

Competenz assessor.

Locally owned. Phone

Christine 027 245 2563.

ALTERATIONS, mending

and trouser hemming, curtain

alterations and curtain

making. Call Michelle on

027 352 7248.

BUILDING and property

solutions. For your complete

alteration or renovation.

We project manage

the whole process. Home

and small commercial.

Qualified tradesmen.

Phone Kiwi Building &

Maintenance Ltd. Gary 308

4798, 027 207 1478 or

Cawte 027 418 7955.

CARPET 2You -For all your

flooring needs. Supplier

and installer of carpet and

vinyl, re-stretch & repair

and carpet cleaning. Phone

Mike Gill on 027 491 4210.

CARPET cleaning -Powerful

equipment & fast drying.

Upholstery, mats and rugs.

Experienced owner/operator.

Phone John Cameron

at Supersucker, 027 435

1042 or 308 1677.

ALPS

CONTINUOUS SPOUTING

TRADE &SERVICES

Having problems with your internal gutter systems?

Do your drains keep blocking,causing leakage into the soffits and even your house?

Areyour soffits falling out due to water rot?

We canconvert your internal gutters to standard external gutters.

ashburtoncranes2015@gmail.com

FACTORY SPRAY LACQUER

A NEW LOOK

that lasts!

Existing kitchens, doors,

furniture &appliances

The Finishing Company

03 307 8870 2238813

CARR'S Chimney Cleaning,

servicing Ashburton and

surrounding districts, $60

per chimney. Phone

Rodney on 03 324 2999

and leave amessage.

CHARLIE'S Blind Cleaning

Service -same day service

and repairs. Charlie can

supply new blinds and

tracks, will hang drapes.

Phone 03 307 1936 or 020

4169 0342.

CHIMNEY sweep - For a

professional service call

Dan McKerrow Chimney

Sweep and Repairs on 021

118 7580.

CHIMNEY sweep. It's time to

start thinking about it.

Camera inspection carried

out and full inspection

checklist is left for you. Call

Allan 027 209 5026.a

COMPUTER problems? For

prompt reliable computer

servicing and laser engraving

contact Kelvin, KJB

Systems Ltd, 4 Ascot

Place, Ashburton. Phone

308 8989. SuperGold discount

card accepted.

COMPUTER repairs, sales,

training, setup -wireless -

networks, spyware cleanup.

On-site day or evening.

LOW FEES. Call Robin

Johnstone, Networks

Firewalls & PC's Ltd, 308

1440 or 027 768 4058.

CONCRETE pavers direct to

you - Best prices, many

sizes, textures and colours

- Paveco, 13 Robinson

Street, Industrial Estate.

CONCRETE Services -

Driveways, paths, patios,

mowing edging. Decorative

Concrete specialist 30

years servicing Canterbury.

Free quotes. No job too big

or small. Phone Paul 021

152 1966.

DENTURES; Dr Peter

Rumping repairs existing

dentures and also provides

new dentures. Phone 027

220 9997.

ENGINEERING repairs, fabrication,

farm equipment

service and maintenance,

W.O.F. repairs, machining

and welding. Odd jobs a

speciality. Mobile workshop.

Can collect. Phone

Malcolm 027 475 4241.

2227833

FLY control and spider

proofing. For all domestic

and industrial pest control

needs phone AJ Kerr at

Ashburton Pest Control on

03 308 8147 or 027 432

5447.

FURNITURE removals -For

all your household removal

needs call Nudges Furniture

Removals, phone 027

224 0609.

GARDENING, mowing,

pruning, fertilising, projects

or general spruce ups? Call

Andrew at Spruce Gardens

to get the job done right.

027 765 2899 or 03 307 1693.

sprucegardens@xtra.co.nz

HYDRAULICS; Martin

Bennett -Onsite hydraulic

hose repair service 24/7.

Stockists of Aero Quip

hoses &fittings, Commercial

hydraulics, Dynacool,

Spool valves etc., MP Filtri,

Walvoil. Call Justin on 308

9778.

LEGAL work -Phone Peter

Ragg (Ashburton Law) for

house sales, purchases

and refinances. Will call at

home evenings for wills,

enduring powers of

attorney. Phone 308 0327.

PAINTER for all your painting

needs. No job too small,

inside or outside. Professional

friendly service.

Phone Pete 03 308 1672 or

027 200 1619.

PAINTING wallpapering,

plastering - No job too

small. Interior, exterior.

Professional, prompt, competitive

service. Phone

Tony Sivier at Paint It Ashburton

on 021 878 794 or

307 7289.

PLUMBING, drainlaying,

blocked drains. Phone

Lindsay at Doaky's Plumbing

on 027 555 5575 or 308

1248 (Master Plumbers &

Drainlayers).

ROOF painting and repairs,

we do it all. Decramastic,

iron, concrete. Free quotes.

Phone 027 516 6609.

SUN Control Window Tinting:

Privacy, UV, glare, heat

control for homes -offices -

and cars. Phone Craig

Rogers 307 6347, member

of Master Tinters NZ.

TILING - For all your tiling

requirements including kitchen

splash backs, flooring

etc. (full water proofing),

call Kevin on 027 496 8314.

TINT-A-WINDOW, fade, UV

block, glare, heat control,

safety, security, privacy,

frosting films, solar protective

window films. Free

quotes, 20 years local service.

Phone 0800 368 468

now, Bill Breukelaar, www.

tintawindow.co.nz

Allworkmanship guaranteed

Ben Kruger 021 808 739 or 308 4380

232 BoundaryRoad,Ashburton

www.alpscontinuousspouting.co.nz

E; benkruger@xtra.co.nz

Need help with BOOKKEEPINGor

ADMINISTRATIONSUPPORT?

Youdidn'tgointobusiness to do the

books, butwedid!

Let'shaveachatovercoffeeand seehow Ican help

Silvia Haddock 027 2169478

silvia@bradleyrural.co.nz l solutionsbusiness.co.nz

WILSONS

WINDSCREENS

2269220

Citizens AdviceBureau (CAB)

MidCanterbury–Co-ordinator

(20 hours perweek)

Local news at www.starnews.co.nz

This excingnew posion will be part of establishing anew Cizens Advice Bureau

(CAB) service forthe people of Mid Canterbury, to be based at Community House Mid

Canterbury.

Once the CAB has been established, the Co-ordinatorwillberesponsible forthe day

to daymanagementofthe CABservice in accordance with CAB NZ requirements,

meeng the needs of clients through managing and supporng aneffecvevolunteer

workforce.

Keyelements of the role include:

• Working with CABNZ and the Community House to establishthe CAB–

volunteer recruitmentand training; set up of physical premises; developmentof

administrave,financial and health and safety processes; promoon of the new

service; reporng to fundersand governancebodies; seekingfunding

• Once established, daytoday operaon of the CAB,includingvolunteer

recruitment, supporng volunteer teams to provide trainingand mentoring;

providing administraon, finance and planning; maintaining service quality;

reporng; seeking funding; promoon of the service

Experienceand skills soughtfor the role are:

WE WELCOME ZEK

FROM WINSTONES

TO JOIN OUR TEAM

We areyour one stop glass shop for

AUTO and HOUSE

REPAIR or REPLACE 152 Wills Street,

"Your placeorours" Ashburton

Ph.308 8485

SITUATIONS VACANT

FOR ALL YOUR

•LawnMowing

•Pruning

•Garden Maintenance

•Gutter Cleaning

•Rubbish Removal

Call us TODAY

foraFREE quote

Ph 0800 4546 546

(0800 4jimjim)

SITUATIONS VACANT

ORS TEACHER

AIDES

Wakanui School has 2

Teacher Aide positions

available.

Position One 20 hours per

week working with high

needs student and supporting

students in class with

specific learning difficulties.

Position Two is casual

relieving hours.

Applications in writing with

2referees to:

Rebekah Clement,

Principal

principal@wakanui.school.

nz

• Leadership; role modelling the aims and values of the CAB

• Clientfocussed –ensuring the service provided is welcoming and

non-judgemental

• Demonstratesahighlevel of empathy, confidenality,and professionalism

• Experience managing and mentoring volunteersand fostering asense of team

• Administrave and financial experience

• Excellentverbal and wrien skills, including data analysis and report wring

• Able to plan andorganiseown work and use me effecvely

• Experience in promoon

• Presentaon skills

• Cultural awareness

Afull Posion Profile, applicaon form and further informaon about the role is

available by contacng John Driscoll, Manager, Community House Mid Canterbury,

supervisor@communityhousemc.co.nz; phone 03 308 1237

To apply, please provide your CV,cover leerand completedapplicaon form via email

to supervisor@communityhousemc.co.nz

Applicaonsclose5pm on Thursdaythe 9thofApril 2020.

2227819

2264830

2245223

TV Reception Specialists for

all your digital freeview

installations and repairs,

TV wall mounting, Smart

TV set-up, home theatre

installation. Call John at

Ashburton TV &Audio Ltd

03 308 7332 or 027 277

1062.

WINDSCREENS and house

glass. Qualified flat glass

glazier now in-house. Anything

glass, give us acall.

Your place or ours. Wilson

Windscreens, 152 Wills

Street, Ashburton. Phone

03 308 8485.

2269736
---
Local news at www.starnews.co.nz Ashburton's The Courier, Thursday March 26, 2020, Page 23

SITUATIONS VACANT

sports reporter

Christchurch

Whoweare

Allied Press Limitedemploysover450 people on apermanent basis

acrossits 15 sites in theSouth Island. We operate across multiple

media platforms (print, on-line,digital) deliveringnews,informationand

entertainment throughour various regionaland citypublications,including

StarMediainChristchurch.

The role:

Reporting to the editor,the main purpose of theposition is to writesports

articles for our stable of newspapersand our website.

Someofthe keyaccountabilitiesinclude:

•Providing accurate, lively andfairarticles.

•Write articles covering avarietyofsport from junior to men'sand

women'ssport.

•Meetingdeadlines.

•Being ateam player.

Your skillsand experience:

We arelookingfor ajournalist whoiscurrentlyworkingasasports reporter,

or has hadsports reporting experience, or is currentlyageneral reporter

whohas apassion for sport.

In addition to yourinterest in sport you will demonstrate:

•Aneye foragoodsports angle

•Anability to tell thestorybehind thestory

•Good storytellingability

•Awriting style that can be adaptedtosports newsstories,

features and the quirky

Furtherdetails:

Thisisafull-time permanentposition.

We can offeryou agreat teamenvironment andthe opportunity to grow.

If you think this role is foryou, apply by way of CV and acoveringletter to

recruitment@alliedpress.co.nz

Informalinquiries aboutthe role arewelcomeand should be directedto

editor-in-chiefBarryClarke:021-359-426.

Acopy of the positiondescriptioncan be requested from HR

at recruitment@alliedpress.co.nz

Applications closeonFriday 27 March 2020but will be processed on a

rolling basis.

All applications willbetreated in thestrictest confidence.

Please note that you must havethe righttowork in NewZealand to

apply for this role.

Disclaimer: Allied Press doesnot accept unsolicited agency résumés.Allied

Press is not responsiblefor any fees relatedtounsolicited résumés.

DELIVERYPEOPLE

wanted

to deliver the AshburtonCourier

and Realtyevery Thursdayinthe

Ashburtonurban area.

Phone Leonie on

308 7664 or email

leonie.marsden@ashburtoncourier.co.nz

2267473-19/3-b

Sue Cahill

Call in atalk to the people who know...

SUE'S PICK

O F T H E W E E K

Blacklows TradeZone Ashburton your locally

owned &operated family business for 67 years

Full range of engineering supplies and accessories forall your repairs

&maintenance. Kerrick hot &cold waterblasters &industrial vacuum cleaners.

Esseti welders &accessories. Stockists and distributors of Trailer Equipment.

ASHBURTON

South Street, Ashburton PHONE (03) 308-3147

Email office@blacklows.co.nz FREEPHONE 0800 452 522

POST OFFICE BOXCLOSURE

Please note: As at 31stMarch 2020,

our PO Boxwill be closed.

Futureposted creditor invoices should be

mailed c/- Allied Press,POBox 517,

Dunedin 9054.

Allother mail can be posted to

AshburtonCourier Newspaper,

199 Burnett Street,Ashburton7700.

Thank you.

PUBLIC NOTICE

2264065

BEARINGS,SEAL

&GREASE GUNS

Call in and see the team

forall your grease,bearing &

seal requirements.

Over 60 years of maintenance

and mechanical support.

Down to earth

common sense

Helena Ratten

Mobile 0274577 998

helena@fnash.co.nz

SBWDevelopments Ltd

Licensed AgentREAA 2008

2270290

HOSPICE Mid Canterbury.

Dealing with alife limiting

illness? Contact us to see

how we can support you.

Phone 307 8387 or 027 227

8387.

ASHBURTON Hearing

Association. Our A.G.M.

scheduled for 17th April is

postponed indefinitely and

our premises are closed.

Those requiring hearing aid

batteries may phone 308

3999 or phone/text 027 485

3006.

THE Courier is the best way

to advertise in Mid Canterbury.

Ask anyone who

regularly advertises with us

and they'll tell you, they get

results.

SCVCC Annual Swap Meet

Winchester Domain SH1, April 4th

CANCELLED

Michelle Munro Ph 03 6864824

Or Email scvccswapmeet@hotmail.com

REMINDER

2269070

HOME SERVICES

ROOF COATINGS: All roof

types, specializing in

Decramastic and Long Run

Iron, Coloursteel etc, steep

roofs not a problem. —

Spraymaster 027-433-7780.

LOOKING to earn extra

money, even while you're

out walking? Delivery

people required. Phone

The Courier 308 7664.

AUTOMOTIVE SERVICES

PANELBEATING and spray

painting of cars, trucks,

buses, horse floats &

motorhomes, caravans,

trailers, farm machinery, jet

boats. Light engineering

and aluminium welding.

Bus &Truck Bodyworks, 17

Range Street, Ashburton.

Phone 307 0378.

CARS FOR SALE

2264293

HILLMAN Imp (Sunbeam)

1969, 75,000 miles. WOF &

rego from new, $10,500.

Phone 03 355 6760.

WE value the service we

provide - The Courier for

advice on how you can

reach potential customers.

Call us today on 308 7664.

TheCancer Societyoffering

supportfor people

with acancer diagnosis

and their families

CANCER SOCIETY

TheMackenzie Centre,

122 Kermode Street,Ashburton

ContactAnnie on 03 307 7691

2245220

Please pay your subs before

31 March 2020.

Ashburton Club &MSA

266 Havelock St, Ashburton

308 7149 www.ashburtonclub.co.nz

16,065 COPIES EVERYWEEK

2269488

1278047
---
Page 24, Ashburton's The Courier, Thursday March 26, 2020

Local news at www.starnews.co.nz

APPROVED

SERVICE PROVIDER

• Residential electrical

• Home appliance repairs

• Get wifi in the right spot

• Pivot wiring

• Variable Speed Drive (VSD)

• Professional home wiring

• TV&Audio Installation

• Outdoor and ceiling speakers

• Dairy shed maintenance

• Irrigation harmonic filter

• LED downlight replacement

• Air conditioning &ventilation

• Heatpump servicing

• TVwall mounting &installation

(including brackets)

• Distribute TVthroughout

your home

• Homeautomation

• Motorhome &caravan wiring

• Dairy/Farm electrical

• Waterpumps -stock &house

• Generator change overswitches

• Effluent systems

• Motor &pumpcontrol

• Commercial/industrial electrical

• 24/7 breakdown service