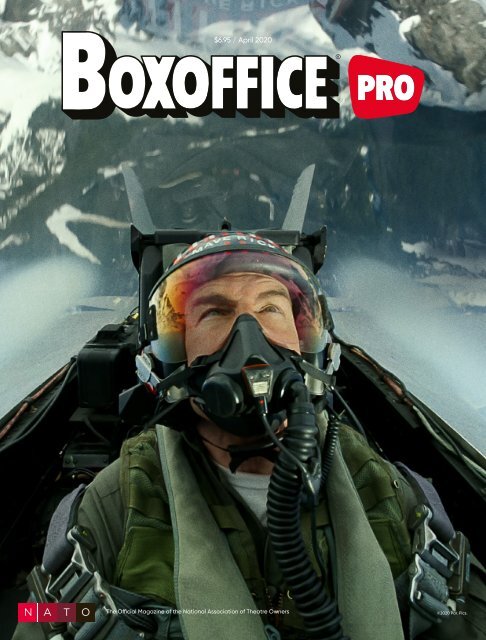 Boxoffice Pro - April 2020
Boxoffice Pro is the official publication of the National Association of Theatre Owners.
Boxoffice Pro is the official publication of the National Association of Theatre Owners.
SHOW MORE
SHOW LESS
Create successful ePaper yourself
Turn your PDF publications into a flip-book with our unique Google optimized e-Paper software.
$6.95 / April 2020

The Official Magazine of the National Association of Theatre Owners

©2020 Par. Pics.
---
you dream big

we deliver

Barco laser projection

Cinionic introduces the new Barco Series 4 family

members designed for bigger screens. Explore

the world of smart cinema projectors and discover

future-ready technology, brilliant images enabled by

Barco AIM TM , and Barco EcoPure TM energy efficiency.

Discover more inside:

Roman Ballrooms 1-4, Promenade Level
---
experiences. delivered.

From servers, to sound, to comprehensive services, to the largest awardwinning

laser projection portfolio, we have you covered. It's your experience,

delivered.

Flagship Laser

Barco's Flagship Laser projector portfolio offers the pinnacle

in cinema visualization. The result, an elevated experience for

you and your audience.

Series 4

Explore an expanded Barco Series 4 family, powering the

smart projection era. Discover the future-ready laser platform

including patented technology such as Barco EcoPure TM ,

Barco AIM TM , and industry-leading performance.

Smart Laser

See the industry-proven laser leader in a new light with Barco

Smart Laser and Barco Alchemy ICMP-X. With the latest in

laser technology, there is now a smarter way to deliver a

brighter experience at the movies.

Laser Light Upgrade

The fastest way to laser. Get all the benefits of laser on any

Barco Series 2 Xenon projector. Upgrade on-site in less

than four hours.

Discover our solutions at

Roman Ballrooms 1-4, Promenade Level

and www.cinionic.com/CinemaCon2020

Powered by:
---
Flagship Laser

Smart Laser

Series 4

Laser Light Upgrade

Value Add

Lifetime Extensions

Cinionic Academy

Projectors

Flagship Laser

Core

Light Insurance

Series 4

Laser Light Upgrade

Alchemy

I

mmersive Audio

ICMP-X

Smart Laser

Financial Flexibility

Cinionic Services

Immersive Audio

Alchemy ICMP-X
---
60K

0K

lumens

8K

50K

60K

12K

45K

Flagship Laser

27K

15K

40K

Series 4

Smart Laser / Laser Light Upgrade

30K
---
BREAK

THROUGH

TO THE NEW

RADICALLY ENHANCE YOUR CUSTOMERS

POLARA| EXPERIENCE WITHOUT SACRIFICING DENSITY!

INFO@VIPCINEMASEATING.COM VIPCINEMASEATING.COM 662-539-7017
---
+1 MILLION SEATS

SOLD WORLD WIDE

+40% INCREASE IN

ATTENDANCE

+20% RETURN ON

INVESTMENT

NEW INNOVATIONS!

ROBUST TABLE DESIGNS | MOTORIZED HEADREST & LUMBAR
---
Image courtesy Universal Pictures

April 2020

CONTENTS

172

Coming Attractions

Nathalie Emmanuel and Vin

Diesel star in Universal's F9.

152

Cinema Centennial

Behind the Scenes with AMC

as It Enters Its Second Century

162

Premium Large Formatt

2019 Records the Highest

Number of PFL Installs to Date

166

Workers' Compensation

GTC Transitions to 100%

Employee Ownership

184

Event Cinema

Industry Experts on the

Future of Event Cinema

April 2020

07
---
CONTENTS

INDUSTRY

THEATER

ON SCREEN

16

36

43

44

46

52

54

62

66

68

Trade Talk

NATO

Welcome to CinemaCon; NATO

Visits Villages Operating Company;

Volunteers Make CinemaCon a Success

UNIC

ICA

Charity Spotlight

Charity Events Roundup; Variety

Gold Heart Pin Campaign

MPA

Big Data

The Relationship between Movie

Theater Attendance and Streaming

Behavior

Indie Influencers

Spotlight Cinema Networks

Celebrates its 10th Anniversary

Industry Insiders

Anne Fitzgerald Keeps It Interesting

as Cineplex's Chief Legal Officer

A Century in Exhibition

1950s: Turmoil, TV, and

Technological Innovation

152

162

166

Cinema Centennial

Behind the Scenes with AMC as It

Enters Its Second Century

The Rise Of Premium Large Format

2019 Records the Highest Number of

PLF Installs to Date

Workers' Compensation

GTC Transitions to 100% Employee

Ownership

The total count of PLF

screens reached 4,379

worldwide in 2019, eclipsing

the 4,000-screen threshold

for the first time and showing

a strong 18.6 percent

increase year on year. P. 162

172

184

188

190

194

198

199

Coming Attractions

What's Coming to Theaters as the

Summer Season Begins

Event Cinema

2020 and Beyond: Industry Experts

on the Future of Event Cinema

Event Cinema Calendar

Upcoming Special Engagements at

Nationwide Cinemas

Promising Young Woman

Emerald Fennell Directs Carey

Mulligan in a Candy-Colored Thriller

Number Crunch

Looking Back—and Ahead—at

the Cinema Experience of the 21st

Century

Long Range Forecast

Three May Titles with the Biggest

Box Office Potential

Booking Guide

Upcoming Releases in 2020 and

Beyond

CINEMACON

Previewing NATO's Annual Convention

and Meeting This Year's Honorees

73

Photo: Ryan Miller/Capture Imaging for CinemaCon

74

79

132

136

138

141

143

145

147

NATO's Big Show

CinemaCon Celebrates Year 10, Led

by Mitch Neuhauser

New Products

Our Annual Preview of CinemaCon's

Trade Show

Asia Pacific Advocate

MPA's Mike Ellis Looks Back on a

Triumphant Career

Global Ambassador

Disney's Jeffrey Forman Earns 2020

Passepartout Honor

Disney Dynamo

Comscore Box Office Achievement

Award Goes to a Familiar Face

F&B VIP

National Amusements' Bill LeClair

Earns an NAC Salute

Giants Of K-Pop

Pathé Live Sets a New Standard for a

Global Event-Cinema Release

A World of Cinema

Cineworld's Renana Teperberg Is

Saluted for Global Acheivement

Leading the Way

NATO Marquee Honoree Adam Aron

Guides AMC's Transformation

08 April 2020
---
BOXOFFICE MEDIA

CEO

Julien Marcel

SVP Content Strategy

Daniel Loria

Creative Direction

Chris Vickers & Craig Scott

at She Was Only

EVP Chief Administrative Officer

Susan Rich

VP Advertising

Susan Uhrlass

BOXOFFICE PRO

EDITORIAL DIRECTOR

Daniel Loria

DEPUTY EDITOR

Rebecca Pahle

EXECUTIVE EDITOR

Kevin Lally

MANAGING EDITOR

Laura Silver

CHIEF ANALYST

Shawn Robbins

ADVERTISING

Susan Uhrlass

63 Copps Hill Road

Ridgefield, CT USA 06877

susan@boxoffice.com

SUBSCRIPTIONS

Boxoffice Pro

P.O. Box 215

Congers, NY 10920

833-435-8093 (Toll-Free)

845-450-5212 (Local)

boxoffice@cambeywest.com

CORPORATE

Box Office Media LLC

63 Copps Hill Road

Ridgefield, CT USA 06877

corporate@boxoffice.com

Boxoffice Pro has served as the

official publication of the National

Association of Theatre Owners

(NATO) since 2007. As part of this

partnership, Boxoffice Pro is proud

to feature exclusive columns from

NATO while retaining full editorial

freedom throughout its pages.

As such, the views expressed in

Boxoffice Pro, neither reflect a stance

nor endorsement from the National

Association of Theatre Owners.

ANALYSTS

Chris Eggertsen

Jesse Rifkin

EDITORIAL ASSISTANT

Vassiliki Malouchou

DATABASE

Diogo Hausen

CONTRIBUTORS

David Binet

Kathy Conroy

Rob Del Moro

John Fithian

Laura Houlgatte Abbott

Charlotte Jones

Boxoffice Pro (ISSN 0006-8527), Volume 159, Number , April 2020. Boxoffice Pro is published

monthly by Box Office Media LLC, 63 Copps Hill Road, Ridgefield, CT USA 06877. corporate@

boxoffice.com. www.boxoffice.com. Basic annual subscription rate is $75.00. Periodicals

postage paid at Beverly Hills, CA, and at additional mailing offices. POSTMASTER: Send all

UAA to CFS. NON-POSTAL AND MILITARY FACILITIES: send address corrections to Boxoffice

Pro, P.O. Box 215, Congers, NY 10920. © Copyright 2020. Box Office Media LLC. All rights

reserved. SUBSCRIPTIONS: Boxoffice Pro, P.O. Box 215, Congers, NY 10920 / boxoffice@

cambeywest.com. 833-435-8093 (Toll-Free), 845-450-5212 (Local).

Box Office Pro is a registered trademark of Box Office Media LLC.

10 April 2020
---
EXECUTIVE LETTER

ONE HUNDRED

YEARS AND

COUNTING

In our milestone centennial year, it

feels right to look back on our history,

just as we look forward to the decade

ahead—and our second century covering

theatrical exhibition.

Perusing the magazine's archives, I

can't help noticing how every decade has

been regarded as the most disruptive in

the industry's history. From the emergence

of new technologies (sound and

color, yes, but let's not overlook air-conditioning!)

to the increased competition

of home-entertainment platforms (radio,

television, and today's growing gamut

of streaming channels), exhibition has

always managed to adapt and innovate

whenever necessary.

This era is no different. We expect

the next century of our coverage in

Boxoffice Pro to be similar to our first

hundred years: offering level-headed perspective

and eschewing the tabloid-style

alarmism that can be found in countless

other publications.

That isn't to imply we are not keenly

aware of the massive shift our industry is

currently facing. Yes, we are living in a

time of great change in our business—but

when has that not been the case? It's easy to

get caught up in the challenges facing the

industry without considering the opportunities

these changes will inevitably bring.

Speaking of change, we're unveiling a

brand-new look and creative direction for

our publication with this month's issue.

We've commissioned U.K.-based design

firm She Was Only to reconceive the

magazine's design elements and enhance

our reporting with a new visually driven

focus. That's a fancy way of saying that

we've organized the magazine into unique

editorial sections to make it easier for our

readers to find relevant articles in each

issue. We're thrilled about our new look

and would love to hear your feedback on

the new design.

In that spirit, this issue of Boxoffice

Pro features all the usual stories you've

come to expect—with a new look. All the

classic sections are still here: full coverage

of CinemaCon and its honorees, including

our annual trade show preview and new

products guide. Industry columns from

cinema's most important trade associations,

including the National Association

of Theatre Owners (NATO), Europe's

International Union of Cinemas (UNIC),

the Independent Cinema Alliance (ICA),

and the Motion Picture Association (MPA).

Executive interviews, cinema profiles,

research reports, and the latest industry

headlines. It's all there.

But we've also included several intricately

researched feature stories coordinated

by our editorial director, Daniel

Loria. These stories take a closer look at

exhibition's relentless drive to innovate

and raise the standard of the moviegoing

experience. Whatever other things change

in the coming years, we can always expect

that a commitment to improving the

business will remain the same.

Julien Marcel

Chief Executive Officer, The Boxoffice Company

Publisher, Boxoffice Pro

April 2020

11
---
PAGE TITLE

12 April 2020
---
April 2020

13
---
NATO 36 | UNIC 43 | Charity Spotlight 46 | MPA 52 | Big Data 54 | A Century In Exhibition 68

INDUSTRY

Image courtesy Spotlight Cinema Networks

"We were blown away. This was full waiter service at your seat, reclining

chairs, sushi, and martinis—at a ticket price that wasn't ridiculously

high. We knew right there and then, this is our market."

Indie Influencers, p. 62

April 2020

15
---
INDUSTRY TRADE TALK

TRADE TALK

SHOWBIZ EXPANDS

CINEMA ENTERTAINMENT

CONCEPT

ShowBiz Cinemas is adding two new

cinema entertainment centers to its

circuit. The theater chain will be opening

one of its signature Bowling, Movies and

More! entertainment centers at a new

development located in Idaho Falls, Idaho,

scheduled to open in December 2020.

ShowBiz will anchor the new 44-acre

development, which will also feature

retail, business, dining, and hospitality

establishments.

ShowBiz Cinemas' Idaho Falls Bowling,

Movies and More! entertainment center

will feature 14 bowling lanes, a modern

arcade and redemption center, multiple

party rooms, a lane-side café, a full bar

with beer, wine, and cocktails, a modern

concessions area, and eight auditoriums,

all with recliner seating.

ShowBiz will also add boutique bowling,

a modern arcade, and luxury recliner seating

to its existing location in Waxahachie,

Texas. The project will expand the footprint

of ShowBiz Cinemas' current Waxahachie

building, adding an additional 11,000

square feet along the front of the existing

structure. Along with the new construction,

ShowBiz will be remodeling all the sites'

auditoriums and its current lobby to

incorporate luxury recliner seating in all

auditoriums, a new and improved upscale

bar, and a modern self-service concessions

area. The $10.5 million expansion project

in Waxahachie will be built over multiple

phases to allow the location to remain

open during construction. The project is

scheduled for completion this fall.

ShowBiz opened its first Bowling,

Movies and More! Entertainment Center

in Baytown, Texas, in 2015. By the end of

2020, ShowBiz Cinemas will operate at

least six cinema entertainment centers

across the country. The circuit plans to

open multiple additional locations per

year going forward.

Image courtesy ShowBiz Cinemas

TED MUNDORFF NAMED

PRESIDENT AND COO

OF ARCLIGHT

Former Landmark Theatres

president and CEO Ted Mundorff is

returning to Arclight Cinemas as its new

president and chief operating officer.

Mundorff served as vice president and

film buyer at Pacific Theatres and ArcLight

Cinemas prior to joining Landmark. His

15-year tenure leading Landmark saw the

expansion of the specialty circuit, including

the opening of new flagship locations

in New York and Los Angeles. In that span,

Landmark opened in other key markets in

the United States, such as Denver, Indianapolis,

Washington, D.C., and Miami.

Arclight Cinemas ranks as the

24th-largest circuit in North America on

Boxoffice Pro's 2020 Domestic Giants of

Exhibition list.

Commenting on the announcement,

Christopher Forman, ArcLight Cinemas'

chairman and CEO, said, "I'm thrilled

to be reuniting with Ted, an exhibition

executive whose deep love of film and

understanding of the customer experience

will be critical to the future of our brand."

Mundorff added, "I am excited to be

working with Chris again, alongside the

entire ArcLight team. Since its founding,

ArcLight has been a leading innovator in

our industry, and I look forward to continuing

to deliver meaningful moviegoing

experiences to guests across the country."

"By the end of 2020, ShowBiz

Cinemas will operate at least

six entertainment centers

across the country."

16 April 2020
---
You give them the experience they deserve...

We give you the results to match!

screenvisionmedia.com

CINEMA ADVERTISING SOLUTIONS • INNOVATIVE PRESHOW

EVENT CINEMA • DIGITAL INSTALLATION FLEXIBILITY

LOBBY PROMOTIONS • COMPLETE TURNKEY EXECUTION

Contact us today to learn more: David Ostrander | (212) 497-0490 | dostrander@screenvisionmedia.com
---
INDUSTRY TRADE TALK

CINEASIA SETS RETURN

TO BANGKOK IN 2020

CineAsia is heading back to Thailand.

Following an unforeseen cancellation

of CineAsia 2019 due to mass protests

in Hong Kong, the Film Expo Group is

relocating the 2020 edition of the event to

Bangkok, Thailand, December 7–10, 2020.

The convention will take place at the Royal

Paragon Halls at the Siam Paragon mall,

with screenings and presentations at the

Paragon Cinema.

"The support from local exhibition [in

Bangkok] is extraordinary, the theaters are

the best designed and most technically

enhanced theaters in the world, and the

cinema is on the same level as the

convention center," according to Robert

and Andrew Sunshine, the co-managing

directors of CineAsia.

"Major Cineplex Group is thrilled that

its Siam Pavalai Royal Grand Theater at

Paragon Cineplex, which has been named

Thailand's most exquisite grand theater,

has been selected as the projection venue

for this international film exposition.

The company is honored to welcome

executives in the motion picture industry

and other notable figures from all around

the globe who will be attending the event,"

said Vicha Poolvaraluk, chief executive

officer of Major Cineplex Group Public

Company Limited.

CINEMARK HAS

FIFTH YEAR OF

RECORD REVENUES

Cinemark is experiencing a

half-decade of global growth. The

Texas-based multinational circuit reported

that total revenues for the 2019 fiscal

year increased 1.9 percent year over year,

coming to $3,283.1 million. Admissions

revenues were $1,805.3 million, and concession

revenues increased 4.7 percent to

$1,161.1 million. Fiscal-year attendance

was 279.6 million patrons, average ticket

price was $6.46, and concession revenues

per patron increased 5.6 percent to $4.15.

"We are extremely pleased to report

our fifth consecutive year of record global

revenues, as well as our fifth consecutive

annual dividend increase," said Mark

2019 saw record

admission revenue from

Cinemark's premium

large-format XD screens.

18 April 2020
---
Image courtesy Cinemark

Zoradi, Cinemark's chief executive officer.

At the end of 2019, Cinemark's global

screen count stood at 6,132 with commitments

to open 13 new theaters and 150

screens in 2020 and 10 new theaters and 93

screens subsequent to 2020.

ODEON NAMED

INTERNATIONAL

EXHIBITOR OF THE YEAR

AT CINEEUROPE 2020

"Odeon Cinemas

has built a culture

of innovation for

cinema, changing the

moviegoing experience

throughout Europe."

—Andrew Sunshine

Odeon Cinemas, a subsidiary of AMC

Theatres, has been named as the 2020

recipient of the International Exhibitor of

the Year award at CineEurope. The award

will be presented to Mark Way, president

of AMC Europe and managing director

at Odeon, and Juan Antonio Gomez,

chief partnership and content officer at

Odeon, as part of the CineEurope awards

ceremony hosted by The Coca-Cola Company

on Thursday, June 25, at the Centre

Convencions Internacional Barcelona

(CCIB), in Barcelona, Spain. The award

is given each year to an exhibitor whose

accomplishments, new developments,

growth, and market leadership make it the

standard-bearer for the industry.

Odeon is Europe's largest cinema

operator, hosting over 110 million guests

each year in more than 360 cinemas in

12 countries. The past 12 months have

seen the rapid growth of Odeon Luxe,

the group's premium cinema brand. All

Odeon Luxe cinemas feature cutting-edge

technology, luxury recliner seats, and

premium food and drink offerings. The

circuit has focused its efforts recently on

expanding the number of PLF screens in

its circuit, which currently stands at 123.

"It gives us great pleasure to present

the International Exhibitor of the Year

award to the Odeon Cinemas Group,"

said Andrew Sunshine, president of

Film Expo Group. "Odeon Cinemas has

built a culture of innovation for cinema,

changing the moviegoing experience

throughout Europe."

Way commented, "It is a huge privilege

to receive this award on behalf of all

11,500 Odeon Cinemas Group colleagues.

This award is testament to their hard work

and commitment in improving Odeon's

guest experience."

April 2020

19
---
INDUSTRY TRADE TALK

KINEPOLIS REPORTS

REVENUE INCREASE

Belgium-based theater chain Kinepolis

reported a 15.9 percent increase

in revenue to €551.5 million in 2019, citing

positive results from its business strategy

and favorable market conditions in Europe.

Visitor-related revenue increased by

17.8 percent.

The multinational circuit had 40.3 million

visitors in 2019 (a 13.3% rise), and an

EBITDA increase of 23.8 percent to €145.0

million, excluding new lease-accounting

requirements. Net profit increased by 14.7

percent to €54.4 million.

"The continued execution of our

business strategy, aimed at finding new

revenue sources and reducing our breakeven

point every year by introducing

small improvement steps, has been

providing solid results for 13 years in a

row," said CEO Eddy Duquenne. "On top

of that, in 2019 this was supported by a

strong content lineup."

Duquenne continued, "We have again

taken important steps in the further execution

of our expansion in the past year, including

the acquisition of the American cinema

group MJR. As a result, we now already

realize 30 percent of our visitor numbers in

the North American market. In this respect, it

is encouraging to see that the introduction of

our business strategy and concepts in Canada

is going well." Kinepolis acquired Landmark

Cinemas, Canada's second-largest theater

circuit, in September 2017.

The strong financial results come

on the heels of more good news for the

cinema chain. A long-standing legal

decision aimed at curtailing Kinepolis's

expansion in its home country of Belgium

has now been annulled.

Kinepolis's accomplishments in 2019

included the opening of new cinema

complexes in France (Servon) and Canada

(Regina and Calgary Market Mall);

acquisition and integration of the El Punt

cinemas in Barcelona and Alzira, Spain;

acquisition of the Arcaplex cinema in

Spijkenisse, Netherlands; the opening of

a new Imax theater in Antwerp, Belgium;

the opening of various 4DX motion and

effects theaters and panoramic ScreenX

theaters; and the continued rollout of its

Laser Ultra concept.

Upcoming Kinepolis locations include

a new Landmark Cinemas 8-screen complex

at the "Grove on 17" site in southeast

Edmonton, Canada, and a 6-screen theater

at the Schalkwijk Centre in Haarlem,

the Netherlands. Both are scheduled to

open in the fourth quarter of 2020.

Image courtesy Kinepolis

The 20-screen Kinepolis

Braine location in Brainel'Alleud,

Belgium.

20 April 2020
---
Image courtesy National Amusements

"During her tenure at

National Amusements,

Laura has proven to be a

dynamic and integral part

of the film department."

—Mark Walukevich,

Showcase Cinemas

SHOWCASE APPOINTS

LAURA CORREIA

ASSISTANT VP

Showcase Cinemas company veteran

Laura Correia has been appointed

to assistant vice president, film and

event cinema. In her new role, Correia

will oversee the growing event-cinema

program, creating new opportunities with

content providers and studios worldwide

to diversify in-theater programming and

attract new audiences.

Correia started her career at National

Amusements in 1997 as assistant to

vice president of film. In 2002, as the

company's international film coordinator,

she focused on exploring opportunities

for Imax in Argentina and acted as liaison

between international film distributors,

district offices, and the home office.

In 2007, Correia was promoted to director,

international film and Imax. By 2016,

her role grew to director of film and event

cinema, responsible for managing the

event-cinema program for the U.S. market.

"During her tenure at National Amusements,

Laura has proven to be a dynamic

and integral part of the film department,"

said Mark Walukevich, senior vice

president of film and event cinema for

Showcase Cinemas. "She is recognized in

the industry for her international expertise

and ability to work effectively with a

wide network of contacts at all levels. Her

effort and dedication have strengthened

our position as a leader in exhibition."

April 2020

21
---
INDUSTRY TRADE TALK

CONNECTICUT'S

PROSPECTOR TO OPEN

SECOND LOCATION

The Prospector Theater, a 501(c)(3)

nonprofit dedicated to providing

meaningful employment to people with

disabilities through the operation of a

first-run movie theater, will be opening its

second location in Wilton, Connecticut.

The Prospector Wilton will be a

four-screen, nonprofit first-run movie

theater with the mission of employing

adults with disabilities in an integrated

and competitive work environment. The

renovated theater, located in Kimco

Realty's Wilton River Park shopping center,

will bring the design, adaptive technology,

and accessibility features of the Ridgefield,

Connecticut location to downtown Wilton.

Renovations are scheduled to begin in

September 2020, with an opening near the

end of 2021 at the site of a cinema currently

operated by Bow Tie Cinemas.

A boutique version of the exhibitor's

flagship Prospector Theater in Ridgefield,

the new theater will offer a wide spectrum

of jobs for employees who self-identify

with a disability, whom the company

refers to as Prospects. The professional

roles are designed to educate, engage,

and entertain audiences of all ages, while

employing a wide spectrum of individuals

who are traditionally underrepresented in

the workforce.

Over its five years of operation, the

Prospector has employed over 250

Prospects, logging more than 600,000

hours of meaningful employment as they

break down outdated stereotypes about

disabilities and build empathy. Wilton's

Prospector Theater will join current retail,

restaurant, and service tenants in Kimco

Realty's Wilton River Park shopping center.

The existing Bow Tie Cinemas location

will be open and operating until the end of

August 2020.

"The Prospector has employed

over 250 Prospects, logging

more than 600,000 hours of

meaningful employment."

The Prospector Theater's

current Ridgefield,

Connecticut location

Which glass do you want to use for your expensive laser projector?

OPTI CLE AR

G L A S S

---
Image courtesy Prospector Theater

CINEMARK PARTNERS

WITH MYCON ON DALLAS

HOLOCAUST MUSEUM

Cinemark and MYCON General

Contractors have partnered to

donate a state-of-the-art 250-seat auditorium

to the Dallas Holocaust and Human

Rights Museum.

"The core of what Cinemark does is

provide an unparalleled environment for

stories to be told to captivated audiences,

and the stories that will be shared in

our theater at the Dallas Holocaust and

Human Rights Museum are of upmost

importance," said Mark Zoradi, Cinemark

CEO. "We are honored to be involved in

such an important project in our corporate

hometown; it was our pleasure to connect

MYCON with the museum, which led to

another impactful exhibition exploring

human and civil rights."

Cinemark is the presenting sponsor of

the museum's new exhibition "The Fight

for Civil Rights in the South." The exhibit

combines two prestigious photography

exhibitions covering the African American

struggle for civil rights and social equality

in the 1960s. "Selma to Montgomery:

Photographs by Spider Martin" and

"Courage under Fire: The 1961 Burning of

the Freedom Riders Bus" were curated and

circulated by the Birmingham Civil Rights

Institute (BCRI), with contributions from

the City of Birmingham and to BCRI's

Corporate Campaign.

YOUR SOURCE FOR VENTLESS

KITCHEN SOLUTIONS

MEET US AT

CINEMACON

BOOTH

100J

products.com

1-800-348-2976

April 2020

23
---
INDUSTRY TRADE TALK

AMC BENEFITS FROM Q4

ADMISSIONS BOOST

AMC's 2019 revenues totaled $5.47

billion, driven by a combination

of higher food and beverage revenues

per patron, increases in international

attendance, and higher online ticket

fees. Q4 2019 marked the second-highest

fourth-quarter attendance ever for AMC,

both in the U.S. and international markets.

"In the fourth quarter, AMC once again

vastly outperformed the rest of the U.S.

theater industry by a stunning 607 basis

Image courtesy AMC

points on admissions revenue per screen,

among other metrics. It was the seventh

consecutive quarter that AMC added market

share in the United States. Likewise, the

circuit generated record fourth-quarter

food and beverage revenues per patron in

both the U.S. and international markets, as

fourth-quarter U.S. and international food

and beverage revenues per patron grew 2.5

percent and 7.8 percent, in constant currency,

respectively," said AMC CEO Adam Aron.

Among the circuit's 2019 highlights is

the performance of the A-List subscription

tier of its AMC Stubs loyalty program.

A-List has already attracted more than

900,000 subscribers since its June 2018

launch. During the first quarter of 2019,

AMC implemented a 10 percent membership

price increase in 10 states and a 20

percent price increase in five states. AMC

says it believes its subscription program

is profitable, compared to estimated

results if the program had not existed. The

analysis is based on a 2.4 average monthly

frequency of A-List members in Q4, their

associated full-price bring-along guest

attendance, and concessions spend.

AMC finished 2019 with 636 theaters

in the U.S. and 368 internationally. In the

fourth quarter, the company added recliner

seating to 20 locations, including 10 in

the U.S. and 10 internationally, expanding

its recliner footprint in the United States

to approximately 81 percent of the circuit

and approximately 19 percent of its European

cinemas. AMC grew the presence

of its premium large-format auditoriums

in the quarter, adding nine new Dolby

Cinema screens, four new Imax screens,

and three new Prime at AMC screens.

"[This] was the seventh

consecutive quarter that

AMC added market share

in the United States."

—Adam Aron, CEO

24 April 2020
---
ICE THEATERS APPOINTS

DESMAZURES TO SVP

SALES AND STRATEGY

Guillaume Thomine Desmazures has

been named senior vice president,

sales and strategy, for ICE Theaters, France's

leading premium large-format offering,

owned by French circuit CGR Cinemas.

In the newly created role, Desmazures

will lead ICE Theaters' international expansion

efforts and worldwide sales division.

With over 10 years' experience in the media

industry, Desmazures will be in charge of

expanding the brand footprint and theater

development by identifying strategic partnership

deals with exhibitors, distributors,

and manufacturers. Part of Desmazures's

role will be to lead the strategy and fine-tuning

of the ICE offering according to each

market's specifics.

ICE's immersive technology features

up to seven non-reflecting LED panels

flanking each side of the auditorium to

fill the moviegoer's peripheral vision with

colors complementary to the front screen.

Image courtesy CGR Cinemas

An in-house post-production team in La

Rochelle, France, creates ambient images

for the panels and syncs them to each film

showcased.

Desmazures officially joins ICE Theaters

after working with the company to help

secure two milestone international

expansions in 2019—to Saudi Arabia with

Vox Cinemas, and the opening of the first

location in the U.S. at AEG's Regal L.A. Live.

Previously, Desmazures held a position

at Arts Alliance Media as its senior sales

manager, where he guided the digital transition

through the virtual print fee model

in Europe and Latin America. Over the past

four years, Desmazures has headed Bel

Air Cinema, which provides day-and-date

movies in DCI format to high-net-worth

individuals on board super yachts, royal

palaces, private islands, and residences.

"We are very excited to welcome

Guillaume to the ICE Theaters team," said

Jocelyn Bouyssy, CEO of CGR Cinemas

Group. "Our first meeting goes back to 2007,

when he did fantastic work on the digitization

of our exhibition locations with CGR.

We are starting an amazing new adventure:

We have the right product supported by

all the major studios, along with the right

executives to drive ICE Theaters to all

corners of the world."

Above, left: ICE Theaters

opened its first U.S.

location, at the Regal

L.A. Live in Los Angeles,

in late 2019.

April 2020

25
---
INDUSTRY TRADE TALK

Image courtesy Kinepolis

2020 will see a record

number of releases

filmed in Imax

IMAX POSTS $1.1B

IN GLOBAL TICKET

SALES FOR 2019

Imax benefited from the 2019

global box office record to set a new

benchmark of its own. The company

brought in revenues of $395.7 million in

2019, including a record $1.1 billion in

global ticket sales. The Imax footprint

grew to 1,529 theaters by the end of the

year, 73 percent of those locations situated

in overseas markets.

"Imax is among the world's premier

entertainment experiences, and our

record 2019 financial results reflect sharp

focus, strong execution, and disciplined

cost management as we continue to grow

our global footprint, diversify our content

portfolio, and enhance our pioneering

end-to-end technology," said Imax CEO

Richard L. Gelfond. "Across 2019, our business

demonstrated significant strength

by setting a number of new records for

the company, including annual revenue

as well as global, international, and

local-language box office—underscoring

the increasing geographic diversification

of our business."

Imax addressed investor concerns

during its Q4 earnings call over the impact

of the COVID-19 virus on its business in

China. "In terms of the health crisis in

China, where movie theaters nationwide

remain closed, we are continuing to monitor

the situation closely, and needless to

say the safety of our team and audiences

is our top priority," said Gelfond. "We look

forward to circumstances improving and

Imax continuing to satisfy China's strong

demand for premium-quality content and

entertainment experiences."

"Across 2019, our business

demonstrated significant

strength by setting a

number of new records for

the company." —Richard L.

Gelfond, Imax

26 April 2020
---
CINEPLEX SEES

ATTENDANCE DROP,

CONCESSIONS BUMP

IN 2019

An eventful 2019 for Cineplex ended

with the announcement that it

would be acquired by U.K. multinational

circuit Cineworld. The acquisition is

expected to close during the first half

of 2020 (pending regulatory and court

approval) and would make Cineworld

the largest exhibitor in North America

following its 2018 acquisition of Regal.

Cineplex finished the year with annual

box office revenues of $705.5 million (all

dollar amounts Canadian), a 2.6 percent

slide from 2018 due to a 4.2 drop in

attendance. A weak film slate in Q1 2019

took its toll on the circuit, resulting in a 15.6

decrease in quarterly attendance for the

circuit. The company says the Q1 decline

in attendance was responsible for approximately

$24.9 million in missed revenue.

Sales at the concession stand hit

record revenues in 2019 with a $446.6

Image courtesy Cineplex

million haul, a 1.3 percent increase from

2018. Cineplex expanded the number of

locations offering alcohol service in its

circuit by 52, bringing the total of theaters

with adult-beverage selections to 87

(excluding VIP cinemas). Patrons craving

movie theater popcorn at home can now

have their fix thanks to partnerships

with Uber Eats and Skip the Dishes,

which offer home delivery of

concessions items at more than 100

locations.

Digital ticket sales saw an 8 percent

uptick year-over-year, with 35 percent of

all tickets bought online. The Canadian

circuit expanded its footprint in the Great

White North with two new theaters and a

VIP Cinema in 2019, while announcing new

builds and entertainment center concepts

scheduled through 2022.

Change with the Changing Times

#UpgradeTo

info@galalitescreens.com

www.galalitescreens.com

April 2020

27
---
INDUSTRY TRADE TALK

SAMSUNG UNVEILS

FIRST ONYX SCREEN

IN AUSTRALIA

Samsung's Onyx Cinema LED screen

has made it to Australia. Sydney's

newly renovated Hoyts Entertainment

Quarter in Moore Park, the circuit's

flagship location, features Samsung's

latest 14-meter Onyx screen, the first in the

country. Another 10-meter Onyx screen

will be installed at Hoyts Highpoint in

Melbourne, Australia, by March 2020.

"We are always looking for new ways

to stay ahead of the game and provide

our guests with something unexpected,"

said Damian Keogh, CEO and president

of the Hoyts Group. "That is why we

are leading the way and incorporating

Australia's first Onyx Cinema LED screens

into our cinemas. These screens are a total

game-changer, providing a movie and

entertainment experience unlike anything

our guests have seen before."

Samsung's Onyx LED screens have

now been installed in several major cities

Image courtesy Samsung

28 April 2020
---
across the world, through partnerships

with Pacific Theaters in Los Angeles, Capital

Cinema in Beijing, and Arena Cinemas'

Sihlcity theater in Zürich, Switzerland.

ALAMO DRAFTHOUSE

INTRODUCES

SUBSCRIPTION PROGRAM

IN ALL LOCATIONS

Alamo Drafthouse Cinema's

subscription program, Season Pass,

is now available to use at all 41 of the

circuit's locations across the country. The

subscription program allows guests to

visit Alamo Drafthouse locations every

day for a monthly fee. The membership

provides one regularly priced ticket per

day, with reservations available up to

seven days in advance.

"This is a huge win for movie lovers,"

said Tim League, Alamo Drafthouse

founder and CEO. "The entire reason we

opened the Alamo in the first place was

to share the movies we love with as many

people as possible, and Season Pass is

the perfect means for folks to explore

more and more films." Alamo Drafthouse

locations screened more than 2,100 different

titles last year, the circuit reports.

Season Pass is available for instant

sign-up and immediate use in New York

City, San Francisco, Los Angeles, Austin

(Tex.), Denver, Phoenix, Raleigh (N.C.),

San Antonio, Kansas City (Mo.), Yonkers

(N.Y.), Springfield (Mo.), and New Braunfels

(Tex.). In select regions, memberships

are available via a waiting list, but all

locations are expected to be open for

everyone in the coming months.

Season Pass subscriptions renew

monthly, with no annual commitment.

Pricing varies by location and

corresponds to each Alamo Drafthouse

location's average ticket pricing, with

pricing ranging from $14.99 to $29.99 per

month in big cities like Los Angeles and

New York. The membership also works

for screenings in 3-D, 70 millimeter, Dolby

Atmos, and The Big Show premium large

format, with a $1.99 surcharge per ticket.

Members with accompanying friends and

family members can purchase additional

regular-priced tickets at the same time,

or they can add up to four extra seats—

similar to "plus ones"—to their monthly

Alamo Season Pass subscription at a

discounted price.

"Season Pass is the perfect

means for folks to explore

more and more films." —Tim

League, Alamo Drafthouse

April 2020

29
---
INDUSTRY TRADE TALK

Image courtesy Movie Tavern

Texas-based Movie Tavern,

one of the pioneers of

the dine-in space, was

acquired by Marcus

Theatres in 2019

MARCUS SEES Q4

BUMP WITH MOVIE

TAVERN ADDITION

Revenues for Marcus Theatres

increased 26.1 percent in the fourth

quarter of 2019 and 24.7 percent for the

full year, a bump driven by the continued

contributions of the Movie Tavern by

Marcus locations. Marcus completed the

acquisition of the Movie Tavern dine-in

chain in February 2019, expanding its

footprint to over 1,000 screens nationwide.

Fourth-quarter revenues were lower

than in the prior year's fourth quarter

due to a weaker film slate in October and

early November that was not fully offset

by gains in December. Operating income

was down for the fourth quarter and full

year due to decreased attendance, partially

offset by higher concession revenues per

person and a higher average ticket price.

The division's box office outperformed

the industry by 0.4 percentage points

in the fourth quarter and 0.5 percentage

points for fiscal 2019, according to data

received from Rentrak. Marcus Theatres

has now outperformed the industry during

19 of the last 24 quarters.

The outperformance comparisons do not

include the Movie Tavern locations (which

Marcus did not own in the 2018 comparison

year), but according to data available from

Movie Tavern's previous owner, Marcus

believes its Movie Tavern theaters outperformed

the industry by approximately

seven percentage points during the 11

months it owned them in fiscal 2019.

Marcus Theatres continued to invest in

its circuit during the year, expanding its

signature features and amenities to both

existing and new locations, including

Movie Tavern locations. In addition,

Marcus Theatres opened its first newly

built Movie Tavern by Marcus theater

during fiscal 2019 in Brookfield, Wisconsin.

"The first quarter of 2020 is off to a solid

start, with higher admission revenues

at comparable theaters compared to

the same time last year," said Rolando

Rodriguez, chairman, president, and chief

executive officer of Marcus Theatres. "This

is due to a strong week between December

27 and New Year's Day and an improved

January and February film slate, with

strong holdover movies from 2019 and new

movies including 1917, Bad Boys For Life,

and Sonic the Hedgehog contributing to the

early first quarter results.

"Our plans for 2020 include additional

investments in our existing theaters,

including the Movie Tavern locations,

where the improvements have been well

received by guests. We will also extend our

footprint into the state of Washington with

a new nine-screen theater currently under

construction in Tacoma that is expected to

open in the fourth quarter of the year."

30 April 2020
---
INDUSTRY TRADE TALK

VUE HITS RECORD

REVENUES IN 2019

Vue International enjoyed its highest-ever

full-year revenues in 2019 by

bringing in £854, a 5.4 increase from 2018.

Strong performances in Germany, Italy,

and the Netherlands helped drive a 1.1

percent increase in market share. Other

key factors contributing to growth include

a price reset strategy; renovations at 11

sites in the U.K., Netherlands, and Germany;

and automated scheduling software

improvements in the U.K.

"2019 was a record-breaking year for

Vue. With continued hard work and the

implementation of a robust strategy, we

have achieved our highest ever full-year

revenues. In 2019, cinema markets were

strong across all our major territories with

a rebound in Germany and Italy and record

year in Poland and the Netherlands—

the biggest year for admissions since

1964," said Tim Richards, the circuit's

founder and CEO. "For Vue, delivering an

immersive, big-screen experience for our

customers underpins a large part of our

initiatives and investments, including the

major refurbishment and recliner investments

in 2019. The launch of our Get Lost

campaign this year highlights the immeasurable

value of being able to really 'get lost'

in the big-screen experience. We are well

positioned for the box office momentum

to continue into 2020, in particular the

first half, with a phenomenal slate of films,

including family favorites Mulan and Peter

Rabbit 2, Fast & Furious 9, and [James

Bond film] No Time to Die."

"The launch of our Get

Lost campaign this year

highlights the immeasurable

value of being able to really

'get lost' in the big-screen

experience."

—Tim Richards, Vue

International

Cinemark Downey and

XD in Downey, Calif.

MARCH 31 – APRIL 2, 2020

CEASARS PALACE | LAS VEGAS

VISIT US AT

BOOTH 119J

32 April 2020
---
Image courtesy Cinemark

CINEMARK PROMOTES

JAY JOSTRAND TO EVP

REAL ESTATE

Jay Jostrand has been promoted

to executive vice president real

estate at Cinemark. Jostrand's tenure

at Cinemark spans nearly two decades.

During that time, he has been instrumental

in securing locations for the

company's domestic theater growth and

identifying locations for recliner seating

renovations across the circuit. In his new

role, Jostrand will continue to manage all

real estate efforts throughout Cinemark's

domestic circuit, which includes overseeing

strategic investments and advances

in expansion, amenities, maintenance,

and productivity.

"Jay has been an integral member of

the Cinemark executive leadership team

as we continue to enhance and expand

our theaters to elevate the entertainment

experience we provide moviegoers," said

Mark Zoradi, Cinemark CEO. "We are

pleased to announce this well-deserved

promotion in recognition of Jay's leadership

and the significant impact he has

made on our national footprint through

his role on our real estate team."

"Jay has been an integral

member of the Cinemark

executive leadership team as

we continue to enhance and

expand our theaters."

—Mark Zoradi, CEO

RTS

April 2020

33
---
INDUSTRY NATO

WELCOME TO

CINEMACON!

NATO Celebrates 10 Years of CinemaCon

BY JOHN FITHIAN, President & CEO, NATO

I am thrilled to welcome you to our

10th-annual CinemaCon in exciting

Las Vegas at the glamorous Caesars Palace.

In celebration of this important anniversary,

we've augmented the production and

party budget to make sure you have a good

time in addition to all the work you will do.

I join Kathy Conroy (see her column, p. 38)

in thanking all the NATO member volunteers

who help make this convention such

a success. And I want to give a shout-out

to our amazing CinemaCon team of Mitch

Neuhauser, Matt Pollock, Matt Shapiro, and

Cynthia Schuler.

CinemaCon means different things to

different people. Again this year I want to

highlight a few of my favorite aspects of

this amazing event.

100 Years Is a Big Deal

Two significant partners of NATO

and CinemaCon celebrate their 100th

anniversaries this year—AMC Theaters

and Boxoffice Pro. On Monday during

the Disney presentation, Alan Bergman of

Disney will present the important NATO

Marquee Award to Adam Aron, CEO of

AMC, in honor of the company's 100th

anniversary. AMC is the largest exhibitor

in the world, and also NATO's largest

member. Congratulations to Adam and the

team at AMC.

Boxoffice Pro serves as NATO's

official magazine and is an essential news

source to our members and the industry

at large. It is quite an accomplishment for

any publication to last and prosper over

a century. Congratulations to CEO Julien

Marcel, editorial director Daniel Loria, and

the entire Boxoffice Pro team.

A Terrific Schedule of Studio and

Screening Events Locked in Earlier

than Ever

Some industry critics have suggested that

the 2020 theatrical movie slate looks weak.

I'm here to tell you our distribution partners

have great confidence in the product

for this year (and 2021 and beyond), and

we share that confidence. I write these

columns approximately five weeks before

each show. Last year at this time we were

still scrambling to solidfy a good movie

program for the week. At CinemaCon 2020,

the studios have locked in all the available

times in the Colosseum, earlier than ever,

because they can't wait to show exhibitors

what's coming to the big screen.

Disney, the box office champion of 2019,

kicks things off on Monday evening. Then

throughout the week we'll see movie-slate

presentations and full-length screenings

from Focus Features, Warner Bros., Neon,

Universal, DreamWorks Animation,

Paramount, and Lionsgate. I wish I could

tell you about the amazing movie stars

and directors who will hit the stage to talk

about their movies—but they swear us to

secrecy. We know you'll get excited about

these movies and take that passion to your

patrons, and that is what CinemaCon is

all about.

CinemaCon's Educational

Programming Is Top Notch

In her column, Kathy will recognize many

of the individuals who will share their

expertise during CinemaCon's educational

programming. But I simply want to add

that I am delighted with the range of

important topics being brought to you

by the CinemaCon team. International

delegates will learn about eventizing the

theatrical experience, new ideas in theater

design, advances in industry data, and

other important topics. Then during the

main program, all delegates can learn

about corporate social responsibility, the

state of the industry, original content,

multigenerational workforces, micro-theaters,

filmmaker perspectives, and

more. And I am particularly excited to hear

inspirational speaker Jeff Henderson, or

"Chef Jeff," with his pragmatic street-smart

recipes for success.

The Cinema Experience—and

CinemaCon's Trade Floor—Have

Never Been Better

CinemaCon offers the biggest trade show

and demonstration suites of any cinema

convention in the world. And in 2020 the

trade show experience is even bigger, as

we have expanded into additional demonstration

suites to accommodate demand. I

hope all of our attendees can spend some

meaningful time checking out what is on

offer. From the latest in sound and image

to luxury seating to expanded food and

beverage offerings, you can find all the

tools you need to give your guests the best

moviegoing experience they have ever

had. NATO is so grateful for the support

of our friends at the National Association

of Concessionaires and the International

Cinema Technology Association for

keeping CinemaCon, and our exhibitor

attendees, on the cutting edge. And we

are particularly proud that for the 10th

consecutive year, The Coca-Cola Company

will support the show as our most important

partner and sponsor.

CinemaCon Is Always a Significant

NATO Gathering

In addition to the public events during this

convention week, CinemaCon remains

an important gathering place for NATO

members in a variety of private meetings.

Some of our convention registrants

may not know all that goes on off the

public schedule. On Sunday, a full day of

36 April 2020
---
"Our distribution partners

have great confidence in the

product for this year (and 2021

and beyond), and we share

that confidence."

important meetings takes place. First, the

NATO Strategic Planning Committee will

discuss the key priorities, challenges, and

opportunities for exhibitors over the next

few years and the best ways for NATO

to respond to these issues. The NATO

Government Relations Committee meets

to discuss strategies on a range of political

challenges at the federal, state, and local

level. Our regional association leaders

meet to compare ideas on how to strengthen

their organizations. NATO's Committee

of Counsel gets together to tackle the key

legal issues and court cases confronting

the industry. The past chairpersons of

NATO meet to give their sage guidance

to NATO's current leaders. And also on

Sunday, the Global Cinema Federation's

advisory board meets to discuss global

initiatives in the exhibition industry.

Then on Monday, NATO's governing

body—the Executive Board of Directors—

meets to approve policies and budgets for

the association's work. Also on Monday,

NATO's Independent Theatre Owners

Committee, in conjunction with CinemaCon,

holds an important education

session for smaller exhibitor members

of the trade association. On Tuesday,

NATO's ratings compliance officers

meet with leaders of the Motion Picture

Association and the Classification and

Ratings Administration to improve the

execution, education, and enforcement of

the industry's movie rating system. And

finally, on Wednesday, the Diversity and

Inclusion Committee focuses on ways

the industry can grow the participation

and leadership of women, minorities, and

young people.

We are deeply grateful for the dozens

and dozens of NATO member-company

volunteers who take time during this busy

week to work in these key groupings.

And for all of our 3,500 full registrants

and our 7,500 total attendees, thank you

for participating in our show this week. I

look forward to speaking with as many

of you as possible as we celebrate the

moviegoing experience.

Photo by Ryan Miller/Capture Imaging for CinemaCon

April 2020

37
---
INDUSTRY NATO

NATO MEMBER

PARTICIPATION IS KEY TO

CINEMACON'S SUCCESS

BY KATHY CONROY,

Vice President and COO, NATO

Welcome to CinemaCon 2020, the

largest and most significant gathering

of movie theater owners and operators

in the world! Leaders in exhibition and

distribution and industry partners meet

in Las Vegas each spring to celebrate the

moviegoing experience. CinemaCon is the

official convention of the National Association

of Theatre Owners (NATO), and its

success each year is the direct result of the

active participation and generous support

we receive from NATO members. Member

support is strong again this year as we

celebrate 10 years.

I'd like to applaud some key volunteers

who have made extraordinary

contributions to the planning and

execution of the convention. This 10th

edition of CinemaCon would not be

possible without the leadership of NATO

Conventions Committee chairman

Steve Zuehlke, Cinemark USA Inc.; vice

chairman Bob Bagby, B&B Theatres; and

committee members John Curry, Regal

Cinemas; Jeremy Kress, Celebration

Cinema by Studio C; John McDonald,

AMC Entertainment Inc.; Miguel Rivera,

Cinépolis; and Racheal Wilson, Harkins

Theatres. The Conventions Committee

works closely with NATO's professional

convention staff —Mitch Neuhauser,

Matt Pollock, Cynthia Schuler, and Matt

Shapiro. A debt of gratitude, too, goes to

Image courtesy NATO

NATO's officers—chairman Ellis Jacob,

Cineplex Entertainment L.P.; vice chairman

Rolando Rodriguez, Marcus Theatres

Corp.; treasurer Joe Masher, Bow Tie

Cinemas; and secretary Jeff Logan, Logan

Luxury Theatres Corp.—and to the NATO

Executive Board members who have all

been enthusiastic in their support of the

convention. Working together, NATO

volunteer leaders and staff have created a

10th CinemaCon convention that is sure

to wow you.

With strong support from our studio

partners and sponsors, the Conventions

Committee put together a CinemaCon

2020 program that is diverse, informative,

and entertaining. It includes the largest

cinema trade show in the world, featuring

the latest cinema technologies and concessions

offerings. NATO is grateful to Alan

Roe and the International Cinema Technology

Association (ICTA) and to Adam

Gottlieb and the National Association of

Concessionaires (NAC) for their leadership

and support in filling a world-class trade

show floor.

This week's schedule is packed with

product presentations, sponsored events,

trade show displays, and educational

programming. I'd like to recognize the

NATO and Global Cinema Federation

leaders who are participating as presenters

in the general and educational sessions

this year—Larry Etter, Malco Theatres;

Anne Fitzgerald, Cineplex Entertainment

L.P.; Cameron Mitchell, Vox Cinemas;

Alejandro Ramírez Magaña, Cinépolis;

Rolando Rodriguez, Marcus Theatres;

Kazuhiko Seta, Toho Cinemas Ltd.; and

Mark Zoradi, Cinemark. We are grateful

to these talented people, as well as to the

presenters from our studio and vendor

partners, for sharing their knowledge

and expertise.

CinemaCon is a great place to recognize

outstanding NATO member leaders

as they are surrounded by their industry

colleagues and friends. This year, Renana

Teperberg, Cineworld Group, will receive

the Global Achievement in Exhibition

Award; and Adam Aron, AMC Entertainment,

will receive NATO's Marquee

Award. I hope you'll be on hand to see

these exceptional industry leaders receive

their recognition.

Be sure to stay for the Big Screen

Achievement Awards on Thursday

evening, as we'll honor standout talent

in the movie industry today, and for the

after party, generously sponsored again

this year by The Coca-Cola Company. I

encourage you to participate to the fullest

in the education and fun that CinemaCon

2020 has to offer. Enjoy the show!

"With strong support from our

studio partners and sponsors,

the Conventions Committee

put together a CinemaCon

2020 program that is diverse,

informative, and entertaining."

38 April 2020
---
Pioneers of cinema

screen technology

for over 90 years.

harkness-screens.com harkness.co info@harkness-screens.com
---
INDUSTRY NATO

FRIENDLY

FLORIDA FUN

NATO Staff Hits the Road to

Visit Member Locations

BY KATHY CONROY, Vice President and COO, NATO

and DAVID BINET, Director of Membership, NATO

Villages

Operating Company

The Villages, Fla.

www.thevillages.

com/entertainment/

movie-theaters

Deborah Mills

Director of Operations

Visit Date: Monday,

January 27, 2020

When my participation in the

United Drive-In Theatre Owners

Association's 2020 convention brought

me to central Florida recently, I stopped

in at NATO member The Villages Movie

Theaters. I visited all three of The Villages

theaters—the Barnstorm Theater, the Old

Mill Playhouse, and the Rialto Theatre.

The Rialto was temporarily closed for

renovations, but at the other two locations

I saw a vibrant community of moviegoers

enjoying a high-quality moviegoing

experience. I had the pleasure of meeting

with Deborah Mills, whose enthusiasm

and love of movies is infectious. She and

her team do a fantastic job providing

entertainment and connections at this

sprawling 55+ adult community.

Following my visit, NATO's director

of membership, David Binet, reached

out to Deborah, who graciously shared

additional information about herself and

The Villages cinemas. We are very pleased

to profile Deborah in this month's edition

of Boxoffice Pro.

What attracted you to the cinema

industry, and how did you start?

I have always loved movies! One year, on

my birthday, I had nothing going on, so I

decided to treat myself to the latest Jodie

Foster movie—Contact. I was waiting

for the trailers to start and enjoying my

snacks when I decided to turn around and

look up into the booth to check out what

was going on.

It was a perfectly timed glance! The

projectionist was threading the projector

at the time, and I thought to myself, "That

looks like fun!" By the end of August, I was

helping at the grand opening of a brandnew

movie theater as a projectionist, and

within four years I was the general manager

of the theater where I enjoyed Contact.

Image courtesy NATO

What do you appreciate the most

about your customers?

To say The Villages is an active retirement

community is quite an understatement.

We are located in sunny central Florida

and we are amazing! Conceived over 50

years ago, our hometown has flourished

under the guidance of the family who

created it, our dedicated employees, and

most importantly the folks who call The

Villages home. The Villages continues to

grow and thrive, but it is not just about

retirement. It is about community. Our

purpose always has, and always will be

"to create a retirement community where

people's dreams can come true." We

continue to redefine retirement living by

offering the best in homes, lifestyle, and

amenities for our residents every day.

Visitors and newcomers alike often refer

to The Villages as "Florida's Friendliest

Hometown," a name we gladly embrace.

What has changed the most about

your cinemas?

Our culture—not just within The Villages

Movie Theaters but also throughout The

Villages—has really taken the forefront in

a positive manner. We embrace the full

measure of both freedom and responsibility

in the execution of our position. We

treat The Villages and all its resources as

"ours" to nourish and protect. We believe

in creating an atmosphere in every arena

that is high quality, friendly, warm, comfortable,

clean, honest, welcoming, and

like home. We feel the importance and the

responsibility of this presentation. It really

makes a difference when you have the

authority to serve your guests, rather than

just fulfill an obligation.

What is your biggest challenge with

the cinemas? Does anything keep you

up at night?

There is never enough time in the day to

do everything I want! I tell everyone to

bring all ideas to the table and dream big!

Then we figure out a way to make their

dreams a reality.

What's your favorite movie and what

concessions would you have while

watching it?

Just one?

It's a Wonderful Life—obviously a

holiday staple, drinking eggnog with the

family and basking in the nostalgia.

Chasing Amy—Kevin Smith lends his

unique indie talents to each character.

Every one of their voices is familiar and

resonates.

Elizabeth—When Cate Blanchett is

rehearsing her speech that she will deliver

in front of the rival clergy, the angst is

mesmerizing. However, as she pulls it

off—breathtaking!

With so many concessions to choose,

I think my favorite is Sno-Caps with a Coke.

Film brings us such passion and joy.

I cannot imagine not having the opportunity

to share it—if just for a moment—

with the people around me, getting lost in

a story.

40 April 2020
---
ALWAYS A GOOD FIT

The Best of Both Worlds

LTI is the only manufacturer that can supply both laser upgrade

systems and xenon lamps. You choose the best technology for your

application: high performance, long life laser for your larger

screens, cost-effective xenon lamps for smaller screens. LTI's

revolutionary Helios modular laser upgrade systems fit multiple

projectors and can be easily relocated between projectors as your

requirements change.

www.ltilighting.com
---
22-25

JUNE

2020

CONVENTION TRADE SHOW

CENTRE CONVENCIONS INTERNACIONAL

BARCELONA (CCIB)

CINEEUROPE.NET

OFFICIAL CORPORATE SPONSOR
---
INDUSTRY UNIC

EUROPEAN

PERSPECTIVE

The Continent Continues to

be a Key Pillar of the Global

Cinema Industry

BY LAURA HOULGATTE ABBOTT

CEO, UNIC – The International

Union of Cinemas

Image courtesy UNIC

It's with great pleasure that we've

touched down in Las Vegas for

CinemaCon 2020, a true highlight in the

industry calendar and one of our favorite

events of the year.

Huge congratulations must go to NATO

colleagues for once again putting together

an exciting program of seminars, presentations,

and screenings. As we look ahead to

a jam-packed week, we can do so safe in

the knowledge that 2019 represented yet

another year of success for cinemas across

UNIC territories.

Europe's position as a key pillar of the

global, $42 billion industry was cemented

by stellar performances from cinemas

throughout the region, with over 1.25

billion visits to the cinema for the fifth

year running. As a matter of fact, 2019 saw

European Union territories achieving their

best admissions results since 2004.

Special mention must go to a number

of countries in particular. French cinemas,

consistently one of UNIC's top-performing

member territories, welcomed over 213

million visits in 2019—representing the

second-best results in the last 50 years.

Congratulations are also in order for

Italian colleagues, who recorded double-digit

increases in both ticket sales and

box office revenues, thanks in no small

part to the launch of the highly successful

summer season.

Germany bounced back after a challenging

2018 and boosted both box office

and admissions, while Russia topped the

charts with an astonishing 220 million

cinema visits over the last 12 months.

2019 was also a fantastic year for cinemas

in Spain, who broke the symbolic 100

million admissions mark, and the Czech

Republic had its best results in a quarter of

a century.

And what a year it was in terms of

content! 2019's slate certainly brought with

it a number of colossal performances, as

we saw titles such as Avengers: Endgame

and Joker dazzle audiences over the past 12

months. While ticket sales were driven by

these international titles, local productions

also put in great performances in a number

of markets. More on this can be found in

our recent update on cinemagoing in 2019.

2019 also saw a number of our initiatives

go from strength to strength, all

helping us get the word out as to the value

of the big-screen experience and ensure

that the economic, social, and cultural

contributions of cinemas are given the

recognition they thoroughly deserve. Last

year was particularly successful from an

advocacy standpoint as, following May's

European elections and the entry into

office of the new European Commission,

UNIC's outreach efforts have been

extremely well received—as made evident

during our recent conference at the European

Parliament this February.

On top of this, we're delighted to report

that the UNIC Women's Cinema Leadership

Programme continues to inspire and

empower in its third edition. We can't wait

to see our fantastic mentors and mentees

again at CineEurope this summer and look

forward to what the rest of the year holds.

Speaking of which, this year's

CineEurope is shaping up to be the biggest

and best yet! Our annual convention,

organized each year in beautiful Barcelona,

provides a prime opportunity for

colleagues from across the region and

beyond to get together and discuss the

latest trends and cutting-edge developments

in cinema exhibition.

We're currently putting the finishing

touches on a dynamic program in

collaboration with partners from across

the sector. Keep an eye on our website

for more details, and we hope you'll be

able to join us June 22–25 to celebrate the

big-screen experience!

"2019 saw European Union

territories achieving their

best admissions results

since 2004."

April 2020

43
---
INDUSTRY ICA

INDEPENDENT

SCALE

The Cinema Buying Alliance

Finds Strength in Numbers

BY ROB DEL MORO

Managing Director, ICA

– Cinema Buying Alliance

The Independent Cinema Alliance

(ICA), the trade organization representing

independent theater, recently

celebrated its first anniversary with full

membership. In a short period of time, our

organization has gained more than 145

members representing over 2,500 screens

throughout the United States and Canada.

The ICA is a vibrant alliance, formed and

governed by independent cinema owners.

Our organization focuses solely on

issues that are pertinent to independent

cinema owners, tackling important challenges

and adding value for our members

through initiatives such as distributor

relations and education. We also work

closely with the National Association of

Theatre Owners (NATO) and regional

NATO organizations. In fact, many ICA

members are also members of these

organizations.

One significant member benefit is

the Cinema Buying Alliance (CBA), formerly

known as the Cinema Buying Group

(CBG). With membership in the ICA, our

members get free access to the CBA and

the value-added programs it brings to

their theaters. We take the buying power of

our 2,500 screens (and growing) and negotiate

with potential partners in the trade

industry to bring discounts on various

products and services. Some of the programs

that are currently up and running

include: RCM promotional concession

containers, Irwin Seating Company (electric

recliners), and LTI xenon bulb supply.

Don't just take my word for it, however.

Here is what a few of our members have

said about our programs:

Image courtesy ICA

"The CBA programs can often save independents

enough money to significantly

cut expenses and help us be more profitable.

I recommend the CBA program to all

independents." —Jeff Logan, President,

Logan Luxury Theatre Corporation.

"The Irwin ZG4 recliner is a fantastic

chair, and we have experienced excellent

customer service from Irwin. Cinergy

believes that it is the most comfortable

recliner in the market. It is a well-built

chair with many options to choose from.

Best of all, our guests love it. By joining

the ICA, and signing up for the CBA's Irwin

program, it will save Cinergy a tremendous

amount of money. With the rebate I'm

receiving on my next project, it will pay

for our ICA dues for approximately 14

years. Join the ICA or lose out!" —Jeffrey

P. Benson, Founder & CEO, Cinergy Entertainment

Group Inc.

"I am so glad I joined the ICA and CBA.

The LTI Lighting purchasing program is

great. LTI's pricing and service is incredible.

Ordering is simple and shipping is fast.

Their xenon bulbs are also top-notch. In

the time since I switched to LTI, I haven't

had any issues with bulbs or lighting, nor

have I had to make use of their extensive

warranty coverage. I only wish I could

have switched to LTI sooner. Being a

member of the CBA makes this happen,

and the savings on bulbs more than covers

the cost of joining the ICA." —Tom Arnold,

Managing Director, Fabian 8.

The savings are there for all independent

cinema owners to take. With

our growing membership, it will further

increase our ability to reduce your costs

and therefore increase your profits. So,

what are you waiting for? For much of the

country it's been a long, cold winter, but

it's time to come out of hibernation and

join the ICA. Go to our website at

www.cinemaalliance.org to learn more

about the ICA and the CBA. I look forward

to seeing your membership soon.

"Our organization focuses

solely on issues that are

pertinent to independent

cinema owners, tackling

important challenges and

adding value for our members

through initiatives such as

distributor relations and

education."

44 April 2020
---
INDUSTRY CHARITY SPOTLIGHT

CHARITY

SPOTLIGHT

1. Studio Movie Grill Invites Students

for Screenings of Just Mercy.

On February 12, Studio Movie Grill in

Chatham, Illinois; N.Y. Metro Chapter NBA

Retired Players Association; and Bazan

Education partnered to host 330 students

in grades 7–12 from 10 schools for a Movies

+ Meals screening of Warner Bros.' Just

Mercy, about lawyer Bryan Stevenson's

(Michael B. Jordan) struggles to free an

unjustly accused man, Walter McMillian

(Jamie Foxx), from death row. The

screening was followed by a discussion

with retired NBA players, including Tom

Hoover (New York Knicks), LaRue Martin

(Portland Trailblazers), Cliff Levingston

(Atlanta Hawks), Rick Darnell (Virginia

Squires), Dave Cowens (Boston Celtics,

NBA Hall of Fame inductee), Dale Ellis

(Dallas Mavericks, San Antonio Spurs),

Major Jones (Houston Rockets, Detroit Pistons),

and Jerome (JYD) Williams (Chicago

Bulls, New York Knicks). Split between two

auditoriums, the post-screening conversations

saw the players speak with students

about past and current social justice issues

and their role in helping to support their

communities.

The film played extremely well and

made a strong impact on the students,

who called the film "powerful," "moving,"

"enlightening," "sad," "chilling," and more.

The students in both theaters burst into

applause and cheers during the pivotal

scene where it was announced that charges

against Walter would be dropped and

he would be freed from prison. A similar

reaction came at the end of the film. The

post-show discussion touched on the

reality of McMillian's case, as well as the

cases of countless others whose stories are

never told. Students asked questions such

as how were the players discriminated

against in the NBA, in their travels, or

within their communities. The players

talked about achieving goals and working

hard to make them a reality, as well as life

after the NBA.

2. Every November, Santikos

Entertainment collects toys to

distribute to those in need.

In 2019, the chain broke a record by

collecting over 10,000 toys. The toys were

distributed through the month of December

to charities and nonprofits throughout

San Antonio, Texas. Thanks to Santikos's

beloved guests, the exhibitor spread

10,000 smiles to those that needed it most.

3. Santikos Entertainment, 5-Star

Cleaners, and KENS 5 News partnered

to make the cold days feel warm.

During the month of January, all nine

Santikos locations in and around San

Antonio, Texas, become collection points

for jackets. Each jacket collected was taken

to 5-Star Cleaners, where it received a

makeover and was made to be brand new

again. From there, the more than 10,200

coats were distributed to local shelters,

churches, and schools.

4. B&B Theatres and Variety – the

Children's Charity have partnered

to offer free rentals of sensory

backpacks at all B&B Theatres

locations nationwide.

The sensory backpack program, which

first launched in Kansas City, Missouri,

has expanded to an additional 35 theaters

to allow guests with special sensory

needs to be better accommodated. The

backpacks include weighted lap

pads, sunglasses, fidget keychains,

sound-dampening headphones, and other

sensory accessories to make the moviegoing

experience inclusive for all audiences.

The backpacks will now be a standard

offering at B&B Theatres locations, and

all new acquisitions and builds will be

outfitted with them going forward.

5. Wil and his dad, Jim Jarvis, enjoy

"Naperwood," Variety of Illinois'

15th annual Oscar night party and

fundraiser at Elements on Water St. in

Naperville, Ill.

6. In January, Cinemark team members

rolled up their sleeves and donned

their plastic hair covers to show

their passion for people—one of the

company's core values—by giving back.

The Cinemark marketing and food and

beverage departments spent time serving

food at the nonprofit organization Feed My

Starving Children (FMSC) in Richardson,

Texas, just a short drive from Cinemark's

Plano headquarters. The two departments

packed food boxes that will supply over

55,000 meals for families in less fortunate

communities in Honduras and Uganda.

FMSC works with food-distribution partners

that stay with communities for the

long haul, empowering them to move from

relief to development. Team Cinemark

takes pride in caring for and serving those

in need.

7. On Wednesday, January 29, Santikos

Entertainment's Cibolo, Texas cinema

entertainment center location had the

distinct honor of hosting Sgt. Major

Navarro and his family for a special

screening of The Last Full Measure.

Sgt. Major Navarro, who is depicted in the

movie, was a Vietnam War hero. He was

one of 60 men to have his life saved by

William H. Pitsenbarger, a U.S. Air Force

Pararescueman (also known as a P.J.).

The reception was a surprise to Navarro

and his wife. Santikos welcomed over 40

friends and family to the event, along

with 40 ROTC cadets from Steele High

School and local Pararescuemen from

Lackland Airforce Base. Navarro entered

to a full color guard, saber line, and

rendition of the "Star-Spangled Banner"

by a cadet. It was a small thank you from

Santikos to all veterans.

Variety of the Desert celebrated

Hollywood's big awards night at

D'Place Entertainment's Mary

Pickford Theater.

It was a fabulous night with a red carpet,

catered bites, champagne, and prizes.

46 April 2020
---
To submit events for future coverage,

email numbers@boxoffice.com

2. Santikos Entertainment Toy Drive

1. Studio Movie Grill

4. B&B Theatres / Variety –

The Children's Charity

5. Variety of Illinois

Images courtesy Variety – the Children's Charity

3. Santikos Entertainment Coat Drive

6. Cinemark Theatres

7. Santikos Entertainment Last Full Measure screening

April 2020

47
---
BID

WIN

HELP

KIDS

VARIETY

CHARITY

AUCTION

TEXT 'VARIETY20' TO 76278!

or register to bid at Variety20.givesmart.com

Every dollar raised helps children like 6-year-old

Alexis enjoy life to the fullest. Alexis was born

with Cerebral Palsy, which has left her unable to

walk, but she loves to keep moving on her

adaptive bike!

Please visit USVariety.org for more information.

14th Annual Variety Charity Auction at CinemaCon Presented by:
---
INDUSTRY CHARITY SPOTLIGHT

UPCOMING EVENTS

Lollipop Theater Network

/ Superhero Walk

April 26 / Los Angeles

Attend! Volunteer! Sponsor! Support! The

Lollipop Theater Network, which brings

movies and entertainment to hospitalized

children, needs you to support its 2020

superheroes. Their annual Superhero Walk

takes place on Sunday, April 26, at the

Pacific Design Center in Los Angeles.

For more information, contact

info@lollipoptheater.org. Tickets can be

purchased at http://bit.ly/3bU9zuq.

Variety of Eastern Tennessee

/ Cars & Coffee Cruisin' with Heart

April 6 / Knoxville, Tenn.

This special edition of Knoxville's Original

Cars & Coffee, Cruisin' with Heart to benefit

Variety of Eastern Tennessee, will be held at

the Regal Cinemas Pinnacle 18 on Saturday,

April 6, from 8 a.m. to 6:30 p.m. Registered

participants of the Poker Run will park in

the designated Poker Run Paddock, grab

a cup of coffee, and meet some amazing

people. Then, the Poker Run will depart

Cars & Coffee Cruisin' with Heart and follow

a 120- to 150-mile loop of East Tennessee's

finest driving roads. Participants will be

issued a scorecard at the registration table

and a route map upon exiting the paddock.

Along the route there are five checkpoints.

At each, a card will be drawn and noted on

your scorecard. Best hand wins! An award

ceremony, dinner, and music follow at the

European Auto Garage. Tickets for the 7th

Annual Poker Run are $25 per person and

include one hand of poker and admission

to the after party and award ceremony. To

increase your chances of winning, additional

hands are available at $10 each.

Tickets are available at http://bit.ly/2P5SNPp.

Variety of Detroit / Hearts & Stars Gala

May 2 / Birmingham, Mich.

The Hearts & Stars Gala, held at Birmingham's

Townsend Hotel, will be a magical

and moving evening geared toward raising

awareness for Variety of Detroit's core

programs, which provide life-changing

support to children with special needs.

With their Heart Award presentation,

Variety will recognize philanthropist Lois

Shaevsky for her extraordinary dedication

to changing the lives of children.

Tickets are available at http://bit.ly/2SJ56Di.

Variety of the Delaware Valley

/ Black Hat Bash

May 13 / Philadelphia

It's time to put on your best black hat

and join Variety for their signature event,

where they will be honoring the 2020 Golden

Heart of Variety award recipients. This

spectacular night includes valet parking,

hors d'oeuvres, a top-shelf open bar, dinner,

and live music overlooking the backdrop

of Philadelphia's famous Boathouse Row,

lit up in Variety red! The event takes place

at Philadelphia's Historical Water Works on

Wednesday, May 13, 6–10 p.m.

For more information, visit http://bit.ly/38Gn7I5.

April 2020

49
---
INDUSTRY CHARITY

Images courtesy Variety - the Children's Charity

HEARTS

OF GOLD

Variety Works with Studios

and Exhibitors to Give Back

BY REBECCA PAHLE

In 1991, Variety International board

member Marsha Rae Ratcliff had

an idea about how to expand the work

Variety, the Children's Charity had been

doing since its founding in 1927. Simple

and elegant, Ratcliff's idea was to sell

gold pins in the shape of hearts at movie

theaters, with proceeds going to Variety's

mission of assisting children in need. In

the nearly 30 years since its inception,

the Variety Gold Heart Pin Campaign has

raised $25 million worldwide, along the

way providing one of the most enduring

symbols of the film industry's commitment

to charitable giving.

The story of the iconic gold pin is

one of the worldwide film community's

coming together for a good cause. The

campaign, which started in Great Britain,

made its way stateside when actress

Maureen Arthur-Ruben—then-president

of Variety of Southern California's board of

directors—attended a Variety conference.

Her chapter adopted the program, and

support from studio executives—Variety,

the Children's Charity of the United States

executive director Erica Lopez cites Clark

Woods, Mike McCartney, and Jeff Goldstein—helped

get the pin in theaters.

Woods, then in the midst of his decades-long

tenure at Paramount, had the

idea to "put a campaign behind [the pin]

like they would put a campaign behind a

film," Lopez recalls, in part by giving the

pin prime placement in-theater to boost

sales. Handling of the campaign went to

Disney, whose V.P. of exhibitor relations

Nancy Klueter helped get the pin campaign

out to theaters nationwide. A rollout

to Variety's global chapters followed. "Over

time, each studio helped open doors to

new theater partners, and Variety executive

directors at the individual chapters

throughout the United States formed

relationships with their local theaters to

gain their support as well," recalls Lopez.

Variety's collaboration with Disney

introduced a second key component to

the Gold Heart Pin Campaign. In 2002, at

the suggestion of Arthur-Ruben and the

late Jody Reynolds, who passed away last

year, Disney gave permission for the pin

to depict an image of Mickey Mouse. The

addition of I.P. proved a turning point for

the campaign, as sales that year reached

700,000 pins. In the years since Mickey's

Variety debut, different characters

have popped up on the pins, including

50 April 2020
---
Spider-Man (Sony; 2005); Yoda and Darth

Vader (Disney; 2014); E.T. (Dreamworks;

2004), and—by far the most popular pin,

to the tune of $3 million—Universal's

Minions, who were a hit in 2015.

Universal and DreamWorks are represented

yet again in the 2019–20 Variety

Gold Heart Pin Campaign, featuring the

characters of Poppy and Branch from

Trolls World Tour, in theaters April 10.

Lopez thanks John C. Hall, executive vice

president, distribution, and marketing at

Universal, for the company's involvement.

"To select the I.P.," Lopez notes, "we

always look at the slate of upcoming films

and select a family film that is in the right

time frame. We knew Trolls World Tour

would be a hit." The campaign began in

November and ends on May 31, 2020; pins

can be purchased in participating theaters

and retail outlets in addition to online at

https://usvariety.org/gold-hearts/.

Exhibitors, in addition to studios, are

key partners for the Variety Gold Heart

Pin Campaign. Thirty-one circuits sell

the pins, as do independent theaters. The

exhibitor that's earned the most money

for Variety—one $3 pin purchase at a

time—is Texas-based Cinemark, which

has supported the campaign since it came

to the U.S. and sells the pin in each of its

344 U.S. theaters.

Guests and employees alike, notes

Cinemark director of corporate responsibility

Lanay Fournier-Stokes, are

enthusiastic about "collecting each year's

unique Variety Gold Heart Pin. It is the

perfect way for our guests to show their

support for Variety, the Children's Charity

and to help children who are dealing with

serious illnesses, disabilities, or who are

disadvantaged.

"One of Cinemark's values is 'passion

for people,' and we strive to make an

impact in the communities where our

employees and moviegoers live," Fournier-Stokes

continues. Across the board,

Variety keeps funds raised by the Gold

Heart Pin Campaign in the same general

geographic area where the pins were

sold. These funds are often used to buy

adaptive bikes, wheelchairs, and other

life-changing equipment for children in

need. (You'll notice Variety events showcased

every month in Boxoffice Pro's

Charity Spotlight section.)

The local element to the Variety Gold

Heart Pin Campaign, explains Kelly Nash,

director of marketing at Goodrich Quality

Theaters, is a big part of why her chain

has sold pins and paper hearts in all 30

of its locations, to the tune of, on average,

$55,000 in each of the last five years and

approximately $1 million total. "We've

received many local stories over the years

about children receiving equipment,

services, or programs that enrich their

lives," says Nash. "Our managers enjoy

seeing that our team and customers are

making a difference. Variety partnering

with the film studios makes it fun for our

customers to collect movie-themed pins."

While most theaters that participate

in the program work with the national

Variety chapter, Cinemark partners with

Variety – the Children's Charity of Texas,

headed by president and executive director

Stacy Bruce. The campaign, explains Bruce,

provides "an easy way for people to give

back at the level at which they can comfortably

give back. One pin, believe it or not,

does make a difference. Yes, it's about the

money. Those funds are donated back to us.

But it's also about the stories." The promotional

efforts for each year's Variety Gold

Heart Pin Campaign—including one sheets

and a PSA that can be integrated into preshows—features

"a story of triumph" about

a child whom Variety has helped through

its fundraising efforts. (This year it's Jeffrey,

who on his 5th birthday received a special

bike from Variety.)

It's through fundraising efforts like

the Variety Gold Heart Pin Campaign, as

well as the ongoing cooperation of studios

and exhibitors, that Variety continues to

help children in need. Another chain that

participates in the Variety Gold Heart Pin

Campaign is Southern Theatres, which

over 11 years has raised over $1.2 million

for Variety. "With the help of the U.S.

Variety office we have been able to support

many grants to children in the areas in

which we operate," says president and

COO Ron Krueger, who also serves as the

chairman of Variety's national chapter. "As

an example, just last year we had a bike

presentation at our Grand 16 in Slidell,

Louisiana, where five adaptive bikes were

given to five deserving children." The joy

felt by these children and their families

"motivated our staff to sell even more

[pins]. The guests in the lobby at the time

of the presentation were just as excited as

we were. … Our guests' generosity over the

years demonstrates their excitement and

support of the Gold Heart program."

Variety always welcomes

new partners worldwide

so they can help as many

kids as possible. For

information on how to

participate in the Variety

Gold Heart Pin Campaign,

please contact:

Within the U.S.:

Erica Lopez,

erica@usvariety.org

Outside the U.S.:

Sharon Castillo,

sharon.castillo@variety.org

April 2020

51
---
INDUSTRY MPA

Image courtesy Motion Picture Association

GLOBAL

OUTLOOK

Interview with Charles Rivkin,

Chairman & CEO, Motion

Picture Association

BY DANIEL LORIA

The entertainment industry has

witnessed much change in this age

of multinational mega-mergers, and the

Motion Picture Association has been

touched by those changes as well. Charles

Rivkin has overseen some of them as the

head of that industry association, most

notably its rebranding from the Motion

Picture Association of America to the

more global Motion Picture Association.

In 2019, the MPA welcomed Netflix

as the first streaming platform to sit

alongside its studio members, changing its

annual Theatrical Statistics Report to the

Theatrical Home Entertainment Market

Environment (THEME) Report in order to

include data from streaming and theatrical

sources in its reference publication. After

an eventful year, including a record global

box office, Boxoffice Pro asked Rivkin

to describe his takeaways from 2019 and

his vision of how the theatrical market will

continue to evolve.

We are coming off quite a year at

the global box office. What do you

consider the primary reasons for that

success?

There are several factors that played into

the growth of the global box office, including

well-known blockbuster franchises,

such as Avengers: Endgame and Spider-

Man: Far From Home, as well as Joker,

which put a dark, new twist on an iconic

comic villain and had audiences flocking

to theaters. Films with diverse representation,

including Dora and the Lost City of

Gold and Harriet, also helped draw in new

moviegoers. Beyond great storytelling,

theater owners continue to innovate

the cinematic experience—with online

ticketing options, rewards programs, and

state-of-the-art sound, projection, and

seating. The total number of theatrical

screens also went up by 7 percent, and the

average moviegoer bought more tickets

throughout the year.

52 April 2020
---
"In 2019, the global box

office and the global home

entertainment market both

climbed to record highs.

With that in mind, the future

of the creative-content

industry is bright and will

remain so when stories are

brought to life in theaters,

at home, and on the go."

Looking ahead to the future, public

policies, including those having to do

with trade, will have an impact on the

box office. The opening of newer markets

and expansion into existing ones will

lead to more screens, enhanced content

protection, growth in regional production,

and of course, more customers in your

seats. With recently passed trade deals like

USMCA, and others on the horizon, that

trend is only going to grow.

What trends or tendencies were most

significant at the 2019 global box

office? What are your expectations

for 2020?

If 2019 taught us one thing it's that

audiences are hungry for good stories that

are well told. There's also an appreciation

for seeing their lives and experiences

reflected on-screen. Women consistently

represent slightly more than half of the

theatergoing audience, so I think people

will rush to see women-led films like Black

Widow, Wonder Woman 1984, and Like a

Boss. Diverse audiences also continue to

outperform their share of the population

in terms of moviegoing, so films like In the

Heights, The Photograph, and Bad Boys for

Life are likely to have a positive impact on

the global box office.

Has the piracy threat diminished or

increased? Are there any particular

markets or regions that still present a

big challenge?

The legal marketplace for creative content

has grown exponentially in recent years.

However, piracy remains an ongoing threat

to creators, consumers, and the economy.

Through the Alliance for Creativity and

Entertainment (ACE), we are working 24/7

and around the world to reduce that threat.

Over the last year, ACE has achieved a

number of significant wins through legal

and operational tactics. Most recently,

an ACE action resulted in the operator

of Openload and Streamango—two giant

sources of illegal, unauthorized content—

ceasing all operations. Openload operated

1,000 servers in Romania, France, and

Germany, and generated more traffic than

many leading sources of legal content like

Hulu and HBO Go. ACE also had victories

in Canada, Uruguay, here in the United

States, and around the world.

ACE has solidified itself as the leading

global coalition dedicated to reducing the

theft and illegal distribution of movies

and TV shows. We now have 35 members,

including the addition of Canal+, Channel

5, Charter, Comcast, Discovery, Telefe, and

Viacom in 2019 alone. The expansion of

our membership has made us the onestop

shop for creators' global content

protection needs.

Streaming platforms became a part

of the MPA last year. What do you

believe their impact will be on the

theatrical market?

The Motion Picture Association represents

the largest content creators in the world.

Last year, we added streaming services

to our membership, making us stronger

and better prepared to advocate on behalf

of the industry at large. However, while

audiences are evolving and are enjoying

home entertainment at increasing rates,

they still want to see films on the big

screen—the way many were intended to

be screened. That's why, last year, we also

saw a record-high global box office. That

is not an anomaly. Theatrical and home

entertainment have and will continue to

thrive together because of the powerful

stories being brought to light on screens

where audiences want them.

Now that the line has blurred between

television, home entertainment, and

theatrical cinema, how do you believe

the motion picture experience can

thrive in the midst of this media shift?

We are in the golden age of content, and

one thing is crystal clear: film, television,

and streaming can all thrive together. In

2019, the global box office and the global

home entertainment market both climbed

to record highs. With that in mind, the

future of the creative-content industry is

bright and will remain so when stories are

brought to life in theaters, at home, and

on the go.

When I came to the MPA, I looked at

the entire entertainment landscape from

the perspective of a businessman, and

I saw growth potential everywhere. As I

said in my speech before CinemaCon last

year, theaters and streamers can coexist.

Storytelling is not a zero-sum game. And

it's so exciting to see how audiences are

responding to the array of viewing choices

our industry offers them.

April 2020

53
---
INDUSTRY BIG DATA

CONNECTED

AUDIENCES

EY Study Commissioned by

NATO Shows Link Between

Cinema Visits and Home

Viewing

Ernst & Young's Quantitative Economics

and Statistics (QUEST) group was once again

commissioned by the National Association of Theatre

Owners (NATO) to collect data on U.S. moviegoers

and to analyze key determinants of movie theater

attendance. EY QUEST conducted a detailed survey

of U.S. moviegoers and examined the extent to which

consumption of streaming services impacted movie

theater attendance. EY QUEST also studied this relationship

with consideration to various demographics,

such as age, race, and gender.

Survey of U.S. Moviegoers

EY QUEST conducted a survey of 2,015 respondents,

who saw at least one movie in theaters over the last

12 months, and an additional 505 respondents who

did not see any movies in theaters. The primary data

collected in the survey was: (1) movie theater attendance

in the last 12 months, (2) streaming consumption

in the last 12 months, and (3) demographic characteristics

of the respondents.

Movie Theater Attendance and Streaming

Consumption for 'Dual-Consumers'

Survey results presented here include respondents

who saw at least one movie in theaters and streamed

at least one hour of online content per week in the last

12 months ("dual-consumers"). There were 1,734 such

respondents in total.

Online Streaming Behavior of Those Who Have

Visited a Movie Theater in the Last 12 Months

*Means are reported as 95% trimmed means

Number of visits to a movie theater over the last 12 months

1 to 2 3 to 5 6 to 8 9 or more

Hours per week spent streaming

1 to 3 hours

4 to 7 hours

8 to 14 hours

15 or more hours

35%

30%

19%

15%

27%

31%

23%

19%

17%

33%

27%

23%

12%

27%

26%

35%

Number of respondents

Mean* hours spent streaming

468 579 305 382

7 hr/wk 8 hr/wk 10 hr/wk 12 hr/wk

54 April 2020
---
Movie Theater Attendance and Streaming

Consumption, 'Dual-Consumers' by Age

*Means are reported as 95% trimmed means

Mean* movie visits

over the last 12 months

Age

Mean* hours spent streaming

per week over the last 12 months

6.8

13-17

sample size 358

10.5

5.6

18-37

sample size 741

8.5

6.1

38-52

sample size 385

9.5

6.1

53-72

sample size 236

6.9

"Average streaming hours per week

were higher for respondents who

visited a movie theater nine times or

more than respondents who visited a

movie theater only once or twice."

Online Streaming Behavior of

Those Who Did Not Visit a Movie

Theater in the Last 12 Months

Did not stream 47%

1 to 3 hours

4 to 7 hours

8 to 14 hours

15 or more hours

Number of respondents

Mean* hours spent streaming

17%

12%

12%

12%

505

4 hr/wk

Those who attended movies in theaters more

frequently also tended to consume streaming

content more frequently.

For every race and age demographic, average streaming

hours per week were higher for respondents

who visited a movie theater nine times or more than

respondents who visited a movie theater only once

or twice. Moreover, respondents who visited a movie

theater only once or twice in the last 12 months

reported an average of seven hours of streaming per

week versus 12 hours of streaming per week for those

who visited a movie theater nine or more times.

Streaming Consumption for 'Non-Moviegoers'

Survey results presented here include respondents

who did not see any movies in theaters in the last

12 months.

Those who did not attend a movie in a theater in

the last 12 months were more likely to report less

streaming activity than those who did attend at

least one movie in the same period.

Of those who didn't visit a movie theater in the last 12

months, nearly half (47%) didn't stream any online

content. Of that same group, only 24 percent streamed

online content for eight or more hours per week.

April 2020

55
---
INDUSTRY BIG DATA

Relationship Between Theatrical

Viewing and Streaming Habits

by Age and Income

Quadrant

mean

Population

mean

Low-movie/

Low-streaming

Quadrant profile

Age

$56,200

33

$61,800

35

< 3 movie visits in 12 months

< 4 hours/week streaming

Income*

High-movie/

Low-streaming

Quadrant profile

Age

33

$61,800

$67,200

38

> 7 movie visits in 12 months

< 4 hours/week streaming

Income*

Low-movie/

High-streaming

Quadrant profile

Age

$49,000

33

$61,800

< 3 movie visits in 12 months

> 11 hours/week streaming

Income*

High-movie/

High-streaming

Quadrant profile

Age

32

33

$61,800

$71,200

> 7 movie visits in 12 months

> 11 hours/week streaming

Income*

*Reported as 95% trimmed mean; only 18-year-old+ respondents were asked to report income.

Impact of In-Theater Movie Release on

Streaming Behavior

Survey results presented here include 2,191

respondents who indicated that they were, in some

capacity (rarely, sometimes, usually, always), aware

of whether the movie they streamed was released in

a movie theater.

Highlights from this

report have been

reprinted with the

permission of the

National Association of

Theatre Owners.

Respondents who were aware of movies' in-theater

releases were more likely to stream a movie when they

knew it was released in theaters. Of those who were

always or usually aware of movies' in-theater releases,

62 percent reported they were more likely to stream a

movie if they knew it was released in a movie theater.

On the other hand, only 3 percent of these respondents

reported they were less likely to stream a movie if

they knew it was released in a movie theater.

56 April 2020
---
DATA

DEEP DIVE

Q&A with Phil Contrino,

Director of Media &

Research, NATO

This is the third year NATO

commissioned EY to delve into

the relationship between moviegoing

and streaming. What are some of

the prevailing myths of that

relationship? How do these reports

address those myths?

Far too many people who analyze our

industry fall back on the notion that

the rise of streaming means people are

going to the movies less often. That's an

oversimplified narrative, and it really

doesn't reflect the truth of the situation.

The relationship is more symbiotic. Simply

put: Exhibition's most enthusiastic customers

are also people who stream a lot.

When people consume a lot of movies at

home, it makes them realize that they like

certain genres more than they thought, and

then they seek out films from that genre

in theaters. The success of Parasite is one

strong example of that. The easy access that

so many consumers have to international

titles through streaming clearly helped

expand the audience for that film.

What is the role and influence of

"dual-consumers"?

The dual-consumers who go to the movies

a lot and also stream a lot are a huge

driving force for this industry. I think

the amount of time that the most active

consumers spend with entertainment

shows that they will always find time for

the projects they want to see. The market

has the ability to expand if the content is

strong enough.

What are some of the most interesting

revelations from this year's results?

This year we added a question about the

influence of a theatrical release on how

people decide which movies to stream,

and it's pretty clear that a theatrical

release has a big impact. The takeaway is

that movie theaters are more important

than ever when it comes to helping

consumers decide what to watch. Having

endless options in the home can be

overwhelming, and it often leaves you

dissatisfied as you waste time scrolling

through options. Also, your watch list

seems to be growing all the time, and that

can make it feel almost like homework you

are putting off. A theatrical release creates

a halo effect around a film that stays with

it through all of the windows. That's not

something that can be replicated with any

amount of marketing.

The narrative in the press thus far

has been "theatrical vs. streaming."

What sort of industry collaboration is

needed so it becomes "theatrical and

streaming"?

As more companies launch streaming

platforms while also continuing to respect

the value of what a robust theatrical run

can bring to their films, I think the narrative

will change substantially. Companies

with the ability to maximize their ROI on

films through a healthy theatrical run will

always take that route. Going straight to

streaming takes a lot of money out of a

film's life cycle.

All the attention was on The Irishman

and Netflix, when the real story was

Parasite and Hulu. $50 million domestic

box office, $200 million worldwide and

growing. It was originally going to be a

simultaneous release in the U.K., but the

plan changed to a full theatrical window

and it broke theatrical records when it

opened. It will be a long-term asset to

Hulu when it reaches streaming with a

value that could only be created by a real

theatrical release.

April 2020

57
---
INDUSTRY BIG DATA

Cinemagoing in Europe 2005–2019 (in billion admissions)

1.33

1.34

1.30

1.28

1.25

1.20

1.21 1.21

1.19

1.17

1.18

1.13

1.09

1.09

1.04

2005

2006 2007 2008 2009 2010 2011 2012 2013 2014 2015 2016 2017 2018 2019

A EUROPEAN

RECORD

UNIC Report Reveals

Record-Breaking Admissions

for Europe in 2019

Source: UNIC members

and European Audiovisual

Observatory (EAO) data.

Figures for Albania only

available from 2014; for

Serbia, Montenegro and

Bosnia & Herzegovina

from 2007.

The International Union of Cinemas (UNIC),

Europe's trade body representing the region's

cinema trade associations and operators, has released

early numbers indicating a record 1.34 billion admissions

to its member cinemas in 2019.

While data for some territories is estimated, UNIC's

overview represents the first wide-ranging assessment

of the performance of the European cinema sector in

2019. The trade body will release detailed final data on

each territory's performance this spring.

A Record Year

European cinema admissions increased by 4.5

percent in 2019, setting a record of over 1.34 billion

visits across the region. In the European Union,

cinemas recorded their best results in 15 years, with

admissions reaching the 1 billion mark for the first

time since 2004.

While final figures for several territories are still

pending, estimates indicate that total box office for

Europe will pass the €8.5 billion mark, an increase of

6.25 percent from 2018's €8.0 billion. For the E.U., estimates

indicate over €7.1 billion in box office revenue

compared to last year's €6.8, a 4.41 percent increase.

58 April 2020
---
Strong Showings in Russia, France, and the U.K.

Russian cinemas led all European territories in admissions,

attracting a record 216.3 million visitors in 2019.

This is the third consecutive year that admissions

in Russia have crossed 200 million. France placed

second in Europe with 213.3 million cinema visits in

2019, its second-best performance since 1966. The

U.K., the third-biggest European cinema market in

terms of admissions, grossed over £1.25 billion at the

box office—which translates to a European-high €1.48

billion—following a record-breaking 2018.

Recovery in Germany and Across Western Europe

Following a difficult 2018, admissions in Germany

bounced back with a 12.6 percent improvement. Several

other markets across Western Europe also made

up lost ground against 2018, including Austria (6.7%)

and Switzerland (6.3%). The Netherlands is also worth

highlighting, as the local industry has been growing at

a steady pace over the past decades to reach a record

38 million admissions in 2019.

Growth in Spain, Portugal, and Italy

The Spanish cinema industry enjoyed its best

performance since 2009, surpassing 100 million

admissions. Spanish exhibitors managed to increase

admissions by 37 percent compared to 2013, when an

entertainment tax placed on cinema tickets sent the

industry into a tailspin. Following a challenging 2018,

the Portuguese industry enjoyed a year of growth,

increasing box office by 5.6 percent and admissions

by 5 percent. Portugal surpassed the 15 million admissions

mark for the second time since 2011. In Italy,

final admissions figures are expected to exceed 100

million visits, while box office grew 14.4 percent.

Mixed Fortunes in Scandinavia

Denmark (box office up 4.5%, admissions up 1.8%) and

Finland (box office up 6.3%, admissions up 4%) both

enjoyed good growth, bolstered by successful local

titles that ranked among each country's top five box

office hits of the year. On the other hand, Sweden (box

office down 0.9%, admissions down 2.9%) and Norway

(box office down 5.3%, admissions down 6.8%) were

among the European territories to suffer decreases in

2019, partly due to a lack of breakthrough local titles at

the box office.

Thriving Local Industries in CEE, Baltic States,

and Southern Europe

Local titles helped Poland and the Czech Republic

reach new heights in admissions and box office in

2019. Poland welcomed a record-breaking 60.9 million

moviegoers last year, fueling a 63 percent growth in

the territory since 2010. Positive results were also

reported in Bulgaria (box office up 6.5%, admissions

up 2.4%), Ukraine (box office and admissions up 7%

each) and Slovakia (box office up 12.8%, admissions up

9.3%), where admissions tripled in the last 15 years.

Country Box Office Admissions Per Capita

Top 3

Russia +8.9% +7.8% 1.5 21.9%

France — +6% 3.2 35%

United Kingdom -1.9% -0.5% 2.7 13%

Germany and Western Europe

Germany +13.9% +12.6% 1.4 21.5%

Austria +9.9% +6.7% 1.5 2.7%

Switzerland +7.9% +6.3% 1.5 6.3%

Netherlands +11.3% +6.5% 2.2 11.7%

Southern Europe

Spain +6.6% +7.9% 2.3 15%

Portugal +5.6% +5% 1.5 4.2%

Italy +14.4% +13.6% 1.6 21.2%

Scandinavia

Denmark +4.5% +1.8% 2.3 23.7%

Finland +6.3% +4% 1.5 15.5%

Sweden -0.9% -2.9% 1.6 13.3%

Norway -5.3% -6.8% 2.1 16.1%

Central and Eastern Europe

Poland +1.6% +2% 1.6 28.8%

Czech Republic +15.3% +12.1% 1.7 24.2%

Bulgaria +6.5% +2.4% 0.7 7.6%

Ukraine +7% +7% 0.8 6.8%

Slovakia +12.8 +9.3 1.2 13%

Baltics and Southeast Europe

Estonia +5.7% +1.5% 2.8 23%

Latvia +12.6% +7.9% 1.4 20.2%

Lithuania +0.2% -2.9% 1.5 19%

Bosnia and

Herzegovina

+12.7% +10.8% 0.4 0.2%

Montenegro +8.6% +7.7% 0.7 0.4%

Serbia +11.8% +8.2% 0.7 17.5%

Croatia +6.2% +3.5% 1.2 4.3%

Albania +67.4% 69.9% 0.2 23%

Turkey +8.7% -15.7% 0.7 54%

National

Films' Share

April 2020

59
---
INDUSTRY BIG DATA

The success of the cinema industry across the

Baltics is worth highlighting, as Estonia and Latvia

attracted record admissions, and Lithuania achieved

its second-best performance ever, following a strong

2018. All three territories had a local title leading

the box office. Similarly, the cinema industry in the

Balkans is growing at an increasing pace, with Bosnia

and Herzegovina, Montenegro, Serbia, and Croatia all

enjoying their highest levels of cinema admissions

ever, while Slovenia recorded its best results since

2012. Albanians supported their nascent cinema

industry in 2019, with a 69.9 percent increase in

admissions, also carried by the incredibly successful

local production 2 Gisht Mjaltë. Meanwhile, cinema

admissions in Turkey decreased significantly in 2019

due to local industry spats. An increased average

ticket price resulted in a box office bump, though

currency conversion rates indicate a decrease of box

office returns in Euro.

Admissions per Capita and National Films' Share

Admissions per capita for all UNIC territories with

available data remained stable at 1.5 average visits per

year. Ireland and France (at 3.3 and 3.2 respectively)

experienced the highest rates of cinemagoing once

again, followed by Estonia (2.8), the U.K. (2.7), and

Denmark and Spain (both at 2.3).

Total market share for European films in 2019

will be available once final data on each territory is

published. Turkey (54%), France (35%), and Poland

(28.8%) once again experienced the highest national

films' market share across UNIC territories, as the

Czech Republic, Denmark, Albania, Estonia, Russia,

Germany, Italy and Latvia all managed a national

films' market share of above 20 percent.

DIGITAL SIGNAGE

Integrated Digital Signage,

Concession Signs, Lobby &

Directional Signs, Custom Graphics

MOBILE APP &

WEBSITES

Web Management, Website

Design and Programming,

Online Ticket Purchasing,

Mobile App Development,

Mobile Ticketing Sales

INTERNET TICKETING

Online Ticket Sales with Theatre Branded Interface

Your Complete Theatre

Management Solution

Starts Here!

TICKETING & CONCESSION

POINT-OF-SALE

Touch Screen Ticketing,

Concession Point-of-Sale,

Two-in-One Terminals, Kiosk Sales

& Redemptions, Assigned Seating

BACK OFFICE

MANAGEMENT

Show Scheduling, Inventory,

Cash Control, Remote Access,

Labor Management,

Real-Time Corporate Reports

GIFT CARDS & LOYALTY

PROGRAMS

Gift Cards, Virtual Gift Card

Sales, Customer Rewards

888-988-4470 Sales

FILM RENTAL MANAGEMENT

Automatically Calculate Weekly Film Rental, Create

Payment Vouchers, Settle Films & Manage Credits

NETWORK &

IT SERVICES

Network Support, Hardware

Monitoring, Phone & Surveillance

System Support, ISP Monitoring,

Security & Antivirus

RetrieverSolutionsInc.com

60 April 2020
---
TOP 5 FILMS

PER TERRITORY

* Denotes Local Title

Country Top 1 Top 2 Top 3 Top 4 Top 5

Albania Gisht Mjaltë * Falco * Joker Avengers: Endgame The Lion King

Austria The Lion King Frozen II Avengers: Endgame Joker Das perfekte Geheimnis

(DE)

Bosnia and

Herzegovina

Joker The Lion King Avengers: Endgame Frozen II Taksi bluz (Serbia)

Bulgaria The Lion King Avengers: Endgame Frozen II Fast & Furious: Hobbs &

Shaw

Star Wars: The Rise of

Skywalker

Croatia Joker Avengers: Endgame The Lion King Frozen II Once Upon a Time in

Hollywood

Czech

Republic

Ženy v běhu * Avengers: Endgame Frozen II Bohemian Rhapsody How to Train Your Dragon:

The Hidden World

Denmark Avengers: Endgame Joker The Lion King Jagtsæson * Ser du månen Daniel *

Estonia Tõde ja õigus * Klassikokkutulek 3:

Ristiisad *

Joker The Lion King Avengers: Endgame

Finland Joker Avengers: Endgame The Lion King Star Wars: The Rise of

Skywalker

Risto Räppääjä ja

pullistelija *

France The Lion King Avengers: Endgame Qu'est-ce qu'on a

encore fait au Bon

Dieu?*

Frozen II

Joker

Germany Frozen II The Lion King Avengers: Endgame Das perfekte Geheimnis * Joker

Italy The Lion King Avengers: Endgame Joker Frozen II Aladdin

Latvia Dvēseļu putenis * The Lion King Joker How to Train Your Dragon:

The Hidden World

Avengers: Endgame

Lithuania Pats sau milijonierius * Joker The Lion King Ir visi ju vyrai * How to Train Your Dragon:

The Hidden World

Montenegro Joker The Lion King Taksi bluz (Serbia) Balkanska međa (Serbia) Avengers: Endgame

Netherlands The Lion King Avengers: Endgame Joker Frozen II Aladdin

Norway The Lion King Avengers: Endgame Joker Frozen II Star Wars: The Rise of

Skywalker

Poland The Lion King Miszmasz czyli Kogel

Mogel 3 *

Frozen II Avengers: Endgame Joker

Portugal The Lion King Joker Avengers: Endgame Frozen II Toy Story 4

Russia The Lion King Avengers: Endgame T-34 * Maleficent: Mistress of Evil Joker

Serbia Joker The Lion King Taksi bluz * Balkanska međa * Avengers: Endgame

Slovakia Avengers: Endgame Trhlina * How to Train Your

Dragon: The Hidden

World

Frozen II Šťastný nový rok *

Spain The Lion King Joker Avengers: Endgame Aladdin Toy Story 4

Sweden The Lion King Avengers: Endgame Joker Star Wars: The Rise of

Skywalker

Frozen II

Switzerland The Lion King Avengers: Endgame Joker Frozen II Green Book

Turkey 7. Koğuştaki Mucize * Recep Ivedik 6 * Organize Isler: Sazan

Sarmali *

Avengers: Endgame

Kral Şakir: Korsanlar

Diyarı *

Ukraine Avengers: Endgame The Lion King Joker Maleficent: Mistress of Evil Frozen II

United

Kingdom

Avengers: Endgame The Lion King Toy Story 4 Joker Star Wars: The Rise of

Skywalker

April 2020

61
---
INDUSTRY INDIE INFLUENCERS

All images courtesy Spotlight Cinema Networks

IN THE

SPOTLIGHT

Spotlight Cinema Networks

Celebrates its 10th Anniversary

BY DANIEL LORIA

Brought to you by

The third year of the new millennium,

2002 was a historic year for the

film industry. The domestic box office

enjoyed its 17th consecutive record-breaking

year, crossing the $9 billion mark for

the first time. The biggest box office story

of the year was the crossover success

of IFC Films' My Big Fat Greek Wedding,

which became an all-out box office hit.

The independent movie opened at a

modest 108 screens in April before word of

mouth carried the title from the art house

to the multiplex. By the time October

rolled around, My Big Fat Greek Wedding

hit a peak of 2,016 screens. The film played

in theaters for nearly a year, grossing a

total of $241 million throughout a 51-week

run. Its success offered a glimpse into the

potential of the art house market, a place

where different films could connect with

affluent audiences who could then fuel a

much larger run nationwide.

The film proved that the art house

market could have a significant impact

on the industry as a whole. Individually,

art house cinemas might not seem to be

make-or-break venues that can launch

Oscar hopefuls and change the fortunes of

budding filmmakers. But as a group, they

constitute arguably the most influential

community of tastemakers in the industry.

Just as My Big Fat Greek Wedding

wrapped up its theatrical run in 2003, a

new entity, called the Arthouse Marketing

Group (AMG), was formed, its sights set on

exploiting that potential through cinema

advertising. It was created as a network of

individual art house cinemas nationwide,

grouped together to create scale for

advertisers looking to reach the influential

and affluent consumers that frequent

their theaters.

For four years, AMG played a niche

role among the bigger players in cinema

advertising. To grow, the company would

need an injection of funding and new

ideas. That came in 2007 with Jerry

Rakfeldt, a marketing professional whose

62

April 2020
---
own ambitions had once taken him to Asia

to assist with the global marketing efforts

of Toyota. Now back in the United States,

Rakfeldt was looking for his next venture—

little did he know, or expect, that he would

wind up working in exhibition.

"At that time, I was just looking for

a company to acquire," says Rakfeldt.

"I come from a pure marketing and

advertising background. [Cinema] wasn't

necessarily where I was focused." After

meeting AMG's ownership group, Rakfeldt

completed the acquisition of the cinema

advertising entity on his own, taking the

reins of the company in September 2007.

That same year, Michael Sakin, already

an accomplished executive in cinema

advertising, began looking for a similar

opportunity to maximize the potential of

art house theaters. Sakin reached out to

Landmark Theatres to run its in-house

advertising division; he'd sensed a void

in the marketplace and knew he could

help bring luxury brands to Landmark's

upscale clientele. He joined the circuit in

2007, setting out to secure as many top

brands as he could for Landmark's screens.

Inevitably, and without knowing it, the

two executives found themselves on a

parallel course.

"We had two years where we coexisted—we

were going about our business at

Landmark, AMG was going about theirs—

but by 2009 it became apparent that we

were bumping into each other too often,"

says Sakin. "We were two very similar

entities going after the same clients. We

each represented around 200 screens; it

just seemed like the world was too small

for the two of us to compete. It made more

sense to combine our forces rather than

sell against each other, because it was such

a small niche."

Sakin went about it the old fashioned

way. He looked up Rakfeldt's information

on AMG's website and called him to set up

a lunch meeting in Los Angeles. It took

about a year to put the deal together, bringing

the AMG and Landmark leadership

teams together to launch a consolidated

cinema-advertising joint venture. "It made

perfect sense," says Sakin. "Landmark had

a seasoned ad sales force that I had built,

and Jerry had the marketing background

and operations experience with his staff.

We were a perfect match."

The joint venture, Spotlight Cinema

Networks, launched in October 2010 with

six employees and around 400 screens.

Projections for the art house market

in 2010, however, presented a striking

contrast from the success the sector had

enjoyed earlier that decade. The 2008

recession had slowed consumer spending,

carrying economic implications for Spotlight's

exhibitor and advertising clients.

The box office was still growing, albeit

not at the same record-breaking pace of

the previous decade, but the market was

largely driven by superhero titles that

followed the Spider-Man formula. Blockbuster

crossover hits like My Big Fat Greek

Wedding were anomalies, and distributors

like IFC Films had begun pioneering

day-and-date theatrical and streaming

releases for some of their titles. In some

instances, specialty titles wouldn't receive

a theatrical release at all.

Most notably, 2010 found art house

cinemas in the midst of the biggest

revolution of cinema technology since the

inception of sound. The digital transition

pushed the widespread adoption of digital

cinema around the world, leaving analog

projectors—and potentially scores of

specialty exhibitors—behind. "It was as if

the sky was falling in 2010," says Rakfeldt.

"Everyone was worried about surviving

through the recession, surviving the digital

transition. Our main focus as a company

was to drive as much additional revenue as

we could for our exhibitor partners."

That revenue came, in large part, from

luxury advertisers in search of a captive,

affluent audience, as traditional media

ratings continued to erode. Art house cinemas

were inherently positioned to develop

that niche. High-end brands like Louis

Vuitton and American Express had already

bought into cinema advertising through

AMG and Landmark. Spotlight provided

a more extensive reach to offer additional

luxury advertisers from the get-go.

"In 2013 we changed the name of where

we ran our national ads to the 'Trailer

Pod.' We had previously identified the

national ad pod as 'Premium Pod,' which

did not accurately describe the premium

ad placement we were delivering. 'Trailer

Pod' indicated these brands would be

running immediately prior to the trailers,

with the lights down, after the advertised

showtime," says Sakin. "This positioning

helped us convert luxury brands to the

cinema advertising space."

The pair cites Porsche and Apple among

the company's most prominent milestones

in bringing high-end brands to cinemas.

Michael Sakin

"We were two very similar

entities going after the

same clients. We each

represented around 200

screens; it just seemed like

the world was too small for

the two of us to compete."

Jerry Rakfeldt

April 2020 63
---
INDUSTRY INDIE INFLUENCES INFLUENCERS

"They had never done cinema before. We

introduced them to the space—and they

were exclusive with Spotlight," says Sakin.

"That's when we felt we had arrived, that

we were actually making a difference in

the marketplace."

Spotlight's biggest evolution among

its exhibitor partners developed during

the company's early years. "We started to

see these really high-end theaters start

opening up in the United States, where

you could screen commercial films but in a

high-end environment to continue reaching

a luxury audience," says Sakin. "It was

the ideal model to expand our horizons."

Sakin remembers taking a road trip to

San Diego to see one of Cinépolis's first U.S.

locations. Mexico's leading circuit opened

its first U.S. cinema in 2011, strategically

opting to enter the market with luxury

theaters. "We were blown away," he says.

"This was full waiter service at your seat,

reclining chairs, sushi, and martinis—at a

ticket price that wasn't ridiculously high.

We knew right there and then, this is our

market. This aligned naturally with the

brands we were signing to Spotlight Cinema

Networks. We knew that if we could get on

the ground floor with luxury theaters, we

could enhance [them] and grow with them."

It took some convincing. Although

well versed in cinema advertising through

its global circuit, the Mexican chain

originally opted to forgo ads on its screens

in the United States. Spotlight appealed

to them by linking their art house connections

with the luxury-cinema model;

both overlapped in terms of consumer

demographics. Cinépolis Luxury Cinemas

signed on to Spotlight Cinema Networks,

and the company went on to sign additional

exhibitors, including Silverspot Cinema

and CinéBistro, that featured upscale

auditoriums at a time when the concept

was just beginning to take off in the U.S.

"At that point, I don't think any of us could

foresee how much that space would grow

in the ensuing years," says Sakin.

Today, Spotlight Cinema Networks

boasts an exhibitor community of nearly

1,200 screens—an early, and self-admittedly

arbitrary, benchmark of 1,000 screens

was set by Rakfeldt and Sakin when they

launched the company in 2010. The

growth over the past decade is founded on

a strong feeling of trust among Spotlight

and its partners. "It's fundamental to our

success," says Rakfeldt. "The art house

community and luxury sector care deeply

about their brands. We have to care about

that just as much as they do in order to

maintain their trust. Our cinema advertising

model has been the same from the

very beginning: every exhibitor sees and

approves every ad."

"That level of trust has to exist with

both our brand and exhibitor partners.

We need to be extremely selective about

what appears on our screens," says Sakin.

"Everything we do is with the exhibitor's

seal of approval. I think that's what

opened the door into the luxury space; no

one else was willing to do that. We take

a big risk because we could potentially

sell to an advertiser that gets rejected by

all our exhibitors. There are advertisers

that would love to be on our screens

because they want to be in the world of

independent film and luxury cinemas.

They see our smaller commercial loads,

knowing their share of voice would be

larger. But if they're not upscale enough,

or if the creative isn't up to the standard,

that doesn't work for us or our exhibitors.

That's why we have to be diligent about

anything we bring to the screen."

Rather than defining itself exclusively

by cinema advertising, Spotlight has

grown to become a vertically integrated

partner of art house and luxury cinemas

in a number of different sectors. In 2017,

the company announced it would start

its own event-cinema division, CineLife

Entertainment, which has already

made significant strides in the market.

That same year, the company acquired

Storming Images, a digital distribution

firm with a focus on trailer, pre-show,

and DCP delivery. Storming operates

independently and works with three other

cinema advertising companies. "Spotlight

is our B2B ad sales entity and Storming is

our foray into digital delivery distribution.

We're also building a B2C brand through

CineLife through our mobile app and

our event-cinema division, CineLife

Entertainment. Our ambition is to make

CineLife a household name in the next 10

years," says Sakin.

To achieve that, Rakfeldt offers a

succinct summary of the company's focus

as it enters its second decade: "The media

landscape changes quickly and we must be

innovative, flexible, and entrepreneurial

to stay ahead of the game to drive results

for our exhibition, advertising, media, and

content partners.

64

April 2020
---
INDUSTRY INDUSTRY INSIDERS

THE STAR

OF CINEPLEX

Anne Fitzgerald Keeps It

Interesting as Cineplex's

Chief Legal Officer

BY REBECCA PAHLE

Young lawyers often ask Anne

Fitzgerald how they can land her job

in 20 years. According to Fitzgerald, there

is no easy answer: "They come up to me

and say, 'What do I do to get there?' All I

can say is, 'I don't know. Go farm sheep,

climb a mountain, swim with sharks —and

maybe you'll end up here.' There is no

direct path in a super-interesting career."

If you were after Anne Fitzgerald's

job as chief legal officer of Cineplex and

wanted to replicate her path exactly, you'd

have a pretty tricky time doing it. The start

seems reasonable enough: Be a lifelong

movie fan. Go to university (Duke, in

Fitzgerald's case) and study law. It's what

comes next that takes you off the path of

your typical movie theater executive. Go

into corporate litigation and then leave a

lucrative private law firm job to work as

an assistant district attorney. (Somewhere

in there, take a break to head a six-month

youth service expedition in Alaska.) Your

legal work takes you to New York, which is

good, because you're a big fan of theater.

While there, you'll end up teaching

leadership theory and eventually produce

a stage adaptation of a classic horror film

that passes out raincoats to the first three

rows so the audience's clothes don't get

splattered with fake blood. (To stick to

Fitzgerald's path exactly, mind you, that

show you produced will have to become

a cult classic in Korea.) You'll meet your

future husband, who's Canadian, so …

leave the Great White Way for the Great

White North. (Despite the fact that you

didn't, and still don't, care about hockey.)

The road to Cineplex will be bumpy:

There are work visa issues. Eventually

you're brought on as outside counsel in

your solo practice, and you flag a potential

issue—you advise the company to ignore

a smaller deal that that might have gotten

in the way of the board's plan to acquire

its biggest competitor, Famous Players.

You're hired on a one-year contract—just

to handle the 2005 Famous Players

acquisition. Six months into that contract,

you're put on the executive team. Fifteen

years later, you're still there, having been

made Cineplex's chief legal officer.

Easy-peasy.

(By the way, the stage adaptation is Evil

Dead: The Musical.)

It's been a busy 15 years at Cineplex

since it acquired Famous Players. The

chain has acquired other theaters

across Canada, and the success of event

cinema caused them to think further

about eventizing the theatrical space,

looking beyond studio offerings to

provide moviegoers with amenities and

experiences they can't get at home. It

introduced its VIP Cinemas luxury brand

and several different entertainment center

concepts—detailed in our piece on the

cinema entertainment center trend on

page 160. (Fitzgerald is set to moderate

a CinemaCon panel on "Eventizing the

Theatrical Experience," taking place the

morning of March 30.)

"We, as an exhibition industry, need to

be nimble and innovative so we can continue

to attract and entertain our customers,"

says Fitzgerald. "Cineplex has been

doing that not only with our VIP theaters,

but also with [entertainment center

concepts] The Rec Room, Playdium, and

now expanding into Junxion—our recently

announced cinema-meets-entertainment

center. We have been working more with

our Player One Amusement Group gaming

business as well as Cineplex Digital Media.

It's been a ton of fun. For my job, there are

new legal issues with every one of those

businesses, which keeps it engaging and

interesting. It is never boring."

(Handling the acquisitions, of theaters

and otherwise, that come with these

expansions hasn't been Fitzgerald's only

role. If you've ever enjoyed a cocktail at a

Canadian theater, you have her, in large

part, to thank. Starting in 2005, Fitzgerald

and her team began lobbying for Canadian

provinces, all of which prohibited liquor

in movie theaters, to change their laws.

"Some provinces, it literally took 15

minutes to get the laws changed. And in

others, it took eight years.")

Boring isn't how Fitzgerald likes

it—and she doesn't believe that's how

most other people like it, either. When

hiring, Fitzgerald argues that you should

choose "someone to do a job they have not

necessarily done before. I'm a firm believer

that if someone is leaving a job that's

exactly like the job you're hiring them for,

they're likely going to become bored very

quickly." People should be challenged, she

argues, with new tasks and new opportunities.

"Just because someone hasn't done

something before doesn't mean they're

not going to add great value and be excited

by the new challenge. So when I hire, I

hire for what I see as potential in people,

not for what they've already proven they

can do." Another thing Fitzgerald prizes

66 April 2020
---
Image courtesy Cineplex Entertainment

in those she works with: self-deprecating

humor. "I want someone who can laugh at

themselves, someone who's not going to

take themselves so seriously. I don't want

to work with people who think they're

the smartest person in the room, because

none of us are."

As someone who came from outside

the exhibition industry herself, Fitzgerald

recognizes the importance of an outside

perspective. "It's a blessing and a curse of

our industry that we have so many people

with longevity, as we all love our industry,"

she argues. "That's great, but there are

also some limiting factors that come out of

that. Having new ideas and fresh blood is a

great thing."

The idea of "fresh blood" and new

ideas, Fitzgerald notes, is something that's

prized at Cineplex as a whole, where there

are "always opportunities for people to

move around, to give them a completely

different challenge. The ideal job is when

someone has items on their to-do lists that

are incredibly challenging as well as items

that they can do blindfolded. Finding a

mix is important. Moving people around

within roles, within the departments,

makes everyone better." To that end,

Fitzgerald recently took on leading Cineplex's

real estate team, "which has been a

blast for me. I would never hold myself out

as a real estate expert, but I have learned

a ton, and I've been able to add value

where I can in helping the real estate team

be better at what they do." Also added to

Fitzgerald's plate is Cineplex's corporate

social-responsibility mandate, as she

figures out ways for Cineplex to "be a

better corporate citizen."

Though Fitzgerald has never had a

formal mentor, she does credit "very

important mentoring conversations" for

some of the "amazing opportunities" she's

had throughout her professional life. Some

of those conversations put her career on

a path she never could have foreseen. As

such, Fitzgerald prioritizes being there

for others, particularly women, who can

benefit from her input or advice. "I put

a lot of energy into being present and

available when people want to talk about

their careers and their paths or challenges

that they may be facing. Maybe I can

pass on some nugget of wisdom that

I've learned that may be important for

them." While Fitzgerald credits formal

mentorship programs with "establishing

structure" around deep professional and

personal conversations, she prizes above

all listening to—and treating well—those

she works with on a "moment-to-moment,

day-to-day basis. We all needed help along

the way. It's important to pay that forward."

"I think it's incredibly important to

walk the walk," she adds. "I would like to

believe that there is no one on my team

or with whom I work, up or down, who

would be surprised by my behavior in any

particular circumstance. I think it's important

to be consistent with how you treat

people and how you act at any given time.

That should be both with the person to

whom you report, your peers, the guests at

Cineplex—and also with people who you

manage or are junior to you. One shouldn't

act differently or show up differently to

different audiences."

In case you haven't figured it out

already, Fitzgerald doesn't like sitting still,

and uncertainty doesn't put her off. "I've

found a way to be comfortable with uncertainty,"

she explains. "And I don't think

that comes naturally to human beings. It's

a skill you have to develop. Throughout

the whole of our industry, there's been

a great deal of consolidation and a great

deal of change in the last few years. For all

of us to succeed in the future, learning to

manage change is a very valuable skill."

After a decade and a half of overseeing

Cineplex's acquisitions of other companies,

Fitzgerald is now on the other side of the

table: In December of last year, Cineworld

signed an agreement to acquire Cineplex,

an acquisition that—if completed—would

bring Cineplex into the fold of the U.K.-

based chain that already owns Regal

Cinemas. "This particular transition is

very important for both Cineplex and

Cineworld," Fitzgerald notes. "With this

acquisition, our team can stay competitive

for the long run, which is super-exciting."

"Just because someone

hasn't done something

before doesn't mean they're

not going to add great value

and be excited by the new

challenge."

April 2020

67
---
INDUSTRY A CENTURY IN EXHIBITION

Left: In an effort

to boost flagging

attendance, studios

of the 1950s began

catering to a previously

untapped audience:

teenagers. Enter

Elvis Presley and his

swinging hips.

Above: Moviegoers of

the 1950s loved Marilyn

Monroe. The decade

took her from a small

role in All About Eve

(1950) to playing Sugar

Kane Kowalczyk in Billy

Wilder's Some Like It

Hot (1959).

A CENTURY

IN EXHIBITION

1950s: Turmoil, TV, and

Technological Innovation

BY VASSILIKI MALOUCHOU

2020 marks the 100th anniversary of the founding of

Boxoffice Pro. Though the publication you hold in your

hands has had different owners, headquarters, and even

names—it was founded in Kansas City by 18-year-old Ben

Shlyen as The Reel Journal, then called Boxoffice in 1933

and, more recently, Boxoffice Pro—it has always remained

committed to theatrical exhibition.

From the 1920s to the 2020s, Boxoffice Pro has always

had one goal: to provide knowledge and insight to those

who bring movies to the public. Radio, TV, home video,

and streaming have all been perceived as threats to the

theatrical exhibition industry over the years, but movie

theaters are still here—and so are we.

We at Boxoffice Pro are devotees of the exhibition industry,

so we couldn't resist the excuse of a centennial to explore

our archives. What we found was not just the story of a

magazine, but the story of an industry—the debates, the

innovations, the concerns, and above all the beloved

movies. We'll share our findings in our year-long series,

A Century in Exhibition.

68

April 2020
---
In the 1950s, the theatrical industry

saw studios, vendors, and exhibitors

all reveling in a new wave of technological

innovations. This time, the focus was on

making the theatrical experience bigger

and more spectacular—the better to

compete with a little thing called TV.

The motion picture industry faced its

first existential threat in the 1950s. Following

the introduction of the Paramount

decrees and the weakening of the studio

system, exhibitors faced a shortage of

product and declining admissions, and

the industry met its most daunting competitor

yet: television.

The pages of Boxoffice Pro reflected

this turmoil. Despite a fast-growing U.S.

population and exploding consumer

economy, attendance was not increasing

... or at least it wasn't increasing fast

enough, especially in the second part of

the decade. In February 1955, editor Ben

Shlyen explained the conundrum: "While

the gross business is up, due to the partial

elimination of the excise tax and higher

admission prices, our attendance has not

been increased." In May 1956, a survey by

Slindlinger & Co. found that American

theaters lost 16 million patrons in the first

week of the month because of an insufficient

variety of pictures, a lack of effective

advertisement, and TV.

Filling empty seats became a recurring

mission for Boxoffice Pro and its

contributors. Different solutions were

routinely proposed: more blockbusters,

higher ticket prices, discounts, extended

runs, family nights. Shlyen urged more

diversity in films as well as a different

release strategy. In May 1956, he argued

that fewer second-run theaters per

neighborhood had resulted in a situation

where most, if not all, theaters played the

same movie for multiple weeks without

sufficient alternatives for patrons who had

already seen it. "Could it be that this—and

not television, much as it has been credited—is

the main cause of the wholesale

closing of neighborhood theaters?" he

pondered. Others called for a more social

solution, like instilling moviegoing as a

habit for younger generations and encouraging

"the women of America" to bring

their families to the movies.

Many contributors turned to the past to

calm the "industryites." Abram F. Myers,

chairman of the board and general counsel

of Allied States Association of Motion

Picture Exhibitors, wrote that the motion

picture industry has "survived the vicissitudes

of the centuries because it satisfies

a deep-seated craving of the gregarious

human race for amusement and relation,

not alone but in the company of others.

So long as there are men, there will be

theaters—television or no television." In

the same issue, a veteran exhibitor sought

to reassure readers by harking back to how

the industry had overcome the threat of

radio: "It was a costly, discouraging and

prolonged process. Some thought it could

never be accomplished, but it was. New

and improved methods of presentation

turned the tide."

The industry was facing crises on

multiple fronts. Starting in the late 1940s,

the House Un-American Activities Committee

(HUAC) had been hunting down

suspected Communists in Hollywood. In

addition to the bad publicity, there were

financial costs: A report by Allied States

Association of Motion Picture Exhibitors,

one of the two major exhibitor groups,

estimated that film companies had spent

more than $1 million in settling contracts

with ousted Communists. After the second

HUAC hearings, about 212 individuals

were blacklisted, among them prominent

talents like Dalton Trumbo, who was

eventually reinstated in 1960. Boxoffice

Pro reported that director Elia Kazan,

who agreed to talk to HUAC to avoid the

blacklist, repudiated his youthful ties to

the Communist Party, explaining that "the

Communists automatically violated the

daily practices of democracy and attempted

to control thought and to suppress

personal opinion" (April 1952).

Boxoffice Pro deplored the maltreatment

of many industry players and

feared that the hearings "would besmirch

an entire industry for the acts of a few

who have a remote connection to [Communism]"

(March 1951). The magazine

subsequently ran multiple reports on the

lack of influence of "Reds" on Hollywood

films and emphasized the cooperation of

industry leaders. The Red Scare started

to subside in 1959 when the Academy

announced it would repeal the rule on the

ineligibility of Communists.

But the biggest crisis of the decade was

undoubtedly the rise of TV. Talks about

the medium dated back to the 1920s, but

it wasn't until the 1950s that TV became a

practical form of entertainment. Indeed,

the decade began with reports on the

unprecedented manufacture of TV sets. In

January, a record 7,463,800 sets rolled off

the assembly line. For theaters, this meant

competition for audiences—especially after

color TV was introduced—and for product.

In January 1950, the first pay-per-view

system, dubbed "Phonovision," was

tested in 300 Chicago households by the

Zenith Radio Corporation. Viewers could

send a phone signal to decode a movie

for one dollar. Fearing that first-run films

would go straight to TV, the exhibition

industry strongly protested this new

system. Exhibitors, sometimes backed by

free TV networks, fought to ban pay-TV

by pressuring the Department of Justice

and the FCC. The stakes were immense. In

a March 1955 editorial, Shlyen called for

others to join the exhibitors' "crucial fight

for existence."

In October 1954, Disney—partnering

with ABC—became the first major Hollywood

studio to create TV programming.

Walt Disney believed it to be an exciting

development for both industries. In 1955,

studios opened their libraries for TV

rentals and sales of films prior to 1948.

RKO was the first, followed by Columbia

(which sold features through its TV

subsidiary Screen Gems), Paramount, and

Fox. Starting with RKO in April 1956, some

majors developed their own TV divisions,

expanding their lots to handle the new

activity. Studios also began buying stakes

in TV. One of those was Paramount, which

in 1951 acquired interests in pay-TV player

International Telemeter Corp. Washington,

D.C., took notice. In 1958, the government

filed a civil antitrust suit against Universal

"We can beat television—or

any other competition—if we

get on the ball!" —Ben Shlyen,

Founder, Boxoffice Pro

April 2020

69
---
INDUSTRY A CENTURY IN EXHIBITION

Pictures, Columbia, and Screen Gems for

fixing prices and eliminating competition.

Boxoffice Pro fervently warned

about the myriad dangers of TV and urged

studios to think of exhibitors. Shlyen also

cautioned readers of the risks of complacency.

In January 1957, he proposed

measures like cheaper parking, babysitting

services, and family nights. "We can beat

television—or any other competition—if

we get on the ball!"

But TV had a bright side. It offered

new marketing opportunities, for one. In

addition, some exhibitors were quick to

embrace the potential of "telecasting"

sports via cable TV. In 1950, Allied

Association gave its full backing to the

National Exhibitors Theatre Television

Committee to continue the practice. That

same year, Fox announced it would test

the technology on a 20-theater network,

leading to an uptick in interest for other

major circuits. The first cable TV theater

opened in Bartlesville, Oklahoma, in 1956

to great success. Yet content providers did

not always approve this expansion, and

the cost of installation (estimated at more

than $274.5 million in 1957) proved too

expensive to make it a viable option.

Facing these crises, the industry

found ways to adapt to the increasingly

modernizing world. For Boxoffice Pro,

one last moviegoing bastion was the drivein.

The "airers," as these theaters were

called, were not always welcomed by the

rest of the industry. In fact, many indoor

exhibitors lobbied to prevent future owners

from obtaining zoning and construction

permits and even managed to get a total

construction ban in some areas. The truth

was that drive-ins, entering their heyday in

1950, were already getting one-eighth of the

industry's total patronage. Boxoffice Pro

rejoiced over this boom and the ingenuity

of some drive-in exhibitors. For example,

one drive-in in Minneapolis incentivized

attendance by bringing in non-auto owners

on a big bus. The magazine ran many ads

for drive-in-specific equipment, including

screens, speakers, and seats. Columns in

our Modern Theater section gave advice for

better drive-in showmanship.

But the real "savior" of the industry

was the introduction of 3-D, wide screens,

and stereophonic sound technologies.

Cinerama Corp. showed distribution

executives its innovative curved-screen

technology for the first time on May 6,

1950, after 13 years of development. It

featured a projection apparatus that could

show movies eight times the size of a

normal screen, four times the width, and

twice the height. Ben Shlyen praised its

"breathtaking" effect.

There were rapid technical advancements

on the 3-D front, as well. In 1951, the

Society of Motion Picture and Television

Engineers hailed the technology as the

"most promising theater entertainment

of the future." A year later, United Artists'

Bwana Devil became the first 3-D feature

film, with great box office response.

The high-tech turning point took place

in 1953. As major companies equipped

more and more theaters with innovative

new technologies, Boxoffice Pro spoke

of a "third-dimension race." Paramount

was using its own 3-D solution. MGM,

Columbia, and Warner Bros. turned to a

system called Natural Vision, while 20th

Century Fox used a French system with

stereophonic sound called Anamorphosis.

These enhancements to the traditional

theatrical experience popped up at an

unprecedented pace, with everyone trying

to bring something ever-more innovative

to the table. For example, the Ohio-based

Left: Modern-day

premium large-format

screens find their

predecessors in the

1950s, when exhibitors

were looking for

bigger, better ways to

combat TV.

70 April 2020
---
company Tri-Dem claimed it had created

a 3-D mechanism requiring neither a

special screen nor glasses. On the exhibitor

side, Chicago-based B&K announced the

introduction of its own "Magnascreen" in

January 1951. A Boxoffice Pro survey

published in December 1953 revealed that

more than 50 percent of indoor exhibitors

had installed or planned to install 3-D

and wide-screen equipment within the

year. On the more gimmicky side were

Smellorama, introduced in 1953, and

Smell-O-Vision, introduced in 1959.

1953 was a landmark year due to the

introduction of widescreen shooting

format CinemaScope, first used with 20th

Century Fox's The Robe. Shlyen called the

first public presentation of The Robe in

September 1953 an "epochal event." The

premiere at Grauman's Chinese Theater

was "one of the more spectacular in recent

film colony annals." Noting its immense

success with the public, he observed, "It

seems certain that the era of widescreen

has not only begun; it is here to stay."

In the months to come, CinemaScope

was presented as a true "industry

revolution." Many filmmakers also saw

its creative potential. Combining wide

screens with advancements in Technicolor

processes, filmmakers flooded the market

with historical epics like Quo Vadis, Ben-

Hur, Salome, and David and Bathsheba. In

February 1953, Cecil B. DeMille explained

that he had deferred filming The Ten

Commandments to study 3-D, noting, "I

am lucky that third-dimension appeared

when it did and that it didn't find me in

the throes of production." Other filmmakers

were more skeptical. In August 1953,

we reported that director John Huston

was worried "about properly framing his

stories on the horizontal screen and didn't

think the sacrifice was worth the effort."

While Boxoffice Pro welcomed these

innovations as beneficial to the industry,

our writers also expressed caution,

showing concern for smaller theaters just

as they had following the advent of sound.

Siding with Allied States Association of

Motion Picture Exhibitors, Boxoffice

Pro favored standardization as well as

an industry-wide research program for

improvements. Indeed, many smaller

exhibitors failed to join the technological

revolution of the 1950s because of the

high costs of installation. In an attempt

to counter those costs, Spyros Skouras,

president of 20th Century Fox, announced

in 1953 that his company would extend

credit to any theater that was unable to

buy the equipment.

These innovations did boost attendance,

but the recovery of the exhibition

industry was not as spectacular as expected.

As a result, industry leaders began to

look for overlooked audiences. One segment

was particularly lucrative: teenagers.

A study published in December 1956 found

that the teenage market consisted of 16

million boys and girls—potentially making

them the biggest moviegoer demographic—with

a combined $9 billion to spend

per year. Young people were also deemed

less likely than their older counterparts

to stay home and watch TV. A desire to

attract teenage patrons (despite exhibitors'

fears of their rowdiness) brought new faces

to films. Movies like Rebel without a Cause

and Teenage Rebel as well as films starring

Elvis Presley became hits. MPAA president

Eric Johnston expressed his optimism in

1957 about the power of young people to

save the industry: "There will always be

motion picture theaters because 'young

people' don't want to sit at home and hold

hands in front of their parents."

Above: Drive-ins were

entering their heyday in

the 1950s, and owners

leveraged their growing

popularity to get earlier

availability or even firstrun

films. Boxoffice Pro

celebrated the trend by

running drive-in specific

ads and features.

April 2020

71
---
April 2020

72
---
New Products 79 | Awards 132

CINEMACON

Ryan Miller/Capture Imaging for CinemaCon

"The great thing about CinemaCon is it allows us the

opportunity to give the studios the chance to take the stage and

tell the industry how excited they are to be a part of their world,

bringing great product to movie theaters globally."

NATO's Big Show, p. 74

April 2020

73
---
CINEMACON 2020 PREVIEW

NATO'S BIG

SHOW

CinemaCon Celebrates Year 10,

Led by Mitch Neuhauser

BY KEVIN LALLY

CinemaCon, the National Association

of Theatre Owners' successor to

the long-running ShoWest convention, is

celebrating its 10th anniversary with the

2020 edition, running March 30 through

April 2 at Caesars Palace in Las Vegas.

Managing director Mitch Neuhauser has

been at the helm since the beginning.

"It makes one realize how quickly time

flies," Neuhauser says of this milestone.

"Thanks to the support that we get from

the industry, from distribution and

exhibition, equipment and concession

companies, we've achieved continued

and greater success with each passing

year. So it makes the time go quicker. Yeah,

sometimes we sit back and it's like, has it

really been 10 years?"

Attracting some 6,000 professionals

from all corners of the cinema business,

NATO's official convention continues to

be one of the year's essential networking

events. "Our registrations are tracking

exactly even as they've been in the past,"

Photo: Ryan Miller/Capture Imaging for CinemaCon

Neuhauser reports (in mid-February).

"Our trade show is once again pretty much

a sellout, and there are more suites sold

than ever before."

Opening night on March 30 will feature

a special presentation from last year's

dominant box office champion, Walt

Disney Studios. Says Neuhauser, "I think

with the year they had in 2019, it's most

appropriate for Disney to open CinemaCon

and get our 10th year off to a fantastic

start." The event will include the presentation

of the 2020 NATO Marquee Award to

Adam Aron, CEO and president of AMC

Entertainment.

The Monday-night activities are once

again preceded by International Day, a

full morning of keynotes and seminars

focused on the business outside North

America, so vital to the studios' bottom

lines. Topics will include eventizing the

theatrical experience, theater design,

and collaborating on data. International

Day honorees include Cineworld Group's

Renana Teperberg, Disney's Jeffrey Forman,

and the Motion Picture Association's

retired Asia Pacific head, Mike Ellis.

Following the Tuesday breakfast, CinemaCon

presents a panel on "Corporate

Social Responsibility" moderated by Stacy

Bruce, president and executive director of

the Texas chapter of Variety – The Children's

Charity. "We are leading companies

globally," Neuhauser says, "and we have

a responsibility to our communities and

to the world. Business is wonderful, and

giving back and being mindful of what's

going on around you is important."

A Tuesday-morning highlight is always

the "State of the Industry" session featuring

industry addresses from NATO president

and CEO John Fithian and MPA chairman

and CEO Charles Rivkin, and a montage of

the worldwide top-grossing films of 2019.

That's immediately followed by a product

presentation from Focus Features.

"Focus Features has been an incredibly

supportive company, not just to CinemaCon

but to the global theater industry,"

Neuhauser says. "They put on a couple of

great lunches in 2017 and '18, and they are

so excited about their upcoming release

slate that they approached us about making

a presentation in the Colosseum. And

we thought that was fantastic, because the

industry is about all of the studios, the

majors, the mini-majors, the independents.

Exhibitors are hungry for all kinds

of product. So for Focus to say we want to

74 April 2020
---
make a Colosseum presentation, that's

really exciting. We can't wait to see what

they have planned. Their chairman, Peter

Kujawski, and Lisa Bunnell, their head of

distribution, and [in-theater marketing

V.P.] Eric Carr have just been incredible

partners in our efforts over the years."

The CinemaCon trade show opens at

11 a.m. on Tuesday, and the afternoon

is capped off by Warner Bros.' annual

"The Big Picture" reveal of its upcoming

slate, with many stars and filmmakers

touting their latest efforts. At press time,

Neuhauser was awaiting confirmation of

a major summer title from a top studio for

his Tuesday-night slot.

For the Wednesday-morning breakfast

session, Neuhauser is planning a program

"bringing in a head of distribution, a

filmmaker, possibly one of the leading

executive directors of a major film festival,

and an exhibitor to talk about original

content, how it's out there and we need to

give it the time of day, and how successful

it can be."

Also tentatively set for Wednesday

morning is a screening of Palm Springs, the

Andy Samberg Sundance hit that Neon and

Hulu acquired together for $17.5 million (a

record for the festival). "Last year, Neon

took a leap of faith with us in opening up

the show, and we took a leap of faith with

them in wanting them to be a part of the

show," Neuhauser says. "They were terrific

partners, great collaborators. And this was

all before the real excitement started to

happen in 2019 for Neon. It culminated

with the incredible historic showing of

Parasite, not just at the Academy Awards,

but globally from a box office standpoint. It

sends a message that there's an audience

for original product, and there's a lot more

original product out in this world than the

media gives the industry credit for. … It

went beyond the normal demographics

of who it appeals to, because the younger

audience gravitated to it. The whole

world gravitated to it. The only one who

didn't gravitate to it was our president,

Mr. Trump, which is his loss for being so

ignorant about the importance of movies

and the quality of movies that come from

great countries like South Korea."

Neuhauser notes that "Neon also has a

very, very good post–CinemaCon release

schedule, so they'll probably do a little bit

of a mini-presentation."

Last year, CinemaCon introduced a new

Wednesday tradition: a casual buffet-style

"It gives it a little bit

of a concert environment.

This will be the first time that

this has been done for such

a large group in a movie

theater."

Trolls World Tour

lunch in the Palace Ballroom, in lieu of a

more formal affair. Says Neuhauser, "One

of the major pieces of constructive criticism

that our office gets [from attendees]

is that our schedule interferes with their

schedule at the show, because people

have so much to accomplish. So when we

did this informal open-seating lunch on

Wednesday last year, people loved it. It

gave them more time to go to the trade

show, more time to hold meetings, and

allowed a little bit of extra breathing room,

if you will. The feedback was very good."

The Wednesday-evening highlight is

the first all-industry screening of Trolls

World Tour, introduced by the animated

musical's voice performers, Justin Timberlake

and Anna Kendrick. "Universal will

be using a new technology where everyone

who comes into the theater gets wristbands

coordinated to light up in sync with the

film," Neuhauser says. "So it gives it a little

bit of a concert environment. This will be

the first time that this has been done for

such a large group in a movie theater."

Neuhauser is also looking forward

to the Thursday-morning Paramount

presentation and the appearance of former

Fox executive Chris Aronson, now Paramount's

president of distribution. "There's

this little bit of expectation that when

Chris is associated with a presentation

at CinemaCon, it takes on an elevated

level of excitement. I'm sure everyone is

excited to see what Chris has up his sleeve

in 2020. Paramount's going to be coming

into CinemaCon off the great success of A

Quiet Place Part II and Sonic the Hedgehog,

and their post-CinemaCon slate is very

Image courtesy Dreamworks Animation

April 2020

75
---
Join Us!

Where Hollywood

Meets the Heartland

Be a part of the Midwest's largest convention

for exhibitors, vendors & studios.

September 15-17, 2020 | Grand Geneva Resort & Spa | Lake Geneva, WI

Save the

Date!

Sept. 15-17

Screenings | Seminars | Awards | Trade Show | Variety Charity Golf Outing

Presented by

2020 Geneva Convention

September 15-17, 2020 | Grand Geneva Resort & Spa | Lake Geneva, Wisconsin

Register at GenevaConvention.com or call 262-532-0017

Official Media Sponsor
---
CINEMACON 2020 PREVIEW

powerful, with films like Top Gun: Maverick,

SpongeBob, Infinite, Without Remorse,

and the Chris Pratt Christmas release The

Tomorrow War."

Thursday's busy schedule also includes

a studio- or filmmaker-driven lunch

session, Lionsgate's product preview, the

annual CinemaCon Big Screen Achievement

Awards ceremony, and an after party

featuring long-running Vegas act "Legends

in Concert."

"Behind the scenes," Neuhauser adds,

"there are a lot of new companies that

may not have a [programming] profile

at CinemaCon, but they're going to have

suites and meet with exhibitors. Mark Gill

has a new company called Solstice Studios.

He's assembled a great team of industry

executives—Shari Hardison is heading up

distribution, and Mark Mulcahy is heading

up exhibitor relations. Solstice is going to

be doing a very special interactive experience

as part of the trade show. Their first

release is in August, a Russell Crowe movie

called Unhinged. And [former Amazon

Studios executive] Bob Berney is back with

Picturehouse. It's all about product, and

there's going to be product galore."

After 10 years at the helm of CinemaCon,

Neuhauser is as bullish as ever

about the future of the cinema business.

"The media loves to come down on the

industry when there's a down weekend

compared to the same weekend the year

before. People went into the end of 2019

saying, oh my God, we're down 4 percent,

what's going on? And we're now into the

second month of the year and the box

office is running ahead. You know, some

films meet expectations, some films

don't meet expectations, and there are

always films that defy expectations. It's

a great balancing act, and it just goes to

show it's about the product. When the

product is there, people will go—they're

not gonna stay home. The home is a place

for streaming services. Nothing against

streaming services, but by the end of this

year there will be more streaming services

that someone is capable of accessing in

the home, and it's going to be overwhelming.

The product will get lost, the product

will not stand out in the home the way it

does in movie theaters. When a movie

opens in the theaters, people talk about it;

it becomes part of the social fabric. When

a movie opens in your home, no one

really talks about it and you move on.

That's why we're the greatest, cheapest,

most successful form of entertainment

outside the home. OK, we were down

4 percent. OK, so we'll be up this year.

Everything is cyclical.

"And our industry is strong behind

the scenes. When I go meet with studios,

they're talking about the release slate not

for the next two months, but next year

and the year after and the year after that.

The general public doesn't really know

what goes on behind closed doors, but

the studios are excited about the future

of the industry, and they're committed to

it. And the great thing about CinemaCon

is it allows us the opportunity to give

the studios the chance to take the stage

and tell the industry how excited they

are to be a part of their world, bringing

great product to movie theaters globally.

There's nothing like it, and there never

will be anything like it again. In the year

3020, we'll be having the same conversations,

because theaters will still be here

doing what they do best—entertaining

the world."

Congratulations

All 2020

CinemaCon Award

Recipients

From your friends at Marcus Theatres Corporation

April 2020

77
---
Meet us at

CinemaCon

Booth 2207A

BOOST Ticketing, Apps & Marketing from the

team that already manages your showtimes.

Website & Mobile Apps

Referral Ticketing (Google, Bing, Facebook)

SaaS Online Ticketing

CRM and Emailing Tools

Search Engine Optimization (SEO)

Pay Per Click (PPC)

Custom Content (Video, Social, Editorial)

company.boxoffice.com

info@boxoffice.com
---
CINEMACON NEW PRODUCTS

NEW

PRODUCTS

Exploring CinemaCon's trade show is a

great way for exhibitors to discover the tech,

amenities, and concessions (with samples) that

can take your theater to the next level. Here,

in our annual preview, we present some of the

vendors to look forward to.

A

Adaptive Technologies Group

Booth: 2217A

adaptivetechnologiesgroup.com

P-Box-Caddy

Adaptive Technologies Group is introducing its

P-Box-Caddy as a new accessory for its internally

ventilated, silent-running and modular projector

enclosure, the P-Box-15. The P-Box-Caddy allows

for easy access to perform quick and efficient

maintenance to the projector. Especially when the

P-Box enclosure is fixed installed to the overhead

structure without any type of wall or scissor lift, the

Caddy add-on can simplify the process. Onboard LED

indicators, located on the outside of the enclosure, are

programmed to let up in case of a fan failure. Micro

filters installed on each intake prevent auditorium

dust from going inside in the P-Box-15 enclosure.

Adaptive Technologies Group's family of cinema

projector-lifts complements the needs of emerging

boothless cinema auditoriums. These designs offer

quieter running and guarantee a smoother, safer, and

more efficient operation.

AICP

Booth: 825J

keepinitcozy.com

Movie Night Blanket

American International Concessions Products (AICP)

has been marketing, promoting, and selling some of

the most popular concession brands for over 25 years.

Their latest product is Movie Night Blankets, designed

to elevate the theatrical experience by increasing

moviegoers' comfort level at the multiplex.

April 2020

79
---
CINEMACON NEW PRODUCTS

American Licorice Company

Booth: 219J

americanlicorice.com

Red Vines Made Simple 4oz. Tray

Red Vines Made Simple is a non-GMO version of the

classic Red Vines candy made with only five simple

ingredients, including real cane sugar. These soft,

chewy twists are available in a 4-ounce tray.

Red Vines Made Simple 4.8oz. Mini Bites HB

Red Vines twists also come in bite-sized pieces made

with five non-GMO ingredients. They are available in

a 4.8-ounce hanging bag.

Cherry Lime Cola 5oz. HB

Sour Punch Bites are now available in a combination

of three flavors: cherry, lime, and cola. This is a great

addition to your salty treat and complements bubbly

beverages.

Spicy Bites 5oz. HB

Sour Punch Bites are a new combination of four

flavors with a hint of spice: mango, pineapple, cantaloupe,

and watermelon.

Arts Alliance Media

Booth: 2703A

artsalliancemedia.com

Lifeguard

Lifeguard by Arts Alliance Media introduces the

next generation of network operations center (NOC)

software. Integrating with all leading digital cinema

equipment, this turnkey NOC solution monitors the

performance of all hardware assets from across your

cinema circuit from one central location. Designed

to improve efficiency and reduce operational

costs, Lifeguard's new, pioneering features include

automatic fault-highlighting notifications, advanced

analytical tools to predict and diagnose faults, and

a centralized ticketing module for simple problem

prioritization. Founded upon the knowledge of

exhibitors, experienced NOC operators, and a pool of

ex-projectionists, Lifeguard gives you the visibility to

fix issues before they become problems, ensuring your

customers enjoy a seamless movie experience.

Arttech Cinema

Booth: 2420A

arttechcinema.com

T/WS-300 Projector Lift

Arttech Cinema announces that its flagship product-projector

lift model T/WS-300 is now U.L. listed.

The T/WS-300 projector support device can suit all

projectors up to 300 kg (662 lbs.). Arttech also offers

additional boothless solutions, such as fixed projector

housings and designs meeting unusual requirements,

along with other cinema equipment.

80 April 2020
---
THE GLOBAL LEADER IN DIGITAL CINEMA SOFTWARE AND SERVICES

SCREENWRITER

TMS

PRODUCER

CMS

LIFEGUARD

NOC TOOLS

ADFUSER

SAC TOOLS

Streamline your day-to-day operations

and minimise manual errors

Give head ooice visibility and

control over all your screens

Monitor equipment for

all your screens

Unlock new

advertising revenue

Visit Us @

Booth 2703A

Augustus Ballroom

SALES@ARTSALLIANCEMEDIA.COM

WWW.ARTSALLIANCEMEDIA.COM
---
CINEMACON NEW PRODUCTS

Atom Seating

Booth: 231J

spacesandbetween.com/

atom-seating

Krypton Recliner

Atom Seating has always been an advocate of

delivering the best kind of comfort to the moviegoer;

the same reflects in their winning line of recliner

and glider models. Now, with Krypton Recliner, they

promise an enhanced seating space for cinema owners

without sacrificing the comfort of the moviegoer.

For a cinema owner, a greater number of seats means

better business. Enhancing the total capacity of the

screen by up to 20 percent, Krypton Recliners are the

new-age answer to modern cinema business.

Atom Tickets

atomtickets.com

Atom Tickets, a social moviegoing app and website,

is designed to make the overall moviegoing experience

easier and better. Atom lets movie fans find

showtimes, pick their seats, buy their tickets, invite

their friends to go with them, and even preorder

movie concessions. Atom's newest product features

for moviegoers include a new way to scan their

digital ticket with their Apple Watch or via their

smartphone's digital wallets (on Apple and Android).

Atom also works with Alexa's newest conversation

skill. The company recently launched Atom Movie

Access as a service for exhibitors to create their own

customized movie subscription service. Today, Atom

Movie Access powers Megaplex Theatres. Atom Movie

Access provides North American exhibitors of all sizes

with an easy and reliable way to offer their own movie

subscription plan at a rate and price that works for

their business model.

AutoFry / MTI Products

Booth: 100J

mtiproducts.com

Proudly made in the USA, the AutoFry has been a

leader in fully enclosed and automated ventless

deep-frying technology for over 30 years. AutoFry

offers a complete collection of automated, ventless

frying systems—from single to double basket and

countertop to floor models—meeting a wide range of

deep-frying demands. Their most popular model, the

MTI-10X, has an oil capacity of 2.75 gallons, capable

of frying approximately 30 to 60 lbs. of french

fries per hour with just the push of a button. Their

Simplifry technology is a revolutionary heat/time

compensation intelligence that automatically adjusts

cooking time based on the quantity of product being

prepared. Designed into every model, Simplifry

technology cooks food to perfection every time.

When using a self-contained fryer, you'll never have

to worry about your employees getting burned with

hot oil. Plus, each AutoFry model is equipped with

a built-in ANSUL fire suppression system, making

it one of the safest commercial deep fryers on the

market. From small, independent taverns to large

stadiums, and even worldwide multi-unit chains, the

AutoFry can handle it all.

82 April 2020
---
WE MAKE A

DYNAMIC DUO

NCM produces Noovie, an innovative

multi-platform moviegoing experience

including exclusive on-screen and digital

content, trivia, gaming, and more.

With bigger advertisers, better

customer service, and unlimited

opportunity, there's no better

partner than NCM.

Jennifer Lupo | 303.792.8784 | jennifer.lupo@ncm.com

ncm.com/network
---
CINEMACON NEW PRODUCTS

Avision

Booth: 2012A

avisioncorp.com

New Product Display

Avision is a full-service custom fixture company,

providing a variety of integrated services to meet

growing retail needs. With over 30 years of expertise,

they design and fabricate innovative custom solutions

that deliver value across every type of retail environment

for clients from North America and around the

world. Avision has provided creative and effective

solutions to many national brands within the entertainment

industry, such as Disney, Universal Studios,

and Paramount, to name a few. They develop retail

fixtures as well as design and build out complete retail

environments. Avision now introduces its new movie

merchandise/concessions products display. This new

design allows placement of high-margin products

right at the point of sale without sacrificing existing

counter space. Avision will quote you on this fixture or

develop a solution to suit your needs.

B

Berg Company

Booth: 2625A

bergliquorcontrols.com

Merlin Berg's Merlin wireless all-bottle control system

is the only "wireless" product on the market that

can provide a venue full control with 100 percent

free-pour action. A bartender can pick up and pour

multiple bottles for cocktailing, and Merlin will

automatically send the sales information to most POS

and electronic cash registers. From Berg's 704 model

to their All Bottle ID units, liquor guns, and tap beer

controls, the commitment is to produce customer savings.

Berg's gun systems are offered in 6, 12, 16, 24, or

32 brands systems. They are designed with innovative

touch screen dispensing and programmable cocktail

capability. Their Tap2 valves offer eight portions out

of every beer faucet with speed and the options to

interface the systems to ring sales to the register.

BGW & Datasat ATI

Booth: 2803A

bgw.com

datasatdigital.com

DDR 16/32 AES67 DAC

Datasat Digital Entertainment has leveraged its

history of reference-level audio processing experience

to create the DDR 16/32 AES67 DAC. The DDR 16/32

units convert the AES67 signal utilizing top-quality

components for a better audio experience. The DDR

16/32 also provides other features that allow more

control, including a choice of 16- or 24-channel

outputs, bass management, two- or three-way

crossovers, and multiple EQ choices. The DDR 16/32

can be used with Datasat processors along with other

brands as well. Multiple units can be utilized for large

immersive systems.

84 April 2020
---
Optimized Auditoriums

Perform

Better

Stimulate your audience with a more immersive experience.

With an optimized screen and frame combination,

they'll enjoy brighter colors, higher contrast, and

enhanced image clarity. Communicate these

changes with a range of marketing tools

included in this unique program. You'll

enjoy the satisfaction of a happy

audience returning again and again.

geT.IrisOPTIMIZED.com

SUPERIOR

Brightness. Color. Contrast. Immersion. Light uniformity. Viewing angles.
---
CINEMACON NEW PRODUCTS

The Boxoffice Company

Booth: 2207A

company.boxoffice.com

Boxoffice Studios

Helping movie theaters reach movie fans through online

content. The Boxoffice Company believes that the

moviegoing experience begins online (ask your kids!).

Boxoffice Studios targets moviegoers everywhere with

white-labeled production across branded content

(blog and video), smart platforms (dynamic ticket

features), and social media optimization (strategy and

management).

C

C. Cretors and Co.

Booth: 313J

cretors.com

Cretors Grab N' Go

Grab a snack and go! The Cretors Grab N' Go cornditioner

cabinet is its tallest cornditoner in a compact

footprint. Two clear, full-length, soft-closing doors

highlight snacks such as popcorn, nacho chips, and

other crispy treats. Five adjustable wire racks accommodate

many packaging sizes. Replace the back panel

with two doors to create a convenient pass-through

system. Internal air ducts located on both sides

provide optimal air warming and circulation inside

the cabinet. The recirculating air system provides

fast temperature recovery time after doors are closed.

The internal LED lighting system creates exceptional

merchandising. The temperature control switch can

be located on the front or back of the cabinet, and the

power cord can be located at the top or bottom. Rollers

on the cabinet bottom allow for easy mobility. Sign

options include LED style, backlit, or customer-provided

custom signage. Ideal for behind-the-counter or

self-serve applications.

Camatic Seating

Booth: 713J

camatic.com

Valencia Motion 10 Recliner

Introducing the Valencia Motion 10 recliner from

Camatic Seating. This wall-away/zero-wall seating

system is designed with a combination of short envelope

reclining positions, intended for short plat-depth

cinemas. The design allows for extra rows of seats to

be installed. Major dine-in cinemas and exhibitors

have installed the Motion 10 seating system in tight

row spaces. With a suite of accessories and customizable

options and safety features, the Motion 10 can

be configured to any venue requirements. The seat's

innovative and durable mechanism creates a consistent

angle between the seat and back throughout the

recline for a comfortable transition. The design even

eliminates shirt pulling.

86 April 2020
---
NYC COA

#5759

• IF YOU CAN POP IT THERE •

YOU CAN POP IT MOST ANYWHERE

Cretors' Mach 5 Popper with ANSUL ® and Giles ® Ventless

Recirculating Hood System is UL Listed and certified

UL 710B for unit construction, grease emissions and

fire suppression. It is the first free-standing popcorn

machine to receive New York City's Certificate of Approval,

meeting the city's strict commercial fire code.

New York City has some of the most strict fire codes in the country, and requires

manufacturer compliance for grease-emitting equipment. On August 1, 2017,

C. Cretors and Company received the New York City Certificate of Approval

(NYC COA #5759) for our 3 ft and 4 ft Mach 5 poppers with 32-60 oz kettles

which include the Giles Ventless Hood and ANSUL Fire Suppression systems.

Fire codes are becoming stricter nationwide, and compliance is necessary.

Cretors first pioneered this safety feature in the early

1990's with a UL approved ANSUL Fire Suppression

System providing front-line protection by detecting

and suppressing fires. We partnered with Giles Food

Service Equipment to create a ventless popcorn

machine that does not require the use of a Type 1

exhaust hood. With a three stage filter system, the

ventless hood limits the emission of grease-laden

air. By combining these two technologies, we have

created a self-contained ANSUL fire suppression and

air filtration system earning UL 710B certification.

C. Cretors and Company's Mach 5 poppers with

NYC COA #5759 provide the highest level of safety

and compliance. You will have peace-of-mind knowing

that you have one of the safest machines on the

market. Inspectors will know that the machine stands

up to the strictest fire codes. Our Mach 5 poppers are

made in America and have passed the test.

For more information contact: Shelly Olesen

at 847-616-6901 or SOlesen@cretors.com
---
CINEMACON NEW PRODUCTS

CETH Engineering

Booth: 2619A

ceth.com.br

Founded in 2009, CETH has developed advanced

nanotechnology to clean silver 3-D screens. A sustainable

company committed to environmental and water

responsibility, CETH does not use chemicals, and uses

only 300 ml of water per square meter and a quick-drying

system of up to 15 minutes that leaves no odors.

In addition to cleaning screens, CETH also revitalizes

carpets, armchairs, and curtains. Its high-performance

machinery associated with high-temperature technology

is extremely effective in removing gum, stains, and

debris from carpets and curtains.

Christie

Booth: Milano 1, 2, 5 & 6

christiedigital.com

CP4450-RGB

The Christie CP4450-RGB is one of the latest additions

to the Christie RealLaser family of digital cinema

products. This cinema projector provides exhibitors

with the necessary cost-effective technologies to

create self-branded PLF auditoriums—and will

impress audiences with its rich, true-to-life 4K images

that "pop" off the screen. Equipped with CineLife

electronics and RealLaser illumination, this compact

all-in-one, DCI-compliant projector offers up to

50,000 hours of performance in a typical cinema

theater under optimal conditions, providing customers

with uncompromised performance and virtually

maintenance-free operation. The PLF solution consists

of all-new hardware, including a new projector pedestal,

chiller, and accessories, and features an all-new

electronics platform named CineLife+ (Series-4),

which features native content playback capabilities of

4K at 120fps. A whole suite of input options includes

firmware upgradeable HDMI 2.0, quad 12G SDI input,

SFP+, and DisplayPort 1.2 inputs.

Cielo

Booth: 2517A

cieloconnects.com

Cielo 6.0

Cielo's newest offering of its enterprise platform

brings digital transformation, GPS-based technician

dispatch, and digital signage to CinemaCon 2020.

Cielo 6.0 aspires to revolutionize front-of-house and

back-of-house operations by utilizing QR-based technology.

Cielo QR allows exhibitors to digitize quality

control workflows and allows technicians to view a

full "health and history profile" and do field service on

a projector or server by scanning a QR code. Customers

can also provide valuable feedback by scanning

the multi-use QR codes, allowing exhibitors greater

control over customer satisfaction. Cielo Dispatch

allows exhibitors to track and dispatch technicians

using GPS geolocation with real-time travel estimates

and tracking of arrival times to improve technician

performance and efficiency. Cielo is also announcing

a new product in digital signage, allowing exhibitors

to manage digital signs, push content, and provide

proof of playback for any piece of content.

88 April 2020
---
Visit during CinemaCon in in Las Vegas 3.31 -- 4.2

to take advantage of NEC promotions!

(Suite Milano 4) 4)

60 month 0% Lease Promotion

on NEC Digital Cinema Laser Projectors

Take advantage of of discounts on on select cinema projector lenses

(with purchase of of NEC Cinema Projector), up up to to $1000!

For For more information, please visit www.necdisplay.com/digital-cinema

*Lease *Lease promotion managed by by NEC NEC Financial Services
---
CINEMACON NEW PRODUCTS

Ciné Digital

Booth: 2212A

cinedigitalmanager.com/en/

Ciné Office

Ciné Digital Service specializes in the development

of software solutions designed for cinema operators:

CinéDigital Manager and CDM Mobile App to control

content and projection booth (TMS), CinéDigital

Display, Digital Signage, and Ciné Office. Manage

day-to-day operations like box office, concessions,

inventory management, loyalty programs, business

management, accountings, human resources,

and statistics with a user-friendly and efficient

management tool. Ciné Office innovative software is a

cloud-based and secure solution with no capex investment:

no server or software license to buy. Hardware

installation is made simple with the possibility to use

existing equipment. Ciné Office is a solution ready

and compatible with online sales.

Cinema Solutions

Booth: 114J

cinemasolutions.com

Celebrating 20 years in business. Cinema Solutions

is the industry leader in purchasing and AP automation

for theater management companies. What

began as a small venture focused solely on consolidated

order management quickly grew into one of

the most comprehensive procure-to-pay solutions

available today, offering everything from order

management and invoice automation to inventory

and capex management.

HOOK UP TO

For every 100,000

admits, your theatre

could make up to an

additional $50,000

with Zabofish!

The Only Membership Program That

Actually Generates New Revenue!

• Instant "cash back" rewards with every purchase!

• Not a confusing "points" program that won't get used!

• Turn key mobile app instantly making you money!

Don't Swim Upstream!

Get The Revenue Flowing Today!

Call Now! (866) 323-5411 X109

or (801) 893-9555

90 April 2020
---
Cinemeccanica

Booth: 2515A

cinemeccanica.eu

Lucilla RGB Lamp

Lucilla is a brand-new RGB laser lamp specifically

designed to replace the traditional xenon bulbs on

digital cinema projectors, allowing customers to

save money. With power that ranges from 8,000 up

to 30,000 lumens—scalable for all screen sizes—and

30,000 lifetime hours, Lucilla improves projection

quality and reduces operating costs. Lucilla gives

energy savings of up to 50 percent in comparison

with the equivalent xenon lamp. It is designed to be

fitted inside the projector (maintaining the original

projector footprint) or in the pedestal with a few fast

installation steps. A two-year standard warranty is

included. An extension up to seven years is available

as an option on both Lucilla and projector.

Cinionic

Booth: Roman 1-4

cinionic.com

Barco Series 4 Laser Projectors

Cinionic debuts the newest lineup of Barco Series 4

laser projectors at CinemaCon 2020. The new models

feature an expanded light output of up to 40,000

lumens, delivering a brighter laser-powered image

for bigger screens. CinemaCon attendees can see the

new Series 4 in action and experience the impressive

images, compatibility, and green efficiencies that this

future-ready platform provides. Series 4 continues

to extend Cinionic's award-winning laser projection

portfolio, leading the renewal wave for exhibitors

worldwide. Introduced at last year's show, Barco

Series 4 delivers brilliant image quality for moviegoers

today, ready for tomorrow—leveraging 4K and

RGB-laser, as well as being ready for 4K 120fps high

frame rate, high dynamic range (HDR), and onboard

Barco Colorgenic and Barco AIM delivering wide

color-gamut capabilities. And, Barco EcoPure design

makes it the greenest cinema projector ever created.

CJ 4DPlex

3F Emperors Level; Venice,

Taranto, and Sicily Rooms

cj4dx.com

4DX AR

CJ 4DPlex, the cinema technology company behind

the multisensory 4DX and the 270-degree panoramic

ScreenX, introduces its latest venture in the world of

mobile gaming with 4DX AR. Incorporating advanced

computer vision technology with mobile technology,

4DX AR blends the virtual gaming world with the real

world, converting any physical space into a digital

environment. Available in single or multiplayer

mode. Players are able to navigate through real space

and interact with the environment: for example,

hiding behind walls or walking among pedestrians

as part of the game. Currently the game is available

as a quest series, where players overcome a series of

adventures in a designated space. The technology is

in the works to be integrated with preexisting content

or games that are in development and will be made

available as lobby entertainment to multiplexes and

retail spaces worldwide, including 4DX, ScreenX, and

4DX Screen auditoriums.

April 2020

91
---
CINEMACON NEW PRODUCTS

Corn Loco

Booth: 137J

cornloco.mx

Nothing is as exciting as discovering new experiences.

Corn Loco has broadened horizons to create an

adventurous new line of popcorn seasonings. Inspired

by the flavors around the world, this world-flavored

popcorn has the perfect combination of popcorn and

crunch, creating a whole new way to eat popcorn.

Corn Loco captured all these world flavors and

imbued them with a crunchy and tasty pop, creating a

new popcorn experience.

Creative Works

Booth: 732J

thewoweffect.com

Hologate Blitz

Cinemas have always been focused on providing

unique experiences that customers can't get at home.

Virtual reality has the same focus and has become an

option for cinemas that want to expand their entertainment

options. Hologate Blitz is a motion simulator

virtual reality experience that was built from the

ground up as a multiplayer flying and racing platform.

This attraction can move almost a full meter in

height and can tilt 30 degrees in every direction. The

attraction also features wind fans for extra immersion

and has a futuristic steering wheel that can be easily

switched from one-axis to two-axis control.

Projectors Audio Servers

Seating

Screens Drapery

Lighting Closed Captioned NOC

ON YOUR TEAM

Audiences' expectations have never been

higher. American Cinema Equipment is your

support team to create the experiences you

demand. Meeting expectations may be the

industry standard; exceeding them is ours.

LMS

Technician Help

Messaging Mail Web Music

[ 503] 285-7015

1927 N. Argyle Street, Portland, OR 97217

[ 503] 285-6765 orders@cinequip.com

cinequip.com

92 April 2020
---
D

Deel Media

Booth: 718J

deelmedia.com

Carbon

Deel Media, a provider of large-scale digital signage

systems, has recently released an updated version of

its proprietary media player and software—Carbon.

This latest version is simple to install and set up and

is compatible with all modern screens and monitors.

It features HD video, has a low power requirement,

can run on Wi-Fi, and is small and compact yet

powerful enough to drive concession boards, box

office systems, video walls, and digital movie posters.

Cloud-based monitoring and playlist management

allow changing menu items, promotions, or pricing

on a large network of screens remotely with just a few

clicks. Additionally, you can power interactive touch

screen catalogs with a fully customizable interface.

Delta Strike

Booth: 730J

deltastrike.com/genesis

Genesis

Delta Strike's award-winning laser tag system, Genesis,

takes the player experience to a whole new level.

Equipped with the industry's first selfie cam, it allows

players to replace code names and avatars with a picture

of themselves, which personalizes and socializes

every game. Genesis also sets new standards in game

play with a dual-stage trigger, advanced LED lighting

displays, and high-fidelity sound output. The intuitive

vests allow players to quickly and easily put them on

while you enjoy the convenience of wireless charging.

All of these features come together to help exhibitors

attract new guests and gain repeat visits.

Dolby Laboratories

Booth: 2503A

dolby.com

Dolby System 136

The Dolby System 136 is Dolby's newest speaker

innovation. The speaker utilizes a proprietary

asymmetrical co-entrant horn to deliver consistent

audio coverage and uniform volume shading for every

seat in the venue, including Dolby Atmos rooms up

to approximately 165 feet (50.3 m) in depth. Utilizing

custom compression-driver technology, superior

enclosure design, and higher-quality woofers, the

Dolby System 136 yields greater intelligibility and

enhanced low-frequency extension. With intuitive

ergonomic design and features, the Dolby System 136

allows for quick, easy installation and service. Built

on the foundation of Dolby's industry-leading system

design and support philosophy, the Dolby System 136

provides elevated PLF performance and streamlines

speaker integration.

April 2020

93
---
CINEMACON NEW PRODUCTS

Durkan

Booth: 318J

durkan.com

From the theater to the concession stand, lobbies,

bathrooms, public spaces, and back-of-house

operations, Durkan is an industry leader in innovative

design solutions and high-performance flooring

solutions for motion picture theater facilities. Durkan's

hospitality broadloom, carpet tile, and resilient

hard-surface products are tailored for the specific

needs of cinema spaces, offering a wide range of

exclusive innovative pattern and texture technologies.

Durkan's CinemaCon 2020 showcase will feature

custom precision dye injection (PDI) broadloom,

selections from the Learn & Live carpet collection,

and Matuto PlusStone LVT.

E

Eisenberg

- Home Market Foods

Booth: 307J

homemarketfoods.com

Roller Bites

Moviegoers can now enjoy a new variety of flavors of

the protein-packed goodness found in RollerBites.

The Maple Breakfast Scrambler RollerBites offers a

perfect-sized snack that keeps you satisfied during

the next big blockbuster. You can also accompany the

all-white chicken RollerBite with the flavorful Bahama

Mama Specialty Sausage. The Maple Breakfast

Scrambler RollerBite and Chorizo Con Queso Sausage

form a tasty partnership in all things breakfast. The

breakfast varieties combine hearty eggs, sausage, and

cheese. The sausage is made of USDA quality cuts

of beef and pork and seasoned with bold spices for a

delicious experience.

Encore Performance

Seating

Booth: 829J

encore.palliser.com

I2 Luxury Recliner

Encore Performance Seating developed a product

aimed to provide customers with a comfortable

and innovative way to utilize smaller platforms,

without giving up the reclining option. Specifically

designed to make the most out of your space, this

newly designed concept includes a synchronous

continuous drive recline, giving it a zero-gravity feel.

The I2 incorporates a plush seat back to maintain its

comfort level and aesthetic. Encore offers various

options, sources the finest materials, and provides a

comprehensive warranty with exceptional customer

service and ongoing support.

94 April 2020
---
CINEMACON NEW PRODUCTS

Entertainment Supply

& Technologies

Booth: 936J

ensutec.com

In 2020, Entertainment Supply & Technologies is

poised to partner with a record number of exhibitors—from

single locations to national circuits—to

transform their cinema spaces into premium presentations,

complete with laser projection, recliner

seating, and immersive sound. As a certified installer

for Imax and all major brands of cinema technology,

ES&T offers clients turnkey services for the creation of

a cutting-edge and luxurious moviegoing experience.

Integrated FF&E services also include concession

casework, food service equipment, menu boards,

lighting, wall draperies, and flooring. Through an

extended supply chain, the firm offers complete

operational support with industrial and janitorial

supplies, food service and concession replacement

parts, digital lamps, and projector filters. ES&T is

proud to be a client-focused design and supply firm

dedicated to personalized service and solutions for

domestic and international exhibitors.

Euroquip

Booth: 137J

euroquip.com.mx

Pop Art Concessions Equipment

Euroquip's line of concessions equipment is designed

to revolutionize how you perceive the concession

stand of today. Simple and modern, with touch screen

technology and embedded connectivity, your counter

will look appealing and increase sales. Aesthetics were

paramount for Euroquip's design, which incorporates

a medium for advertisements and promotions such as

new flavors, brands, combos, and upcoming movies.

Designed with functionality in mind, the Pop Art is

meant to take concessions equipment to the next level.

F

Ferco Seating

Booth: 2817A

fercoseating.com

Slim

Slim by name, slim by nature. This cleverly designed,

leading-edge cinema seat has curves in all the right

places, making it both comfortable and attractive. Designed

specifically for cinema and executive seating,

its narrow profile belies its robust construction. The

minimalist Slim seat structure features a contoured

cushioned backrest and seat that is manufactured

to Ferco's exacting quality standards. To increase

the customer's experience, this seat has a uniquely

shaped armrest, which allows the customer to safely

store both drinks and popcorn while relaxing to watch

the movie. The design also prevents dirt and spillages

collecting in hard-to-reach areas, reducing cleaning

time between screenings. Intelligent USB charging

can be provided with wiring concealed within the leg.

96 April 2020
---
I n t r o d u c i n g

SLIM

The thinnest and yet most comfortable seat we ever designed.

A minimalist seat that features a contoured cushioned backrest and seat that is manufactured to Ferco's exacting quality standards.

Popcorn & cupholder

Row letter & number

USB charging port

Please contact Ferco's team of seating experts to discuss the future of your cinema space.
---
CINEMACON NEW PRODUCTS

Figueras

Booth: 2212A

figueras.com

Hollywood 5400 VVIP

The Hollywood 5400 is an exclusive seat specially

designed by Figueras International Seating for VIP

movie theaters. Equipped with up to three motors,

the seat allows the user to control the position of

the headrest, backrest, and footrest independently,

achieving an optimal comfort just by using a waterproof

touch screen. The automatic return system

keeps the space always neat and free for movement

between rows, returning the reclining parts to their

original position when the user stands up. Thanks to

their Made to Measure division, there are no limits

in personalization options and finishes for these

bespoke seats, which make it possible to add many

kinds of accessories, from generously sized lecterns to

a small fridge with bottle chiller. The Hollywood 5400

VVIP stands out in the market for its unique design of

elegant lines and its extraordinary versatility.

Flexound Augmented Audio

Booth: 2825A

flexound.com

Flexound Augmented Audio combines high-quality

audio with physical vibration, creating an immersive

experience. Patented Flexound technology offers

equal sound quality in every seat independent of seat

location. It improves the clarity of dialogue, enhances

the emotions created by the story, and provides

the audiences with a natural and immersive sound

without need for a remix or recode, allowing cinema

operators to screen any content in a Flexound Augmented

Audio–boosted cinema. Flexound Augmented

Audio is a Finnish audio innovation that is rapidly

gaining recognition in different industries globally. Its

multinational team started their work in 2015 to help

autistic children by adding the sensation of touch to

music. Now the versatile patented technology can be

embedded into cinema, airplane, or car seats, gaming

chairs, cushions, furniture, and more.

G

Galalite

galalitescreens.com

A leader in cinema screen technologies, Galalite

strives for innovation at every turn, from launching

its Lensray technology to introducing screens like

RGB laser-projector screen Mirage XDL 1.2 and unique

high-gain screen Prism 3.4. "At Galalite, forward

thinking and innovativeness have been our motto for

generations," says Yusuf S. Galabhaiwala, director of

operations. "In today's times, even mobile applications

on smartphones need a regular update, so why should

cinema screens be any different? Upgrades enhance

experiences. And that's what we stand for: to offer an

enhanced experience to cinemagoers and, therefore,

benefits to the cinema owners."

98 April 2020
---
www.admit-one.us
---
CINEMACON NEW PRODUCTS

GLK Foods

Booth: 1028J

glkfoods.com

Oh Snap!

Oh Snap!—not your ordinary theater snack! They're

crunchy, delicious, and healthy—everything you

love about pickles and pickled veggies. But Oh Snap!

refrigerated, individually wrapped, single-serve dill

pickles and veggies have no added brine, so there's

less mess. This brand of fresh-packed pickles and

pickled veggies is courtesy of fourth-generation,

family-owned GLK Foods, the world's largest kraut

producer and leader in fermentation. GLK Foods

recognized the potential of pickles to fill a prominent

gap in the market: better-for-you, grab-and-go snacks

that don't sacrifice nutrition for convenience.

Gold Medal Products

Booth: 707J

gmpopcorn.com

Popcorn Topping Dispenser Line

Designed with movie theaters in mind, Gold Medal's

Popcorn Topping Dispenser Line offers a combination

of contemporary style and convenience. The

dispenser is customizable by selecting the models

and features that meet your needs. Single- and

double-head dispensers are available. Optional photo

eye allows for automatic dispensing when product is

detected. You can choose from a Double BIB rack or

double-rolling Go Anywhere rack, which can hold two

35-pound BIB-style boxes of topping. The ADA remote

switch (sold separately) allows you to adhere to ADA

guidelines. Plus, heated line kits will ensure the right

temperature of your topping (sold separately). The

unit can be counter mounted or used with a stainless

steel base (sold separately).

Great Western Products

Booth: 424J

gwproducts.com

Frostee Slush Mix

Great Western Products introduces its new Frostee

Slush Mix in three flavors: cola, blue raspberry, and

cherry. Put these flavors into your slushie machine

to create a treat for your taste buds. Easy-to-follow

directions make Frostee Slush Mix a quick, convenient

slushie concentrate. Frostee Slush Mix is

available in three-gallon bag-in-a-box containers and

also by the gallon.

The Guitammer Company

Booth: 2316A

guitammer.com

ButtKicker Cinema System

The Guitammer Company's ButtKicker Cinema

System – Active Seating (BKCS) has been deployed

worldwide. Over 43,000 cinema seats are now active in

over 14 countries, at circuits such as AMC, Regal, MCL,

Lumiere, and Dreamscape VR, with new installations

in Dubai, Qatar, and Saudi Arabia. LBE (location-based

entertainment) companies worldwide use BKCS as

part of 4-D, 5-D, and 7-D+ theaters, virtual reality, and

more. BKCS works for any type of seat—traditional,

tip-up, and recliner—and any type of movie in any

language, automatically giving exhibitors increased

immersion. BKCS installations are maintenance-free,

cutting down on total cost of ownership.

100 April 2020
---
CINEMACON NEW PRODUCTS

H

The Hershey Company

Booth: 512J

hersheys.com

Jolly Rancher Gummies

The same bold fruit flavors you love from Jolly

Rancher are now in Gummies. Don't let their soft

texture fool you—Jolly Rancher Gummies candy

packs a punch of untamed fruit flavor. Now available

in original and sours varieties.

High Performance Stereo

Booth: 2801A

hps4000.com

High Performance Stereo has always believed that

"Sound Is the Experience." That's why HPS brought

the very first feature presentations with digital sound

to commercial movie theaters in 1985—four years before

the rest of the industry. Envelopment is nothing

new to High Performance Stereo. Its HPS-4000 sound

systems are known around the world for their clarity

and immersive impact. Exclusive All Seats Hear

Stereo technology and proprietary surround placement

formulas provide full stereophonic coverage for

the entire audience. When HPS-4000 sound systems

are coupled with today's immersive soundtracks,

audiences will experience the full potential of modern

motion picture sound.

I

Inorca Seating

Booth: 913J

inorca.com

Inorca Seating has new features and accessories

that further enhance the customer's experience

and optimize the theater's total cost of ownership

and operational efficiency. Inorca's range of upscale

seating boasts dynamic privacy panels, kid-friendly

seating, special embroidery patterns, and more.

Irwin Seating

Booth: 201J

irwinseating.com

Spectrum Recliner

Looking for ways to keep moviegoers coming back

for more? Ready for a chair that makes it easier to

clean and turn theaters over? The Irwin Spectrum

Recliner can be custom configured to your exact

needs. Amenities include center flip-up arms to create

a loveseat, heating options, seat position remotes, and

a double-swivel table for drinks, snacks, or an entire

meal. Known for comfort, durability, and innovations

like a popcorn deflector to streamline the cleanup

process, Irwin never stops innovating. They're also

exploring new pod seating options to give moviegoers

privacy and a personal getaway, even within a filled

theater. Stop by Irwin's booth to test-drive their latest

recliners, the hardest-working chair in show business.

102 April 2020
---
The hardest working

seat in show business.

Our seating isn't just evolving. It's transforming the movie experience.

Discover solutions that stand the test of time, serve your guests in total

comfort, and make it easy to keep theaters clean.

Contact Irwin today for custom solutions and endless support:

1-866-GO IRWIN (464-7946)

cinema@irwinseating.com

See us at CinemaCon 2020, Booth #201
---
CINEMACON NEW PRODUCTS

J

Jaymar

Booth: 2113A

jaymar.ca

Automation Ready

Jaymar's custom comfort is a unique look for your

movie theaters, bringing the latest technologies

available today in order to enhance the customer's

experience. This year, Jaymar is adding an AR (automation

ready) mechanism to its commercial recliners

to allow control of the comfort and link the recliner to

your POS or call-for-service systems. With the touch

of a button on a tablet or phone, crews can have access

to raise all recliners or only the ones where customers

sat for cleaning after a movie. In a VIP dining theater,

clients can take control of their seats during a movie

via their mobile phones and order their food and

drinks for servers to bring. Using this system, the

theater can gather important data to maximize profit

and offer a higher level of great service.

K

Kenwood Two Way Radios /

Szabo Sales

Booth: 2121A

szabosales.com

NXP5OO Hybrid Radio

Kenwood's new NXP500 is an innovative "hybrid"

radio, meaning it can work in analog and digital at

the same time. Since digital is the direction two-way

radios are heading, this lightweight, waterproof, lowcost

solution will now allow you to migrate to digital,

getting larger coverage, longer battery life, and no static

communication, without replacing your whole fleet.

Kernel Season's

Booth: 317J

kernelseasons.com

Sriracha Popcorn Seasoning

There's always something popping at Kernel Season's;

this movie season it's Sriracha Popcorn Seasoning.

This limited-time offering is the perfect popcorn

partner for those looking to spice up their favorite

snack. Kernel Season's Sriracha-flavored popcorn

seasoning allows your guests to customize their

perfect level of heat while keeping their popcorn nice

and crisp. Turn up the heat and watch your popcorn

and soda sales skyrocket.

Keurig Dr Pepper

Booth: 104J

keurigdrpepper.com

Forto

Forto is a coffee energy shot made from cold-brewed

organic coffee. Forto is smoother, sweeter, and has a

low-acidic taste. It's a great on-the-go drink. Keurig

Dr Pepper is a leading coffee and beverage company

in North America with a portfolio of more than 125

brands.

104 April 2020
---
CINEMACON NEW PRODUCTS

L

Lino Sonego

Booth: 2025A

linosonego.it

Lino Sonego International Seating is an Italian family-run

company from the Venice region that designs,

manufactures, and installs ergonomic seats for

cinemas, stadiums, conference rooms, and theaters.

Italian design, quality of finishes and structures,

ergonomics, flexibility in personalization, and constant

search for new materials are the highlights of a

company under continuous growth and development.

The synergy with architects, design studios, and

customers has allowed them to establish fruitful and

lasting cooperative relationships. Many of the leading

world cinema circuits use Lino Sonego's armchairs

in their most exclusive cinemas. They export their

armchairs to over 80 countries. Lino Sonego is the

expression of made-in-Italy quality all over the world.

Lino Sonego is proud to supply its Trial Concept Soft

and Concept Deluxe models to Regal Cinemas.

Lumma

Booth: 2103A

4Demotion.com

4D E-Motion

4D E-Motion is a theater system equipped with

motion seats and outstanding special effects: wind,

vibration, water, scent, bass shakers, air shots, and

lights, all effectively synchronized with the on-screen

action. It fuses art and engineering to create a new

way of experiencing movies. Lumma offers comprehensive

and skilled services for 4D E-Motion theater

implementation, including a study of feasibility,

overhaul of auditoriums, development, production,

installation, support, and maintenance worldwide.

4D E-Motion is a robust technology, simple to install

and easy to maintain. Lumma provides a monitoring

system pack to optimize and test the operation of the

theater anywhere in the world. On the production

side, Lumma's talented artistic team works closely

together with Hollywood studios, programming the

most impressive titles for an immersive cinematic

experience.

LytePost

Booth: 2824A

lytepost.com

LytePost is the first and only LED-branded stanchion

on the market. With LytePost stanchions, exhibitors

can increase safety, guide through color, enhance

ambience, and even advertise. LytePost stanchions

are powered by a removable rechargeable battery

that gets 30-plus hours per charge and are controlled

through IR remote. Each stanchion has nine solid

colors to choose from, including pure white, as well as

four animated settings with an acoustic control that

changes the color to the beat of music. Traditional

stanchions are often eyesores, but LytePost turns

crowd control into a decorative bonus.

106 April 2020
---
CINEMACON NEW PRODUCTS

M

MediaMation MX4D

Booth: 2703A

mediamation.com

Kids EFX Theater

MediaMation's MX4D immersive motion theater

product line has expanded its offerings with a new Kids

EFX Theater. MX4D immersive seating, featuring atmospheric

and patented seat effects, now exceeds 400

global installations; the Kids EFX offers a simpler and

less expensive small-child-friendly version. The Kids

EFX Theater is an immersive and delightful option for

playscapes and dedicated kid-friendly auditoriums.

Offering an atmospheric EFX-only with fog, rain, snow,

lighting, and bubbles, MediaMation programs these

effects at narratively appropriate times to create a

memorable in-theater-only experience. Their carefully

designed foams, fluids, sterile delivery lines, and

engineering know-how make this an incredible new

offering from sales@mediamation.com.

Mennel Popcorn

Booth: 218J

mennelpopcorn.com

Mennel Popcorn is a supplier of high-quality popcorn

varieties. Mennel has been a trusted partner in the

food industry for over 130 years. Driven by a growing

demand for the popular snack food, Mennel acquired

a state-of-the-art popcorn processing facility in 2015.

Through a partnership with popcorn growers in Ohio

and throughout the Midwest, Mennel Popcorn has the

capability of producing 125 million pounds of popcorn

annually. From seed procurement through packaging

and delivery, Mennel has invested in quality control,

food safety, and improved new hybrids. They have

adopted a collaborative approach to supplying popcorn

to domestic and international food manufacturers,

concessionaires, theaters, and others with custom

popcorn needs. Mennel Popcorn offers four distinctive

popcorn varieties: Savory, It's "Reel" Hi-Expansion,

Sweet-n-Salty Natural Blend, and Big Ball Mushroom.

Moving Image Technologies

Booth: 2417A

movingimagetech.com

Enhanced Low Voltage Lighting Line

Moving Image Technologies (MIT) announces the

expansion of its green-energy portfolio with the addition

of a new, improved version of the leading-edge

low-voltage lighting product line previously offered

by Caddy Products Inc. (acquired by MIT in 2019).

This product line has now been re-engineered to use

efficient modern LEDs, doubling the light output

with the same energy usage as the previous product

offering. The components of the system include: step

nosing: coextruded PVC with grip strips and contrast

stripe (LEDs optional); aisle wireway: coextruded PVC

with clear cover (carpet-to-floor and carpet-to-wall

cover options); wall light housing: now extruded from

rugged polycarbonate plastic; and LED lighting loom:

available in red, amber, yellow, blue, and warm white.

The LED loom accepts 12V A.C. or D.C. power from

common low-voltage power supplies.

108 April 2020
---
QUALITY YOU CAN FEEL. VISIT US TODAY.

35+ Models

The largest VIP selection

in the industry, all with

full customization.

Built to Last Premium Comfort Low Maintenance Unlimited Options

Experience quality like no

other, backed by our

best in class warranty.

Our comfort is only

matched by our quality.

Test drive a VIP seat today.

Purposely built for ultra

low maintenance and

care free servicing.

Power headrests, power

lumbar, heat & massage

& so much more.

Contact us today:

sales@octaneseating.com | 888.627.6743 | www.octaneseating.com/vip-seating

April 2020

109
---
CINEMACON NEW PRODUCTS

N

NEC Display Solutions

Booth: Milano 4 & 8

necdisplay.com

NC1802ML

The NEC NC1802ML delivers 2K imagery on small

to medium screens while making installation and

maintenance simple. The release of the NC1802ML

marks NEC's first-ever complete series of digital

cinema projectors with replaceable laser modules.

The NC1802ML joins the NC2402ML and NC2002ML

projectors in providing cinema operators with a flexible,

maintenance-free, and integrated solution. All

three are capable of showing 100 percent of the digital

cinema color space (DCI), native 2K (2048x1080), and

deliver up to a 50,000-hour lifetime. This new digital

cinema projector series provides operators with a new,

cutting-edge experience and dispels the traditional

myth that these projectors are hard to maintain.

All maintenance can be done on-site, and the three

swappable light modules (24,000, 20,000, and 18,000

lumens) allow flexibility for any showing on screens

up to 72 feet.

110 April 2020
---
O

Octane Seating

Booth: 2711A

octaneseating.com

Octane Seating offers the largest selection of VIP models

in the industry, all with fully customizable options.

Comprehensive hands-on assistance with the design,

planning, manufacturing, installation, and after-sales

maintenance is provided. The seats are designed to

enhance your profitability, bring in repeat customers,

and set you up for success. They offer best-in-class

German motors that are quiet and smooth. Many of

the models offer a power headrest and power lumbar.

Their seat core consists of individual pocketed coils

that ensure your seats will not lose their shape. A layer

of gel memory foam is placed on top for a premium

comfort story. Combine all this with metal and solid

wood frames, easy maintenance and installation, and

a completely modular construction.

Olea Kiosks

Booth: 129J

olea.com

El Dorado

Olea Kiosks, a leading provider of self-service solutions

to the cinema industry, is introducing its newest

solution at CinemaCon 2020. The El Dorado has been

meticulously designed to accommodate the varying

needs of each individual theater. The upper half is a

self-contained kiosk of its own, with the ability to sell

tickets and concessions via credit and gift cards as a

combined solution with Vista Kiosk and other leading

software solutions. This upper unit can be mounted

on any counter or wall, or to Olea's customizable freestanding

pedestal, as shown here. The freestanding

pedestal, or lower half, can be ordered with or without

the ability to accept cash payments. By adding the

ability to pay in cash, 100 percent of customers can

complete their transaction at the kiosks.

Omniterm

Booth: 416J

omniterm.com

CINEMA POS SOFTWARE

Web Services

Omniterm has streamlined and expanded its

interface partnerships by introducing new web

service products. These interfaces provide various

gift card functionalities as well as alternative

online-ticketing options. The gift card functionalities

include activations, redemptions, balance inquiry,

and PIN validation, as well as e-card management.

The online-ticketing web service provides theaters

with an alternative sales method to the OmniWEB

product and completely retains the patron on the

theater's website for the entire transaction process.

The new web services allow Omniterm to expand its

third-party interfaces, which can introduce numerous

enhancements to the online experience including

loyalty redemption.

April 2020

111
---
CINEMACON NEW PRODUCTS

P

Packaging Concepts Inc.

Booth: 824J

packagingconcepts.com

Paper Drink Straws

Packaging Concepts Inc. is doing their part to help

save the planet. New for 2020, as they expand their

ever-growing line of concessions packaging, they are

now manufacturing paper drink straws that are made

in the USA. The straws are available in an assortment

of sizes, both wrapped and unwrapped. They have

plain, generic designs and custom-printed options.

All Packaging Concepts paper straws are built using

specialty sourced natural materials, entirely from

the United States, that perform for the customer and

the environment. As exhibitors continue to increase

their concessions offerings, PCI is there to assist with

design, graphics, and delivery of quality concessions

packaging at an economical cost.

PepsiCo

Booth: 101J

pepsico.com

PepsiCo offers everything needed to enhance the

moviegoing experience through its diverse beverage

and snacks portfolio and premium equipment. Pepsi

Spire lets moviegoers mix up a unique creation with

just the touch of a button, including fan-favorite

recipes using Pepsi, Mountain Dew, Sierra Mist, Mug

Root Beer, and more. People seeking better-for-you

options without taste compromise can opt for Pepsi

Zero Sugar and Mountain Dew Zero Sugar. For fun

hydration, PepsiCo offers Bubly flavored sparkling

water, premium bottled water Lifewtr, and Bolt24

from the makers of Gatorade. With an ice-cold

beverage, fans can try great-tasting Tostitos tortilla

chips and Tostitos cheese dip made with real skim

milk and no artificial flavors or colors from artificial

sources, or add a boost of cheesy, mischievous flavor

with Cheetos Popcorn.

Pizza Hut

Booth: 232J

pizzahut.com

Pizza Hut is now in 125 theaters and growing across

the country. The company is a proven volume driver

that has significantly raised incremental per cap

growth. Pizza Hut is an iconic and trusted brand with

products that bring a call to action for moviegoers.

The 9-inch fast-baked pizza is sized perfectly and

uniquely for the exhibition business. (The size is

generally unavailable at its street-side locations.)

Made with quality products and ingredients, the

product is portable and easy to eat in low light. The

recent spread of bars in movie theater lobbies have

worked well with a hot pizza entrée offering. Easy to

operate with small equipment footprint. Leverage

the power and scale of the world's largest restaurant

company (YUM Brands).

112 April 2020
---
CINEMACON NEW PRODUCTS

POSitive Cinema

Booth: 2007A

positivecinema.com

Smart Cinema

Leverage big data from your cinemas to boost revenue

using Smart Cinema, the newest module of the

POSitive Cinema Solution Suite. Smart Cinema helps

to make data-driven decisions about scheduling and

ticket pricing. Based on artificial intelligence and

machine learning, Smart Cinema uses advanced

algorithms to create optimized scheduling suggestions

and ticket-price diversification. This new

module learns from historical and current trends

by accessing large amounts of data related to your

cinemagoing customers, regardless of the type of data,

such as movie details, screenings, demographics, and

weather. Use Smart Cinema to create schedules based

on when to give discounts to increase admissions

for low-occupancy screenings, and when to increase

prices to maximize revenue for extremely high-occupancy

screenings.

Prime Ticket

Booth: 125J

primeticketinc.com

Food Pick-Up Lockers

Food pick-up lockers by Prime Ticket come in multiple

configuration options from three to 12 compartments,

and can be pass-thru if desired. Available in

countertop, wall, or floor-mount models, each locker

is manually programmed by the operator, who selects

which locker to use and enters the username or order

code, and an up to six-digit numeric passcode that is

used to unlock the customer-facing door. There is a

45-minute count-up timer for each locker, and each

locker can be programmed from an ambient temperature

up to 200°F. All lockers are lit by LEDs, and the

specific locker that's being opened has flashing lights

once the code has been entered to identify where the

food is located.

Proctor Companies

Booth: 113J

proctorco.com

ADA Table

Finally an ADA table that looks great in your theater!

Proctor Companies has created a beautiful, functional

ADA table for your guests that meets the government

requirements. The top is available in almost

any color to match your current auditorium decor.

It comes with wheels for easy transport to the guest.

It's adjustable in height to 42 inches to accommodate

almost any wheelchair.

114 April 2020
---
Comfortable is the

new profitable.

When customers sit, relax, and stay, they eat, drink, and spend.

Interested in padding your bottom line? Give us a call!

www.proctorco.com | | sales@proctorco.com

800-221-3699
---
CINEMACON NEW PRODUCTS

Promotion In Motion

Booth: 725J

promotioninmotion.com

Promotion In Motion (PIM) is bringing the magic

of chocolate and deliciousness of peanut butter to

CinemaCon this year, introducing the new Sun-Maid

Pure Milk Chocolate 'n Peanut Butter Raisins to

moviegoers everywhere. This new variety joins iconic

Sun-Maid Pure Milk Chocolate Raisins in the PIM

concessions lineup of top-selling favorites in a 3.5-

ounce concession box, larger and smaller bags, and

more. Sun-Maid, and all PIM products, is supported

with dynamic free marketing support, POS for combo

deals with popcorn and beverages, generous rebate

opportunities, and more.

ProStar Industries

Booth: 120J

prostarind.com

Evolution Vinyl Seat Cleaner

Taking care of vinyl seats in your theater is now easy

with Evolution Vinyl Seat Cleaner. The concentrated,

high-sudsing detergent is effective in removing greasy

soils like popcorn butter from vinyl surfaces. It is

gentle and mild to the skin. Using it is simple, too,

with the convenient Just-Add-Water system. Simply

fill your bottle with water, insert patented cartridge,

and attach trigger sprayer, automatically releasing the

premeasured concentrate.

Pulz Electronics Limited

Booth: 2319A

pulz.co.in

Pulz Audio.Sense RMS16

The Pulz audio.sense RMS16 is an easy-to-use and

reliable facility that enables the efficient monitoring

of a Pulz audio system. The system allows operators

to observe the status of all monitored equipment at

a glance, using a customizable map-based display.

The system offers the option of a central monitoring

system and may also be used for message alerts via

email/SMS. The Pulz audio.sense RMS16 software may

be installed on the same network as a digital projection

system. This close integration allows both applications

to share the same communication modems and

internet connections, reducing infrastructure costs.

Pureco Products

Booth: 106J

purecoproducts.com

Purepak Product Line

Pureco Products is introducing a new product line of

paper cups and food-service packaging made with

EarthCoating, which uses 40 percent less plastic

than conventional plastic-coated paperboards and

is designed to be easy for paper recyclers to pulp

back into high-grade recycled paper products using

conventional paper-recycling equipment. The new

PurePak product line includes hot cups, cold cups,

paper lids, paper straws, popcorn tubs, food trays,

take-away boxes, folding cartons, and more—all made

using EarthCoating in support of plastic reduction,

landfill/ocean waste diversion, and increased

recycling rates. Paper cups made with EarthCoating

qualify for AAA recyclability rating per Der Grune

Punkt (Green Dot) and are currently being collected,

sorted, baled, and pulped back into recycled paper

products around the world.

116 April 2020
---
CINEMACON NEW PRODUCTS

Q

QSC

Booth: 2303A

qsc.com

DPA-Q Amplifiers

QSC announces the global availability of the new

DPA-Q Series network power amplifiers in four- and

eight-channel models. The new DPA-Q Series amplifiers

unite the QSC legacy of robust power amplifiers,

advancements in high-efficiency output devices,

and native network transport, plus the control and

monitoring capabilities of the Q-SYS ecosystem. The

new amplifiers include new features and performance

improvements compared to the original DPA-Q Series

introduced six years ago. They use a highly efficient,

Class-D hybrid powertrain, and feature two QSC

amplifier innovations—FlexAmp and FAST (flexible

amplifier summing technology)—that combine to

offer far more flexibility in output deployment.

Qube Wire

Booth: 2202A

qubewire.com

Qube Wire DCP Delivery and KDM Management

Service

Qube Cinema presents its Qube Wire DCP delivery

and KDM management service. In addition to the

usual benefits associated with replacing hard drives,

Qube Wire's broadband delivery is often three times

faster than satellite delivery. Qube Wire also lets

theaters take control of their deliveries with the tools

in Qube Wire's Cinema Portal. This platform gives

theaters pertinent information about each upcoming

movie—run time, credit offset, and when and how the

movie will arrive. KDMs can be downloaded, re-sent,

or forwarded with just a few clicks. When theaters

select to use Qube Wire's free FLMx feed, KDM

providers are alerted of server changes as soon as the

information is updated in the portal.

QubicaAMF

Booth: 918J

qubicaamf.com/

hyperbowling

HyperBowling

HyperBowling is a set of revolutionary new bowling

games that brings together a high-tech blend of software,

futuristic user interfaces, lights, and sensors to

deliver a never-before-seen experience that plays like

a physical video game on a bowling lane. Created by

QubicaAMF, the world's largest bowling-equipment

manufacturer, HyperBowling was designed around an

innovative new LED bumper system, which is actually

meant to be used as part of the game. Every ball is

different, and there are new challenges every turn. Hit

the colorful moving targets to increase your score. The

lights change, the levels change, and with one single

ball—the winner can change!

118 April 2020
---
customers make

happy

grow

your business

Photo courtesy of Zane Roessell

When the "Best Theatre in America"* wanted to

combine the best movie experience with enhanced

AV functionality for lobby, business meetings, parties,

and alternate content, they turned to QSC. In fact,

QSC became their brand standard for enterprisewide

audio, video and control - and Q-SYS TM brings

it all together. Make your customers happy and

increase your bottom line – with QSC.

*According to Entertainment Weekly

Visit Us at CinemaCon at Booth 2303A

©2020 QSC, LLC all rights reserved. QSC, Q-SYS and the QSC logo are registered trademarks in the U.S. Patent and

Trademark Office and other countries. All other trademarks remain the property of their respective owners. 0040-2020
---
CINEMACON NEW PRODUCTS

R

RadioBoss 2-Way Radios

Booth: 133J

radioboss.com

RadioBoss 2-Way Radios provide radio sales, rentals,

and service of staff communication radios. They

offer a wide variety of earpieces and carry specialty

items such as call boxes, base stations, repeaters,

P.A. systems, and more. Free on-site trials means

every customer gets exactly what they need, and

the 24- to 48-hour repair turnaround means your

locations never have to be without their radios. When

you are looking to purchase new radios—whether

you need just one or many—RadioBoss can match

the programming used at your location for free, and

they accept trade-ins so you can get money toward

your new product. RadioBoss offers free custom

programming and promises quick repairs and reliable

customer support.

Retriever Solutions

Booth: 830J

retrieversolutionsinc.com

Loyalty Program with Mobile App Enhancements

Retriever Solutions, a provider of ticketing and theater

point-of-sale systems, introduces its new patron

loyalty program designed to increase revenue and

promote customer engagement. Theater operators

configure the program to reward loyalty members

with free items and dollar discounts on concessions

and/or tickets. Loyalty points accrue on the member's

account through in-theater purchases or via the theater-branded

mobile app. Members' points are viewable

in real time on the app, and available rewards can be

claimed at the theater at any time. Premium add-on

functionality includes a robust administration

console, allowing theater management to send push

notifications to app users, reach patrons with scheduled

advertising, and retrieve valuable member data

to use for targeted marketing campaigns.

Royal Corporation

Booth: 213J

royalcorporation.com

Royal Carpet Spotting Kit

The Royal Carpet Spotting Kit is one of several

task-specific kits developed by Royal to help maintain

clean facilities and improve guest experience. Each

kit can easily be transported and has all necessary

products to complete a specific cleaning task safely

and efficiently. Royal has developed 16 kits covering a

variety of theater needs.

120 April 2020
---
CINEMACON NEW PRODUCTS

S

Savantis Solutions

Booth: 1018J

savantis.com

Intelligent Cinema

Intelligent Cinema is the first cloud-based

enterprise-grade cinema management software

built on the world's best business software platform,

SAP. It comprises 22 integrated modules to optimize

your cinema's operations and help you deliver to

your customers exactly what they're looking for, in

every channel.

Severtson Screens

Booth: 2321A

severtsonscreens.com

SAT-4K Acoustically-Transparent Cinema

Projection Screen

Severtson Screens' SAT-4K projection screens feature

an even finer weave and whiter material than its

previous generation, which makes the viewing image

even better than before. Made in the USA, the SAT-

4K's acoustic abilities aren't hampered by the finer

weave, and Severtson can now also seam SAT-4K for

larger cinema screens to virtually limitless sizes. Like

perforated screens, the sound stage can be placed

directly behind the screen at the same horizontal axis,

allowing the vocals and special effects to be completely

in sync with the brilliant images on display. Severtson's

folded shipping method allows for no loss in the

screen's structural or visible integrity, and now makes

international distribution highly affordable, reducing

international shipping costs by up to 70 percent. The

SēVision 3D GX-WA coating provides the benefits of the

standard SēVision 3D GX coating, but offers increased

uniformity and brightness typically seen more often on

2-D white screens.

Simply Right

Booth: 436J

simplyrightinc.com

Simply Right is a cleaning service contractor providing

value-centered solutions for the people they serve.

Solutions that are safe, healthy, and great for the

community. Simply Right delivers results that make a

difference through their commitment to innovation,

respect, trust, teamwork, accountability, and honesty.

Soft Play

Booth: 933J

softplay.com

Soft Play is a global leader of contained playground

equipment. The company has everything you need

to create your dream play space, from surfacing to

innovative playground equipment to accessories

and a team of designers who can help you customize

your area. Their play equipment passes the test of the

toughest critics: kids. They work closely with experts

to create innovative equipment children will love

exploring. There's no point in building a play space

unless kids adore playing on it, which is why their

team goes out of its way to think outside the box and

to bring you play solutions that engage imaginations.

122 April 2020
---
The Perfect

Cocktail

Every Time

THE MOST ADVANCED AUTOMATED

COCKTAIL DISPENSING SYSTEM

The revolutionary Smartender® delivers speed, consistent pour and ease-of-use to

establishments looking to maximize output, increase efficiency and improve customer service.

Available in both modular and portable units, find out why Smartender® is the complete bar system of

choice for leading hotels, casinos, restaurants, bars and entertainment centers nationwide.

16 & 32 LIQUOR MODELS | POURS COCKTAILS & WINE

SIMULTANEOUS POURING DELIVERS COCKTAILS IN UNDER 5 SECONDS

NO OVER-POURS | REDUCES LABOR COSTS | POS SYSTEM COMPATIBLE

CONNECTS TO PUMP ROOMS, MIXER BAYS & BAG-IN-BOX SYSTEMS

www.smartbarusa.com

Call: 1-866-399-7160

US & FOREIGN PATENTS
---
CINEMACON NEW PRODUCTS

Sony Digital Cinema

Booth: Pompeian 1-2

pro.sony

SRX-R815P

Sony's SRX-R815P is an HDR-ready, 4K laser

projection solution for digital cinema applications.

This high-performance projection system ensures

an impressively immersive visual entertainment

experience in 2-D or 3-D for movie audiences. It boasts

a contrast ratio of 10,000:1 and offers operational

efficiency, along with increased immersion for vibrant

imagery that matches the filmmaker's original intent.

Top theater chains across the globe have standardized

on these 4K laser models.

SRX-815DS

The SRX-815DS HDR-ready, 4K laser projection

system has the same industry-leading contrast

ratio for stunning presentation of standard cinema

content on large screens as well as high dynamic

range (HDR) on suitably sized screens. It provides

outstanding crispness from a combination of

Sony's Silicon X-tal Reflective Display (SXRD) panel

technology and 4K optics. Its long-life light source

introduces operational efficiency by eliminating the

need for lamp replacement.

StepGuard by Light Tape

Booth: 2720A

lighttape.com

StepGuard

Light Tape StepGuard systems are built for safety but

designed for elegance. StepGuard's bespoke step and

aisle illumination systems are supplied as a plug-andplay

package that can be installed with ease. Step-

Guard systems provide even light with no on-screen

glare or bulbs to break. The StepGuard system was

developed for Light Tape after years of field testing.

The manufacturer makes not only the profile but

also the light source, resulting in a complete lighting

solution. Light Tape is completely dimmable via 0-10

dimming or DMX-compatible Smart Driver power

supplies. It provides even illumination from end to

end. Light Tape provides step and aisle illumination

with multiple anti-slip profiles and light angles available

to suit specific location needs.

Storming Images

Booth: 1019J

stormingimages.com

Storming Images is a leading digital content delivery

provider serving the needs of cinema owners. Its

Media Director platform is proprietary technology,

presenting a one-stop digital delivery system for

preshow, movie trailer, film, and event distribution.

Cinema owners no longer need to scramble last

minute to get a preshow, trailer, or event to their

theaters. Simplify the management of content with

one easy-to-use system that provides delivery verification

and proof-of-play.

124 April 2020
---
CINEMACON NEW PRODUCTS

Strong Cinema

Booth: 2403A

strongmdi.com

Northview Horizon

Strong/MDI has released a white-gain coating

technology designed to enhance 2-D displays using

high-output projectors. Exhibitors who choose to

upgrade to a higher-gain Northview Horizon surface

obtain a superior picture with reduced projector

output. The formulation, developed by Strong/MDI's

R&D chemists, provides a uniquely smooth white

surface—hence its property of diffusing light more

uniformly. Northview Horizon's optical qualities

include increased image depth as well as sharpness.

When combined with Strong/MDI's new HP micro

perforation, the surface reduces the probability of

moiré interference in laser projection systems. Northview

Horizon's improved coating technology is highly

durable and resistant, ensuring hassle-free installation

and years of high-quality image reproduction.

T

Telescopic Seating Systems

Booth: 2407A

telescopicseatingsystems.com

Telescopic S1 Table System

Telescopic Seating Systems' (TSS) new S1 table system

easily integrates with existing recliners or rockers

or is a perfect fit with a new seat installation. The

product works in existing recliner footprint and has a

dedicated full table for every patron. It also features

a custom table eating position and moves for easy

egress, unmatched strength, design and performance,

dedicated lighting for meal service, and a bag hook.

A service-call indicator and call-button system integration

allow easy communication between servers

and patrons. It features complete wire management

without needing additional outlets when integrated

with TSS products.

Tidel

Booth: 2618A

tidel.com

Tidel TR304 Cash Recycler

The Tidel TR304 cash recycler offers integrated

note and coin recycling for high cash volume retail

establishments that can scale as a retailer's cash

operations grow. It provides the highest-capacity coin

recycling in the industry today. Each coin hopper is

able to hold in excess of a full Fed bag of coin, which

can have a substantial impact on store efficiencies

and costs. Capable of processing up to 10 notes per

second and 3,000 coins per minute, the TR304 also

provides the highest level of speed and scale for

today's cash-heavy environments. It additionally

comes with an integrated recycler vault to facilitate

manual currency drops.

126 April 2020
---
PREMIUM

PROJECTION

SCREENS

FOR 2D & 3D APPLICATIONS

Reflecting every detail with

clarity and precision

PREMIUM HGA SILVER SCREENS

NORTHVIEW HORIZON WHITE GAIN SCREENS

FOLDABLE 3D SCREENS

CINEMACON BOOTH 2403A

www.strongmdi.com | 1 877 755-3795 | info@strongmdi.com
---
CINEMACON NEW PRODUCTS

TK Architects International

Booth: 325J

tkarch.com

For nearly 40 years, TK Architects International

has been meeting each client's specific needs in a

creative, unique, and cost-effective manner. They

focus on entertainment design, emphasizing the

continual evolution of the business, which has

recently included design and construction of several

facilities incorporating expanded entertainment

options. One example is FatCats Entertainment's new

facility in Mesa, Arizona, designed to optimize their

"All Out Fun" brand. FatCats Mesa features movies,

bowling, an arcade, and more. The facility has eight

luxury theaters, all with recliner seating (one with a

fully immersive Dolby Atmos sound system), 20 lanes

of recreational cosmic bowling, a Space Age–themed

mini glow-in-the-dark golf course, three virtual

reality experience booths, a large modern arcade with

a redemption prize room, two party and business

rooms, a large full-service bar, and scratch kitchen

serving the entire facility.

U

United Food Group Inc.

Booth: 1032J

unitedfoodgroup.net

No-Cost Blendtec Stealth 885 Blender

Komoniwana Frozen Beverages wants to simplify

how products are prepared in movie theaters. The

No-Cost Blendtec Stealth 885 blender is the top-rated

U.S. commercial blender. Very quiet, it can make three

16-ounce drinks at a time.

Komoniwana Program

The Komoniwana Program allows you to compete in

the growing upscale coffee shop and blended-beverage

market. You can choose from a menu of shakes,

smoothies, frappes, and granitas.

Perfect Servings Condiment Dispenser

Perfect Servings Condiment Dispenser is at no cost

to you. The dispenser has a simple one-push-button

operation and allows you to choose five selections

of creamers, sugars, and sweeteners, which are

independently programmed for portion control. With

portion-controlled settings, the dispenser eliminates

pilferage and reduces waste on a daily basis. It also

speeds up beverage preparation and reduces time

to keep the coffee bar area neat and tidy. No maintenance

is required; free equipment replacement.

128 April 2020
---
ORDER

NOW
---
CINEMACON NEW PRODUCTS

Uniters Cinema

Booth: 629J

unitersna.com

Uniters Cinema is your cinema seating protection

services partner, providing specialized furniture

seating services and care products. With 30-plus years

of experience in furniture services, repair, care, and

maintenance products, Uniters Cinema does business

in 120-plus countries. By partnering with a Uniters

Cinema service agreement and care product, their

customers can count on consistent seating function

and service; on-site stain treatment, malfunction

service, repair, and replacement with a qualified

national furniture-service technician; and access to

an award-winning line of furniture-care products.

Seating-care products include stain removal, cleaner,

deodorizer, disinfectant, barrier protection, and smell

and ink-removal products for all commercial and

hospitality seating covers.

Usit Seating

Booth: 2424A

usitseating.com

Usit Seating offers recliners and cinema VIP seating,

with new functions researched and developed

exclusively for upgrading theaters and cinemas. New

functions have been developed for different kinds of

floors including sloped and narrow steps, or dine-in

theaters with integrated call-service systems. Wireless

control of seats allows for easy cleaning.

Join us under the big skies of Montana

at The Lodge at Whitefish Lake,

gateway to Glacier National Park!

THEATRE CONVENTION

The annual Rocky Mountain Theatre Convention

brings together cinema operators,

suppliers, vendors and distributors

for three days of engaging SEMINARS,

exclusive SCREENINGS, fun NETWORKING

events including the GOLF CLASSIC,

and an expansive TRADE SHOW.

Earlybird registration rates

available through June 1 st

Register now at rmnato.com

September 1-3, 2020

WHITEFISH, MONTANA

PRESENTING PARTNERS

130 April 2020
---
V

Venue Valet CallConnect

Booth: 1011J

venue-valet.com

CallConnect VIP Mobile Application

Venue Valet CallConnect, an industry leader providing

call buttons, management reporting, digital

signage, and software solutions to cinemas, introduces

the CallConnect VIP Mobile Application for

iOS and Android. Venue Valet will work directly with

theaters to customize the mobile application that's

right for them. A cornerstone of a theater's loyalty

program, the mobile application will personalize the

mobile experience of each guest to tailor it to their

uniqueness. It provides an optimized mobile ticket

purchase experience and optionally, the ability to

preorder food and beverages before arriving at the

cinema. The CallConnect VIP Mobile Application is

part of a suite of products that Venue Valet uses to

help cinema operators increase guest satisfaction,

improve operational efficiency, and maximize revenue

opportunities.

VIP Cinema Seating

Booth: 901J

vipcinemaseating.com

High-Density Seating Solution

The new high-density seating solution from VIP

Cinema Seating is designed to radically enhance the

theater experience. VIP Cinema Seating says the chair

has already been nicknamed "Wow" based on the

early reactions from theater owners and customers

during the research phase. The company will unveil

the final product name when it is officially launched

at CinemaCon. Designed to provide an enhanced

experience while allowing you to maintain a similar

density per screen, this new chair features an innovative,

proprietary VIP ConformaGel comfort seat. It

also offers patent-pending smooth VIP IntelliGlide

movement, a sleek pedestal for easy cleaning, modular

privacy options for an undisturbed experience,

and a luxury quilted back design as seen in today's

premium cars. The chair is completely modular for

easy parts replacement, will fit on most current risers

so no additional construction costs are incurred, and

can be installed in at least 50 percent less time than a

typical recliner.

Z

ZIMM

Booth: 1005J

zimmtheater.com

Stealth VIP and 399 VIP

Headquartered in Thailand, Zimm Theater is a

manufacturer of premium-quality VIP theater seats.

It provides customized function and design for each

theater's particular needs and is now introducing two

new models to its Professional VIP series: the Stealth

VIP and 399 VIP.

April 2020

131
---
CINEMACON TRIUMPH AWARD

ASIA PACIFIC

ADVOCATE

MPA's Mike Ellis Looks Back

on a Triumphant Career

BY KEVIN LALLY

CinemaCon's annual Triumph Award

is given to a distinguished industry

executive who has recently announced his

or her retirement, and few have had the

impact of Mike Ellis. On February 7, Ellis

left his longtime post as president and

managing director of the Motion Picture

Association (MPA), based in the Asia Pacific

region. Overseeing operations, policy,

and personnel in 14 territories, he established

strategic partnerships and alliances

to promote and protect the interests of the

Asia Pacific creative screen community,

strengthen intellectual property rights in

the region, and help the MPA's represented

studios gain market access.

A lawyer qualified in Hong Kong,

England, and Wales, Ellis joined the MPA

in 1999 from the litigation department

of Herbert Smith Freehills. Earlier, he

served in the British Police and the Royal

Hong Kong Police, including six years

with the Commercial Crime Bureau

focusing on transnational fraud and

Image courtesy Motion Picture Association

extradition requests. He rose to the rank

of superintendent and became aide-decamp

to the last governor of Hong Kong,

Christopher Patten.

Ellis will receive his award during

CinemaCon's International Day breakfast

on Monday, March 30.

What are some of your proudest

accomplishments at the MPA?

Top of the list, in 2001 China joined

the WTO, opening up opportunities for

engagement with the Chinese film market.

The subsequent MOU [memorandum of

understanding] in 2012, which allowed for

at least 34 revenue-share films and a 25

percent share of total box office revenue

for our member studios, was a good day in

the office.

In 2010, the Motion Picture Association

formed a partnership with the Asia

Pacific Screen Awards (APSA) to provide

script-development funding for projects

across the Asia Pacific. Over the last

decade, the MPA APSA Academy Film

Fund has resulted in a diverse range of

award-winning films, such as A Separation,

Burning, Ayka, No Burqas Behind Bars,

Memories on Stone, The Wild Pear Tree,

Memories of My Body, Wajib, The River,

A Dark, Dark Man, and the recently

completed No Land's Man. Two new Korean

films are currently being developed

through the Film Fund, and Korean films

have always been well represented at the

Awards—we were delighted when Parasite

won best film at the 2019 APSA.

In 2012, the MPA formed the first global

partnership with Tropfest—the world's

largest short-film festival, recognizing and

supporting young talent at the outset of

their careers. The Festival has provided

a terrific launchpad for filmmakers in

Australia, New Zealand, New York, Las

Vegas, United Arab Emirates, Bangkok,

and Penang.

As the MPA deepened engagement

with screen communities across the

Asia Pacific, we developed the MPA film

workshop program that provides knowledge

exchange and upskilling for emerging

filmmakers, hosting film-industry

experts to give master classes on a wide

range of topics, and holding feature-film

pitch competitions. Over the years we

have witnessed a remarkable evolution

in the abilities of young filmmakers to

communicate their stories for the screen

to an audience.

132 April 2020
---
The MPA was successful in working

closely with local partners to form creative

coalitions linked by a common aim to grow

film industries, reduce piracy, and address

market barriers.

Finally, it was important to support new

platforms like Creative Content Australia,

an organization dedicated to growing

awareness about copyright and educating

young people about respect for the creative

process. These initiatives are committed

to a long-term vision to improve and

support the entire copyright community

and improve the overall environment for

creative endeavor.

Which territories were the biggest

challenges, and why?

China has been and is likely to continue

to be the biggest challenge, firstly because

there is a lot to be gained and a lot to lose.

Secondly, the film and television industry

is administered under the propaganda

department, which presents a number

of challenges. Thirdly, progress is only

achievable through close and effective

relationships, which in turn require a great

deal of time, effort, and goodwill. It is

those important relationships that underpin

the continued success of the American

industry in China.

Which territories have come the

farthest in terms of fighting movie

theft?

Ten years ago, Australia faced rampant

piracy and an environment where big

tech profited significantly from the

unauthorized sharing and accessing of

creative content. A combination of strong

copyright legislation—including the establishment

of site-blocking laws—high-profile

educational programs and campaigns,

and industry leadership in addressing the

piracy problem has greatly improved the

circumstances for content creators to be

rightly compensated for their work.

Tell me about the evolution of your

relationship with China.

I first visited China as an MPA executive in

1999, when hard-goods piracy was a major

problem. Illegal DVDs were blatantly on

show on every street corner. In 2004, we

began to engage with the Chinese government

on advocacy matters.

In 2006, the MPA hosted with the film

bureau SAFRT—the government administrator

of the film industry at the time—the

"The U.S.–China film industry

relationship, I believe, is able

to withstand many rough seas.

The depth of goodwill is strong

enough to survive setbacks."

first China film workshop, with a focus

on knowledge exchange between the U.S.

and China. Xue Xiaolu, now one of China's

most prominent directors (Finding Mr.

Right, Ocean Heaven, The Whistleblower)

attended the workshop as a student.

In 2012, an MOU allowing for an additional

14 films above the existing 20 revenue-share

titles was negotiated between

then Vice Presidents Biden and Xi.

Over the years, I've been a regular

visitor to China, enjoying great relationships

with both government and industry

representatives. I've been fortunate to

witness the turbo-charged evolution and

growth of the industry, highlighted by the

startling figure of more than 25 cinema

screens opening every day, year after year,

and exponential box office growth.

My memories will be of the strong

and lasting partnerships, coalitions, and

lifelong friendships I've made in my time

in China. The U.S.–China film industry

relationship, I believe, is able to withstand

many rough seas. The depth of goodwill is

strong enough to survive setbacks.

What are the most pressing issues

facing today's MPA?

The MPA is constantly working to

ensure countries adopt strong copyright

regimens. There's an urgent need to resist

big tech's ambition to loosen copyright

for their own ends. In the Asia Pacific, it

would be a landmark in copyright protection

to see global best-practice site-blocking

legislation enacted in Japan. For the

long-term growth and sustainability of

Asia Pacific film markets, it's important

that they are able to compete effectively

for a massive global production spend by

maintaining or introducing attractive incentives.

In this period of inward-looking

nationalism and protectionism, the MPA

should continue to argue for the benefits

of open markets and reduced barriers to

entry for the screen sector. Finally, we

should ensure that platforms are accountable

and play their part to reduce piracy

and implement policy solutions to protect

creative content.

How important is local production to

the MPA?

A healthy, sustainable local industry is important

for the overall health of any screen

sector. Many of our members are actively

involved in producing local content for

local audiences with great success.

April 2020

133
---
CINEMACON TRIUMPH AWARD

How optimistic are you about the

future of cinemas and moviegoing?

The numbers tell a good story. In 2018,

the MPA's THEME Report indicated

that the global box office was not only

resilient but powering upwards in many

parts of the world, totaling $41.1 billion,

with seven markets outside the U.S. and

Canada seeing more than $1 billion

in domestic box office sales. The Asia

Pacific region was the number one box

office region in the world, rising in 2018

to $16.8 billion, representing 40.6 percent

of the global box office. Nine out of the

top 20 international markets are to be

found in the Asia Pacific. The big picture

is that millions of young people in Asia

are going to the movies for the first time,

embracing the experience and getting

hooked. The evidence gives me confidence

that the moviegoing experience is

alive and flourishing.

What are some of your most

memorable moviegoing experiences?

It's always hard to pin down the ultimate

moviegoing experience, but for me I

always recall my childhood, watching

a movie for the first time in 1966 with

my older brother. The film was Lt. Robin

Crusoe starring Dick Van Dyke and

Nancy Kwan, one of the most well-known

Asian actresses in her generation. Later in

life I went to a premiere of a documentary

about Nancy Kwan, To Whom It May

Concern, where I was lucky enough to

meet her and reflect together on a lifetime

of watching movies.

What are your impressions of your

successor, Belinda Lui?

Belinda and I have been working colleagues

and friends for many years. We

worked together to improve I.P. policy

and address rampant piracy that was

destroying the industry in Hong Kong.

At the time, Belinda was representing

Microsoft and BSA, and her strategic

vision and collegiality helped secure

success for us all. In later years, as a key

member of the MPA, her support and

guidance was incredibly helpful to allow

the team to achieve all that we have over

many years. Belinda will be an incredible

leader in support of the industry in the

challenges ahead.

What will you miss the most about

your job?

I always tend to look forward, lock in the

lessons learned, the good memories from

a job well done, and feed off the many and

deep friendships for the next chapter.

What's next for you?

There is always a "next"! Professionally, I

will return to law and join a Hong Kong law

firm as a partner and continue to advise

the MPA and other key industry clients

on managing the complex issues of doing

business across the Asia Pacific region.

Personally, I will refocus on the goals

of racing Ironman triathlons and cycle

road races with a view to compete in the

world championships later this year. And,

interestingly, I'm now considering some

opportunities to act in local films—now

that would be some "next"!

134 April 2020
---
CINEMACON PASSEPARTOUT AWARD

At the start of your career, you were

well on your way to practicing law for

a living. How did you come to work in

distribution?

I've always enjoyed the law and found it to

be an amazing education. However, I grew

up around the entertainment industry and

always found exhibition and distribution

interesting and exciting. When I learned

that Disney was setting up the first international

distribution company in many years,

the opportunity sounded too good to pass

up, and I am so glad I followed my instinct

and took a chance on something new.

GLOBAL

AMBASSADOR

Disney's Jeffrey Forman Earns

2020 Passepartout Honor

BY DANIEL LORIA

Jeffrey Forman's career could have

turned out a lot differently. The

veteran distribution executive was on the

fast track to a legal career, having already

secured an MBA from the University of

Southern California before earning his

Juris Doctorate degree from Loyola Law

School. Forman spent the first two years

of his professional life practicing business

and real estate law as an attorney in Los

Angeles. When an opportunity to join

Disney's growing international distribution

team opened up, Forman left his legal

career behind to join the entertainment

industry—and never looked back. Now

celebrating his 29th year in the industry—all

with Disney—the SVP of international

theatrical distribution is this year's

recipient of CinemaCon's Passepartout

Award, presented annually to an industry

executive who demonstrates dedication

and commitment to the international

marketplace.

Image courtesy Walt Disney Studios Motion Pictures

What are some of the lessons you

learned that still hold true today?

There are a few things I learned early on

that have helped guide me throughout my

career. First, don't pretend to be more than

what you are. Be real and genuine and

tell the truth; people are smart and can

sense dishonesty. You may get away with

it a few times, but it eventually catches

up with you. This ties in with the second

thing I still hold true, which is treating

people with the same respect that you

hope they would afford to you. No matter

the situation or the person, treat everyone

with dignity and take the high road. It is

always the path best traveled.

I've also found it incredibly helpful to

always be sensitive to culture. We live in

a big world, and what makes the world

so fascinating is seeing how people and

cultures are different, appreciating those

unique and amazing qualities, and then

trying to find the best business approach

and outcome to connect with people.

Are there any industry executives you

consider mentors?

I have had the good fortune of working

with some amazing people and leaders. A

few that really stand out for me are Kevin

Hyson, who was my first real boss in the

industry, and Mark Zoradi, one of the best

leaders I had the opportunity to work with

and learn from. And I currently work with

Cathleen Taff, who is an amazing leader.

She has opened my eyes and mind to a

whole new way of managing and working

within a complex organization.

You've been at Disney for nearly three

decades now. What have been some

of the highlights or milestones during

your tenure? What have been the

biggest changes in the industry since

you began?

One of the highlights for me was building

Disney's Asia distribution organization, a

real milestone for us. During my time here,

I've also had the incredible opportunity to

support the integrations of Pixar, Marvel,

Lucasfilm, and 20th Century Studios and

the amazing content these studios create.

There have been a number of big

changes in the industry since I started,

136 April 2020
---
"In this day and age, you need

to make a really compelling,

fresh, and interesting film

where people can care about

the characters and relate

and connect with the story.

Anything else just doesn't cut

it anymore."

but the first that comes to mind is the

switch from 35-millimeter film to digital.

It not only improved the viewing quality

and experience for the consumer but also

made it much easier to get the film out to

the theaters.

Another area is marketing—the power

of digital and social media has enabled

us to market more efficiently, but it has

also changed the nature of word of mouth.

We really have a lot more marketing tools

and levers now, and that means we can

constantly be adjusting and improving

our strategy.

And then there's the evolution of

formats and theaters. The sheer variety

of options the customer has to see a

film—from Gold Class to dine-in theaters,

from Imax and Dolby Cinema, from 4-D

to ScreenX—has raised the bar for the

moviegoing experience.

Which releases stand out as

highlights in your career?

There have been so many amazing films I

have had the honor and privilege to work

on, it is hard to pick just one. Releasing

The Lion King in China, our first release in

this market, was very rewarding. Releasing

Star Wars: The Force Awakens: The last

Star Wars film had released 10 years

earlier, and there was so much pent-up

demand and excitement around the film.

It was a real amazing moment. The other

film that had a similar amount of fan

enthusiasm and intensity was Avengers:

Endgame. It was the conclusion of a

cumulative story over 21 prior films, and

the intensity and excitement around the

film was something I will never forget.

Both Star Wars: The Force Awakens and

Avengers: Endgame really connected with

a global audience, becoming the No. 4 film

and No. 1 film of all time respectively.

Disney is coming off a major year

in its history. You made it look easy,

but nothing is ever that simple in

distribution. What have been some

of the keys to the studio's global

success?

There are a number of key elements that

have helped shape this past year and

enabled us to achieve the kind of box

office results we had. First of all, quality

always wins out. In this day and age, you

need to make a really compelling, fresh,

and interesting film where people can

care about the characters and relate and

connect with the story. Anything else just

doesn't cut it anymore. And we also focus

on making films that you need to see and

experience on the big screen. We have this

great content coming from our collection

of recognized and appreciated brands,

which are among the most respected in

the world, and we have been consistent

and deliberate in our approach to building

brand loyalty and trust with the consumers,

which makes a difference when we go

to launch a film. We keep our consumers

top of mind, not only in terms of the

quality of the film but also marketing it in

an attention-grabbing and relatable way

and making sure they can experience it at

the best cinemas.

And then we obviously couldn't do

this without great teams and great people.

Films come and go, but it is really our

people—their passion, dedication, and

effort—that make the difference. It's the

ultimate team sport, and we only can

succeed when we are all working together.

The last piece of the puzzle is our partners,

who join us on this journey and work

closely with us to maximize each film to

its fullest potential.

We all know about China's impact

on the global market. Do you see

other emerging markets that could

be important players in the coming

years?

Indonesia is a fast-developing market

with the fourth-largest population in the

world, a growing economy, and some

great theaters with hopefully more on the

way. Both Vietnam and Central Eastern

Europe show potential for continued

growth, along with the Middle East—including

Saudi Arabia—which holds

promise for sustainable growth as well.

India, Pakistan, and Bangladesh all have

huge populations with opportunity for

sustained growth, and they already have

strong film-going cultures.

Do you have a favorite moviegoing

moment you'd like to share?

For me, it has to be watching Pearl Harbor

right in Pearl Harbor for the U.S. premiere,

and then attending the Japanese

premiere for 25,000 people at the Tokyo

Dome. It was truly a moment in time I will

always remember.

April 2020

137
---
CINEMACON CIBOA AWARD

COMSCORE

INTERNATIONAL

BOX OFFICE

ACHIEVEMENT AWARD

THE WALT DISNEY

STUDIOS

BY CHRIS EGGERTSEN

The Walt Disney Studios grossed

a combined $13.15 billion globally

across its Disney and 20th Century Studios

releases in 2019, a number that includes

$4.33 billion in North America and $8.82

billion overseas.

Among Disney titles alone, the studio

topped the $11 billion mark ($11.12B)

worldwide for the first time in industry

history, far surpassing the previous record

of $7.6 billion set by the studio in 2016.

(This is the third time Disney has crossed

$7 billion globally.) In fact, Disney's

non–20th Century Studios releases in

2019—which include the Marvel Cinematic

Universe, the Star Wars franchise,

and Pixar—nearly matched the studio's

previous global record in international

grosses alone, bringing in a total of $7.35

billion for the year. The previous international

record, set by Disney in 2016, was

$4.6 billion.

A record six Disney movies released in

2019 crossed $1 billion globally during the

calendar year: Captain Marvel ($1.13B),

Avengers: Endgame ($2.79B), Aladdin

($1.05B), Toy Story 4 ($1.07B), The Lion King

($1.66B), and Frozen II ($1.26B, with the

film still in theaters as of the end of the

year). Meanwhile, Star Wars: The Rise of

Skywalker earned $815.7 million in the last

15 days of the year; in the months since, it's

become the seventh Disney title released

in 2019 to cross the billion-dollar mark.

All on its own, Marvel Studios enjoyed

three of the five highest-grossing titles

worldwide in 2019 with Avengers: Endgame,

Spider-Man: Far From Home ($1.13B,

Daisy Ridley in Star Wars:

The Rise of Skywalker

DISNEY'S BIGGEST

HITS OF 2019*

Avengers: Endgame The Lion King Frozen II

*All numbers and rankings

represent box office figures

as of the end of 2019

$858.4M

$2.79B

global

$1.94B

$543.6M

$1.66B

global

$1.11B

$435.2M

$1.26B

global

$825.3M

Domestic

International

Highest-grossing film of

all time globally

Second highest-grossing

film of the year globally

and domestically

Second highest-grossing

animated film of all time

globally

138 April 2020
---
Image courtesy Walt Disney Studios Motion Pictures

released by Sony), and Captain Marvel.

Disney also released seven of the nine

top-grossing films of the year globally.

Disney's global yearly grosses in 2019

also included Maleficent: Mistress of Evil

($490.7M global) and Dumbo ($353.2M

global), and 2018 releases Ralph Breaks

the Internet ($175.5M in 2019) and Mary

Poppins Returns ($164.8M in 2019). The

studio also nabbed $136.5 million from the

international release of Glass (released by

Universal domestically).

Other industry records posted by

Disney in 2019 include the highest-ever

yearly box office in Europe, the Middle

East, and Africa (EMEA) with $2.75 billion;

the highest-ever yearly box office in Latin

America with over $1.09 billion; and the

highest-grossing title ever in the Asia

Pacific region with Avengers: Endgame.

Disney saw worldwide grosses of $2.03

billion combined between 20th Century

Studios and Searchlight Pictures releases

in 2019 ($563.5M domestically, $1.47B

internationally). Globally, the top 20th

Century Studios releases of the year were

Alita: Battle Angel ($404.9M), Dark Phoenix

($253.1M), Ford v Ferrari ($202.6M), and

Ad Astra ($127.6M). The studio also took

in $148.5 million from the international

release of Terminator: Dark Fate (released

by Paramount domestically), $59.2 million

from the animated comedy Spies in Disguise

(released Dec. 25), and $197.2 million from

Bohemian Rhapsody, which earned north of

$900 million globally beginning in 2018.

The studio notes that while it maintained

separate tallies for Disney and

20th Century/Fox grosses in 2019 (given

that Disney's acquisition of Fox occurred

partway through the year), grosses for the

two studios will be combined in 2020.

Captain Marvel Toy Story 4 Aladdin Star Wars: The Rise of

Skywalker

$426.8M

$1.13B

global

$702.9M

$434M

$1.07B

global

$640.1M

$355.6M

$1.05B

global

$695.4M

.8M

$407

$815.7M

global

$407.9M

Fifth highest-grossing film

of the year globally

Sixth highest-grossing

film of the year globally

Eighth highest-grossing

film of the year globally

Ninth highest-grossing

film of the year globally

April 2020

139
---
Congratulations

Bill LeClair

Recipient of the 2020

NAC Bert Nathan Award

140 April 2020
---
CINEMACON NAC BERT NATHAN AWARD

F&B VIP

National Amusements' Bill

LeClair Earns an NAC Salute

BY KEVIN LALLY

Image courtesy National Amusements

Bill LeClair, senior vice president of

global food and beverage at National

Amusements Inc., was honored this past

October with ShowEast's highest accolade,

the Dan Fellman Show "E" Award, along

with his N.A. colleagues Mark Walukevich

and Duncan Short. And the honors keep

rolling in: At CinemaCon, LeClair will

accept the National Association of Concessionaires'

2020 Bert Nathan Memorial

Award, which recognizes leadership

and significant accomplishments in the

theater concessions industry.

A 40-year veteran of National

Amusements' Showcase Cinemas, LeClair

started there as an usher in 1977, working

his way up to assistant manager. He left

the circuit for three years to work as a

union projectionist, then returned in

1983 as a manager based in the Boston

area. In 1989, LeClair was promoted to

director of the operations department,

overseeing more than 100 locations. In

1997, he joined the food and beverage

team and helped introduce in-seat dining

and alcohol service at Showcase Cinemas.

He also helped Brazil's UCI Cinemas

expand its food menu when that circuit

was acquired in 2005. Today, he oversees

food and beverage operations for more

than 915 screens in four countries. He is

also on the executive board of NAC and is

a longtime member of Theatre Owners of

New England.

LeClair views expanded F&B as the

biggest change he's seen in the last few

years. As he told Boxoffice Pro last

fall, "When I first started in the cinemas,

we sold popcorn, soda, and candy.

Nowadays we have full kitchens in some

locations, where we sell burgers and fries,

steak tips, and lobster. We have full lobby

bars in most locations. Some theaters

have restaurants in them, others have

coffee shops."

The veteran executive is proud of the

National Amusements team, "who make

my job so much fun every day."

What are the biggest challenges of

today's F&B service in cinemas?

I think the biggest challenge is just to keep

it simple. Operators that add full kitchens

and new facilities have a tendency to add

all kinds of menu items simply because

they can. I have found that keeping the

menu smaller while focusing on items that

are trending popular is the way to go. At

the end of the day, whatever you offer on

the menu needs to sell. The key is to use

quality ingredients and create dishes that

look and taste delicious.

What food offerings have really taken

off in recent years?

Offering adult beverages in cinemas over

the past few years has really taken off and

will continue to grow.

What do exhibitors who are thinking

of adding alcohol service need to

know?

The path to success here is knowing the

rules and regulations of each municipality

you are considering for liquor service

before you pursue the license. Each state,

each county, and often each city or town

has a unique set of rules that you'll need to

follow. Being prepared is key.

What's the biggest issue you deal

with in your role on NAC's executive

committee?

NAC deals with a variety of issues. In

recent years, government relations has

really emerged as one of the biggest

areas of focus. Knowing about all of the

proposed changes taking place in each of

the states, cities, and towns is challenging.

From regulations around plastic straws to

rules around trash recycling and composting

to menu labeling and calorie posting,

we are continuously looking at the impact

to our business and finding solutions to

overcome the challenges. Each year, NAC

also puts together a very informative

Concessions and Hospitality Expo, where

buyers and sellers come together to craft

their vision for the future of the industry.

What does this NAC honor mean to

you?

Receiving the Bert Nathan Award is truly

an honor to me. To be recognized by my

peers from within the concession industry

means so much to me. I look at the list of

previous recipients and what they have

done for the industry and it astonishes me

to even think of my name on the same list.

I am truly grateful.

Finally, what are your favorite snacks

when you watch a movie?

For me, a large popcorn and Diet Coke are

a must.

April 2020

141
---
Congratulations

To The CinemaCon

2020 Award

Winners!

NATO Marquee Award: Adam Aron, AMC Theatres

Global Achievement in Exhibition: Renana Teperberg, Cineworld

Passepartout Award: Jeffrey Forman, Disney

NAC Bert Nathan Award: Bill LeClair, National Amusements

Comscore International Box Office Achievement Award: The Walt Disney Studios

Triumph Award: Mike Ellis, Motion Picture Association

Excellence in Event Cinema Award: BTS World Tour Love Yourself in Seoul - Pathé Live.

BOOST ticketing, Apps & Marketing from the

team that already manages your showtimes.

company.boxoffice.com

info@boxoffice.com
---
CINEMACON EXCELLENCE IN EVENT CINEMA

GIANTS OF

K-POP

Pathé Live Sets a New Standard

for a Global Event-Cinema

Release with BTS World Tour

Love Yourself in Seoul

BY DANIEL LORIA

INTERVIEW WITH THIERRY FONTAINE,

Chief Executive Officer, Pathé Live

Pathé Live's record-setting global release

of the Korean boy band concert

film BTS World Tour Love Yourself in Seoul

in January 2019 turned into the largest

worldwide single-day event-cinema

release at the time, reaching 4,162 cinemas

in 105 countries. The scale of its release

was big enough to bring in $11.7 million

from 1.2 million admissions worldwide. It

fared particularly well in the United States,

where it earned over $2.8 million from

1,002 locations and claimed an impressive

per-screen average of $2,869 in its original

one-day run. BTS encore events for BTS

World Tour Love Yourself in Seoul helped

the film finish its theatrical run with a

global box office haul of $14.8 million. The

event is being honored at CinemaCon

2020 with the Excellence in Event Cinema

Award. Boxoffice Pro spoke with Pathé

Live CEO Thierry Fontaine about the film's

record-setting release.

How did you first hear about BTS? Did

anyone at Pathé Live need convincing

that this would be a global hit?

My niece introduced me to BTS in 2016;

I had no clue who they were back then. I

started listening to them and watching

them perform. I was blown away. In May

2018 we started talking to Big Hit Entertainment

and went to see them perform

at the Staples Center in L.A. The team at

Big Hit saw right away the opportunity

in extending the concert experience to

cinemas: reaching out to fans who wanted

to relive their experience of the tour, those

who weren't able to get a ticket, and those

who couldn't make it because the band

didn't play anywhere near them.

How did you go about promoting and

marketing this event globally? What

were some of the challenges? Is this

the biggest-scale event the company

has been involved in when it comes to

event cinema?

This is indeed the biggest-scale event we

have been involved with. Fortunately, BTS

has such a great connection with their fans

worldwide and benefit from a tremendous

following on social media, and thus

these platforms were at the center of our

marketing strategy. We wanted this to be

a weekend-only event. We wanted fans

to enjoy their favorite band all together

in packed auditoriums. We could not

have achieved this success without the

involvement and full support of our local

distribution partners and all the exhibitors

around the world.

This event also held encore

screenings in the panoramic screen

technology ScreenX in 15 territories,

the first of its kind. Do you believe

there is big potential in incorporating

new technologies in event cinema?

Indeed, these formats offer great potential

for event cinema by enhancing the theatrical

experience in terms of quality and

immersion. It also definitely helps differentiate

it from the experience of watching

content alone at home and creates an

additional incentive to make people come

out to their local theater.

What are Pathé Live's plans and

ambitions in the event-cinema sector

for 2020 and beyond?

Our plans for now include the current and

upcoming season of our Bolshoi Ballet and

French National Theatre series, while we

are talking to some international artists

for potential future one-off events. For

the first time, we are also producing and

distributing the filmed exhibition A Night

at the Louvre: Leonardo da Vinci, to be released

worldwide this coming September.

This is the first time the Louvre has accepted

someone to film an exhibition. It's been

visited by more than 1 million people. It

won't just be another art documentary, but

rather a real private guided tour at the first

museum in the world around the biggest

artist of all time.

Courtesy Pathé Live

April 2020

143
---
To all of the

2020 CinemaCon

Award Recipients

Especially:

CinemaCon NATO Marquee Award:

Adam M. Aaron, AMC

Entertainment

CinemaCon NAC Bert Nathan Award:

Bill LeClair, Showcase

FROM YOUR FRIENDS AT

We Make The Brands You Love TM
---
CINEMACON GLOBAL ACHIEVEMENT IN EXHIBITION AWARD

GLOBAL ACHIEVEMENT

IN EXHIBITION AWARD

RENANA TEPERBERG

2019 was a big year for Cineworld, as

the U.K.-based chain—which acquired

the Regal Entertainment Group in

2018—announced its intention to acquire

Cineplex, Canada's leading theater circuit.

Vital to Cineworld's activity on the mergers

and acquisitions front is chief commercial

officer Renana Teperberg, who is this year

receiving CinemaCon's Global Achievement

in Exhibition Award.

Appointed to Cineworld's board of

directors in 2018, Teperberg has been a

part of the larger exhibition family since

1997, when she started as a cashier at

Cinema City International, which operated

theaters in Central and Eastern Europe in

addition to Israel. Teperberg subsequently

climbed the ranks, becoming a general

manager before moving to the head office,

where she was eventually named head

of programming and marketing. In 2014,

Cinema City International was purchased

by Cineworld; it only took a few years

for Teperberg to be named senior vice

president of commercial and, then, chief

commercial officer, a position she was

promoted to in 2016.

Since that time, Teperberg has proved

to be a key player, not just in Cineworld's

acquisitions of Regal and its pending

acquisition of Cineplex but in Regal's

adoption of CJ 4DPlex's 4DX and ScreenX

immersive entertainment formats.

Renana Teperberg (Right) at

CinemaCon 2018. Photo by Daniel Loria

C:100 M:60 Y:0 K:0

April 2020

145
---
CINEMACON NATO MARQUEE AWARD

Image courtesy AMC Theatres

LEADING

THE WAY

Adam Aron Guides

AMC Theatres through a

Transformative Period as the

Company Enters Its Second

Century in Operation

BY DANIEL LORIA

INTERVIEW WITH ADAM ARON,

Chief Executive Officer and President,

AMC Theatres

Adam Aron came to the helm of

AMC Theatres, the largest exhibition

circuit in North America, in 2016, after

a career that included executive-level

tenures at some of the world's most

prominent entertainment companies.

Aron's leadership history includes stints

at top hospitality brands (Starwood Hotels

and Resorts, Norwegian Cruise Line, Vail

Resorts) and the NBA's Philadelphia 76ers.

Aron's tenure as AMC's chief executive

has coincided with the circuit's ambitious

expansion, domestically and internationally,

overseeing a multinational network of

more than 1,000 cinemas. Boxoffice Pro

spoke with Aron ahead of CinemaCon 2020

in a conversation that covered the circuit's

continued growth and latest innovations.

How would you sum up 2019 for AMC?

The box office in 2019, both domestically

and globally, was yet another strong sign

that movie theaters and the theatrical industry

continue to thrive. Globally, it was

another record-setting year. Domestically,

even as it's being reported as a soft year,

it was still one of the largest box offices

in the history of moviegoing, and we

saw the unprecedented shattering of the

opening-weekend box office performance

with Avengers: Endgame. Last year, just in

North America, more than 1 billion movie

theater tickets were sold across all exhibitors

to watch movies in theaters. A billion.

What 2019 demonstrated is that there is

still a very healthy interest and preference

among consumers to watch their movies

in a movie theater.

A lot of AMC's innovations these last

four years have been on the digital

front. From a new website and app to

Stubs and mobile food and beverage

ordering—what's the role of digital in

AMC's future?

What we're seeing in the theatrical

industry is not too different from what

you're seeing in all areas of retail. More

and more, people are doing their shopping

and buying online, and AMC has benefited

greatly from identifying that trend early

on and working diligently to capitalize

on it. Consider that in 2009, fewer than

5 percent of AMC's ticket sales occurred

online. By the end of 2019, more than 50

percent of all ticket sales are occurring

online. That's a remarkable rise over the

course of a decade, and a lot of that rise

is due to AMC making the online process

more accessible and convenient for our

guests. You can find showtimes online,

buy your ticket online, reserve your seat

online, and in a lot of areas buy your

snacks online so they're waiting for you

when you arrive. The amount of growth

and innovation just in the last four or five

years, and the success we've seen as a

result of that, is a good indicator that we'll

continue to have our focus on digital as we

move forward.

While on the topic of innovations,

which trends do you believe will be

most influential in the coming years?

Certainly first and foremost, the widespread

growth and acceptance of AMC

Stubs A-List is having a huge impact on

moviegoing in the United States, and we

anticipate that will continue. Less than

two years after launching the program,

we continue to have between 900,000

and 1 million paid members, and A-List

members currently represent between 15

and 20 percent of our total U.S. admissions.

So it hasn't just met my expectations; it's

continued to exceed expectations. A-List

is now one of our most vital and impactful

marketing programs. It contributed more

than $20 million of incremental operating

income to AMC in 2019, way ahead of our

earlier announced expectations and a full

year ahead of our expectations described

during the launch of the A-List program

April 2020

147
---
C:100 M:60 Y:0 K:0

148 April 2020
---
CINEMACON NATO MARQUEE AWARD

"The team at NATO and

CinemaCon, as well as our

volunteer exhibitor board

members, are thrilled that

2020's Marquee Award will

be presented to Adam Aron,

on behalf of AMC. AMC is the

largest exhibitor in the world

as it celebrates its 100th

anniversary. We are grateful

for the dedication and

leadership Adam gives not

just to his top-notch team at

AMC, but also to the industry

at large."

—John Fithian, National

Association of Theatre

Owners

back in 2018. We expect even more from

A-List in 2020. It's increased loyalty to

AMC and it's benefited our theaters, our

studios, and our premium-format partners.

Another big innovation we've seen

from AMC is in pricing. Yes, you offer

premium tickets at premium prices,

but you also have discount Tuesdays

for price-conscious consumers and

subscription for your regulars. What

have these price points done for the

circuit?

Pricing is an area we've given a great deal

of thought to in the last few years, and

we've put in several different strategic

pricing initiatives throughout our circuit.

For example, our discount Tuesday program

has turned Tuesday into one of the

busiest days of the week at AMC. And early

returns on our blockbuster pricing test,

which launched last summer in a handful

of major cities across the country and has

expanded from there, are doing very well,

and our experimenting with blockbuster

pricing will continue. I learned a long time

ago that talking about future pricing plans

is not only a bad idea, it's illegal, but I can

say that given our success in the area of

strategic pricing, there's certainly more we

can learn and try going forward.

In terms of expansion, would you

say AMC is currently more interested

in expanding its screen count—

domestically or internationally—or

expanding some of its concepts like

PLF, dine-in, and recliner seating to

more locations?

During the last decade, AMC has invested

billions both expanding our screen

count and invigorating the moviegoing

experience through highly popular and

successful theater renovations, all with

the goal of becoming the biggest and best

theatrical exhibitor in the world. We now

have a great deal of knowledge through

experience about what's proving to be

successful for our guests, our studio partners,

and our investors, and we'll continue

to focus on those areas of success. For

example, the types of returns we would see

after renovating in theaters in the United

States five or six years ago, we're now

seeing in Europe. Our European theaters

are responding to renovation and to the

installation of recliner seating with growth

rates 3.5 times that of the industry growth

rate generally in Europe. Approximately

40 of our theaters in Europe have recliner

seating installed now, and approximately

60 of our theaters in Europe should have

recliner seating installed by year-end 2020.

AMC has grown considerably over the

past decade—and so has the rest of

the industry. We've recently seen big

expansions from Kinepolis, Cineworld,

Cinemex, and Marcus in the domestic

market. How will this wave of

consolidation influence your strategy

in the coming years?

AMC is by far the largest movie theater

circuit in the United States. While we are

mindful of what our competitors are up to,

continuing on our own path of innovation

is far more important to AMC, as the

clear market leader, than worrying about

smaller circuits. Our goal is to blaze new

trails and let others worry about us.

What do you believe are the biggest

challenges and opportunities facing

exhibition in the next decade?

I could not be more confident about AMC's

future, and the future of the theatrical

industry. When you look at the history

of cinema, there's always been the next

challenge to the industry. Whether it was

television, cable TV, VCRs, Blu-ray, video

on demand, or streaming, there have

always been those who will question the

viability of the industry. But even with

all of that discussion, the last five years

at the U.S. box office have produced the

five biggest box office totals in history.

And even when we've seen a soft year, as

we did in 2014 and 2017, we also saw the

following year come back to set a new box

office record. There will always be ebbs

and flows in the industry, but we believe

the future of the theatrical industry is as

strong as it's ever been.

April 2020

149
---
FROM THE ARCHIVES | AMC

CELEBRATING ITS CENTENNIAL IN 2020, AMC ENTERS ITS SECOND CENTURY AS THE LARGEST

EXHIBITION CIRCUIT IN THE UNITED STATES. IN 2019, THE CIRCUIT CROSSED

THE 900,000-SUBSCRIBER MARK FOR ITS STUBS A-LIST LOYALTY PROGRAM,

WHICH INCLUDES A POPULAR SUBSCRIPTION PLAN FOR FREQUENT USERS.

BELOW, A COVER (AUGUST 1990) AND PAGES FROM BOXOFFICE PRO (1988-90),

INCLUDING AMC'S INCLUSION IN BOXOFFICE PRO'S

FIRST GIANTS OF EXHIBITION LISTING (1988).
---
Anniversary 152 | Tech 162 | Cinema Showcase 166

THEATER

Image courtesy CGR Cinemas

While the rise of online streaming is not necessarily a

direct threat to cinemas, it provides yet another rationale

for cinemas to stay on top of their game.

Premium-Large Format, p. 162

April 2020

151
---
THEATER ANNIVERSARY

CINEMA

CENTENNIAL

Boxoffice Pro Goes Behind

the Scenes with AMC as It

Enters Its Second Century

BY REBECCA PAHLE

152 April 2020
---
Image courtesy AMC Theatres

In the hundred years since what is

now known as AMC Theatres began

operation in Kansas City, Missouri, the

movie theater industry has changed quite

a bit. Over the decades, we've gotten

sound and color, concessions and comfy

seats, wide screens and curved screens

and screens that are just plain huge. But

one thing, according to AMC executive

Elizabeth Frank, has stayed consistent

throughout AMC's entire triple-digit

history: A focus "on bringing movie lovers

in neighborhoods across the country

entertainment experiences that they love.

It begins and ends with the consumer."

AMC enters its second century in the

position of being the market-share leader

in the U.S., in terms of both box office and

screen count. Its 2016 acquisition of

Odeon & UCI Cinemas put the chain in

Europe; the following year, it acquired

the Nordic Cinema Group, increasing its

European presence to a dozen-plus countries.

In 2018, AMC became the first chain

to open a movie theater in Saudi Arabia

following a decades-long ban on theaters

in the country.

With technology that was hardly

imaginable when the doors of Kansas

City's Regent Theatre opened for the

first time in 2020, and a desire to please

the moviegoing public that has hardly

changed at all, AMC brings a diverse

approach to giving consumers what they

want. But the consumer isn't a monolith,

as Frank well knows. As AMC's executive

vice president, worldwide programming,

and chief content officer since 2010, she

has overseen a diversification of AMC's

programming in terms of both the films

that are screened and how they are

presented to the customer.

On the latter point: Frank expresses

pride in AMC's investment in premium

formats over the last decade. It was the

first major exhibitor to put big money

behind Imax, opening approximately 125

Imax theaters in 2007. Thirteen years

later, Frank says, AMC is "now the leading

Imax exhibitor, both across the country

and around the world." In 2009, AMC

partnered with Sony and RealD to bring

3-D technology to its theaters; in 2015, it

partnered with Dolby for the premium

large-format offering Dolby Cinema.

"We've committed to technology that's

enhanced the experience," says Frank.

"We've also committed to using back-office

technology to mine our loyalty program

April 2020

153
---
THEATER ANNIVERSARY

GLOBAL

PRESENCE

15

Countries across North

America, Europe, and the

Middle East

1,000+

Theaters

Image courtesy

AMC Theatres

11,000+

Screens

and all of our sales data to best understand

demand and serve up to consumers the

movies that interest them most at the

showtimes that are most convenient

for them." A core component of AMC's

programming strategy is "lean[ing] into

the opening weekend of a blockbuster,"

says Frank, by "focus[ing] on a variety of

premium formats and very convenient

showtimes." Showtimes, in this case, must

be frequent, convenient, and "scheduled

theater by theater to make things most

relevant and compelling for that neighborhood

of consumers."

But a movie lives on after its opening

weekend—and it's not only blockbusters

that audiences want to see. In the decade

that Frank has been with AMC, the chain

has grown its international programming

by a "tremendous amount," screening

"Bollywood and Mandarin [films], Spanish-language

films, Korean and Filipino

films" to relevant markets. The demand for

these films is there, says Frank, particularly

in university towns, where demographic

shifts bring in populations from outside

the United States. Even outside those

towns, she says, "We see demographic

shifts in our communities, because of the

melting pot in America."

With modern technology at its disposal,

AMC is able to give the melting pot the

movies it wants. "Digital gave us the opportunity

to bring in content more cheaply"

and eased the burden on international

distributors of physical print distribution.

Similarly, as showtimes gravitated online,

it became easier for consumers with niche

interests to find when and where their

films were playing.

More recently, in analyzing data pulled

from ticket sales and AMC Stubs loyalty

card membership, AMC has been able to

more effectively market specialty films

directly to the audiences who want to see

them. On any given weekend, Frank explains,

95 percent of the push notifications,

email blasts, and digital advertising AMC

sends out might be devoted to a handful

of blockbuster films. "But 5 percent [will

be] targeted very directly at people who

are interested in a Korean film or who are

interested in a documentary. That's the

movie they most want to see."

Vital to AMC's ability to offer a broader

array of films has been its practice of

dynamic scheduling, by which theaters

optimize how many showtimes there are

for a given screen and how they're

spread out throughout the day. In a 2019

investment call, AMC CEO Adam Aron

touted dynamic scheduling's role in

cutting down on showtimes by 4.1 percent

in the U.S., even as attendance broke Q3

records. "This dynamic scheduling cuts

both ways, though," Aron noted. "Getting

smarter about knowing when to cut showtimes

in the off-peak means we also are

STANLEY H. DURWOOD

(August 5, 1920–July 14, 1999)

A second-generation

exhibitor, son of Durwood

Theatres founder Edward

Durwood, Stanley Durwood

came back from serving

as an Air Force lieutenant

in World War II to lead the

family business during its most

transformative period. In 1960,

the Harvard graduate and war

veteran was named president

of the company, changing

its name to American Multi-

Cinema (AMC) early in his

tenure. Durwood introduced

a host of innovations to the

exhibition business in the

ensuing years, establishing

AMC Theatres as one of the

most innovative circuits in the

industry's history.

154 April 2020
---
getting smarter about adding showtimes

in the peak."

When dynamic scheduling isn't used,

says Frank, a 10-screen theater might play

six or seven titles at a time. "When we

think more dynamically, more flexibly,

about programming, we may have 20 titles

that are on the menu" that same weekend—say

a six-week-old family title in a

screen's matinee slot when there's demand

for it, followed that night by "a little

avant-garde horror film" that few people

are probably lining up to see at 11 a.m.

In the near future, "I think we're going

to see more inclusive programming,"

says Frank. "We're going to see both the

creative community and the exhibition

community bring a wider diversity of

content to audiences both across the U.S.

and around the world." Part of AMC's

current strategy of diversifying its slate

involves its AMC Artisan Films program,

which counted among its 2019 releases

the Oscar-winning Joker. Frank cites the

film as a prime example of cooperation

between AMC and its studio partners.

Working together with Warner Bros.'

marketing department, she explains, the

chain was able to get granular, using data

to promote Joker differently to different

audience segments depending on their

past moviegoing behavior—the moviegoers

who show up to every superhero movie,

for example, or the more "demanding film

audience" that might be attracted to the

film's tackling of "social issues."

Data was a factor in one of the biggest

AMC stories of last decade: the launch (in

June 2018) and subsequent massive growth

of subscription program A-List. The program

was in active development for a year

before it was finally rolled out to the public,

though AMC's executive vice president and

chief marketing officer Stephen Colanero

notes that "we'd been wanting to do it for a

while, even before then."

Those early conversations involved

deciding whether A-List would be a part of

"We're going to see both the creative community and the

exhibition community bring a wider diversity of content

to audiences both across the U.S. and around the world."

—Elizabeth Frank, Executive V.P., Worldwide Programming

and Chief Content Officer

Excerpt from "ShoWester of

the Year," Boxoffice, May 1996

Since joining his family's

Durwood Theatre circuit after

World War II, AMC chairman

and CEO Stanley H. Durwood

has dedicated his career

to improving and enlarging

upon exhibition standards.

Hailed by his contemporaries

as a visionary, he has helped

set the pace for exhibition

industry advancement for over

three decades. In doing so,

he has nurtured the growth of

the AMC chain to its current

position as one of the top

theatre circuits in America.

His efforts have won him the

ShoWester of the Year award,

which honors an individual who

has demonstrated a dedication

to the exhibition industry

throughout his or her career.

Durwood got his start at his

family's Durwood Theatres

circuit which his father, Edward

Durwood, founded in 1920.

After serving in World War II

as a lieutenant in the U.S. Air

Force, Durwood joined the

eight-theatre circuit. He rose

to president in 1960, taking the

opportunity to challenge many

industry standards. In 1960,

Durwood Theatres opened one

of the nation's first multiplexes—a

two-screen theatre in

Kansas City.

After changing the

circuit's name to American

Multi-Cinema (AMC), the

company continues to make

history, opening the world's first

shopping center multiplex in

1963, the first four-plex in 1966

and the first six-plex in 1969.

Other advancements included

the use of automated projection

systems, computerized

boxoffices, cupholder armrests,

a frequent-moviegoer program,

computer-aided theatre

designs, and a theatre-management

training academy.

Image courtesy National

CineMedia (NCM)

April 2020

155
---
THEATER ANNIVERSARY

the AMC Stubs loyalty program or whether

it would, for simplicity's sake, stand as its

own service. Eventually the decision was

made that A-List would be the highest

tier of Stubs membership; the logic being,

Colanero says, that A-List subscribers, as

AMC's best customers, should get the best

treatment, including all the benefits of

Stubs' paid Premiere tier.

"From the data perspective," explains

Colanero, the existence of AMC Stubs

gave the AMC team a "rich database" of

customer information that "enabled us

… to identify which of our guests would

benefit from the A-List program and to be

able to share communications with them

at a level that maybe we didn't with the

broader audience. … And [it] enable[d]

us to communicate more directly and

more quickly with an open, interested

audience that was looking for more from

AMC. We were able to make that connection

pretty quickly."

That targeted, data-led approach meant

that, ultimately, the digital and in-theater

marketing plan for A-List could be "pulled

back" soon after the launch; so many

signed up so quickly that "we didn't need

to lean too extensively on any marketing

to drive that membership." In the nearly

two years since its launch, A-List now has

more than 900,000 members.

From a technical perspective, the years

AMC has spent building up "our skill set,

our tools, our capabilities" with AMC Stubs

gave the company "the platform to be able

to accomplish what we were able to do with

A-List, because we had the infrastructure

ready to back it up and to deliver what we

knew guests wanted and valued, without

burdening the program with things that

they didn't value," says Colanero.

Valuable resources, too, were AMC's

compatriots on the other side of the pond:

Image courtesy

AMC Theatres

100 YEARS

OF AMC

Courtesy of AMC

Theatres

1920

Maurice, Edward,

and Barney Dubinsky

purchase the Regent

Theatre in Kansas

City, Mo.

1961

Stanley Durwood

becomes CEO of

the company and

renames it American

Multi-Cinema.

1962

AMC opens the

world's first multiplex,

the Parkway Twin in

Kansas City.

1981

AMC becomes the first

theater chain to add

cup-holder armrests.

1991

AMC introduces Clip, a

filmstrip character, to

serve as an ambassdor

of the brand and its

Silence is Golden

program.

156 April 2020
---
The U.K.'s Odeon had already launched

its own subscription service by the time

it was acquired by AMC in 2016. "We went

to school on that to understand what

had happened when they launched it,"

Colanero reflects. "We really had kind of

a laboratory over in the U.K. that gave us

key learnings of what we should be trying

to do. Once we had an idea of what it was

we wanted to be able to deliver to the

guests, we took our time to ensure quality

of service, that when it launched the

mobile app, the infrastructure, the theater

experience, all of those things would

work. Because we really wanted to create

a good, positive first impression. So many

different teams worked on it across AMC,

and they were able to pull it off and really

deliver that for the guests. It was a really

solid, successful launch."

For Frank, AMC's move into international

markets helped the chain achieve

more innovations in programming—both

in the U.S. and internationally. "I think

that our presence in the U.S. and our deep

relationships in Hollywood do create more

content access" for the smaller European

companies in which AMC operates, she

explains. At the same time, some of these

international markets "are innovating in

ways that we can learn from." She cites an

international territory that had success

with a girls'-night-out program, a concept

that was taken back to the U.S. and introduced

at around 200 theaters. Going in the

other direction, AMC has taken the idea for

its sensory-friendly screenings, launched

in 2009 in collaboration with the Autism

Society, to its overseas counterparts. Frank

is clear that the U.S. team did not issue a

fiat that "'Everyone should do this.' It's:

'Here's an idea.' And our different territory

heads, led by our programming team in

London, are saying, 'Where's the demand

1995

AMC opens the world's

first megaplex. This

innovative destination

also inspires AMC to

install stadium seating

and love-seat seating.

2000

AMC co-founds online

ticket services to add

convenience to even the

busiest AMC theaters

like Empire 25 in New

York City, which is recognized

as the busiest

theater in the world.

2002

AMC becomes the

first theater chain

to introduce the

circuit-wide gift card.

2005

AMC Theatres

co-founds cinema

advertising company

National CineMedia

(NCM).

2006

AMC expands its

presence throughout

the country with the

acquisition of Loews

Theatres.

2007

AMC partners with

Imax to bring approximately

125 Imax

large-screen digital

projection systems to

AMC locations around

the country.

April 2020

157
---
THEATER ANNIVERSARY

"It's important for us

to continue to build up

what [the AMC] brand

is and what it means to

consumers." —Stephen

Colanero, Executive V.P.

and CMO

Image courtesy

AMC Theatres

for that idea? Do we have a like-minded

group of people that we're serving who

would really embrace that?''

AMC's approach—absorbing ideas from

different countries, different companies,

even from different markets—also applies

to the world of food and beverage, which

at AMC is led by Jennifer Douglass. A

longtime AMC executive, Douglass first

started working for the company when

she was 16; currently she serves as its

senior vice president, food and beverage.

Her enthusiasm for AMC and its mission

does not appear to have diminished in the

intervening years.

For Douglass, one of the key elements

that have driven AMC's food and beverage

options till now—and one that will

continue to do so in the coming years—is

technology. In this case we're not talking

projectors, dynamic scheduling, or data-analysis

tools but the vast improvement

in food-preparation technology that has

allowed AMC to go from snacks and soda

to actual, fast-casual meals.

"It's so interesting, because 10 years

ago you really started to see a change,"

Douglass notes. Before, "if you wanted to

bake something … you had to invest in a

big industrial oven." Frying meant costly,

complicated equipment that wasn't all that

safe. AMC's adoption, around a decade

ago, of the TurboChef rapid-cook oven and

the ventless AutoFryer "unlocked so many

capabilities for us," setting the foundation

for their Feature Film menu. "Instead

of just refrying or reheating food that's

already been cooked, now we're able to do

more assemble-to-order food. To me, that's

been the greatest gift in the last 10 years.

It's really been the equipment technology

and how much things have gotten smaller

and more self-contained and easier for us

to execute at a theater level in a way that's

so much safer for our employees."

A boost in food and beverage technology

brought about, not so coincidentally,

a boost in expanded menu options for

AMC; in 2008, it launched its first dine-in

theater, a concept that has since been followed

by the MacGuffins Bar. "In the early

days of dine-in, we thought, well, is this

more of a college-town concept, and are

these college kids that want to come in? Or

is this a very upscale, premium experience

that's for a more sophisticated consumer?"

says Douglass. What they found instead

was that dine-in was successful across

demographics. "Everybody likes food, and

everybody has that same challenge" of

wanting to save time by combining dinner

and a movie.

Dine-in concepts and expanded menu

offerings are now firmly locked in, both

at AMC and across the North American

theater landscape. In 2019's Q3 earnings

call, Adam Aron credited "sharper focus

on innovation in the menu choices we

offer towards theater guests and strategic

pricing actions" with consistent growth in

food and beverage revenue. Still, the CEO

argued that AMC was still in the "middle

innings of capturing increased food and

2008

AMC launches dine-in

theaters. The concept,

which continues to

expand throughout

the United States,

allows guests to order

restaurant-style

food with the push

of a button, from the

comfort of their own

luxurious movie seat.

2009

AMC partners with

Sony and RealD to

implement digital and

3-D technology.

2009

AMC partners with

the Autism Society to

launch AMC Sensory

Friendly Films nationwide.

The program

allows children and

families to enjoy a

movie in a safe, accepting

environment

that allows talking,

yelling, singing, and

walking around.

2009

AMC opens its first

all-recliner seating

theater, AMC

Lakewood 12, dubbed

"The Miracle of

Lakewood."

2010

AMC acquires Kerasotes

Theatres and

expands its presence

in the Midwest.

2011

AMC launches its AMC

Stubs rewards program,

which provides

members with new

benefits like concessions

upgrades and

dollars back for every

dollar they spend.

158 April 2020
---
A DECADE

OF GROWTH

Strides Made by AMC

Theatres in Recent Years

Total Attendance

+73%

2018: 359 Million

2008: 208 Million

Total Revenue

+139%

2018: $5.5 Billion

2008: $2.3 Billion

Food & Beverage Per Patron

+49%

2018: $4.66

2008: $3.12

AMC Stubs Members

>7x

2019: 19 Million

2016: 2.5 Million

Image courtesy

AMC Theatres

beverage opportunities," and that in the

coming years he expects to see increased

food and beverage consumption in AMC

theaters in both the U.S. and Europe.

To Douglass, powering through the

"middle innings" and crossing home plate

means two things. One is technological

innovation: smaller equipment, with low

enough price points to make it worthwhile

for the circuit to install it in lower-volume

locations. Two is the merging of the traditional

concessions and dine-in operations,

both in terms of common menu items

and innovations like mobile ordering and

the ability to have food delivered to seats,

which increase the convenience factor for

customers. "We don't want to get too far

ahead of where the guest wants us to be,

but I think when those two worlds get more

integrated, that's probably what unlocks

more value for us and also for the guests."

Programming, subscription, technology,

food and beverage—all are part of

the AMC experience as well as the AMC

brand, which has positioned itself to be

recognized by moviegoers for many, many

years to come. "It's important for us to

continue to build up what that brand is

and what it means to consumers," says

Colanero. When AMC acquires a chain in

the U.S., for example, "we've taken the

time and expense to change the names of

all the buildings to be under the AMC logo.

Whereas that's not typically what

our competitors would do. But we now

have a unified footprint where every

building in America is under the AMC

brand." AMC, he notes, does not do this

internationally, where "we've acquired

stronger brands that resonate there. But

domestically, we've unified with the goal

of AMC [becoming] the national brand

leader that it is."

2012

AMC is acquired by the

Beijing–based Wanda

Group, which enables

funding to ensure a

massive escalation

of AMC's world-class

amenities, including

recliner seating, better

sight and sound

presentation, and

MacGuffins bars.

2013

AMC goes public on

the New York Stock

Exchange. NYSE: AMC

2015

AMC and Dolby partner

to create Dolby Cinema

at AMC, a premium

large-format experience

that includes Dolby

Vision laser projection,

Dolby Atmos sound,

and AMC's comfortable

power recliners.

AMC acquires

Starplex Cinemas.

2016

AMC announces it

will acquire Carmike

Cinemas.

AMC acquires Odeon

& UCI Cinemas, the

largest theater chain in

the U.K. and Ireland.

2016

AMC adds a free

tier to its AMC Stubs

program—AMC

Insider—to go along

with its popular paid

tier, AMC Premiere.

2018

AMC launches its

subscription program

A-List, as the highest

tier of AMC Stubs.

April 2020

159
---
THE WORLD'S MOST

EXPERIENCE ICE THEATERS ® IN VR

AT CINEMACON BOOTH #2615A

W W W . ICETHEA TERS. C O M
---
IMMERSIVE PREMIUM EXPERIENCE

ICE IMMERSIVE TECHNOLOGY I 4K RGB LASER PROJECTION I IMMERSIVE AUDIO I VIP SEAT
---
THEATER TECH

THE RISE

OF PREMIUM

LARGE FORMAT

2019 Records the Highest

Number of PLF Installs to Date

BY CHARLOTTE JONES,

Principal Analyst/Associate Director, Cinema

Omdia, from Informa Tech

162

April 2020
---
Premium large-format (PLF)

screens are now a mainstay of the

theatrical experience, with multiple formats

and brands increasingly coexisting

side by side in cinemas worldwide. A PLF

screen is a clearly differentiated premium

screen based on top-of-the-range technology;

it is, not least, a bigger and brighter

screen. Laser projection, enhanced sound,

HDR, and (4K) HFR 3-D are also among its

key attributes.

The total count of PLF screens reached

4,379 worldwide in 2019, eclipsing the

4,000-screen threshold for the first time

and showing a strong 18.6 percent increase

year on year. The net increase of 734 PLF

screens marks the largest annual hike

(up from 480 new PLF screens in 2018), as

global exhibitors boost investment in PLF

as a core part of their exhibition strategy.

The total equates to a relatively small

(2.2%) but increasingly significant proportion

of the world's digital screens, up from

1.9 percent a year prior, again highlighting

how PLF screens are being deployed more

quickly than regular screens.

China Continues to Lead on PLF

Asia Pacific was again the leading region,

accounting for a 46.4 percent share of the

total PLF screen base with over 2,000 PLF

screens, of which China accounts for the

vast majority, or over 75 percent of PLF in

the region.

China remains the largest PLF territory

globally, with 1,605 screens at the end

of 2019, ahead of North America's 1,366

screens. The majority, or 85 percent, of

all PLF screens in China fall under global

brands such as Imax, followed by CGS

(360) and ScreenX (98). Despite the dominance

of global brands, local exhibitor

brands are also gaining traction, including

StarX from BeStar (40 screens) using

EclairColor as an enabling technology, and

S-Plus from Hengdian Cinema.

The top five PLF territories were China,

the U.S., Canada, Brazil, and the U.K.,

with the U.K. (129) overtaking South Korea

as the fifth-largest in 2019. In the U.K.,

global PLF brands move into the lead with

a 51.2 percent share of the total PLF base,

with growth coming from CJ 4DPlex's

ScreenX brand, which doubled to 16

screens, and the launch of Dolby Cinema

in the territory.

Emerging Markets: The Next Frontier

for PLF Growth

There were 95 international territories

with at least one type of PLF screen in 2019

(including 53 territories that had more

than five PLF screens), as PLF continues

to gain a foothold in emerging cinema

markets, including the newly opened

Saudi Arabia. The wider adoption of PLF

screens throughout the Middle East in

2019 (e.g., Oman and Bahrain) followed

the launch of Cinépolis in the region and

the extension of other global brands like

CGR's ICE. Saudi Arabia had a total of

seven PLF screens out of a total screen

base of 129 at the end of 2019, equivalent

to a strong 5.4 percent share. UAE remains

the largest PLF market in the Middle East,

with over 25 screens, of which more than

one-quarter were Imax screens.

Exhibitor PLF Brands Expand

Total exhibitor PLF screens hit 1,712 in

2019, showing a healthy growth rate of 17.1

percent, only slightly below the larger 19.8

percent for global PLF. Among the new

PLF brands were BigPix from Inox, Xperience

from Muvi Cinemas in the Middle

East, and Cine Royal Plus, also from the

same region, among others. These and

other emerging brands underline the

Number of PLF Screens Worldwide 2014–2019

2014 2015 2016 2017 2018 2019

Total Number of PLF Screens 1,665 2,114 2,632 3,248 3,692 4,379

Global Brand Share % 45.3 53.0 56.6 59.2 60.0 60.6

Imax Kinepolis

Image courtesy Kinepolis

Source: OMDIA. Note: some 2019 data remains provisonal

April 2020

163
---
THEATER TECH

role emerging markets have to play in

the future direction of PLF brands and

associated technology investment.

Competition in the Global Brand

Market Intensifies

The market share of global brands reached

a new high, accounting for 60.6 percent

of total PLF screen base, a steady increase

from 60.0 percent in 2018 and 59.2 percent

in 2017. The enduring nature of best-inclass

premium experiences coming from

trusted and respected global brands such

as Imax and Dolby Cinema is behind the

rise, plus rising audience awareness of

novel formats such as ScreenX.

In the competitive global-branded

space, Imax remains the clear market

leader with a majority 57.7 percent share,

but it is a proportion that has been declining

over the past three years due to the

increased competition from other formats,

as well as the rising popularity of PLF in

general. CGS was the second-largest global

format (13.6%), followed by ScreenX (11.4%)

and Dolby Cinema (9.1%).

Imax had 1,529 theaters spanning 81

territories at the close of 2019, marking

a rise of 8.5 percent from 2018; emerging

markets such as Africa and the Middle East

as well as China (702 screens) are its fastest

growth regions. Dolby Cinema had 243

installations worldwide in 2019, including

expansion into China, UAE, and Japan in

2018 and Russia and the U.K. in 2019.

ScreenX was one of the fastest-growing

formats, rising by over 50 percent to 305

screens in 33 international territories

Image courtesy Cinity

in 2019, up from 199 in 2018. ScreenX

Amphitheater was also launched as a

new variant with B&B Theatres in the U.S.

RealD gained further traction in China

through the setup of the RealD Cinema

brand, alongside RealD Luxe screens in

the territory.

There has been a significant push by

other key stakeholders to gain share in

the burgeoning sector, with a slew of new

competitors including Cinity, CGR's ICE,

Sony Digital Cinema, and THX Ultimate

Cinema launching as new stand-alone

brands. As a result, there were 12 global

PLF brands active in 2019, up from eight

the previous year.

The Cinity Cinema System was

developed by Christie for Huaxia Film in

conjunction with GDC Technology; it is

based on the highest HFR specification to

date. In China, 27 screens were installed

for the release of Gemini Man, forming

part of a longer-term plan to add as many

as 500 Cinity over the next few years.

Sony Digital Cinema was launched in

2019 in a bid to crack the coveted premium-screen

market. It was the flagship screen

at the new Galaxy Theatres in Las Vegas,

and a second screen will open in 2020.

THX Ultimate Cinema is underpinned

by CGS, the Cinionic Giant Screen

solution, and features dual-laser 4K

Barco projectors and a THX-certified

7.1 immersive sound system. The brand

debuted in 2019 but currently has just one

installation.

CGR's ICE brand is another to gain

momentum. It was launched as a global

brand and now has installs in three inter-

Number of Screens by PLF Brand/Format 2019

Exhibitor PLF

IMAX

Dolby Cinema

Cinity

RealD Cinema (+ LUXE)

ScreenX (+ 4DX Screen)

CGS

Sphere X

Sony Digital Cinema

Sphera

THX Ultimate Cinema

ICE

PLF

Screens

1727

1529

242

27

116

305

361

35

1

2

1

37

Market

Share (%)

39.4

34.9

5.5

0.6

2.6

7.0

8.2

0.8

0.0

0.0

0.0

0.8

Source: OMDIA. Note: some 2019 data remains provisonal

164 April 2020
---
Image courtesy CGR Cinemas

ICE Theaters

"The market potential for

PLF remains high over the

next five years for a total

addressable market of

between 5 percent and as

much as 10 percent of total

screens."

national territories including Saudi Arabia

(with Vox Cinemas) and the U.S. Its first

international installation was at the Regal

L.A. Live theater in Los Angeles.

Strong Outlook for PLF

The outlook for PLF remains strong, with

further potential for growth with the

expansion of brands (both existing and

new), with standards such as HFR 3-D,

and as technology continues to evolve

and as content sets the demand. HFR 3-D

could yet be a game changer to reenergize

3-D as a creative format, in which case

PLF screens will be the most technically

advanced for optimal 3-D presentation.

The market potential for PLF remains

high over the next five years for a total

addressable market of between 5 percent

and as much as 10 percent of total screens,

depending on infrastructure and the

willingness of exhibitors to invest in

next-generation technology. In emerging

markets such as MENA, PLF already has

an above-average screen penetration that

will further feed into growth (as these

markets are more agile), not least through

higher rates of new screen construction.

As theatrical venues continue to move

upmarket and wherever specially curated

and branded experiences are increasingly

sought out and demanded by audiences,

PLF will continue to play a critical role

in the future development of the cinema

industry. While the rise of online streaming

is not necessarily a direct threat to cinemas,

it provides yet another rationale for

cinemas to stay on top of their game. PLF

screens offer exhibitors, particularly those

in multiplex circuits, the ability to customize

experiences based on the highest

technology specification, target a specific

demographic for prime blockbuster movies,

and continue to provide a value-added

experience at a higher price point. While

PLF screens are the feature screens of

new cinema venues, the expansion of

the number of potential complementary

screens and formats in one cinema venue

continues to drive further investment in

the sector and provide enhanced choice

and intrigue for audiences.

April 2020

165
---
THEATER CINEMA SHOWCASE

WORKERS'

COMPENSATION

Georgia Theatre Company

Transitions to 100%

Employee Ownership

BY KEVIN LALLY

Above: Bill Stembler

with his wife, Anne

All images courtesy

Georgia Theatre

Company

It's the ultimate bonus: Georgia

Theatre Company (GTC), the

18th-largest theater circuit in North

America, has rewarded the diligence and

dedication of its roughly 700 employees by

making them the owners of the company.

This apparently unprecedented action

by a movie-exhibition chain is made

possible by the creation of an employee

stock ownership plan (ESOP), a process

under which eligible workers become

stockholders, at no cost to them, while the

management structure remains intact.

GTC president Bo Chambliss reveals

that company founder and chairman

William J. Stembler is "getting to the point

where he has been trying to retire and

really wants to take a step back. So he had

a number of options. You could sell the

company, bring in private equity, or try to

take it public, and the fourth option was

converting to an ESOP."

"This is something that construction

companies and entities that really don't

have a whole lot of assets do—they're

about as good as their next five years of

contracts," says Stembler. "We're a little

different breed, but it sure does look like it

was a good solution for my family, and also

a nice, rewarding thing to do to give the

employees a chance to participate in all

this fun that I've had."

"The benefit of an ESOP," Chambliss says,

"is that you get to keep your current management

team in place, and you get to keep

all of your employees in place. From an employee

standpoint, it's seamless—they don't

even know that it's happening immediately.

And the benefit to Bill and his family is they

get paid the value of the company. Bill is a

very, very loyal person—he has always taken

care of his employees. Selling out to one of

the big three or four or bringing in a private

equity [firm] he knew was not the best thing

for his employees. So when the idea of an

ESOP was brought up, he thought it was a

fantastic idea, and assuming the money was

around the same, he was all in."

"I have run a bit more conservative

group of theaters than the rest of the

world of motion picture exhibition," notes

Stembler, a third-generation exhibitor

whose family has been in the business

since the 1920s. "Our debt was low, and our

leases were not nearly as high a percentage

of our sales as most public circuits. And so

I had equity that could be used to borrow

money to, in effect, buy the shareholders

out for part of what they had. The way

the structure works, you borrow money

from a bank or a third party, and then the

shareholders take a note behind that party

for the balance of the money that's due

them. Then the company earns its way out

over a number of years."

"A lot of people, when they get to be

Bill's age, have their wealth tied up in this

illiquid asset, the stock of the company. It

could be worth a lot of money, but they

don't have any cash to show for it," says

Aegis Fiduciary Services founder and CEO

Robert Lesser, the trustee who represented

the interests of the future shareholders of

GTC and continues to monitor the company's

activities on their behalf. "The ESOP is

a way for the sellers to get liquidity because

they're cashing out, and it's a windfall for

the employees because they're getting

stock without having to pay for it. And that

doesn't even take into consideration all

the amazing tax benefits to all parties as a

result of the ESOP."

As the trustee, Lesser was hired to

negotiate the terms of the stock transac-

166 April 2020
---
tion "in the best interest of the [employee]

participants. The ESOP trustee is prohibited

by law to pay more than fair market

value for the shares."

Stembler may have taken a slight

financial hit because of those restrictions,

but Lesser believes he was genuinely

motivated by an impulse to reward his

employees. "If you think about it, it's an

extra form of compensation. It rewards the

people for all the work they've done in the

past to make the company what it is today

and incentivizes them to work harder so

that the company will grow and become

worth more. So when a participant actually

retires, their stock will be meaningful

enough that it may very well be all the

retirement savings that they ever need."

Lesser continues, "Unlike a 401(k) plan

where you buy stocks of other companies

and really don't have any influence

over their financial performance, when

you work at a company where you own

stock, you actually have a great amount

of influence over the value of the stock.

Everybody might all decide to be more

productive, because the more productive

they are, the higher the company's

earnings are going to be, which means

everyone's account balance would be

worth more."

Stembler is already seeing an impact

from the company's new structuring. "The

four key executives that are really running

things had a budget meeting a couple of

weeks ago, and I noticed that now that it's

in their hands versus my family's assets,

they are looking for places to cut. We're

probably not going to buy any more pro

football tickets or things like that, because

the employees are working for themselves

and they realize this. It was gratifying to

me to see all of my preaching ... I found a

way to get it through to everybody that it's

really easy to spend other people's money."

Chambliss notes, "We don't have a lot of

turnover in our home office or really at the

general manager level at the theaters. But

I think this will encourage the assistant

managers and hourly staff to want to

come work for the company and to remain

working for the company. With today's

lower unemployment environment, it's

hard to find good young employees who

want to work behind a cash register at

a concession stand. I do believe this is

going to be something that will help us get

more attractive people working for us at a

younger age."

"I think there are natural

markets that we serve, which

includes grandparents taking

their grandchildren to the

show, and the young dating

crowd." —William J. Stembler,

founder and chairman,

Georgia Theatre Company

Founded in 1992 (after earlier

incarnations), Georgia Theatre Company

currently has 263 screens in 25 locations

in four states. Seven of those venues have

converted to recliner seating, "and there

are probably another four to five that could

be identified for possible conversion,"

Stembler says. "The other half of the

circuit is in markets of under 100,000 that

are small-town, and those communities

are generally tickled pink just to have a

nice theater that's well run. But obviously

as you get into more competitive cities like

Atlanta, it's recliners or you're at a tremendous

disadvantage in the coming years."

Most of GTC's investments in recent

years have gone into those recliner conversions,

but "we did build a new theater

two years ago in north Georgia and we

built a huge theater, our most successful,

in Augusta five years ago. Bo Chambliss

and Mike Warner, our CFO, have come

up with a proposal for a community a

couple of hundred miles from where we

operate, where the family is in a position

where they want to sell out and it's going

to require a complete rehab of the theater.

We are looking at that acquisition and

made an offer. In addition, we have at least

one other site that we'd like to build, but

they don't have the other retail wrapped

up in the general area that we'd like to put

the theater in. That one's awaiting the real

estate developer to have some success

with the big-box retailers."

As he hands over more responsibility to

son-in-law Bo Chambliss and his executive

team, Stembler remains optimistic about

the future of movie theaters. "I love to

April 2020

167
---
THEATER CINEMA SHOWCASE

talk about that. I was president of the

major downtown Atlanta Rotary club 30

years ago, and I had to give a talk to 300

people that were executives in the Atlanta

area. I had just read the book Megatrends

by John Naisbitt. He was talking about

where society was going, about high-tech,

high-touch—that people still wanted to

communicate and be together. In the book

he quoted an Arthur D. Little study from

the mid-'70s that said in 10 years there

would be half the number of theaters in

the country, and the sales would be reduced

by 25 percent. And in those 10 years

in the mid-'70s and mid-'80s, the grosses

doubled. So forecasting is very difficult in

this business.

"I was born in 1946, the worst time of

the business because of the advent of TV

after World War II. And I had to listen to

my father and my grandfather for the

first 10 or some years of my life talking

about the decline. The business went from

something like 4 billion admissions to 800

million between '46 and '57. Then today,

we're between a billion two and a billion

four or five. So it's actually somewhere in

the late '50s, early '60s that it bottomed

out. And then it's had modest growth,

perhaps not keeping up with population

growth, but sales meanwhile have steadily

increased. Even this last year was the

second-best year domestically and the

best ever worldwide."

Though he says that he worries about

closing theatrical windows like everyone

else in the theatrical business, "I like to

believe that because of the world market,

which is now over 70 percent of the gross

sales of the Hollywood companies, likely

they're going to want to keep the model

pretty much like it is. I'm pleased that Bob

Iger and Disney have told us what they're

going to be releasing in theaters in the

next nine years at Christmas. I just read

Iger's book, which was interesting. As I see

it, he's not ready to give up on us. They're

creating content and they're building

product to sell at their parks."

Stembler doesn't see dramatic growth

on the horizon, "but I think there are

natural markets that we serve, which

includes grandparents taking their grandchildren

to the show, and the young dating

crowd. My children take their children to

the movies all the time. I think it will still

be there unless they take the product away

from us."

The veteran exhibitor calls his years in

the theater business "a fun legacy." After

law school, he tried working for the Securities

and Exchange Commission for a couple

of years and was miserable. "I said, I've

gotta do something that's fun. And that's

what I've gotten to do for over 50 years."

Stembler cites other circuits like Marcus

Theatres and Harkins Theatres as part

of a proud exhibition tradition, the "family

specialized little business. … A lot of the

high-tech people don't want to touch it,

but we love it and we believe in it. And so

far, so good."

His decision to give his business to his

employees keeps that tradition alive. "One

advantage of selling to an ESOP is that

your culture gets to go on, versus when

you go elsewhere—it all changes and you

don't have the same joy of watching the

business."

168 April 2020
---
COMING

SOON

FROM

THE TRUTH

IN THEATERS MARCH 20

The Truth

Directed by Hirokazu Kore-Eda

STARRING Catherine Deneuve, Juliette Binoche, Ethan Hawke

IN SELECT THEATERS STARTING MARCH 20

The Painted Bird

Directed by Václav Marhoul

STARRING Petr Kotlae, Udo Kier, Lech Dyblik, Jitka Čvančarová, Stellan

Skarsgaard, Harvey Keitelk, Julian Sands, Aleksey Kravchenko, Barry Pepper

IN SELECT THEATERS STARTING APRIL 17

The True History of The

Kelly Gang

Directed by Justin Kurzel

STARRING George Mackay, Russell Crowe, Nicholas Hoult, Essie Davis,

Charlie Hunnam, Thomasin Mckenzie, Sean Keenan, Earl Cave, Marlon

Williams, Louis Hewison, Orlando Schwerdt

IN SELECT THEATERS STARTING APRIL 24

Made In Italy

Directed by James D'Arcy

STARRING Liam Neeson, Micheál Richardson, Lindsay Duncan,

Valeria Bilello

COMING SOON
---
Event Cinema 184 | Number Crunch 194 | Long Range Forecast 198 | Booking Guide 199

ON SCREEN

Image courtesy Merie Weismiller Wallace / Focus Features

"If you're going to have violence in a movie, you need to be

honest about what violence looks like and what it is."

Promising Young Woman, p. 190

April 2020

171
---
ON SCREEN COMING ATTRACTIONS

WIDE

RELEASES

The spring movie season lifts off with

Marvel's newest superhero thriller

and the ninth entry in the Fast and

Furious series

Updated March 1. For the latest schedule,

visit www.boxofficepro.com/release-calendar.

TROLLS WORLD TOUR

April 10 / Universal

Poppy and Branch discover that they are

but one of six different Troll tribes scattered

over six different lands and devoted

to six different kinds of music: funk,

country, techno, classical, pop, and rock.

A member of hard-rock royalty, Queen

Barb wants to destroy all other kinds of

music to let rock reign supreme. Poppy

and Branch, along with their friends, set

out to visit all the other lands to unify the

Trolls in harmony against Barb.

Voice Cast: Anna Kendrick, Justin Timberlake,

James Corden, Sam Rockwell, Chance the Rapper,

Anthony Ramos, Ron Funches, Kunal Nayyar

Director: Walt Dohrn

Rating: PG

Running Time: 94 Min.

Courtesy of Dreamworks Animation

Scan image with Fuze Viewer

app to access A.R. content.

Photos and art courtesy of studios / all rights reserved

172

April 2020
---
PROMISING

YOUNG WOMAN

April 17 / Focus Features

Merie Weismiller Wallace. Courtesy of Focus Features

Everyone said Cassie was a promising young

woman ... until a mysterious event abruptly

derailed her future. But nothing in Cassie's

life is what it appears to be: She's wickedly

smart, tantalizingly cunning, and she's

living a secret double life by night. Now, an

unexpected encounter is about to give Cassie

a chance to right the wrongs of the past.

Cast: Carey Mulligan, Bo Burnham, Laverne Cox,

Alison Brie, Connie Britton, Clancy Brown, Jennifer

Coolidge, Molly Shannon, Adam Brody, Alfred

Molina, Christopher Mintz-Plasse

Director: Emerald Fennell

Rating: TBA

Running Time: 113 Min.

ANTEBELLUM

April 24 / Lionsgate

Matt Kennedy. Courtesy of Lionsgate

Successful author Veronica Henley finds

herself trapped in a horrifying reality and

must uncover the mind-bending mystery

before it's too late.

Cast: Janelle Monáe, Eric Lange, Jena Malone,

Jack Huston, Kiersey Clemons, Gabourey Sibide

Directors: Gerard Bush, Christopher Renz

Rating: TBA

Running Time: TBA

April 2020

173
---
ON SCREEN COMING ATTRACTIONS

BAD TRIP

April 24 / United Artists Releasing

Bad Trip follows two best friends on a

cross-country road trip full of inventive

pranks, pulling the real-life audience

into the mayhem.

Cast: Eric André, Lil Rel Howery, Tiffany Haddish

Director: Kitao Sakurai

Rating: R

Running Time: 84 Min.

Courtesy of Orion Pictures

BLACK WIDOW

May 1 / Disney

Scarlett Johansson reprises her role as

Natasha/Black Widow in Marvel Studios'

spy thriller—the first film in Phase Four of

the Marvel Cinematic Universe.

Cast: Scarlett Johansson,

David Harbour, Florence Pugh,

Rachel Weisz, O-T Fagbenle, William Hurt

Director: Cate Shortland

Rating: TBA

Running Time: TBA

Scan image with Fuze Viewer

app to access A.R. content.

Image courtesy Film Frame. Copyright Marvel Studios.

174 April 2020
---
SCOOB!

May 15 / Warner Bros.

Scooby and the gang face their most

challenging mystery ever: a plot to unleash

the ghost dog Cerberus upon the world.

As they race to stop this dogpocalypse, the

gang discovers that Scooby has an epic

destiny greater than anyone imagined.

Image courtesy Warner Bros.

Voice Cast: Zac Efron, Amanda Seyfried,

Will Forte, Gina Rodriguez, Kiersey Clemons,

Mark Wahlberg, Frank Welker, Jason Isaacs,

Tracy Morgan, Ken Jeong, Mckenna Grace,

Iain Armitage

Director: Tony Cervone

Rating: TBA

Running Time: TBA

THE WOMAN

IN THE WINDOW

May 15 / Disney-20th Century

Image courtesy Walt Disney Studios Motion Pictures

An agoraphobic child psychologist

befriends a neighbor across the street

from her New York City brownstone, only

to see her own life turned upside down

when the woman disappears and she

suspects foul play.

Cast: Amy Adams, Gary Oldman, Julianne Moore,

Jennifer Jason Leigh, Anthony Mackie, Wyatt

Russell, Brian Tyree Henry, Fred Hechinger

Director: Joe Wright

Rating: R

Running Time: TBA

SPIRAL

May 15 / Lionsgate

Photo Credit: Brooke Palmer. Image courtesy Lionsgate

A sadistic mastermind unleashes a twisted

form of justice in this new chapter from

the book of Saw. Brash detective Ezekiel

"Zeke" Banks and his rookie partner take

charge of an investigation into grisly

murders that are eerily reminiscent of the

city's gruesome past. Unwittingly trapped

in a deepening mystery, Zeke finds himself

at the center of the killer's morbid game.

Cast: Chris Rock, Samuel J. Jackson,

Max Minghella, Marisol Nichols, Zoie Palmer

Director: Darren Lynn Bousman

Rating: TBA

Running Time: TBA

April 2020

175
---
ON SCREEN COMING ATTRACTIONS

F9

May 22 / Universal

In this ninth entry in the Fast and Furious

series, Dom Toretto is leading a quiet life

off the grid with Letty and his son, but they

know that danger always lurks just over their

peaceful horizon. This time, that threat will

force Dom to confront the sins of his past if

he's going to save those he loves most. His

crew comes together to stop a world-shattering

plot led by the most skilled assassin

and high-performance driver they've ever

encountered: a man who also happens to be

Dom's forsaken brother, Jacob.

Cast: Vin Diesel, Charlize Theron, Michelle Rodriguez,

Tyrese Gibson, John Cena, Chris "Ludacris" Bridges,

Helen Mirren, Lucas Black, Sung Kang, Jordana

Brewster, Nathalie Emmanuel, Michael Rooker,

Cardi B

Director: Justin Lin

Rating: TBA

Running Time: 135 min.

Scan image with Fuze Viewer

app to access A.R. content.

Image courtesy Universal Pictures

176

April 2020
---
THE SPONGEBOB MOVIE:

SPONGE ON THE RUN

May 22 / Paramount

Scott Garfield. © 2019 Paramount Pictures Corporation. All rights reserved. Photo Credit: Nicola Dove. Image courtesy Walt Disney Studios Motion Pictures Image courtesy Paramount Pictures

SpongeBob SquarePants, his best friend,

Patrick Star, and the rest of the gang

from Bikini Bottom hit the big screen in

the first-ever all-CGI SpongeBob movie.

After SpongeBob's beloved pet snail Gary

is snail-napped, he and Patrick embark

on an epic adventure to the Lost City of

Atlantic City to bring Gary home.

Voice Cast: Tom Kenny, Clancy Brown,

Bill Fagerbakke, Awkwafina, Rodger Bumpass,

Keanu Reeves, Lori Alan

Director: Tim Hill

Rating: TBA

Running Time: TBA

ARTEMIS FOWL

May 29 / Disney

Twelve-year-old genius Artemis Fowl,

a descendant of a long line of criminal

masterminds, finds himself in a battle of

strength and cunning against a powerful,

hidden race of fairies who may be behind

his father's disappearance.

Cast: Ferdia Shaw, Josh Gad, Judi Dench,

Lara McDonnell, Nonso Anozie, Miranda Raison,

Adrian Scarborough

Director: Kenneth Branagh

Rating: TBA

Running Time: TBA

TOP GUN: MAVERICK

June 24 / Paramount

Facing an uncertain future and confronting

the ghosts of his past, Maverick is

drawn into a confrontation with his own

deepest fears, culminating in a mission

that demands the ultimate sacrifice from

those who will be chosen to fly it.

Cast: Tom Cruise, Miles Teller, Jennifer Connelly,

Jon Hamm, Glen Powell, Ed Harris, Lewis Pullman,

Jay Ellis, Monica Barbaro, Val Kilmer, Charles

Parnell, Danny Ramirez

Director: Joseph Kosinski

Rating: TBA

Running Time: TBA

April 2020

177
---
ON SCREEN COMING ATTRACTIONS

LIMITED

RELEASES

The spring lineup of limited releases

includes a new perspective on a

Charles Dickens classic, and former

"Daily Show" host Jon Stewart's second

outing as writer-director.

CUT THROAT CITY

April 10 / Well Go USA

Four boyhood friends in New Orleans'

Lower Ninth Ward return after Hurricane

Katrina to find their homes decimated,

with no jobs and no help from FEMA.

Out of options, they reluctantly turn to a

local gangster, who offers them one shot

at turning their situations around—by

pulling off a dangerous heist.

Cast: Shameik Moore, Demetrius Shipp Jr.,

Denzel Whitaker, Keean Johnson, Eiza González,

Terrence Howard, Wesley Snipes, Ethan Hawke,

Kat Graham, T.I., Isaiah Washington, Rob Morgan

Director: RZA

Rating: R

Running Time: 132 Min.

ANTLERS

April 17 / Searchlight Pictures

A small-town Oregon teacher and her

brother, the local sheriff, discover that a

young student is harboring a dangerous

secret with frightening consequences.

Cast: Keri Russell, Jesse Plemons,

Jeremy T. Thomas, Graham Greene,

Scott Haze, Rory Cochrane, Amy Madigan

Director: Scott Cooper

Rating: R

Running Time: 99 Min.

Courtesy of Well Go USA

Photo Courtesy of Fox Searchlight Pictures. © 2019 Twentieth Century Fox Film

Corporation All Rights Reserved

178 April 2020
---
MARTIN EDEN

April 17 / Kino Lorber

Francesca Errichiello. Courtesy of Kino Lorber

Set in a provocatively unspecified moment

in Italy's history yet adapted from a

1909 novel by American author Jack

London, Martin Eden follows a self-taught

proletarian who hopes that his dreams of

becoming a writer will help him rise above

his station and marry a wealthy young

university student.

Cast: Luca Marinelli, Jessica Cressy,

Denise Sardisco, Marco Leonardi,

Vincenzo Nemolato

Director: Pietro Marcello

Rating: TBA

Running Time: 129 Min.

THE PAINTED BIRD

April 17 / IFC Films

Alfonso Pompo Bresciani. Courtesy of Roadside Attractions. Courtesy of IFC Films. An IFC Films Release.

This adaptation of the acclaimed novel by

Jerzy Kosinski, set in Eastern Europe at the

bloody close of World War II, centers on

a young boy entrusted by his persecuted

parents to an elderly foster mother, who

soon dies. He suffers extraordinary brutality

meted out by ignorant, superstitious

peasants, and witnesses terrifying violence

by both Russian and German soldiers.

Cast: Petr Kotlár, Udo Kier, Stellan Skarsgård,

Lech Diblik, Harvey Keitel, Barry Pepper,

Julian Sands

Director: Václav Marhoul

Rating: TBA

Running Time: 169 Min.

THE SECRET: DARE

TO DREAM

April 17 / Gravitas Ventures

Miranda Wells is a hard-working young

widow struggling to raise three children on

her own. A powerful storm brings a devastating

challenge and a mysterious man,

Bray Johnson, into her life. In just a few

short days, Bray's presence reignites the

family's spirit, but he carries a secret—and

that secret could change everything.

Cast: Katie Holmes, Josh Lucas, Celia Weston,

Jerry O'Connell

Director: Andy Tennant

Rating: PG

Running Time: TBA

April 2020

179
---
ON SCREEN COMING ATTRACTIONS

FÁTIMA

April 24 / Picturehouse Films

A 10-year-old shepherd and her two

young cousins in Fátima, Portugal, report

seeing visions of the Virgin Mary. Their

revelations inspire believers but anger

officials of both the Church and the secular

government, who try to force them to

recant their story. As word spreads, tens of

thousands of religious pilgrims flock to the

site in hopes of witnessing a miracle.

Cast: Goran Visnjic, Sonia Braga, Harvey Keitel,

Joachim de Almeida, Stephanie Gil, Lúcia Moniz

Director: Marco Pontecorvo

Rating: TBA

Running Time: 113 Min.

DREAM HORSE

May 1 / Bleecker Street

Dream Horse tells the true story of Jan

Vokes, a Welsh cleaner and bartender

who decides to breed and rear a race

horse. She persuades her neighbors and

friends to contribute financially to the

scheme, and the group's unlikely investment

plan pays off as the horse rises

through the ranks and puts them in a race

for the national championship.

Cast: Toni Collette, Damian Lewis, Joanna Page,

Nicholas Farrell, Owen Teale, Peter Davison,

Siân Phillips, Karl Johnson

Director: Euros Lyn

Rating: TBA

Running Time: 102 Min.

Photo Credit: Kerry Brown / Bleecker Street Photo Credit: Claudio Iannone. Copyright 2020 Picturehouse

THE HIGH NOTE

May 8 / Focus Features

A love story set amid the Los Angeles

music business, from the director of last

year's Late Night.

Cast: Dakota Johnson, June Diane Raphael,

Tracee Ellis Ross, Kelvin Harrison Jr., Bill Pullman,

Ice Cube, Eddie Izzard

Director: Nisha Ganatra

Rating: TBA

Running Time: TBA

Photo Credit: Glen Wilson / Focus Features

180 April 2020
---
HOW TO BUILD A GIRL

May 8 / IFC Films

Photo Credit: Dean Rogers Image courtesy Monumental Pictures, Film4, Tango Entertainment

Teenager Johanna Morrigan reinvents

herself as Dolly Wilde, fast-talking sex adventurer,

moves to London, and gets a job

as a music critic in the hope of saving her

poverty-stricken family in Wolverhampton.

Cast: Beanie Feldstein, Emma Thompson,

Chris O'Dowd, Jameela Jamil, Alfie Allen,

Lucy Punch, Paddy Considine, Sharon Horgan

Director: Coky Giedroy

Rating: TBA

Running Time: 102 Min.

THE PERSONAL HISTORY

OF DAVID COPPERFIELD

May 8 / Searchlight Pictures

From birth to infancy, from adolescence

to adulthood, the good-hearted David

Copperfield is surrounded by kindness,

wickedness, poverty, and wealth, as he

meets an array of remarkable characters

in Victorian England. Director Armando

Iannucci brings a fresh approach to the

Dickens classic.

Cast: Dev Patel, Tilda Swinton, Hugh Laurie,

Ben Whishaw, Gwendoline Christie, Peter Capaldi,

Morfydd Clark, Aneurin Barnard

Director: Armando Iannucci

Rating: PG

Running Time: 119 Min.

LA BELLE ÉPOQUE

May 22 / 101 Studios

Image courtesy Toronto International Film Festival

Disillusioned sexagenarian cartoonist Victor

has lost his job and is on the outs with his

wife, Marianne, when entrepreneur Antoine

approaches him with an intriguing proposition—the

chance to revisit the glory days

of his youth by traveling back through time.

He hires Antoine's virtual reality company

to return him to May 16, 1974, the day he met

Marianne in a café in Lyon, and soon finds

himself drawn to Margo, the actress playing

the younger incarnation of his spouse.

Cast: Daniel Auteuil, Guillaume Canet, Fanny

Ardant, Doria Tillier, Pierre Arditi, Denis Podalydès

Director: Nicolas Bedos

Rating: R

Running Time: 115 Min.

April 2020

181
---
ON SCREEN COMING ATTRACTIONS

THE LAST VERMEER

May 22 / Sony Pictures Classics

An artist is suspected of selling a valuable

painting to the Nazis, but there is more to

the story than meets the eye.

Cast: Claes Bang, Guy Pearce, Vicky Krieps,

August Diehl, Roland Møller

Director: Dan Friedkin

Rating: R

Running Time: 117 Min.

Photo by Jack English. Courtesy Sony Pictures Classics

IRRESISTIBLE

May 29 / Focus Features

A Democratic strategist helps a retired veteran

run for mayor in a small, conservative Midwest

town. This is former "Daily Show" host Jon

Stewart's second feature as writer-director.

Cast: Steve Carell, Rose Byrne, Chris Cooper,

Topher Grace, Natasha Lyonne, Mackenzie Davis,

Debra Messing, Will Sasso

Director: Jon Stewart

Rating: TBA

Running Time: TBA

Scan image with Fuze Viewer

app to access A.R. content.

Photo Credit: Daniel McFadden. Image courtesy Focus Features