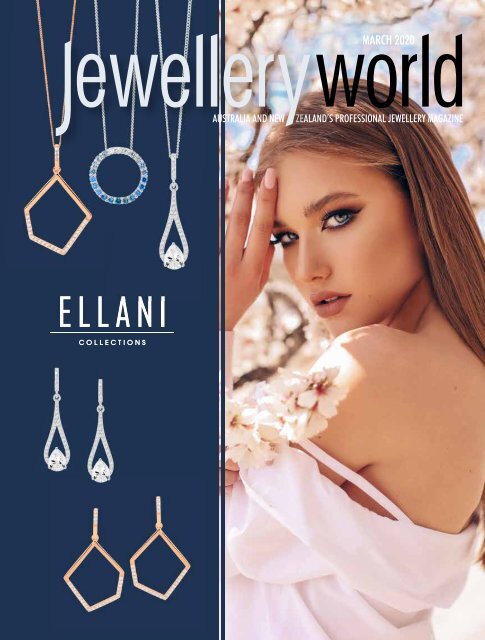 Jewellery World Magazine - March 2020
Jewellery World Magazine is Australia and New Zealand's largest circulation jewellery trade magazine. This issue focuses on custom and bespoke jewellery.
Jewellery World Magazine is Australia and New Zealand's largest circulation jewellery trade magazine. This issue focuses on custom and bespoke jewellery.
SHOW MORE
SHOW LESS
Create successful ePaper yourself
Turn your PDF publications into a flip-book with our unique Google optimized e-Paper software.
MARCH 2020

AUSTRALIA AND NEW

ZEALAND'S PROFESSIONAL JEWELLERY MAGAZINE
---
It all comes together at Palloys

A world first in jewellery production management

Your singular destination for all things jewellery

Combining AGS Metals|PJW, A&E Metals, Regentco and Palloys all in the one place, Palloys

1300 886 108 | AUSTRALIA WIDE

palloys.com
---
Jewellery World Magazine

ABN: 41 143 385 895

ISSN: 2207-6751

PO Box 54, Camden NSW 2570

P: 0431 844 903

Subscription: www.jewelleryworld.net.au

Enquiries: info@jewelleryworld.net.au

Web: www.jewelleryworld.net.au

managing director

Jeremy Keight 0431 844 903

jeremy@jewelleryworld.net.au

editor

editor@jewelleryworld.net.au

contributing writers

Kirsten Ehrlich Davies

Stefan Juengling

Cheryl D Harty

REGULARS

6 News

12 Palloy's Points

14 Trade Well with Rami Baron

16 JAA News

36 Keeping Skills Alive

38 Watches

42 New Products

43 Directory

FEATURES

20

28

art

design@jewelleryworld.net.au

advertising sales

sales@jewelleryworld.net.au

20 Top tips to maximise sales for Mother's Day

We talk to three top retailers and get their tips

for success this Mother's Day.

26 AGHA Show Report

The Jewellery World Pavilion at the AGHA Gift

Fair was a success for all involved.

34

28 Making Out

Manufacturing the jewellery we love - how

tech has changed the custom-made space.

DISCLAIMER:

This publication may not be reproduced

in whole or part without the written

permission of the Publisher.

Articles express the opinions of the

authors and are not necessarily those of the

Publisher or Editor. Mention of a product or

service in this magazine does not indicate the

Publisher's endorsement.

The Publisher excludes all liability for

loss resulting from any inaccuracies or false

or misleading statements that may appear

in this publication.

All information is copyright.

32 Jeweller Profile

KL Diamonds offer us a peak into their

showroom and workshop.

34 2020 Diamond Guild Australia Awards

Entries are open for this year's jewellery design

awards.

AUSTRALIA AND NEW

MARCH 2020

ZEALAND'S PROFESSIONAL JEWELLERY MAGAZINE

FRONT COVER

Ellani Collections

www.ellanicollections.com.au

4

jewellery world - March 2020
---
All Silver is Rhodium Plated

• Sydney AGHA Gift Fair - February 21-24, 2020 (Homebush)

• International Jewellery Fair -September 12-14, 2020 (Darling Harbour)

TJDSILVER.COM.AU 0400272365 ADMIN@TJDSILVER.COM.AU
---
News

Sustainable jewellery at the BAFTAs

Lucara unearths 549ct diamond

Continuing its extraordinary run of exceptional diamond discoveries, Lucara

Diamond Corp has unearthed an unbroken 549 carat white diamond from its

Karowe Diamond Mine in Botswana. The diamond "of exceptional purity" is the

fourth largest diamond ever retrieved from the mine and the sixth diamond over

100 carats recovered by Lucara in 2020.

Independent analyst Paul Zimnisky has stated that the stone is also the fourth gemquality

stone over 500 carats to be recovered globally within the last 5 years.

The 549-carat diamond was recovered in the Mega Diamond Recovery (MDR) XRT

circuit when the diamond is recovered between the processes of crushing and

milling. A gem quality 176-carat stone was previously recovered from the same ore

block.

Lucara will make a decision regarding the sale of both stones in due course.

"Lucara is extremely pleased to be starting off 2020 with the recovery of two, large,

high quality diamonds that builds on the positive momentum generated following

the completion of a strong Q4 sale in December and the announcement of our

ground breaking partnership with Louis Vuitton on the Sewelô in January," said Eira

Thomas, Lucara's CEO.

Guests at the 73rd annual British Academy Film Awards in

London were asked to make "sustainable" fashion choices

by hiring or rewearing their fashionable outfits.

Thankfully most guests already had a sustainable stash of

Tiffany, Harry Winston and Cartier, so their second-hand

gowns still glittered.

The Duchess of Cambridge wore a gold embroidered

gown, previously featured during a 2013 tour of South-

East Asia, along with a Van Cleef& Arpels necklace and

matching earrings.

Charlize Theron may have broken the "rewear" rule with

her choice of an exclusive 14 carat rose gold choker handset

with more than 240 diamonds from the new Tiffany

T1 collection, set to launch in April 2020, and paired with

three sets of Tiffany stud earrings.

Zoe Kravitz nailed the "sustainability" directive with a

warm glowing pair of coral pendant drop earrings, crafted

from ethical and sustainable Sardinian coral by Assael.

Sarah Ferguson to launch lifestyle brand

While the Duke and Duchess of Sussex struggle to

negotiate for approval of their Sussex Royal brand, so

they can sell almost everything without capitalising

on their royal connection, the Duchess of York has

been inspired to do something similar. The former

wife of Prince Andrew is set to launch her own lifestyle

brand, Duchess Inc which will feature everything from

homewares to convenience foods. The brand will

feature an "accessible premium" range of jewellery

which will also be available for purchase through QVC,

an American free-to-air home shopping channel.

Hong Kong trade fair postponed

Two jewellery trade shows due to be held in Hong Kong in March have been postponed

until May due to safety concerns in the wake of the coronavirus epidemic.

The Hong Kong International Diamond, Gem & Pearl Show, organised by the Hong Kong

Trade Development Council (HKTDC) specialises in showcasing raw materials of the

jewellery trade in special zones such as The Hall of Fine Diamonds, The Treasures of

Nature (coloured gemstones) and Treasures of the Ocean (pearls).

In 2019, the event attracted more than 1,990 international exhibitors along with buyers

from 145 countries. Now in its seventh year, it was intended to be held concurrently

with the Hong Kong International Jewellery Show, yet they have now been postponed

until May 18-21. They will still be held concurrently at the AsiaWorld Expo.

6

jewellery world - March 2020
---
News

Diamonds rule at the Oscars

Iconic jewellery designers were well represented on the

red carpet at the Academy Awards – with the work of

Harry Winston, Cartier, Bulgari and Chopard all featured.

Double nominee Scarlett Johannsen wore $2.5 million

worth of Forevermark diamonds in an understated style,

with just earrings and a bracelet, yet no necklace with her

strapless dress.

In contrast, presenter Zazie Beetz wore a spectacular

white gold Bulgari High Jewelry necklace set with an oval

emerald, 84 buff top emeralds and pave-set diamonds,

along with matching emerald and diamond earrings and

ring.

Actress Mindy Kaling wore several Chopard jewels

including a necklace with 78.46 crats of marquise-cut

diamonds and 46.33 carats of round-shaped diamonds in

white gold along with earrings from the Haute Joaillerie

collection.

Director Greta Gerwig also wore Bulgari emeralds, with

a classic High Jewelry platinum necklace featuring seven

emerald beads, 14 pear diamonds and 32 round diamonds

and pave-set diamonds.

Beat your mug with ... diamonds

Actor Tomothee Chalamet

also dazzled, wearing a Cartier

brooch on his navy blazer, while

other male stars such as Antonio

Banderas and Rami Malek

focusing their style on their

time pieces – Banderas wore

an understated slimline Bulgari Octo Finissimo and

Malek wore a vintage-style Pasha de Cartier watch.

There is a new spin on the old line "diamonds are forever" – now diamond facials

are being promoted as the latest anti-ageing product.

Some cosmetic companies are marketing a facial scrub containing diamond dust

or diamond ash, which presumably works as the magic ingredient to smooth,

brighten and rejuvenate the skin. Other options include a non-invasive cosmetic

procedure using a diamond-tipped tool to cleanse and exfoliate the skin.

If diamond face cream isn't decadent (ridiculous?) enough, powdered pearls are

also popular cosmetic products, believed to regenerate the skin and boosting

elasticity. Gold face masks are also available, involving 24-karat gold leaf

massaged onto the skin so the antioxidant properties can eliminate toxins and

fight sun damage.

Rickshaw driver returns diamonds

A woman from the city of Pune in western

India is thankful for the honesty of her rickshaw

driver, after she left a bag containing diamond

jewellery valued at AU$14,000 in his vehicle

after a shopping trip with her daughter.

After dropping her daughter at a bus stop,

Shobha Sandeep Lunkad alighted the vehicle

at her son's office, forgetting to take the bag

which contained a diamond bracelet and

earrings along with clothing from the shopping

trip. She immediately notified police, but while

they were questioning autorickshaw drivers,

Lundak's driver voluntarily brought the bag to

the police station.

The police were also so impressed by the

integrity of driver Tukaram Yadavrao Kale, they

held a function in his honour at the police

station the next evening.

Facebook launches a Pinterest clone

Coz we all need yet another social media app in

our lives... Released in a small number of countries

so far but bound to spread if it succeeds, Hobbi

is Facebook's latest attempt to ensure total world

domination. Aimed at hobbyists, but likely to be useful

for jewellers because of its project-based nature, the

app can assemble boards in a similar way to Pinterest.

Google also

recently released a

similar app called

Tangi. Both apps

point to a return

to the original

'feelz' behind

Instagram—

genuine stories

and personal

development.

People are still

searching for stuff

that makes them feel good. Inspirational jewellery

designs that reach out to desires might just be well

suited to these new apps.

8

jewellery world - March 2020
---
News

The Cartiers is packed with lessons

A fascinating read for anyone in the industry, The

Cartiers by Francesca Cartier Bricknell is the story of

the family behind the brand and the three brothers

who turned their grandfather's humble jewellery

store into a global luxury icon.

From revolutionary France to the 1960s, at the

heart of the tale are the three Cartier men whose

motto was "Never copy, only create" — a mantra

that is especially relevant to jewellers and designers

today. The trials of running a family business are also

examined. In the case of the Cartiers, the brothers

succeeded because of their individual strengths.

Louis was a visionary designer who took the helm in

Paris, Pierre was the master dealmaker who bought

the New York headquarters on Fifth Avenue for a double-stranded natural pearl

necklace, and Jacques headed the London operation and travelled the globe using

his gemstone knowledge to secure the best in rubies, emeralds and sapphires

from India.

Author Francesca Cartier Brickell is the great grand-daughter of the youngest of

the brothers, and, after discovering a trunk in her grandfather's attic packed with

sketchbooks and correspondence, has spent the intervening ten years working

on the history of her family and one of the world's greatest brands. Her research

reveals never-before-told dramas, romances, intrigues, betrayals, and more.

The book takes a behind-the-scenes view at some of the most iconic pieces of

jewellery—from the cursed Hope Diamond, the emeralds of the Russian Czars and

the classic panther pieces, to the legends of film and fashion who wore them—

Wallis Simpson, Coco Chanel, Elizabeth Taylor, Indian maharajas and Russian grand

duchesses.

The company survived two world wars and the Great Depression of the 1930s

and has continued to succeed since being sold to Richemont in 1964. The book

examines the values the company's founders held that were essential to the

brand's success and makes compelling reading for anyone interested in jewellery,

marketing and branding.

The Cartiers: The Untold Story of the Family Behind the Jewellery Empire is

published by Ballantine Books and is available from all online bookstores.

Gold hits a 7-year high

The spot price of gold hasn't been higher in seven

years. As of the final week of February, gold was

trading at US$1,621 per ounce, a level last seen in

2013.

Analysts expect the upward trend to continue

blaming negative real interest rates, unsteady world politics and

the threat of virus. Experts at Citibank predicted last year that gold

India's first carbon-neutral diamond

company

Star Rays, a De Beers sightholder and one of India's

leading diamond companies, is taking steps to become

the country's first carbon-neutral diamond trader.

Working with carbon consultancy, Carbon Expert,

Star Rays is committing to the World Jewellery

Confederation's (CIBJO) greenhouse gas measuring and

offsetting programme.

"Global warming and climate change have come to the

fore as a key issue in sustainable development," said

Star Rays partner Jitesh Shah in a statement. "Every

human activity in the world releases carbon dioxide.

We are committed to reducing carbon emissions at

every step in our business and personal life."

The company

added in a

statement,

"The natural

diamond

industry

is moving toward a carbon-neutral future, with an

increased use of renewable energy sources in various

mines."

Star Rays runs a manufacturing facility in Surat, India

that turns out 60,000 cut and polished solitaires each

year. Since 2019, the company also owns a subsidiary

company in Gaborone, Botswana.

Major brands around the world are committing to

become carbon-neutral following CIBJO's lead. Pandora

has announced its intension to reach a carbonneutral

target by 2025, while lab-grown diamond

producer Diamond Foundry has already been certified

carbon-neutral.

De Beers also has a five year target for its mining

sector after the development of technology that allows

carbon capture and storage in the kimberlite, the rock

that natural diamonds are extracted from.

would reach US$2,000 over the following two

years, but have now adjusted the short-term

forecast saying they expect it to reach US$1,700

in the next six months.

Jewellers in America report the market in

'trade-in' gold is heating up again.

10

jewellery world - March 2020
---
News

2020 CIBJO Congress set for Dubai

CIBJO, the World Jewellery Confederation, will hold its 2020 annual congress in

Dubai, United Arab Emirates (UAE), from October 5 to October 7.

The 2020 congress will be hosted by DMCC (Dubai Multi-Commodities Centre),

one of the world's leading free zones, which is tasked by the Government of Dubai

Authority to drive commodities trade and enterprise. With more than 17,000

businesses registered, DMCC sits at the heart of the region's growing jewellery trade,

and is home to the Dubai Diamond Exchange (DDE), the only World Federation of

Diamond Bourses (WFDB) accredited bourse in the Arabian Gulf.

It is the second time that a CIBJO Congress will have taken place in Dubai, with the

first being held there in 2008, when it also was hosted by DMCC.

CIBJO congresses serve as the official gathering place for the World Jewellery

Confederation's Assembly of Delegates.

Almas Tower, the headquarters of DMCC in the heart of Dubai,

selected as the venue for 2020 CIBJO Congress.

They are also the venue for the annual meetings of CIBJO's sectoral commissions, where amendments can be introduced to the organisation's

definitive directories of international industry standards for diamonds, coloured stones, pearls, gem labs, precious metals, coral and

responsible sourcing, known as the Blue Books.
---
PALLOYS POINTS

Chris Botha,

Operations Manager, Jewellery Division

Palloys

TRUE INNOVATION

IN DESIGN

Is there truly any diversity in the commercial jewellery market,

outside of the non-traditional jewellers who have achieved a solid

business base?

Consumers have come to expect that

they will not see anything new or

different at the jewellery store and

instead simply see a new iteration of an

existing design.

The focus these days seems to be on price

differentiation through online vs bricks and

mortar.

The jewellery industry has a jewellery

manufacturing sector that does not innovate

beyond the known selling factors, the metal,

the stones and the labour. Whereas the "art"

jewellery sector, while smaller, is constantly

innovating. The dominant focus of the

jewellery manufacturing sector has been to

reduce the production costs of existing known

sellers.

Having worked in many jewellery

manufacturing plants around the world, I

have witnessed the bare minimum in design

processes taking place, with little evident

innovation., Over the last 30 years I still see

the exact same designs returning seasonally.

What is noted is that variants of the same

process occur, jewellers are finding a "new"

design concept, meaning they are finding

a new way to set a stone, a better colour

combination and are modifying it from the

original copy by producing it in a sellable price

point which creates the "mini-fads" that are

born each year.

When a jeweller bases their designs at a low

price point, we find a way to use the minimum

gold and diamonds and won't consider that

a much more substantial and striking piece

can be produced in a non-precious material

instead. Some jewellers are now incorporating

elements like carbon fibre or even wood

in their product, but the essential shapes

12

jewellery world - March 2020
---
and designs are still

limited to classic sellers,

these parts then also

negatively impacted

by the stigma of being

non-precious, reducing

pricing even more.

If all the products in the

market are essentially the

same, then the only thing any

customer will care about is

price. Once customers only

care about price, the market

starts bleeding value.

The process in mass manufacturing is even less exciting, all the

brochures from every jeweller in the world will be torn up and

categorised into groupings of colour and price point, common

threads in the groupings will be ascertained and "designers" then

produce Nth iterations for the next season.

Here's a simple rule about market value to consider: If all the

products in the market are essentially the same, then the only

thing any customer will care about is price. Once customers

only care about price, the market starts bleeding value. What is

left after this occurs? Simply the sum of the parts; in this case,

the market value of the gemstones and precious metals. After

that, returning the market to a state of added value is extremely

painful, if not impossible, selling compiled materials is a sale

on the components plus a mark-up, when you sell design, the

components are the least of the price, the novelty, originality,

exclusivity are the selling points.

Palloys has partnered with some amazing jewellery innovators

over the years and supported them through the Palloys range of

services, harnessing a jeweller's ability to design and innovate.

Over the next few months Palloys will be undergoing some

structural changes, adding additional services and products, truly

making Palloys the one source for all your jewellery needs.

LUXURY pearl AND opal JEWELLERY

www.ikecho.com.au | enquiries@ikecho.com.au
---
DOES LOYALTY EXIST?

An old-fashioned concept, loyalty is critical in any successful

industry. But are we doing enough to nurture loyalty in ours?

I

I think we first need to ask ourselves what

our definition of loyalty in the diamond

and jewellery space is today. The simple

definition of loyalty is a feeling of strong

support or allegiance.

I heard a quote many years ago that said:

"Business must be run at a profit or

else it will die. However, a business run

solely for profit will also die."

Much of our trade is made up of small and

medium sized businesses, which could not

survive without long-standing relationships

and the loyalty that comes with them.

My problem is that in the last few weeks, I

have heard so many different instances of

long-standing business relationships in our

industry which have been destroyed in an

instant. The sad part is that both parties (or

one party) failed to stop and think about all

the favours, special instances of pricing or

express posting urgent items etc that may

have been provided in the past, only to have

one mistake on an invoice result in a 10 year

relationship being chucked out the window.

One example that was recently shared with

me was that of a local diamond wholesaler

who brought an error made on an invoice to a

retailer's attention. The wholesaler was simply

brushed off by the retailer and told to wear

it. Needless to say that was the end of that

relationship. Do we really have so little respect

for each other? Are we oblivious to the age

old saying "what goes around comes around"?

I will share with you three strategies by which

I live by.

1. Treat everyone the same way that you

want to be treated.

We can all make mistakes. Before you cut

someone off, don't act impulsively, even if

you're really angry and frustrated. Tell them

you want to think about it for a day or two.

This gives yourself the time needed to think

through how best to deal with it. You might

even want to ask others, which goes to my

second strategy.

2. Never make important decisions when

you're angry.

You never know when you need someone

again in the future. Let's say a merchant sold

you a stone and the invoice showed a price

that was a few thousand dollars less than what

14

jewellery world - March 2020
---
DDCA NEWS

Rami Baron

President, Diamond Dealers Club of Australia

rami@ddca.org.au

it should have been. Yes, you sold the stone in

good faith based on the invoice and in many

cases, you didn't check it further. You based

your mark-up on the cost of the stone. Now

the merchant comes back and says I made a

mistake, I sold it to you below my cost, can we

do something about it? Many retailers would

say tough luck, that's your problem. However,

those who have a relationship of trust and one

of loyalty, might end up expressing the same

thoughts but in a different manner – "give me

a day or two to think about it, I might not be

able to help you out on this one, I'll get back

to you".

The bottom line is that even if you chose not

to do anything different, you at least validated

the relationship and your loyalty means you

didn't destroy it in a moment of frustration,

with no compassion for the error on the other

side. The fact that that you were prepared to

take the time and consider how you may be

able to help is sometimes all that's needed.

3. Your reputation is never measured by

what people say to you face-to-face, it's how

they talk about you when you're not there.

As much as you may think suppliers don't

speak to each other, they do far more than

you realise. They will repeat the stories of

those who burnt them and acted in a manner

which showed no loyalty and respect.

I was speaking to a very successful diamond

retailer who was describing to me his early

experience when he set up the business. The

previous owner of the business had significant

business debts. So when the current owner

bought this existing business, suppliers were

reluctant to give them credit.

He went to one local diamond wholesaler

who accepted that he didn't have to be

responsible for the previous owner's

mistakes and extended credit to him. Today,

this retailer could purchase all his diamonds

direct from India, but in his own words he

stated:

"This local wholesaler backed me when no

one else would. I'm a very loyal sort of guy,

no National matter what I Wine buy from Centre overseas, I will

always support this local wholesaler with a

Adelaide

percentage of my purchases."

17th - 18th July 2020

There is no doubt that due to the

Networking | Training | Expert Advice | Business

competitive nature of the world we are

This in, Industry we will first look event to source will give you many the products resources

and network, so that you can concentrate on

overseas. However, what the world is

providing your customers with beautiful

experiencing jewellery today experiences. with the coronavirus

means that you may not always be able to

www.JewelleryIndustrySummit.com

source overseas. So how do you want local

businesses to survive?

I'm not suggesting for one moment you

need to be a charity, but I believe that one

can have more open and frank discussions

with local suppliers as to how one can

work together, play to their strengths and

find ways that they can future proof your

business and still be competitive.

There is a wonderful initiative happening

in July, and that is the Jewellery Industry

Summit in Adelaide.

It's a space where people from the trade

can meet, share ideas, learn new things and

National Wine Centre

Adelaide

17th - 18th July 2020

Networking | Training | Expert Advice | Business

This Industry first event will give you the resources

and network, so that you can concentrate on

providing your customers with beautiful

jewellery experiences.

www.JewelleryIndustrySummit.com

17 - 18 July 2020

Networking | Training | Expert Advice |

Business

www.JewelleryIndustrySummit.com

hopefully talk about the local suppliers that

they use who have stood by them over the

years and come highly recommended.

We are an industry. We need to act like one.

Just like loyalty needs to be earned, it needs

to be treasured and respected, rather than be

taken for granted.

I do believe that loyalty is a quality that most

Aussies pride themselves on, even those of

us who came from wide and far identified this

quality in Australia from an early age. Let's

treasure it and not take it for granted.

Trade well,,, Rami Baron.

March 2020 15
---
PRESIDENT'S

MESSAGE

Jo Tory

The Age of Trust

The term "fake news" has become

almost synonymous with online

media these past few years. Intense

discussions have emerged, both online and

offline, revolving around what is truth, what is

fiction and all that exists in between.

Such is the growing concern over the

prevalence of fake news, that in 2017,

following hot on the heels of the UK

Parliament, our federal politicians called for

an inquiry into the phenomenon of fake news

in Australia. Social media platforms are no

longer just about self expression and benign

communication, they've now become our

primary source of news. However, with the

proliferation of 24/7 online news content,

it's now more difficult than ever to maintain

authenticity and accountability, particularly

as social media has been found to be so

vulnerable to distortions; hearsay and

rumours are increasingly digested as fact.

Only a few months into the new year, the

coronavirus—now officially known as COVID-

19—has resulted in tragedy in countries

across the globe and has, understandably,

taken over the majority of online media

bandwidth. For many, it's already entirely

re-shaped the 2020 calendar and economic

outlook, with travel restrictions in place

and international trade fairs either being

re-scheduled or cancelled completely.

Strangely, the coronavirus has brought

questions of trust and accountability to the

forefront. This crisis transcended geographical

boundaries quickly, becoming a global concern

overnight, requiring a co-operative and

transparent exchange between countries. As

many continue to question the international

response to the virus and the accuracy of

media reporting, it has served to highlight the

fragile nature of the trust that exists between

countries and the communities that comprise

them.

One of the major contentions is that a growing

number of media sources are no longer

impartial. And, in this climate, the need

and demand for unprejudiced information

is perhaps higher than ever before. The

jewellery industry is not immune from this

demand either. The JAA receives multiple

inquires each day from consumers seeking

advice and information free from bias. Often

they come to the JAA because they feel out of

their depth, unable to discern fact from fiction

in the jewellery world. They come to the JAA

because they view it as an impartial, neutral,

authoritative; a source of trustworthy advice.

Our mediation service takes some of the

high emotions out of conflicts, helping to

reinstate trust between our members and

consumers; all parties feel heard and are

a part of the mutually beneficial solutions

that emerge. At times we are unable to help

because the store in question is not a JAA

member. The consumer often laments, "I

wish I had shopped with a JAA jeweller, then

I wouldn't be in this situation." The JAA is

working towards increasing public awareness

of JAA members as a part of its 'network

of trust'. Widely promoting our code of

conduct, which sets out the highest standards

currently available in the jewellery industry,

ensuring maximum protection for jewellery

buying consumers and, importantly, jewellery

retailers. The JAA is proud to offer this service

to both its members and jewellery consumers,

growing and strengthening the trust in our

local jewellery industry.

16

jewellery world - March 2020
---
THE JEWELCOVER REFERRAL PROGRAM

Give your customers peace of mind, without the price tag.

The JewelCover referral program has been created exclusively for

members of the Jewellers Association of Australia (JAA).

We won't be beaten on price or benefits

Grow Your Business

With JewelCover, you can give your customers the ability

to return to you in the event of a claim, in turn, helping you

to grow your business.

Cover From the Moment They Leave Your Store

Instant cover means instant peace of mind. Getting your

clients to insure their jewellery at the point of sale means

they are protected from day one.

12 Months Worldwide Cover

Your clients can travel with confidence on honeymoon or

holidays.

Cover Inside and Outside the Home

Home and contents insurance is great for fridges.

Jewellery? Not so great. Your clients will enjoy a policy

that covers them in and outside the house.

Complimentary Annual Revaluation

Markets change and so does the value of your clients

jewellery. They'll always know exactly what it's worth

with a complimentary annual revaluation.

An Agreed Value Policy

We don't believe in surprises when it comes time to

claim. Your clients will enjoy the confidence of knowing

exactly how much they're covered for.

Terms & Conditions Apply*

1300 522 808

Call us to discuss this

exclusive program
---
COVID-19 a boost for

Australian manufacturers

The retail and tourism sectors are likely to be hit hard by COVID-19 but the silver

lining will be found in the strength of Australian manufacturers.

The threat of the coronavirus (COVID-

19), in combination with the impact of

the bushfires, is expected to result in a

loss of up to 1.5 million international visitors

to Australia according to a Deloitte Access

Economics report. Around the world, the

virus is having a swift affect on the jewellery

market.

Jewellery giant Pandora has closed around a

third of its stores in mainland China, one of its

top markets, saying that business there has

ground to a halt.

"As I sit here and watch the Chinese business,

it is in a standstill mode, I mean there's

pennies being sold," Pandora's chief executive

officer, Alexander Lacik, told Reuters, as

he described an "unprecedented" drop in

business.

To date, Pandora has closed 70 of its

240 shops in China on the order of the

government and at its remaining ones, mostly

in shopping malls, customer traffic is "next to

none", according to the brand's boss.

China is the world's biggest luxury goods

market and Pandora makes about 10% of

annual sales from Hong Kong, China and its

tourists.

Chow Tai Fook

Jewellery Group,

the world's

second largest

jewellery chain by

market value after

Tiffany & Co. has

also closed stores

in Hong Kong

and Tiffany has

closed outlets in

mainland China.

Manufacturing in

mainland China

has slowed as

the government

there orders closures of factories and millions

of workers are restricted from travelling.

The impact on supply lines is yet to fully play

out, but at the recent Inhorgenta Munich

fair in Germany, many brands were revealing

difficulties in obtaining stock - a situation that

can only flow through to retailers.

The silver lining in a worryingly dark cloud

is the strength of the Australian jewellery

manufacturing sector. Opting for Australianmade

is more important than ever and we

are lucky to have local companies who are

able to swiftly turn around high-quality and

cost-effective product.

Manufacturers who have seen customers

leave them for cheaper overseas

competitors are likely to welcome them

back to place orders in the coming weeks.

Keeping Australian retail windows wellstocked

during a global crisis is one of the

strengths of our tight-knit industry.

18

jewellery world - March 2020
---
By Stefan Juengling

Uberkate

Najo

Uberkate

TOP TIPS ON HOW TO

MAXIMISE SALES

THIS MOTHER'S DAY

Mother's Day is just around the corner, and these couple of months leading up to the

big day presents a huge opportunity for jewellers and wholesalers to help customers

connect more with the gift that will leave the biggest impression: jewellery. With expert

input from Najo, Ice Jewellery Australia and Uberkate, we break down the knowledge,

strategies and advice you can take to make the most of Mother's Day.

Ice Jewellery

Start marketing early to make it a

great Mother's Day

Najo

If you've got pieces you think mothers will

love, it's time to start marketing to the sons

and daughters out there looking for such

a gift. Najo offers such a large range of

pieces across multiple collections,

that CEO Jo Tory said her team

compiles curated edits

to make it easy

for each of

their customer

groups to find

that perfect gift.

Uberkate

"They are listed on our website and

of course promoted through our

other communication channels

like social media and eDM

(electronic direct marketing),"

she said.

"As a little something extra, the additional

value that 'Gifts with Purchase' bring is always

something that our customers appreciate."

Mother's Day is

the second biggest

event of the year at

Uberkate (the first

being Christmas), and

in order to prepare,

company founder and

designer Kate Sutton

said they dedicate a

huge amount of time,

energy and creativity

on it.

"We increase our

social media contact

and we utilise our

database to keep everyone in

the loop at such a special

time," she said.

"We have lots of firsttime

mums buying

their first personalised

Uberkate circles (Ubercircles: Uberkate's

signature piece)and many partners

surprising their wives, girlfriends and partners

with a handwritten piece of jewellery."

Najo

20

jewellery world - March 2020
---
TO THE BEST MUM,

Happy Mother's Day!

Najo

The types of jewellery mothers want

As for the types of jewellery sons and daughters like to buy their mothers,

personalised pieces are all the rave for our respondents. Jo said that

Najo offers their SIGNA range of engravable jewellery as ideal gifts for

Mother's Day, which allow customers to preview and order a custom

engraving with their choice of font.

"There are several different sterling silver pieces with varying engraving

areas, including everything from small charms for initials to bigger pieces

that can fit their whole name,

or even the names of their

children," she said.

"As each inscription is

bespoke, a piece from the

SIGNA range is a truly unique

gift."

MOTHER'S DAY SPECIAL

Director of Ice Jewellery

Online Simon Molnar also

praised personalised jewellery

as sentimental pieces ideal for

Mother's Day gifts.

Uberkate

5068 PENDANT

JUST $255

ORDER TODAY TO AVOID DISAPPOINTMENT

CALL: 1800 777 413

NO FURTHER DISCOUNTS APPLY
---
Uberkate

"Pieces such as lockets, name

necklaces and inspirational

pieces such as family tree necklaces

or engravable pieces; these are dateless

and mothers love to keep their loved

ones close to their heart," he said.

Uberkate offers a "your script" service,

in which they use client's handwriting or

drawings done by their children to engrave on

the piece, and Kate said this service is hugely

popular for Mother's Day.

"It takes personalisation to the next level

and having received a cuff with 12 years of

my own children's handwritten messages

engraved on it (cleverly organised by my own

hubby!) I know what it

feels like to open

that box and see

their gorgeous

messages of love to

me engraved into

precious metal,"

she said.

Apart from that, Kate said their signature

Ubercircles are very popular during Mother's

Day, as are their newer gemstone cocktail

rings.

Why jewellery makes an ideal gift

Uberkate

Kate said mothers love receiving

jewellery as a gift because it's so

personal and it's a symbol that

is worn and can be seen.

"It's a symbol that shows

someone has been thinking

about you and of course women

Uberkate

LOVE wearing jewellery and even more so if it

has a story attached to it," she said.

Jo offered similar sentiments, stating that

jewellery is a timeless gift that speaks to their

individual style, and that jewellery that's gifted

during special occasions like Mother's Day will

always hold sentimental value.

Simon said that the mother-child relationship

is one of the heart, and so giving and receiving

jewellery is an emotional gift.

Najo

Advice for other businesses

wanting big Mother's Day sales

When asked about what advice she would give

to other jewellers to make it a big Mother's

Day, Kate said you should prepare early and

make sure you merge your online and

offline offers.

22

jewellery world - March 2020
---
"Use your social

media platforms

to drive clients into your stores, give people

a reason to come into store and think multichannel

always," she said.

Najo

"The world is now online and offline and we all need

to use all platforms available to us to connect with our

clients in multiple ways."

As for the product side of things, Kate recommends

businesses should launch valued products that have a story and

have something 'extra' about them.

"It's not enough to just launch products, consumers need to

connect with products and connect with a brand to want to wear

what they craft."

Jo stressed the importance of marketing suitable pieces for your

clientele.

"Curate a small Mother's Day collection to offer, keeping in mind

the suitability for gifts for mothers of all ages, with a variety of

attractive price points," she said.

Simon said that if jewellers want to take advantage of Mother's

Day, they should not make the customers hunt for ideal Mother's

Day gifts.

"Put these pieces front and centre to make it easy for your

customer to find," he said.

"Remove anything that is not relevant to Mother's Day like gents

jewellery."

Uberkate
---
The precious metal people

Thinking of cashing in or converting your sale proof stock,

lemel, polishing dust and/or sweep into pure metals?

Look no further than CPG Group Refinery.

Our NATA accredited state-of-the-art precious metal

refinery provides professional, fast and reliable refining

services with the most competitive rates while delivering

maximum returns on your precious metals.

Call our friendly and dedicated staff today with your enquiries

on 03 9544 7997.

CPG Group is your one stop shop

for all your precious metal needs.

ADMIN@CPGGROUP.COM.AU

INFO@CPGGROUP.COM.AU
---
Jewellery World supporting suppliers to

support retail jewellery businesses

Jewellery World Magazine hasn't become the market leader simply by luck. Our knowledge,

experience and willingness to go the extra mile for both sellers and buyers has earned us the

number one position in the Australian and New Zealand jewellery industry media.

Jewellery World launched a new jewellery

pavilion inside the AGHA fair this February

21st-24th at Olympic Park with 16

exhibitors. These 16 companies used the fair

to reach out to their customers and bring a

better service and connection at a tough time

of the year. With all that is happening around

the world, it has never been so important

to connect with local suppliers to help your

business.

According to AGHA's official figures, the fair

was a solid success across the entire giftware

sector, but of course, our focus is on jewellery

and many have been curious as to how a

jewellery pavilion would fare inside a wideaspect

tradeshow.

The answer is a resounding 'very well.'

Jewellery suppliers in the pavilion saw a

busy four days with good traffic and very

satisfactory sales. As a whole, the group is

Winner of the lab-grown diamond tennis

bracelet Roula Nicolacopoulos of Diann

Darling Jewellers, Engadine NSW.

keen to repeat the experience in Melbourne in

August, and the pavilion is, of course, open to

any other companies who may be interested

in joining.

Our favourite comment from a participating

supplier was "This takes me back to how

we used to do the fairs and it's been a great

success for us." Other exhibitors were equally

happy. "Let's get booking in for the Melbourne

August fair and next year here at Olympic

Park," said one, while others added, "Can't

wait to see how Melbourne goes," and "There

were a couple of dead spots but all in all it was

very successful for us."

And that was the point of the whole exercise

- to help jewellery businesses with better

business opportunities. "Thank you for

organising it - it was a great success for us,"

and "Thanks for all your help, the event ran

really well." Comments like this make it all

worthwhile.

Visitors pleased with

a dedicated jewellery

space

The pavilion saw a great

deal of visitors both from

mixed-product retailers as

well as jewellery retailers.

Jewellery retailers in

particular found the

pavilion and the fair as a

whole a very worthwhile

experience and easier to

get to than other locations.

Hannes Coetsee of Leading Edge Group

"We loved the fair and felt it was much better

at Homebush with better layout and choice

of jewellery. The free parking was great too

and easy access," said Helen from Advance

Jewellers who travelled from the ACT to

attend.

Tim from Facet Jeweller in Cockburn Gateway,

WA was initially concerned at how a jewellery

pavilion would sit in a general gift fair. "I didn't

expect a lot of jewellery as a first time but I

was not disappointed," he said, acknowledging

the wide range and quality of suppliers in the

pavilion.

It was great to see so many retailers who are

buying group members at the fair, reminding

us that our industry is really one big family.

Events like this help strengthen ties between

26

jewellery world - March 2020
---
the various strands of our industry and the atmosphere was friendly,

busy and enjoyable.

"As I was in Sydney I visited the fair and it was beneficial for me to meet

the suppliers and plan the year ahead with them, so I used the fair to

help strategise for the year. It was successful for me," said Stephen from

Stephens Jewellery in Shepparton, Victoria, a Showcase member.

ATHAN

IMPORTERS OF

FINE ITALIAN

JEWELLERY

18CT SPECIALISTS

The companies to be commended for taking the first steps in this revival

of a mixed fair are: A M Imports, Australian Precious Stones, Bead Them

Up, Bolton Gems, Cocktail Jewellery, Diva Designs, Duraflex Group,

Graham Cohen, Ikecho, Jewellery Centre, KL Diamonds, Oblo Jewellery,

Pastiche, Searay, Sparkle Impex, TJD Silver. With more exhibitors looking

to join in for the Melbourne fair we are looking to secure a good position

for the Jewellery World Pavilion at the Melbourne fair this 1-5 August.

ANGER

And The Winner Is...

The raffle for the 5.5ct lab-grown tennis bracelet donated by Craig Miller

of JC Jewels, was drawn at 1pm on the last day of the fair by Hannes

Coetsee from Leading Edge Group and went to Roula Nicolacopoulos

of Diann Darling Jewellers in Engadine NSW, a member of Nationwide

buying group.

We spoke to Roula about the fair and her winnings:

"Lab Grown is something I have been pondering for some time so

winning the bracelet will give me a chance to have a look and make

some decisions for the future. Thank you, Craig at JC Jewells, for

donating the bracelet to the fair.

"I do normally come to the gift fair and originally started because I used

to visit Pandora. I find new trends there and keep an eye on the market

as a whole and to be honest I was surprised to see so many jewellers

there, especially Sparkle Impex and Bolton Gems, whom I do business

with. I was concerned that they may sell to gift people but am totally

happy if they do even if it is twice a year, so long as they do at retail

prices with a small discount so as not to cheapen the industry.

"Christmas was ordinary for us but I always try to make the store look

nice with new product as there has been a shift on spending habits.

People come in all year round and buy big pieces although not as many

as Thomas Sabo or Pandora which sell pretty well throughout the year.

"It is great to get some nice pieces in new at the start of the year as I

always keep stocks up all year round with great product to entice my

customers. I support the companies that support Nationwide hence I

spent quite a lot with them at the fair."

9CT & 18CT CHAINS INCLUDING...

TRACE CHAINS 1.0mm - 2.4mm

WHEAT CHAINS 1.0mm - 2.0mm

CURB CHAINS regular and open

14CT & 18CT W/G & Y/G ROUND

OMEGAS 1.0mm, 1.5mm & 2.0mm

14CT & 18CT 2/T OMEGAS 2.0mm, 2.5mm & 3.0mm

18CT UNSET TENNIS MOUNTS 0.03ct - 0.50ct

POSSIBLY THE FINEST QUALITY

AVAILABLE IN THE MARKET

SUITE 602/220 COLLINS ST. MELBOURNE VIC 3000

T: 03 9663 2321 F: 03 9663 7821 E: info@athan.com.au

PURCHASE ONLINE

www.athan.com.au
---
By Kirsten Ehrlich Davies

Peter W Beck

MAKING OUT

Manufacturing the jewellery we love

Technology allows traditional bench jewellers and manufacturing firms alike to play a

role in the customer's ever-growing love affair with custom-made jewellery.

Technology is bringing a new versatility

and efficiency to the jewellery

industry, streamlining age-old creative

techniques and expanding the essential

network of customers and colleagues. As

customers become more independent

about the designs they prefer and more

environmentally conscious, many of today's

designers do a steady trade of remodelling

work and custom designs.

Today, even smaller jewellery businesses have

the freedom to experiment with innovative

designs while building an international

customer base.

Expanding creativity

In 1978, Peter W Beck made a huge

technological investment in his jewellery

business, travelling to Milan to buy a rolling

mill, so the company could create its own

sheet and wire. This purchase was an

important step forward for the company,

enabling them to expand their product range

and keep up with the growing customer

demand.

Peter maintained his keen eye for innovation,

and was quick to recognise the potential for

CAD/CAM when the technology was still very

new to the jewellery industry.

Around 15 years ago, the company made

their first investment into CAD and 3D printing

Deer Honey Jewellery

technologies, and today Peter W Beck is an

established provider of CAD/CAM services for

manufacturing and retail jewellers throughout

Australia and New Zealand.

CAD/CAM is particularly beneficial when

crafting complex, specialist pieces of jewellery,

as it reduces the time and cost involved in

creating a piece traditionally. This gives the

designer more freedom to be innovative and

versatile, while the traditional skills of casting

and stone setting are still as valuable as ever.

Peter W Beck

28

jewellery world - March 2020
---
design, such as a different coloured stone or

alter the design to suit the right hand rather

than the left.

Building a community

Brett Low of Deer Honey Jewellery still draws

his own eclectic jewellery designs to scale,

and while he's attracted to the potential of

laser technology, he can't justify the cost right

now. He doesn't use CAD himself although he

will contract the work out if necessary – his

scale drawings are easy to interpret. For

Brett, the most important innovation in the

jewellery industry has been the development

of online platforms, where he can network

with both customers and industry peers.

"Instagram is a fantastic platform for

manufacturers and designers, and

part of our online marketing

is to give people a peek

into our workshop

through videos,"

Brett said.

"Facebook is

also good, but I

find Instagram is

the best platform for

promoting jewellery."

Deer Honey Jewellery

Deer Honey Jewellery

Customers who see Brett's jewellery

samples online will request their

own customised "tweak" to the

Alternately, they could pick up ideas for

remodelling an old ring – women who

want to redesign their engagement ring or

an heirloom piece of jewellery will gather

ideas from sites like Deer Honey Jewellery's

Instagram page before coming to a decision.

The range of gemstone options on display

will fire up a customer's imagination, so they

think more broadly about cut and colour

when choosing a gemstone for their preferred

design.

Besides expanding his customer base, the

Internet has also made it easier for Brett

to interact with suppliers and contractors.

Brett's smartphone is an essential work tool,

providing a direct line of contact to people all

around the country and overseas.

"Now platforms can be consolidated so you

only log into one account to reach Instagram

or Facebook or LinkedIn," he says.

This direct line of contact

streamlines the design

process, whether he

is seeking to find the

right gemstone for a

particular design or the

right contractor to help

him complete a commission

efficiently.

Brett has also found that the Internet provides

the opportunity for jewellery experts to

share their wisdom or ask for guidance. He

helps run a Facebook group called The Young

Jewellers Group, which is dedicated to provide

a friendly and accessible community resource

for people in the jewellery trade, where they

can share their skills and expertise or ask

questions from experts in the field.

Technology as a tool

Benjamin Ryan Jewellery

Benjamin Ryan Jewellery caters to customers

who specifically want traditionally handcrafted

pieces, although Ben says that new technology

does play an important role in the business.

"I prefer to handmake jewellery and will

always keep that as the focus of my business.

I do use CAD, laser and wax casting when

needed. I think people can sometimes

become a little lazy with new technology,

but it has opened

up a lot of other

amazing areas

where we

can push the

boundaries of

design."

While Ben is

concerned there

may eventually be a

slump in traditional

skills, he knows

Peter W Beck

others have held this

fear in the past, and the quality of handmade

jewellery always has its place.

"Old jewellers have always said to me that

when wax casting became more prominent,

Peter W Beck

March 2020 29
---
Benjamin Ryan Jewellery

Benjamin Ryan Jewellery

they were worried it would replace old

manufacturing skills. But as we have seen,

it hasn't. I think wax carving is an excellent

skill when working alongside traditional

manufacturing techniques."

Ben has seen more of a resurgence with

handmade, along with a push from customers

to have something handmade or remade.

"A lot of people love seeing the process and

their pieces evolving from start to finish," he

said.

Ben has found that lasers are particularly

beneficial and cost-effective.

"Time and price point are always important

factors, and there is a huge price difference

between laser engraving compared to

traditional engraving. Laser welding can

be fantastic for repairing those almost

unrepairable nightmare jobs, and they are also

a great help in tacking pieces into place before

soldering, or getting into those hard-to-reach

places, especially if some components are

pre-set before assembly."

Balancing modern and traditional

Ironically, the expanding market of discerning

customers seeking customised jewellery has

also driven the push for independent jewellers

to embrace technological advances. The

result is a commitment to nurture traditional

methods, combined with a reliance on

modern innovations to streamline production,

so jewellers can meet time and money

constraints.

Benjamin Ryan Jewellery

Ciufoli unveils luxury Adelaide boutique

Italian jewellery brand, Ciufoli, led by Australian designer Giacomo, has

opened their first private boutique in Adelaide, Australia.

Ciufoli curates truly unique collections of high-end jewellery for the

luxury and bridal markets.

The unveiling of their first boutique is timed to coincide with the

launch of Cuifoli's latest bridal and engagement collection – Segreto.

With this collection, Ciufoli says, the brand extends an invitation for

brides to be both delicate and bold, because like the heroines of

timeless love stories, real beauty is often found in rareness.

"At Ciufoli, rings are forged from the fire of fairytales," says the

company in a recent release.

Led by Adelaide born creative director,

Giacomo Ciufoli, 27, the Segreto Collection

celebrates the unique nature of two souls

coming together. Giacomo notes that 'Many

brands choose to propose the one jewel to an

array of men or women; I'd rather propose a

different one to each individual.

"Segreto"

Floating 4ct marquise diamond

and blue sapphire ring

30 jewellery world - March 2020

"I believe that

every man and

woman should

be given the

opportunity

and freedom

to choose to be

themselves, to be

unique. It is this

belief that inspires

a collection to

have an element

Ciufoli Adelaide Boutique

of customisable freedom whilst still being visibly anchored to the one

origin, through a uniquely identifiable aesthetic."

Every ring in the collection is made-to-order in Italy within 4-6 weeks.

The collection can be viewed by appointment at the new boutique

in Adelaide.
---
KL DIAMONDS

THE JEWELLER'S WORKSHOP

To see just how much goes on behind the scenes at KL Diamonds is surprising.

A showroom and workshop are nestled behind lacquered wooden doors

adorned with impeccably polished brass in the heart of Sydney's CBD.

Kalleh Levonian is the director of KL

Diamonds and joined the family business

more than 20 years ago. The company's

large showroom and adjacent workshop

operates on the fifth floor of the Trust

Building, overlooking Sydney's Martin Place

with neighbourly views of Chanel and Dior.

Hermes will be joining in the next few weeks,

just underneath KL Diamonds.

Although surrounded

by high-end luxury

and glamour,

Levonian is always

focused and

dedicated to the

fundamentals of

making jewellery;

the highest quality

craftsmanship

and using superb

materials. His workshop is buzzing with

a multitude of activities, all happening

simultaneously. Diamond setting, assembling

of raw castings, remodelling and repairs of

much-loved pieces. Polishing and rhodium

plating are also done in-house.

Levonian says quality and speed are the words

he chooses to describe his approach to the

workshop.

"It's so important to me that the quality is high

and our clients are happy. We see ourselves

as an extension to their own workshop. They

come to us for our quick turnaround times

and the quality of our work."

As the company motto goes, "We are your

workshop."

As well as the manufacturing service, KL

Diamonds also stocks the largest range of

Argyle pinks, champagnes and whites. Whilst

32

jewellery world - March 2020
---
the Argyle pinks are still very popular, the Argyle white

diamond is where the focus is at the moment, driven by

demand and signals in the marketplace.

"People are wanting to know the source… the concept of

knowing the exact origin is becoming normalised. Now

people have a strong preference

for Australian diamonds."

Levonian had launched his

Australian Diamond Valley brand

only mid last year, responding

to the growing demand for

jewellery made completely with

Argyle diamonds.

"Our pieces are completely

Argyle, not a combination

of Argyle diamonds set with

diamonds from another country.

It's this purity of our product

which attracts consumers."

As we leave the showroom, Levonian switches gears and is back on the bench with his

team, setting stones for a job that has just come through the door.

Ph: (03) 9650 5955 Fax: (03) 6950 5977

Email: sales@millenniumchain.com.au

Web: www.millenniumchain.com.au

6th Floor, 313 Lt. Collins St.

Melbourne 3000 Victoria

Millennium Chain

Finished Top 5 in the category of

Best Selling Gold Jewellery Suppliers in

Australia and NZ, as voted by retailers.

millennium_chain
---
Winner 2018 Fancy Coloured Award:

Ben Preston-Black Creations Jewellers

Entries are open for the

2020 Diamond Guild Australia

Jewellery Awards

Premier diamond industry association, Diamond Guild Australia, has announced that the Diamond

Guild Australia Jewellery Awards will be held once again in 2020 and is calling for entries from all

jewellers and designers around Australia working within the retail fine jewellery industry.

The Diamond Guild Awards, to be held for the

7th time in 2020, are widely regarded as the

foremost jewellery design event in Australia.

The 2020 competition will test the design and

manufacturing skills of the participants across

6 categories:

Solitaire Diamond Award

The simplest and yet most challenging of

categories – the Solitaire Diamond Jewellery

Award applauds the beauty of the single stone

of any shape showcased in a unique ring

setting. This category is awarded for excellence

in craftsmanship and innovation of design.

Diamonds For Men Award

Always innovative and modern, the Men's

category is hallmarked by the creative use

of materials to highlight the diamond. This

category celebrates contemporary jewellery

for the design conscious Australian man.

Diamonds For Everyday Award

This award honours jewellery design that is

inspirational and accessible. Entries in this

category can take any form but must be to

the retail value of $6,500 or less. Diamond

jewellery that is wearable, affordable and

stylish.

Emerging Talent Award

The category that celebrates the next

generation of Australian Jewellery Design

talent. Jewellery apprentices and students of

jewellery design are encouraged to test their

skills in this accessible and prestigious award.

For the first time entry to this category in 2020

will require only a hand rendered illustration

of a unique design from which the finalist and

winner will be selected. Entries are to feature

diamonds of any colour and shape inspired by

the robust beauty of Australian nature.

Argyle Australian Fancy Coloured

Diamond Award

As the world bids farewell to the finest

source of fancy coloured diamonds in 2020,

this category celebrates the unique range of

coloured stones sourced from the Australian

Argyle mine. In this category, certified fancy

coloured Argyle stones must represent 70%

or more of the overall diamond content of the

design.

Red Carpet Award

Always highly anticipated and fiercely

contended, the Red Carpet Award honours

the fantasy and glamour of high jewellery.

No limits apply to diamond content, value or

creativity. Think showstopping, trendsetting,

eye-catching design at its best.

From the winning design selected in each

category the Supreme Winner will be awarded

as the pinnacle of design excellence and

craftsmanship in 2020. Representing the best

of diamond jewellery, this award is the most

aspirational and prestigious in Australian

jewellery design today.

Executive Officer of Diamond Guild Australia,

Melissa James confirmed that the Guild and its

members were looking forward to being able

to offer this design event to the wider industry

again in 2020 explaining that supporting and

promoting the jewellery trade was key to the

mission of Diamond Guild Australia.

"We see this competition as the most valuable

way to showcase the amazing talent we have

in Australia to the jewellery loving general

public," she said.

Early registrations of interest are now open at

www.diamondguild.com.au/awards/awardsregistration.

Full criteria for each category

will be released in March when registered

jewellers and designers will receive an entry

information kit.

34

jewellery world - March 2020
---
Elodie Daguzan to sit at head of

World Diamond Council

The World Diamond Council has appointed Elodie Daguzan as the

new executive director for the organisation.

As she stepped into the role in

February, Daguzan brought 19 years of

experience to the position. She most

recently served as head of communications

and industry relations at Rubel & Menasche,

a French diamond trading company. Daguzan

has also represented the company at the

World Diamond Council serving as an active

member of the Kimberley Process Task Force.

The WDC, the overarching group that

represents the diamond industry in front of

the Kimberley Process certification scheme, is

facing challenging times as it strives to ensure

consumer confidence in diamonds and meet

the expectations of today's consumers, says

Daguzan.

In her first blog for the WDC, Daguzan says

"the diamond industry is a business sector

that is special because of the inherently

precious product it deals with, but also

because of the caring people of which it is

comprised."

She says she is driven by the desire to

advocate for the good that diamonds do.

"But diamonds do not do good, or bad for

that matter, on their own. Individuals do.

Individuals have the power to gather and work

in unison for the betterment of their industry,"

she adds.

"I believe that partnering together, driven by

our common purpose of living up to diamonds

and people, will be the foundation on which

we will keep building a stronger future for our

industry. This is because business is a tale of

encounters and a tale of

connections."

Daguzan holds a degree

in archaeology from the

Paris-Sorbonne and is a

certified gemmologist,

having studied at the

National Institute of

Elodie Daguzan

Gemmology in Paris and

the Gemmologica Institute of America in New

York.

Daguzan takes over as WDC Executive Director

from Marie-Chantal Kaninda, who stepped

down from the position toward the end of

2019 for a new opportunity in the Democratic

Republic of Congo.

02 - 92690991
---
KEEPING SKILLS ALIVE

How to make an Eternity Ring

The eternity ring project has been an integral part of apprenticeship

training for generations. It teaches advanced marking and saw piercing

disciplines. Even with the development of modern manufacturing

technologies these skills are still essential for today's bench jeweller.

The materials used for this lesson is sterling silver 4.5mm x 4.5mm x

37mm and 21 x 2.5mm CZs

1The first stage of the process is to make

a ring blank to specific dimensions. This

should be regarded as a test in itself. Roll

the stock gauge metal to the required

dimensions for the ring blank: 3.8mm wide x

2.6mm thick. The video instructions include

how to use a rolling formula to achieve the

correct measurements. Make sure that the

strip is around 10% over the measurements to

allow for final file up later.

2Anneal before forming into a ring.

Finished finger size for this ring is size

'O'. Aim to make it one size smaller at

this stage. Be careful not to impress

tool marks as this will affect the finished ring

measurements. Cross the ends over to apply

tension to the joint, then line the ends up.

Ensure that the joint meets perfectly. Flux and

solder using hard grade. Quench and pickle to

remove the oxides.

3Tap the ring with a steel hammer on

a mandrel into a perfect round shape.

Work on the ring until you get it to the

correct finger size. Now file the ring to

the correct measurements and emery finish to

remove tool marks. The video includes useful

filing tips and techniques.

If you file too much off, sorry, but go back to

the start. This is a test.

4

Mark out for 21 stones. This is easier

said than done. Theoretically you could

work out the spacing by dividing the

circumference of the ring by 21 and setting you

dividers to that measurement. The chances of

you successfully marking out 21 perfect spaces

are very slim. So, I advise you to firstly dividing

the ring into three sections, then concentrate

on marking out seven perfectly spaced settings

in each of the three sections.

5Check again that your markings are all

correct. If not, emery the surface again

and restart. Use a set square to scribe

the marking across the ring. Cut the cross

markings in with your piercing saw. Now cut

the side lines in, making sure that you position

your blade so that the lines radiate from the

centre of the ring.

6

When you cut the sides, they should

leave evidence on the inside of the

ring. This will help for marking the

cross lines. Set your dividers to just under

1mm and scribe rails around the inside of the

ring,then carefully join the cross markings

up matching the rail thickness to create a

ladder pattern. The squares should all be the

same size and the frame thickness should be

consistent.

36

jewellery world - March 2020
---
7

Use a 0.8mm drill to pilot drill all the

sections. Check the inside of the ring

to make sure that the holes are all

centred properly. Open all the settings

out with a 1.2mm drill. If any of the pilot

holes are out, correct them with the second

pass. Treat this exercise as a test for accurate

drilling skills.

8

Use a 1.2mm round bur to countersink

the inside holes. Use a 1.5mm ball

bur to open the top of the settings

and finish off countersinking the top

with a bud or cone bur. This will allow the saw

blade to rotate as you perform the angled back

cutting (Ajour). Before you begin to back cut

the settings, try the technique out on a piece

of scrap metal.

9

Insert a 4/0 or 5/0 saw blade into a

setting and begin the cutting work by

angling the blade forwards. This will

help to avoid contact with the top

sides of the ring. Keep the blade moving as you

cut into the two outer corners, then scrape

the blade along the scribe line. Turn the ring

around and re-insert the blade to repeat the

process on the other side. Stay well withing

the scribe lines for you first attempts. You

can perfect the work once you have some

experience.

10

Cutting the cross markings of the

inner squares can be tricky and

may result in some accidental

cuts on the sides of the ring. As

you cut the cross lines of the back holes to a

square shape, pay attention to the top sides of

the ring opposite where you are cutting, this

area should only be contacted by the back of

the blade.

Once you have done all the back cutting, use

a split mandrel with a strip of emery paper to

clean the inside of the ring. This will highlight

any rough spots that may need more trimming.

11are to be cut into castle settings.

Now turn your attention to the top

of the ring. Each of the settings

Set your dividers to half the ring

thickness and scribe a guideline around both

sides. Set your dividers to 1mm and mark off

from the lines at the sides and top of the ring.

Now cut the marks in to at least saw blade

thickness along the top. Angle your blade to

around 45° to cut out the sides of the settings.

Carefully turn the blade and cut across to take

the small sections out.

12

Use your piercing saw as a file

and scrape the cut-out surfaces

until they are neat and tidy. The

assessment of your saw cutting

skills should be done now, before any further

tidying work is carried out.

Finally, you can use a needle file to tidy the

slots. A #12 flat graver with a polished belly will

apply a bright cut finish ready for stone setting.

The video includes various stone setting

techniques for setting a full eternity ring.

Peter Keep is a

master jeweller

and teacher. He

offers structured

online courses

that have helped

thousands of

students around

the world improve

their skills.

Jewellery Training Solutions Courses

Jewellery Training Solutions offers a comprehensive online training

service including the very popular Silver Level Apprentice Training

Course where you will find this course.

Check out all the other courses at

www.jewellerytrainingsolutions.com.au

March 2020 37
---
TIMELESS ELEGANCE

Emile Chouriet takes a page from the golden era of precision chronometry for its latest creation.

Named after the lake that is emblematic of Geneva and shared

between Switzerland and

neighbouring France, the Lac Léman collection pays tribute to

the brand's founder Emile Chouriet, who left France for Switzerland

during the early years of Swiss watchmaking in the 17th century.

The newest reference in the line, the Lac Léman Classic Chronometer

is a piece that combines timeless elegance with unrelenting precision

in a style that is unmistakably Emile Chouriet.

The polished

40mm steel

case features

Emile Chouriet's

signature stepped

wing-shaped

lugs, a touch

of whimsical

elegance on

this modern

classic. The dial

is fashioned in

Lac Léman Classic Chronometer EC9312 Automatic Movement COSC

Stainless Steel Case © Emile Chouriet

white lacquer, with elongated slim black Roman numerals for the hour

markers, while the blue hands are a striking accent.

The watch is powered by the EC9312-COSC calibre, an automatic

COSC-certified movement with a guaranteed accuracy of -4 to +6

seconds per day. When fully wound, the movement provides a power

reserve of 42 hours and is visible through the display back.

The Lac Léman Classic has all the makings of a timepiece destined for

those who appreciate the elegant charm of Geneva watchmaking's

illustrious past, with just the right kind of modern accents to never

feel antiquated.

NEW MEISTERSINGER NEO

MeisterSinger are famous for their single hand watches - but their

newest release adds a new complication - The Neo Pointer Date.

Released at Inhorgenta 2020, the Neo

Pointer Date sticks with MeisterSinger

tradition: a single hand is used to tell the

time, but a second hand is used only to

read the date from a display in the middle

of the dial.

This form of display is a traditional

one for wristwatches, as the date

used to be indicated by a hand at

the center of the dial long before

the first date windows appeared. The

design, which is rare today, follows the

MeisterSinger principle of showing the

moment not as an isolated display but in

context, providing an overview of both the

weekly and the monthly course of events.

The Neo Pointer

Date follows the

classical rule that the

hand for indicating

the longer periods of time, in this case the full days, is the shortest.

The date circle is somewhat recessed and located tightly around the

center of the dial, clearly differentiated from the minute scale and

the hour numerals. Its typography and the small, needle-like hand

are highly typical of MeisterSinger.

Two models in two sizes are available in this new release. The

Neo is 36mm in diameter while the Neo Plus sits in a

40mm case. Available in opaline white and sunburst

blue the models are both powered by a Swiss

automatic movement. Each is stamped with a serial

number and is water resistant to 3 bar.

All models come with a finely meshed milanaise

bracelet and are available from March/April 2020.

38

jewellery world - March 2020
---
BOLD IN BRONZE

Tag Heuer's Autavia

reinvented for a

new generation

Longines HydroConquest

A new look in green

Longines' HydroConquest collection has models

in blue, grey and black but new additions in tones

of green prove that the only thing more alluring

than a blue-faced watch is one in deep green.

The khaki and green models derive

their inspiration from aquatic sports

and the open sea. HydroConquest

timepieces preserve the traditional style

of diving watches, inspired by the unique

requirements of the sport. The distinctive

characteristics of this collection include

water-resistance to 300 metres, a

unidirectional rotating bezel, a screwdown

crown and cast back, crown

protection and a double security folding

clasp with integrated diving extension.

The khaki model features a ceramic bezel insert and is mounted

on a stainless steel or green rubber strap. Available in two sizes

(41 or 43 mm diameter) the piece is powered by a self-winding

mechanical movement.

The green model houses a L888.5 calibre that was designed

exclusively for Longines. The 41mm case comes with an

interchangeable stainless steel bracelet and a green rubber strap.

TAG Heuer has introduced its

legendary Autavia timepiece as

a new stand-alone collection that

boasts the versatility, ruggedness

and reliability that characterised the

original Autavia from 1960.

Two durable and timeless models in noble bronze with a green or

brown colour scheme, powered by the COSC-certified automaticwinding

Calibre 5, are now available in stores and online. The

Autavia in bronze is an ideal choice for explorers who want their watch

to live with them and show off their unique and adventurous lifestyle.

The 42mm watch features a fumé green or brown dial with a

bidirectional rotating ceramic bezel in black or brown, respectively. The

brown model is presented on a brown leather strap, while the green

model features a khaki-coloured leather strap. A tyre and propeller have

been etched into the titanium caseback as a nod to the collection's rich

heritage and the Autavia's origin: automobile and aviation.

The most distinguishing feature of the

bronze Tag Heuer Autavia models is the

unique patina that naturally develops

on the bronze case, which will be

different for every watch depending on

the wearer's habits over time. When

exposed to elements such as water

and air or changes in temperature, the

bronze surface will undergo a process

of oxidation. Starting with a red-brown

colour and then turning a blue or

greenish colour, this colourisation effect

on the metal is completely natural, and

the hue depends on the type of bronze and the

elements it has been exposed to. Every oxidation pattern is unique,

and the wearer is able to make the watch truly their own.

March 2020 39
---
SEIKO 5 SPORTS

BRIAN MAY LIMITED EDITION

Brian May, musician, singer and songwriter with massive rock band Queen, has

collaborated with Seiko to release a watch celebrating his guitar.

veneer that Brian stained and polished himself. The innovative

tremolo system designed by Brian featured a hand-carved mild steel

rocker plate pivoting on a (literal) knife edge, with the pull of the

strings balanced by motorcycle valve springs. To complete the job, the

tremolo arm was improvised from part of a bicycle saddlebag holder,

capped with a piece of a sturdy knitting needle. The Red Special is

a labour of love that has uniquely served Brian on stage and in the

studio for over half a century.

Throughout his long and continuing career, rock legend Brian May has

relied upon his ''Red Special'' guitar to create the sound that helped

make Queen one of the world's most admired and celebrated rock

bands. He has also relied on Seiko.

For more than 40 years, Brian has worn a Seiko diver's watch whose

enduringly popular design is the inspiration for the latest Seiko 5

Sports collection. Brian bought his Seiko watch while first on tour in

Japan in the 1970's since when his guitar and his watch have travelled

the globe together, making great music and keeping great time.

The Red Special now inspires a new Seiko 5 Sports watch whose dial

echoes the design of the guitar which Brian and his father built in the

early 1960's. The guitar was

made by hand, with only

hand tools. The neck was

carved from the wood of an

old fireplace, 100 years old

at the time. The body was

made from blockboard with

an ancient oak insert, and

covered with a mahogany

The new Seiko 5 Sports

watch is constructed

in a very different way

but is also built to last.

With the long-trusted

caliber 4R36 at its

heart, 10 bar water

resistance, a Hardlex

crystal and its robust

steel case, it has all

the qualities that have

made Seiko 5 Sports

so many fans down

the decades. The dial

has the same red and

Brian May visited Wako in Ginza and met with Shinji

black color scheme as

Hattori, chairman and CEO of Seiko Watch Corporation.

the ''Red Special'' and

features a delicate wood-like pattern like the body of the guitar.

The watch is offered as a limited edition with Brian's signature on the

case back and comes with a special presentation box designed on the

lines of the Red Special's custom flight case. The presentation box also

contains a commemorative coin that is based on the sixpenny piece

that he has used throughout his career as a plectrum. The watch is

presented on a black nylon strap, designed to mirror the strap that

Brian now uses on his guitar.

The Seiko Red Special is a 9,000 piece limited edition.

40

jewellery world - March 2020
---
PULSAR SIGNS ON

WITH SUPERCARS

Iconic watch brand Pulsar extends its long-standing partnership

with Australia's premier motorsport series.

Pulsar has released a brand-new limited-edition Supercars watch to mark their seventh season as the Official Watch Partner

of the Virgin Australia Supercars Championship.

Stuart Smith, group marketing manager of Seiko Australia said the Supercars fan base had continued to show tremendous

support to the brand since its inaugural season in 2014.

"Each year the limited-edition watch sells out and we have the passionate

fan base to thank for that," he said.

"The Supercars series delivers an exciting championship

year in, year out. Racing and qualifying often

comes down to the millisecond, commanding

the ultimate in accuracy and precision form

its drivers, qualities that are at our very

core as a watchmaker.

"We look forward to another wonderful season of racing and hope the Supercars fans fall

in love with the 2020 limited edition watch."

In addition to the Supercars-themed watches, this season fans will be able to look out

for new branding, as Pulsar take over the pit exit stop/go lights at Supercars events.

Shane Howard, chief operating officer at Supercars, said the long-standing relationship

with Pulsar was an important partnership for Supercars, with teams and fans alike

looking forward to the new limited edition designs each year.

"Every year our fans get excited about getting their hands on the newly released watch

design. It's fantastic to continue this partnership in to a seventh season," he said.

Only 2020 units will be made available worldwide. Features include chronograph

function, stainless steel hard coated case with black patterned leather strap and red

stitching, date calendar and water resistant to 100m.

March 2020 41
---
NEW PRODUCTS

Ikecho | +61 2 9266 0636

Sterling silver white Freshwater Pearl Edison 11.5-12mm

cubic zirconia bangle 19cm

www.ikecho.com.au

Jewellery Centre | +61 7 3221 3838

New to Jewellery Centre - Geometric Shapes!

Elegant sterling silver earwires (EW5042, EW5043CZ & EW5046)

www.jewellerycentreaustralia.com

Bianc | +61 412 251 257

The Bel Noir collection features unique and classic designs set

in sterling silver with cubic zirconia.

All our New Season products are on online now.

info@bianc.com.au

@bianc_jewellery

www.bianc.com.au

Zahar | +61 413 872 810

Zahar is a new Australian fashion jewellery brand that

launched in August 2019.

The designs are bold and take on eclectic elegance and fun,

with a focus on both classic and contemporary styles.

The Zahar collections currently range between WS$14.00-

$35.60.

info@zahar.com.au

@zahar.collection

www.zahar.com.au

42

jewellery world - March 2020
---
services

services

chains

• Desert Jewells •

Supplier to

all buying groups

Fast delivery Australia wide

THE BATTERY MAN

Opal & Coloured Stone

Repair Service

We specialise in:

• sourcing replacement stones • precision

gem cutting • stone colour matching for

custom makes • blanks and mounts • free

shapes • calibrated stones • inlay opal

jewellery repairs.

sales@desertjewells.com.au

0414 902 200

www.desertjewells.com.au

JAA Member. Fast, reliable. Email quotes.

Nearly 40 years of trusted

service to the Watch &

Jewellery Industry.

Free call: 1800 244 354

Your one stop battery shop

& much more.

orders@thebatteryman.com.au

www.thebatteryman.com.au

Glues

PO Box 112

Toronto NSW 2283

P: 02 9380 4742 ∙ F: 02 8580 6168

E: sales@adelaimports.com

Adela Imports offer over 180

designs of sterling silver chain,

with up to 20 lengths available

in each from stock.

Also offering a range of

uniquely designed silver

jewellery.

Catalogue available.

www.adelaimports.com

for sale

for sale

MILN & CO. Pty Ltd

Ph: 02 4655 7707 M: 0412 702 834

E:stuart.miln@milnco.com.au

Lancier Watch Bands - Leather, metal, sports.

Watchglasses. Seals. Batteries. Quartz Movements.

Pins/tools. Jewellery findings. J C Hurst Bangles.

Fischer Barometers and Tide Clocks

Chris O'Neill

Piecemaker

2015 YJG Bench Challenge

Hand Engraving Champion.

Also specialising in quality

Handmakes, Repairs and

Antique restorations in the

Sydney CBD.

0405 689 834

LIFESTYLE FOR SALE

Noosa Heads, Queensland

LIFESTYLE FOR SALE

Noosa Heads, Queensland

Luxury jewellery store located

on the exclusive Hasting Street

opposite iconic Main Beach

Luxury jewellery store located on exclusive Hastings Street

opposite iconic Main Beach

Beautiful modern gallery style shop Þt-out

Existing local, interstate and international client base

Beautiful modern gallery style

shop fit-out

International airport opening 2022

Comprehensive handover

Existing local, interstate and

international client base

Great return on investment

Contact Gordon on 0419672411

International airport

opening 2022

Comprehensive handover

Great return on investment

CONTACT GORDON ON 0419 672 411

Relaxing...

My grandfather has the heart

of a lion - and a lifelong ban

from the zoo.

The quickest way to man's

heart is through his chest.

I like to play chess with old

men in the park, though it's

hard to find 32 of them.

What do you get when you

cross a joke with a rhetorical

question?

James and Kay Drysdale operate a

much loved successful small family

business nestled in the heart of

Berwick Village.

Their business has an established

reputation for high quality jewellery

making, restoration and repairing

with long term support staff.

For full details, contact Barry Erlenwein

T: 0409 324 180

E: barry@justrealestate.com.au

March 2020 43
---
From our inventory, to yours...

BECOME AN OFFICIAL

STOCKIST

Due to an increase in enquiries from retail customers,

we are upgrading the online presence of our stockist

function on our website. It's another way O'Neils Affiliated

are trying to keep the Australian Jewellery industry

vibrant and busy in the face of overseas and online sales.

Please visit www.oagems.com

or call our friendly team on 03 9654 5200

for more information.