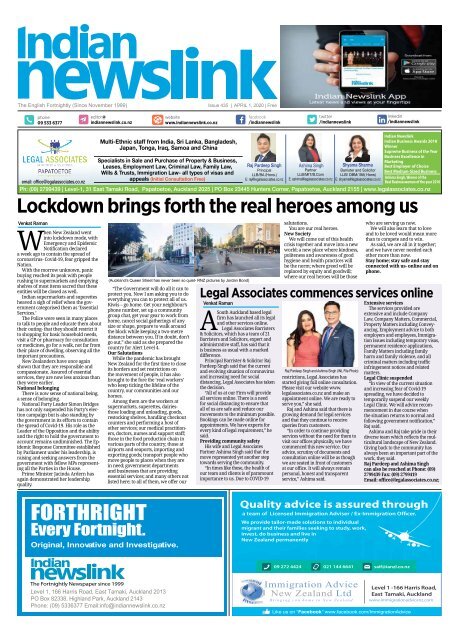 Indian Newslink Digital Issue - April 1 2020
You also want an ePaper? Increase the reach of your titles
YUMPU automatically turns print PDFs into web optimized ePapers that Google loves.
The English Fortnightly (Since November 1999)

Issue 435 | APRIL 1, 2020 | Free

phone

09 533 6377

editor@

indiannewslink.co.nz

website

www.indiannewslink.co.nz

facebook

/indiannewslink

twitter

/indiannewslink

linkedin

/indiannewslink

Multi-Ethnic staff from India, Sri Lanka, Bangladesh,

Japan, Tonga, Iraq, Samoa and China

Specialists in Sale and Purchase of Property & Business,

Leases, Employment Law, Criminal Law, Family Law,

Wills & Trusts, Immigration Law- all types of visas and

appeals (Initial Consultation Free)

Raj Pardeep Singh

Principal

LLB/BA (Hons.)

E: raj@legalassociates.co.nz

Partner

LLB/MIT/B.Com

E: ashima@legalassociates.co.nz

Shyama Sharma

Barrister and Solicitor

LLB/ DBM/ BA( Hons)

E: shyama@legalassociates.co.nz

Indian Newslink

Indian Business Awards 2018

Winner

Supreme Business of the Year

Business Excellence in

Marketing

Best Employer of Choice

Best Medium-Sized Business

Ashima Singh, Winner of the

Best Businesswoman of the year 2016

email: office@legalassociates.co.nz

Ph: (09) 2799439 | Level-1, 31 East Tamaki Road, Papatoetoe, Auckland 2025 | PO Box 23445 Hunters Corner, Papatoetoe, Auckland 2155 | www.legalassociates.co.nz

Lockdown brings forth the real heroes among us

Venkat Raman

When New Zealand went

into lockdown mode, with

Emergency and Epidemic

Notification declared

a week ago to contain the spread of

coronavirus- Covid-19, fear gripped the

Nation.

With the morrow unknown, panic

buying reached its peak with people

rushing to supermarkets and emptying

shelves of most items sacred that these

entities will be closed as well.

Indian supermarkets and superettes

heaved a sigh of relief when the government

categorised them as 'Essential

Services.'

The Police were seen in many places

to talk to people and educate them about

their outing- that they should restrict it

to shopping for basic household needs,

visit a GP or pharmacy for consultation

or medicines, go for a walk, not far from

their place of dwelling, observing all the

important precautions.

New Zealanders have once again

shown that they are responsible and

compassionate. Assured of essential

services, they are now less anxious than

they were earlier.

National belonging

There is now sense of national being,

a sense of belonging.

National Party Leader Simon Bridges

has not only suspended his Party's election

campaign but is also standing by

the government in its efforts to contain

the spread of Covid-19. His role as the

Leader of the Opposition and the ability

and the right to hold the government to

account remains undiminished. The Epidemic

Response Committee established

by Parliament under his leadership, is

raising and seeking answers from the

government with fellow MPs representing

all the Parties in the House.

Prime Minister Jacinda Ardern has

again demonstrated her leadership

quality.

(Auckland's Queen Street has never been so quiet- RNZ pictures by Jordan Bond)

"The Government will do all it can to

protect you. Now I am asking you to do

everything you can to protect all of us.

Kiwis – go home. Get your neighbour's

phone number, set up a community

group chat, get your gear to work from

home, cancel social gatherings of any

size or shape, prepare to walk around

the block while keeping a two-metre

distance between you. If in doubt, don't

go out," she said as she prepared the

country for Alert Level 4.

Our Salutations

While the pandemic has brought

New Zealand for the first time to close

its borders and set restrictions on

the movement of people, it has also

brought to the fore the 'real workers'

who keep ticking the lifeline of the

country, our communities and our

homes.

Among them are the workers at

supermarkets, superettes, dairiesthose

loading and unloading, goods,

restocking shelves, handling checkout

counters and performing a host of

other services; our medical practitioners,

doctors, nurses and support staff;

those in the food production chain in

various parts of the country; those at

airports and seaports, importing and

exporting goods; transport people who

move people to places when they are

in need; government departments

and businesses that are providing

essential services; and many others not

listed here; to all of them, we offer our

Legal Associates commences services online

Venkat Raman

A

South Auckland based legal

firm has launched all its legal

and other services online.

Legal Associates Barristers

& Solicitors, which has a team of 21

Barristers and Solicitors, expert and

administrative staff, has said that it

is business as usual with a marked

difference.

Principal Barrister & Solicitor Raj

Pardeep Singh said that the current

and evolving situation of coronavirus

and increasing need for social

distancing, Legal Associates has taken

the decision.

"All of us at our Firm will provide

all services online. There is a need

for social distancing to ensure that

all of us are safe and reduce our

movements to the minimum possible.

Bookings can be made online for

appointments. We have experts for

every kind of legal requirement," he

said.

Providing community safety

His wife and Legal Associates

Partner Ashima Singh said that the

move represented yet another step

towards serving the community.

"In times like these, the health of

our team and clients is of paramount

importance to us. Due to COVID-19

salutations.

You are our real heroes.

New Society

We will come out of this health

crisis together and move into a new

world; a new place where kindness,

politeness and awareness of good

hygiene and health practices will

be the norm; where greed will be

replaced by equity and goodwill;

where our real heroes will be those

Raj Pardeep Singh and Ashima Singh (INL File Photo)

restrictions, Legal Associates has

started giving full online consultation.

Please visit our website www.

legalassociates.co.nz and make an

appointment online. We are ready to

serve you," she said.

Raj and Ashima said that there is

growing demand for legal services

and that they continue to receive

queries from customers.

"In order to continue providing

services without the need for them to

visit our offices physically, we have

commenced this new service. Our

advice, scrutiny of documents and

consultation online will be as though

we are seated in front of customers

at our office. It will always remain

personal, honest and transparent

service," Ashima said.

who are serving us now.

We will also learn that to love

and to be loved would mean more

than to compete and to win.

As said, we are all in it together;

and we have never needed each

other more than now.

Stay home; stay safe and stay

connected with us- online and on

phone.

Extensive services

The services provided are

extensive and include Company

Law, Company Matters, Commercial,

Property Matters including Conveyancing,

Employment advice to both

employers and employees, Immigration

Issues including temporary visas,

permanent residence applications,

Family Matters including family

harm and family violence, and all

criminal matters including traffic

infringement notices and related

matters.

Legal Clinic suspended

"In view of the current situation

and increasing fear of Covid-19

spreading, we have decided to

temporarily suspend our weekly

Legal Clinic. We will advice recommencement

in due course when

the situation returns to normal and

following government notification,"

Raj said.

Ashima and Raj take pride in their

diverse team which reflects the multicultural

landscape of New Zealand.

Giving back to the community has

always been an important part of the

work, they said.

Raj Pardeep and Ashima Singh

can also be reached at Phone: (09)

2799439 Fax: (09) 2799419

Email: office@legalassociates.co.nz;

FORTHRIGHT

Every Fortnight.

Original, Innovative and Investigative.

Qualityadviceisassured through

ateam of Licensed Immigration Adviser /Ex-Immigration Officer.

We provide tailor-made solutions to individual

migrant and their families seeking to study,work,

invest,dobusiness and livein

NewZealand permanently

09 272 4424 021 144 6641 saif@ianzl.co.nz

The Fortnightly Newspaper since 1999

Level 1, 166 Harris Road, East Tamaki, Auckland 2013

PO Box 82338, Highland Park, Auckland 2143

Phone: (09) 5336377 Email:info@indiannewslink.co.nz

Level1-166 Harris Road,

East Tamaki, Auckland

www.immigrationadvicenz.com

Like us on "Facebook"

www.facebook.com/ImmigrationAdvice
---
02

APRIL 1, 2020

Homelink

Beyond politics, all of us must fight the common enemy

Kanwaljit

Singh Bakshi

We are all in this

together, and we will

get through this.

We are in unprecedented

times right now. It seems

as though that line is said at least

once every hour now, and repeated

regularly, but unfortunately, true.

Covid-19 has affected the whole

world and devastated economies. .

I have never experienced something

like this in my lifetime, and a

lot of you will be the same.

Responses around the world

have varied. Some nations have

been more effective than others.

Rising cases in New Zealand

New Zealand has not been

immune, we have seen the case

numbers surge as the virus spreads

and more tests are carried out.

New Zealanders naturally have a

'we will be right' attitude to things.

Some of us can be sometimes be a

bit relaxed.

But the health officials have laid

out what we all have to do to help

combat coronavirus, and we have

to do it.

We have to stay at home, not

just for ourselves but for our

parents, our grandparents, our

immune-comprised friends and

family members.

It will be tough but generations

of Kiwis have, throughout history,

made great sacrifices to safeguard

our way of life. This is our turn.

This is an incredibly important

time for our nation, and will come

at a cost.

National Party support

The National Party supports

the Government as it takes action

against this virus.

We have talked to experts; we

have listened to them every day

and we have seen the international

experience. The spread of Covid-19

is relentless internationally.

So we stand alongside the Government,

supporting and assisting

the orderly shutdown of New

Zealand. Because this is about lives

and livelihoods and for the good of

our country, not politics.

National will continue to take

a constructive and principled

approach to scrutinising the

Government's response to Covid-19

through the Epidemic Response

Committee.

Strong scrutiny

It is important that there is

strong scrutiny of our nation's

response to this pandemic as it will

affect future generations, both in

terms of lives but also in terms of

the billions of dollars being spent

by the Government.

National will be asking the

questions that New Zealanders

want answered.

What we know right now, is that

if we didn't go into lockdown, if

we continued as we were before,

thousands of lives could be lost. I

don't want to see that and I know

New Zealand doesn't want to see

that either.

It is better to look back and say,

'this lockdown was an overreaction,'

than allow people to die

needlessly.

The next few weeks will be tough

but we can do it.

The Government will continue

to have our support as long as it

is moving expeditiously to protect

those lives and livelihoods.

Protecting workers

We want to protect workers and

their jobs as much as possible, we

want to see businesses reopen once

this period of isolation is over.

While we are all stuck at home, it

is important that you still check on

your loved ones across the country,

and on your neighbours.

While that check may have to be

a phone call, you cannot underestimate

how important that will be,

especially for our elderly.

I want to thank our supermarket

workers, our petrol station attendants,

our IT professionals, our

essential infrastructure and health

workers all over this nation, our

police and defence and other first

responders, plus many, many more

keeping New Zealand going.

You are heroes.

I am confident we can show our

best nature as Kiwis, following the

rules and showing small acts of

kindness during this tough time.

We are all in this together

without exception, united against

Covid-19.

We will get through this,

together.

Kanwaljit Singh Bakshi has been

a Member of Parliament on

National Party List (Manukau

East) since November 2008. He

is the Party's Spokesperson for

Internal Affairs and Associate

Spokesperson for Justice.

Judicial review call against

community newspapers ban

Jordan Williams

The Free Speech Coalition

is preparing to launch an

urgent judicial review of the

Ministry of Culture and Heritage's

decision to deem non-daily

newspapers and publications not an

essential service for the purposes

of the COVID-19 Level-4 nationwide

shutdown.

No High Court is going to uphold a

bureaucrat deciding what media can

and cannot operate. This decision

was done without any consultation,

and on the basis of only daily

newspapers and broadcast media

being deemed 'essential.'

No justification

Assuming that the smaller publications

can take the same distance

and health measures as the ones

currently publishing, there is no

justification in shutting them down.

Even at a time of emergency,

no civilised society can justify the

Government deciding what parts

of the media are important and not

important.

The maxim 'this is a dangerous

precedent' is overused, but in this

case, it literally is.

Extent of ethnic media

Ethnic media, which have now

been banned from publishing, reach

audiences that the daily press does

not. Similarly, in smaller or aged

communities where online access

is limited, local information is

absolutely essential.

The decisions made by the

Government in the last ten days

are probably the most significant

in our lifetime. Weekly and

monthly publications like North

and South, the Listener, and ethnic

newspapers serve a vital role in

the community's conscience and

holding our leaders to account.

Significant difference

That is just as important as

daily news. These magazines are

functionally no different to the likes

of music radio or entertainment

television, which is allowed to

continue broadcasting.

Even at times of war censorship,

the Government didn't choose who

could print and who couldn't. The

Government must rethink this, or

face a judicial hearing to review

this abuse of public power.

Jordan Williams is a well-known

Constitutional and Commercial

Lawyer and Spokesperson for

Free Speech Coalition. Among its

members are former National

Party and ACT Party Leader

and former Reserve Bank of

New Zealand Governor Dr Don

Brash. Read related story under

Businesslink.

Kanwaljit Singh Bakshi

National List MPbased

in

Manukau East

Contact

A

P

F

E

1/131 Kolmar Road, Papatoetoe, Auckland

09 278 9302

09 278 2143

bakshi.mp@parliament.govt.nz

facebook.com/bakshiks

@bakshiks

bakshi.co.nz

Funded by the Parliamentary Service. Authorised by Kanwaljit Singh Bakshi MP, 1/131 Kolmar Road, Papatoetoe.
---
APRIL 1, 2020

Homelink

Together, we can beat Covid-19 by staying apart at home

03

Michael Wood

With Prime

Minister

Jacinda Ardern's

announcement

that New Zealand is at

Covid-19 Alert Level 4 from

Wednesday, March 25, 2020,

we are in the unprecedented

situation of a nationwide

lockdown.

I want to start off by

saying thank you to all Indian

Newslink readers who are

doing the right thing and

staying home as we head into

our nationwide period of

self-isolation.

I know that you are giving

up a lot; but it is for a good

cause.

Stay home benefits

By staying home, you

are breaking the chain of

transmission of COVID-19.

By staying home, you are

denying the virus a chance

to jump from one person to

infect another.

By staying home, you are

saving lives.

You would have seen in the

statistics that it is likely that

COVID-19 has already started

to pass from person-to-person

in our communities. We need

Prime Minister Jacinda Ardern announcing

lockdown

to break that chain if we are to slow it

down and protect our health system

from being overwhelmed.

Doctors and other experts have

done analysis which suggests that

taking isolation measures now has the

potential to save thousands of lives.

Everyone has a responsibility in this.

Slowing the spread of this virus

and protecting New Zealand from the

worst requires every single one of us

to play our part. Complacency just

isn't an option. The stakes are far too

high.

That's why I am so grateful to you

for starting the lockdown period with

a positive outlook, and with respect

for the rules.

Beating the virus

Every coffee you make at home,

every walk you take alone rather than

with friends, every time you respect

your isolation bubble, we come closer

to beating back the virus.

From the teddy bears in the windows

to the makeshift

home schools to the

lockdown dance videos,

New Zealanders

are doing a great job

in a tough spot.

Thank you especially

for being kind

to each other at the

supermarket.

You will know by

now that supermarkets,

pharmacies,

hospitals and other

essential services will

be up and running

throughout this period

of self-isolation.

Essential Services

It is important to

emphasise that the

farmers and growers

and drivers and

related people who

bring food to your

supermarkets are

continuing to operate

during the lockdown,

too, so that there will

be plenty of food

when you get there.

There is no need for

anyone to rush to the

Supermarket – my

family are continuing

with a normal once

weekly shop.

I want to say a

special thank you to

all those essential

workers.

It is not just those in our

medical professions, our

primary industries, and our

law enforcement.

It is also our supermarket

workers, our transport workers,

the people who keep the

house warm and the internet

on, and so many more.

This is a busy, stressful,

and potentially scary time for

them, and we are all indebted

to them for their efforts. The

best way you can say thank

you at your supermarket is

to keep being kind when you

see them.

To learn more about all

the things we're doing as

New Zealanders to unite

against COVID-19, I encourage

you to visit the website,

covid19.govt.nz.

This website also includes

information about the steps

we are taking to minimise

the huge economic impact

and to keep as many businesses

and job going.

Remember, let us be kind,

stay home, break the chain,

and save lives.

● First Home

● Investment Property

● Residential or Commercial

● Building / Extending / Renovating

● Re-Finance/ Restructure

● Buying an Apartment

● Low Deposit

● Self Employed

● Business Loan

● Property Development

For all your home loan and insurance needs talk to us...

Rakesh Bansal Era Bansal Manisha Kumar Jatinder Singh

021 030 8135 021 066 7598

021 154 4327

info@kiwimortgages.net.nz era@kiwimortgages.net.nz

Jatinder@kiwimortgages.net.nz

Ex-Banker for years

Ex-Banker for years

I hope you and your

family are adapting to the

current unprecedented

conditions.

If you have questions or

concerns please feel free to

email me on

michael.wood@

parliament.govt.nz or leave

a comment on my Facebook

page.

Michael Wood is elected

Member of Parliament

from Mount Roskill in

Auckland and Senior

Government Whip.

Contact us for FREE

consultation

Toll Free:

0508 33 22 11

M:021 030 8135

09 903 3602

116b,Cavendish Drive, Manukau City E:info@kiwimortgages.net.nz | w:www.kiwimortgages.net.nz

Are you looking

to Buy or Sell

a Business?

Shaun Khanna has a business, sales and marketing

experience of more than 25 years and is a specialist in

selling businesses such as Service Stations, Lotto Stores,

Dairies, Supermarkets and Liquor Stores. He also has vast

exposure in the hospitality sector. Shaun has sold many

businesses and has helped hundreds of buyers and sellers

of petrol stations and convenience stores throughout New

Zealand. Shaun understands both sides of the transaction

from the perspective of both the buyer and the seller as he

is a former successful business owner as he had owned

and successfully run a big BP Service Station & thoroughly

understands how it works.

Shaun offers the degree of professional service that

effectively brings business buyers and sellers together to

experience successful and desirable outcomes. Shaun

has a nationwide network of contacts and a track record

of success, receiving many referrals from satisfied buyers

and sellers.

For a confidential, no obligation discussion about the sale

of your business please give me a call on 029 770 9767 or

send an email to shaunk@abcbusiness.co.nz

Shaun Khanna

029 770 9767

shaunk@abcbusiness.co.nz

Stay Home. Stay Safe. Stay in touch.

2017

SALESPERSON

OF THE YEAR

RUNNER-UP

2017

MOST DYNAMIC

HI-VIZ VIDEO

LISTER

2015/2016

LISTER

OF THE YEAR

2014

SALESPERSON

OF THE YEAR

RUNNER-UP

2013

RISING

STAR

NewZealand Immigration Specialists with 30 years of experience

Competent, proven

immigration service since 1988

●Serving the immigrant community since 1988

●Upfront in-depth appraisal. We accept only cases

which are highly likely to be successful

●Telephone enquiries /obligation free advice

●Network of professional subject matter experts,

such as Commercial Lawyers, Accountants and

Business Consultants to work on Business Visa applications

●Strong portfolio of successful applications

●Strong New Zealand community connections

●Skilled Migration ●Family Migration ●Business Visa

●Special Direction Applications

●Appeal to IPT, CFP (Client Complaints to INZ), S.61 and

Ministerial Requests for consideration

Call us now for afree initial appraisal of your immigration application

(Appointment essential for personal consultations)

Principal: Harjeet SGolian

B.A. (Aust) LL.B (NZ)

Licenced Immigration Adviser -Member NZAMI -since 1993

029 770 9767

www.businessesforsale.co.nz

Licensed REAA 2008

Level 1, 3Campbell Road, Royal Oak, Auckland

Phone: (09) 6241204 Mobile: 021 624120

E: golian@golian.co.nz W: www.golian.co.nz
---
04

APRIL 1, 2020

Homelink

High Commission offers essential items to stranded Indians

Who qualifies clarified,

the distribution process

to be determined

Venkat Raman

The Wellington-based Indian

High Commission is considering

offering essential items to

Indian passport holders who

are stranded in the country with no

relatives or friends and devoid of cash

or EFTPOS facility.

Hamper for essential

commodities

High Commissioner Muktesh

Pardeshi told Indian Newslink a short

while ago that he and his officials are

working on a formula of offering such

help.

"Although our High Commission

is shut for direct, person-to-person

contact, our officials are working

from their homes and a very few of us

selectively attend the High Commission

for short periods to continue to render

services to our clients. We understand

that some people from India may be

stranded in New Zealand and may

require our help. This is under consideration,"

he said.

High Commission Second Secretary

Paramjeet Singh also told Indian

Newslink that he and other officials

have been working with the High

Commissioner in this connection.

"The facility that we are considering

is in terms of providing a hamper

containing basic items such as rice,

dhal, soap and a few other daily

necessities. The exact number of items

and the quantity of each of these will be

decided in a couple of days," Mr Singh

said.

Mr Pardeshi said that the facility will

Muktesh Pardeshi, India's High Commissioner

to New Zealand (INL Photo)

be only for Indian passport holders

who are stranded in New Zealand

because of the Covid-19 related

government lock down.

Eligibility criteria

"There may be Indians from India

(holding Indian passports) who may

be grounded in this country because

they are unable to return home since

there are no international flights. Some

of them may be travellers who neither

have friends and relatives or funds

in New Zealand. There may be some

students from India who are unable to

do their 20-hours of work and hence no

income to support themselves. It is to

help such people that we are considering

provision of a hamper," he said.

The location/s from which such

hampers will be available, the process

of identification and such other details

will be decided by the Indian High

Commission, Mr Singh said.

The distribution process

"We have to work out the logistics

in compliance with the New Zealand

government laws of lockdown due

to Covid-19 (Alert 4) including social

distancing and ensure that distribution

of these hampers occurs from venue/s

that is/are allowed to do so. We will

need a few days to work out a proper

Paramjeet Singh, Second Secretary, Indian High

Commission, Wellington (Picture Supplied)

formula. We will also consult the

relevant authorities," he said.

Work subsidy for temporary

workers

The Indian High Commission

is aware that not all visitors and

temporary visa holders will need any

help. The New Zealand government

announced yesterday modifications

to its Work Subsidy Scheme, which

declared that relief will be available

to 'everyone legally working in New

Zealand.'

This is further defined as 'A person

who has a New Zealand work visa

or a condition on their New Zealand

temporary visa that allows them to

work in New Zealand.'

As always, please do not take this

news report as general or individual

advice. Please contact the authorities

for further clarification. The official

website www.covid-19.govt.nz contains

all details.

Private Sector help welcome

While the Indian High Commission

initiative is for only selective Indian

passport holders who are in genuine

distress, Mr Pardeshi said that he

would welcome any help from anyone.

They can write to

hoc.wellington@mea.gov.in

Funeral gatherings prohibited

to prevent Covid-19 spread

Venkat Raman

The government has issued

new directives that prohibit

funeral gatherings throughout

New Zealand as a part

of the steps to prevent the spread of

Covid-19.

A notification from the Office of

Ethnic Communities said that the

directive applies to all deceased persons,

regardless of when and where

they died, or the cause of death. It

includes gatherings at burials, cremations,

memorial services, open or

closed caskets or viewings, funeral

wakes, processions or receptions

and social gatherings, both indoors

and outdoors.

Protecting public health

"Our communities have had to

make a number of changes to our

cultural and faith practices to keep

people and communities safe. This

now extends to funerals and burials

of our loved ones during lockdown,"

the notification said.

The new rules cover Churches,

Mosques, Synagogues, Temples,

Marae, private funerals at home

and any other venue.

"We must protect people's health

and ensure our health system can

look after all people in New Zealand

who become sick. Bereaved families

and whānau from all cultures and

backgrounds will find this time challenging.

This makes it even more

important that we show each other

kindness and caring, manaakitanga

and aroha," the notification said.

Guidance and suggestions

Funeral Directors, categorised

under Essential Service at Alert

Image by floristluton from Pixabay

4 Level, will provide guidance,

including the best options for each

situation.

These could include livestreaming

services on social media, or videos

for viewing later.

"Not being able to say goodbye to

a loved one, in the way we are used

to, will be very challenging.

There are strict rules in place

for when loved ones pass away,

regardless of the cause. These rules

apply to everyone, every culture,

every religion," the notification said.

"COVID-19 is now in the

community and public gatherings

put your family and friends at risk,

especially at risk family members

and our older people. The public

must note that burials may happen

very quickly and the ashes from cremations

may not be returned until

we are out of lockdown and into a

recovery period. "These are tough

rules which many will find hard, but

we can't risk the health and safety of

our family and friends."

These rules will remain in place,

while we remain in lockdown.

https://covid19.govt.nz/

help-and-advice/for-everyone/

funerals-and-tangi/

Smart money choices made simple.

We'll help you find the sweetest mortgage deal whether it's your first home or

investment property, and arrange the best insurance to suit your needs.

Mortgage services

Home loans

Construction loans

Refinances and restructures

Top ups & debt consolidation

Commercial & Business loans

Insurance

Life, Trauma

Medical/Health

General

Business

Income Protection

Call us today

0800 21 22 23

Level 1, 3/53 Cavendish Drive

Manukau
---
APRIL 1, 2020

Our duty as people will

promote safety, save lives

Phil Goff

At midnight on

Wednesday March

26, 2020, New Zealanders,

for the first

time in our history, entered

a period of compulsory

self-isolation and a lockdown

of our communities.

This requires us for at least

a month to stay in our homes,

with a few exceptions such as

going to purchase groceries or

necessary visits to the doctor.

This will impact hugely on

us in terms of our lifestyle

and normal routines, and,

for many, the ability to

earn a living. It will impact

hugely on our economy at a

level not seen since the Great

Depression.

Drastic and unprecedented

The measures are drastic

and unprecedented, but they

are in response to a similarly

unprecedented risk—the

unchecked spread of the

COVID-19 virus.

People widely accept

the need for it if we are to

stop the virus infecting and

taking the lives of thousands

of people, as it has in other

countries.

The government has acted

as it needed to, and now it is

up to us to play our part and

comply with what is being

asked of us.

I urge everyone in our

communities to treat the

situation with the seriousness

that it requires. Please stay at

home other than when you

need to go out for essential

needs such as groceries or to

see a doctor. Maintain physical

distance of at least two

metres from anyone outside

your family group. Follow the

guidelines provided by the

government and we will get

through this crisis together.

Seek trusted information

At this time, it is important

to have a trusted source of

official information.

The government's covid19.

govt.nz website has been set

up to provide this. It has all

the information you need,

including guidelines for

self-isolation, how to access

financial assistance, and what

to do if you feel unwell.

I encourage you to visit

it regularly and share the

information there widely.

Auckland Council information

will be updated regularly

at www.ourauckland.nz

Again, I encourage you to

visit this site regularly and

share it with your families

and communities.

The period ahead will be

hard for individuals, families

and communities.

Anxiety and stress

levels for many will be high,

particularly for people who

have lost jobs, and businesses

which have lost their income.

Self-isolation important

We know, however, that

the pandemic cycle will come

to an end, and that this will

happen earlier and without

the loss of thousands of lives

if we stop the widespread

transmission of COVID-19 by

self-isolating.

Please stay safe, stay at

home and be supportive of

others. Physical isolation

needs to be accompanied by

increased social interaction

by phone or internet,

especially for the elderly and

those living alone.

These are the most

challenging times of our

generation, but we will get

through them by working

together and supporting each

other.

Phil Goff is Mayor of Auckland.

He writes a weekly

column in Indian Newslink.

Homelink

05
---
06

APRIL 1, 2020

Educationlink

International students, you are us and we care

Sourced Content

International students are a valued

part of New Zealand's education

system and of our community. New

Zealand provides quality education

to many thousands of international

students each year, and we want that to

continue.

The New Zealand Government's

number one priority is the health of

people in New Zealand and the Pacific

Islands.

Our message to students is that your

health and safety is our number one

priority. You are not alone, and the New

Zealand community is here to support

you.

Access to information, help

New Zealand is committed to

ensuring that international students

have ready access to the information,

support and care they need.

Temporary visa holders including

student visa holders can no longer

enter New Zealand.

Only residents and citizens can enter,

and they must isolate themselves for 14

days upon arrival.

All educational facilities are closed

and should provide distance learning

where this can be reasonably managed

by staff working from home

Businesses closed except for essential

services and lifeline utilities.

Travel is severely limited and the

government re-prioritised health

services.

School holidays advanced

From March 24, 2020, early learning

services, schools and kura were closed

for most students.

School holidays started early from

March 30, 2020 to April 14, 2020.

Enrol now in courses starting soon

During the holiday break, the Ministry

of Education will support schools to

develop e-learning and other distance

learning options for Term 2.

Tertiary providers are moving to full

distance learning as quickly as possible.

The official New Zealand Government

source of information is website

covid19.govt.nz with information on (a)

The symptoms of COVID-19 and how

to seek medical help (b) How to protect

your mental wellbeing (c) Self-isolation

and (d) Content for speakers of other

languages.

Call Healthline for health-related calls

about COVID-19 on 0800-3585453; calls

from overseas to +64-9-3585453. You

can talk with a member of the National

Telehealth Service and interpreters will

be on hand. The number is staffed by

Waikato Varsity appoints new Dean of Law

Venkat Raman

University of Waikato has

announced the appointment of

Professor Alpana Roy as Dean,

Te Piringa Faculty of Law.

She was previously Associate Dean

(Research) at the School of Law, Western

Sydney University and Head of the

School's Campbelltown Campus.

Her other academic positions were

at the University of Queensland, the

University of Technology Sydney, the

University of Sydney and Charles Sturt

University. She has also practiced as

a solicitor, barrister and senior legal

consultant in intellectual property and

internationally known for research in

intellectual property law.

Waikato University Vice-Chancellor

Professor Neil Quigley said that with

her experience in academia, as a practicing

solicitor and as an internationally

recognised researcher, Professor Roy

will being immense value for staff and

students at the University.

"Professor Roy has a PhD in Intellectual

Property Law from the University

Professor Alpana Roy (Picture Supplied)

of Sydney, a Master of Arts (Journalism)

from the University of Technology

Sydney, a Bachelor of Law with

Honours from the University of Sydney

and a Bachelor of Arts (Social Science)

from the University of Technology

Sydney. She was admitted to practice

as a solicitor in NSW in 1999, to the

NSW Bar as a barrister in 2008, and she

is a nationally accredited mediator,"

Professor Quigley said.

nurses, paramedics and health advisors.

You can also follow the Ministry of

Health on Facebook @minhealthnz

for key updates and on Twitter @

minhealthnz.

For international students

The Ministry of Education website

is the official source of information for

New Zealand's education sector during

the COVID-19 outbreak.

It has advice and information for

students and their families including in

simplified Chinese.

It also has information for education

providers and homestay families.

For any other information that your

tertiary education provider is unable

to help with, please call the Tertiary

Education Commission on 0800-123797.

See information for international

students on NauMai NZ and the ENZ

WeChat account.

Immigration and insurance

information

The New Zealand Government's

Epidemic Management Notice relating

to immigration matters comes into

effect on Thursday April 2, 2020.

People with a temporary (work,

student, visitor, interim and limited)

visa expiring before April 1, 2020 who

are unable to leave New Zealand must

apply online for a new visa.

An interim visa will be issued.

People with a temporary visa due to

expire between April 1 and July 9, 2020

will have their visas extended to late

September.

Confirmation of extensions will be

emailed to all visa holders.

Immigration New Zealand has set up

a dedicated web page for student visa

holders.

This will provide you will the latest

information and advice on COVID-19

related visa queries

You can also call the Immigration

Contact Centre on 0508-225288 (within

New Zealand) or +64-9- 9521679 (from

overseas).

The National Health Coordination

Centre, which is part of the Ministry of

Health, has confirmed that "people who

have or who are suspected of having an

infectious and/or quarantinable disease

are eligible for publicly funded health

services to address the risks to other

people."

Further information is available on

the Ministry's website.

New Zealand Qualifications Authority

advises international students to contact

their insurance provider directly

for up-to-date advice on any changes to

their cover as a result of the COVID-19

outbreak, and to then consider their

options, and take the course of action

that is in their best interests.

For education providers

The Ministry of Education has advice

on (a) International fee-paying students

- enrolment and levies (b) Schools

considering or planning overseas trips

(c) Supporting international students:

Supporting students' learning when

staying away; Distance learning options;

Schools with homestay families; School

hostels

New Zealand Qualifications

Authority has developed information

and advice for providers who, as Code

signatories, have important responsibilities

to international students.

The Tertiary Education Commission

leads the Government's relationship

with the tertiary education sector and

offers information for providers. www.

tec.govt.nz.

Information for travellers

Only residents and citizens can enter

New Zealand.

Residents and citizens entering New

Zealand should check the Ministry

of Health information for travellers

webpage

You can find out more about

self-isolation on the Ministry of Health's

website.

People who have recently returned

to New Zealand and who develop

symptoms of fever, cough or shortness

of breath should seek medical advice –

phone Healthline's dedicated COVID-19

number 0800-3585453 or contact your

GP, including phoning ahead of your

visit.

For updates, please visit www.

covid-19.govt.nz

Information for New Zealand citizens

and permanent residents returning

to New Zealand is available on the

Immigration New Zealand website.

Source: Education New Zealand

Community newspaper ban is unwarranted and untimely

Dr Catherine Strong

The government's blanket ban

on community newspapers

during the lockdown is

short-sighted.

The Government has shut down

more than 100 community newspapers,

while allowing the large daily

newspapers to continue publishing.

There needs to be an urgent

rethink in view of the vital position

community newspapers play in

reliable information flow.

Best practice in crisis communication

is to use information flows that

people already have and already

depend on, not to try to change their

news habits in the middle of a crisis.

Thousands of people in rural small

towns depend on their free weekly

newspapers to know what is going

on. Some should be allowed to serve

their communities.

Informing rural people

This would allow residents to find

out about special services during

this time, things of interest only to

that community and therefore not

covered by large news outlets.

In the smaller areas, people often

don't have internet either.

Nelson Grey Power recently pointed

out half their members have no

internet, and census figures indicate

more than 40% of rural small towns

have no internet.

I often see small town libraries

with lots of residents using their

internet connection and computers

because they do not have any at

home.

Now the libraries are closed and

people don't have that platform.

They rely even more on their

accurate weekly newspaper, often

delivered by the postal service

which is still operating during the

lockdown.

A lack of understanding

If the ban is meant to prevent

newspaper staff from moving

around in the community, it shows

a lack of understanding of modern

journalism and publication.

Journalism graduates over the past

decade have all the skills to produce

a newspaper from their back bedroom

– collecting news, writing, even

podcasting and page design.

Software is available cheaply and

universally for community newspaper

staff to do the whole thing from

the safety of their lockdown property.

In this time of crisis, our

communities need to be as strong as

they can be and people need good

information. This is not a time to take

away an essential way of supporting

both these objectives.

Dr Catherine Strong is Senior

Lecturer, Journalism & Public Relations

at the Wellington Campus

of Massey University.

Learn English with us

in class / for work / at home

LOW

COST*

To contact your centre

www.englishlanguage.org.nz

*Many courses are free

houses are built by hands,

homes are created by designers

space designers ltd

architectural designer

our strengths

member of ADNZ-recognised professional body

well equipped & established with good reputation

overall personal service technical competency &

professional experience.

Email: info@sdlimited.co.nz

Website: www.spacedesignersltd.co.nz

178 A Pakuranga Road, Pakuranga, Auckland 2010

Phone : 09 577 2172 / 021 687162
---
APRIL 1, 2020

In addition to being a great

place to live, New Zealand

also has a reputation for

fairness and transparency.

As a nation, we welcome legitimate

new arrivals to our

shores. However, while working

very closely with the Culturally

and Linguistically Diverse

(CALD) community, I find there

is much work to be done. There

is an urgent need to improve inclusivity

and integration of our

recent arrivals by overcoming

intransigence and lack of transparency

in the public service.

The mission of my Wellingtonbased

business is to help migrants

and refugees to help and

develop themselves and contribute

to the New Zealand economy.

In other words, to assist

migrants and refugees to be

self-sufficient and prosper in

our legislative, political, social

and business environments, initially

unfamiliar to them.

Obstacles are challenges

Day after day, job after job,

project after project, I have increasingly

experienced many

gaps in the network of support

services that ought to be available

to the CALD community.

My experience over the last

five years is that there is a widespread

lack of transparency,

access to information, accountability,

flexibility, understanding

of the community needs,

and adaptability to new circumstances

and situations. All these

factors have created obstacle after

obstacle and endless challenges,

to those of us who are

trying to improve the wellbeing

of the CALD community in the

broadest sense.

Over three years, I have developed

many programmes to

support this community without

any government support,

funding or even income. These

programmes were thoroughly

researched and recommend

solutions to address the diverse

challenges faced by this

community.

I have knocked on many

doors, including Ministers, with

little success.

There is an unfortunate pattern

in all the responses: 'We

cannot help you!'; 'I will put you

in touch with someone else!';

'This is not what we do!'; 'Your

services are not listed with us!';

'You are on our waiting list to

have a meeting which will take

months to arrange!'

System not responding

From my experience I have

identified a number of issues

within an unresponsive CALD

support system comprising the

public sector, NGOs and even

the private sector:

People who are making the

policies for the CALD community

are not from this community.

Therefore, they do not understand

their needs and challenges.

Unfortunately, many people

from our community cannot

be in these positions in the first

place

The rigidity of the system does

not accommodate new challenges

and problems. The system

continues to offer the same solutions

to different problems.

There is no outcome assessment

system in place. When in

a high-level public sector meeting,

I asked "what is the system

in place for assessing the

outcomes?"

The answer that I very directly

received was "there is not

any."

In other words, the government

puts a lot of resources into

programmes which do not understand

the needs, do not fill

the gaps, do not appreciate the

challenges, and then does not

assess their outcomes.

Lack of communication

Government agencies do not

communicate and talk to each

other.

It is difficult to recognise gaps

in services when many do not

seem to know who is responsible

for what and who can be

held accountable for what.

Government funding rewards

known, established organisations,

while indifferent to the

value of CALD projects and the

demand for them.

Appointments in government,

NGOs and private sectors, depend

more on networking and

connections than qualifications.

Every Job Search workshop

reiterates that "finding a job in

New Zealand is highly dependent

on your network!"

How effective is this strategy

for someone from the CALD

community who might not have

built the right network and is

still developing their qualifications

and skills?

New Zealand losing talent

It follows from the above, that

job applicants within the CALD

community are very often rejected

for being "over qualified."

As a result, New Zealand

is losing for example, research-based

development planning

talent by relying on global

trends instead of local innovation.

This poses the question of

do we have the right people in

the right places?

For many years, our immigration

system has welcomed qualified

and skilled migrants. But

many such people are undervalued

and under-utilised. This

stems in part from lack of communication

between government

agencies and between

government and recruitment

Businesslink

Opaque public service mars New Zealand's fair image

Dr Zainab Radhi

07

companies.

Need for improved

assimilation

It is high time to acknowledge

the current lack of transparency

of services that have

the potential to greatly enhance

the wellbeing and self-sufficiency

of New Zealand's CALD

community.

Improving assimilation of

this community of the typically

highly-motivated immigrants

and refugees we have welcomed

to our shores, they will flourish

and successfully contribute

to our society and overall

wellbeing.

Dr Zainab Radhi is Director,

Smart Start Business Limited

and New Zealand Business

Beyond Borders based in

Wellington. Migrating from

her native Iraq, she earned

LLB (Hons) and LLM (Hons)

from the Waikato University

Law School. She is also Co-

Founder and Project Manager

of Umah Day Exhibition organised

in memory of the

Christchurch massacre of

March 15, 2019.

GET THE NEWS

YOUMISSED!

EVERYWEDNESDAY AND SATURDAY!

Subscribe to the

Bi-WeeklyNewsletter.

IT IS FREE! IT IS EASY!

Write nowtovenkat@indiannewslink.co.nz

•

•

ELSEWHERE$45. 88 SAVE $96. 50

•

•

•

• •
---
08

APRIL 1, 2020

Viewlink

The English Fortnightly (Since November 1999)

ISSUE 435 | APRIL 1, 2020

Despite inconvenience, we must

obey the lockdown regulations

Time for compliance,

cooperation and compassion

Even in major manmade

conflicts such as the

World War I and II, there

were a few safe patches

which were unaffected by the

ravages of bombs and gunfire.

But not this one.

The lurking enemy

Coronavirus 2019 or Covid-19

is a lurking enemy, with total

disregard who is to be attackedthe

Royalty, Heads of State,

Prime Ministers, lawmakers,

celebrities and of course

common people.

The whole world is sacred of

this monster knowing not when,

where and how it will strike

and how many will be inflicted.

And as with most other 'new

diseases,' cure is a long-drawn

process.

Covid-19 has already caused

untold damage to the world

economy, claiming thousands

of lives and placing hundreds

of thousands in quarantine or

self-isolation.

How it will continue to affect

and how long, is anybody's

guess.

Like the common cold,

Covid-19 spreads through

virus-laden droplets of moisture

released when an infected

person coughs, sneezes or

merely exhales. Researchers

and scientists simulated how

an infected individual might

spread the virus in the air and

on plastic, cardboard, stainless

steel and copper. The study and

its findings are scary.

Solidarity essential

As governments tackle this

health menace, it is time for

people to demonstrate their

solidarity as New Zealanders

have shown. Tucked away in a

corner of the world, we have the

innate ability to rally in times of

crises, as we did in March last

year.

The Coronavirus appears

to be deadlier than other

manmade weapons of mass

destruction.

But it is not insurmountable.

It can be vanquished.

All that it takes is for us to

stay united, comply with government

regulations, follow the

safety procedures and remain

calm and collected.

More important, we must

extend our hand (not physically

though) of cooperation and

show compassion towards

each other; especially towards

who work to make us access

essentials.

We have hope.

End of globalisation and

open economy?

We are in the thick of

a health crisis- in

the firm grip of

Coronavirus-

Covid-19.

Every country that has people

diagnosed with the deadly

disease is providing billions of

dollars in relief and sustainability

packages, in addition

to providing free or highly

subsidised healthcare.

Countries that have very low

levels of infliction have also

announced relief packages, just

in case. As they rightly believe,

it is not 'if' but 'when' the virus

visits them and wreaks havoc

on their people.

It may be presumptuous to

discuss what the post-pandemic

world would be, since experts

believe that Covid-19 could be

a long-drawn disease and that

even after a cure is found, it

would take several years before

it is completely eradicated.

Nonetheless, a glimpse of

what is likely to ensue is in

order.

World at turning point

In his book, 'The Levelling:

What's Next After Globalisation'

(released in 2019), Michael

O'Sullivan, former Princeton

University Professor and currently

Chief Investment Officer

at Credit Suisse says that the

world is at a turning point similar

to the fall of communism.

While globalisation has

brought benefits (freer flow

of money, people, ideas, and

trade), it has also let to jagged

peaks and rough, deep valleys

characterised by wealth inequality,

indebtedness, political

recession, and imbalances

across the world's economies,

he says.

"These peaks and valleys are

undergoing 'The Levelling,'

a major transition in world

economics, finance, and power.

What's next is a levelling-out of

wealth between poor and rich

countries, of power between

nations and regions, of political

accountability from elites to

the people, and of institutional

power away from central banks

and defunct twentieth-century

institutions such as the WTO

and the IMF."

Post-Covid-19 will see a

multipolar world in which the

centre of power will shift to

three Continents. Strangled

by the virus, economies of the

world would be forced to take

stringent austerity measures

and look for self-sufficiency.

International trade will still

flourish but under a new

system.

More about this later.

Indian Newslink is published by Indian Newslink Limited from its offices located at Level 1,

Number 166, Harris Road, East Tamaki, Auckland 2013 and printed at Horton Media Limited,

Auckland. All material appearing here and on our web editions and social media are the

copyright of Indian Newslink and reproduction in full or part in any medium is prohibited. Indian

Newslink and its management and staff do not accept any responsibility for the claims made in

advertisements.

Managing Director & Publisher: Jacob Mannothra; Editor & General Manager: Venkat Raman;

Production Manager: Mahes Perera; Financial Controller: Uma Venkatram CA;

Phone: (09) 5336377 Email: info@indiannewslink.co.nz; Websites: www.indiannewslink.co.nz;

www.inliba.com; www.inlisa.com

Peter Dunne

The enormity of the

government's task in

defining the scope of the

national lockdown has been

highlighted by the confusion over

what constitute essential services to

be permitted to remain open.

After to-ing and fro-ing on

whether the likes of The Warehouse

could remain open, or liquor stores

continue to trade or whether home

deliveries of takeaway food would

be permissible, the government

finally offered some clarification.

Government should tidy things

But anomalies remain, and

almost certainly more will come to

light over the next few days as the

lockdown takes hold. Unless the

relevant government officials move

quickly to tidy these up, as and

when they occur, the whole effort

risks falling apart.

That would be an outright

disaster. Every one of us, from the

Prime Minister downwards has

to take every reasonable step we

can to eliminate the Covid-19 virus

from New Zealand.

While we should not be afraid to

employ extreme measures during

this critical time, we should equally

not be afraid to modify them or

abandon them completely if it

becomes clear that they are not

working out as intended.

The worst thing we can do in

such situations is to try and make

running repairs to the regulations

as we go along.

Mass restrictions essential

While our experience with

occurrences of this magnitude is

thankfully limited, we do know

that mass restrictions, invariably

designed hurriedly in response to

a crisis, crash not because of their

well-meaning intent, but rather the

devil in their detail.

Too often we make the mistake

of assuming simple, broad-brush

solutions can be universally and

fairly applied, when clearly that is

not the case.

In the end, they fail not because

the policy intent behind them was

wrong, but because the anomalies

and exceptions overwhelm them.

They then become the major

focus of public attention at the

expense of the problem they were

trying to resolve. Invariably, those

who have no option but to comply

become more and more resentful

that "everyone else" seems able to

get around the regulations, but not

them.

Goodwill of citizens

Even under a state of emergency,

and the unprecedented peacetime

powers that confers, the democratically

elected government still has

ultimately to rely on the goodwill

of the citizenry to make its plans

work.

That will be forthcoming so

long as everyone continues to feel

their contribution to the national

sacrifice is an even one and that

the sanctions being imposed are

reasonable.

The swift public rejection of

The Warehouse's suggestion

that it should remain open as an

essential public service was a good

example of people sensing that one

organisation was trying to push its

luck too far. But it is also a salutary

reminder to officials about the level

of assurance and deftness they will

need to show in dealing with the

unexpected situations the lockdown

is bound to throw up over the next

little while.

Government in New Zealand,

even in these difficult times,

remains a partnership between the

governors and the governed.

Uncertainties and job losses

The range of individual situations

that will be affected here is massive,

and probably not fully appreciated

as yet. Struggling families worrying

about their accommodation and the

whether the breadwinner's job will

remain; people caring for elderly

dependent relatives and those with

terminal illnesses; the young mum

about to give birth, or the family on

the point of breaking up – all these

are very real situations for many,

many New Zealanders today.

They are by no means exclusive,

there will be many similar examples.

The last thing any of these people

can be reasonably expected to cope

with alongside everything else at

the moment is excessively rigorous,

inflexible and intolerant administration

of the lockdown which tries

to fit their particular square peg

into the officials' pre-determined

round holes.

Rising up to the crisis

The various natural disasters we

have endured in recent years have

shown us two things.

First, New Zealanders rally round

each other in a crisis, and do what

they can to help those who are

suffering. But, second, sadly, there

have also been occasions where

rigid and petty-minded officialdom

has got in the way of what the

community was trying to achieve.

We cannot allow that to derail what

we all have to do as a community to

stop the spread of Covid-19.

The immediate reaction to the

Prime Minister's call for us all to

live within our "bubble" for at least

the next little while will be one of

acceptance – we fully understand

we must all comply, no matter the

depth of the personal disruption,

to play our part. Initially, at least,

there will be no tolerance shown

for those shown to be or seeking to

flout the rules or create mischief

about them.

The role of the Police

However, that initial wave of

support will start to evaporate

steadily if questions of fairness and

equity begin to occur and gather

pace in the community.

Latest opinion poll tracking

shows most New Zealanders now

support the government's actions

on Covid-19, although only a minority

think they will be successful.

So, there is still work to be done to

bring everyone completely on-side.

The apparent confusion between

the Prime Minister and Police

Commissioner over the extent to

which you can use your private car

is a silly distraction the government

just does not need at the moment.

In these troubled times one of our

best assurances of prudence and

stability must be that the elected

civilian government is in control

and making the decisions, not the

Police or the military.

It would be a massive pity if

over-zealous policing, nationally

and locally, upset the public's

acceptance of the government's

comprehensive and to date responsible

efforts to see New Zealand

through this crisis.

Right now, a deep breath

followed by a solid dose of common

sense might well be in order for all

those administering the lockdown.

Keeping focus clearly on the bigger

picture is far, far more important.

Peter Dunne is a former Minister

of the Crown under the Labour

and National-led governments

from November 1999 to September

2017. He lives in Wellington.

Freight movements keep our supply chain strong

Phil Twyford

The government has fasttracked

up to $1 million to

help Air New Zealand move

urgent freight to and from

New Zealand, with the first flight to

Shanghai having left on March 30,

2020.

It is crucial that trade in vital

goods such as medical supplies and

food continues to flow freely during

the COVID-19 global pandemic.

Our Government has moved

quickly to ensure New Zealand has

the supplies it needs and to back

our exporters. We are stepping in

to make sure our exporters can get

their goods to market so they can

continue to support jobs and the

economy.

This fast-tracked funding is

part of the Government's $600

million aviation support package

to help New Zealand exporters and

importers and minimise the impact

of COVID-19 on the aviation sector.

Time-sensitive goods

The Air New Zealand flight on

March 30, 2020 was loaded with

time-sensitive New Zealand exports

and will return carrying essential

goods and equipment.

We are focusing on maintaining

good stocks of all essential

medicines, equipment and critical

products. By supporting the aviation

sector, our Government is

keeping open key air channels to

international markets.

There is huge demand right

now for air freight from both our

importers and exporters. In normal

times Air New Zealand relies on a

mix of passenger and air freight

revenue to maintain its operations.

However, COVID-19 has almost

completely eliminated revenue

from passenger services for airlines

worldwide.

That is why we agreed to provide

variable top-up funding for international

air freight movements to

make sure the flights are financially

viable.

This is one of a number of

funding arrangements that we

are rolling out to support New

Zealand's aviation system and I will

be making further announcements

shortly.

The day-to-day arrangements

with Air New Zealand are being

managed by New Zealand Trade

and Enterprise, who are also working

with exporters and government

agencies to ensure the right capacity

is available at the right times.

Exporters can find out more

details about the air freight service

at

https://covid19.nzte.govt.nz/page/

air-freight-option-for-immediate-export.

Phil Twyford is Transport Minister

of New Zealand.
---
APRIL 1, 2020

Businesslink

09

SmartPayroll has

IRD's compulsory

Pay Day filing

sorted.

EASY TO

SET UP

FREE

TRAINING!

From 1 April 2019, it is compulsory to file your PAYE returns

each time you run a pay rather than once a month*

SmartPayroll takes the headache out of IRD changes. For new

Pay Day filing, PAYE is automatically calculated and filed online.

Simple. Done.

DON'T DELAY GET YOUR COMPANY SORTED TODAY

Don't leave it until the last minute,

sign up this year and beat the New Year rush

www.smartpayroll.co.nz / Phone 0800 10 10 38

*Check out our website to find out more www.smartpayroll.co.nz/payday-reporting-changes
---
10

APRIL 1, 2020

Businesslink

New Zealand Shutdown imperative to contain the pandemic

Alexander Gillespie

Overjoyed. That is not a word

epidemiologists normally

use, but that was how I felt

after hearing Prime Minister

Jacinda Ardern's announcement

about New Zealand's COVID-19 shutdown

of everything except essential

services for at least four weeks from

midnight on Wednesday, March 25,

2020.

More than anything, I just felt a

huge sense of relief.

That New Zealand would have to

take this step has become more and

more apparent with every passing

day. Having looked at the COVID-19

exponential trajectory that we were

on in New Zealand, there really was

no sensible alternative but to do this.

As the Prime Minister said in

her address to the nation, while

New Zealand had 102 COVID-19

cases at the time of making the

announcement, those numbers will

rise further. She referred to the

risk of "tens of thousands" of New

Zealanders potentially dying in a

worst case scenario.

Shutdown crucial

This shutdown is crucial in changing

the course of the pandemic

in New Zealand. The restrictions

on people's work, schooling and

movements will be in place for

a minimum of four weeks, with

controls potentially lifted region by

region once it becomes clear that the

shutdown has worked.

NZ's shutdown might last beyond

four weeks.

The New Zealand government

announcement stated that all but

essential services will close over

Prime Minister Jacinda Ardern at a media conference in Wellington

before midnight tonight, with New

Zealanders asked to stay home, after

it appeared the community spread

of coronavirus within New Zealand

had begun – as my colleague

Professor Nick Wilson and I feared

it would.

Exponential climb

New Zealand's COVID-19 cases

are on an exponential climb now;

so, it could be more than two weeks

before we start to see the number

of new cases level off and hopefully

decline.

These delays are inevitable. Level

4 started at 1150 pm on March 25,

2020.

It will take time for people to

adjust their behaviour so we are

all keeping our distance (at least 2

metres when out for a walk or for a

trip to buy essentials). We then need

to add in the incubation period as

people being infected now and over

the next few days will not become

cases for five or six days after that.

I think four weeks will be the minimum

shutdown period. More likely

it will need to be longer, depending

on the level of COVID-19 infection in

the community.

The challenge ahead

Expats returning from hotspots

and more testing

Even after a complete shutdown

for four weeks, it is still likely there

will be some new cases.

You might see some chains of

transmission that affect a few

generations of the same family,

if they're a big family or in close

proximity – even among people

following the rules.

Obviously in the weeks ahead,

New Zealand has to keep working

on its border controls.

We have got a lot of expats coming

back, many of them returning from

places with coronavirus epidemics.

That will be a wave of potential

cases that we will need to manage

well.

If those people returning to New

Zealand follow the rules and quarantine

themselves at home properly,

they should not infect other people

(if they themselves are infected).

But controlling this source will be

crucial. It may be necessary to consider

more supervised quarantine

arrangements

In the meantime, we have got to

use this four-week window to really

ramp up our testing, contact tracing

and quarantine systems.

Mitigation strategy

Why treating COVID-19 like an

influenza pandemic was proving

dangerous

COVID-19 is not influenza. All of

our pandemic planning was based

on treating this disease as if it was

influenza, but this is a different

virus.

An eradication strategy for COV-

ID-19 is a profoundly different approach

to what we would normally

do with influenza; and our chances

of success are so much better now that

we've switched to this approach.

With a standard mitigation strategy,

which is what usually applies with

influenza pandemics, your response

ramps up as the cases ramp up to

'flatten the curve'.

But with eradication, you go full out at

the start, and you eliminate the chains

of transmission.

In islands like Australia or New

Zealand, it makes much more sense, but

you have to turn the previous pandemic

control approach on its head.

It felt extremely lonely for a while

for my colleague Professor Nick

Wilson and me, as we started to

advocate for a different strategy.

Fortunately, government leaders

listened. And then all of a sudden,

in just the past few days, the professional

and public debate suddenly

switched.

Everyone I know, and every

doctor in particular, was contacting

me advocating a 'lockdown' of the

whole country immediately. It's been

such a massive shift in thinking in a

very short time.

There is a huge upside to the

eradication approach.

As Nick Wilson and I wrote in

The Conversation last week: "Doing

this now has the potential to slow

undetected chains of transmission

while containment measures are

being ramped up. If containment is

sustained, there may be the chance

of avoiding the prolonged lockdowns

seen in many countries."

The large health advantages of

an eradication strategy, compared

with a mitigation approach, have

been described in another recent

Conversation article.

Stay in touch with The Conversation's

coverage from New Zealand

experts by signing up for our weekly

newsletter – delivered to you each

Wednesday.

Alexander Gillespie is Professor

of Law at the University of

Waikato based in Hamilton. The

above articles and pictures have

been published under Creative

Commons Licence.

Priyanca

Radhakrishnan

Labour List MP based in Maungakiekie

Maungakiekie Office

09 622 2660

priyanca@parliament.govt.nz

Level 1 Crighton House,

100 Neilson St, Onehunga

(entrance via Galway St)

| | priyancanzlp

Authorised by Priyanca Radhakrishnan

Labour List MP, 100 Neilson St, Onehunga
---
APRIL 1, 2020

Wage Subsidy, Mortgage payment delay and other issues

Venkat Raman

New Zealanders must be aware that their

interests, their health, income and wellbeing

are being protected as the country

is in lockdown mode, with Alert Level 4 to

prevent the spread of Covid-19.

The government has declared a Stage of Emergency

under the Civil Defence Act.

Prime Minister Jacinda Ardern promulgated the

Epidemic Preparedness Act, which would mean

extensive restrictions on movement of people over

the next four weeks, after which the situation will

be reviewed.

This is an unprecedented situation for New

Zealanders and although the government has

announced several economic and financial packages,

an increasing number of readers have asked

Indian Newslink clarification on many issues.

The following has been provided to the best of

our knowledge but should not be taken as advise or

final information. We do not accept any responsibility

for any change or if any of the following does not

apply to you or any other development before or

after this has been published.

We advise you to contact the concerned officials

or departments for official information. Phone:

0800-408040.

Wage Subsidy

The government has announced a subsidy for

permanent and part-time employees.

Called, 'The COVID-19 Wage Subsidy,' it will be

available to all employees who are legally employed

within in New Zealand. There will be a flat payment

of $585.80 for people working 20 hours or more

per week and $350 for people working less than 20

hours per week.

Employers must apply online www.workandincome.govt.nz

They should satisfy the criteria prescribed.

They would be required to fill in details of their

business in the prescribed fields and the names of

employees individually confirming their hours of

work (20 hours or more a week and less than 20

hours a week). They would also be required to give

a declaration that the monies received will be paid

to the employees mentioned in the application.

Any breach will be treated as fraud and the

employer will be liable for prosecution under the

law.

$150,000 cap removed

The government has removed the cap on wage

Deserted Karangahape Road in Auckland CBD (Stuff Photo)

subsidies that can be paid to employers affected

by COVID-19. The cap of $150,000 per business

announced initially has gone. This applies to all

New Zealand employers, contractors, sole traders,

self-employed people, registered charities and

incorporated societies.

Employers who have already applied for and

been granted the wage subsidy for their employees,

and the Ministry of Social Development has capped

the amount paid, they do not need to do anything

because the government will top up the difference.

Employers who have applied for the wage

subsidy for their staff and claimed only enough

to meet the cap, once they have used this subsidy,

they can reapply.

Leave Payment

From March 17, 2020 COVID-19 Leave Payment

will be available to support people financially if

they (a) need to self-isolate (as determined by the

Ministry of Health guidelines) (b) cannot work

because they are sick with COVID-19, or (c) cannot

work because they are caring for dependents

who are required to self-isolate or are sick with

COVID-19.

The COVID-19 Leave Payment will be available

for eight weeks from March 17, 2020. Employers

will be able to apply for this more than once. It will

be paid to employers who have eligible employees

and they must pass the payment onto their

employees in full.

Mortgage Holiday

The Government, Reserve Bank of New Zealand

(RBNZ) and retail banks announced yesterday a

major financial support package for homeowners

and businesses affected by the economic impacts of

COVID-19.

The package will include a six month principal

and interest payment holiday for mortgage holders

and SME customers whose incomes have been

affected by the economic disruption from the

global health crisis perpetrated by coronavirus.

Businesslink

Design & Construction

Our team can offer you:

House design and

land subdivision

To build your dream house

with an affordable price

A Fixed price contract with

no hidden cost

Built on time, in months

not years

Reliable professional team

and customer based service

10 Year Master

Build warranty

11

YOUR SUCCESS PARTNER

• Stock Management

• Print & Hold

• In House Design

• Online Ordering System

Commercial

printing

service

at its best!

Your one stop SIGNAGE and PRINT shop

Wide Format Digital Printing Specialist

• Footpath Sign

• Pullup Banner

•AFrame

• Vinyl Stickers

• Cor e

• Acm

• Banners

• Canvas

Ph (09) 263 8854

14C Ryan Place, Manukau City

Email: info@irissigns.co.nz

Website: www.irissigns.co.nz

PH: (09) 262 4550

42D Lambie Drive, Manukau City

Email:sales@merc.co.nz | Website:www.merc.co.nz
---
12

APRIL 1, 2020

Businesslink

National Party suspends election campaign

single largest Party in Parliament I have offered the Prime Minister

my full support during this alert system and I have expressed

move to Level 4 on the Covid-19

Will the General

and the main opposition, has

Election 2020 be

advised all its MPs to stop their crisis, providing they move expeditiously

enough. We will work in We won't regret moving quickly

this to Jacinda Ardern.

postponed?

election campaign.

Labour Party MPs have not been a supportive and constructive way to stop this virus spreading. We

Venkat Raman

campaigning since the first case of in the interests of New Zealanders. may have regrets if we don't.

Covid-19 was declared on February I have also offered the Government

the services of our MPs and where we can. But we won't

We will support the Government

28, 2020.

Will the general

Party Leader Simon Bridges staff to assist where we can. always agree and we will continue

election 2020 be

made the following announcement We want to do all we can to to let the Government know when

postponed in the

this morning.

protect the lives and livelihoods of we don't.

wake of the increasing

spread of coronavirus?

I have asked all of our MPs to New Zealanders.

The Opposition will continue to

suspend any form of campaigning. Calls to lift Alert level

play an important role to ensure

This is perhaps too early a

MPs to support constituents

In the past 24 hours I have been the best decisions are being made

question to answer but if the

Our MPs and candidates will still inundated with calls from doctors, in the interests of all New Zealanders.

We won't be campaigning for

current mood of the Nation is any

be in their communities offering health professionals, scientists and

indication, such a decision may

help and advice to their constituents, teachers all wanting the level to be the foreseeable future, however.

eventuate in a few weeks.

giving out important information raised.

As if a prelude, National, the

National Party Leader Simon Bridges

and advocating for them.

I believe the country needs to

Inland Revenue relaxes filing obligations on taxes

Venkat Raman

Inland Revenue Department

(IRD) of the New Zealand government

has relaxed its regulations

around the tax obligations

of businesses and self-employed

persons registered in New Zealand

following the lockdown that came

into effect on Thursday, March 26,

2020.

Thousands of businesses – large,

medium and small – that are not

considered Essential Services have

closed down and many of them find

it hard to meet their tax obligations

such as Tax, GST and PAYE remittances.

An IRD notification said that

businesses that are unable to pay

their taxes because of the impact of

Covid-19 suffered, need not worry.

"If your business is unable to pay

its taxes on time due to the impact

of COVID-19, we understand, you

don't need to contact us right now.

Get in touch with us when you can,

Businesses all over New Zealand are feeling the impact of Covid-19 RNZ Picture

(clockwise from top) Auckland, Wellington, Christchurch and Dunedin

and we will write-off any penalties

and interest. It would help if you

continue to file however, as the

information is used to make correct

payments to people, and to help the

Amanah KiwiSaver rises in

value with wads of cash

Brian Henry

KiwiSaver members are

now faced with a serious

market event that

is making them worry

about their savings. As they see

their balances drop, there is a

belief by some that they should

be switching to a 'Conservative

Fund.'

But is this right?

The term 'Conservative

Fund' refers to the nature of

the investments that the fund

offers in a document called

a Statement of Investment

Policies (SIPO).

We looked at the SIPO of an

aggressive fund, the strictly

Shariah Amanah KiwiSaver

Plan because we noticed that

its price has stabilised and is

showing growth even amidst

the Covid-19 crisis.

The Amanah Ethical website

states that as on March 3,

2020, it sold about 72% of their

investments to cash.

Fluctuating fortunes

Under the Financial Markets

Conduct Act definition, Amanah

is normally an aggressive fund;

but since the market now faces

a crisis, as an active manager,

it now holds substantially cash

(USD).

Cash is the most conservative

of investment, but in the case

of Amanah, the value of the

KiwiSavers Cash fluctuates with

the strength of the New Zealand

Dollar.

How does these definitions

relate to Amanah Ethical?

The definition of aggressive

and conservative funds

depends on the type of

investments the fund makes in

normal market circumstances.

Until March 3, 2020, Amanah

was a very aggressive investor

in the US stock market.

In late February, our

Investment Committee saw the

market risk growing with the

cloud of the Covid-19 virus and

the risk of disruption to the

world supply chains becoming

blacker by the day.

Protecting investors

At the start of March 2020,

Amanah moved to protect our

investors.

Our SIPO states that Amanah

can hold up to 100% cash to

manage volatility.

As mentioned, Amanah sold

its investments on March 3,

2020, with 72% cash.

While we are correctly

described as an aggressive

fund, we can and have moved

to hold substantial cash to

buffer volatility. Cash is a very

conservative investment.

This does not change the fact

Amanah is still an aggressive

fund, but it reflects the benefit

Government continue to respond to

what is happening in the economy,"

the notification said.

Reprioritised work

IRD said that it has reprioritised

of an actively managed fund.

This is why our members pay

slightly higher fees.

Right now, our investment

book is what most would see

as conservative, but we are not

a conservative fund because

as soon as Amanah notices

the market stabilising, it will

aggressively re-enter the US

stock market.

We may not gain in the short

term, but over a five-year investment

span, we believe that

the benefits to our members

will be real.

The Message

The message from this is part

of the active management/low

fees debate.

The problem as we see is

that the average KiwiSaver

member is ill-equipped to make

a rational switching decision

because, simply selecting a

conservative fund now without

understanding the strategy of

an active manager like Amanah

puts them at risk of making

decisions.

This will result loss of money

permanently by precipitating

the present loss in market

value.

For more information, please

contact 021-2727566 during the

Level 4 market shutdown.

Brian Henry is a Barrister

based in Auckland and Managing

Director of Amanah

Trust Management (NZ)

Limited.

its work because of the lockdown,

but will continue to provide

essential services for businesses

and individuals, including Working

for Families payments and administration

of child support.

"We understand that this is a

difficult time, and are doing all that

we can to make it as stress-free as

possible. We'll be flexible in the

way we approach filing obligations,

such as for GST and provisional tax,

and tax debt," the notification said.

Businesses and individuals have

been encouraged to contact IRD but

online, preferably through myIR on

the IRD website.

Income Tax Returns

IRD reminded businesses and

individuals to furnish returns as

soon as possible. However, any late

filing penalties will be waived in

these circumstances.

"Late tax return filings will also

have the effect of extending the

time bar in s 108 to March 31, 2025

(instead of March 31, 2024). Due to

the impact of COVID-19 and related

potential for filing delays, as at

March 31, 2024, the Commissioner

of Income Tax will close any review

or other compliance activity for any

2018/2019 income tax return which

is (a) due on or before March 31,

2020 and is furnished after March

31 but before May 31, 2020 (b) not

subject to any existing exclusions

from the standard four-year time

bar (c) not subject to a dispute (d)

commenced by Notice of Proposed

Announcement (NOPA) issued

before January 1, 2023, and (e)

involving alleged tax avoidance,

or having tax in dispute of greater

than $200 million.

The Commissioner may need to

clarify the circumstances of any

delay in filing. This is limited to the

effects of the COVID-19.

Source: Inland Revenue Department,

Wellington, New Zealand

Ban on community

newspapers must be

reversed

Todd McClay

The Government's decision to

close down all community

and weekly papers must be

reversed.

The decision that only paid daily

newspapers can continue to publish

during the lockdown is wrong. It

means that many New Zealanders

will now be without the news they

have come to depend upon and now

need during the lockdown.

Compliance assured

The New Zealand Independent

Community Newspapers Association

represents more than 80 independent

publications around the country.

Their President David Mackenzie

has assured me his members fully

accept and respect the Covid-19

social distancing and health and

safety protocols.

Therefor, they should be allowed

to continue publishing.

These businesses have invested

heavily in making changes to the

way they operate. A majority of

them are small publishers whose

staff are now working safely and

completely remotely.

Important platform

Many of our most vulnerable

citizens rely heavily upon

community newspapers for social

interaction and access to news. This

is particularly true in our smaller

communities, rural areas and within

New Zealand's ethnic communities.

Community newspapers provide

an important platform to keep the

wider public informed on Covid-19.

Many elderly do not have easy

access to internet or social media

and are often not subscribed to or

buy daily papers.

People should not be forced

to pay for their news because of

Government restriction.

While these are unprecedented

times, media outlets should not be

closed arbitrarily - free speech is a

pillar to a functioning democracy.

I call on the Government to revisit

this decision and allow independent

community newspapers that meet

the requirements of social distancing

and Covid-19 health and safety

protocols to be allowed to continue

publishing the news."

Todd McClay is elected Member

of Parliament from Rotorua and

National Party's Spokesperson for

Economic Development.
---
APRIL 1, 2020

Communitylink

Countries must take appropriate steps to eliminate Covid-19

Tedros Adhanom

Ghebreyesus

The pandemic continues to take

a massive toll not just on health,

but on so many parts of life.

The Government of Japan and

the International Olympic Committee

took a difficult but wise decision (on

March 24, 2020) to postpone this year's

Olympic and Paralympic Games.

I thank Prime Minister (Shinzoe) Abe

and the members of the International

Olympic Committee (IOC) for making

this sacrifice to protect the health of

athletes, spectators and officials.

We look forward to next year's

Olympics and Paralympics, which we

hope will be an even bigger and better

celebration of our shared humanity –

and I look forward to joining.

We have overcome many pandemics

and crises before. We will overcome

this one too.

The question is how large a price we

will pay.

Loss of lives

Already we have lost more than

thousands of lives. We know we will

lose more – how many more will be

determined by the decisions we make

and the actions we take now.

To slow the spread of COVID-19,

many countries have introduced

unprecedented measures, at significant

social and economic cost – closing

schools and businesses, cancelling

sporting events and asking people to

stay home and stay safe.

We understand that these countries

are now trying to assess when and

how they will be able to ease these

measures.

The answer depends on what countries

do while these population-wide

measures are in place.

Asking people to stay at home and

shutting down population movement is

buying time and reducing the pressure

on health systems.

But on their own, these measures

will not extinguish epidemics.

The point of these actions is to

enable the more precise and targeted

measures that are needed to stop

transmission and save lives.

Six Lockdown measures

We call on all countries who have

introduced so-called "lockdown"

measures to use this time to attack the

virus.

You have created a second window

of opportunity. The question is, how

will you use it?

There are six key actions that we

recommend.

First, expand, train and deploy

your health care and public health

workforce.

Second, implement a system to find

every suspected case at community

level.

Third, ramp up the production,

capacity and availability of testing.

Fourth, identify, adapt and equip

facilities you will use to treat and isolate

patients.

Fifth, develop a clear plan and

Muslims relieved as Christchurch

massacre gunman pleads guilty

Venkat Raman

The man accused of the Christchurch

massacre on March 15, 2019 pleaded

guilty on March 26, 2020 at the

Christchurch High Court.

At the hearing, only a small number of

people were allowed into the courtroom due

to the restrictions in place in the Covid-19

nationwide lockdown.

Australian Brenton Tarrant was due to

go on trial for 51 charges of murder, 40

charges of attempted murder and a charge of

engaging in a terrorist act.

He had been convicted of the charges.

Until March 26, 2020, he had denied all

the charges and was scheduled to stand trial

in June. There was no explanation for his

change of stance.

By entering a guilty plea, he became the

first convicted terrorist in New Zealand.

The gruesome murders

On March 15, 2019, Tarrant walked heavily

armed into Al Noor Mosque in Christchurch

shortly after the Friday prayer had begun

and started shooting. In about six minutes,

he killed 42 people. About ten minutes later,

he arrived at the Linwood Islamic Centre and

unable to find the entrance, began shooting

from outside.

He killed seven people before he was

chased from the Mosque's grounds by

worshipper Abdul Aziz, who picked up and

threw a bank card reader at the gunman,

and used one of Tarrant's own firearms as a

spear which he threw through the terrorist's

car windscreen.

A 50th victim died soon after in

Christchurch Hospital, while the 51st victim

passed away 48 days after the attacks.

Royal Commission of Inquiry

An Internal Affairs press release said that

the Royal Commission of Inquiry instituted

to probe into the massacre that the Royal

Commission cannot inquire into the guilt

or innocence of any individual charged in

relation to the attack.

"That is not our role. For this reason,

today's developments do not directly impact

the Royal Commission's inquiry process. It

is however, hugely significant for families

and survivors who will now be absorbing

this news. The current Covid-19 Alert Level

4 restrictions that all New Zealanders now

face, are also having a significant impact on

the inquiry. Staff are committed to getting the

A youngster being comforted in Christchurch on March

15, 2019 (RNZ Picture by Simon Rogers)

job done and continue to work from home,

but there are some aspects of our work that

cannot be managed remotely," the press

release said.

FIANZ welcomes guilty plea

Federation of Islamic Association of New

Zealand (FIANZ) President Dr Mustafa Farouk

said that the Muslim community relieved by

the guilty plea of the terrorist.

"At a time when the country is focused on

working together to overcome the COVID-19

pandemic, this news is most welcome. We

are particularly relieved that the victims and

their families are being spared the obvious

agony of a trial. We would like to again

acknowledge the New Zealand Police, the

First Responders, the hospitals as well as the

various health professionals for the services

they have provided and continue to provide

for the victims" he said.

"FIANZ also would like to convey our

heartfelt appreciation of the support of the

government and the whole of New Zealand to

those victims who suffered from the tragedy

of 15 March. Our national focus now is on

overcoming this COVID-19 as one united

people," Dr Farouk said.

Islamic Women speak out

Islamic Women's Council of New Zealand

National Coordinator Dr Maysoon Salama

said the guilty plea of the accused will relieve

some of the stress on those most directly

affected by the horror.

"While a guilty plea could have been made

much earlier, it is important that victims

and their families now will not have to deal

with the burden of a full court trial. It spares

us from any attempt to defend or justify the

horrific attacks last year. We will now have to

await sentencing later in the year, before this

matter can be closed for us," she said.

process to quarantine contacts.

And sixth, refocus the whole of

government on suppressing and

controlling COVID-19.

These measures are the best way to

suppress and stop transmission, so that

when restrictions are lifted, the virus

doesn't resurge.

Close schools, businesses

The last thing any country needs is to

open schools and businesses, only to be

forced to close them again because of a

resurgence.

Aggressive measures to find, isolate,

test, treat and trace are not only the

best and fastest way out of extreme social

and economic restrictions – they're

also the best way to prevent them.

By taking the same aggressive actions

now, these countries have the chance

to prevent community transmission

and avoid some of the more severe

social and economic costs seen in other

countries.

Health system collapse

This is especially relevant for many

vulnerable countries whose health

systems may collapse under the weight

of the numbers of patients we've seen

in some countries with community

transmission.

Today I joined United Nations

Secretary-General Antonio Guterres,

Under-Secretary General for UNOCHA

Mark Lowcock and UNICEF Executive

Director Henrietta Fore to launch

the Global Humanitarian appeal, to

support the most fragile countries who

have already suffered years of acute

humanitarian crises.

This is much more than a health crisis,

and we are committed to working

as one UN to protect the world's most

vulnerable people from the virus, and

its

consequences.

Global ceasefire

We also welcome the UN Secretary-General's

call for a global ceasefire.

We are all facing a common threat, and

the only way to defeat it is by coming

together as one humanity, because we

are one human race.

We are grateful to the more than

200,000 individuals and organisations

who have contributed to the COVID-19

Solidarity Response Fund. Since we

launched it less than two weeks ago,

the fund has raised more than US$ 95

million. I would like to offer my deep

thanks to GSK for its generous contribution

of US$10 million today.

Although we are especially concerned

about vulnerable countries, all

countries have vulnerable populations,

including older people.

Older people carry the collective

wisdom of our societies. They are

valued and valuable members of our

families and communities.

But they are at higher risk of

the more serious complications of

COVID-19.

We are listening to older people and

those who work with and for them, to

identify how best we can support them.

We need to work together to protect

older people from the virus, and to

ensure their needs are being met – for

food, fuel, prescription medication and

human interaction.

Physical distance doesn't mean social

13

distance.

We all need to check in regularly

on older parents, neighbours, friends

or relatives who live alone or in care

homes in whatever way is possible, so

they know how much they are loved

and valued.

All of these things are important

at any time, but they are even more

important during a crisis.

Finally, the COVID-19 pandemic has

highlighted the need for compelling

and creative communications about

public health.

Last year, WHO announced our

first Health for All Film Festival. The

volume, quality and diversity of entries

far surpassed our expectations.

We received more than 1,300 entries

from 110 countries, and today we are

announcing a short list of 45 excellent

short films about vital health topics.

We are also announcing a distinguished

panel of jurors who will judge

the short list, with the winners to be

announced in May.

We will be showing all the short-listed

films in the coming weeks on our

website and social media channels.

In these difficult times, film and other

media are a powerful way not only

of communicating important health

messages, but of administering one of

the most powerful medicines – hope.

I thank you.

Tedros Adhanom Ghebreyesus is

Director General of the Geneva

based World Health Organisation.

The above article, written on March

25, 2020 has been slightly modified.

NGOs to get $27 million for essential services

Supplied Content

$27 million for NGOs and community

groups to continue

providing essential services

A $27 million dollar package,

effective immediately, is being

provided to social sector services

and community groups to ensure

they can continue to provide

essential support to communities as

we stay at home as a nation to stop

the spread of COVID-19.

A list of Non-Government

Organisations and community

groups that qualify as essential will

be made available in the next day

or two.

Social Development Minister Carmel

Sepuloni said that at COVID-19

Alert Level 4, these entities are

supporting New Zealanders to stay

well during the fight to break the

chain of transmission of the virus,

which will save lives.

She said that package supports

services (a) Ensure people have

access to the food and other goods

they need to survive (b) Provide a

place for people to live (c) Support

disabled people to maintain critical

wellbeing (d) Keep families safe

from harm and offer crisis support

Risk of family violence

Ms Sepuloni said that self-isolation

can also mean the risk of

family violence increases.

I

experienced something new on

Friday (March 27, 2020), thanks

to Red Cross.

Red Cross volunteers make

sure that meals prepared by

Canterbury District Health Board

(CDHB) reach the needy residents

in the community.

However, a majority of these

volunteers are over 70 years of age

and hence cannot perform this role

while New Zealand is in Alert Level

4 to prevent the spread of Covid-19.

Minister for Social Development

Carmel Sepuloni

"That is why we are making sure

family violence and sexual violence

services will remain available for

those in need. As has been the case

in countries around the world

battling the global pandemic, there

have been significant increases

in the demand for these essential

social sector services. Social

sector partners of MSD are already

reporting impacts on their essential

services. In addition to increased

demand, many organisations have

changed the way they work to adhere

to the Government guidance

on moving to an Alert Level 4," she

said.

Ms Sepuloni said that the government

is also working with these

services to ensure that maximum

hygiene protocols are in place for

essential workers.

She said that the following will

be provided to ensure that essential

services continue throughout Alert

Senior volunteers supply Meals on Wheels

Shirish Paranjape

I got to participate in the Meals

on Wheels programme as a Red

Cross volunteer.

The process

The process runs as follows:

A CDHB van brings the food

in many polystyrene boxes to a

designated pick-up point at 11 am.

Each box has a number, associated

with a particular part of the town.

I had No 36, and my list had 17

meals for residents. There was a

large no 36 box, which had 17 hot

meal casseroles; while a smaller No

36 box had 17 boxes of dessert.

My job was to give one hot meal

and one dessert to each resident on

the list.

Level 4:

Up to $16 million to bolster existing

essential social sector services

delivered by NGOs so that they can

continue to support individuals,

families, whānau and communities

at risk through uncertain circumstances

and respond to increased

demand.

Up to $6 million funding for

disability Community Participation

providers to put in place appropriate

health mitigations for the

current group orientated services

and provide support for disabled

people in lock-down

Up to $4.8 million to provide

community grants or fund innovative

community-led solutions to

support local resilience

For further information, please

visit

https://covid19.govt.nz/

help-and-advice/for-everyone/

family-violence-and-sexual-violence-prevention/

and https://covid.govt.nz

If you are experiencing

symptoms of COVID-19 or need to

self-isolate, contact the Healthline

team (for free) on 0800-3585453

or +64 9 3585453 for international

SIMS.

You can also call your GP if you

are feeling unwell and are unsure if

you have COVID-19 symptoms.

Special Meals

Like airlines, there are special

meals too – which are marked on

the meal and dessert boxes.

My complete 'run' took about

two hours, at the end of which

I had to bring back the empty

polystyrene boxes to the designated

pick-up point, and leave them in a

cupboard.

A few other friends - Veena and

Sudhir Joshi and Shilpa Shailaj also

volunteered on that day to ensure

this wonderful service continued

'as normal.'

The smiles and thanks from

elderly residents made the efforts

worthwhile.

Shirish Paranjape is Indian

Newslink Correspondent in

Christchurch.
---
14

APRIL 1, 2020

Communitylink

Longevity worldwide is the scary part of Covid-19

Adam Kleczkowski and

Rowland Raymond Kao

The COVID-19 pandemic has

already caused several thousand

deaths, widespread health

problems, massive anxiety and

economic losses.

Most people are concerned with

what happens day by day as we wait for

control measures to work.

But we should also be concerned

about whether or not we will be living

with the virus for a long time. Will we

be able to eradicate COVID-19, as we did

with Sars? Or will we need to learn to

live with it like we do with the common

cold? We have been experiencing

epidemics and pandemics for centuries,

so there are lessons we can draw from

these examples.

The virus in the long run

To understand what happens to the

virus in the long term, we need to look

at how large epidemics work, starting

with "patient zero."

If there is significant human-to-human

transmission, the virus begins

to spread, causing a fast increase in

the number of cases (illustrated in the

figure below). At the same time, those

who overcome the disease and develop

resistance are henceforth immune, at

least for a while.

The people who are newly infected

will increasingly have contact with

these immune people, rather than

Italy records high Covid-19 deaths; Coffins at the Ponte San Pietro Hospital in

Bergamo, Lombardy IPA Backgrid)

with those who have not yet had the

disease. This process effectively protects

the susceptible population and causes

the initial fast growth to slow and

eventually stop.

The level of immunity

The level of herd immunity needed

to stop the spread depends on both the

number of contacts an average person

has and how infectious the disease

is. If highly contagious, this can be as

much as 95%. This protection can be

achieved by a combination of reducing

infectiousness through immunity, either

natural or acquired, or vaccination, or

by reducing transmission.

Quarantine and mass restrictions

on travel have proved effective, as

shown in China, where the number of

COVID-19 infections outside of Hubei

province, where it started, have been

few.

What happens next depends on the

disease characteristics and human

actions.

The 1918 flu virus did not persist

after the early 1920s probably because

enough people became immune to

it. However, many pathogens are

difficult to eradicate globally, although

local success is possible. For example,

foot-and-mouth disease, which affects

sheep and livestock, survives in many

countries.

The outbreak in the UK in 2001 was

reduced to local islands of infection by

an animal movement ban and then

eradicated by massive culling.

But it took a long time and high costs

to finally bring it to an end (figure

below). Like many countries, the UK

now has strict rules of animal imports,

aimed at stopping the disease from

arriving again.

Vaccine for coronavirus

It is possible that we will eradicate

National MP marks 550th Anniversary of

Guru Nanak in Parliament

Rahul Chopra

COVID-19 in selected countries or

regions, but not necessarily worldwide.

Although there are hopes that a vaccine

will be successful within the next year,

this is not certain. If it happens, very

stringent travel checks may need to be

imposed for at least a substantial time –

such a restriction, added on to concerns

of the impact of air travel on climate

change, may mean that the tourism

industry may never recover.

Some diseases prove impossible to

eradicate even in the long term and

will persist following the first outbreak

(figure below).

Diseases originating in Europe and

Africa were brought to North America

for the first time in the late 1400s and

early 1500s. Encountering a population

with little immunity, smallpox and other

diseases spread rapidly causing the

collapse of indigenous communities.

Subsequent outbreaks were lower,

but smallpox and measles persisted

until the 20th century.

Seasonal ailments

In temperate climates, seasonal

influenza spreads rapidly through

winter but mostly dies out in summer,

only to come back the following year.

In between outbreaks, the flu virus

survives in Asia from where it emerges

every year.

Large measles epidemics, before

vaccines were available, occurred

every two or three years, interspersed

with small outbreaks (figure below).

The recurring pattern was caused by

people being born all the time without

vaccine protection.

Next winter, when children went

back to school, there were enough

susceptible ones to create a large

outbreak. With mass vaccination of

children, this influx was slowed down

enough to create herd immunity and

almost eradicate the disease.

However, measles is returning

because vaccination levels are falling

below the herd-immunity threshold.

The future of Covid-19

So what is the future of COVID-2019?

While we cannot be sure, mathematical

models help us explore scenarios and

identify potential outcomes, building on

our experience of past outbreaks.

The governments are hoping that a

combination of social distancing, border

closures, isolation of cases, testing

and increasing immunity in the population

will slow down the spread of the

coronavirus and will hopefully open up

successful eradication strategies.

Yet, past experiences suggest that

we may need to learn to live with the

coronavirus for years to come.

Adam Kleczkowski is Professor of

Mathematics and Statistics. University

of Strathclyde based in Glasgow,

Scotland; Rowland Raymond Kao

is Sir Timothy O'Shea Professor of

Veterinary Epidemiology and Data

Science at the University of Edinburgh,

Scotland. The above article

and charts have been published

under Creative Commons Licence.

The life and teachings of

Guru Nanak, the founder of

Sikhism were the theme of a

documentary film shown in

Parliament on March 11, 2020.

National Party Member of

Parliament Kanwaljit Singh Bakshi

facilitated the event which was

attended by Head of Chancery and

Second Secretary at Indian High

Commission in Wellington Doss

Jayakumar, National MPs Melissa

Lee and Paulo Garcia, Honorary

Consul of India in Auckland Bhav

Dhillon and community leaders.

A Special Stamp was released on

the occasion.

Guru Nanak's teachings are valid

today as they were more than 500

years ago. His emphasis on embracing

diversity, welcoming others and

practicing selfless service are timely

as New Zealand and New Zealanders

were marking first anniversary

of the Christchurch massacre of

March 15, 2019.

Youngest Religion

Sikhism, the youngest and the

fifth largest religion in the world, is

made up of selfless volunteers who

obey the teachings of their Guru

and are always ready to help.

Guru Nanak was a visionary, he

spoke of equal rights for women at

a time when this notion didn't come

to mind of many others.

His words were "Sau kyun manda

aakhiye jit jamme rajan" (How

can we talk negative of women of

our society, when they give birth to

us?').

Another teaching of Guru Nanak

was on ecology. He constantly

advocated the need to plant trees

and care for our flora and fauna.

Once again this teaching was ahead

of his times.

About Guru Nanak

To an estimated 25 million Sikhs

around the world, Guru Nanak Dev

is one of the greatest leaders who

believed in oneness of mankind

and in the inherent goodness of the

individual.

To millions of people of other

faiths, Guru Nanak Dev is a leader

whose teachings have relevance in

their daily lives as well; teachings

that have transcended time, space

Some of the guests at the screening of the documentary on Guru Nanak in Parliament on

March 11, 2020

and vicissitudes of mankind.

To tens of thousands of

people who even question

the existence of God, Guru

Nanak Dev is a teacher par

excellence and a leader who

led by example.

Such is the greatness of the

spiritual leader that Guru

Nanak Dev is mentioned and

followed with respect even by

people who have embraced

Hinduism, Islam, Christianity

and other faiths.

The 550th birth anniversary

of the Great Guru is still

being celebrated all over the

world.

It is often said that the

wisdom to lead people on

the righteous path comes to

those who have gone through

the various stages of life,

including marriage.

Gautama, who attained

enlightenment to give the

world the great religion of

Buddhism and Guru Nanak

Dev who established Sikhism

as a way of life, were just two

brilliant examples of that

dictum.

The Early Years

Born into a simple Hindu

family (on April 15, 1469), the

founder of the Sikh religion

showed signs of uniqueness

even in his early years.

His father Mehta Kalian

Das was an accountant in

the employment of the local

Muslim authorities.

From an early age, Guru

Nanak made friends with

both Hindu and Muslim children

and was keen to learn

and practice the meaning of

life.

At the age of six, he was

sent to the village schoolteacher

to learn Hindi and

mathematics. He then learnt

Muslim literature, Persian

and Arabic.

He was an unusually gifted

child who learned quickly

and often questioned his

teachers.

His parents conducted the

'thread ceremony' when he

attained 13 years of age.

But he refused to wear the

sacred thread.

He said: "Let mercy be

the cotton, contentment the

thread, continence the knot

and truth the twist. O priest!

If you have such a thread, do

give it to me. It'll not wear

out, nor get soiled, nor burnt,

nor lost. Says Nanak, "blessed

are those who go about

wearing such a thread."

As a young man herding

the family cattle, Guru Nanak

was known to spend long

hours absorbed in meditation

and in religious discussions

with Muslim and Hindu holy

men who lived in the forests

surrounding Talwandi, a

village in Western Punjab

where he was born.

He would work during

the days, but early in the

mornings and late at nights,

he would meditate and sing

hymns accompanied by

Mardana on the rabab (a

string instrument).

Rahul Chopra is an experienced

Communications and

Stakeholder Engagement

Strategist employed by New

Zealand Parliament and MP

Kanwaljit Singh Bakshi in

his Manukau East Electorate

Office in Auckland

Om Sai in East Auckland (left) and SS Market in Sandringham retail exclusive items

Indian Supermarkets, superettes

are essential services

Venkat Raman

There has never been a doubt that

supermarkets and superettes owned,

operated and managed by people of

Indian origin are considered Essential

Services.

There was considerable confusion this

morning and this report from Indian Newslink

should clarify and set rumours and doubts to

rest.

The government has clarified that ethnic

supermarkets are classified under Essential

Services.

It is apparent that the same principle of

essential services applies to all ethnic supermarkets,

superettes and similar retail stores.

It stands to reason that if dairies, a majority

of which are owned by people of Indian origin

are categorised under essential services, so

should supermarkets and superettes.

Importance of ethnic supermarkets

Ethnic supermarkets import, distribute and

retail a wide range of products that are special

to the communities they serve and these

products are essential ingredients in their

daily diet.

However, all these retail outlets should

follow strict social distancing policy, follow

'one-in, one-out' or any other policy applicable

to them and ensure that customers and

those at the cash counter also maintain the

prescribed distance.

This Reporter went around a number of

places including pharmacies, superettes and

supermarkets and noted that these safety

precautions are strictly being observed.

Compliance pleasing

This Reporter also noted that the owners

and workers at these outlets wore face

masks and hand gloves and offered EFTPOS

machines covered, replaced after each

transaction.

All supermarkets, superettes and dairies

must follow all other regulations in force,

including no sales policy related to cooked

food and provisions contained in the Essential

Services list.

Prime Minister Jacinda Ardern has

continuously emphasised against panic buying

assuring that there is plenty of items available

in the country.

Importers of Indian food and household

items have told Indian Newslink that they are

also well-stocked and that retailers should not

hike the prices of essential commodities.

However a word of caution: The situation

can evolve and regulations may change.

Please visit the following website for

updates:

www.covid19.govt.nz/government-actions/

covid-19-alert-level/essential-businesses/

Warning to wrongdoers

We understand that a few Indian grocery

and spice traders have raised the price of

some times.

Readers are requested to please

advise us with proof by email to venkat@

indiannewslink.co.nz so that we can alert the

concerned authorities, including the Police

who are monitoring these outlets.

Our Special Request

Please take care of yourself and those

around you.

Please adopt the Indian traditional style of

folded hands ('Namaste') instead of shaking

hands to greet people.

Our country's safety and good health rests

on our hands.

Together, we can and will come out of

this health crisis stronger and better as New

Zealanders.
---
APRIL 1, 2020

Communitylink

15

The vital link between people and solutions

The Link2 Group brings the power and expertise of trained staff for your benefit

Contract Logistic Services

Picking, Packing, Labelling,

Sorting, Recycling,

Assembling, Transporting

Offsite work including

Reworking, Packaging

Warehousing Distribution

Innovative Agency

dedicated to Industrial and

Technical Sectors

Founded by Manasa Sirigiri and managed by Indra Sirigiri as Chairman & Managing Director, the Link2 Group of Companies employs more than

400 staff with 50 different customers across Auckland. As well as providing personnel onsite and at its own facilities, the Group offers

wide-ranging services that enable customers to optimise their productivity and efficiency.

Awards and Achievements

Indian Newslink Business Awards

● Supreme Business 2016

● Best Employer of the Year 2016

● Business Excellence in Customer Service 2015 & 2016

● Best Young Entrepreneur of the Year 2013 & 2016

● Business Excellence in Health & Safety 2018

● 20th Anniversary Commemoration Award for Business Ethics and Compliance 2019

Westpac Awards

● Supreme Business Excellence 2018

● Best of the Best Employer of the Year 2018

● Employer of the Year 2018

● Excellence in Strategy & Planning 2017 (South)

Manasa (extreme right) and Indra Sirigiri, Directors, Link2 Group, with Leader of the

Opposition Simon Bridges and Fiji Attorney General Aiyaz Sayed-Khaiyum after receiving

the Indian Newslink 20th Anniversary Special Commemoration Award for Business

Excellence in Ethics & Compliance at the Twelfth Annual Indian Newslink Indian

Business Awards on November 25, 2019.

Indra Sirigiri, Chairman & Managing Director, Link 2 Group (Winner of the Supreme Business of the Year Award) with

(from left) Manasa Sirigiri, the then Prime Minister John Key, BNZ Chairman Doug McKay, the then BNZ Managing

Director Anthony Healy, Rahul and Jaya Sirigiri at the Ninth Annual Indian Newslink Indian Business Awards held on

November 28, 2016

FLEXIBLE PERSONNEL

RECRUITMENT

SOLUTIONS

Career Opportunities:

We have multiple Casual/Fulltime/Part time jobs in following areas for:

● General warehousing (pick-packing, labelling, sorting, rework)

● Forklift/Reach hoist/Stock pickers drivers

● Container devanning

47 Allens Road, East Tamaki, Auckland 2013 ● P O Box 217206 Botany Junction, Auckland 2164 ● Phone (09) 2724700 Fax: (09) 2724699

Email: office@link2services.com ● Website: www.link2group.com ● www.lin2services.com ● www.link2solutions.co.nz ● www.stirlingrecruit.co.nz
---
16

APRIL 1, 2020

Communitylink

Super Cop who fostered successful community partnership

A tribute to Police

Commissioner Mike Bush

on his retirement

Tony Alexander

In April, Police Commissioner Mike

Bush ends his six-year appointment

as Chief Constable of New Zealand

and Chief Executive of the New

Zealand Police Force.

Extraordinary events and bad

behaviour test community safety, values

and beliefs.

High quality responses from public

sector leaders and their agencies to these

tests, generate deep public trust.

Ethical leadership

Commissioner Bush deserves considerable

praise for his skilled and ethical

stewardship as a public service leader.

He led the police through traumatic

events such as the terror attack targeting

the Muslim community in Christchurch

and the Whakaari eruption tragedy.

He led transformation practices for

response to crime and to internal reform

(including cultural change) within the

Police Force.

One of his recent innovations to reduce

criminal offending included a shift

in focus from understanding drivers of

crime to understanding the drivers of

'crime demand.'

Commissioner Bush set up a range of

programmes to better understand the

Retiring Police Commissioner Mike Bush

(INL File Photo)

way mental health, organised

crime and youth re-offending

contributed as factors leading to

crime.

Major challenges remain, not

least the prevalence of family violence

and organised crime here.

By focussing on cause as well as

effect, the Police are developing

programmes that reduce the

numbers in prison while also

improving outcomes.

Highlights of public statements

Enduring changes

In his response to the report 'A

Decade of Change' that followed

on from the Bazley Report in

2007, Commissioner Bush noted:

"A far-reaching programme was

launched that touched almost

every aspect of policing – from

policy and training through to

performance management and

leadership; as well as practice

changes that would better serve

victims of sexual assault. Victims

of sexual assault who turn to

Police today can expect to deal

with staff who uphold our values

of empathy, professionalism, and

respect. The changes we have

made as an organisation are

enduring."

Increased diversity

Under his watch, New

Zealand Police has made efforts to

address diversity, including in its

recruitment intake, resulting in a

steady increase in the number of

Maori, Pacific and Asian people in

the Police workforce. The gender

balance has also shifted over time,

now at 22% women overall, and

34% of recruits. In the Commissioner's

view diversity is vital:

As an organisation, we look to

encourage staff to 'use who they

are' not 'lose who you are' when

becoming a police officer. We

are a diverse organisation and

I am proud of the work we've

done over recent years to build

relationships with the LGBTIQ+

community. (Commissioner's blog)

Recently Commissioner Bush

spoke at a packed Transparency

International New Zealand

(TINZ)'s 'Public Sector Leaders

Integrity Forum'. These peer-led,

shared learning forums focus on

senior leadership of the public

services . They are co-hosted by

TINZ and the Office of the Auditor

General.

Transparency emphasised

He spoke about the importance

of transparency to maintain trust

and the importance of empathy.

His message on empathy is

reflected in his words in an Ethical

Leadership discussion publication:

Empathy is deeper, and more

relevant, than respect. Empathy is

not judging, and it is being able to

understand somebody else's situation

and supporting that situation.

(Ethical Leadership: Opportunities

and Challenges for Aotearoa New

Zealand..)

To round off, here is a quote

from a speech he gave at the 12th

annual Diversity Awards in 2016,

about the role of the Police: "The

point I want to make is that the

Police have a huge role to play

in community harmony, people

feeling safe. Something came out

of the Boston police a few days

ago, where they said they want

to move from being warriors to

being guardians. It does worry

me that Police forces have seen

themselves as warriors. Great that

they want to move to guardians,

but I would like to think we moved

from that midst in the 1800s

when we moved to being a Police

Service.

We align ourselves to Sir Robert

Peel way back then who said the

Police are the community and

the community are the Police.

We are here to serve you, and

we get our consent from you. It

is not from the Queen, not from

the Governor General, not from

the Prime Minister not from the

Minister of Police. We police with

your consent. (Building Trust

and Confidence through Culture

Change, 12th Annual NZ Diversity

Forum, 1.9.16.)

CPI and Police

The global body Transparency

International's Corruption Perceptions

Index, includes measures of

police corruption. While our police

force has some work to do around

conduct, no country in the world

comes close to the integrity of New

Zealand's police force.

TINZ thanks Commissioner

Mike Bush for his six years of

exemplary service.

On March 8, as this article in

'Transparency Times' was going

to press, Commissioner Bush

announced the creation of a

dedicated anti-corruption unit to

address growing organised crime

and internal Police corruption.

Quotes from Mike Bush's speeches,

blogs and public statements are

included with the permission of

his Office.

Julie Haggie is Chief Executive

Officer of the Wellington based

Transparency International New

Zealand. The above article appeared

in the March 2020 edition

of Transparency Times.

Property

Finance

Specialists

Single house

builds

Terrace &

Multi unit

Developments

Subdivisions

Commercial

property

Residential

Investment

Property

NZ$2B+

Funds lent since

inception

1500 +

Loans Settled

Loans from

$200,000

to $25

million

When all other lenders offer you are hurdles, we will get your development off the ground by placing

greater emphasis on the practical and business merits of your funding application. Since 2004, ASAP

Finance has been providing innovative and competitive property funding solutions to investors,

developers and home builders and is recognized as a leading property finance provider in New Zealand.

To find out about our funding solutions, please contact:

Parash Sarma - Client Services Director Mob: 021 864 730 Email: parash@asapfinance.co.nz