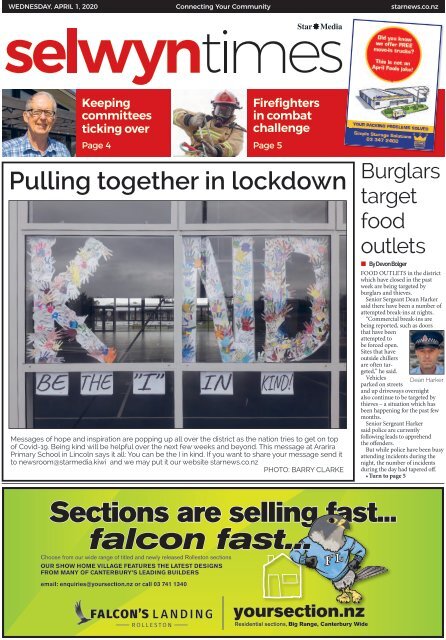 Selwyn Times: April 01, 2020
Create successful ePaper yourself
Turn your PDF publications into a flip-book with our unique Google optimized e-Paper software.
WEDNESDAY, APRIL 1, 2020

Connecting Your Community

starnews.co.nz

Keeping

committees

ticking over

Page 4

Firefighters

in combat

challenge

Page 5

Pulling together in lockdown

Messages of hope and inspiration are popping up all over the district as the nation tries to get on top

of Covid-19. Being kind will be helpful over the next few weeks and beyond. This message at Ararira

Primary School in Lincoln says it all: You can be the I in kind. If you want to share your message send it

to newsroom@starmedia.kiwi and we may put it our website starnews.co.nz

PHOTO: BARRY CLARKE

Burglars

target

food

outlets

• By Devon Bolger

FOOD OUTLETS in the district

which have closed in the past

week are being targeted by

burglars and thieves.

Senior Sergeant Dean Harker

said there have been a number of

attempted break-ins at nights.

"Commercial break-ins are

being reported, such as doors

that have been

attempted to

be forced open.

Sites that have

outside chillers

are often targeted,"

he said.

Vehicles Dean Harker

parked on streets

and up driveways overnight

also continue to be targeted by

thieves – a situation which has

been happening for the past few

months.

Senior Sergeant Harker

said police are currently

following leads to apprehend

the offenders.

But while police have been busy

attending incidents during the

night, the number of incidents

during the day had tapered off.

• Turn to page 5

Sections are selling fast...

falcon fast...

Choose from our wide range of titled and newly released Rolleston sections

OUR SHOW HOME VILLAGE FEATURES THE LATEST DESIGNS

FROM MANY OF CANTERBURY'S LEADING BUILDERS

email: enquiries@yoursection.nz or call 03 741 1340

yoursection.nz

Residential sections, Big Range, Canterbury Wide
---
TUESDAY, MARCH 24, 2020

year.

Connecting Your Community

Councillor takes

Davids heads

matters into

community board

his own hands

advocating body

Page 3 Page 6

WEDNESDAY, MARCH 25, 2020

starnews.co.nz

for Cantabrians

• By Louis Day

IT COULD be a while until

starnews.co.nz

the eastern suburbs start to

see Lianne Dalziel's campaign

aspirations for the area come to

fruition.

During October's local body

elections, Ms Dalziel identified

repairs to the eastern part of the

city's footpaths, pipes and roads

as one of her main priorities for

this term.

"We need a fully integrated

programme of works for the

east, I have loosely called this

the eastern alliance, which

Ro ler Blinds cleaned

from as li tle as $ 2

per blind

TUESDAY, MARCH 24, 2020

Connecting Your Community

Views on

Lively group

cricket nets

celebrate

sought

St Patrick's Day

Page 3 Page 5

Ge ry Brownl e

MP for Ilam

283 Gr ers Road Bryndwr,

Christchurch

ilam@parliament.govt.nz

0 359 0582

Funded by the Parliamentary Service.

Authorised by Ge ry Brownl e MP,

Parliament Buildings, We lington.

starnews.co.nz

RESIDENTS MOST affected by

the new Northern Motorway are

Connecting Your Community relieved to hear the Christchurch

Northern Corridor opening has

been delayed by six months.

The CNC was due to open in

the middle of this year, but last

week the New

Zealand Trans-

Ro ler Blinds cleaned

from as li tle as $ 2

per blind

TUESDAY, MARCH 24, 2020

No review

over

multi-storey

house

Connecting Your Community

A message

of love, unity

and prayers

for peace

Page 3 Page 7

TUESDAY, MARCH 24, 2020

Ge ry Brownl e

MP for Ilam

283 Gr ers Road Bryndwr,

Christchurch

ilam@parliament.govt.nz

0 359 0582

Funded by the Parliamentary Service.

Authorised by Ge ry Brownl e MP,

Parliament Buildings, We lington.

starnews.co.nz

Connecting Your Community

• By Georgia O'Connor-Harding

THE earthquake-damaged

former Sockburn Service Centre

could finally be demolished in

July – if the funding needed is

obtained.

port Agency

It comes as the

announced more

Halswell-Hornby-Riccarton

time was needed

to complete the

Community

$290m motorwayten

in its draft

Board has writ-

The original

submission to

scope of the

the city council's

Readers respond

Chance to

would essentially be an alliance

Helpless to

Victorious

Delay in

Market day

project has been Mark Wilson

Annual Plan

Mike Mora

to supermarket

farewell Holden

of contractors who can take

extended include

stoked

making mall

goes green at 2019-2020,

stop property

captain the whole area bit by bit and

a third southbound lane on

requesting the city council addresses

the budget gap so the

rebranding

in style

systematically get the work

the Waimakariri River bridge and

flooding

with cup done," she said during the

a clip-on win

exit safer

Cashmere HS

cycleway.

buildings can be removed as soon

campaign.

St Albans resident Mark Wilson

as possible.

Page 8

Page 17 But chief executive Dawn

GIRL BOSS: Julia Holmes wants to be a geneticist after Page high school, 3 and feels the GirlBoss Advantage programme will Page help 10 said the community are "somewhat

thankful" for the delay.

her achieve her dreams.

Page 3

PHOTO: GEOFF SLOAN Page 11 said the final submission is yet to

GIRL BOSS: Julia Holmes wants to be a geneticist after high school, and feels the GirlBoss Advantage programme will help Board chairman Mike Mora

Baxendale said any request to

her achieve her dreams.

PHOTO: GEOFF SLOAN

pursue a specific project in the

"The community will be somewhat

thankful for a reprieve of the

• By Bea Gooding

for biology, and from a young Julia is one of 25 young were often male-dominated,

• By Bea Gooding

for biology, and from a young Julia is one of 25 young were often male-dominated, be completed but it was likely the

east would have to be agreed

age has always been interested women chosen around the with particular focus on science,

technology, engineering

age has always been interested women chosen around the with particular focus on science,

technology, engineering requested.

demolition of the site would be

upon by council.

FIFTEEN-YEAR-OLD Julia

effects of this motorway for six

in how things worked, often country to participate in the

FIFTEEN-YEAR-OLD Julia in how things worked, often country to participate in the

South New Brighton School pupil Jacob McMillan enjoying the foam pit at Christchurch School of

City councillors are yet to pass

Holmes is on a mission to

months, but it's still there. Until

taking things apart just to put GirlBoss Advantage programme

next month, designed She was shocked to hear the

and maths.

Holmes is on a mission to taking things apart just to put GirlBoss Advantage programme

next month, designed She was shocked to hear the Main South Rd, has been a source

and maths.

The former service centre, on

Gymnastics, which opened its doors to pupils while the school was closed due to fire damage.

on any guidance to staff around

make a difference in the world.

decisions are made to put our

them back together.

make a difference in the world. them back together.

•Story, more photos, page 5

PHOTO: GEOFF SLOAN this, she said.

The year 11 St Margaret's

community first, then there is no

That passion has landed her to mentor the female leaders news from her mother.

The year 11 St Margaret's That passion has landed her to mentor the female leaders news from her mother.

of tension for years with residents

•Turn to page 5

College student has a passion

relief," he said.

the opportunity of her dreams. of tomorrow in industries that • Turn to page 6

College student has a passion the opportunity of her dreams. of tomorrow in industries that • Turn to page 7

unhappy with the state of the site.

•Turn to page 6

•Turn to 5

BLINDS...Cleaned, Repaired & Restored...

BLINDS...Cleaned, Repaired & Restored...

BLINDS...Cleaned, Repaired & Restored...

Restore your oiled CEDAR BLINDS with our re-oiling service.

Restore your oiled CEDAR BLINDS with our re-oiling service.

Restore your oiled CEDAR BLINDS with our re-oiling service.

• By Matt Slaughter

Rejuvenate your lacquered CEDAR BLINDS

Rejuvenate your lacquered CEDAR BLINDS

SPREYDON residents are

Rejuvenate your lacquered CEDAR BLINDS

High-tech Cleaning

High-tech Cleaning

High-tech Cleaning

• By Devon Bolger

preparing to help members of

We clean and repair all types of blinds –

• By Jess Gibson

We clean and repair all types of blinds –

Boats, Caravans,

We clean and repair all types of blinds –

their community if they are

What's in store for

Venetians, Cedar, Verticals, Roller, Hollands,

Venetians, Cedar, Verticals, Roller, Hollands,

ANY DECISION on helping people

Venetians, Cedar, Verticals, Roller, Hollands,

Romans and Pleated – with environmentally

RESOURCE consent has been SAVE

forced to self-isolate because of

Romans and Pleated – with environmentally

who may struggle to

the property market

Motorhomes

pay their rates

Romans and Pleated – with environmentally

friendly cleaning products.

granted for a major commercial $

Covid-19.

friendly cleaning products.

will come from the Government,

friendly cleaning products.

in 2020?

Temperature Controlled Drying

and residential development 350 in

Temperature Controlled Drying

Expressions of interest sought Spreydon to Neighbourhood

the district council says.

Temperature Controlled Drying

Re-oiling & Rejuvenating

Lyttelton.

Re-oiling & Rejuvenating

rent covered and open space

Network

in

Facebook group admin

Said district

Re-oiling & Rejuvenating

Read the full article at

Fabric Blinds - such as Austrian and

Collett's Corner, a three-storey Buy Now.

Fabric Blinds - such as Austrian and

Sonya Hodder got behind the

council the above chief proposed centre based

Fabric Blinds - such as Austrian and

teamgriff.co.nz

Roman

complex, is now a step closer to

Roman

idea after one of its members

executive in I Zone David Park Rolleston.

Roman

Same Day Pick Up & Drop Off

WE ARE OPEN being built on Oxford St after Keep warm

Same Day Pick Up & Drop Off

posted asking if residents are

WE ARE OPEN

Ward: "(We) will

Same Day Pick Up & Drop Off

WE ARE OPEN

We offer a same-day, pick up and drop

Mon - Fri Christchurch City Council

We offer a same-day, pick up and drop

Mon - Fri

willing to support people who

We offer a same-day, pick up and drop

Mon - Fri

off service for most types of blinds.

+ Healthy

be guided On site by facilities will include the following:

8.00am to 5.00pm approved the consent application

off service for most types of blinds.

8.00am to 5.00pm

are self-isolating by dropping off

off service for most types of blinds.

government

8.00am to 5.00pm

Bookings are required.

from Ohu Development - the

Bookings are required.

D Security Fence, Swipe food card, and Gate other supplies. D Dump Station On Site

Bookings are required.

policy and

Convenient Location

group behind the project.

Convenient Location

Entrance

Said Mrs Hodder: D Trickle "One of Feed the Power

Convenient Location

We are located at 47 Mandeville St, ***NEW LOCATION***

We are located at 47 Mandeville St, ***NEW LOCATION***

guidelines in

D CCTV Camera ladies who is in Dthe Office group works And Toilet Complex

We are located at 47 Mandeville St, ***NEW LOCATION***

The project is being funded by

Riccarton (next to Window Treatments Ph 377 0770,

Riccarton (next to Window Treatments Ph 377 0770,

relation to fifnancial

assistance

Riccarton (next to Window Treatments Ph 377 0770,

Caleb Griffioen 0276 370 231

the first crowdfunding campaign

NZ Ltd), parking available onsite

47 Mandeville St, Riccarton

Ph 377 0034

D Wash Down Facility for the Red Cross Dand Affordable she's like

David Ward

Rental Charges

NZ Ltd), parking available onsite

47 Mandeville St, Riccarton

an emergency person, you know,

NZ Ltd), parking available onsite

under taken in New Zealand for a

47 Mandeville St, Riccarton

www.blindcare.co.nz

Christchurch

www.dimocksenergy.co.nz sales@dimocks.net.nz www.blindcare.co.nz

Christchurch

for ratepayers.

commercial development.

she goes out with the four-wheeldrive

and that, and she came up

www.blindcare.co.nz

Christchurch

It is likely to be a national

Reply to: rvstoragecentre@gmail.com

However, before work starts on

decision."

the complex, Ohu Development

with the idea and so I agreed that

Mr Ward said it is still too early

will need to raise between

we should use our Facebook page

to tell exactly what assistance the

$800,000 and $1.4 million in its

as an avenue if anybody does

community will need.

second round of crowdfunding,

need help.

"It's very early days and I

which is planned to start on

"I'm not sure how needed that

think that we are just looking

it will be because most of the supermarkets

are providing online

PHOTO: GEOFF SLOAN April 2.

at how we respond to the virus.

The public will decide whether

DEDICATED: Dave Bryce is passionate about gardening as it is sustainable and promotes healthy eating.

GIRL BOSS: Julia Holmes wants to be a geneticist after high school, and feels the GirlBoss Advantage programme will help For us, it's about responsiveness

or not the second crowdfunding

delivery and things like that but

her achieve her dreams.

PHOTO: GEOFF SLOAN to the central government

bid will go ahead on that date.

it's just hard to know how it's going

to pan out.

• By Jess Gibson

the chairman of Redcliffs/Te Features and was one of seven At the moment, edible

guidelines, the safety of staff

In a survey by Ohu

• By Bea Gooding

from a young age has always Julia is one of 25 young industries that were oten maledominated,

with particular

"I just think they [people] just

WITH MORE than 100 edible

Rae Kura Eco Village Group, recognised in the Residential items in Mr Bryce's garden

and the safety of our communities."

Development, people can

been interested in how things women chosen around the

species in his garden, Dave

was successful at the Linwood- House Category.

include pumpkins, courgettes,

choose whether they think the

WEST MELTON'S Julia worked, oten taking things country to participate in focus on science, technology,

need to let us know what they

Bryce would give any vegetable

Central-Heathcote Edible

The awards were presented to beans, lettuce, rhubarb, celery,

It follows calls from

crowdfunding campaign should

Holmes is on a mission to apart just to put them back the GirlBoss Advantage engineering and maths.

need and we'll do our best to

shop a run for its money. Garden Awards.

Mr Bryce at a ceremony held at tomatoes, berries, nuts and

Christchurch city councillors to

continue, or should be paused

make a difference in the world. together.

programme next month,

She was shocked to hear the

help," she said.

the worst happens.

Network] are about, that's why tricky if the supermarkets stop

Which is why the Mt

He received a special

the Matuku Takotako: Sumner herbs among others.

stop rates increases in response

until the Covid-19 outbreak is

The fifteen-year-old has That passion has landed her designed to mentor the

news from her mother.

Mrs Hodder said there is no "I just think anything to help we exist.

working and things like that, and

to the Covid-19 crisis.

Pleasant resident, who is also award for Best Sustainability

need to panic but it is important our community, that's what we "We've got to look after each the doctors, it's hard for them as

• Turn to page 3

those who can help do their bit if

Centre earlier this month.

Looking for a mortgage broker?

lending for buying, building or renovating your new home

Refinancing home loans to get best possible interest rates

available and a structure to suit your goal

Lending for purchase of rental and investment properties

Business lending

A service that is totally mobile and at NO COST to you

www.stephaniemurray.mortgage

MichelleLindsayMortgageAdvisor

Connecting Your Community

Michelle lindsay

Mortgage advisor

Phone 021 346 265

• Turn to page 6

The local news

destination

for Cantabrians

brought under control.

WEDNESDAY, MARCH 25, 2020

a passion for biology, and the opportunity of her dreams. female leaders of tomorrow in • Turn to page 5

At The Laboratory

17 West Belt

Lincoln

Take in an

ice cream or

drink

starnews.co.nz

GET CO NECTED WITH

Scorch

Broadband

0800 726 724

www.scorch.co.nz

Cheap Tuesdays $10 Any Film, Any Time

Buy your tickets online

or from the bar

apollo.thelaboratory.co.nz

Do you have trouble

hearing and need a

• Open 5 days a week •

hearing test? Your • Late night appointments (these fill fast!) •

local hearing expert, • FREE adjustments for ACC funded clients •

Another Chance UK Feel Good Classic Cinema Jane Austin Comedy Historical Drama Family Fun

Brenna Sincock, is

• Fully funded ACC options •

Tuesday, 24 March

Thursday, 26 March

Saturday, 28 March

11:00 AM The Gentlemen

R16 11:00 AM Little Women G

here to help you get

10:30 AM The Big Trip PG

• Hearing aids in all price brackets •

1:10 PM Parasite

R13 1:35 PM Jojo Rabbit M 12:10 PM Parasite R13

3:40 PM The Invisible Man R16

your best hearing.

3:40 PM Parasite R13 2:40 PM Emma

PG

6:05 PM Emma

PG 6:10 PM Radioactive M 5:10 PM The Gentlemen R16

8:30 PM All at Sea

M 8:20 PM All at Sea M 7:30 PM All at Sea M

Wednesday, 25 March

Friday, 27 March

Sunday, 29 March

Call (03) 390 2332

10:30 AM Mums and Bubs, All at Sea M 11:00 AM Emma PG 10:30 AM Emma

PG

12:40 PM Emma

PG 1:25 PM Radioactive M 1:00 PM The Big Trip PG

Shop 40 Rolleston Square, 9 Masefield Dr, Rolleston 7614

3:10 PM The Gentlemen

R16 3:45 PM The Big Trip PG 2:45 PM All at Sea M

Rolleston | Darfield | Leeston | Lincoln

Local Selwyn Audiology

5:30 PM 1917

R13 5:30 PM All at Sea M 4:30 PM Little Women G

7:40 PM The Invisible Man R16 7:20 PM Emma PG 7:10 PM Radioactive M

Dine a the

La before

or after

Ro ler Blinds cleaned

from as li tle as $ 2

per blind

WE ARE OPEN

Mon - Fri

8.00am to 5.00pm

***NEW LOCATION***

Ph 377 0770,

47 Mandeville St, Riccarton

Christchurch

starnews.co.nz

The local news

destination

for Cantabrians

SUPPORT: Sonya

Hodder says

the Spreydon

Neighbourhood

Network will help

residents if they

have to selfisolate

because

of Covid-19.

PHOTO: GEOFF

SLOAN

• HAVE YOUR

SAY: Tell us

what you're

doing to help

your community

prepare for

Covid-19? Email

matt.slaughter@

starmedia.kiwi.

aged not to actually go there if

they're sick, but to phone in and

things like that," she said.

[the Spreydon Neighbourhood other. I guess it's going to get well. People need to be encour-

•Turn to page 6

BLINDS...Cleaned, Repaired & Restored...

Restore your oiled CEDAR BLINDS with our re-oiling service.

Rejuvenate your lacquered CEDAR BLINDS

High-tech Cleaning

We clean and repair all types of blinds –

Venetians, Cedar, Verticals, Roller, Hollands,

Romans and Pleated – with environmentally

friendly cleaning products.

Temperature Controlled Drying

Re-oiling & Rejuvenating

Fabric Blinds - such as Austrian and

Roman

Same Day Pick Up & Drop Off

We offer a same-day, pick up and drop

off service for most types of blinds.

Bookings are required.

Convenient Location

We are located at 47 Mandeville St,

Riccarton (next to Window Treatments

NZ Ltd), parking available onsite

www.blindcare.co.nz

Ro ler Blinds cleaned

from as li tle as $ 2

per blind

Somerfield

03 337 0422

Small batch made from scratch, Coffee to go!

2

Wednesday April 1 2020

Latest Canterbury news at starnews.co.nz

SELWYN TIMES

You don't have to have a

bear in the window of your

bubble to help get through

the lockdown, as the sign

on this lamb says in Gerald

St, Lincoln: "We haven't

got a teddy bear x x x''

And good to see the

bubble inhabitants put an

umbrella over the fellow to

keep him dry.

PHOTO: BARRY CLARKE

•Send your bear and

other lockdown photos to

newsroom@starmedia.kiwi

and we may publish them

on starnews.co.nz

get in touch

GENERAL INQUIRIES Ph 379 7100

CLASSIFIED ADVERTISING Ph 379 1100

Star Media, a division of Allied Press Ltd

PO Box 1467, Christchurch

starmedia.kiwi

NEWS

Devon Bolger

Ph: 021 914 742

devon.bolger@starmedia.kiwi

ADVERTISING

Lynette Evans

Ph: 364 7434

lynette.evans@starmedia.kiwi

Keep connected

Digital

editions

available on

your screen

24/7

• By Louis Day

CALLS HAVE been made to

stop rates increases in response

to the Covid-19 crisis.

City councillors James Gough,

Sam MacDonald, Catherine

Chu, Phil Mauger, Aaron Keown

and James Daniels have sent a

le ter to Mayor Lianne Dalziel

asking her to lead a conversation

as to how a zero per cent rates

increase could be achieved this

The city council is proposing

an average rates increase of 4.65

per cent acro s a l ratepayers in

this year's Draft Annual Plan

which is cu rently under public

consultation until April 5 and

wi l be finalised before July 1.

The 2018-2028 Long Term

Plan also predicts a 50 per cent

rates increase over 10 years.

Said Cr MacDonald: "In

the cu rent environment it's

clear busine s as usual is not

appropriate and the council

needs to look at how we enable

this 12-month rates increase

freeze to occur, it's crucial for

the economic confidence of our

city."

Ms Dalziel said the las thing

the city council needed was for

someone to hi the panic bu ton.

"Calm heads must and wi l

Circulation 93,000 starnews.co.nz

Vaping rules

in CDHB

spotlight

www.starmedia.kiwi/digital-editions

prevail," she said.

"Our residents and busine ses

wi l be depending on us to

make adjustments, and we wi l,

however, we wi l need advice

on the impacts on a l aspects of

– page 4

the council's budget, which is urchNZ, the Canterbury Employers'

Chamber of Commerce

not entirely funded by rates, and

the consequences that wi l flow and other key players so we are

from decisions we make. best prepared for the economic

"The Annual Plan is not challenges that lie ahead." she said.

signed off for three months so City council chief executive

we have time to get this advice. Dawn Baxendale did not rule a

A the same time, the council zero rates rise out.

is meeting with our economic "We're considering a series of

development agency, Christch-

options in light of the extraordinary

circumstances related to the economy in response to the

Covid-19. We wi l discu s these Covid-19 pandemic.

options with elected members The biggest boost is $5.1

as we develop the Annual Plan," bi lion towards wage subsidies

for affected busine ses in a l

The push from city councillors sectors and regions.

for a freeze on rates rises comes •Tips for weathering virus, p3

shortly after Minister of Finance

•Mayor's column, p9

Grant Robertson announced

a $12.1 bi lion package to aid •From the editor's desk, p10

Masked man: 'I'm not

going anywhere'

"COME ON mate, get a move

on,'' I thought as I came to a halt

in the supermarket.

In front of me was a guy with

his trolley, and just ahead of him

presumably his wife. Both were

wearing masks that covered most

of their faces. Good stuff there.

I was heading towards the

bread racks and any other time I'd

squeeze past.

But we are in the age of Covid-19,

and I was staying my

distance, masks or not. I too

was protected with disposable

gloves.

Thirty seconds or so went by,

and he didn't move, in spite of me

looking at him, raising an eyebrow

as best as I could to let him

know I was keen to get past.

But he didn't move.

I couldn't tell whether he was

looking at me or looking past me.

But he had a fixed, steely almost

grumpy look. He appeared frozen

in time.

I then said as politely as I could:

"Do you want to come through,"

hoping he would take the hint

and move forward from the

centre of the aisle he was in, and

Thursday, March 19, 2020

Parent's

frightening

journey

Covid-19 prompts call for

zero per cent rates increase

The local news

destination

Eastern

Foam fun follows fire suburbs

repairs

could take

a while

Julia's on

a mission

to make a

difference

ACTION: Six city counci lors including

Catherine Chu, Sam MacDonald (top right),

James Daniels (above left) and Aaron

Keown have ca led on Mayor Lianne Dalziel

to lead a conversation on how to achieve a

zero per cent rates increase this year.

Consent

Award for green-fingered Bryce

granted Julia's on

for Collett's

Limited a mission stock

Corner plan

Fujitsu 6kw to heat make pumpsa

difference

Hear Better,

Live Better

– pages 6 & 7

Motorway

opening

delay

brings

relief

Julia's on

a mission

to make a

difference

Bid to

secure

funding to

demolish

service

centre

Rates Preparation starts to support

decision

to come those who are self-isolating

from Govt

R V STORAGE CENTRE

Place your orders now

I Spy Food

78 Barrington Street,

Message

in a

bubble

Read it also on starnews.co.nz

veer left.

No reaction.

"What's this silly so and so doing

I thought,'' my patience now

wearing thin.

I upped the ante: "You go

through mate," I said directly and

with a nod.

He immediately put his full

gaze on me, his eyes didn't blink

and he replied sternly: "I'm not

going anywhere."

"What a blah blah, blah blah,''

raced through my mind. But what

I didn't know was that he was was

reading me like book.

"Gotcha!," he laughed from

behind the face mask. "You don't

know who I am, do you?"

The revolution

in heat pumps

is here now!

The Fujitsu e3series

The brilliant

heat pumps from Fujitsu

e1 : efficiency

e2 : environment

e3 : economy

FREE consultation from your local

Accredited Heat Pump Expert

Phone today: 03 381 6950

INSERT DEALER DETAILS HERE

Message in

a bubble will

be a regular

lockdown

journey with

Star Media

editor in chief

Barry Clarke

Then a light bulb went on in

the brain." Bill?'' He laughed. I

chuckled, quietly.

It was Bill, a top bloke I sometimes

have an ale with on the odd

occasion when I bump into him

at a certain watering hole.

"Keeping well, mate?," I asked

in that hushed tone we are all

communicating with when we are

away from our bubble.

"Yeah, not bad," he replied and

with that he veered to the left,

opened a big gap for me to get

through and we parted ways.

With any luck, the next time I

catch up with Bill it will be in four

weeks – over a beer.

– barry@starmedia.kiwi

The revolution in heat pumps is here now!

Say hello to Fujitsu's latest lifestyle range

HEAT PUMPS FROM $1999 inc GST INSTALLED!

Website: www.pshc.co.nz

Finance available

NEW ZEALAND'S FAVOURITE AIR ®

Conditions apply

Fujitsu's Catechin Filters are

approved by the Asthma and

Respiratory Foundation NZ's

Sensitive Choice ® programme.

Email: info@pshc.co.nz

SEE HOMEPLUS

FOR ALL YOUR

HOME

PRODUCTS

FG1441

Measured, made

and installed by our

team of experts.

5 year warranty.

AWNINGS & BLINDS BALUSTRADES FENCING & GATES INSECT SCREENS LOUVRE ROOFS SECURITY SCREENS SHOWERS WARDROBES & DOORS

88 Gasson St, Sydenham | 03 379 3740 | www.homeplus.co.nz
---
SELWYN TIMES Latest Canterbury news at starnews.co.nz

Wednesday April 1 2020 3

Residents confused by licence fee increase

• By Devon Bolger

THE UPPER Selwyn Huts

community is questioning a

nearly 70 per cent increase in

their licensing fee from July.

The annual fee, relating to

the resident's licence to occupy

the land, is currently $582 and

will jump to $977 per hut from

July 1.

When the community's new

wastewater

system is

installed in

about three

years the district

council

predicts the

licence fee will

reach $4618

Graeme Young

per hut.

Resident Graeme Young said

the community is confused by

the increase this year.

"We cannot understand why

it is being increased this year,

there is no financial basis to it.

We don't have a new wastewater

system yet. It is a complete joke

to us," he said.

A district council spokesman

said the costs are due to work

that has already been done in

planning for the wastewater

system.

Springs Ward councillor Debra

Hasson said: "If people want an

increased level of service, it has

to be funded from somewhere.

It is the cost of all the things

that we need to manage a

community," she said.

A report presented to district

councilors at a meeting on

Wednesday said: "There is no

need to lift the fee to $4618 from

July 1 as the wastewater upgrade

cost will not be incurred for

two to three years but there is a

need to increase the fee to start

reflecting the additional costs

of living at the Upper Selwyn

Huts."

Consultation on further

licence fee lifts will occur via the

draft 2020/2021 Annual Plan

process and the district council

will engage directly with each

licence holder.

The fee increase could be staggered

each year until 2023, the

report said.

The district council predicts

the wastewater upgrade will

SPIKE: The

annual licence

fee for Upper

Selwyn Huts

residents will

increase to

$977 from July

and further

increases will

be considered

in the draft

2020/21 Annual

Plan. ​

cost $3 million.

In May last year, the district

council voted that the residents

would have to pay in full for a

wastewater scheme, when its

current scheme expires in June

2020.

The district council's decision

to decline including the upgrade

in the district-wide rate was due

to climate change threatening

the community's long-term

liveability.

In Brief

HEDGE FIRE

Three fire crews spent more than

two hours battling a large hedge

fire in Leeston on Wednesday.

Firefighters from the Leeston,

Southbridge and Dunsandel

stations were called to the blaze

on Drain Rd at 3.15am. The

fire engulfed about 100m of the

hedge. However, no property

was damaged and no one was

hurt in the blaze. A Fire and

Emergency NZ spokesman said

crews were at the scene for more

than two hours. They eventually

brought the fire under control

and left the area about 5.30am.

DRAFT ANNUAL PLAN

The district council's draft

Annual Plan will still go out

for public consultation in

April in spite of the country

being in lockdown. The

Covid-19 lockdown is likely

to mean information and

consultation around the

plan will predominantly

be available online, said a

council spokesperson. District

councillors acknowledged that

in light of the pandemic and its

impacts on the economy, there

may be significant changes to the

final plan." Many of the projects

and services proposed may now

prove to be unnecessary and

some projects may not progress,"

the council spokesperson said.

3 TRUCKS

3 CARS

3 LUBES

3 SERVICING

3 FLEET WORK

3 BOATS

3 DIESEL INJECTOR &

PUMP SERVICING

3 ENGINE TUNING

Mon-Fri 7am-5pm

Sat 8am-12pm (WOFs only)

3 BRAKES

3 MAXXIS TYRES

3 WHEEL

ALIGNMENTS

3 BATTERIES

3 WOFs

3 CAMBELTS

AND MUCH MORE!

839 Jones Road, Rolleston P.O. Box 16 Rolleston

Phone Simon on 347 7110 or Mobile 027 272 9213

MEARES WILLIAMS

LAWYERS

10 Years in Selwyn

5 Warning Signs of Spinal Stress!

André Grob,

Dr of Chiropractic,

has had over

15 years

experience of

specialty spinal

care in Australia

and New Zealand.

A healthy spine is vital to

your wellbeing.

Specialist spinal therapy

at Southern Chiropractic

consists of:

• Manual manipulative therapy

• Soft tissue Massage

• Low level Laser therapy

• Exercise and postural

education

SCIATIC PAIN

HEADACHES

NECK PAIN

AND TENSION

MID BACK PAIN

AND TENSION

LOW BACK PAIN

ROLLESTON OFFICE

78 Rolleston Drive, Rolleston

Richard Gray

Kate Warren

Anita Molloy-Roberts

Belinda Ferguson

Emma-Jane Moore

W: www.meareswilliams.co.nz

T: (03) 374 2547

E: reception

@meareswilliams.co.nz

Offices also located at:

43 Gerald Street, Lincoln

225 Papanui Road, Christchurch

Southern Chiropractic Ltd

NEW PREMISES

Unit 4, 3 Kennedys Bush Road, Halswell

(Down the drive beside Pringle Homes offices)

Telephone 322 1432

www.southernchiropractic.co.nz

Email dre.nik@xtra.co.nz

FOR BETTER SPINAL HEALTH

ACT NOW… RING 322-1432

Halswell Jct Road

Halswell

Road

Kennedys

Bush Road

3 Kennedys

Bush Road

Sparks Road
---
4

Wednesday April 1 2020

Our People

Latest Canterbury news at starnews.co.nz

SELWYN TIMES

Rupert Tipples

Key role in keeping committees ticking over

Springston resident

Rupert Tipples has been

involved in community

committees since 1998.

The 70-year-old speaks

to reporter Devon Bolger

about his time giving

back to the township and

his love of history

Why did you get involved

in the Springston community?

I came to Lincoln in 1977 to

lecture at the university. That

is what brought me to Selwyn.

At the university, my main

involvement was with the hockey

club and I coached the women's

team for a while. I used to play

hockey. In 1987 I was involved

in a bad road accident and I

couldn't play any more. I was

out of action for a long time. The

family was very well looked after

by the Springston community,

they suddenly appeared from

their fences and helped the

family while I was in the hospital

for about 10 weeks, I very much

appreciated that. So when Roy

Mather approached me after the

Springston reserve committee

lost its president, wanting

someone else who could cope

with the job, I joined, and that

was my first actual involvement

in community issues at a

voluntary level. I was elected at

the triennial meeting in 1988.

The township committee lost

its chairman a small number of

years ago, I came on to be the

chairman of that one too. I had

been reluctant to amalgamate

the two but our numbers got

so small for the community

committee in 2018, we now run

them together. At the present

moment, I am on the reserves

committee which I have been

chairman for more than 20

years. We have the community

committee which I have been

chairman for about the last five

or six years. I am also on the

hall committee which only has

two people on it and that's not

even enough to make a decision,

we need five people to do that. I

INVOLVED: Rupert Tipples has been working for the Springston community for more than 20

years and played a pivotal role in extending the domain's pavilion. PHOTO: GEOFF SLOAN ​

think we have the power to coopt

two or three of the previous

members and then we can move

the motion that we amalgamate

with the other committees.

That's my strategy, whether it's

legal and whether that will work

I don't know.

Why do you continue to be a

part of the committees?

I think it has a lot to do with

family history. I was involved

in hockey when I came to New

Zealand but my mother had

played hockey and was involved

in a club in England back in

the '40s or '50s so there's been

a long tradition of sports club

involvement within the family.

When my kids were growing

up they played sport here in

Springston and we benefited

from the facilities and the

coaches and people who did

all the things that needed to be

done. We took turns making the

tea, I remember they required

the captain of the day, or what

have you, to make a speech

and to thank the ladies in the

kitchen, that was something

that quite amused us because

we hadn't come across it in

England. I wasn't able to play

after 1987 but on the other hand,

it didn't stop me being involved

in the admin. There was another

idea that was in the back of

my mind. I taught at Lincoln

in the area of employment

relations, I came across an idea

called social capital and that is

basically what communities that

all work together generate that

makes them function well. If

a community has a good stock

of social capital they get things

done, and that means people

are volunteering, helping and

looking after each other. This

idea appealed to me. It all fitted

together with my thinking at the

time. I wanted to give back to the

community because of how they

looked after me and the family

in 1987 and I wanted to carry on

the family tradition.

What achievements within

the committees are you most

proud of?

If I look around the Springston

area, I think the reserve is in a

better state than it's ever been.

We extended the pavilion which

I am proud of. It wasn't my idea

but I facilitated it as chairman

of the committee. I have also

been the one who fronts up at

council meetings and things like

that and lobbies for particular

ventures.

Why do you think people

should get involved in their

community?

If people want to have good

facilities for their kids somebody

has to do the work. I found

over the years, there's an initial

learning period when you start

out in this stuff that can be quite

hard work but once you've done

it, it's relatively smooth sailing.

Things like running committee

meetings and such become

easier.

Tell me about your work

with the Lincoln & Districts

Historical Society.

History has been my love since

I was a child. I have been into

historical things for years and

years and years. I never did it

professionally or anything but

I have written several historical

papers and what have you. I have

been a member of the historical

society for quite some time and I

was asked to join the committee

after a while, I hadn't seen it

coming but the president had

lined me up to succeed them

when they stood down. They did

a couple of years ago and I was

asked to take over the role. I am

also the editor of our newsletter

that comes out twice a year. I just

think there's a whole lot of stuff

going on in the background that

makes the community a much

richer and more satisfying place

to live in.

Can you tell me about your

family?

I come from Kent, England,

my family were hop farmers.

My wife's name is Rita and we

have three children Ruth, Rosie

and Daniel. I also have four

grandchildren.

How did you end up in New

Zealand?

I was the first member of my

family to go to university, I was

going to go to Wye College, it

had an agricultural focus, but my

housemaster at school thought

I should go to Cambridge

University and he persuaded me

to apply to study land economics.

I ended up going there, I think

that Cambridge made me

who I am today. After that, I

got my Ph.D. I was looking at

a newspaper one day and an

advertisement for a lecturer in

labour management at Lincoln

College, in New Zealand, as it

was called at the time, I applied,

was interviewed in London.

I got offered the job and we

came out here in 1977. We were

living in university housing. We

then moved on to Springston

where we have been ever since.

I retired from the university at

the end of 2014. I am now an

honorary associate professor

in employment relations, with

a rural specialisation, which

means I have an office, computer,

access to printing and students,

but my last student is nearly

finished.

GET CONNECTED WITH

Scorch Broadband

0800 726 724

www.scorch.co.nz

tree trouble?

call us 384 9630

www.fourseasonstreecare.co.nz

t h e t r e e p e o p l e

f o u r s e a s o n s t r e e C a r e

WOF

Only $50

• Courtesy cars • oil changes • tyres & batteries

• Brake & clutch repairs • transmission flush service

• Full mechanical repairs • Petrol & diesel servicing

FitzgeRald MotoRs

PHONE 03 349 7813

Unit 8,193 Waterloo Road, Hornby

(6 doors down from our old site)
---
SELWYN TIMES Latest Canterbury news at starnews.co.nz

Wednesday April 1 2020 5

News

Lincoln firefighters tough it

out in combat challenge

• By Devon Bolger

THE LINCOLN Volunteer Fire

Brigade had a successful run

at the South Island Combat

Challenge.

The United Fire Brigades'

Association hosts the event and

describes it as being like a firefighter

ironman and the most

physically demanding of all the

challenges they run.

Six members of the Lincoln

brigade made up three tandem

teams, a relay team and five

individuals, who competed

at the event at Christchurch

Airport.

The relay team won the plate

final at the event and the tandem

team of Isaac Williams and

Bryce Bisphan placed high up

the list of competitors.

Mr Bisphan said he really

enjoyed taking part in the challenge.

• By Devon Bolger

SPRINGFIELD School is set to

undergo a full rebuild, costing

nearly $2 million.

Ministry of Education head of

education infrastructure service

Kim Shannon said it will deliver

two new classrooms and new

administration, resource and

library spaces.

"This will replace the school's

current building which is over

90-years-old and has reached

the end of its useful life.

"This is a school-managed

project being carried out as part

of the school's 10-year property

plan," she said.

Work is now under way and

is likely to be complete by mid-

2021.

"The rebuild will ensure the

Springfield community has a

school it can be proud of, and

fit-for-purpose facilities that

support and inspire kids' learning

and progress," Ms Shannon

said.

HARD WORK: Lincoln firefighter Bryce Bisphan competing in

the gruelling South Island Combat Challenge. ​

"For me, it's the only sport

I've ever done where it doesn't

matter if you're at the top of

our sport or at the bottom.

Everybody involved helps you to

achieve your best.

"At the end of the day, we are

REVAMP: Springfield School will be rebuilt with work

expected to be completed next year. ​

all firefighters and we are all

family," he said.

Mr Bisphan said it was a wellrun

event that they were looking

forward to after last year's was

cancelled due to the mosque

attacks.

Rebuild plan for Springfield School

Principal Keri Steele said last

year the school approached the

ministry with concerns regarding

maintenance and health and

safety issues.

"Our buildings, while picturesque,

were starting to show

their age and some aspects were

less than ideal for our students

and staff. Due to our increasing

roll, we had a deficit of entitled

space," she said.

The new building will incorporate

flexible learning and

break-out spaces, Ms Steele said.

"While we are sad to say

goodbye to our historic school

buildings, we are aware that this

is an amazing opportunity for

our school. We recognise that

the Ministry of Education is

making a significant investment

into the future of our school,

and we are excited for the new

opportunities a state-of-the-art

building will provide."

Sign of the times

This Lincoln chemist is out of what many people want – face

masks – in these unprecedented times.

A cyclist's paradise on a quiet Gerald St, Lincoln, on Sunday.

Some chores still have to be done while living in the bubble.

Police working as normal

• From page 1

The Selwyn district police

headquarters at Rolleston is now

being staffed 24 hours a day seven

days a week.

Front counters at all stations

in the district will be closed until

further notice but police staff will

be working from those bases as

normal.

•Senior Sergeant Dean

Harker's column, page 6

powered by

people

Tania McDonald

Registered Legal Executive

Your local expert in Residential

Property, Wills, Powers of

Attorney and Estate Planning

E: tania.mcdonald@saunders.co.nz

95 Gasson Street, Sydenham, Christchurch 8140, NZ | www.carlights.co.nz
---
6 Wednesday April 1 2020

Latest Canterbury news at starnews.co.nz

SELWYN TIMES

News

Community

centre could

be used for arts

THE ROLLESTON Community

Centre could be repurposed into a

centre for the arts.

A report presented to district

councillors outlined the options

for the future use of the facility

after Te Ara Ātea, the new library

and community centre in Rolleston,

is built.

The idea of repurposing it into

a space focused on the arts was

mooted at a district council meeting

on Wednesday.

"This would encompass

purpose-built spaces for the arts

in which spaces are fully designed

for and fitted out to meet the

needs of the particular arts activities

proposed," the report said.

Consultation on the future use,

capital investment requirements

and operating cost implications of

the Rolleston Community Centre

building will be held in the 2021-

31 Long Term Plan process.

The arts and recreation centre

would incorporate a 'black box'

performance, rehearsal and public

assembly space. Black box refers

to the ability to make it a neutral

space that can be used by a range

of art forms.

Space for community groups,

social, meeting and recreation

programmes is also suggested.

Rolleston police station open 24/7

Area response manager

Senior Sergeant Dean

Harker talks about police

activity in the district and

community patrols

HELLO AND welcome. This

column will focus on policing

around the Covis-19 virus and

the impact it will have in our

community.

Selwyn police will be working

over this period and will be carrying

out reassurance patrols.

We have made a move to have

staff working on duty 24 hours

a day at Rolleston from last

Thursday until the period when

self-isolation is lifted. This means

Rolleston station is now manned

around the clock.

The front counter at the

Rolleston station and all outstations

will be closed until further

notice, however, there will still be

police staff working in all areas

as normal.

For Rolleston residents

Dean Harker

Selwyn Police

there is a phone at the front of

the station that is a direct line to

police.

Reporting crime can be done

in a number of ways.

•Phone 111 when you need immediate

help with a life-threatening

or time-critical emergency

•By phoning 105 when no one

is injured or in danger, there

is no serious risk to people or

property, the crime isn't still happening.

•By reporting online at105.

police.govt.nz

We are encouraging the public

to be more vigilant than ever and

to report anything suspicious.

Keep an eye on your neighbours

and please adhere to the

rules around self-isolation.

Local police will be carrying

out their own risk assessments

when attending incidents and

our main focus is to keep everyone

safe. We are fully aware that

stress levels amongst families

will be high and we urge people

RESPONSE: A phone at the front of the Rolleston station will

give you direct a line to police.

to just think of the bigger picture

at this time. If stress levels get

high think about taking time out

in another room in your house.

We will still be focusing on

road safety at this time as it is

very important that the main

transport arterial routes are

open at all times so that freight

trucks etc aren't held up with

unnecessary road closures due to

accidents.

People who want to exercise

such as go for a walk or run have

to start and finish from their

home. This is the same for those

who want to go for a bike ride.

You can not drive to a location

to exercise or walk your dog.

It has been very concerning

to see so many people driving

who were not abiding by the selfisolation

request.

You can only be driving if you

are visiting an essential service

such as the supermarket or

chemist or if you work for one of

these.

Police will be out in force

randomly stopping vehicles to

see if people are authorised to be

driving, those who are not will

have to face the consequences of

their actions as they are putting

everyone else at risk.

Thanks
---
SELWYN TIMES Latest Canterbury news at starnews.co.nz

Wednesday April 1 2020 7

aclandpark.co.nz

0800 ACLAND

Learning camp for

Rolleston College's leaders Council keeping essential

services operating

ROLLESTON College's

learner leaders were sent

on a leadership camp to

bond as a group and plan

the year ahead.

The school does not have

head students and instead

about 10 leaders in each

whanau, from each year

level, are chosen for the

year.

The senior learner

leaders from the Raumati

whanau attended the camp

at Orton Bradley Park for

two days.

Said student Jack Tocker:

"This was a fantastic camp

where we all got to learn

more about our leadership

team, teachers, and

ourselves while having an

amazing experience."

He said the camp was

designed for them to bond

and get to know each other

while planning for the year

ahead.

Students took part in

walks and challenges set by

teachers.

"This walk was a great

bonding experience and

gave us some exercise

on such a nice day. The

afternoon consisted of us

BONDING: Senior Raumati learner leaders on their

camp aimed at helping them to work as a group and

plan their roles and responsibilities for the year. ​

heading to the wharf and

jumping into the water.

"It was really fun and

exciting with many amazing

jumps being made," he

said.

The learner leaders made

dinner that night and

discussed their roles at the

school and possible leadership

opportunities in the

future.

"We couldn't end the

day without playing some

classic games of spotlight,

it was a fantastic

night, even with a giant

mouse scaring us all during

one of the games."

Year 11 and 12 leaders

from the Ngahuru, Koanga

and Hotoke whanaus also

attended the camp on

separate days.

Mayor Sam

Broughton

writes about

what the

district council

is doing during

the lockdown

WELL DONE Selwyn,

first week of lockdown

done.

It's been a big change for

all of us and the gloomy

weather over the weekend

didn't make being stuck at

home any easier.

My bubble includes Liz

my wife, and Elliott our

daughter as well as my

parents who are living

with us over this time.

We have shared

the cooking around,

watched movies together,

completed some word

puzzles, done a bit of

gardening and used

messenger video to keep

in contact with friends

and family.

I am able to work from

home and as a council we

Canterbury's fastest selling

new subdivision

continue to meet

together using

Zoom. The Government

urgently

changed legislation

last week to allow

meetings to occur

without needing

to be present in the same

room. We are working

to have council meetings

streamed online through

either our council's website

or Facebook for this week.

As you know council facilities

are closed for now

including playgrounds but

we are keeping essential

services going. We continue

to collect rubbish and

recycling and are keeping

water and wastewater

services flowing. We are

keeping public toilets on

state highways open.

Our Civil Defence

teams are on standby

and you can still contact

the council on the usual

phone numbers. Staff are

working from home so

we are still able to process

your building consent.

I know that having your

freedom curbed is annoying,

but hopefully you

are learning some things

about yourself and the way

you do life that are for the

better.

Perhaps there are things

you prefer about life this

way. April 2020 is going

to look very different than

what we thought it was

going to only two weeks

ago. My hope is that some

of this change will be of

benefit to us as individuals

and to our community as

a whole.

If you are needing

to get out of the house

remember you can take a

walk or bike ride around

your block, just stay local

and only with your bubble,

to enjoy the fresh air,

beautiful mountain views

and open countryside that

living in Selwyn offers.

We will get through this

together.

Kia kaha Arohanui

During lockdown the gallery exhibitions will be experienced

in a different way. A visual feast is available on our website's

exhibition page. Presales are welcome - contactless sales

and delivery.

"'The Road Less Travelled' - We didn't realise how pertinent this

title would be as we spend a month in quarantine.

Thanks to the well-worn roads of the internet though I can still

deliver you a look at paintings often inspired by something seen

on my bike. Whether from the Summit Road on Banks Peninsula, a

more intimate scene in Hagley Park to beside a river in Arrowtown,

I continue to be inspired by the quality of light from a low sun. Often

evening and sparkling on water, which deliver contrast and warm,

vibrant colours. I hope these paintings lift your spirits over the next

few weeks."

Philip Beadle's immediate environment is Christchurch, where he

lives, with its cityscapes, the Canterbury plains, the Southern Alps

and Banks Peninsula - all sources of subject matter and inspiration.

Philip regularly travels and paints around New Zealand and has

had several trips overseas gathering material from which he has

painted. His paintings have been purchased to collectors worldwide

as he manages to capture the essence of a scene at it's most

beautiful, a painting that you could gaze at forever.

ONLINE

SALES ONLY

Philip

Beadle

The Road Less Travelled

Due to

COVID19

our centre

is closed

ONLY ESSENTIAL

SERVICES REMAIN

OPEN, these include

Unichem Pharmacy &

Bank of New Zealand

All other stores remain closed.

Please contact stores directly for

any online requirements you may

have, some stores are offering

this service.

Go to our website and Facebook

page for updates.

Stay Safe, Be Kind & Wash

Your Hands

4 April - 5 May 2020

littlerivergallery.com

info@littlerivergallery.com

www.bushinncentre.co.nz

Bigger, Better, Bush Inn
---
8 Wednesday April 1 2020

Latest Canterbury news at starnews.co.nz

SELWYN TIMES

News

Young illustrator's work in print

• By Devon Bolger

MINDI BOSHER has loved art

her whole life and now the nineyear-old's

own illustration is

featured in a children's book.

Last year the West Melton

resident entered a competition by

author and illustrator Donovan

Bixley to design a new character

to appear in Downfall, the next

book in the Flying Furballs series.

Out of the 150 entries Mindi

was chosen as a joint winner

alongside one other.

Her character 'The Mighty Osman'

was included in the book

Flying Furballs Downfall.

Mindi's father Nathan Bosher

said she has always had a passion

for drawing.

"We've got a house full of her

drawings, some right from the

early years that were too treasurable

to throw out."

When Mindi found out about

her competition win she reacted

as any nine-year-old would, he

said.

"She was just over the moon,

you can imagine the screaming.

Last night she stayed up reading

the book until 9.30pm.

"She'd come bolting in from

her bedroom and say I've got up

to Osman's part, and then she

came back yelling she'd finished

it. She's pretty wrapped to see it

in a book."

Mr Bosher said Mindi is not

TALENTED: Mindi Bosher, 9, with her father Nathan and

mother Paula and their alaskan malamute, Osman, which

inspired the character. ​

entirely sure what she wants to

be when she grows up.

"She hovers over a few different

things because she loves

animals and has a keen interest

in being a vet."

Mindi's character was inspired

by her family's dog, Osman, an

alaskan malamute.

Mr Bosher said: "When she

wanted to enter the competition

and make her character after our

dog, I said if you want to do it

then sit down and list all his attributes

and what you like about

him.

"She did just that so the whole

thing really was based around

him."

It also helps that Mindi is a

huge fan of the Flying Furball

book series, he said.

BACKYARD CRITTERS

Mike Bowie is an ecologist who specialises in

entomology (insects and other invertebrates).

Each week he introduces a new species found in

his backyard at Lincoln. His column aims to raise

public awareness of biodiversity, the variety of

living things around us. Check out the full list

of invertebrates found at www.inaturalist.org/

projects/backyard-biodiversity-bugs-in-my-lincoln-section

Vulnerable moth has

conservation status

AN EXCITING recent find

on our window at night was a

newly-described (in 2019), small

leafmining moth, Sabulopteryx

botanica.

THis endemic moth is brown

in colour, has a wingspan

of 8.5mm to 10mm and has

a 'nationally vulnerable'

conservation status.

THe moths often have a

bahavioural trait of sitting

upright on the rear of their

wings (see photo). Eggs are

laid on host plant (Teucrium

parvifolium) near the midrib on

the underside of the leaves.

The young larvae create

straight, white feeding

damage (mines) usually on the

undersides of leaves.

As the leafmining mining

larvae get older, they produce

grazing trails on the leaf, usually

from the midrib to the outer

edge of the leaf. Eventually the

larva will pupate into a folded

leaf webbed together by its silk.

THere is a wasp that is thought

to parasitise this moth species.

CHECK–

CHECK AGAIN

Every intersection,

every time.
---
SELWYN TIMES Latest Canterbury news at starnews.co.nz

Wednesday April 1 2020 9

Tasty Bites

Bulking up mince helps it go further

• By Ian Knott

In these trying times, there

are many ways you can

make your grocery spend

last longer. Mince is a staple

that can be used in a myriad

of ways – but bulking it

up with other ingredients

can make smaller trays of

meat feed more people and

larger ones spread over a

couple of meals

THESE ADDITIONS will bulk

out your mince while adding

flavour and nutrients to the dish.

Not every addition will suit every

meal – so use your discretion.

Bread/cracker crumbs:

Dry or fresh breadcrumbs and

cracker crumbs can add body

and binder to minced meals that

need to keep their shape, like

meatballs, burgers and rissoles.

Cooked rice:

If you're gluten intolerant, don't

have bread or crackers on hand or

just don't want to use them, then

mixing cooked rice of any variety

into shaped mince meals can bulk

it out too. It helps if the rice was

cooked the previous day and has

dried out overnight in the fridge so

it can adequately soak up flavours

and juices while not causing the

mixture to become soggy.

BULKING UP: There are many ingredients you can add to mince

to make it go further and also add nutritional value.

Hard vegetables:

Things like carrots, turnips,

celery etc. Basically any vegetables

that need a decent bit of cooking

to get them softened up.

Pumpkin and kumera could

be used also, though if diced

small enough they cook very

quickly.

Grate, finely dice or blitz hard

veg in a food processor and sweat

out excess liquid in a pan before

you add your meat. This works

great for meat sauces, lasagnes and

pie fillings. Thick and saucy things

benefit from aromatic vegetables

that add flavour and nutrition while

bulking out the meat.

Soft vegetables:

Zucchini, eggplant, capsicum,

squash, mushrooms, cabbage,

broccoli and other soft vegetables

can be finely diced, shredded

or sliced to add bulk and

flavour. Zucchini, eggplant and

mushrooms are great at soaking

up flavours.

If you need to hide their

existence from little ones who

don't like veg, try chopping or

processing them as finely as

possible and adding them early in

the cooking process so that they

get a chance to caramelise and

develop colour and flavour.

Mashed potato:

Mix through some mashed

potato in shaped mince dishes

or layer it in baked dishes like

moussaka, lasagne and pies. Make

the potato layer of a shepherd's

pie extra thick, or if you are

making a pastry topped pie,

you could put a layer of mashed

potato under the pastry to bulk

out the meat filling.

Cheese:

While cheese is at the pricier

end of ingredients for bulking,

some crumbled feta, ricotta,

cream cheese, diced halloumi or

mozzarella could extend shaped

mince meals like burgers and

meatballs.

Lentils:

Already soaked and cooked

lentils can be added to any kind

of mince dish as an extender.

If you're combing lentils into

meatballs, burgers or rissoles,

consider adding additional

ingredients like eggs or

breadcrumbs as binding. Lentils

are great for extending a meat

sauce and a chilli too.

During the lockdown

Selwyn Times will bring

readers recipes and tips

to make economical but

very tasty meals

If you have any tips

or recipes to make

economical meals and

help groceries go further

during lockdown, share

them with Selwyn Times

and starnews.co.nz readers

by emailing newsroom@

starmedia.kiwi – photos

are welcome but not

necessary. Please include

your name and area where

you live.

Beans or chickpeas:

Cooked or canned beans or

chickpeas are particularly good

for bulking out shepherd's pie

fillings, chilli, meat sauce for

lasagna or spaghetti bolognese.

They can also bulk out burgers

or meatballs but may need some

additional ingredients to keep the

mixture together when shaping.

Whole grains:

Things like buckwheat, quinoa

and barley as well as other grains

can bulk out mince dishes.

Whether you add the uncooked

grains with the mince when

you make sauces and stews

or add already cooked grains

to meatballs, grains add nutty

flavour, texture and bulk.

HEALTH UPDATE

Restricted visiting

At COVID-19 Alert Level 4 all Canterbury DHB

hospitals and health centres have restricted

visiting. Visitors will only be admitted under

exceptional circumstances and only one

visitor or support person per patient for

most areas. No children under 16 will be

permitted. This applies to the Emergency

Department and all wards and services. All

visitors will be assessed on entry and you

will need to provide your name and contact

details. If you are unwell, you will not be

able to visit. Thank you for helping us keep

our patients and staff safe.

Outpatients and elective

(planned) surgery

All elective surgery and non-urgent face-toface

outpatient appointments have been

postponed for at least the next four weeks.

Alternative appointments, such as phone

or video consultations are being made on a

case by case basis.

If you're unsure about your situation, please

call the number on your appointment letter.

Park and Ride

The Park and Ride shuttle from the Lichfield

St carpark will stop operating from 8.30pm

Wednesday 25 March to protect our patients

and staff.

Look after your wellbeing

If you or someone you know needs

wellbeing support or advice, call or text

1737 to speak with a trained counsellor. This

confidential service is free of charge and is

available 24 hours a day, seven days a week.

There's useful and practical information

available for those at home in isolation on

the government's website COVID19.govt.nz

Be kind

Canterbury has been through a lot, and we

will get through this as well. We're stronger

together. Remember to check in on the

elderly or vulnerable. Make a difference

by dropping off supplies to those who are

home sick and 'virtually' check in with

whānau, friends and neighbours who are in

isolation.

Stay home

You must stay home unless you work in

an essential service. We all need to do

everything in our power to break the chain

of possible transmission of COVID-19 (and

other viruses) in our communities.

While in isolation at home you can still go

out for a walk, but please keep at least two

metres away from others.

Together we can slow the spread.

See cdhb.health.nz/COVID19 for further

information
---
10

Wednesday April 1 2020

Latest Canterbury news at starnews.co.nz

Selwyn Times

Maintaining essential services

during Alert Level 4

We're continuing to do all we can to support our community during the COVID-19 lockdown,

by making sure we maintain essential services. We're also providing services and programmes

through online platforms wherever possible. Here's a summary of our key services.

· We're collecting your rubbish and recycling as usual. Easter Friday collections will take place the

next day - Saturday 11 April. Easter Monday collections occur as normal.

· We're taking care of water and wastewater.

· We're processing building consents (although there may be some limitations as we can't access

physical files).

· Public toilets on State Highways are still open.

· Our civil defence teams are on standby to help out.

If you are out and about with those in your 'bubble' here's a few things to note:

· Our parks and reserves are open for walking and general exercise – but remember to keep 2

metres distance from others and avoid using benches and tables if you can.

· We've had to close playgrounds, tennis courts, skate parks and the like – because of the risk of

transmitting the virus from the equipment and surfaces we touch.

· Our dog parks are also open – but again, keep your safe distance, and keep pooch on a leash.

· McHughs Forest Park is open for local use only – people shouldn't drive there from outside the

local area.

· Remember to stay local – try to walk to wherever you're exercising and leave your car at home.

Our libraries have thousands of eResources, eBooks and Audio books to keep your household

busy during the lockdown. Check out what's available at selwynlibraries.co.nz or on Facebook.

Also visit our facilities and Aquatic Centre Facebook pages for videos and online activities.

You can still contact us to report issues or for information about most of our services.

· Phone 0800 SELWYN (735 996)

· Email contactus@selwyn.govt.nz

· Visit our Contact Us page on our website selwyn.govt.nz/contact-us

· You can also submit a request using the app Snap Send Solve

For more details check out our latest updates at selwyn.govt.nz/covid19.

Stories from our households to yours

Some of our community team are doing a series of stories on how they're handling self-isolation and

spending their days. We hope it will inspire you with some ideas and we'd love to hear your creative

ways of spending your days.

In this first story Council Community and Economic Advisor Amy Penketh discusses how she's setting

up a routine and staying connected with people.

What a strange feeling working in my slippers for the next four weeks. However, with change comes a

new and interesting routine.

Routine and staying in-touch with people are important for me. Today I started my morning with a brisk

walk instead of an hour drive to work. Then back to my "desk" to write a schedule for the day.

I break my day into sections; learning, exercising, work, family and friends and connecting.

At 10am, I have a 15 minute work break. Today, I called my 82-year-old Granny to hear how she is and

to hear her good old pikelet recipe. She finds the Aunt Daisy recipe book and flicks through it telling me

how grandad and all his friends used to say how marvelous the pikelets were and she would always

have to triple the recipe to cater!

As a kid every Sunday I would visit my grandparents

farm and granny would always have these pikelets,

made with the Aunt Daisy recipe, warm and ready

for us to devour. Granny reminded me of this and we

had a laugh. She said, "I'll call you tomorrow to hear

how the pikelets were."

We would love to hear your creative ways of how you

are spending your day! Call or email Hayley on 022

083 1939 or at Hayley.Tate@selwyn.govt.nz, or Amy

on 027 250 9031 or at Amy.Penketh@selwyn.govt.nz.

COVID-19 impacts

Annual Plan process

Consultation on the Council's Annual Plan for 2020/21 will go ahead

during April – but the Council has acknowledged the Plan is likely to

change due to the effects of the COVID-19 pandemic.

The Annual Plan Consultation Document was adopted for

consultation by the Council last week, and consultation opens on

Friday 3 April.

The Plan was prepared well before the COVID-19 Alert Level 4

Restrictions were announced. The ongoing pandemic and its

impacts on the economy are likely to bring significant changes to

the final plan, says Mayor Sam Broughton.

"Many of the projects and services proposed may now prove to be

unnecessary and some projects may not progress," he says. "At the

same time, other projects that were not a priority may now become

a focus over the next 12 months."

"We invite new ideas and new thinking. The consultation process

gives you the opportunity to prepare a submission in which you can

tell us what you like in our Annual Plan, and the things you suggest

that we might do differently – especially in these challenging times."

Key proposals identified for consultation in the draft Annual

Plan include:

· Deferring the Prebbleton Community centre project to allow for

more detailed consideration in the Long-Term Plan 2021-2031.

· Reviewing wider community needs for community facilities

in Leeston

· Establishing Council investment and developer partnerships for

the Rolleston town centre retail development

· Increasing water supply charges to provide for quality

improvements and demand management

· Planning and building a new wastewater system for central

Darfield and new developments

Public consultation has also been forced to change given the Level

4 Alert, with information and consultation predominantly being

undertaken online. Consultation opens on 3 April and closes on 4

May. The Council must adopt the Plan before the end of June.

Here's the plan

...have your say

Annual Plan 2020/21

Consultation Document

Digital Library open

Needing something to help keep you busy over the lockdown

period? The Selwyn Libraries digital library is open 24/7 with a huge

range of resources.

Why not explore our massive range of books. OverDrive has more

than 10,000 eBook and Audiobook titles including fiction and nonfiction

for adults, young adults and children.

The platform is compatible with a huge range of devices and they

even have a handy App.

Not a member of Selwyn libraries? Join today, it's free – just head to

selwynlibraries.co.nz

Council Call

Selwyn District Council

Norman Kirk Drive, Rolleston

Ph 0800 SELWYN (735 996)

Rolleston Library

Rolleston Drive, Rolleston

Ph 347 2880

Darfield Library & Service Centre

1 South Terrace, Darfield

Ph 318 8338 or 347 2780

CC010420
---
Selwyn Times Latest Canterbury news at starnews.co.nz

Wednesday April 1 2020

11

Notices

ALCOHOL NOTICES

Rolly Inn Limited has applied for the renewal of an off licence and an on licence. Objections are open

until 17 April. Glenn William Kerrison has applied for the renewal of an on licence. Objections are open

until 20 April. For more information go to selwyn.govt.nz/alcoholnotices.

Selwyn phone volunteers helping out

For many Selwyn residents, the calendar is now filled with cancelled club events and social get

togethers due to COVID-19. The Springs Day Club decided to make the most of that spare time,

supporting people through the lockdown period.

The club had to cancel its meetings, every third Wednesday at the Lincoln Event Centre for a day of

activities, conversations and homecooked meals.

But not all ties are cut for these retired members of the community, as club volunteer Rita Tipples and

nine other volunteers have initiated a calling roster.

"All of them have got phones, so what we thought we'd do is divide all the members up between the

volunteers and then just take half a dozen each and ring them on a regular basis."

The volunteers will check to see how each member is managing and ease the confusion of information

received from the media for members with hearing loss.

Rita says it is important check up on elderly because with their social events suddenly cut off, they will

have time to worry and dwell on things that are not good for mental health.

"To have your children or your grandchildren phone you is really good. How can you get by if you

haven't got the latest frozen meal in your freezer? Phone Gran! She's been through difficult times, she'll

know! And then that makes the older people feel more useful."

She suggests older people can phone and share recipes and household traditions in exchange for help

with technology from their grandchildren.

If you are feeling isolated, alone or in need of conversation, you don't need all the latest technology to

connect with people.

The Council Community Development Team has put together some ways that you can still keep your

social distance, look after yourself and feel connected:

· Pick up the telephone and call your immediate family. Find out what your grandchildren are doing or

give them a task to complete.

· Get in touch with your neighbours. Call them. Say hello to them over fence as they are putting their

washing on the line. Leave a friendly note in their letterbox with your telephone number or use chalk to

write them a note on their driveway.

· If you belong to a club—even though your meetings are cancelled, you can still contact other

members that you know. If you don't have contact numbers for members in your club, ring and ask

your club president – or ring the Council and we will help connect you to your club.

· If you are a club president or treasurer, consider putting together a phone calling roster so you can

ensure all your members are okay.

If none of the above apply to you, Selwyn has some excellent service providers awaiting your phone call.

Age Concern Canterbury

366 0903 or 0800 803 344

They have teams and volunteers taking calls from people who are feeling lonely and would like to connect.

Generation House Salvation Army

www.generationhouseproject.com/covid-19-response

They have a service where people can connect with someone else through the phone, pen pals or

emails. If you can't complete their online form, call them on (03) 347 0934 and leave a message for

them to get back to you or call the Community Development team at SDC who would be happy to fill in

the form for you.

Or you can call the provider in your area for volunteers to connect with you:

Lincoln Community Care:

03 325 2007

Ellesmere Community Care Organization (ECCO):

324 4080 or 027 524 8080

Malvern Ward Two Rivers Community Trust:

021 122 9317

Selwyn Central Community Care:

027 313 1122

A cup of coffee and a change

of heart

Continuing our series celebrating the Faces of Selwyn.

Visit selwyn.govt.nz/facesofselwyn for the full story.

Atal Safi never thought he would visit New Zealand, until a phone

call from his sister in New Zealand seven years ago changed his life.

Over the phone he was introduced to his sister's friend and after

exchanging a couple of emails and video chatting, the pair fell in love.

"It was decided she was the right person for me and I was the right

person for her, so she invited me to come and live with her," he says.

He moved to New Zealand in 2013. Within the first month he felt

homesick, but after giving it some time, he had a change of heart.

"In less than a year, I was so attached to this place."

At first, Atal could not understand how people in New Zealand met

at cafes for coffee and cake. As a food lover, he preferred going out

for bigger meals, but after a few coffee dates with his wife, he came

to love a classic kiwi 'coffee catch-up'.

After a year he went back to Afghanistan to see his family

"It was different, especially with the traffic and traffic rules. I just

couldn't drive," he laughs. "I was like nah, I think I'm going to have

to go back."

He moved with his wife and son to Rolleston two years ago,

because it was a cheap place to build a house, close to their work

and a safe, quiet area to bring up their son.

Settling in Selwyn was easy, he says and he likes Rolleston because

everything is on his doorstep, his sister and brother-in-law's house

is a short drive away, the park, school and swimming pool are in

walking distance and there are plenty of cafes.

"Everything is pretty handy here, we made a good choice."

An avid traveller and hiker, Atal loves to get out and about with his

family. One day he would love to move to the hills, but for now,

Rolleston is home.

Leeston Library & Service Centre

19 Messines Street, Leeston

Ph 347 2871

Lincoln Library & Service Centre

Gerald Street, Lincoln

Ph 347 2876

0800 SELWYN

www.selwyn.govt.nz

SelwynDistrictCouncil
---
$7.90 incl. GST

12

Wednesday April 1 2020

Gardening

Autumn is best for planting

AUTUMN DAYS herald a

change towards cooler weather,

the soil stays moist and there's

colour everywhere.

It can also be the best season

for planting, because new plants

have time to settle in before

they're faced with their first

summer.

Here is what you should be

doing in the next week or so.

Fertilising

Spread organic pellets around

shrubs and flowerbeds.

Feed citrus and other fruit

trees with citrus food.

Clear away weeds and grass

at the base and spread a layer of

organic mulch over the root area

(keeping well clear of the trunk).

Remember, feeding with

high potash fertilisers encourages

blooming and, even more

importantly, builds plants' resistance

to disease (essential at this

time of year when fungal problems

are rife).

Lawn care

Give lawns a feed with a longlasting

fertiliser. Early autumn

is the ideal time to rejuvenate

tired lawns. Spike with a fork or

a purpose-designed lawn aerator

and oversow with a lawn seed

blend.

Pest control

Watch out for the autumn

influx of caterpillars.

White moths and butterflies

attack cabbages, cauliflowers,

rocket and their relatives, vine

moth caterpillars are demolishing

grape leaves, flax caterpillar

is stripping leaf sections of

leaves, leaf rollers are knitting

leaves and emerging to graze on

apples, feijoas and other fruit.

Use low toxic options for

We're here to help

Latest Canterbury news at starnews.co.nz

controlling most caterpillars.

Grass grubs and porina, too, can

destroy lawns.

Treat weeds

Many annual weeds are

approaching maturity and

should be removed before they

have the chance to spread their

seeds.

Other autumn tasks

Prune the hydrangea stems

that flowered last summer.

MAINTENANCE:

Aerate your lawn

and oversow if

you have bare

patches. Now is

time to get that

done.

Reduce clusters of camellia

buds to one per stem.

Divide perennial plants and

spread to other parts of the garden.

After their leaves have fallen,

spray deciduous fruit trees (eg

peaches) with a copper fungicide.

Good coverage will clean up

the remains of summer pests

and diseases. Move cold-sensitive

container plants into more

shelter.

SELWYN TIMES

Garlic is the

guardian of

the garden

MAINSCAPE

Garden Supplies

Making your great outdoors greater

WE ALL know garlic wards off

vampires, but did you know it also

keeps away aphids, apple scab,

leaf-curl and mosquitoes?

Crush a few cloves, soak in a

litre of water for a couple of days

and use as a spray to keep at bay

ants, spiders, caterpillars and cabbage

and tomato worms too.

And, did you also know, it's said

to provide many health benefits.

To put it simply, garlic is right

up there with marigolds as the

companion plant every garden

should have. And now is the time

to plant it.

Look for a well-drained spot –

pots, hanging baskets or any available

space in your raised garden

will suit. If you're growing it for its

guardian capabilities, plant it next

to your roses to ward off aphids,

beneath apple and peach trees to

prevent apple scab and leaf-curl,

and next to your tomatoes to protect

against red spider.

Dig in some compost, and

nitrophoska blue fertiliser or use

a potting mix if you're planting in

baskets or pots.

Plant single cloves twice the

depth of the actual clove, compost

over the top and don't fill in with

soil. Then harvest on the longest

day of the year. It's as easy as that.

Preserve moisture and prevent weeds with mulching

Here at Intelligro, we're taking Covid-19 very seriously and understand

people may not want to come in to get their products or may not be able

to have contact with anyone for a few weeks.

We're here to make your gardening easier for you, and give you peace of

mind in not having to head out, if you don't want to or can't.

PEA STRAW

$10 Bale

TREE MULCH

$12 Scoop

MiLL BARk

$20 Scoop

Free loan trailer available | FOR HIRE 1.7 ton digger

FoREST FLooR

$29 Scoop

We are doing our part to reduce the spread

of this virus, and understand the importance

of following the MOH and Government

guidelines. Thank you for your support

through this time. The team at Intelligro

What we can offer:

• Give us a call to talk about your

product options.

• Pay over the phone or online.

• Delivery to your home, you can

watch us from your window and

wave to our driver.

• No human to human contact needs

to be made and you can still get on

to your gardening project.

261 Manion Road, Weedons

Phone 03 347 9012

Access to Intelligro from Manion Road is now available from both

the Weedons Ross Road end, and Curraghs Road entrances.

Sept-May Mon-Sat: 7:30am-5:30pm Sunday: 8:30am-4:30pm Jun-Aug Mon-Sat: 8:00am-5:00pm Sunday: 9:00am-4:00pm

Public holidays: 8.30am-4.30pm on the following: Waitangi Day, Easter Sunday, Easter Monday, Queen's Birthday,

Labour Day, Show Day, 2nd January. Closed all others.

Mainscape Garden Supplies

1543 Springs Road, Lincoln | Phone 021 241 7908 | Like us on

We are open 6 days: Monday to Friday 8am-5pm and Saturday 8am-3pm

www.mainscapegardensupplies.co.nz

growing with you June 2018 | 100%

Plants For

winter wow

Cool Choices

For Colour

& Contrast

From swamp

to sea views

The journey

begins with sarah

the Gardener

Snap it up

Enter our annual

Birdlife Photo

Competition to win

great prizes!

clear the air

Why groWing

indoor PLAnTs is

so good for you

give it a grow

from gArLic

To chinese

ArTichokes,

We hAve your

groWing TiPs

covered

the latest releases

into the rose world

+ rose care

through winter

The magazine for

gardeners who like to get

their hands dirty

SUBSCRIBE FROM

$43. 50*

*6 issues/6 months

SUBSCRIPTIONS FREEPHONE

0800 77 77 10

WWW.GARDENER.KIWI
---
tHe BeSt propertieS AcroSS

tHe SelWYn DiStrict

INSIDE

pUBliSHeD eVerY WeDneSDAY

Week commencing WeDneSDAY,1St April ,2020

On-Trend & High-End

Modern and chic in progressive and proven Celcrete

among some of West Melton's finest residences

situated in one of Canterbury's most prestigious

lifestyle enclaves. Aligned to optimise sunshine on

a 3,978 sqm section, the home spans a 418 sqm

floor plan showcasing quality craftsmanship, design

excellence and high-calibre fittings and finishes.

Gourmet kitchen exuding premium appliances,

stone tops and walk-in pantry set off by trendy

durable tiles. Immaculately appointed and incredibly

comfortable boasting twin heat pumps and a log

burner. Five bedrooms, master with walk-in and

ensuite featuring his/her vanities. Two additional

bathrooms service four family bedrooms including

a secluded guest wing at the far end of the home.

Level landscaped lawns with automated irrigation,

woodshed, veggie beds, four car garaging with stairs

to attic storage and abundant OSP set behind fenced

and gated entry only 25km from the city centre.

A statement home with viewings by private

appointment only

Listing ID: DFU75490

Price by negotiation

Amy Jones

Contact:

Mobile: 021 077 9945

Email: amy.jones@pb.co.nz

Shar Simon

Contact:

Mobile: 027 555 0654

Email: shar@pb.co.nz

Address: 5 Rotherham Drive, West Melton Bedrooms: 5+ Bathroom: 3 Living: 2 Garages: 4

For all your

real estate needs

Call your Property Brokers & Farmlands team

Property Brokers Selwyn | P 03 929 0306

pb.co.nz

Property Brokers Ltd Licensed REAA 2008
---
14 Wednesday April 1 2020

Latest Canterbury news at starnews.co.nz

SELWYN TIMES

Property Brokers Limited Licensed under the Real Estate Agents Act 2008 6 Tennyson Street Rolleston rolleston@pb.co.nz 03 929 0306

Size, Location, 3 Car Garaging, Jackpot!

An Educated Opportunity

NEW LISTING

NEW LISTING

WEB ID ROU75128

ROLLESTON

31 Beaumont Drive

Positioned on an ideal 1200m2 section in the highly

sought after Mayfair subdivision (wide streets...quality

homes...) here's an opportunity for an astute buyer to

secure a large home with plenty of space for the family

and their toys!

* Spacious central kitchen with plenty of storage

* Log burner, HRV & solar hot water

* Large north-facing section – so sunny!

* Double gate side access for secure off street parking

Green Thumbed Envy!

View By Appointment

Sarah Yeates

Mobile 027 447 2719

Office 03 929 0306

sarahy@pb.co.nz

BY NEGOTIATION

4

2

3

WEB ID DFL75263

GLENTUNNEL

Whitecliffs Road

GUIDELINE PRICE: OFFERS OVER $282,000 PLUS GST

The Old Malvern School located in Whitecliffs is now

available to start a new chapter.

Being sold "AS IS WHERE IS" Deadline Sale

• 5800sqm land area in four titles.

• School building with Heritage List as a Category 2

Historic Place

• Separate ablution block

Viewings are by Open to view and by appointment.

Darfield's Jewel in the Crown

DEADLINE SALE

View By Appointment

DEADLINE SALE closes Tuesday 21st April, 2020 at 2.00pm

Jannetta Thomas

Mobile 021 256 6295

jannetta@pb.co.nz

Gareth Cox

Mobile 021 250 9714

Office 03 975 4506

gareth@pb.co.nz

1

2

NEW LISTING

NEW LISTING

WEB ID ROU74917

ROLLESTON

34 McLenaghan Road

With gorgeous established gardens of sustainable

proportions and a designer flair it's hard to believe this

property is just 2 years' young!

• 235m2 home on 859m2 section

• Designer kitchen with tri-stone bench & butler's pantry

• Contemporary living with cathedral ceilings

• Log burner, Moisture Master System with heat transfer

• Master bedroom with fully-tiled ensuite and large WIR

• Separate laundry and excellent hall storage options

• Double garage with carpeted floor and attic storage

View By Appointment

Sarah Yeates

Mobile 027 447 2719

Office 03 929 0306

sarahy@pb.co.nz

BY NEGOTIATION

4

2

2

WEB ID DFU75364

DARFIELD

13 Kowhai Drive

Architecturally commissioned occupying a premier

position where loads of sun combine home and income

from an operational Airbnb/Holiday Home/Bookabach or

options for setting up a home business or dual

family/multi-generational living.

• Main dwelling: 3 bedrooms / 1 bathroom / 2 toilets

• Bespoke Woodshack kitchen and open plan living

• Natural flow to a private garden patio

• Fully self-contained 2-bedroom secondary dwelling

Creating a stunning impression and without question

one of Darfields most prominent trophy homes on the

market!

View By Appointment

Shar Simon

Mobile 027 555 0654

shar@pb.co.nz

$859,000

5

2

5

pb.co.nz
---
SELWYN TIMES Latest Canterbury news at starnews.co.nz

Wednesday April 1 2020 15

Property Brokers Limited Licensed under the Real Estate Agents Act 2008 6 Tennyson Street Rolleston rolleston@pb.co.nz 03 929 0306

More Than Meets the eye

$349,000

WEB ID DFU75276

DARFIELD

2/25 Cardale Street

A pleasant and timely surprise if you are ready to

downsize or perhaps buy for the very first time where a

great aspect for sunshine combines with lowmaintenance

mixed material construction all set in an

easy walking distance to town. Deceptively larger at 130

squares than first glances suggest featuring two

bedrooms so there is room for a guest supported by a

single bathroom with separate toilet and laundry. Galley

kitchen and dining join with a large lounge and enclosed

conservatory.

VIEW By Appointment

On-Trend & High-End

BY NEGOTIATION

WEB ID DFU75490

WEST MELTON

5 Rotherham Drive

Modern and chic in progressive and proven Celcrete

where you can join the elite among some of West

Melton's finest residences situated in one of

Canterbury's most prestigious lifestyle enclaves.

• Gourmet kitchen with stone benches and WIP

• Choices of casual formal and dining

• Wrap around patio/spa area

• 5 bedrooms, master and guest room with ensuite

• Separate office

• 4 car garage with attic storage

• Fenced and gated landscaped lawns

VIEW By Appointment

Amy Jones

Mobile 021 077 9945

amy.jones@pb.co.nz

2

Shar Simon

Mobile 027 555 0654

shar@pb.co.nz

5+1

NEW LISTING

Shar Simon

Mobile 027 555 0654

shar@pb.co.nz

1

1

NEW LISTING

Amy Jones

Mobile 021 077 9945

amy.jones@pb.co.nz

3

4

So Worth Waiting For

$535,000

WEB ID DFU75307

DARFIELD

4 Thornton Street

Only once in a while does a home with such inimitable

style grace the listings and its taken 27 years for this

sunny character-packed honey to present for acquisition.

• Light-infused kitchen

• Well-connected dining and lounge

• Pioneer wood burner

• Peaceful covered veranda

• Second patio with bbq/pizza oven

• 3 bedrooms / 2 bathrooms

• Raised beds, garden sheds and flower gardens

• Grow tunnel

• Detached double garage

VIEW By Appointment

Welcome Home on Horndon

$479,000

WEB ID DFU75464

DARFIELD

278 Horndon Street

Elegant and exquisite and from the very first visit you'll

find it impossible to resist all this sunny 2014 brick

stunner has to offer with a raft of lifestyle enhancing

features on easily managed grounds.

• Fully integrated kitchen, dining and lounge

• Induction hob and electric oven

• Sunny patio with a shady pergola

• Level lawns with boxed beds, greenhouse and lean-to

utility shed

• Double glazed, heat pump and wood burner

VIEW By Appointment

3

NEW LISTING

Shar Simon

Mobile 027 555 0654

shar@pb.co.nz

Delightful in a Linea BUYERS $579,000+

WEB ID ROU71303

ROLLESTON

13 Bethany Road

Superbly positioned and offering great street appeal in a

delightful linear clad, this property is perfect for

everyone from first home buyers to retirees, and is

offered to the market by vendor who is determined to

achieve a result. Inside, three bedrooms are

complemented by two bathrooms (including an ensuite

off the master) and a well-appointed modern kitchen.

The open-plan living area offers plenty of versatility and

there is also a separate lounge to accommodate guests

or growing families.

VIEW By Appointment

2

2

NEW LISTING

Shar Simon

Mobile 027 555 0654

shar@pb.co.nz

A beauty in Bellbird BUYERS $599,000+

WEB ID ROU74444

ROLLESTON

16 Bellbird Place

When you want space, style and great street appeal you

are onto a winner here! A grand entrance leading

through double doors to a very spacious open plan

kitchen, dining and lounge area with plenty of room for

all the family and friends to enjoy. In the kitchen and

dining areas, enjoy the benefits of a very well equipped

space, with a large walk in pantry, gas stove, dishwasher

and tiled floors. The kitchen, dining and living area

offers large stacker sliding doors out to a huge deck!

VIEW By Appointment

2

2

Family friendly lifestyle

Angela Hunt

Mobile 021 548 777

angela.hunt@pb.co.nz

Tanya Marillier

Mobile 027 383 3844

tanya@pb.co.nz

BY NEGOTIATION

WEB ID LIU74844

DARFIELD

33 McHugh Crescent

Enjoy Superb country living when you move into this

eight year old executive style home at Darfield.

• Sited on a 7336m2 section

• Four bedrooms with a TV on a wall mounted bracket

• Two Bathrooms

• Double glazed throughout with a log burner

• Heat transfer system and heat pump

VIEW By Appointment

3

2

2

April Nicholls

Mobile 027 737 6474

april@pb.co.nz

Angela Hunt

Mobile 021 548 777

angela.hunt@pb.co.nz

Follow your stars BUYERS $599,000+

WEB ID ROU71152

ROLLESTON

19 Gemini Place

Offered at $30,000 below Registered Valuation!!

• Separate lounge

• Tiled bathroom and ensuite floors

• Engineered stone bench-top

• Quality appliances including induction hob

• Bathroom features free standing bath

• Separate toilet

• Separate study

• 8.6 sqm attic storage

• Internal access double garage

VIEW By Appointment

4

2

2

Nicola Bray

Mobile 027 755 8846

nicola.bray@pb.co.nz

4

4

Dawn Pollard

Mobile 022 073 7580

dawn.pollard@pb.co.nz

2

2

Tracy Stevenson

Mobile 027 543 9029

tracys@pb.co.nz

2

2

pb.co.nz
---
16

Wednesday April 1 2020

Latest Canterbury news at starnews.co.nz

SELWYN TIMES

Property Brokers Limited Licensed under the Real Estate Agents Act 2008 6 Tennyson Street Rolleston rolleston@pb.co.nz Office 03 929 0306

Executive family paradiso 4ha

WEST MELTON

123 Neave Road

Set on four hectares close to West Melton this 430sqm

four bedroom home exudes "welcome" as you pass

under the portico to enter a generous, well planned

home that makes the most of seamless indoor/outdoor

living. The hub of the home is a large kitchen with island

bench and breakfast bar between the everyday living

and more formal dining area, sensibly designed to be

inclusive at meal and wine times. Opposite lies a media

room/lounge with surround sound. Four large bedrooms

(master upstairs for privacy with ensuite and walk

pb.co.nz

through wardrobe), as well as a large office and

separate games/family room. Ticks the boxes outside as

you step from the deck - outdoor dining/living area with

raised fire, well lit tennis court, fenced heated salt water

swimming pool and spa. Paddocks well fenced, shelter

trimmed and good 4 bay shed. A distinctive country

home with the trappings of executive modern living

with a real family feel.

WEB ID AL75004

VIEW By Appointment

DEADLINE SALE closes Monday 6th April, 2020 at

4.00pm, (unless sold prior)

Paul Cunneen

Mobile 0274 323 382

Office 03 307 9190

Home 03 302 6751

paulc@pb.co.nz

Gareth Cox

Mobile 021 250 9714

Office 03 975 4506

gareth@pb.co.nz

DEADLINE SALE

4+

2

3

REAL ESTATE SPECIALISTS

12 Rhyolite Court, Rolleston

7 Spencer Close, Rolleston

OffERS OvER $539,000

Contemporary and Compelling

**Set date: all offers to be presented 5pm, 2nd April

(unless sold prior)

Ease of living is fundamental in this four-bedroom

family home that enjoys a peaceful cul-de-sac location.

The kitchen makes a stylish statement with its sleek

cabinetry & striking splashback, and a separate lounge

delivers flexibility & presents a superb setting for

entertaining. A paved patio extends from both the

formal lounge and open plan zone, it overlooks the

garden, which is extremely low-maintenance and fully

fenced for peace of mind. Neighbouring Beaumont

Park provides families with all the space they crave,

while the multitude of amenities in Rolleston are a short

drive away. Contact Mike today for more information.

OffERS OvER $599,000

Solid As A Rock!

Right from the purple door entry, this house shouts creativity & homely space. Every detail has been

thoughtfully considered for practical & stylish living. Whether you are downsizing from the farm or

wanting the two kids to have a bedroom each – this home is set up to cater for your needs. Storage

is fantastic. Sunny and bright, this house has a spacious feel with recessed ceilings adding interest &

height with every seat having a window view. There has been no expense spared on the heating or the

ensuite! The walk in tiled shower is a haven! And the dual basins are just really thoughtful. With double

glazing & window dressings, a heat transfer system, two heat pumps & a log burner, this property

offers you warmth & privacy as well as convenience. Plus easy parking! Room for 4 cars & a trailer. The

garage has a built in workbench, drop down ladder & 9m 2 of flooring up top!

This is the house. The location is Stonebrook. Yes it is quiet. And its priced to sell!

Contact Elyse to find out more!

5 Bermuda Drive, Hornby

By NEGOtiAtiON

Classic, Contemporary &

Convenient!

Superbly presented and enjoying modern

enhancements, this three-bedroom home represents

an excellent opportunity for home buyers or

investors who are looking to establish themselves in

the thriving heart of Hornby.

Partial re-wiring and re-plumbing have also been

carried out which is a great bonus, as is the centrally

situated heat pump.

With open plan living, a light-filled conservatory

& three bedrooms as well as a well sized lowmaintenance

section which hosts a single garage

and workshop, this property is expected to attract

interest from a wide range of buyers.

Contact Mike today for more information.

68 Rolleston Drive, Rolleston

0800 645 346

www.oneagencyres.co.nz

Mike Goatley

027 249 5561

Elyse Campbell

021 187 6217

Nicola Curtis

Administrator

Julz Sibbe

Administrator

Real Estate Specialists Ltd Licenced REAA (2008)
---
SELWYN TIMES Latest Canterbury news at starnews.co.nz

Wednesday April 1 2020 17

Four Seasons Realty

New Zealanders

Zealanders ¥ ¥ by

Voted

Voted

2018-2020 ¥

★

2018-2020

2018-2020

★

Real Estate Sales

Enter our colouring

competition and you

could WIN!

To enter, scan or photograph your entry and

upload to our Facebook page:

Harcourts Four Seasons Realty or email

fourseasons@harcourts.co.nz before 12.00 noon

Wednesday 8 th April 2020.

Winning entries will be notified Thursday 9 th by

phone and displayed on our Facebook page.

Additional entry forms are on our Facebook, and

web page - harcourtsfourseasons.co.nz

Prizes: Winning entries in each age group will

receive vouchers from The Warehouse. These can

be collected from any of our eight offices after the

lockdown. Stay safe and look after one another.

1 st $20.00 and 2 nd $10.00

Name

Age (please tick one)

Parent's Name

0 - 5 years

6 - 9 years

10 - 14 years

Mum/Dad's Phone No#

Four Seasons Realty

Your home for local property

Four Seasons Realty 2017 Ltd | Licensed Agent REAA 2008

Curious to know what your home is

currently worth in today's market?

We are now offering FREE online Appraisals, so

we can all follow the Government guide-lines by

staying home, yet you can still find out what your

property is worth.

To find out more, contact us!

0800 789 10 11 | harcourtsfourseasons.co.nz

Take care and look after one another!

Four Seasons Realty

Your home for local property

Four Seasons Realty 2017 Ltd | Licensed Agent REAA 2008

Your home for local property. harcourtsfourseasons.co.nz | 0800 798 10 11
---
18 Wednesday April 1 2020

Latest Canterbury news at starnews.co.nz

SELWYN TIMES

Classifieds Contact us today Phone our local team 03 379 1100

Select Services

Hedge tRimming

& gaRden

maintenance

• Hedge Trimming

• Small Trees and Shrubs Topped,

Shaped or Removed

• Trenching and Digging Buckets

• Garden Maintenance

• Landscaping

• Cleanups Available

• Wood Splitter for Hire

Stu Reid OWNER OPERATOR

Phone: (03) 325-4664 | Mobile: 021-500-519

hedgesandmore.co.nz

SHELTERBELT TRIMMING

Boundary

Trimming

JuSt Small

HedgeS

DRIVEWAYS

HARRIS

BULLDOZING LIMITED

Call Tony Dempsey

Phone 03 325 3256

Mobile 0274 323 943

• Driveways

• Car Parks

• Lifestyle Blocks

• Site Clearing

& General

Earthmoving

Mark 021 345 571

or Paul 021 705 996

Email harrisbull@xtra.co.nz

www.harrisbulldozing.co.nz

All Work Guaranteed

Please phone for a free quote

Hydroseeding and Lawn Specialists

Hydroseeding | Lawn Preparation | Landscaping

• Site clearing

• Erosion and dust control

• Irrigation

Select Services

Water Blasting

Steam Cleaning

Industrial

Commercial

Residential

Silos Barns Farm

Machinery etc

Hi level Dust removal

Free Quotes

20 years experience

Contact Gerry

021 740 428

Specialising in:

Driveways

Outdoor Areas

Patios, Pathways,

Residential

& Commercial Floors

Professional Advice

Free Quotes

Frank McWatt

03 423 9344

027 274 0342

allwaysconcrete@gmail.com

www.allwaysconcrete.nz

DOWN At your heels? We

can't change your luck, but

we can guarantee you'll be

well heeled. For repairs to

all types of shoes, boots

and bags drop them into

Cobbler Glenn's Agent:

Magnitude Sports Unit

6, 92 Rolleston Drive,

Rolleston, Its cheaper to

repair than replace

LoCaLLy oWned

& oPerated

• Posthole boring

• Commercial & residential

• No job too small

We offer free quotes for the Canterbury

region, so feel free to call us today!

Phone: 347 4000 Mobile: 027 456 7777

Email: zac@canterburylawns.co.nz

Website: www.canterburylawns.co.nz

ADD SOME

COLOUR

TO YOUR ADVERT!

• Irrigation • Drainage • Driveways • Auger Hole Drilling • Land Clearing & Development

• Culvert Installation • Construction Site Works • Tree & Hedge Removal • Concrete Breaker

Phone Mike: 027 272 8058 OR 03 324 4323 A/H

g.m.contracting@xtra.co.nz www.gmcontracting.co.nz

DECORATORS

Driveways

SWAINS

KIWI KERB

(Since 2005)

Over 22 Years Experience

Quality

Workmanship

• Driveways

• Kerb &

Channel

• Garden Edging

New Paint • Repaints

Wallpapering • Fences

Feature Walls

Floor & Roof Painting

Spray Painting

Light Commercial

Restoring Timber

* Finance available (T's & C's apply)

Selwyn based but service the whole of Canterbury

www.andertondecorators.co.nz

www.facebook.com/andertondecorators

027 724 6846 027 PAINTIN

Freephone: 0800 081 400

swainskiwikerb@gmail.com

Excavations

• Driveways

• Car Parks

• Site Cleaning

• Demolition

• Farm Tracks

• Drain Cleaning

• Stump & Hedge

Removal

• Ashpalt Concrete

Wide range

oF TruckS

• Tennis Courts &

Swimming Pools

• Chip Seal Driveways

• Diggers – 2 Ton

up to 20 Ton

• Excavators

• Bobcat & Drilling

• For Posthole &

Fence hole

For a Free Quote

on your next project

Phone Steve on 021 338 247

or 325 7922

Free

QuoTe

No job to big or small.

Supply carpet, underlay and garage carpet.

Experienced in installing second hand carpet.

Carpet samples.

Free measure and quote!

Call David 0272319931

www.davidfarmercarpetlayer.co.nz

Trades & Services

GARAGE DOORS

The Genuine

Custom Made Garage

Door Professionals

0800 661 366

info@custommade.co.nz

Auckland, Christchurch, Wanaka

www.custommade.co.nz

landscaping

Landscape

Construction and

Garden Maintenance

You can have your gardens, trees,

shrubs, plants and lawns maintained to look their best

all year round, for a great price.

Residential & Commercial Landscaping

• Maintenance • Pruning • Reconstruction & Rejuvenation

• Rental Property and Commercial Maintenance

• Pre-Sale Tidy-Ups

New Home Landscaping

Lawns • Gardens • Decks • Paving • Water Features

• Quality • Value for money • Experienced • Punctual

• Professional • Flexible • Knowledgeable • Reliable

Call Ross Legg - 027 222 0388

Email ross@revivelandscaping.co.nz

www.revivelandscaping.co.nz

•Re Roofing

•Roof Repairs

•Spouting

Approved Age Concern provider

Over 30 years experience

Licensed Building Practitioner

N A BARRELL

ROOFING LTD

Ph: 349 9778 or 0275 389 415

Email: nabroofing@xtra.co.nz

• Siteworks

• Earthworks

• Driveways/Paving

• Drainage

• Swimming Pools

• Pool Servicing

Small jobs no problem | Free quotes

Contractors in Christchurch for over 40 years

info@shearings.co.nz | 03 348 5420

www.shearings.co.nz

LifestyLe

BLock

fencing

new fencing, post driving,

repairs, maintenence.

Quality workmanship

& advice.

Phone Allan 021 049 6151

allan@agrifencenz.com

Facebook: agrifencenz

BUTCHER

SERVICE

Watkins Home Kill

Processing Beef, Pigs,

Sheep, Deer & Fish.

Smoking Bacon, Ham

and small goods.

Mobile slaughter service.

124 Burdons Road

Burnham

Phone Tim 347 6693

ACE HIGH

PLUMBING

All Plumbing

Gasfitting

Drainlaying

Blocked Drains

Log Fires,

Wetbacks

Gas Hotwater

Phone

021 454 864

Bellamy's

Furniture

Furniture made to

order and restoration

by tradesman with

35yrs experience.

PH Stephen

021 073 2624
---
SELWYN TIMES Latest Canterbury news at starnews.co.nz

Wednesday April 1 2020 19

Classifieds Contact us today Phone our local team 03 379 1100

Trades & Services

UDI PAINTING &

DECORATING

For all painting and

decorating services.

Fully Qualified

• Interior &

Exterior Painting

• Wallpapering

• Plastering

• Roof Painting

Quality Services

FREE QUOTES

Contact Udi Aale

Ph. 021 074 2075

BATHROOM TILER

wet area waterproofing,

underfloor heating, soap

boxes, old to new, for best

results, call Devon on 021

375-888 or 03 329 5511

BUILDER QUALIFIED

Decks, T & G Flooring,

Villa Restoring, New

Homes, Weatherboards.

Free Quotes. Bennet &

Sons Ltd Sam 027 496-

9362 or Tony 027 224-

0374

CARPET LAYING

Exp. Repairs, uplifting,

relaying, restretching.

Phone John on 0800

003181, 027 240 7416

jflattery@xtra.co.nz

CARPENTER

HANDYMAN - Small

Job Specialists, Carpentry,

Repairs, Decking &

Maintenance, 40 years

experience, no job too

small, Ph Warren 03 322-

1103 or 027 697-8541

CONCRETE CUTTING

Affordable Concrete

Cutting with Quality, and

removal work. Free quote.

No job to small. Phone 027

442-2219, Fax 359-6052

a/h 359- 4605

Bellamy's

Furniture

Furniture made to

order and restoration

by tradesman with

35yrs experience.

PH Stephen

021 073 2624

LANDSCAPING

Paving, Lawns, Irrigation,

Decking, Fencing.

Kanga & small digger

services. Check out Squire

Landscaping on facebook.

FREE QUOTES. Ph

Arthur 347-8796, 027

220-7014 Edwin 027 220-

7154

RJB PLUMBING

Renovations, New Houses,

Hot Water Cylinders,

Kitchens Bathroom

Upgrades, Laundries,

General Maintenance,

Water Filters. Phone Mark

0278690026

RJB PLUMBING

Renovations, New Houses,

Hot Water Cylinders,

Kitchens Bathroom

Upgrades, Laundries,

General Maintenance,

Water Filters. Phone Mark

0278690026

STUMP GRINDING

Best price guarantee Tony

0275 588 895

Classic Cars & Motorcycles

Towing

For safe, damage free

car transportation

call Ashley's Tow Taxi

Special care for special cars

ASHLEY'S TOW TAXI

Breakdown & Relocation

0800 TOW TAXI • 0800 869 8294

Macrocarpa Sleepers

200x100

Ideal for

landscaping

1-5m

We cut to

length

Firewood

Phone

SUPPLIES LIMITED 021 325 661

653 21 Ellesmere Manion Road, Road, Rolleston Lincoln

www.macrocarpasupplies.co.nz

www.macrocarpasupplies.co.nz

Funeral Directors

Non-Service Cremation $1,745

Commital service with cremation $3,950

Chapel service with cremation $6,500

Family burial service from $3,400

Just Funerals, a family owned and

operated company with qualified,

registered and experienced staff.

Phone 0800 804 663 - 24 Hour Availability

Email: info@justfunerals.co.nz

christchurch.justfunerals.co.nz

Public Notices

SELWYN LAUNCH

GROUP

AGM

Tuesday 28th April 2020 at 6.30pm

Izone Café Meeting Room, Rolleston

Supporting young adults with Disabilities

in the Selwyn District and their families.

selwynlaunchgroup.org.nz

Situations Vacant

sports

reporter

• Sports reporter

• Specialising in Canterbury sport

• Covering a wide range of codes

Who we are

Allied Press Limited employs over 450 people on a permanent basis across

our 15 sites in the South Island. We operate across multiple media platforms

(print, on-line, digital) delivering news, information and entertainment

through our various regional and city publications, including Star Media in

Christchurch.

The role

Reporting to the editor the main purpose of the position is to write sports

articles for our stable of newspapers and website.

Some of the key accountabilities include:

• Providing accurate, lively and fair articles.

• Write articles covering a variety of sport from junior to men and

women's sport.

• Meeting deadlines.

• Being a team player.

Your skills and experience

We are looking for a journalist with two to three years experience,

preferably in a metropolitan environment, but someone who has less

experience but who has already displayed the qualities and drive to

become a topline journalist will be considered.

In addition to your interest in equity and diversity you will demonstrate:

• A great work ethic

• A competitive nature

• An eye for detail

• Accuracy

Further details

This is a full time, permanent position.

We can offer you a great team environment and the opportunity to grow.

If you think this role is for you, please apply by way of CV and a

covering letter. Informal inquiries about the role are welcome and

should be directed to editor in chief Barry Clarke 021 359-426.

A copy of the position description can be requested from HR

at recruitment@alliedpress.co.nz.

Applications will close when a suitable applicant is found.

All applications will be treated in the strictest confidence.

Please note you must have the right to work in New Zealand to

apply for this role.

Disclaimer: Allied Press does not accept unsolicited

agency resumes. Allied Press is not responsible

for any fees related to unsolicited resumes.

SportS ClubS..

Looking for players,

coaches,

managers or

new members?

We can help you advertise if

you are in need of additional

team members.

We've got you covered with..

Full Christchurch coverage –

93,000 papers home delivered

every thursday

Sporting Notices

or a LocaL community

neWspaper of your choice

for full information or assistance in placing your advertisement

please call Vicky sayers or mike fulham on 03 379 7100

359 lincoln road, Addington, Christchurch

phone: 03 379 7100 www.starnews.co.nz

To Let

RENT ME!

Ideal as an extra

bedroom or office.

no bond required

Fully insulated and double glazed for warmth.

Three convenient sizes from $70 a week:

Standard 3.6m x 2.4m

Large 4.2m x 2.4m | Xtra-large 4.8m x 2.4m

Visit our website

www.justcabins.co.nz

for display cabin locations

www.justcabins.co.nz

Vehicles Wanted

CAR REMOVALS

$$CASH PAID$$

CARS, VANS, UTES

& 4X4 WANTED

NZ OWNED

AND

OPERATED

FOR

24 YEARS

We use world class vehicle

depollution systems

0800 8200 600

www.pickapart.co.nz

Gardening

& Supplies

ellesmere

lions

Pea straw

now available

We deliver:

Small bales $6

Medium squares

(equivalent of

10 small bales)

$50

Contact

alex Hayward

03 324 4094

LANDSCAPING

Paving, Lawns, Irrigation,

Decking, Fencing.

Kanga & small digger

services. Check out Squire

Landscaping on facebook.

FREE QUOTES. Ph

Arthur 347-8796, 027

220-7014 Edwin 027 220-

7154

Heating

Log Fires

Pellet Fires

Heat Pumps

Sales

Service

Installations

Free Quotes

03 343 1651

472 Blenheim Rd

www.heatstore.co.nz

Hire

FOR

HIRE

HORSE FLOATS

LOG SPLITTER

Quality equipment

reasonable rates.

WINDOW CLEANING

Brown & White Ltd.

Family owned since 2001.

Ph Paul 027 229 3534

PHONE / TEXT

027 499 2908
---
20 Wednesday April 1 2020

Latest Canterbury news at starnews.co.nz

SELWYN RURAL LIFE

SELWYN TIMES

Coronavirus impact

on dairy 'moderate'

The coronavirus has only had a moderate

impact on dairy prices so far, according

to Westpac head of strategy Imre Speizer.

Compared to other commodities like oil, the

impact on dairy hasn't been as bad.

Since the outbreak gripped global financial

markets in late January, whole milk powder

prices have fallen 8.7% on the Global Dairy

Trade (GDT) auction. In comparison, Brent

crude oil has fallen 20.4%.

Westpac is sticking to its forecast payout of

$7.20/kgMS for the season. Two weeks ago

Fonterra reaffirmed its forecast farmgate milk

price range at $7.00-7.60/kgMS.

Fonterra chief executive Miles Hurrell says

the current situation around coronavirus is

very fluid and uncertain.

However, Fonterra has already contracted

a high percentage of its 2020 financial year's

milk supply and this is helping the co-op

manage the impact of coronavirus.

"Our Greater China team are working hard

to keep our operations running as smoothly

as possible. Without them this would not have

been possible and I want to thank them for

their efforts," Hurrell says

"There has been a slow-down in processing

of containers at ports and we are managing

the flow of our product into China carefully

to avoid congestion. Currently, our product

is continuing to be cleared by customs and

quarantine officials."

Hurrell says Fonterra remains confident in

its forecast and earnings guidance of 15-25

cents/share despite current market conditions

as a result of coronavirus.

Last week's (March 4) GDT auction

recorded its third consecutive drop in the

price index: down 1.2% over the previous

auction.

Key export product, whole milk powder, fell

only 0.5% - a smaller fall than futures market

predictions of a 3%-4% fall. At US$2952/

metric tonne, WMP is at the lowest level since

February 2019.

Skimmed milk powder prices fell 3.2%,

butter rose 1.0%, anhydrous milk fats fell

1.7%, and cheddar cheese fell 4.7%.

Speizer says the results suggest the

coronavirus outbreak continues to affect dairy

commodities, albeit moderately so far.

"Looking ahead, the coronavirus outbreak

poses both positive and negative risks to

demand. "Slower activity could crimp demand

for dairy inputs to other products, but a

renewed focus on nutrition could boost milk

demand."

North Asian demand at last week's auction

was lower than usual, but demand from

South East Asia and Oceania was higher.

Meanwhile, on the supply side,

persistently dry conditions in the North

Island and flooding in the southern South

Island could see milk production fall

short of what the market is expecting, says

Speizer.

"Against that, Canterbury and Otago,

where irrigation is widespread, have

reported good growing conditions."

DCANZ data shows

January national milk solid

production was 1.1% higher

than in January 2019, and

the season to date (Jun-Jan) is

0.5% higher than the previous

comparable period.

Overall, there hasn't been

any strong evidence of a supply

shortfall to date, Speizer says.

Source: Rural News

Firewood & Coal

Coal

20 kg bags or

500kg bulk bags

Firewood

Pick up or deliver

(delivery charges apply)

Free delivery to Darfield township when

3 cubic metres or more is ordered.

Landscape Products

Now Available!

• Forest Mulch

• Bark Mulch

• Bark Nuggets (10/20mm)

• Premium Organic Compost

• Screened Soil

• Landscape Rocks

• Paparoa Red Rock available in 3 grades

• Railway Sleepers (2.1 Lengths)

• Kindling Wood

• Unscreened Bark

Delivery fees apply.

417 Creyke Road,

Darfield

Phone 03 975 4502

Eftpos now available

Open Monday to Friday 6am-6pm, Saturday 8am-1pm or after hours by appointment

Canterbury Ltd

• Quotations for water system designs and water testing

• Pipes, valves, fittings sales

• Filtration supply and installation

• Pump service, repairs and maintenance

• Bore flush and development

• Bore pump sales, servicing and maintenance

• We also sell, service and repair most

pump brands including sewage pumps

NEW LOCATION

551 Halswell Junction Road

0800 GRUNDFOS / 0800 478 633

For sales and service or

after hours service call

Jason 021 649 944

or Mike 021 560 044

www.pumps-filters.co.nz